Child's Imagination Famous Quotes & Sayings
List of top 100 famous quotes and sayings about child's imagination to read and share with friends on your Facebook, Twitter, blogs.
Top 100 Quotes About Child's Imagination
#1. What I have learned from my own experience is that the most important ingredients in a child's education are curiosity, interest, imagination, and a sense of the adventure of life. - Author: Eleanor Roosevelt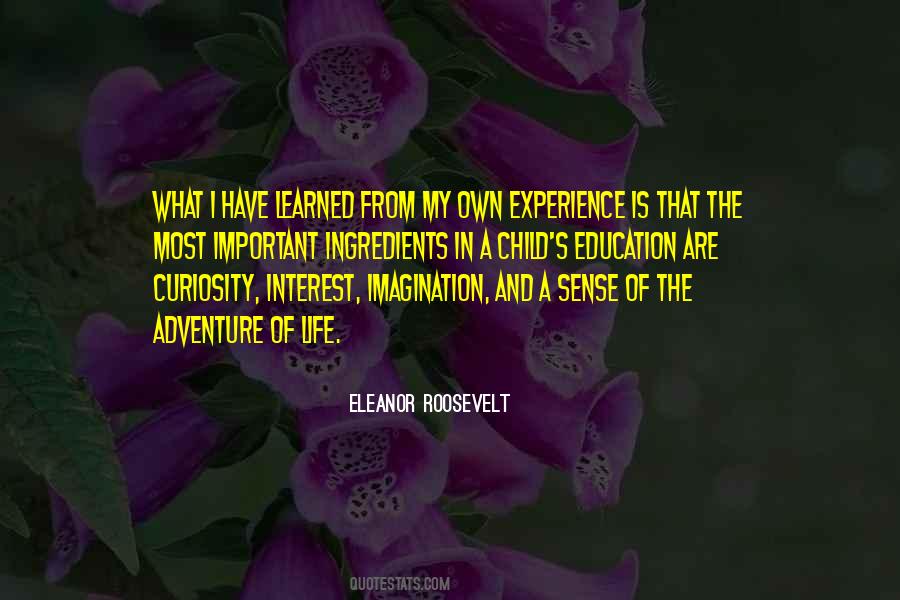 #2. Look at it this way, child, life is a magic show, or should be if people didn't go to sleep on each other. Always leave folks with a bit of mystery, son. - Author: Ray Bradbury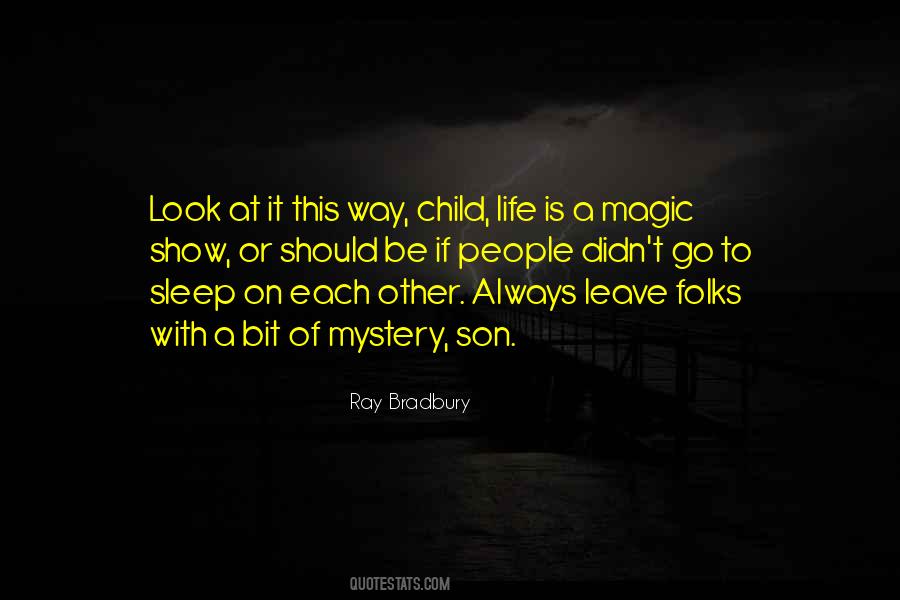 #3. I was a very religious child - I went to synagogue at least once, sometimes twice, a day. And I remember my religiousness as good - I think religion is good for children, especially educated children, because it allows for imagination, a whole imaginative world apart from the practical world. - Author: Yehuda Amichai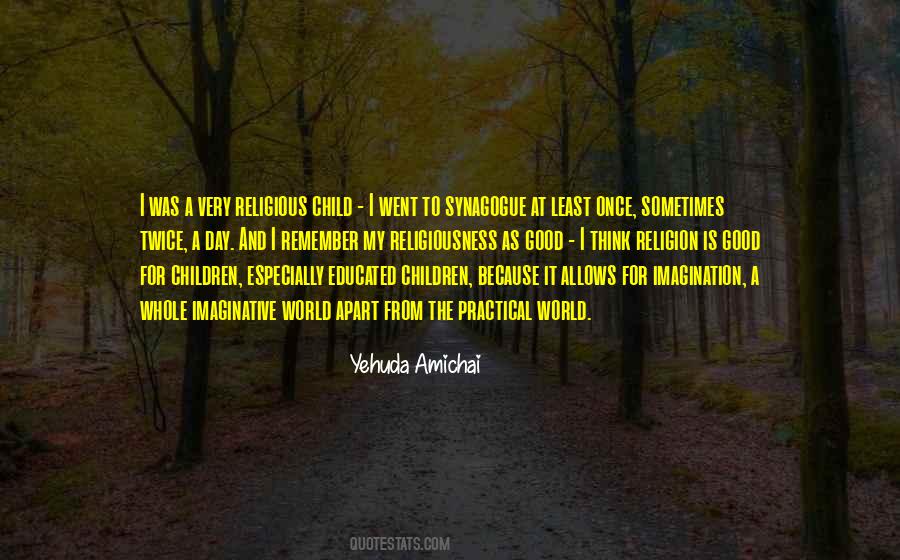 #4. For me, the imagination which so often kept me awake and in terror as a child has seen me through some terrible bouts of stark raving reality as an adult. - Author: Stephen King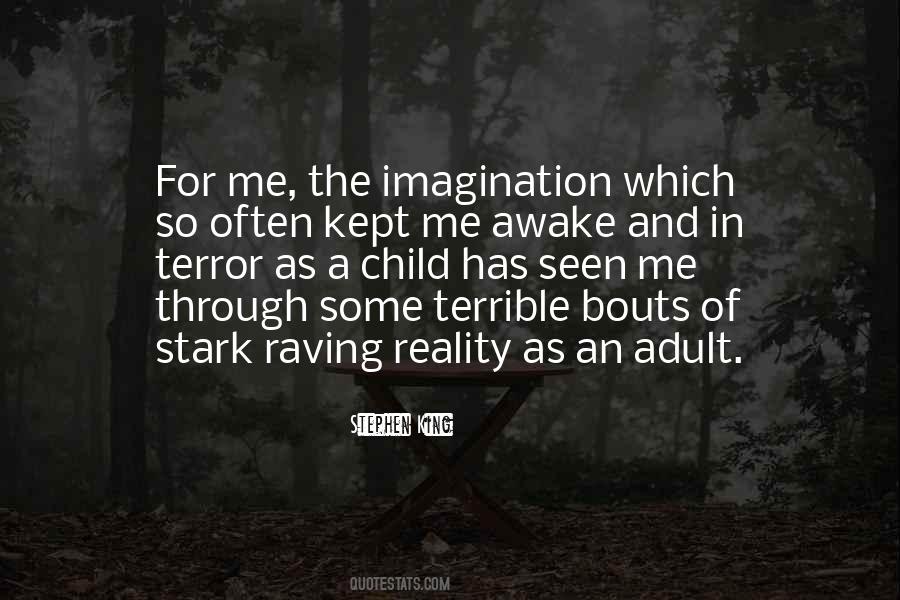 #5. Once you've got a child to the point that they've discovered books, they're safe. There's a world of the imagination that when they're hurt or upset, they can move into, and it is wonderful. - Author: John Rhys-Davies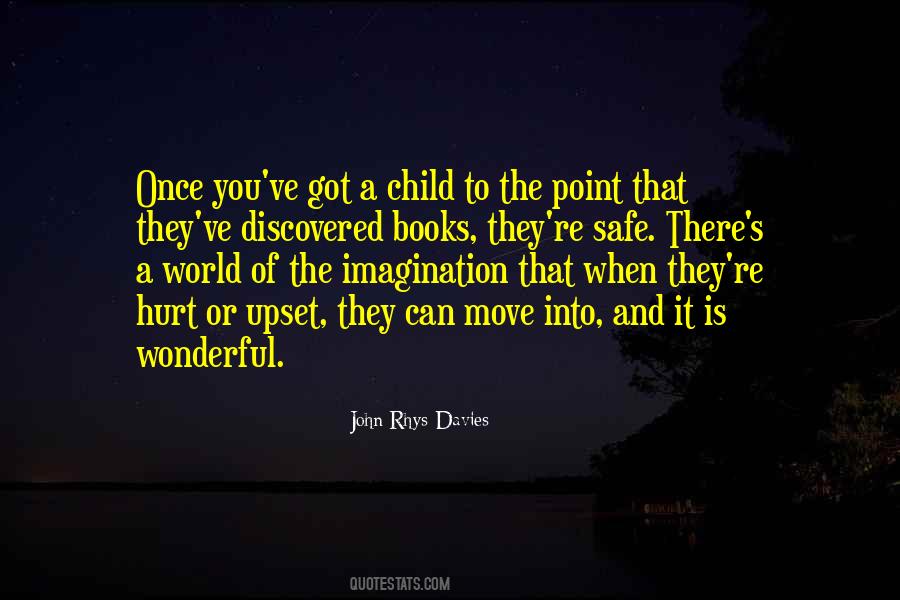 #6. The best way to enhance a child's imagination is to make them read. - Author: Ken Spillman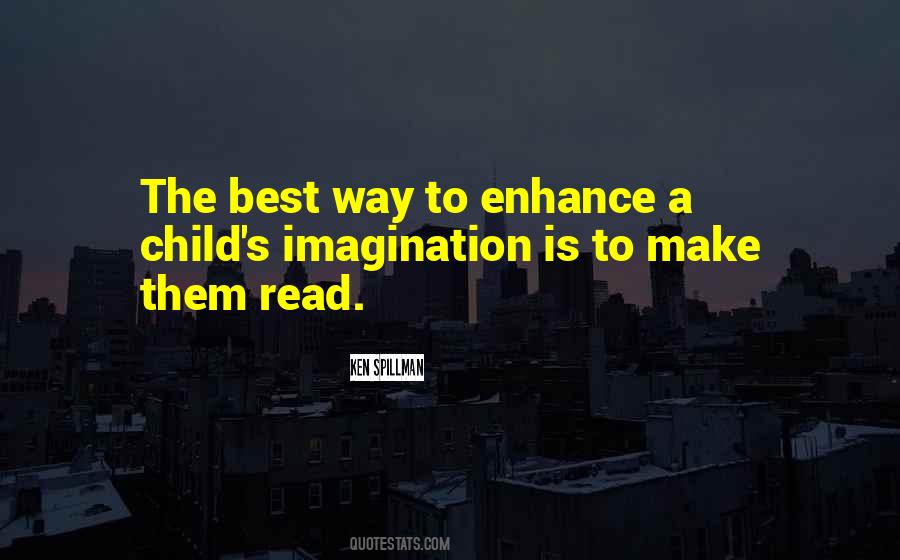 #7. A child with an intense capacity for feeling can suffer to a degree that is beyond any degree of adult suffering, because imagination, ignorance, and the conviction of utter helplessness are untempered either by reason or by experience. - Author: E.M. Delafield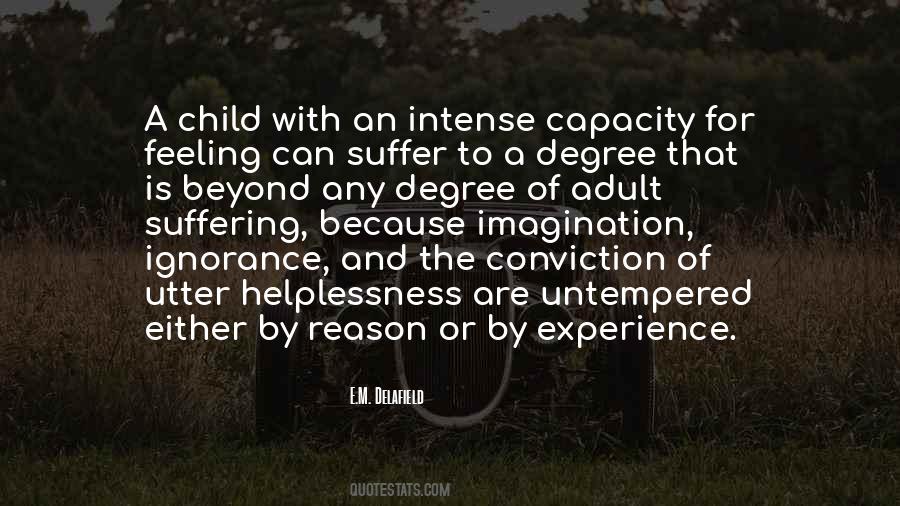 #8. The music had to be rooted, and yet had to branch out,like the wild imagination of a child. - Author: A.R. Rahman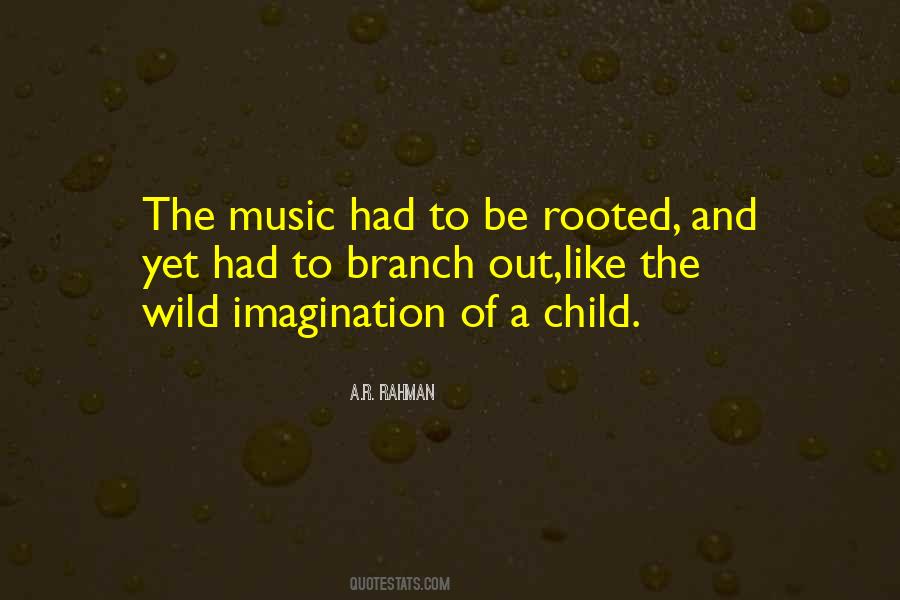 #9. You know when you're a child and your imagination is limitless and you really believe in magic? I thought I had super powers. - Author: Michelle Phan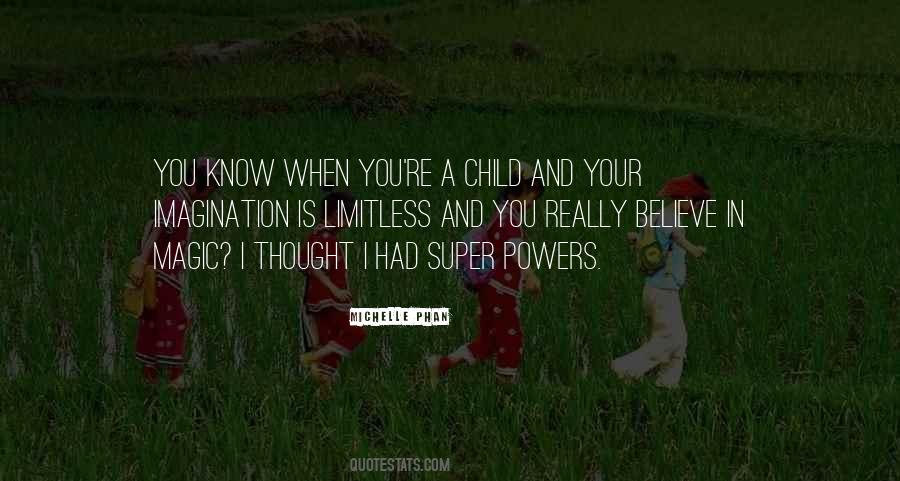 #10. Psychologists figured that the memory center was located in the left brain, and the imagination engine in the right brain. Therefore people unconsciously glanced to the left when they were remembering things, and to the right when they were making stuff up. When - Author: Lee Child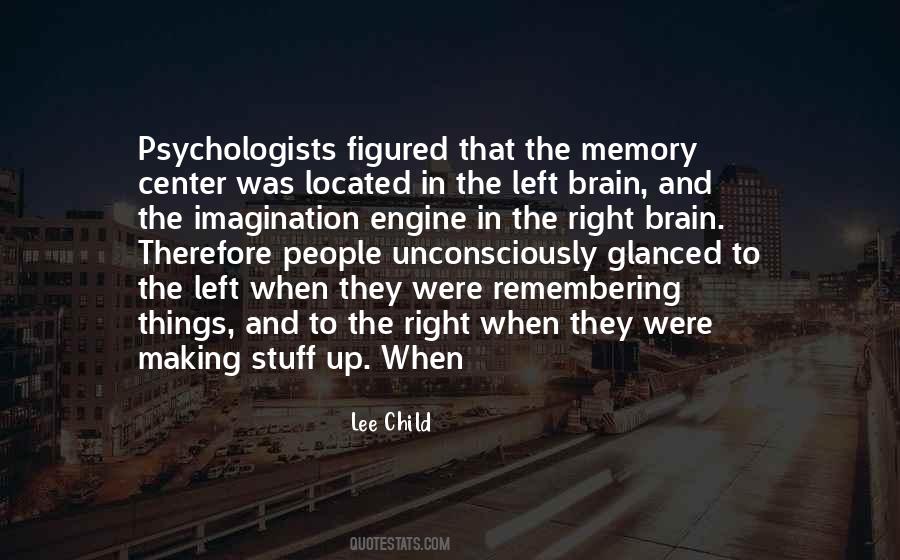 #11. Forcing the muse to let thoughts flow; equals to pushing a child, into labor. - Author: Aniruddha Sastikar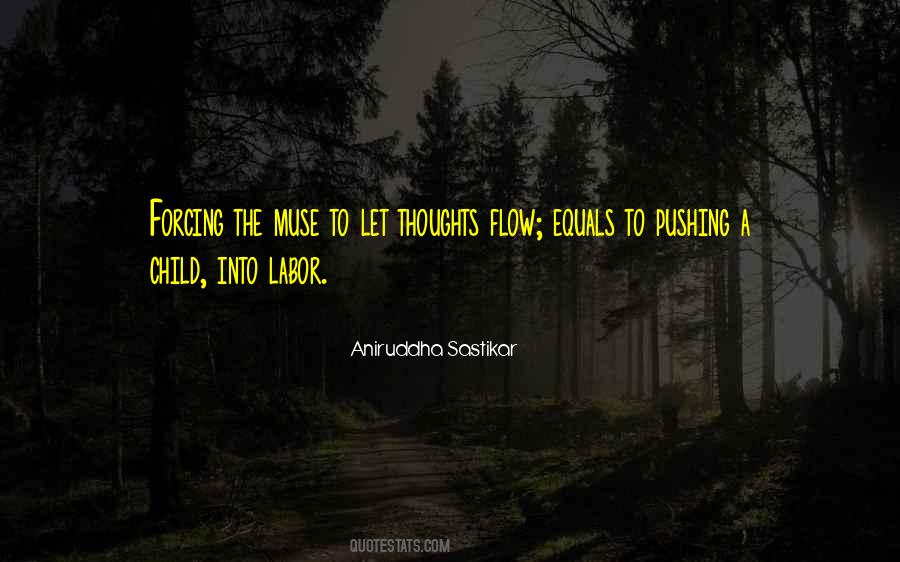 #12. Are traditional schools very much like mini-prisons? Do they stifle imagination, cramp the child physically and mentally, and run on various forms of overt or covert terrorism? Of course, the answer is an unambiguous YES. - Author: Robert Anton Wilson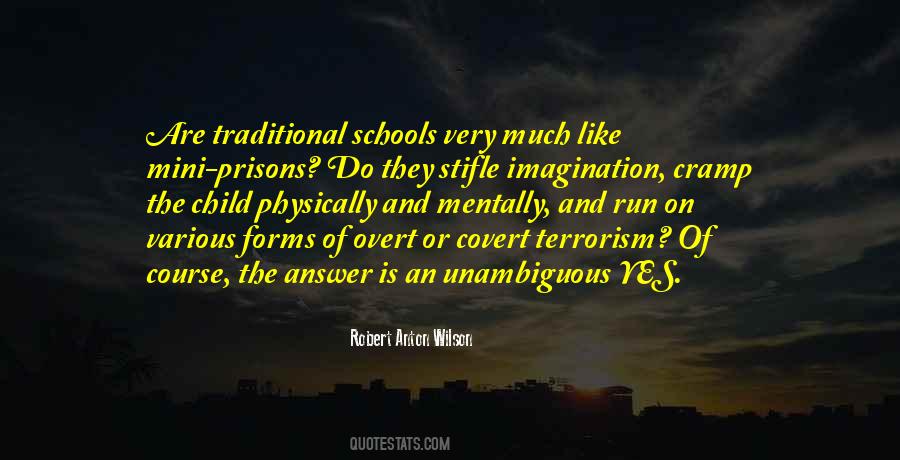 #13. Imagination in the child is powerful. Reading and laughter and love are essential in our lives. - Author: Malachy McCourt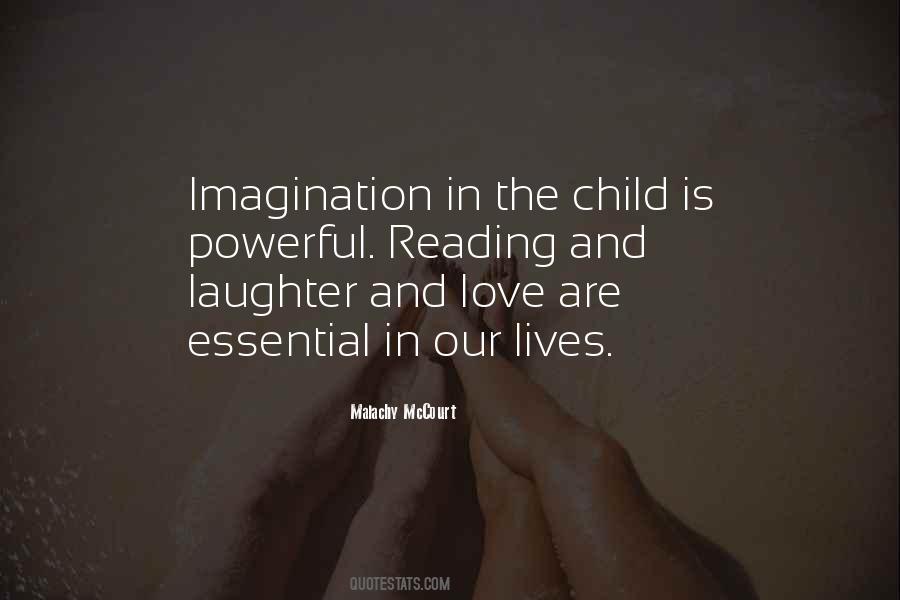 #14. As a child i used to complain to my father about not having toys and he would say (calvero points at his own head) this is the greatest toy ever created. Here lies the secret of all happiness. - Author: Anonymous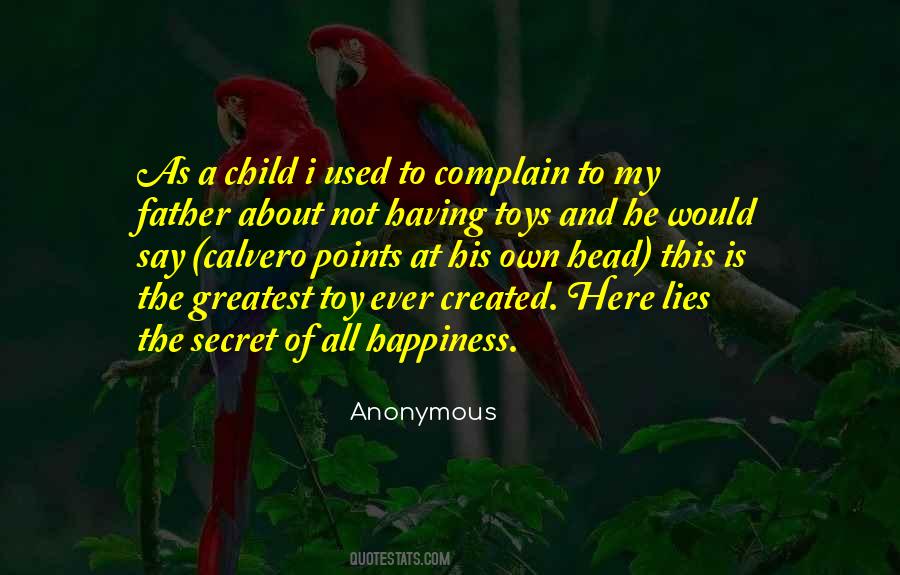 #15. I think we're all a little afraid of the dark. If you lived in the country, as I did, there's nothing quite like country dark, which was really black. And as a child, your imagination runs wild. - Author: Malcolm McDowell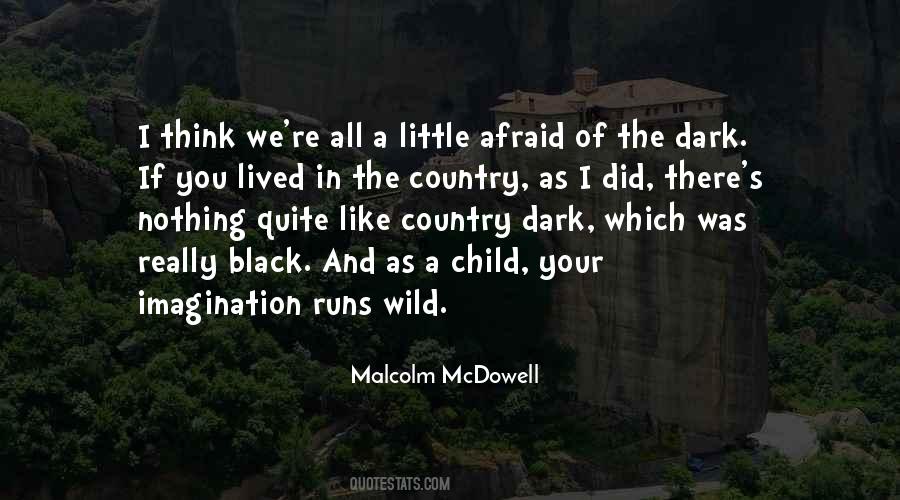 #16. A genuine education must somehow serve the wings of spirit and imagination that each child brings to life. - Author: Michael Meade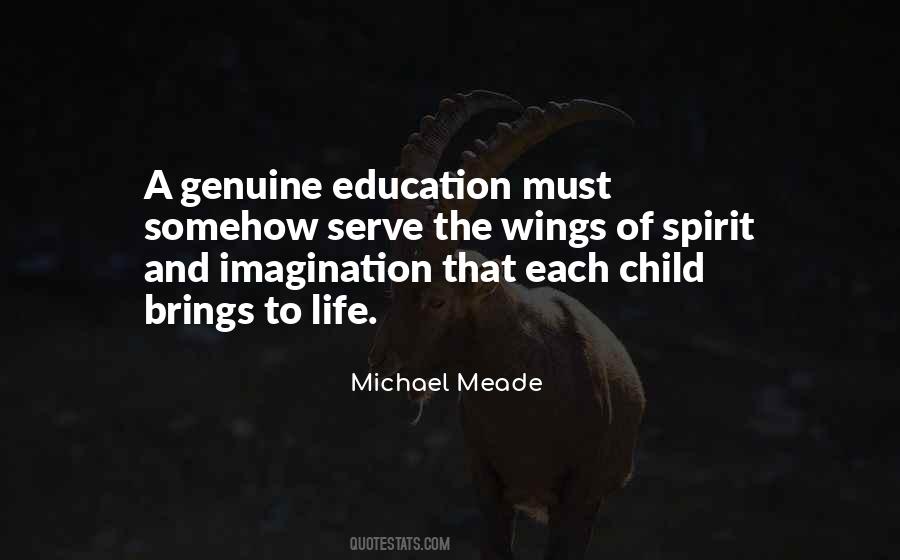 #17. Sympathy is the child of imagination - Author: Clarence Darrow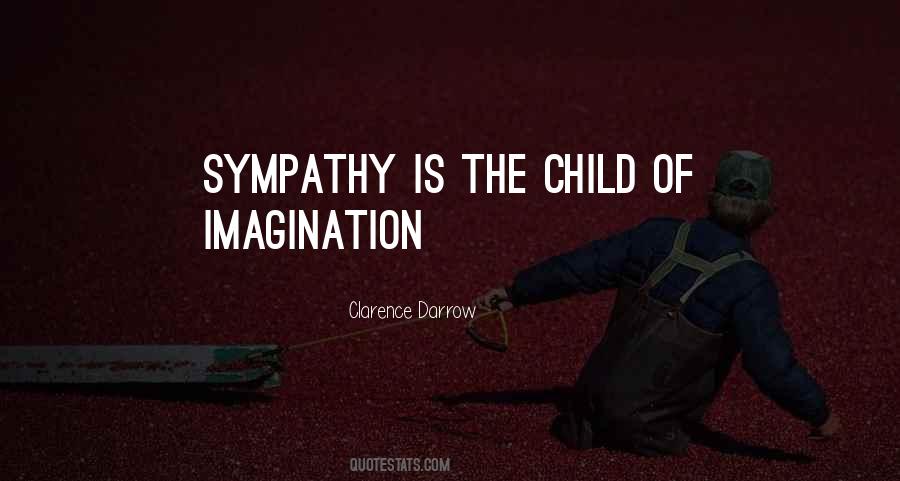 #18. I still find it quite easy to find my way into a child's imagination. We're all Peter Pan ourselves in some respects. Everybody should keep some grip on childhood, even as a grownup. - Author: Tim Curry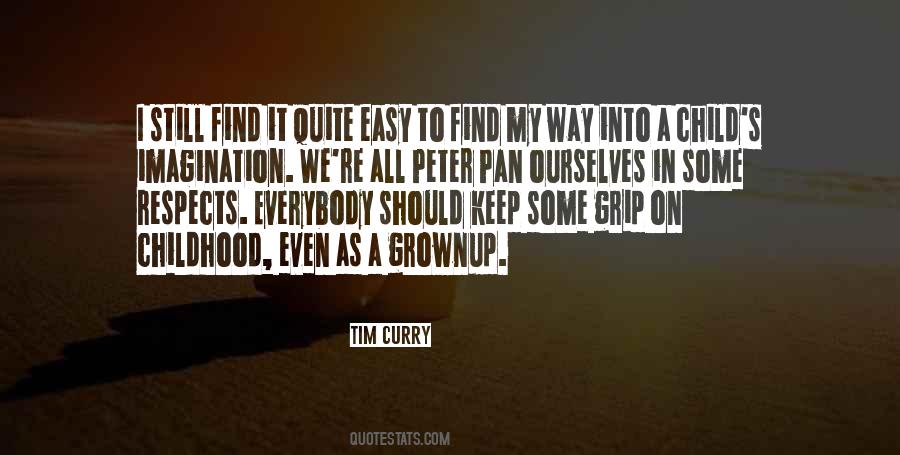 #19. Art is the child of imagination and gives life. - Author: Mirka Mora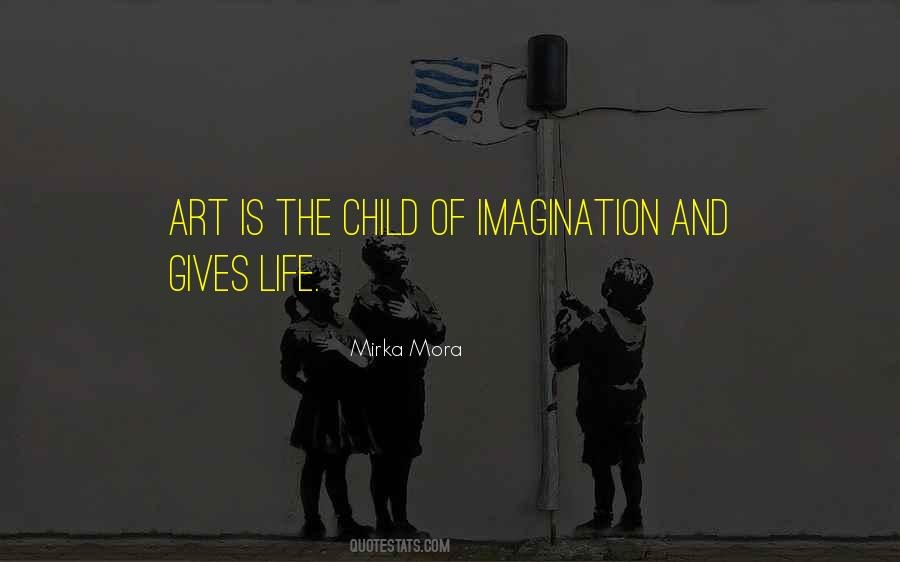 #20. You can't teach a child what to dream, but you can teach them how to dream. #imagination - Author: K. Lamb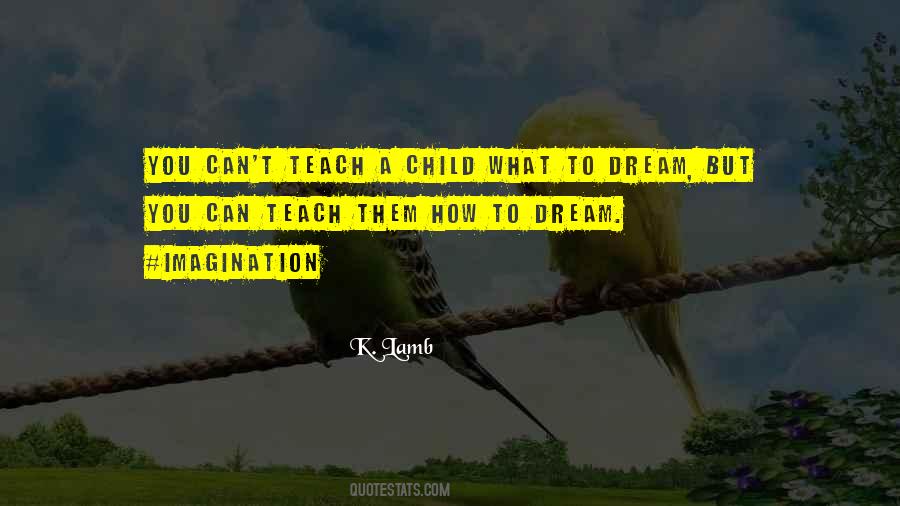 #21. Imagination is the bastard child of time and ignorance - Author: Bernard Beckett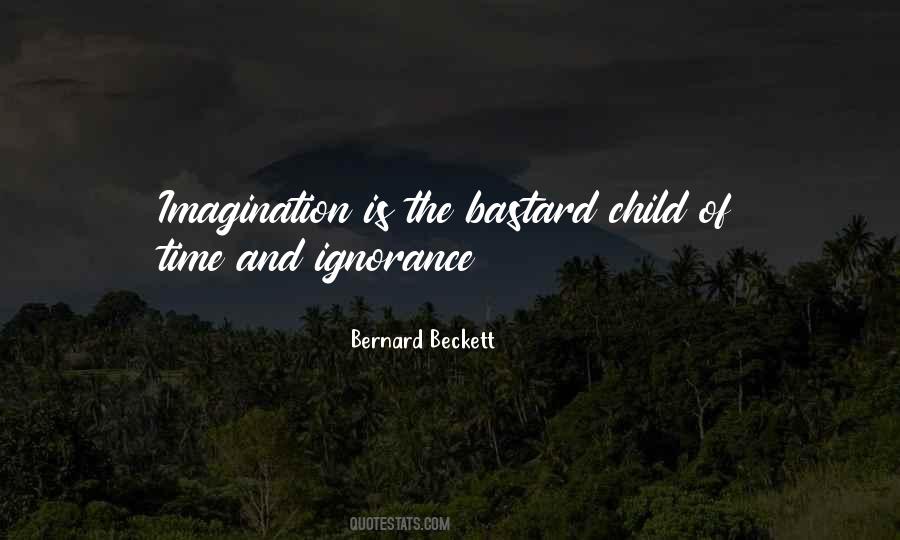 #22. I have lain long here in your mind, longer than any nightmare has before me. I have sunk my roots into your worst imaginings and feasted on your memories. I know you, child. - Author: J. Aleksandr Wootton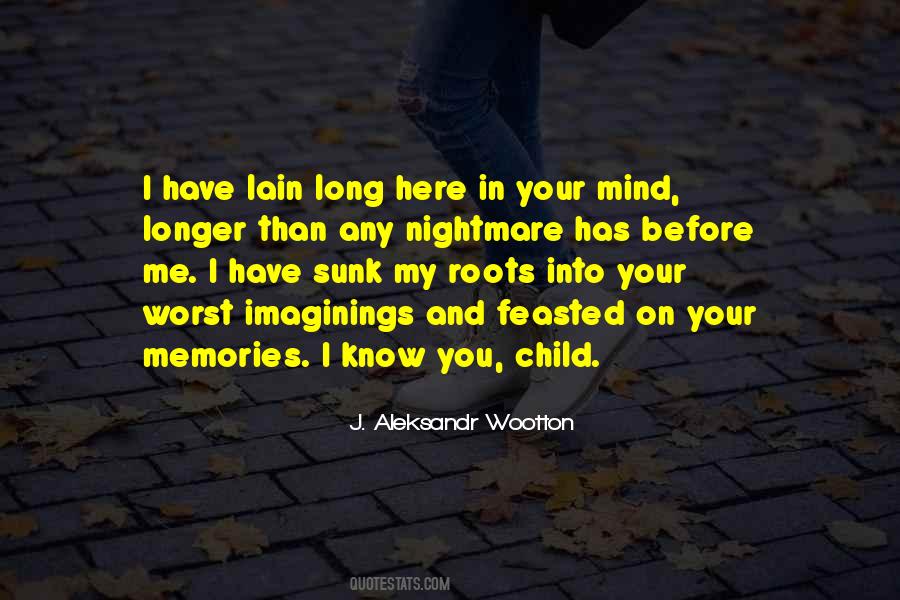 #23. My greatest strength as a child, I realize now, was my imagination. While every other kid was reading and writing, I had seven whole hours a day to practice my imagination. When do you get that space in your life, ever? - Author: Barbara Corcoran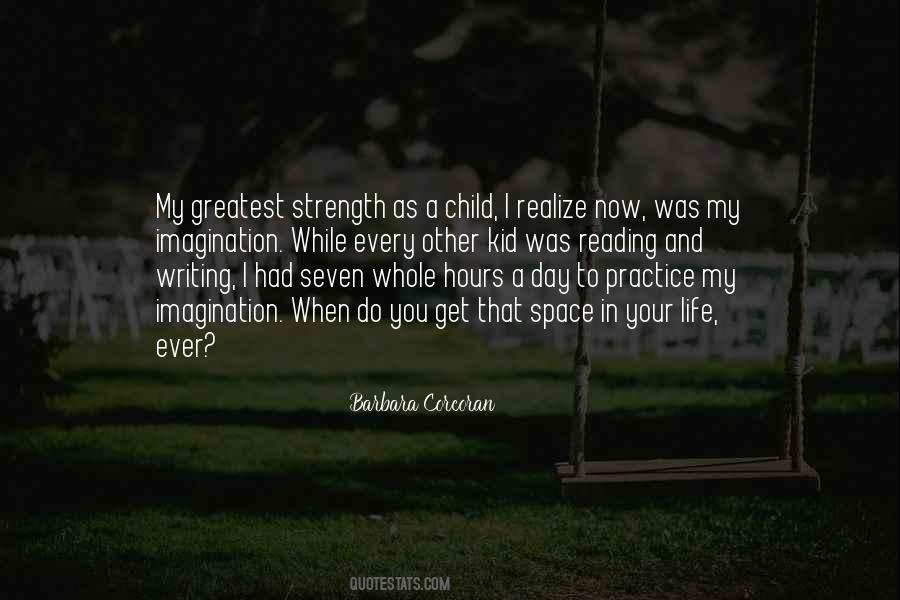 #24. The more you know, the more you can create. There's no end to imagination in the kitchen. - Author: Julia Child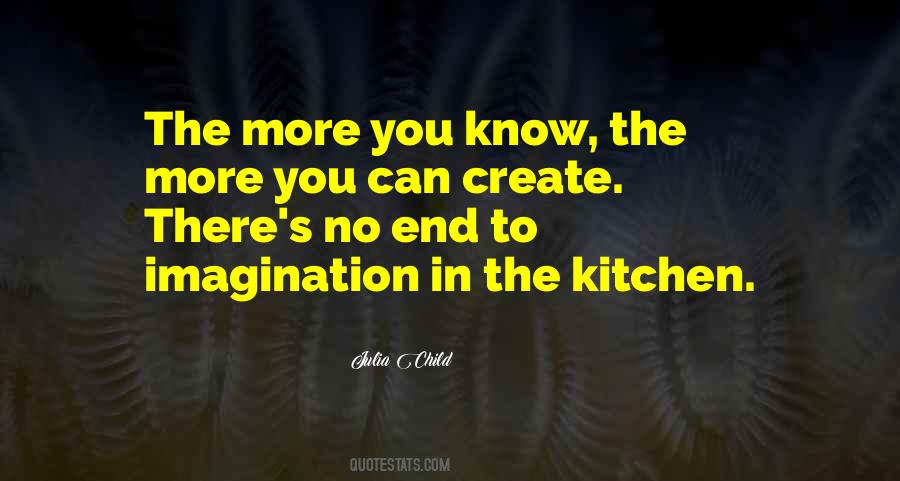 #25. Through the eyes of a child, imagination is born. Always stay young at heart! - Author: Sheila Renee Parker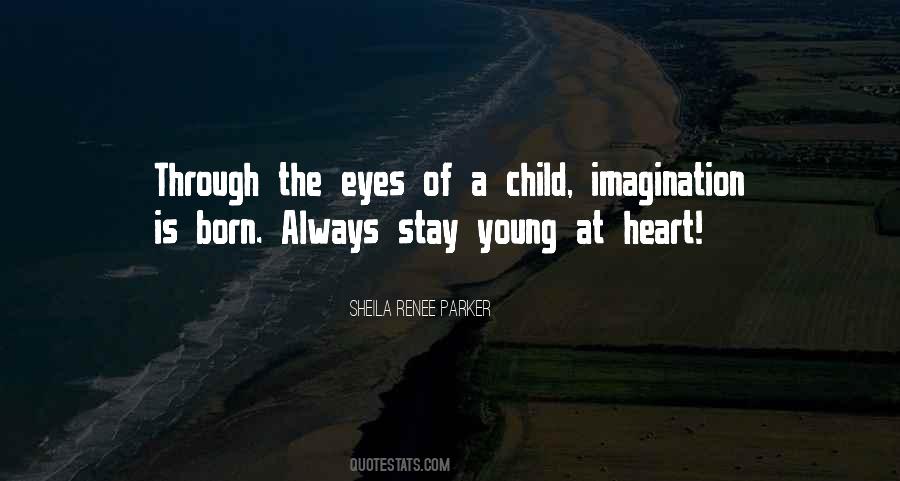 #26. Beyond all sciences, philosophies, theologies, and histories, a child's relentless inquiry is truly all it takes to remind us that we don't know as much as we think we know. - Author: Criss Jami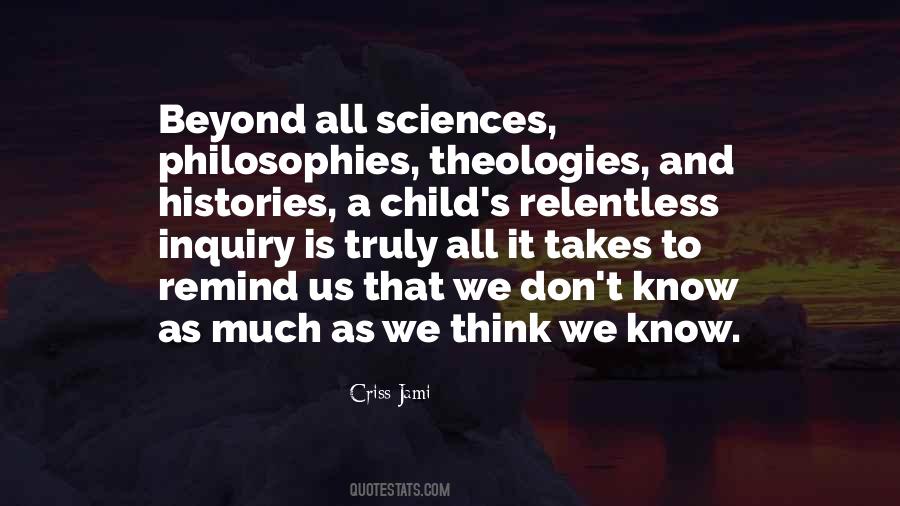 #27. Imagination stimulates your thinking power by giving your mind abundant data with which to work. It opens the gate to dreams and fantasies so that you may become receptive, as a little child, in exploring the Kingdom of Ideas. - Author: Wilferd Peterson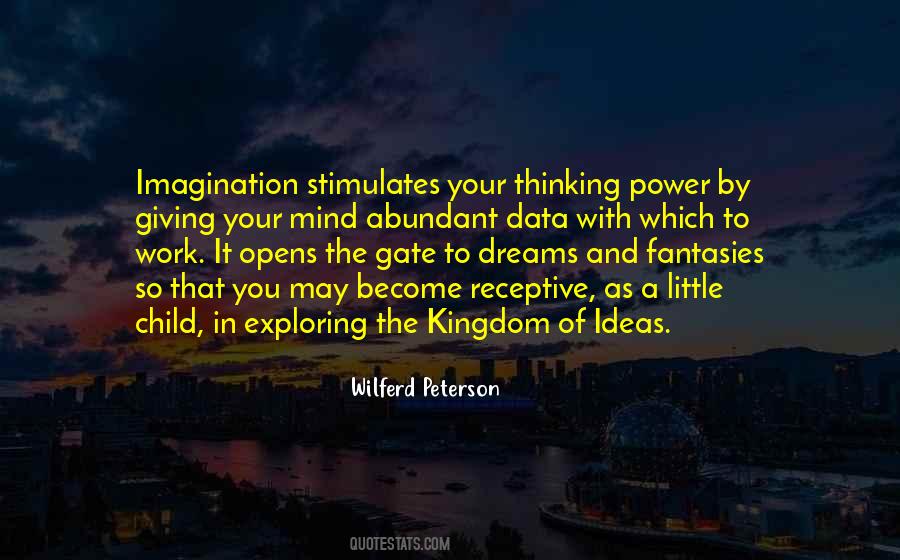 #28. Children accept many things adults will not accept, since the world of a child is a constant revelation without any need for knowledge of cause and effect. ("Miss Esperson") - Author: August Derleth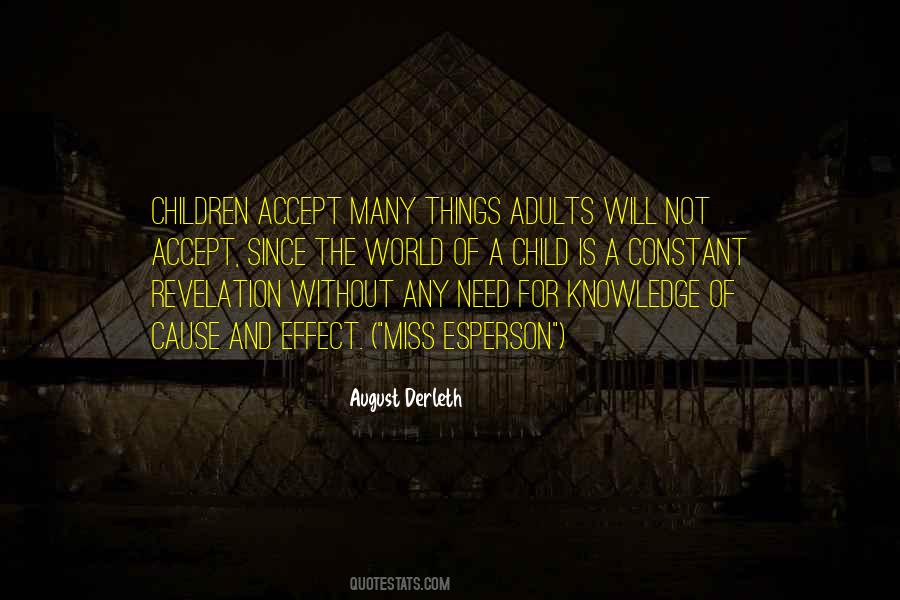 #29. In a world where billions believe their deity conceived a mortal child with a virgin human, it's stunning how little imagination most people display. - Author: Chuck Palahniuk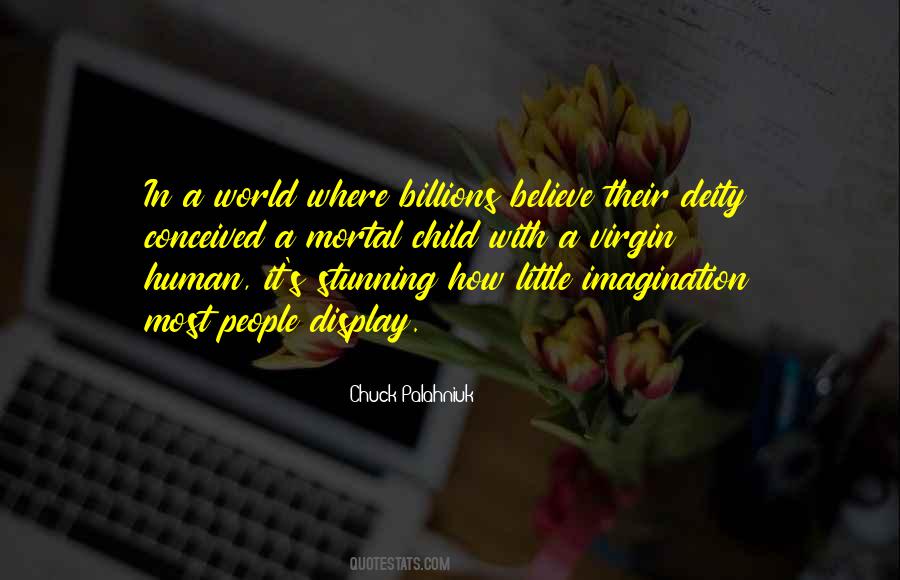 #30. I had a good imagination and I still have one; a child-like imagination that hasn't gone away. - Author: Laura Linney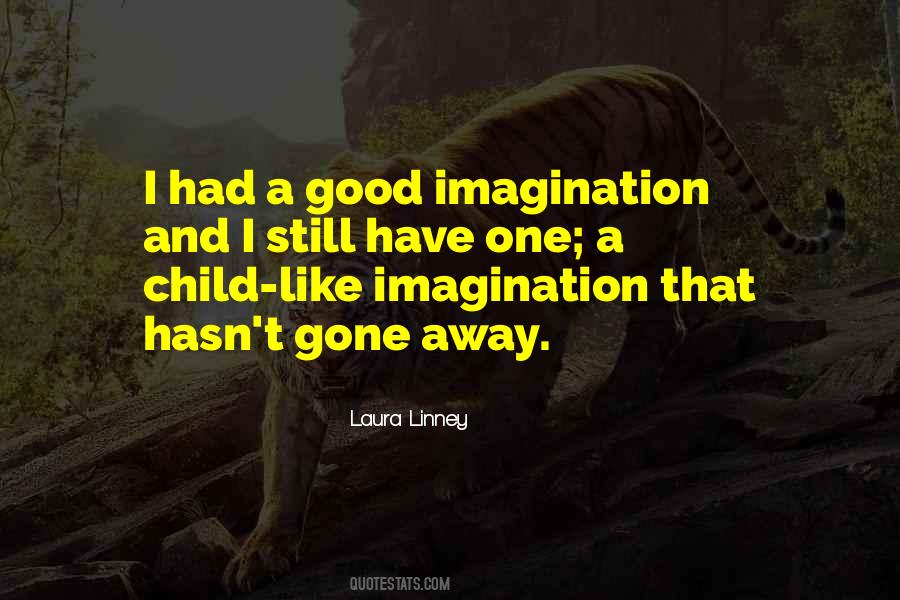 #31. Every parent knows this moment in a child's age when he or she needs your attention in a very specific way because it's the beginning and ending of the early life of imagination. It's such a responsibility. - Author: Nicole Ari Parker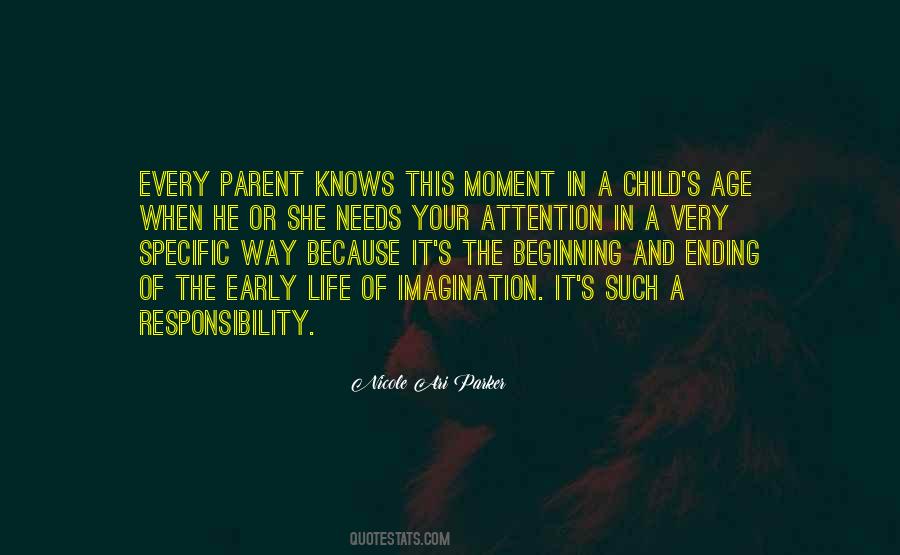 #32. THE GREATEST GIVE YOU CAN GIVE A CHILD IS AN IMAGINATION - Author: Eleanor Roosevelt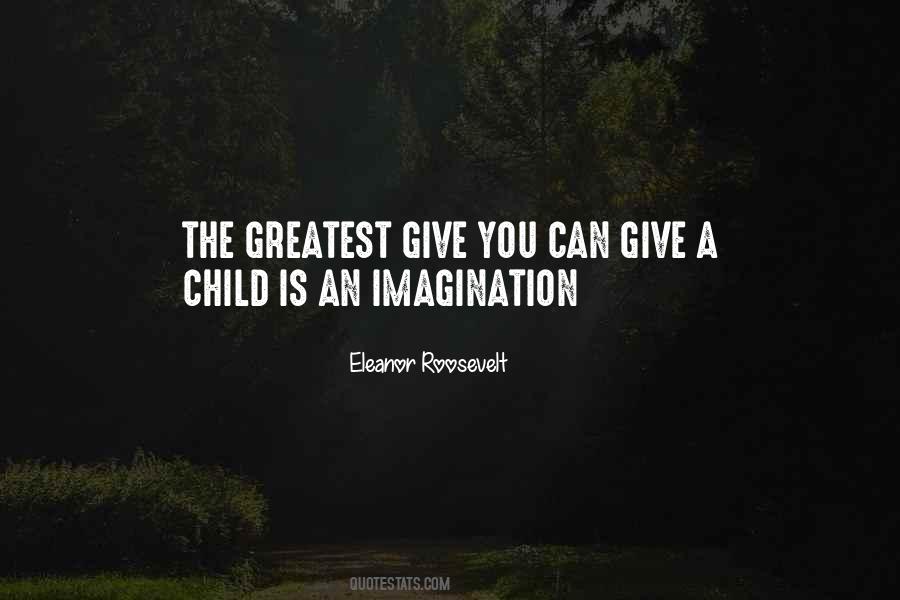 #33. For me, as I've said many times, the story is not research. The story is how the characters relate with each other and with the environment ... I try to apply my imagination to what could have happened and how a little child could have viewed and processed the event ... - Author: Uwem Akpan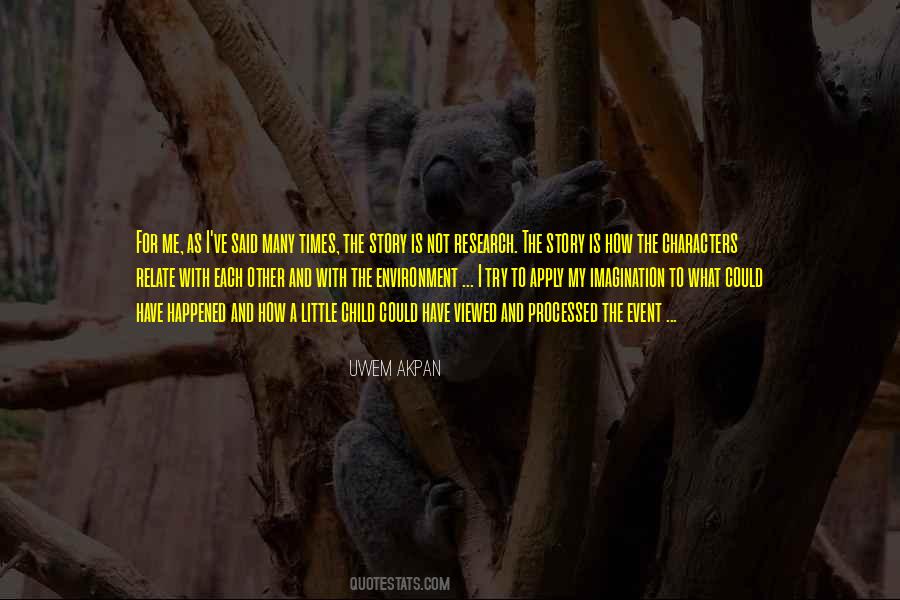 #34. Children see magic because they look for it. - Author: Christopher Moore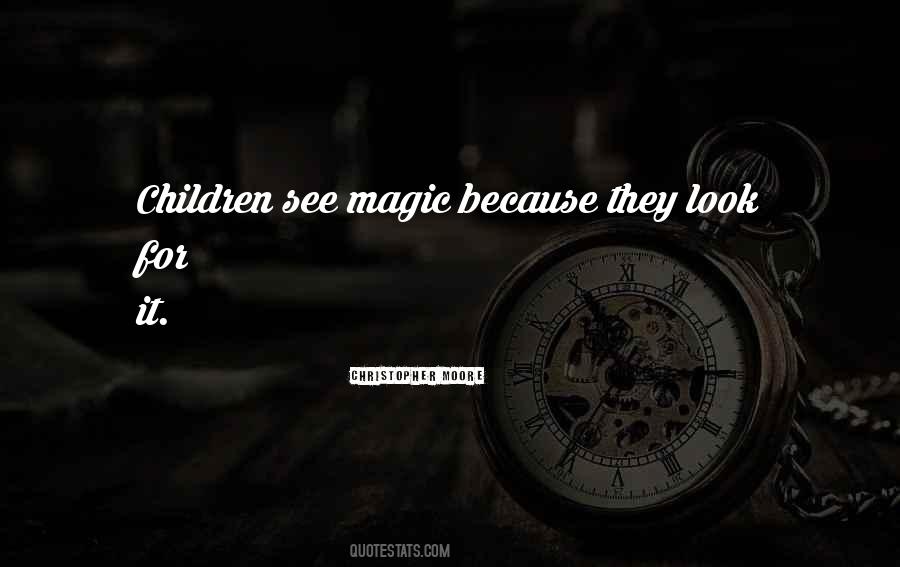 #35. A man's alibi is the child of his own imagination. It is human nature to defend one's own brain-child. - Author: Napoleon Hill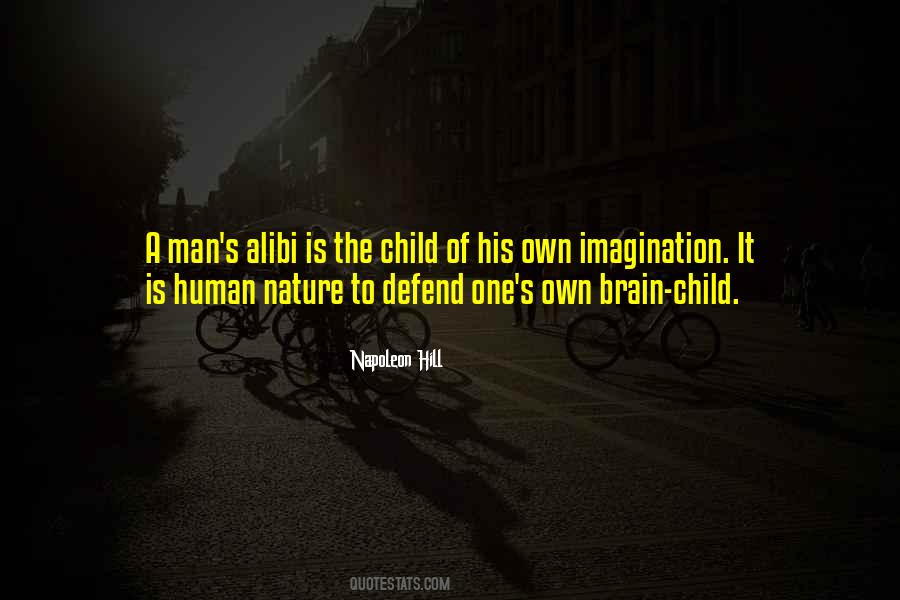 #36. I discovered writing children's books was a way to keep living in my imagination like a child. So I wrote a number of books before I started 'Magic Tree House.' Then, once I got that, I never looked back because I could be somewhere different in every single book. - Author: Mary Pope Osborne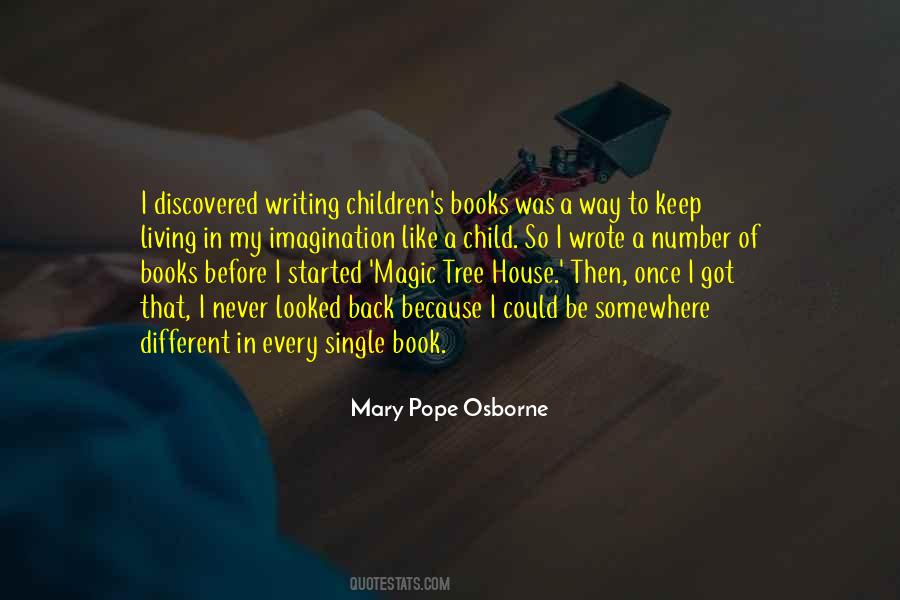 #37. The secret of good teaching is to regard the child's intelligence as a fertile field in which seeds may be sown, to grow under the heat of flaming imagination. - Author: Maria Montessori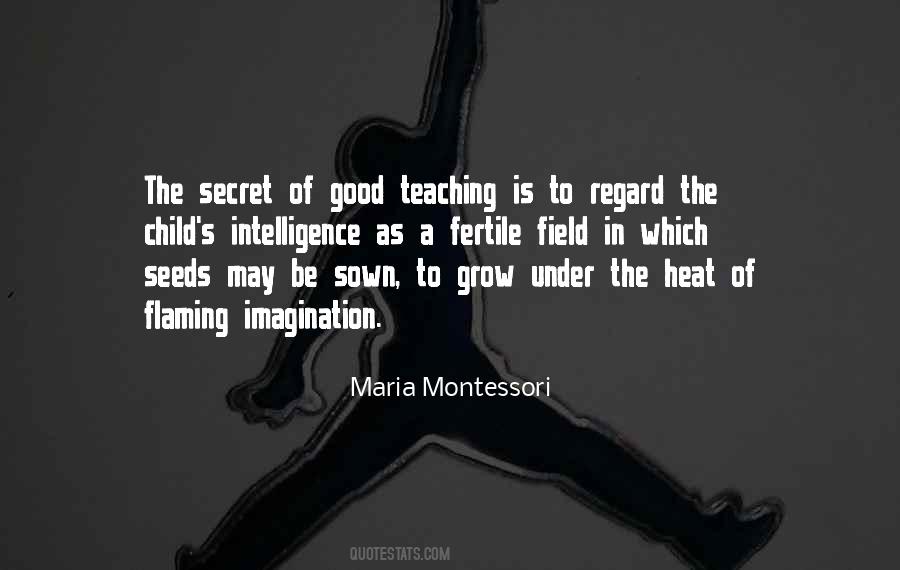 #38. Regarding children's literature, look for interesting content and well-constructed sentences clothed in literary language. The imagination should be warmed and the book should hold the interest of the child. Life's too short to spend time with books that bore us. - Author: Deborah Taylor-Hough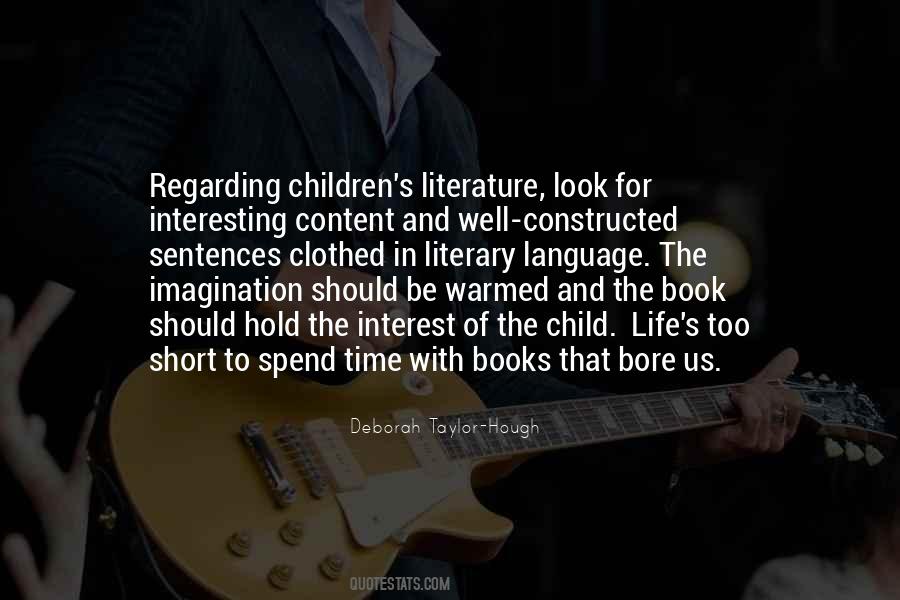 #39. Unlock a child's imagination through the power of words. - Author: Kai Strand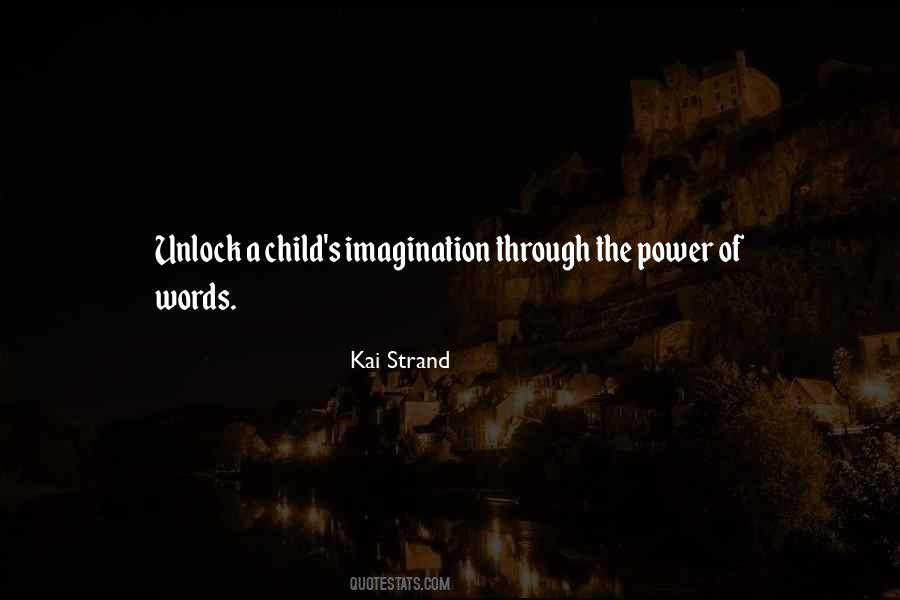 #40. A toy car is a projection of a real car, made small enough for a child's hand and imagination to grasp. A real car is a projection of a toy car, made large enough for an adult's hand and imagination to grasp. - Author: Michael Frayn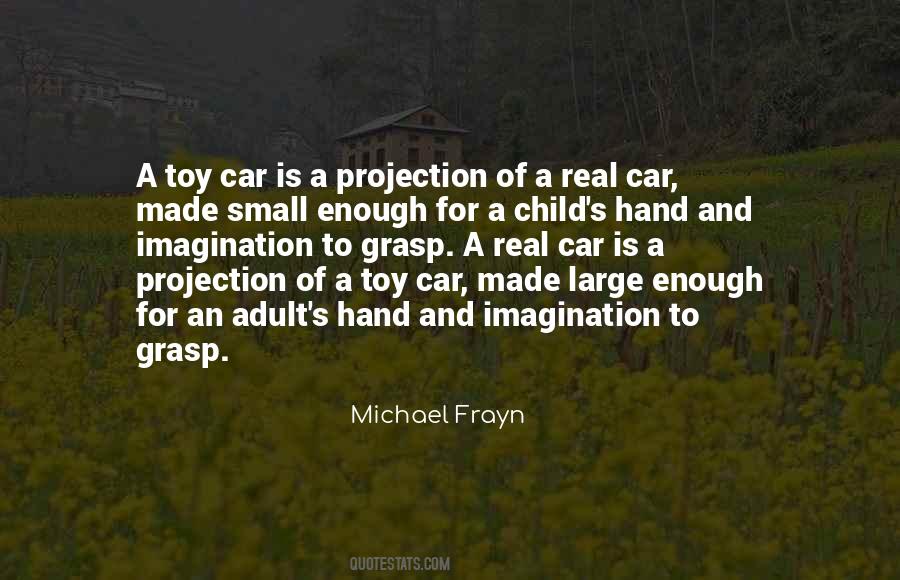 #41. You never forget the books you loved as a kid. You never forget the poems you memorized, the first book you read until the cover fell off, the book you read hidden from your mother. What an honor to hold hands with a child's imagination in this way. - Author: Meg Medina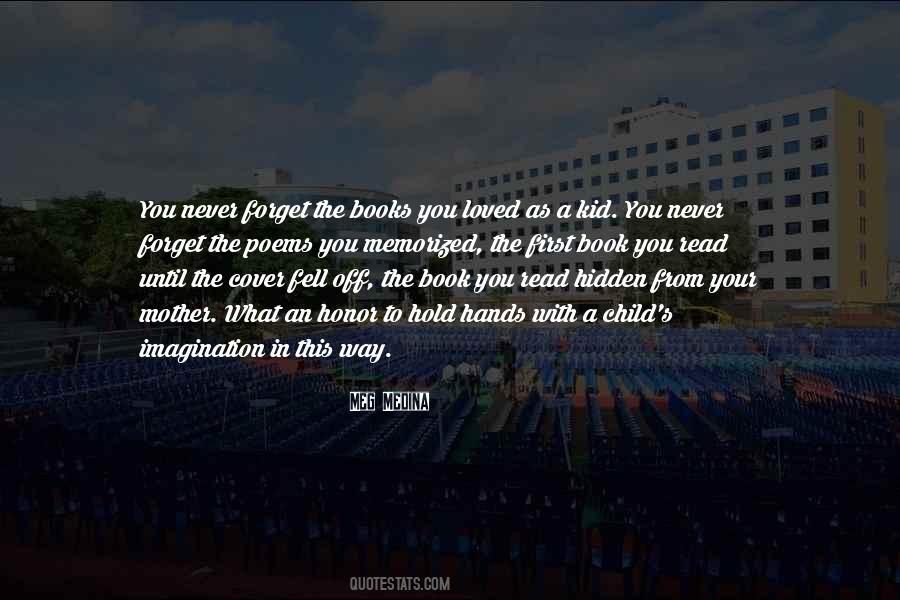 #42. Stunt dwarf or destroy the imagination of a child and you have taken away its chances of success in life. Imagination transforms the commonplace into the great and creates the new out of the old. - Author: L. Frank Baum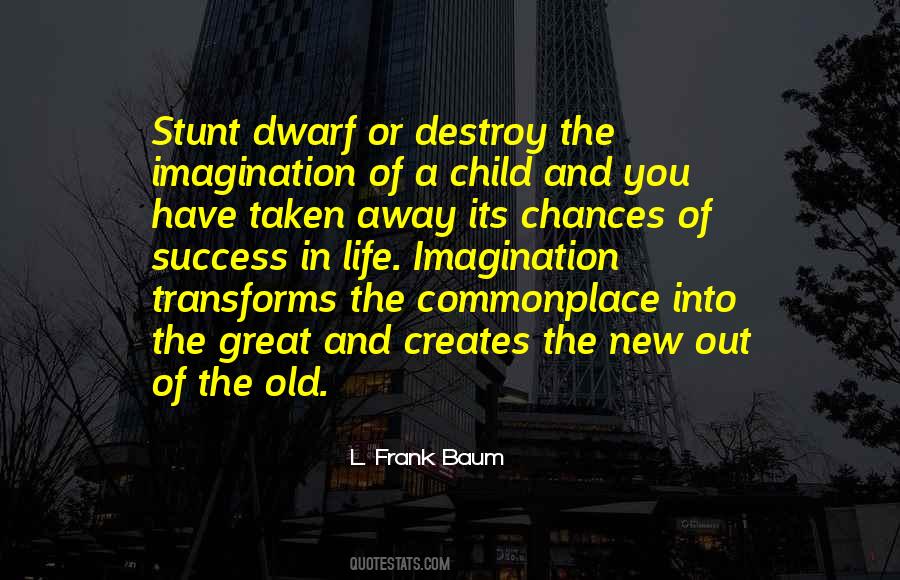 #43. A child's imagination can be found in the heart of a good book. - Author: K. Lamb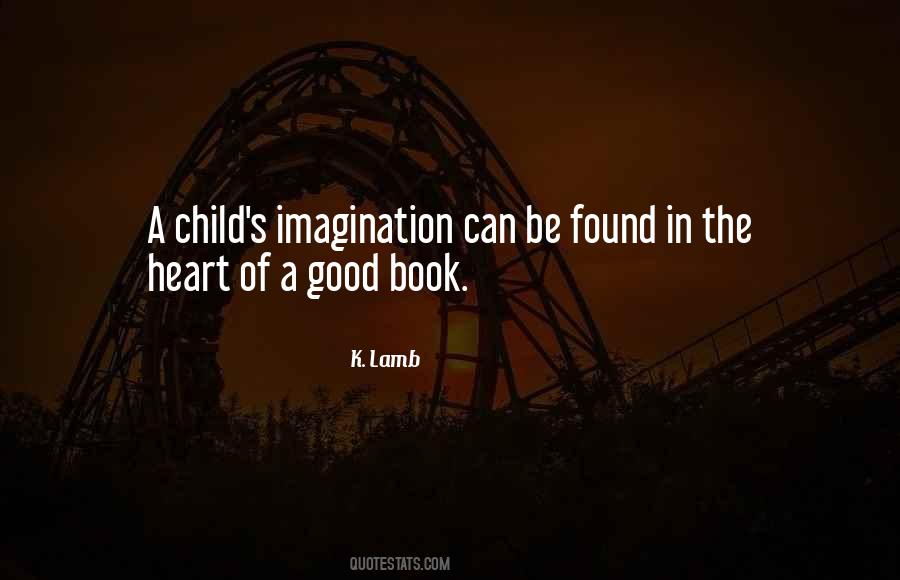 #44. Don't harness a child's imagination, encourage it so it knows no bounds! - Author: K. Lamb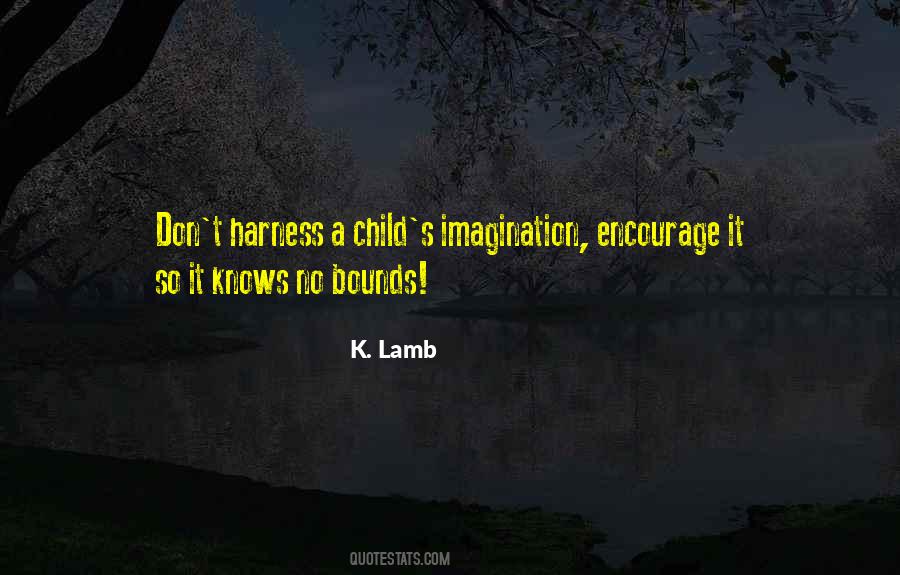 #45. A child's imaginary playmate just might actually be there. - Author: Doug Dillon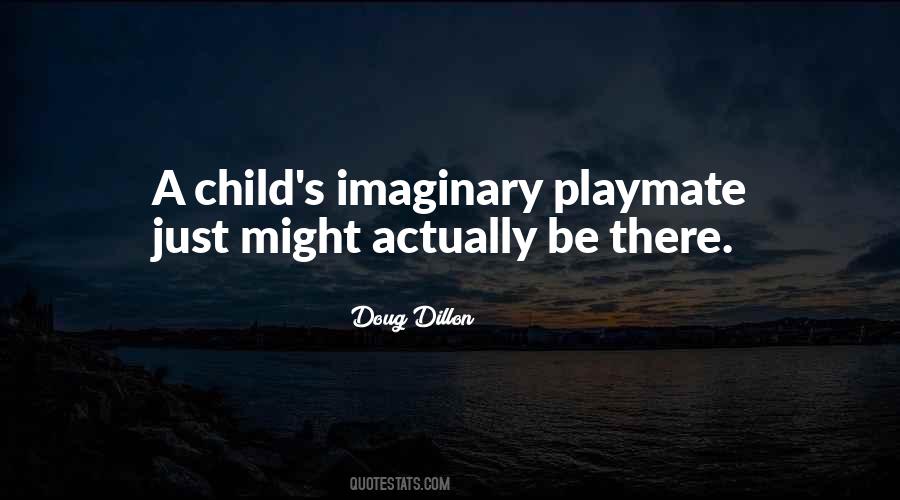 #46. A child's imagination can inspire anyone. - Author: Mahamad Ali Elfakir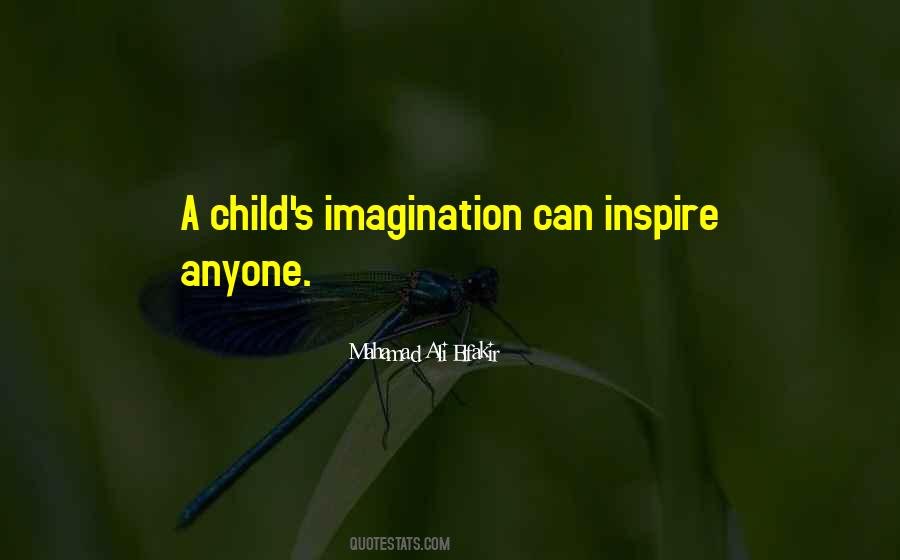 #47. As a child abuse and neglect therapist I do battle daily with Christians enamored of the Old Testament phrase "Spare the rod and spoil the child." No matter how far I stretch my imagination, it does not stretch far enough to include the image of a cool dude like Jesus taking a rod to a kid. - Author: Chris Crutcher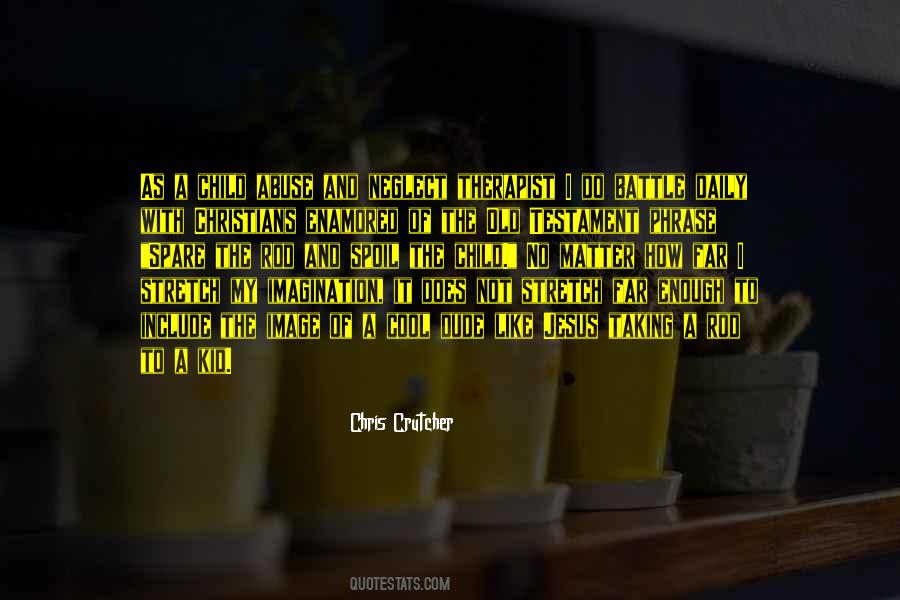 #48. Our aim is not merely to make the child understand, and still less to force him to memorize, but so to touch his imagination as to enthuse him to his innermost core. - Author: Maria Montessori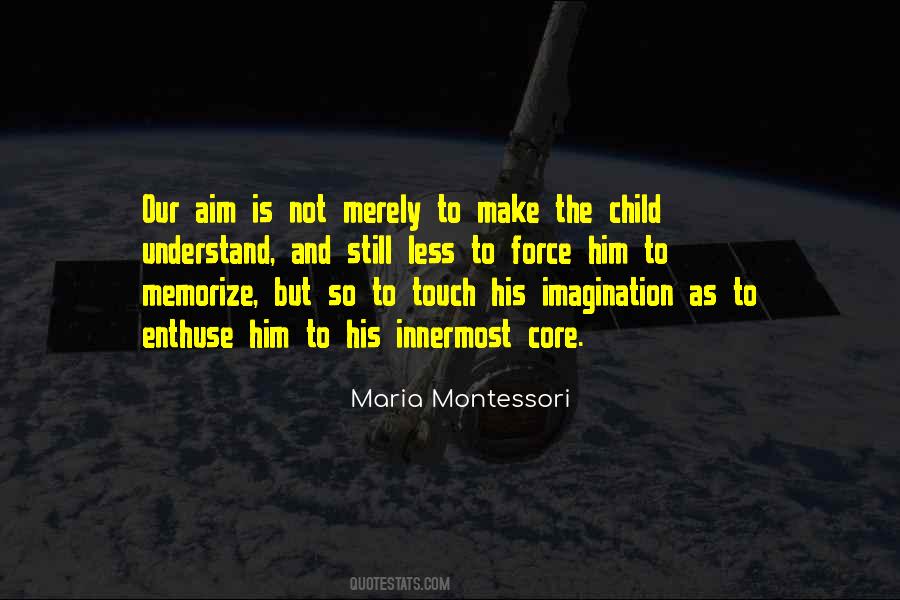 #49. No child should be permitted to grow up without exercise for imagination. It enriches life for him. It makes things wonderful and beautiful. - Author: Mark Twain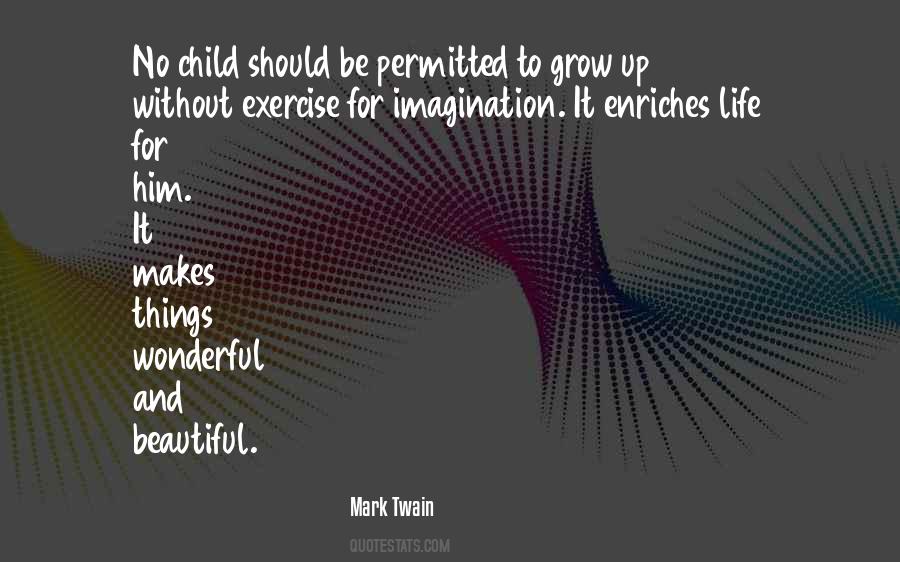 #50. Never stop your child from using their imagination and having fantasies, as they could become the next great author.
~ D.L. Bates - Author: Dennis Lee Bates Jr.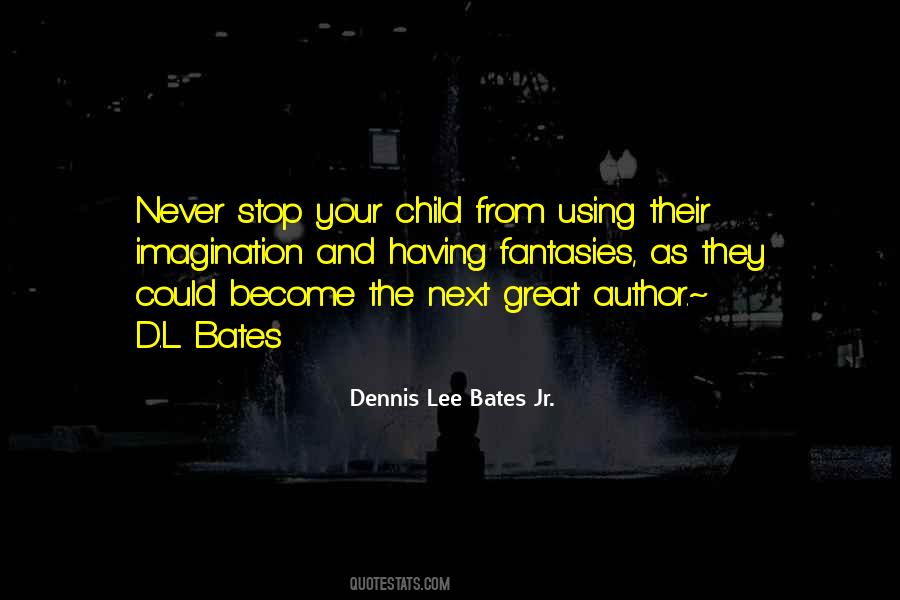 #51. Fairy tales do not give the child his first idea of bogey. What fairy tales give the child is his first clear idea of the possible defeat of bogey. The baby has known the dragon intimately ever since he had an imagination. What the fairy tale provides for him is a St. George to kill the dragon. - Author: G.K. Chesterton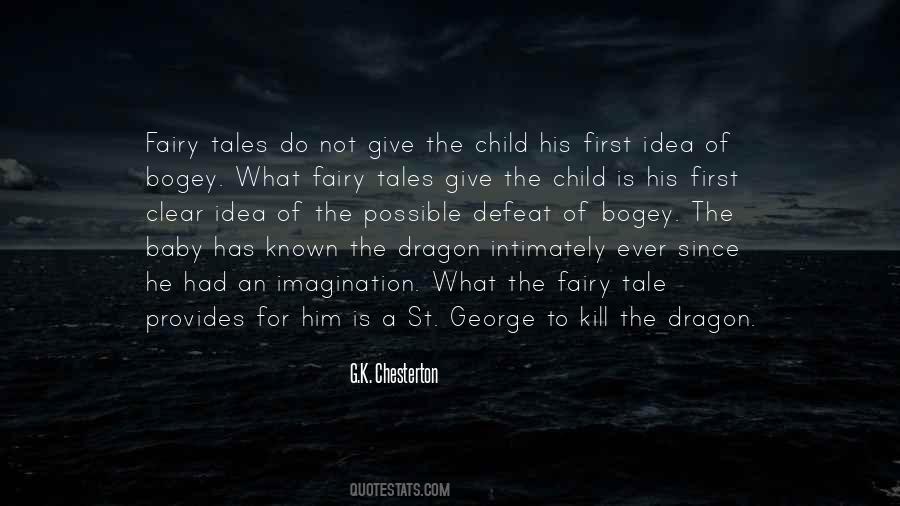 #52. Imagination is our inner-child and creativity, its playground. - Author: Jaeda DeWalt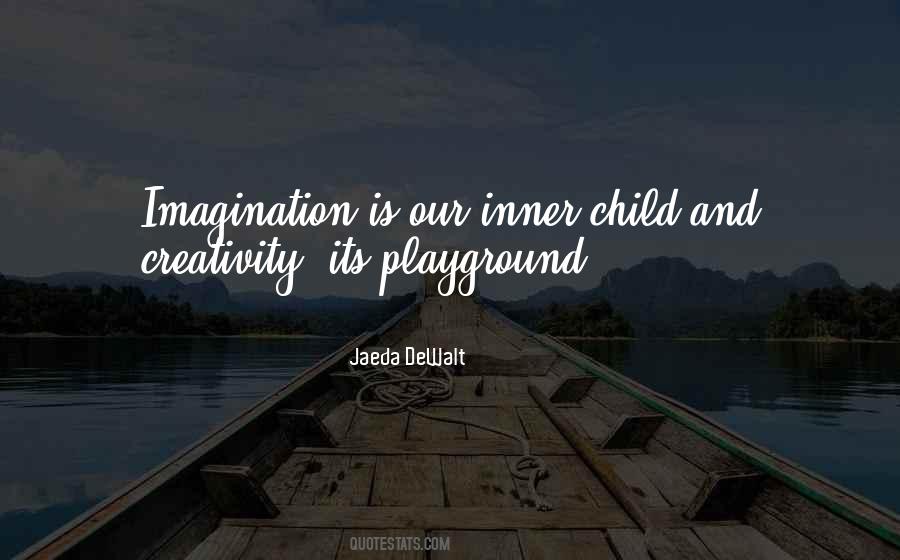 #53. A child who is disillusioned abruptly, by his peers or siblings, being ridiculed for his faith and imagination, may choose never to believe in anything- tangible or intangible- again. To never trust or wonder. - Author: Chuck Palahniuk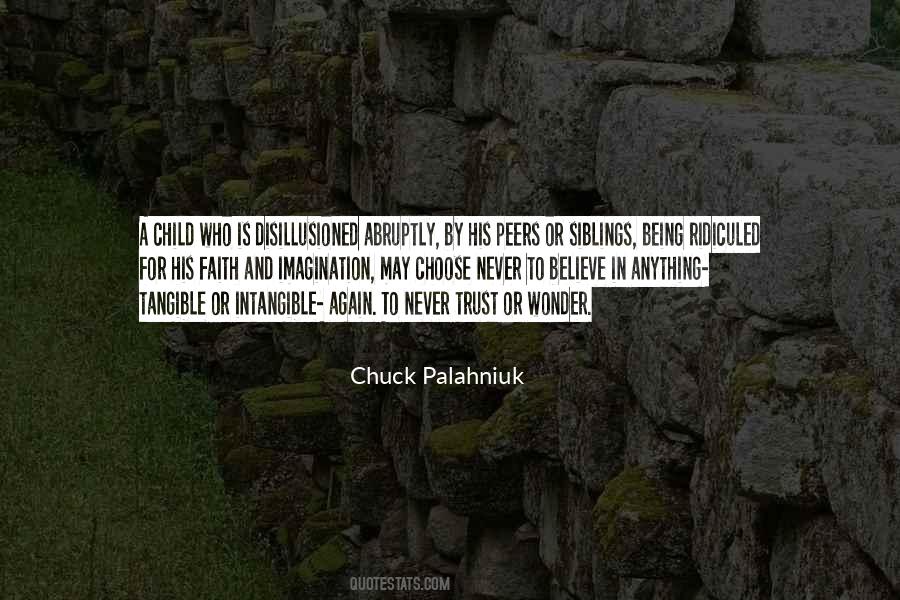 #54. When you think like a child your imagination is free and anything is possible. - Author: Criss Angel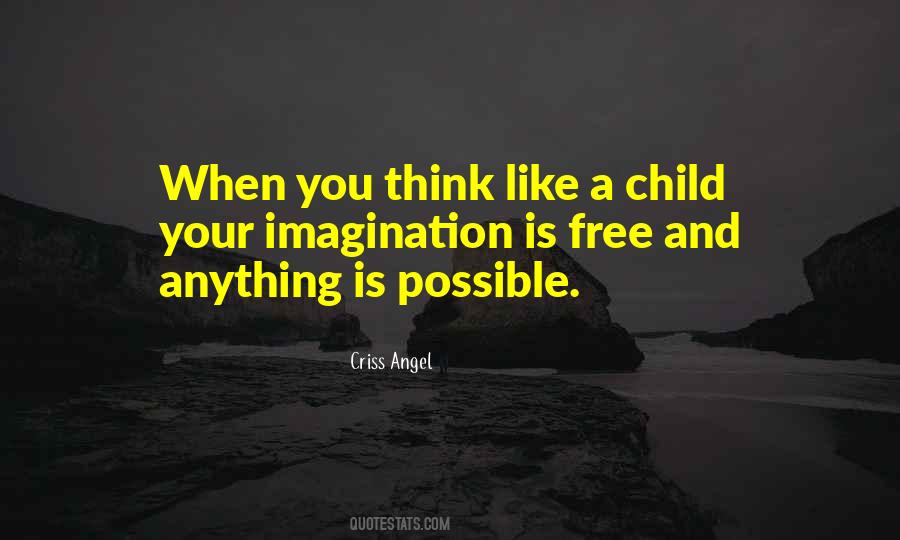 #55. He had no imagination either-fatal for one engaged in child-rearing - Author: Mary Ann Shaffer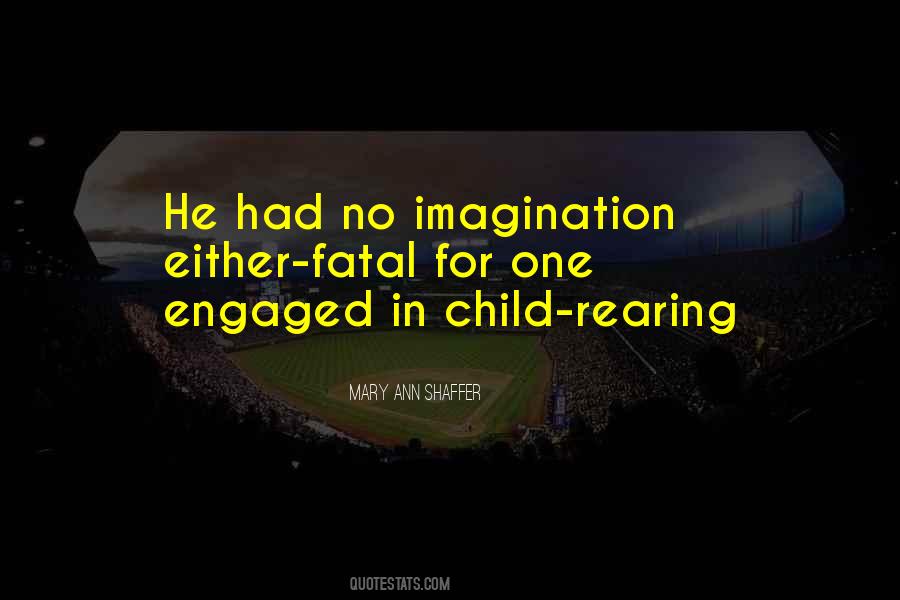 #56. Fairy tales opened up a door into my imagination - they don't conform to the reality that's around you as a child. I started reading when I was three and read everything, but I wanted to be an actress. - Author: Kate Atkinson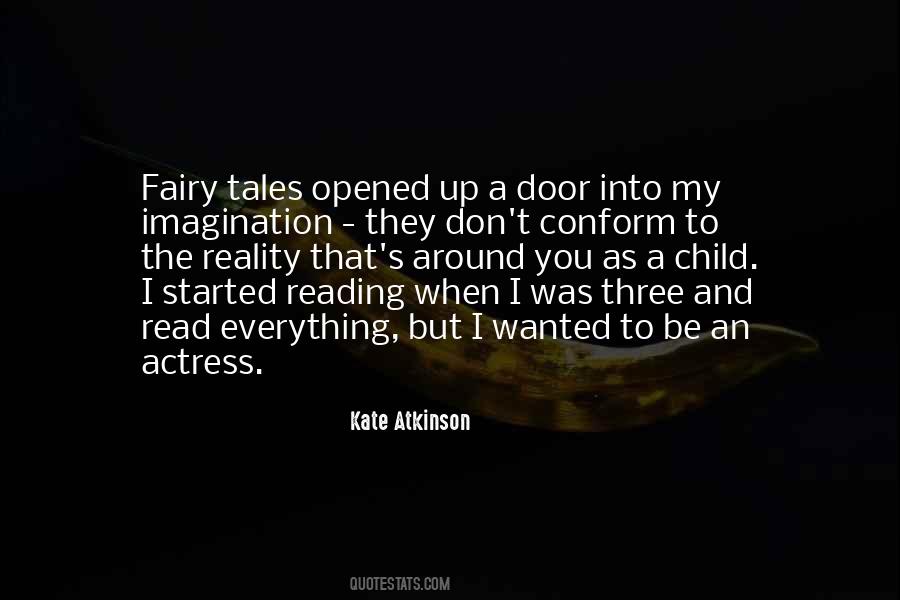 #57. Education must be aimed at creating a wider imagination in the child, not at suppressing. The child's mind must be set free. - Author: Henry Williamson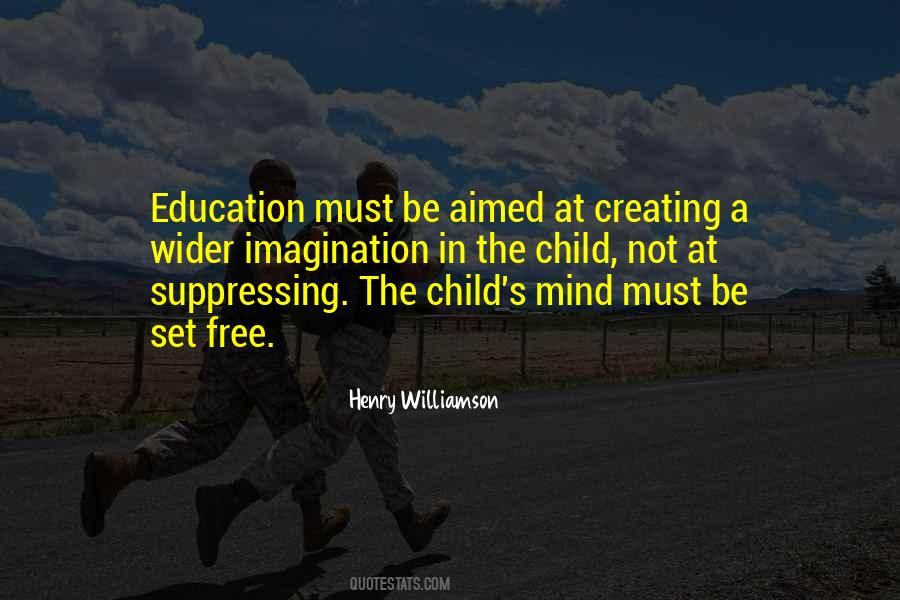 #58. Franny Armstrong is a mother of three and a grandmother of four. Her husband supports her imagination and has the patience of a saint. She's been writing since she was a child, creating plays to act out in front of the neighborhood children. - Author: Franny Armstrong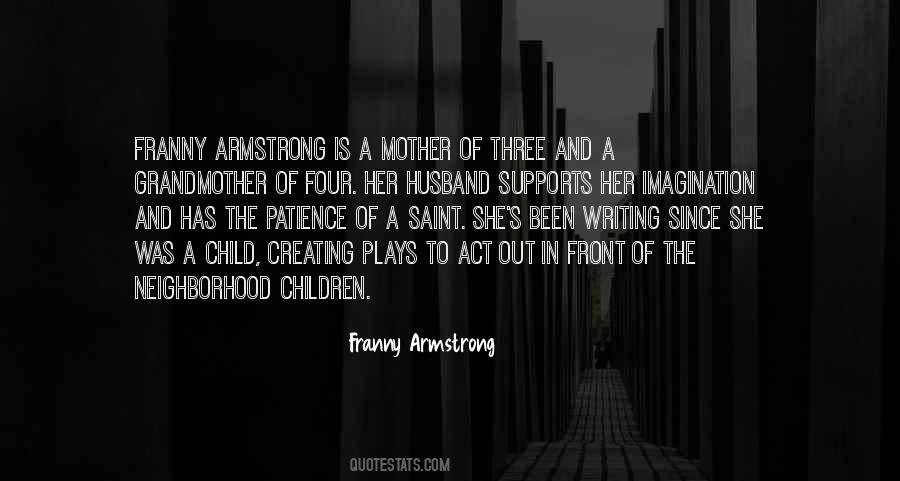 #59. We need to get back to trusting our emotional rapport with children, to seeing a child's beauty and singling that child out. That's how the mentor system works - you're caught up in the fantasy of another person. Your imagination and their come together. - Author: James Hillman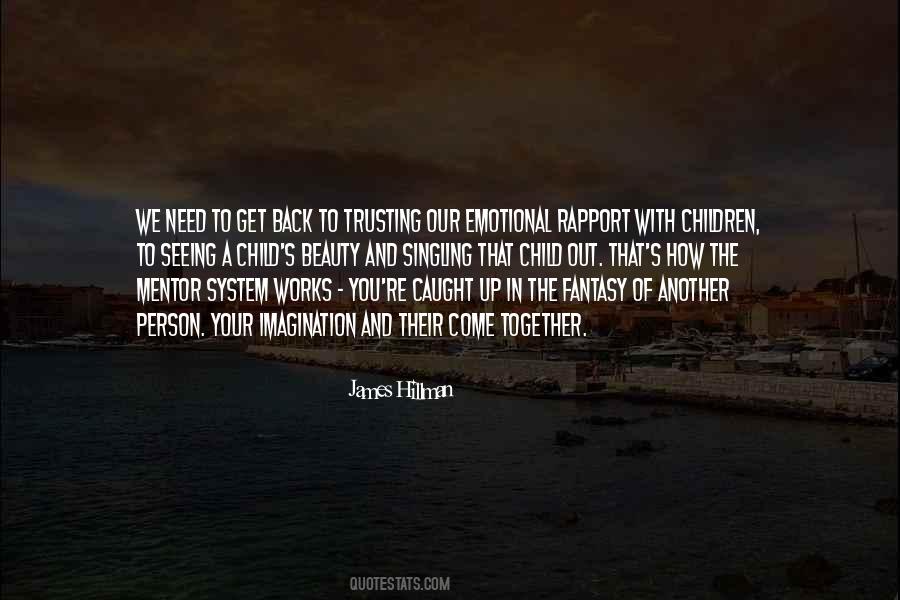 #60. Fantasizing is one of the earliest languages in the child's mind. We are in touch with our imagination and dreams before we engage with logic and reason. - Author: Caroline Myss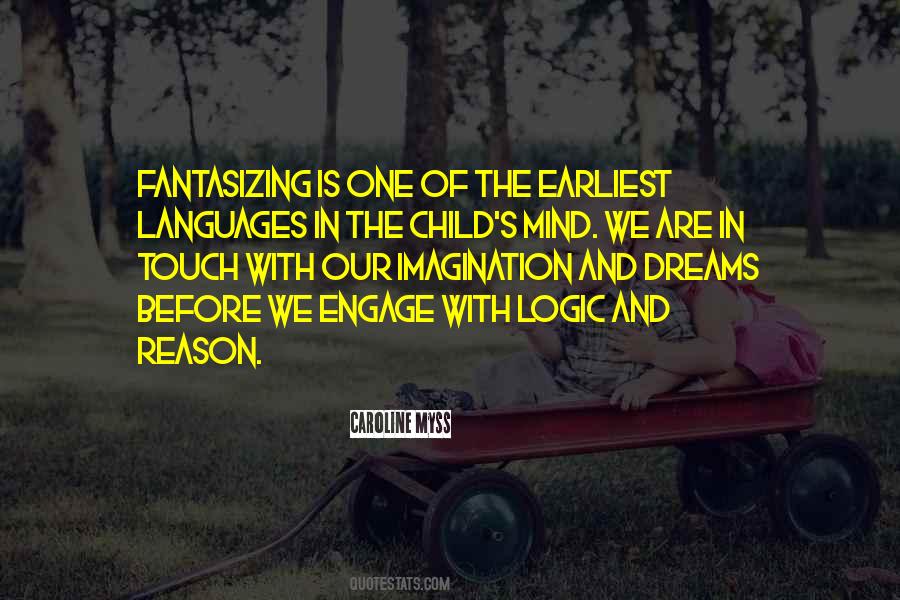 #61. To read in bed is to draw around us invisible, noiseless curtains. Then at last we are in a room of our own and are ready to burrow back, back to that private life of the imagination we all led as a child and to whose secret satisfactions so many of us have mislaid the key. - Author: Clifton Fadiman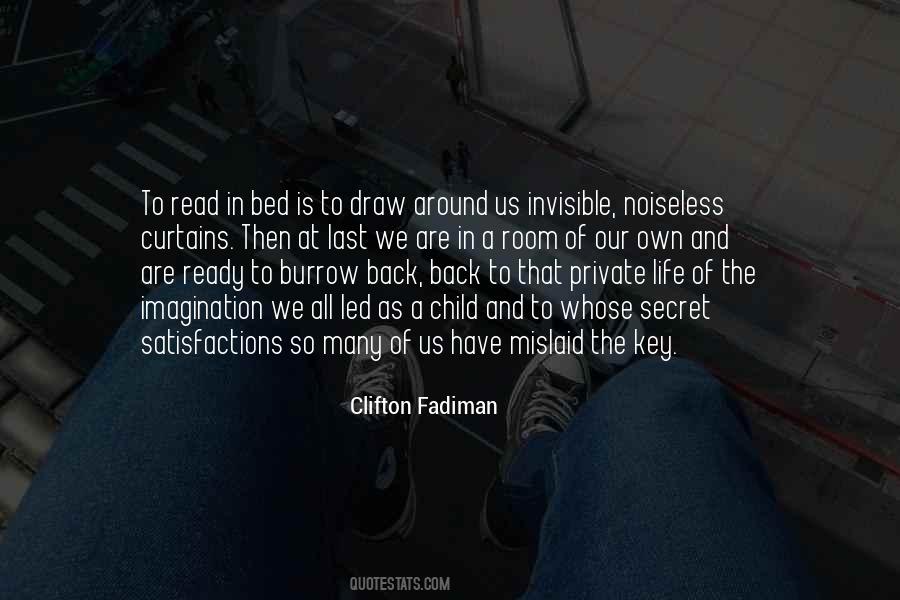 #62. We didn't have television until I was about eight years old, so it was either the movies or radio. A lot of radio drama. That was our television, you know. We had to use our imagination. So it was really those two things, and the comics, that I immersed myself in as a child. - Author: Jessica Hagedorn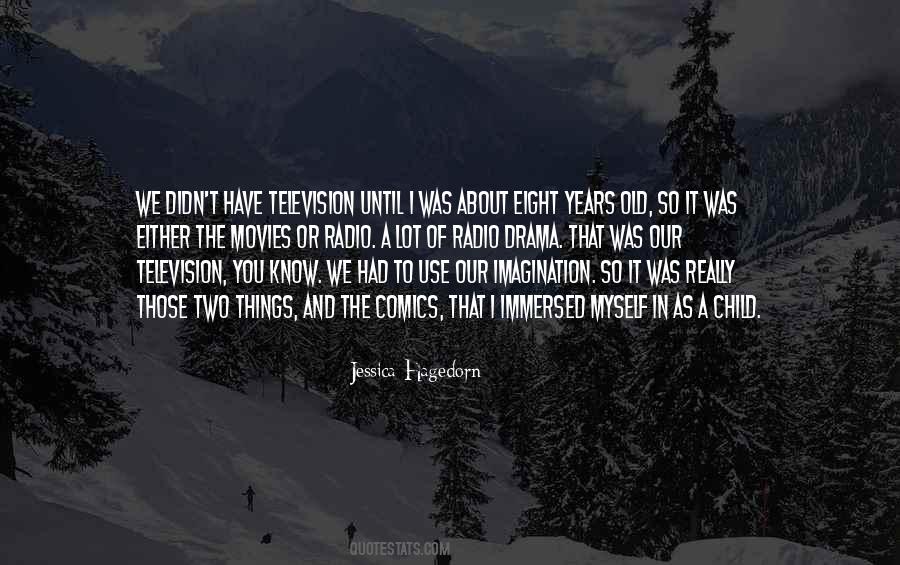 #63. I've been trying to redefine fragrance since I was a child - before I was ten. Throughout my life, certain fragrance notes have captured my imagination - especially liquorice, violet and anise, flooding back into my consciousness. - Author: Lolita Lempicka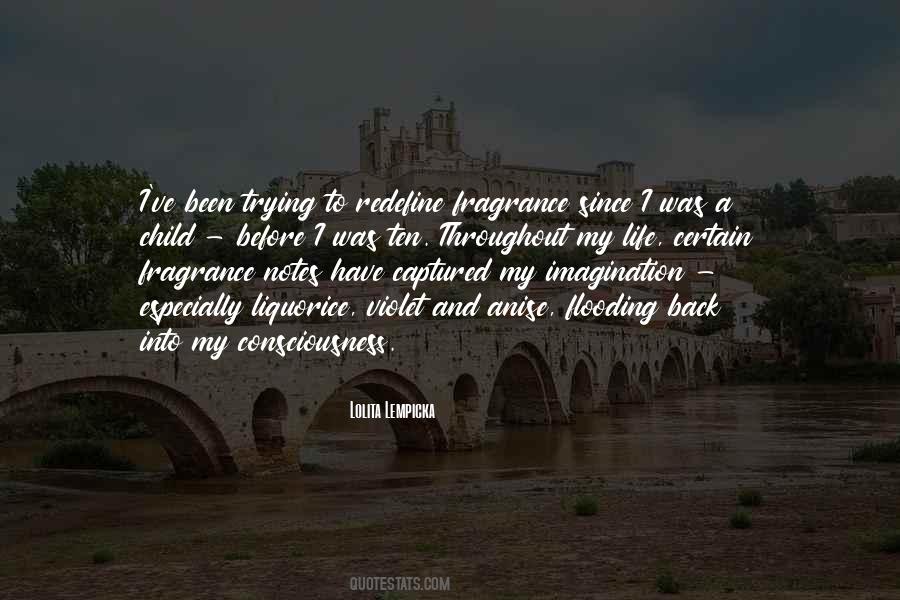 #64. It is not that the child lives in a world of imagination, but that the child within us survives and starts into life only at rare moments of recollection, which makes us believe, and it is not true, that, as children, we were imaginative? - Author: Cesare Pavese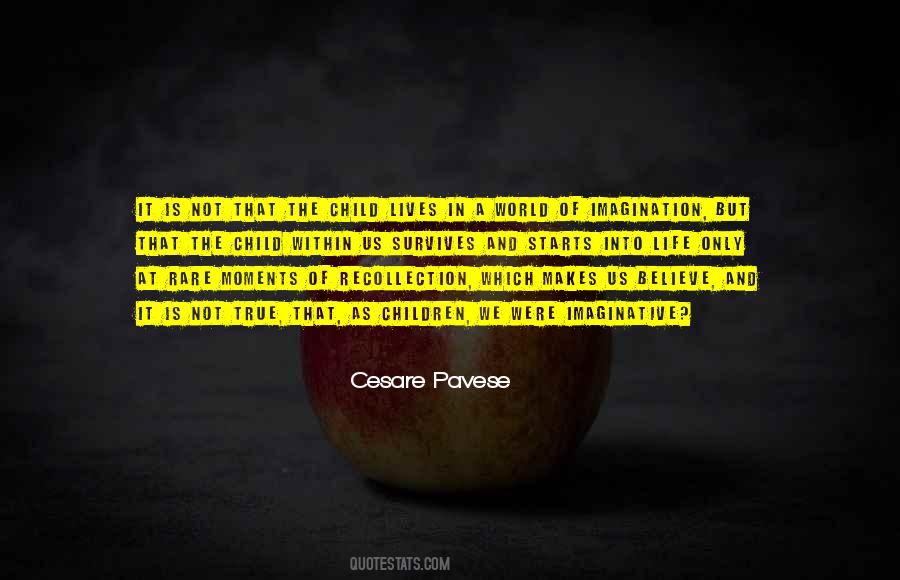 #65. Creativity and the world of the imagination - the beauty of what we see as a child and the kind of play that we experience as a child - can be a way for us to survive tough times. - Author: Diane Paulus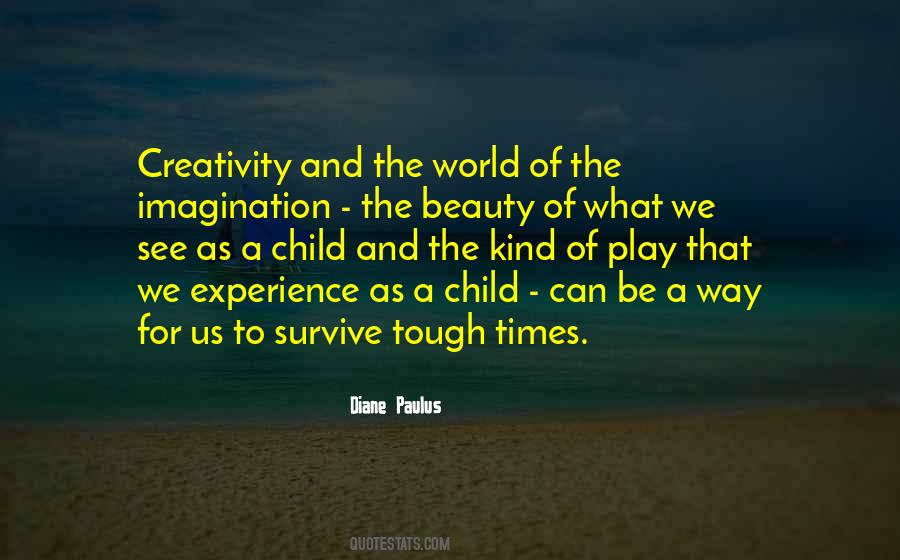 #66. If we can reach in wih the art and touch the imagination of the child, no matter who, we have affected that child. - Author: Ossie Davis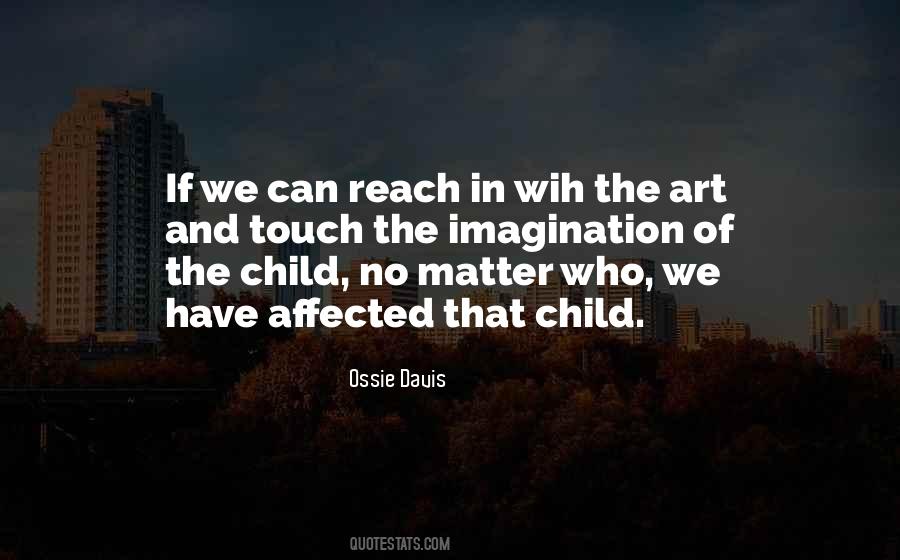 #67. There are three qualities that every individual must have to achieve success: a Monk's patience, a Warrior's courage, a Child's imagination. - Author: Sharad Vivek Sagar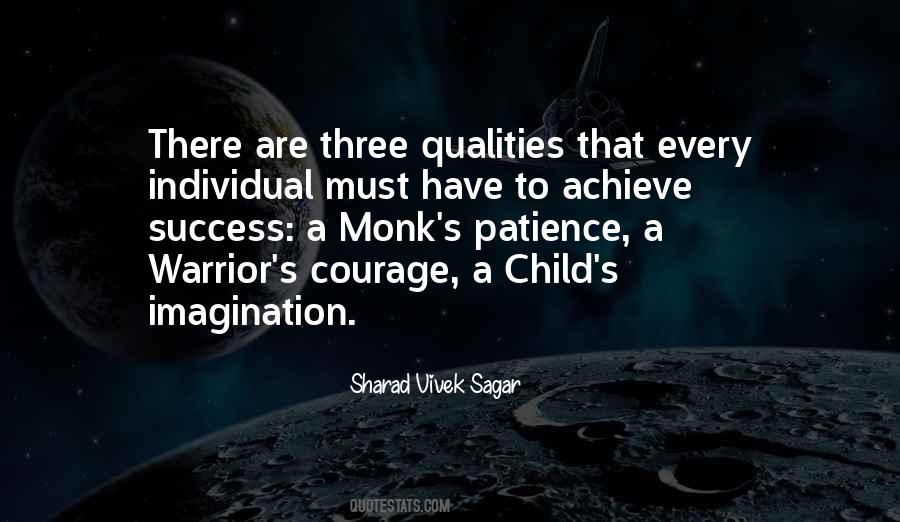 #68. Every child is born blessed with a vivid imagination. - Author: Walt Disney
#69. Poetry and imagination begin life. A child will fall on its knees on the gravel walk at the sight of a pink hawthorn in full flower, when it is by itself, to praise God for it. - Author: Florence Nightingale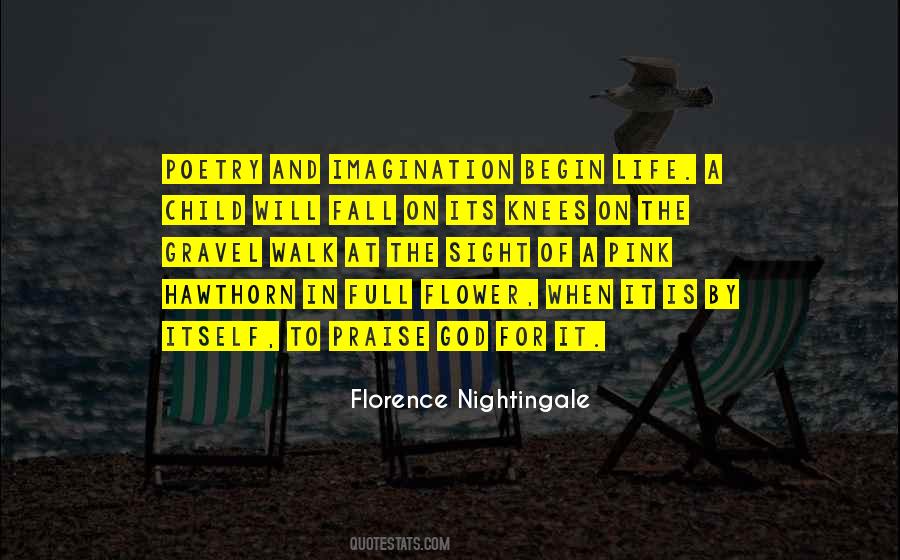 #70. I felt the kind of acute anticipation that a child might experience at a carnival, where each lurid attraction incites fantastic speculations, while unexpected desires arise for something which has no specific qualities in the imagination yet seems to be only a few steps away. - Author: Thomas Ligotti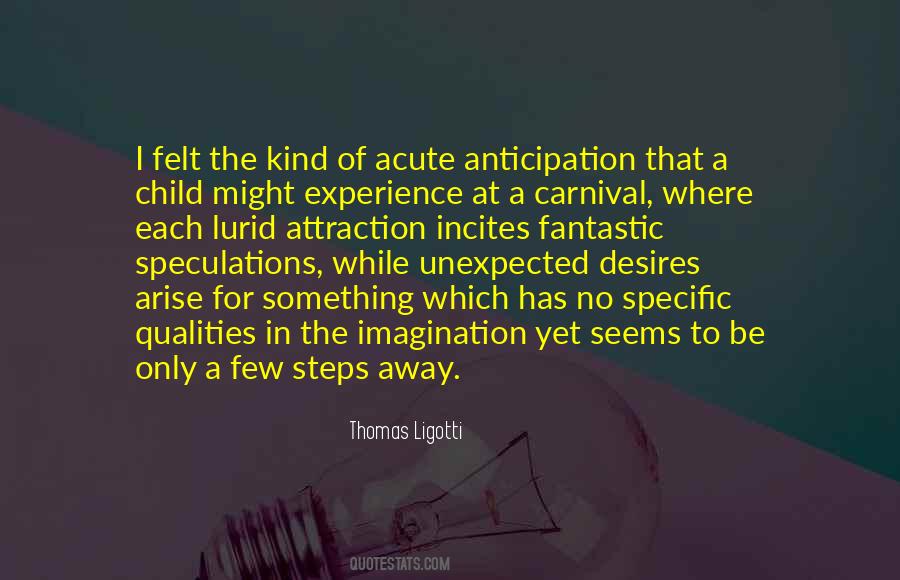 #71. The essence of art is to recapturel the fantasy and the imagination of a child again, but without the innocence of a child. - Author: Romare Bearden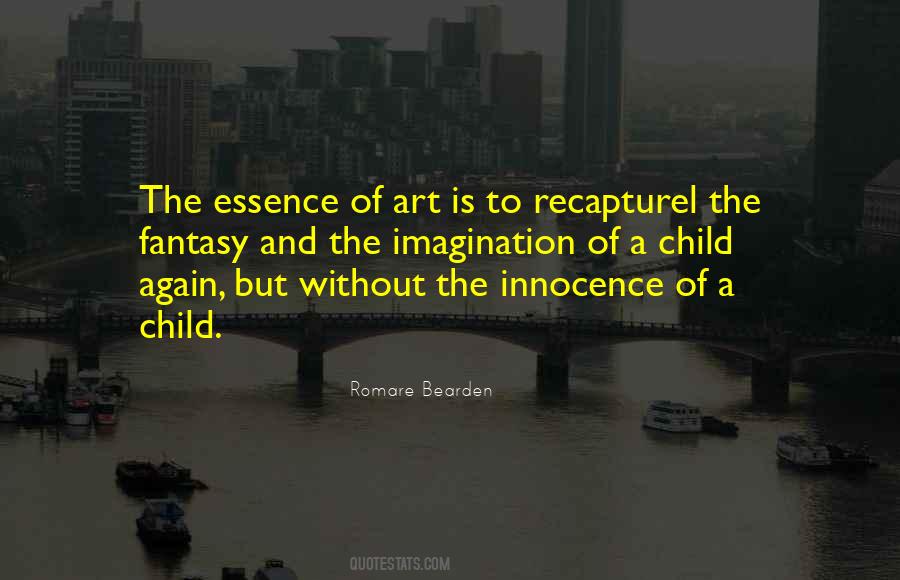 #72. Businessmen are not in business to lose customers, and schools do not exist to free their clients from the agencies of mass persuasion. School and media possess a productive monopoly upon the imagination of a child. - Author: Jonathan Kozol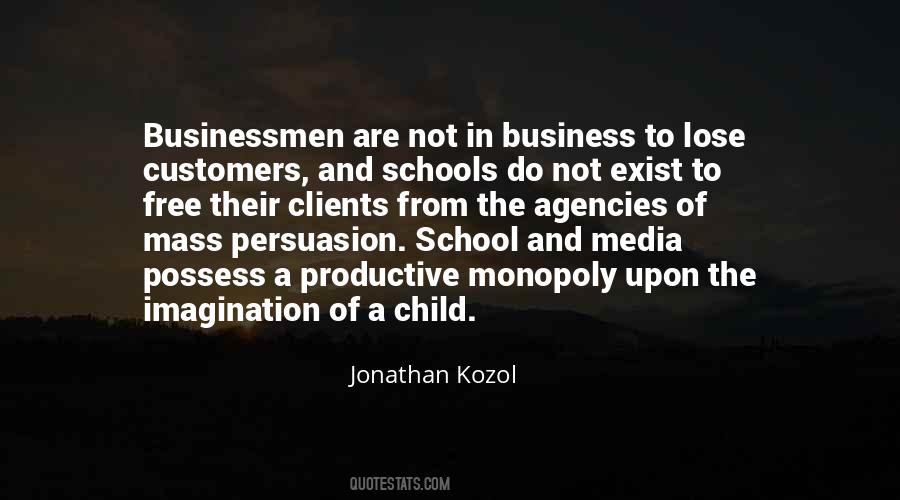 #73. Every child matures, which is both a blessing and a damn shame. Children can imagine worlds that never exist, worlds far more interesting and consoling than an adult knows. - Author: Kilroy J. Oldster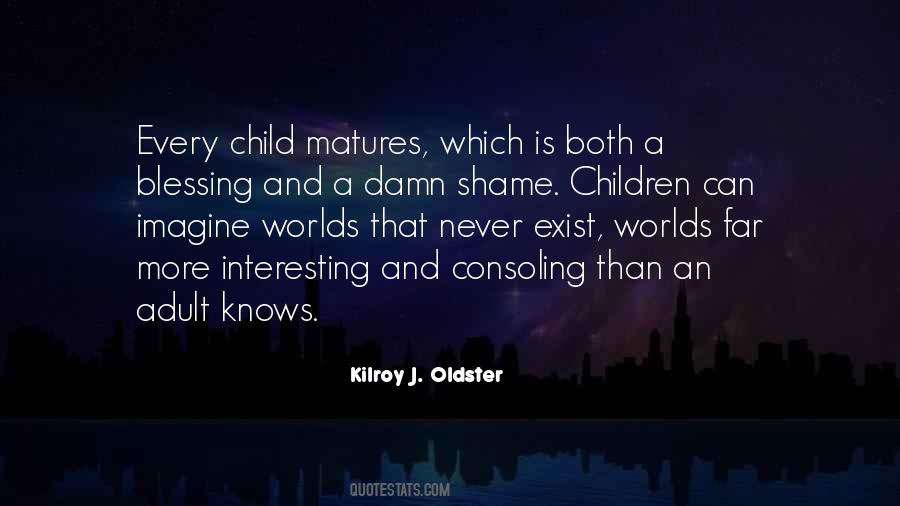 #74. the imagination of a child is the most precious gift we can share - Author: C.L. Bennett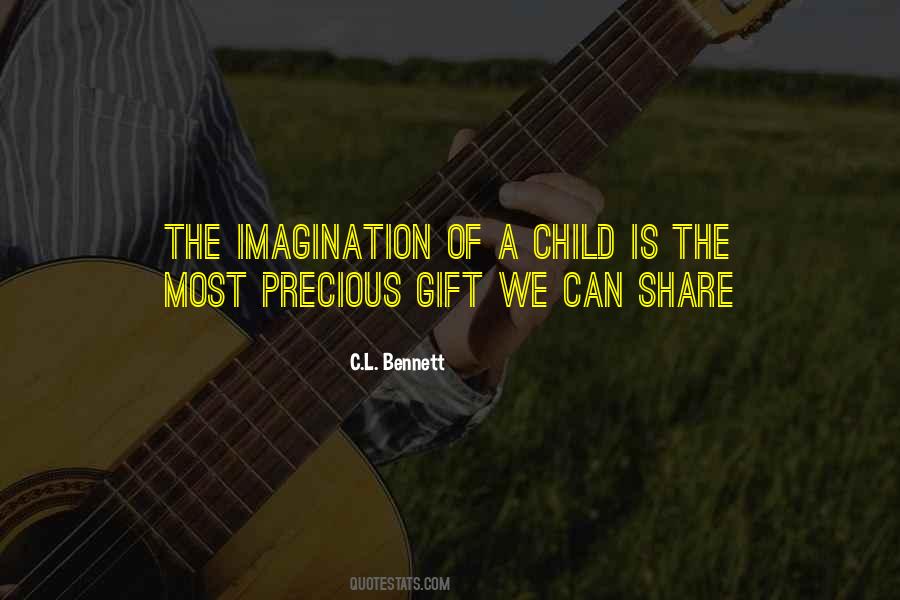 #75. Imagination without knowledge leads no farther than the back yard of primitive art, the child's scrawl on the fence, and the crank's message in the market place. Art is never simple. - Author: Vladimir Nabokov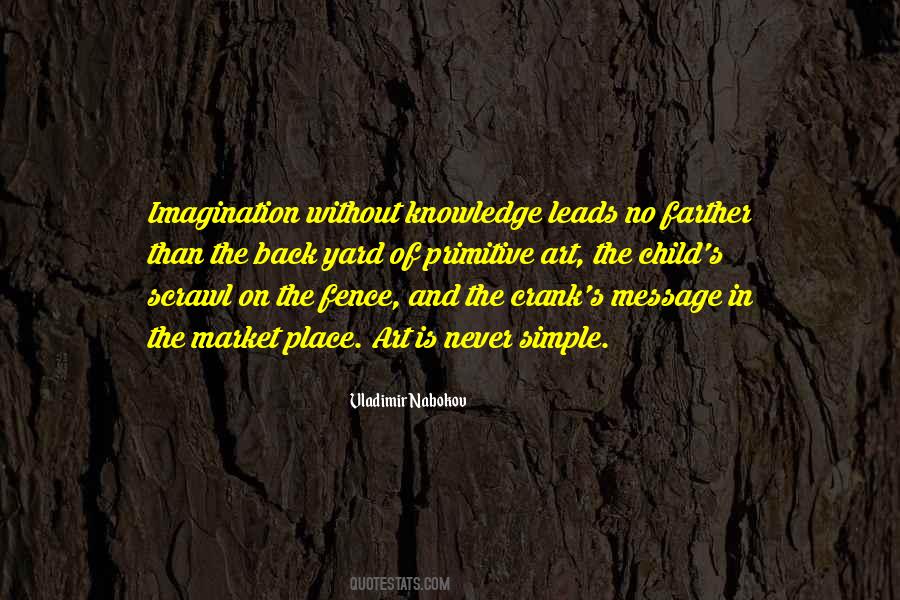 #76. The indwelling of Christ is a thought particularly fit for the children, because their large faith does not stumble at the mystery, their imagination leaps readily to the marvel, that the King Himself should inhabit a little child's heart. - Author: Charlotte Mason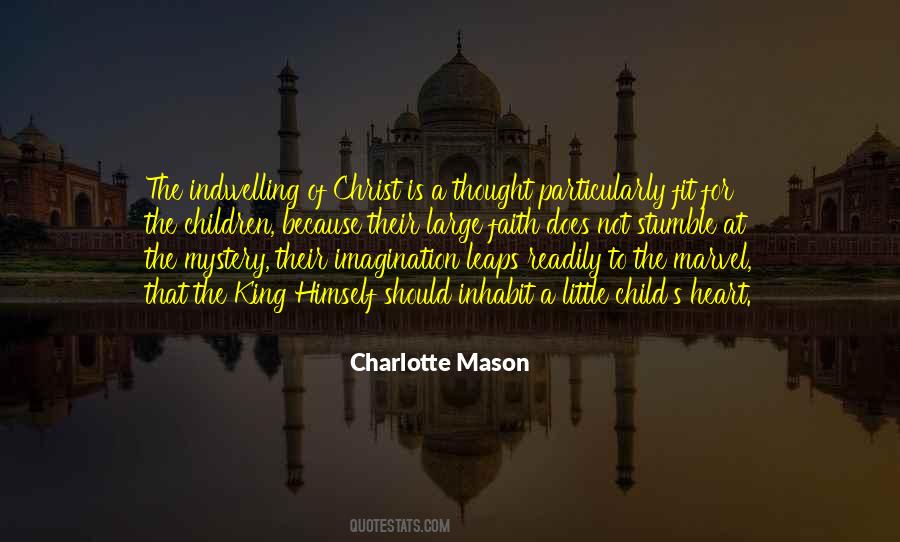 #77. While the sciences are hugely important, let us not leave behind a child's imagination. - Author: Kevin Spacey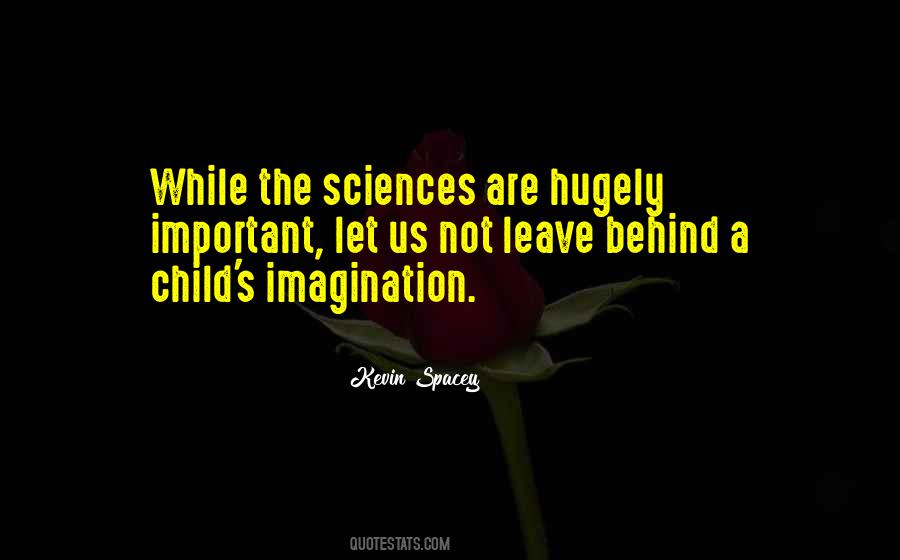 #78. A child who has never fantasized about having other parents is seriously lacking in imagination. - Author: Fred G. Gosman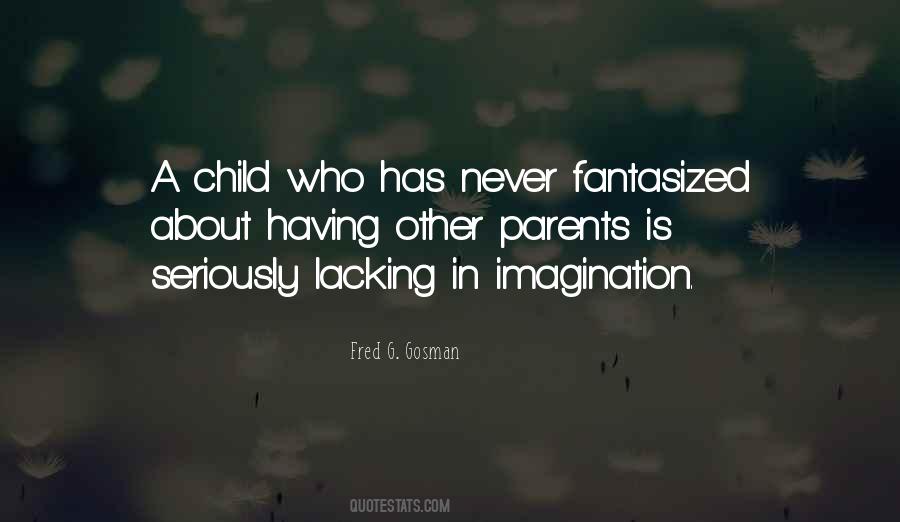 #79. I did spend a lot of time as a child very confused about whether I had a devil in me, or whether I was in a state of grace. I mean, these ideas are so potent to anybody with half an imagination. - Author: Antony Gormley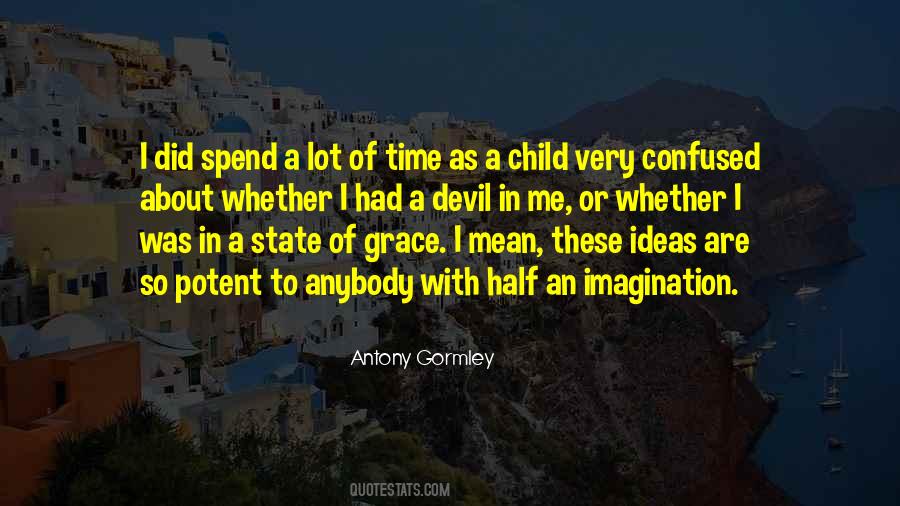 #80. I was an only child until I was 14, and there were no other kids around the area really. So I spent a lot of time on my own in the fields or by the lake, with just my imagination for company. I suppose I never wanted to let that part of me go. - Author: Jack Reynor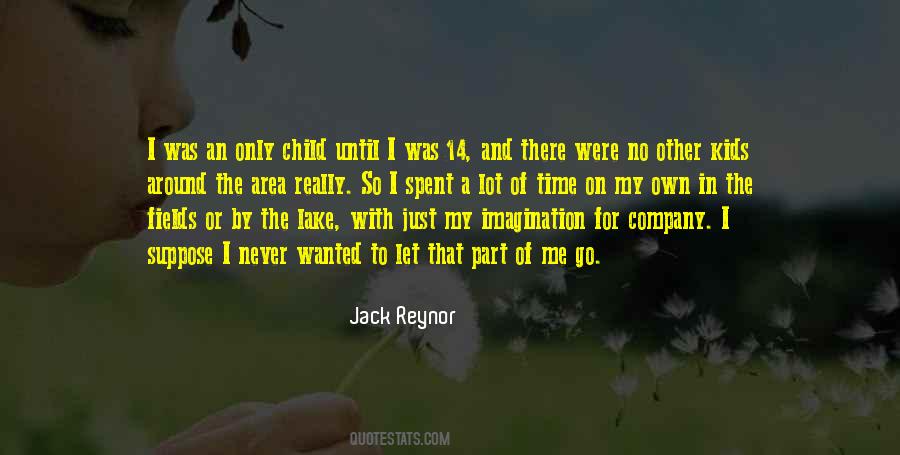 #81. I think repressing what happened is what saved me in my childhood. I was able to use my imagination to create happy events, but a little girl can carry only so much on her own. - Author: Erin Merryn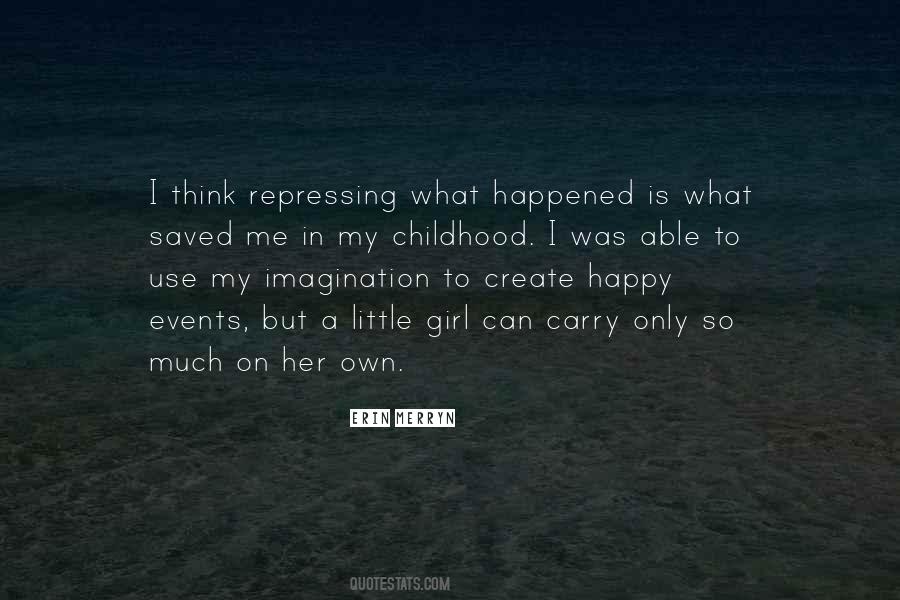 #82. Though sympathy tugged at her, Sophie's imagination made fearsome leaps. The grieving widower. The destitute governess. A motherless child. It had all the makings of a scintillating novel. - Author: Laura Frantz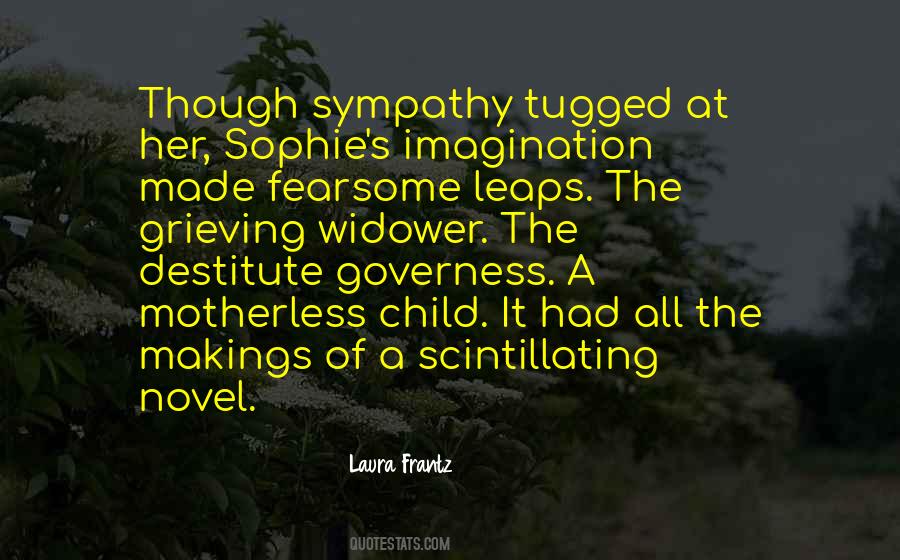 #83. I doubt that the imagination can be suppressed. If you truly eradicated it in a child, he would grow up to be an eggplant. - Author: Ursula K. Le Guin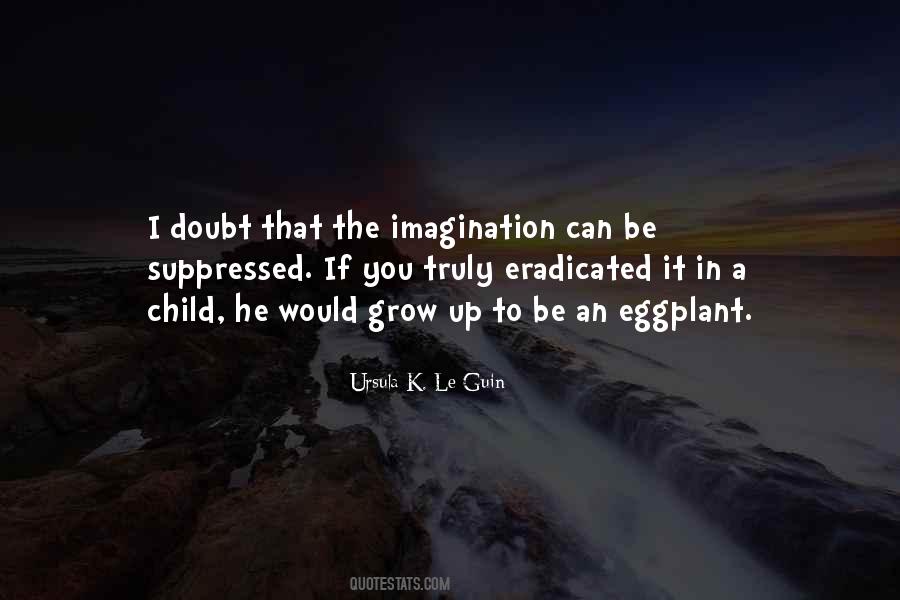 #84. a child without a imagination is a child without a dream - Author: Essie L. Yazzie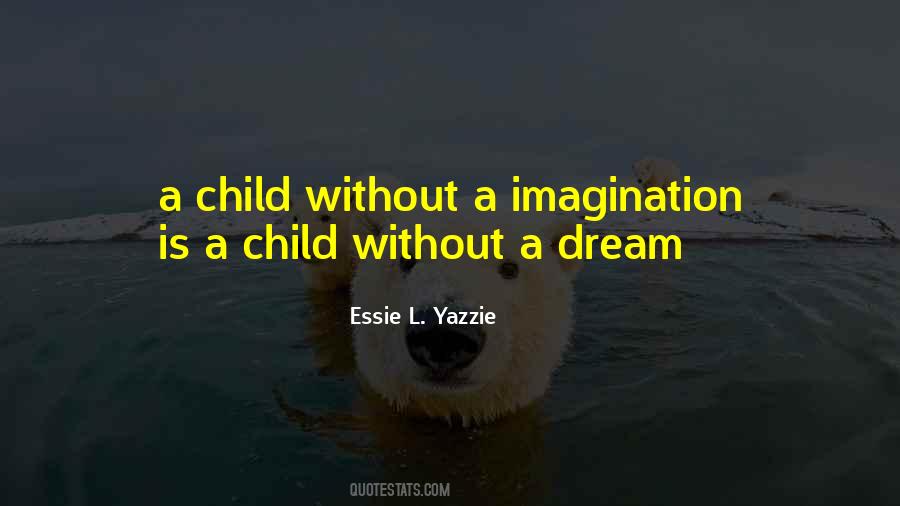 #85. Fairy tales were the door to the world of imagination for me as a child, that land I often lived in when real life wasn't quite enough. - Author: Regan Walker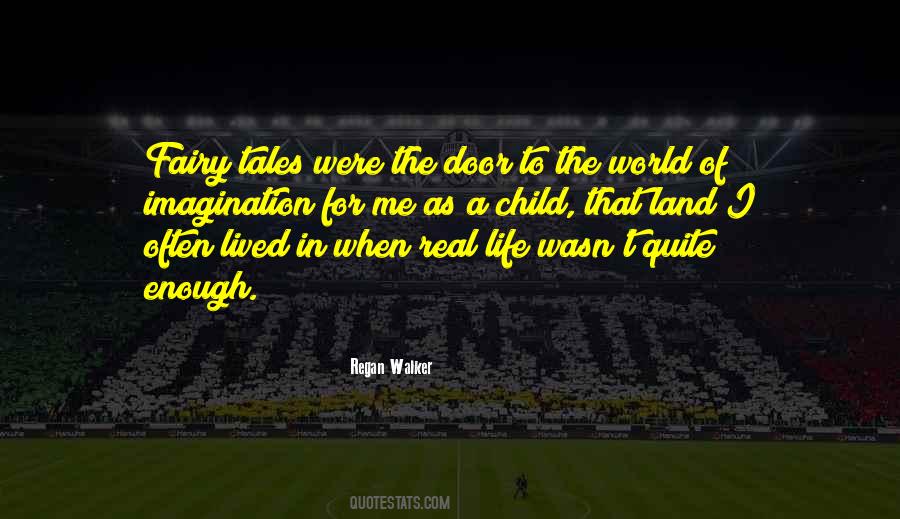 #86. When you're a child the world forbears you, allows you your flights of imagination, your feelings of specialness. But sooner or later the privileges are withdrawn, and all you're left with is a stunned bitterness at the realisation that you're just the same as everybody else. - Author: Michael Marshall Smith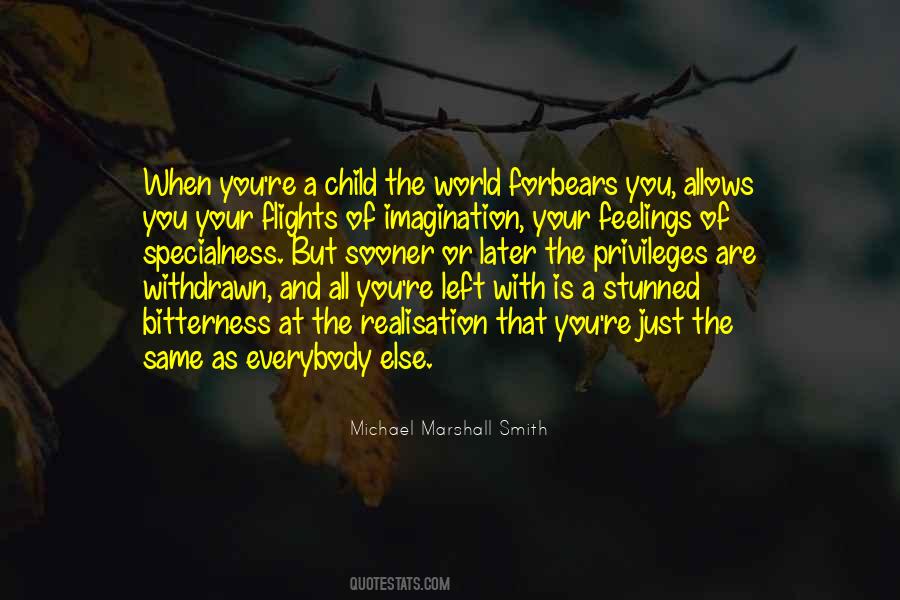 #87. The child awakens to a universe. The mind of the child to a world of meaning. Imagination to a world of beauty. Emotions to a world of intimacy. It takes a universe to make a child both in outer form and inner spirit. It takes a universe to educate a child. A universe to fulfill a child. - Author: Thomas Berry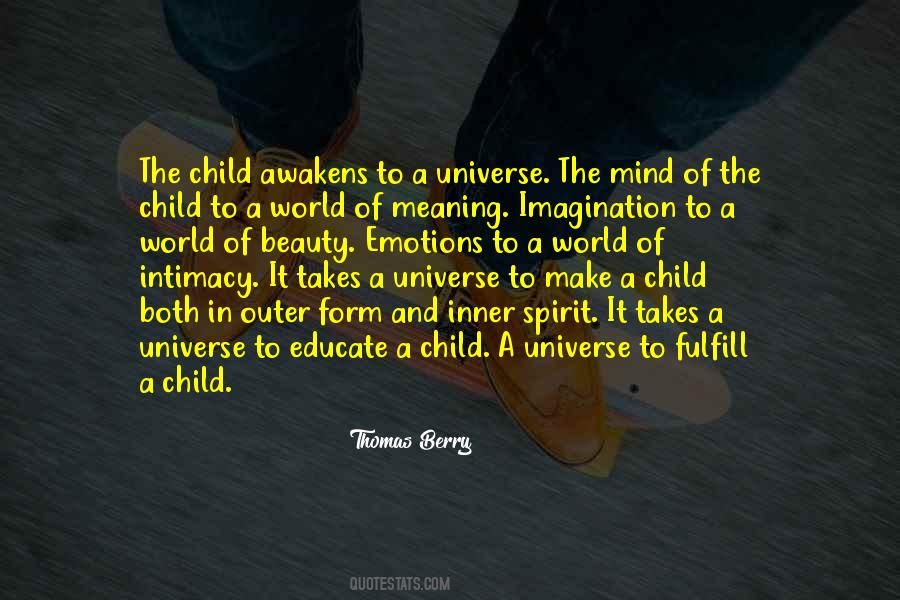 #88. I think life is about having the mixture of the curiosity of an older person and the imagination of a child. - Author: Daphne Guinness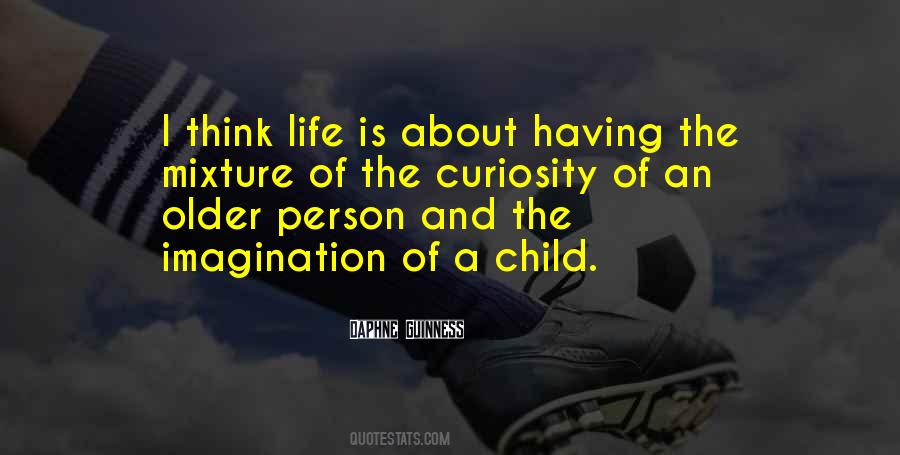 #89. My imagination is closer to a child's imagination than to a grown-up's. - Author: Mary Pope Osborne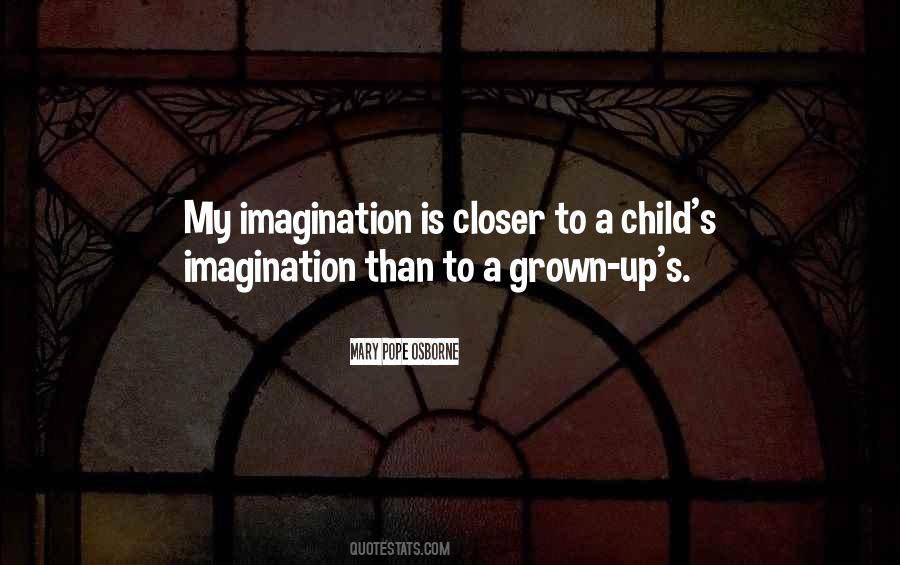 #90. It is more important to let a child's imagination develop than it is to labor to inculcate in him or her some correct ethical point of view. - Author: Padraic Colum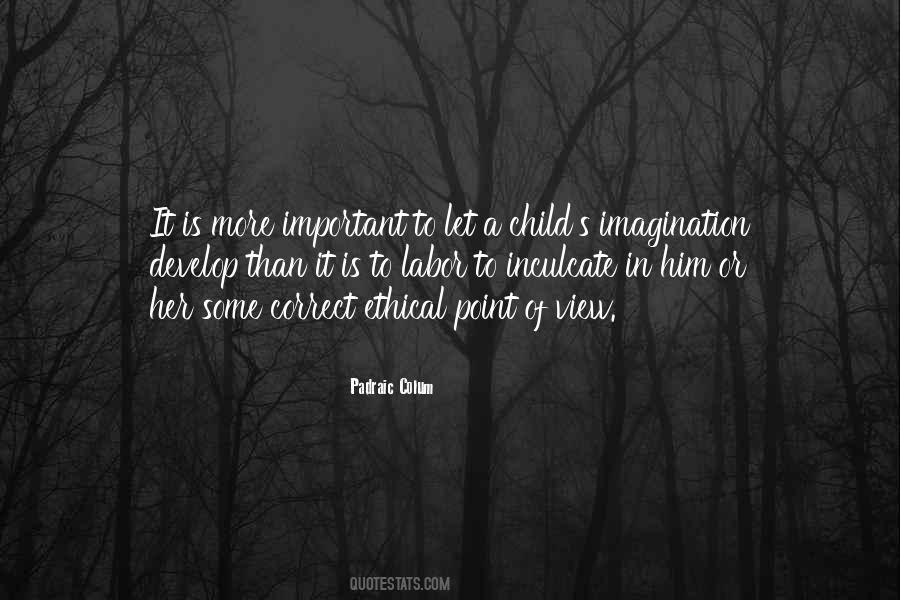 #91. I think that children have a power to imagine that is almost magical when compared to the adult imagination, and this is something irrevocable that a child loses when he or she becomes bound by logic. We adults continue to have our children - Author: Joseph Weizenbaum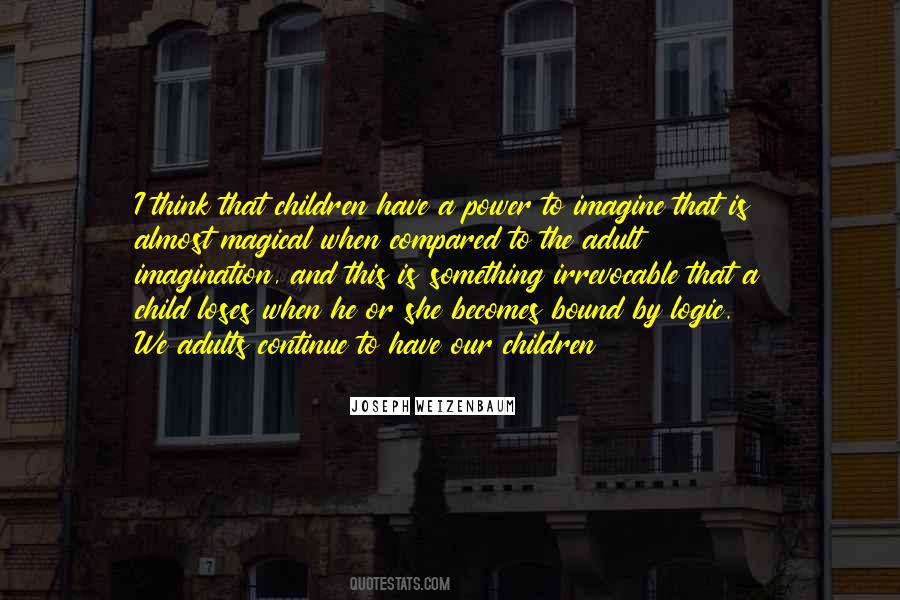 #92. I was a shy child, and when I was 13, I started wearing braces on my teeth. I used to be acutely self-conscious, and I think writing was a way of withdrawing into my own imagination. - Author: Samantha Shannon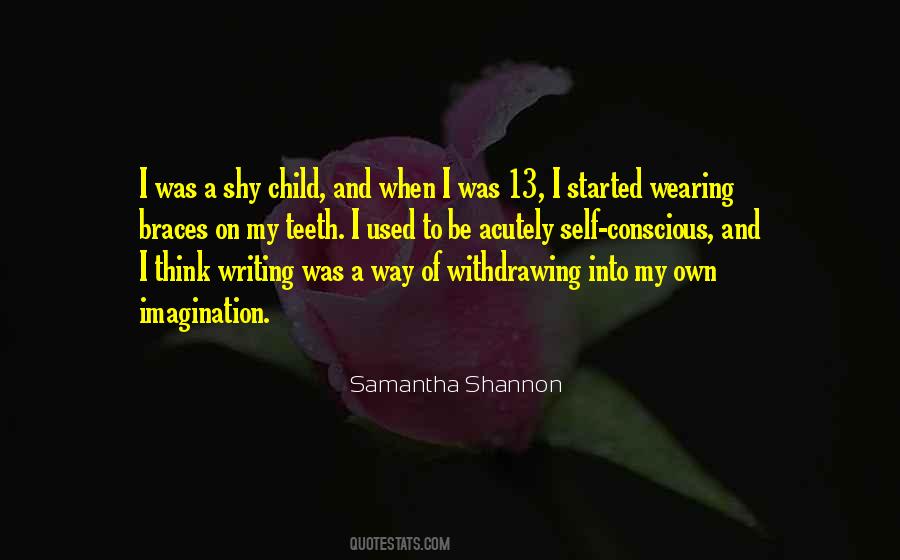 #93. And when the Duke of Alva ordered three hundred Citizens to be put to Death together at Antwerp, a Lady who saw the Sight was presently afterwards deliver'd of a Child without a Head. So lives the Power of Imagination even in this Rationall Age. - Author: Peter Ackroyd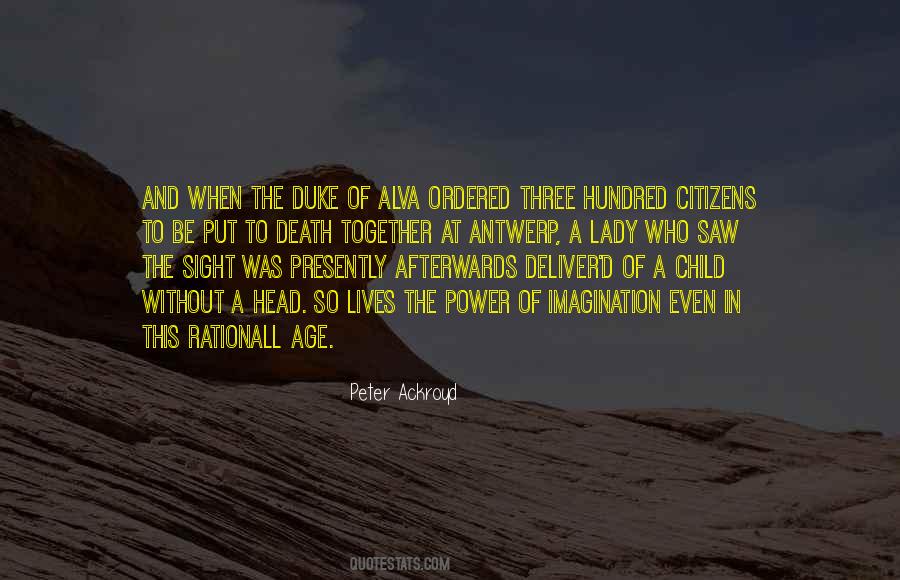 #94. A child-like mind is full of imagination. - Author: Pearl Zhu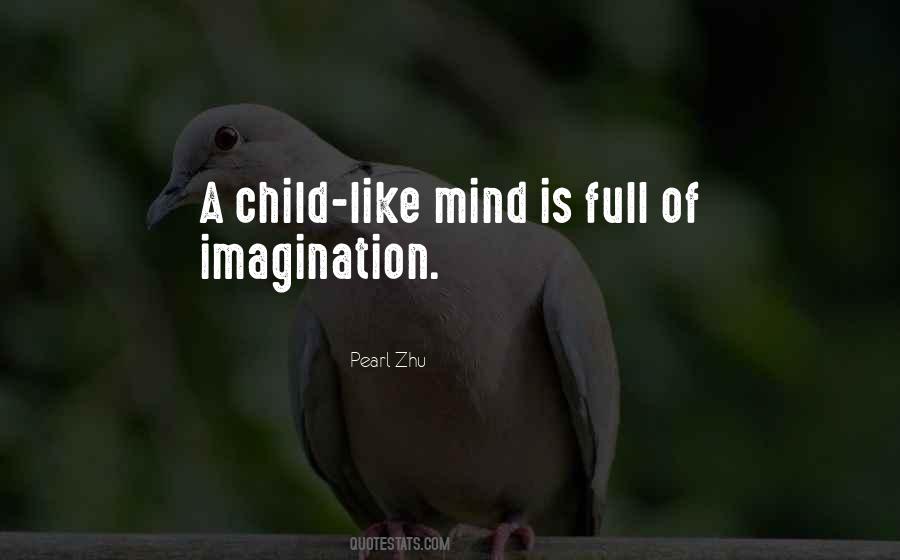 #95. My child, you have a flawed grasp of the nature of myth-making. I am a poet and storyteller, a creator of ballads and sagas. Pray do not confuse the exercise of the imagination with mere mendacity. I am a master of the mysteries of words, their meanings and music and mellifluous magic. - Author: Frances Hardinge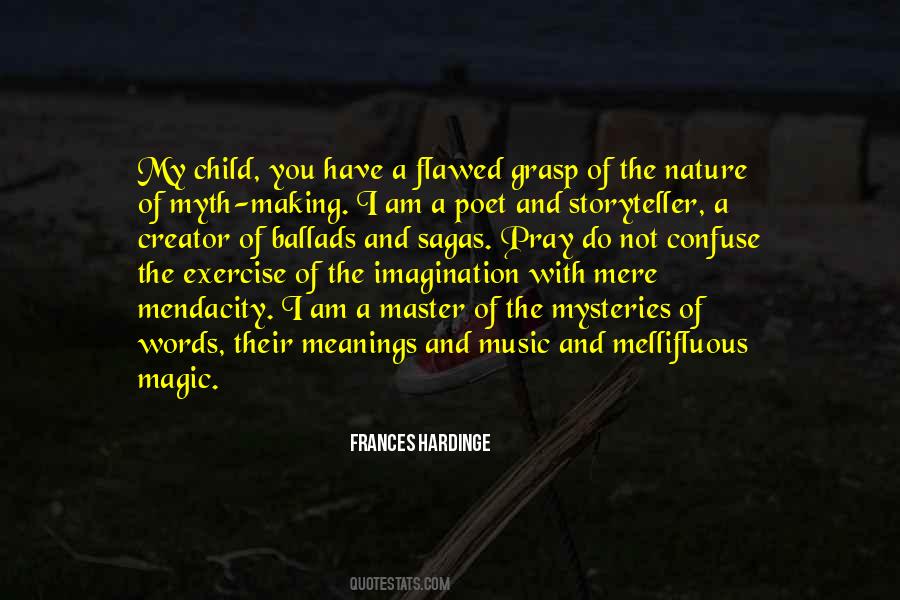 #96. As a child I would play with such imagination that the 'real' world was never real at all. It was full of mystery, adventure and possibility. - Author: Fennel Hudson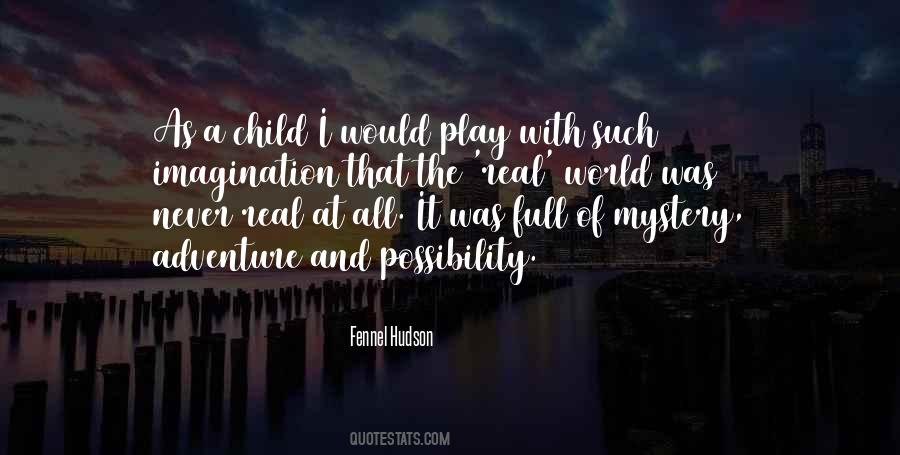 #97. The imagination is precious. Don't lose it. Don't lose the child in you. - Author: Marilyn Manson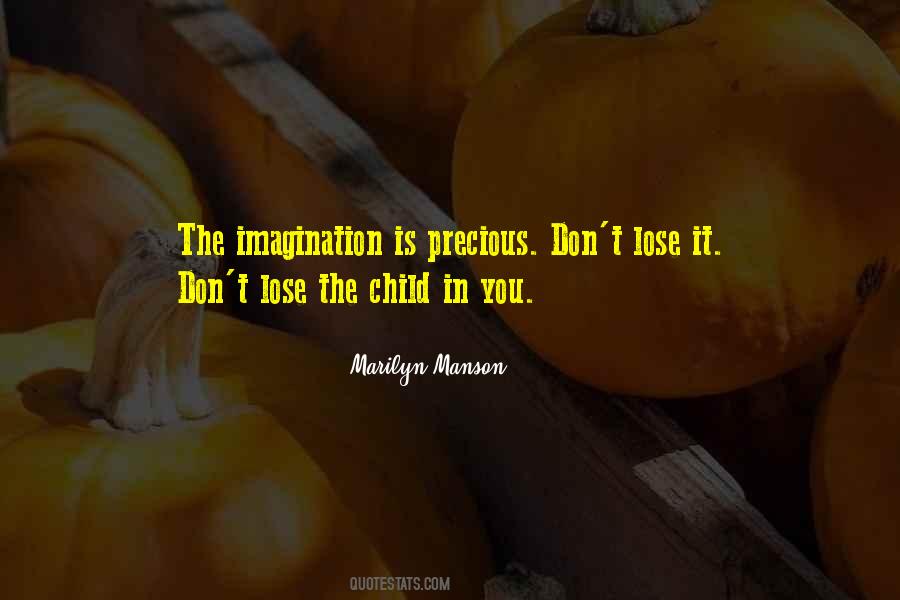 #98. True education gives a child wings to fly in his imaginative blue sky. - Author: Debasish Mridha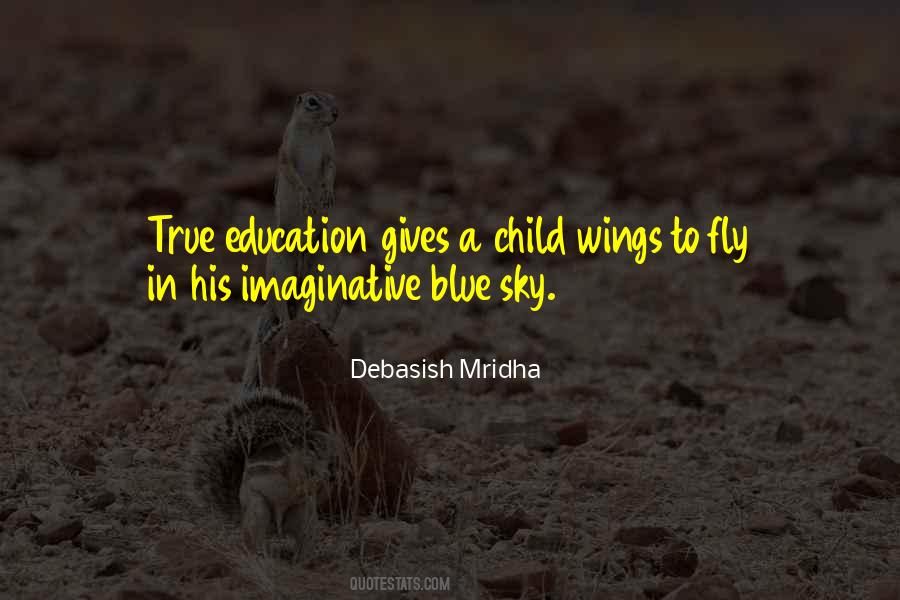 #99. I think the written word is my first love. I was just a very imagination - centered child and a big part of that imaginary life came from reading. - Author: Zoe Kazan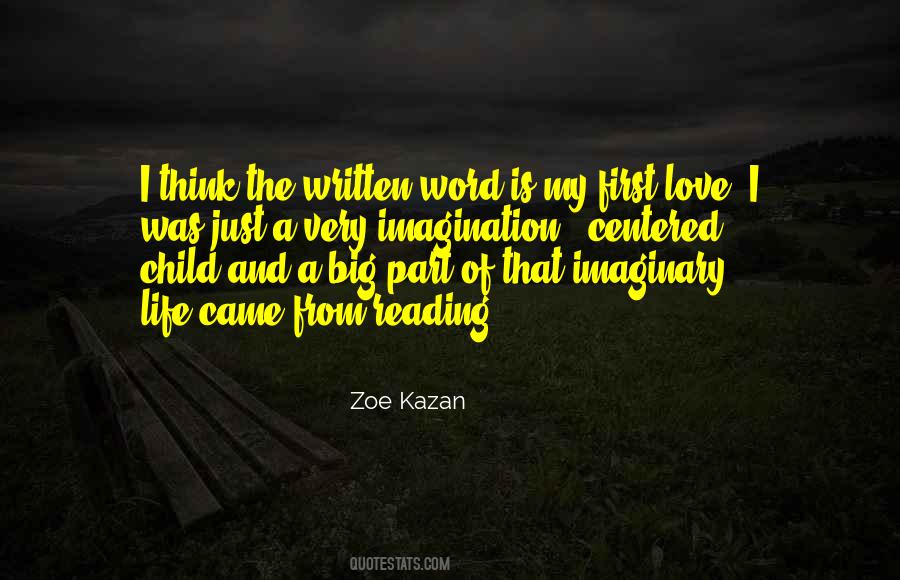 #100. As one of four daughters, I grew up with an imaginary brother - wondering what it would have been like if one of us had been a boy. There's no question that there was a phantom boy child in my imagination when I was young. - Author: Siri Hustvedt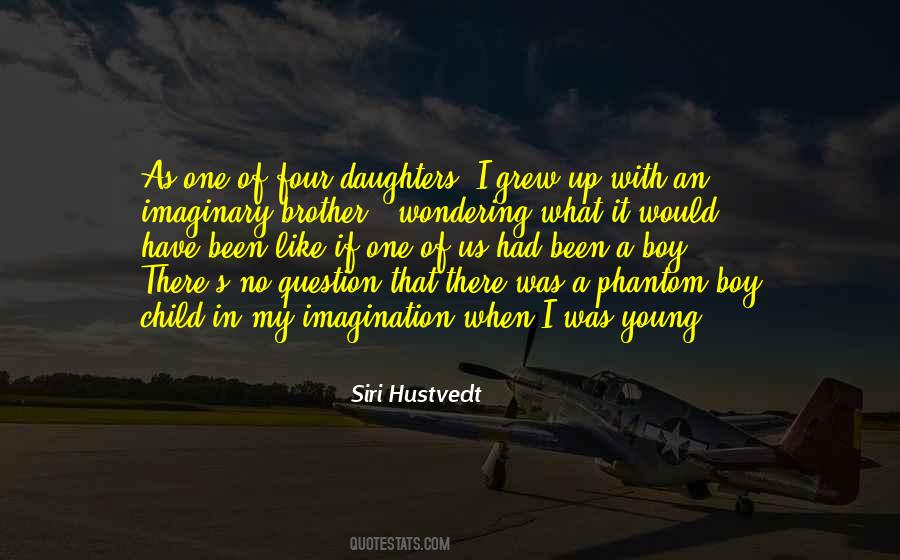 Famous Authors
Popular Topics