Business Principles Famous Quotes & Sayings
List of top 62 famous quotes and sayings about business principles to read and share with friends on your Facebook, Twitter, blogs.
Top 62 Quotes About Business Principles
#1. If you want to succeed in business in any capacity - employee, manager, or owner - you must have a solid, comprehensive understanding of what business principles actually are and how they actually work. - Author: Josh Kaufman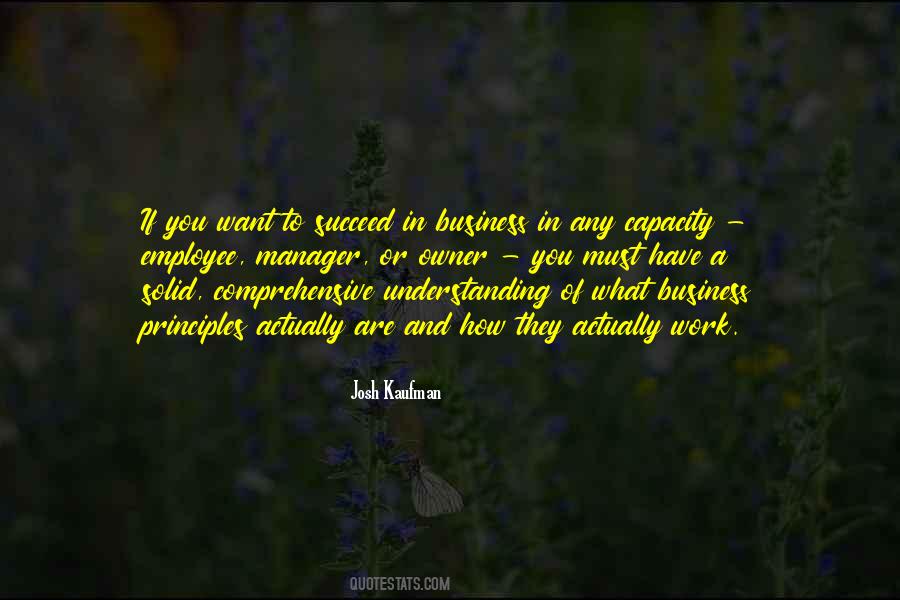 #2. The original and brilliant idea of an MBA was the opportunity for students to study the theory and application of business and management principles. - Author: Warren Bennis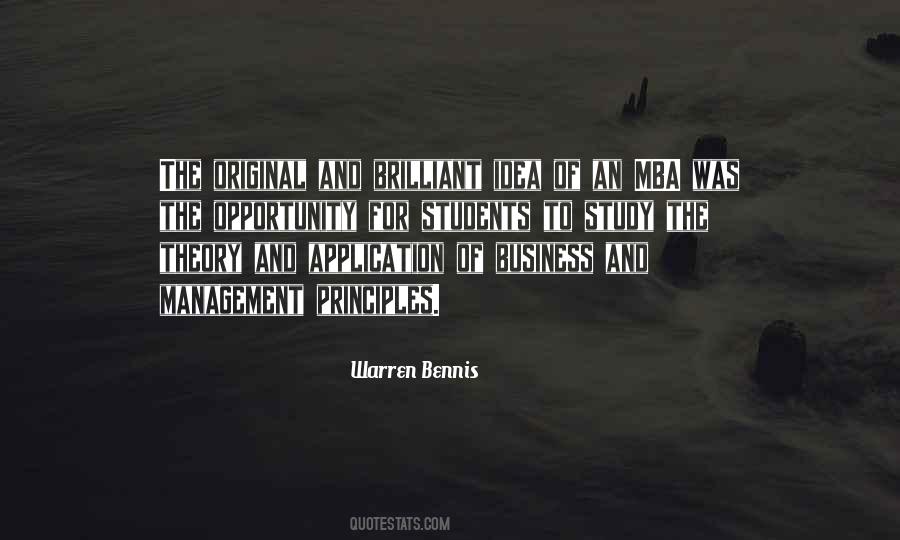 #3. There are a handful of companies who understand all successful business operations come down to three basic principles; People
Product
Profit. Without top people, you cannot do much with the other two. - Author: Malcolm Forbes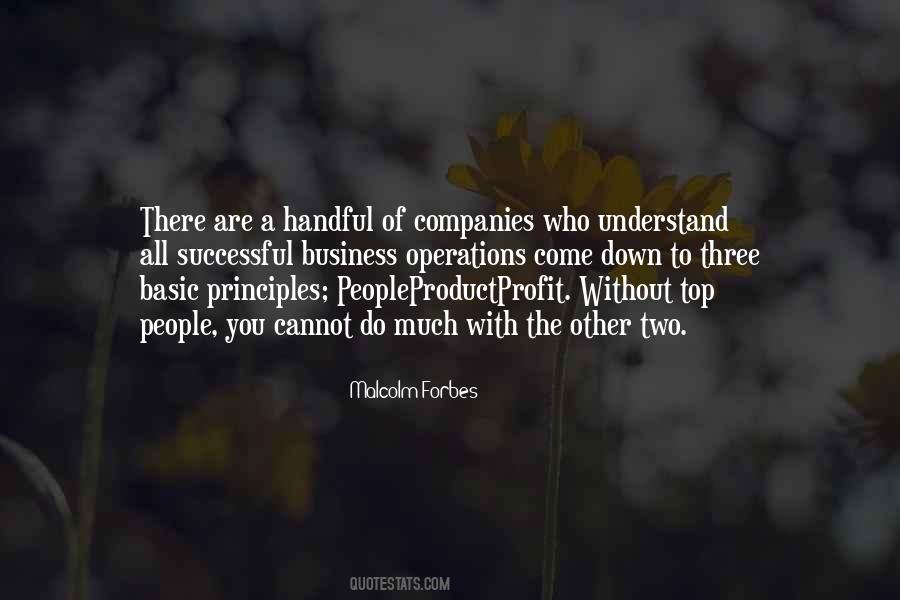 #4. Long ago I added to the true old adage of "What is everybody's business is nobody's business," another clause which, I think, morethan any other principle has served to influence my actions in life. That is, What is nobody's business is my business. - Author: Clara Barton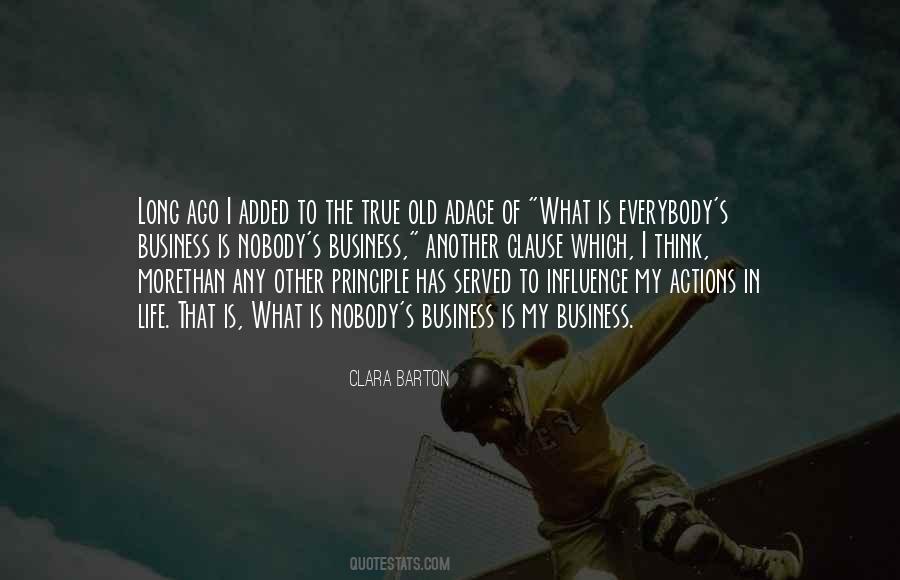 #5. The business of a Political Economist is neither to recommend nor to dissuade, but to state general principles, which it is fatal to neglect, but neither advisable, nor perhaps practicable, to use as the sole, or even the principal, guides in the actual conduct of affairs. - Author: Nassau William Senior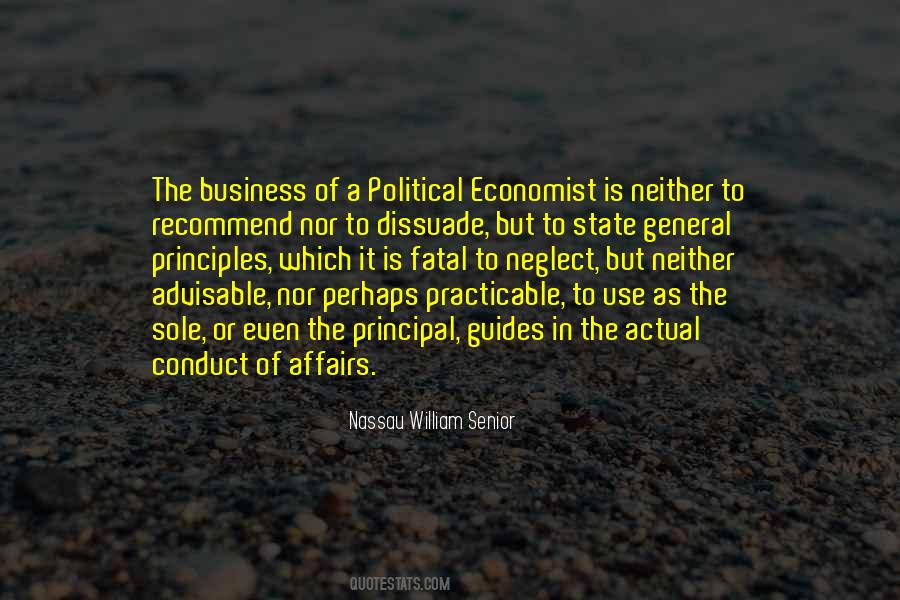 #6. 'Tis the business of little minds to shrink; but he whose heart is firm, and whose conscience approves his conduct, will pursue his principles unto death. - Author: Thomas Paine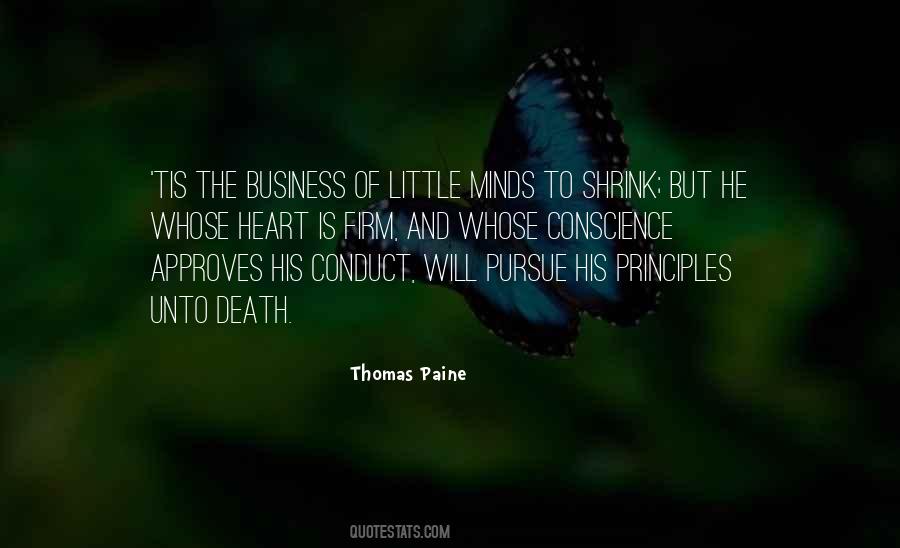 #7. An Englishman does everything on principle: he fights you on patriotic principles; he robs you on business principles; he enslaves you on imperial principles. - Author: George Bernard Shaw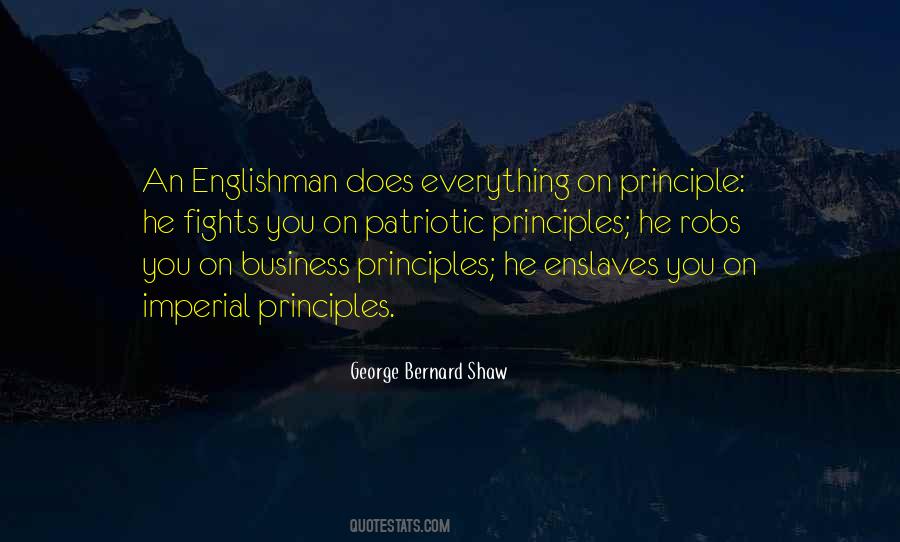 #8. There is nothing in the way of amelioration of the conditions of life, of politics, of social and ethical matters, that may not be affected through the skilful application of those principles of advertising that, in business, have proved to be so wonderfully effective. - Author: George Arthur French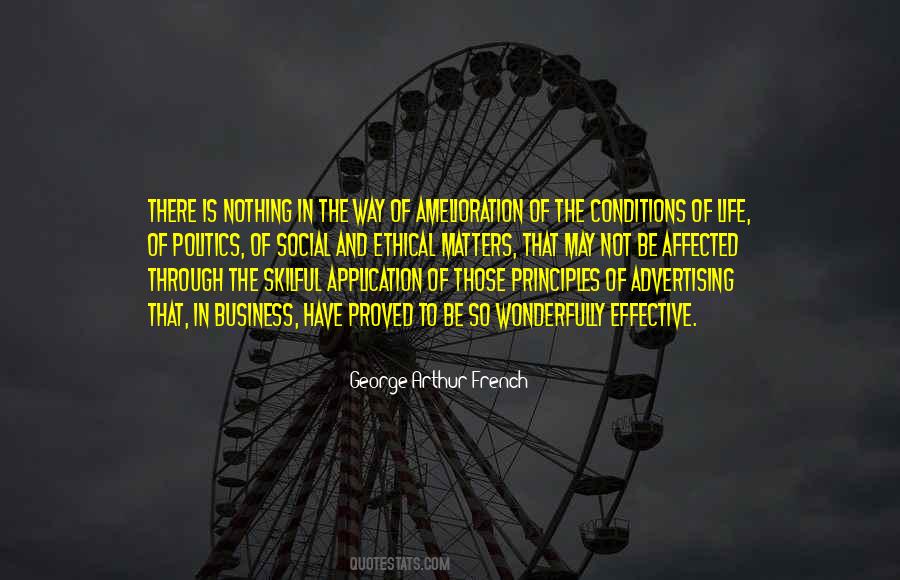 #9. The job of the brand is to make that name
and that logo stand for something. To live its founding principles each day. To stay true. - Author: David Hieatt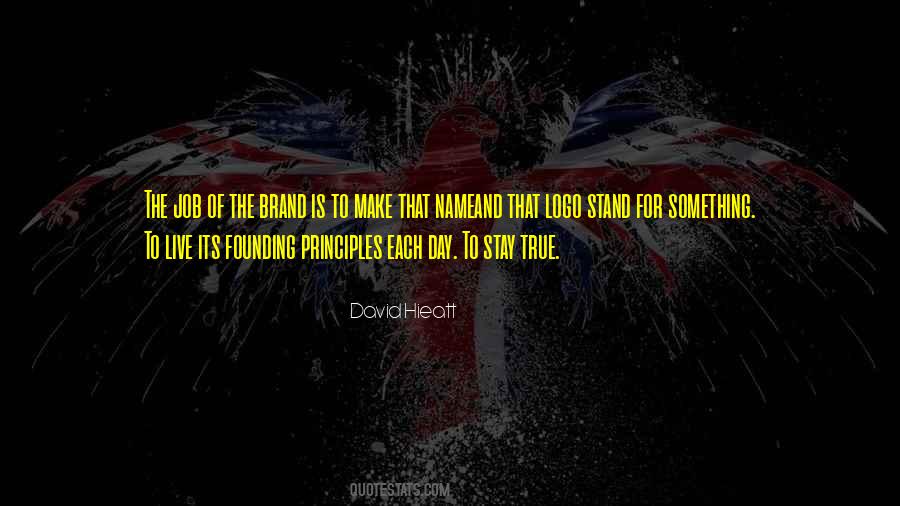 #10. Not a tenth of us who are in business are doing as well as we could if we merely followed the principles that were known to our grandfathers. - Author: William Feather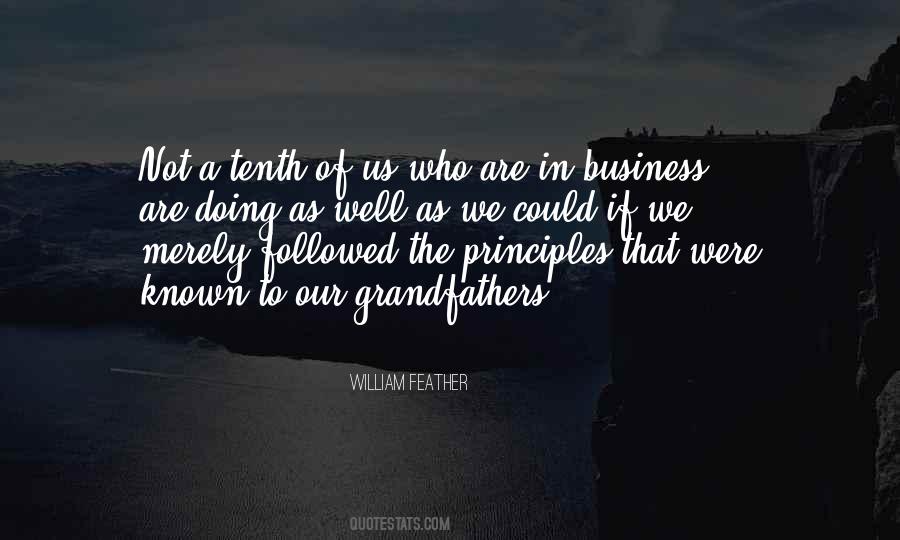 #11. Actually I did not invent the seven habits, they are universal principles and most of what I wrote about is just common sense. I am embarrassed when people talk about the Covey Habits, and dislike the idea of being some sort of guru. - Author: Stephen Covey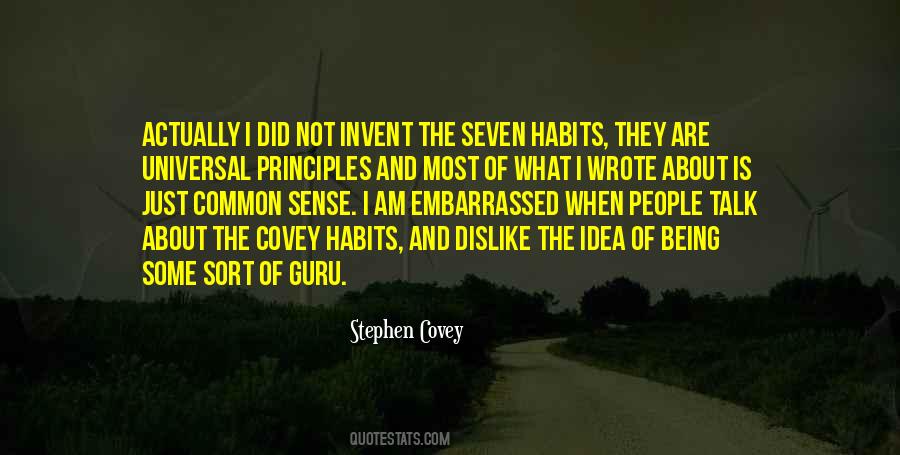 #12. The keys to success, in business and in life, are truthfulness, the ability to take and give, honest and well-intended feedback, strength of character and conviction in one's principles - Author: Robert Kiyosaki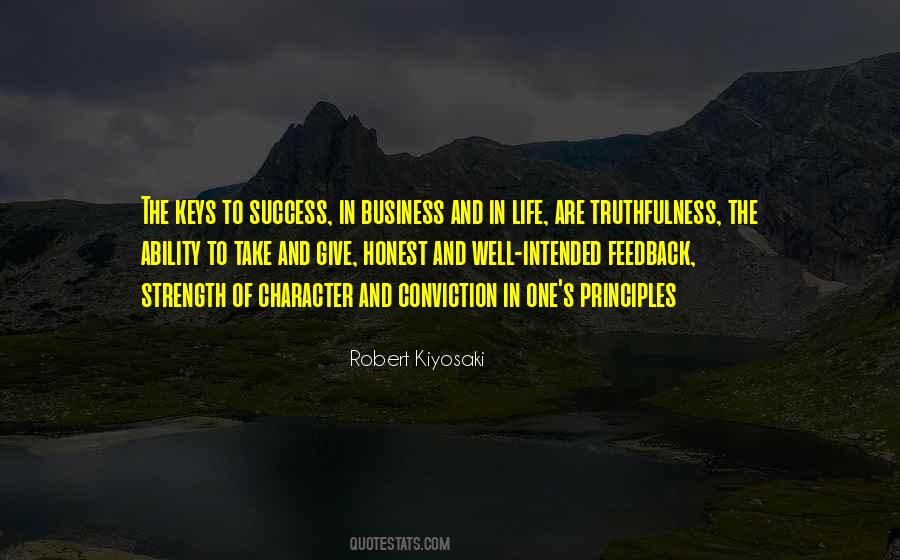 #13. Enthusiasm for conservation can be fashioned into a nasty weapon for those who dislike business on general principles. - Author: William F. Buckley Jr.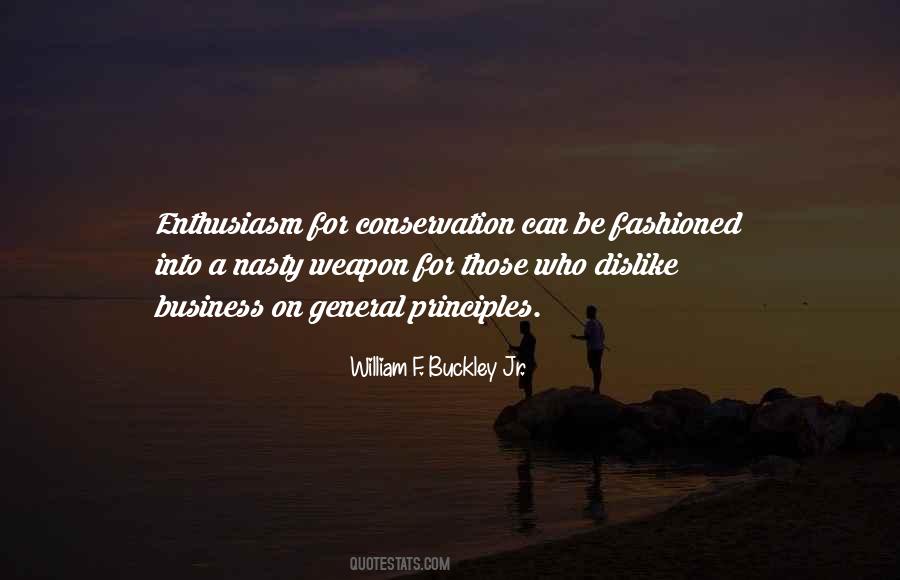 #14. It is the business of economists, not to tell us what to do, but show why what we are doing anyway is in accord with proper principles. - Author: Joan Robinson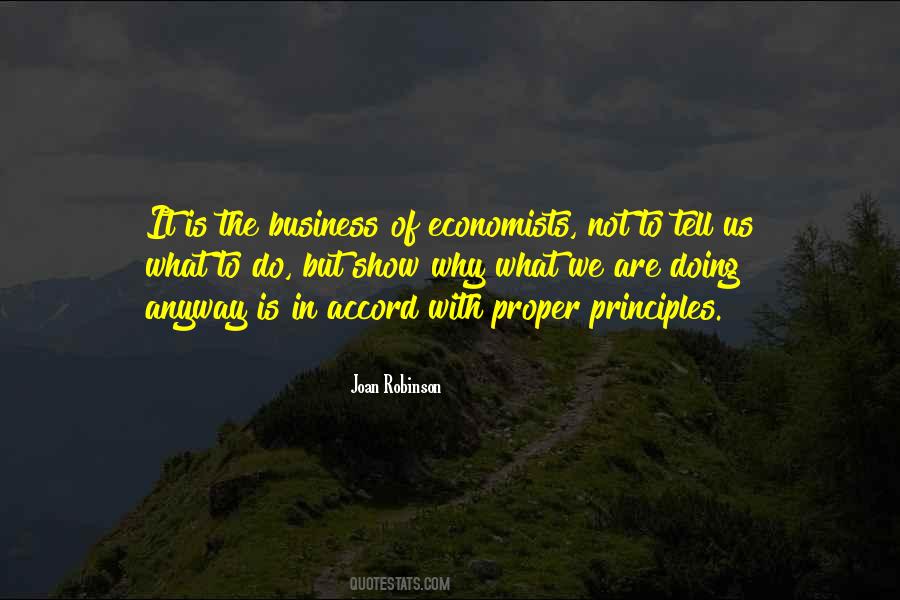 #15. A new model of heroic capitalism based on principle-driven, free-market entrepreneurship deserves a central place in business-ethics thought and action. - Author: Robert L. Bradley Jr.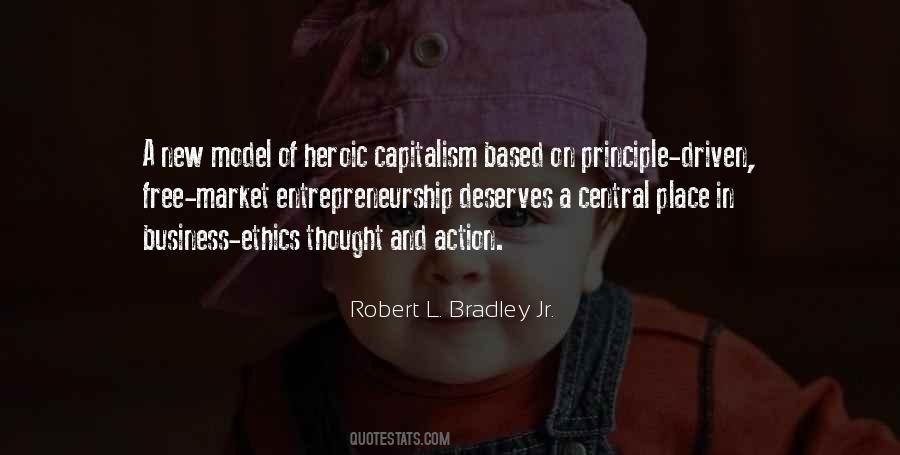 #16. Why should how I act in my workplace be any different from how I interact with my family at home? It's making sure the company runs on feminine principles where the major ethic is care. - Author: Anita Roddick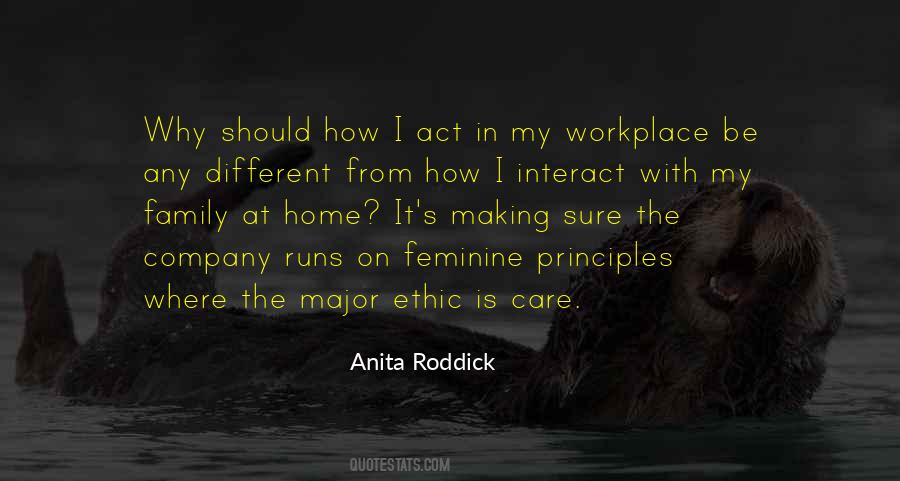 #17. Money and power are not your true rewards. Your name, your principles, your impeccable standards, your virtuous conduct, and remains an influence with others long after you are gone. - Author: Jason Hartman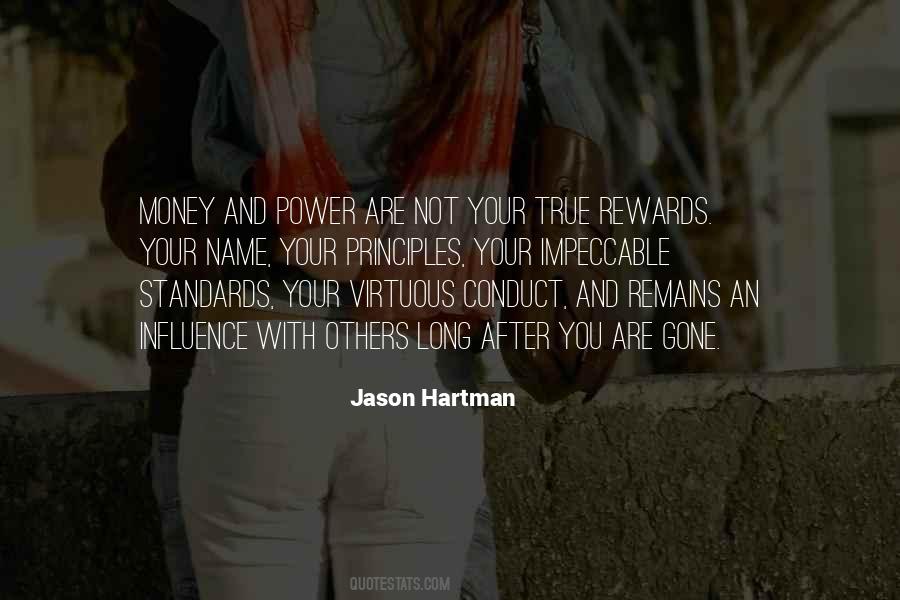 #18. (Waste = Loss): The first rule of business is to survive and the guiding principle of business economics is not the maximisation of profit, it is the avoidance of loss - Author: Peter Drucker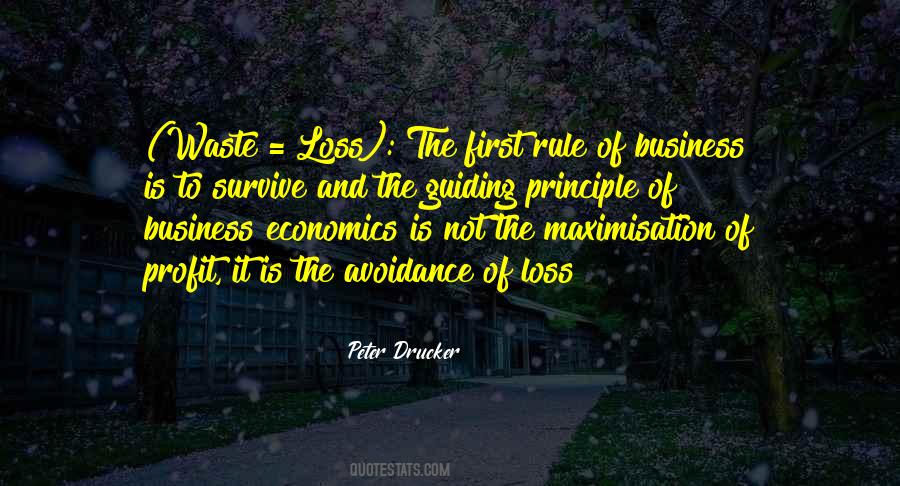 #19. Like blood, money is a blessing that should be shared, but you must be a responsible giver. - Author: Injap Sia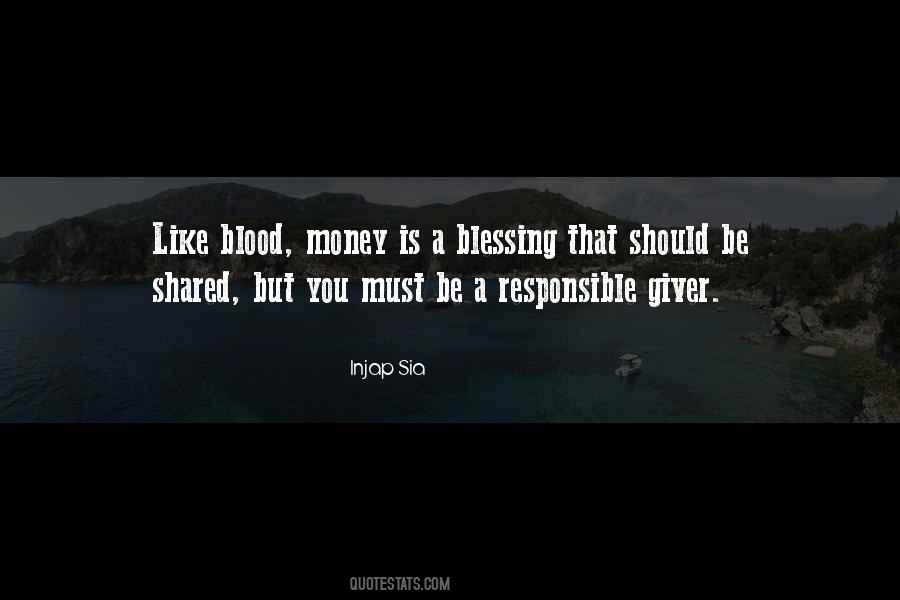 #20. Those who think religion has nothing to do with politics understand neither religion or politics ... The things that will destroy us are: politics without principles, pleasures without conscience, knowledge without character, business without morality. - Author: Mahatma Gandhi
#21. Surely no one will consider us lacking in reverence if we say that every one of the "principles of modern salesmanship" on which business men so much pride themselves, are brilliantly exemplified in Jesus' talk and work. - Author: Bruce Barton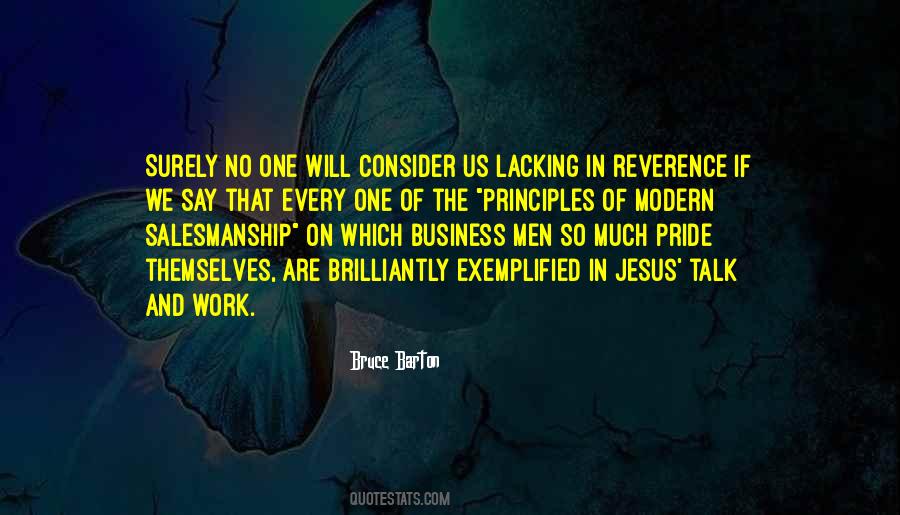 #22. I'm able to utilize a lifetime of learning to help teach young people how to apply sound marketing strategy and principles for the purpose of growing the client's business. And for me, that's just too much fun. - Author: Lionel Sosa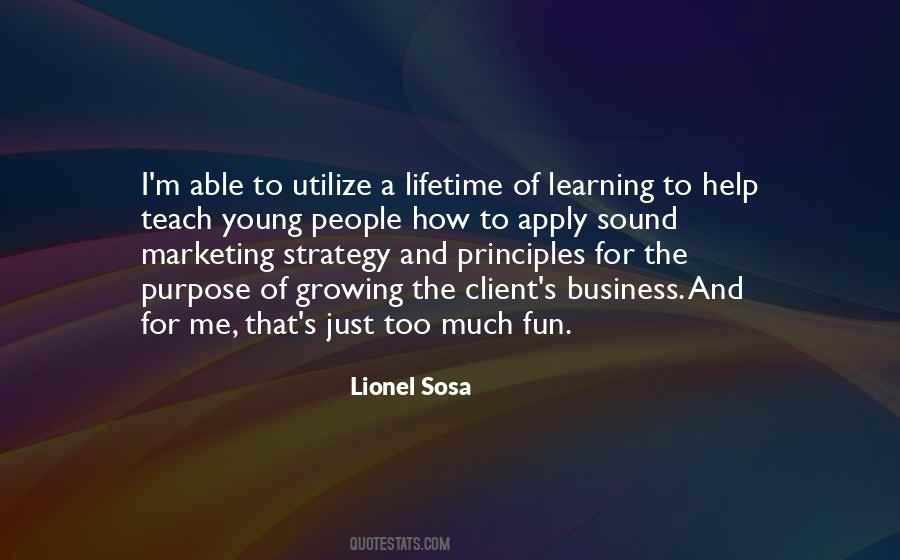 #23. If beauty is in the eyes of the beholder, value is in the mind of the consumer. - Author: Michele Jennae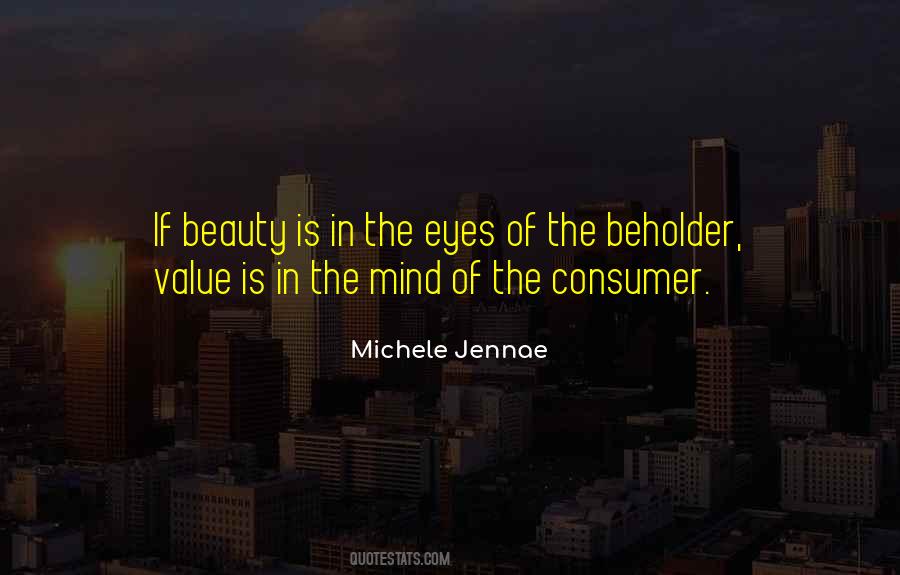 #24. It is a solid business principle that people who enjoy what they do are better at what they do. - Author: Larry Winget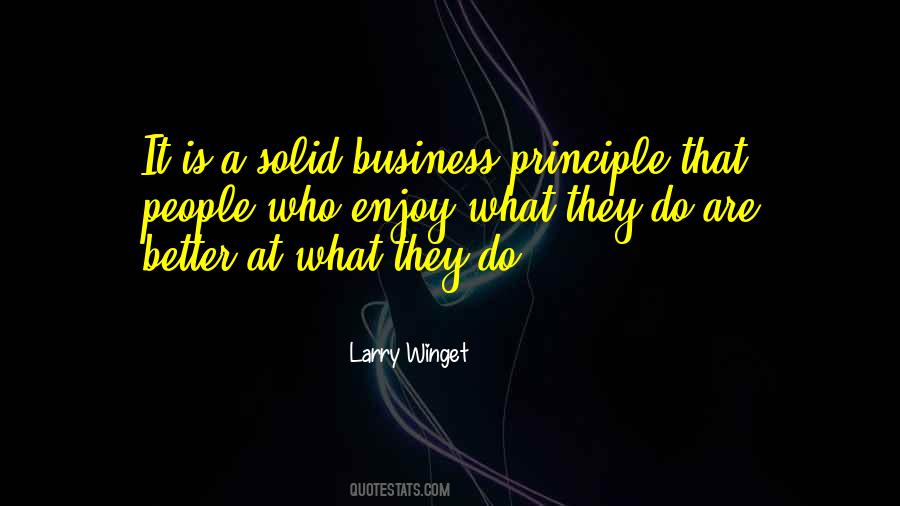 #25. Our business is to stand strongly for principles, but never to attack persons, about whose lives we can know but little. - Author: George Arundale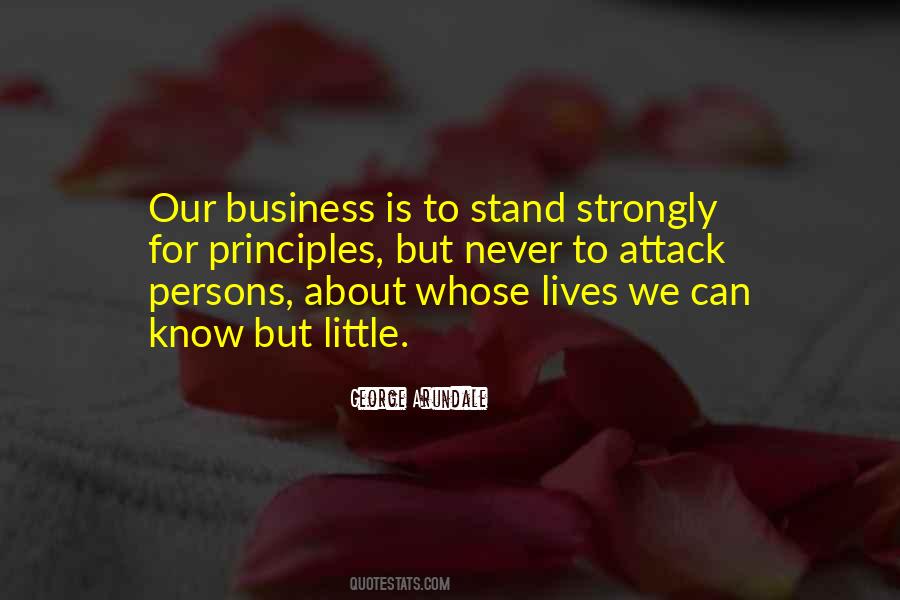 #26. He was an artist when he saw society: it never crossed his mind that society had to be like this; had any right, had any business being like this. A car in the street. Why? Why cars? This is what an artist has to be: harassed to the point of insanity or stupefaction by first principles. - Author: Martin Amis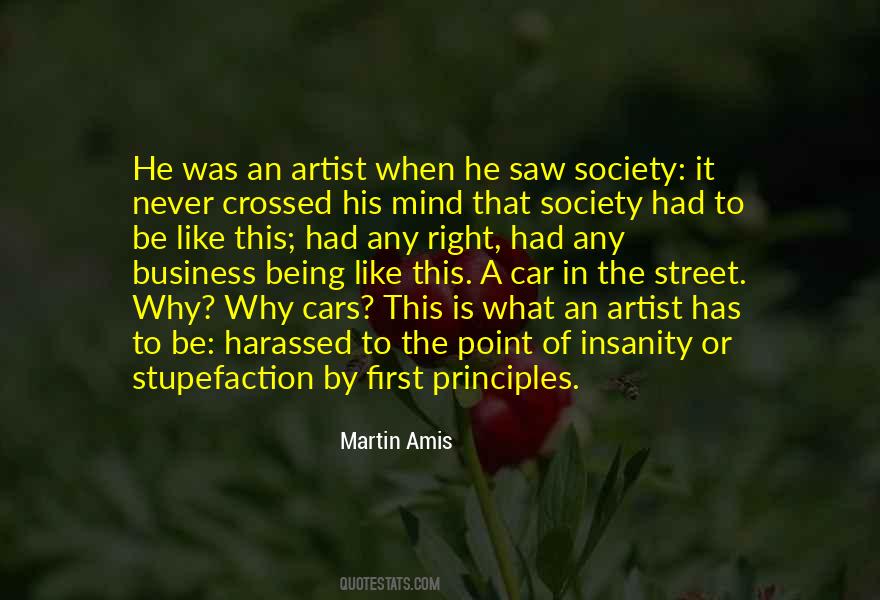 #27. For me, teaching helps to reaffirm the right principles and values of acting. It helps me focus on the good stuff that can be easy to lose sight of because the business is so result-oriented. - Author: Mark Pellegrino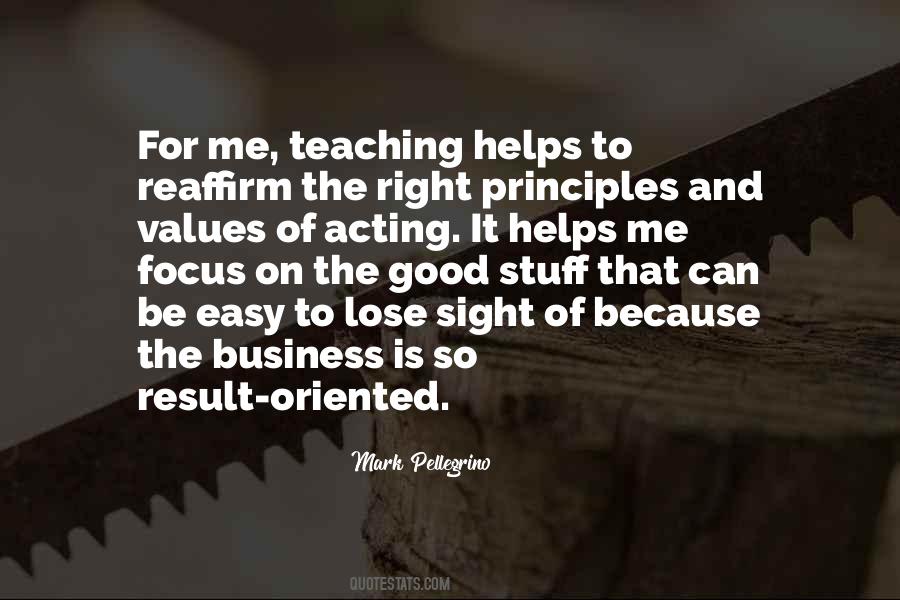 #28. The American Republic and American business are Siamese twins; they came out of the same womb at the same time; they are born in the same principles and when American business dies, the American Republic will die, and when the American Republic dies, American business will die. - Author: Josiah Bailey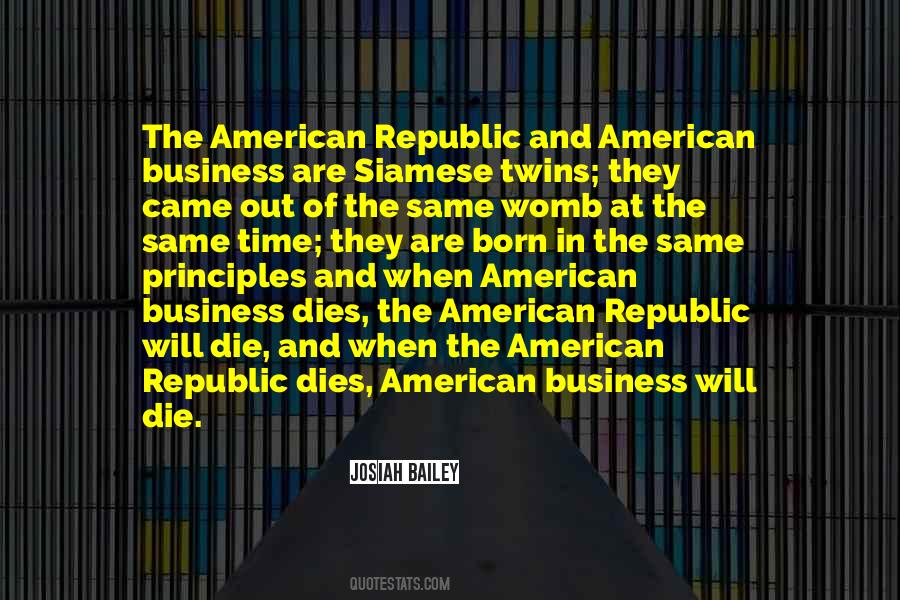 #29. There has been a seismic shift in the business world. The great classical business principles still hold true but they need to be fused with cutting edge internet technology. - Author: Harvey MacKay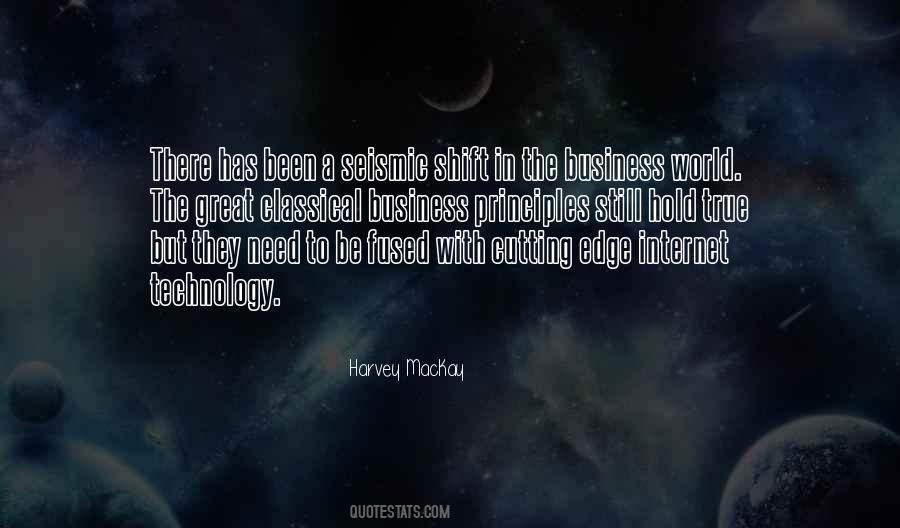 #30. the single most powerful pattern I have noticed is that successful people find value in unexpected places, and they do this by thinking about business from first principles instead of formulas. - Author: Peter Thiel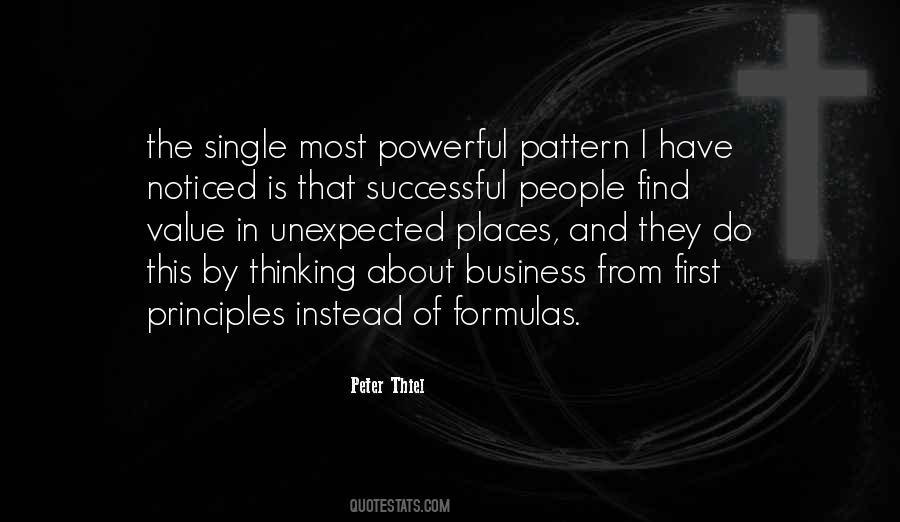 #31. There is a natural link between the effective running of my businesses and the effective direction of philanthropic funds. I apply business principles to my philanthropic work so that maximum value is given to the causes I support. - Author: Mohammed Hussein Al Amoudi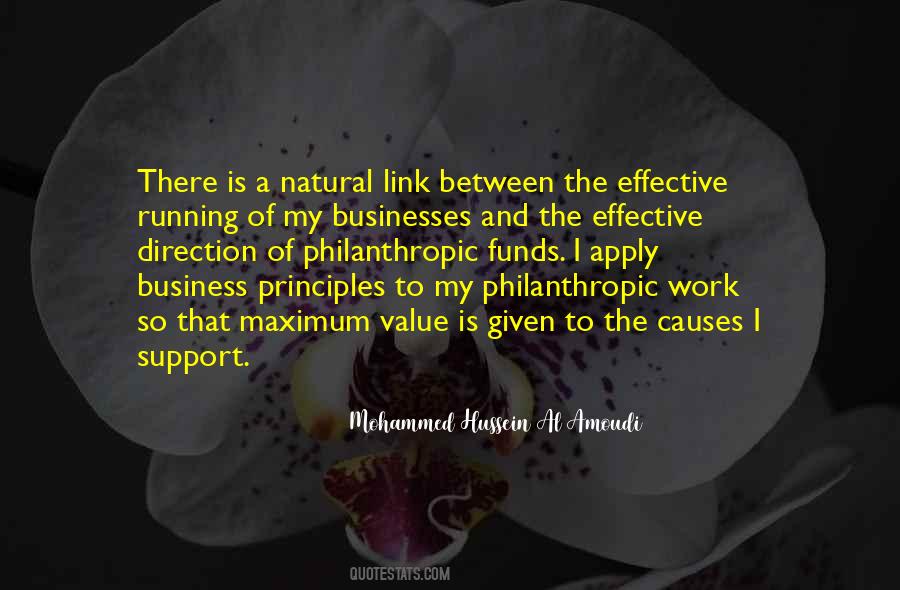 #32. Don't rely on good principles to sell an inferior product. - Author: David Hieatt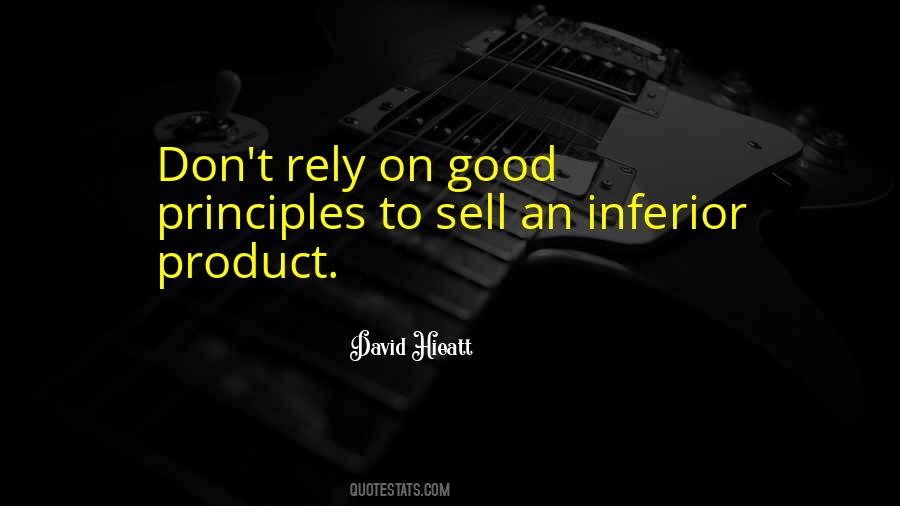 #33. The Feeding the 5000 campaign is inviting food businesses to sign up to the principles of the Food Waste Pyramid tool, which illustrates a simple set of steps that any food business can take to avoid and reduce food waste. - Author: Tristram Stuart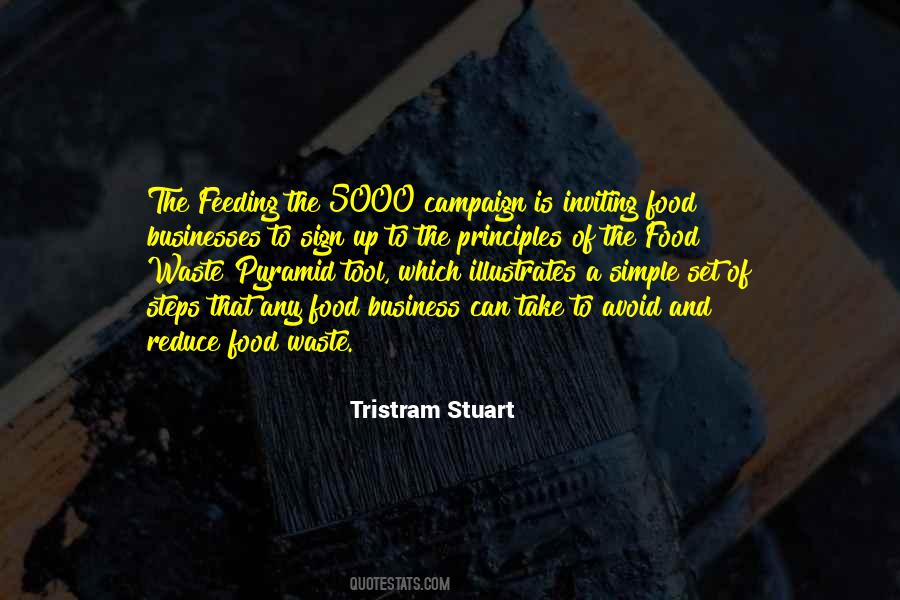 #34. The classic business story is much like the classic human story. There is rise and fall; the overcoming of great odds, the upholding of principles despite the cost, questions of rivalry and succession, and even the possibility of descent into madness. - Author: Mark Helprin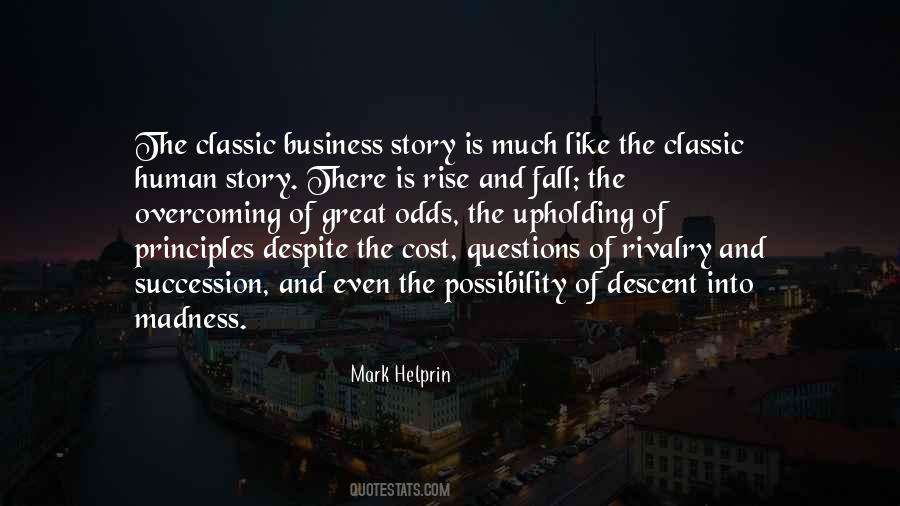 #35. Twenty-eight years in business and you understand the importance of problem solving and the importance of efficiency, because if you don't become efficient, you don't run a business well, and you are out of business. And I think some of those principles could be applied to leadership in Washington. - Author: Steve Daines
#36. There aren't too many principles of proper business conduct with which just about everybody will agree. Two come to mind: 1. Unless you're a professional athlete, don't offer co-workers encouragement by patting them on the butt, and 2. Don't burn bridges. - Author: Dale Dauten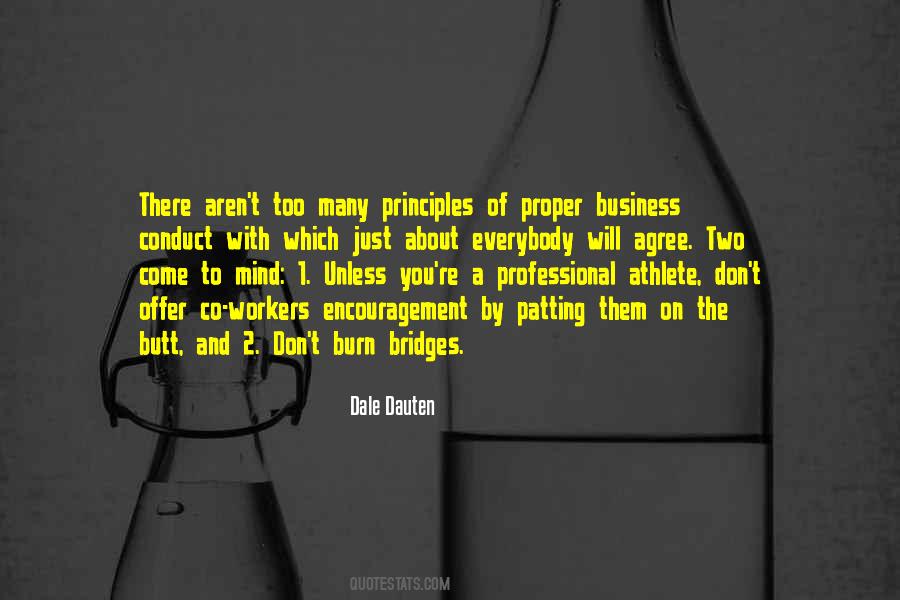 #37. Turning every business into an environmental industry will involve applying new principles ... first, we need to make more with less ... second, we need to design out waste ... third, we must begin to decarbonise our energy supply - Author: David Miliband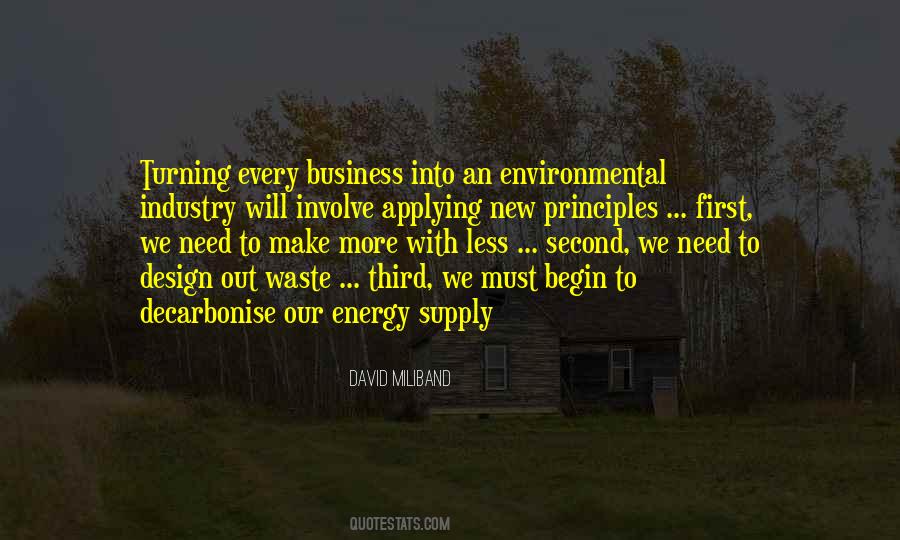 #38. My objection to Liberalism is this that it is the introduction into the practical business of life of the highest kind namely, politics of philosophical ideas instead of political principles. - Author: Benjamin Disraeli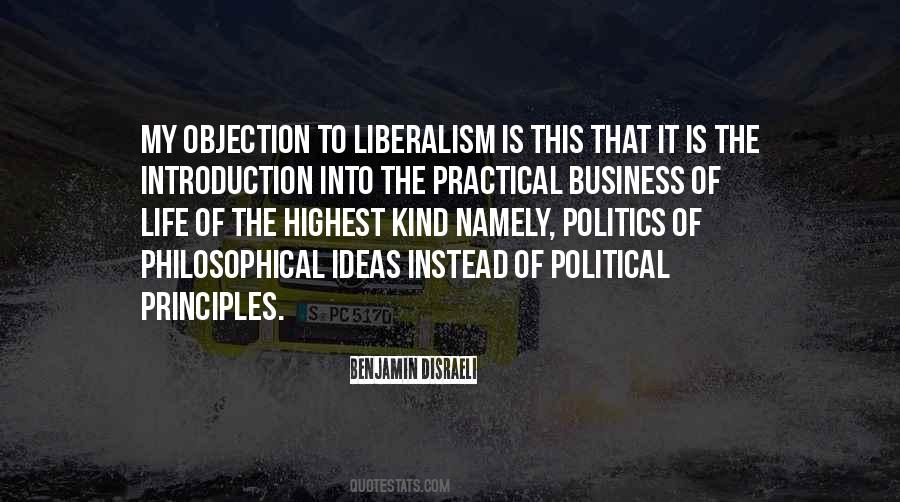 #39. Doing more with less, is a crucial principle to learn; especially if you're going to be in business in this rapidly changing world. - Author: Robert Kiyosaki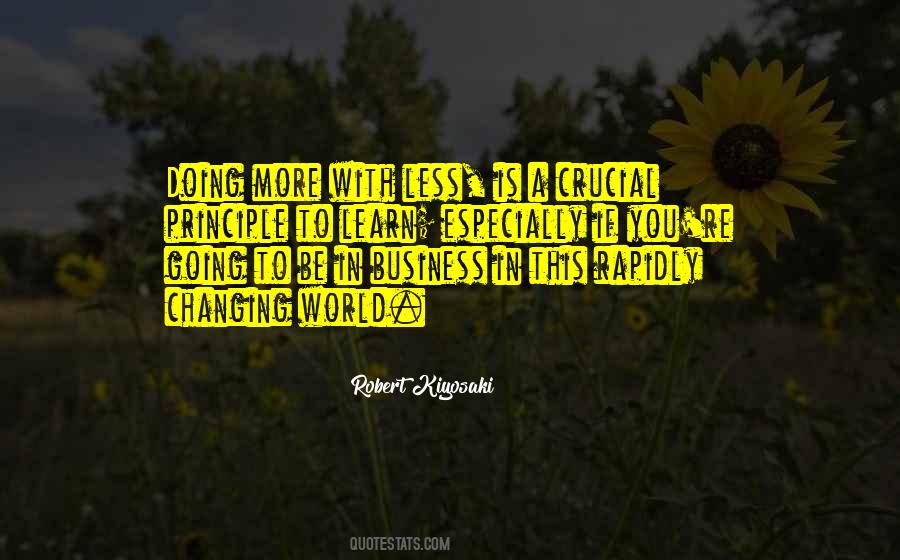 #40. We need to have business leaders who live by deep, strong principles. - Author: Stephen Covey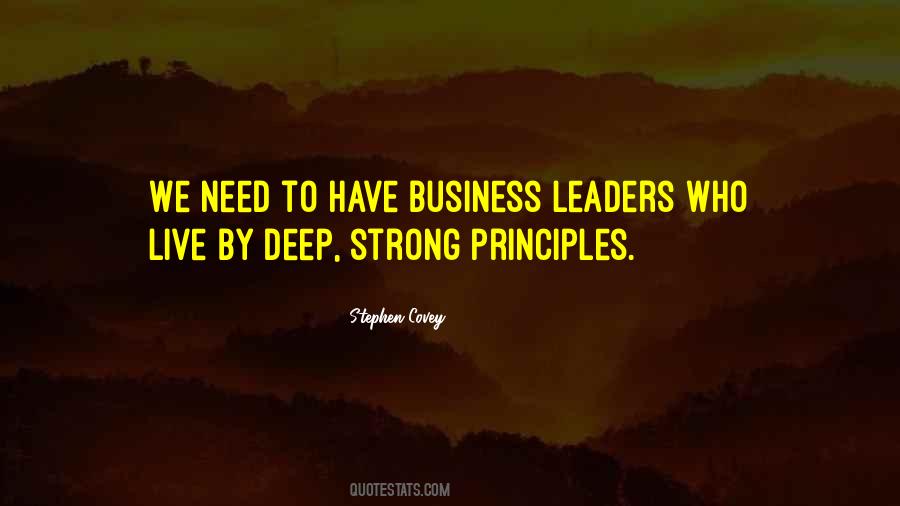 #41. Every morning I look in the mirror and remind myself: "No one owes you sh*t!" In this way, I am never disappointed. Never placing blame. - Author: Brandi L. Bates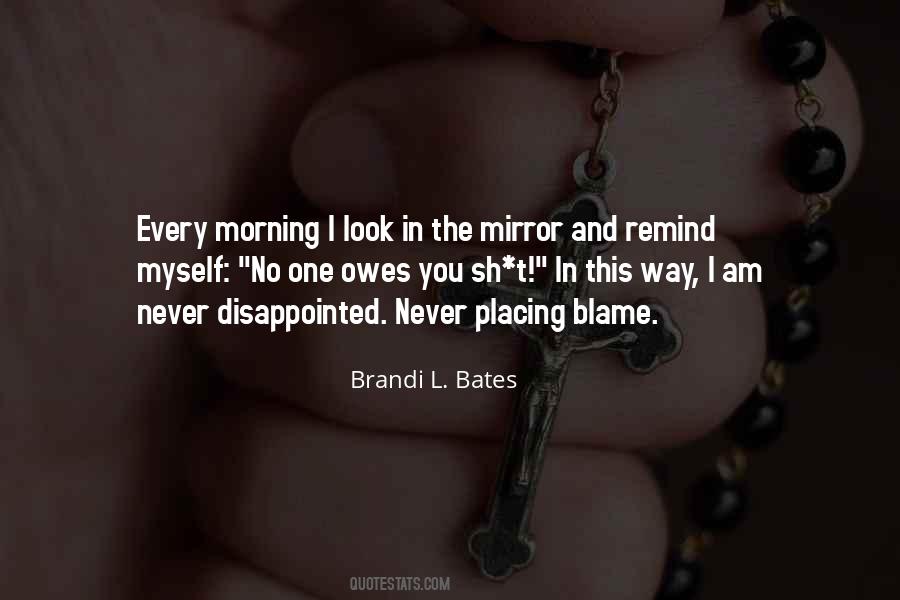 #42. If it is indeed the business of imagination to make politics distrust itself - reminding it that its principles are not literal facts but constructs of imagination - it is also its business to encourage politics to remake itself by remaking its images of the good life. - Author: Richard Kearney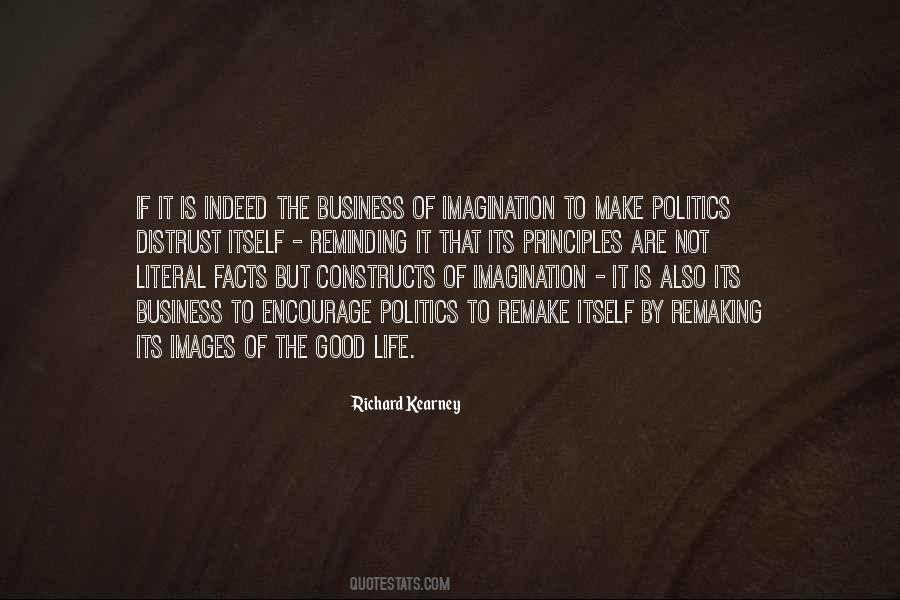 #43. You don't have to be a Christian to work at Chick-fil-A, but we ask you to base your business on biblical principles because they work. - Author: S. Truett Cathy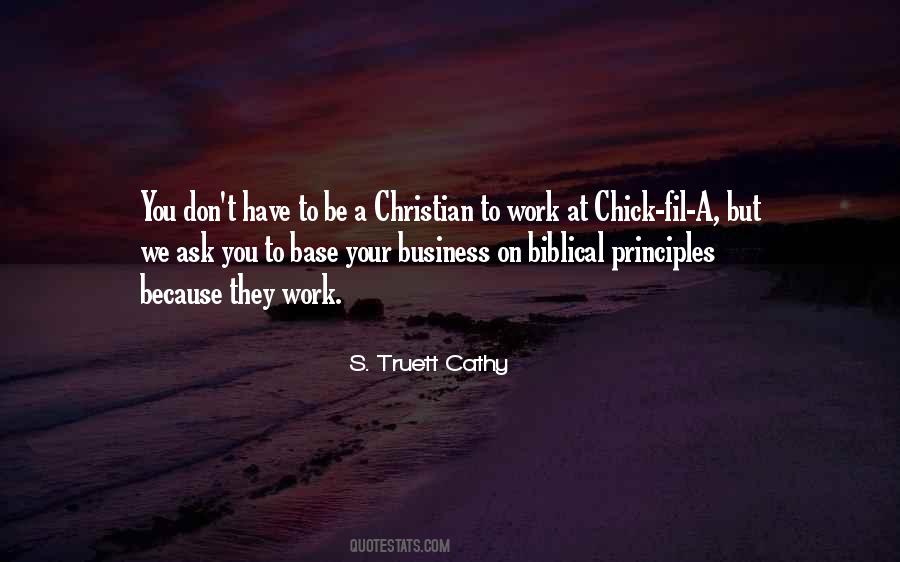 #44. I don't know anything about cars. A business is a business, and I think I can learn about cars. I'm not that old, and I think the business principles are the same. - Author: Edward Whitacre Jr.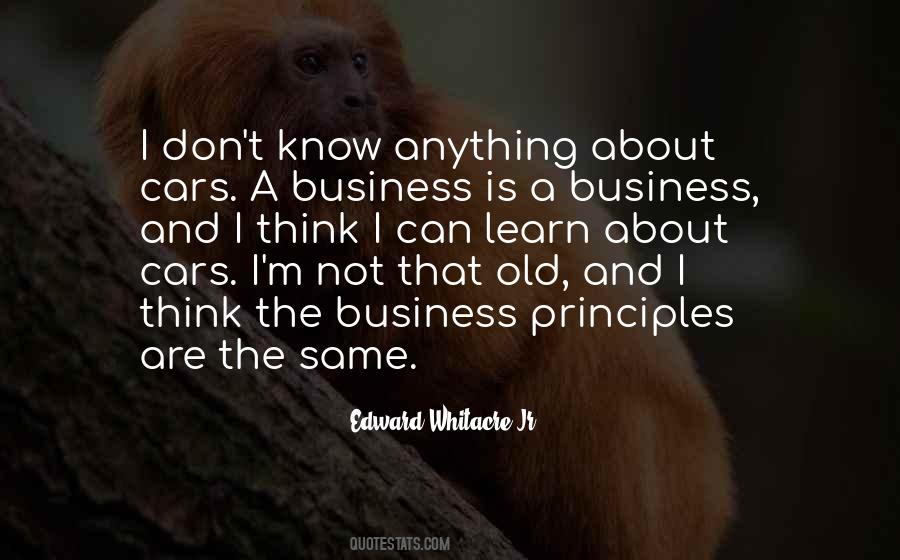 #45. God's Word is your owner's manual for life. It contains principles for health, finance, marriage, other relationships, business, and much more. - Author: Rick Warren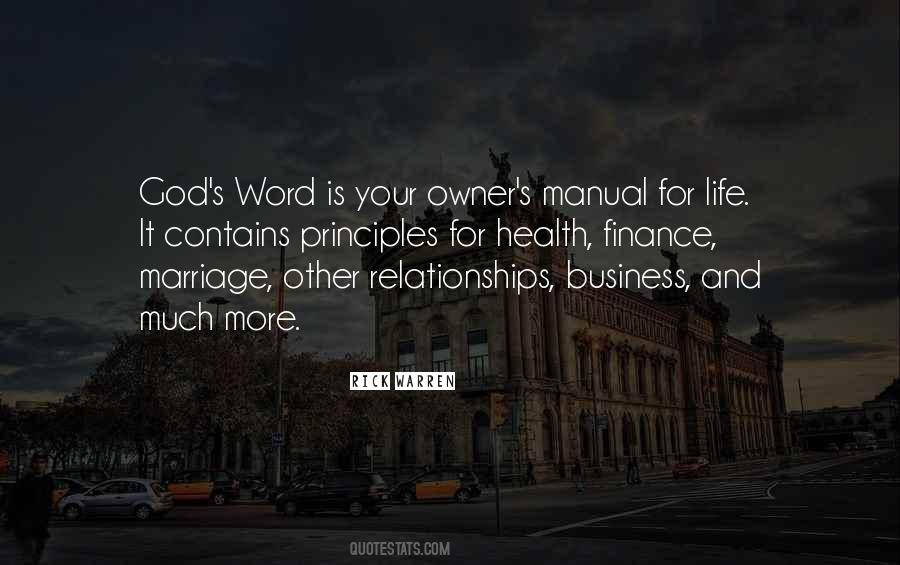 #46. Business can constitute an enormous force for goodness in society. Through its commitments to corporate citizenship and to the principles of the UNGC, the global business community can continue to create and deliver value to society. - Author: Talal Abu-Ghazaleh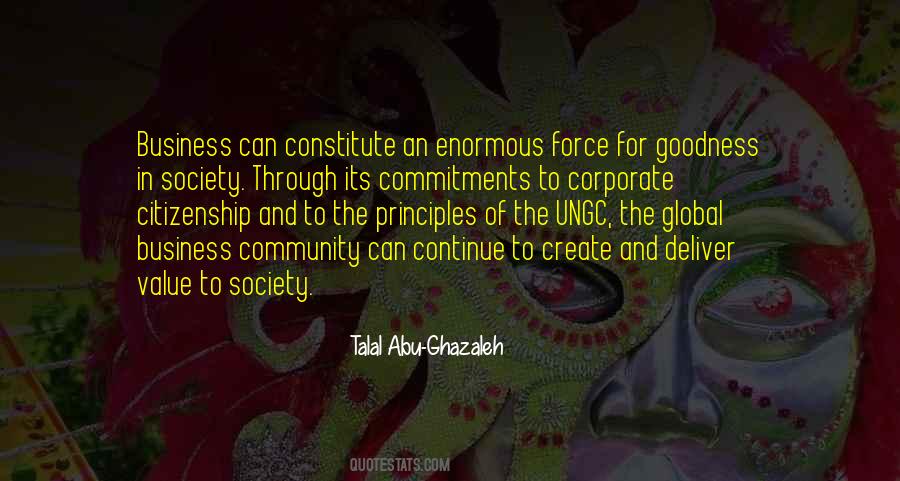 #47. Whatever achievements and successes I've had didn't happen overnight. It is all a product of guidance, hard work, careful planning, and intense, passionate execution over many years. (p. 69) - Author: Injap Sia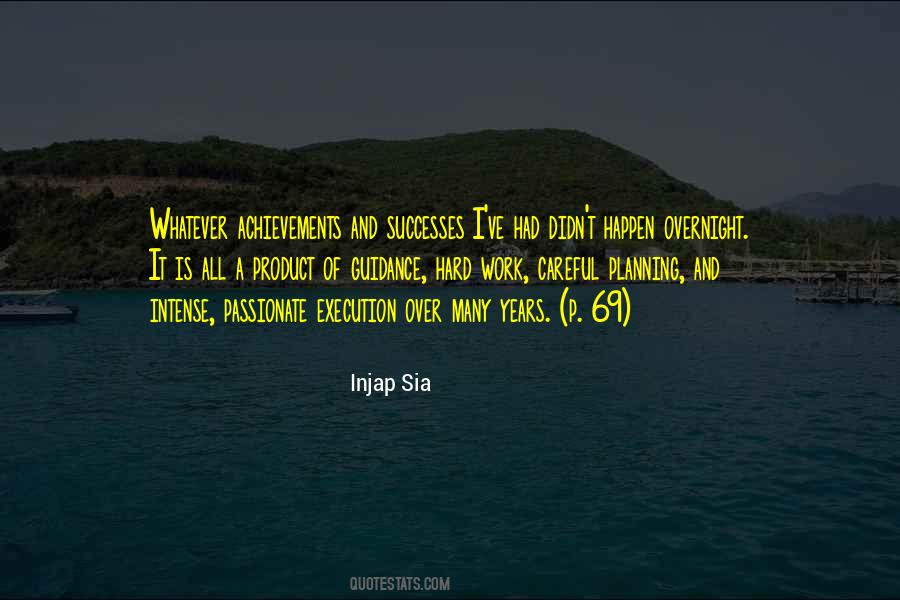 #48. But principles defended at the expense of pragmatic application is the business of priests. - Author: Kathleen Parker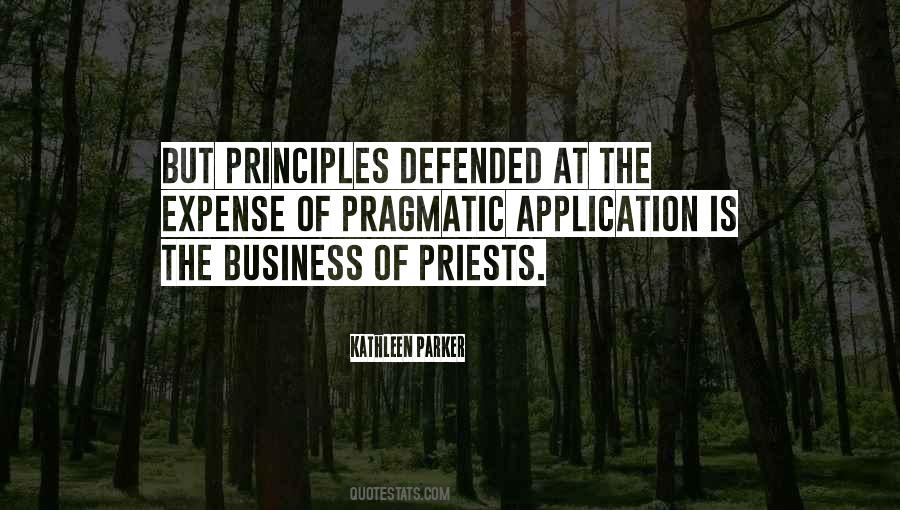 #49. While it is important to be aware of and sensitive to cultural differences when conducting business internationally, the principles of transparency, trust, and partnership are universal. - Author: Dan Quayle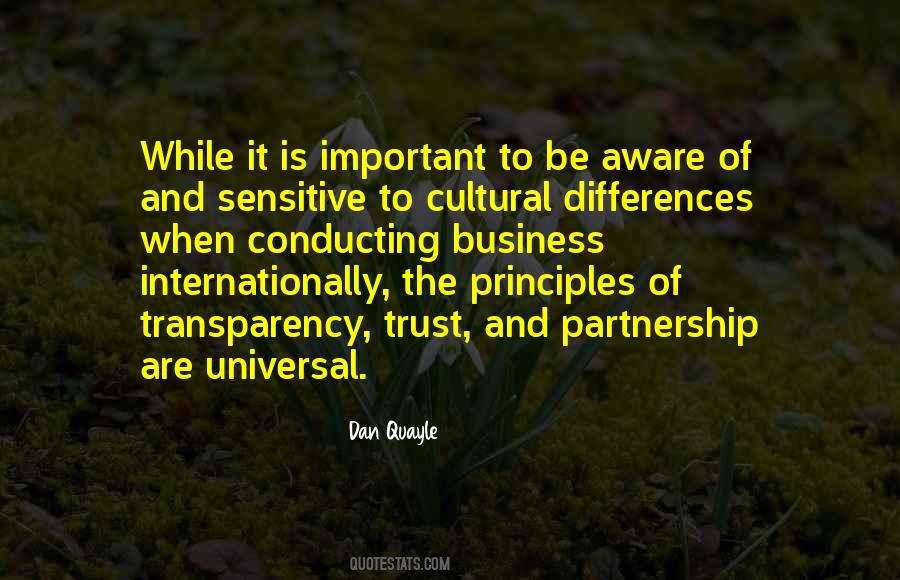 #50. The principles we live by, in business and in social life, are the most important part of happiness. - Author: Harry Harrison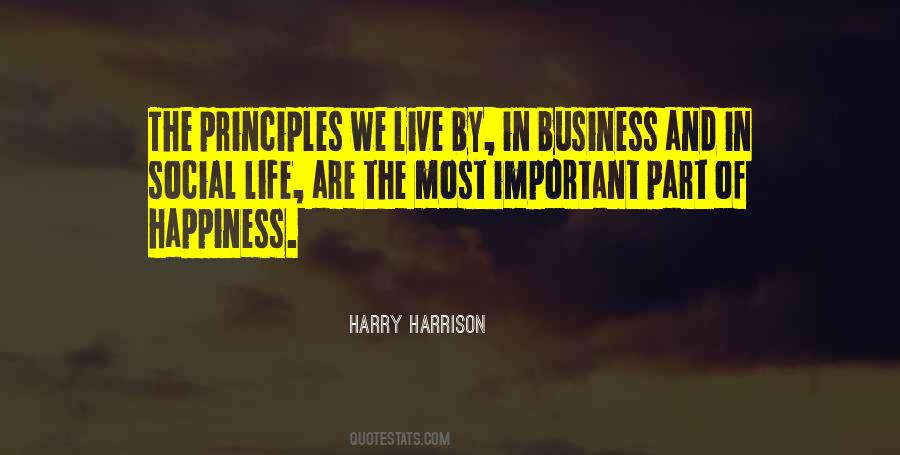 #51. When I think about parallels between myself and an Olympian, I believe that success in the world of business is underpinned by very similar principles of perseverance and hard work. - Author: Lakshmi Mittal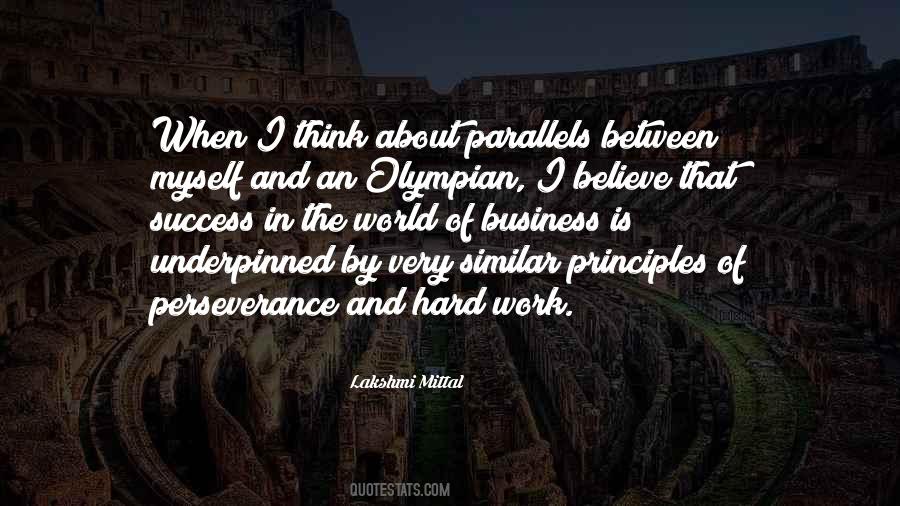 #52. Don't be afraid if your idea is crazy, because good things come from crazy ideas. (p. 96) - Author: Injap Sia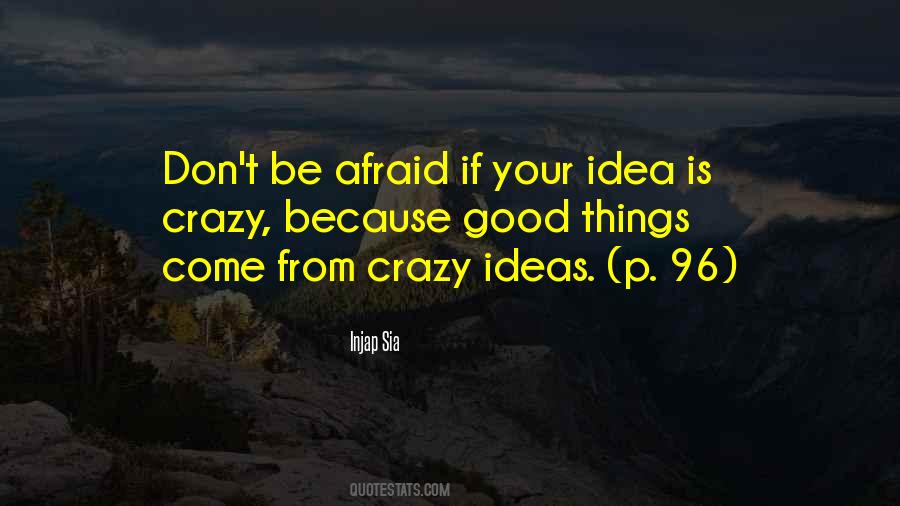 #53. We all learn by imitating, as children, as students, as novices in the world of business. And then we grow up and learn to blend our innate abilities with the rules or principles we have learned. - Author: Akio Morita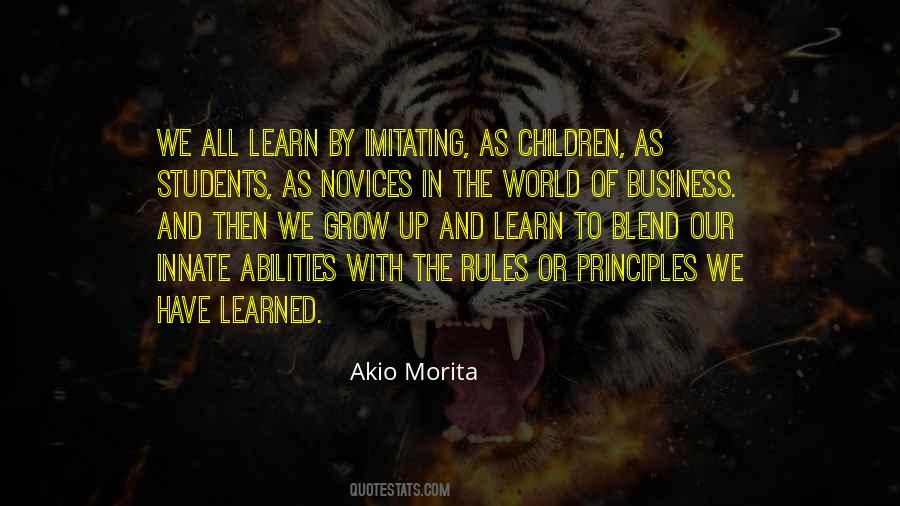 #54. The sciences of today are business enterprises run on business principles. Research in large institutes is not guided by Truth and Reason but by the most rewarding fashion, and the great minds of today increasingly turn to where the money is - which means military matters. - Author: Paul Feyerabend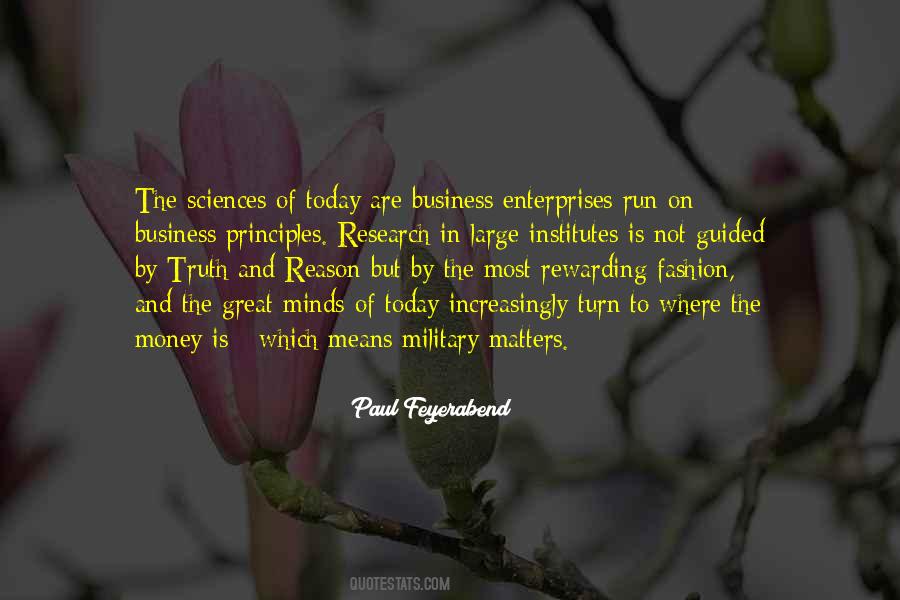 #55. I suggest the greatest challenge to Christians in the business world is within - making the heart determination (simply put, the choice) to live by God's principles and sticking with it; making the commitment to serving Christ and mankind with our efforts, our gifts and our knowledge. - Author: Zig Ziglar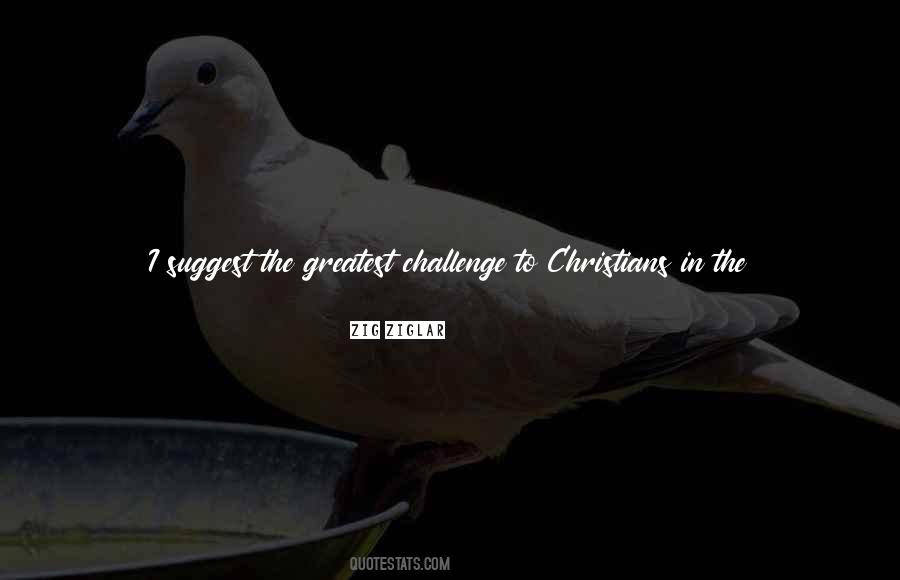 #56. I was excited to do something, even if I didn't know what it was. I think you need that feeling - that excitement, that fire - to make your dreams a reality. (p.59) - Author: Injap Sia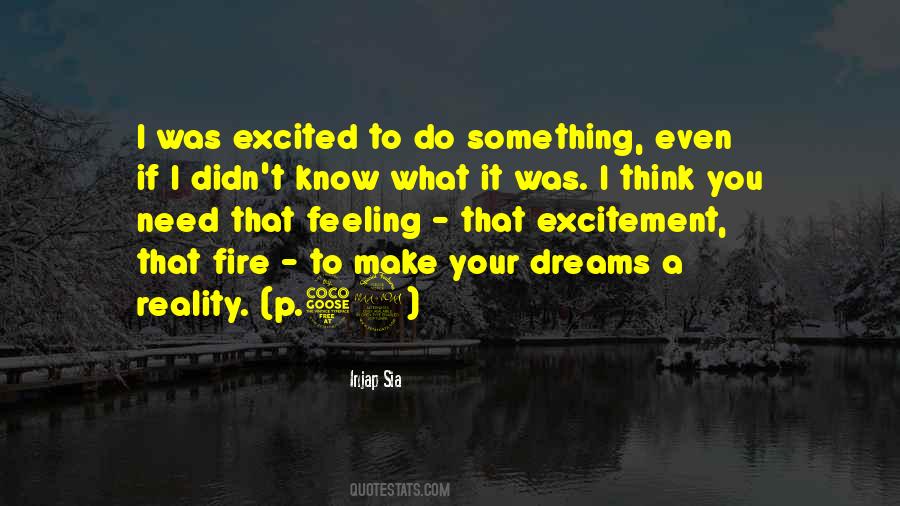 #57. Men must be able to engage in business and go to war, but leisure and peace are better; they must do what is necessary and indeed what is useful, but what is honorable is better. On such principles children and persons of every age which requires education should be trained. - Author: Aristotle.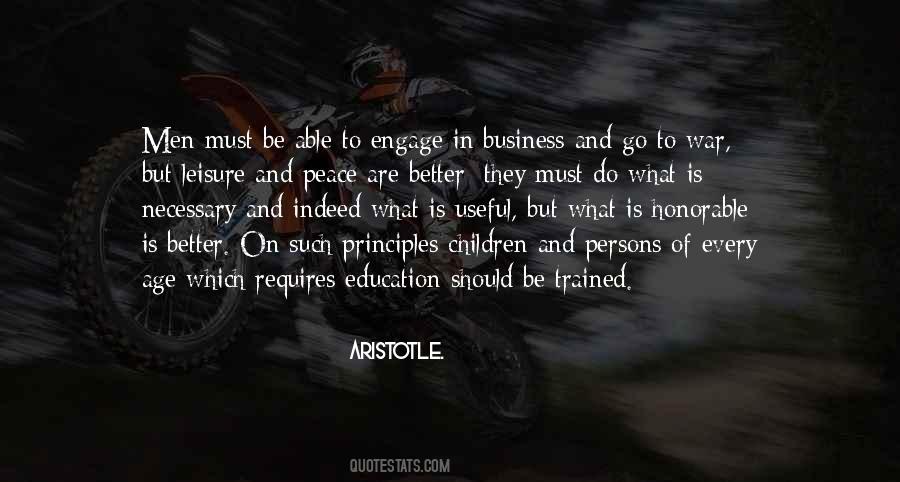 #58. Business principles are only as good as the practices that back them up. - Author: Chip Conley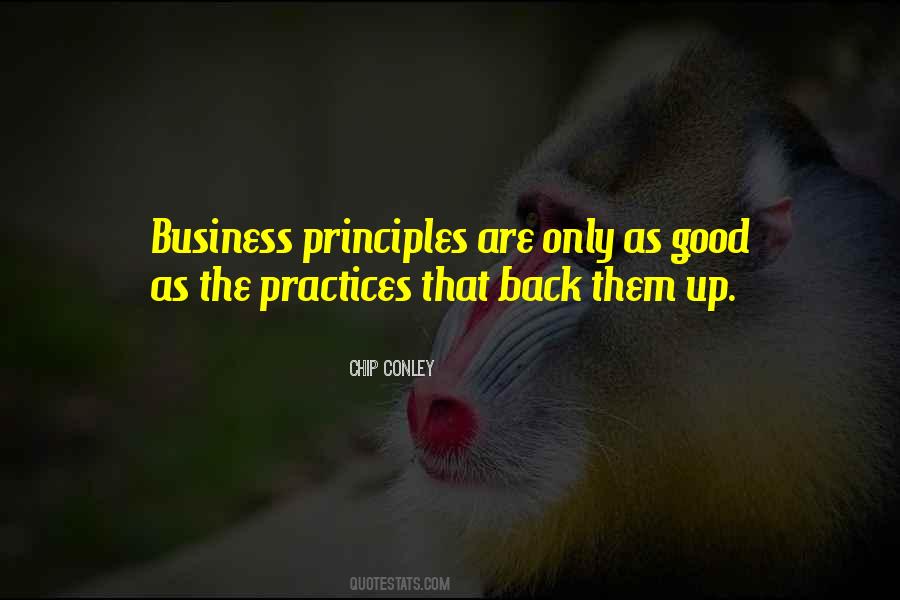 #59. A principle isn't a principle until it costs you something. - Author: William Bernbach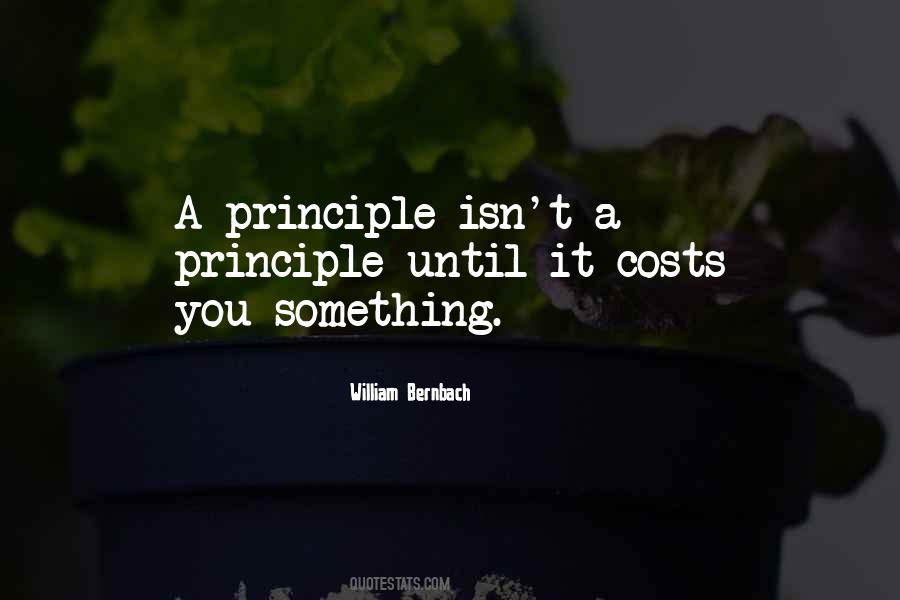 #60. It is often said by reformers that government should be conducted upon business principles. - Author: John Buchanan Robinson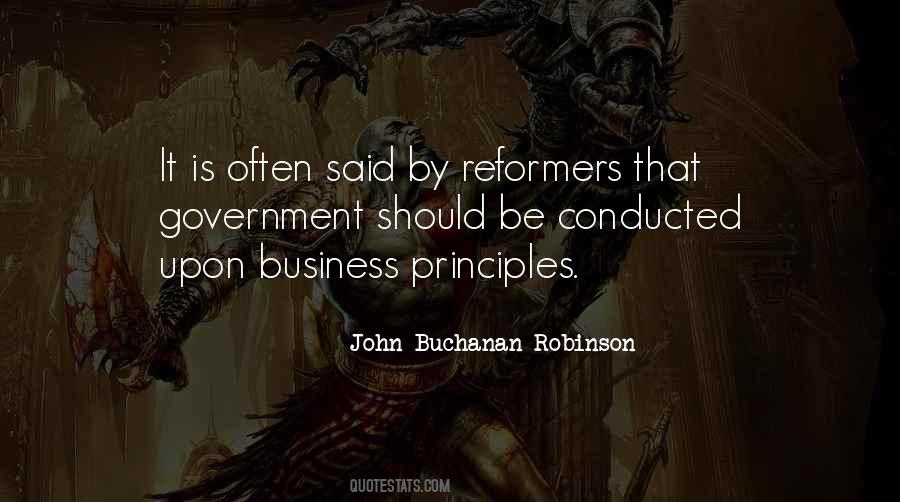 #61. the title of our book lightly, either. Let Go To Grow is all about our vision of the future of business, its implications, and our best practices. It's about the future of your business too. We begin the book with some sobering marketplace realities and offer a set of management principles - Author: Linda S. Sanford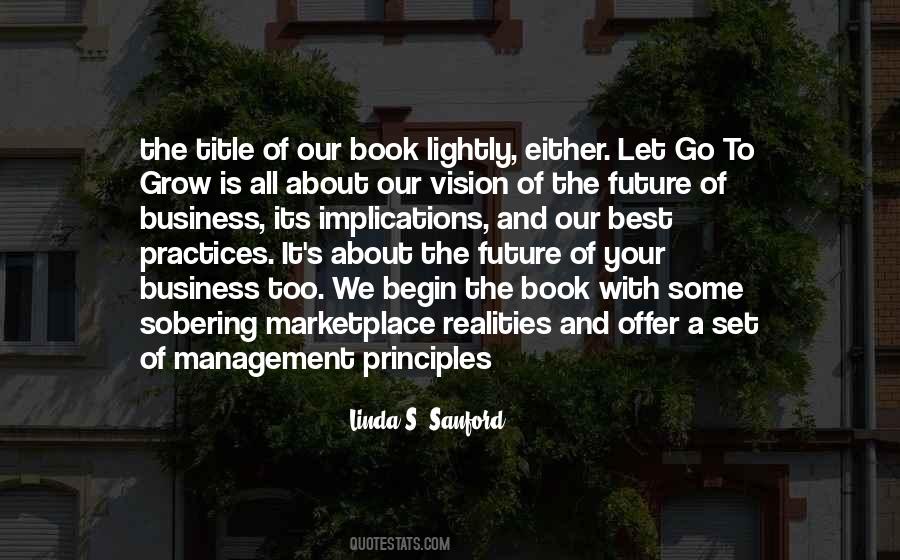 #62. At a lot of companies founded on principles, the notion of making money is almost antithetical to the ethos of the place. From the very beginning, our business has existed to meet the needs and desires of multiple constituencies: customers, team members, vendors, shareholders, the community. - Author: John Mackey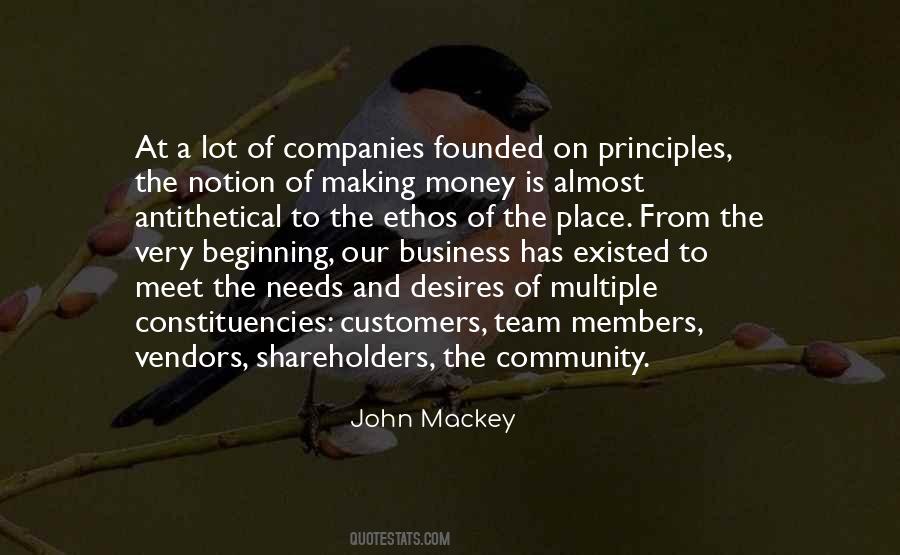 Famous Authors
Popular Topics