Birds And Love Famous Quotes & Sayings
List of top 100 famous quotes and sayings about birds and love to read and share with friends on your Facebook, Twitter, blogs.
Top 100 Quotes About Birds And Love
#1. Scavenger birds love the taste of human flesh, a fact most humans would have no way of knowing. - Author: Sam McPheeters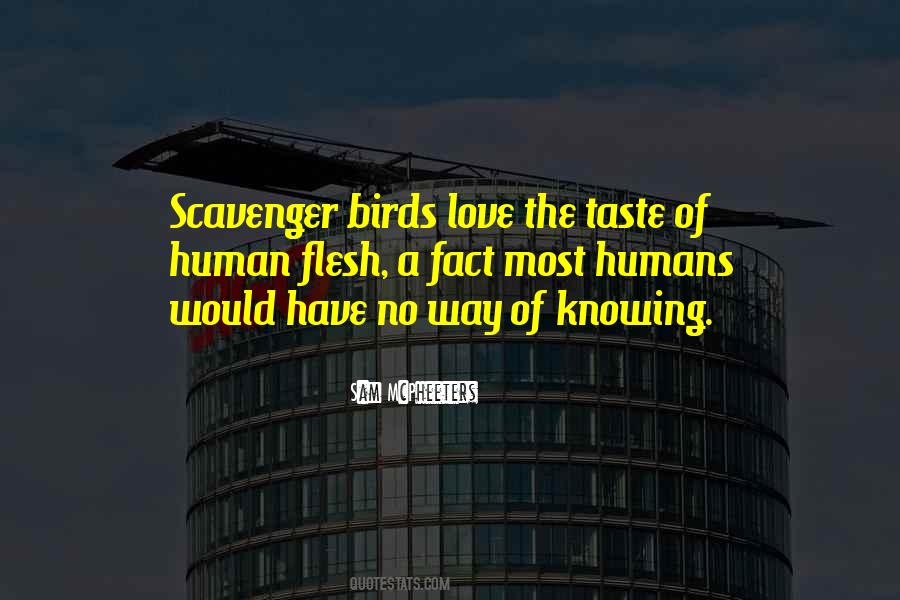 #2. Fish got to swim, birds got to fly
I got to love one man till I die
Can't help lovin' dat man of mine. - Author: Oscar Hammerstein II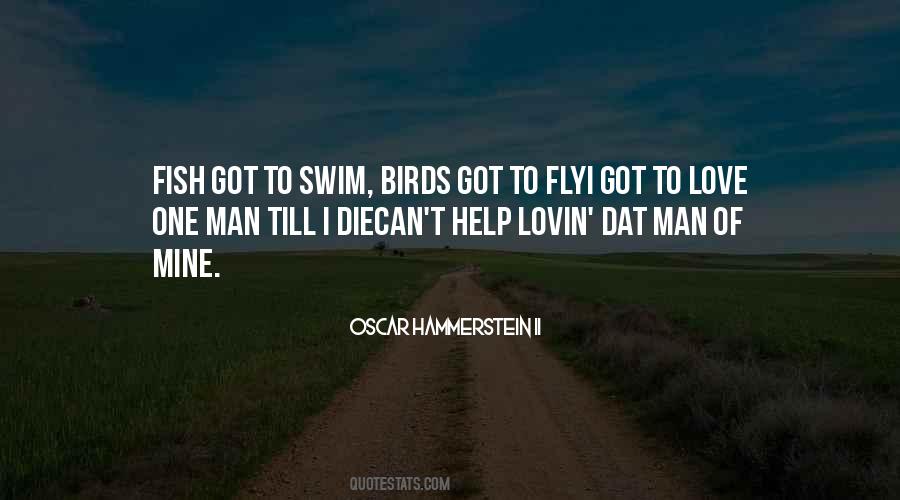 #3. I think penguins are the most human of all the birds, which may be why people love them. They're cute, they stand upright and they look like they're wearing tuxedos. - Author: Shia Labeouf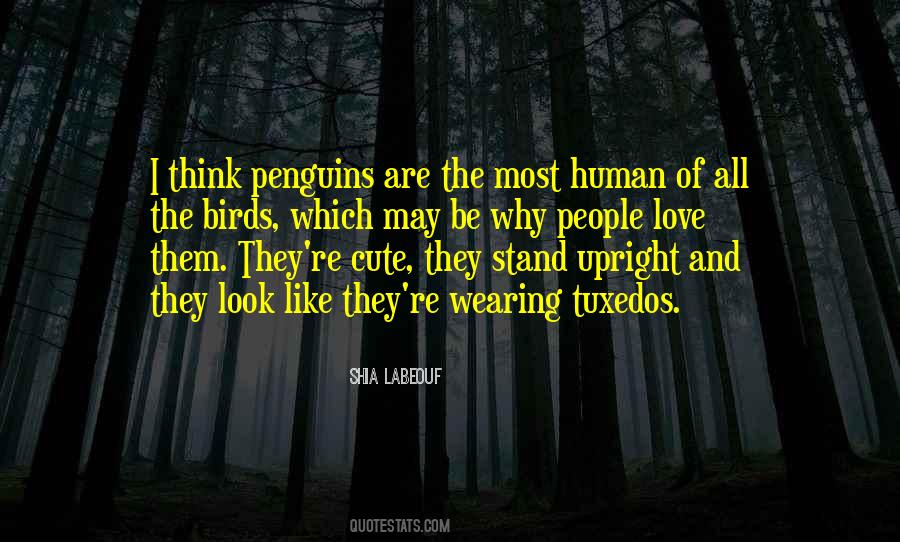 #4. Four geological eras had to pass so that human beings would be able to outsing the birds and die for love. - Author: Gabriel Garcia Marquez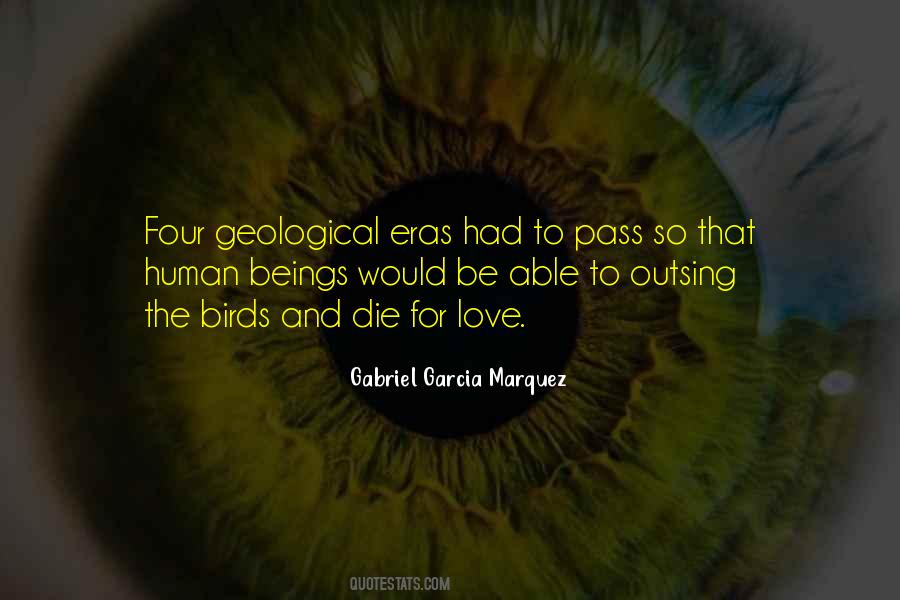 #5. Love is sacred. Beauty is sacred. Flowers are sacred. Birds are sacred. And sacredness brings the perfume of love and compassion. Therefore love and compassion is the perfume of sacredness. It sounds rather poetic, but ... God IS poetry. - Author: Vasant Lad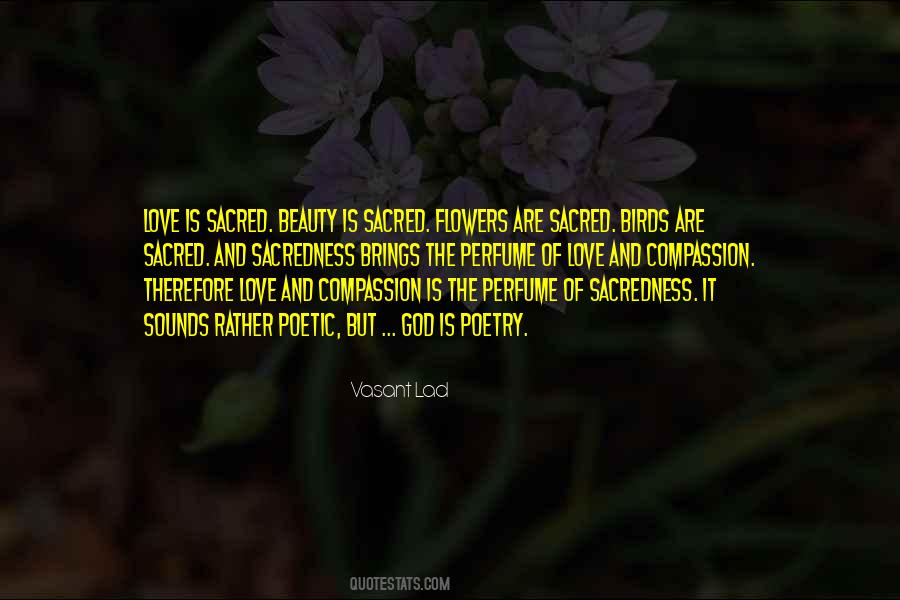 #6. Never your bird, never finch
never graceful feathered thing. - Author: Krysten Hill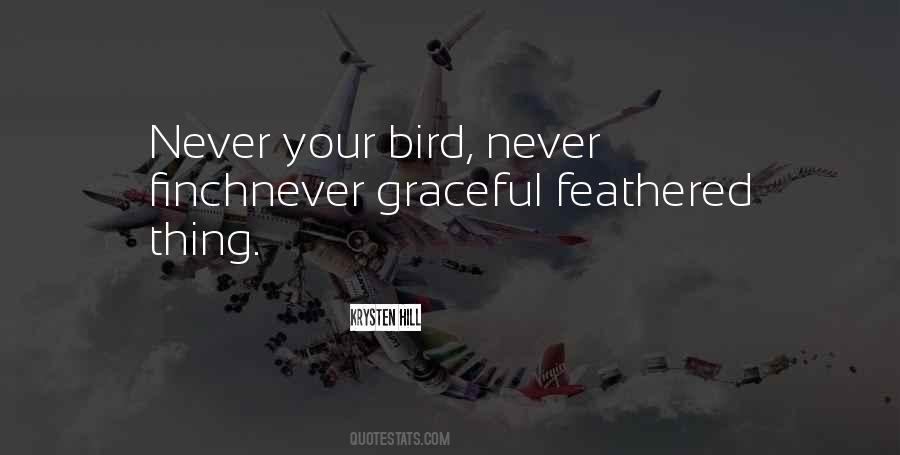 #7. First came him, then came I, then he came again and then I was lost forever. - Author: Alok Jagawat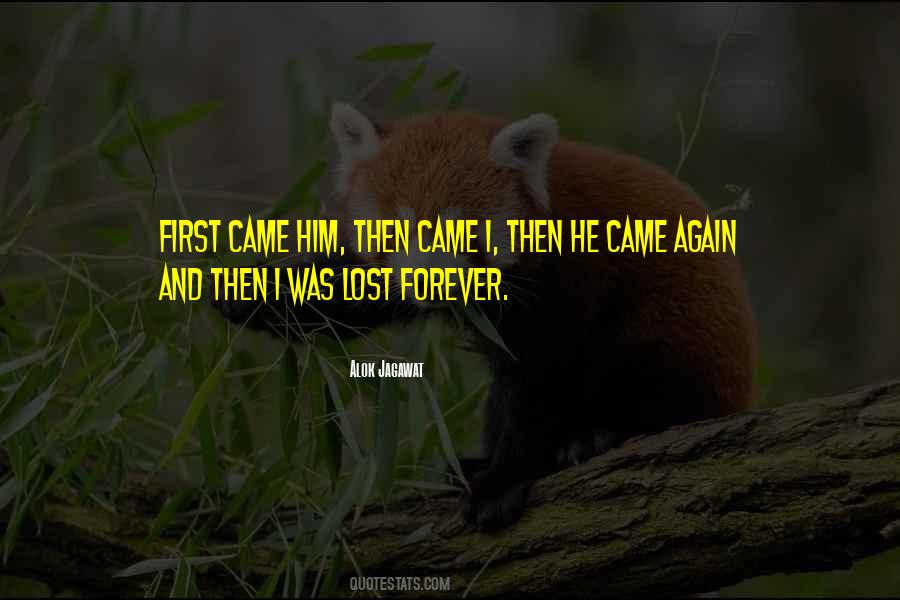 #8. Wax myrtle: The birds love this stuff. - Author: Mike Thompson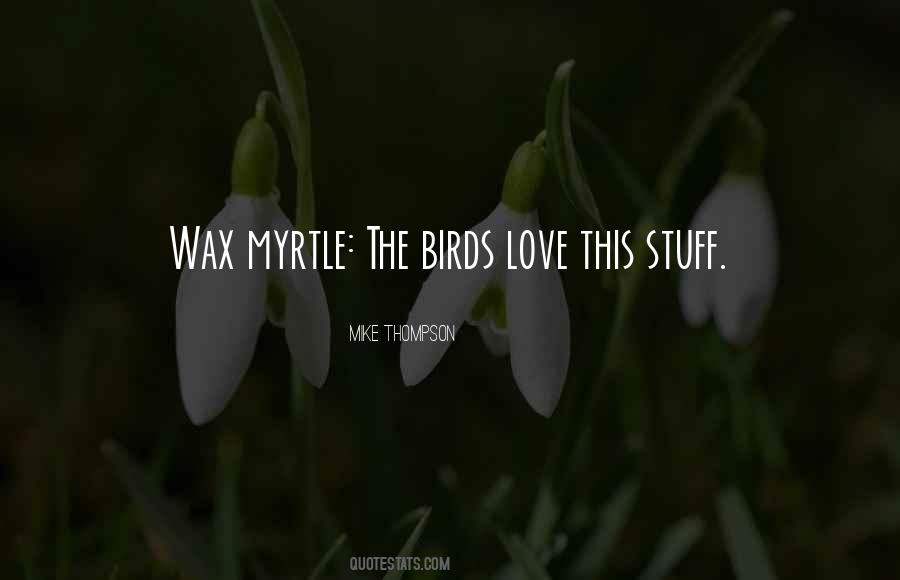 #9. I love you as big as the ocean and all its fishes. As big as the sky and all its birds. As big as the earth and all her trees. - Author: Susan Abulhawa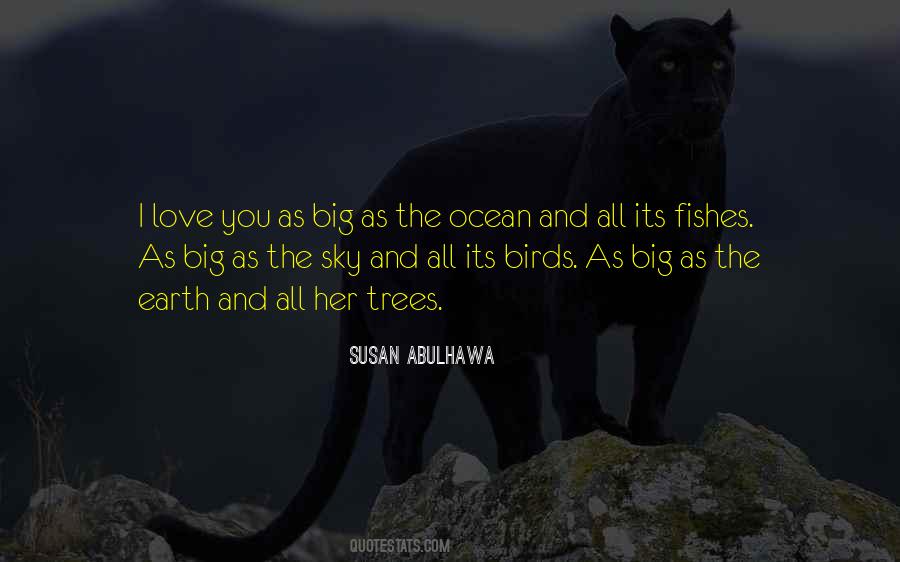 #10. Without love we all like birds with broken wings. - Author: Mitch Albom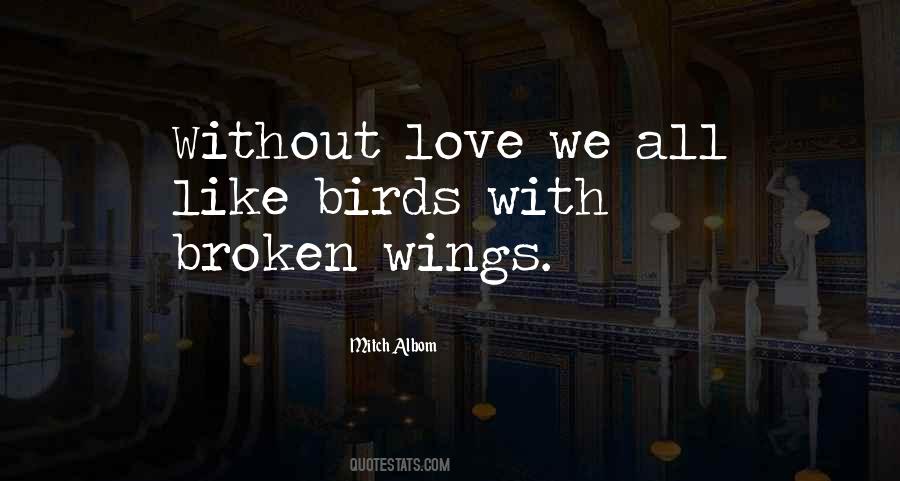 #11. Without love, we are birds with broken wings - Author: Mitch Albom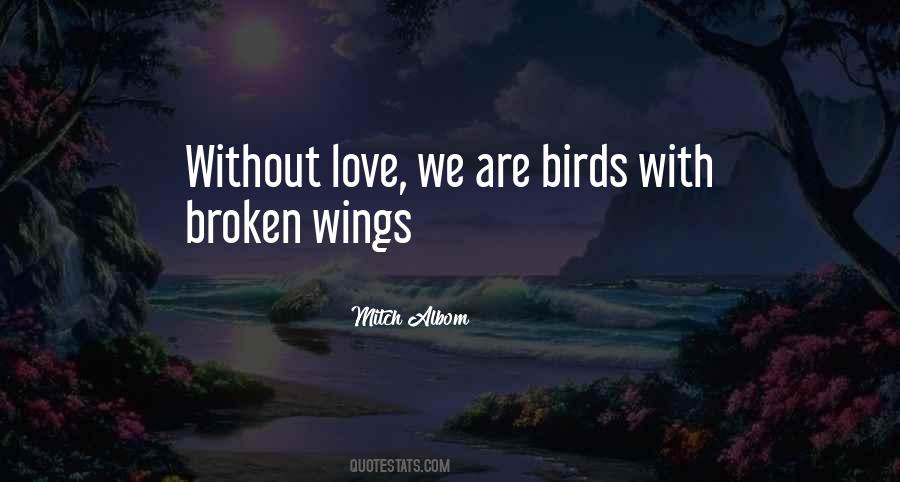 #12. In mirth he mocks the other birds at noon,
Catching the lilt of every easy tune;
But when the day departs he sings of love,
His own wild song beneath the listening moon. - Author: Henry Van Dyke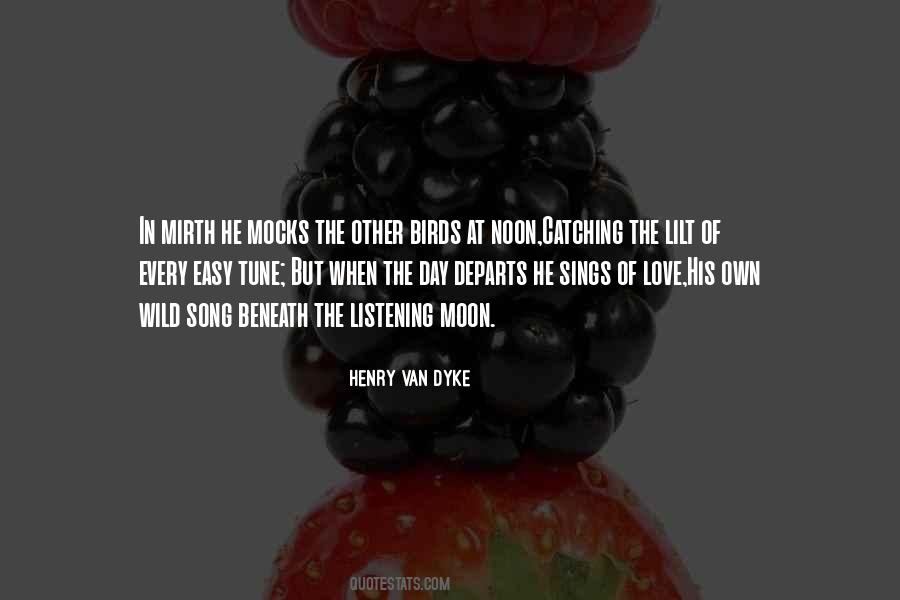 #13. As much as I converse with sages and heroes, they have very little of my love and admiration. I long for rural and domestic scene, for the warbling of birds and the prattling of my children. - Author: John Adams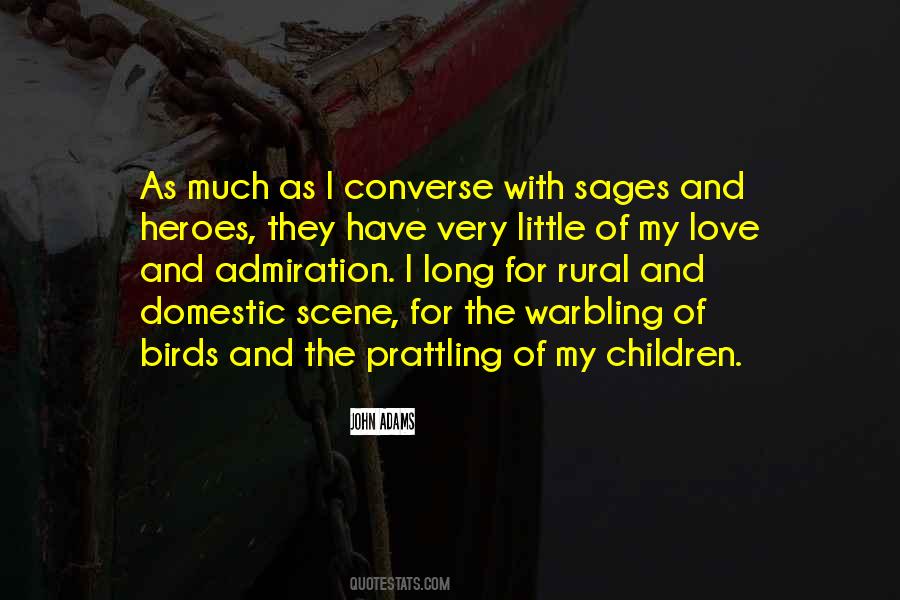 #14. Maybe these desert birds could explain to him the meaning of love without ownership. - Author: Paulo Coelho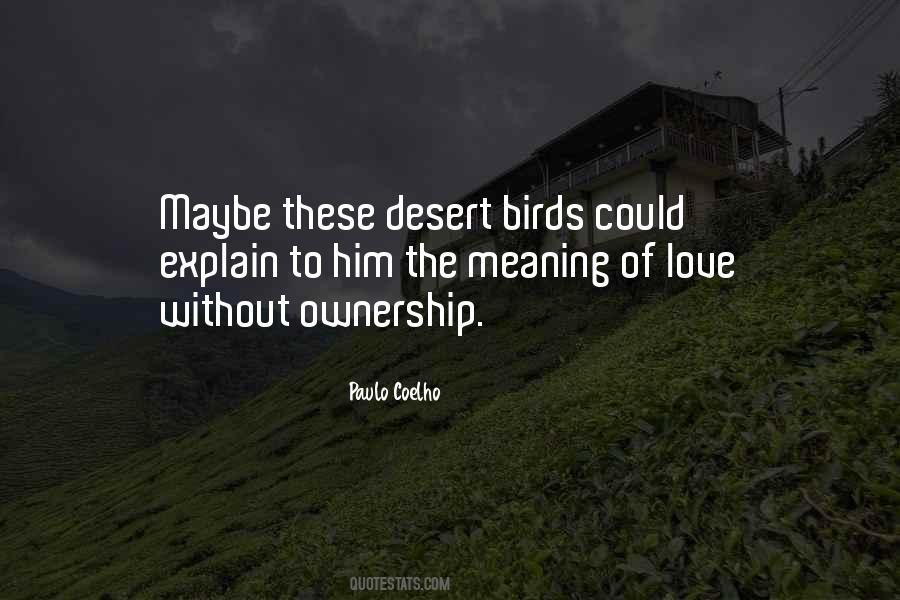 #15. During a moment of silence I close my eyes tight and let the birds take me. When I opened my eyes I saw her. - Author: Jonathan Hull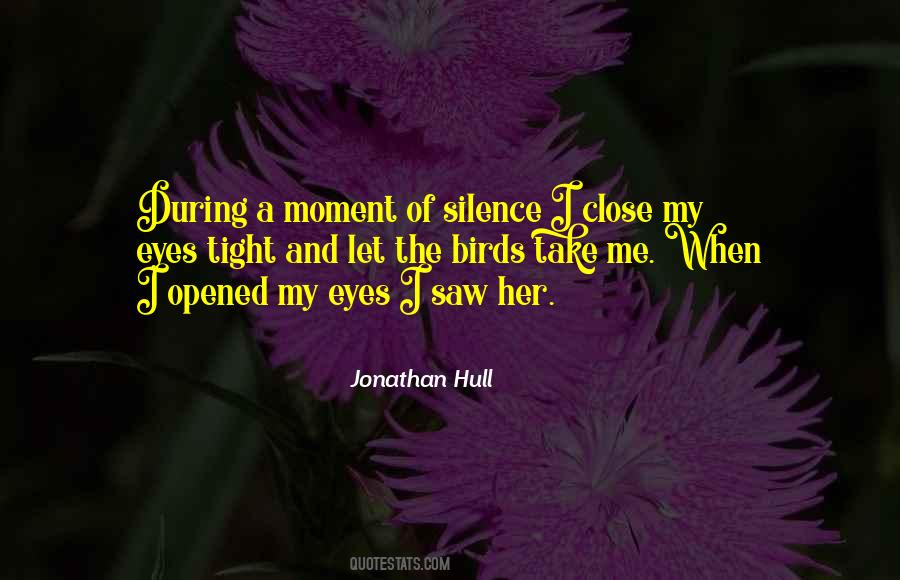 #16. Birds sing even when the world is filled with sadness. I don't know why people can't do the same thing. - Author: Michael Gilbert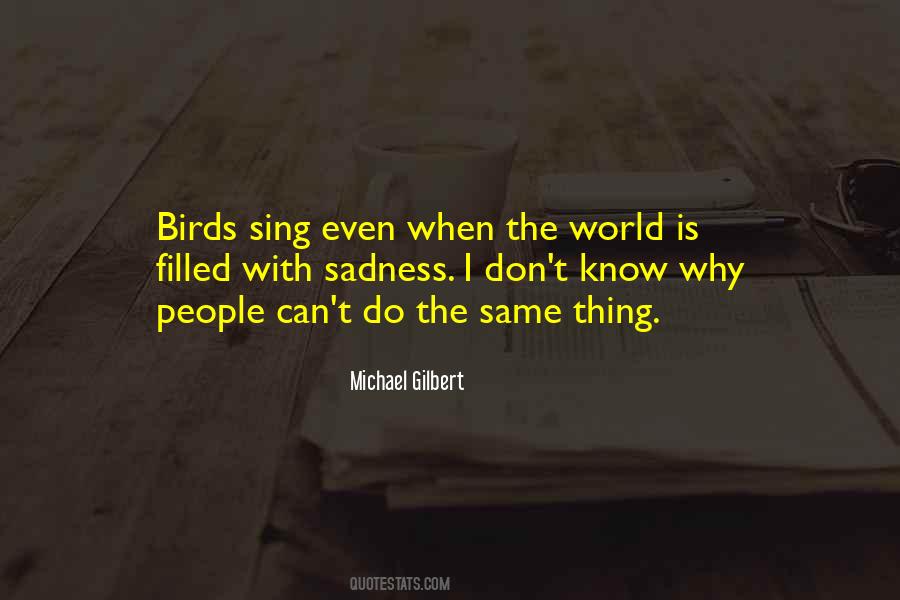 #17. There were always the birds - Author: Lauren Oliver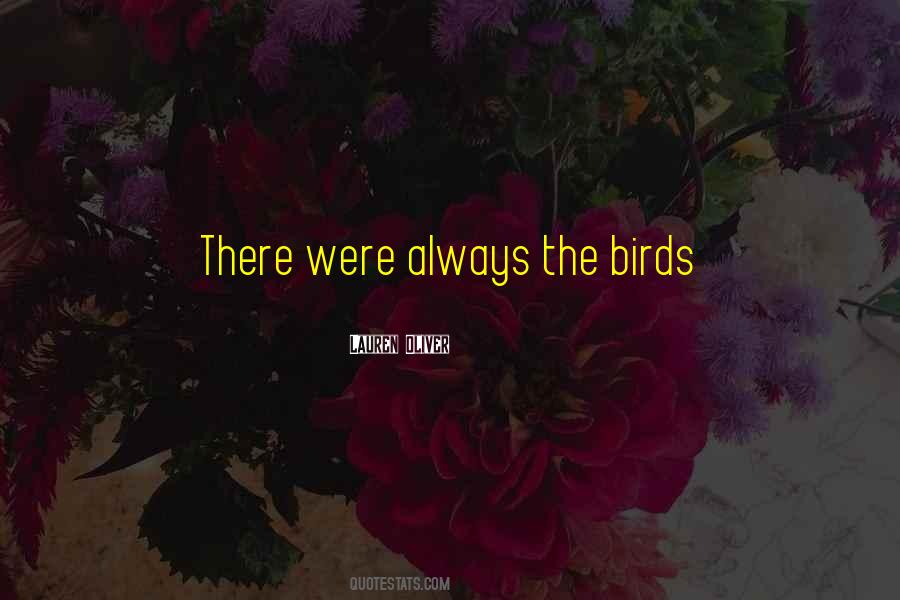 #18. It is not the diamonds or the birds, the people or the potatoes; it is not any of the nouns. The miracle is the adverbs, the way things are done. It is the way love gets done despite every catastrophe. - Author: Daniel Handler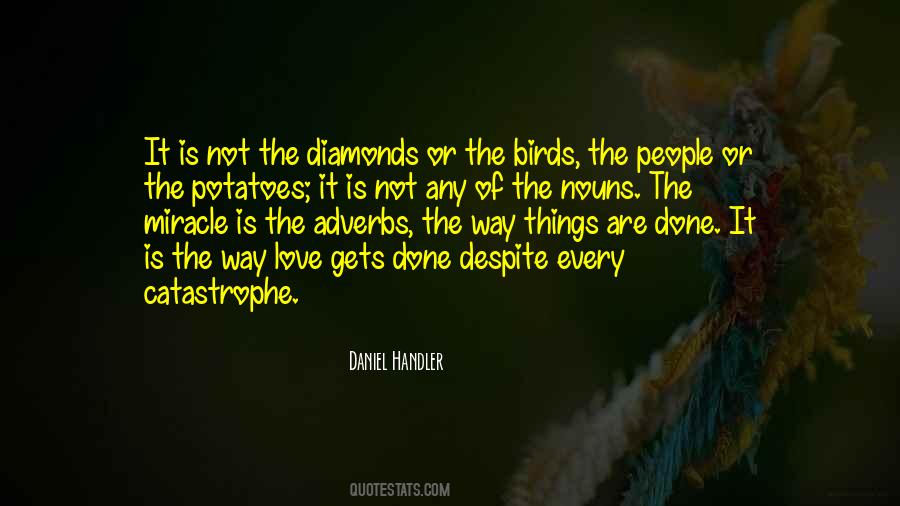 #19. He [Cupid] was Love [Eros] reborn. And as he was born after his parents coupled as Love-Birds, he was born with little fluttering wings. - Author: Nicholas Chong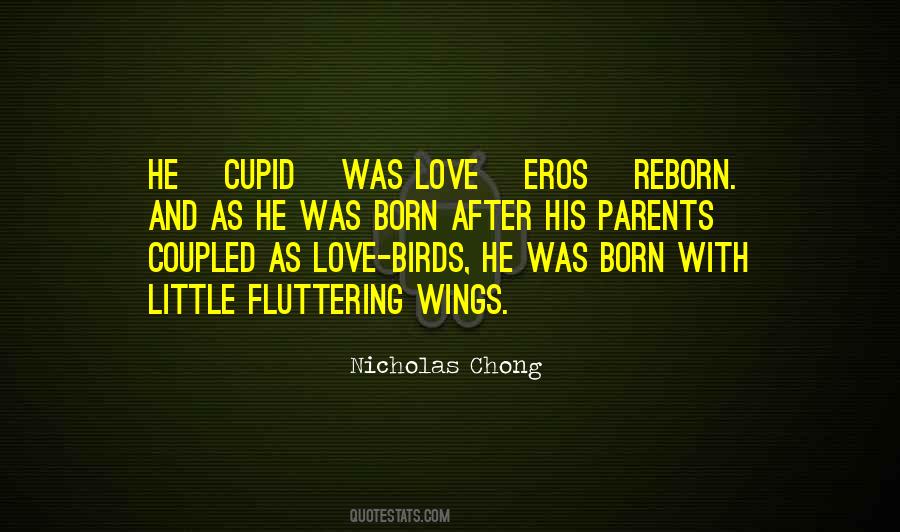 #20. I love all animals. I have a fascination with fish, birds, whales - sentient life - insects, reptiles. - Author: Nicolas Cage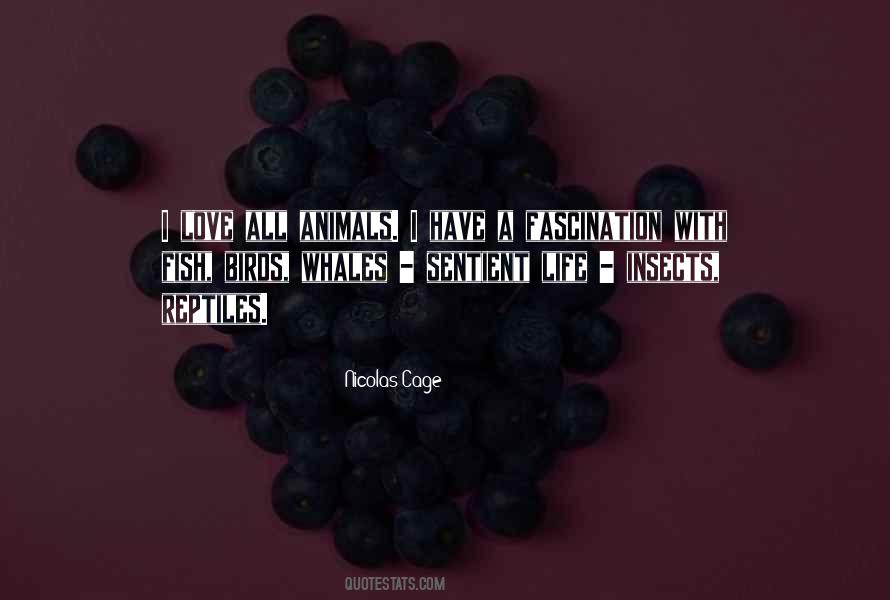 #21. Mrs. Jo did not mean the measles, but that more serious malady called love, which is apt to ravage communities, spring and autumn, when winter gayety and summer idleness produce whole bouquets of engagements, and set young people to pairing off like the birds. - Author: Louisa May Alcott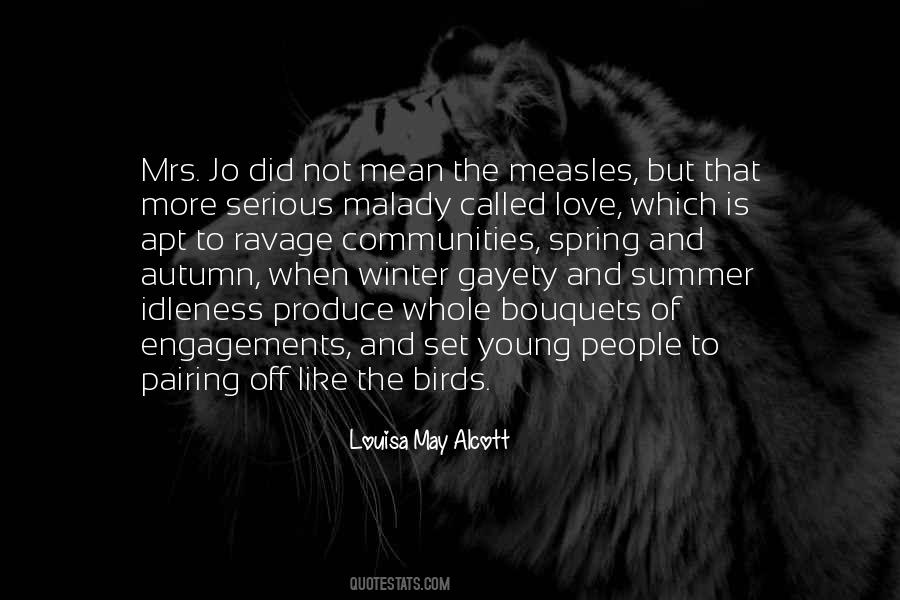 #22. One I love is taken from me, we will never walk together over the fields of earth, never hear the birds in the morning. Oh, how I have lived with you and loved you, and now you are gone away. Gone where I cannot follow, until I have finished all my days. - Author: Victoria Hanley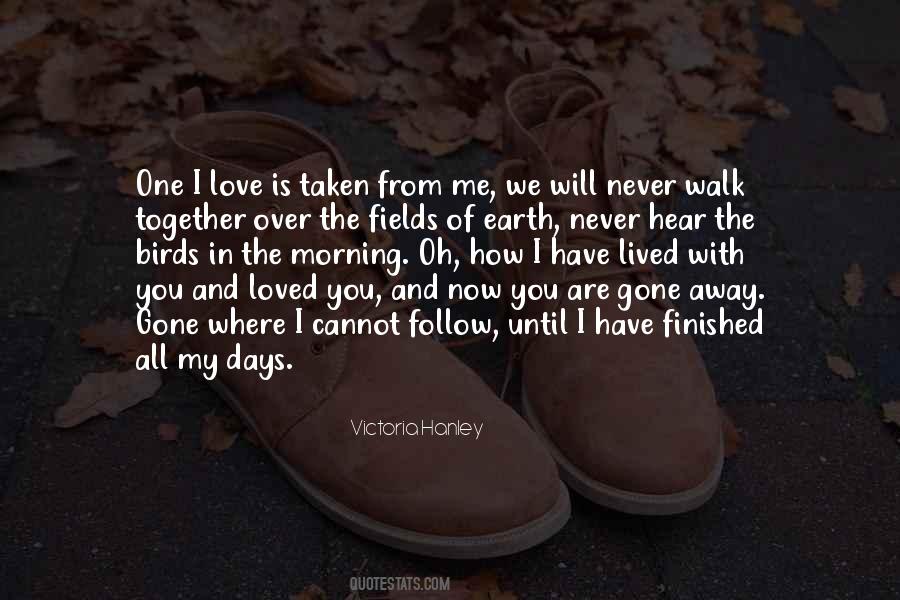 #23. I love the sound of the wind in the trees and the song of the birds and the shuffle in the leaves of my many woodland friends. - Author: Jason Mraz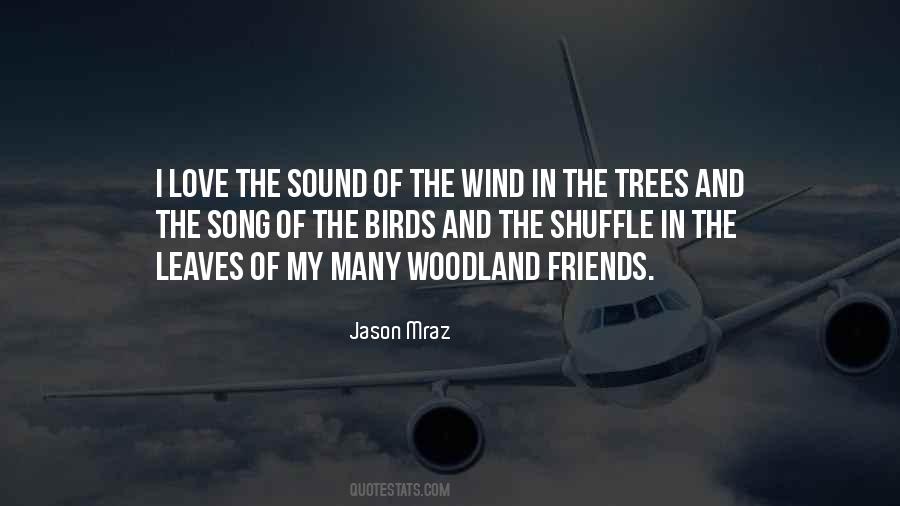 #24. Things! Burn them, burn them! Make a beautiful fire! More room in your heart for love, for the trees! For the birds who own nothing - the reason they can fly. - Author: Mary Oliver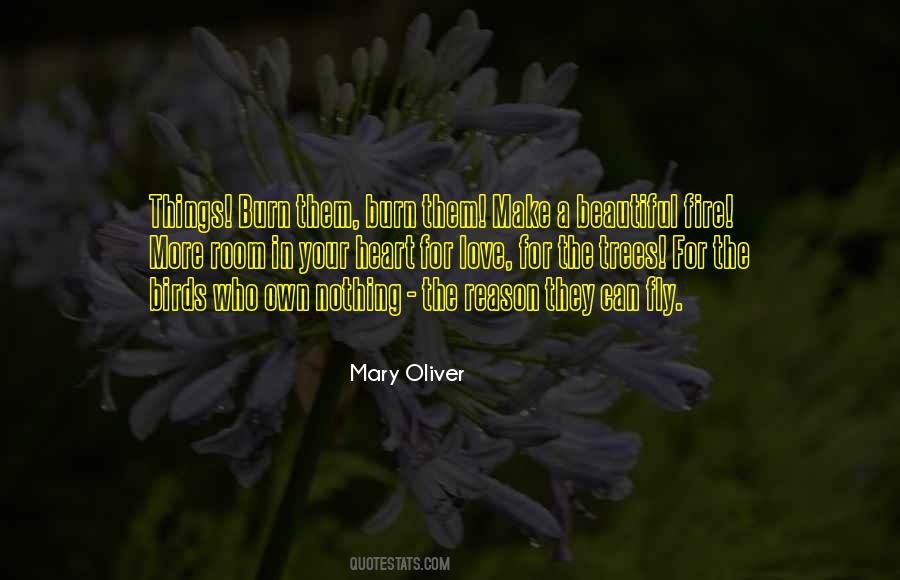 #25. She was suppose to be mine. I hers. We were suppose to be like the birds. - Author: Erin Bowman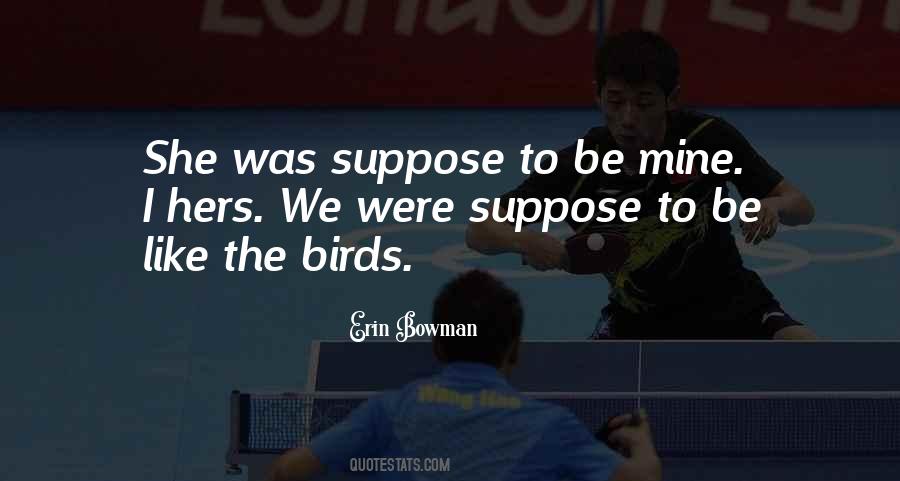 #26. Love is not only the story of butterflies or birds; it is also the story of jackals and hounds - Author: M.F. Moonzajer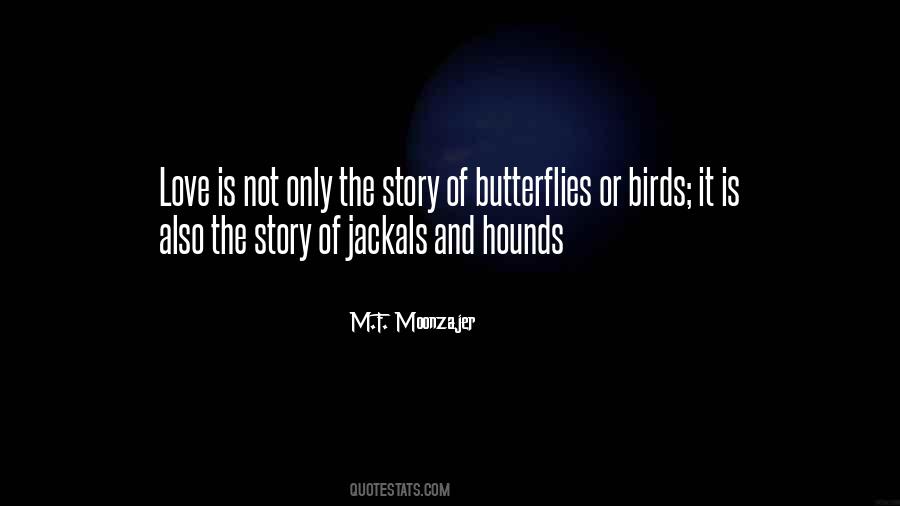 #27. If you want to know the value of an hour ask new love birds (lovers) that are waiting for each other at different bus stations. - Author: Sunday Adelaja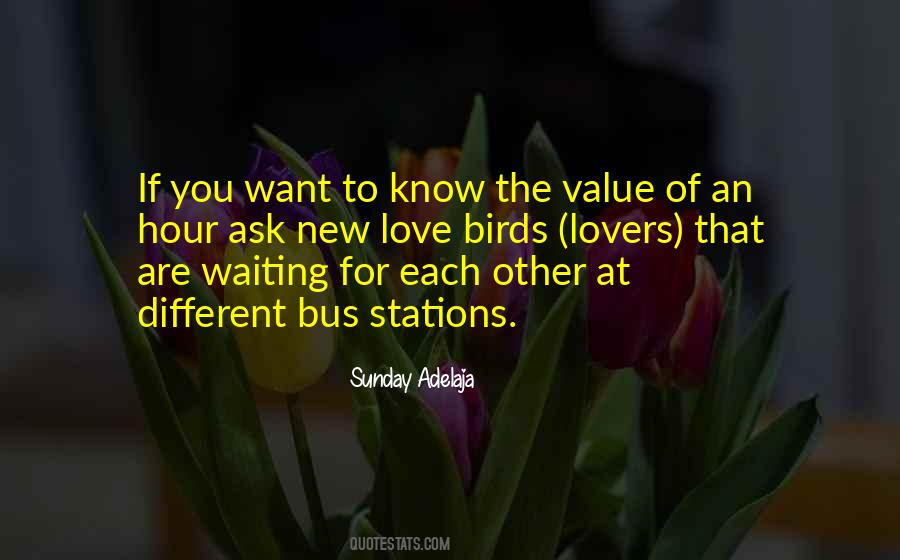 #28. As I love nature, as I love singing birds ... I love thee, my friend. - Author: Henry David Thoreau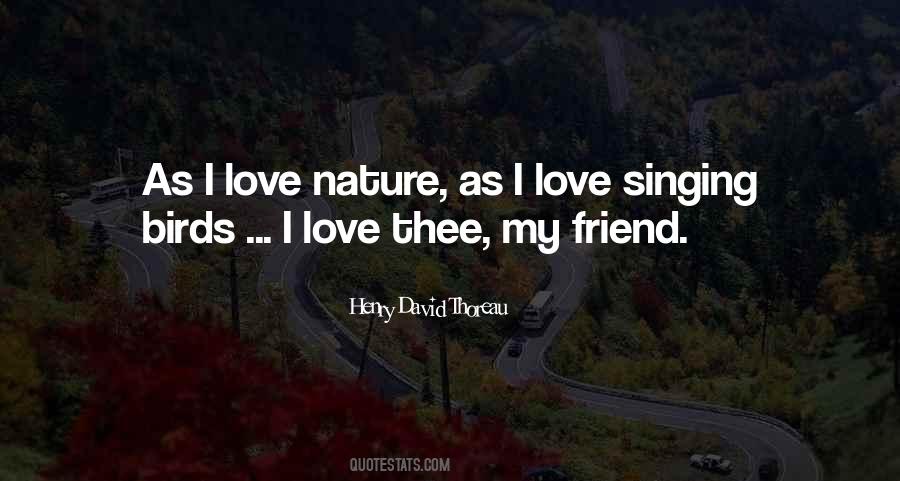 #29. It was Shakespeare's notion that on this day birds begin to couple; hence probably arose the custom of sending fancy love-billets. - Author: Washington Irving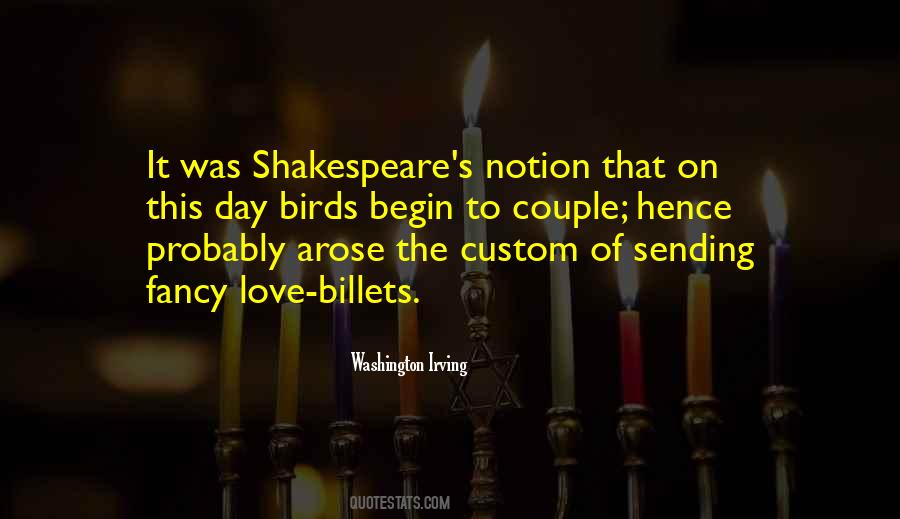 #30. Love could be cruel, and toxic, and overpowering. Love could jab you in the heart and leave you dry, but love could also make the birds sing louder, make the music sound lovelier, and make the wind blow sweeter. - Author: Lyra Parish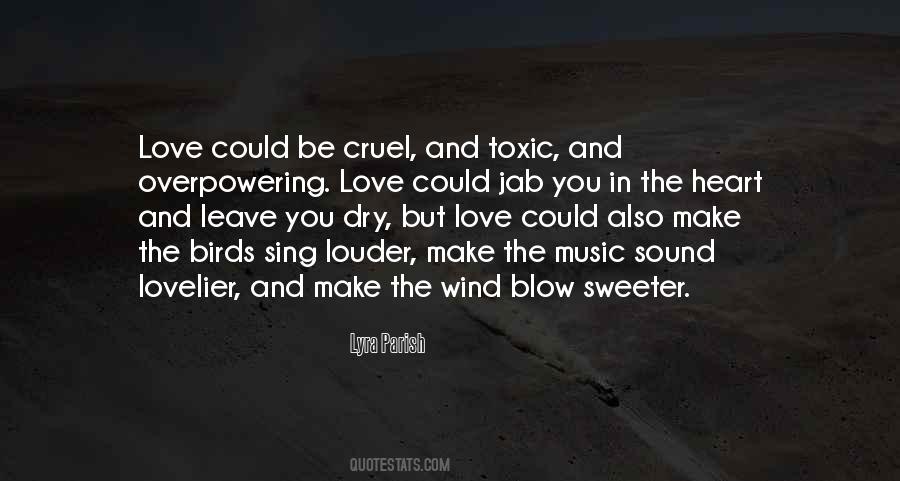 #31. In the marvelous month of May when all the buds were bursting, then in my heart did love arise. In the marvelous month of May when all the birds were singing, then did I reveal to her my yearning and longing. - Author: Heinrich Heine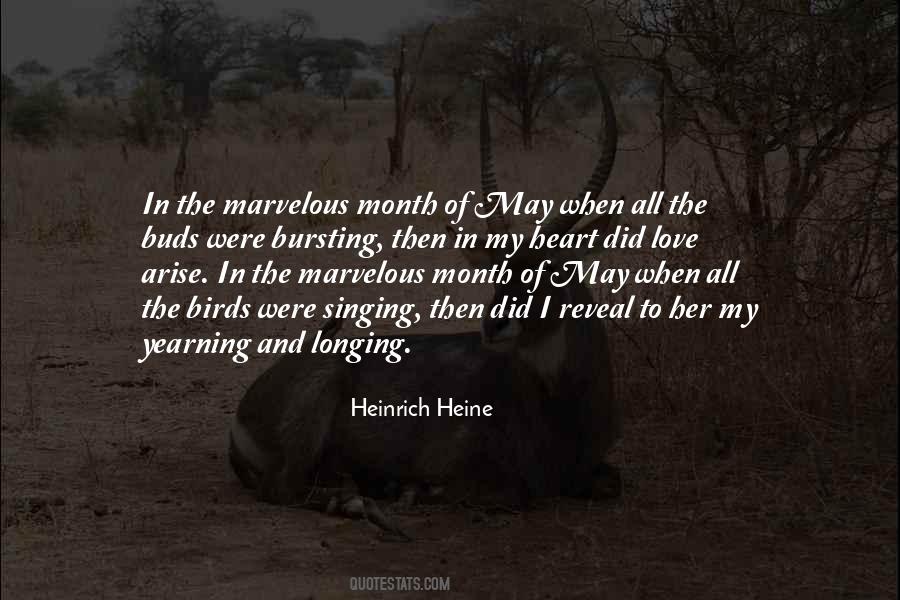 #32. Necessity knows no magic formulae-they are all left to chance. If a love is to be unforgettable, fortuities must immediately start fluttering down to it like birds to Francis of Assisi's shoulders. - Author: Milan Kundera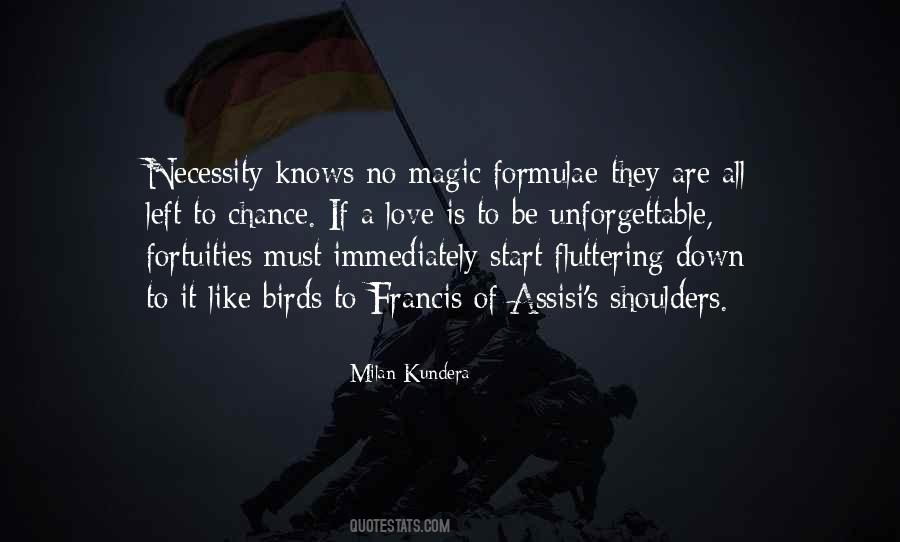 #33. It was a meditation on life, love, old age, death: ideas that had often fluttered around her head like nocturnal birds but dissolved into a trickle of feathers when she tried to catch hold of them. - Author: Gabriel Garcia Marquez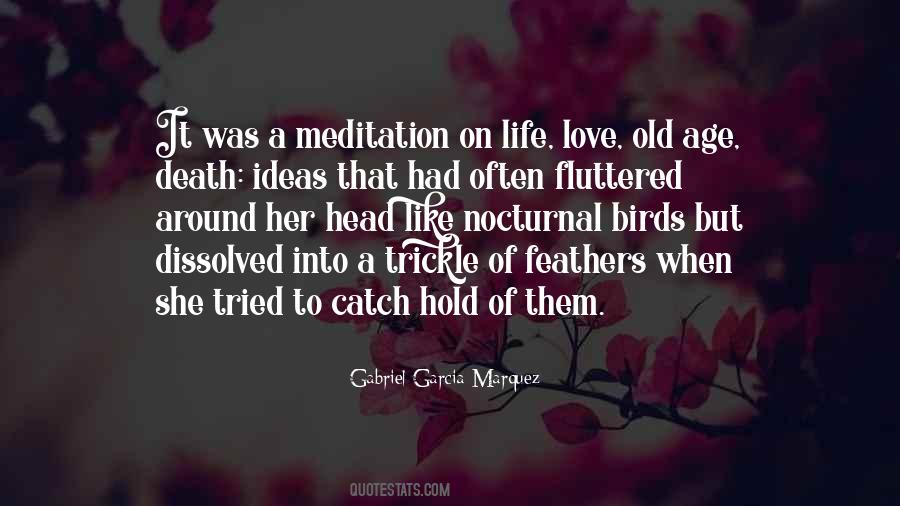 #34. I do love one-upmanship sometimes, like when you see kids breakdancing and who can do the best tricks. It's common, it's in our nature as animals, like the birds of paradise who've got the best feathers and that sort of stuff. But it's fun when it's impulsive and it's about fun. - Author: Bjork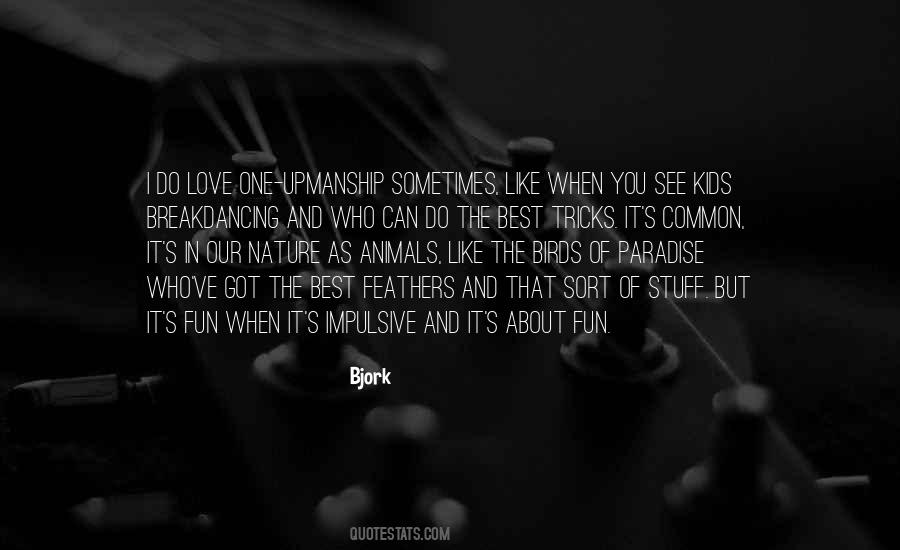 #35. Before I fell
in love with words,
with setting skies
and singing birds
it was you I fell
in love with first. - Author: Lang Leav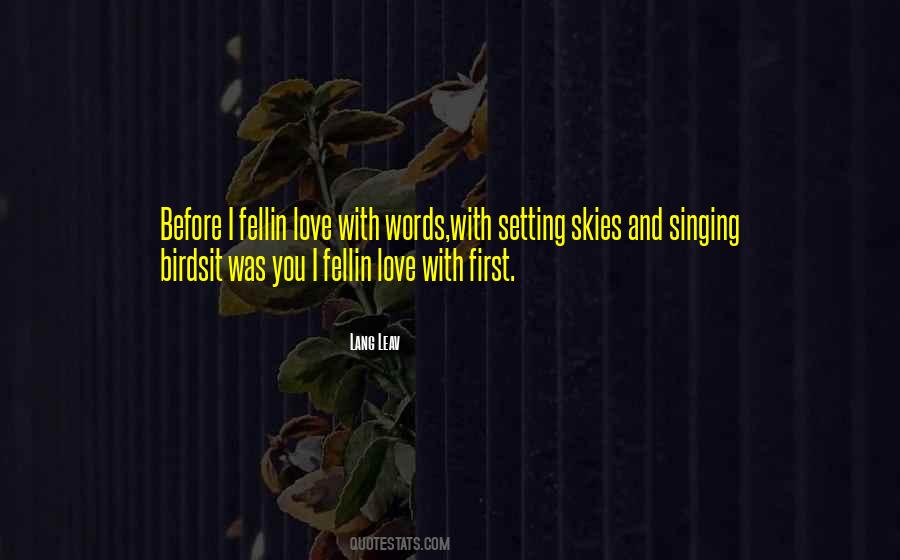 #36. The Greeks say it's a sin against the gods to love something beyond all reason. And do you remember that they say when someone is loved so, the gods become jealous, and strike the object down in the very fullness of its flower? - Author: Colleen McCullough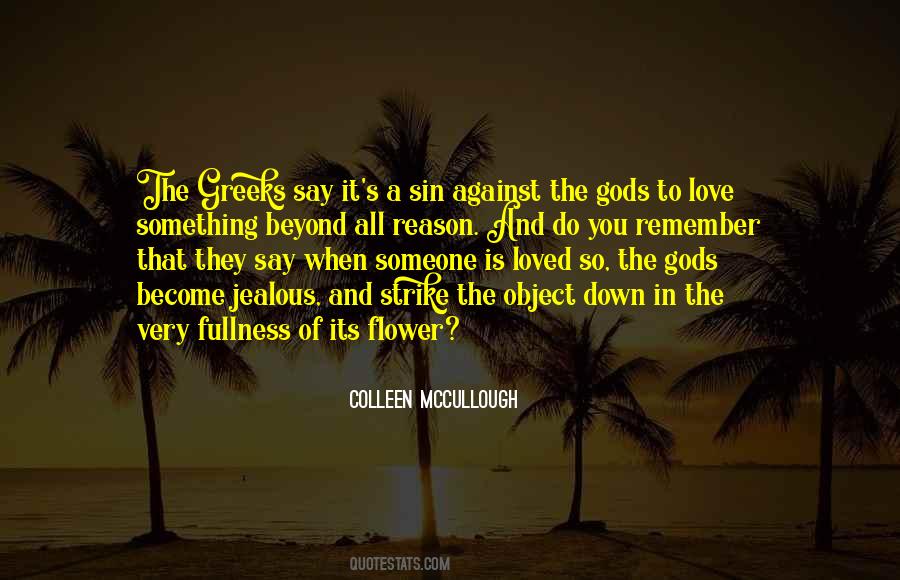 #37. The birds of night peck at the first stars
that flash like my soul when I love you. - Author: Pablo Neruda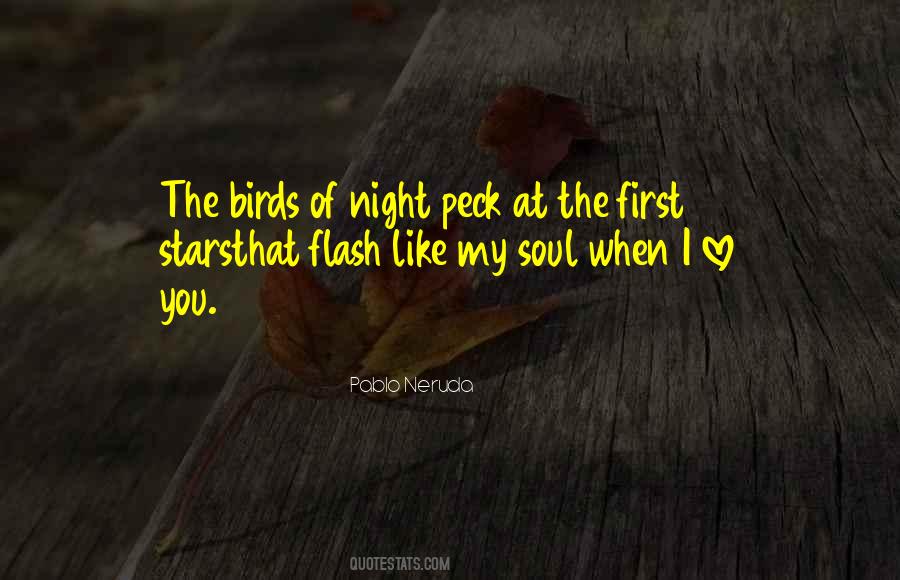 #38. I love Cadillacs and name them after birds. - Author: Betty White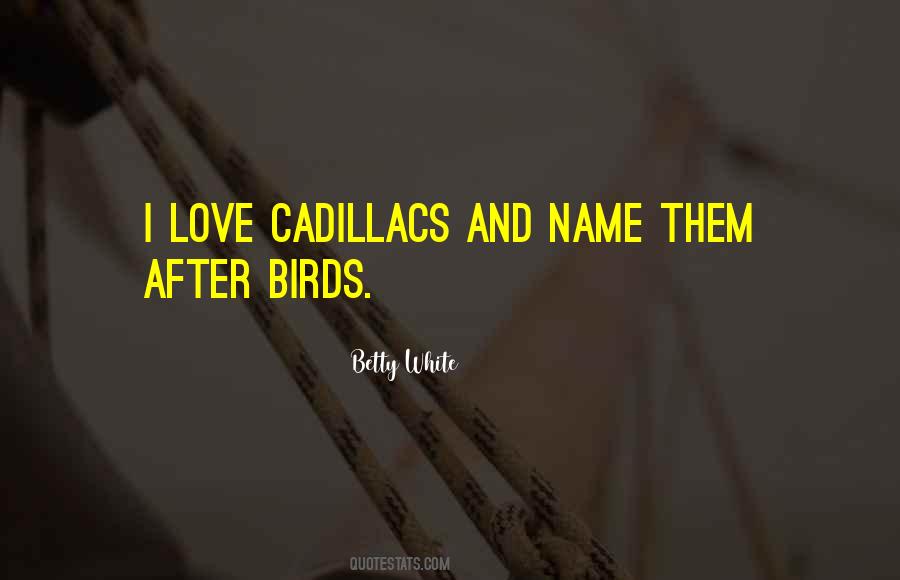 #39. Birds don't build nests on fruitless trees, whores have no love for poor men, and citizens don't obey a powerless king! - Author: Ashwin Sanghi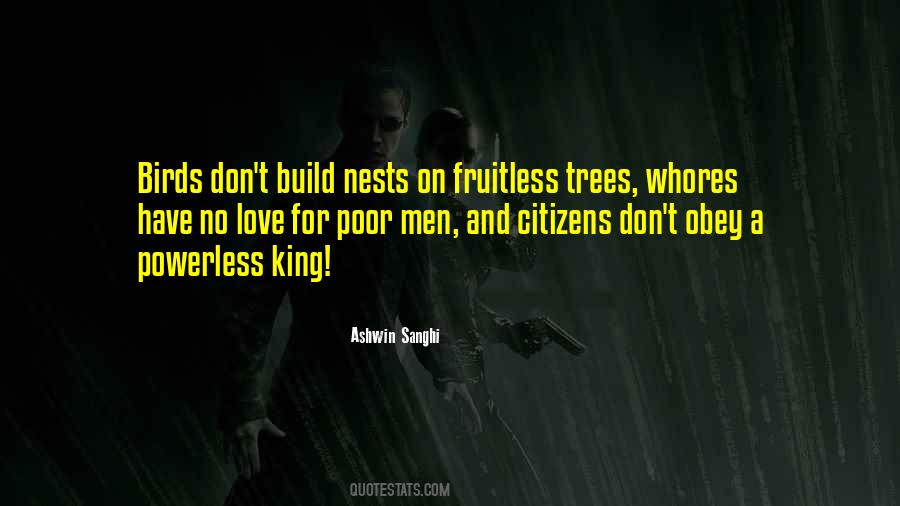 #40. When I was a kid if I was unhappy, I'd stroke my dog. I was into bringing injured birds into the house, RSPCA activities. And the relationship that you have with animals, you can get that from your children: that unquestioning love and adoration and equal need. - Author: Steve McFadden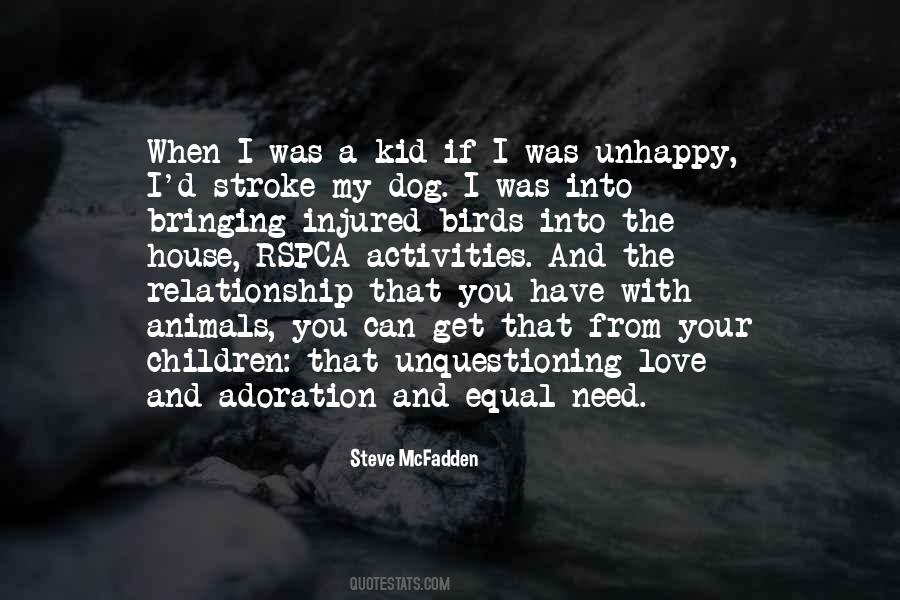 #41. Give food to the birds, you will then be surrounded by the wings of love, you will be encompassed by the joys of little silent hearts! - Author: Mehmet Murat Ildan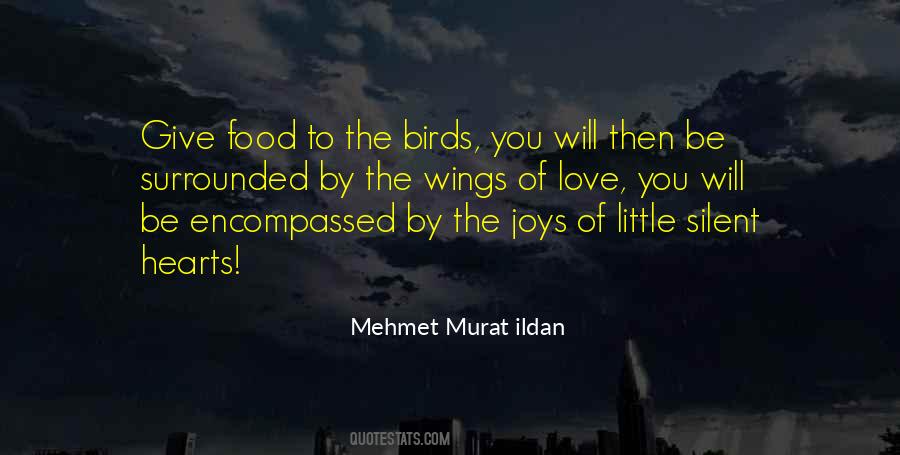 #42. The wind from the Caribbean blew in the windows along with the racket made by the birds, and Fermina Daza felt in her blood the wild beating of her free will. - Author: Gabriel Garcia Marquez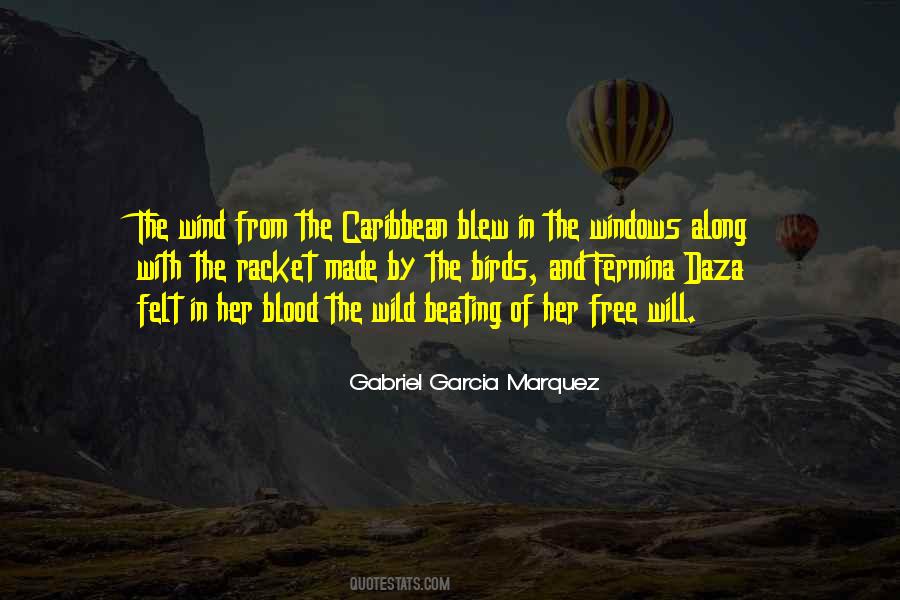 #43. Out of the sky, the birds, the parrots, the bells, silk, cloth, and drums, out of Sundays dancing, children's words and love words, out of love for the little fists of children, I will build a world, my world with round shoulders. - Author: Aime Cesaire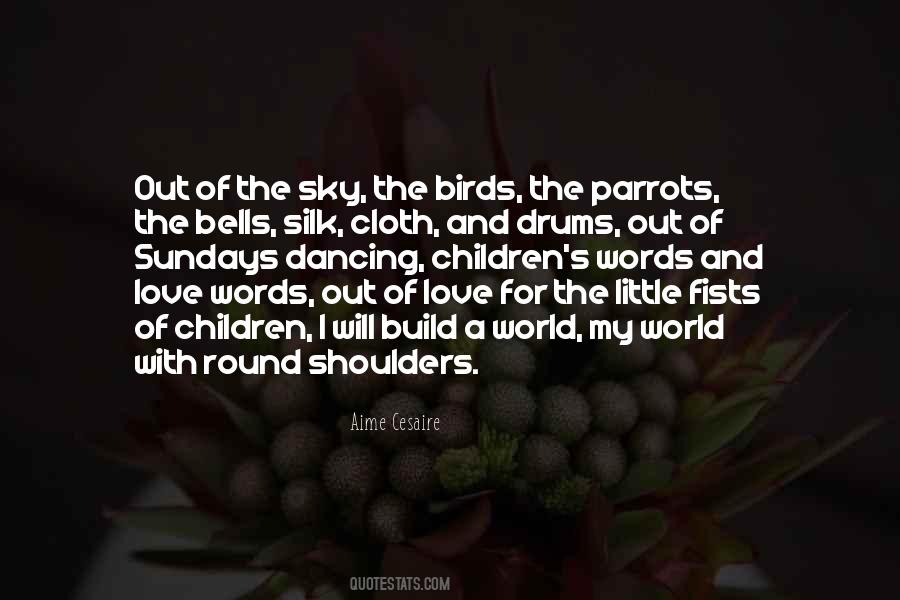 #44. The screech and mechanical uproar of the big city turns the citified head, fills citified ears - as the song of birds, wind in the trees, animal cries, or as the voices and songs of his loved ones once filled his heart. He is sidewalk-happy. - Author: Frank Lloyd Wright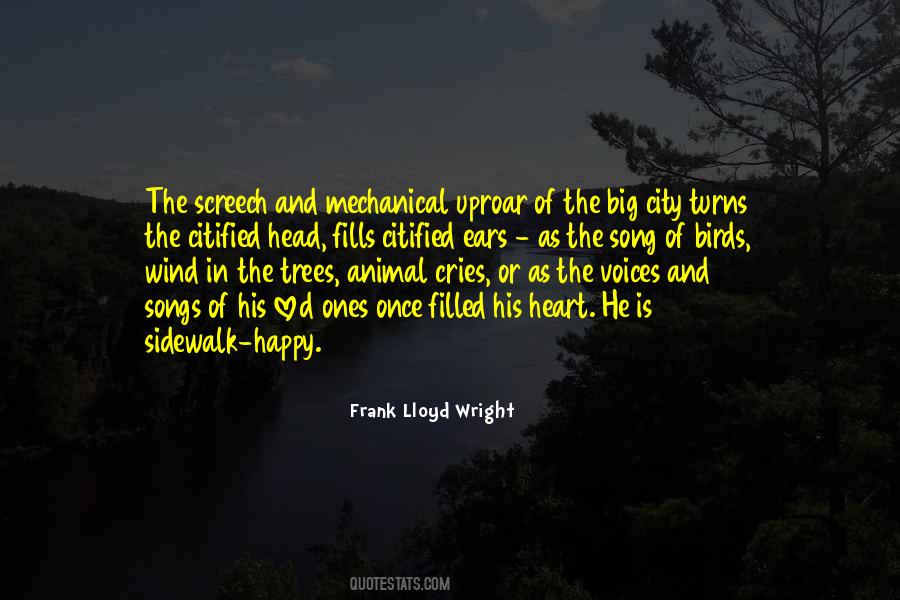 #45. I am slowly, painfully discovering that my refuge is not found in my mother, my grandmother, of even the birds of Bear River. My refuge exists in my capacity to love. If I can learn to love death then I can begin to find refuge in change. - Author: Terry Tempest Williams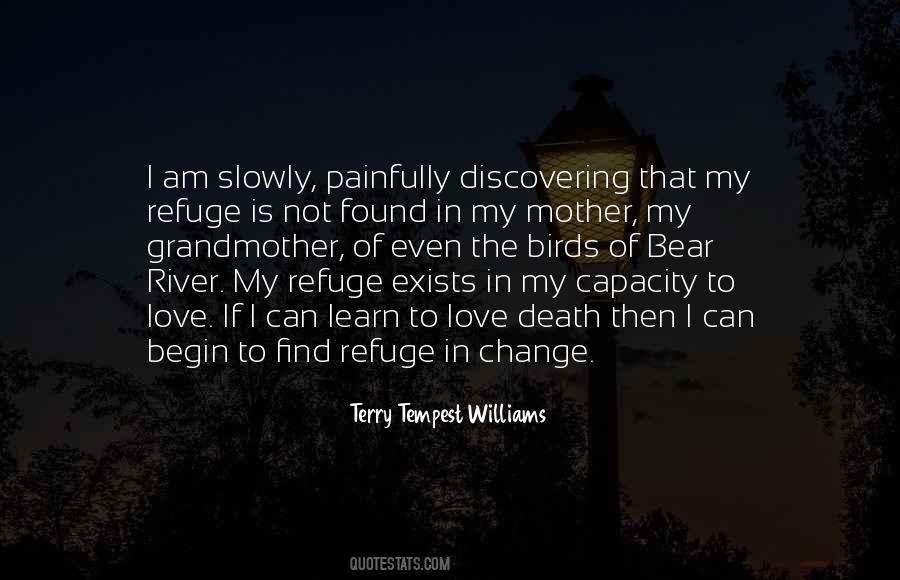 #46. While I cannot prevent the birds from flying over my head, I can prevent them from making a nest in my hair. - Chapter 5 My Cinderella - Author: Santosh Avvannavar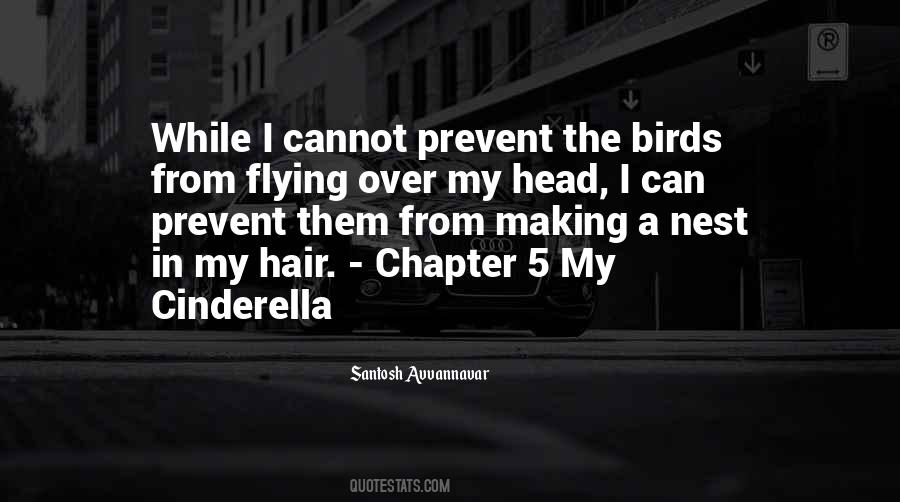 #47. Early summer days are a jubilee time for birds. In the fields, around the house, in the barn, in the woods, in the swamp - everywhere love and songs and nests and eggs. - Author: E.B. White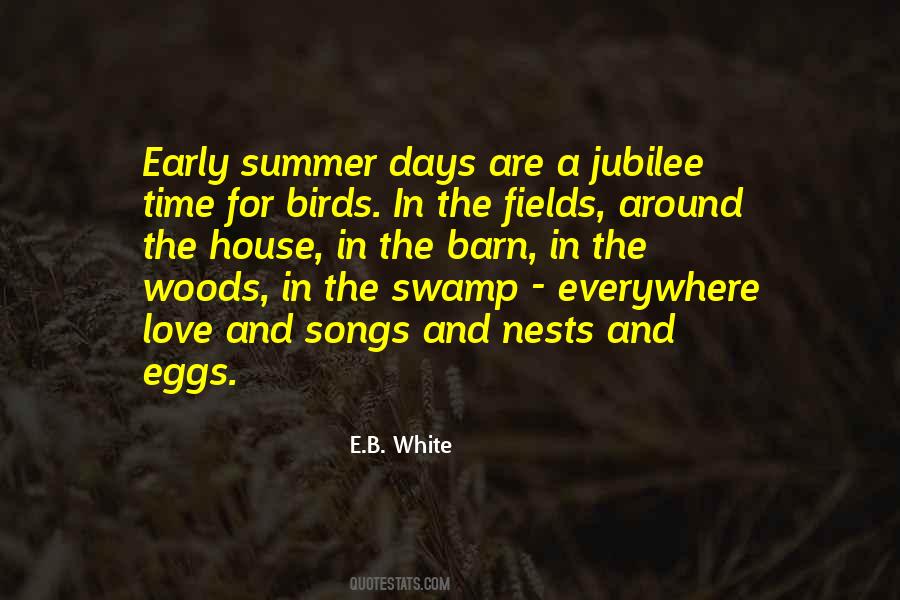 #48. When we lay awake after making love I could hear the sleepy birds settling in their nests in the thatch. We had a little pallet bed, a table and two stools, a fireplace where we warmed up our dinner from the palace, and nothing more. We wanted nothing more. - Author: Philippa Gregory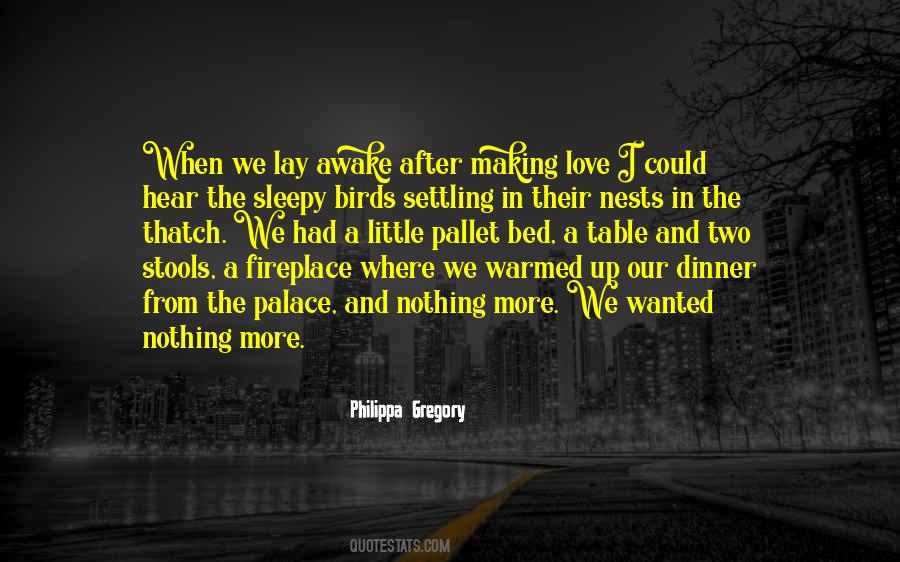 #49. We want murderous throats
affairs that resemble bright birds
in death spirals. - Author: Krysten Hill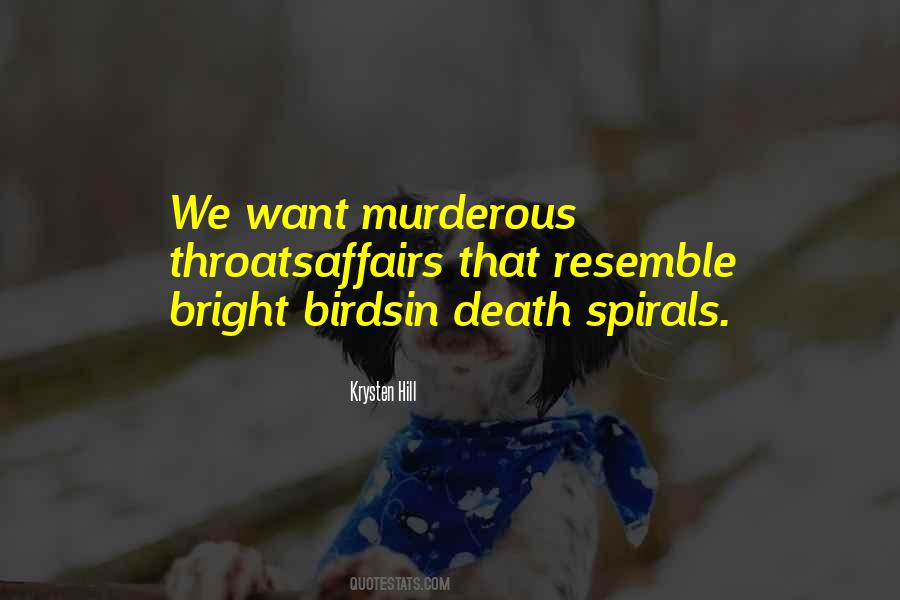 #50. I was feeling lonely without her, but the fact that I could feel lonely at all was consolation. Loneliness wasn't such a bad feeling. It was like the stillness of the pin oak after the little birds had flown off. - Author: Haruki Murakami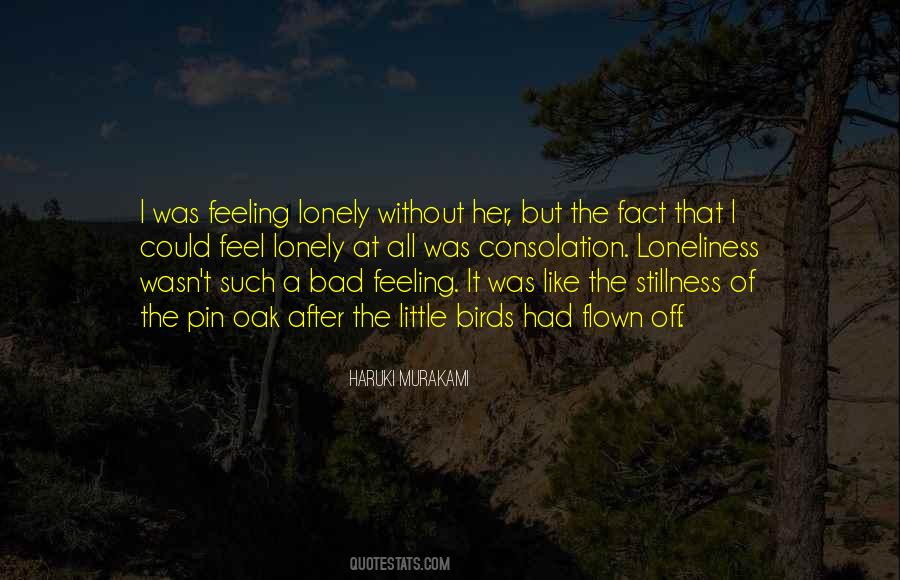 #51. And this sensitivity will create new friendships for you - friendships with trees, with birds, with animals, with mountains, with rivers, with oceans, with stars. Life becomes richer as love grows. - Author: Rajneesh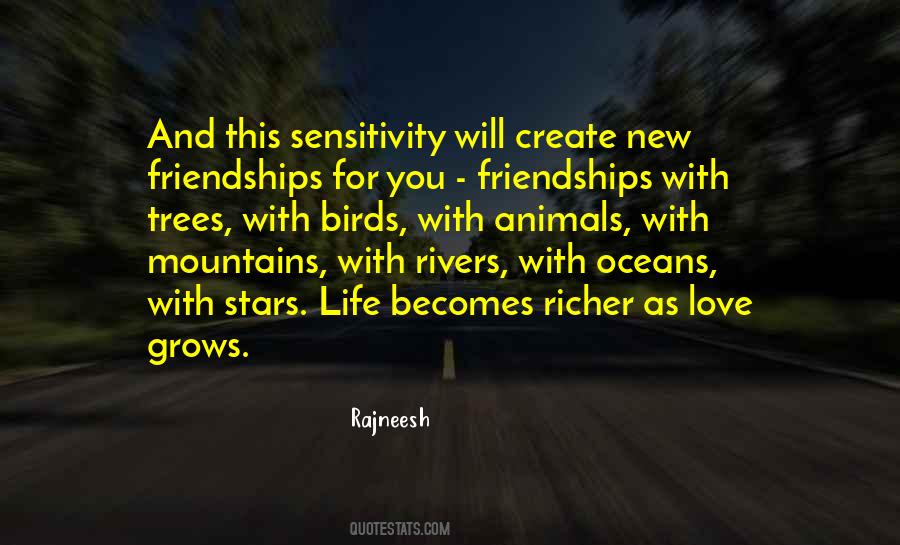 #52. Pretty birds and cute dogs are always necessary. I love them. But I'd never treat a dog like a human. - Author: Yun Kouga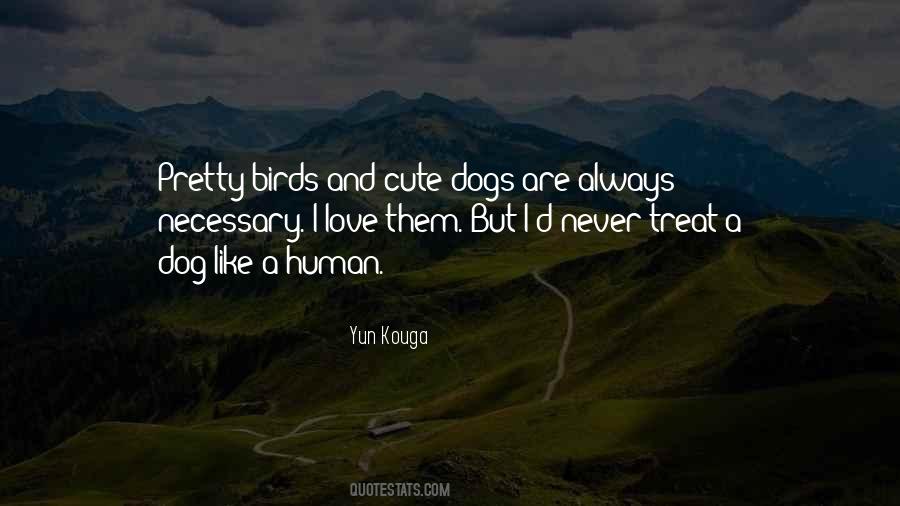 #53. Even the pigeons are dancing, kissing,
going in circles, mounting each other.
Paris is the city of love,
even for the birds. - Author: Samantha Schutz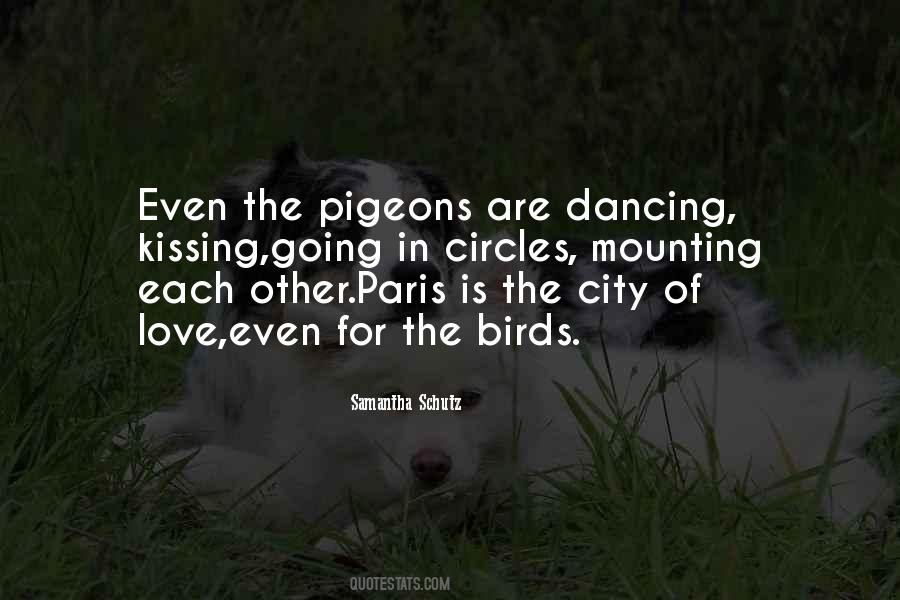 #54. Birds and the people who love freedom have something common: They must fly freely to feel that they are alive! - Author: Mehmet Murat Ildan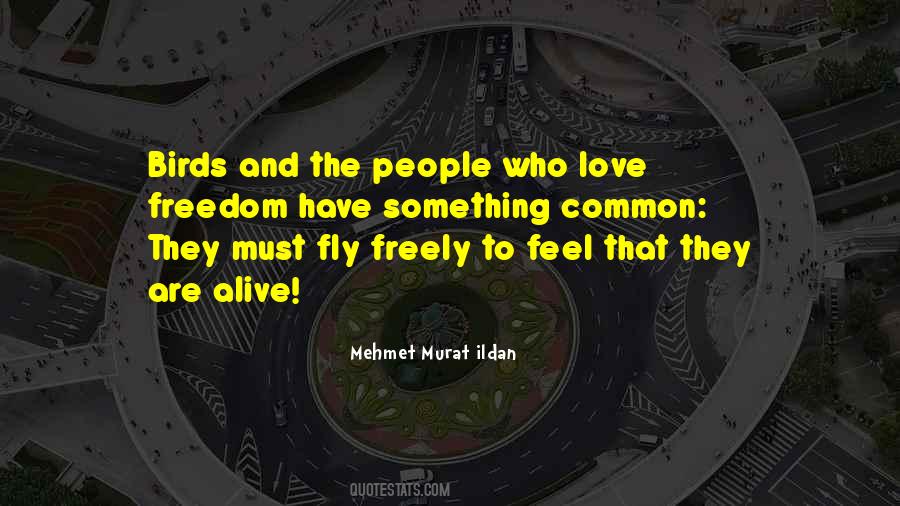 #55. I hope you love birds too. It is economical. It saves going to heaven. - Author: Emily Dickinson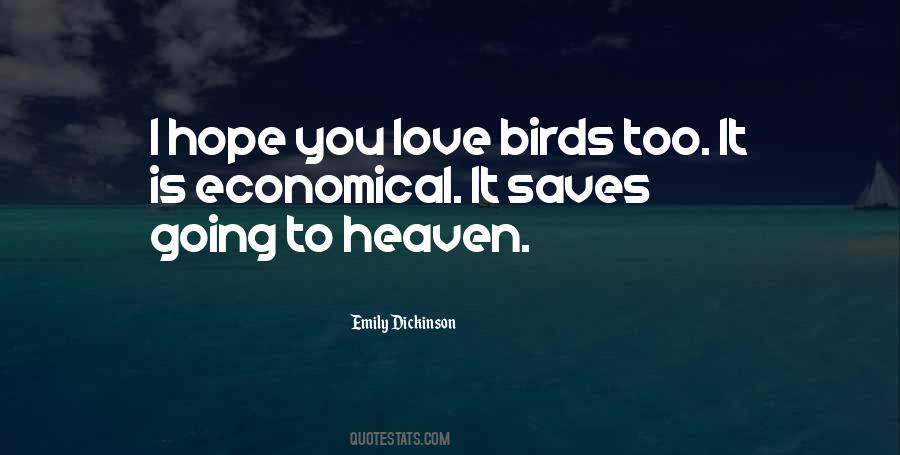 #56. Those you love will not drown or burn. They will fly away.' ... 'Now we both have people we love who are like birds. They have flown far from anything in this world that can hurt them. They're flying away still. - Author: Alice Hoffman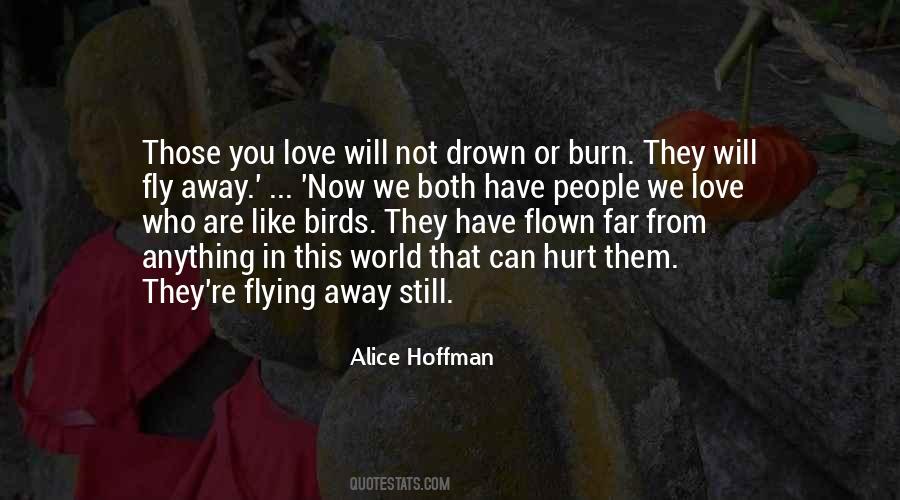 #57. In springtime, the only pretty ring time
Birds sing, hey ding
A-ding, a-ding
Sweet lovers love the spring - - Author: William Shakespeare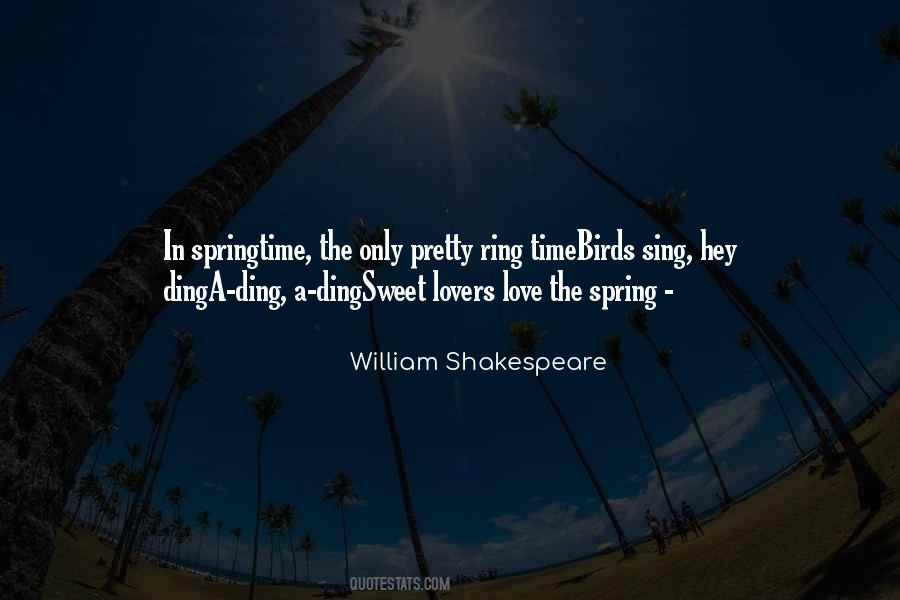 #58. I love the freedom of my wings. I love the empty space above the ground. I rejoice in my freedom. Freedom is my religion. Peace is my God. Love is my worship. - Author: Banani Ray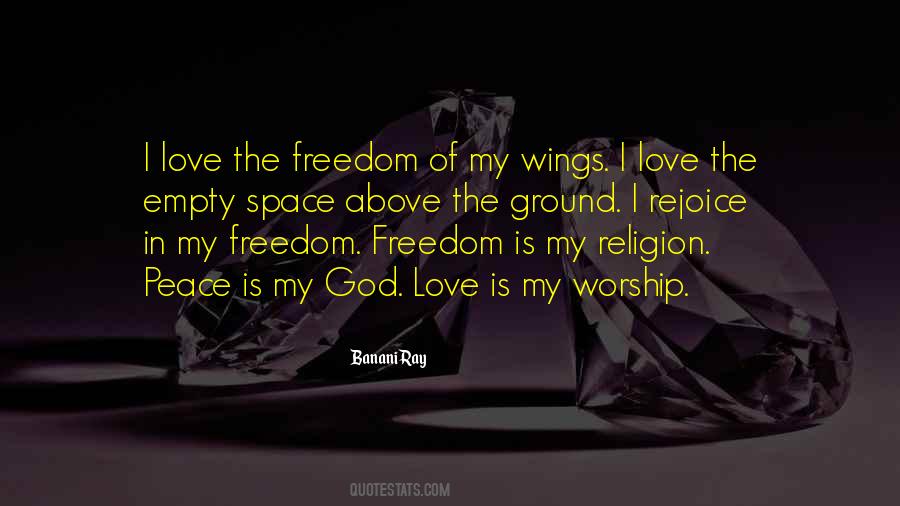 #59. It's time to make love, douse the glim; The fireflies twinkle and dim; The stars lean together Like birds of a feather, And the loin lies down with the limb. - Author: Conrad Aiken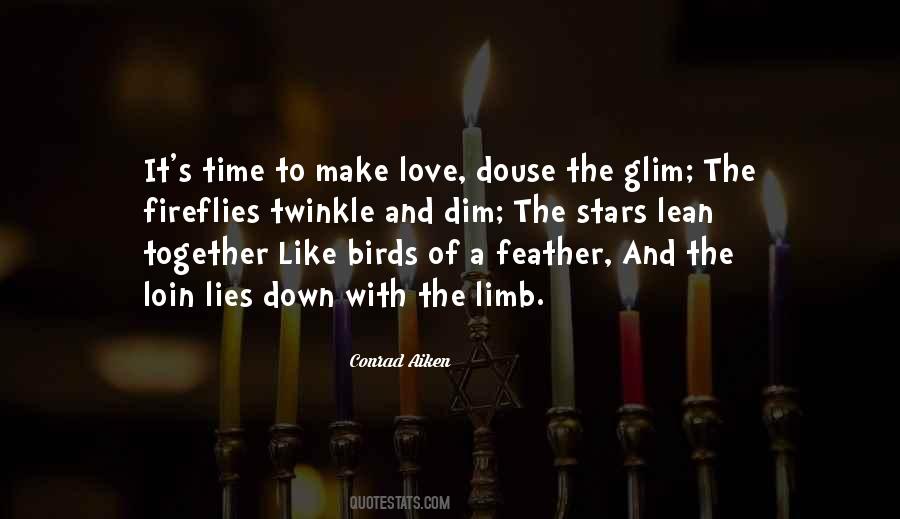 #60. From I Knew a Woman
I knew a woman, lovely in her bones,
When small birds sighed, she would sigh back at them;
Ah, when she moved, she moved more ways than one:
The shapes a bright container can contain! - Author: Theodore Roethke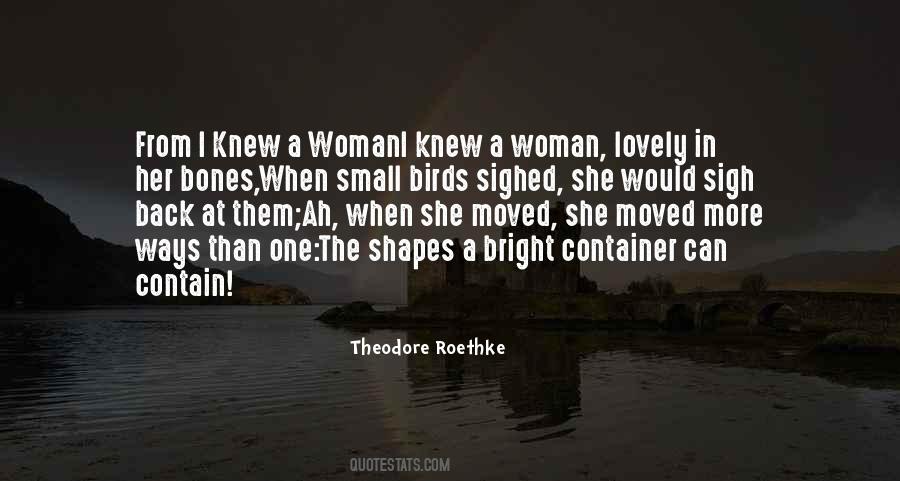 #61. When she saw him face to face their eyes met and brushed like birds' wings. After that everything was all right, everything was wonderful, she knew that he was beginning to fall in love with her. - Author: F Scott Fitzgerald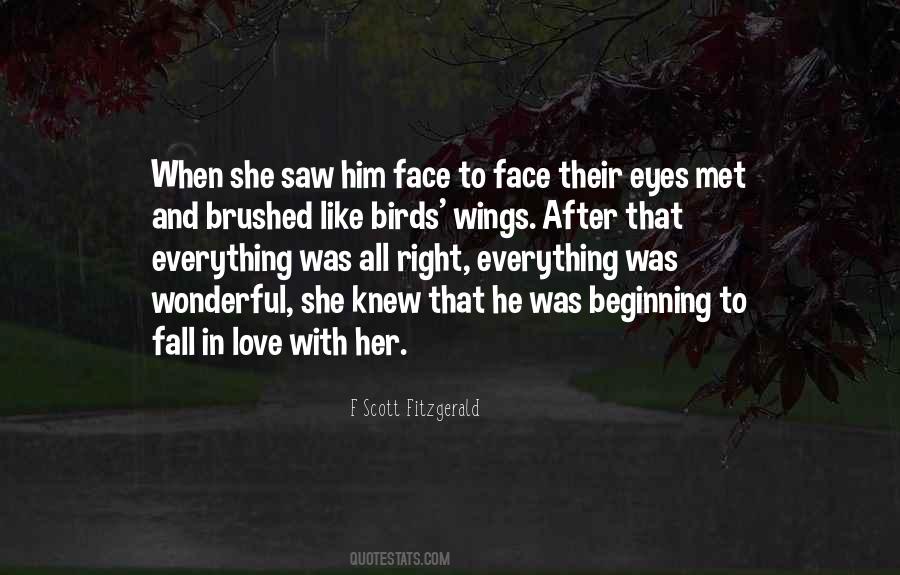 #62. The birds that wake the morning, and those that love the shade; The winds that sweep the mountain or lull the drowsy glade; The Sun that from his amber bower rejoiceth on his way, The Moon and Stars, their Master's name in silent pomp display. - Author: Reginald Heber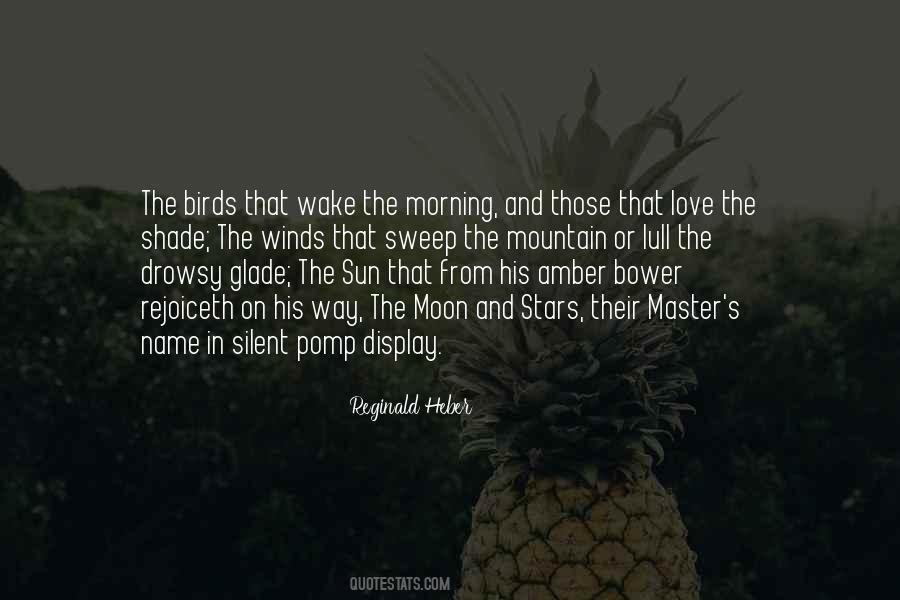 #63. I love puffins. They are small, round gothic birds, and their babies are called pufflings. - Author: Caitlin Moran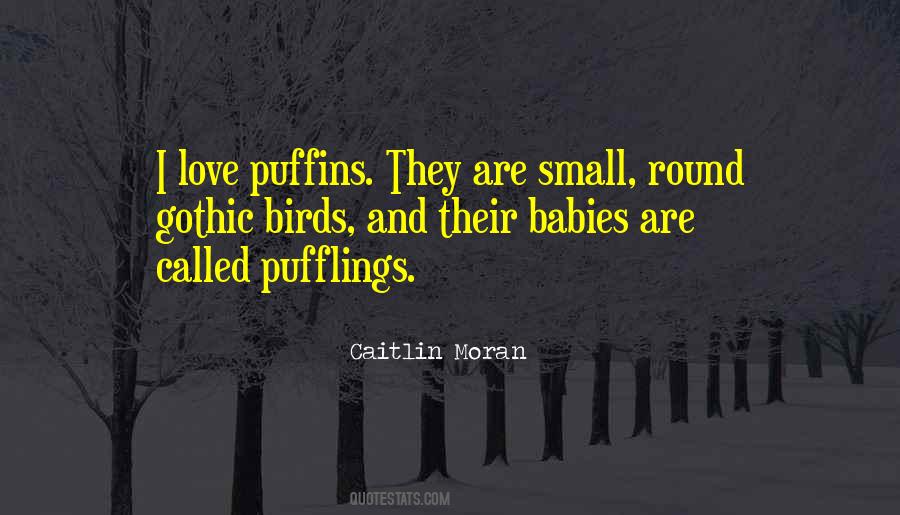 #64. Without love, we are birds without wings - Author: Mitch Albom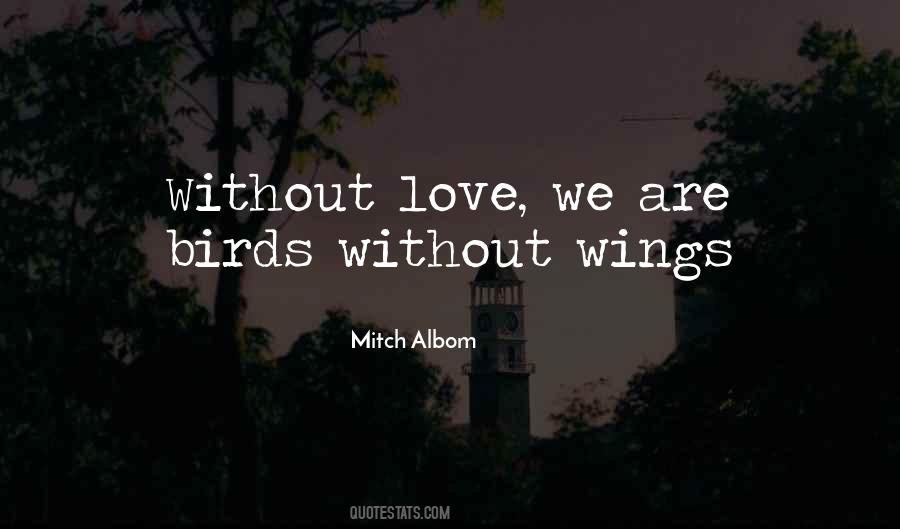 #65. He'd fill every moment with the seasons he'd found in his heart: hopes like birds on a spring branch; happiness like a warm summer sun; magic like the rising mists of autumn. And best of all, love; love enough for a thousand Christmases. - Author: Clive Barker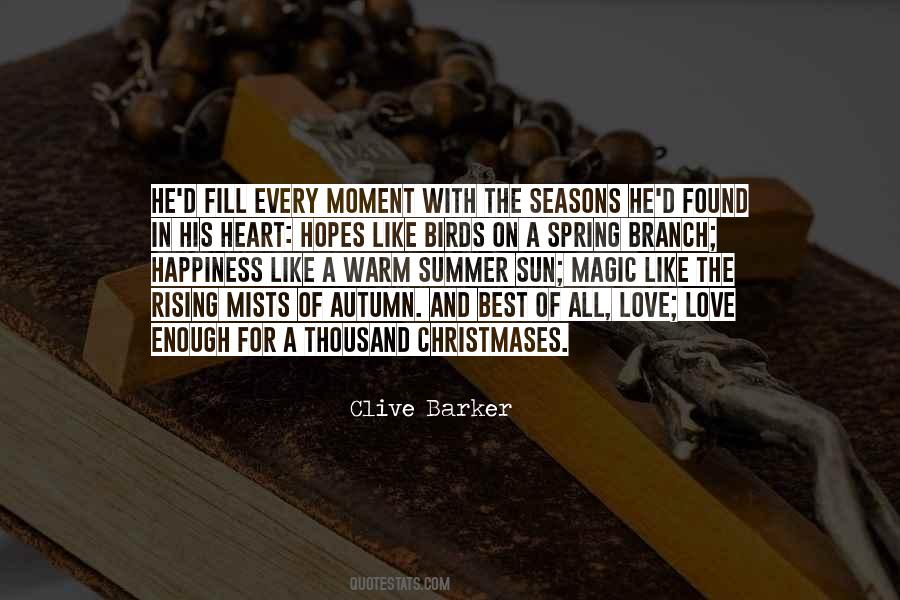 #66. We were suppose to be like the birds. - Author: Erin Bowman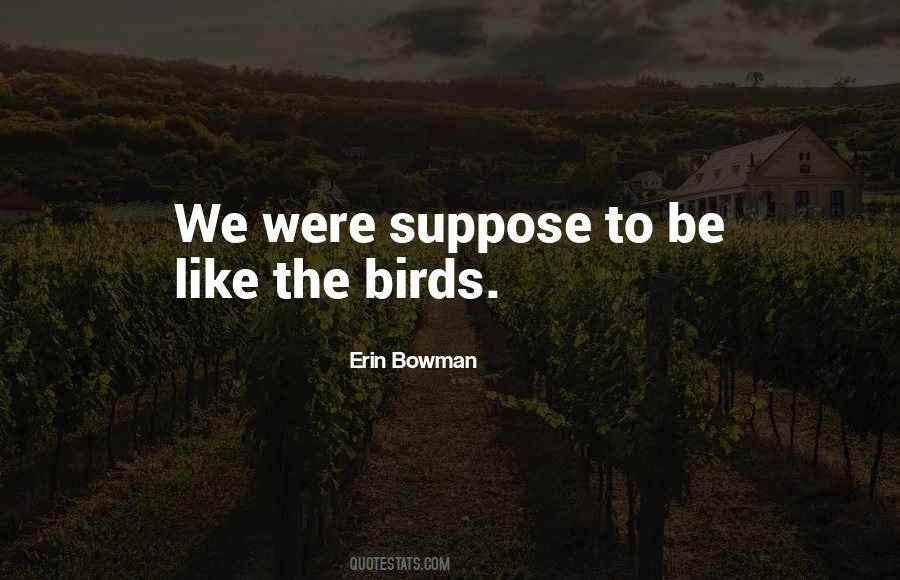 #67. I am in love,
I became an angel;
flowers bloom with my touch,
birds comes to me and sing love song,
air touches my cheeks to feel my love,
leaves are dancing around me with the melody of love.
Oh love, I am in love, I am the love. - Author: Debasish Mridha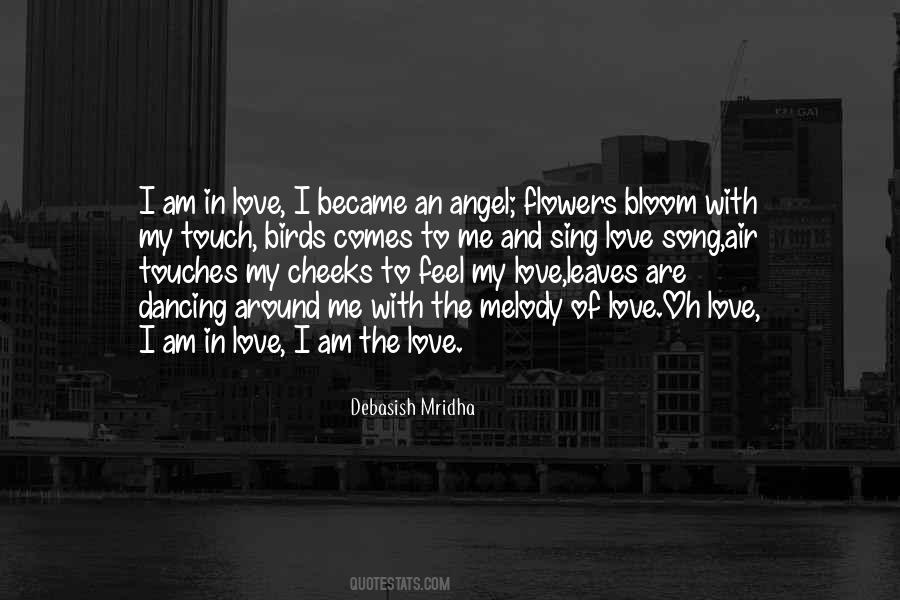 #68. I walk through the seasons and always the birds
are singing and screaming and keening for love
When you're with me it seems so absurd
that I should be jealous of the jay and the dove. - Author: Maggie Stiefvater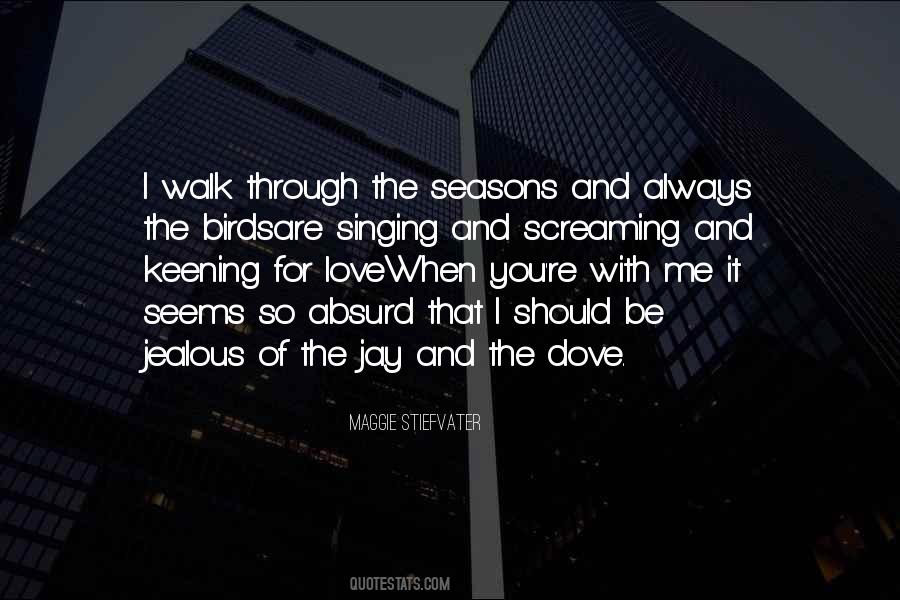 #69. It is the passion inside me that means I keep going. I love what I do, and I think I am lucky to do it. When I am riding a quiet country road, I hear the birds singing and think, 'I am in my office now.' - Author: Jens Voigt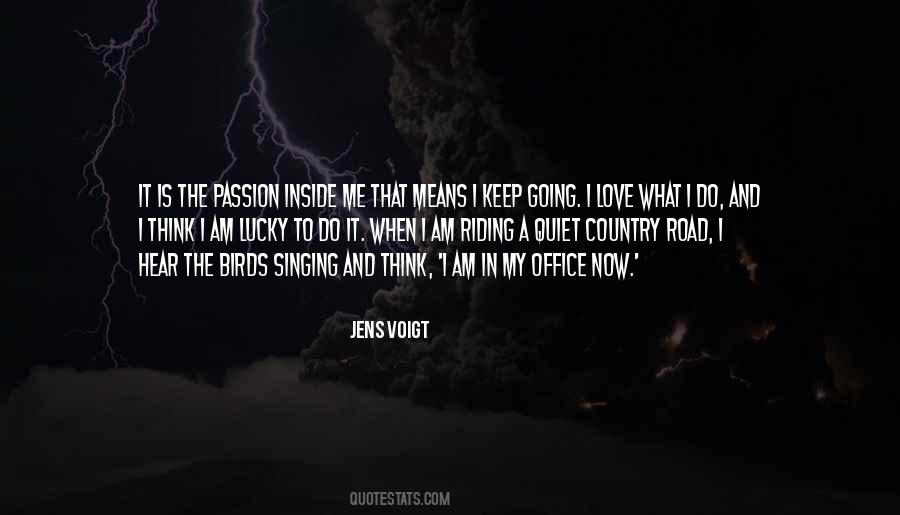 #70. My mate is really, really weird.
She is also absolutely covered in brown, mushy clay.
She laughs and holds a large lump up to show it to me. Her mouth moves, and she makes enough noise to scare away a group of birds near the shore.
She is so, so strange. - Author: Shay Savage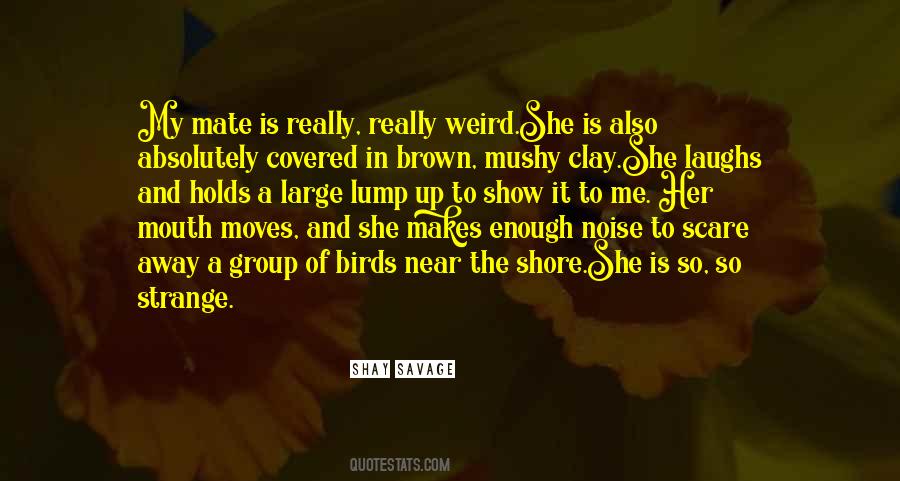 #71. New York is part of the natural world. I love the city, I love the country, and for the same reasons. The city is part of the country. When I had an apartment on East Forty-Eighth Street, my backyard during the migratory season yielded more birds than I ever saw in Maine. - Author: E.B. White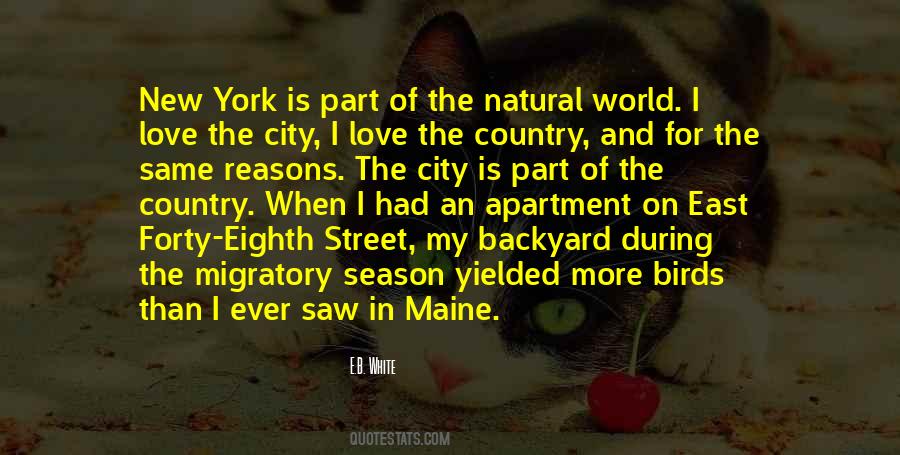 #72. As far as what I do love, I love birds; I love lavender. - Author: Michael Moore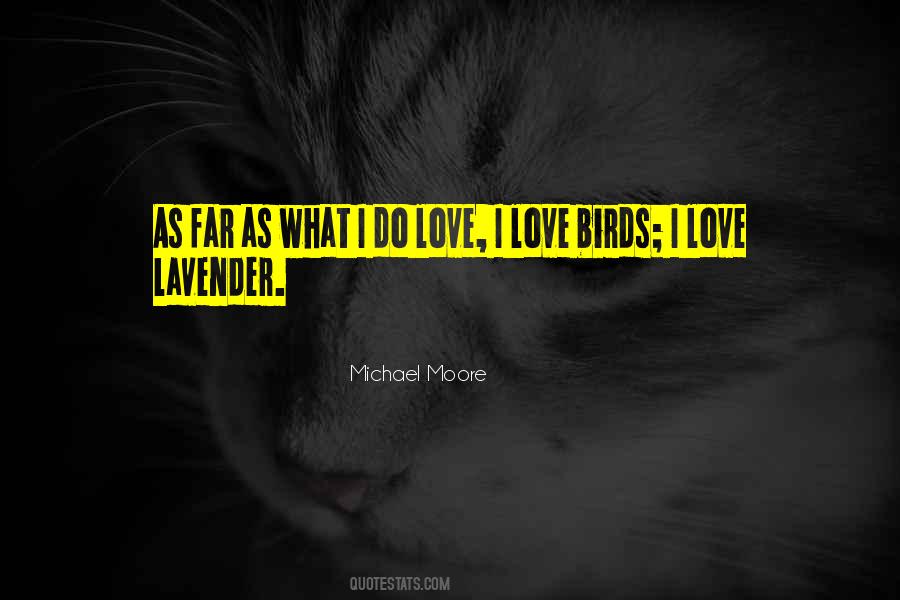 #73. Stars shining bright above you
Night breezes seem to whisper "I love you"
Birds singing in the sycamore tree
Dream a little dream of me - Author: Gus Kahn
#74. God loved the birds and invented trees. Man loved the birds and invented cages. - Author: Jacques Deval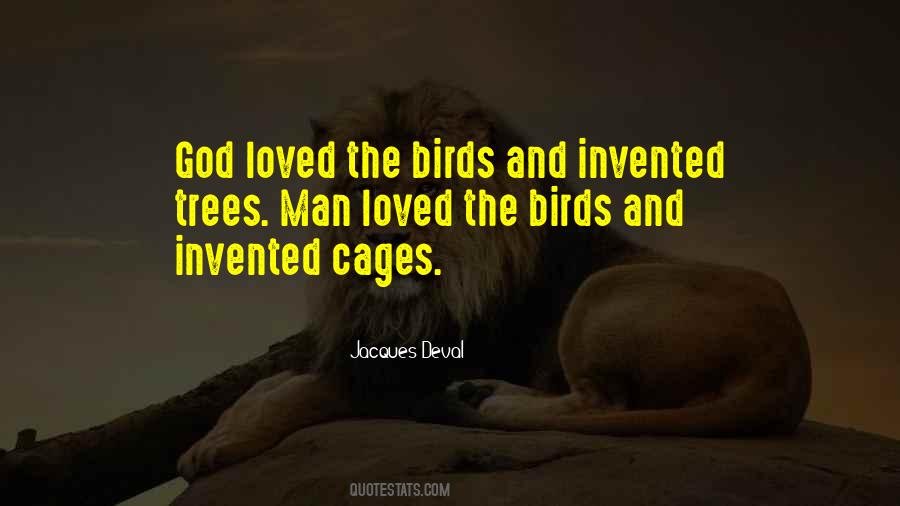 #75. If you can hear the birds singing, you're in the right place - Author: Benny Bellamacina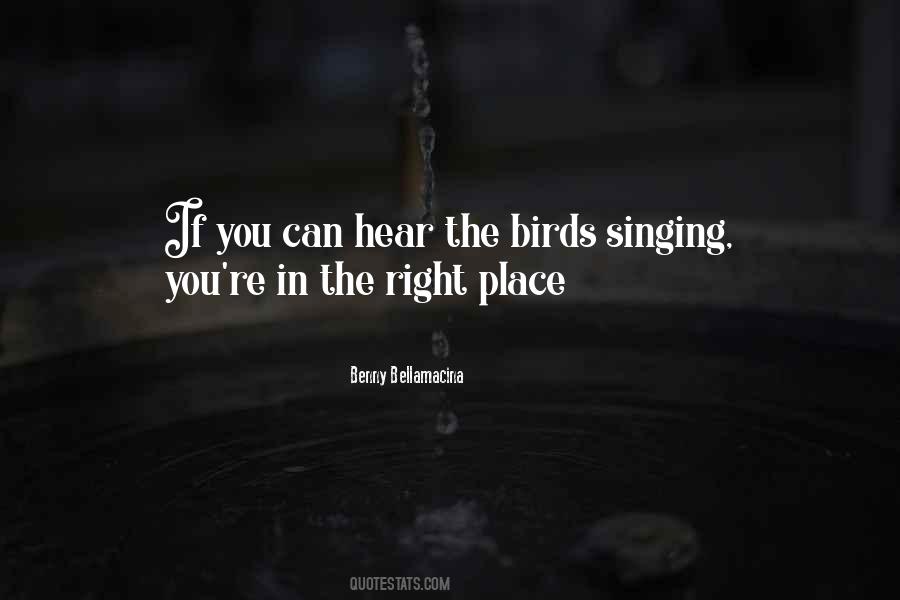 #76. Hark, how the cheerful birds do chaunt their lays, and carol of love's praise. - Author: Edmund Spenser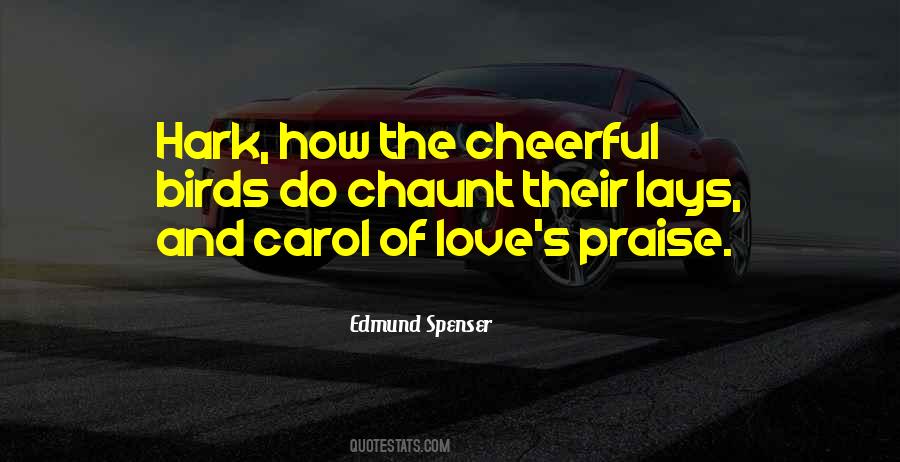 #77. [Love] can be found in making little dresses for stuffed birds, or in a garden of tenderness like I have done - mixing writing, photography, and real spaces. There are all kinds of acts of love. - Author: Annette Messager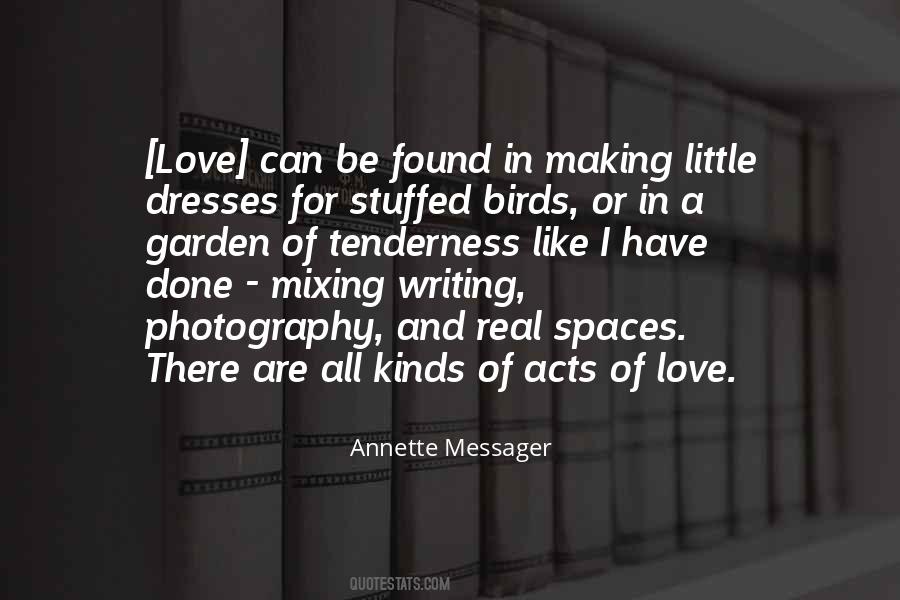 #78. For summer and his pleasures wait on thee,
And, thou away, the very birds are mute:
Or, if they sing, 'tis with so dull a cheer,
That leaves look pale, dreading the winter's near. - Author: William Shakespeare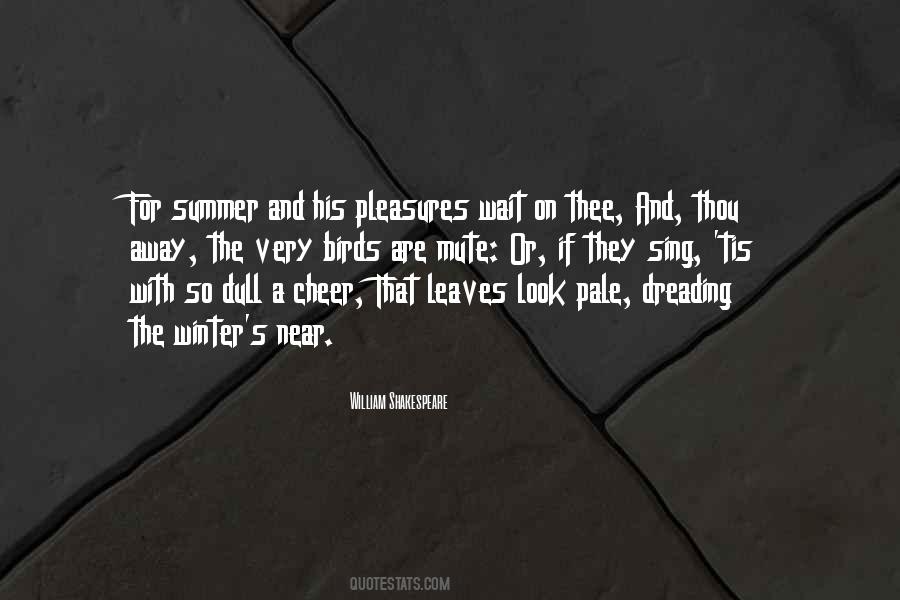 #79. Lovers are the best birds in the world when they know how to fly higher... - Author: Munia Khan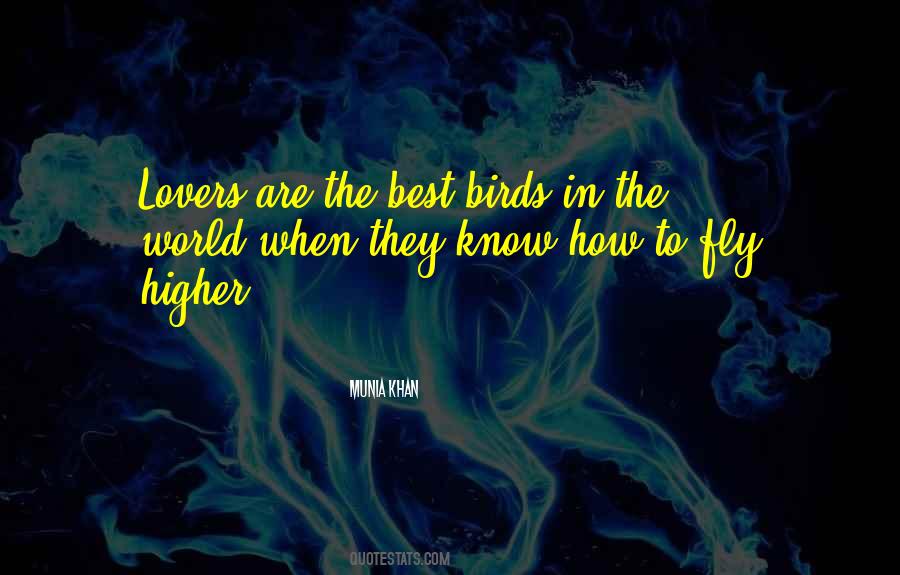 #80. The birds in the sky can never great the king yet their beauty gives the king to stare at them endlessly, wishing to be with them in the sky. - Author: Auliq Ice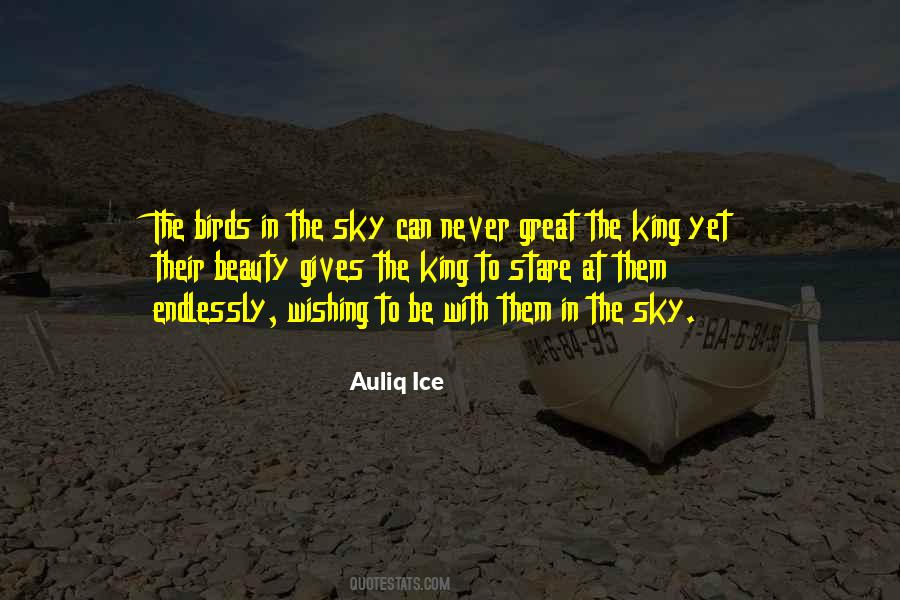 #81. I love the idea of birds having human qualities ... I think all humans want to be birds so we can fly. - Author: Aoife O'Donovan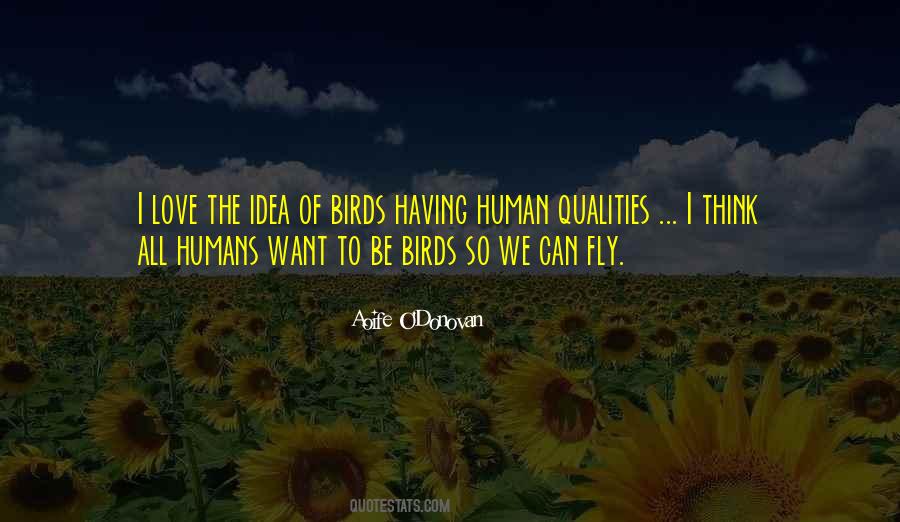 #82. Birds do it, bees do it, even educated fleas do it; let's do it, let's fall in love. - Author: Cole Porter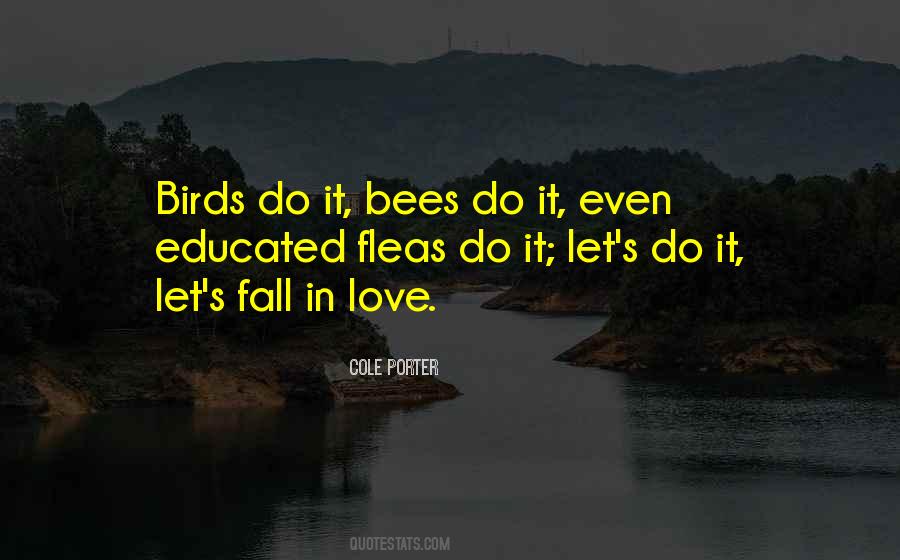 #83. The turtles and birds who lived on the islands were also very friendly, as they hardly ever saw any humans and were always pleased to have some company. - Author: Alexander McCall Smith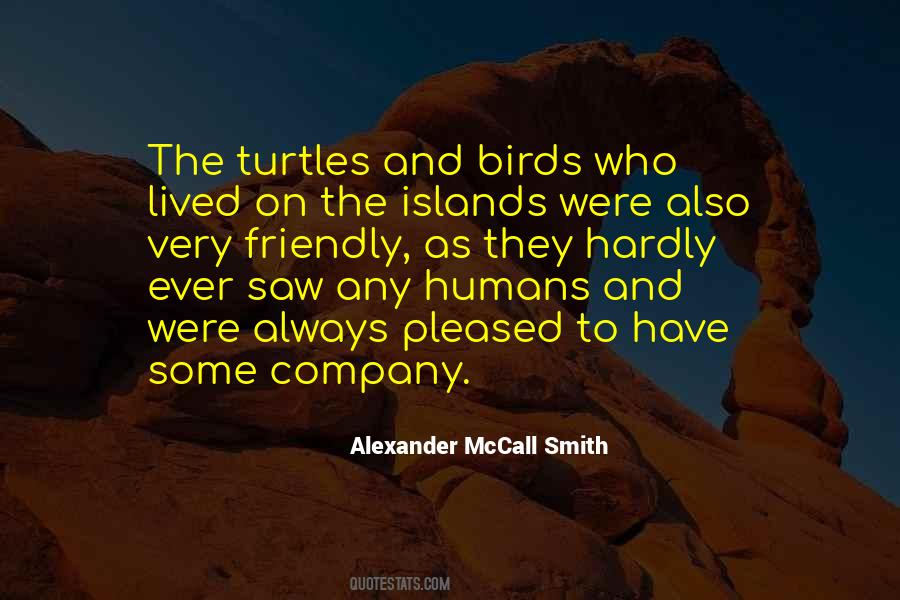 #84. Sir Mark Turner," he said. "I speak with the tongues of a thousand angels. Butterflies follow me wherever I go. Birds sing when I take a breath. - Author: Courtney Milan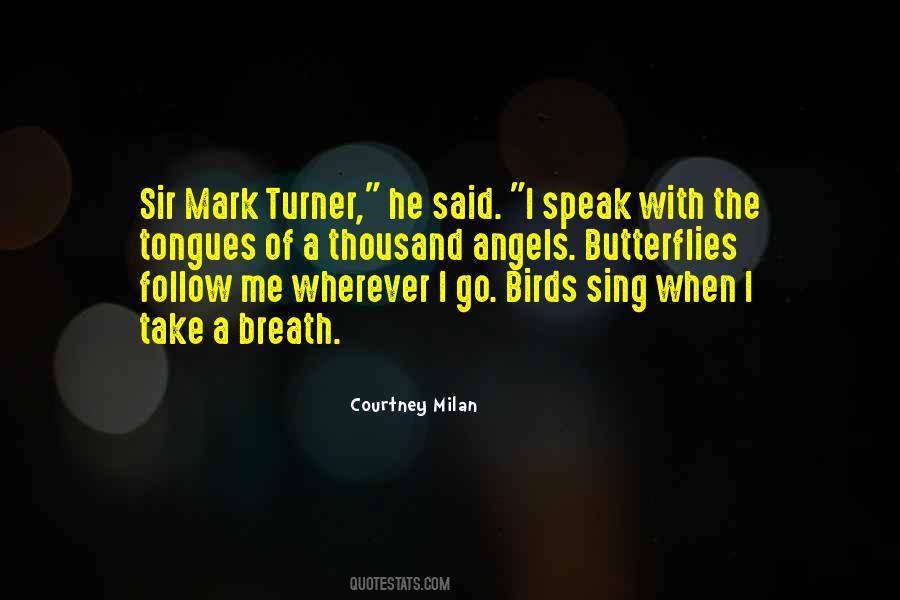 #85. By being with my kids. I'm like a lion who hunts and comes home to be looked after and sleep. I think girls tend to be drawn towards their dad. I'd love to have a son, but I have three kids who are great - three geezer birds and that's all I need to worry about. - Author: Ray Winstone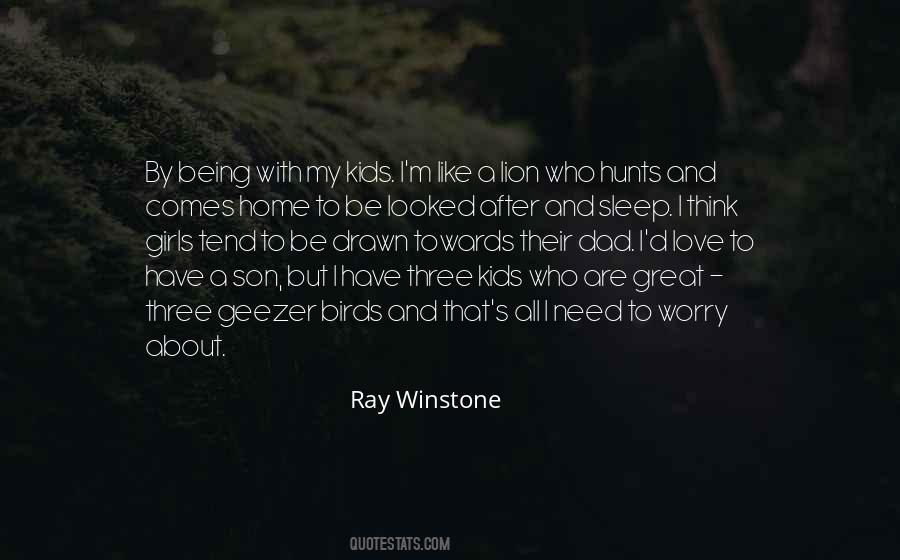 #86. He growled. The noise echoed through the area. Birds flew from the trees. They appeared like dark dots in the starry sky. - Author: Kenya Wright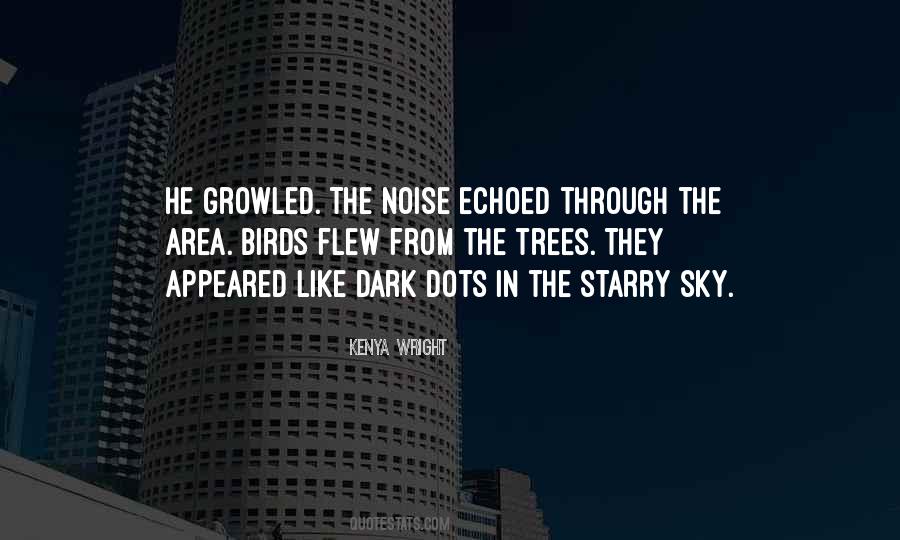 #87. In the nights sometimes now he'd wake in the back and freezing waste out of softly colored worlds of human love, the songs of birds, the sun. - Author: Cormac McCarthy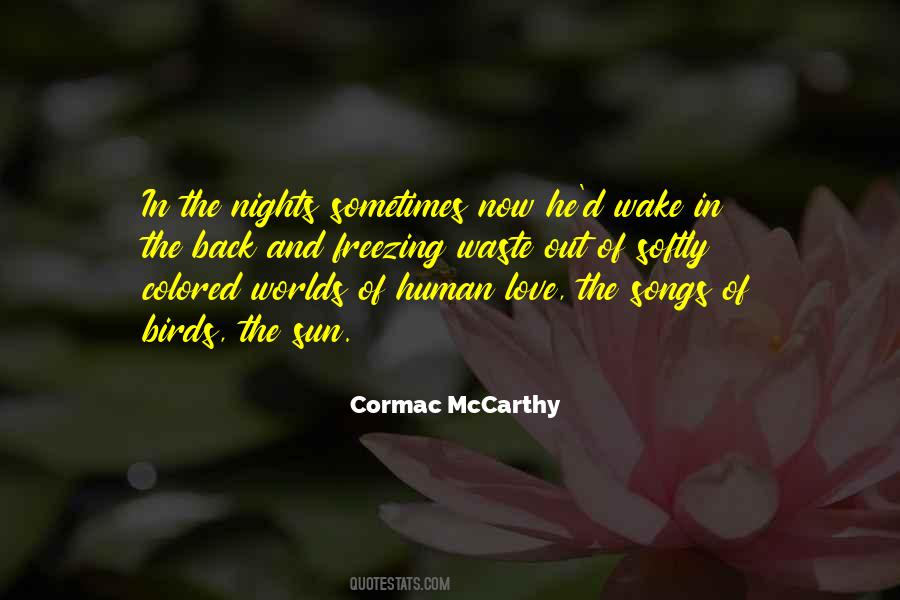 #88. Water is taught by thirst;
Land, by the oceans passed;
Transport, by throe;
Peace, by its battles told;
Love, by memorial mould;
Birds, by the snow. - Author: Emily Dickinson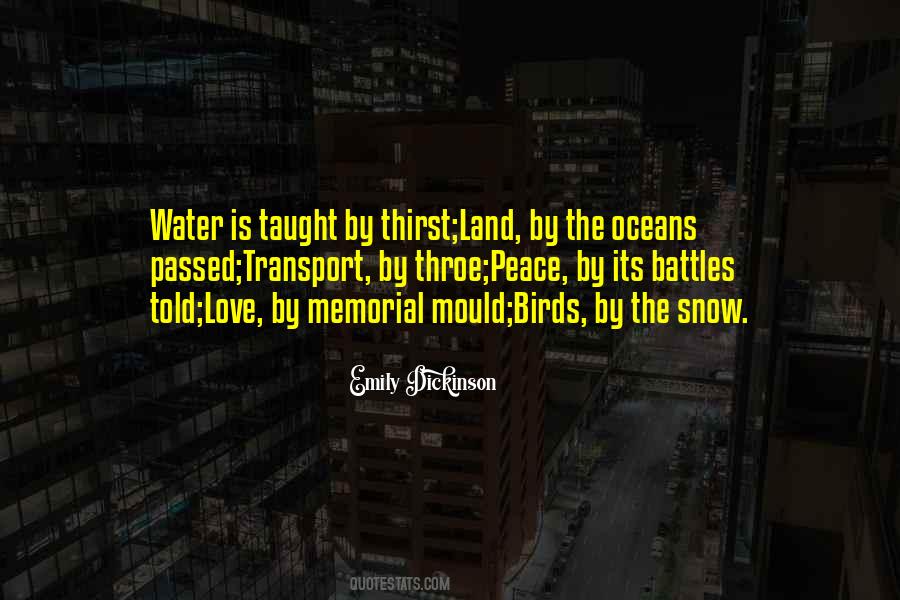 #89. Birds build nests because they cannot fly forever. - Author: Matshona Dhliwayo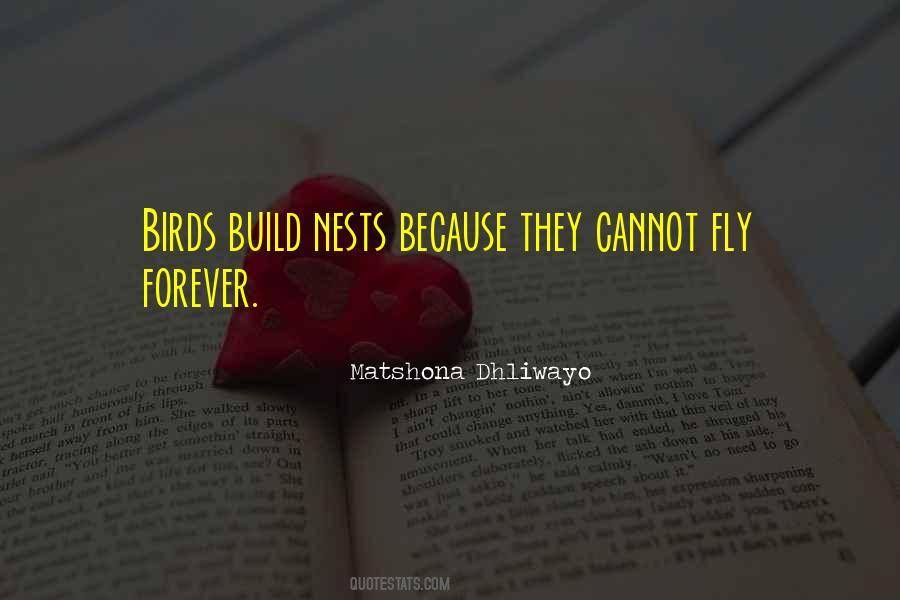 #90. We have flown the air like birds and swum the sea like fishes, but have yet to learn the simple act of walking the earth like brothers. - Author: Martin Luther King Jr.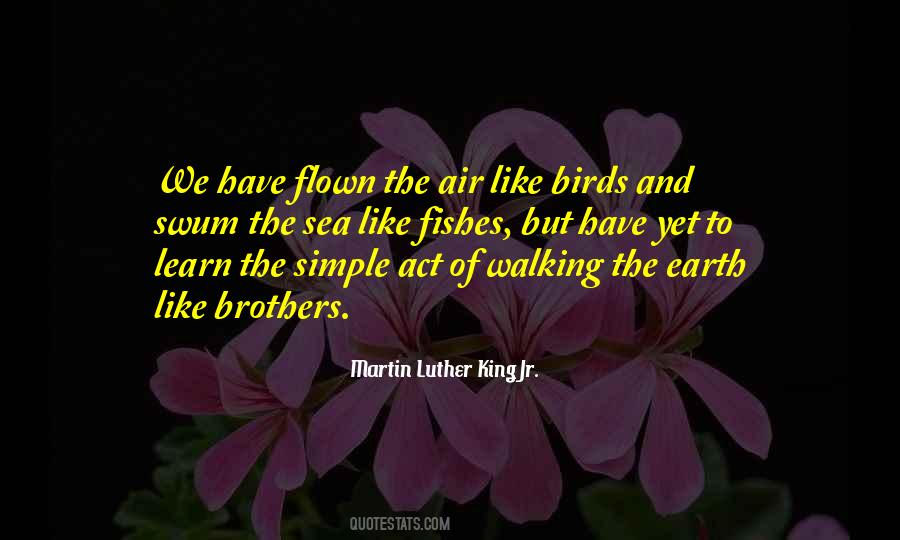 #91. And I want to be with you till the birds forget how to fly in the blue azure sky and the fish forget how to swim in the blue green sea... - Author: Avijeet Das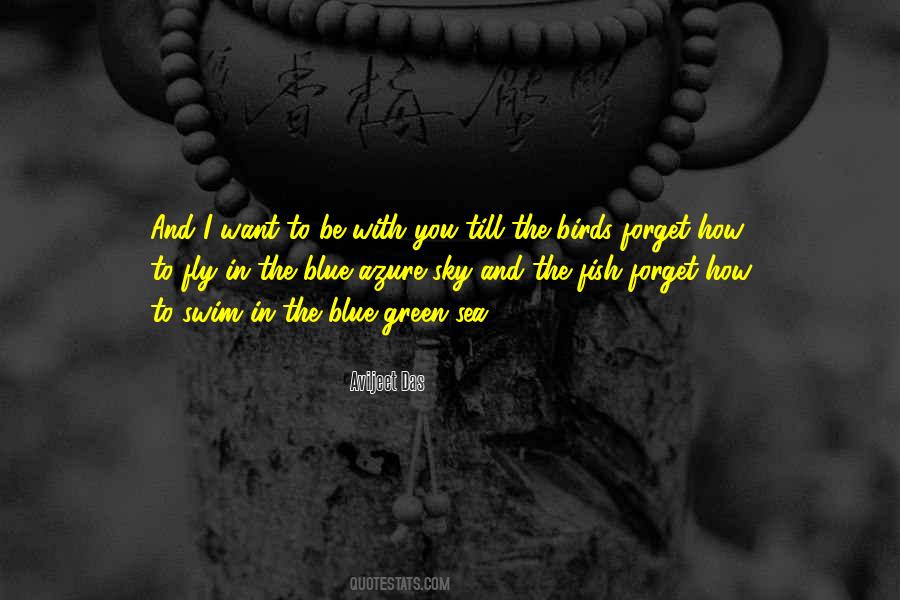 #92. If a man knew what a woman never forgets, he would love her differently. - Author: Terry Tempest Williams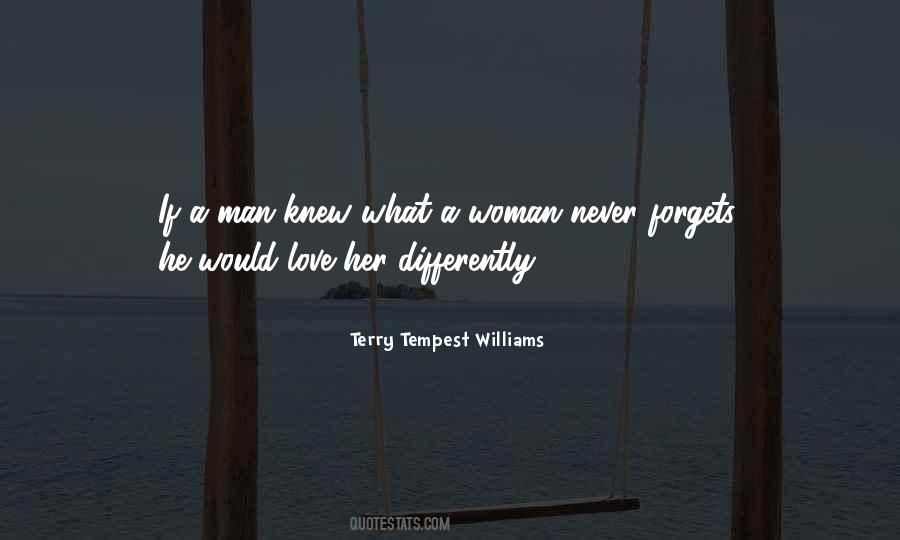 #93. All the birds love Touche Eclat. It's a (concealer) pen that gets rid of eye bags. But I'm quite happy otherwise. I train a lot. - Author: Jason Flemyng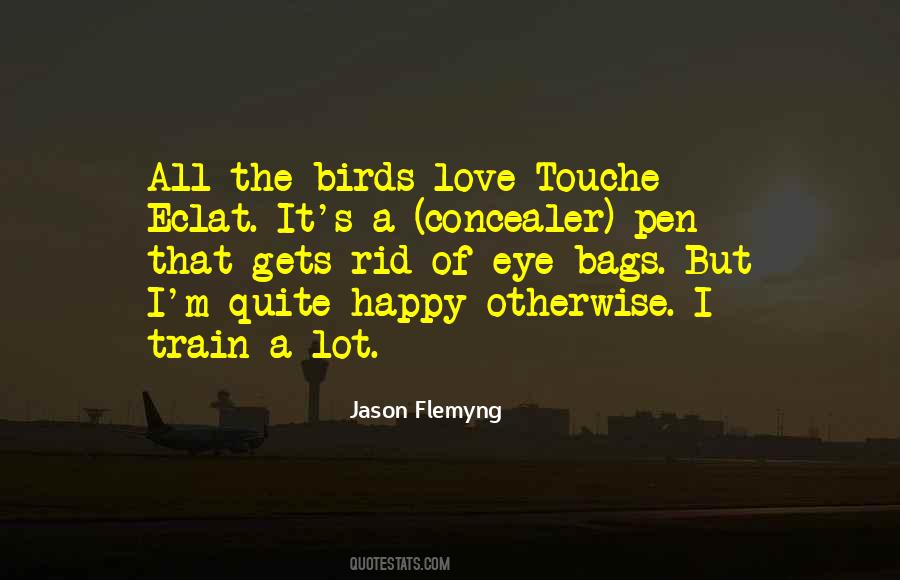 #94. Like birds landing on a tree top together, and then dispersing, we are together for a very short time, so it makes sense to live in harmony, in unconditional friendship. - Author: Bokar Rinpoche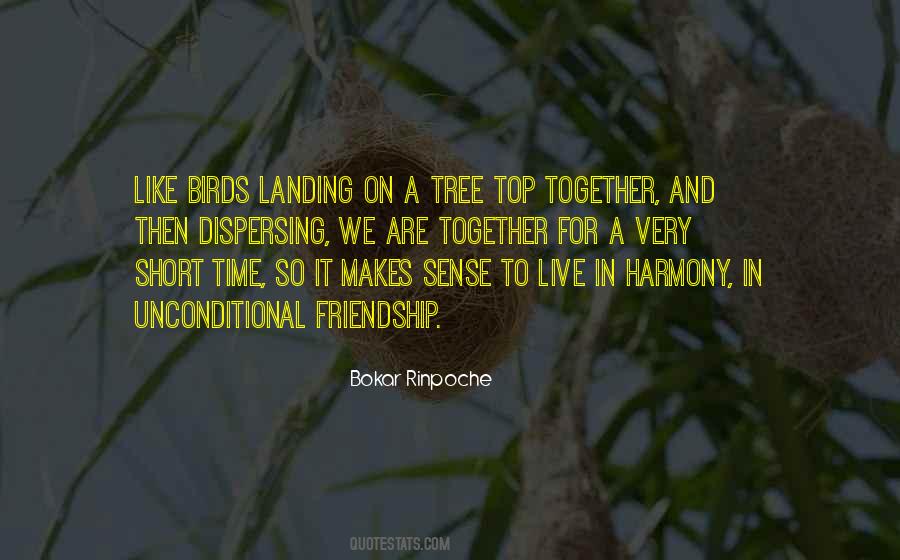 #95. The tallest and oldest trees that seemed to have just have casually always been there, hold the greatest love: as it nurtures love for others: providing shade for two lovers, becoming home for birds to build a nest, and giving food to the squirrels whom scurry upon it. - Author: Forrest Curran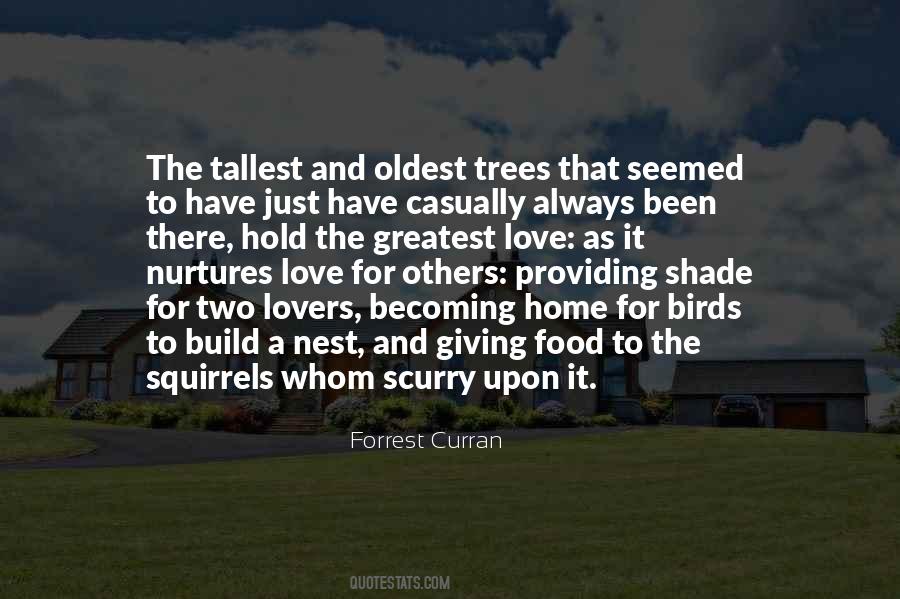 #96. Newborn babies can't do much on their own-
They can't eat or walk or talk on the phone-
But every parent is sure their creation is without a doubt a tremendous sensation. - Author: Jennifer Davis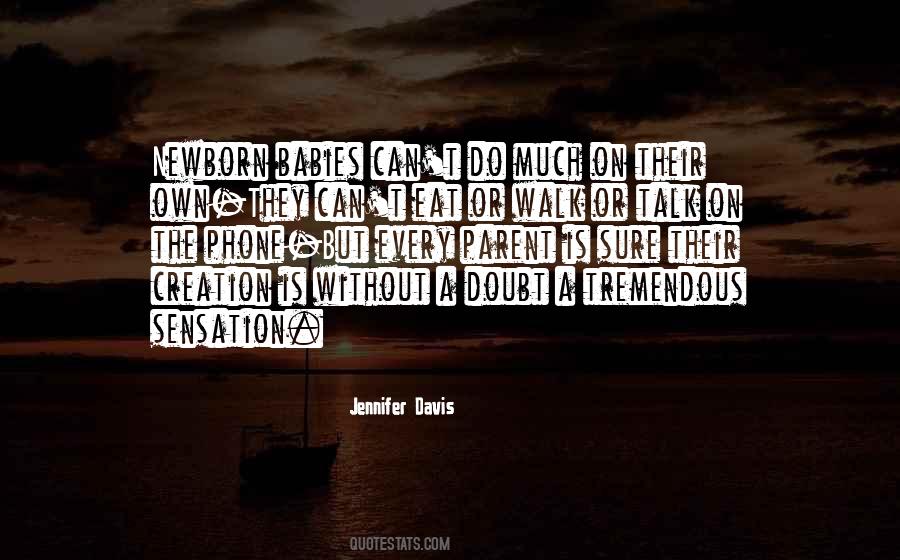 #97. I hide my grief, just like the blessed birds hide themselves when they are preparing to die, my love. - Author: Omar Khayyam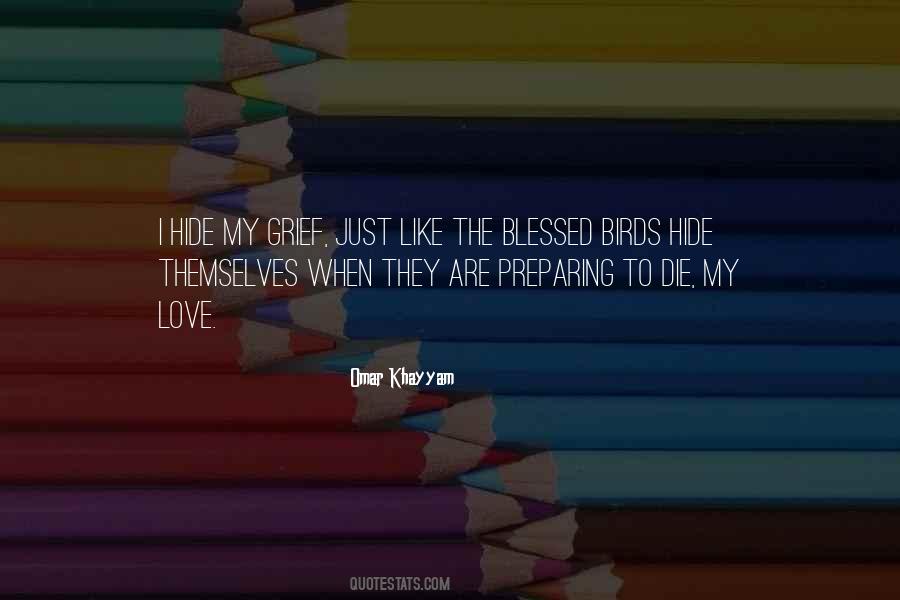 #98. Every morning
before the birds start
trilling me their stories,
I give birth to a new love
through my same old heart
when a lake's placidity
finds life in the swans breath
Only for you...

From the poem 'Only For You - Author: Munia Khan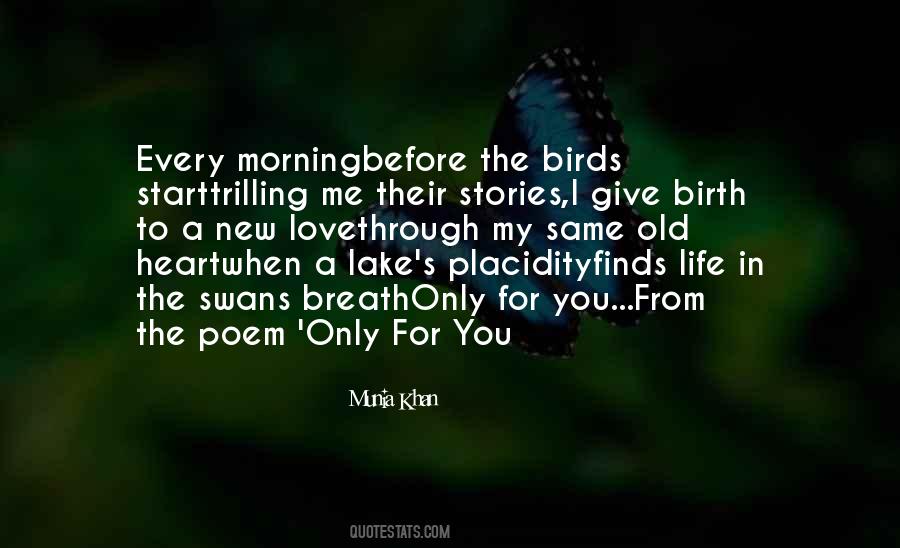 #99. I pray to the birds because they remind me of what I love rather than what I fear. And at the end of my prayers, they teach me how to listen. - Author: Terry Tempest Williams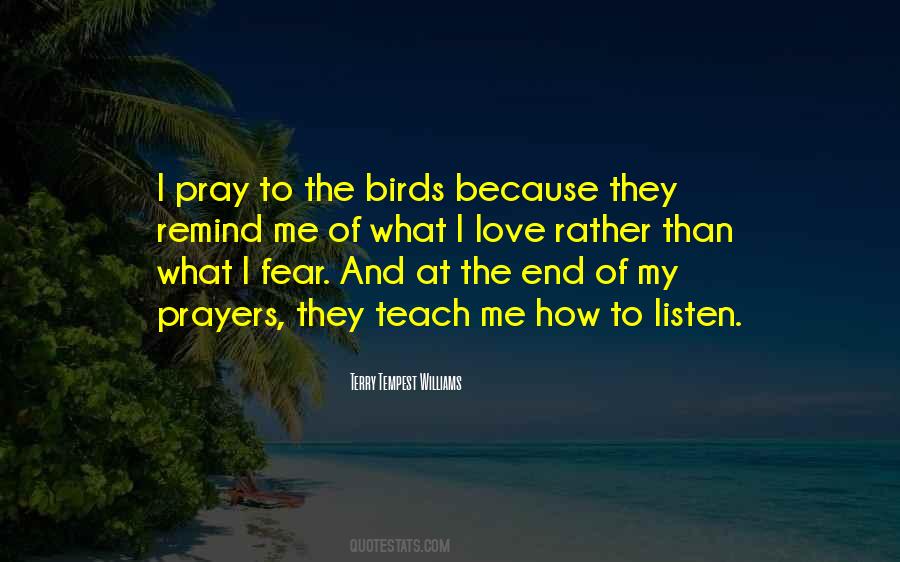 #100. It was only when we were in that bed, high above the world - then I thought the birds could have been circling around our bodies circled around each other - that we made our world totally separated from everything else. It was the only way we could be together. - Author: Kathy Acker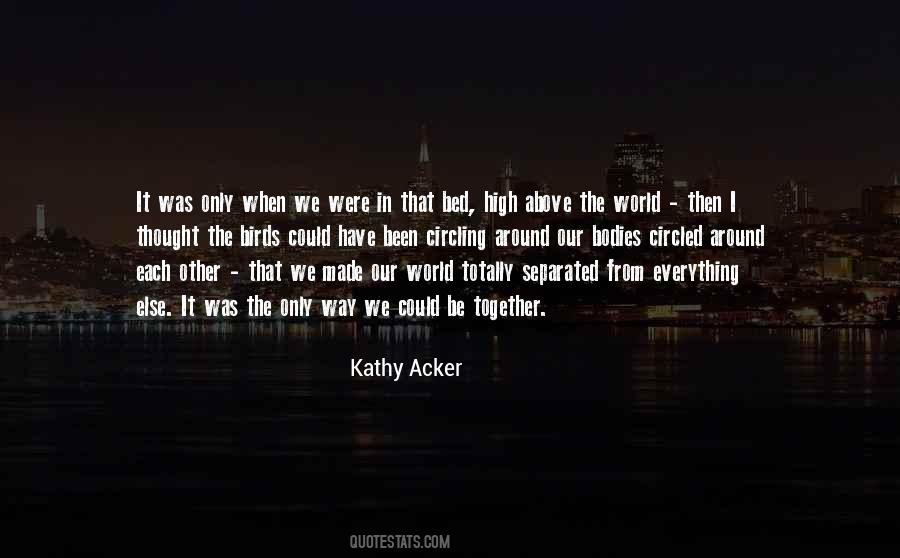 Famous Authors
Popular Topics