Beyond My Control Famous Quotes & Sayings
List of top 39 famous quotes and sayings about beyond my control to read and share with friends on your Facebook, Twitter, blogs.
Top 39 Quotes About Beyond My Control
#1. I control my life and I have never let success run away with me - I've taken it and ran. And the only thing that could threaten my stability is me - I'm my only threat and my own worst enemy. Beyond that, I don't feel successful. I'm nowhere near where I plan to be as far as my goals. - Author: Chaka Khan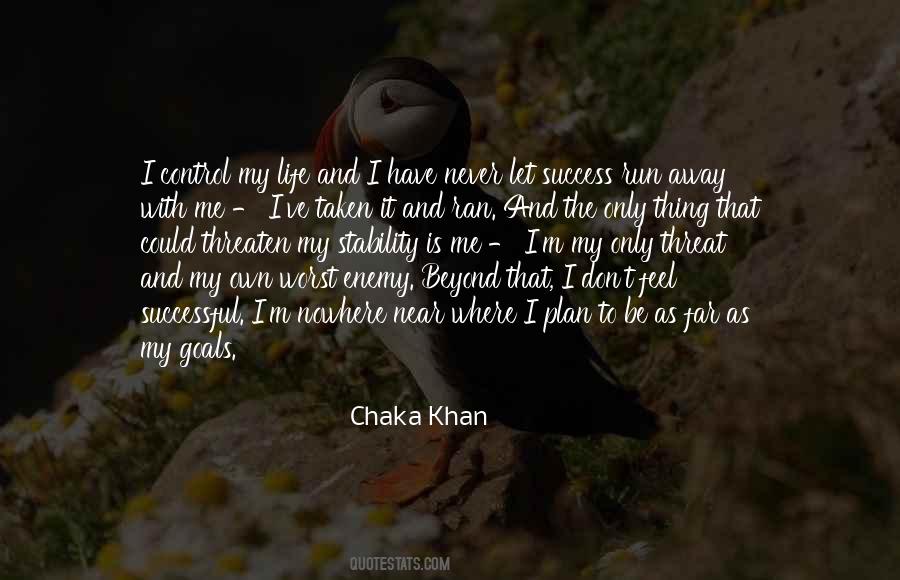 #2. Some events in life would remain beyond my ability to control or manage them. Some events would just happen. - Author: Joan Didion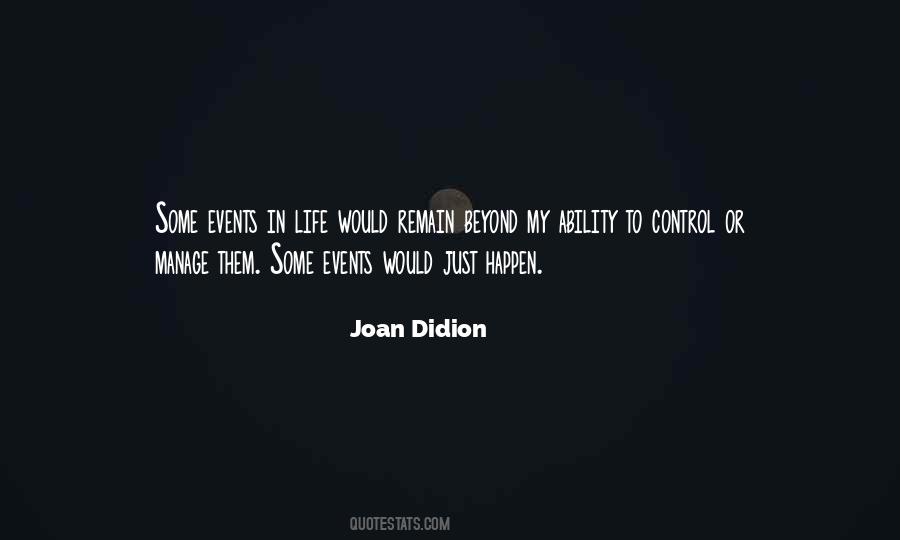 #3. Today, I will look around & enjoy all the beautiful things that are around me rather than yearn for things that are beyond my control & become miserable.-RVM - Author: R.v.m.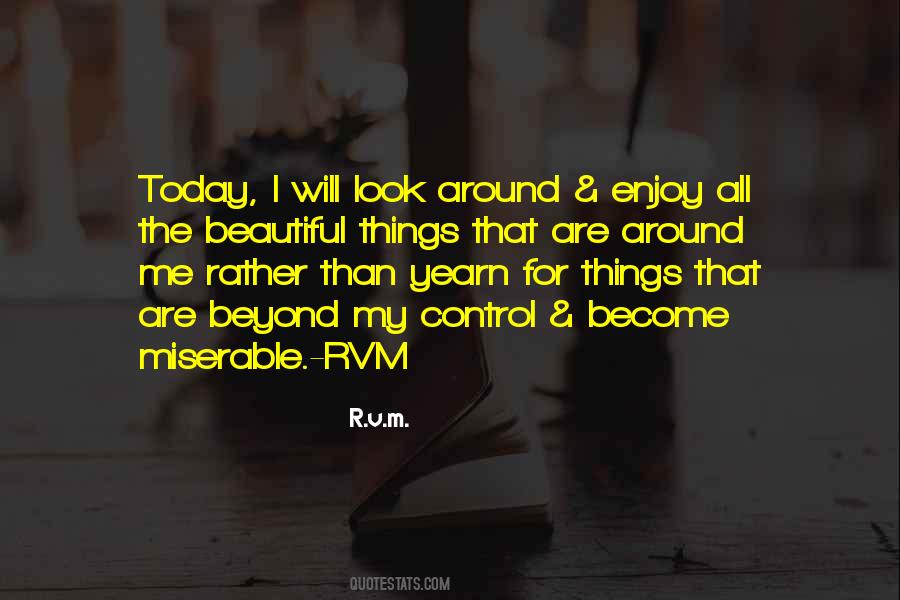 #4. My sister-in-law works for a group that supports orphanages in Cairo. She and her colleagues take care of children left behind by circumstances beyond their control. They feed these children, clothe them, and teach them to read. - Author: Mohamed ElBaradei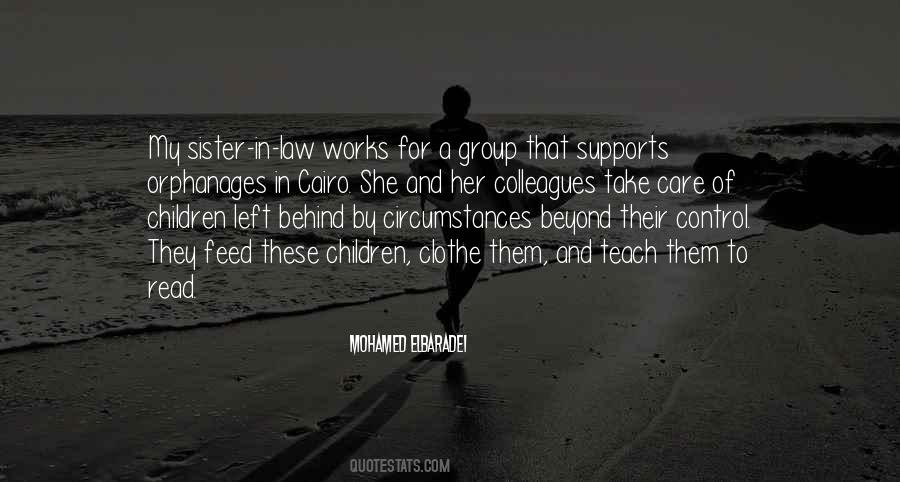 #5. I read and learned and fretted more about Canada after I left than I ever did while I was home. I absorbed anything I could on topics that ranged from Folklore to history to political mainifestos ... I ranted and raved and seethed about things beyond my control. In short I acted like a Canadian. - Author: Will Ferguson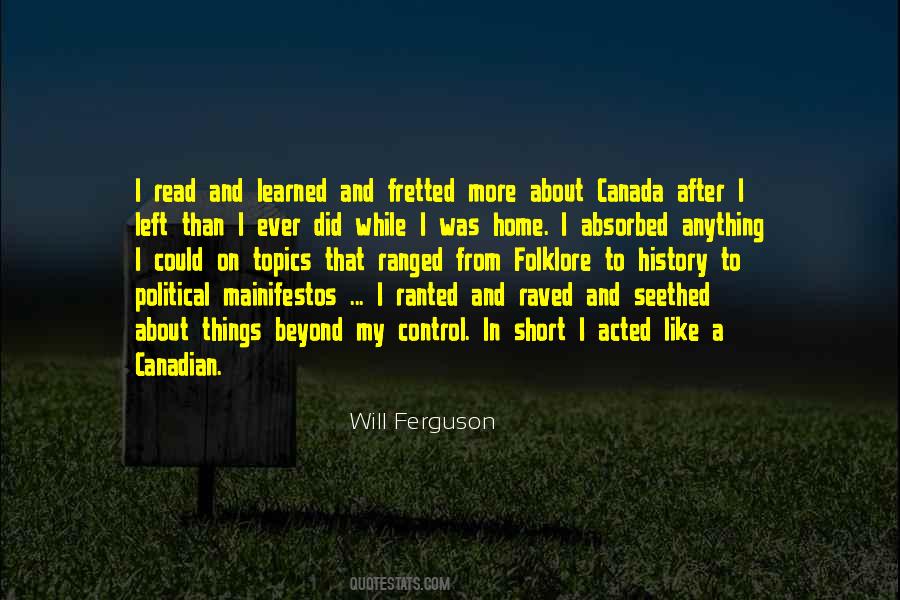 #6. It's beyond my control who's going to cast me or how you're going to pigeonholed, so for me, it's just I want to keep doing different things because I want to get better, so hopefully I'll be hired to do them. - Author: Bradley Cooper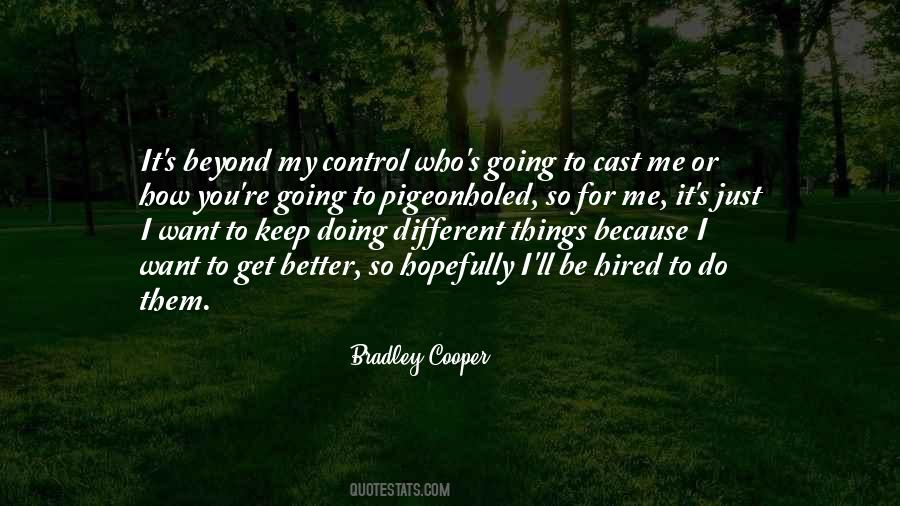 #7. Your qualifications, your CV, are not your life, though you will meet many people of my age and older who confuse the two. Life is difficult, and complicated, and beyond anyone's control, and the humility to know that will enable you to survive its vicissitudes. - Author: J.K. Rowling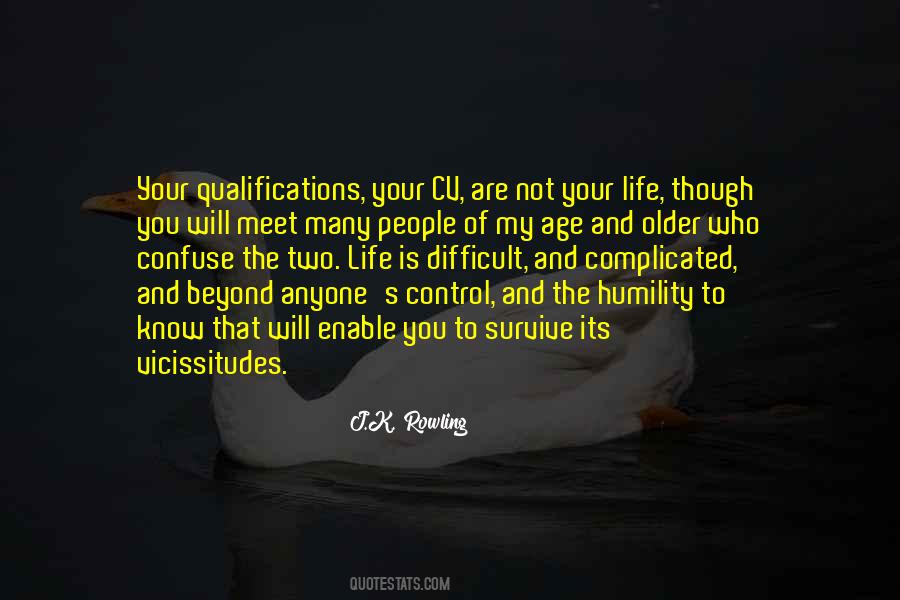 #8. I've never done acid, finding it hard to go willingly to a place that could be frightening, hellish, and totally beyond my control. A place much like high school. - Author: Libba Bray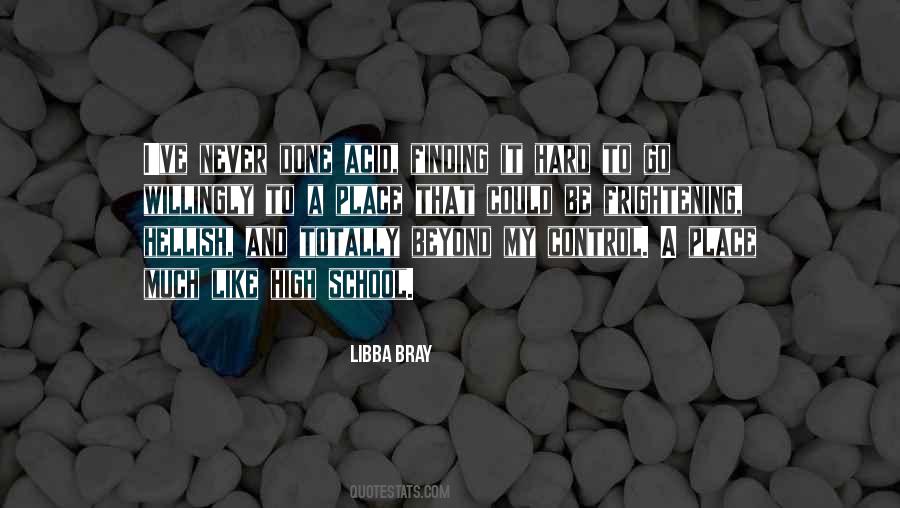 #9. What I fear and desire most in this world is passion. I fear it because it promises to be spontaneous, out of my control, unnamed, beyond my reasonable self. I desire it because passion has color, like the landscape before me. It is not pale. It is not neutral. It reveals the backside of the heart. - Author: Terry Tempest Williams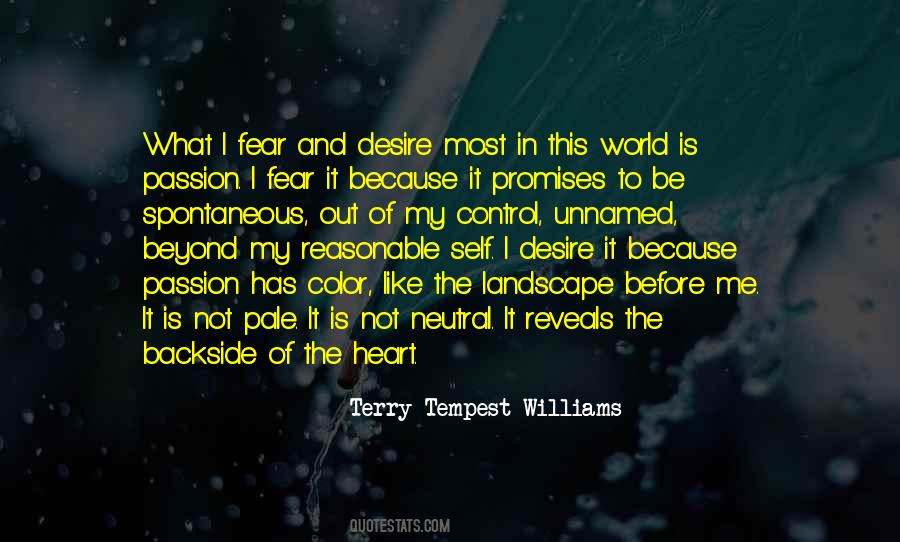 #10. As events beyond my control unfold. I go within to find peace. - Author: Renae A. Sauter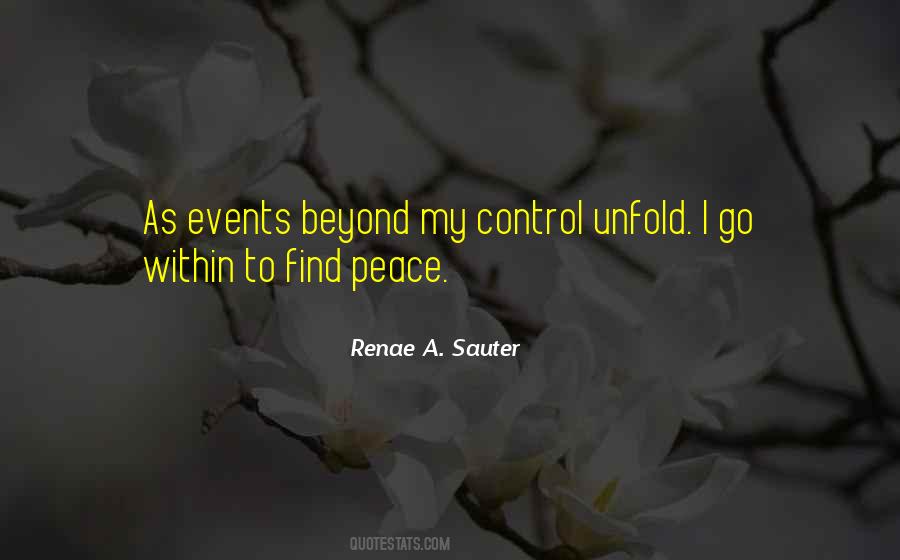 #11. I had fallen out of my secure world, precipitated beyond the territories I had only begun to control so skillfully. What a foolish step to take. What an insane move to make. - Author: Francesca Marciano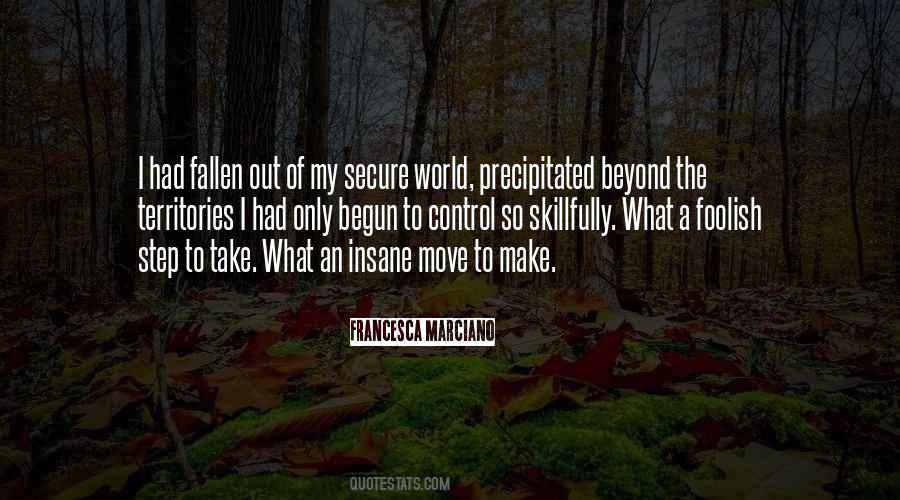 #12. Due to circumstances beyond my control, I am master of my fate and captain of my soul. - Author: Ashleigh Brilliant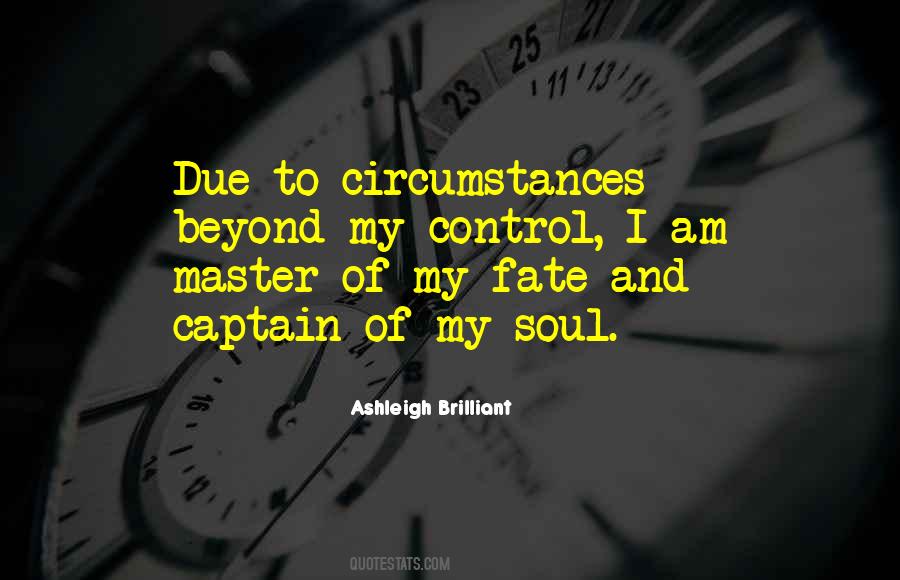 #13. Circumstances beyond my individual control. - Author: Charles Dickens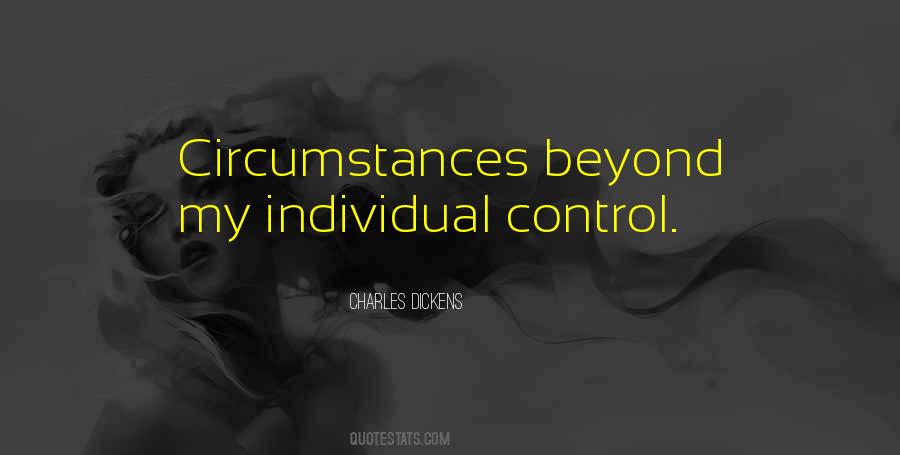 #14. The acting thing is so beyond my control. Acting isn't mine. You're like a tiny piece in this big, corporate mechanism that needs chemistry and divine intervention. - Author: Sandra Bullock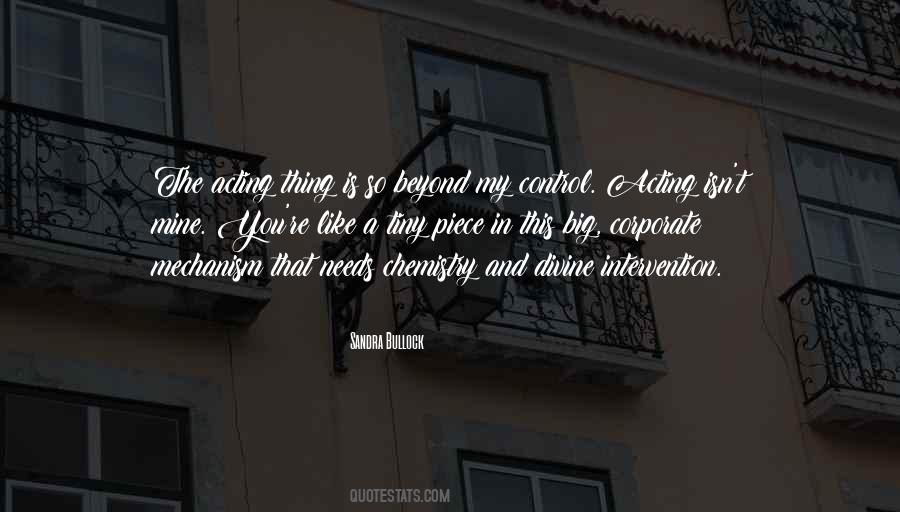 #15. I know that I've been given more than beyond measure. I come alive when I see beyond my fears. I know that I've been given more than earthly treasure. I come alive when I've broken down and given you control. - Author: Jeremy Camp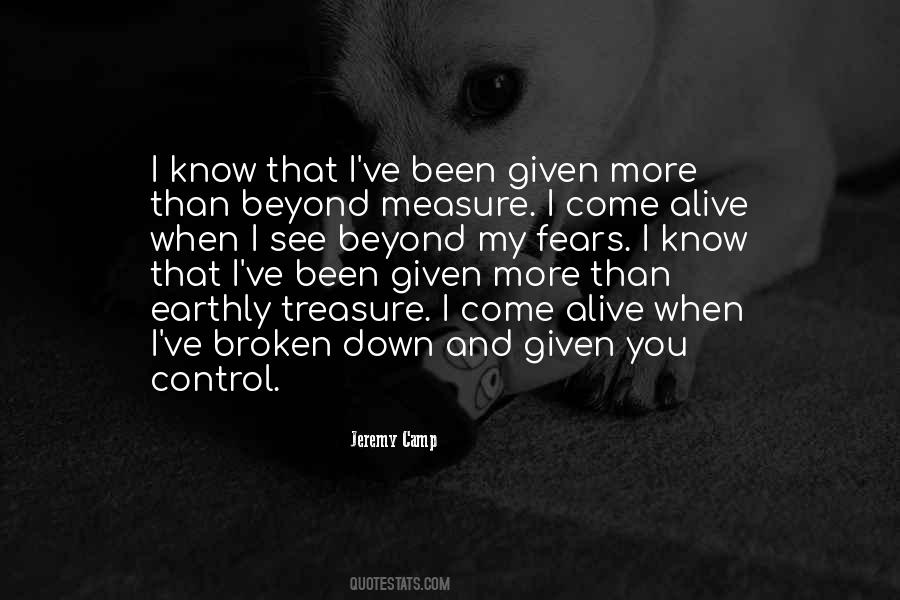 #16. Strange how reluctant I was to acknowledge that control of my fate lay beyond my own conscious will. Habit of a lifetime, I suppose. - Author: Patrick McGrath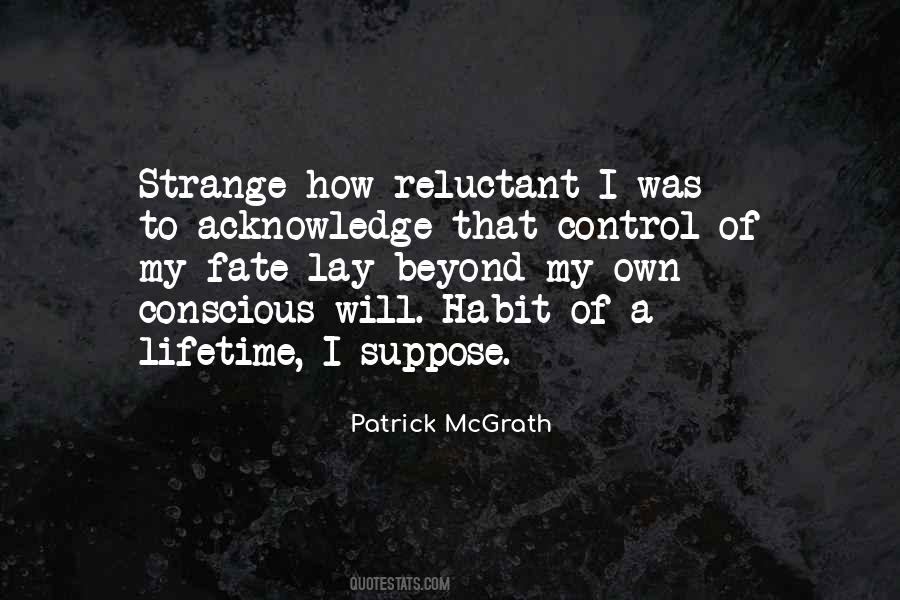 #17. Everything is always changing.
"There is a cause-and-effect lawfulness that governs all unfolding experience.
"What I do matters, but I am not in charge. Suffering results from struggling with what is beyond my control. [pp. 27-28] - Author: Sylvia Boorstein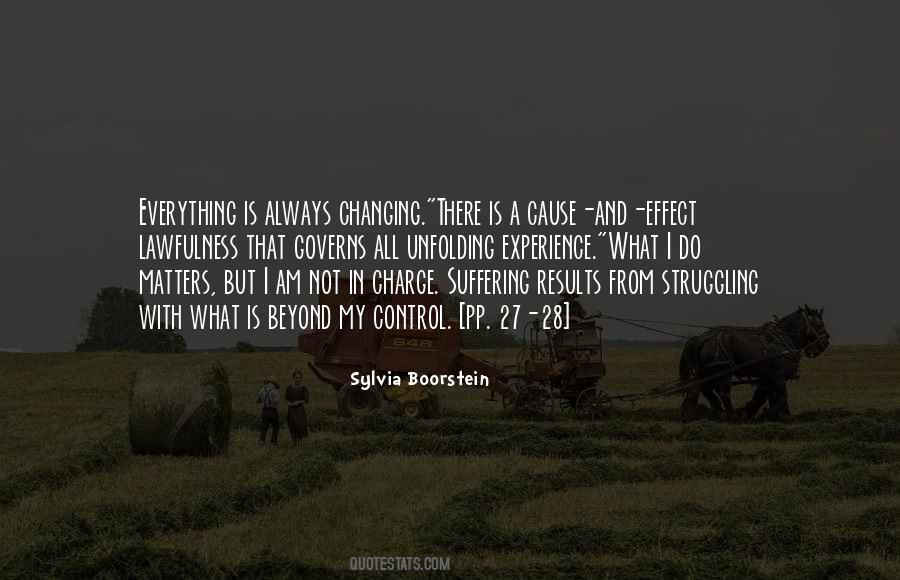 #18. If I could slam the door, I would. If I could walk to another room, I would. The best I can do is turn and head for the far corner of my cell. In prison, even goodbyes are beyond my control. - Author: T.J. Forrester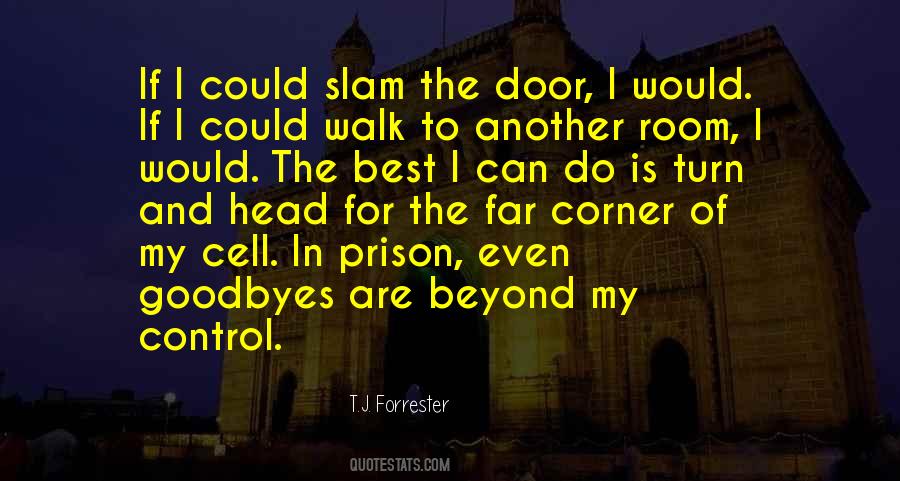 #19. There were so many things going on inside me and on the outside - many beyond my control. However, one thing I could control was to pray and commit myself every day to trust God so He could guide me." - Yilda B. Rivera, Courage Under Fire - Author: Yilda B. Rivera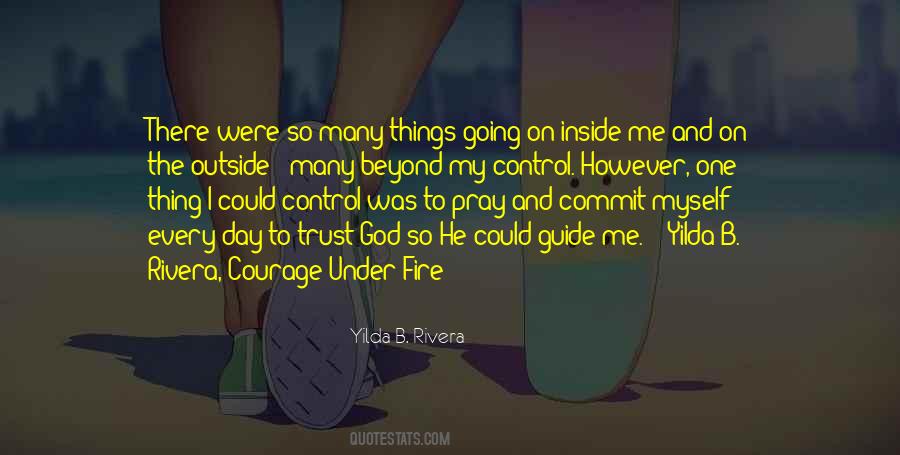 #20. It's my job to write the best book I can each month and hand my scripts in. Everything else is beyond my control. - Author: Jeff Lemire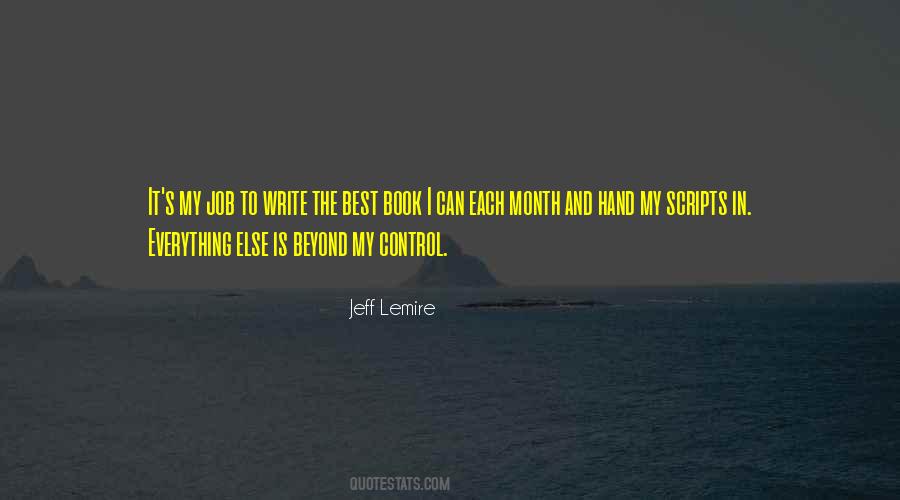 #21. My theory is that hope is a form of madness. A benevolent one, sure, but madness all the same. Like an irrational superstition
broken mirrors and so forth
hope's not based on any kind of logic, it's just unfettered optimism, grounded in nothing but faith in things beyond our control. - Author: Benjamin Wood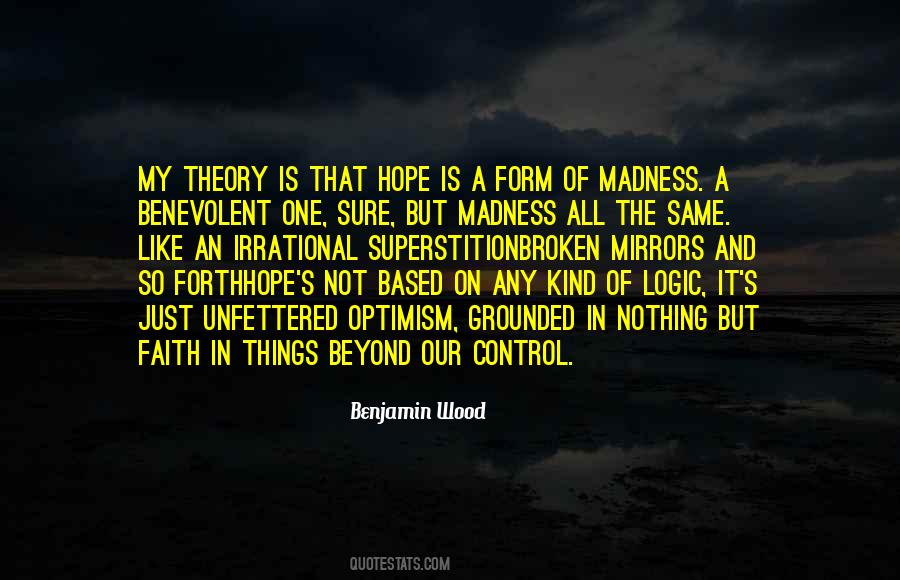 #22. I don't think that trauma is an illusion; there is no question in my mind that circumstances beyond our control can shape and define us. But ultimately, we make choices about letting ourselves be defined by our pasts. - Author: Christina Baker Kline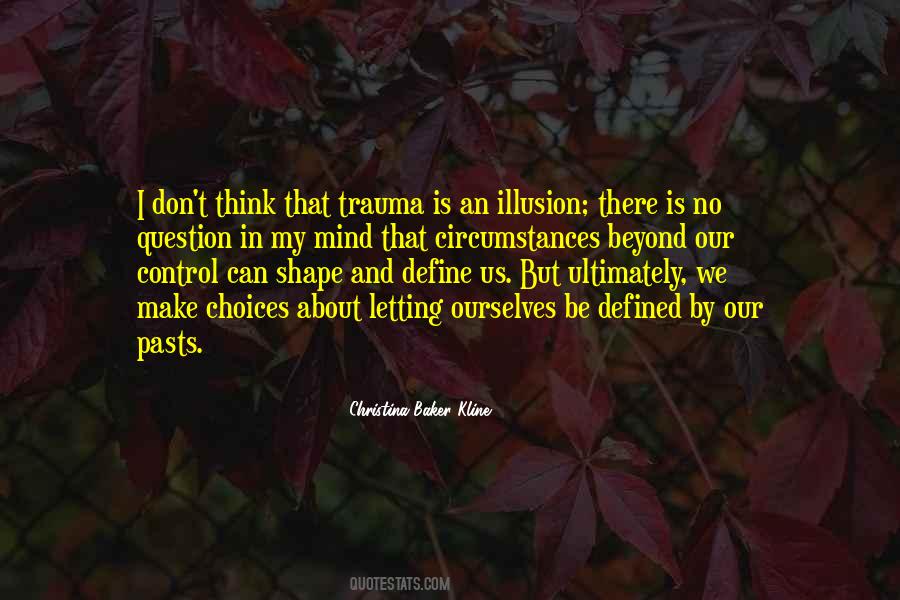 #23. Now, please understand that I didn't want to do any of this crap. None of these choices were mine. Like kids across the nation I was caught in circumstances beyond my control, and I felt that my choices were bad, worse, and worst. - Author: Mark Garrison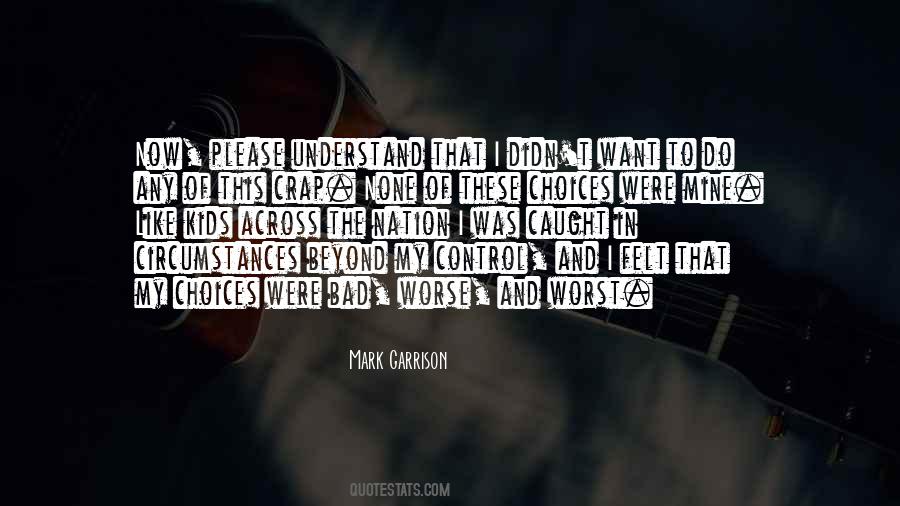 #24. The reality is I was never in control. God is. What I am learning is I can only control how I respond to whatever happens. I'm learning that I can forgive beyond just saying it and smiling. I'm learning that I can coexist with things that don't agree with my way. - Author: Kenn Bivins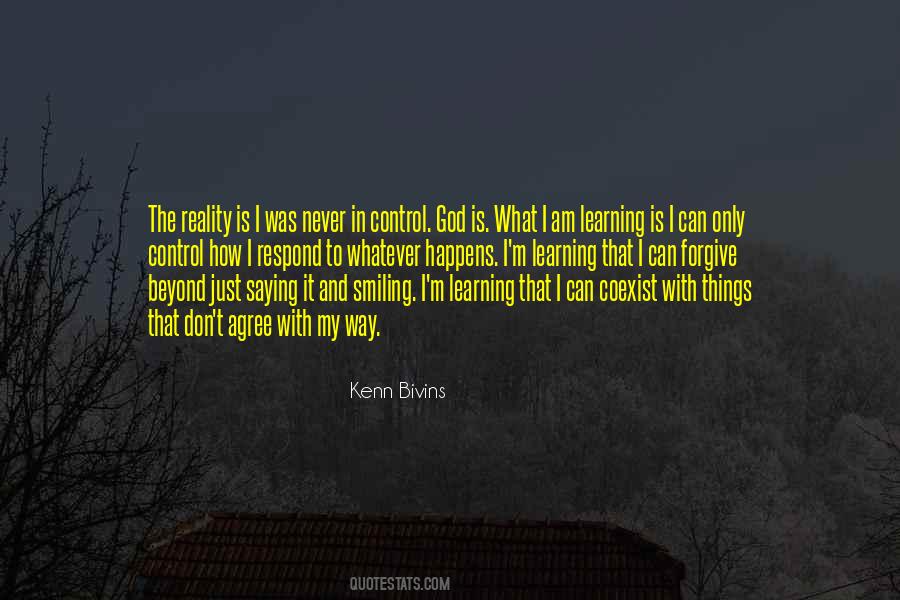 #25. My job is to put myself out there. It's beyond my control how I'm perceived. - Author: Waris Ahluwalia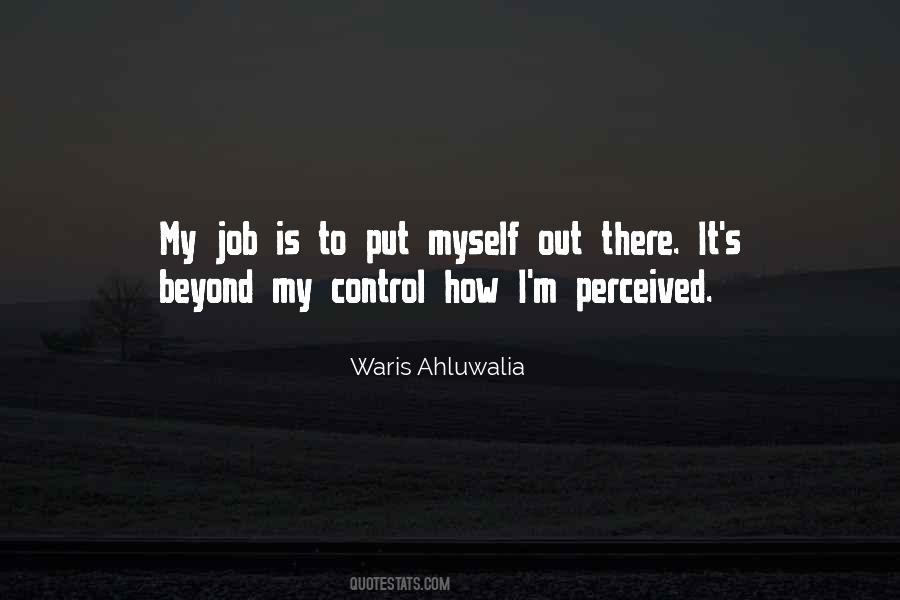 #26. No situation is beyond God's control. Over my wife's desk are these words: Fear not the future; God is already there. - Author: Billy Graham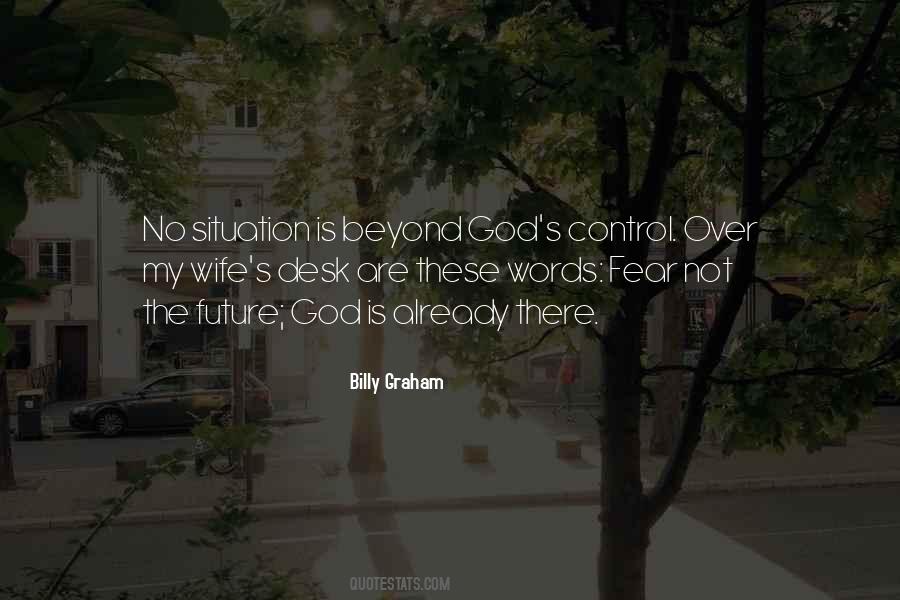 #27. A kind of sensual darkness began to absorb me and the words began to spill out beyond my control. - Author: Elliot Mabeuse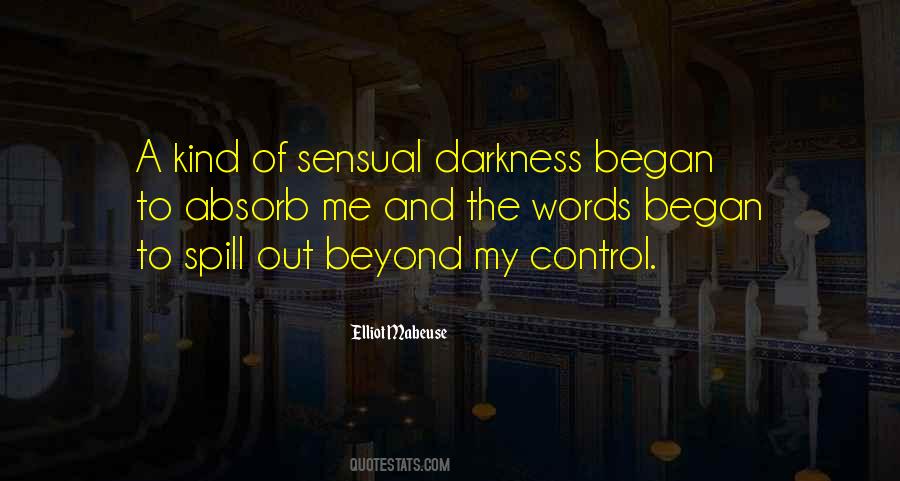 #28. I loved Jem- she said- I love him still, and he loved me, but i'm nobody's Will. My heart is my own. It is beyond you to control it. It has been beyond me to control it - Author: Cassandra Clare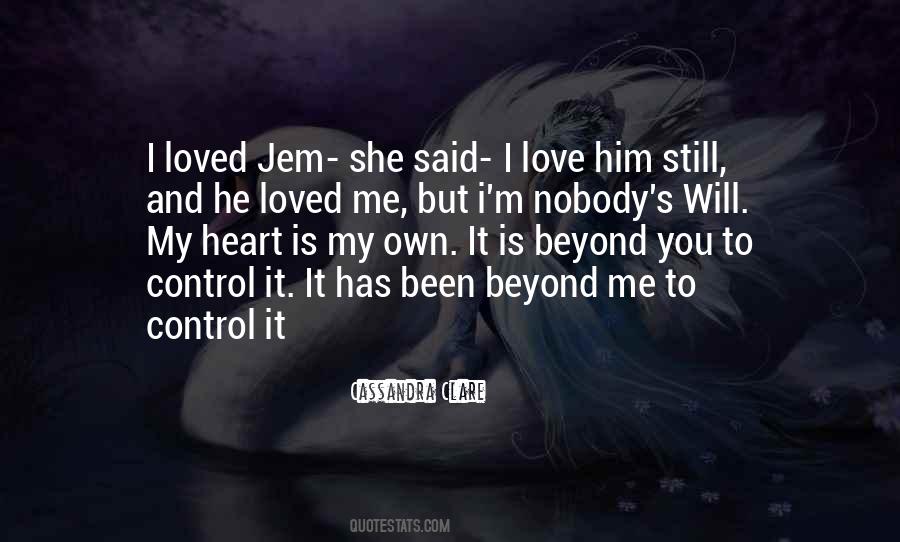 #29. I felt heat and
my body trembled
and forces
beyond my control
pulled me to him
as the music ripped
through our bodies - Author: Lisa Schroeder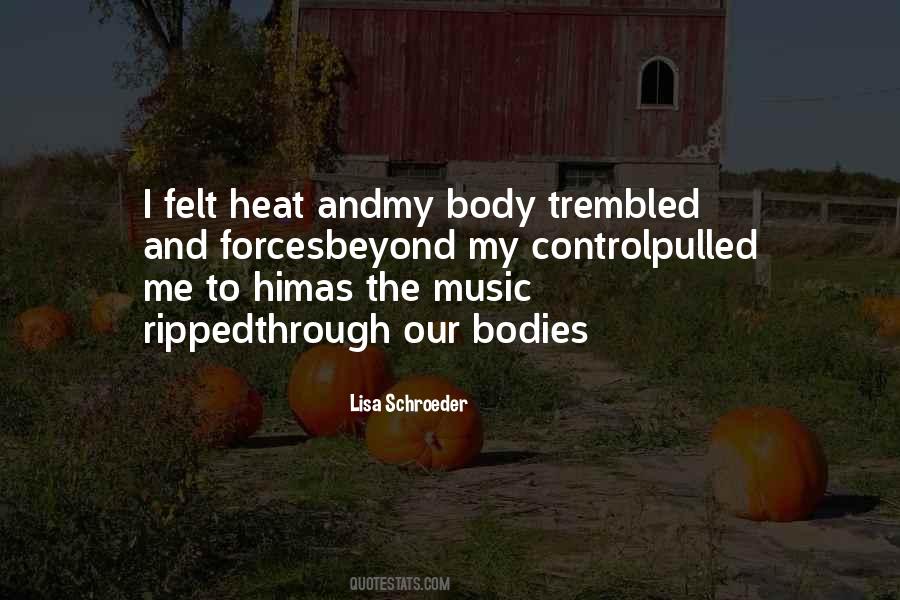 #30. I've had injuries in my life from things beyond my control: runaway horses, helicopters that decide to crash on mountaintops, boating accidents - things that were out of my hands. - Author: Christie Brinkley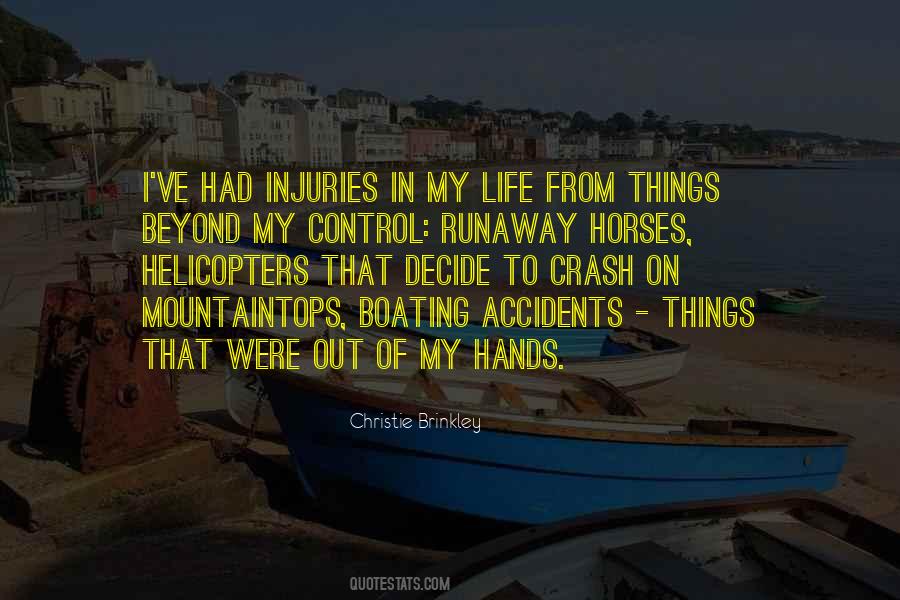 #31. Given all that lies beyond my
control, I obsess about the few things I can control - Author: Andre Agassi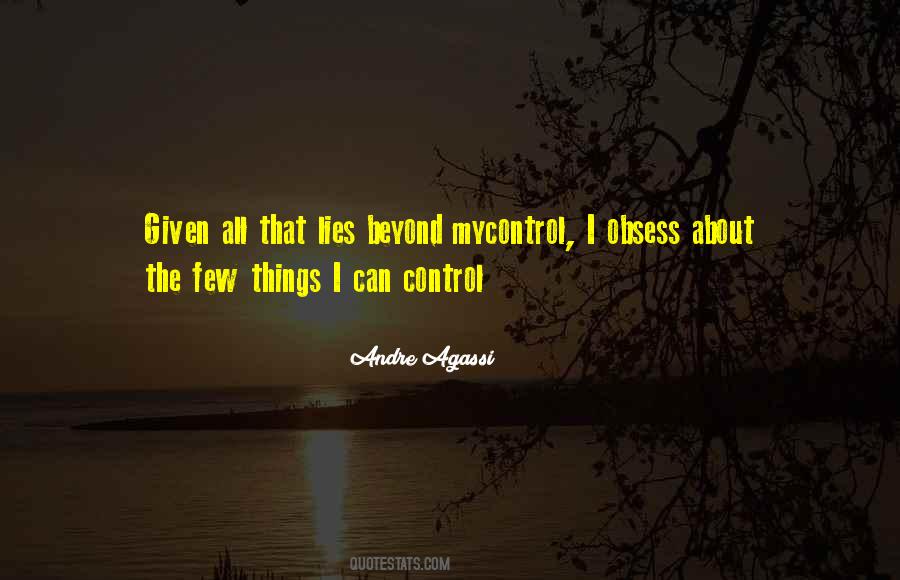 #32. I try to choose the projects that I think are the most well-written and well-executed, and the rest of it is so beyond my control to be almost not worth thinking about at all. - Author: Jack Davenport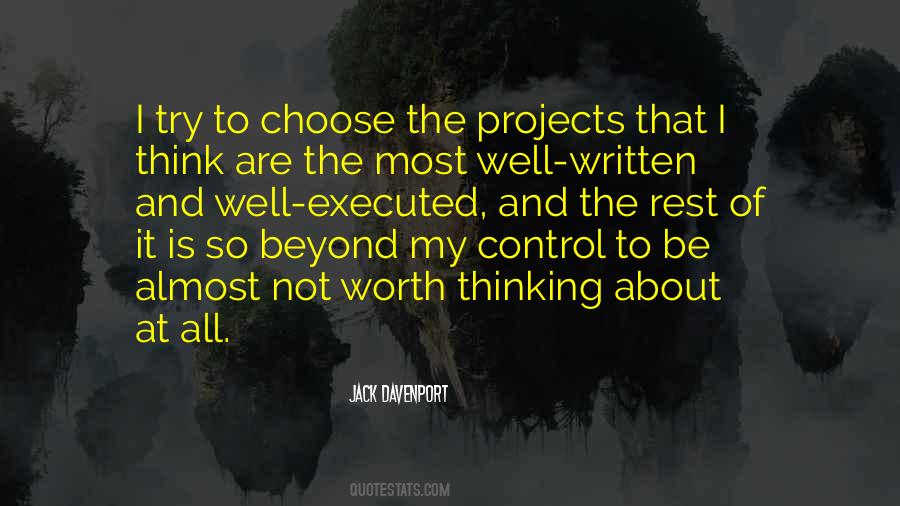 #33. My beloved dog defied treatment from the best and most expensive veterinarians, holistic practitioners, trainers, and animal communicators. He was simply beyond my ability to repair or control. - Author: Jon Katz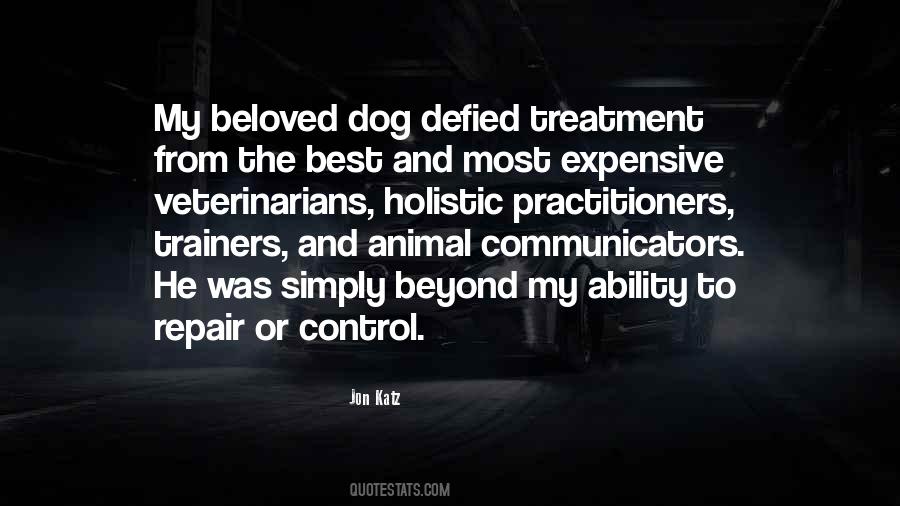 #34. We must exchange the philosophy of excuse - what I am is beyond my control for the philosophy of responsibility. - Author: Barbara Jordan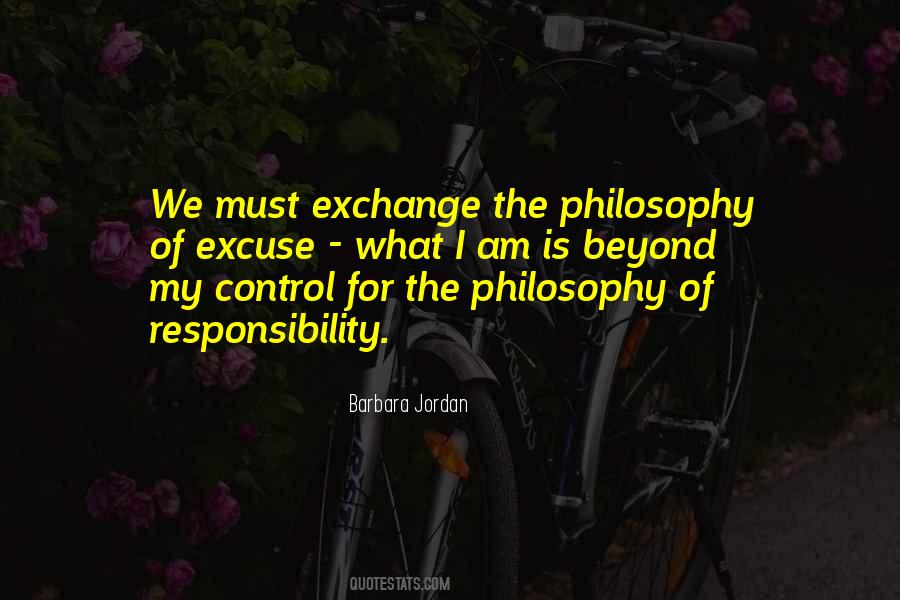 #35. One of my main techniques for acting is I try to know almost nothing beyond the words that I have to say, because that's my zone of control. - Author: Kristin Bauer Van Straten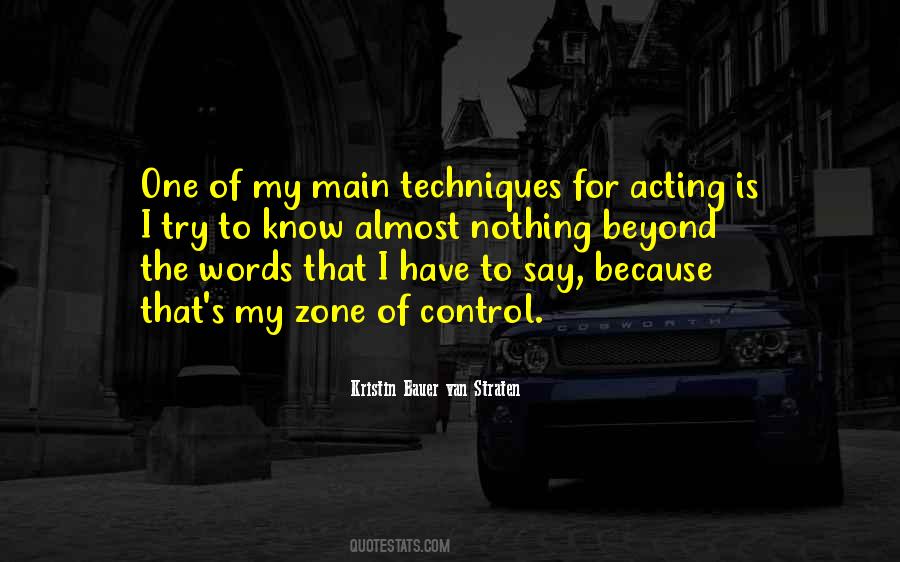 #36. It was almost as if my screwing everything up was beyond my control, destined, written in the stars. - Author: Cyn Balog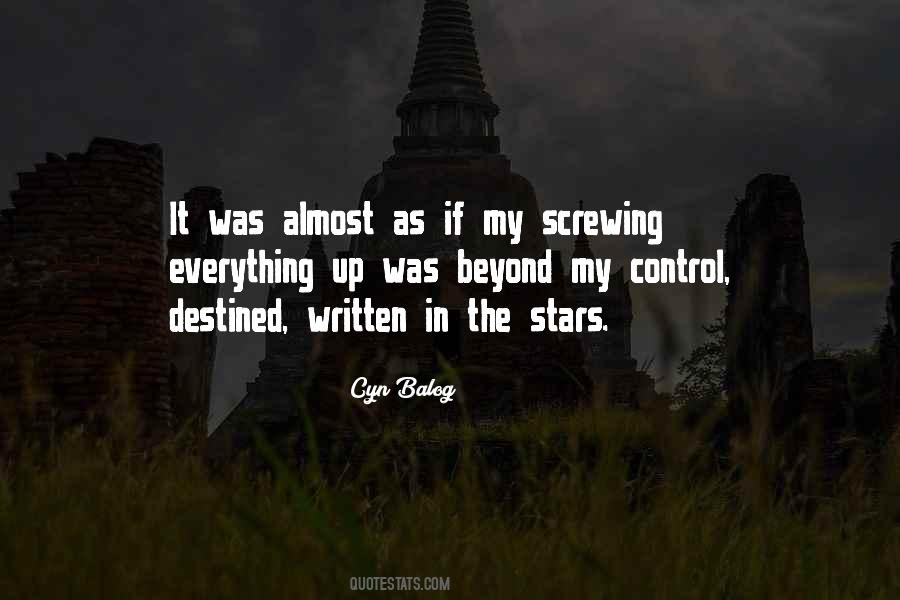 #37. To me, the real thrill is in making the music, and then I just trust it to find its own audience, and at times it's big and at times it's small, but that's beyond my control. - Author: Amy Grant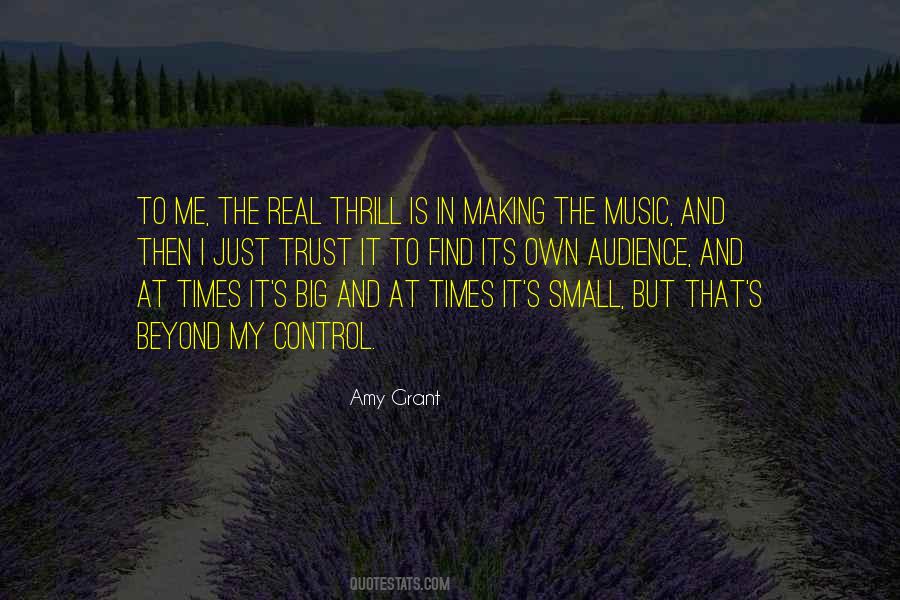 #38. I trust in the ebb and flow of the universe. I trust that life's bigger than what I can see. I trust that there is a divine order beyond my control. And I trust that no matter what happens, I will be all right. - Author: Oprah Winfrey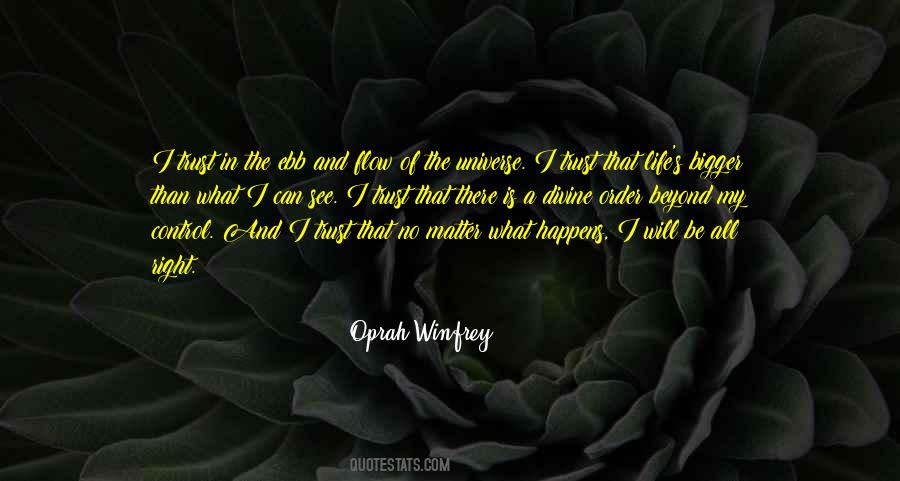 #39. I used to think I sewed us together at the edges with my own hands, pulled the stitches tight and I could unpick them any time I wanted. Now I think it always ran deeper than that and farther, underground; out of sight and way beyond my control. - Author: Tana French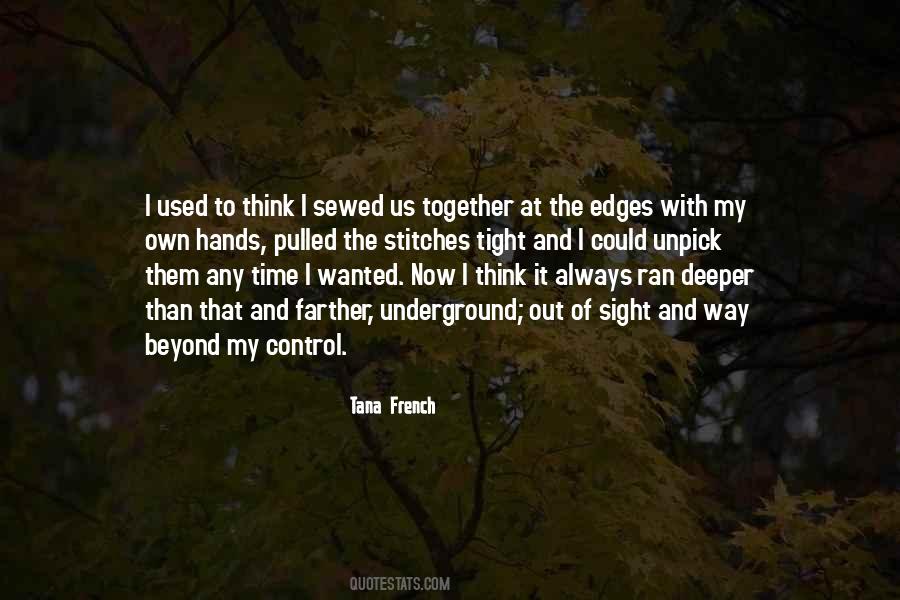 Famous Authors
Popular Topics