Better Half Famous Quotes & Sayings
List of top 100 famous quotes and sayings about better half to read and share with friends on your Facebook, Twitter, blogs.
Top 100 Quotes About Better Half
#1. If there is "better", then there is a "best". If there is "half", then there is a "complete". Far more than being a "better half", you can be a "best complete"; like a word/phrase that beautifies and gives meaning to a sentence when it is added. - Author: Olaotan Fawehinmi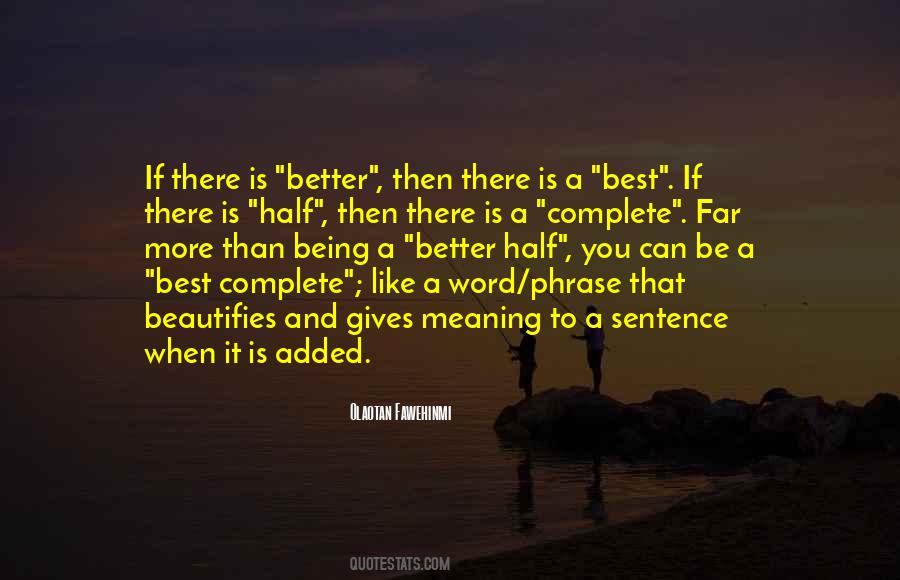 #2. I had to leave. She would have died for my sake. Wasn't it better for me to live a half life for her sake? - Author: Jeanette Winterson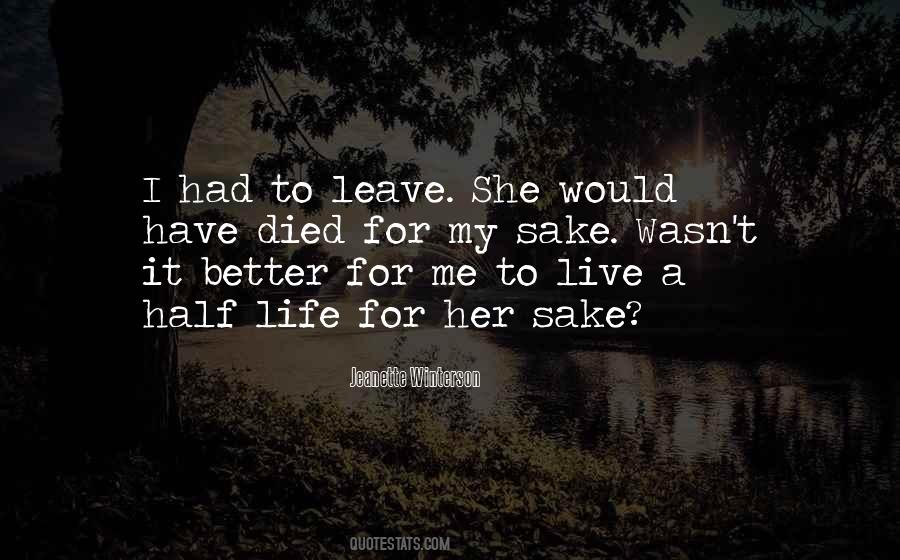 #3. I would come back to public school for usually about half the year. It was actually better for me to be out of school a lot, because I was two years younger than everybody, which is a bad situation, socially. - Author: Harry Shearer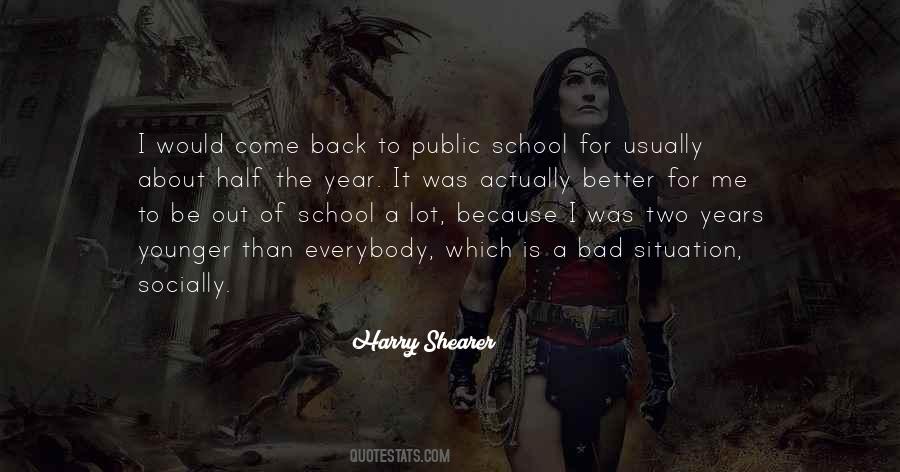 #4. It is better to dream big and get half of it, then dream small and get all of it. - Author: Joyce Meyer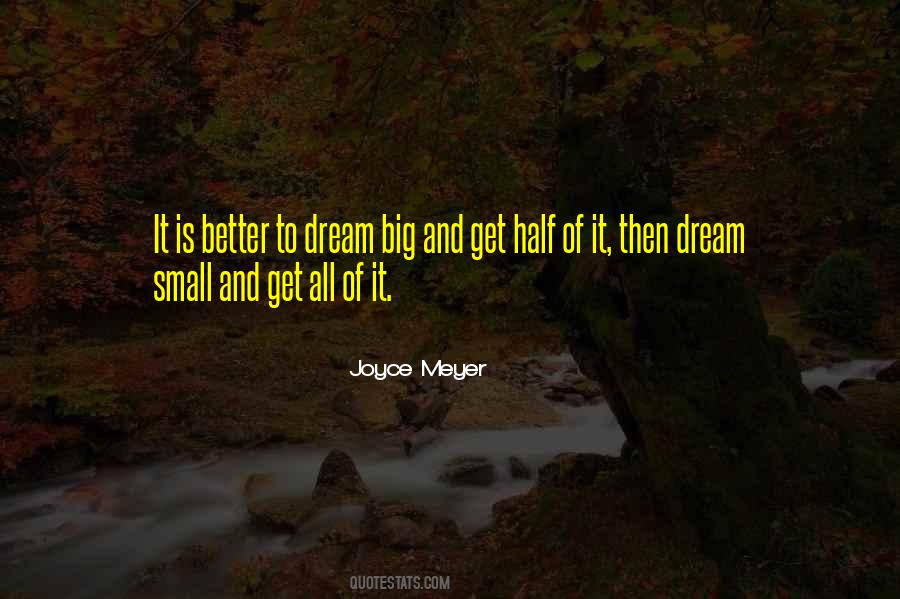 #5. Half a loaf is better than none. - Author: John Heywood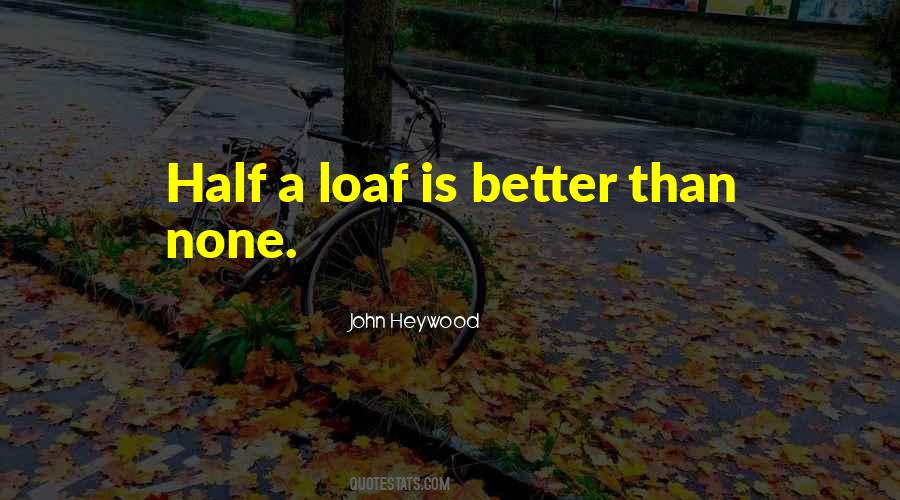 #6. Half my life was spent trying to be a better person, but you reach a certain age and you realize you don't have a choice about who you are. All of us are slaves to ourselves. - Author: Gareth P. Jones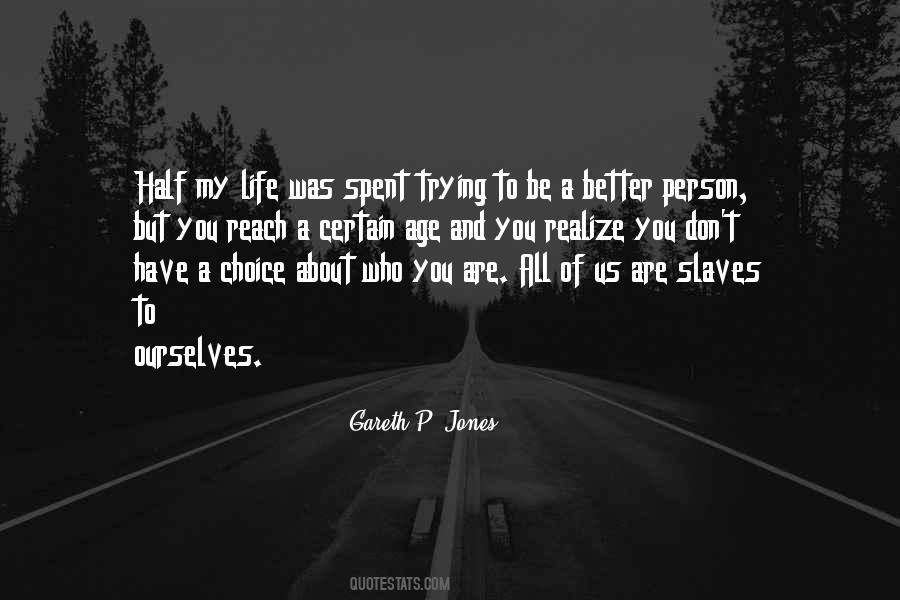 #7. This was a practical application of the principle that a half-feigned and fictitious faith is better than no faith at all. - Author: Thomas Hardy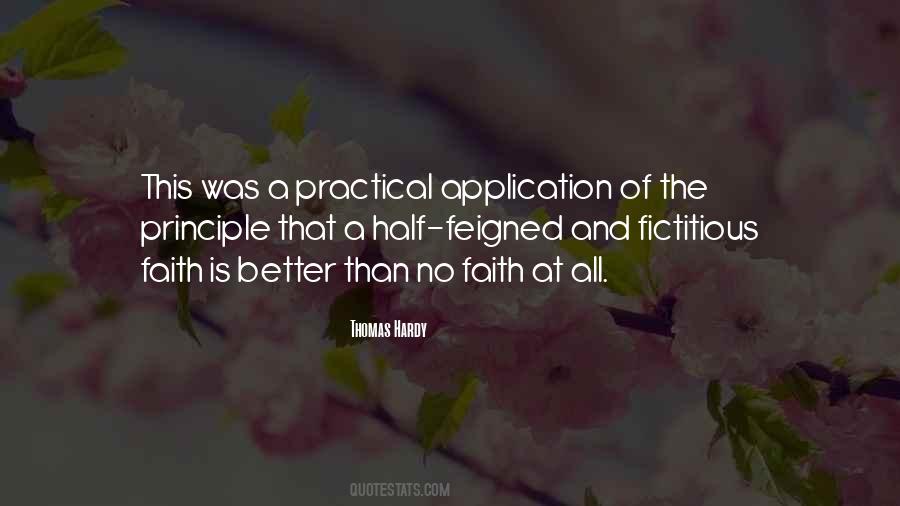 #8. Better to have a big goal and reach half of it than to have no goal and reach all of it. - Author: Joyce Meyer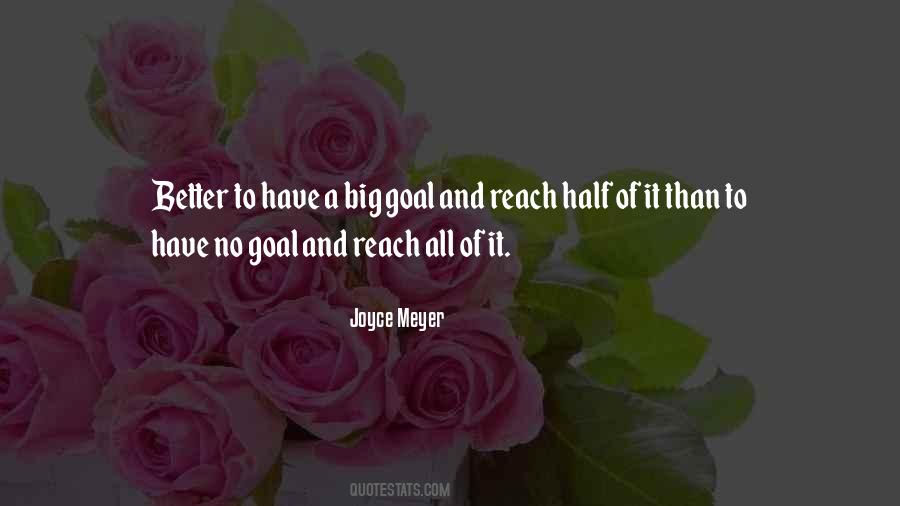 #9. So, all during the '90s and, you know, for the first half of this decade, we had opportunities to get evacuation plans in place, better communications in place. - Author: Michael Chertoff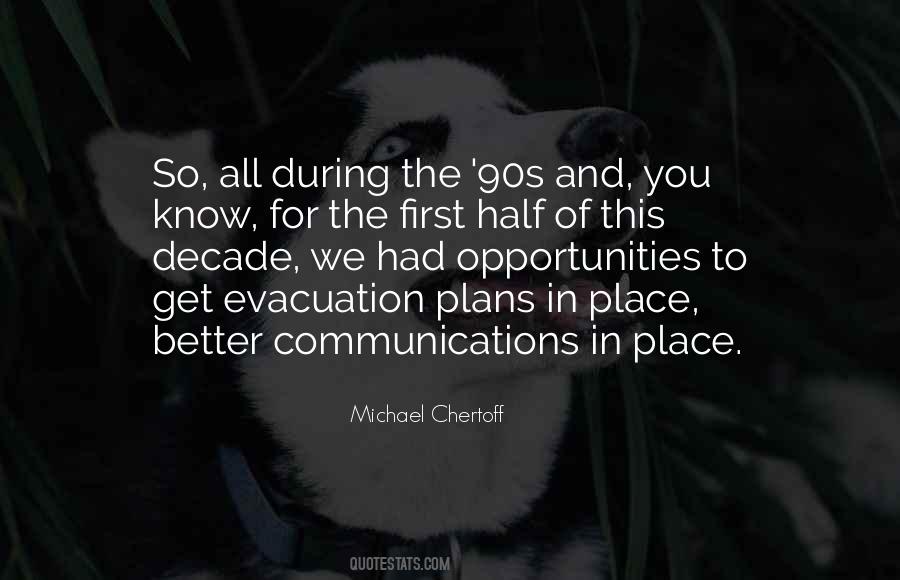 #10. Then a faintness came over her; she recalled the Viscount who had waltzed with her at Vaubyessard, and his beard exhaled like this air an odour of vanilla and citron, and mechanically she half-closed her eyes the better to breathe it in. But - Author: Gustave Flaubert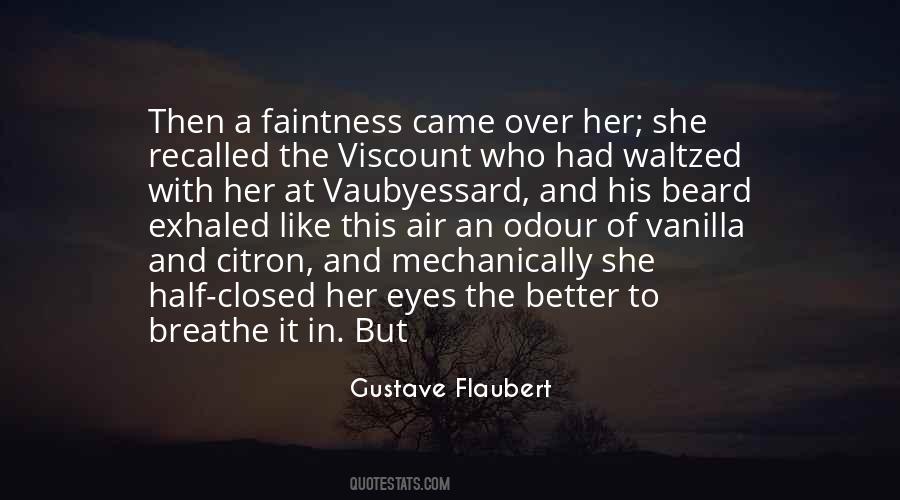 #11. I'm still not at my ideal weight. I didn't lose forty-five pounds before the wedding. Who knows if I ever will. I've lost twenty-seven and a half pounds, and that's better than nothing. Somehow, though, today I'm thinking more about what I've gained than what I've lost. - Author: K.A. Barson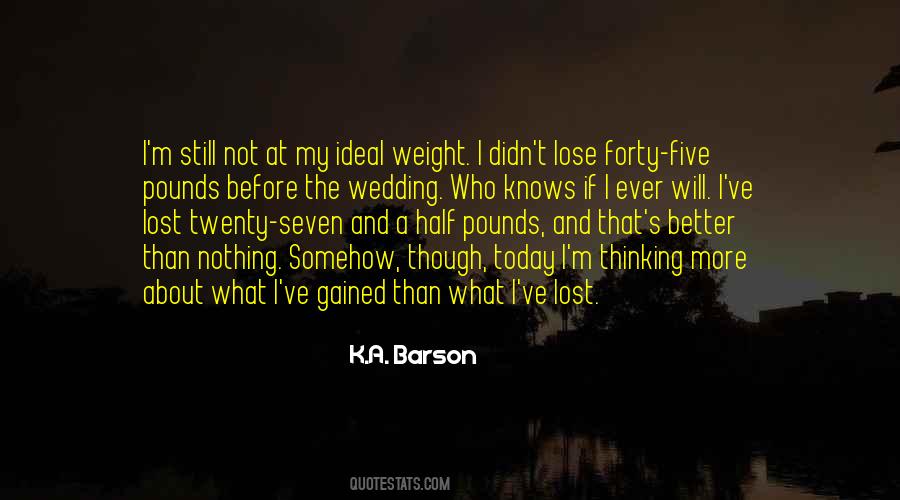 #12. It's better to go into the world half-cocked than not to go into the world at all. - Author: James Hillman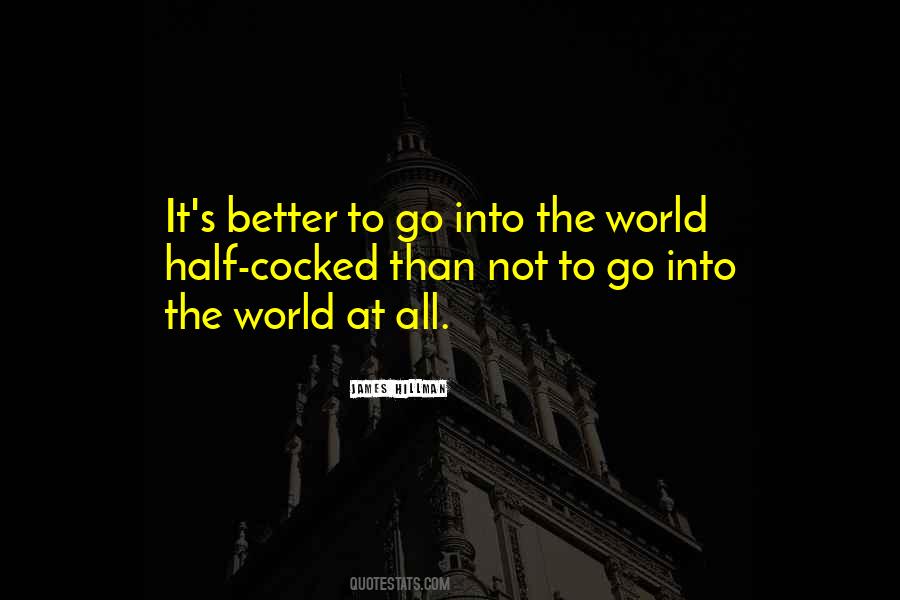 #13. True love is when both people think they have the better half of the deal. - Author: Simon Sinek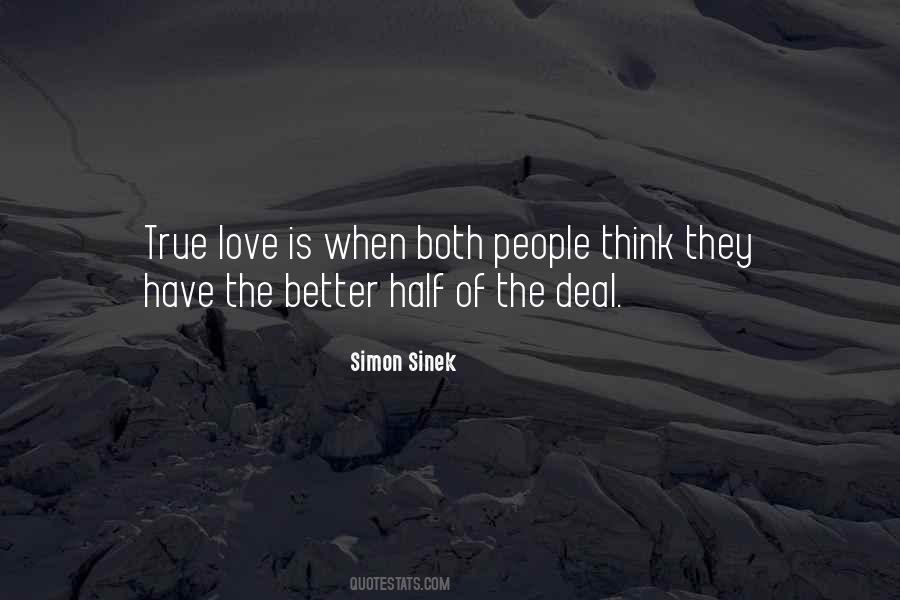 #14. I always say believe for a bunch, and even if you only get half of it you are better off than believing for a little and getting all of it. - Author: Joyce Meyer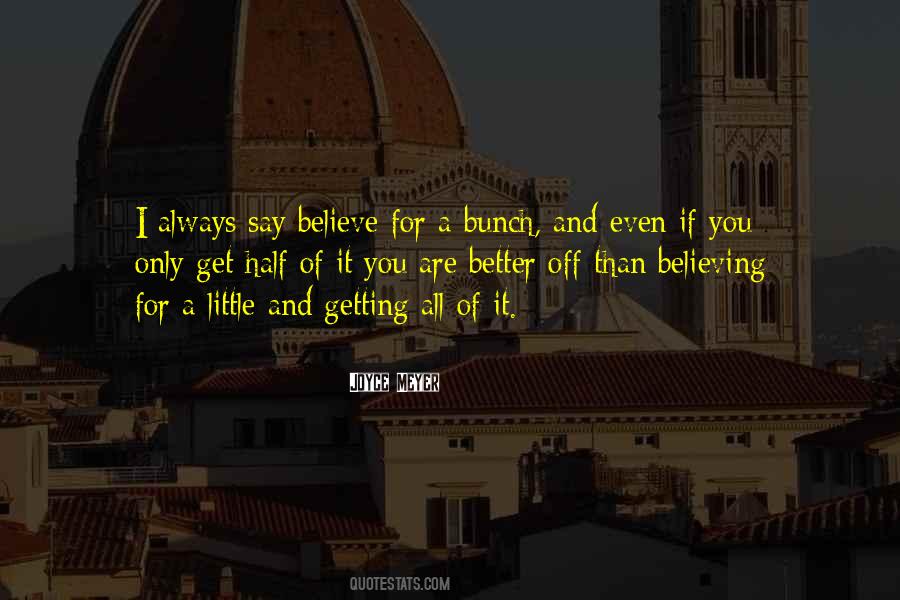 #15. In the library I felt better, words you could trust and look at till you understood them, they couldn't change half way through a sentence like people, so it was easier to spot a lie. - Author: Jeanette Winterson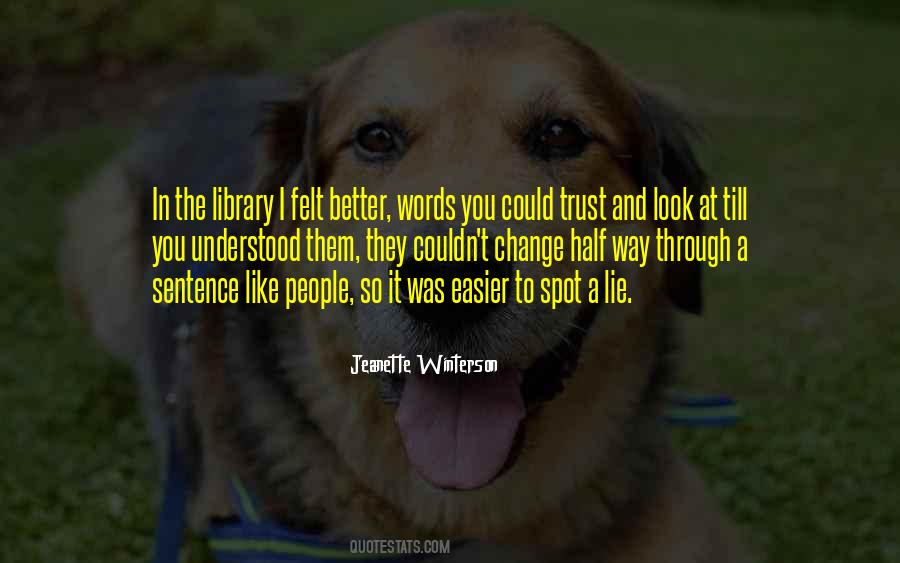 #16. The average GOP presidential vote in these last five elections was 44.5 percent. In the last three, it was 48.1 percent. Give Romney an extra point for voter disillusionment with Obama, and a half-point for being better financed than his predecessors. It still strikes me as a path to narrow defeat. - Author: Bill Kristol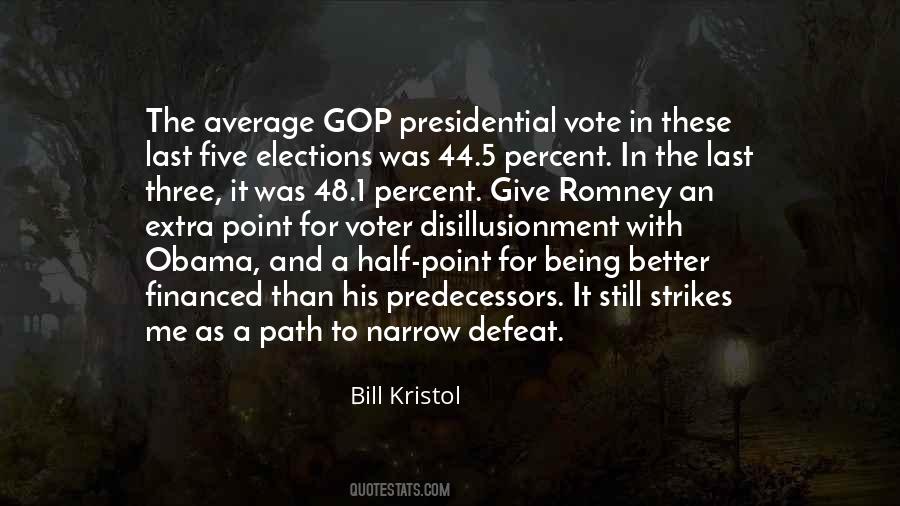 #17. I think Francis at half form is better than anybody else by 50%, you know? I think it's just that he has never ... he has a late pick of the things that are ambitious enough for him. - Author: John Milius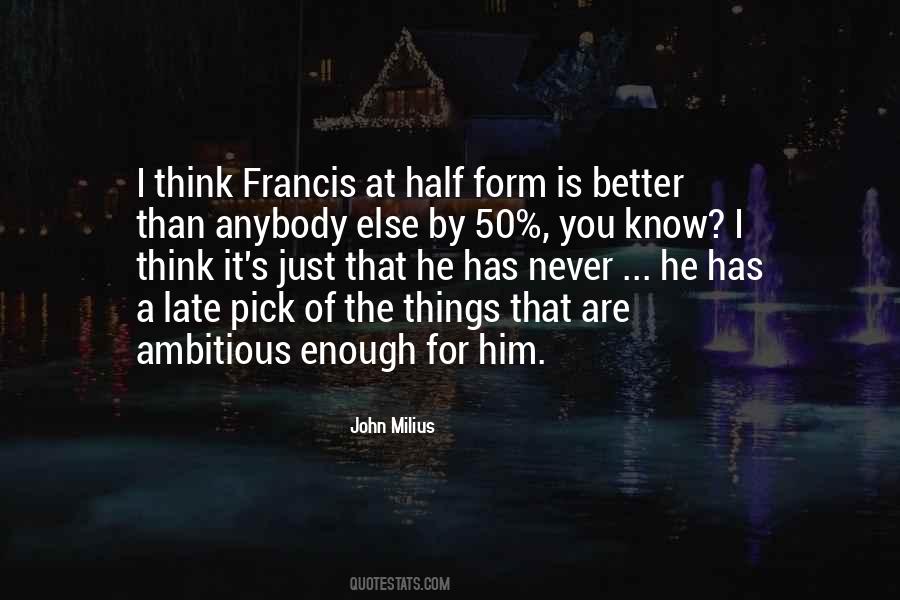 #18. One of those characters who in Angola are often called 'lost frontiers', because by daylight they look white, and at twilight they are discovered in fact to be half mulatto - from which it might be concluded that sometimes you can understand people better further away form the light. - Author: Jose Eduardo Agualusa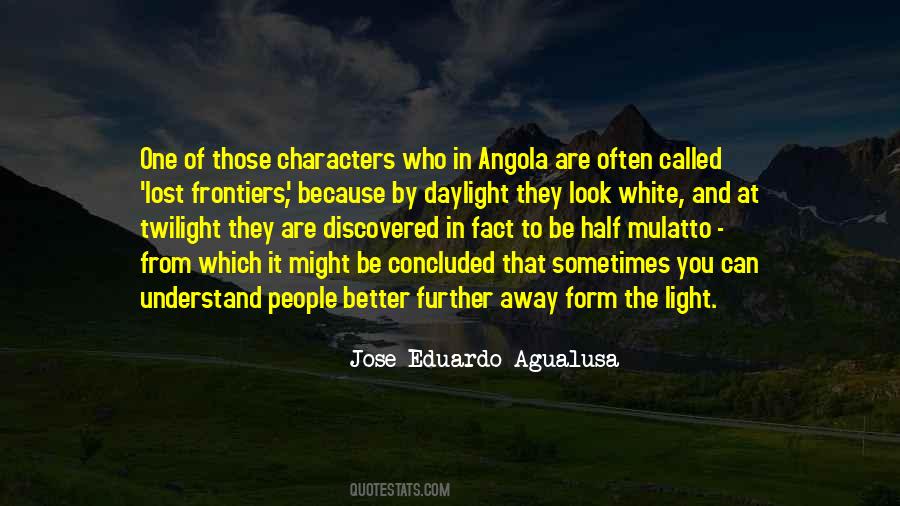 #19. But young hearts mend easily, and hearts that own half of England have something better to do than to beat faster for love. - Author: Philippa Gregory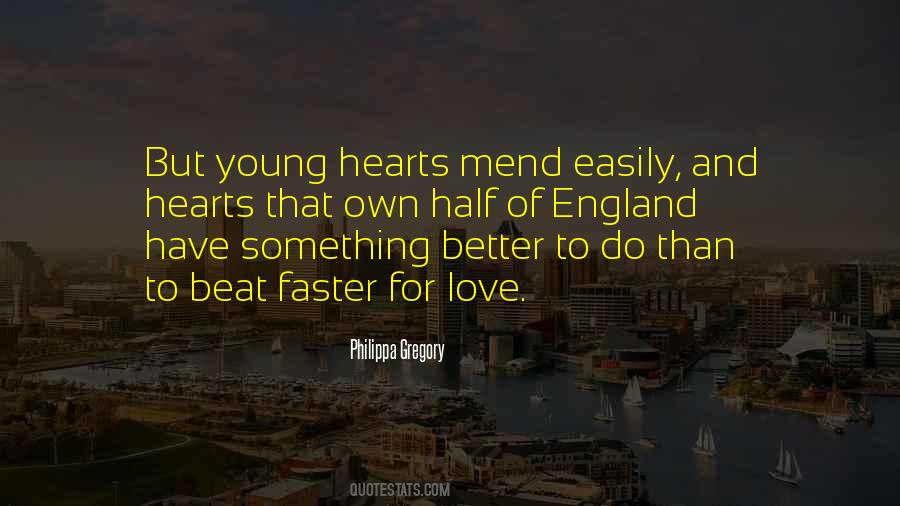 #20. For example, knowing that it takes only about eleven and a half days for a million seconds to tick away, whereas almost thirty-two years are required for a billion seconds to pass, gives one a better grasp of the relative magnitudes of these two common numbers. - Author: John Allen Paulos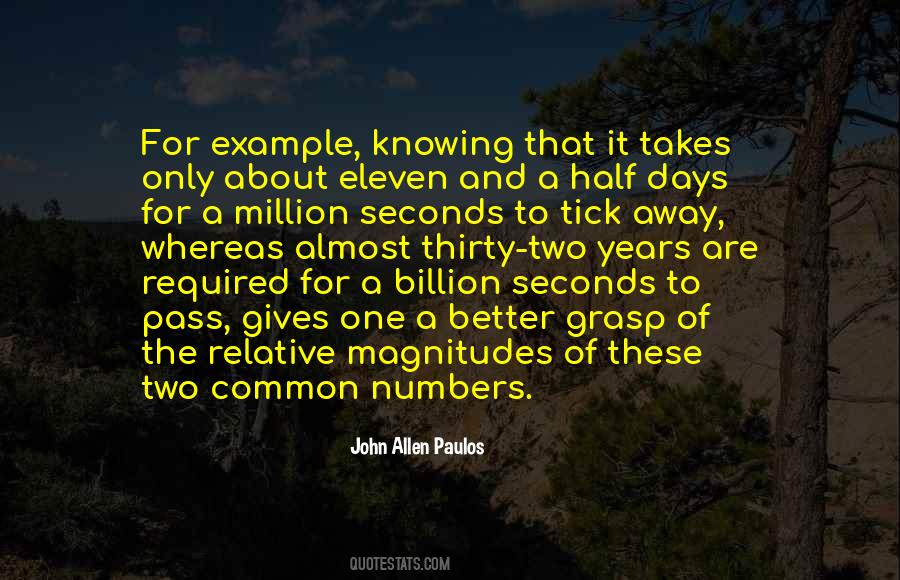 #21. There is always
laughter out of the speeding
vehicles for the man
who is still, half-way though he be
in a better direction. - Author: R.S. Thomas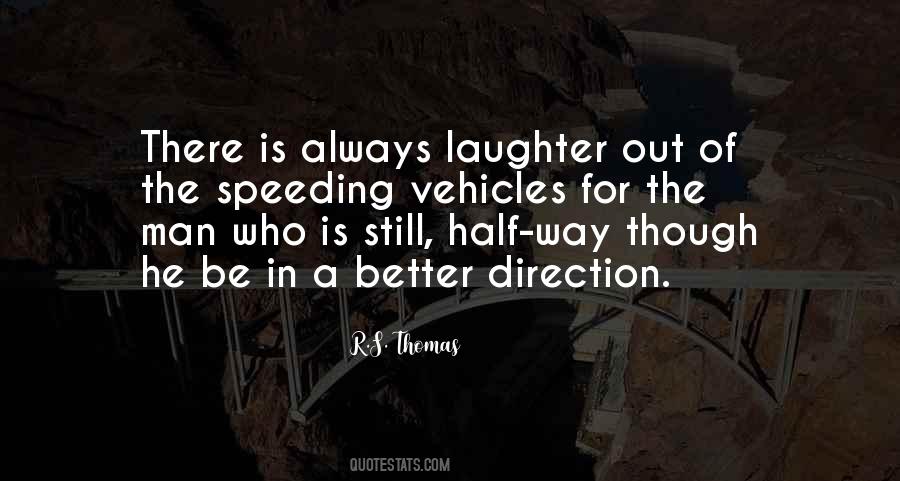 #22. If you'll curtail your literary pursuits a moment I'll introduce you to my counterpart and Nemesis; I would be trite and say, 'to my better half,' but I think that phrase indicates some kind of basically equal division, don't you? - Author: Ken Kesey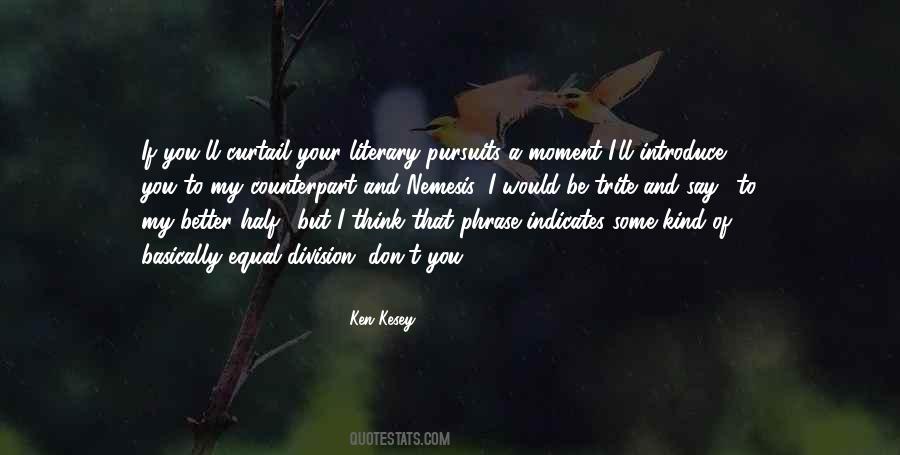 #23. Half a calamity is better than a whole one. - Author: T.E. Lawrence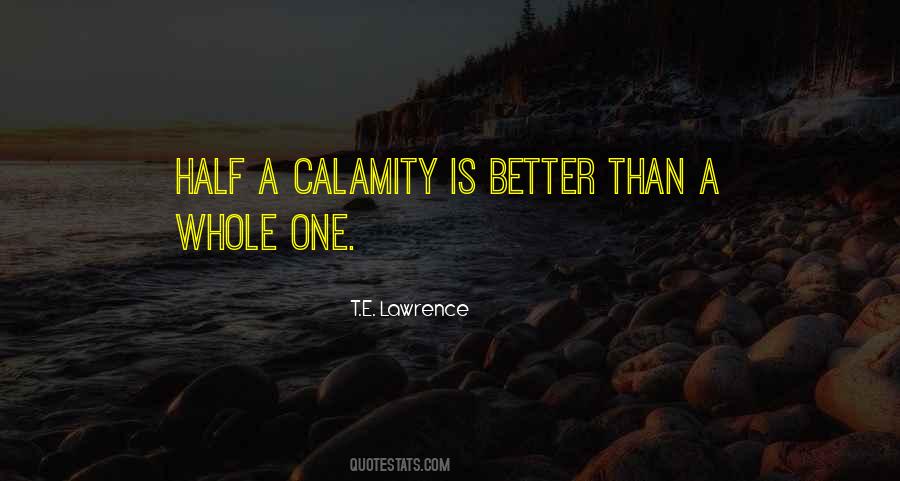 #24. I knew that somewhere God was laughing. He had taken the other half of my heart, the one person who knew me better than I knew myself, and He had done what nothing else could do. By bringing us together, He had set into motion the one thing that could tear us apart. - Author: Jodi Picoult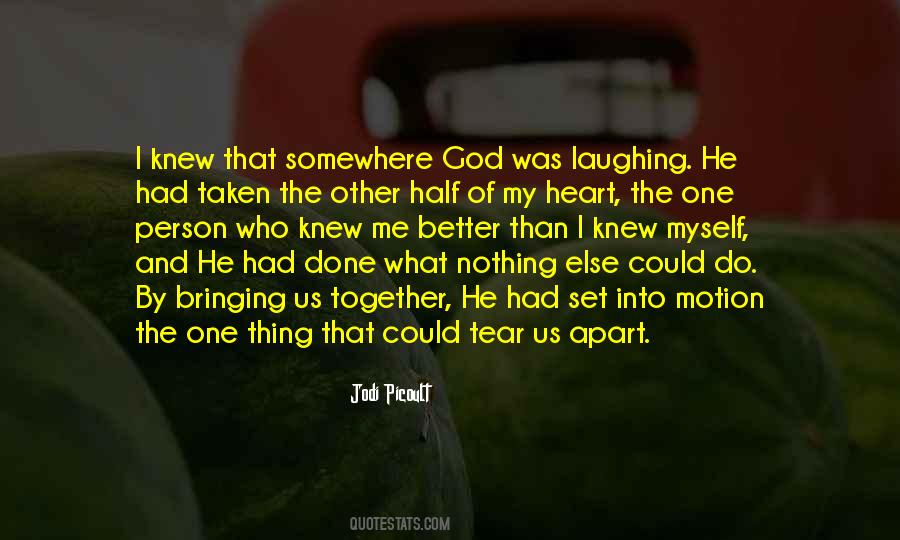 #25. When there is not enough to eat, people starve to death. It is better to let half of the people die so that the other half can eat their fill. - Author: Mao Zedong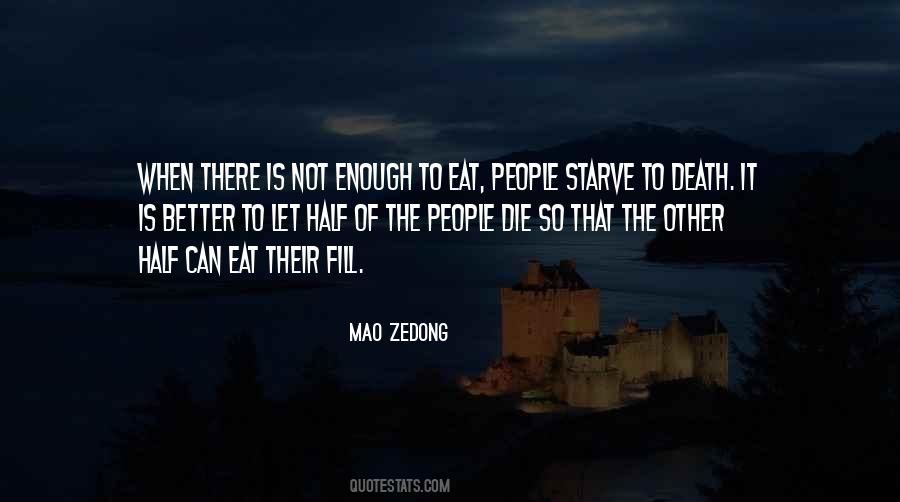 #26. I am a socialist not because I think it is a perfect system, but half a loaf is better than no bread. The other system has been tried and found wanting - Author: Swami Vivekananda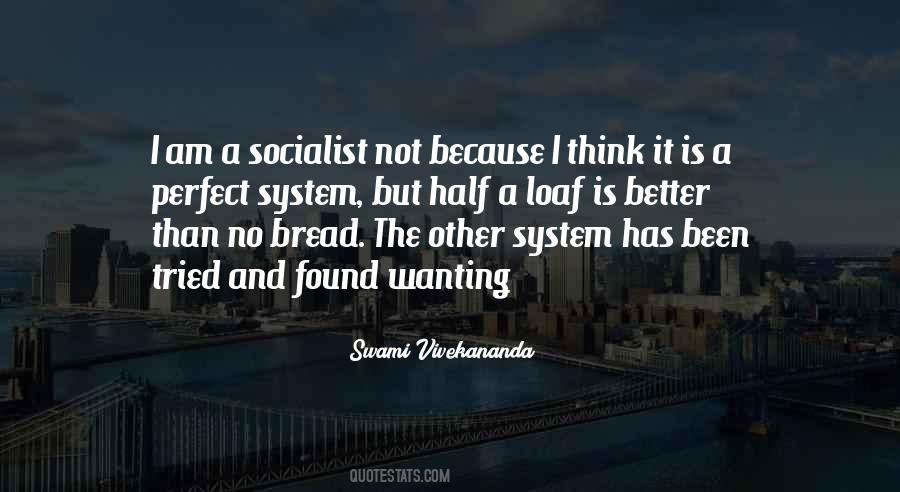 #27. I have never seen a
man break the way he did. And he broke. Set half the damn Covenant on fire. If his brother hadn't
showed up when he had, I'm positive that he would've stayed in the burning building. Is that what you
wanted to know? Did it make you feel better, Alexandria? - Author: Jennifer L. Armentrout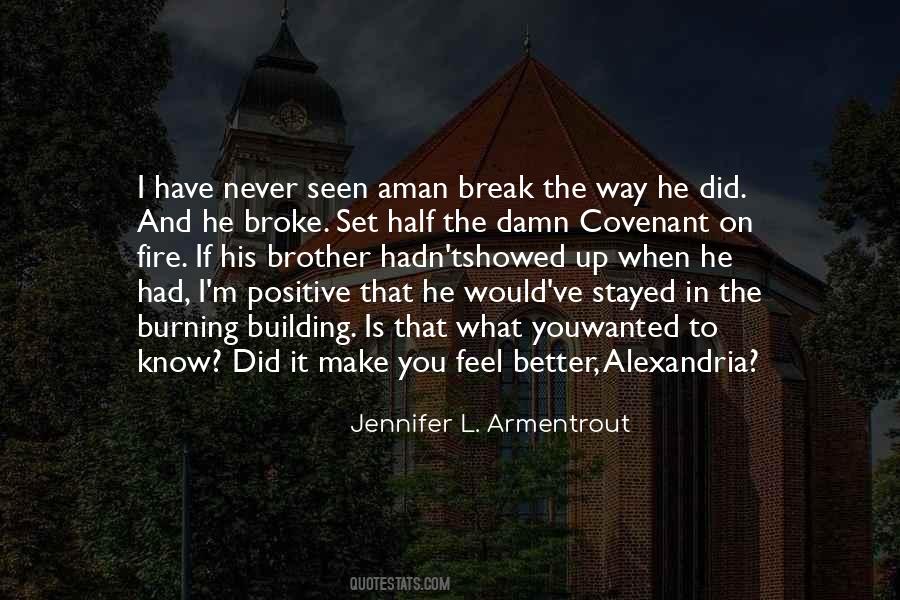 #28. What was the self-sacrifice?" I jettisoned half of a much-loved and I think irreplaceable pair of shoes." Why was that self-sacrifice?" Because they were mine!" said Ford, crossly. I think we have different value systems." Well mine's better. - Author: Douglas Adams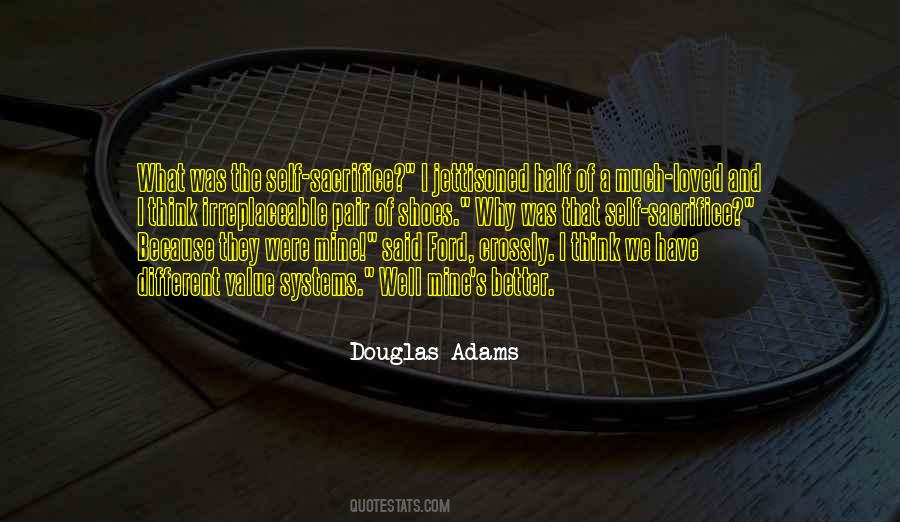 #29. There is no group of Americans more pessimistic than working-class whites. Well over half of blacks, Latinos, and college-educated whites expect that their children will fare better economically than they have. Among working-class whites, only 44 percent share that expectation. - Author: J.D. Vance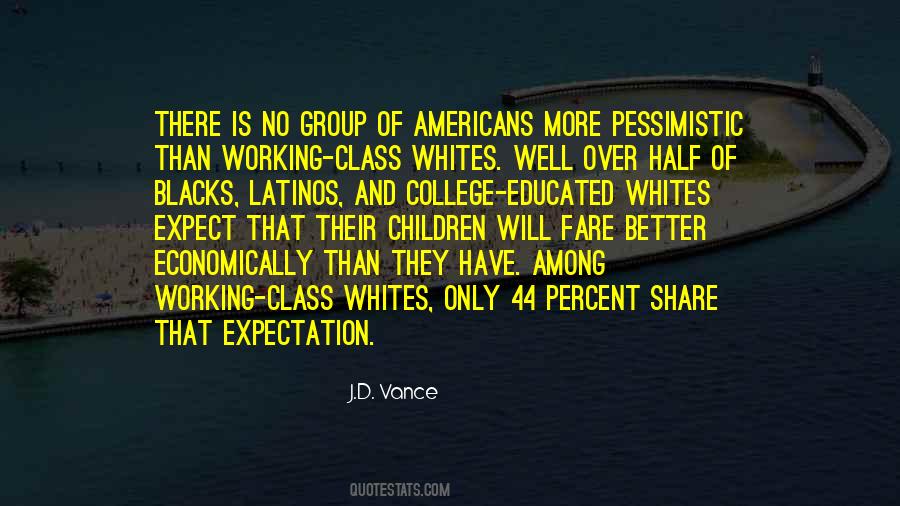 #30. There's no card, business card, better than a compact disc for a composer. It doesn't half impress people and they get a long way on it ... these composers they will get more performances, more commissions, more recognition just by having that disc - Author: Peter Maxwell Davies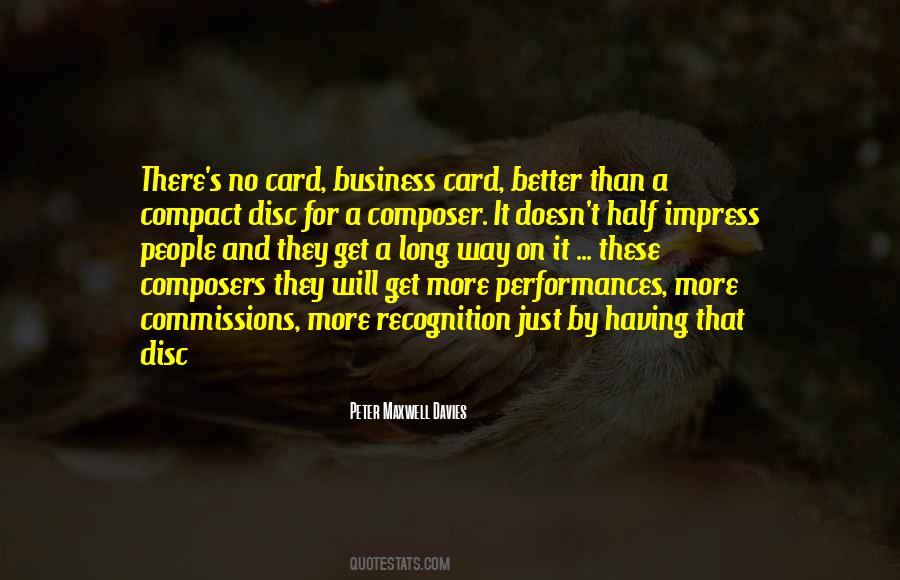 #31. It just shows you have come prepared to play and ready to execute. It doesn't give you that much comfort when it's early and you still have another two and a half to three quarters to go. You better keep playing. But it is a positive, it gives you energy and it gives you a little boost like that. - Author: Bob Stoops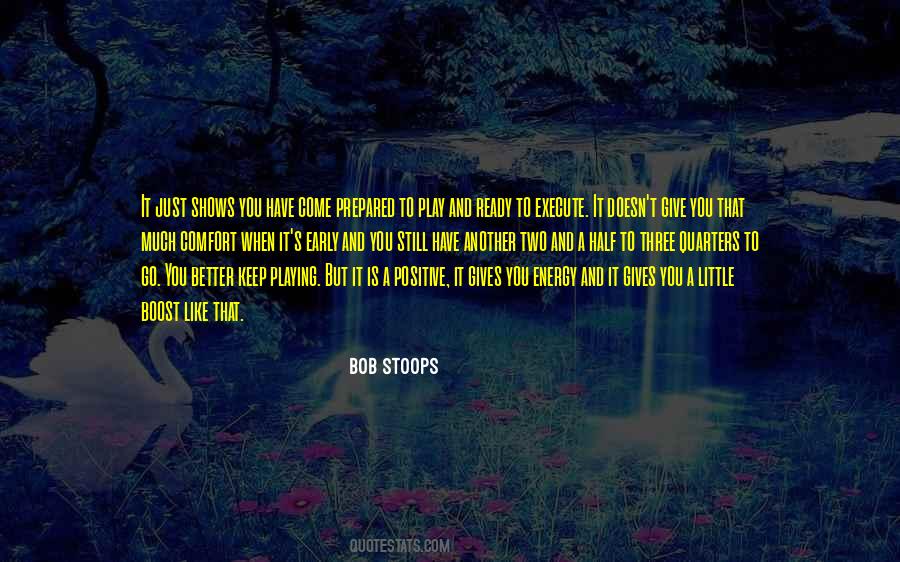 #32. Mort moved my ending to the beginning, took out all the adjectives, cut the whole thing in half, and made it one hundred percent better.
'That's how it's done,' he said. Best writing lesson I ever had. - Author: Anita Diamant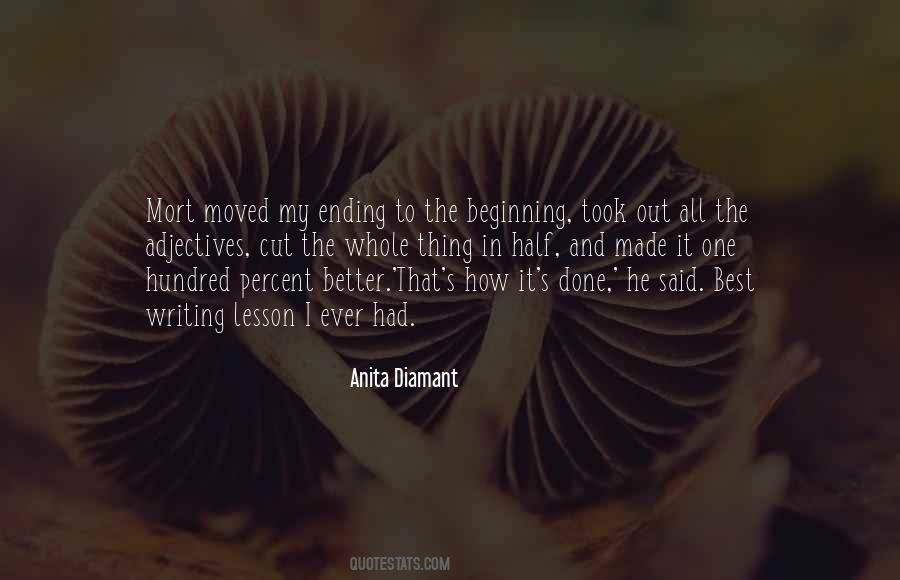 #33. So I did in fact spend two and a half years in the Middlesbrough car park practising skills. But if you spend four or five or six hours a day practising, you get better. - Author: Craig Johnston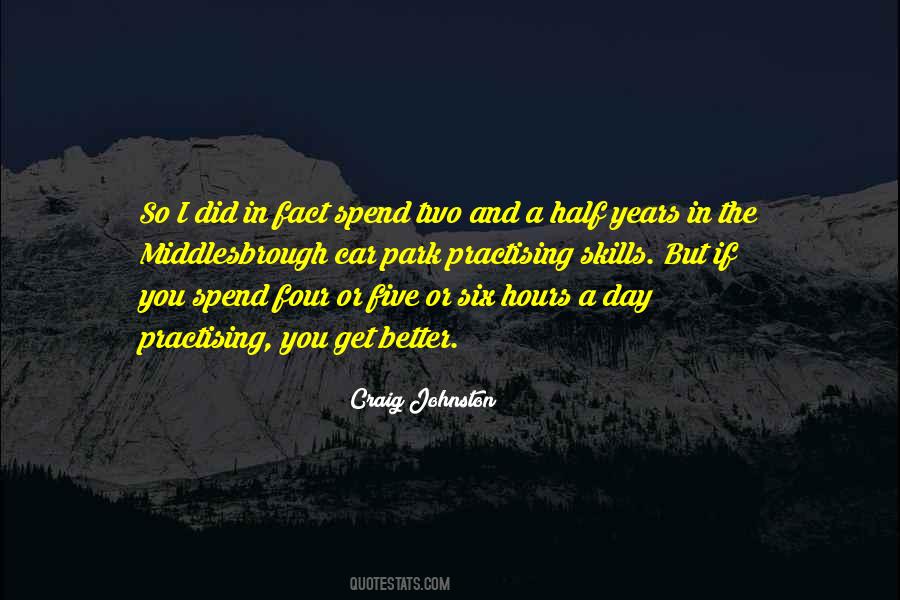 #34. Of all the evils for which man has made himself responsible, none is so degrading, so shocking or so brutal as his abuse of the better half of humanity; the female sex. - Author: Mahatma Gandhi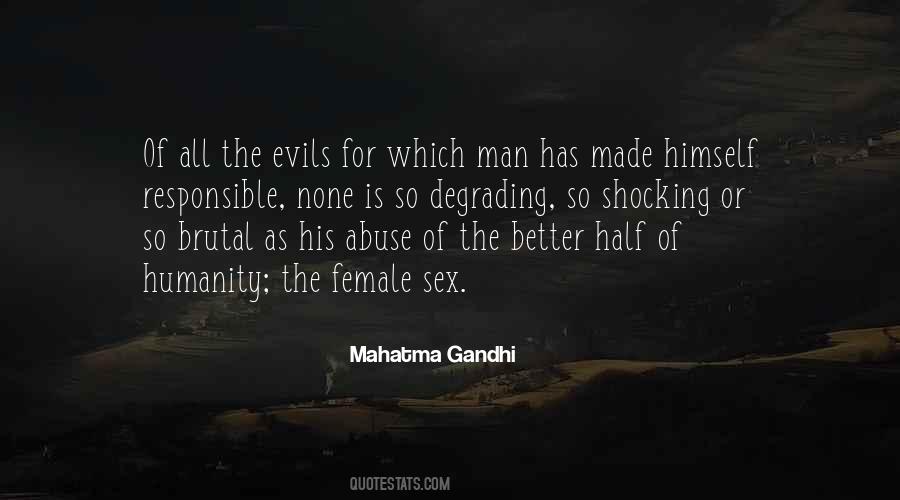 #35. It is better by noble boldness to run the risk of being subject to half of the evils we anticipate than to remain in cowardly listlessness for fear of what might happen. - Author: Herodotus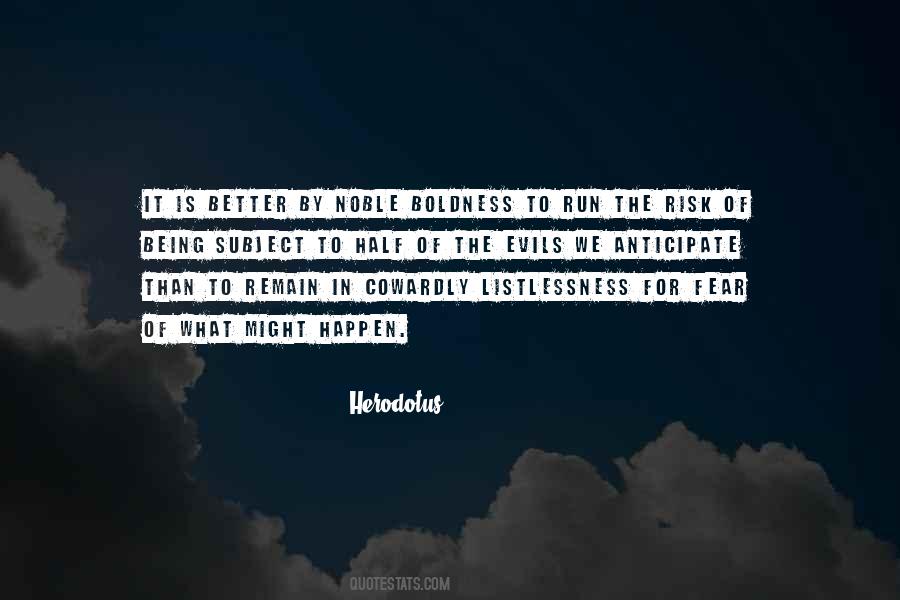 #36. Humans live a lot longer than dogs, and we don't suffer any penalty that I can see. We're superior in almost every way - they can smell better. But really, they can't drive cars, they can't do half the things we can. I don't understand why you can't live longer and be really fit. - Author: Cynthia Kenyon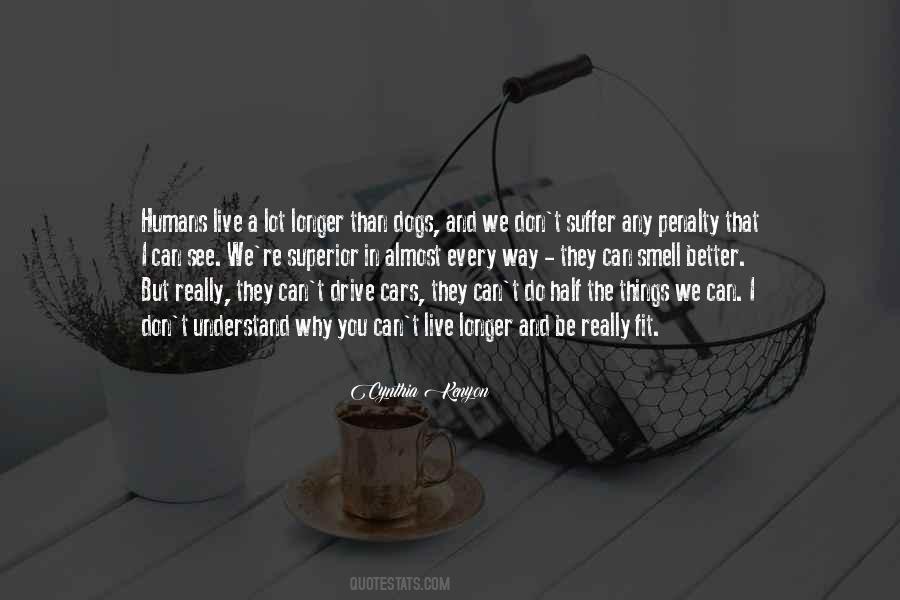 #37. I don't know how to say pretty words. All I can tell you is when I'm with you, it all makes sense. People used to tell me half a life is better than none, but you've made me see everything I've been missing. Loving you has made me whole again. - Author: Felice Stevens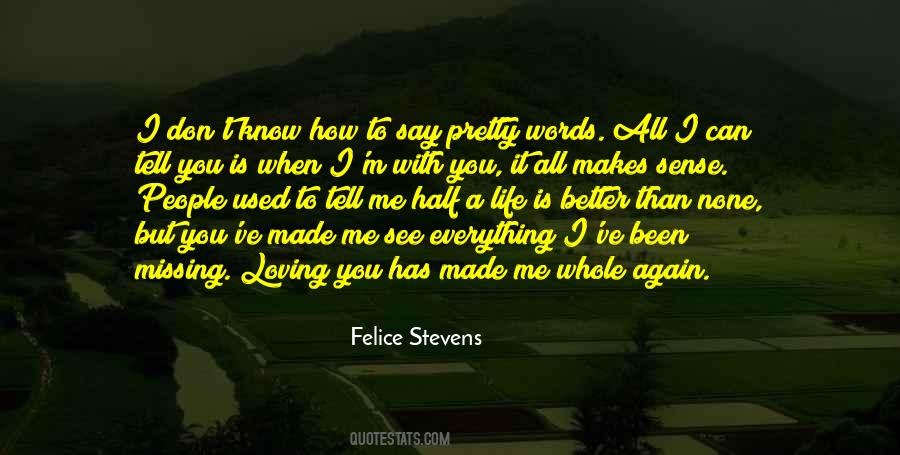 #38. Acting on a good idea is better than just having a good idea. - Author: Robert Half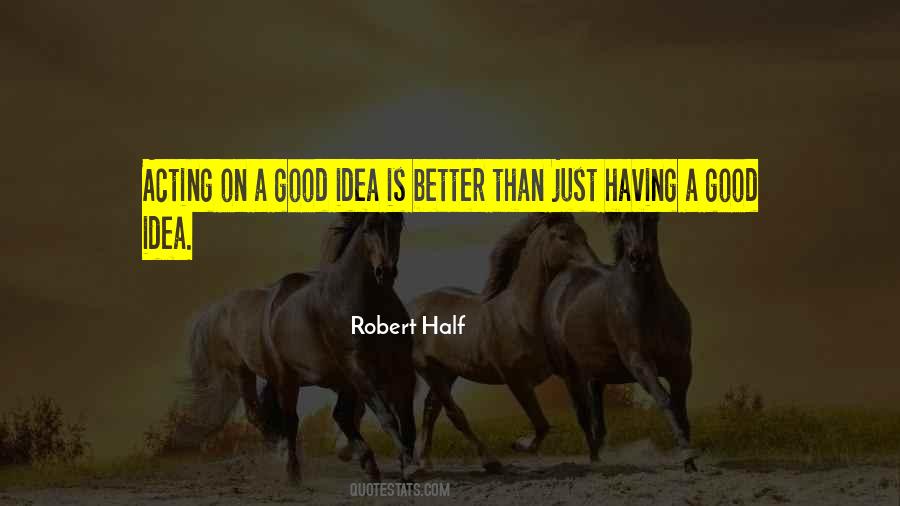 #39. But I think half the battle is figuring out what works for you, and I am much better at being a mother than I ever would have been as a lawyer. I sometimes wonder if it is just me, or if there are other women who figure out where they are supposed to be by going nowhere. - My Sister's Keeper - Author: Jodi Picoult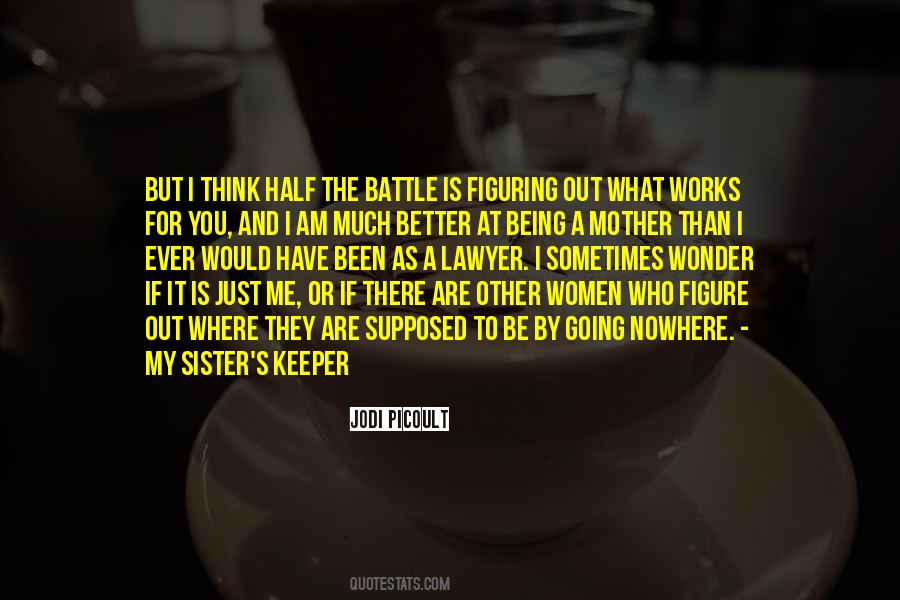 #40. My husband cooks fancier food for himself than I've ever cooked on-air. I call him from the road, and he's making champagne-vanilla salmon or black-cherry pork chop. Half of me is feeling unworthy. Not only am I not a chef, I'm not a better cook than my own husband! - Author: Rachael Ray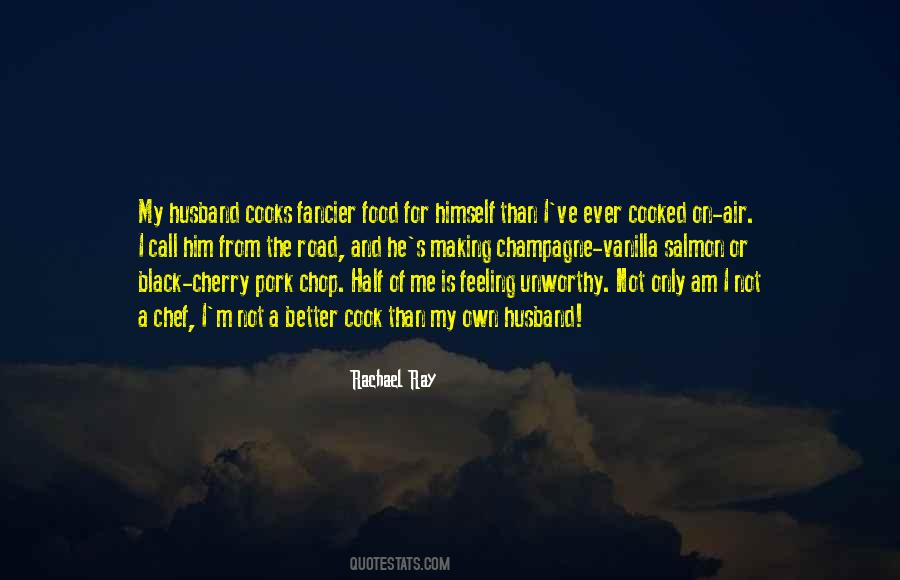 #41. Nine holes of golf will take you one-and-a-half, two hours. I run in 20 minutes, I feel better off. So the cost benefit made me drop golf. - Author: Lee Kuan Yew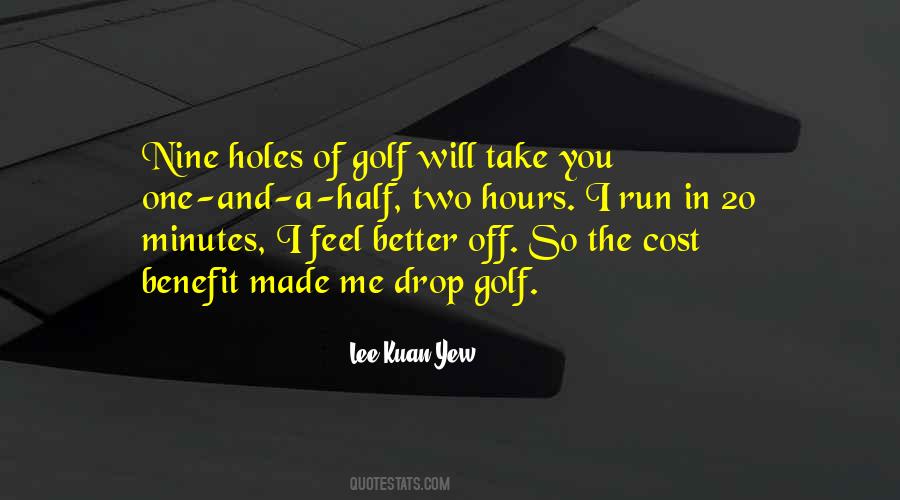 #42. We had made love without love, half-dressed most of the time and always in the dark so we could imagine ourselves as better than we were. - Author: Gabriel Garcia Marquez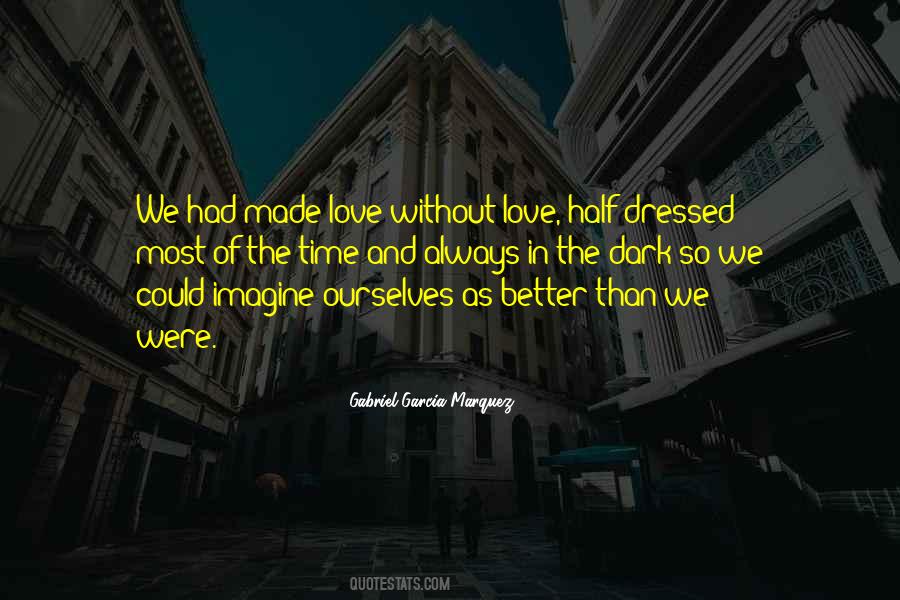 #43. Taking mathematics from the beginning of the world to the time when Newton lived, what he had done was much the better half. - Author: Gottfried Leibniz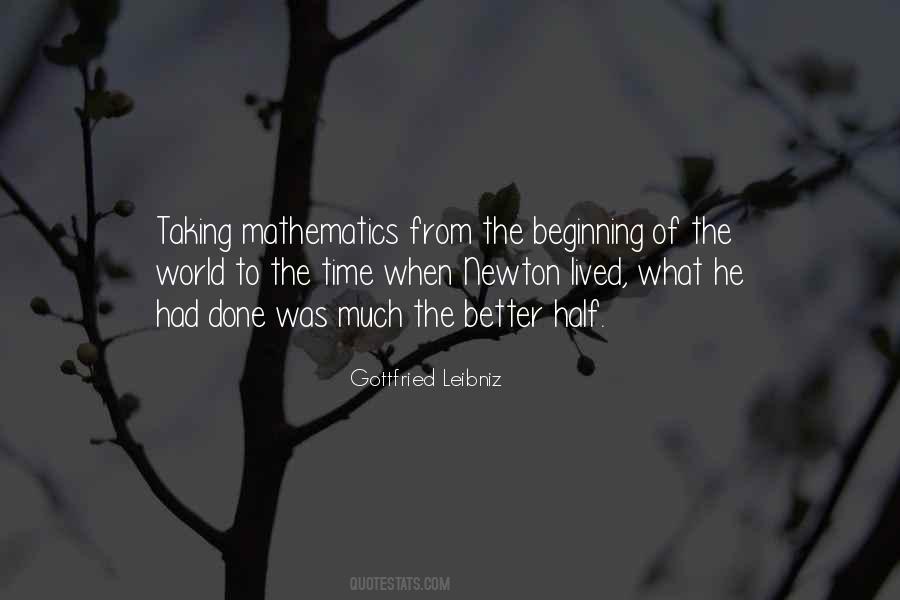 #44. What I've said before, only half in joke, is that everybody in Ireland is famous. Or, maybe better, say everybody is familiar. - Author: Seamus Heaney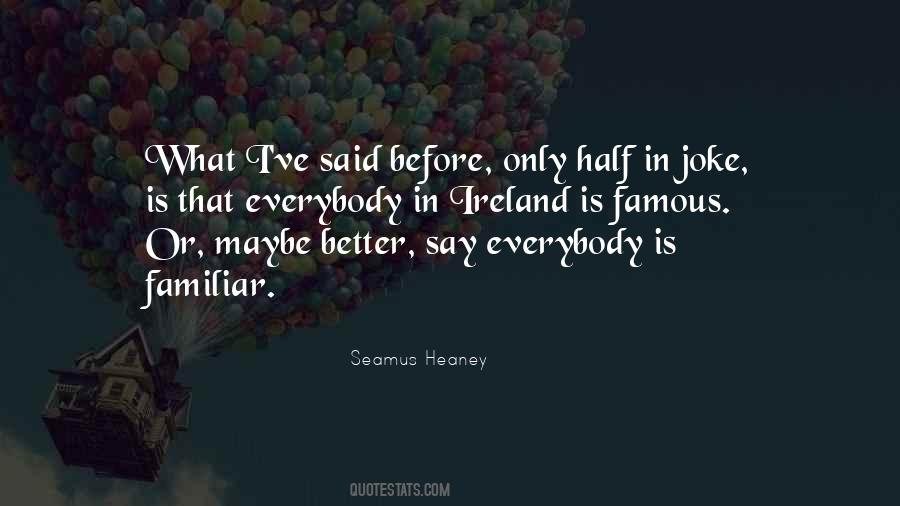 #45. Come on, let's go meet the guy who thinks he's my better half . And dear God, I apologize ahead of time if he starts talking to you about how many eight-point bucks he's planning to hunt this weekend. - Author: J. Lynn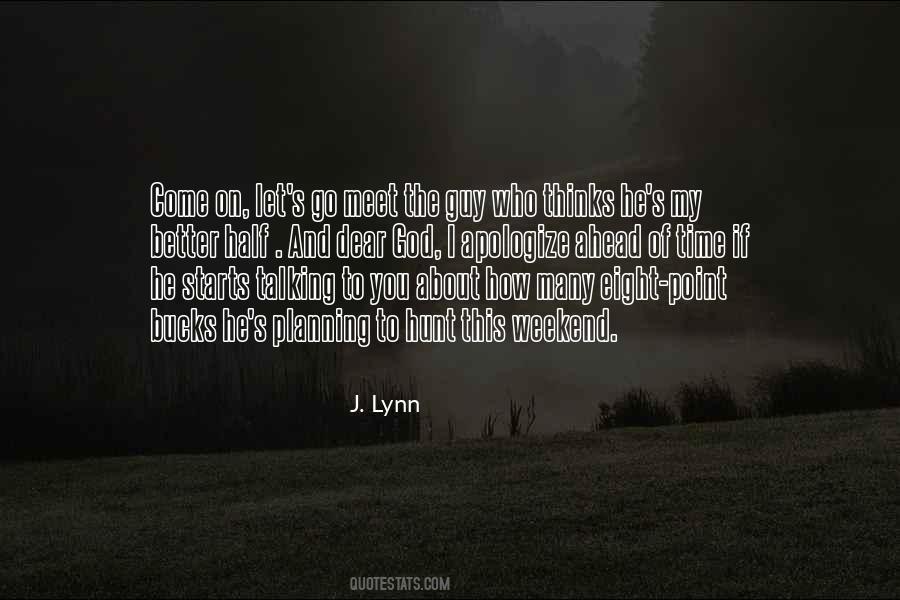 #46. A bristling fox is better than a deranged, half-shod idiot. - Author: Patrick Rothfuss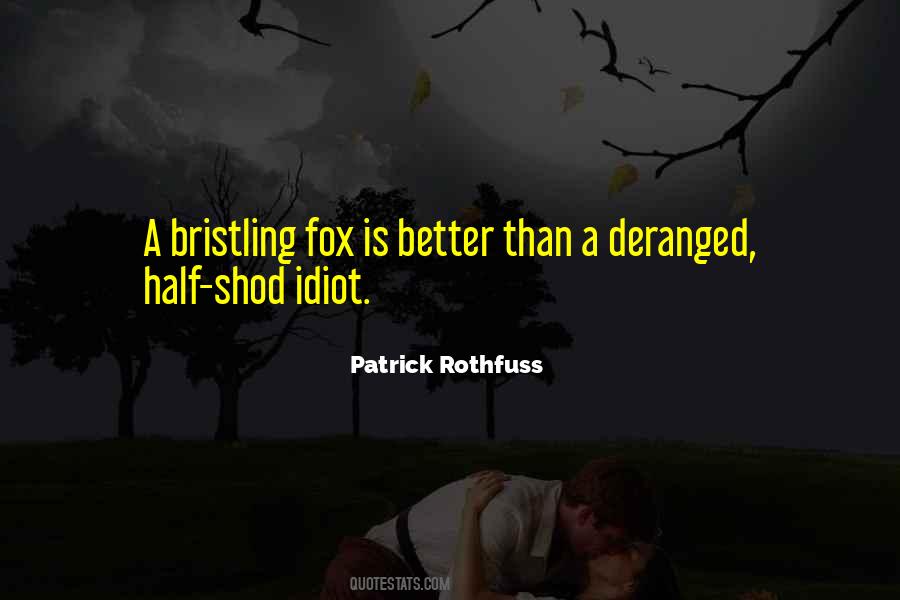 #47. A half truth, like half a brick, is always more forcible as an argument than a whole one. It carries better. - Author: Stephen Leacock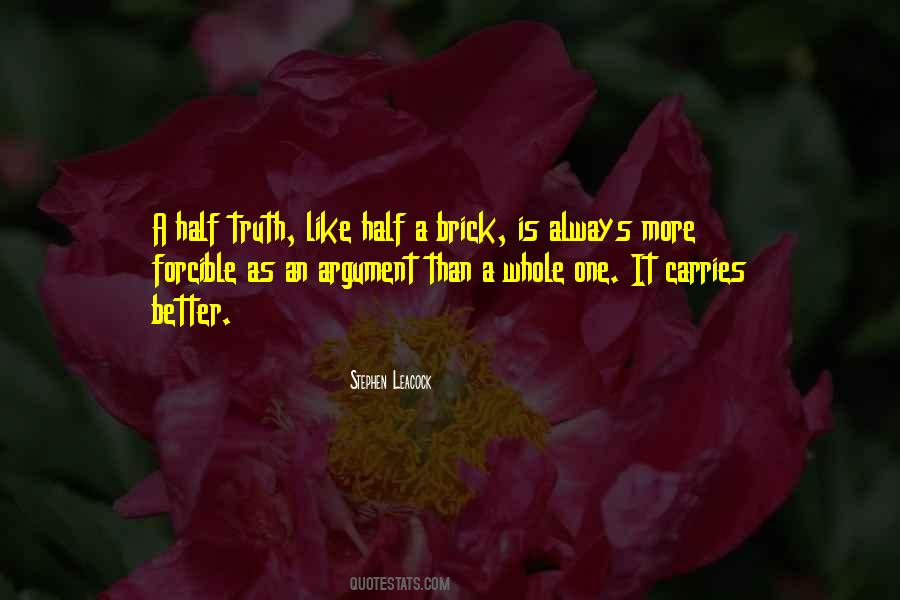 #48. knowing what the problem is makes up for half the battle towards a better life! - Author: Dasrim Hasik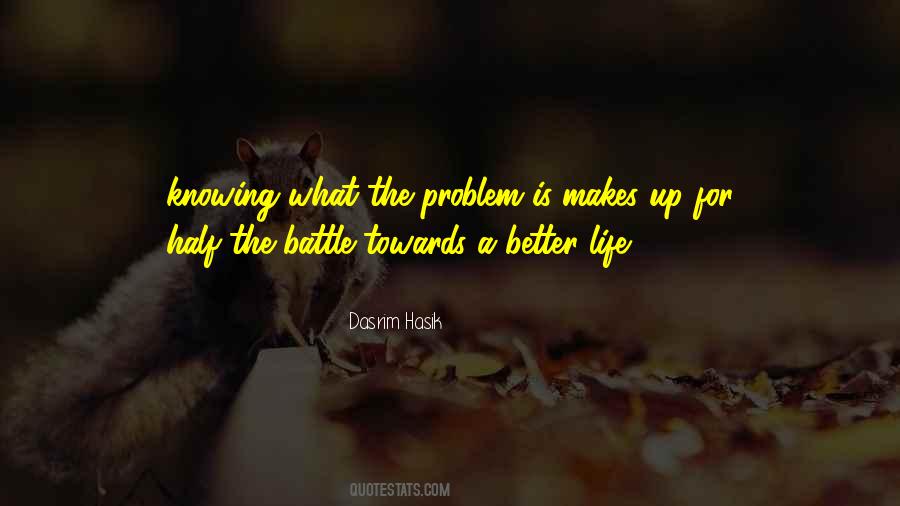 #49. Mock you!" repeated he earnestly, "no I revere you! I esteem and I admire you above all human beings! you are the friend to whom my soul is attached as to its better half! you are the most amiable, the most perfect of women! and you are dearer to me than language has the power of telling. - Author: Fanny Burney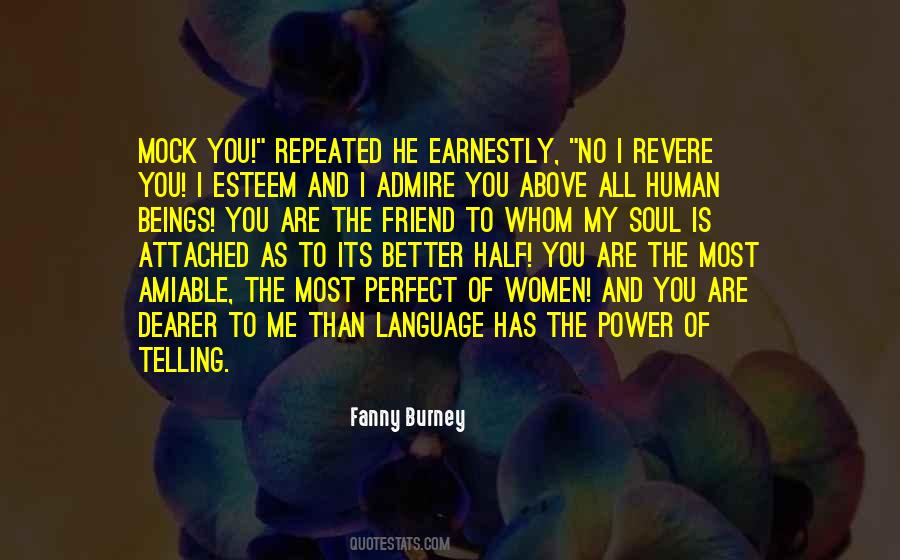 #50. Trust me. This was much better than the alternative. I'm exactly where I want to be. He glanced down at me and gave me a half-smile. - Author: Cora Carmack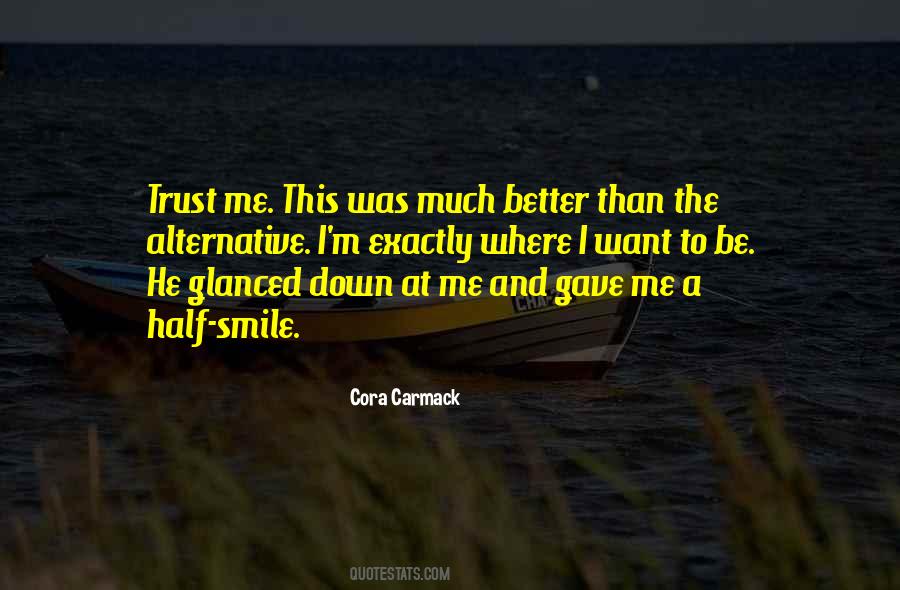 #51. I look better with a tan, but I've never gone the fake route. I don't need to - I have good foreign genes: half Spanish, half Hungarian. - Author: Anton Du Beke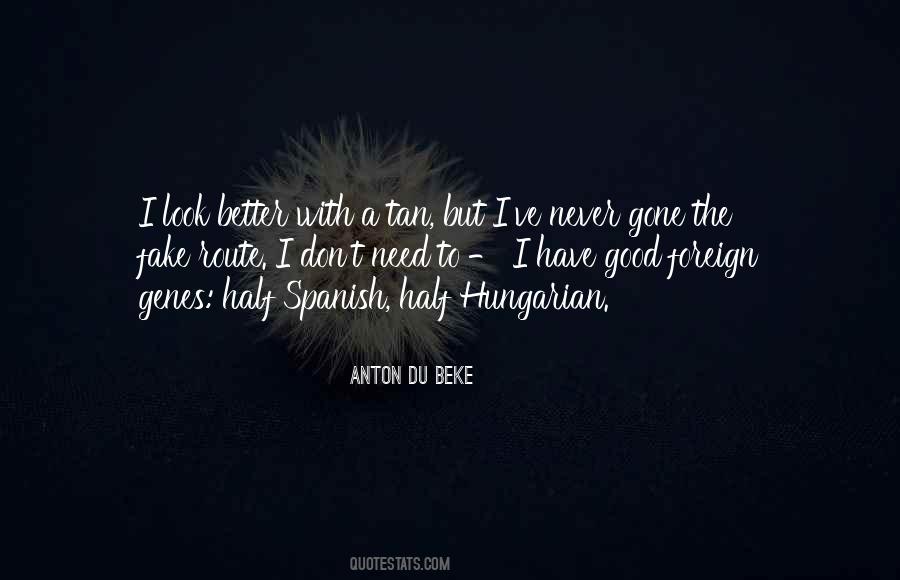 #52. There are times when it will go so wrong that you will barely be alive, and times when you realise that being barely alive, on your own terms, is better than living a bloated half-life on someone else's terms. - Author: Jeanette Winterson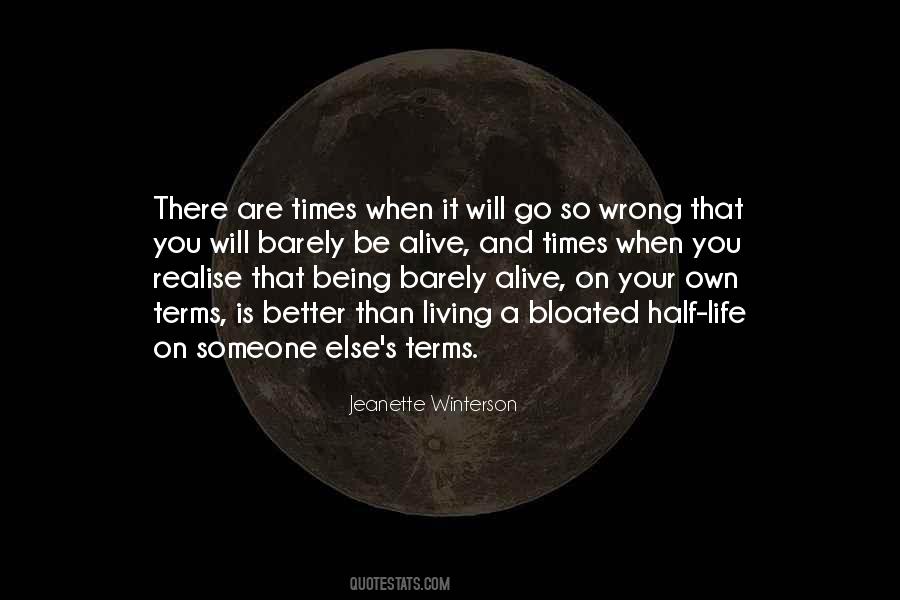 #53. Better know nothing than half-know many things. - Author: Friedrich Nietzsche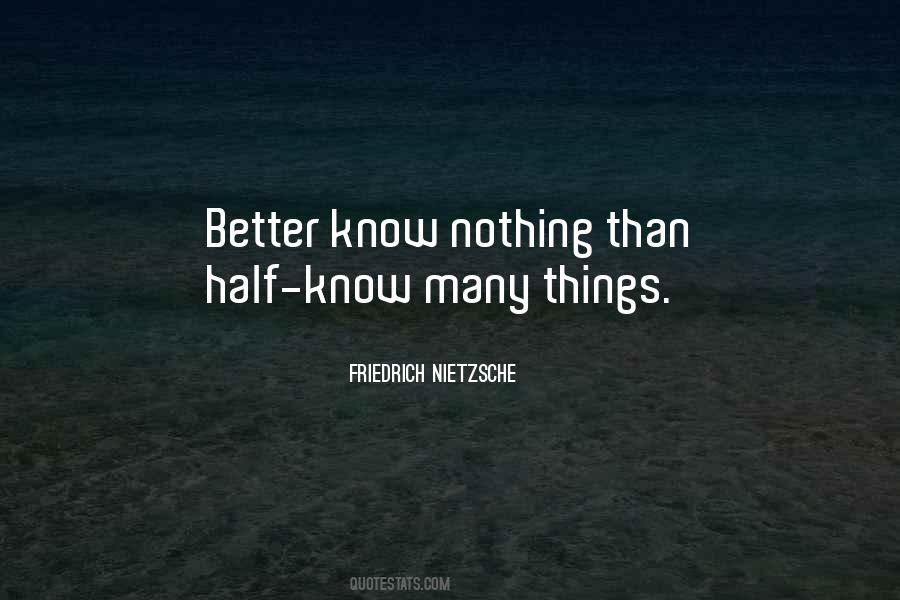 #54. There is no such thing as lack of time, only unclear priorities and lack of motivation. It is better to abandon a project than to work on it half-heartedly for a protracted period of time. - Author: Gudjon Bergmann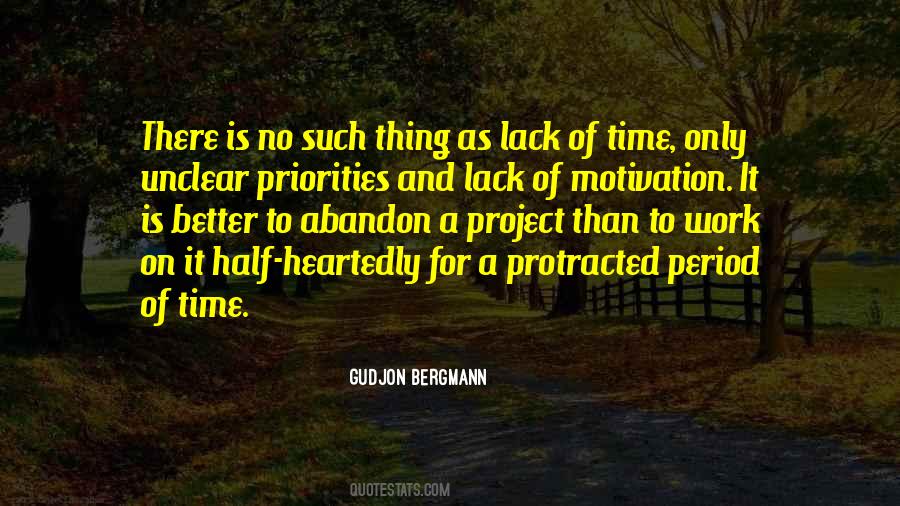 #55. Think about it: the chances of meeting your other half are tiny. Most of us are doomed to knowing there's something better out there but we can't discover it. - Author: Joss Stirling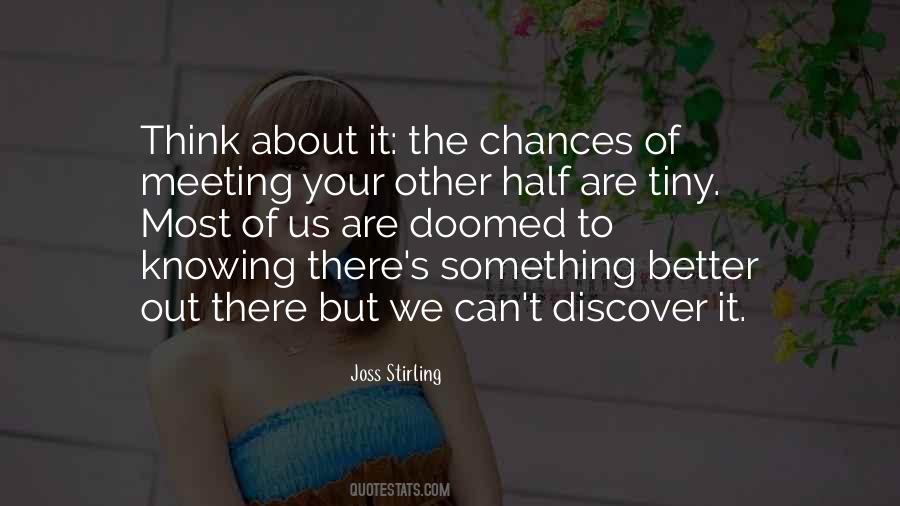 #56. The answer was that I had gone through a major transformation the past year and a half, and as I changed myself for the better, better things started coming to me. I was settling for more. And "more" meant more from myself. Doug - Author: Megyn Kelly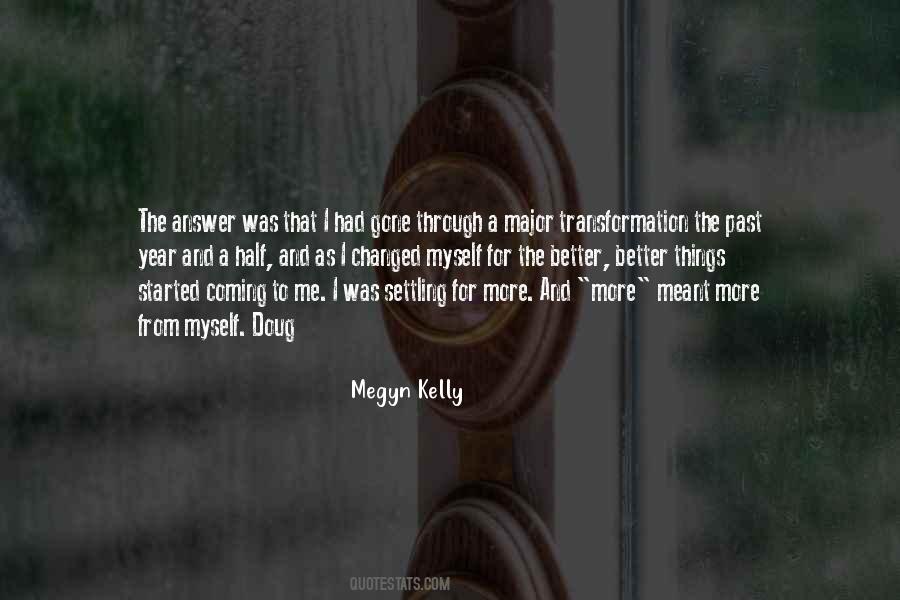 #57. I'd be lying if I wrote that I remember exactly what he said. I don't. Which is the sad half life of arguments - we usually remember our side better. - Author: Leslie Jamison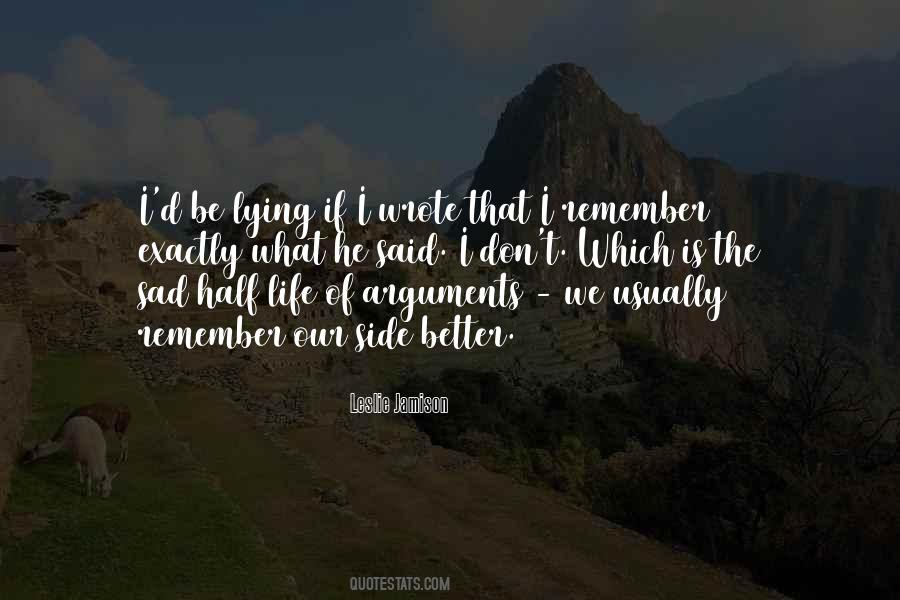 #58. All the great masters have understood that there cannot be great art without the little limited life of the fable, which is always better the simpler it is, and the rich, far-wandering, many-imaged life of the half-seen world beyond it - Author: W.B.Yeats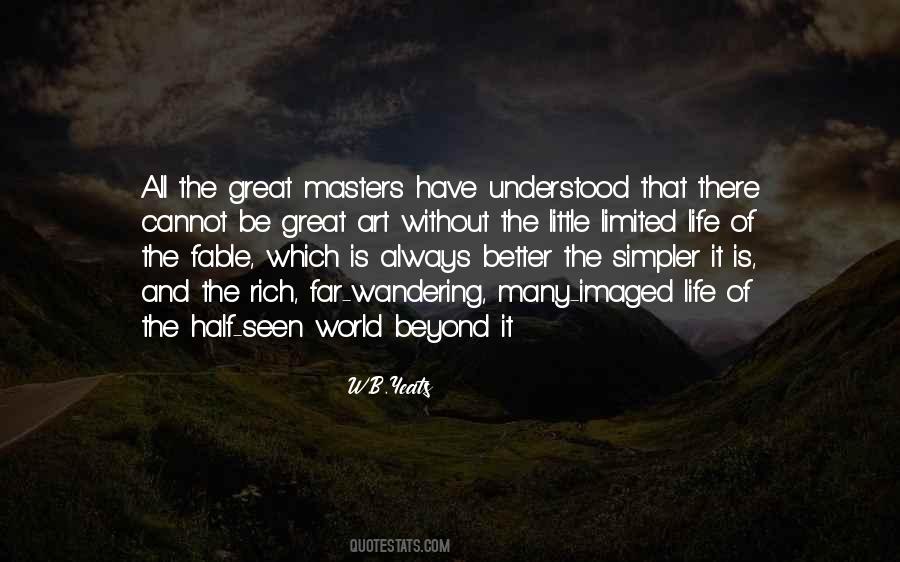 #59. Half a brain is better than none. - Author: Matshona Dhliwayo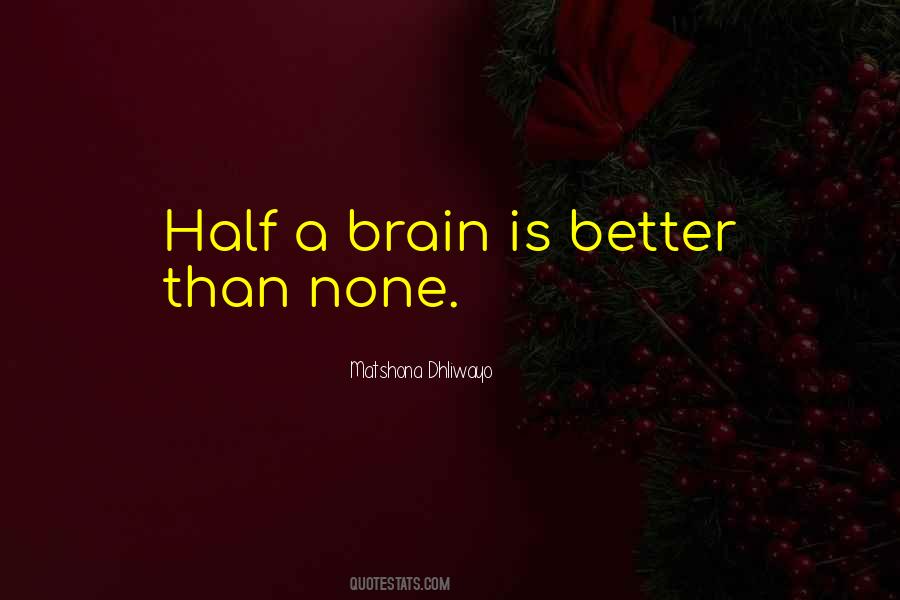 #60. They're called "better halves" for a reason, I guess. You can't have one half that's worse than you. It'd be a disaster. - Author: Skyla Madi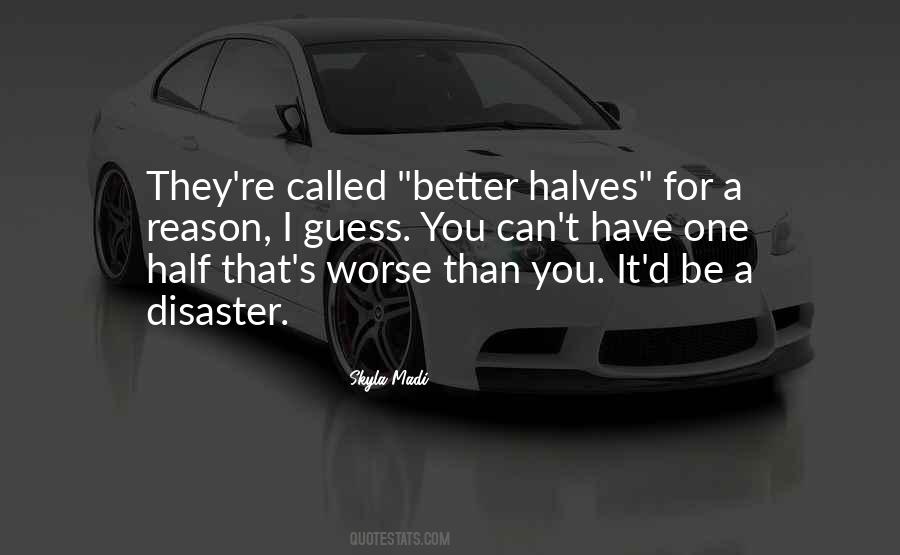 #61. I have nothing to do with Facebook or the Internet - I don't know how to use half of it; I think I'm better off. - Author: Neil Flynn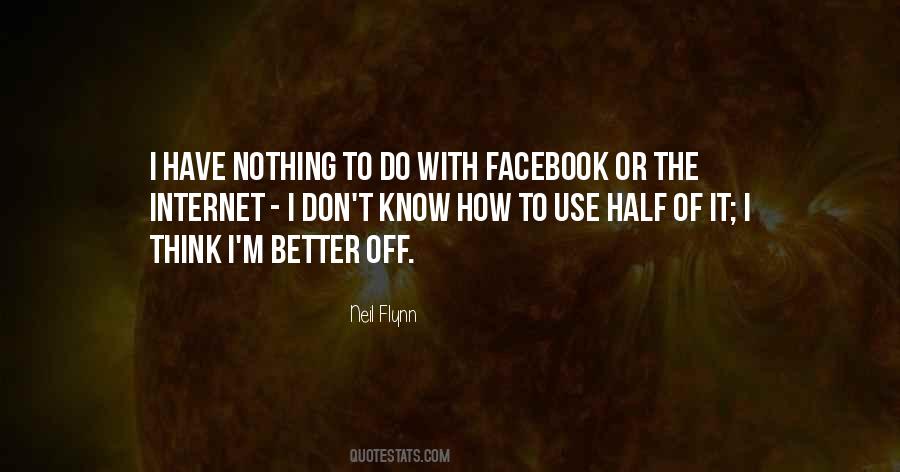 #62. No more running, no more half living, starving or fear. You have it better than me now, I think. - Author: Patricia Hamill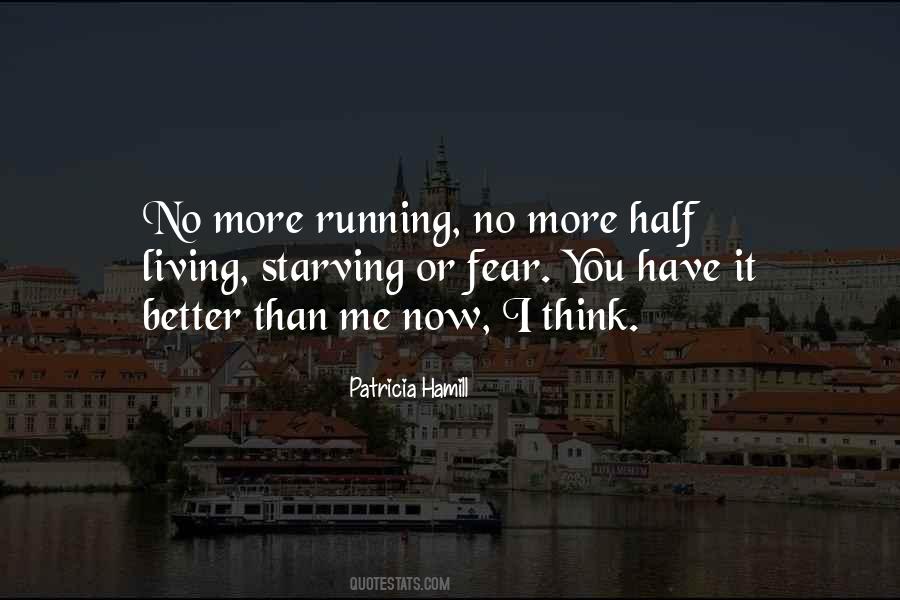 #63. Half is better than none unless it be of a wit. - Author: Susan Lendroth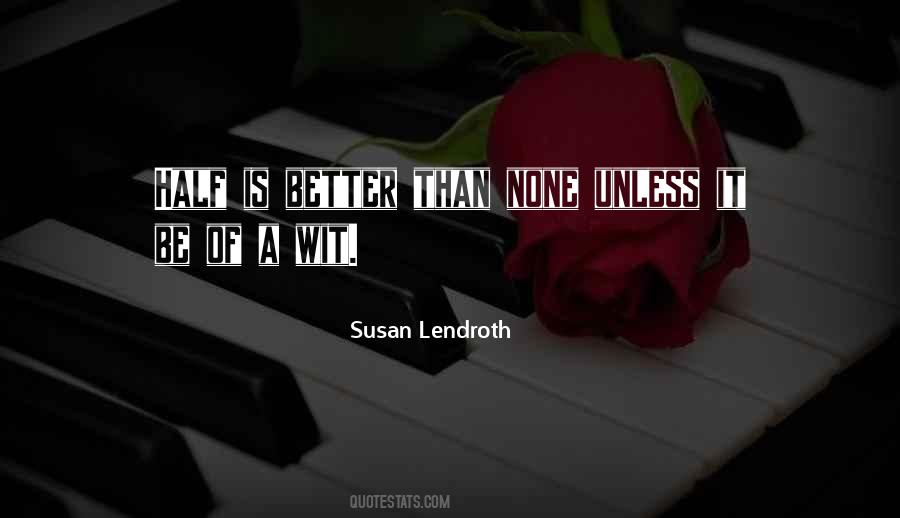 #64. AS THE MUSIC swelled during a recent wedding reception, my hopelessly romantic husband squeezed my hand, leaned in, and said, "You are better looking than half the women here. - Author: Anonymous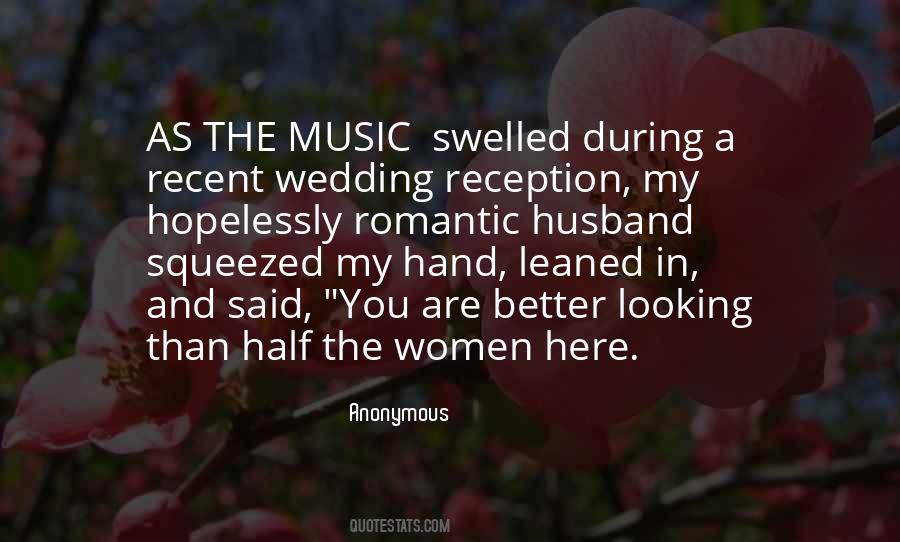 #65. I'd like to get away from earth awhile
And then come back to it and begin over.
May no fate wilfully misunderstand me
And half grant what I wish and snatch me away
Not to return. Earth's the right place for love:
I don't know where it's likely to go better. - Author: Robert Frost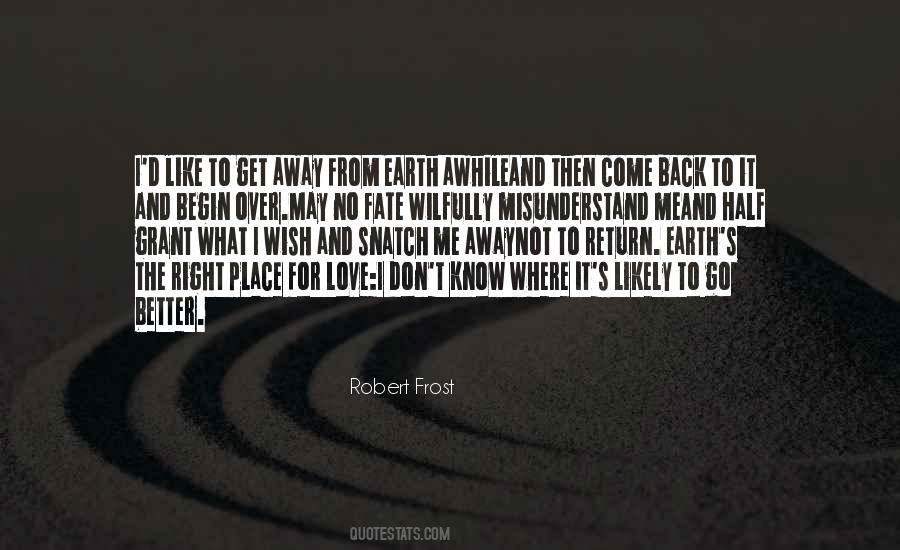 #66. The socializing hadn't been so bad, he acknowledged, and he couldn't say he minded the food, though a man would do better with a good beef sandwich. Still it was plentiful, even if you did have to pick your way through half of it to get to something recognizable. - Author: Nora Roberts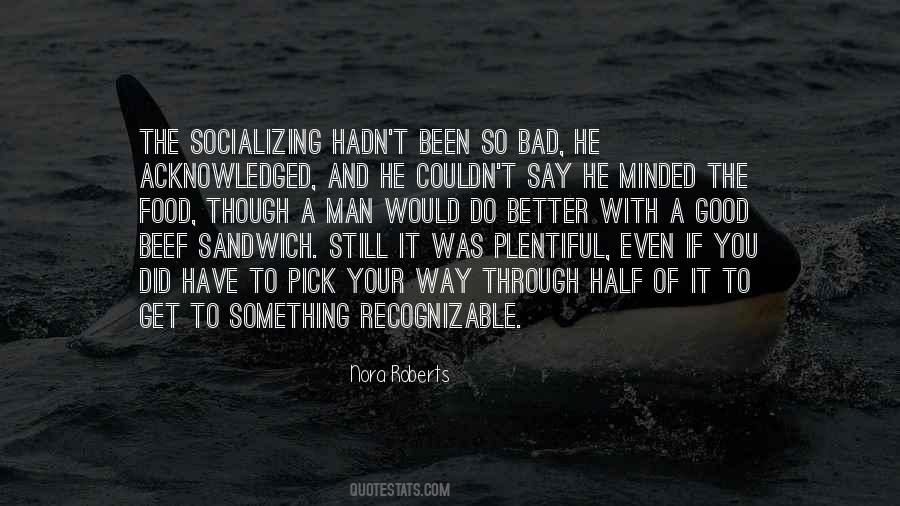 #67. Build high-speed, electrified trains over the most-traveled corridors. It'sreally hard to power carbon-free airplanes, but electrified trains are much easier. We'll be a half century behind the Japanese, but better late than never. - Author: Denis Hayes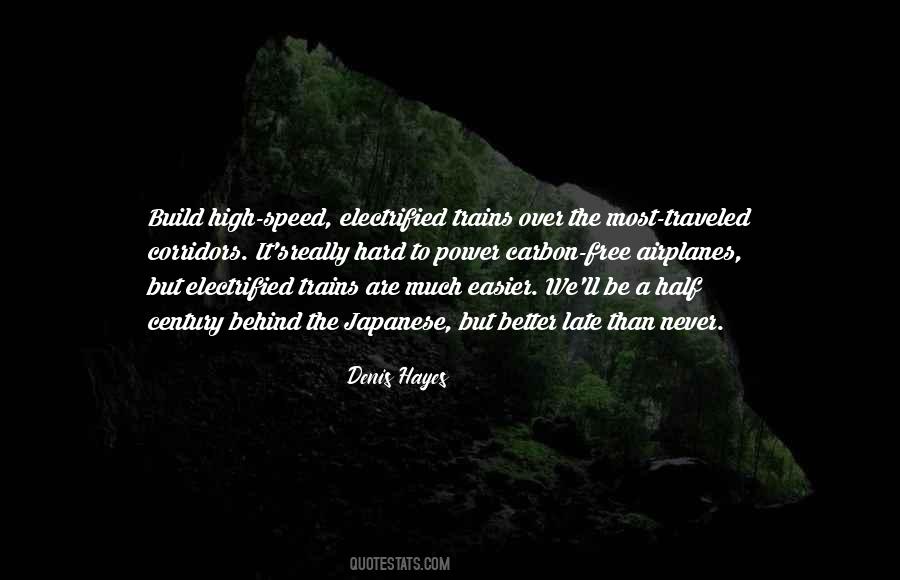 #68. If your opponent is better armed and has longer reach, then surprise is your only ally. And then you'd better hope he's half asleep. - Author: Sherwood Smith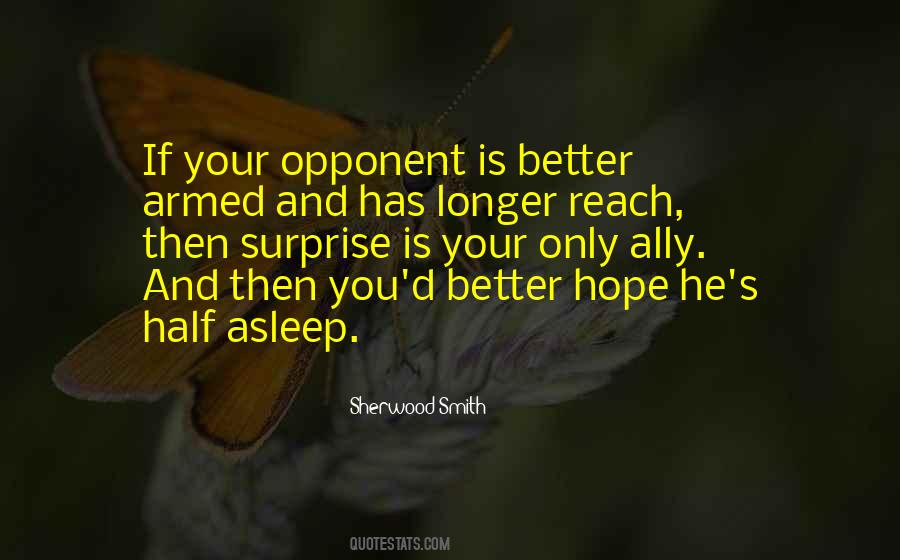 #69. That's the most beautiful thing that I like about boxing: you can take a punch. The biggest thing about taking a punch is your ego reacts and there's no better spiritual lesson than trying to not pay attention to your ego's reaction. That's what takes people out of the fight half the time. - Author: David O. Russell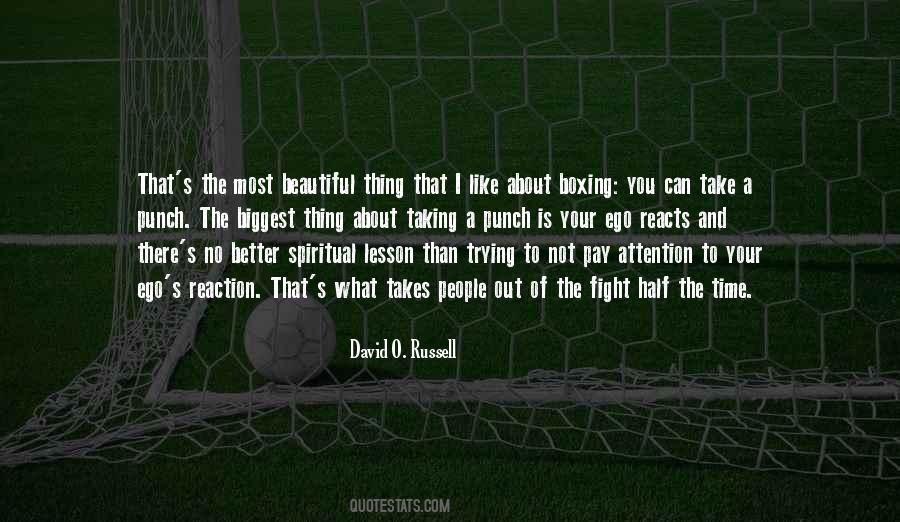 #70. It's better to dare to dream big and achieve half of your dreams than to dream small dreams and achieve all - Author: Bernard Kelvin Clive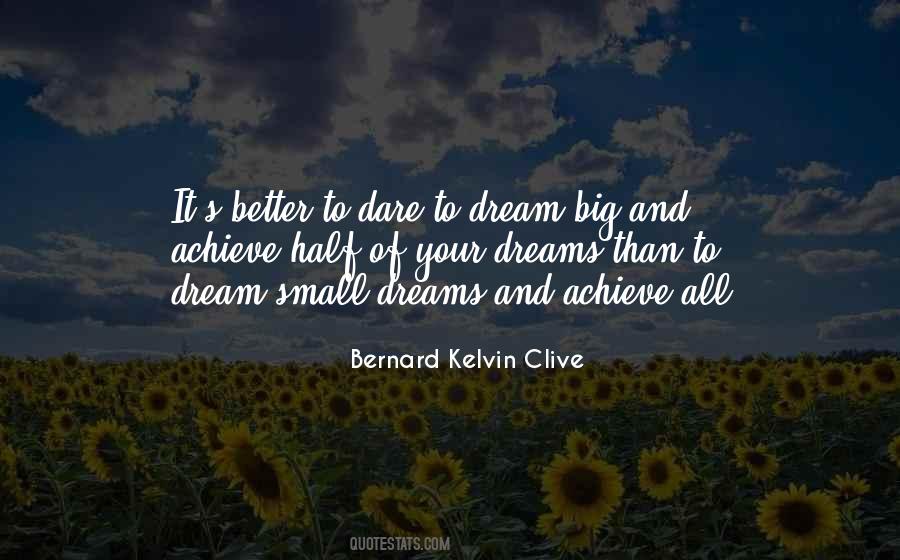 #71. Sigmund Freud was a half baked Viennese quack. Our literature, culture, and the films of Woody Allen would be better today if Freud had never written a word. - Author: Ian Shoales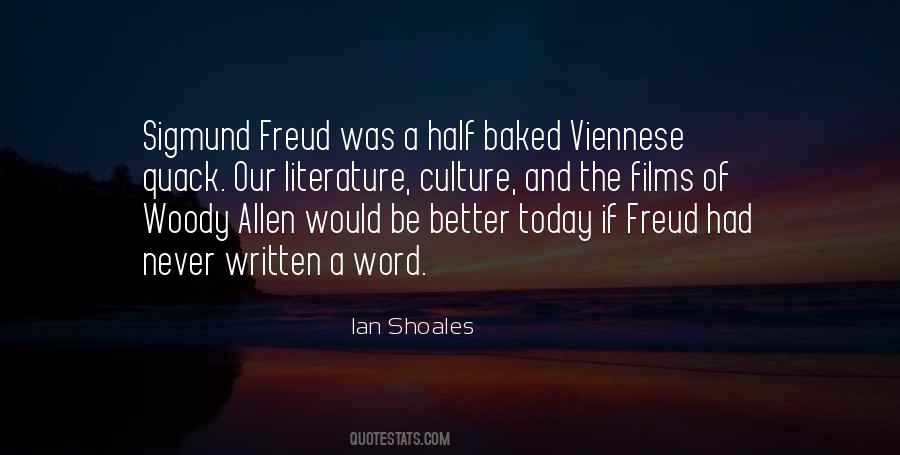 #72. If you're going to do something, strive to do it better than anyone else. Do it all the way. If you're going to half-ass it, why bother? - Author: Ashly Lorenzana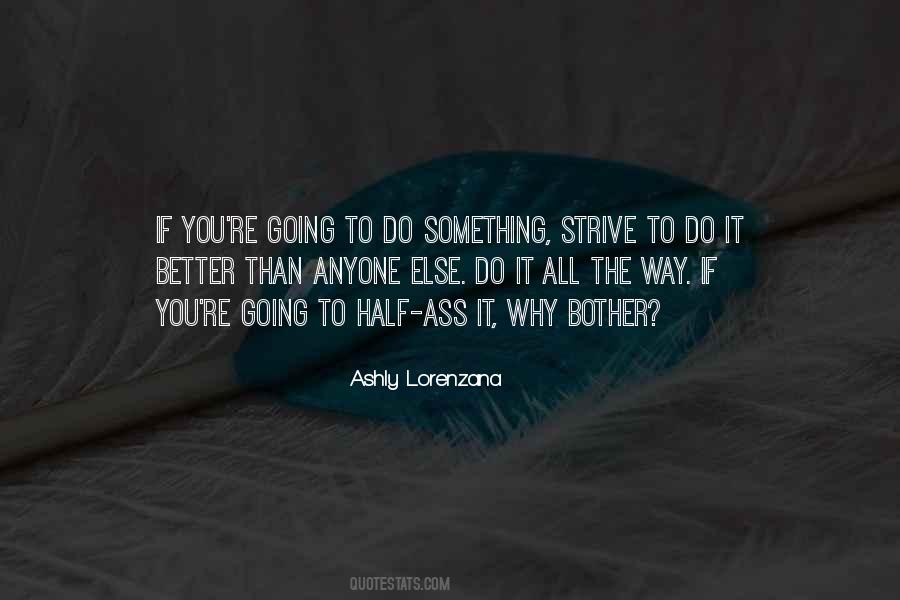 #73. Half the rhymes you write, you're saying that you're better than the other MC. That's how we keep the craft sharp. - Author: Ice-T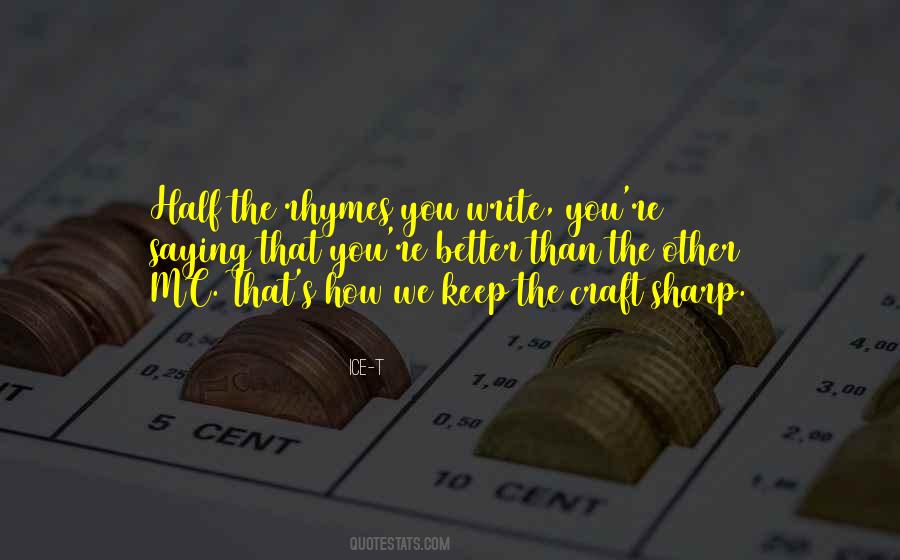 #74. Give us a world where half our homes are run by men, and half our institutions are run by women. I'm pretty sure that would be a better world. - Author: Sheryl Sandberg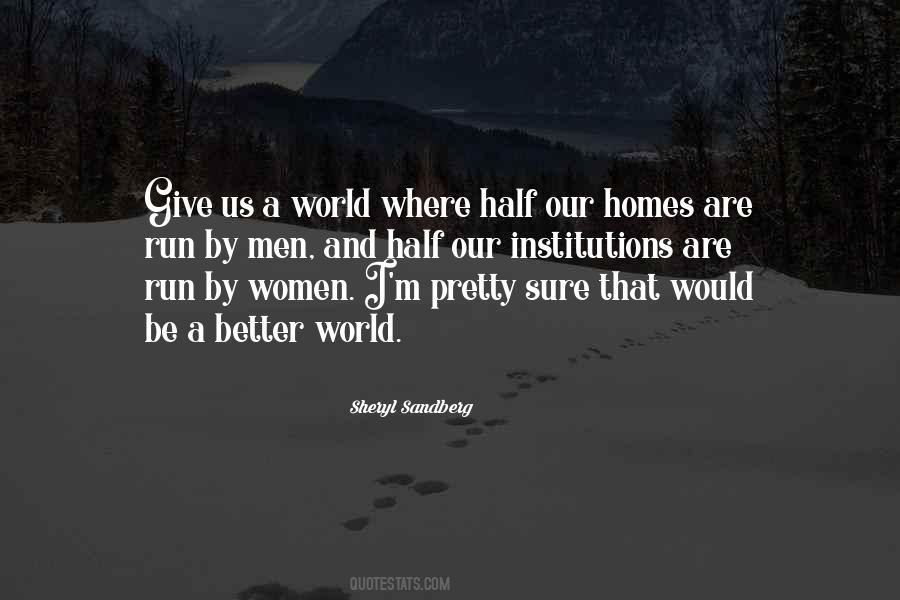 #75. I believe if we had half our companies and half our countries run by women, and half our homes run by men, things would be better. We know our companies would be more productive. If you use the full talents of the population, you're more productive. We know our homes would be happier. - Author: Sheryl Sandberg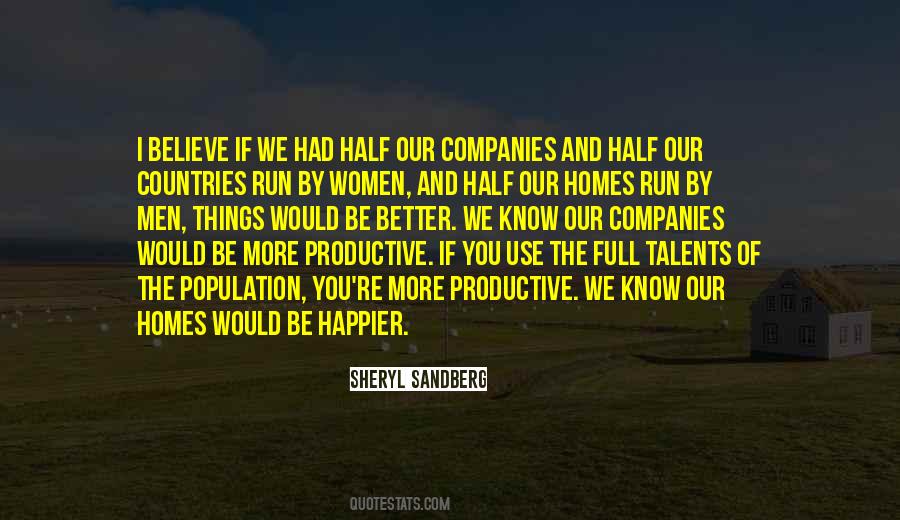 #76. I don't know that dancing fixes anything. I don't feel magically happy because of it. My problems don't disappear when the music ends. But I understand life better when I dance, and understanding is half the fight of surviving. - Author: Cora Carmack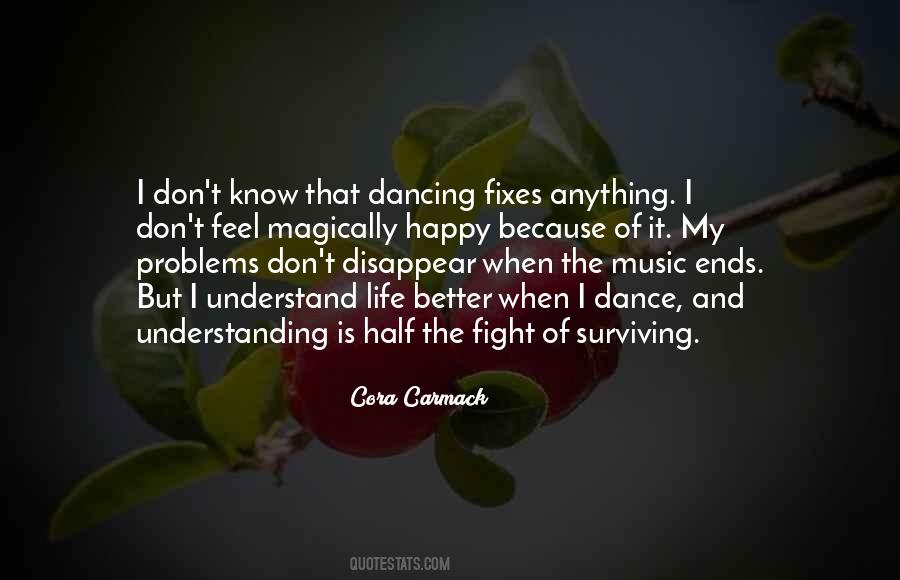 #77. Emerson has said, "When half-gods go, the gods arrive." That is a very doubtful maxim. Better say, "When God arrives (and only then) the half-gods can remain." Left to themselves they either vanish or become demons. - Author: C.S. Lewis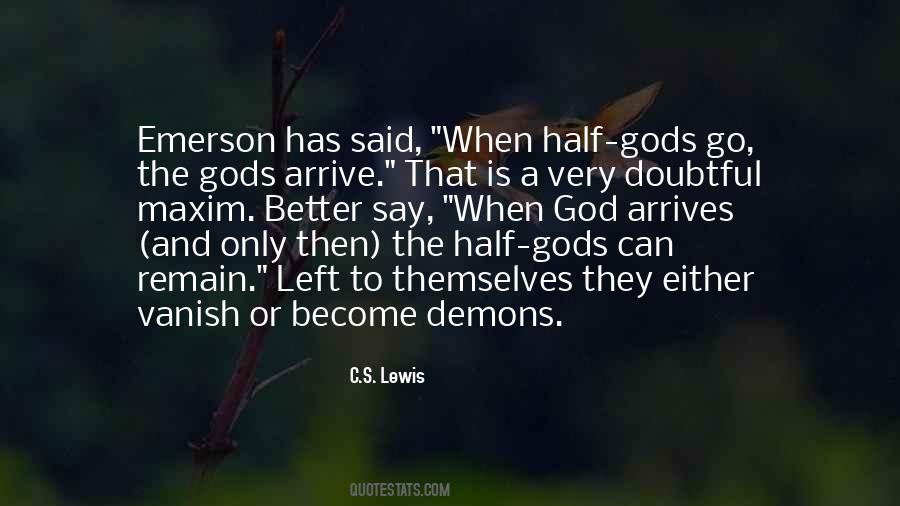 #78. The lesson to be learned from this is that it is often undesirable to go for the right thing first. It is better to get half of the right thing available so that it spreads like a virus. Once people are hooked on it, take the time to improve it to 90% of the right thing. - Author: Richard P. Gabriel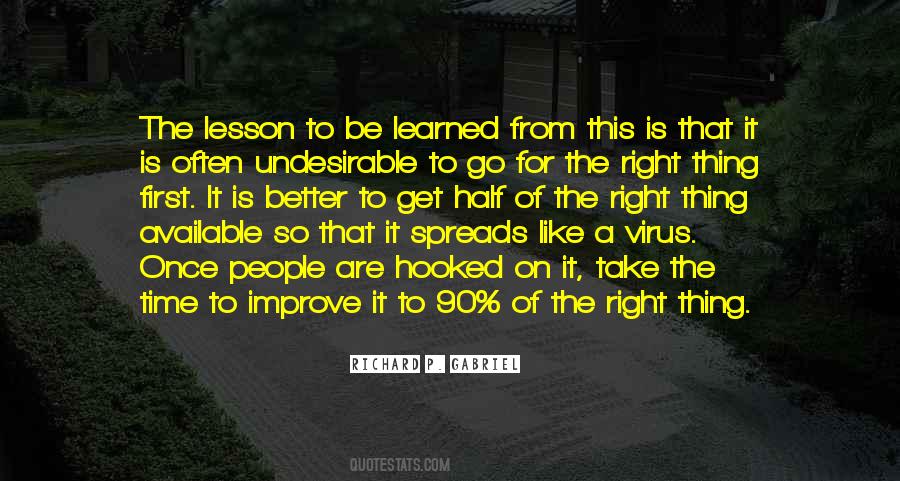 #79. Losing half of the city's population might solve a lot of problems: overpopulation, unemployment, poverty, crime. It's actually opportunity to build a better economy. - Author: Geonard Yleana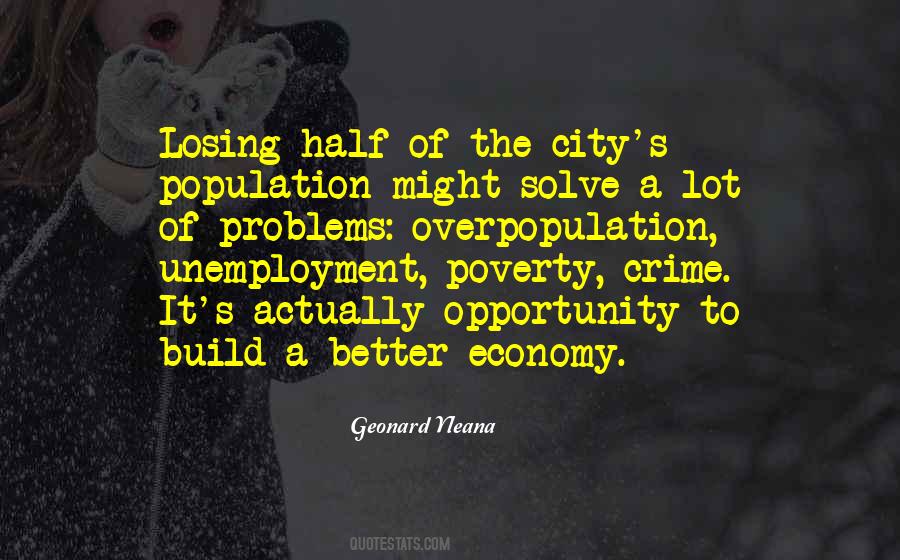 #80. How often one reads a contemporary full-length novel and thinks quietly, mutinously, that it would have worked out better at half or a third the length. - Author: Ian McEwan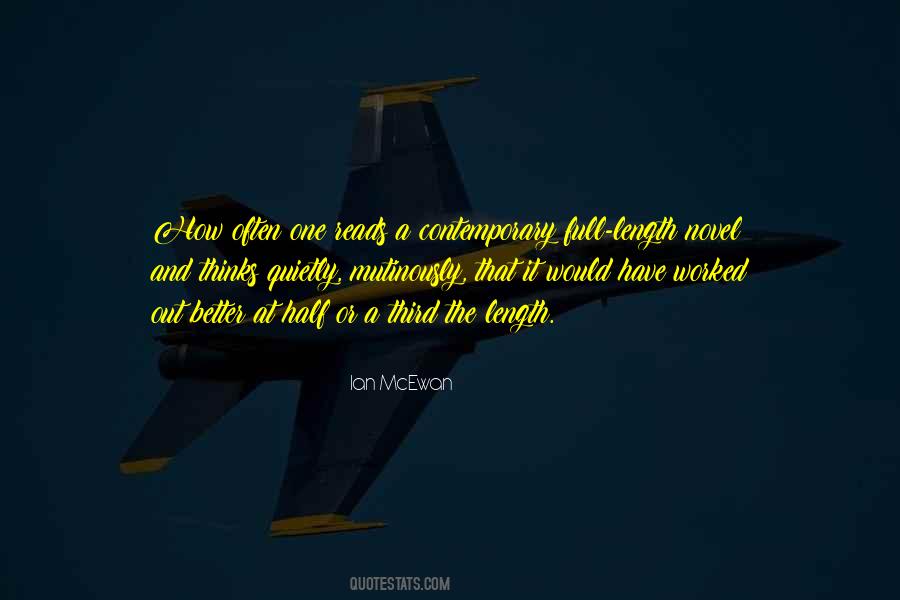 #81. Tom's whole life was constructed on lies - falsehoods and half-truths told to make him look better, stronger, more interesting than he was. - Author: Paula Hawkins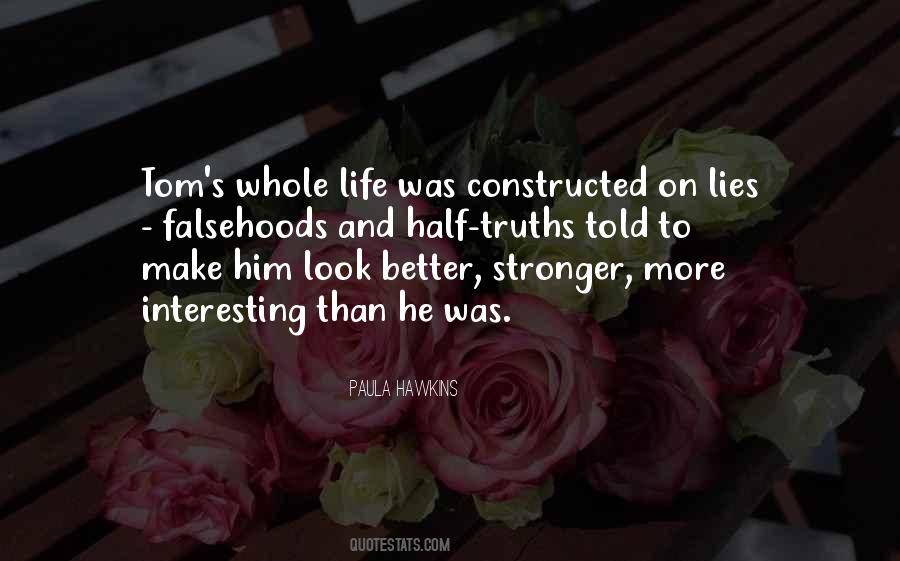 #82. What's more, you're loads better than you think you are."
"So why is it I get to thinking that way?" I puzzled.
"That's because you're only half-living." she said briskly. "The other half is still untapped somewhere. - Author: Haruki Murakami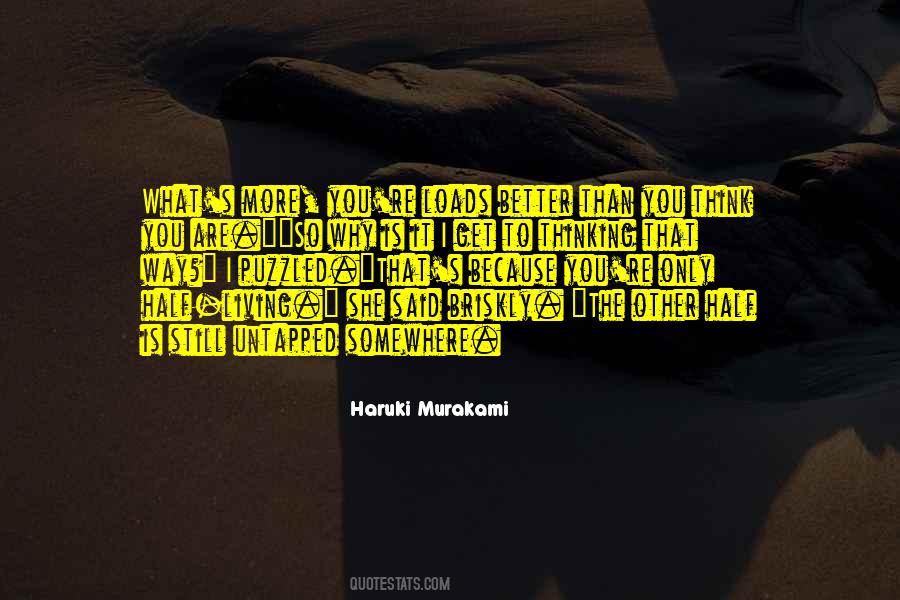 #83. To understand one thing well is better than understanding many things by halves. - Author: Johann Wolfgang Von Goethe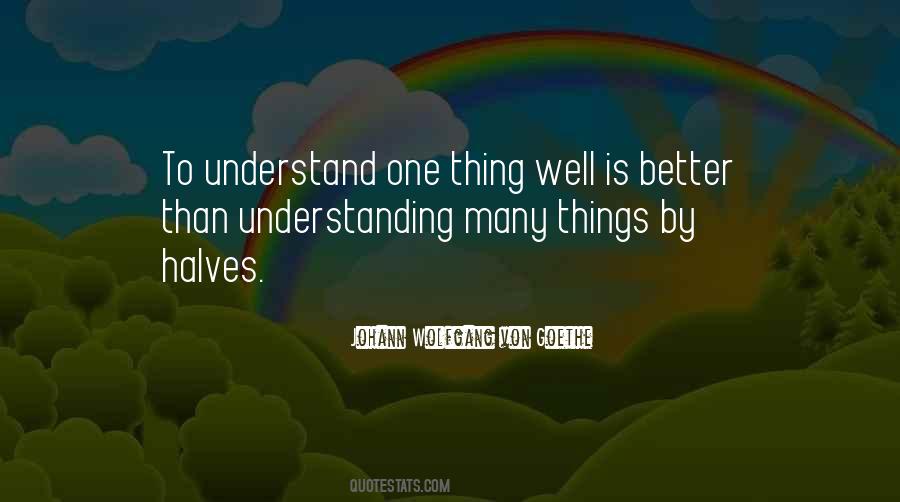 #84. Oh better far those echoing hells
Half-threaten'd in the pealing bells
Than that this 'I' should cease to be - - Author: John Betjeman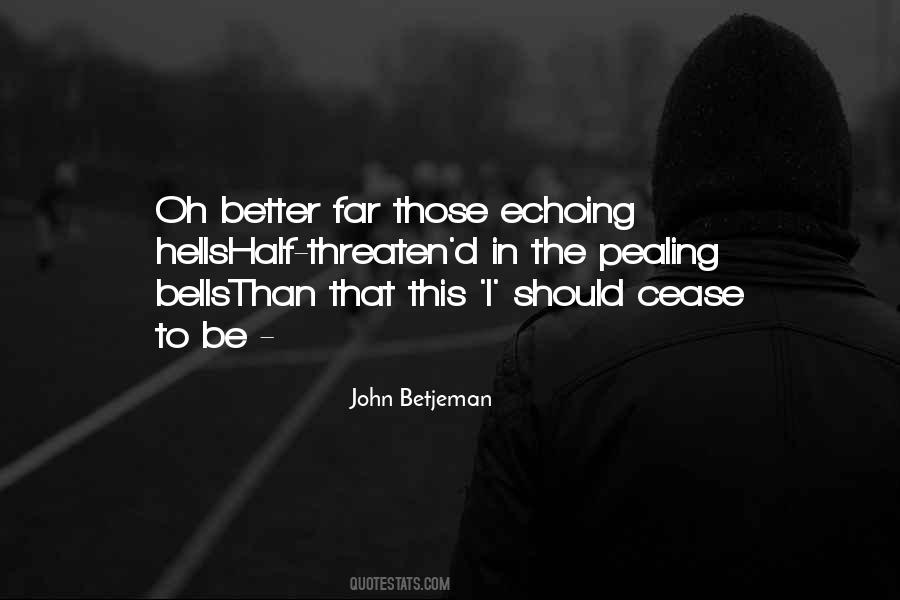 #85. The world was full of such madmen in those days. Imprisonment is not the way to deal with such people; half measures merely feed their pride. Leave 'em alone or hang 'em, in my opinion. Or better still, pack them off to the Americas, and let them starve. - Author: Iain Pears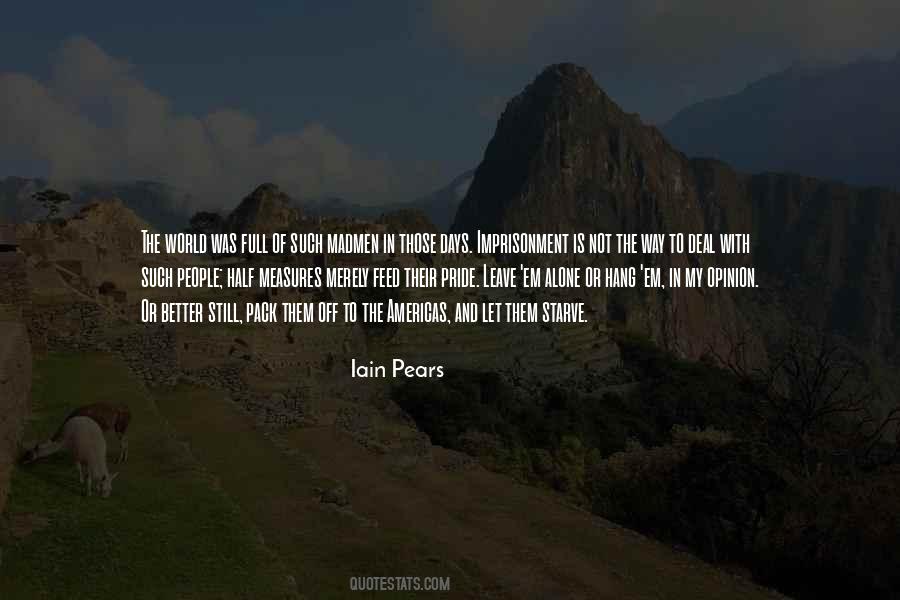 #86. I have a journal of everything I've ever climbed since 2005. For the entry about free soloing Half Dome, I put a frowny face and added some little notes about what I should have done better, and then underlined it. Turns out that is one of my biggest climbing achievements. - Author: Alex Honnold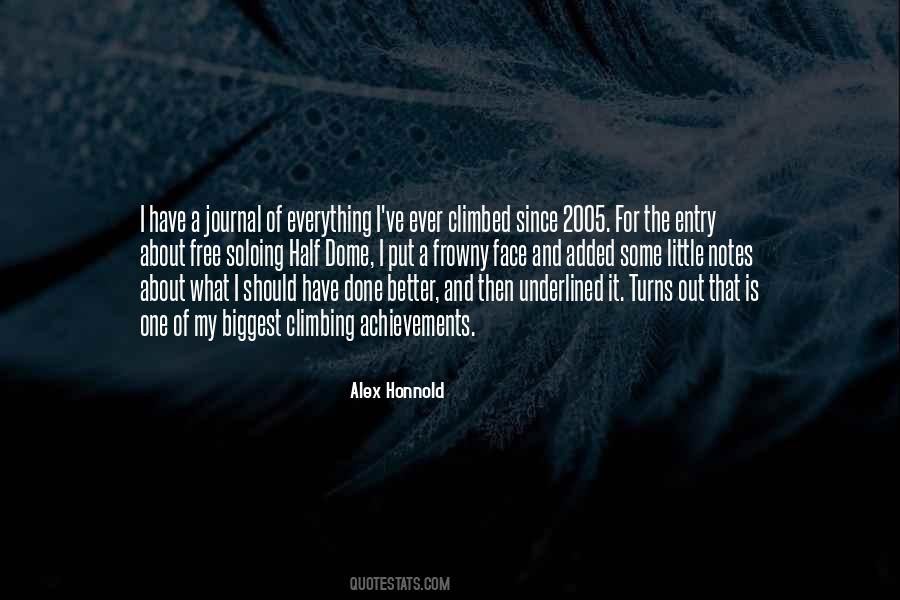 #87. Better hold the hand for coin, though small, Than lose, for one half a dang, it all. - Author: Saadi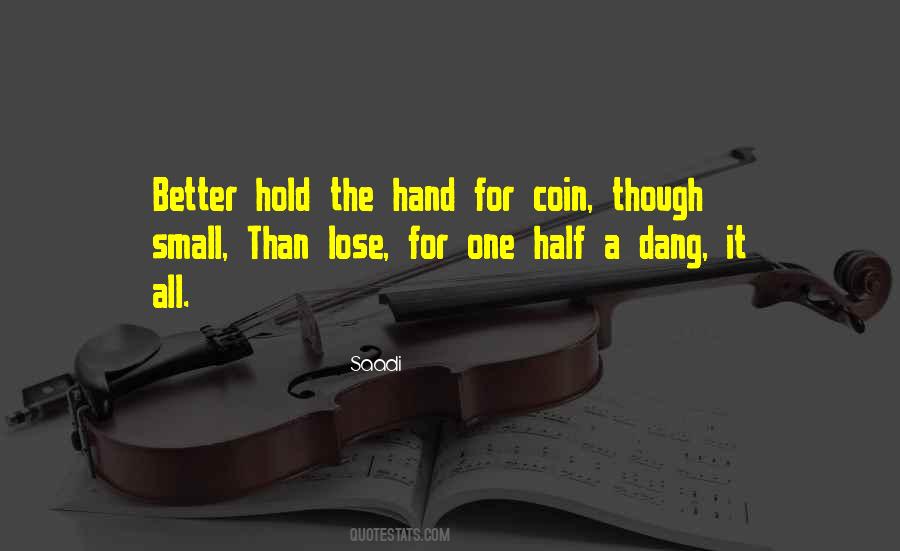 #88. I think I've always been a player who's done better in the second half, who's done better in the fourth quarter. That's the fun time to play, when everything you've worked for the whole game boils down to those last few possessions. - Author: Jeremy Lin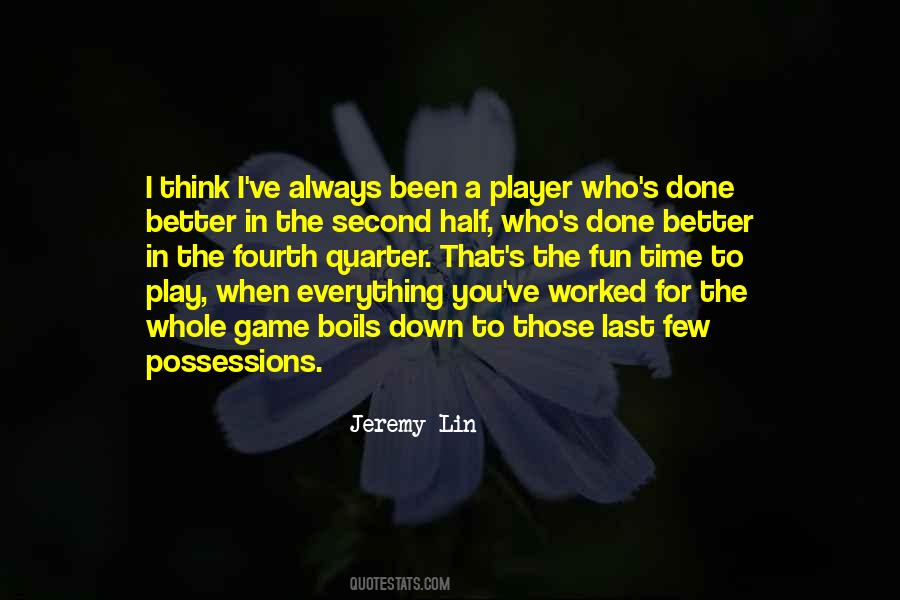 #89. Instead of facing a crisis as I approached middle age, I discovered that a new and better life lay before me. I called the process of discovery 'halftime,' and the outcome led to my second half. - Author: Bob Buford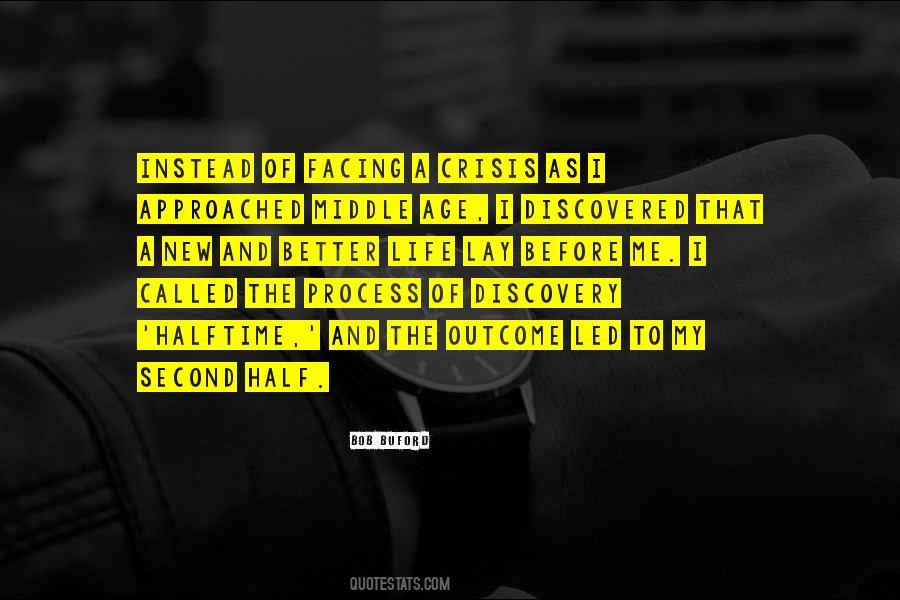 #90. A friend of mine, a friend of yours. My better half, Richard Stephen Sambora - Author: Jon Bon Jovi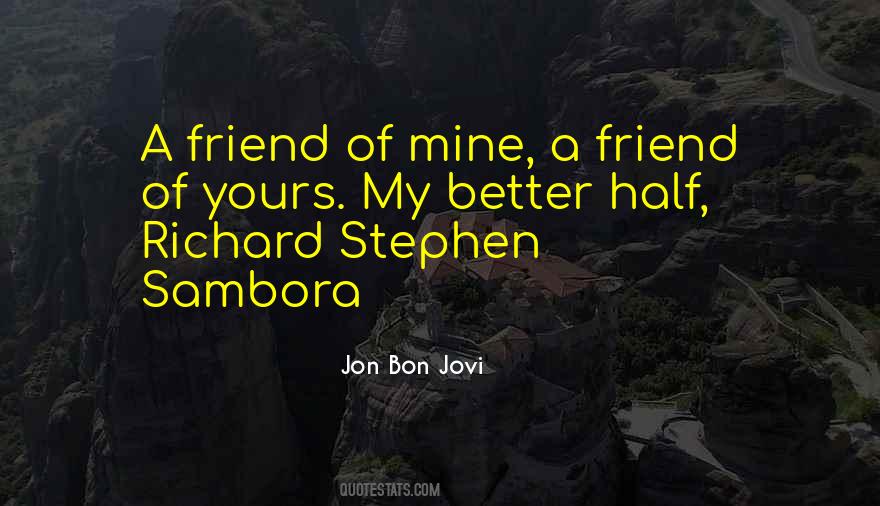 #91. I would say if you are having a tough time in your life, then going to a club and getting laughs, it does make you feel better for that hour and a half show. It gets your mind off of it. - Author: Jon Lovitz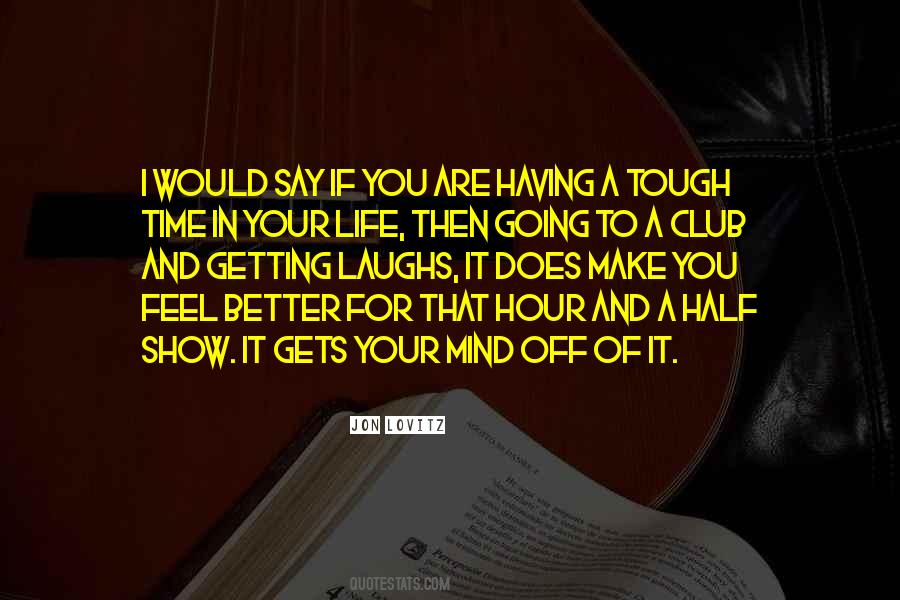 #92. The vigorous are no better than the lazy during one half of life, for all men are alike when asleep. - Author: Aristotle.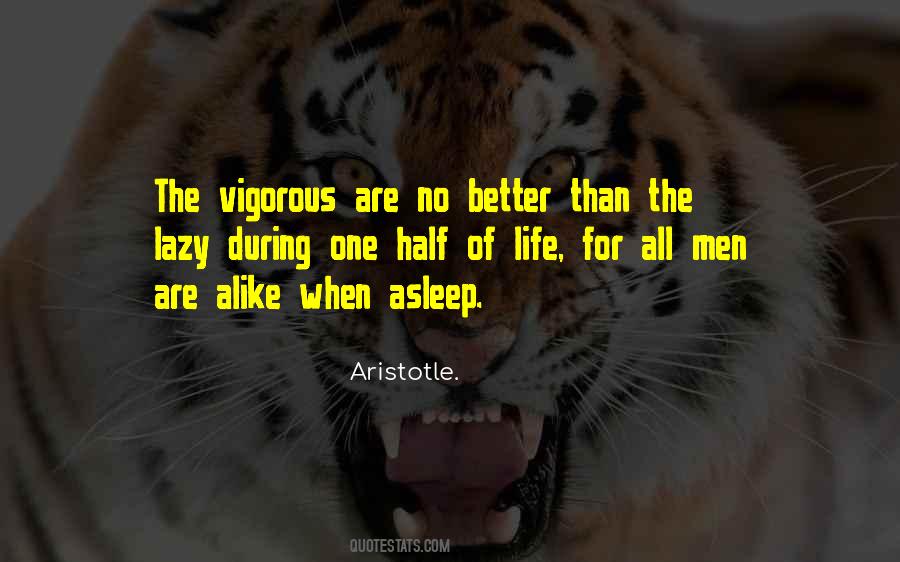 #93. It is better to do the smallest thing in the world than to hold half an hour to be too small a thing. - Author: Johann Wolfgang Von Goethe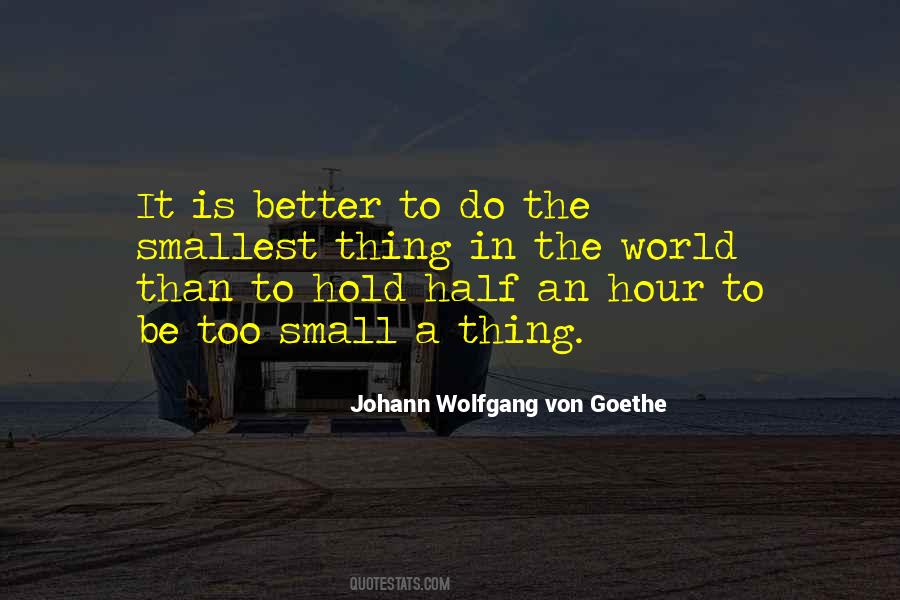 #94. I look forward to the day when half our homes are run by men and half our companies and institutions are run by women. When that happens, it won't just mean happier women and families; it will mean more successful businesses and better lives for us all. - Author: Sheryl Sandberg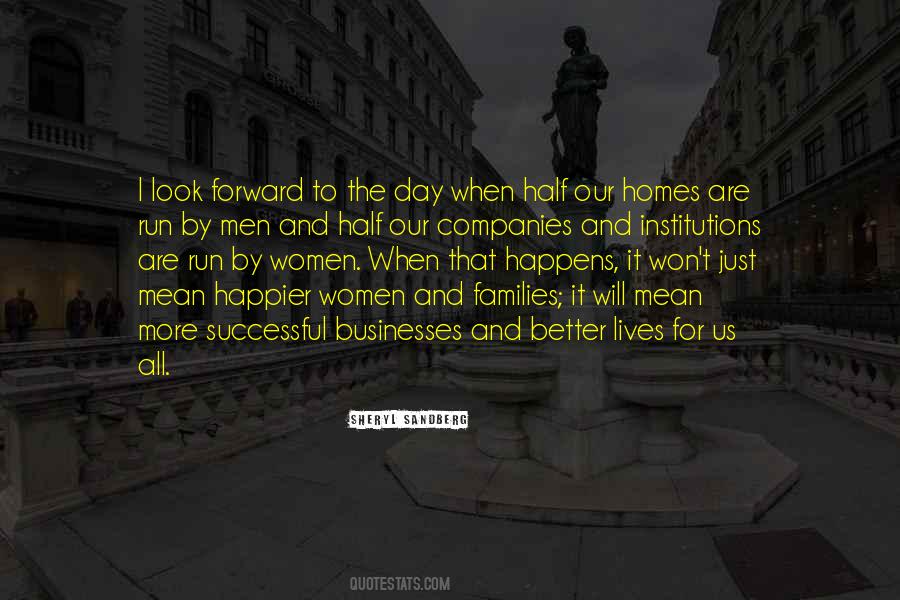 #95. I think the best thing about being dumb is that it makes magic a lot better. Where the hell did that rat come from? I dunno, but I'm calling the cops because he just cut that lady in half. - Author: Demetri Martin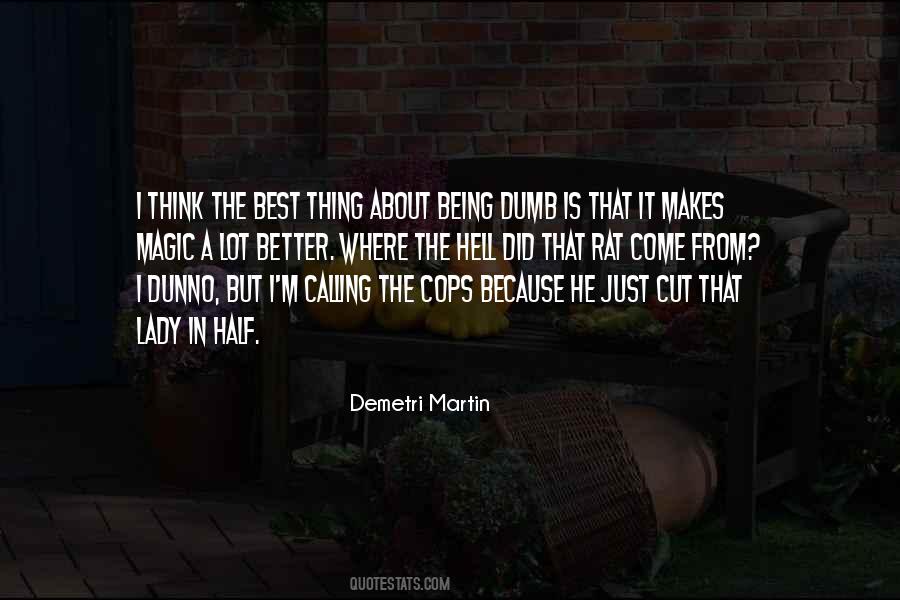 #96. Just blow in it and sound bad for about a year and then make it sound a little bit better, and you get a little band together, and then you get a few jobs. You take four guys that sound half bad, but if they're 25 percent each, they can give 100 percent, you know? - Author: Quincy Jones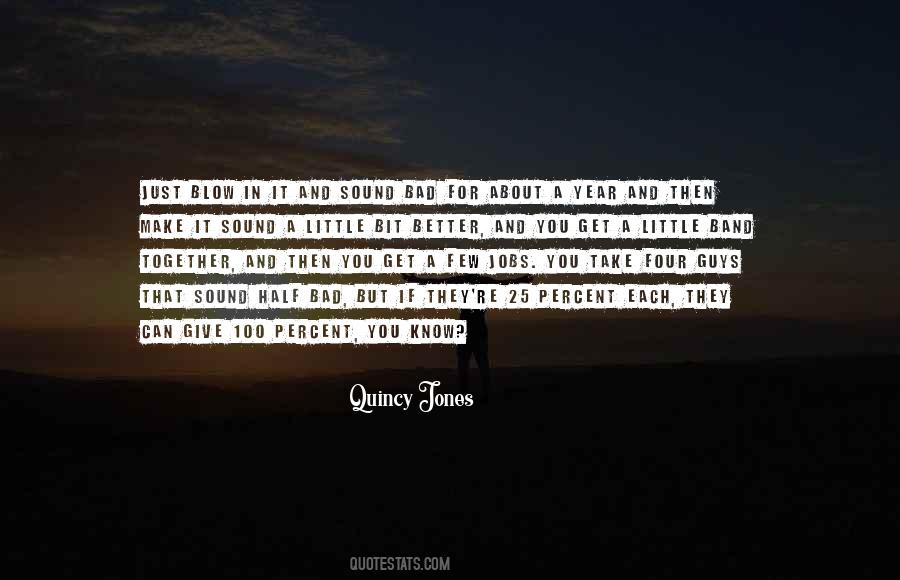 #97. In my opinion half the people who spend their lives avoiding being run over by buses had much better be run over and put safely out of the way. They're no good. - Author: Agatha Christie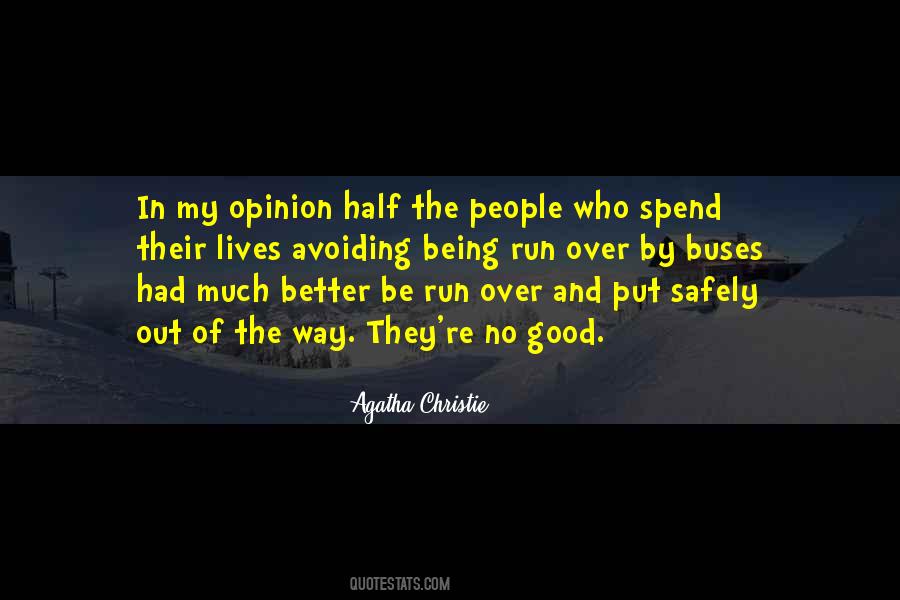 #98. I think L.A.'s terrific. You fly an hour and a half and you're in the mountains in three feet of powder. I also think it's a much better city if you're working as an actor. If you're not working and you don't see your dreams coming true, there can be a lot of heartache. - Author: Scott Patterson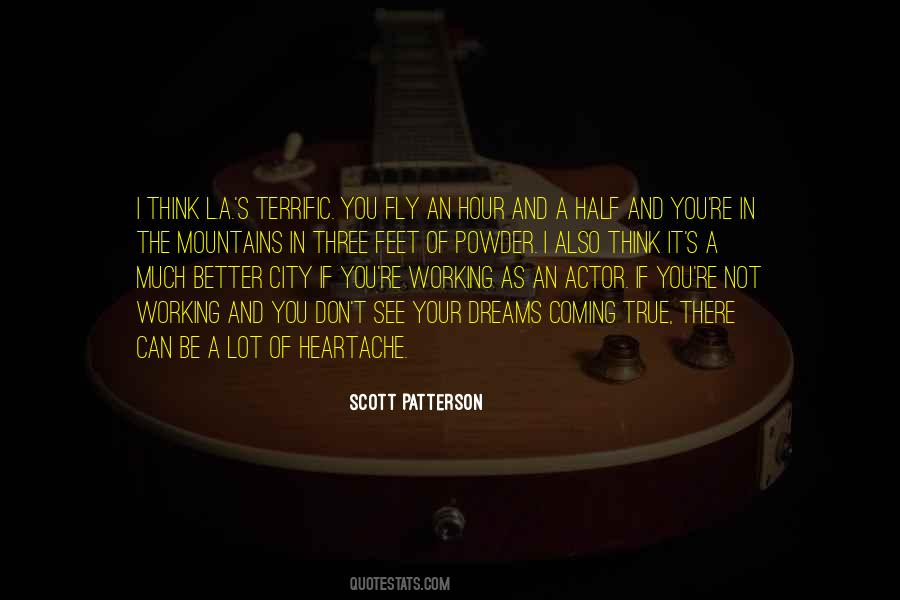 #99. Do not lift him from the bracken, Leave him lying where he fell- Better bier ye cannot fashion: None beseems him half so well As the bare and broken heather, And the hard and trampled sod, Whence his angry soul ascended To the judgment seat of God! - Author: William Edmondstoune Aytoun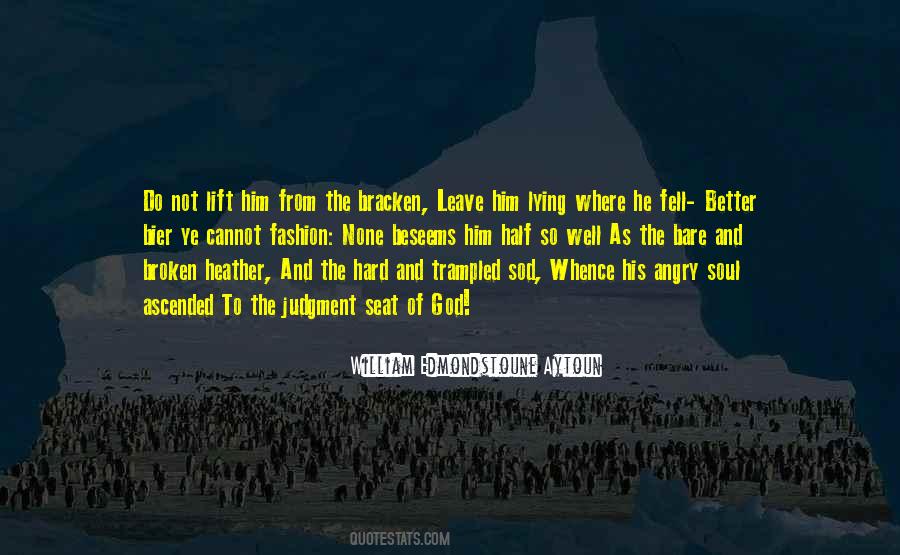 #100. Better is half a loaf than no bread. - Author: John Heywood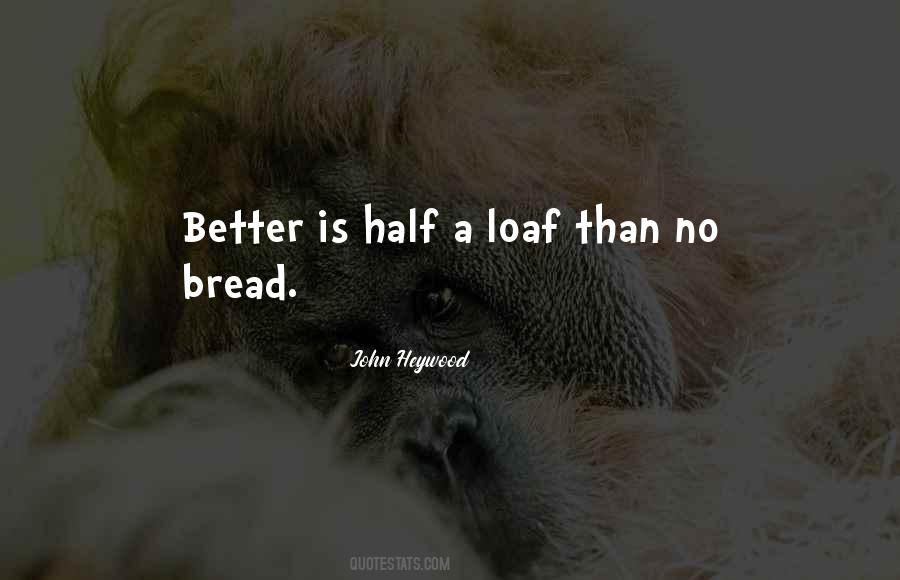 Famous Authors
Popular Topics