Being Okay Alone Famous Quotes & Sayings
List of top 46 famous quotes and sayings about being okay alone to read and share with friends on your Facebook, Twitter, blogs.
Top 46 Quotes About Being Okay Alone
#1. It may, however, be said that the level of experience to which concepts are inapplicable cannot yield any knowledge of a universal character, for concepts alone are capable of being socialized. - Author: Muhammad Iqbal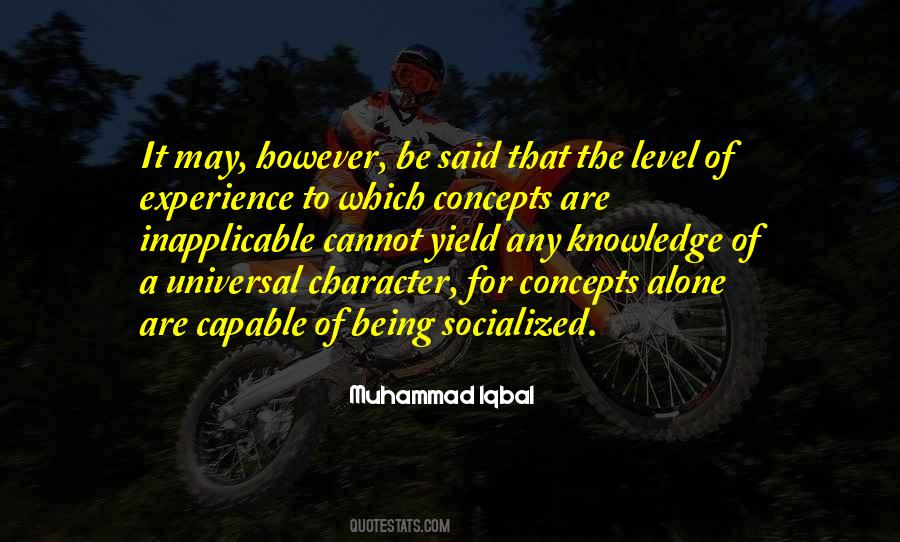 #2. The one sure way of not being alone was wanting to be alone. - Author: Rick Yancey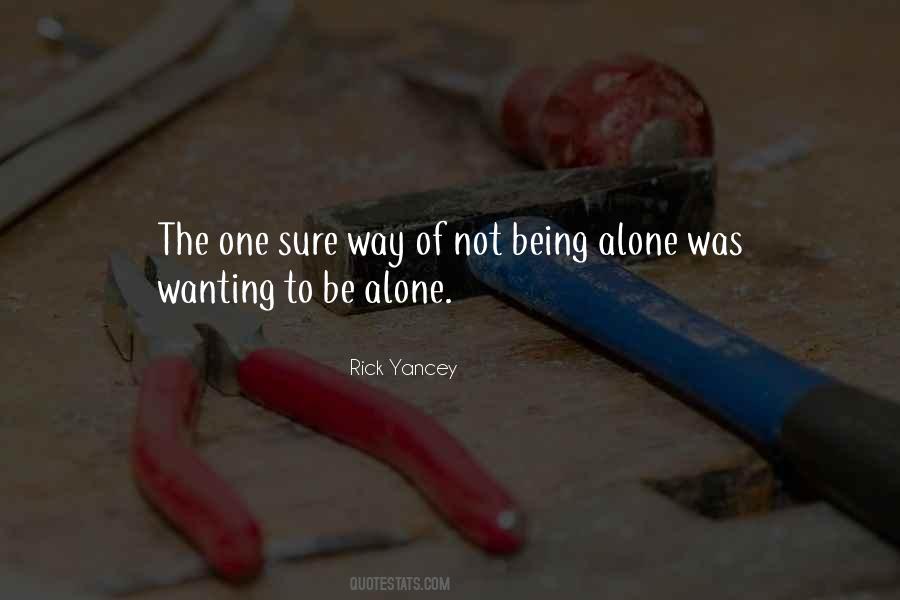 #3. The Rich man was let alone in his sin suffered to go on without molestation. He fared sumptuously every day, slept secure and expected no disturbance. And the first of his awaking out of his security was when he lifted up his eyes that were now opened being in torments. - Author: Jonathan Edwards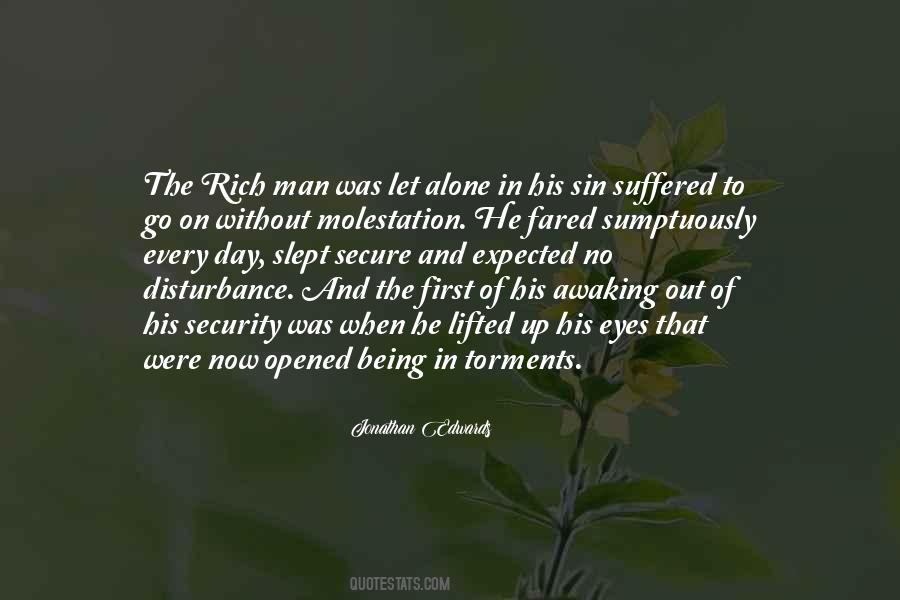 #4. Being a child at home alone in the summer is a high-risk occupation. If you call your mother at work thirteen times an hour, she can hurt you. - Author: Erma Bombeck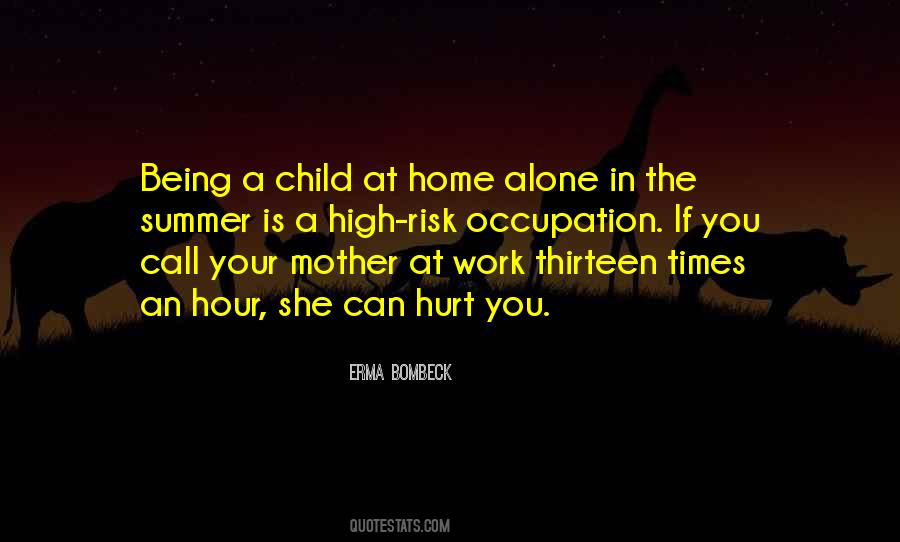 #5. My EP, 'Room 93,' was all about isolation - it was based on the idea of being in a hotel room and being totally alone with yourself or that other person. - Author: Halsey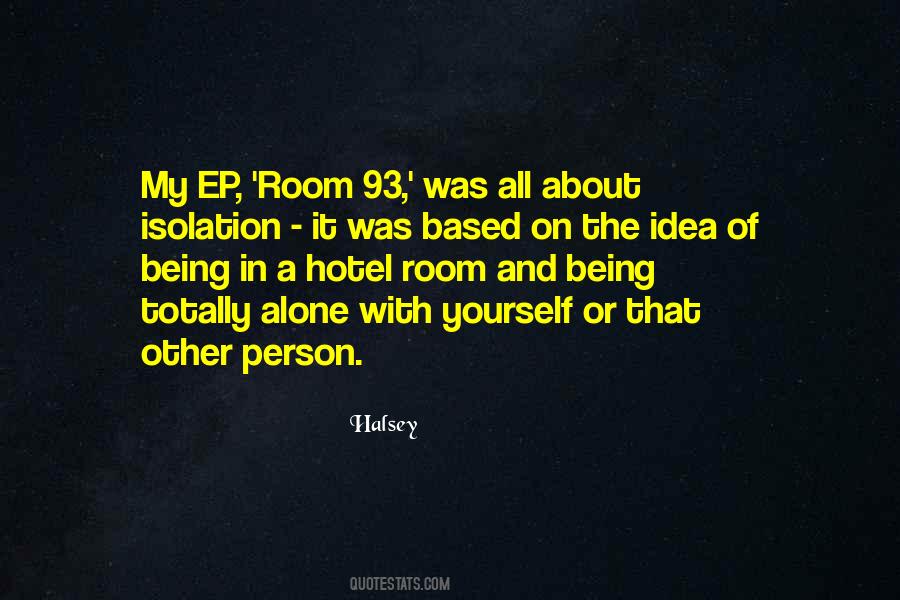 #6. I'm so fucking tired of being alone. I was scared that he'd tell me to fucking leave. Because that means going back to a life I can't see for myself anymore. - Author: Krista Ritchie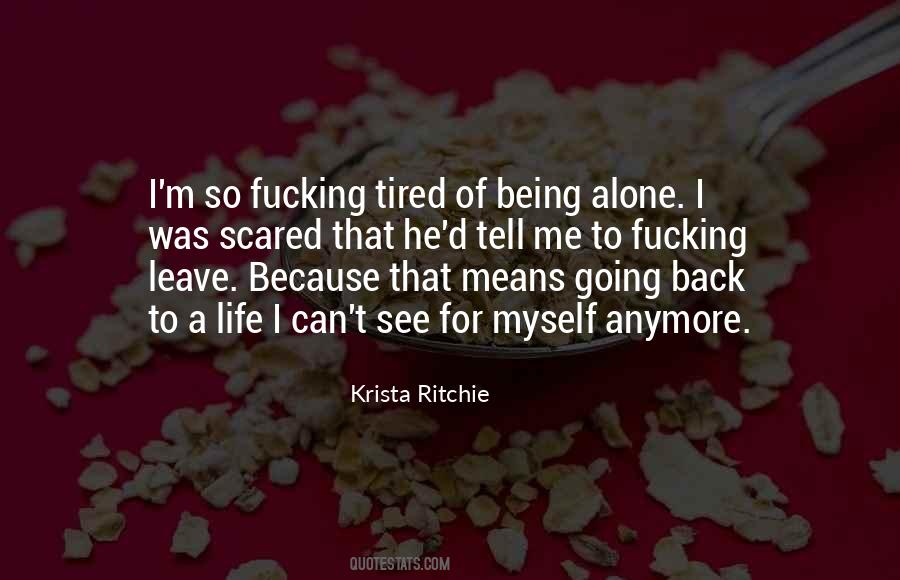 #7. I have been being careful since the first minute I saw you. I am the Queen of Carefulness. I shall go on being careful for ever, if you like - so long as I might be a bit reckless, sometimes, when we are quite alone - Author: Sarah Waters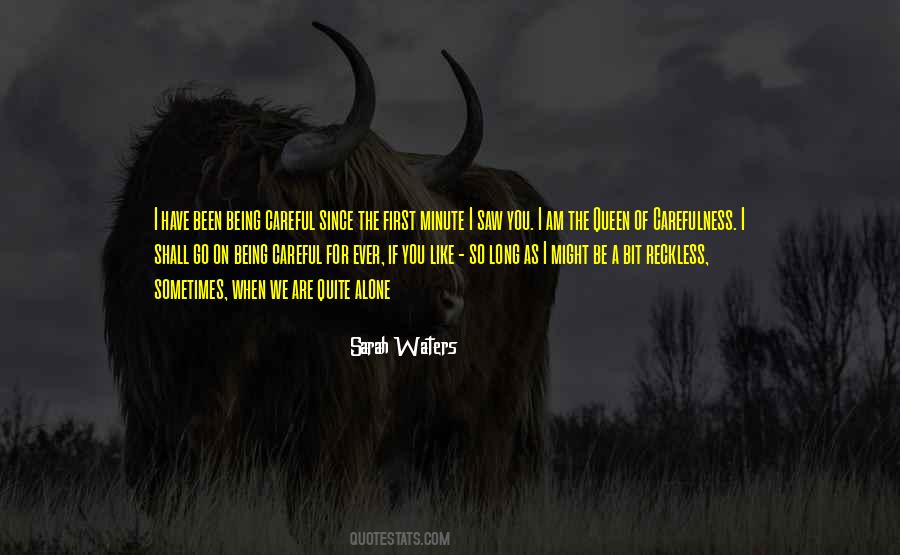 #8. Whoever starts out toward the unknown must consent to venture alone. - Author: Andre Gide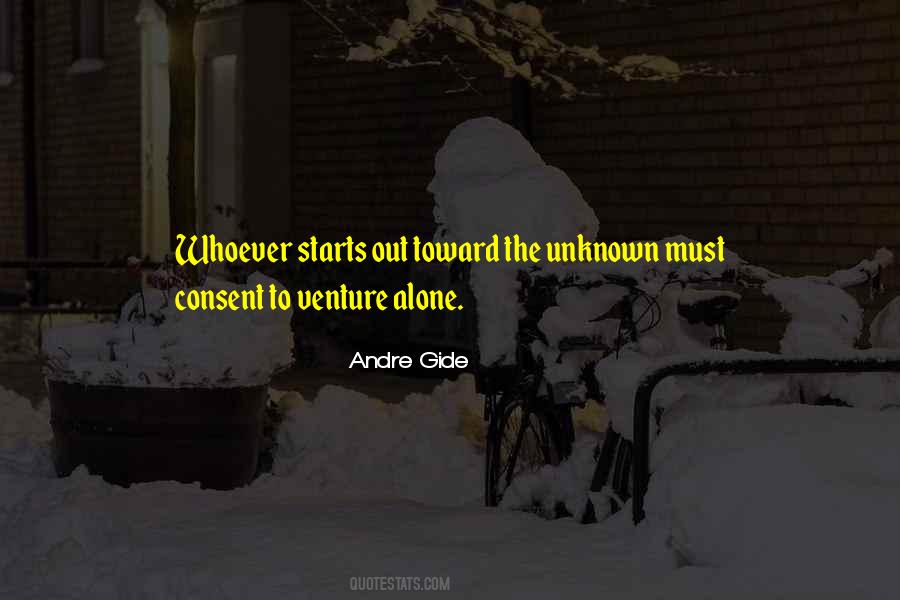 #9. Almost always, jealousy is rooted in some sort of fear: of abandonment, of being replaced, of losing the attention of someone you love, of being alone. Jealousy isn't really about the person you feel jealous of. It's about you: your feeling that you might lose something precious. - Author: Franklin Veaux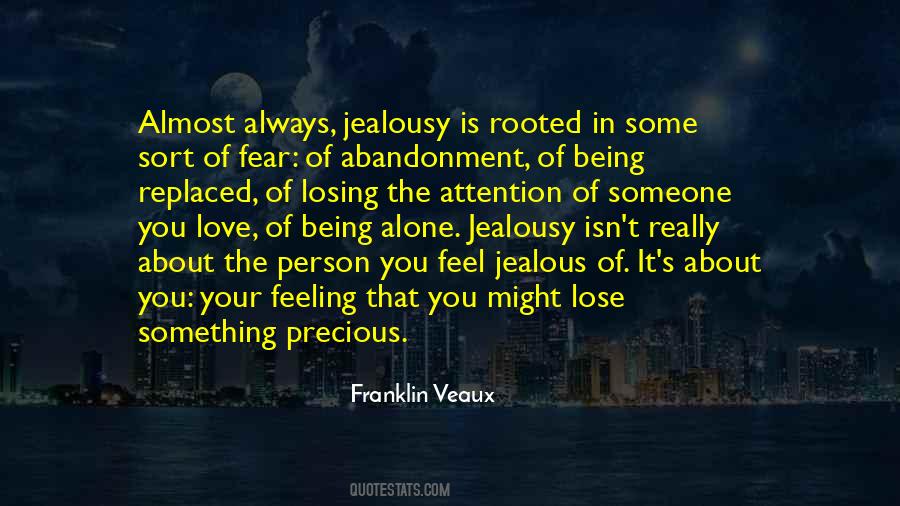 #10. We all have our moments of being fed up ... but give me your hand and I'll hold it. If you are being bullied I am thinking of you. You are not alone and it will get better. Don't let them win. It's okay not to be okay. - Author: Jessie J.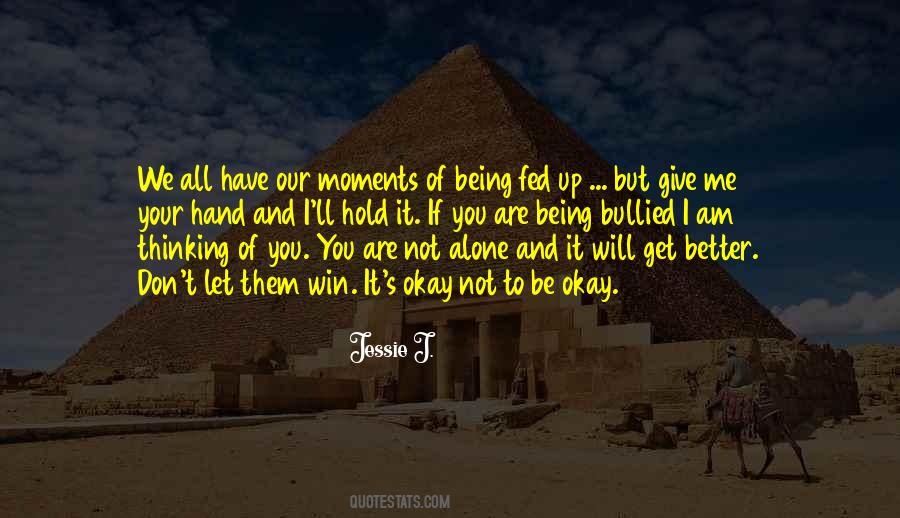 #11. That was the moment I knew I'd have to do this thing alone. This thing being life. - Author: Anonymous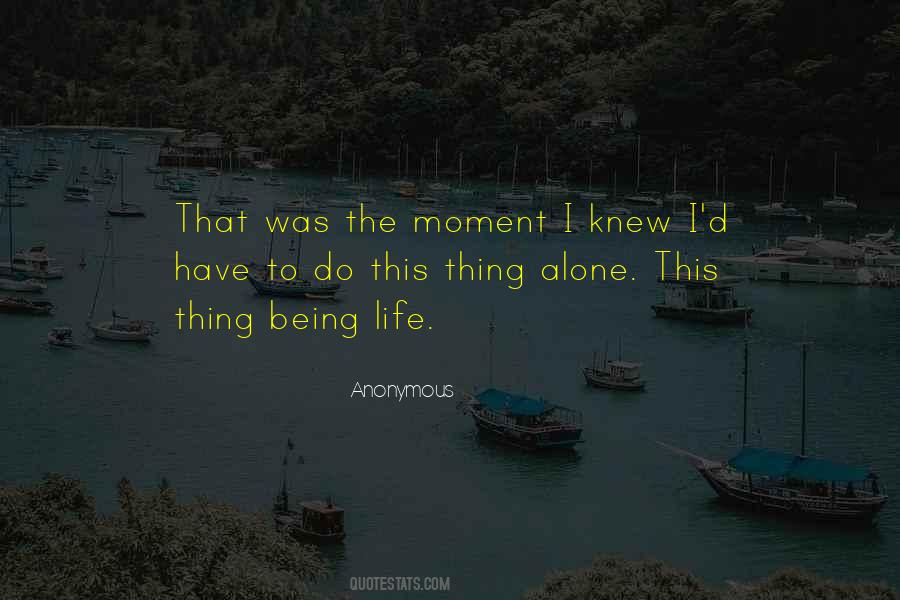 #12. MOM - noun - One who sacrifices her body, sleep, social life, spending money, eating hot meals, peeing alone, patience, memory, energy and sanity for LOVE! - Author: Tanya Masse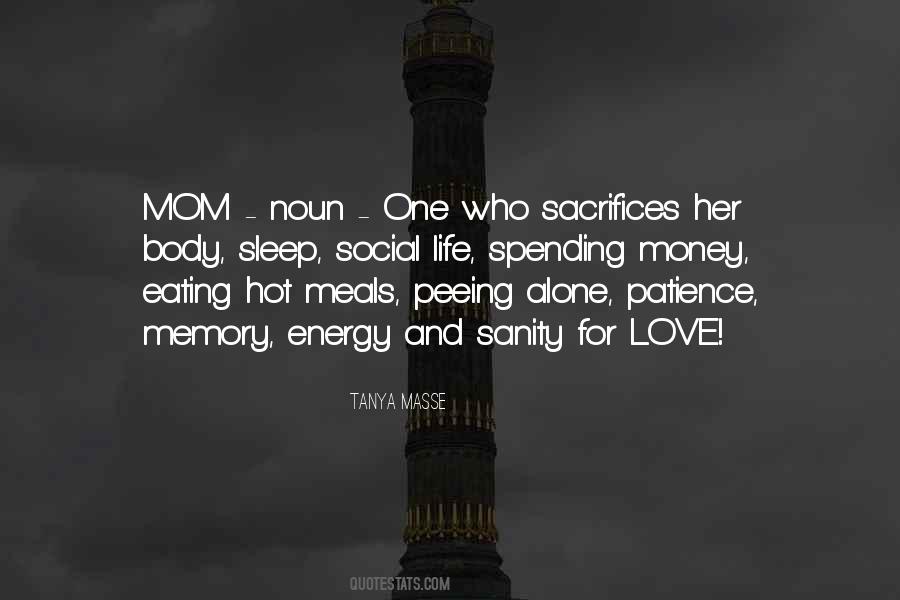 #13. Being alone. He wanted a woman - Author: J.D. Robb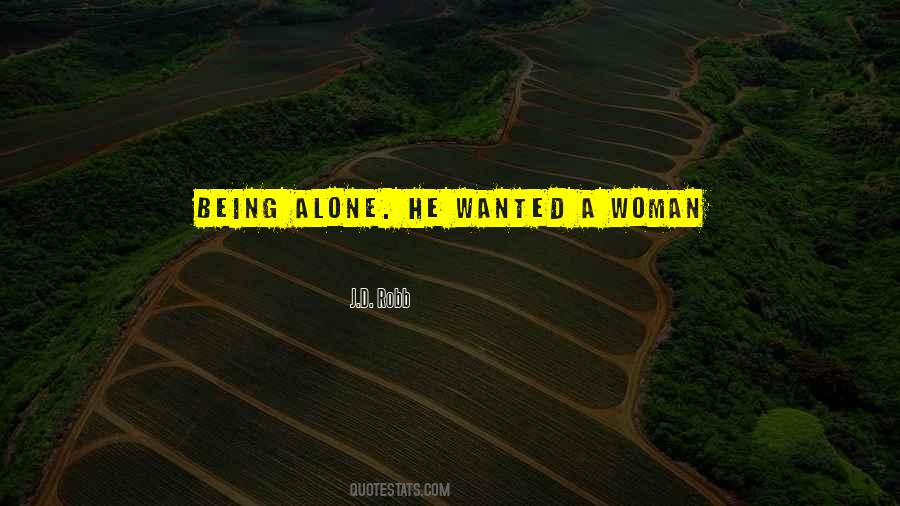 #14. People don't expect too much from literature. They just want to know they're not alone with being confused. - Author: Jonathan Ames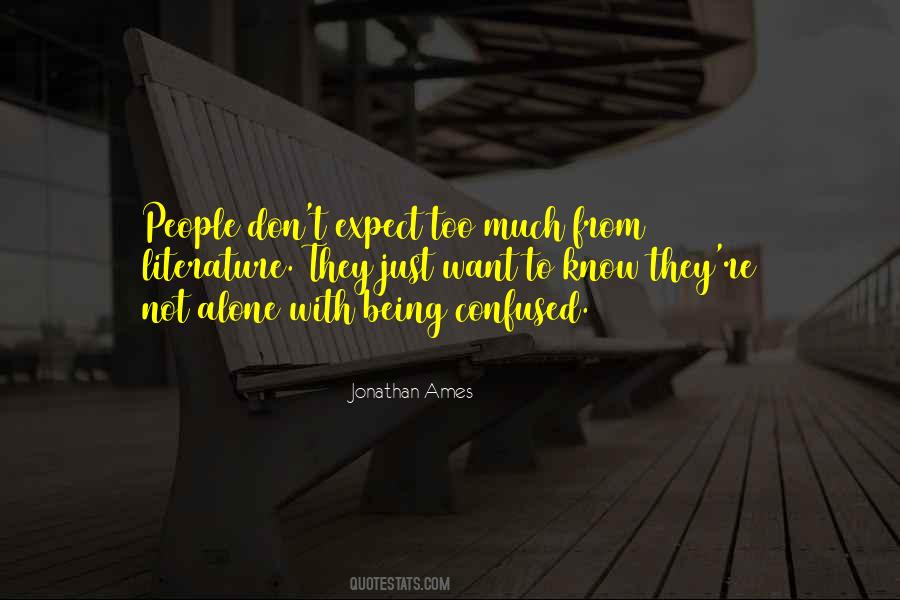 #15. Memory is the happiness of being alone. - Author: Lois Lowry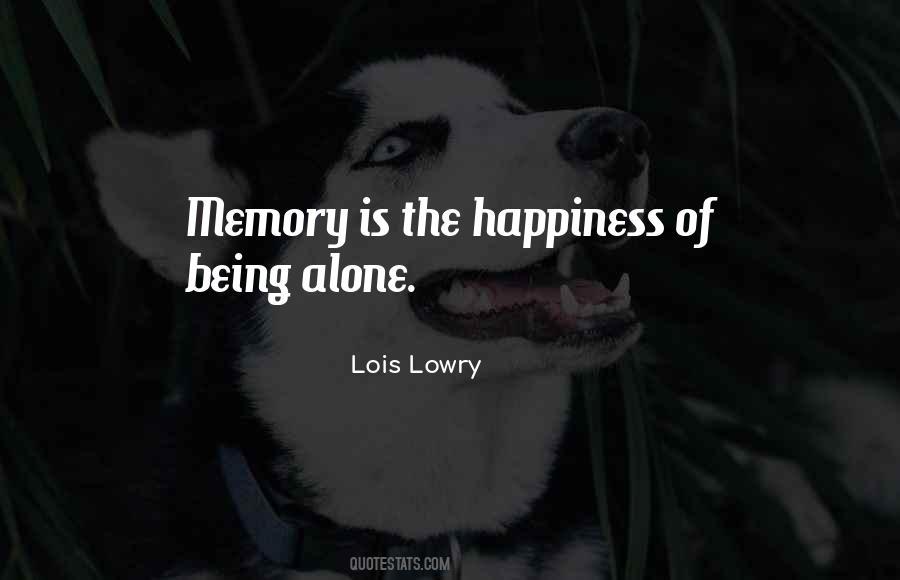 #16. A little while alone in your room
will prove more valuable than anything else
that could ever be given you. - Author: Rumi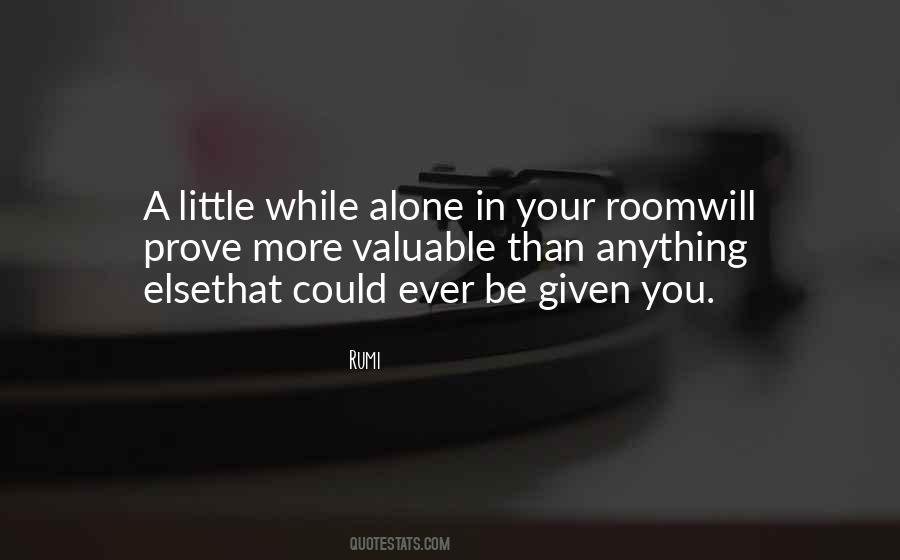 #17. It's important to keep up momentum, when I'm home alone I get stagnant, I go crazy and have to see my therapist. Being on the road keeps me busy. I'm okay when I'm busy. - Author: Gerard Way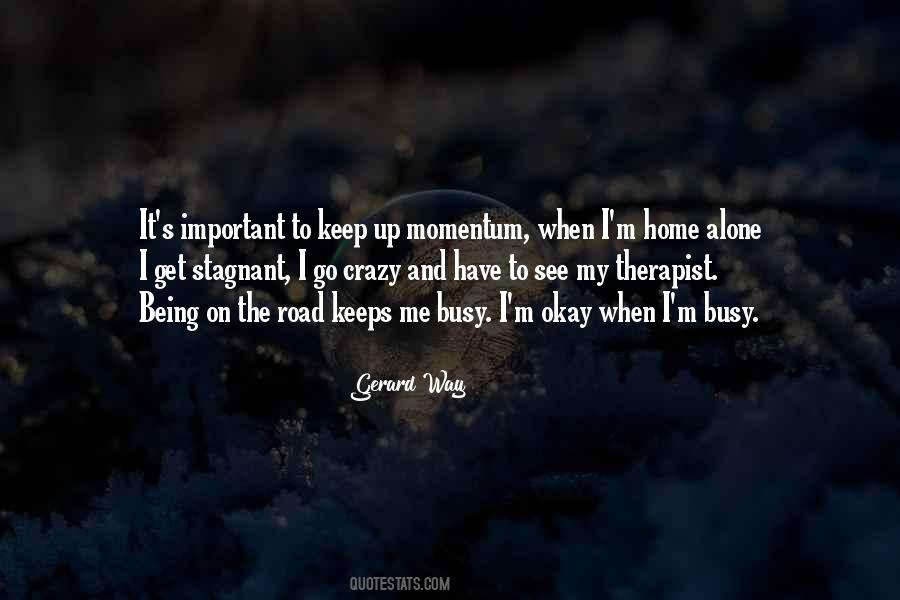 #18. most. If I could be alone, I would. Gratefully. I'd rather be alone than have to pretend I'm okay. But they won't give me that option. So I'll settle for being with someone who at least doesn't love me as much. I'm thankful for Margot. Not that I tell her this. Not that I tell her anything. I don't. - Author: Katja Millay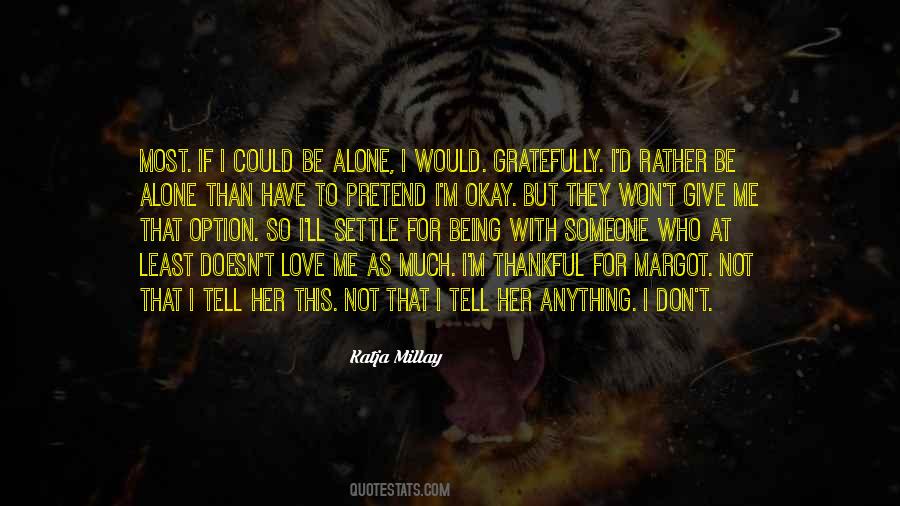 #19. I'm tired of pretending, tired of acting like everything's okay, tired of not being with him ... - Author: Terra Elan McVoy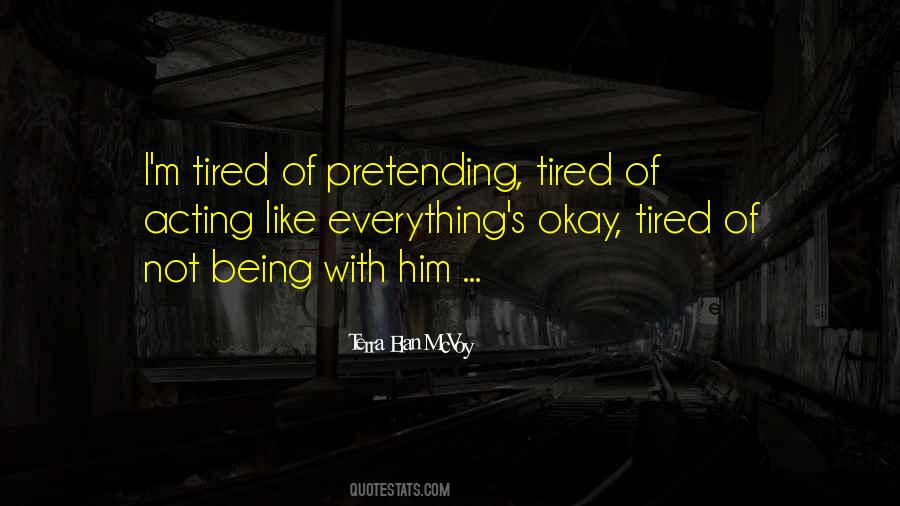 #20. I have an internal protectiveness where it's like, if it comes to just me, as frightened as I am of losing someone I love or things going sour or simply being alone, there is a dark place in my brain where I'm like, It could happen and I'm okay, I'm prepared. - Author: Lena Headey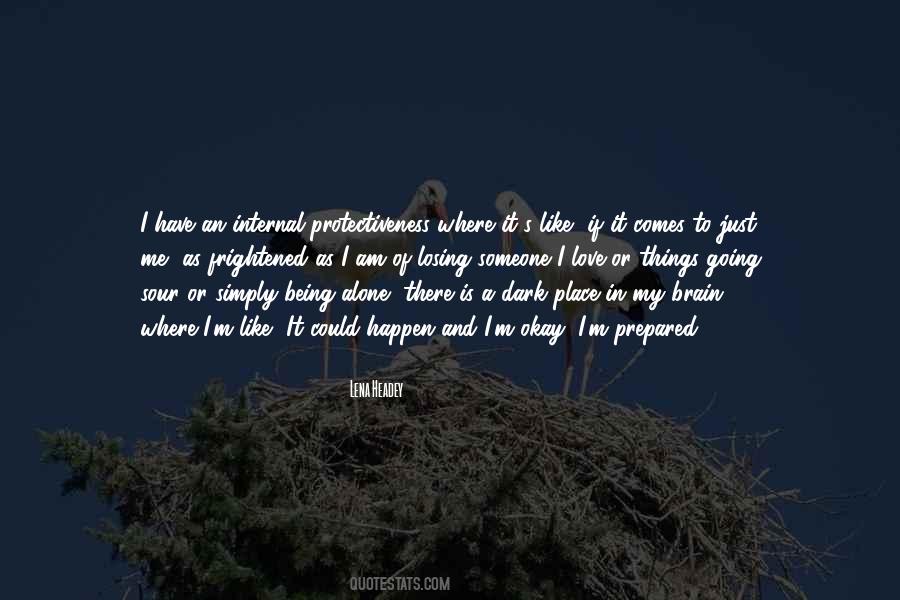 #21. Being in control of your own destiny is a myth - and wouldn't be half as much fun anyway. Pay attention to what's happening around you. Read the book before you see the movie. Remember, though you, alone, are responsible for your own happiness, it's still okay to feel responsible for someone else's. - Author: Michael J. Fox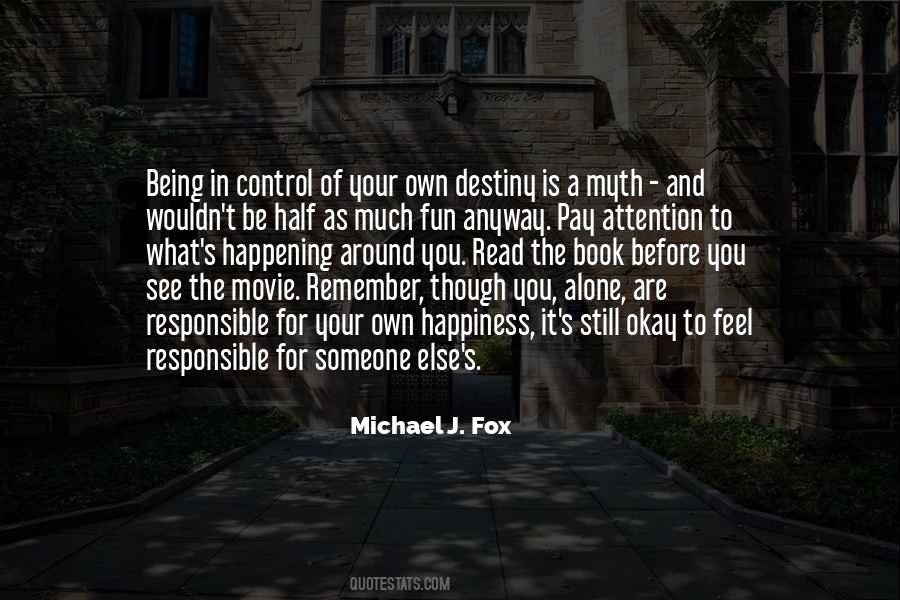 #22. When you least expect it is when the person you always dreamt of will finally show up. - Author: Shannon L. Alder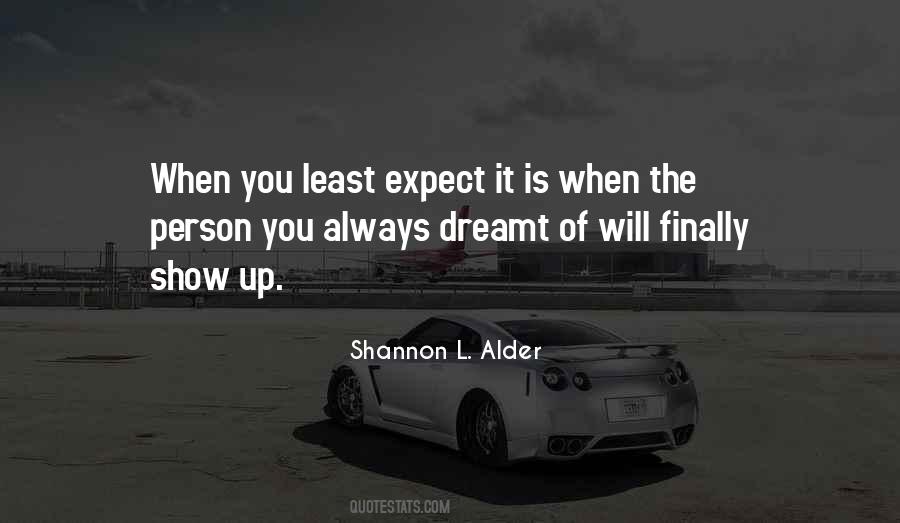 #23. Truth is, I'm generally happiest when it's just me. It's okay to be madly in love with yourself. - Author: Richelle E. Goodrich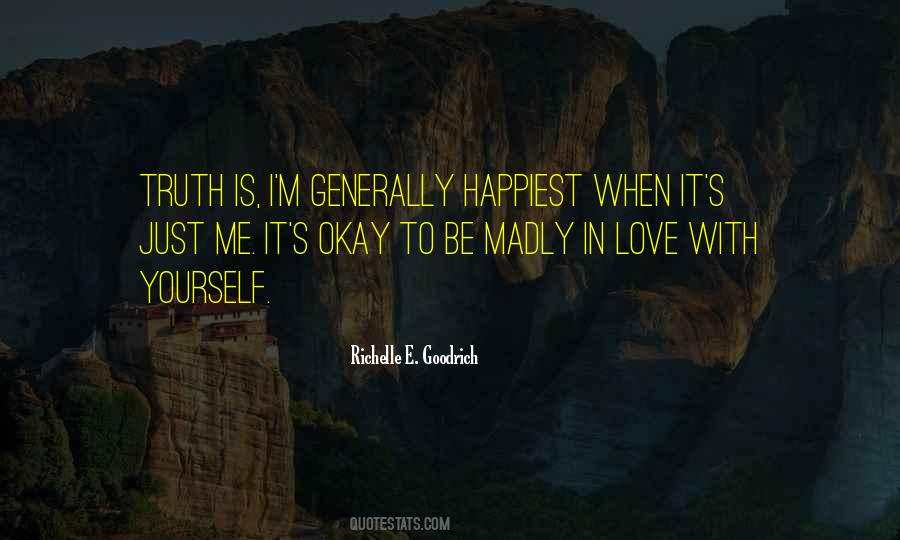 #24. It's not that I mind being alone, not really. I can distract myself with silly fantasies and daydreams for hours, but in the end it always comes back to me. That's what I'm left with: just me. And that's what scares me more than anything. Me. - Author: Cat Clarke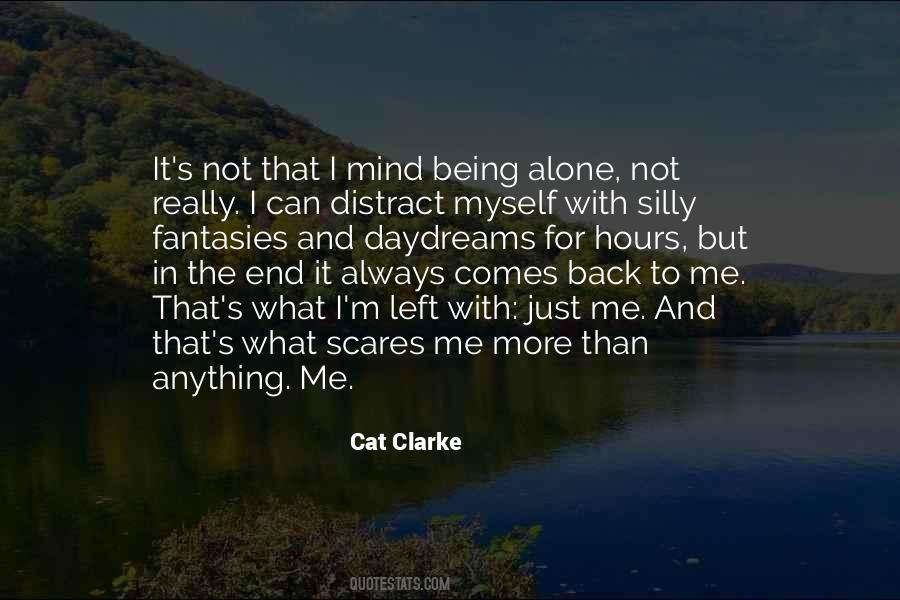 #25. The Jew does not wish to be isolated. He fears being alone, without allies. - Author: Meir Kahane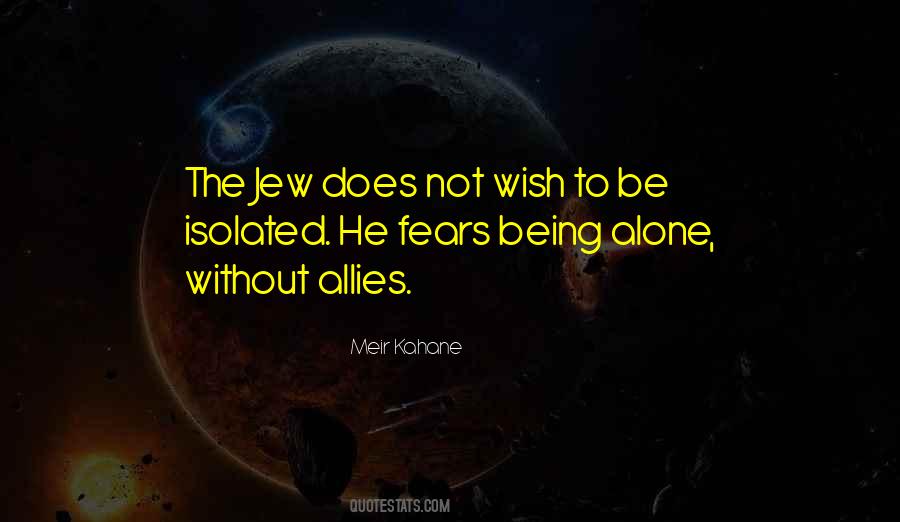 #26. Her solitary nature means she needs a family to keep her from loneliness my gregarious nature means I will never have to worry about being alone ... - Author: Elizabeth Gilbert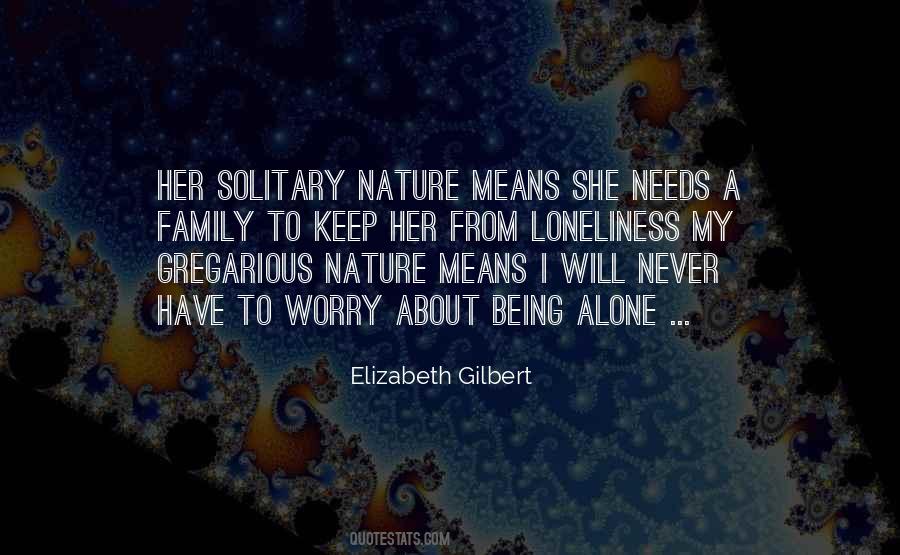 #27. Let no one define how you se yourself ... save God alone. See yourself through His eyes and His strength, and you'll see who you can be despite being who you are. - Author: Tamera Alexander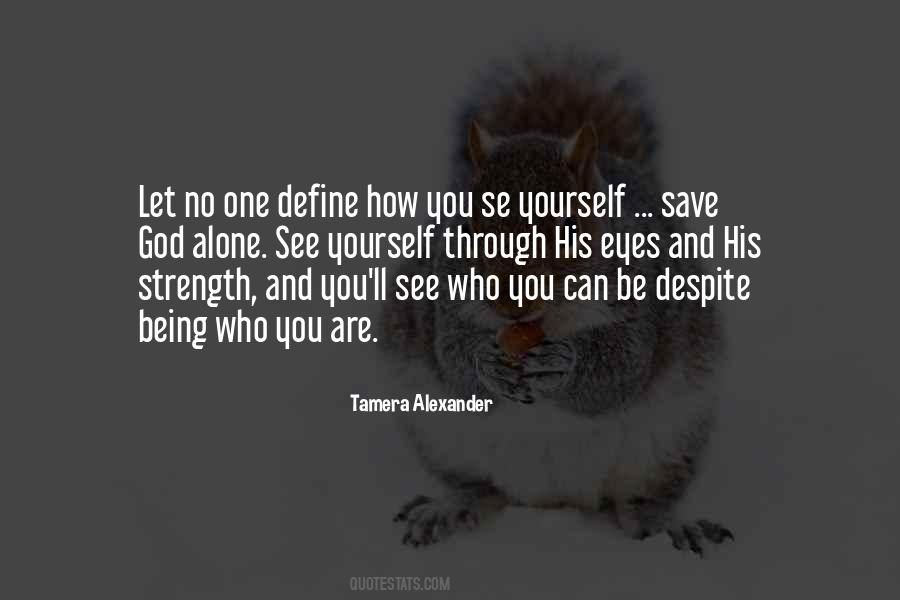 #28. Most couples get married because it's time, not because they're in love. They might have money issues, parental pressure, or they're simply tired of being alone - so they pick Mr. Good Enough and tie the knot. - Author: H.M. Ward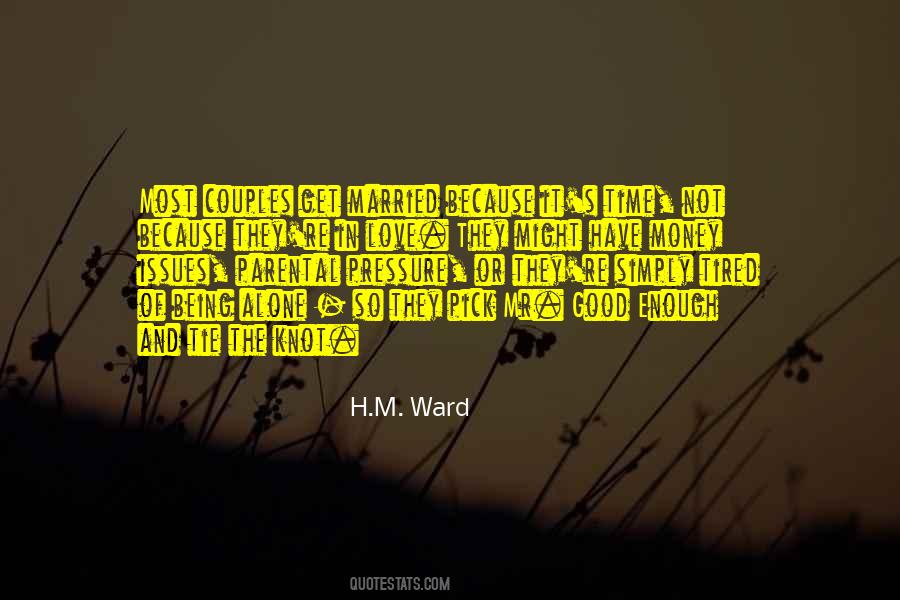 #29. Never say never to anything, .. As you get older, being alone isn't very desirable. You want someone to drink your coffee with, to share your television with. I missed male companionship. - Author: William Joseph Burns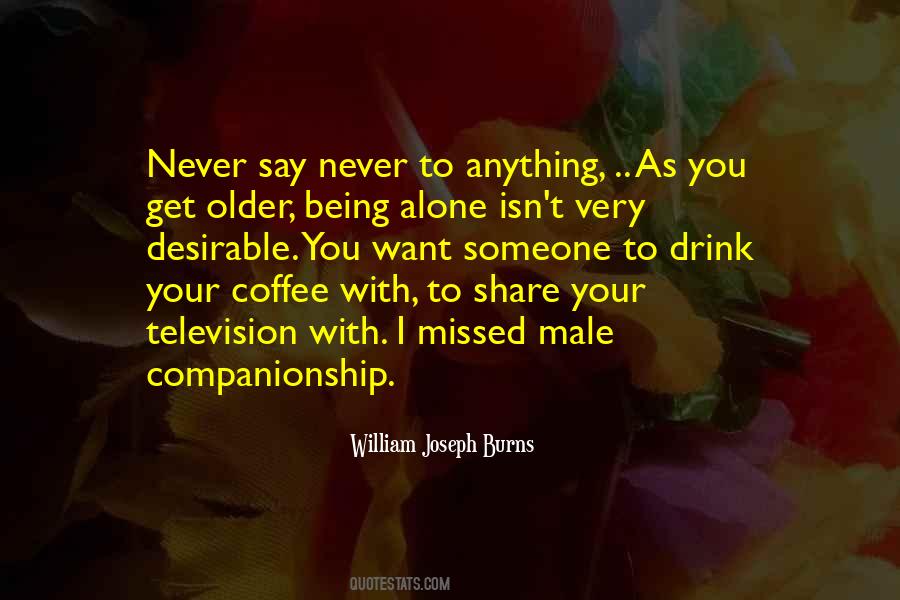 #30. The ideal Government of all reflective men, from Aristotle onward, is one which lets the individual alone - one which barely escapes being no government at all. - Author: H.L. Mencken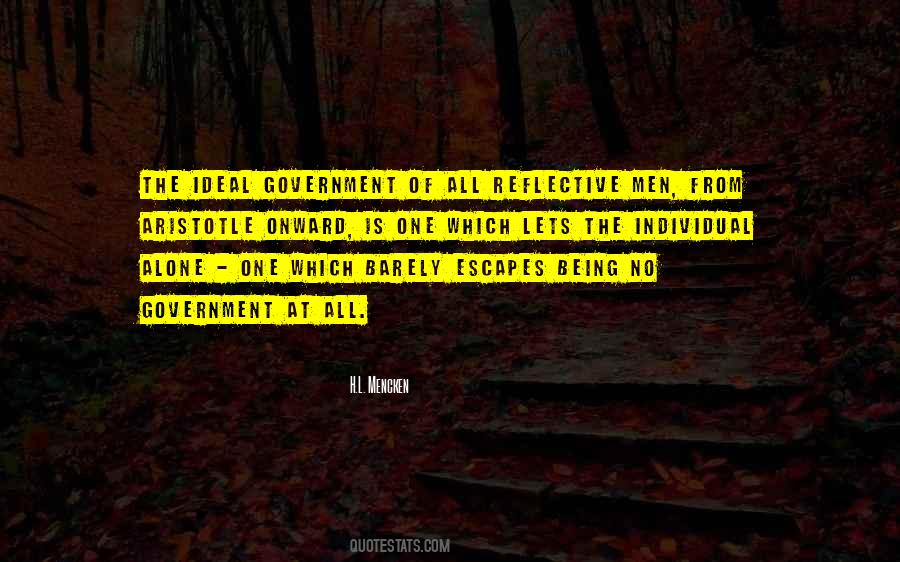 #31. I like working alone. I feel freer, less constrained. I know what I have to do and I try to do it. There are no superficial hangups. - Author: Oliver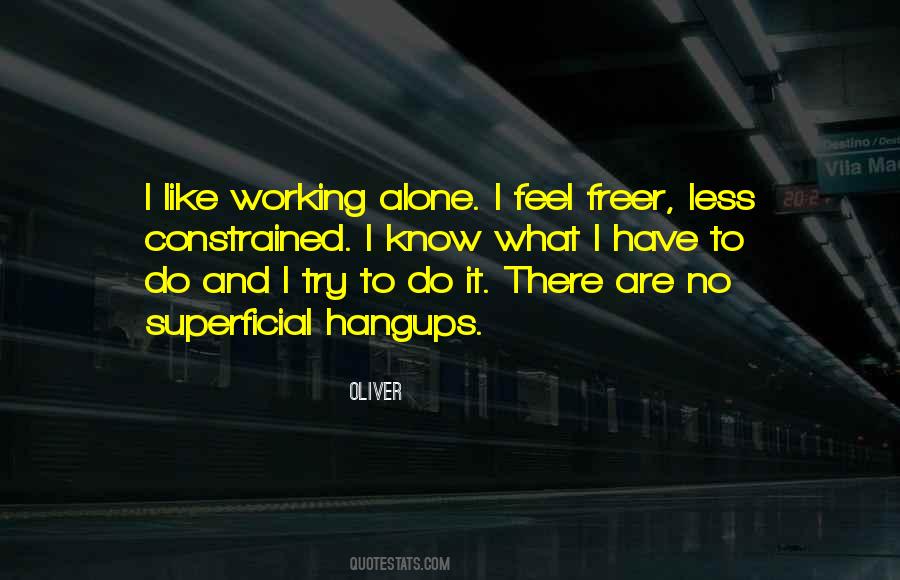 #32. What are you?" Lady Marsden asked, not bothering to hide her surprise. Obviously the lady was not accustomed to being caught snooping, let alone shut down twice.
"I have no idea, - Author: Kady Cross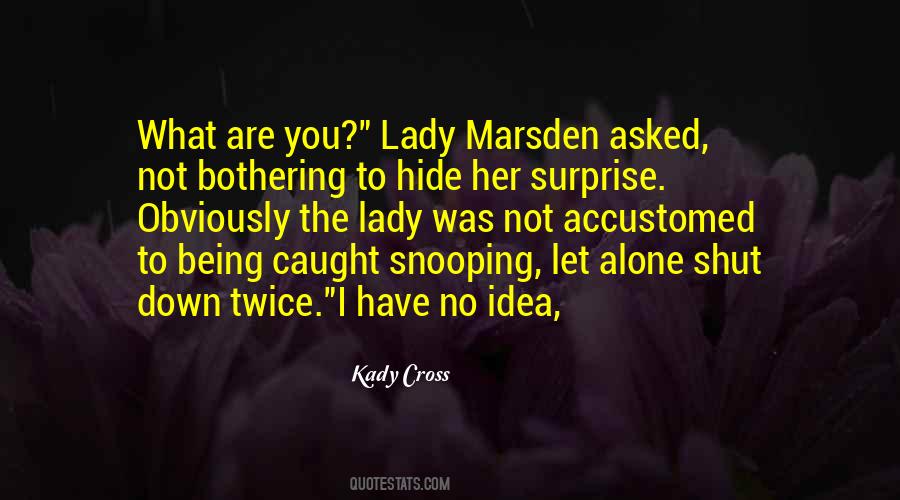 #33. Young people discovering their sexuality must know they walk with a strong tradition and that they are not alone. They have a right to information without being pressured. - Author: Jasmine Guy
#34. I remember my grandfather telling me how each of us must live with a
full measure of loneliness that is inescapable, and we must not destroy
ourselves with our passion to escape the aloneness. - Author: Jim Harrison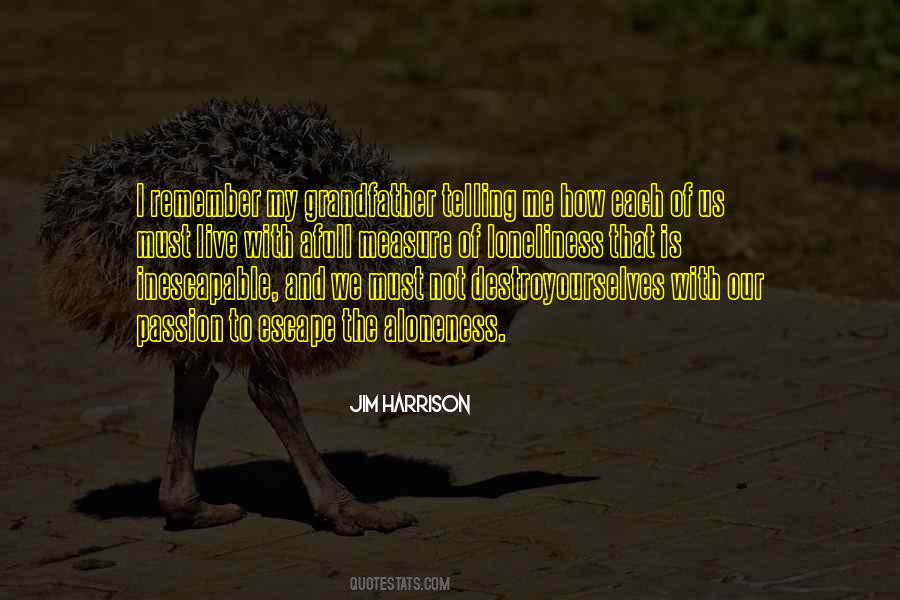 #35. When I eat alone I feel like a seminarian being punished. I tried it for one week and I was not comfortable. Then I searched through Sacred Scripture for something saying I had to eat alone. I found nothing, so I gave it up and it's much better now. - Author: Pope John XXIII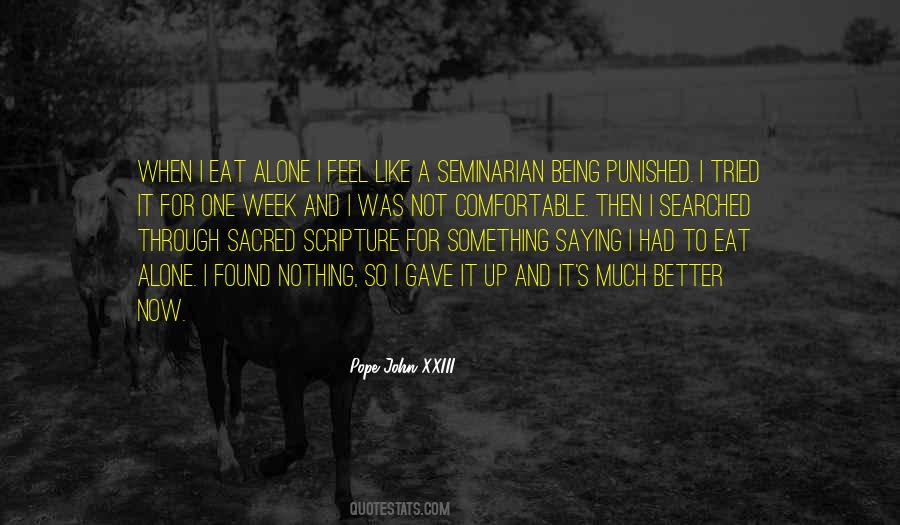 #36. The Answer is that I am afraid
...

Afraid of Connection with human beings
Afraid of Being Alone
Afraid of be with my opinion - Author: Deyth Banger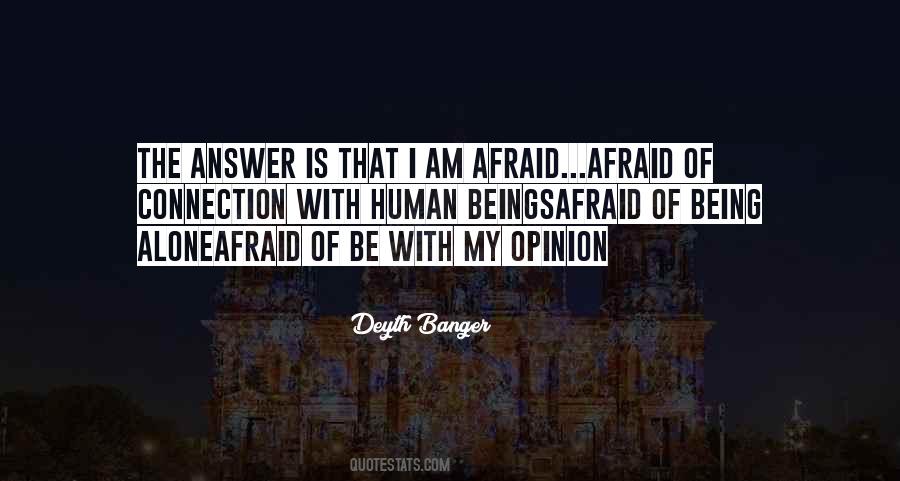 #37. But there's not enough time in life to go sit at a party, have a drink, and make idle conversation. There's too many important things to do. Just being together with my husband, spending time alone, which I have very little of. - Author: Pia Zadora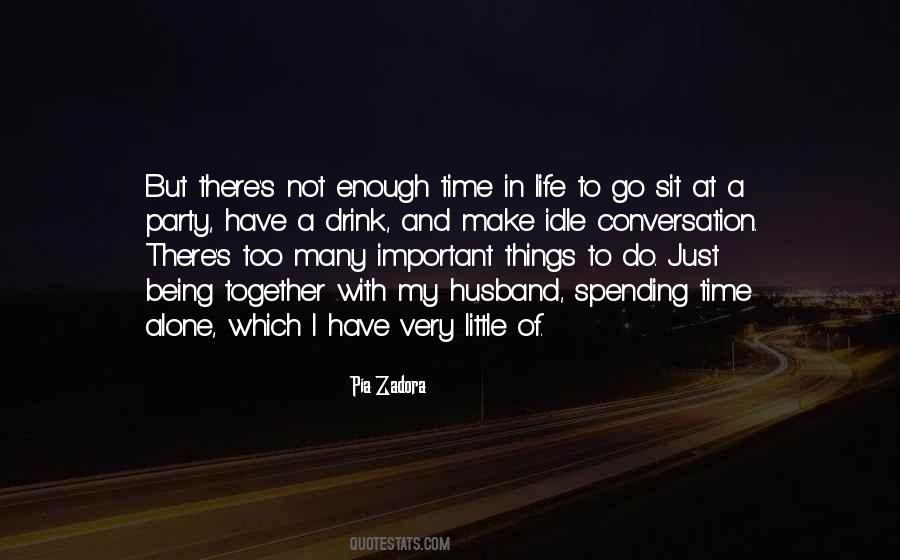 #38. Dear to me is sleep: still more, being made of stone,
While pain and guilt still linger here below,
Blindness and numbness
these please me alone;
Then do not wake me, keep your voices low. - Author: Michelangelo Buonarroti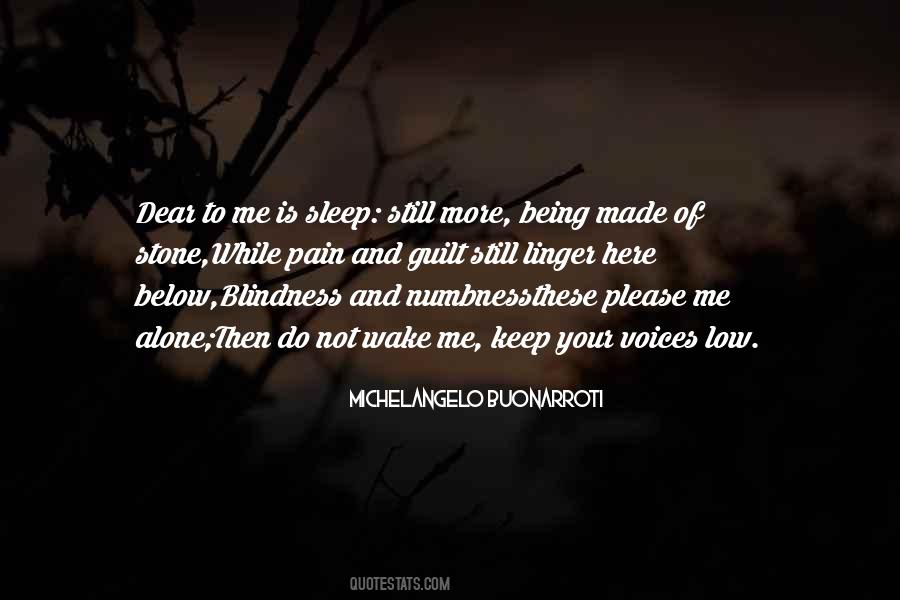 #39. Saying she doesn't mind being alone ... that she's alright ... There isn't a person alive who'd really feel that way! - Author: Natsuki Takaya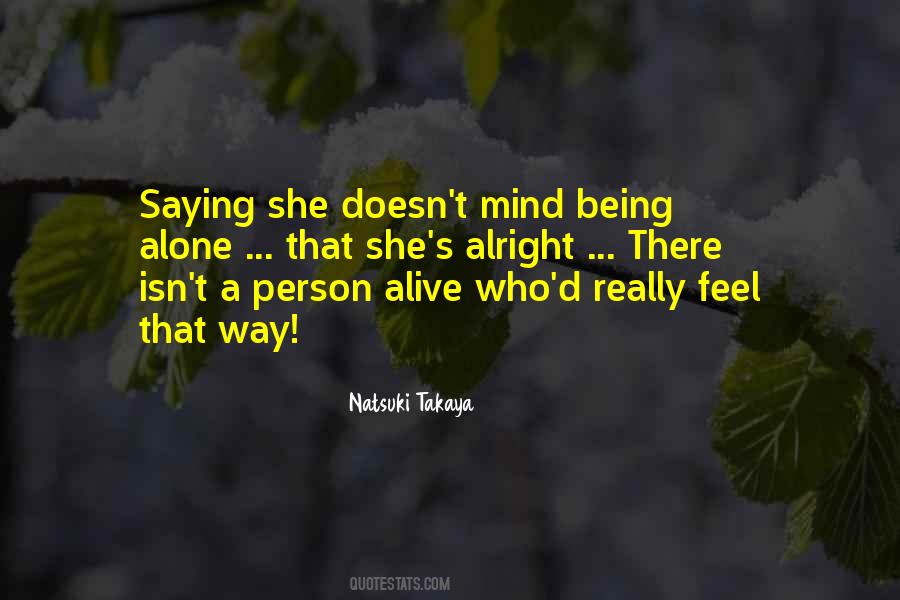 #40. It was at that moment he realized that his spirit was truly human once more. For he no longer remembered how to be alone without being lonely. - Author: Neal Shusterman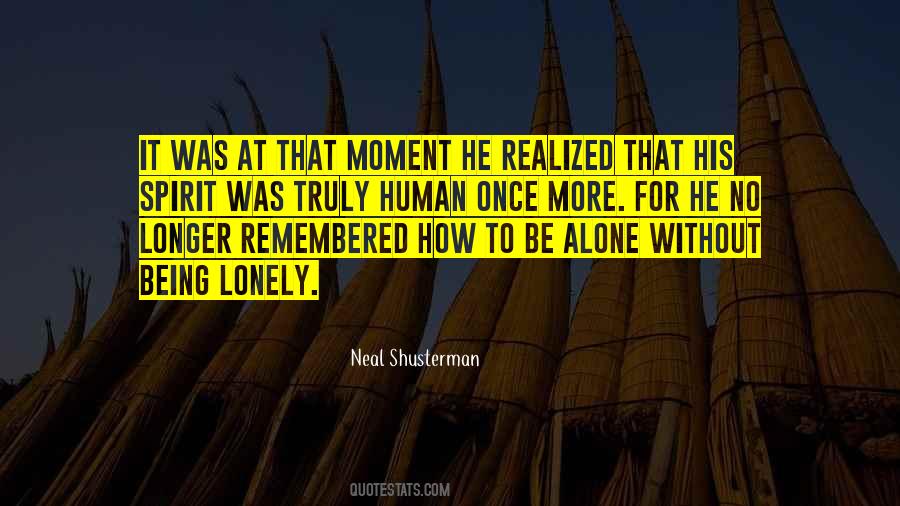 #41. Investigations "eliminated solipsism but not the horror." The only difference between this new predicament and that of the Tractatus was that rather than being trapped alone in our private thoughts, we were trapped together, with other people, in the institution of language. - Author: James Ryerson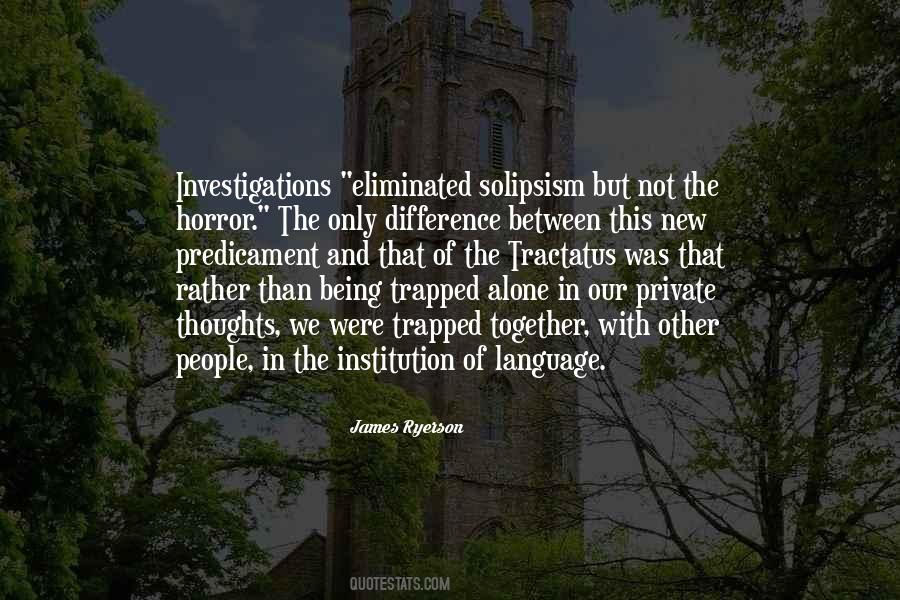 #42. I do want someone, need someone. You're right. And, when I'm with you, I feel like I'm a better person. I feel happier. Less alone, less lonely. But it's not as simple as that, is it? Being with someone? - Author: Naomi Campbell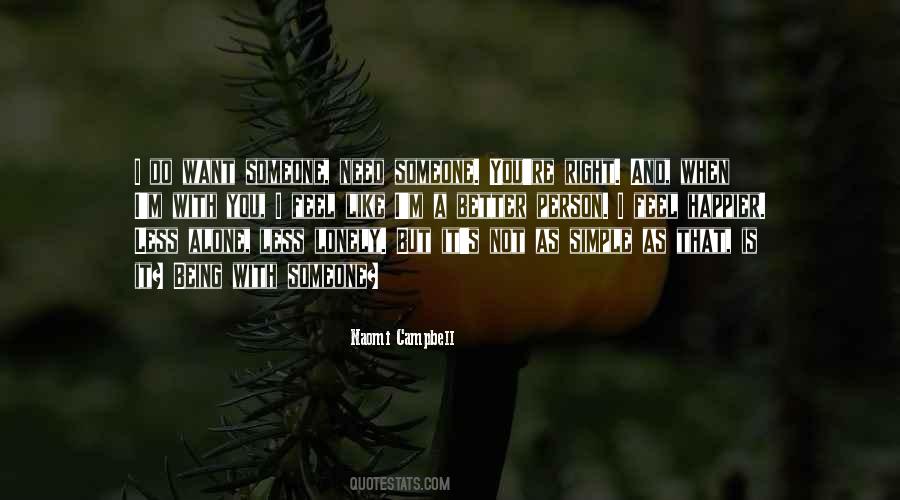 #43. Putting up with the fear of being with the wrong person because you can't deal with the fear of being alone. - Author: David Levithan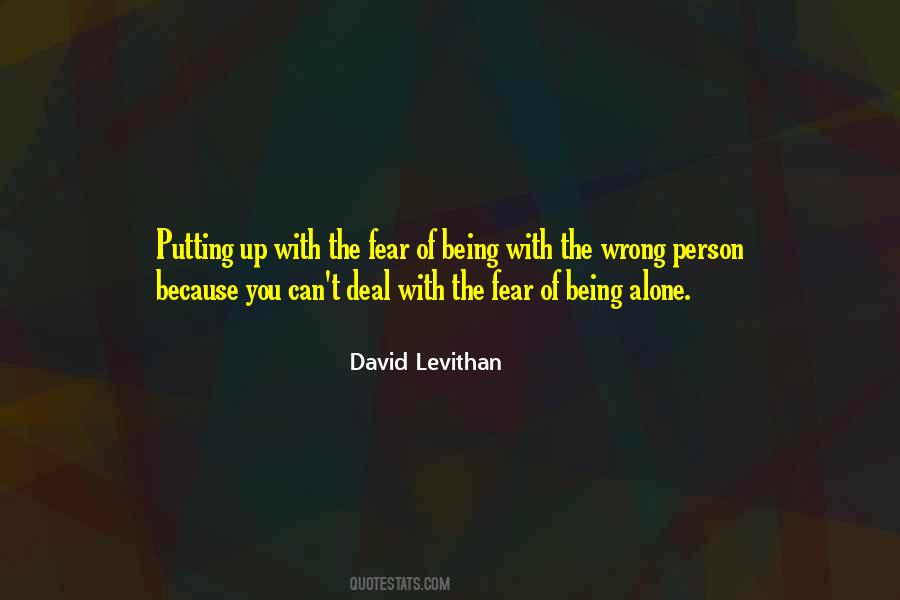 #44. I'm gonna go live in a cave, just completely live in my interior world. - Author: Tim Burton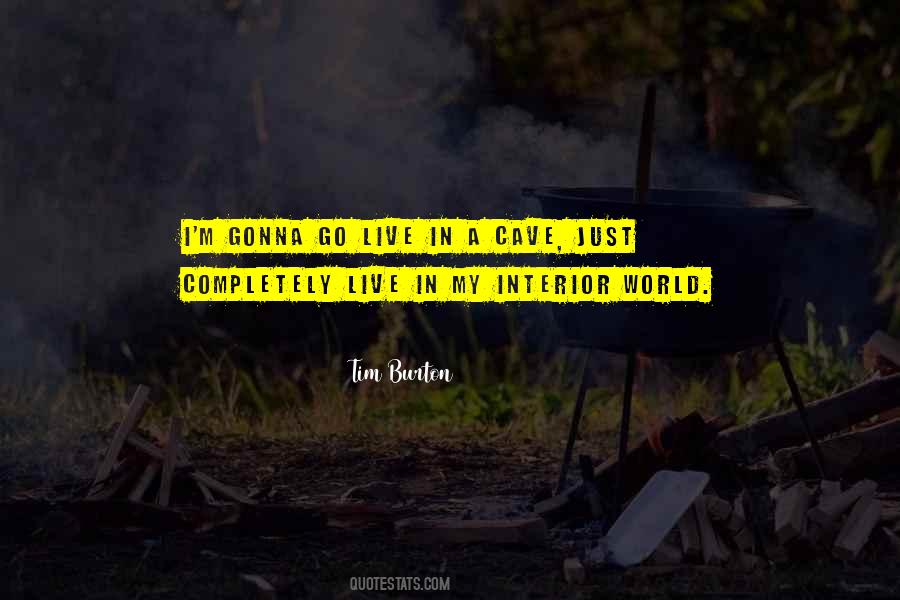 #45. I had never traveled alone before and I discovered that I liked it. No one in the world knew where I was, no one had the ability to reach me. It was like being dead, my escape allowing me to taste that tremendous power my mother possessed forever. - Author: Jhumpa Lahiri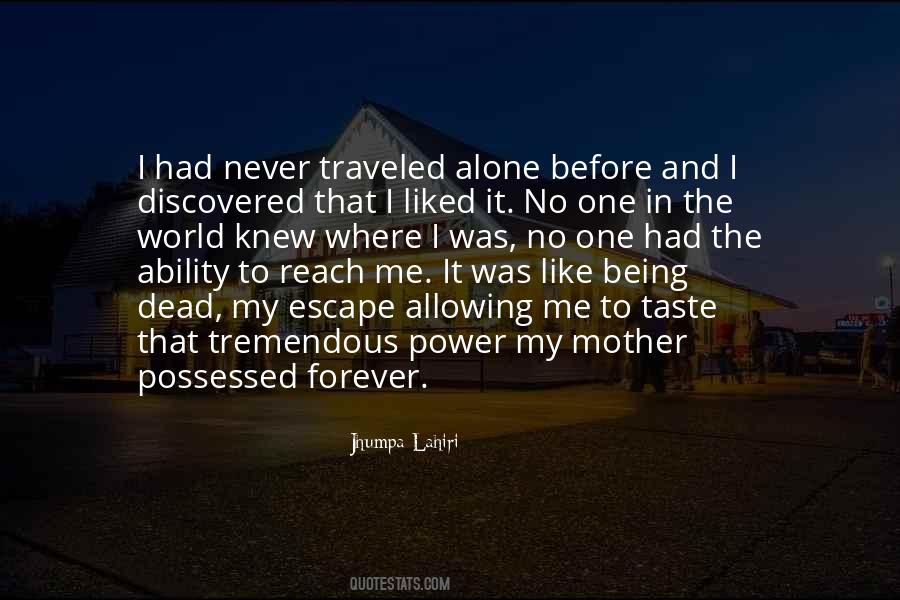 #46. There was something about being alone in places that were usually filled with people that made them seem particularly empty when it was just you. - Author: Morgan Matson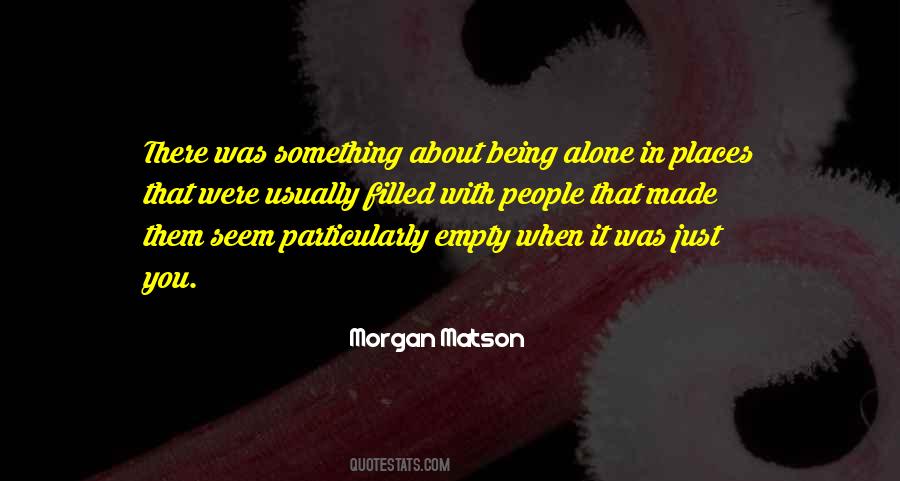 Famous Authors
Popular Topics