Being Mindful Famous Quotes & Sayings
List of top 49 famous quotes and sayings about being mindful to read and share with friends on your Facebook, Twitter, blogs.
Top 49 Quotes About Being Mindful
#1. Have you ever thought; whilst looking all this time for the magic in the world, it's been inside you all along? No matter how far you travel, how wide you spread your wings and learn to fly if you have no idea what treasures hide within you you'll be searching your entire life. - Author: Nikki Rowe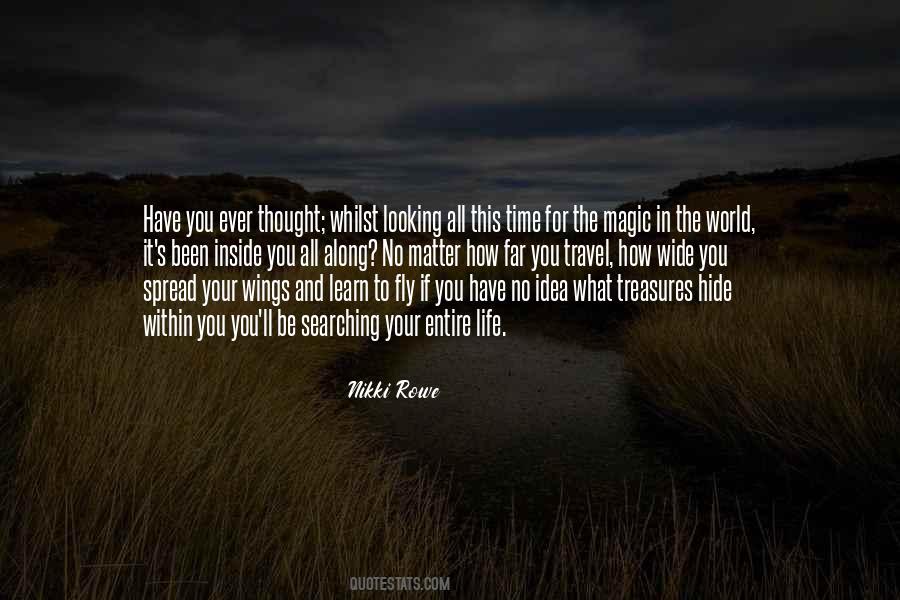 #2. Radical transparency has an enormous impact on our personal lives. We can no longer share thoughts, quips, photos or personal opinions anywhere on the web without being mindful that they may turn up where we least expect it (notably job interviews, divorce proceedings or public media). - Author: Simon Mainwaring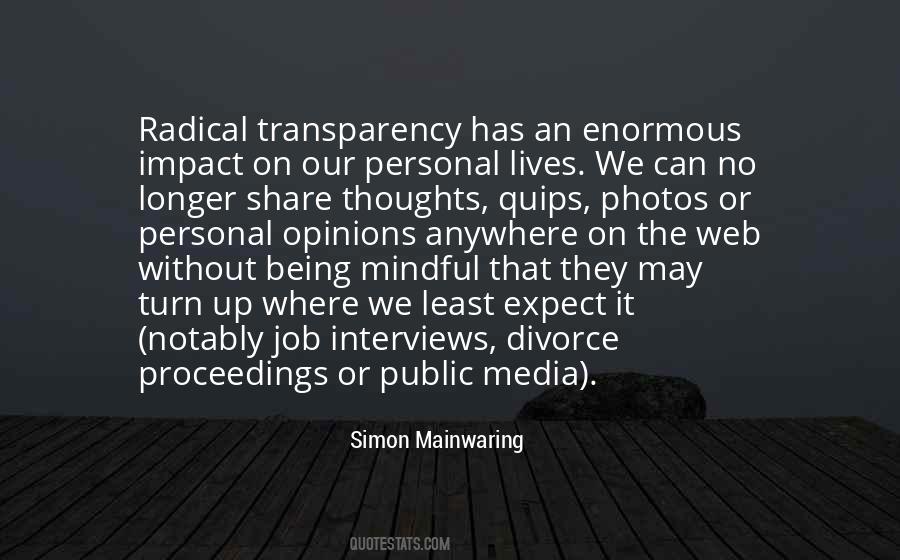 #3. Yoga is about compassion and generosity towards others. It means being mindful of the world around us. - Author: Christy Turlington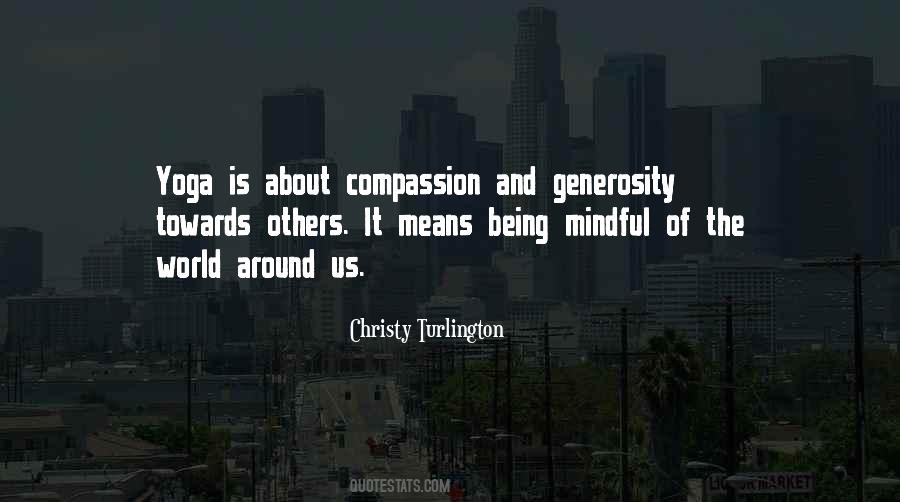 #4. Being mindful of our feelings we will get Delighted. The quality of life is in proportion of our capacity to get delighted. The capacity for delight is within our capacity to pay attention to things around us. - Author: Natasa Nuit Pantovic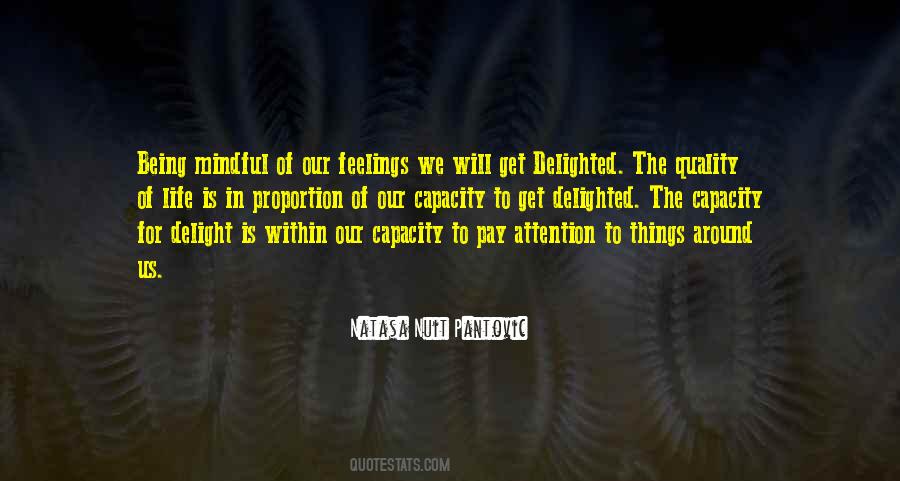 #5. When we're being mindful, we're paying attention to the present moment, deliberately and non-judgementally. When we're meditating, we're being mindful of a specific object, such as the sensation of the breath at the tip of our nostrils, for a sustained period of time. - Author: David Michie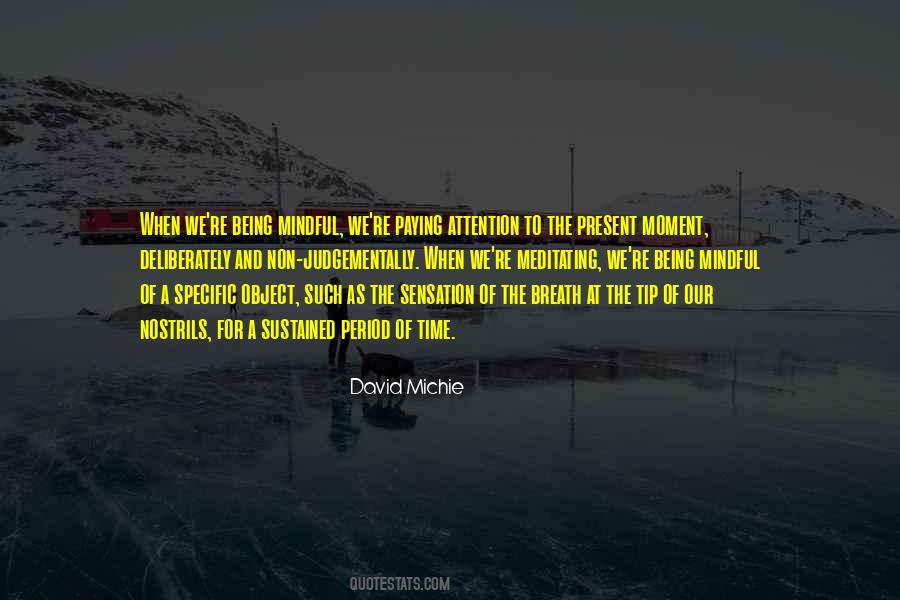 #6. I try to stay sane and grounded by hunkering down, eating right, and exercising. I make a routine of spin class, yoga, and Pilates, places I push my body so hard I can lose my mind. Cutting out caffeine and sugar, being mindful, and getting enough rest are important. - Author: Jaime Murray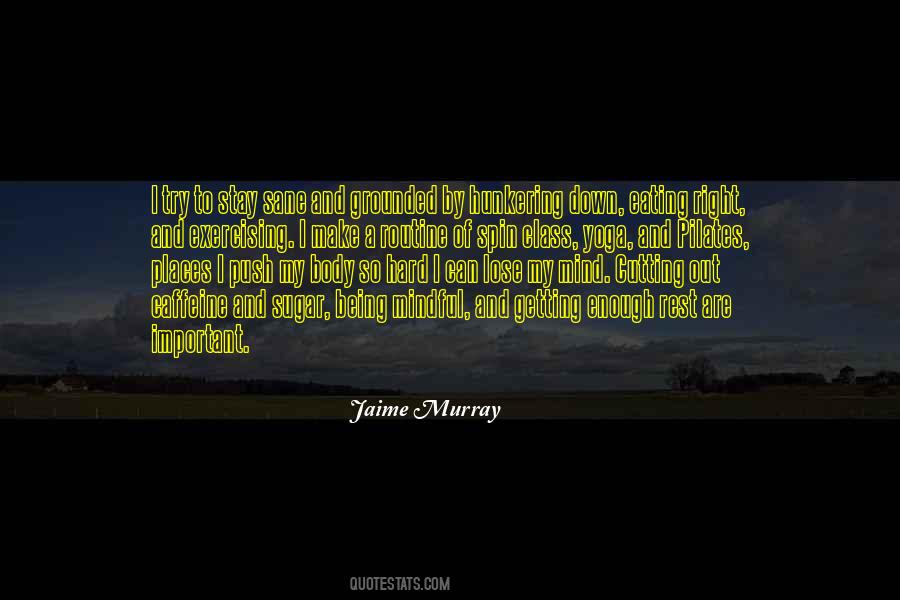 #7. Pain in the body is a clear indication,
Something in the energy fields are blocking inner growth. - Author: Nikki Rowe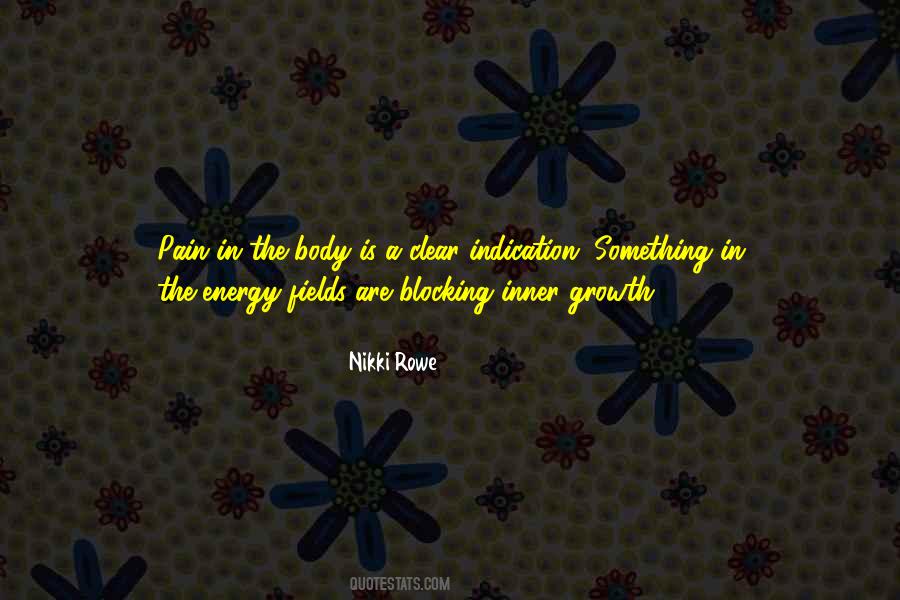 #8. At the core of your being, you are spiritual, limitless, and beautiful. To enjoy this you be mindful and openly love yourself. - Author: Debasish Mridha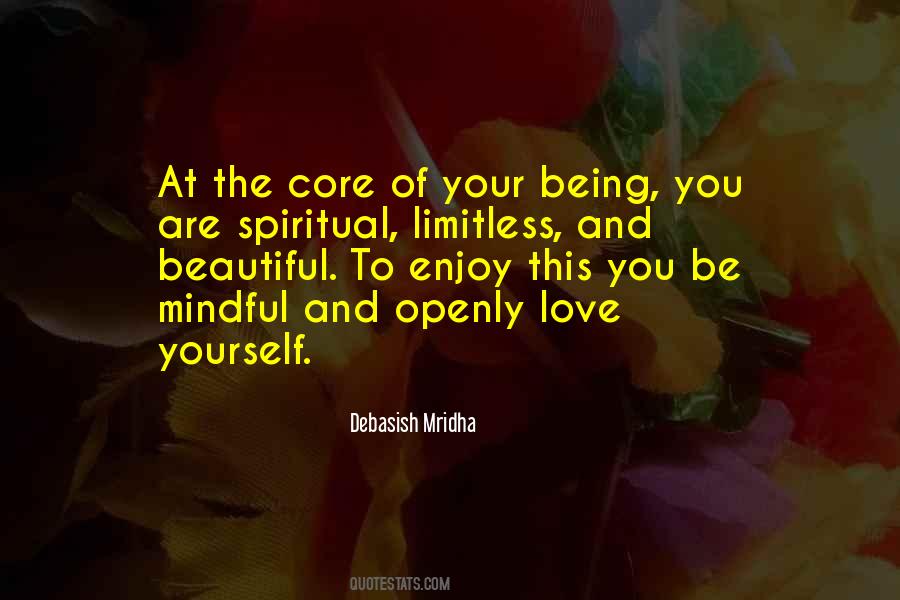 #9. We must always be mindful of who we are being while we are leading. - Author: Lolly Daskal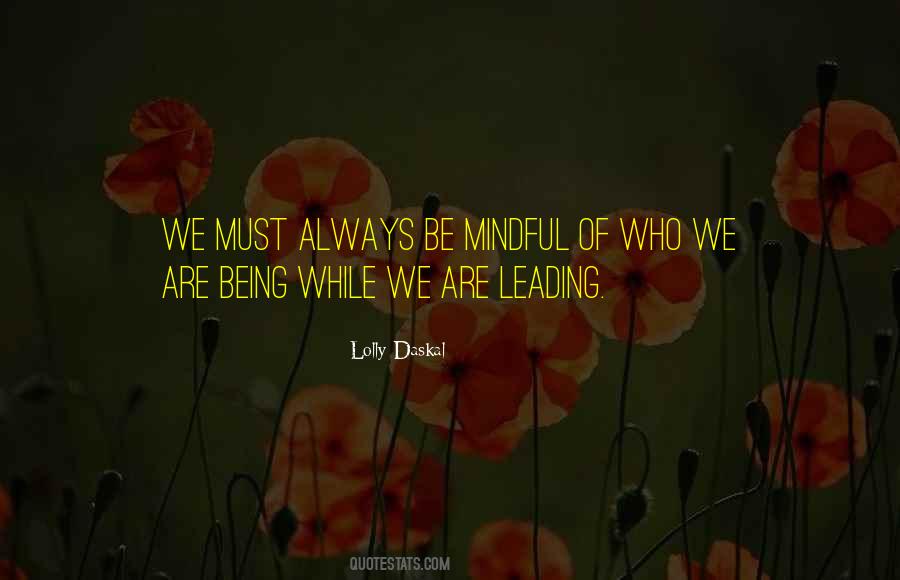 #10. [Nutrition] is a huge piece of the puzzle. It's not just about working hard and being physical. It's about being smart and mindful of what's going in and out of our bodies. - Author: Kerri Walsh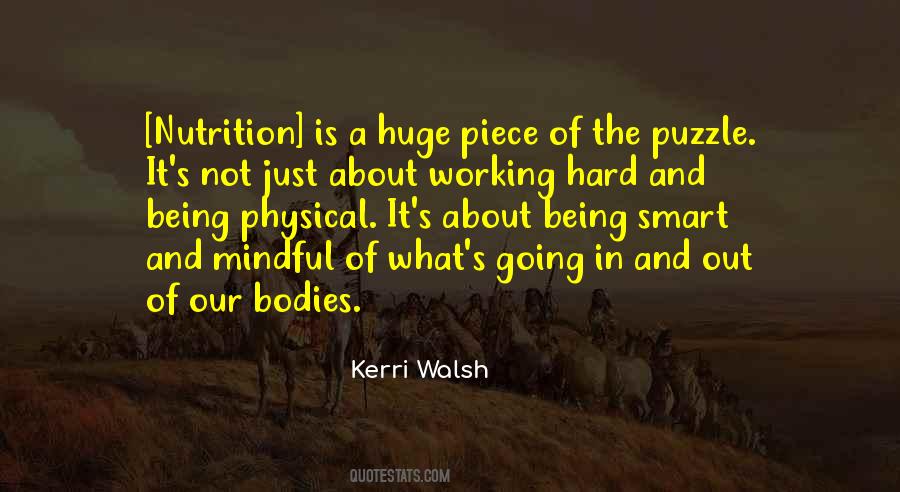 #11. Future strong is being focused enough and mindful enough and courageous enough to search for patterns and order when all others see chaos and noise. - Author: Bill Jensen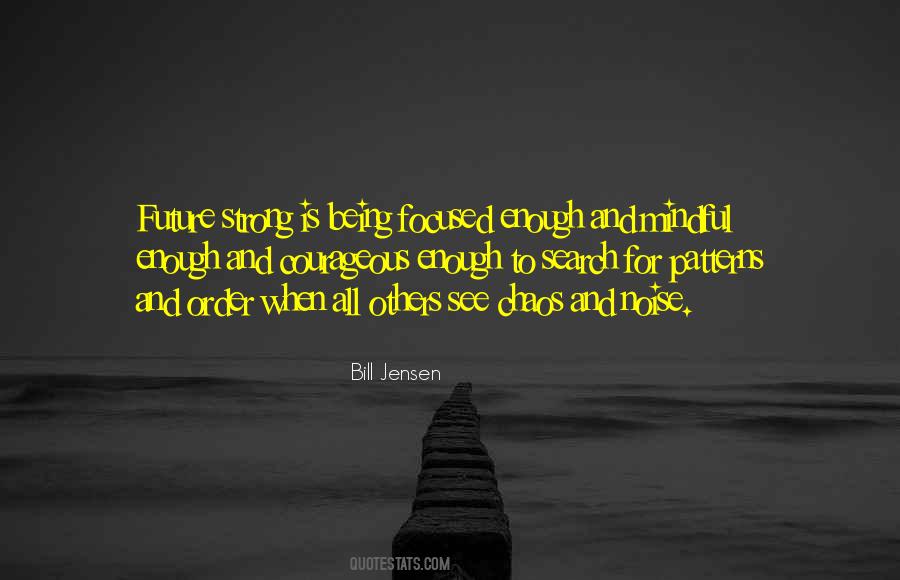 #12. Self discovery is the most empowering time of your life, you remember who you are and you become the best version of yourself but what they forget to tell you is, to get to a point of pleasure you must face the pain. - Author: Nikki Rowe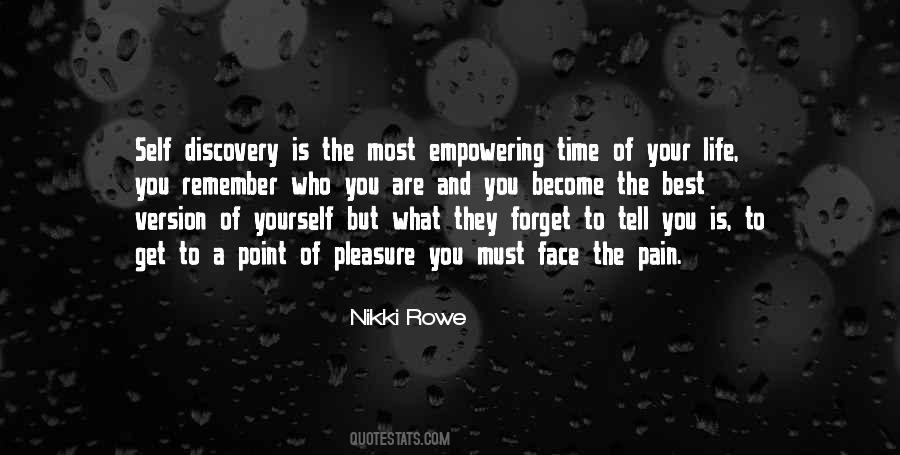 #13. No ideals. No illusions. Just reality - but more perfect than you've ever imagined. That's what being mindful and living in the present means. - Author: Lidiya K.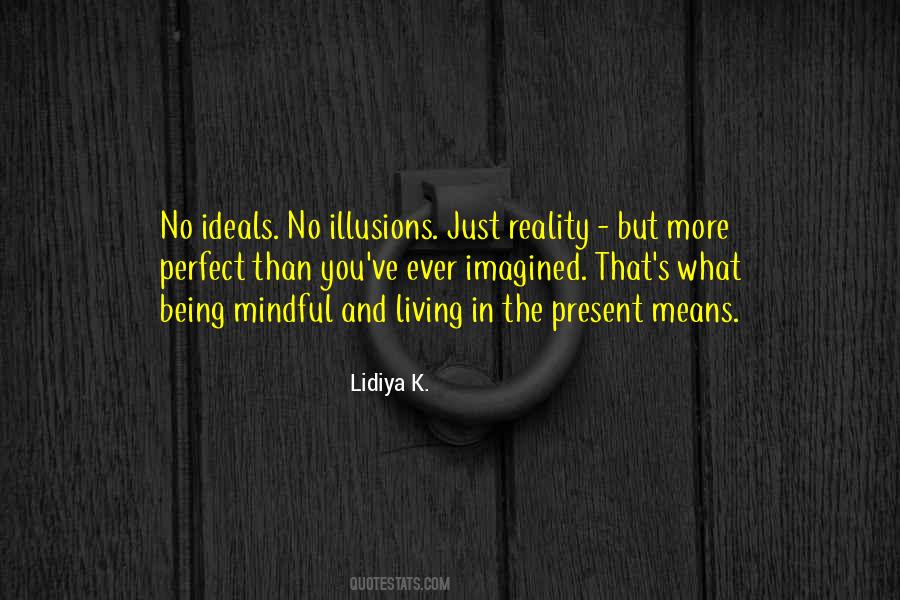 #14. Even I am growing accustomed to slavery; so much so that I cease to think of its accursed influence and calmly eat from the hands of the bondman without being mindful that he is such. O, Slavery, hateful thing that thou art thus to blunt the keen edge of conscience! - Author: Susan B. Anthony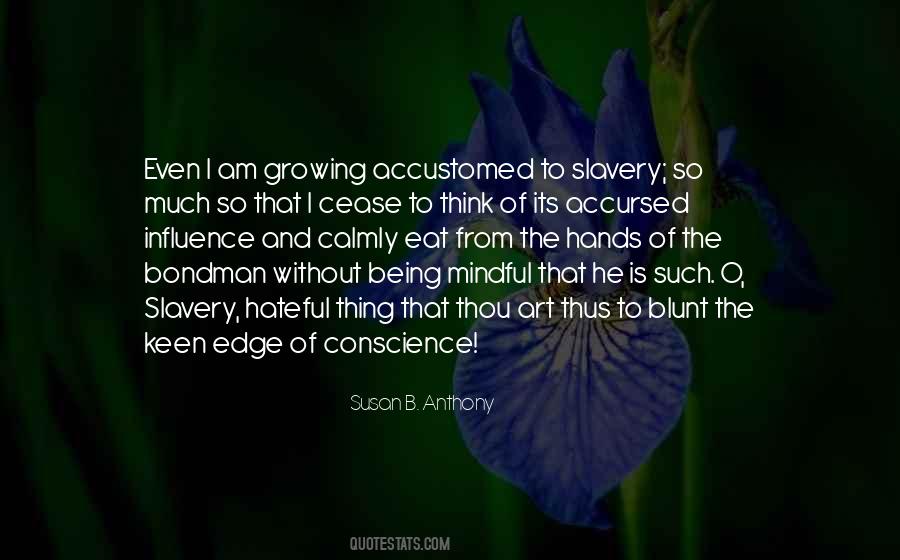 #15. I've learned so much from being a mom about the kind of person I want to be, the kind of woman I want to be. Motherhood has taught me mindfulness. If you just parent on instinct, you'll screw your kid up for life. You have to be so mindful. - Author: Gwyneth Paltrow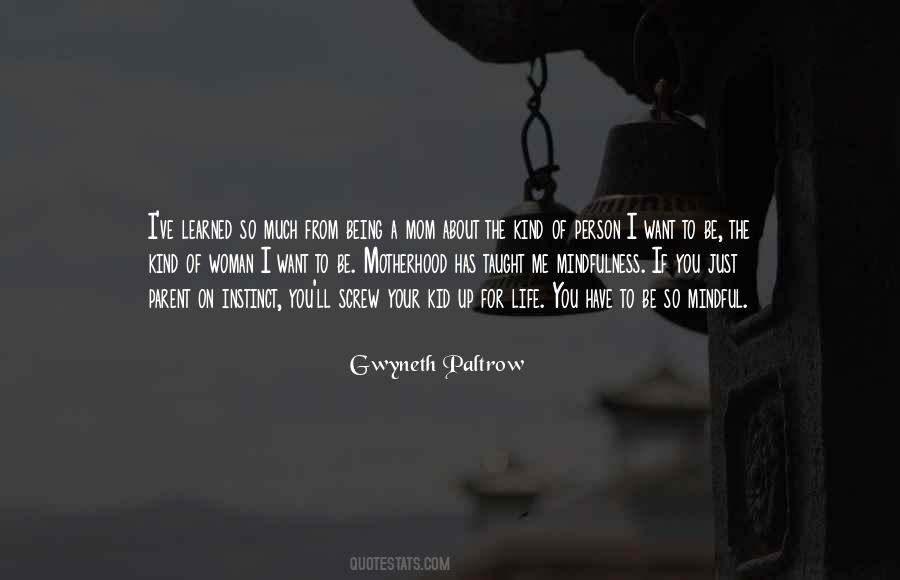 #16. I lost a lot of people when I found myself. - Author: Nikki Rowe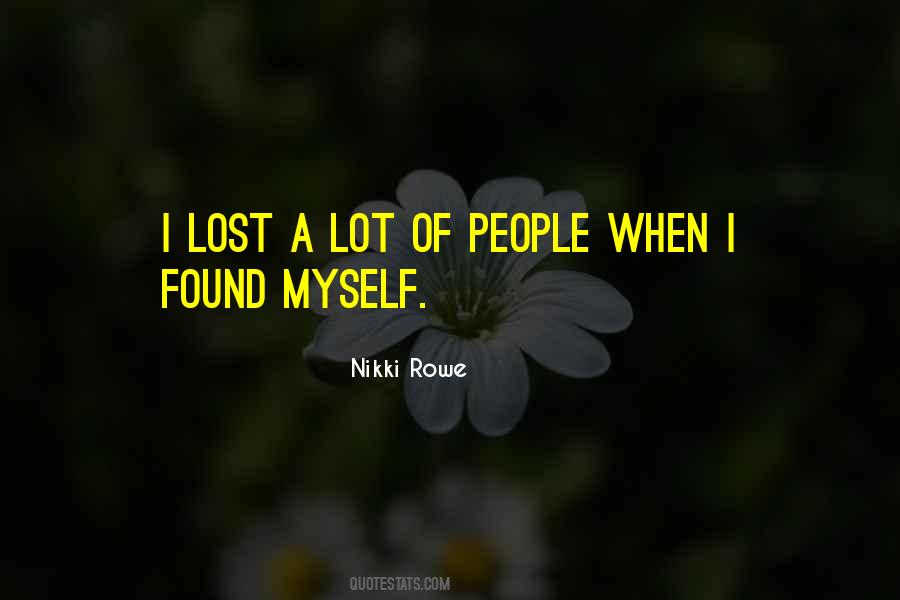 #17. You stop revisiting memories when you outgrow the people you made them with. - Author: Nikki Rowe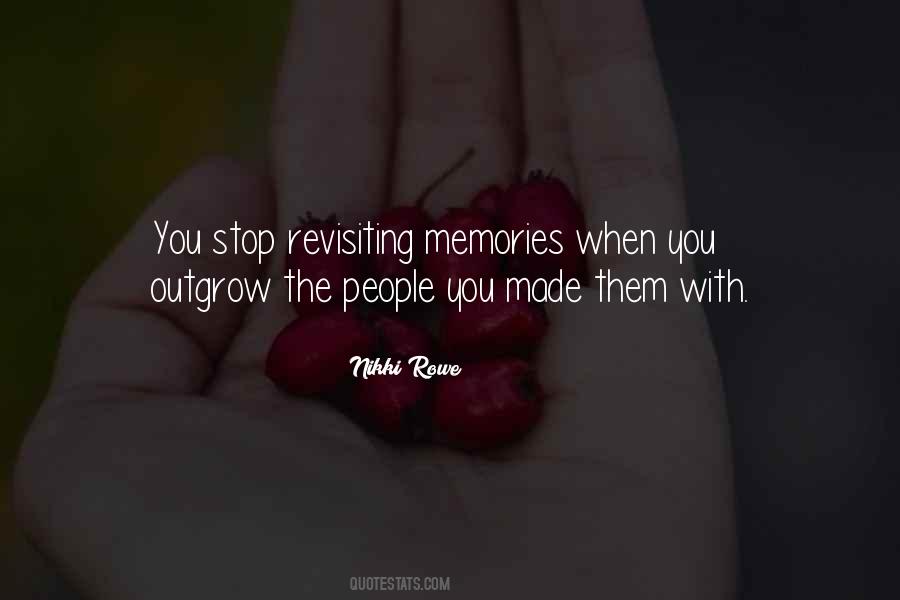 #18. In the re-creation of combat situations, and this is coming from a director who's never been in one, being mindful of what these veterans have actually gone through, you find that the biggest concern is that you don't look at war as a geopolitical endeavor. - Author: Steven Spielberg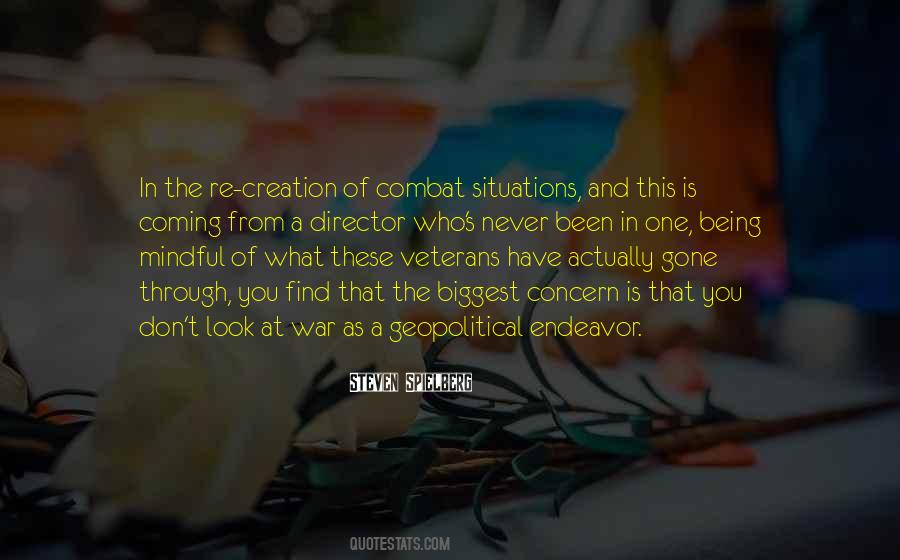 #19. Positive culture comes from being mindful, and respecting your coworkers, and being empathetic. - Author: Biz Stone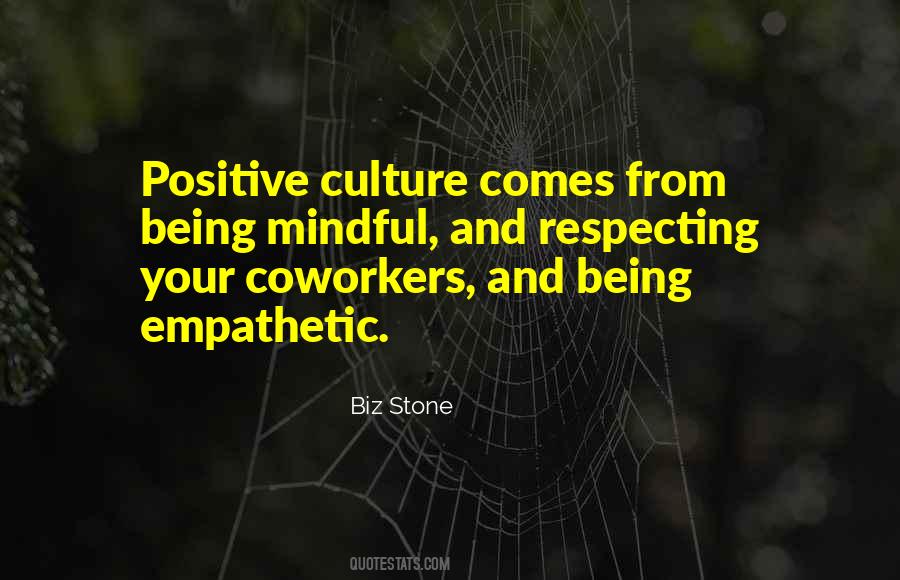 #20. Parents who engage in this kind of [conscious] parenting understand the power of being present being mindful to take the time to build connection understanding that this foundation is the bedrock of all later self-worth, self-esteem and self-actualization. - Author: Shefali Tsabary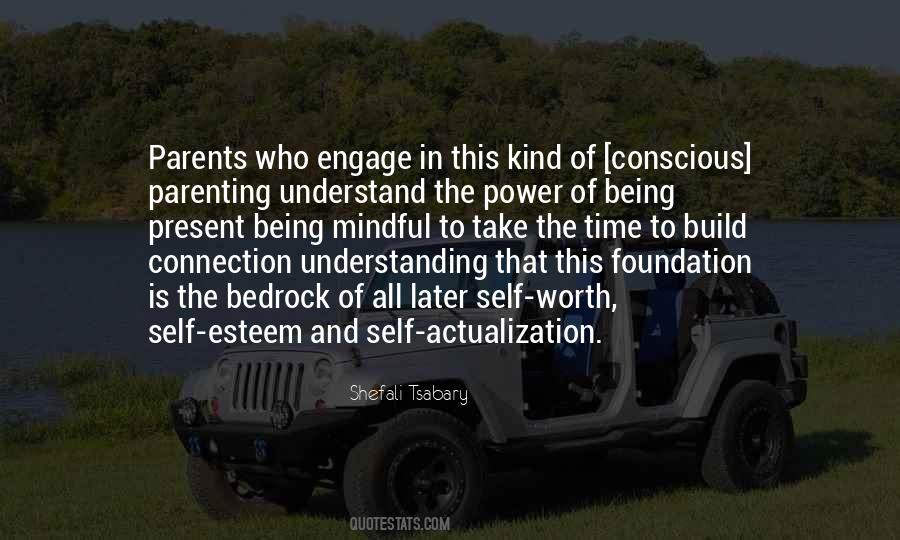 #21. Every moment nature is serving fresh dishes with the items of happiness. It is our choice to recognize and taste it. - Author: Amit Ray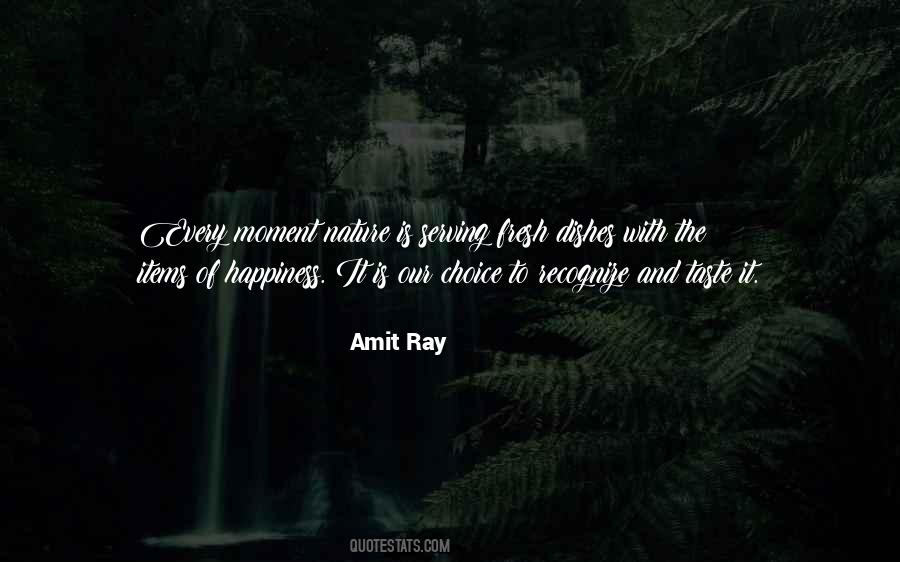 #22. I went through a lot of my life not being mindful of how I was living it. I wasn't mindful environmentally, or whether I was on track. - Author: Roz Savage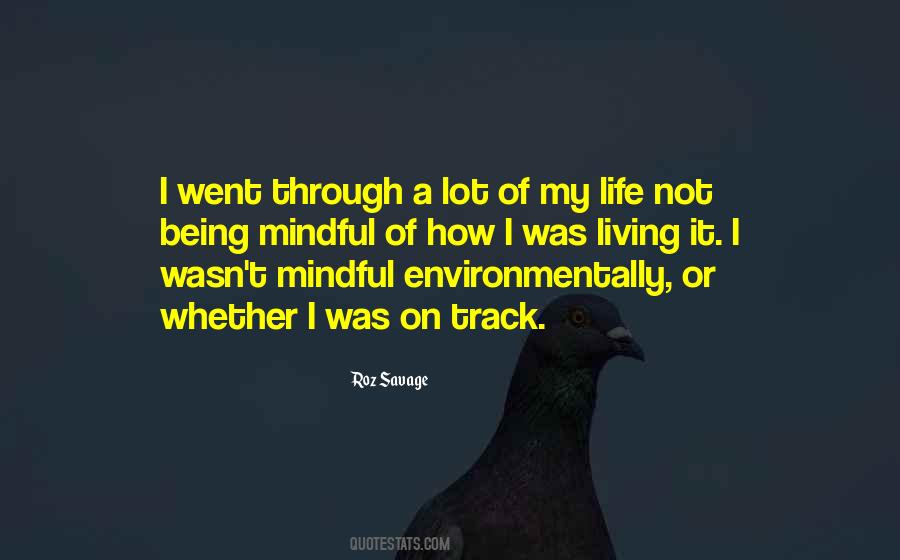 #23. A noble person is mindful and thankful for the favors he receives from others. - Author: Gautama Buddha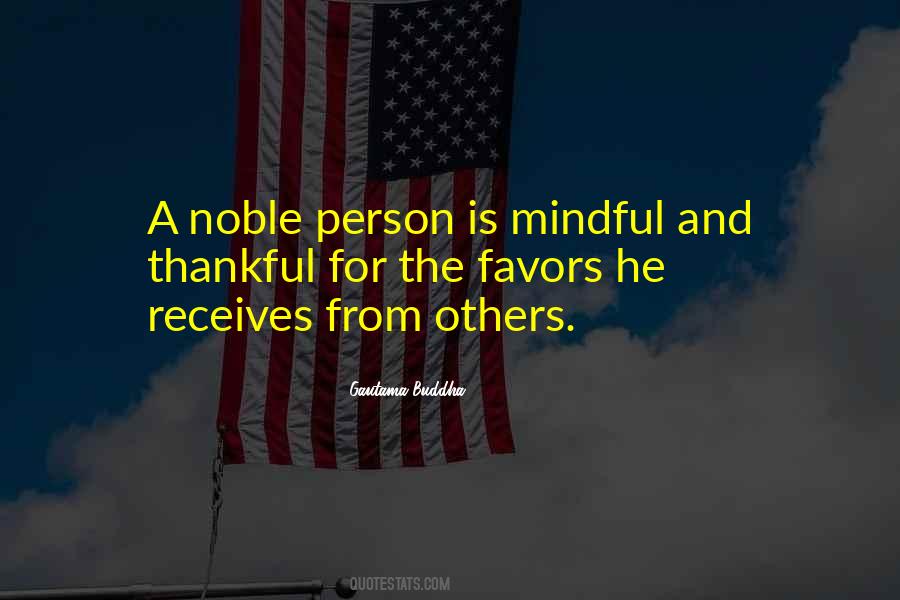 #24. Mindfulness increases the awareness of the Nature of the Mind. If we learn to Control our Mind and Listen to our Souls we can consciously choose to be Joyful instead of sad, Peaceful and Loving, Alert and Relaxed. - Author: Natasa Nuit Pantovic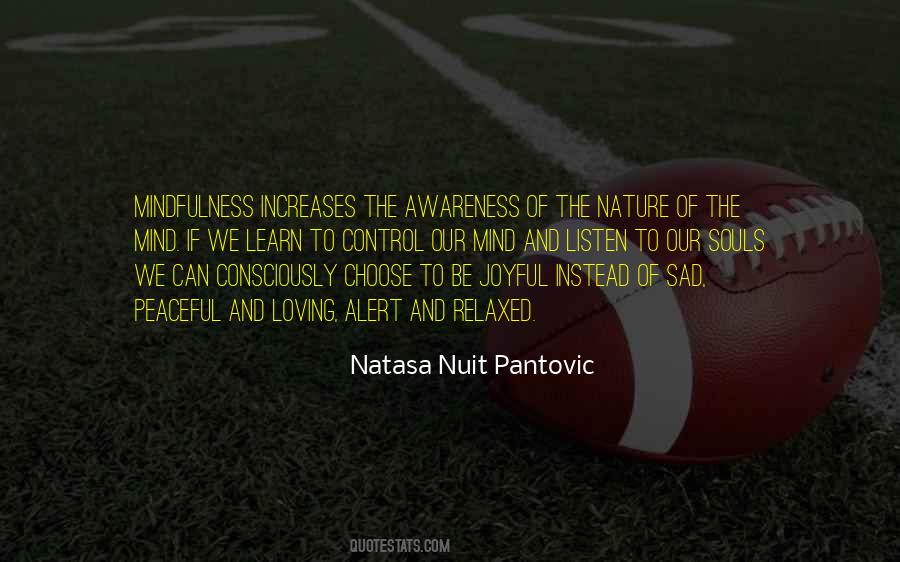 #25. We train ourselves all through our life to waste energy following our inner narratives. We are often unconsciously driven by our fears, worries and fantasies. Enter the space of Awareness of the present moment with no emotional filters, no regrets nor hopes, no daydreaming and no nightmares. - Author: Natasa Nuit Pantovic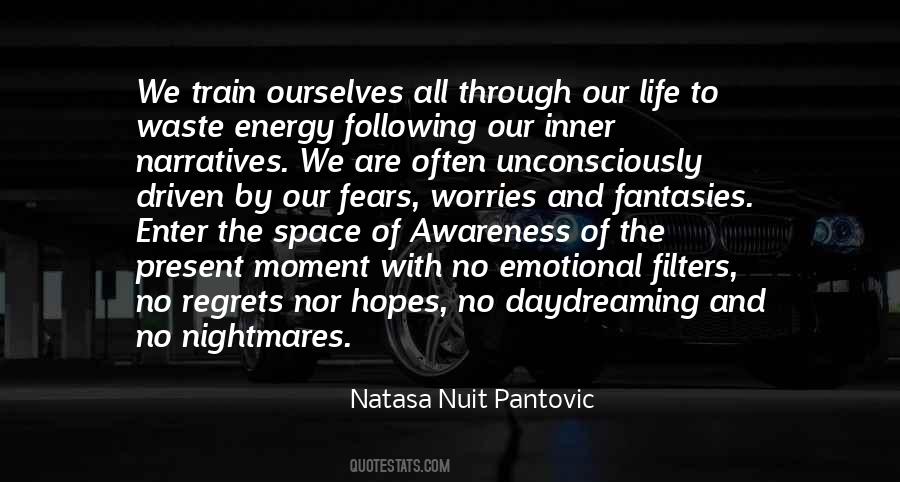 #26. The secure attachment of Western psychology is actually akin to Buddhist non-attachment; avoid-ant attachment is the inverse of being mindful and present; and anxious attachment aligns with Buddhist notions of clinging and grasping. - Author: Sharon Salzberg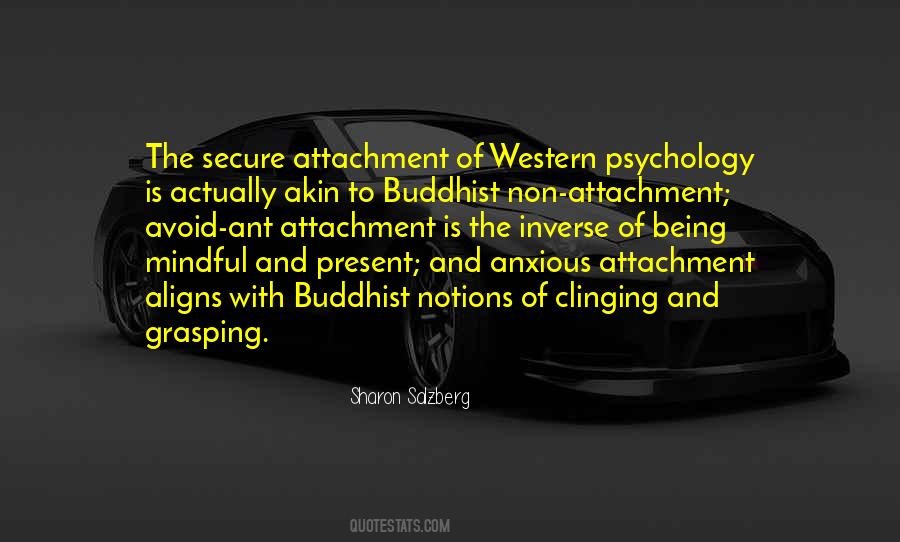 #27. In brief, without being mindful of death, whatever Dharma practices you take up will be merely superficial. - Author: Milarepa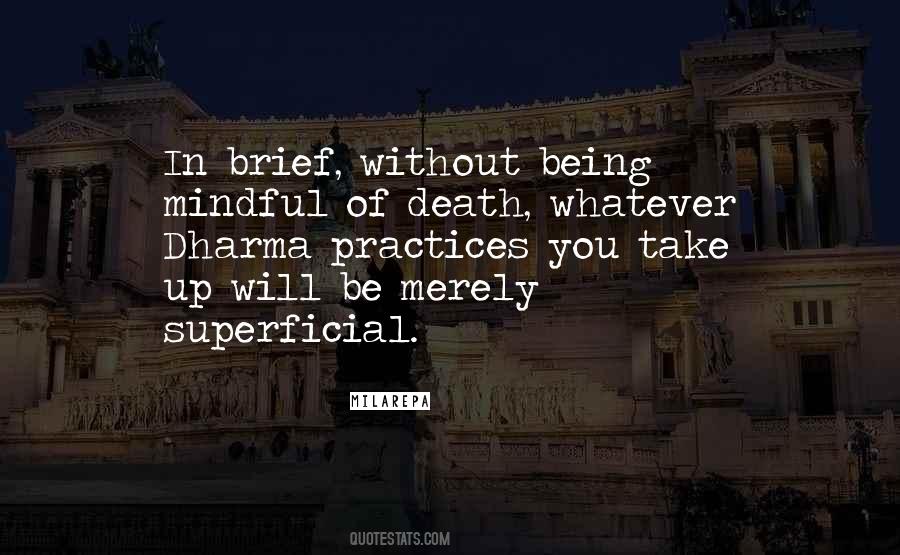 #28. A mindful parent is one who is committed to practicing being present and awake, and to listening deeply to her child, moment by moment. Mindfulness depends upon awareness. - Author: Shauna L. Shapiro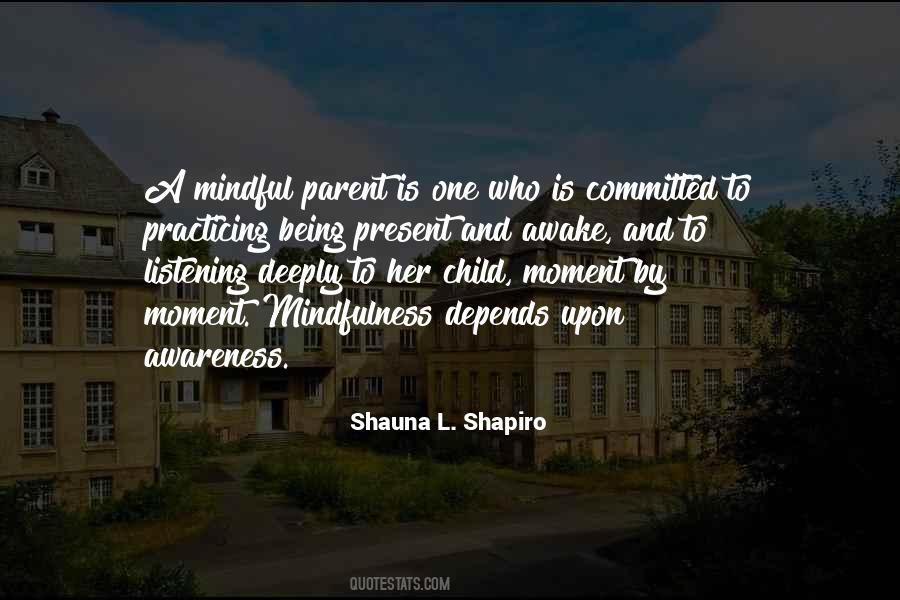 #29. The ultimate experience of being mindful occurs when we forget about everything, even the mindful self and doing. In that mode we are full of energy, utterly self-generated. - Author: Sang H. Kim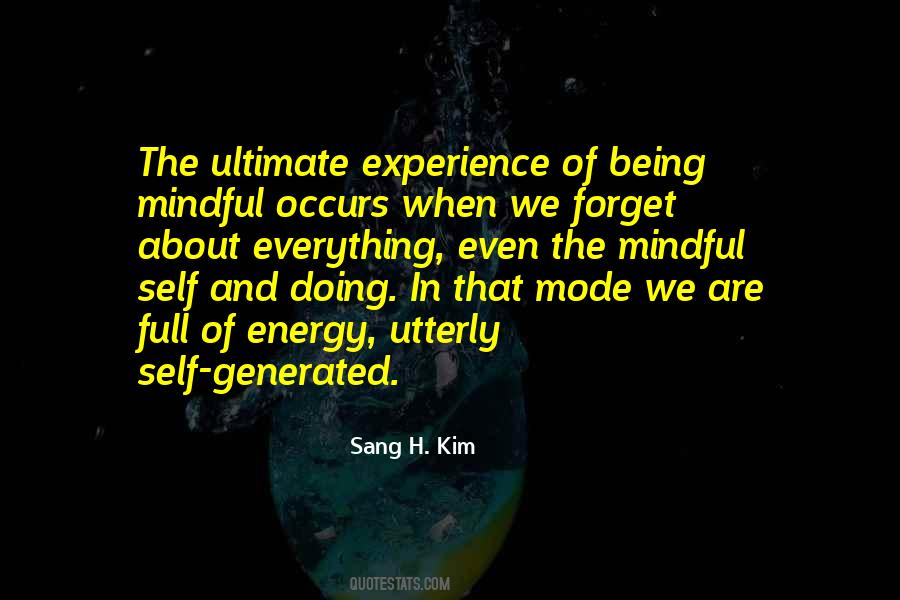 #30. Happiness will be fleeting if you constantly search for it in places that can be taken away. It's an inside job. - Author: Nikki Rowe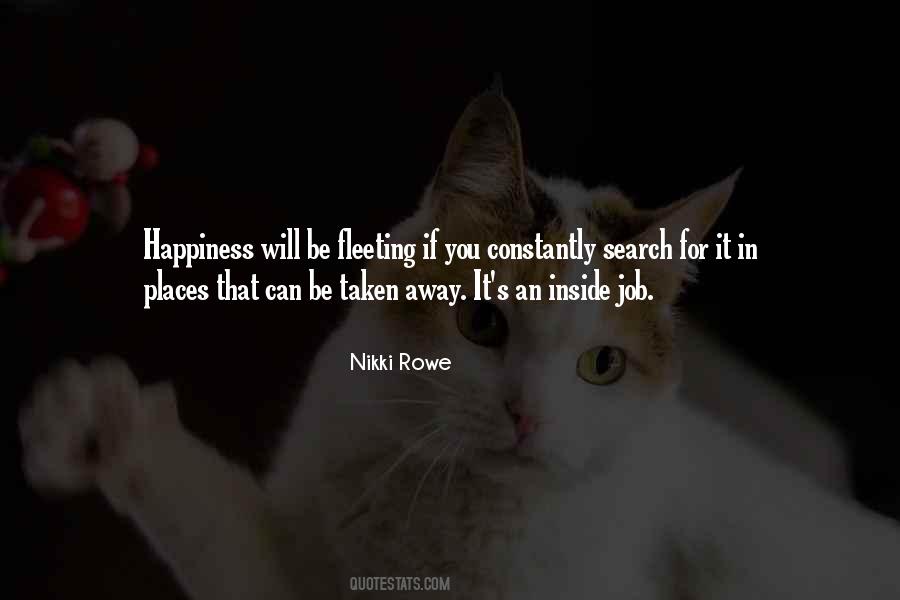 #31. I grew up in church. My mom's a minister, and my grandmother was an ordained minister. I was always very mindful of the presence of a greater being I call God. - Author: Mahershala Ali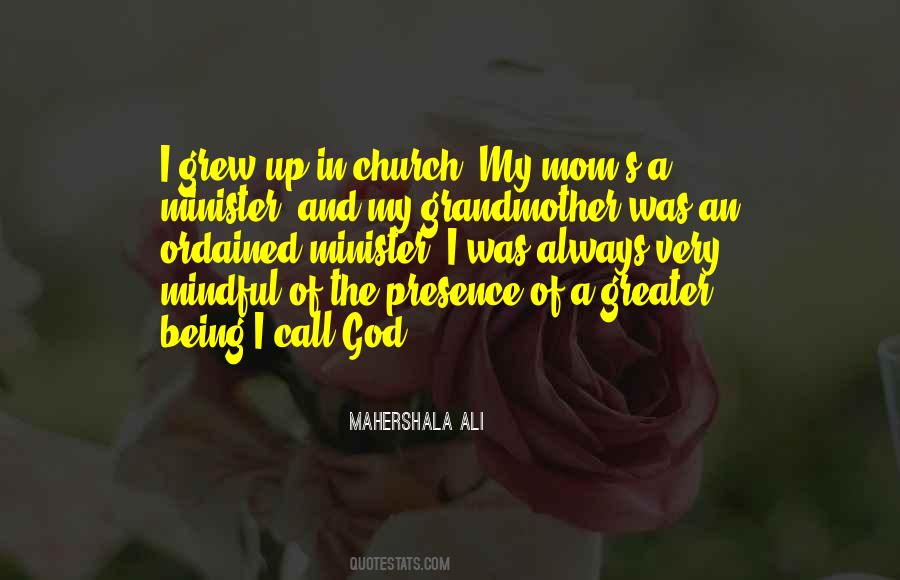 #32. Mindfulness is continuous undisturbed awareness of the present moment. Fully aware of here, and now, we pay attention to what is happening right in front of us, we set aside our mental and emotional baggage. To be mindful we have to re-train our mind. - Author: Natasa Nuit Pantovic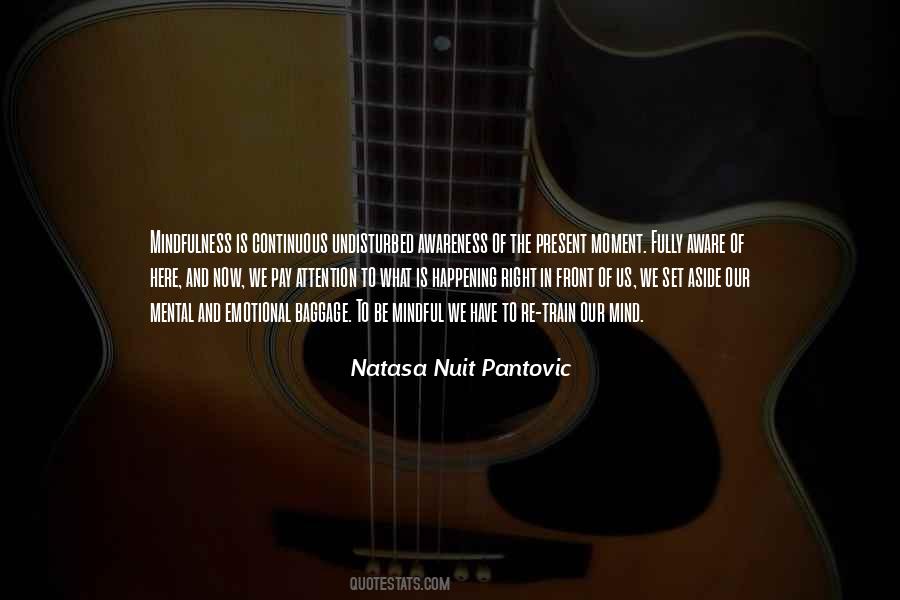 #33. I'm doing my best to be mindful about how I'm living: to be kind and patient, and not to impose a bad mood on somebody else. Being mindful is as good a way to be spiritual as anything else. - Author: Deirdre O'Kane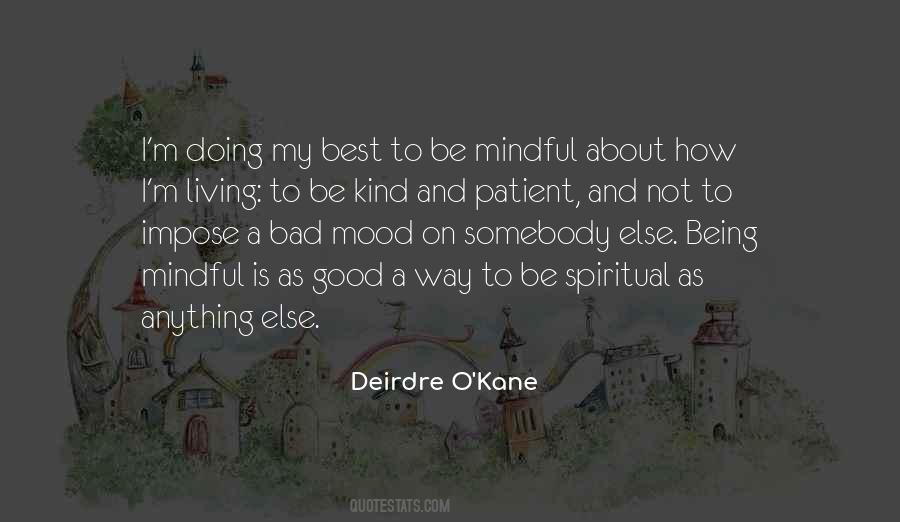 #34. If you should choose to look at those files, you will have to live with the consequences of your choices while, at the same time, being mindful that these choices will not only effect you, but will also infect, sorry, I intended to say effect, our entire family. - Author: Donna K. Childree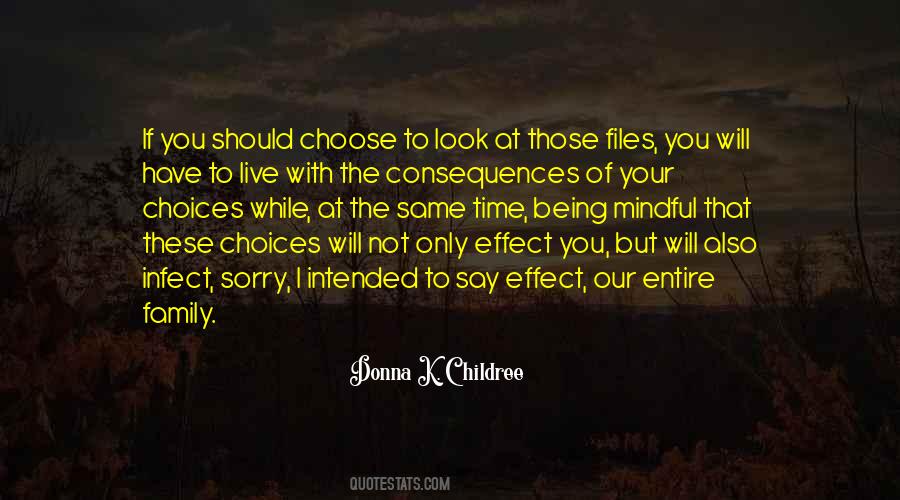 #35. I would definitely say I'm a feminist. To me, it just means being attentive and mindful. It's about equality and equal treatment. It feels like a gut instinct. - Author: Hattie Morahan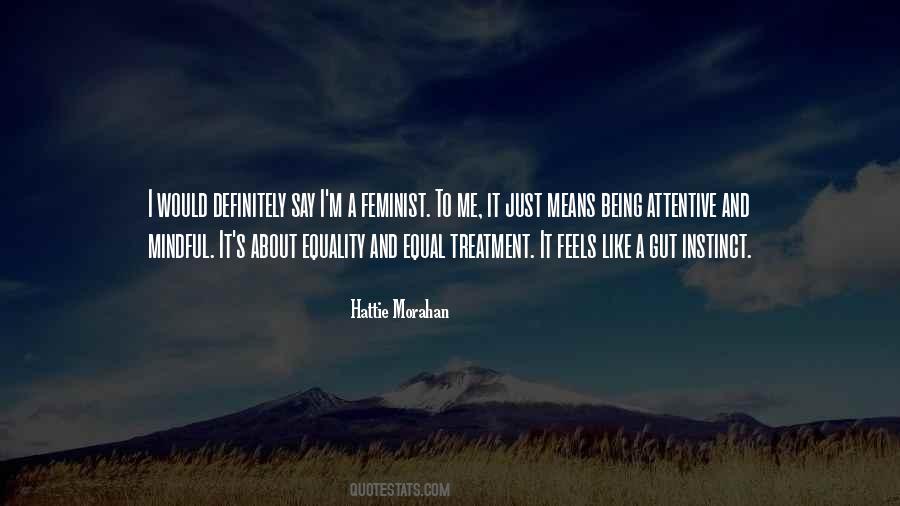 #36. Being mindful means being aware of everything and certain of nothing". - Author: Wendy T. Behary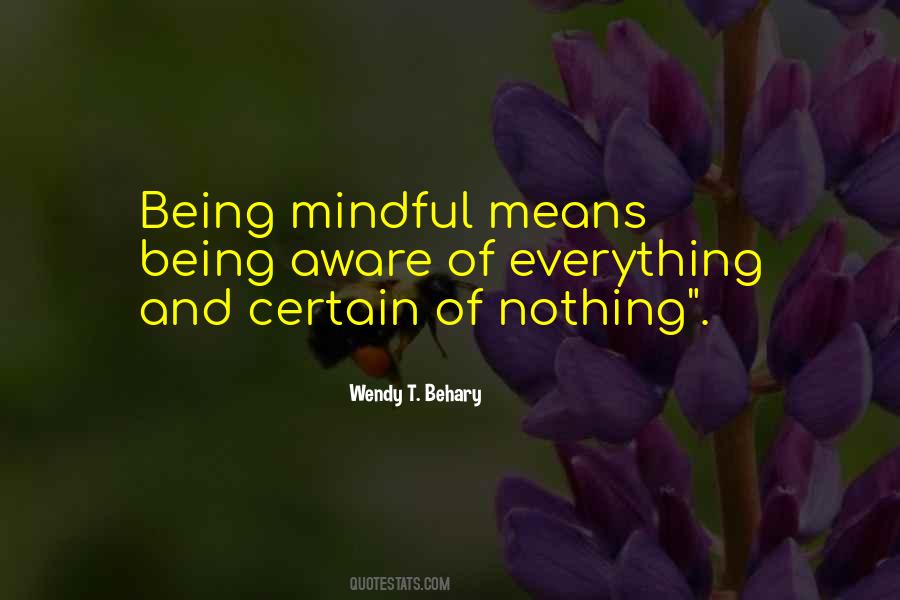 #37. To achieve purity of mind, one should cultivate constant awareness by being mindful all the time. One should remain always aware of one's thoughts. - Author: Rama Swami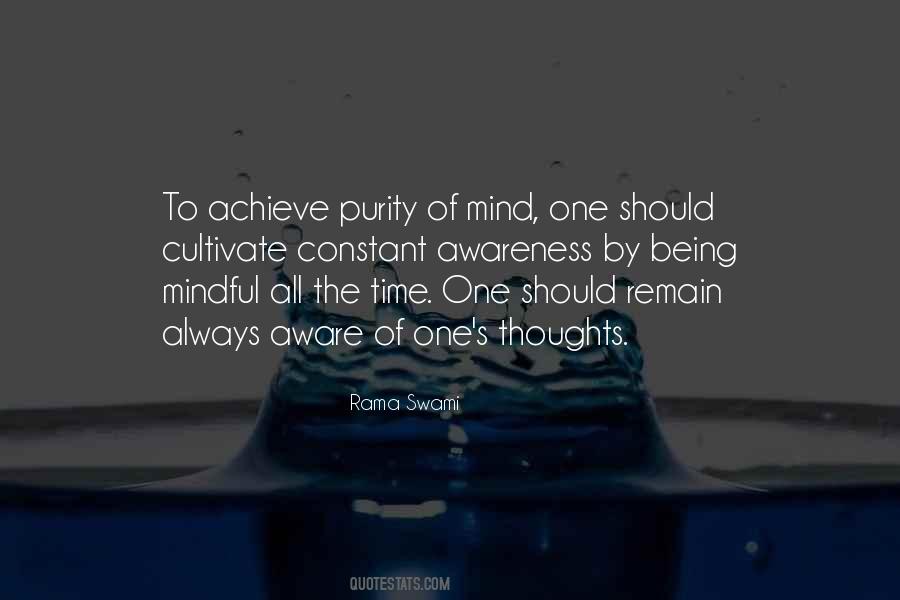 #38. As I inch forward to embrace my life again by being mindful, writing books, and planning adventures, I sense my dad would approve. I know he would want me to be happy. - Author: Lisa J. Shultz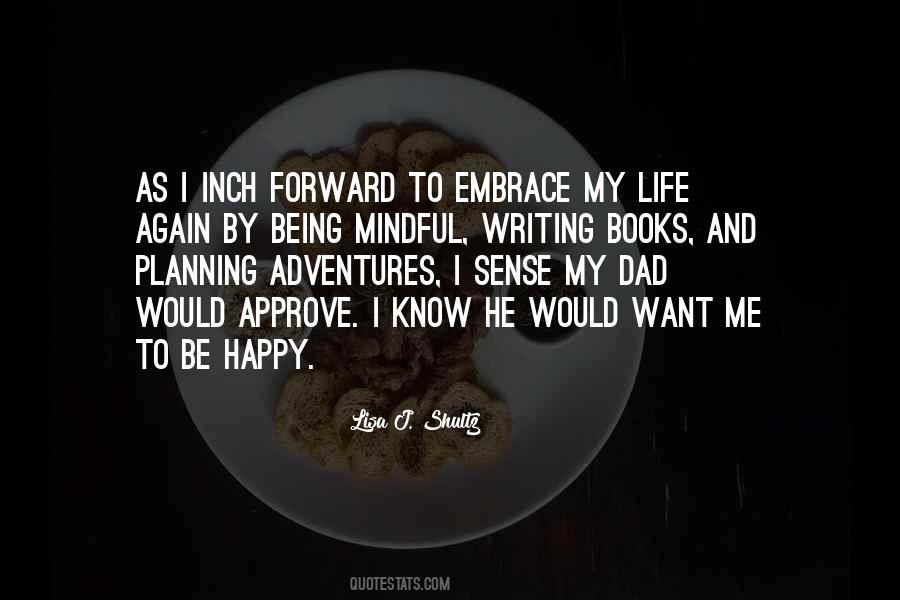 #39. We hope to help you discover Your Self; inspire you to live more passionate and sensitive life; helping you listen to your Soul, finding your-own space in this matrix of life, making a genuine contribution to humanity. - Author: Natasa Nuit Pantovic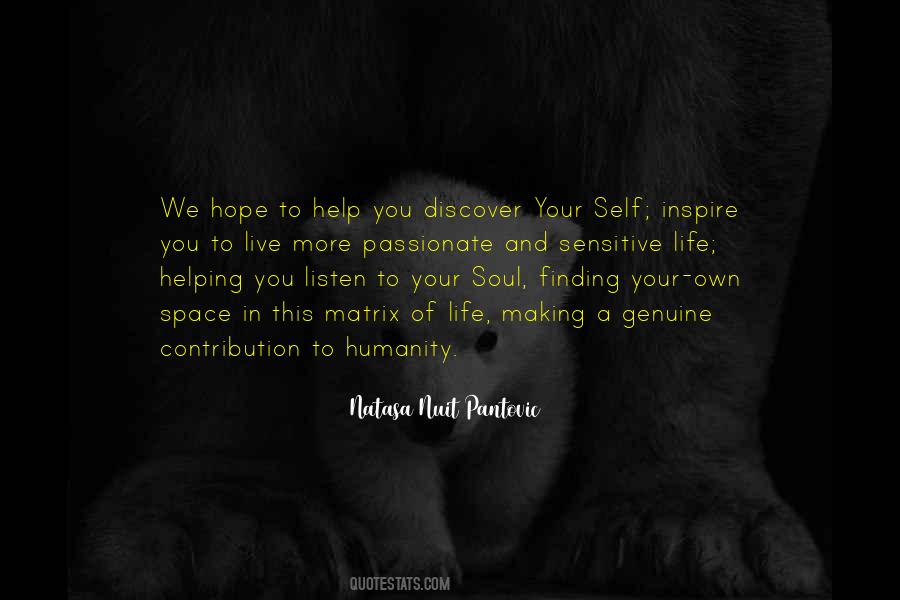 #40. At this time let us be exceedingly mindful that bearing one another's burdens and sharing one another's suffering is integral to being members of Christ's body. - Author: Frank Griswold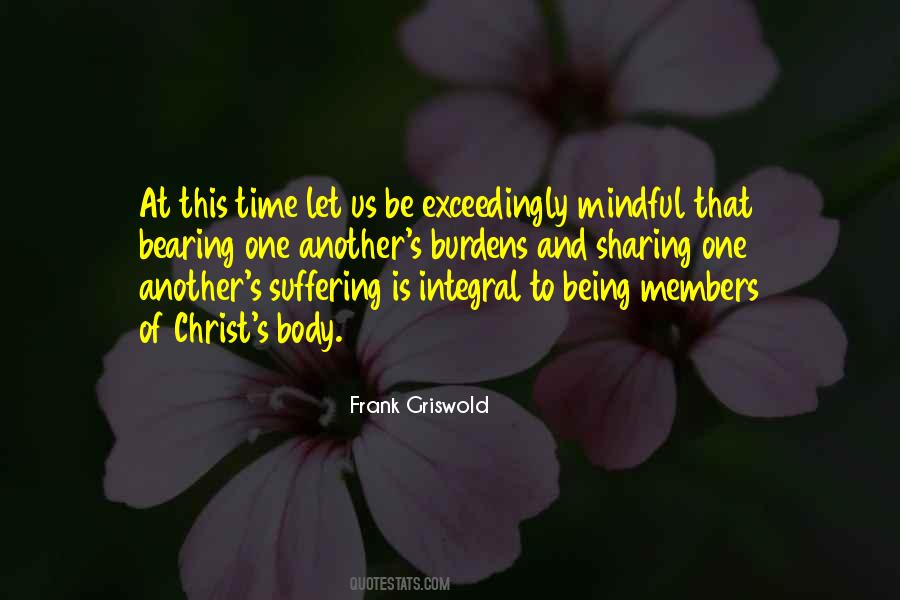 #41. Mindful awareness / Mindful (Res):Awareness of present-moment experience, with intention and purpose, without grasping on to judgments. Traits of being mindful are having an open stance toward oneself and others, emotional equanimity, and the ability to describe the inner world of the mind. - Author: Daniel J. Siegel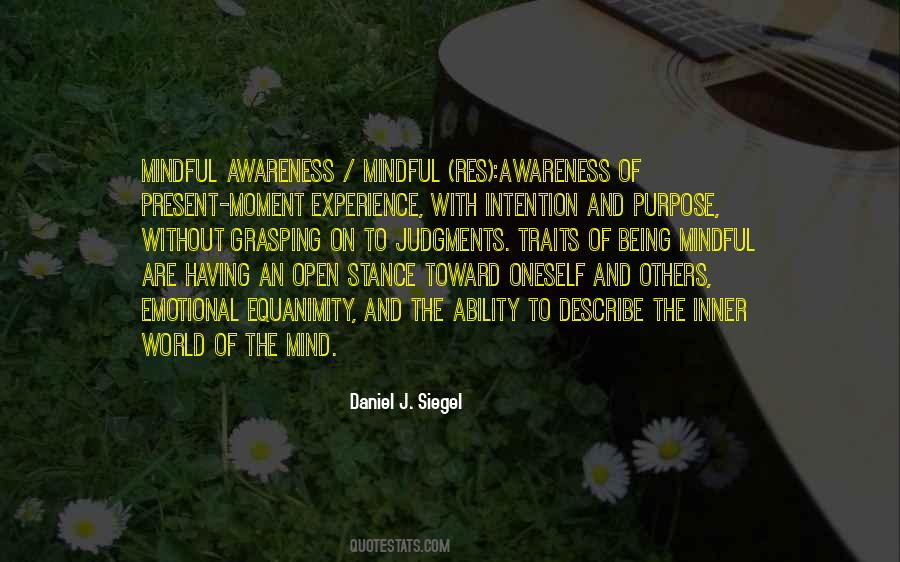 #42. Just as it's unfair to review a taco stand for not being a four-star restaurant, I also have to be mindful that not every drama on TV is trying to be "The Wire." - Author: Hank Stuever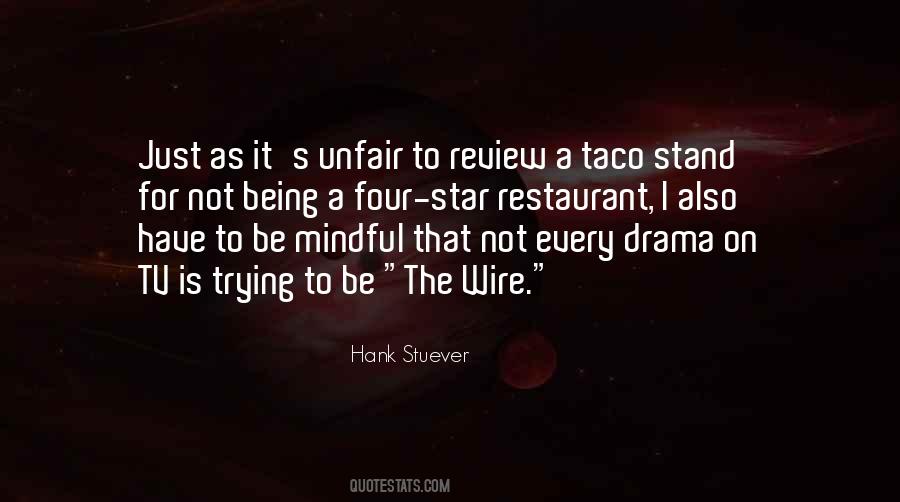 #43. Being mindful is not a matter of thinking more clearly about experience; it is the act of experiencing more clearly, including the arising of thoughts themselves. - Author: Sam Harris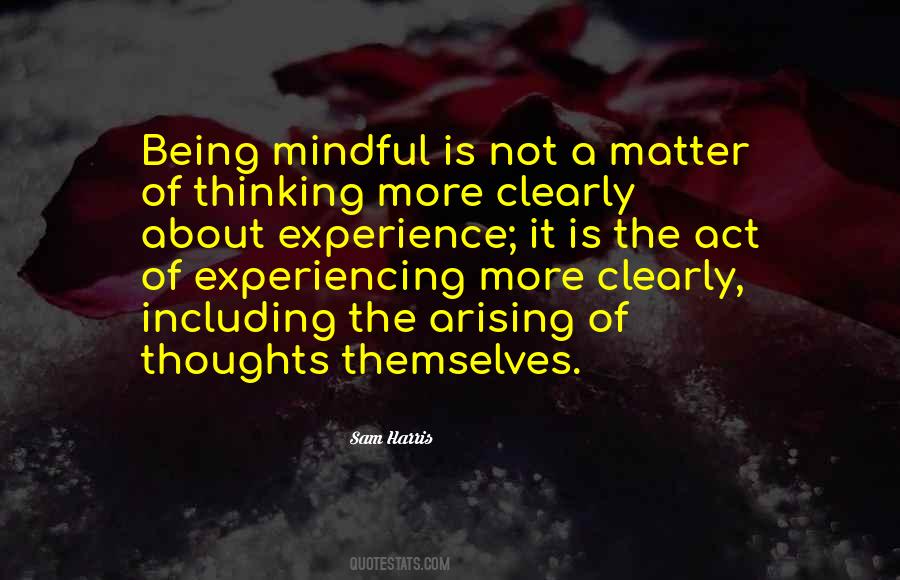 #44. We are disclosing animals, wired for unburdening. It's what we do as a species. When I am being told, I listen, mindful of the honor, remembering all the while that the shore would be mistaken to believe that the waves lap up against him because he is so beautiful. - Author: David Rakoff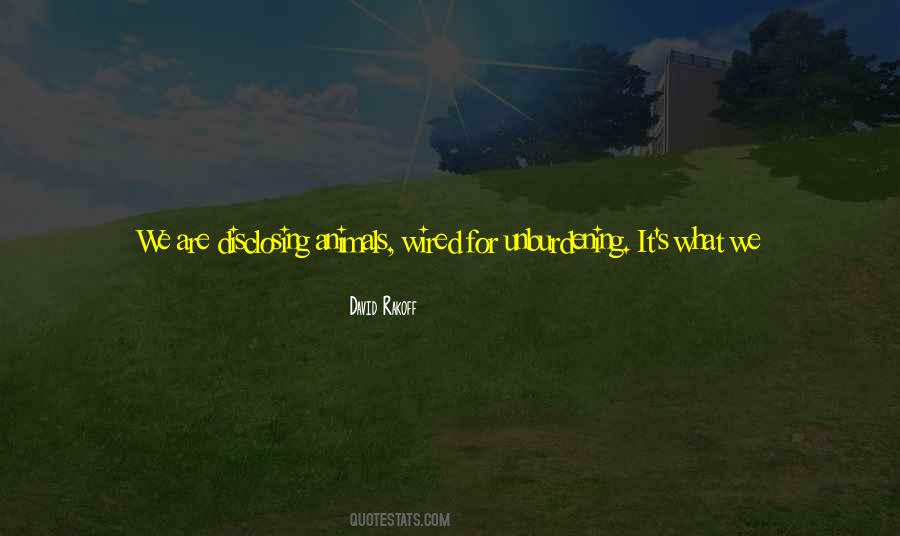 #45. Happiness being surrounded by good friends and family at a BBQ. - Author: Richie Norton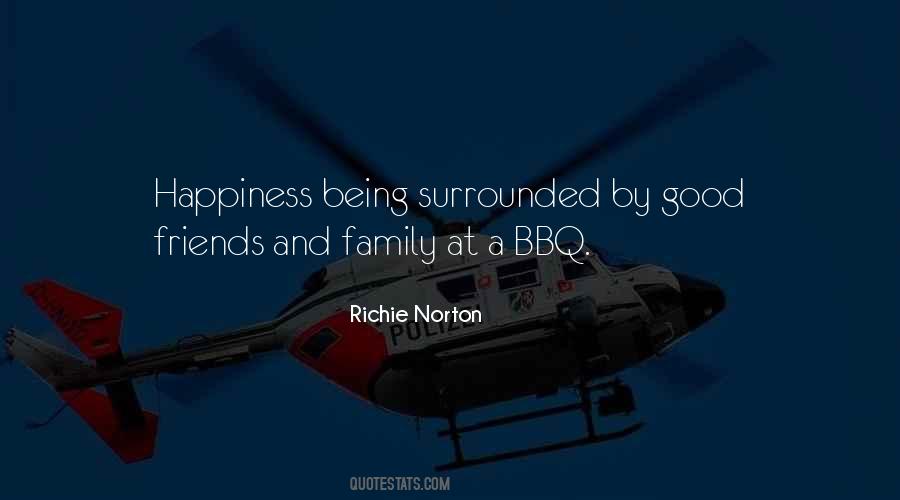 #46. Mindful eating means simply eating or drinking while being aware of each bite or sip. - Author: Thich Nhat Hanh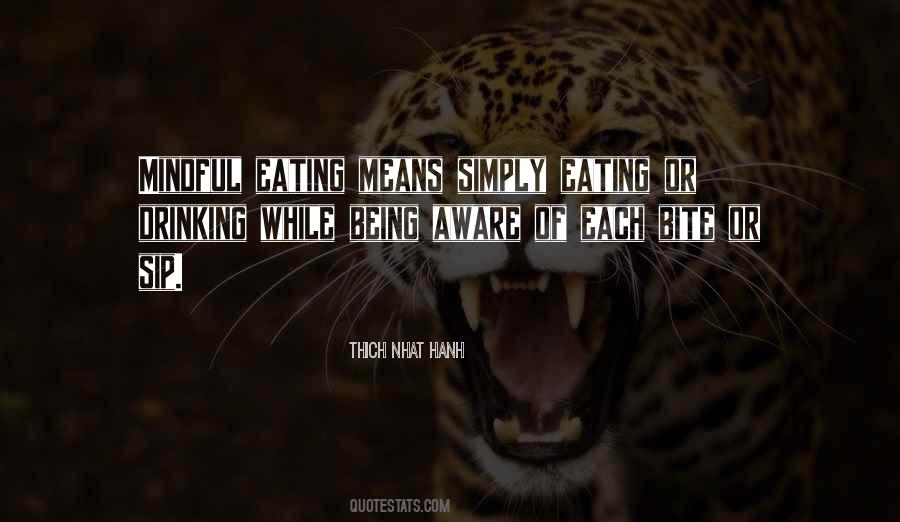 #47. To be inefficient and effective is better than being efficient and ineffective. - Author: Richie Norton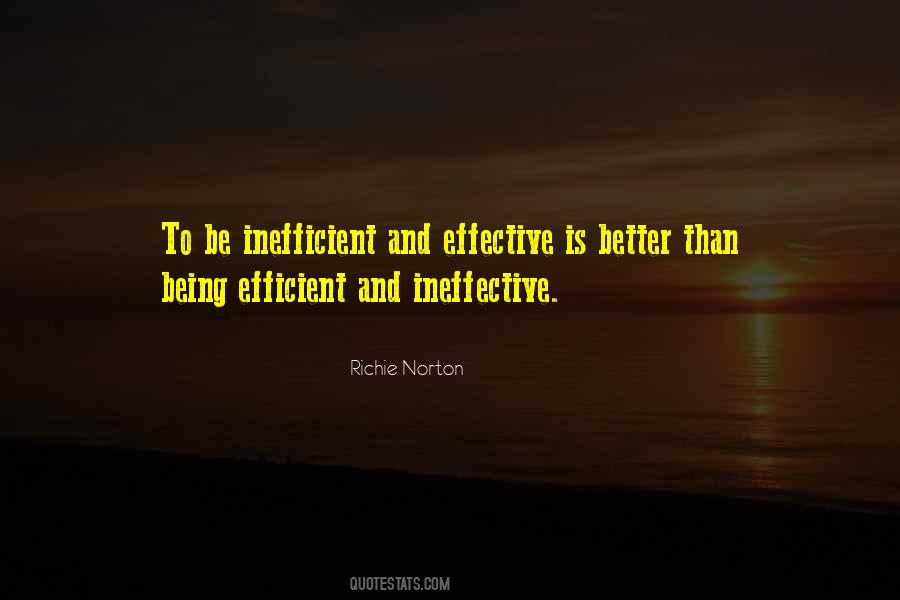 #48. Each year I become more mindful of being thankful for each life experience. - Author: Wally Amos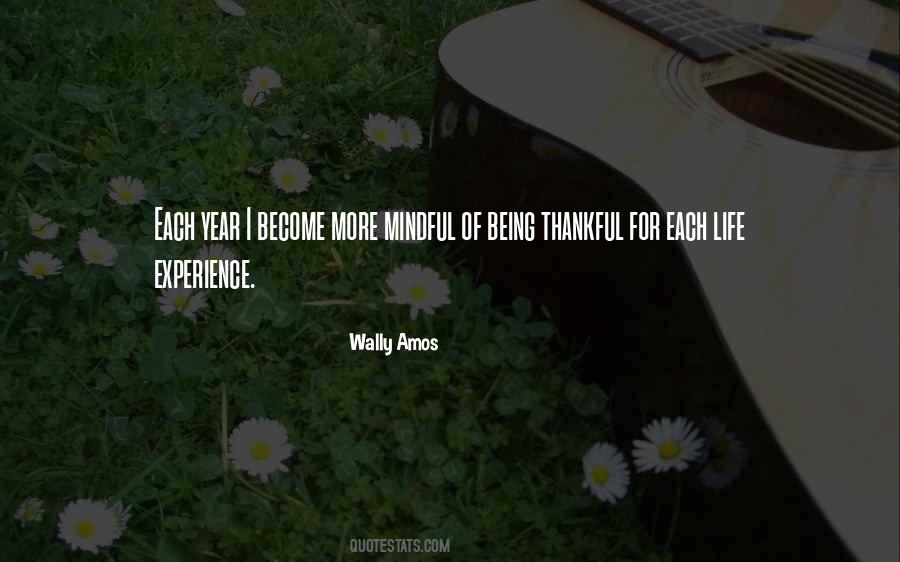 #49. Never get so stuck in being responsible and mindful that you can't let it all go and run off chasing your private dream, if it leads to the shiny worlds, the worlds of beauty. - Author: Frederick Lenz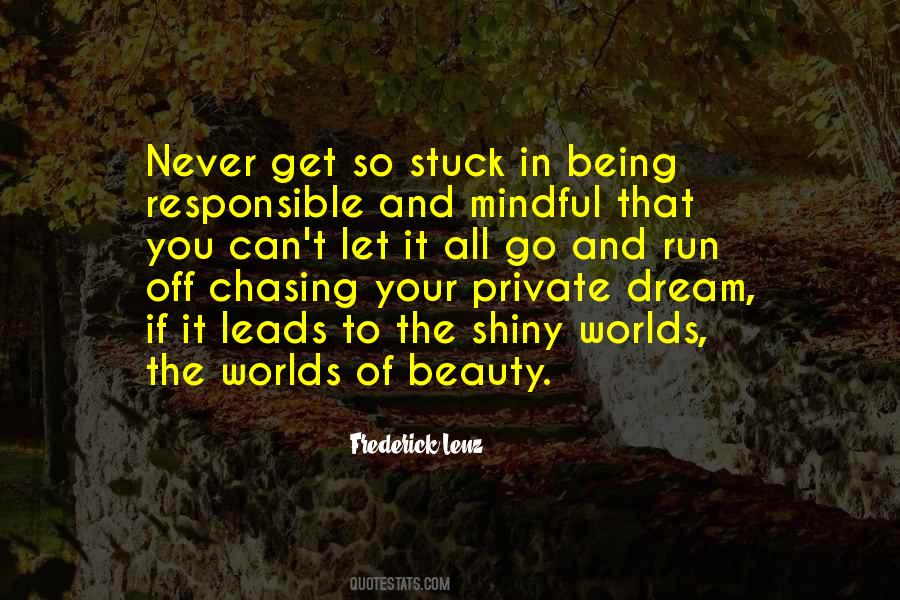 Famous Authors
Popular Topics