List of top 100 famous quotes and sayings about avid to read and share with friends on your Facebook, Twitter, blogs.
Top 100 Quotes About Avid
#1. I am an avid drinker with a serious bowling problem.
#2. Just as political correctness finds its most avid supporters on today's university campuses, the intellectuals of earlier times generally went along with the religious establishment. He who pays the piper calls the tune.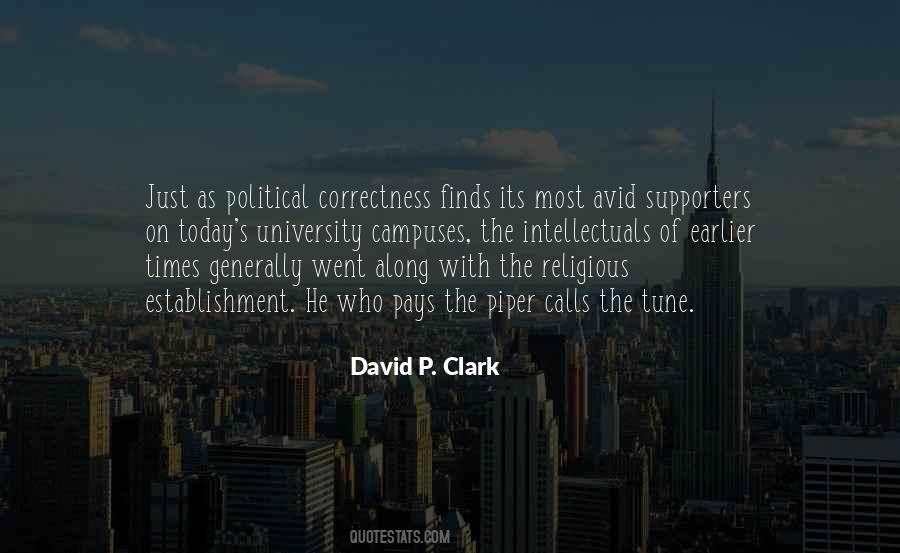 #3. I'm an avid reader. Novels, non-fiction, comics, it doesn't matter. Best way in the world to feed your head.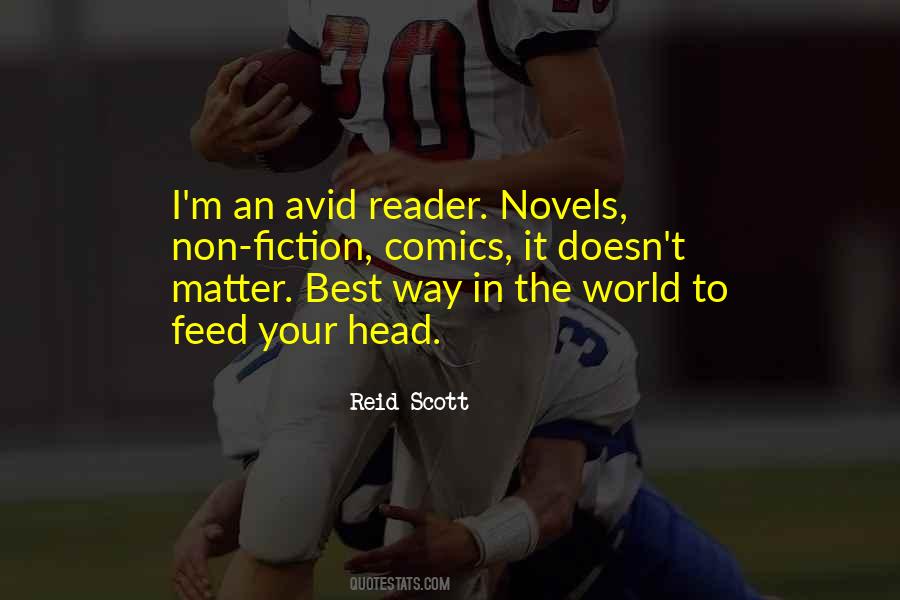 #4. I'm an eclectic and avid filmgoer. I try to see everything from romantic comedies to blockbusters to art house films, world cinema and documentaries.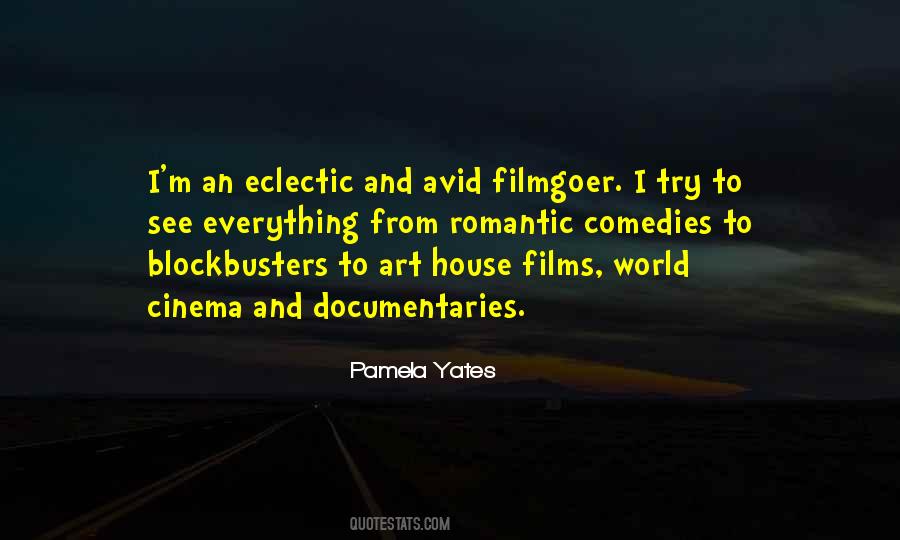 #5. I've always been an avid reader. If I don't have a book in the car, I'll stop and pick one up just to have something to read. I don't even remember learning to read.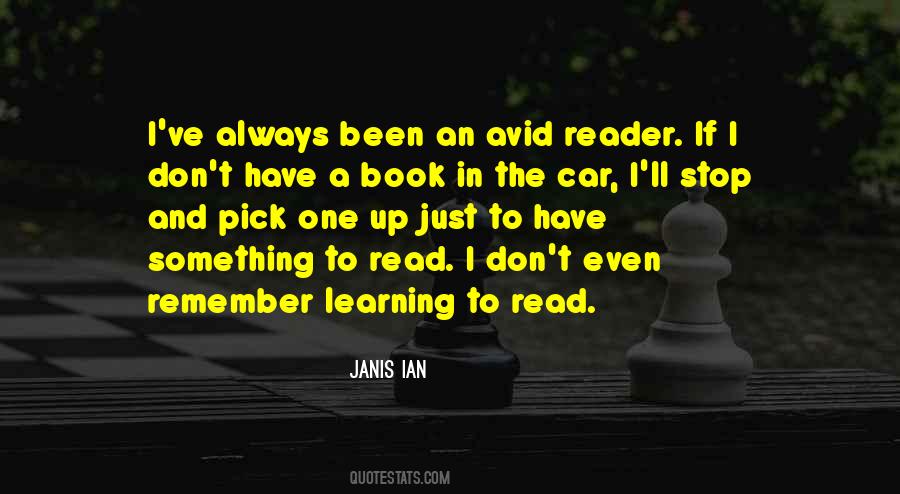 #6. Eisenhower on Patton: Fundamentally, he is so avid for recognition as a great commander that he won't with ruthlessly suppress any habit that will jeopardize it.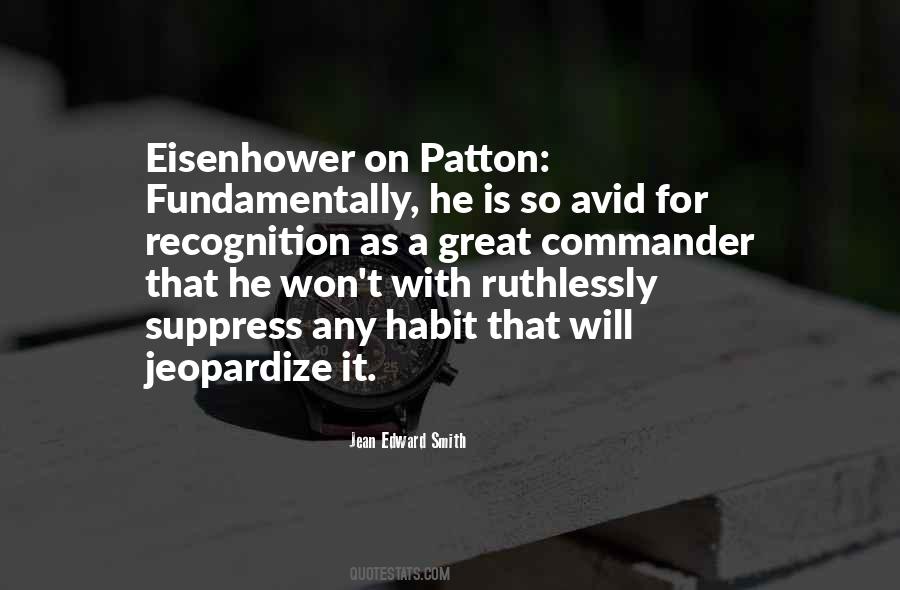 #7. I was a very avid reader when I was a child, and I also was a good listener.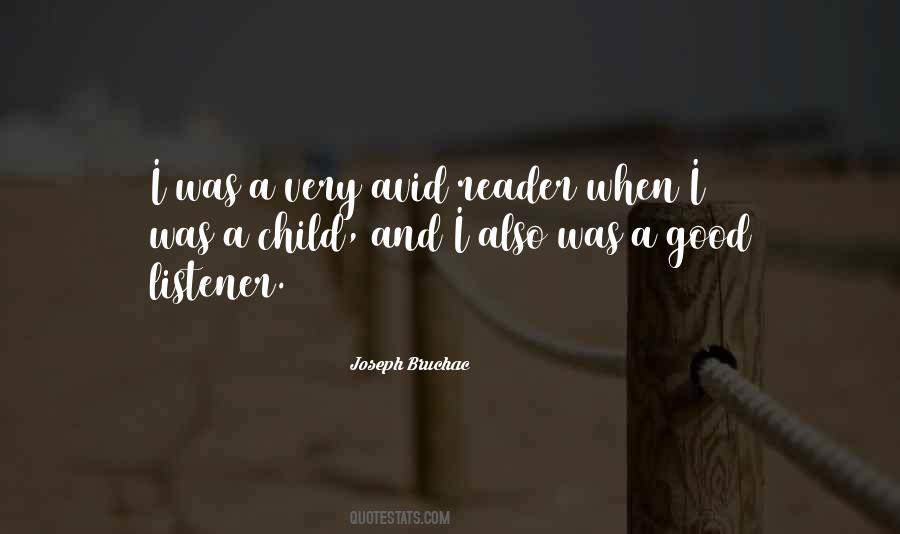 #8. In fact, though the books came slowly, he was a novelist to his bootlaces, an avid narrator who couldn't stop the story once it had started, who felt the terrors of existence so acutely that he had to tell them and tell them until he'd made them something else.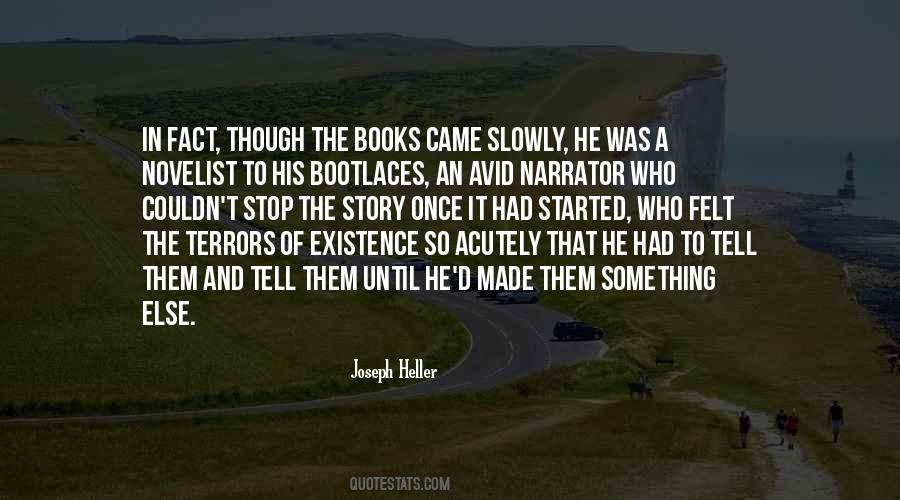 #9. I consider myself as a character actor. I like the sports analogy, which I do all the time; I'm an avid sports guy. I'm a golfer, but I grew up as sort of an avid fan and participant in baseball, and I'm like a relief pitcher. My job is to come in and throw strikes.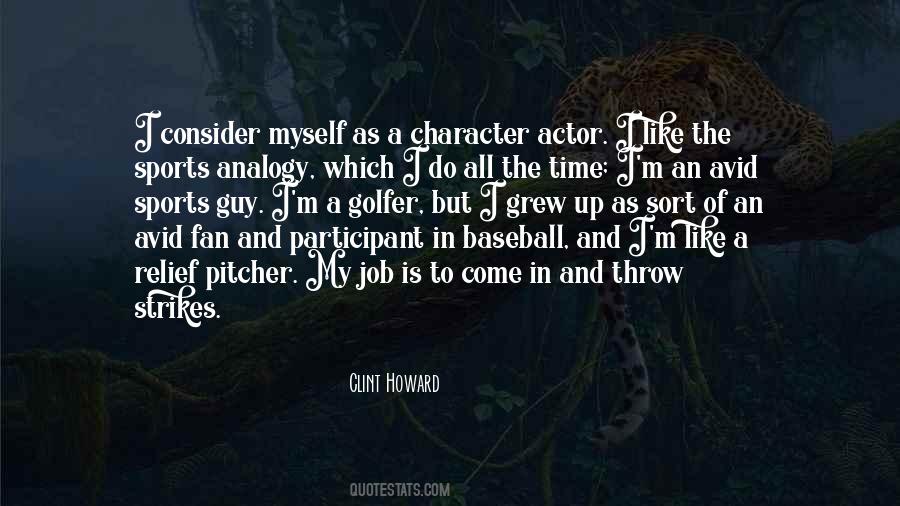 #10. Thank you for reminding Canada that I'm a disappointment to them. I like hockey, I love it, but I'm not an avid hockey - let's face it, true Canadian - fan. I've always been more into snowboarding and skateboarding and sort of the alternative sports, I'm not crazy about hockey - but love it!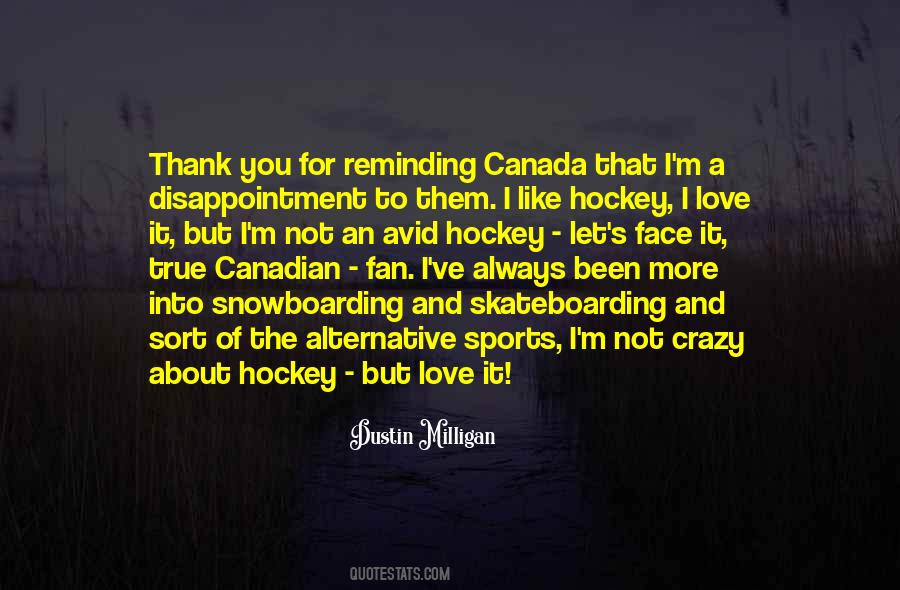 #11. I've always loved books. I was an avid reader, with any number of my own stories rolling around in my head. Writing them down seemed a logical step.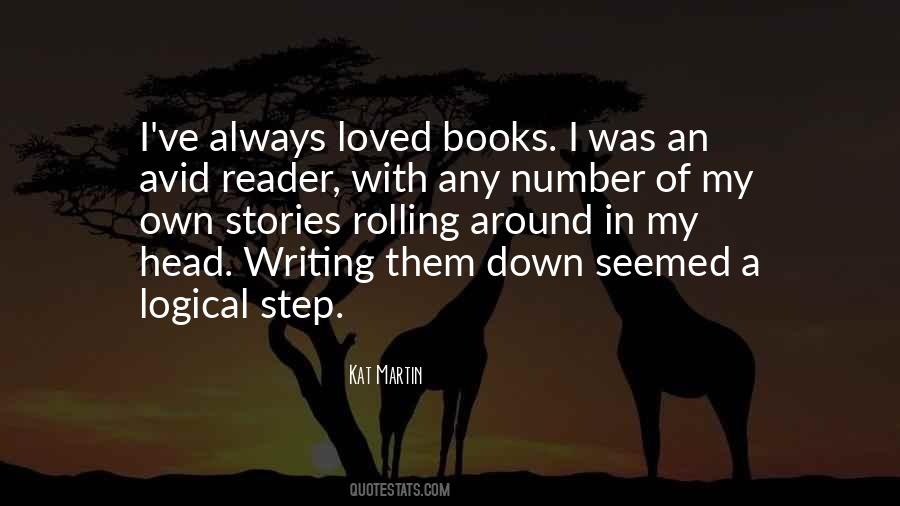 #12. I've been an avid consumer of young adult literature since I was one, and I think some people leave that stuff behind when they become old adults, but I never did. I was always interested in the fantasy world created in those novels.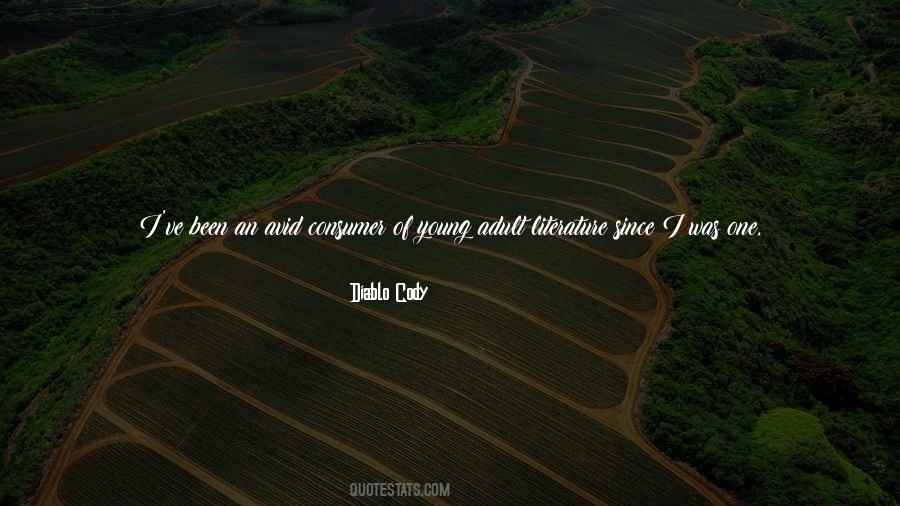 #13. There is no hiding the fact I'm an avid Millwall fan.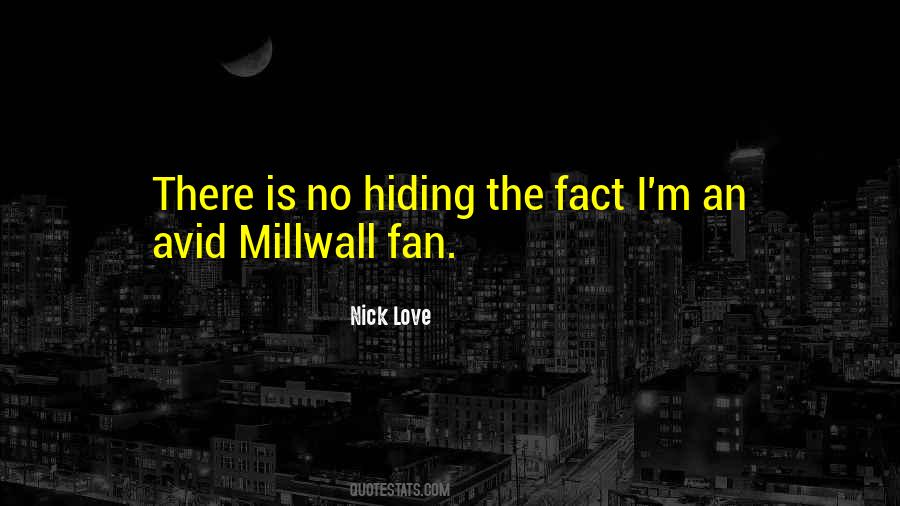 #14. Avid readers are a breed of their own, and we're often accused of being heady. I don't care. I love books and can devour one in a whole day if I'm allowed.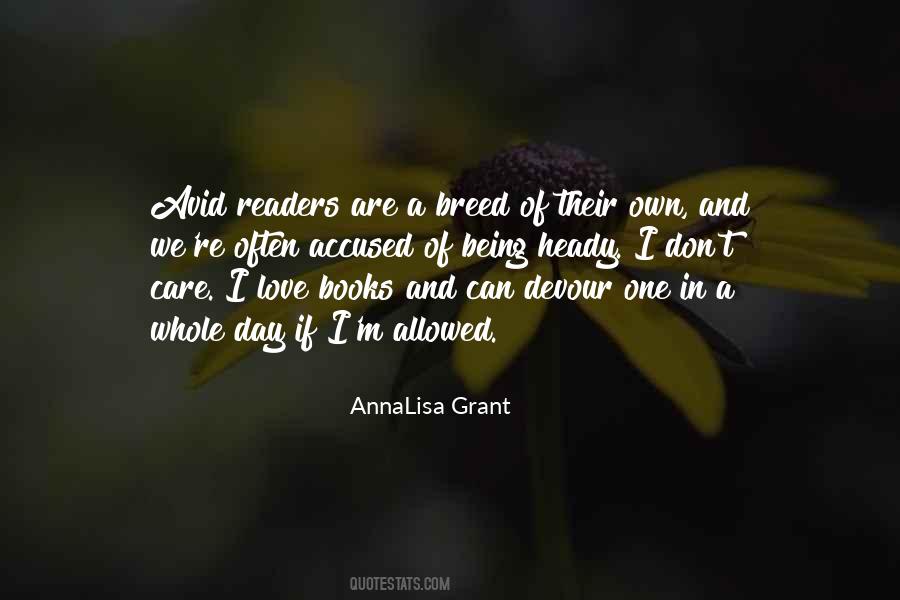 #15. I've always been an avid reader. Everyone in my family read a lot. Considering we were from a little town, we were pretty literate.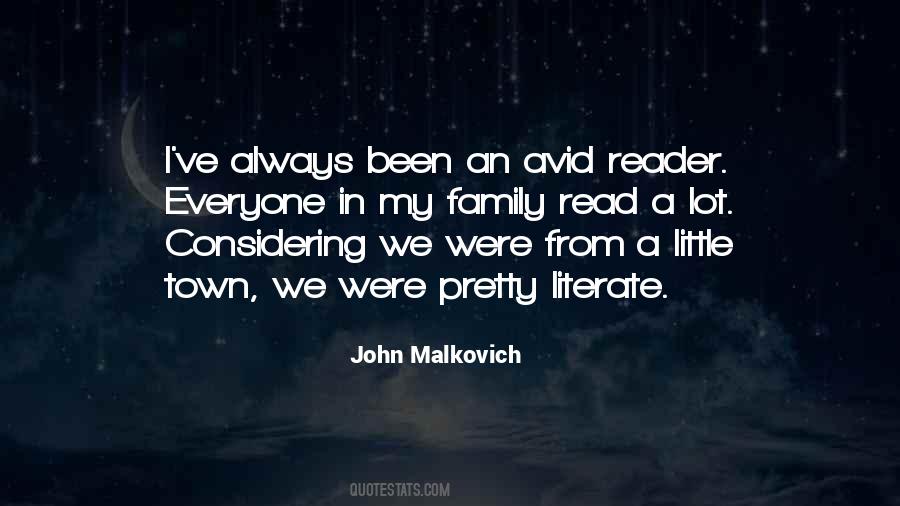 #16. I stole comic books from my brother when I was a kid, but I was never like an avid fan. I can't claim to be like a comic book geek.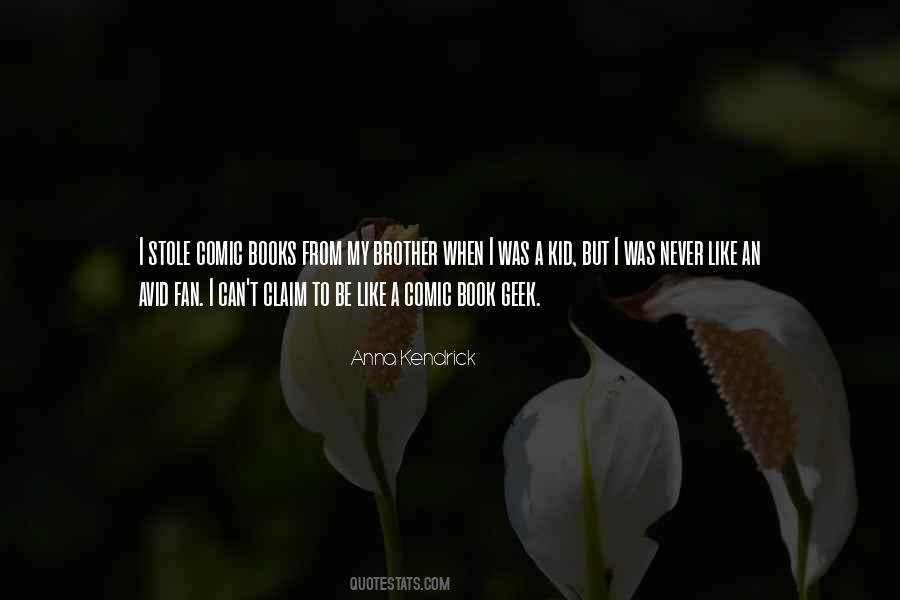 #17. He was a typical specimen of the younger son in avid pursuit of mediocrity with which the Theurgist's teemed: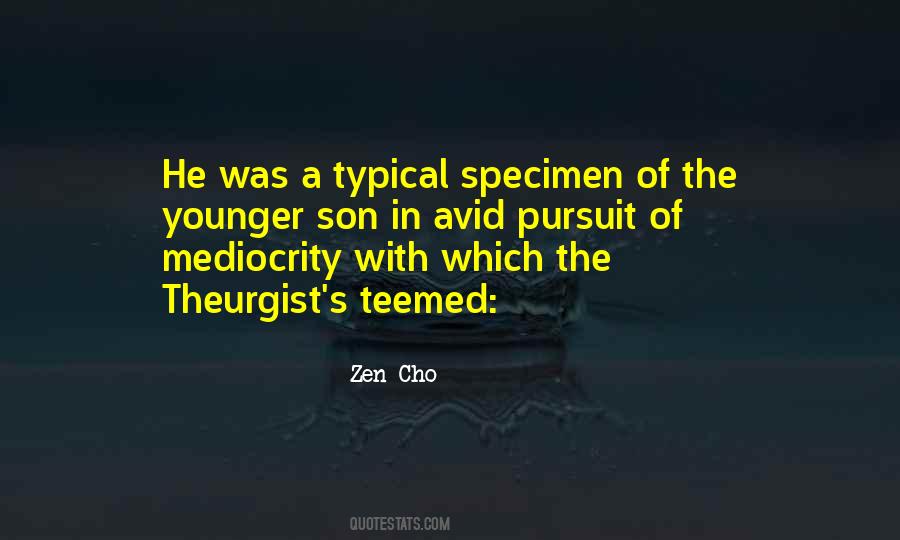 #18. Well, user feedback was excellent. Even when the software didn't work at all, there were few people who were avid users, and there were people who were just sending excellent feedback and excellent ideas.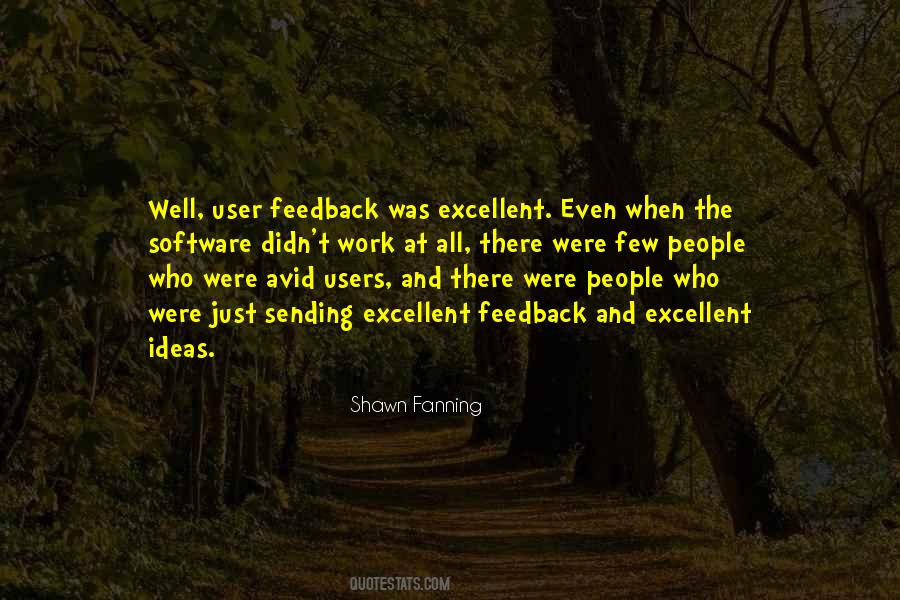 #19. He was the lover who never showed his face, the man most avid for love as well as most niggardly with it, the man who gave nothing and wanted everything, the man who did not allow anyone to leave a trace of her passing in his heart, the hunter lying in ambush.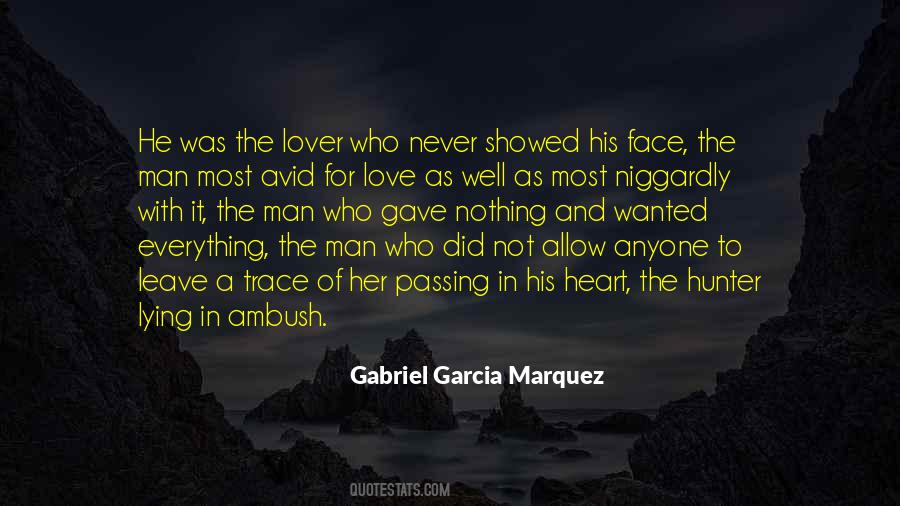 #20. I was too young to be an avid enthusiast for the franchise, but like billions of people I remember as a child sitting around with the family on a Friday night with pizza and popcorn and a 'Die Hard' movie on.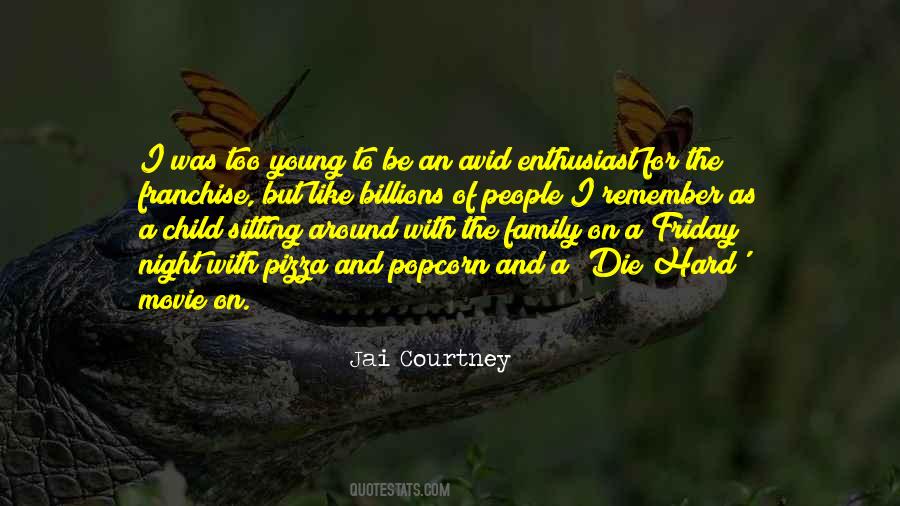 #21. I am an avid reader.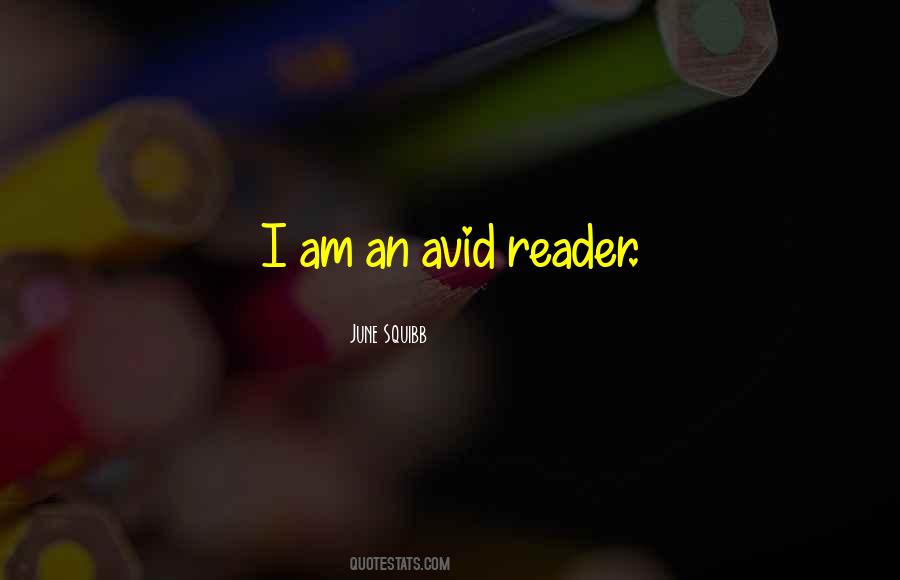 #22. Rioting begets violence begets rioting. I sometimes think the entire human race is comprised of barely restrained animals, avid for any excuse to tear off their masks of civility. And here I am, always trying desperately to keep mine on.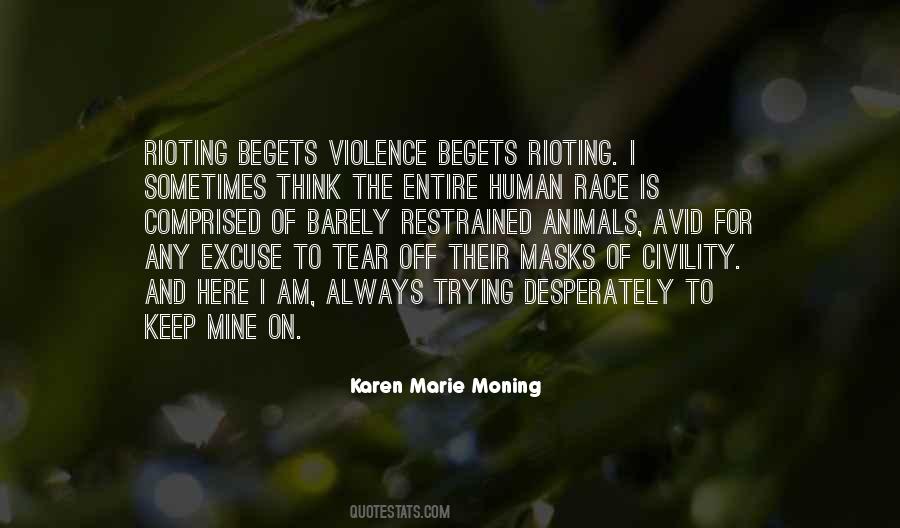 #23. I was an avid radio fan when I was a boy, as well as a great lover of comic strips.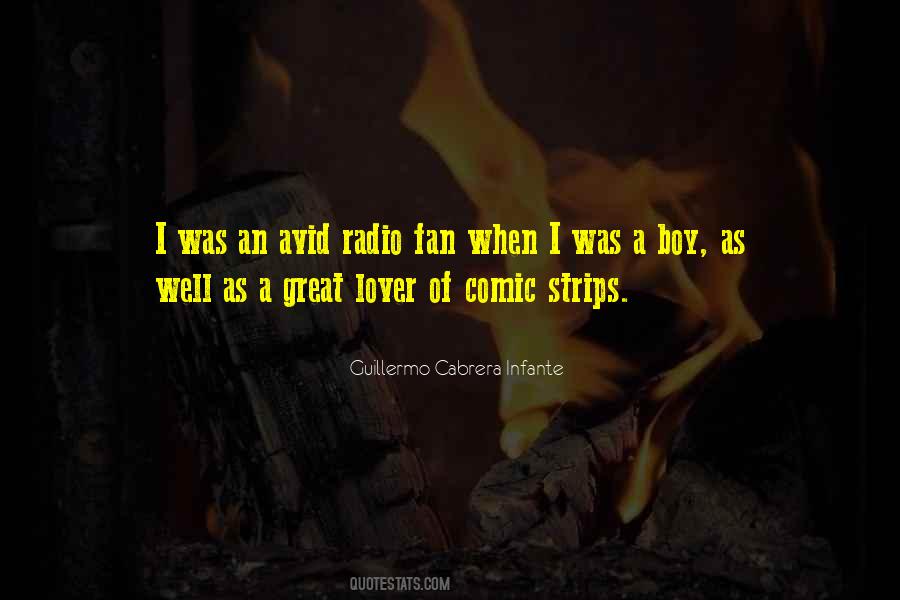 #24. I think the legacy left behind by 'Battlestar' speaks for itself. I thought that these avid fans, most of whom were skeptical at first ... to turn them into a fan of 'Caprica' as well is a daunting task, a big challenge.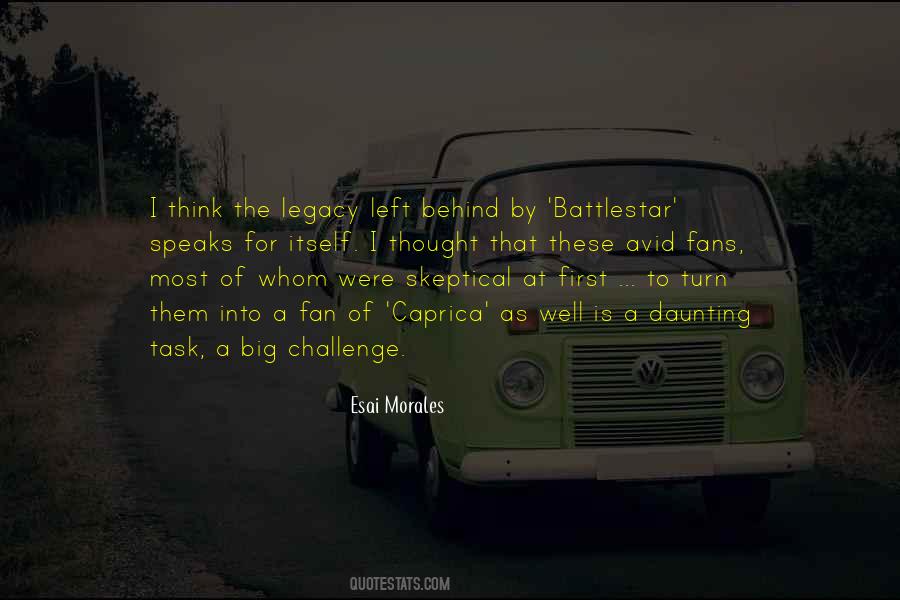 #25. I'm certainly not a perfect mother, but I am an avid mother, let me put it that way.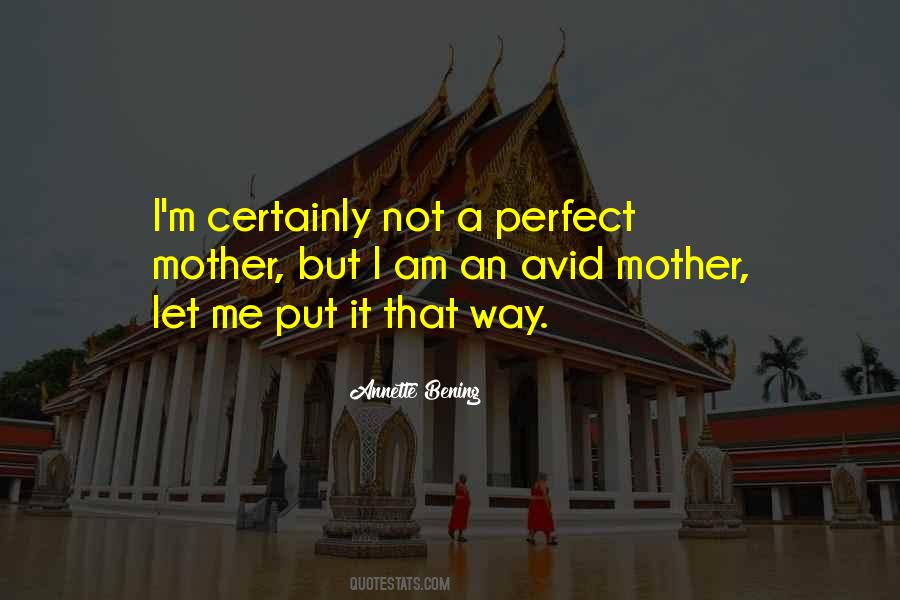 #26. The most profound, life-altering gift you can offer the Indie writer you love is to TELL as MANY avid readers as you are able.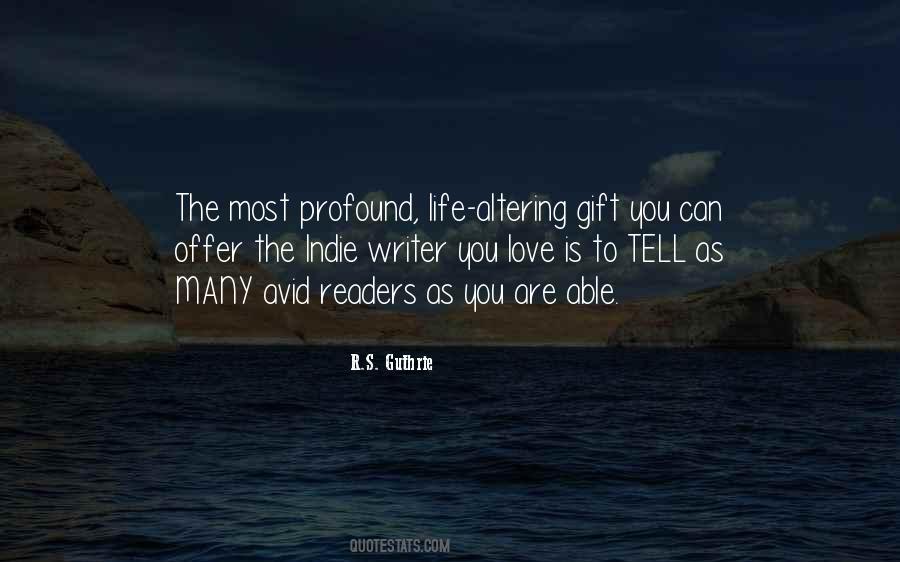 #27. I'm an avid bridge player. I usually go to the local bridge club three or four times a week. I've always been a game-player, and I think bridge is one of the greatest games ever invented. It's too bad that not many young people play it any more.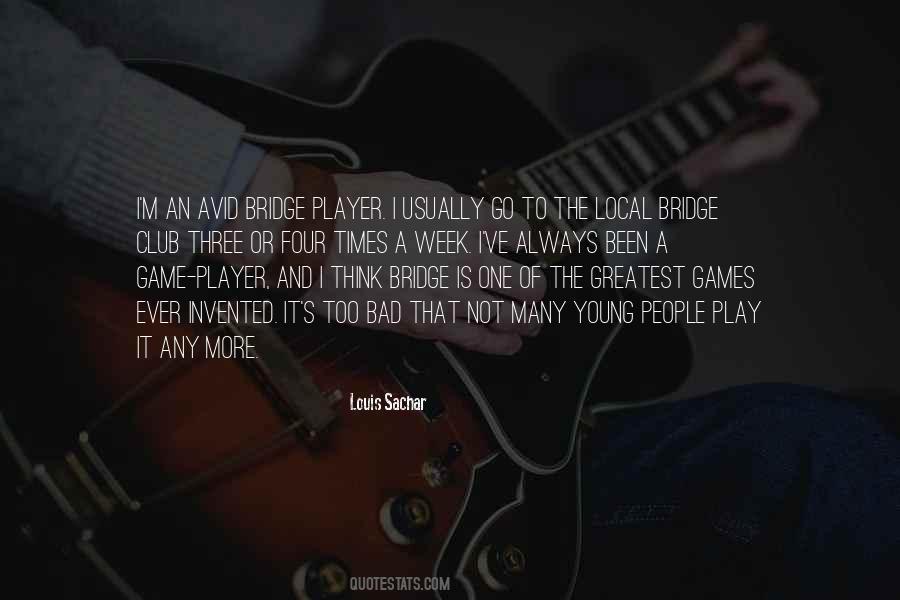 #28. As any avid reader knew, a good read deserved a good seat.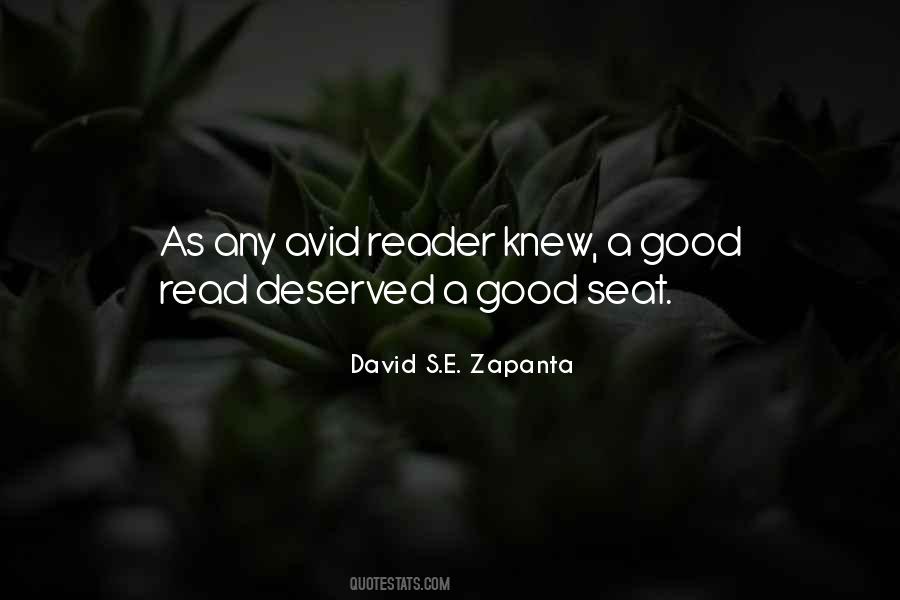 #29. It's impressive when you're such a mysterious fictional character that even avid enthusiasts are debating your existence within the mythos.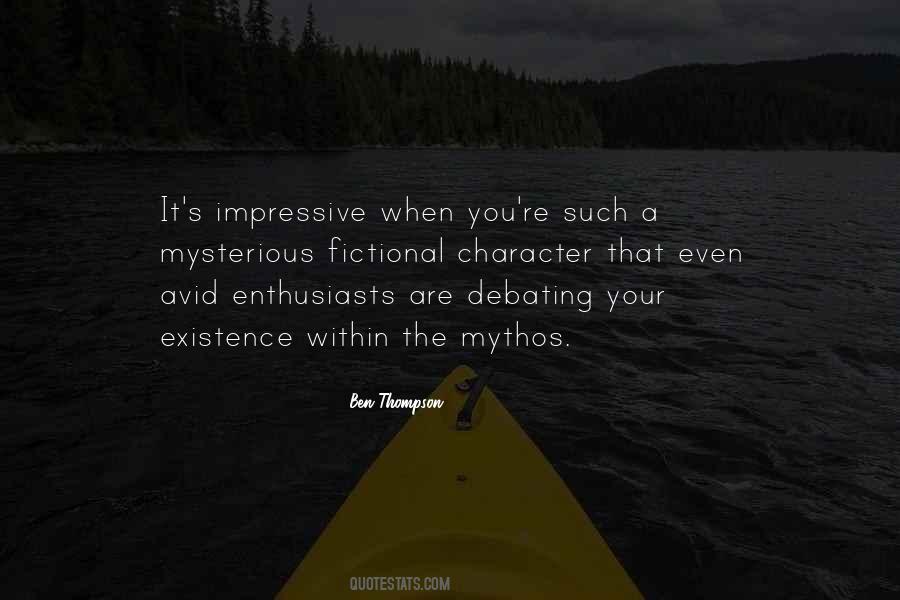 #30. I have been an avid reader since my youth. Because I also liked to play tabletop games, I soon felt the desire to make the story narrated in a book or an aspect of that story come alive in a game.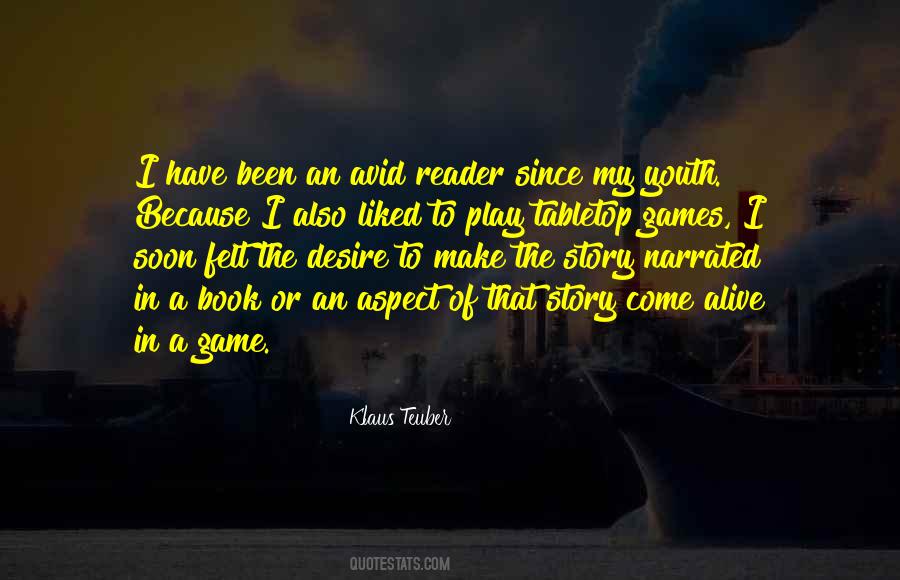 #31. Did you know there are hundreds of sites where you can list your free Kindle book promotions and they will give you FREE publicity and promote your book to avid Kindle readers?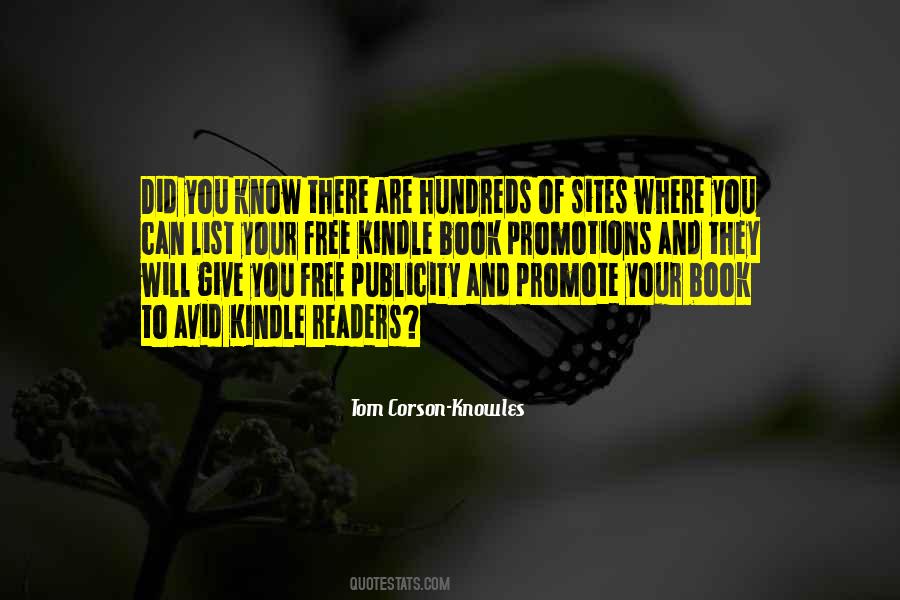 #32. I am young and avid for glory.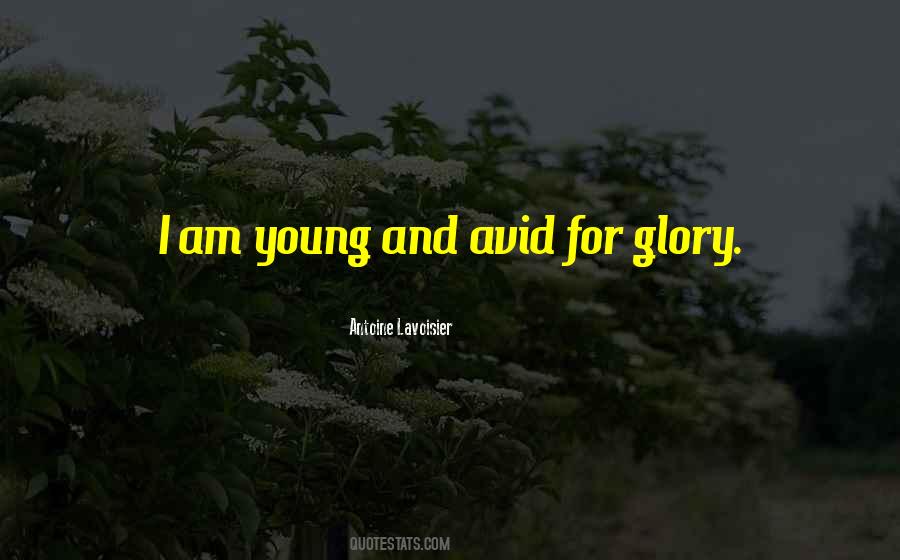 #33. Outside of my work as a comic book creator and co-publisher, I'm an avid gamer.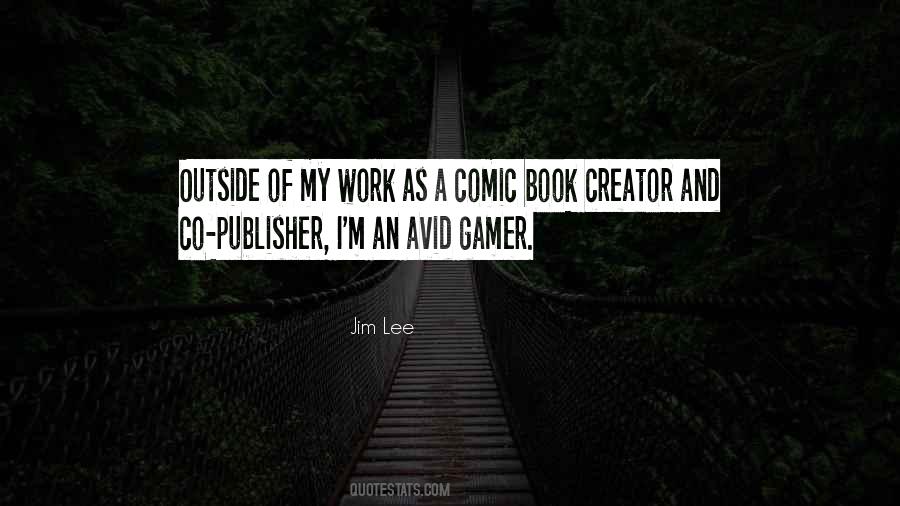 #34. Your ego is an avid interpreter. It is so quick to interpret events as 'bad' or 'good,' 'wrong' or 'right.' It never fails to see 'the little picture.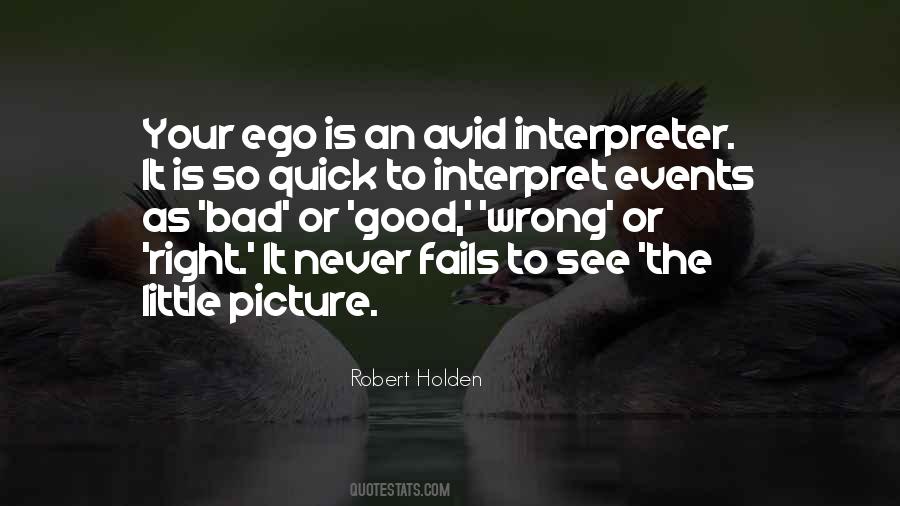 #35. Be avid. Create apart from perfection. Risk failure. Cover your words with sweat. Run a little Touch excruciatingly. Laugh until you cry. Dance with your eyes closed. Care. Understand you die a little in every moment. Be Enlivened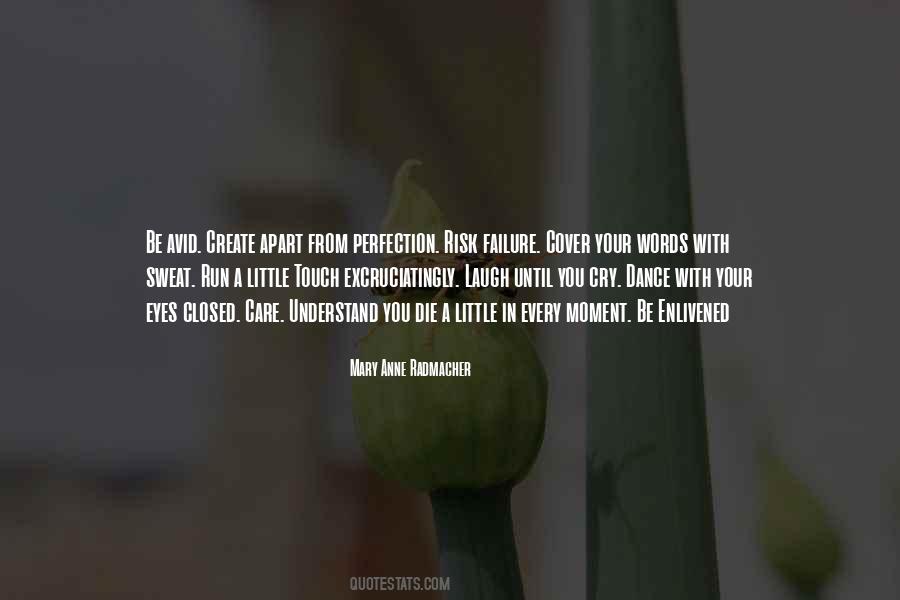 #36. [D]avid began to argue, with the whining intonations of German astonishment, [ ... ] that everyone did it.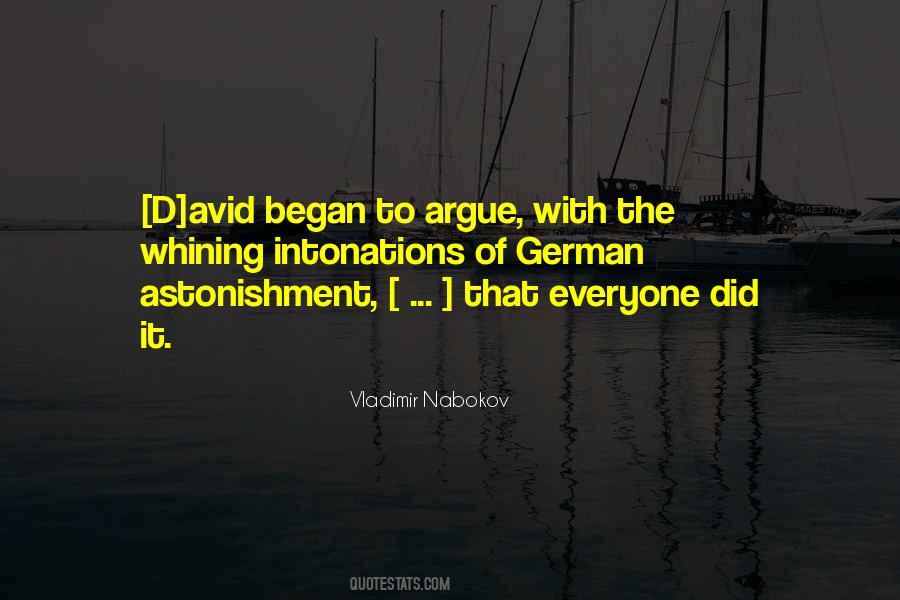 #37. Take time to play! Ask for what you want. Laugh. Live loudly. Be avid. Learn a new thing. Be Yourself!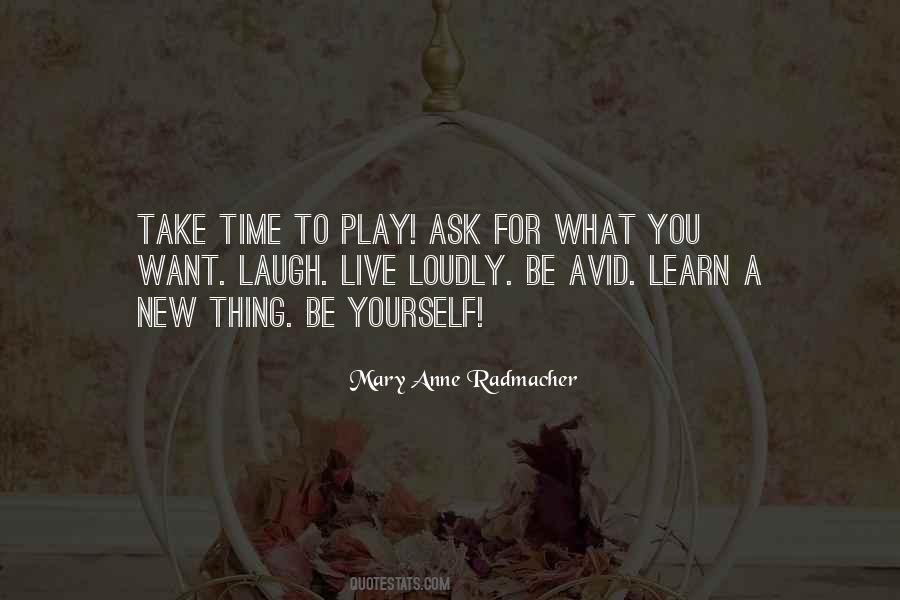 #38. Of course we women gossip on occasion. But our appetite for it is not as avid as a man s. It is in the boys gyms, the college fraternity houses, the club locker rooms, the paneled offices of business that gossip reaches its luxuriant flower.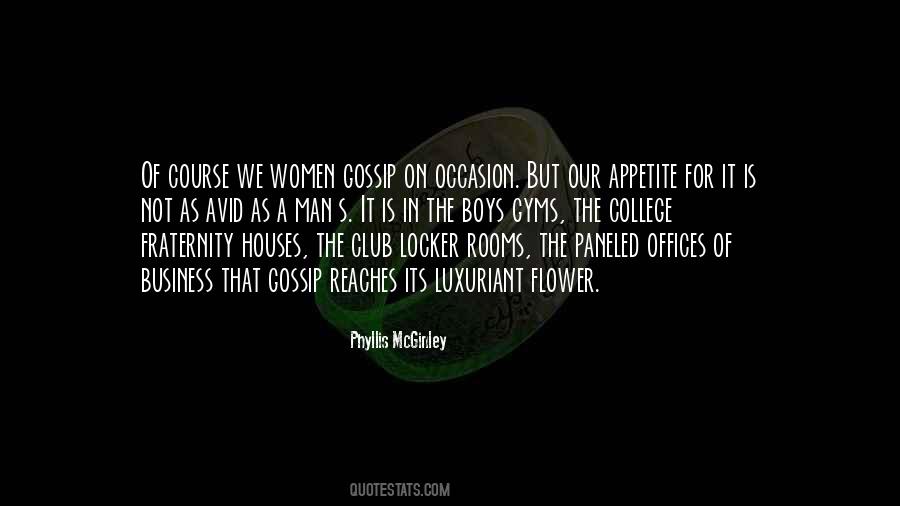 #39. Our loneliness makes us avid column readers these days.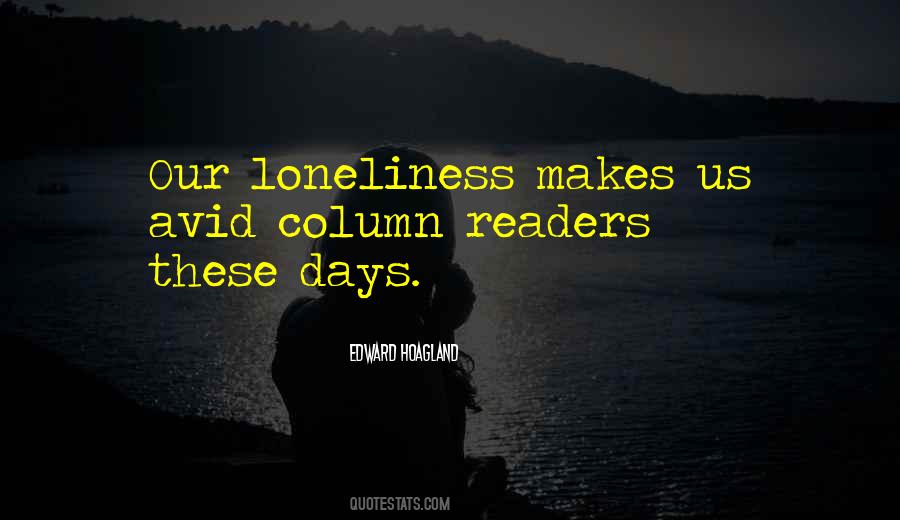 #40. As actors you have this trait to imitate very easily. I don't want to imitate anything or limit myself of finding this creature, this woman because I'm looking at magazines and I'm reading comics, and I'm asking people that are avid readers of The Guardians.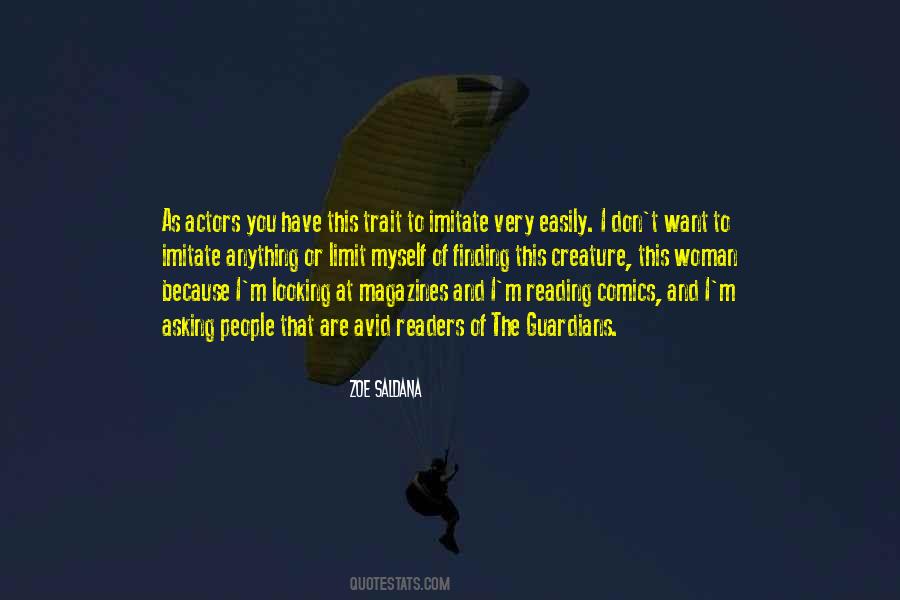 #41. The word amateur derives from the Latin word amator, which means lover, devoted friend, or someone who is in avid pursuit of an objective. In the original sense, an amateur is someone who does something for the love of it.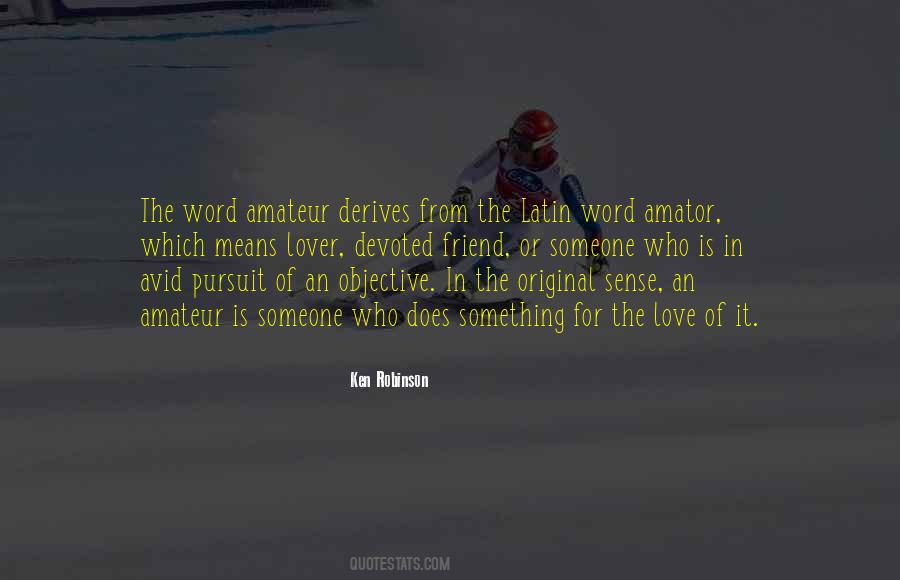 #42. When I grow up, maybe I will be
the first one to circle the sea.
Or maybe I will just spend all my day
doing everything my way.
Maybe I will be in a world of my own
I just hope not alone.
I just know that whatever I do
I will never, ever forget about you.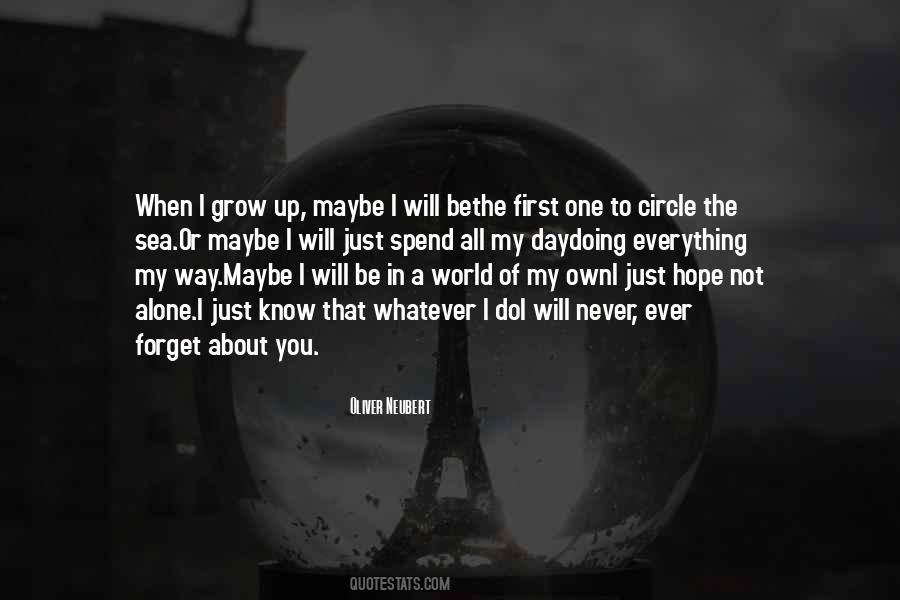 #43. The laws have become so straight-jacketing that presidents and their aides dare not keep journals or diaries, lest they be subpoenaed by avid special prosecutors.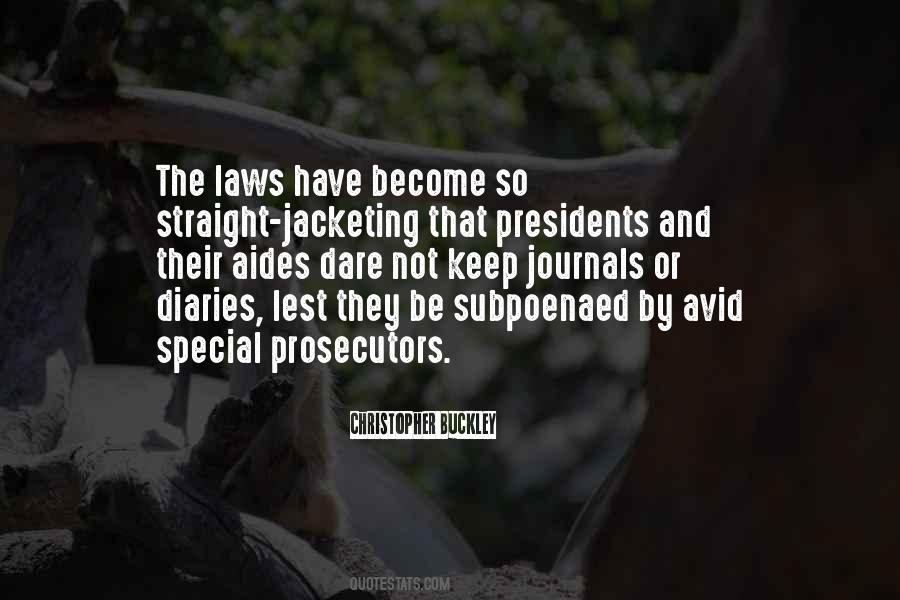 #44. I'm an avid juicer and a healthy eater.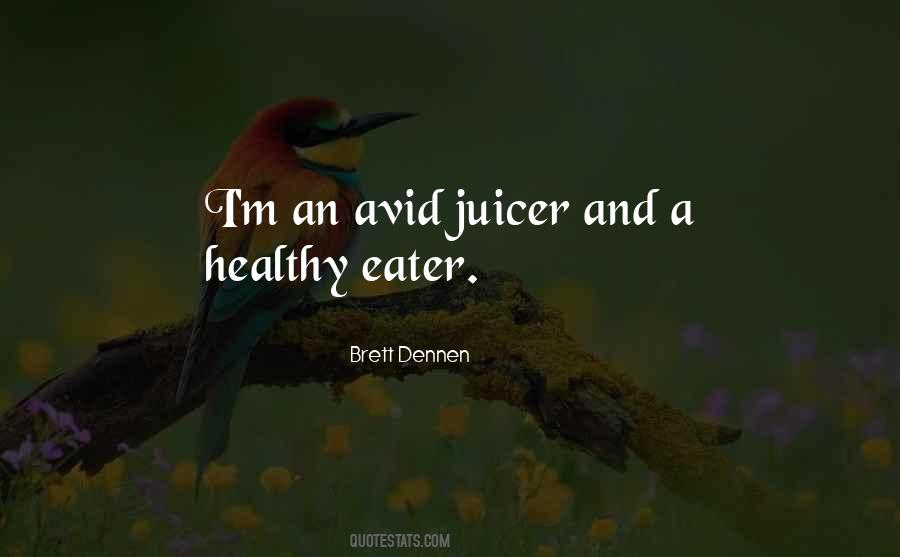 #45. I'm also not an avid watcher of the show ['Walking Dead'] for no good reason. I think it's obviously a great show. I think it's a good comparison [to "Zoo"], because it is this apocalyptic world we're living in Season 2 of "Zoo."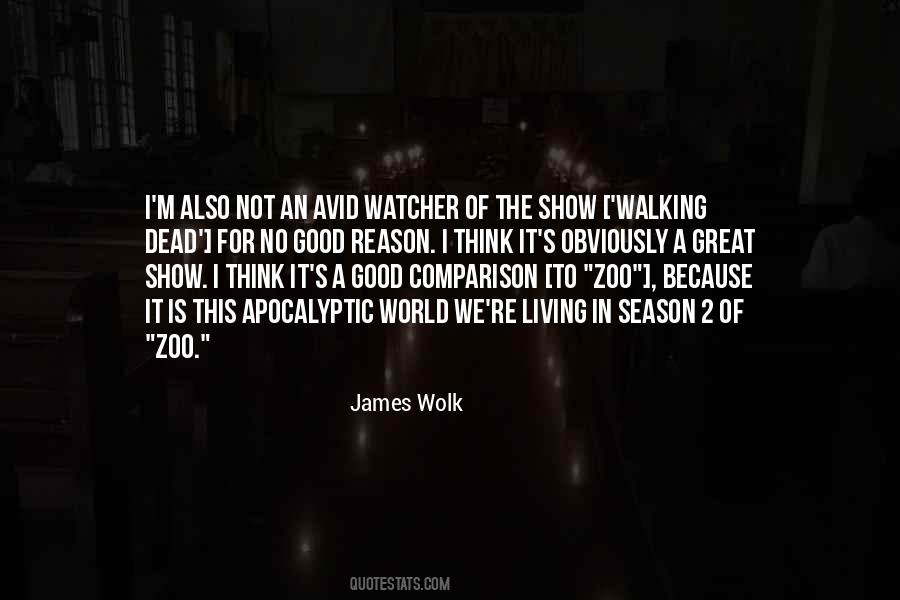 #46. Hitler was an avid reader, a passion that stayed with him through all the phases of his career.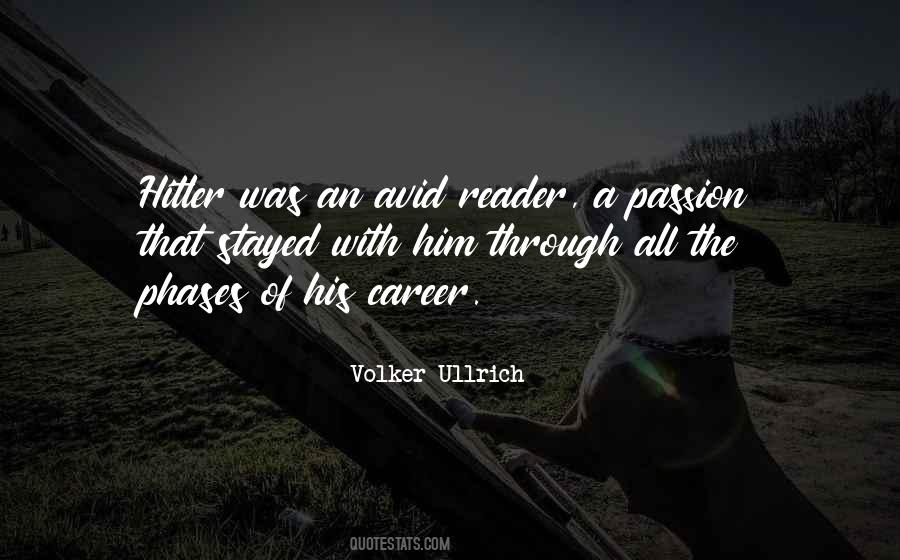 #47. 'Doctor Who' is where my love of science fiction and fantasy started. I was introduced to it when I was 8, and I'm still an avid viewer.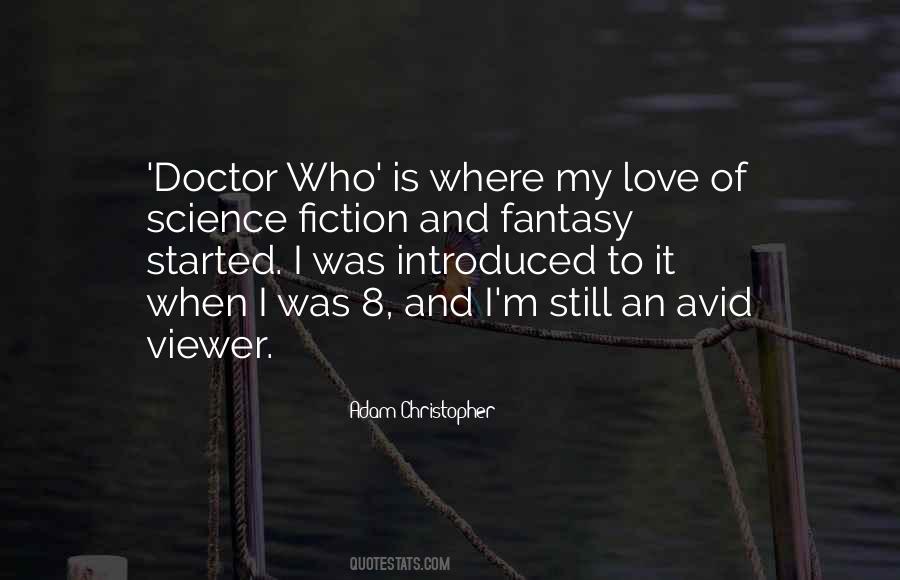 #48. It may be that the most avid readers of new fiction in America today are film producers, an indication of the trouble were in.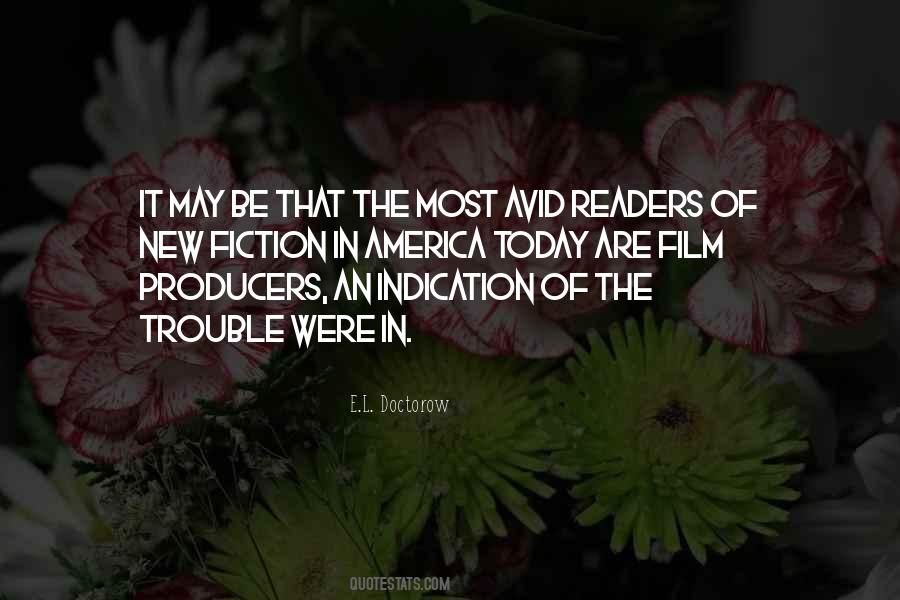 #49. I was an avid reader of futurists during the 1970s and '80s. They were so wrong - about everything.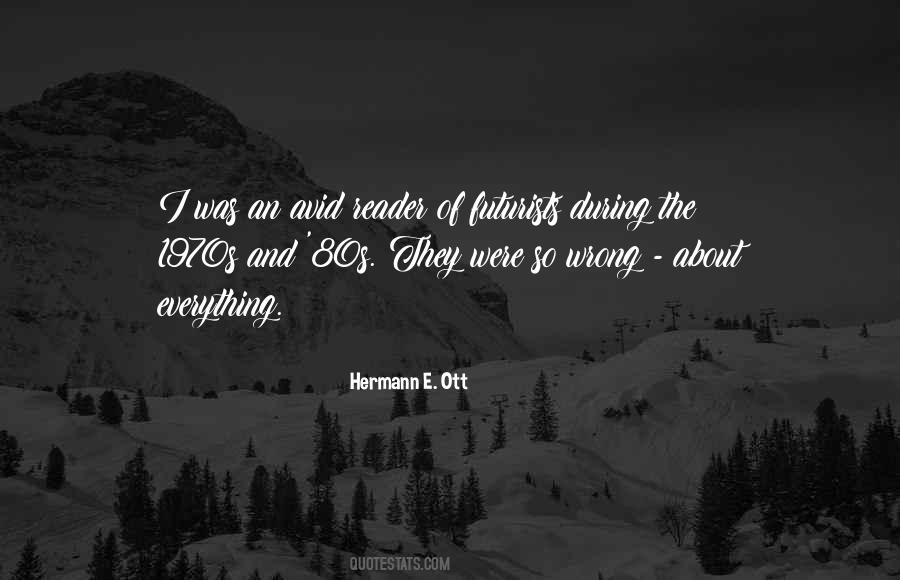 #50. And I'm a pretty avid photographer, I've been into photography for years now, so I try to spend some of my free time with that.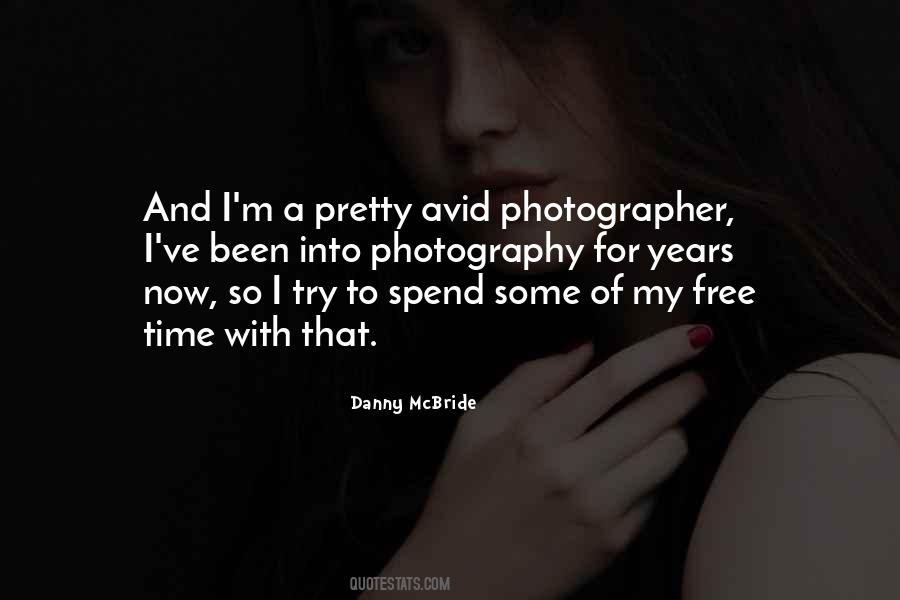 #51. The uncompromising pride of the Third Reich had been broken by the world-wide collaboration of people not avid of conquest, but of freedom.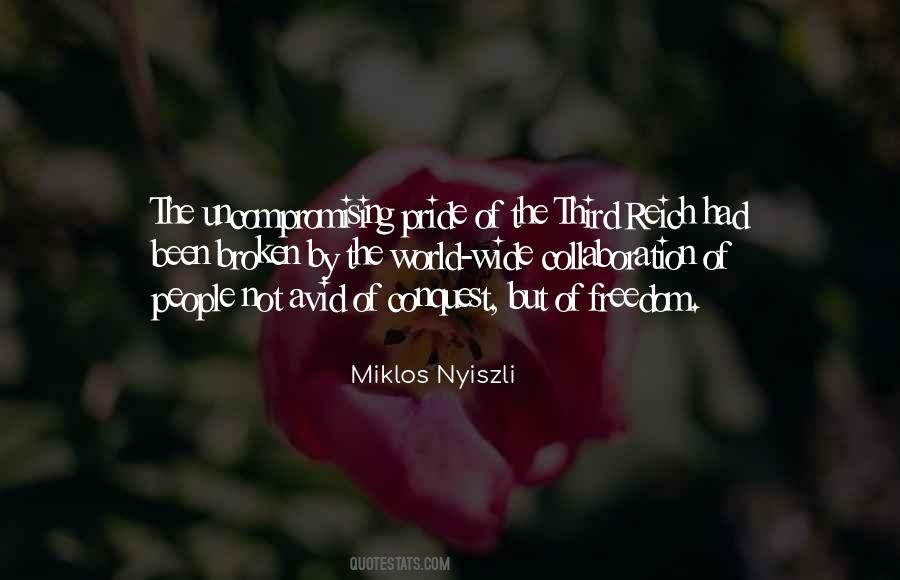 #52. The procurator studied the new arrival with avid, and slightly fearful eyes. It was the kind of look one gives someone one has heard of and thought a lot about, and whom one is meeting for the first time.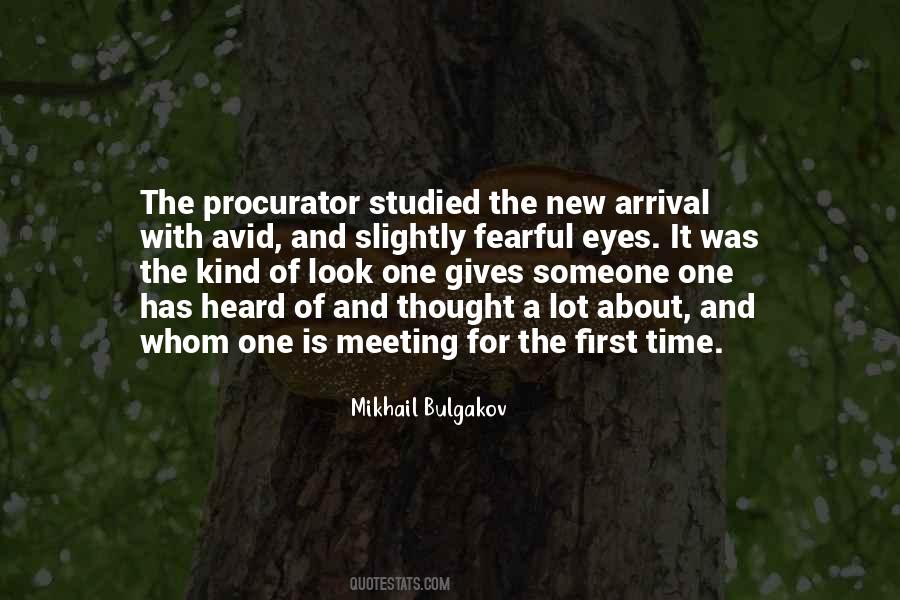 #53. I have been an avid reader of 'Golf Digest' ever since I started playing this great game.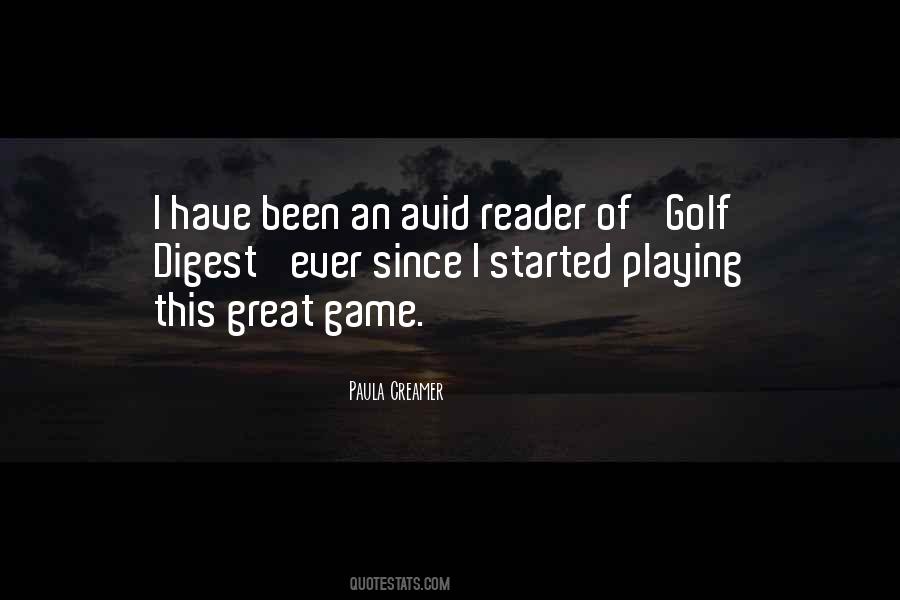 #54. ...as a child, I was an avid reader. And despite reading hundreds of books about straight people, I did not grow up to embrace the heterosexual lifestyle. Similarly, someone who is heterosexual is not going to turn gay from reading a book that features a child being raised by two moms.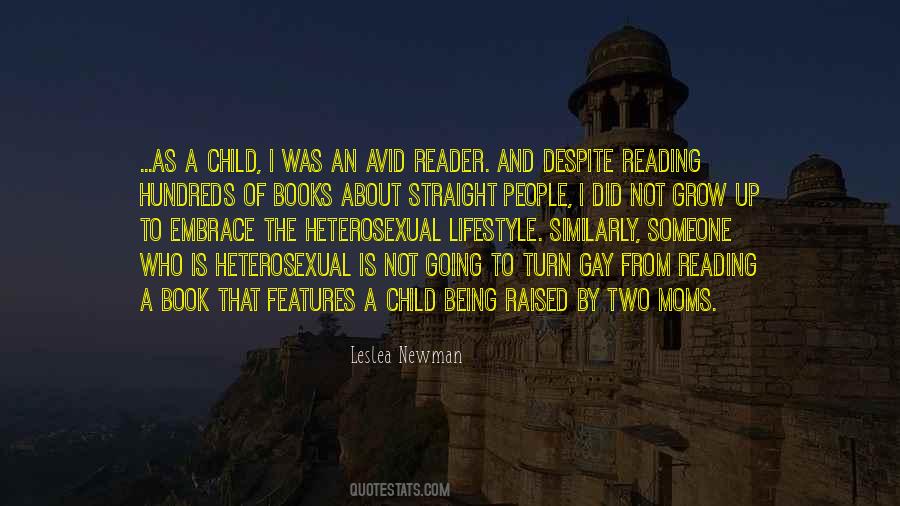 #55. My husband loves the '90s; he's an avid '90s movie watcher, and it drives me insane. Nothing real came out of the '90s! The bad bathing suits that came up too high on women's hips came out in the '90s!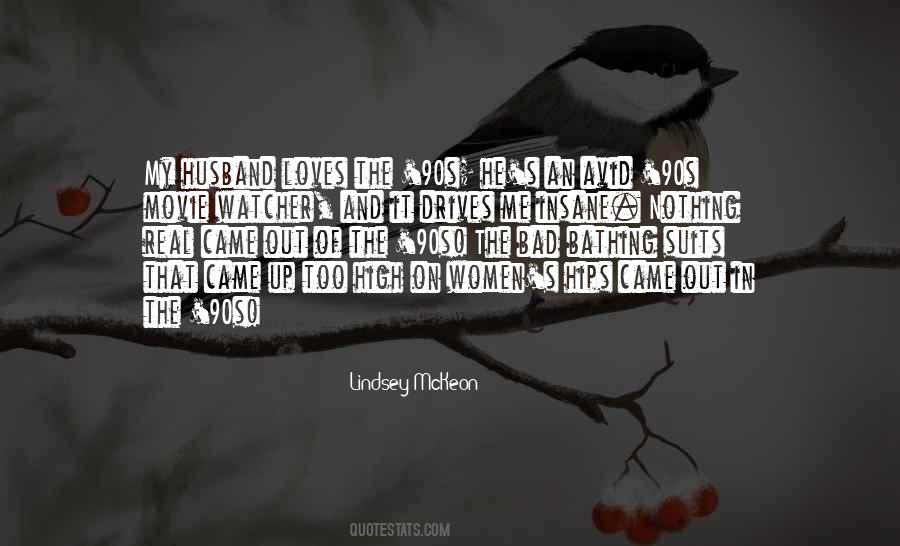 #56. I am an avid hunter and marksman, and I will not hesitate to shoot anyone who has myself or family in fear for our lives.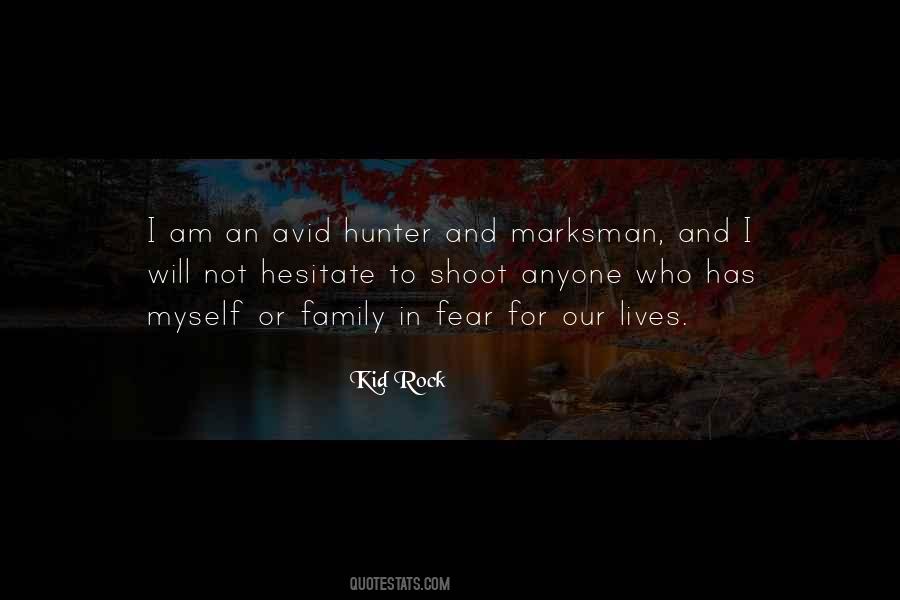 #57. I'm an avid reader myself, and what any one reader accesses at any one time is very powerful and personal to them. Clearly you can't even begin to touch that. A novel is a singular vision, and then a myriad of readers have their own experience of that.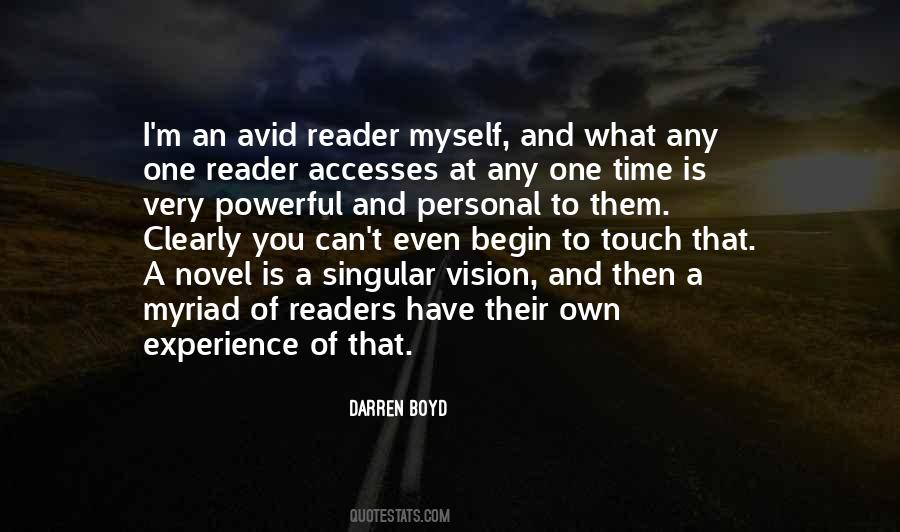 #58. Though the cross of Christ has been beautified by the poet and the artist, the avid seeker after God is likely to find it the same savage implement of destruction it was in the days of old. The way of the cross is still the pain-wracked path to spiritual power and fruitfulness.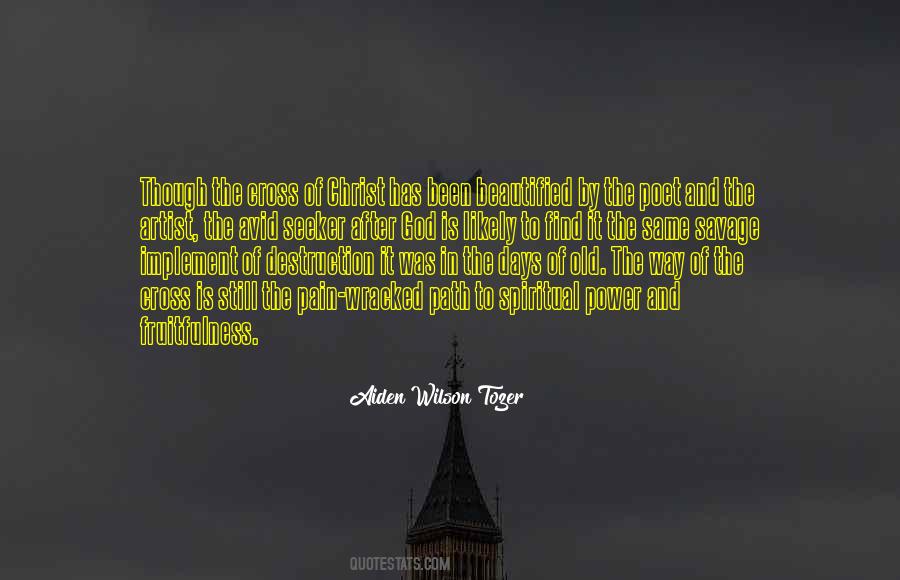 #59. Toy Empressario
Wonder Afficianado
Avid Shoewearer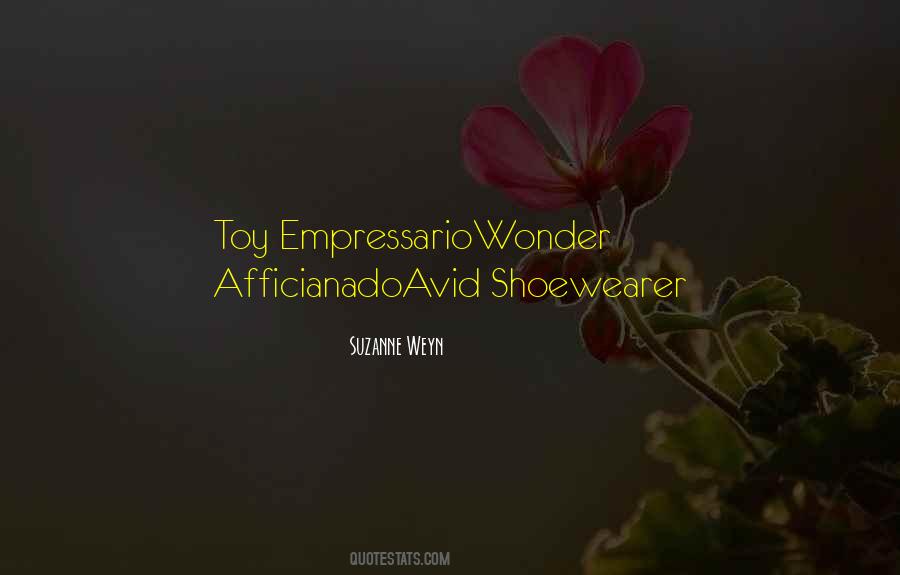 #60. If you are an avid reader that loves to discover new books and authors, Kindle Unlimited is going to provide you an amazing deal.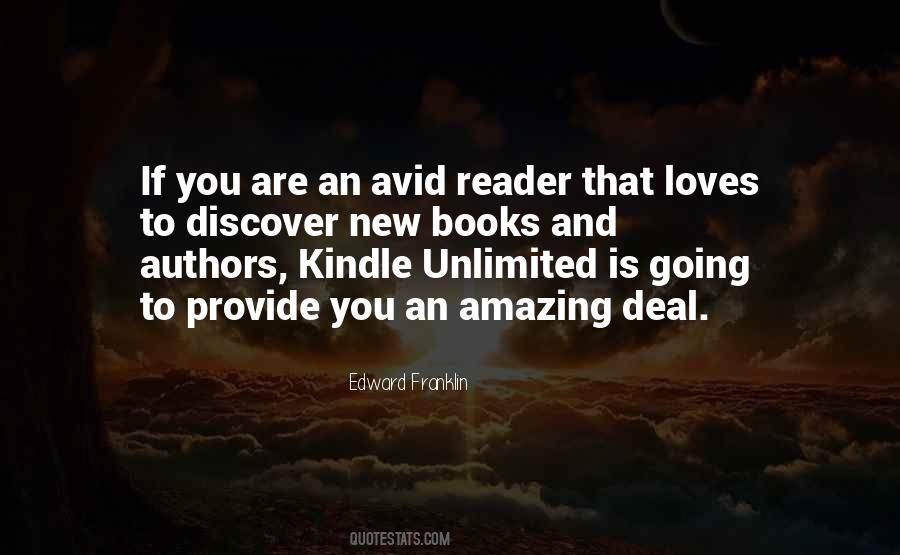 #61. Albert Einstein was an avid violinist. He believed that working with his hands in this way and playing music helped his thinking process as well. In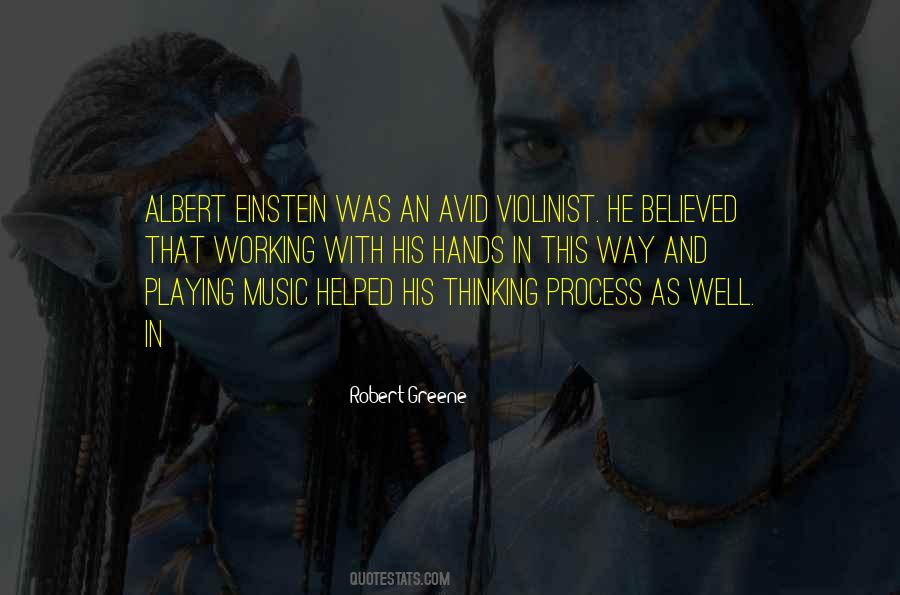 #62. Sight is a promiscuous sense. The avid gaze always wants more.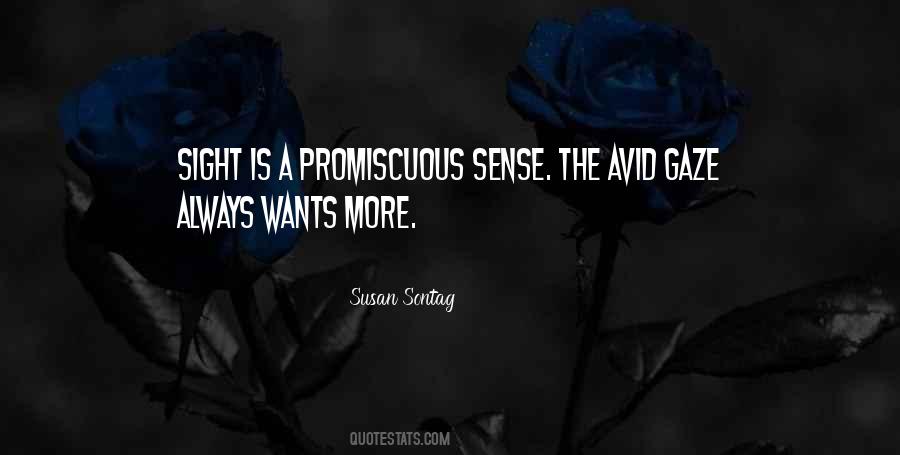 #63. I was a really avid bowler when I was a teenager. I had about a 210-220 average. I had blisters on my fingers.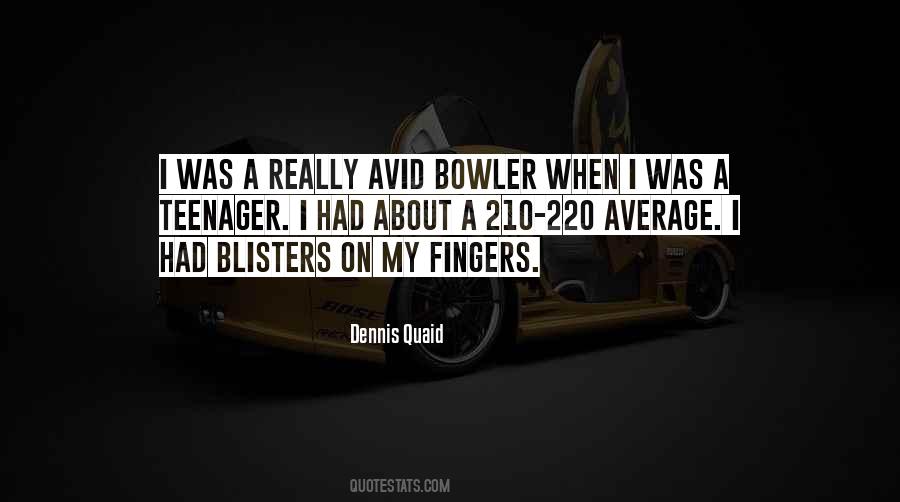 #64. Now that I can edit the whole thing on AVID and edit the whole thing on tape, maybe I will do the next digitally, because maybe the quality will become less obvious between tape and film.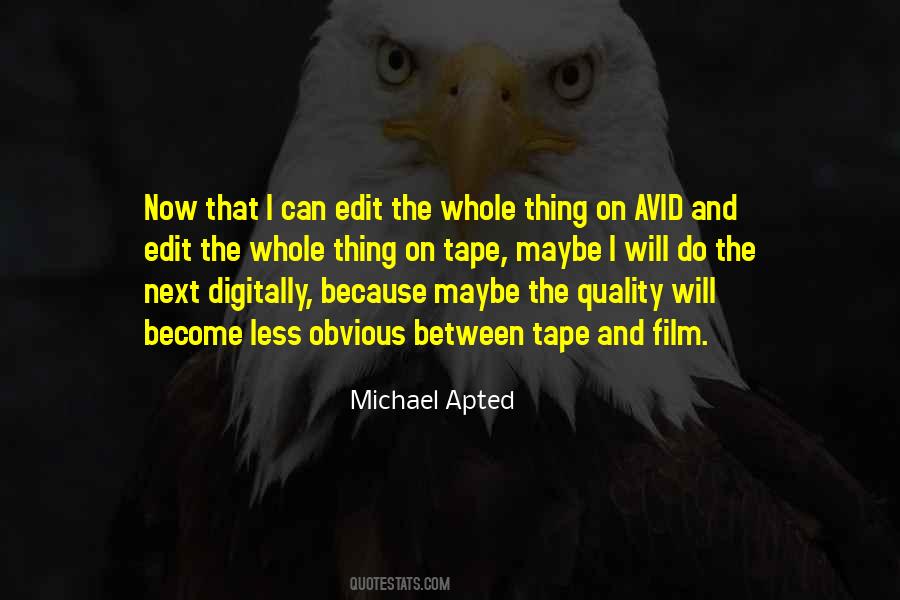 #65. I've always loved J.R.R. Tolkein and recently, Christine Feehan and J.K.Rowling. There are many as I'm an avid reader, but those three come to the fore.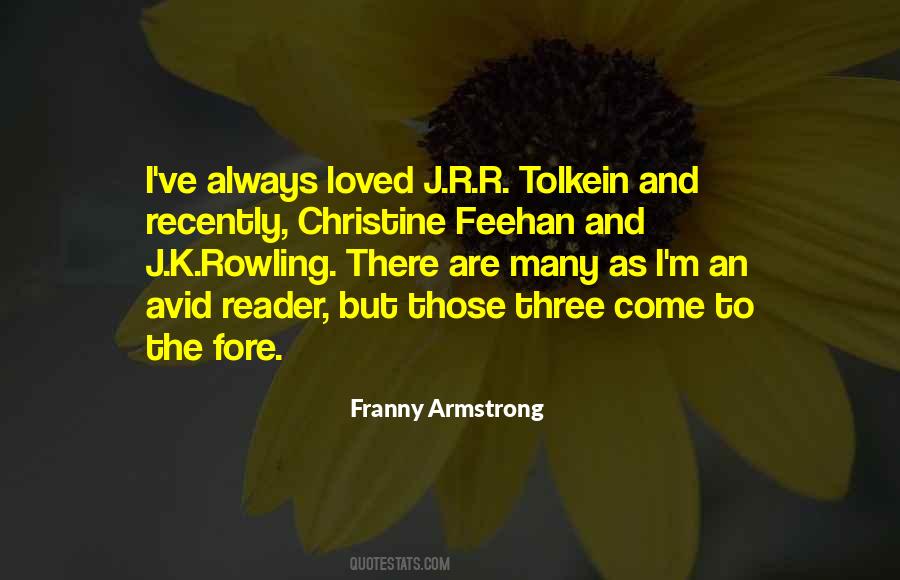 #66. I'm an avid watcher of the Nat Geo channel, where I watch shows about how the planets are formed, and shows about moons, quasars, black holes.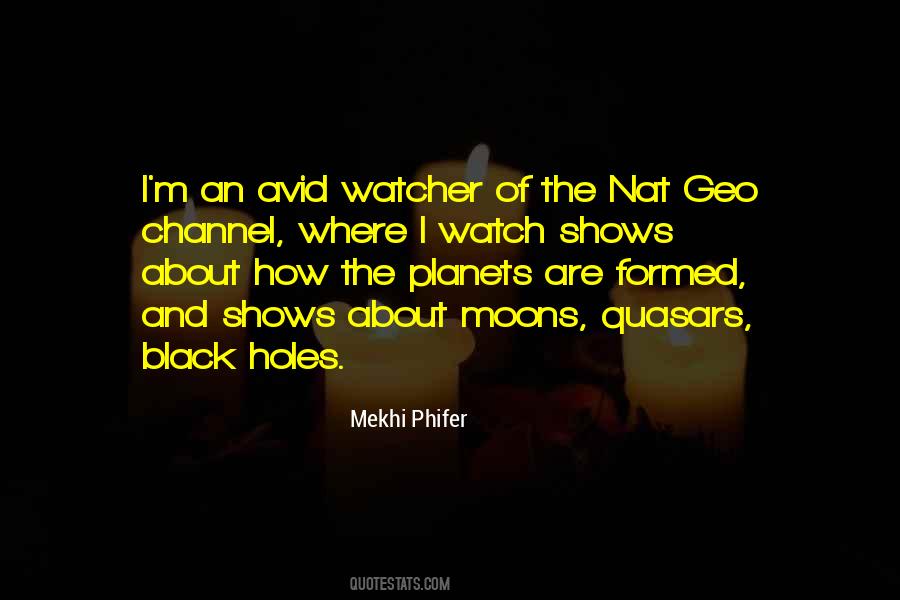 #67. I was still an avid reader of Mills & Boon romances - on publication day, I used to rush out of work to get to the local book store to grab my favourites before they all disappeared.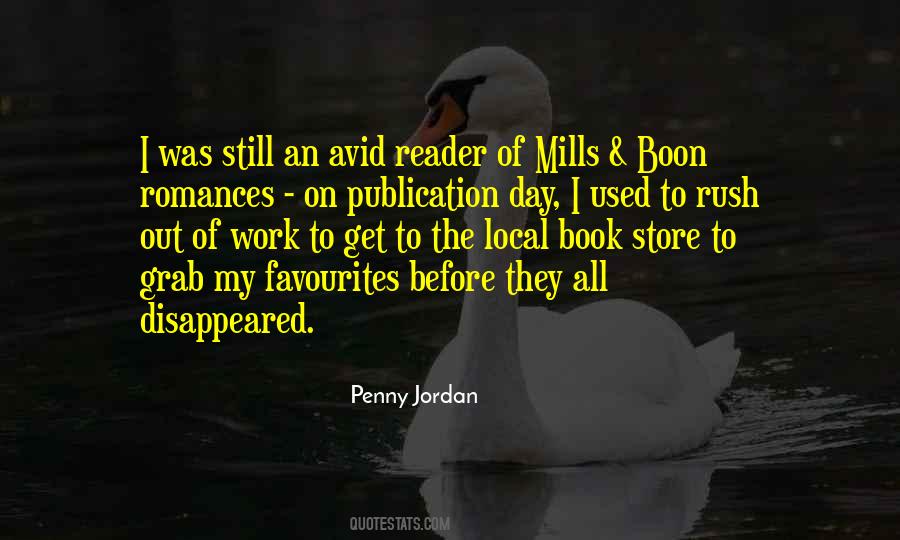 #68. But I was, and still am, an avid reader and so when I first started I chose to photograph many of the great writers in this country to try and earn a living.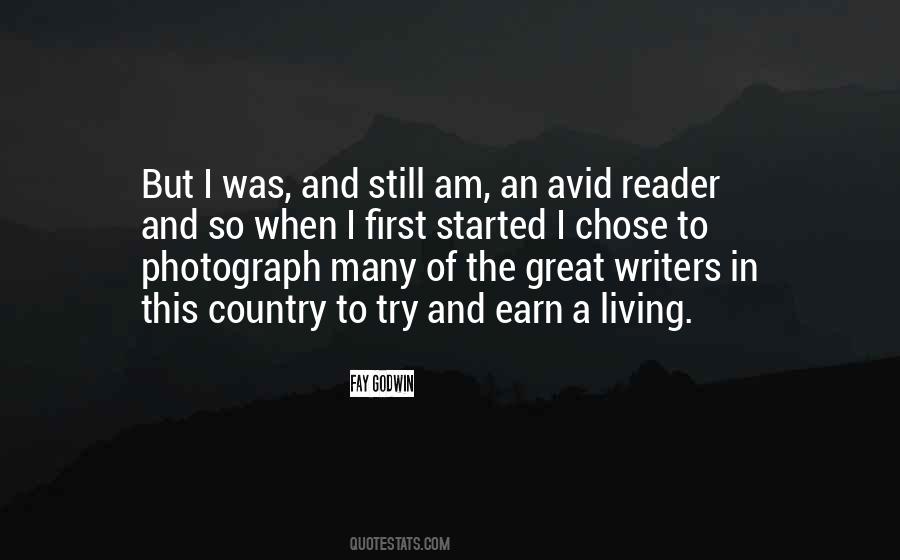 #69. More than 3,500 hardcover novels are published each year. Even the most avid reader buys fewer than one a week.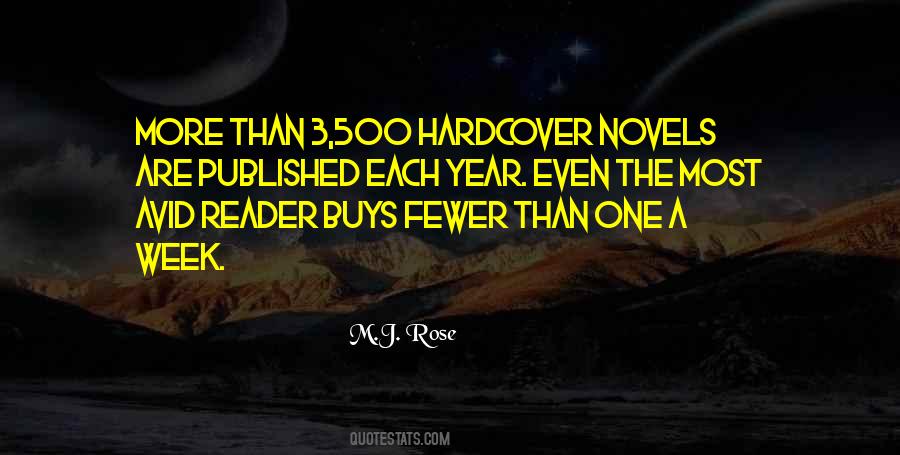 #70. I love scuba diving. I'm an avid diver. And, there's this beautiful world that's more incredible than any CGI film we could ever make, that we're destroying, for what? It's heartbreaking to me.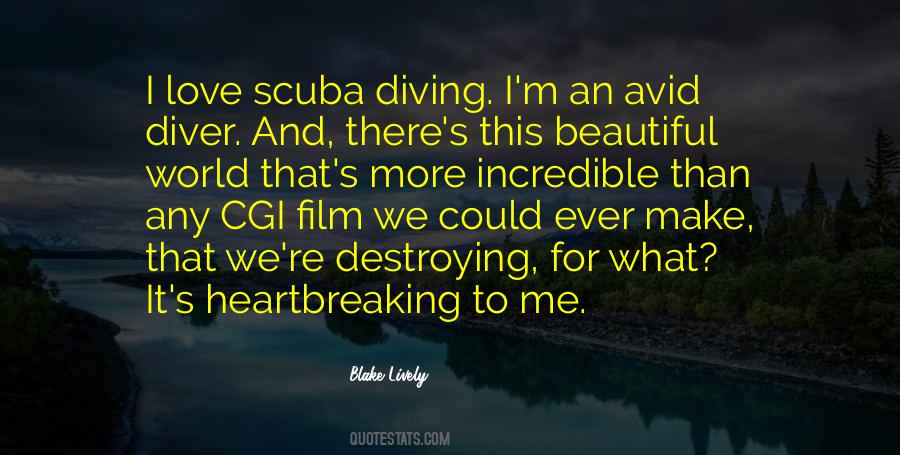 #71. I'm such an avid magazine reader - music, art, beauty magazines - and I found that food and restaurants were pouring into everything I cared about. Whether it was the pop-up concept, or some mysterious mini-mall restaurant, I got swept up in the sexy romance of the food movement.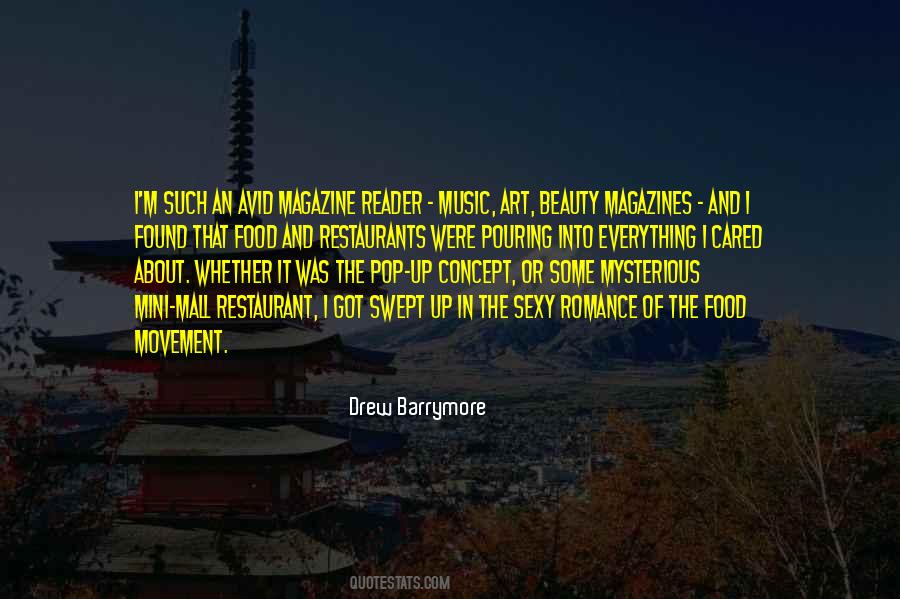 #72. Let us not forget that group of self-taught, outsider artists who never stepped foot in any classroom and cared less about even exhibiting, and yet ended up with an audience of avid admirers.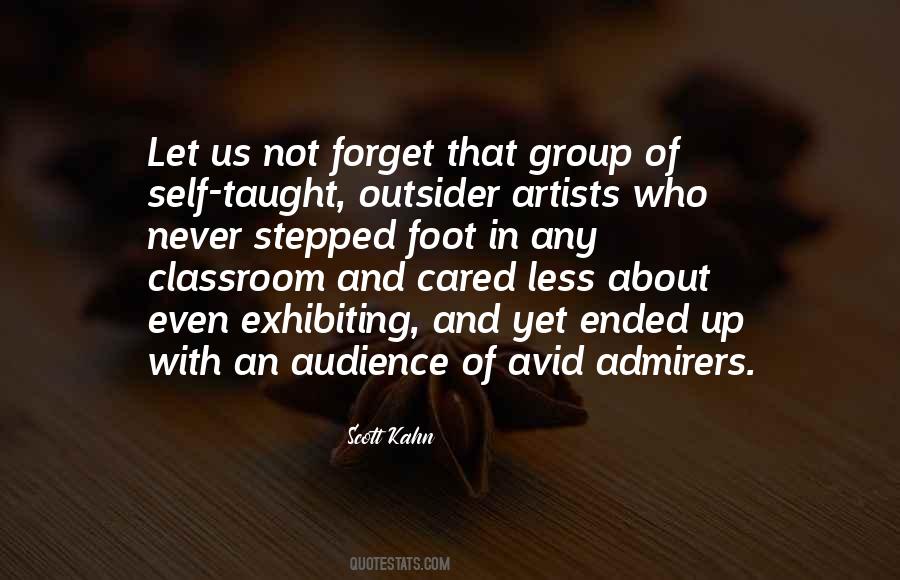 #73. No matter how avid they themselves may be for praise and appreciation, people are often niggardly in giving it to others, however merited it is.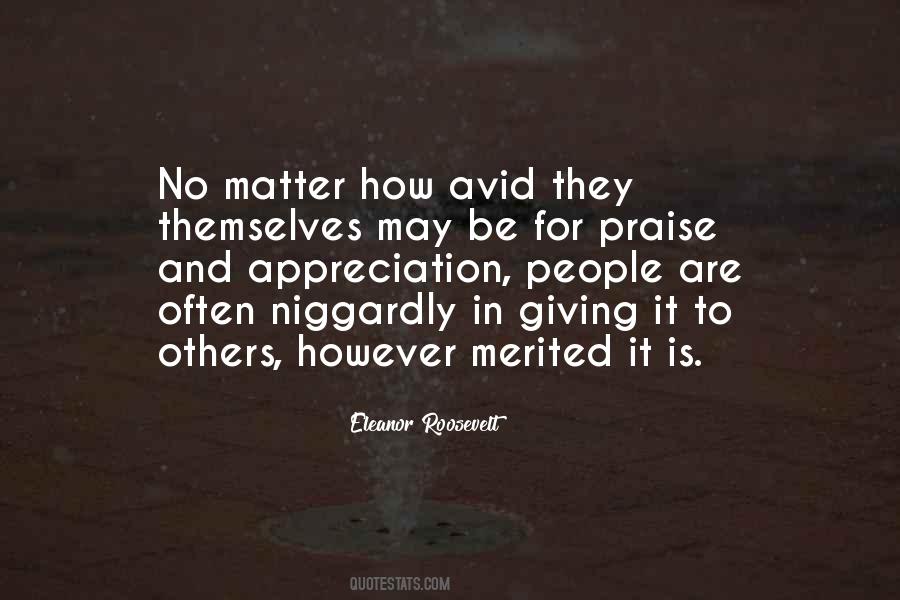 #74. Avid readers are enchanted by meaning, which is available chiefly in books.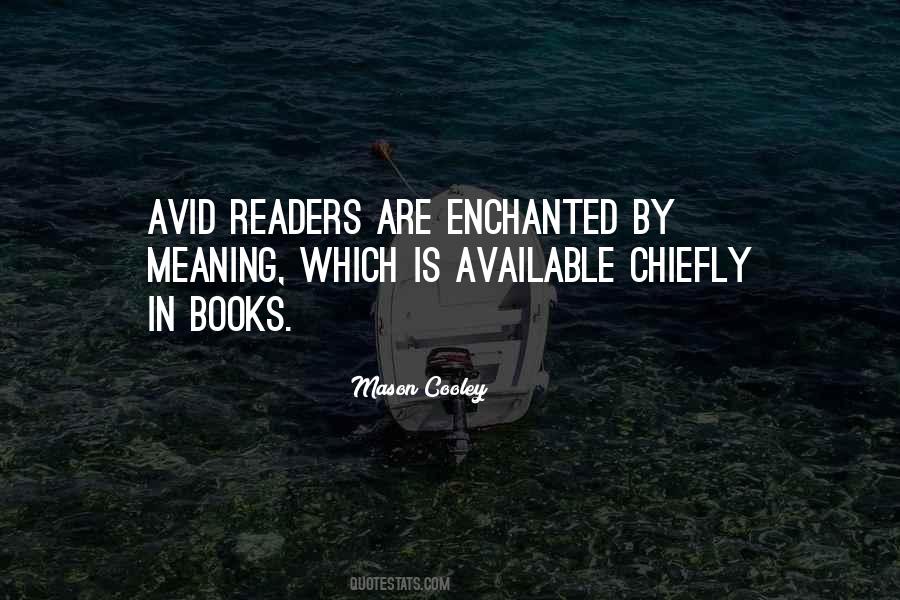 #75. I'm an avid biography reader.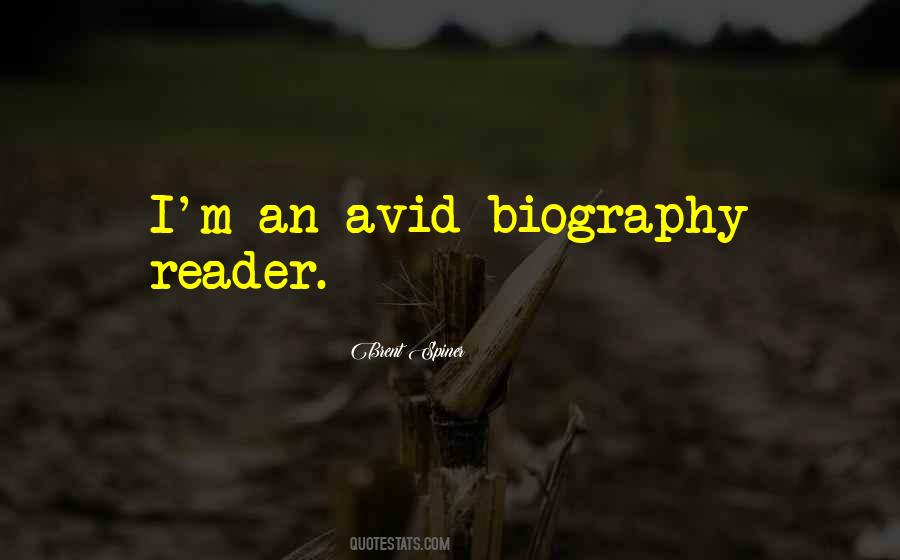 #76. My mother was an avid reader ... She loved books about romance. Books that took place in faraway places and times. Stories with costumes ...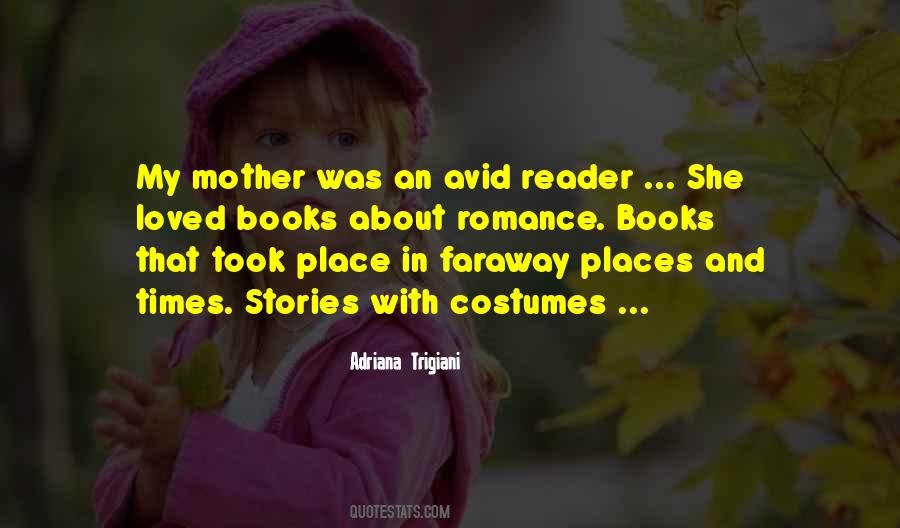 #77. I want to do things - scuba diving, sky diving, seeing the world. I'm an avid supporter of living life to its fullest and not always waiting for tomorrow.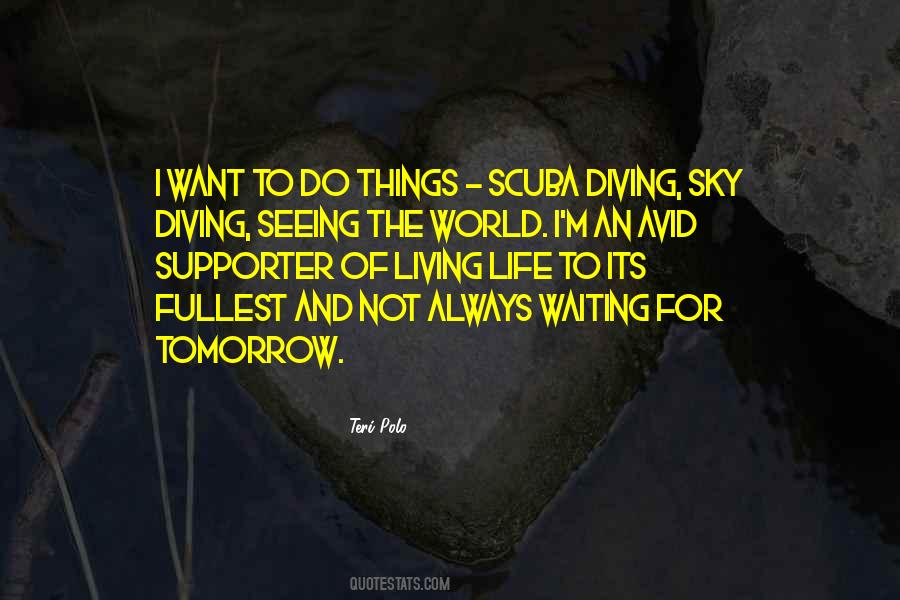 #78. I have always been an avid reader of chemical literature, eager for what is new.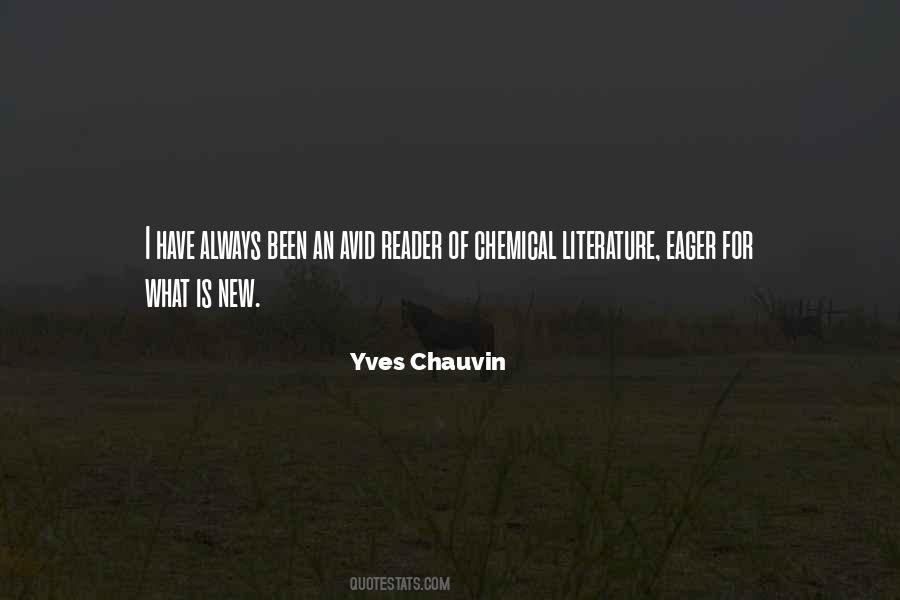 #79. One can say this in general of men: they are ungrateful, disloyal, insincere and deceitful, timid of danger and avid of profit ... Love is a bond of obligation that these miserable creatures break whenever it suits them to do so; but fear holds them fast by a dread of punishment that never passes.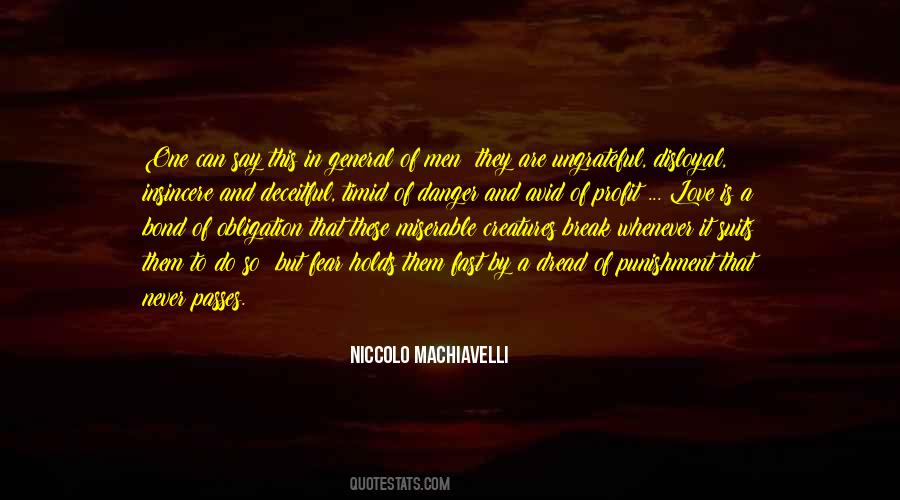 #80. By now, ten trees must have been cut down just to document my mental health, which Nikki will hate hearing, as she is an avid environmentalist who gave me at least one tree in the rain forest every Christmas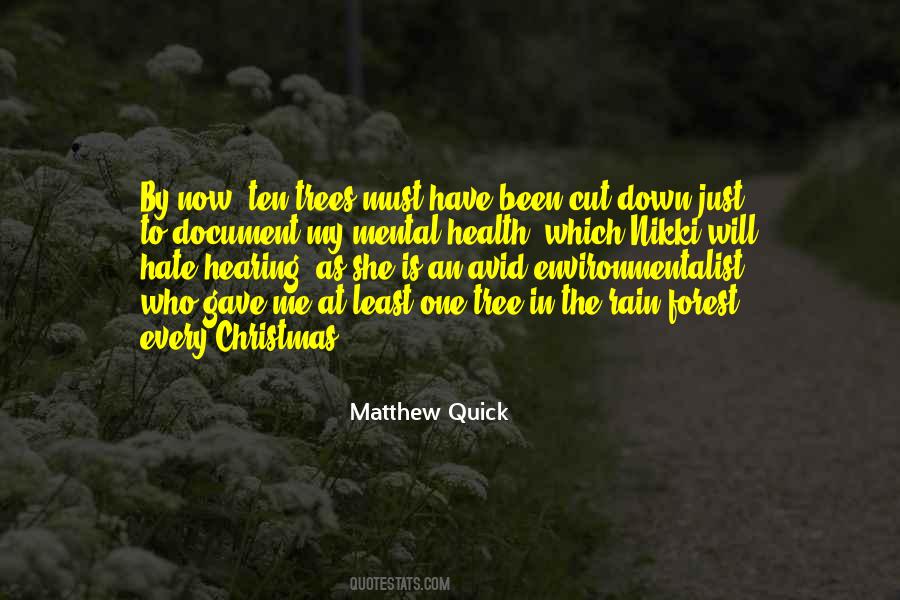 #81. When they first cast me, I was a pretty avid fan and vampire movies and Celtic mythology, so I was excited to get a chance to walk in Doyle's shoes and have fun with it.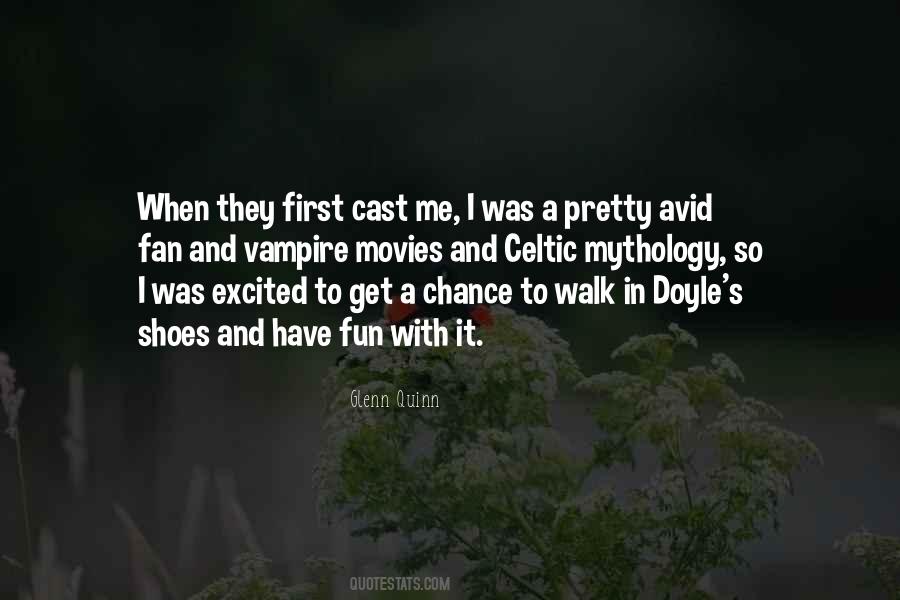 #82. I'm an avid runner and play soccer every weekend, but I also have to constantly watch what I eat, and I'm always thinking about how to balance my meals.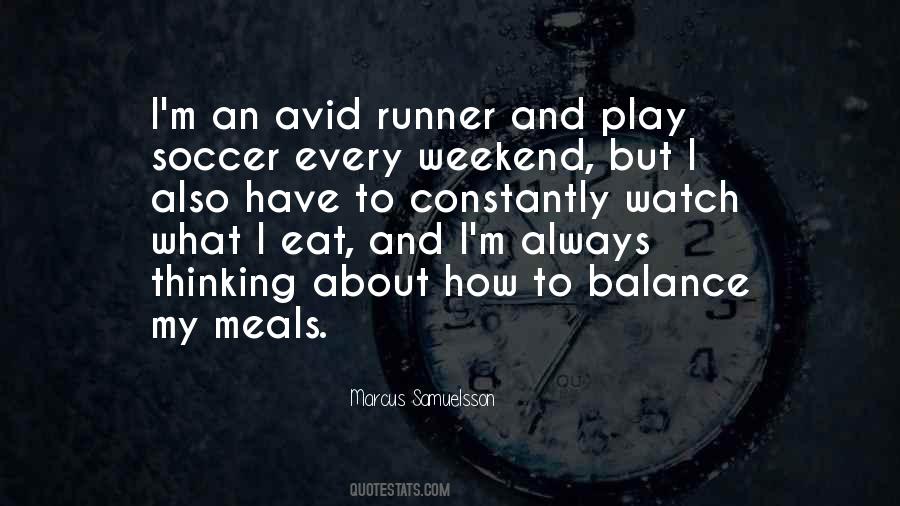 #83. I am an avid runner, mainly on weekends.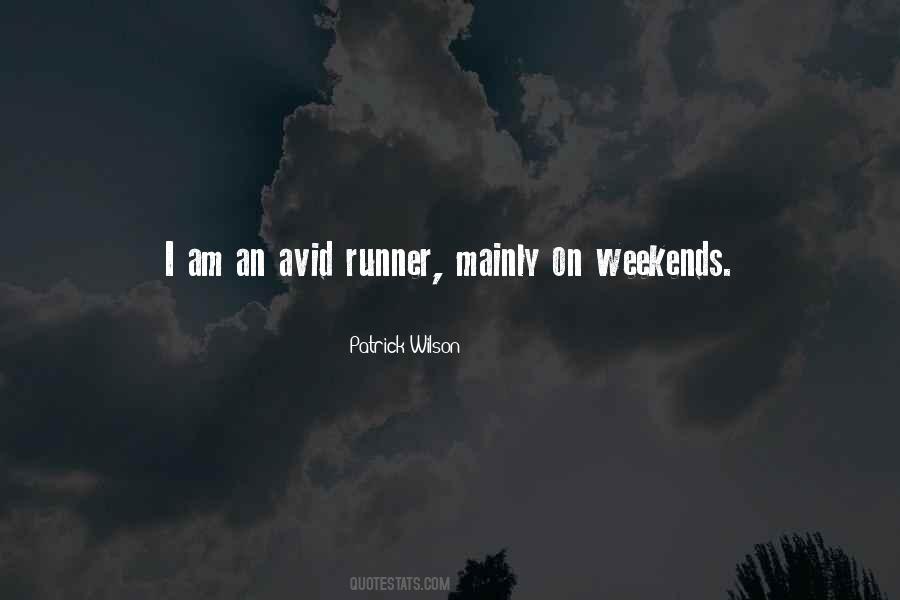 #84. I was an avid swimmer and was state champ at age 12.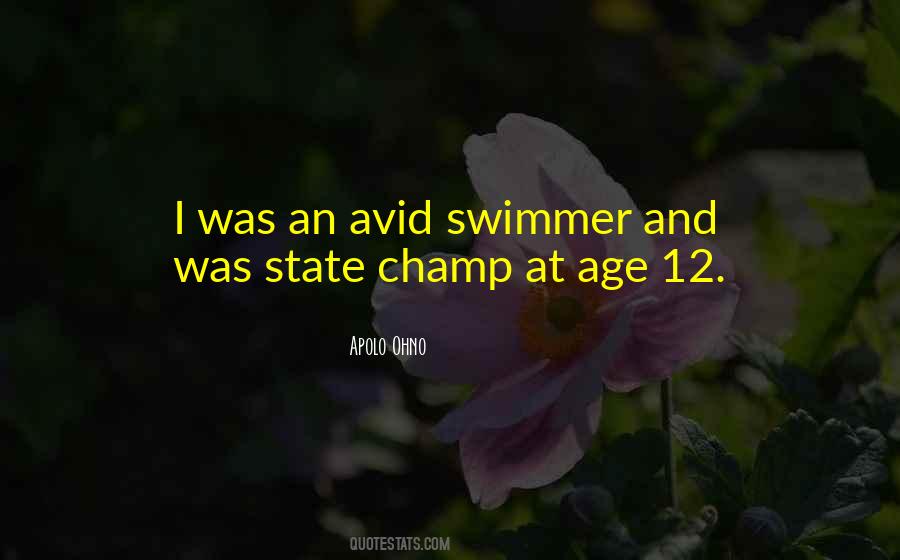 #85. His avid look made her feel not beautiful and loved, but ugly and ashamed. How could you be violated by mere eyes? How could you be lovers with someone, and yet feel every moment alone with them intruded upon your privacy, your dignity?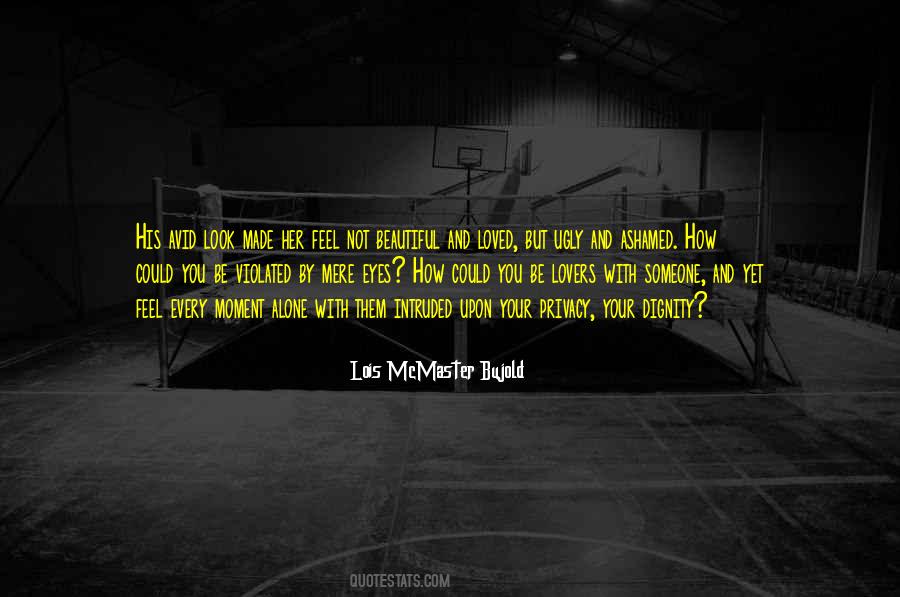 #86. I want to finish by saying that I intend to be an avid spokesperson for testicular cancer once I have beaten the disease ... I want this to be a positive experience and I want to take this opportunity to help others who might someday suffer from the same circumstance I face today.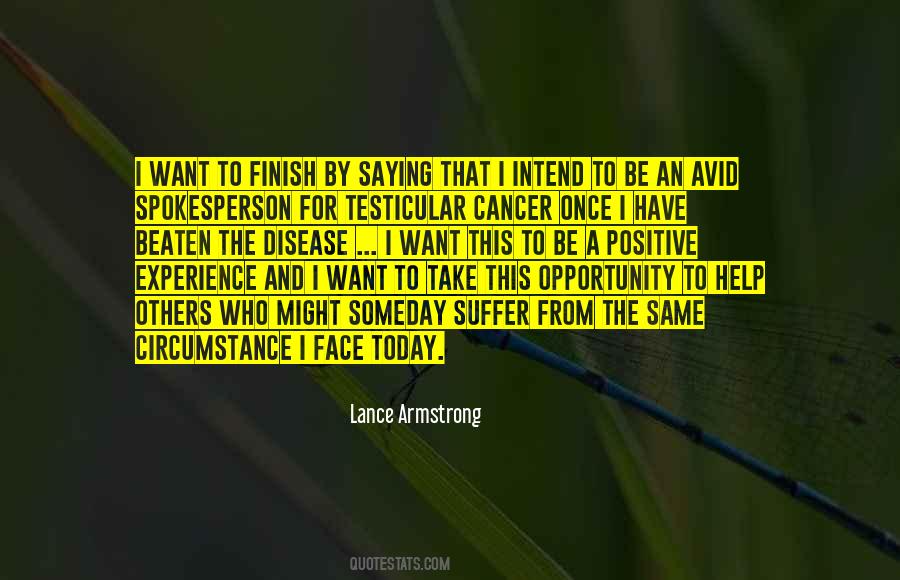 #87. Even though I've been an avid consumer of contemporary music since my early teens, the world of rock music has always been at something of a distance - I listen to it, read about it, I talk about it, but I've had little or no contact with its denizens.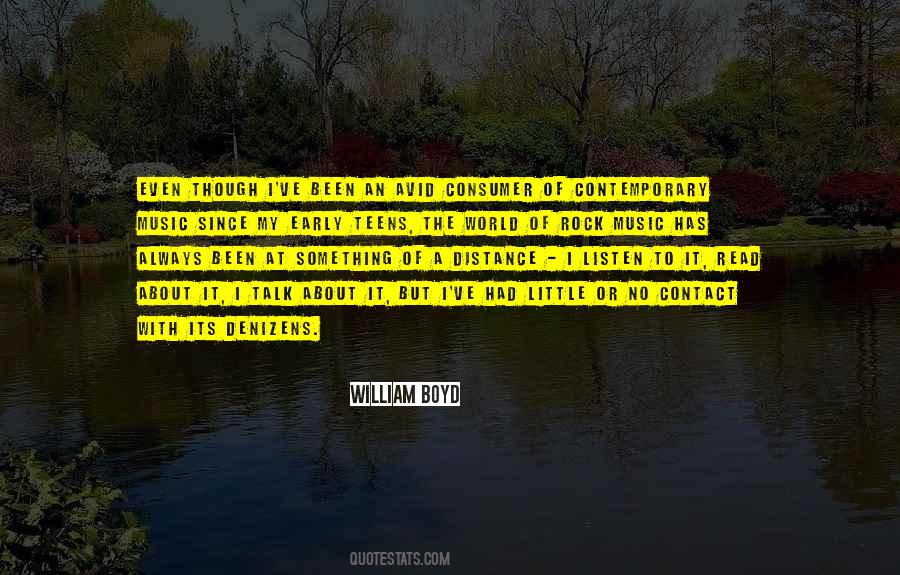 #88. Barrett is a bigger guy, not fat (not yet) but ursine, crimson of eye and lip; ginger-furred, possessed (he likes to think) of an enchanted sensual slyness, the prince transformed into wolf or lion, all slumbering large-pawed docility, awaiting, with avid yellow eyes, love's first kiss.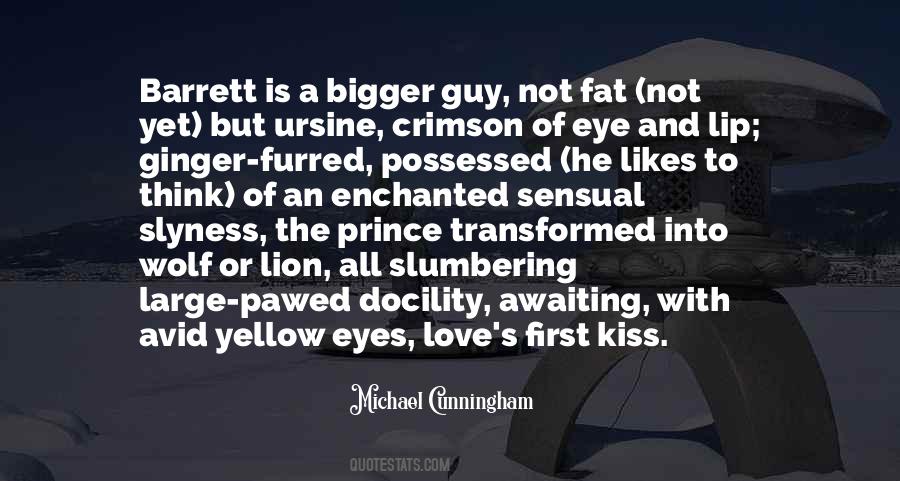 #89. Whenever I'm not shooting, I'm in the editing room with my footage. While the crew is taking 15 minutes to an hour to set up the next shot, I'm behind the Avid, putting the flick together.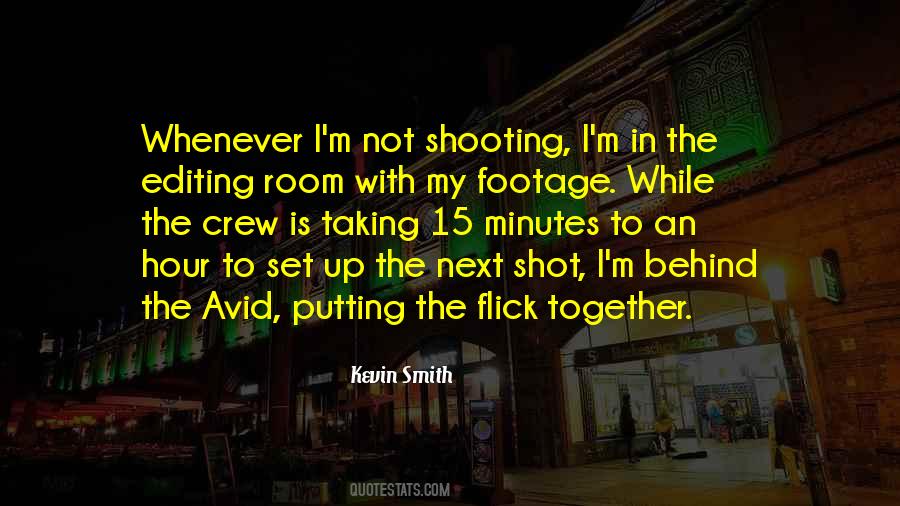 #90. I keep up with everything in terms of health, fitness, nutrition, skin care, hair, nails. Really, everything. I'm an avid reader of every women's health newsletter from every hospital in the country.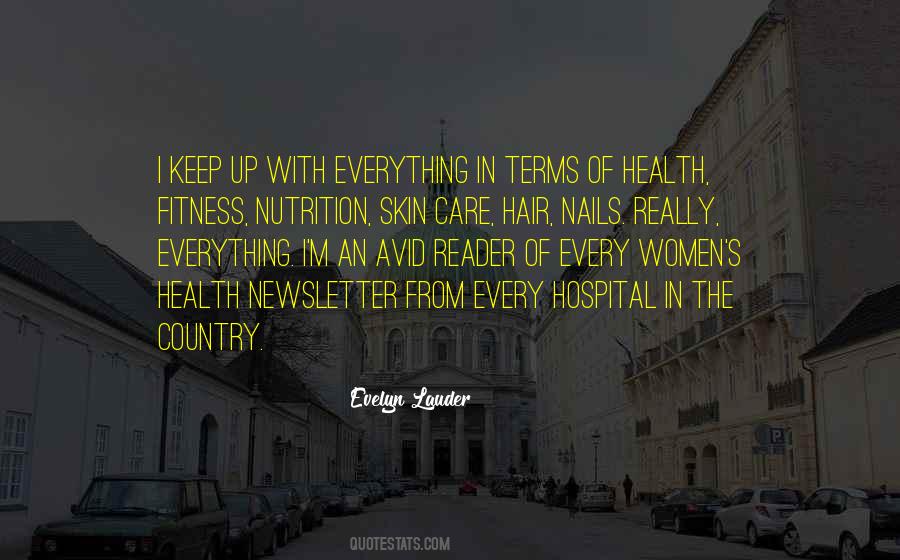 #91. Mr. Bird was an avid hiker, lover of reggae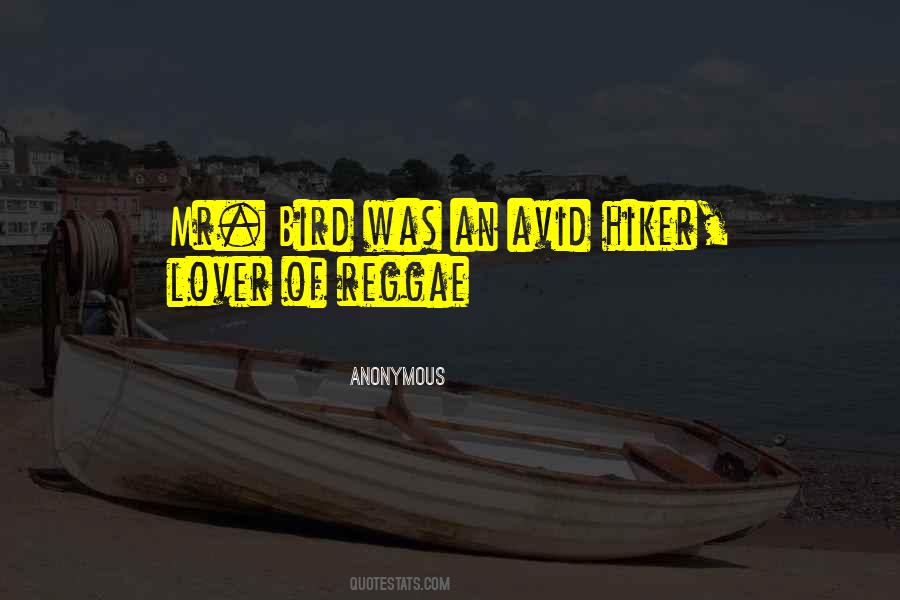 #92. I'm a big outdoorsman ... I'm a big hunter. Avid fisherman. Hiker. Climber. Scuba diver. Skier. Love the outdoors.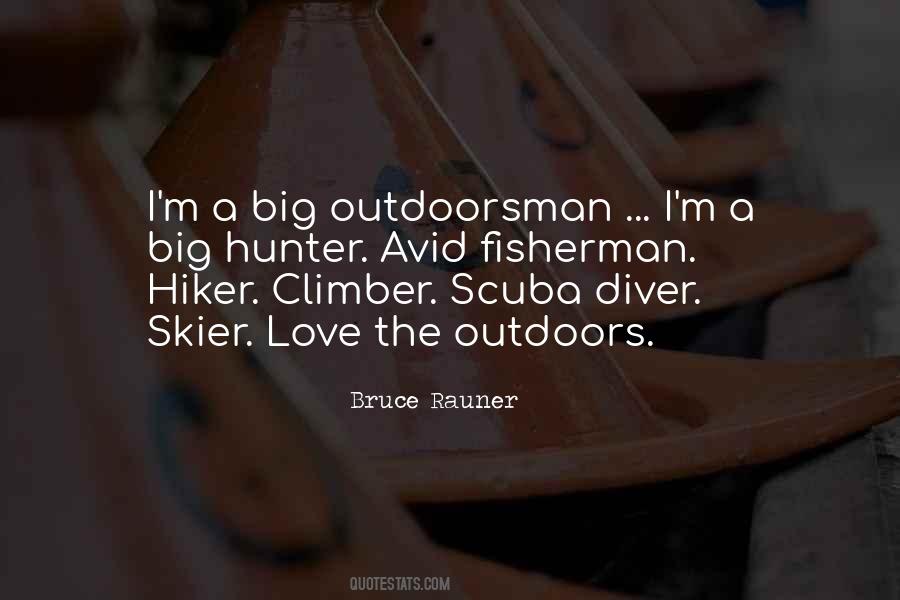 #93. We lacked something that is the key to a successful startup, and it was bigger than sound quality. It was emotional investment. If you don't love what you're building, if you're not an avid user yourself, then you will most likely fail even if you're doing everything else right.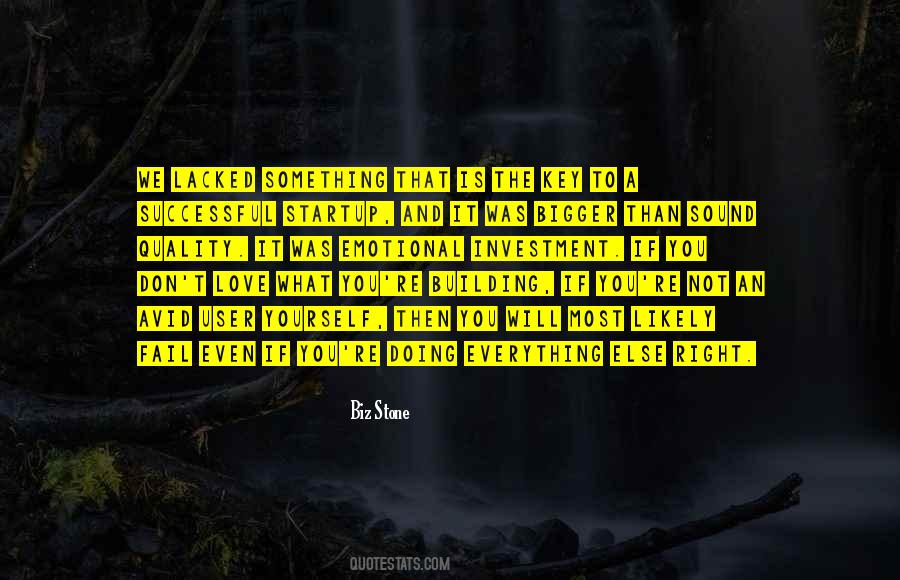 #94. I'm a conservative. I was an avid supporter of Ronald Reagan; I thought he was fabulous.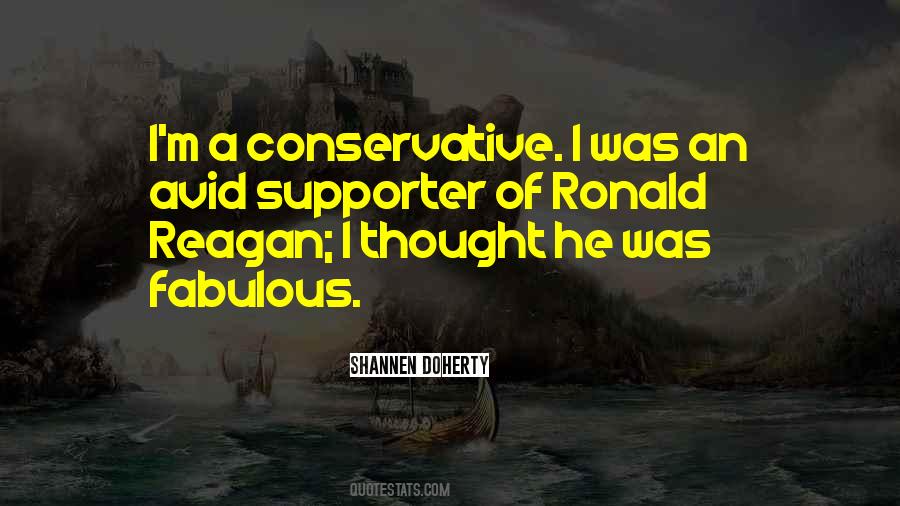 #95. Just because you're an avid reader doesn't mean you're an avid understander.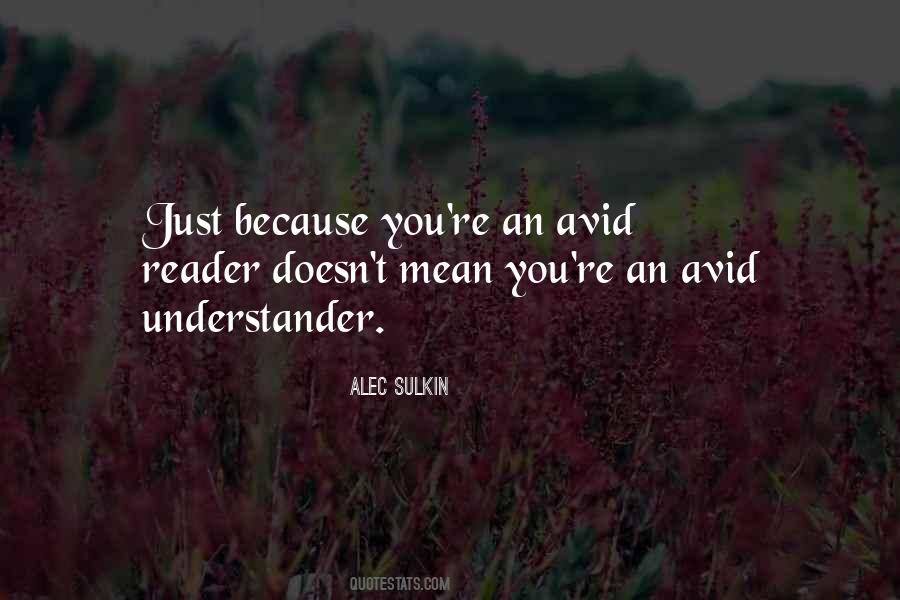 #96. Everybody sort of questioned why we get married on New Year's Day, and of course, the avid sports fans wouldn't come, because they had to watch the Rose Bowl or whatever that is on that day.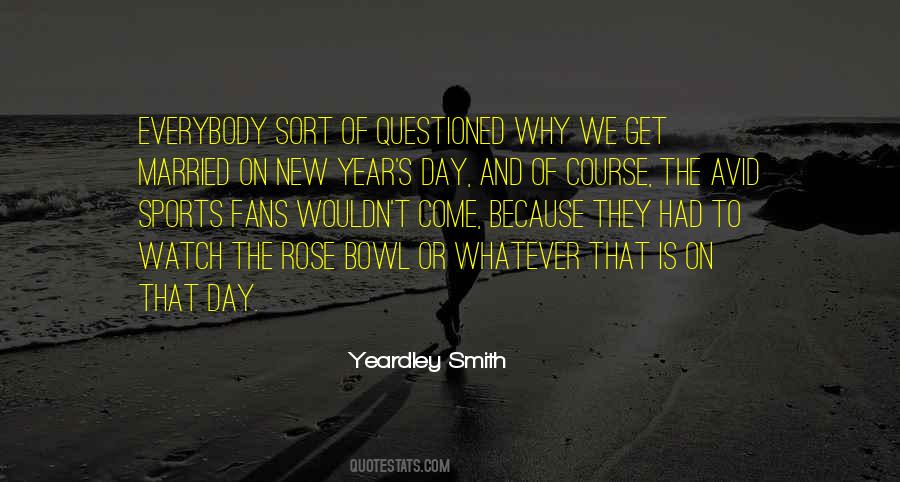 #97. We had an erector set, and I was an avid fan of Popular Mechanics and Popular Science magazines.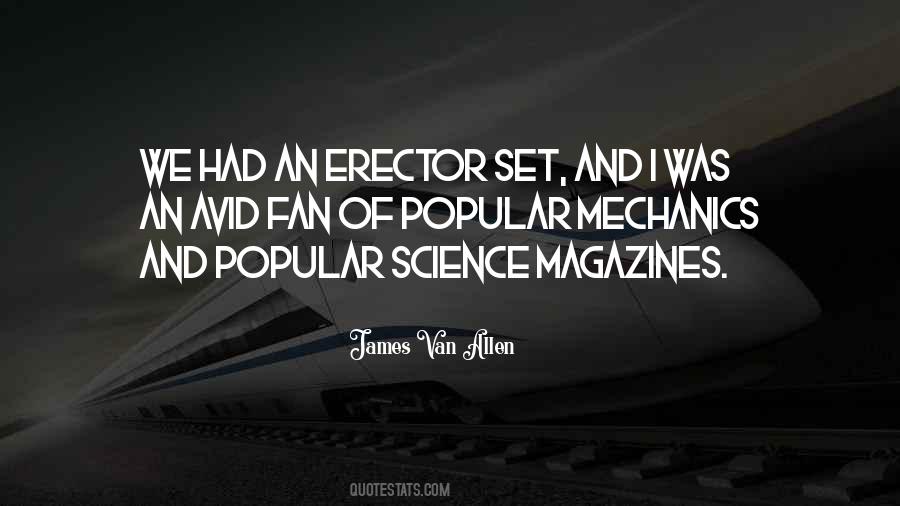 #98. Accumulating knowledge is a form of avarice and lends itself to another version of the Midas story ... man [is] so avid for knowledge that everything that he touches turns to facts; his faith becomes theology; his love becomes lechery; his wisdom becomes science; pursuing meaning, he ignores truth.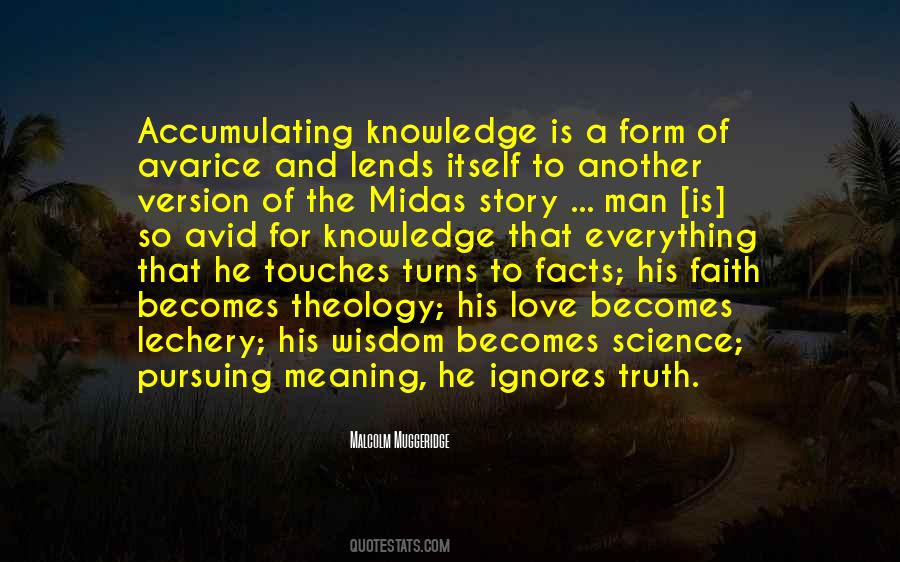 #99. I would not describe myself as an avid jazz fan and I am not a jazz musician myself. However, that is not to say that jazz does not play a vital and important role in my life.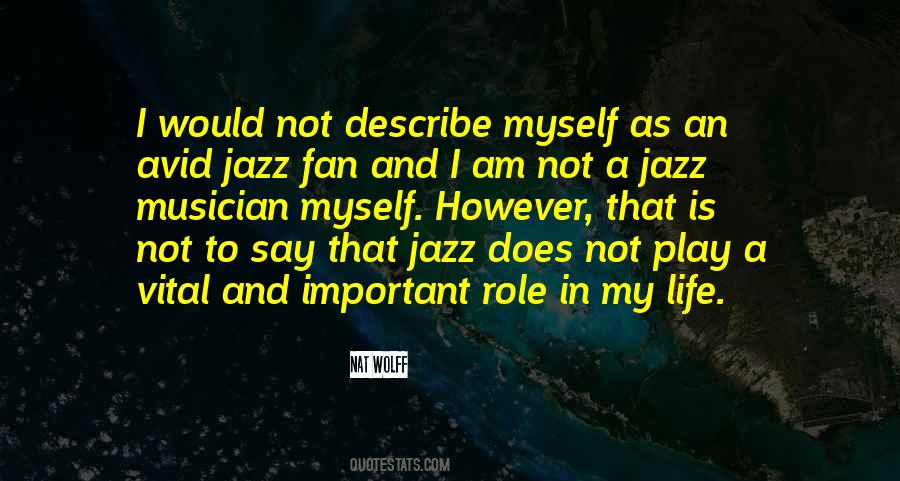 #100. The pursuit of learning is not a piece of content that can be taught. It is a value that teachers model. Only teachers who are avid, internally motivated learners can truly teach their students the joy of learning.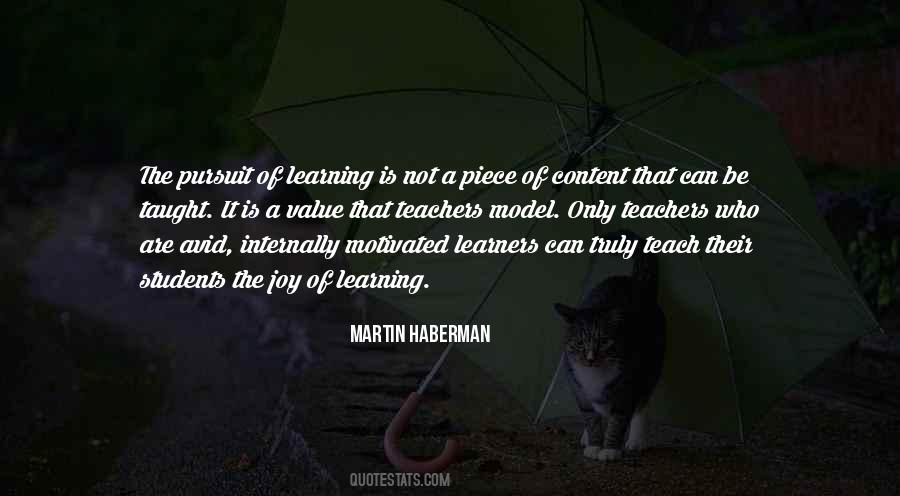 Famous Authors
Popular Topics