List of top 100 famous quotes and sayings about as i am to read and share with friends on your Facebook, Twitter, blogs.
Top 100 Quotes About As I Am
#1. I regard myself as a religious ... the temper of my mind as religious, and because I regard the temper of my mind as religious, I am profoundly skeptical about any form of human authority, any form of human self-importance.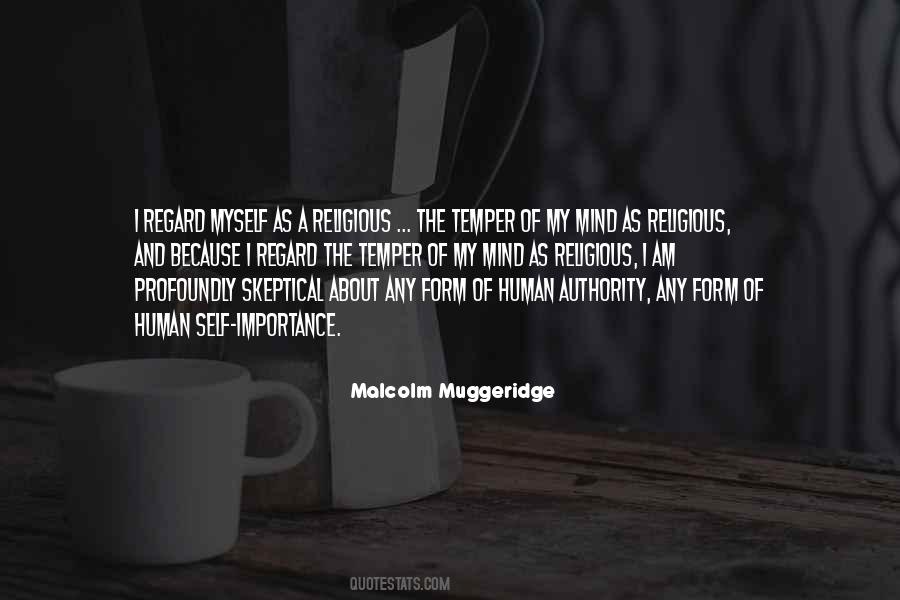 #2. I am purely evil;
Hear the thrum
of my evil engine;
Evilly I come.
The stars are thick as flowers
In the meadows of July;
A fine night for murder
Winging through the sky.
#3. I am not ridiculing verbal mechanisms, dreams, or repressions as origins of poetry; all three of them and more besides may have a great deal to do with it.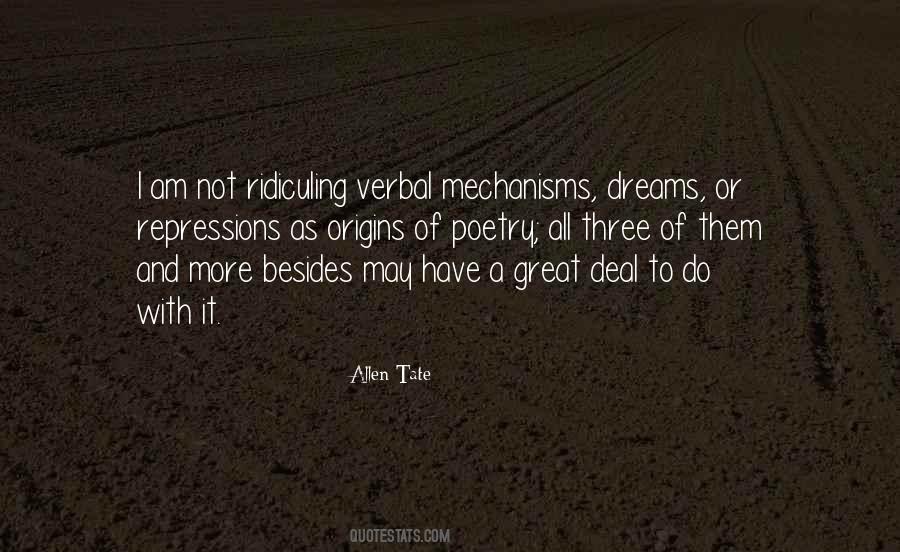 #4. I am Levi Black and my record was spotless; I didn't mess around with students, I didn't lose cases, and I sure as hell didn't air my dirty laundry in public.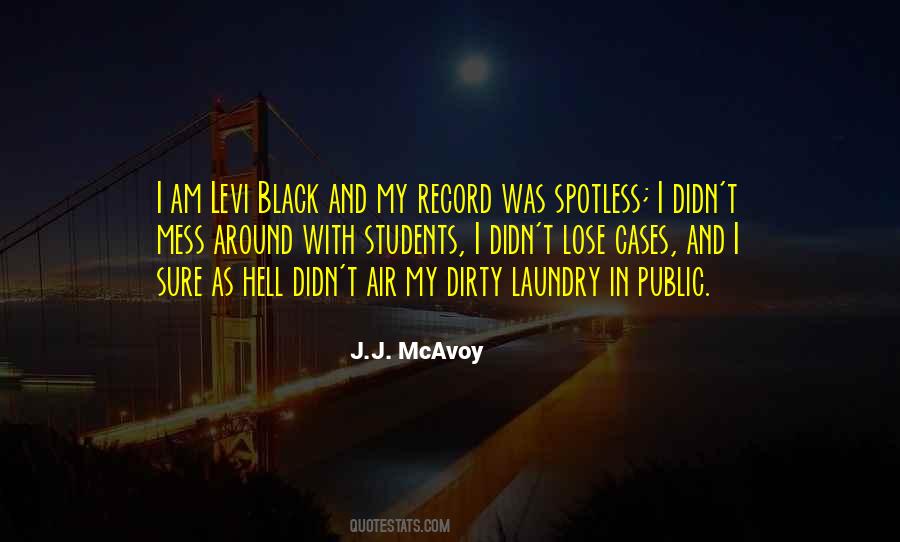 #5. You keep doing that, and you'll find yourself mated quick enough."
"It's no' for me. I'm perfectly content just as I am."
Ryder made a face. "Are you insane? why say something like that and temp the cosmos?"
Laith watch him walk away, wondering if he had just drawn the interest of fate.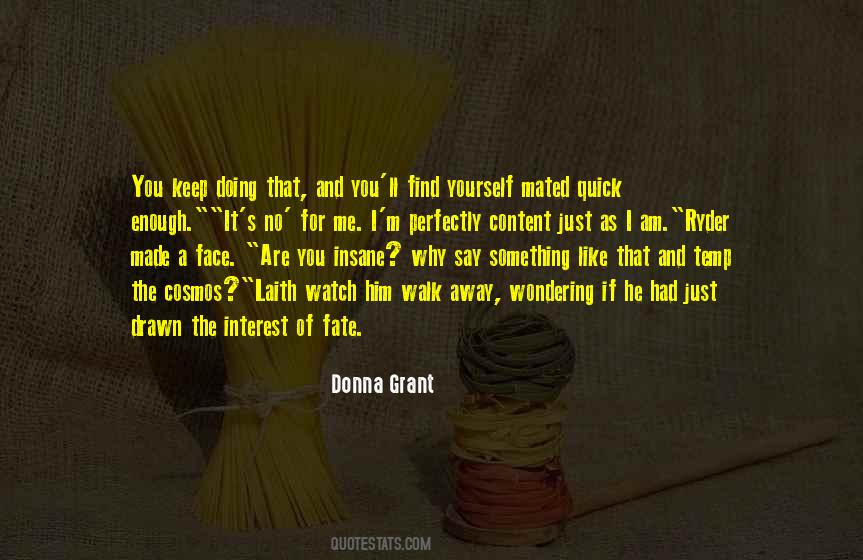 #6. I think you're kind of seeing the real me as far as seeing what I post on social media, because I am very much into cooking, and my dogs, and obviously my son, and my lifestyle in Santa Cruz is very laid-back.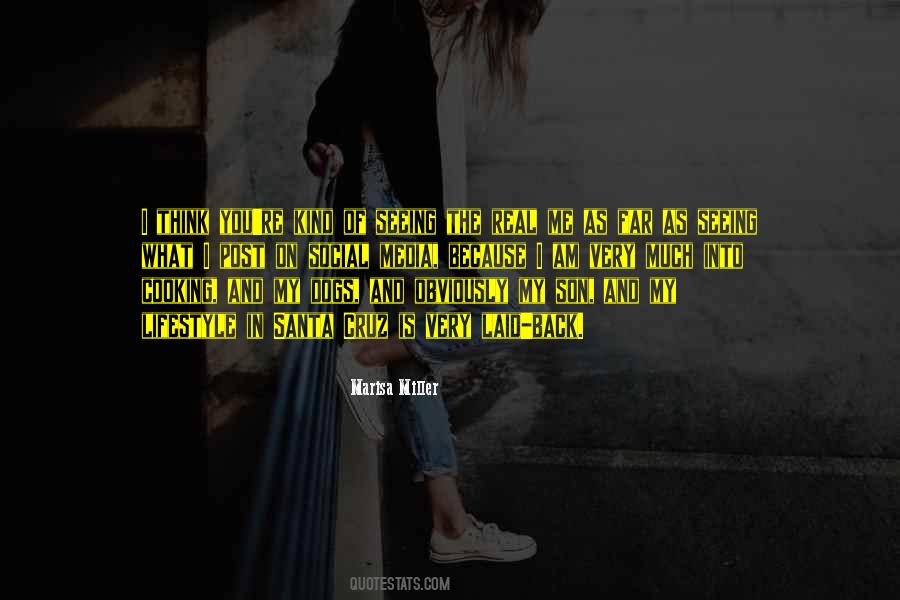 #7. When I'm on the road, I wake up early and walk a lot. I'm very healthy. But when I come back home, I am more tempted by guilty pleasures, such as eating too many sweets and sleeping a lot.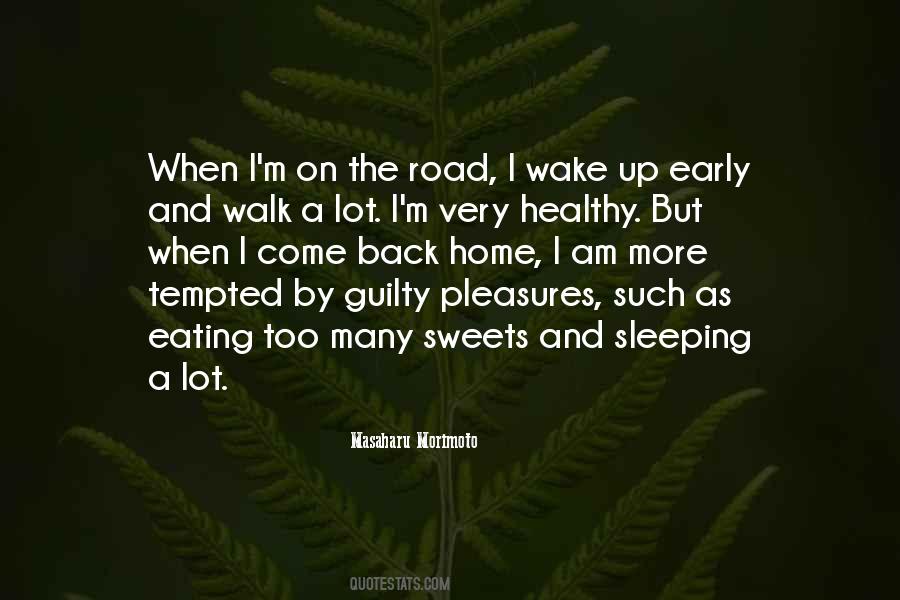 #8. By gad - do you mean to say I am as important a possession as your cattle?" She pressed her hand to her heart. "Oh, Dain, you are too devastatingly romantic. I am altogether overcome.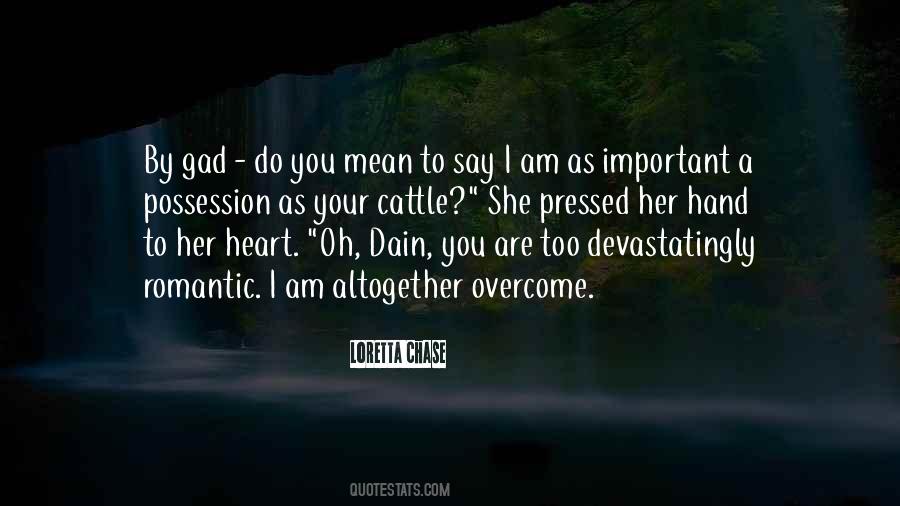 #9. You may say suicide is a loss of control and cowardly. Foolish as it may sound, I am prepared to argue.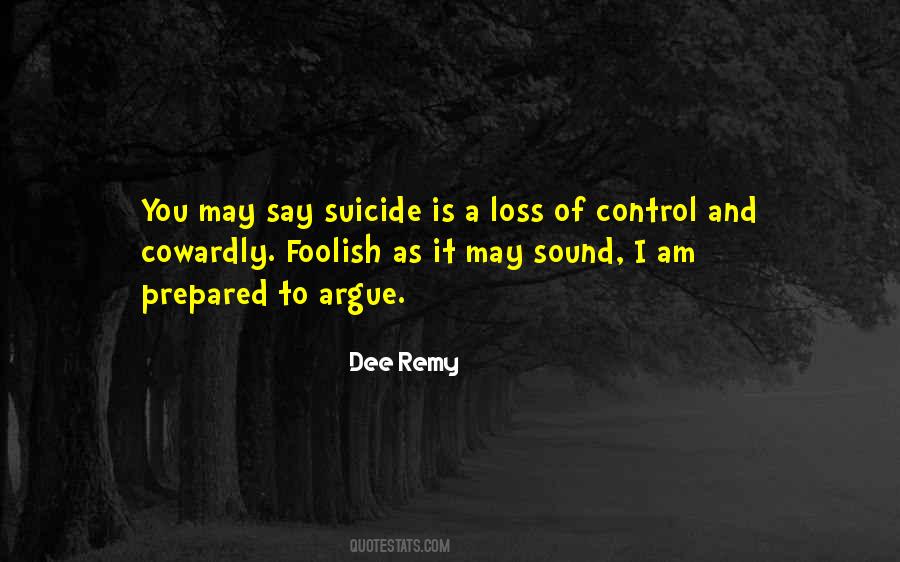 #10. If optimism is the highest form of courage
as I am beginning to believe it is
then these students are all heroes.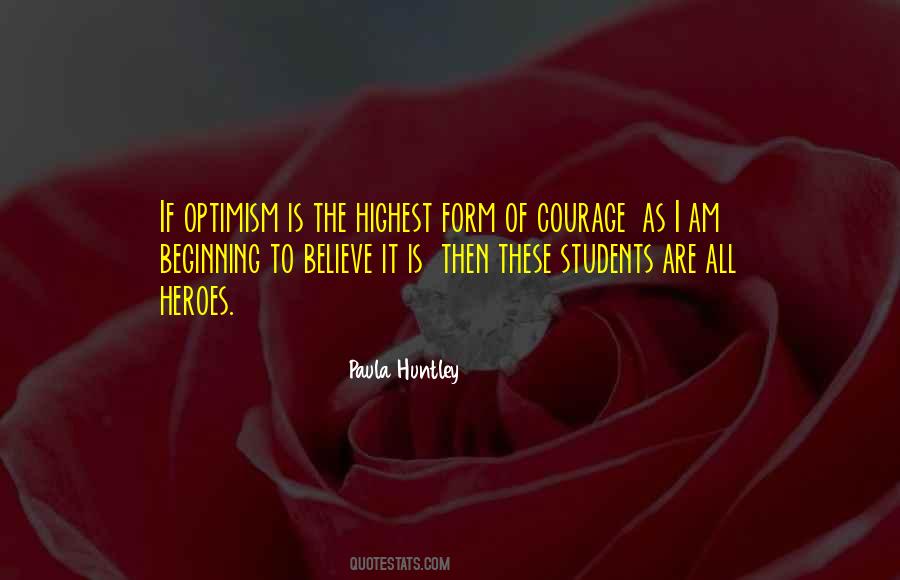 #11. I am wearied, as if I lacked a home to go to.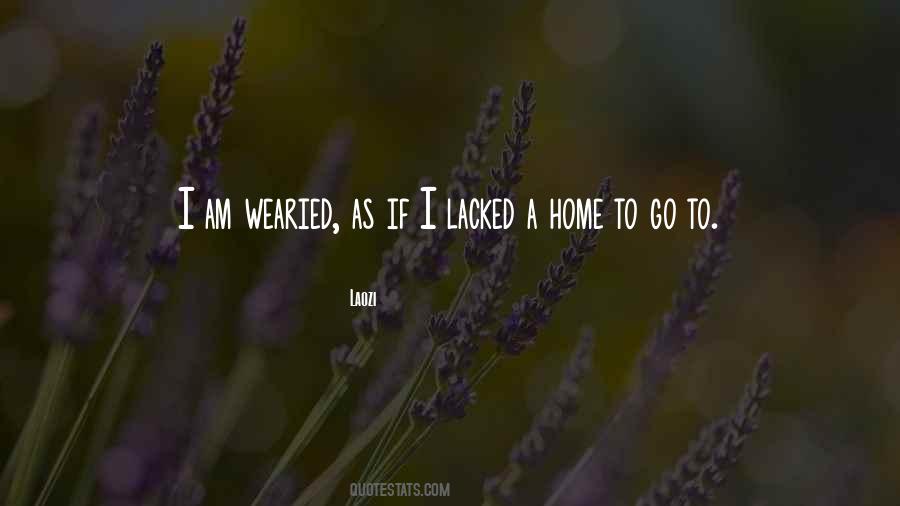 #12. I don't see myself as a 'black actor,' I'm just Shemar Moore the actor. I'm very proud to be black, but I'm just as much black as I am white.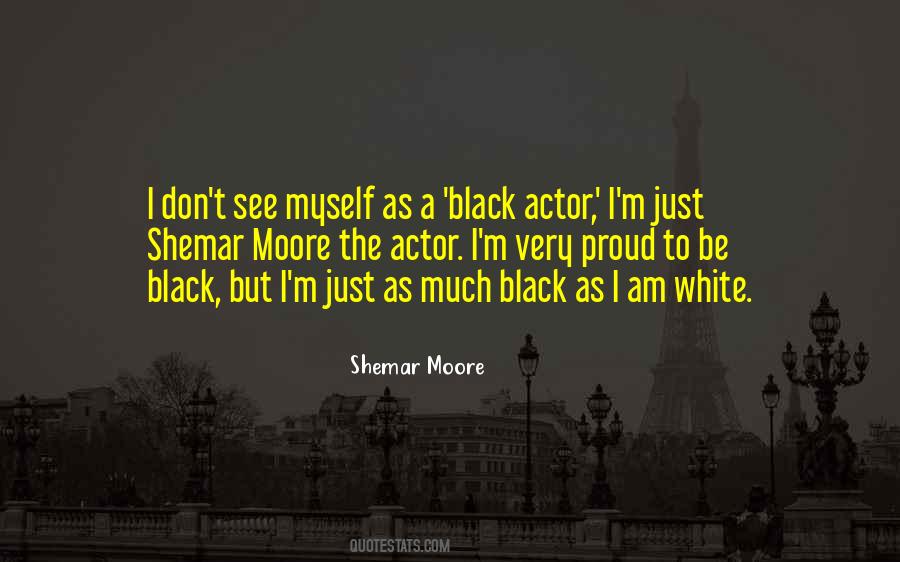 #13. If there's one thing I can't stand, it's the wounded male ego. It's as though Hollywood thinks I've got some choice in whether I like him or not. As if. I can't change who I am.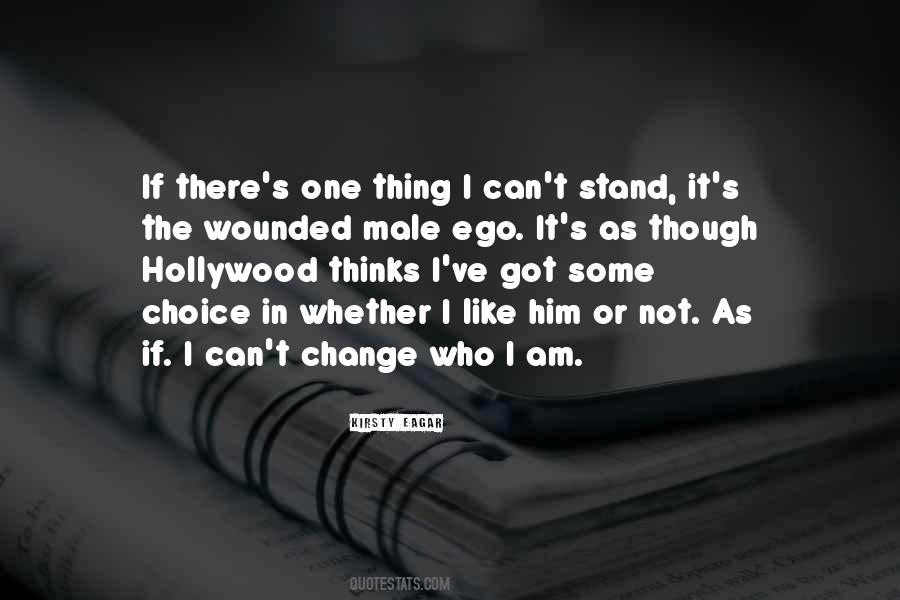 #14. He is a blind man and I am his book of braille. His breath against my collarbone raises goosebumps on my arm as I let him read my story.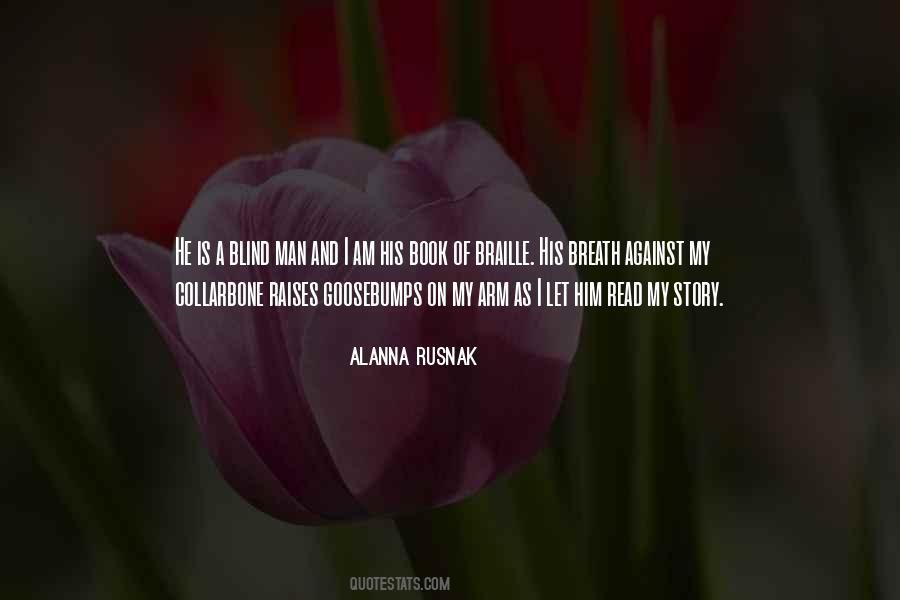 #15. When you're as tall as I am, you have no public privacy. People are constantly coming up and talking to you. Constantly. You have one of two ways to go: you engage with people, or you become really bitter. I choose to engage.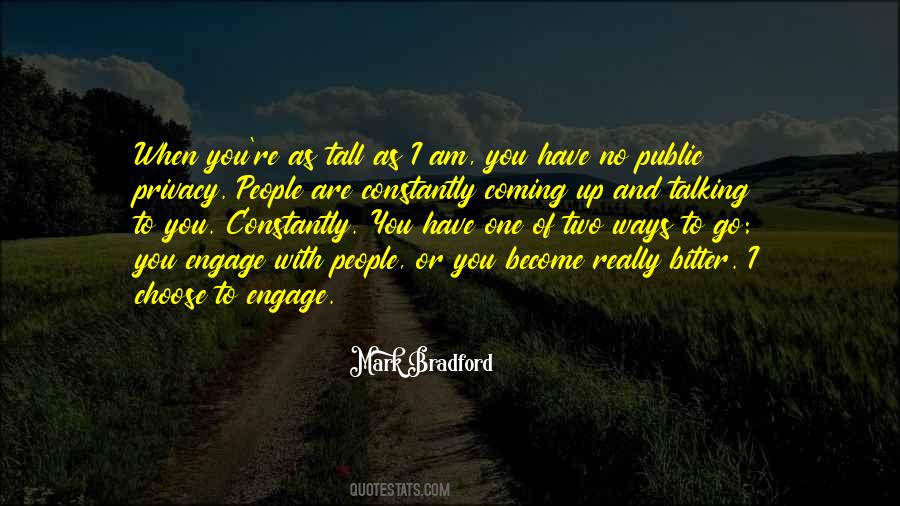 #16. I find it valid to understand man as an animal before I am prepared to know him as a man.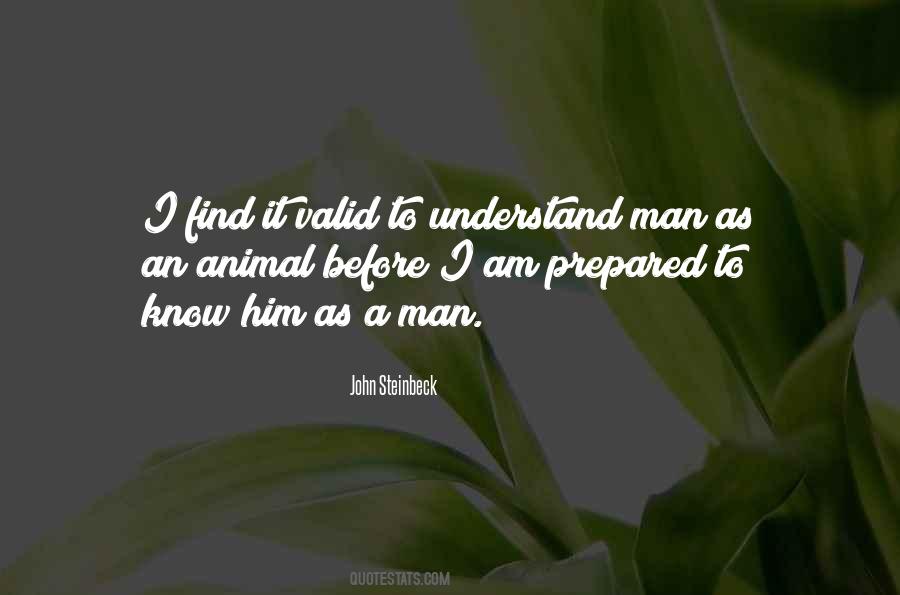 #17. I'm not strong enough for this," he whispered in her ear - like he didn't want anyone to hear that coming out of his mouth. Ever. Running her hands up his powerful back, she held him just as hard. "But I am.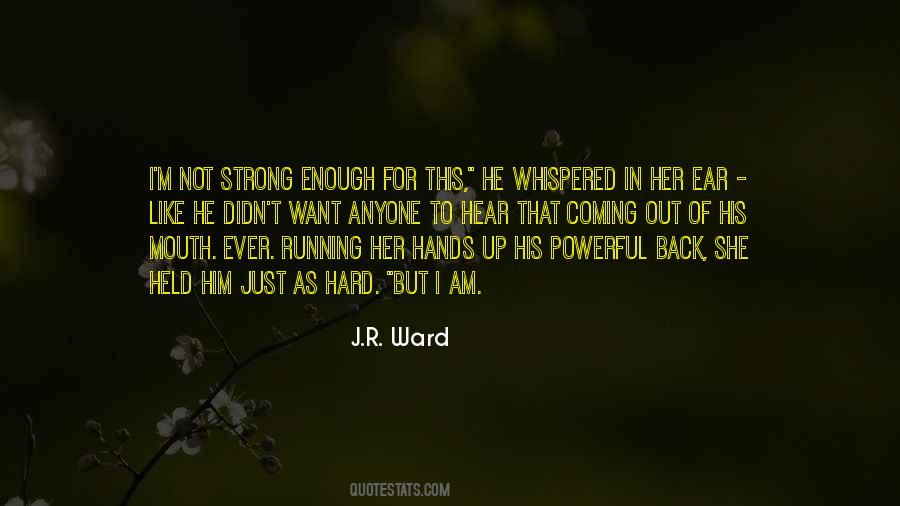 #18. I am less disposed to think of a West Point education as requisite for this business than I was at first. Good sense and energy are the qualities required.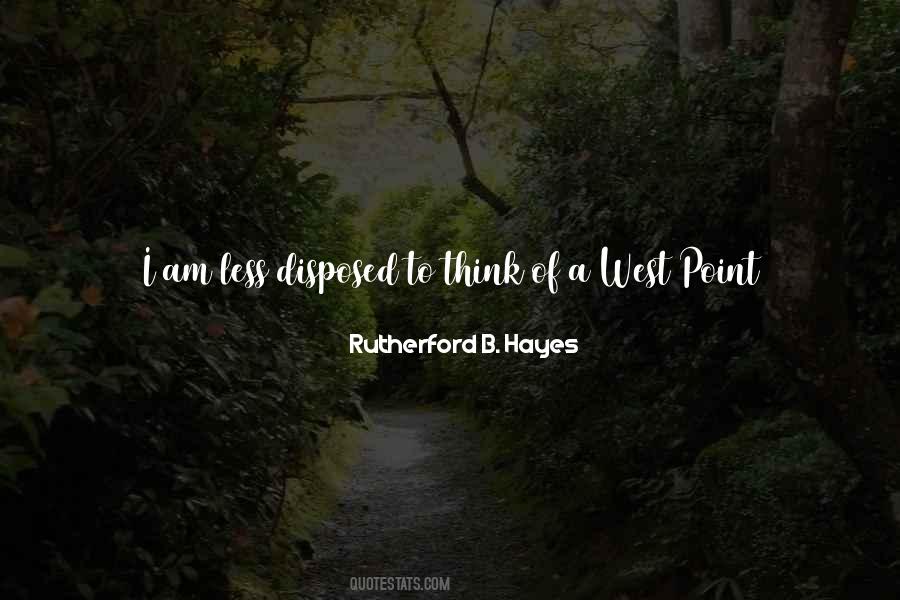 #19. When you've had a near-death experience, your life is never the same. A divine fire is supernaturally transferred into your soul, to tell everyone about your encounter. This in itself, is a miracle. As such, I am on a mission to rid hell of its future recruits.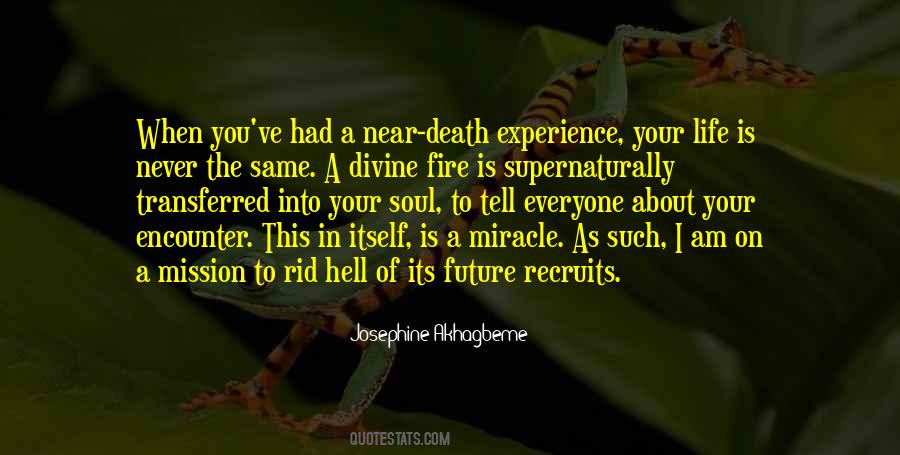 #20. I am still seeking to become firmly established as an actor.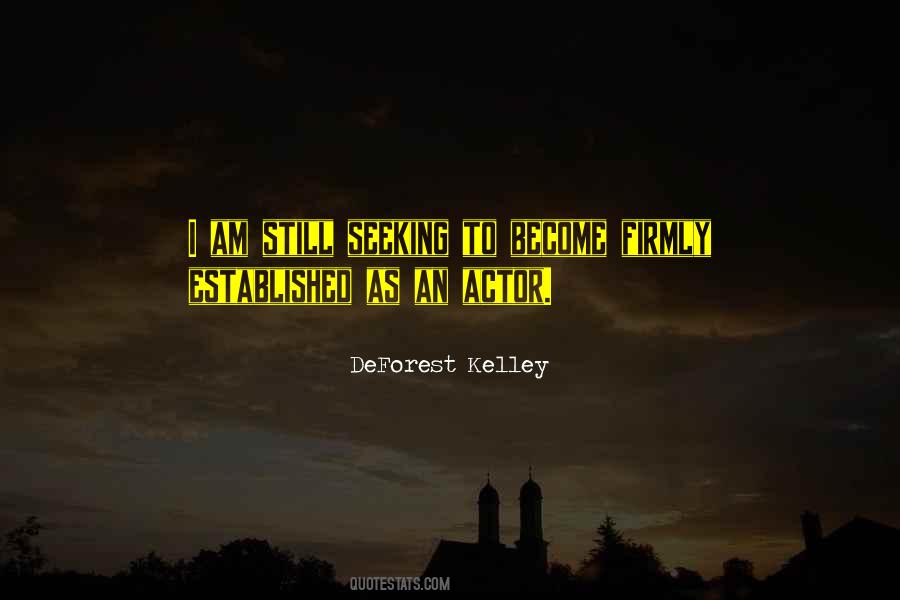 #21. I'm ambitious. But if I weren't as talented as I am ambitious, I would be a gross monstrosity.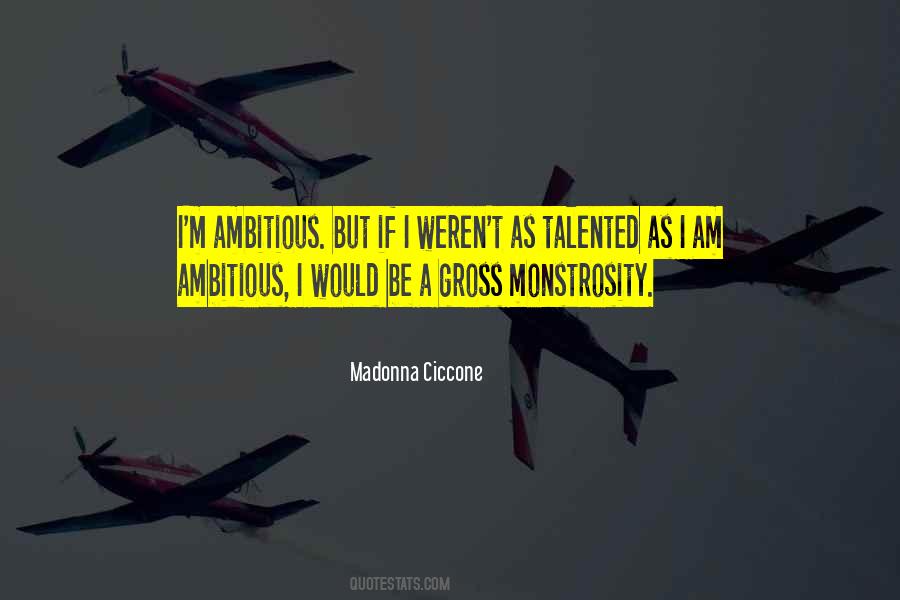 #22. When the April wind wakes the call for the soil, I hold the plough as my only hold upon the earth, and, as I follow through the fresh and fragrant furrow, I am planted with every foot-step, growing, budding, blooming into a spirit of spring.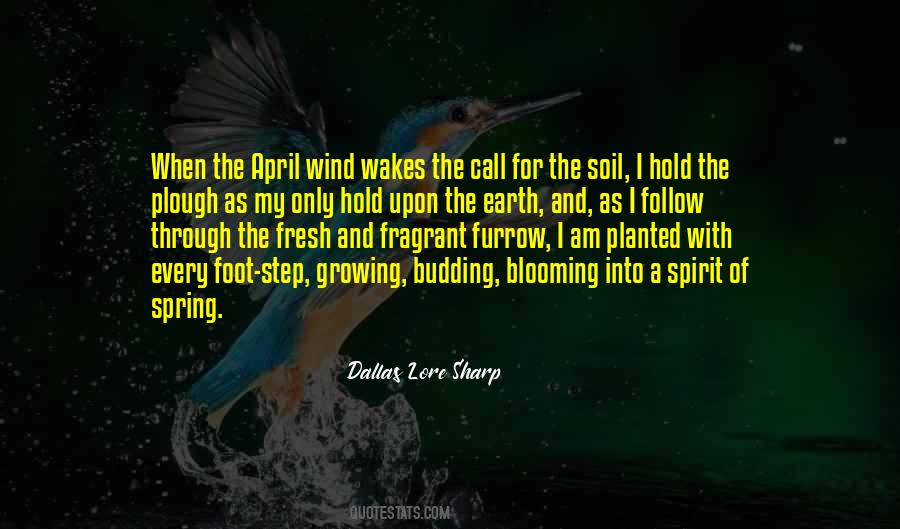 #23. I am now the site of an unmistakable sag ... With fancy holographic belt buckles do I attempt to restrain my stampeding softness. In vain ... My only virtues, as a physical specimen, are my sideburns, which are like the pelts of rare woodland animals. My sideburns are not to be ignored.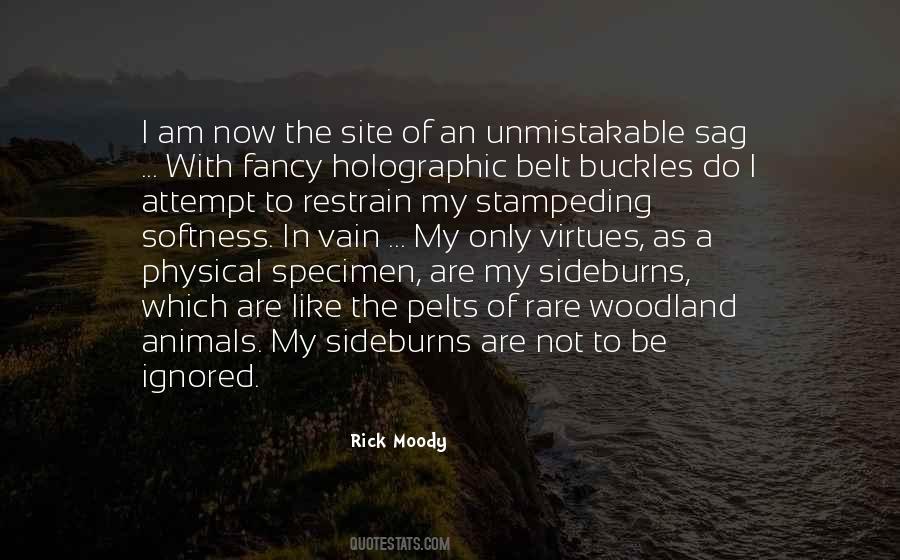 #24. What a happy woman I am, living in a garden, with books, babies, birds and flowers, and plenty of leisure to enjoy them. Sometimes I feel as if I were blest above all my fellows in being able to find happiness so easily.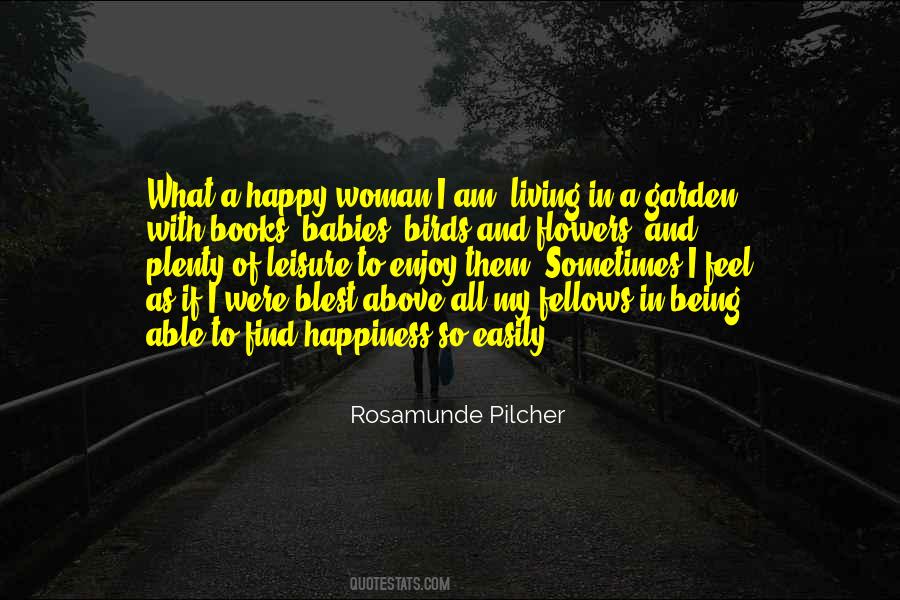 #25. We think of mortality so little these days ...
I thought of the stern Victorian determination to keep death in mind, the uncompromising tombstones.
Remember, pilgrim, as you pass by,
As you are now so once was I:
As I am so will you be ...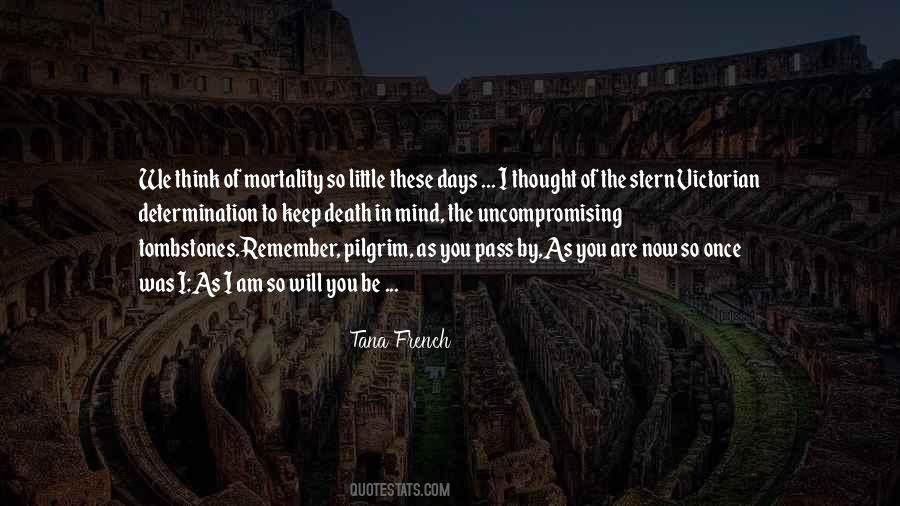 #26. I am blessed to live and work in [France,] a country where women filmmakers are by and large not unfairly treated. So I wouldn't have much to contribute regarding issues faced as a female director.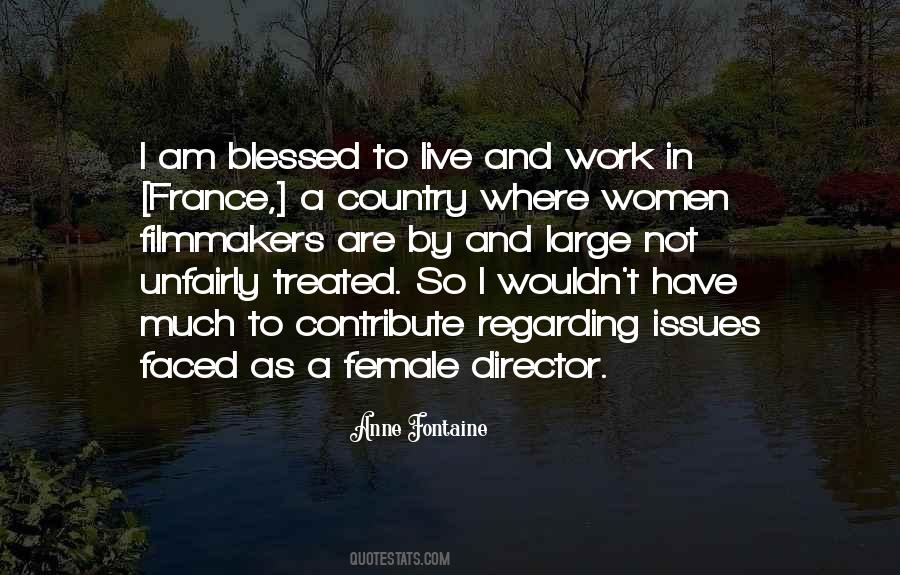 #27. It takes all my strength to do daily tasks. To some people, I'm just a number. I'm a projected food stamps debit card lifetime member. I'm seen as crazy or insane, but it doesn't matter. I know I am bigger than my suffering.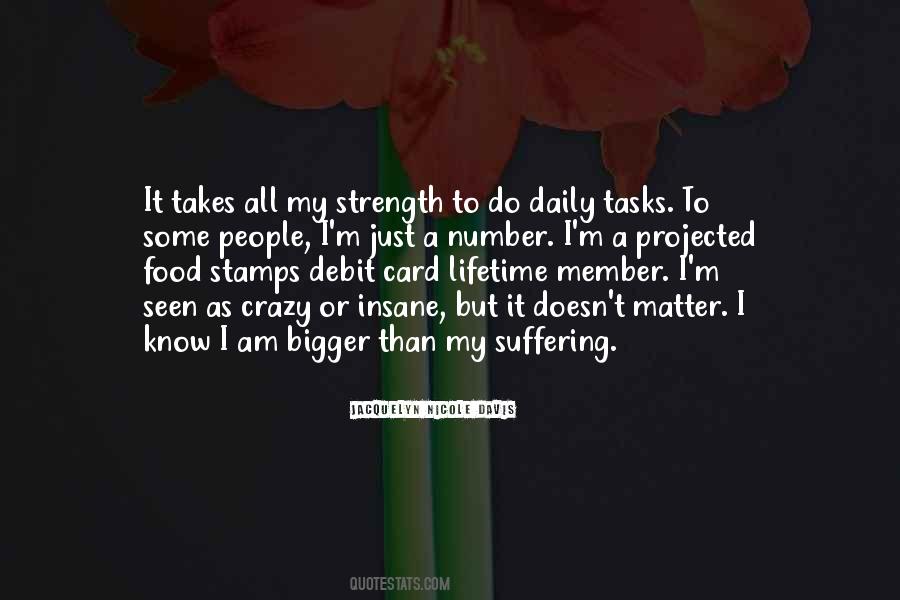 #28. One of the most important discoveries I have ever made is this truth: God is most glorified in me when I am most satisfied in him. This is the motor that drives my ministry as a pastor. It affects everything I do.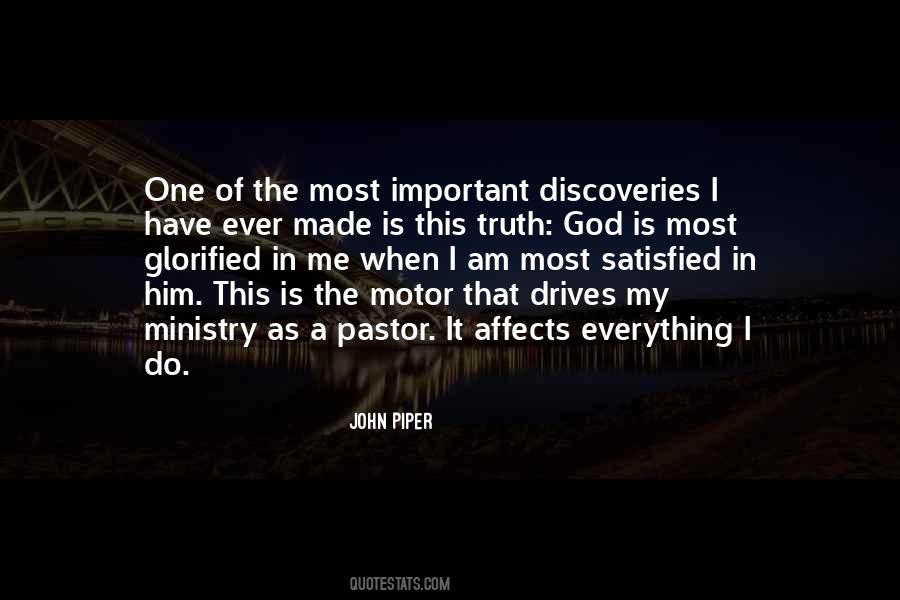 #29. As a scientist, I am not sure anymore that life can be reduced to a class struggle, to dialectical materialism, or any set of formulas. Life is spontaneous and it is unpredictable, it is magical. I think that we have struggled so hard with the tangible that we have forgotten the intangible.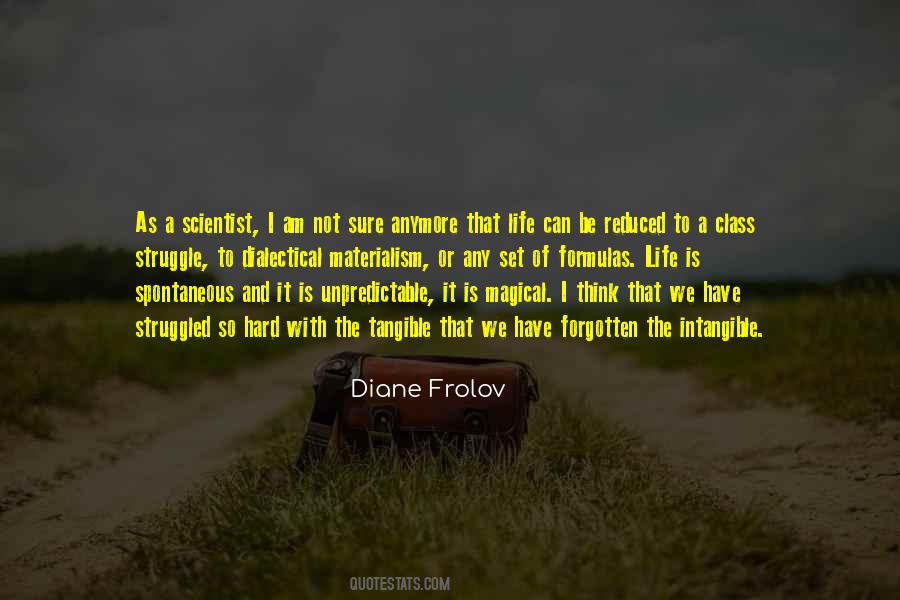 #30. I am running for president as a Democrat. And if elected, not only do I hope to bring forth a major change in national priorities, but let me be frank, I do want to see major changes in the Democratic Party.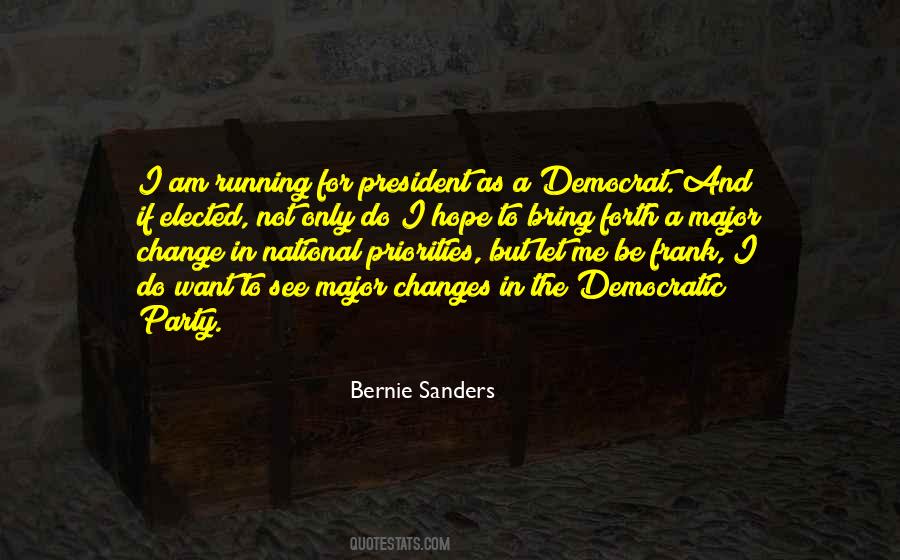 #31. God sure has a sense of humor. I've always tried to stay as far away as possible from lighthouses, and here I am the acting lightkeeper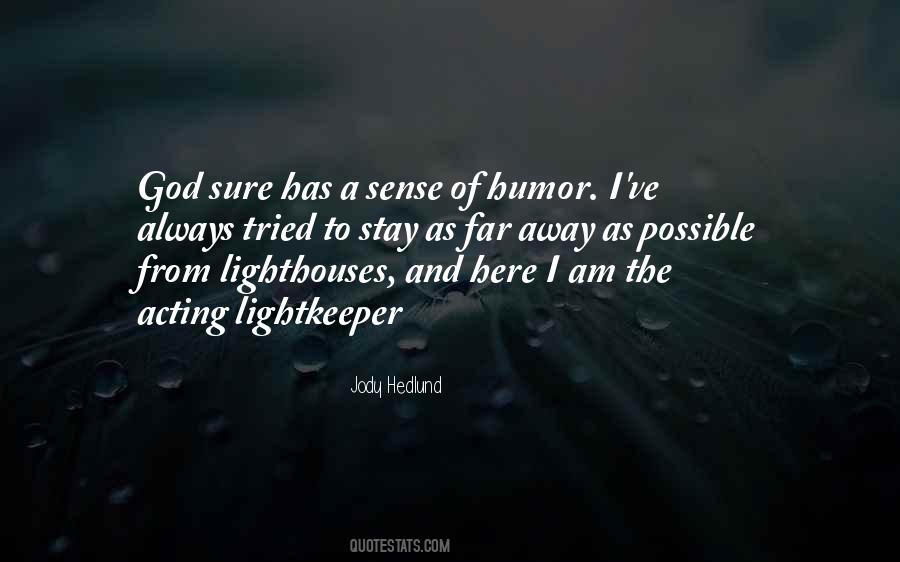 #32. My step-dad is probably the greatest man I've ever known. The best advice I've ever been given was when he told me to enjoy my life because one day I'm not going to be as agile as I am now.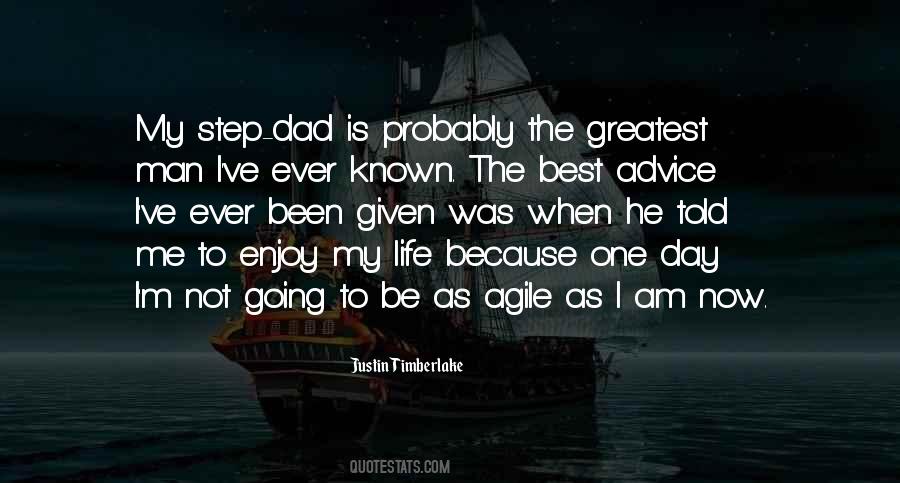 #33. As a professional athlete and someone who has spent almost his entire life in boxing, not a day goes by when I don't think about coming back, but I am retired, and after speaking to my family and following a great deal of introspection, I have decided to stay retired.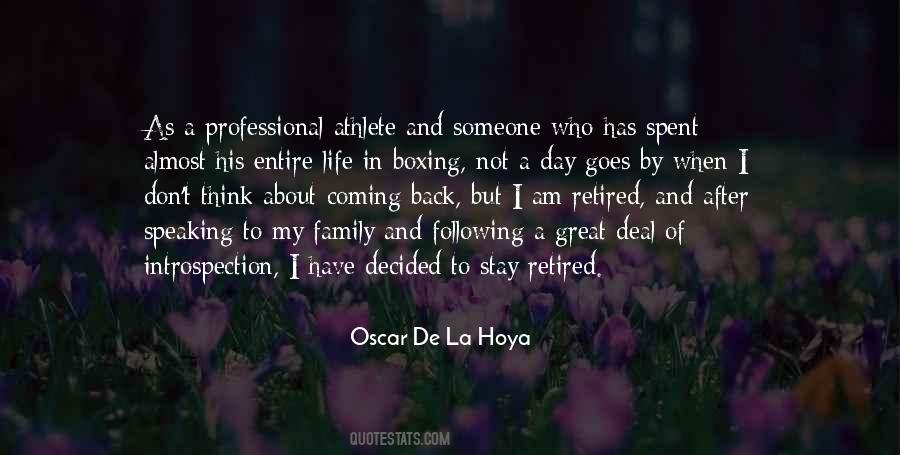 #34. Without death, there is hardly any threat strong enough to truly appreciate human life. He thinks: I am as good as dead
too afraid to live, only waiting, never taking a risk
I am as good as dead already.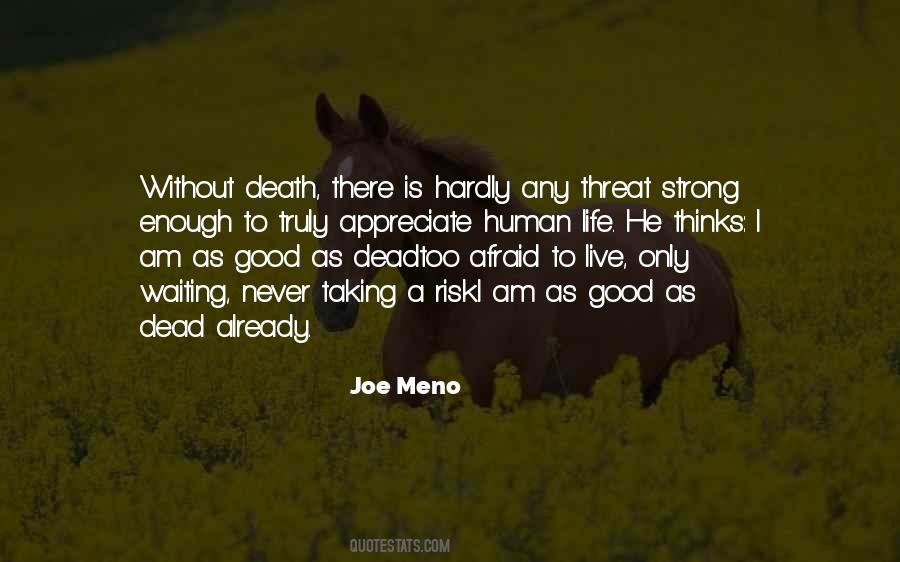 #35. As to war, I am and always was a great enemy, at the same time a warrior the greater part of my life and were I young again, should still be a warrior while ever this country should be invaded and I lived.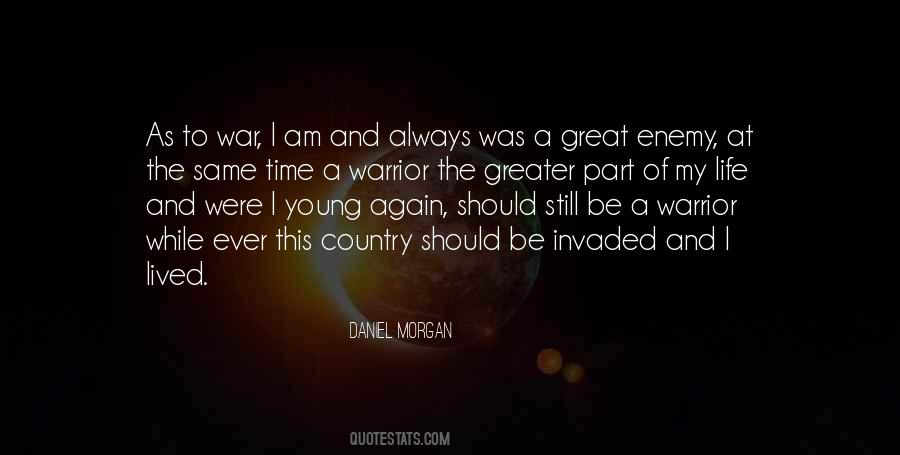 #36. As an addict who will read anything, I obeyed, but I am not saved, and return to tell you neither what to read nor how to read it, only what I have read and think worthy of rereading, which may be the only pragmatic test for the canonical.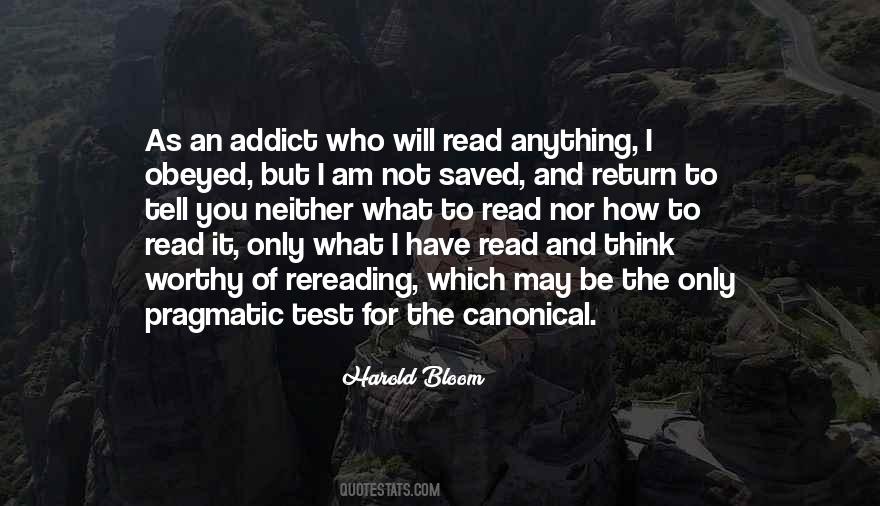 #37. Let them speak as lewdly as they list of me ... as long as they do not hit me, what am I the worse?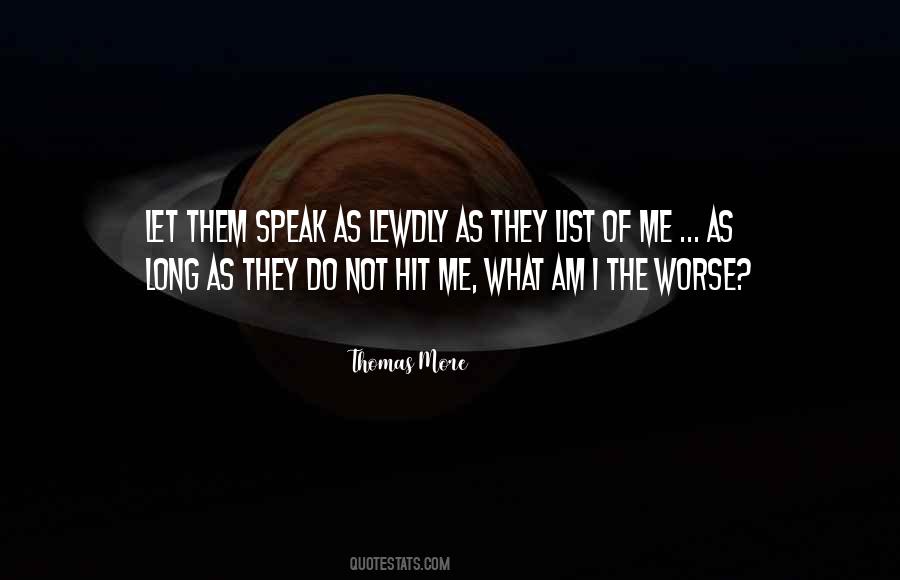 #38. The woman I am currently crazy about was a vegetarian for a year until I started dating her. As is the case with most vegetarians, she had never eaten properly prepared meat, only commercially packaged or otherwise abused flesh.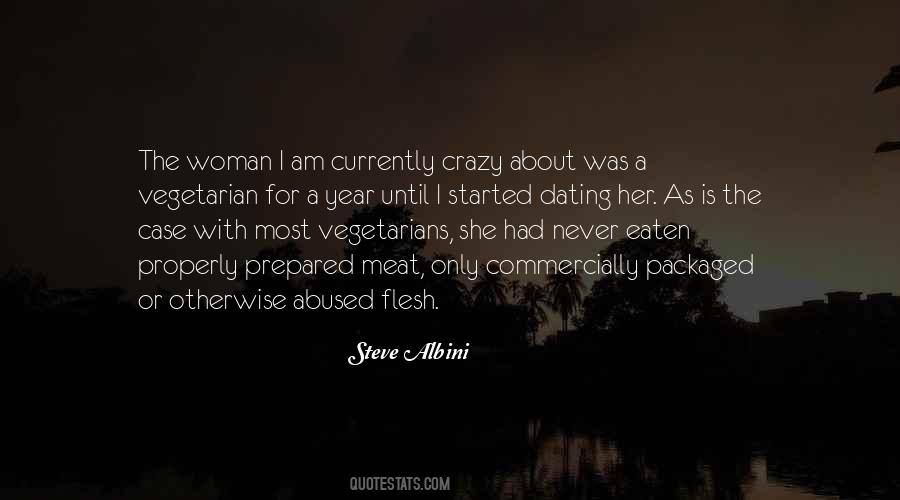 #39. So far as I am aware no leader of a party of the European left in the past twenty-five years has declared capitalism as such to be unacceptable as a system. The only public figure to do so unhesitatingly was Pope John Paul II.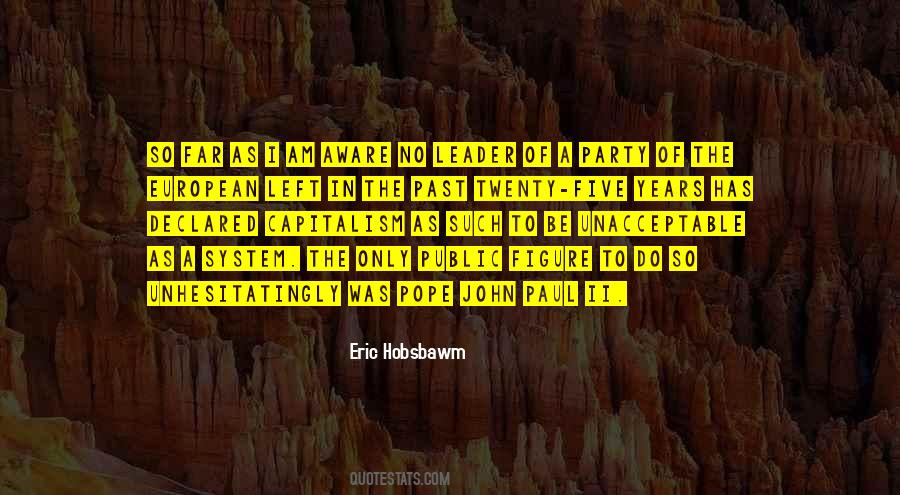 #40. Perhaps in body I am not quite as real as you," he said, then looked alive, making him once again seem real, even though she knew that if she tried to touch him, she could not. "But my thoughts and emotions are as real as yours. My soul, Mia Randall, is as real as yours.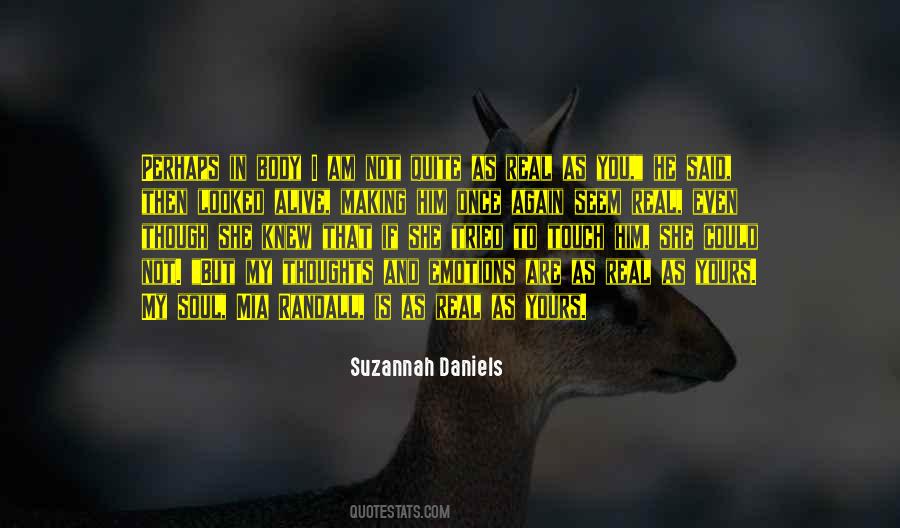 #41. Talking to Lee Child and discovering, from his chapter in The Chopin Manuscript, that he's even more of an audio geek than I am (as his chapter in Chopin proves).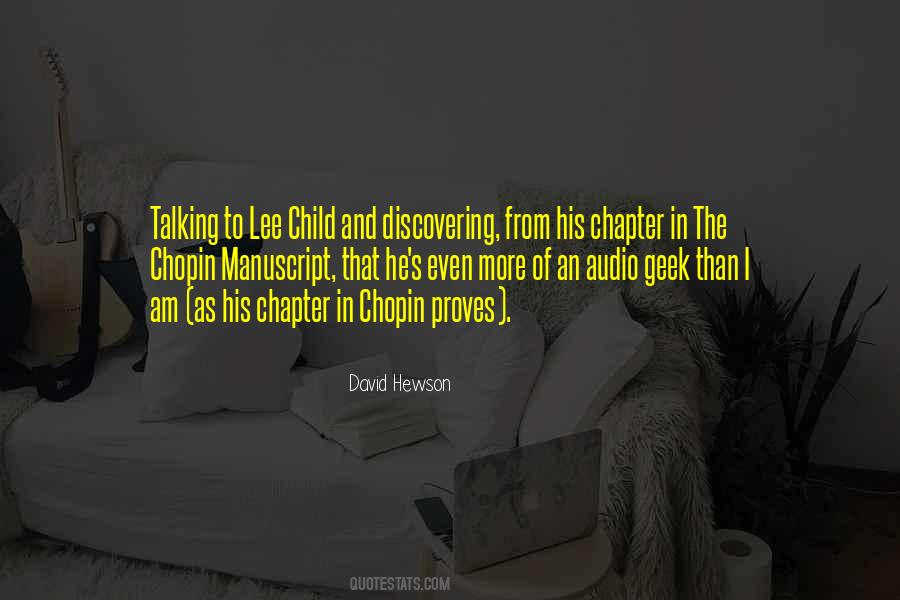 #42. What America did in Vietnam and the Congo - we feel. And as a result come these demonstrations. I am not defending the act of burning USIS books. We deplore it. But we can understand the motives of the students.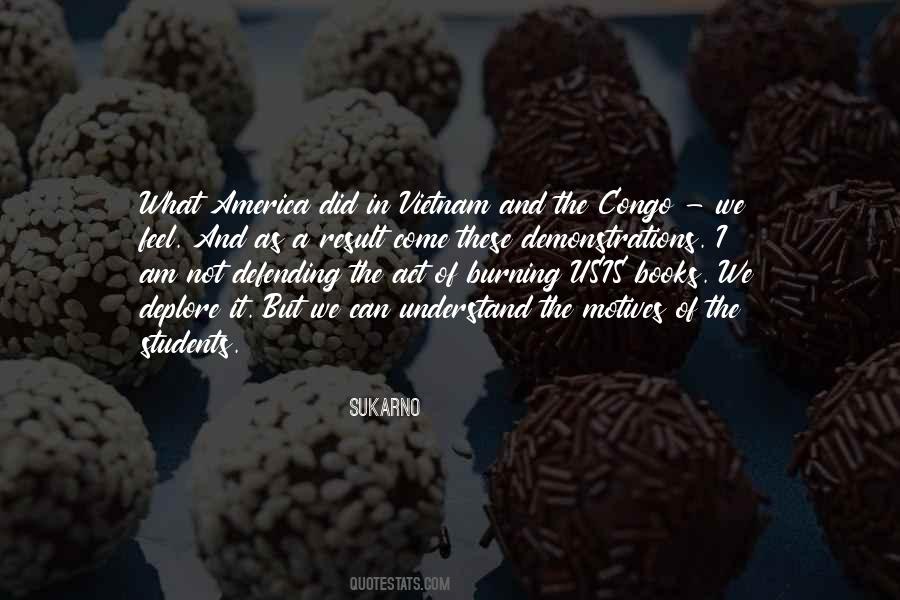 #43. I am in favor of animal rights as well as human rights. That is the way of a whole human being.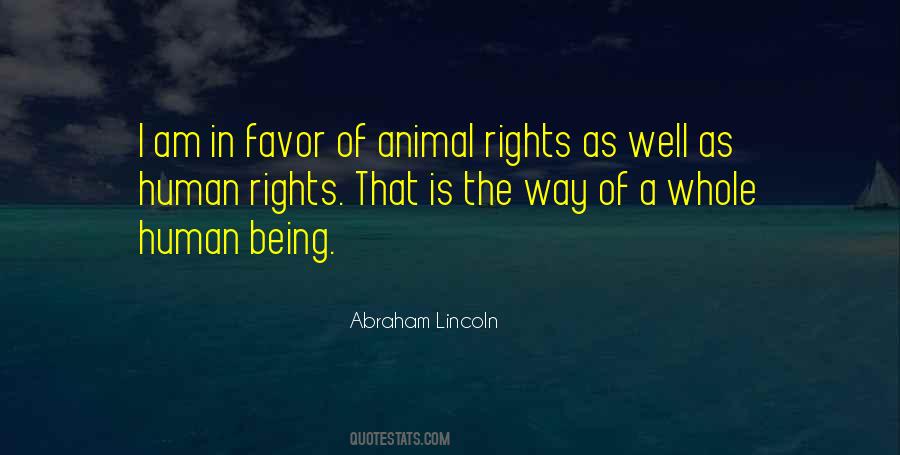 #44. As long as I fear my weakness, I am stronger than when I trust my strength.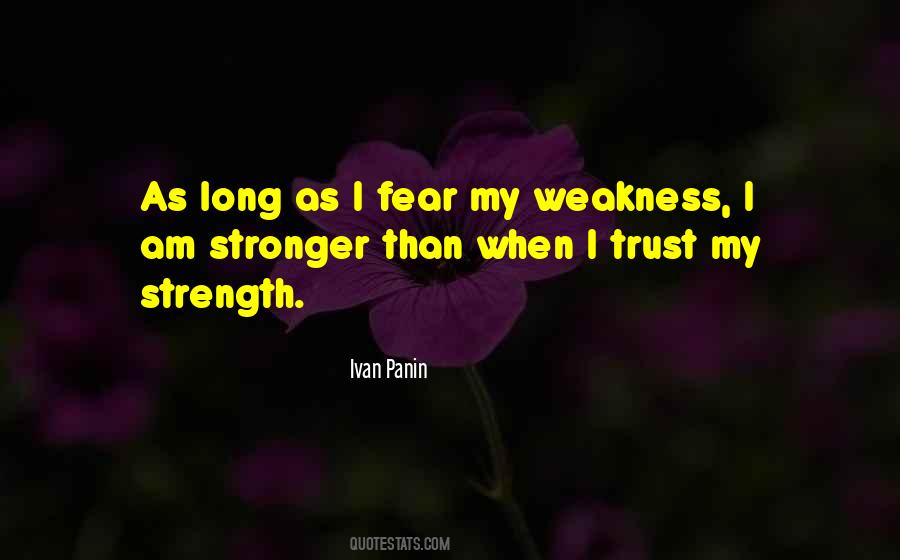 #45. I am thrilled to be joining a club as prestigious and successful as Liverpool.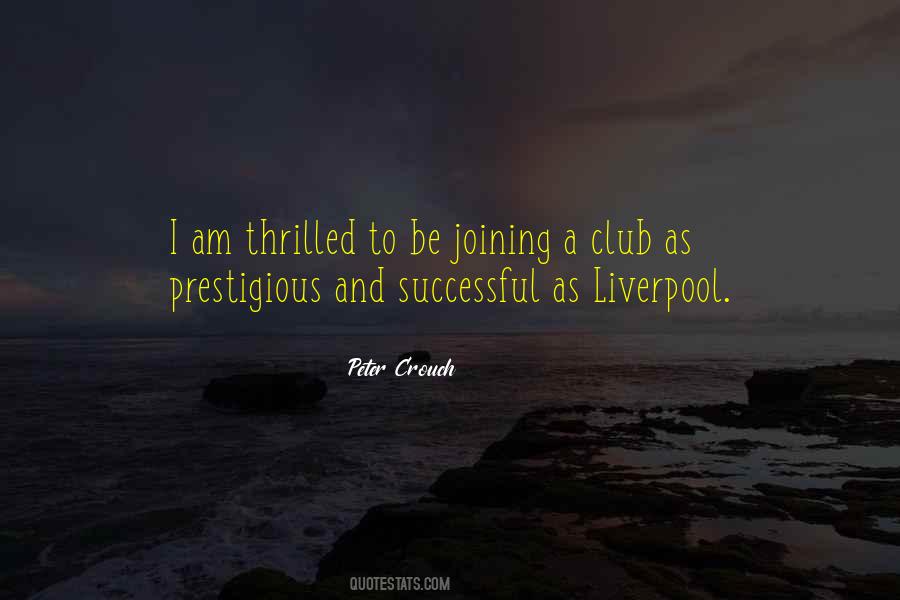 #46. I am failing as a woman. I am failing as a feminist. To freely accept the feminist label would not be fair to good feminists. If I am, indeed, a feminist, I am a rather bad one. I am a mess of contradictions.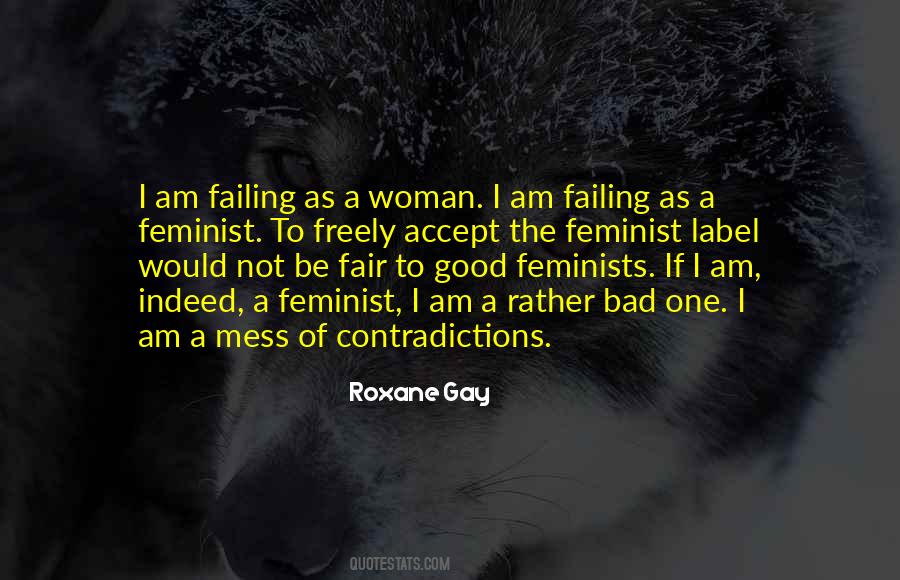 #47. Greatness demands that I understand that I am not nearly as big as I thought myself to be, but that I am capable of becoming far bigger than I ever imagined myself to be.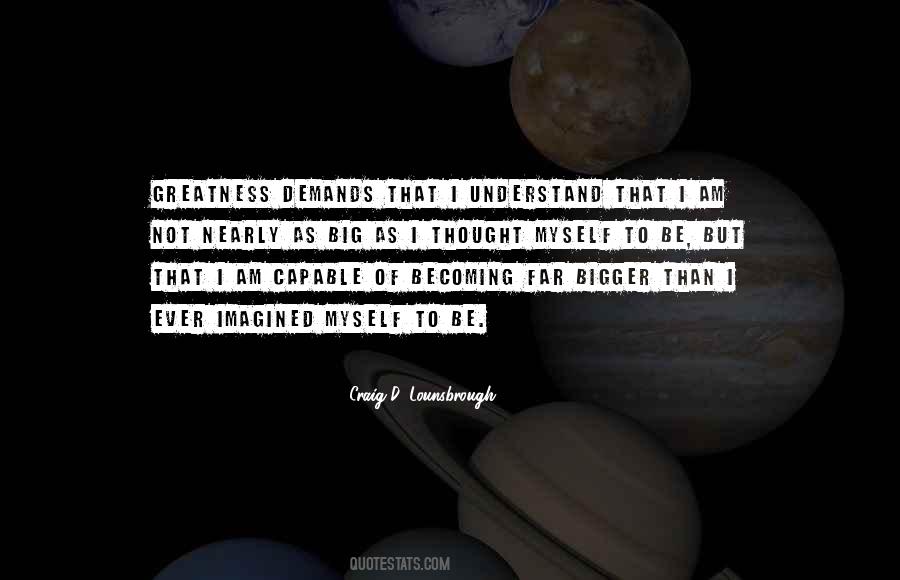 #48. I know the world that I am painting is not a reality. It is a whim, an entertainment to provoke something in people, whether as escapism or relief. I think that is very valid.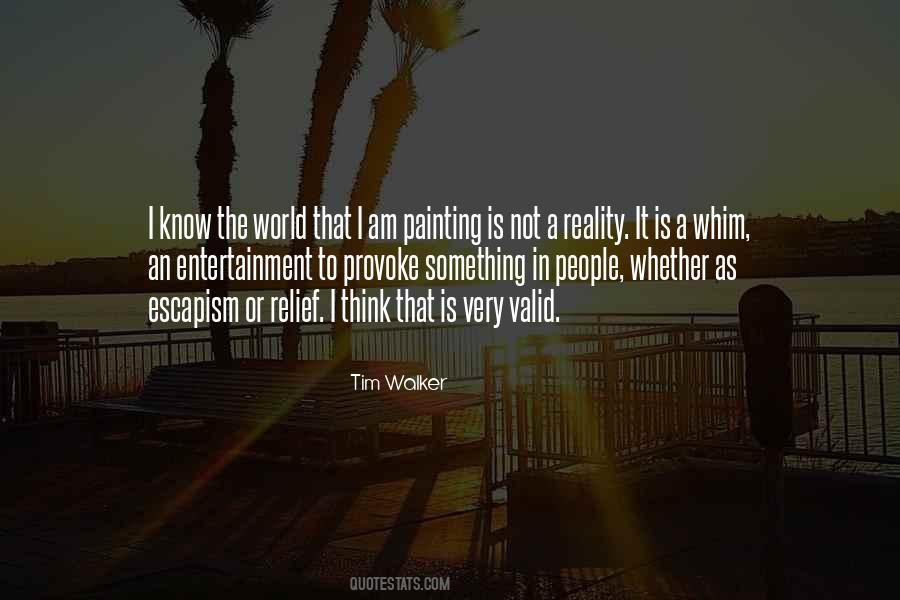 #49. Music is a handshake where I, as a songwriter, am only part of the equation. I love that, the fact that you can make the song your own.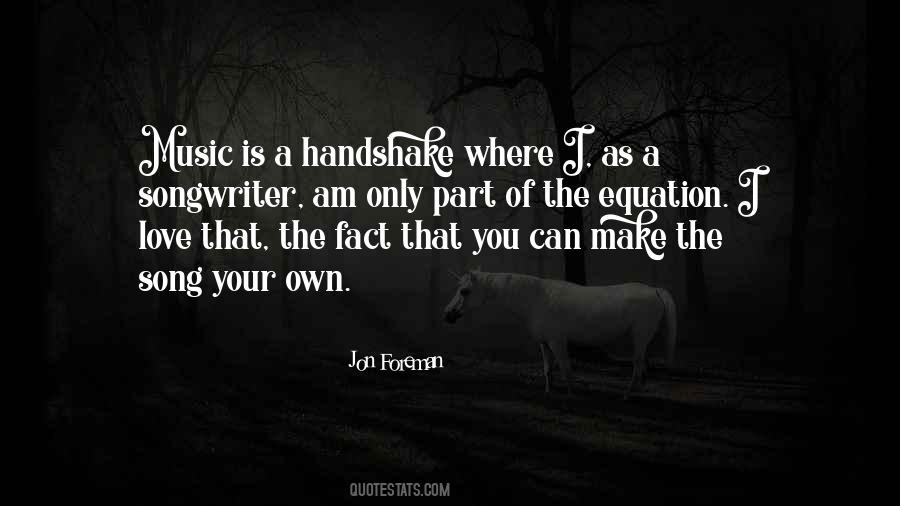 #50. Low-income taxpayers deserve the same rights as everyone else. It was wrong of the IRS to target low-income taxpayers, and I am please by the decision to correct this unfair practice.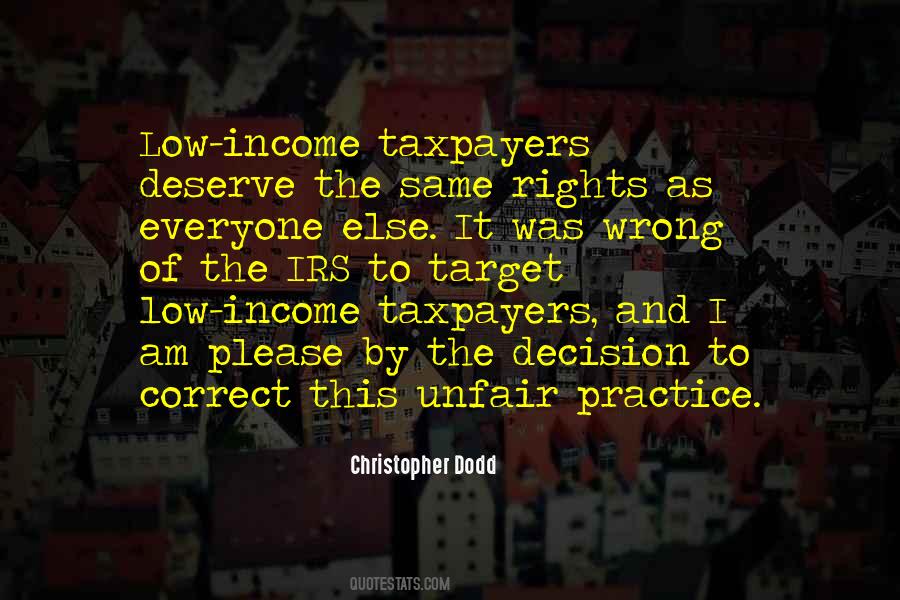 #51. When I talk football with my friends, I don't talk about Tom Brady's hair. I talk about how he handles the blitz, or how he runs his offense. I talk as a fan. I don't want pink jerseys, and I don't want dumbed-down content. I want to be treated as a real fan - because I am proud to be one.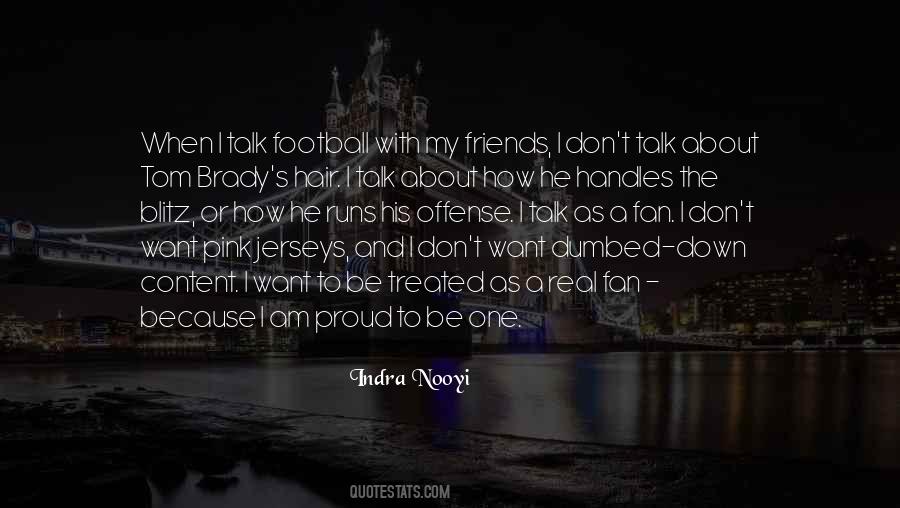 #52. I realize that I only have words and that, from time to time, as I hold them in my arms I am less lonely.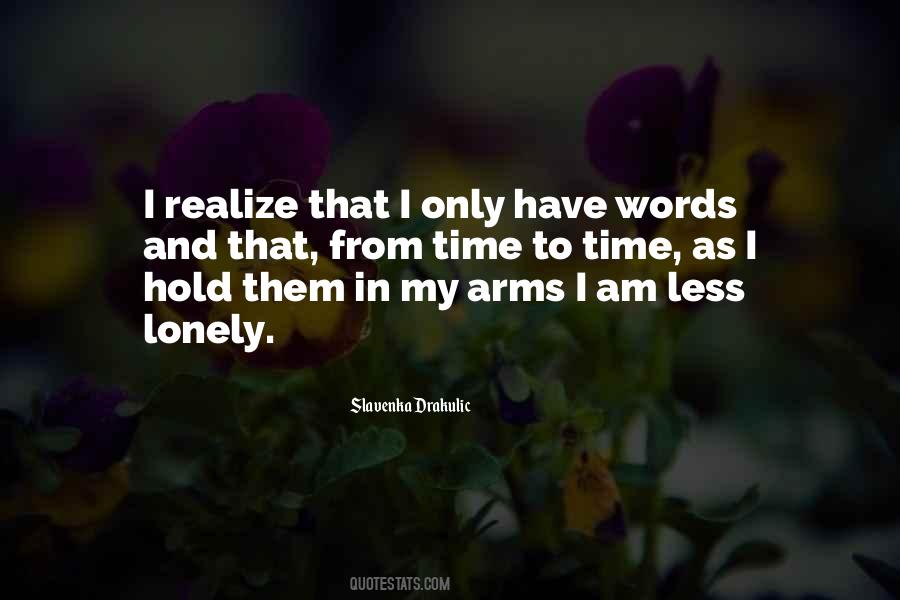 #53. I am already sensible of decay in the power of walking, and find my memory not so faithful as it used to be. This may be partly owing to the incessant current of new matter flowing constantly through it; but I ascribe to years their share in it also.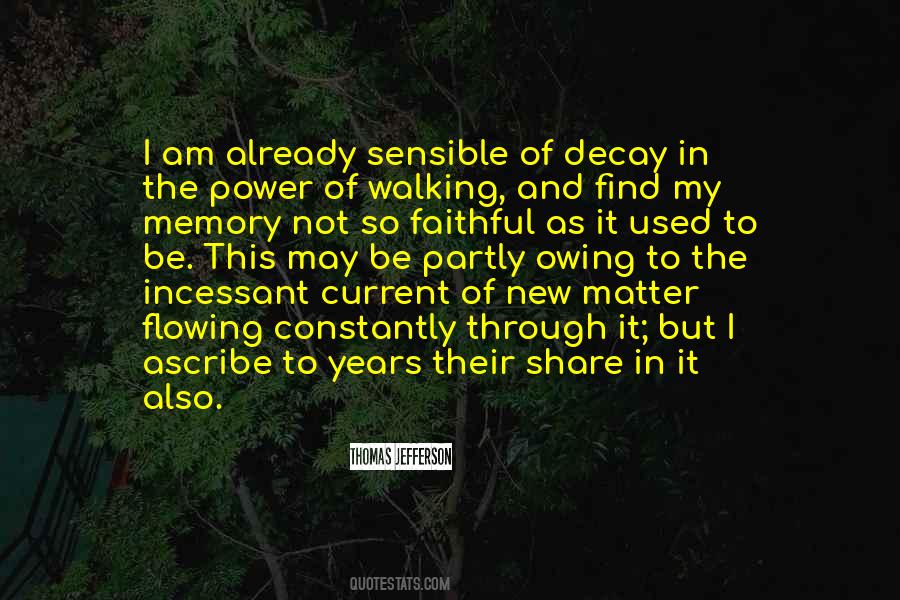 #54. There are short parts that I as an actor am very right for. Or I just like the part. Or you need someone like me for the movie. By that I don't mean at the box office, I mean in the execution of the material.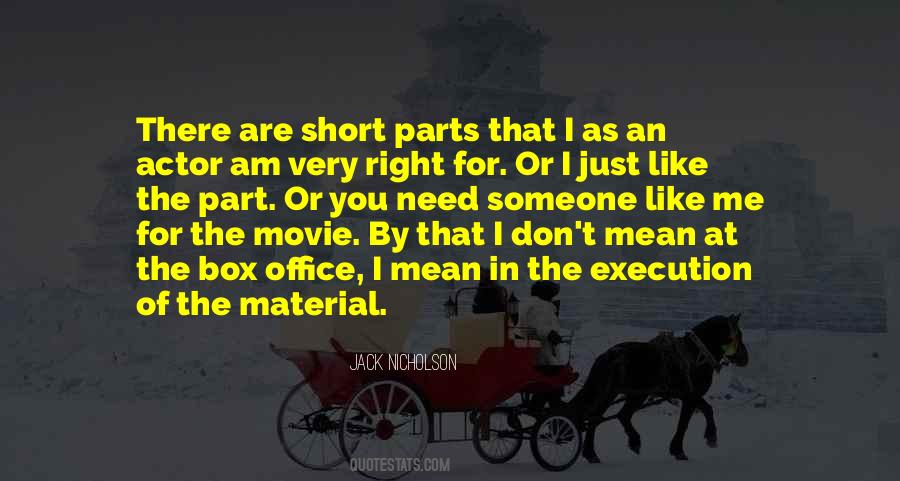 #55. I don't believe for one moment that I killed him [ ... ] But if I didn't, somebody else did. I must appoint myself Investigator. I must catch this malefactor, this pig. And if at any time it looks as if I am going to catch myself, I can always accept my resignation.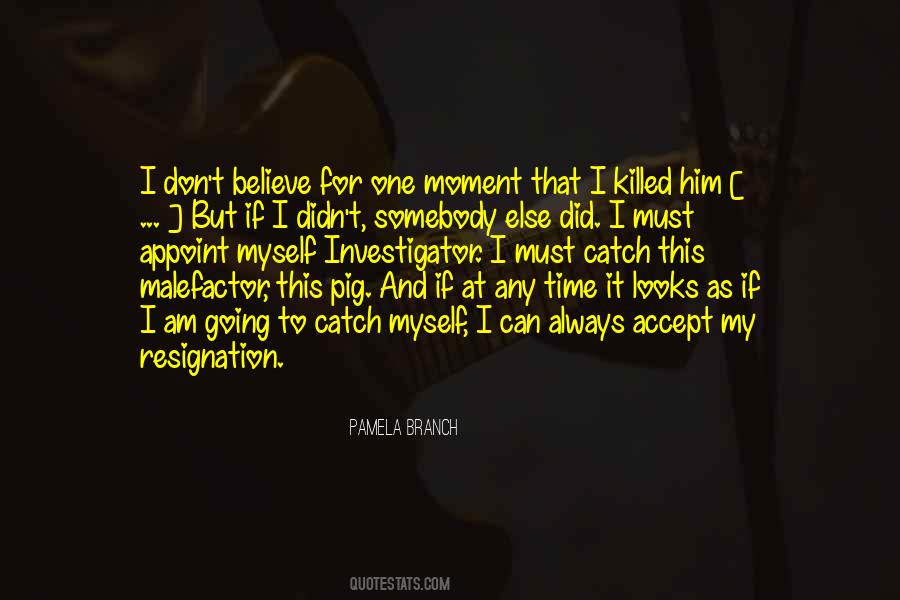 #56. I don't have to be anything at all. I don't even have to be myself, because there is no such thing as not being myself. I am inescapably myself.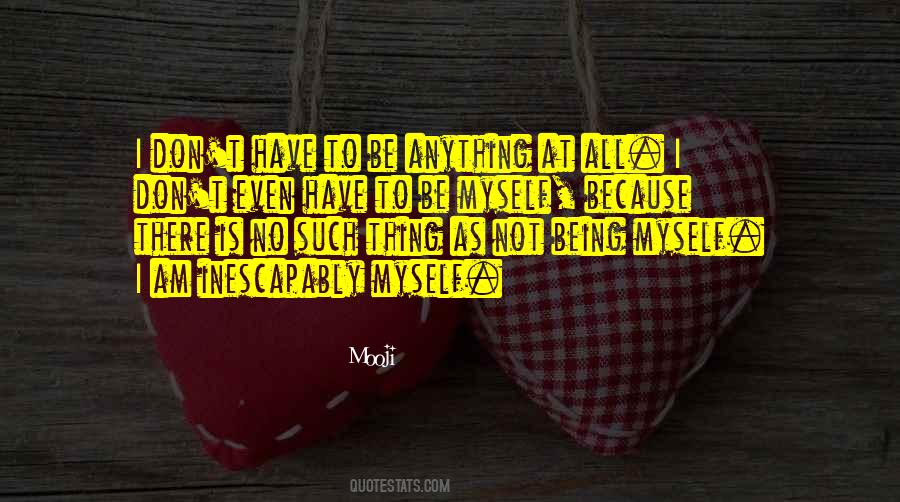 #57. The fact is that five years ago I was, as near as possible, a different person to what I am tonight. I, as I am now, didn't exist at all. Will the same thing happen in the next five years? I hope so.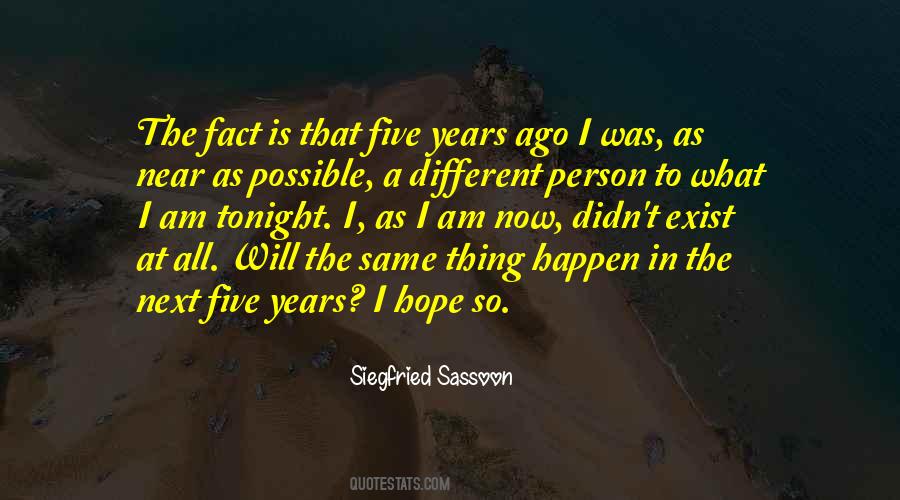 #58. As a lawyer I am before and above all things for the supremacy of law.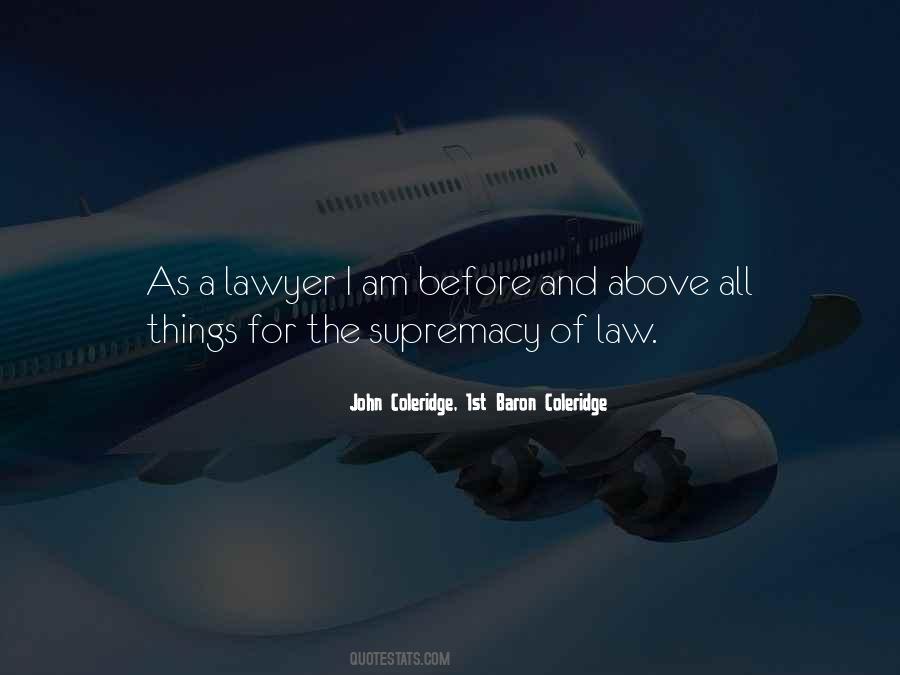 #59. I have named the destroyers of nations: comfort, plenty, and security - out of which grow a bored and slothful cynicism, in which rebellion against the world as it is, and myself as I am, are submerged in listless self-satisfaction.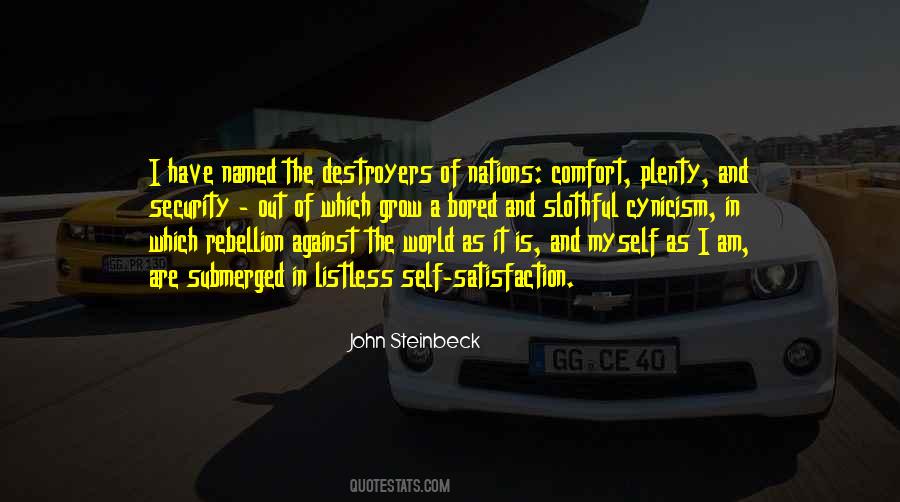 #60. I am my own woman ... and was, long before I became Prime Minister. Attending to my family's needs only made me stronger as a leader because if you know how to run a home and ensure each person's particular need is met, it's the best leadership training you can have.
#61. I am safe and secure. I exhale any anxiety and inhale calm. As my world expands so do my heart and mind. I am willing to stay open and accept all the miracles and abundance the universe has to offer me.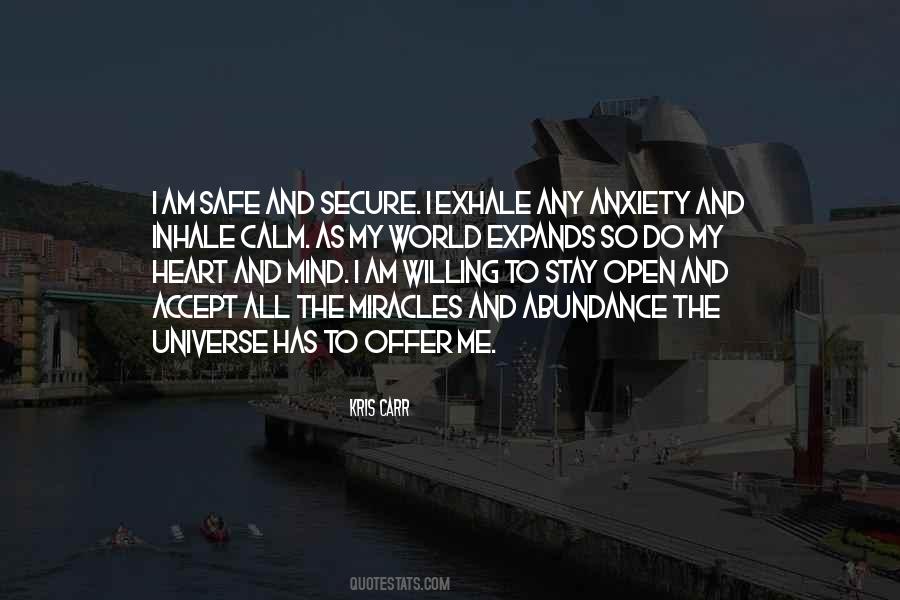 #62. Am as clear as the stars that are my brothers. Still I must sleep. They sleep and the moon and the sun sleep and even the ocean sleeps sometimes on certain days when there is no current and a flat calm.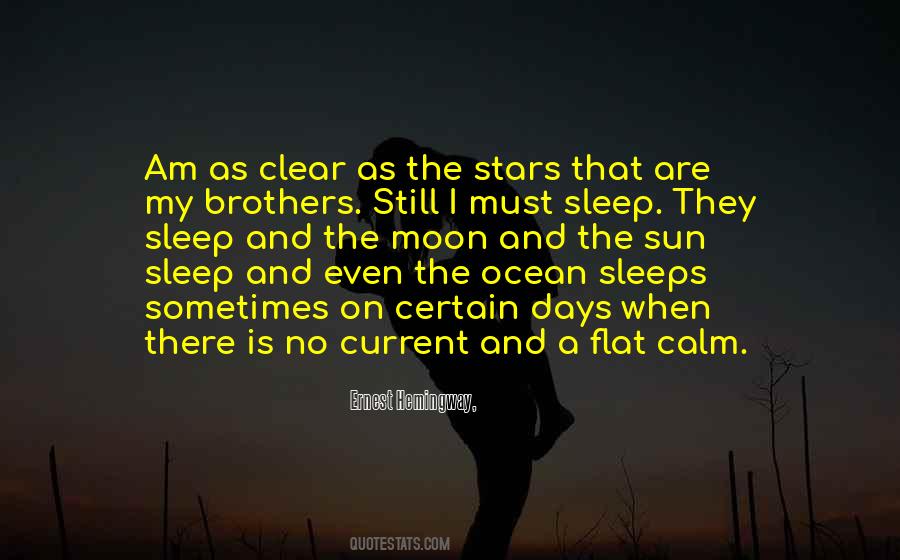 #63. I am almost inclined to coin a word and call the appearance fluorescence, from fluor-spar, as the analogous term opalescence is derived from the name of a mineral.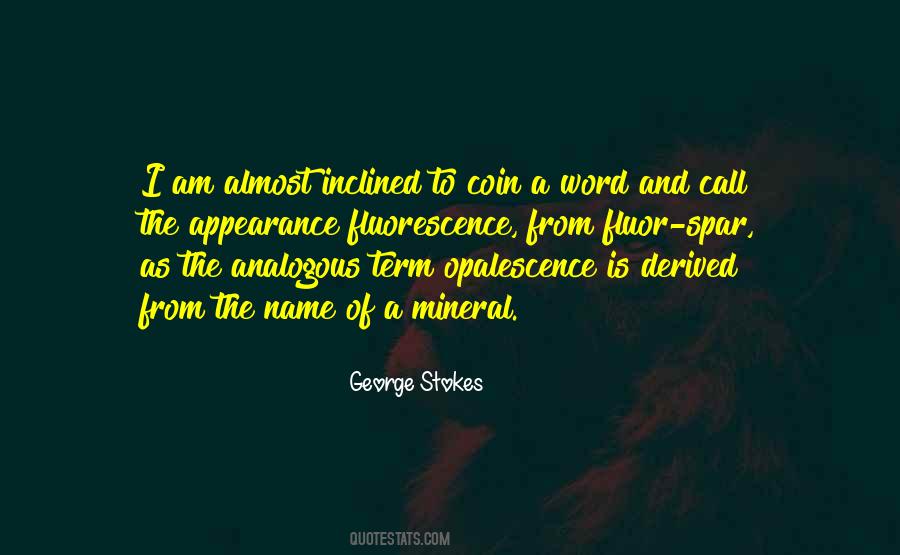 #64. I needn't prove anything to anyone. I am blessed as a child of God.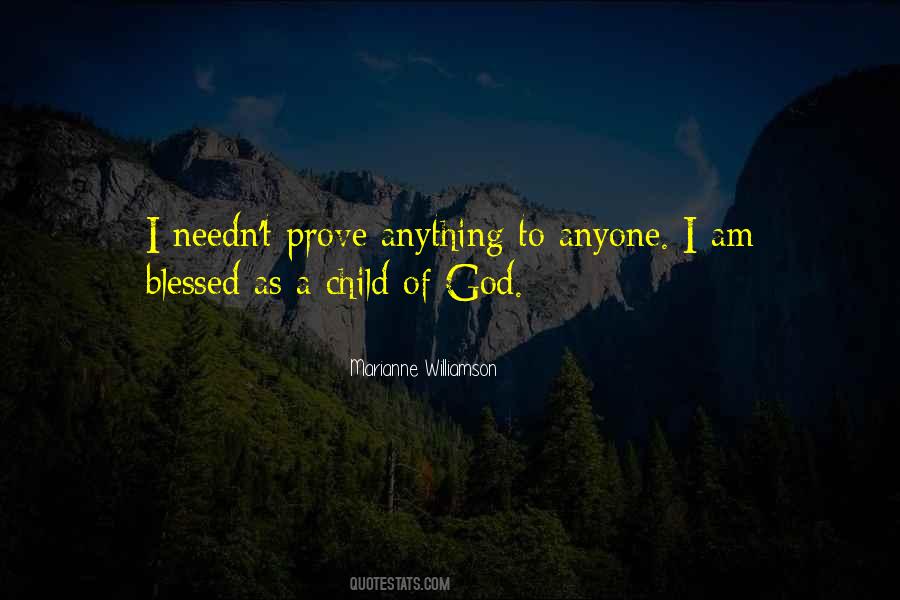 #65. I see no reason why I should not live on indefinitely just as I have done, and on the whole I am more comfortable here than in Purgatory, a place that I imagine to be like the suburbs of London.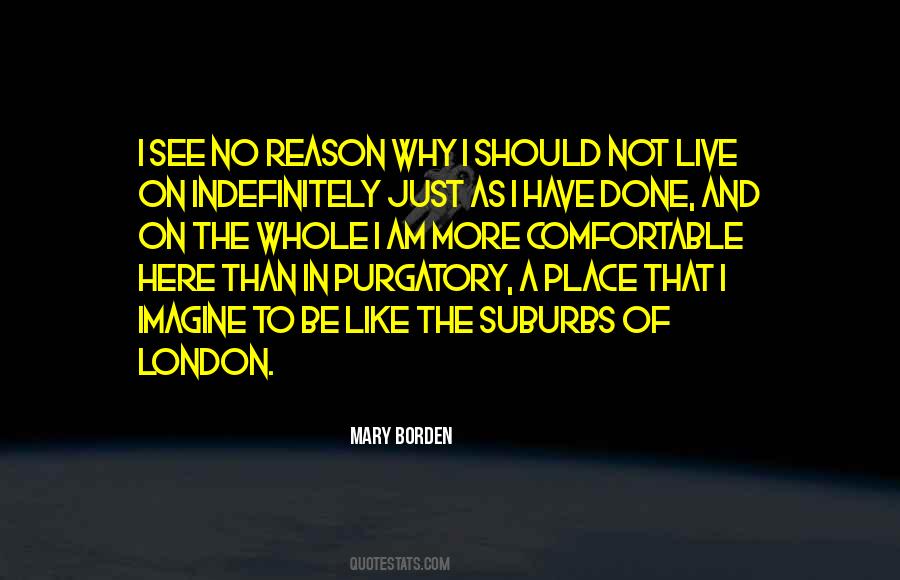 #66. The person I am in the company of my sisters has been entirely different from the person I am in the company of other people. Fearless, powerful, surprising, moved as I otherwise am only when I write.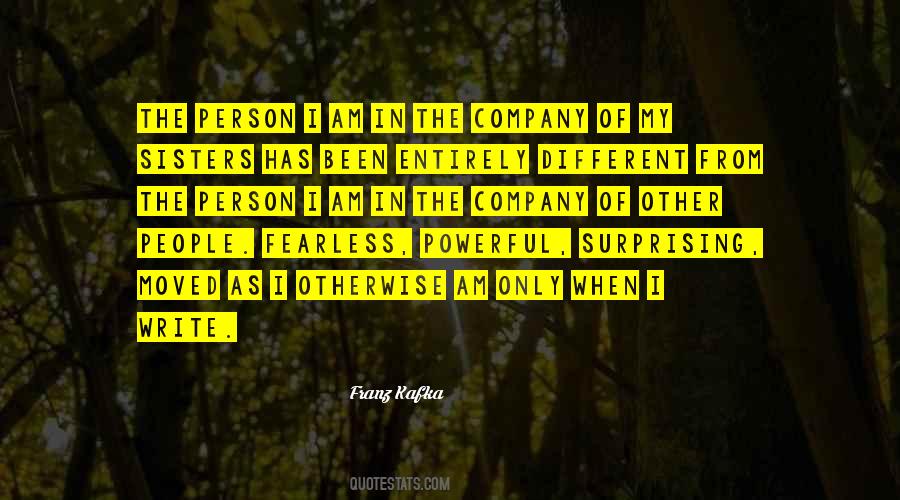 #67. It looks as if I were meant to be alone, and that any hope of happiness is not meant. Am I too old to acquire the knack for happiness?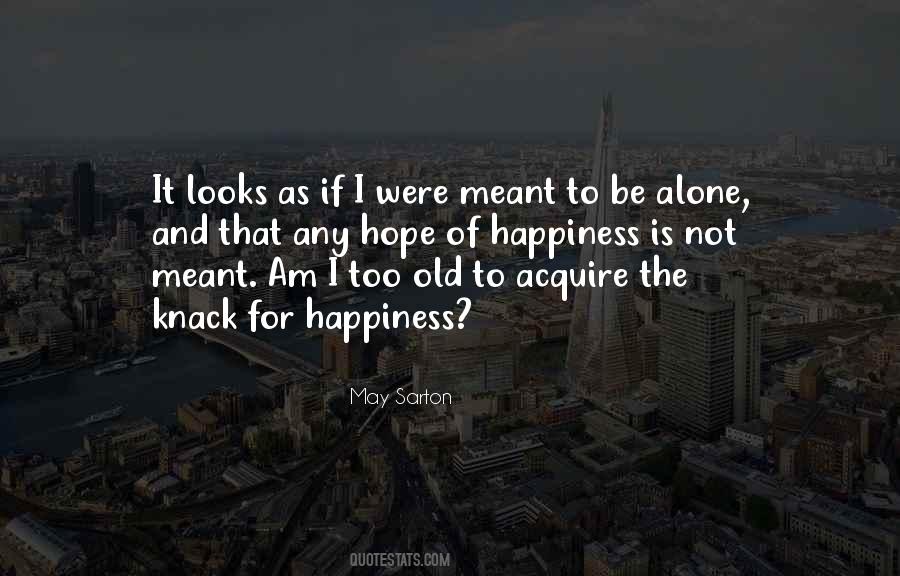 #68. I am a very radical person - as radical now as I was when I was younger. So my books all have in common my search for understanding of the terrible world we are living in and ways to change it.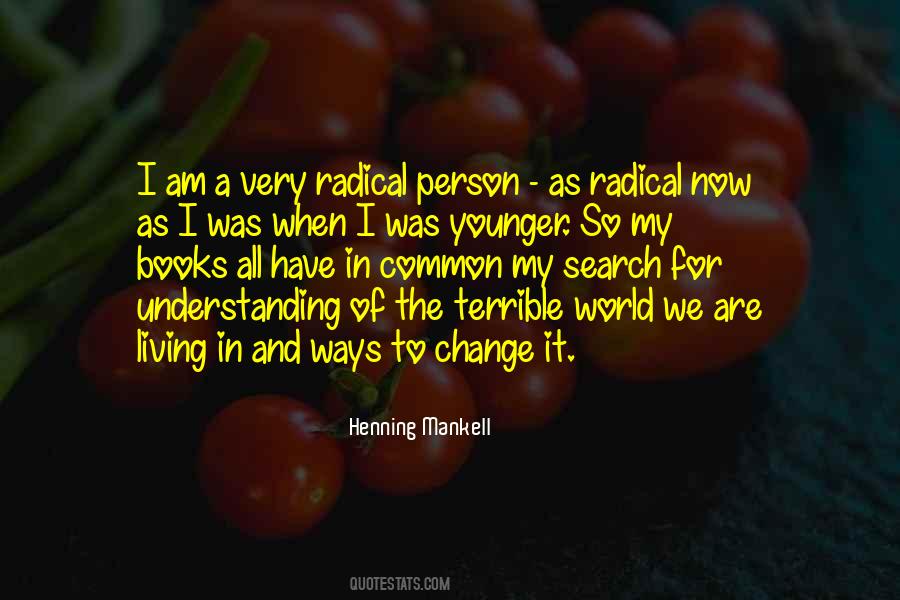 #69. As one of the founders of Three 6 Mafia, I would like to see the group get back together, you know. But I am definitely thinking about it and would like to see it happen.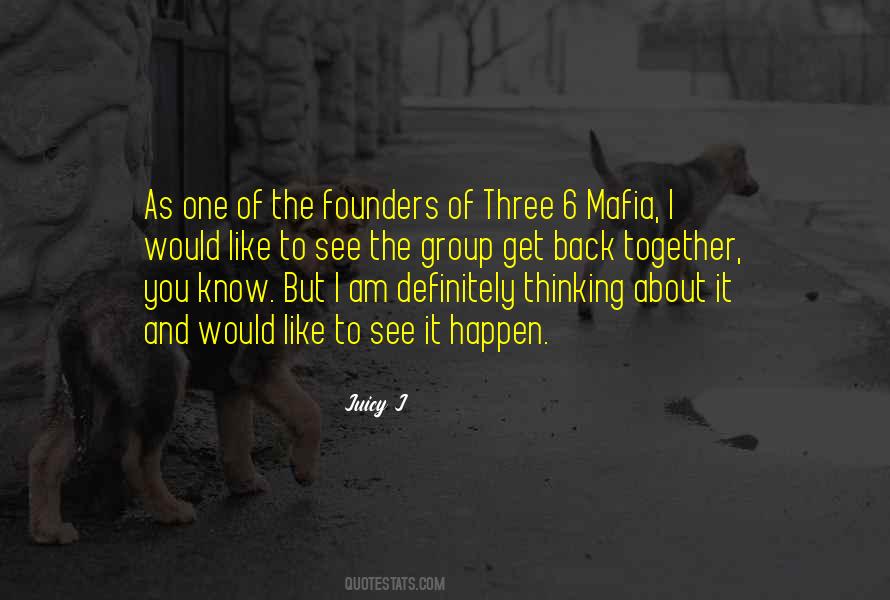 #70. Forgiveness, I am learning, cannot stand as a single, once-and-for-all event. Every morning brings a fresh coffeepot, and a fresh chance to get back to this messy and necessary work.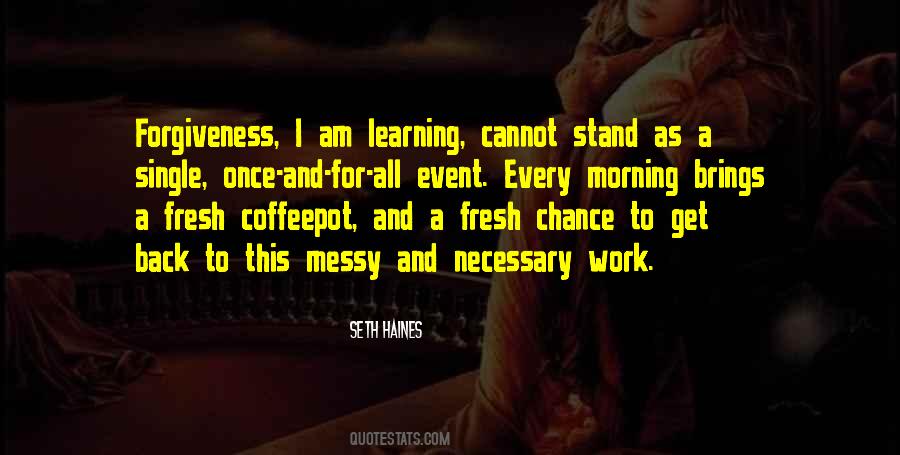 #71. I am still a journeyman actor and a peace and justice activist. I'm a pilgrim trying to win my freedom and serve as best I can in the time I have, with this gift I've been given.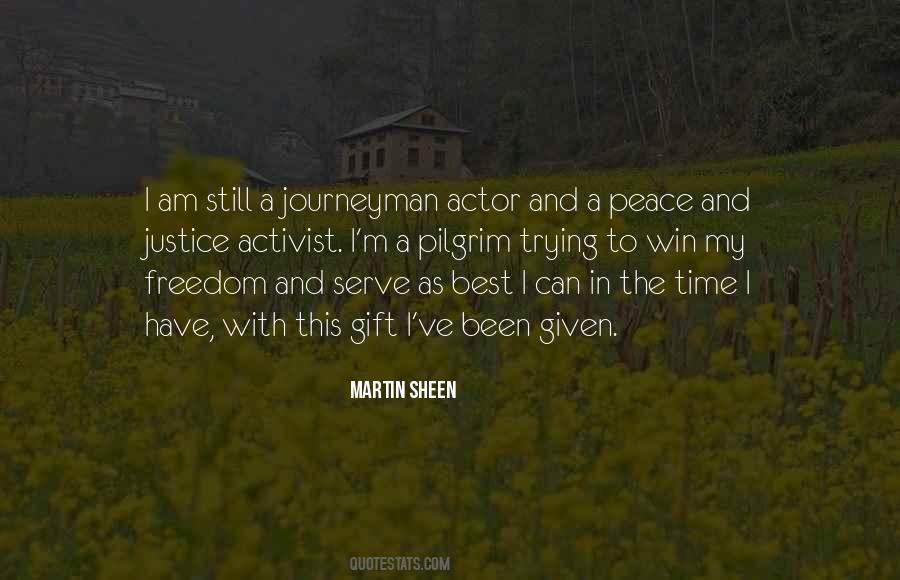 #72. I am (obviously) much in love with plants and above all trees, and always have been; and I find human maltreatment of them as hard to bear as some find ill-treatment of animals.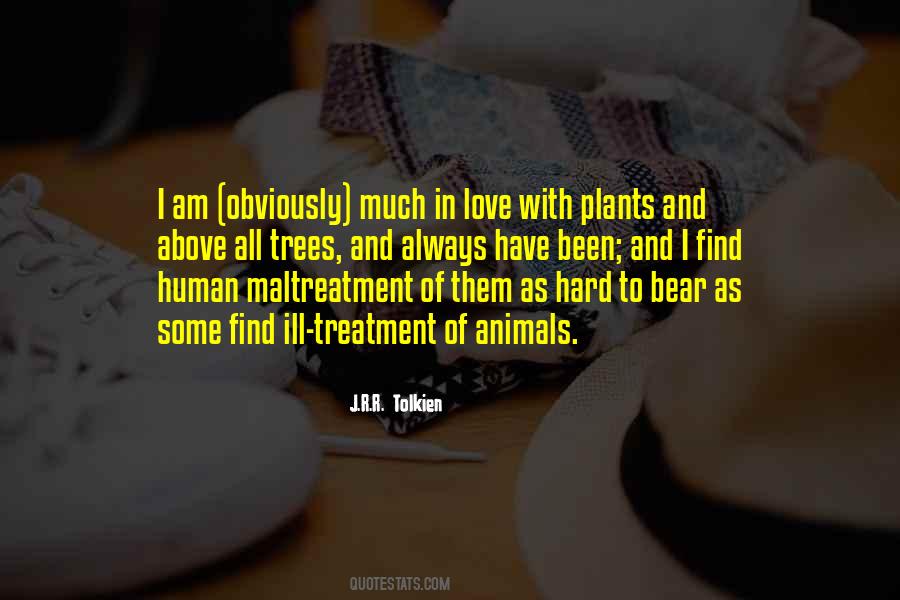 #73. If the landscape changes, then I don't know who I am either. The landscape is a refracted autobiography. As it disappears you lose your sense of self.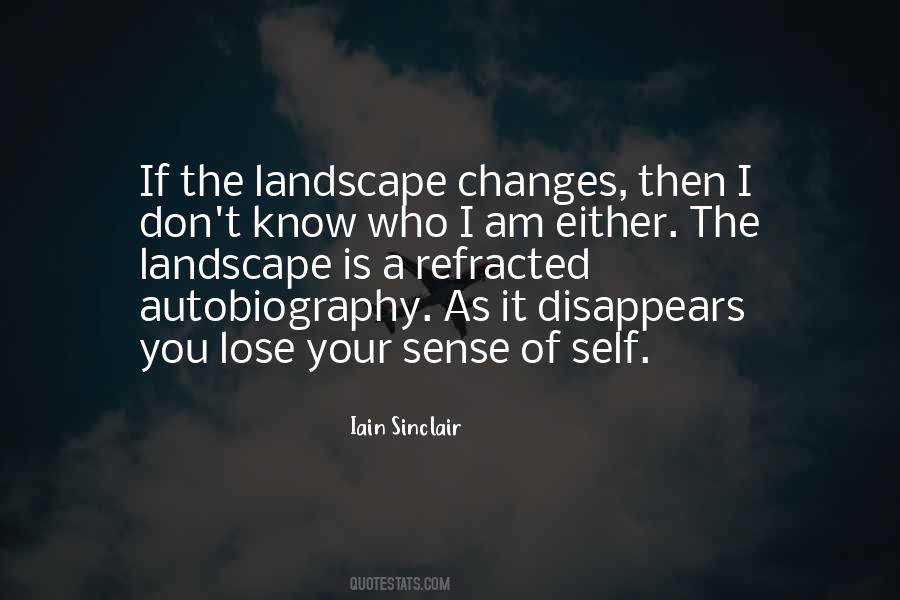 #74. I am quite driven. I know what I think, and I know what I want to achieve, but I also hope that people who are asked to describe me would describe me as pretty down-to-earth, loyal, friendly. The more experience I have got in politics, I think the more I have allowed me to shine through.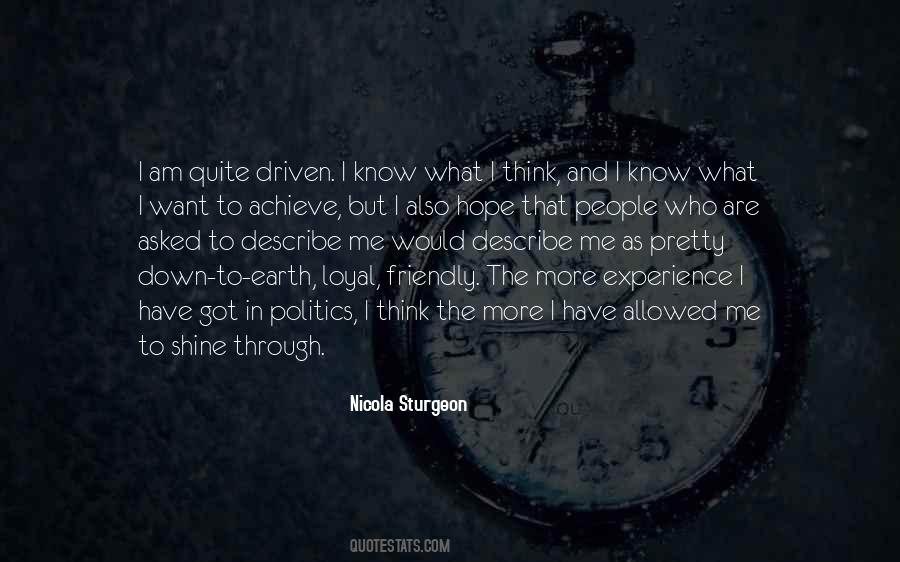 #75. This sounds fine with me, I like the idea of seeing a shrink once a week as maintenance. It's another chance to talk about myself without being interrupted. Plus, a shrink doesn't really know me, so I can present a more balanced picture of who I really am.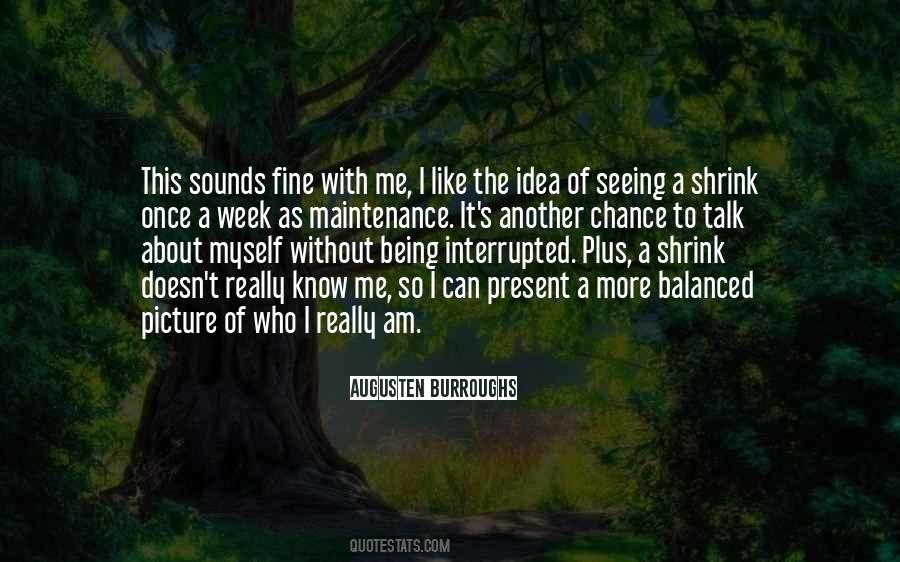 #76. What is the worst of woes that wait on age? What stamps the wrinkle deeper on the brow? To view each loved one blotted from life's page, And be alone on earth, as I am now.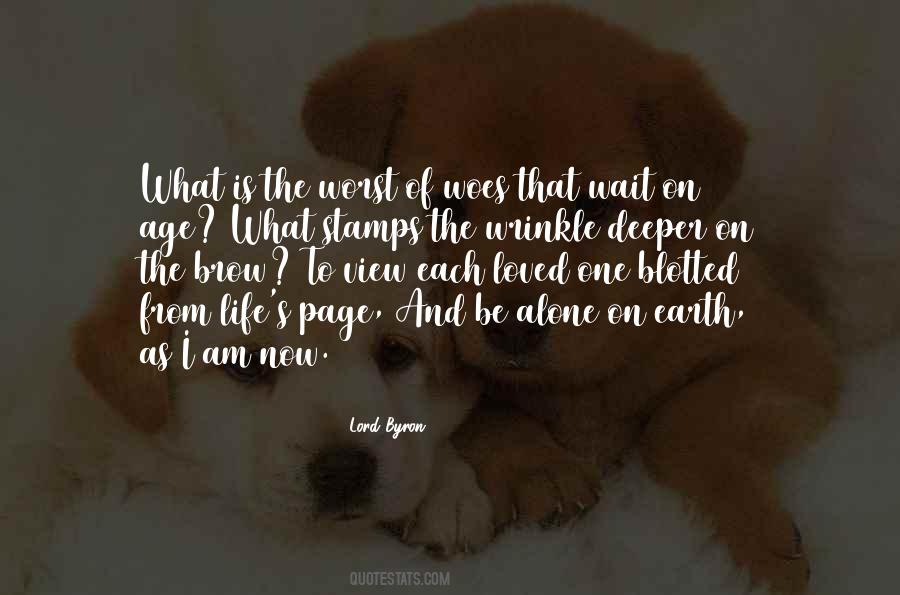 #77. See, I am very dependent ... on beauty and peace of the world ... on loyalty of friends ... on love in families ... on happiness and health of children. And I do not want to be free as long as I have it all ...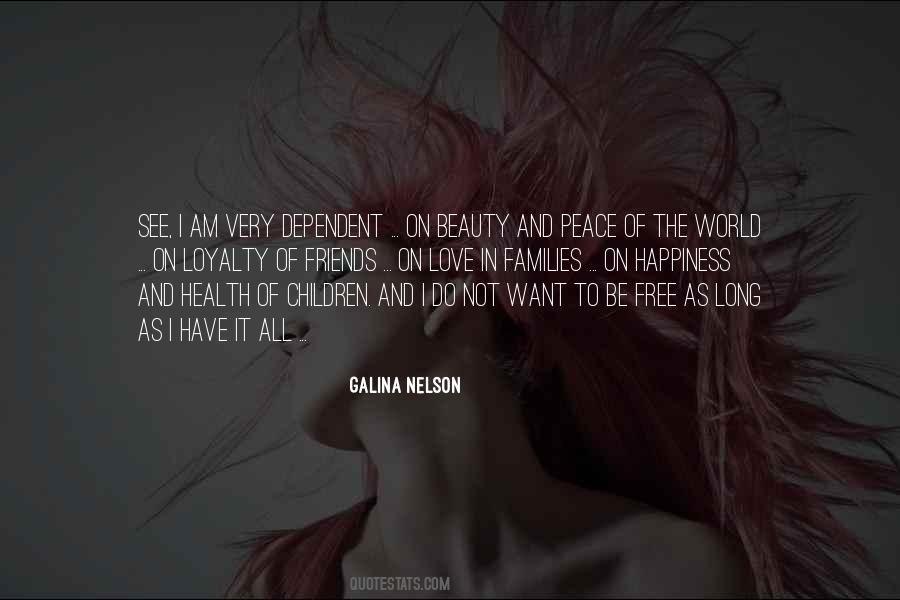 #78. I know I am not only the bad conscience of the Nazis. I am also the bad conscience of the Jews. Because what I have taken up as my duty was everybody's duty.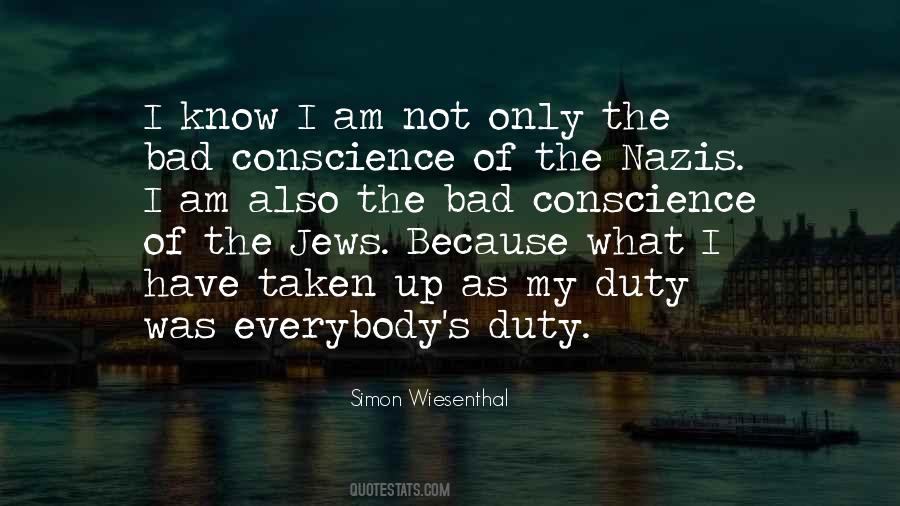 #79. I believe I am a work horse. I believe that that is what our country needs. We need a president who will roll up our sleeves collectively as a nation and tackle the problems that we confront.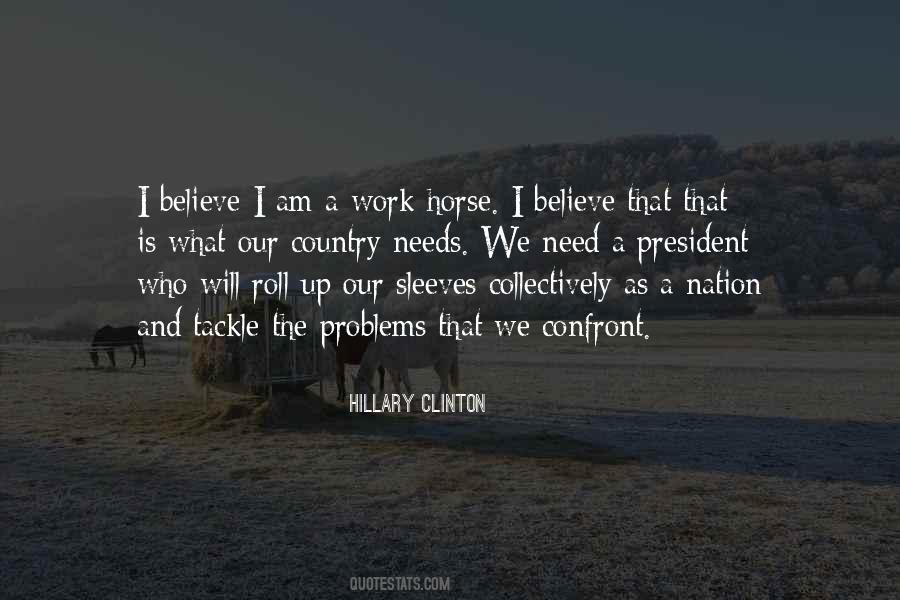 #80. I throw back my head, and, feeling free as the wind, breathe in the fresh mountain air. Although I am heavy-hearted, my spirits are rising. To walk in nature is always good medicine.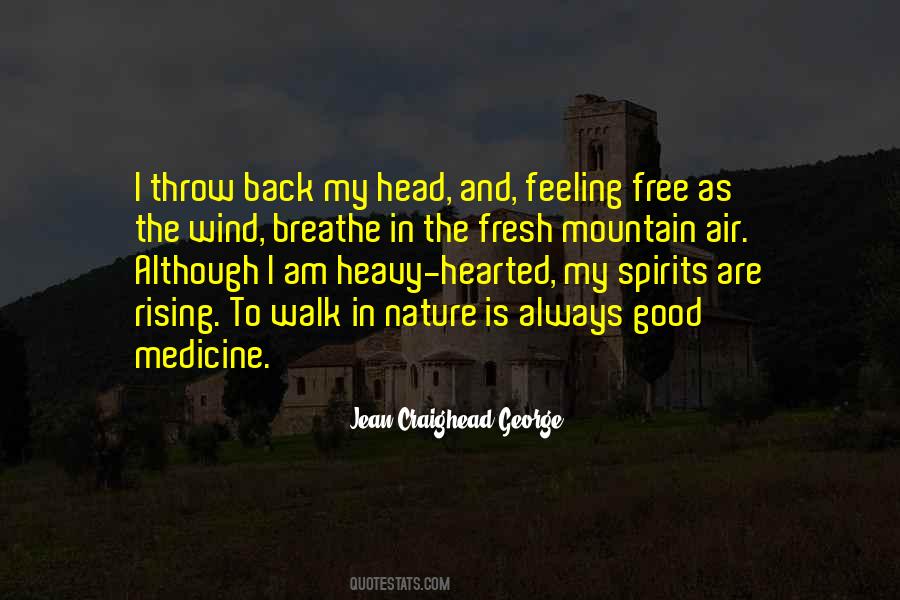 #81. If anything can be invented more excruciating than an English Opera, such as was the fashion at the time I was in London, I am sure no sin of mine deserves the punishment of bearing it.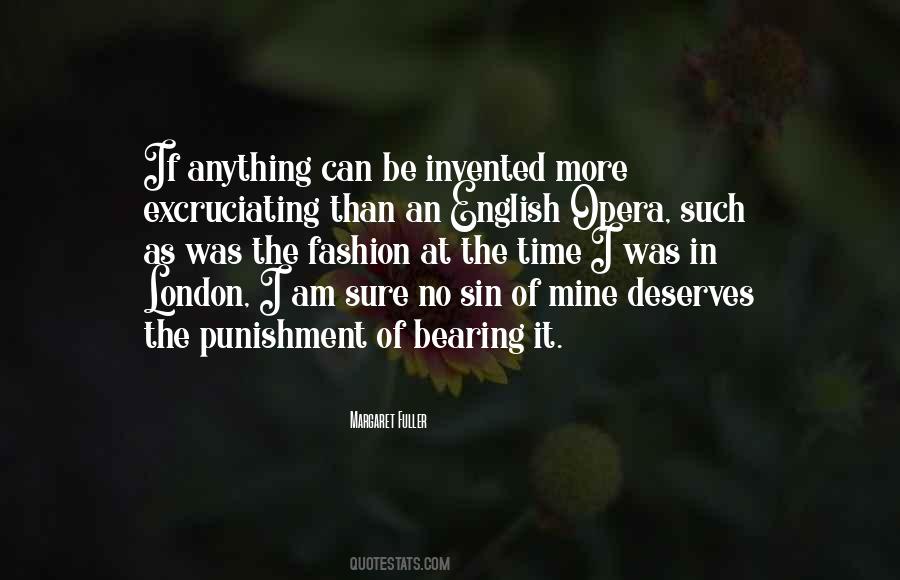 #82. If I am to serve as an instrument of deceit, at least let it be with a clear conscience. I do not want to be considered either so affectionate or so loyal a servant as to be found fit to betray anyone.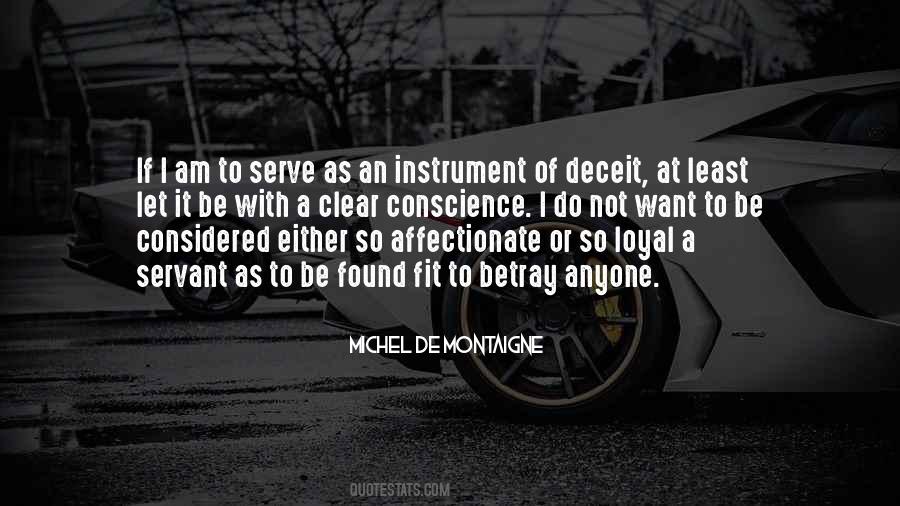 #83. Can You see that as soon as the day breaks I think of You? As evening comes, I am near You. I am near You at every moment. I love You, Jesus!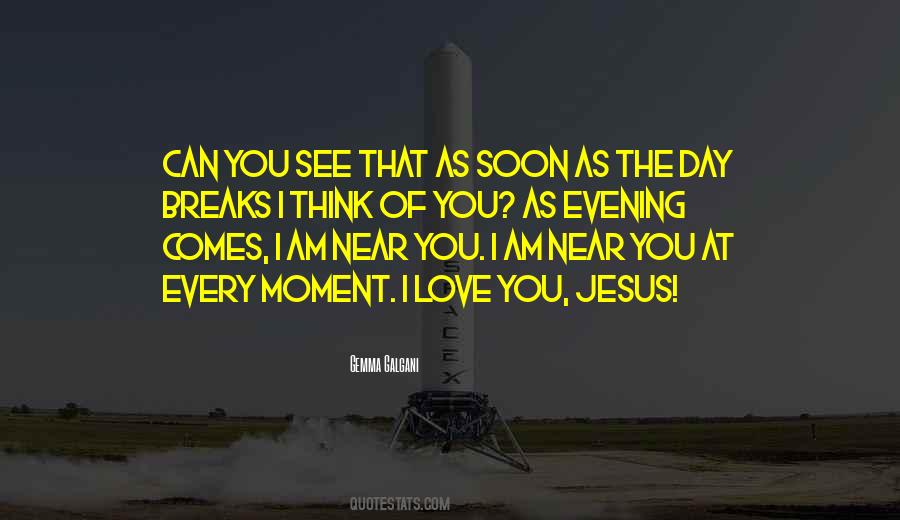 #84. I started out as a young Ninja and killed all of the Shoguns. I am a Shogun now and I'm holding my spot. There probably won't be another Shogun after this.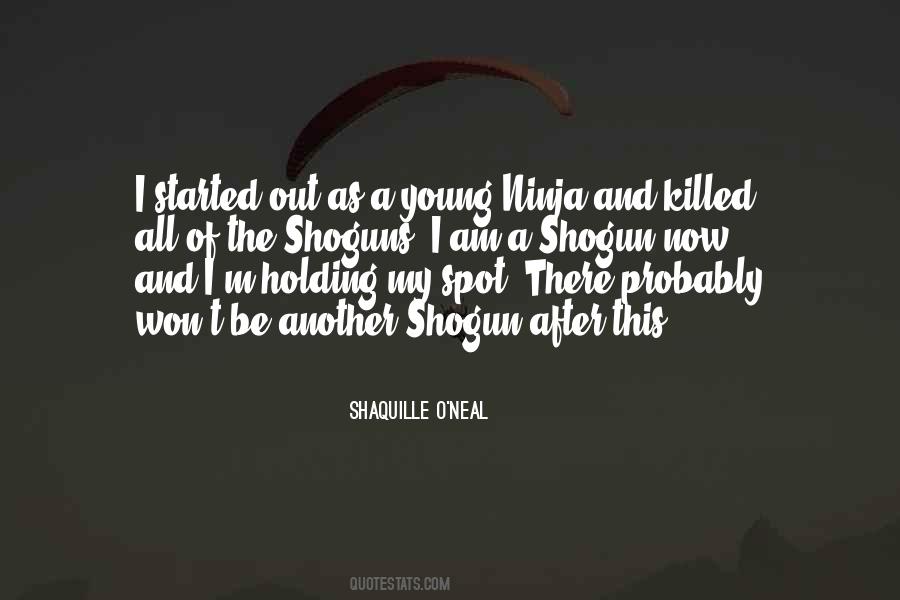 #85. These are not easy questions. Who am I? Why am I here? They're not easy because the human being isn't wired to function as an individual.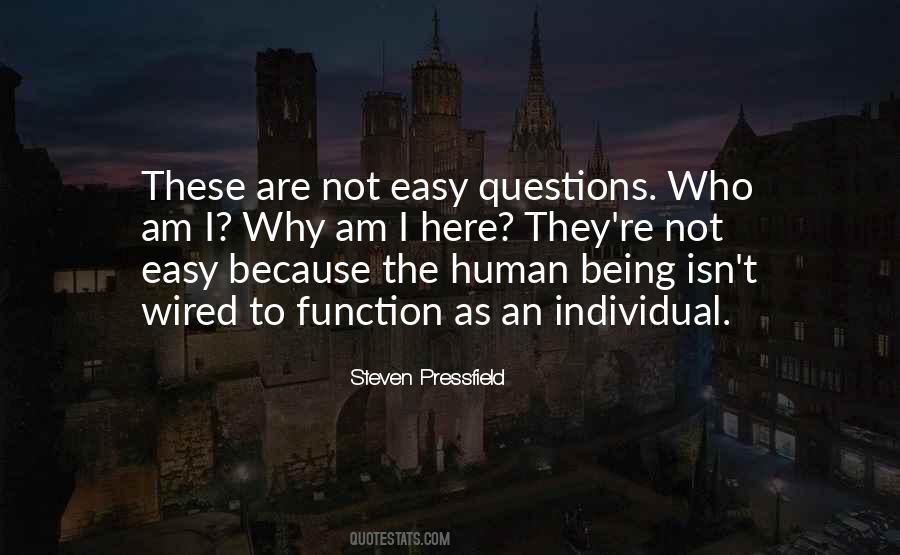 #86. I am light as a feather, I am as happy as an angel, I am as merry as a schoolboy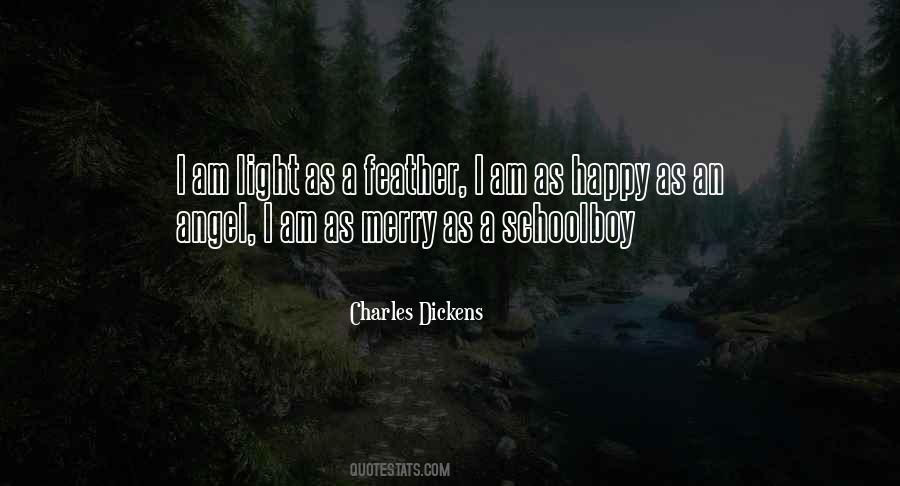 #87. I prefer to doubt everything. Such a disposition does not preclude a resolute character. On the contrary, as far as I am concerned, I always advance more boldly when I don't know what is waiting me for me. After all, nothing worse than death can happen-and death you can't escape!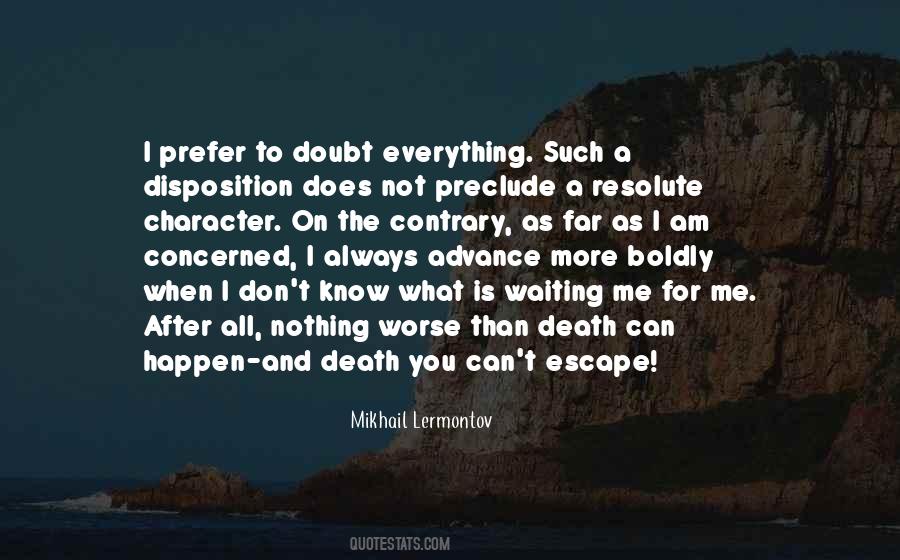 #88. I am a woman. I am a fisherman. As I have said, I am not a fisherwoman, fisherlady, or fishergirl.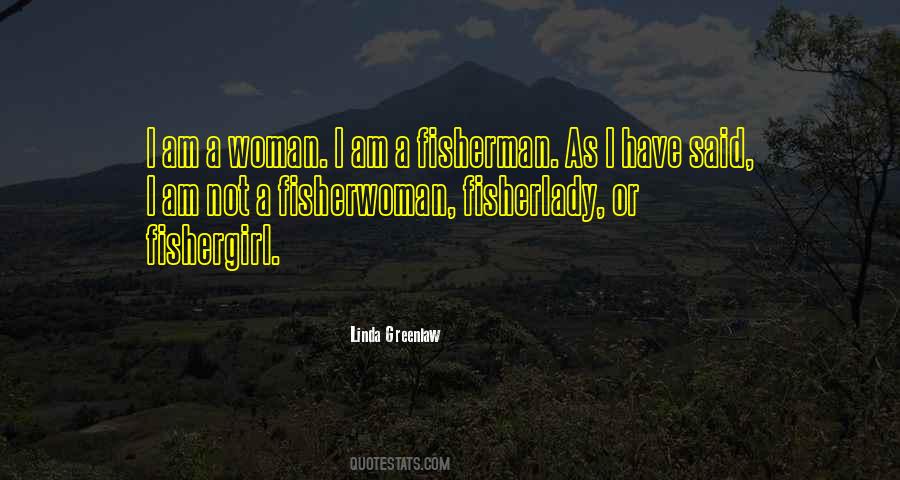 #89. You have a family," Mikhail said gently. "I am your family. Raven is your family. Our child will be, and of course you have Jacques. Someday you will have children." He sent a slight grin in Gregori's direction. "You can even claim the healer as family. We do, although he dislikes it intensely.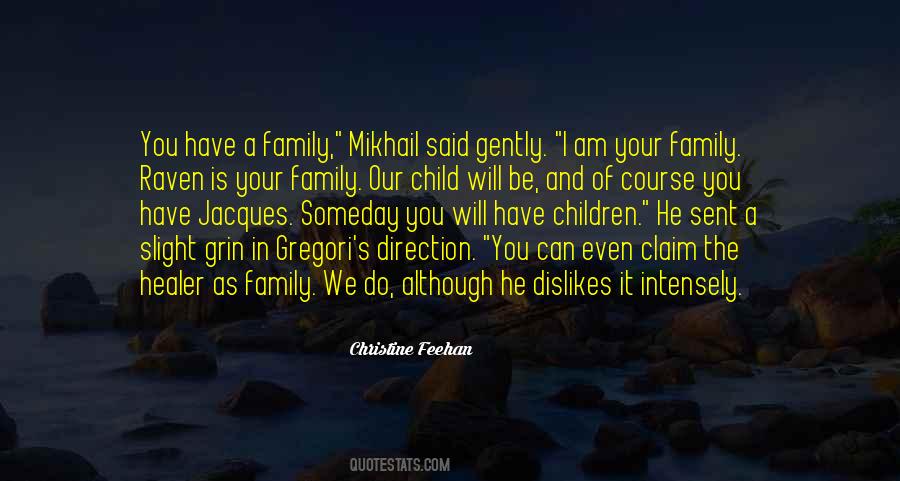 #90. When you get to be as old and as rich as I am, it's hard to meet people.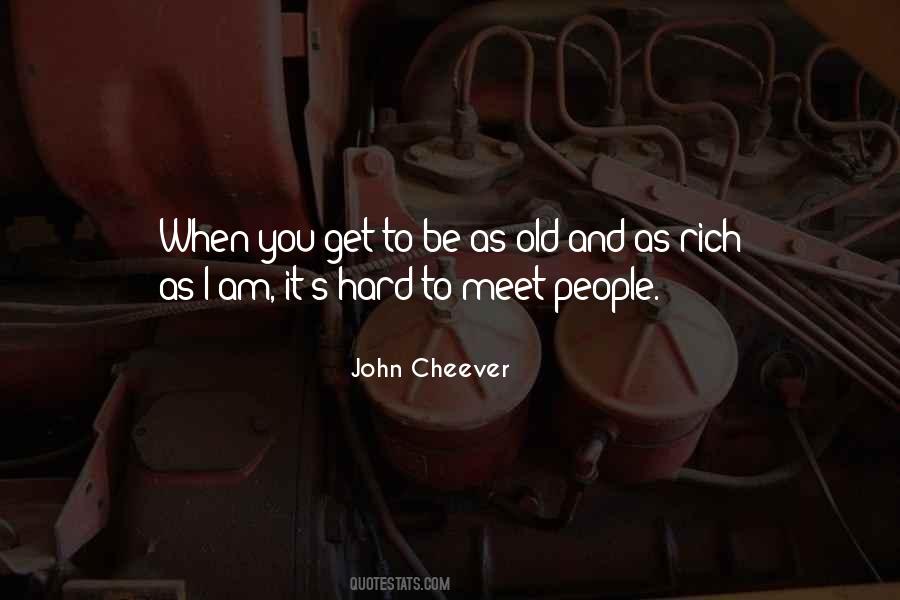 #91. I am fairly tired
bored beyond endurance
by the world we live in, and its ideals, and am ready to say so, not violently, but kindly, as one rubs salt into the back of a flogged sailor as though one loved him.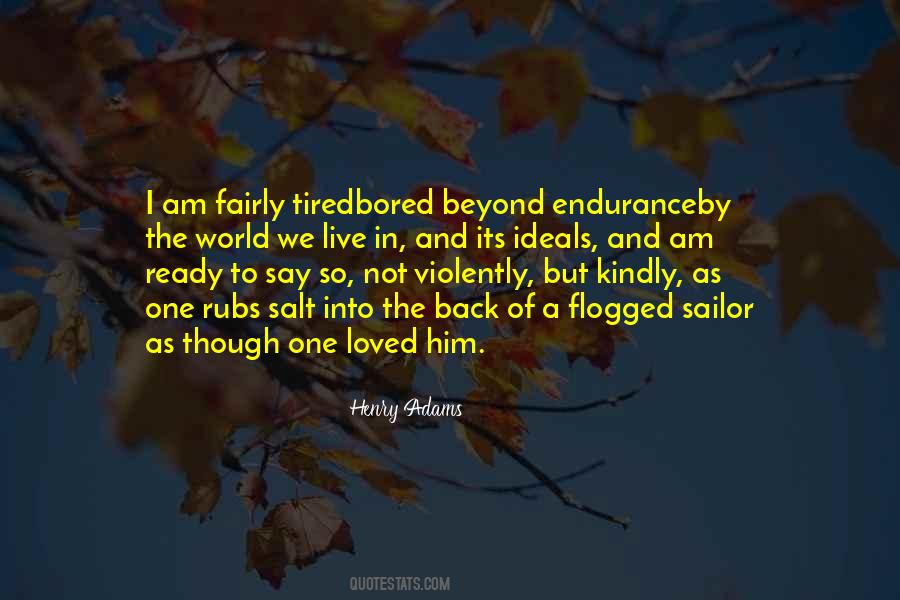 #92. As the years go by and I make more films, I am increasingly interested in capturing place as a vivid backdrop for my films.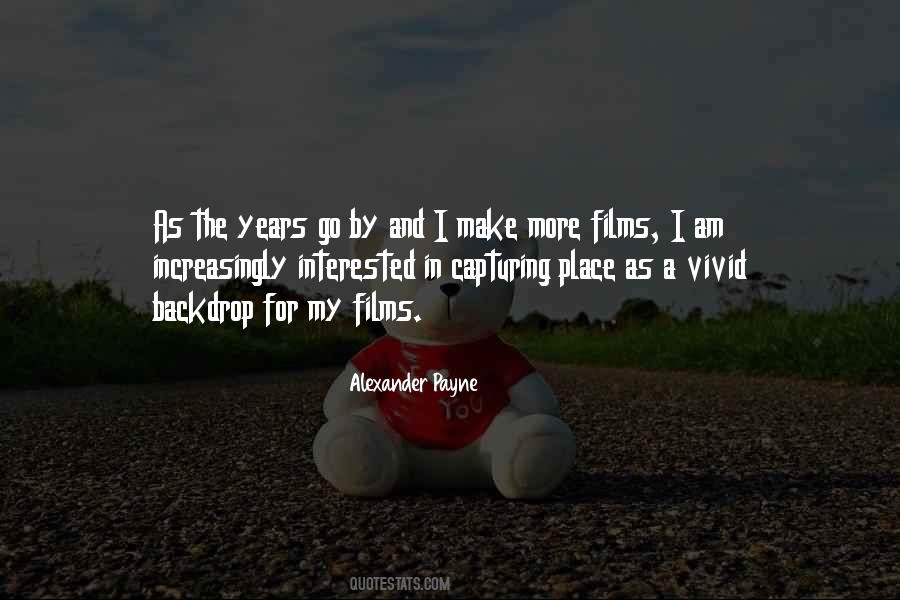 #93. So can you tell me exactly what 'freedom' means? If I am not free to be as twisted as I wanna be?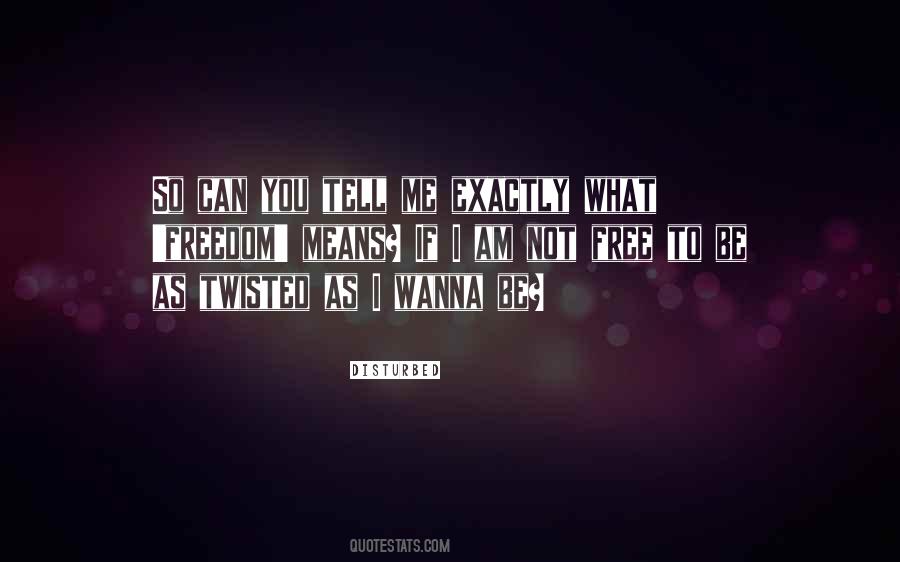 #94. When I am telling it, it doesn't seem as if it was only made up. It seems more real than you are
more real than the schoolroom. I feel as if I were all the people in the story
one after the other. It is queer.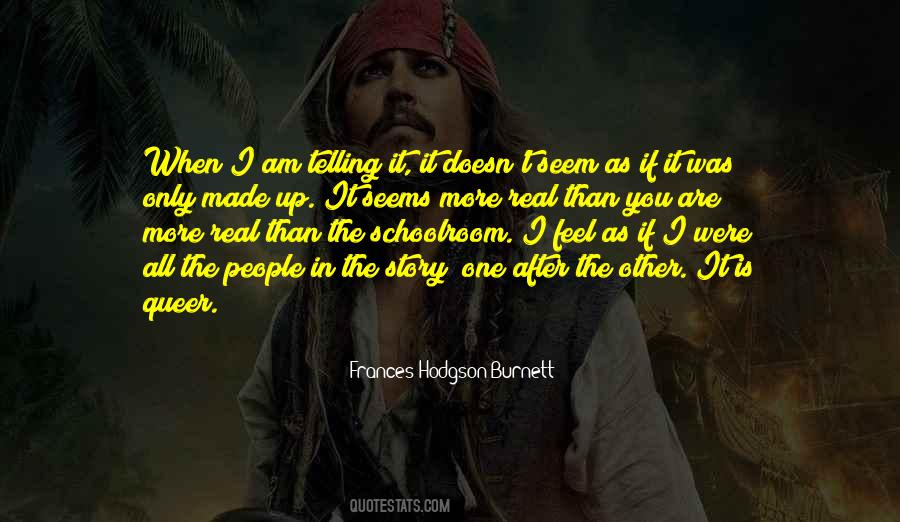 #95. Mom spent the time that she was supposed to be a kid actully raising children, her younger brother and younger sister. She was tough as nails and did not suffer fools at all. And the truth was she could not afford to. She spoke the truth, bluntly, directly, and without much varnish. I am her son.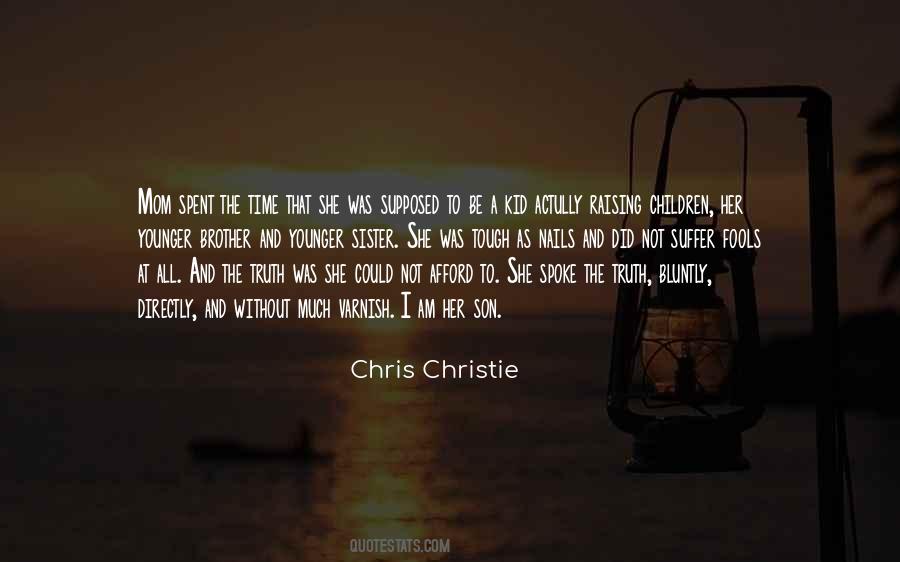 #96. I live my life based on 2 principles. One, I live as if today was my last day on earth. Two, I live today as if I am going to live forever.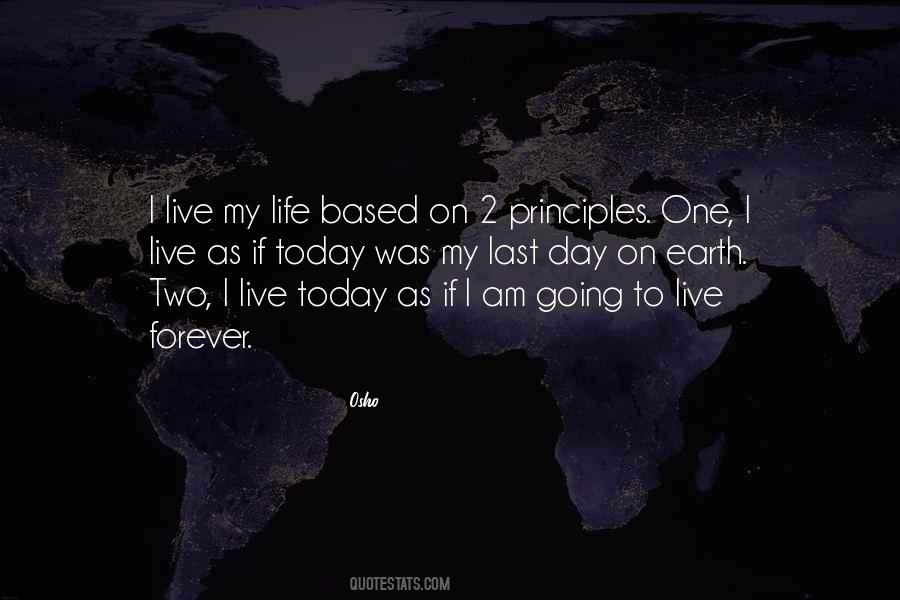 #97. And what's the point of changing when I'm happy as I am?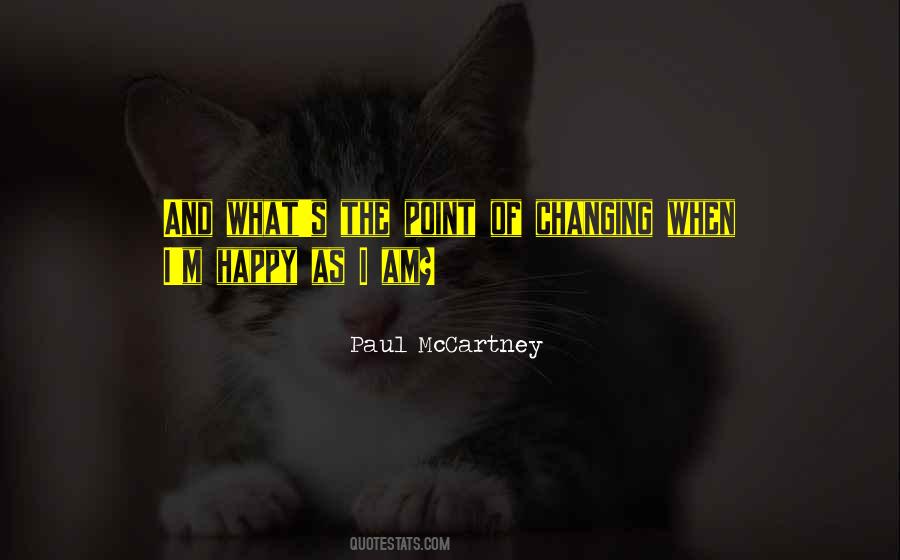 #98. I never watch 'Sopranos' reruns back home. As far as I am concerned, the nuclear family is still sitting around the luncheonette in New Jersey, munching and chatting, safe and together, and that's how it ended for me.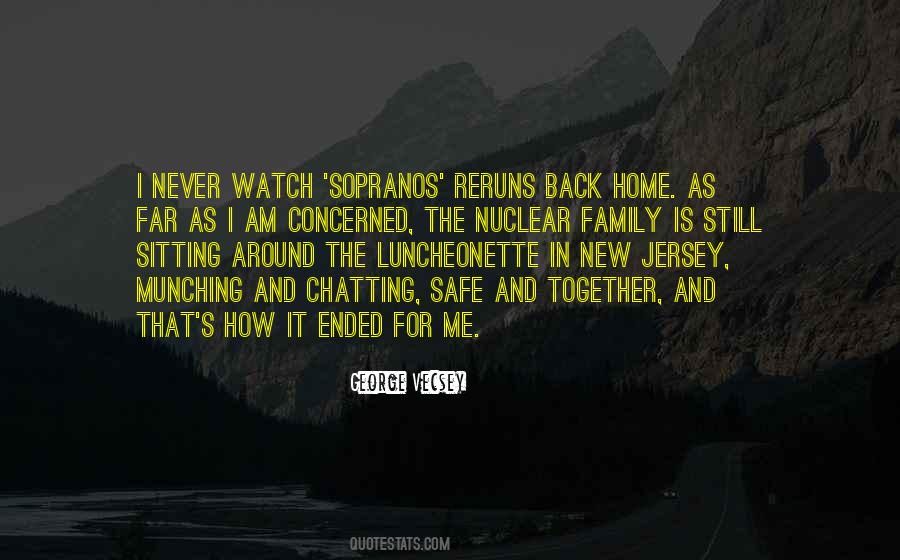 #99. I am the God of your father Abraham' (Genesis 26:24a). God is not just identifying himself: he is also reaffirming his commitment. As the Lord was with Abraham, so he will be with Isaac. As his power was seen in the life of Abraham, so it will also be seen in the life of Isaac.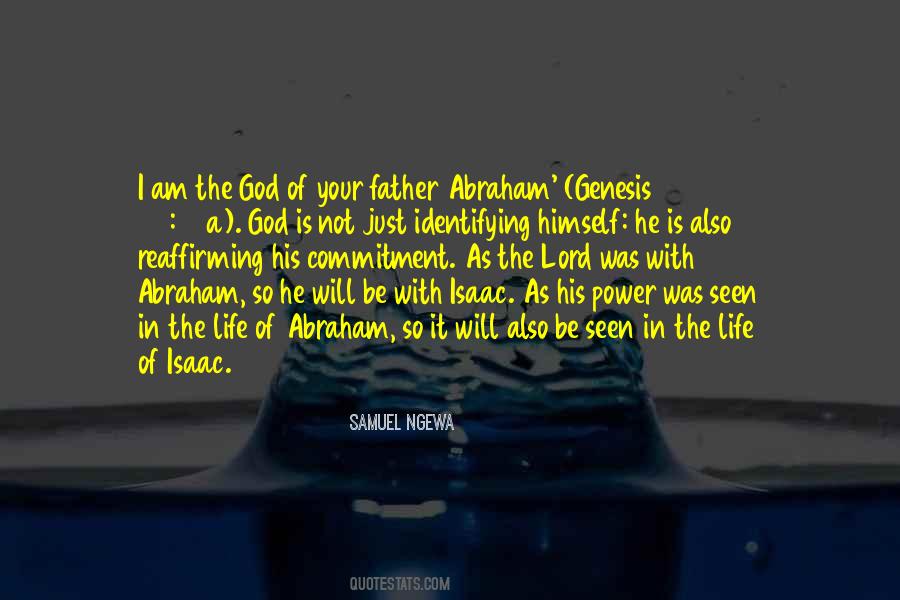 #100. Or as hockey player Sergei Fedorov knows it, 'The day I can legally start telling everyone I am sleeping with Anna Kournikova.'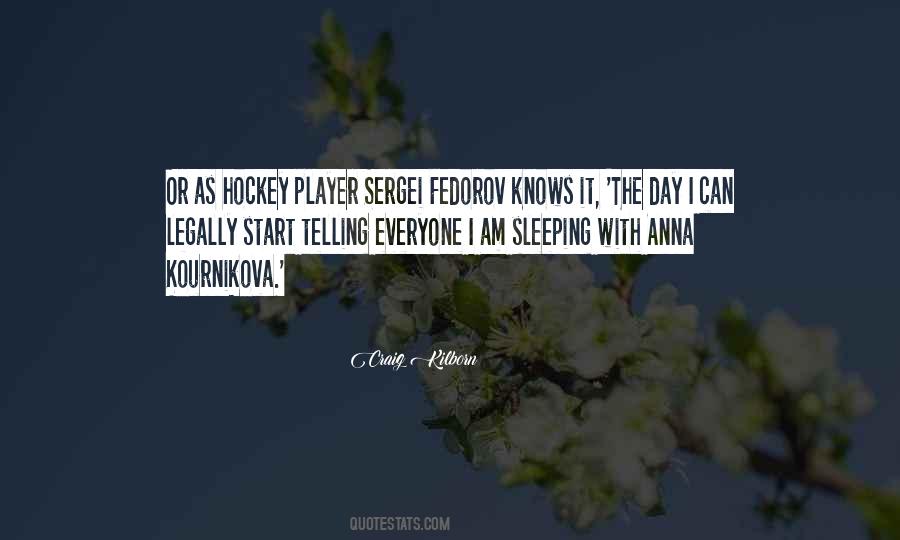 Famous Authors
Popular Topics