Art Galleries Famous Quotes & Sayings
List of top 66 famous quotes and sayings about art galleries to read and share with friends on your Facebook, Twitter, blogs.
Top 66 Quotes About Art Galleries
#1. If ever a place had a karma of damnation, it's Rottnest. And all those slick galleries selling Aboriginal art were eroding away my will to live. It's as if Germans built a Jewish food hall over Buchenwald. - Author: David Mitchell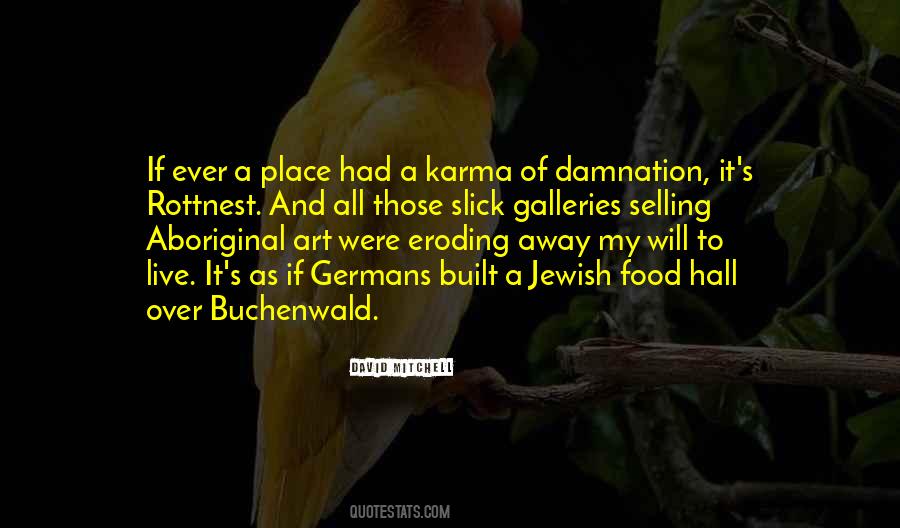 #2. I used to live in New York, and I know a number of people who have friends who work at galleries. I spent time hanging out with them, going to openings. It was a good way to do research, to hang out and to look at the art that was present. - Author: Jesse Kellerman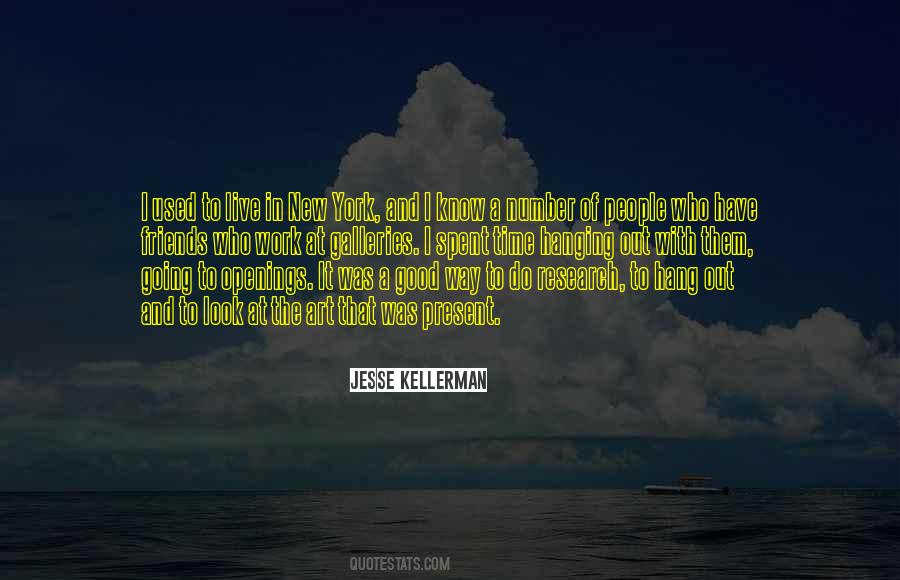 #3. Can space break? I mean the space of art galleries. Over the past 100 years, art galleries have gone from looking like Beaux Arts salons to simple storefronts to industrial lofts to the gleaming giant white cubes of Chelsea with their shiny concrete floors. - Author: Jerry Saltz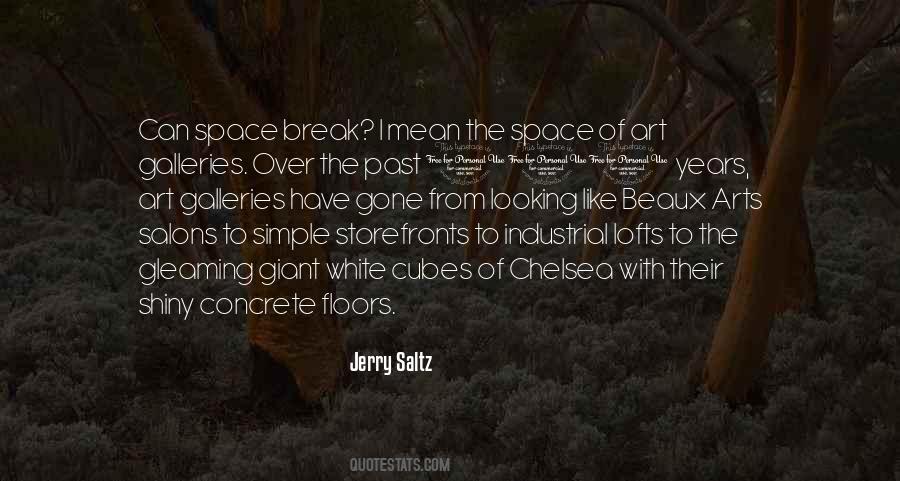 #4. I am all for art's finding a large audience. But the way that's happening now, with big works filling big galleries and bigger shows, is mostly stopping statements from being made. Or heard. Or talked about. Or really examined. It's watering things down. - Author: Jerry Saltz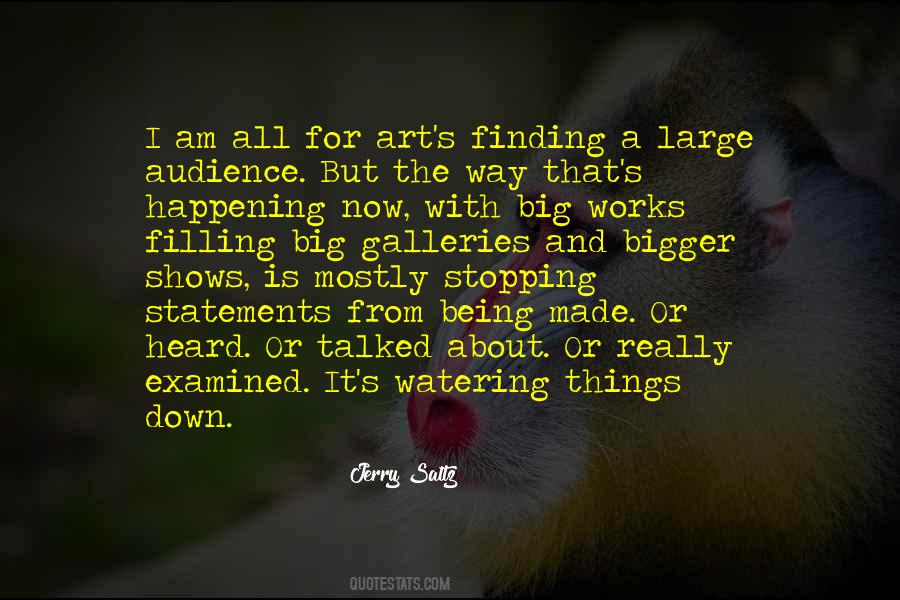 #5. Some prescient American collectors, including Vicki and Kent Logan and Mera and Donald Rubell, began collecting Chinese art before 2000 with a genuine passion, but as the auction prices exploded everyone was beating a path to the galleries and artist studios in China. It became the 'China thing.' - Author: Arne Glimcher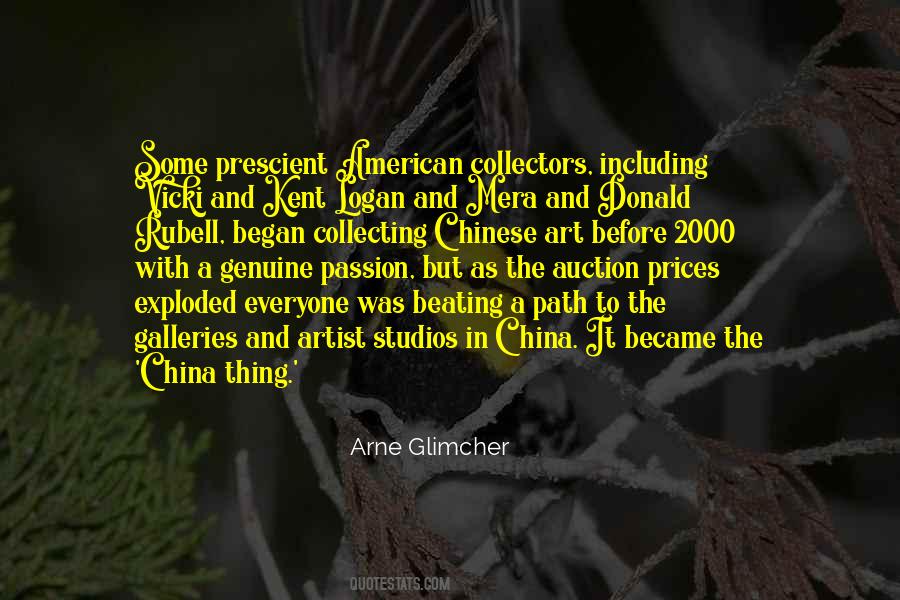 #6. I love the art world, I love art galleries, I love what it means - I love art. - Author: Nas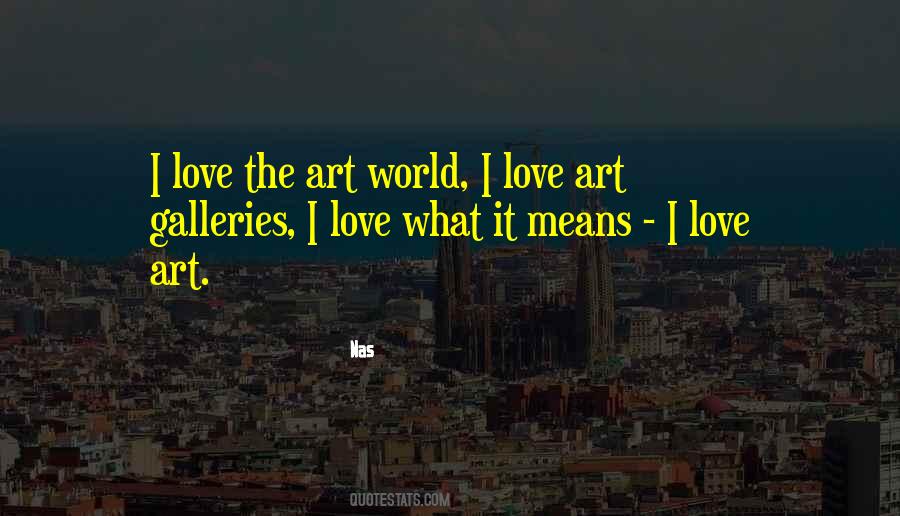 #7. There seems to be art and creativity everywhere, whether it was in the galleries of Jaffa or along the streets of Jerusalem ... the creativity blows my mind because you can see that people want to live their lives to the fullest. - Author: Guillermo Diaz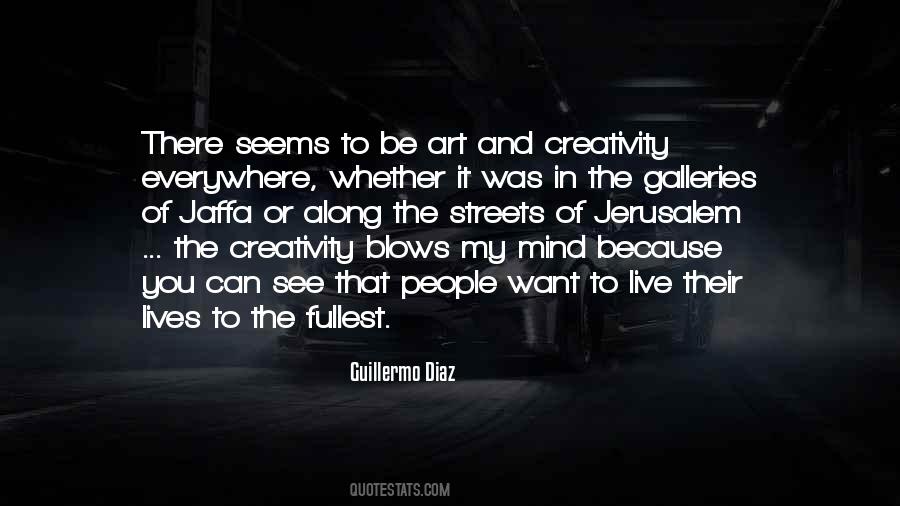 #8. The galleries are simply corporations in the art world - "Here's a million dollars for this latest piece of crap" - but I'm not about to go along with the gallery system. - Author: Betty Dodson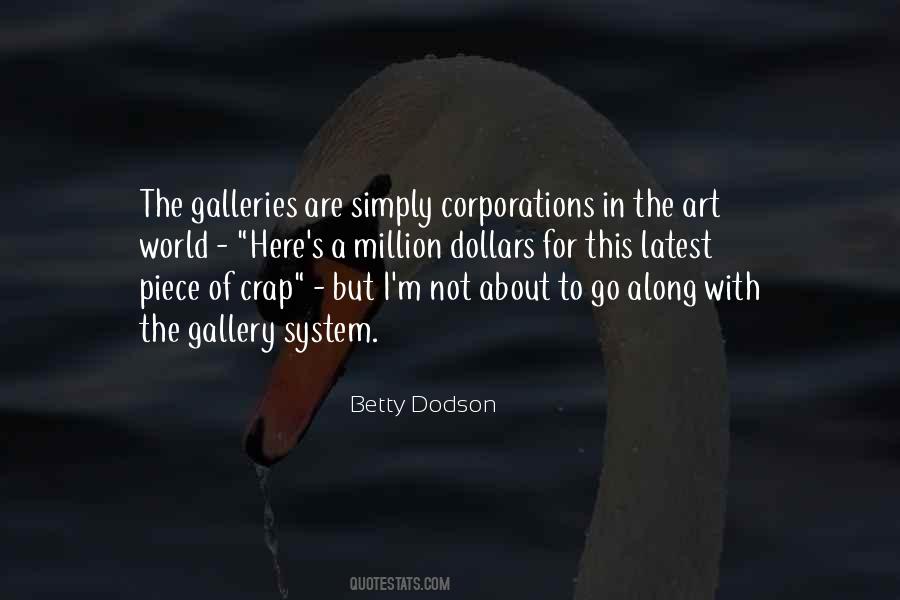 #9. For me, meaning of design is to give soul to objects by Art. Art sometimes need to be in every part of daily life, not only in the galleries and museums. - Author: Baris Gencel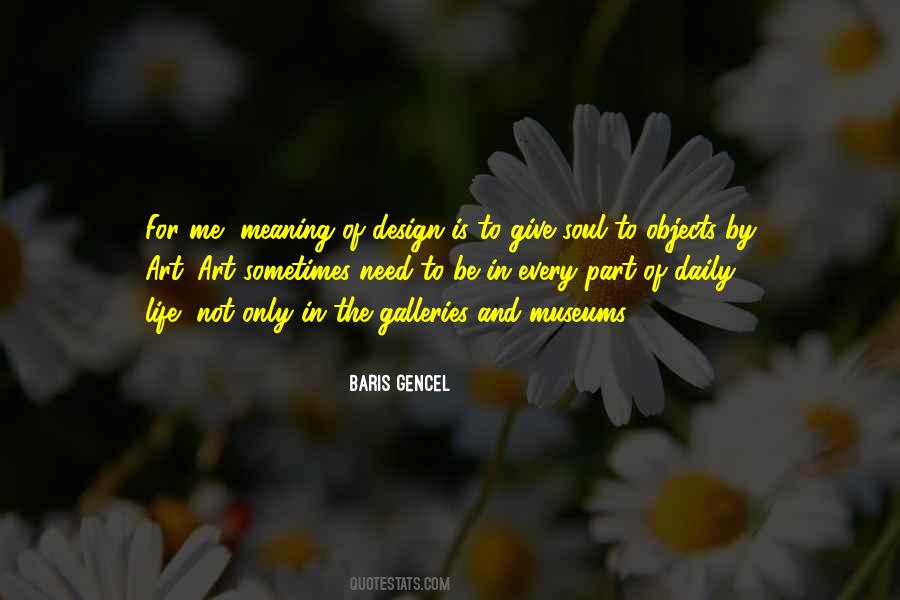 #10. Whereas there's a wealth of galleries in Australia, everyone's got a gallery in Australia or wants your work. Because the art scene is smaller in Indonesia, there's not so much competition. - Author: Andrew Jack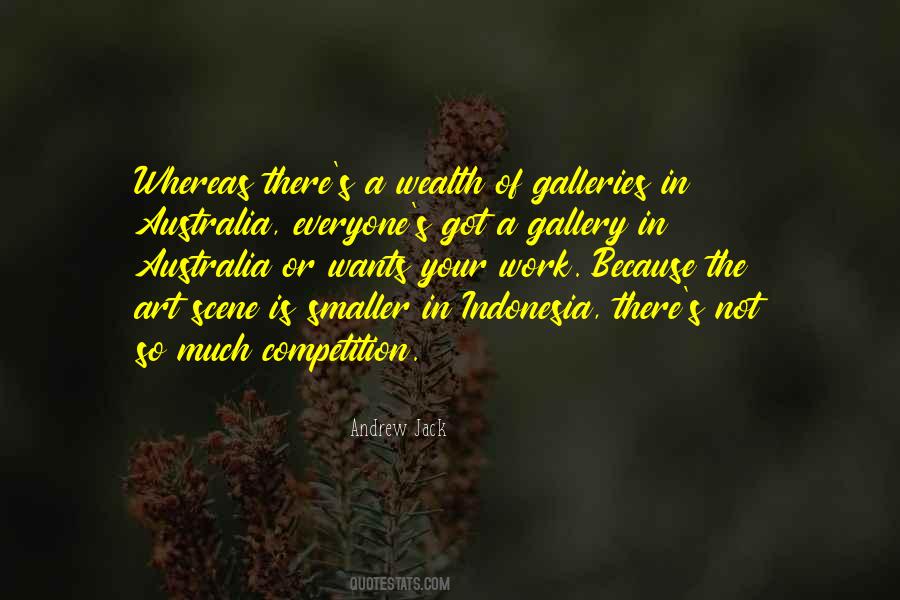 #11. It's a mystery to me the way that contemporary art galleries function. - Author: Steve Martin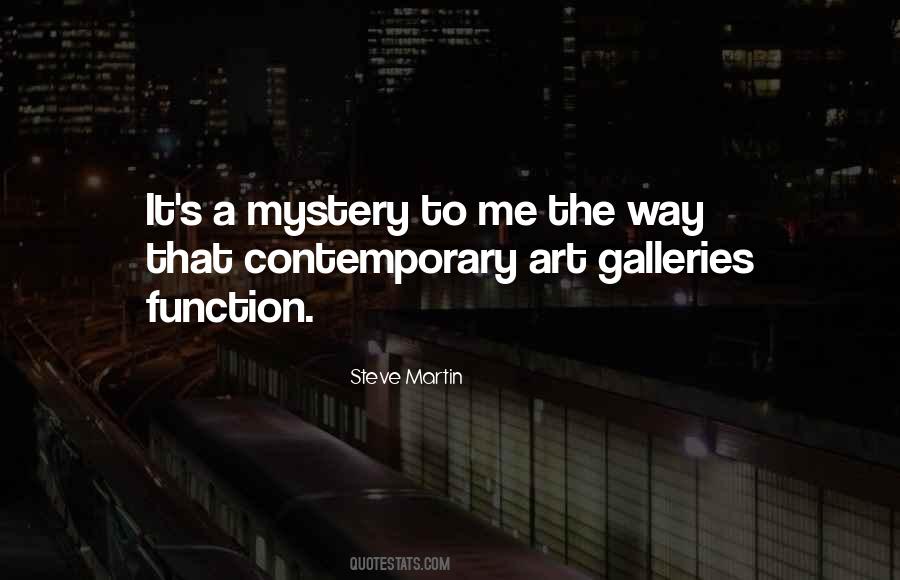 #12. You've got to invest in the world, you've got to read, you've got to go to art galleries, you've got to find out the names of plants. You've got to start to love the world and know about the whole genius of the human race. We're amazing people. - Author: Vivienne Westwood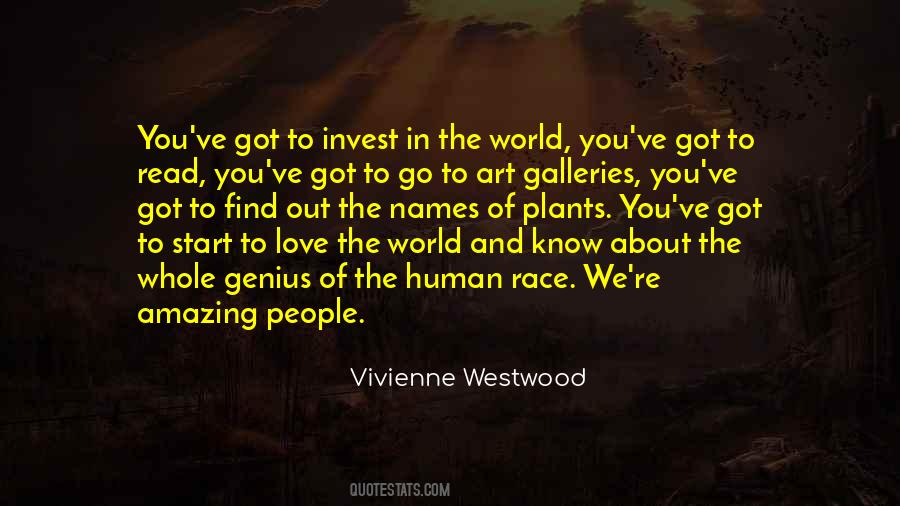 #13. Great Art is Great because it inspired you greatly. If it didn't, no matter what the critics, the museums and the galleries say, it's not great art for you. - Author: Yoko Ono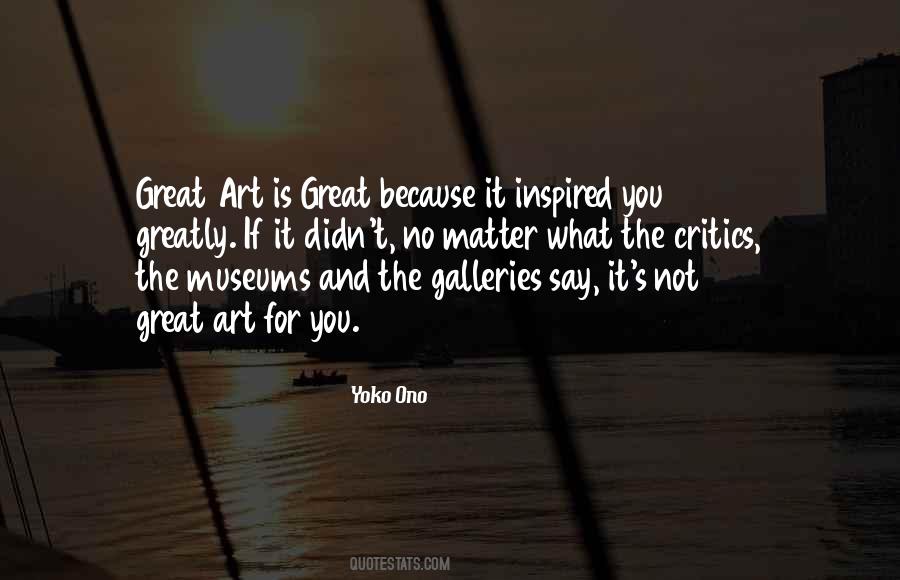 #14. Galleries began growing in both number and size in the late seventies, when artists who worked in lofts wanted to exhibit their work in spaces similar to the ones the art was made in. - Author: Jerry Saltz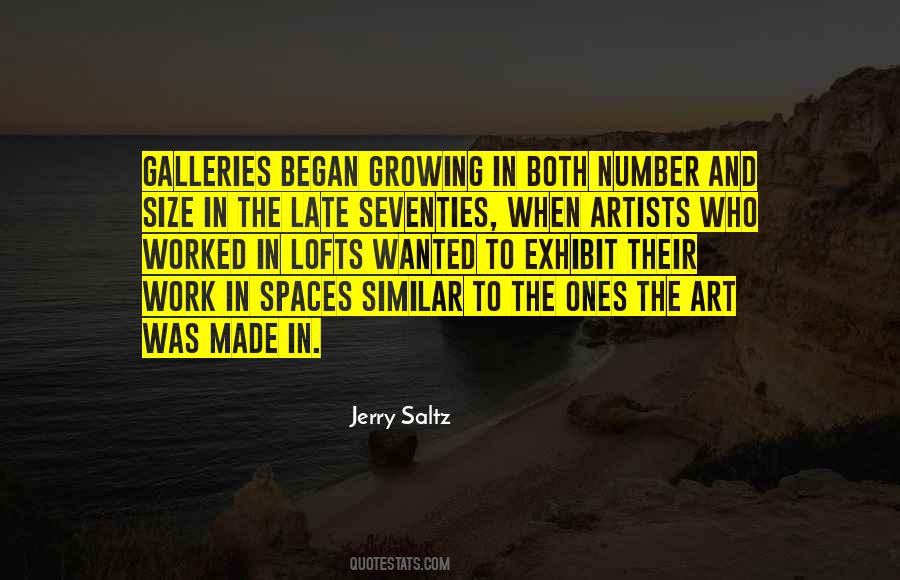 #15. The art galleries of Paris contain the finest collection of frames I ever saw. - Author: Humphry Davy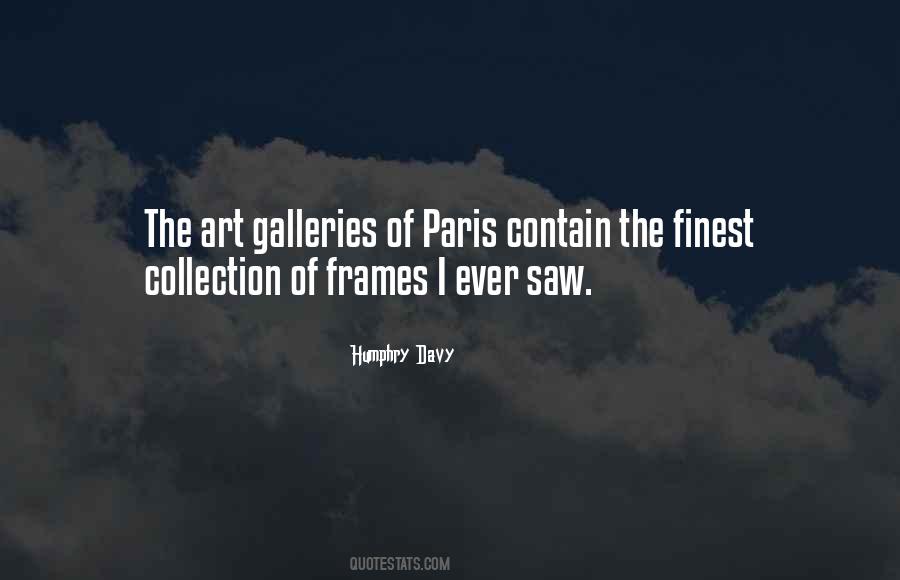 #16. We spend more time at cinemas, theaters, art galleries and theme parks than we do at churches, and they have become our new cathedrals. We can spend hours at any of these places of entertainment but if church service goes on too long we get impatient. - Author: Michael Huffington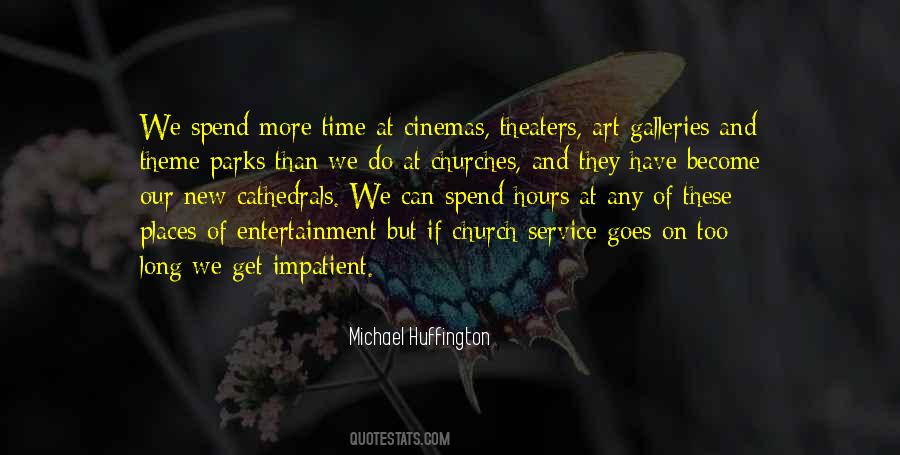 #17. The arts inform as well as stimulate; they challenge as well as satisfy. Their location is not limited to galleries, concert halls and theatres. Their home can be found wherever humans chose to have attentive and vita intercourse with life itself. - Author: Elliot W. Eisner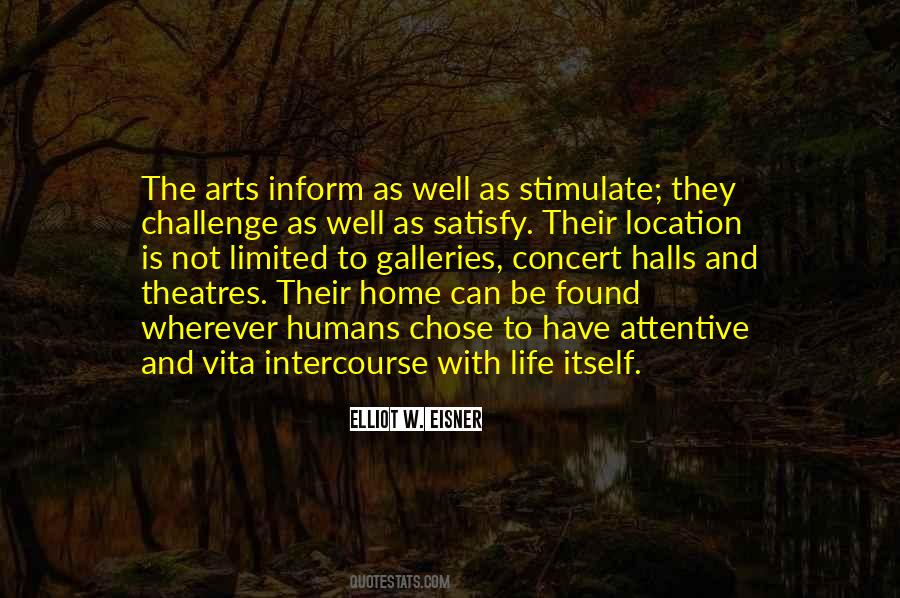 #18. Galleries are becoming overwhelmed with psychedelic music/art. I like it; it's a good direction, a new blurring of the lines between what you do. - Author: Brian Chippendale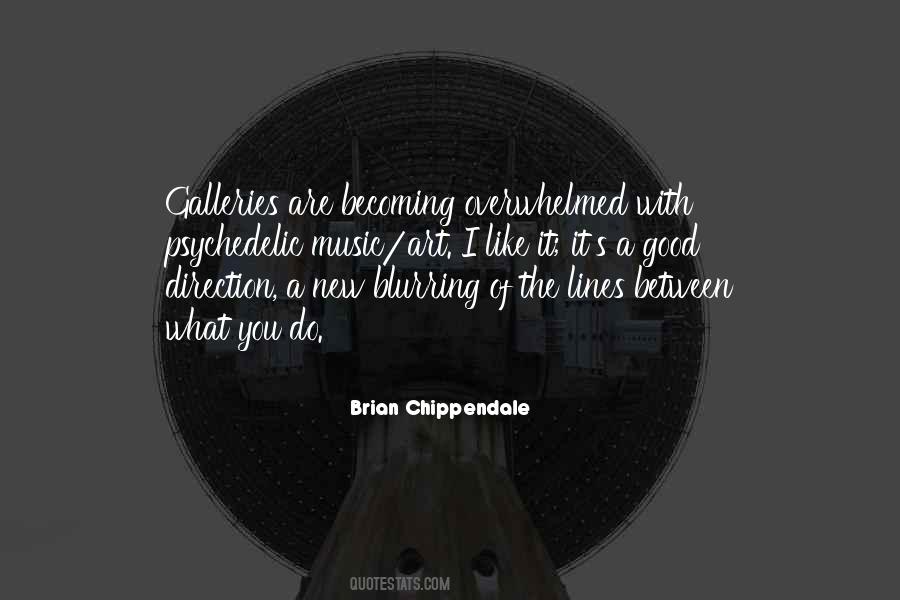 #19. Art shouldn't be locked away in galleries and libraries and books. Art should be for everybody and not just art buffs, historians and so-called experts. - Author: Julian Beever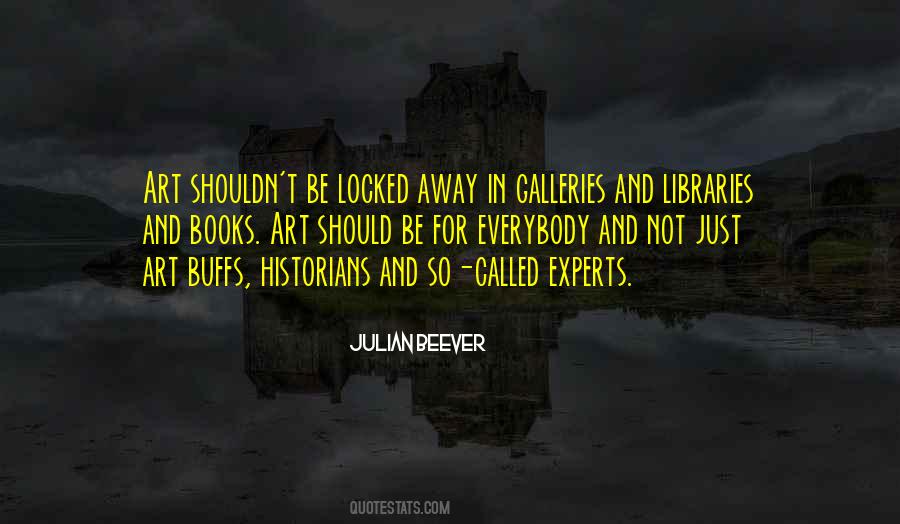 #20. Rumors sound of galleries asking artists for upsized art and more of it. I've heard of photographers asked to print larger to increase the wall power and salability of their work. Everything winds up set to maximum in order to feed the beast. - Author: Jerry Saltz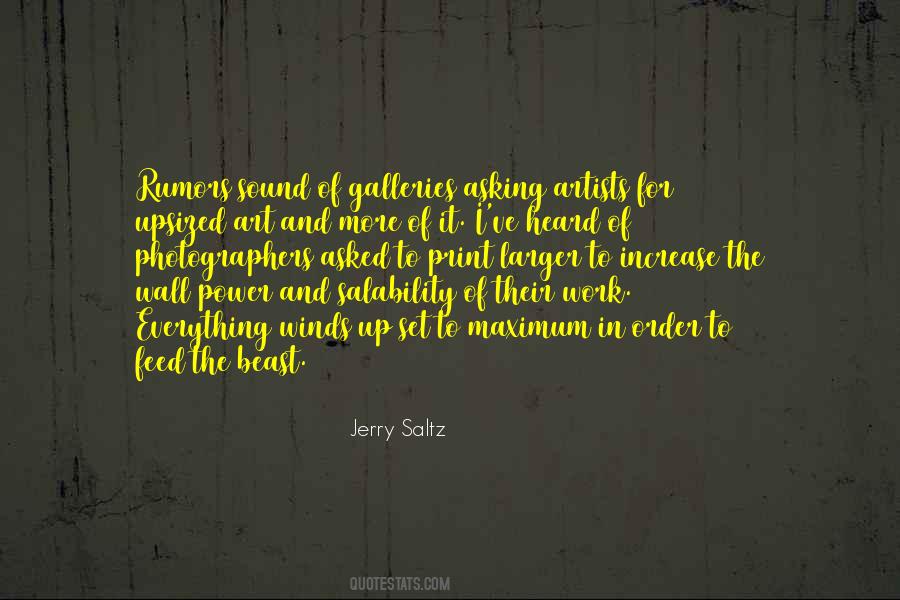 #21. Sometime when I was in my mid-twenties I noticed, "Hey, even I don't go into too many art galleries. Why? Because I don't like the vibe in them. If even I'm not going into galleries, then who goes into art galleries in the first place?" It's just a certain, very narrow percentage of the population. - Author: Eric Drooker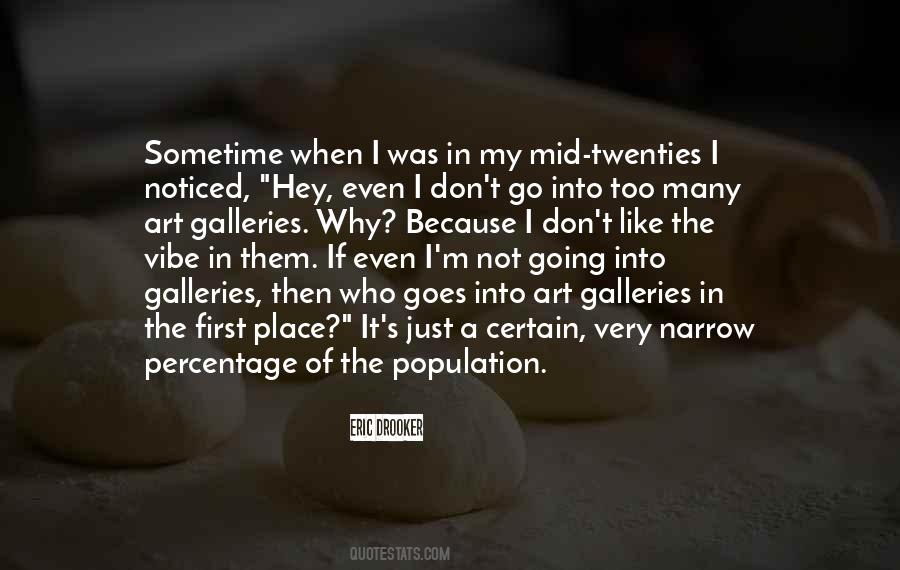 #22. If only we could persuade galleries to observe a fallow period in which, for two months every other year, new and old works of art could be sold in back rooms and all main galleries would be devoted to revisiting shows gone by. - Author: Jerry Saltz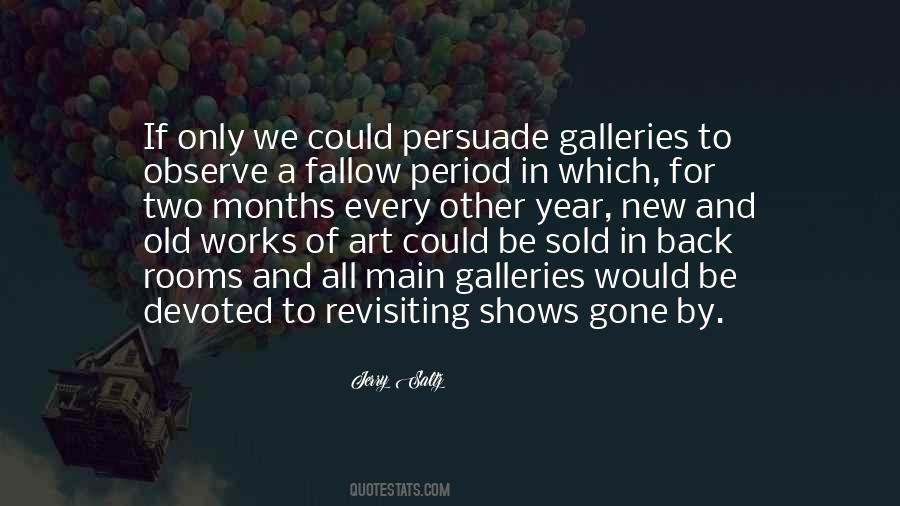 #23. I see artists bored by light-without-heat, irked at gigantic galleries' pushing out art-as-product, leaving behind the over determined for the undetermined, guided by interior voices and bringing us out of a long tunnel to new blueness. - Author: Jerry Saltz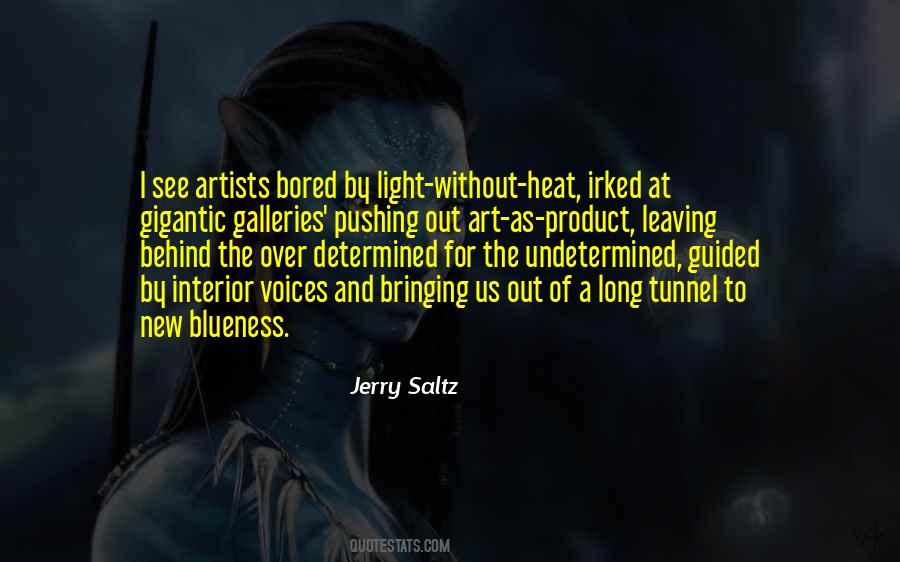 #24. I'm trying to expand the notion of curating. Exhibitions need not only take place in galleries, need not only involve displaying objects. Art can appear where we expect it least. - Author: Hans Ulrich Obrist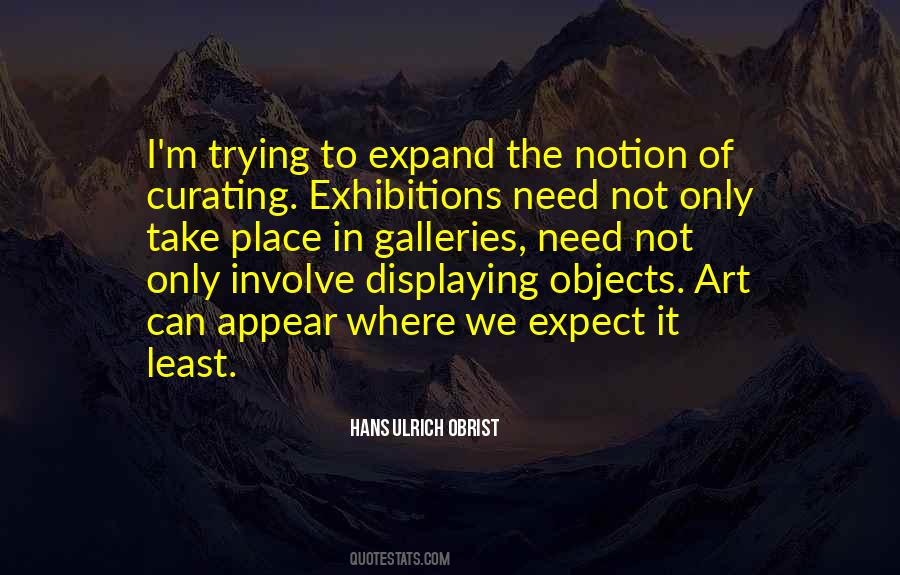 #25. I'm an atheist, but I believe in art. I go to galleries like my mother went to church. It helps me understand the way I live. - Author: Sarah Thornton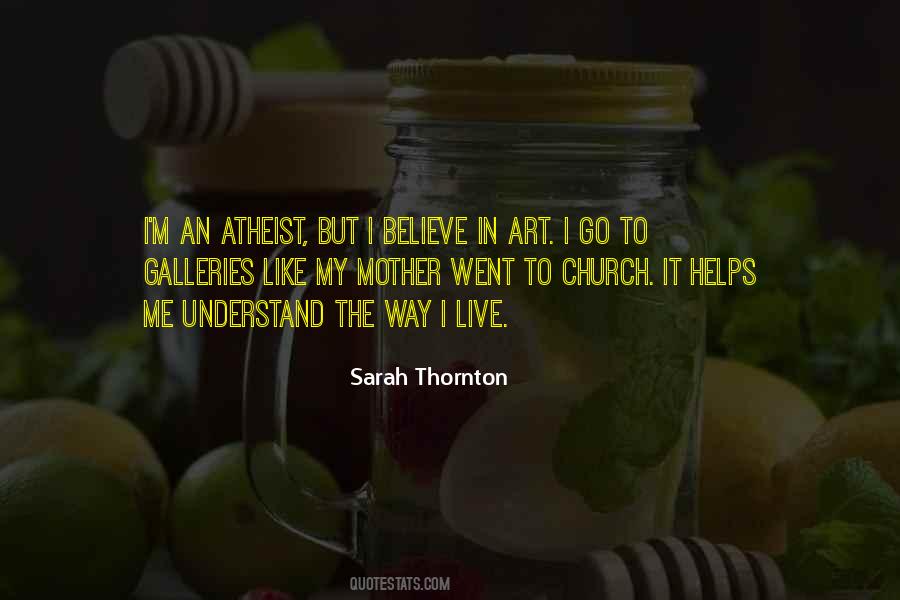 #26. I didn't visit art galleries growing up. I didn't know anything about it. But at 17 I made the decision to leave home and explore. I've been using the Internet since I was 13, so I could see there was this whole world out there. - Author: Kesh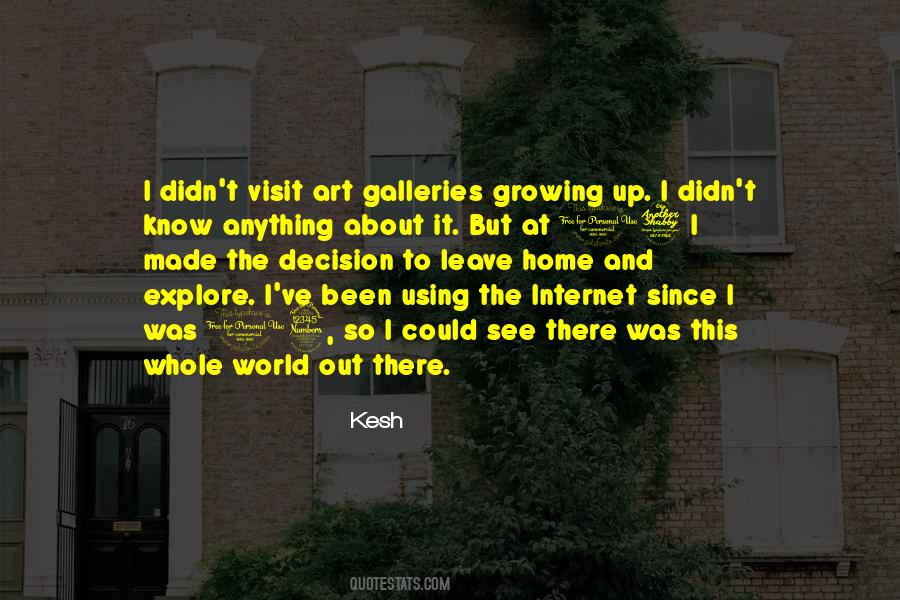 #27. The art world is molting - some would say melting. Galleries are closing; museums are scaling back. - Author: Jerry Saltz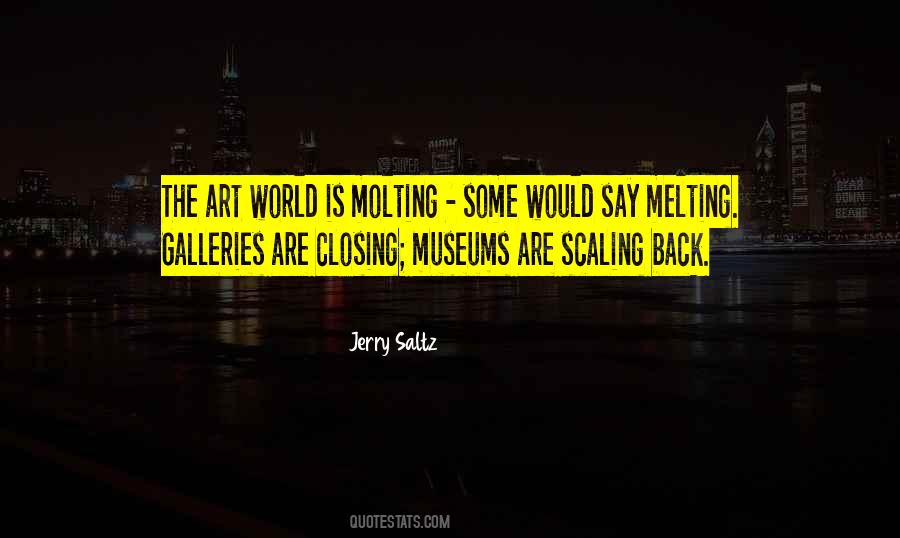 #28. We live in a world where art exists in galleries and museums, and musicians have to play the same venues over and over. - Author: Doug Aitken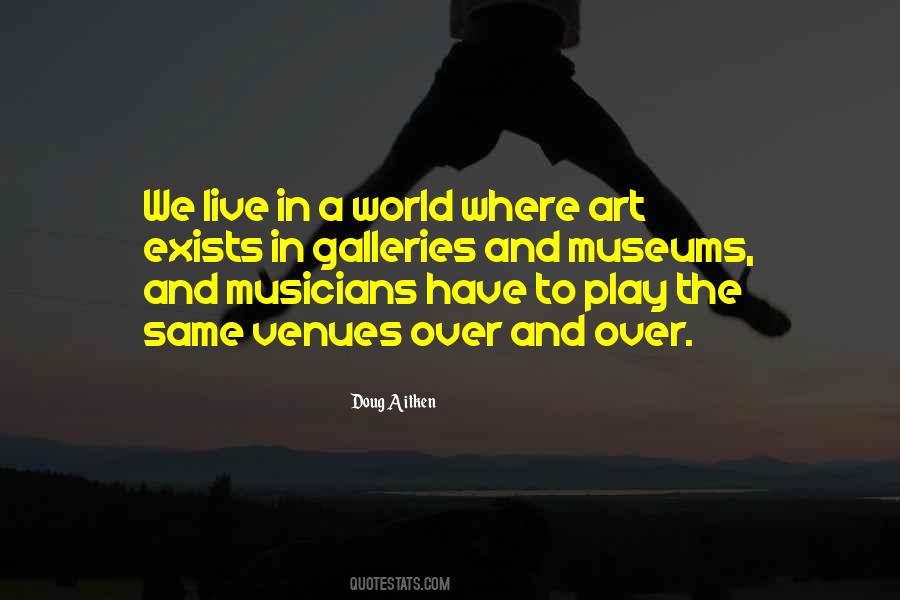 #29. Appreciation of works of art requires organized effort and systematic study. Art appreciation can no more be absorbed by aimless wandering in galleries than can surgery be learned by casual visits to a hospital. - Author: Albert C. Barnes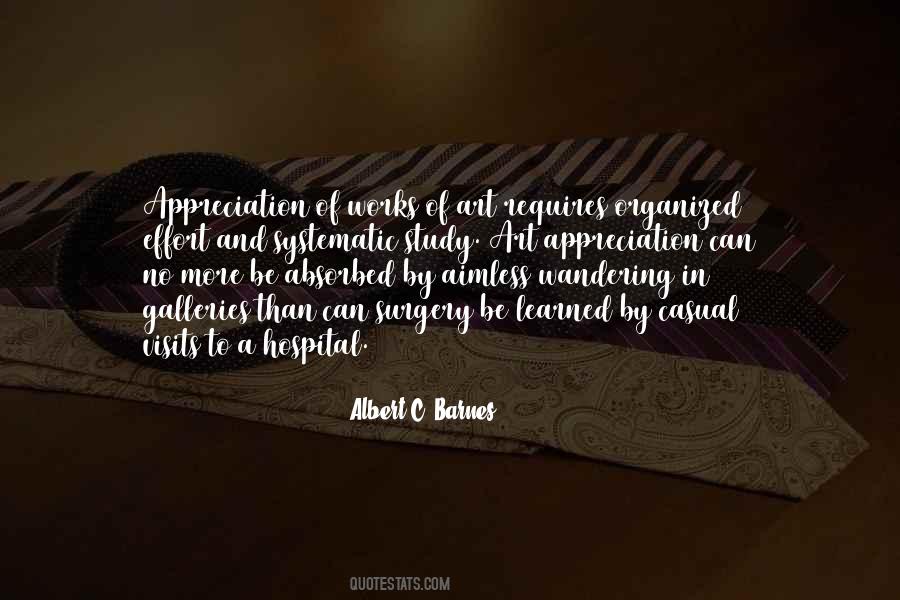 #30. I've always thought that there shouldn't be any limit to the things that are well designed. And I think that people who consider that art should only be kept for art galleries and doesn't have a role in public life, I think that's too narrow. - Author: Ken Done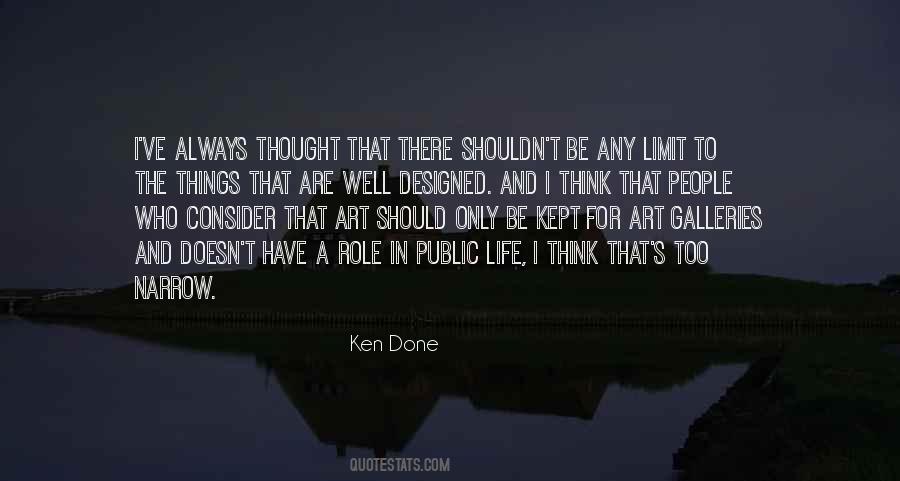 #31. I'm saving up to buy art. Nothing famous, but every time I'm in a new city I wander into galleries and dream about buying great pieces one day. - Author: Nicola Formichetti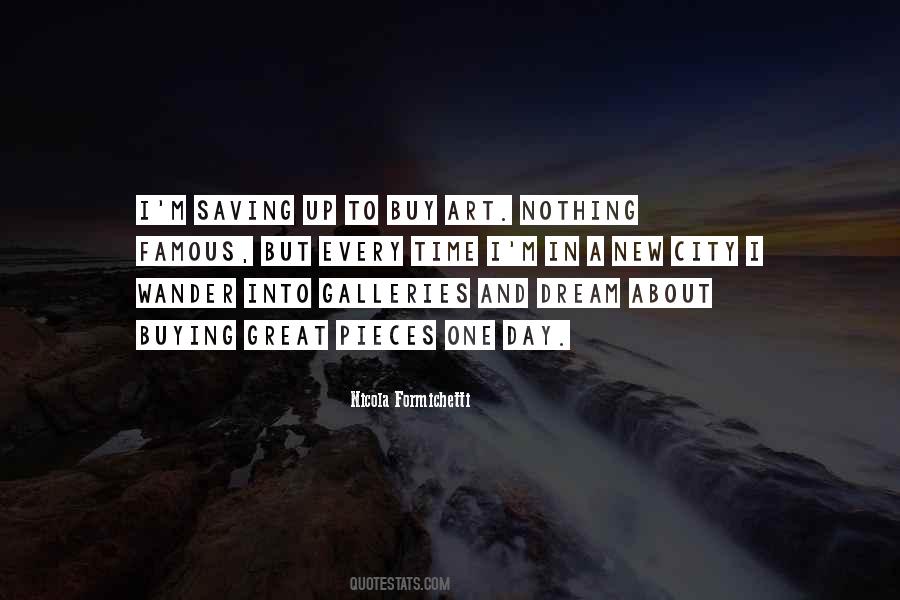 #32. The last time money left the art world, intrepid types maxed out their credit cards and opened galleries, and a few of them have become the best in the world. - Author: Jerry Saltz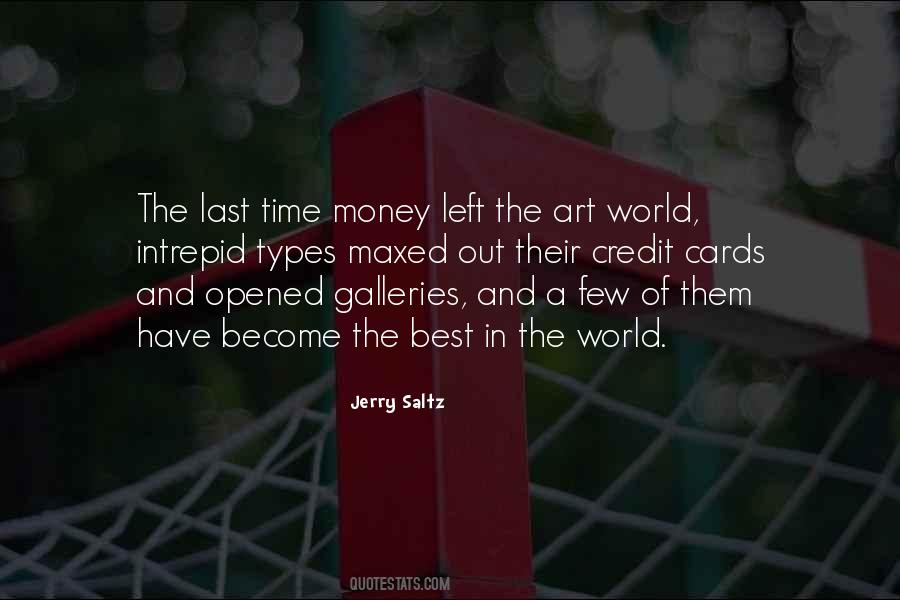 #33. There are times when the art world seems like a religious empire. There are great cathedral galleries and pilgrimage sites where treasured art pieces are displayed like holy relics, and this can certainly be a great pleasure on a rainy Sunday afternoon. - Author: Michael Leunig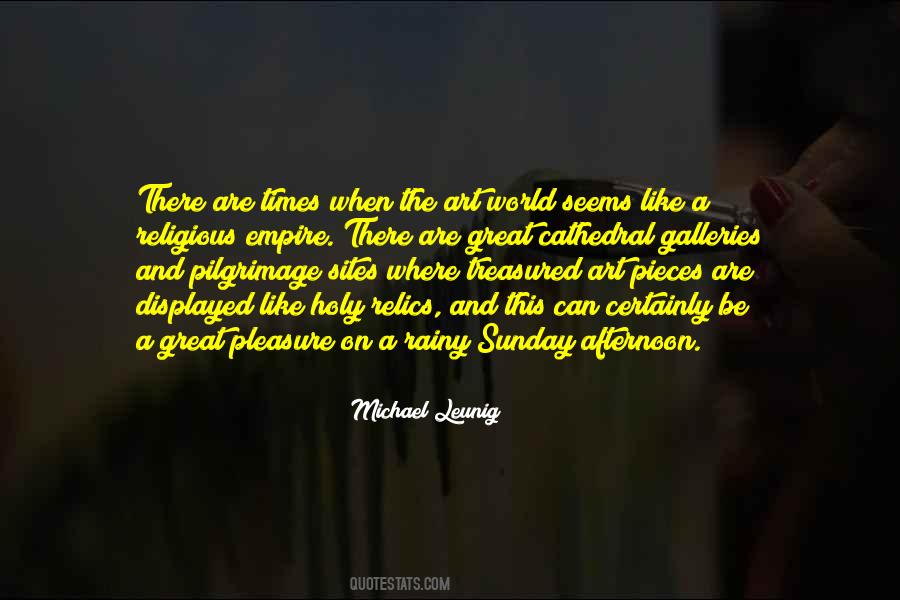 #34. When I go to galleries in New York, I feel like I'm in school. I know that there's good contemporary conceptual art, but I have a really hard time caring about it. I'd rather look at images of people and things I can relate to. Then again, I didn't go to art school. - Author: Kyp Malone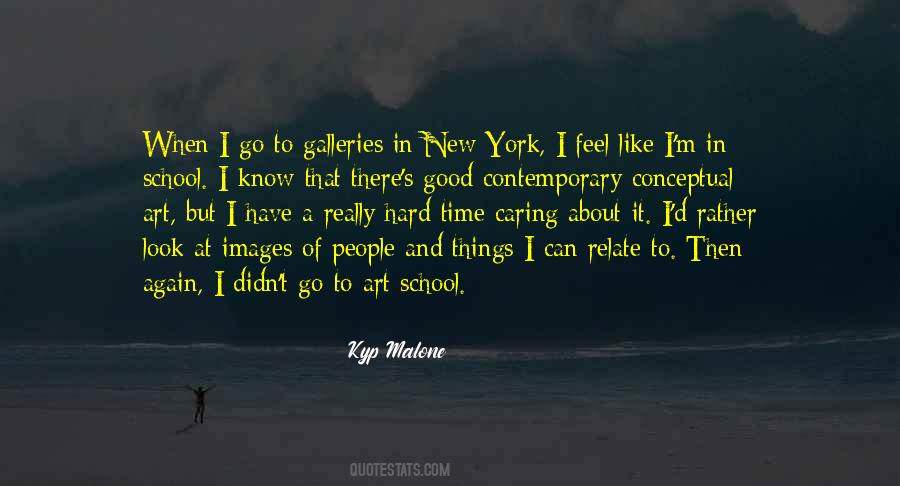 #35. Just as the development of earth art and installation art stemmed from the idea of taking art out of the galleries, the basis of my involvement with public art is a continuation of wall drawings. - Author: Sol LeWitt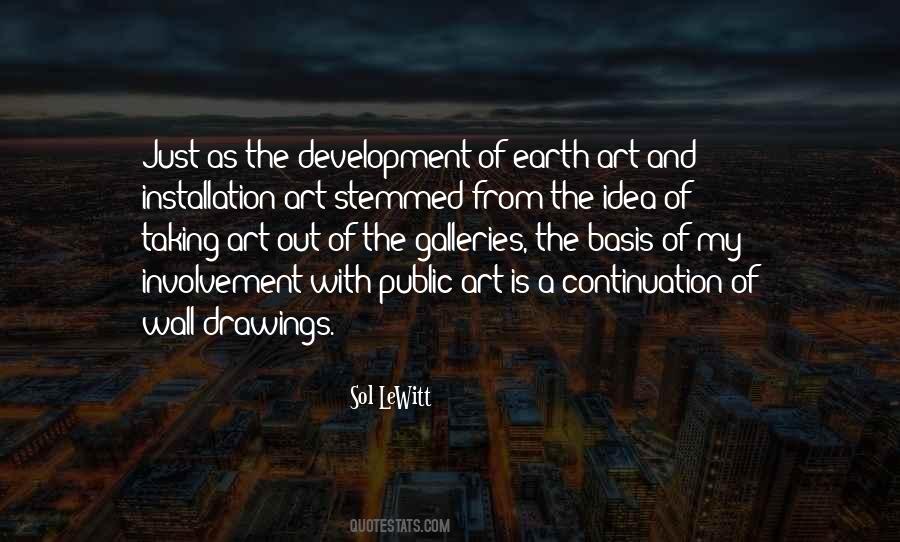 #36. Exposure to the reproductions [of Corbis-owned fine art photographs] is likely to increase rather than diminish reverence for the real art and encourage more people to get out to museums and galleries. - Author: Bill Gates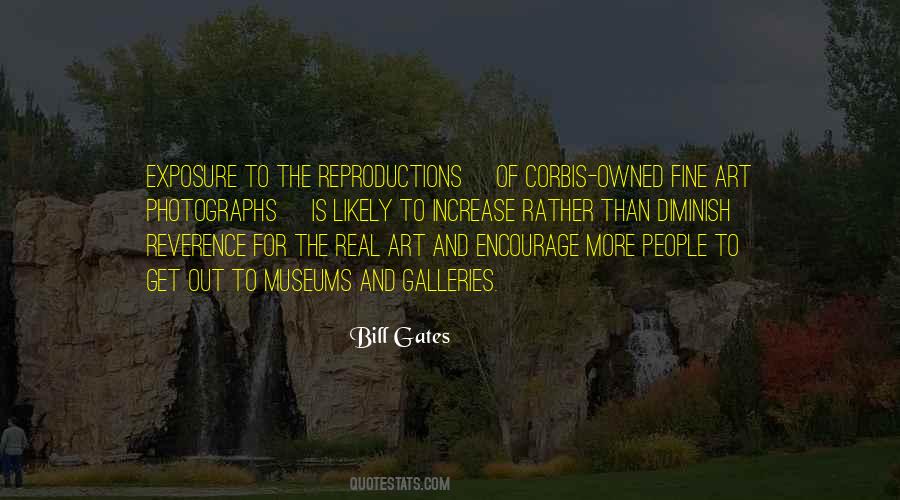 #37. Entering into the spirit of this interior, you will discover the best possible atmosphere in which to show fine paintings or listen to music. It is this atmosphere that seems to me most lacking in our art galleries, museums, music halls and theaters. - Author: Frank Lloyd Wright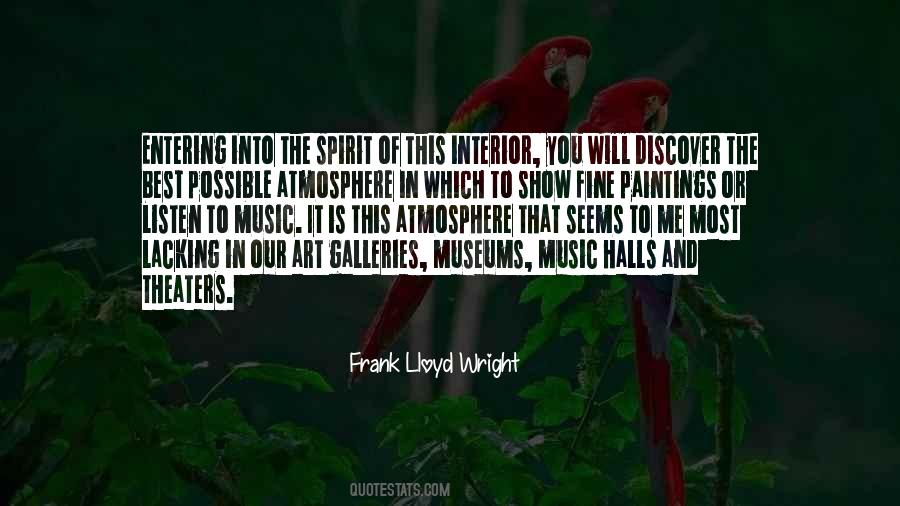 #38. Art exhibitions would be less censored if they were rated, G or NC-17, like movies. People in general see galleries and museums as family-appropriate excursions. Censorship is a provided system which caters to lazy parenting, which is publicly-funded and socially accepted. - Author: Adamo Macri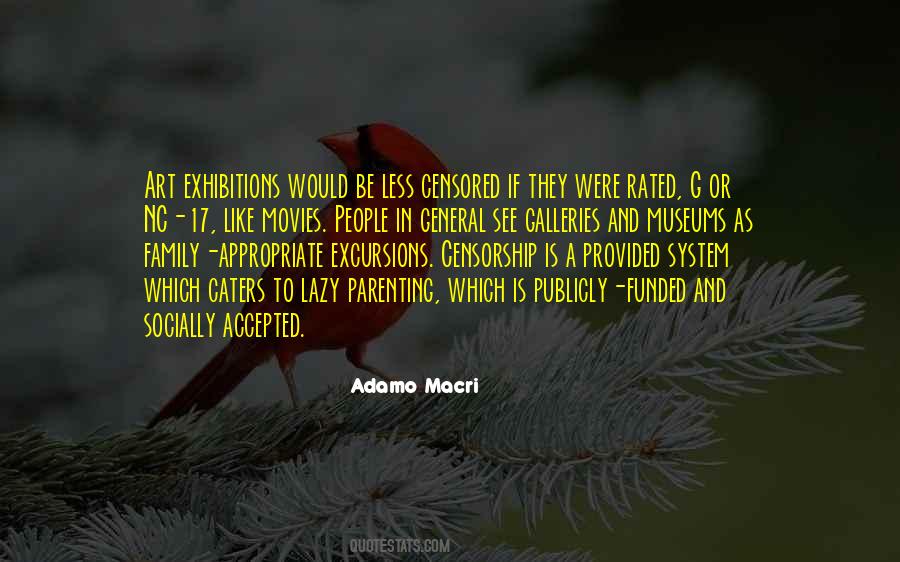 #39. The current climate doesn't represent a threat to the production of art but to the market. I think it's time for artists to get over auction houses, galleries, and high-production-value exhibitions and start using our voices again. - Author: Maurizio Cattelan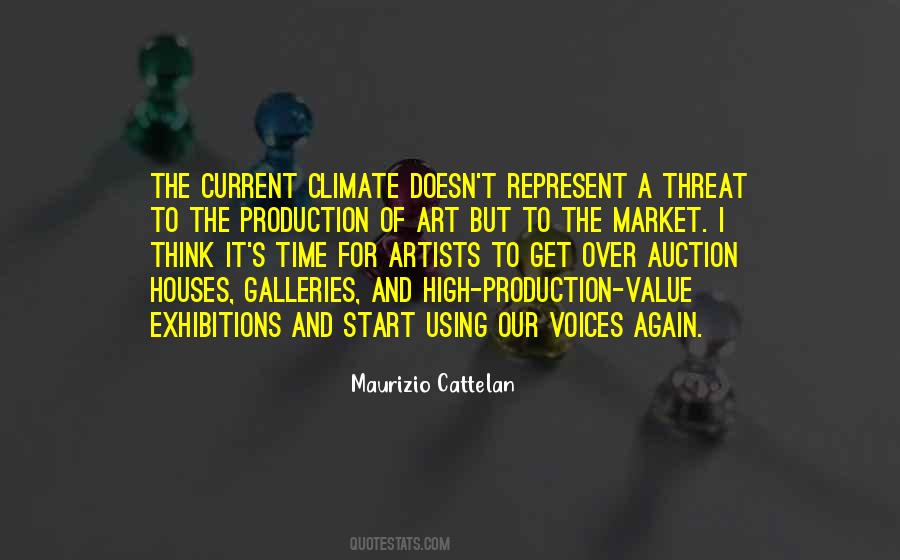 #40. I realise the power of art that does not hang on the walls of galleries. - Author: Marina Abramovic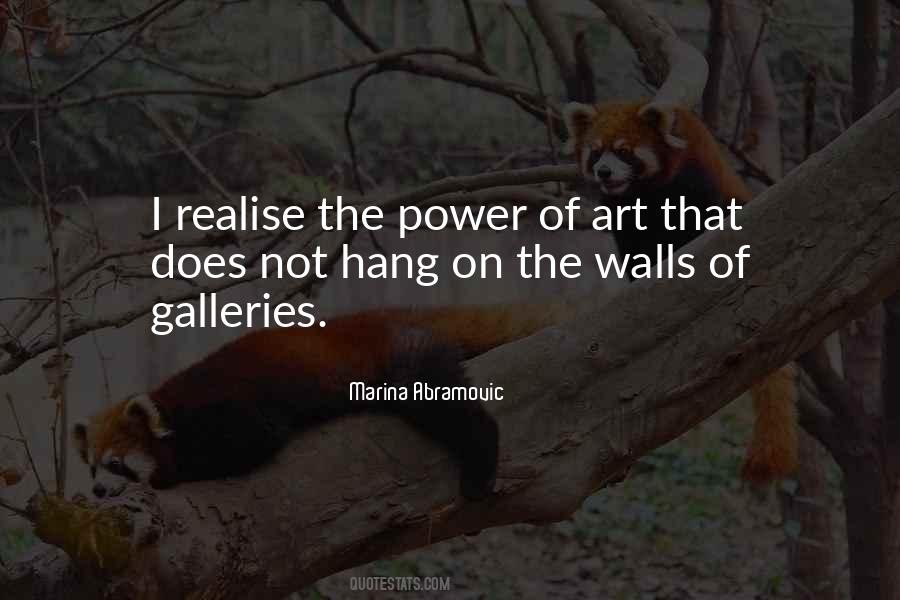 #41. There's something pleasing about large, well-lit spaces. I love that dealers are willing to take massive chances in order to give this much room to their artists. Most of all, I love that more galleries showing more art gives more artists a shot. - Author: Jerry Saltz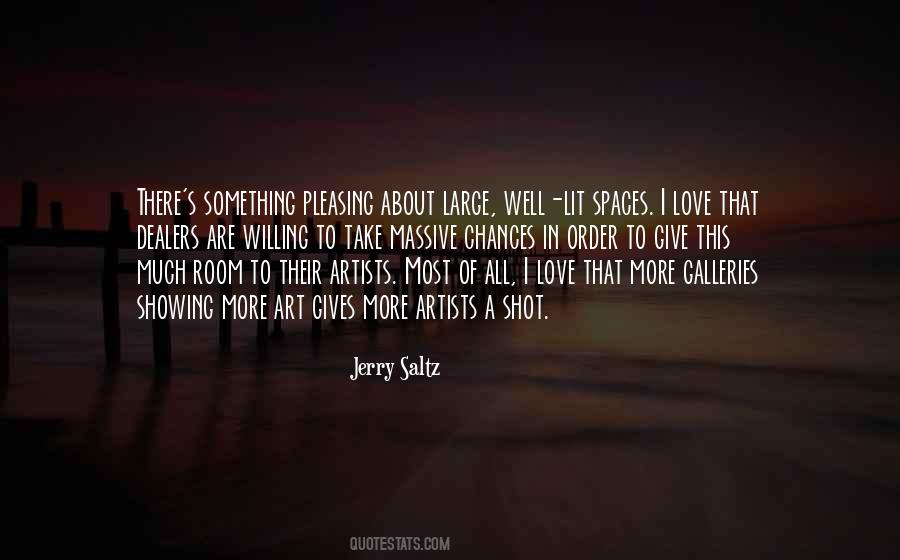 #42. During my time at high school and university in Kreuzlingen and St. Gallen, I traveled around Europe looking at art, visiting artists, studios, galleries and museums. - Author: Hans Ulrich Obrist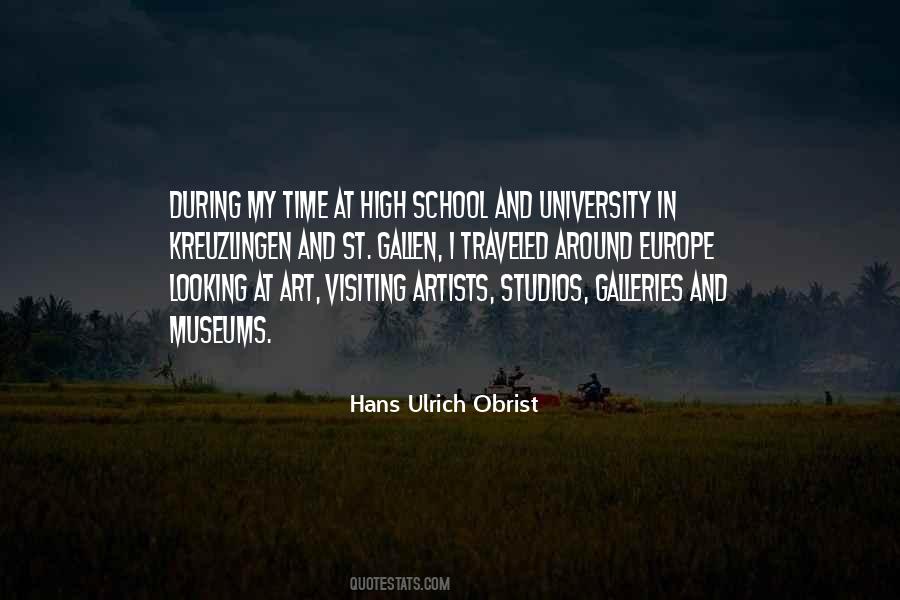 #43. There were no museums or galleries in Shanghai, but I was very keen on art - I was always sketching and copying, and sometimes I think that my whole career as a writer has been the substitute work of an unfulfilled painter. - Author: J.G. Ballard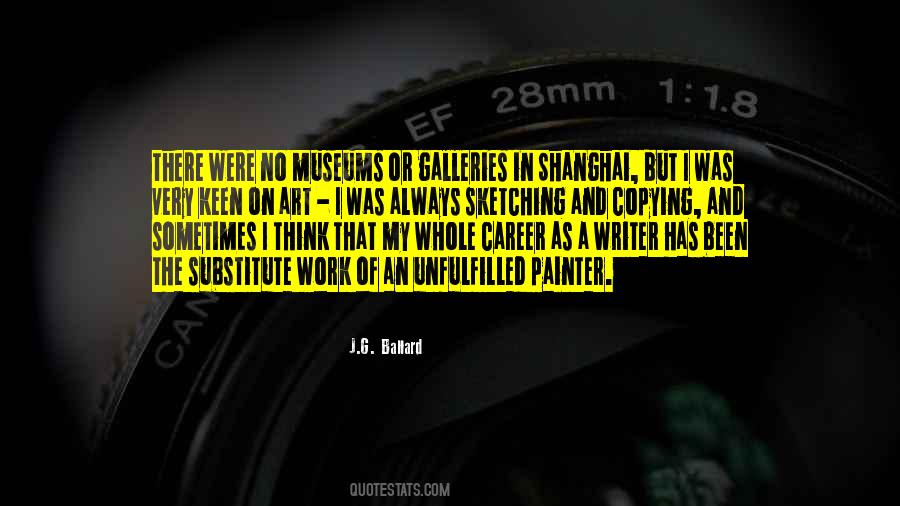 #44. When I was your age, art was a lonely thing: no galleries, no collecting, no critics, no money. We didn't have mentors. We didn't have parents. We were alone. But it was a great time, because we had nothing to lose and a vision to gain. - Author: John Logan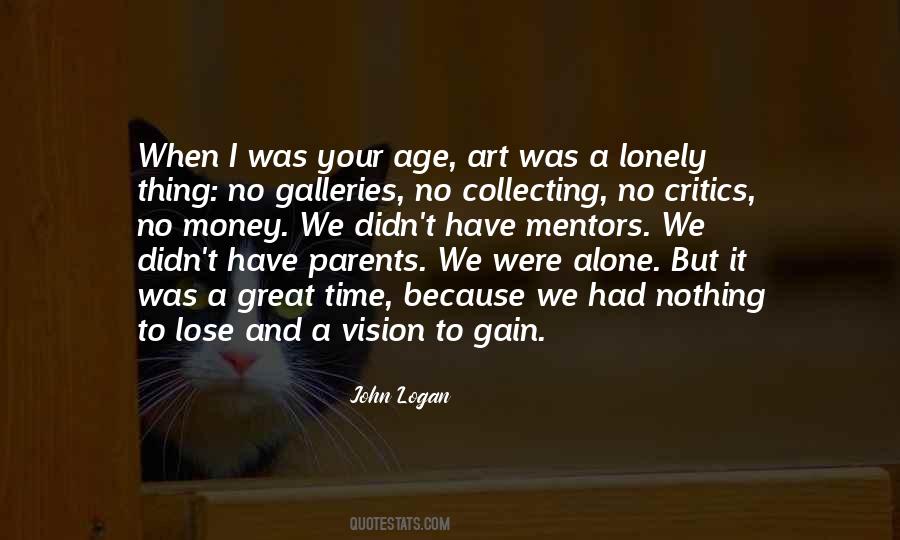 #45. I love going to art galleries. The Tate Modern is one of my favourite things to do. But I don't invest in the history of it and I don't read up on it. I am a guy who would buy a print rather than buy an original. - Author: James McAvoy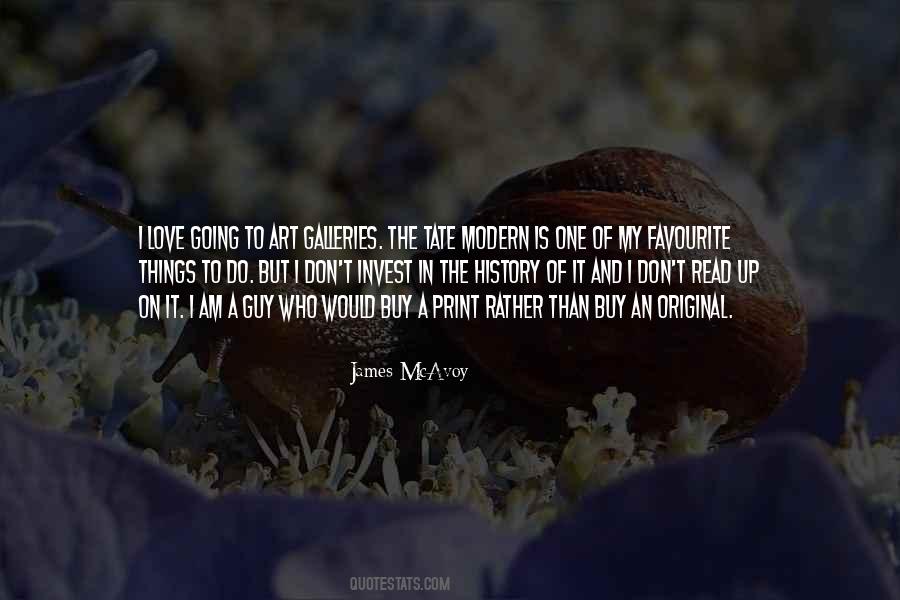 #46. Maybe this is a utopian view of art but I do believe that art can function as a vehicle, that it isn't just a cultural pursuit, something that happens in art galleries. Unless art is linked to experience and the fear and joy of that, it becomes mere icing on the cake. - Author: Antony Gormley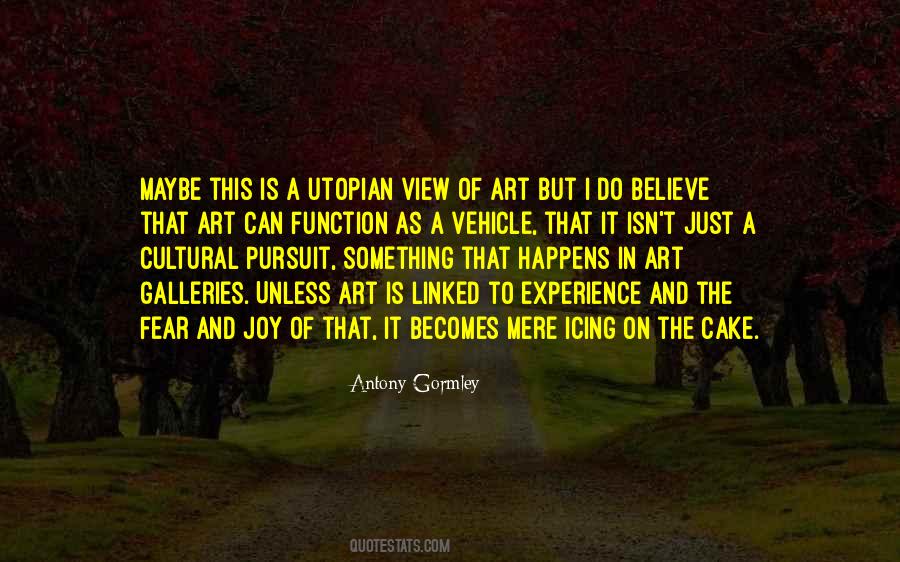 #47. An interesting thing happened in 1989, right as I was graduating: the stock market crashed and really changed the landscape of the art world in New York. It made the kind of work I was doing interesting to galleries that wouldn't have normally been interested in it. - Author: Matthew Barney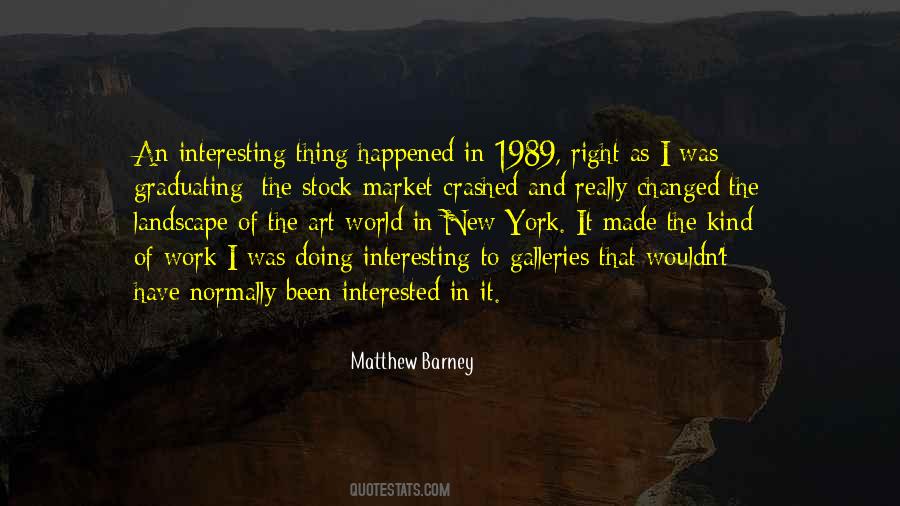 #48. Human bipolarity was both the binding force and the driving energy for all human behavior, from sonnets to nuclear equations. If any being thinks that human psychologists exaggerate on this point, let it search Terran patent offices, libraries, and art galleries for creations of eunuchs. - Author: Robert A. Heinlein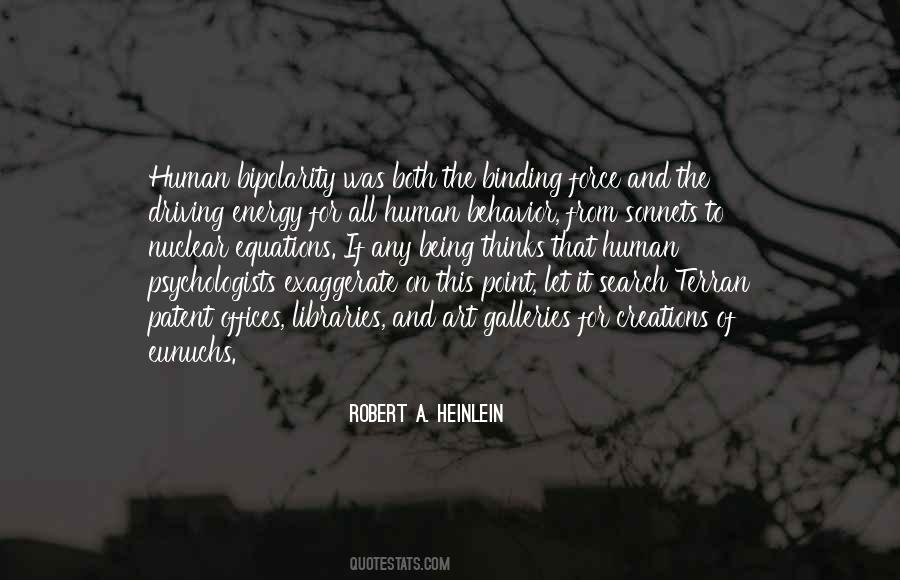 #49. I think the art world ... is a very small pond, and it's a very inbred pond. They rely on information from an elect elite sect of galleries, primarily in New York. - Author: Thomas Kinkade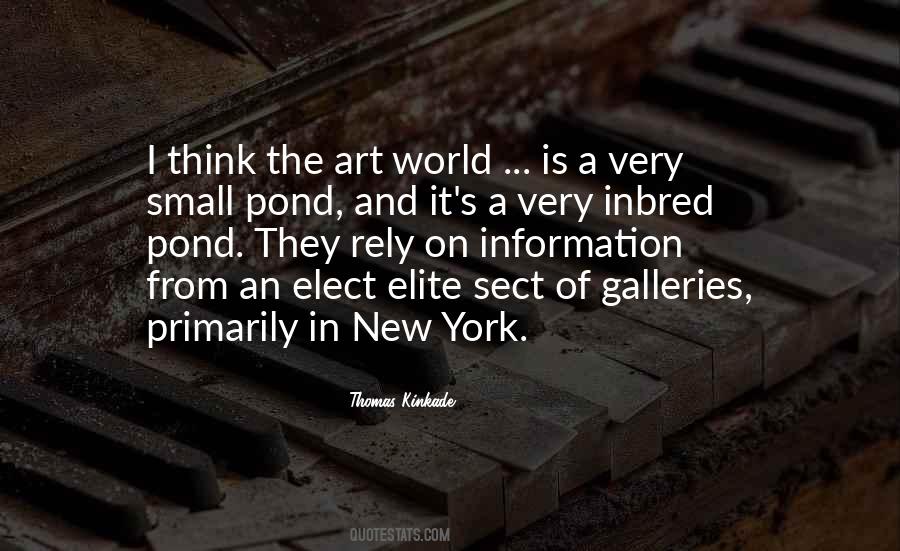 #50. Gather knowledge ... Visit galleries, museums, art and craft fairs ... Read books and magazines. Take workshops. Use your senses. Experience stimulates your memory and imagination. - Author: Nita Leland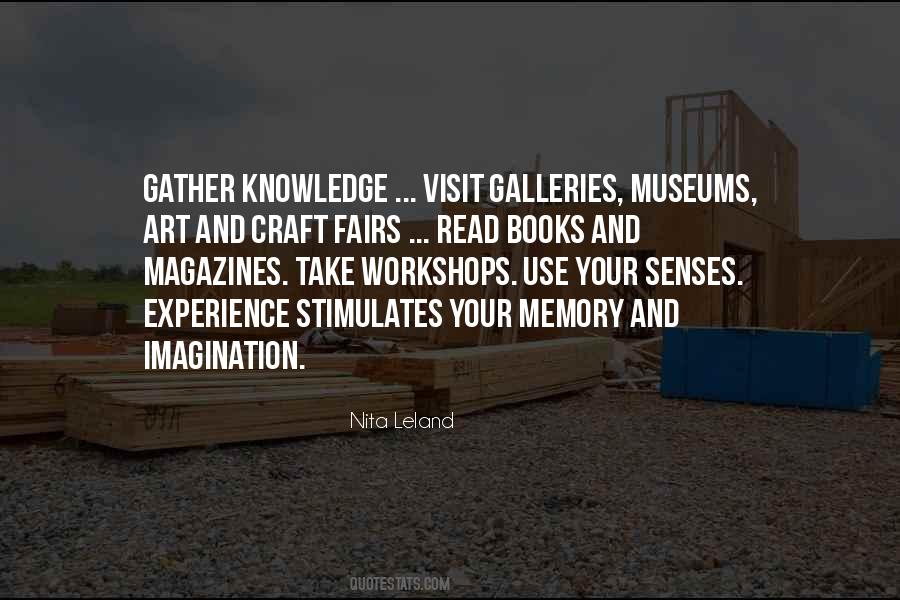 #51. I think when something becomes a comfortable genre, it's against what street art stood for in the beginning - breaking out of genres and taking art out of galleries. Now street art is in the gallery, and it's all made up into a nice, packaged concept. - Author: M.I.A.
#52. Don't ask me my opinions on art, because I don't have any. Aesthetic concerns have played a relatively minor role in my life, and I have to smile when a critic talks, for example, of my "palette". I find it impossible to spend hours in galleries analyzing and gesticulating. - Author: Luis Bunuel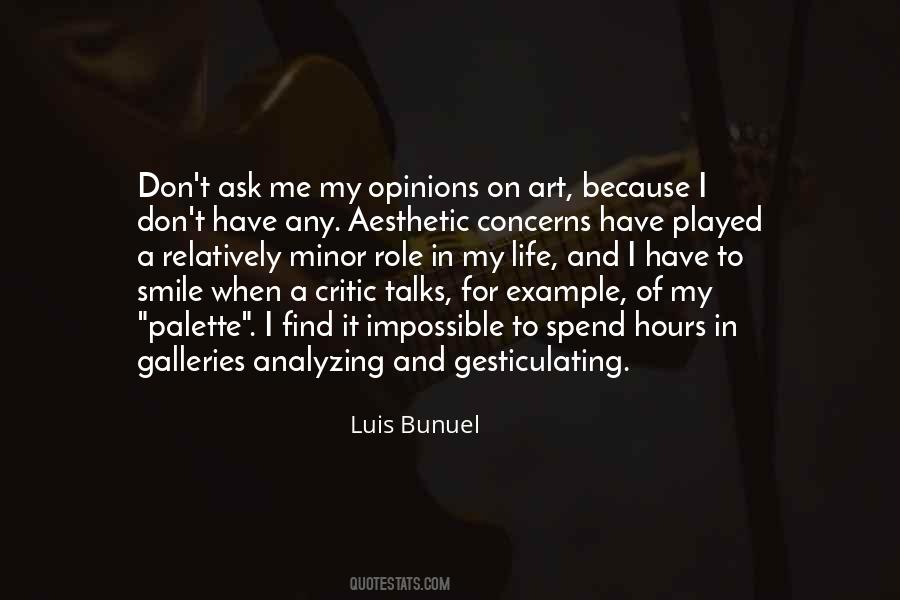 #53. In 1946 there was no money in art, no dealer galleries, no craft shops. After the war we started to teach art in every school for the first time. Our generation played a crucial role. We were the stepping stones towards today's galleries. - Author: Theresa Sjoquist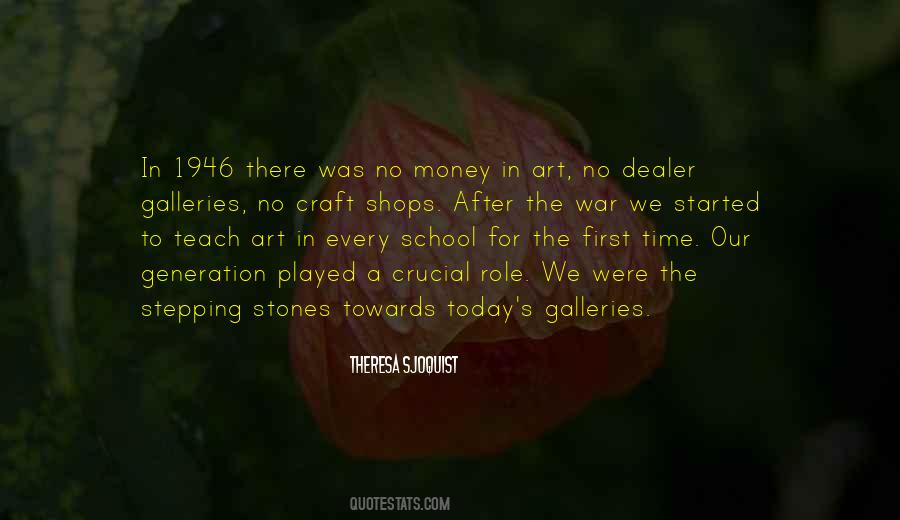 #54. In art school, I started to see Pettibon in magazines, and I figured it out backward. I was into the idea that someone could show work in galleries while making album covers and photocopied books. - Author: Michael Dumontier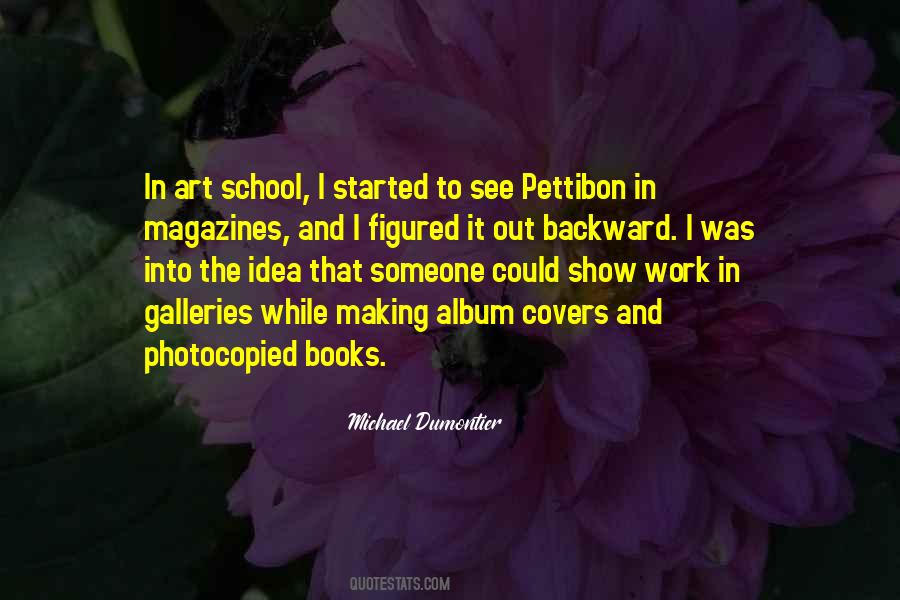 #55. When you fall in love with a work of art, you'd die to meet the artist. I am a student of the galleries of Pacific sunsets, full moon rises on the ocean, the clouds from an airplane, autumn forests in Raleigh, first fallen snows.
And I'm dying to meet the artist. - Author: Yasmin Mogahed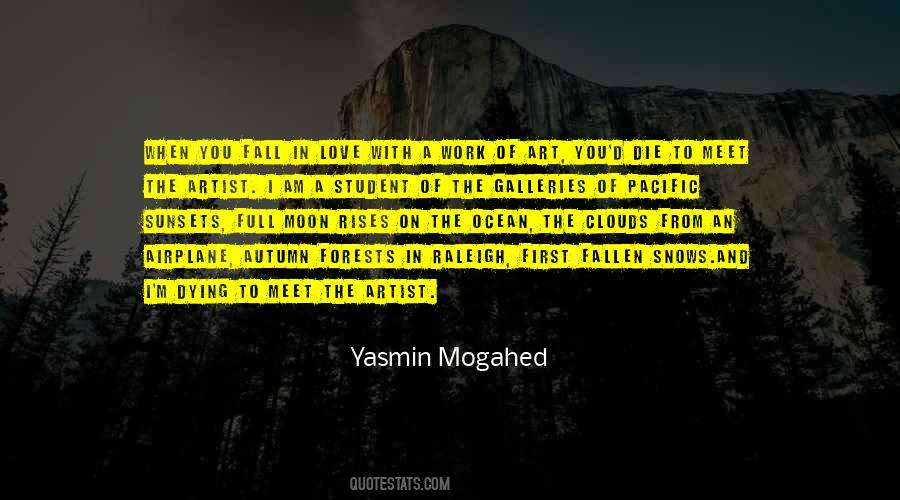 #56. Galleries are frightening places, places of evaluation, of judgement. - Author: Margaret Atwood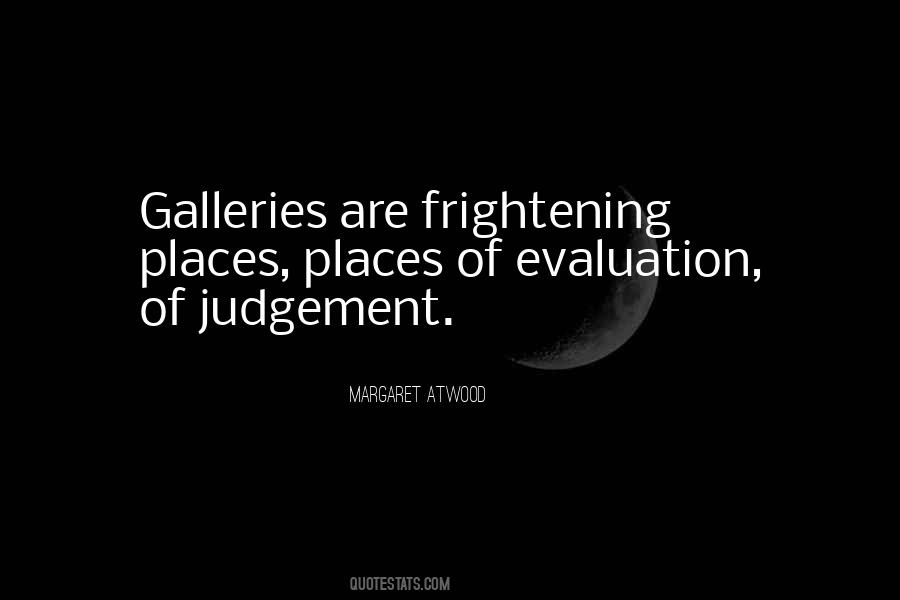 #57. The mind left to itself creates monstrosities, and not only in art galleries. Look at our urban landscapes and industrial wastelands. No civilization has ever produced so much ugliness. - Author: Eckhart Tolle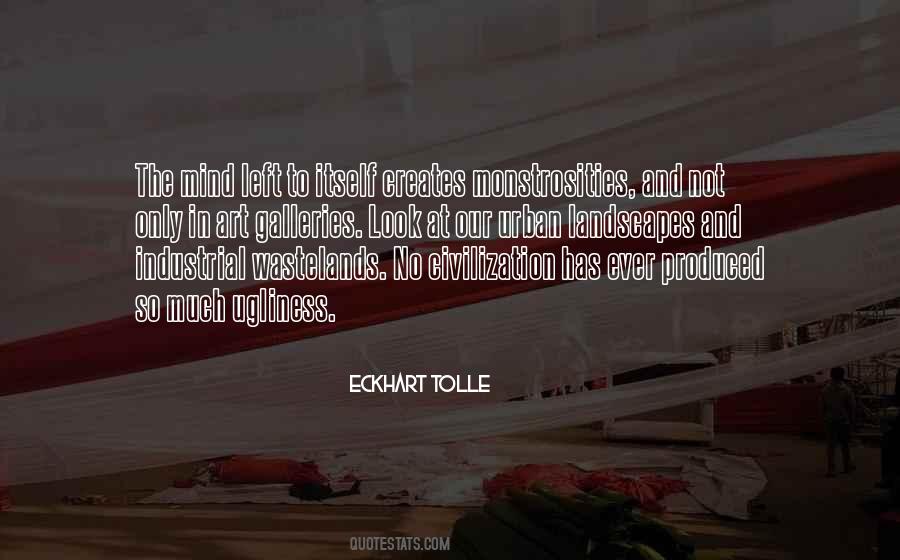 #58. I lived through being pooh-poohed by fine art galleries, saying, "Digital is going to destroy the meaning behind photos." The motion side, the moment all of the cameras come alive with that motion, it was like a dream come true. It enables people to economically experiment with film. - Author: Russell James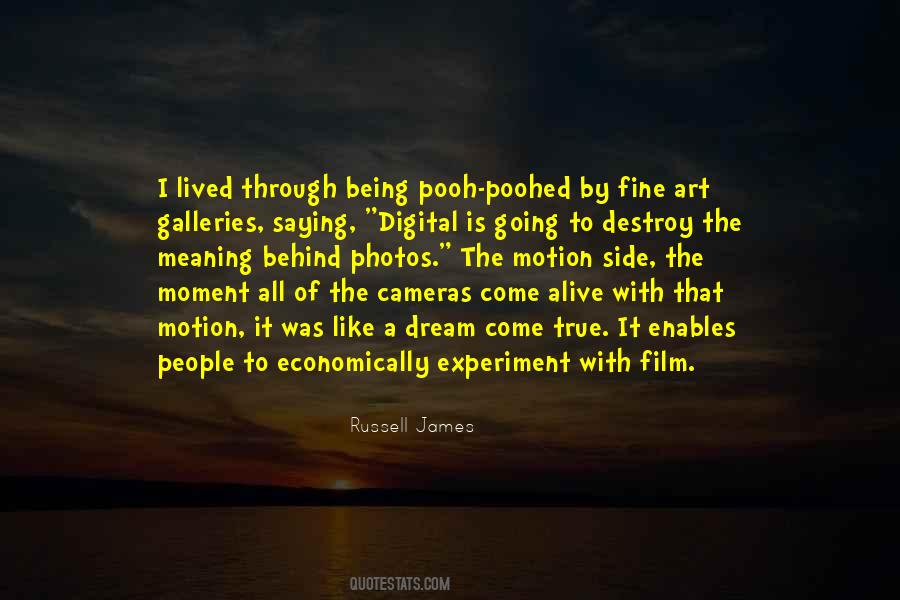 #59. I had given up ( around 1950, fh) any ambition of making a career as an artist ... ..I had lost all interest in the art shown in galleries and museums, and I no longer aspired to fit in that world. I loved the paintings done by children, and my only desire was to do the same for my own pleasure. - Author: Jean Dubuffet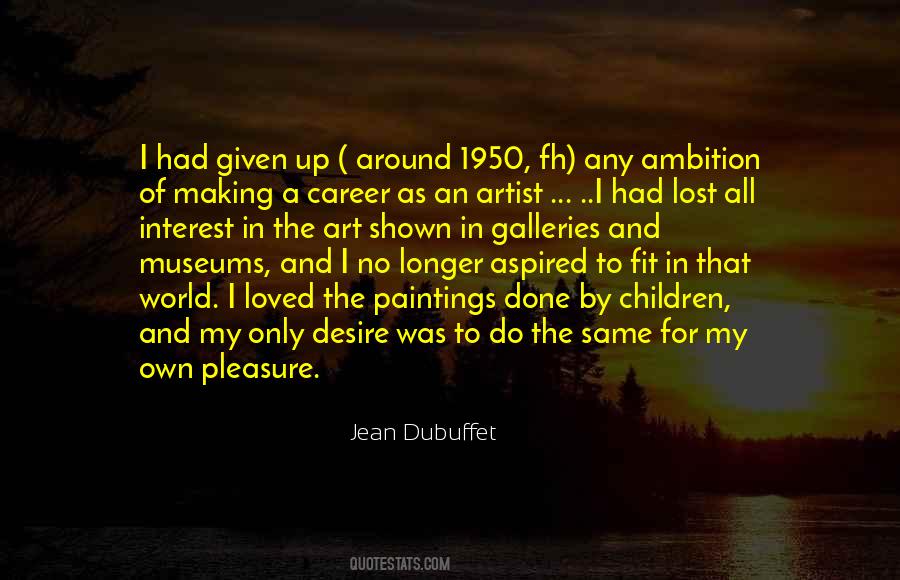 #60. Above all, artists must not be only in art galleries or museums - they must be present in all possible activities. The artist must be the sponsor of thought in whatever endeavor people take on, at every level. - Author: Michelangelo Pistoletto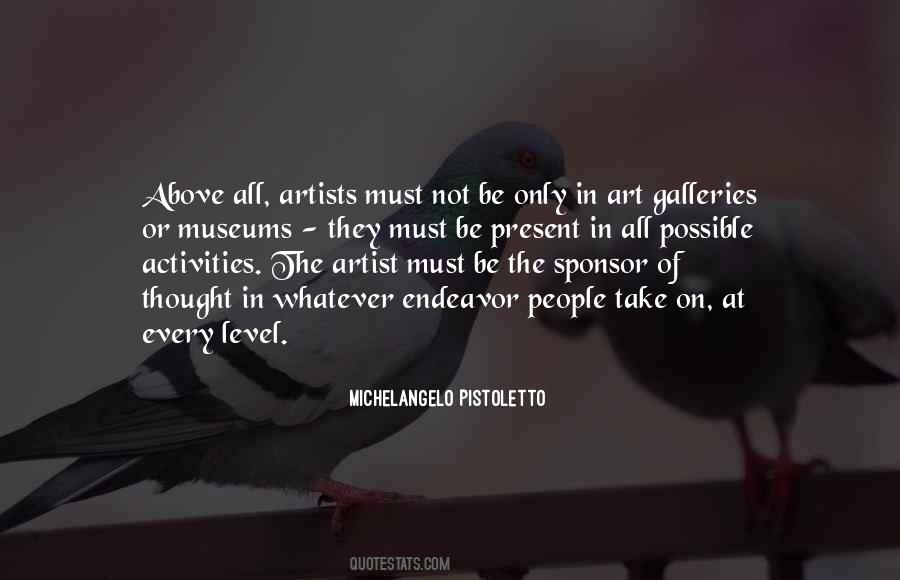 #61. Earning money is not the sole objective of life or education. A community of any quality should have a whole range of skills and interests. They should paint, write, perform, visit art galleries and enjoy world-class concerts. Only then will they form a vibrant, rounded, interesting community. - Author: Goh Chok Tong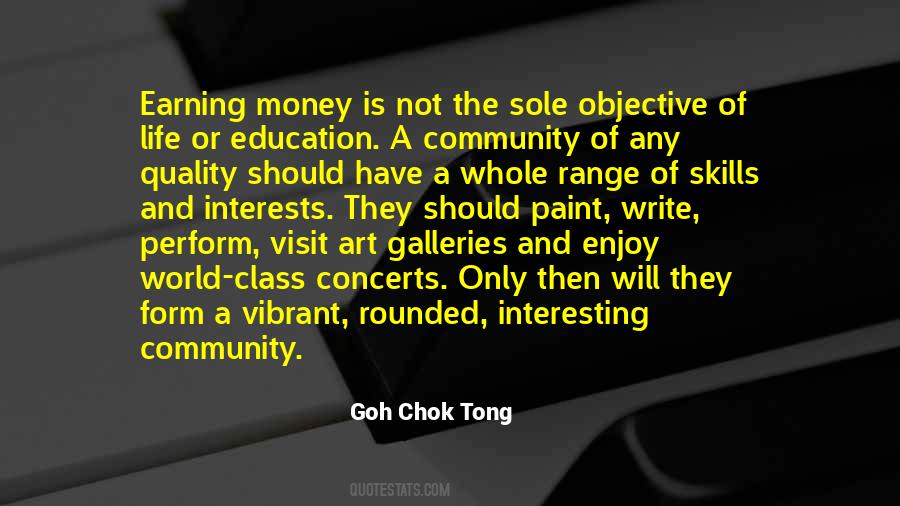 #62. I'm a contemporary artist and I show in art galleries and museums. I show a number of photographs and films, but I also make television programs, books and some appetizing, all with the same concept. - Author: Alison Jackson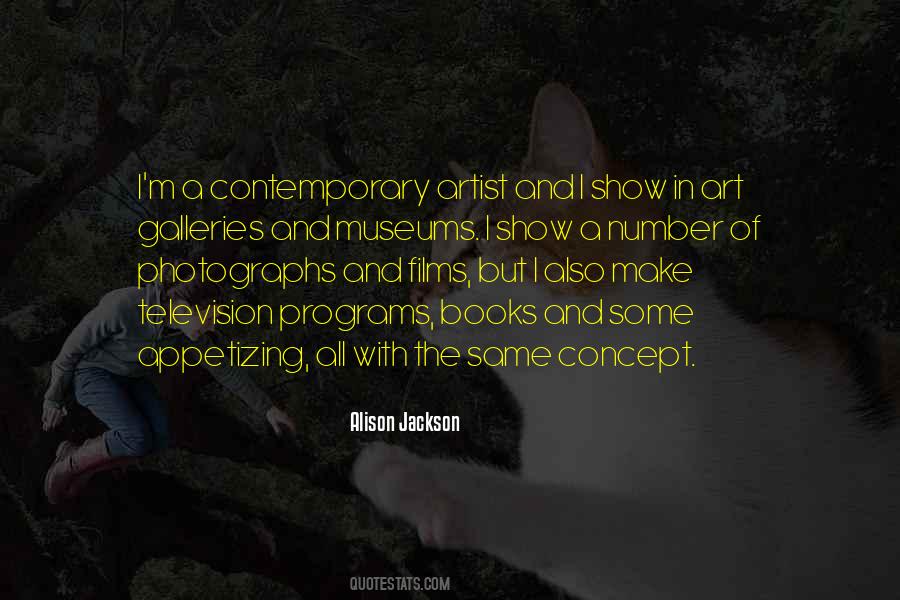 #63. Yet any time I opened up a book of medieval art, or walked into the Renaissance galleries in a museum, I was confronted with Mary. - Author: Holly Ordway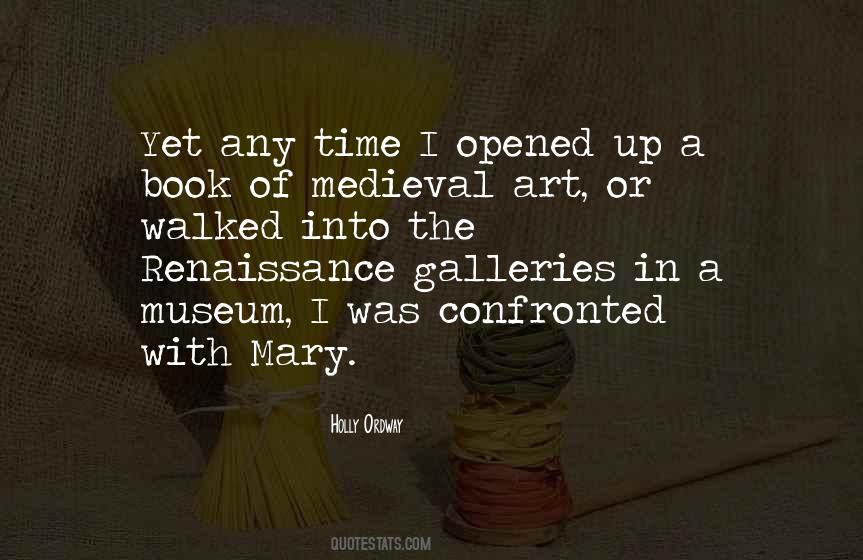 #64. Anyone who relishes art should love the extraordinary diversity and psychic magic of our art galleries. There's likely more combined square footage for the showing of art on one New York block - West 24th Street between Tenth and Eleventh Avenues - than in all of Amsterdam's or Hamburg's galleries. - Author: Jerry Saltz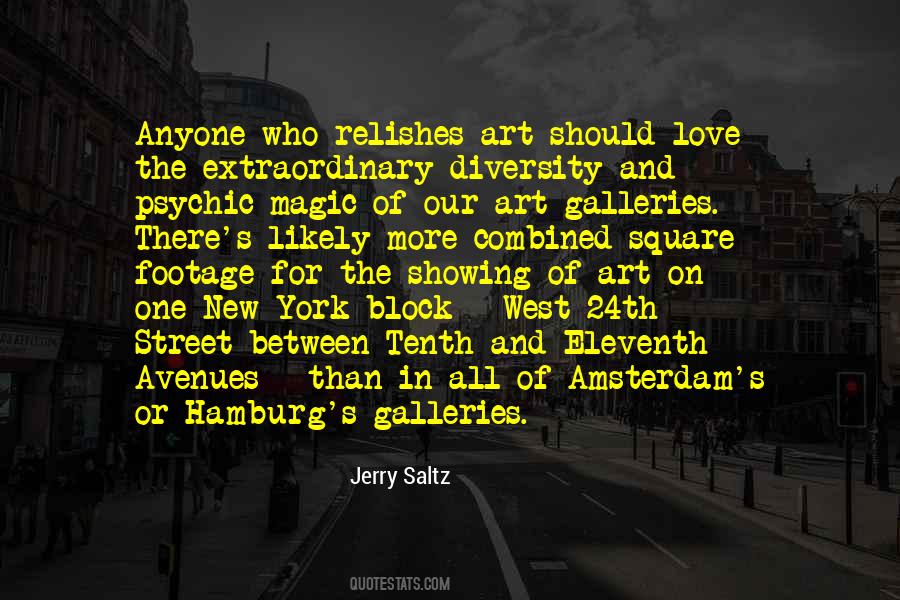 #65. Here are vast numbers of portraits of Jesus in the art galleries of this world. These images are often so conflicting that they offer little help in achieving an accurate picture of what Christ looked like during the period - Author: R.C. Sproul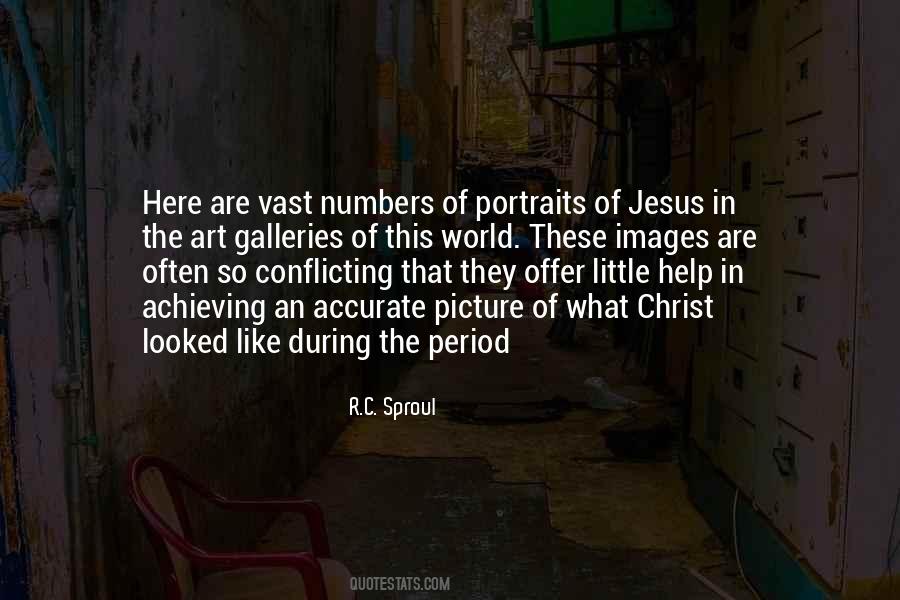 #66. I never really took a proper art class in college. I just started reading art magazines and going to galleries. I was really drawn to it. - Author: Larry Gagosian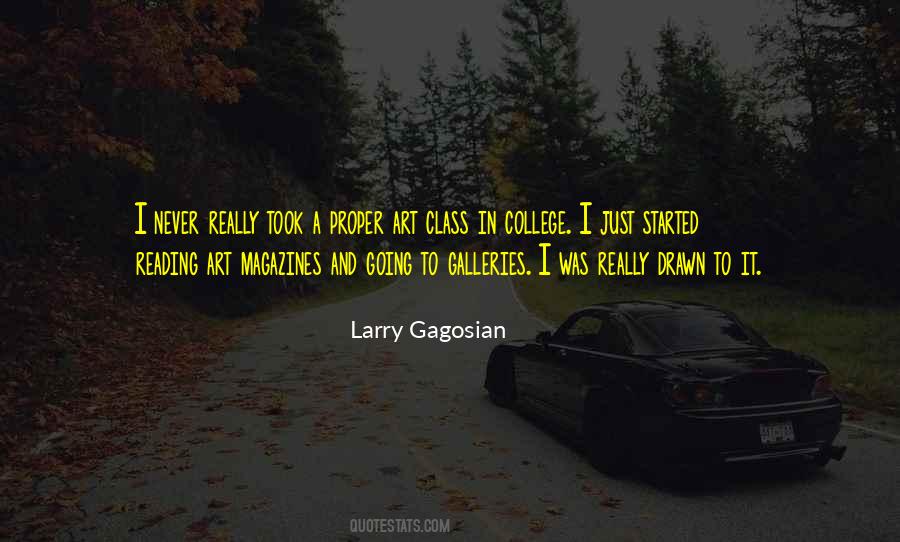 Famous Authors
Popular Topics