Art And Design Famous Quotes & Sayings
List of top 100 famous quotes and sayings about art and design to read and share with friends on your Facebook, Twitter, blogs.
Top 100 Quotes About Art And Design
#1. I have to perfect my beard every morning and it takes a long time. I think a lot of musicians are into graphic design and art. I decided to be a little bit of an artist on my face. - Author: Craig David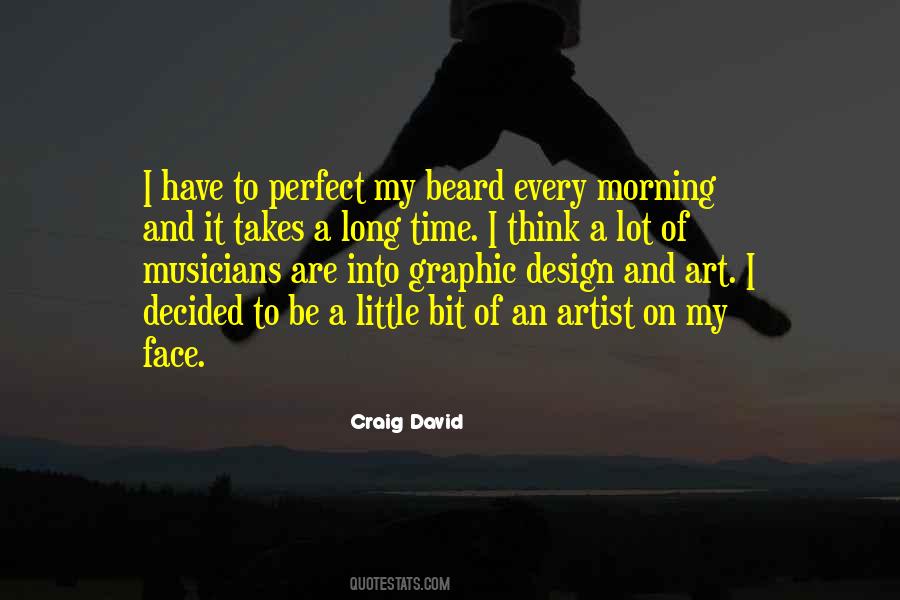 #2. Maybe the museum [of Arts and Design ]needs to follow the advice of its acronym and not be afraid to go a little M.A.D. - Author: Jerry Saltz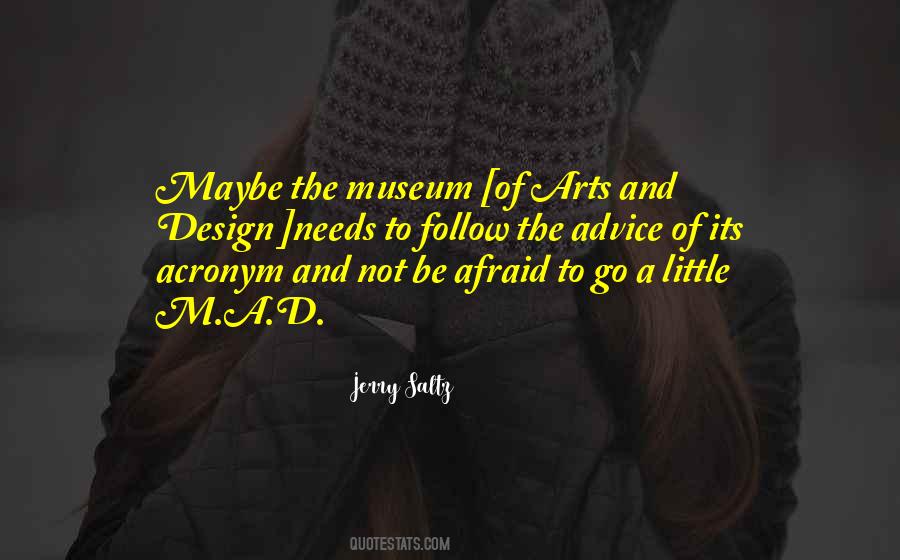 #3. That's something I learned in art school. I studied graphic design in Germany, and my professor emphasized the responsibility that designers and illustrators have towards the people they create things for. - Author: Eric Carle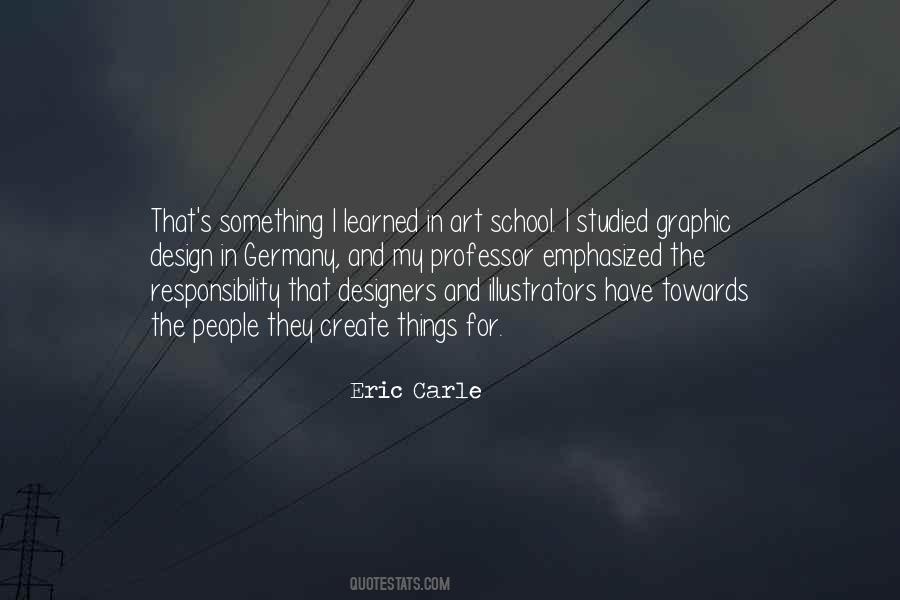 #4. A lot of young girls don't realise how diverse the career opportunities are in games development. Many think that you need elite math skills and a vast knowledge of all things tech to work in games, and haven't thought about avenues like design, producing, art, writing or composing. - Author: Rhianna Pratchett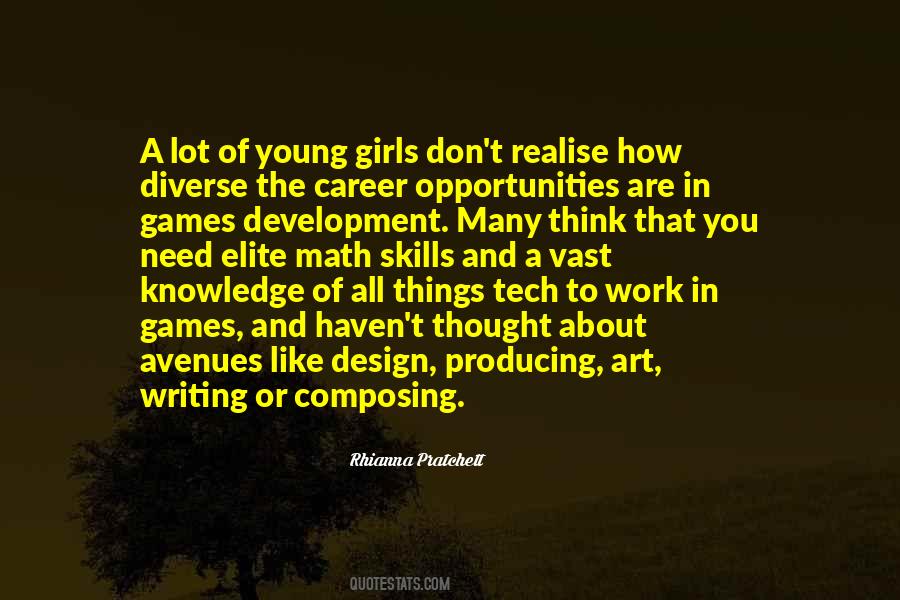 #5. I am interested in computers and technology, and art, photography, and design. - Author: William Landay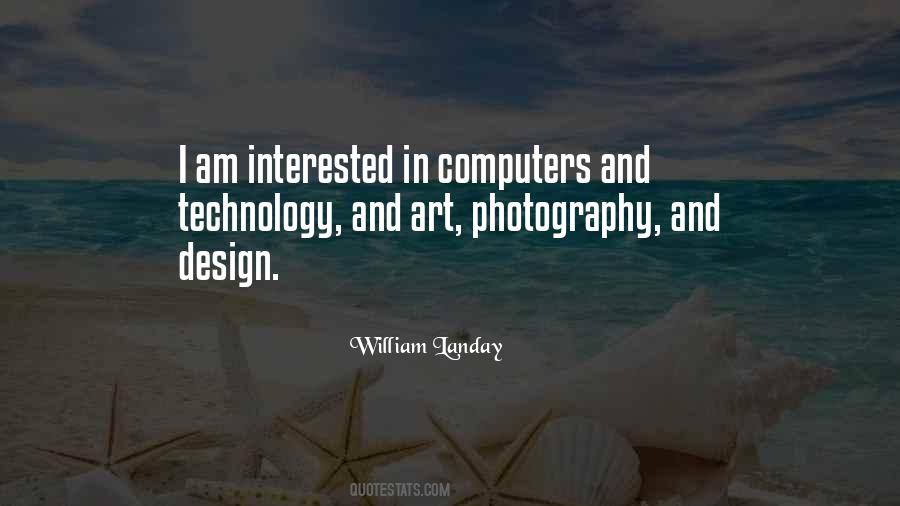 #6. A dog can be a living work of art, a constant reminder of the exquisite design and breathtaking detail of nature, beauty on four paws. - Author: Dean Koontz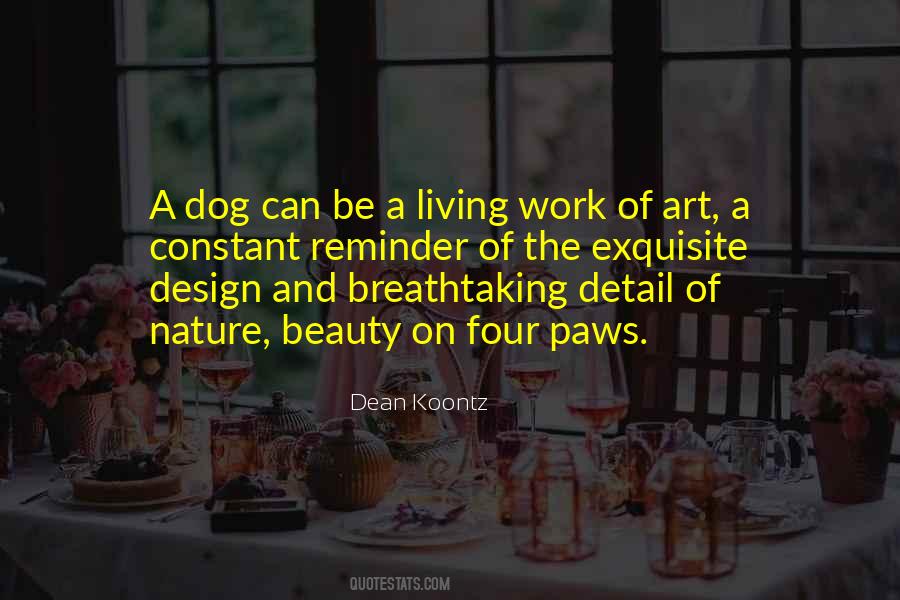 #7. I believe that architects should design gardens to be used, as much as the houses they build, to develop a sense of beauty and the taste and inclination toward the fine arts and other spiritual values. - Author: Luis Barragan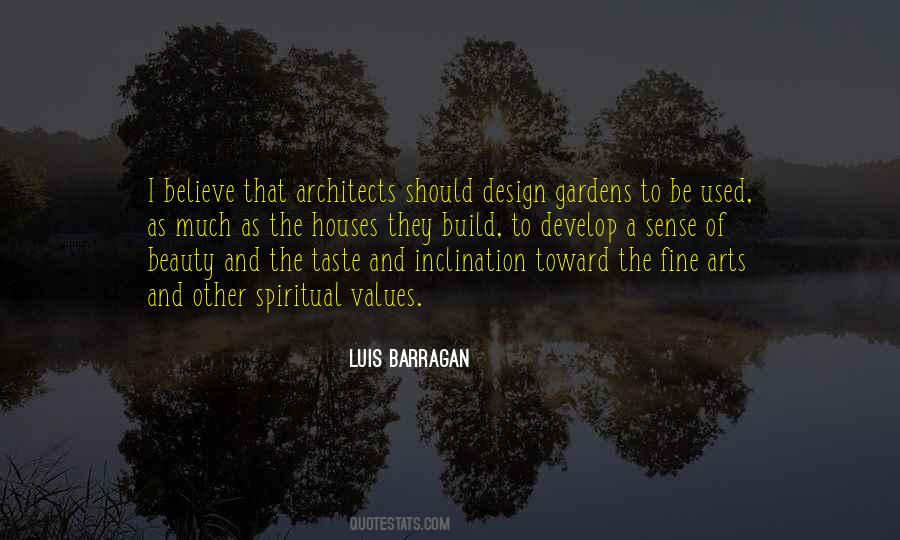 #8. So the audience, at times, lets us know actually what is so special about the show that we can't even necessarily design or predict. Which is great. That's what you want art to be. You want it to be alive and to actually have a life in the way it's viewed. - Author: Steve Zissis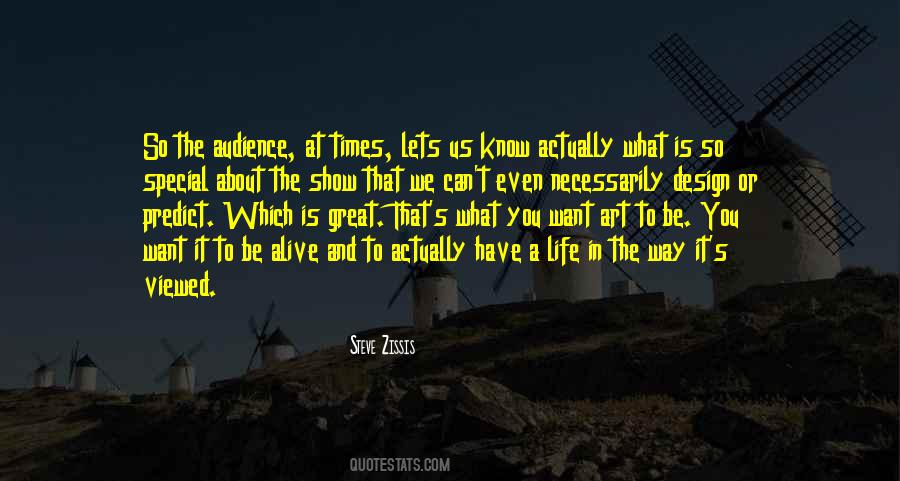 #9. We, as designers, have a job with so many possibilities and connections. We are connected to so many different portals, from art to movies to music to design. Fashion is always evolving. Actually, the field is huge. I don't think there is another profession that is so open to so many possibilities. - Author: Miuccia Prada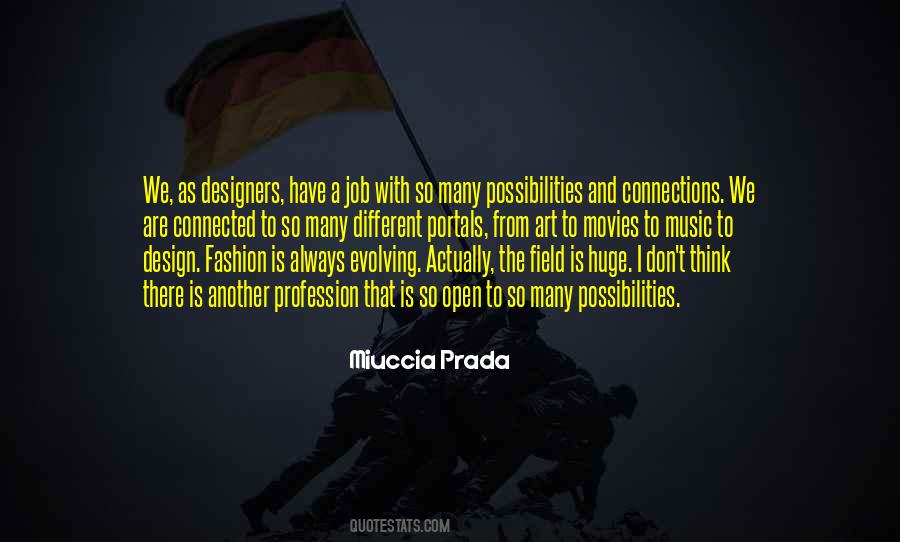 #10. I used to do design before I was actually rapping. I went to art and design high school. - Author: ASAP Ferg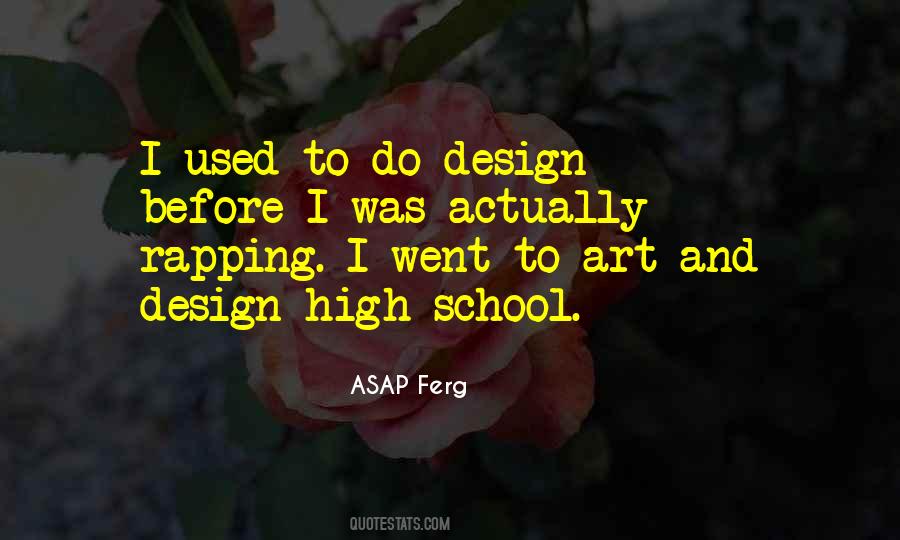 #11. On the opposite wall was a Damien Hirst spot painting, bought by Arabella after a decent bonus season. Roger's considered view of the painting, looking at it from aesthetic, art-historical, interior-design, and psychological points of view, was that it had cost forty-seven thousand pounds, plus VAT. - Author: John Lanchester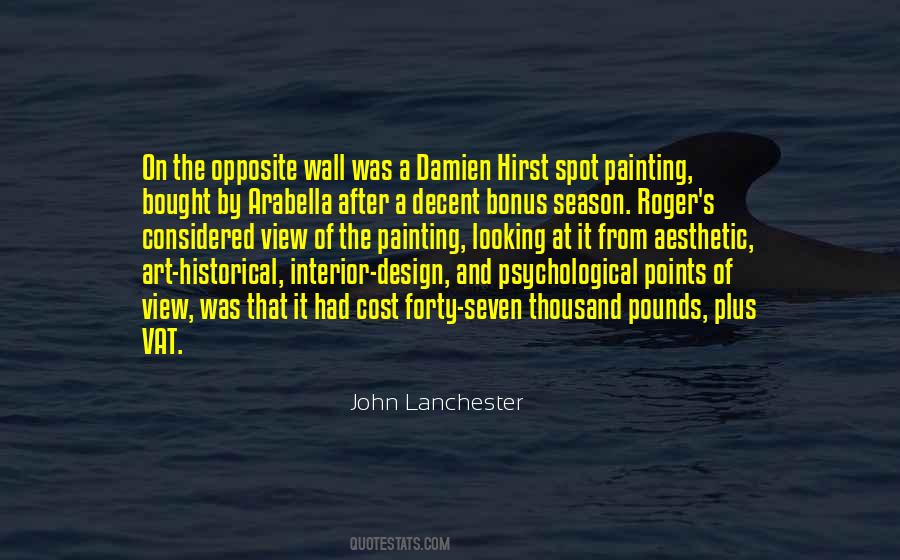 #12. There's a fine line between minimalism and not trying very hard. - Author: Tom Pappalardo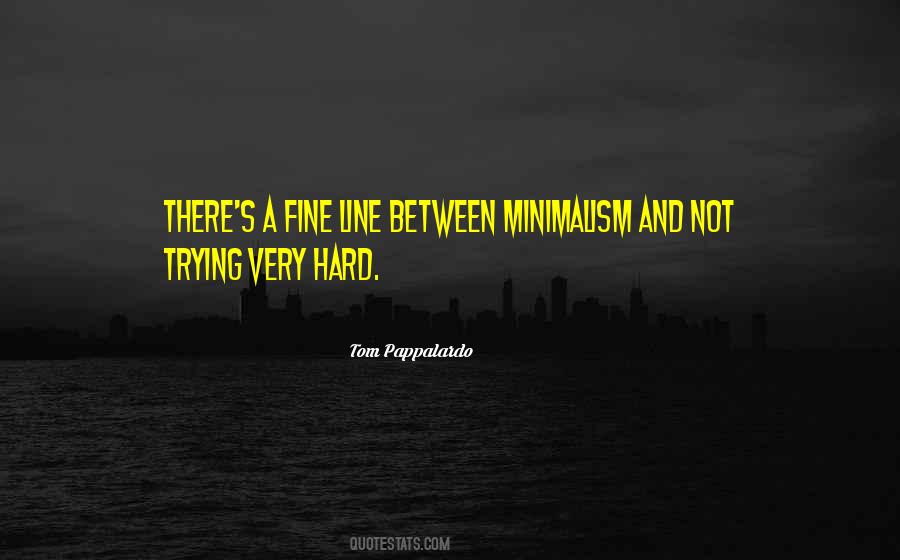 #13. At Stanford, we teach 'design thinking' - that is, we put together small, interdisciplinary groups to figure out what the true needs are and then to apply the art of engineering to serve them. - Author: Hasso Plattner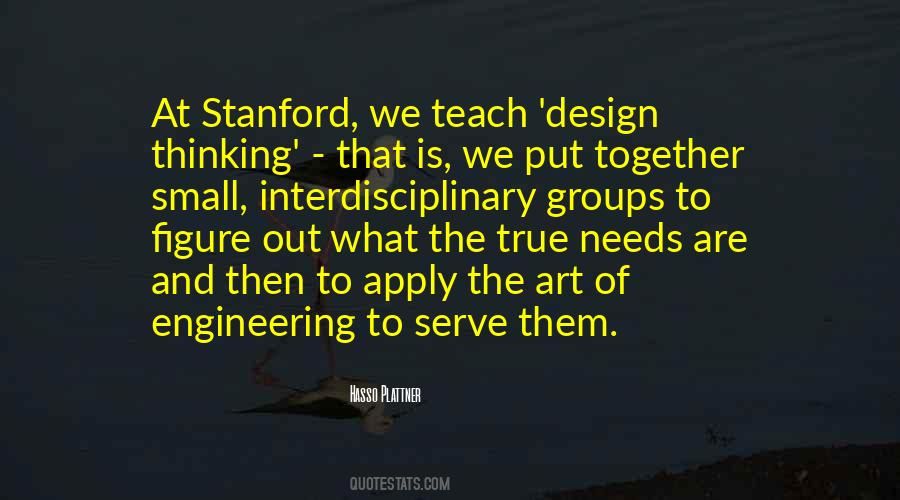 #14. Design in art, is a recognition of the relation between various things, various elements in the creative flux. You can't invent a design. You recognize it, in the fourth dimension. That is, with your blood and your bones, as well as with your eyes. - Author: D.H. Lawrence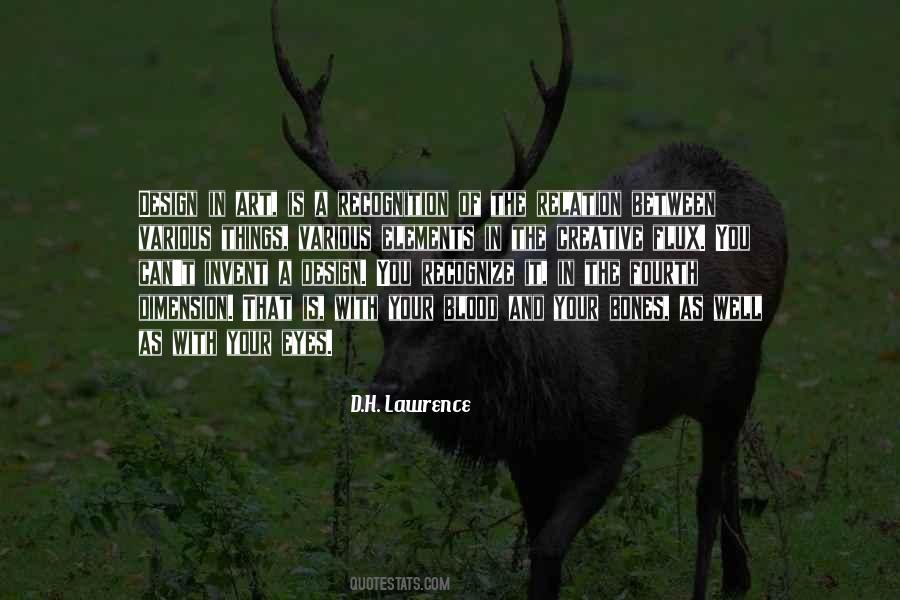 #15. The universe constantly and obediently answers to our conceptions; whether we travel fast or slow, the track is laid for us. Let us spend our lives in conceiving then. The poet or the artist never yet had so fair and noble a design but some of his posterity at least could accomplish it. - Author: Henry David Thoreau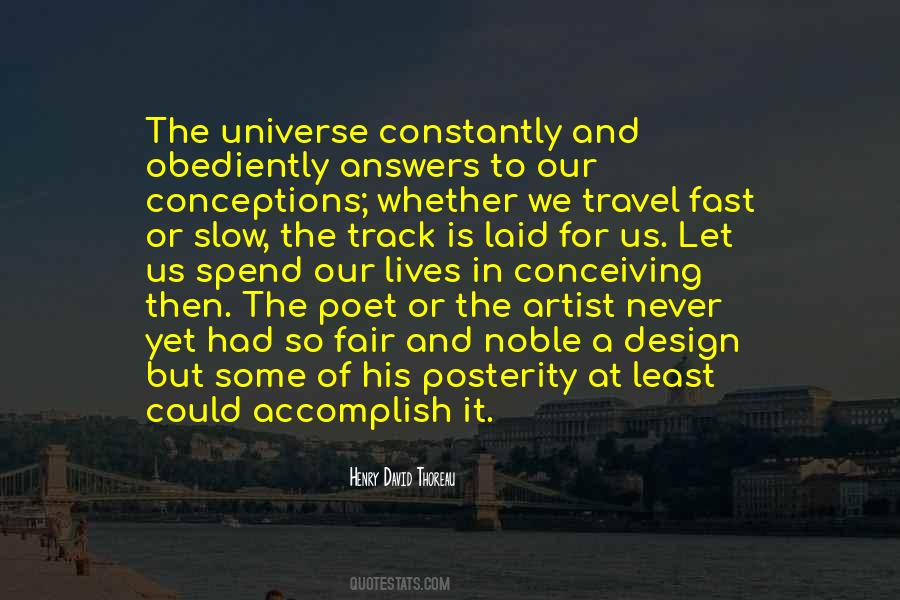 #16. Art lies in conceiving and designing, not in the actual execution' - this was left for lesser minds. - Author: Will Durant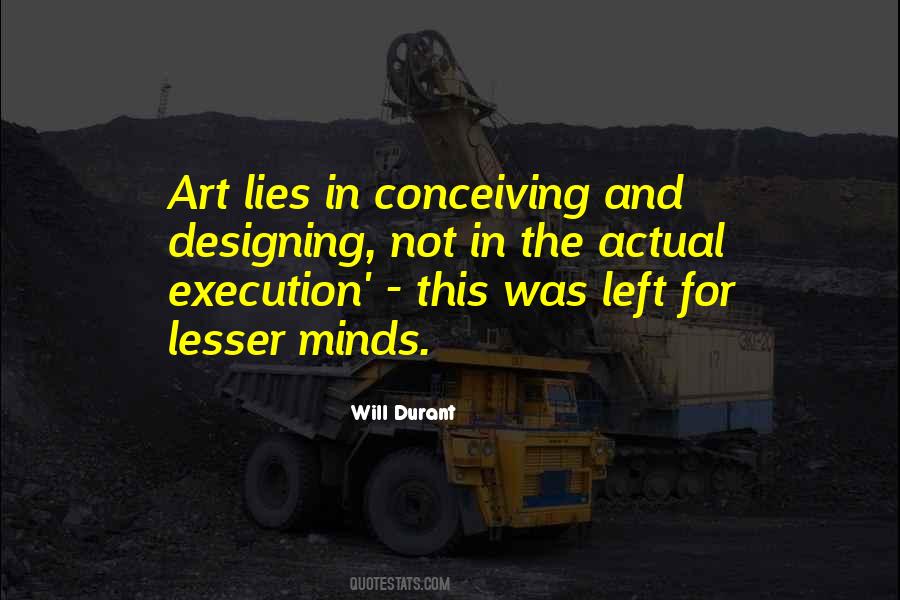 #17. Even when I was a little girl, I remember going to the Museum of Modern Art. I think my parents took me there once or twice. And what I really remember is the design collection. - Author: Barbara Kruger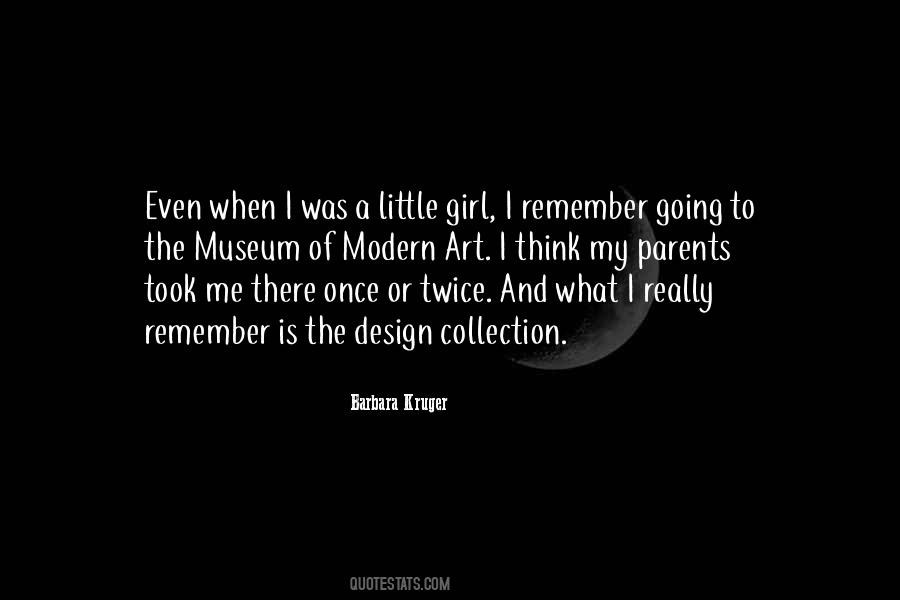 #18. I love how significant jewelry is throughout the world and throughout time. People have been adorning themselves with jewelry for years and its one of the oldest forms of art and design. This is something that has and will always inspire me. - Author: Pamela Love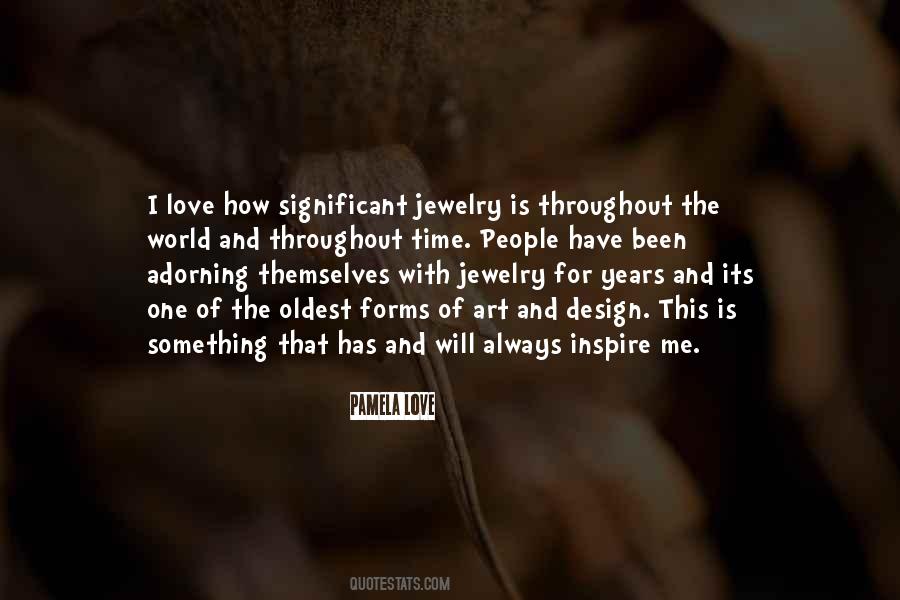 #19. The sculptor, and the painter also, should be trained in these liberal arts: grammar, geometry, philosophy, medicine, astronomy, perspective, history, anatomy, theory of design, arithmetic. - Author: Lorenzo Ghiberti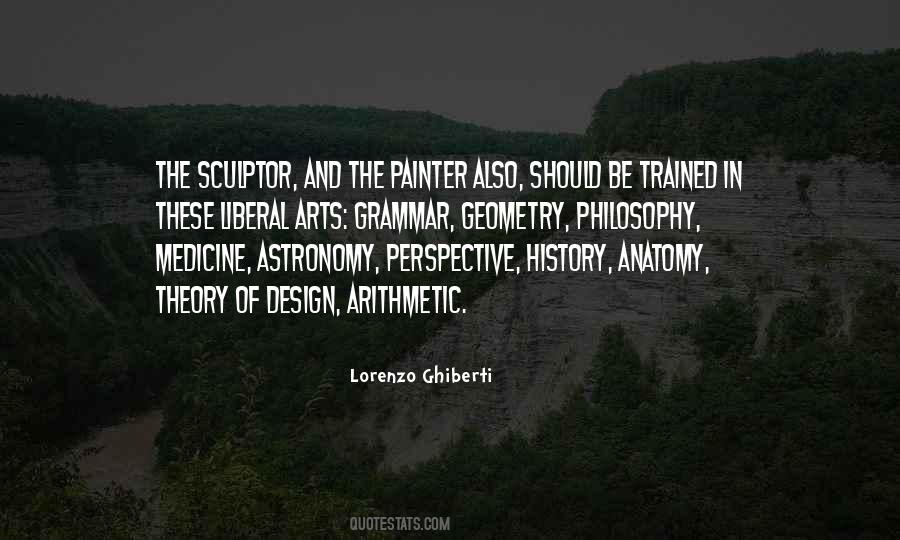 #20. We're able to influence younger generations on design and art. They might not have realized they were an artist. - Author: Douglas Wilson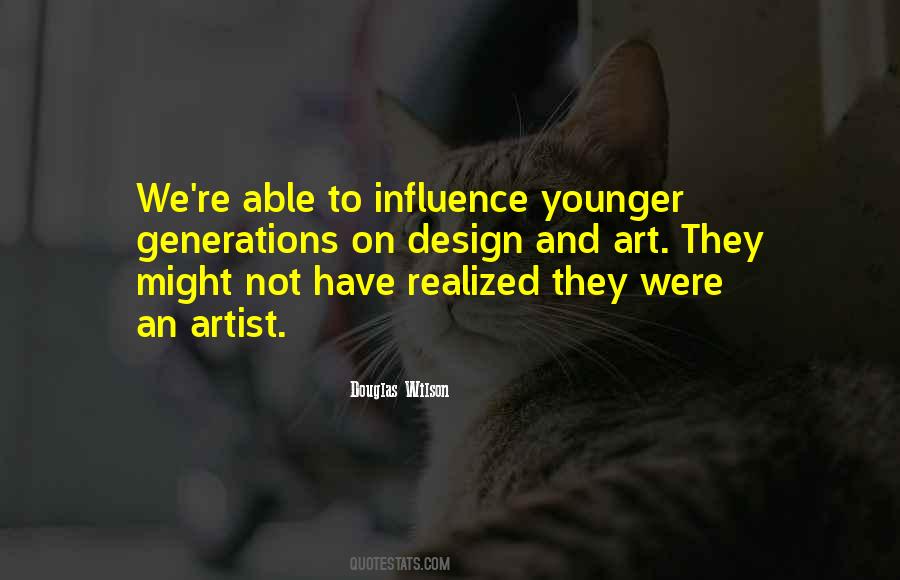 #21. The science of design, or of line-drawing, if you like to use this term, is the source and very essence of painting, sculpture, architecture ... Sometimes ... it seems to me that ... all the works of the human brain and hand are either design itself or a branch of that art. - Author: Michelangelo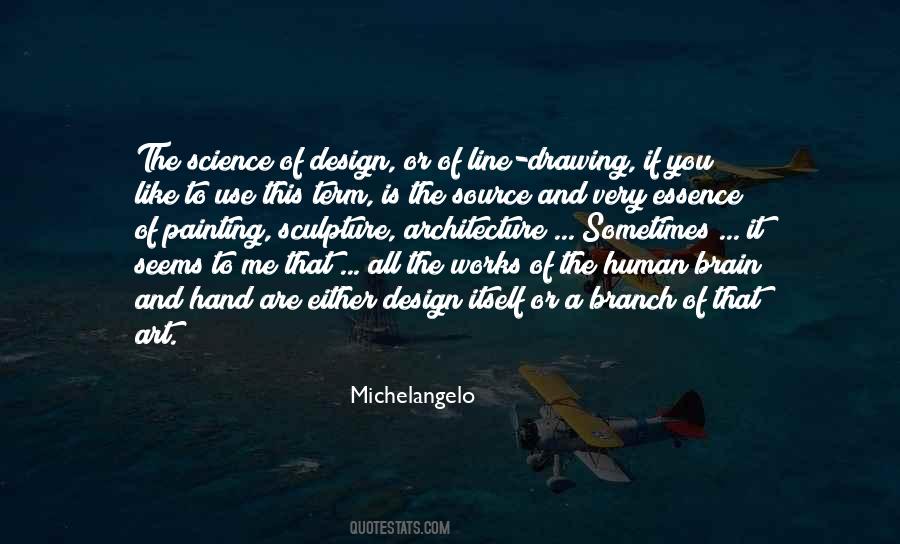 #22. I enjoy trying to inspire myself. I enjoy the artistic side of everything. Music, art, fashion, everything. I just like to be on the cutting edge of it. I'm into designing houses and interior design. I like change. I like creating things out of nothing. - Author: Chris Kirkpatrick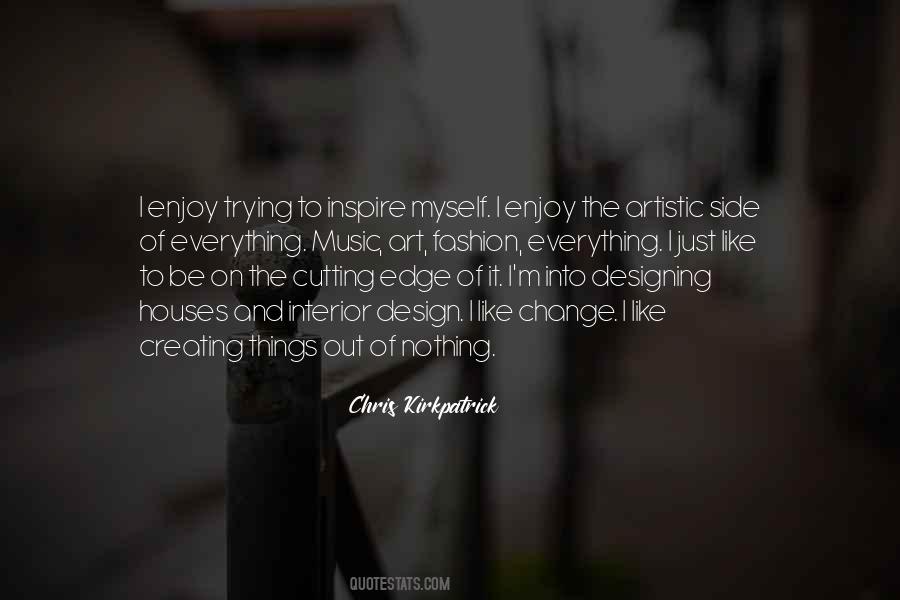 #23. In the art of design, color is to form what verse is to prose,
a more harmonious and luminous vehicle of the thought. - Author: Anna Brownell Jameson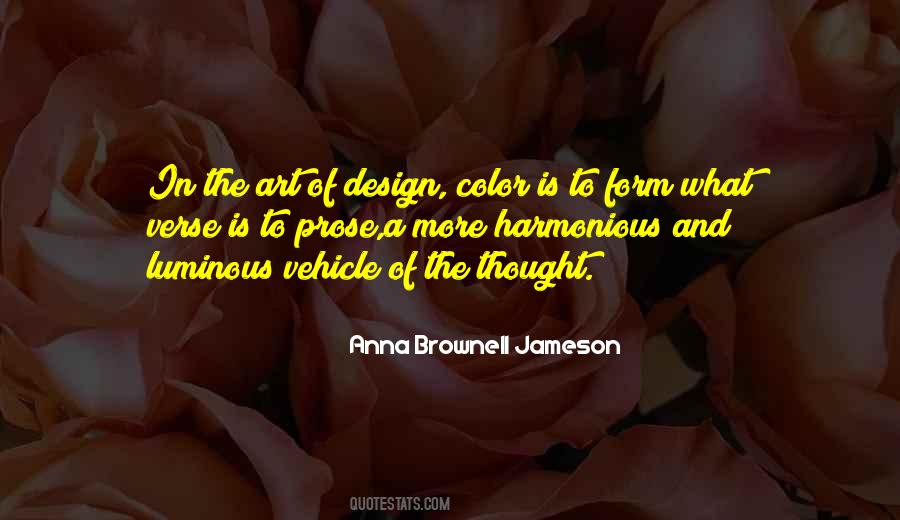 #24. While 'The Endless Summer' poster was designed at the Art Center College of Design in the contemporary style of its time, the image grew out of my relationship with Rick Griffin and our deep relationship to surf images. - Author: John Van Hamersveld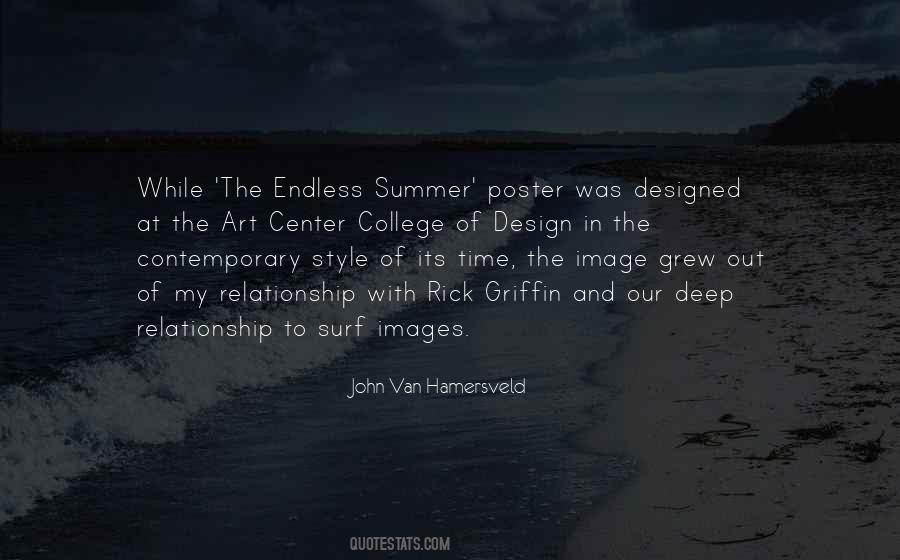 #25. There is no other art medium like tattooing in the world. When the customer comes in with a basic idea, it is up to me to design and translate that idea onto skin. I really appreciate when customers have enough trust in what I can do. - Author: William Webb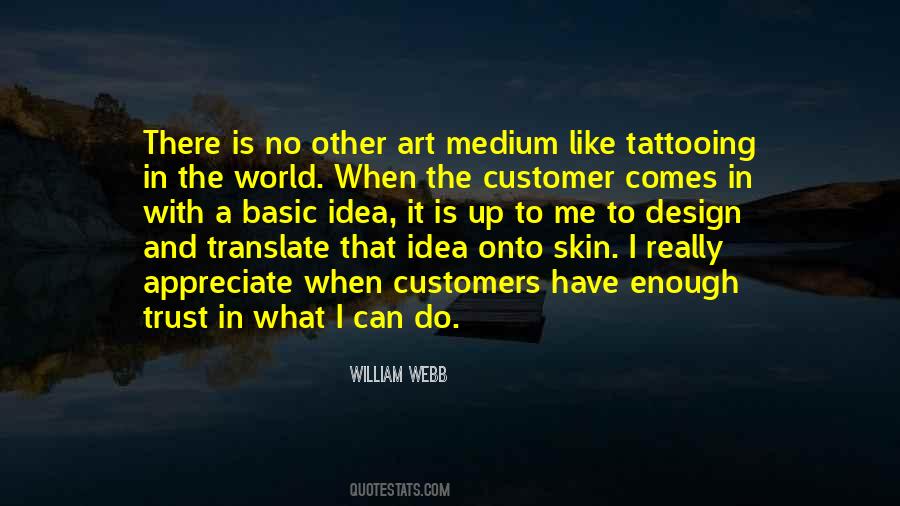 #26. I was attracted to things that combined art and science equally. I've always been equally interested in art design, science and engineering. - Author: Bran Ferren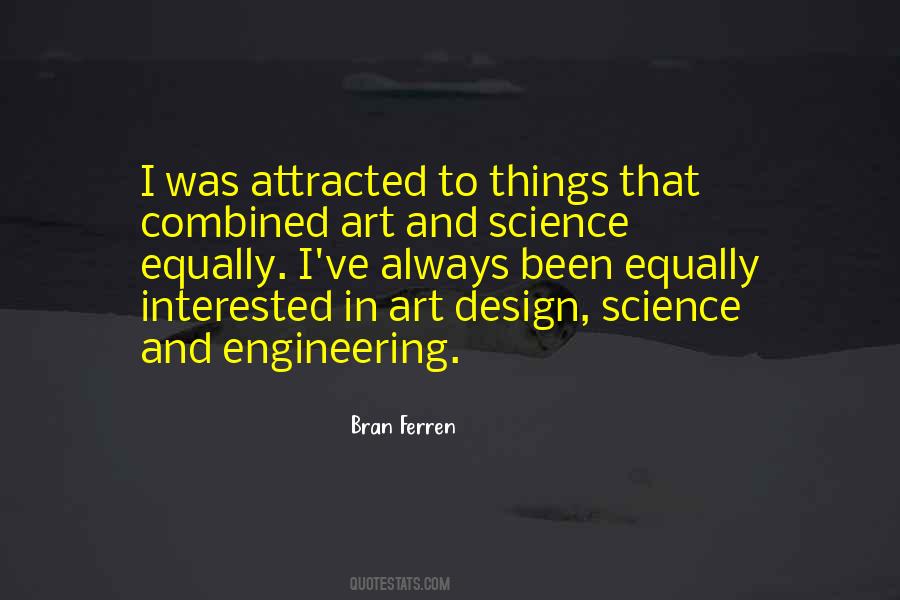 #27. In England, there is a dividing line between artists and illustrators, who are thought inferior to painters. Well, that's absolute rubbish. Some of the most creative work is being done in children's books. In Japan, everything is art. They don't say painting is better than ceramics or dress design. - Author: Brian Wildsmith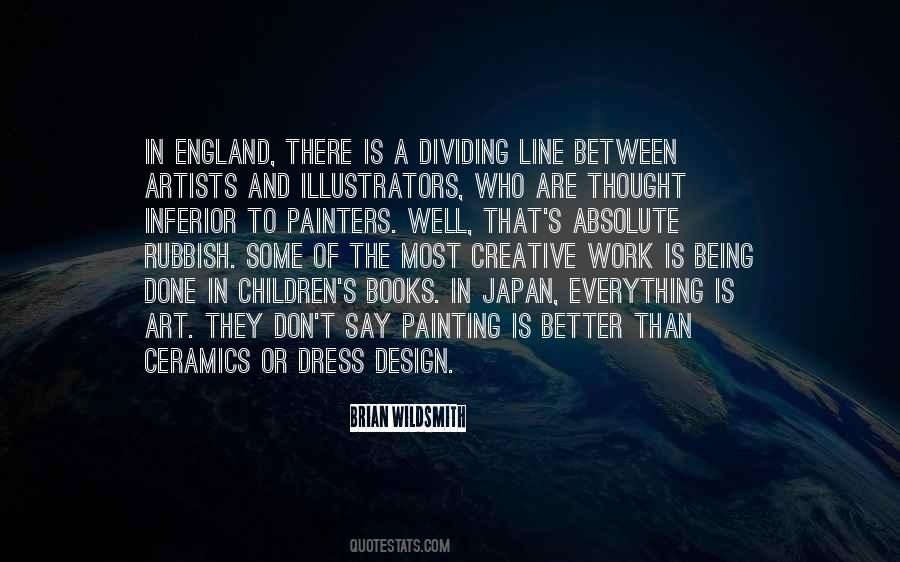 #28. Things like anatomy and drawing and design and color had pretty much been drop-kicked out of the curriculum in the '70s, when I was studying art, in favor of abstraction and minimalism. - Author: David Small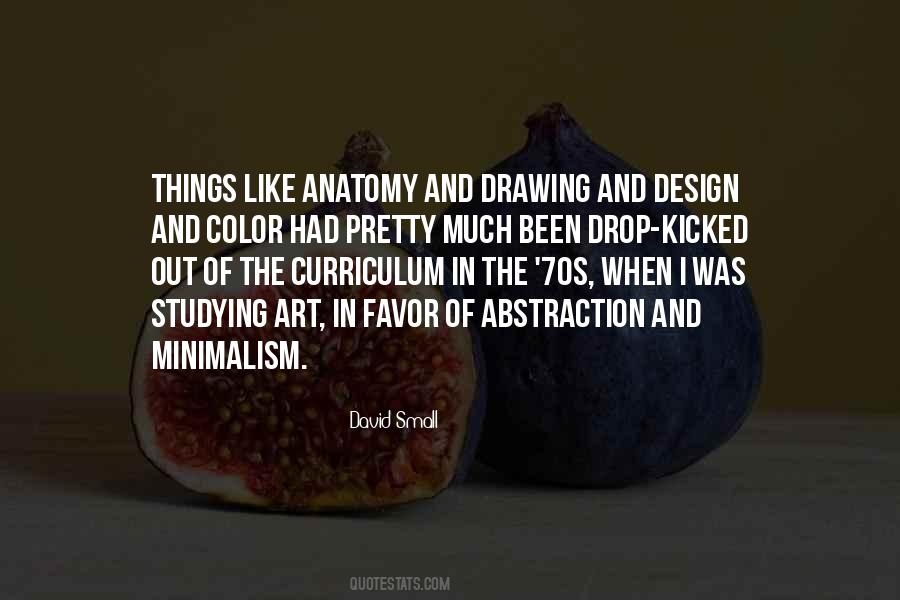 #29. A hen's egg is, quite simply, a work of art, a masterpiece of design and construction with, it has to be said, brilliant packaging! - Author: Delia Smith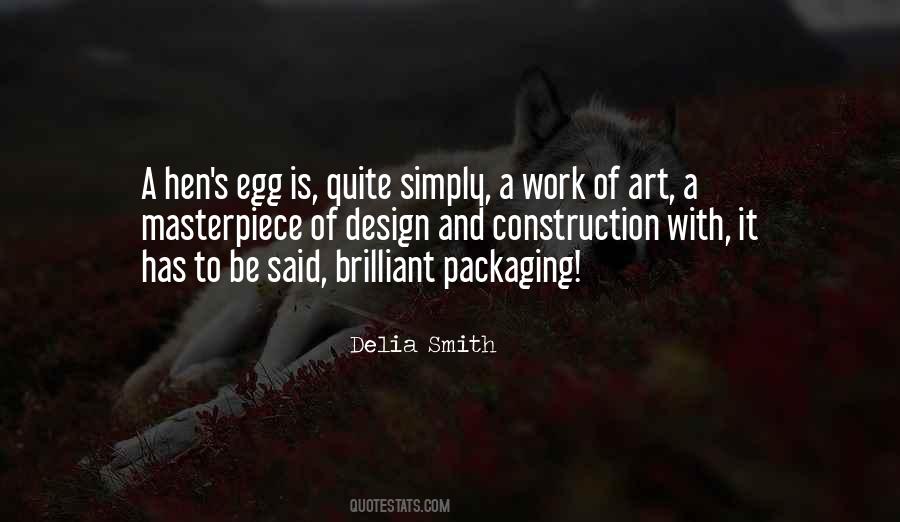 #30. Fashion is everything. Art, music, furniture design, graphic design, hair, makeup, architecture, the way cars look - all those things go together to make a moment in time, and that's what excites me. - Author: Tom Ford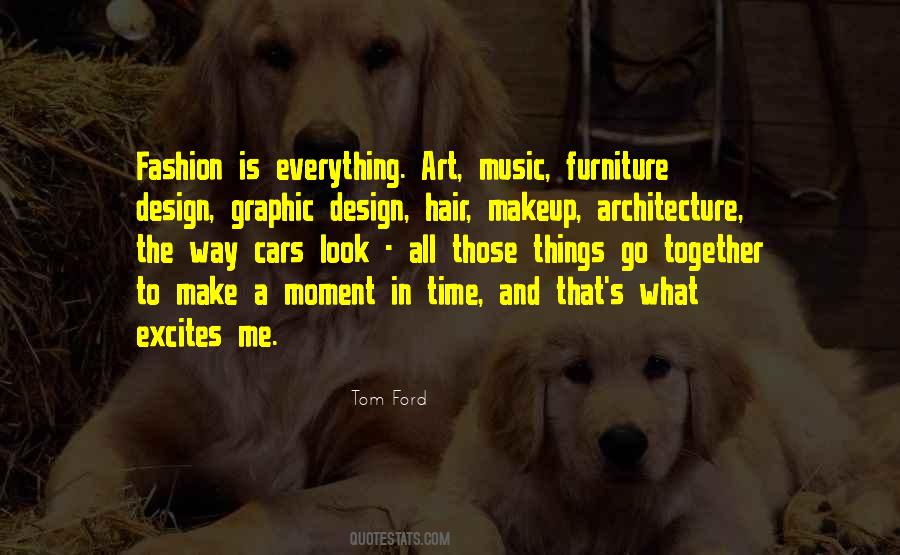 #31. I hope martial artists are more interested in the root of martial arts and not the different decorative branches, flowers or leaves. It is futile to argue as to which leaf, which design of branches, or which attractive flower you like; when you understand the root, you understand all its blossoming. - Author: Bruce Lee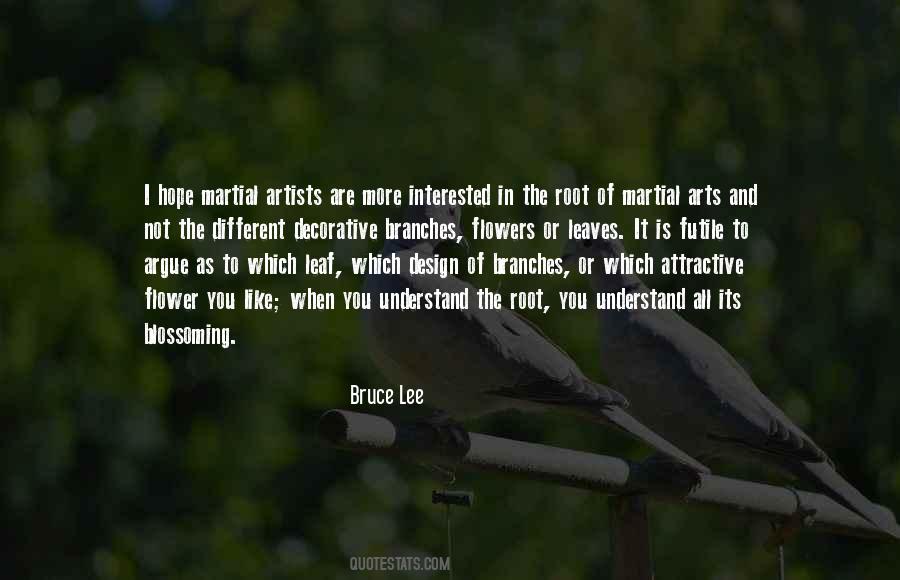 #32. Good design is a renaissance attitude that combines technology, cognitive science, human need, and beauty to produce something that the world didn't know it was missing. - PAOLA ANTONELLI, curator of architecture and design, Museum of Modern Art - Author: Daniel H. Pink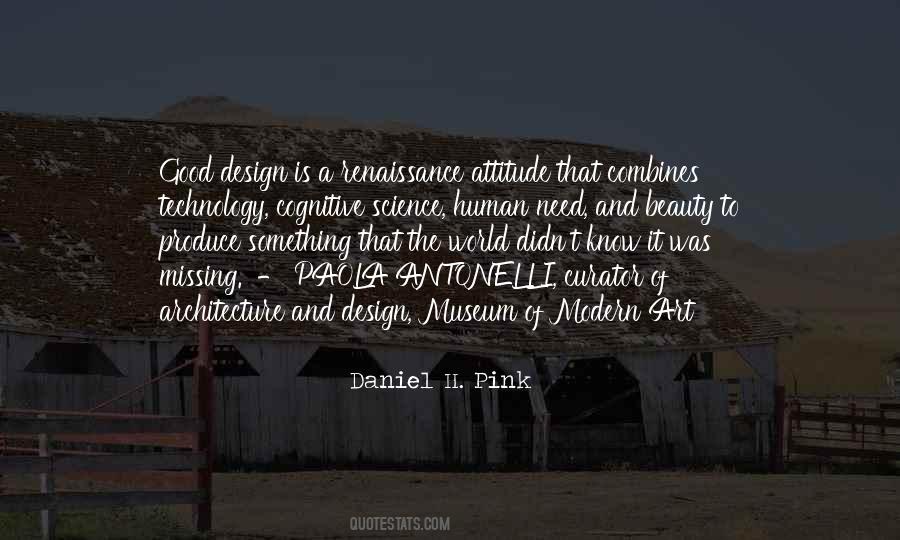 #33. I'd already decided I wanted to design shoes after I saw a sign in the Museum of African and Oceanic Art forbidding high heels. Well, who could resist? - Author: Christian Louboutin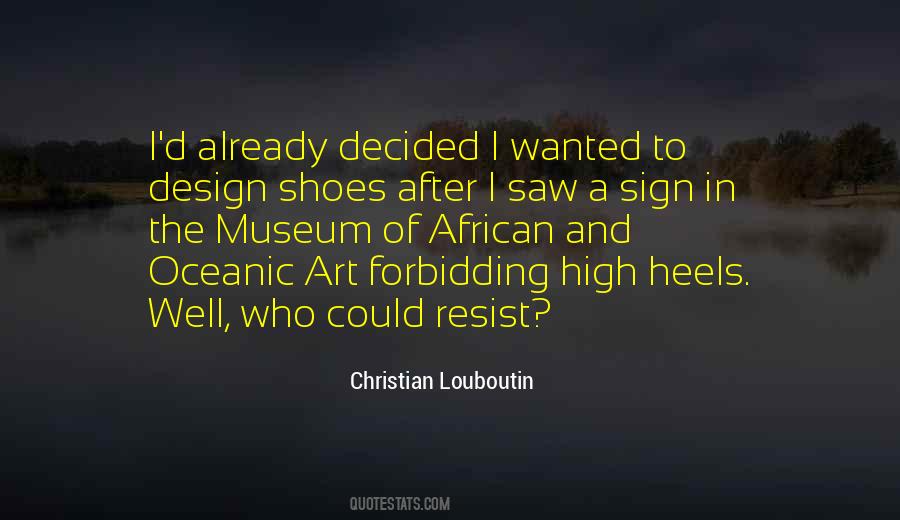 #34. Perfume has a long and fascinating history and the beautifully crafted bottles used to store it over the centuries demonstrate its importance. Each has mirrored the latest tastes in fashion technology, design and art. - Author: Judith Miller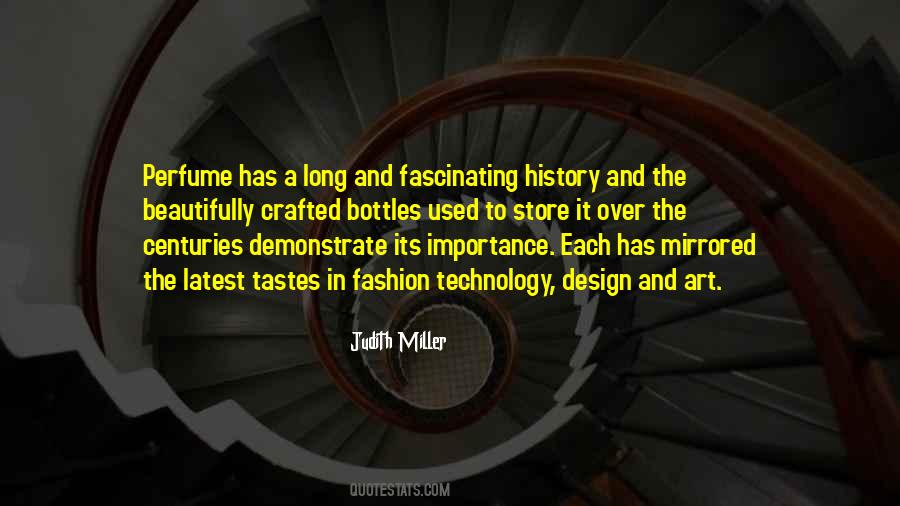 #35. I wound up studying art and design, got a job at Lonely Planet Publications as a designer, cartographer and illustrator. - Author: Trudi Canavan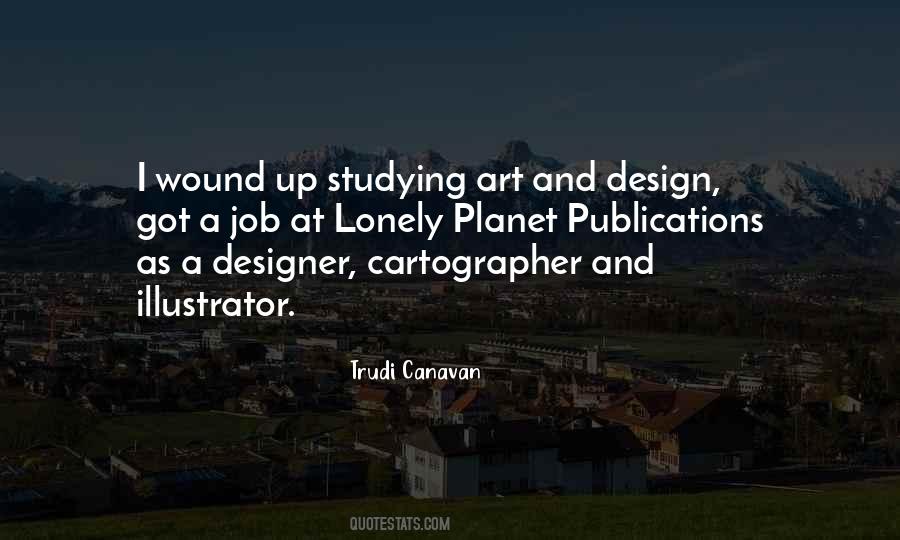 #36. I am giving soul and functionality to art by implementing her in to daily objects by through out design - Author: Baris Gencel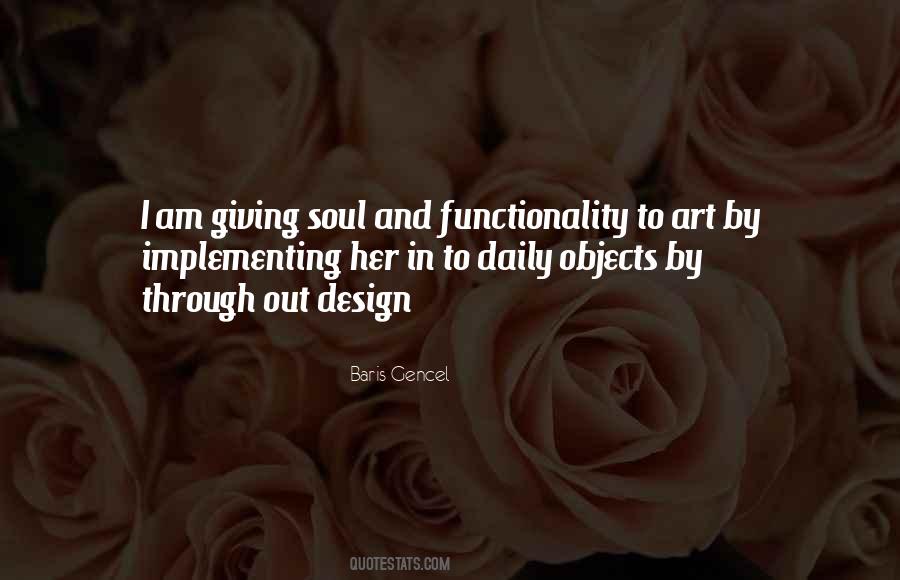 #37. Indeed art is fundamental : to science, mathematics and to language. Unfortunately theorists, educators, parents and administrators have not fully understood its importance, relegating it to a secondary role, or that of an add on. - Author: John A. Hiigli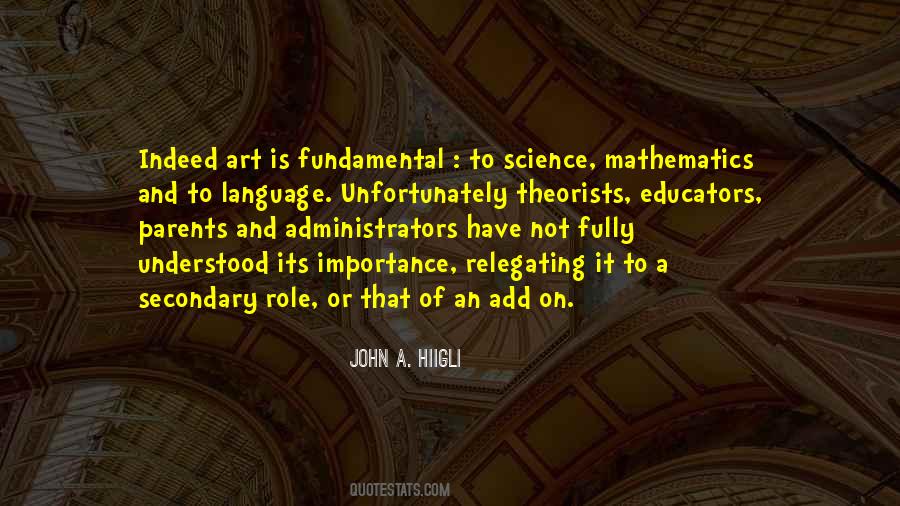 #38. Architecture exhibits the greatest extent of the difference from nature which may exist in works of art. It involves all the powers of design, and is sculpture and painting inclusively. It shows the greatness of man, and should at the same time teach him humility. - Author: Samuel Taylor Coleridge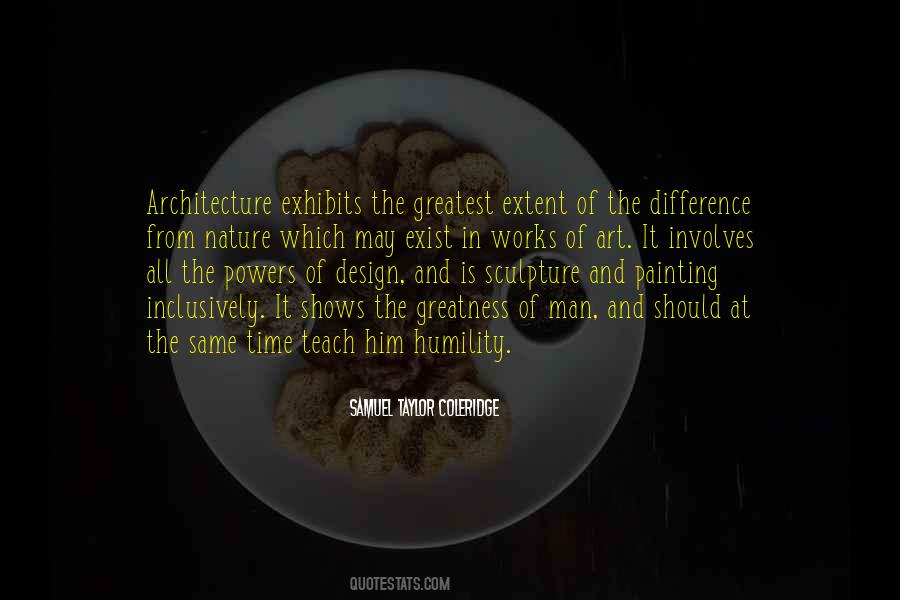 #39. Certainly a painting can be reductionistically described by its physical properties only: its shape, the paint, the design, and so forth. But every artwork that exists is both an individual thing, a whole unto itself, and simultaneously a part of the matrix of forces that brought it into being. - Author: Alex Grey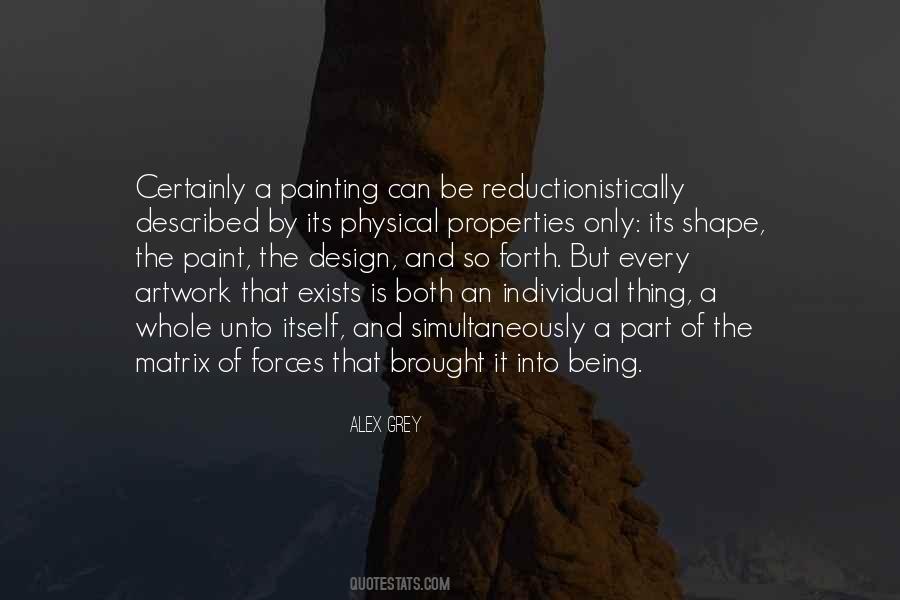 #40. Design and color are not distinct and separate. As one paints, one draws. The more the colors harmonize, the more the design takes form. When color is at it's richest, form is at its fullest. - Author: Paul Cezanne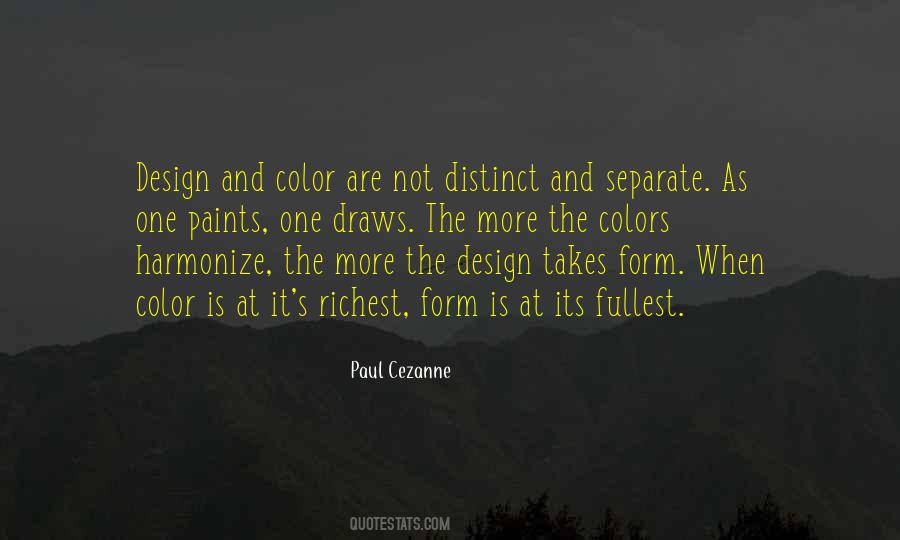 #41. The contributions that one makes in typography, design, and art in general cannot be, and must not be measured on how much money is involved. That would lead to total chaos. The word itself (contribution) is to give to a common purpose. - Author: Ed Benguiat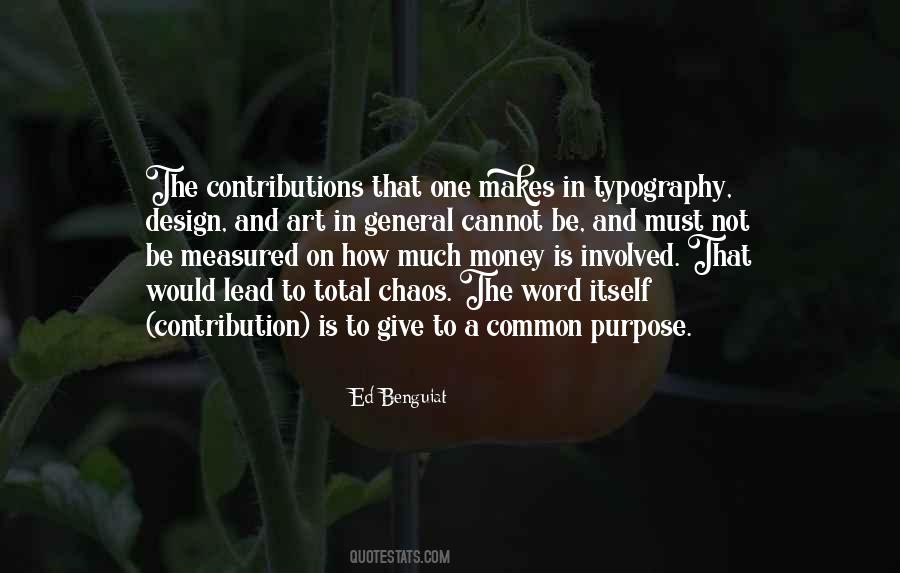 #42. Well, I never studied design and I went to art school to study art, you know, sculpture and things like that, and ended up making things like sculpture and started making chairs and jewelry together and that's how I started. - Author: Marc Newson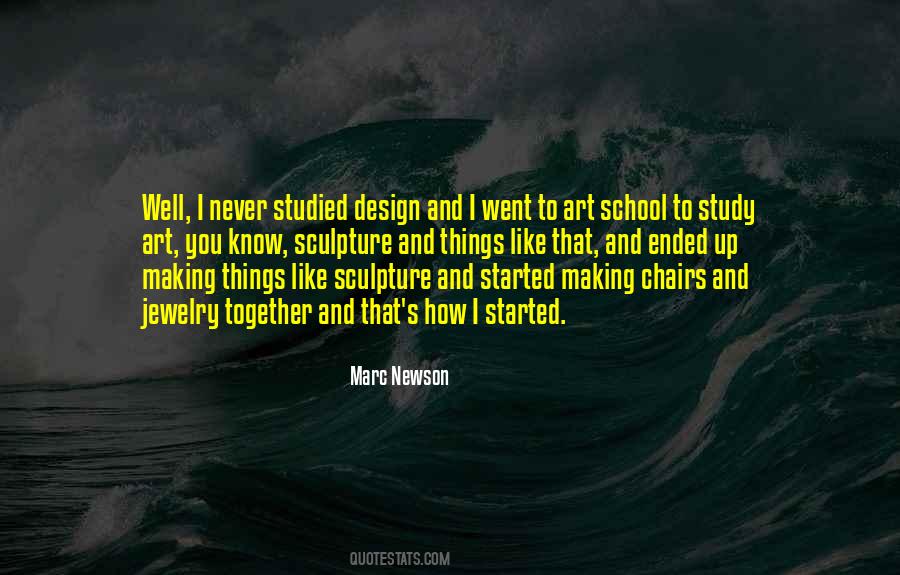 #43. However, an artist is limited only by his own skill and imagination. He's in total control of his art. Whereas nature is the artist here, and I merely try to interpret and manage her design. - Author: Crit Kincaid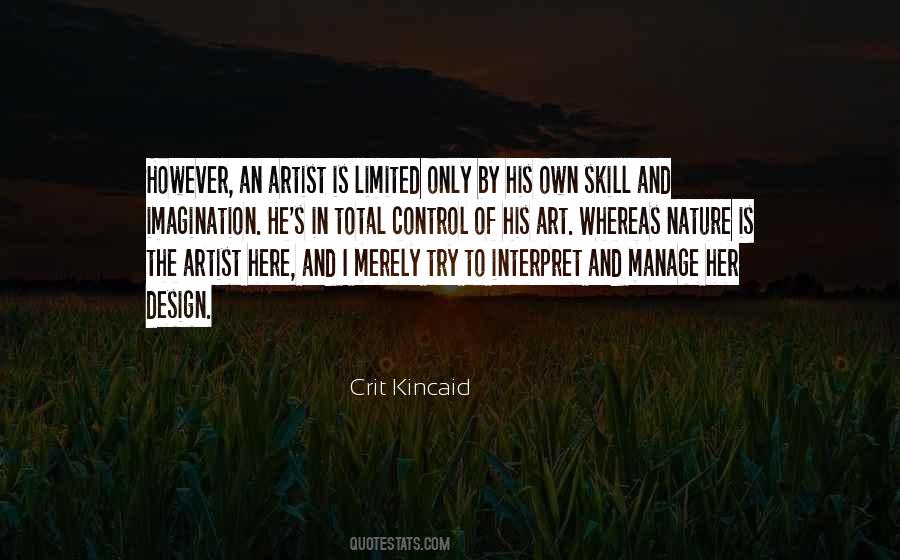 #44. Due to the failure of politics, which has become a process of middle-management, art has become one of the last open spaces to question core beliefs and to design a viable future. Art becomes an open space where we can ask fundamental questions about ourselves. - Author: Antony Gormley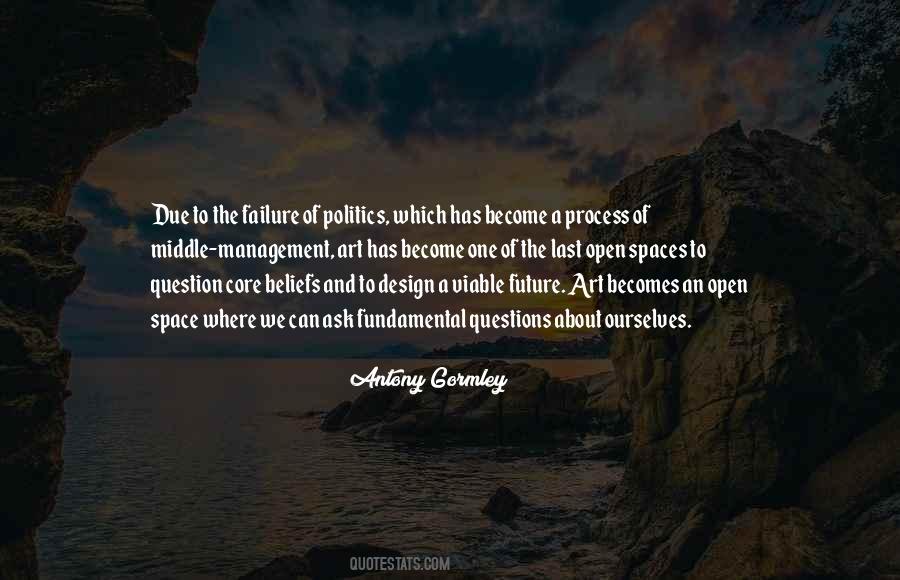 #45. There's design, and there's art. Good design is total harmony. There's no better designer than nature - if you look at a branch or a leaf, it's perfect. It's all function. Art is different. It's about emotion. It's about suffering and beauty - but mostly suffering! - Author: Diane Von Furstenberg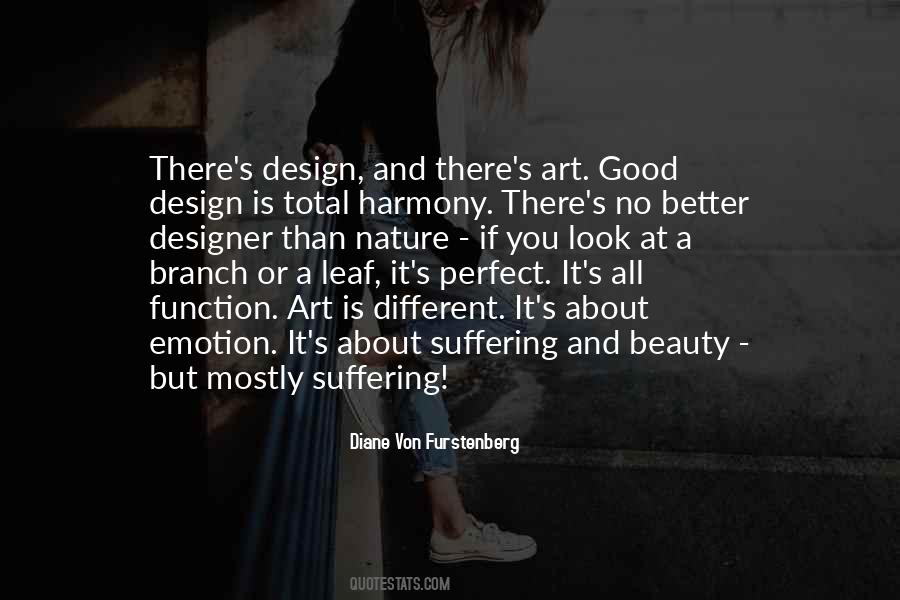 #46. After I left school, where I studied art, photography and textiles at A-level, I started doing an apprenticeship in interior design, but I wasn't really enjoying it very much, so I decided to do something creative, and in 2009, I began blogging. - Author: Zoe Sugg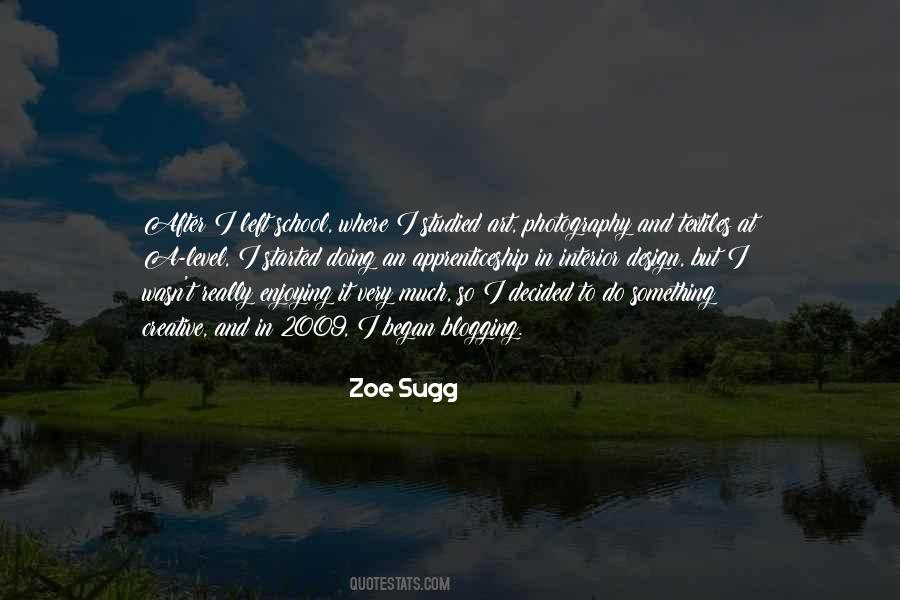 #47. I think in America there's this free flow between fashion, art, architecture, music and design. In Europe, it's more segregated between those different disciplines, I think. - Author: Marco Brambilla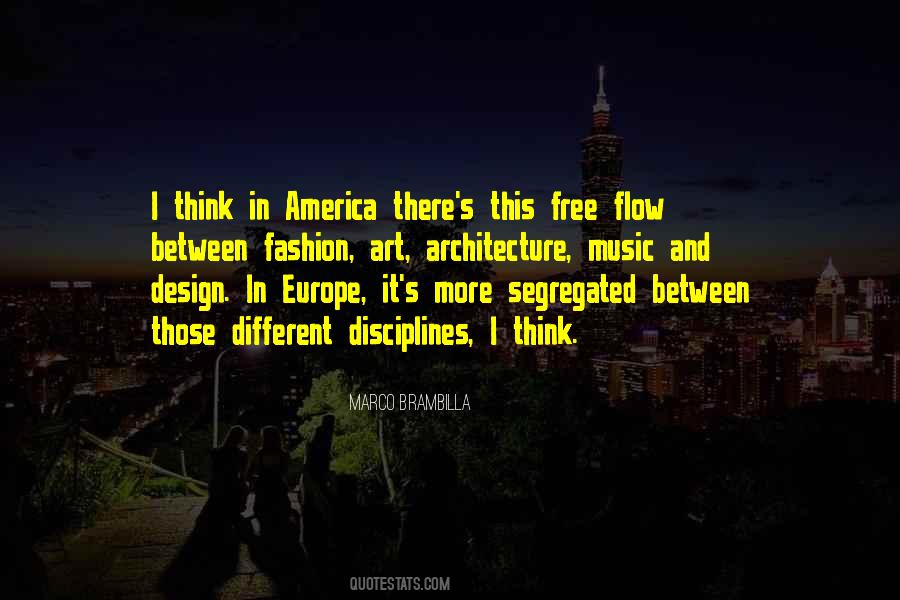 #48. I was always interested in art at school, and after year twelve, senior year, I spent three years studying graphic design at college. I worked in advertising for two years but didn't like it much, then began doing a bit of illustration work for various publishers. - Author: Graeme Base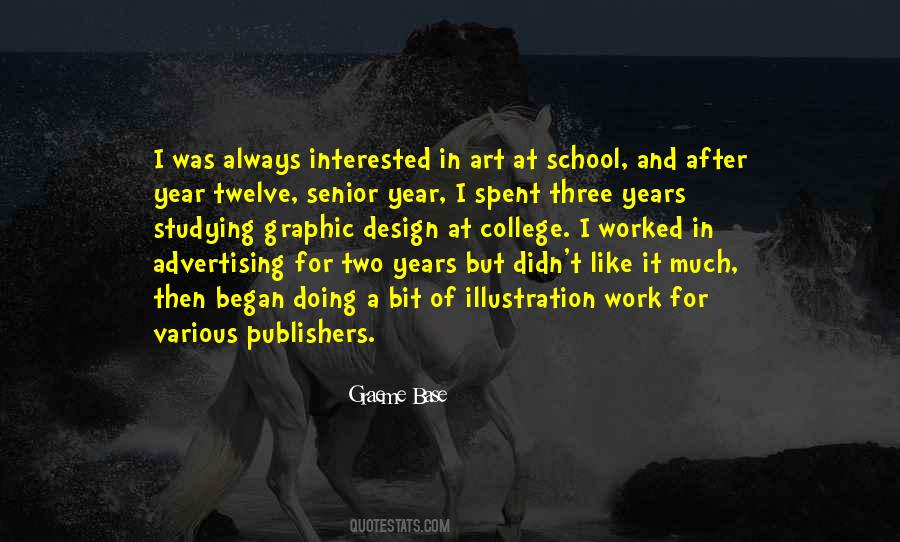 #49. I became an art major, took every art class my school had to offer. In college, I majored in Advertising Art and Design. - Author: Len Wein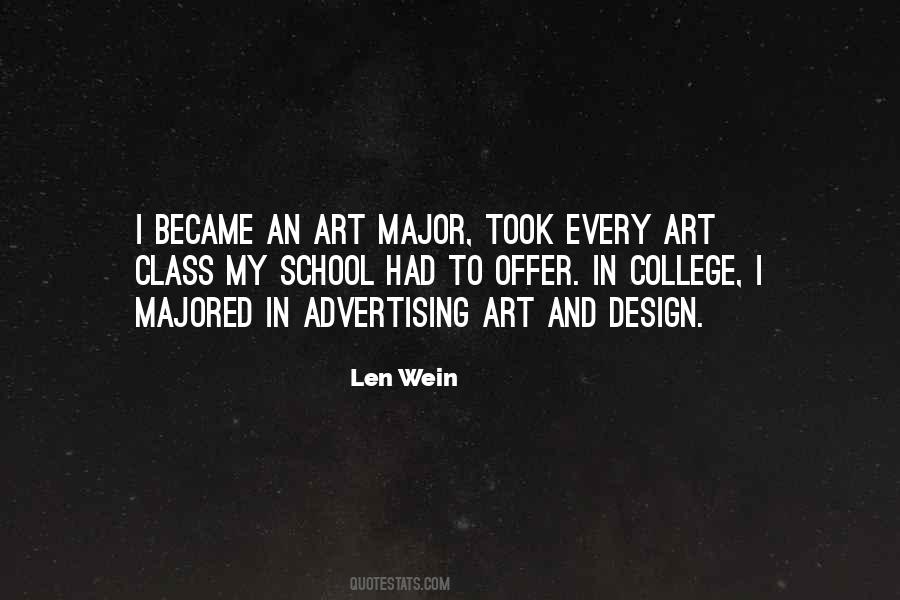 #50. It's funny now how much we look at - whatever you want to call it: art, design, culture stuff, film - online, and how in the online world, you're instantly global. - Author: Mike Mills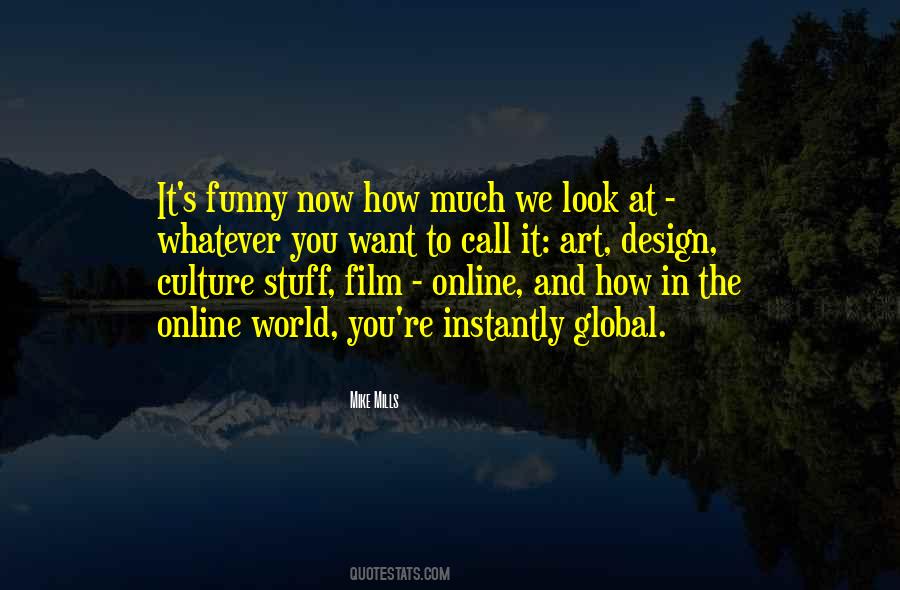 #51. All art is relationships, all art. Design is relationships. Design in a relationship between form and content ... Your glasses are round. Your collar is diagonal. These are relationships. Your mouth is an oval. Your nose is a triangle - this is what design is. - Author: Paul Rand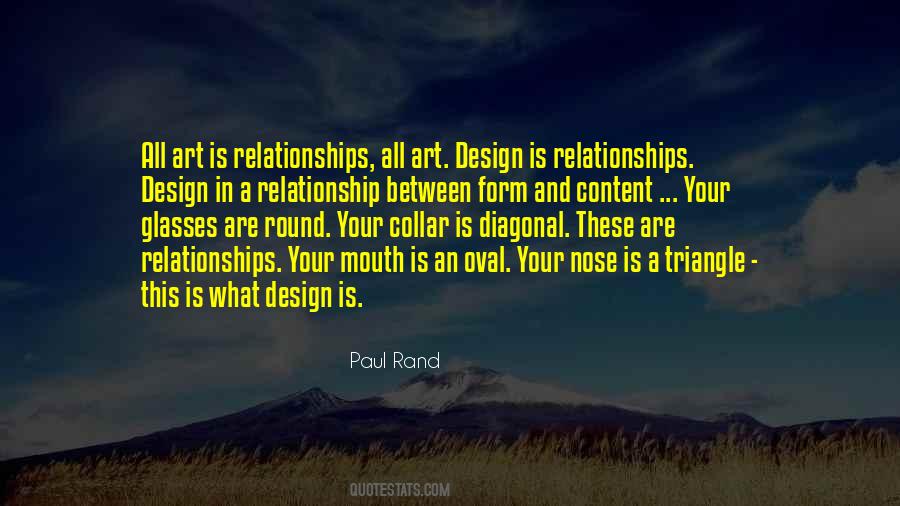 #52. Design has purpose, Art has meaning. Find purpose and meaning in your life. - Author: Nor Sanavongsay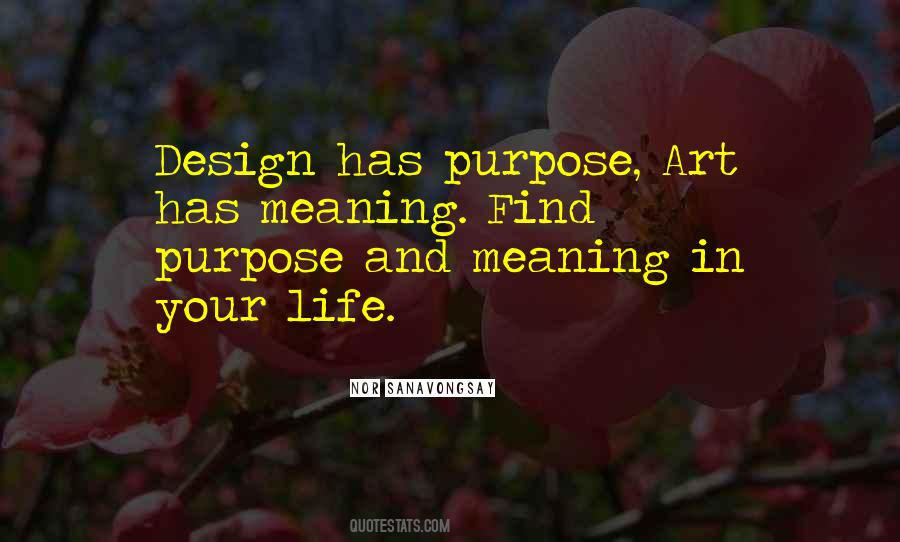 #53. It's not Art. And Art is not Design. - Author: Chip Kidd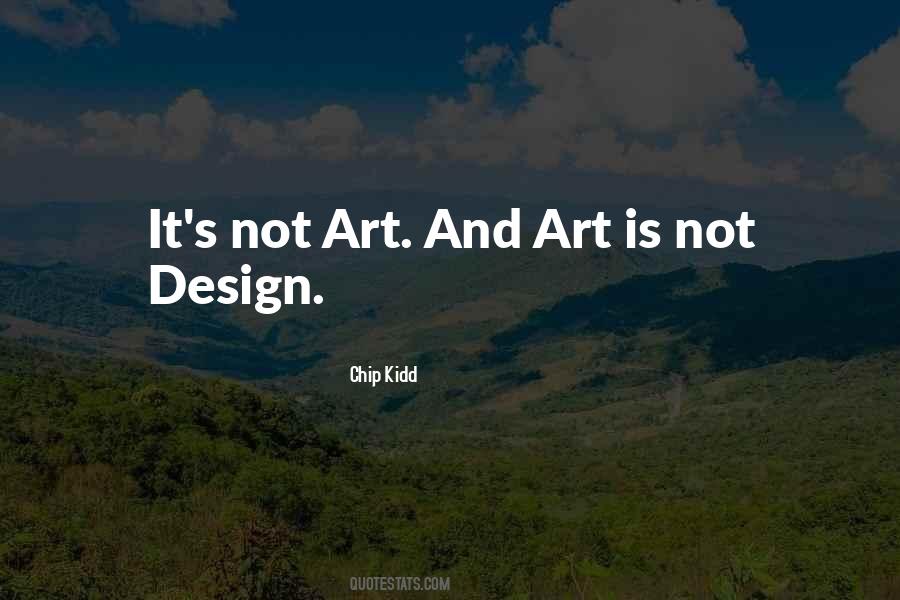 #54. I have a company that does design and animation, so obviously graffiti is definitely an intricate part of what we admire and respect in the art world. - Author: Mick Ebeling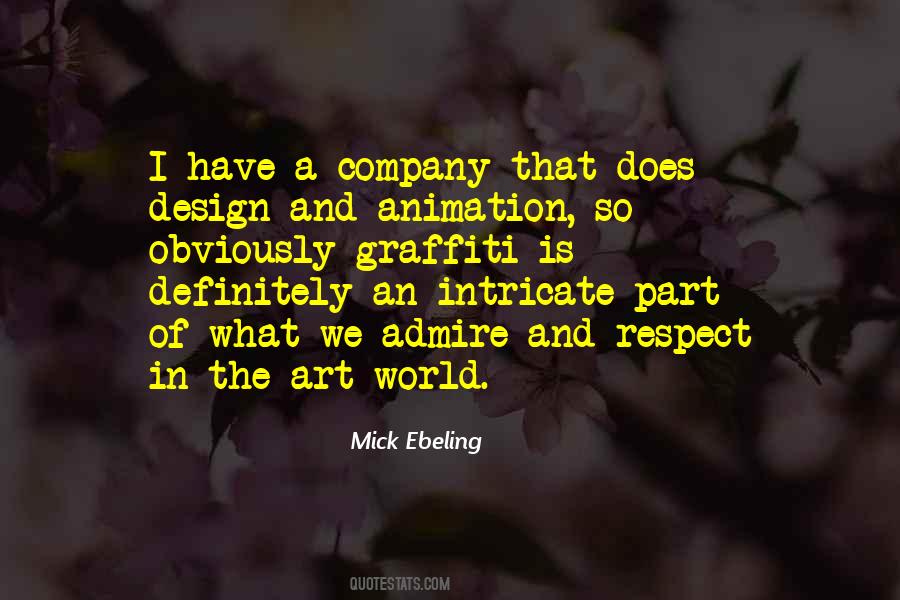 #55. The business and design of the Royal Society is: To improve the knowledge of naturall things, and all useful Arts, Manufactures, Mechanic practices, Engines and Inventions by Experiments-(not meddling with Divinity, Metaphysics, Moralls, Politicks, Grammar, Rhetoric or Logick). - Author: Robert Hooke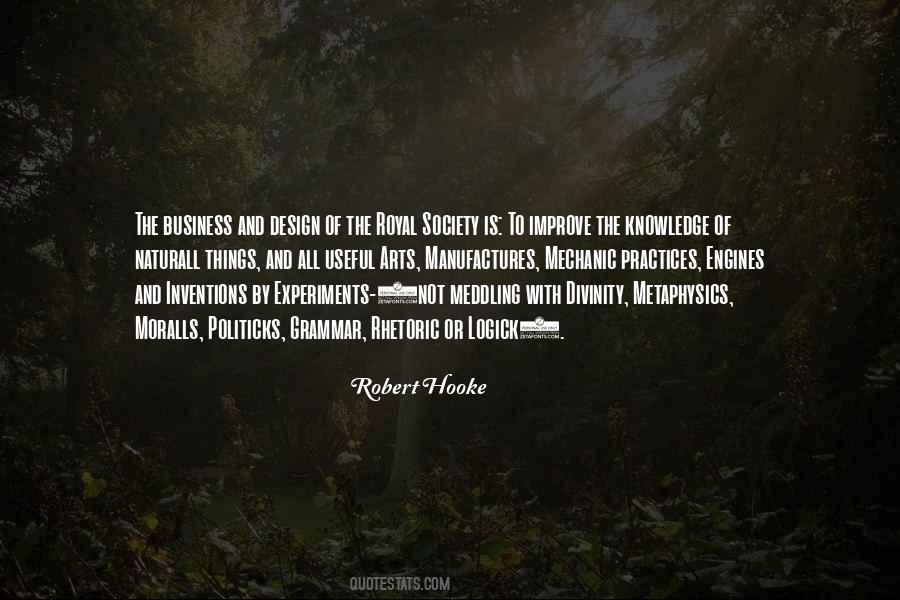 #56. I was at Emily Carr College of Art and Design in Vancouver for four years, and I loved it. - Author: Douglas Coupland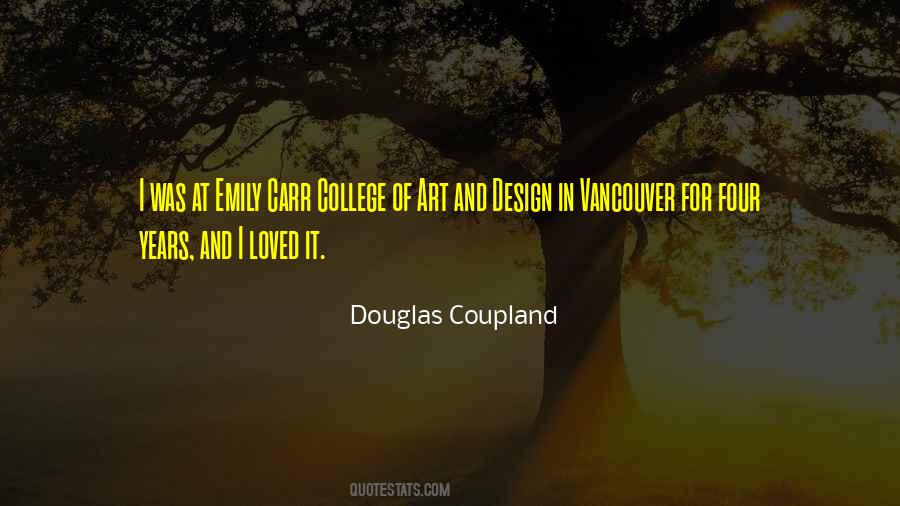 #57. It should be obvious why it's easier to copy someone else's painting, rather than work on site or even from a photograph. All the selection, rejection and design have already been done for you. - Author: Ron Ranson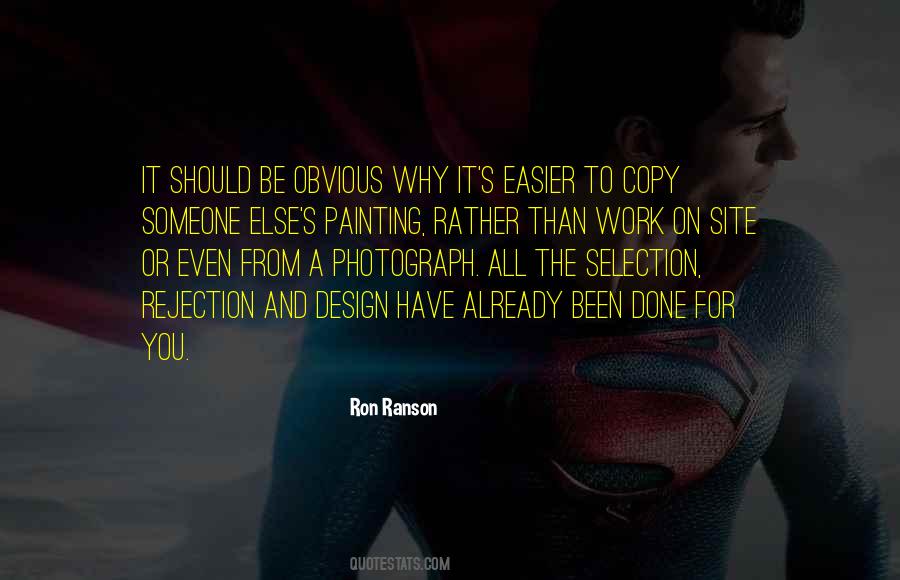 #58. I don't see myself as an artist. I work with artists and collaborate with them, but then it becomes graphic design. It's not an art. I'm a graphic designer. - Author: Vaughan Oliver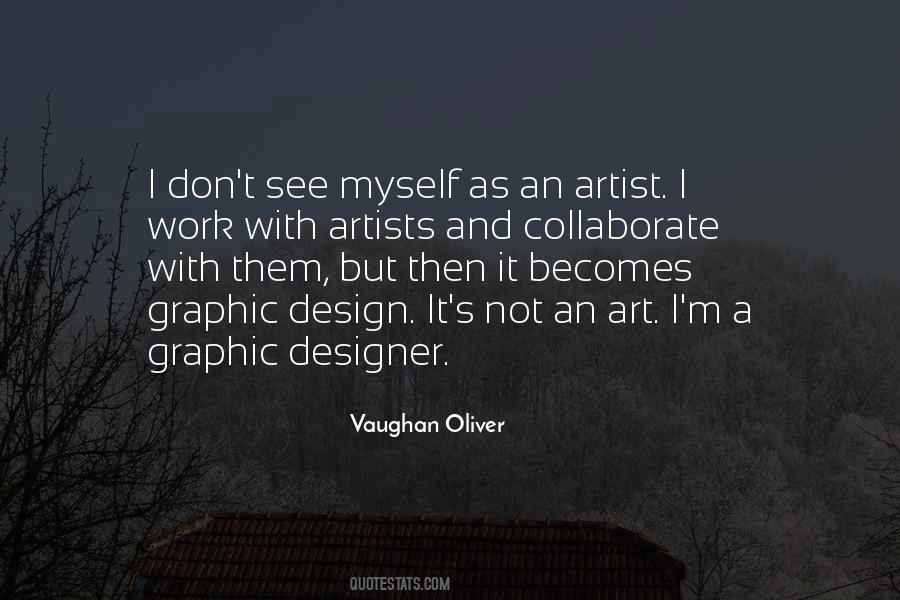 #59. Only in black and white can I see the design and textures. I don't consider color photography art. Black and white is an interpretation. Color is a duplication. - Author: Clyde Butcher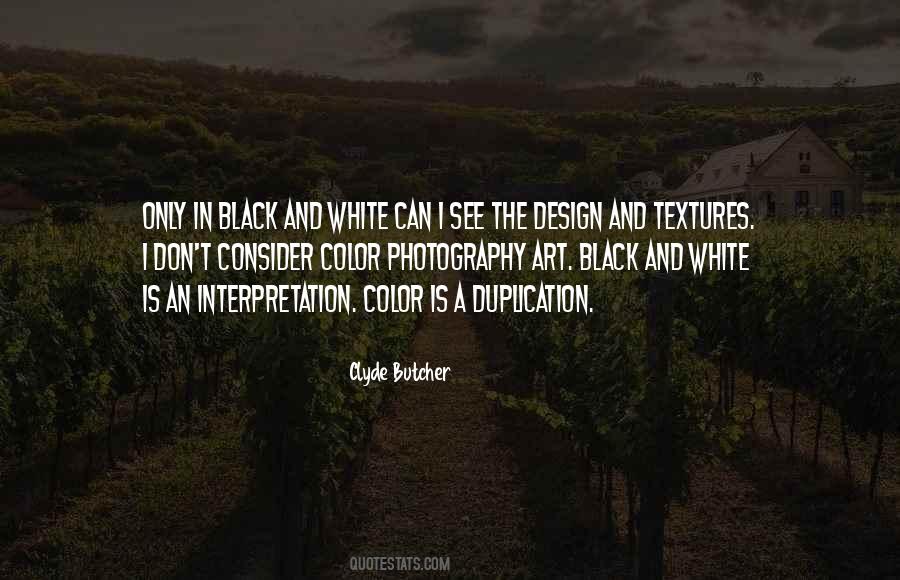 #60. For ages happiness has been represented as a huge precious stone, impossible to find, which people seek for hopelessly. It is not so; happiness is a mosaic, composed of a thousand little stones, which separately and of themselves have little value, but which united with art form a graceful design. - Author: Delphine De Girardin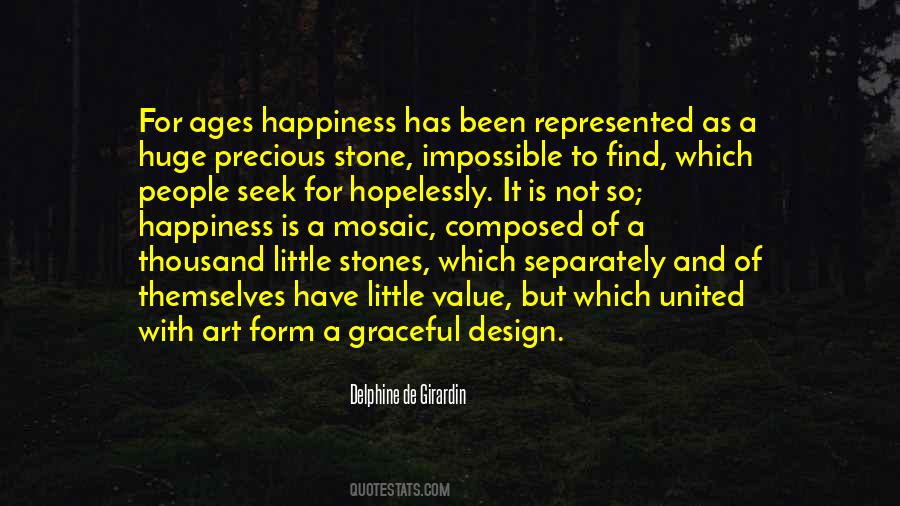 #61. The Japanese have a wonderful sense of design and a refinement in their art. They try to produce beautiful paintings with the minimum number of strokes. - Author: David Rockefeller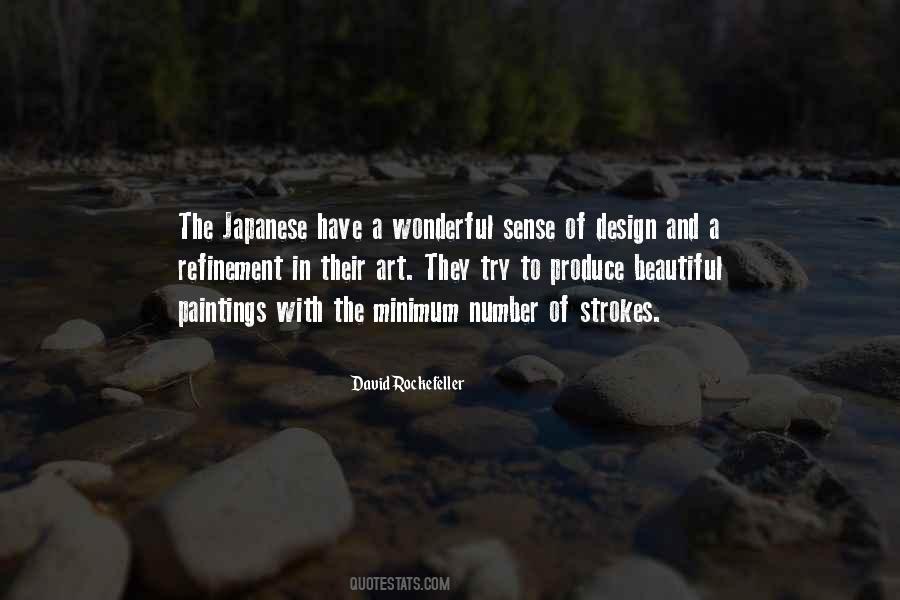 #62. The design process, at its best, integrates the aspirations of art, science, and culture. - Author: Jeff Smith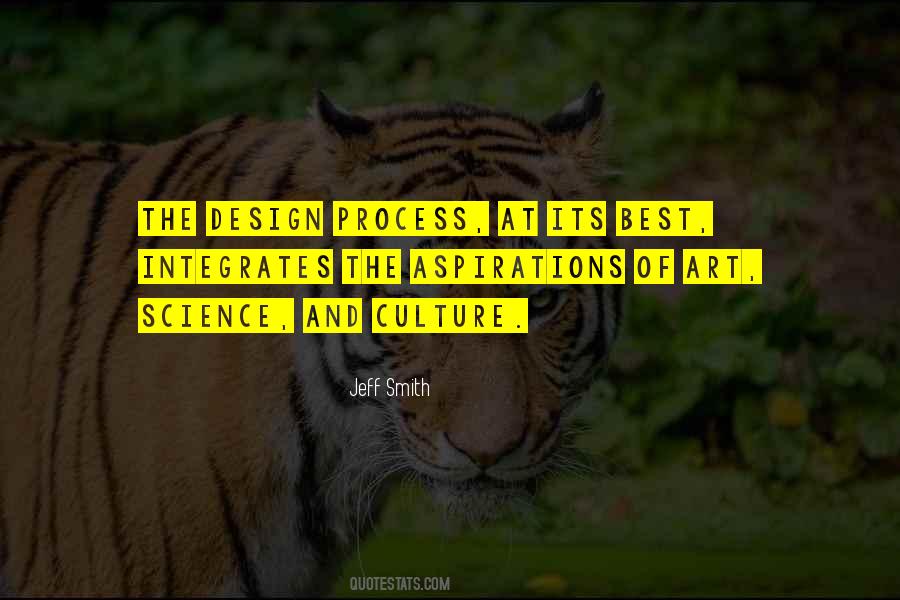 #63. Having lasted for 4,000 years, the use of nature's materials to express ideas about nature may be expected to continue. The best garden designs are produced with an awareness of the art, science, history, geography, philosophy, social habits and construction techniques of their period. - Author: Tom Turner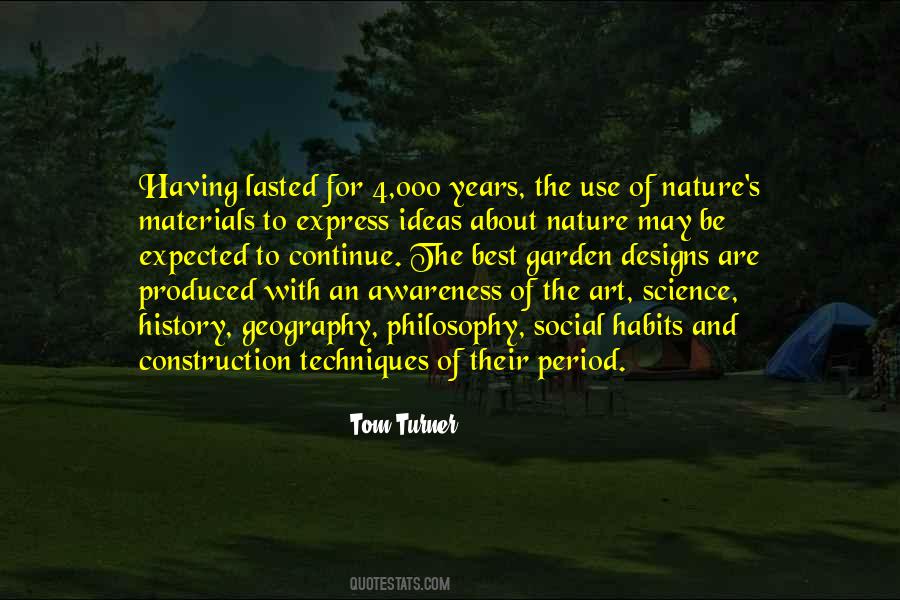 #64. What the computer can do in art and design has turned aesthetics on its head ... with the computer, things are not so much created as they are produced, with the producer-director becoming the star and the controlling force of much that was in other hands at other times. - Author: Nicholas Von Hoffman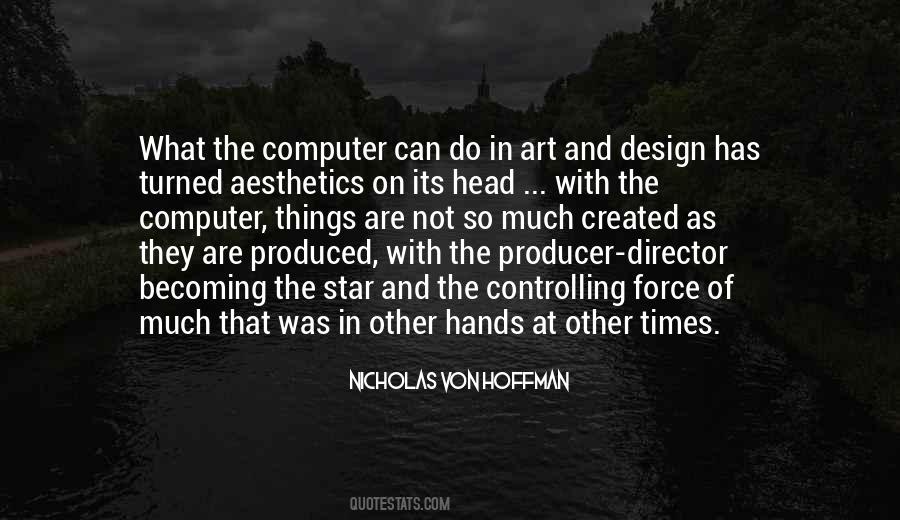 #65. I love to design. I am a commercial fashion designer. I always design jackets with two sleeves. I don't design jackets with three sleeves, or the layers and layers come off like little dolls from Russia. Fashion for me is a creative endeavor, but it is not art for me. - Author: Tom Ford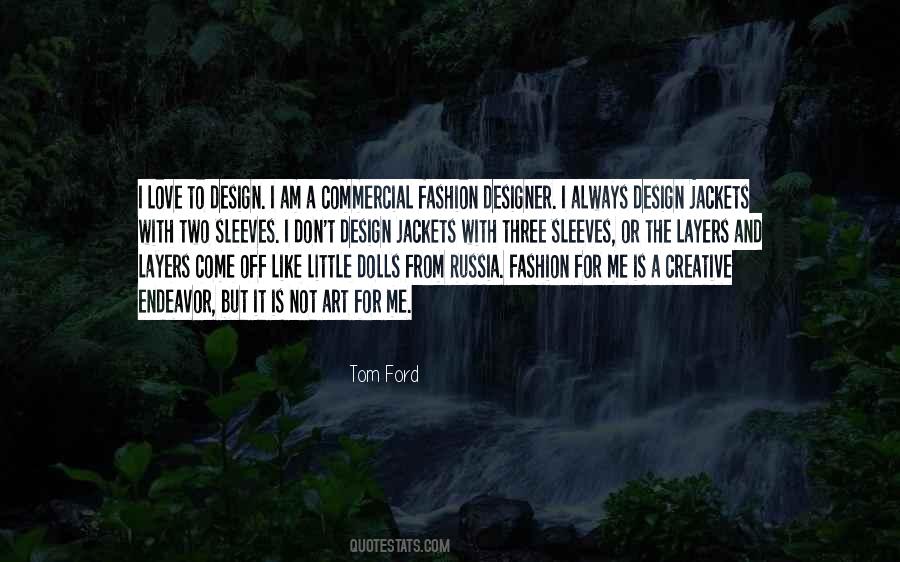 #66. In martial arts one of the first things that you learn is to be balanced. Balance is the central principle in architecture and design. Balance is a way of trying to talk about being at the center of things. - Author: Frederick Lenz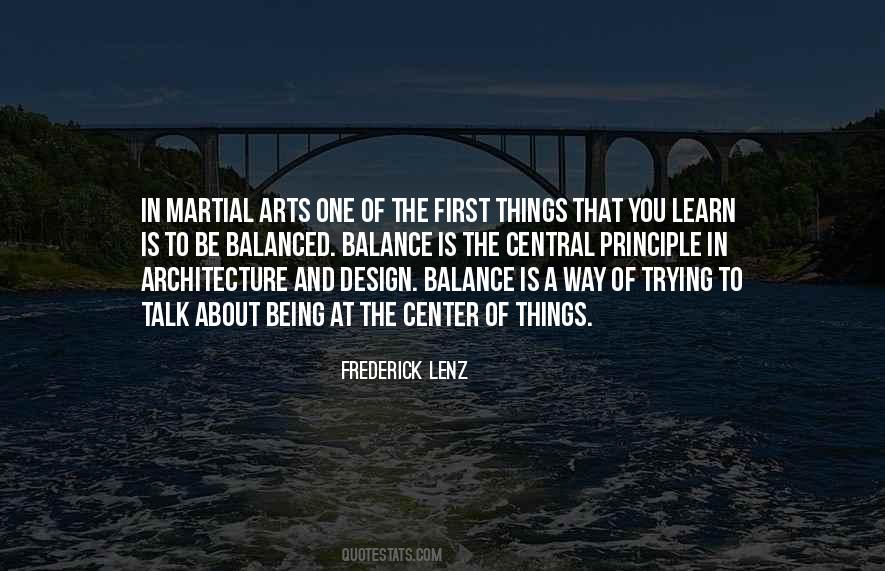 #67. I believe in Michelangelo, Velasquez, and Rembrandt; in the might of design, the mystery of color, the redemption of all things by Beauty everlasting, and the message of Art that has made these hands blessed. Amen. Amen. - Author: George Bernard Shaw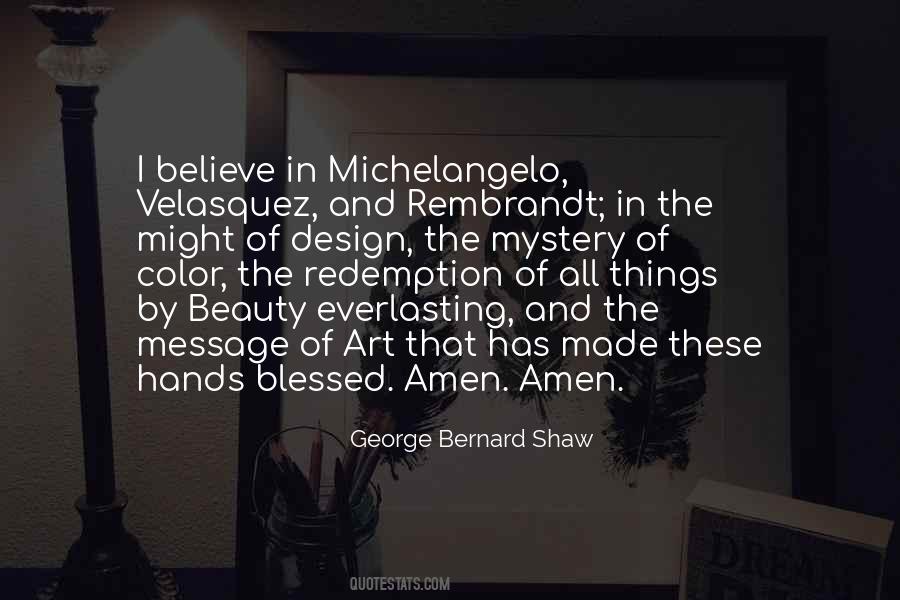 #68. I'm not really well educated - other than an art survey course at the High School of Art and Design in New York when I was, like, 15. I don't know the history of art, but I got over intimidation from the art world when I realized that I was allowed to feel whatever I want and like whatever I want. - Author: Marc Jacobs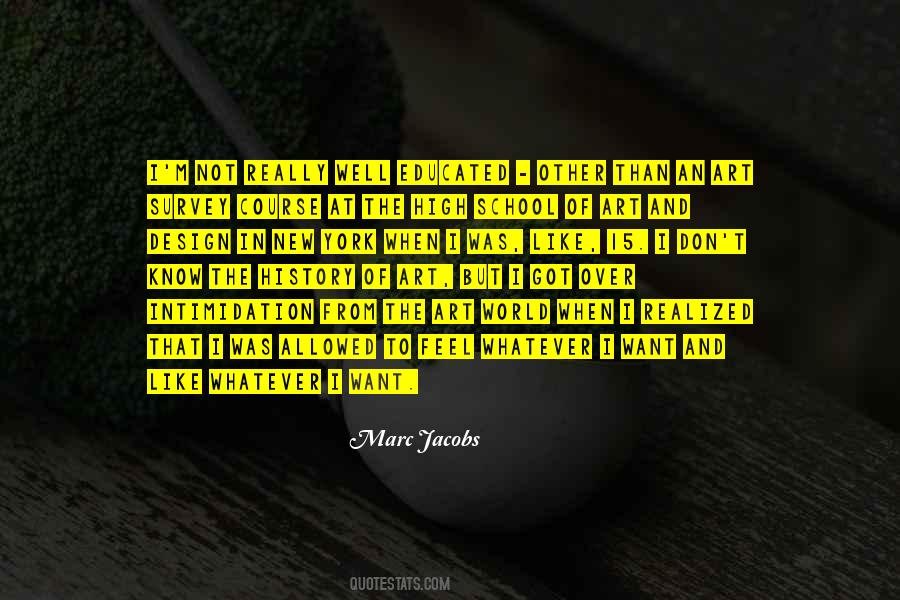 #69. Craft is not a category; it's a means. The folks running the museum [Museum of Arts and Design]are sharp, and they know this, but they are in a bind. - Author: Jerry Saltz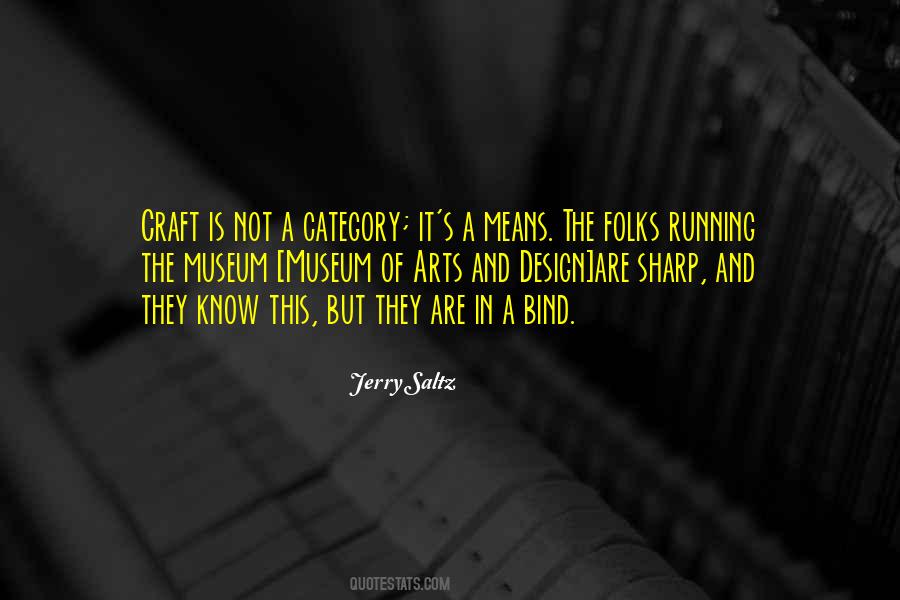 #70. I began doing writing projects and art and design projects to explore a new way of seeing Canada. Roots is one more way of continuing this exploration. I want to present a wide-open Canadian sense of color, adventure, communication and openness that defines our country. - Author: Douglas Coupland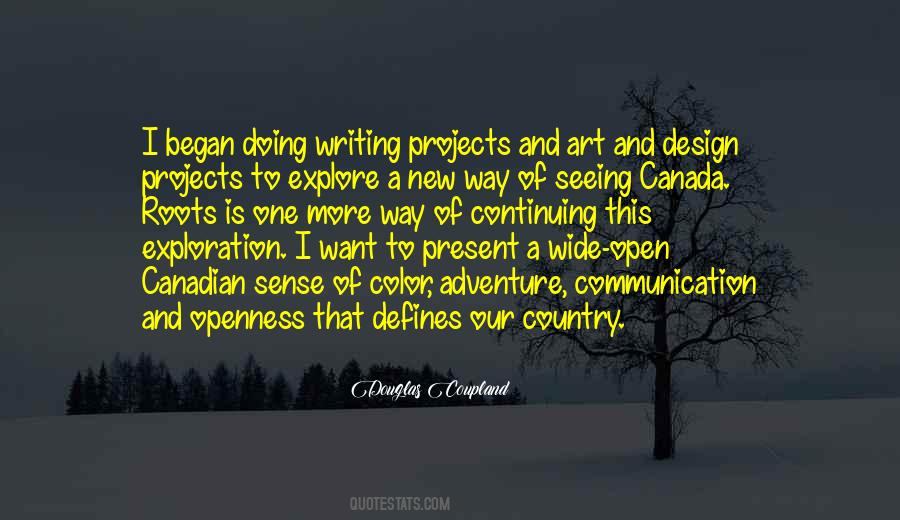 #71. For me, meaning of design is to give soul to objects by Art. Art sometimes need to be in every part of daily life, not only in the galleries and museums. - Author: Baris Gencel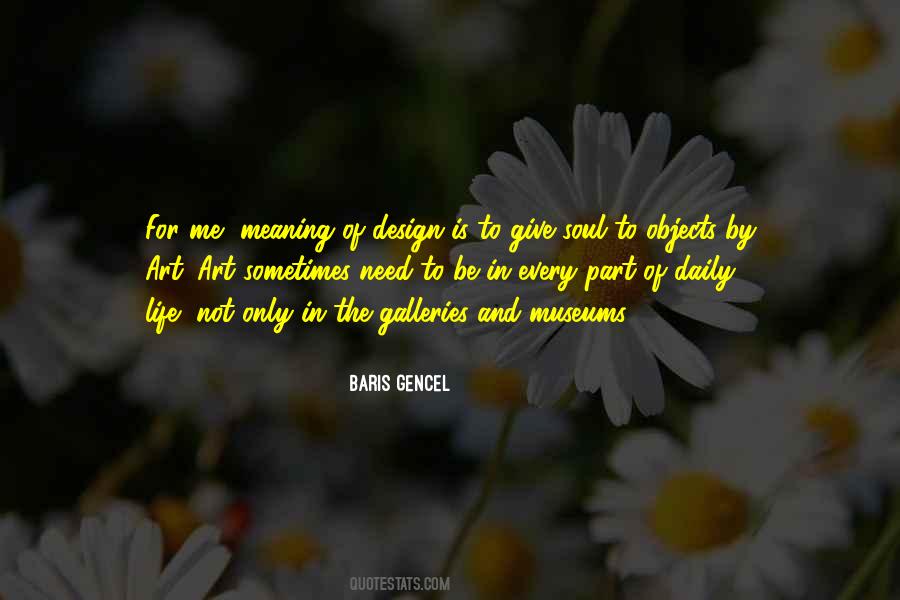 #72. The painter is, as to the execution of his work, a mechanic; but as to his conception and spirit and design he is hardly below even the poet. - Author: Friedrich Schiller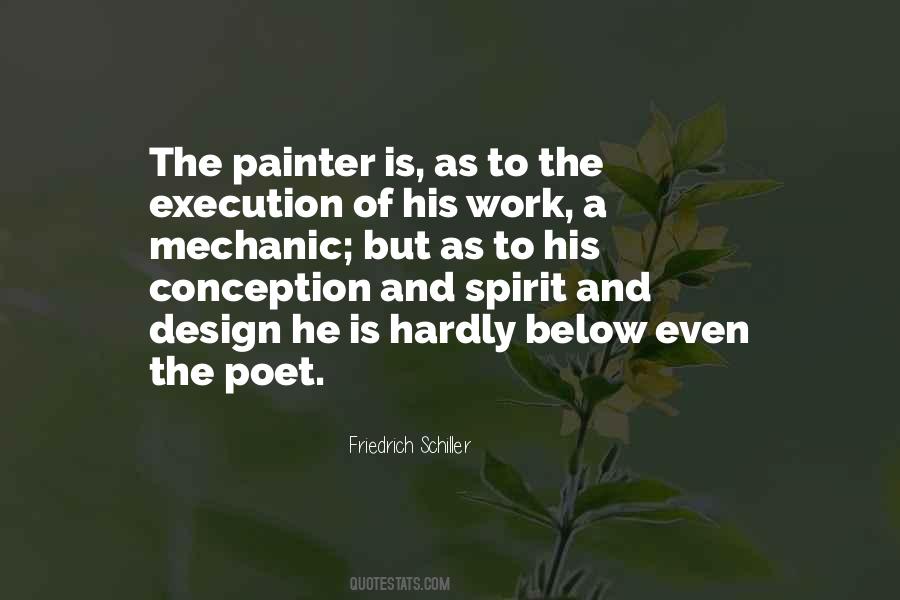 #73. There are now college degrees in game design and interactive media, so if I were starting now, I would probably do that. When I started, you had to break into design from QA or programming or art, but it's really not true anymore. - Author: Jane Jensen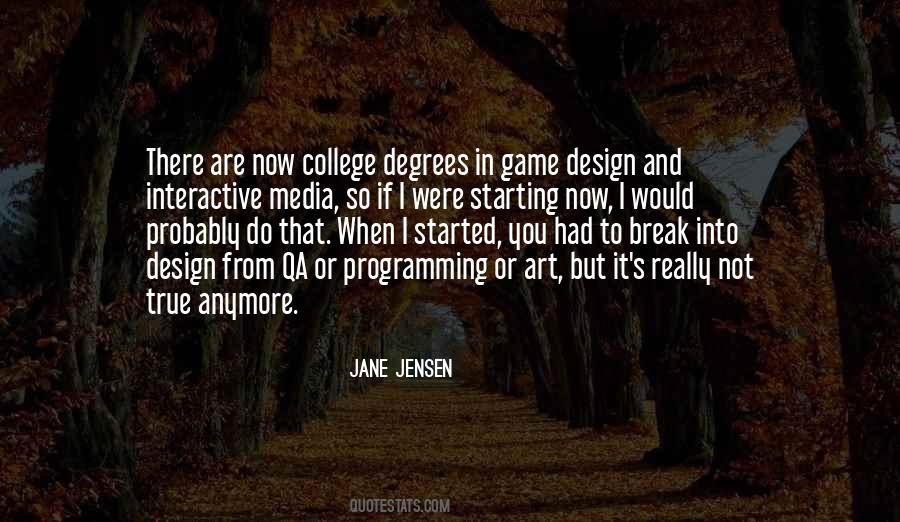 #74. An effective lighting design is like a beautiful painting. Your medium is bringing someone to an emotional state he or she would not achieve at that moment without your art. This does not and can not happen by accident. - Author: Glenn Cunningham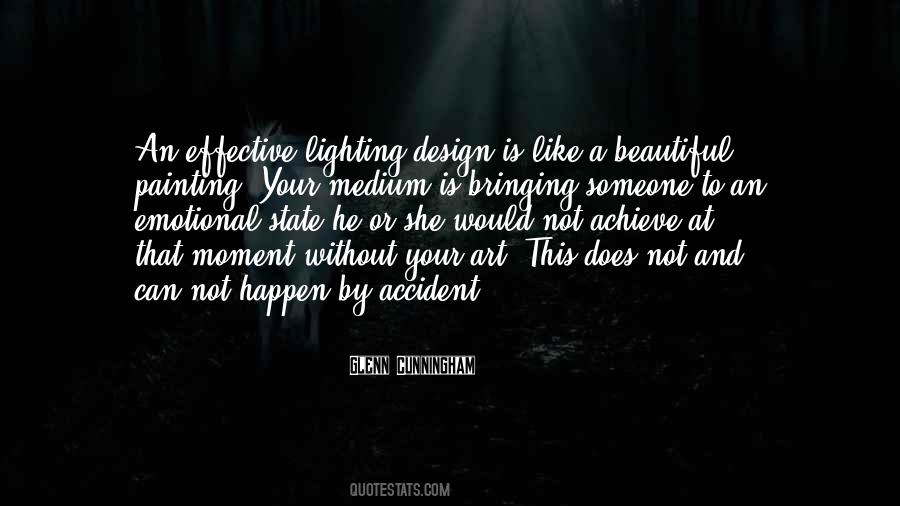 #75. Punk's influence on music, movies, art, design and fashion is no longer in doubt. It is used as the measurement for what is cool. - Author: Malcolm McLaren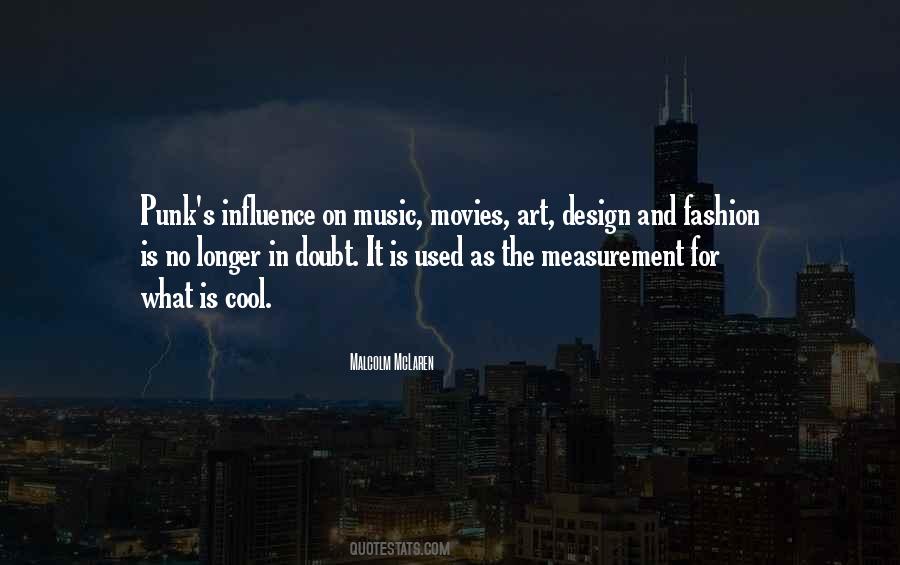 #76. All of the designs on Minted are crowd-sourced from a global community of independent designers. We hold monthly design and art challenges that anyone in the world is welcome to enter. - Author: Mariam Naficy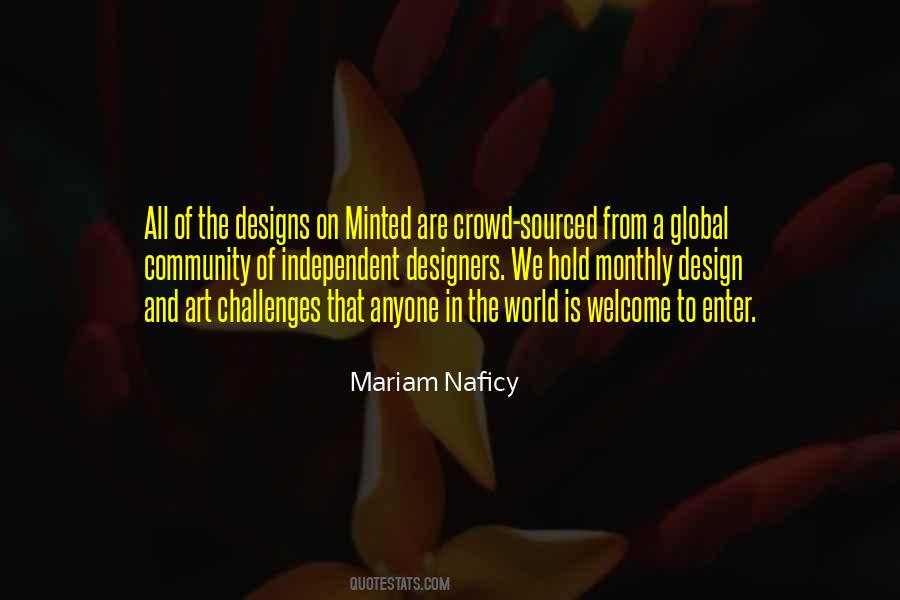 #77. Graphic design is a popular art and a practical art, an applied art and an ancient art. Simply put, it is the art of visualizing ideas. - Author: Jessica Helfand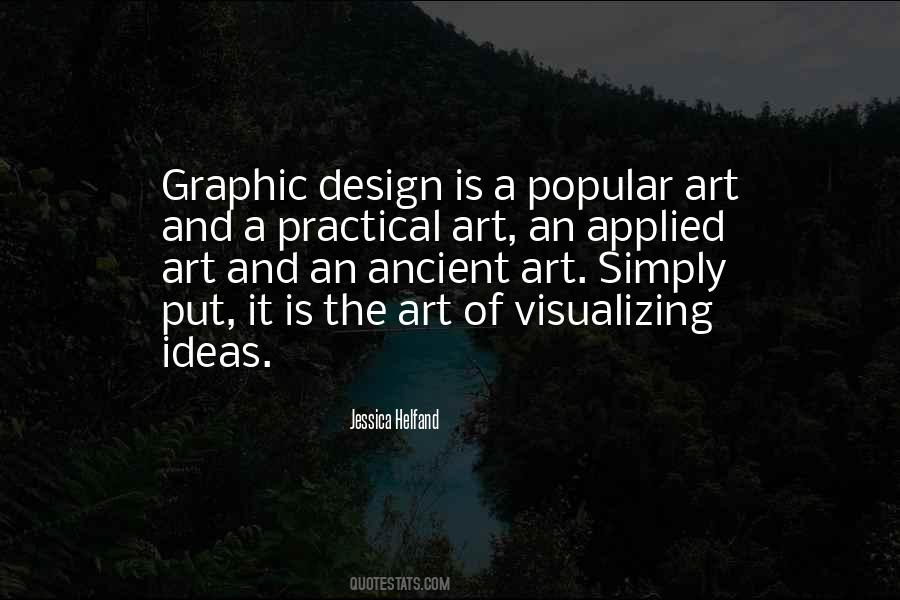 #78. 'Commercial' is not the word that has to be said only by CEOs. It has to be something that is maybe the essence of design, because design has some sort of art in it and creation, but it's also some object that you have to use. There is also this pragmatic end to it. - Author: Alber Elbaz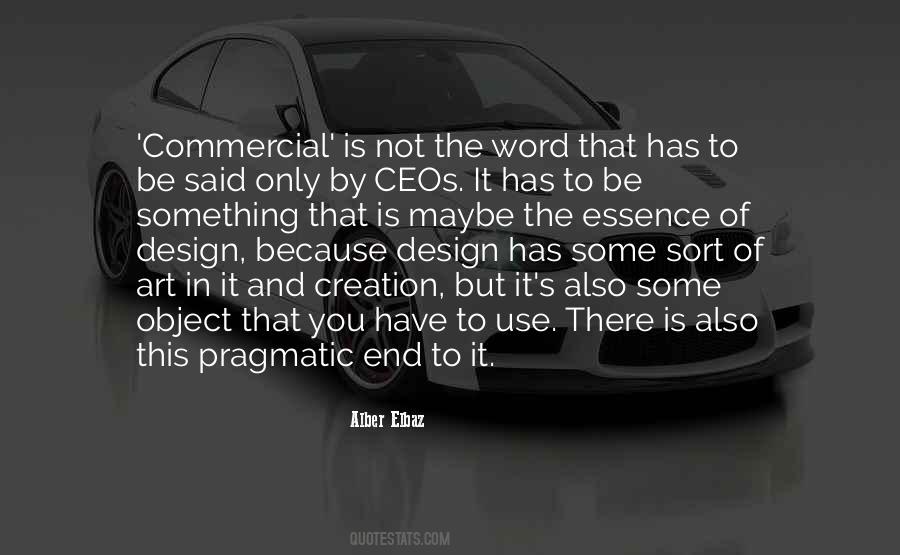 #79. There is a great amity between designing and art. - Author: Joseph Addison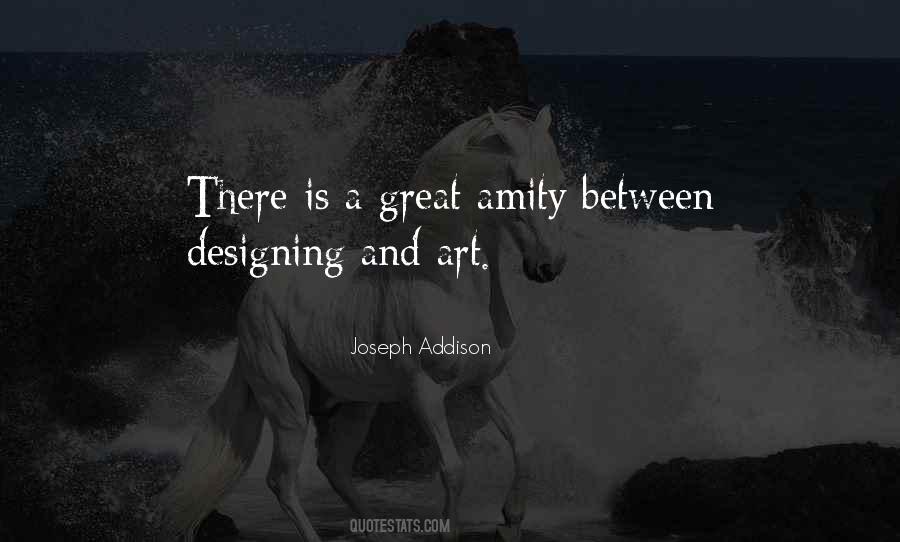 #80. The arts are not just a nice thing to have or to do if there is free time or if one can afford it. Rather, paintings and poetry, music and fashion, design and dialogue, they all define who we are as a people and provide an account of our history for the next generation. - Author: Michelle Obama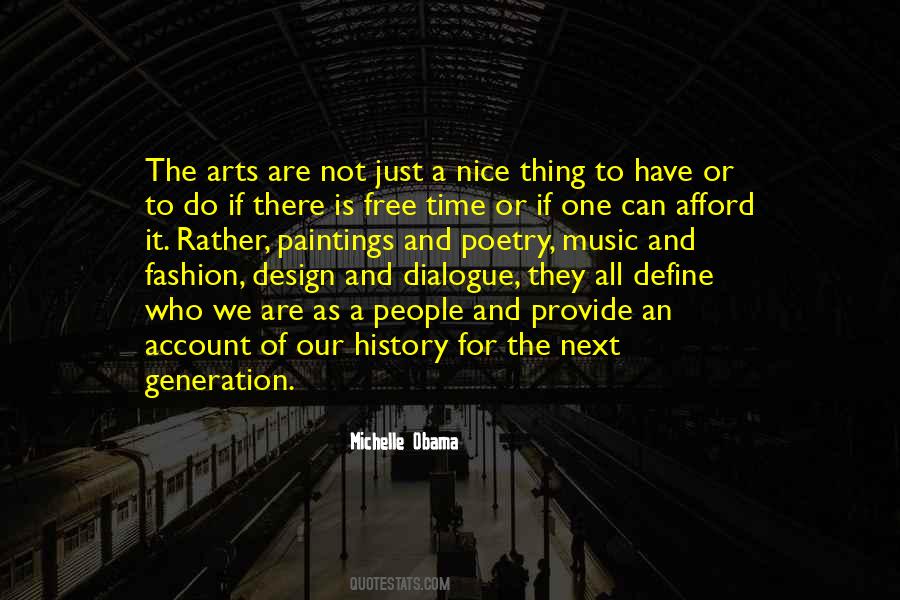 #81. It's always helpful to look outside of the web for your inspiration, to places where you might not at first expect to find a solution. The world is a collage of inspiration, from newspapers, magazine publishing, and advertising to product design, architecture and the fine arts. - Author: Andy Clark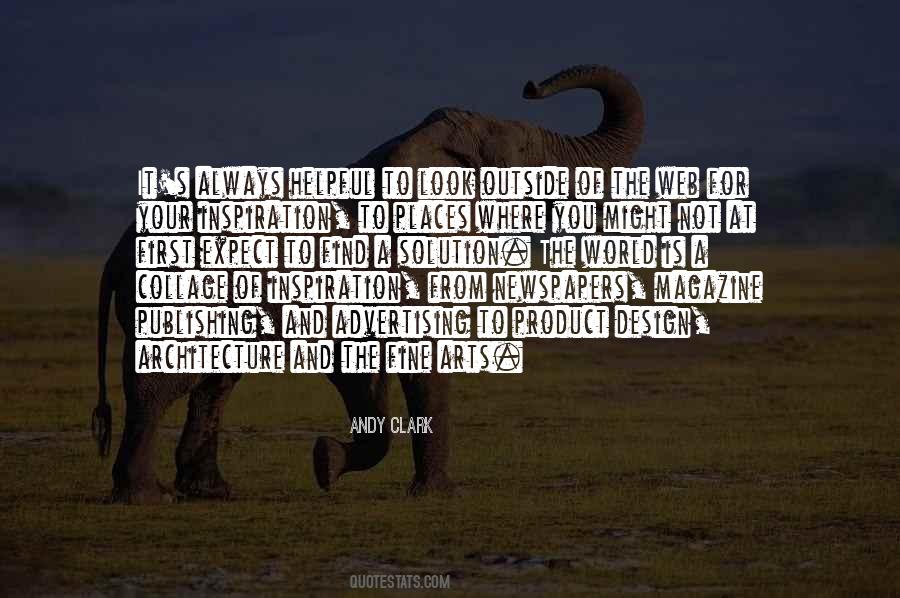 #82. There are a lot of designers who think they understand technology and a lot of technology guys who think they understand design. But to put them together and make it robust and repeatable for the mass market? It's an art. - Author: Tony Fadell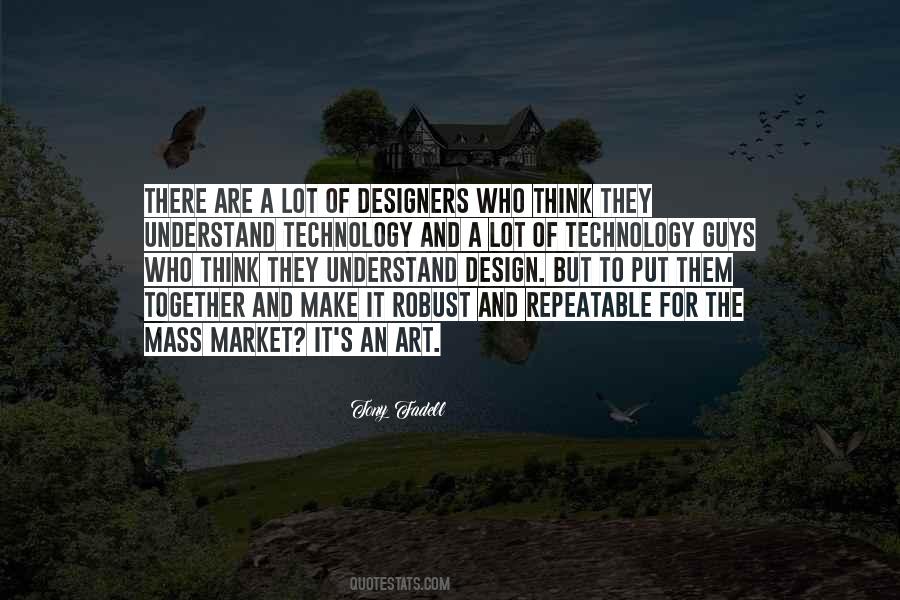 #83. The fusion of art and technology that we call interface design. - Author: Steven Johnson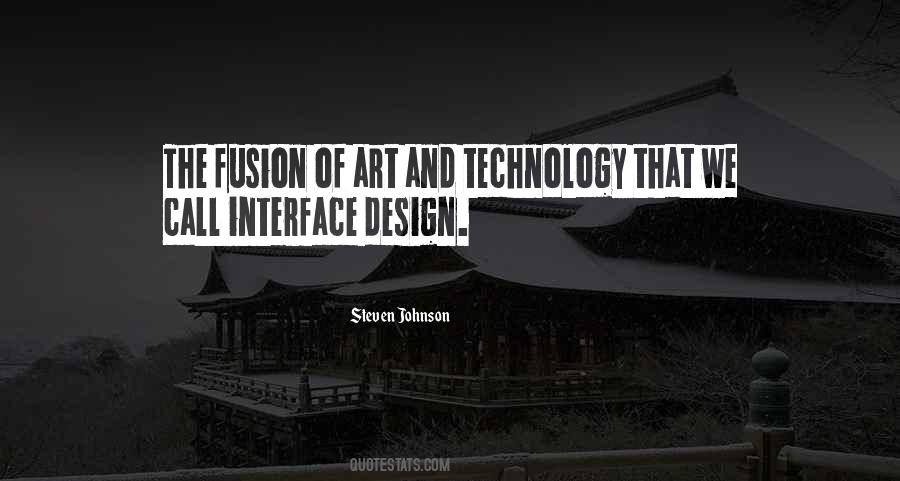 #84. I attended Art & Design High School, and at one point, you had to write about what you wanted to be when you grew up. I wrote that I wanted to be a writer for 'Mad' magazine. - Author: Amy Heckerling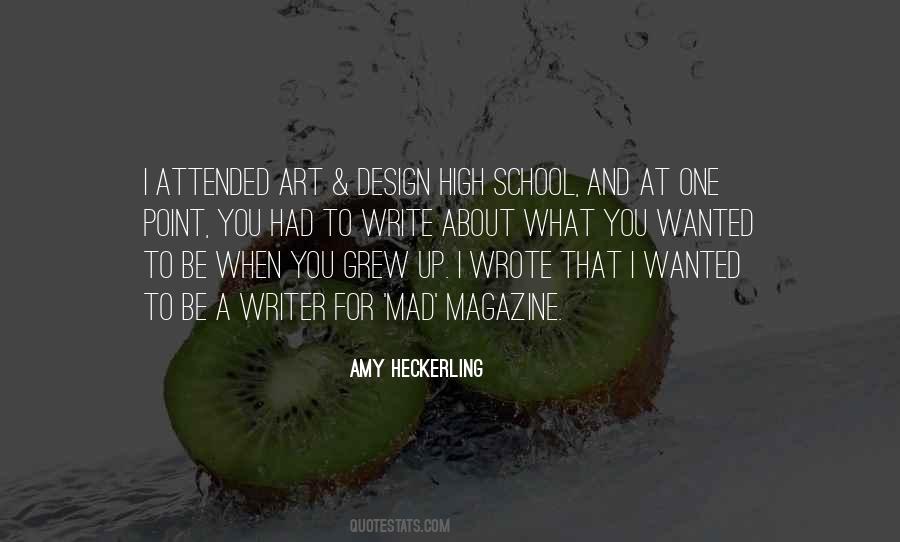 #85. Although my art work was heavily informed by my design work on a formal and visual level, as regards meaning and content the two practices parted ways. - Author: Barbara Kruger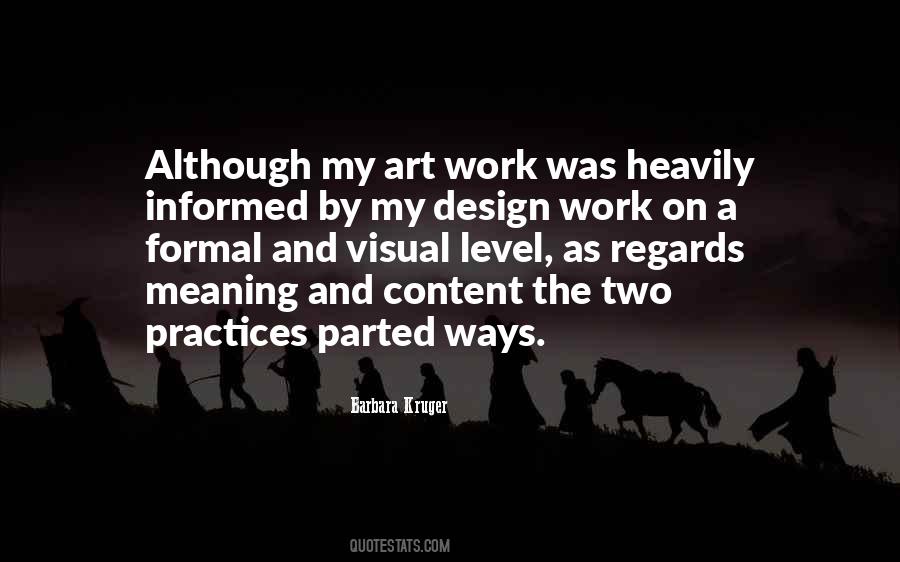 #86. Art has to move you and design does not, unless it's a good design for a bus. - Author: David Hockney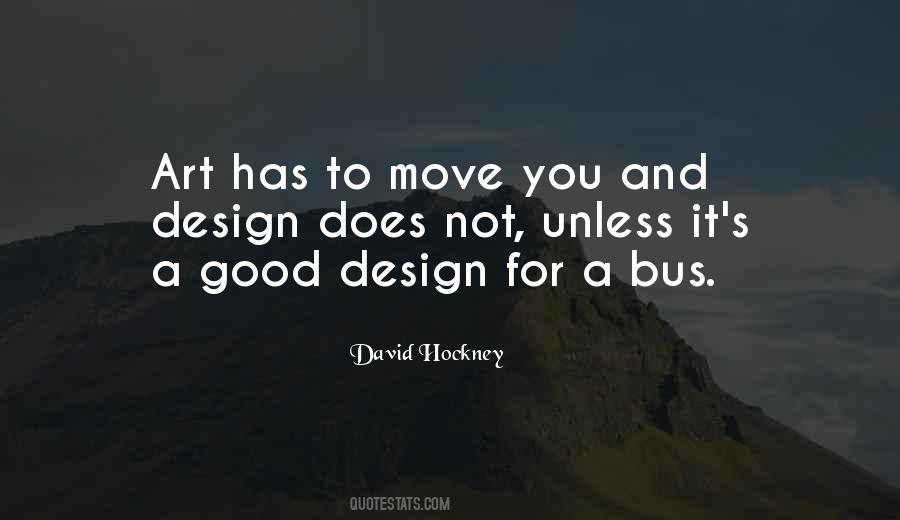 #87. Art has definitely influenced how I think of design, both as individual items and as a body of work. - Author: Cynthia Rowley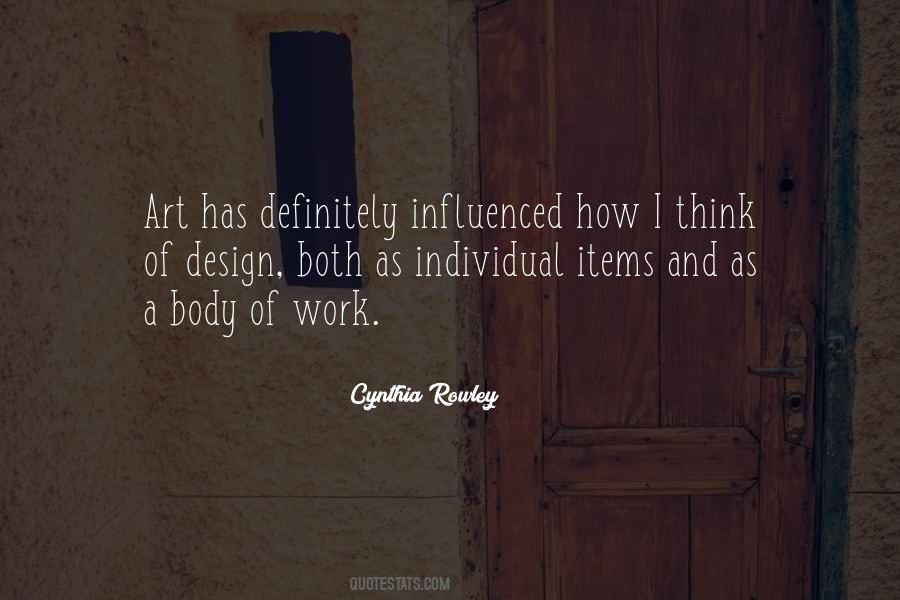 #88. If I make a painting, it should be seen for what it's set out to do too. A lot of the things that I do, it's not all art. Some of it's design, some of it's illustration, some of it's graphics, some of it's concept, some of it's business and some of it, hopefully, is art. - Author: Ken Done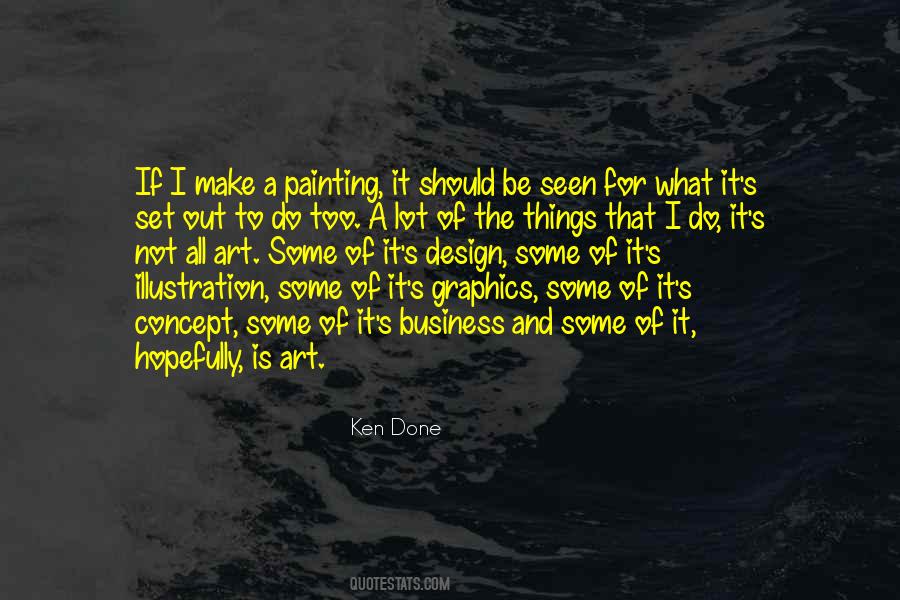 #89. Instead of chasing the idea of truth, what we should be doing is embracing the medium of drawing and using it for a purpose that fulfils our needs as an artist or designer. - Author: Peter Stanyer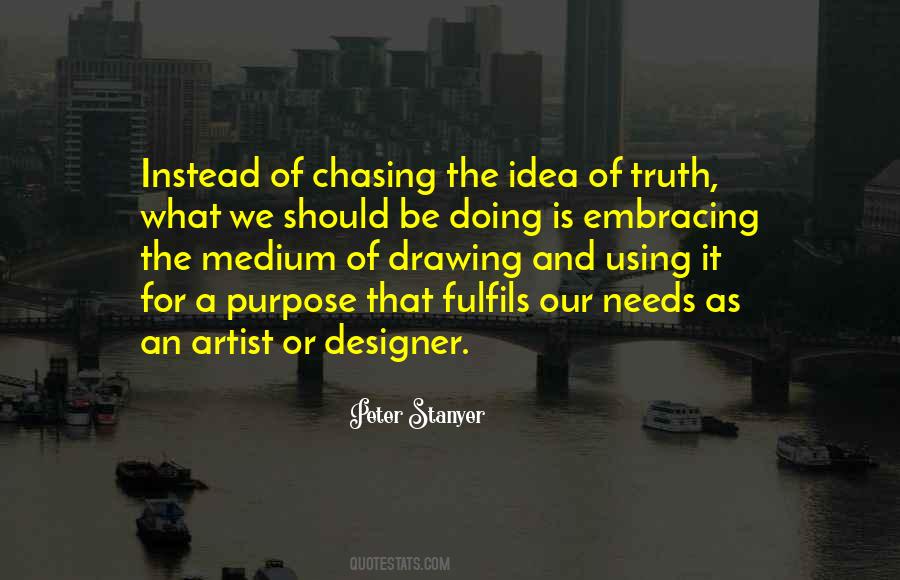 #90. The modern scene in decoration is not a unified or controlled one. The unified control of the arts during the reign of Louis XIV no longer exists; today the designer is free to achieve a wider variety and more personal approach to the interior. - Author: Van Day Truex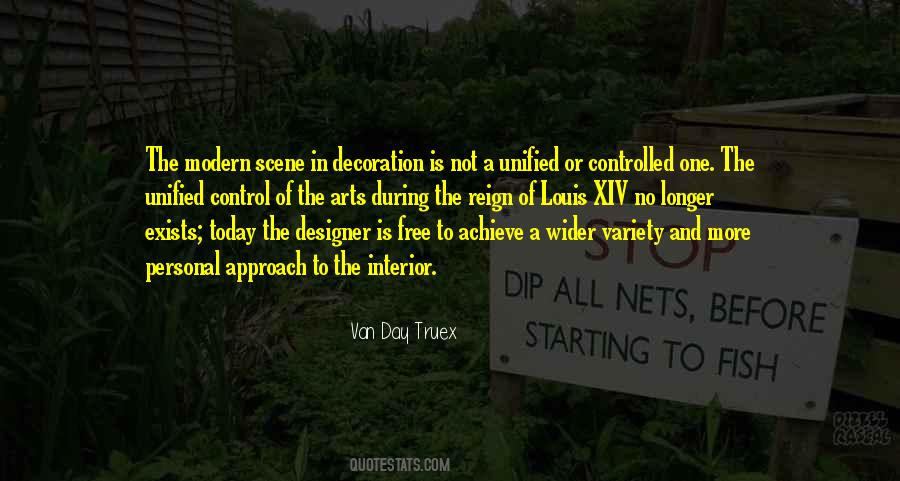 #91. I went to art and design high school with a lot of people taking fashion. They would get up in the morning, and what they put on meant a lot to them. - Author: Amy Heckerling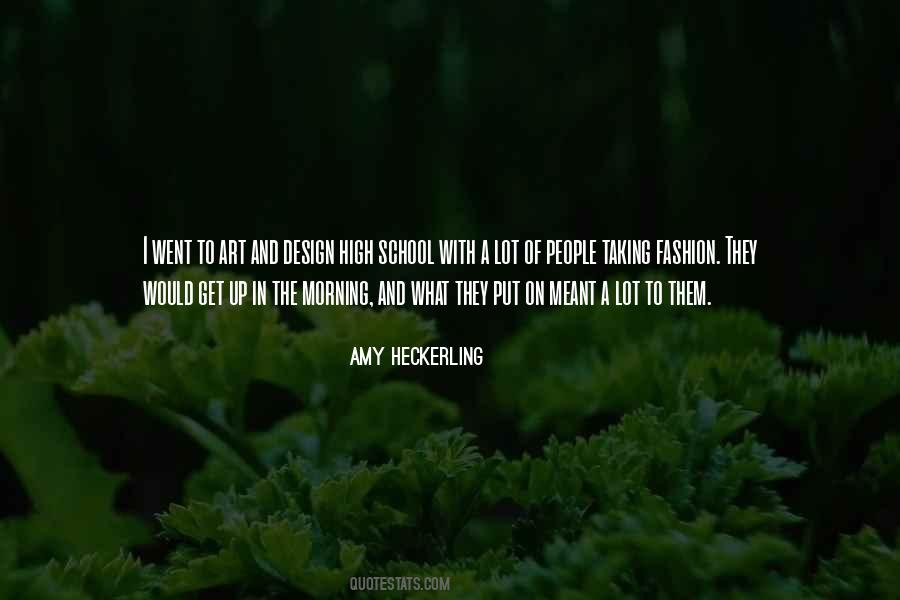 #92. Art is an idea that has found its perfect visual expression. And design is the vehicle by which this expression is made possible. Art is a noun, and design is a noun and also a verb. Art is a product and design is a process. Design is the foundation of all the arts. - Author: Paul Rand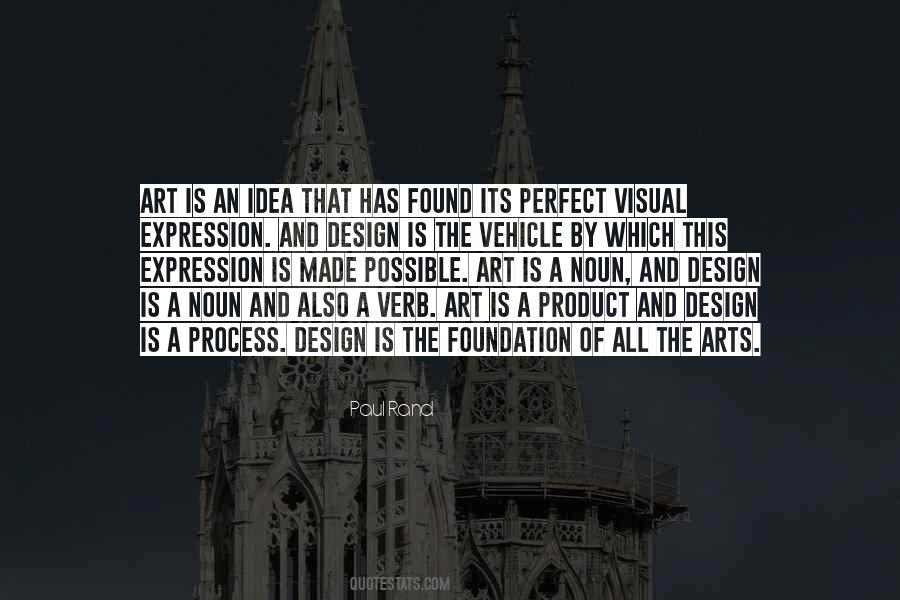 #93. When you take technology and mix it with art, you always come up with something innovative. - Author: Robert Rodriguez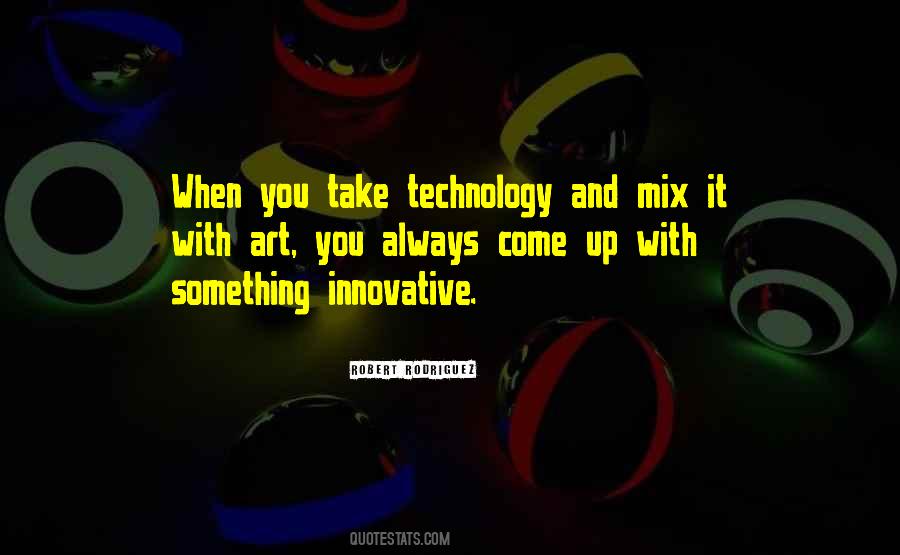 #94. A certain man placed a fountain by the wayside, and he hung up a cup near to it by a little chain. He was told some time after that a great art-critic had found much fault with its design. 'But,' said he, 'do many thirsty persons drink at it? - Author: Charles Haddon Spurgeon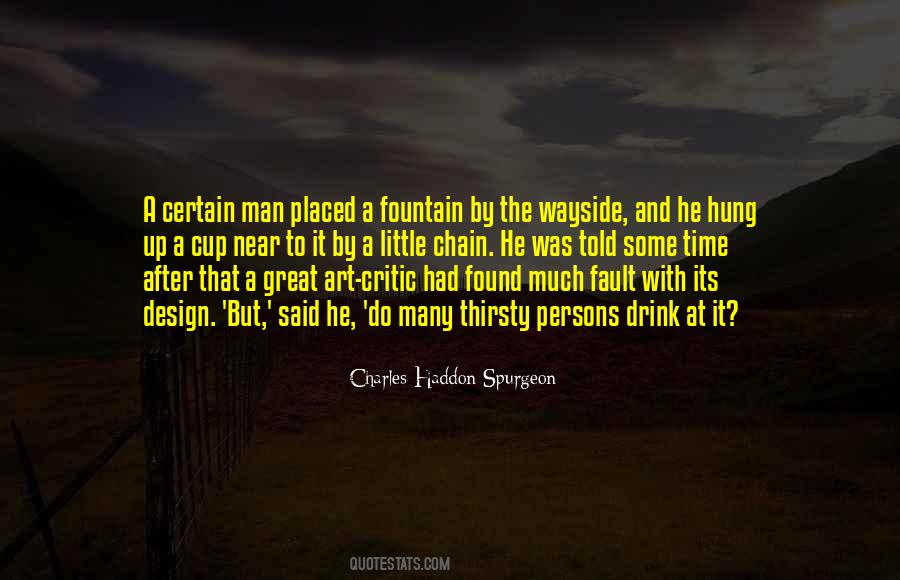 #95. For his major contributions to the analysis of algorithms and the design of programming languages, and in particular for his contributions to the "art of computer programming" through his well-known books in a continuous series by this title. - Author: Donald Knuth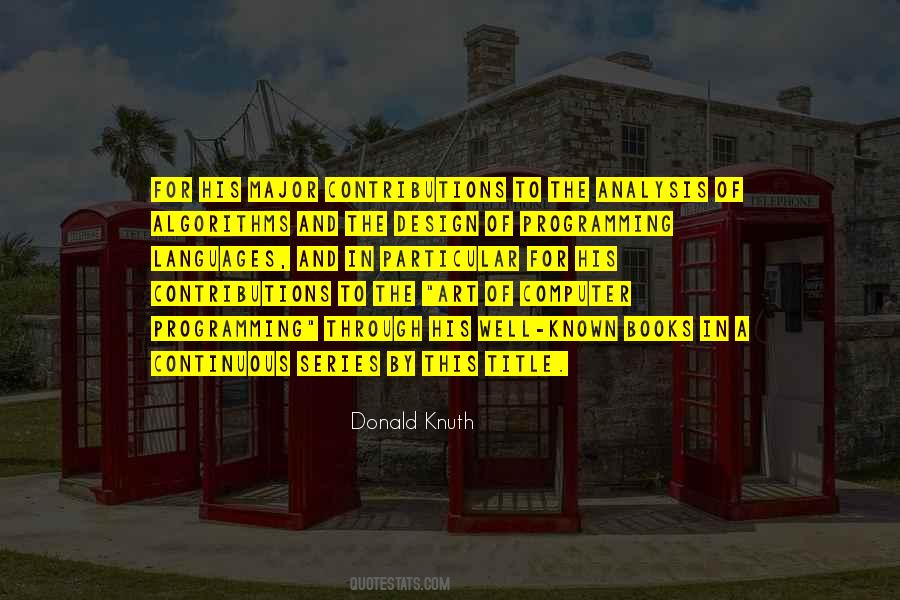 #96. A man that steps aside from the world and has leisure to observe it without interest and design, thinks all mankind as mad as they think him. - Author: E. F. L. Wood, 1st Earl Of Halifax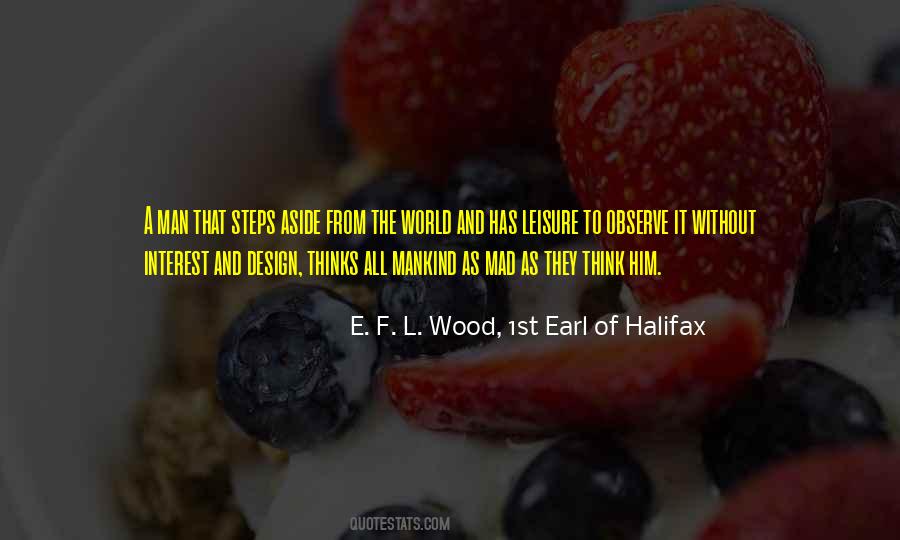 #97. I am honoured to be associated with a brand like Movado. It believes in the art of design and is known for its perfection worldwide. I have strong faith in the pursuit of perfection. I am looking forward to a long association. - Author: Harbhajan Singh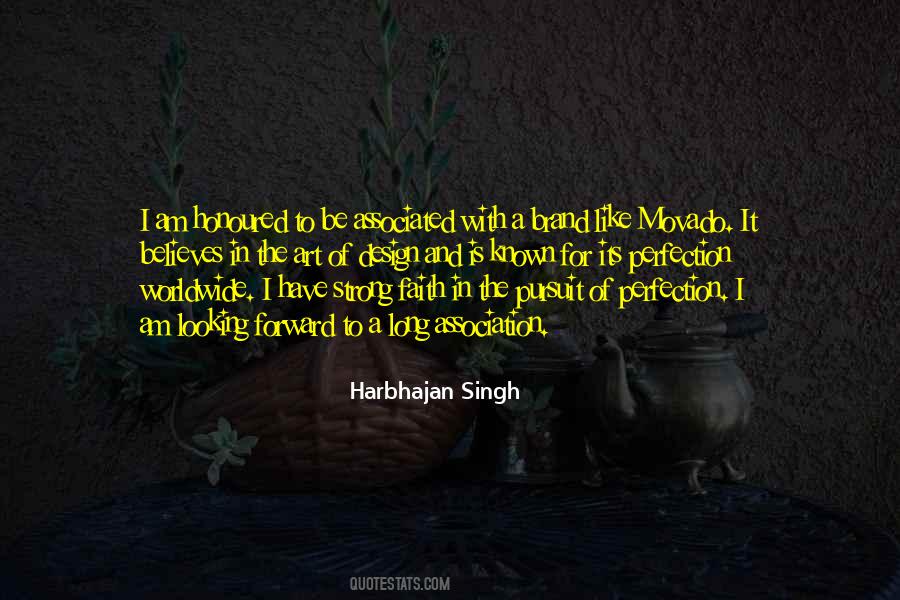 #98. I design all my sets. With my tour and my album artwork, I co-design that with people who are better at drawing than me. But I've got a good imagination. I went to art school so I understand how to communicate my ideas. - Author: Paloma Faith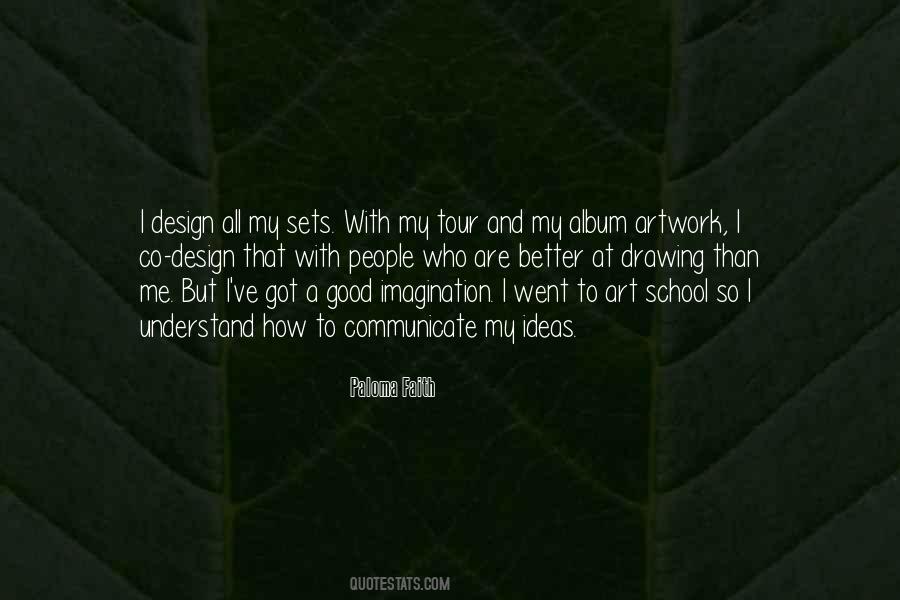 #99. Few developments central to the history of art have been so misrepresented or misunderstood as the brief, brave, glorious, doomed life of the Bauhaus - the epochally influential German art, architecture, crafts, and design school that was founded in Goethe's sleepy hometown of Weimar in 1919. - Author: Martin Filler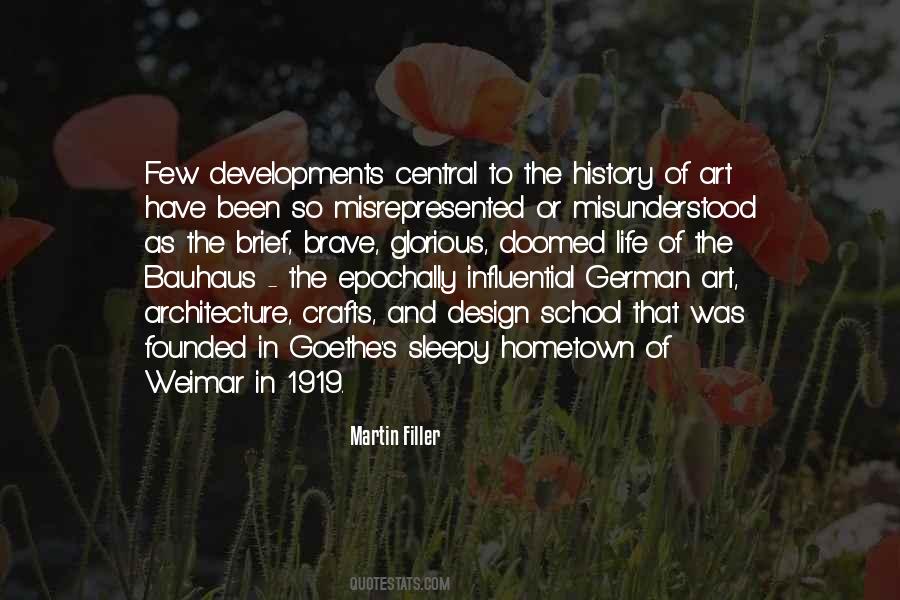 #100. Just as physical laws apply to Christians and non-Christians alike (Matthew 5:45), the laws of art apply universally. Aesthetic principles, no less than scientific principles, are grounded in the created order and are a manifestation of God's design. - Author: Gene Edward Veith Jr.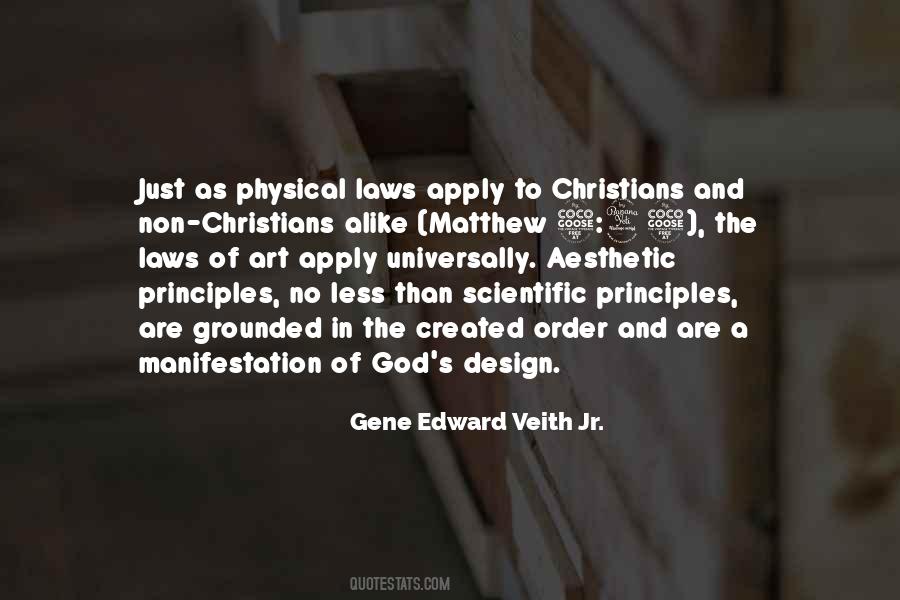 Famous Authors
Popular Topics