List of top 100 famous quotes and sayings about a world without love to read and share with friends on your Facebook, Twitter, blogs.
Top 100 Quotes About A World Without Love
#1. My heart longs for the day when there will be no more suffering, no more hatred or violence, only love and a child will be able to grow up in a world without ever having to know the pain and anguish of an empty belly.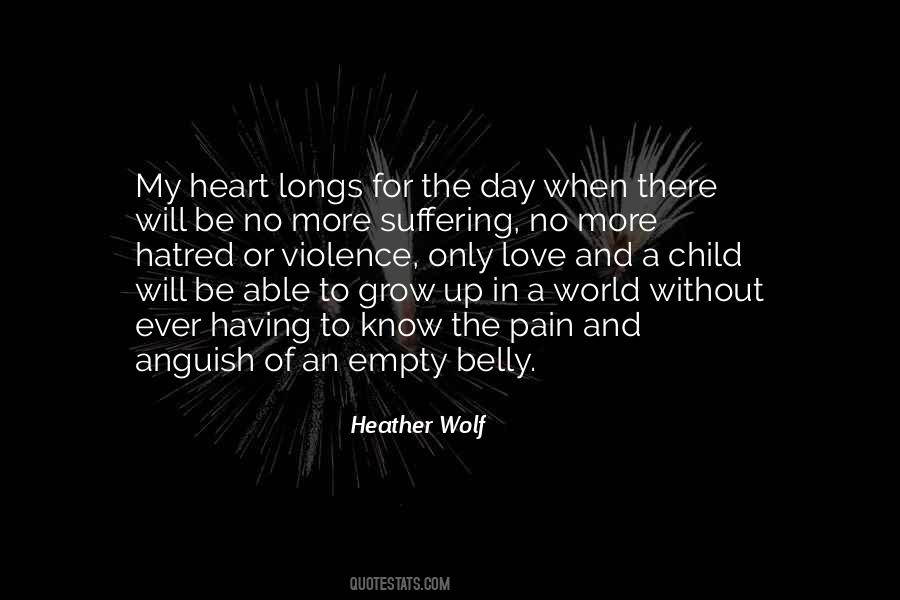 #2. Because when you love someone," she'd met my eyes and answered without a flicker in her confidence, "their world interests you more than your own.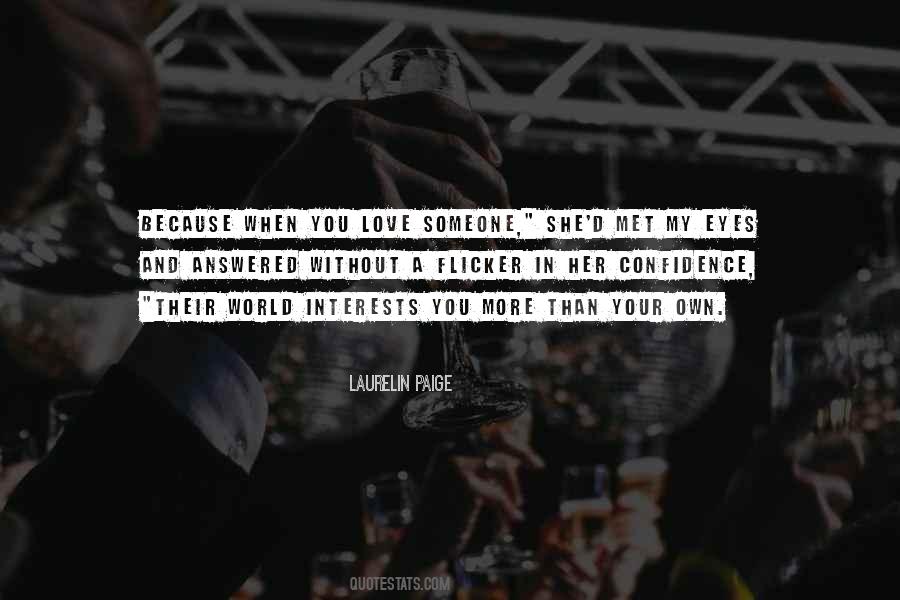 #3. When I look into his eyes, I could see without a doubt that he loved me more than anyone else in the world, that I was his salvation, the same way that he was mine.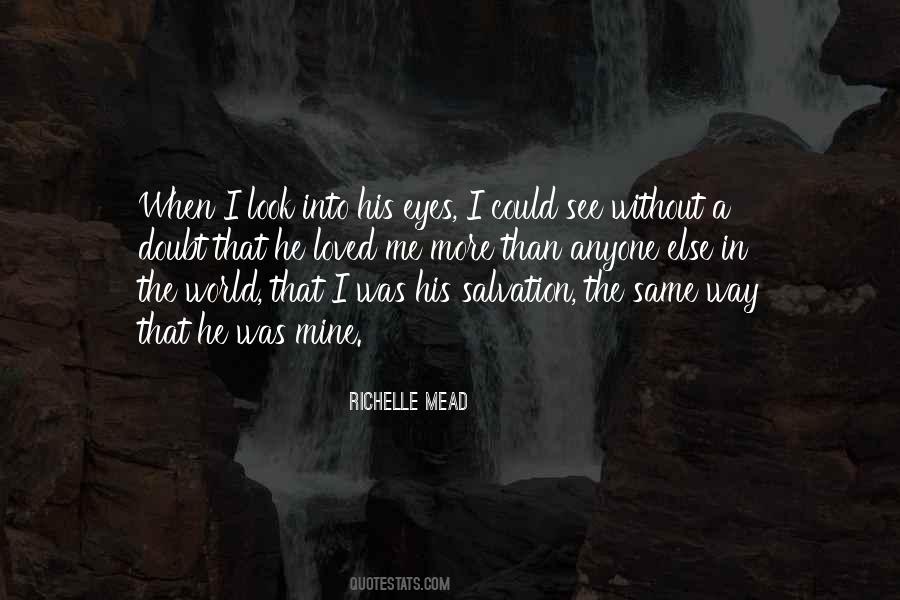 #4. I am inclined to think that nothing could matter more than what people love. At any rate, I can think of no value that I would place higher. I would not want to live in a world without love.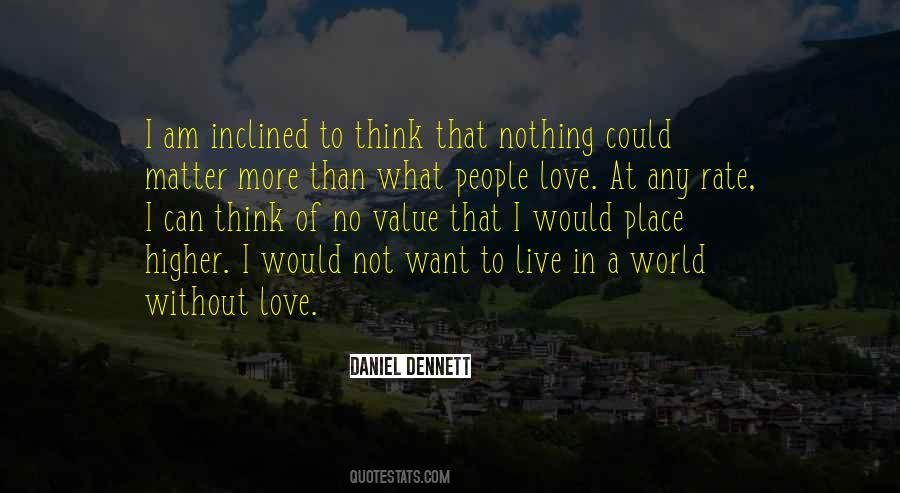 #5. I fall in love with contradictions without understanding. I can't really portray them unless I do. So in a roundabout way I have to fall in love, it's my duty. If love is about understanding and understanding is compassion and compassion is love, I have to have compassion towards the world.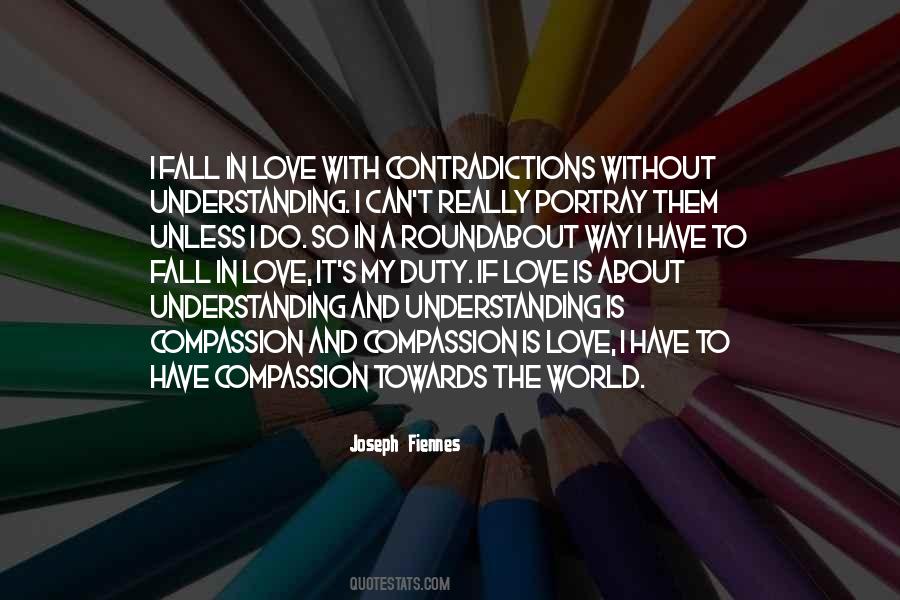 #6. I love the energy of an independent film set. No one is there for the money. Everyone is there 'cause they really want to be there. It makes all the difference in the world. It's without ego and agenda, other than just wanting to fulfill a creative dream.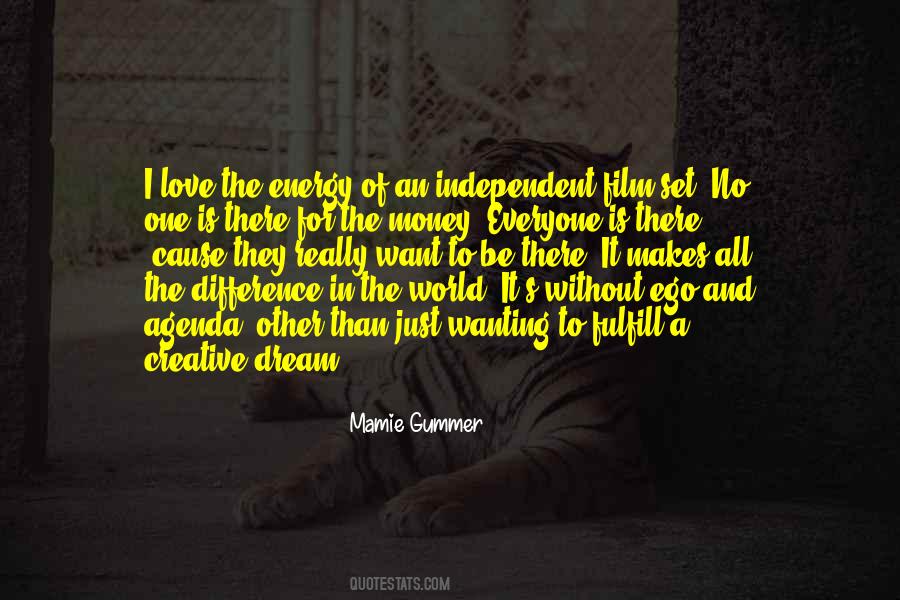 #7. Without a safe haven, one of the most authentic parts of who you are, who you love, felt invisible to the world.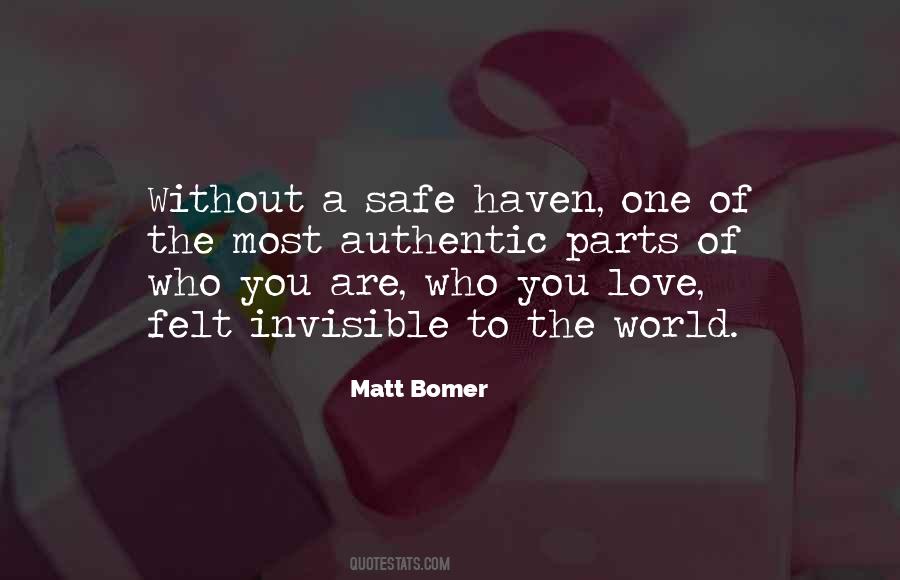 #8. Love has a heavy load of possibilities. You can't have it without some measure of pain. They go together with an inseparable bond in this world. But it's worth it. I promise you, the treasure is worth the pain.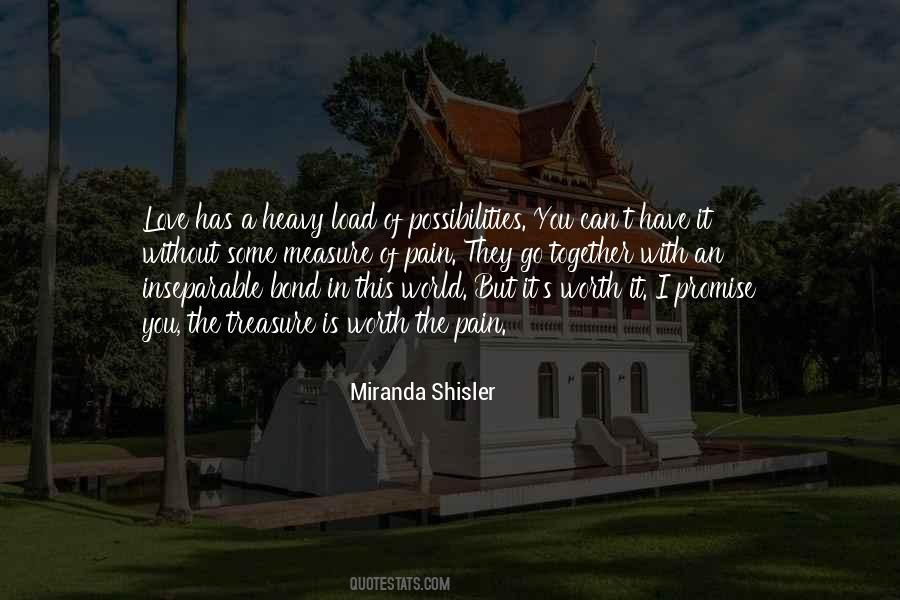 #9. Let the disciple cultivate love without measure towards all beings. Let him cultivate towards the whole world, above, below, around, a heart of love unstinted ... For in all the world this state of heart is best.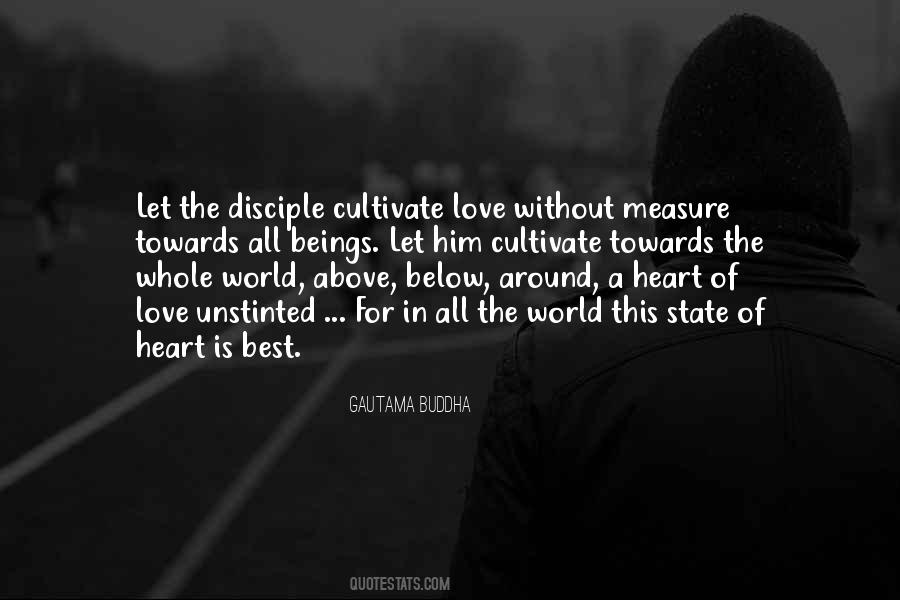 #10. Money by Martin Amis. I read it when I was 15, I read it hundreds of times since then and it always makes me laugh. Amis has managed to create a world that is both funny and abrasive. I'd love to play John Self, the depraved hero, who's without illusions, he created.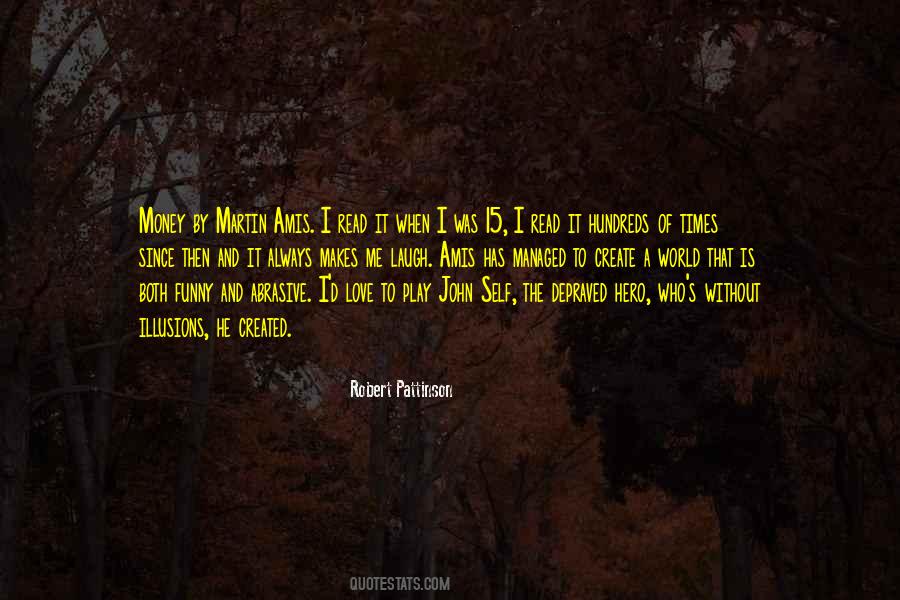 #11. The world is not a pleasant place to be without someone to hold and be held by.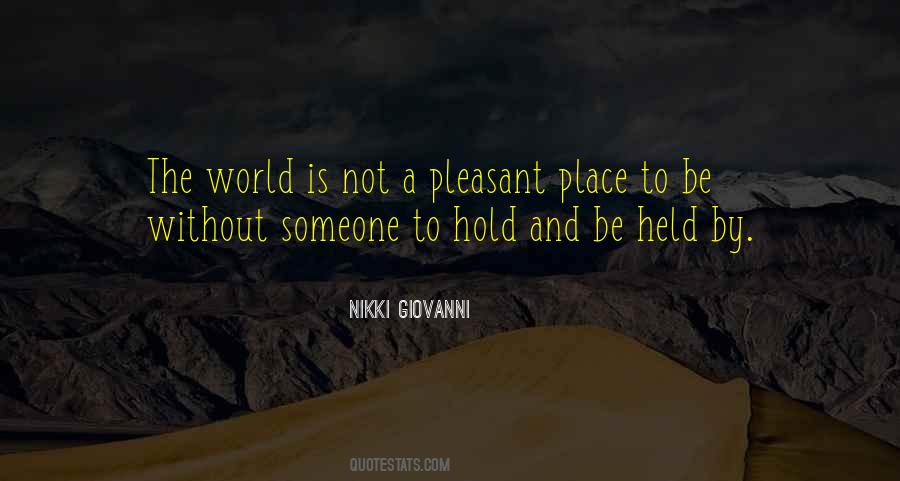 #12. Love never comes just a little bit at a time, I thought, as I watched him, absorbed in contemplation of the Virgin. The previous day, the world made sense, even without love's presence. But now we needed each other in order to see the true brilliance of things.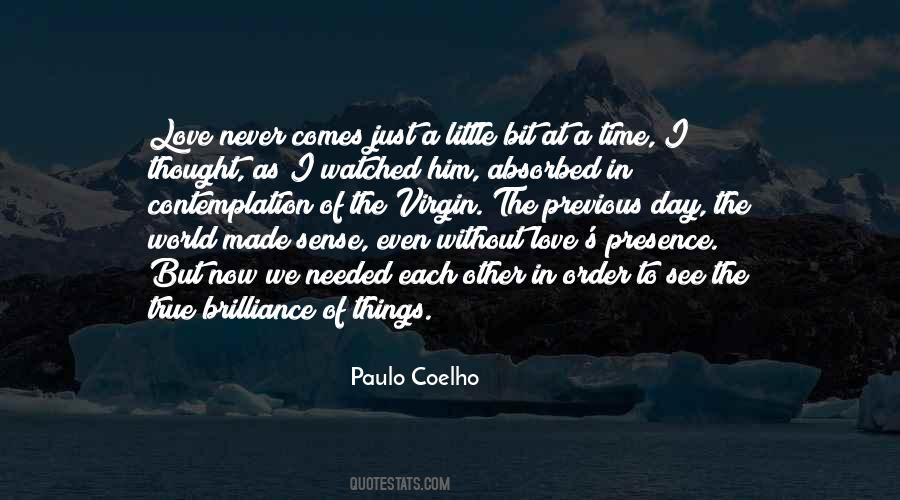 #13. Without the time, the world is only a static material; without the sense, the world is only a dead living system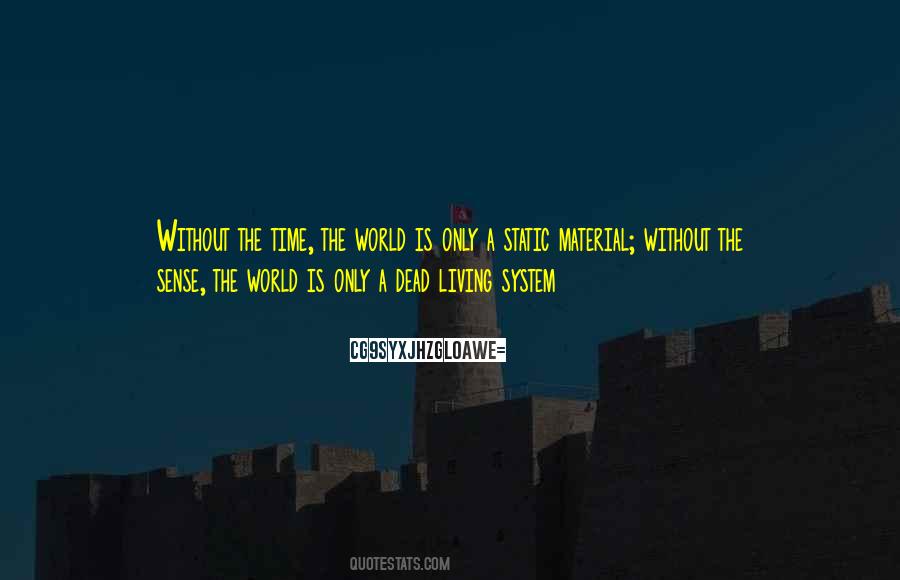 #14. I'll live to be one year younger, because I can't stand the idea of a world without you in it, and die buried beneath an avalanche of my own books.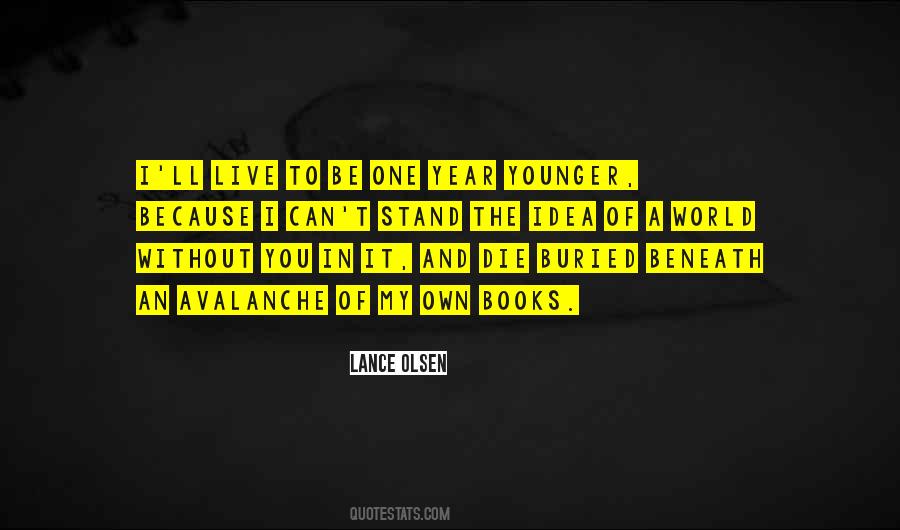 #15. That's the thing: We didn't really care. A world without love is also a world without stakes.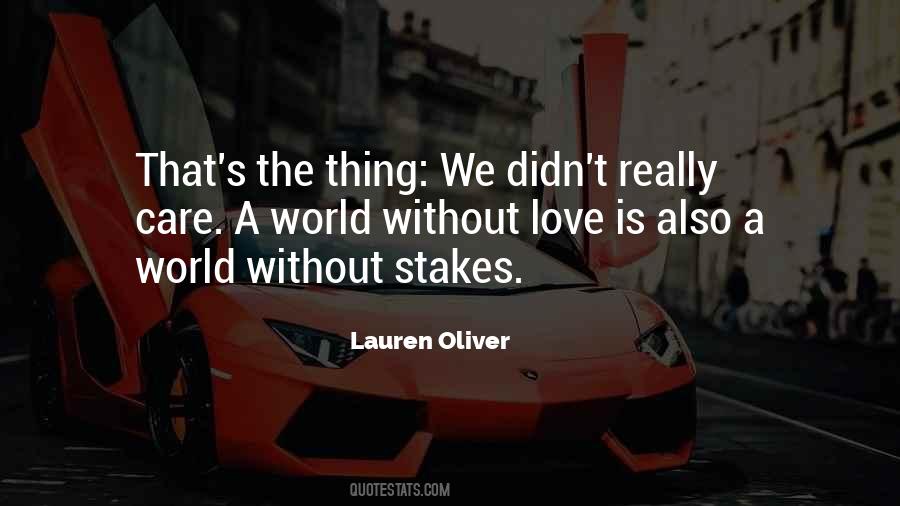 #16. In a world without love, this is what people are to each other: values, benefits, and liabilities, numbers and data. We weigh, we quantify, we measure, and the soul is ground to dust.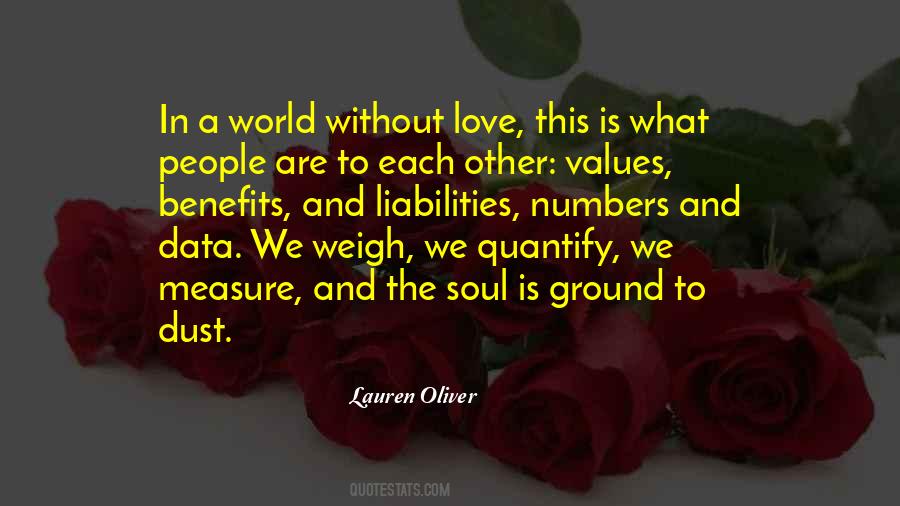 #17. To live without love for others is to live in aridity, to be self-serving and fruitless. To live without understanding is to live without sense or purpose. To live without awareness is to live as the deaf, blind and dumb in a world of vibrant light and sound.
#18. One of these days, I would love to exit a world without being pursued by an angry mob.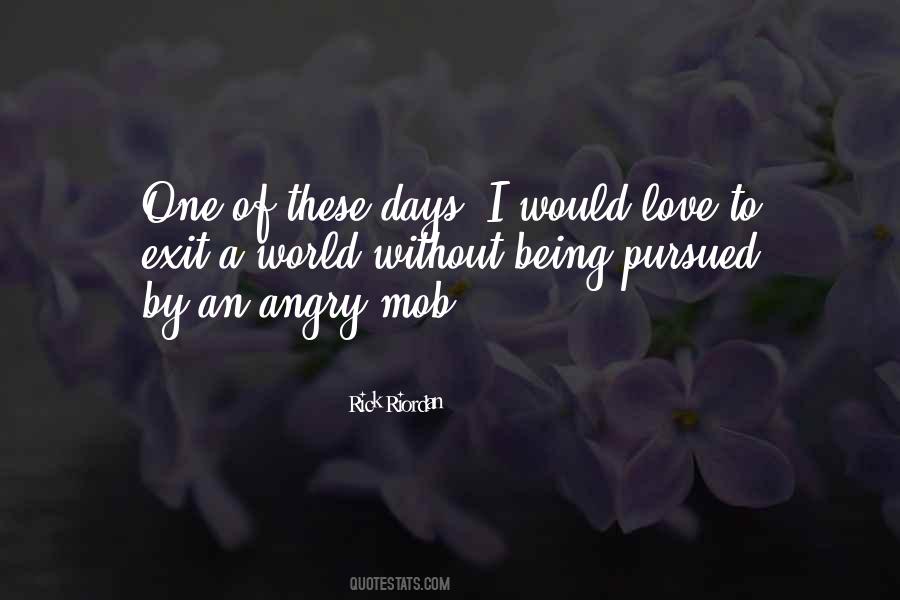 #19. She wept for her hardheadedness, and for a world that couldn't just let her be both, a woman in love and a woman with a career, without flares of guilt and self-doubt seeping in and wreaking havoc.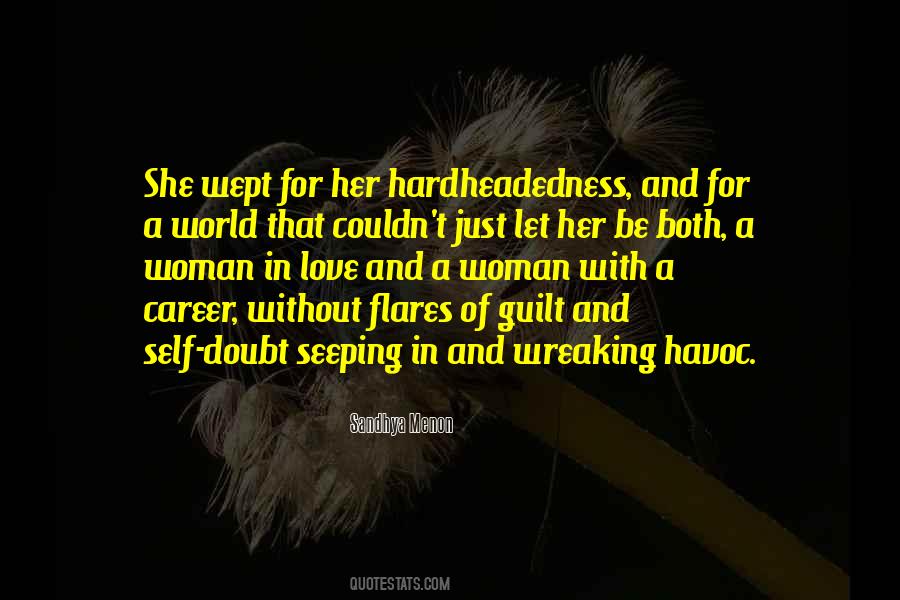 #20. We are here as a reminder that the world is not better off without you.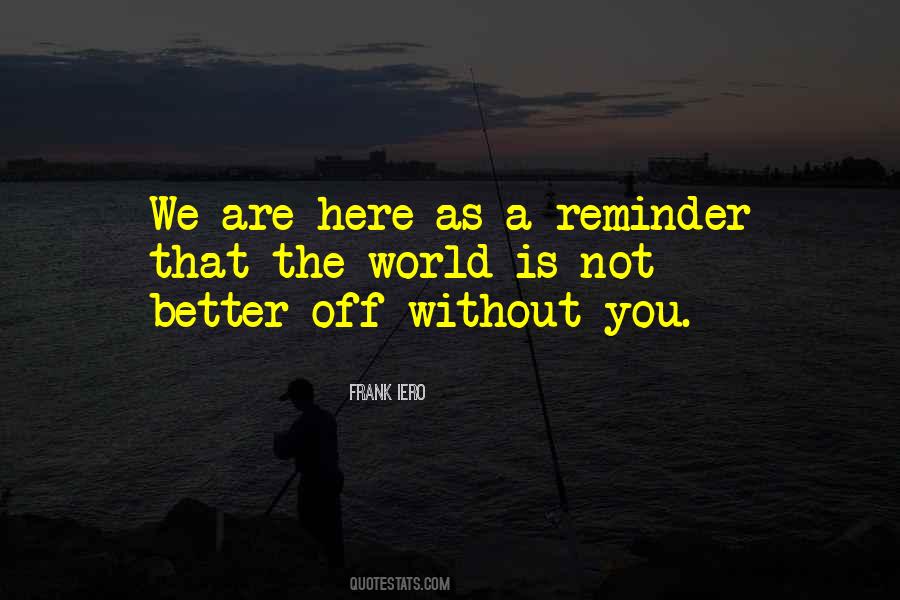 #21. Without suffering, there's no happiness. So we shouldn't discriminate against the mud. We have to learn how to embrace and cradle our own suffering and the suffering of the world, with a lot of tenderness.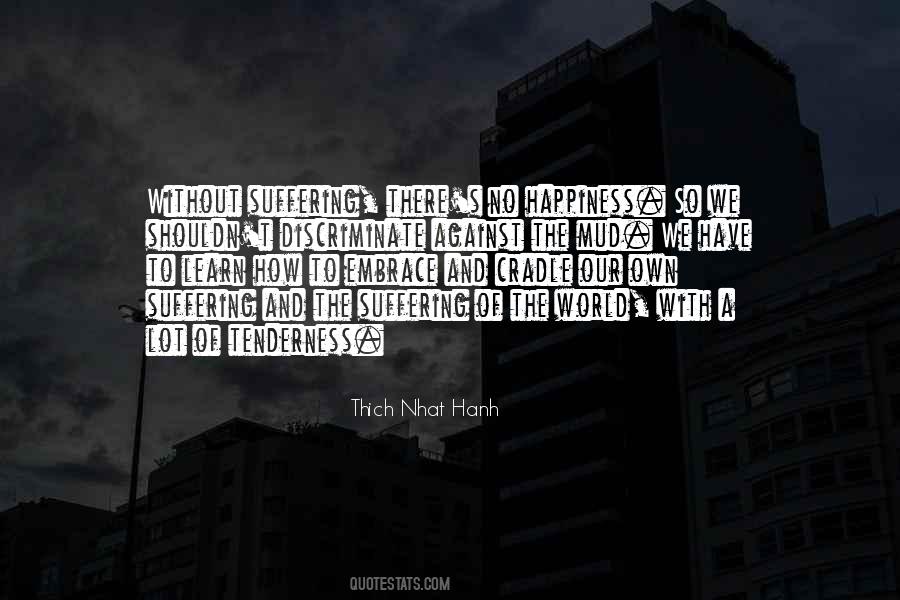 #22. I want to love and be loved ... I don't want a world without love or grief or beauty. I'd rather die.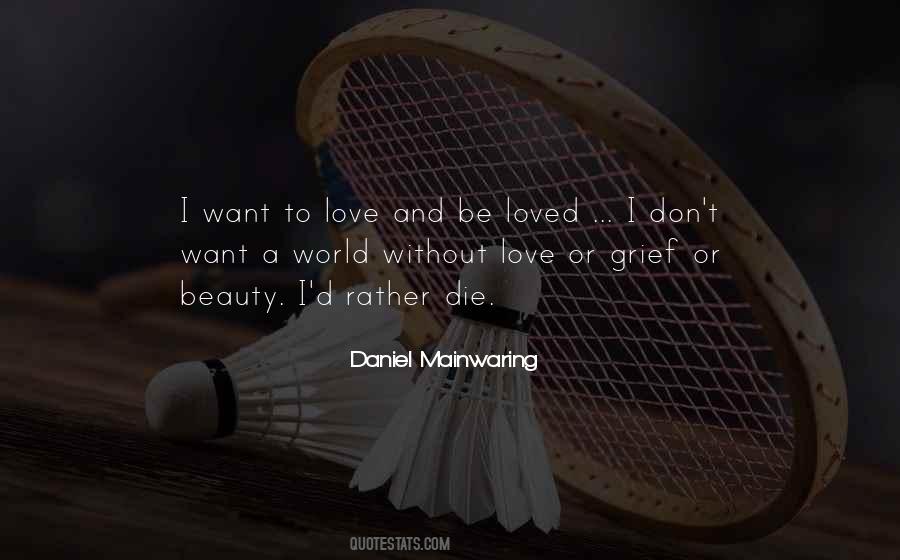 #23. To maintain and satisfy greed, one must support domination. And the world of domination is always a world without love.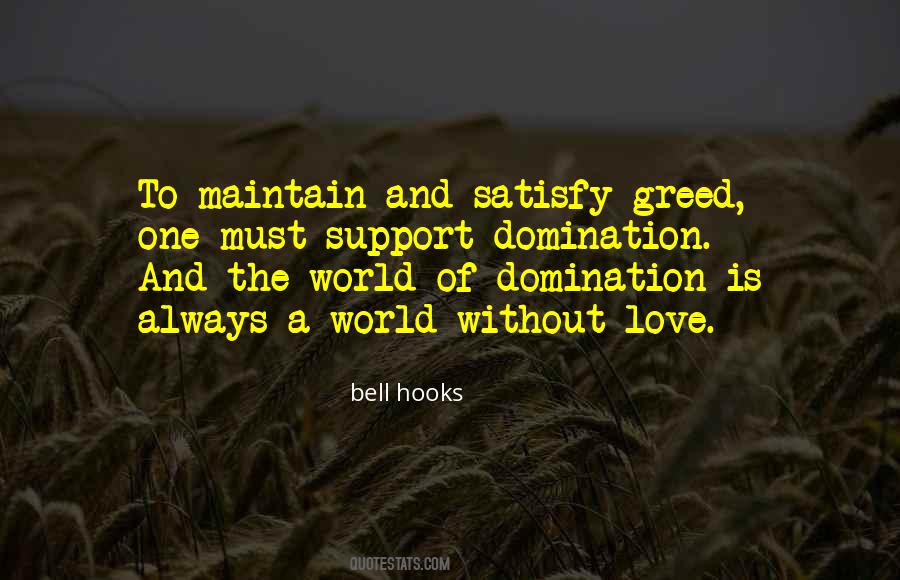 #24. Without the love of a woman, it is impossible to have a manly world.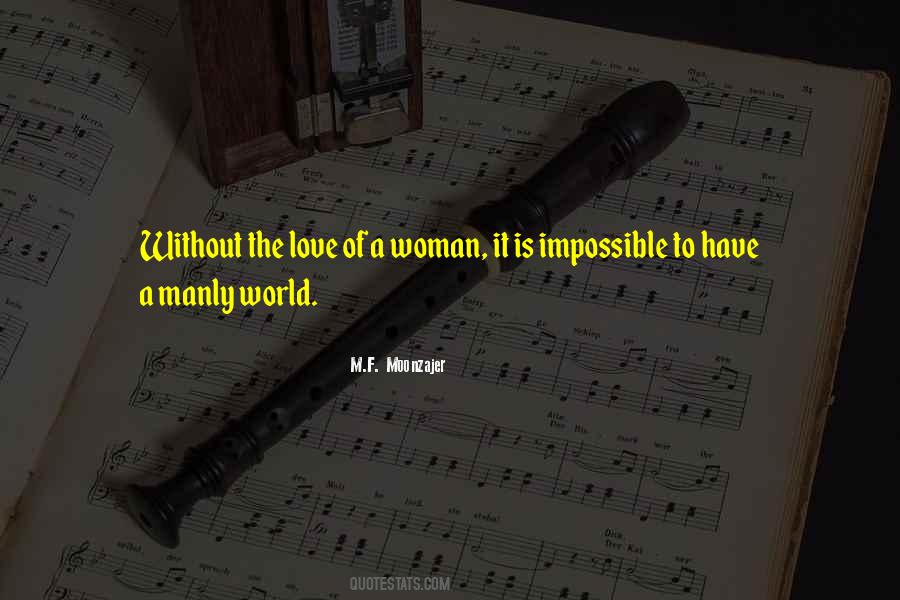 #25. The reinvention of the world without the reinvention of love is not a reinvention at all.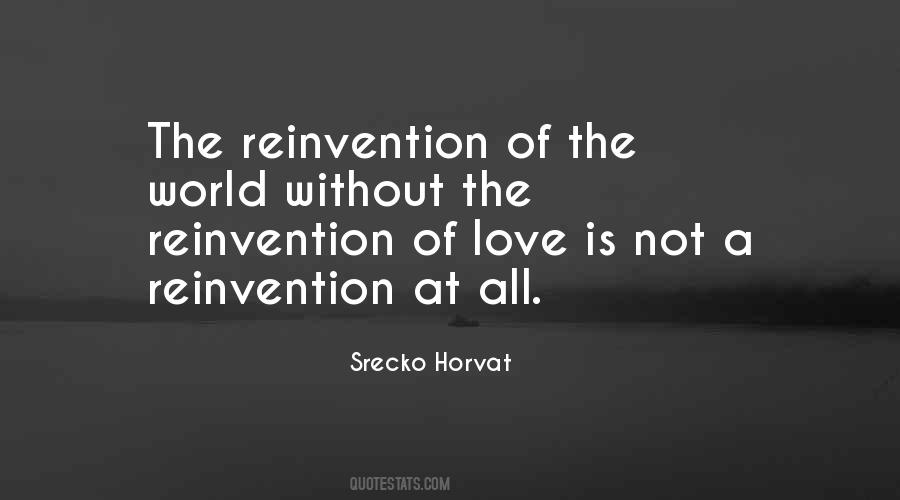 #26. What do you do when you're in love with the last man in the world you can have? You plan a life, a real life, without him.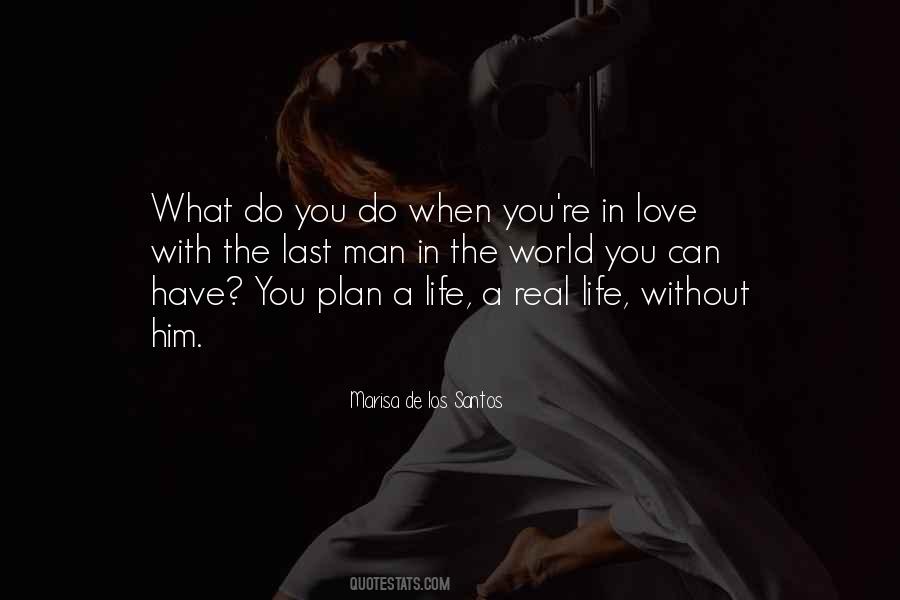 #27. Without hate no love exists,
Petra Hermans
A better world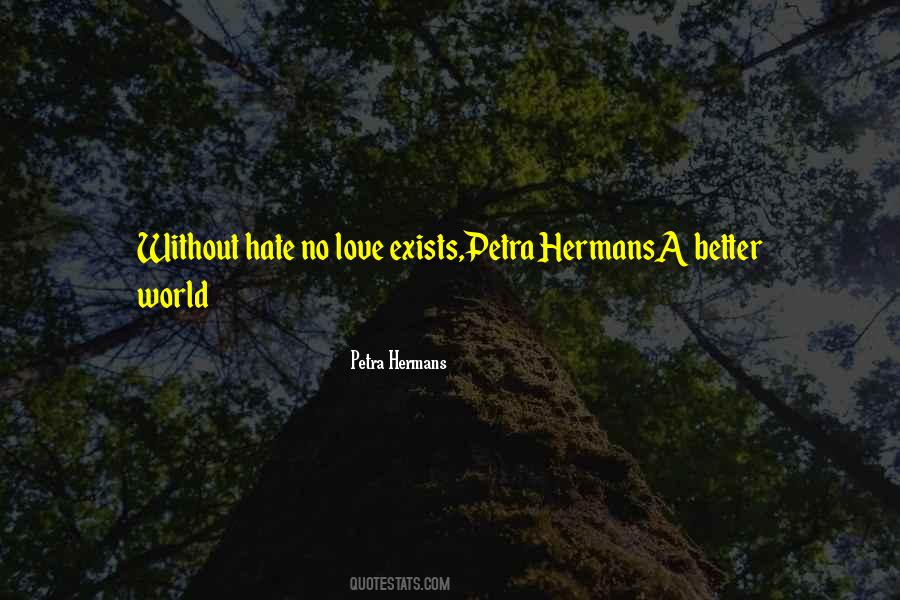 #28. The moment you function in the world without being concerned about what is happening to life around you, you are a Criminal.
#29. In a perfect world, you could fuck people without giving them a piece of your heart. And every glittering kiss and every touch of flesh is another shard of heart you'll never see again.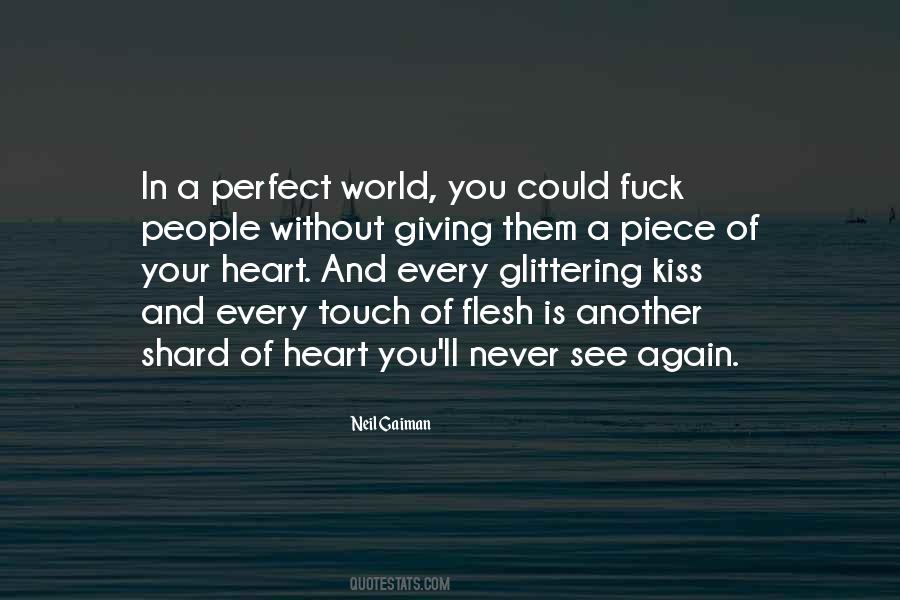 #30. What a frequency What a voice. I love Bilal. I couldn't imagine a music world without his voice.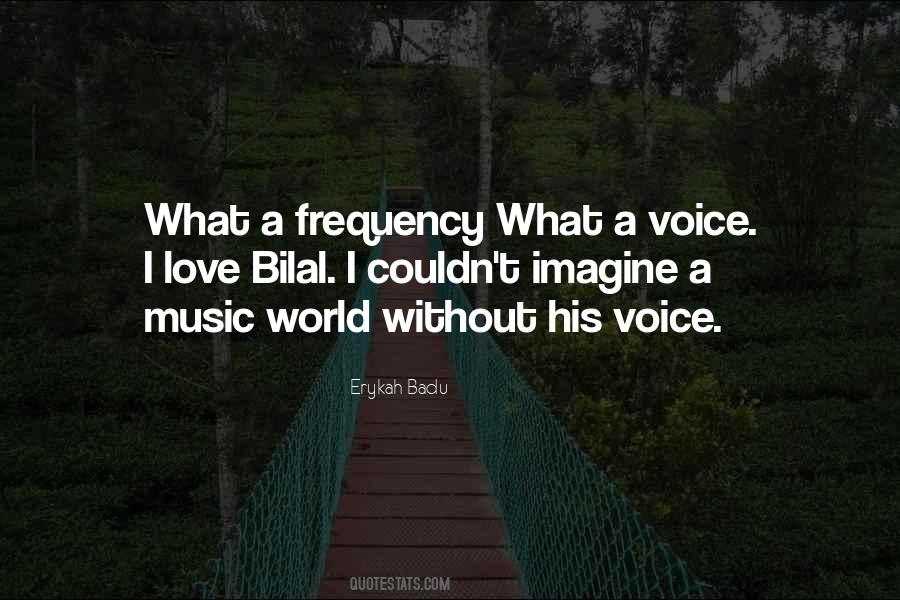 #31. You couldn't relive your life, skipping the awful parts, without losing what made it worthwhile. You had to accept it as a whole
like the world, or the person you loved.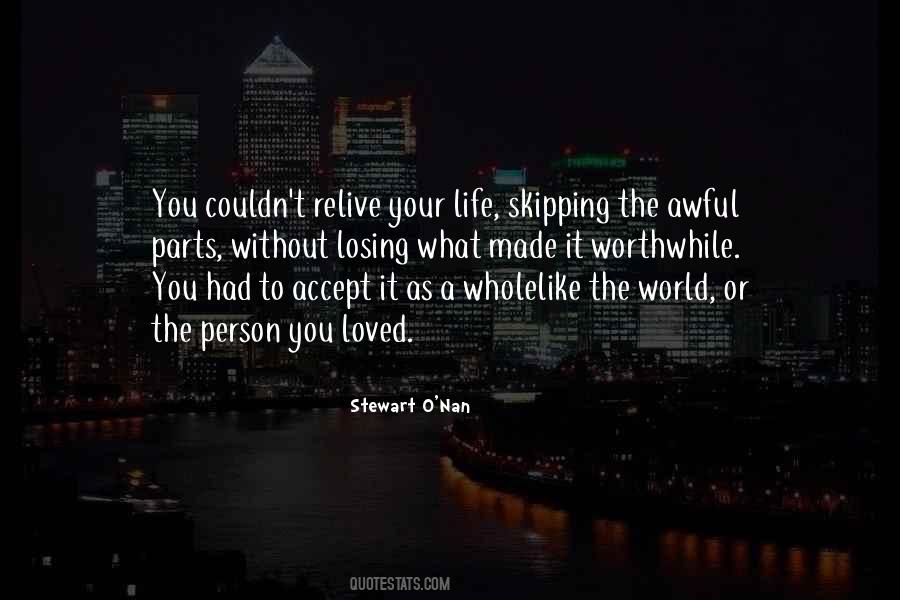 #32. Without mercy, we have little chance nowadays of becoming part of a world of 'wounded' persons in need of understanding, forgiveness, love.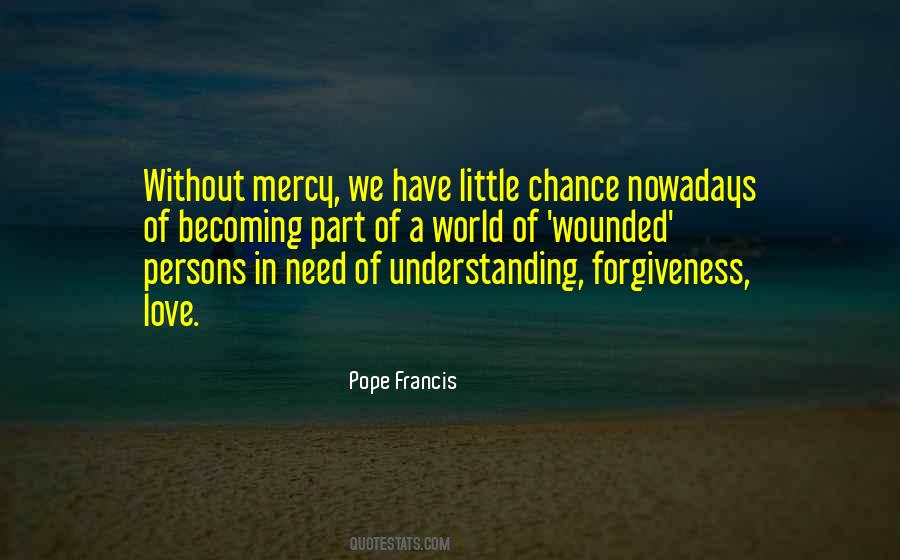 #33. Without love and kindness life is cold, selfish and uninteresting and leads to distaste for everything. With kindness, the difficult becomes easy, the obscure clear; life assumes a charm and it's miseries are softened. If we knew the power of kindness. we should transform the world into a paradise.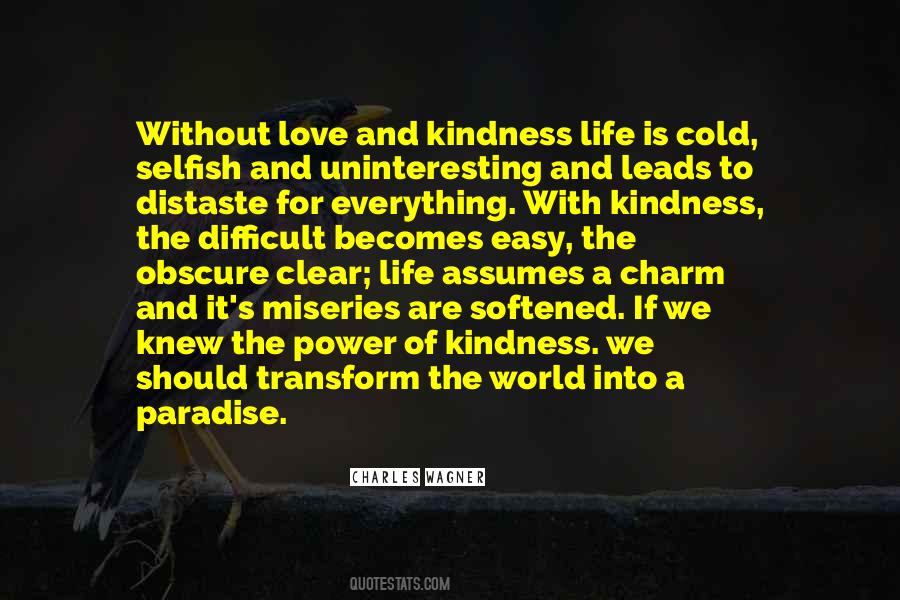 #34. Without love, the world would be a heap of ruins.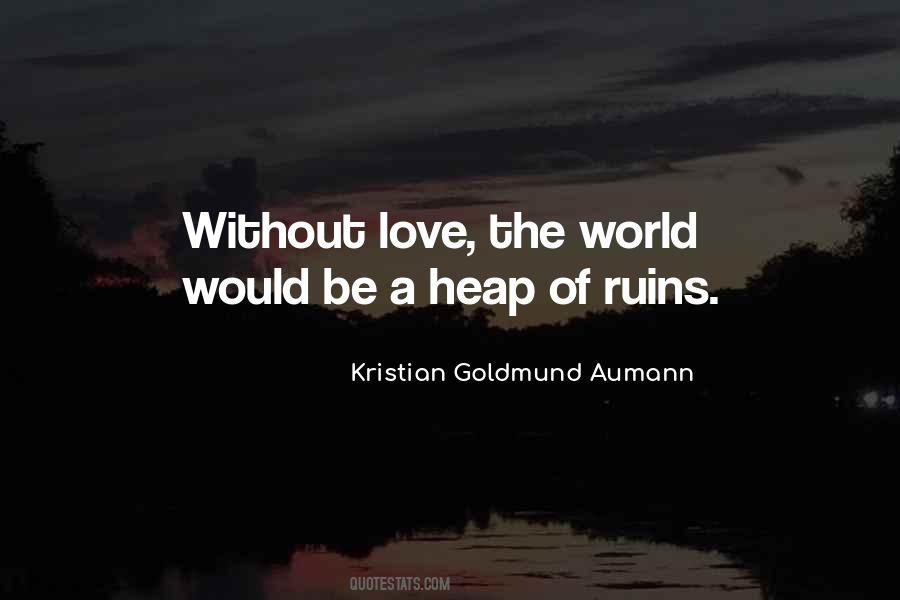 #35. A world without love is a deadly place.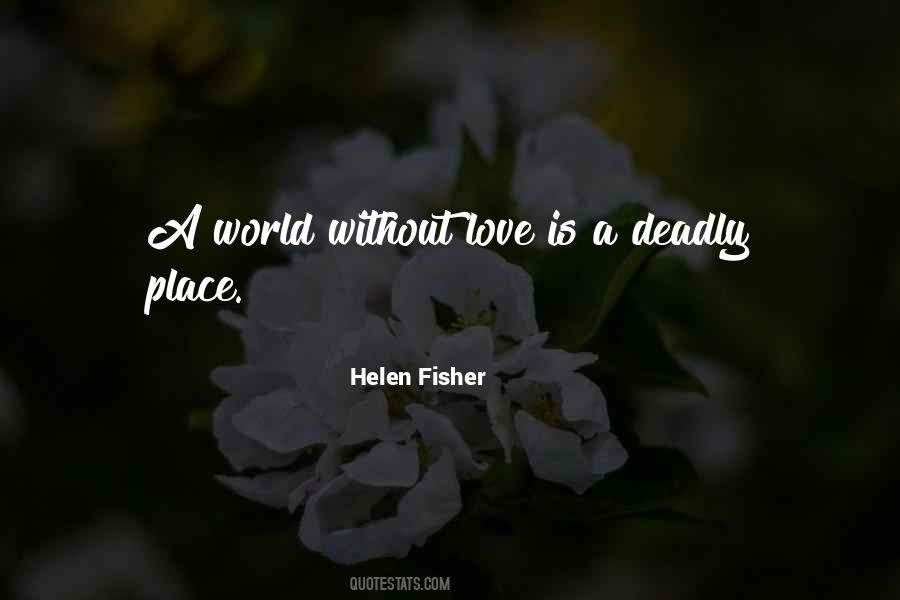 #36. I love what I do. I was given the most incredible gift that can be given to anyone. I could never imagine a world without music, and I feel grateful that I've been given the ability to share that.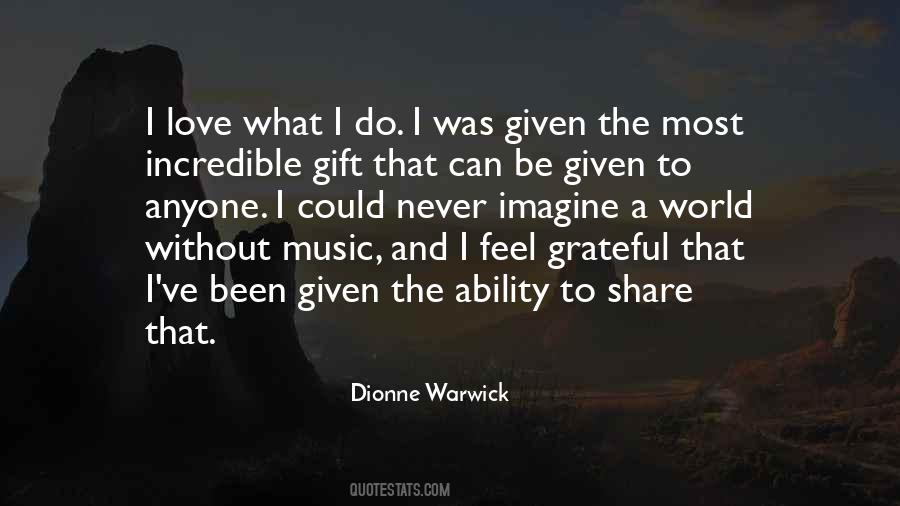 #37. To go through life without love is to travel through the world in a carriage with closed windows.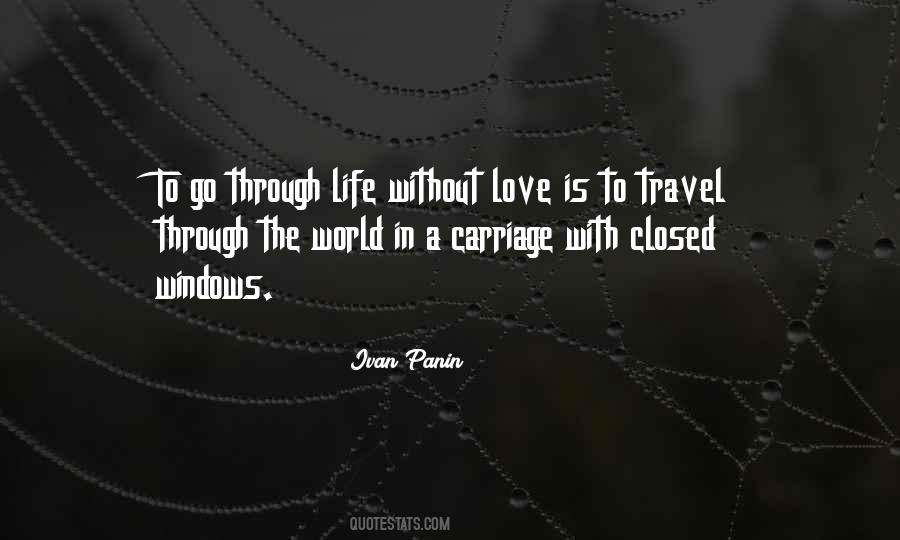 #38. She learned to love him before he thought it was even possible, so he didn't have a chance to hide & mess it up & while it was a little scary at times, mainly he could not even imagine the world without her there.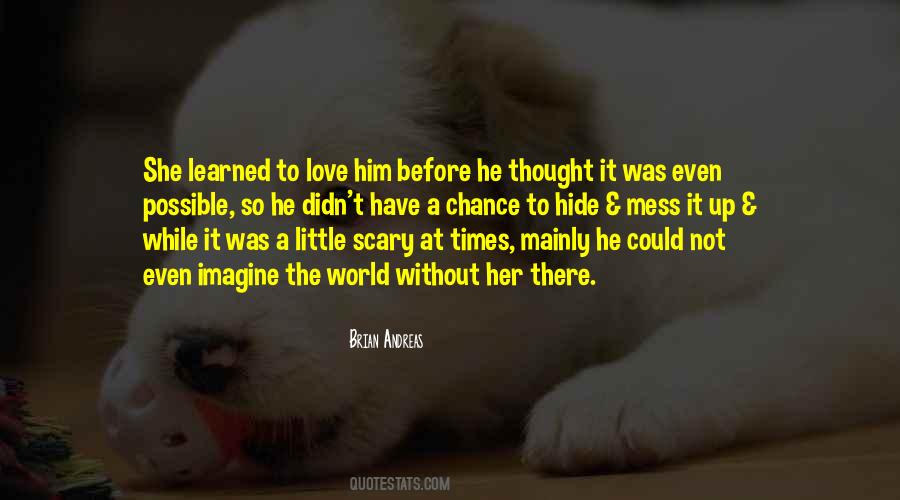 #39. A tiny home with love was better than a world without it.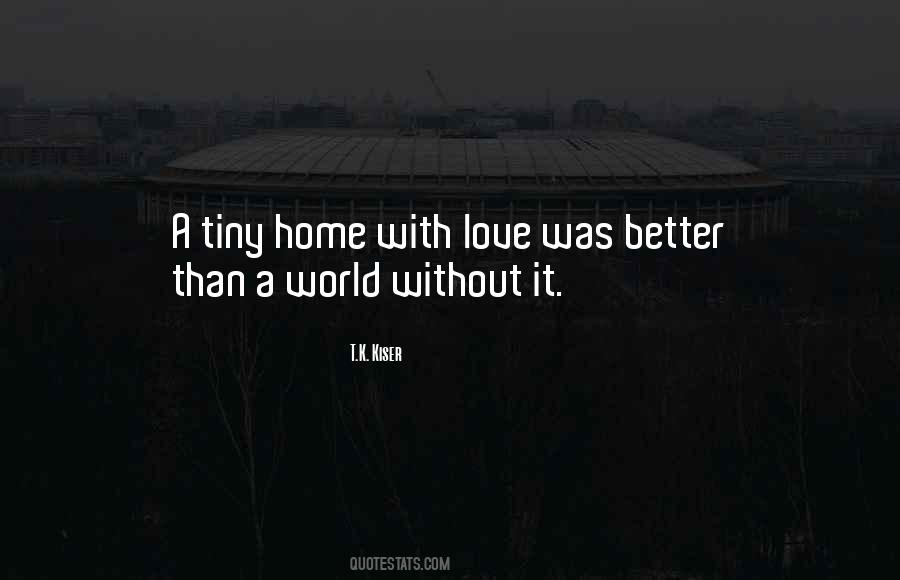 #40. The history of the world suggests that without love of God there is little likelihood of a love for man that does not become corrupt.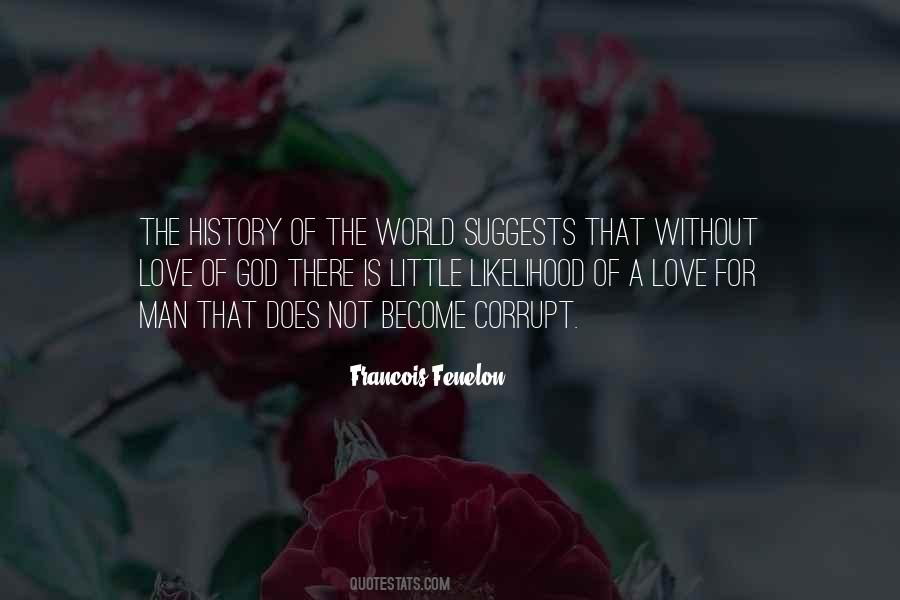 #41. I realize more than ever that this ministry has been a team effort. Without the help of our prayer partners, our financial supporters, our staff, and our board of directors - this ministry and all of our dreams to spread the Good News of God's love throughout the world would not have been possible.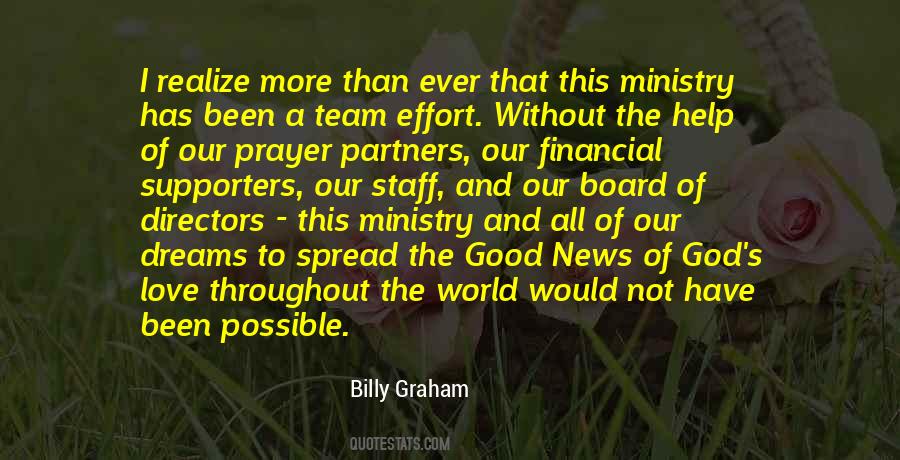 #42. Why are you hunting down Noah?"
Without hesitation, he gave me an answer that made the world tilt under my feet.
"He took a piece of you. I'm gonna find
him and get it back.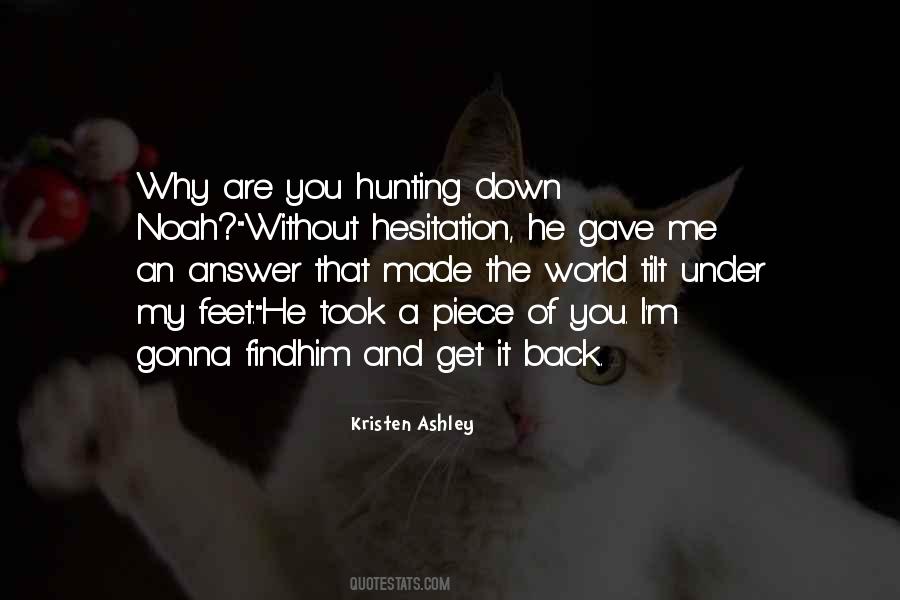 #43. I love people with strong convictions, because we are living in a very PC world. You can't crack a joke without it being in the headlines.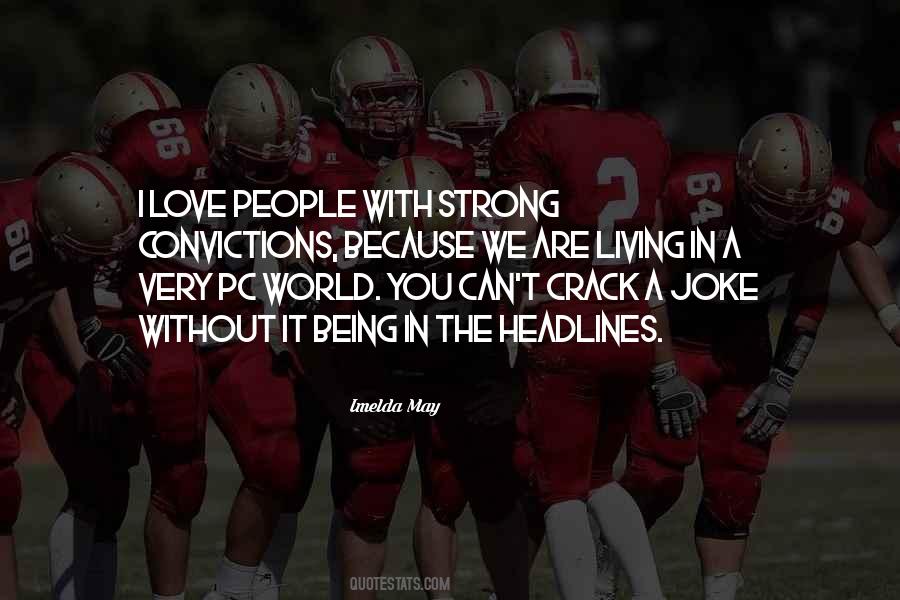 #44. Rocky and Adrian. Ginger and Fred. Dillon and Cadence.
Three sets of two beings. Two people that apart mean a whole lot less then when they are together. Men made better because of the love of their women. In our case, a boy that can't imagine existing without his girl.
His world.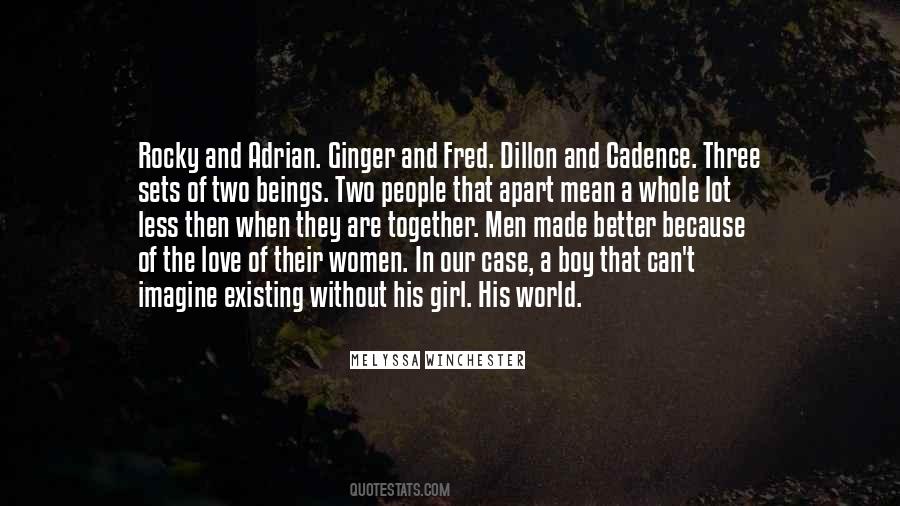 #45. For all who love freedom and peace, the world without Saddam Hussein's regime is a better and safer place.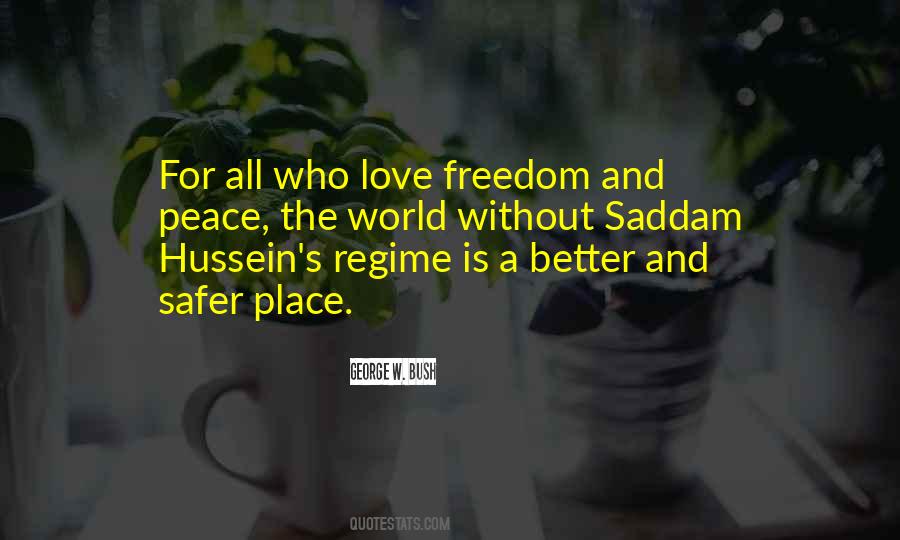 #46. I believe that to do anything in this world one needs a love for risk and adventure, and above all, to be able to do without what middle-class families call "future."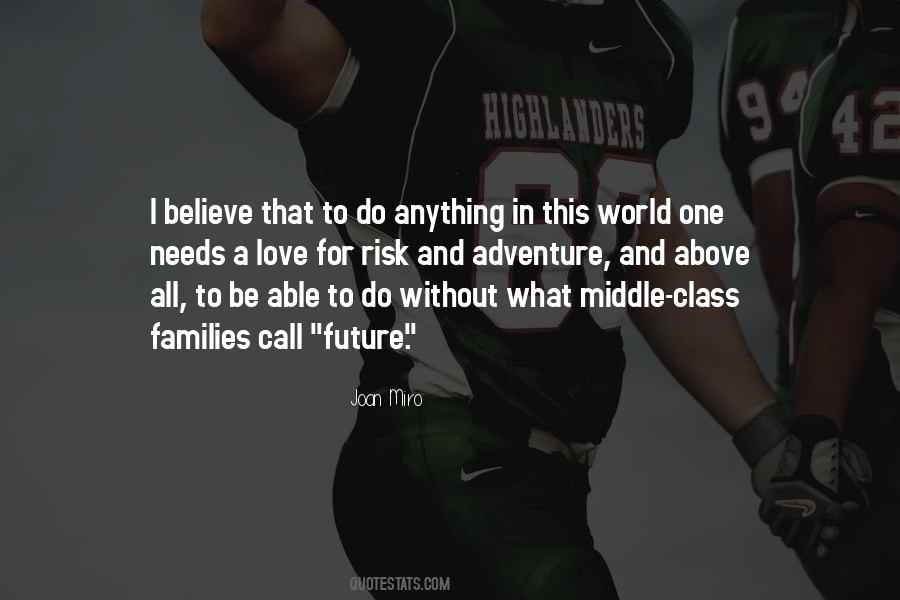 #47. He hadn't deserved the sort of love and loyalty Blue had given him without question since they'd been mere boys. Two rebellious kids with only one another to depend on in the whole world. Senseless or wise, they had both been fools in the end.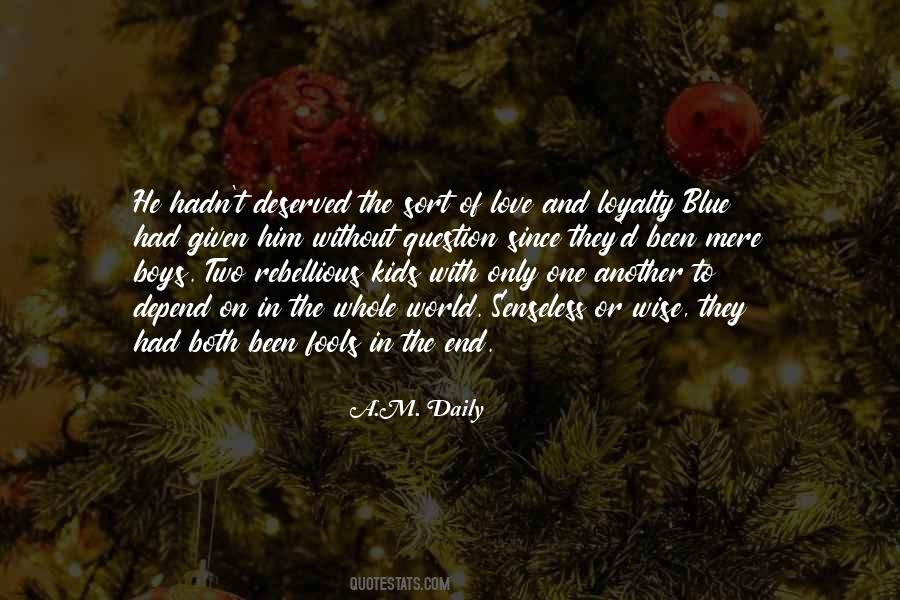 #48. I have been thinking about the notion of perfect love as being without fear, and what that means for us in a world that's becoming increasingly xenophobic, tortured by fundamentalism and nationalism.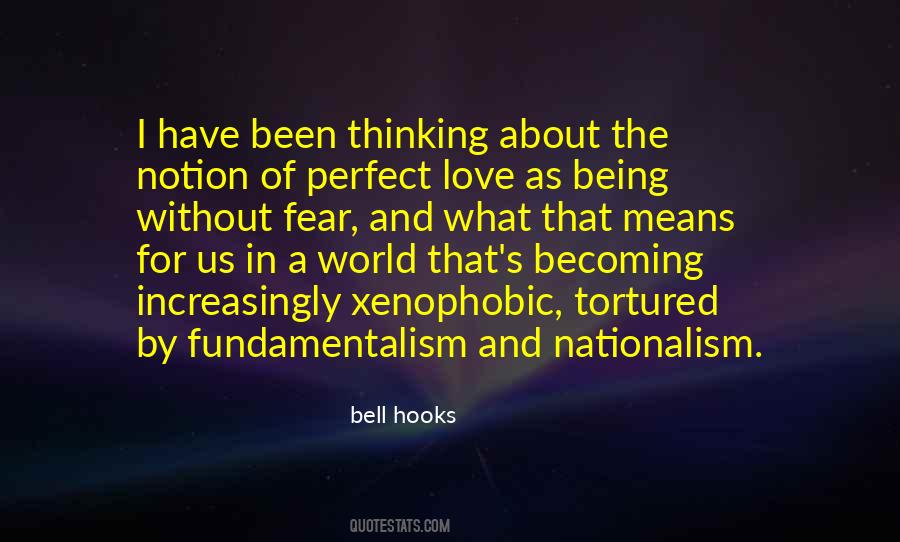 #49. I love men. I also hate men; I wouldn't want to be in a world without them but I have to say, it's not a compliment to know a man wants to sleep with you. It's only a compliment when he will go to great lengths for you.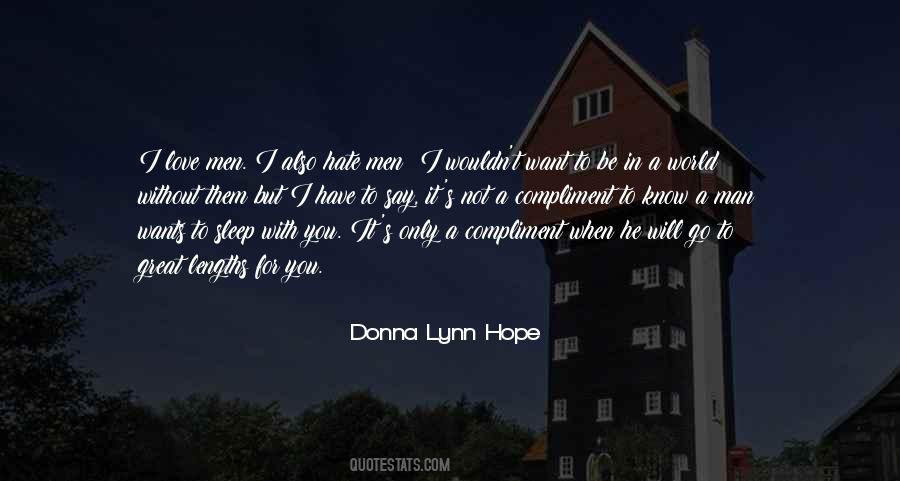 #50. I loved him, more than anything else in the world and that when he was away it was hard to breath and that I couldn't go through a single second without thinking about him.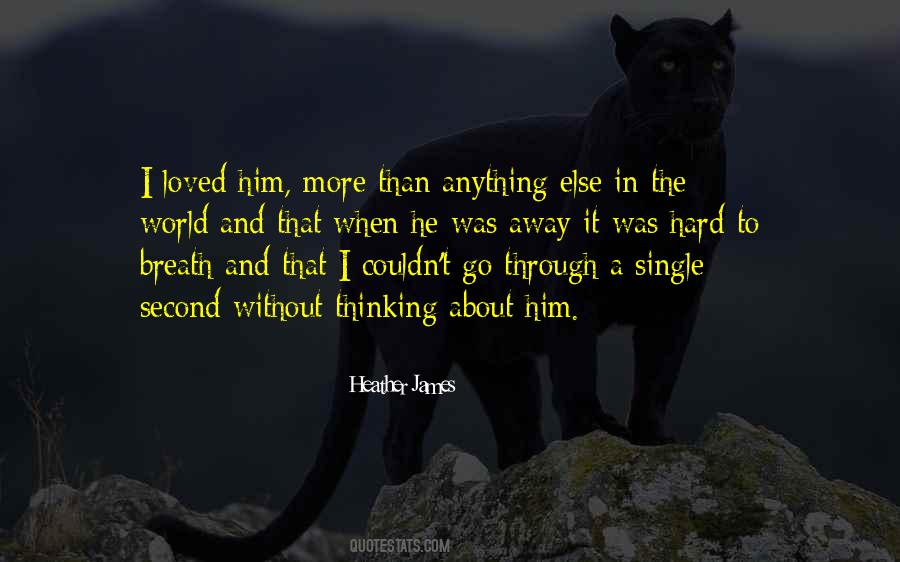 #51. My Dear Friend,
Don't ever allow yourself to forget how incredibly special you are, even for a single second. Without you, the world would not be as magnificent. Let yourself remember to love again, starting with you loving you.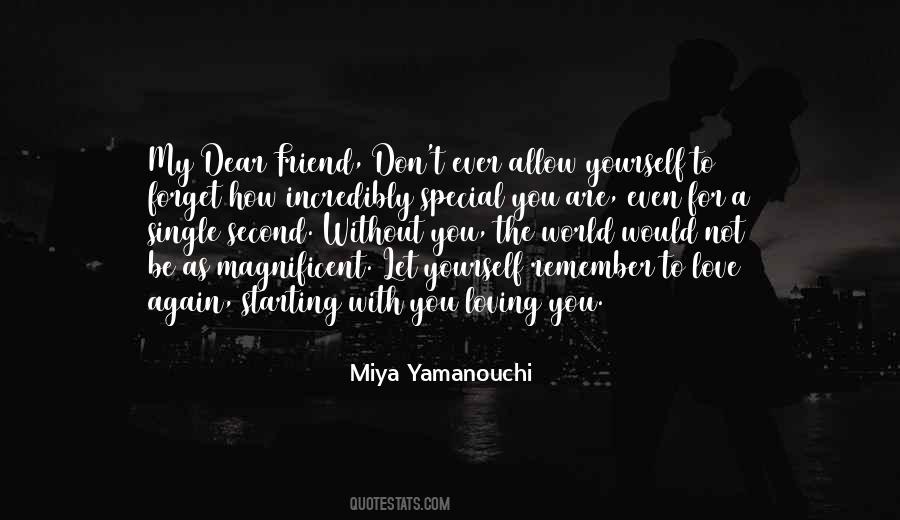 #52. And I'm having a hard time remembering how I lived without him, how I could bear to look at a world that I thought he wasn't in, and why I thought I could ever love anyone the way I love him.

Because it has been him.

My whole life.

It has always, always been him.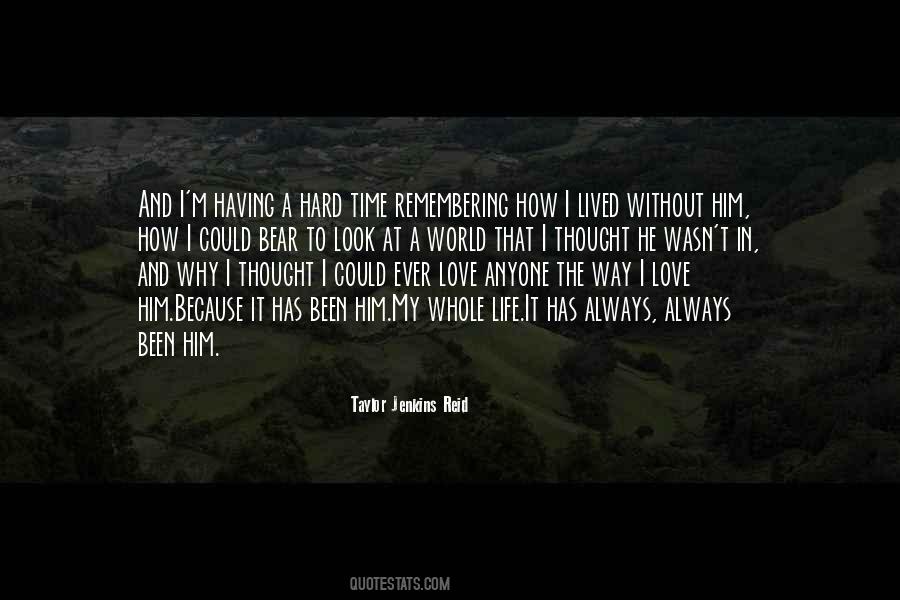 #53. One way [to recovery] would be by creating the best possible romance book or happy ending scenario for you ... out od your own experience. Another way would be to look at it as it is: a wake-up call to action to create a more humane world, without discrimination and sexism.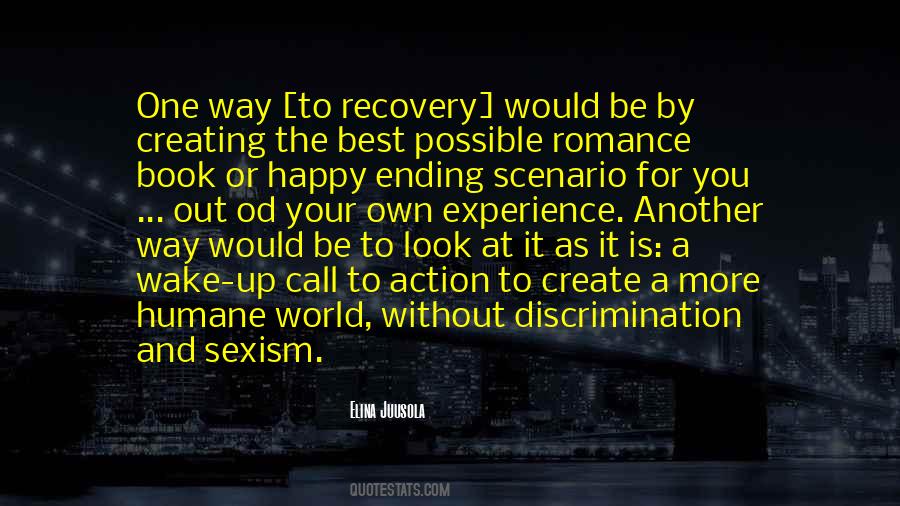 #54. She never understood that love
especially that of a child
was the most necessary weight you can endure in life, even if it hurts, even if it tugs bags under the skin of your eyes. Without it, the soul skitters to the edge of the world and teeters there, confused.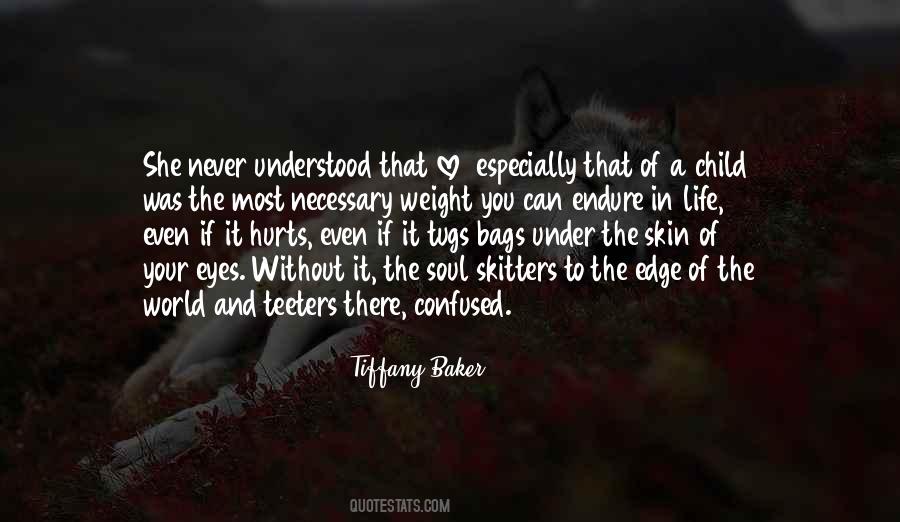 #55. Tell me that the purpose of life is to have fun, and without a care in the world I'll begin wreaking havoc on everything I pass. Now that's what I call pure, honest fun.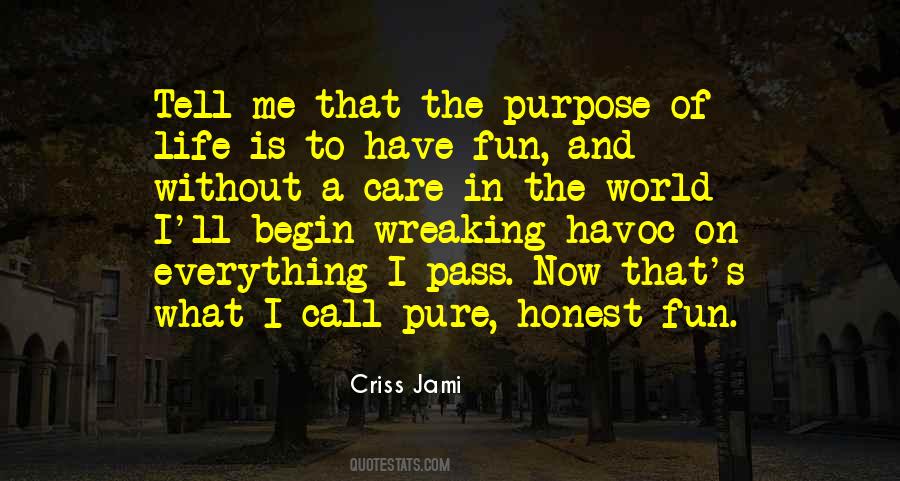 #56. You are, Devlin, too young to understand how rare a thing true love is, how unlikely in this world to happen, and when it does, how unlikely to endure. And once it is lost, how hard to live without.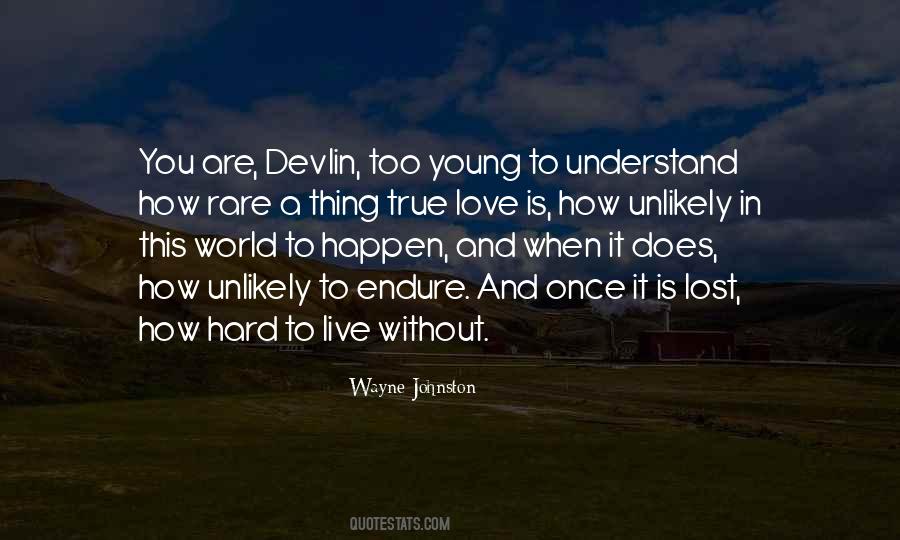 #57. The world says of marriage: A short joy and a long displeasure. But he who understands it finds in it delight, love, and joy without ceasing.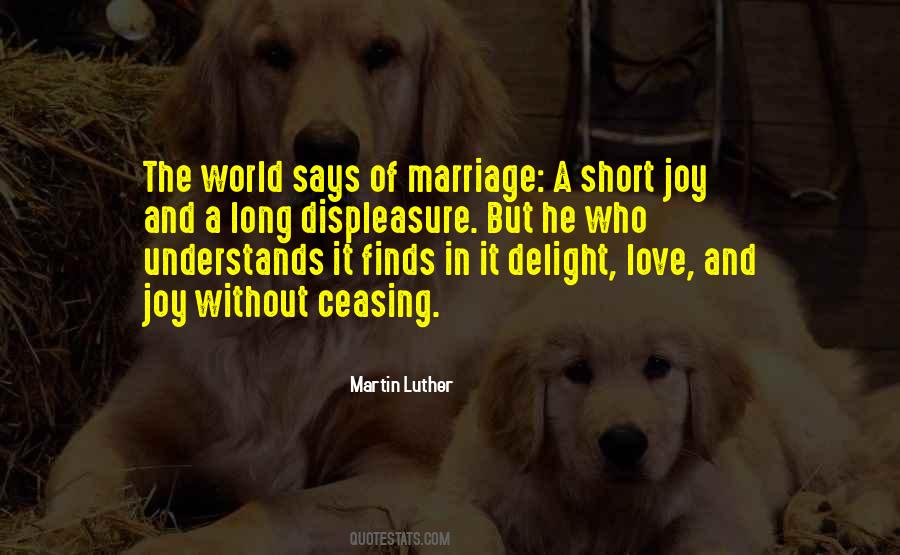 #58. Always give with love and compassion
without guilt, bitterness or an empty feeling
Open your hearts to those who suffer
and show forgiveness and understanding
To a world which needs healing.
Now it Begins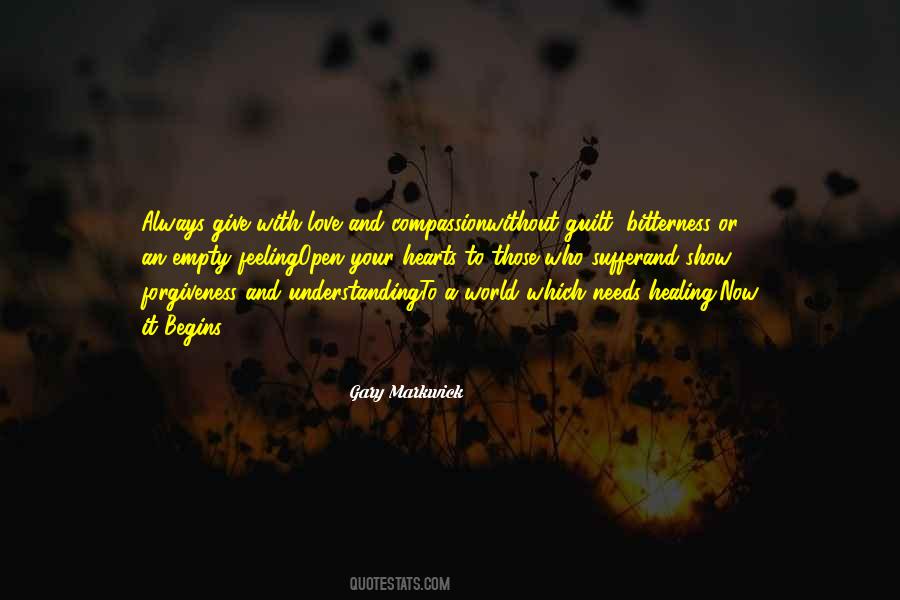 #59. I'm not in control and without a firm spot, like Archimedes I can't move the world - let alone your heart..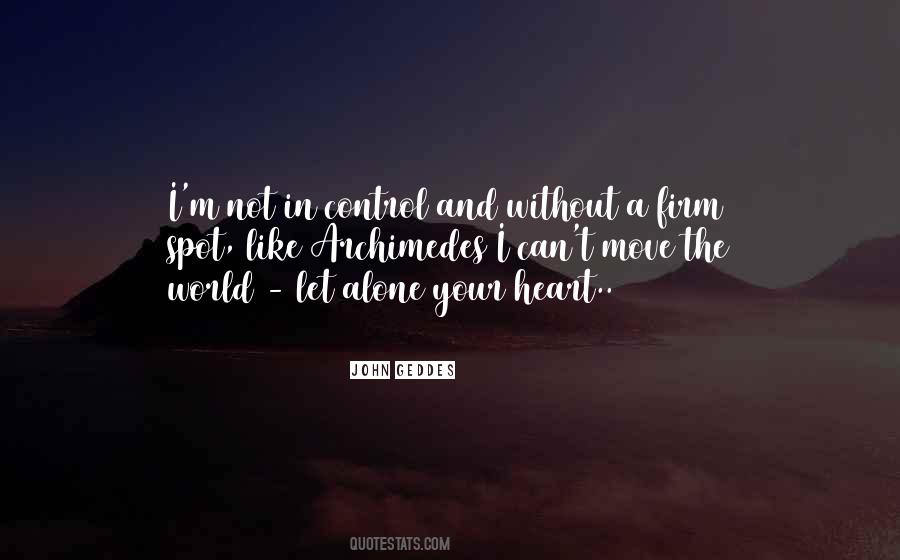 #60. A world without men would consists of a bunch of fat, happy women with no crime.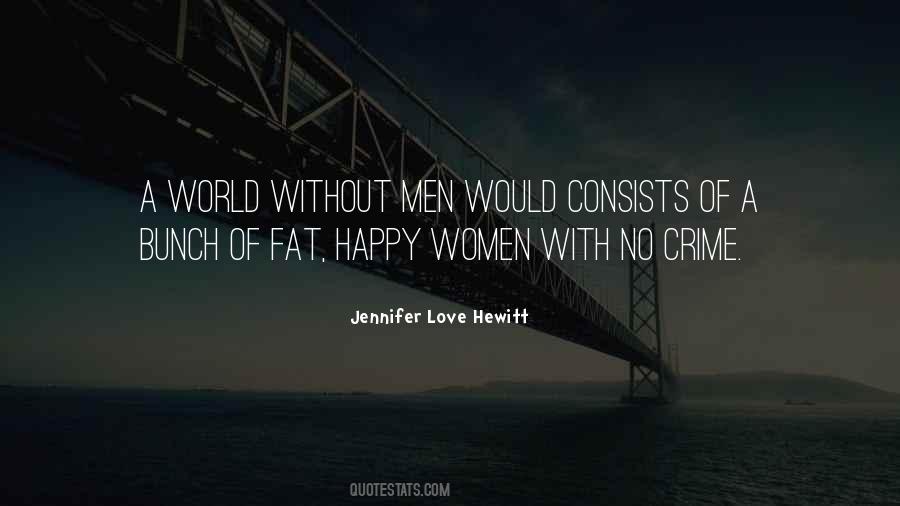 #61. Career miracles happen when you're so in love with your life that pushing yourself is actually easier than stopping, when you "do without doing." Joyful activity adds real value to the world, and adding value is the heart and soul of a successful career.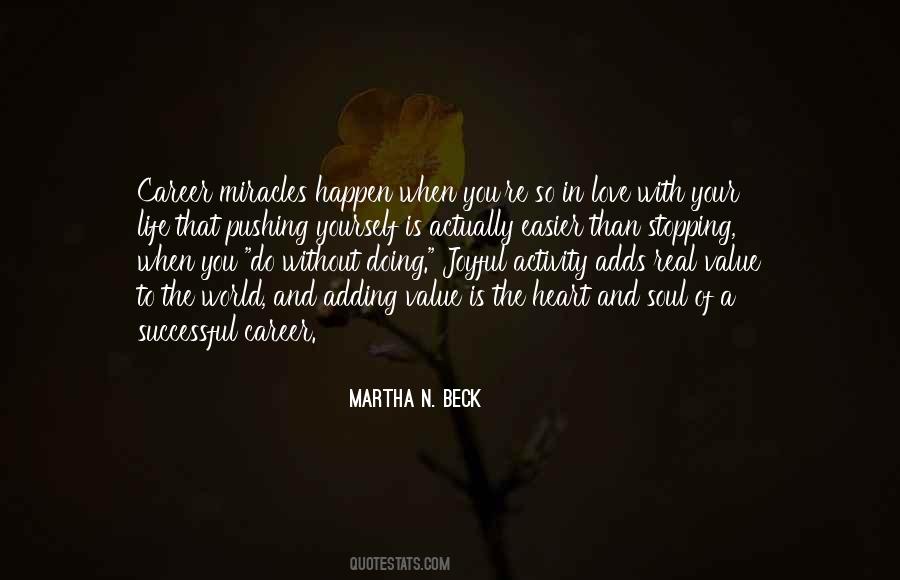 #62. Act happy, feel happy, be happy, without a reason in the world. Then you can love, and do what you will.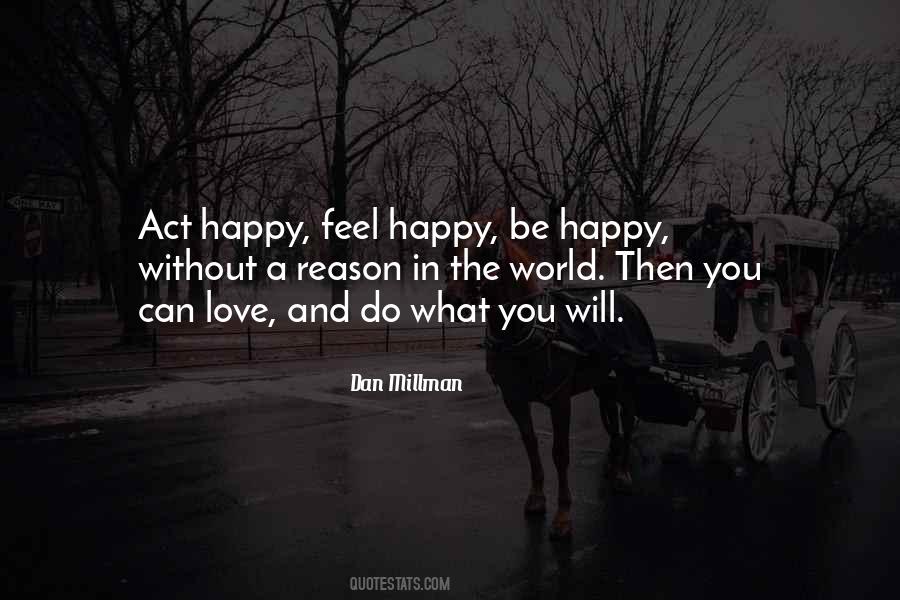 #63. Writing for me is a form of spiritual discipline and creative vision, a means of being in the world and giving one's love to it without compromise or dilution.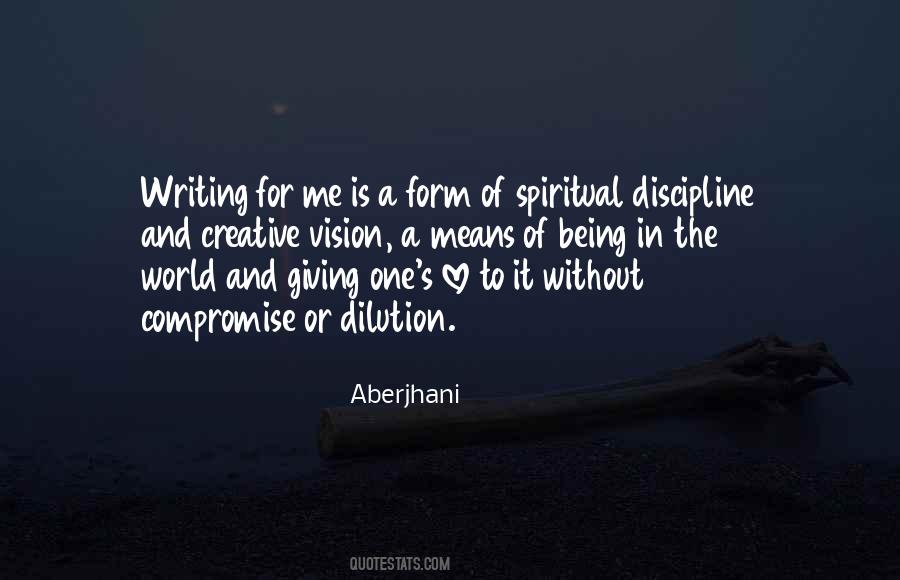 #64. If this world affords true happiness, it is to be found in a home where love and confidence increase with the years, where the necessities of life come without severe strain, where luxuries enter only after their cost has been carefully considered.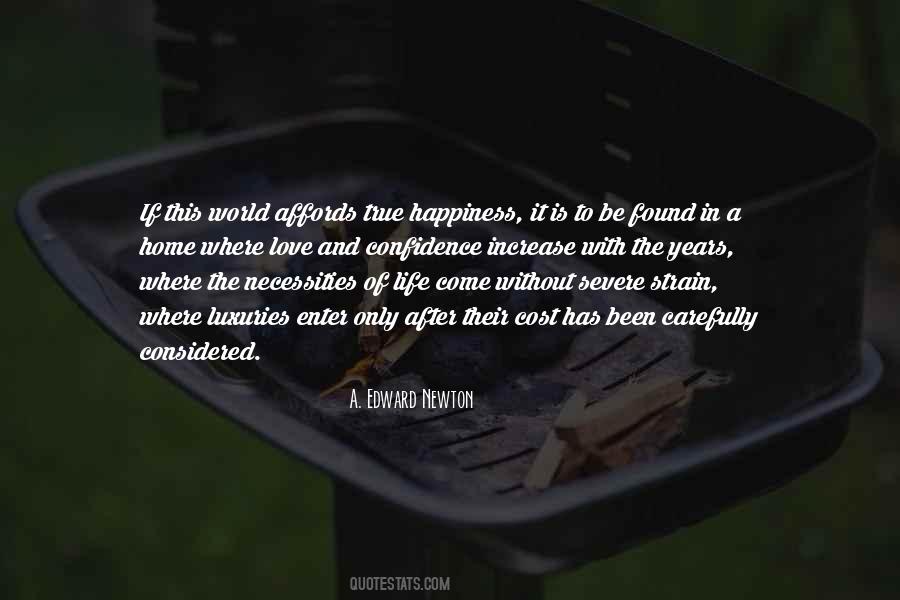 #65. The world is a palace without bedsheets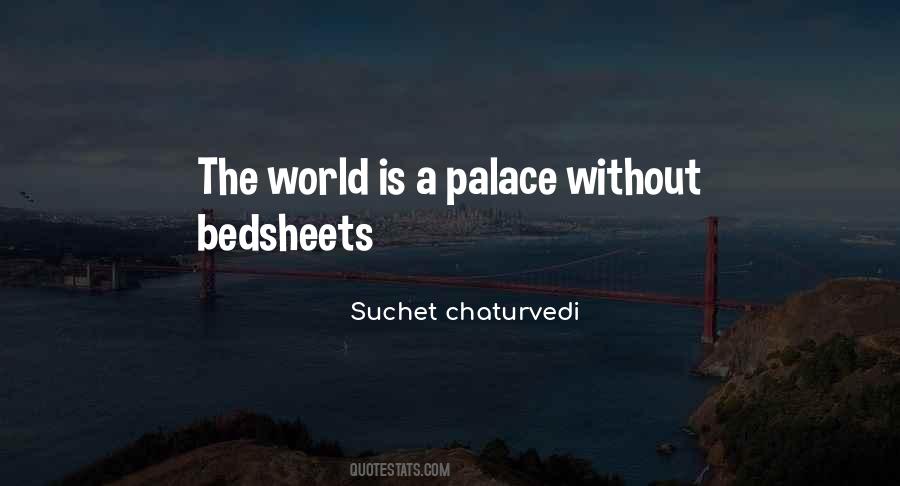 #66. For what is better than love? Imagine a world without the sun, a world without the smile of a baby or the flight of a butterfly, all of which are manifestations of love. A world without love is not a world worth having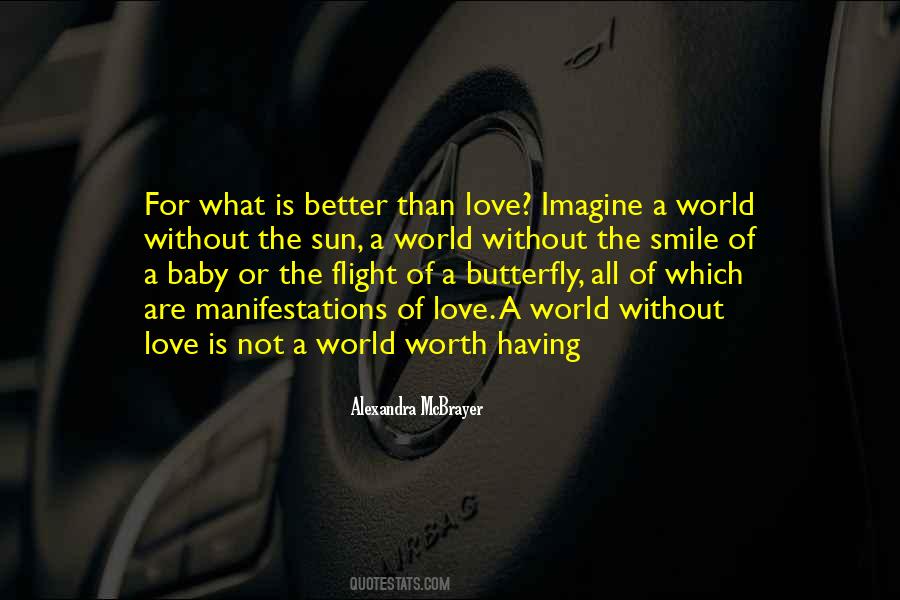 #67. A world without music is only filled with sounds in the air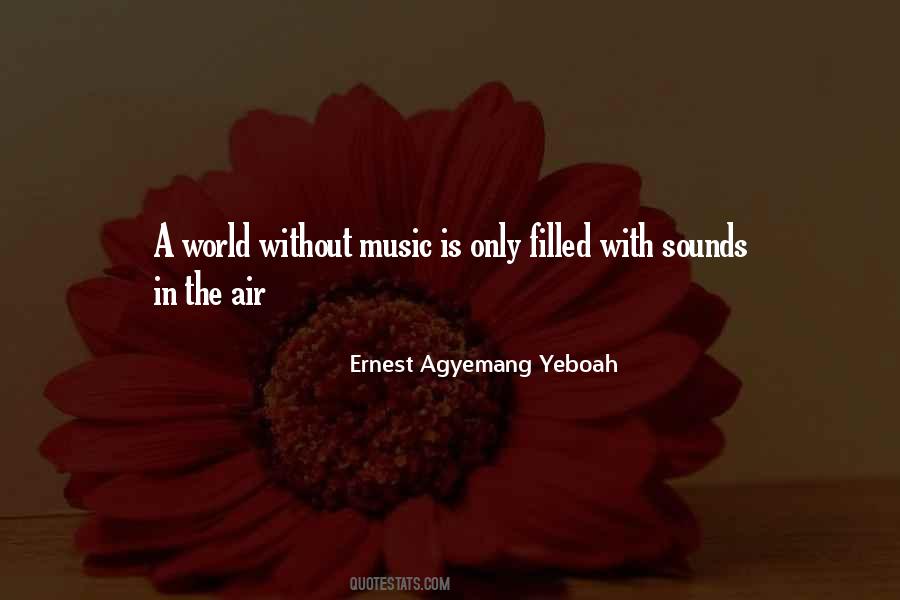 #68. Yes, I do realize. Saint is offering me ... the world. But a world without him is nothing now.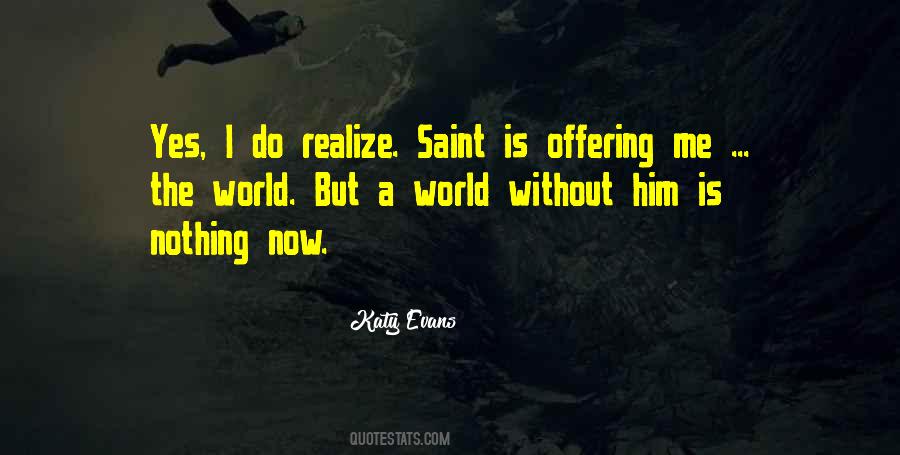 #69. The reason why we look so crazy as Christians is because we see a world that the rest don't see. We see a God-bathed world in which we are perfectly safe. So safe, so set free from fear that we can even love our enemies without thought of the consequences.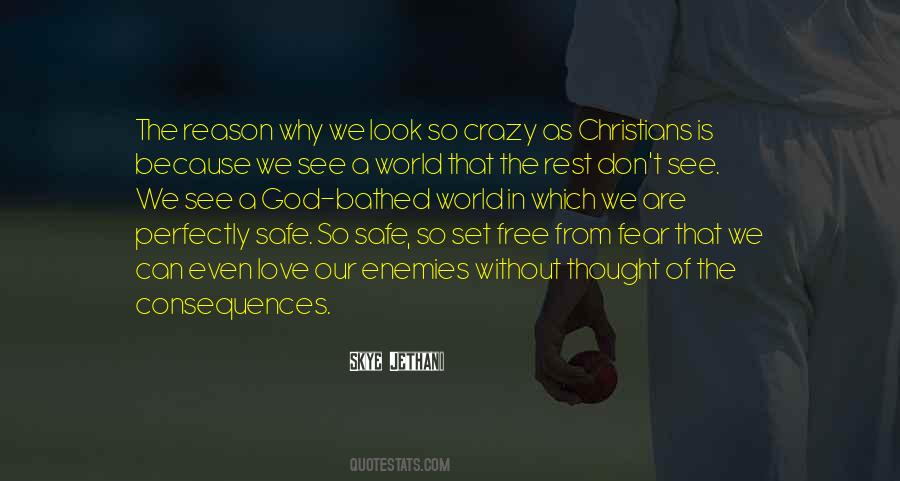 #70. A little love and affection in everything you do will make the world a better place with or without you.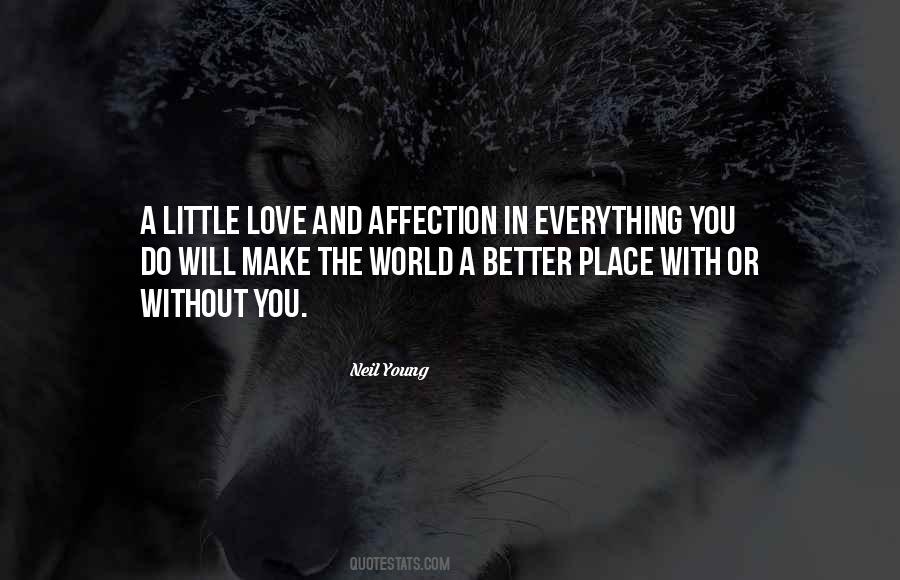 #71. When a man and a woman love one another that is enough. That is marriage. A religious rite is superfluous. And if the man and woman live together without the love, no ceremony in the world can make it a marriage.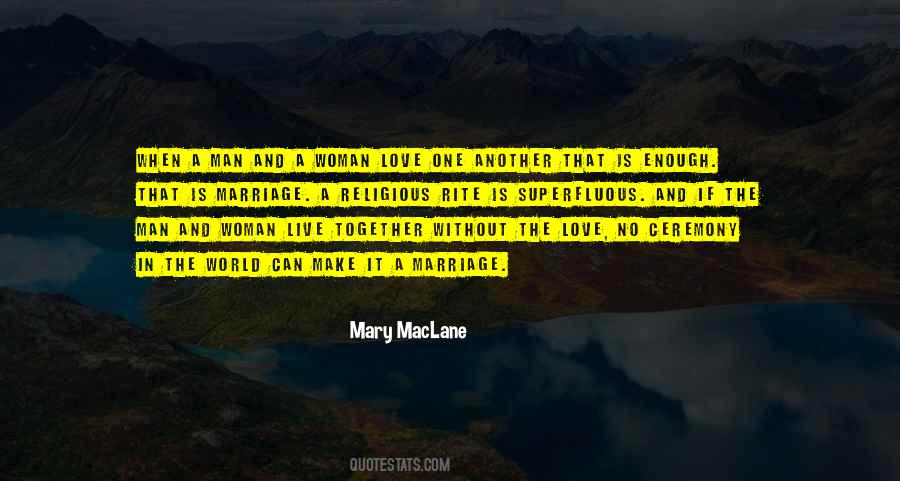 #72. Where in the world would a star be without the love of the sky?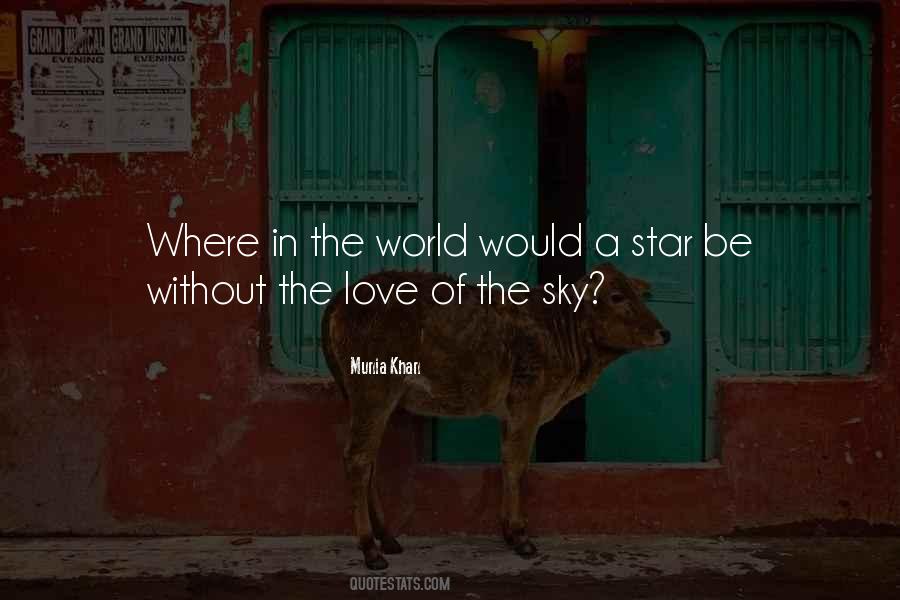 #73. You know what I would love? I would love to be one of those actresses who can come out with a film or come out with a new commercial without the world knowing about it.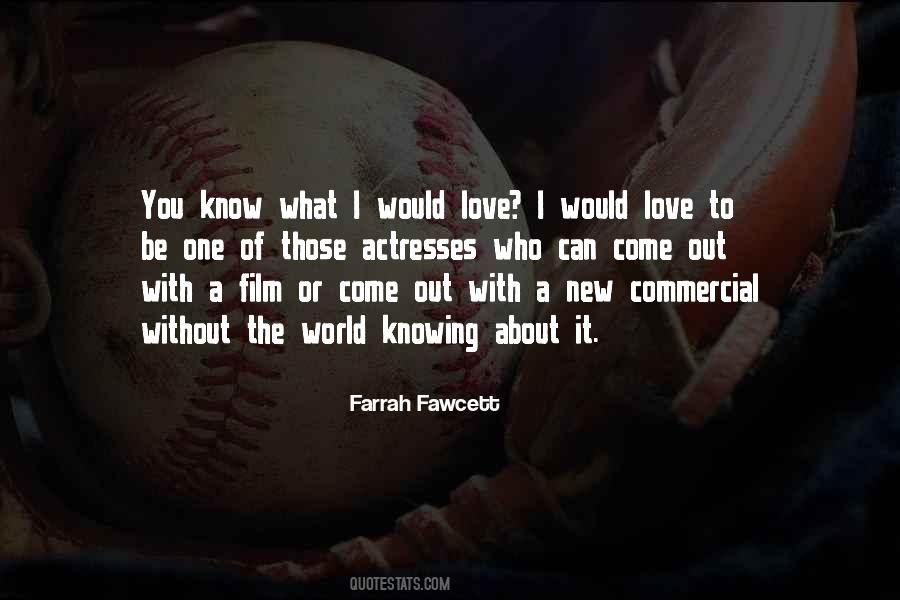 #74. I must know, he thinks. It must be clear to me. There is a world which is closed to him, a world of shadings, gradations, nuances, and subtleties. He is a genius and yet he is too explicit. June slips between his fingers. You cannot posses without loving.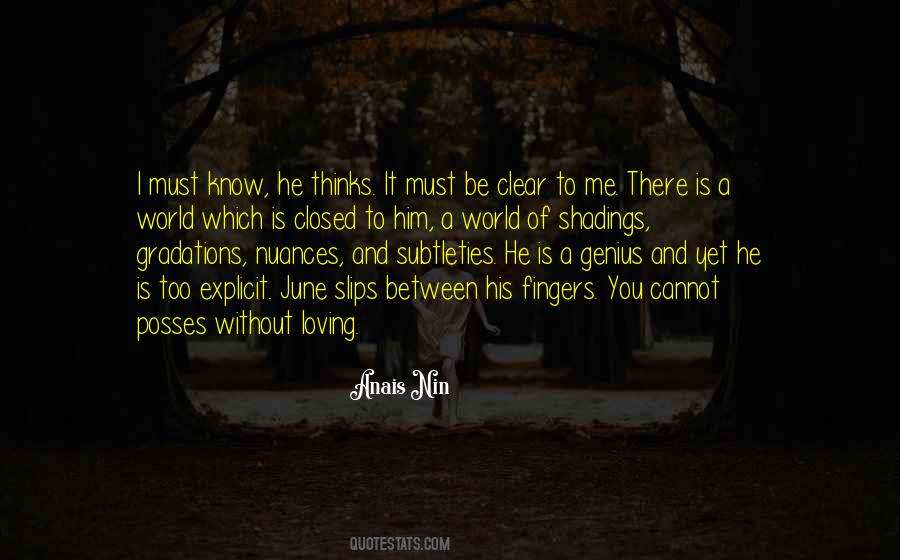 #75. The problem, of course, was that [he] saw the world in black and white. And he got to decide what was black and what was white. You can't love a person who lives that way without fearing him too. Maybe even hating him a little.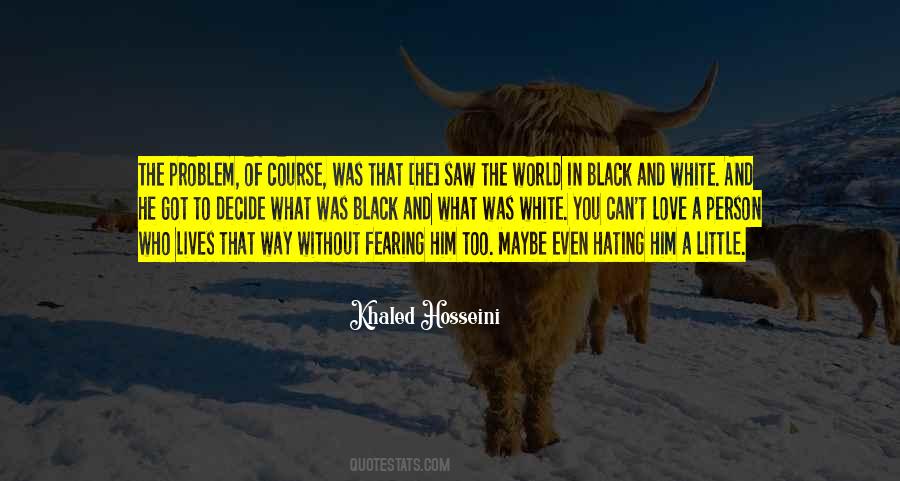 #76. Only a world without love strikes me as instantly and decisively more terrible than one without music.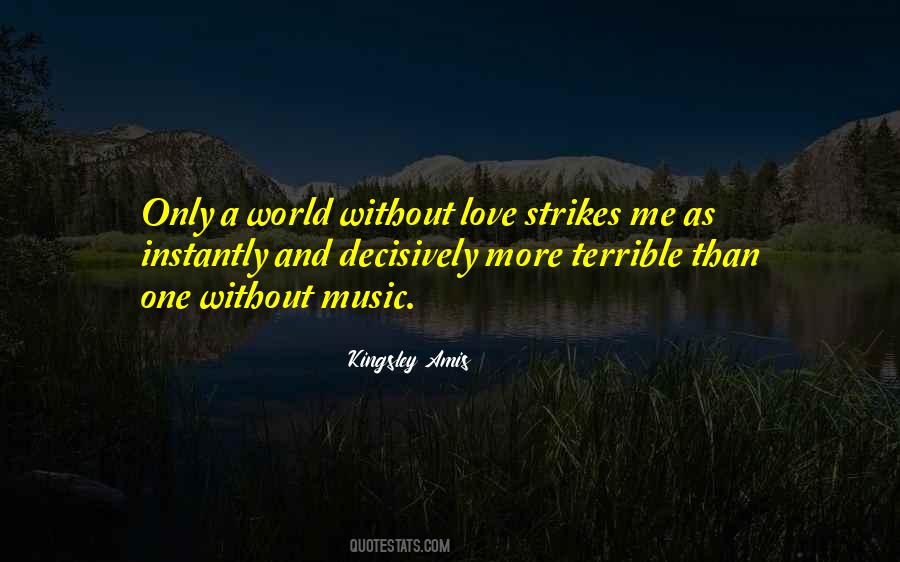 #77. I love you, and I am your wife, and I forgive you of all the sins of this world, all the sins we invented just to commit within our cave. I love you ... In a world without end. I love you.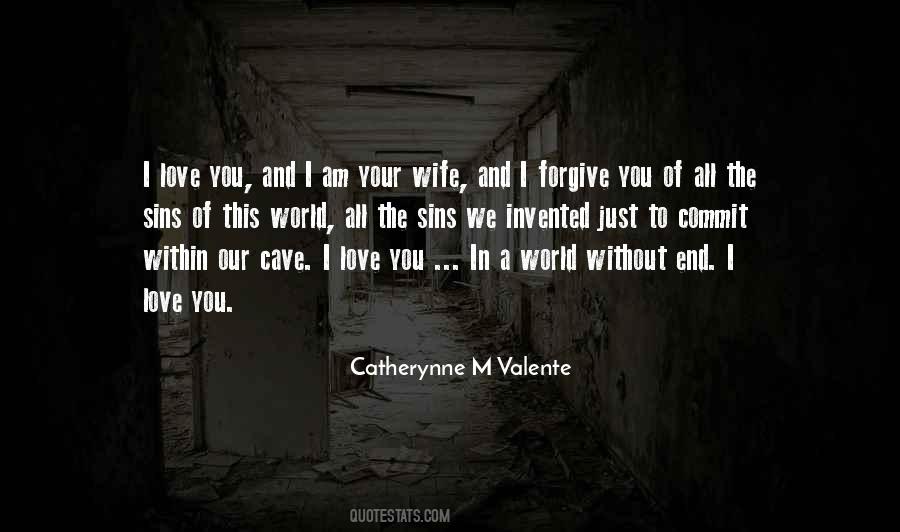 #78. Do you love him?
There were only a few people in the world who could ask me such insanely personal questions without getting punched. Dimitri was one of them.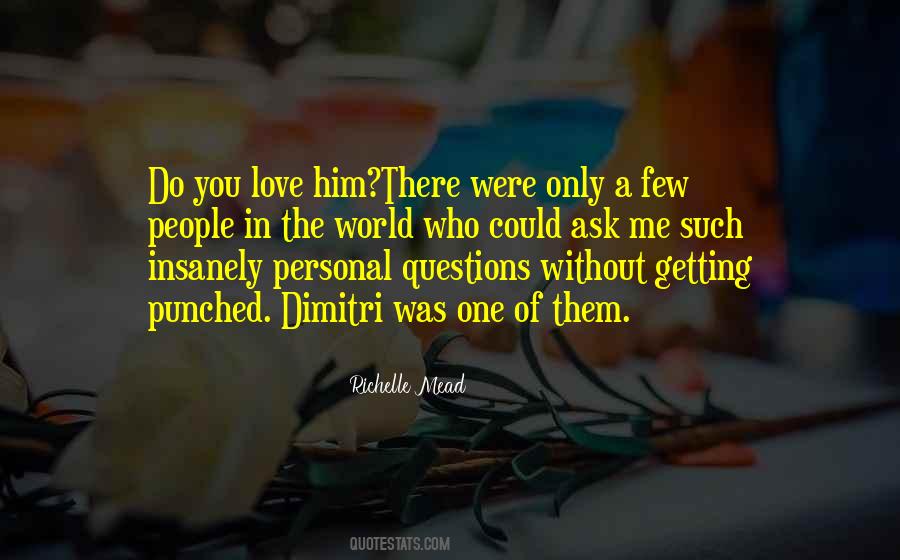 #79. We should bloom like a flower without reservation or restriction, but with all our energy, power, and great love for this world.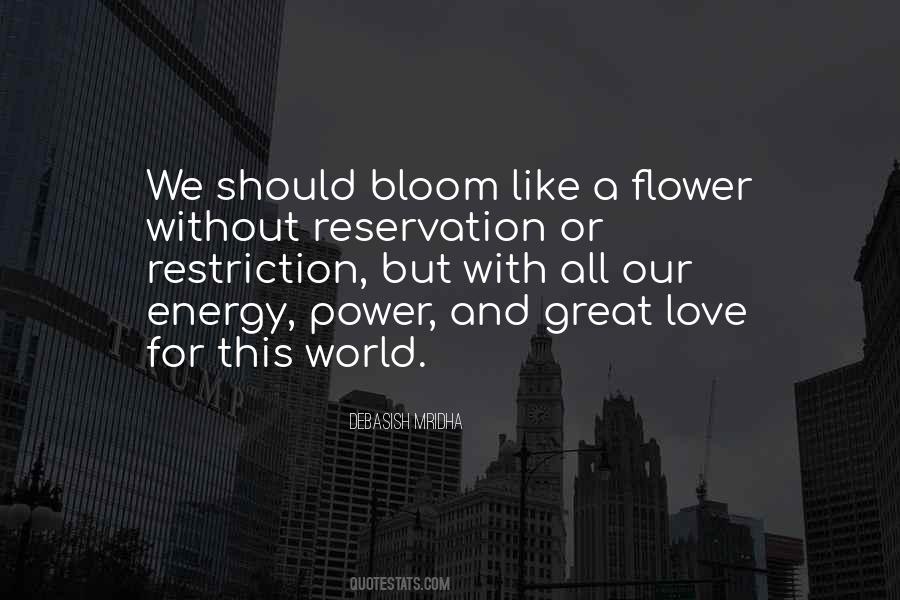 #80. Sometimes they got lost. Sometimes they didn't want to be found. But it was a big forest and a bigger world, and whenever they went anywhere without each other, they left trails of stones that led all the way back to each other.

Because they loved each other with the biggest love of all.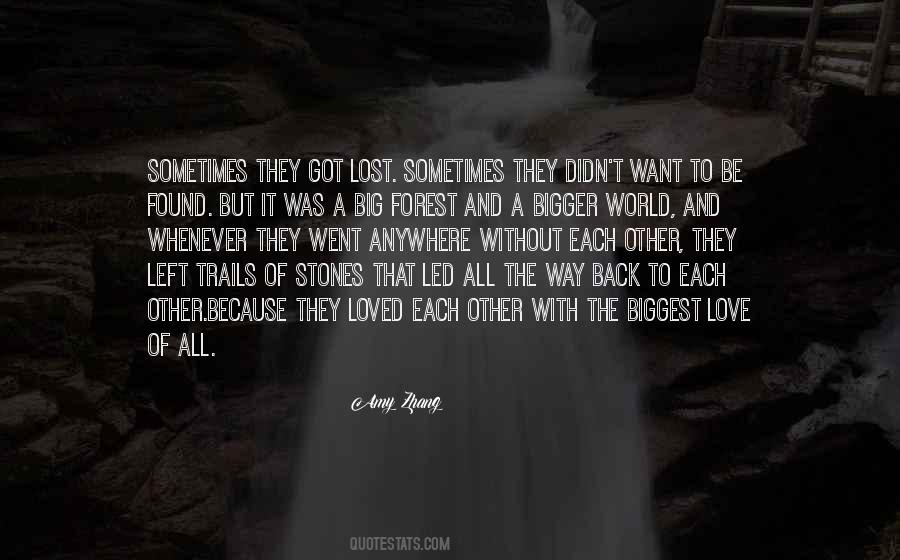 #81. "Tell me, sir, what is a butterfly?"
"It's what you are meant to become. It flies with beautiful wings and joins the earth to heaven. It drinks only nectar from the flowers and carries the seeds of love from one flower to another. Without butterflies, the world would soon have few flowers.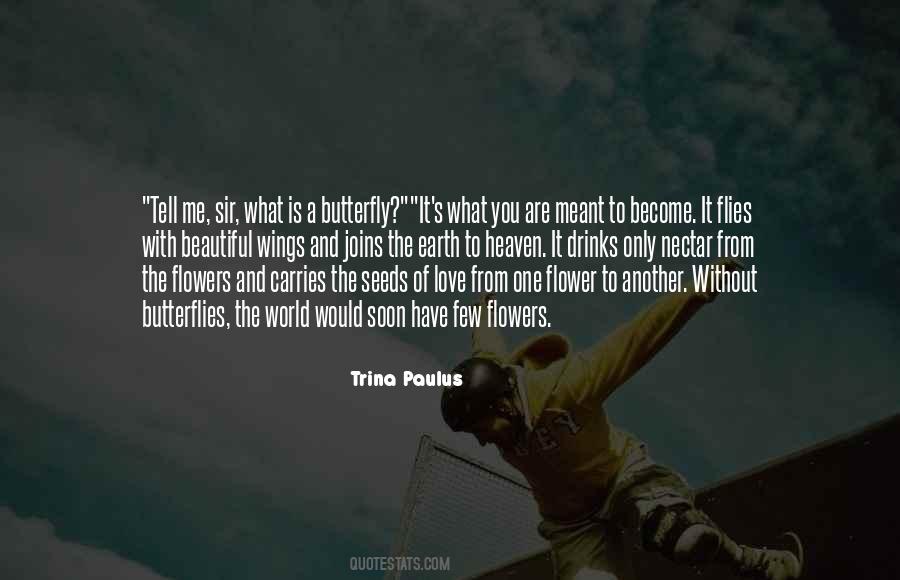 #82. Love is all there is, it makes the world go 'round Love and only love, it can't be denied No matter what you think about it You just won't be able to do without it Take a tip from one who's tried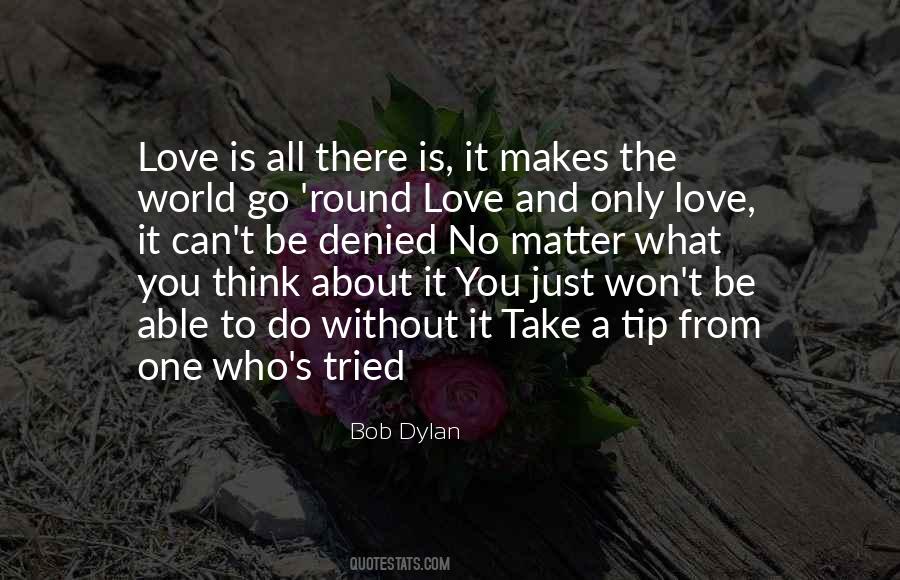 #83. Love is like a pair of polarized sunglasses, making every color seem more vivid, richer, warmer. Without it we stare at the world dull-eyed and flinch at the thought it might remain the same forever.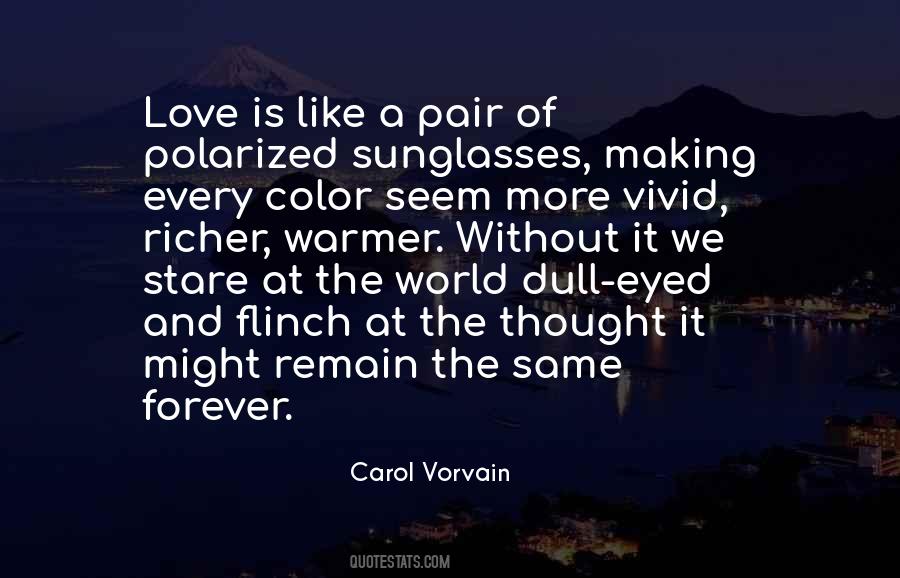 #84. A world without love would be no world.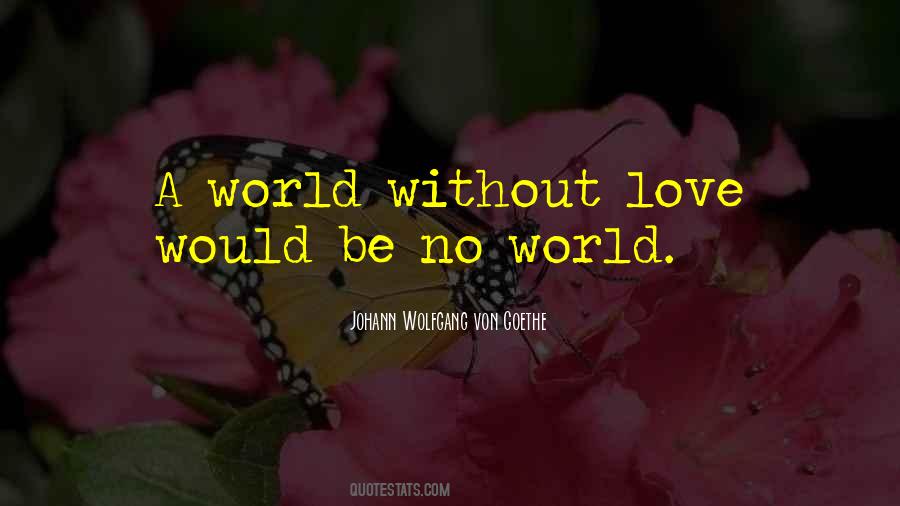 #85. Much of our suffering is caused by our false perceptions and attachment to mental images. We assume things to be true without really knowing whether they are true or not, then create a world of hurt for ourselves and others.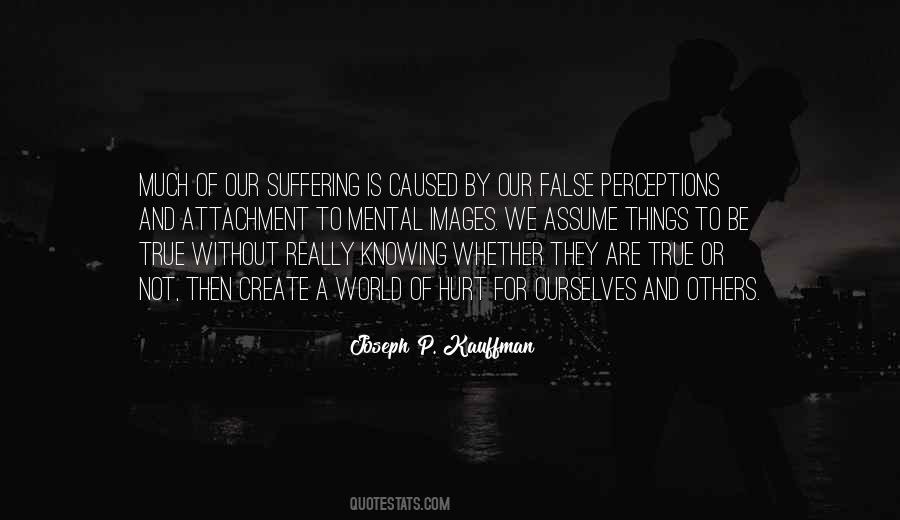 #86. Love and honor the world around you, and you experience life in its fullest. There is no "Other." There is simply us. The all of us, the whole of us. The mankind of us. Anything else is a lie.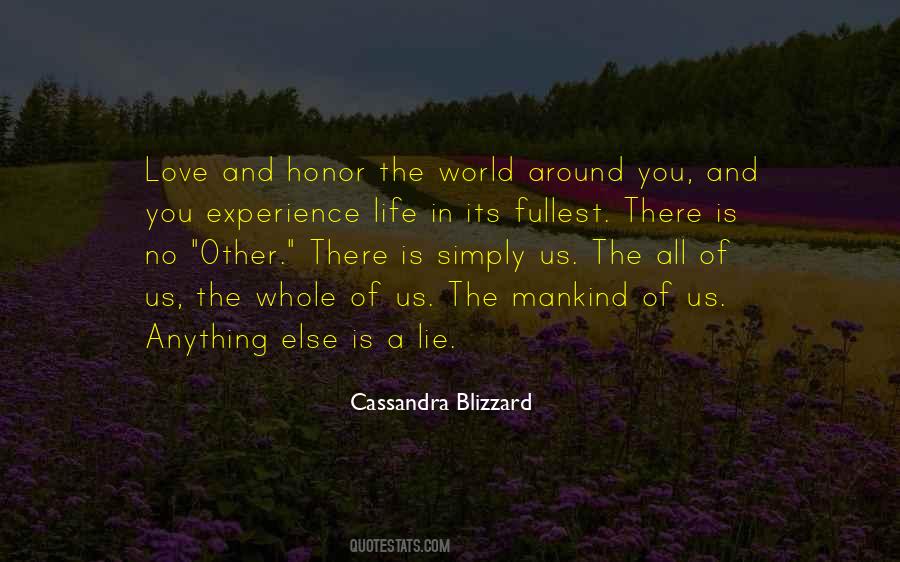 #87. There are only two kinds of women in the world, those who love shoes and those who had the misfortune to be born without the ability to experience total bliss on finding a pair of perfectly designed pumps in the right size at half price.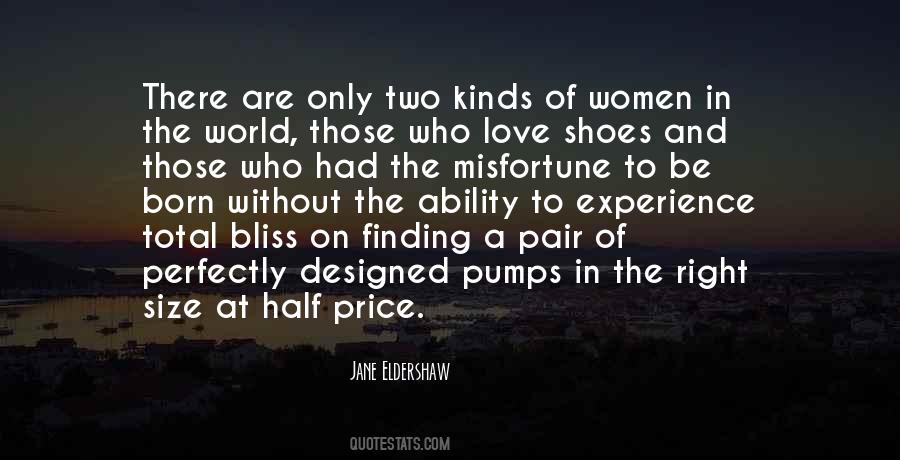 #88. I have to tell you I love living in a world without clocks. The shackles are gone. I'm a puppy unleashed in a meadow of time.
Stargirl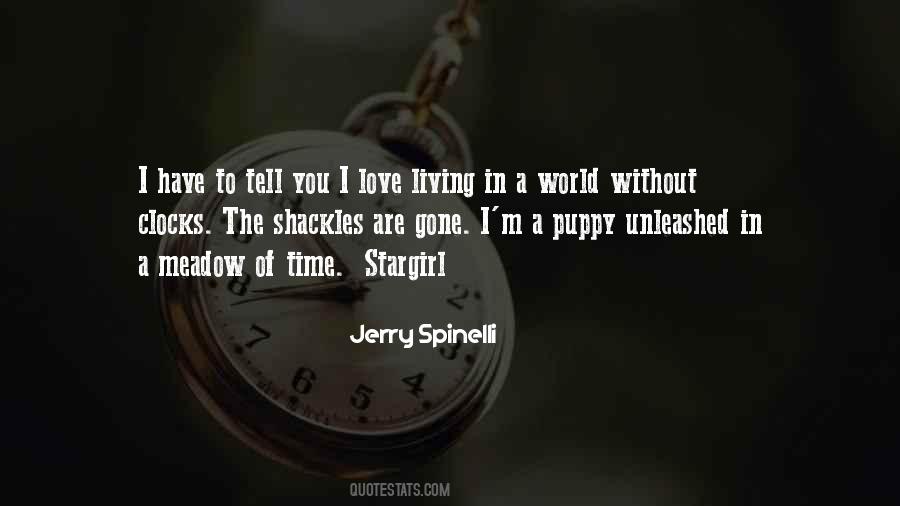 #89. Isn't that the great thing about Christmas? You get a lot of respite, time to recharge your batteries, time with family without too much else happening anywhere else in the world, time to focus on the people you love and the activities that you enjoy, time to exercise, to read.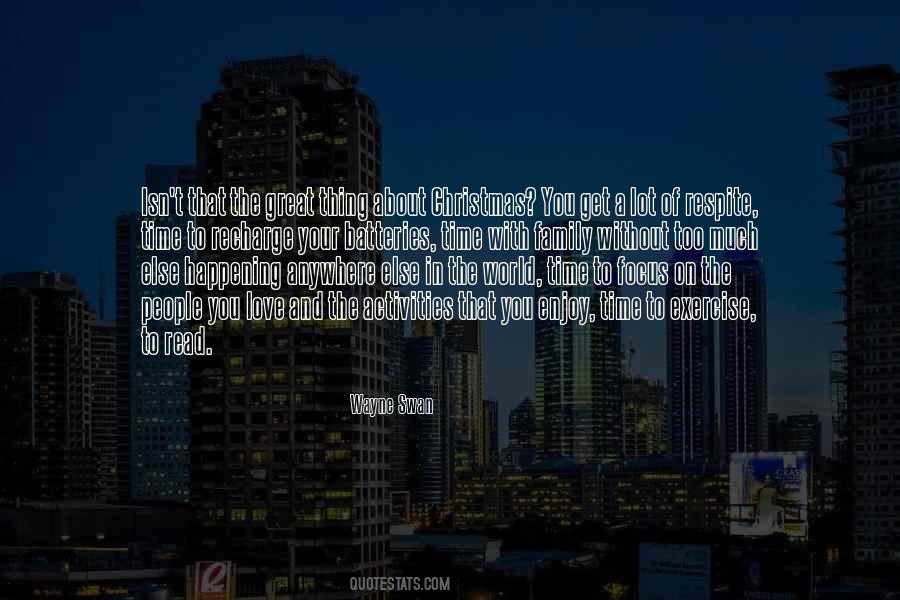 #90. I never thought I'd have you here. But I don't ever want to live in a world without you in it. You don't have to be with me. You just have to be.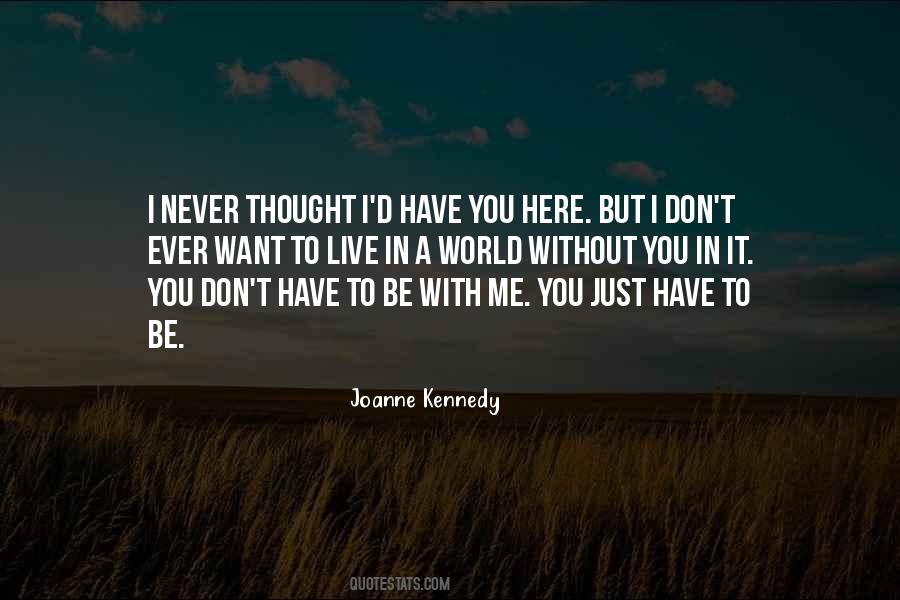 #91. I don't want anything now, Sarie thought, not a thing in the world. I have everything I want. Yesterday I wanted so much without knowing what. Today I've got everything...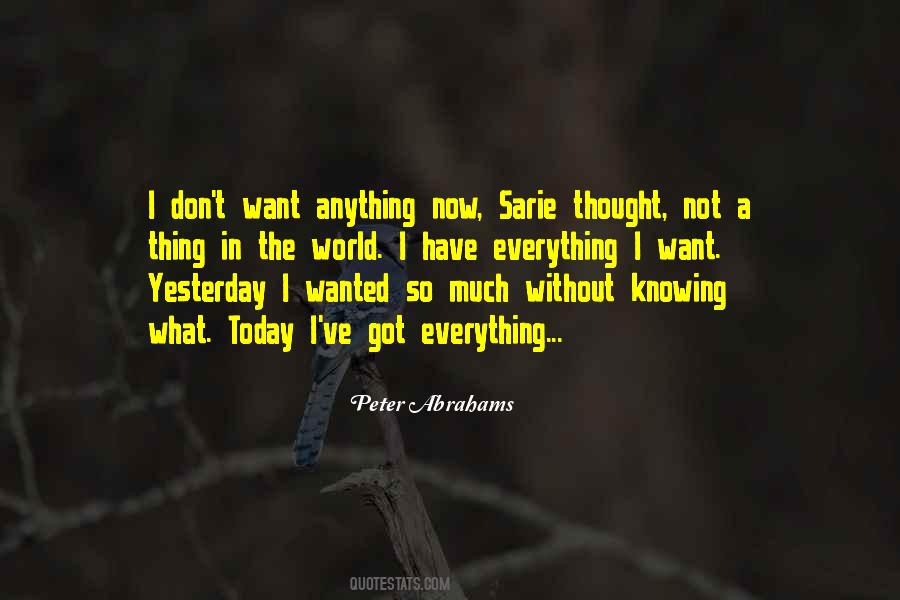 #92. I don't know how to describe the magnificence of Carlsbad Caverns without making it sound like a cartoon or a drug trip or a cartoon of a drug trip. The only thing I can say is that it is one of those dear places that make you love the world.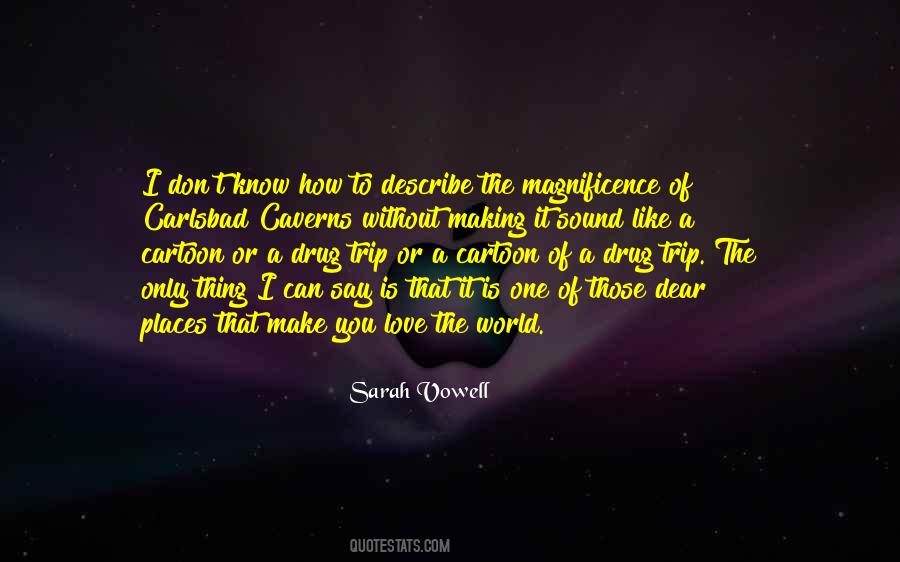 #93. Without love, violence will change the world; it will change it into a more violent one.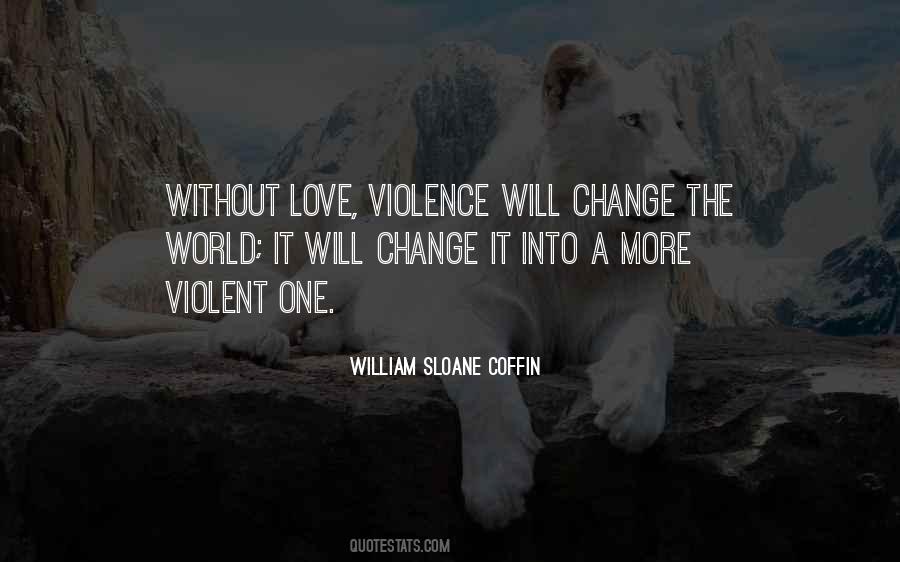 #94. Let me be cursed, let me be base and vile, but let me also kiss the hem of that garment in which my God is clothed; let me be following the devil at the same time, but still I am also your son, Lord, and I love you, and I feel a joy without which the world cannot stand and be.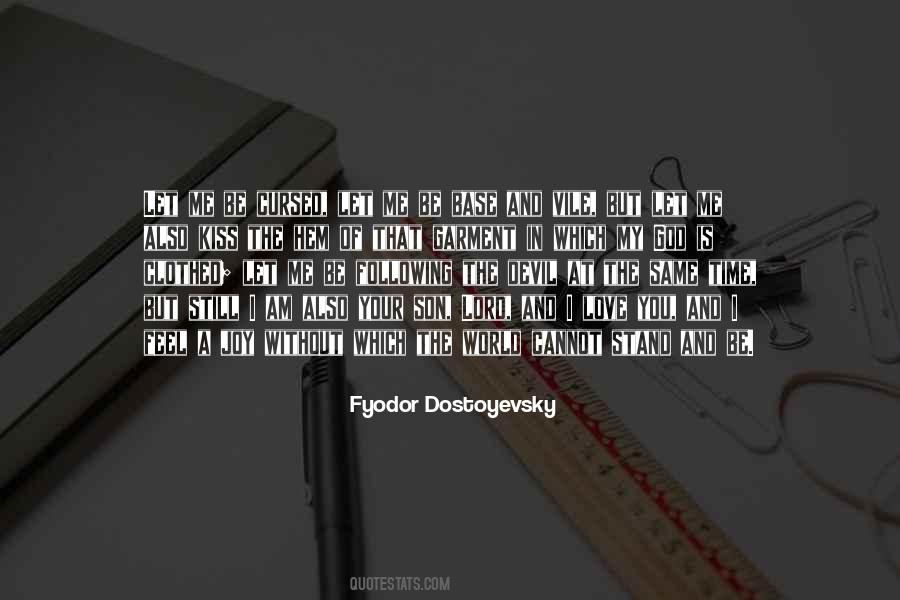 #95. A girl without a daddy felt to me like a girl without a place in this world. After all, if he couldn't love me, who would ever love me?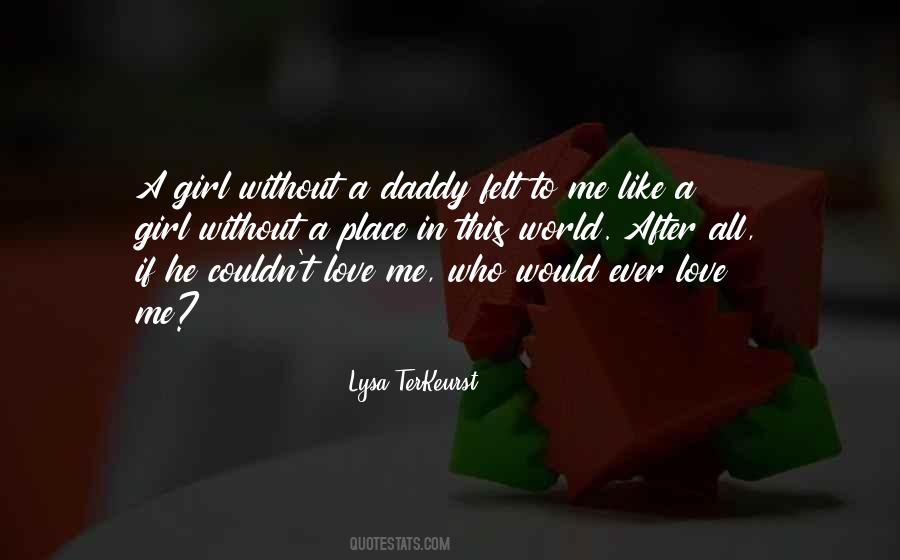 #96. A love without reservation ought to be a life force compelling the world into order and beauty. But that love can be so strong and yet so entirely powerless is what breaks the heart.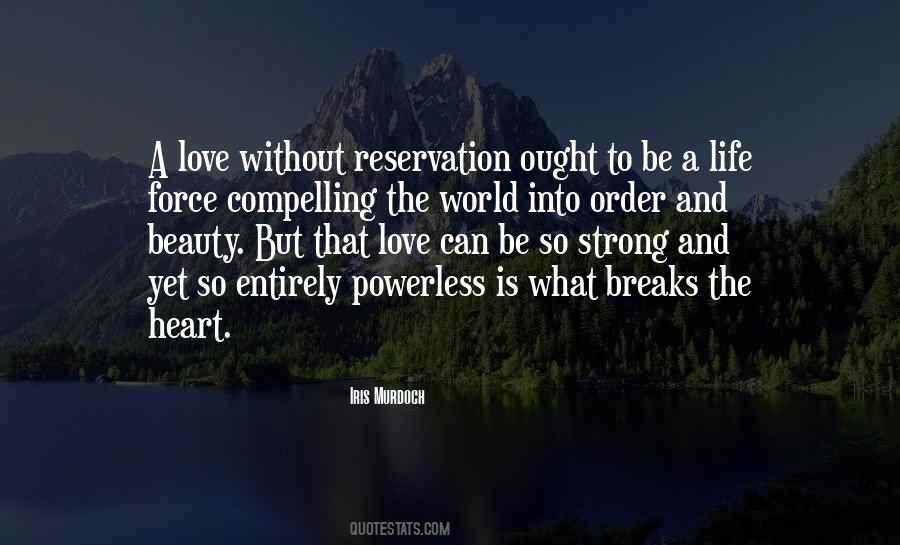 #97. If we give what we treasure most to a Being we love with all our hearts, if we can do that without expecting anything in return, then the world becomes a beautiful place.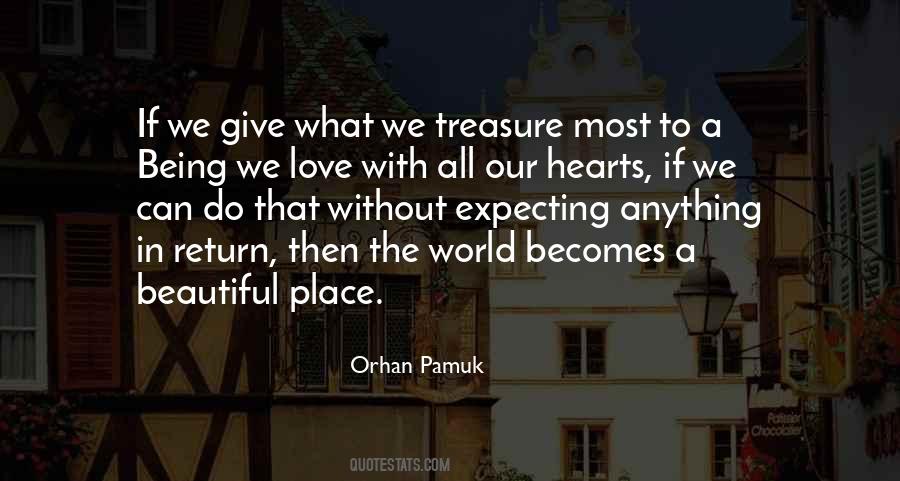 #98. In a kinder world," he whispered, "one I promise you I've seen, men and women flirt and dance and love with only the fear of what it would mean without the other in their lives.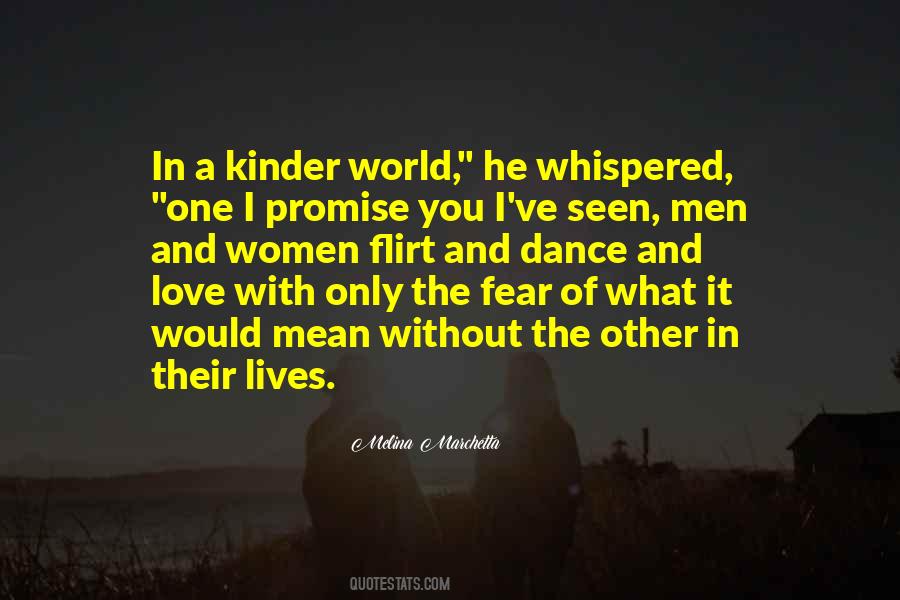 #99. Love is such a magic thing. It can make you feel like your floating in the clouds without a trouble in the world.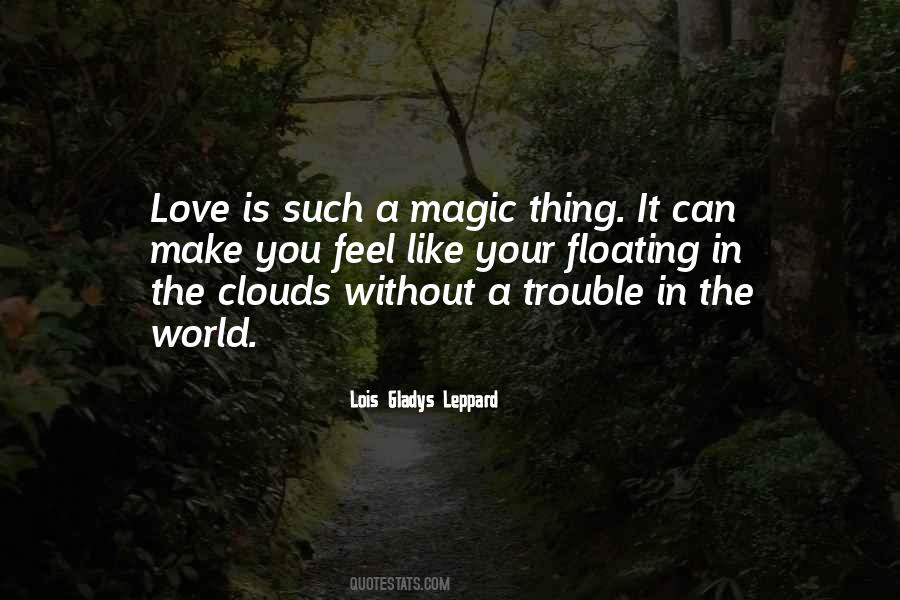 #100. Honesty and kindness can do much more for the world than anything else. And logic will always be weak without a strong heart. That is why the wisest tend to suffer the most from heartbreak. One cannot reach for God in His wisdom with the heart of a devil.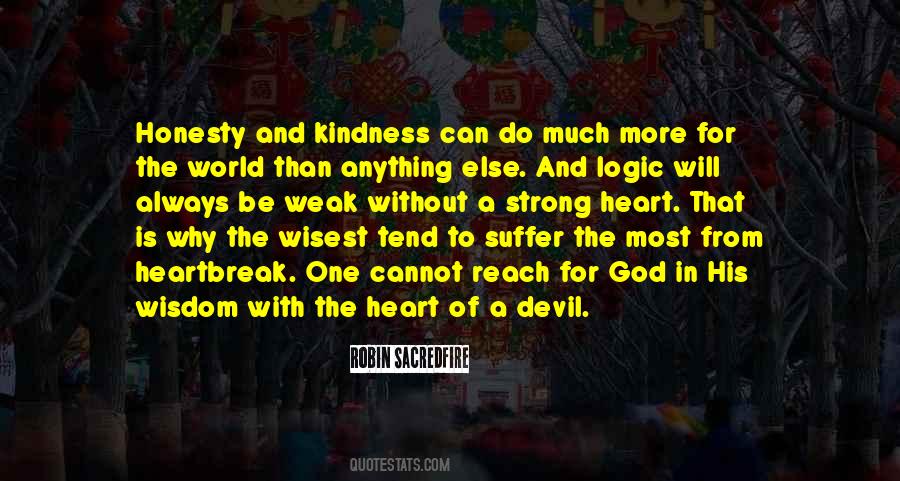 Famous Authors
Popular Topics