List of top 100 famous quotes and sayings about a village to read and share with friends on your Facebook, Twitter, blogs.
Top 100 Quotes About A Village
#1. The other girls in the village never felt restless. Nhamo was like a pot of boiling water. 'I want ... I want ... ,' she whispered to herself, but she didn't know what she wanted and she had no idea how to find it.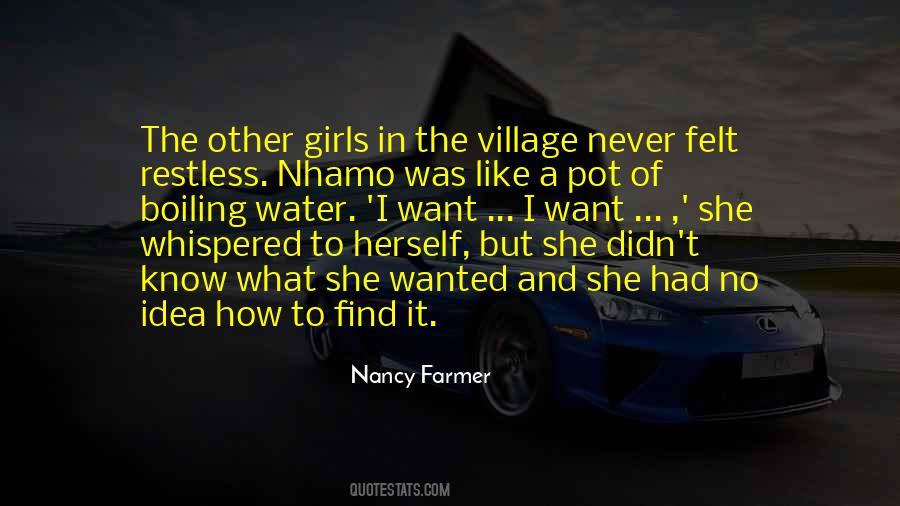 #2. For a very long time I believed that when we left our home, we left my mother as well. Where our village had stood the burned fields would again become green and her flesh would be in every blade of grass.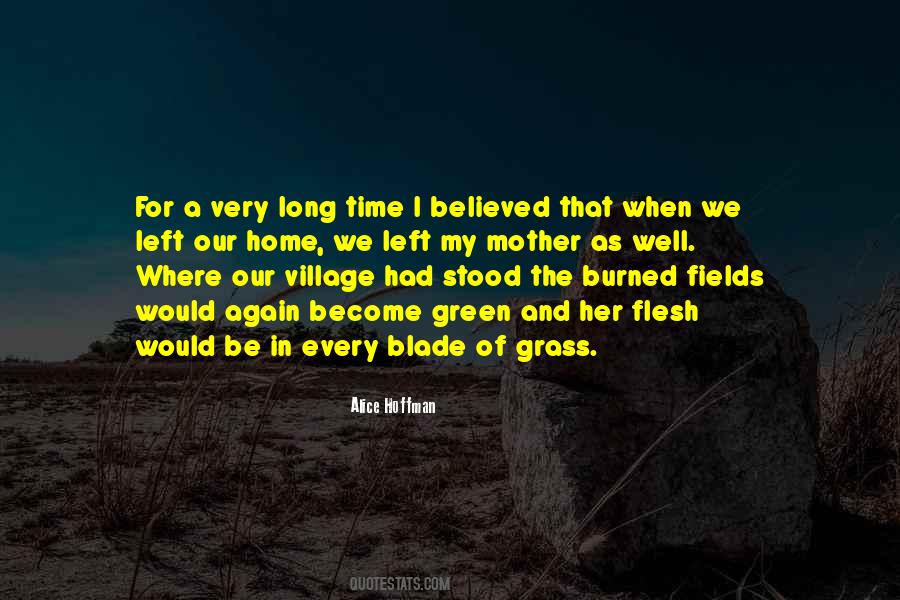 #3. That is where a big part of the Old South is, on coffee tables in Greenwich Village.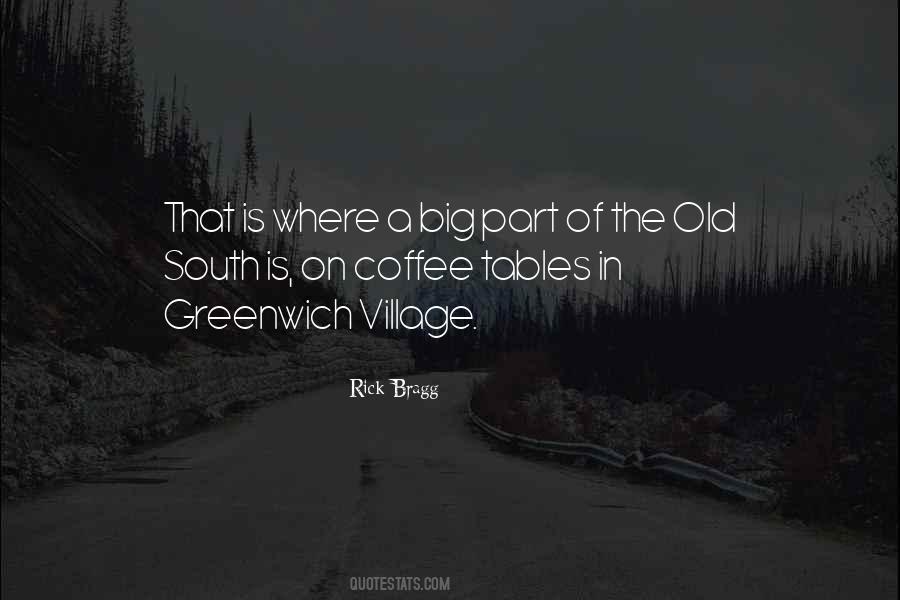 #4. There was always one. Every village seemed to have one young woman who believed her beauty could somehow magically protect her from a monster. Somehow, they would be special enough to tame the Beast.
They were always wrong.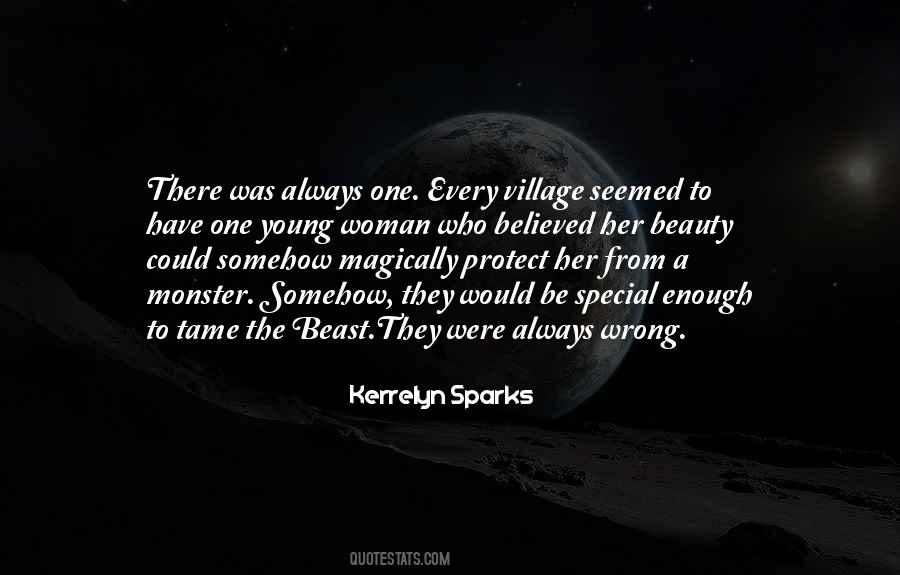 #5. Many enlightened persons are never very well known. Many are reclusive. They live in little villages in India or up in the high Himalayas in Tibet. Some have no students at all. Some have a few.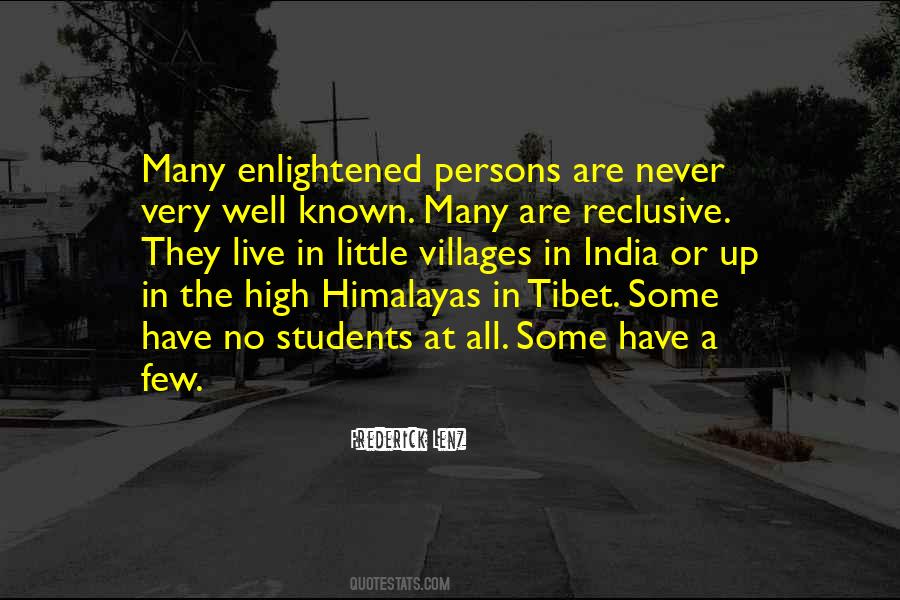 #6. I had rather be first in a village than second at Rome.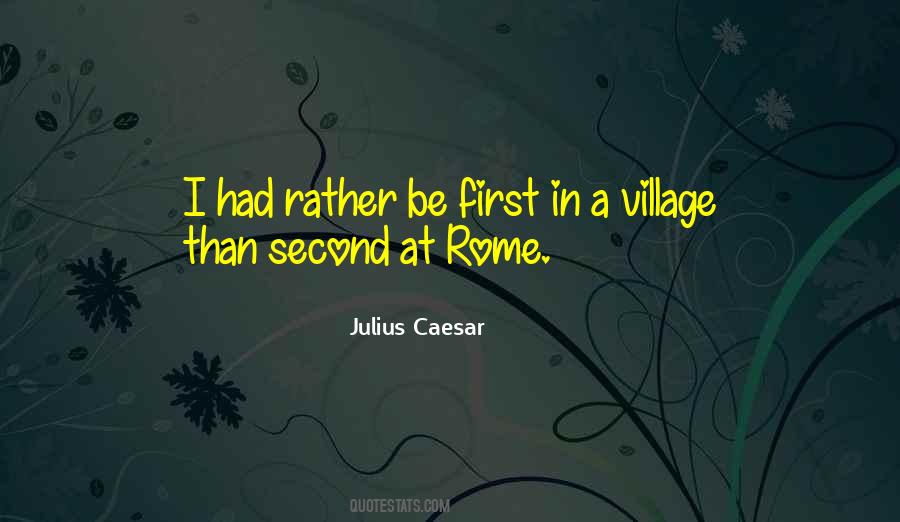 #7. Art is History's nostalgia, it prefers a thatched roof to a concrete factory, and the huge church above a bleached village.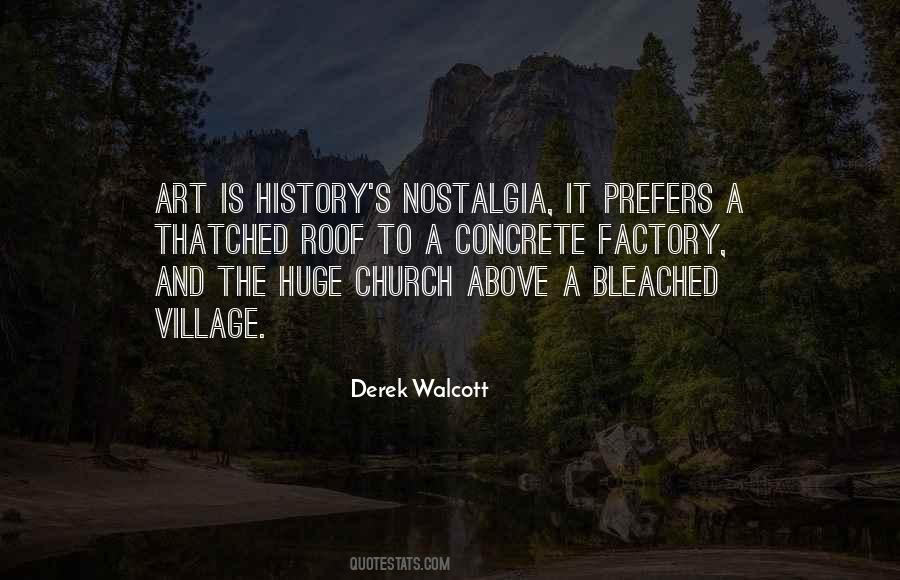 #8. All the guys called the Olympic Village a high-class Boy Scout camp.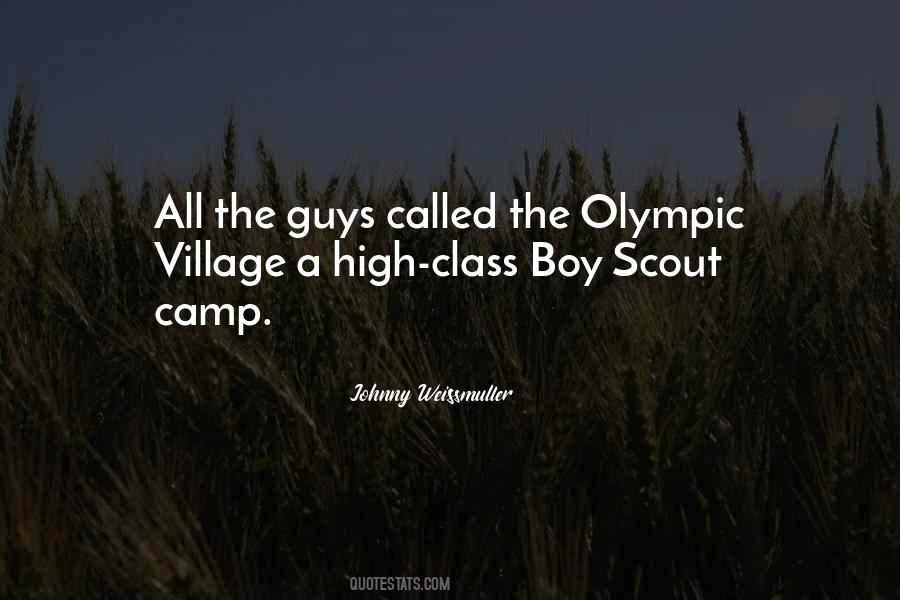 #9. Therefore it was not pride that took me into the village twice a week, or even stubbornness, but only the simple need for books and food.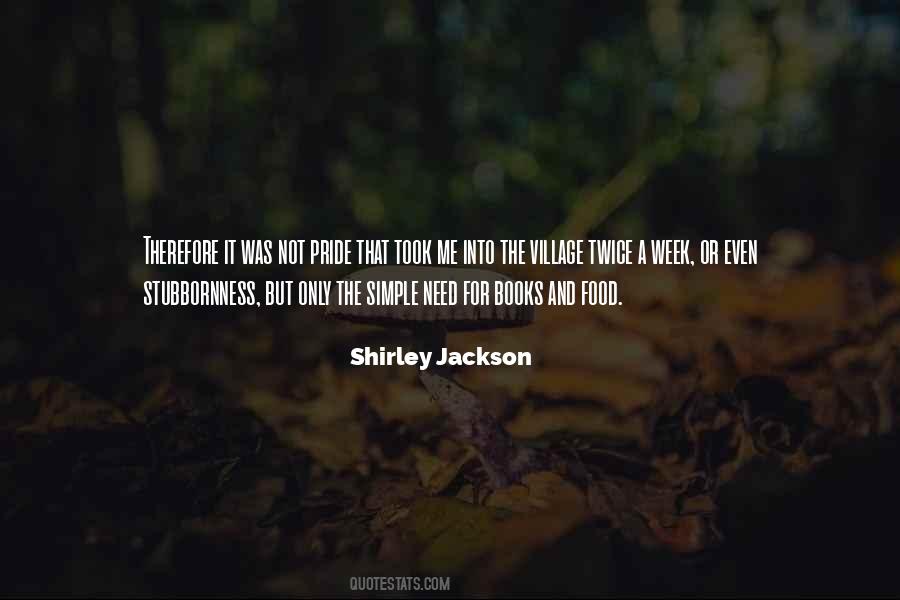 #10. Lacey said if he wanted to read a daily or regular critiques of the Bush administration, he would read the New York Times, and that's not what he wanted in the Village Voice.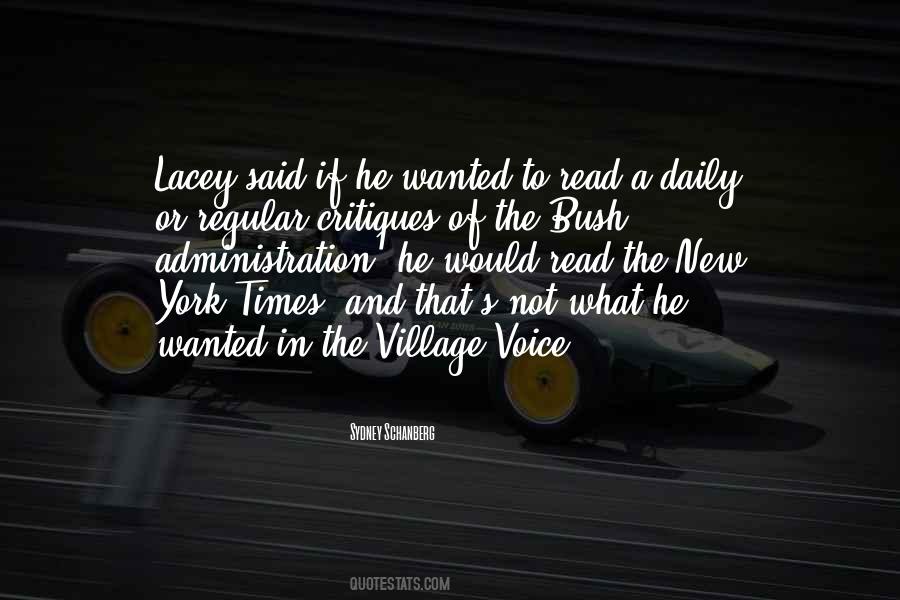 #11. She was a soldier, not some girl twisting her skirts at a village dance.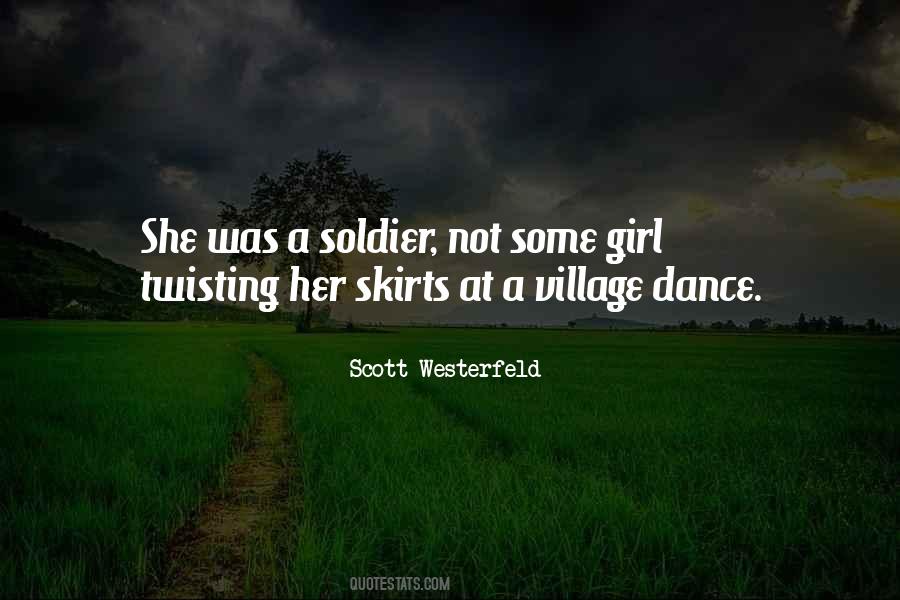 #12. Of course, like all organic processes, there is an ebb and a flow to writing. One does not exist without the other. The writer needs to be vigilant in protecting both, confident in the knowledge that the village will be there when we choose, finally, to open the door.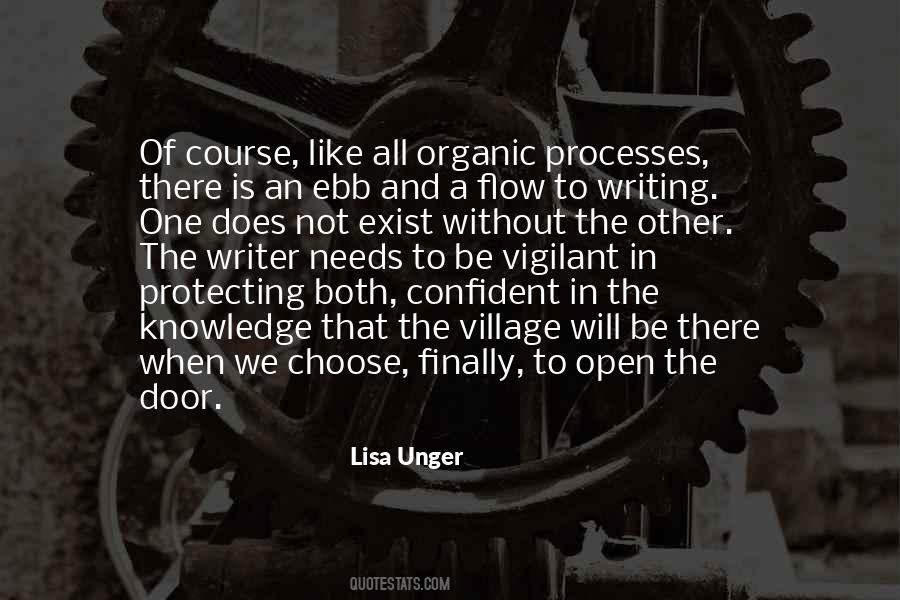 #13. It is a city of villages, closely connected, each village dedicated to a different way of life.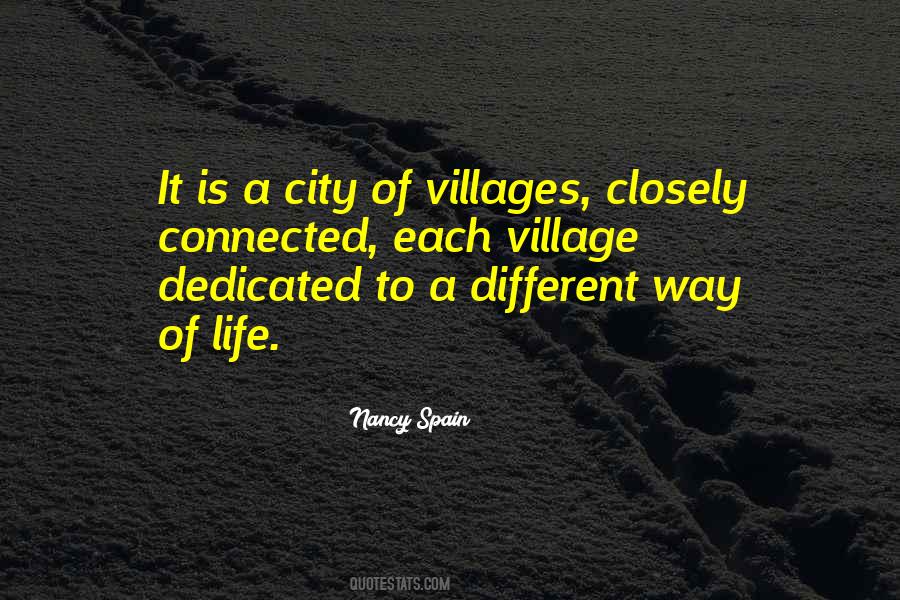 #14. Can one be a follower of Jesus Christ ... and have countries attacked. The lives, reputations and possessions of people destroyed and on the slight chance of the presence of a few criminals in a village, city, or convoy for example, the entire village, city or convoy set ablaze.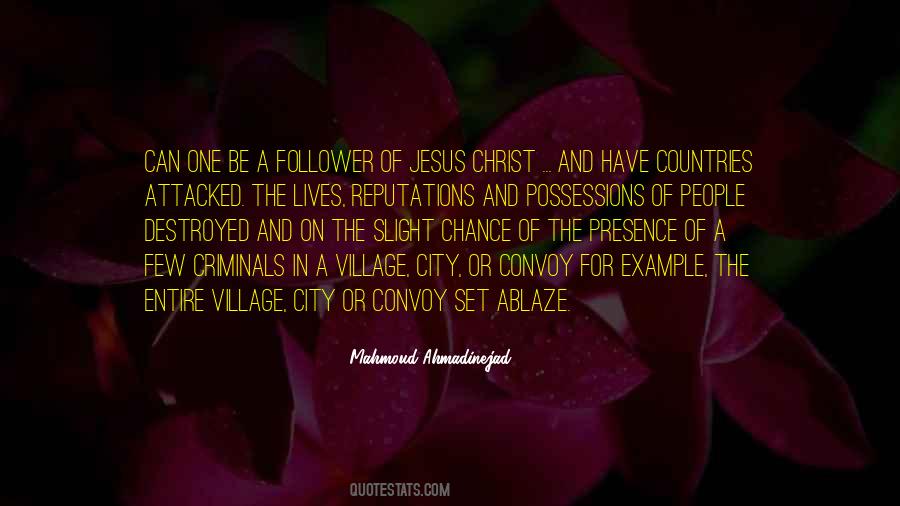 #15. Courage is walking naked through a cannibal village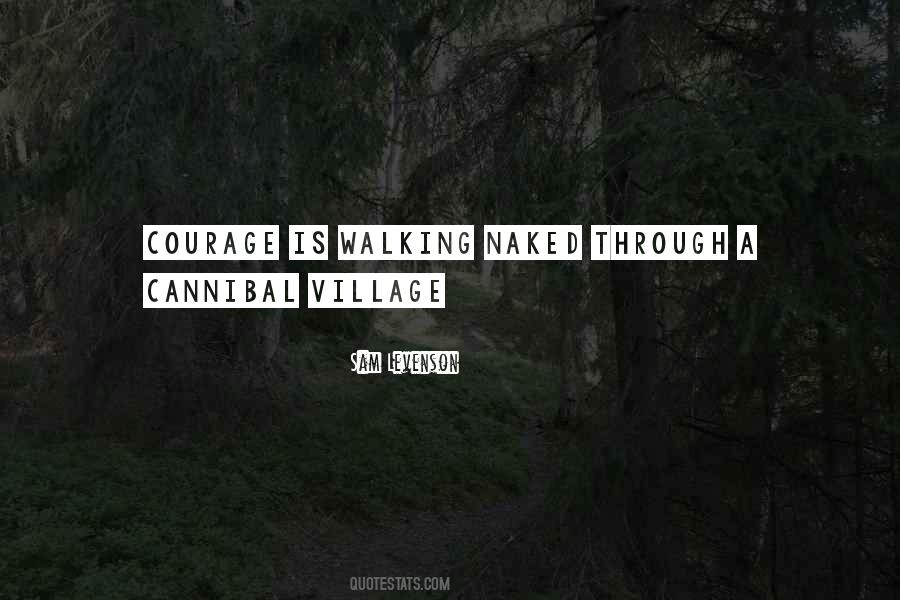 #16. You need a village, if only for the pleasure of leaving it. A village means that you are not alone, knowing that in the people, the trees, the earth, there is something that belongs to you, waiting for you when you are not there.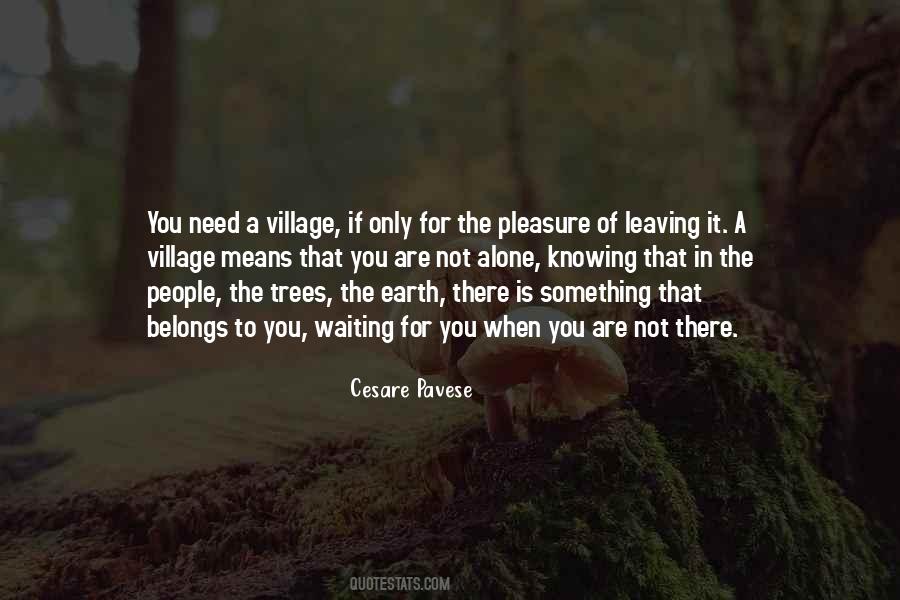 #17. The Afghans I met were some of the nicest and most honorable people I've ever encountered. There is a code called 'Pashtunwali,' so if someone invites you into their village, every last man will fight to protect your life. I was impressed by that.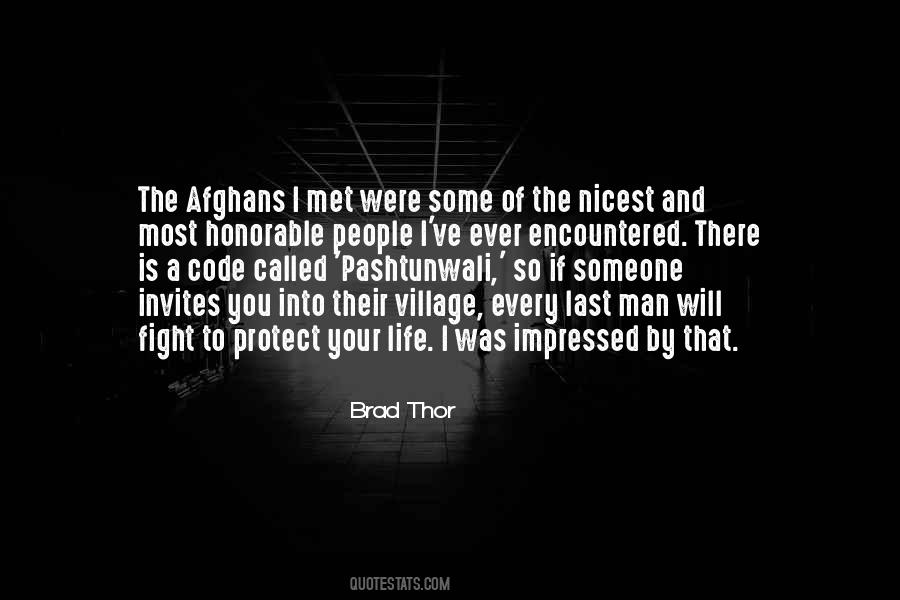 #18. In such places as Greenwich Village, a menage-a-trois was completed- the bohemian and the juvenile delinquent came face-to-face with the Negro, and the hipster was a fact in American life.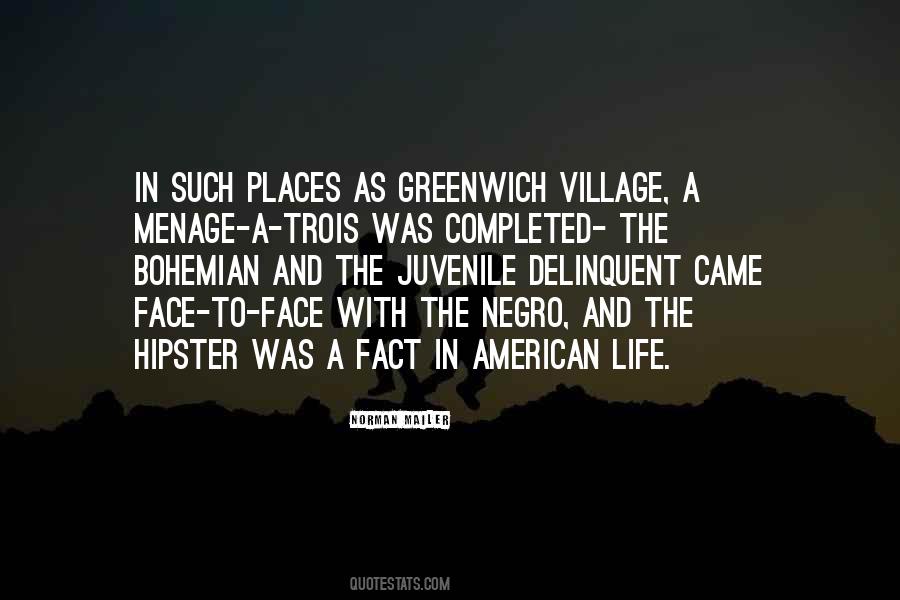 #19. A man's greatest moment in life is when his enemy lays vanquished, his village aflame, his herds driven before you and his weeping wives and daughters are clasped to your breast.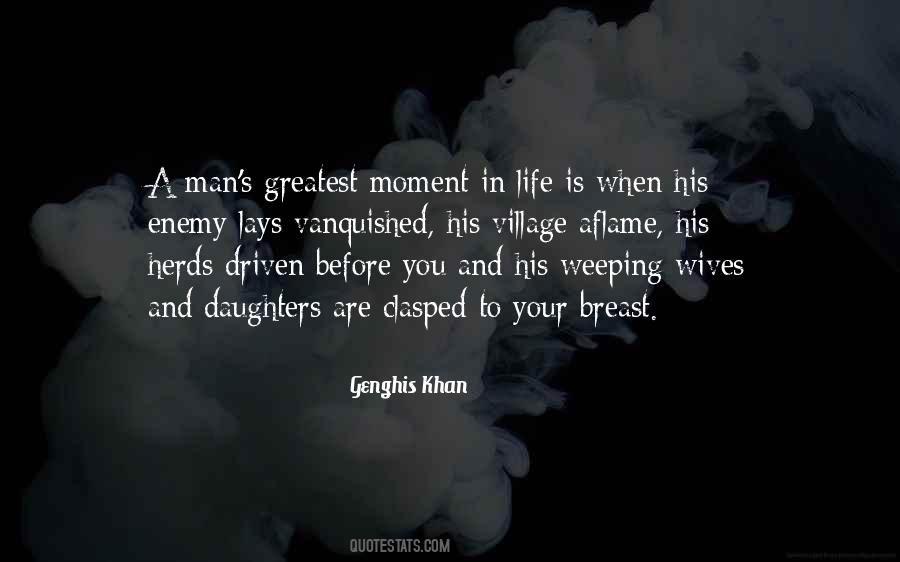 #20. If there is electricity in every village, people will watch TV till late night and then fall asleep. They won't get a chance to produce children. When there is no electricity, there is nothing else to do but produce babies.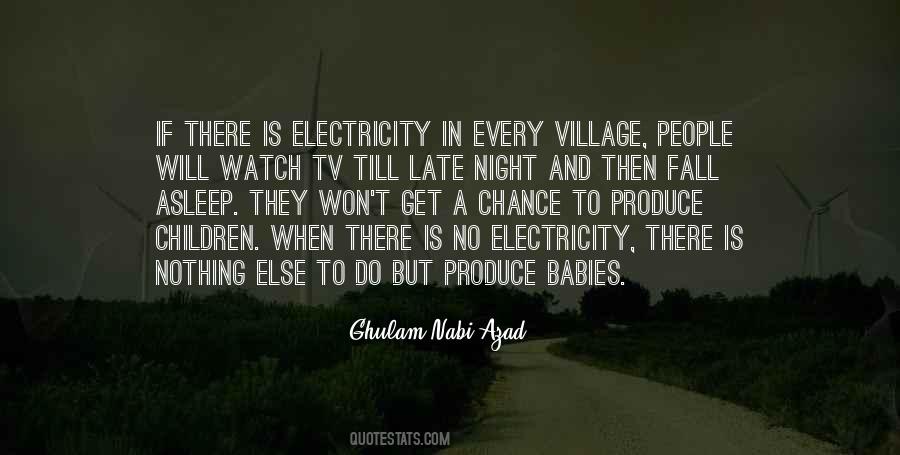 #21. A favorite Palestinian tactic was to set up a couple of cannons or rocket launchers in a Christian village, fire a few rounds into Israel, and then quickly withdraw, knowing that Israel's return fire would fall on innocent Christian civilians.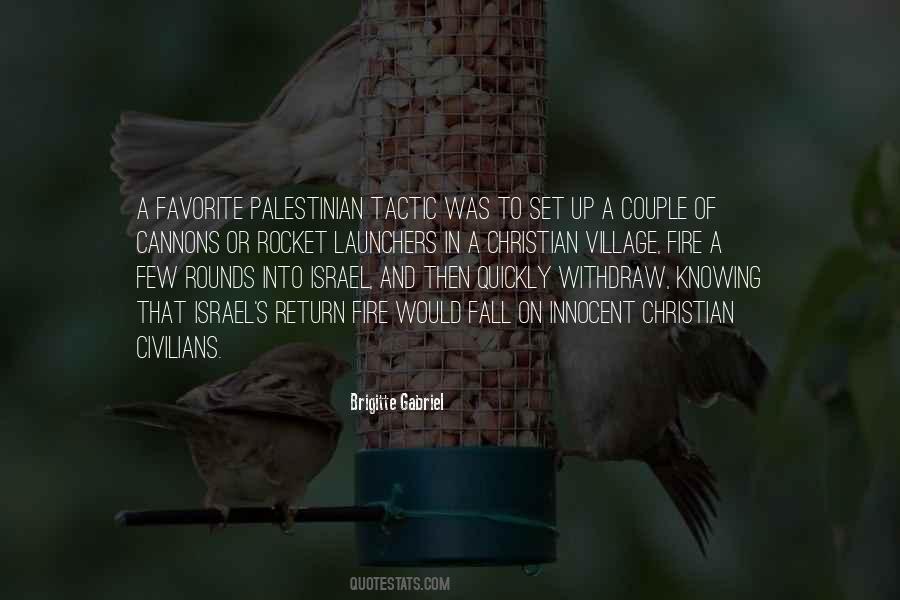 #22. J.F. McNair reported that Malays in Perak formally built and instituted a mosque whenever a village grew larger than forty houses.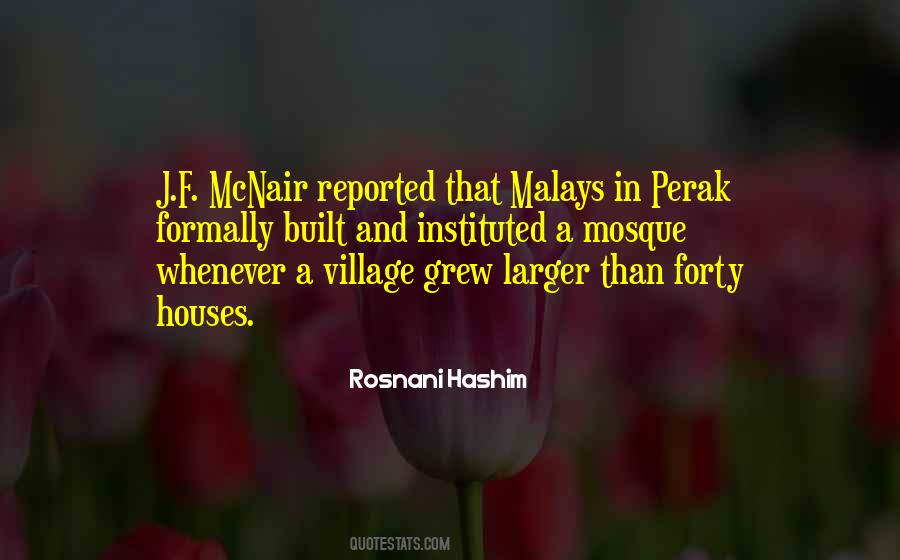 #23. Almost every week, there are stories in the press or on Chinese social media about what even the official Chinese media call 'hot online topics:' stories about how people in a particular village or town used Weibo to expose malfeasance by local or regional authorities.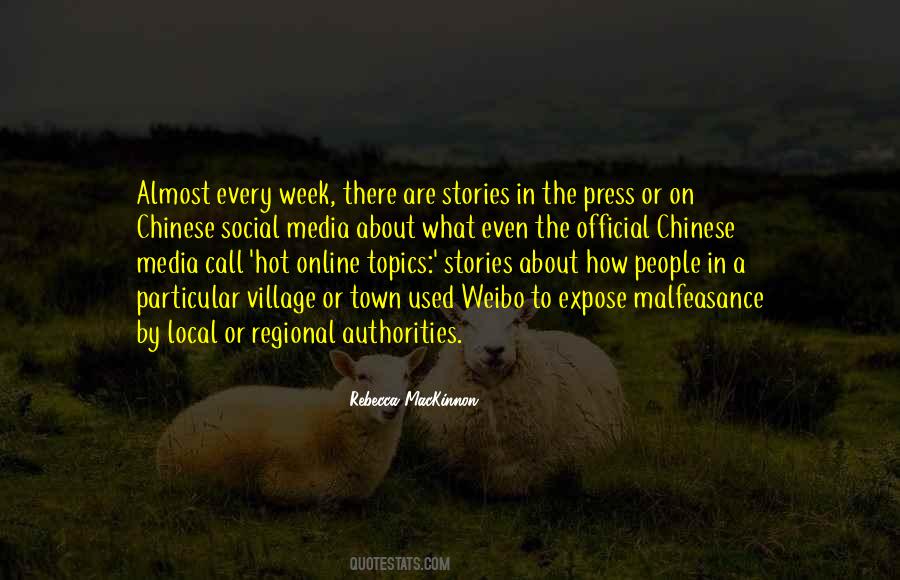 #24. If people are able to run the affairs of a village well, eventually they'll be able to run a township, and a county.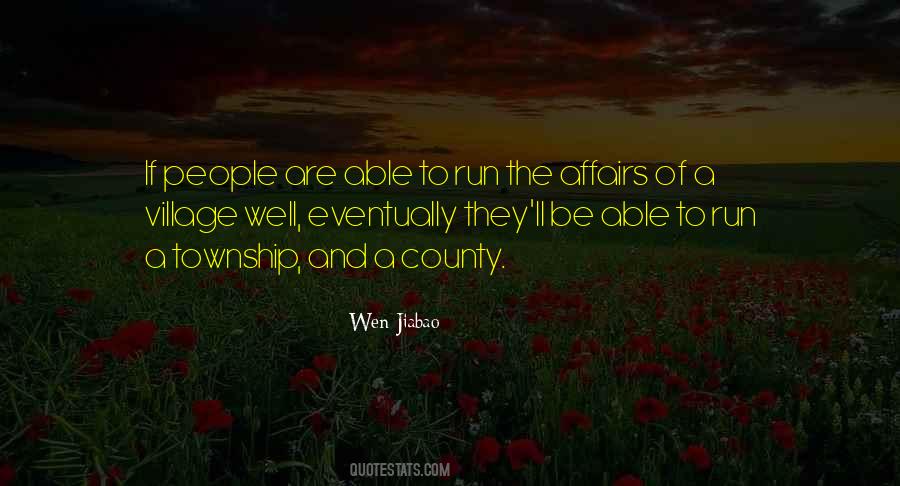 #25. For a summer of drug abuse on the island of Capri, she packed a wardrobe of black Morticia gowns, dyed her hair green, and paraded through the village streets with a crystal ball, followed by a retainer in gold body paint.
#26. I don't see a lot of movies that portray the East Village as well as I think they can.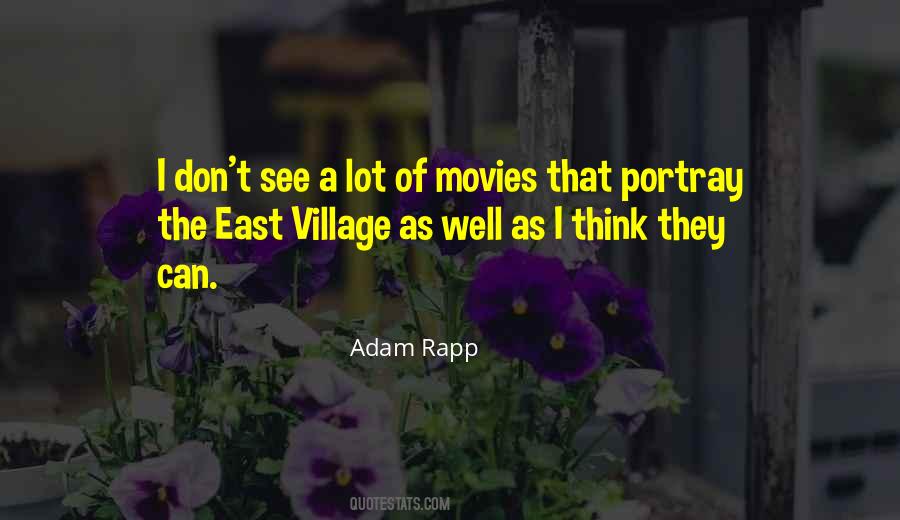 #27. ...there was a storm of enormous proportions, with winds so strong that dozens of fish were drawn up from the reedy shallows, then lifted above the village in a shining cloud of scales.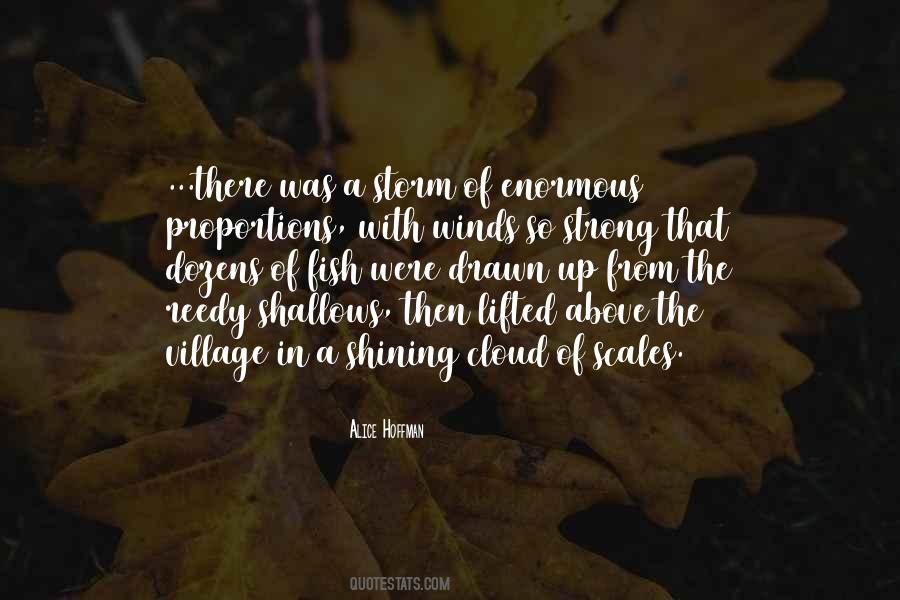 #28. My husband is my biggest supporter on earth. He encourages me to put myself out in the world in ways that feel scary, and he's like, "I'm always gonna catch you. I'm always gonna be there for you." My supportive mother and family. Honey, it's such a village.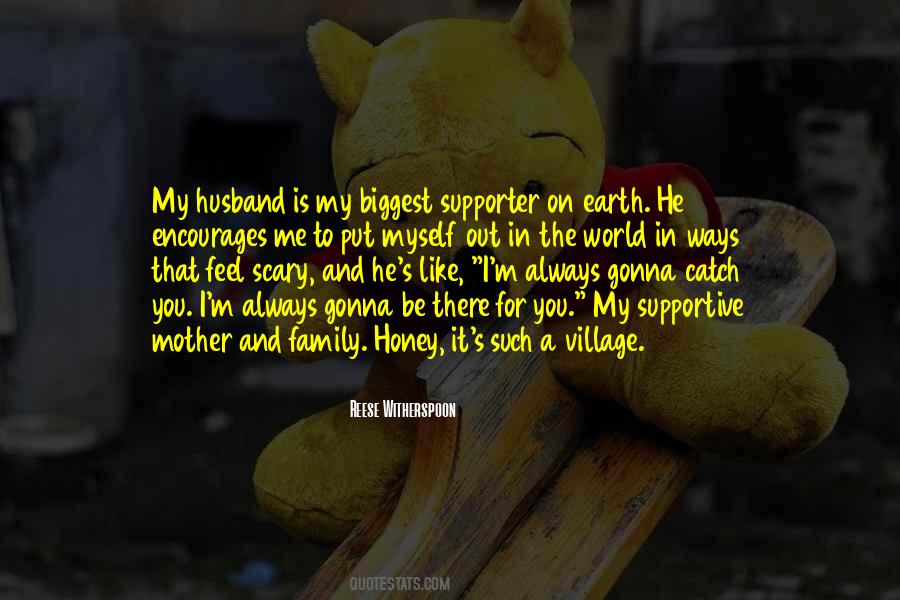 #29. When we say, even in a global village, that all politics is local, we mean that national sovereignties are the only reliable source of political authority.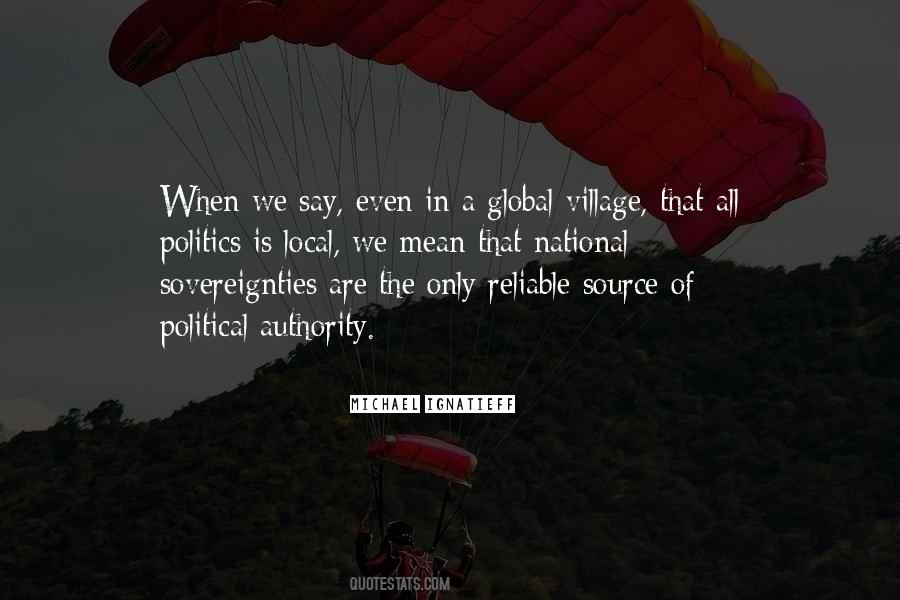 #30. I think more of the little kids from a school in a little village in Niger who get teaching two hours a day, sharing one chair for three of them, and who are very keen to get an education. I have them in my mind all the time. Because I think they need even more help than the people in Athens.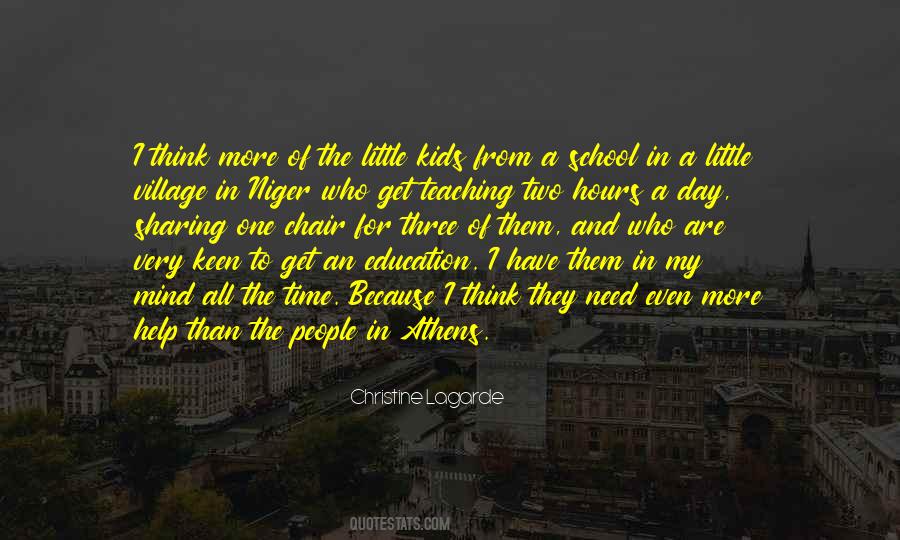 #31. The Lowcountry traditionally is a logical place where the big ships stopped and brought new things in from the ocean, and the islands have a mystical tradition. It is such a visual place, too, with these iconic villages with the Spanish moss and the village and historical homes and the coast.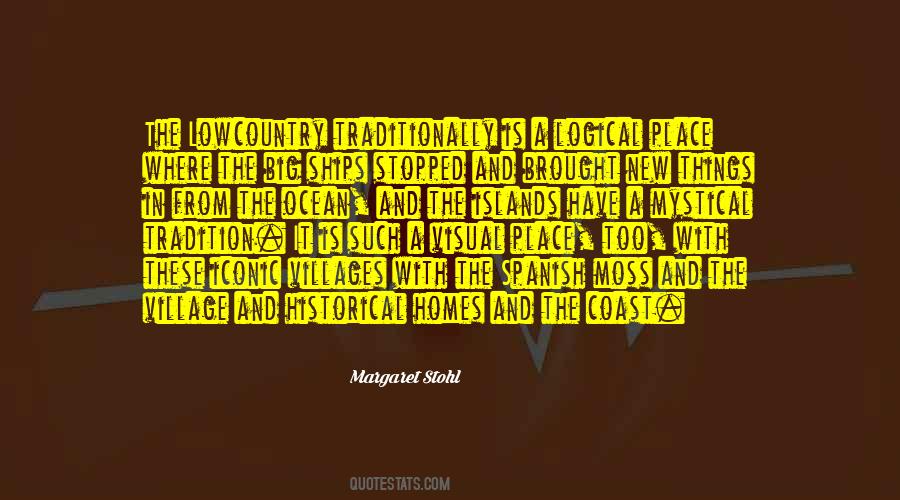 #32. The Jewish usurers are fast-rooted even in the smallest villages, and if they lend five gulden they require a security of six times as much. They charge interest, upon interest, and upon this again interest, so that the poor man loses everything that he owns.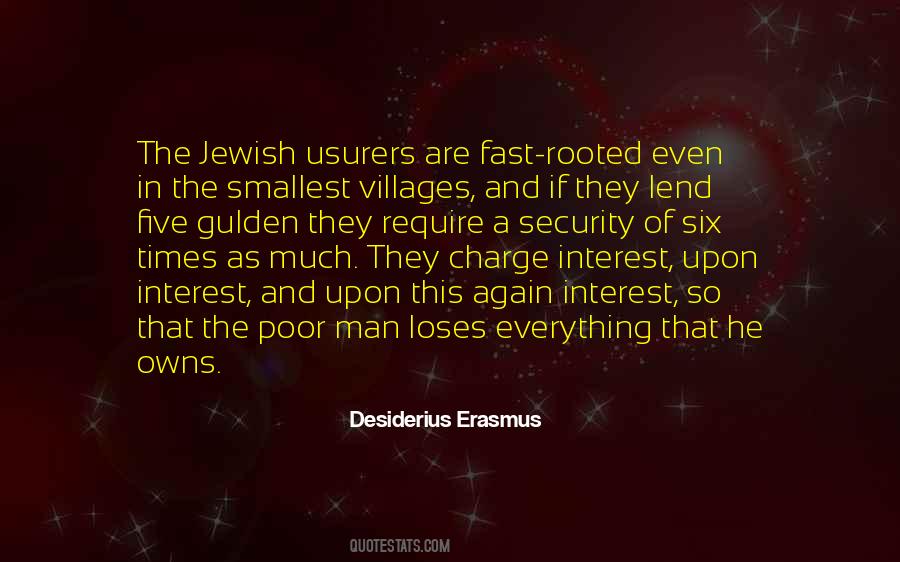 #33. Whatever education a university or institutes of higher education imparts, it must achieve the global level of benchmarking given the vastness and diversity of global village we live in today.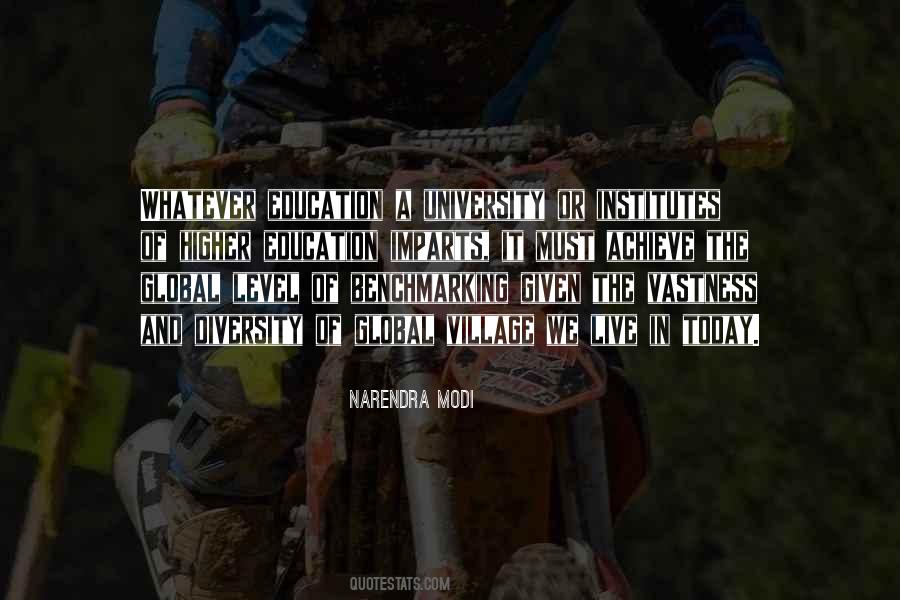 #34. Oh, mansion shmansion. Did Gandhi's house have the largest outdoor trampoline in the tristate area? Did Jesus have a two-acre remote-controlled car track, with mountains to scale and a little village that lit up at night?
Not in his Bible.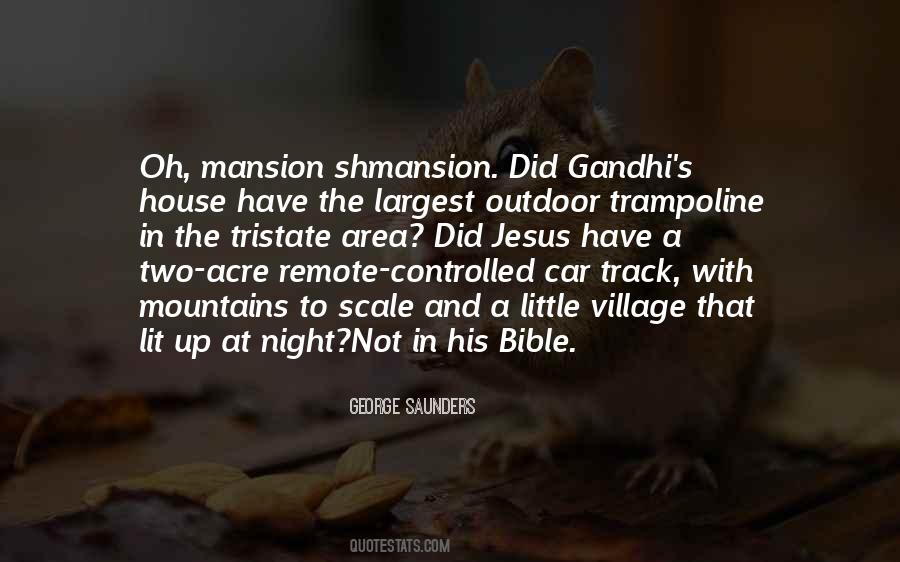 #35. As a woman who grew up in a village in India, I've spent my whole life fighting tradition. There's no way that I want to be a traditional Indian housewife.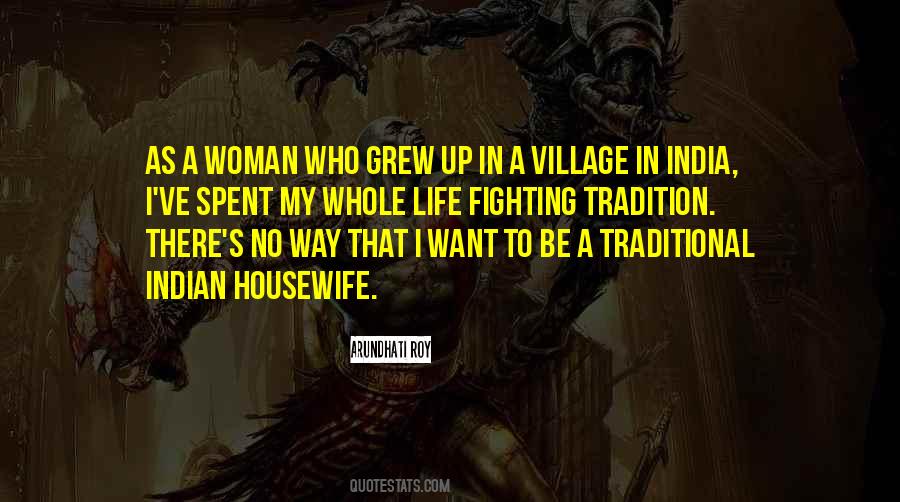 #36. A few days after my new state occupied my village, I became a prisoner of war rather than a citizen.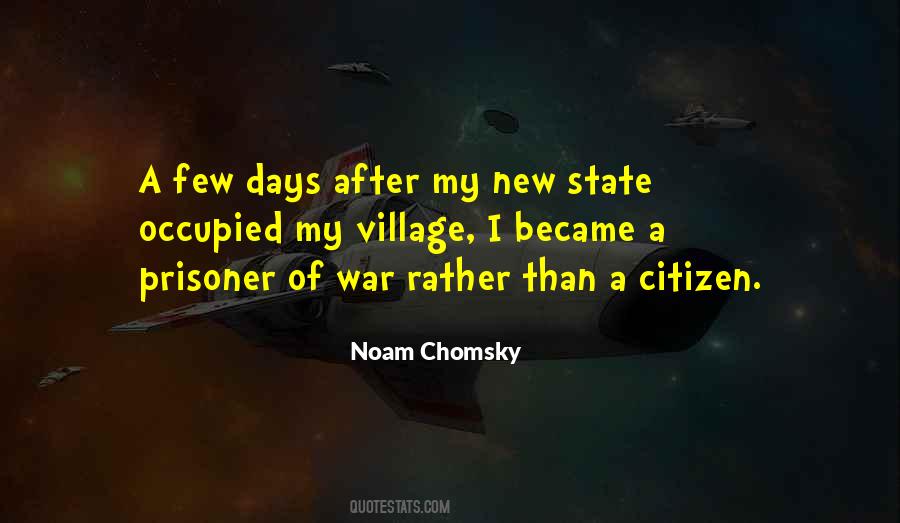 #37. The rest of the morning would consist of checking on a pothole in the parking lot of the village clinic and writing up a schedule for the community centre that might finally settle the ongoing feud between the local quilting group and the bridge club.
It was good to be queen.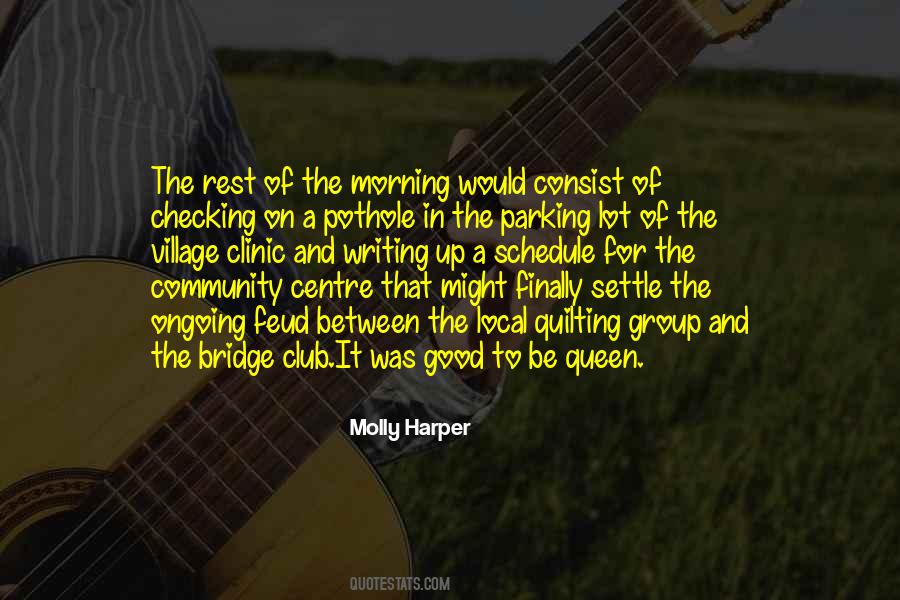 #38. My art teacher in junior high was a very out gay man and a mentor to me. He would tell us about Greenwich Village and show us the 'Village Voice' and describe his life, but it was all sort of subversive and below the radar.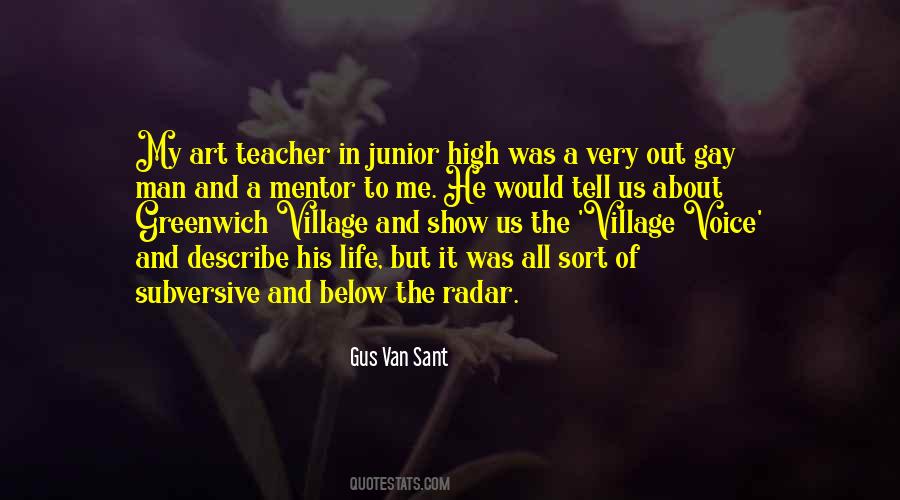 #39. It is true that I am a writer, and I was married to a composer, and I have lived in a small village in New England, but my children are not named Heracles and Persephone, and my daughter doesn't disappear underground every six months and emerge in the spring.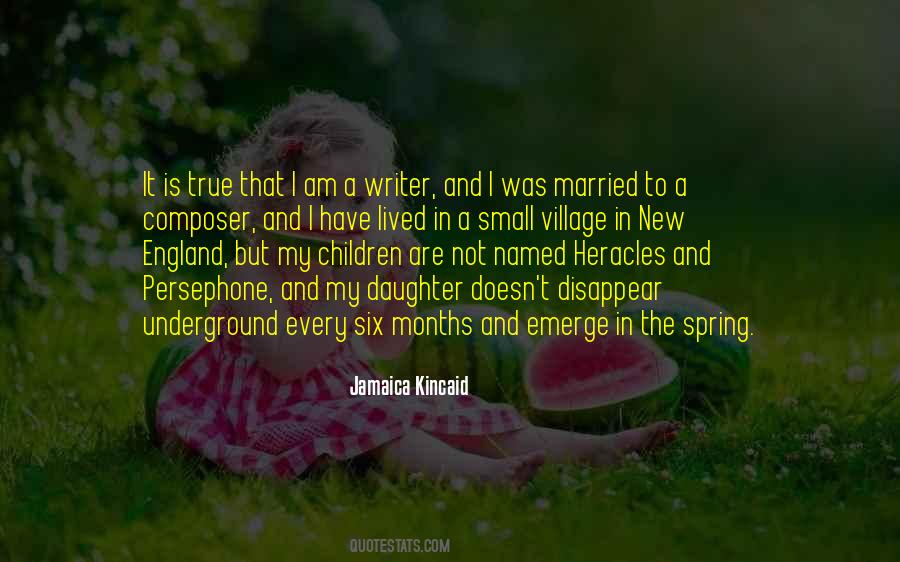 #40. Very much like that, and very much a loner, do you know and I didn't fit really into sport or all kind of group activities as a kid, I couldn't find a niche. And music was not really part of the kind of village curriculum it would, you know.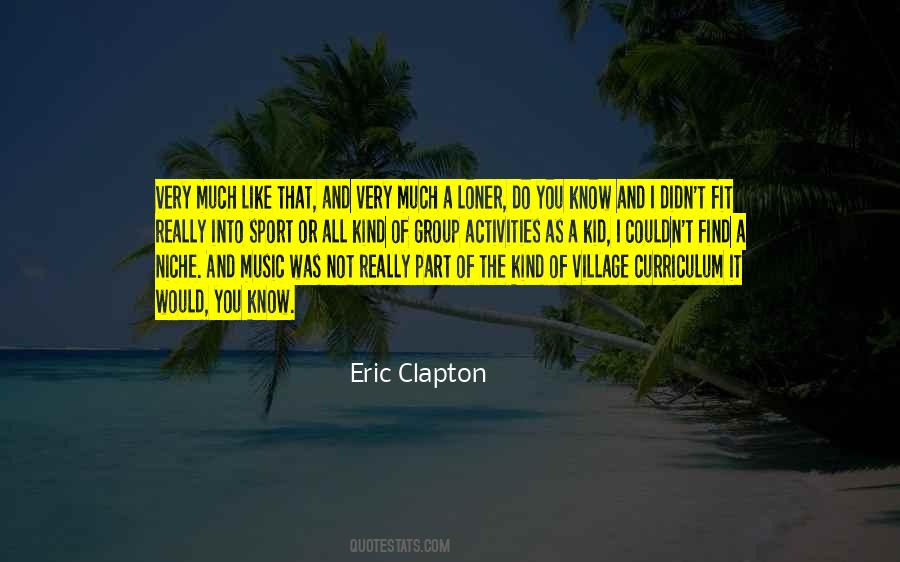 #41. A woman who was washing clothes in the river during the hottest time of the day ran screaming down the main street in an alarming state of commotion.
"It's coming," she finally explained. "Something frightful, like a kitchen dragging a village behind it.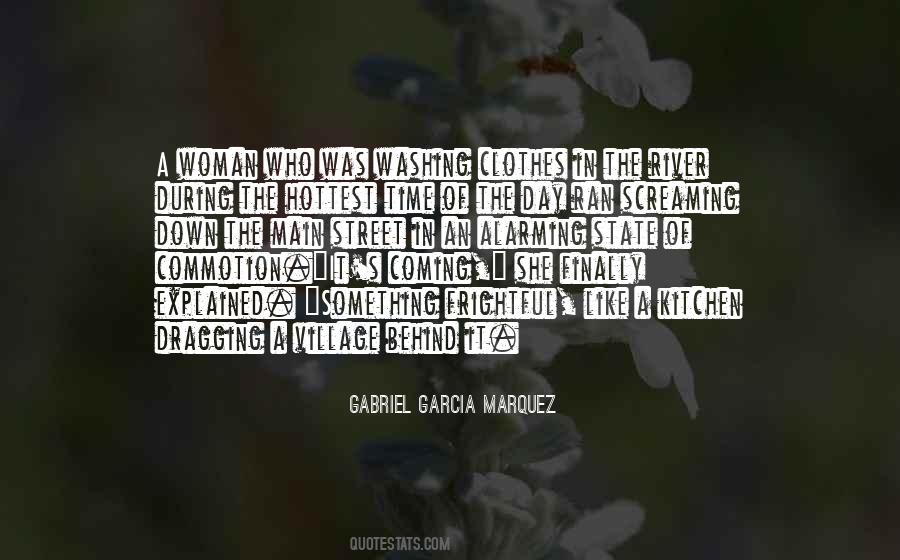 #42. It used to happen in villages and towns in China that they would have - I guess you'd call them beauty contests - where all of the women of a particular village or town would be seated behind these screens or curtains with only their feet showing.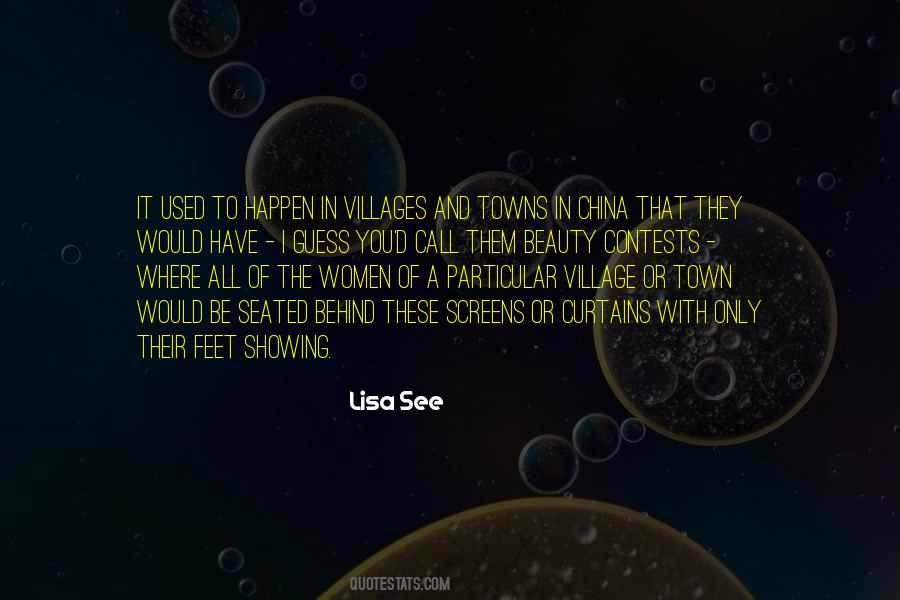 #43. I live in a Swiss village so small, if you sneeze everyone knows.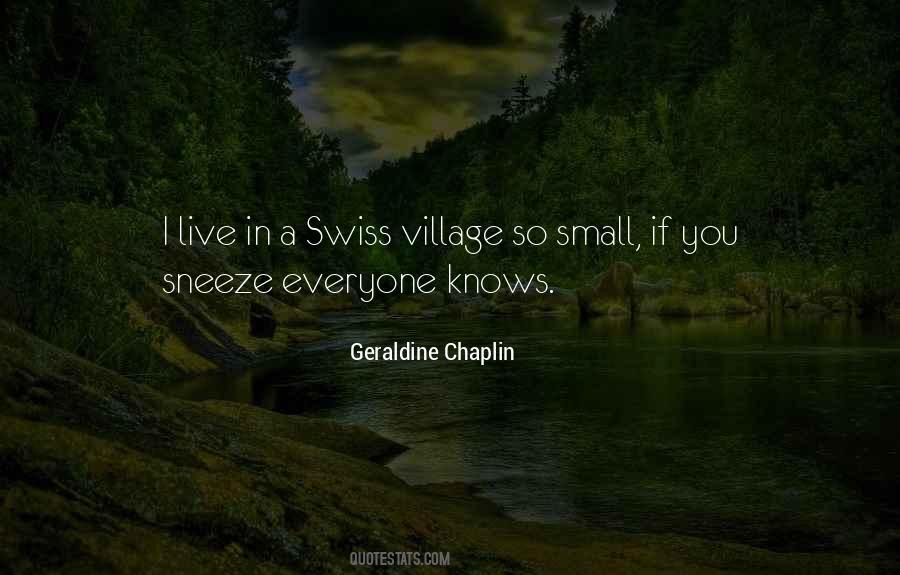 #44. How many times did we hear [Barack] Obama say, 'You didn't build that. You didn't build that - no, you need government.' We even saw Hillary Clinton say - remember her phrase - 'It takes a village to raise a child.' In other words, your children are not your children - they belong to the community.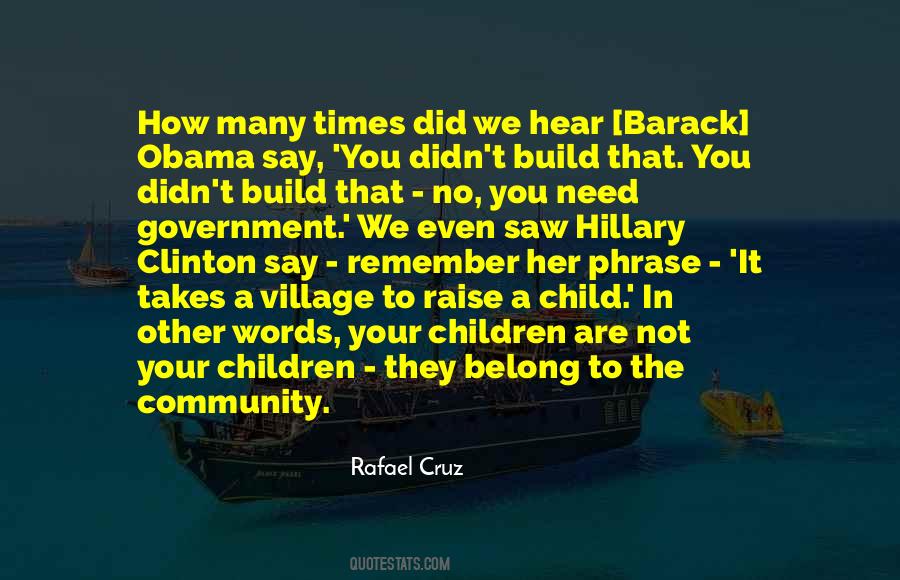 #45. I read this on the gates to a village cemetery: What you are, we used to be. What we are, you're going to be. - It puts things in perspective, doesn't it?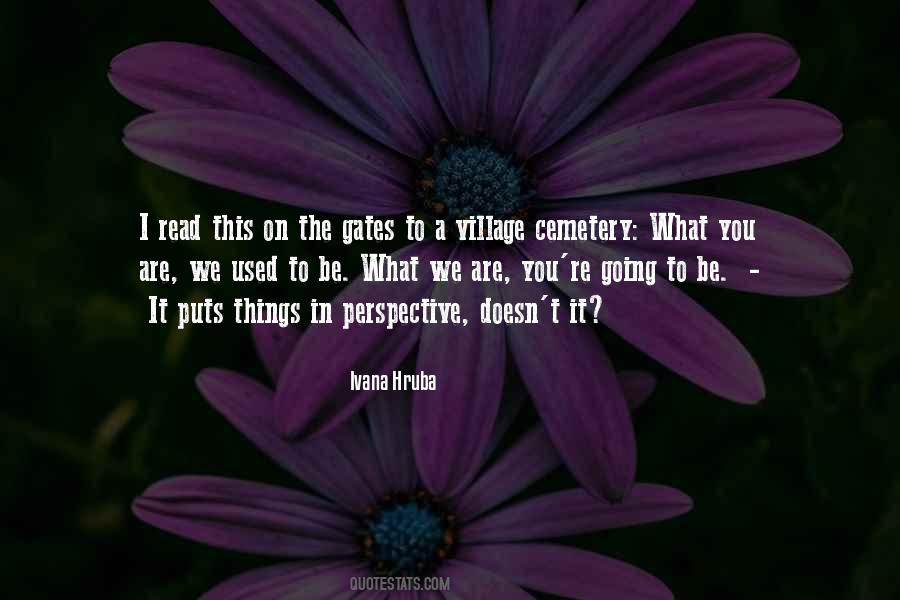 #46. It takes only one child to raze a village.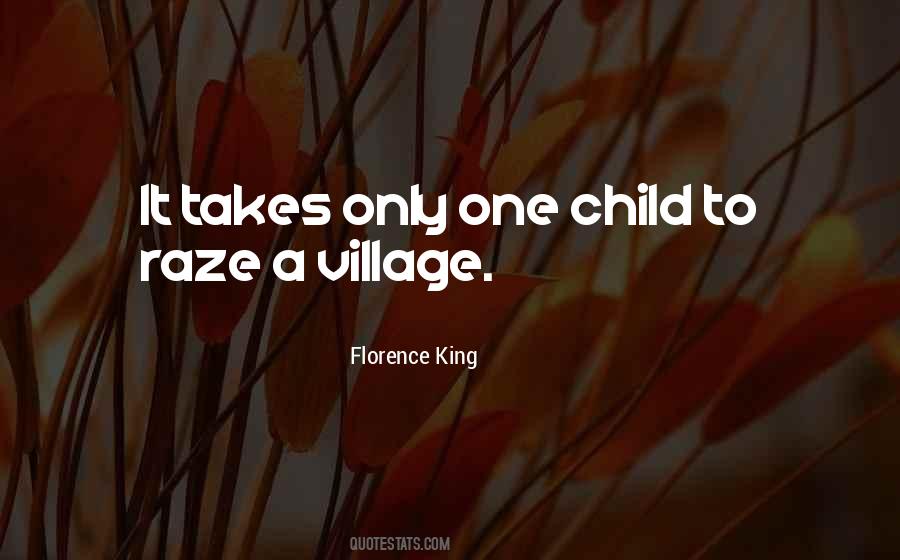 #47. Time' has ceased, 'space' has vanished. We now live in a global village ... a simultaneous happening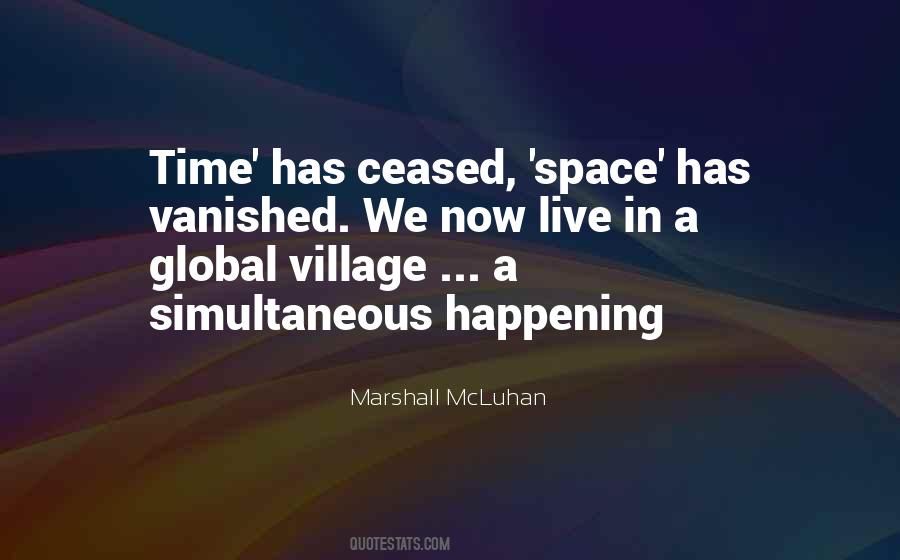 #48. Death carries off a man busy picking flowers with an besotted mind, like a great flood does a sleeping village.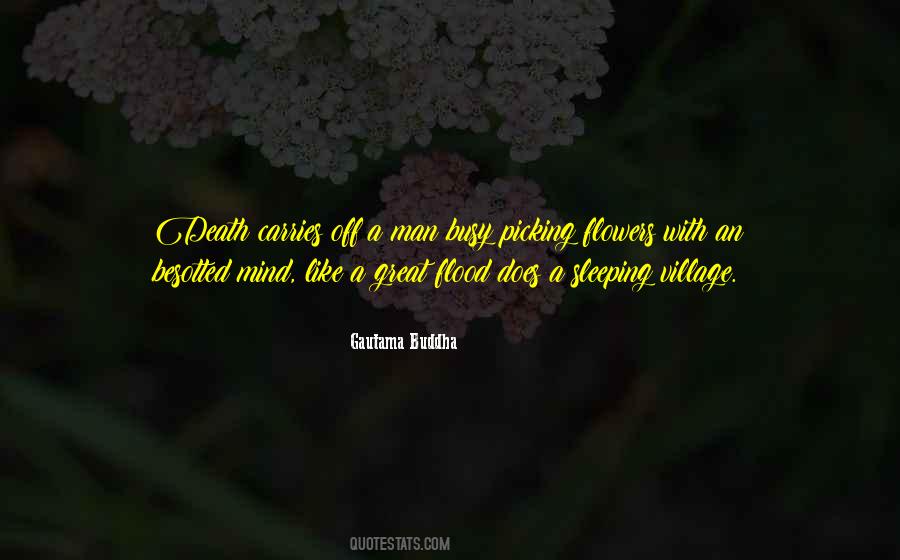 #49. This is going to make me sound ancient, but I remember Juhu Beach when there weren't any buildings on it. You'd go through countryside and arrive at this amazing beach. I remember driving from Delhi to the Qutab Minar through countryside. Mehrauli was a little village - that's all gone.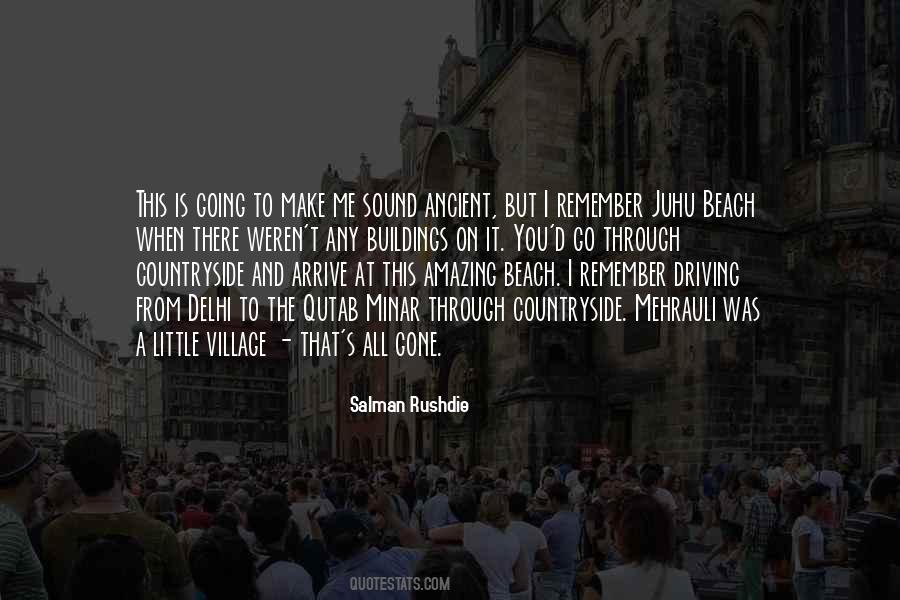 #50. Under pressure, people admit to murder, setting fire to the village church or robbing a bank, but never to being bores.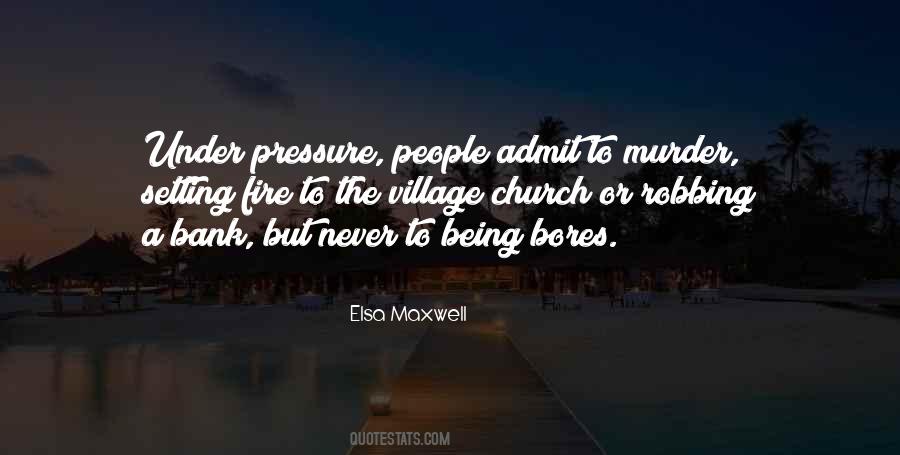 #51. I live in a cottage and volunteer in the village shop.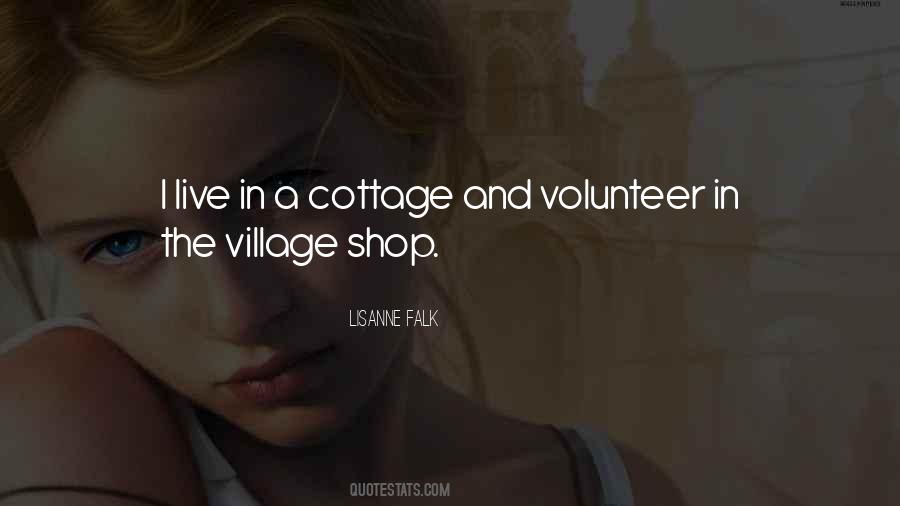 #52. I loved Morocco. It's very exotic and different from anywhere I've ever been. I had an amazing day there in the high Atlas Mountains near Mount Tamadot, when I rode by donkey into a Berber village and drank some mint tea with a Berber family. It was exceptional.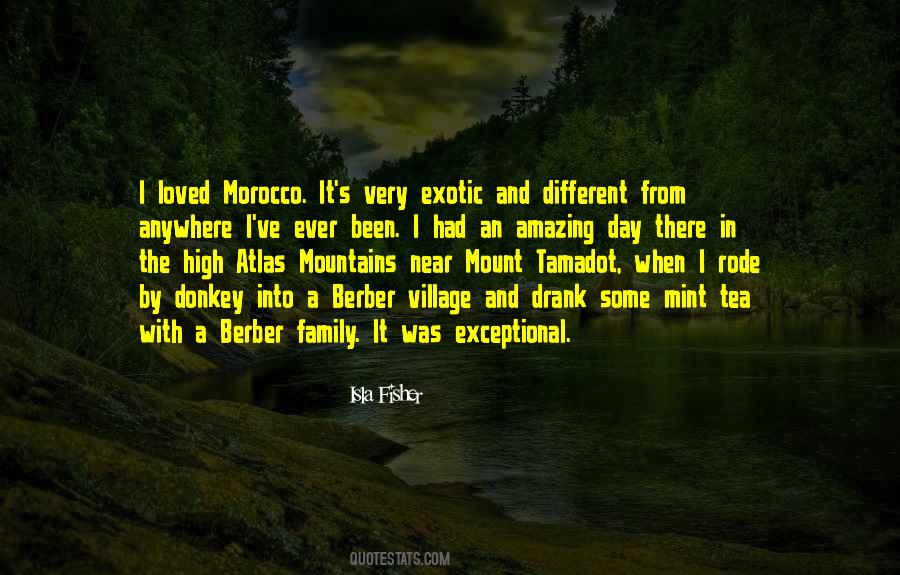 #53. In my village, one of our priests says that love between men is a great sin- the other argues that nothing at all is sinful except weak ale, overdone meat, and building a fire in any way but his.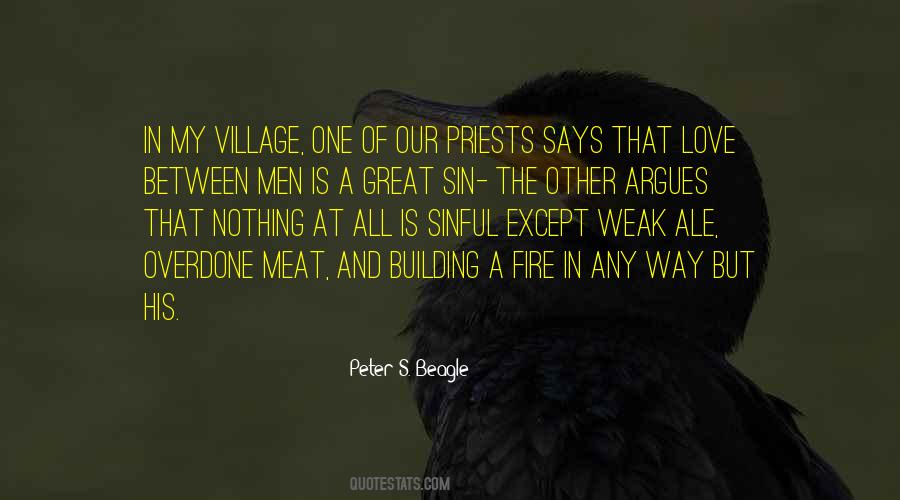 #54. I opted for the rear door, both as a courtesy and so she couldn't freak out about me showing up on her front doorstep for all of East Falls to see. Being the village pariah does make social calls most trying.
-Paige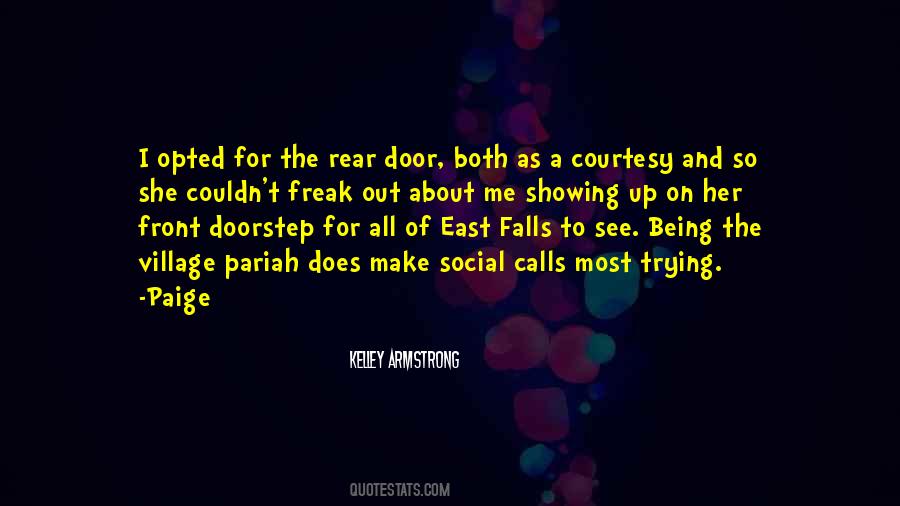 #55. It takes a village to raise a child, they say, and it takes a community to raise a genius, no matter how singular the individual.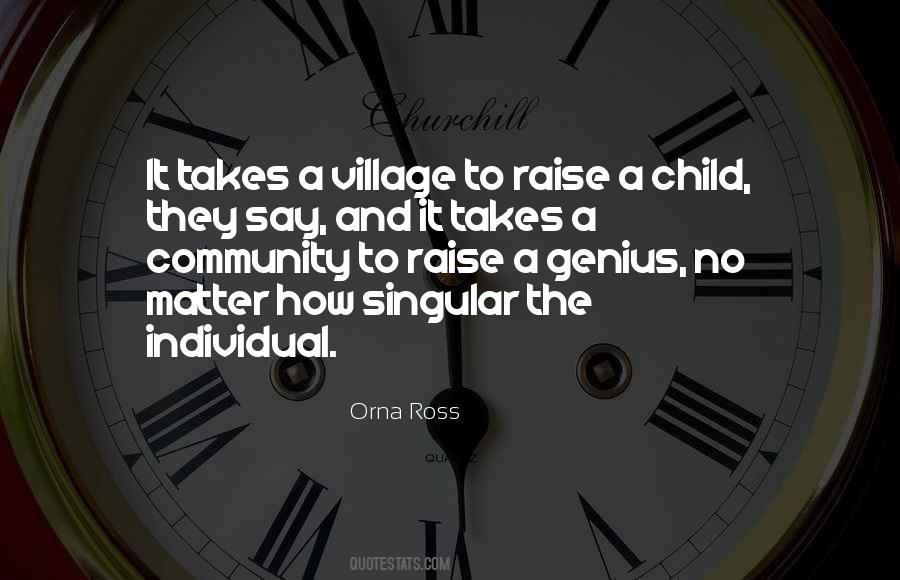 #56. If it takes a village to raise a child, it takes a whole agency to make a successful campaign.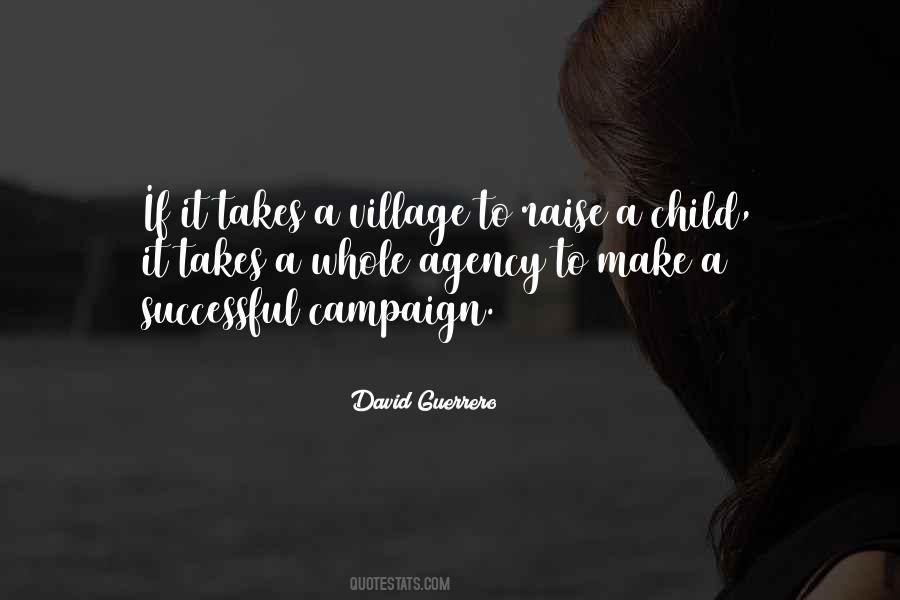 #57. Here, you can walk into a bookstore and pick up a Bible or Christian literature and learn. Over there, they are lucky if they have one Bible for a whole village.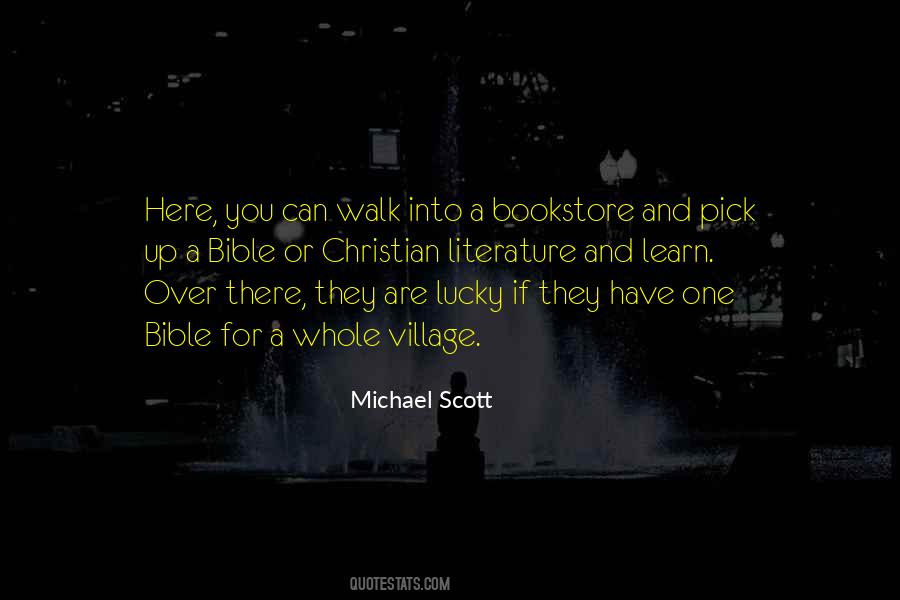 #58. Guernsey itself was overcrowded, but its cliffs were utterly empty. I spent a wonderful year with a friend, climbing them. It was sheer magic: you went from this pretty, busy village of an island to the sea cliffs and heard nothing but the gulls and the waves.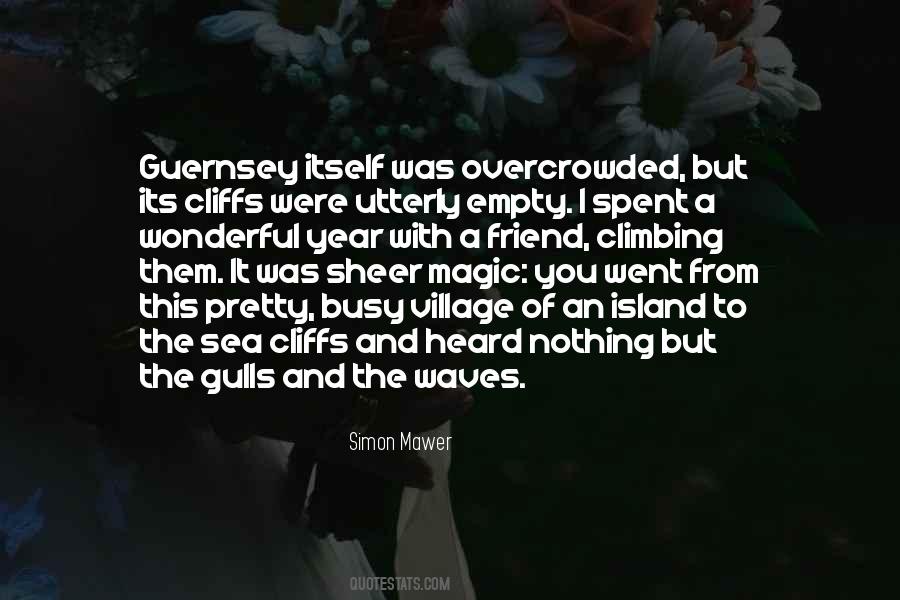 #59. We have a duty to get to know one another, and to cultivate a concern and responsibility for all our neighbors in the global village.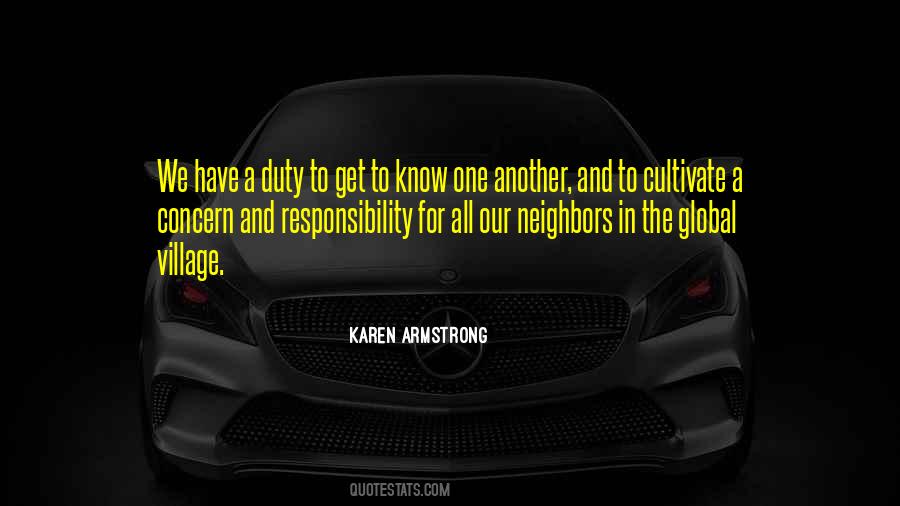 #60. You can criticize any news staff in some ways, but the one thing that you couldn't call the Village Voice staff was a staff of stenographers, taking notes from public figures and just passing them on.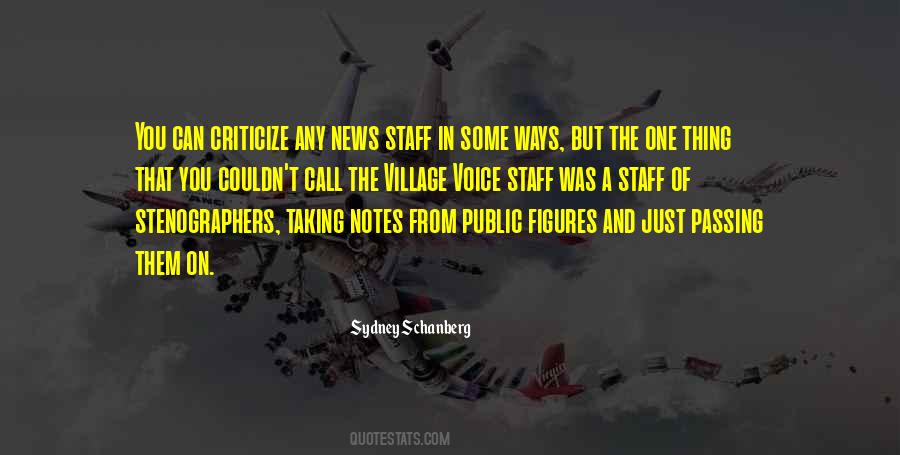 #61. And you know once a man has fished, or watched the thrushes hovering in flocks over the village in the bright, cool, autumn days, he can never really be a townsman, and to the day of his death he will be drawn to the country.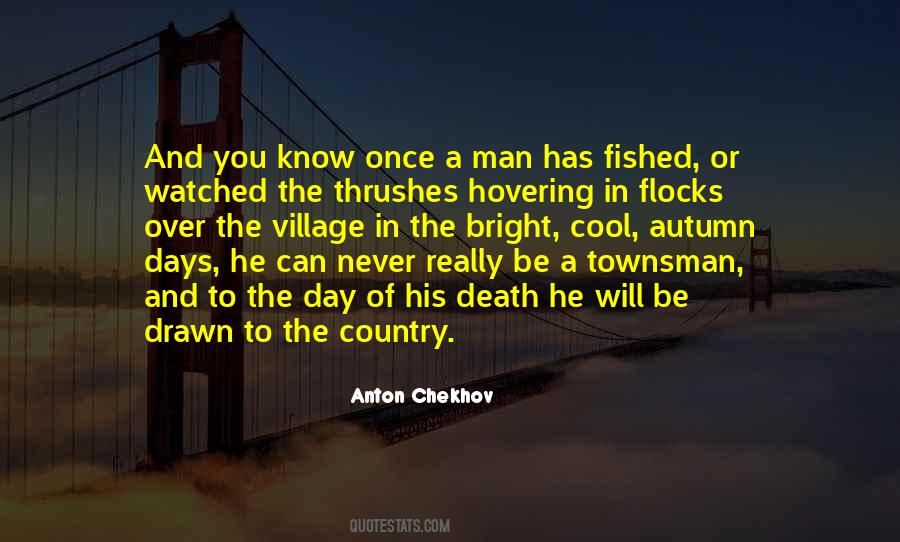 #62. I know there was nothing anyone could do. But they were taking away an 86-year-old grandmother to a horrible death, and the village where she had lived all her life, where everybody loved her, had just looked on. The only thing that anyone had had to say was, 'Mrs. Bloch, don't be afraid ...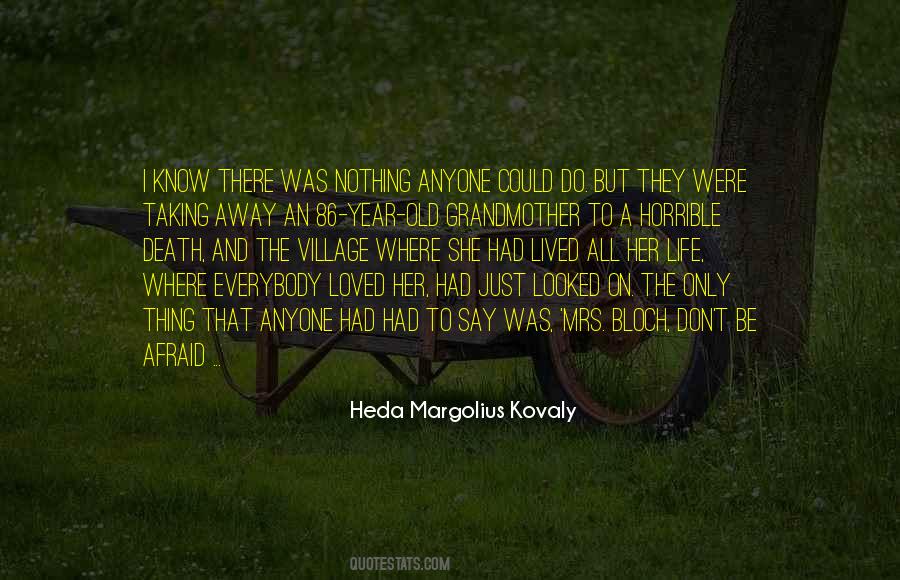 #63. Have you forgotten to have a beautiful breakfast in a countryside village? Then, you have forgotten the life!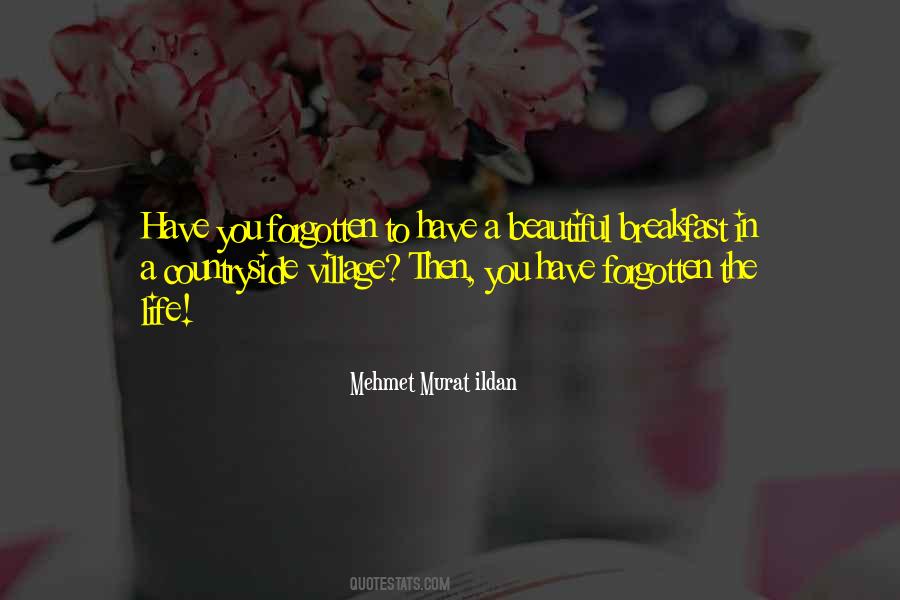 #64. I grew up in a small, strictly-Catholic fishing village on the coast of Wales. The people there have a different attitude to life than those in Hollywood - people stick together more.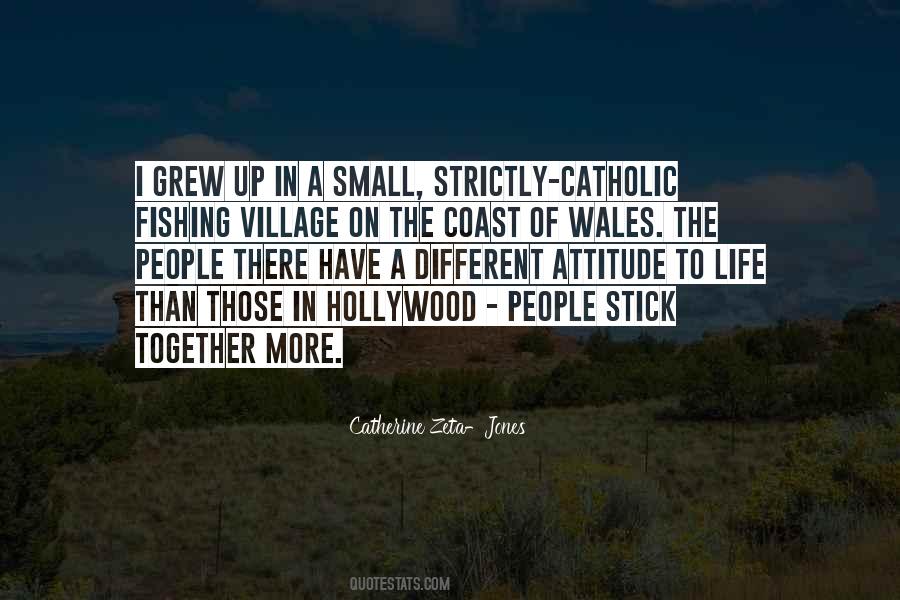 #65. From a lofty perch Tarzan viewed the village of thatched huts across the intervening plantation.
#66. I also have a soft spot for spicy chicken wings. They are always best eaten at dives and sports bars, like Wogie's in the West Village, New York City, near my house.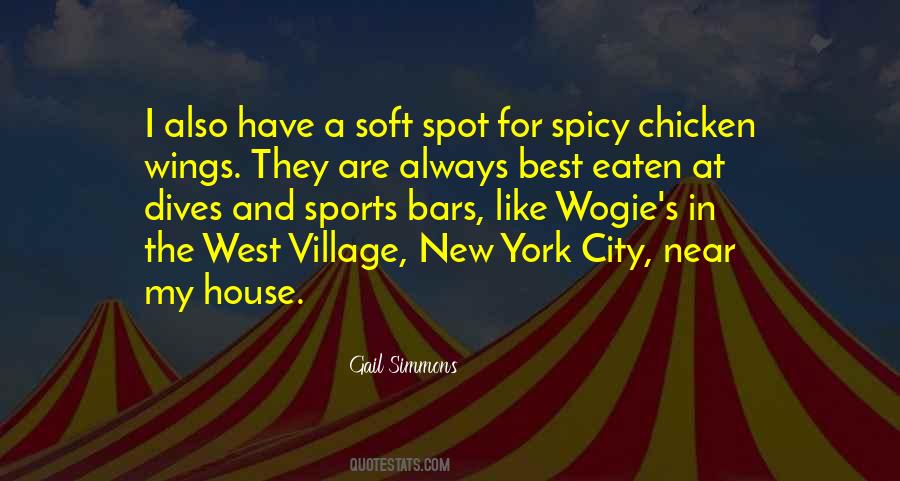 #67. I like being outdoors a lot, and I come from a small village that's fairly remote.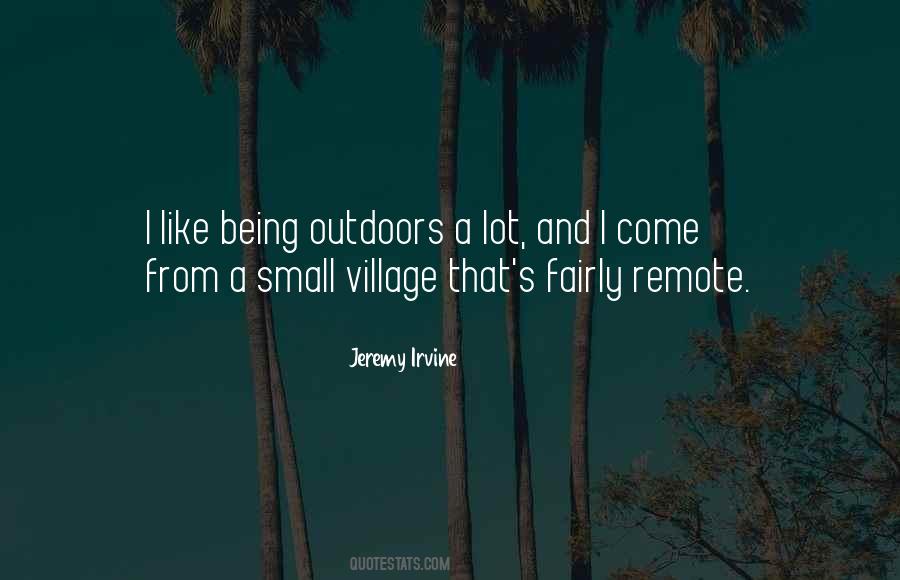 #68. There are 10,000 local governments in the state of New York. Ten thousand! Town, village, lighting district, water district, sewer district, a special district to count the other districts in case you missed a district.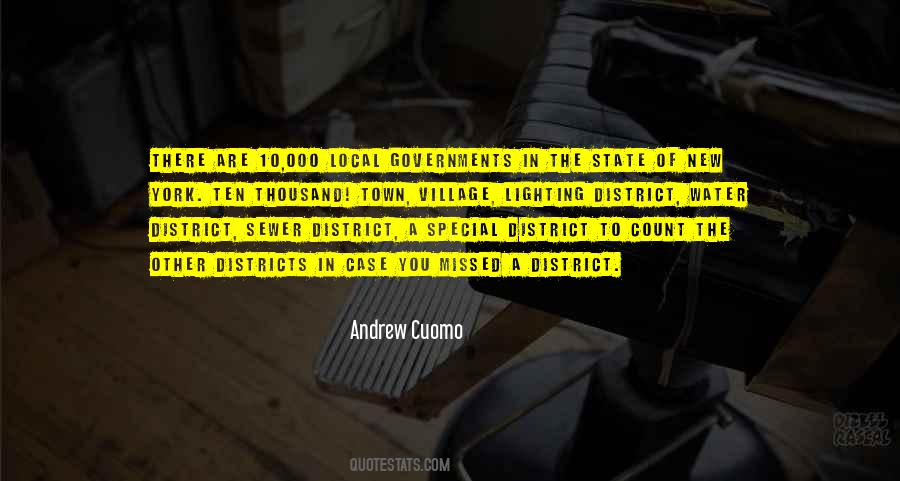 #69. Where are you from, Hadrian?" "Hintindar originally - a little village south of here in Rhenydd." "Originally? What's that supposed to mean? You got yourself born someplace else recently?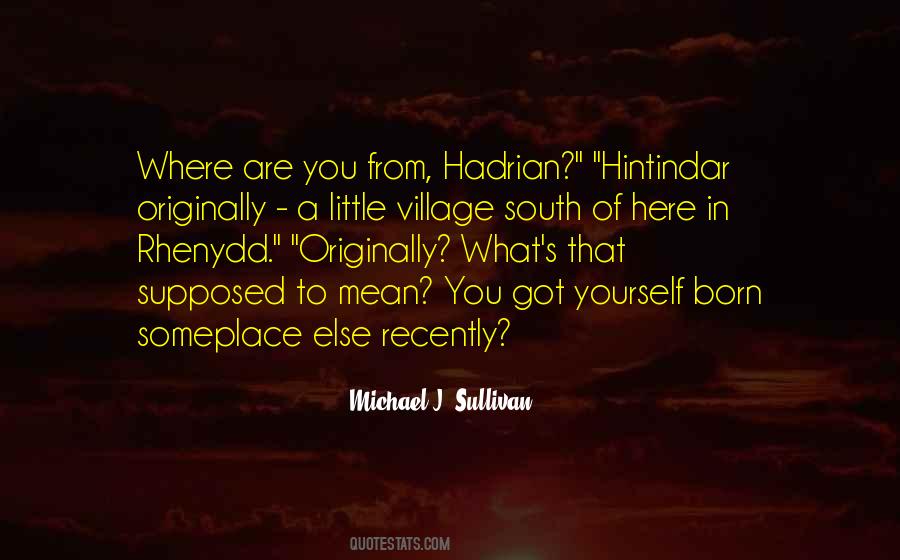 #70. Oriental DreamWorks did a lot of the surfacing of the village [in Kung Fu Panda 3] and you know all the little paintings on all the gables and everything? They have meaning, and they could do that because they know what that means, we don't necessarily know about that over here.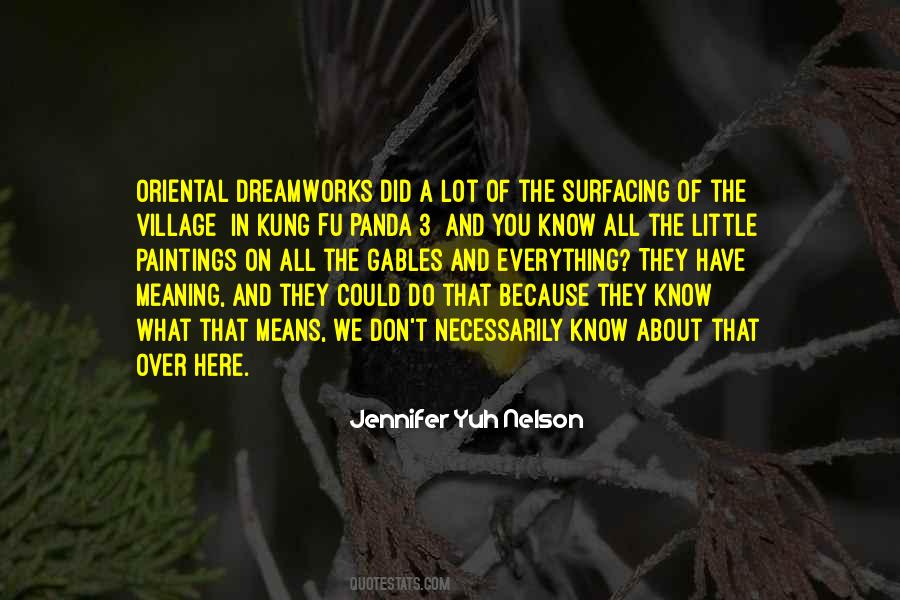 #71. when i love, it happens almost all at once.
it is inconsiderate, unrefined -
a child screeching in a supermarket
it's a thunderclap.
it is a small village blackout.
it is aphrodite rising from the sea foam, fully formed.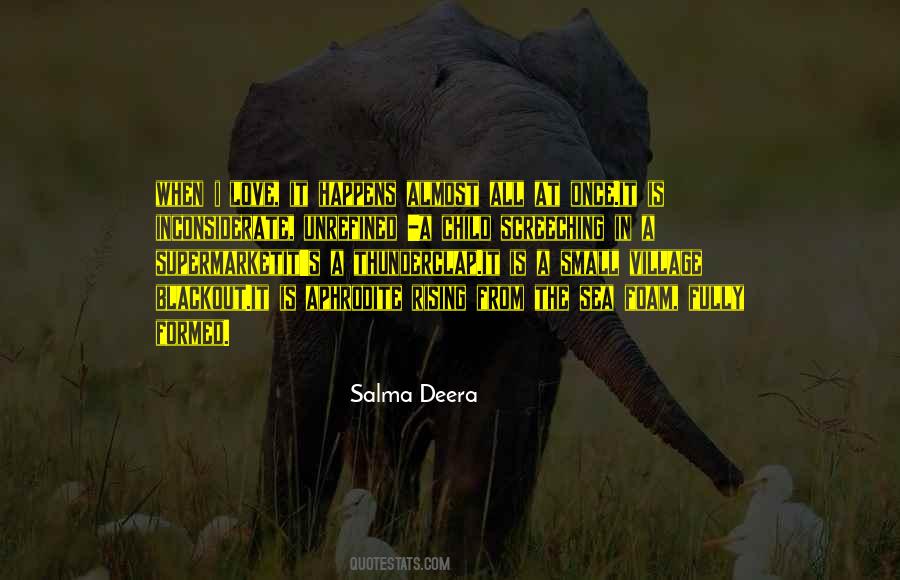 #72. If you think of the world as a global village, a fight between India and Pakistan is like a fight between the poorest people in the poorest quarters - the Adivasis and the Dalits. And in the meantime, the zamindars are laying the oil pipelines and selling both parties weapons.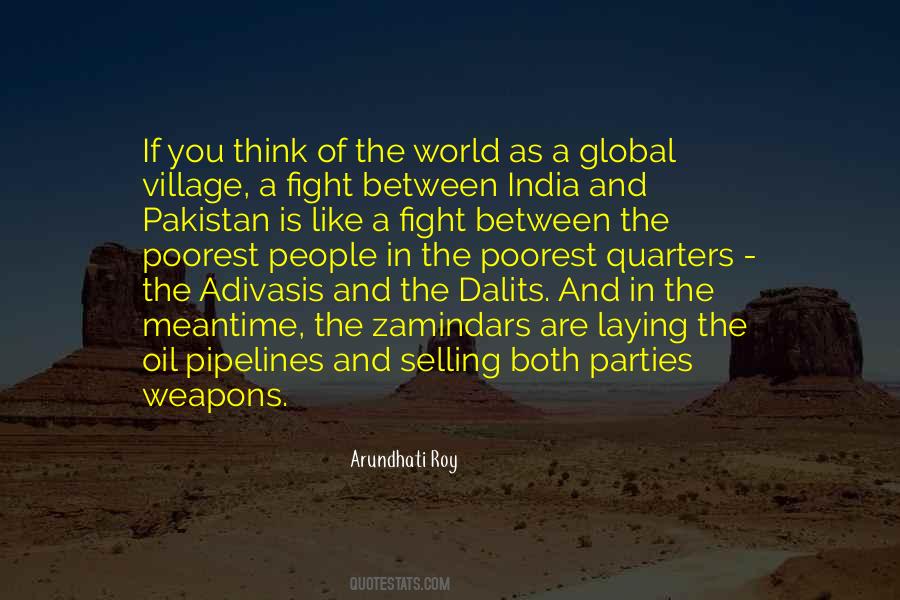 #73. If the village worker is not a decent man or woman, conducting a decent home, he or she had better not aspire after the high privilege and honour of becoming a village worker.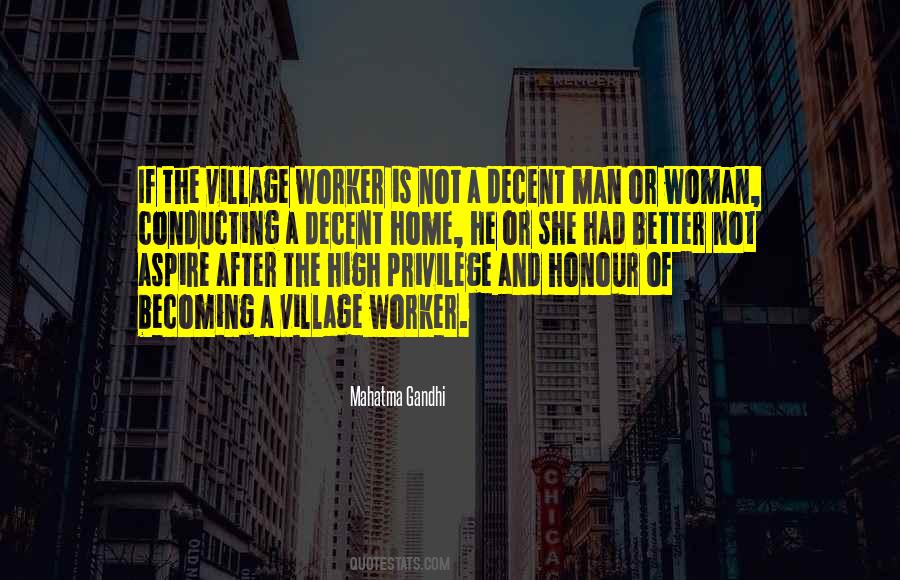 #74. I'm lucky to live in New York, a city that offers so many options for lunch. I can pick up dumplings from a Midtown food truck, grab empanadas by the dozen in Spanish Harlem or get a fantastic bowl of ramen in the East Village.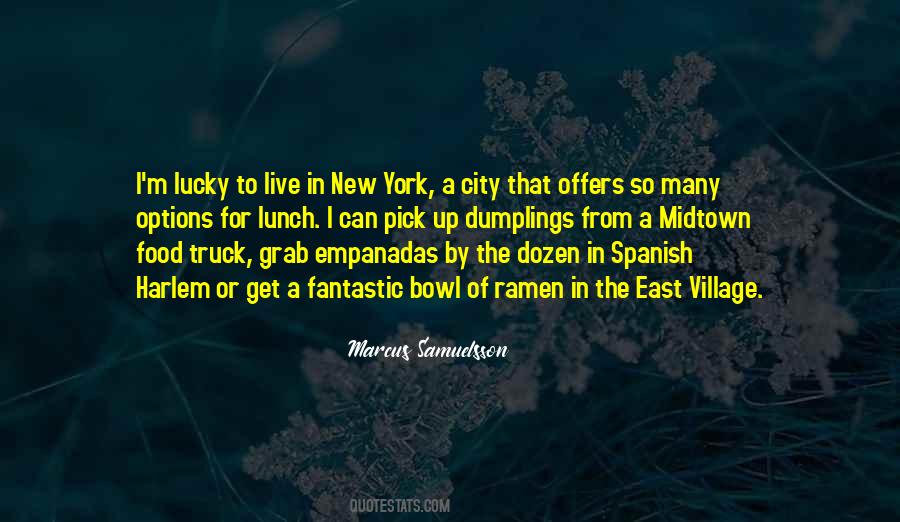 #75. For instance, some early ideas for Florida were done only recently. The idea of a little village was there from the beginning and now we have this 'Celebration' village. Same thing for the Disney Institute. Walt talked about this idea in the very first.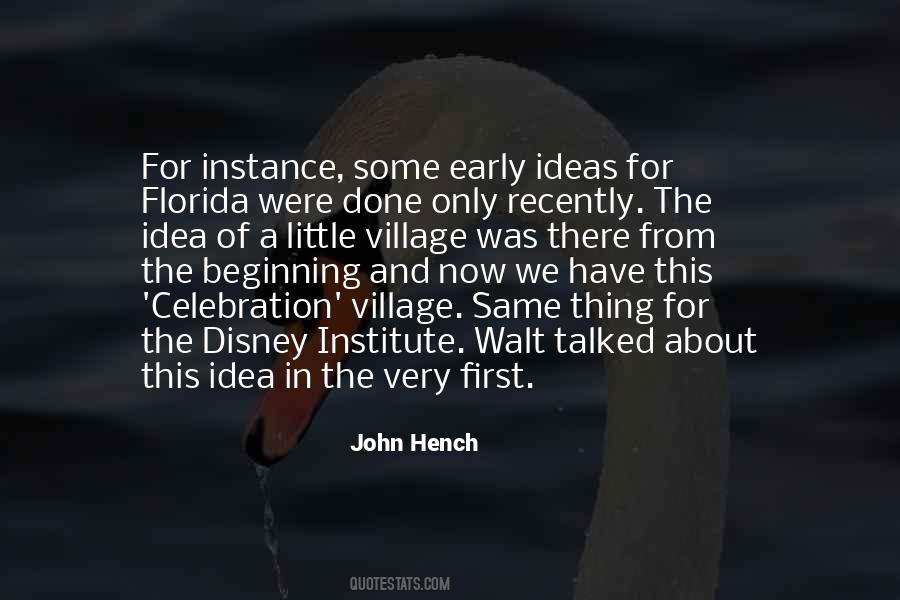 #76. Shigri boy lost his marbles in the end but the plane General Zia is about to board has enough VX gas on it to wipe out a village.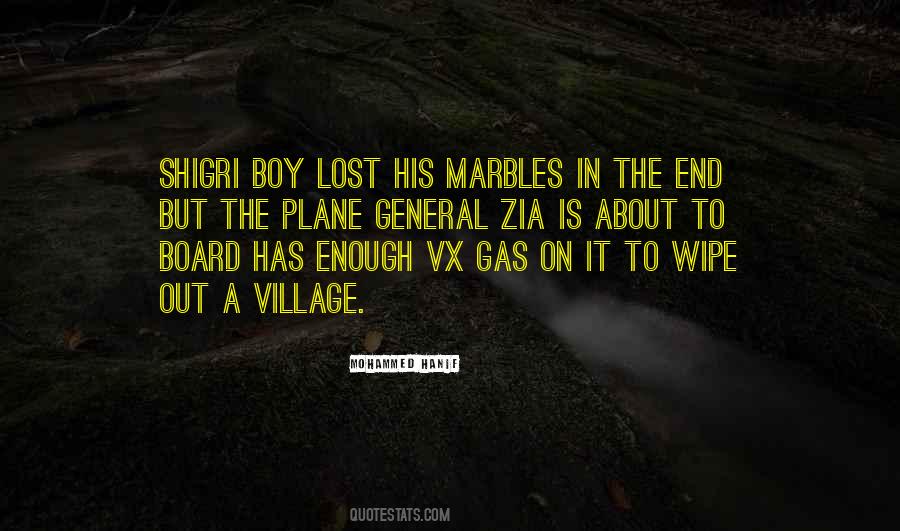 #77. An elephant is vastly more efficient, metabolically, than a mouse. It's the same for a megacity as opposed to a village. But an elephant can break a leg very easily, whereas you can toss a mouse out of a window and it'll be fine. Size makes you fragile.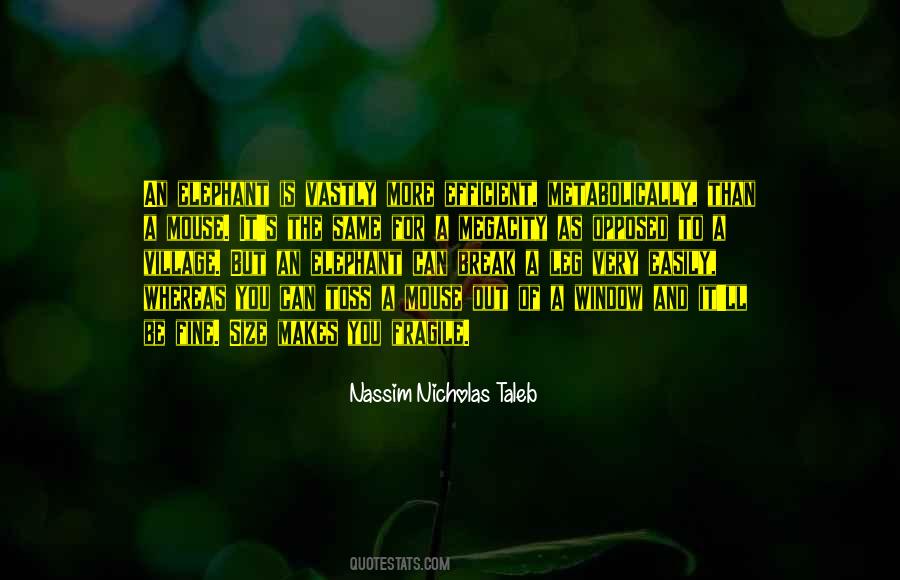 #78. Just off one of the most congested traffic corridors in Los Angeles, tiled with a mosaic of fast-food chains, nail salons, and dollar stores, lies a little green oasis: the Los Angeles Eco-Village (LAEV).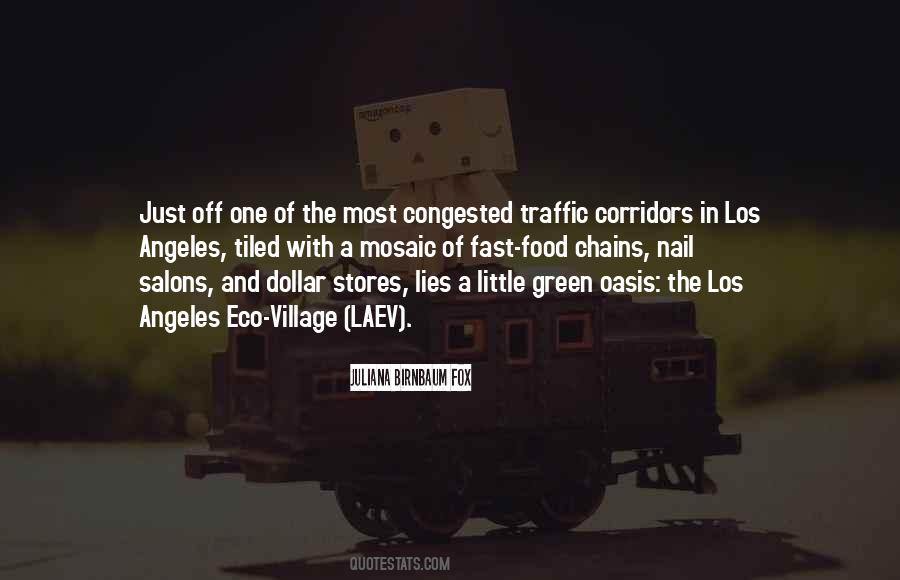 #79. We're in a tough place in this world. There are a lot of kids giving up very early. Scripture says it takes a village to raise one child, and that's what these coaches are going to have to go back and understand.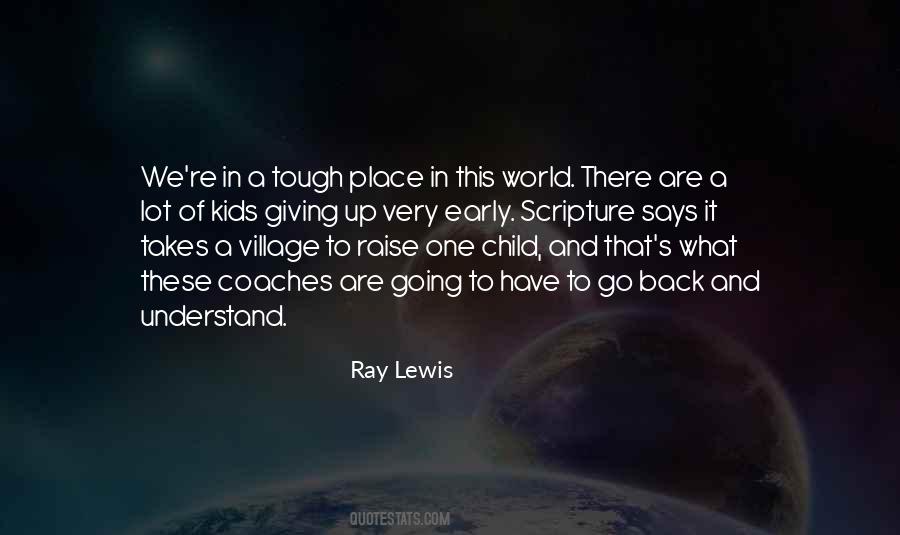 #80. I used to have a wild night with three women until 5am., but I am getting older. In the Olympic village here, I will live it up with five women, but only until 3am.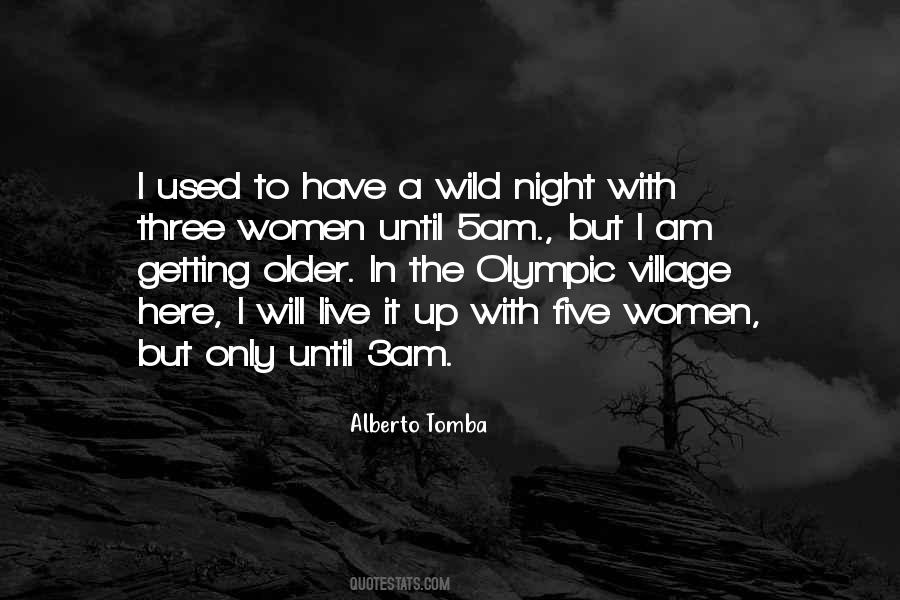 #81. The inertia of a jungle village is a dangerous thing. Before you know it your whole life has slipped by and you are still waiting there.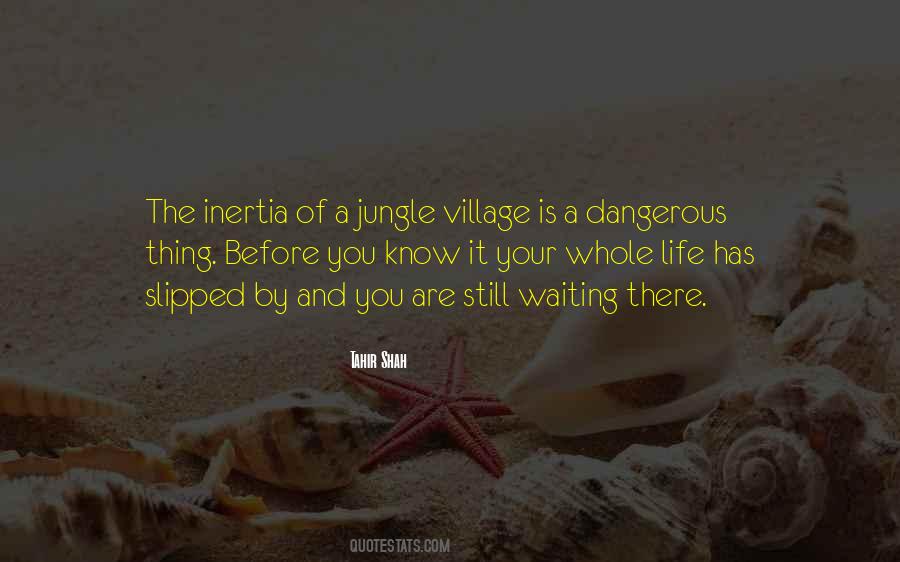 #82. Democracy cannot be a plaything for the capital cities. It has to infiltrate every nook and cranny in the country, including the village.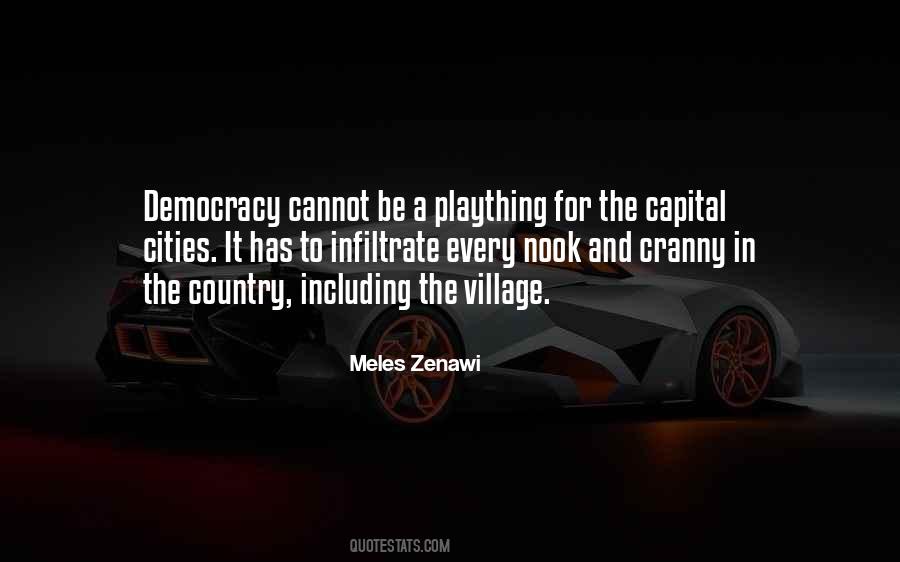 #83. Photographer James Nachtwey has spent his professional life in the places people most want to avoid: war zones and refugee camps, the city flattened by an earthquake, the village swallowed by a flood, the farm hollowed out by famine.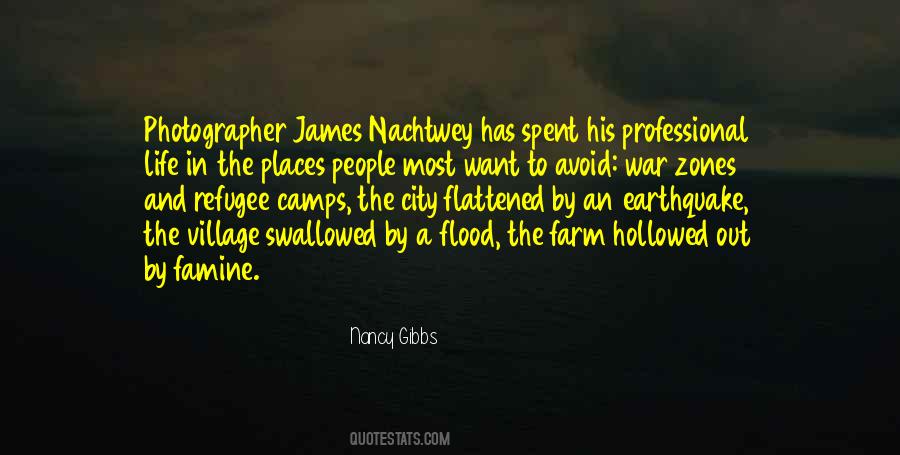 #84. We have constructed an artifice, a Potemkin village of an ecosystem where we perpetrate the illusion that the things we consume have just fallen off the back of Santa's sleigh, not been ripped from the earth. The illusion enables us to imagine that the only choices we have are between brands.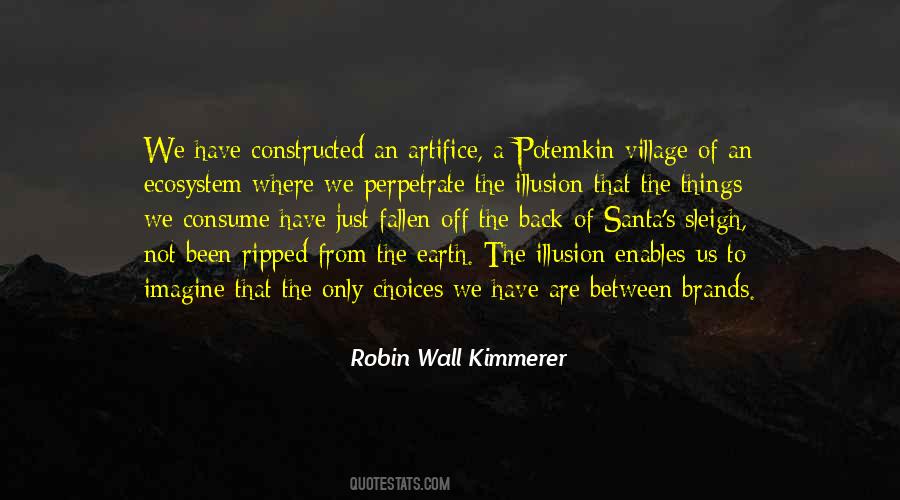 #85. I wanted to do something new. The world is becoming a global village and we have to understand these different cultures. There is a Danish culture, an Israeli culture and so on. So if you want to go to Denmark, then read the book.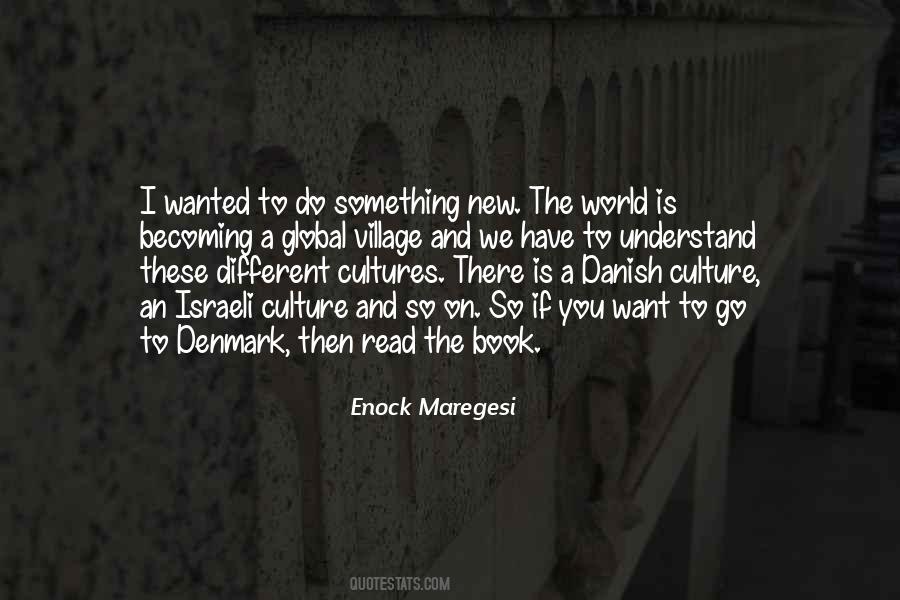 #86. In 1990, my wife and I were married in her village in southwestern Uganda. The festivities went on for three days, and all the while a couple of dozen gray-crowned cranes, with regal bonnets of sun-shot yellow feathers, were pecking and padding around in the adjacent savanna.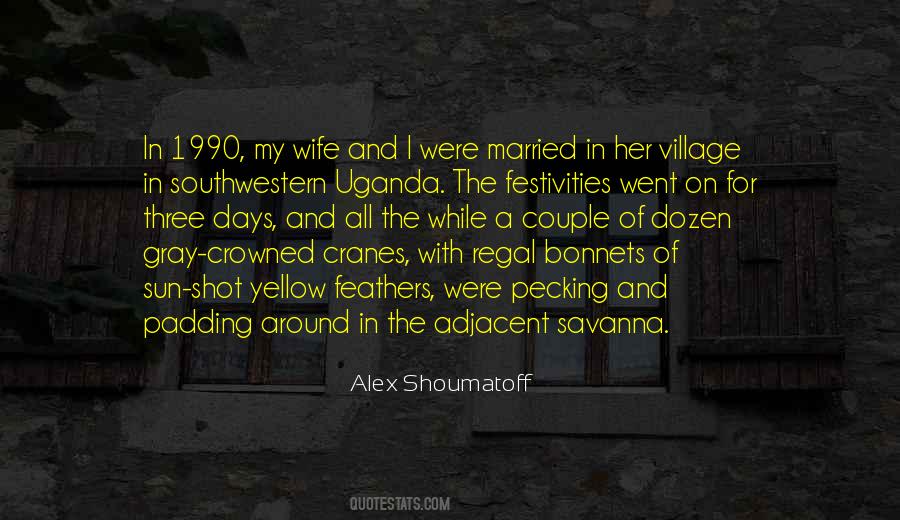 #87. Champion Ven knelt in the ruins of the village. Sifting through the rubble, he lifted out a broken doll, its pink dress streaked with dirt and its pottery face cracked.
There was always a broken doll.
Why did there always have to be a damn doll?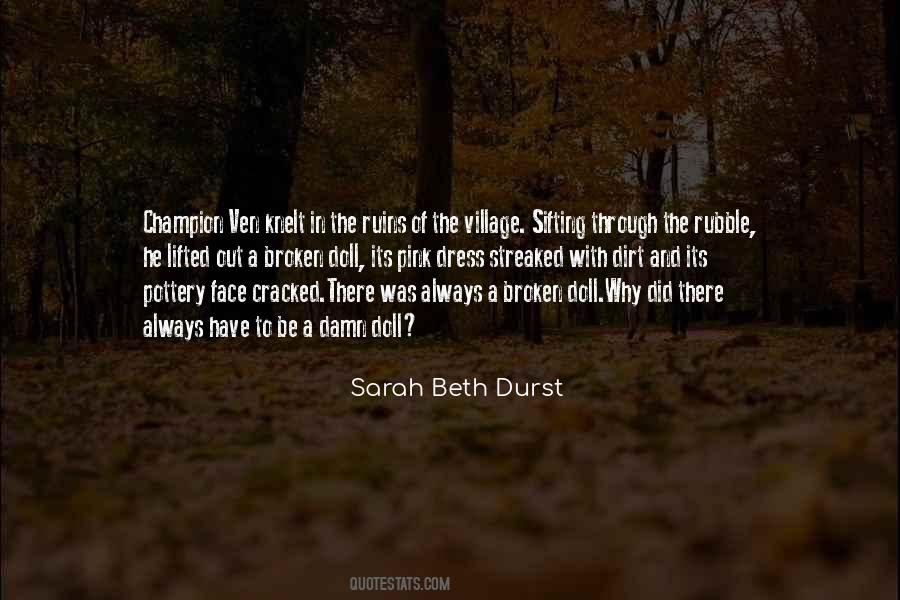 #88. Yes, I was a parish priest for five years. I was a curate in a large working class parish in Bristol and the Vicar of a village in Kent.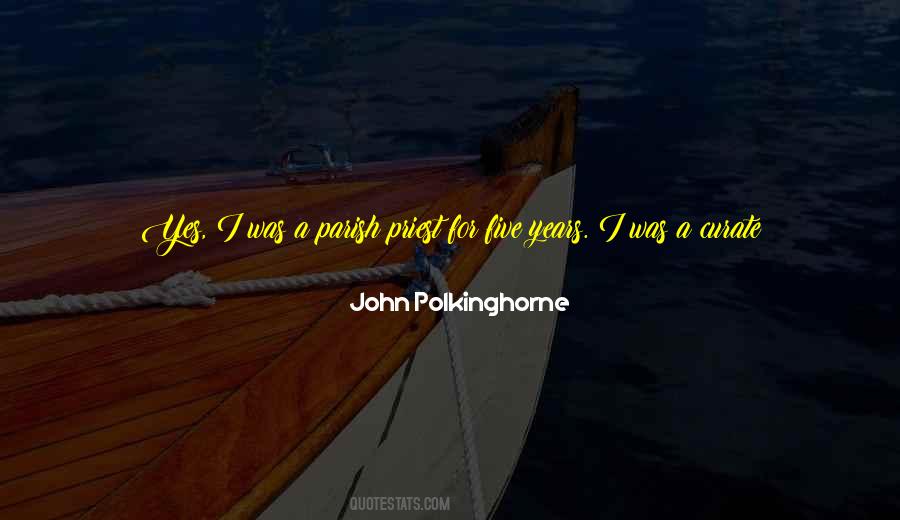 #89. I live in a village where people still care about each other, largely.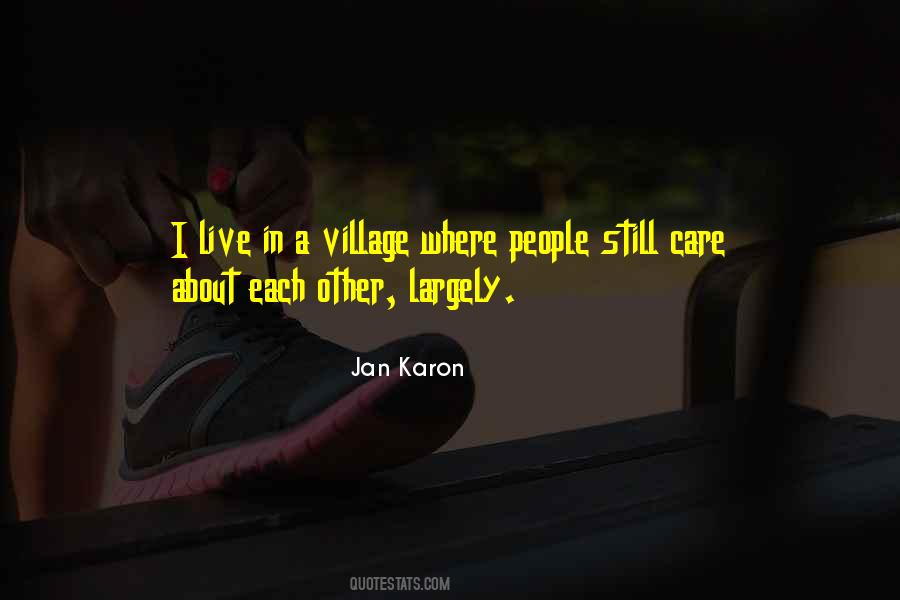 #90. A famously wise old man in a village was once asked how he came by his wisdom. "I got it from my good judgment," he answered. And where did his good judgment come from? "I got it from my bad judgment."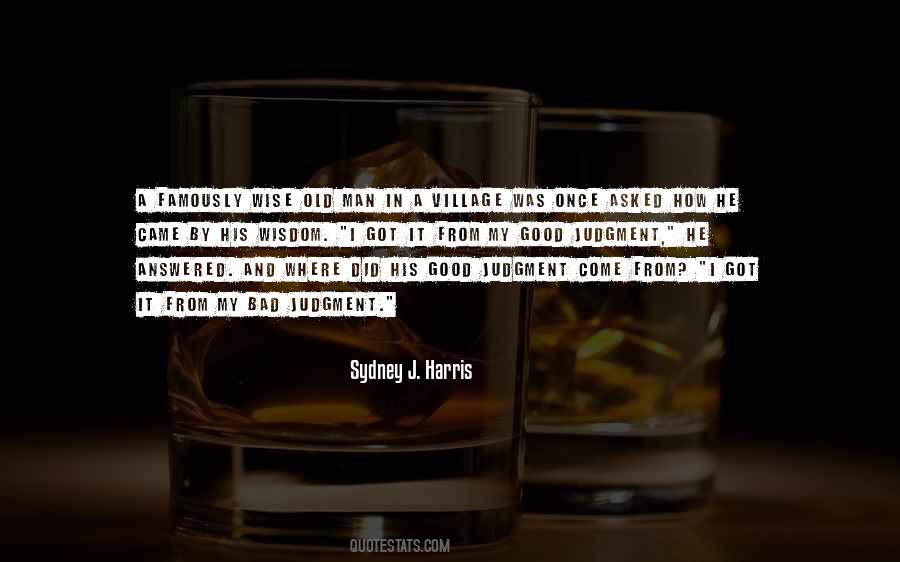 #91. Another crucial problem was errors made by the
Cambridgeshire Police in their use of their 'check
system', which allowed Huntley to get a job at Soham
Village College.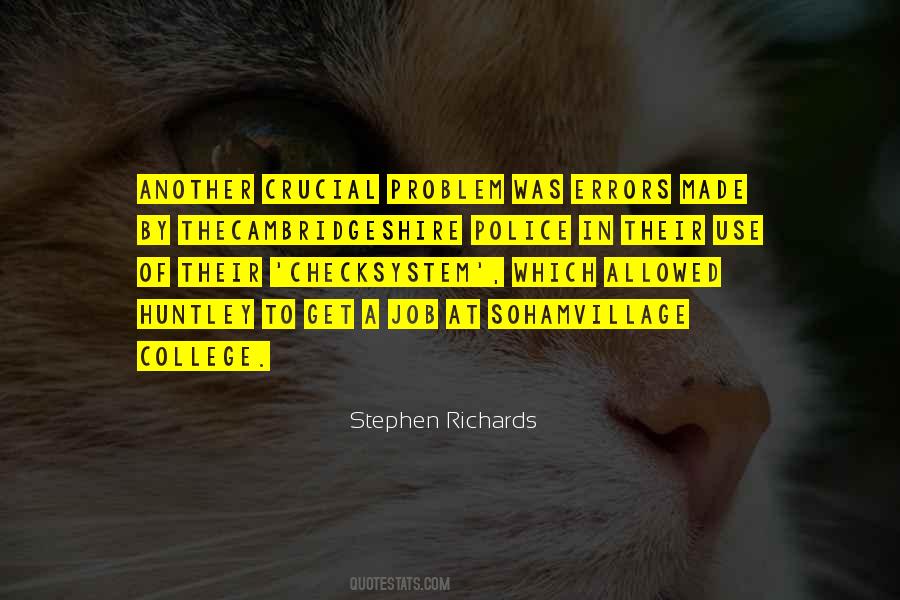 #92. Anoint the saucepan with a touch of sunflower seed oil. Grease its scars, and as soon as the oils heats up, sprinkle with flour, pour on the bouillon and the moonshine strong as the hearts of the village man who knows not how to love with his words, only with his actions, and ass the chopped apple.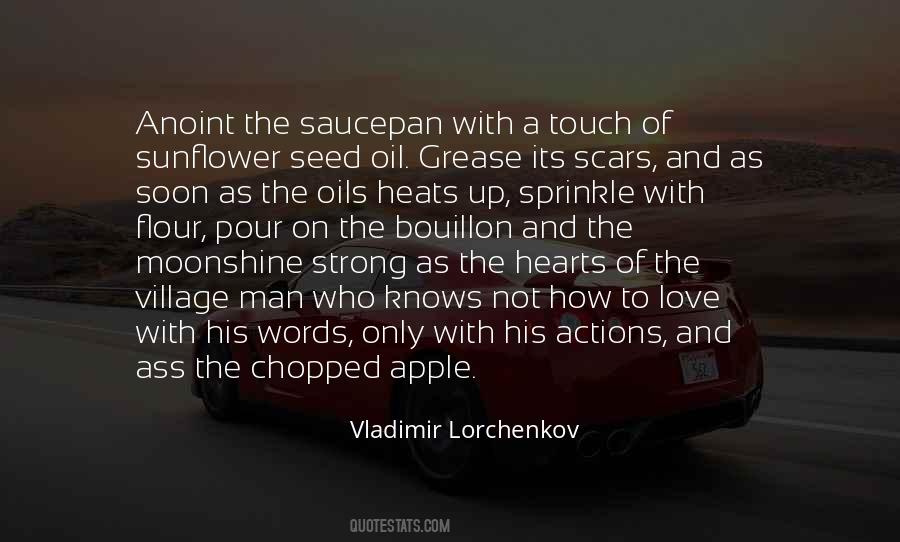 #93. Every village in Africa now has a cyber cafe.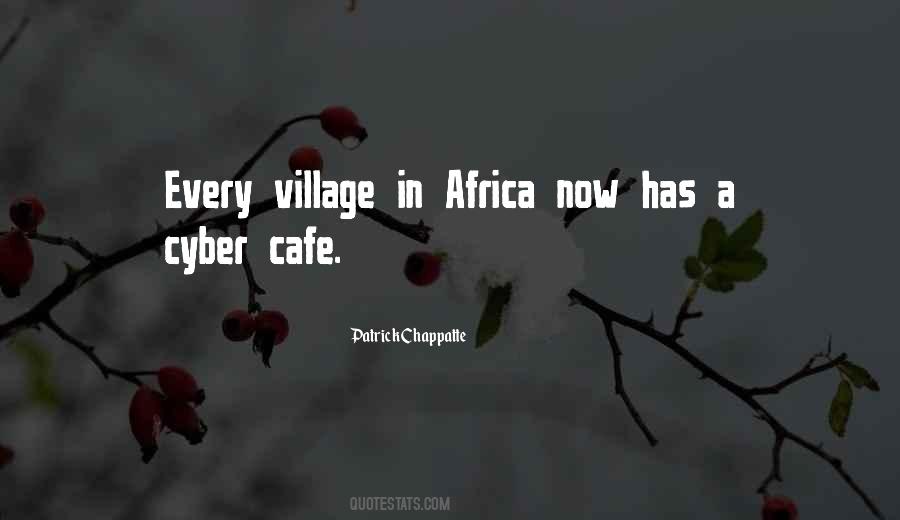 #94. I was a child, and in 1942, I was evacuated to the Cotswolds with my mother, who was a teacher - she went with her school. I lived in one house in the village, and my mother was in the vicarage.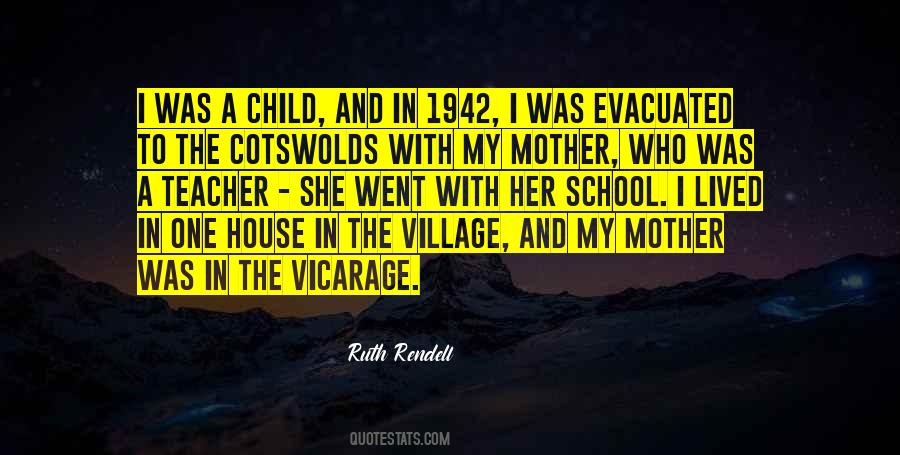 #95. I come from Nigeria, and we live by the idea that it takes a village. So my entire team. I live by my team: my friends, my neighbors, my teachers - they're the people who taught me how to be a free actor.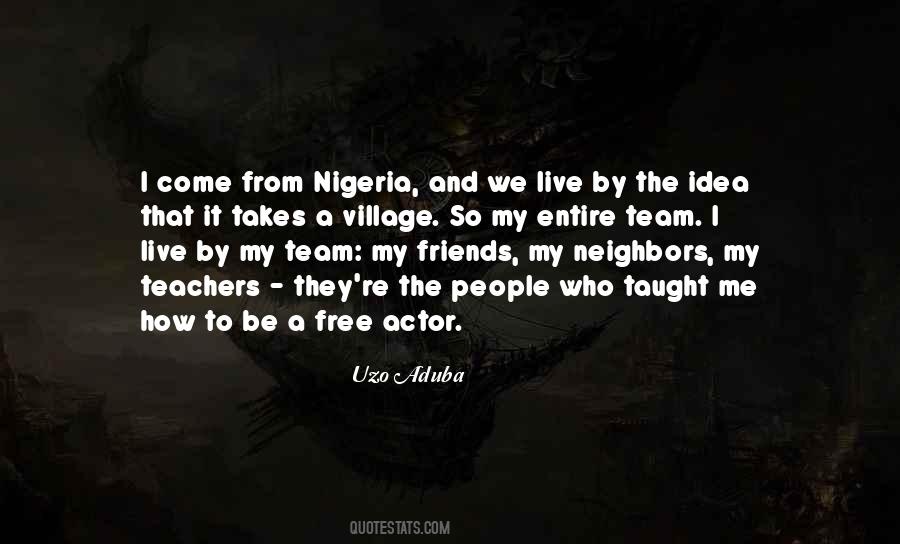 #96. I live in Tuxedo Park, N.Y. and spend time in the West Village, where my wife Elizabeth Cotnoir, a writer-producer and documentary filmmaker, has an office.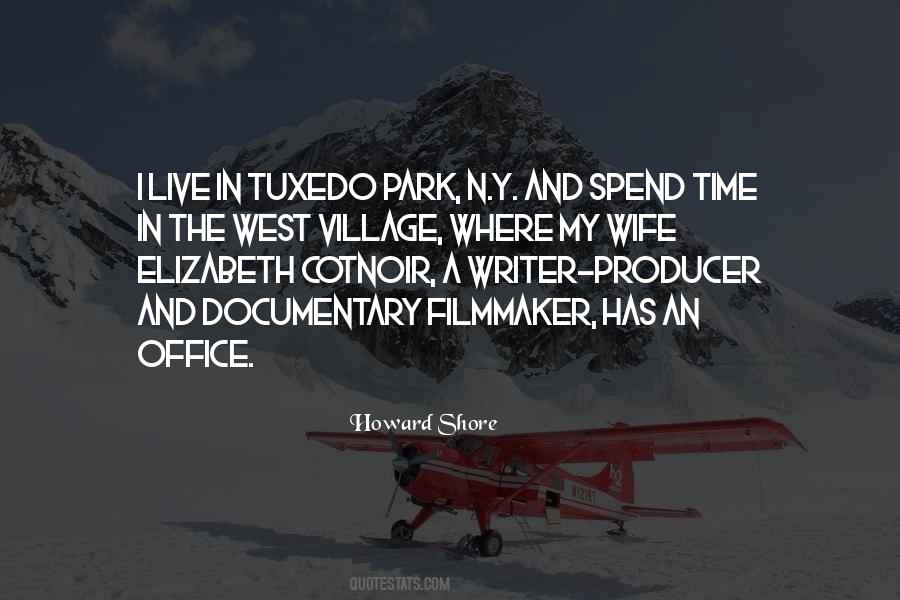 #97. I came back late last night at the Athlete's Village so I'm a little bit surprised about my time this morning. It's really good and I'm going to race tonight and tomorrow night so I'm excited to see what I can do.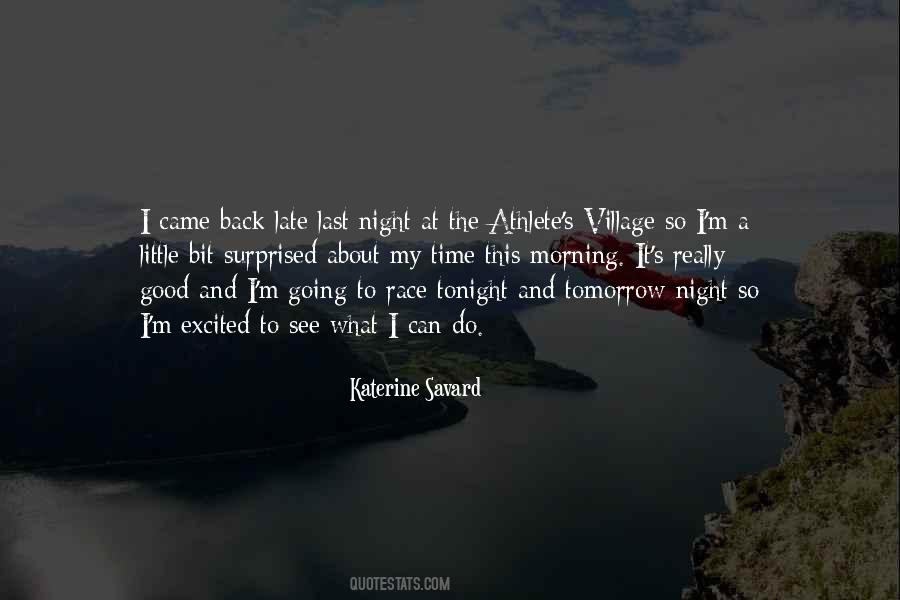 #98. He was only a boy from a Welsh hill village who had the good fortune to become a monk. Today he would speak to the king. What gave him the right?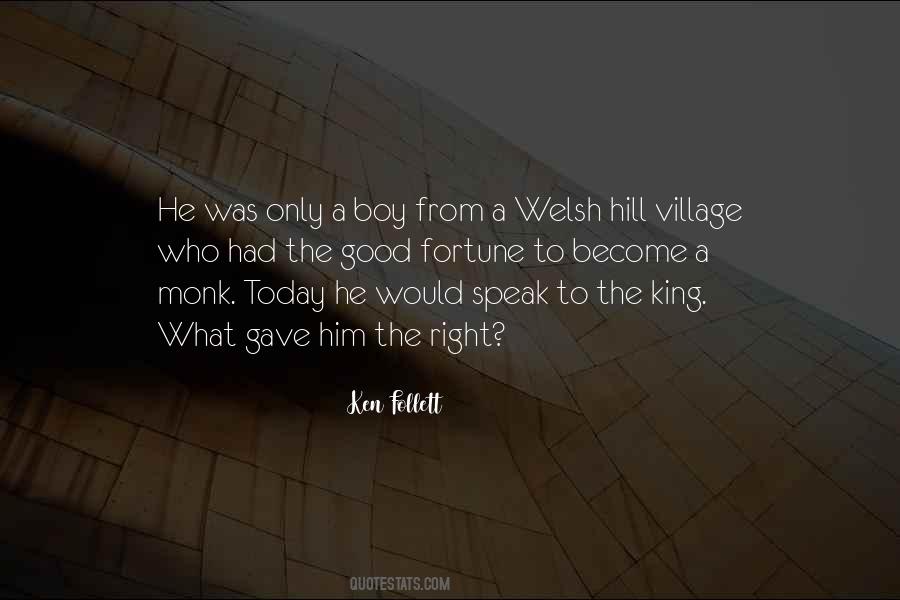 #99. I grew up in a village of 12 houses. We had a well and a cow.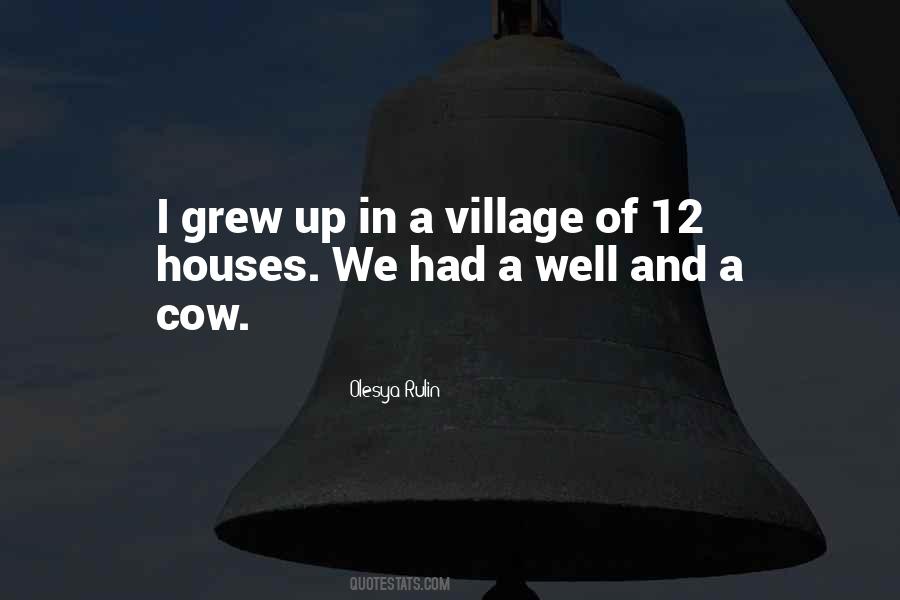 #100. It isn't possible," she said. "But there it is. Look again." In the distance, pinpricks of light arranged into a grid. There, plainly visible on the side of a hill some miles distant: a town, or a village, whose streets were lit up with electricity.
Famous Authors
Popular Topics