Quarterback Famous Quotes & Sayings
List of top 100 famous quotes and sayings about quarterback to read and share with friends on your Facebook, Twitter, blogs.
Top 100 Quarterback Quotes
#1. That Bears quarterback is no good. He's washed up. He's 30. - Author: Donny Most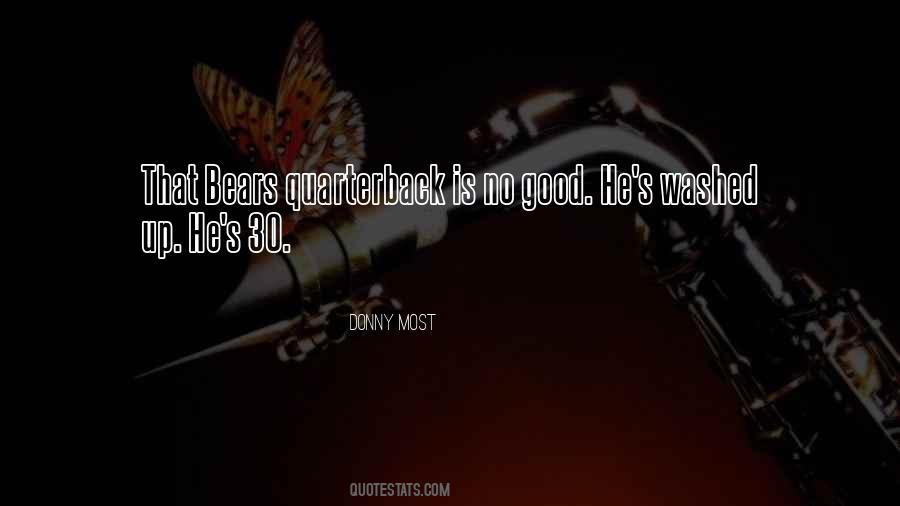 #2. I guess, to tell you the truth, I've never had much of a desire to grow facial hair. I think I've managed to play quarterback just fine without a mustache. - Author: Peyton Manning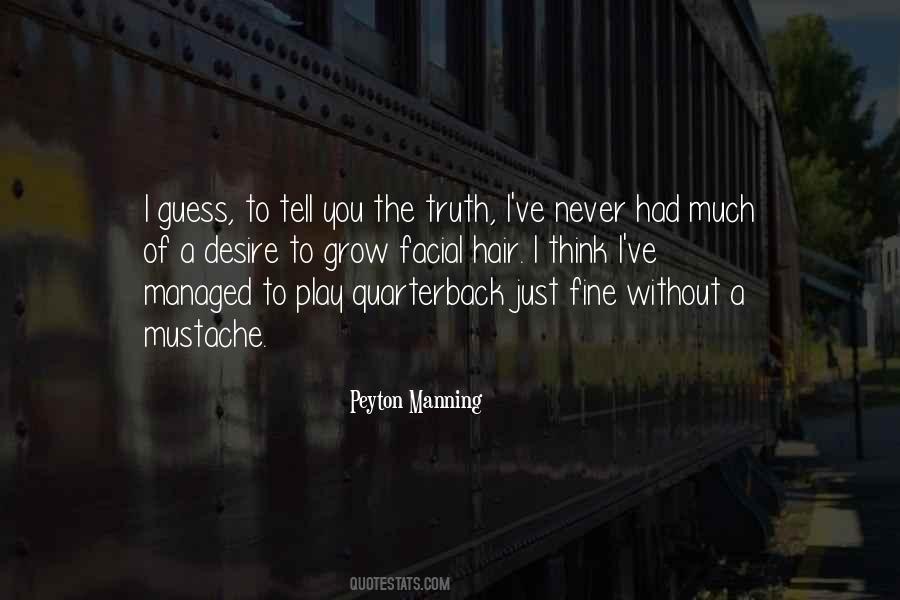 #3. Kirk Cousins has played much better at the quarterback position than Robert Griffin III has, - Author: Joe Theismann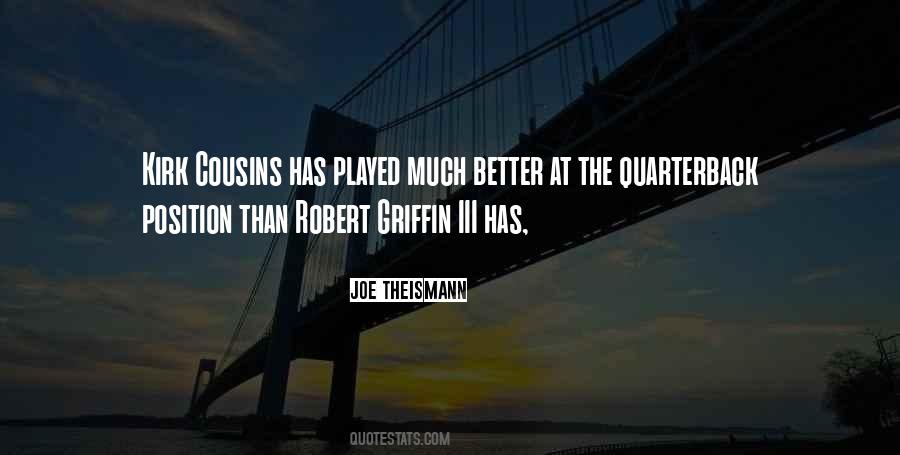 #4. Prudence is what makes someone a great commodities trader - the capacity to face reality squarely in the eye without allowing emotion or ego to get in the way. It's what is needed by every quarterback or battlefield general. - Author: John Ortberg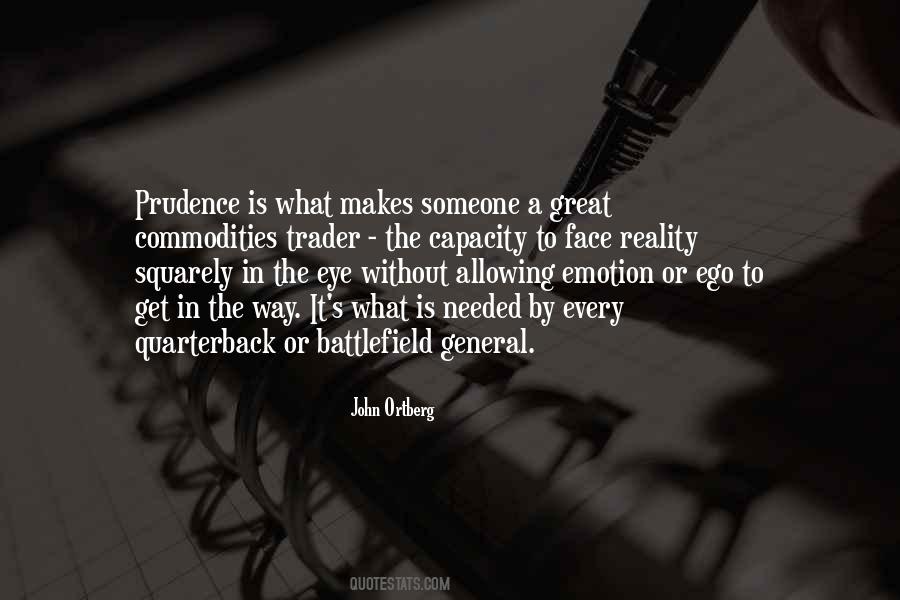 #5. Quarterbacks are untouchable nowadays. If you hit a quarterback too hard, or if you fall on him with too much weight - which is a judgment thing from a professional standpoint - you're going to get flagged. - Author: Mario Williams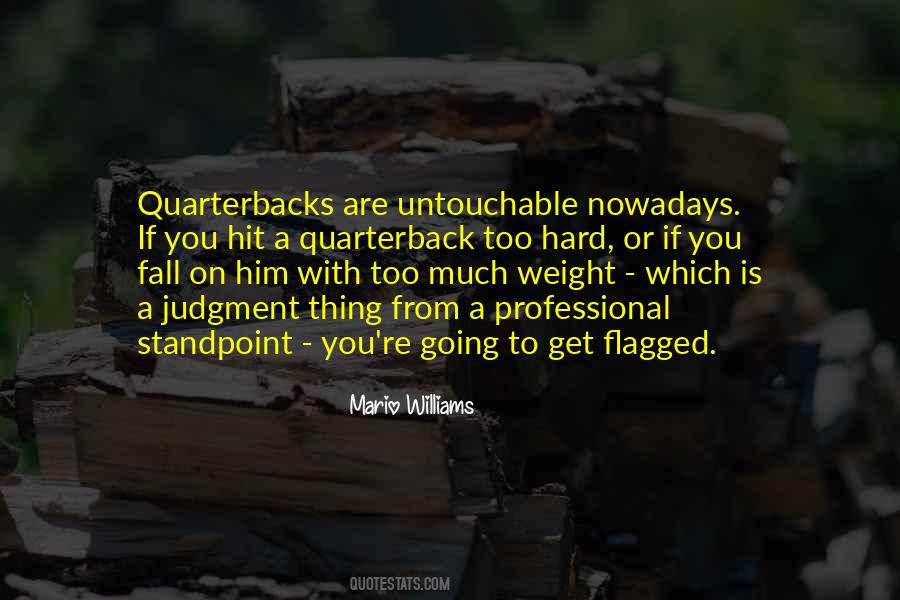 #6. Nobody, not even the head coach, would do anything to a football unilaterally, such as adjust the amount of pressure in a ball, without the quarterback not knowing. It would have to be the quarterback's idea. - Author: John Madden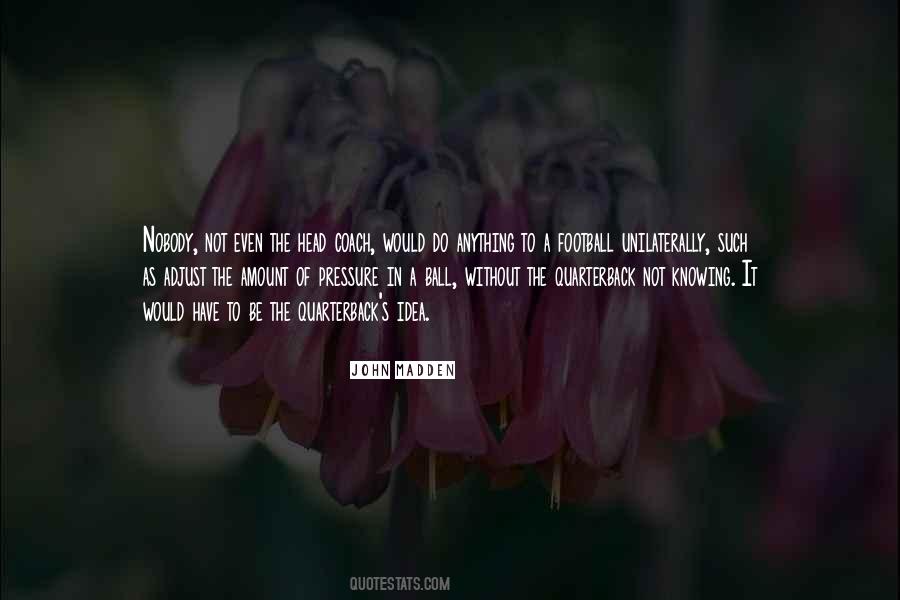 #7. As long as we win games and I harass the quarterback, however I do it, we're good. - Author: Dwight Freeney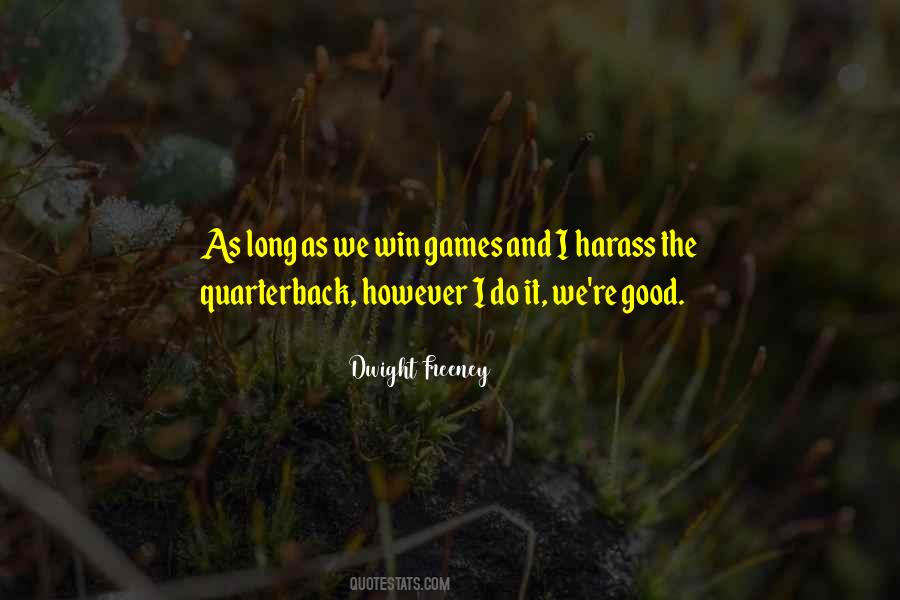 #8. You need to make sure you're going exactly where your guy goes in press coverage. In zone, you can read the quarterback and his eyes a bit to determine where he's going. You don't get the opportunity in press coverage to read the quarterback, so it's all on you. - Author: Antonio Cromartie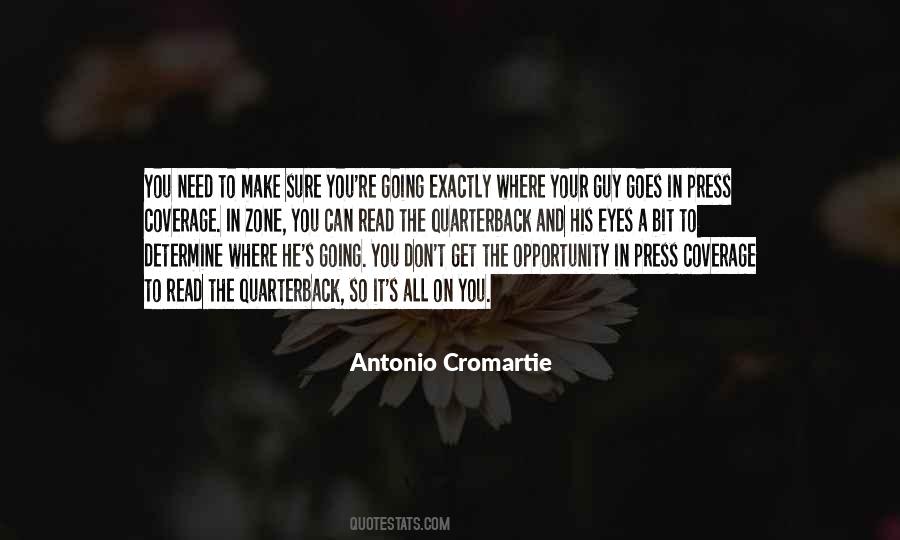 #9. You know, I'm an African-American quarterback. That may scare a lot of people because they - they haven't seen nothing that they can compare me to. - Author: Cam Newton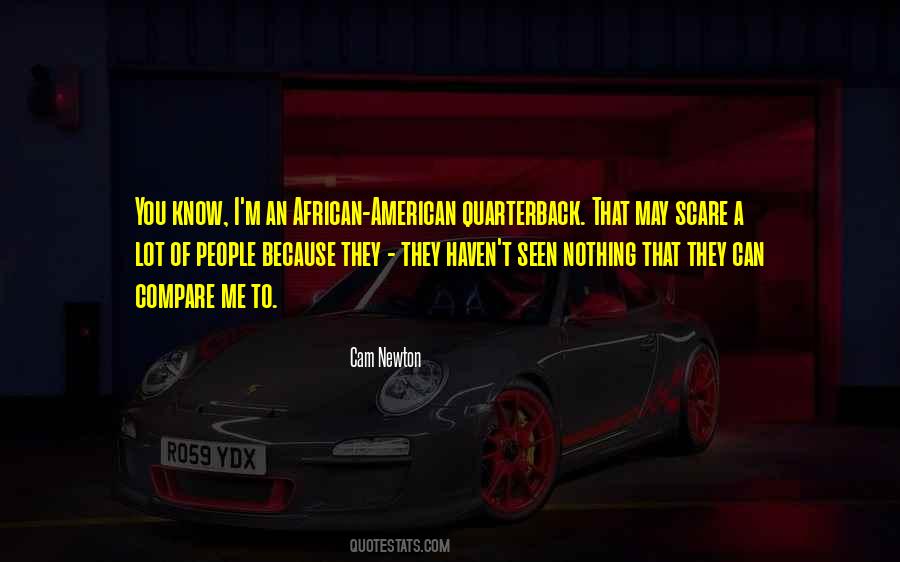 #10. Shit, there goes our chance at winning." Pey laughed. "A cocky quarterback that's in love with himself. We'll be lucky if you don't stop every two seconds to check yourself out. - Author: Priya Kanaparti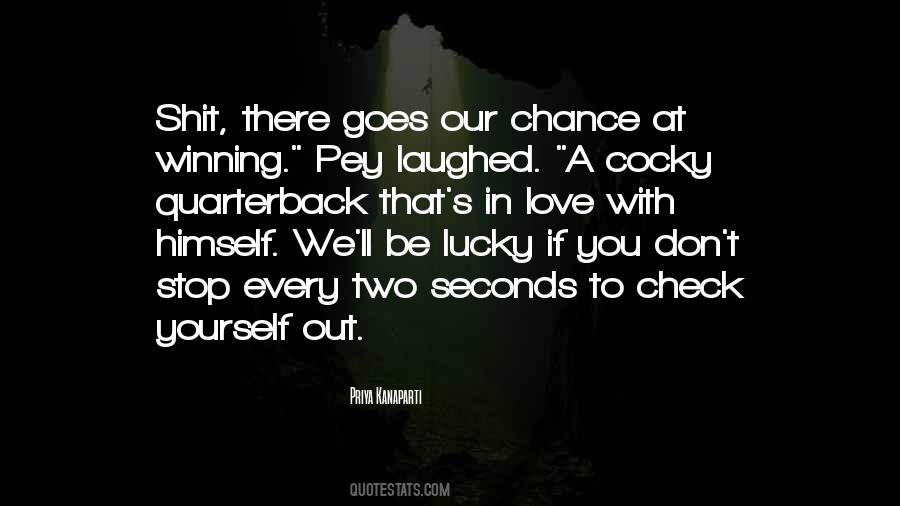 #11. Throwaways are OK. When a quarterback throws the ball away in our system, that's a plus. That's a plus decision. That's the way I've always graded it. - Author: Mike McCarthy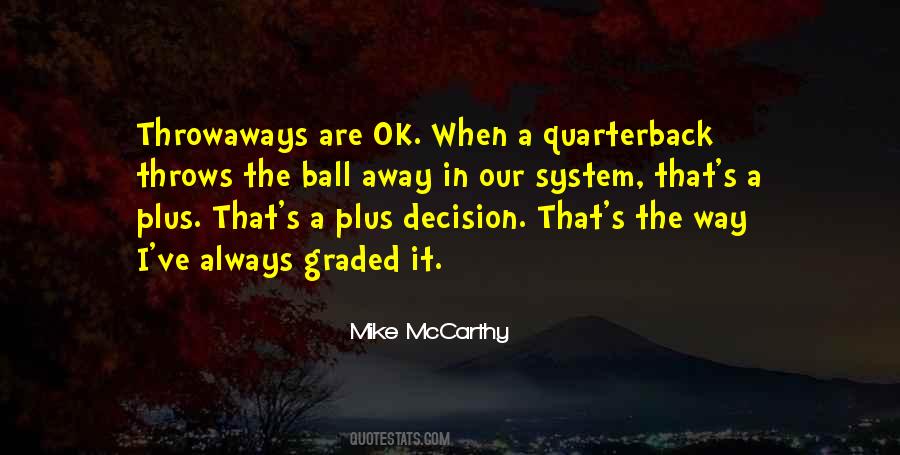 #12. I've never had a quarterback run-driven offense. We don't run designed plays where we snap the ball directly to the quarterback and he's just running it. If the defense is cheating and overcompensating for your running back, then the quarterback needs to keep (it) honest. - Author: Chip Kelly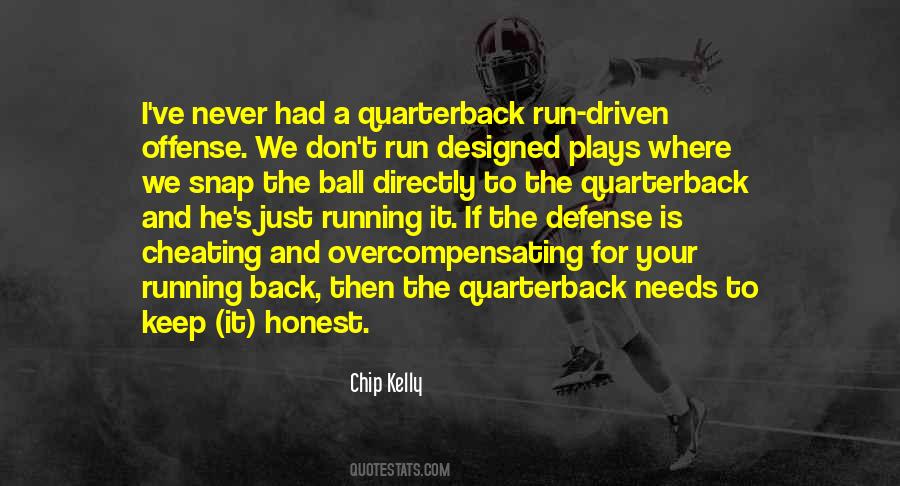 #13. I developed a term that is used in the game right now called sacking a quarterback. Sacking a quarterback is just like you devastate a city or you cream a multitude of people. I mean it's just like you put all the offensive players in one bag and I just take a baseball bat and beat on the bag. - Author: Deacon Jones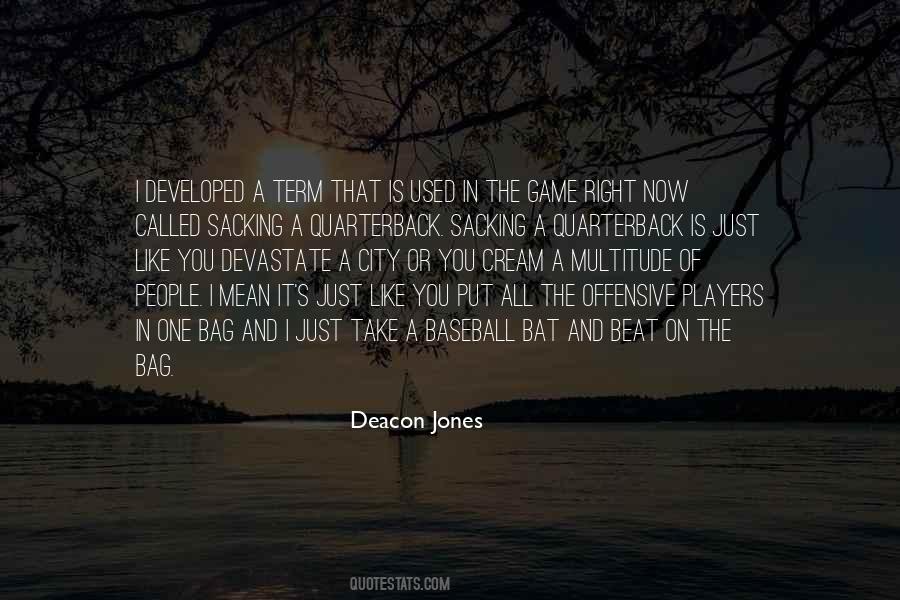 #14. We would have more if the talent was there to be had. Last year, the cost of a top, world-class deep learning expert was about the same as a top NFL quarterback prospect. The cost of that talent is pretty remarkable. - Author: Peter Lee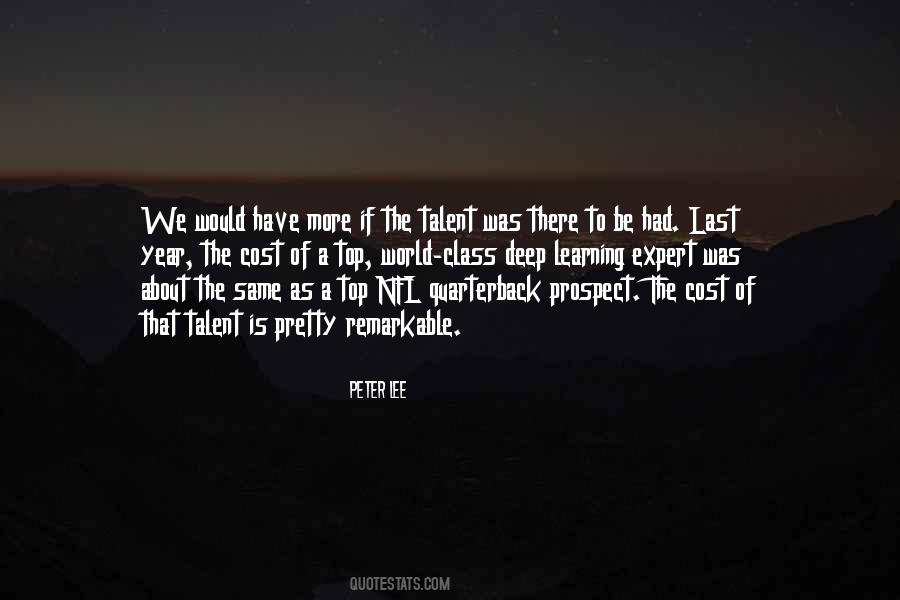 #15. I don't think the NFL has ever seen the likes of me, a quarterback who moves the way I do and throws the way I do. I'm not saying that with arrogance or anything. That is just how I feel. - Author: Michael Vick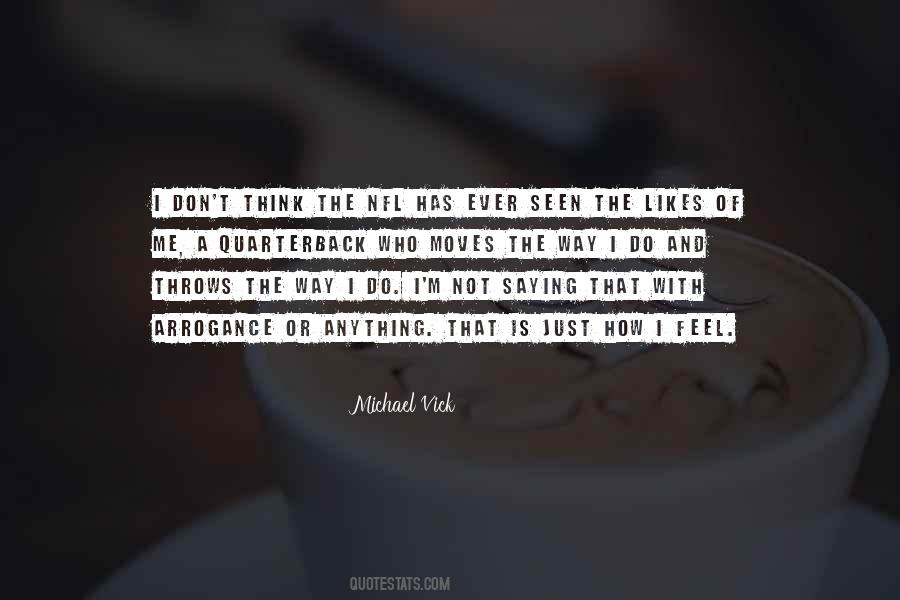 #16. Any defensive coordinator is worried about two things: a running quarterback and a deep ball. You know, don't get beat deep and don't let the quarterback run, because a big part of your defense can't account for the quarterback as a runner, so he gets a free run. - Author: John Madden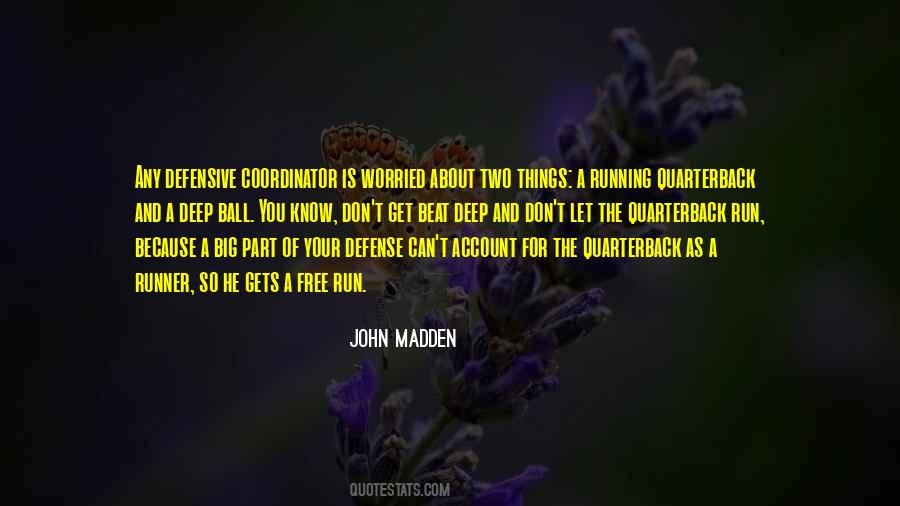 #17. The quarterback must go down, and he must go down hard - Author: Al Davis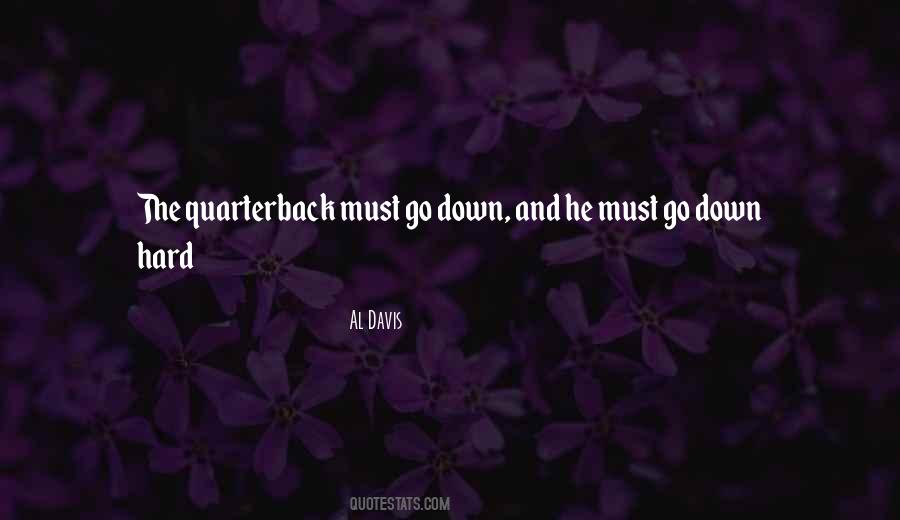 #18. Fortunately for a quarterback, you can play for a long time because you don't get hit very often. - Author: Tom Brady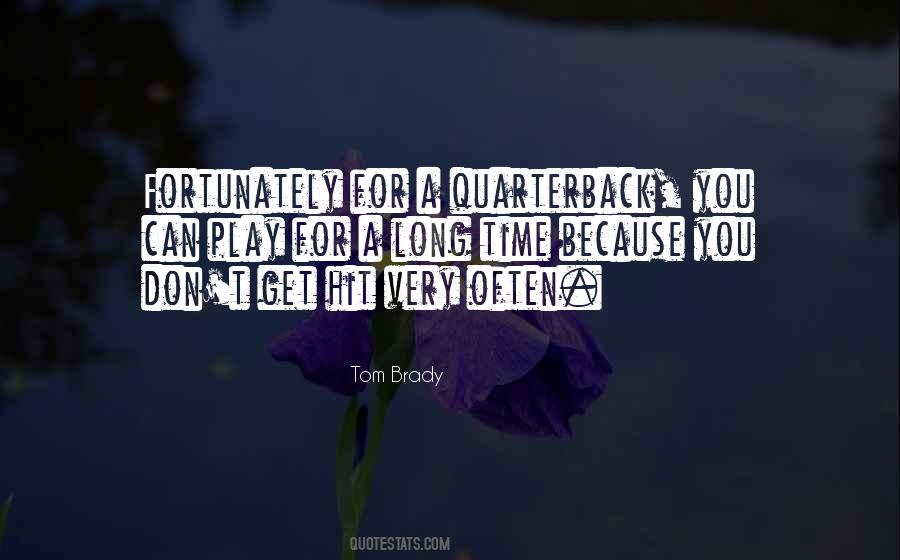 #19. If Tiger Woods had played football, he would have been a quarterback. - Author: Lou Holtz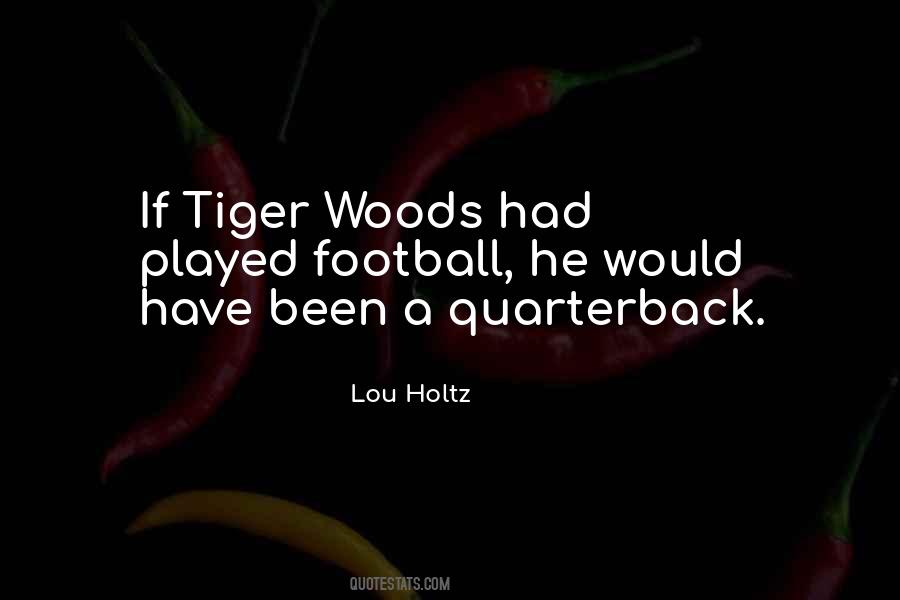 #20. The bottom line is that it's the NFL, and there's going to be competition wherever you go. That's the way I look at it. I've had competition in high school. I've had competition in college, and that's part of the game. That's part of how you improve as a quarterback. - Author: Scott Tolzien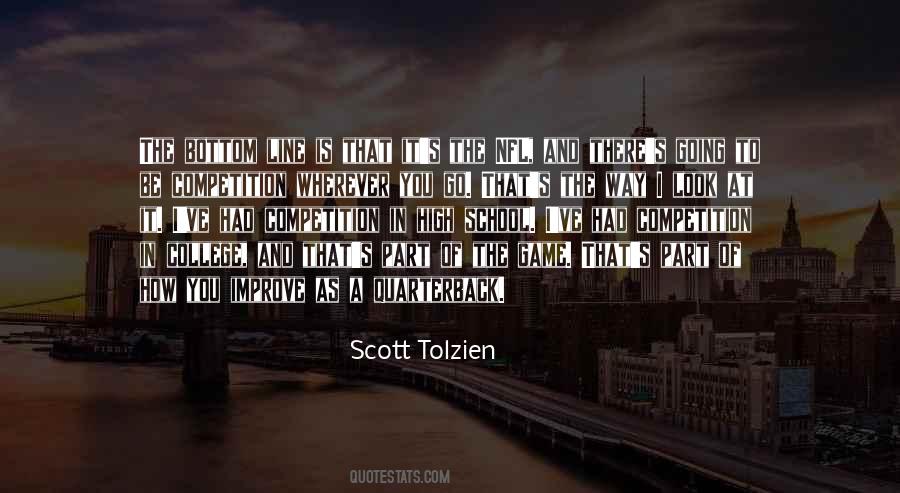 #21. The disconnect between [offensive coordinator] Todd Haley and [quarterback] Ben Roethlisberger is so blatant you can just see it. - Author: Marshall Faulk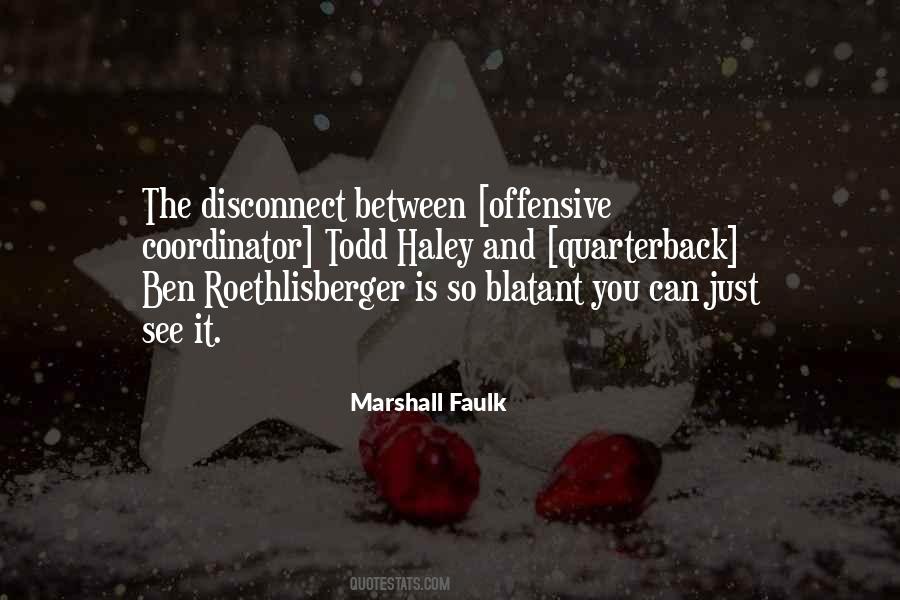 #22. Whenever I'm at a party, people are always telling me either to get a new quarterback or make the Taurus back seat bigger. - Author: William Clay Ford Jr.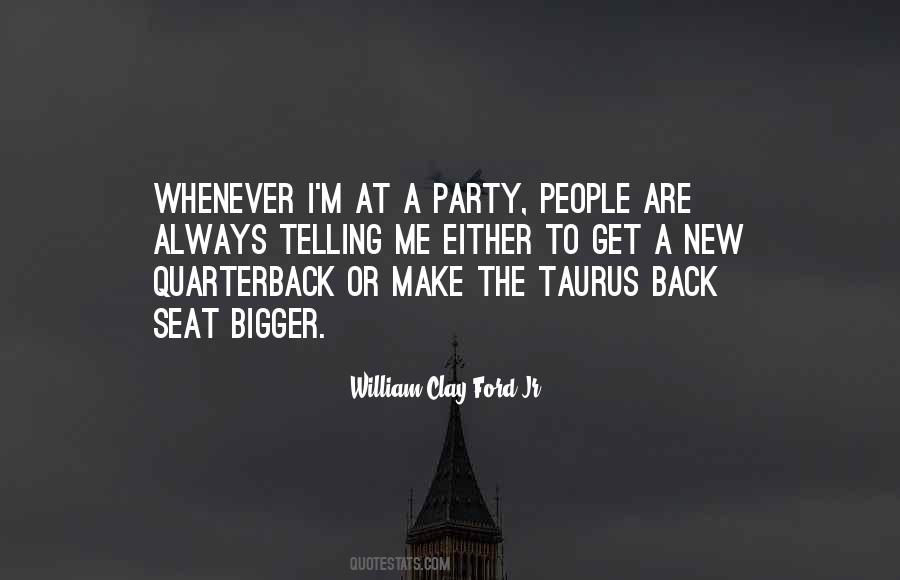 #23. I believe in my God-given athletic ability and the coaches that have been blessed around me. I believe I can do the job as a quarterback in the NFL. - Author: Tim Tebow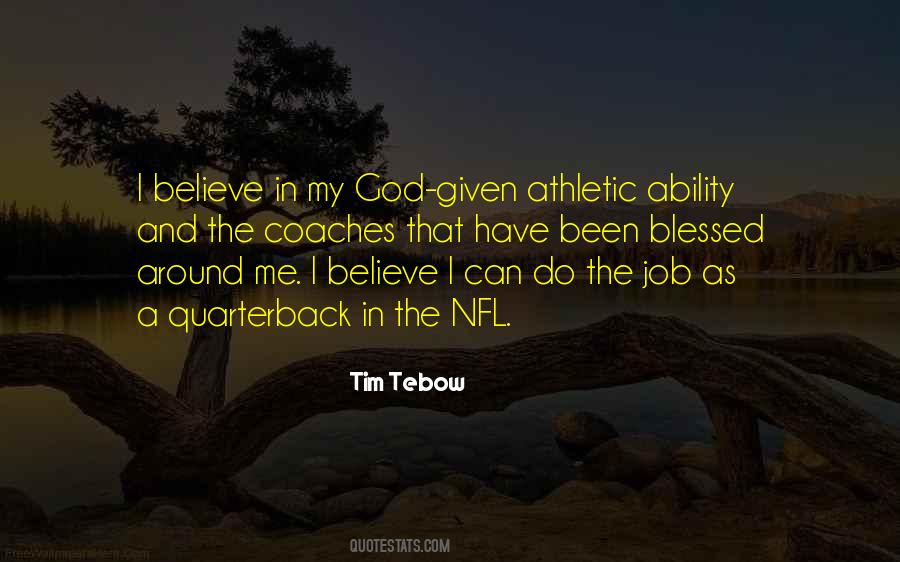 #24. I was a quarterback in pee-wee football. I always wanted to be quarterback. They're the leaders, they make the calls. It didn't work out because I didn't have the arm. I also played wide receiver my senior year in high school. - Author: Junior Seau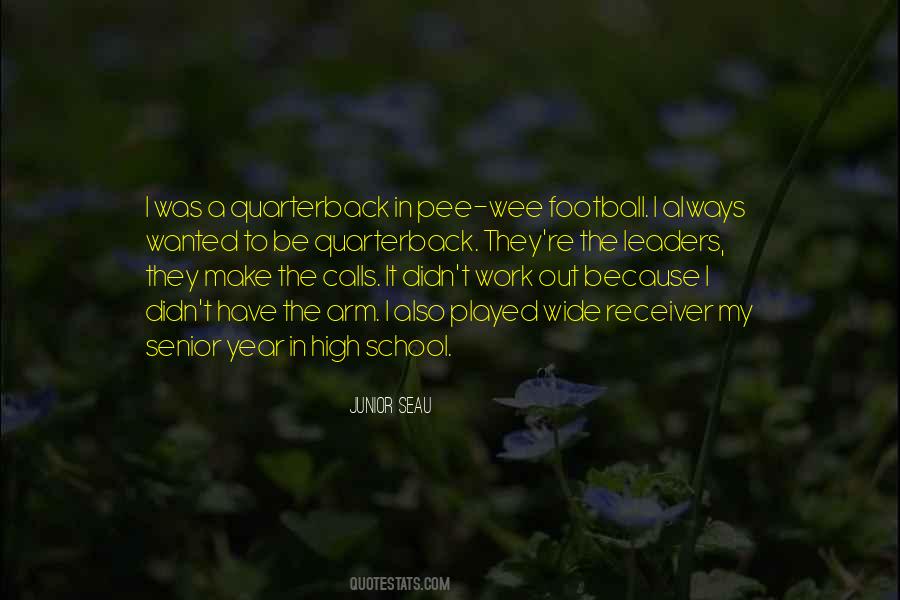 #25. There's a way you have to play the quarterback position in the NFL. Maybe I'm a little bit old school, but I think you have to play the game in the pocket with consistency. - Author: Ron Jaworski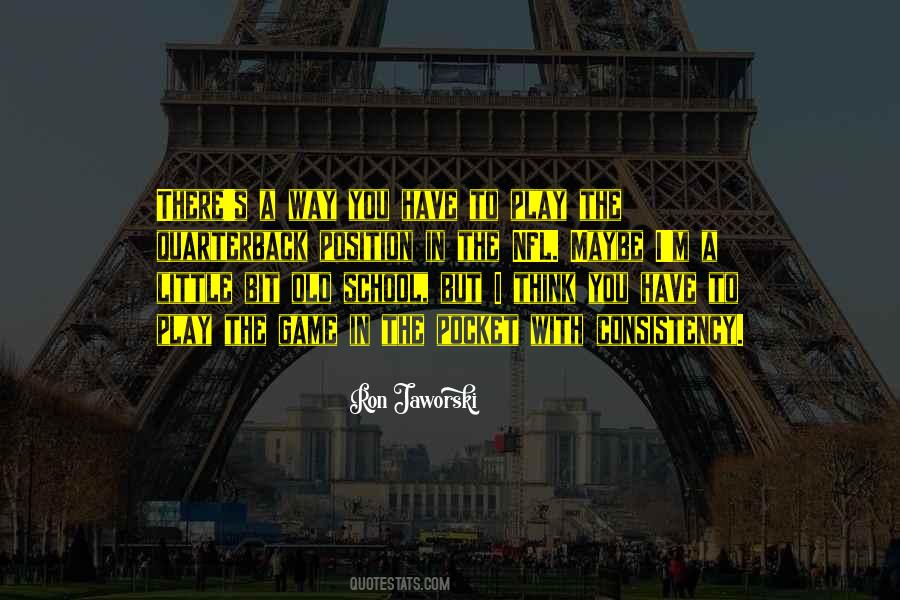 #26. If you're a quarterback, you want everything on your shoulders. You want to be the one to make the decisions. - Author: Tom Brady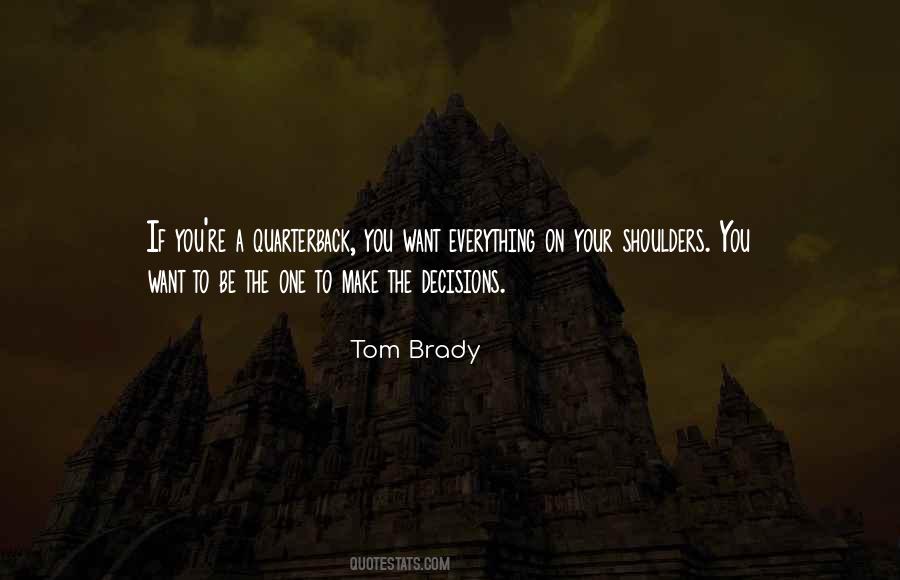 #27. As an offensive lineman, having spatial awareness is key: understanding where the quarterback is going to be and understanding what the defensive end might do depending on the play we're running. - Author: D'Brickashaw Ferguson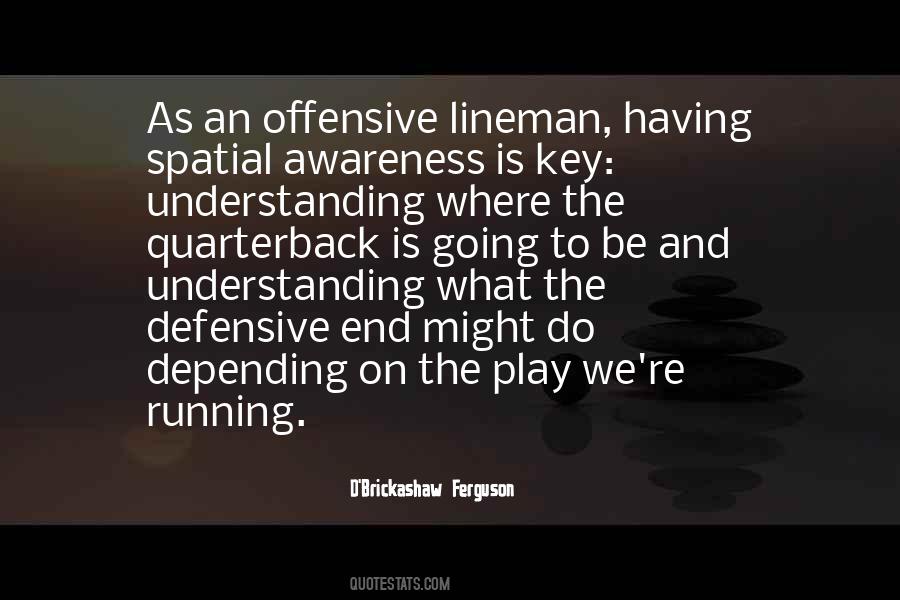 #28. My strength is basically my get off. It is overpowering. I can get after the quarterback on first, second and third down. I pride myself on being an every down guy. - Author: Darius Philon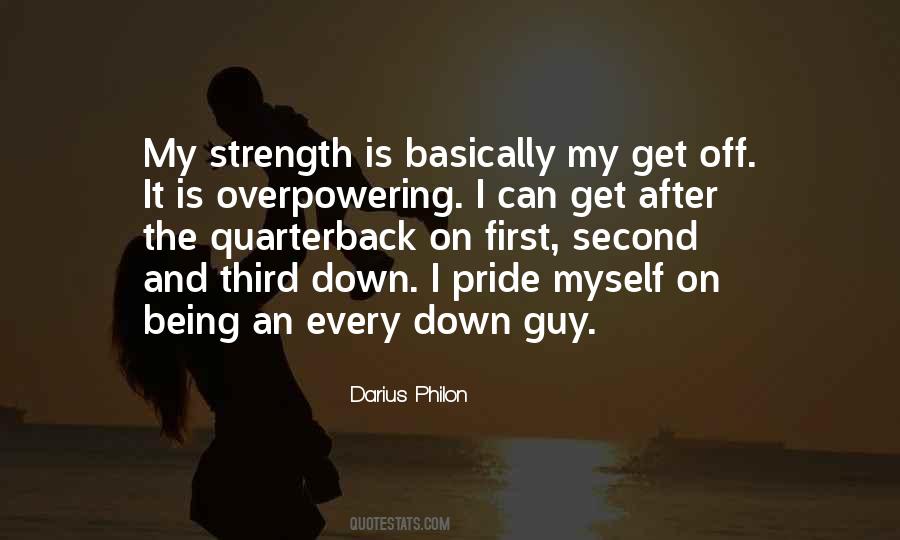 #29. I like to win; I like to compete; I like to sack the quarterback. - Author: Jason Babin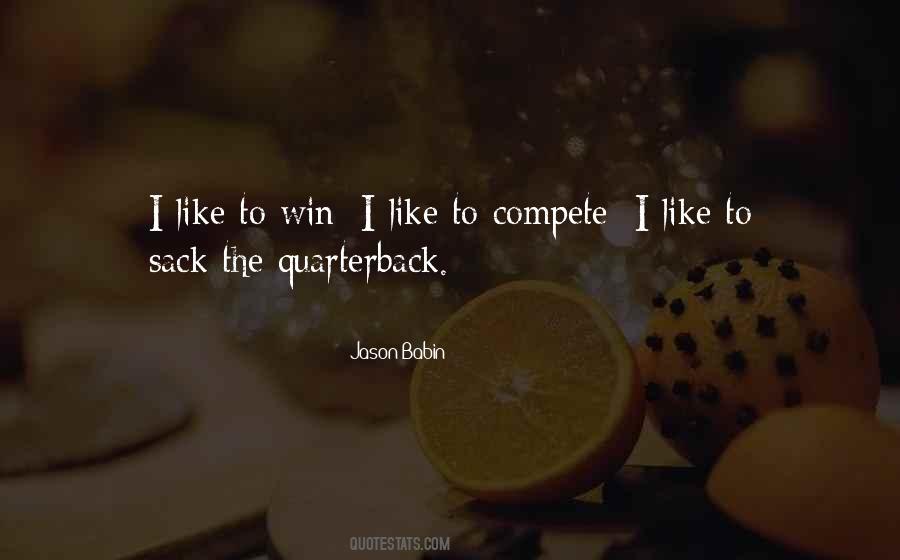 #30. It's much easier when your team's winning. When your team starts to lose, that's where a lot of these quarterback controversies divide a locker room. The key, as a pro, is to be a pro. - Author: Kurt Warner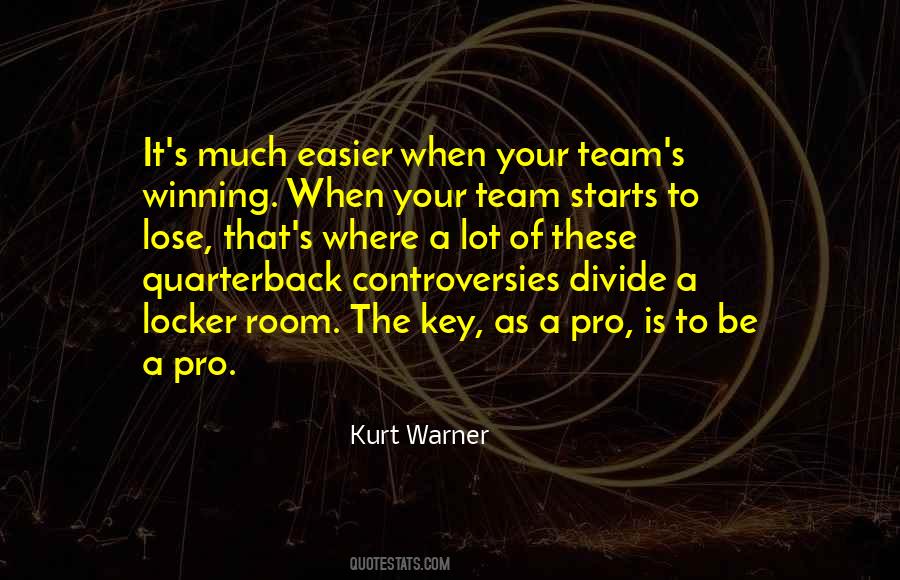 #31. One of the reasons I loved playing quarterback was that I got to call the plays. The cancer put me in a position where I really wasn't in control anymore. - Author: Len Dawson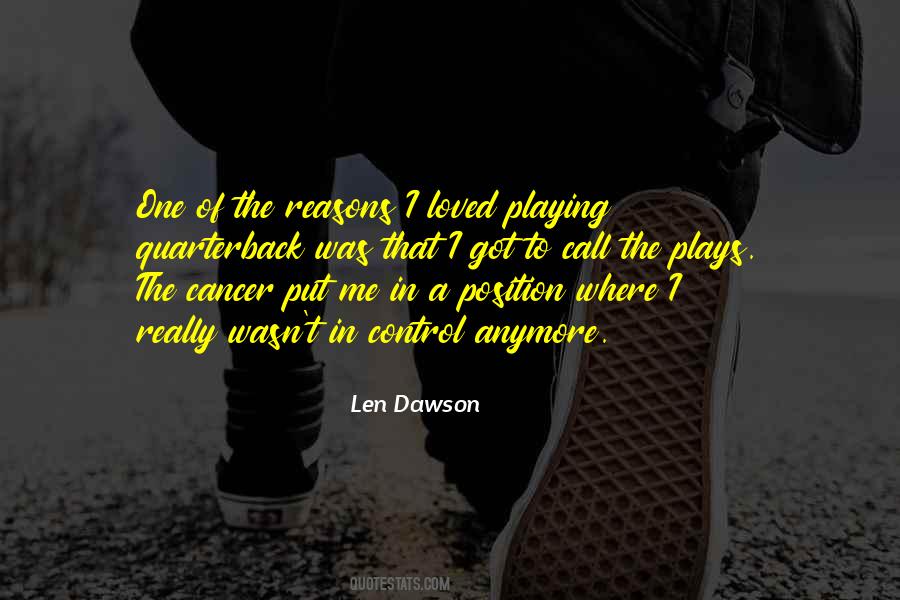 #32. I loved football even before I married a quarterback; it's not for every woman, but I like it. - Author: Holly Robinson Peete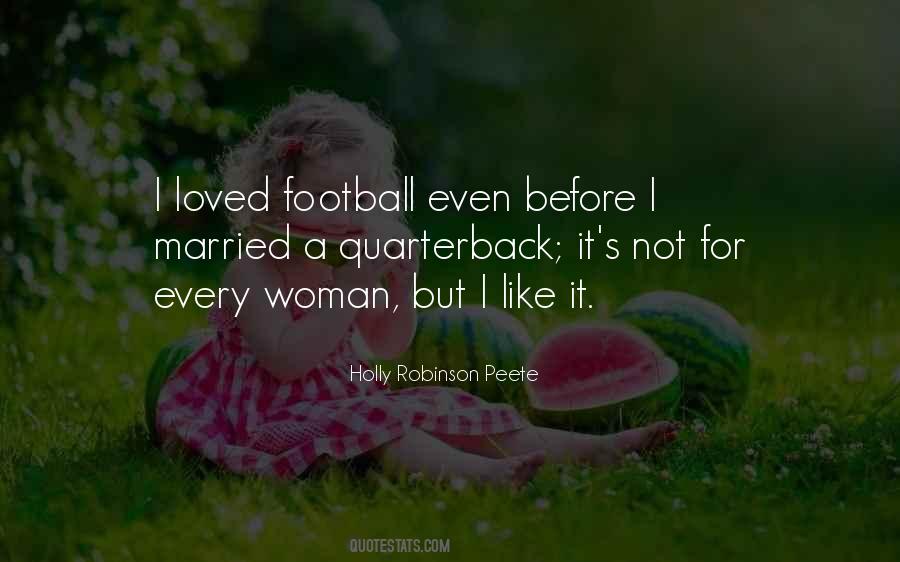 #33. As a player, that's not your responsibility to comment and to give your opinion on another player. As a quarterback, I don't want another quarterback tweeting about my performance or judging me in that way. - Author: Eli Manning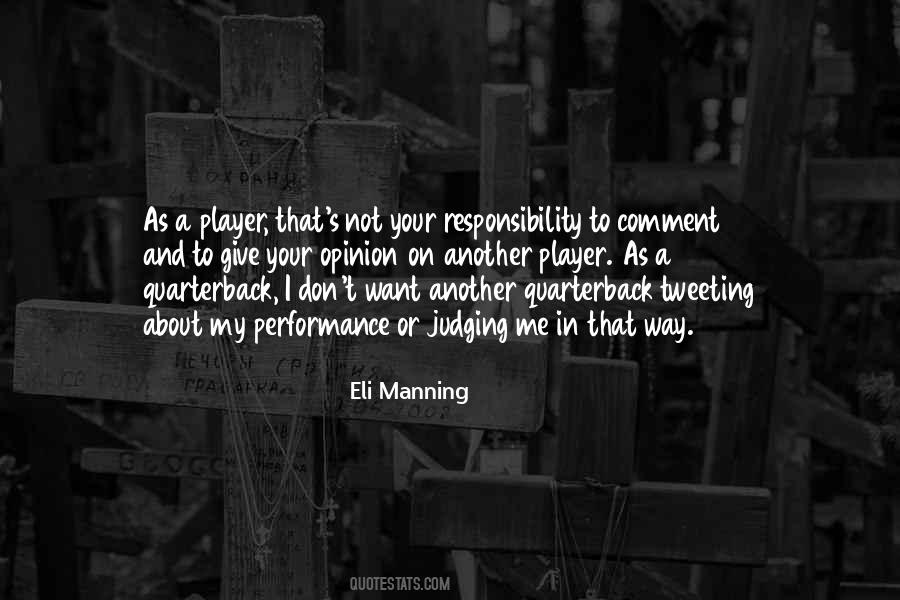 #34. The quarterback is an extension of the coach and has a certain type of swagger mentality, on and off the field. - Author: Cam Newton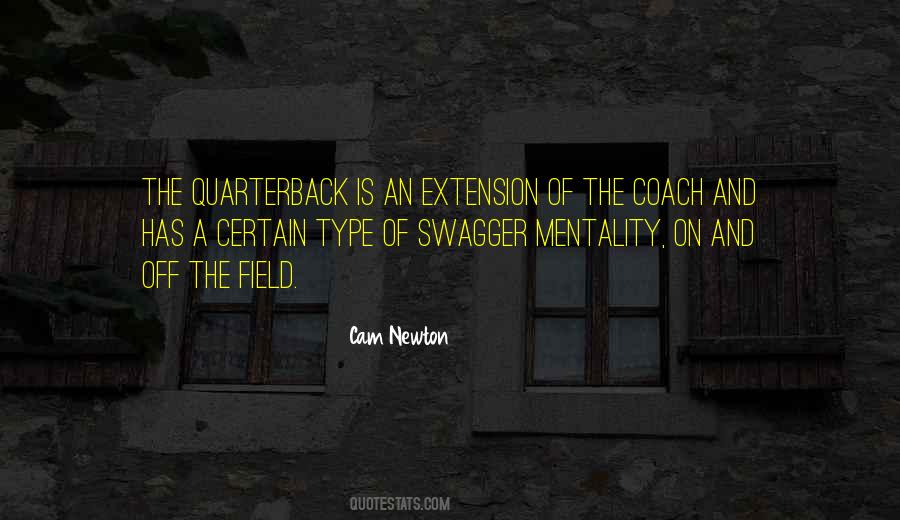 #35. I guess I'm a fun-loving teddy bear. I've got two sides to me. Obviously, there's the football side that a lot of people see - the mean, ferocious, coming-after-the-quarterback guy. But off the field, I'm a calm, cool, collected guy. - Author: Ndamukong Suh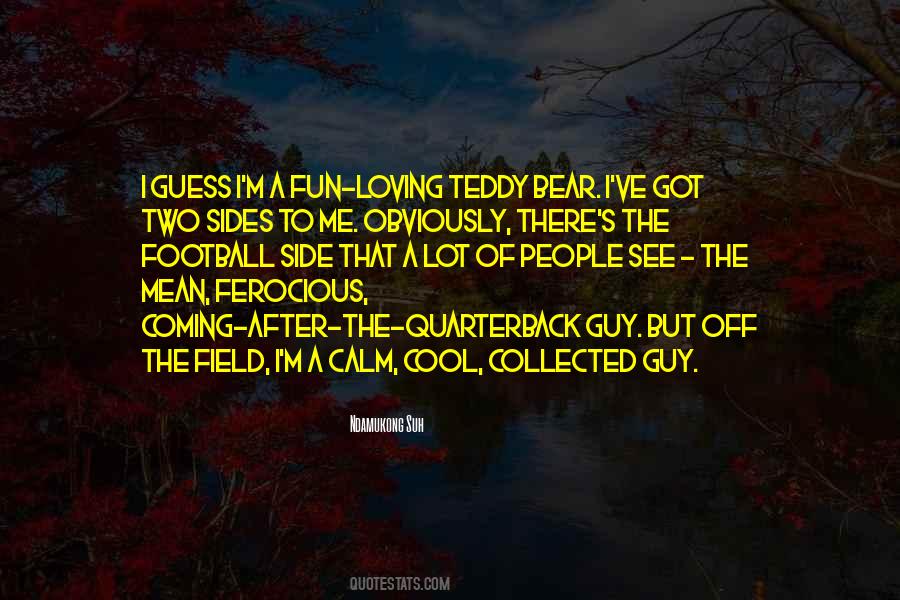 #36. I see the role of a rabbi or a pastor in general sort of like the role of a quarterback who throws the ball a little bit ahead of the receiver - that is you want to make people run just a bit to catch up to the message that you offer. - Author: David Wolpe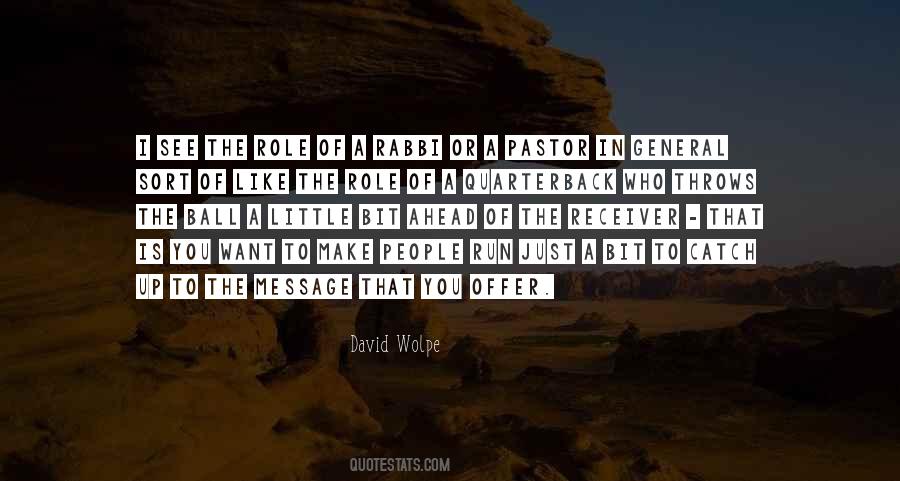 #37. I started playing quarterback my junior year of high school. - Author: Jimmy Garoppolo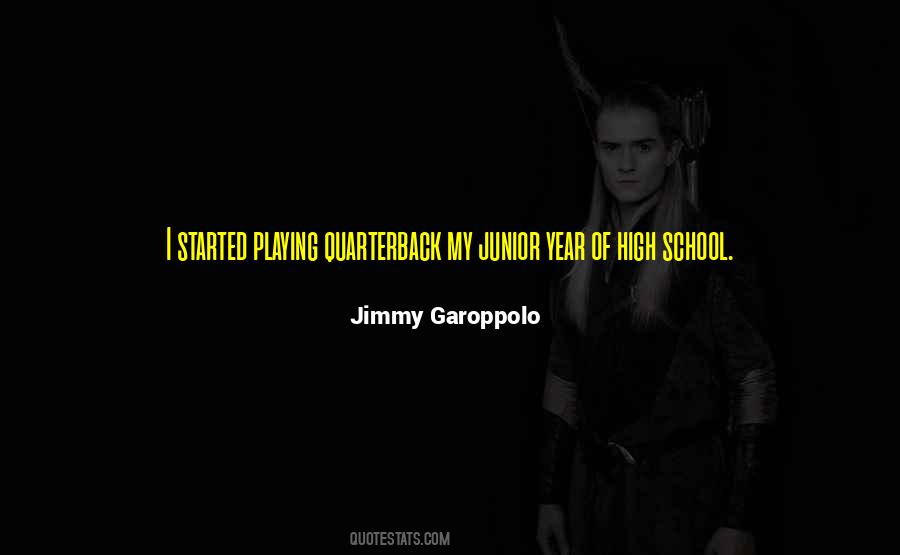 #38. I think what we've had here is a little social concern in the NFL. The media has been very desirous that a black quarterback do well. There is a little hope invested in McNabb, and he got a lot of credit for the performance of this team that he didn't deserve. The defense carried this team. - Author: Rush Limbaugh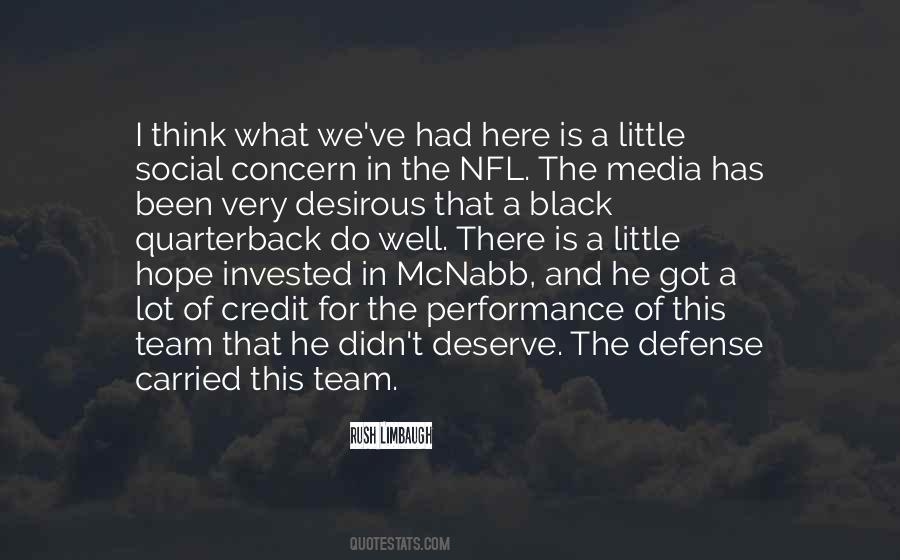 #39. Mick hadn't become the NFL'S leading quarterback by lying back and playing dead. - Author: Jaci Burton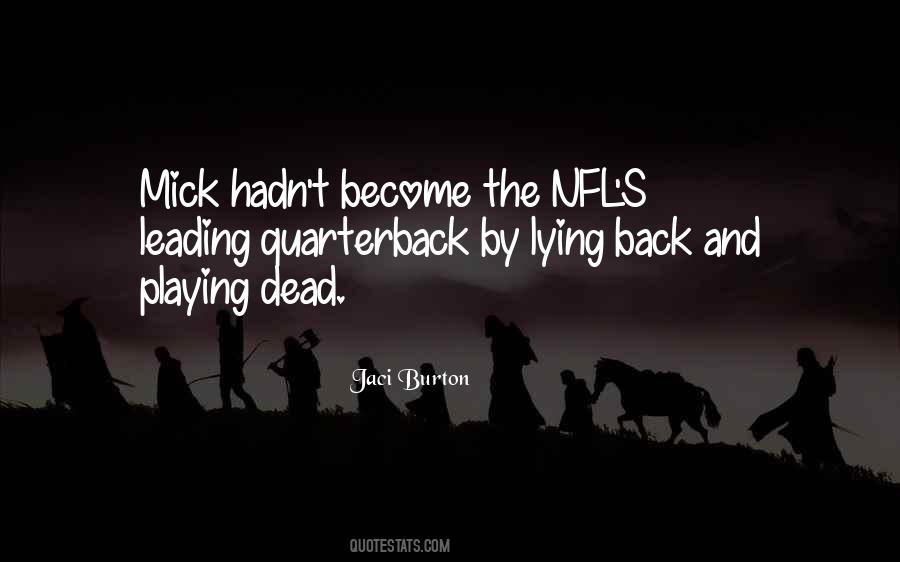 #40. A good football coach needs a patient wife, a loyal dog and a great quarterback - but not necessarily in that order. - Author: Bud Grant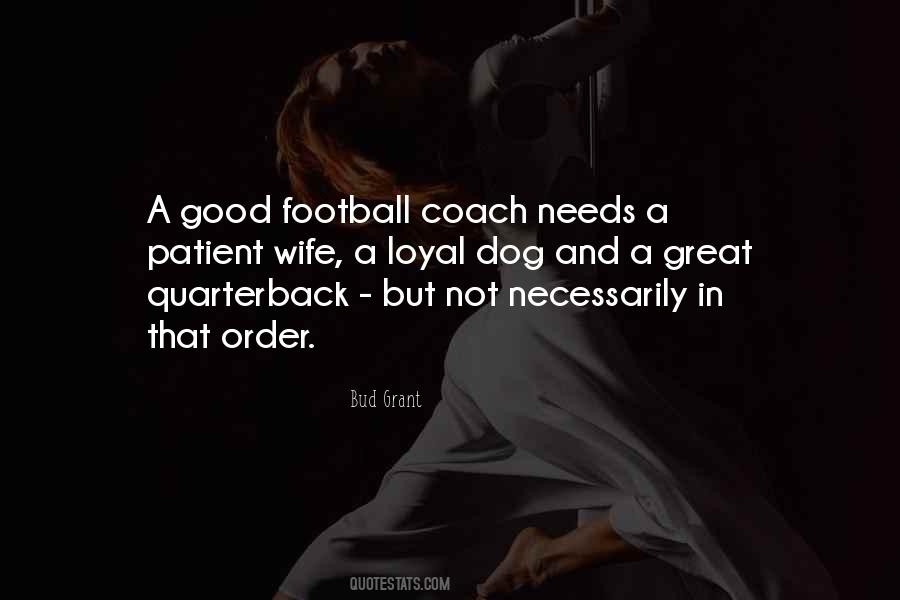 #41. Peyton was the best, my favorite quarterback growing up. - Author: Andrew Luck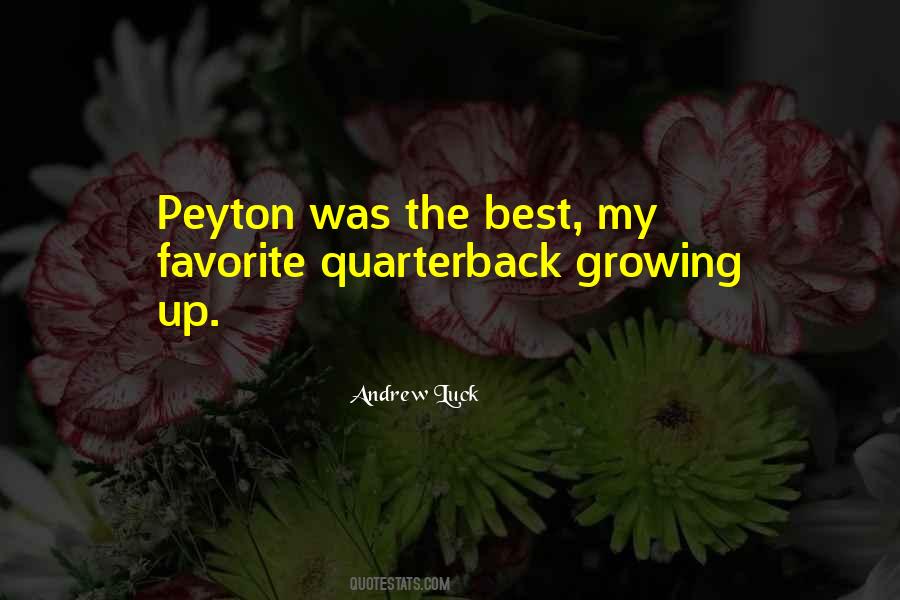 #42. If I was going to play offense, I'd love to play running back. In high school I played quarterback and wide receiver, but I wouldn't mind running over some folks. - Author: Ronnie Lott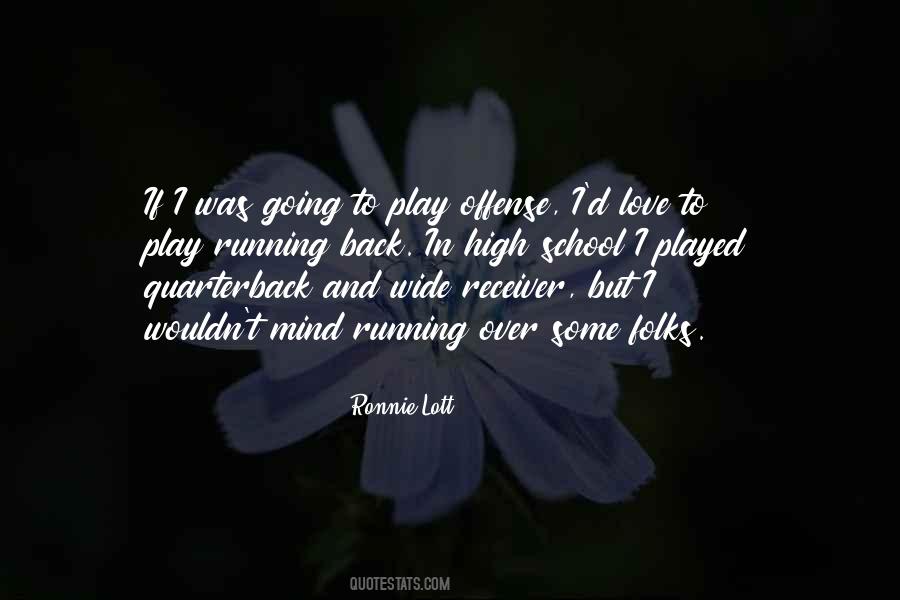 #43. I'm proud to be Archie's son. Being a quarterback, I had my mentor and hero living in the same house. - Author: Peyton Manning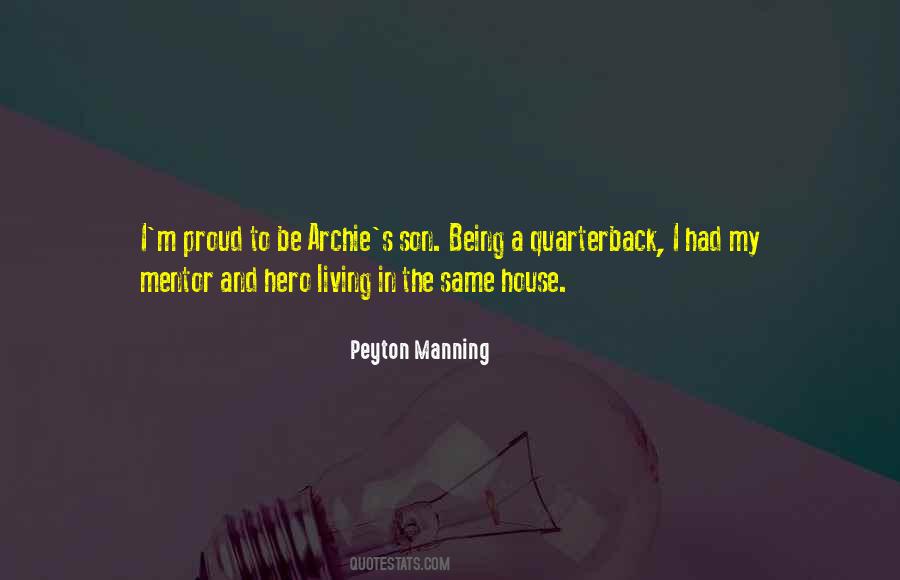 #44. A balanced offense will make Drew Tate a more effective and dangerous quarterback, ... If he can lean on a good, consistent running game, that'll be a real plus for us. - Author: Kirk Ferentz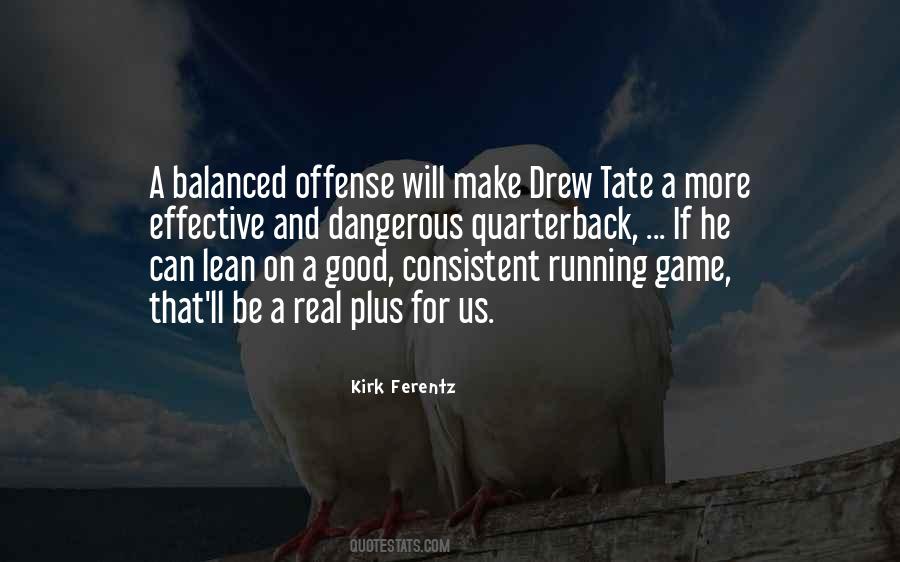 #45. The five big mistakes in football are the fumble, the interception, the penalty, the badly called play, the blocked punt - and most of these originate with the quarterback. Find a mistake-proof quarterback and you have this game won. - Author: Woody Hayes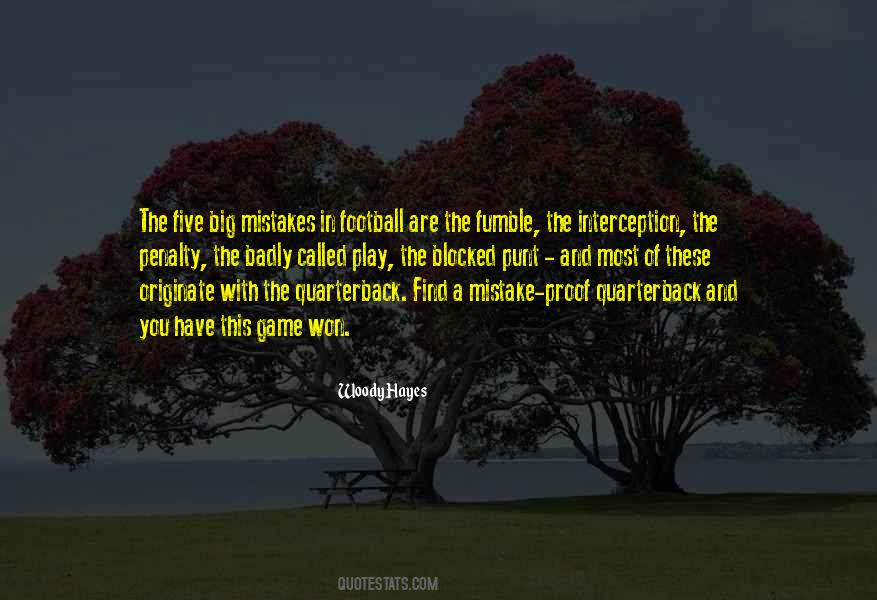 #46. The only model to me that correlates with big success in the NFL is having a Hall of Fame franchise quarterback. - Author: Jeffrey Lurie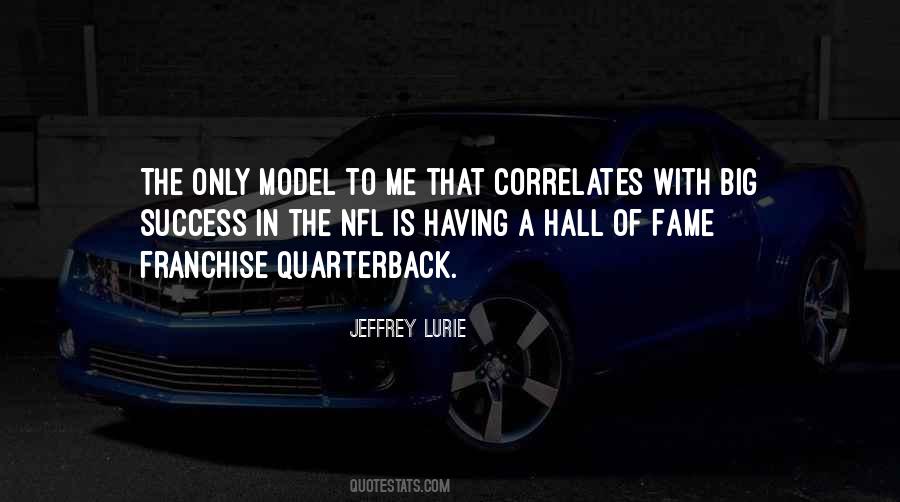 #47. Quarterbacks should wear dresses - Author: Jack Lambert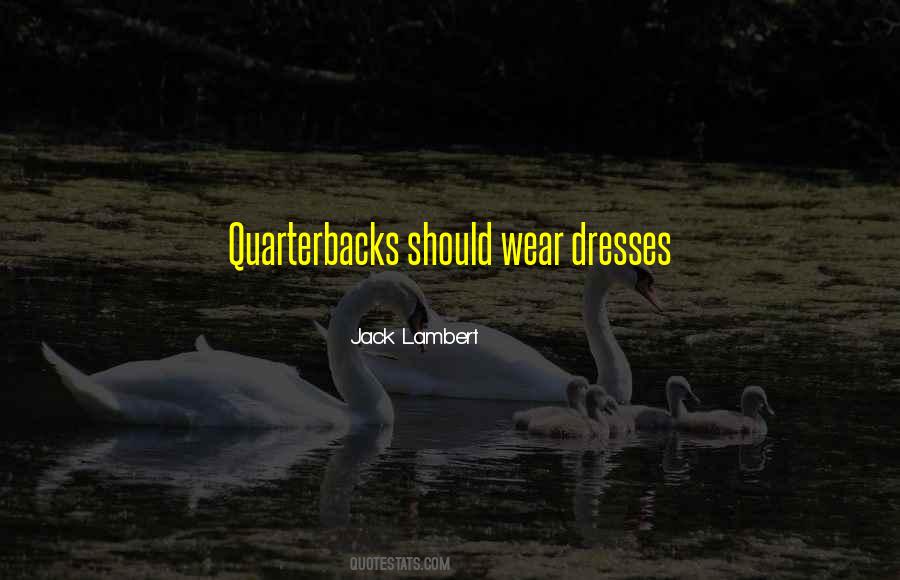 #48. I'm always studying. I probably wrote the most papers of any college quarterback. - Author: Robert Griffin III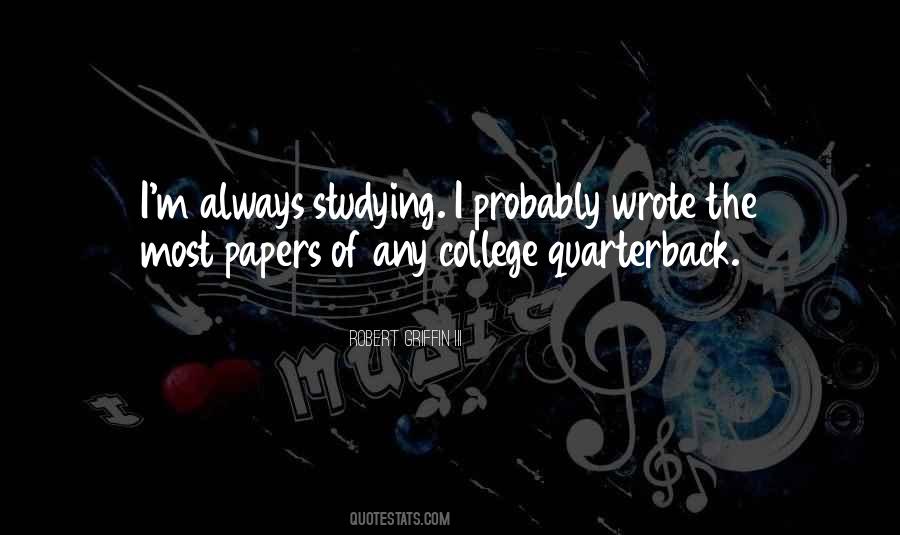 #49. I think the only time I doubted myself was my senior year in high school. I was not offered a Division I scholarship. I remember a scout from Ohio State coming in and looking at my film. He was all excited to meet me. Then he met me and I was 5'10 and he said that I was not a Division I quarterback. - Author: Doug Flutie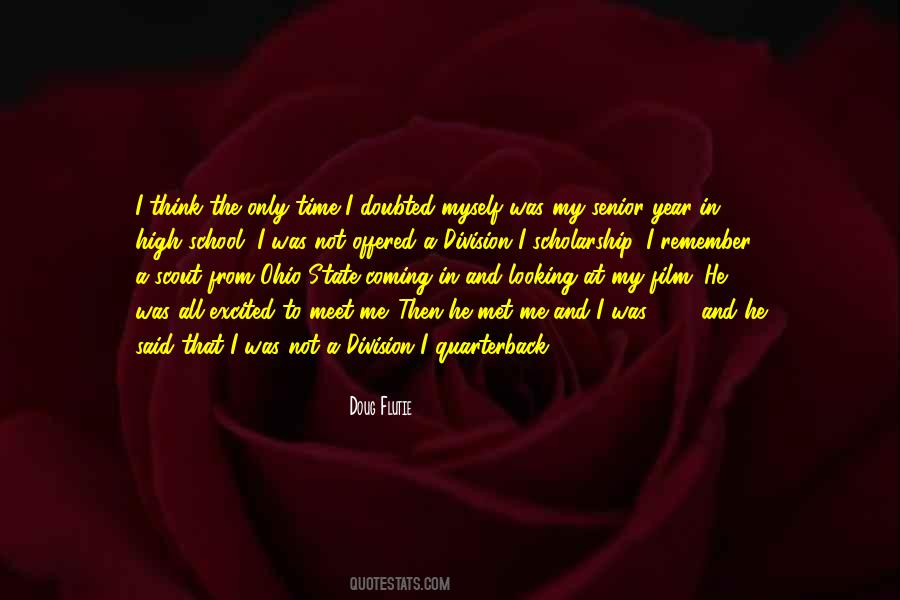 #50. I love getting after that quarterback! That's my deal: sacking the quarterback. - Author: Gaines Adams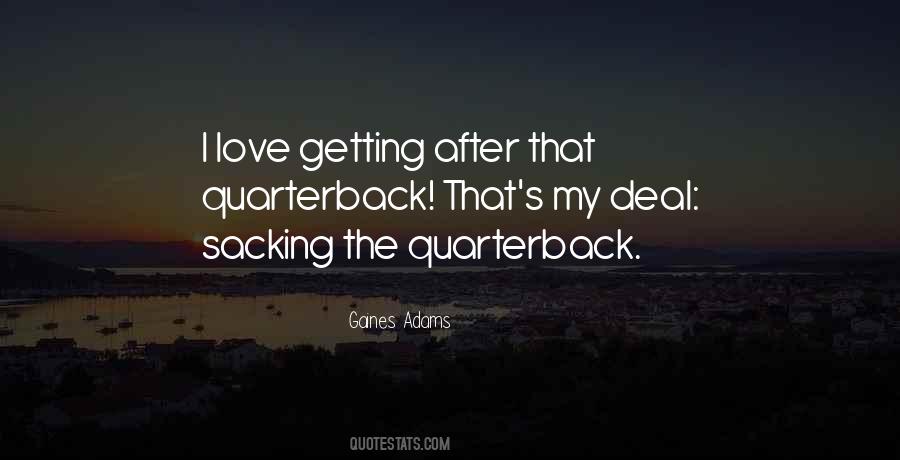 #51. After the snap, Chad took off like a gazelle and the quarterback hurled a 30-yard bomb that rocketed straight to him. Fast as Chad was, Joshua ran him down like a Discovery Channel cheetah. It was no contest. - Author: C. Michael Forsyth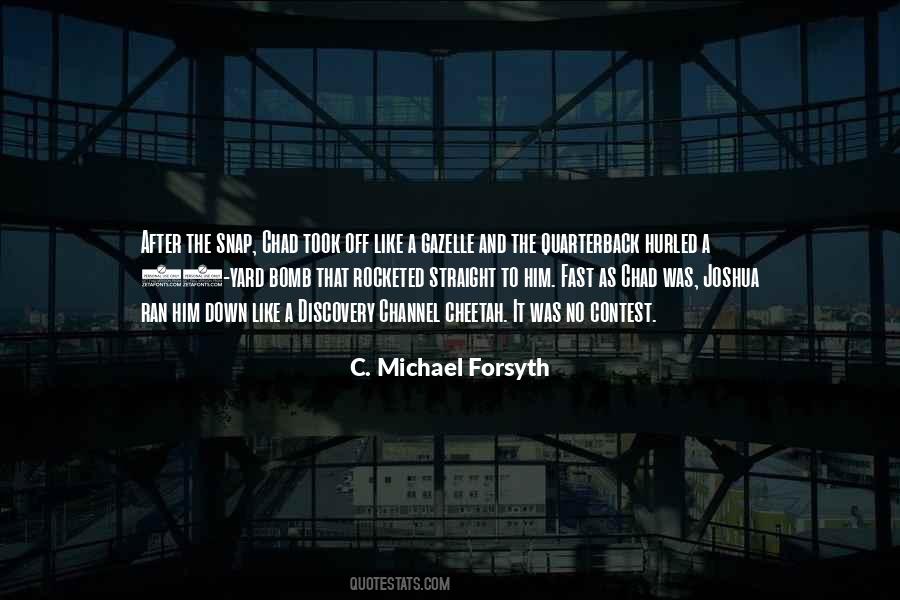 #52. If I could play football, I'd play football. But not women's football - real football. Or I'd just date a quarterback. - Author: Portia Doubleday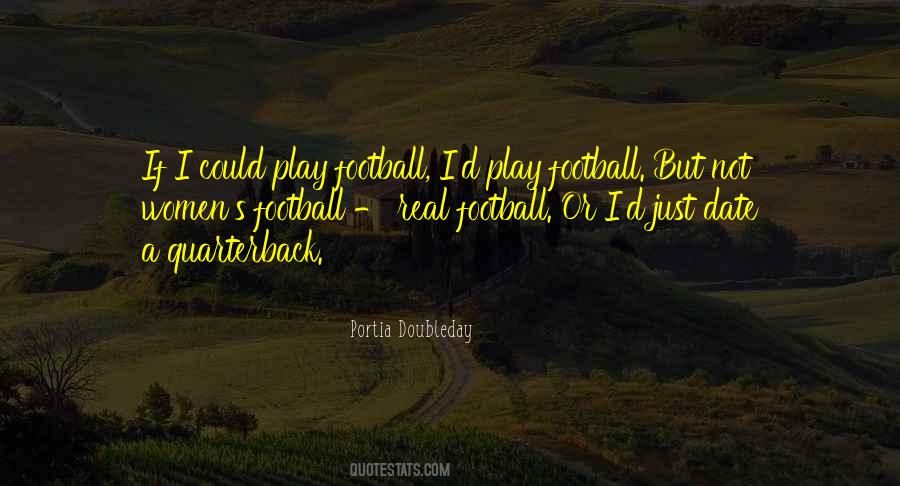 #53. You can find the intangibles of being a quarterback in almost every profession in the world. There's nothing like it. - Author: Brady Quinn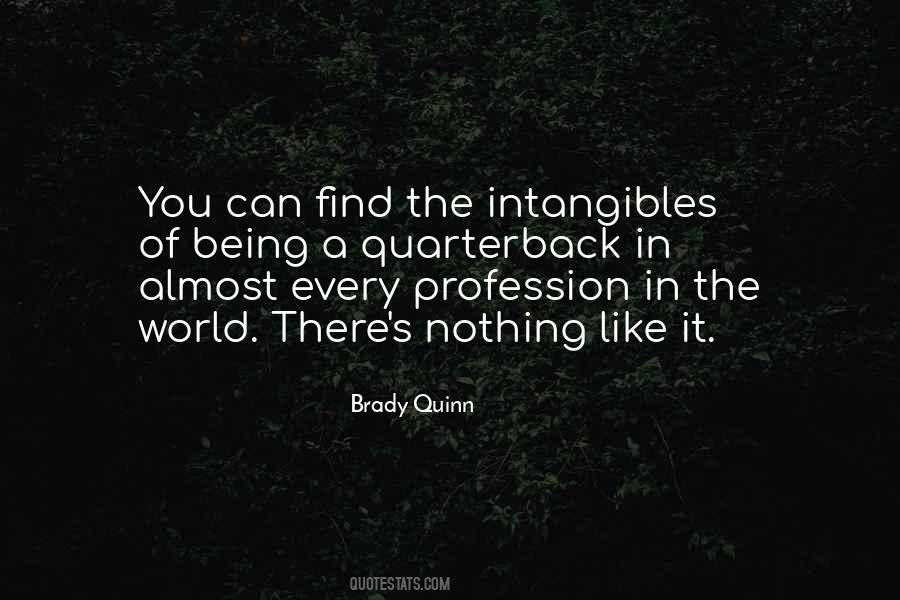 #54. I don't believe that you can be too short as a quarterback. It's not about height. - Author: Drew Brees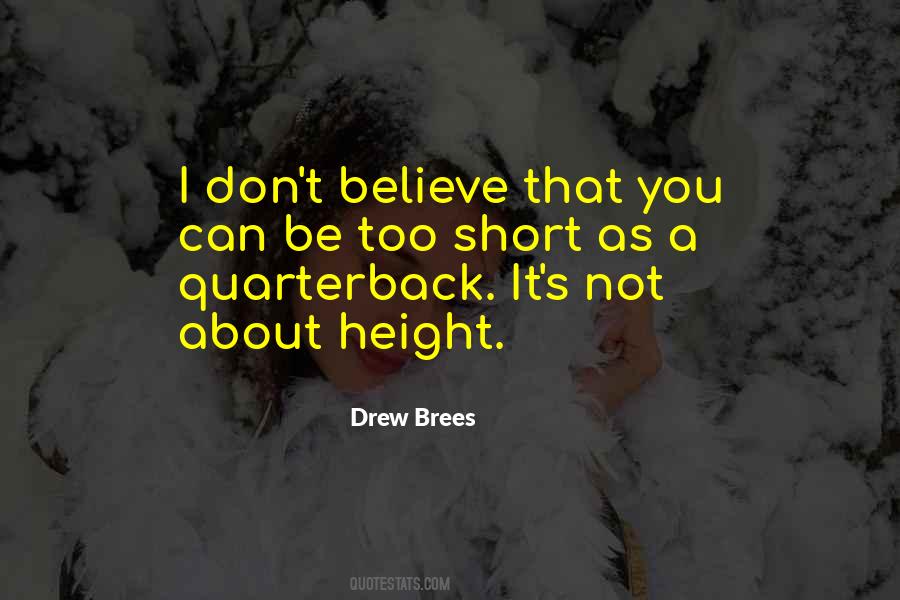 #55. Every quarterback can be rattled. There's no guy who can't be. - Author: Jason Pierre-Paul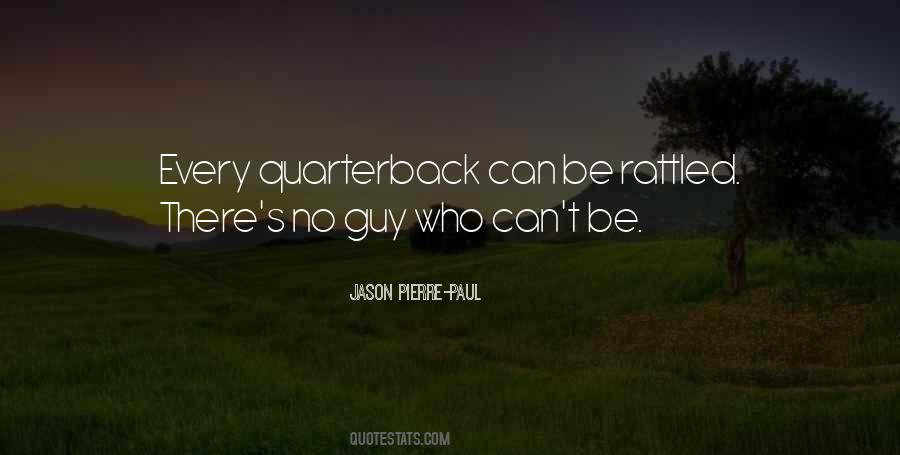 #56. My favorite quarterback is Donovan McNabb. I think he's a complete quarterback. I love the way he can scramble and throw on the run. He can do it all. He can control a game. - Author: Paul Pierce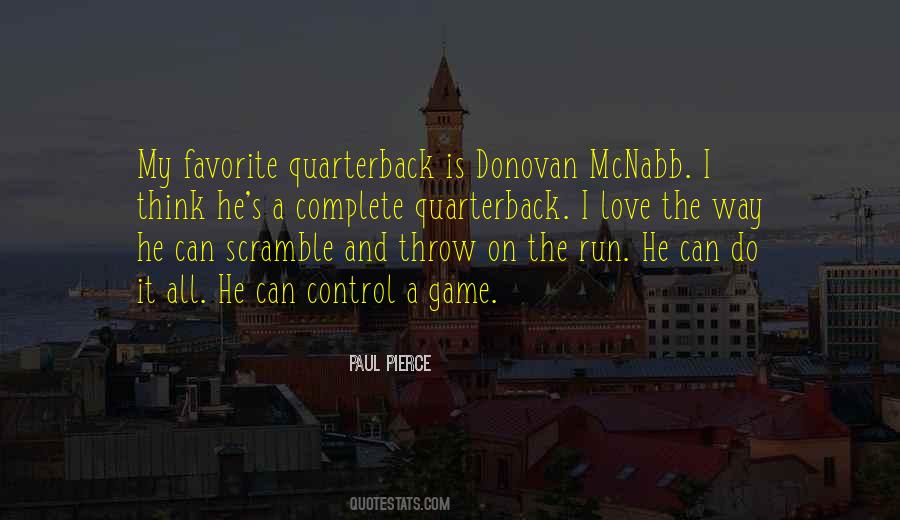 #57. I said, 'If the quarterback is a runner, it'll work.' But if your quarterback's not a runner, in my judgment and in the judgment of most of the people, it wouldn't work without the quarterback running the ball. - Author: Frank Broyles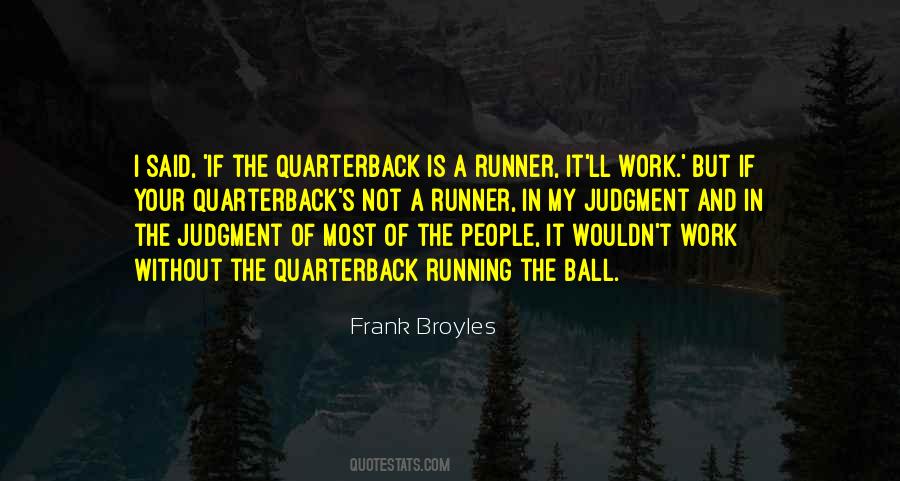 #58. The name of the game is 'kill the quarterback.' Every football team tries to knock the guy out of the game that's handling the ball. - Author: Joe Namath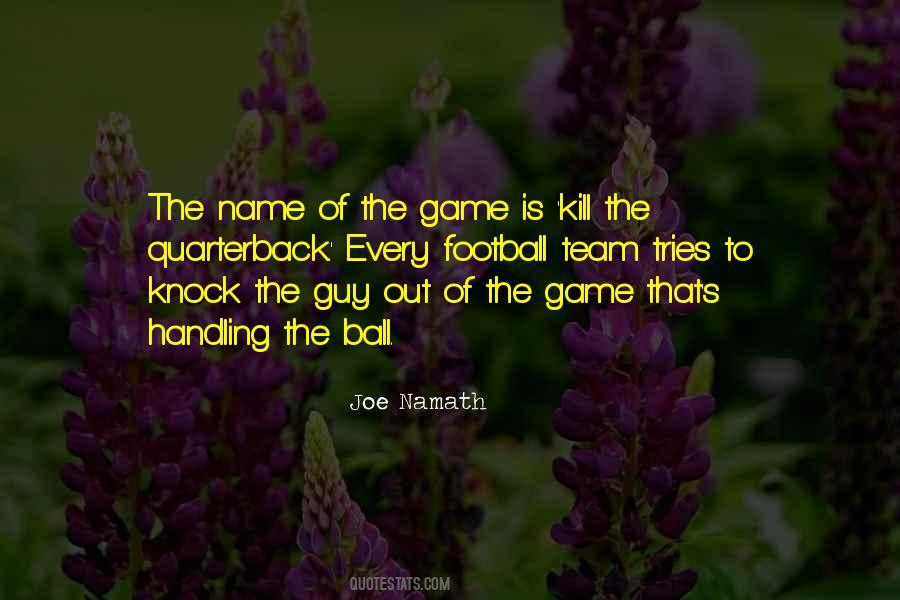 #59. I'm not a 25-interception quarterback, I know that. - Author: Eli Manning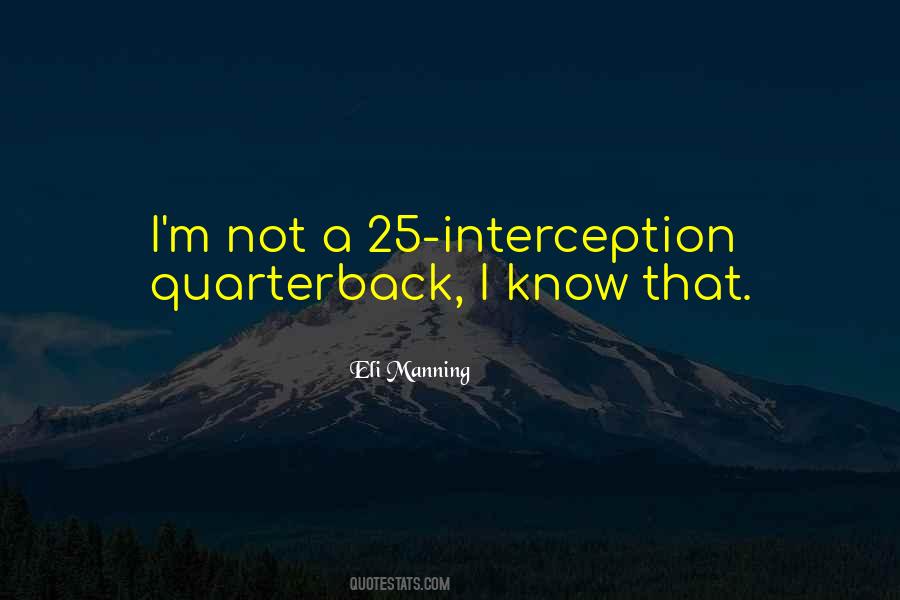 #60. Ron Powlus will win the Heisman two times and be the greatest quarterback in the history of Notre Dame. - Author: Beano Cook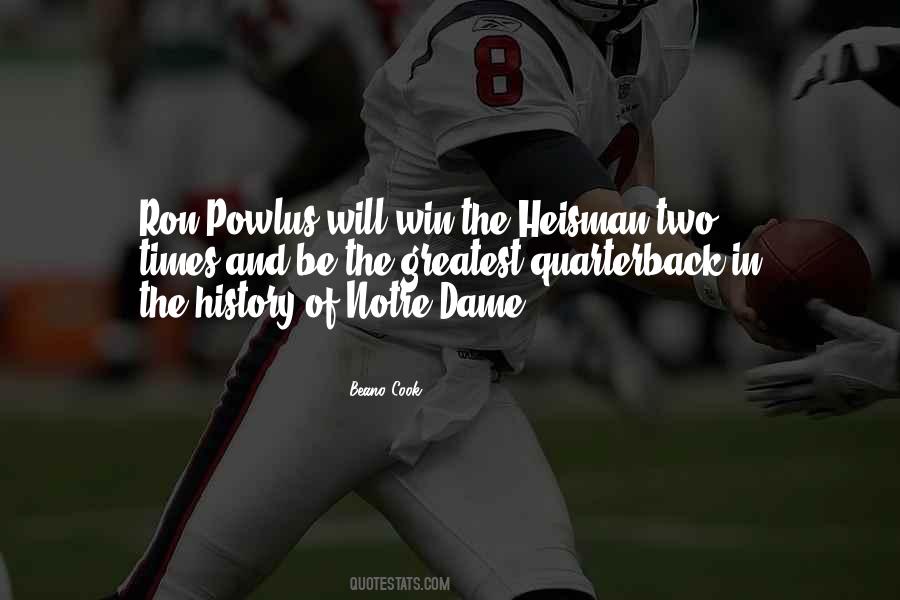 #61. It's a very easy thing to say, 'Go get a backup quarterback.' Now tell me where to get them. You just can't dial them up. - Author: Bill Parcells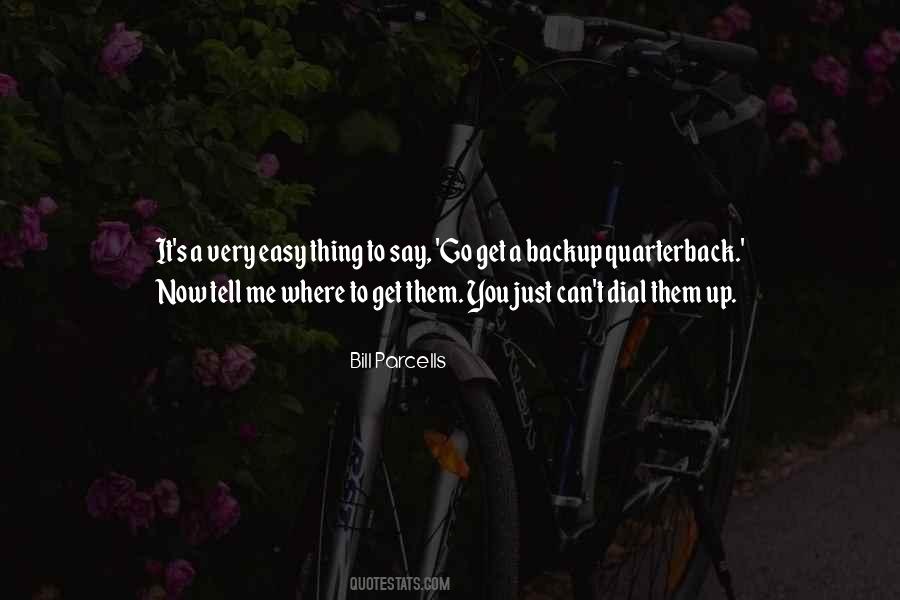 #62. As a quarterback, you have to love it. As much as you like to turn around and hand the ball off - the whole traditional football game - as a quarterback, you gotta love putting it in the air. - Author: Joe Montana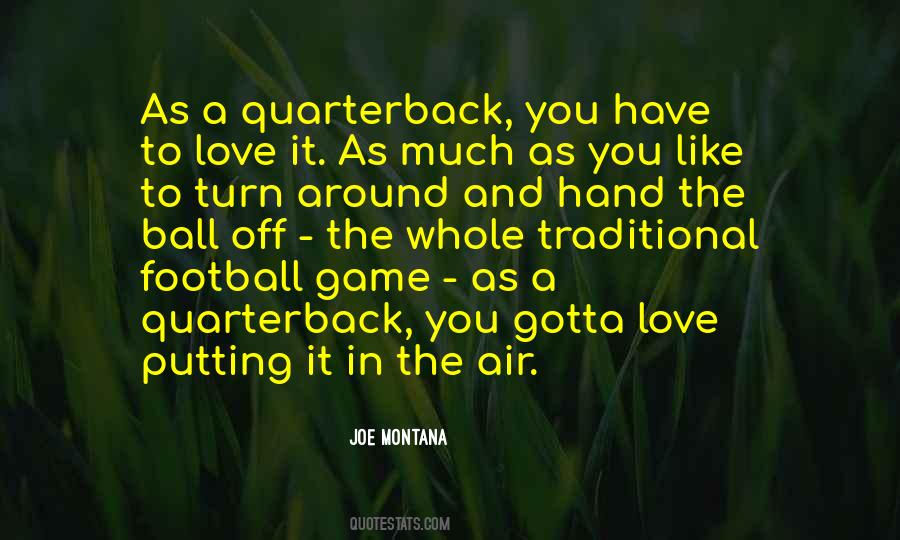 #63. Roger Goodell makes $40 million a year, which more than compensates him for the most difficult and sensitive decision in his nine years as commissioner: How hard to come down on Tom Brady, the best quarterback in NFL history, who Goodell told me last year is a "great ambassador for the game" - Author: Gary Myers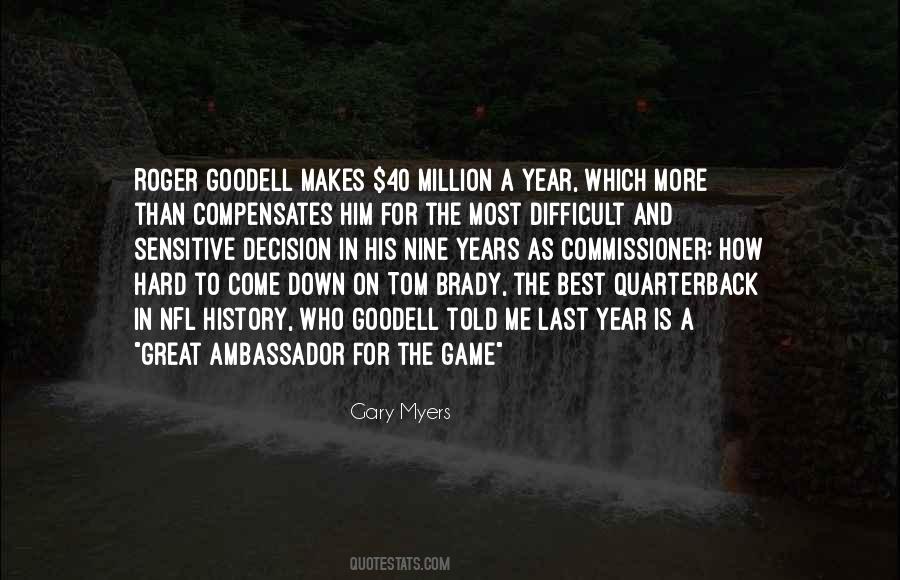 #64. I was always a big fan of waiting a year of two to groom an NFL quarterback; let him learn and mature. - Author: Terrell Davis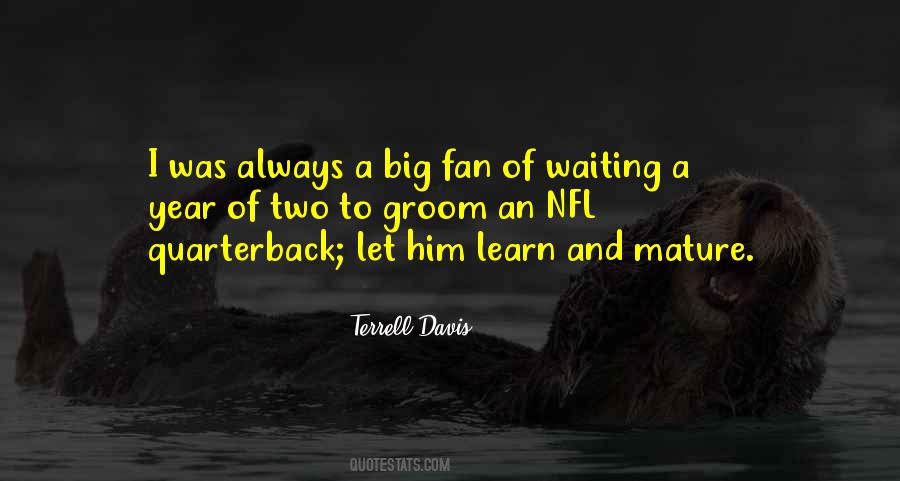 #65. I will remain in relentless pursuit of continuing my lifelong dream of being an NFL quarterback. - Author: Tim Tebow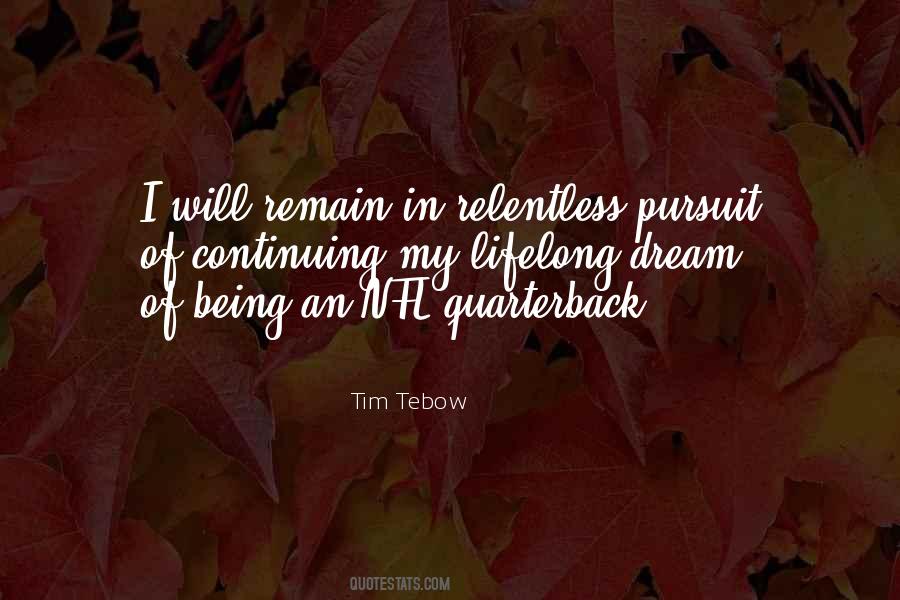 #66. Recognize winners. They come in all forms. - Author: Bear Bryant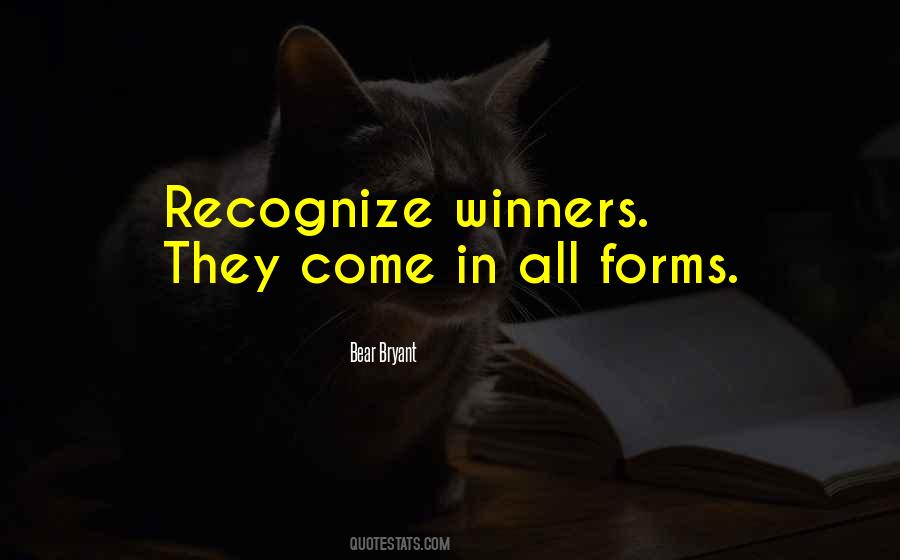 #67. Being a quarterback, the way I believe is there's always so much room to improve. Any little detail. I always cut up the film and try to watch what I can improve on, whatever little detail it is. - Author: Russell Wilson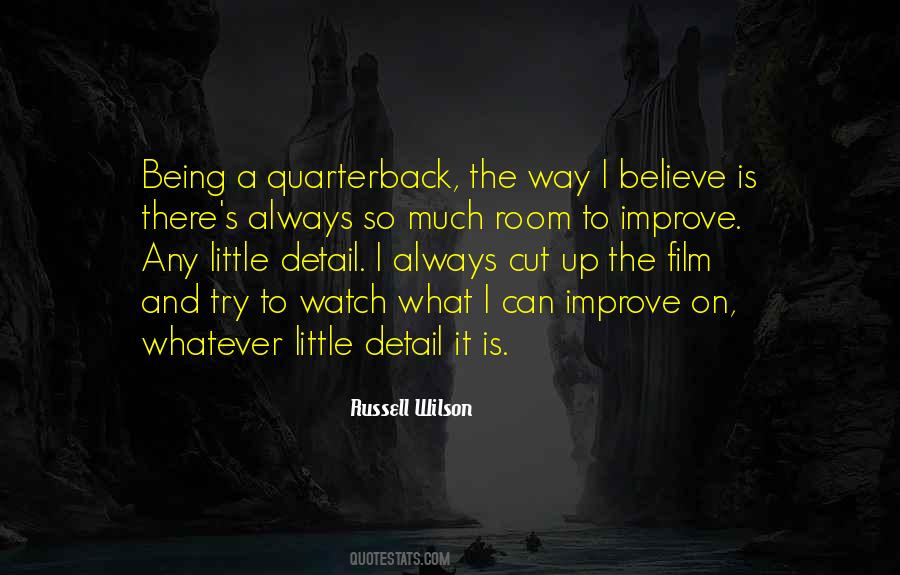 #68. There's not much simplifying. You gotta know what you gotta know. That's how the quarterback position is, and I wouldn't have it any other way. - Author: Jimmy Garoppolo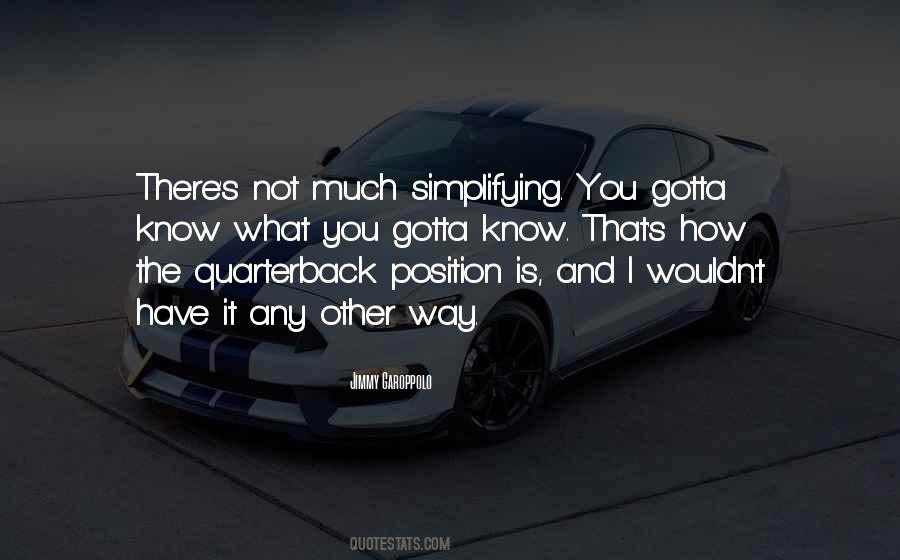 #69. I was a quarterback in college. I hoped to go to the NFL, and I didn't get drafted. I then became a free agent. I could sign with whoever I wanted to, and I ended up going to Pittsburgh. - Author: Tony Dungy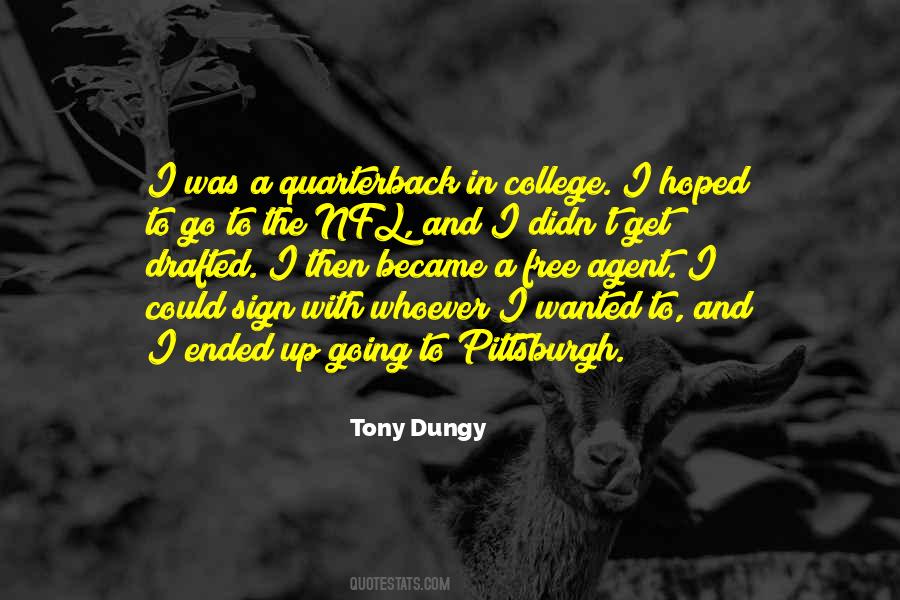 #70. You never really know about a quarterback until he plays in a real game. - Author: Mike Singletary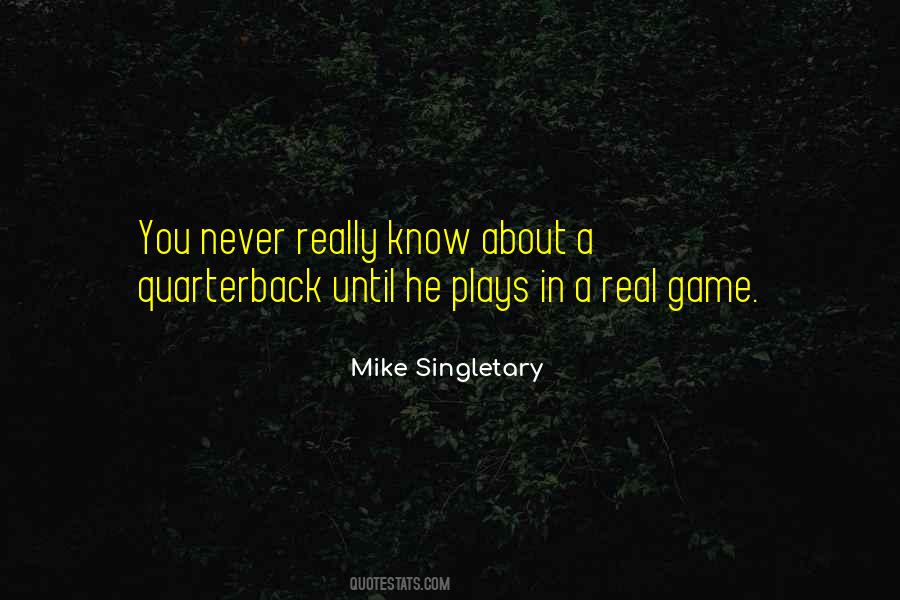 #71. It is easy to act as a Saturday morning quarterback and replay the game lost the night before. All of us seem to have better hindsight (the ability to see after the event what should have been done) than foresight - Author: Carlos E. Asay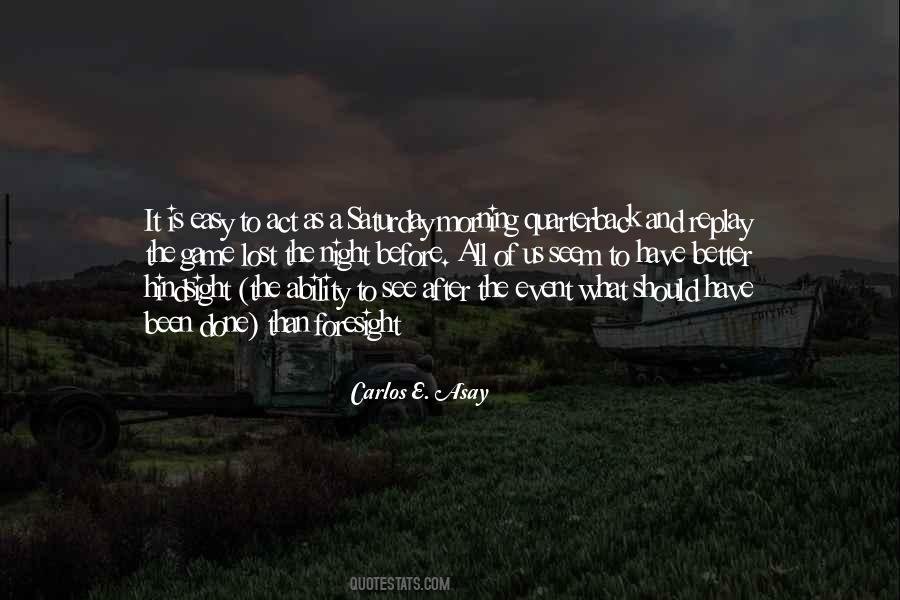 #72. We need to let the referee's sole thing be to protect the quarterback and get those late hits out of there. They even have a stat on television that says 'knockdowns.' Knockdowns means that you knock him down after he throws the ball. The assumption is, if it's legal, we'll make excuses for them. - Author: John Madden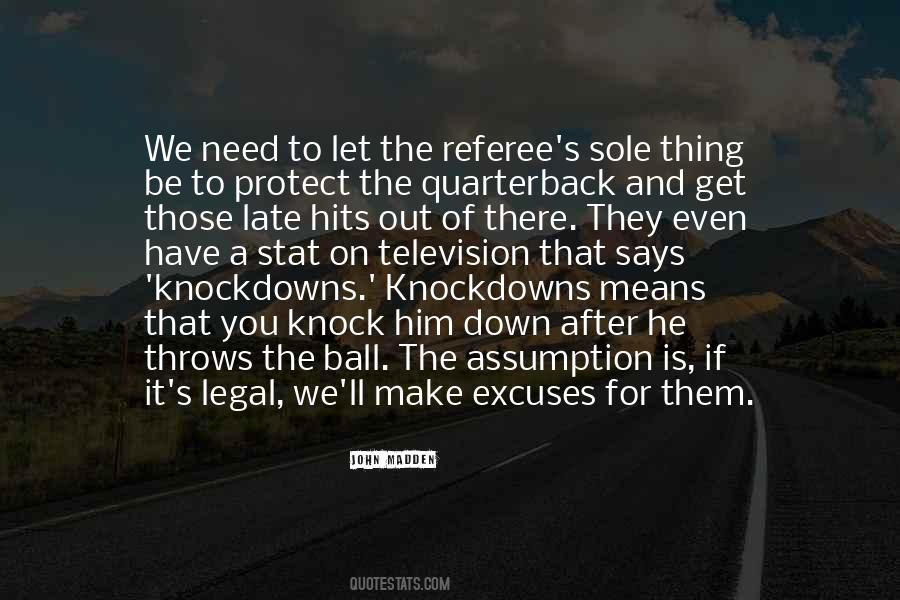 #73. The test of a quarterback is where his team finishes. - Author: Paul Brown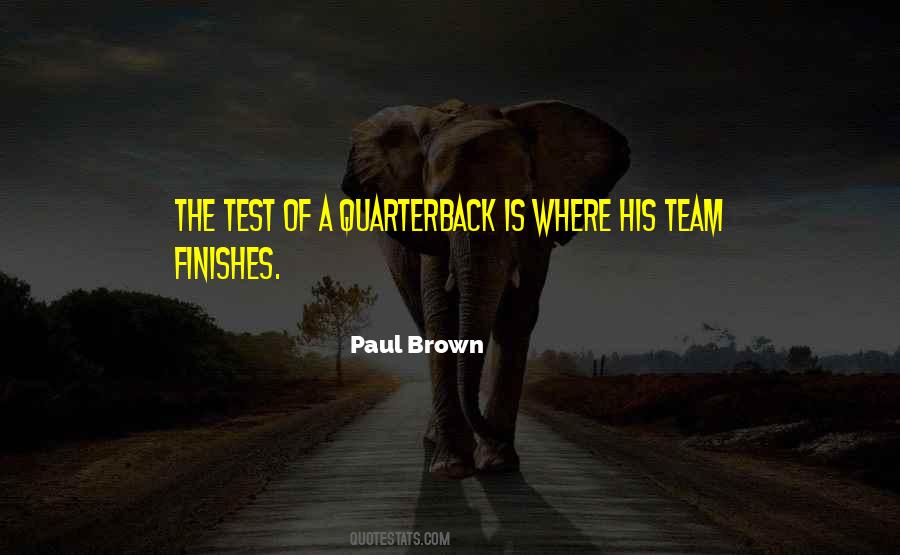 #74. Imagine yourself sitting on top of a great thoroughbred horse. You sit up there and you just feel that power. That's what it was like playing quarterback on that team [the Pittsburgh Steelers]. It was a great ride. - Author: Terry Bradshaw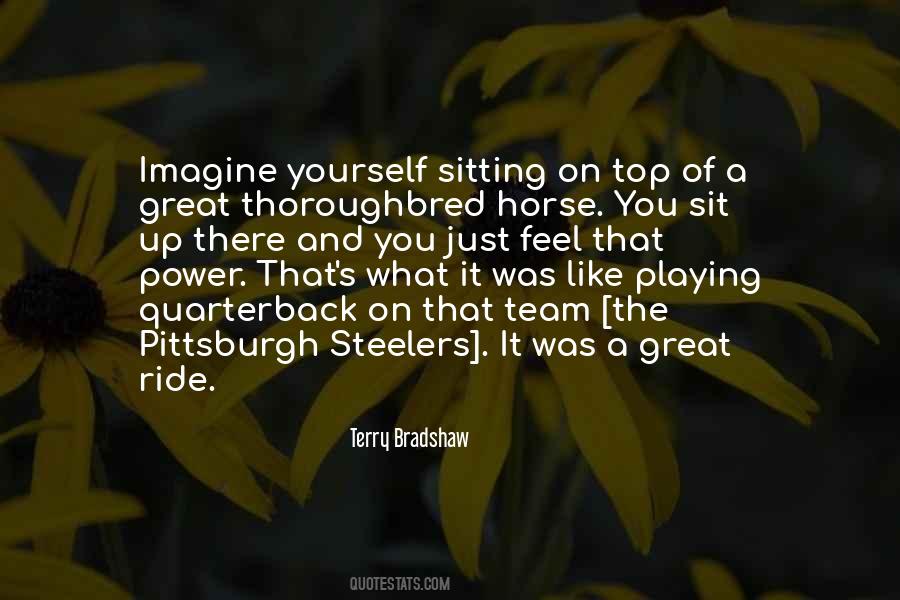 #75. She dumped me for the quarterback after she'd played my body like a banjo. So Sad."
"I bet"
"I'm serious. I was heartbroken."
"For how long?"
"A whole week." An eternity in the life of a teenage boy. - Author: Nalini Singh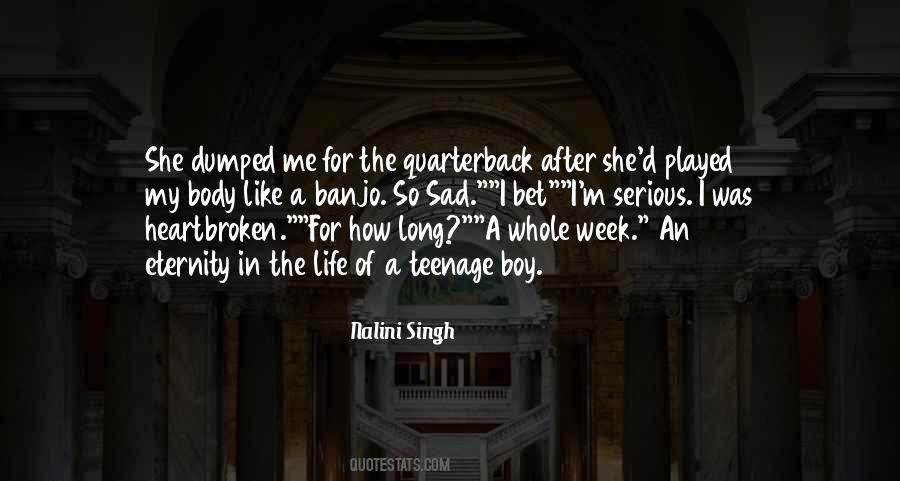 #76. Look at Baltimore back in 2000. They had an outstanding defense. They could run the ball, and they had a quarterback that didn't turn it over that much. I think that is a plan that can bring you great success. - Author: Bob McNair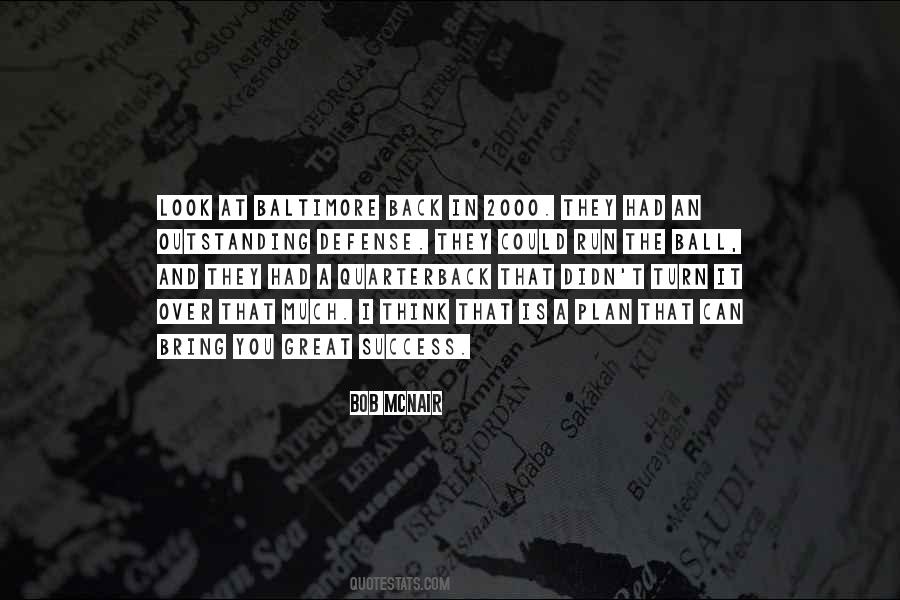 #77. I think I could describe the perfect quarterback. Take a little piece of everybody. Take John Elway's arm, Dan Marino's release, maybe Troy Aikman's drop-back, Brett Favre's scrambling ability, Joe Montana's two-minute poise and, naturally, my speed. - Author: Peyton Manning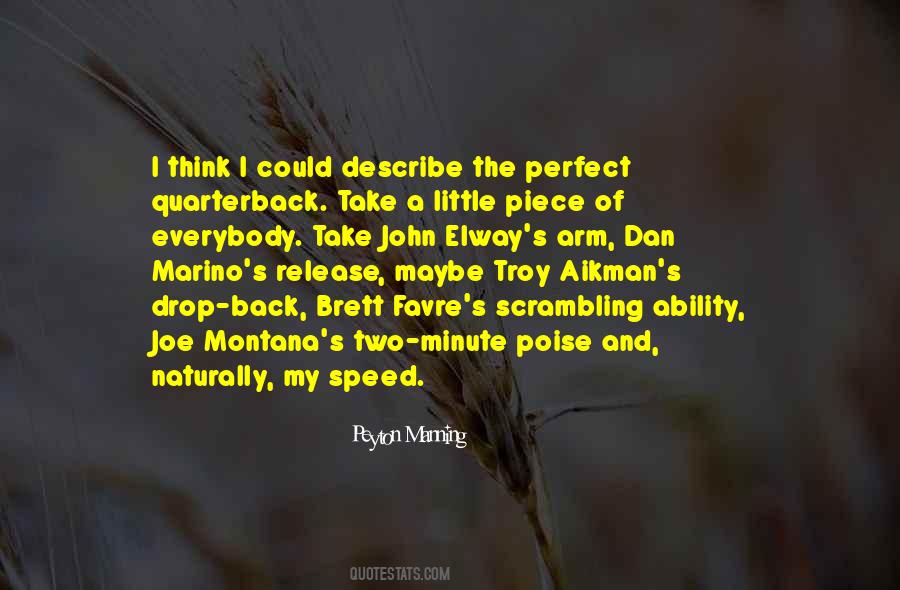 #78. As soon as you make mistakes, or you have an off year, even if it's not your fault as a quarterback ... I've always said the quarterback and the head coach always get too much blame when you lose and too much credit when you win. - Author: Eli Manning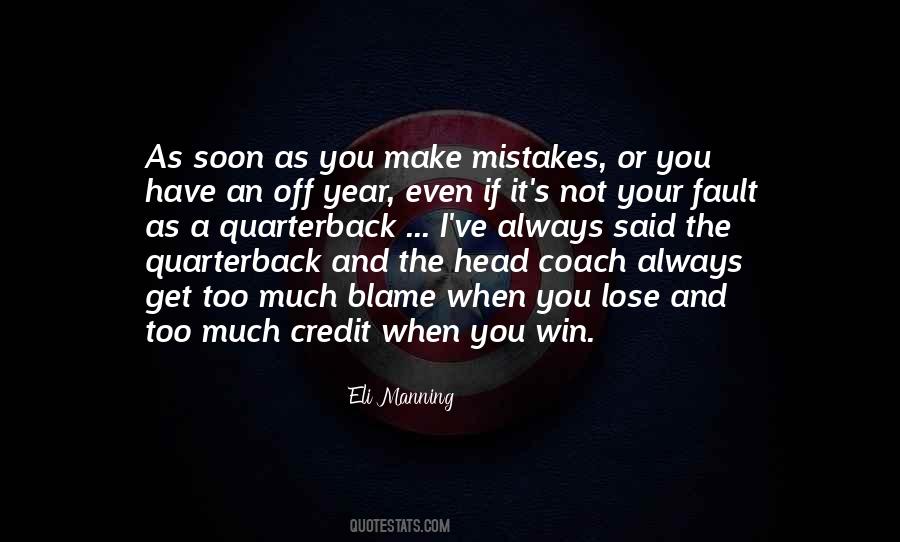 #79. If there's one thing I can't stand, it's a quarterback who thinks playing quarterback is just about passing. - Author: Bill Parcells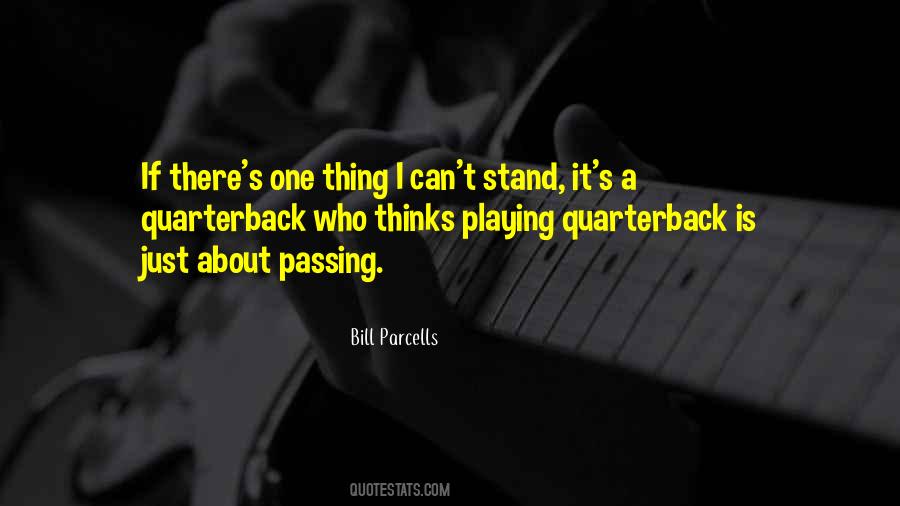 #80. For me, a quarterback's best friend, especially a young quarterback's best friend, is a coach who believes in him. - Author: Robert Griffin III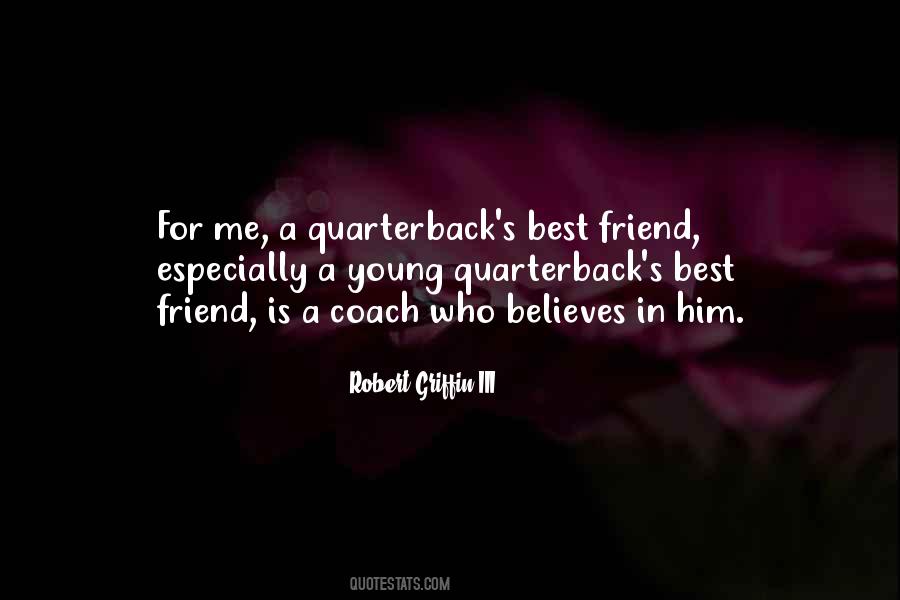 #81. Though I loved books as a young boy, I loved sports even more. I wanted to be a quarterback in the CFL. - Author: David Bergen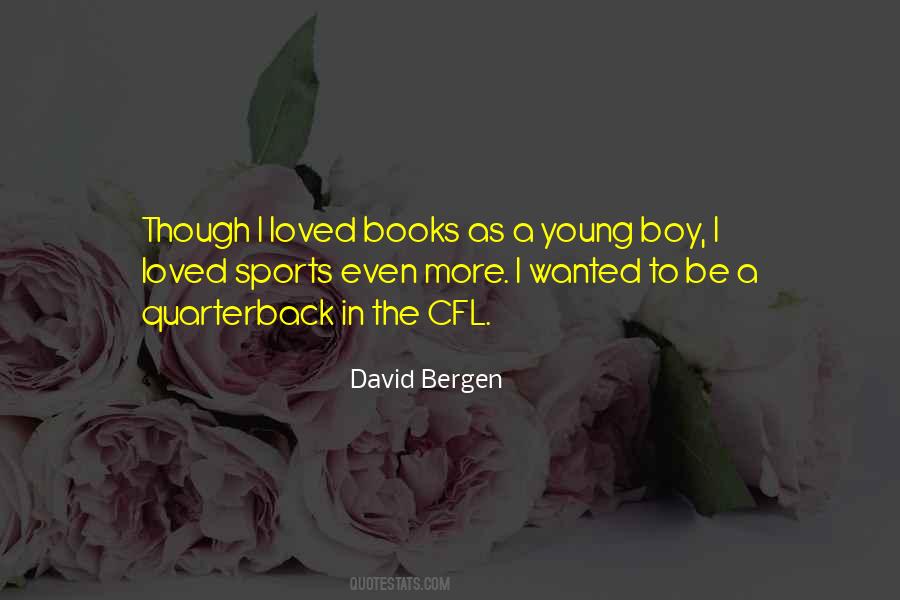 #82. I don't want people to say I'm a solid quarterback. I want to be the best, and I'll continually work until I get there. - Author: Robert Griffin III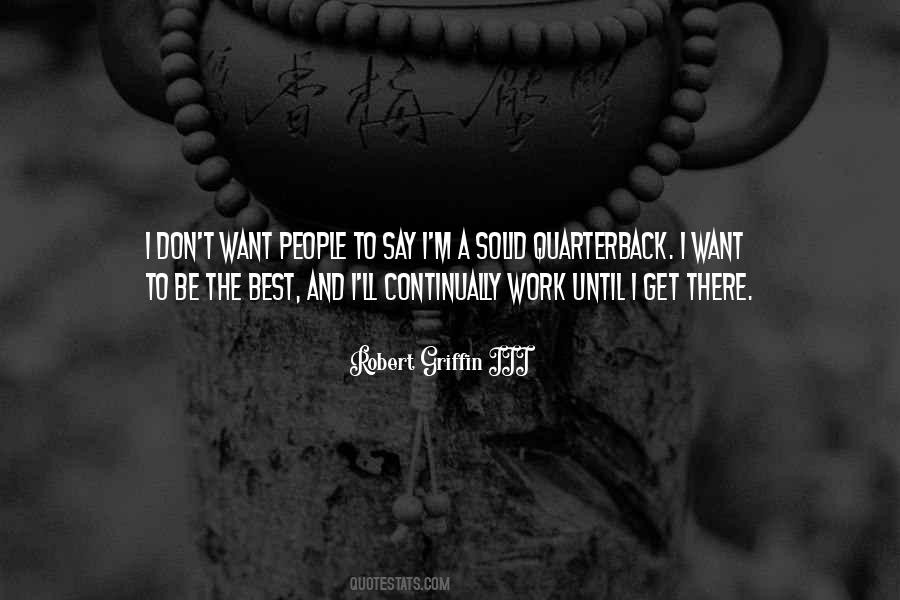 #83. I see myself as a quarterback who had the run the option for the offense to be successful. - Author: Colin Kaepernick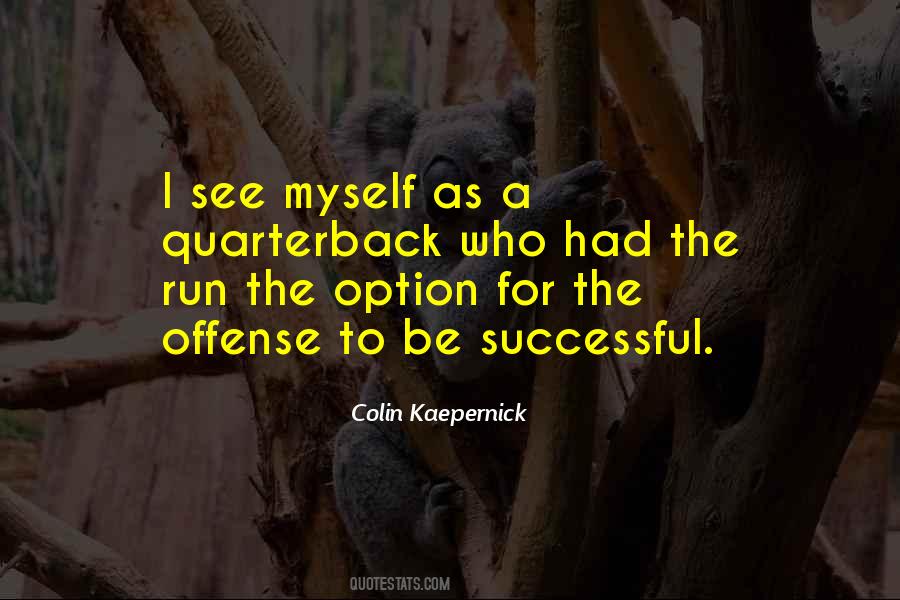 #84. The Super Bowl is like a movie, and the quarterback is the leading man. - Author: Leigh Steinberg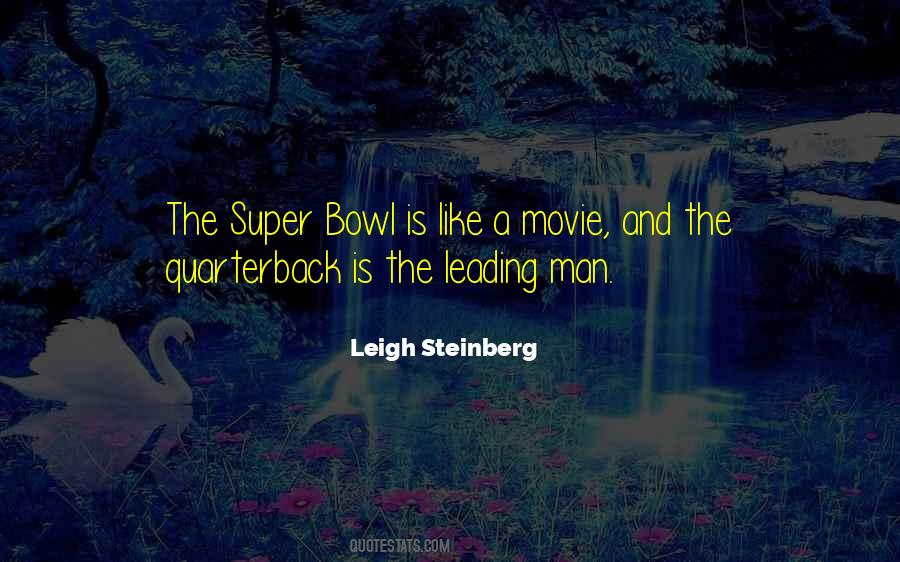 #85. I had to find stories no one else was writing, so I got away from the quarterback and the coach. I'm still looking for stories no one else has written. - Author: John Branch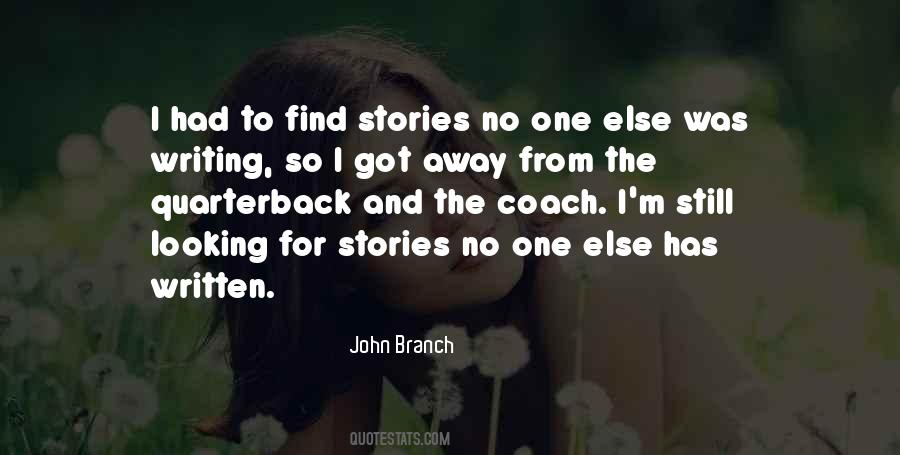 #86. The positions I played in football, being a quarterback and a defensive back, you had to kind of have a little independent thinking. - Author: Hale Irwin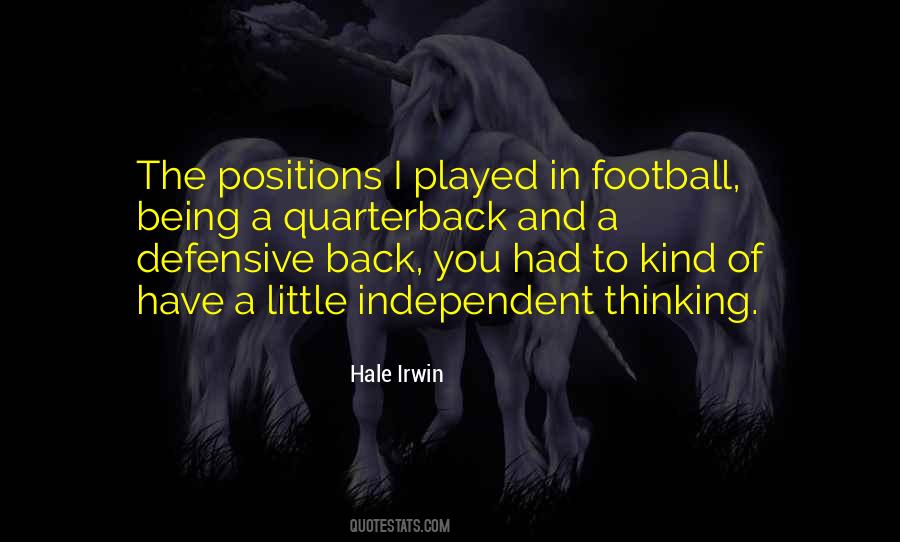 #87. I remember when I was 6 years old and my brother used to go seek out guys that were 13 to come over and play football against me while he was the 'permanent quarterback.' I didn't know exactly what the age difference was, but I was already playing against older guys. - Author: Junior Seau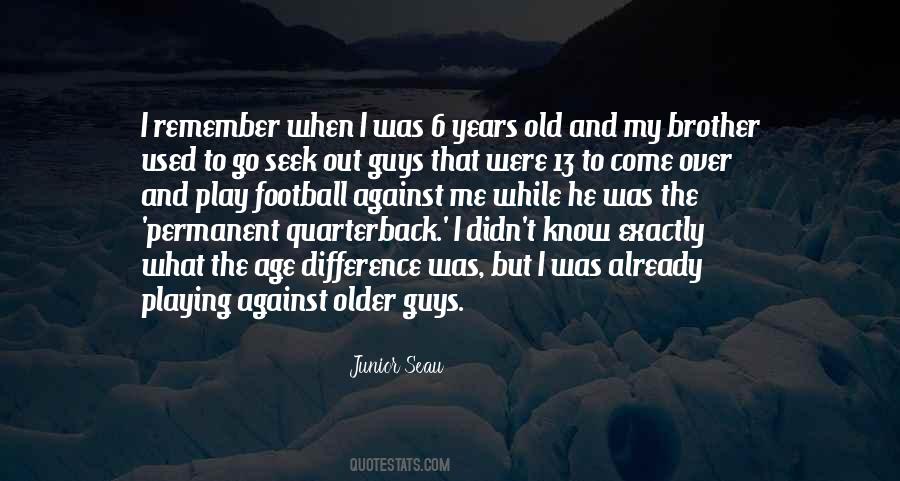 #88. Every quarterback can throw a ball; every running back can run; every receiver is fast; but that mental toughness that you talk about translates into competitiveness. - Author: Tom Brady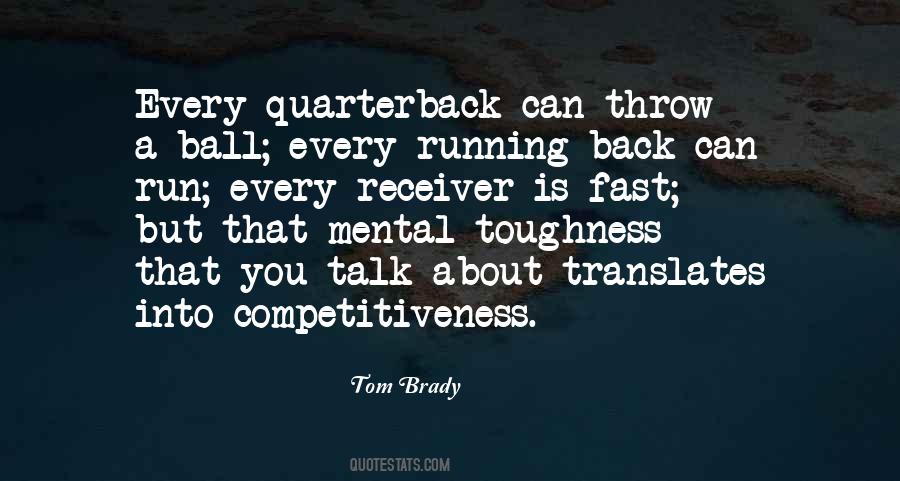 #89. Infinite Darlene doesn't have it easy. Being both star quarterback and homecoming queen has its conflicts. - Author: David Levithan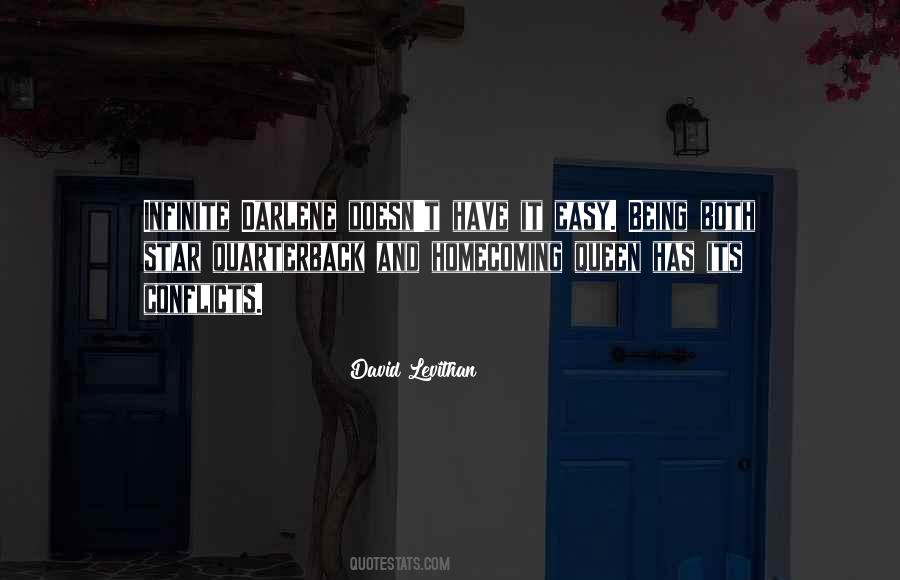 #90. My first option is not to run. I am not a runner. I'm a quarterback. - Author: Daunte Culpepper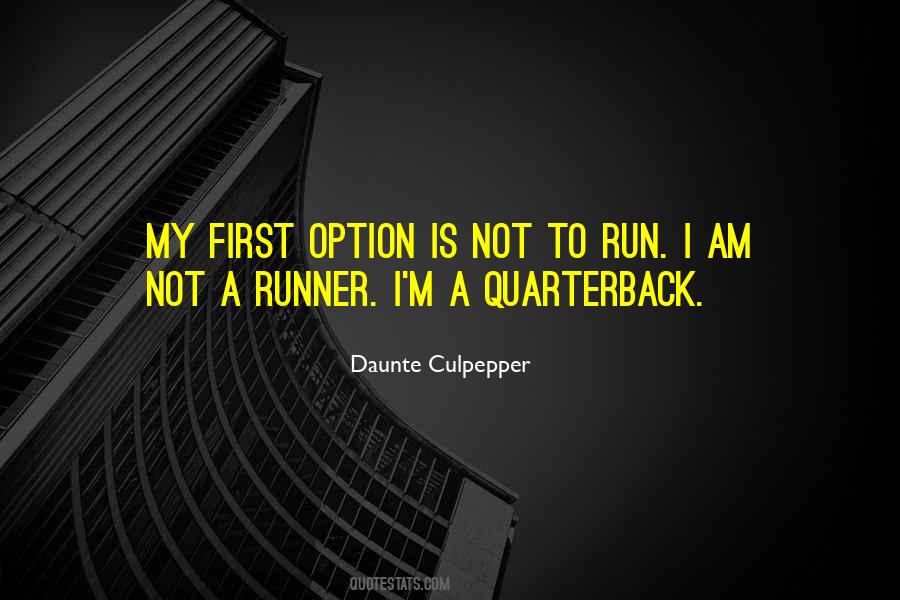 #91. I wanted to be a quarterback. I used to like Johnny Unitas, the old quarterback for the Colts. - Author: Julian Castro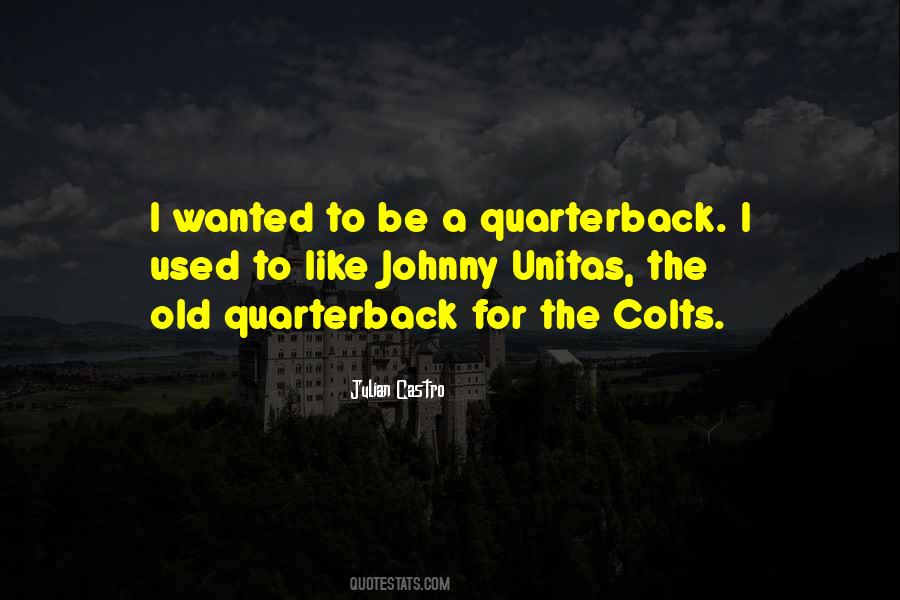 #92. The quarterback is in charge of the chuck wagon. He's handing it out here and there, but he can't just throw it out there indiscriminately or the wolves will get him. - Author: Bill Parcells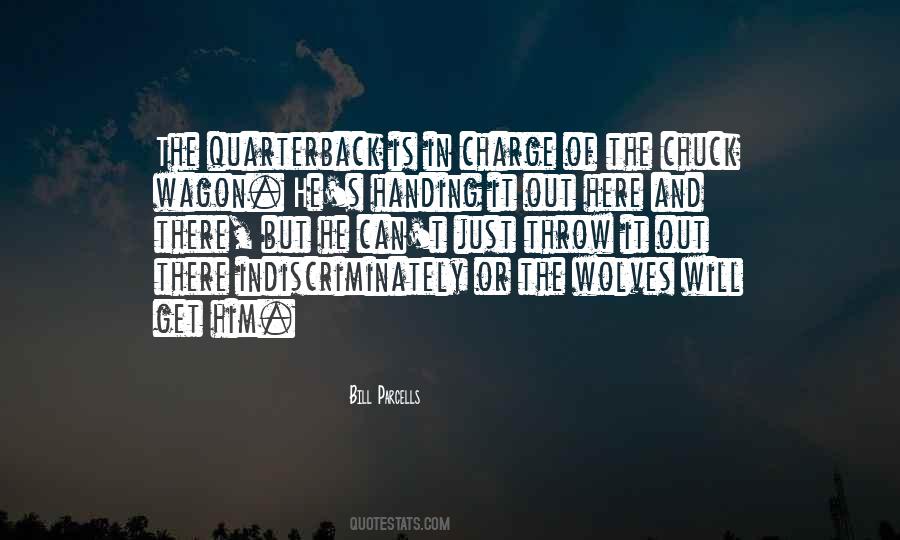 #93. The best compliment I can give Blake is just to say that if I hadn't inherited him as the quarterback, he would have been a kid I would have recruited. I think he has all the tools to be very successful in our system. - Author: Terry Hoeppner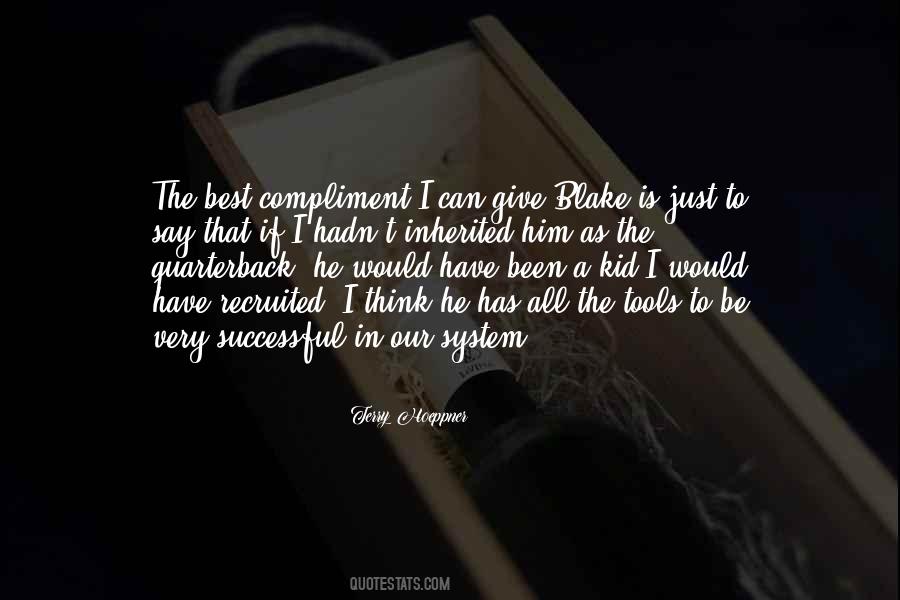 #94. I am nervous about this game. The Cowboys' best player, quarterback Tony Romo, is not going to play because he has a broken finger. The Cowboys ought to be able to win without Tony Romo because the St. Louis Rams are terrible, but I am still nervous. - Author: Craig Lancaster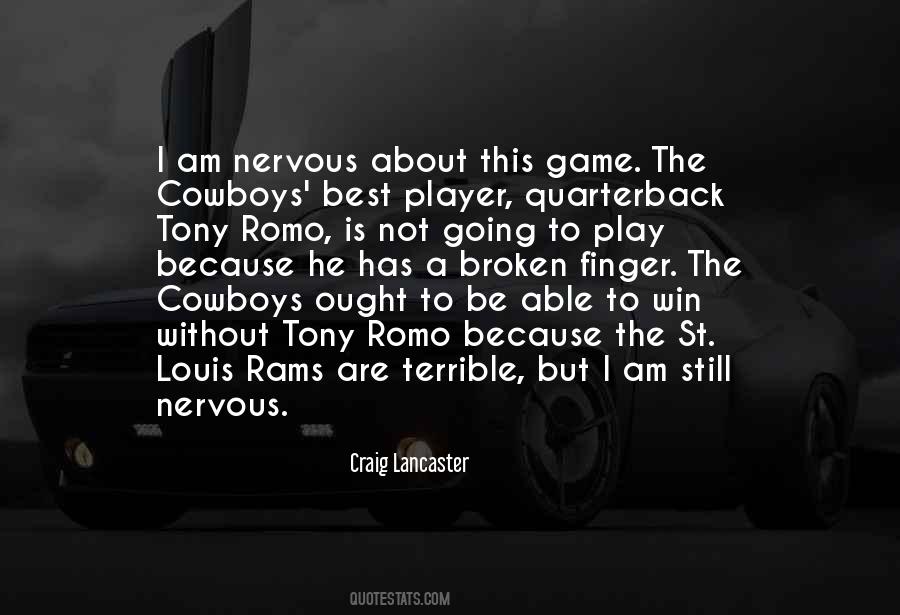 #95. The guys that are out there now like Calvin Johnson and Larry Fitzgerald they're making $16 million, $15 million a year, and I'm not looking for anything like that. A lot of that money goes to the quarterback position and rightfully so. - Author: Brandon Marshall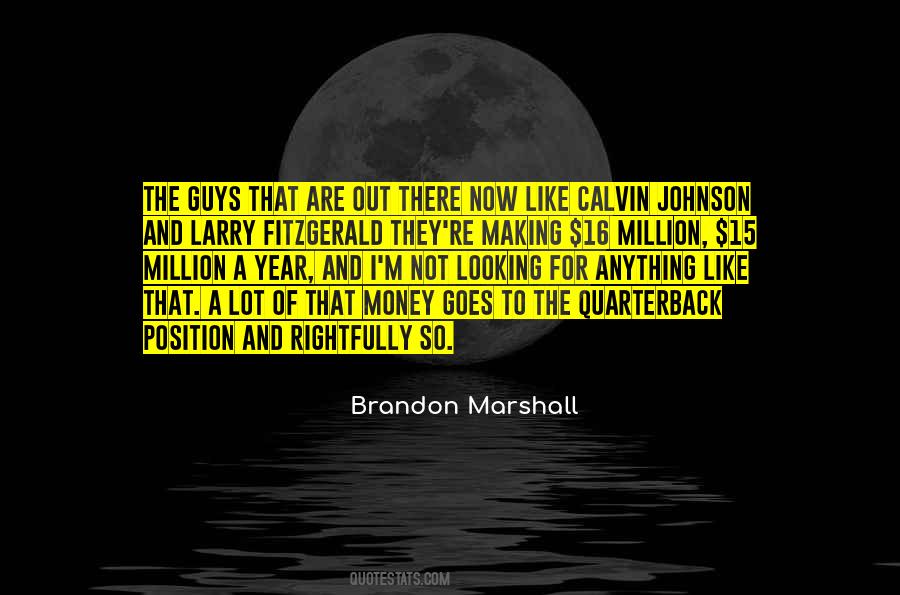 #96. My whole life, my dream has been to be a quarterback. - Author: Tim Tebow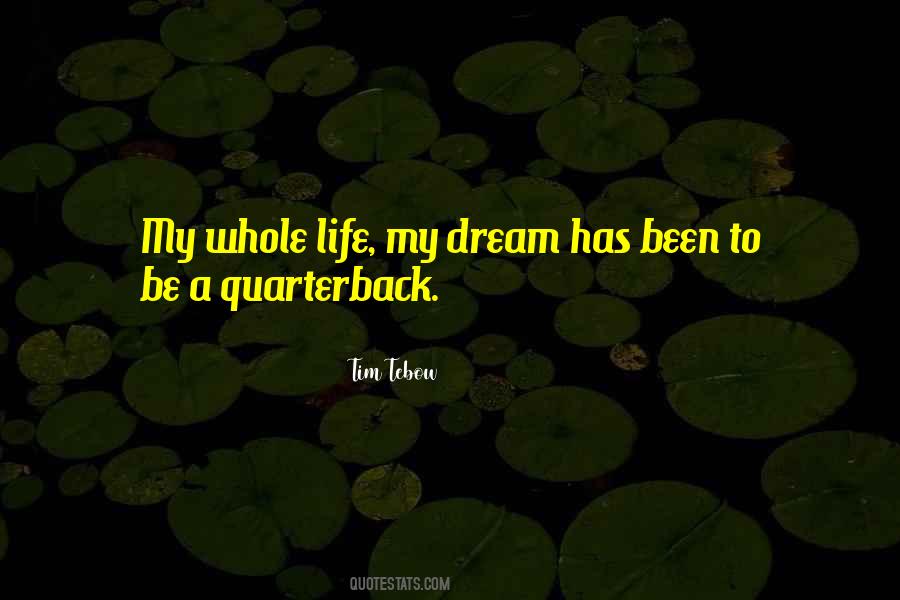 #97. I worked at a place that followed a system where the quarterback was taught to take the sack rather than force the throw. That's kind of an old-school theory, but it has existed in this game. - Author: Mike McCarthy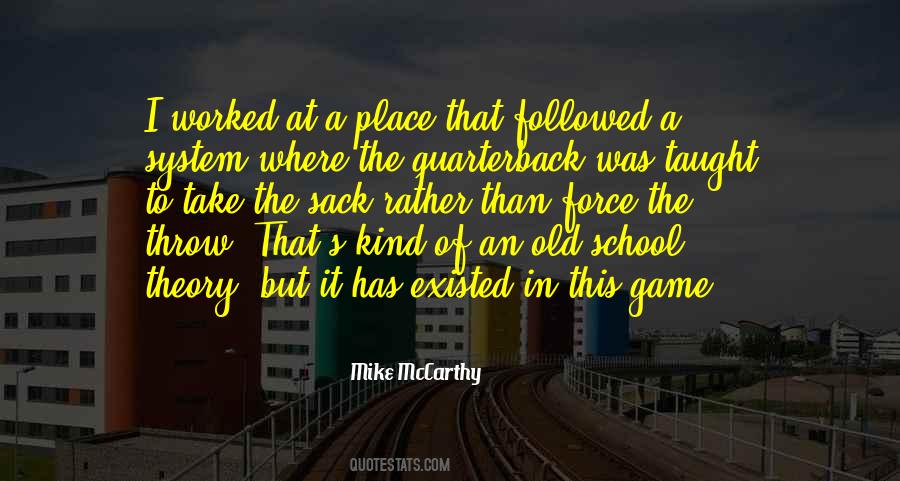 #98. My high-school coach Tony Reginelli was kind of famous for 'Reggie-isms,' kind of like 'Yogi-isms.' He always said if you want to be a good quarterback, when sprinting left you want to be amphibious and throw left-handed. I told him, 'You mean ambidextrous, coach?' - Author: Peyton Manning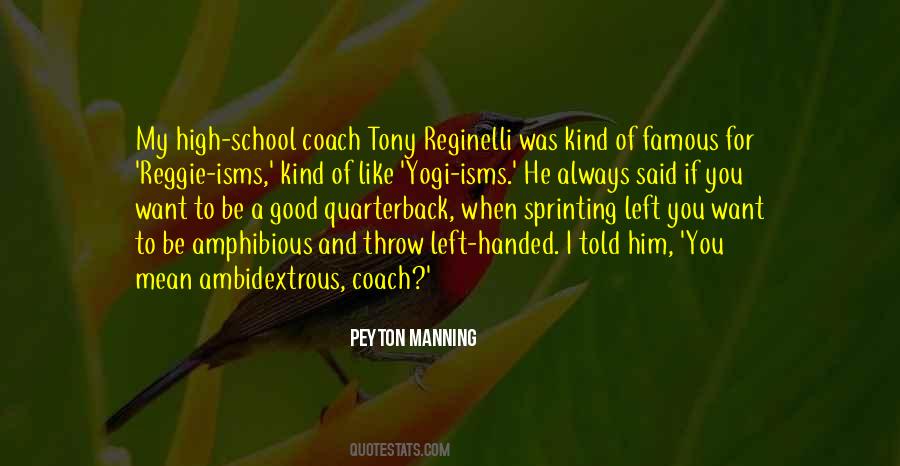 #99. There will always be hard times. Use adversity to fuel your fire. In high school, I wanted to play quarterback but couldn't until I was a senior. I played wide receiver instead, and this ultimately helped me because I learned more about the game. - Author: Ben Roethlisberger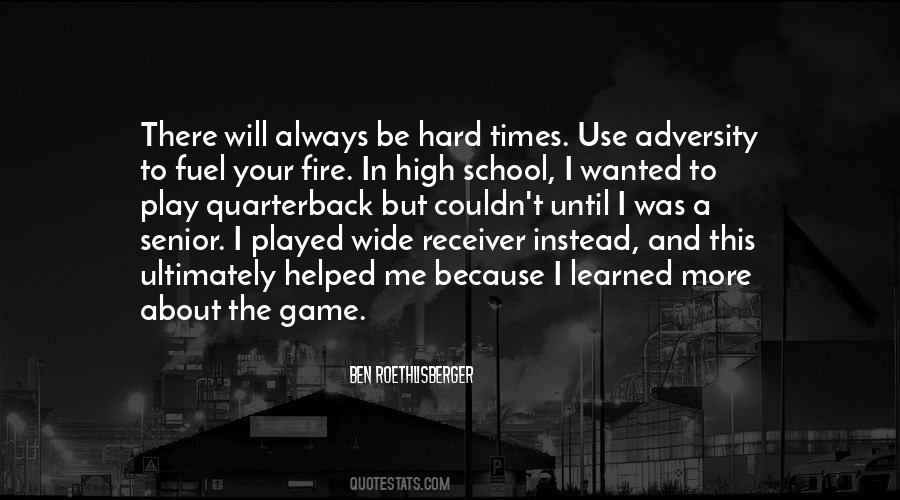 #100. The quarterback has to get rid of the ball quickly, so there's not a lot of time to make moves to gain separation. - Author: John Madden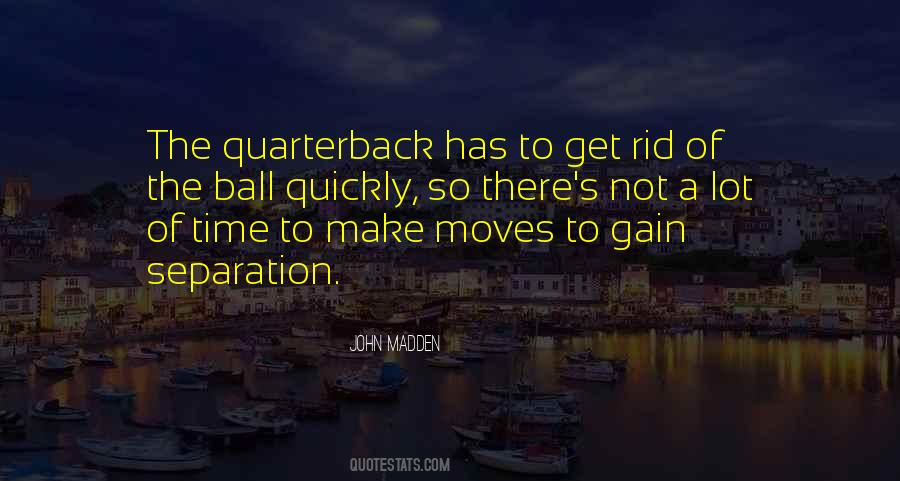 Famous Authors
Popular Topics