Please Stop Loving Me Famous Quotes & Sayings
List of top 40 famous quotes and sayings about please stop loving me to read and share with friends on your Facebook, Twitter, blogs.
Top 40 Please Stop Loving Me Quotes
#1. Sam was your brother, and Trick was your friend, but what they did had nothing to do with you. You don't have to choose. Just because me and your dad couldn't live together, didn't mean you had to stop loving one of us, did it? Doesn't work like that. Love doesn't work like that. - Author: C.J. Flood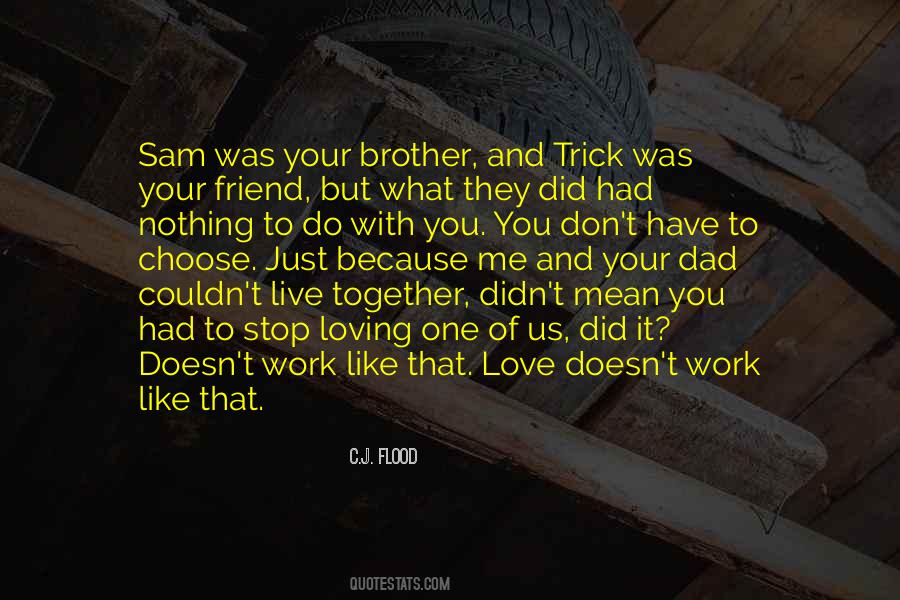 #2. Sometimes when you live with one man for more than half your life, you stop really seeing him. Not stop loving him. That center-of-my-heart kind of love doesn't go away. But really paying attention gets submerged in the stupid details of day to day life. - Author: Kaje Harper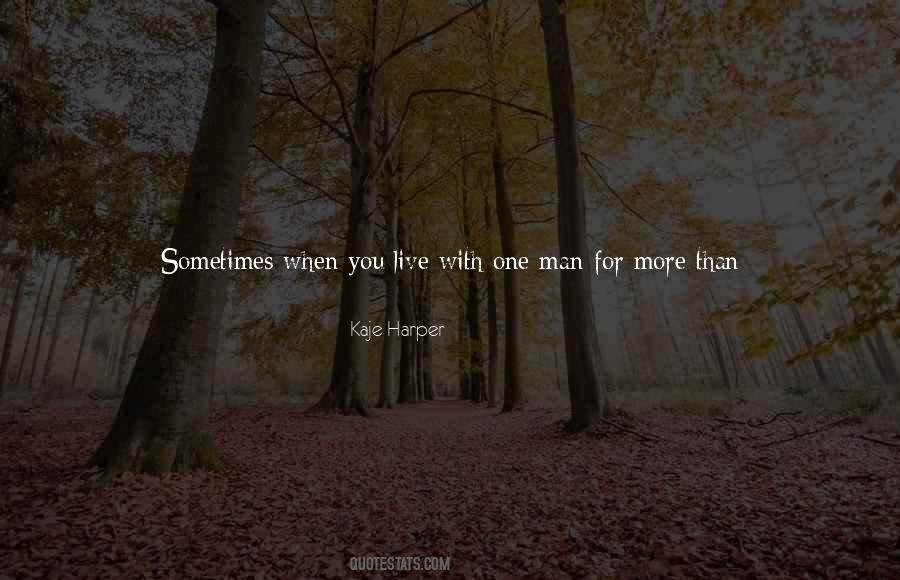 #3. I'm not really sure why. But ... do you stop loving someone just because they betray you? I don't think so. That's what makes the betrayal hurt so much - pain, frustration, anger ... and I still loved her. I still do. - Author: Brandon Sanderson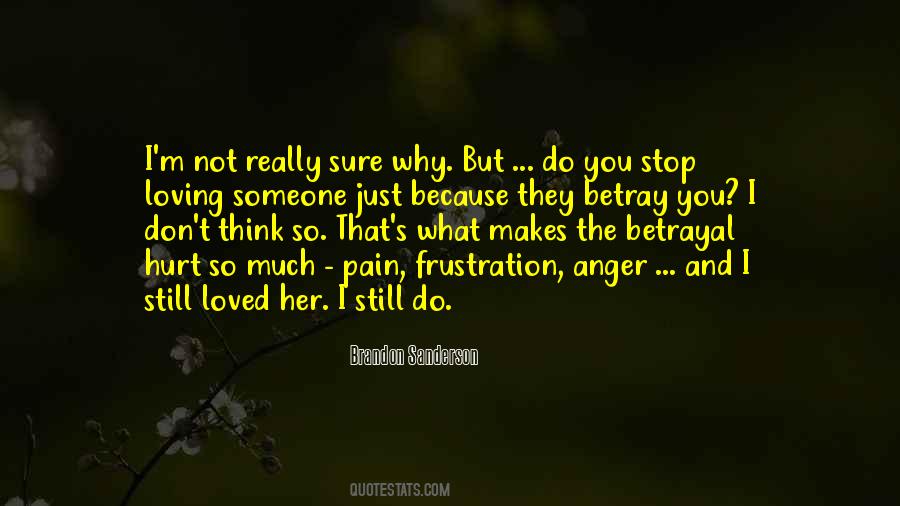 #4. Love is a perpetual journey that is extraordinary because it will never find itself terminated by a destination. - Author: Craig D. Lounsbrough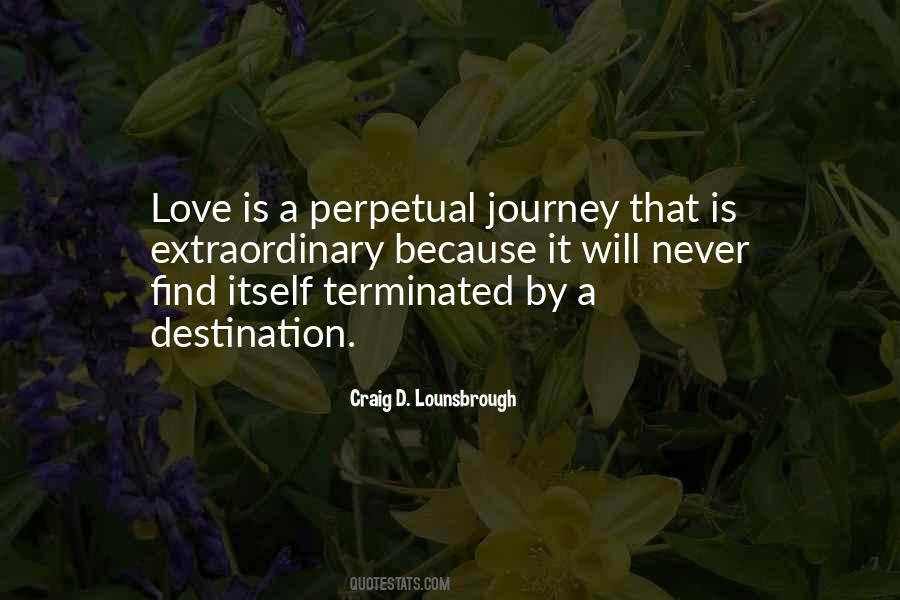 #5. Stop making excuses for why you can't let yourself have this. It's not conventional but that doesn't mean it isn't real. What's more important? Loving the man that loves you, or trying to achieve this bullshit idea you have of what a perfect relationship is supposed to be? - Author: Stacey Wallace Benefiel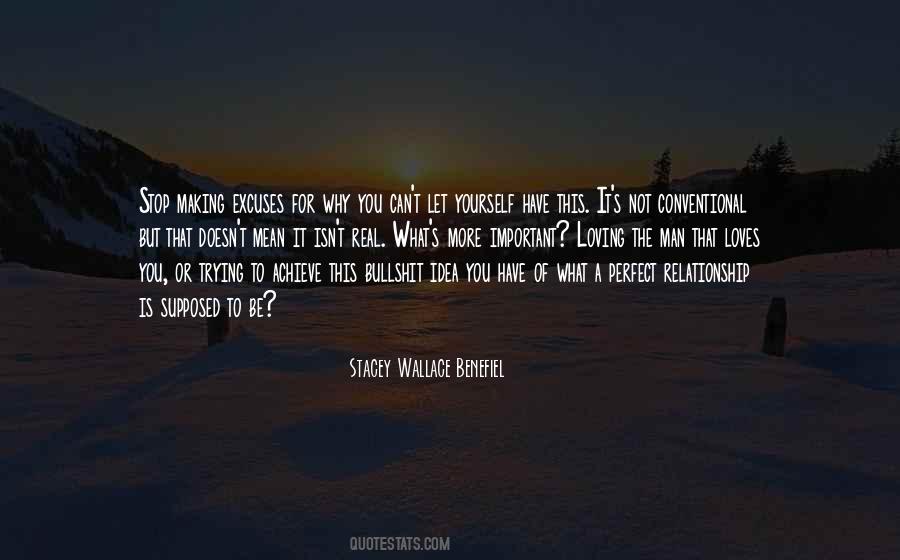 #6. How can I possibly stop loving you when it's sort of predestined? - Malcom Lowry to Carol Brown, 1926 (age 16) - Author: David Eso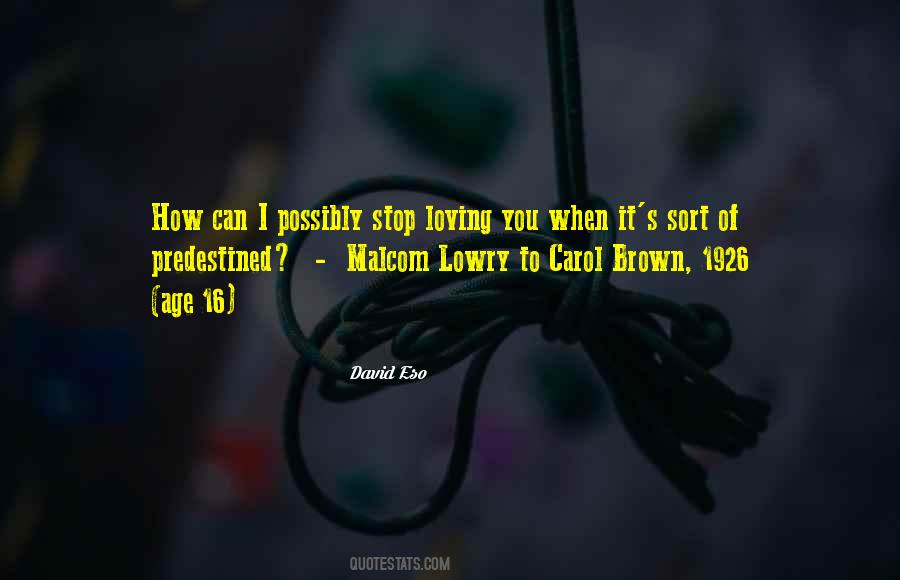 #7. For only while telling the truth does the truth lighten us. When we stop, it turns massive. I left some of my bags on that corner of Green Street somewhere below the equator. Now I carry less and try to dance on my crutches. For only while loving do the pains of feeling lighten. - Author: Mark Nepo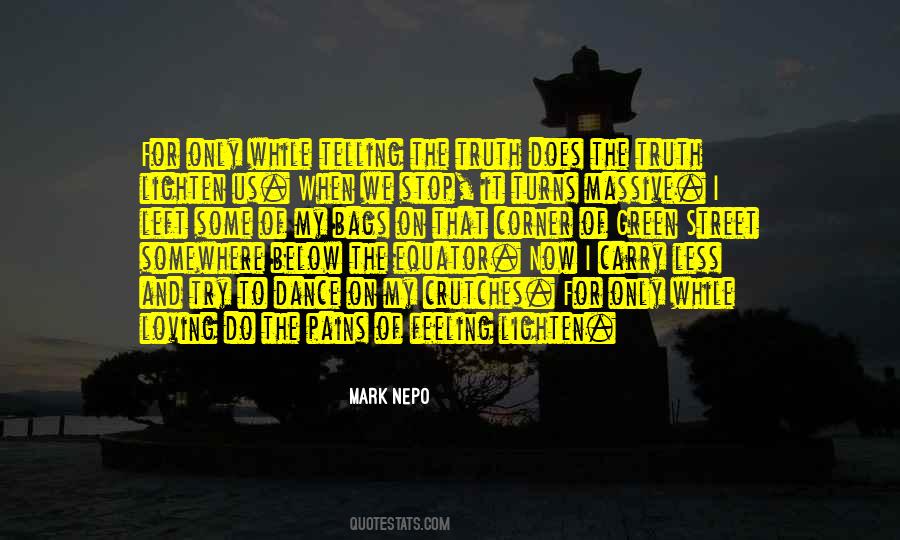 #8. So you try, and try, to move past it and forget about them, but it's like they're stuck in your head
you can't just flip a switch and stop loving them! So you hate yourself for it because you know it's no use, but nothing you do seems to ever make a difference. - Author: Abby McDonald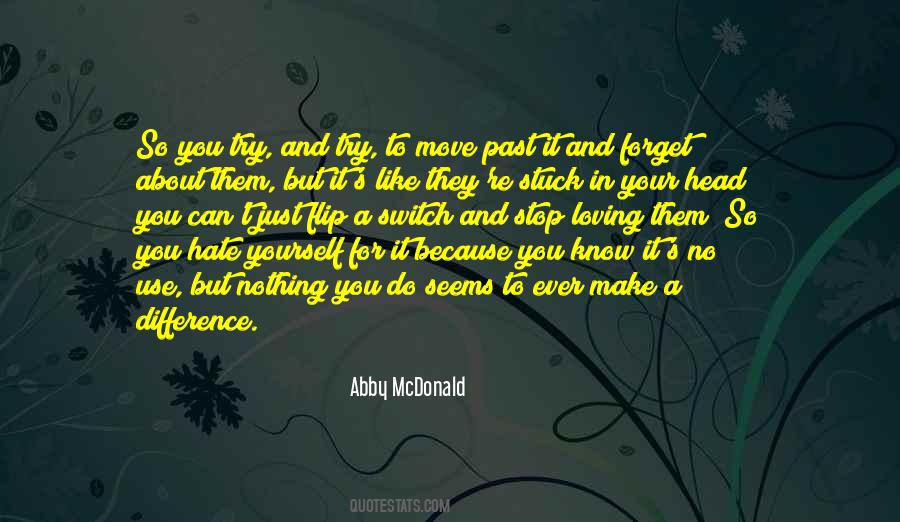 #9. I just love you, but you don't care. I wait all night for you, but you don't care. I can't live without you, but you don't care. I finally stop with loving you and you care. - Author: C.M.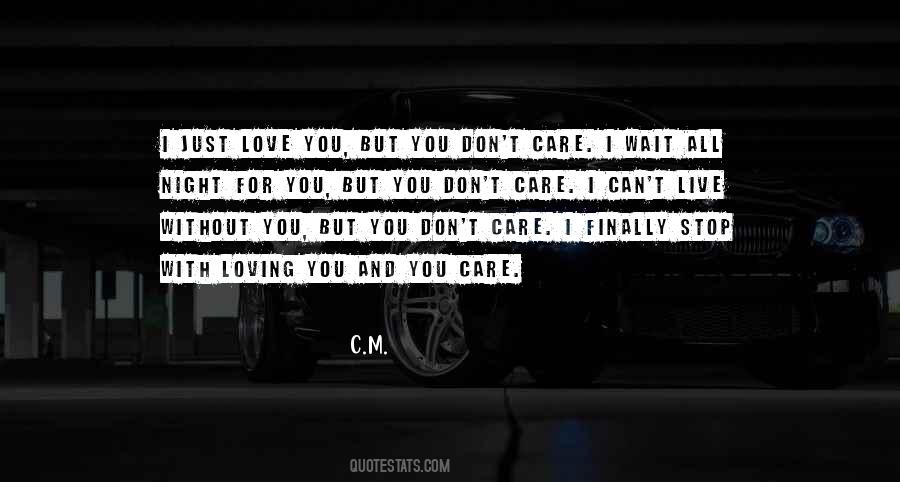 #10. There's no reason to think we're going to stop loving each other,' he said. 'And there's every reason to think that we won't. - Author: Rainbow Rowell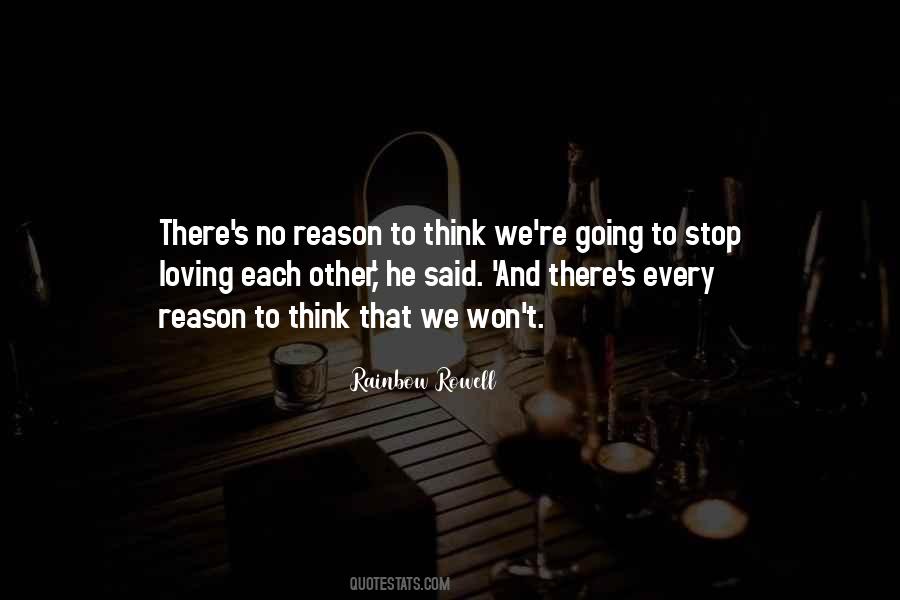 #11. The moment you understand the importance of loving yourself, you will stop hurting others. - Author: Nhat Hanh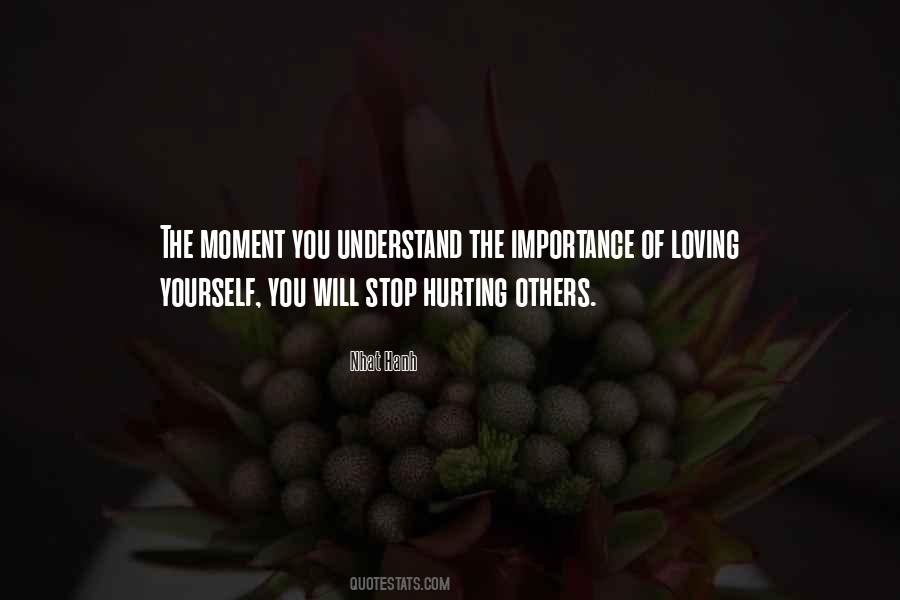 #12. Never stop loving yourself, for how can you truly love someone if you don't love yourself first. And never be afraid to love, for it is one of the most beautiful uglist things of this world. - Author: Adrian Ross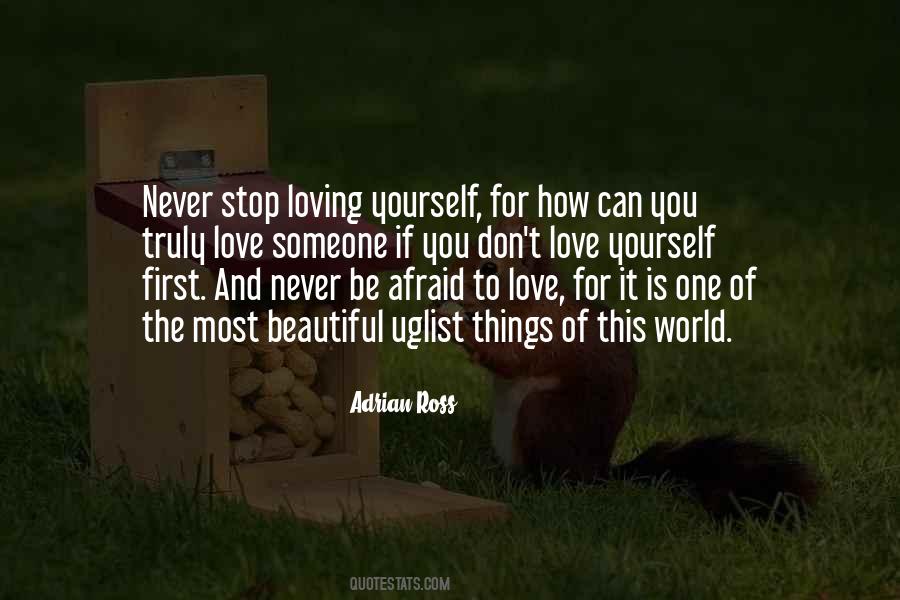 #13. I hate the world sometimes," Anthea said. "The unfairness of it. I won't force you to see me if you don't want to - but nobody can stop me loving you, and I'll wait for you all my life if I have to. - Author: Kate Saunders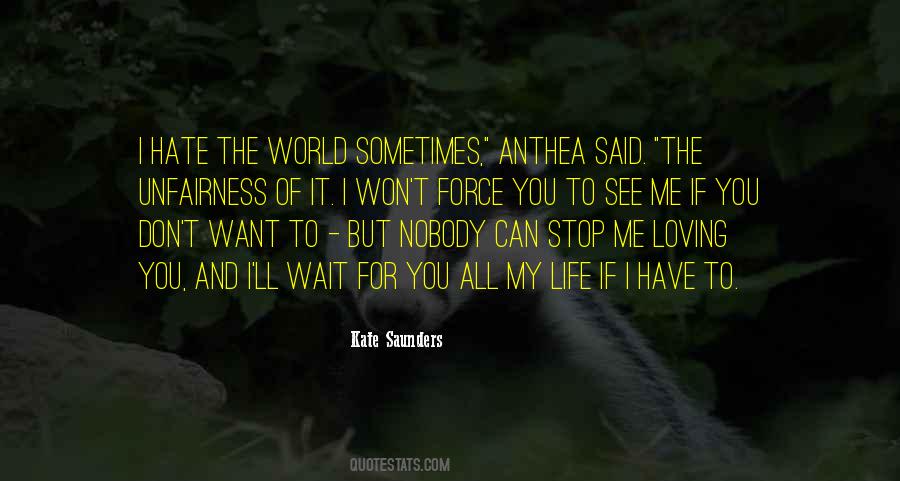 #14. I told you before I'll never stop loving you. I'll never forget what we have. - Author: Colleen Hoover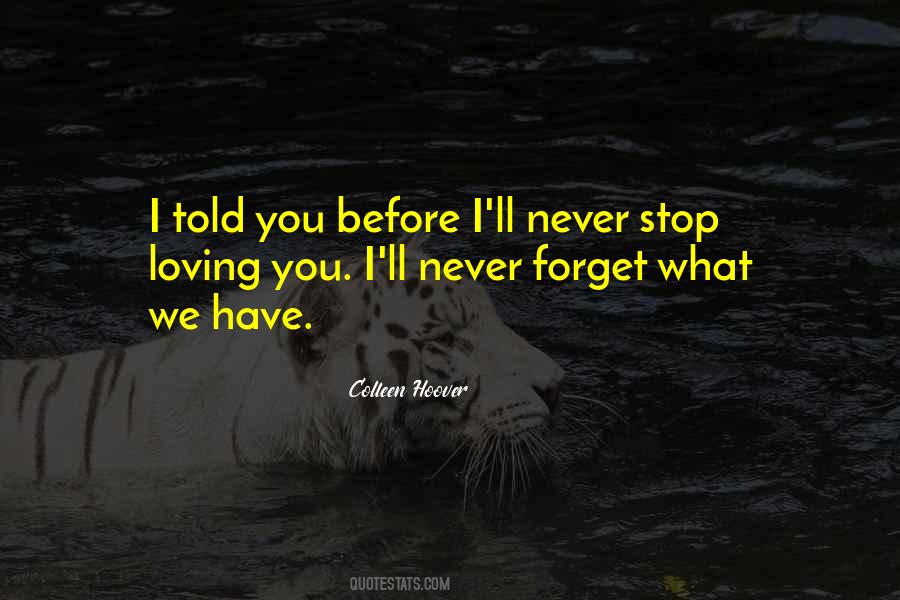 #15. How is it you can love someone when you hardly know them and how do you stop loving them once you do? - Author: Kate McGahan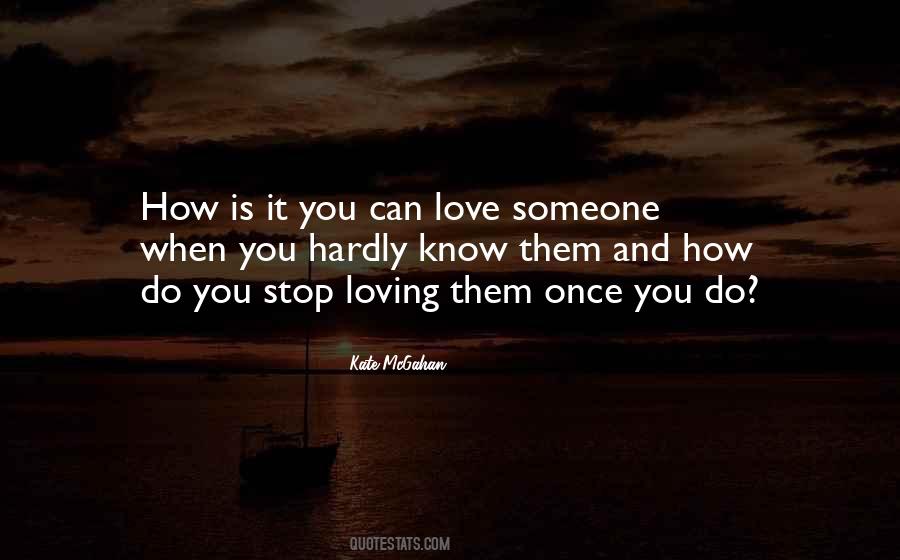 #16. I have to start loving what comes next and stop hating I won't be a part of it. - Author: Linda Robinson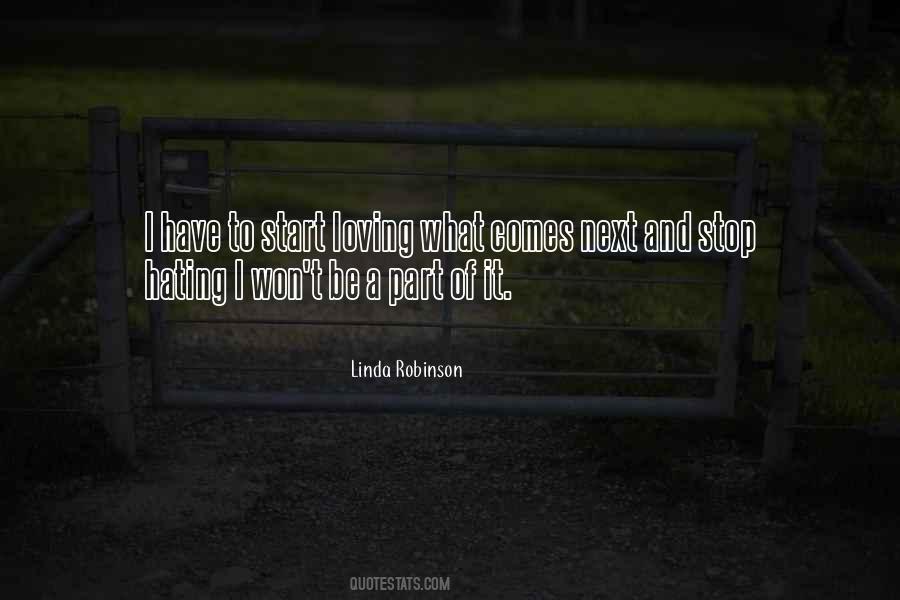 #17. Truth is Evidence of Love. And, Nothing Can Stop the Power of Trusting and Loving Unconditionally. - Author: Amaka Imani Nkosazana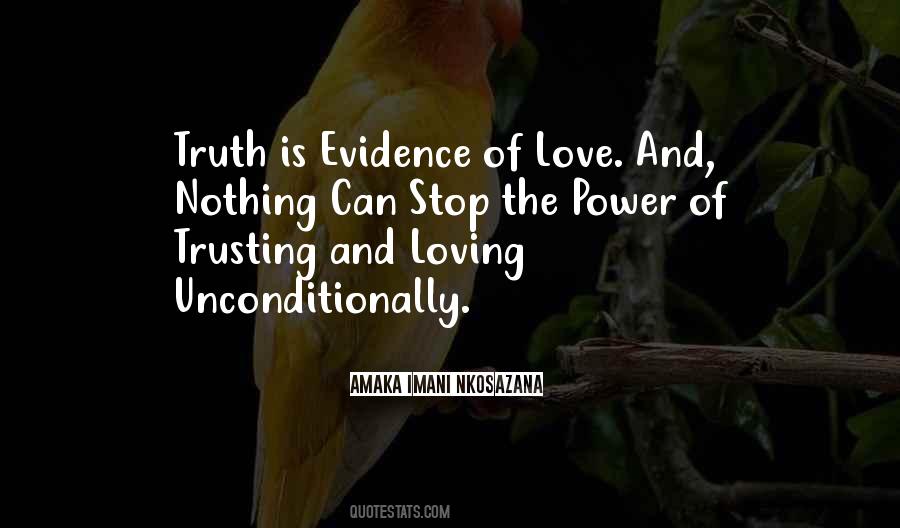 #18. There is more beauty inside you than in anyone I have ever met. These pictures don't lie. I won't ever forget you. Or stop loving you. You can ask me to. You can tell me to move on. But I won't. And I never will. Just don't forget how beautiful we were. How beautiful we can still be.
Please. - Author: A Meredith Walters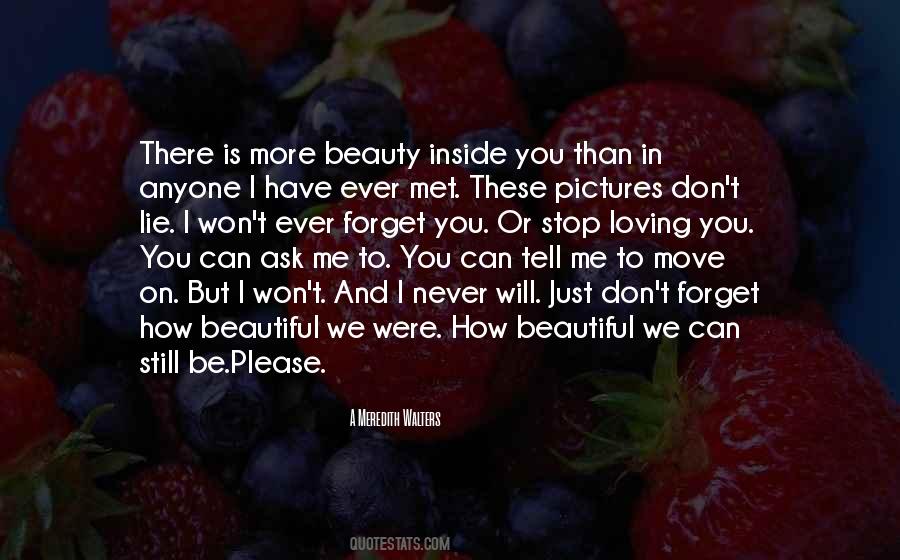 #19. I love you so much, Natalie, and when I get home I'm going to keep loving you until you tell me to stop. But don't, please. Don't tell me to stop. I love you. With everything. - Author: Andrea Randall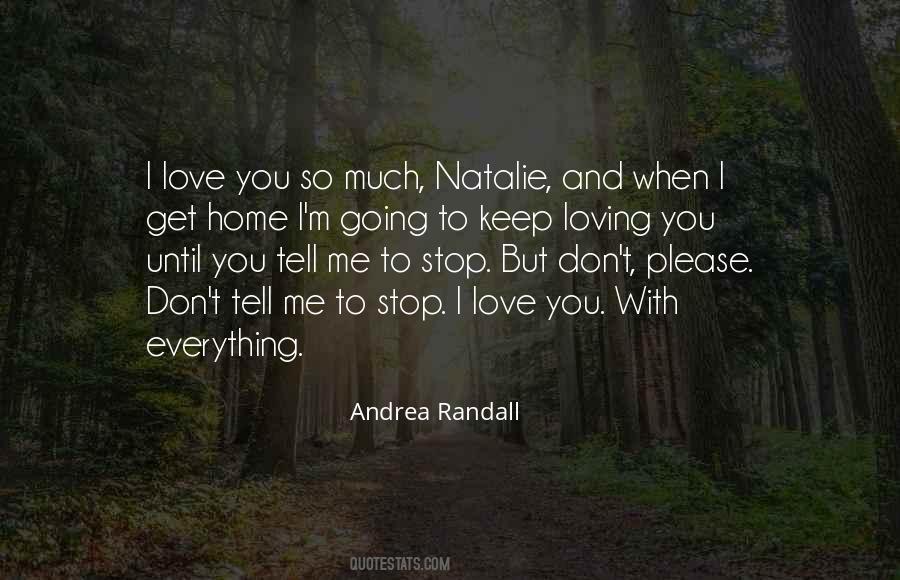 #20. Please forgive me, I know not what I do. Please forgive me, I can't stop loving you. - Author: Bryan Adams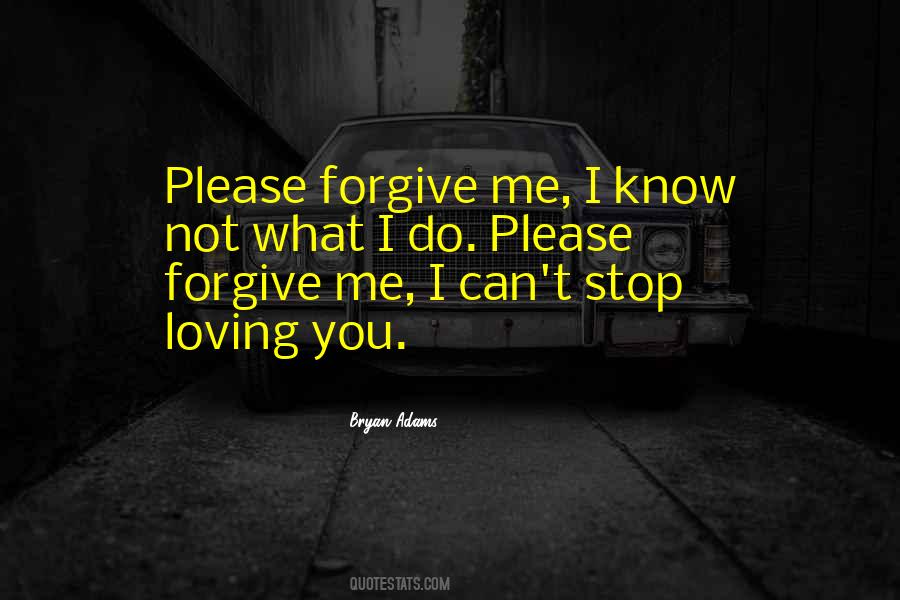 #21. Do not allow the fear of hurting stop you from loving. - Author: Lailah Gifty Akita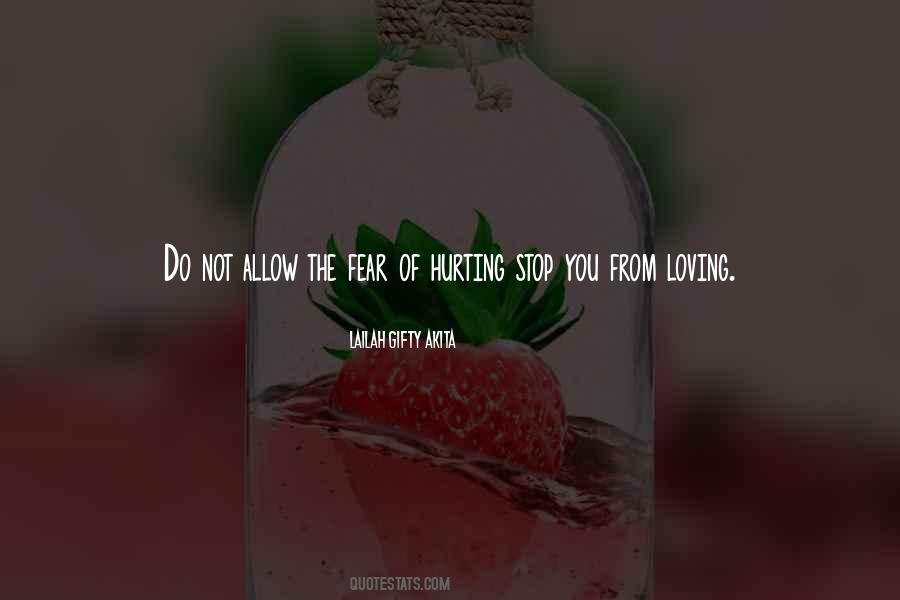 #22. Love has its own independent form and formlessness. When someone loves you be gratiful for it. If they stop loving be grateful for that. If they love another, let them love! - Author: Frederick Lenz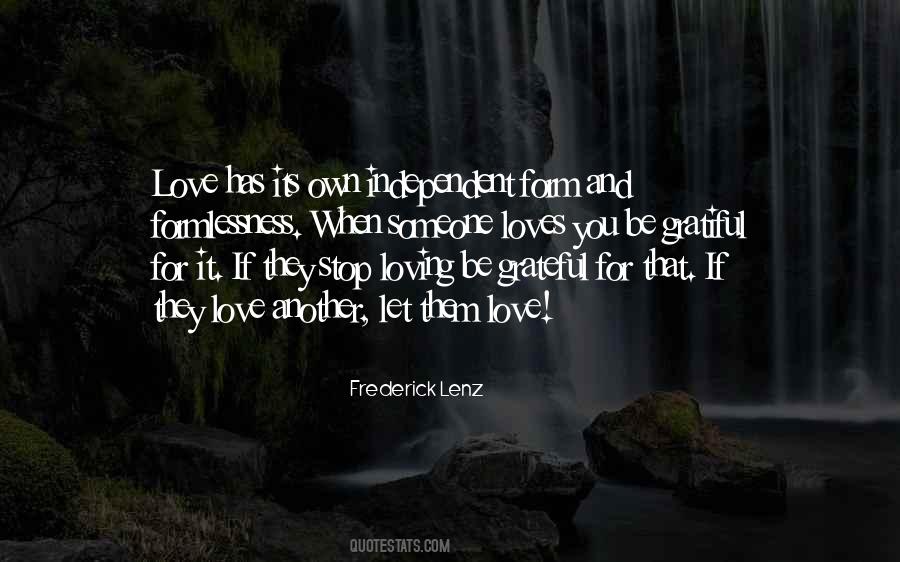 #23. You can't make people stop loving each other just because a law says it's wrong. - Author: Liz Kessler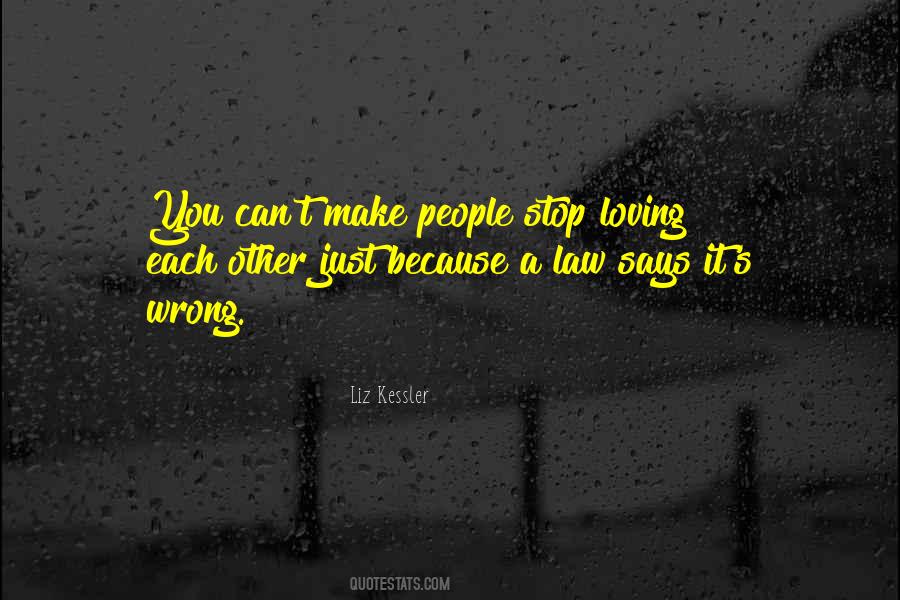 #24. This is the danger of loving: No matter how powerful you are, no matter how many kingdoms you rule, you cannot stop those you love from dying. - Author: Kate DiCamillo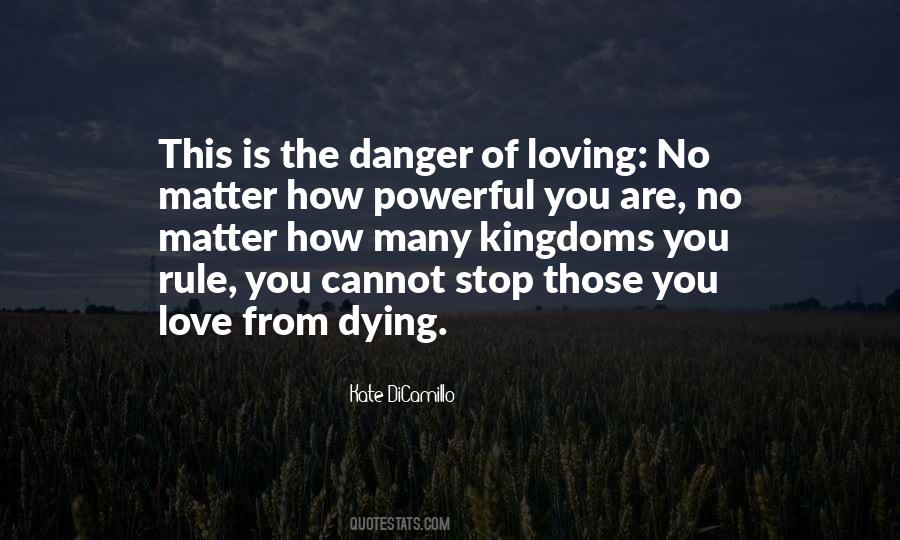 #25. Your nature may carry deception and lies, but then it won't stop me from loving you - Author: Alok Jagawat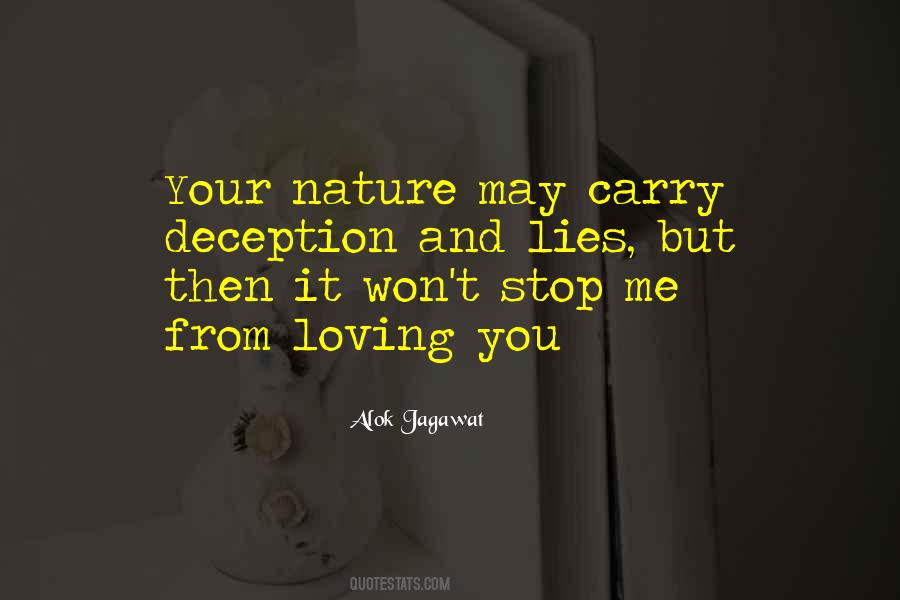 #26. I'm going to keep on loving you until you tell me to stop. But don't, please. Don't tell me to stop. - Author: Andrea Randall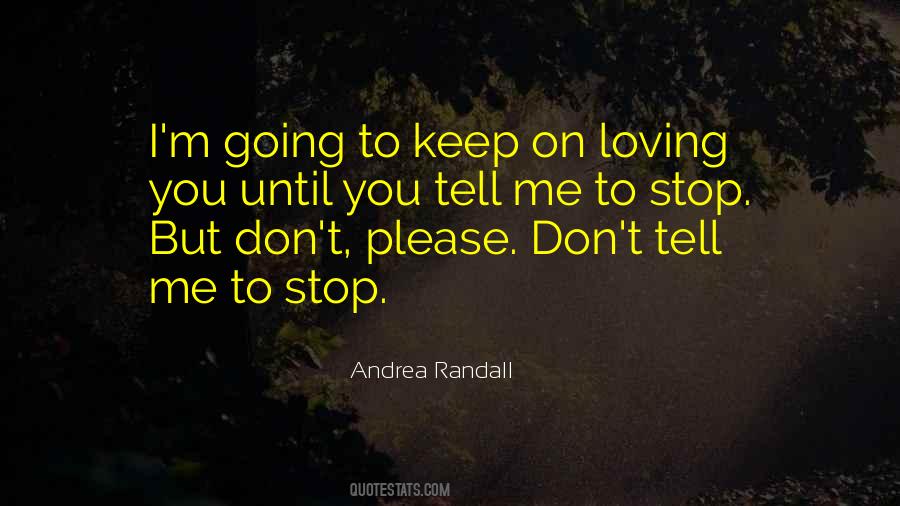 #27. I cant hide what i feel inside adn jsut stop loving you even if i watned to i cant hold on but letting go is somethin i cant do even if i wanted to - Author: Jason Aldean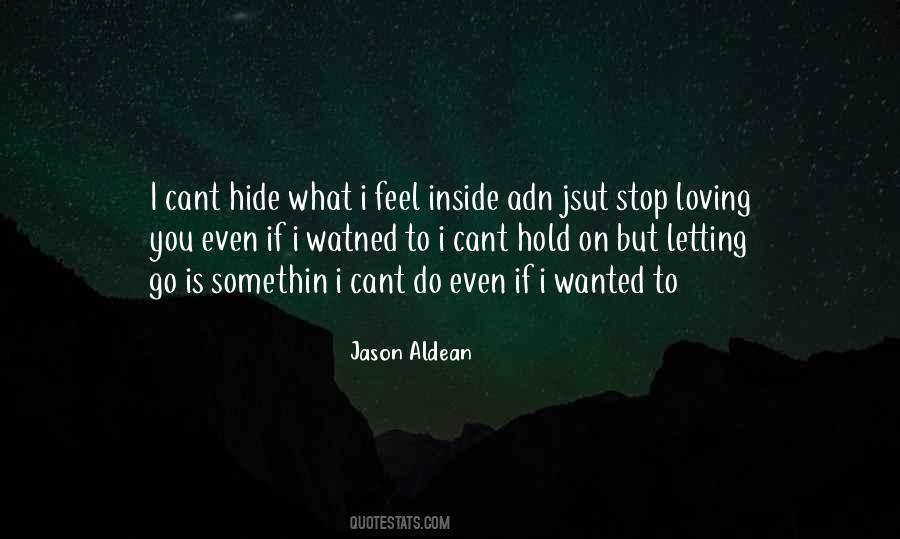 #28. God, I miss you.
I love you so much, Natalie, and when I get home I'm going to keep loving you until you tell me to stop. But don't, please. Don't tell me to stop.
I love you.
With everything.
- Ry. - Author: Andrea Randall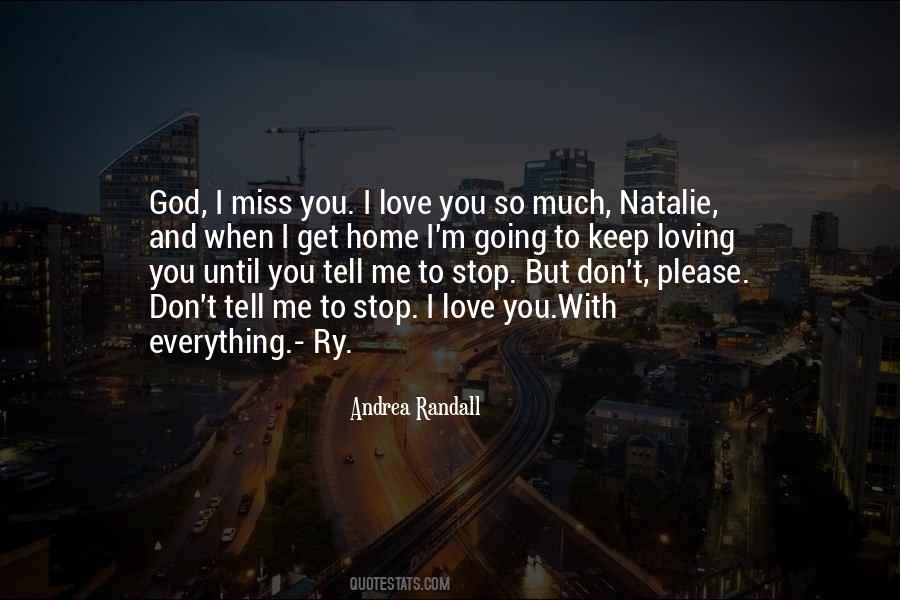 #29. Fall in love with you? How could I fall in love with you when I loved you with every breath, every heartbeat, every lash of the fucking whip? When you invaded my dreams, my hallucinations. I can't stop loving you, bella. I've tried. God help me, I've tried. - Author: Skye Warren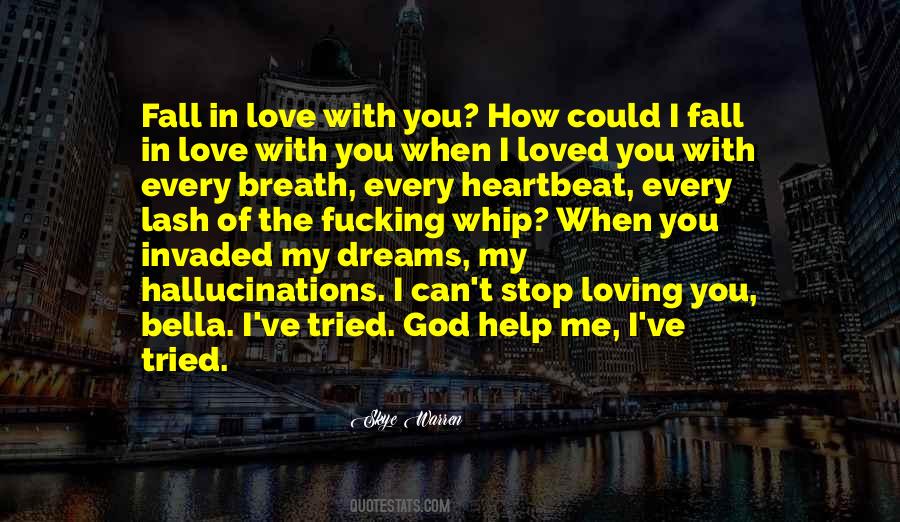 #30. I love you in order to begin loving you,
to start infinity again
and never to stop loving you:
that is why I do not love you yet. - Author: Pablo Neruda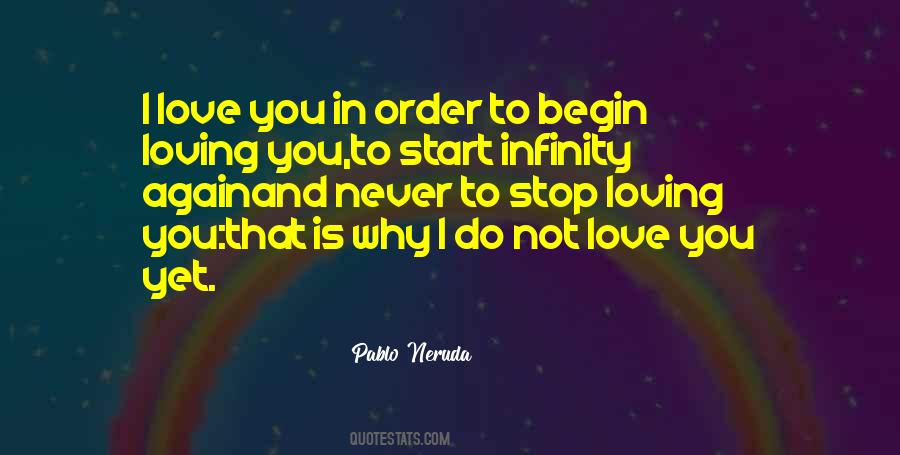 #31. I know people who've gone to jail. It don't mean you stop loving them! They deservin' love just as much in there, and maybe they needin' it more. - Author: Alicia Keys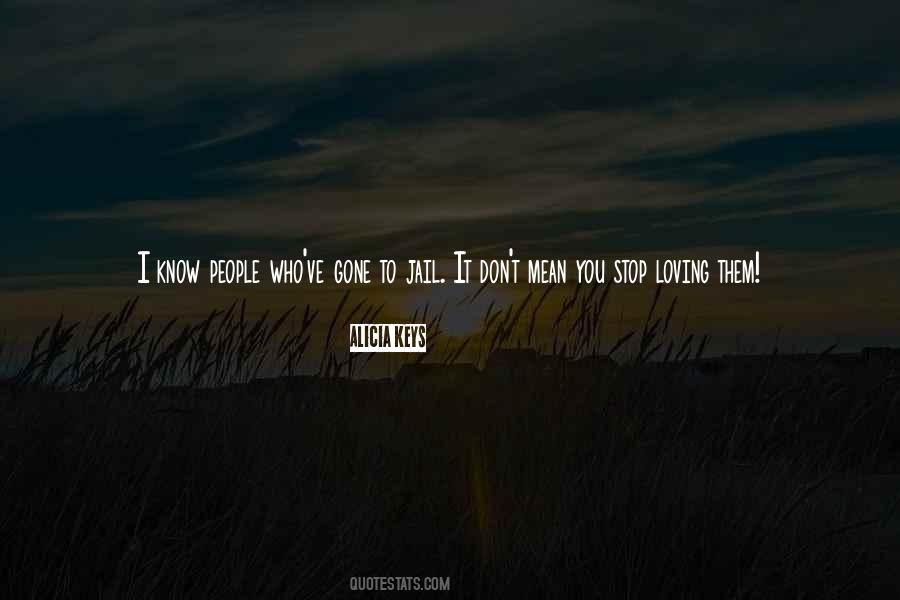 #32. I hate being so emotionally slutty. I need to stop loving everyone I have a long conversation with. - Author: Sara Quin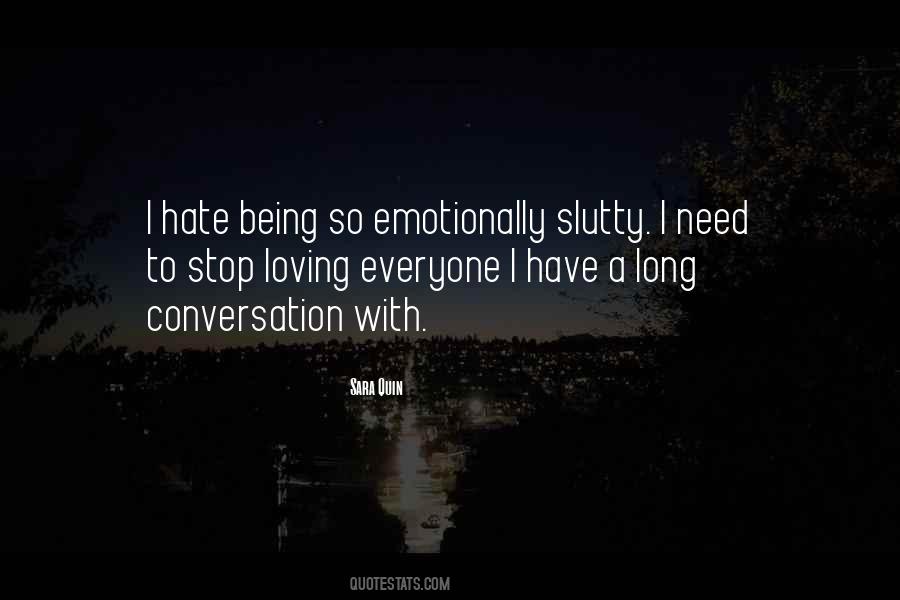 #33. I bet all I had on a thing called love; guess in the end it wasn't enough. And it's hard to watch you leave right now; I'm gonna have to learn to let you go somehow. - Author: Carrie Underwood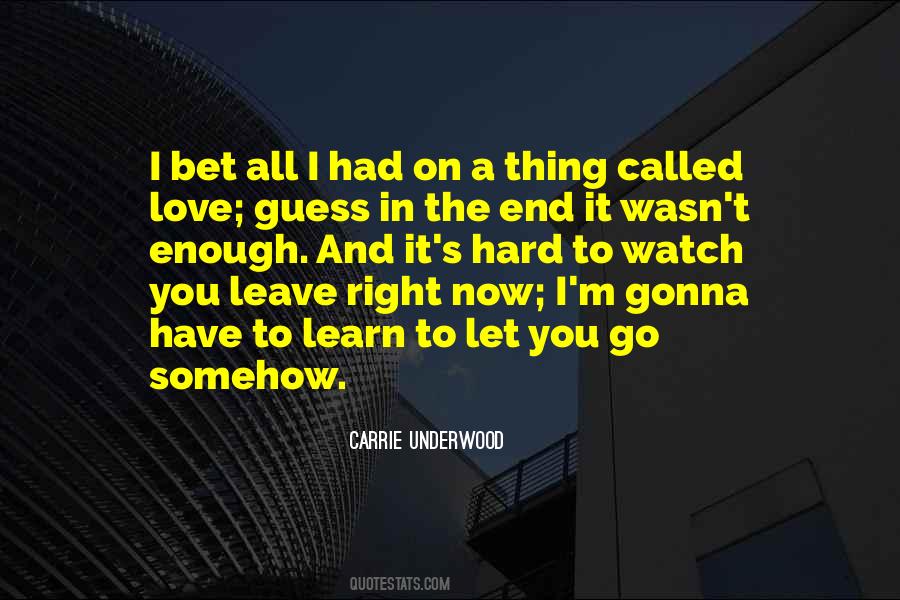 #34. I will never stop grieving Bailey because I will never stop loving her. - Author: Jandy Nelson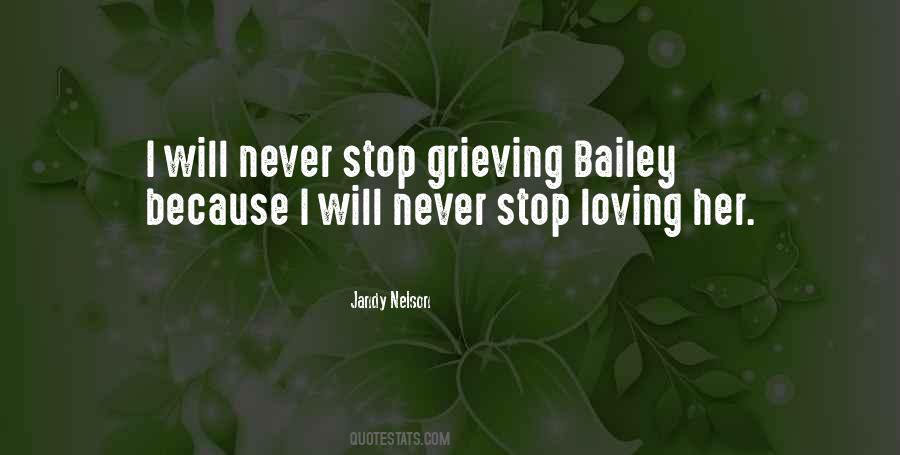 #35. I could never have ridden 4,000 winners without loving my job, and If I ever get to the point where I'm not loving it, I'll stop. - Author: Tony McCoy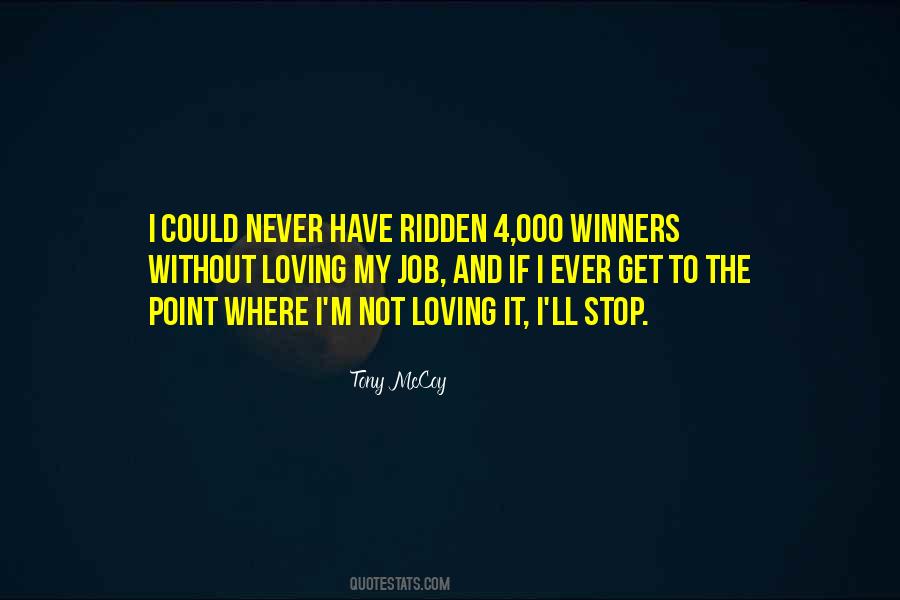 #36. It's funny. You love something and one day it's suddenly gone or changed or lost forever. But somehow that doesn't stop your loving. Maybe that's how you know it's the real thing. - Author: Tony Parsons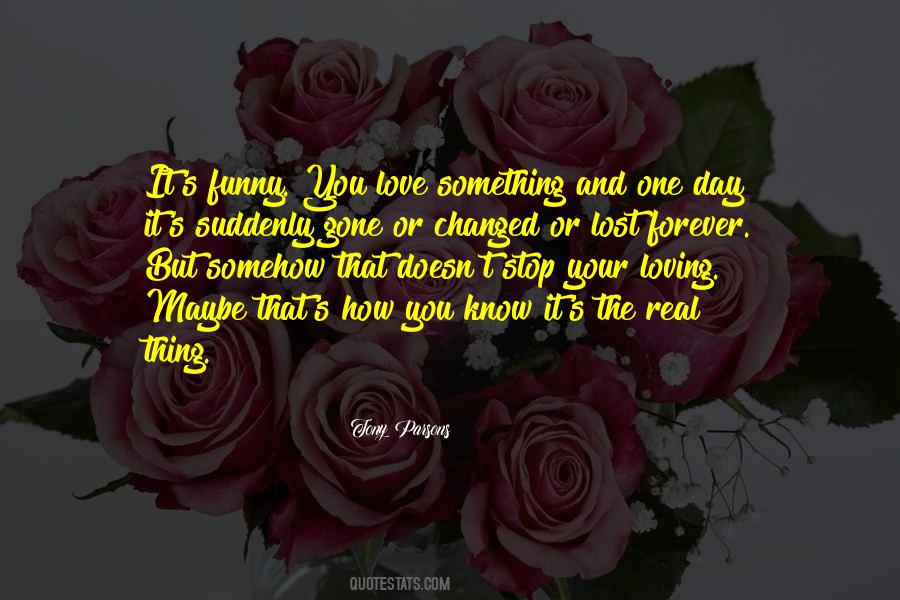 #37. She's not looking to change you. She wants you just the way you are. And loving someone isn't a crisis. It's normal. Lots of people do it. They love each other and the sky doesn't fall. The world doesn't stop turning. - Author: Mary Jane Hathaway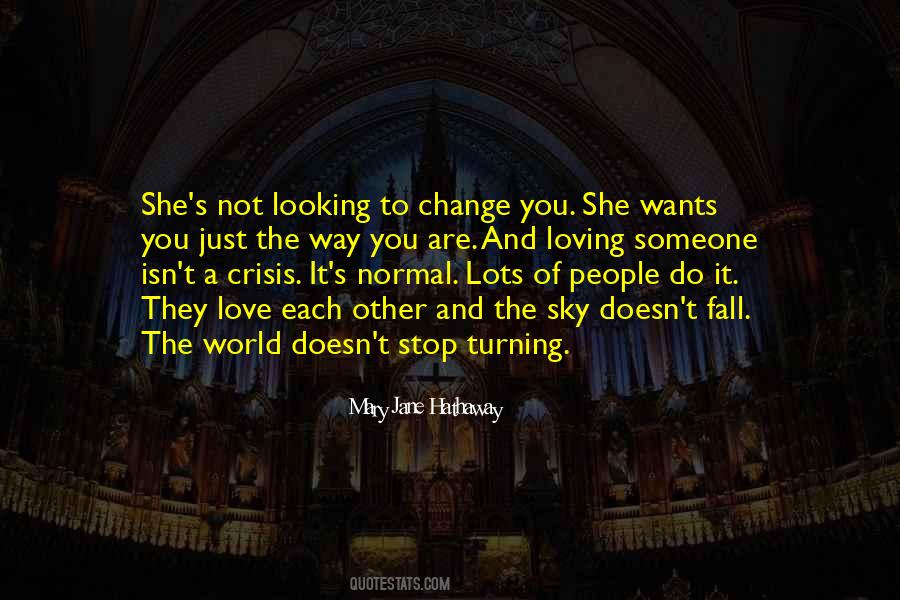 #38. Do you think you can wait - because I don't want you to stop loving me. I keep remembering us and how it was. I don't want to hurt you ... not ever ... - Author: Judy Blume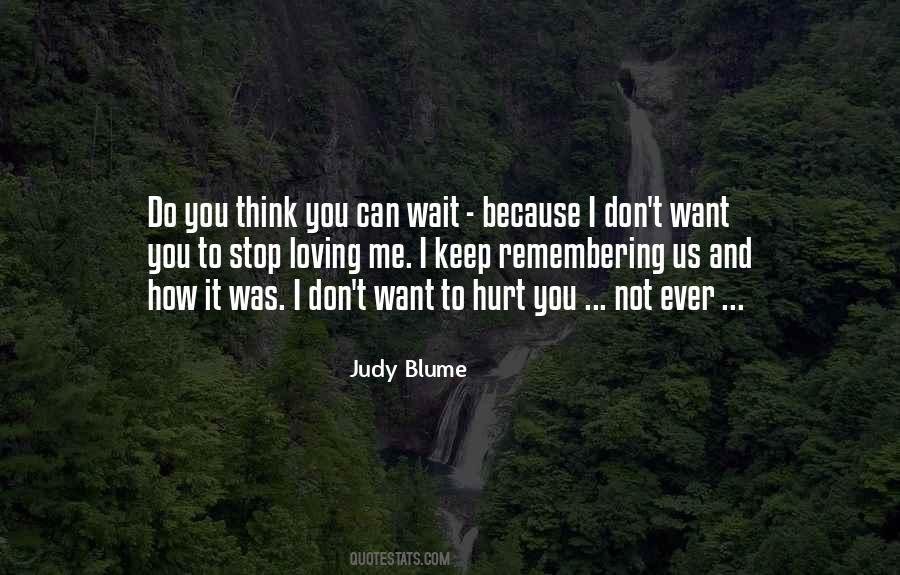 #39. And after we have shown each other how we have set and kept the clear, healthy boundaries that help us live side by side with each other, let us risk remembering that we never stop silently loving those we once loved out loud. - Author: Oriah Mountain Dreamer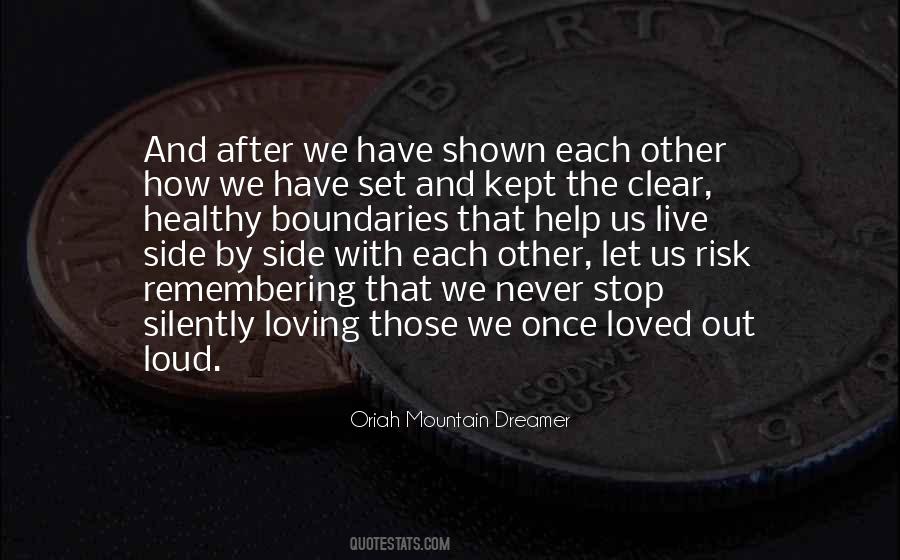 #40. I promise I will never stop loving you," he said. "I will love you for all eternity."
"Always?" She asked.
"And forever," he replied with a smile. - Author: Jason Medina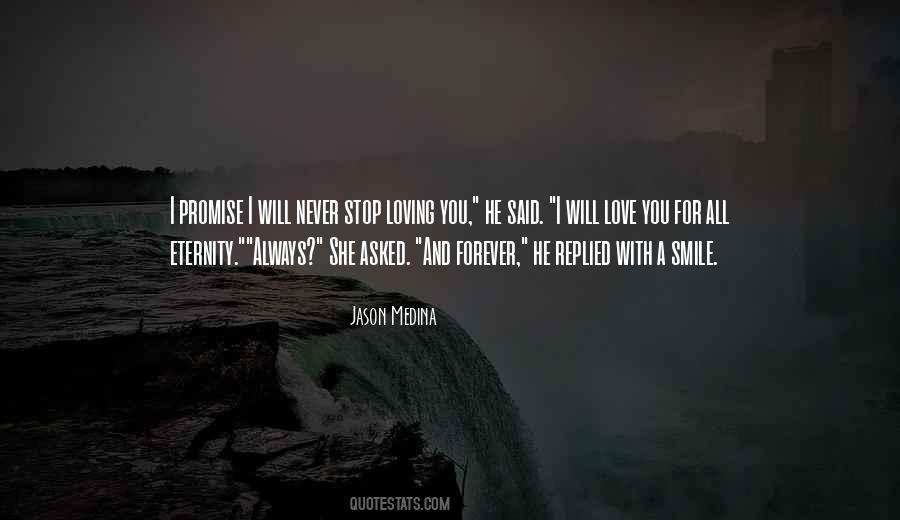 Famous Authors
Popular Topics