Once In Your Life Famous Quotes & Sayings
List of top 100 famous quotes and sayings about once in your life to read and share with friends on your Facebook, Twitter, blogs.
Top 100 Once In Your Life Quotes
#1. Not truly living in the present moment and later regretting is like closing your eyes when a peacock is dancing, only to want to see it dance once it is gone.-RVM - Author: R.v.m.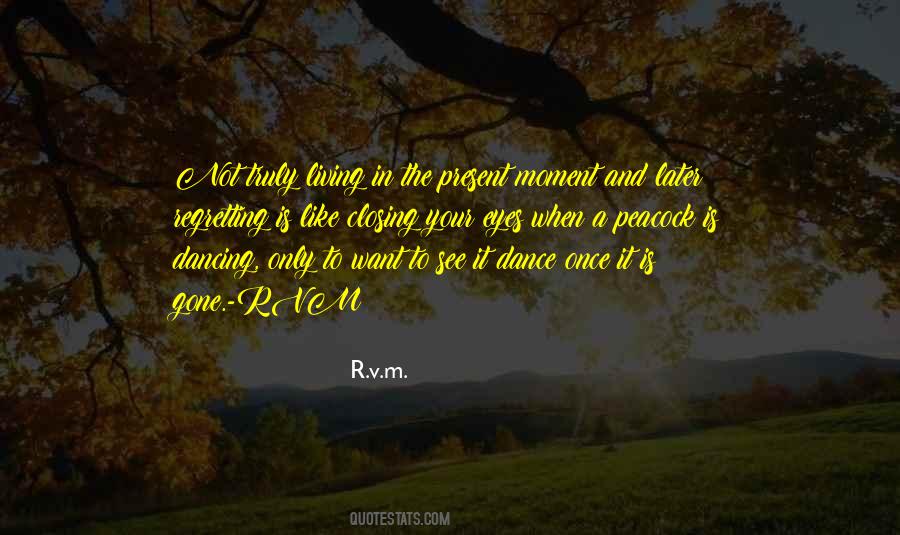 #2. The spark lies within us, somewhere deep within! Once you find it, that will illuminate the whole path you travel, all lives upon your way and the very purpose of your life. O beloved, know this world is illuminated by people so! - Author: Preeth Nambiar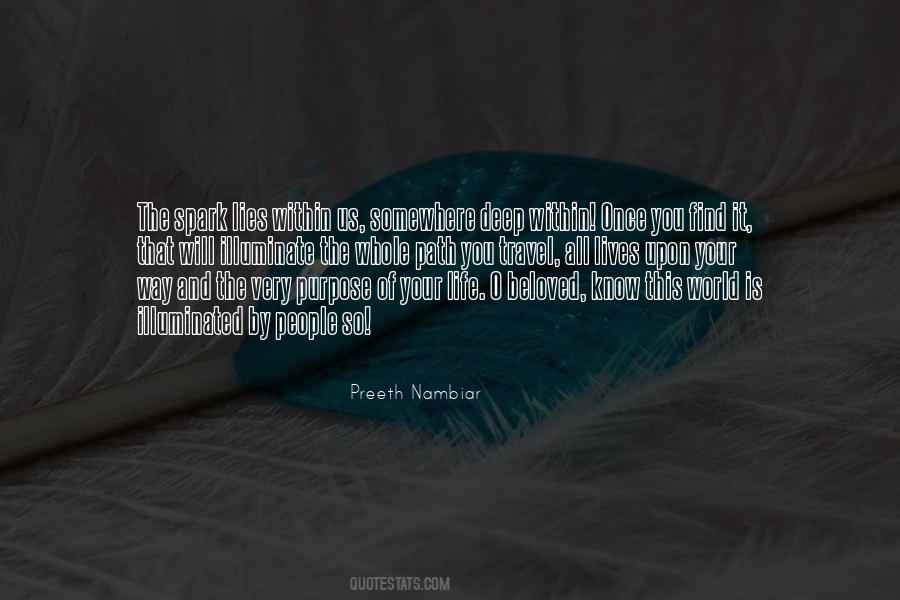 #3. Once you become successful, people know where you live, the type of house you live in, the kind of car you drive, the clothes you wear, and so it would be patronising to go and talk like a welder. Welding's a mystery to me now. You can't go back, your life changes every day. - Author: Billy Connolly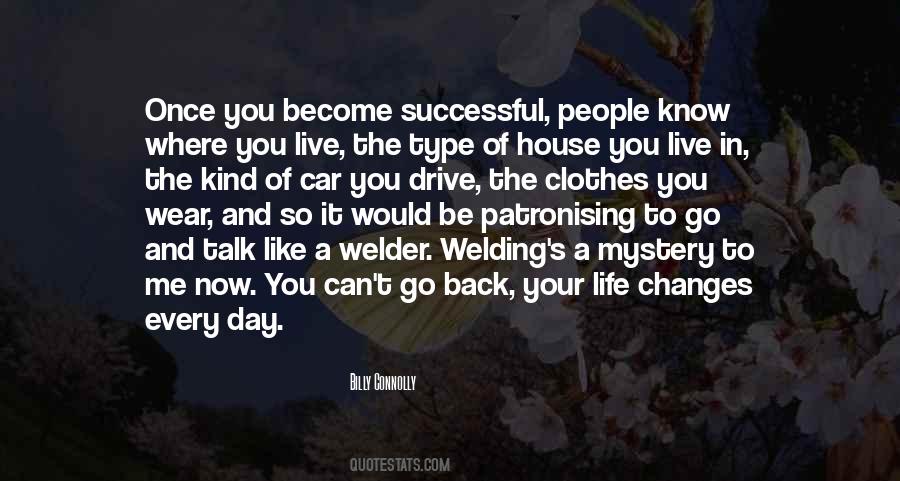 #4. Dementia resembles delirium in the same way an ultra-marathon resembles a dash across the street. Same basic components, vastly different scale. If you've run delirium's course once or twice in your life, try to imagine a version that never ends. - Author: Floyd Skloot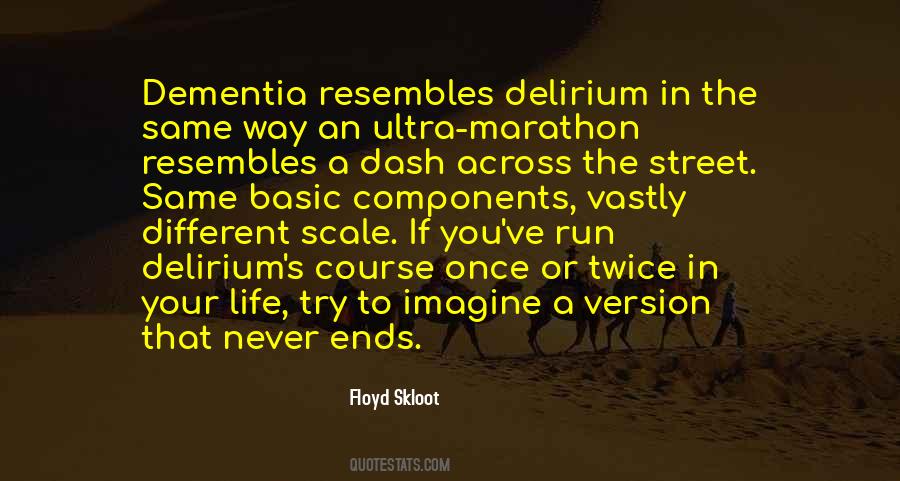 #5. A profession is like a great snake that wraps itself around you. Once you are enwrapped, you are in a slow fight for the rest of your life, and the lightness of youth leaves you. - Author: Mark Helprin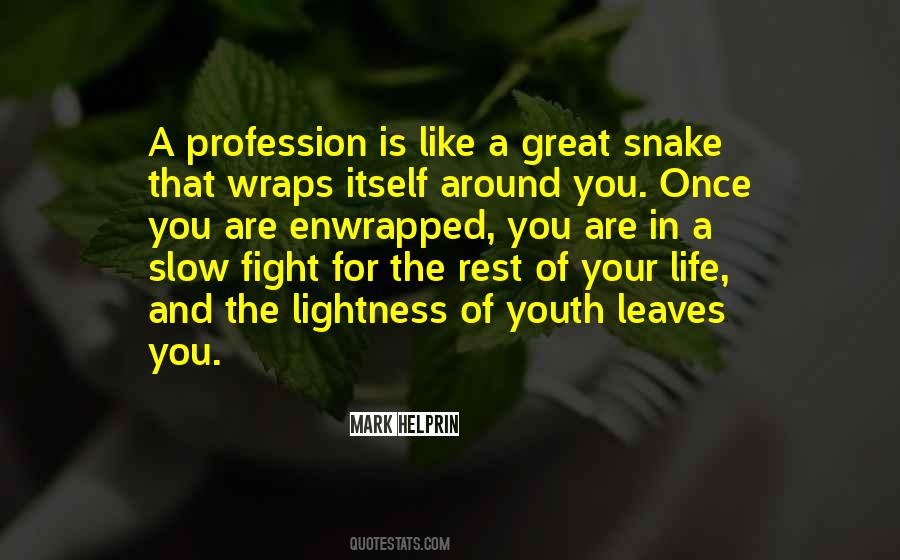 #6. Once you get very clear about the things that are the most important to you in your life, those things that truly give meaning and purpose to your existence, purging and de-cluttering will become a natural process. - Author: Cary David Richards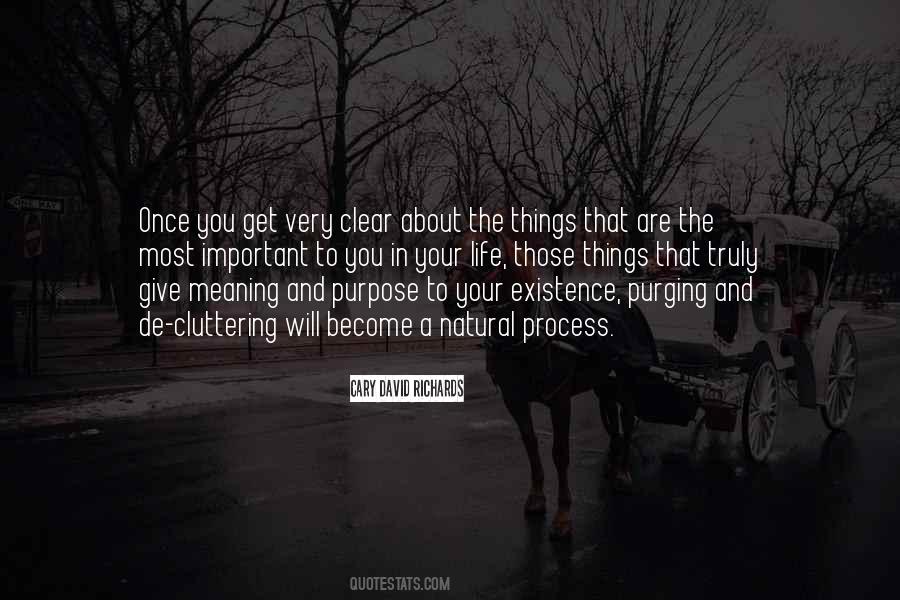 #7. Jared glanced at Dad, then back at Kami, and said, "I'll call you later."

You have never called me once in the entirety of your life, said Kami. I'll talk to you in a few minutes. - Author: Sarah Rees Brennan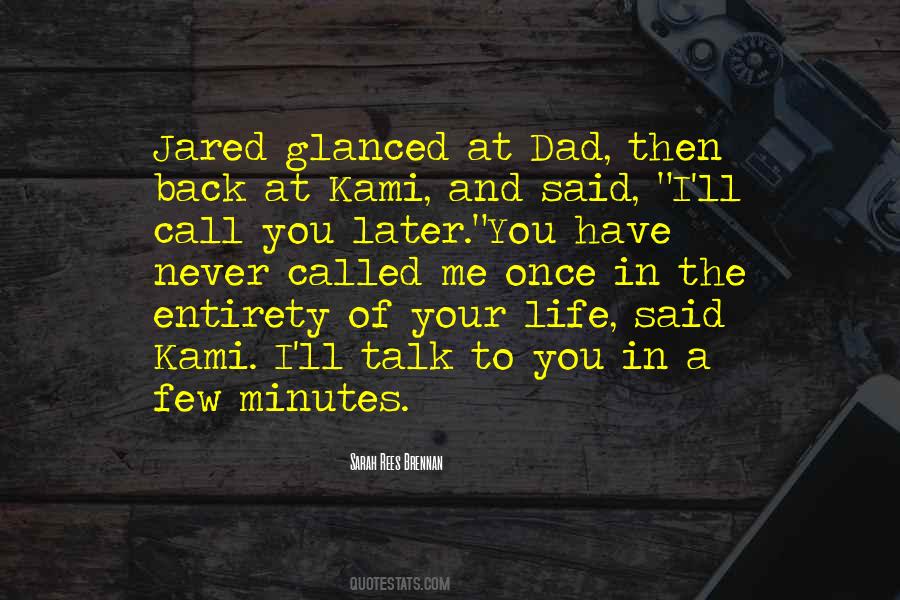 #8. The world will give you that once in awhile, a brief timeout; the boxing bell rings and you go to your corner, where somebody dabs mercy on your beat-up life. - Author: Sue Monk Kidd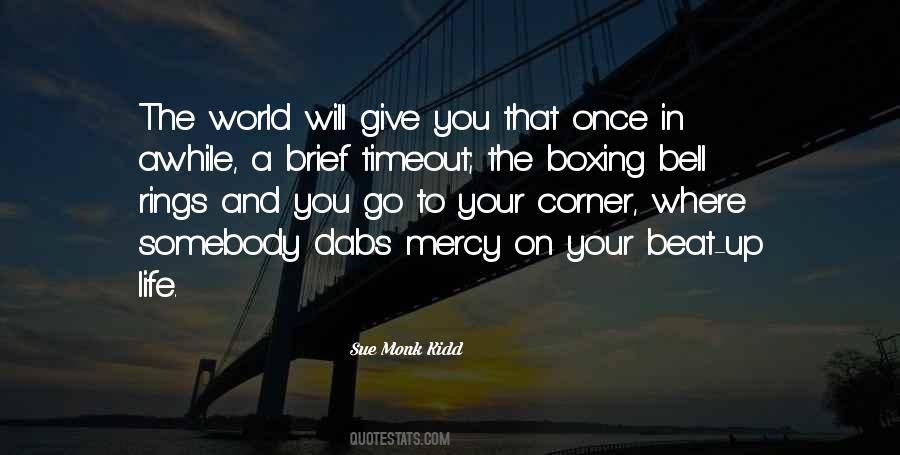 #9. Respect the way characters may change once they've got 50 pages of life in them. Revisit your plan at this stage and see whether certain things have to be altered to take account of these changes. - Author: Rose Tremain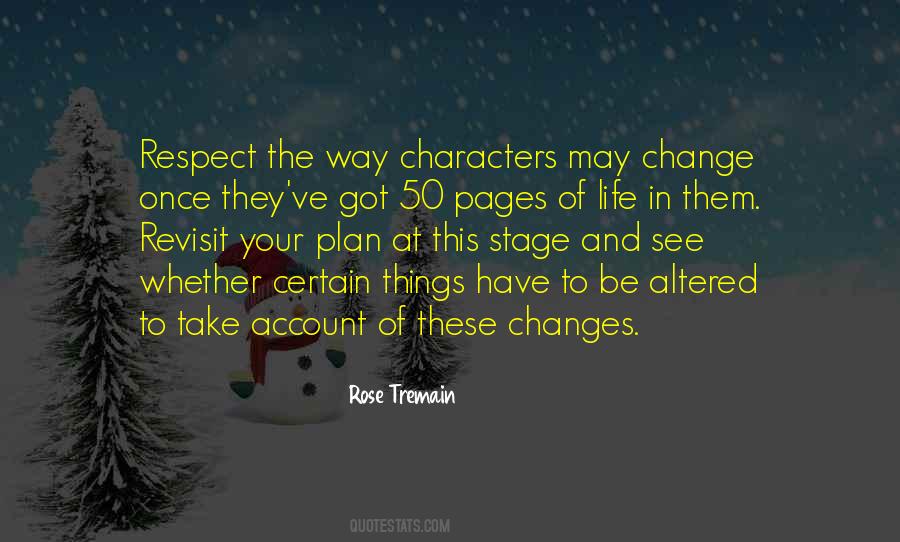 #10. Learn from your past and shut the door behind to live in present.Our past is just like a dry rose which was once a rose with all colors of life, with sweet fragrance, with soft petal, with thorns but now it is left with only thorns which could still hurt. - Author: Ideaswar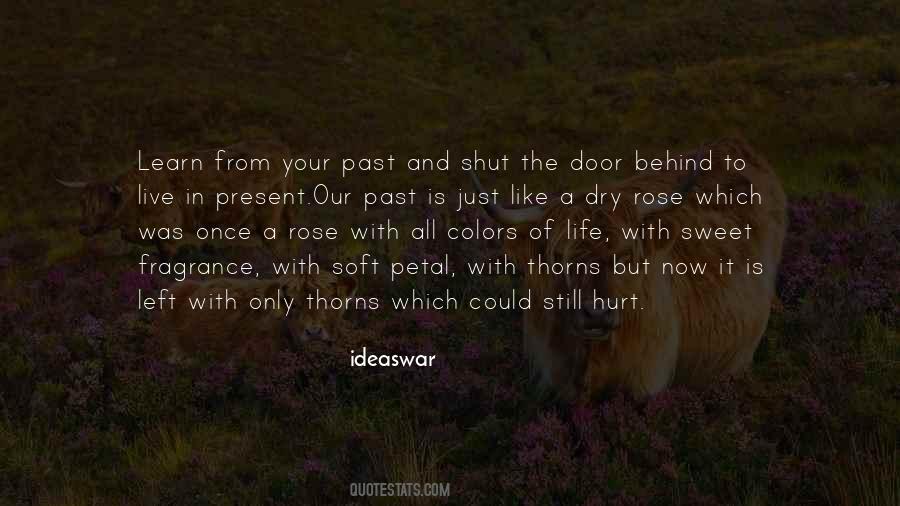 #11. To be a Bond villain, you only get to do that once in your life. You never get to come back. - Author: Vincent Schiavelli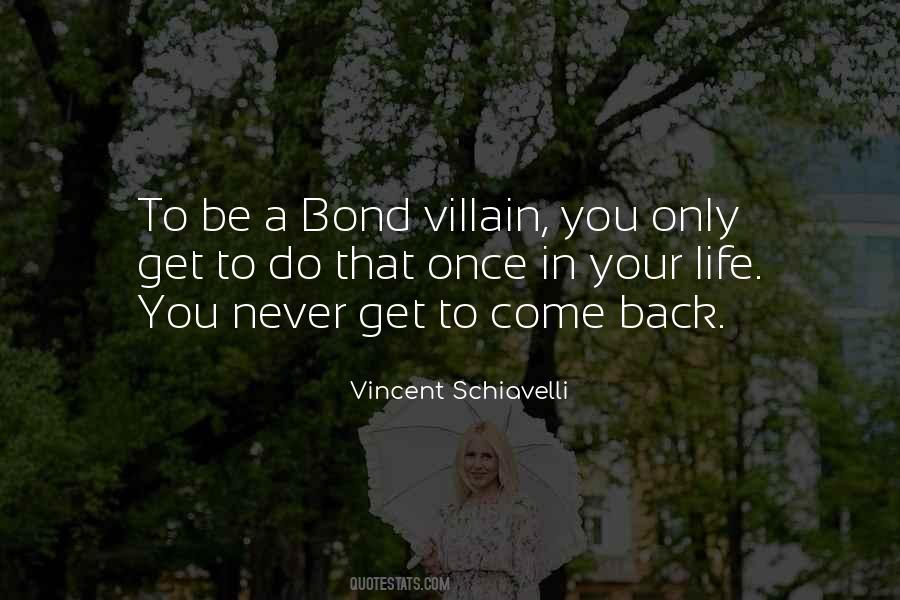 #12. I've always been fascinated with adrenaline; it's saved my life more than once, and it's caused me to need it to save my life more than once. One of the most fascinating responses in human evolution, adrenaline sharpens your brain; it sharpens your responses. - Author: Craig Venter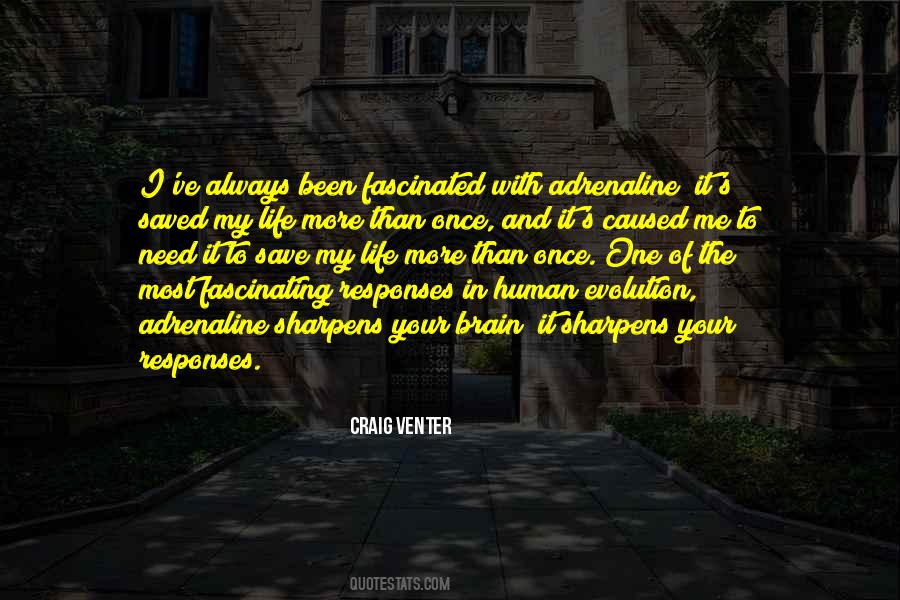 #13. Some claim that depression can be "prayed away" or is caused when you don't have enough God in your life. I tried God once but it didn't work well so I cut the dose by a third - Author: Jenny Lawson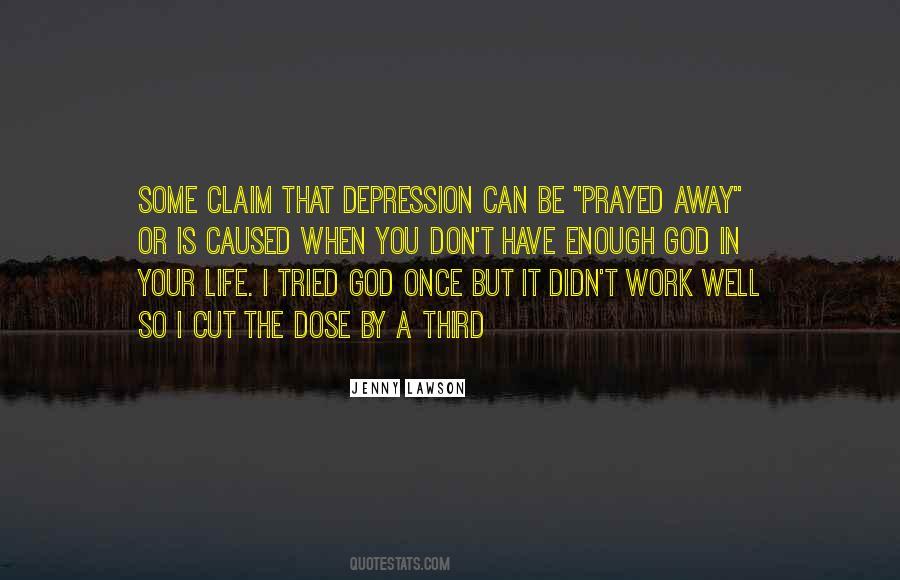 #14. I cannot stress enough that the answer to life's questions is often in people's faces. Try putting your iPhones down once in a while, and look in people's faces. People's faces will tell you amazing things. Like if they are angry, or nauseous or asleep. - Author: Amy Poehler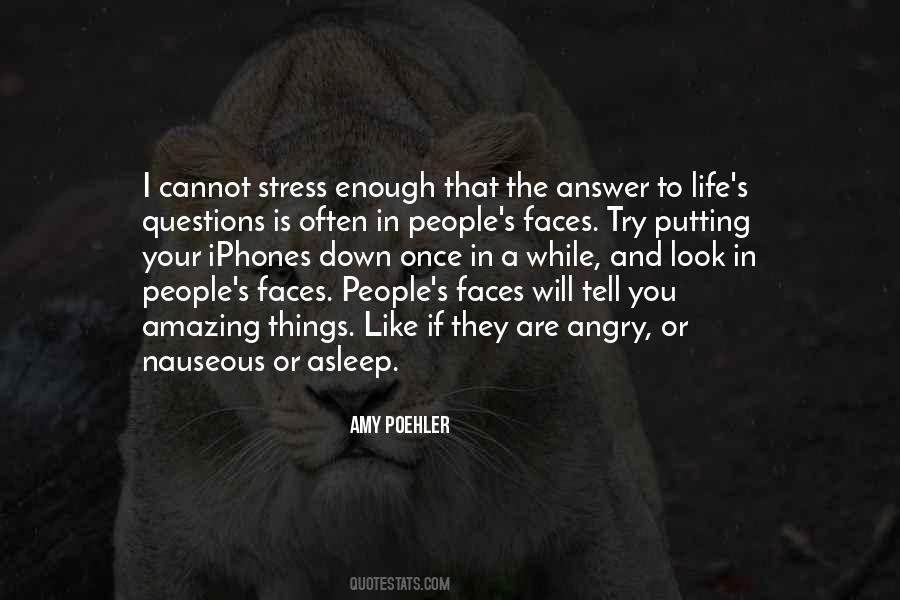 #15. Once you learn to move in sync with the ebbs and tides of the energy of the universe in every interaction in your life, you will find yourself carried effortlessly to a place of astonishing affluence. When - Author: Angelica Crystal Powers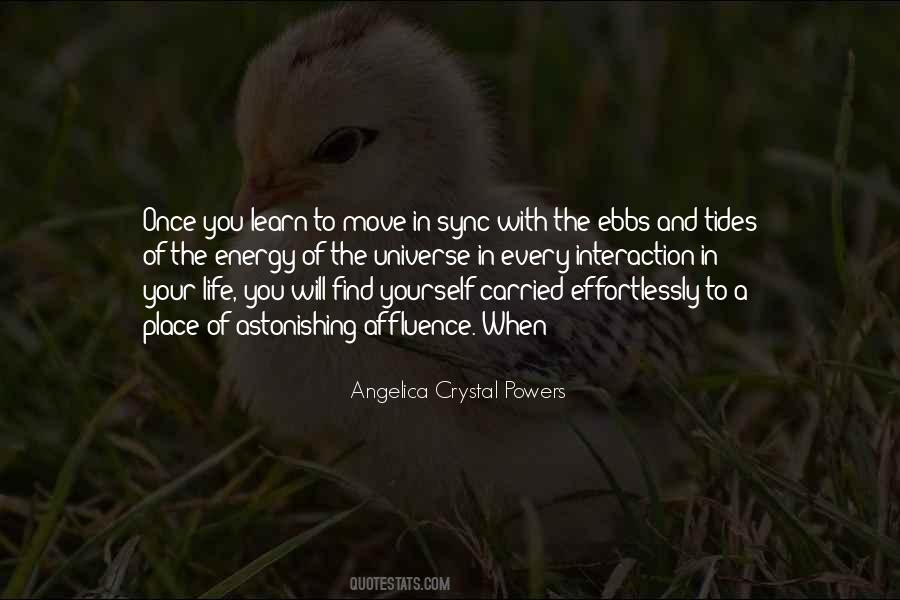 #16. Don't mistake me, Treasure. I can offer you many things, but friendship ain't one of them. Now, for once in your life, be a sensible girl and run away. - Author: Kady Cross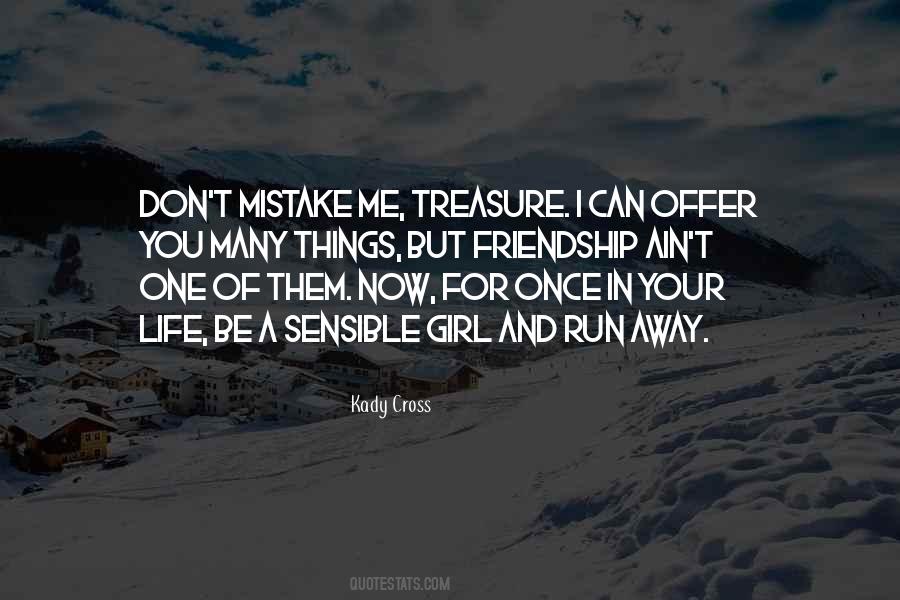 #17. Learn your way around loneliness. Make a map of it. Sit with it, for once in your life. Welcome to the human experience. - Author: Elizabeth Gilbert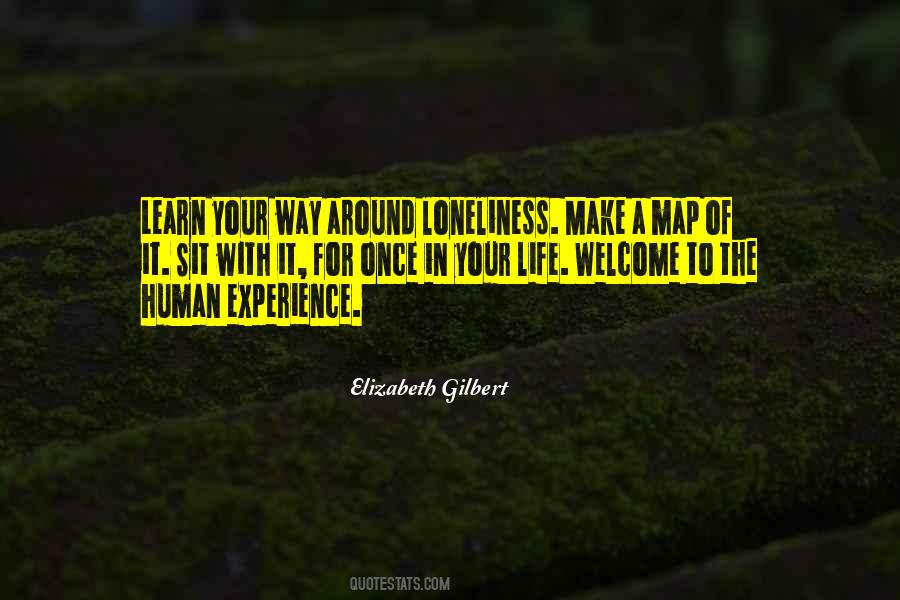 #18. When you control your thoughts, you control your mind. When you control your mind, you control your life. And once you reach the stage of being in total control of your life, you become the master of your destiny. - Author: Robin S. Sharma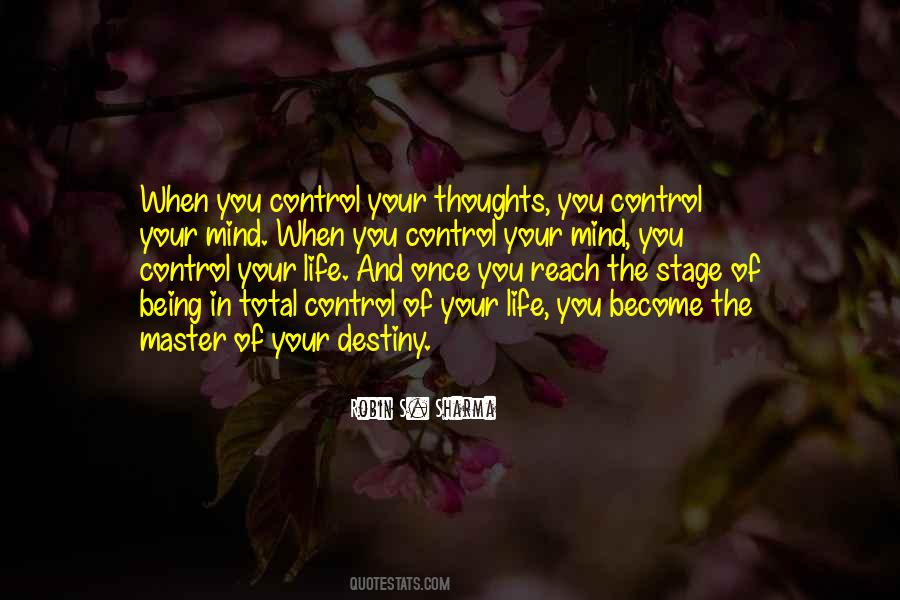 #19. You'll have to fall in love at least once in your life, or Paris has failed to rub off on you. - Author: E.A. Bucchianeri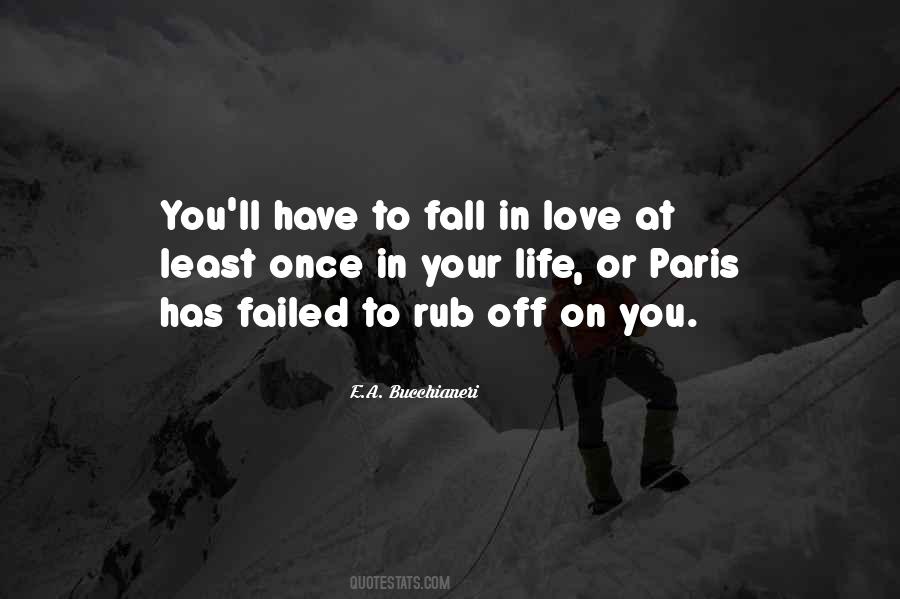 #20. I know none of this seems very believable. It probably doesn't even make sense. But for once in your life, please, I am asking you to trust me. Trust yourself. - Author: Charles Yu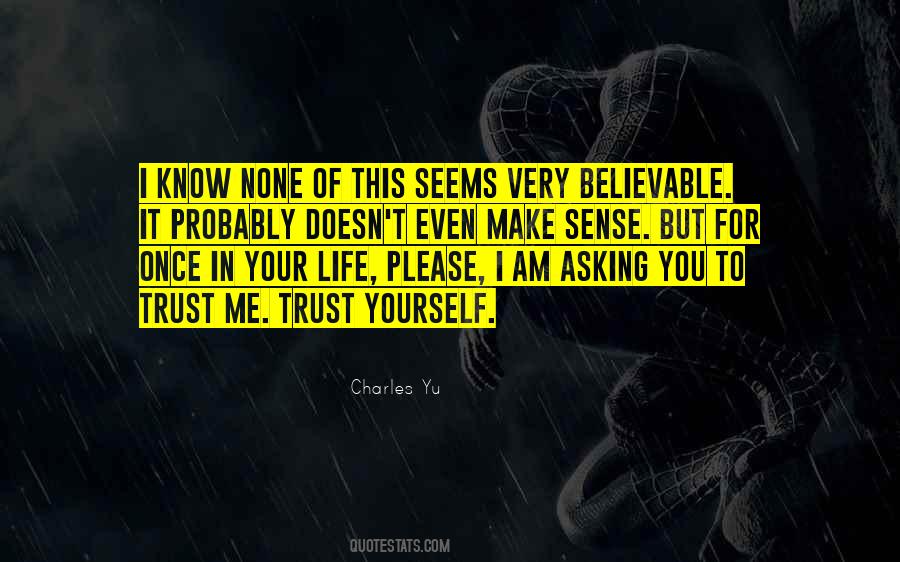 #21. When you can see your life in retrospect, the romanticism of how good things once were gives way to the reality that positives and negatives comprise every day and every decade. (235) - Author: Victoria Moran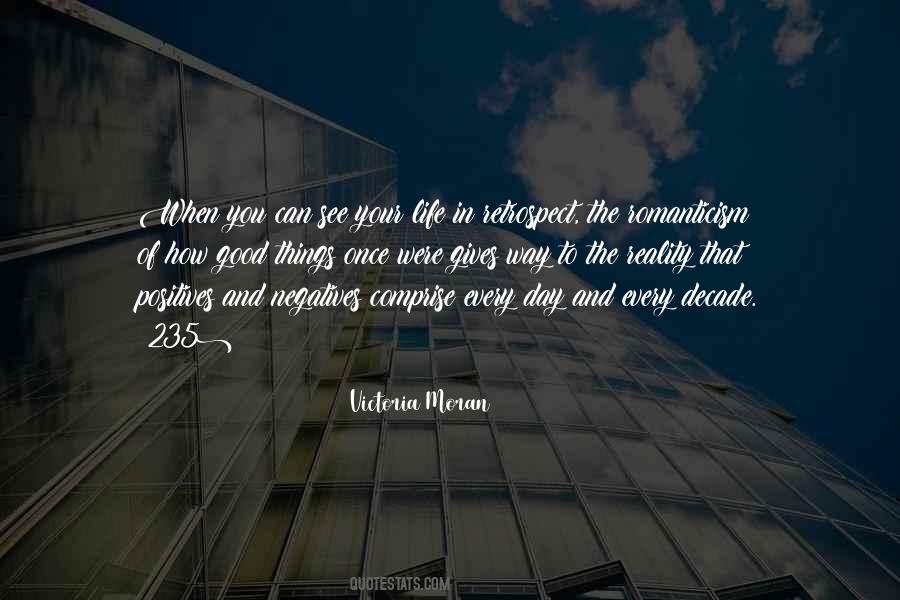 #22. We only betray ourselves. No one is betrayed except by himself. One way to betray yourself is to try to be too many people at once.
"How many people should a person try to be in your opinion?"
One at the most. Most people don't even succeed in that. - Author: MacDonald Harris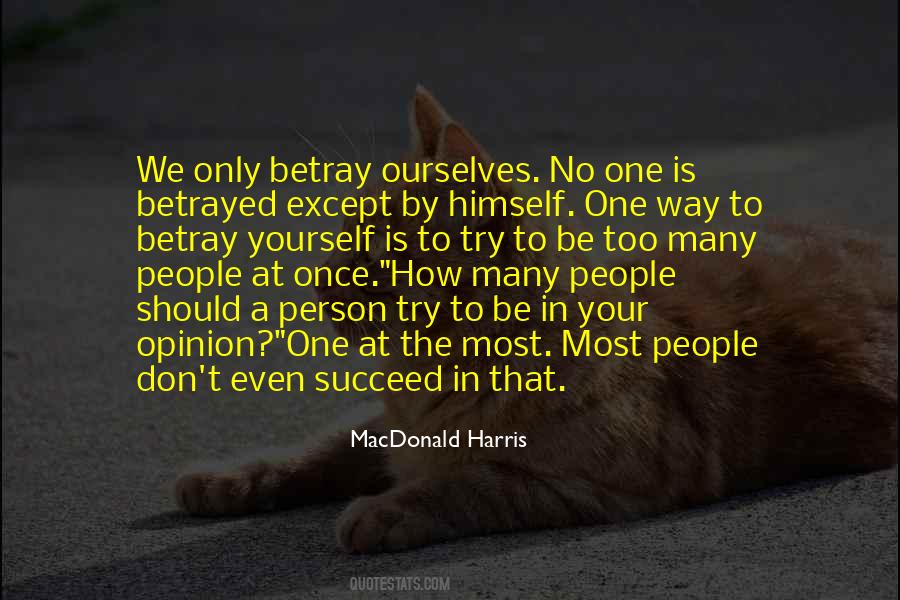 #23. The most important relationship you have in life is the one you have with yourself. And then after that, I'd say once you have that, it may be hard work, but you can actually design your life. - Author: Diane Von Furstenberg
#24. He sat me down. He said he was incomplete. He thinks true love's gonna get him back on his feet. He said you only find love once in your life. So I guess when you find it you're gonna hold it right? You'll hold it right? - Author: Tegan Quin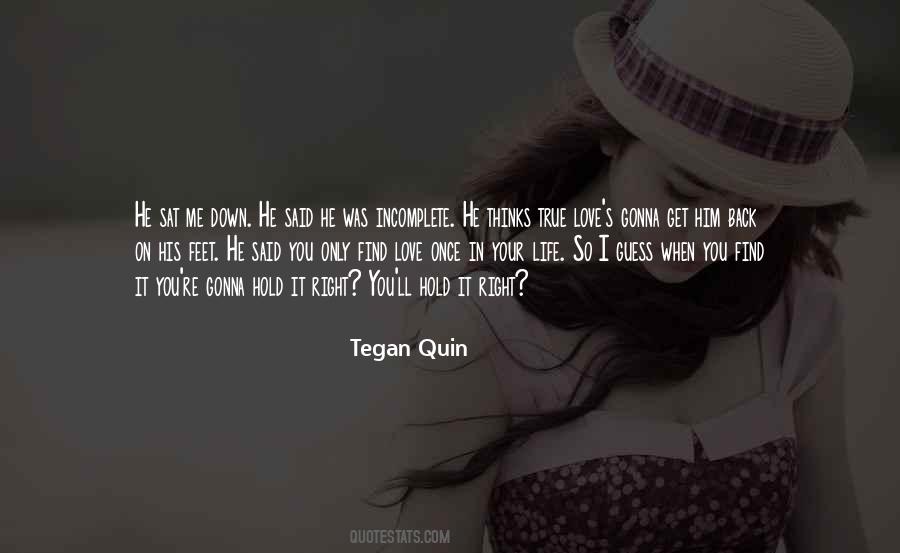 #25. And once your life loses its touch in the world, they would come again to seek to end it. - Author: Reymart Dinglasa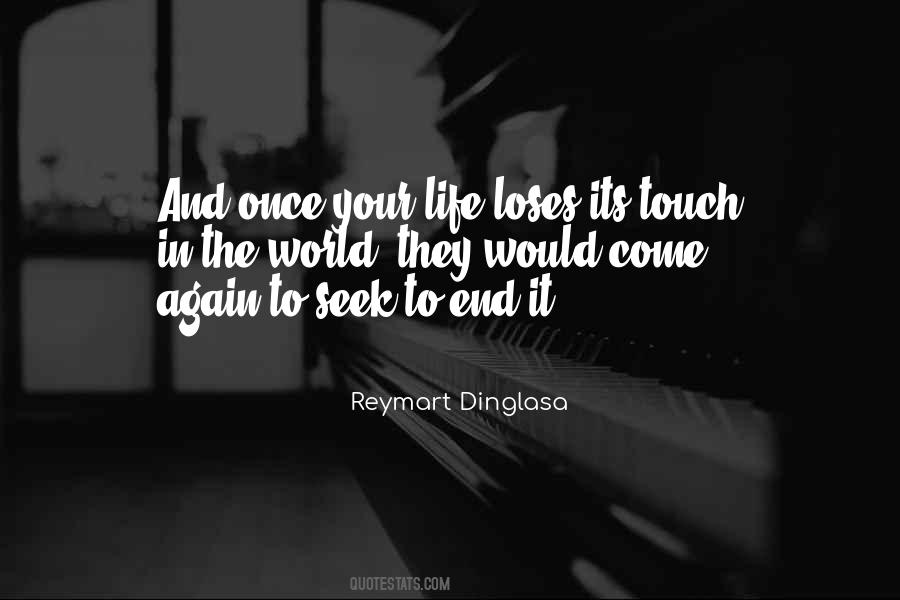 #26. The cycle of God, the good, is broken by a single act of negativity. The cycle of negativity is stopped by choosing the good
not just once, but again and again until it is goodness that prevails in your life and in our world altogether. - Author: John Morton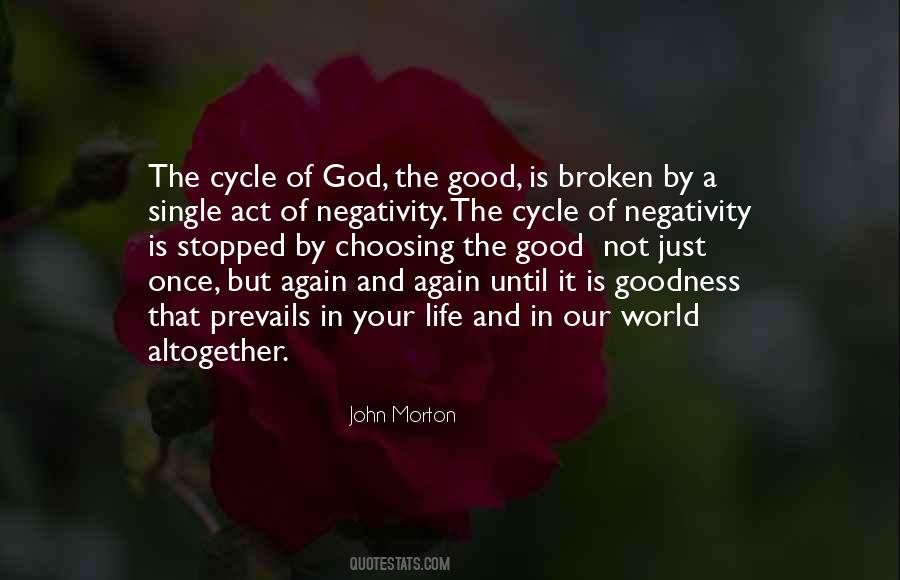 #27. Mental health professionals have said for a long time that individuals cannot adapt well to too many life changes at once. If you suffer a loss in the family, change jobs, and move all within a short time, the chances are your own internal stability may break down, or show signs of serious strain. - Author: Ronald A. Heifetz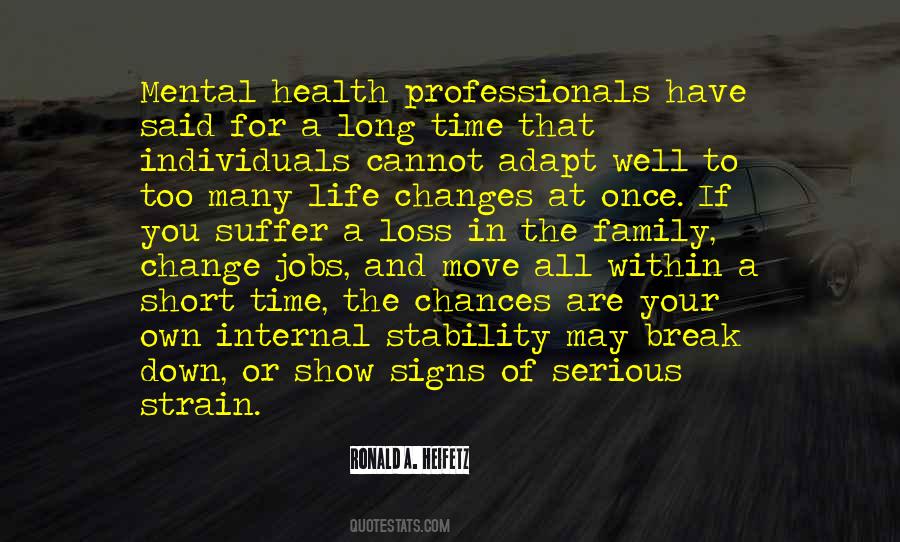 #28. Beloved Beowulf, remember how you boasted,
Once, that nothing in the world would ever
Destroy your fame; fight to keep it,
Now, be strong and brave, my noble
King, protecting life and fame
Together. My sword will fight at your side! - Author: Burton Raffel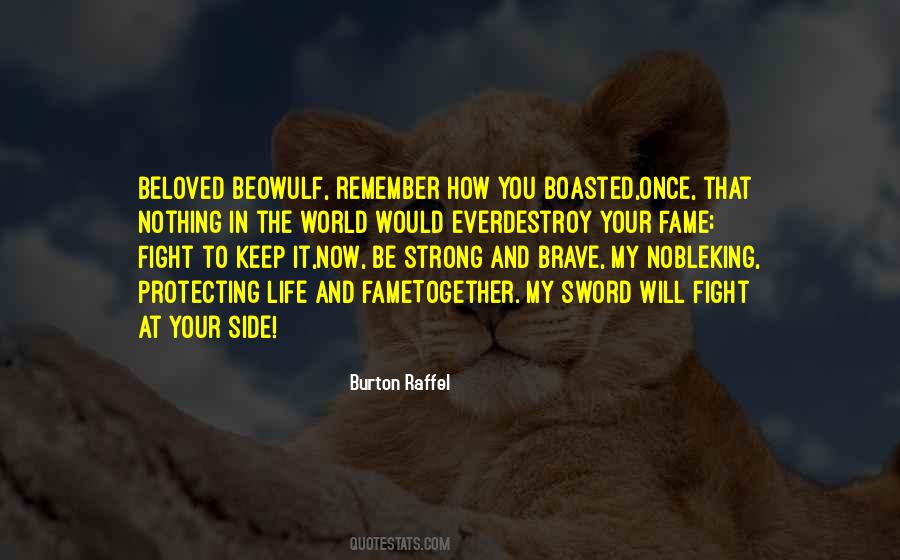 #29. To truly fail in life is to never try. When you fall on your face, it is an opportunity for you to find the road again. It may remind you how hard the road is, but you will never forget its presence once you make contact. - Author: H.L. Stephens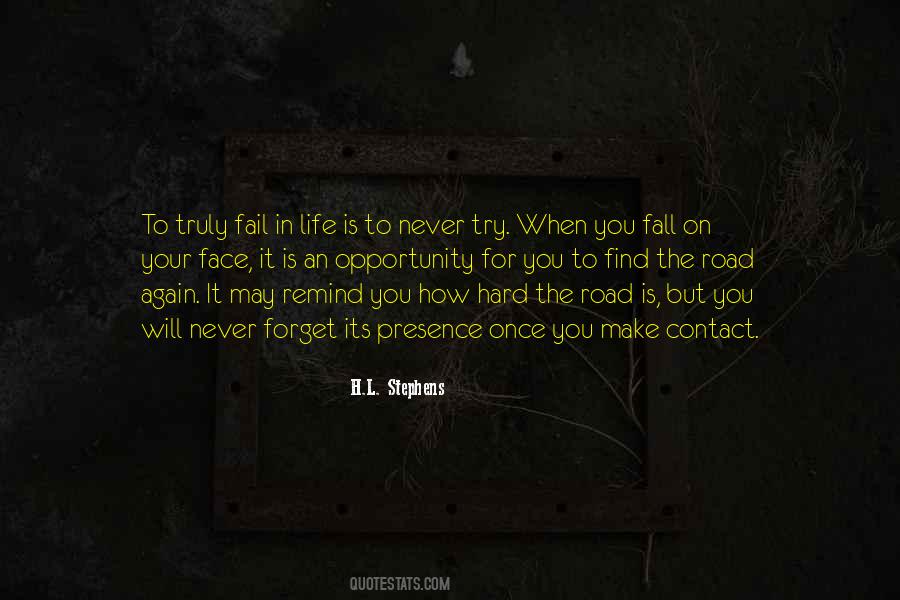 #30. It's great to be self confident, but some people are very egotistical. Once you realize the world doesn't revolve around you and change your attitude, you'll truly walk in your purpose. - Author: Amaka Imani Nkosazana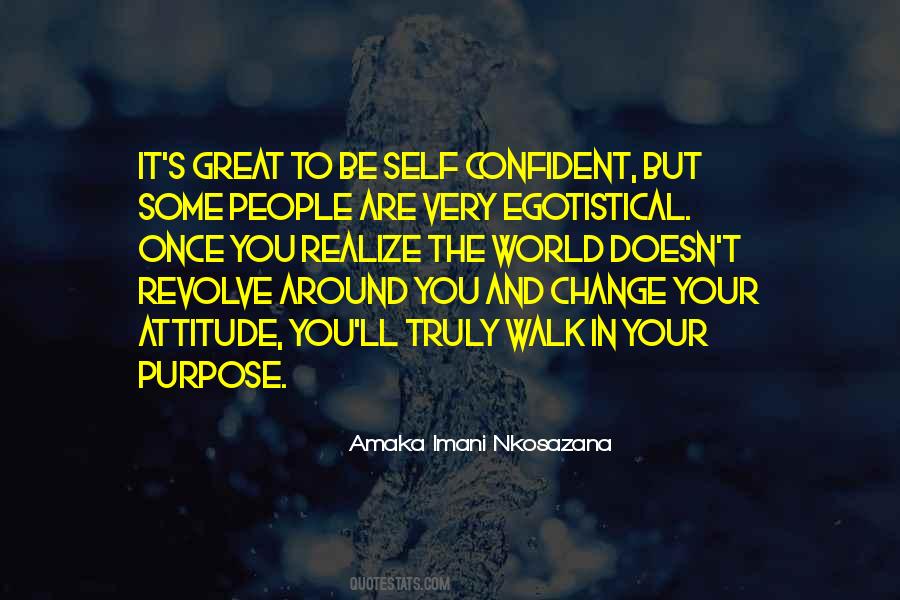 #31. Why do you always have to be right. Why do you always have to have the last word. For once in your life just let it go. - Author: Joan Didion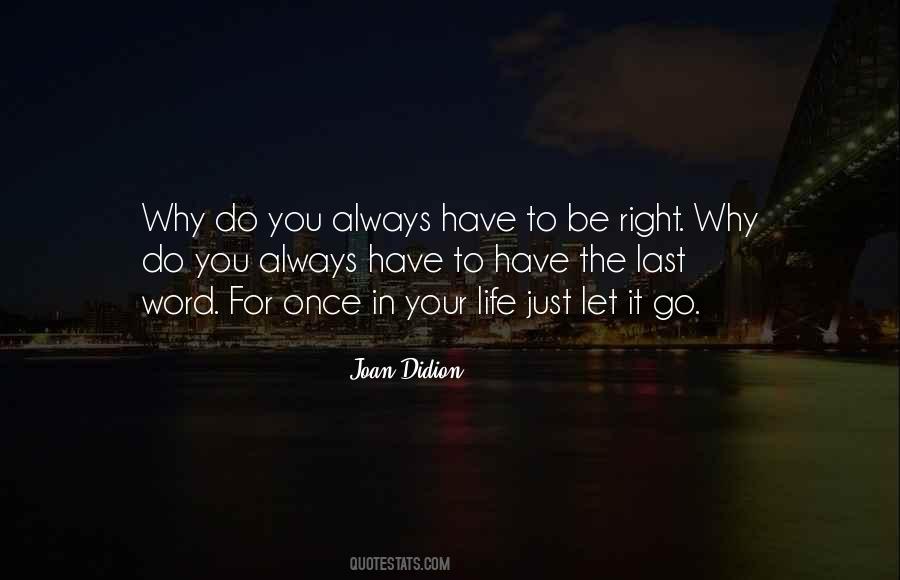 #32. And even if you cared what they had to say, would you act upon their opinions and create your life from it? No. Than stop replaying their toxic words in your head, it's no good for your being and start doing the things that once made you, you. - Author: Nikki Rowe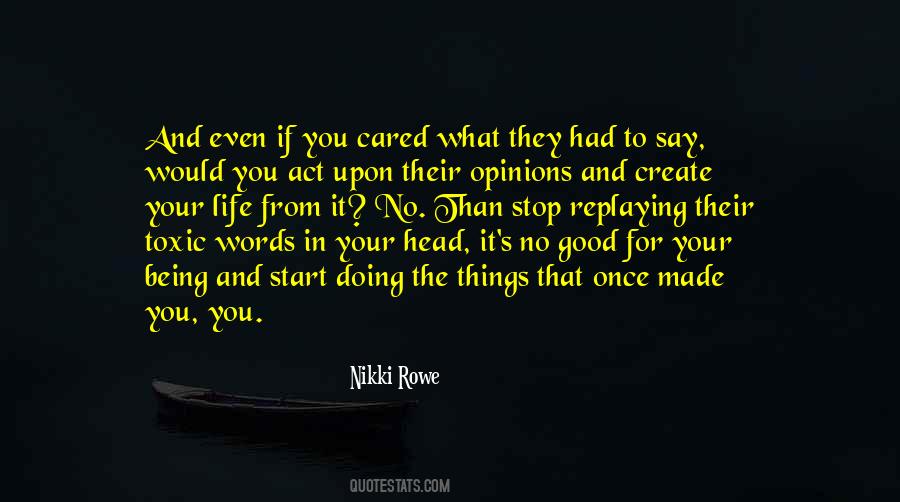 #33. It's a matter of choosing what is most important to you and putting that first. Once you have recognized your true purpose in life, this becomes much easier. - Author: Clarence Clemons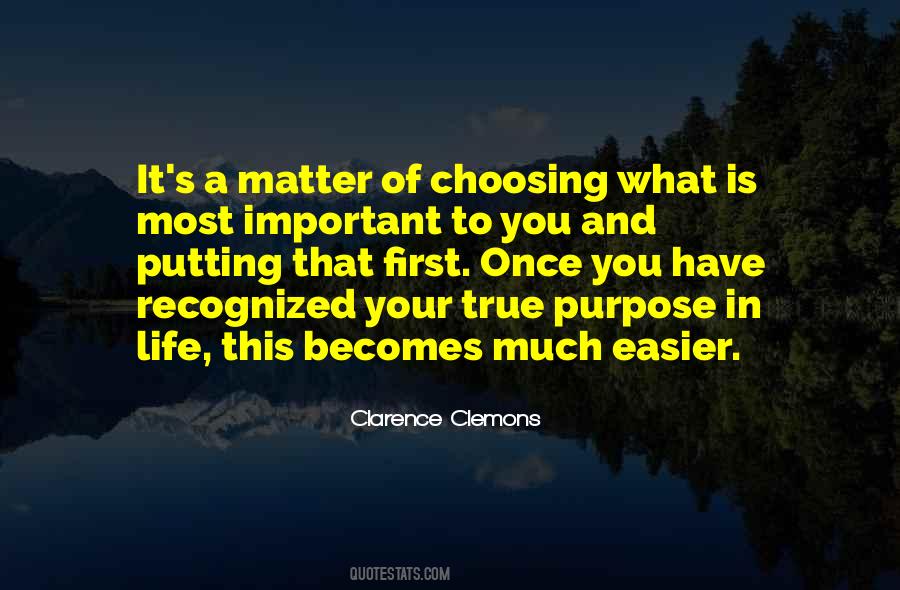 #34. Live life to the fullest. You have to color outside the lines once in a while if you want to make your life a masterpiece. Laugh some every day. Keep growing, keep dreaming, keep following your heart. The important thing is not to stop questioning. - Author: Albert Einstein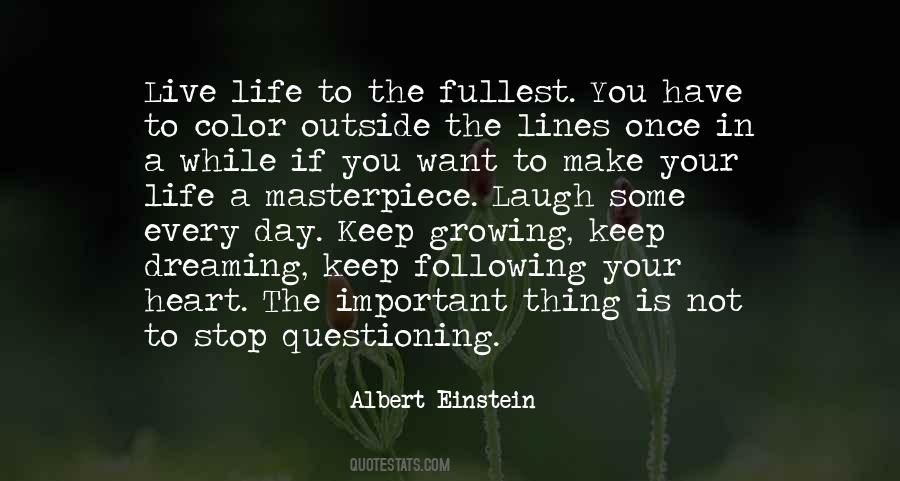 #35. Once, I started listing off all the people that I truly cared about. When I got to number seven, Penelope told me I either needed to whittle down my list or stop making friends immediately. My mother says you should never have more people in your life than you could defend from a hungry rakshasa. - Author: Rainbow Rowell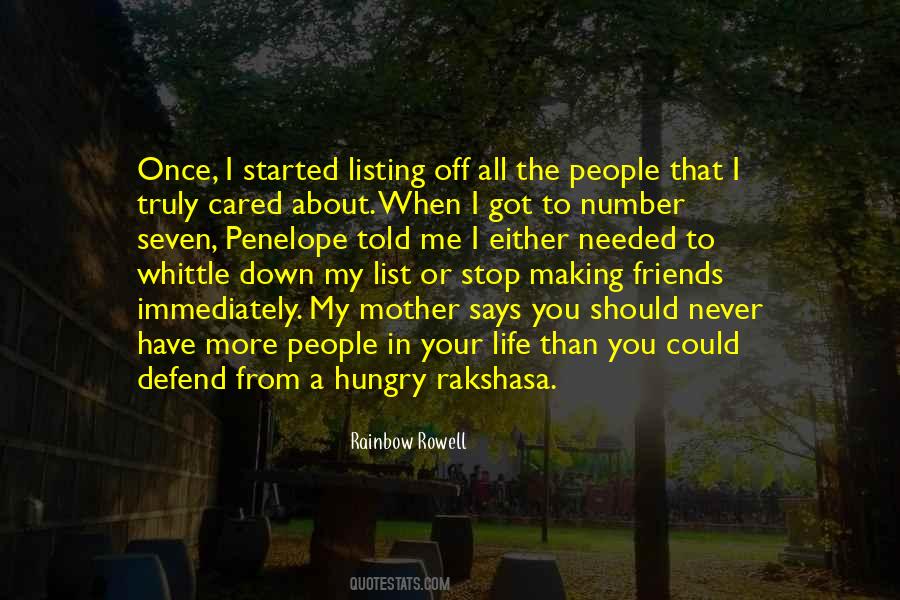 #36. I am so picky about what films I get myself into because it's such an explosion of energy and commitment once you get in there, you destroy your life until you deliver these films. I never want to be in the position of making films that won't be a great use of 90 minutes of someone's life. - Author: Lucy Walker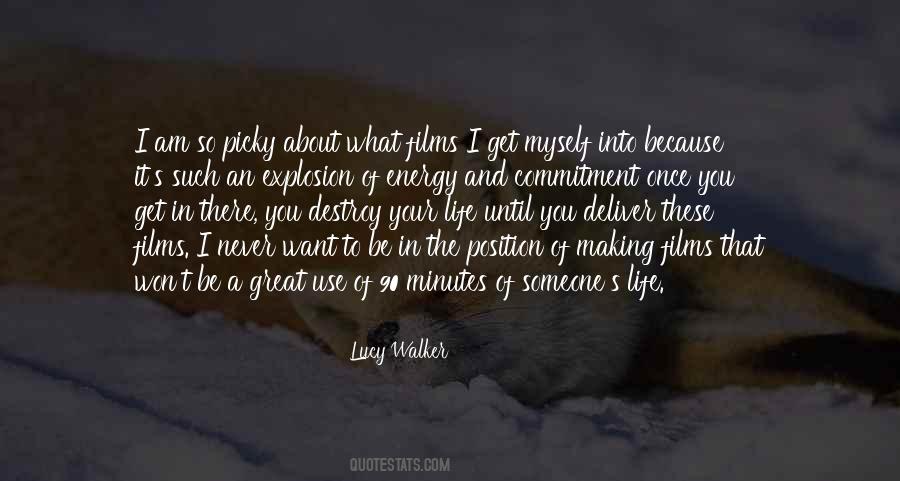 #37. The first step is the hardest in every
journey of dreams. There is nothing
else to fear unto whosoever has shown
the tenacity to begin; because, once
having started, the hardest part of the
mission is the one lying behind. - Author: Moffat Machingura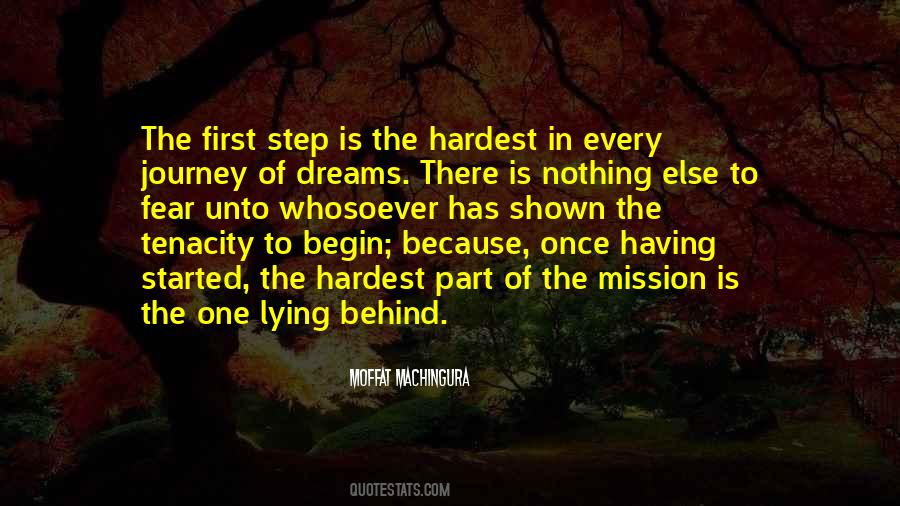 #38. I share my happiness and sorrow
Cos I know for once there will be no tomorrow
If I wish to live in your memories
I too have to be there to share your worries
Speak up to your friend, am just a call away - Author: Prashant Balan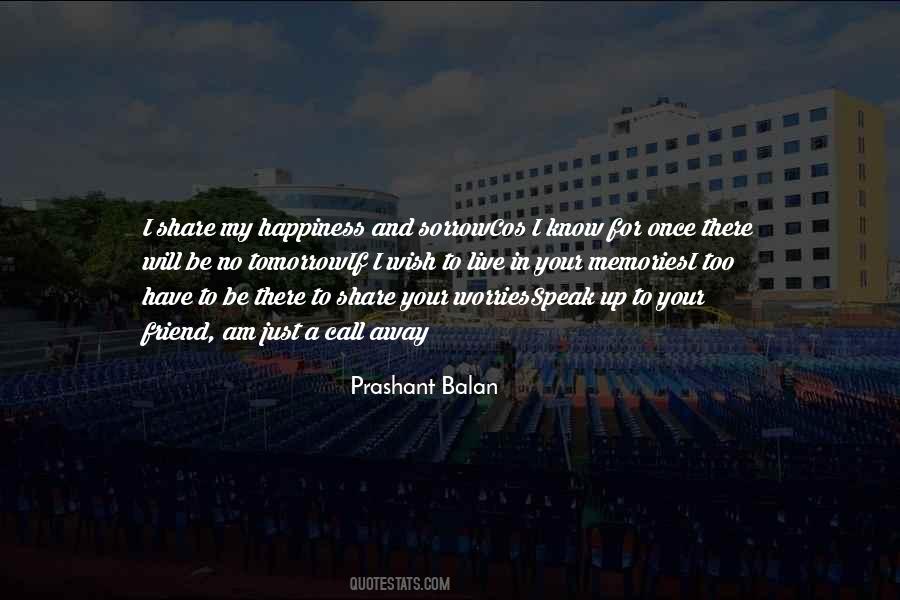 #39. Once you taste the second income in the household and it changes your lifestyle, you get used to it. - Author: Reema Bint Bandar Al Saud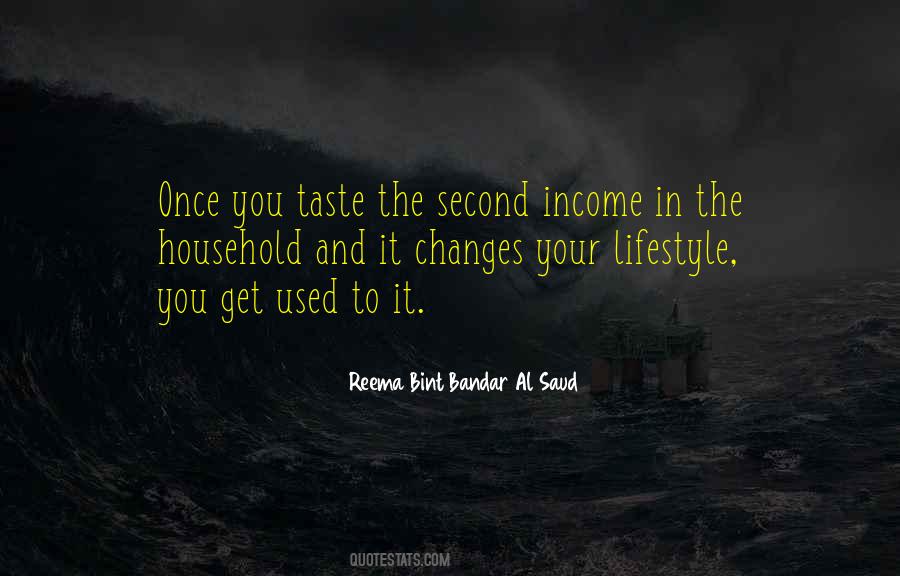 #40. it doesn't matter how old you are, how old your child was when he or she died, or the particular manner of your child's death; the hole in your heart never heals over. You can function in life, but you are doomed to fall far short of that contentment which had once been available to you. Soon - Author: David Bagby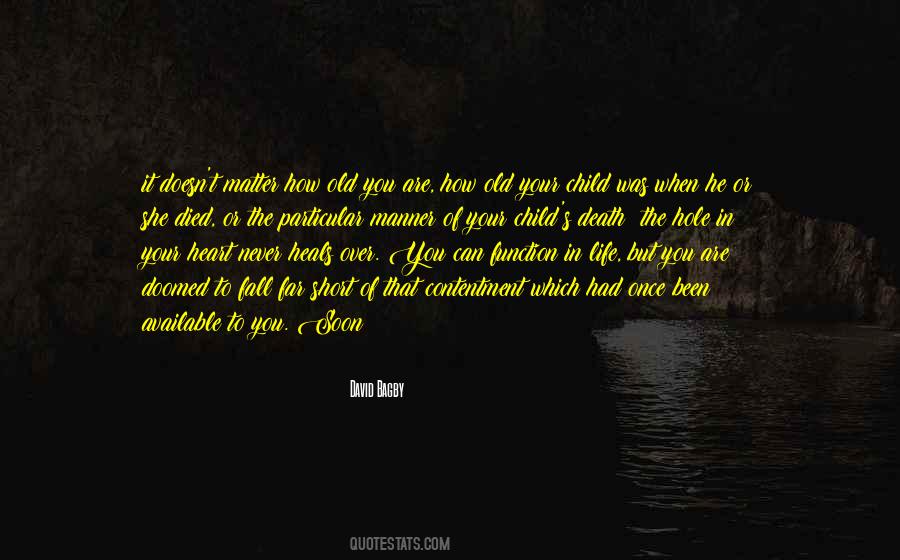 #41. Once in awhile, you do encounter bad acquaintance, mean people, toxic aura. Don't let them rent space in your heart and mind. Don't let anyone make you so upset that you become someone you don't even recognise. - Author: Rita Zahara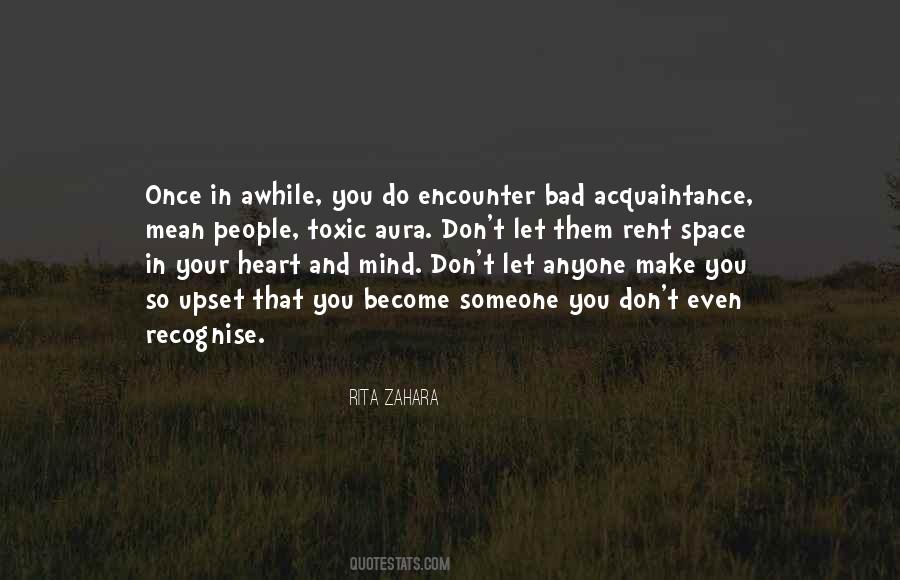 #42. Once in a lifetime "True love" comes in your life. That is made just for you and you should not lose that chance of grasping it. - Author: Lovely Goyal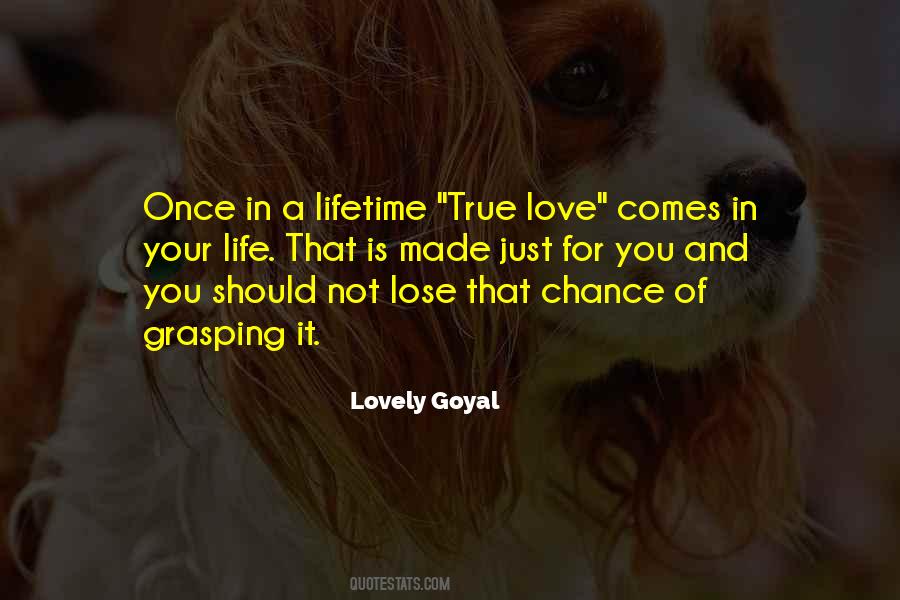 #43. Realize that the tests you endure will mold your character, persona, and will. The more heartbreak and pain you will feel with your trials in life, the greater your joy and glory will be once you've overcome. Not IF, not POSSIBLY, not MAYBE, but ONCE you have overcome. - Author: J. Junior Reynolds II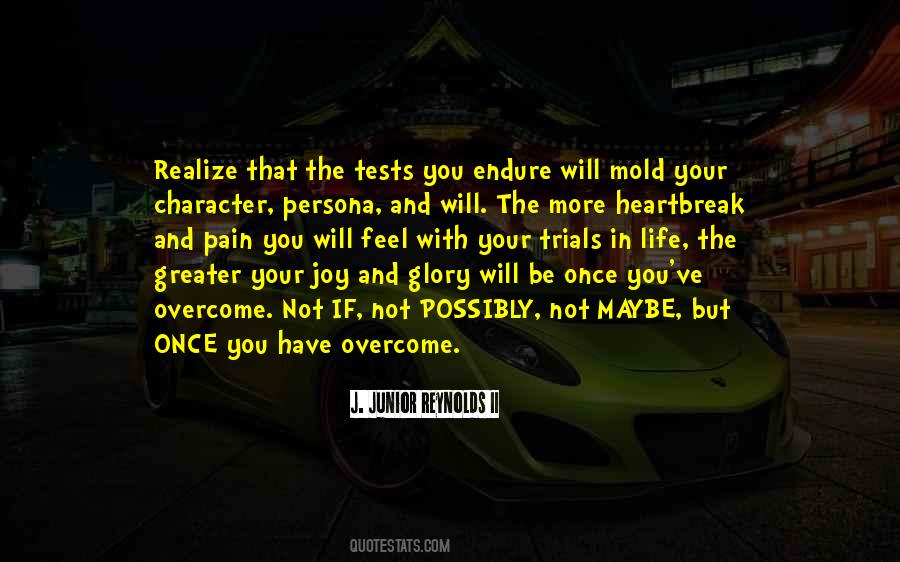 #44. Your grandmother once told me that the problems we face in life are windows, from which we can view the beauty of the solutions that await our discovery. - Author: Peggy M. McAloon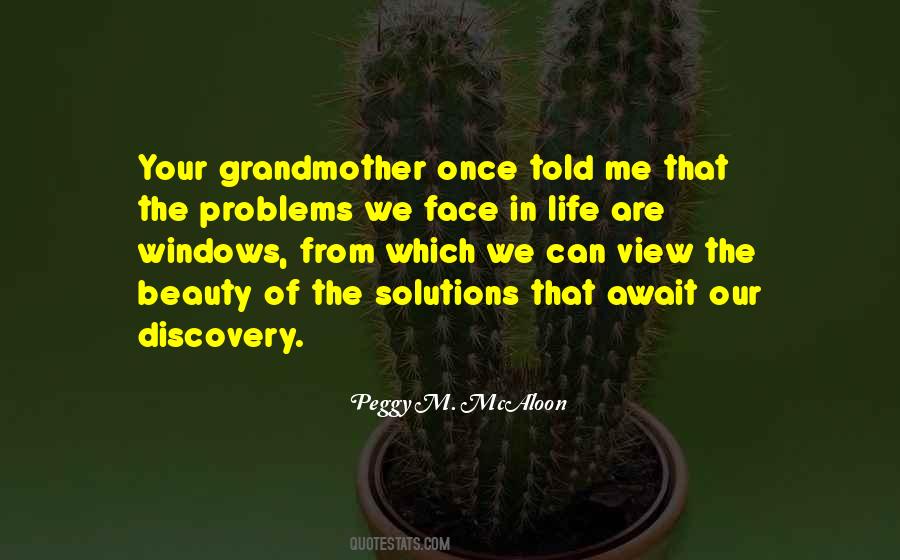 #45. Without words, protestations, or vows, I have laid my life in your hands. You fail me, and, I repeat once more, you are quite right in acting thus; nevertheless in losing you I lose part of my life. - Author: Alexandre Dumas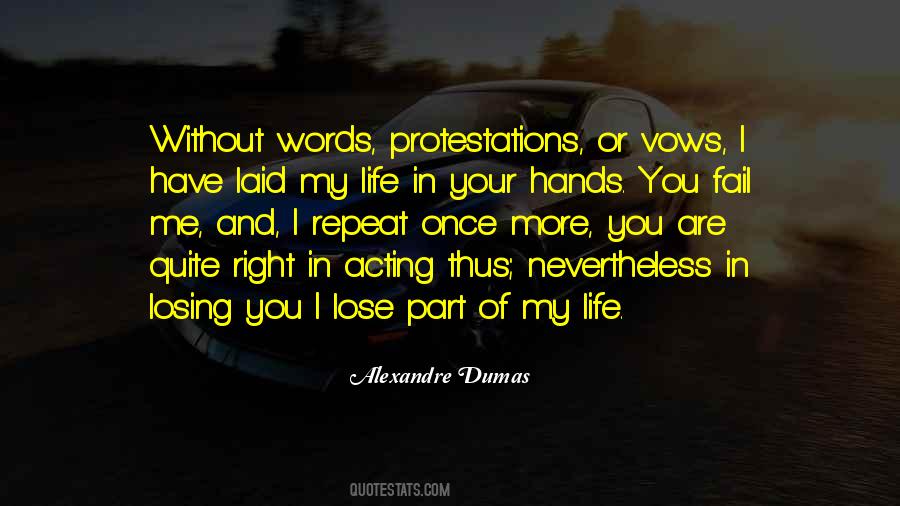 #46. I offer you a second way of approaching the moment where everything in your life just stops, this one from the actor Robert Duvall: "I exist very nicely between the words 'action' and 'cut.'"
And even a third way: "It doesn't present as pain," I once heard an oncological surgeon say of cancer. - Author: Joan Didion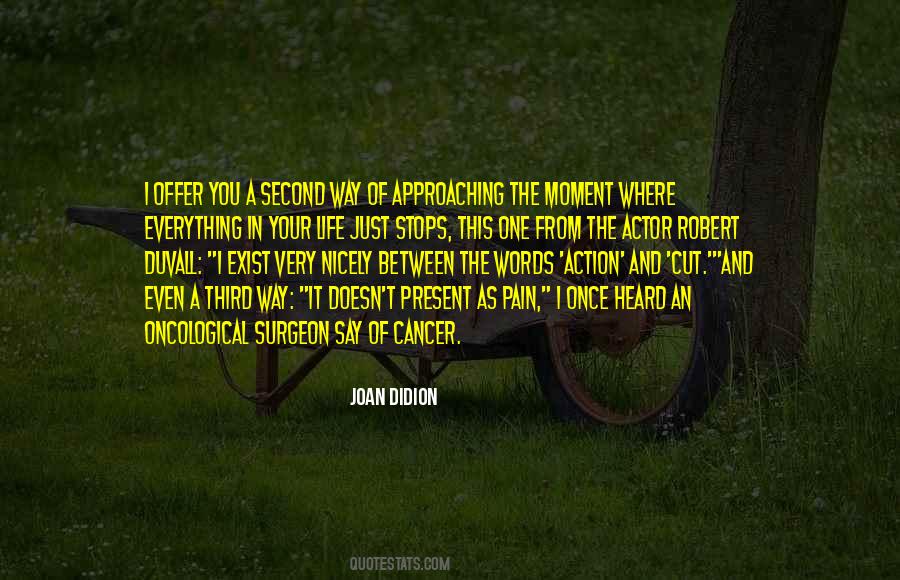 #47. The question is not, "Do you know you are a sinner?" the question is this, "As you have heard me preach the Gospel, has God so worked in your life that the sin you once loved you now hate?" - Author: Paul Washer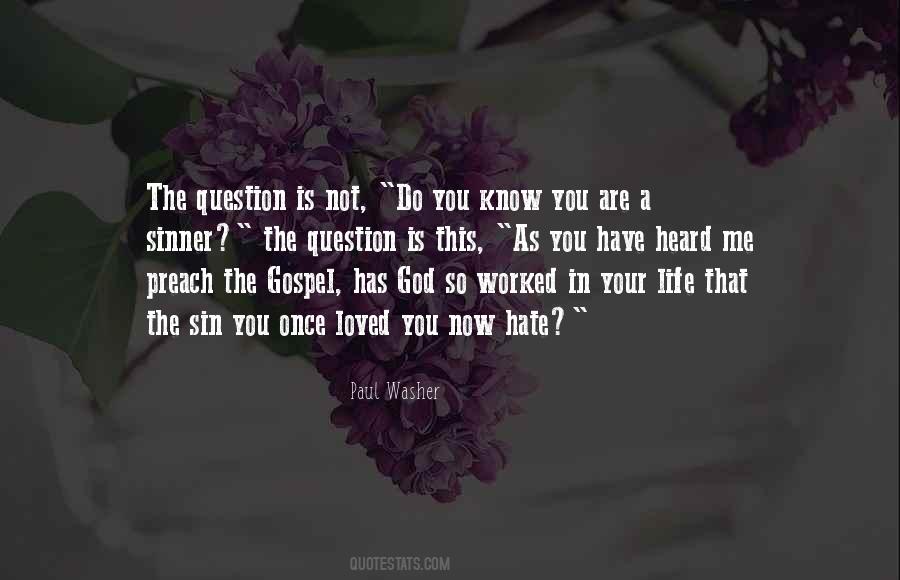 #48. You don't have to be kind. You have to be calm. Once you start showing that people can affect your emotions, then you obviously don't have that much power. If a stewardess can affect your emotional life, then you don't have any power in life and you just showed your whole hand. - Author: Vincent Kartheiser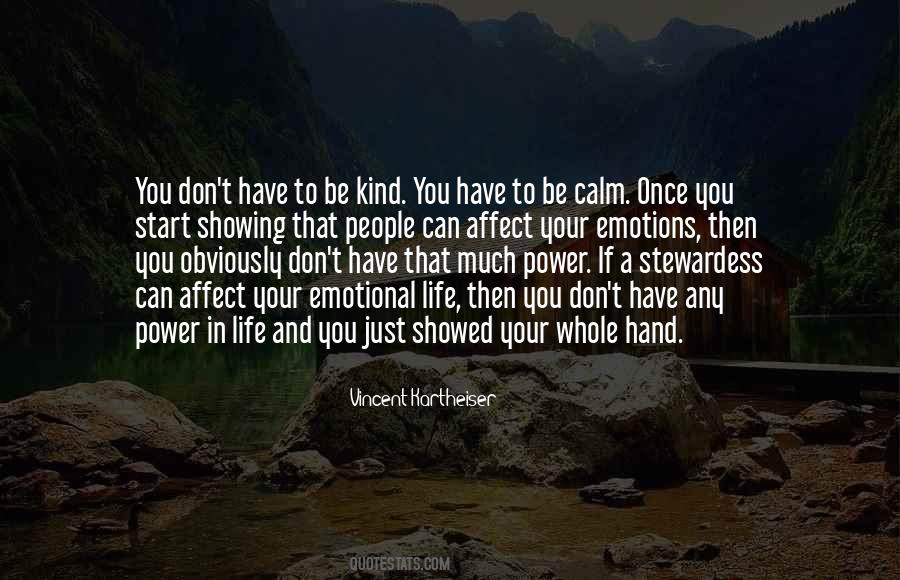 #49. Let life simply unfold, for once in your life, without spinning all those hopeful romantic fantasies. The less time you spend dreaming up a world of happily ever after, the more time you'll actually have to live- no evers or afters required. - Author: Abby McDonald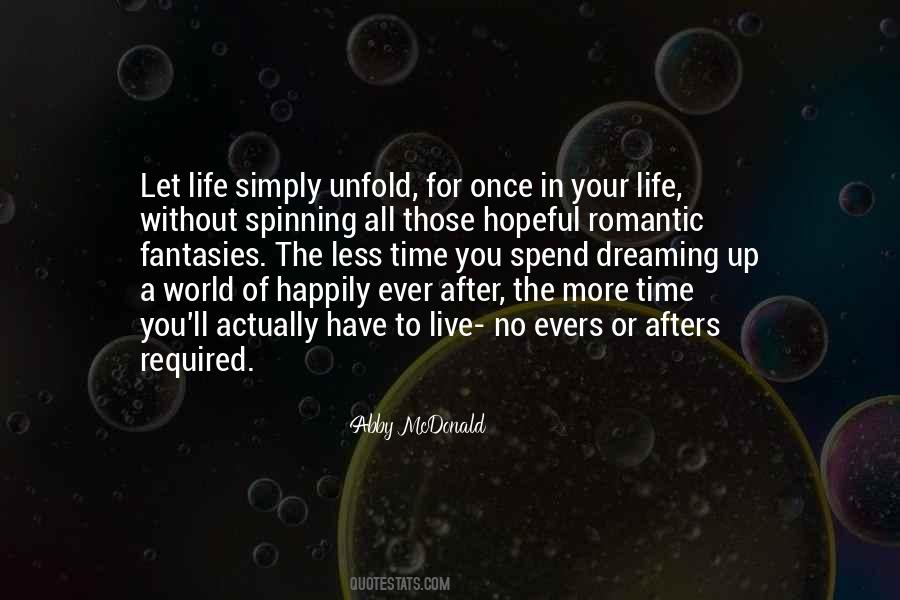 #50. Once your faith persuades you to believe what your intelligence declares absurd, beware, lest you likewise sacrifice your reason in the conduct of your life. - Author: Voltaire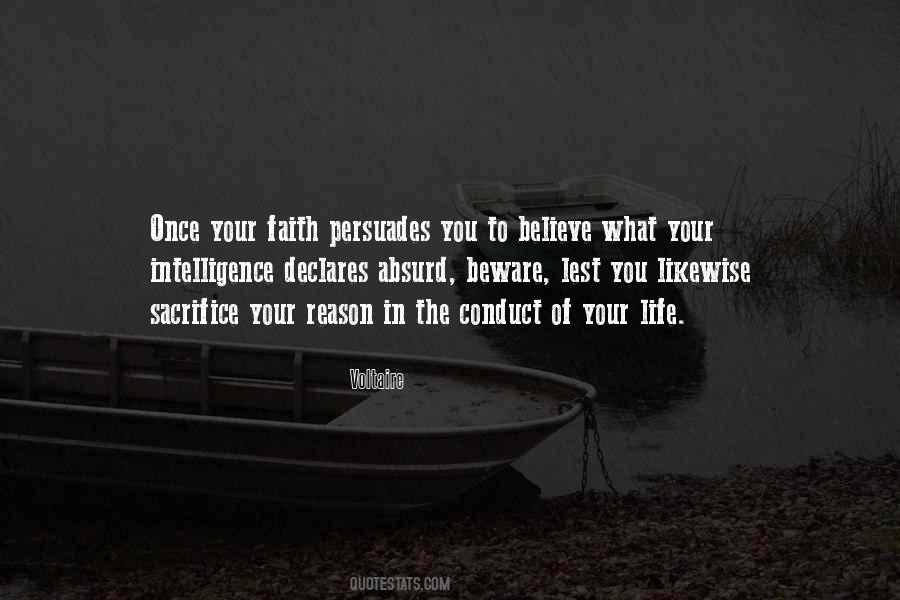 #51. Adam stood up. It felt good to have identified the problem. That had always been the hardest part. With an engine, with school, with life. Solutions were easy, once you knew what was in your way. - Author: Maggie Stiefvater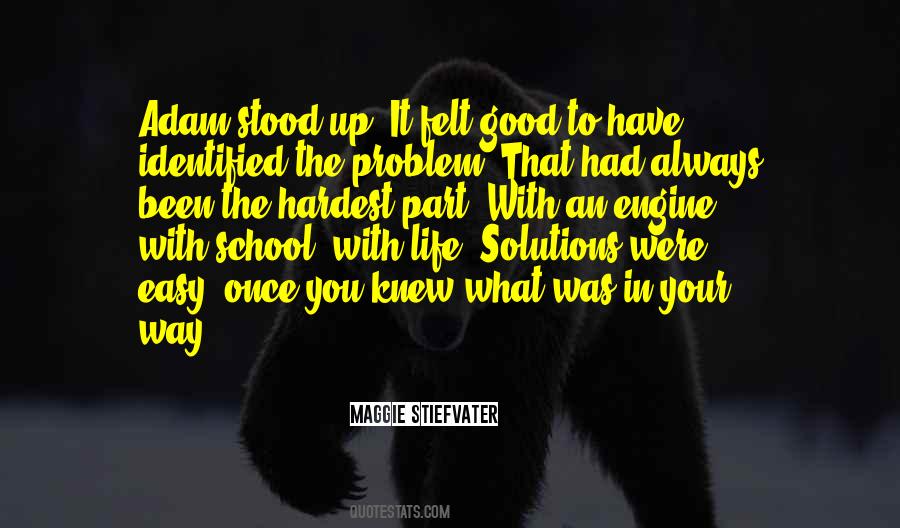 #52. Shame is life-dominating and stubborn. Once entrenched in your heart and mind, it is a squatter that refuses to leave. - Author: Edward T. Welch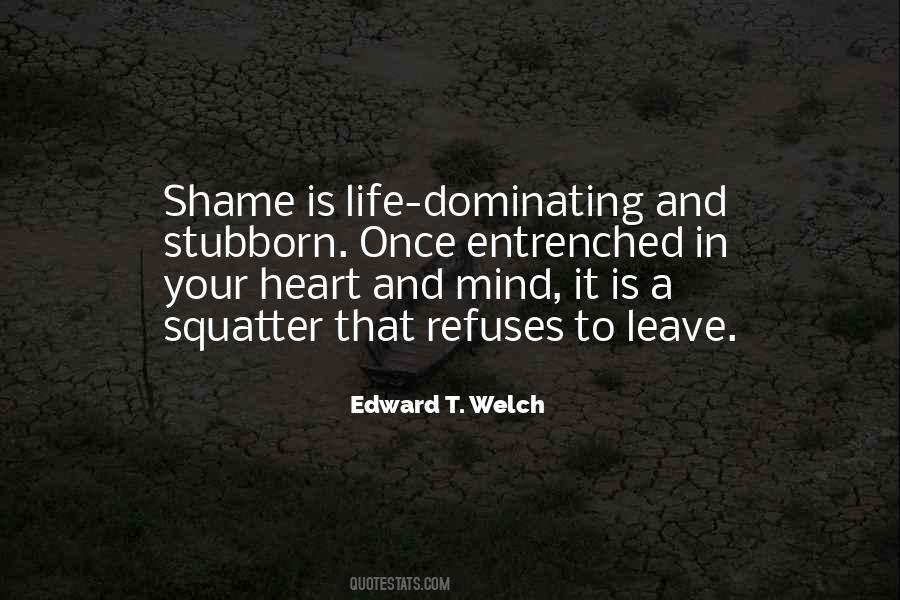 #53. Once you have linked yourself with love, a flood of inspiration is revealed to you, whatever the subject, whatever the problem in life may be. Whatever it be that your eye casts its glance upon, it will disclose itself. Then you are on the real road, and what a joy this is! - Author: Hazrat Inayat Khan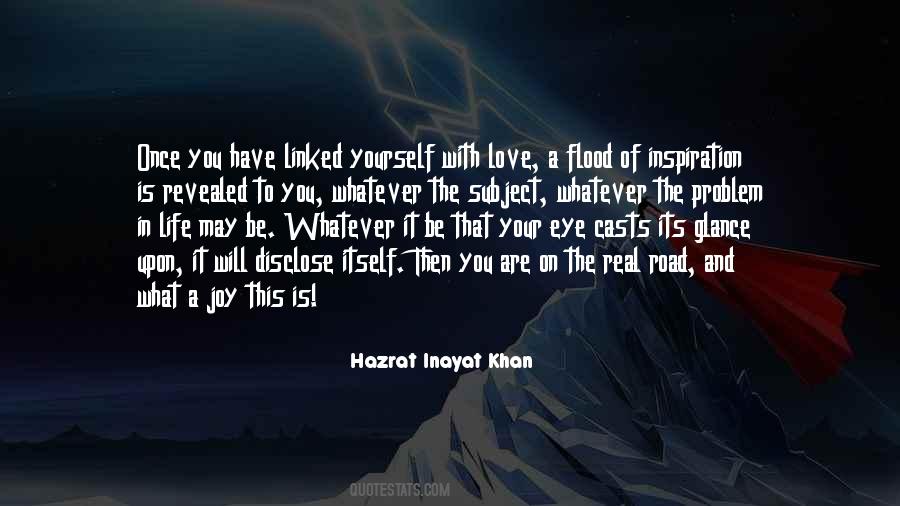 #54. Only it seems to me that once in your life before you die you ought to see a country where they don't talk in English and don't even want to. - Author: Thornton Wilder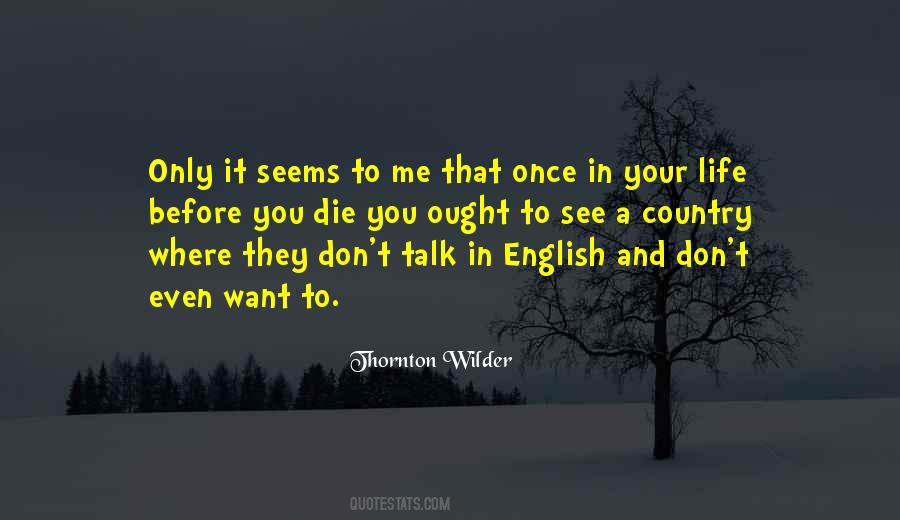 #55. Once you embrace that WHO you are defines you, you can conquer the world. What matters is what's in your heart, what your goals are and what kind of life you want to lead. - Author: Shantel VanSanten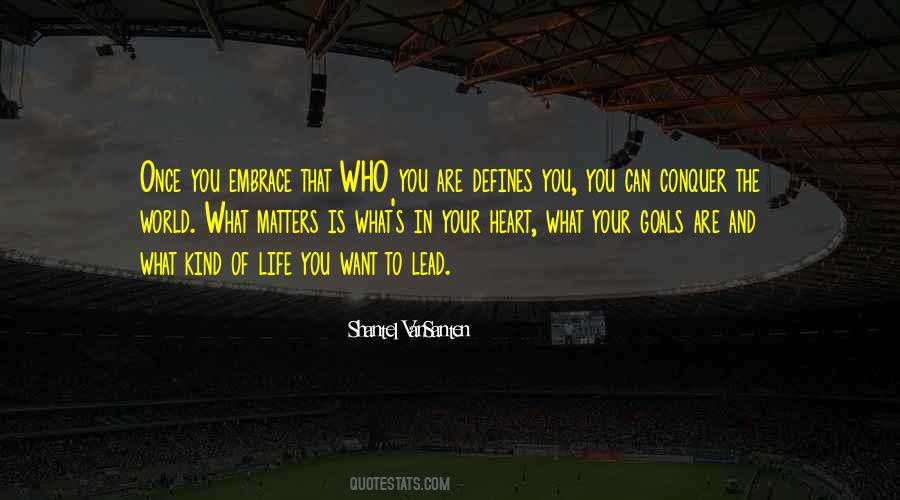 #56. Oh God, to think that you only fall in love once in your entire life is such a depressing thought. - Author: Olivia Wilde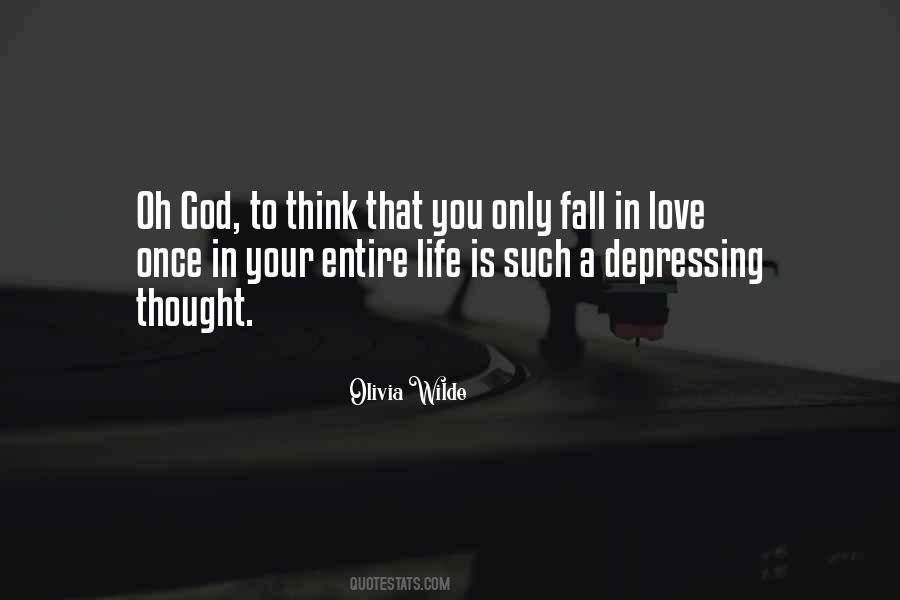 #57. All I'm doing is writing it down and putting it in a cadence. Once I get into a cadence, then why should I even stop and wonder what it is? You can do that for the rest of your life, but when it's coming out, you don't want to stop it. - Author: Neil Young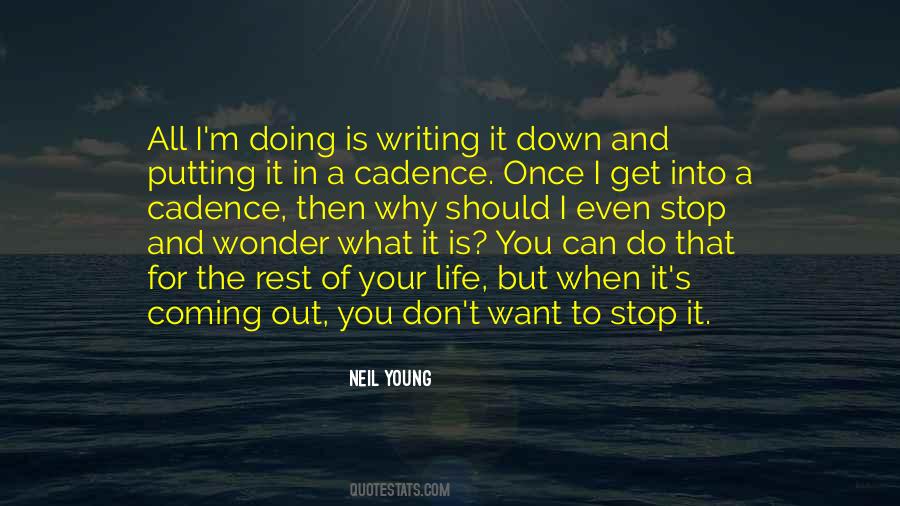 #58. Was it love when somebody filled a space in your life that yawned inside you, once they had gone? - Author: J.K. Rowling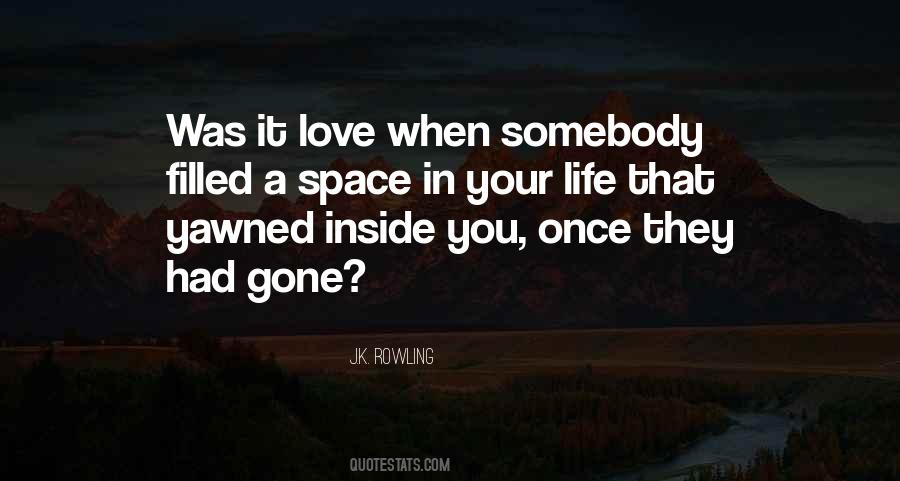 #59. Drop your weapons once and they will dig you in to the grave forever. - Author: Ameya Agrawal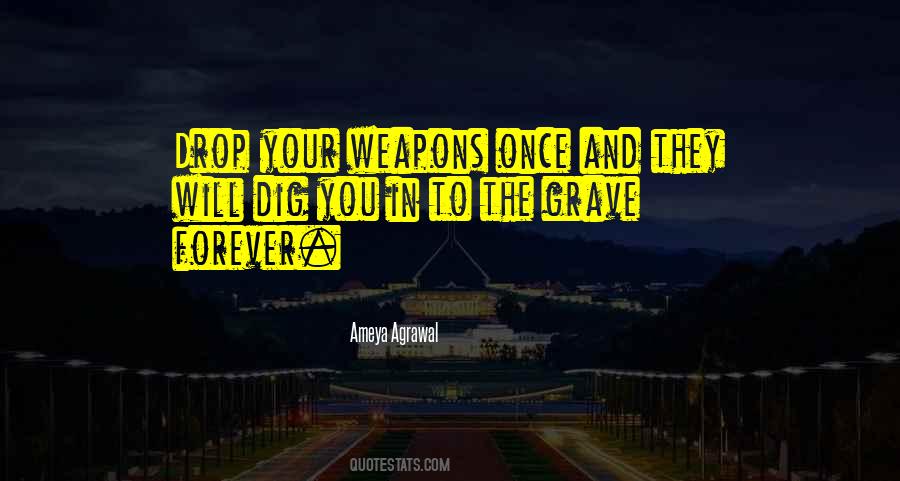 #60. Love never dies. It fizzles out maybe but it stays there in your heart buried by emotions controlling you. Once the fire is rekindled, love resurfaces again, breathes a new life.- Elizabeth's Love Quotes - Author: Elizabeth E. Castillo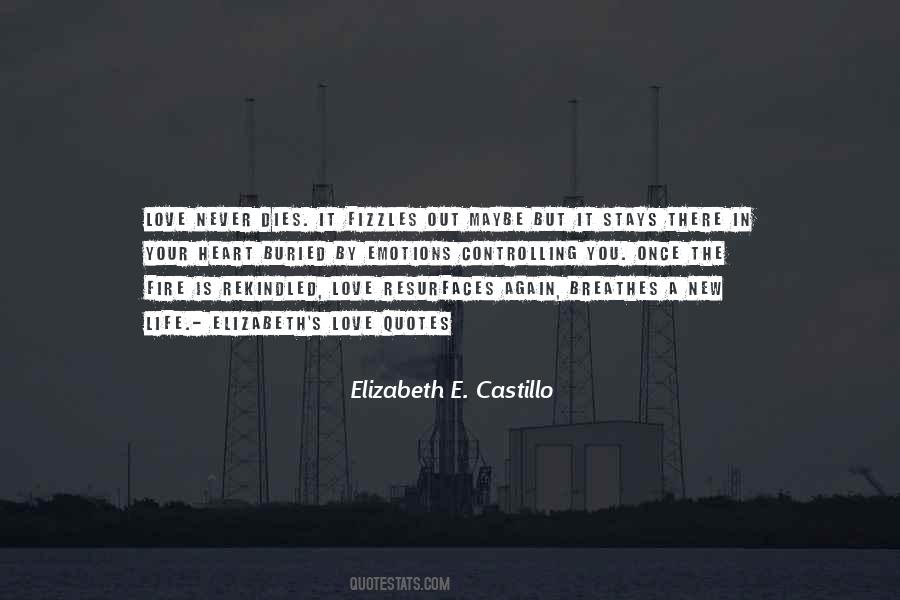 #61. Life is filled with opportunities. Be courageous and fulfill your destiny. You were created for a purpose and once you realize your potential, you become unstoppable. Let no one get in the way of you pursuing your dreams. - Author: Amaka Imani Nkosazana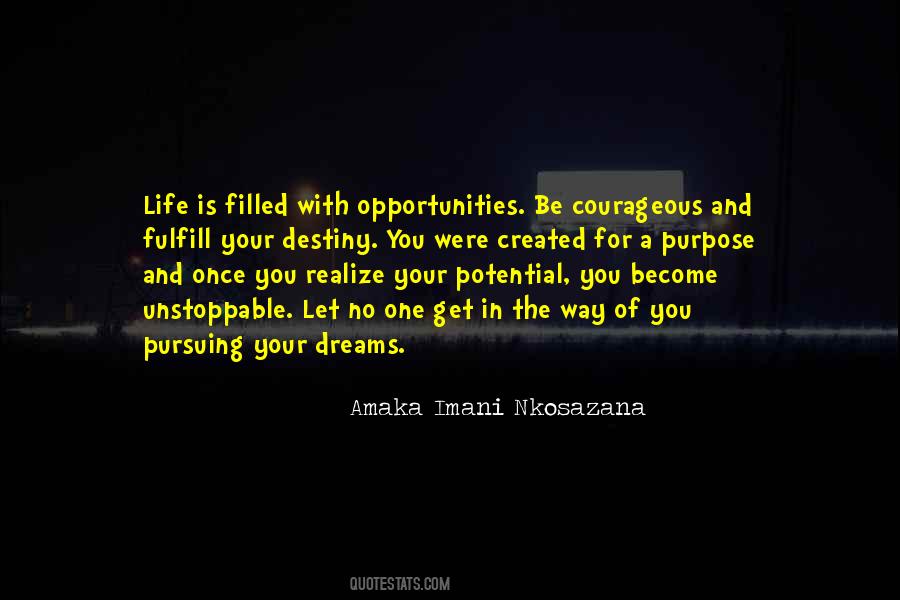 #62. You have to color outside the lines once in a while if you want to make your life a masterpiece. - Author: Albert Einstein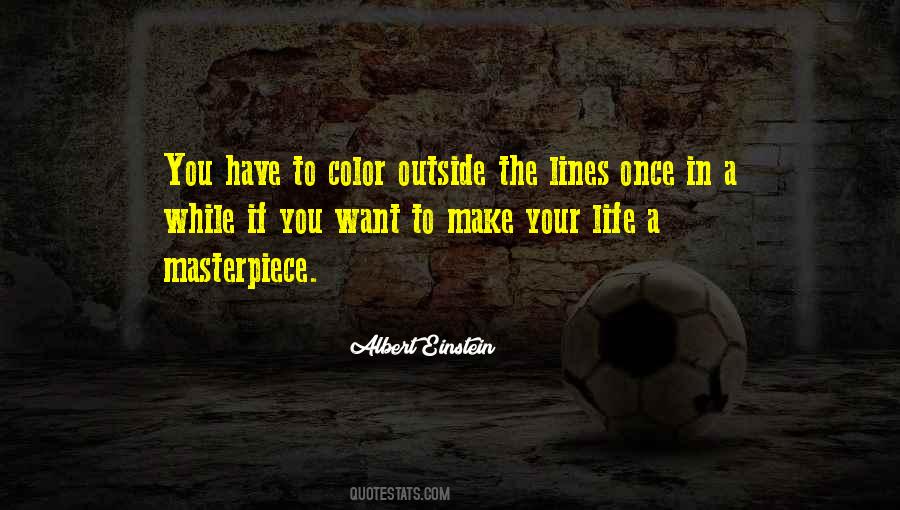 #63. I realized that once people are broken in certain ways they can't ever be fixed, and this is something nobody ever tells you when you are young and it never fails to surprise you as you grow older as you see the people in your life break one by one. - Author: Douglas Coupland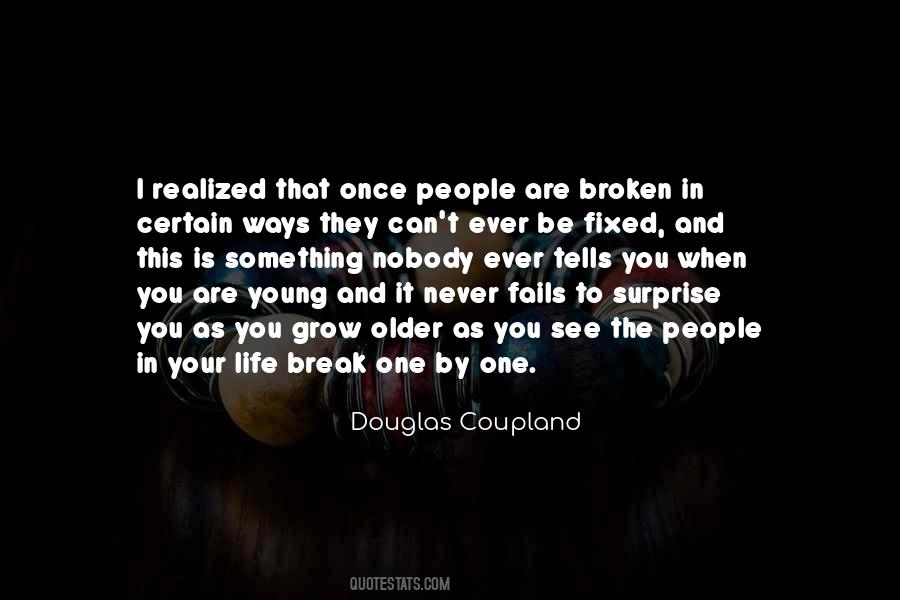 #64. When you are starting out in your 20s, it is natural to think about all that you will have and do once you start making money, and making more money. That gives money way too much power over your life. It's not about how much you make, but the life that you make with the money you have. - Author: Suze Orman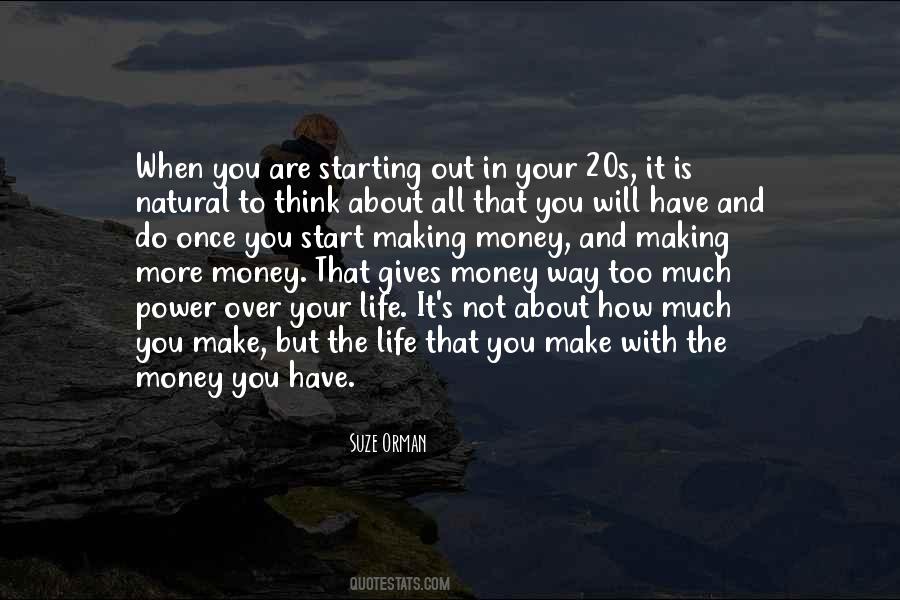 #65. Susannah, I love you, but you are the most frustrating woman in the world. For once in your life, don't argue. Just do it. - Author: Meg Cabot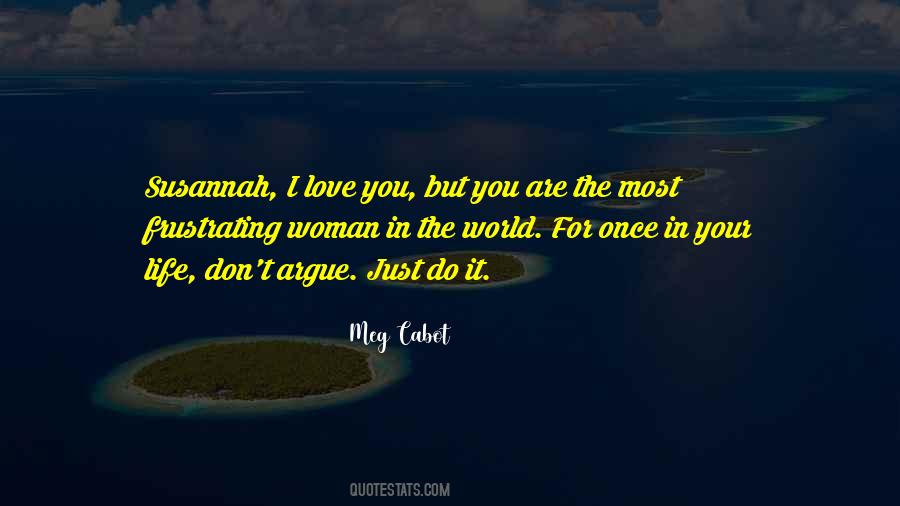 #66. Moments go by in your life, becoming memories, and once the people who were apart of them are gone, so is the magic of the memory. A memory once told with laughter or detail, fades into a story long forgotten, like an ancestor remembered only by name. - Author: Erin Waters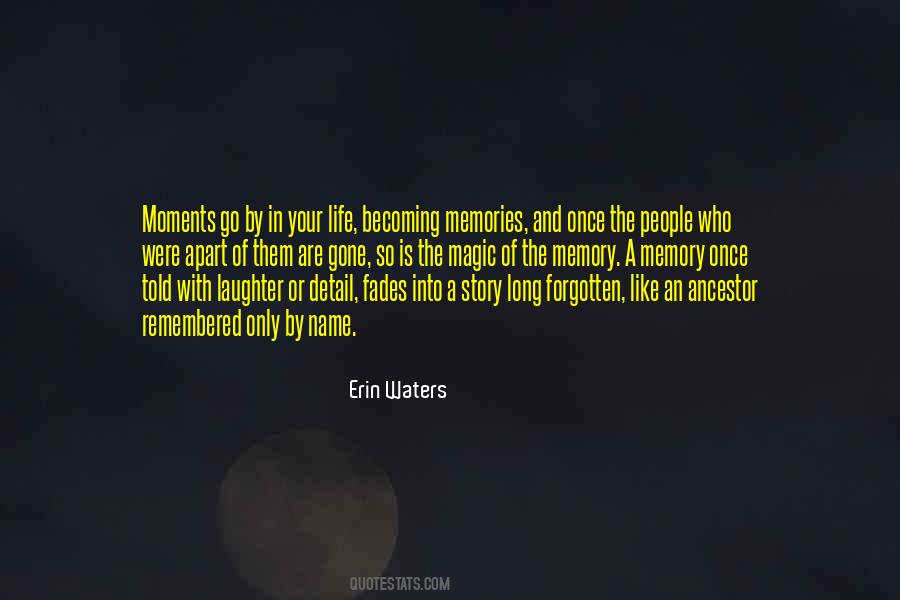 #67. Change your focus. Refocus on the desired results Once you acknowledge how easy it is to attract factors in your life that you do not want and accept how effective and simple the law is, you can start using it to your advantage. - Author: Malti Bhojwani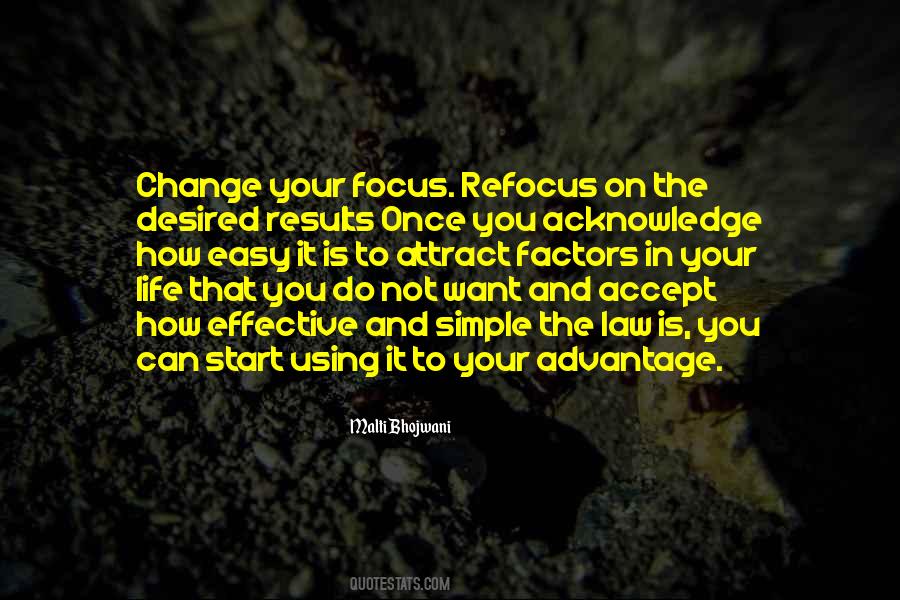 #68. Why do people whose existence you are unaware of, whom you meet once and will never see again, come to play, behind the scenes, an important role in your life? - Author: Patrick Modiano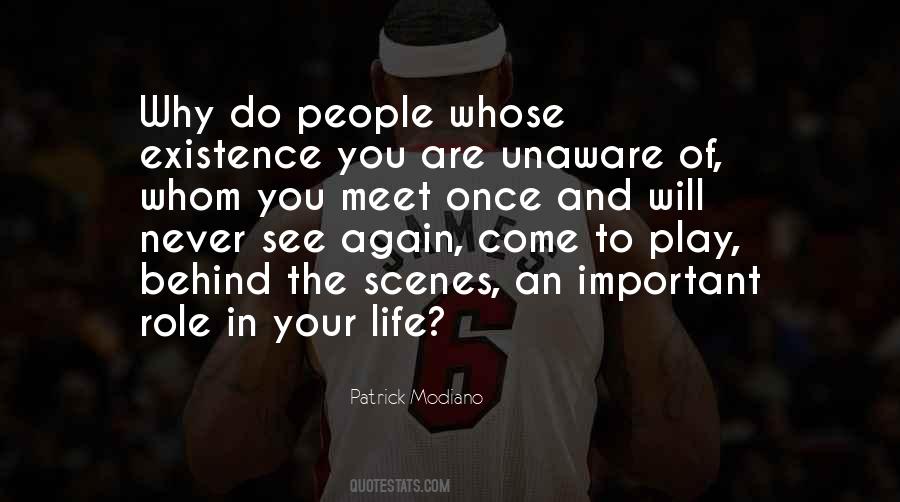 #69. Once you begin to recognise the divine gifts in life, you come to see that there are so many. Your life is abundant. - Author: Mooji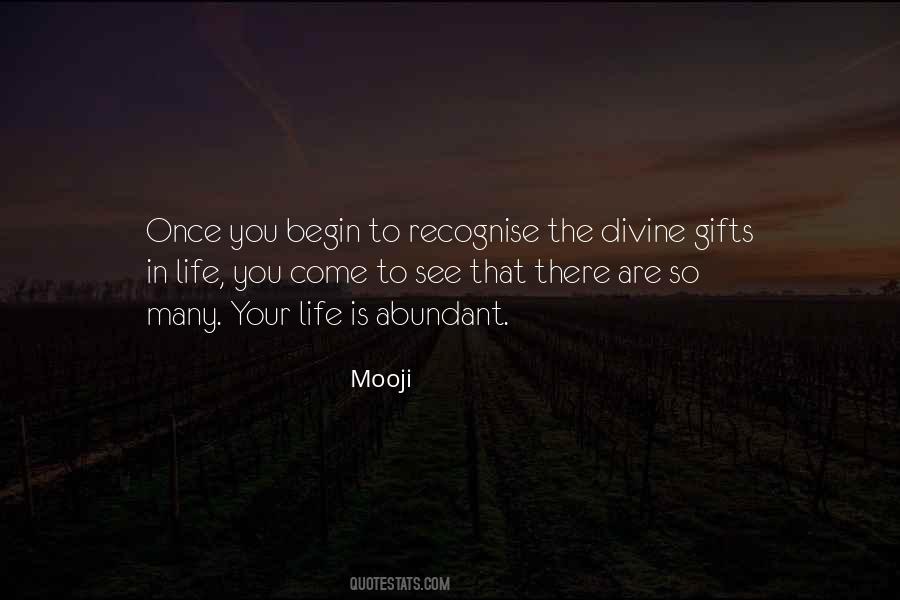 #70. Be willing to step outside your comfort zone once in a while; take the risks in life that seem worth taking. The ride might not be as predictable if you'd just planted your feet and stayed put, but it will be a heck of a lot more interesting. - Author: Edward Whitacre Jr.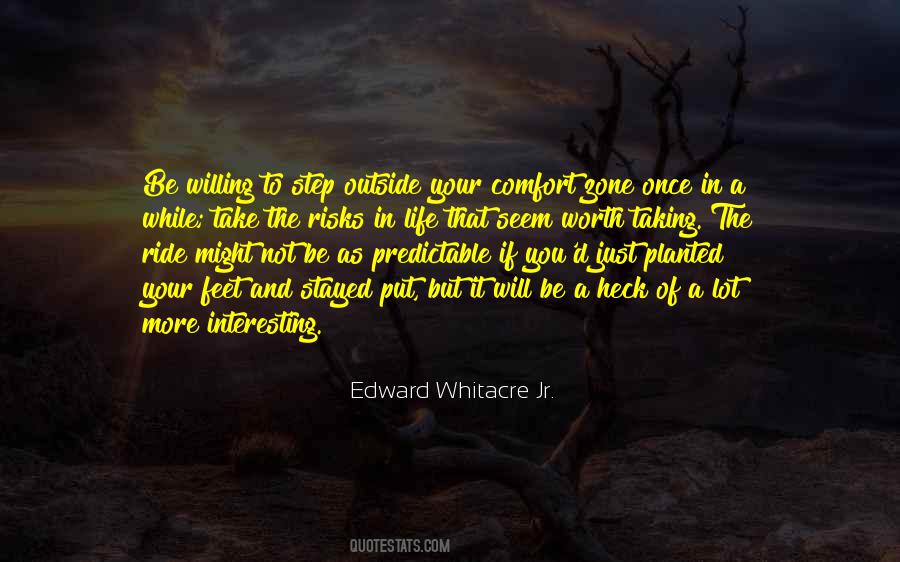 #71. He's violent and unpredictable. He hit you once-hard. Oh, sure he saved your life later but it was in his beat interests. Plus, you have absolutely no common sense where he is concerned, and we won't even mention the dead thing. - Author: Suzanne Johnson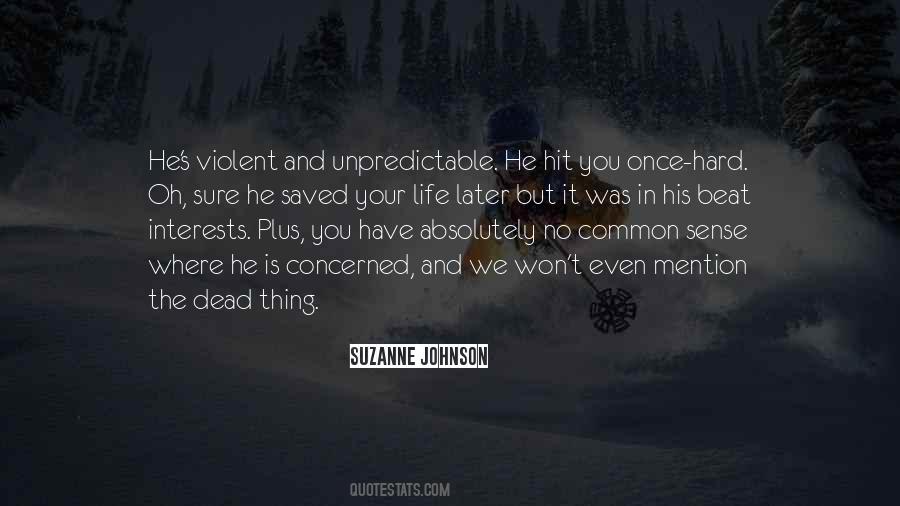 #72. People come and go in life, but they never leave your dreams. Once they're in your subconscious, they are immortal. - Author: Patricia Hampl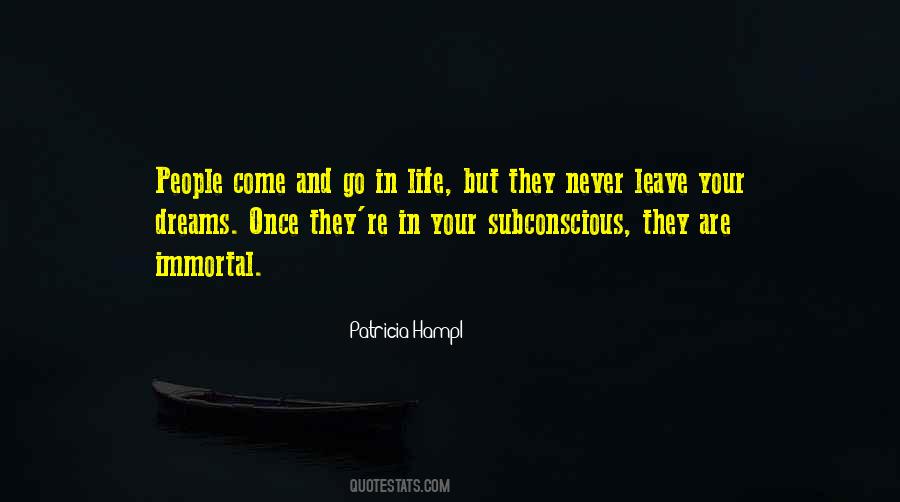 #73. If you would be a real seeker after truth, it is necessary that at least once in your life you doubt, as far as possible, all things. - Author: Rene Descartes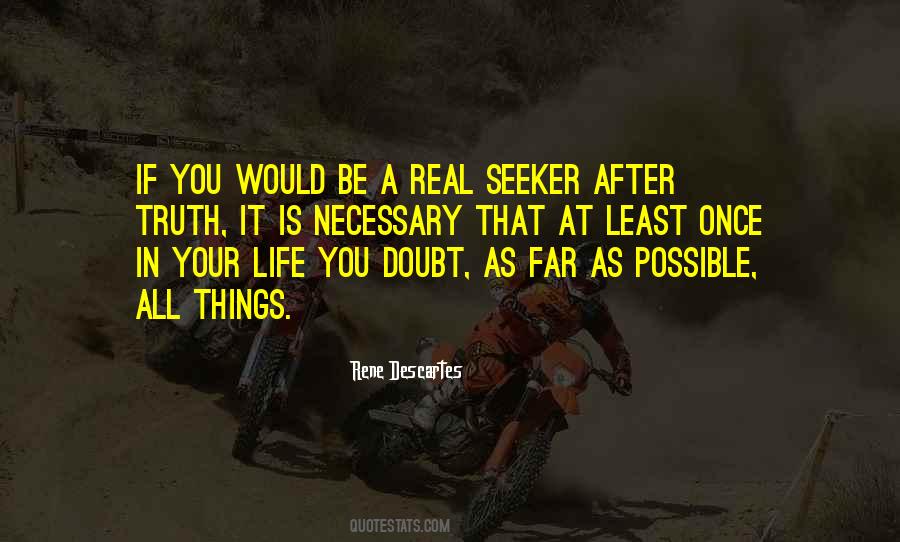 #74. Fondle the woman in your life once for every thousand times you play with your private parts. That should be just about right. - Author: Barbara Graham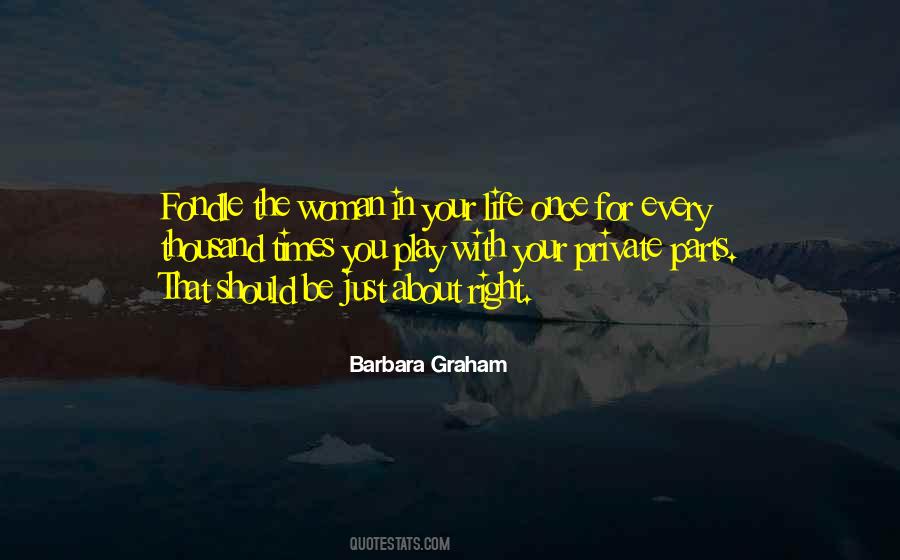 #75. You cannot find replacements for everything. Few things happens only once in your life time. So value everything that you got. - Author: Giridhar Alwar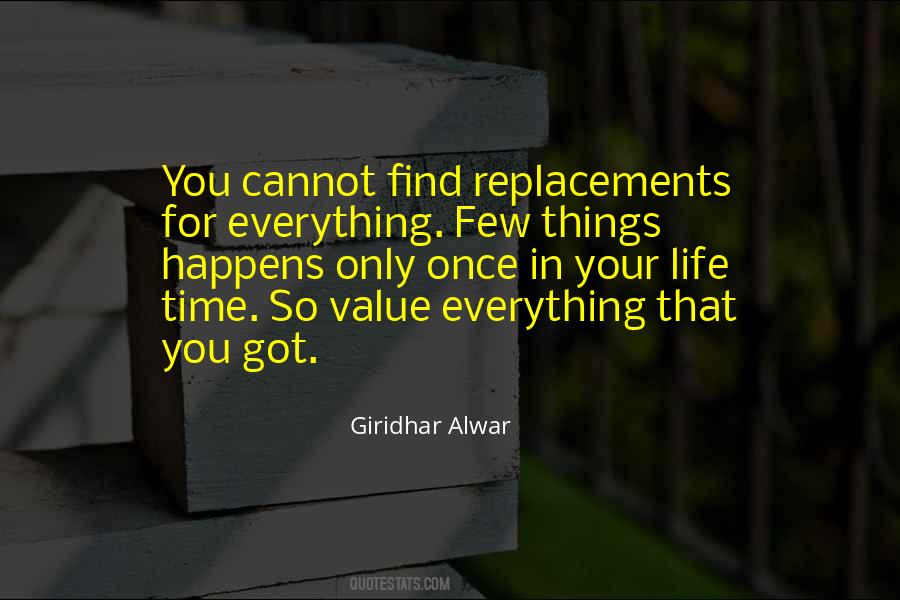 #76. It feels strange to be ignored in general, but when someone who was once an integral part of your life fades away, what are you left with? Sadness? Disallusionment? Hope? Surreal ... - Author: Jose N. Harris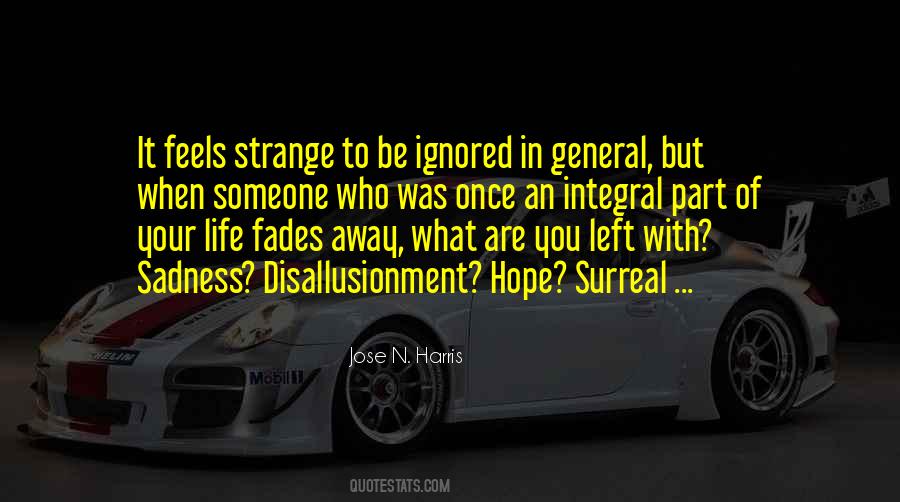 #77. Now and then in life, love catches you unawares, illuminating the dark corners of your mind, and filling them with radiance. Once in awhile you are faced with a beauty and a joy that takes your soul, all unprepared, by assault. - Author: Jennifer Worth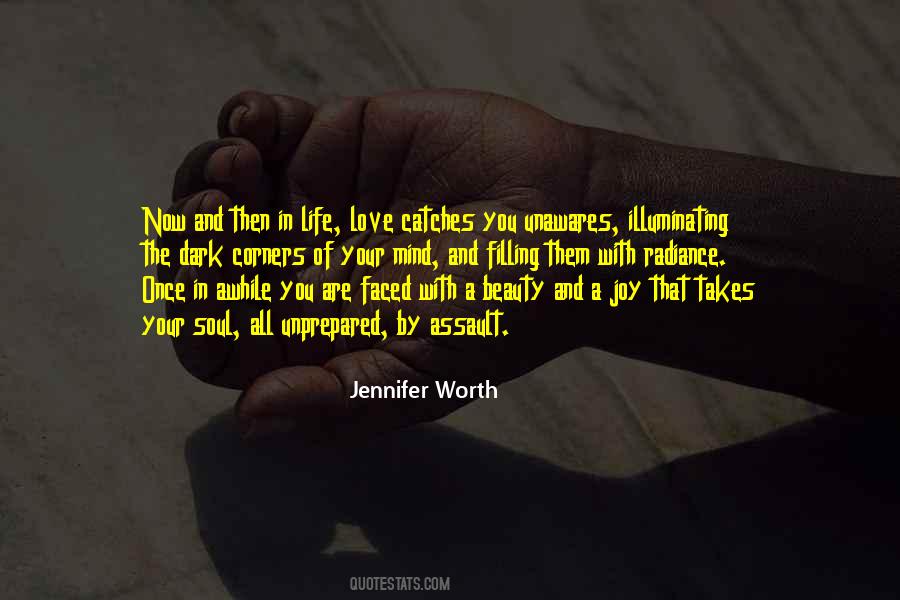 #78. I had no inkling of how crazy the political life would turn out to be. You shuttle between your constituency and Ottawa, you try to make every barbecue, festival, parade and charity run, but sometimes you feel pulled in 14 directions at once. - Author: Michael Ignatieff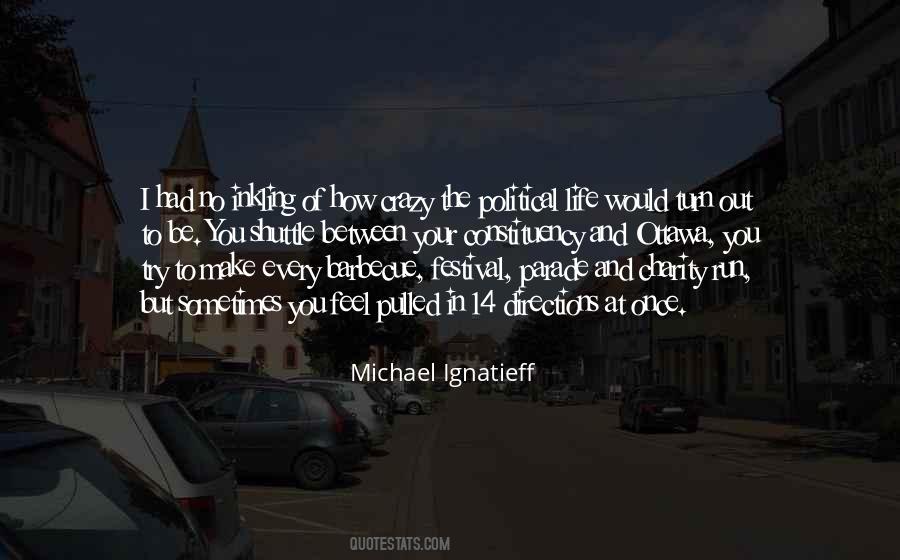 #79. I believe that everyone should have a dream and believe in it. Make it real, bring it to life. You'll never regret trying. Trying is what strengthens your heart and delivers courage. Once you believe in yourself, nothing can stop you. - Author: Richard P. Denney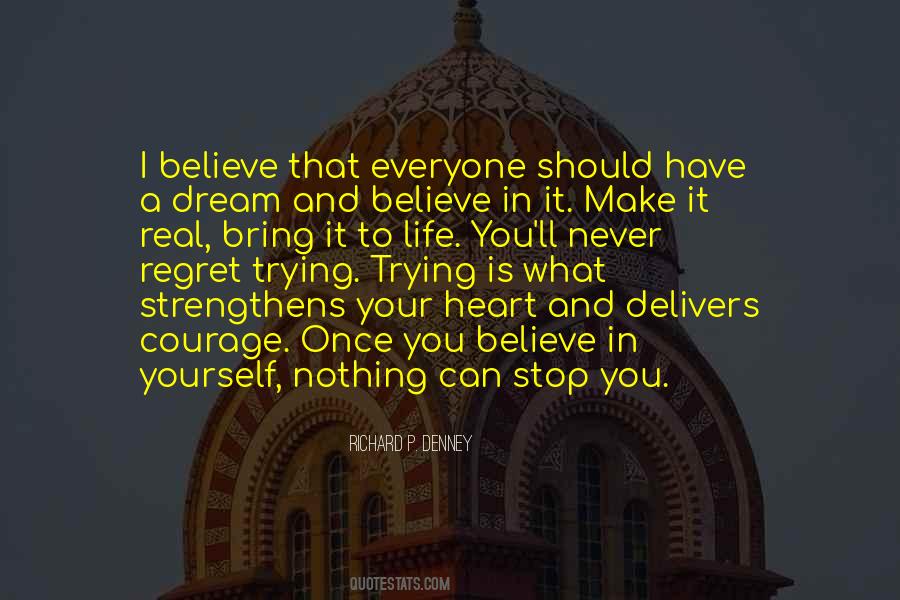 #80. Stop a minute and listen. I know I'm asking the impossible from you, but for once in your life, shut your mouth and open your ears."
"I'm not the one talking."
Kyrian snarled at him. "Don't get smart with me."
"You want me stupid?"
"Nick ... - Author: Sherrilyn Kenyon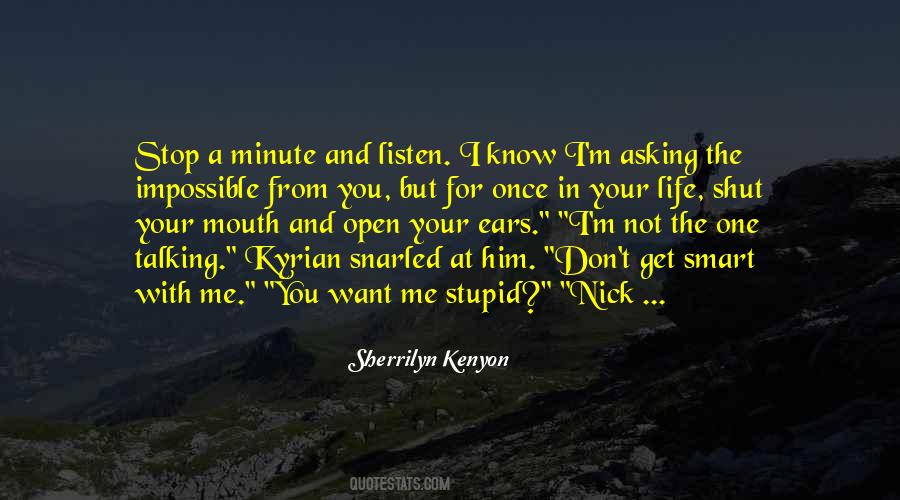 #81. Destiny to some people is a preconceived notion as a design of blind faith, while in fact destiny is a constitution of endowed efforts in an attempt to steer toward a desired outcome. Create your destiny and reach for your dreams, you only live once. - Author: Husam Wafaei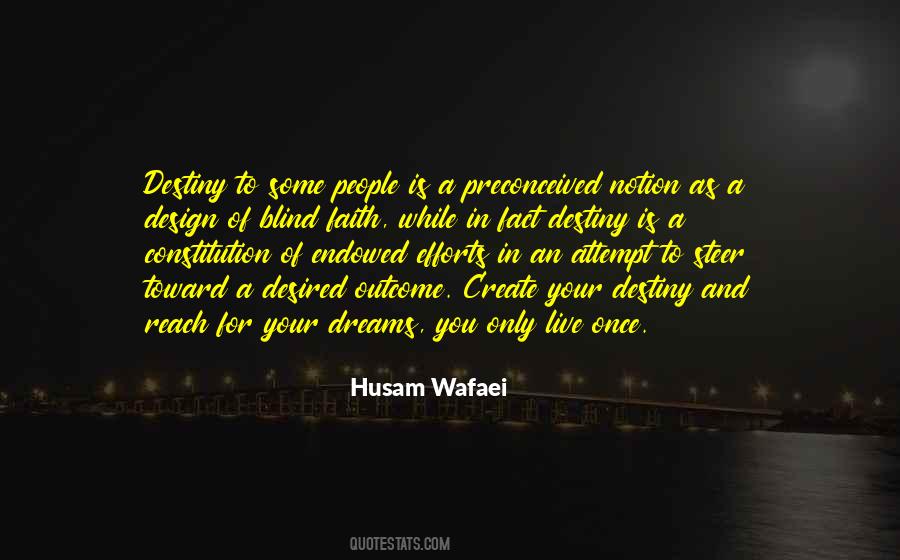 #82. You thinkin bout the time I shot you and you rose from the dead? It only happens once in your life." He turned to Carol again and she said:
"Were you actually aiming at his hat?"
"I hit it didn't I? - Author: Elmore Leonard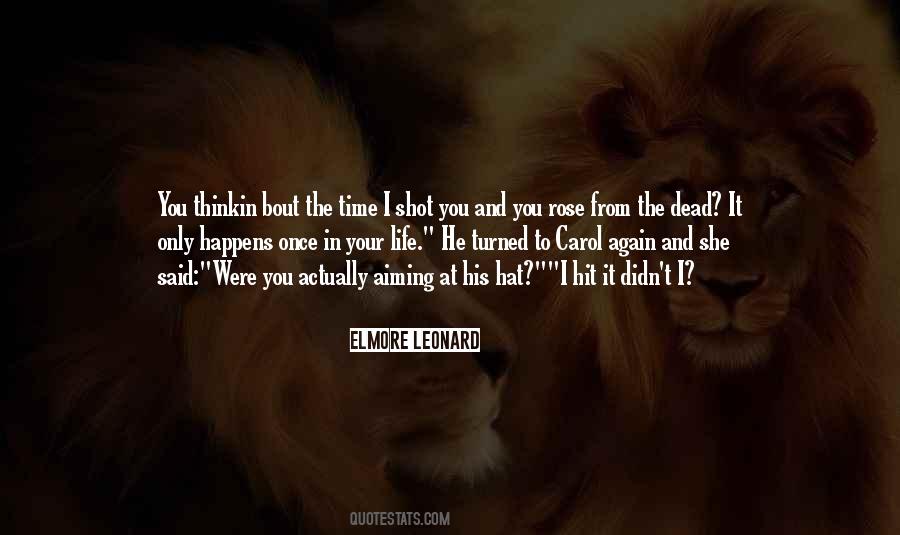 #83. We only live once. We all have an expiration date after that we will never come again. I am not saying that to make you sad. I am saying that so you can cherish each moment in your life and be grateful that you are here and you are Special - Author: Pablo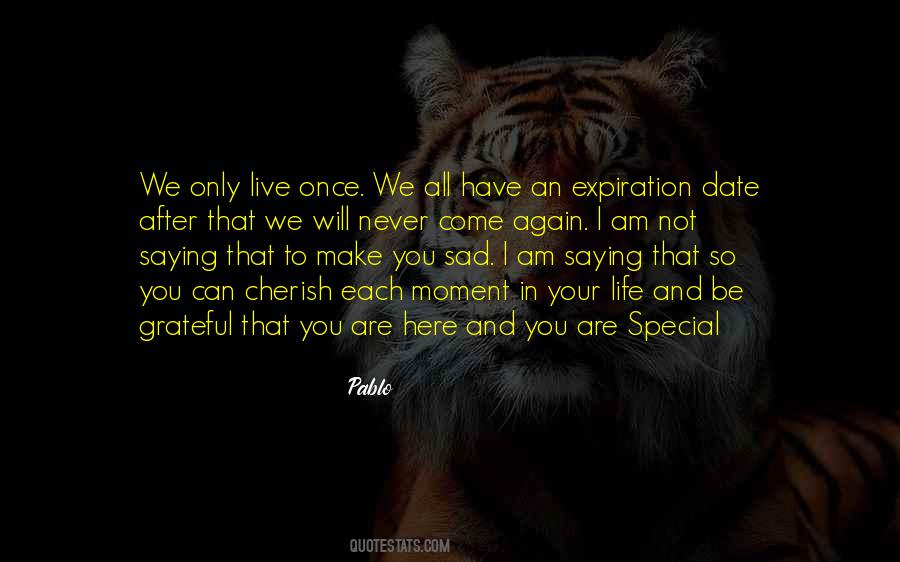 #84. Once people decide they want you to do something, they don't really care what your qualifications are. However you describe yourself becomes proof that you're the ideal candidate. This is true in journalism, and in life. - Author: Chuck Klosterman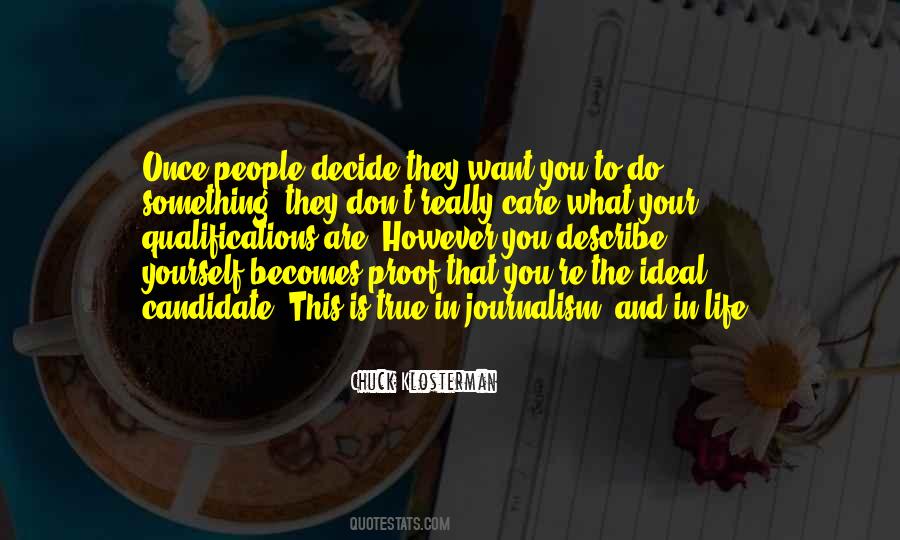 #85. room. Find the attractive people - this shouldn't take long; they'll be the ones getting everything they want in life. Once you've found them, stare hungrily at them all evening, and interpret every alarmed flicker of eye contact from them as a new stage in your relationship. - Author: Isaac Oliver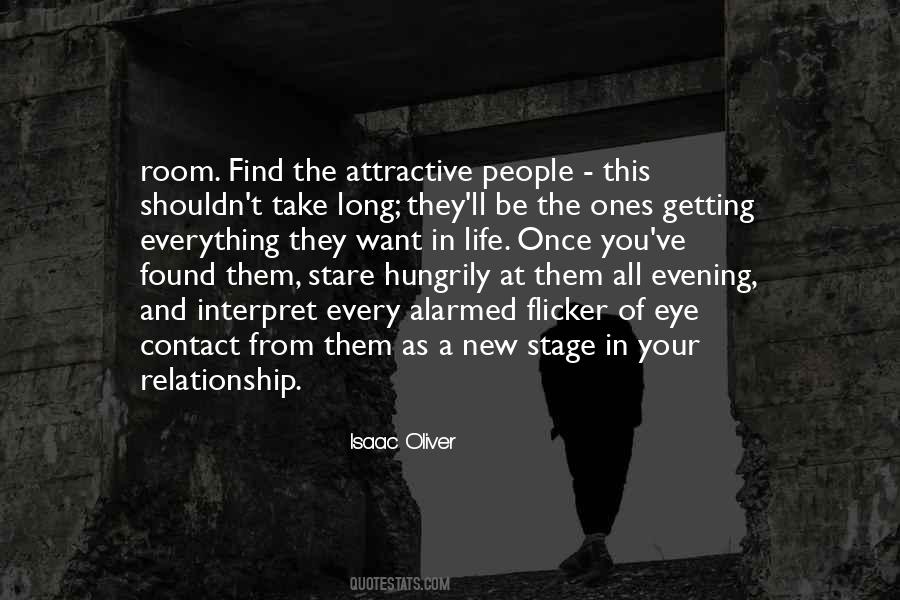 #86. I don't want to talk about my trials and tribulations. Once you reveal even part of what your real problems might be in life, they come back in a deformed way. - Author: W.G. Sebald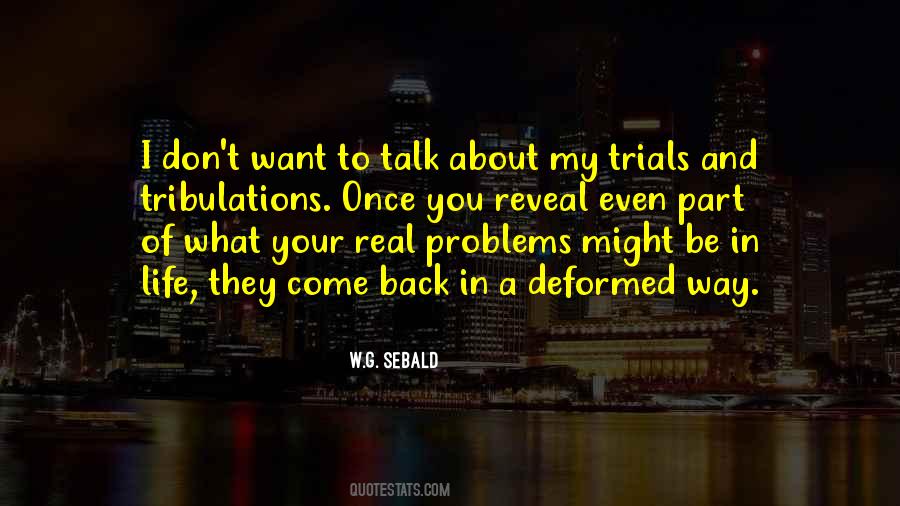 #87. To be a great actor, you really don't need to go to acting school or learn dance classes or work on your body. You have to be intelligent. You have to draw on a lot of emotions that you go through in life that you can tap into once you work on a set. - Author: Ranbir Kapoor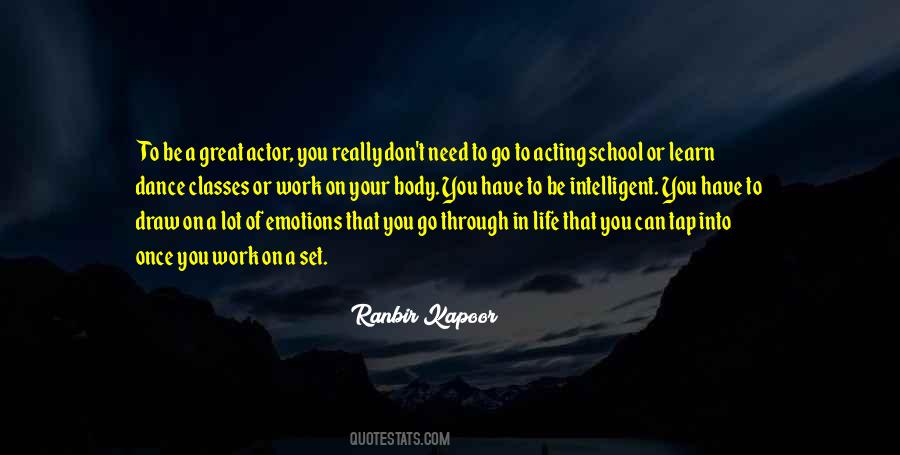 #88. Most people live life on the path we set for them. Too afraid to explore any other. But once in a while people like you come along and knock down all the obstacles we put in your way. People who realize free will is a gift, you'll never know how to use until you fight for it. - Author: The Adjustment Bureau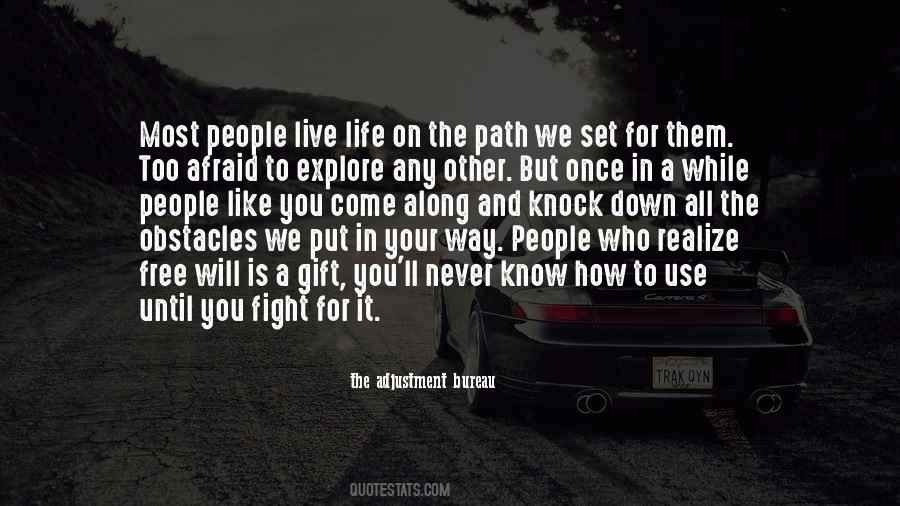 #89. In life at least once a person comes, changes you for rest of your whole life, just like a potter who takes clay, gives a proper shape and put into fire. After that, it's not possible to come in natural form ... LOVE IS JUST LIKE THAT. - Author: Anuj Tiwari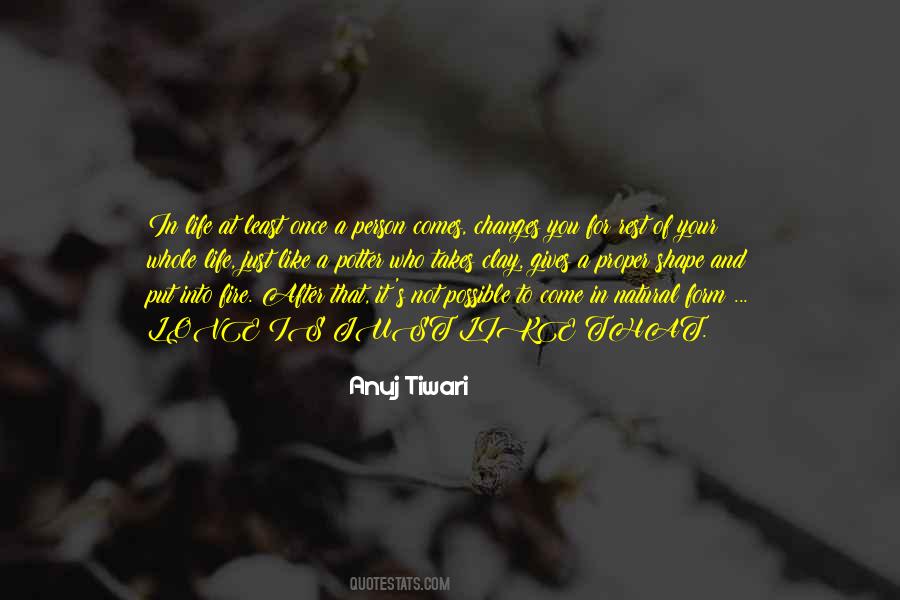 #90. She can put her life in Mitch's strong hands and fall at once into a dreamless sleep. In a sense, that is what marriage is about-a good marriage-a total trusting with your heart, your mind, your life. - Author: Dean Koontz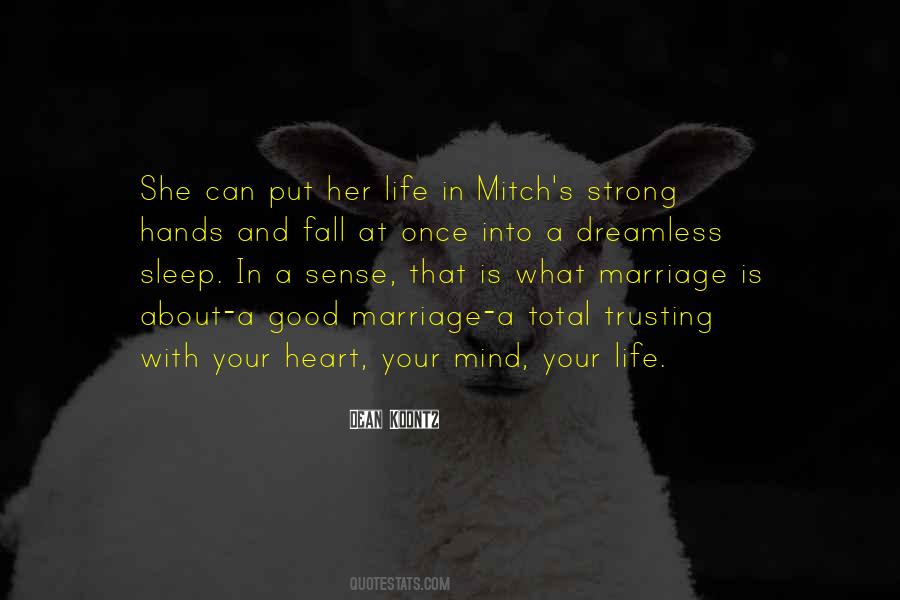 #91. Your real life is in the here and now. Once you figure out what kinds of experiences cause you to feel certain ways, you can change either the experiences, or when that's not possible, change your responses to them. - Author: G. Alan Marlatt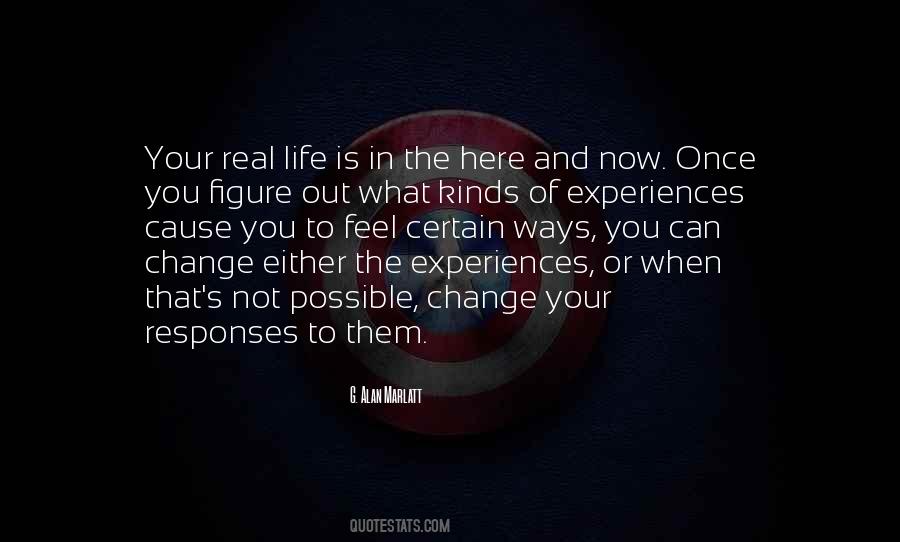 #92. Once you're in the game and it's a part of your life, you never want to leave it. But you have to be committed to be able to travel and do the things you need to do to be successful in whatever role you're doing. - Author: Joe Sakic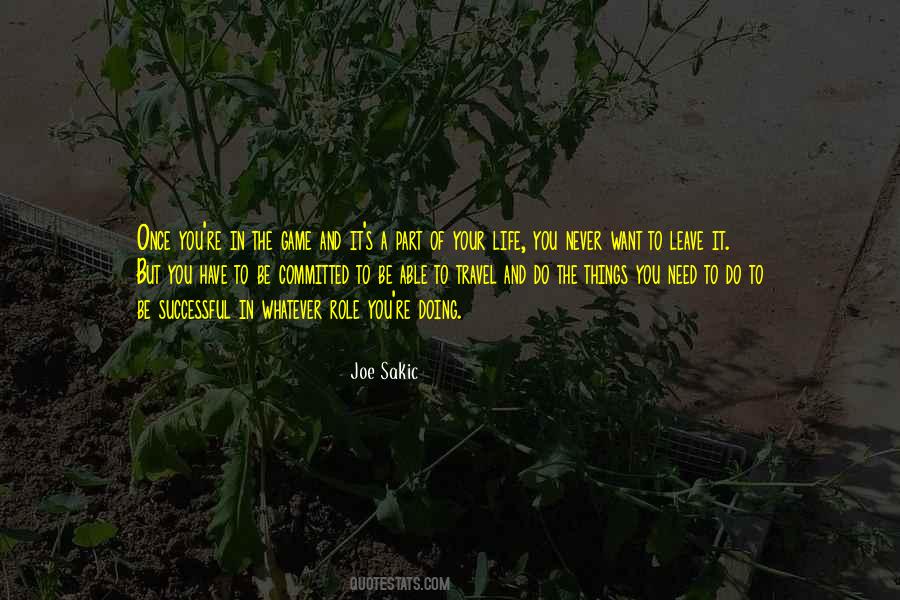 #93. Giving someone gifts cannot equate to spending quality time with them. Never replace time with things. Time is precious and once lost cannot be regained. Make every moment count...you never know when your time will be up. - Author: Kemi Sogunle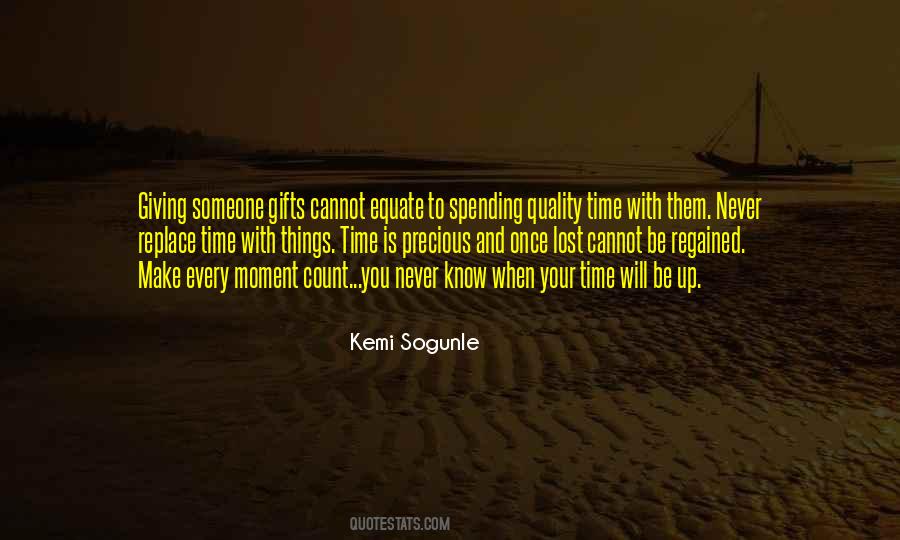 #94. You can do so much in 10 minutes time. Ten minutes, once gone, are gone for good. Divide your life into 10-minute units and sacrifice as few of them as possible in meaningless activity. - Author: Ingvar Kamprad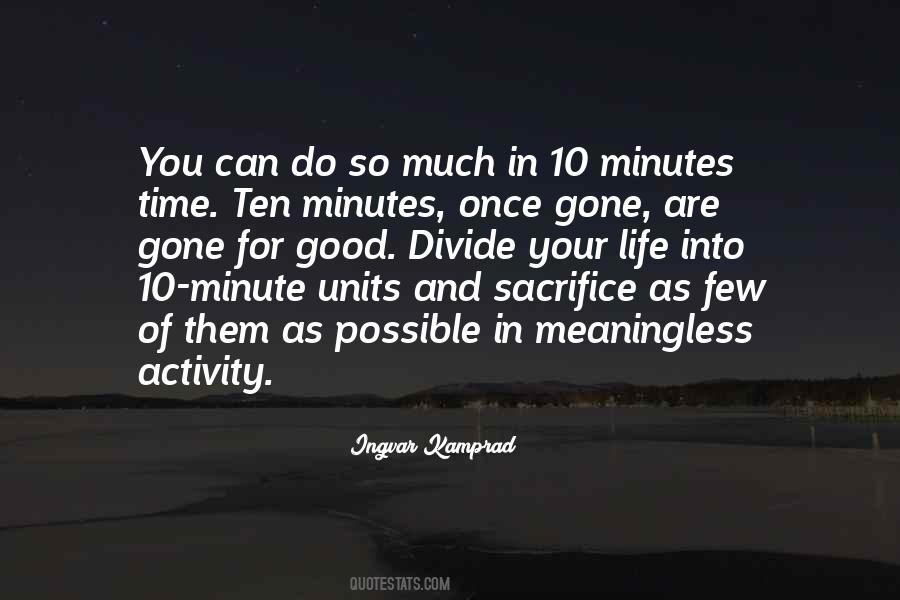 #95. But, once in a while, people enter your life that you love - not for what they give you - but for what they are. The beauty you see in them is a reflection of the Creator, so you love them. Now suddenly it isn't about what you're getting, but rather what you can give. This is unselfish love. - Author: Yasmin Mogahed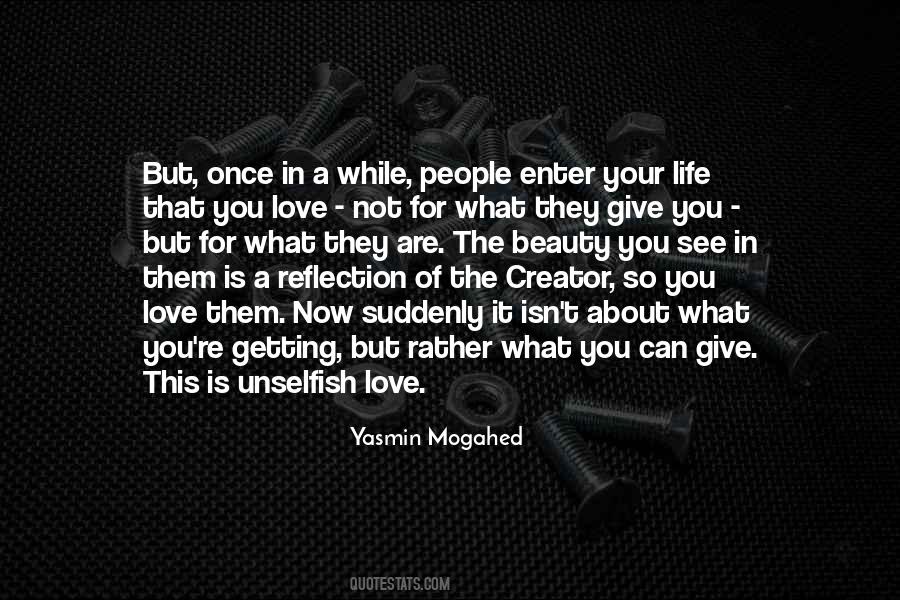 #96. Love is to be cherished because you're lucky to feel it even once in your life. - Author: Damien Lemon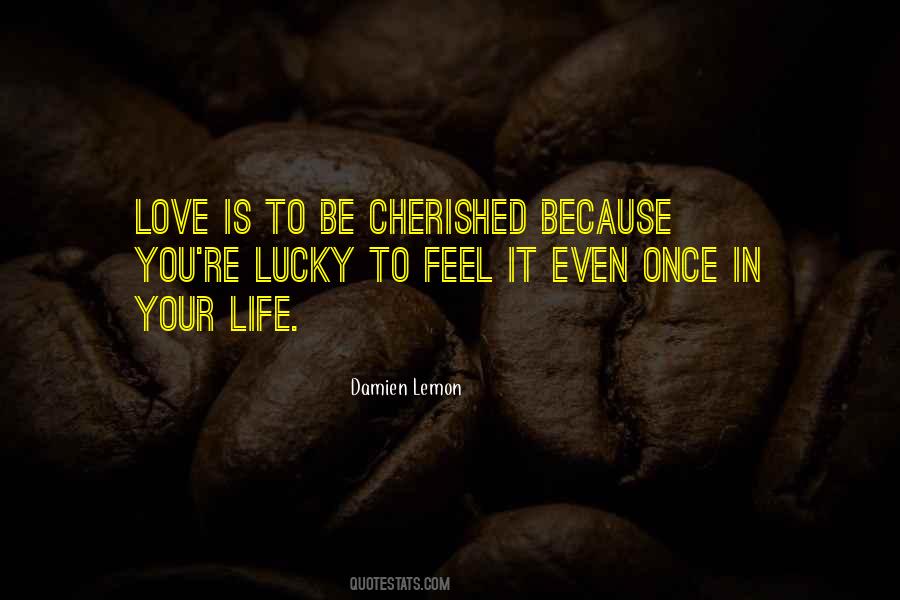 #97. Don't try to leave insignificant things from your life,even don't think about it
only try to find great things in your life and always think about it, when you will get great things once then insignificant things will fall automatically from your life. - Author: Arya Vidhan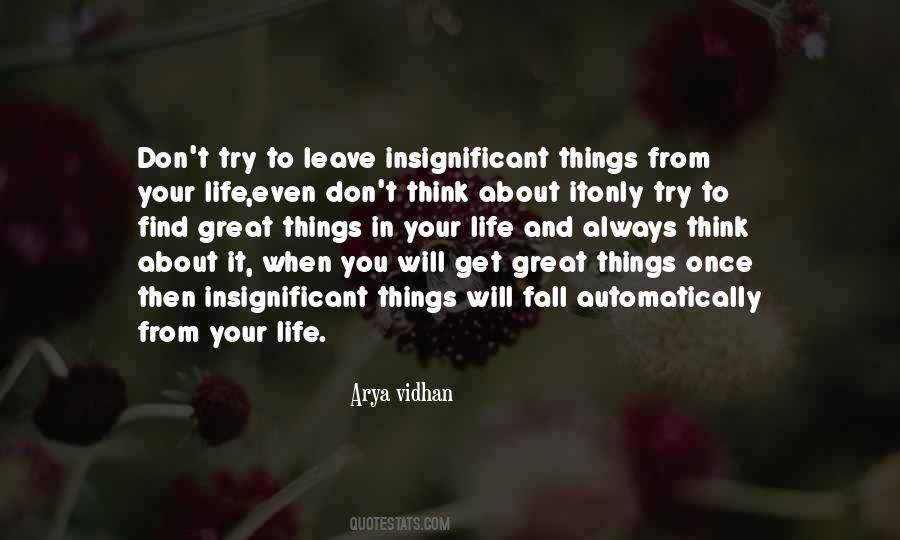 #98. You need to learn to live with your mistakes. And you need to be in a position to say No once in a while. It's important in life, and it's important for any career that you want to pursue. - Author: Russell Crowe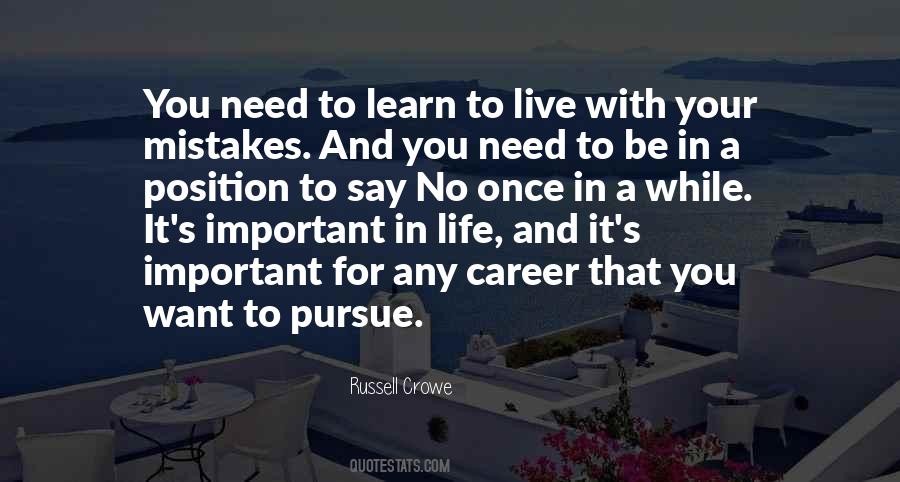 #99. Do you hold any feelings for me in your heart? Is there a single ember of love that I might, honorably, fan to life once more? - Author: Elise Kova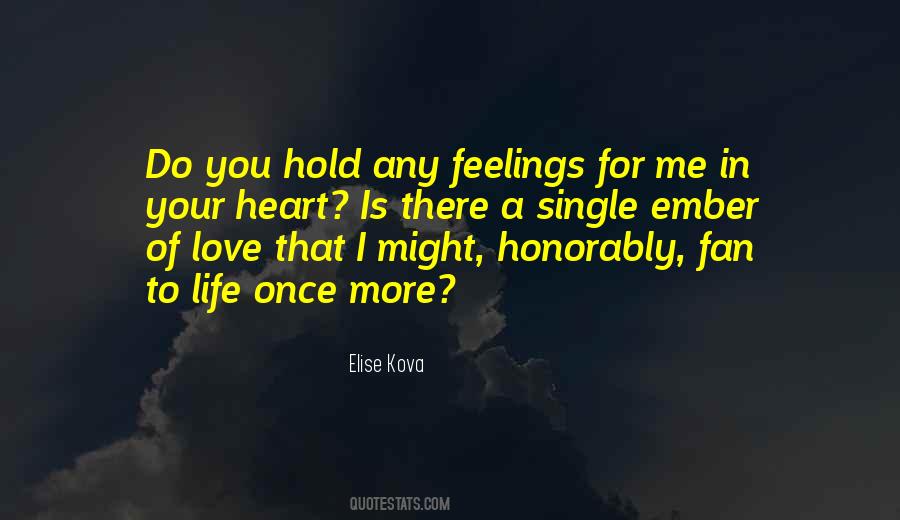 #100. I thought I understood the story very well, because I've lived with it for so long. But movies change and take on a life of their own once they start to be made, and you have to keep your eye on the real ball, not the ball that's in your head. - Author: Andrew McCarthy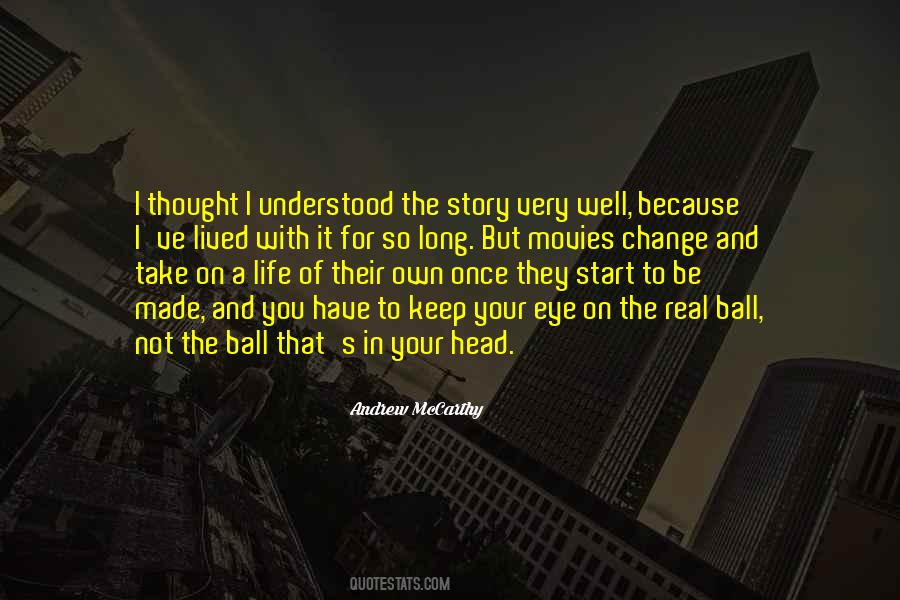 Famous Authors
Popular Topics