Need The Strength Famous Quotes & Sayings
List of top 100 famous quotes and sayings about need the strength to read and share with friends on your Facebook, Twitter, blogs.
Top 100 Need The Strength Quotes
#1. One must need spirit toacquire spirit; one loses it when one no
longer needs it. Whoever has strength dispenses with the spirit. - Author: Friedrich Nietzsche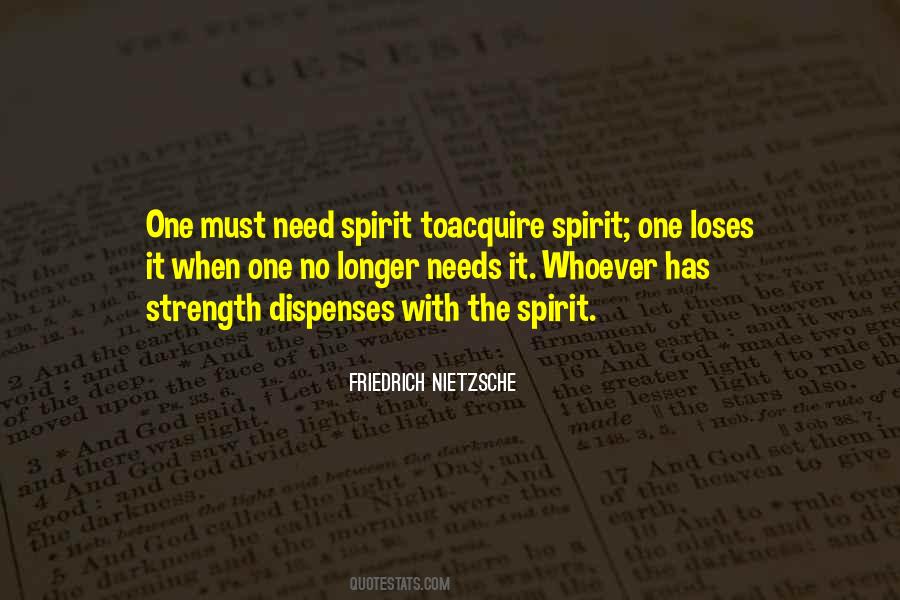 #2. I do not need the strength of your arm to make a knight of you, Gavin. All I need is your heart, and that you have given,' the Prince said. - Author: Chuck Black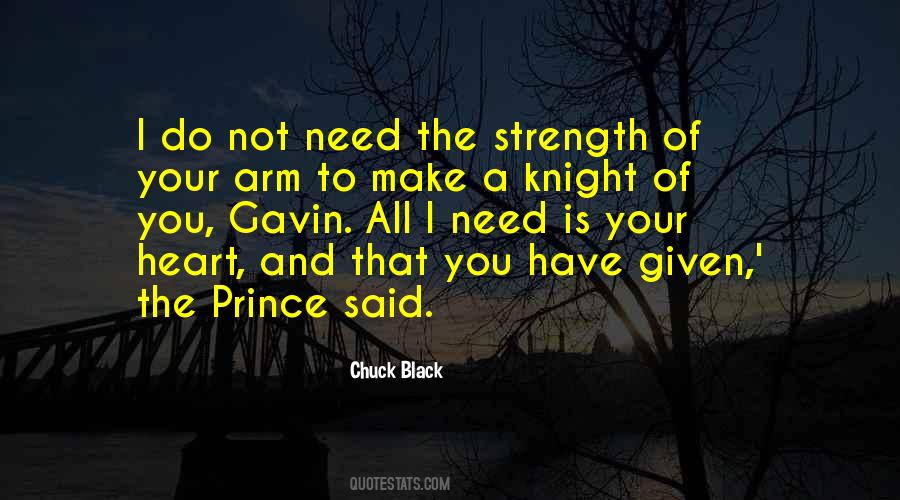 #3. You'll never truly know what alone is, until you're on the brink of death with no one to rely on. But after finding the strength to save yourself, you realize that the person you'll ever need is yourself. - Author: Gabriel Common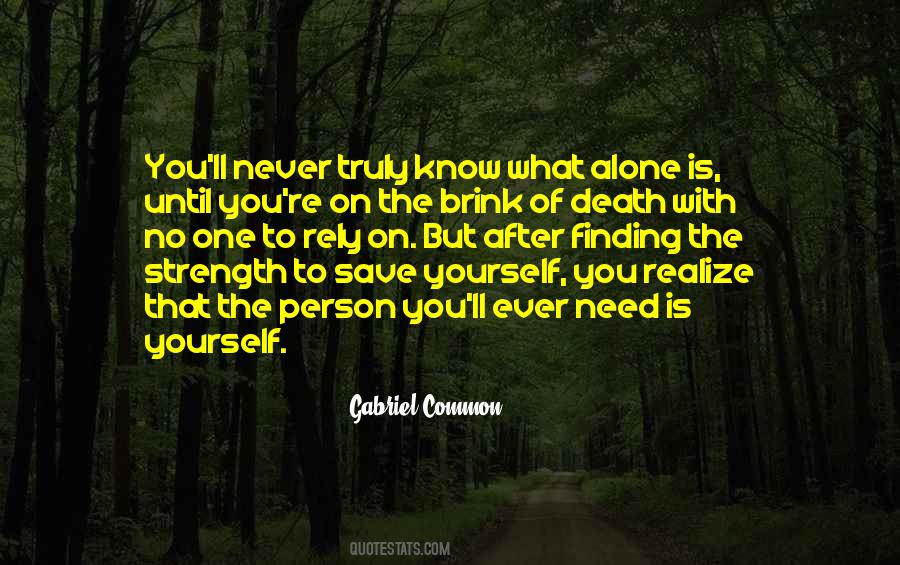 #4. Silence nurtures the soul, relaxes the body temple and gives us the strength we need in moments of uncertainty. Welcome it. - Author: Ana Ortega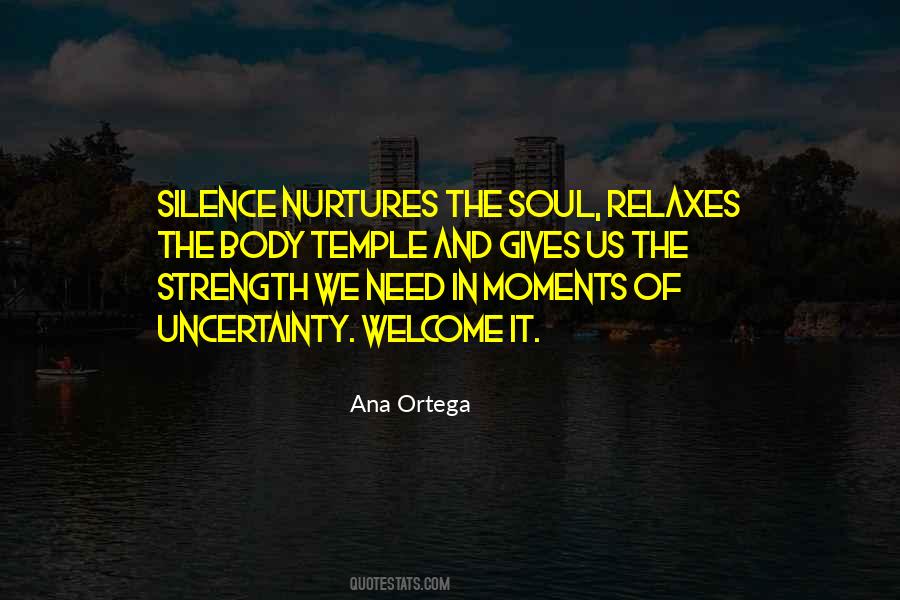 #5. Circumstances are seldom right. You never have the capacities, the strength, the wisdom, the virtue you ought to have. You must always do with less than you need in a situation vastly different from what you would have chosen. - Author: Charlton Ogburn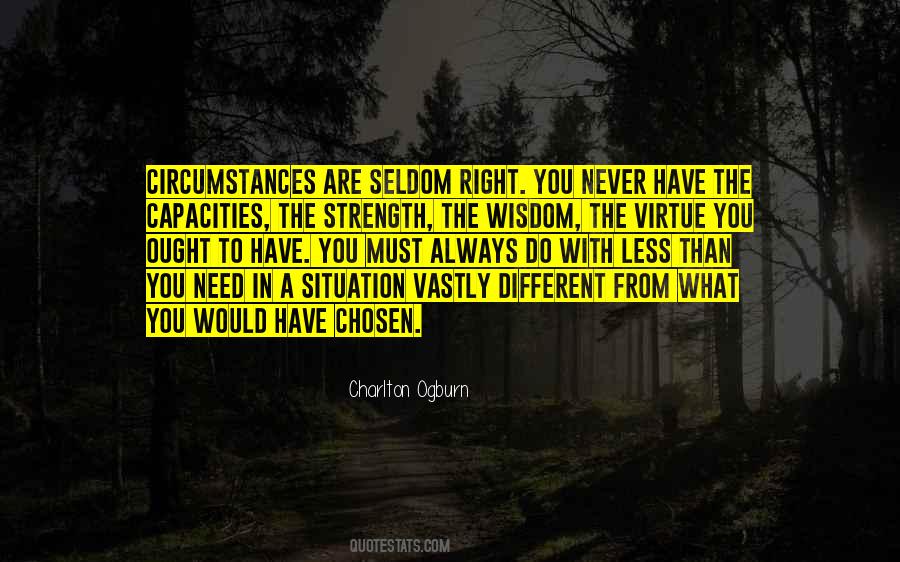 #6. Growing older is like climbing a mountain: the higher you get, the more strength you need, but the further you see. - Author: Ingmar Bergman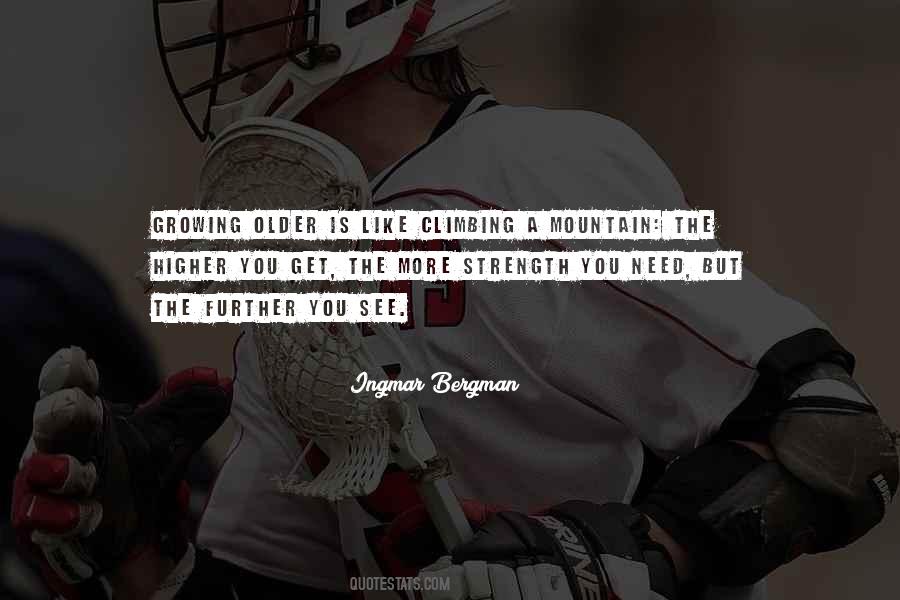 #7. We need to be aware of the suffering, but retain our clarity, calmness and strength so we can help transform the situation. - Author: Nhat Hanh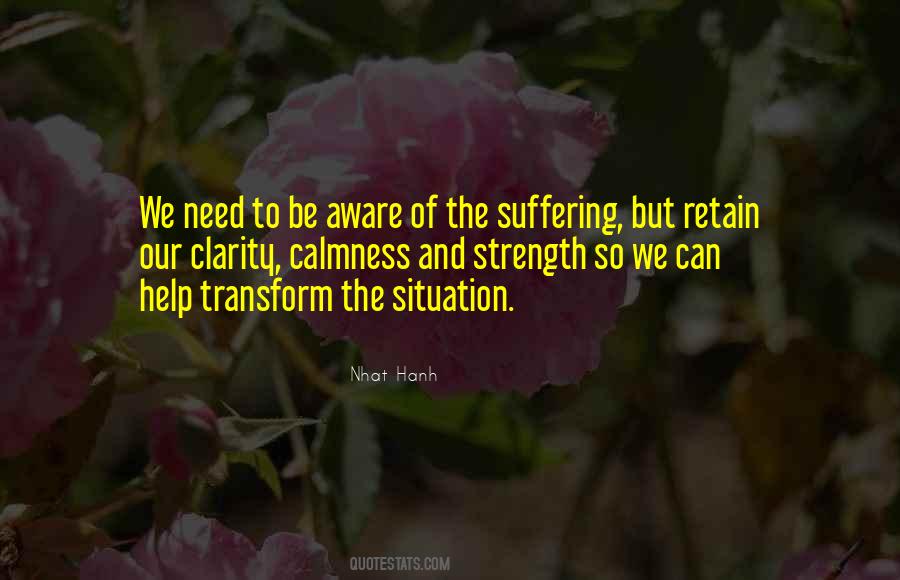 #8. Beneath this warm flesh beats the heart of a compassionate man, one who's fought his whole life to fulfill his people's dream. Just because you feel the need to lean on someone, to accept someone else's strength for a little while doesn't make you weak. - Author: Kylie Griffin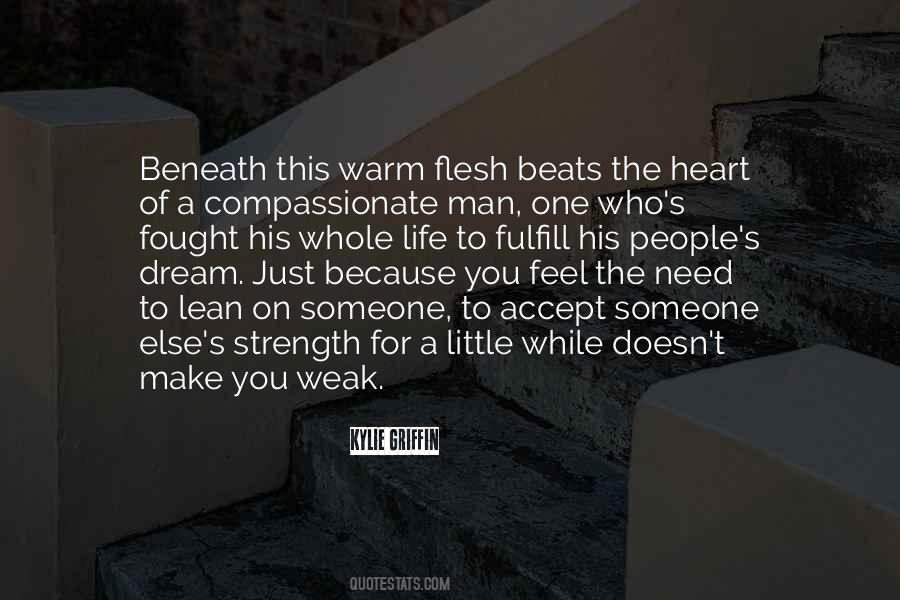 #9. When we have fallen and need to get back up again, we are able to do it in His strength walking in His Spirit. Cling to the Spirit of Christ Jesus - He will never fail. - Author: Monica Johnson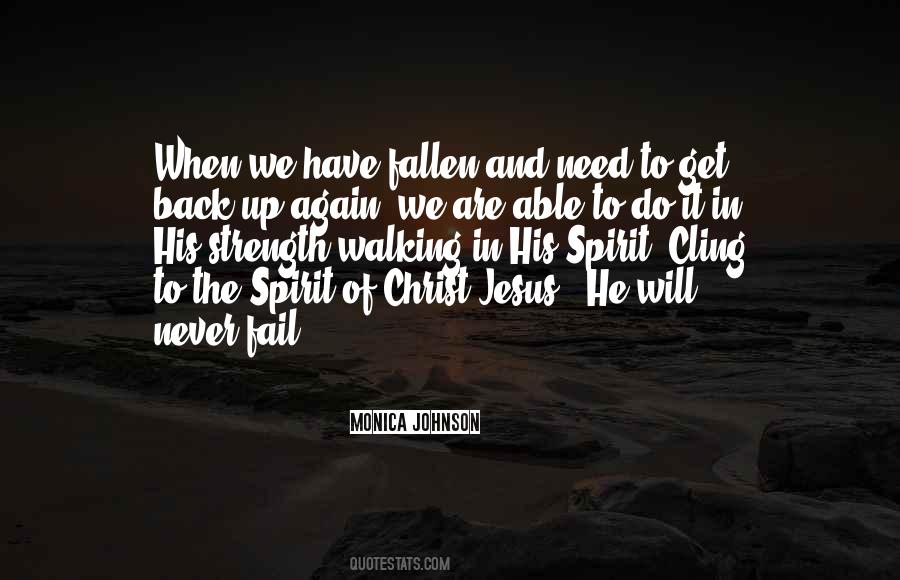 #10. True strength isn't in killing - or ignoring - your opponent, it's in having the will to shield those who need your protection. - Author: Ilona Andrews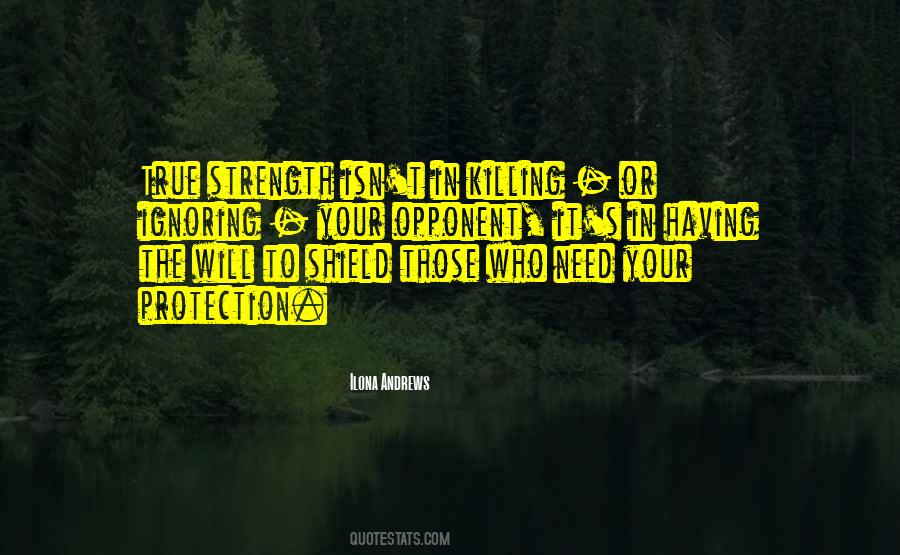 #11. I have need of angels. Enough hell has swallowed me for too many years. But finally understand this
I have burned up one hundred thousand human lives already, from the strength of my pain. - Author: Antonin Artaud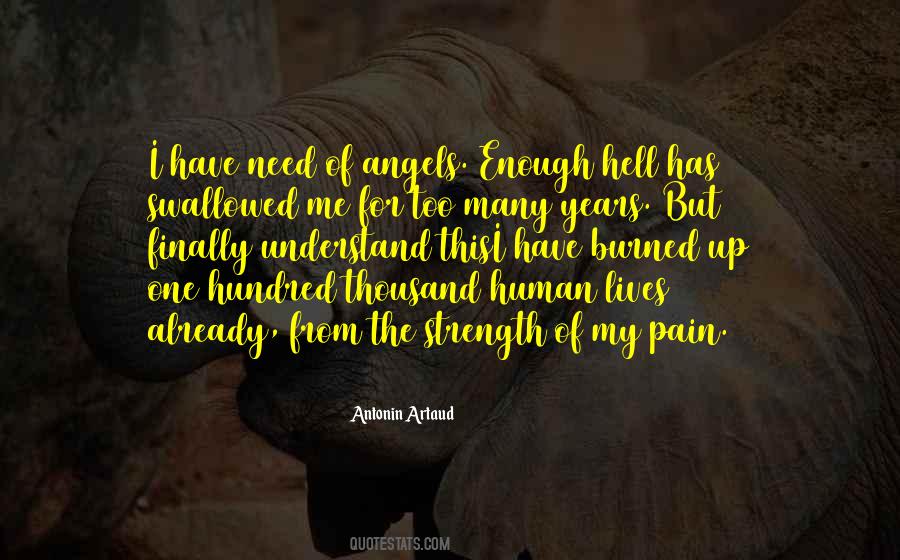 #12. Authors have to write for their characters, for who they are, that's the strength of books. Don't worry about censors. Just write the story you need to tell and the rewards will come. - Author: Ellen Hopkins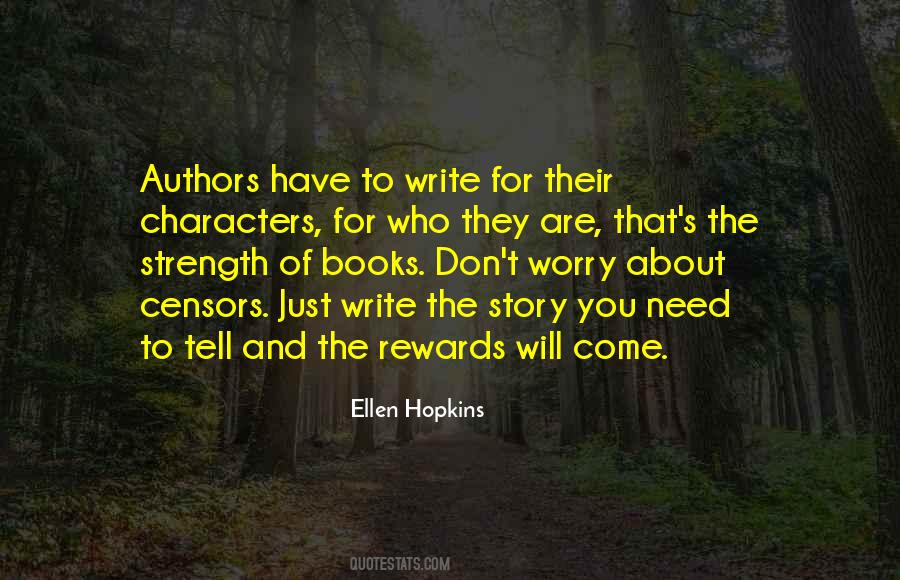 #13. If you will but aspire
You will attain to all that you desire.
Before an atom of such need the Sun
Seems dim and mirky by comparison.
It is life's strength, the wings by which we fly
Beyond the further reaches of the sky. - Author: Farid Al-Din Attar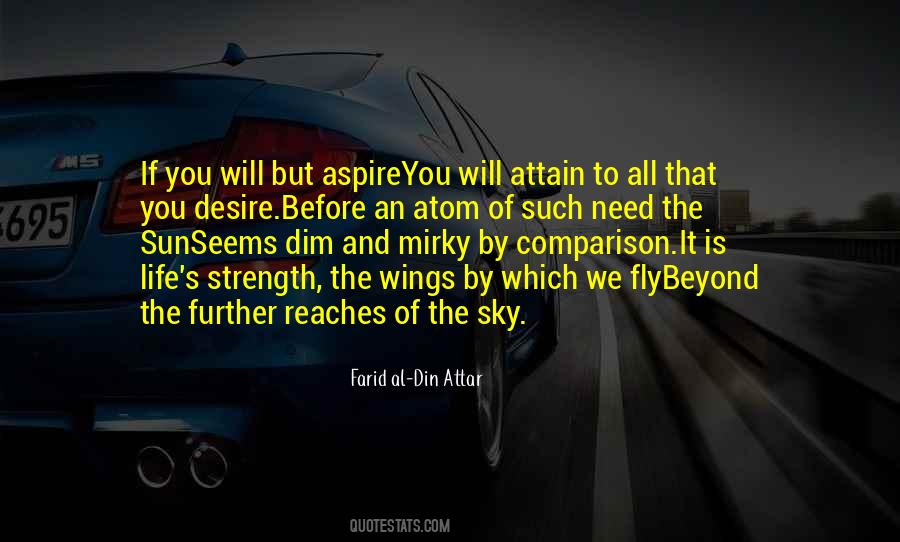 #14. Prayer isn't just a noun, it's a verb too. It's an action. As long as you exercise your prayer muscles, you'll have the strength you need to do the deed. - Author: April Erwin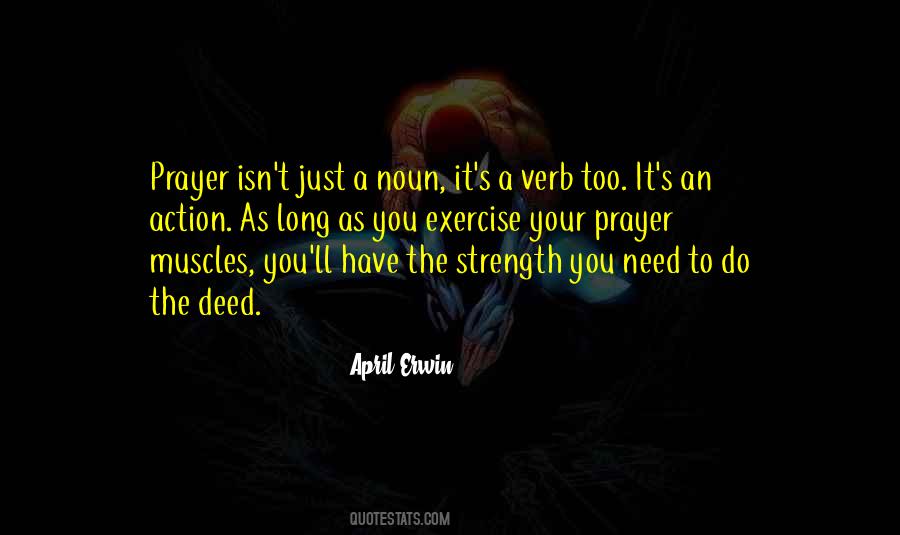 #15. But you need to make sure that the last thing you remember about today isn't that you fell down, it's that you got back up again. That's what we do when bad things happen to us. - Author: Michael Rowe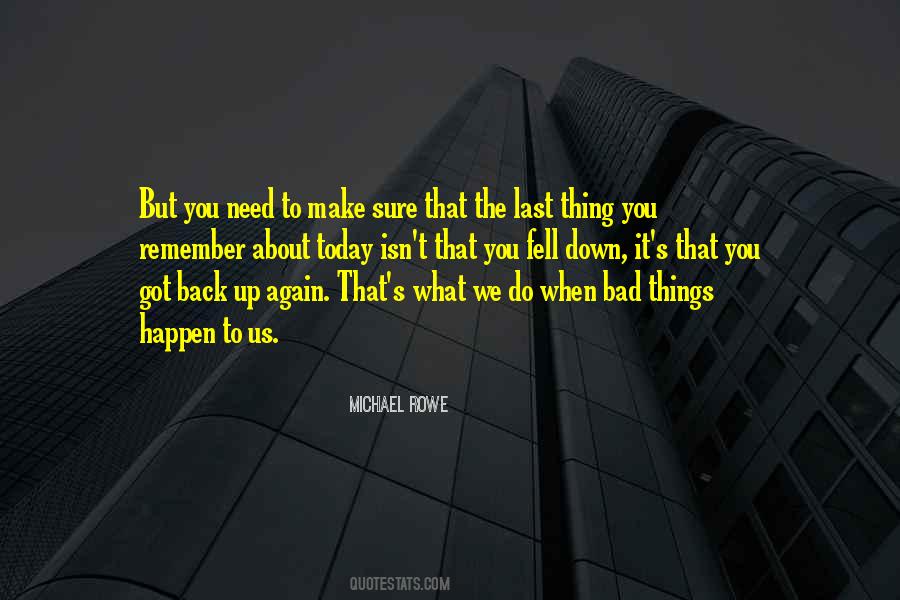 #16. I know that you are a mere flea! I know that you need only be squashed to be done away with! I know that I have fought this same battle a thousand thousand times before ... but, perhaps this time I can crush you like the insect you are! - Author: Marv Wolfman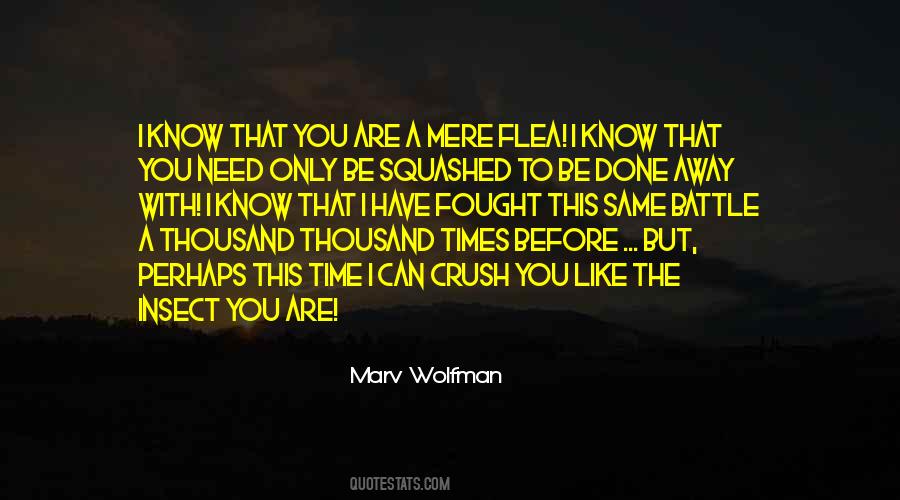 #17. Organized religion is a sham and a crutch for weak-minded people who need strength in numbers. It tells people to go out and stick their noses in other people's business. I live by the golden rule: Treat others as you'd want them to treat you. The religious right wants to tell people how to live. - Author: Jesse Ventura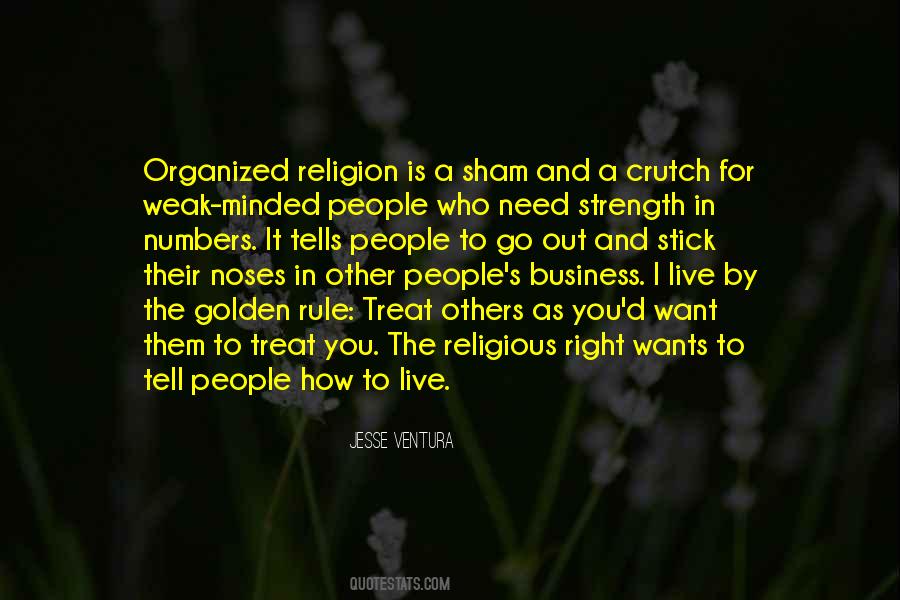 #18. We need to be angels for each other, to give each other strength and consolation. Because only when we fully realize that the cup of life is not only a cup of sorrow but also a cup of joy will we be able to drink it. - Author: Henri J.M. Nouwen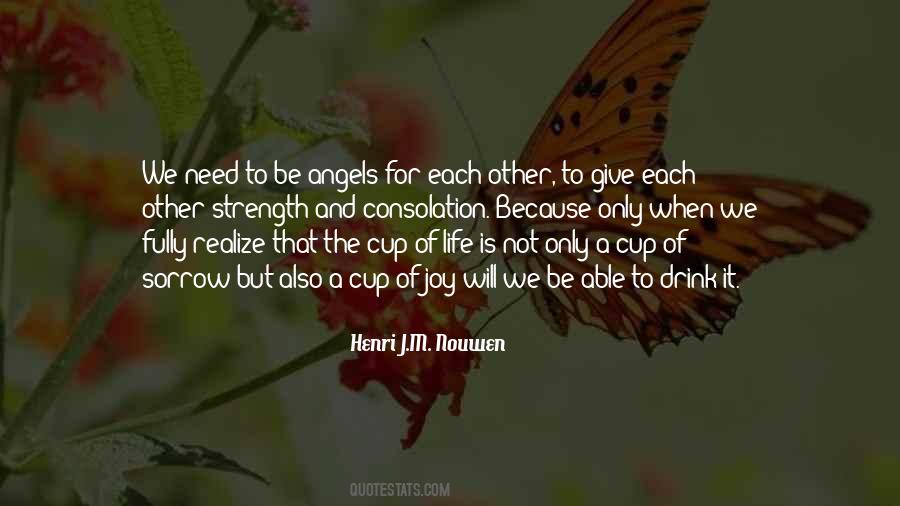 #19. Our only reliable source of strength is the goodness of our hearts. Our only foundation for coming to terms with the suffering of the times is our innate need to be decent human beings. - Author: Sakyong Mipham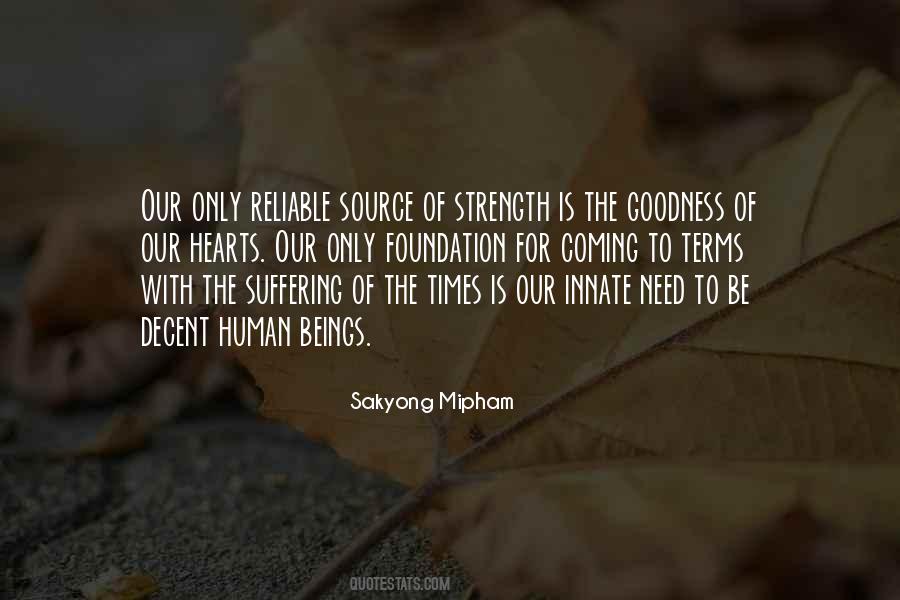 #20. We all make mistakes, and we all need second chances. For youth in foster care, these mistakes are often purposeful - if not consciously so; a way to test the strength of a bond and establish trust in a new parent. - Author: Vanessa Diffenbaugh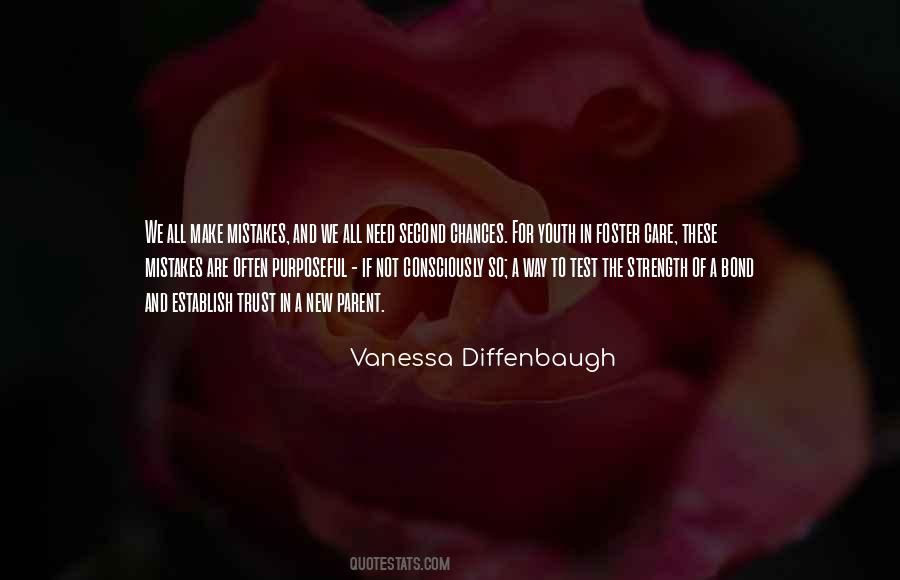 #21. All I need is the power to be able to protect my comrades. So long as I can have the strength to do that, I don't care if I'm weaker than everyone in the world. - Author: Hiro Mashima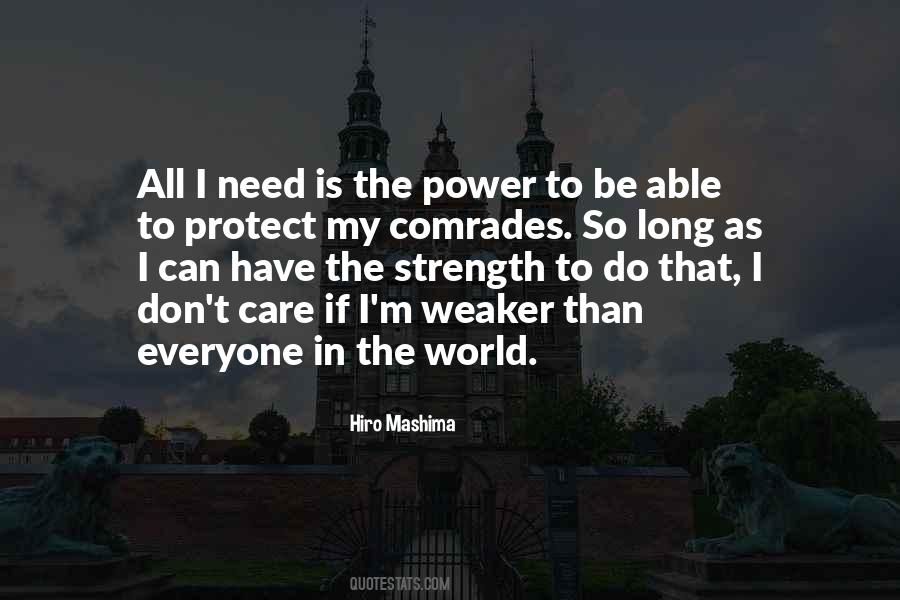 #22. Cultivate confidence, and eradicate the need to control. - Author: T.F. Hodge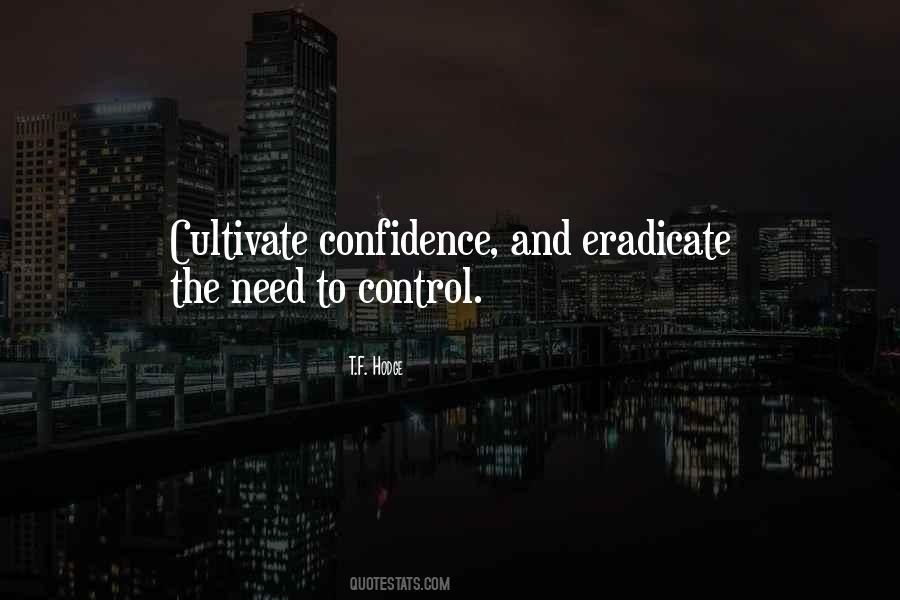 #23. I firmly believe in prayer. It is possible to reach out and tap the unseen power which gives strength and anchor in time of need. - Author: Ezra Taft Benson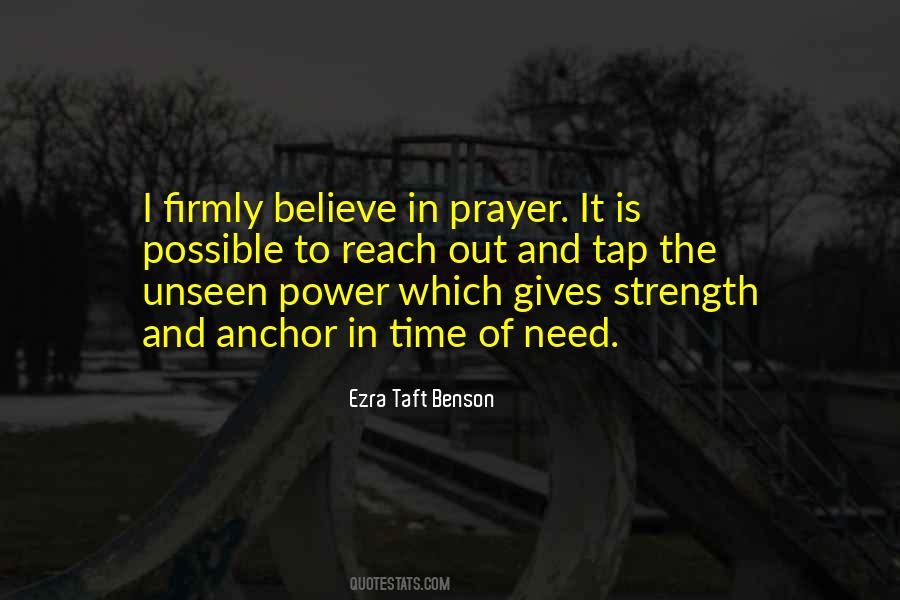 #24. Besides, you're going to need all your strength tonight. I have many wicked plans for you."
"Good." Mac smiled up at her, pressing a kiss to the back of her hand. "Think we'll make it as far as the bedroom this time?"
"I was thinking the kitchen counter, but I'm flexible... - Author: Courtney Hunt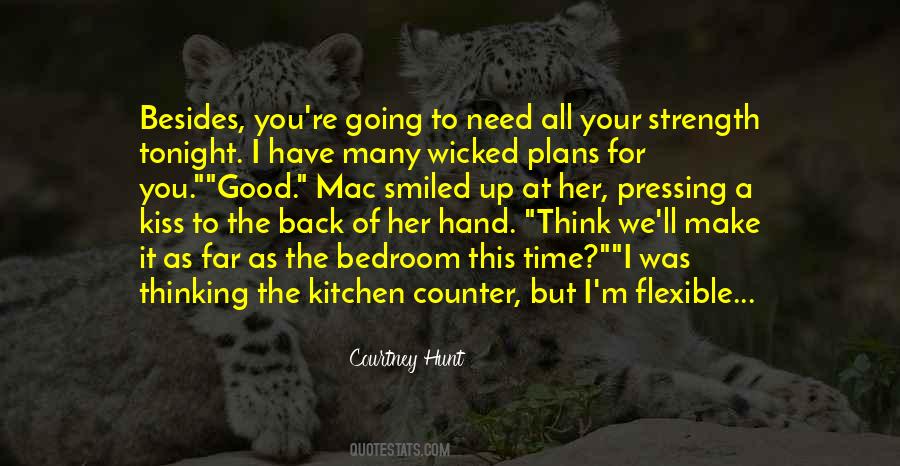 #25. You can always cope with the Now, but you can never cope with the future - nor do you have to. The answer, the strength, the right action or the resource will be there when you need it, not before, not after. - Author: Eckhart Tolle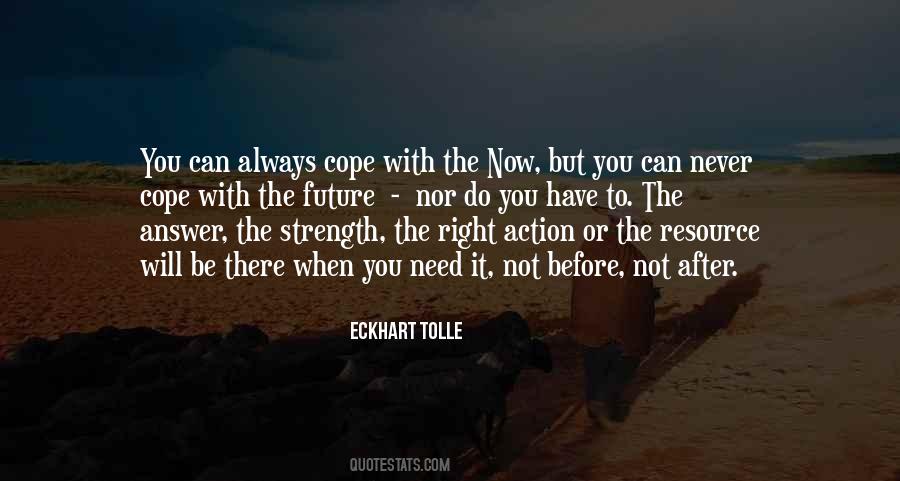 #26. In life, you should seek the help you need. Do not depend on your own strength alone. You have never done all you can to finish a task until you have sought help from the Lord. - Author: Joseph B. Wirthlin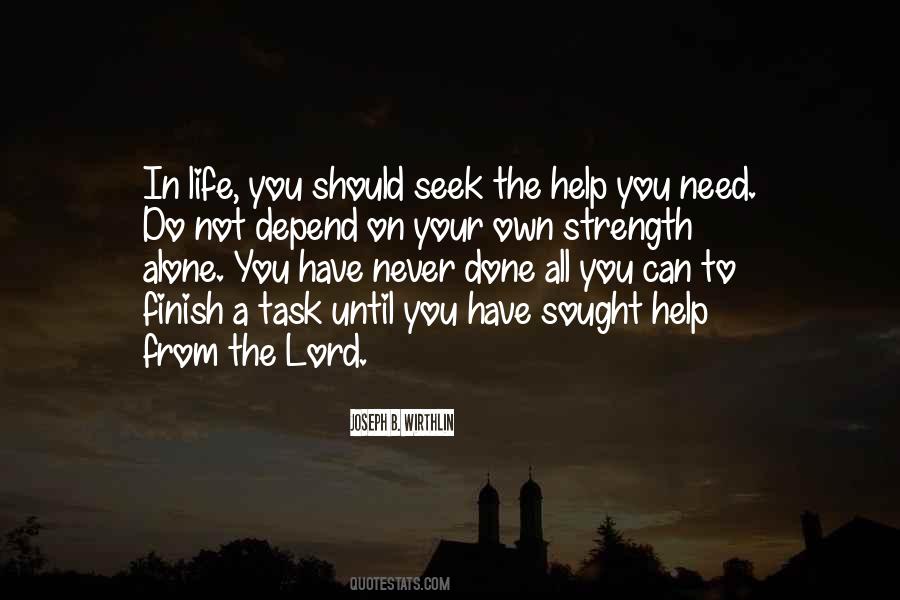 #27. We need not join the mad rush to purchase an earthly fallout shelter. God is our eternal fallout shelter. From Strength to Love, 1963 - Author: Martin Luther King Jr.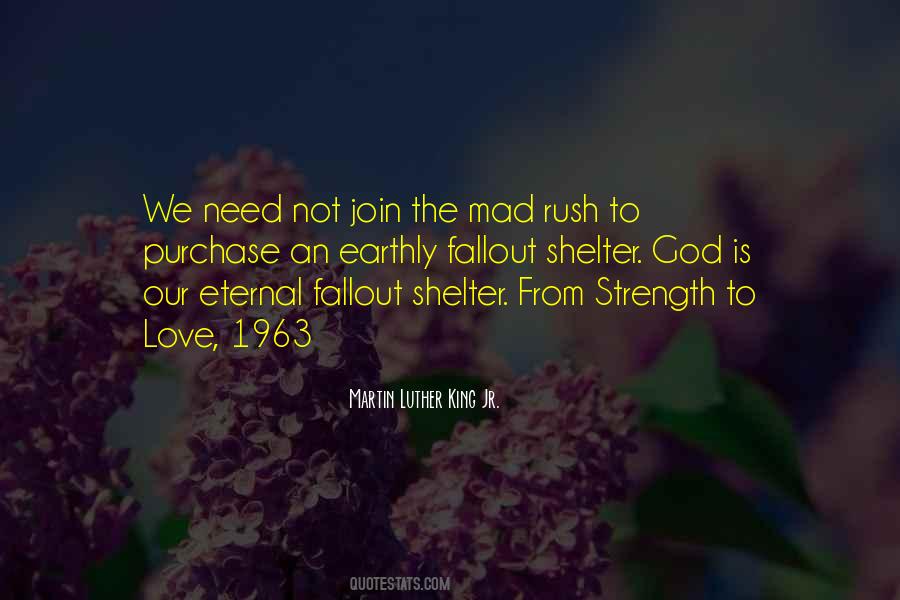 #28. And partly, the worst thing you could do in my family was need something from someone. So physical strength represented an avenue of self-sufficiency to me. - Author: Alison Bechdel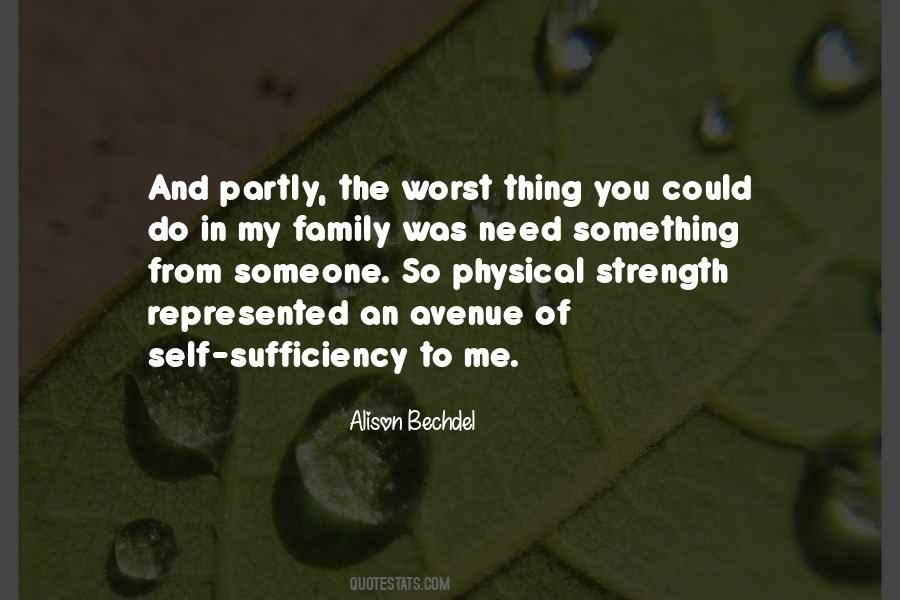 #29. Why did a demon who possessed the savage strength of a werewolf also need such compelling beauty?
It was one of those philosophical questions that had no answer.
Like why Firefly had been canceled after just one season. - Author: Alexandra Ivy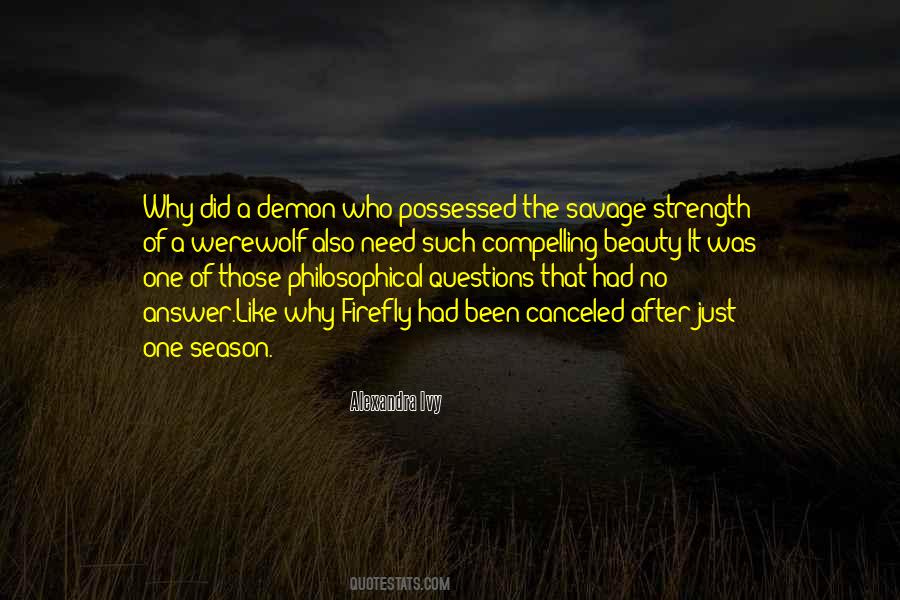 #30. Just deciding to forgive isn't enough because willpower alone won't work - we need divine strength from God. As He gives us the strength, we need to pray for our enemies and bless them. Praying for those who have hurt us is vital to successfully forgiving them. - Author: Joyce Meyer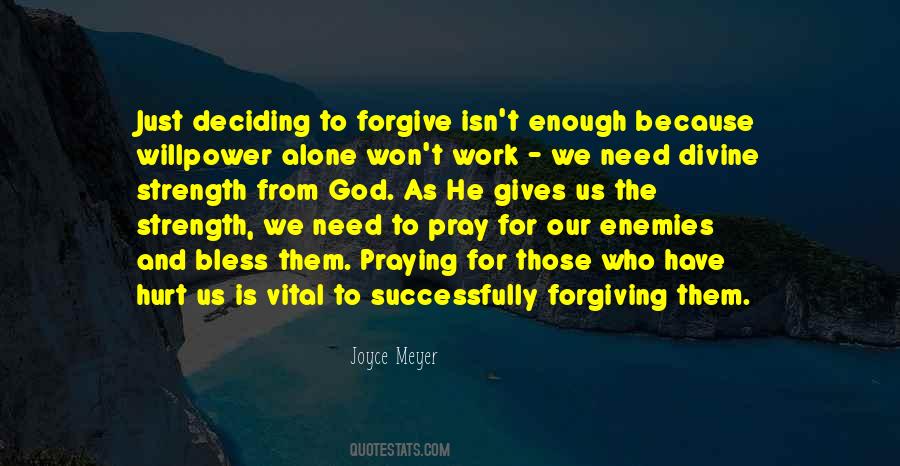 #31. While others still slept, He went away to pray and to renew His strength in communion with His Father. He had need of this, otherwise He would not have been ready for the new day. The holy work of delivering souls demands constant renewal through fellowship with God. - Author: Andy Murray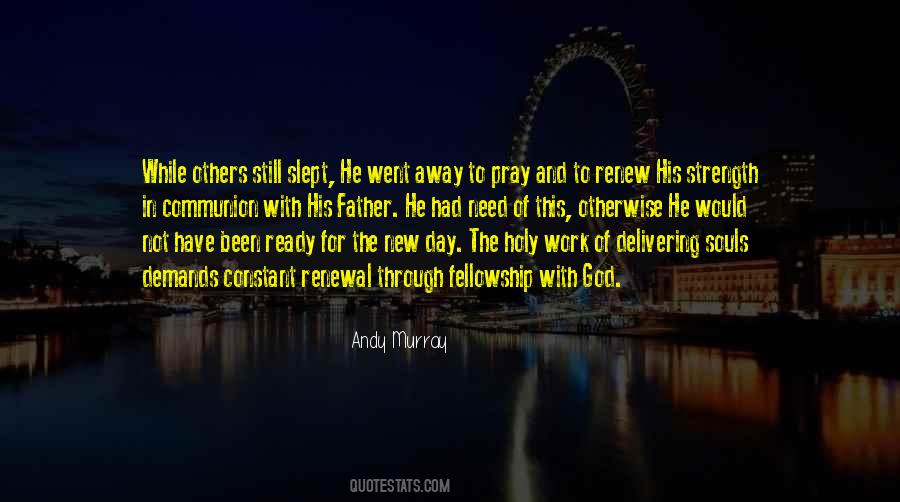 #32. Her need was as big as the stars, and he was down there on the beach, so quiet she could hardly hear him. - Author: Ann Brashares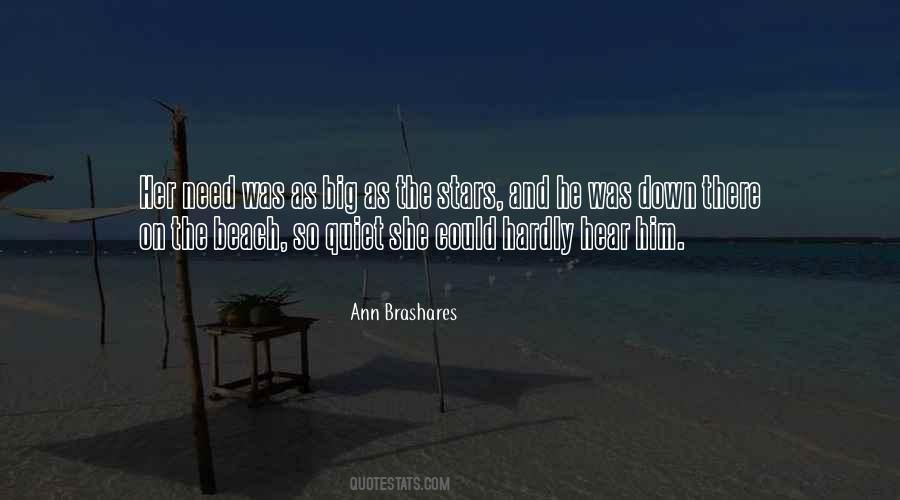 #33. All good things are borne from evil, just like good people. It's very rare that someone does things purely out of the goodness of their heart. Most need something to fight against, something to drive them forward in order to create a light in what will always be a very dark world. - Author: Kevin Reaver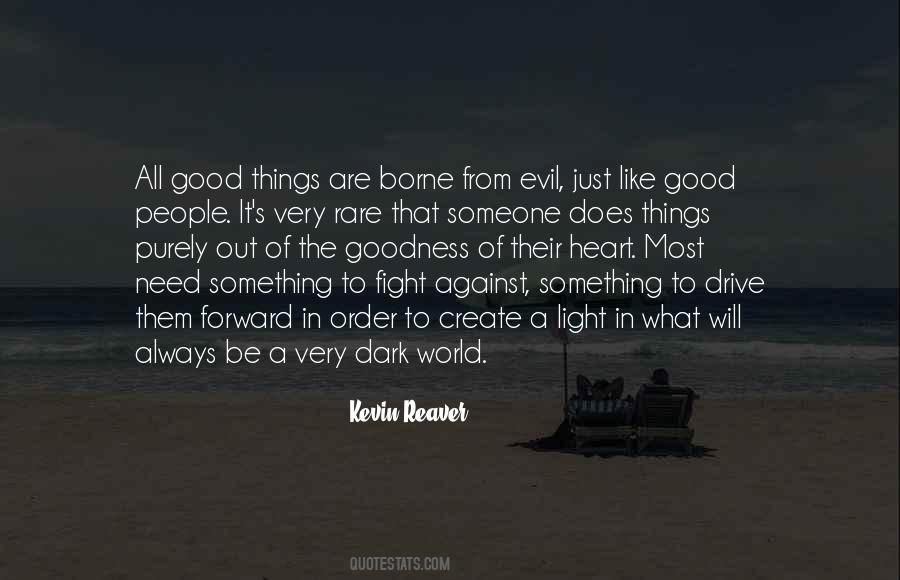 #34. Freedom without the strength to support it and, if need be, defend it, would be a cruel delusion. And the strength to defend freedom can itself only come from widespread industrialisation and the infusion of modern science and technology into the country's economic life. - Author: Jamsetji Tata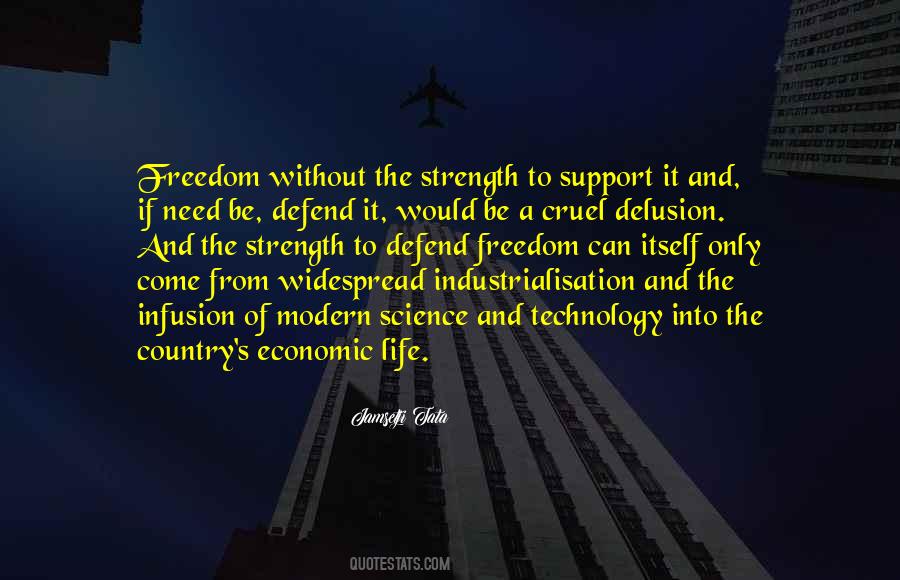 #35. To love again, you must not discard what has happened to you, but take from it the strength you'll need to carry on. - Author: Simon Van Booy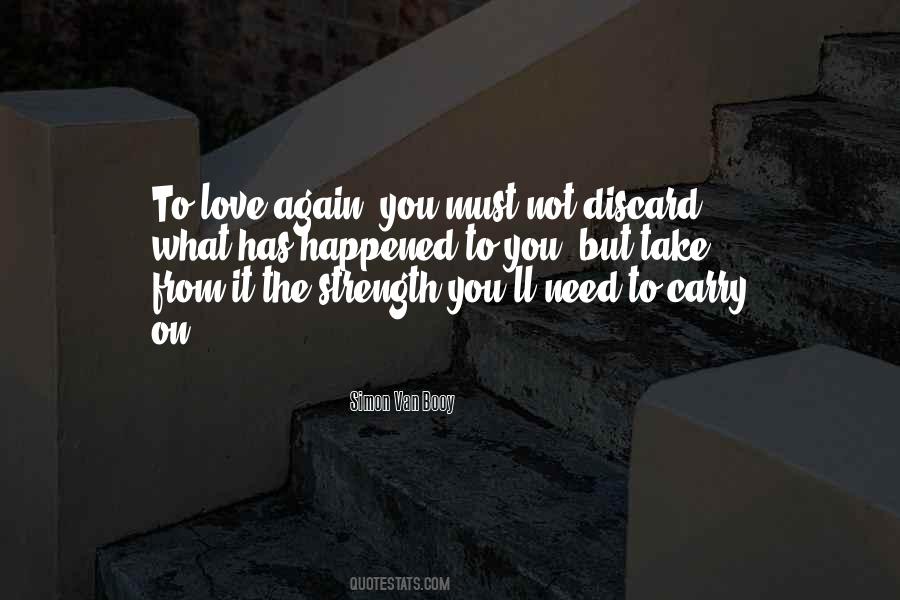 #36. Family prayer is a fourth vital link in the chain of spiritual strength - a strength we are trying to build to protect us from a world gone mad. Practicing prayer as a family, not just a flippant blessing before a meal, can give us the security we need. - Author: Billy Graham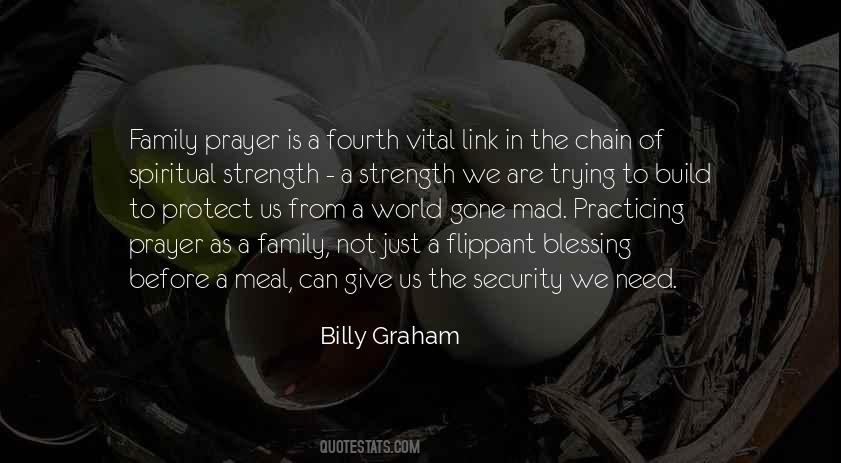 #37. Grace is goodness and respect given freely and unconditionally. A sense of divine love and protection bestowed on us when we need strength and renewal. Grace helps us know we are not alone and believe we are cared for and cherished. Grace is a drink of clear, clean water in the desert. - Author: Sue Thoele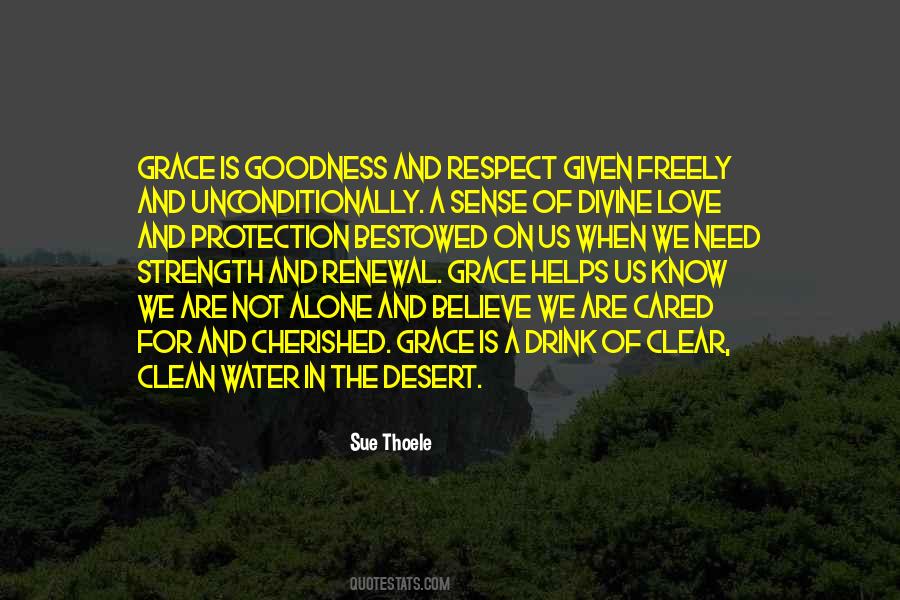 #38. I don't have all the answers I need yet, and I'm not ready to give up until I completely understand the purpose I serve and what it is I'm supposed to do. - Author: K. Weikel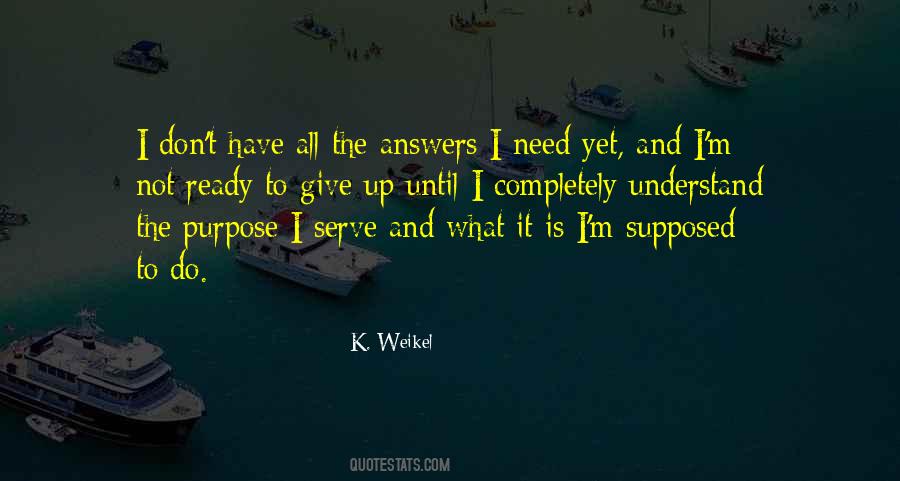 #39. Ganesh was rooting for Wilkin, and it scared the hell out of him. Because when a Hindu god feels the need to offer you strength and compassion, you know the shit's about to get real. - Author: Zander Marks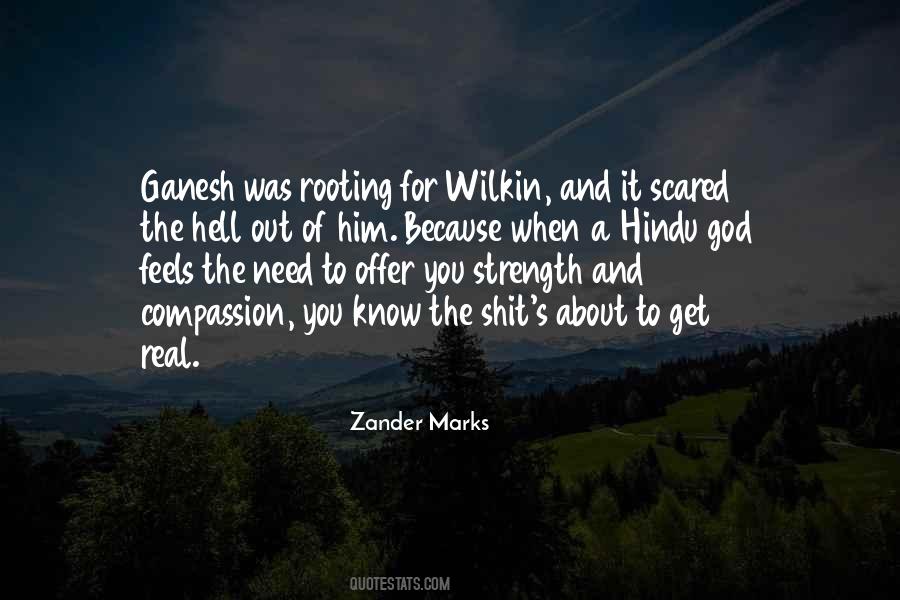 #40. There's no need to curse God if you're an ugly duckling. He chooses those strong enough to endure it so that they can guide others who've felt the same. - Author: Criss Jami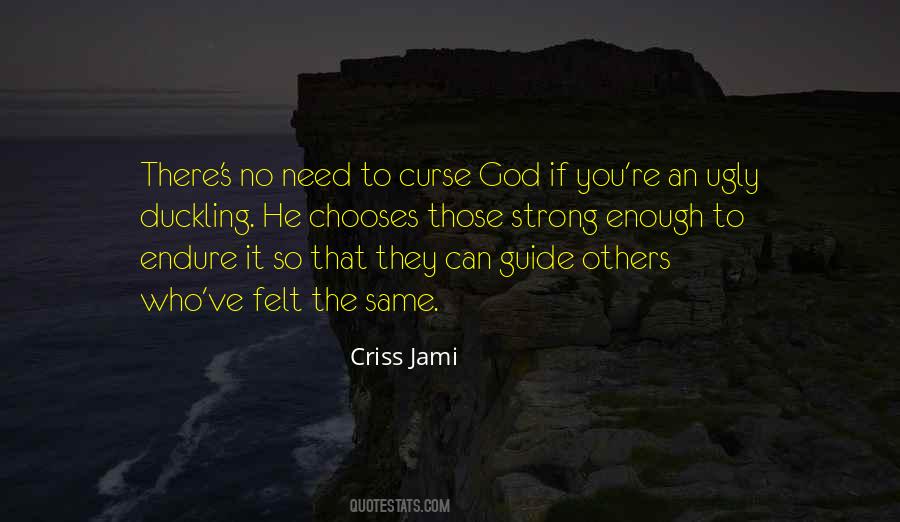 #41. We need to touch the fountain of life to draw in living lasting strength. - Author: Ikechukwu Joseph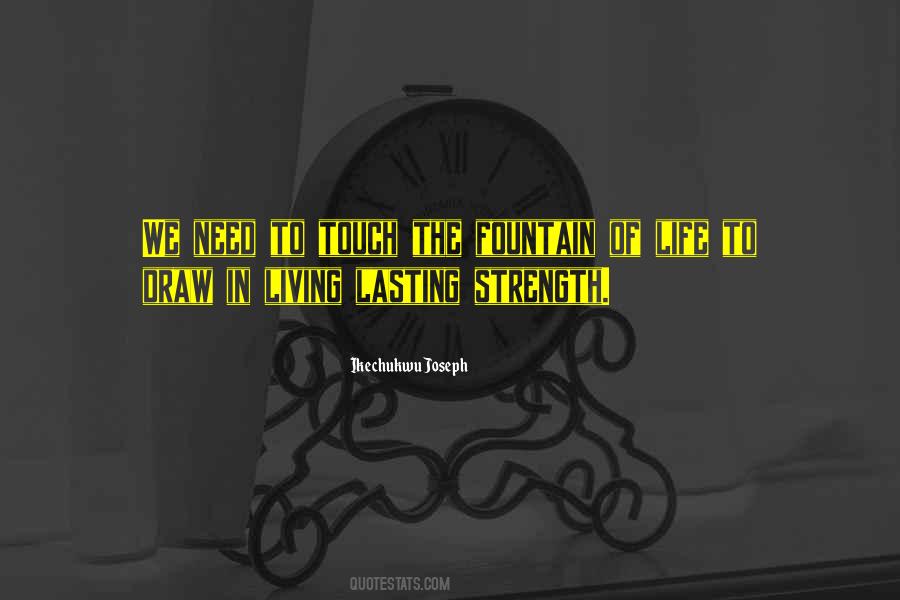 #42. The warrior woman is filled with the courage, confidence, and inner strength to leave the past behind. She knows that there is no way to express herself fully when she is still carrying burdens that need to be released. - Author: Debbie Ford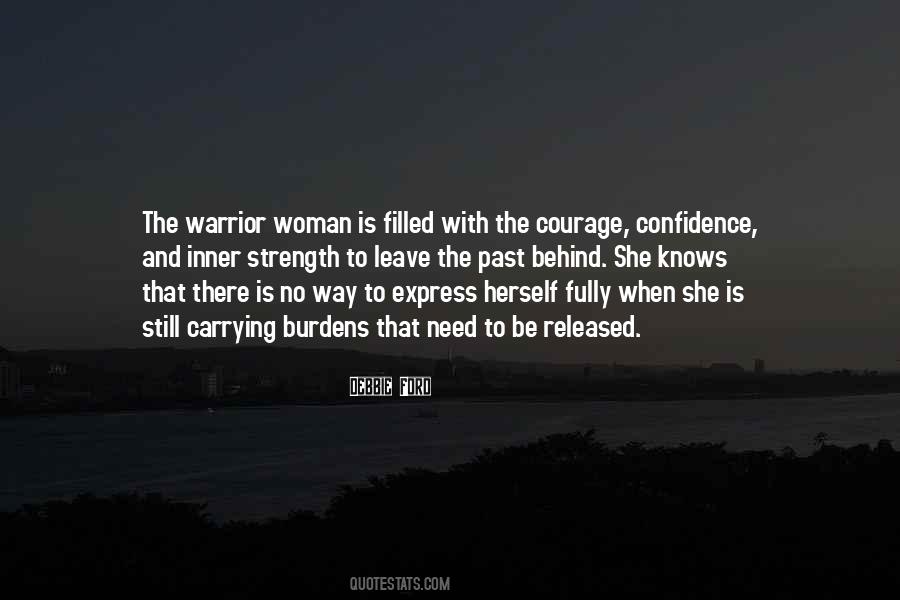 #43. The creativity strength is like a spinning wheel, you need to figure out how to boost it up. - Author: Pearl Zhu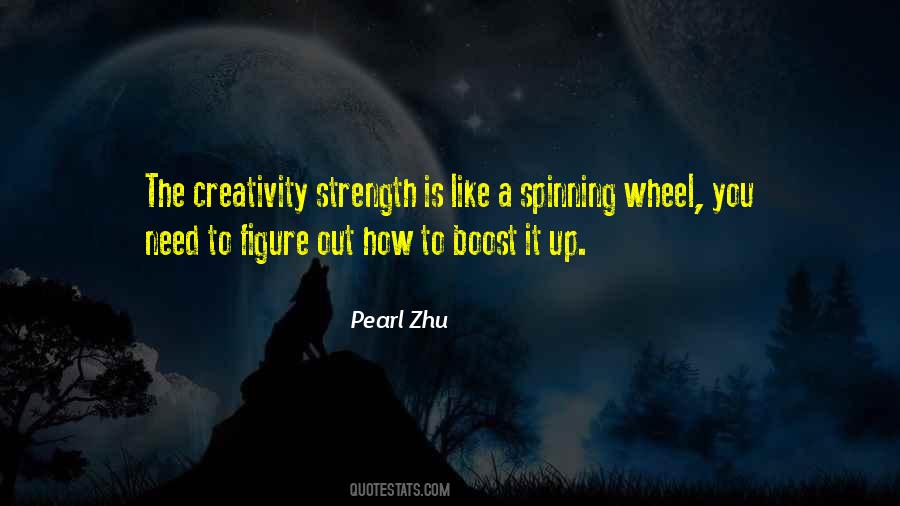 #44. The self-assured strength that grows from knowing that we already have what we need makes us gentle, because we are no longer desperate. - Author: Sakyong Mipham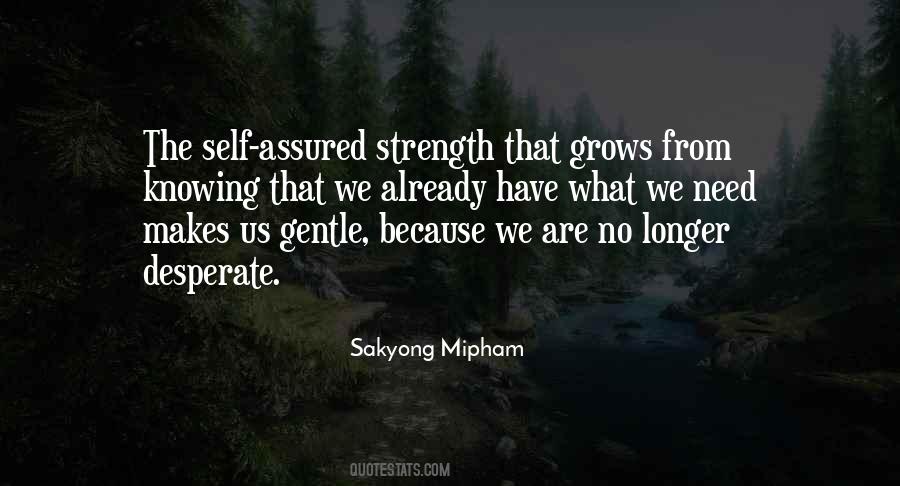 #45. When I go to the gym, stretching is very important. For polo, you don't need too much strength so you don't want to build yourself up too much. It's all about flexibility. - Author: Nacho Figueras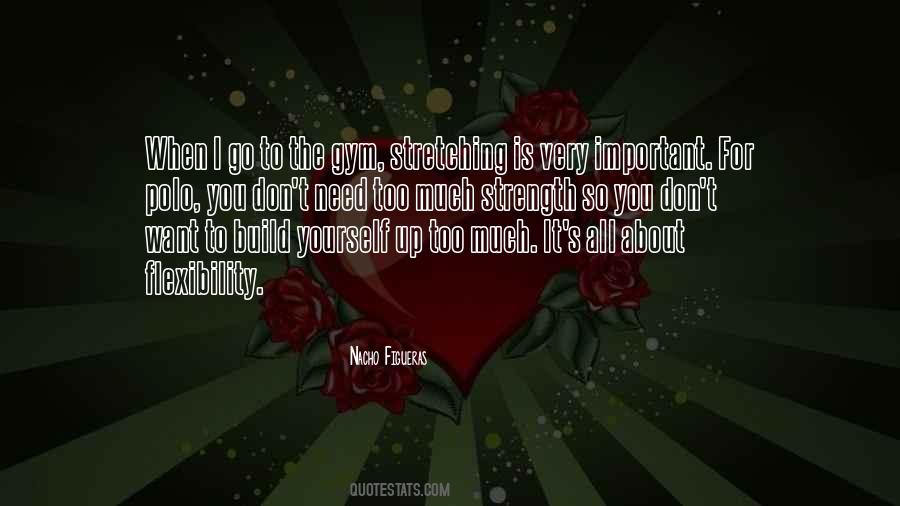 #46. We are born weak, we need strength; helpless, we need aid; foolish, we need reason. All that we lack at birth, all that we need when we come to man's estate, is the gift of education. - Author: Jean-Jacques Rousseau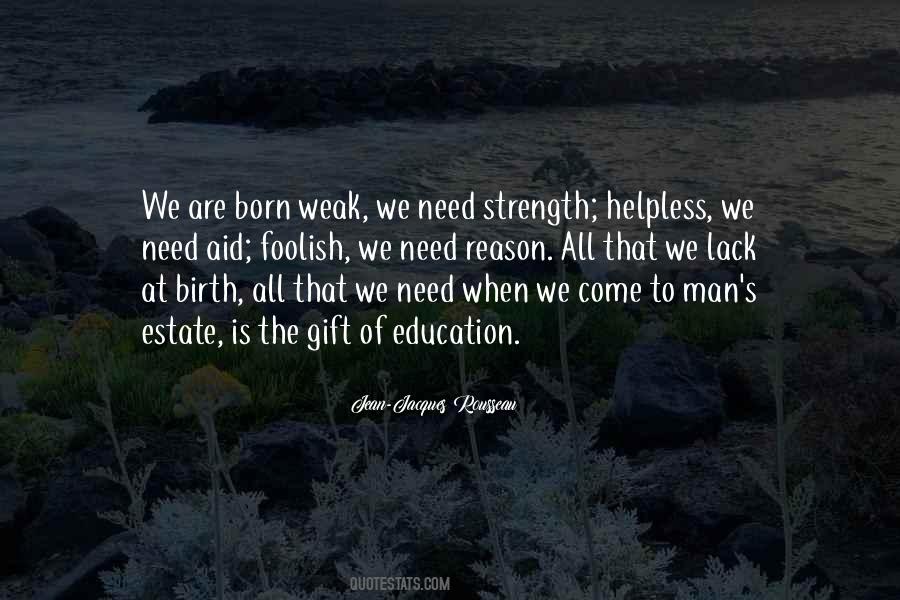 #47. The Christian must know that the season, measure, and continuance of his sufferings are appointed by Infinite Wisdom, and designed to work for his everlasting good; and that grace and strength shall be afforded him according to his need. - Author: John Newton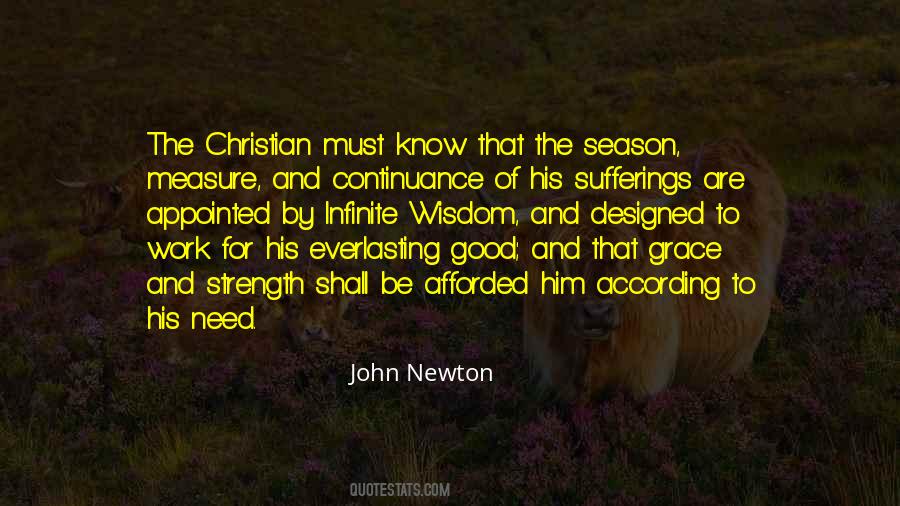 #48. The pain you experience today creates the strength and character you'll need tomorrow. - Author: Charles F. Glassman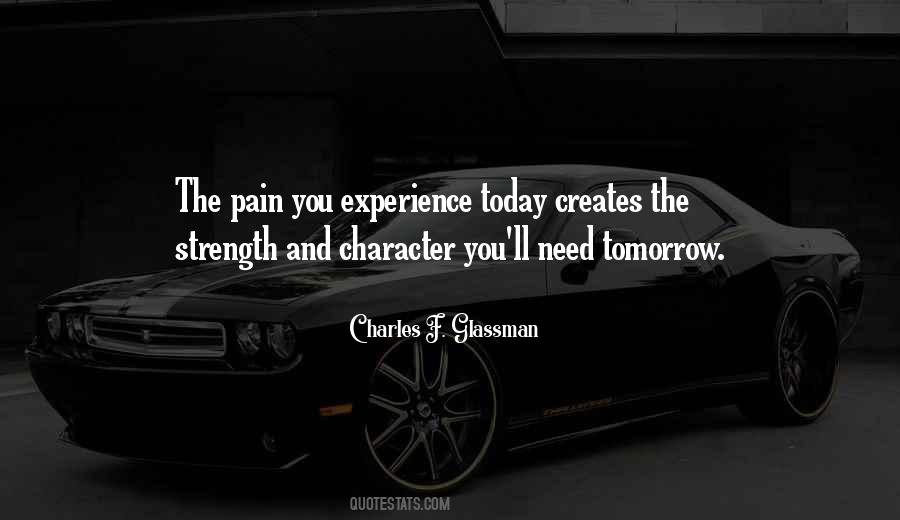 #49. Words need to be sown like seeds. No matter how tiny a seed may be, when in lands in the right sort of ground it unfolds its strength and from being minute expands and grows to a massive size. - Author: Seneca.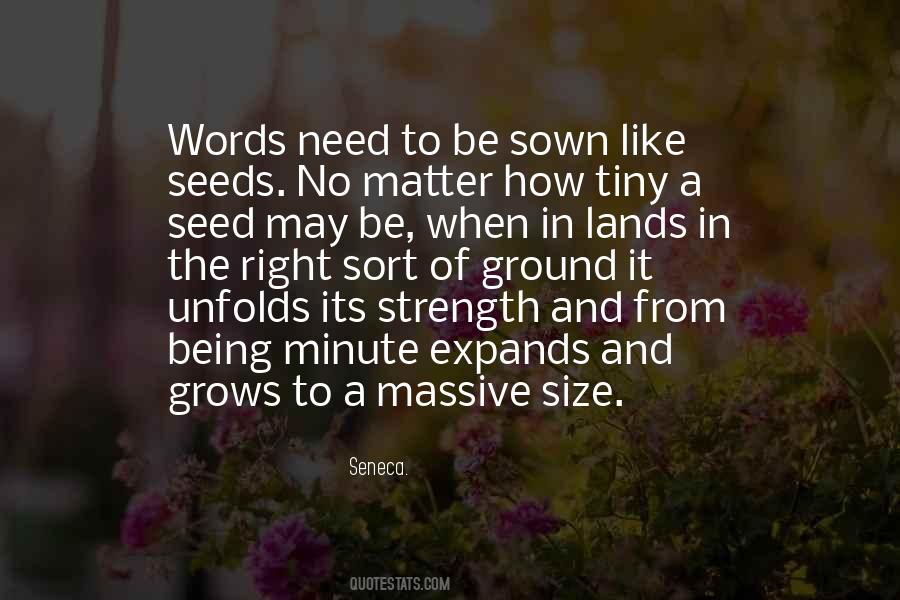 #50. But words spoken can never be taken back. They can only be measured for and judged on the strength of their sincerity and need. - Author: Terry Brooks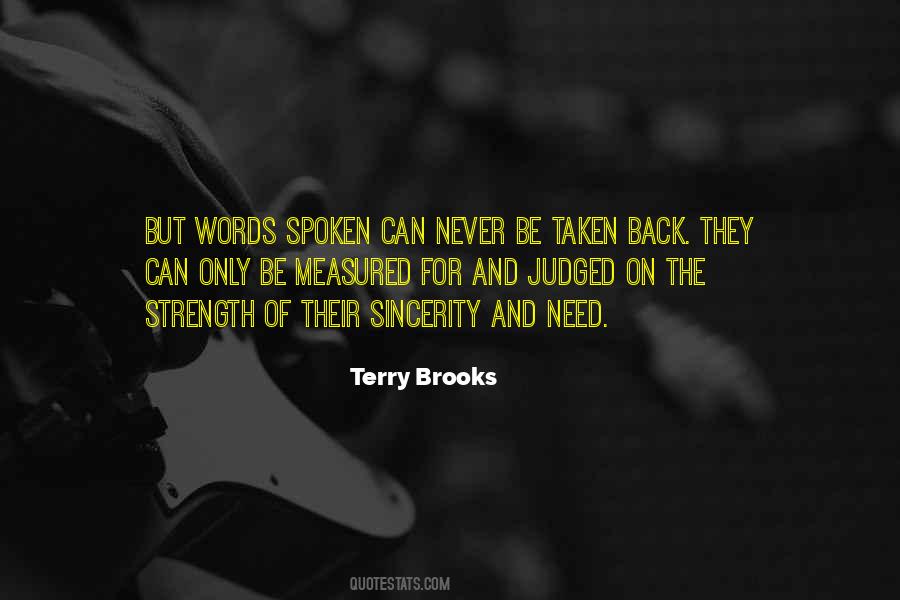 #51. Your belief is as important as your physical strength. You need to believe in yourself and in your weapon both. Doubt is the enemy. Hesitation is potentially fatal." Sebec - Author: Terry Brooks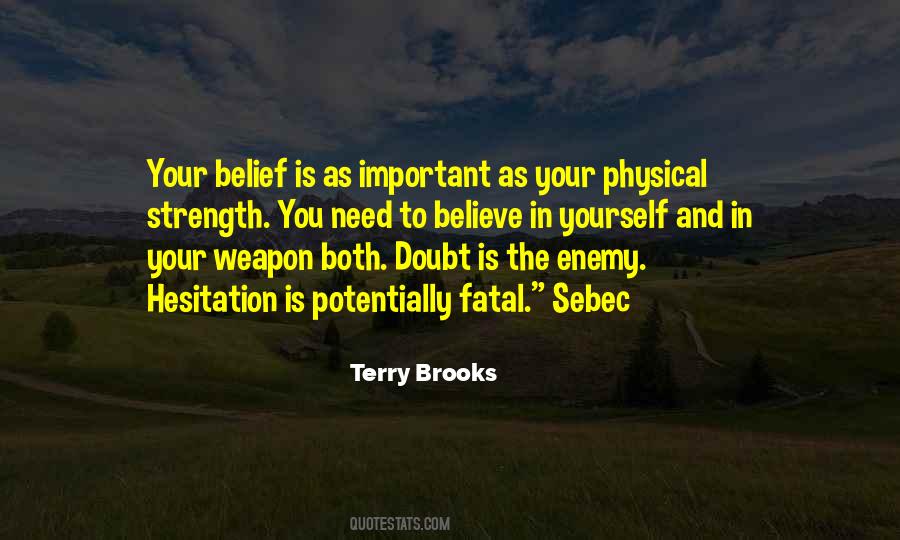 #52. Without need for excuse or elaborate theodicies, malevolence explains the world that is, and by the strength and rigidity of this explanation an imprint - an outline - of the Creator who cherishes His anonymity is revealed. - Author: John Zande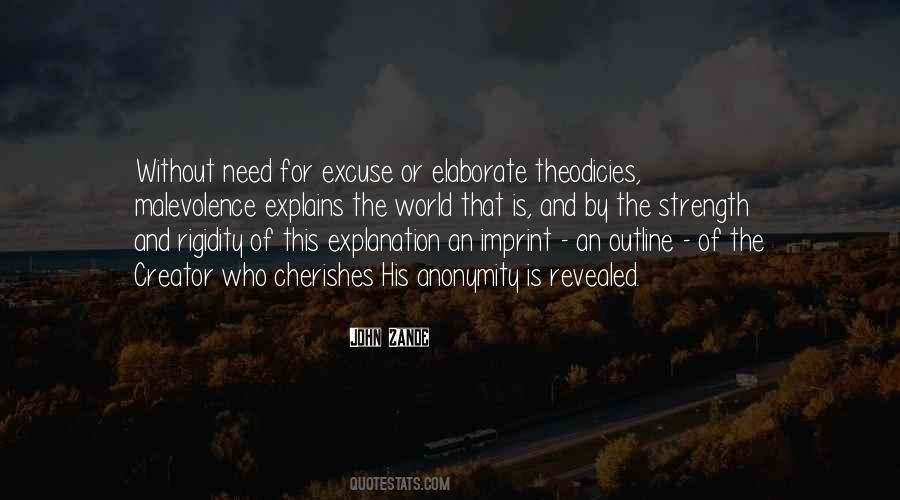 #53. You know, I need hardly remind you, it is not numbers or strength that gives victory in war; but, heaven helping them, to one or other of two combatants it is given to dash with stouter hearts to meet the foe, and such onset, in nine cases out of ten, those others refuse to meet. - Author: Xenophon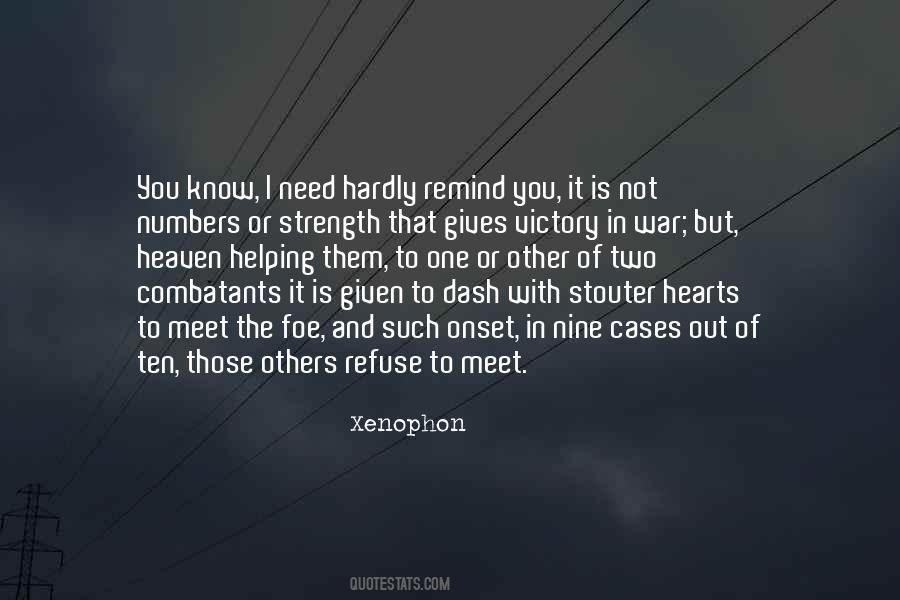 #54. But I need him. And I can't find the strength to let him go. Though - Author: Victoria Aveyard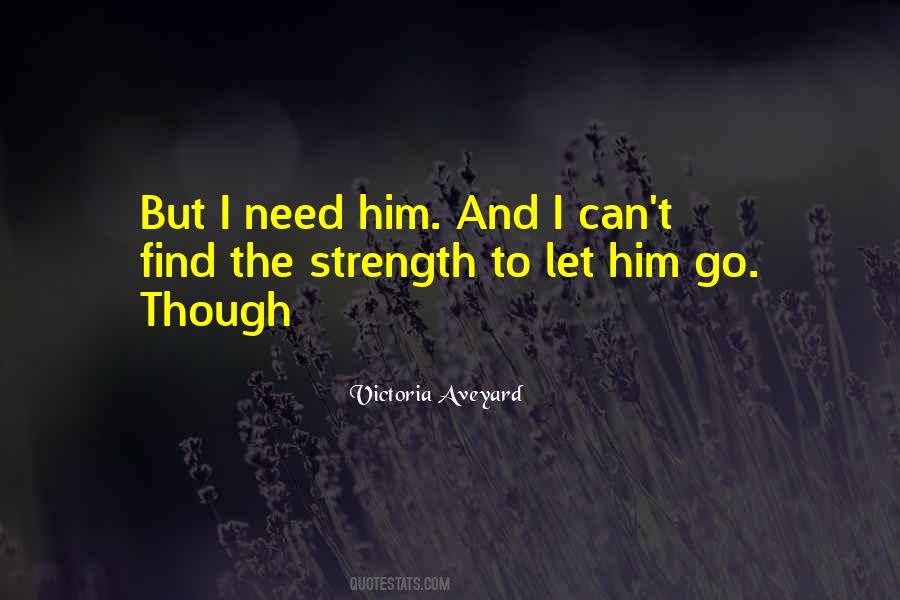 #55. Cause I'm carryin' your love with me
From West Virginia down to Tennessee
I'll be movin' with the good lord speed, carryin' your love with me
It's my strength for holdin' on
Every minute that I have to be gone
I'll have everything I'll ever need
Carryin' your love with me - Author: George Strait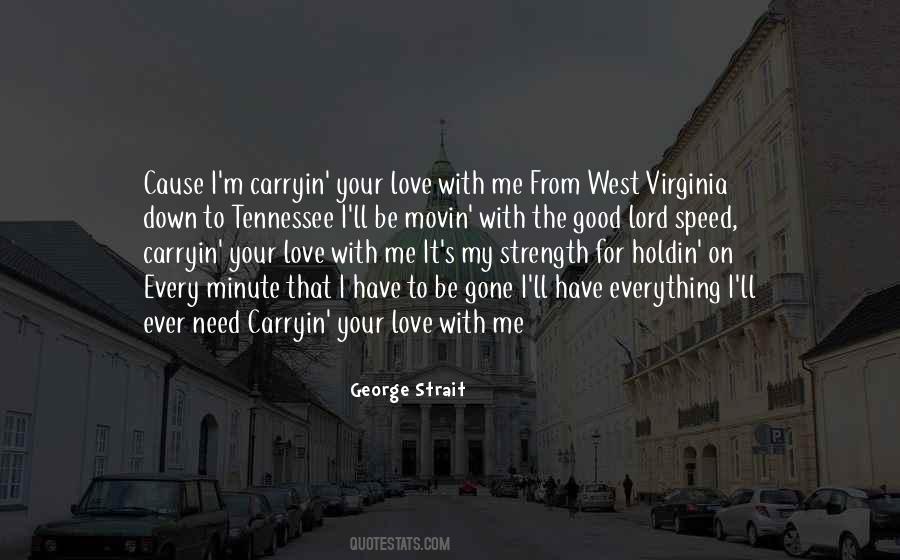 #56. Do the strong cry every night for a month? she asked softly.
When they need to, I countered, clasping her hand. Women, Arjumand, women are taught that there's no strength in our tears. But why are one's tears powerless, if those tears lead to insight, or a sense of peace? - Author: John Shors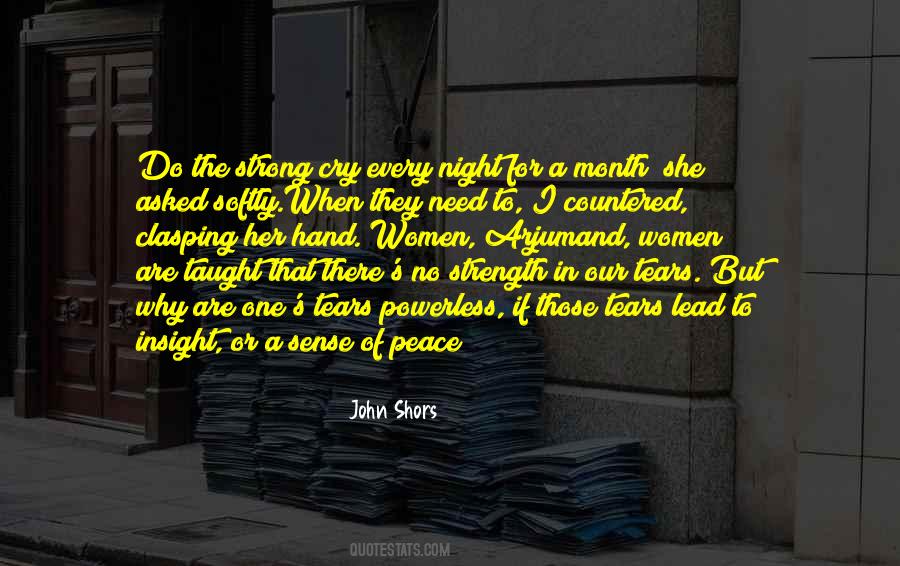 #57. The plants themselves gave me a cure for that: They taught me to bury myself when I need to regain my strength. It is what they do - return to the ground, rest, and begin again. - Author: Maryrose Wood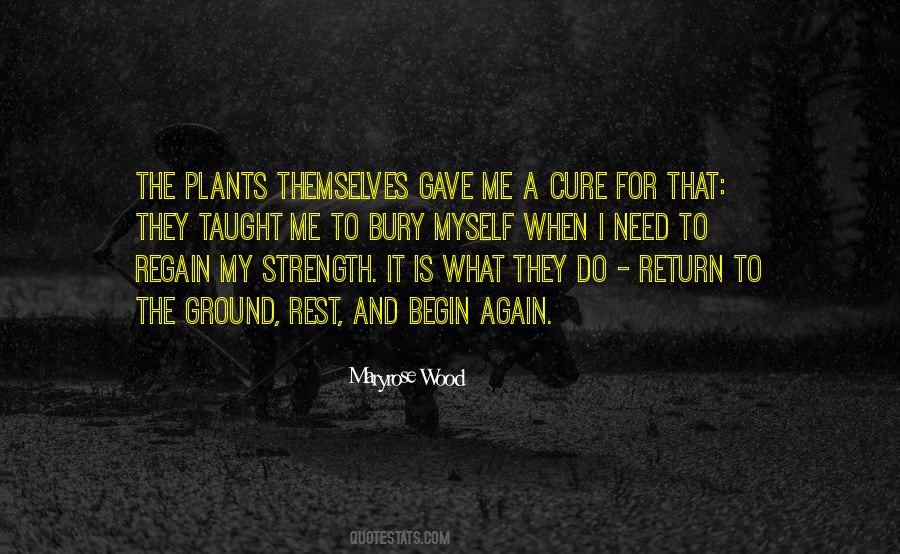 #58. At all times, in all circumstances, Christ is able and willing to provide the strength we need to be content. Contentment occurs when Christ's strength is infused into my weak body, soul, and spirit. - Author: Linda Dillow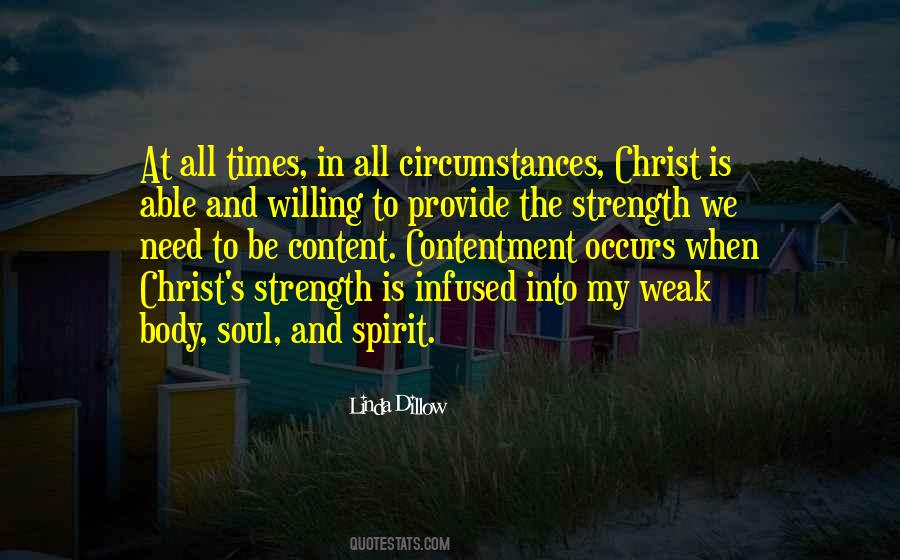 #59. Why do we need to pray? Because the Christian life is a journey, and we need God's strength and guidance along the way. - Author: Billy Graham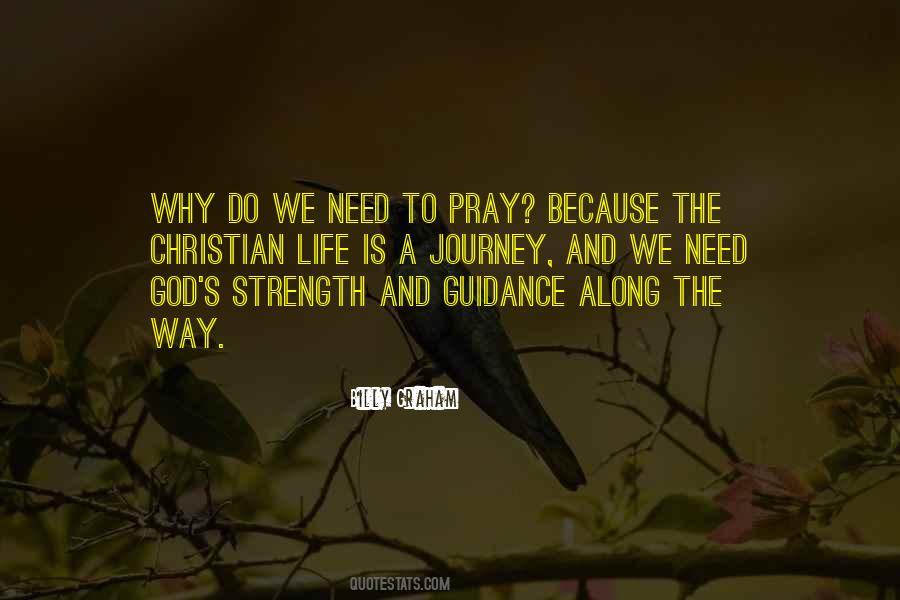 #60. I know what it is to be in need,
and I know what it is to have plenty.
I have learned the secret of being content
in any and every situation,
whether well fed or hungry,
whether living in plenty or in want.
I can do all this through him who gives me strength.
Philippians 4:12-13 - Author: Anonymous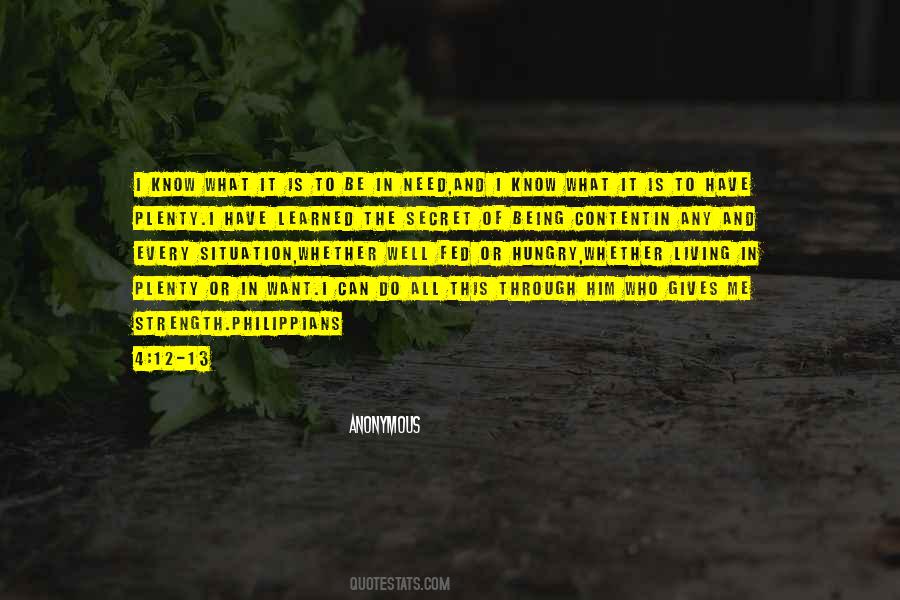 #61. You don't have to place your hand on Mary's heart to get strength and consolation and rescue, and all the other things we need to get through life. You can place it right here on your own heart. Your own heart. - Author: Sue Monk Kidd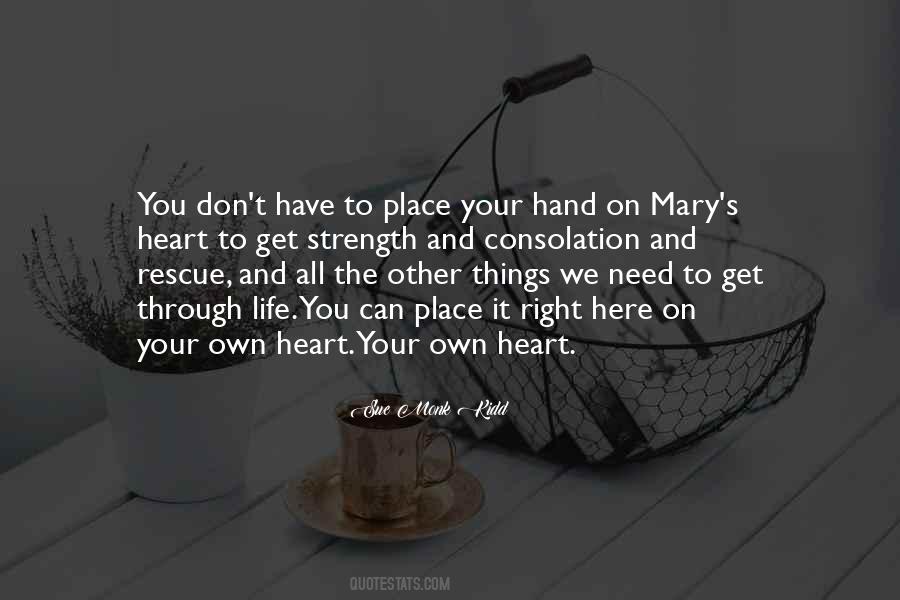 #62. Christianity has sufficient inner strength to survive and flourish on its own. It does not need state subsidies, nor state privileges, nor state prestige. The more it obtains state support, the greater it curtails human freedom. - Author: William O. Douglas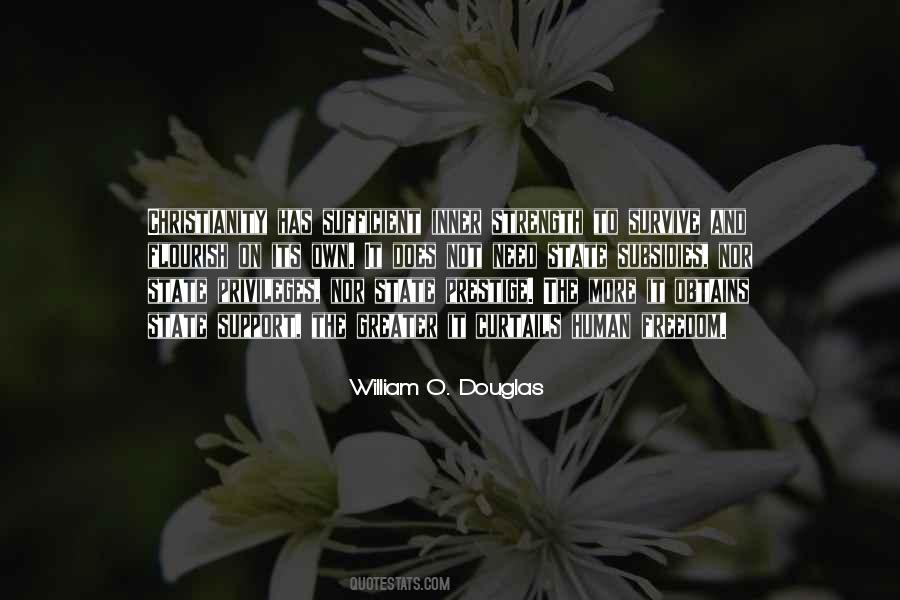 #63. What does a title mean to me? I do not need a title. My name, which I achieved with my own strength, is my title. I only wish that posterity would sometime confirm the fact that I have striven to achieve my program decently and honestly.. - Author: Adolf Hitler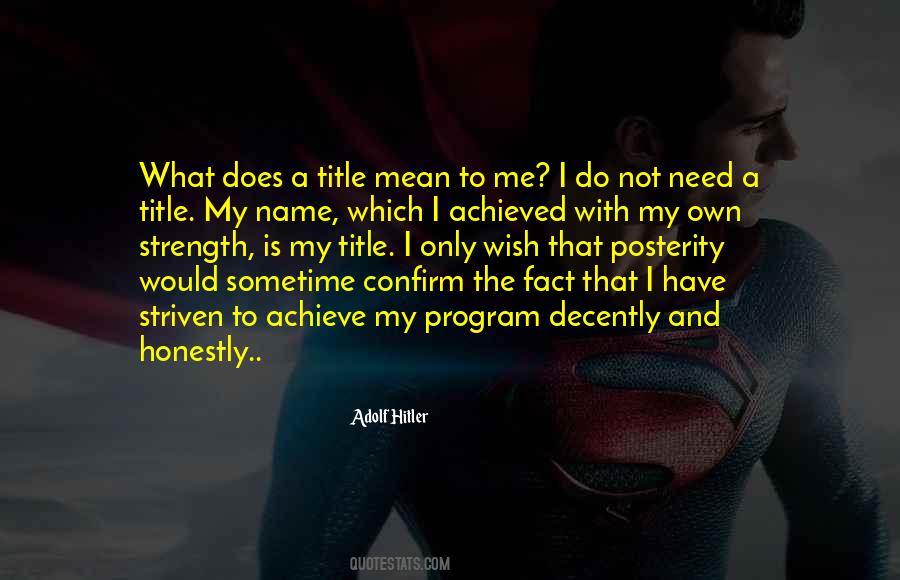 #64. What you do is you hide your deep need to hide, and you do this out of the need to appear to other people as if you have the strength not to care how you appear to others. - Author: David Foster Wallace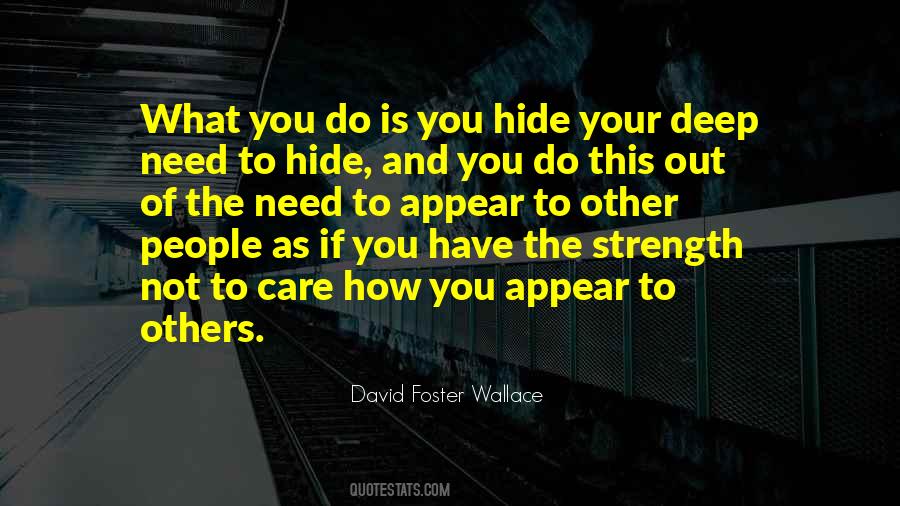 #65. Strength is not all about the time that you work out at the gym. You need the heart to truly become one. - Author: Marie Keating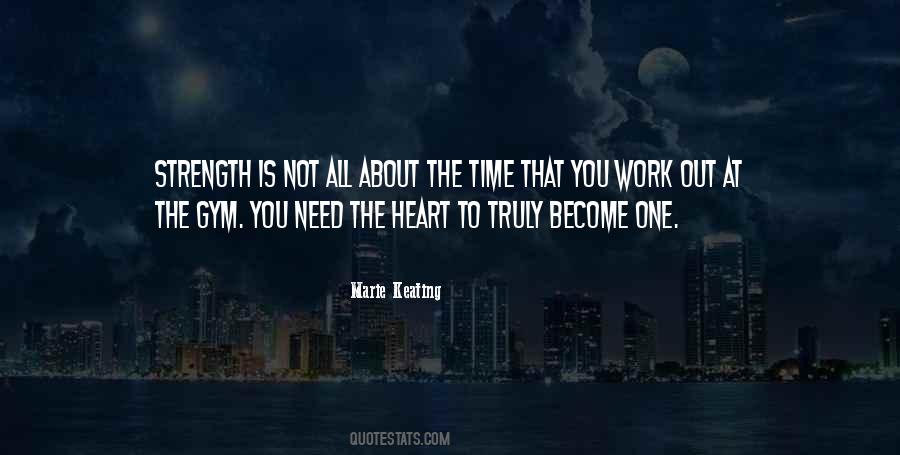 #66. Strength is the outcome of need; security sets a premium on feebleness. The work of ameliorating the conditions of life
the true civilizing process that makes life more and more secure
had gone steadily on to a climax ... And the harvest was what I saw. - Author: H.G.Wells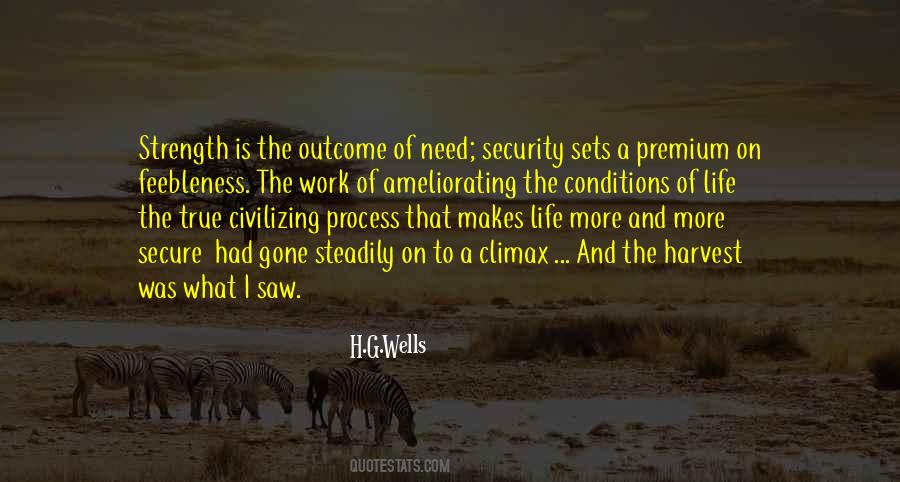 #67. A girl's gotta have her Mystery.
You can hardly win at poker if your cards lay bare on the table for all to see...
One need be Strategic... - Author: Daleen Van Tonder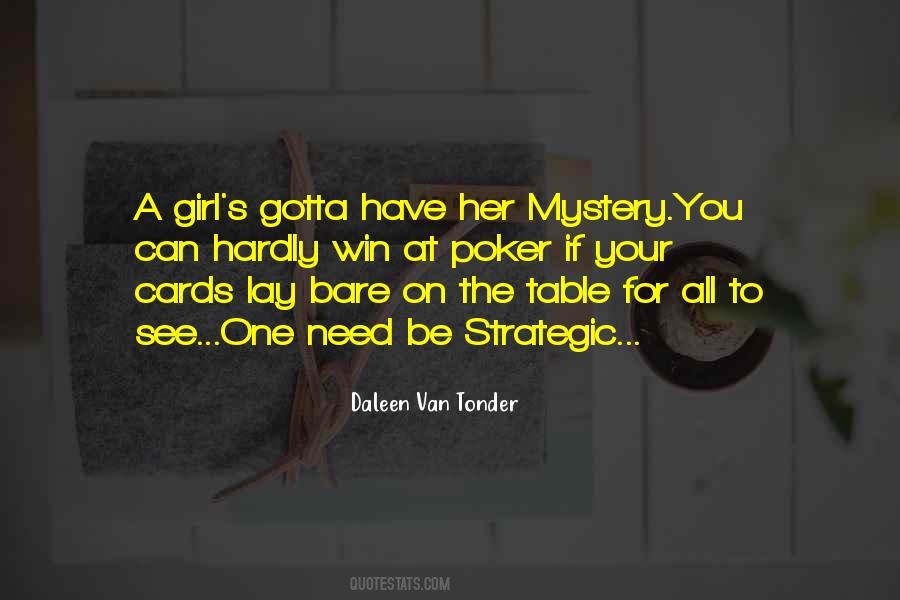 #68. It is not for us to judge those who might be confused or who have not the strength to change. What they need is our understanding and support. - Author: Hans B. Ringger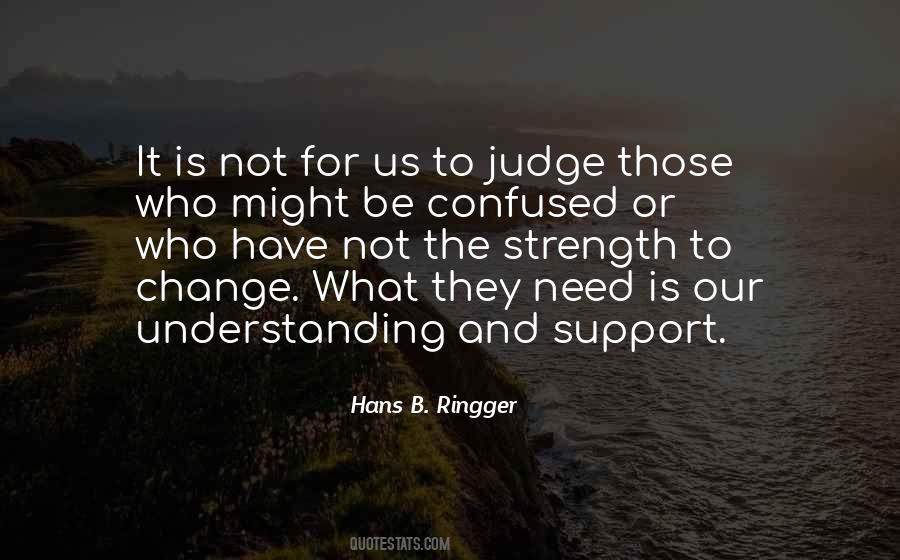 #69. Jack Honey and Coke, of course, because I need the strength of my second-favorite man tonight. - Author: Christy Dilg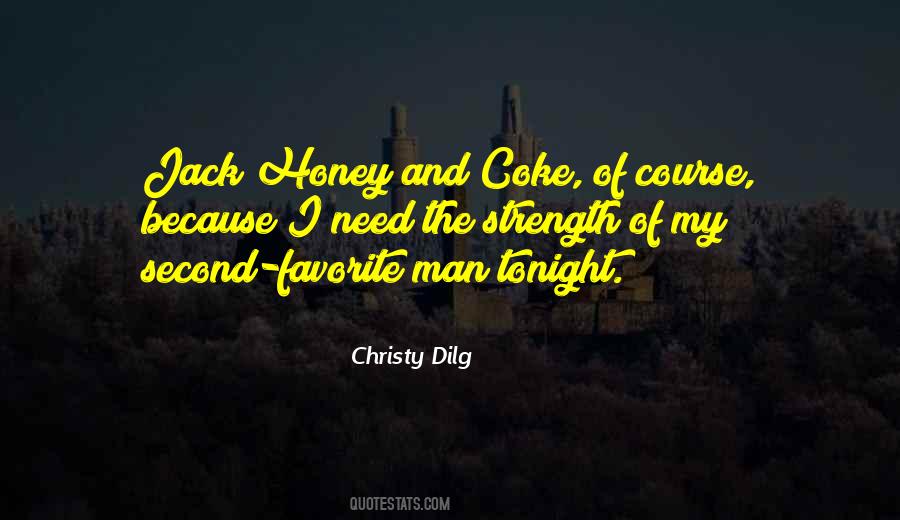 #70. I just want to know if you're okay, he says, so soft I barely hear it through the static.
I'm not, not at all; but his worry gives me the strength I need to lie. To pull back and smile and tell him I'm fine. - Author: Victoria Schwab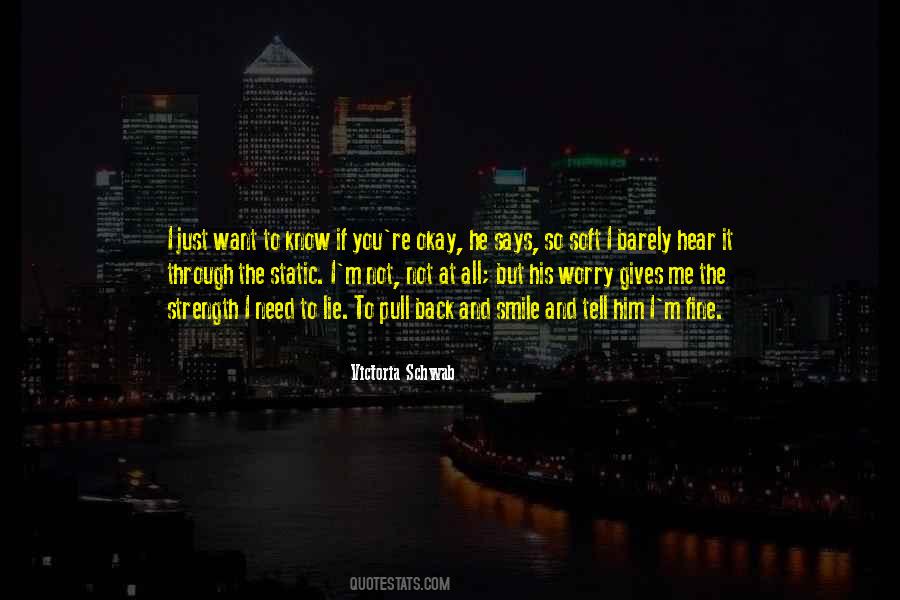 #71. A truly strong person does not need the approval of others any more than a lion needs the approval of sheep. - Author: Vernon Howard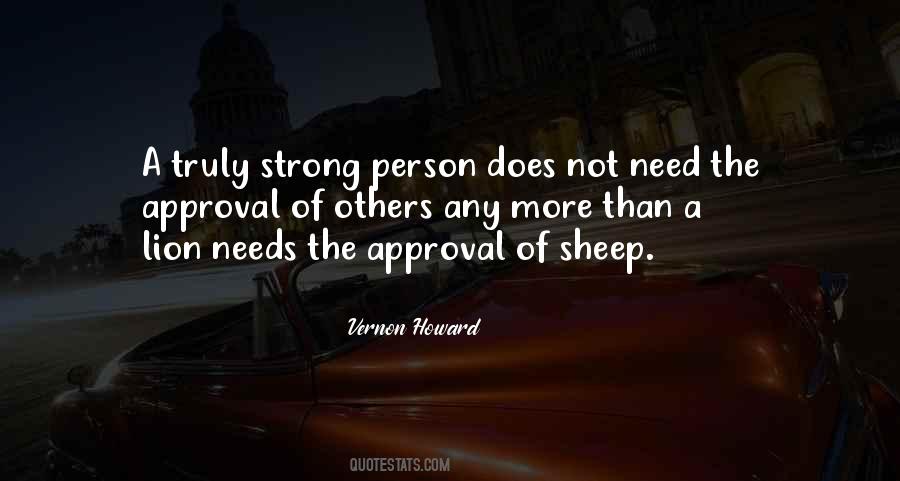 #72. I feel I've lost every part of me ... there's nothing left but the parts I've given to you. I need you to hold those pieces together. Please don't forget who I was ... then ... then there really will be nothing left. - Author: Cassandra Giovanni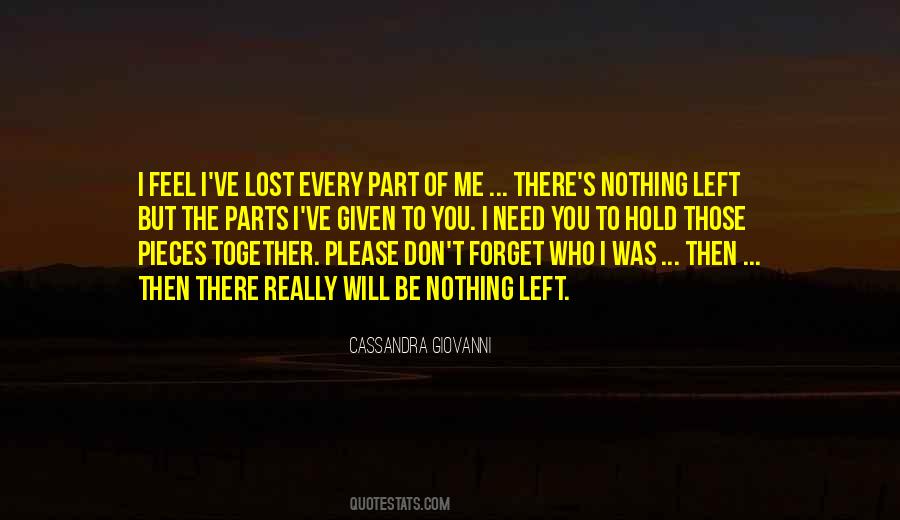 #73. Don't wish me happiness
I don't expect to be happy all the time ...
It's gotton beyond that somehow.
Wish me courage and strength and a sense of humor.
I will need them all. - Author: Anne Morrow Lindbergh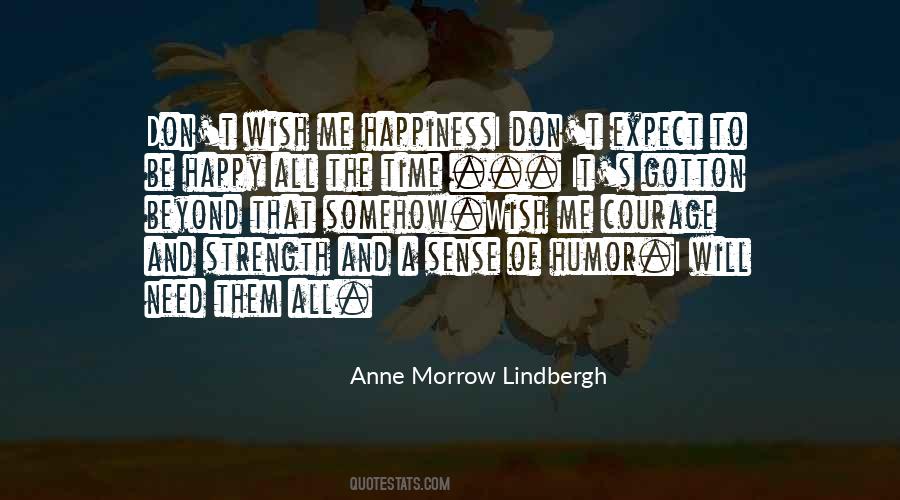 #74. Ask yourself what problem you have right now. Not next year, tomorrow or five minutes from now. You can always cope with the now, but you can never cope with the future. Nor do you have to. The answer, the strength and the right action will be there when you need it. Not before or after. - Author: Eckhart Tolle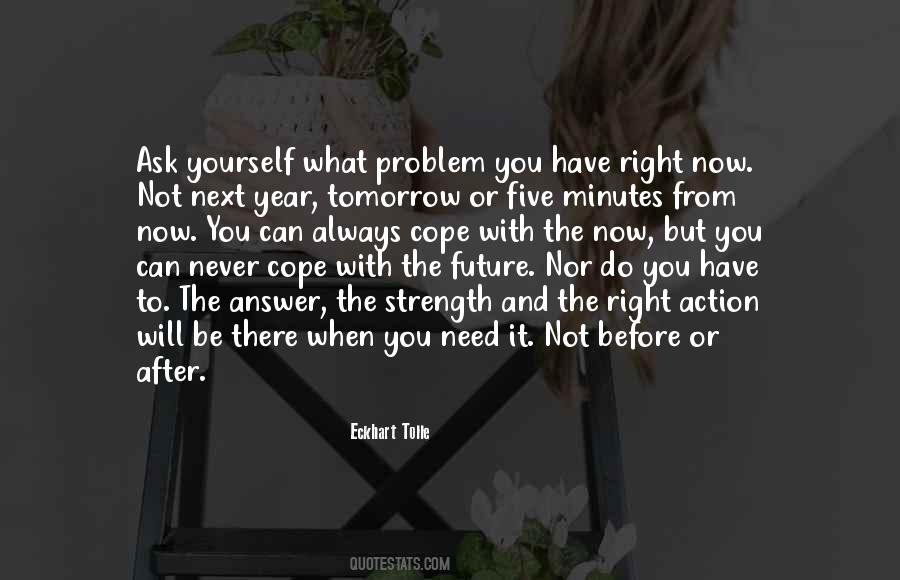 #75. I don't need money, or, better, it's not money that I need; it's not even power; I need only what is obtained by power and simply cannot be obtained without power: the solitary and calm awareness of strength! That is the fullest definition of freedom, which the world so struggles over! - Author: Fyodor Dostoyevsky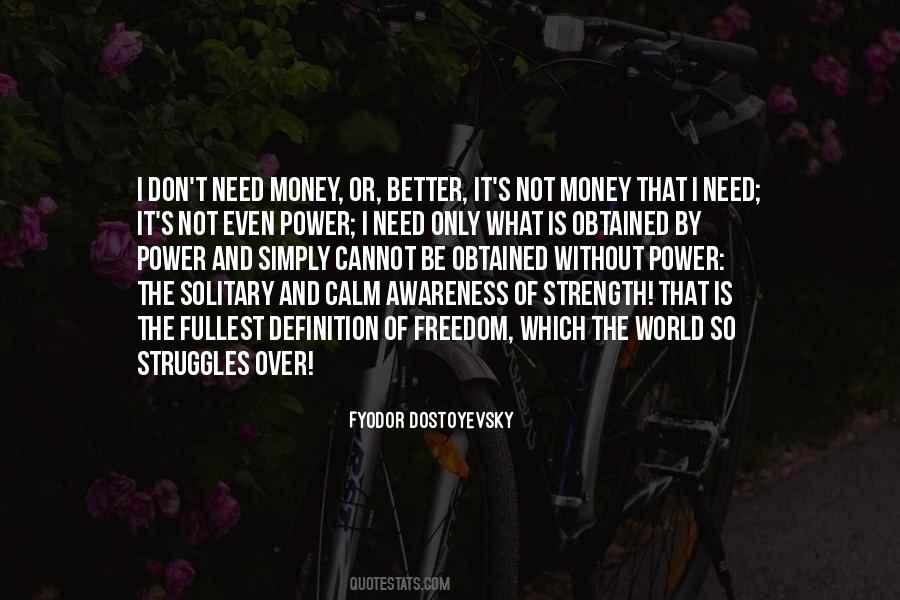 #76. But the walls of my resolve
mortared with stubbornness
have been breached
by circumstances
I cannot handle alone. - Author: Susie Clevenger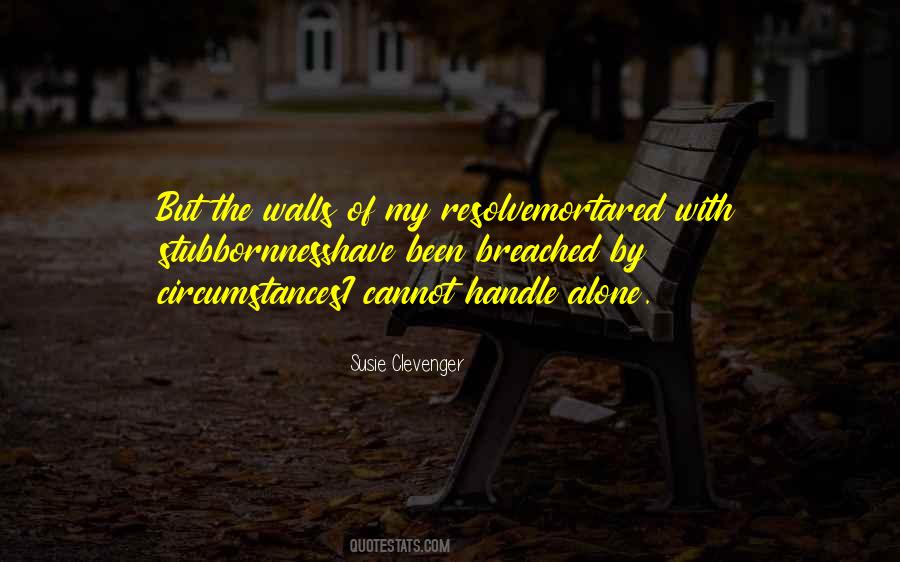 #77. Surely this trial is just for a season. All I need is the strength to endure - to see through the darkness of winter to the promise of spring. - Author: Tracy Leininger Craven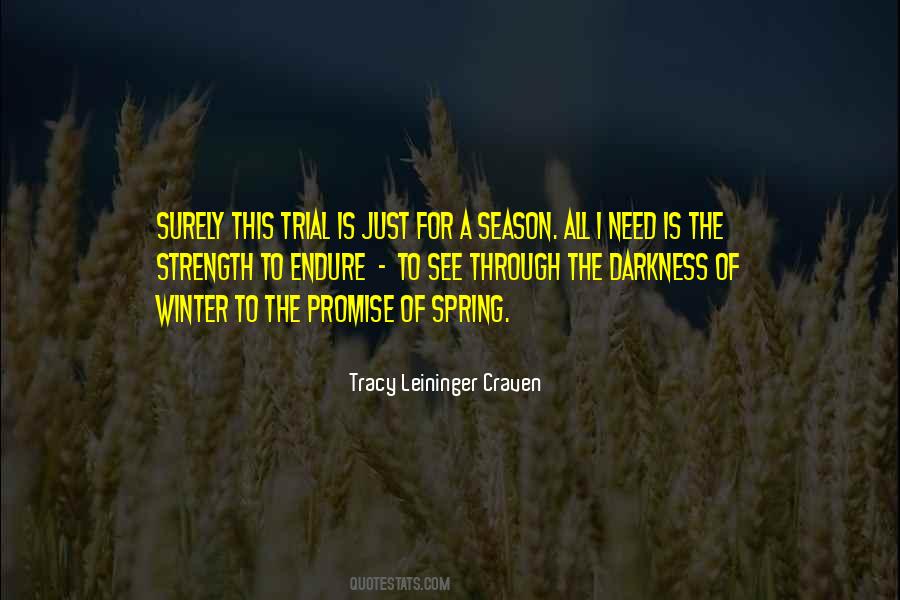 #78. There is no such thing as "natural law": this expression is nothing but old nonsense ... Prior to laws, what is natural is only the strength of the lion, or the need of the creature suffering from hunger or cold; in short, need. - Author: Stendhal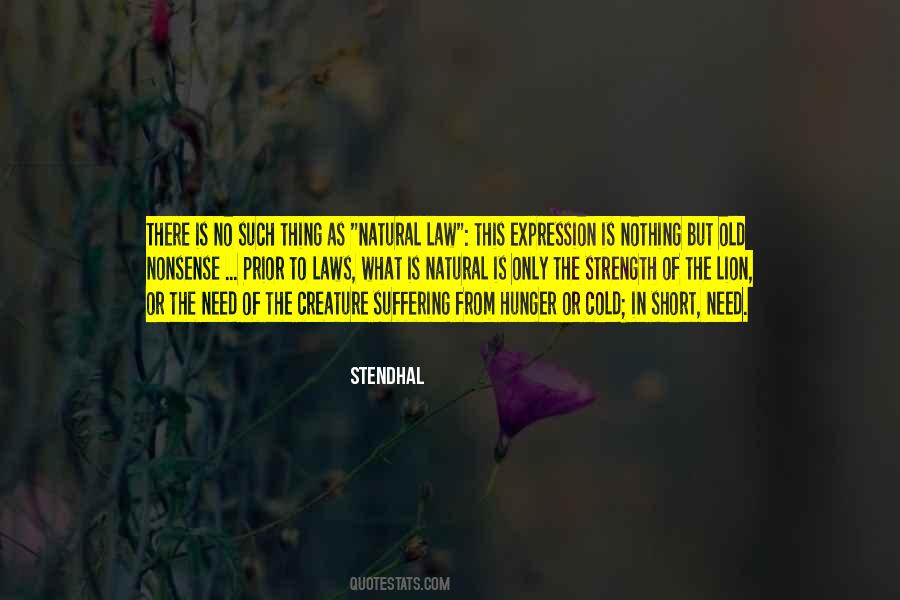 #79. The road ahead holds many tests challenging everything she ever believed. I whispered a prayer for her inner strength to guide her on her path. She was going to need it. - Author: Cambria Hebert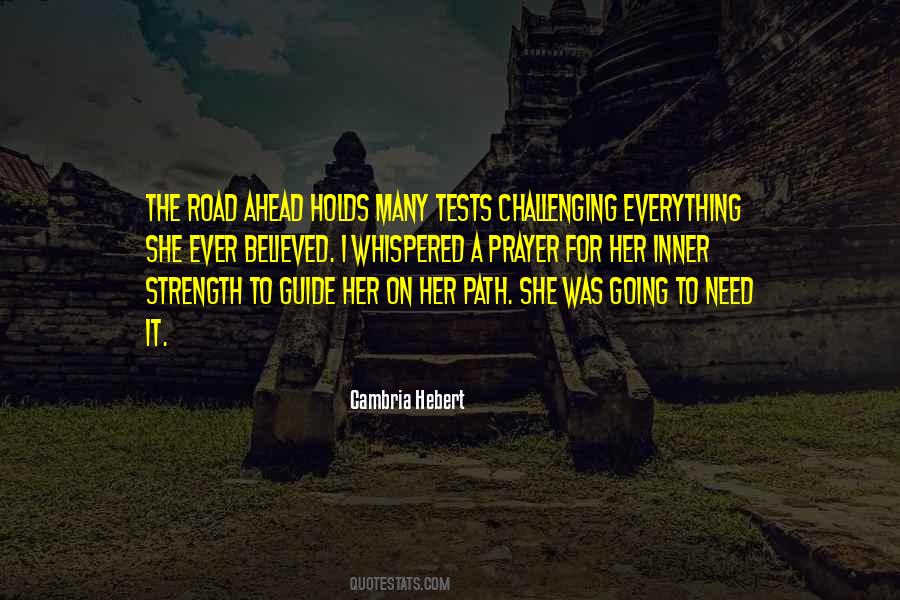 #80. WHILE THE WORLD IS not a vale of tears, there are times when it seems more so than others. As strong as we may be, these are the times we need a special power - the potent strength of the Divine Feminine. - Author: Kris Waldherr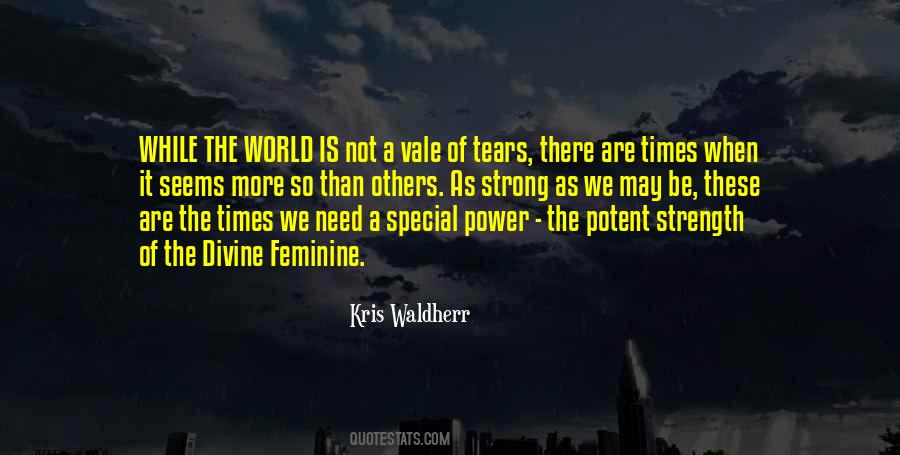 #81. I know what it is to be in need and what it is to have more than enough. I have learnt this secret, so that anywhere, at any time, I am content, whether I am full or hungry, whether I have too much or too little. I have the strength to face all conditions by the power that Christ gives me. - Author: Anonymous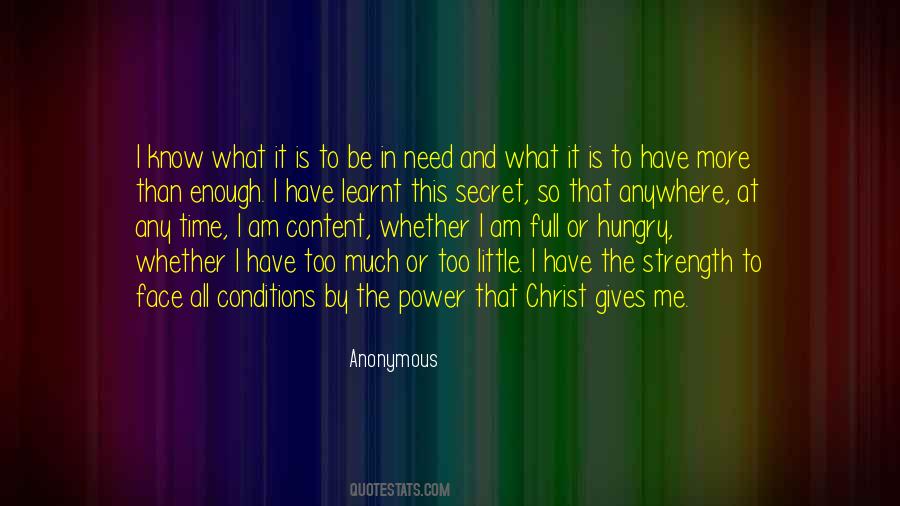 #82. Darkness does not leave without the light to chase it away. You need to have spiritual strength to pull you through the rough times. - Author: Keith Shaver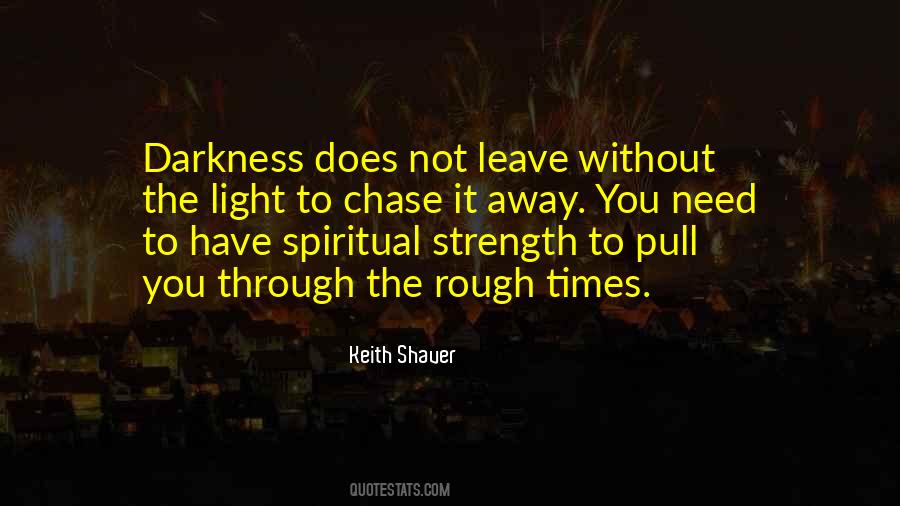 #83. If I pray nicely, will the Father give me a new hand?
No. But the Warrior will give you courage, the Smith will lend you strength, and the Crone will give you wisdom.
It's a hand I need. - Author: George R R Martin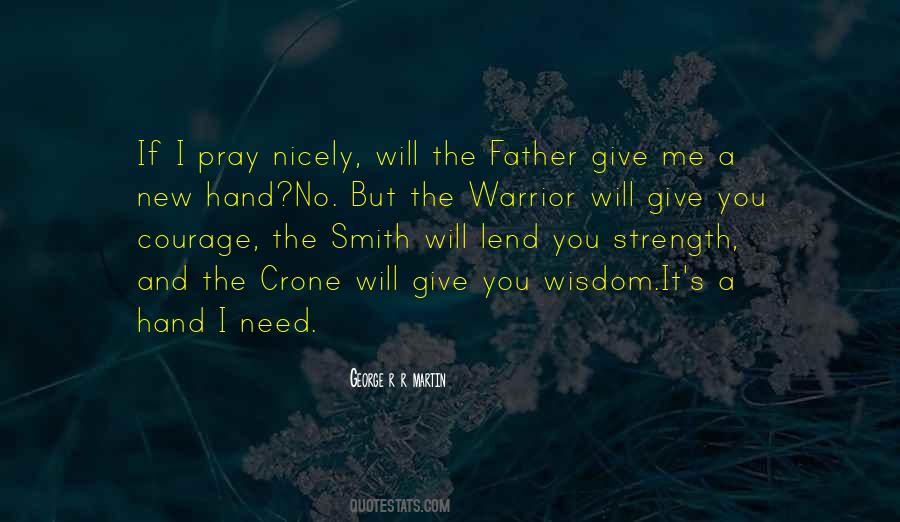 #84. After a disaster strikes, it can be very devastating and very challenging. You're going to need a lot of strength and energy, and the American Red Cross suggests you go for the high protein items. - Author: Anne Sexton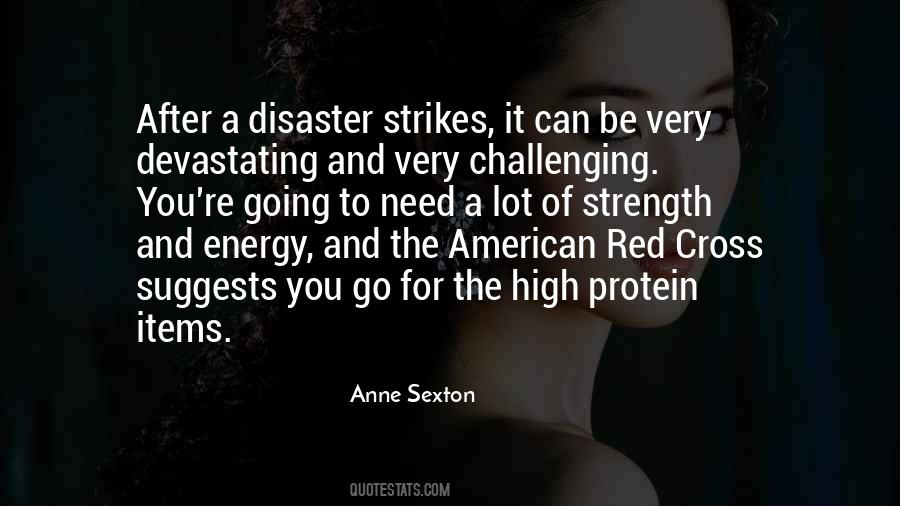 #85. From the depth of need and despair, people can work together, can organize themselves to solve their own problems and fill their own needs with dignity and strength. - Author: Cesar Chavez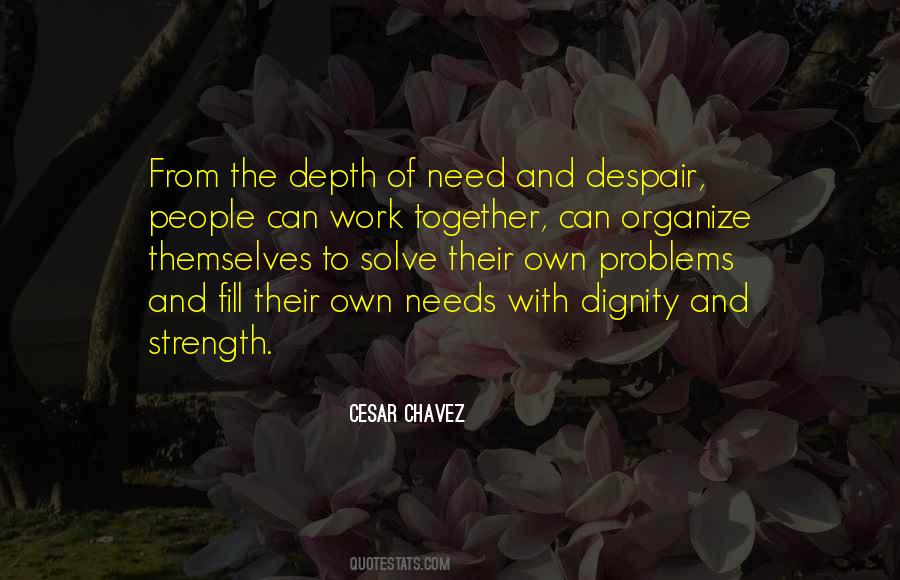 #86. The Secret is - there really is no secret. Everything you need lies within yourself. - Author: Vid Lamonte' Buggs Jr.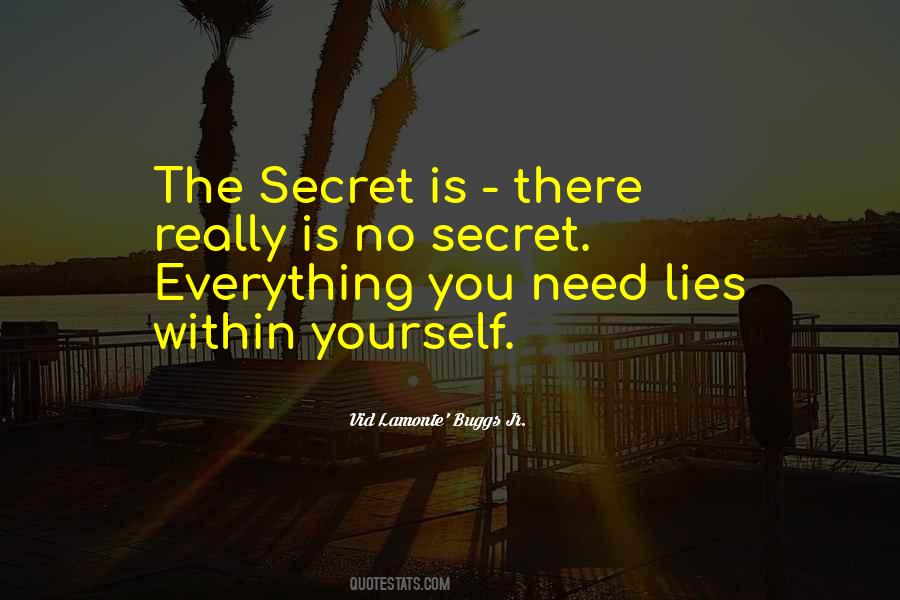 #87. Black is associated with power because all vibrational energies of all colors are drawn into one place, ready to be used. Wear black when you feel the need to draw energy to yourself for reviving your strength, energy, and will. - Author: Tae Yun Kim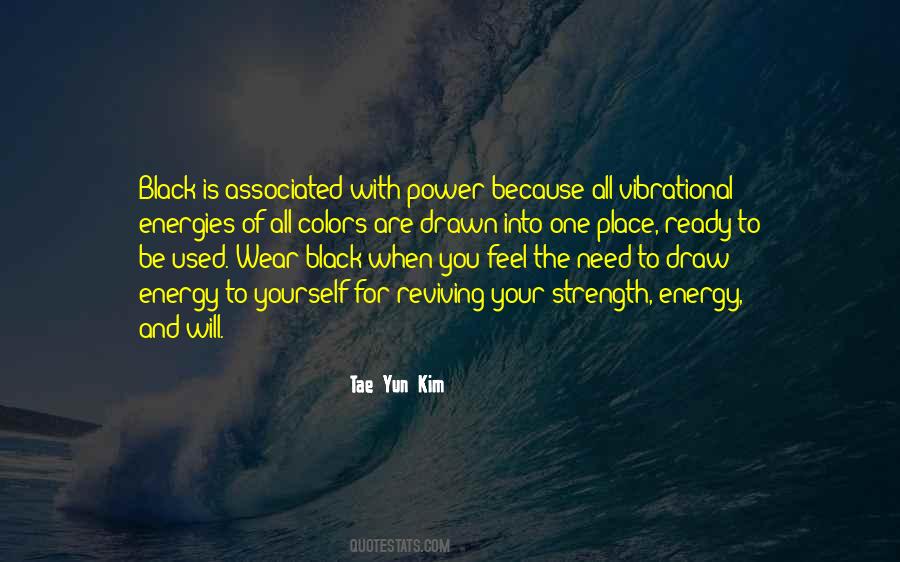 #88. We need to band together as a unit every day, especially to conquer the strength of the AIDS virus. - Author: Dustin Hoffman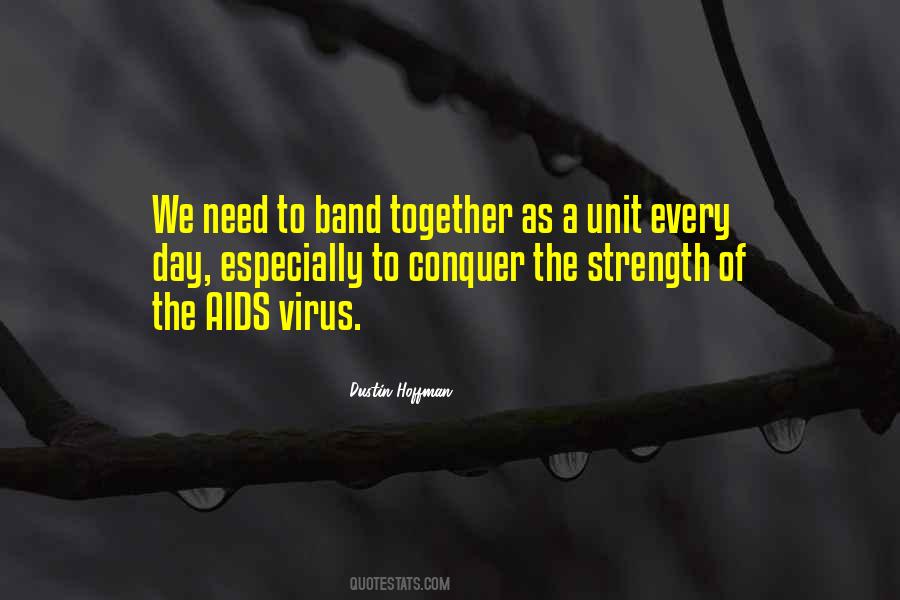 #89. O my soul, is not this enough? Dost thou need more strength than the omnipotence of the United Trinity? Dost thou want more wisdom than exists in the Father, more love than displays itself in the Son, or more power than is manifest in the influences of the Spirit? - Author: Charles Haddon Spurgeon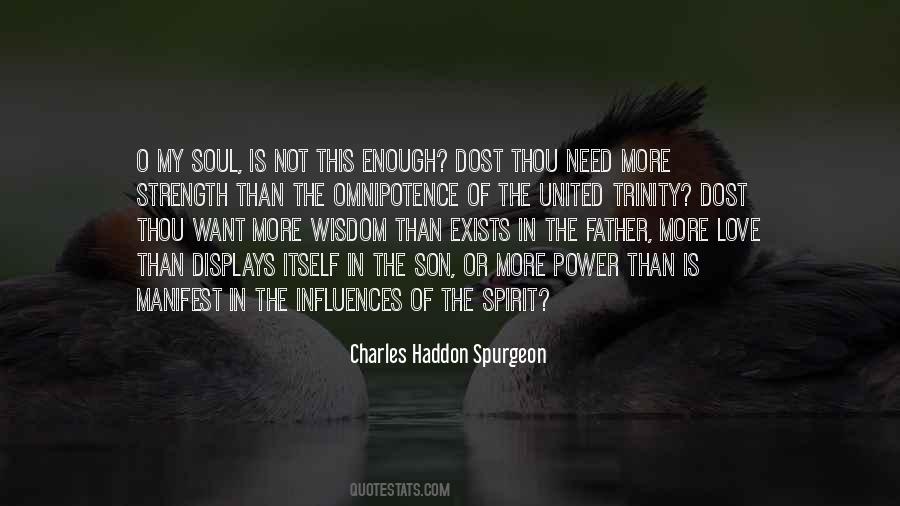 #90. Lvov: I need to have a candid talk with you, Nikolay Alekseyevich.
Ivanov: Doctor, if we're going to have a candid talk every day, I haven't the strength for it. - Author: Anton Chekhov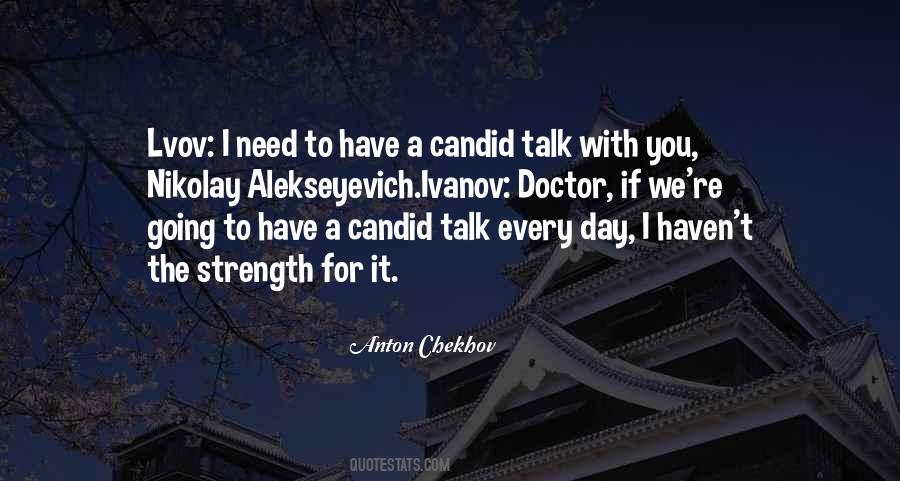 #91. He was handsome and strong, but somehow that wasn't enough for him. He also felt the need to be tough and inured to hardship... But how was he to come by that quality in this luminous garden, where all manner of fruit was to be had for the picking? - Author: Michael Ende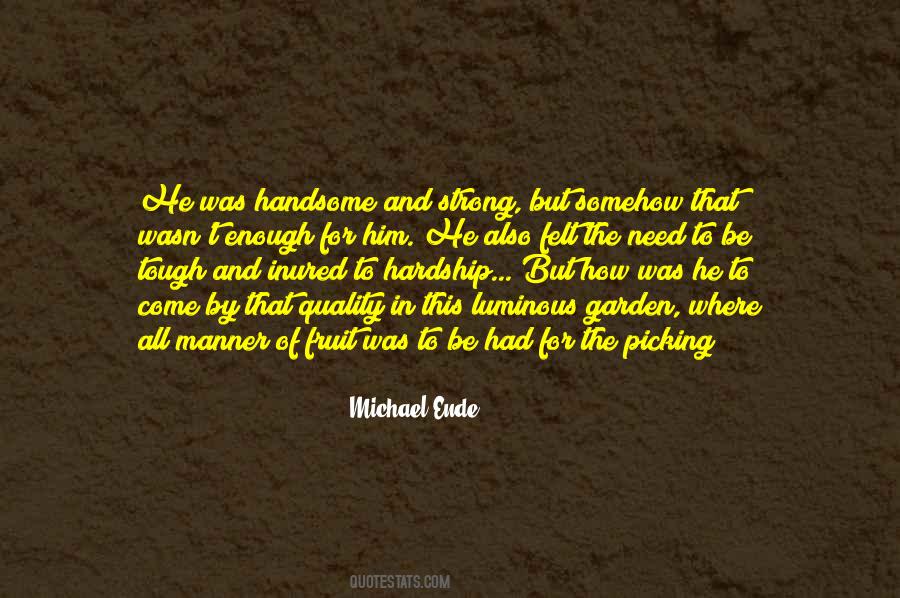 #92. Life is a gift. The Lord never promised any of us permanent happiness on earth. But - and here's the saving grace - he will give us the strength we need to keep on going if we ask him. - Author: Paige Lee Elliston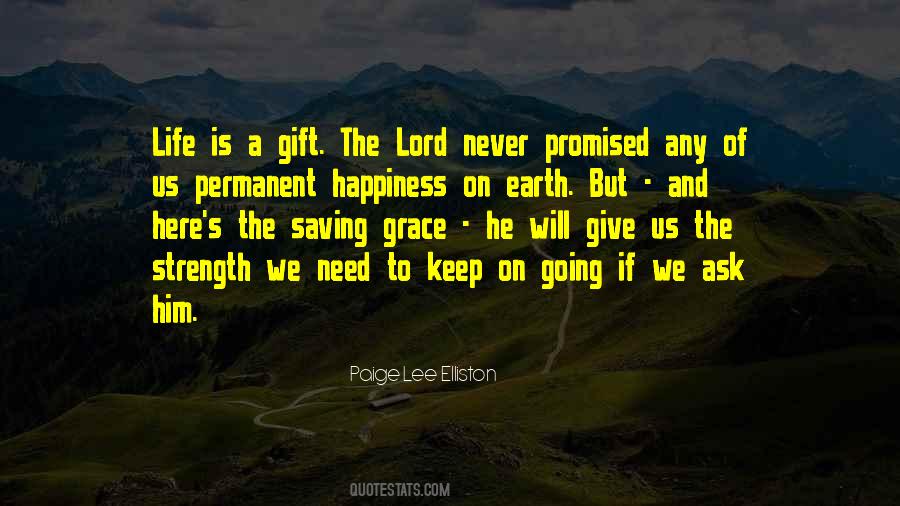 #93. She reminded him that the weak will never enter the kingdom of love, which is a harsh and ungenerous kingdom,and that women give themselves only to men of resolute spirit, who provide them with the security they need in order to face life. - Author: Gabriel Garcia Marquez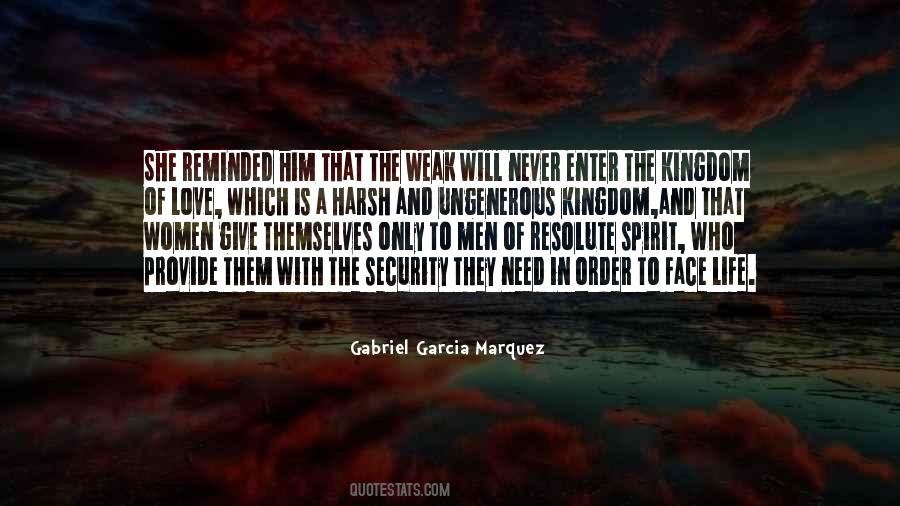 #94. CAN YOU THINK OF ANY NEED YOU HAVE THAT WOULD REQUIRE MORE STRENGTH THAN GOD EXERCISED TO RAISE THE DEAD? - Author: Beth Moore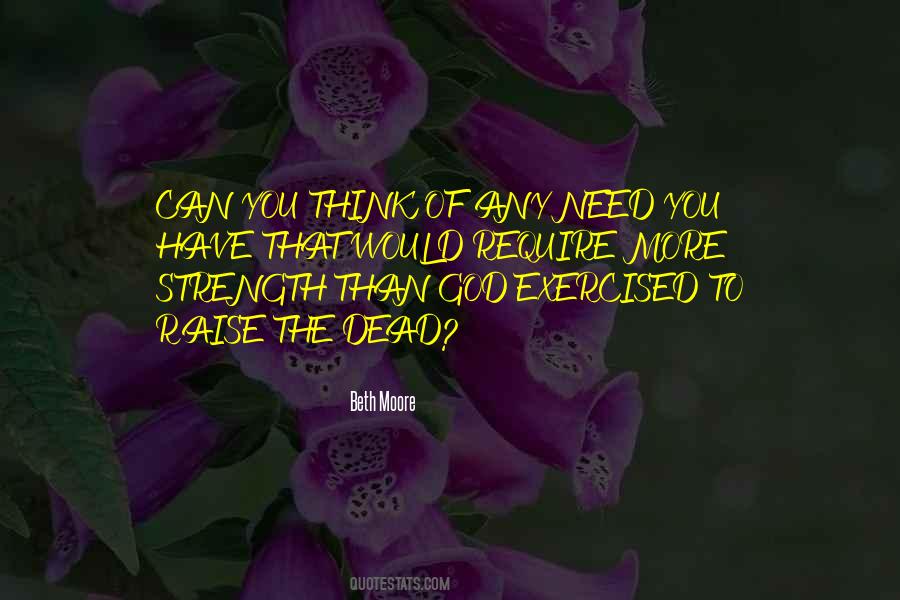 #95. To gain strength in our struggles, we must have a positive perspective of the principles in the plan of salvation. We must realize that we have a personal Savior whom we can trust and turn to in our times of need. - Author: L. Lionel Kendrick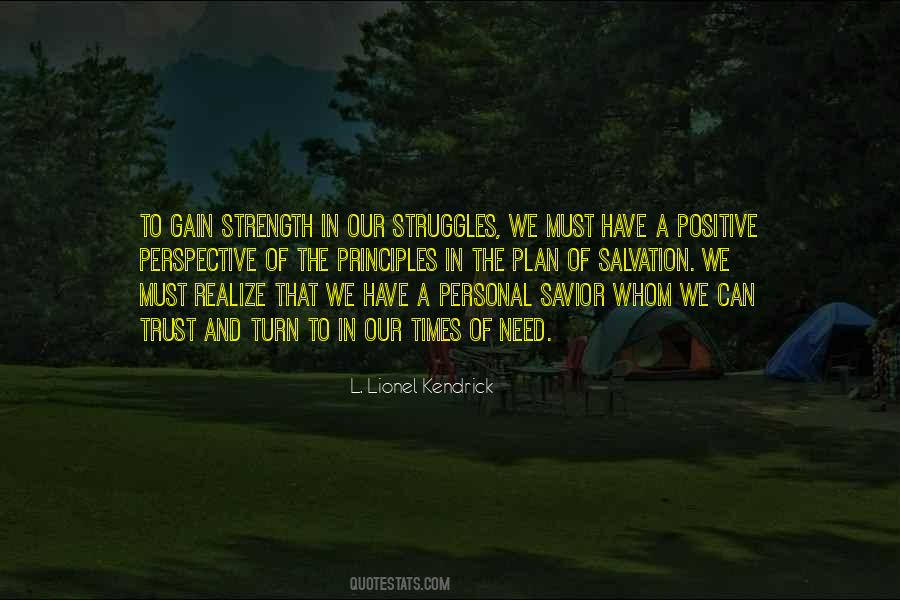 #96. We come to the table not because we are holy, but because we are in need of His holiness. We come to the table not because we are strong, but because we are weak and in need of His strength. - Author: Jonathan Martin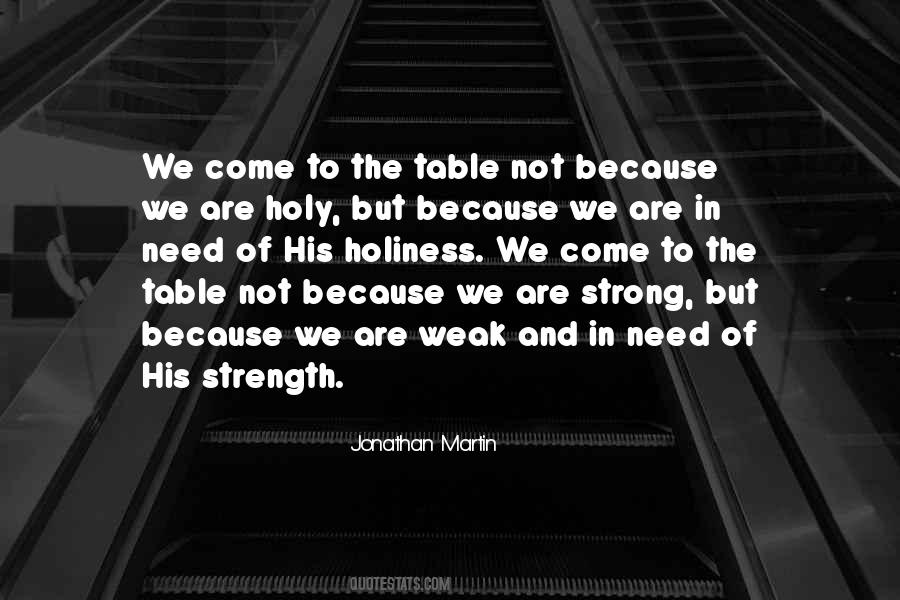 #97. You may hesitate, wondering whether you will have strength to live for God. Don't worry. God will give you what you need if you will just make the choice to live for him. - Author: Rick Warren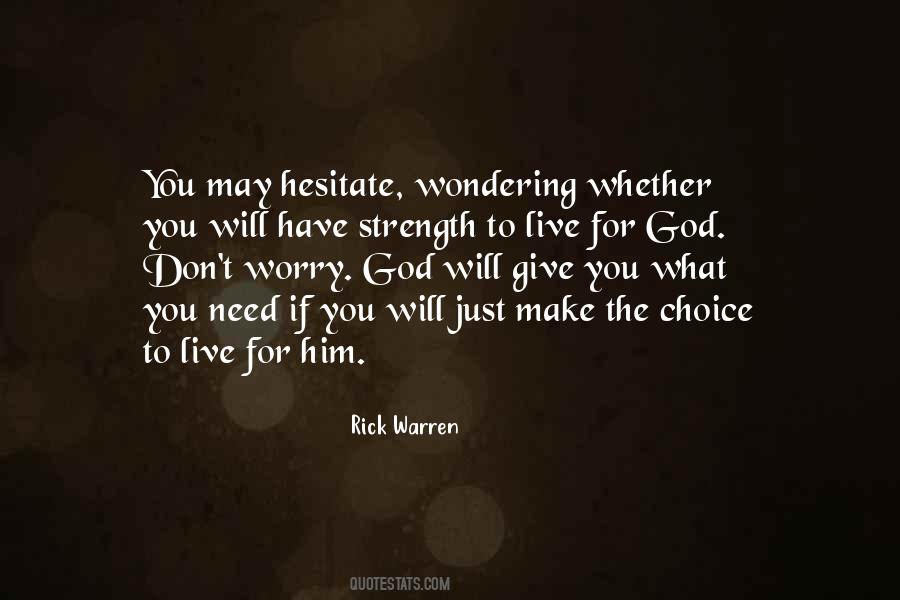 #98. I think that in the space between birth and death you can have one life, or you can have many. But in order to have many, you also need the strength to end the one that came before. And there lies the tricky part. - Author: L. H. Cosway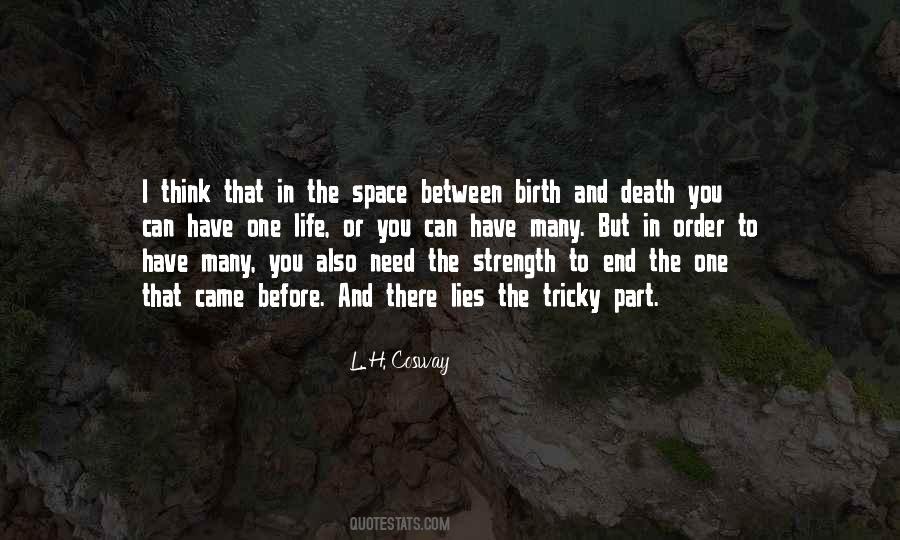 #99. I think what I've come to now is, that fear is good; it's what life is about. You need to be afraid because fear gives you the strength to carry on important tasks. - Author: Kristen Stewart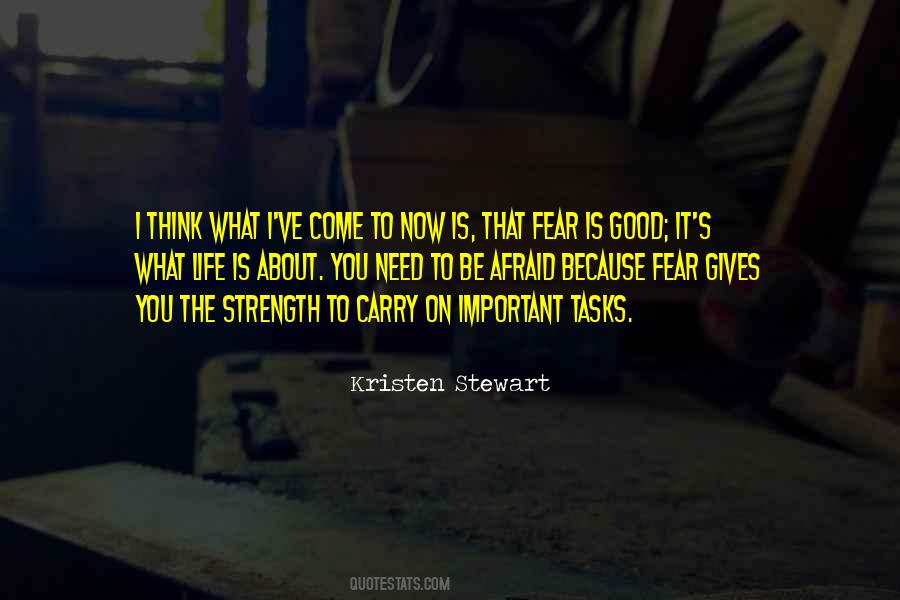 #100. The most privileged position, in life as in society, is that of an educated soldier. Rough warriors, at any rate, remain true to their character, and as great strength is usually the cover for good nature, we get on with them at need. - Author: Johann Wolfgang Von Goethe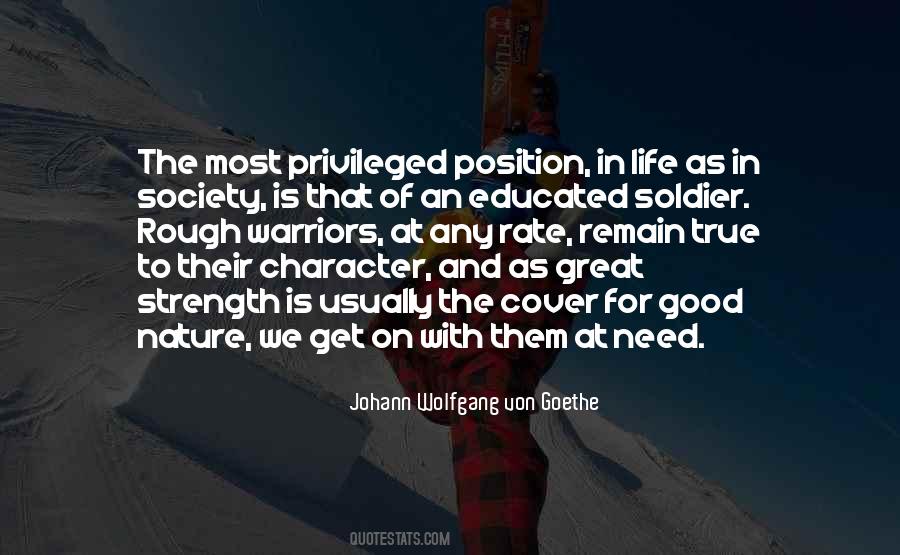 Famous Authors
Popular Topics