My Heart Closed Famous Quotes & Sayings
List of top 36 famous quotes and sayings about my heart closed to read and share with friends on your Facebook, Twitter, blogs.
Top 36 My Heart Closed Quotes
#1. My heart, as I closed the cabinet and rose to my feet, was a small dead creature. If I could bury it in the woods, I would. - Author: Lauren Myracle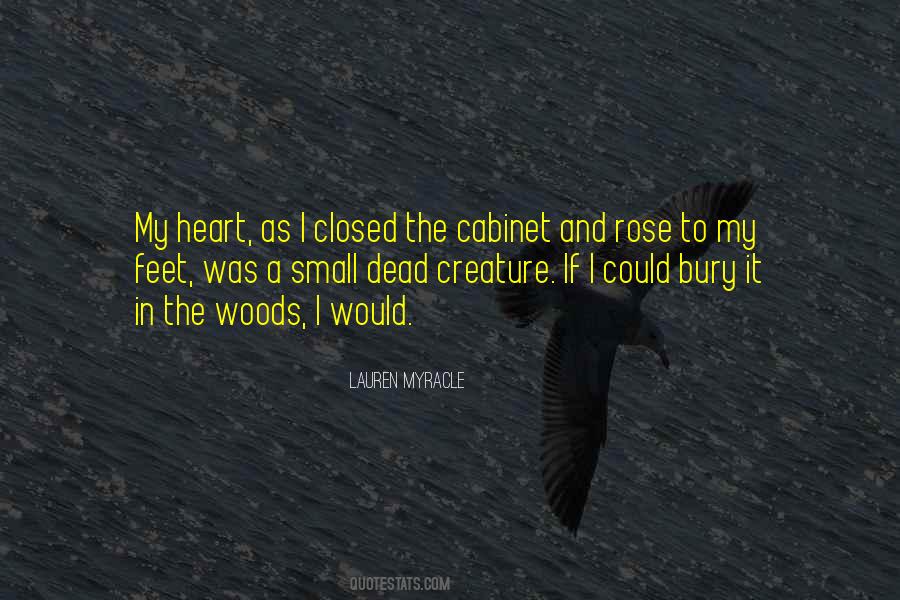 #2. I was heart broken, scared, I had a lot of anxiety, I was worried, I felt weak, and I had no idea how I was ever going to come up with the strength. But I just closed my eyes, and took a blind leap. I knew I had to get out of there. - Author: Bob Casey Jr.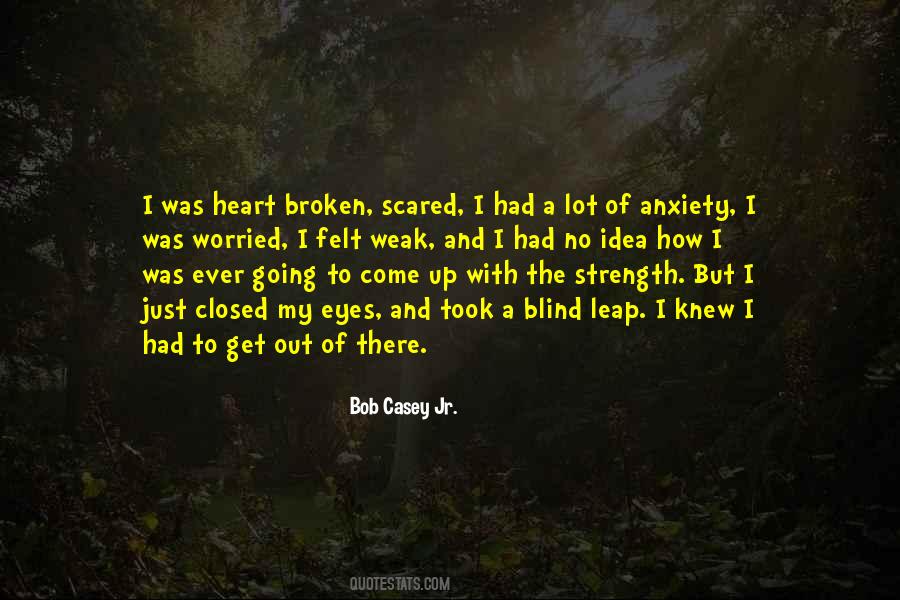 #3. A trap closed around my heart, and in that moment, I was helpless. Whether she loved me for my money or myself, whether she loved me at all, whether her heart was even available for the winning ... none of it mattered. I was smitten to the core. - Author: Julianne Donaldson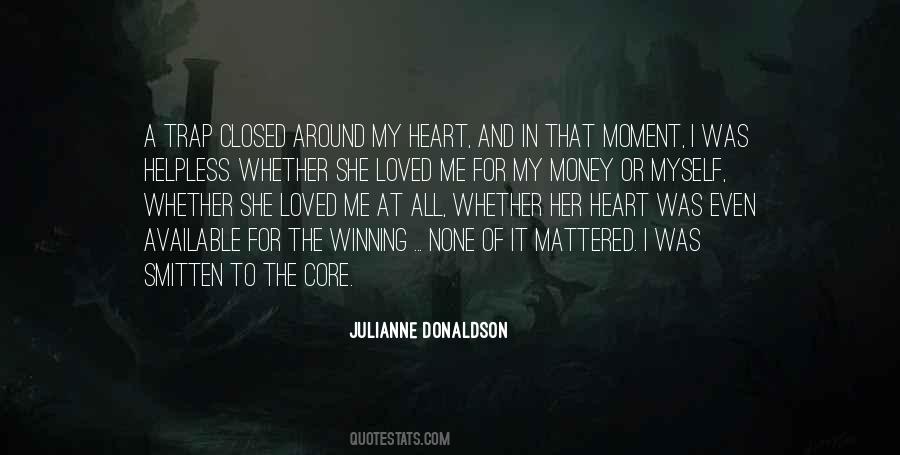 #4. Like a window had been thrown open inside my head and my heart, where there had been closed shutters before. - Author: Malorie Blackman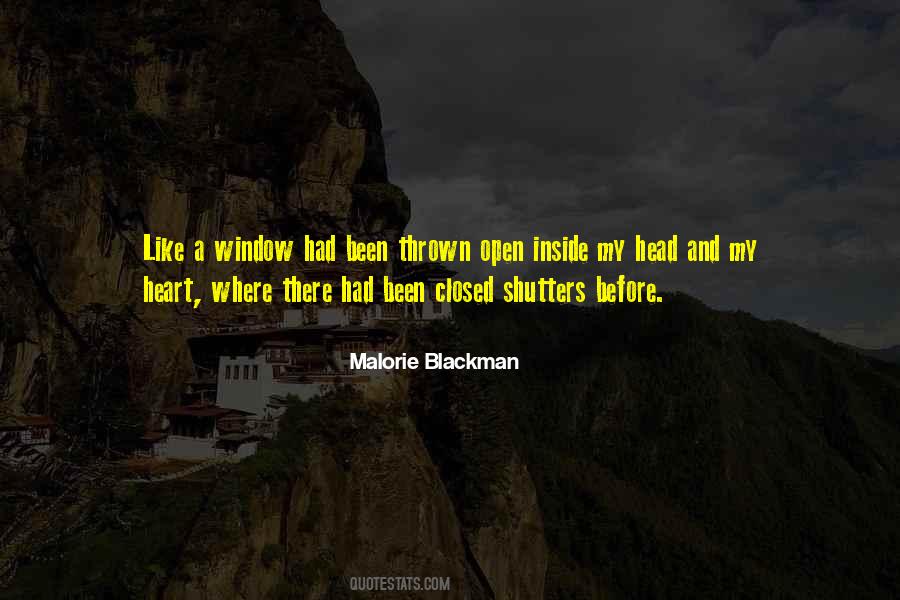 #5. I closed the door and sank into my desk chair. My heart was pounding even harder. I felt like someone who had just staggered out of her car after an accident on a freeway. This was different from the cockroach and the books and the Barbie. I'd been injured. Someone had tried to physically harm me. - Author: Kate White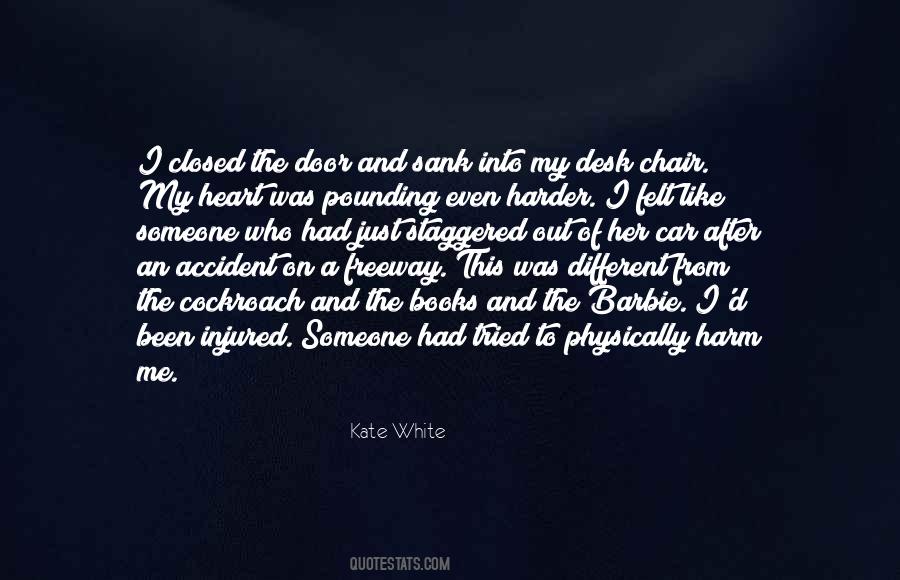 #6. I stretched out on the carpet, eyes glazed over, my heart whirring with frustration and fear, and as my mother's curse slowly, firmly, pushed my eyelids closed, my body went still. But on the inside I was screaming. - Author: Kendall Kulper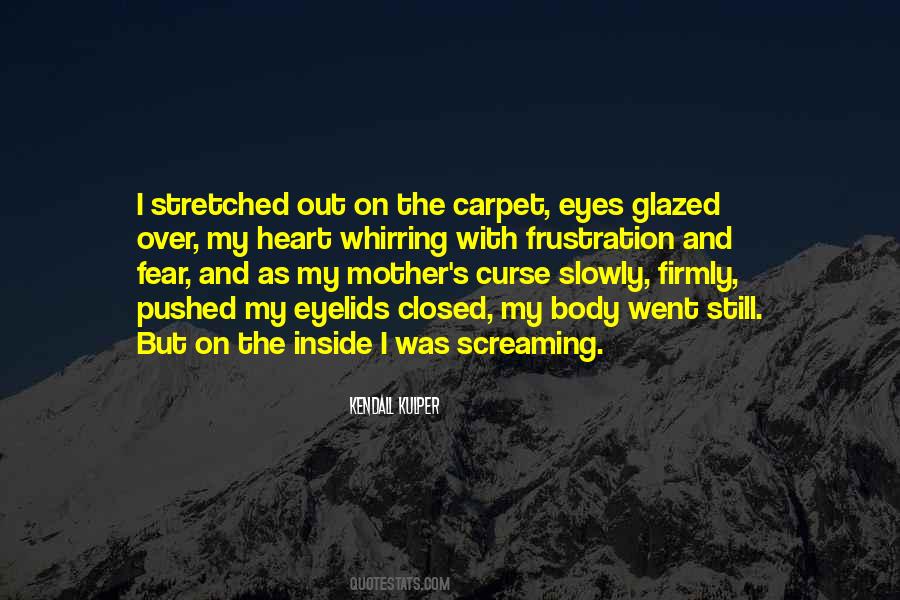 #7. See you around," I said.
"See you around," said one.
"See you around," said the other.
The phrase echoed in my heart for a long while.
The bus door closed with a bang, and then they were waving to me from the window. Everything repeats itself... - Author: Haruki Murakami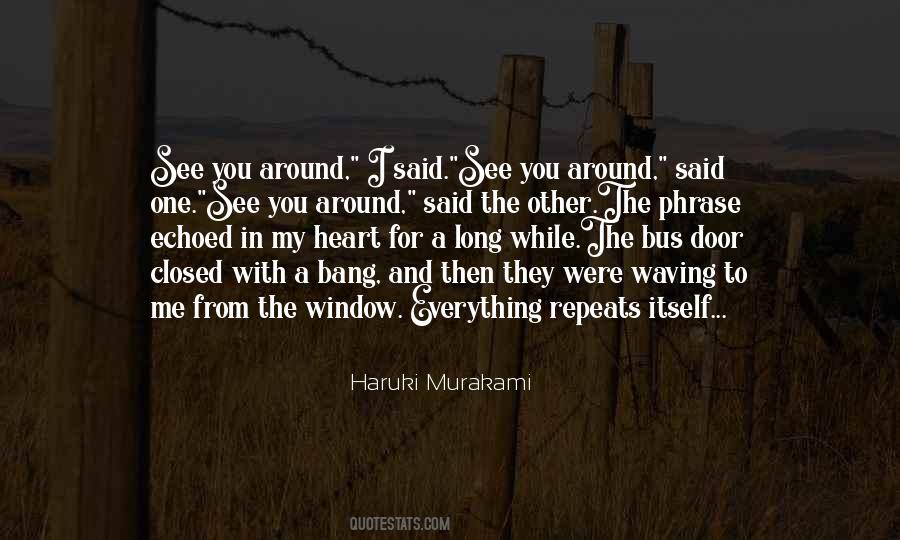 #8. Ethereal, adj.
You leaned your head into mine, and I leaned my head into yours. Dancing cheek to cheek. Revolving slowly, eyes closed, heartbeat measure, nature's hum. It lasted the length of an old song, and then we stopped, kissed, and my heart stayed there, just like that. - Author: David Levithan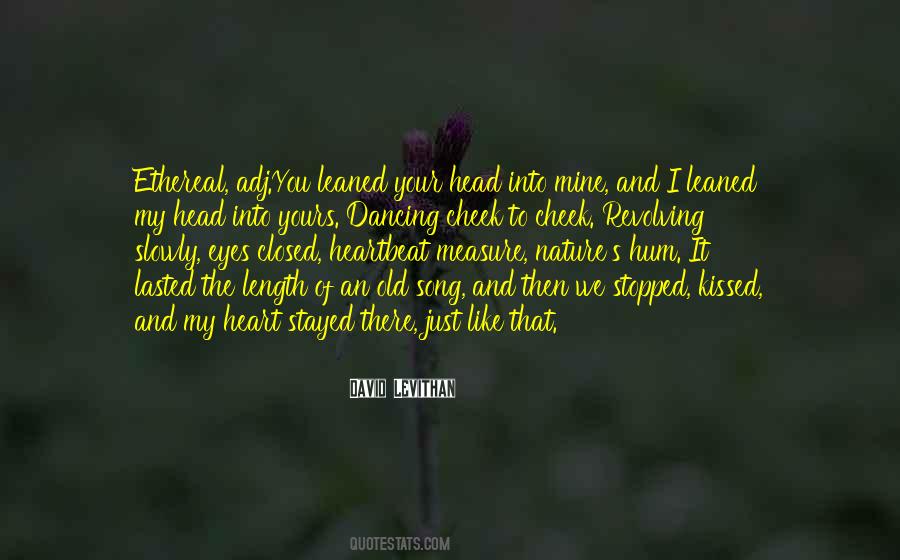 #9. For a long time now my heart has had its shutters closed, its steps deserted, formerly a tumultuous hotel, but now empty and echoing like a great empty tomb. - Author: Gustave Flaubert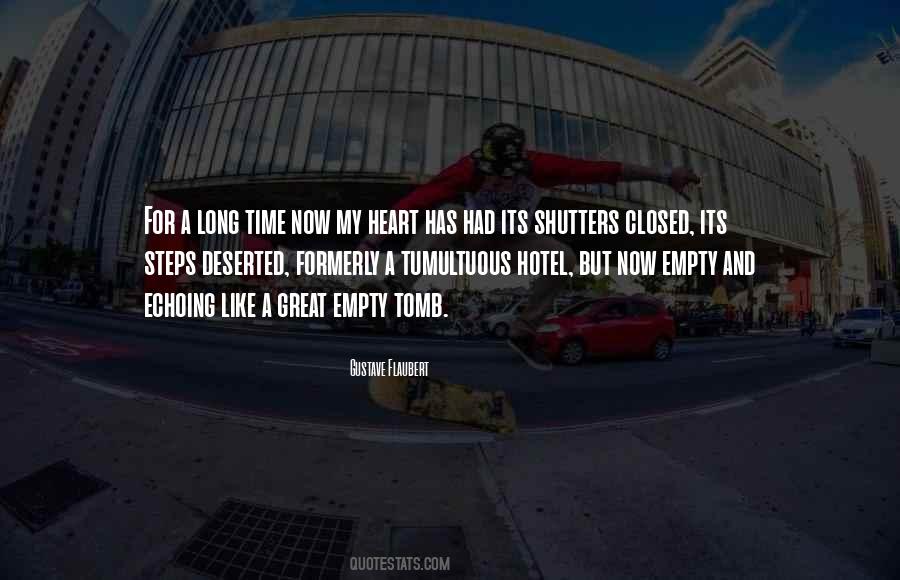 #10. I closed my eyes and tried to discover where the happy half of me was hiding. I felt the tears trickling through my tightly closed eyelids. I felt Whisper's claws tugging at my jeans. I wanted to be all alone in an attic like Skellig with just the owls and the moonlight and an oblivious heart. - Author: David Almond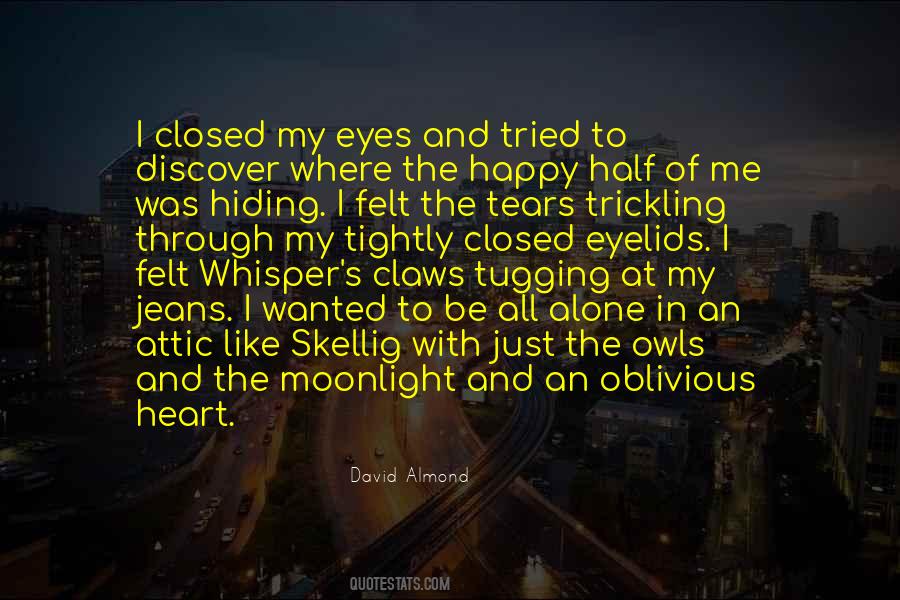 #11. I am afraid. I'm afraid of everything. I'm afraid of the dark, of closed-in spaces, of being alone and of getting too close. I'm afraid that I'll never again have the life I've always known, my feet in the dust and my heart full. I'm afraid of being alive; I'm afraid to die. - Author: Vikki Wakefield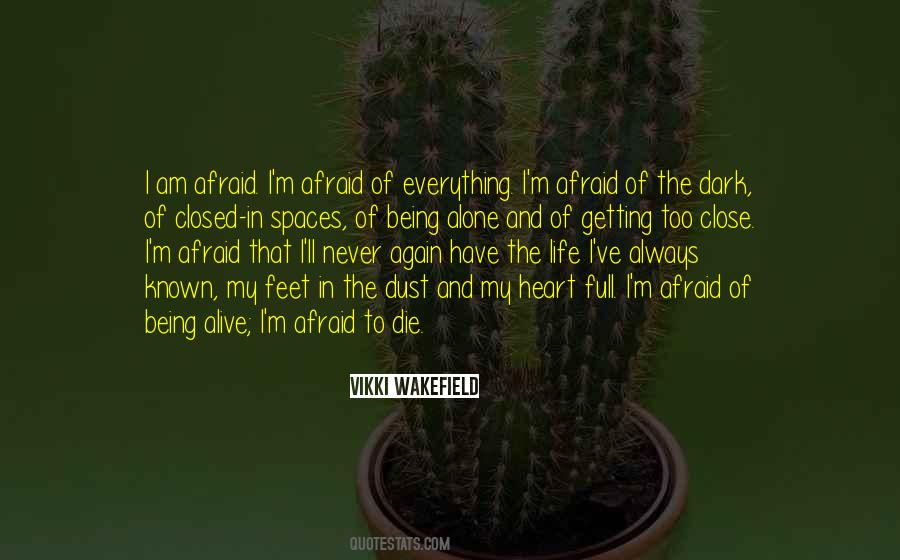 #12. The road from the eye to the heart is easy to follow. I am taking it with my eyes closed. - Author: Christophe Agou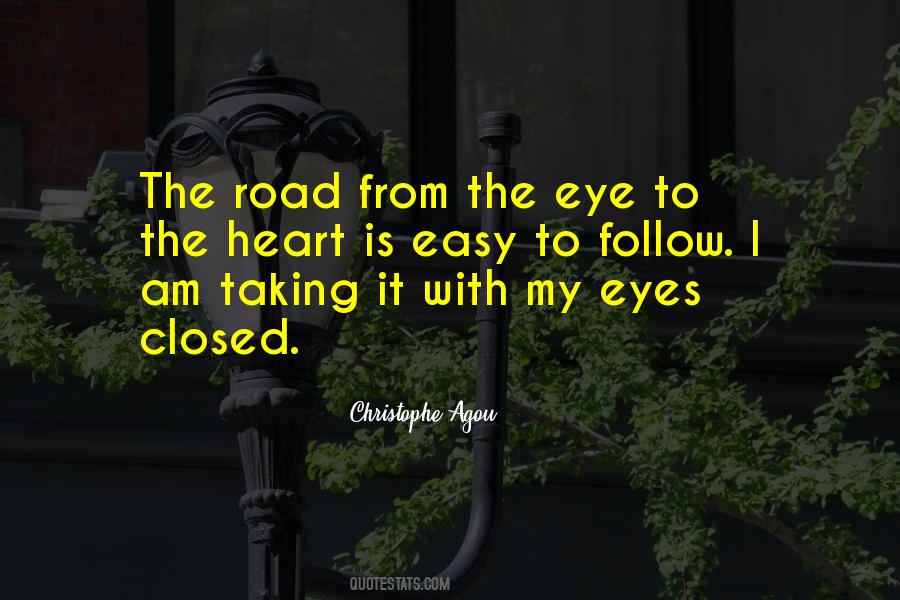 #13. Fiona?"
I closed my eyes, imagining his face. My heart gave another painful tug. "Yes, Greg?"
"Tell me you feel it, too. - Author: Penny Reid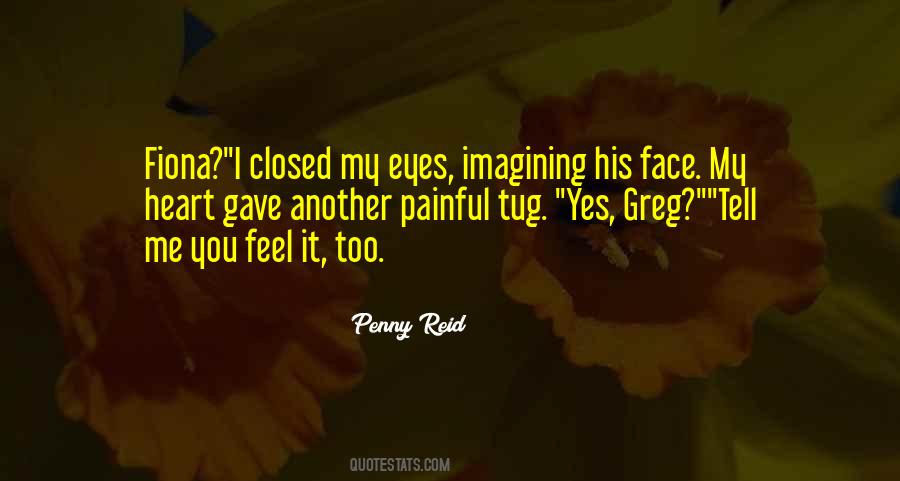 #14. My helpless friend, your helplessness is the most powerful plea which rises up to the tender father-heart of God. You think that everything is closed to you because you cannot pray. My friend, your helplessness is the very essence of prayer. - Author: Ole Hallesby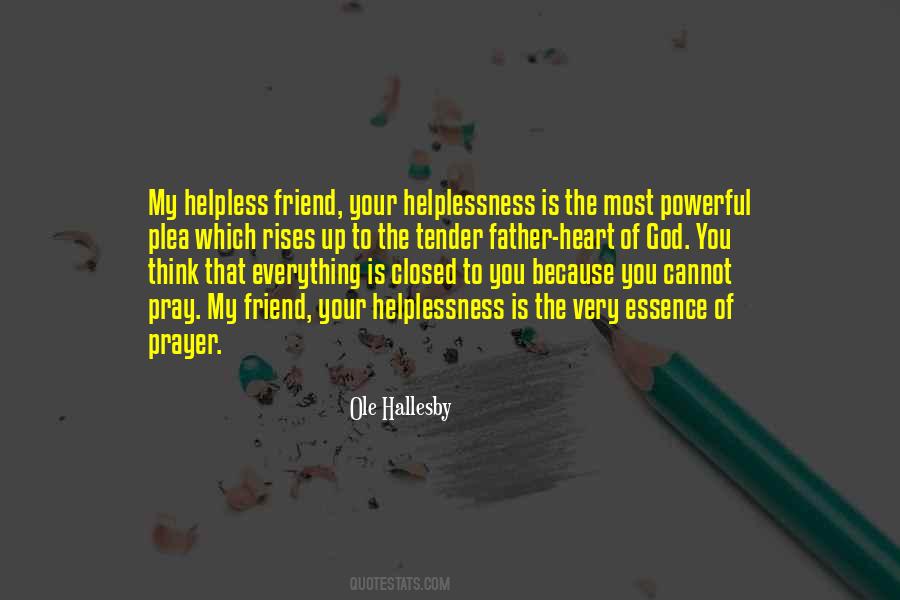 #15. My heart shattered. 'The boy that you keep painting - the one at the warehouse and at the art gallery? That boy is you, isn't it?'
Rider didn't say anything.
'It's not you from the past,' I whispered. His handsome face blurred. 'That's still who you are.'
He closed his eyes. - Author: Jennifer L. Armentrout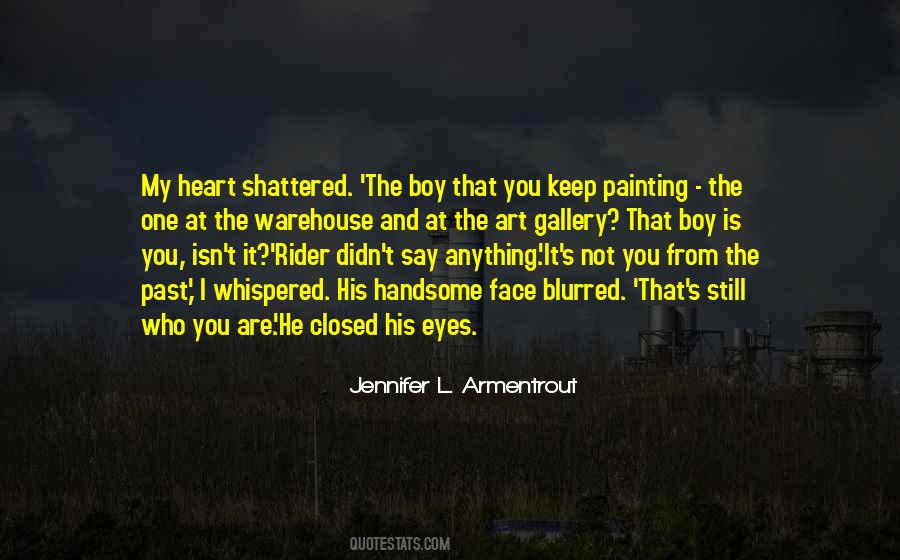 #16. The chandelier was wearing on its rubber support and the crack at the side of the ceiling hold was getting bigger. "One day that's going to fall on us and spear you through the heart," he said. I turned to kiss him on the shoulder and closed my eyes. - Author: Kate Chisman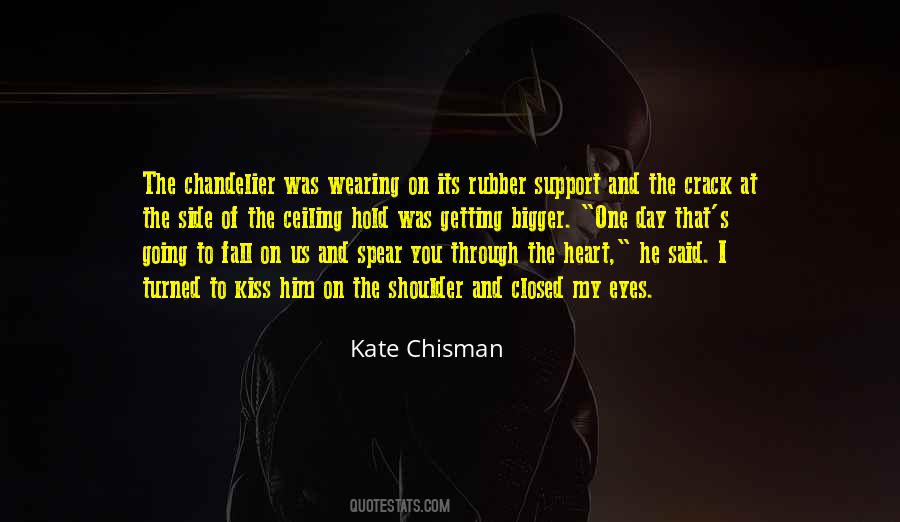 #17. Daniel?" The throaty question had him closing the space between them, pulling her closer into his embrace.
"The way you say my name, that was the second mistake. You haven't closed your heart yet. - Author: Suzan Battah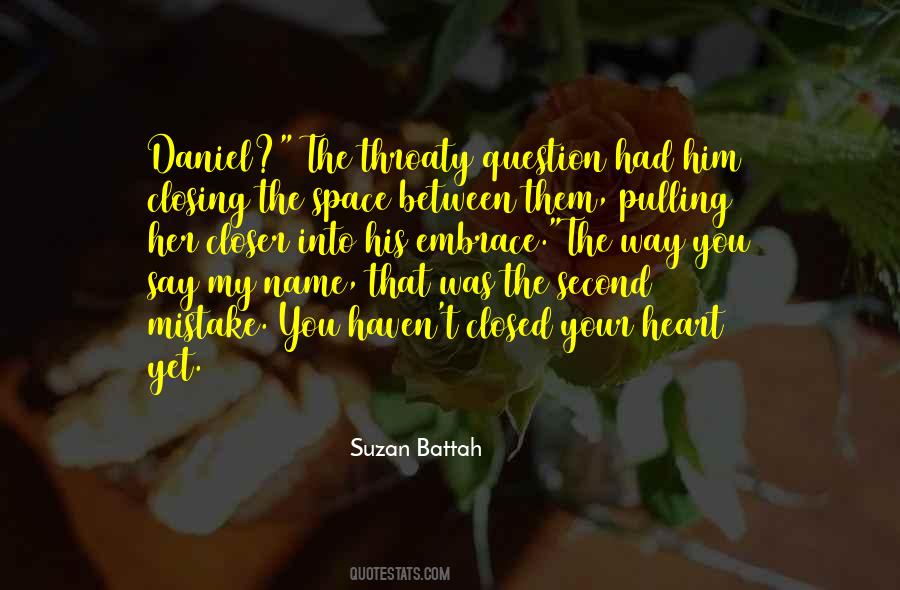 #18. I spend my afternoons painting and working on my Open Hearts jewelry line for Kay Jewelers. I designed an image of a heart that isn't completely closed. My mom always told me to live with an open heart - when life gets tough, you should go out and help someone else. - Author: Jane Seymour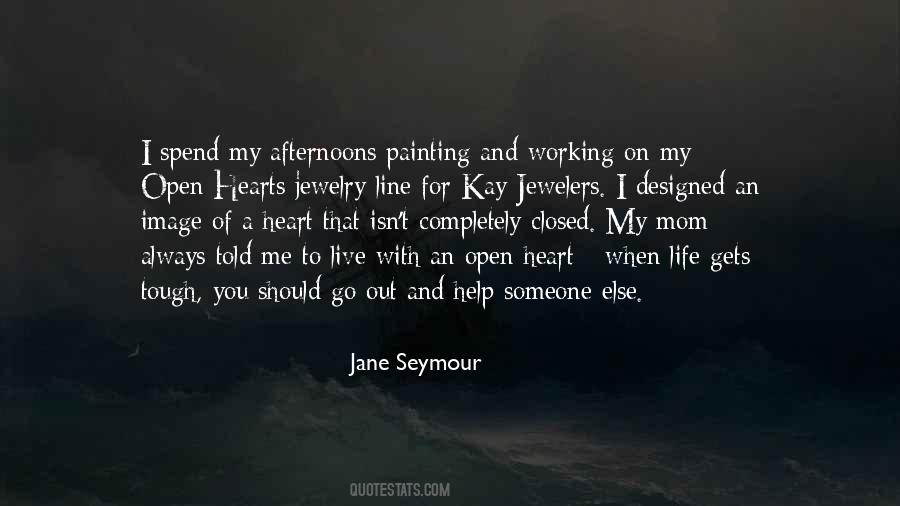 #19. I'd never have gotten this far without you, I said.
Jack tipped his cap to me. My heart squirmed around to find a new position under my ribs. I closed the door fast before I could say something really stupid. - Author: Sarah Zettel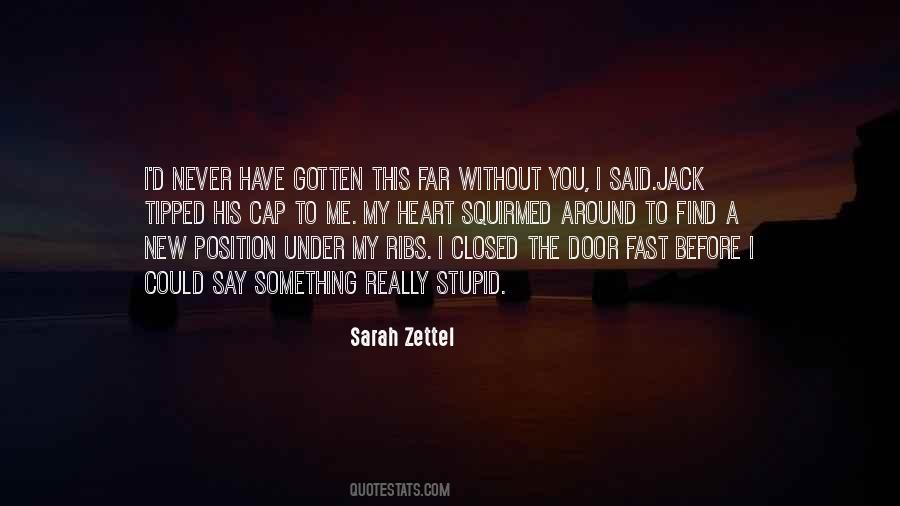 #20. FBI Girl is touching and funny, inspiring and tragic, enlightening and sad. I closed the book with tears in my eyes and admiration in my heart for the girl Maura Conlon was and the writer she became. - Author: Beverly Donofrio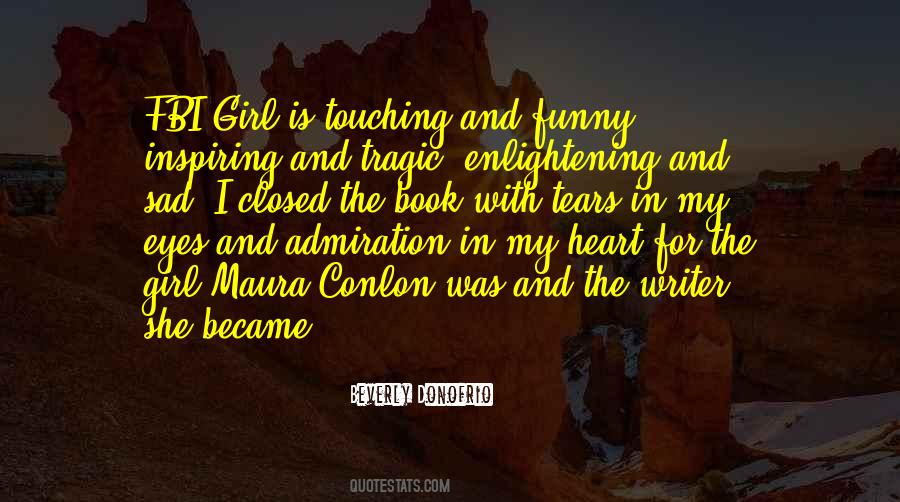 #21. I just try to keep my heart open. By this, I mean to try not to let my own programmed reaction to things keep me closed down for too long. - Author: Krishna Das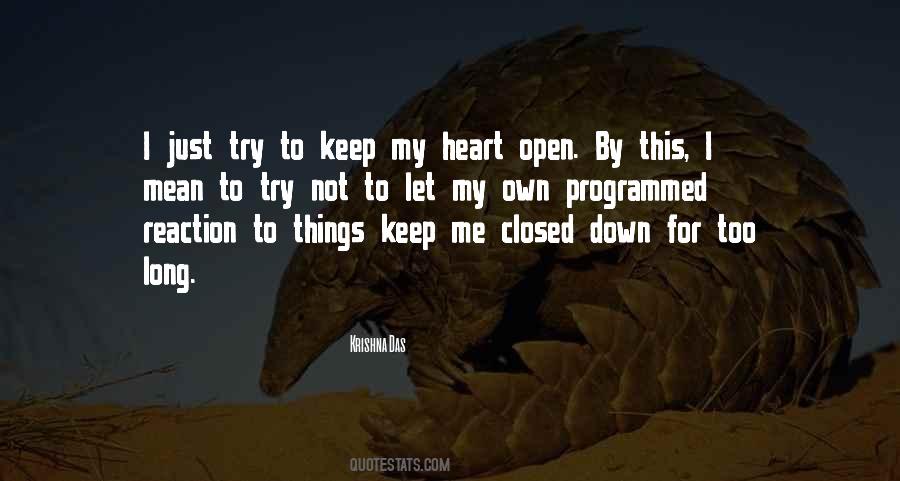 #22. Beyond speech and mind,
Into the river of ever-effulgent Light
My heart dives.
Today thousands of doors, closed for millennia,
Are opened wide. - Author: Sri Chinmoy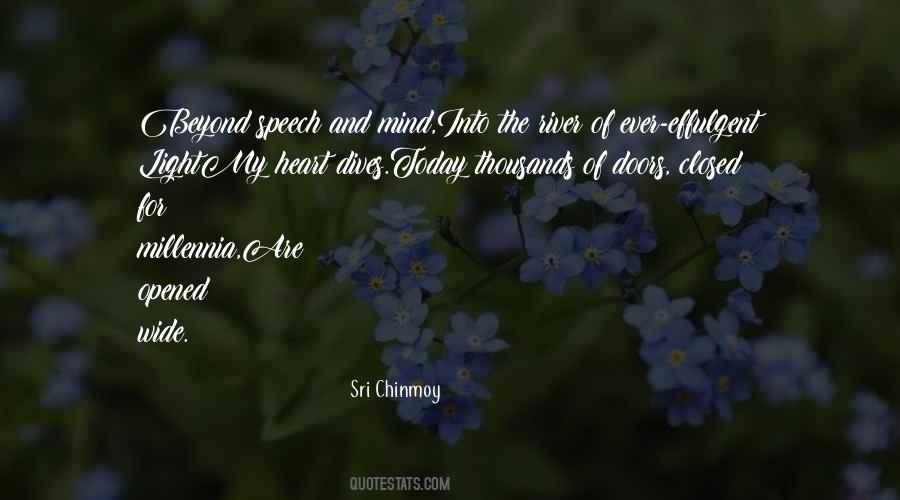 #23. I don't know how to let you back in." My heart beat spiked and I closed my eyes when he whispered," I don't know how to keep you out either. - Author: S.C. Stephens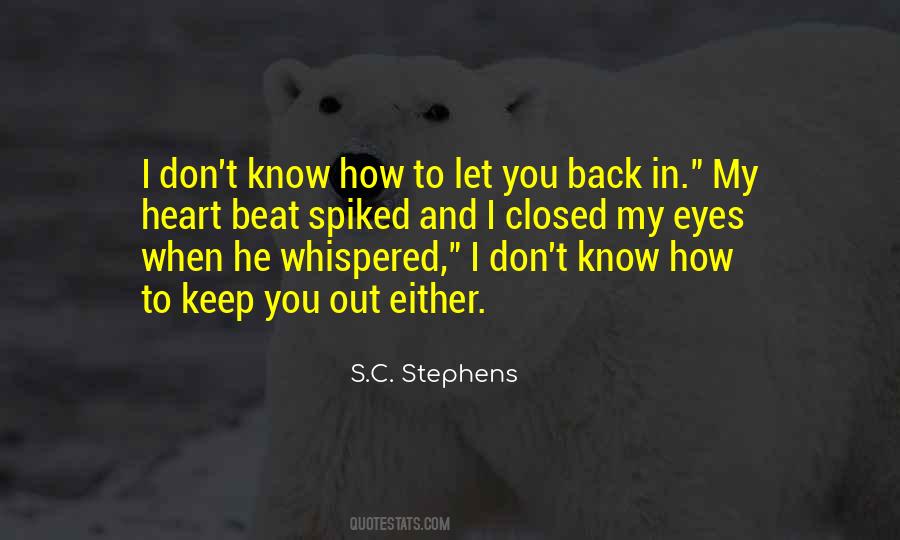 #24. I closed my eyes as I put my hand in his. It was different the second time. Something clicked into place and I could almost sense a line of energy connecting us. I gasped as it tightened around my heart. - Author: Aileen Erin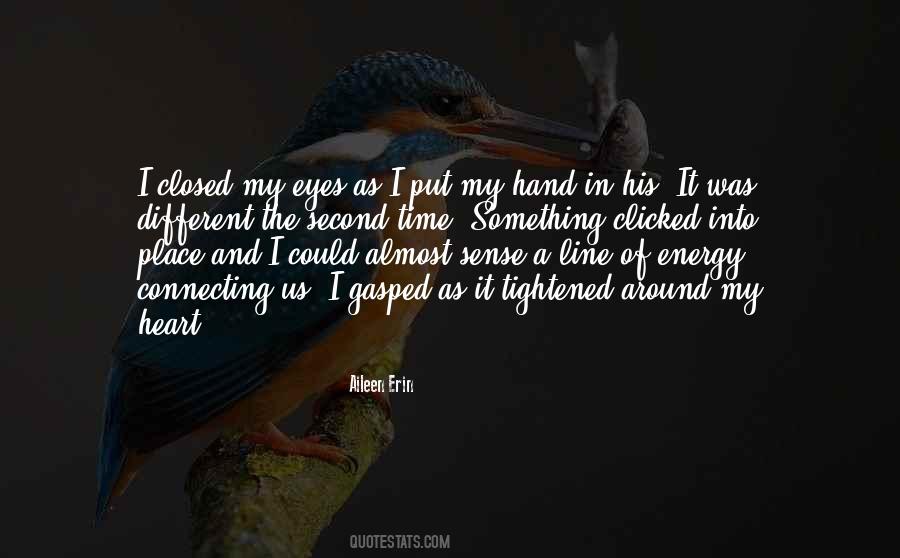 #25. She did not replace my mother; no one could do that; but she came into a vacancy in my heart, which closed upon her, and I felt towards her something I have never felt for any other human being - Author: Charles Dickens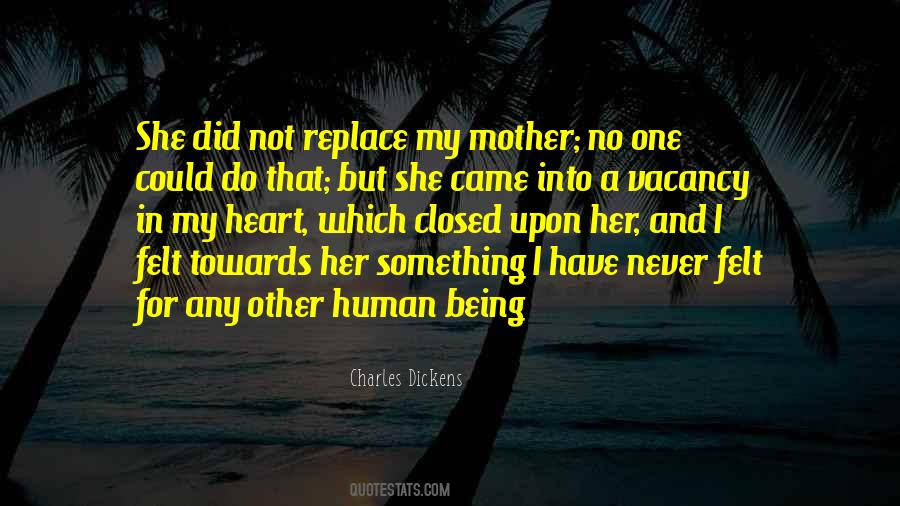 #26. For the first time in ages I felt a tiny pinprick in my heart
not like it was breaking, but like something small and unseen had begun sewing it closed again. - Author: Leslea Tash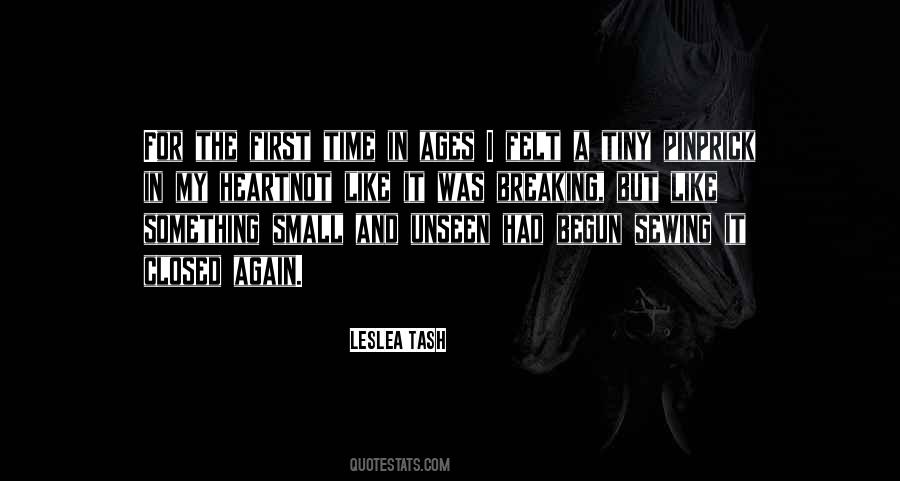 #27. My world slowed and I closed my eyes. "I am going to give you my heart now," I whispered. "Please don't break it again. - Author: Jessica Verday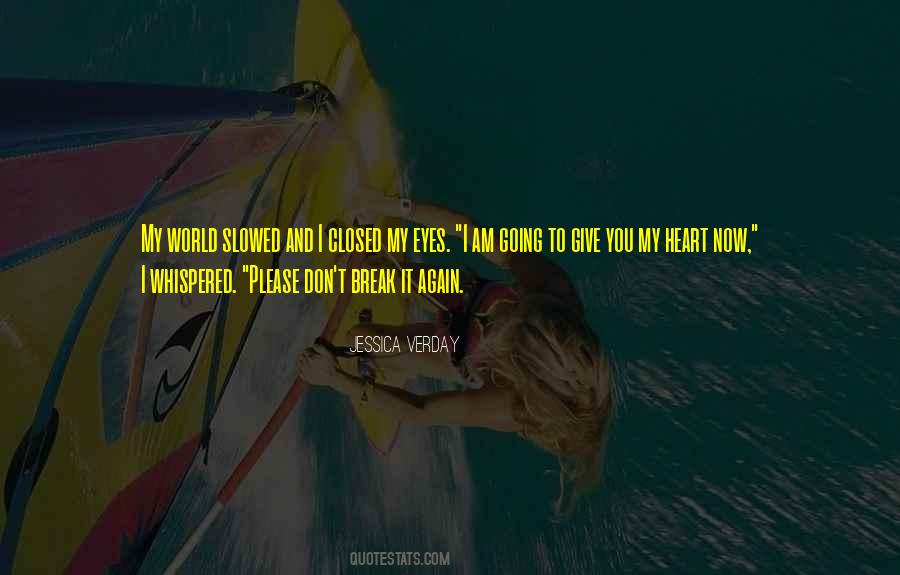 #28. I understood that as much as I had resisted the outside, as much as I had constricted my life, as much as I had closed and narrowed the channels into me, there were still many takers for the quiet heart. - Author: Steve Martin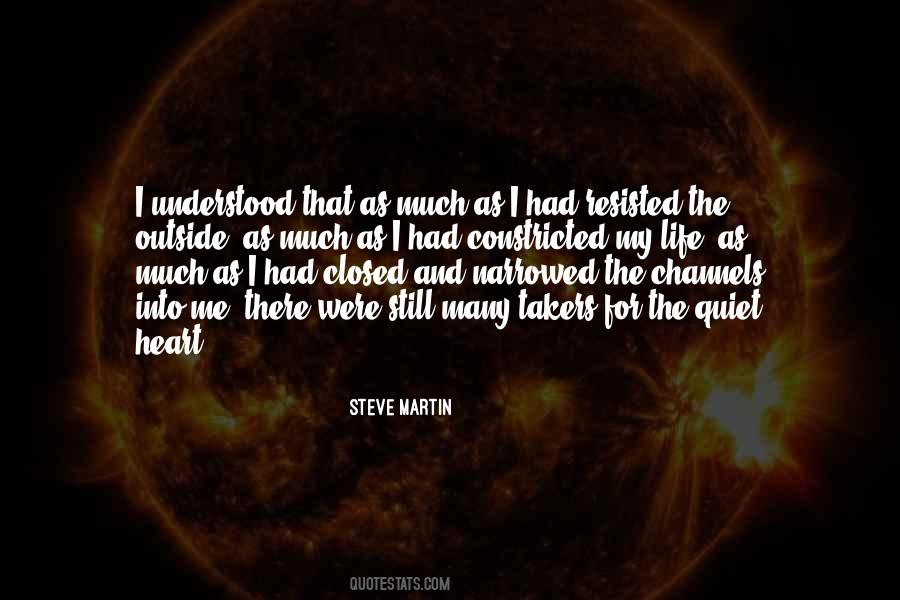 #29. knew it was coming, and my heart had clamored for it. It was the moment when I saw into him, past all his walls, shields, jokes, and the facade he wore for most people. He shed it for me, and as I closed my eyes, feeling him enter me, I knew this was the real Logan. He was giving himself to me. - Author: Tijan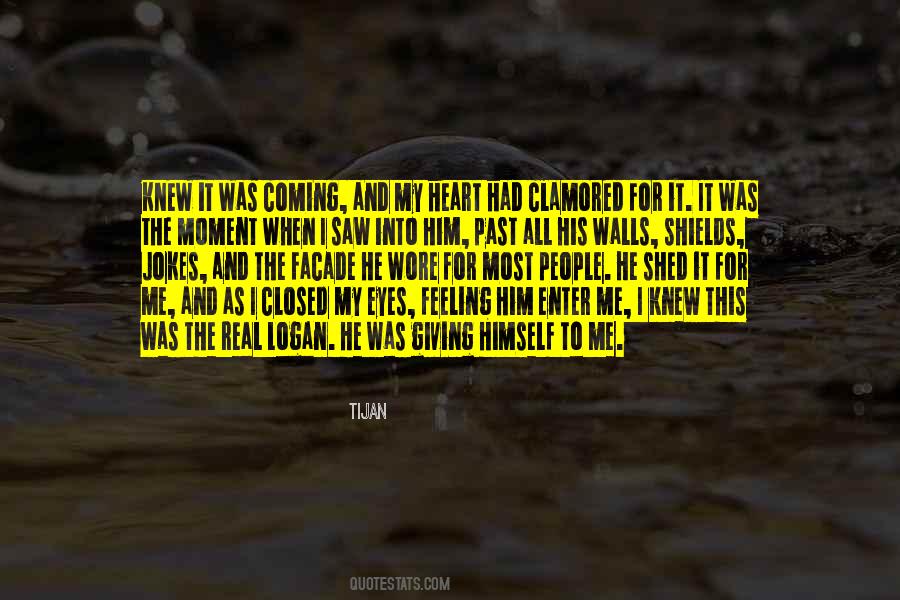 #30. Do you think everybody misses somebody? Like I miss my mama?" "Mmmm-hmmm," said Gloria. She closed her eyes. "I believe, sometimes, that the whole world has an aching heart. - Author: Kate DiCamillo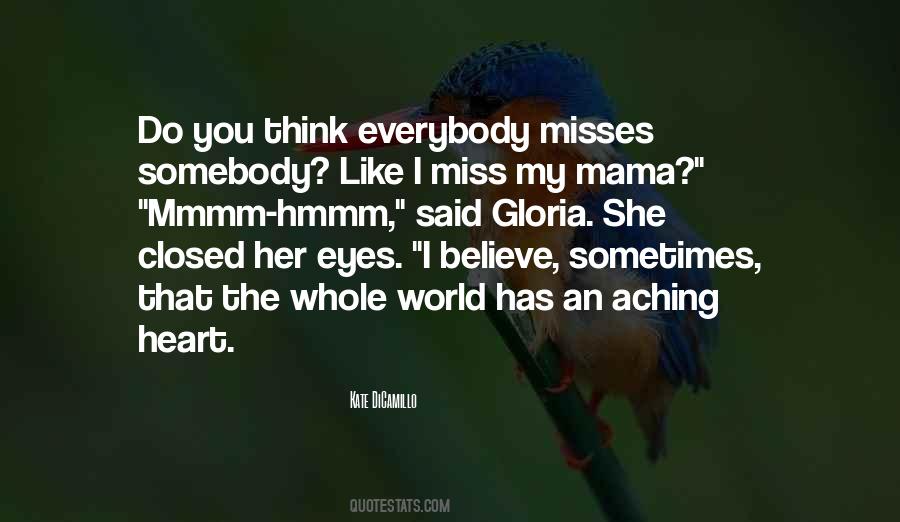 #31. I've closed my heart down, so many seasons. I didn't want to hurt again, I didn't want to try, so I turned myself to ice and stone, said I don't need anyone, and nobody else would ever make me cry. - Author: Beth Nielsen Chapman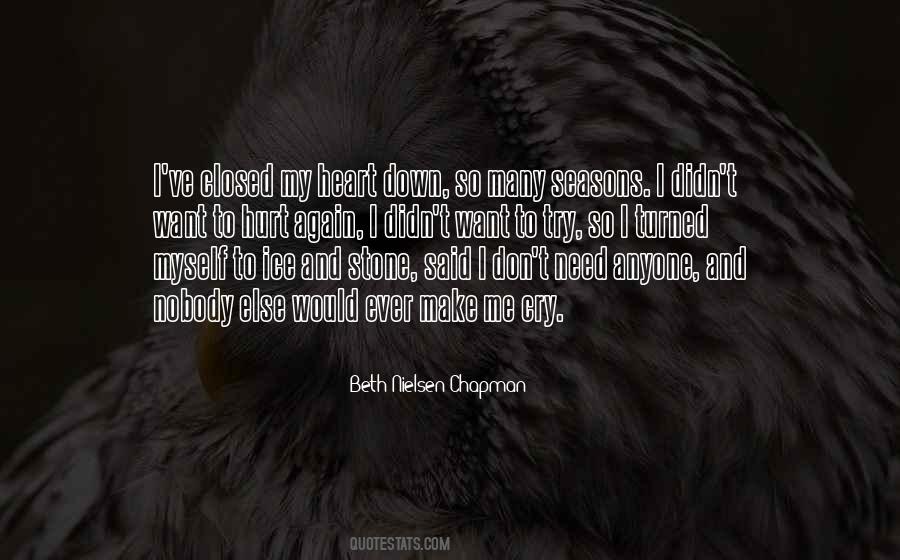 #32. But music seems to me to be the most closely identified with my soul. I mean, I feel that it's the best for me. It just gets into the bloodstream so quickly, for no reason at all. You can close your heart, and you can sleep even with your eyes closed, but you can never close your ears. - Author: Jeff Buckley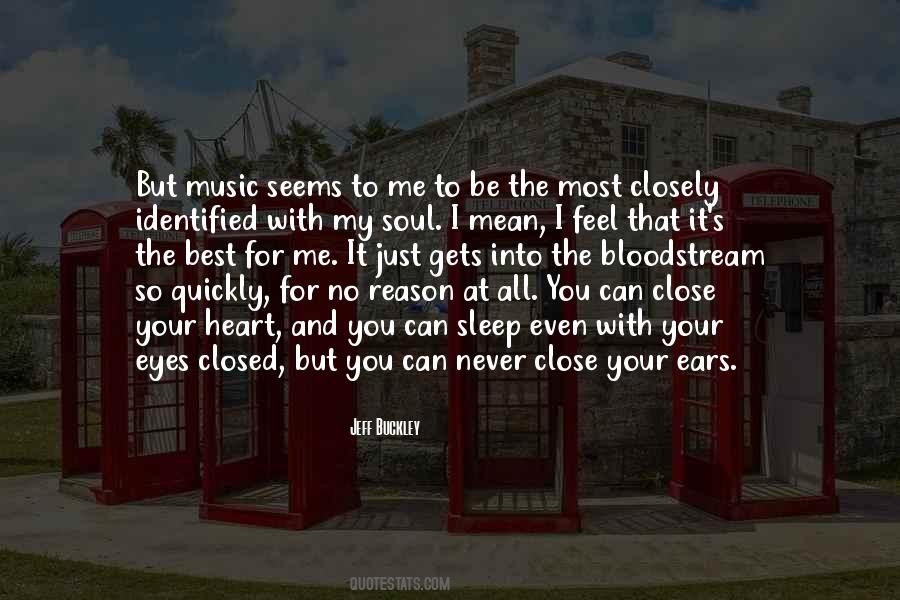 #33. I still need you, I murmured. He rested his forehead against mine and closed his eyes, his breathing irregular. Then his lips found mine again. It made my heart ache, made my soul ache. I loved him far too much. - Author: Karina Halle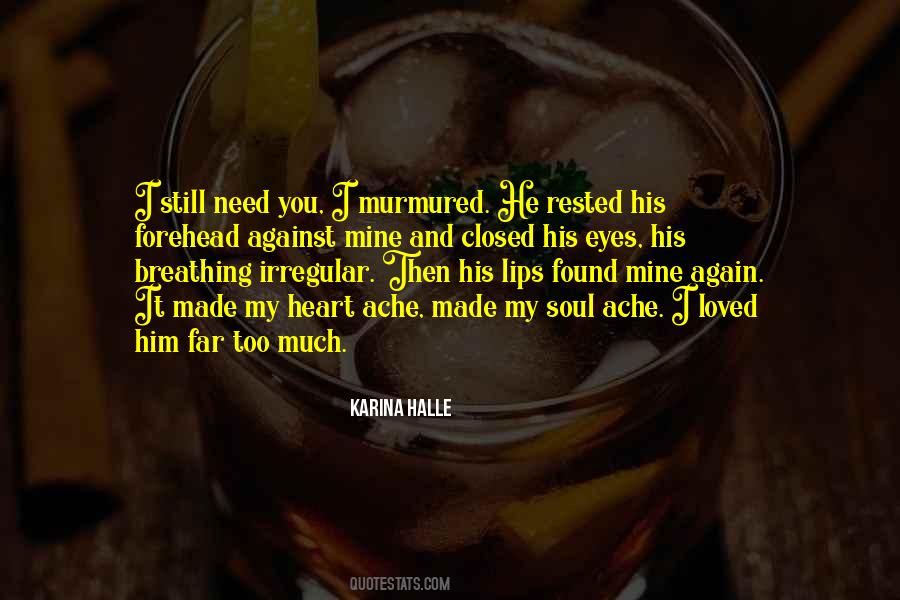 #34. My heart was closed. Cold.
I was self-conscious and cynical. - Author: Tablo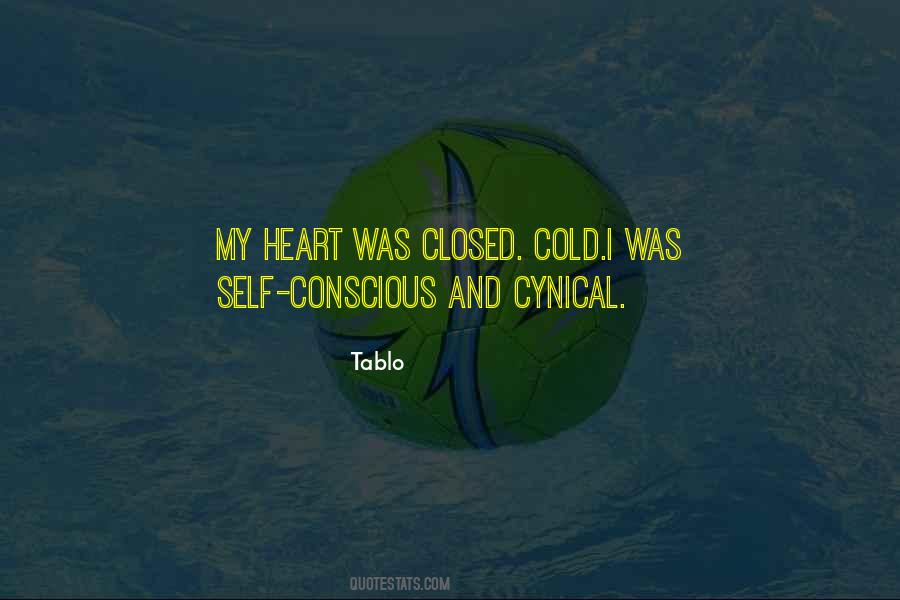 #35. My heart is closed, soon it will crumble away. Stifling my tears, I scream every day. My heart has shown me that believing is nothing. My own heart killed me. - Author: Kyo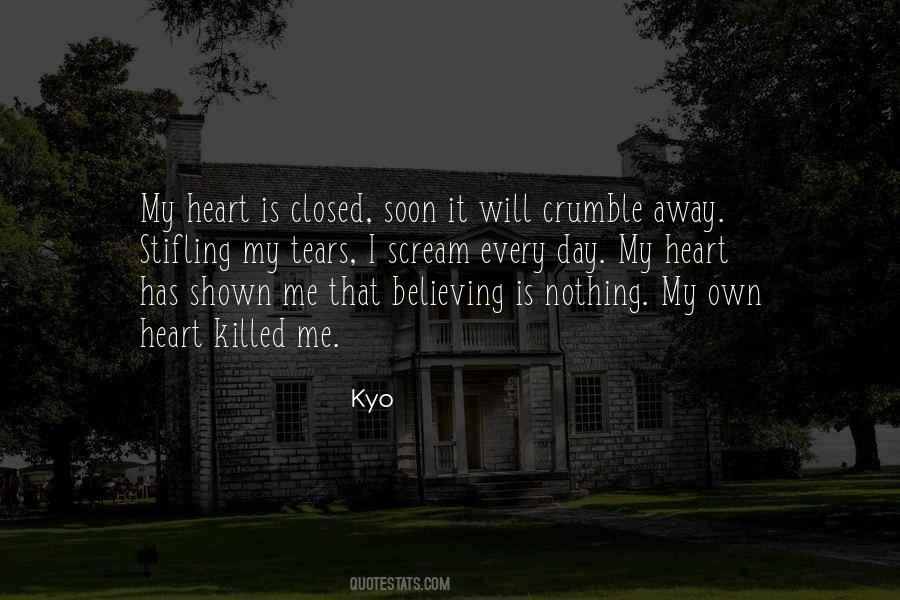 #36. She closed her eyes, dark-lidded, dark shadows beneath them; she really was older, not the glancing-eyed girl I had fallen in love with but no less beautiful for that; beautiful now in a way that less excited my senses than tore at my very heart. - Author: Donna Tartt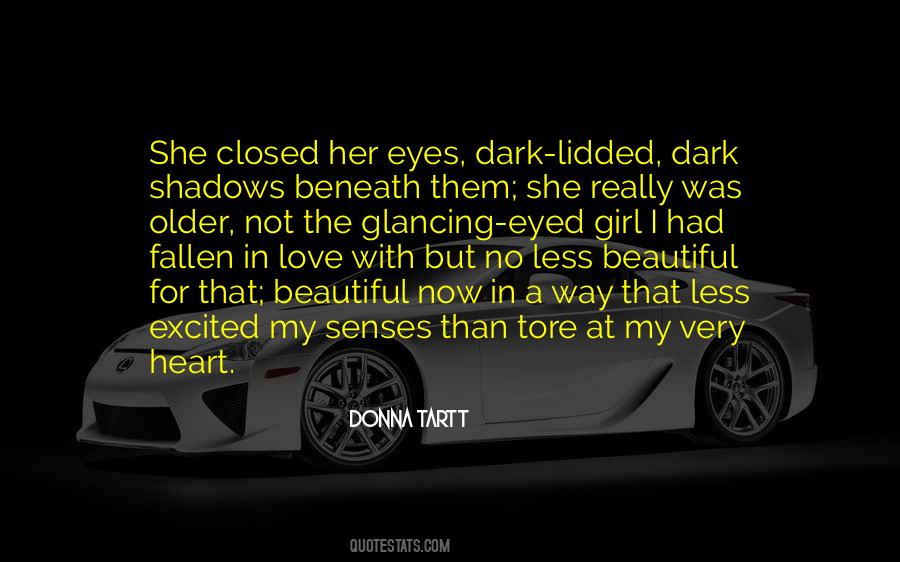 Famous Authors
Popular Topics