Music And Arts Famous Quotes & Sayings
List of top 100 famous quotes and sayings about music and arts to read and share with friends on your Facebook, Twitter, blogs.
Top 100 Music And Arts Quotes
#1. Music is at once the most wonderful, the most alive of all the arts- it is the most abstract, the most perfect, the most pure- and the most sensual. I listen with my body and it is my body that aches in response to the passion and pathos embodied in this music. - Author: Susan Sontag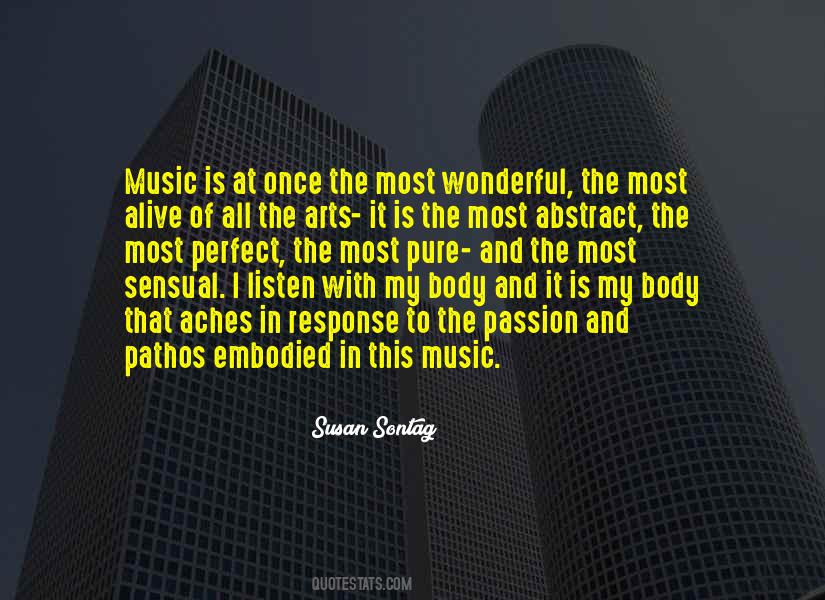 #2. I was a very interested arts student, I was always into that part of school and when I got into high school I went into architectural drafting. It gave me an understanding of how to build things and it's really helped me put things in perspective. With my music and my movies, to me it's all art. - Author: Ice Cube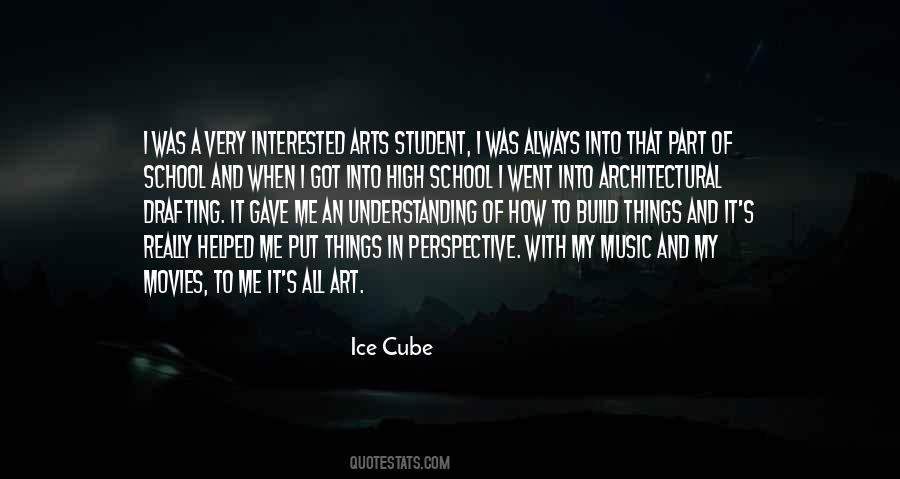 #3. It's our responsibility for the village to say, 'Hey we're going to create these programs,' whether it's sports, creative arts, music, we need some things to give young people positive things to do, and that's including jobs. - Author: Common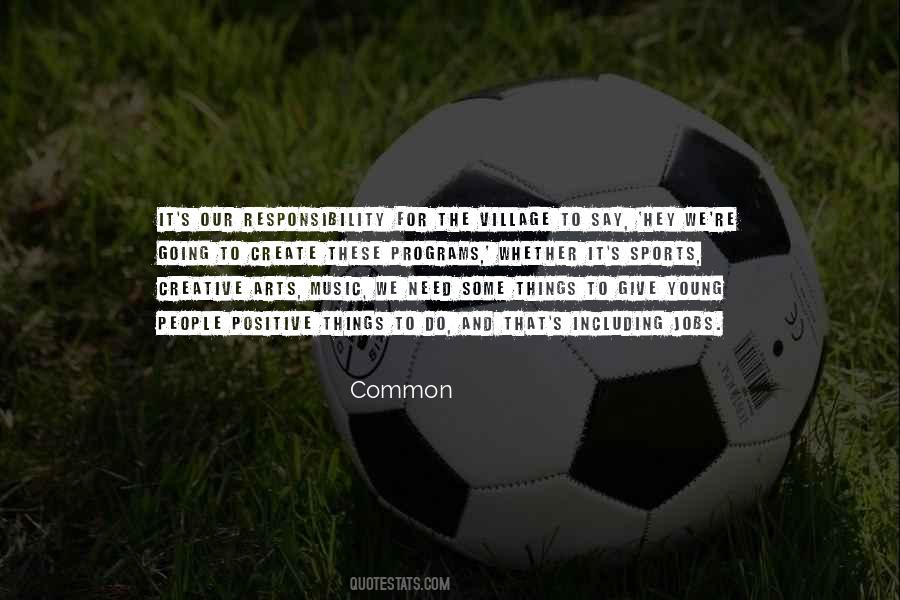 #4. I've been asked which of the other arts novel-writing is most like, and I have come to believe it is acting. Of course, in terms of pattern it can be like music, in terms of structure it can be like painting, but the job to me is most like acting. - Author: Andrew O'Hagan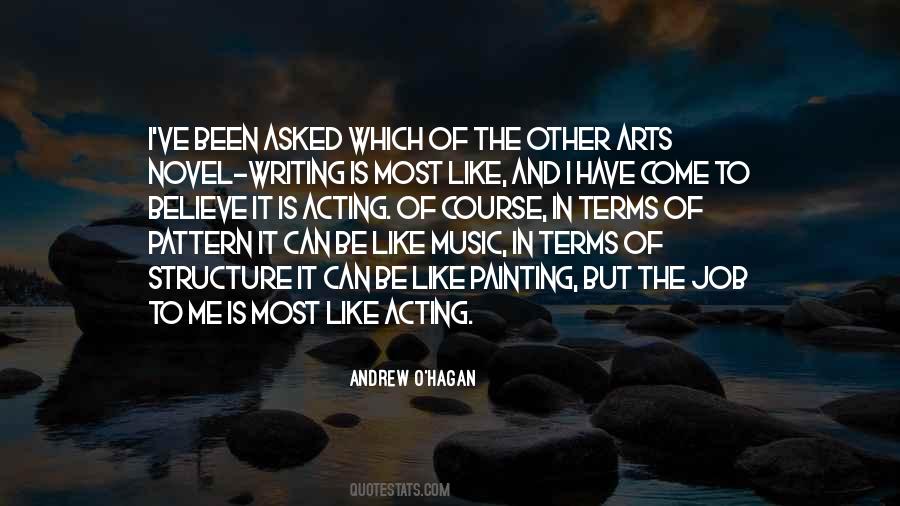 #5. I had teachers in high school to point me in the direction of the University of Indiana School of Music, and after IU, I went on to study at the Academy of Arts in Philadelphia. I graduated in 2006. - Author: Ailyn Perez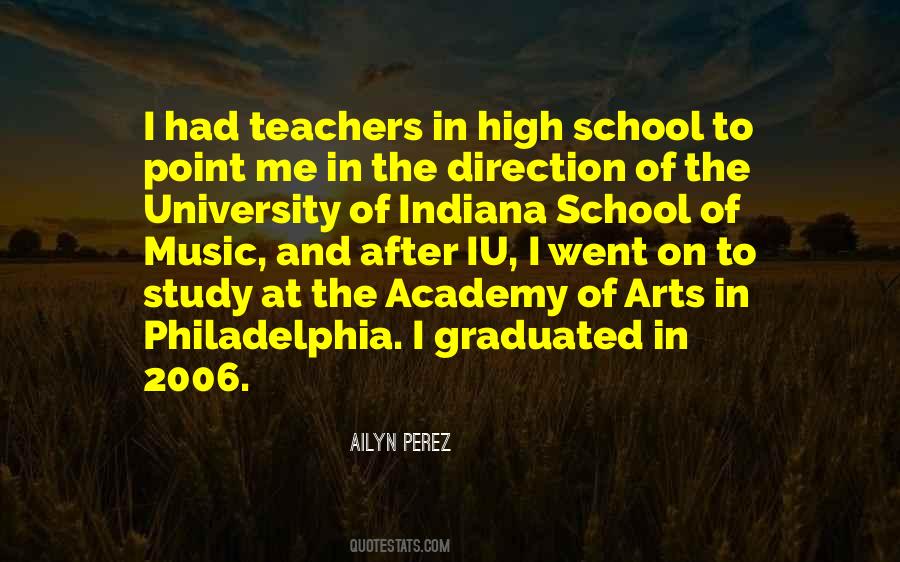 #6. Almost every profession has an outstanding training ground. The military has West Point, music has Juilliard, and the culinary arts has The Institute. - Author: Craig Claiborne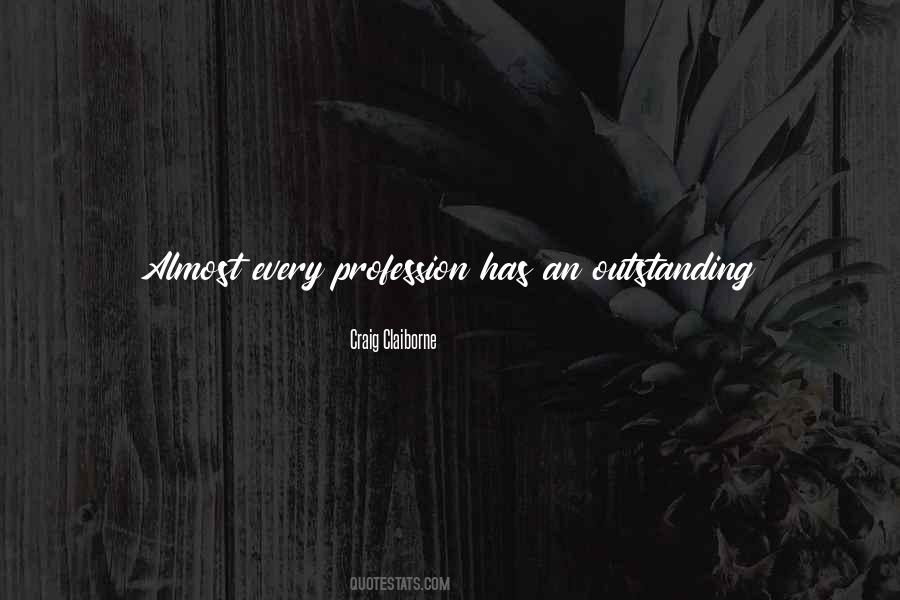 #7. Communication is not only about words and numbers. Some thoughts can't be properly expressed in these ways at all. We also think in sounds and images, in movement and gesture, which gives rise to our capacities for music, visual arts, dance, and theater in all their variations. - Author: Ken Robinson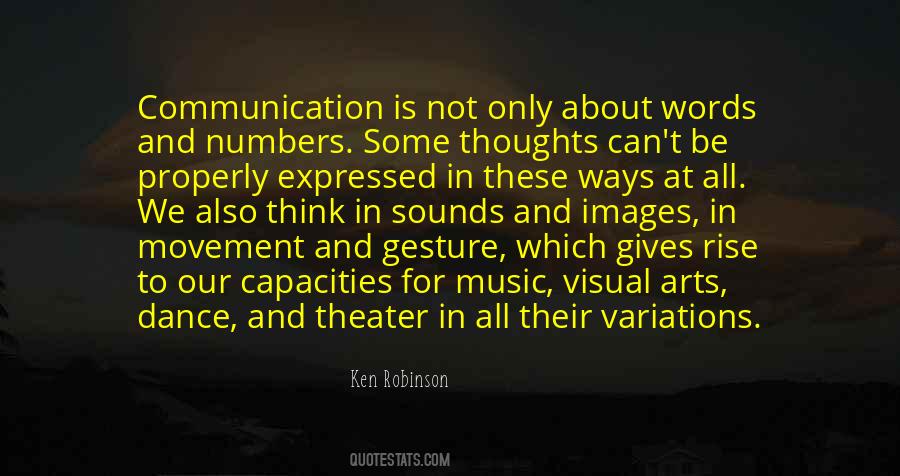 #8. I began seriously concentrating on music study after I entered senior high school. I went to a class in the arts section at the YMCA and learned music theory and composition. Today, there are many classes like this available, but this was not so much the case in those days. - Author: Isao Tomita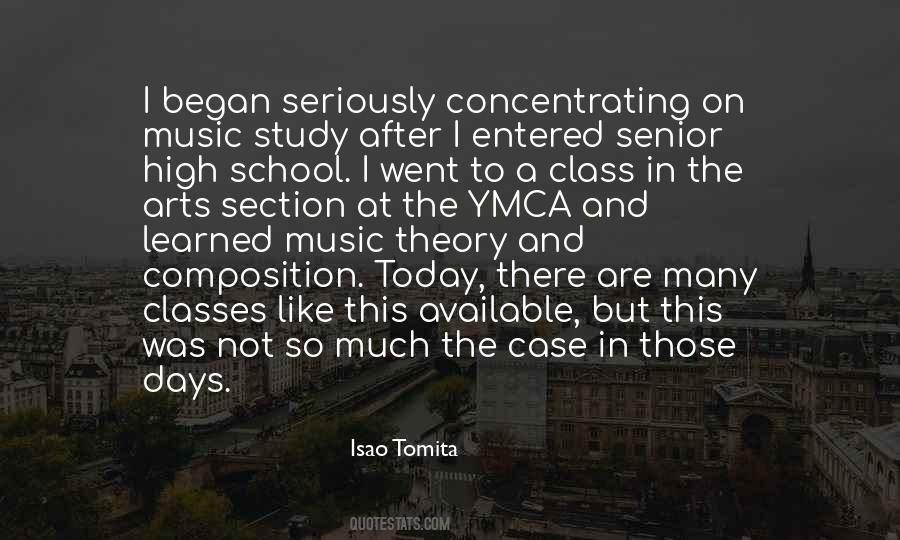 #9. The loss of these tastes [for poetry and music] is a loss of happiness, and may possibly be injurious to the intellect, and more probably to the moral character, by enfeebling the emotional part of our nature. - Author: Charles Darwin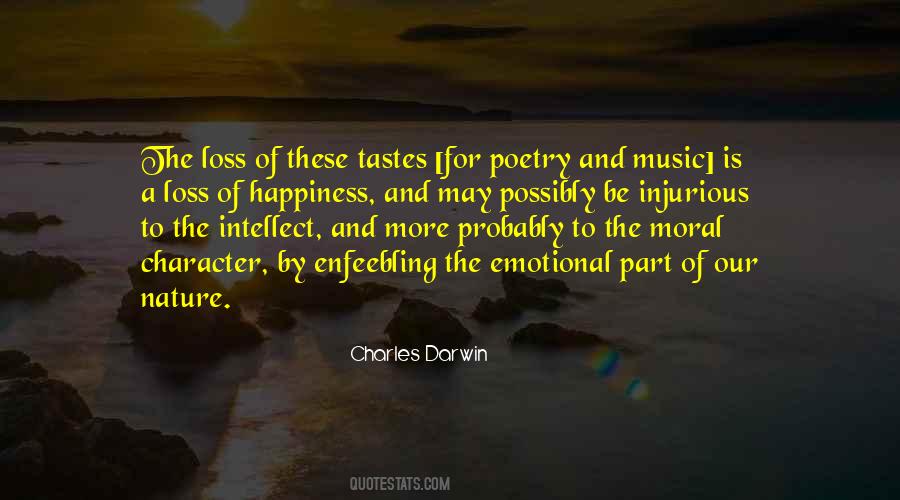 #10. The drama embraces and applies all the beauties and decorations of poetry. The sister arts attend and adorn it. Painting, architecture, and music are her handmaids. The costliest lights of a people's intellect burn at her show. All ages welcome her. - Author: Robert Aris Willmott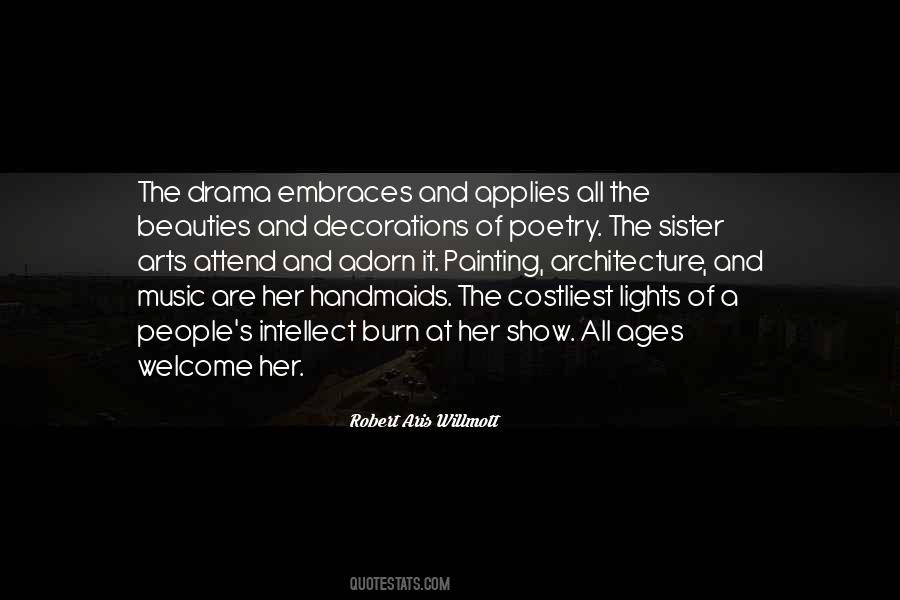 #11. And this is the origin of pop music: it's a professional music which draws upon both folk music and fine arts music as well. - Author: Pete Seeger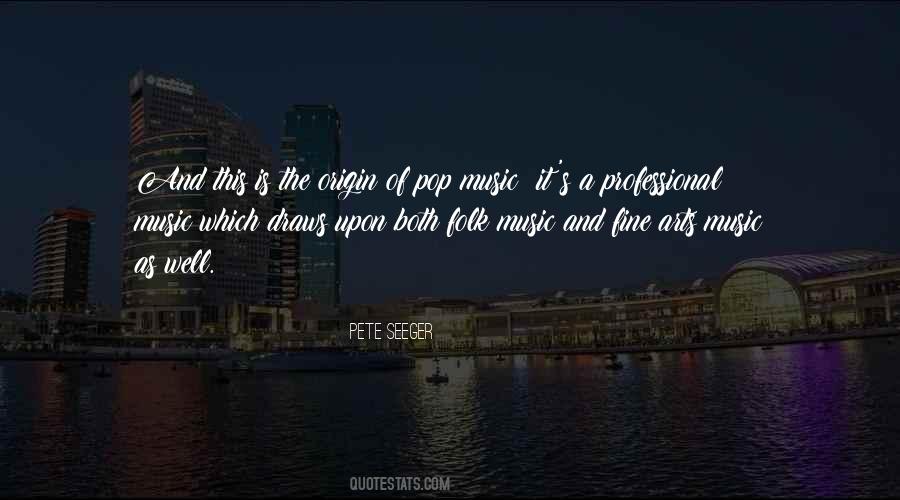 #12. I've always been involved in the visual arts and music. - Author: Adam Jones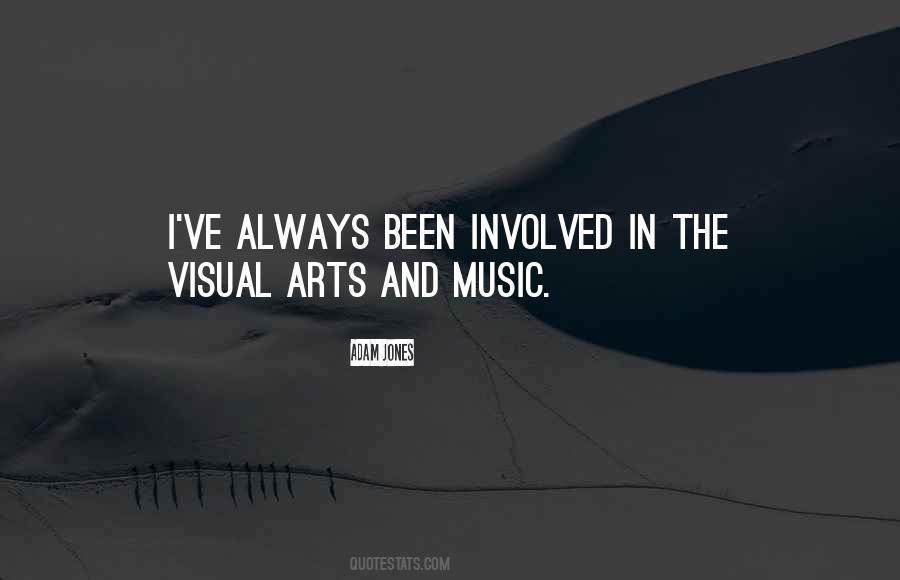 #13. I now understood the secret of music and knew what makes it so infinitely superior to all the other arts: its incorporeality. Once it has left an instrument it becomes its own master, a free and independent creature of sound, weightless, incorporeal and perfectly in tune with the universe. - Author: Walter Moers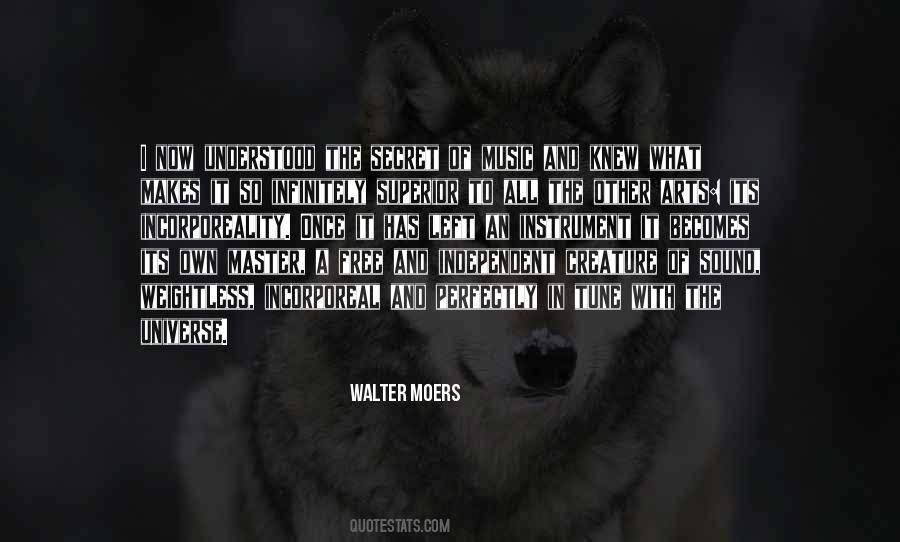 #14. Why don't we approach literature like we approach music and the fine arts? - Author: Hugh Howey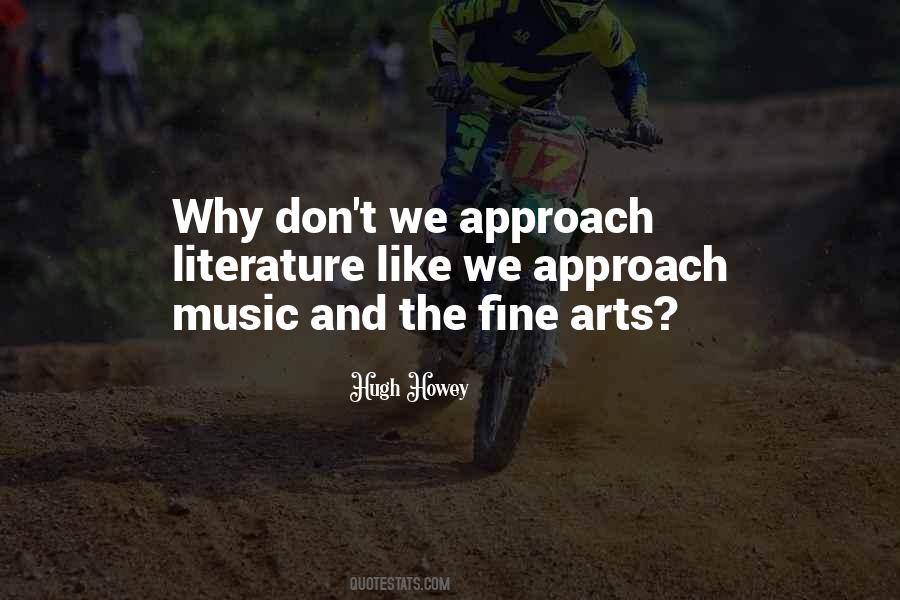 #15. The things which can make life enjoyable remain the same. They are, now as before, reading, music, fine arts, travel, the enjoyment of nature, sports, fashion, social vanity (knightly orders, honorary offices, gatherings) and the intoxication of the senses. - Author: Johan Huizinga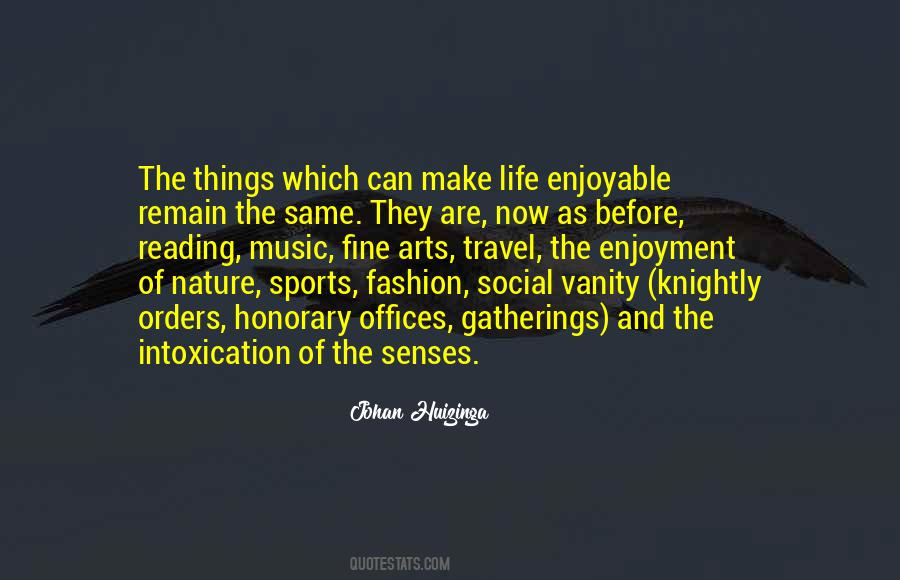 #16. We have such a great depth of human history in all of the arts, whether it's opera or mathematics or painting or classical music or jazz. There's so many things to study, new books to read, and certainly always ways to transform old ideas and to come up with new ones. - Author: Patti Smith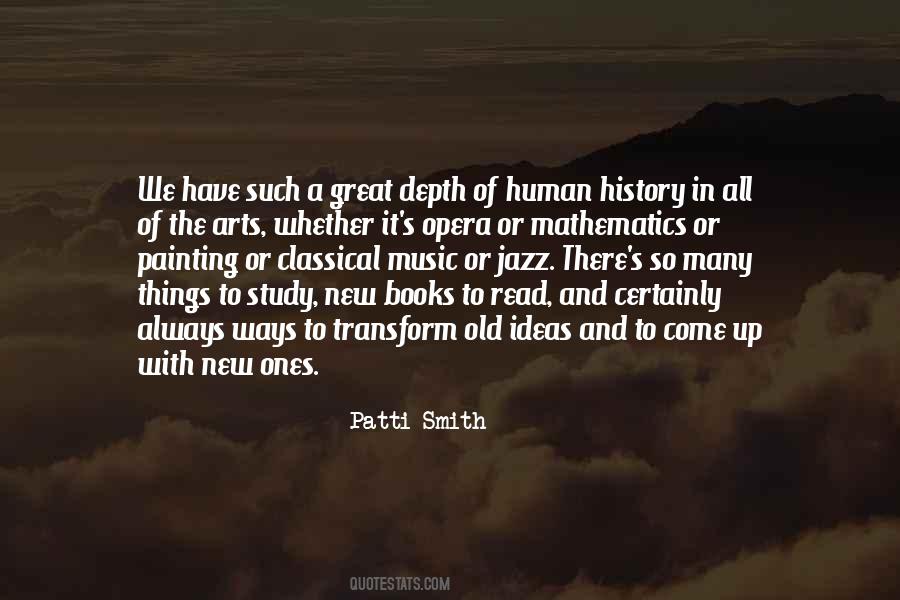 #17. In our world, love, sex, music, and dance are all integrated into one experience. Love, and the arts of music and dance go together. - Author: Ron Galella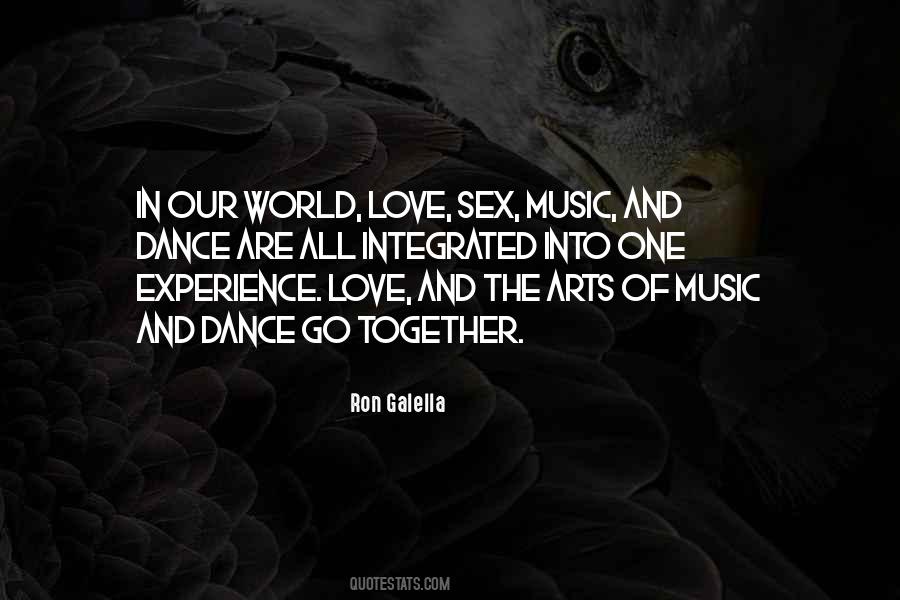 #18. Music and religion are as intimately related as poetry and love; the deepest emotions require for their civilized expression the most emotional of arts. - Author: Will Durant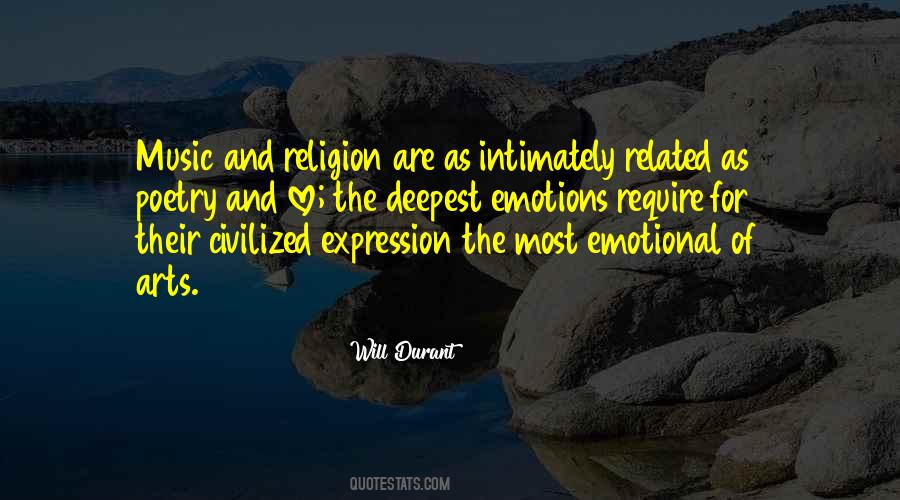 #19. Throughout the course of my life, I have been very fortunate to have had excellent teachers - not just in meditation, but in martial arts, music, scuba diving, and in my academic education. - Author: Frederick Lenz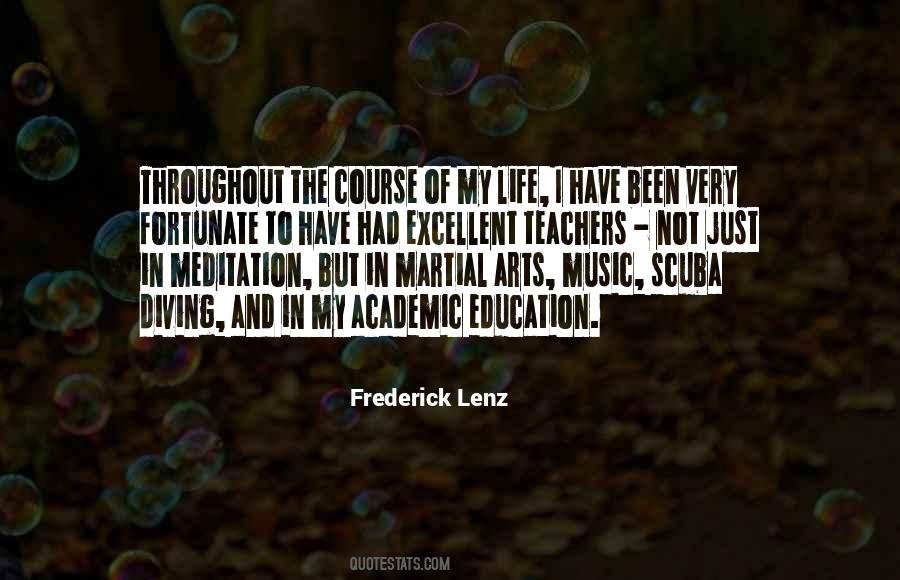 #20. I had a passion and love of learning and wisdom that was inseparable from a love of music and the arts. I've never viewed them in any way as being separable. - Author: Cornel West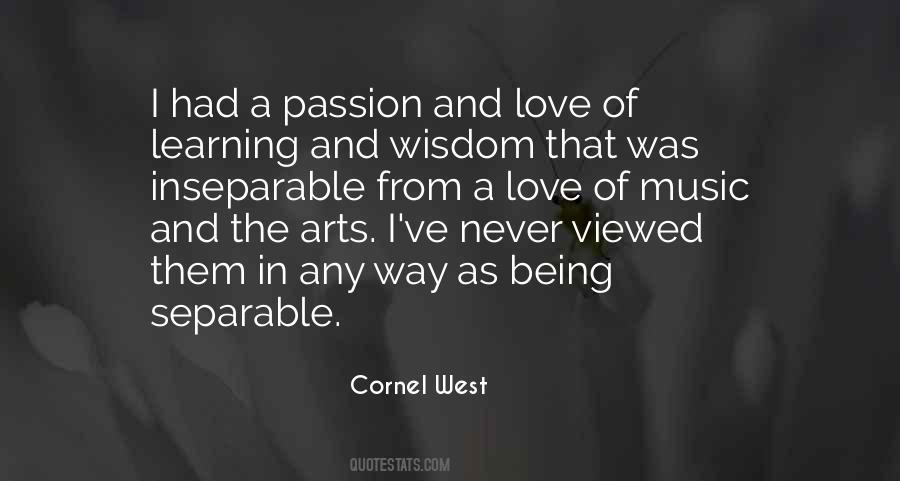 #21. All the arts, music, the visual arts, acting and dancing arts, cooking arts, and I believe sports, will save the human race because they can leap over barriers, religions, leap over barriers of race, politics. - Author: Pete Seeger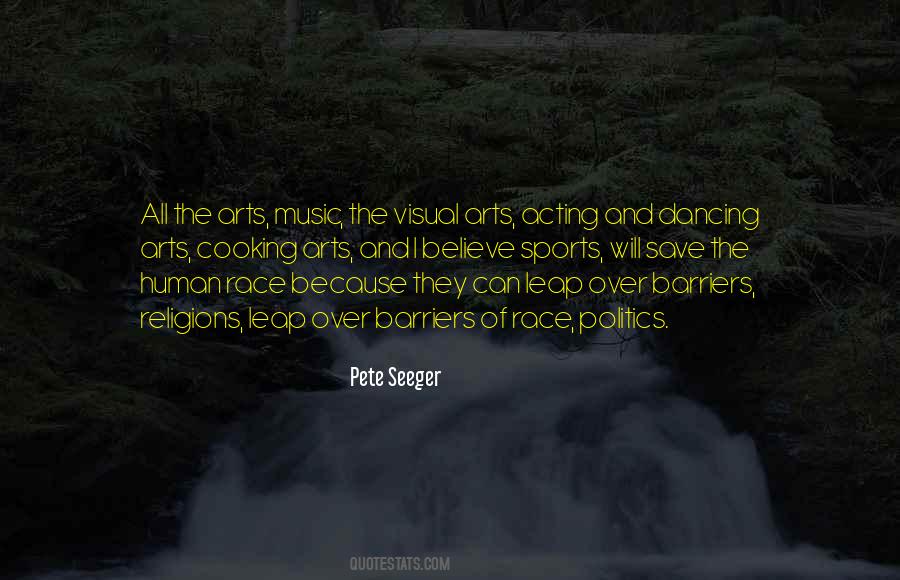 #22. I'm into sincerity in music and sincerity in art. If it doesn't feel true, I don't want to do it. Things that are too dramatic scare me. I think that's why I don't always fit into the world of performing arts. - Author: Zooey Deschanel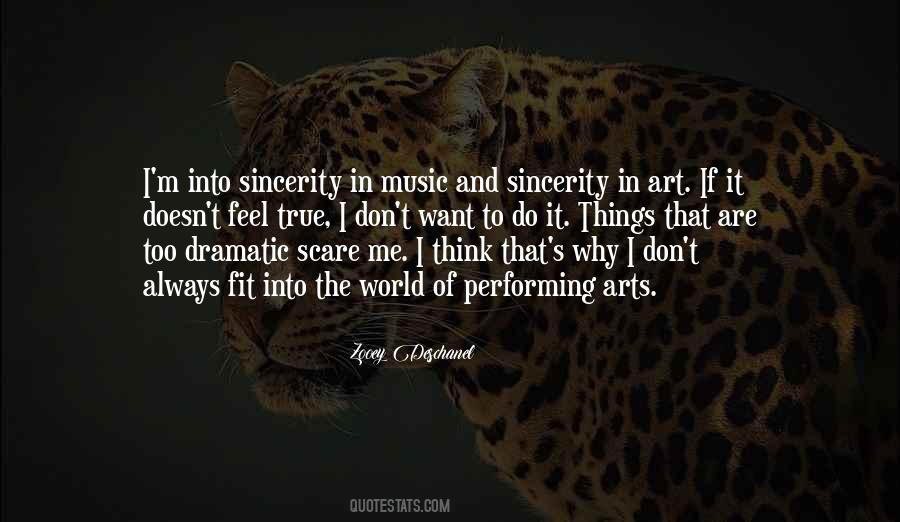 #23. The Fine Arts are five in number: Painting, Music, Poetry, Sculpture, and Architecture--whereof the principle branch is Confectionery. - Author: Marie-Antoine Careme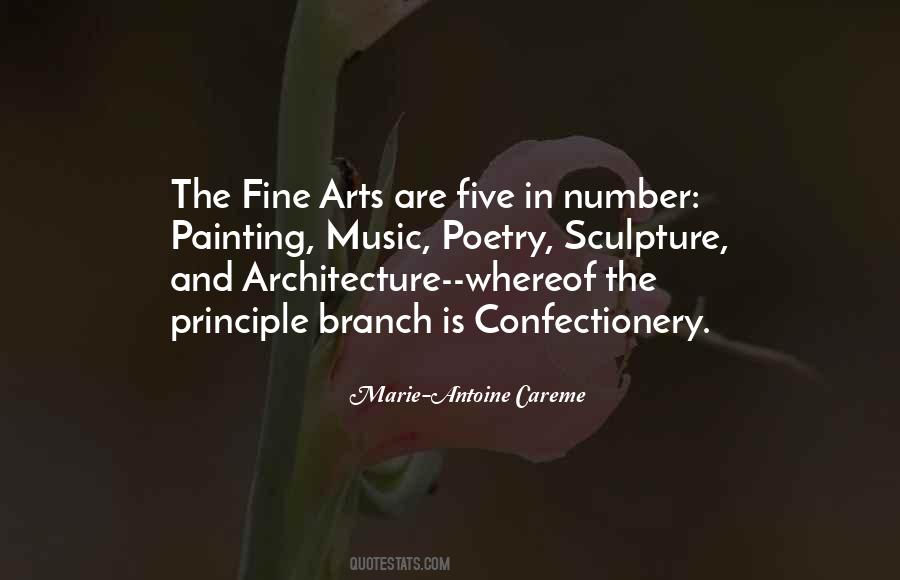 #24. The dance is the mother of the arts. Music and poetry exist in time; painting and architecture in space. But the dance lives at once in time and space. - Author: Curt Sachs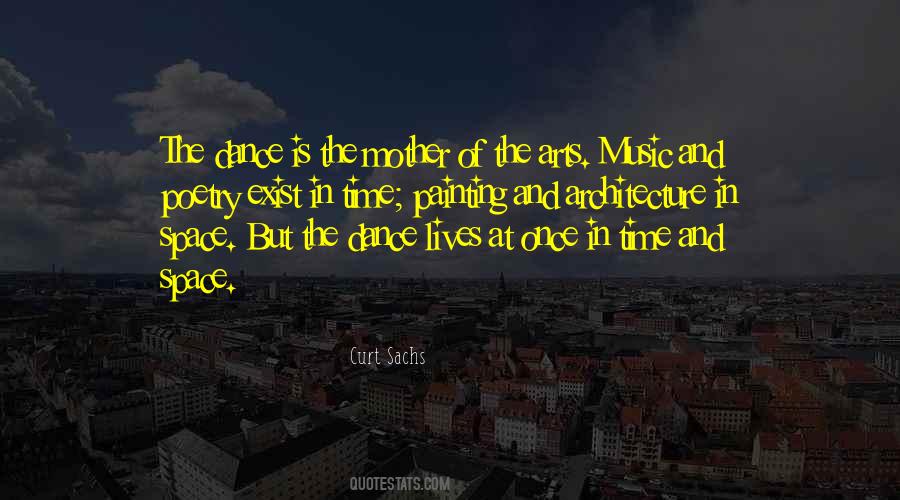 #25. Music, uniquely among the arts, is both completely abstract and profoundly emotional. It has no power to represent anything particular or external, but it has a unique power to express inner states or feelings. Music can pierce the heart directly; it needs no mediation. - Author: Oliver Sacks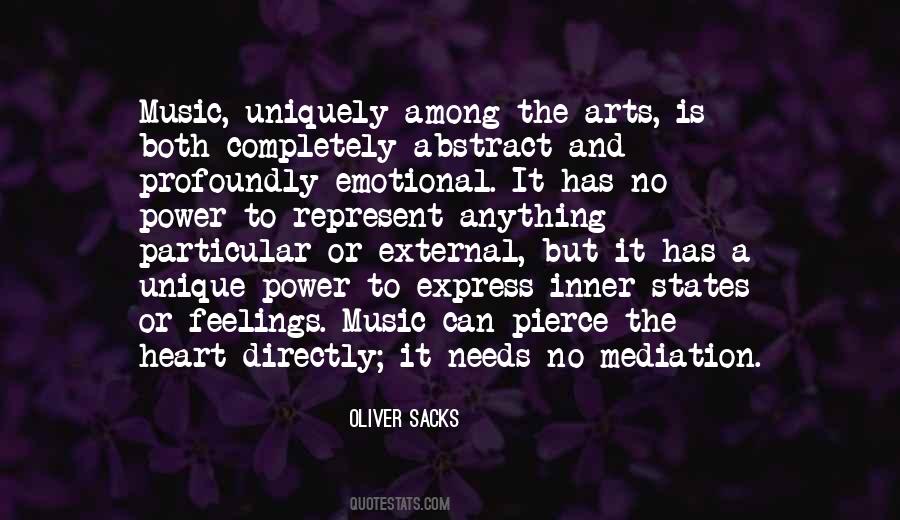 #26. Music, of all the arts, stands in a special region, unlit by any star but its own, and utterly without meaning ... except its own. - Author: Leonard Bernstein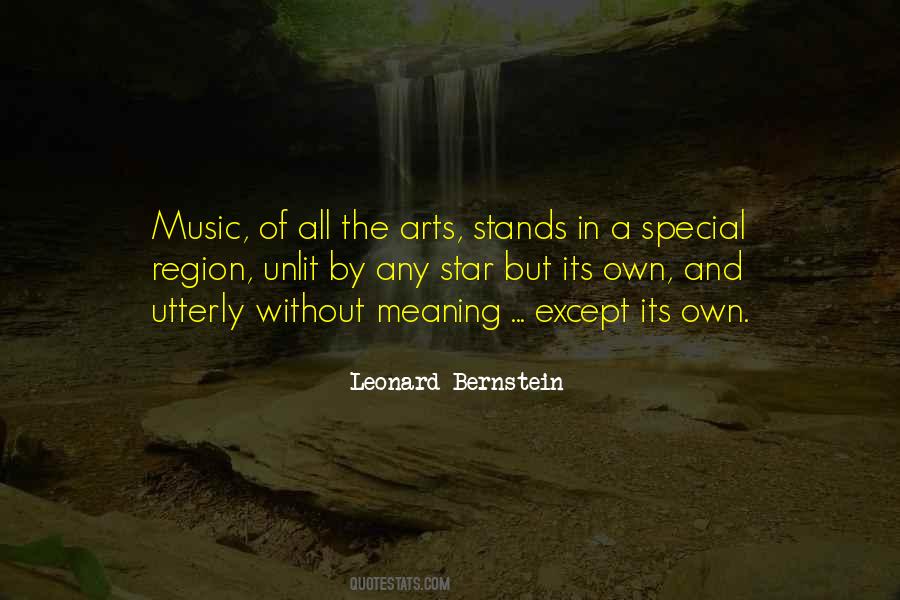 #27. I felt I really wanted to back off from music completely and just work within the visual arts in some way. I started painting quite passionately at that time. - Author: David Bowie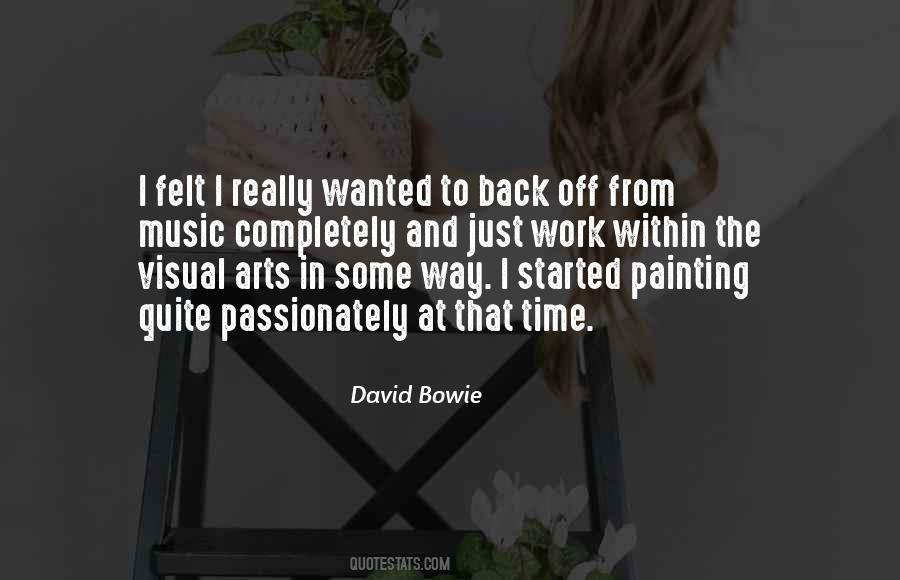 #28. I really think that martial arts and music are very close to each other and both require a lot of focus and improvisation because you don't know where or when you're going to get kicked! - Author: Hiromi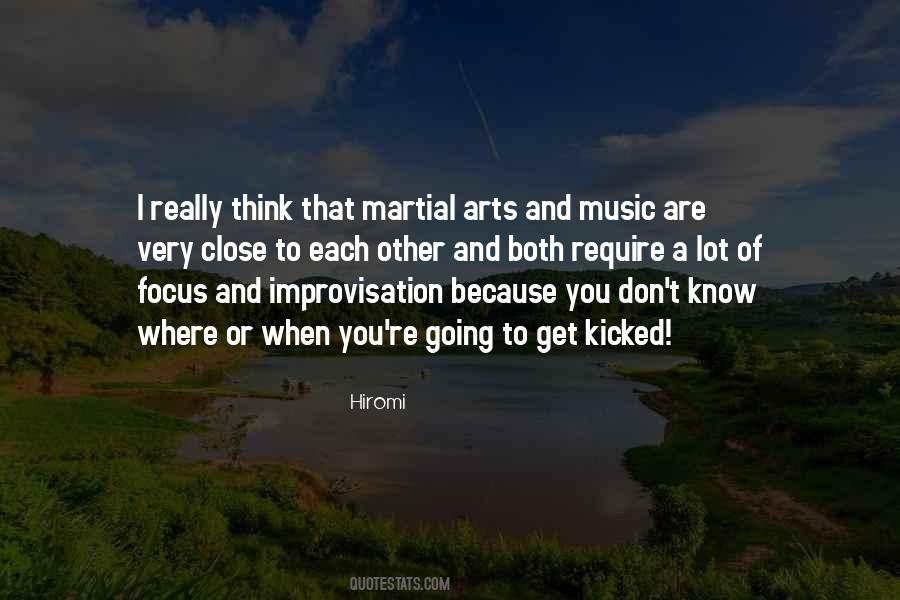 #29. It is to be remembered that the origin of all the arts-music, painting and writing-is magical and evocative; and that magic is always used to obtain some definite result. - Author: William S. Burroughs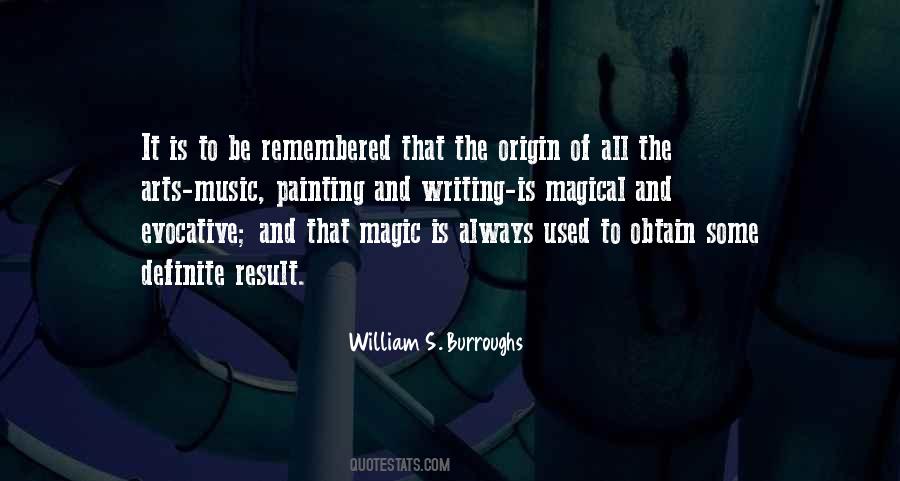 #30. Ignore all hatred and criticism. Live for what you create, and die protecting it. - Author: Lady Gaga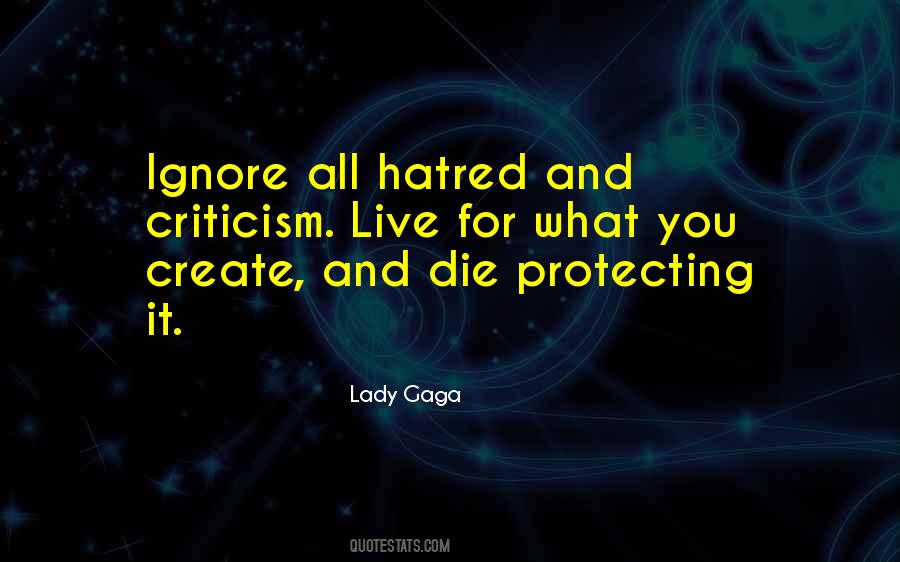 #31. From music and dance to painting and sculpting, the arts allow us to explore new worlds and to view life from another perspective. They also encourage individuals to sharpen their skills and to nurture their imagination and intellect. - Author: George W. Bush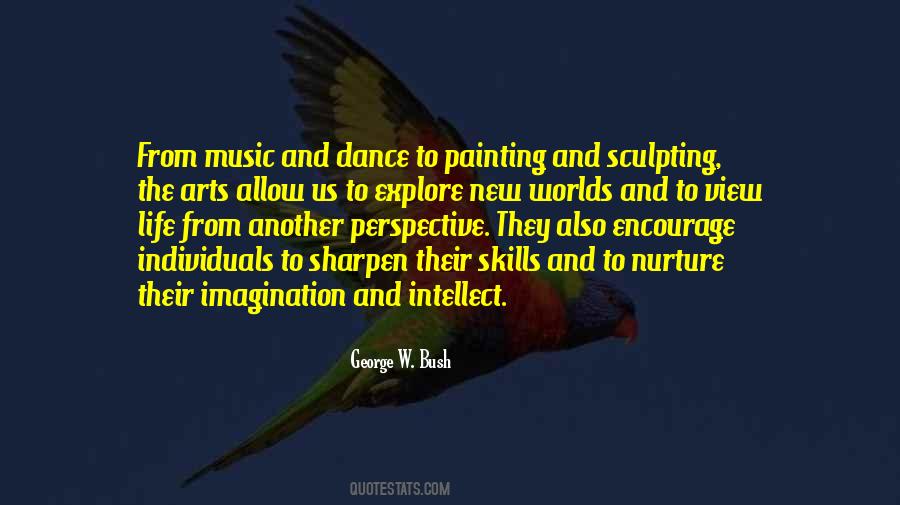 #32. The effect of music is so very much more powerful and penetrating than is that of the other arts, for these others speak only of the shadow, but music of the essence. - Author: Arthur Schopenhauer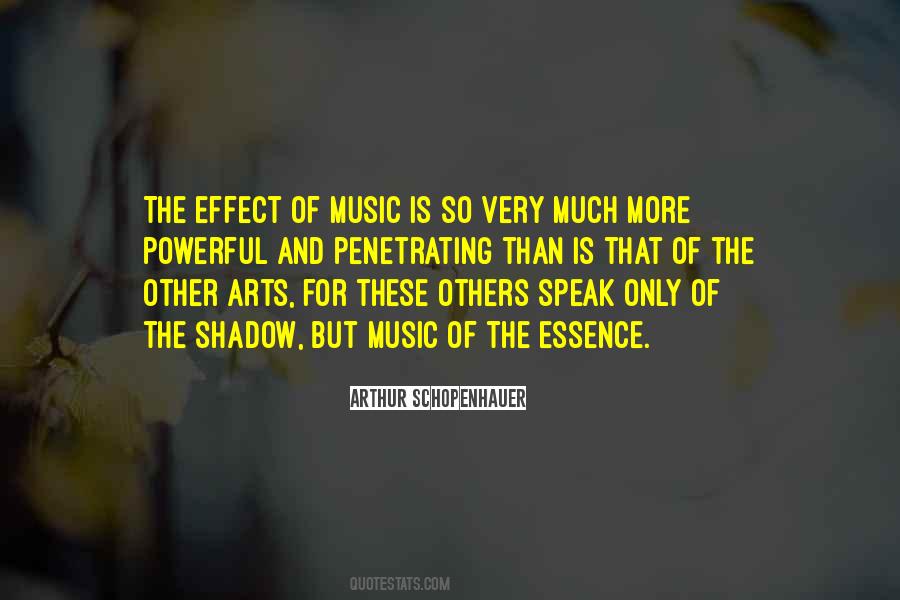 #33. When I left politics in the early Eighties and started writing and recording, my idea was that I could have an influence further down into other generations. That Natives could come into the culture through arts and music. - Author: John Trudell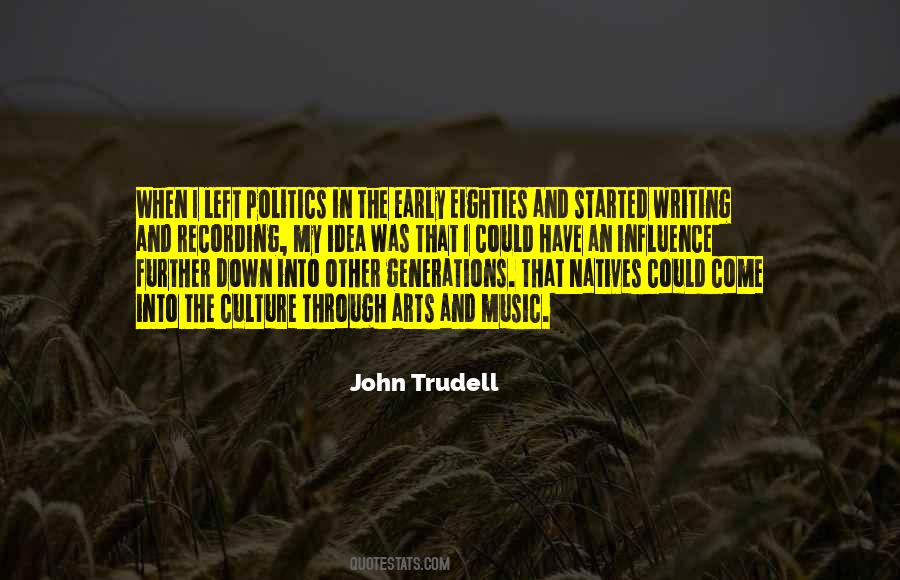 #34. The arts which need interpretation are the arts of time
music and poetry
and not the arts of space
sculpture and painting. - Author: Salvador De Madariaga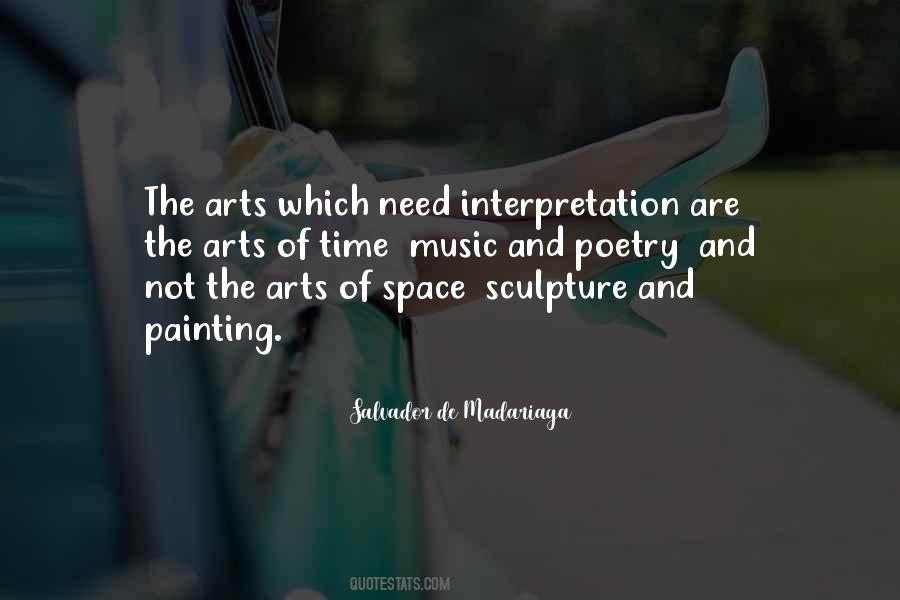 #35. Music must be supported by the king and the princes, for the maintenance of the arts is their duty no less than the maintenance of the laws. - Author: Martin Luther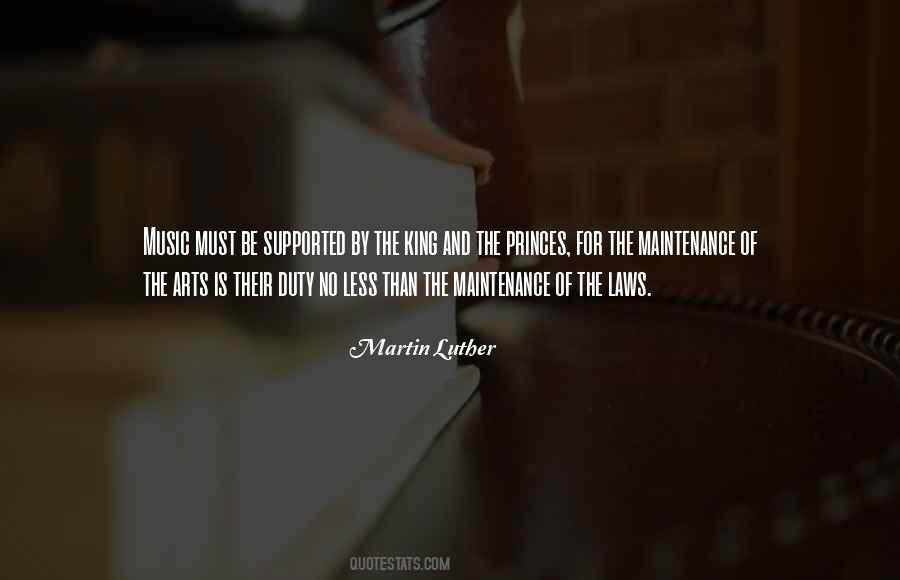 #36. I think that's one of the greatest gifts you get if you're successful at something like music or film or photography - any of the arts - you can sit there and think. It's so much fun to sit there and think and wonder about the world and the universe. - Author: Albert Hammond Jr.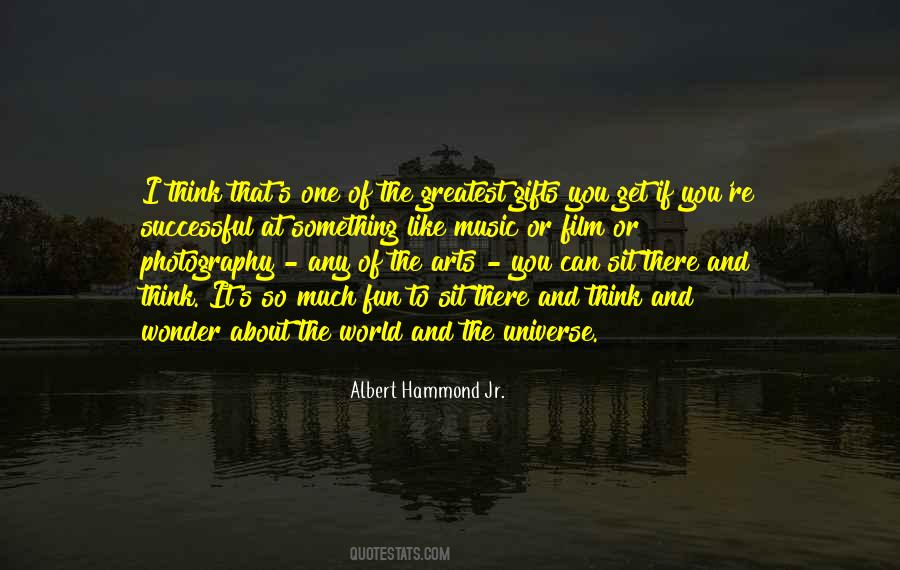 #37. I became an actor by doing school plays and youth theaters, and then National Youth Theatre of Great Britain. And then I did study at the London Academy of Music and Dramatic Arts. For me that was a good way to enter the field, to work in the theater. - Author: Chiwetel Ejiofor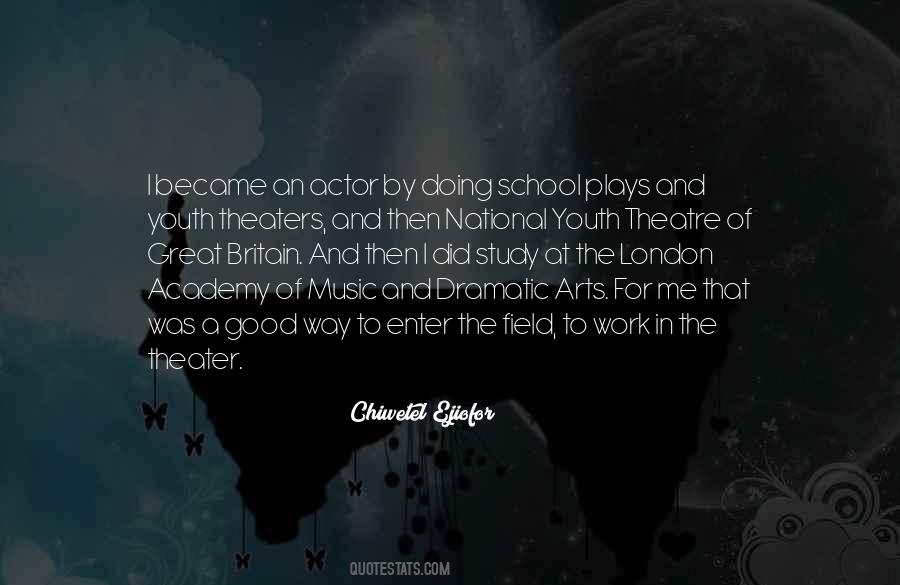 #38. But for the children of the poorest people we're stripping the curriculum, removing the arts and music, and drilling the children into useful labor. We're not valuing a child for the time in which she actually is a child. - Author: Jonathan Kozol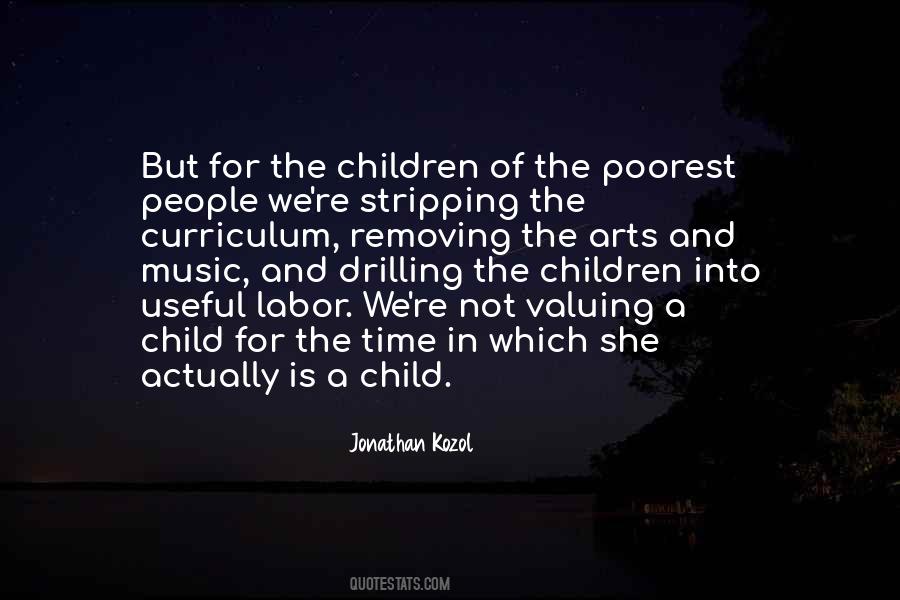 #39. I found my God in music and the arts, with writers like Hermann Hesse, and musicians like Muddy Waters, Howlin' Wolf, and Little Walter. In some way, in some form, my God was always there, but now I have learned to talk to him. - Author: Eric Clapton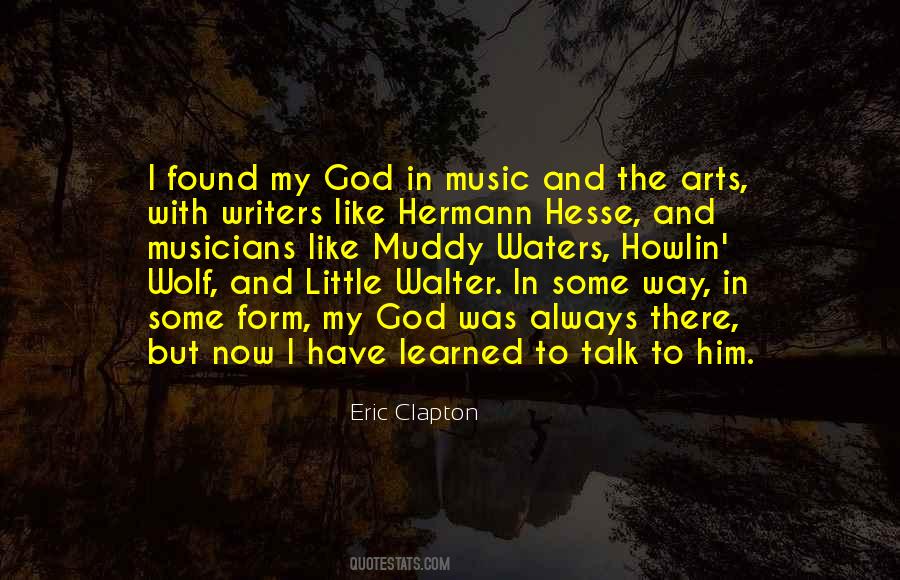 #40. Sir Kenneth MacMillan's version of 'Romeo and Juliet' is my favorite full-length ballet, Sergei Prokofiev's breathtaking score a favorite composition of music. As a student of martial arts, I loved drawing my sword in defense of my Capulet kin. - Author: Sascha Radetsky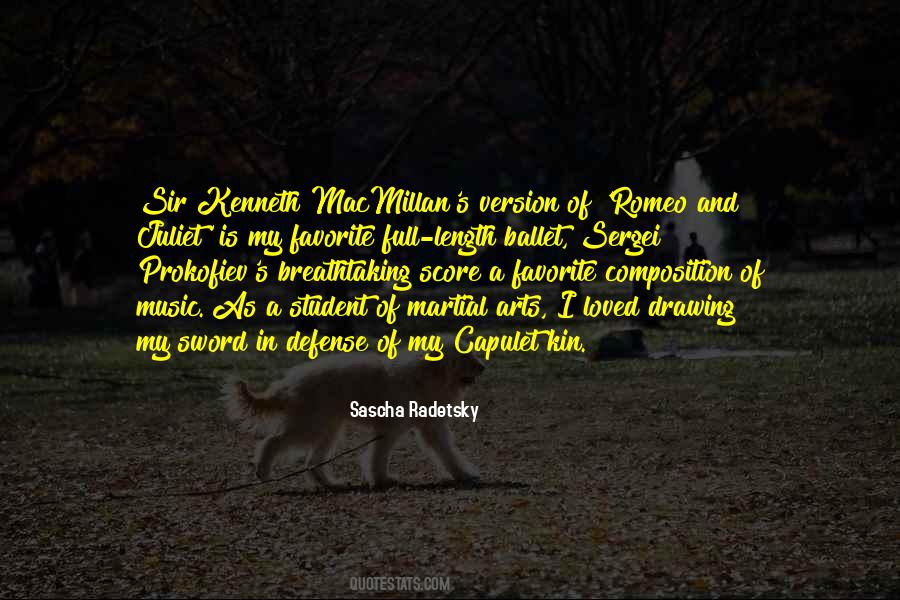 #41. Music embodies feeling without forcing it to contend and combine with thought, as it is forced in most arts and especially in the art of words. - Author: Franz Liszt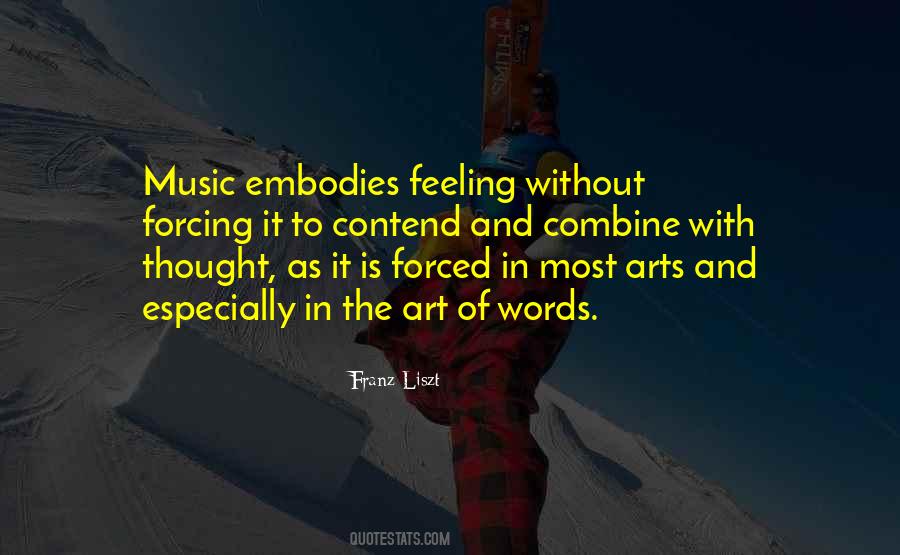 #42. Writing is the most disembodied art, and reading and writing are largely private and solitary experiences, so music and dance have always enchanted me as arts in which the body of the performer communicates directly to the audience, welding a kind of communion writers rarely experience. - Author: Rebecca Solnit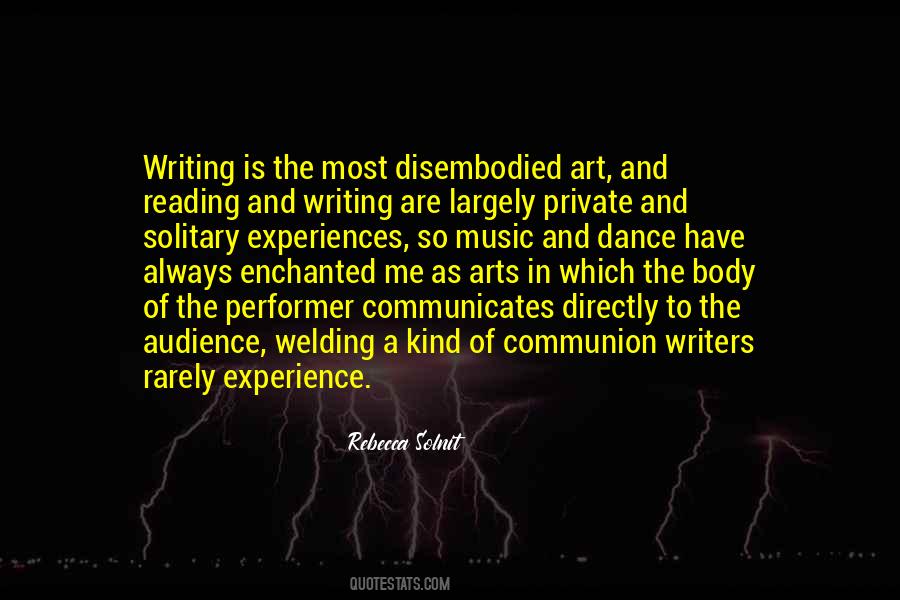 #43. I am not of the opinion that all the arts shall be crushed to earth and perish through the Gospel, as some bigoted persons pretend, but would willingly see them all, and especially music, servants of Him who gave and created them. - Author: Martin Luther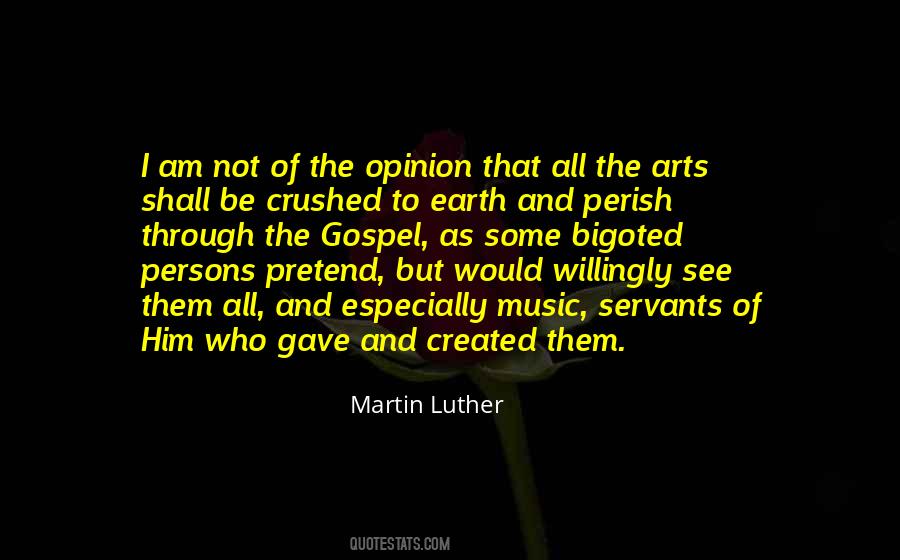 #44. Music of all arts should be expansive and inclusive. - Author: Jesse Jackson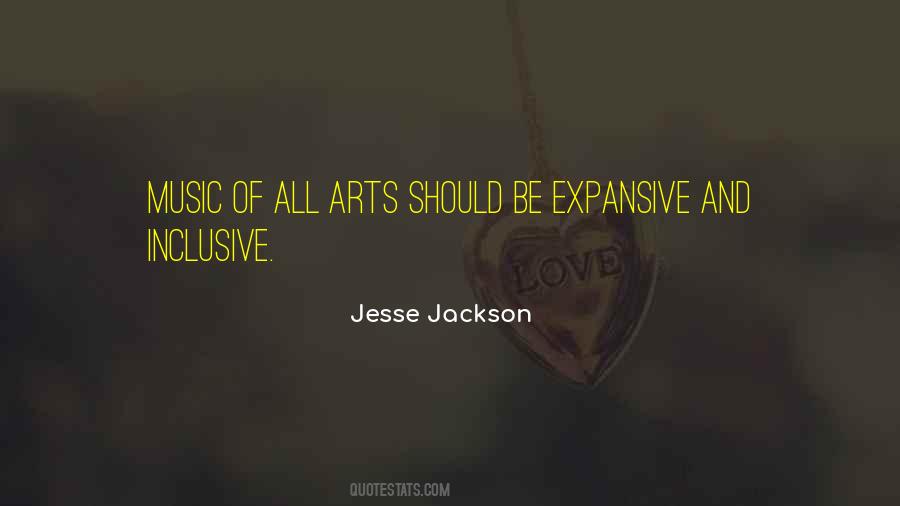 #45. The arts translate life into film and literature and music and repeat a deadly poison: the monotonous in life must be protected at all costs. - Author: Morrissey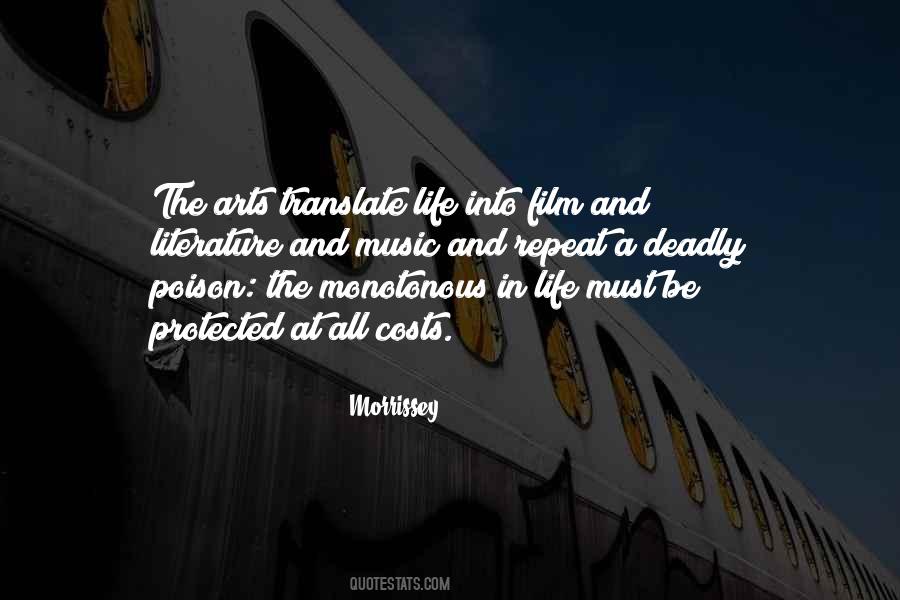 #46. A community united by the ideals of compassion and creativity has incredible power. Art of all kinds
music, literature, traditional arts, visual arts
can lift a community. - Author: Martin O'Malley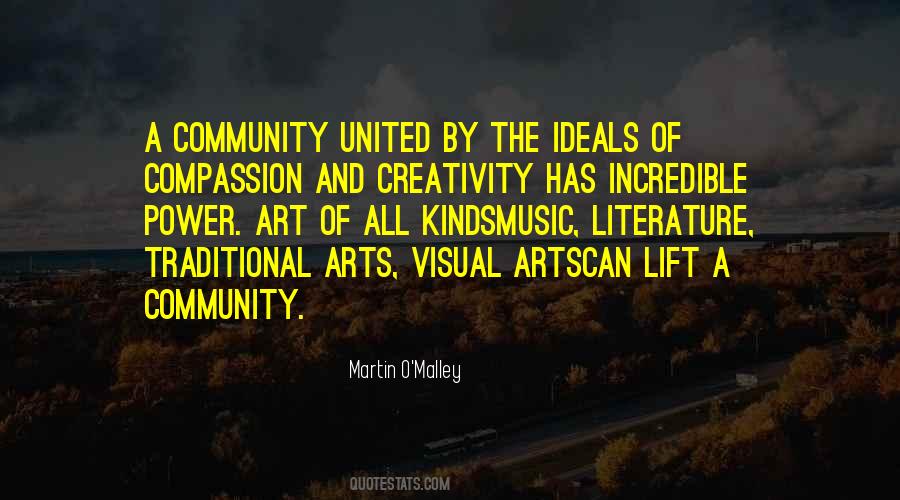 #47. The time is probably not far distant when music will stand revealed perchance as the mightiest of the arts, and certainly as the one art peculiarly representative of our modern world, with its intense life, complex civilization, and feverish self-consciousness. - Author: Hugh Reginald Haweis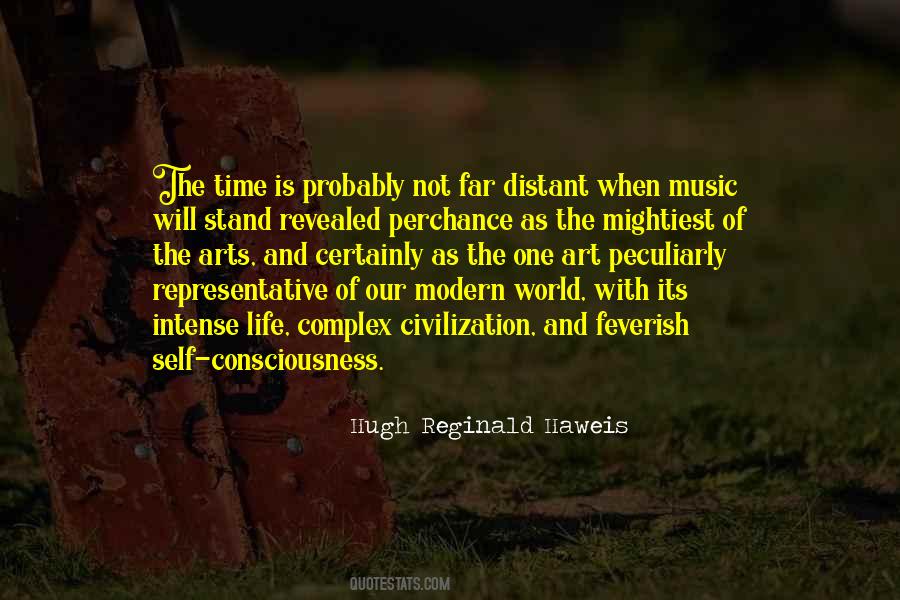 #48. All of the arts, poetry, music, ritual, the visible arts, the theater, must singly and together create the most comprehensive art of all, a humanized society, and its masterpiece, free man - Author: Bernard Berenson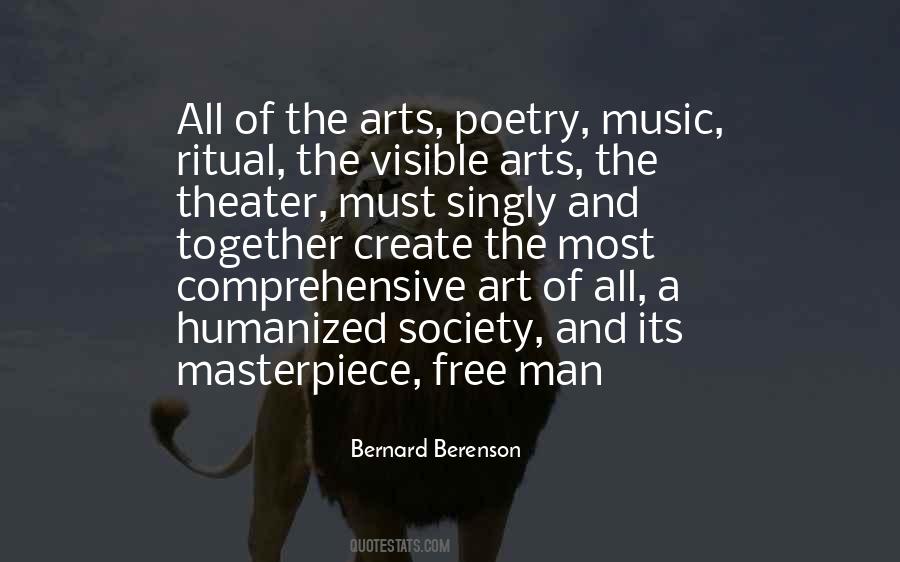 #49. I also think there's something about dance, music and the arts that transcends all other types of communication and expression. - Author: Rachele Brooke Smith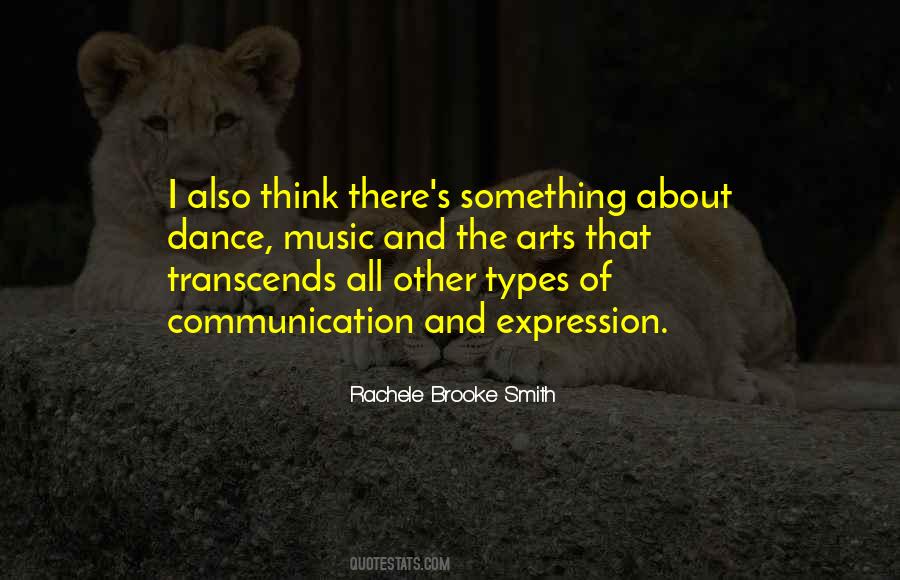 #50. I would teach children music, physics, and philosophy; but most importantly music, for the patterns in music and all the arts are the keys to learning - Author: Plato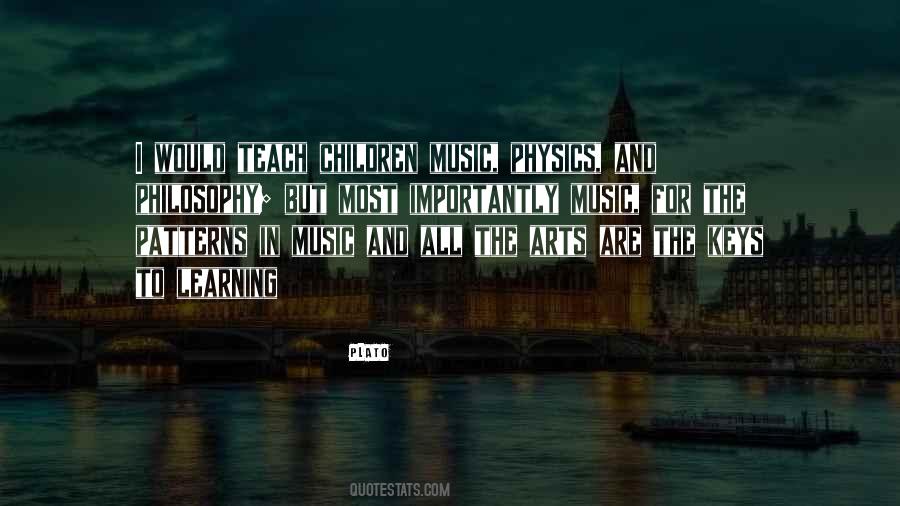 #51. When you're actually making a film, it's just people on your back all the time wanting stuff and you're constantly having to it deal with them. It's probably the most time consuming of all the arts, but I do love it because it is a great mix of visual art and music and writing. - Author: Taika Waititi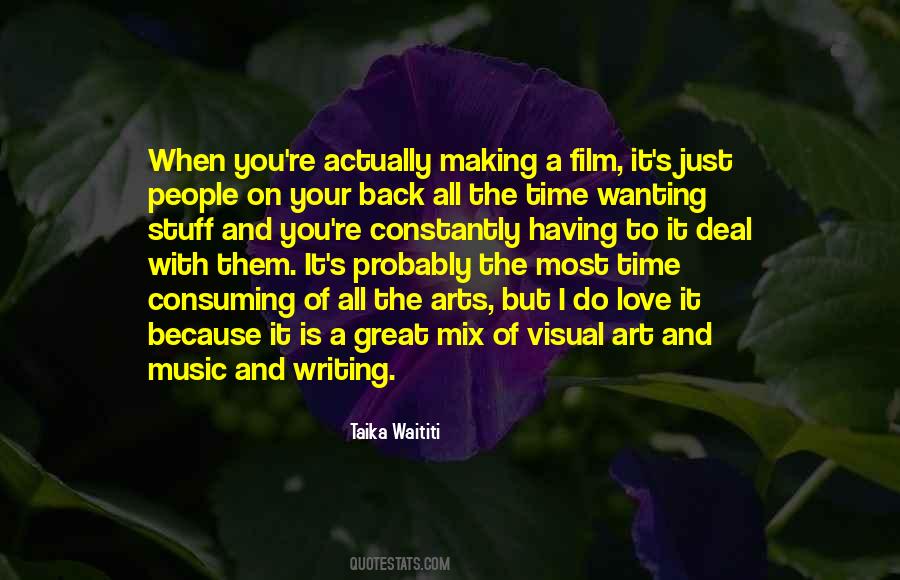 #52. There is a lightness about the feminine mind
a touch and go
music, the fine arts, that kind of thing
they should study those up to a certain point, women should; but in a light way, you know. - Author: George Eliot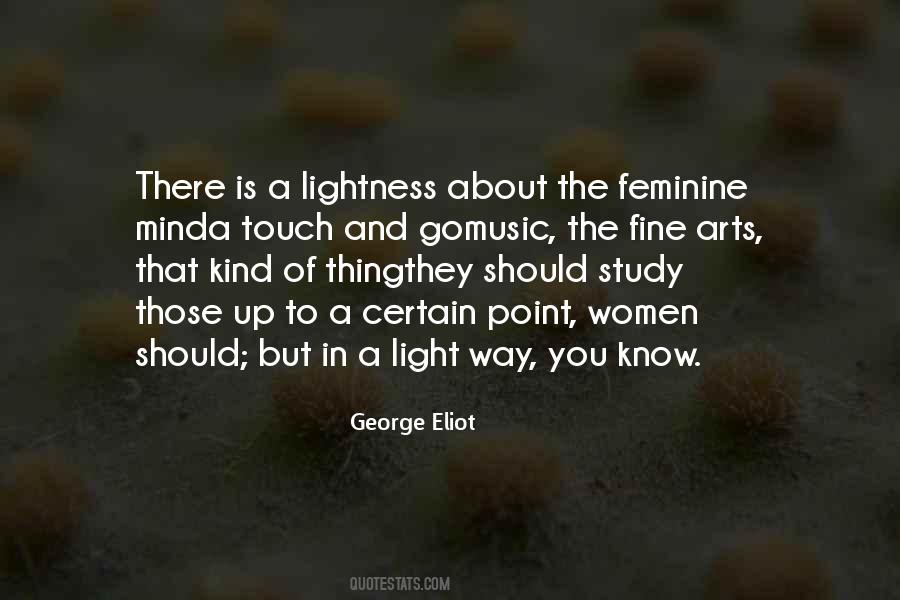 #53. I'm in a real minority as far as having really supportive parents in regards to the arts. They never batted an eye as far as not letting me do that stuff. That's invaluable. I can't believe how unabashedly supportive they were about everything, between music and acting. - Author: Darren Criss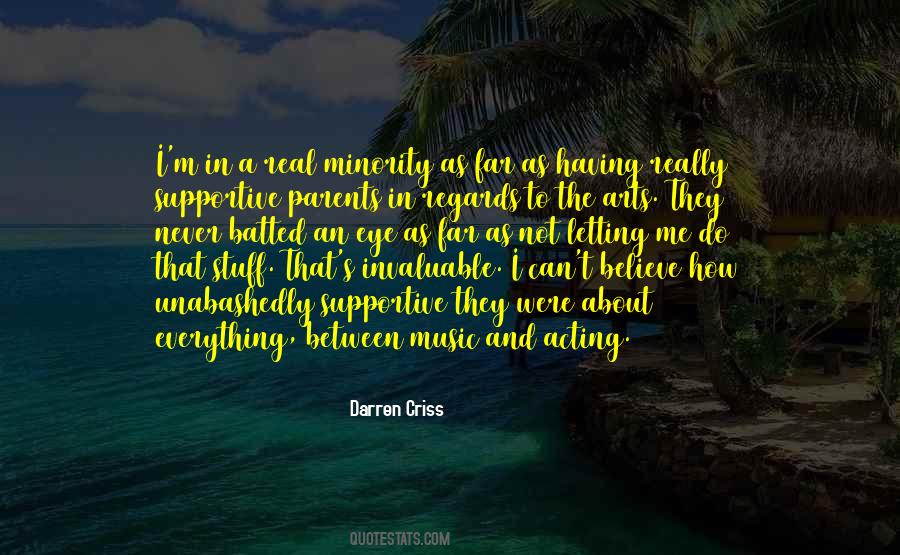 #54. Certainly being in California has encouraged a sustained commitment to rethinking the nature, purposes, and relevance of the contemporary arts, specifically music, for a society which by and large seems to manage quite well without them. - Author: Brian Ferneyhough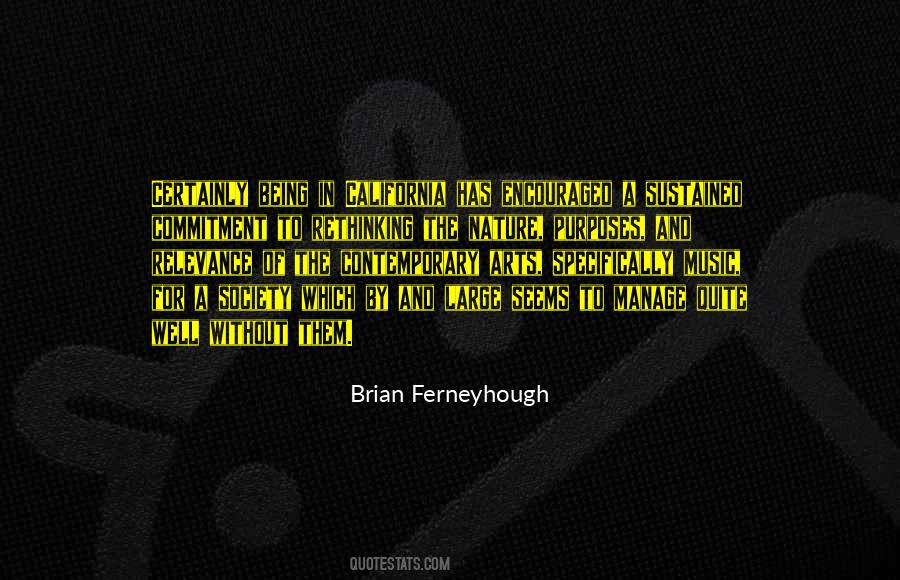 #55. I found that it wasn't so oddball to like music and poetry and visual arts, they're kindred spirits. - Author: J. Carter Brown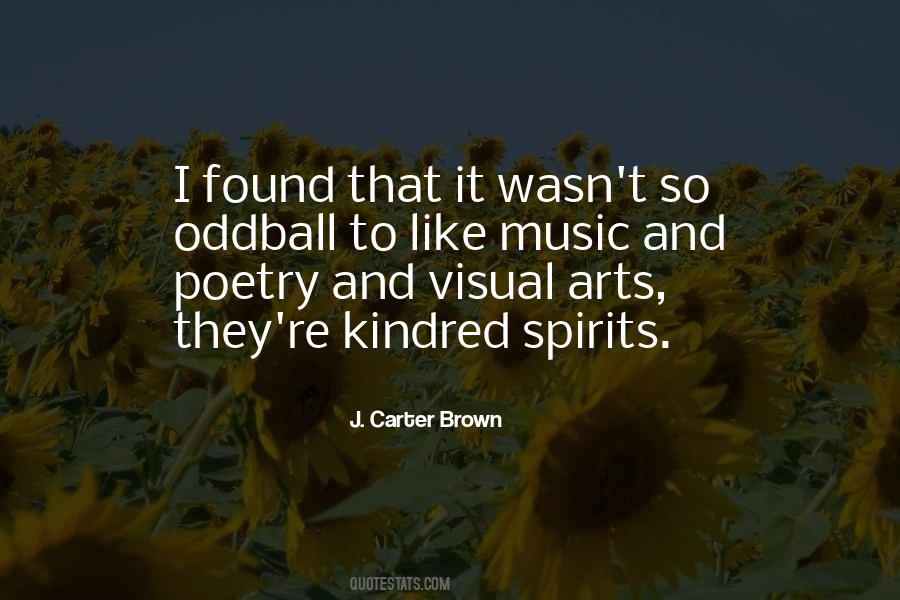 #56. There is a lot of interest in the arts, music, theatre, filmmaking, engineering, architecture and software design. I think we have now transitioned the modern-day version of the entrepreneur into the creative economy. - Author: John Baldacci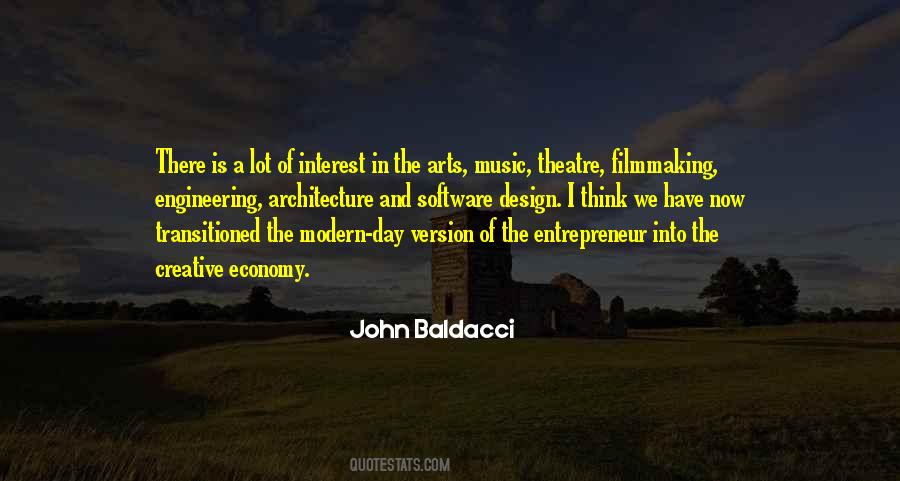 #57. Even before Europe was united in an economic level or was conceived at the level of economic interests and trade, it was culture that united all the countries of Europe. The arts, literature, music are the connecting link of Europe. - Author: Dario Fo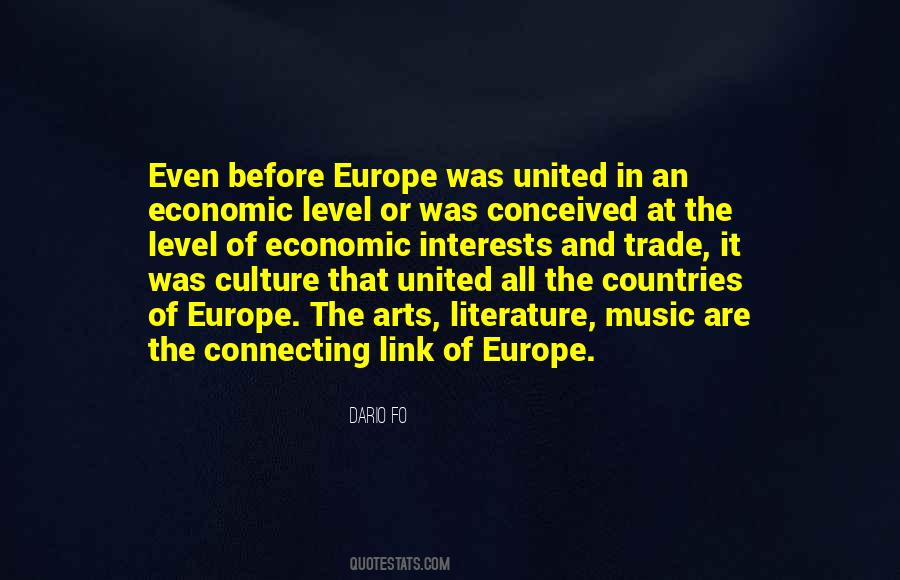 #58. This will be the racing competition to end all racing competitions, .. I am extremely pleased to be working with Electronic Arts on this exciting opportunity giving music and gaming fans the chance to live the Need for Speed TM experience. - Author: Jay Kay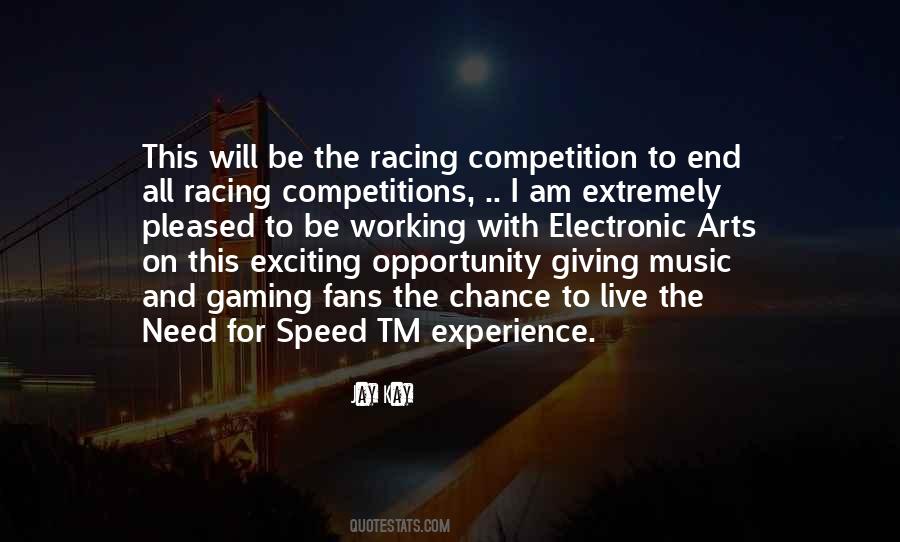 #59. Cage's Music of Changes was a further indication that the arts in general were beginning to consciously deal with the 'given' material and, to varying degrees, liberating them from the inherited, functional concepts of control. - Author: Earle Brown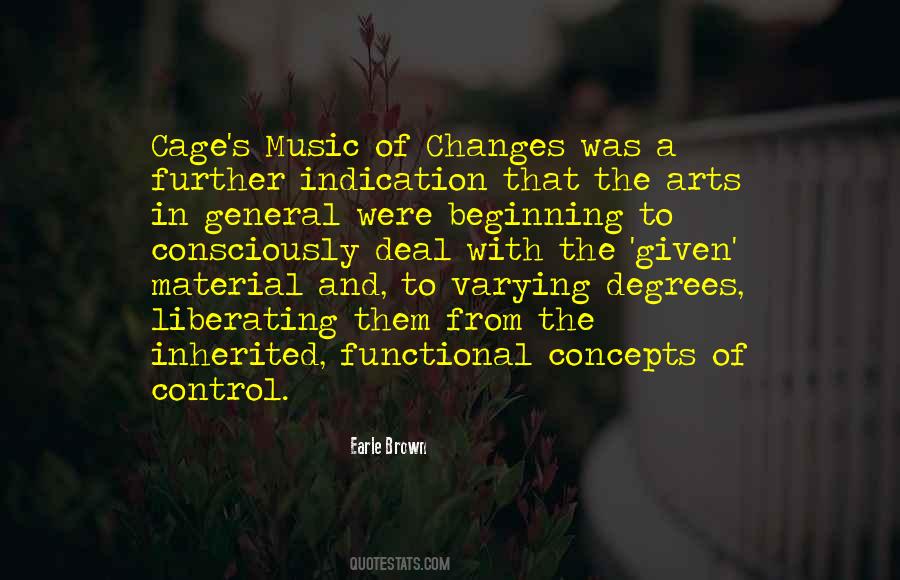 #60. trees [-]
Inside their wooden samurai armor they are geisha beauties, each one a 'person-of-the-arts,' limbs dancing, arranging flowers, carrying the wind's music, the calligraphy of their roots pure poetry, rhyming earth and berth. - Author: Tirumalai S. Srivatsan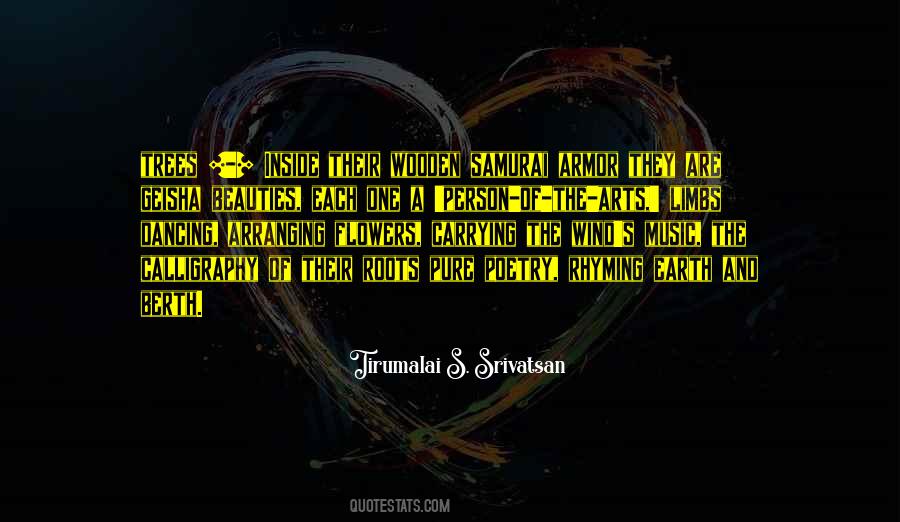 #61. I know if I wasn't making music and acting, I would be involved in the performing arts world in some way. I would be either writing and making music for other artists or producing movies. - Author: Claudia Lee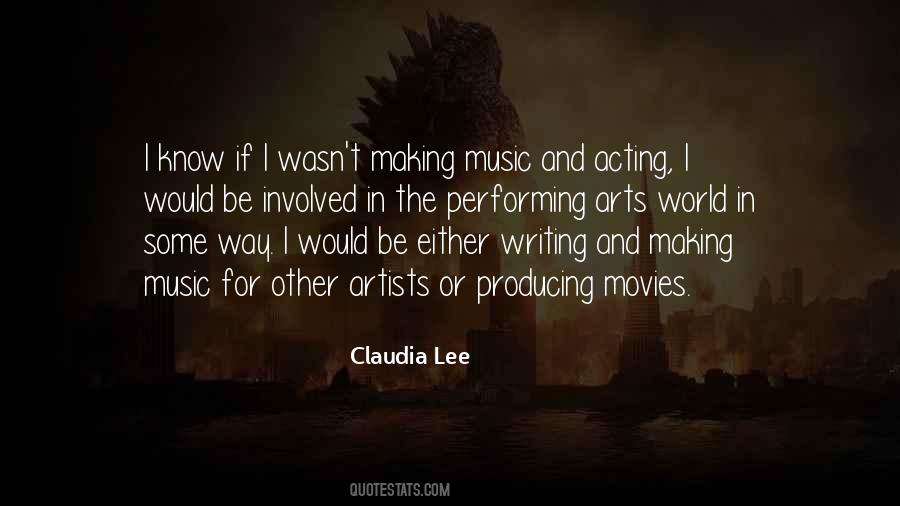 #62. With my daughter, we do arts and crafts, we read a lot, we listen to music, and we cut the strings off balloons and bounce them around after birthday parties. - Author: Lisa Loeb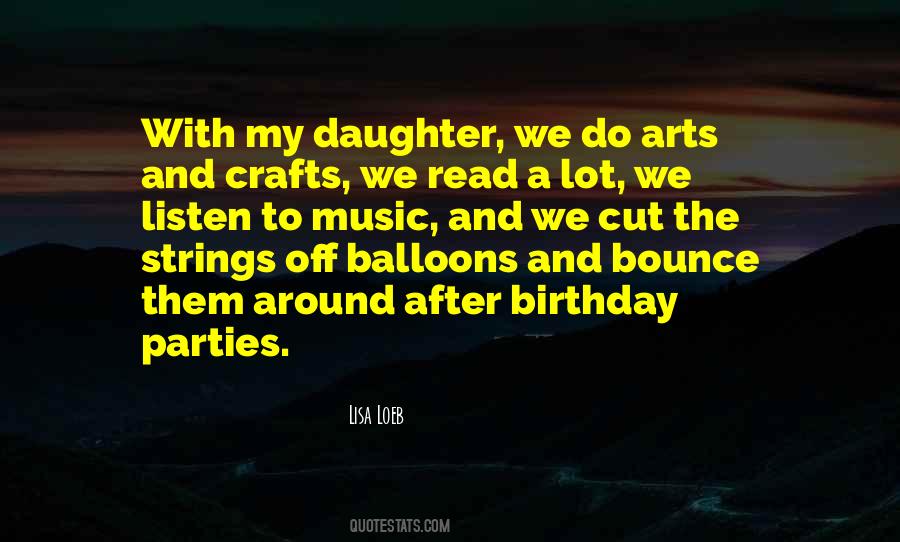 #63. Music Is Arts, soul, Lifestyle and Spirits ... - Author: Miko Sebastienz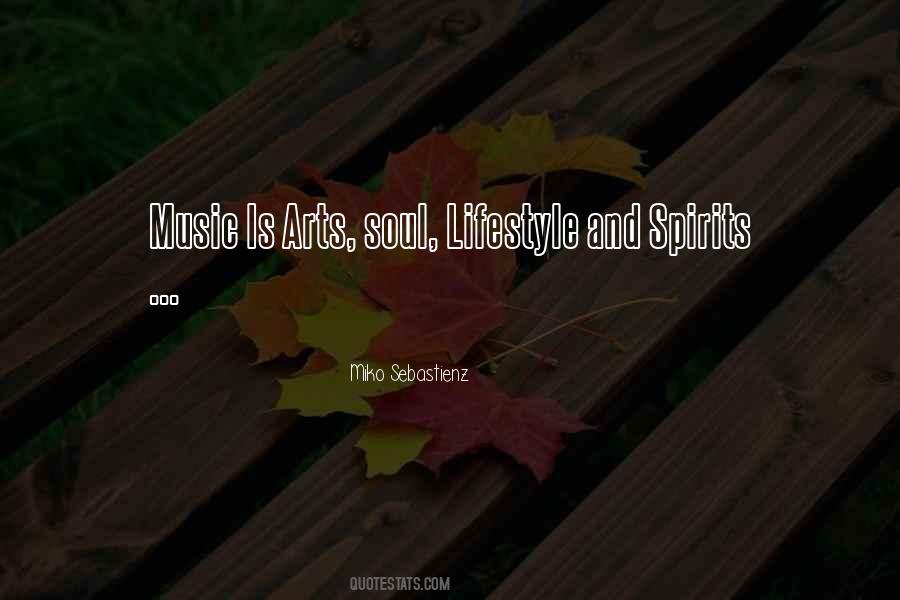 #64. We need more math classes, we need more science. It's the art of math and the art of science that creates all the innovation, and we have a tradition of great arts, great music. - Author: Wynton Marsalis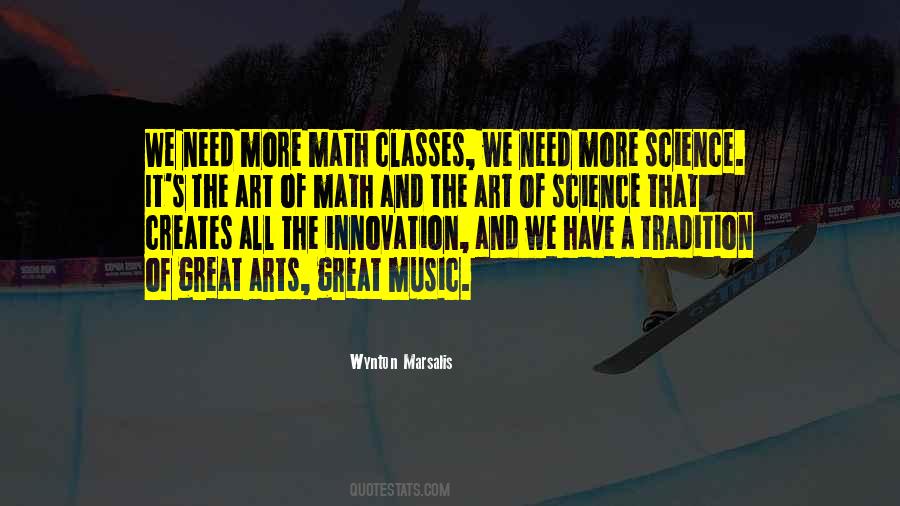 #65. Think of the great poetry, the music and dance and ritual that spring forth from our aspiring to a life beyond death. Maybe these things are justification enough for our hopes and dreams, although I wouldn't say that to a dying man. - Author: Don DeLillo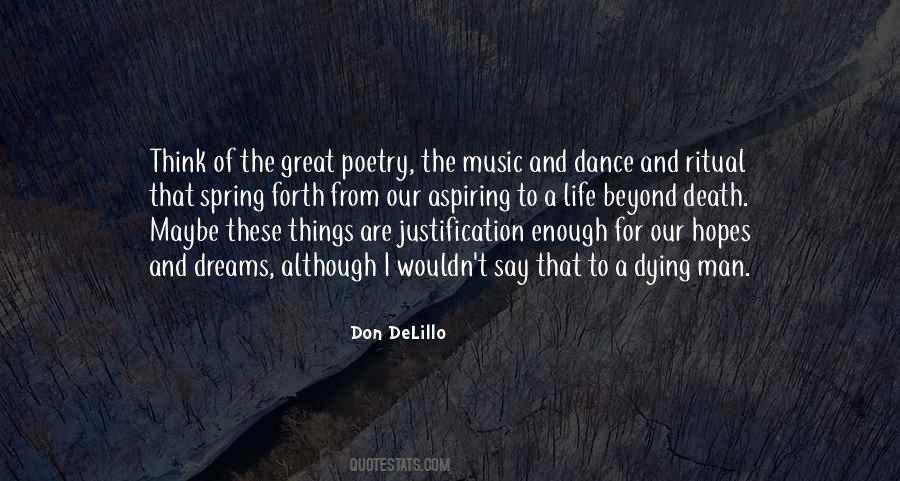 #66. Poetry, like jazz, is one of those dazzling diamonds of creative industry that help human beings make sense out of the comedies and tragedies that contextualize our lives. - Author: Aberjhani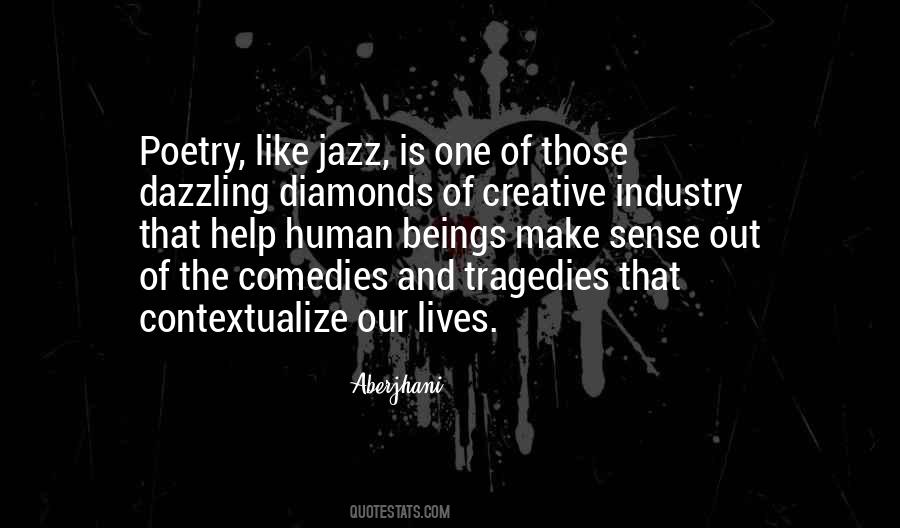 #67. The only way to get change is not through the courts or - heaven forbid - the politicians, but through a change of human consciousness and through a change of heart. Only through the arts - music, poetry, dance, painting, writing - can we really reach each other, - Author: Leslie Marmon Silko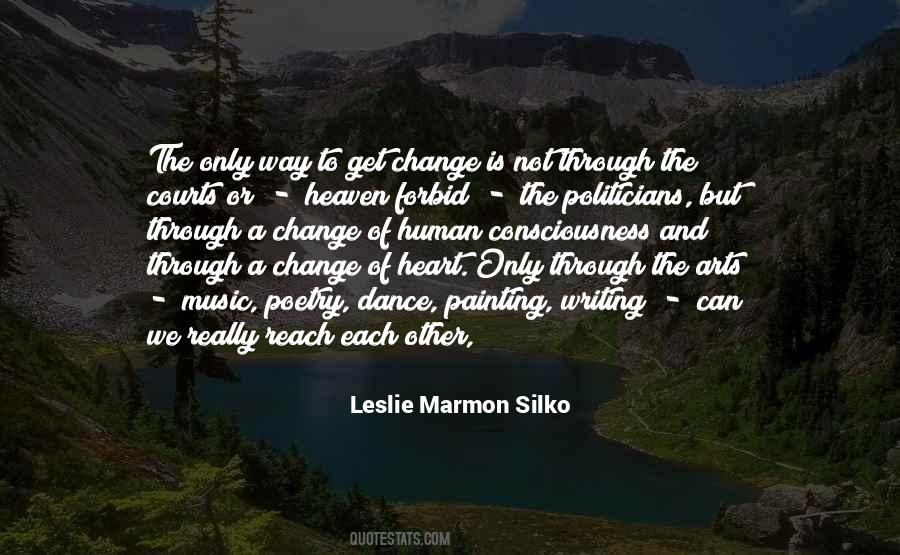 #68. Mathematics is, as it were, a sensuous logic, and relates to philosophy as do the arts, music, and plastic art to poetry. - Author: Karl Wilhelm Friedrich Schlegel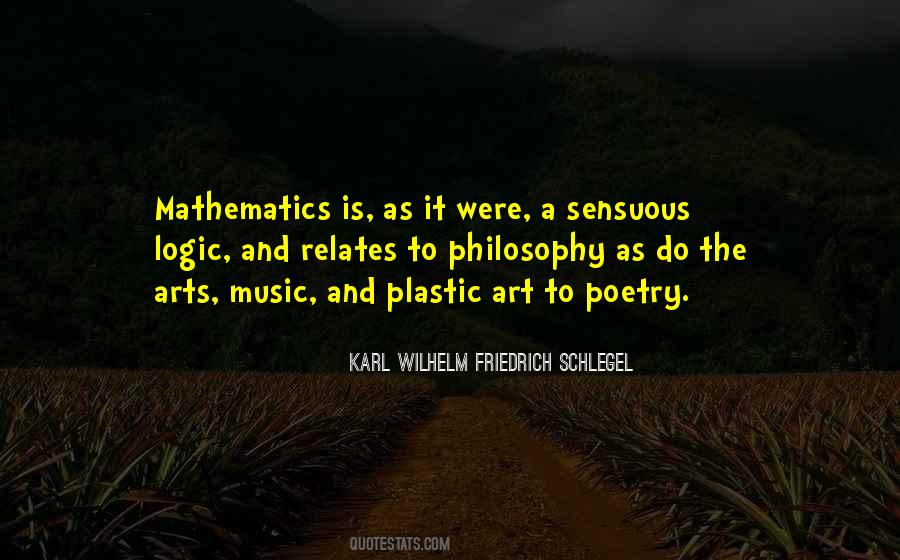 #69. I went to the Brit School for the performing arts in Croydon at 14, picking music as my main subject, and I'm so glad I did. I knew lots of people who'd gone there, so I always had my mind set on it. - Author: Katy B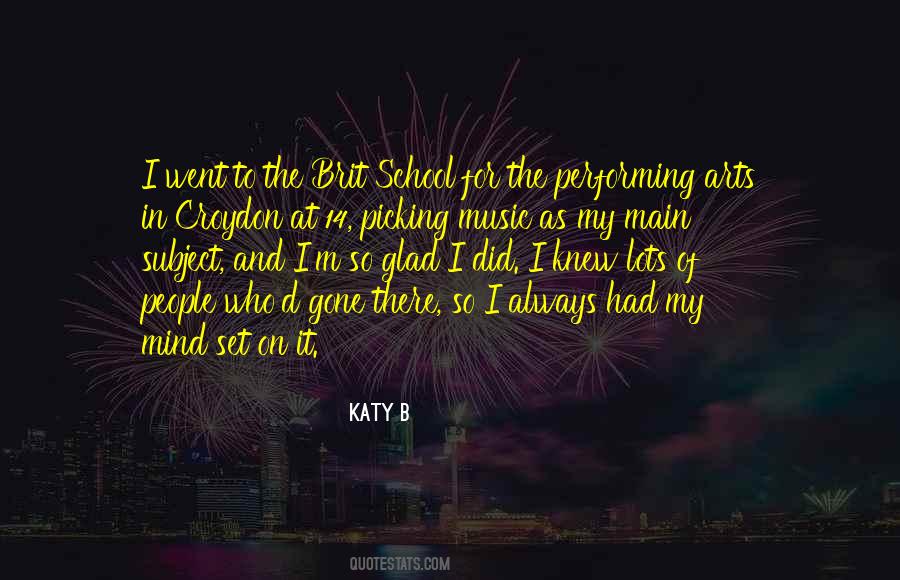 #70. Of all the arts I think Music has the most mighty, universal, and immediate effect. - Author: Sir Arthur Sullivan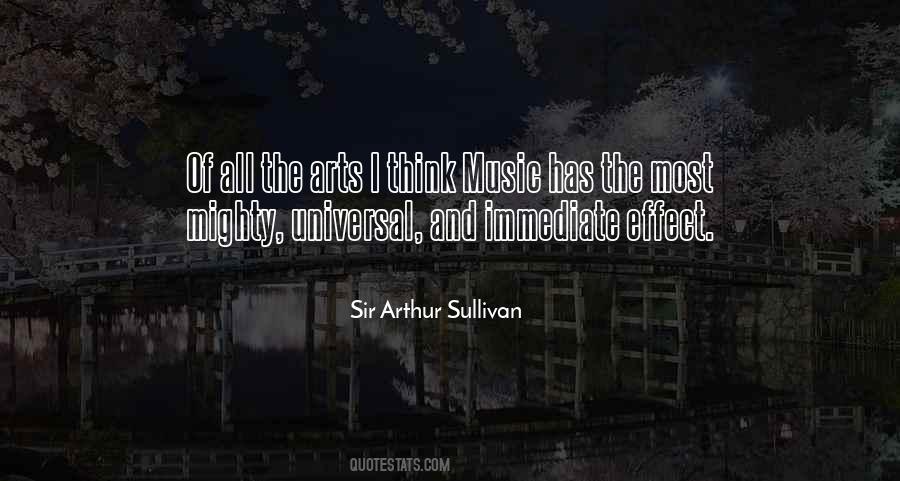 #71. I think that music and visual arts can complement themselves nicely. They do different things - the music forces you into a different mood and perspective whilst the visual stuff can engage you in a more direct cognitive manner. - Author: Aaron Koblin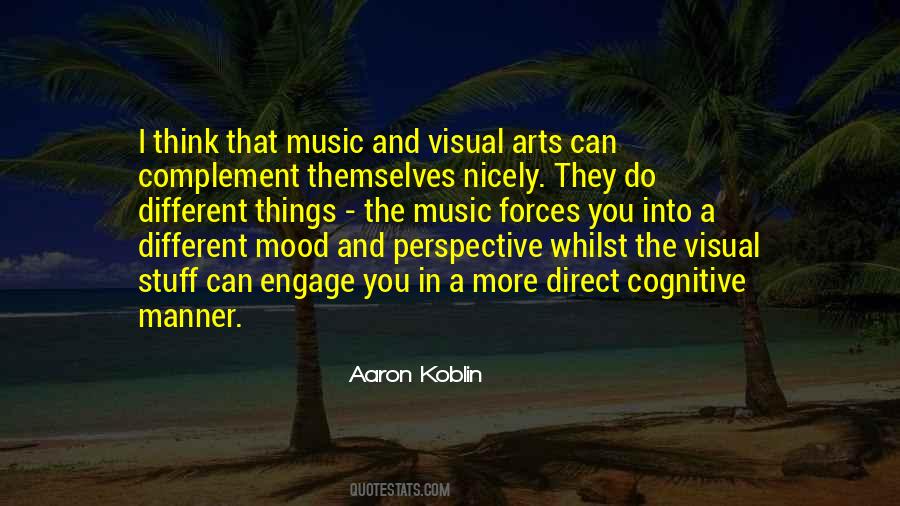 #72. The charm of fine manners is music and sculpture and picture to many who do not pretend to appreciation of these arts. - Author: Ralph Waldo Emerson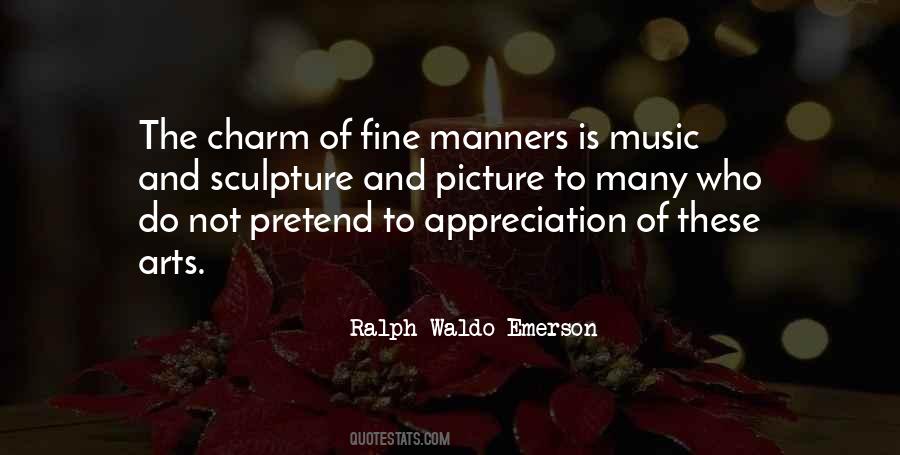 #73. Music had been my first love among the arts, and I was fascinated by it, as I still am. - Author: Harry Mathews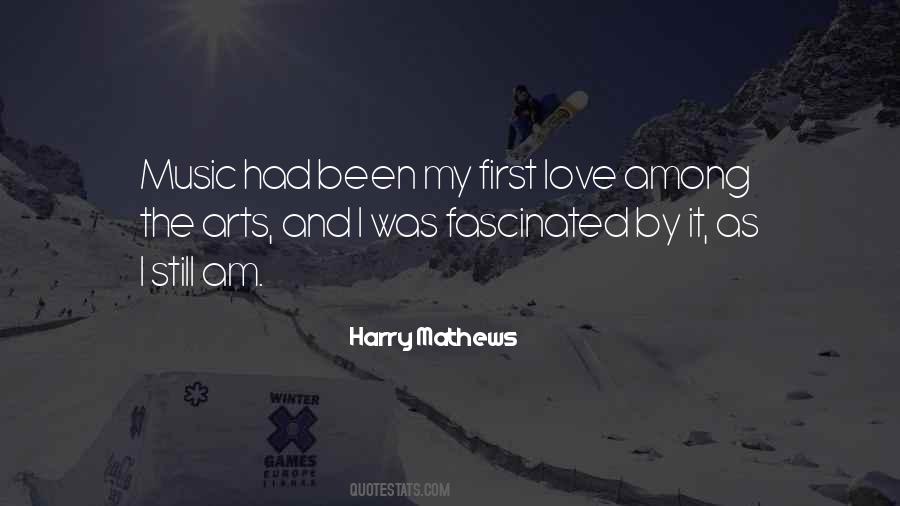 #74. I think the Grammys are nothing more than some gigantic promotional machine for the music industry. They cater to a low intellect and they feed the masses. They don't honor the arts or the artist for what he created. It's the music business celebrating itself. - Author: Maynard James Keenan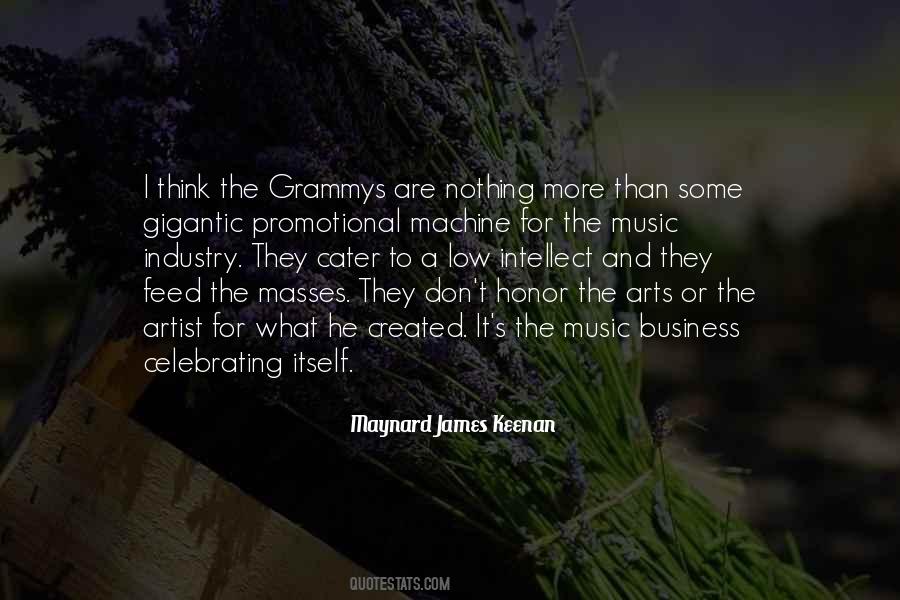 #75. Instead of books, art, theatre, and music being consigned to specialized niches, we might have a criticism that better reflects the eclecticism of our time, a criticism that takes in various arts all at once. - Author: Lee Siegel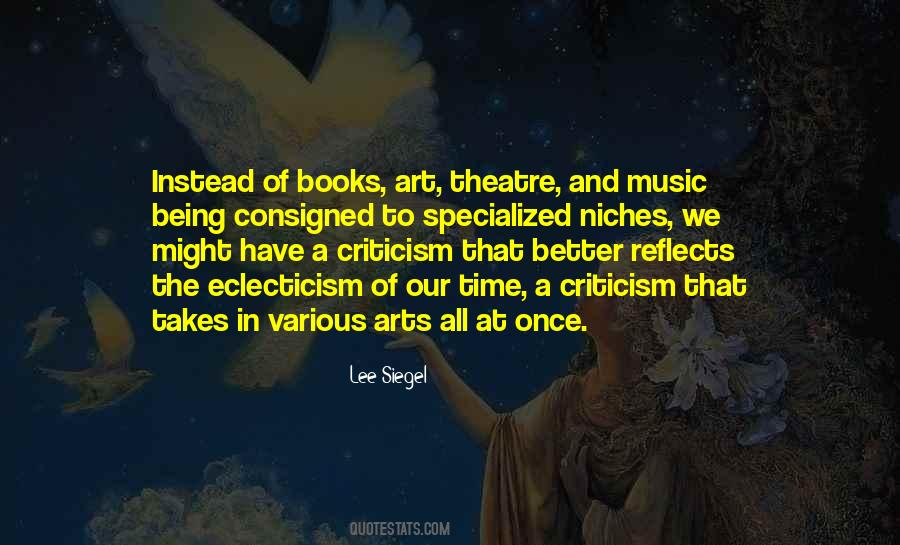 #76. School work and intellectual interests such as music and the arts were not especially important to me while I was growing up, although mathematics, my favorite subject, was fun. Baseball was my first passion: I played sand lot and Little League and rooted for the Brooklyn Dodgers. - Author: Robert C. Merton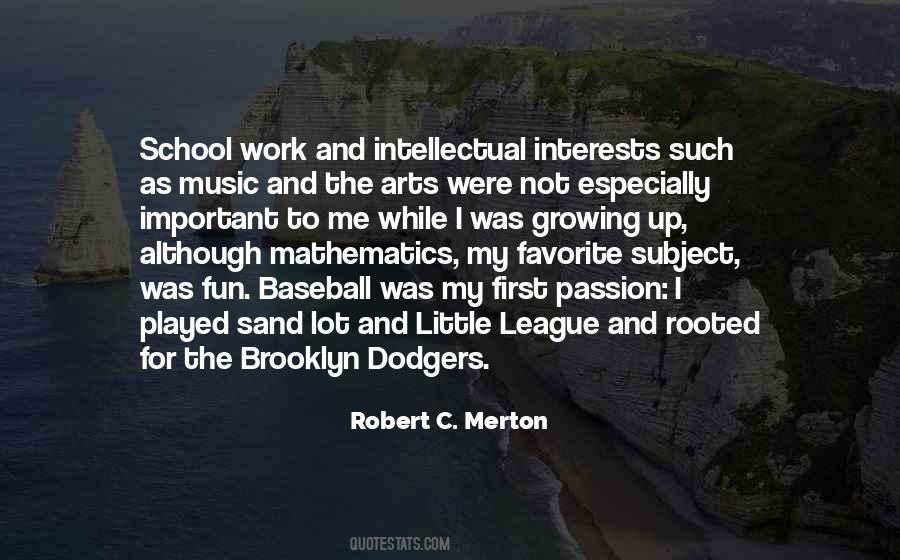 #77. Righteous, I like that. Kinda fitting when you think about it. If we danced and shared music, we'd be too busy en-joy-in' life to start a war. - Author: E.A. Bucchianeri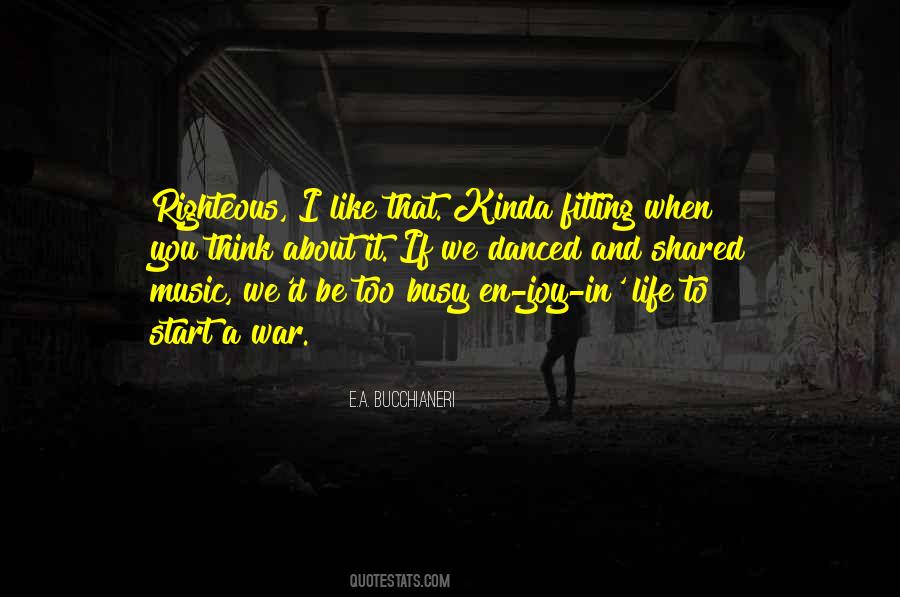 #78. If I had my life to live over again, I would have made a rule to read some poetry and listen to some music at least once every week. - Author: Charles Darwin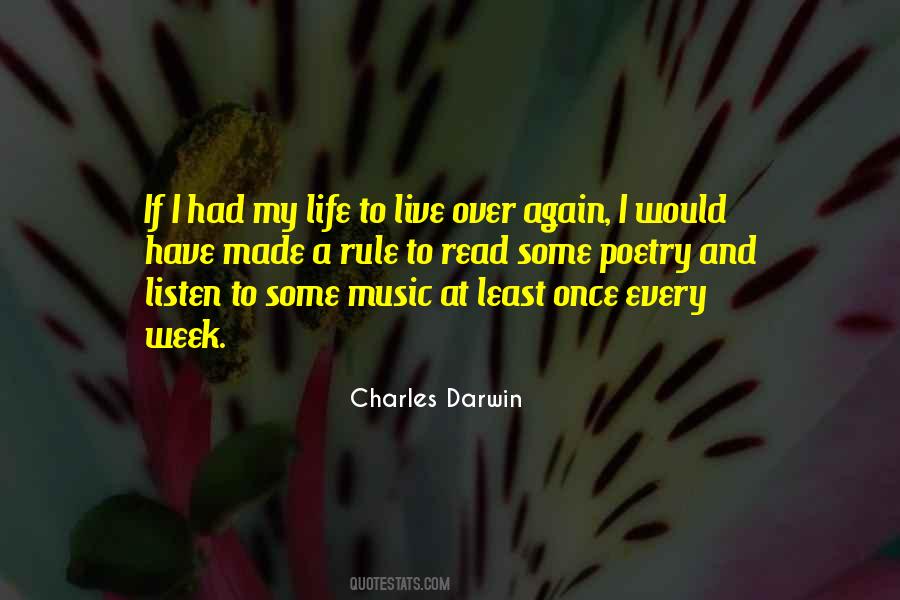 #79. There are only four great arts: music, painting, sculpture, and ornamental pastry - architecture being the least banal derivative of the latter. - Author: Edith Wharton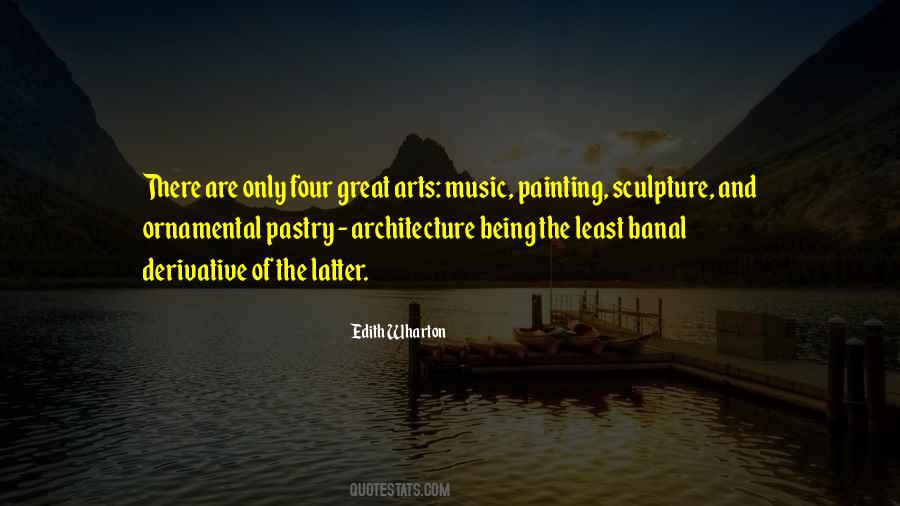 #80. Making music, dancing, the theater, conversation, proper and urbane deportment, these were cultivated here as particular arts. It was not the military, nor the political, nor the commercial, that was predominant in the life of the individual and of the masses. - Author: Stefan Zweig
#81. Ah, the magic of music, with it, all things are possible. - Author: E.A. Bucchianeri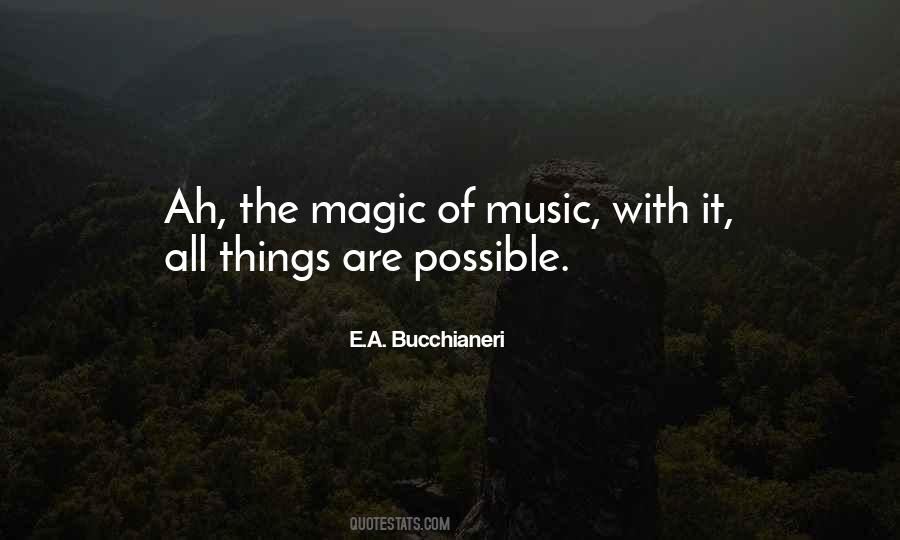 #82. Literature is the noblest of all the arts. Music dies on the air, or at best exists only as a memory; oratory ceases with the effort; the painter's colors fade and the canvas rots; the marble is dragged from its pedestal and is broken into fragments. - Author: Elbert Hubbard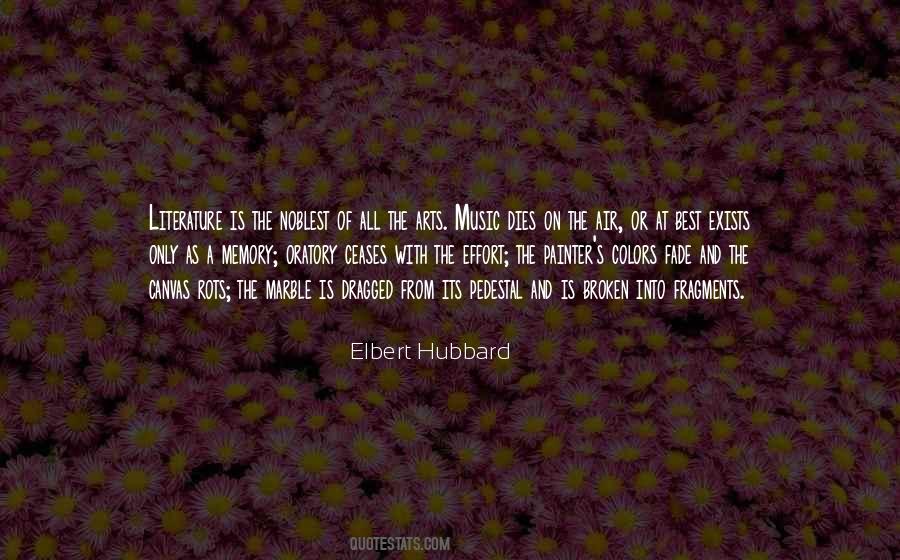 #83. Opera is the most complete art form. It includes drama, acting, technology (lighting), art (the sets), dance, and the epitome of the human voices. But mostly, go for the glorious music. The arts are crucial to the life of every community. - Author: Karen DeCrow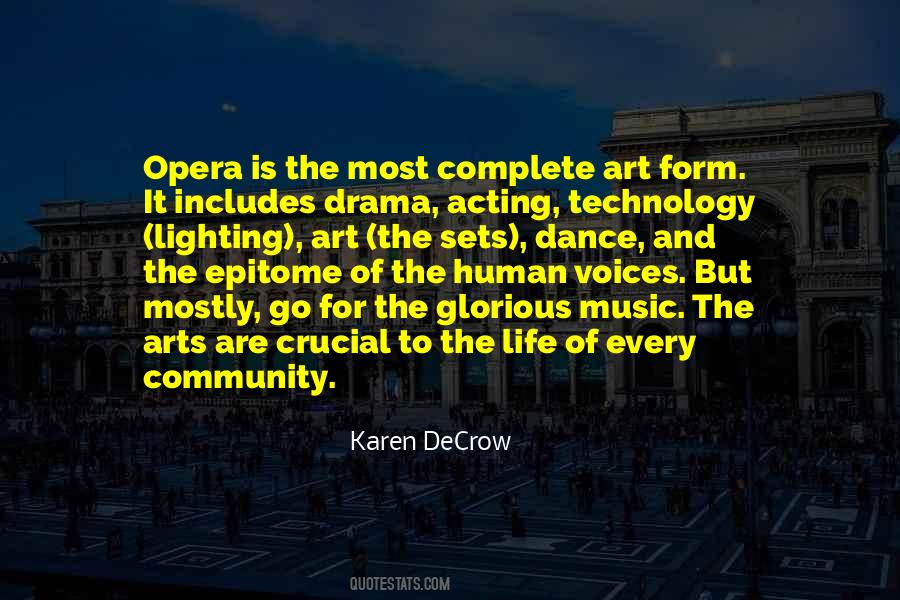 #84. Atlantis was a highly evolved civilization where the sciences and arts were far more advanced than one might guess. Atlantis was technologically advanced in genetic engineering, computer science, inter-dimensional physics, and artistically developed with electronic music and crystal art forms. - Author: Frederick Lenz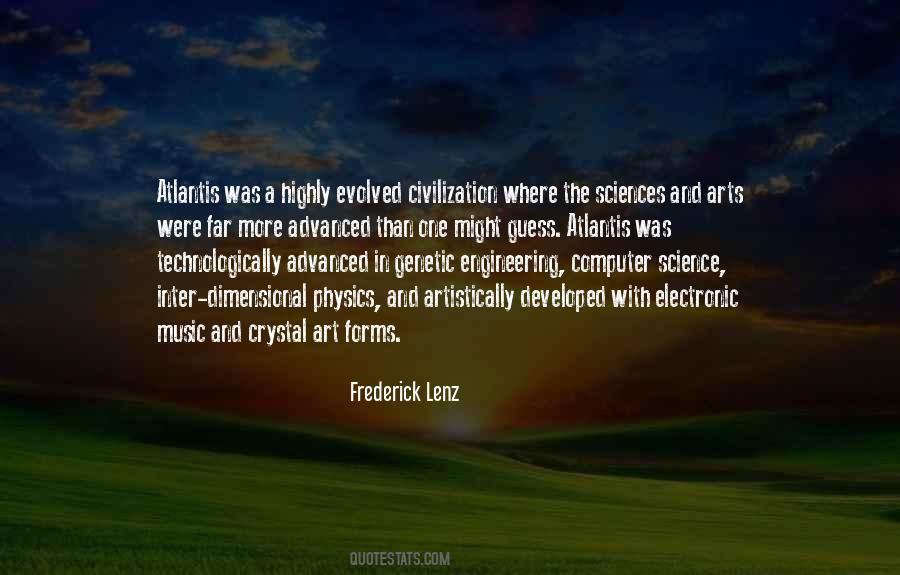 #85. Boston was a great city to grow up in, and it probably still is. We were surrounded by two very important elements: academia and the arts. I was surrounded by theater, music, dance, museums. And I learned how to sail on the Charles River. So I had a great childhood in Boston. It was wonderful. - Author: Leonard Nimoy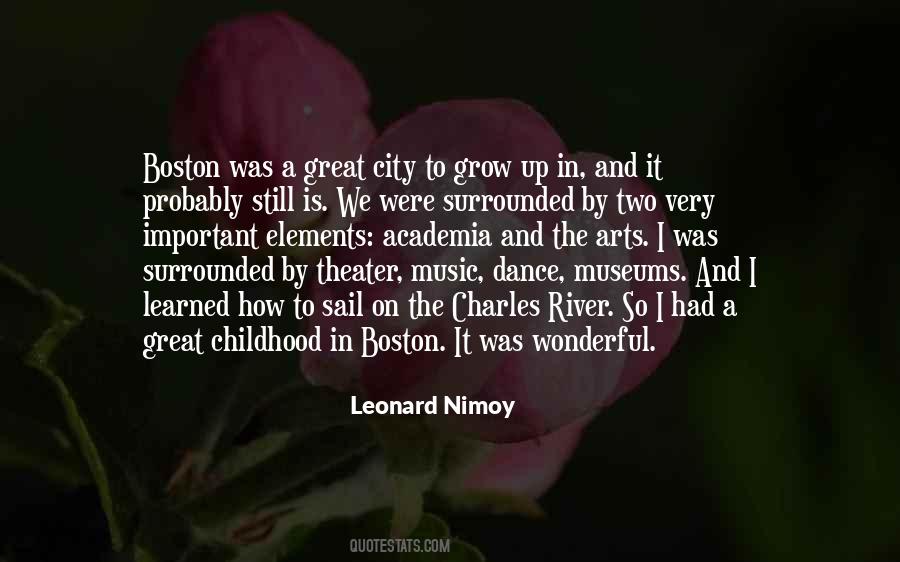 #86. I went to a high school for the performing arts and I lived and breathed music. It kept me focused; it kept me sane. - Author: Beyonce Knowles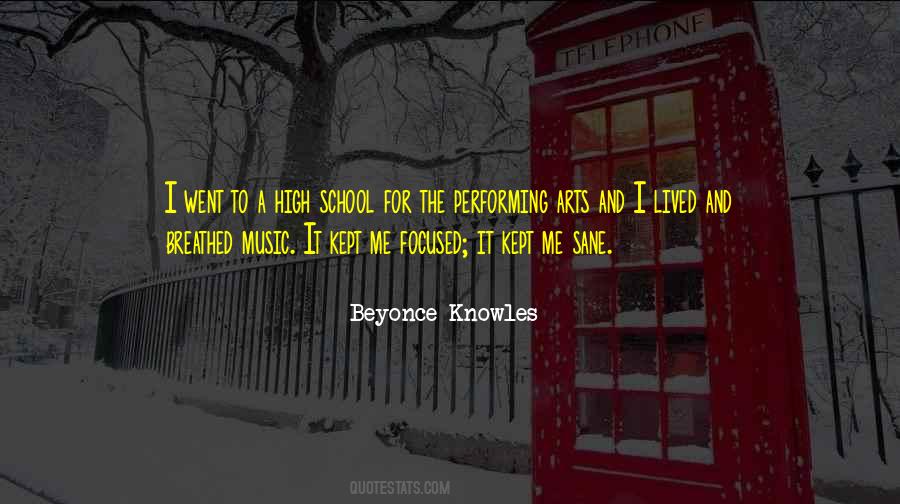 #87. I believe education in music, theater, dance, and the visual arts ... is part of a well-rounded education and can provide so much joy, now and in the future. - Author: Rudy Giuliani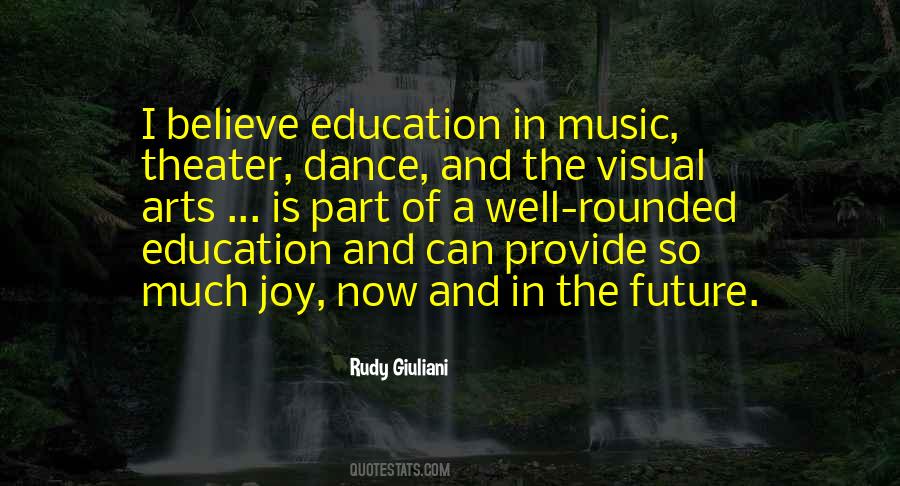 #88. Dancing, at its best, is independence and intimacy in balance. - Author: Donna Goddard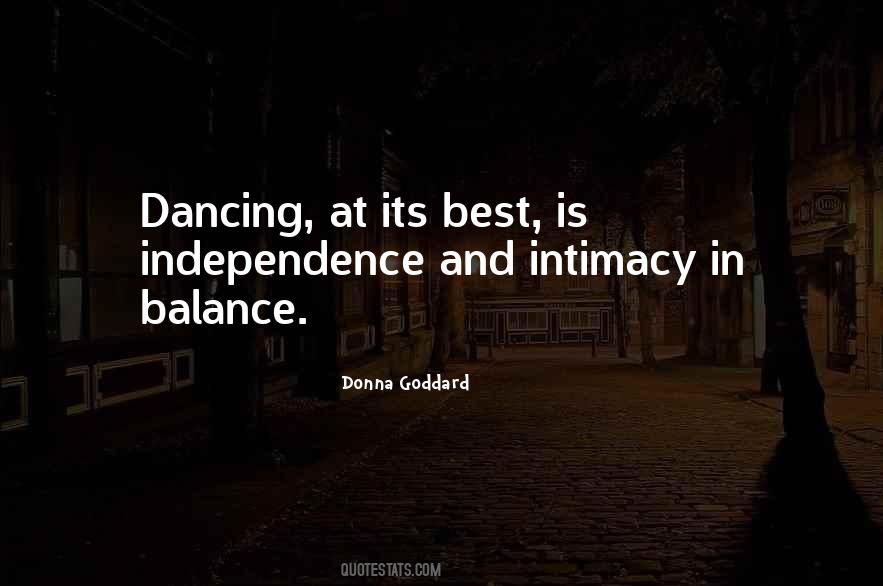 #89. The arts are not just a nice thing to have or to do if there is free time or if one can afford it. Rather, paintings and poetry, music and fashion, design and dialogue, they all define who we are as a people and provide an account of our history for the next generation. - Author: Michelle Obama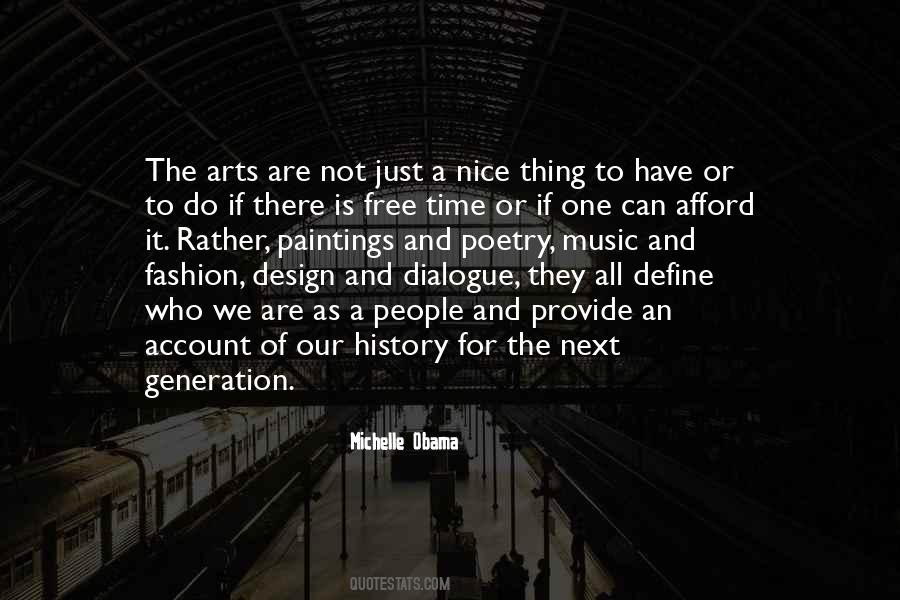 #90. The great thing about the arts, and especially popular music, is that it really does cut across genres and races and classes. - Author: Bonnie Raitt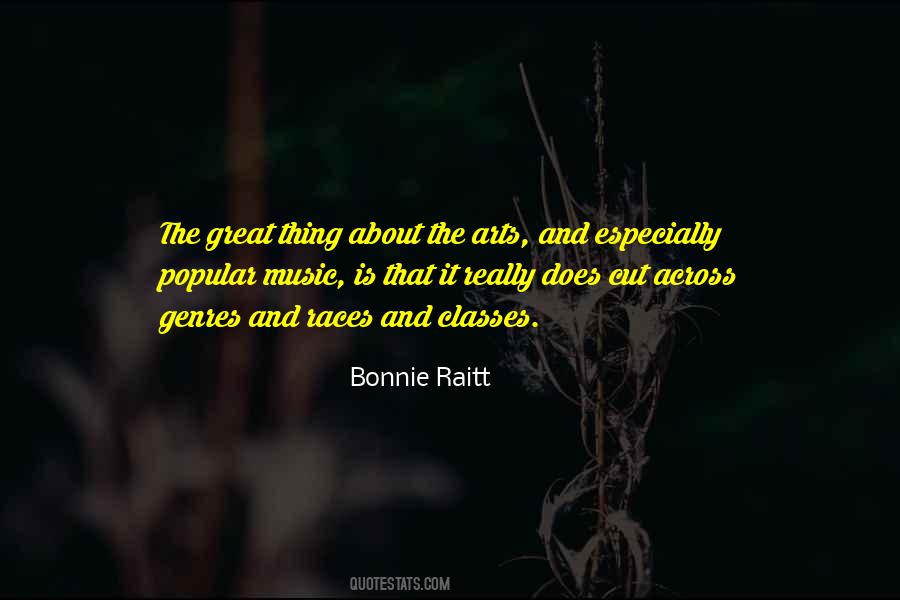 #91. The fine arts are five in number, namely: painting, sculpture, poetry, music, and architecture, the principal branch of the latter being pastry. - Author: Marie-Antoine Careme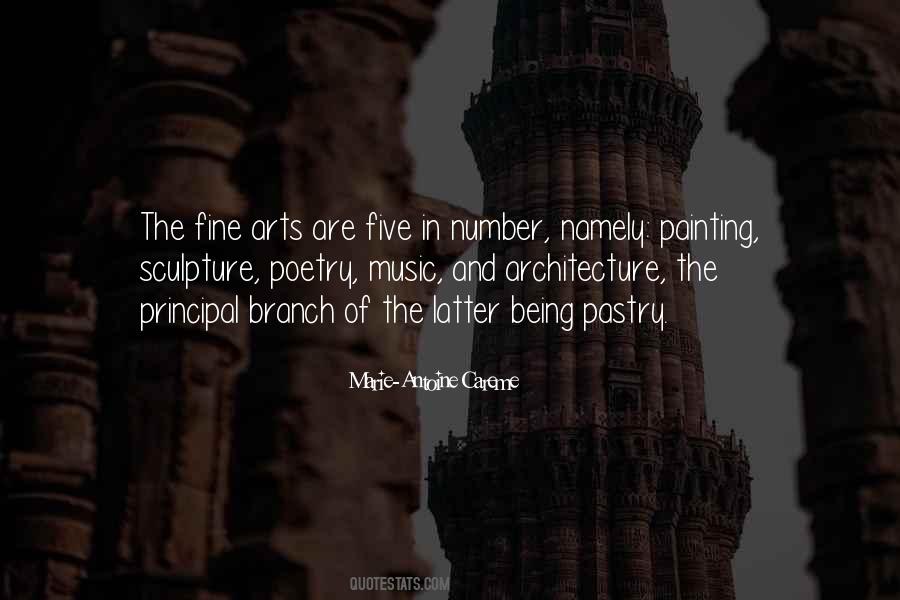 #92. Look deeply into life, and study it as diligently as the other arts and sciences. - Author: Robert Schumann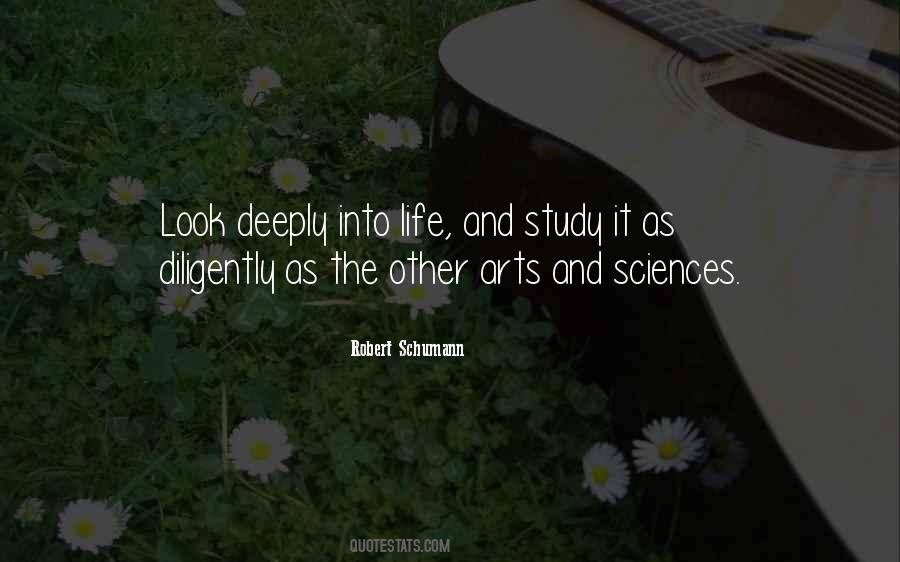 #93. Music is exciting and easy to enjoy, the rhythm and voice.
It does not need interpretation. That is why it is called the Universal Language. - Author: Ellen J. Barrier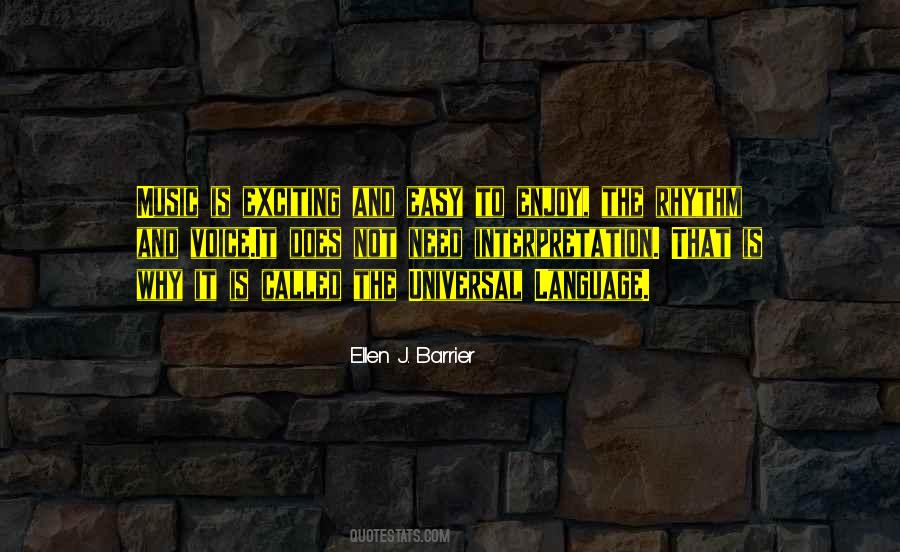 #94. Lots of things inspire me. My friends and my family, obviously. I really like to travel, so very inspired by traveling and meeting new people along the way. Also, music and the arts, like film and television. I like to read a lot too; that stuff inspires me. - Author: Jessica McNamee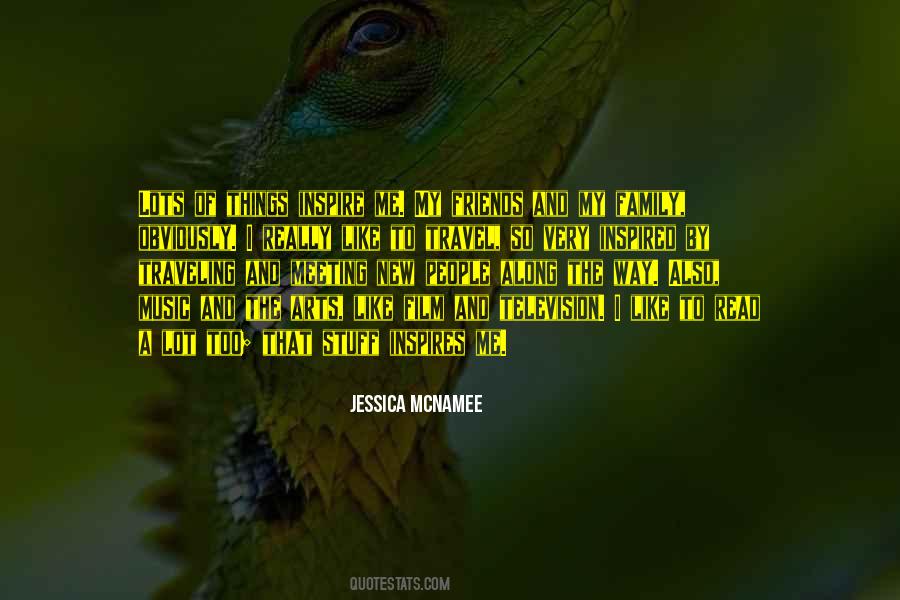 #95. My father was a fighter pilot, so I moved around the world when I was young. Then I ended up in Kansas. I'd just sort of gravitated toward the arts, and I had always loved music and really loved theater even though I didn't want to act. - Author: Patty Jenkins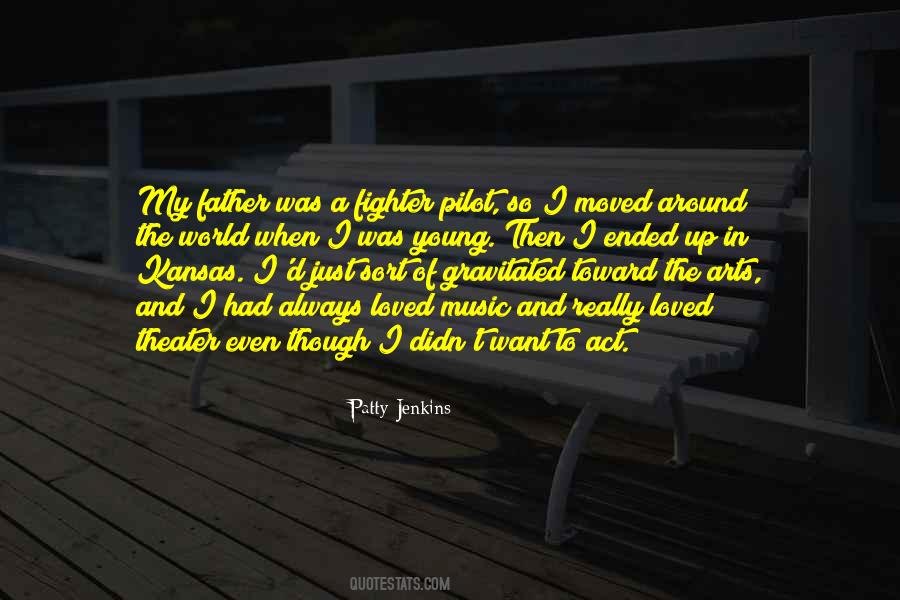 #96. In our country, the problem we have in our public school system across the country is that music and arts are on the bottom of the pole, if it's there at all. So the kids aren't exposed to music. I must speak to the music they hear at home too. - Author: Ramsey Lewis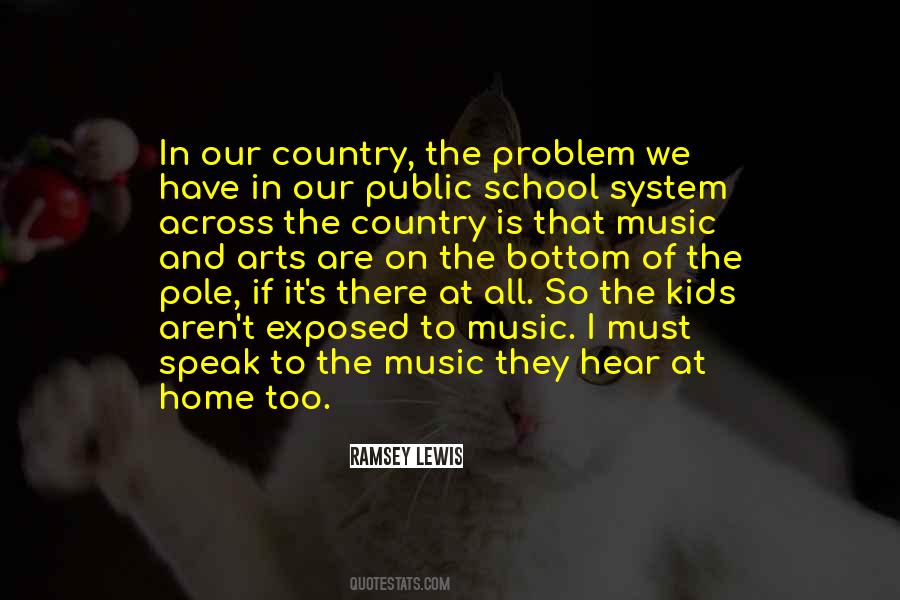 #97. I always thought martial arts was the most modern choreography we could have right now, and I always wanted to put it to music. - Author: Lou Reed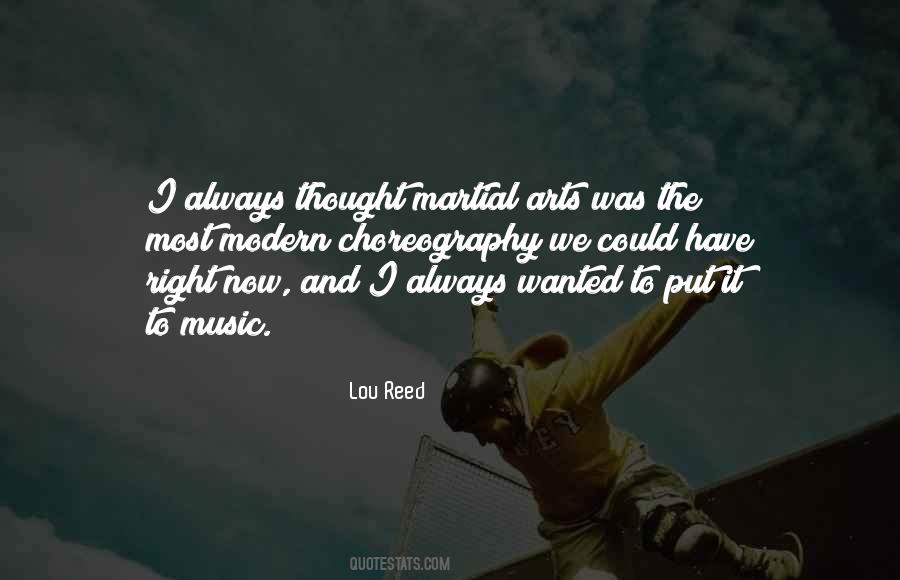 #98. In the broad spectrum of the arts, two worlds rarely overlap - the literary world and the world of rock music. - Author: William Boyd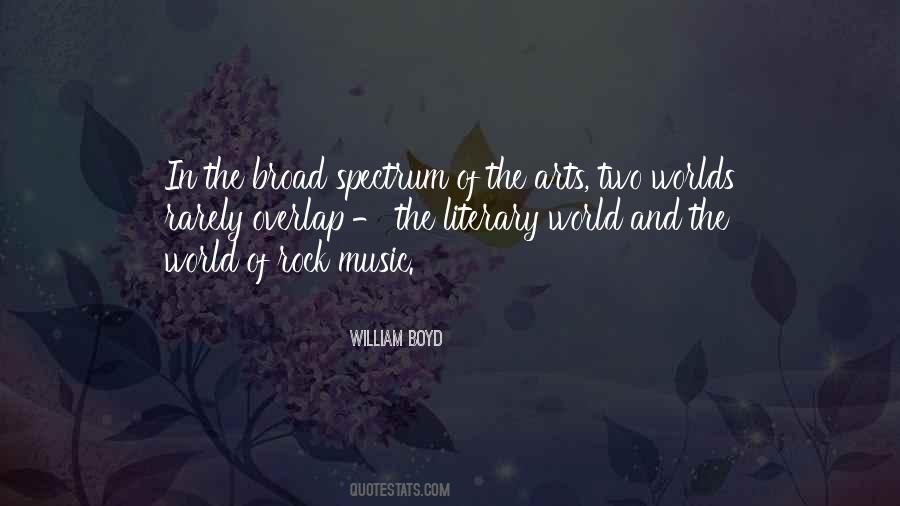 #99. Movies are a complicated collision of literature, theatre, music and all the visual arts. - Author: Yahoo Serious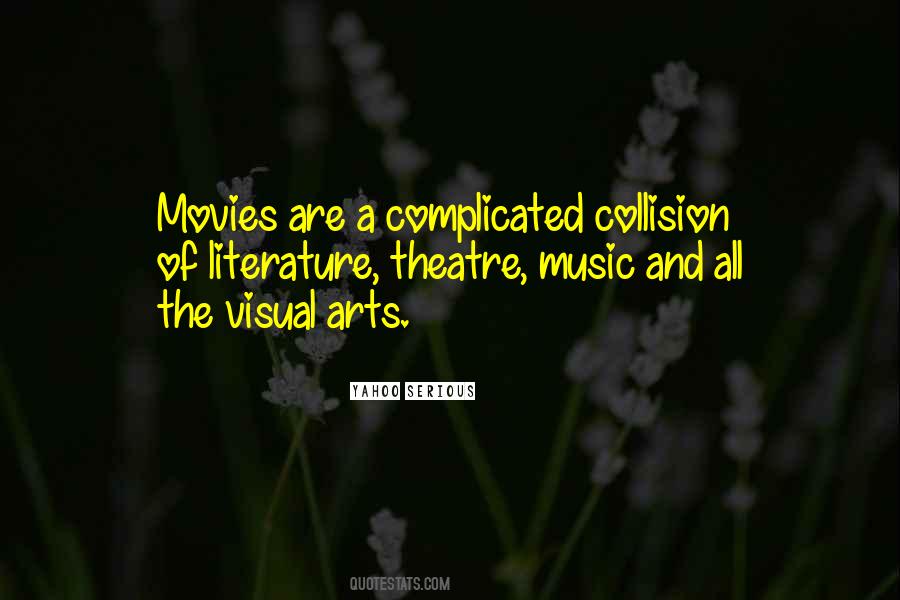 #100. The Negroes have little invention, but strong powers of imitation, so that they readily acquire mechanic arts. They have a great talent for music, and all their external senses are remarkably acute. - Author: Samuel George Morton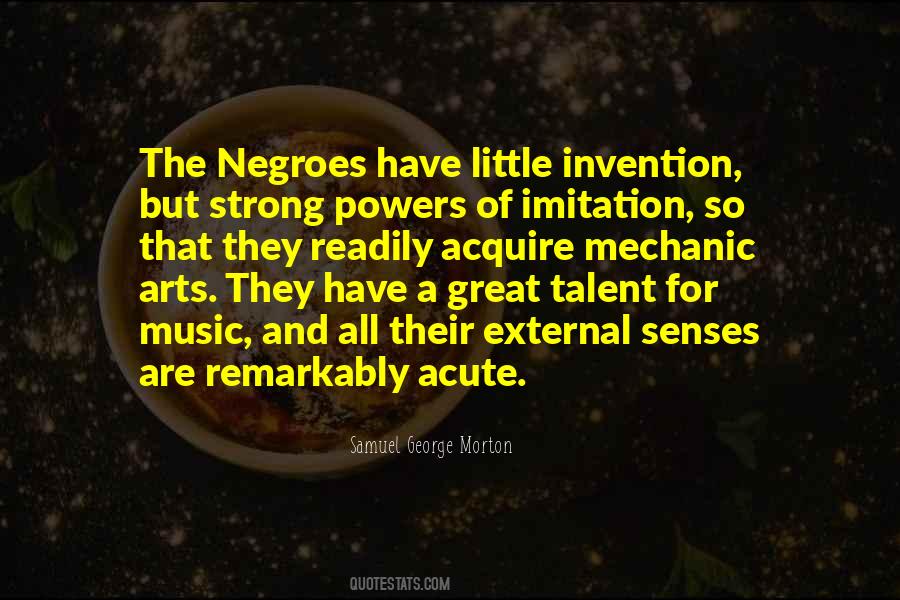 Famous Authors
Popular Topics