Memories Will Stay Famous Quotes & Sayings
List of top 60 famous quotes and sayings about memories will stay to read and share with friends on your Facebook, Twitter, blogs.
Top 60 Memories Will Stay Quotes
#1. He pushed that thoughts away. He didn't like painful memories. Keep moving
that was his motto. Don't dwell in things. Don't stay in one place too long. It was the only way to stay ahead of the sadness. - Author: Rick Riordan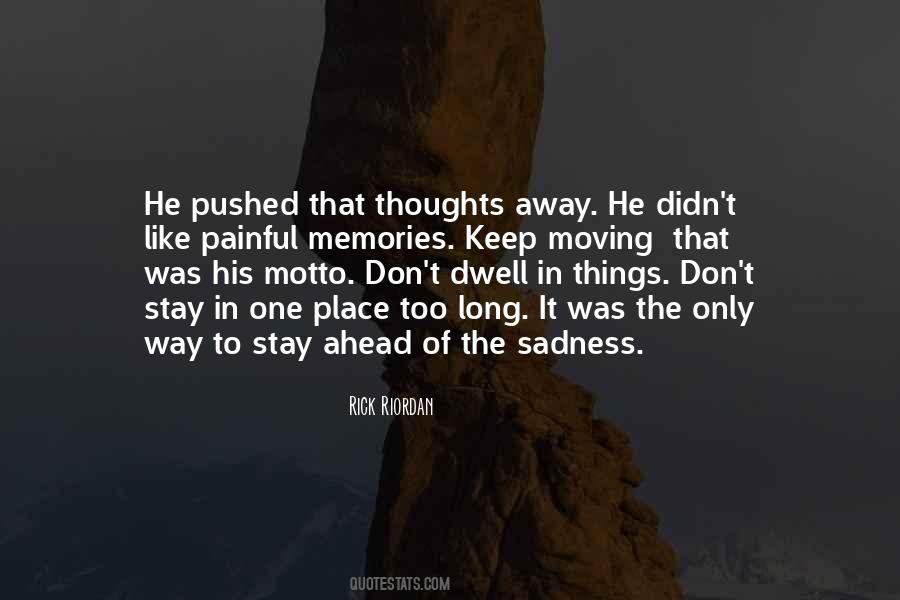 #2. every summer has its own story
the tan will fade but the memories will always stay - Author: Kiara Harris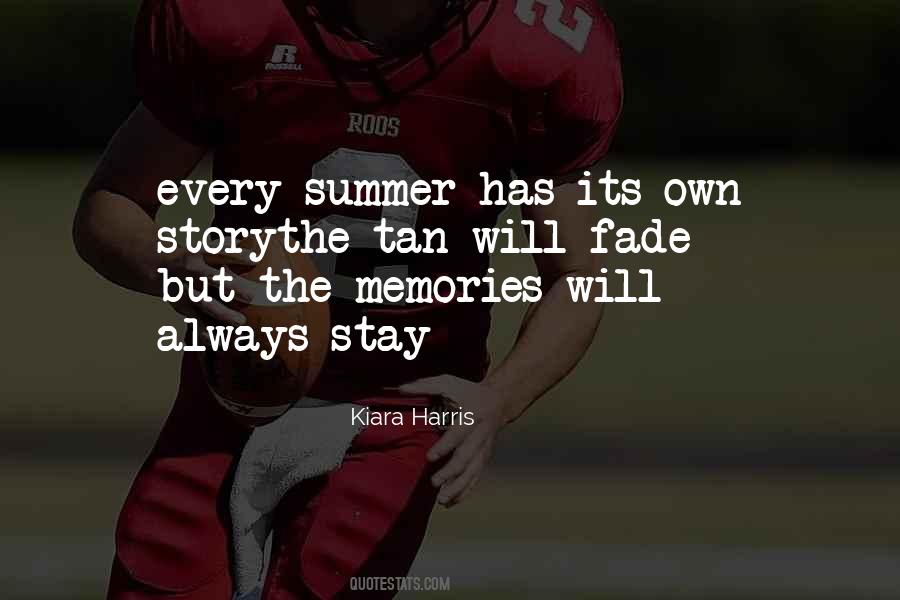 #3. We should have stories in common, I found myself thinking. We should have stories, and jokes no one understands, and memories that we know will stay alive because neither of us will let the other forget. - Author: Kamila Shamsie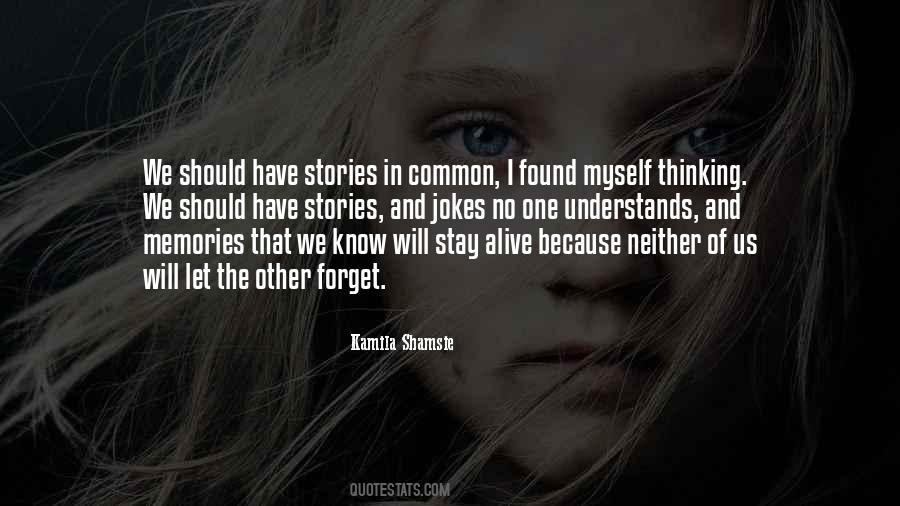 #4. My painful memories sift through me like sand through stretched fingers. Only small pieces cling and stay around for me to keep, the rest just disappear. I know not where and I don't - Author: Willow Madison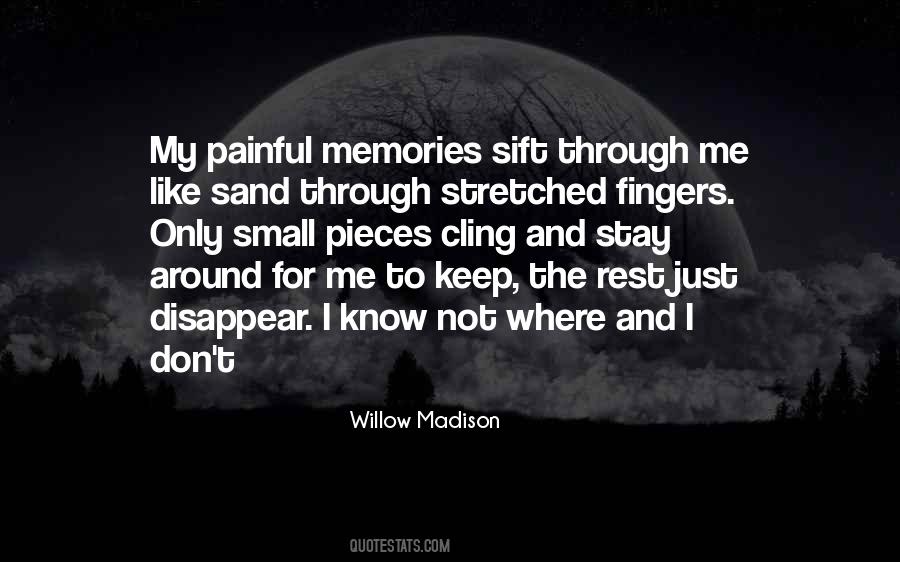 #5. He considered razing the house and rebuilding, but he realized that houses are not haunted, and regardless of the architecture with which we surround ourselves,our ghosts stay with us until we ourselves are ghosts. - Author: Dean Koontz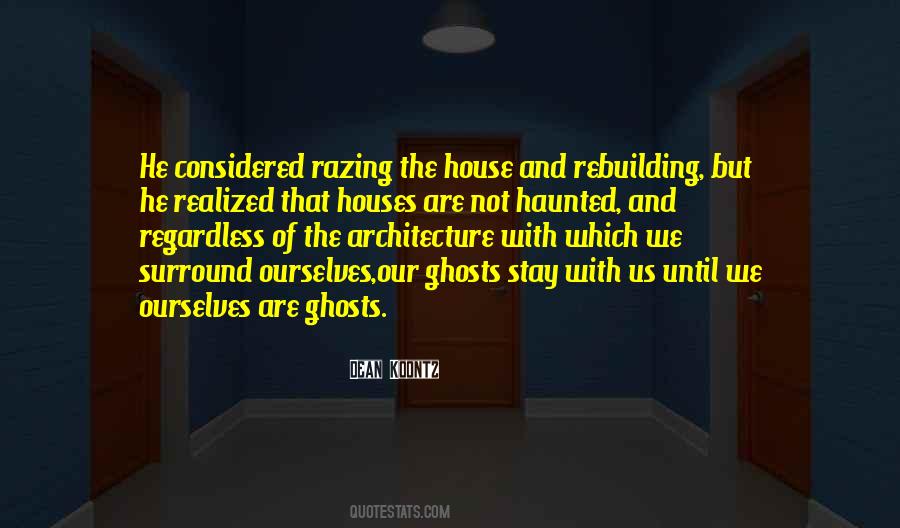 #6. When Time who steals our years away Shall steal our pleasures too, The mem'ry of the past will stay, And half our joys renew. - Author: Thomas Moore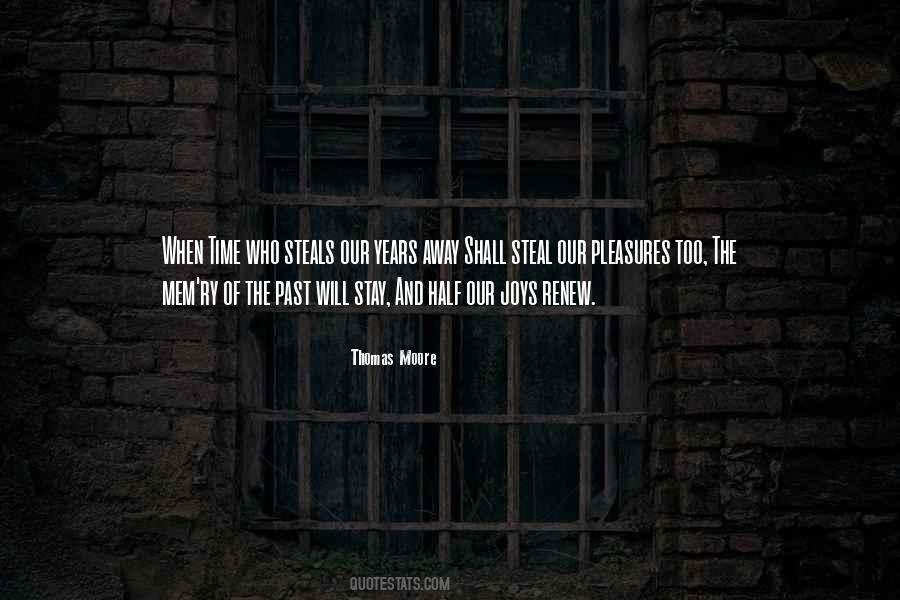 #7. Letting go is not getting rid of memories. Memories will stay, they always do. Letting go is making sure that the pain associated with the memories goes away. - Author: Arti Honrao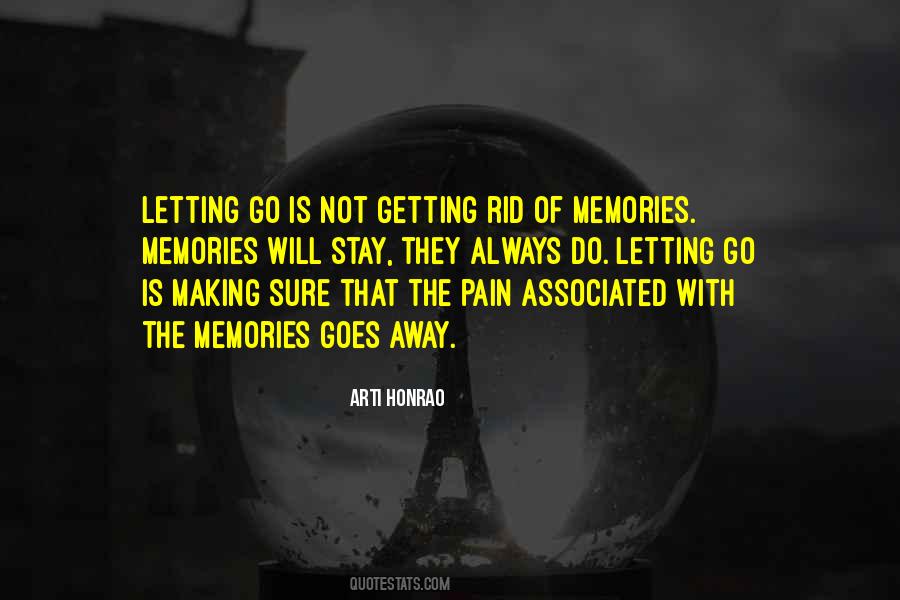 #8. The free, creative, loving people who shine so brightly in my memory of studios and coffee shops have become models for a huge section of the population. If they in turn can just stay alive in the face of power and terror, they may become the decisive section. - Author: Kenneth Rexroth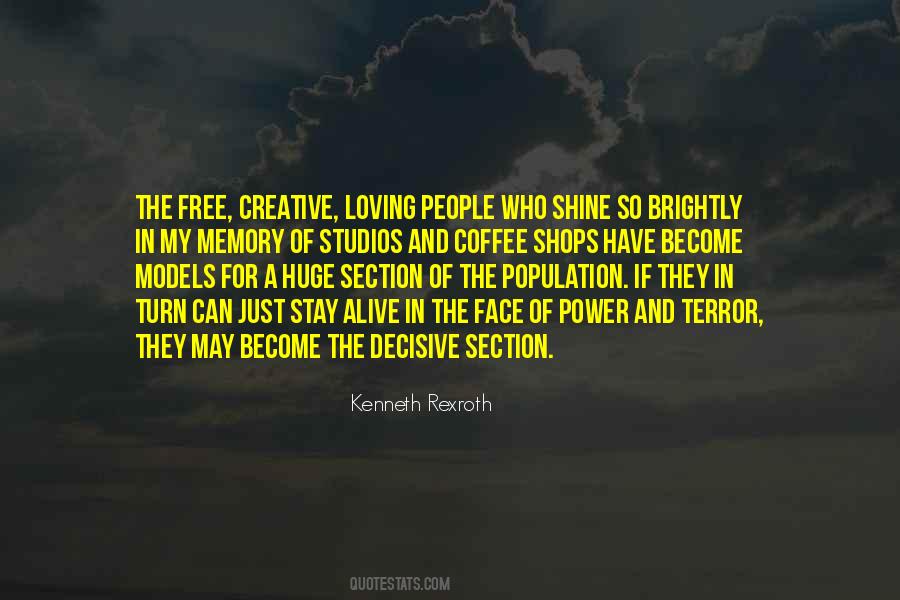 #9. When your friends are gone and you only can look at pictures, then remeber, that times and people change but that memories stay forever. - Author: C.M.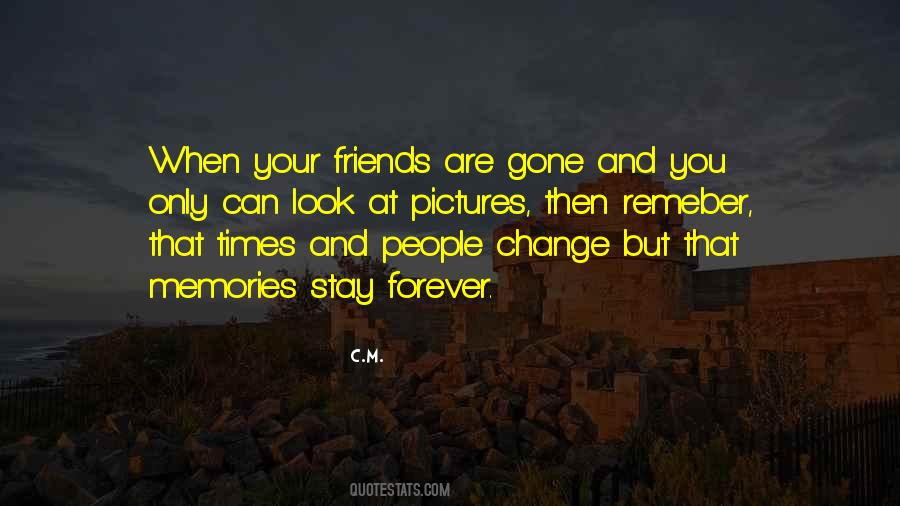 #10. Because of the past, so many people are living in the past! No one is free from the past, but we are free to choose to move from the past into the present or stay in the past, though we live in the present! - Author: Ernest Agyemang Yeboah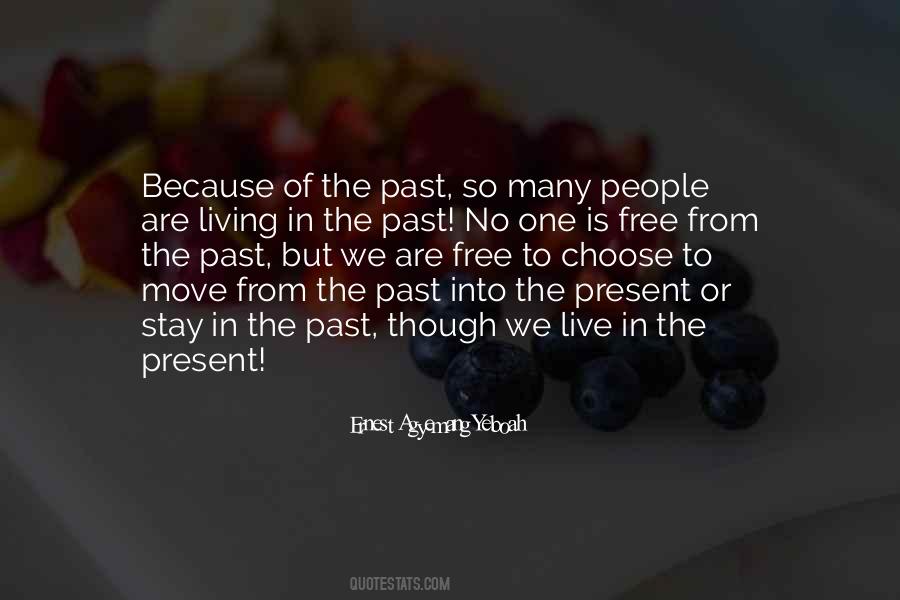 #11. And yet, even as she spoke, she knew that she did not wish to come back. not to stay, not to live. She loved the little yellow cottage more than she loved any place on earth. but she was through with it except in her memories. - Author: Maud Hart Lovelace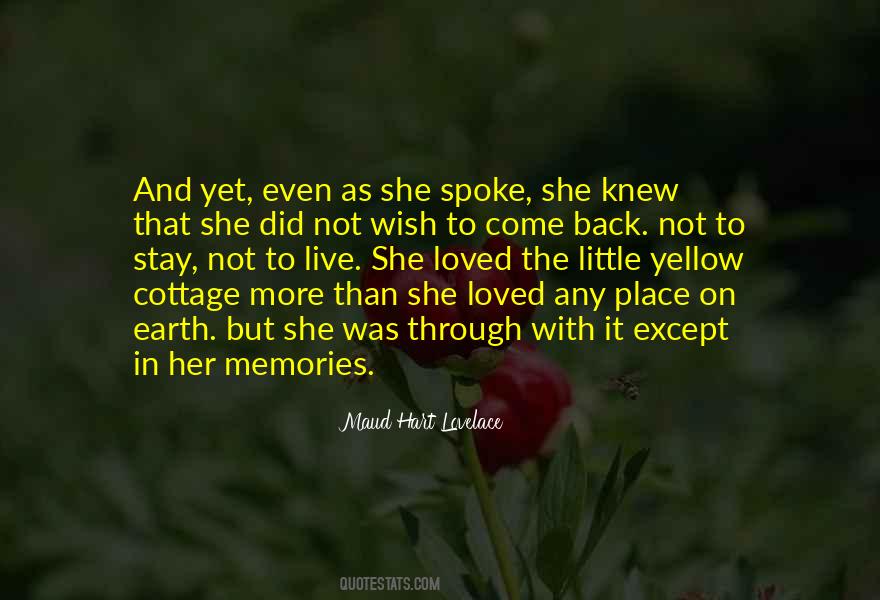 #12. Some memories just stay. They just refuse to give up on staying. Maybe it is good that they stay. It helps us stay rooted. It helps us to know who we really are. - Author: Aditi Bose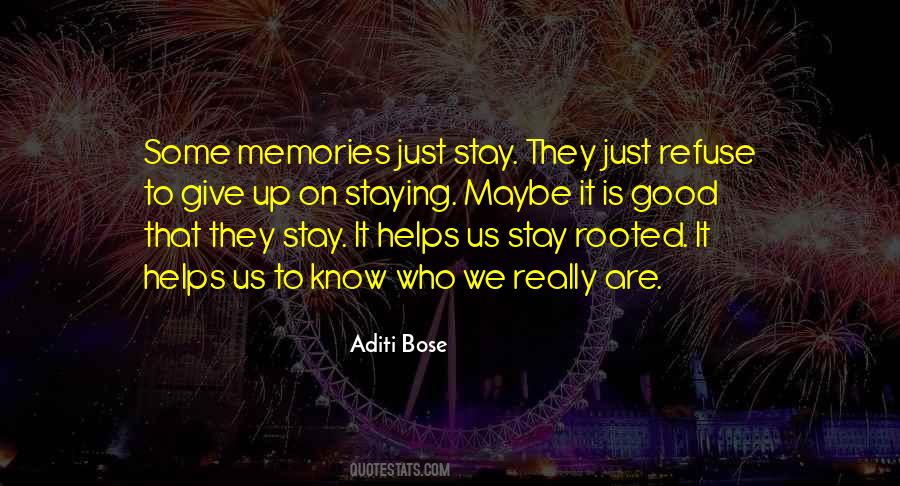 #13. Memories are the only things we really own, the only things that stay constant. Everything else becomes dust. - Author: Alyson Noel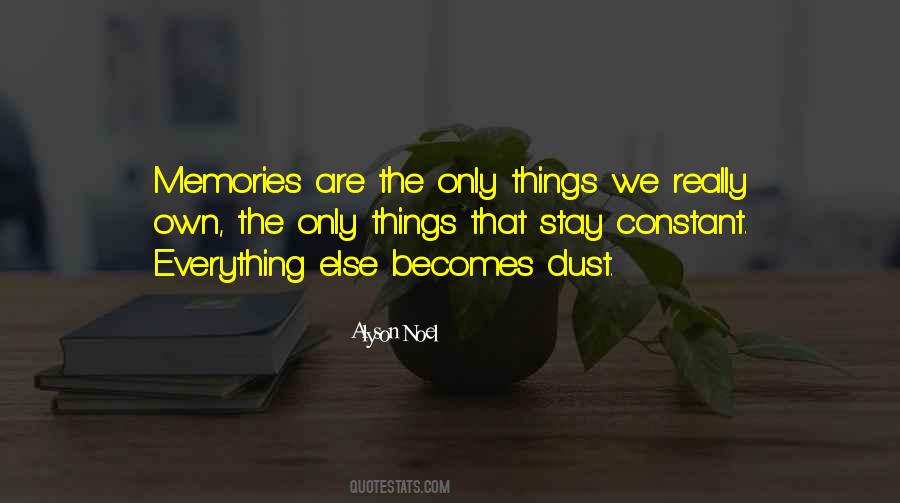 #14. Memories, as my father once said, are porcupines. To hell with them! Stay away from them! They make you unhappy. They ruin your work. They make you cry - Author: Ray Bradbury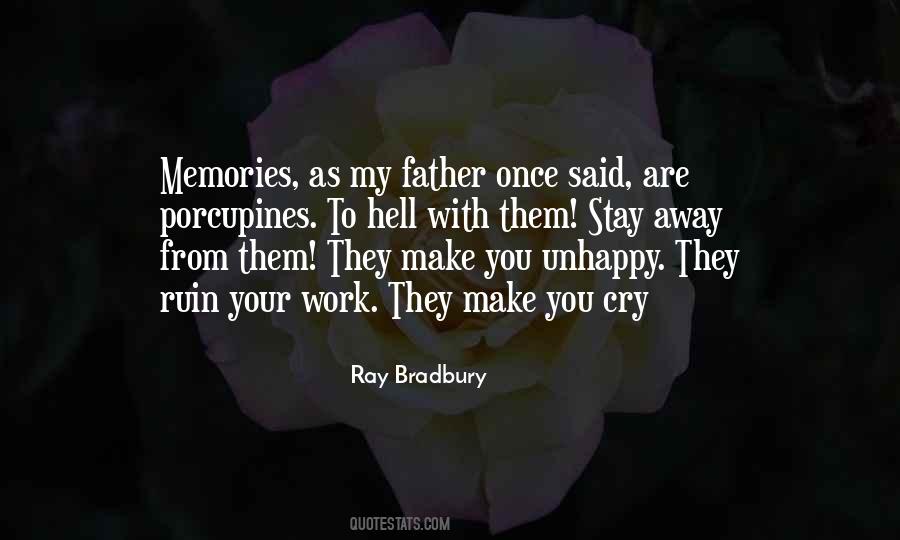 #15. The pain of losing doesn't get less with each person I lose. But I have the wisdom of knowing the pain isn't forever. That fades. The memories stay. And the love isn't going anywhere. - Author: Carrie Firestone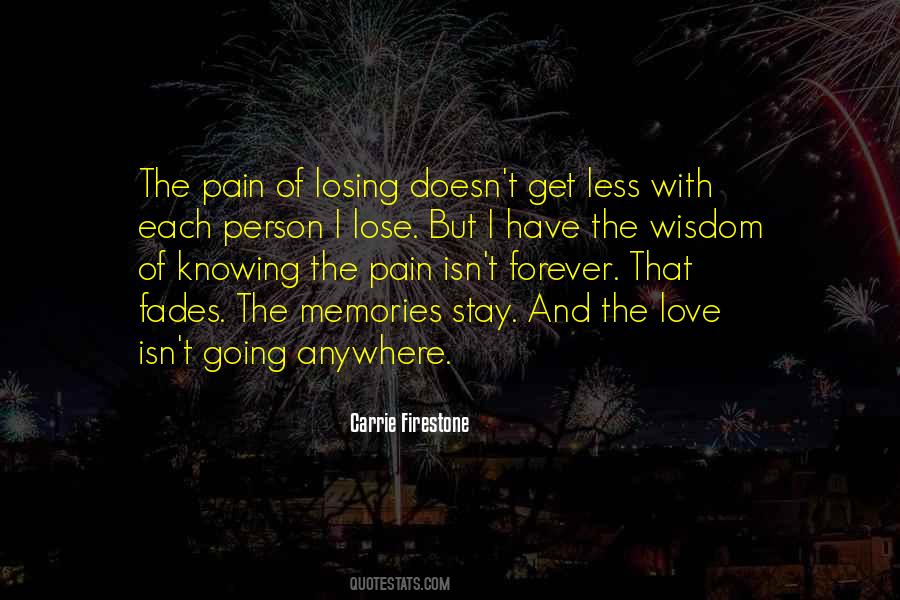 #16. My childhood was never great. We moved from place to place a lot. There were times when we had no definite place to stay. So, a basic level of security was not always there. Therefore, when you finally make it out, and you become who I am, you're humbled by the memories of those situations. - Author: LeBron James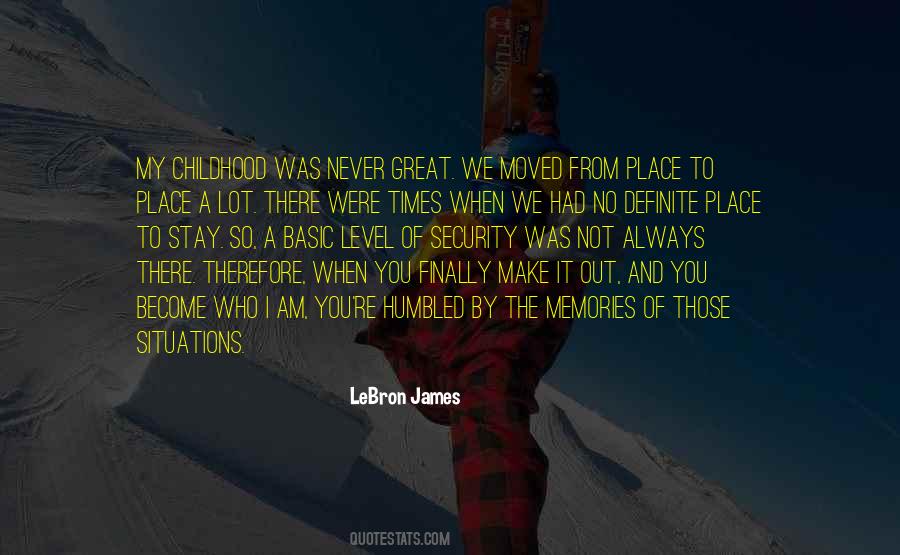 #17. Distance and time might keep people apart, but the heart and mind will always stay connected by memories, miracles and the power of two unlikely souls that were destined to meet. - Author: Shannon L. Alder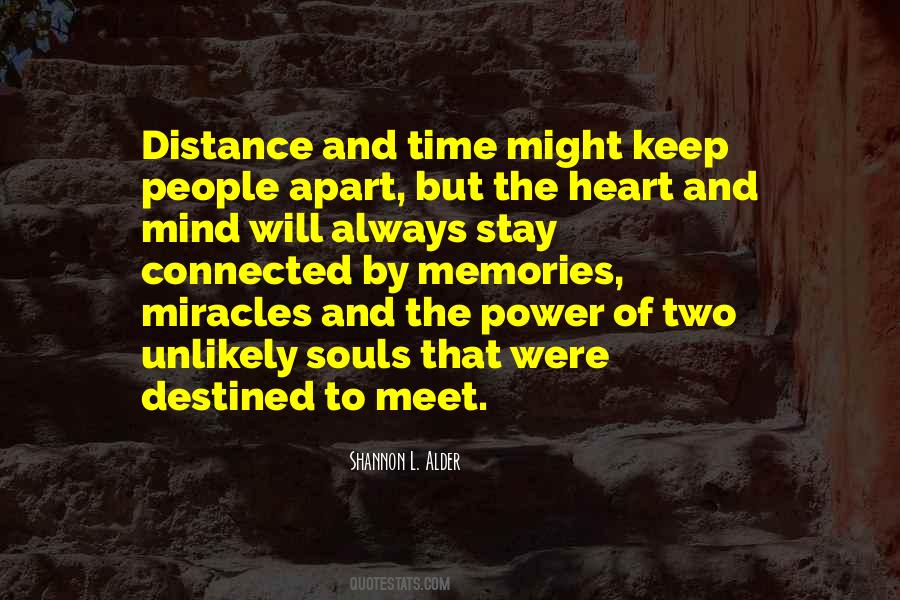 #18. If you'd rather live surrounded by pristine objects than by the traces of happy memories, stay focused on tangible things. Otherwise, stop fixating on stuff you can touch and start caring about stuff that touches you. - Author: Martha Beck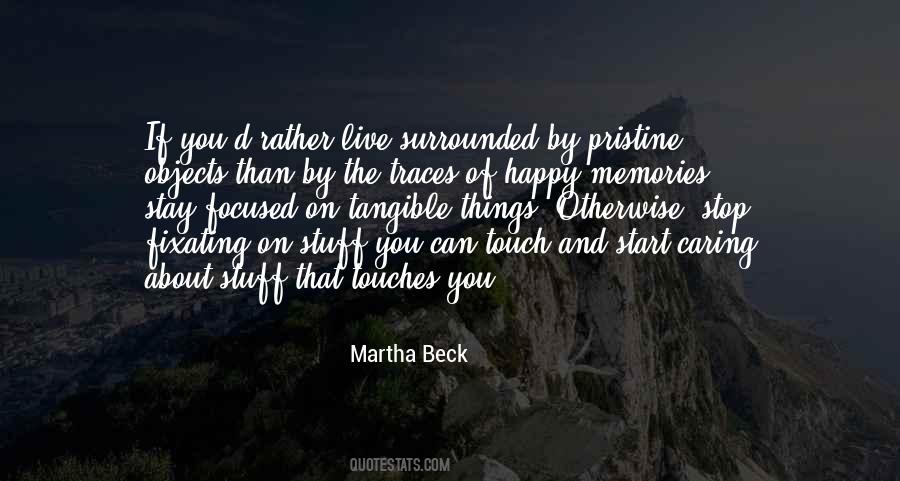 #19. And the memories of all we have loved stay and come back to us in the evening of our life. They are not dead but sleep, and it is well to gather a treasure of them. - Author: Vincent Van Gogh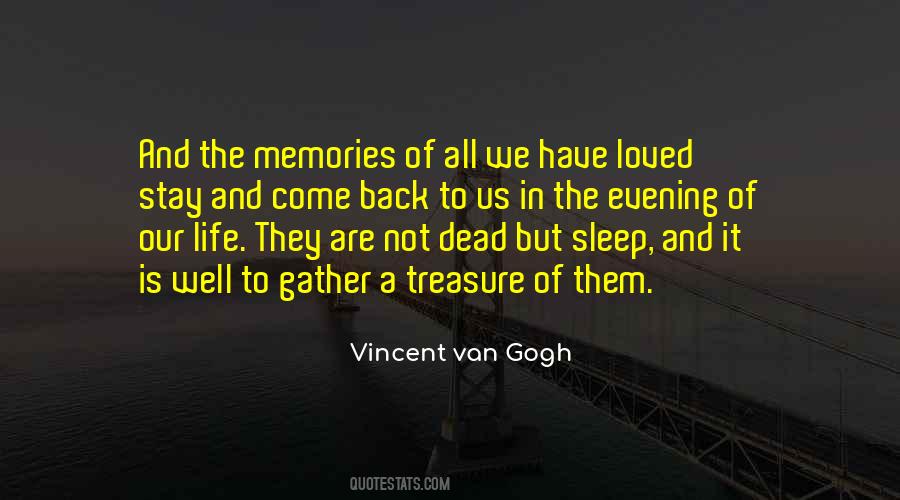 #20. It is weird to see how people sometimes doesn't value and ignore the love and effort of the people who love them and try to stay. They push them away only to realise everything they did after they leave and make their memories as pillows to sleep over and cry upon it later. - Author: Akshay Vasu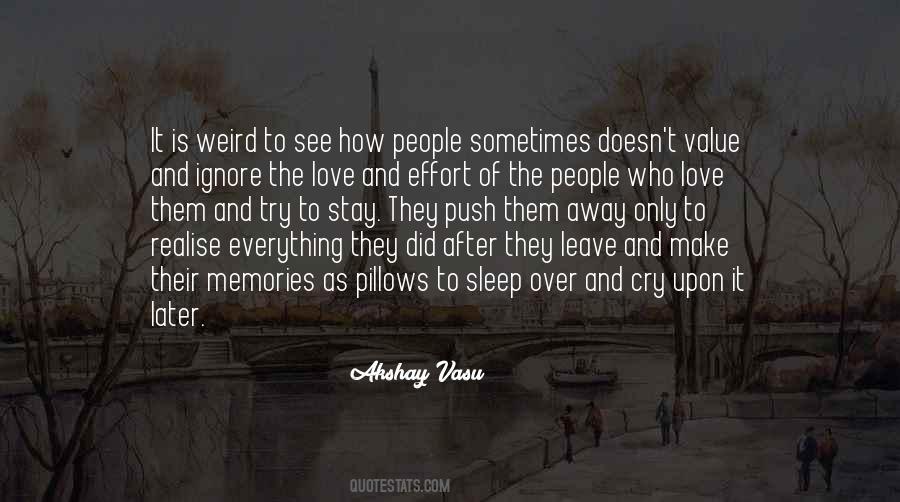 #21. Why do some memories bleed out of nowhere and others stay locked behind doors? - Author: Jodi Picoult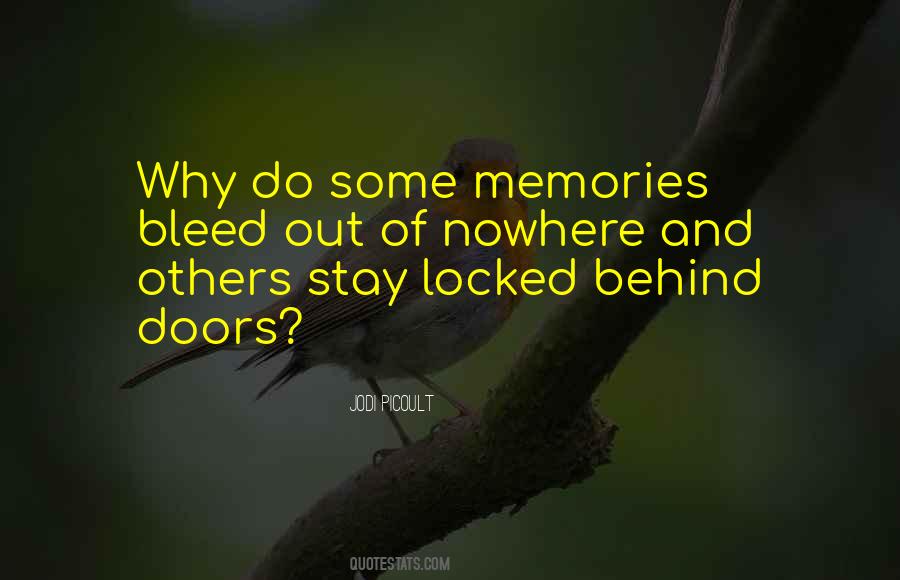 #22. We believe in the good old days; we believe our best is in the past. Our past is our memories, our past is our learnings, our past should stay where it is. And we should let it. - Author: Tony Curl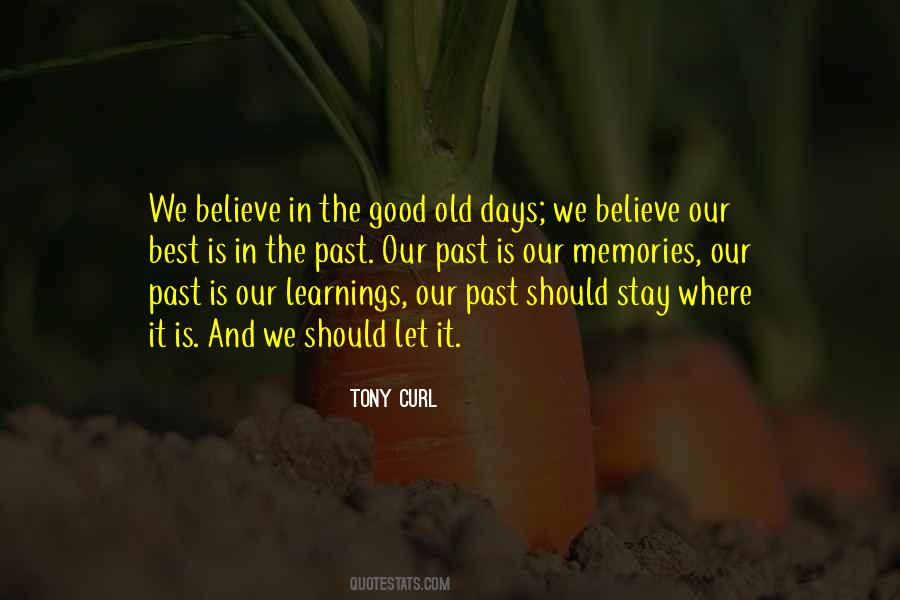 #23. Those neon light nights, couldn't stay out of fights, keeps a-haunting me in memories. There is one in every crowd, for crying out loud, why was is always turning out to be me? - Author: Waylon Jennings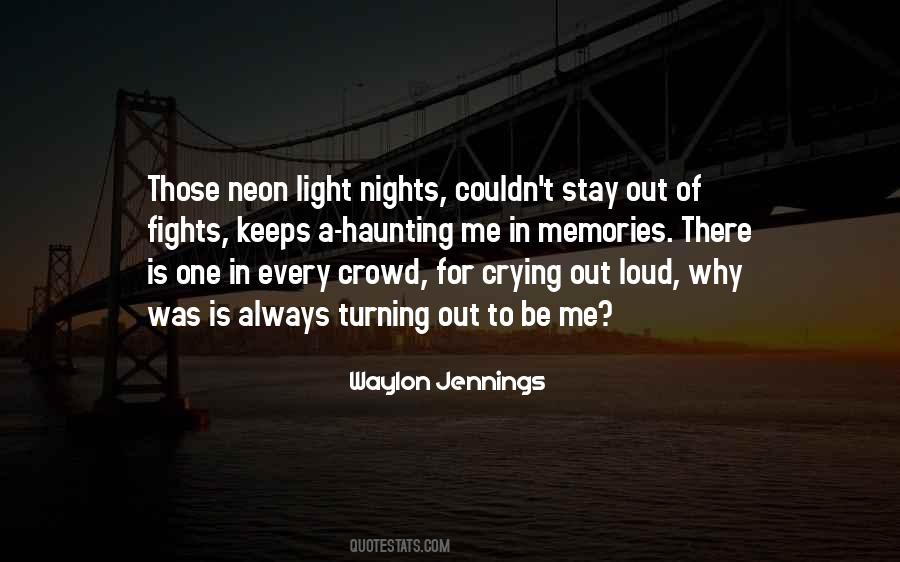 #24. How could anyone stay sane with entire lifetimes stored in one human mind? - Author: Dan Simmons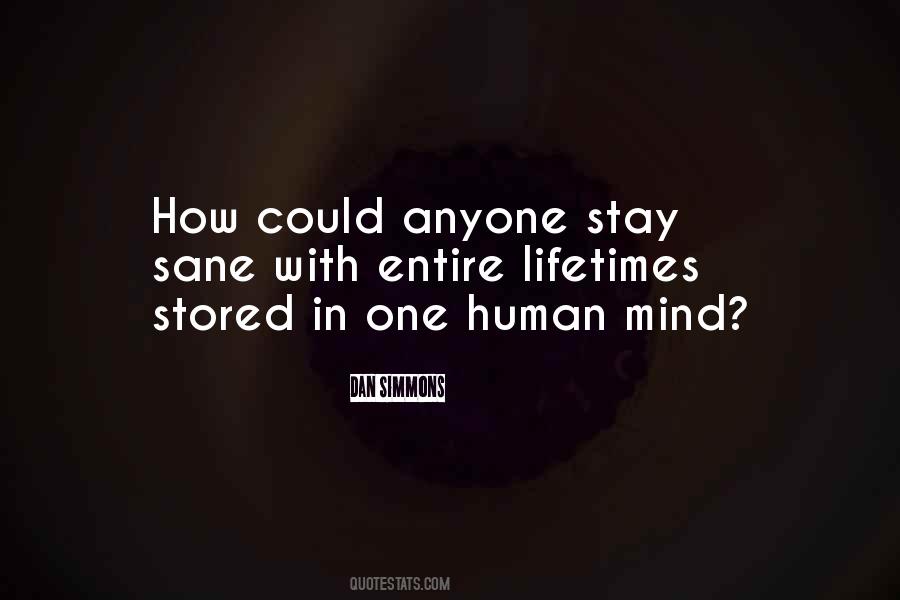 #25. When you're sober it's easier to stay in line with your train of thought. There's a lot more you're thinking about that you want to discuss, and there are a lot more memories that you're dealing with that you had pent up inside of you for so long because you had been drinking all of those years. - Author: Ryan Montgomery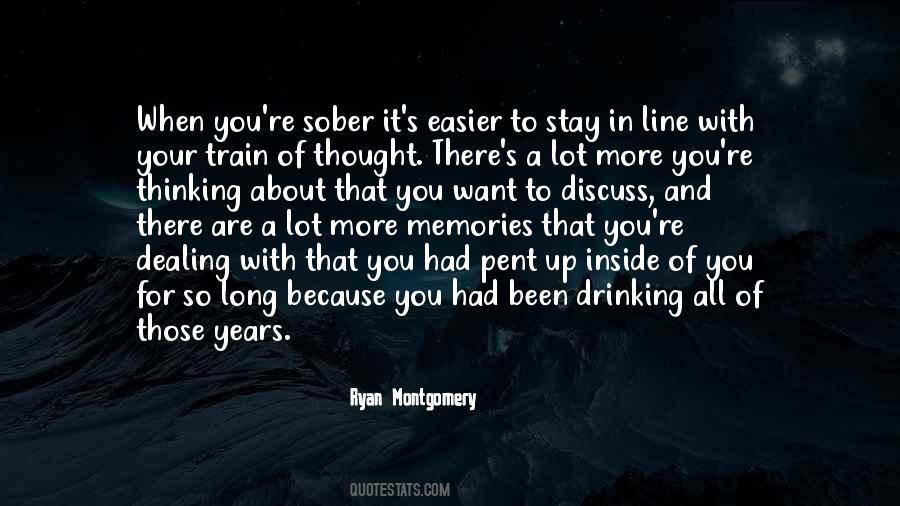 #26. It is such a strange fact that memories of people are more loyal and more faithful than the people themselves! When a person dies or leaves us, his memories yet stay with us! - Author: Mehmet Murat Ildan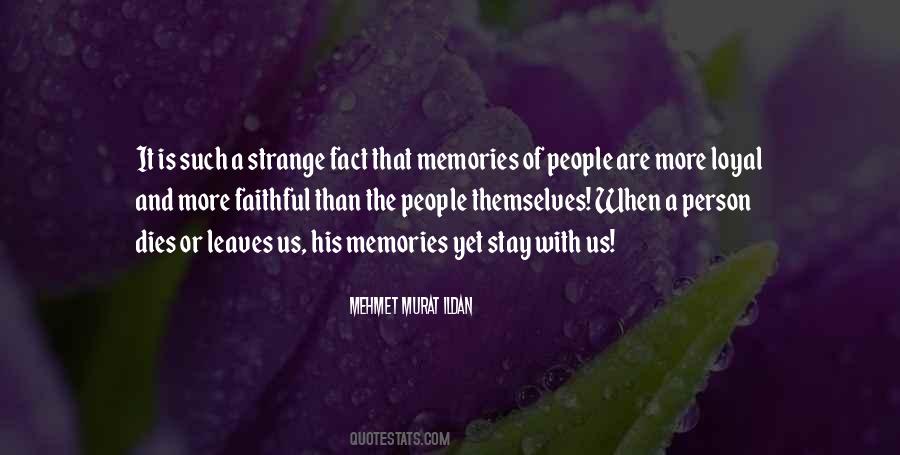 #27. As we embark on a new chapter of our lives, our focus must be on what the future holds. We can look back from the old memories but mustn't stay there and be stagnant for life is meant to let you move forward and not backwards. - Author: Elizabeth E. Castillo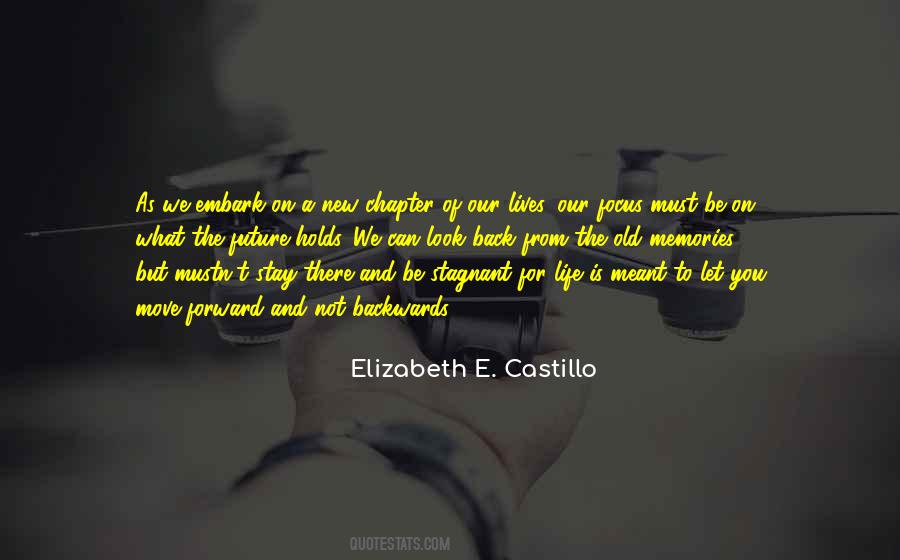 #28. The sight sends both a thrill and a shiver through me, bringing memories that I've forced into a closet in my mind, thoughts I need to keep buried if I want to stay focused, keep going. - Author: Marie Lu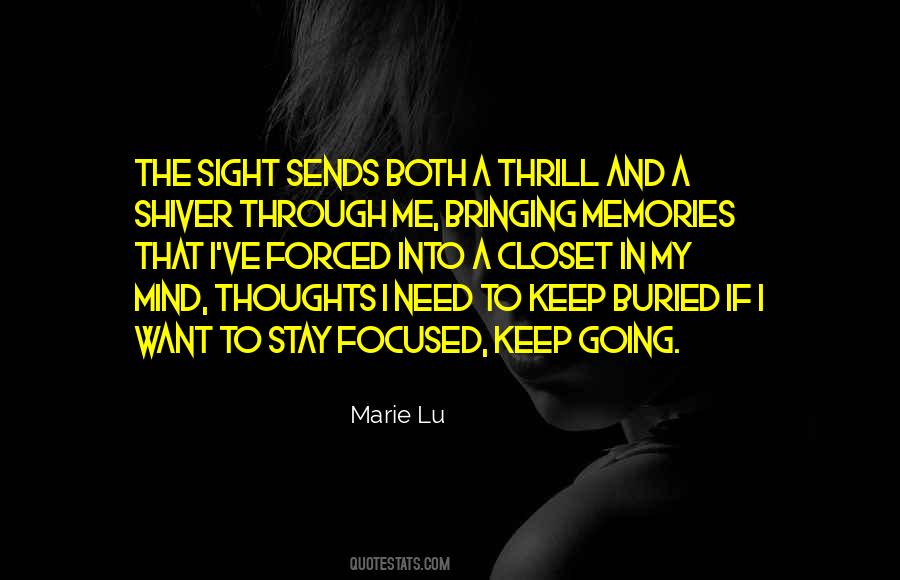 #29. When an angel comes down and takes me away, memories of me and my songs will always stay until the end of time - Author: Tupac Shakur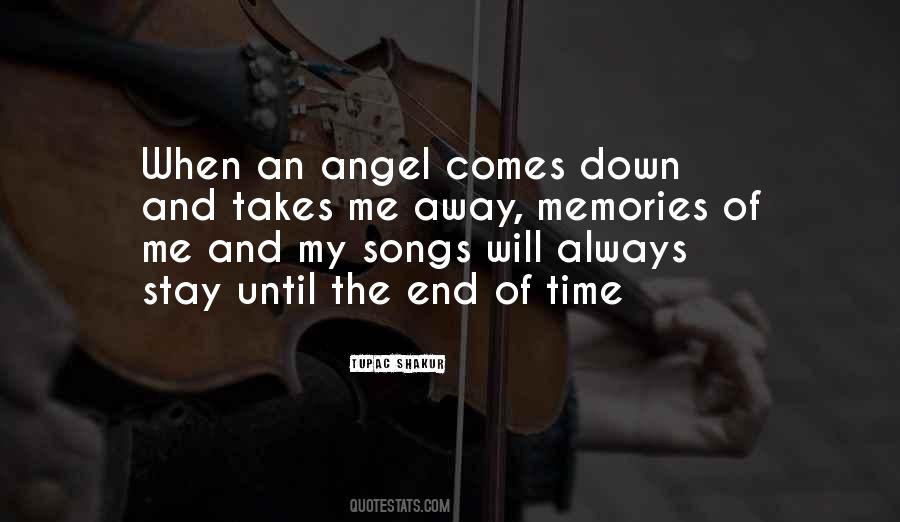 #30. How did anyone survive this world, with these bodies whose memories wouldn't stay in the past where they should? With the emotions that were so strond I couldn't tell what I felt anymore? - Author: Stephenie Meyer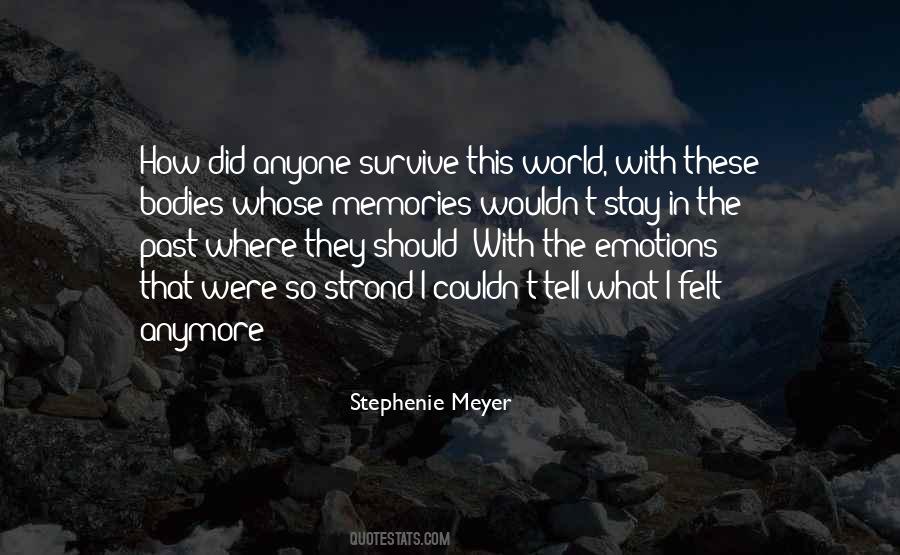 #31. Our memories and events in our lives are untidy things. We wish that we can file them away and shut the door, or wish the opposite - that they would stay forever. - Author: Deb Caletti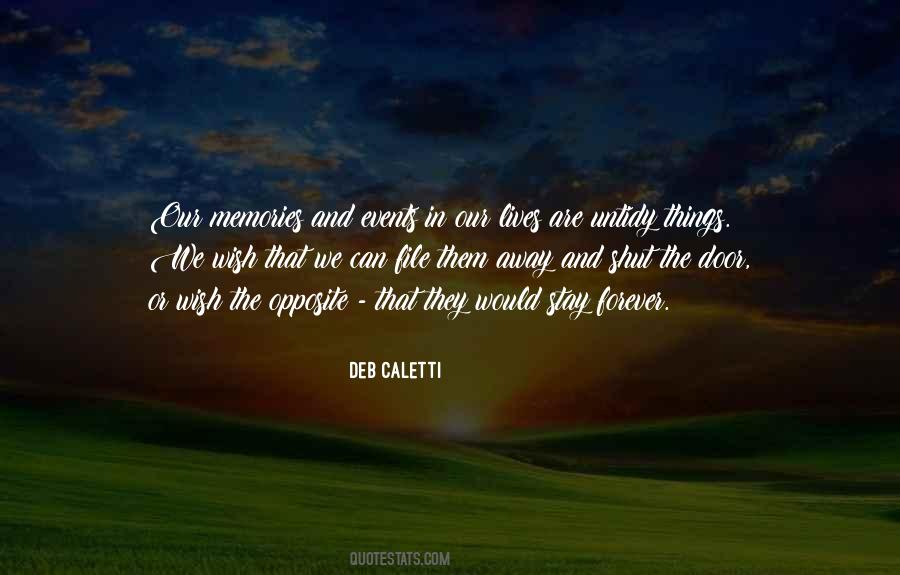 #32. Standing in front of a fake mountain with fake snow falling and seven girls dressed as Santarettes will stay in my memory. - Author: Bill Nighy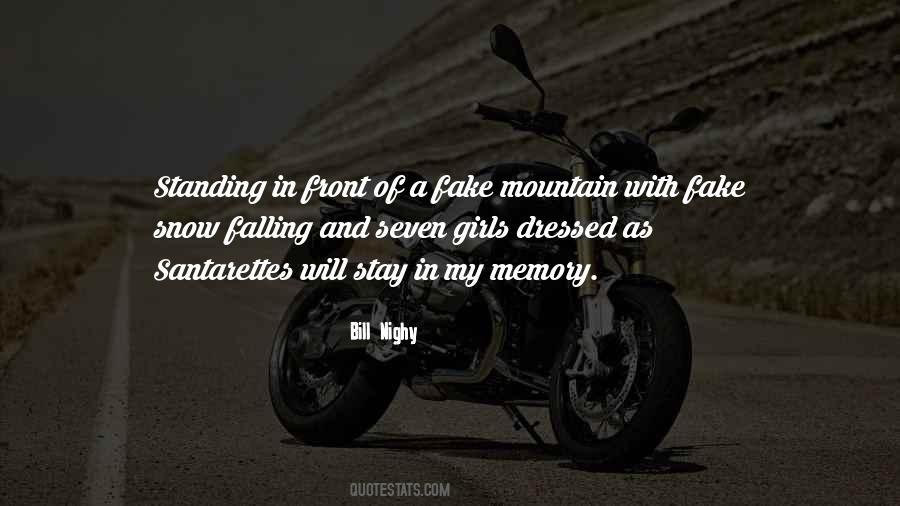 #33. The memories of our glories fade, and rot away into half-arsed anecdotes, thin and unconvincing as some other bastard's lies. The failures, the disappointments, the regrets, they stay raw as the moments they happened. - Author: Joe Abercrombie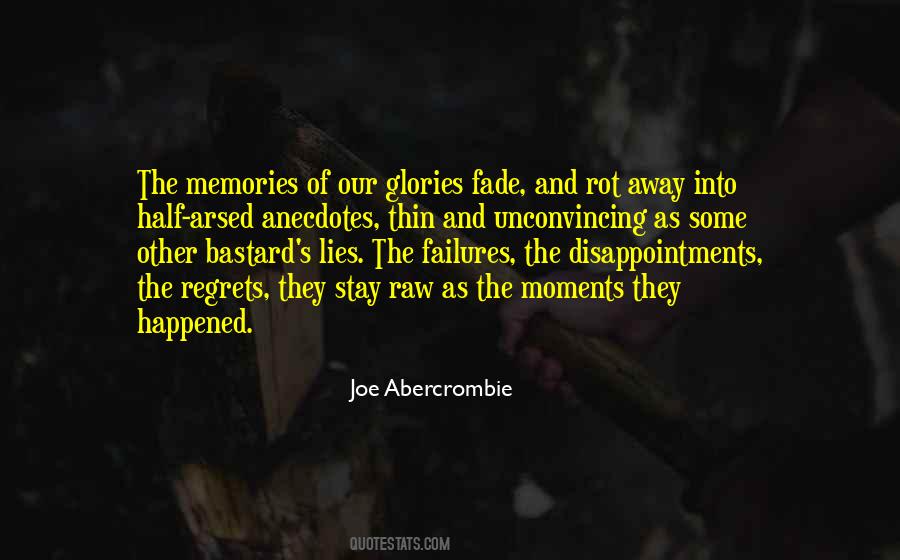 #34. When I was 5, 6 - so you know, memories aren't that great - I remember coming home and I remember seeing all of our belongings on the street and a Salvation Army truck picking them up. We got taken to a shelter. And then we moved around a lot, finding places to stay. - Author: Richard Carmona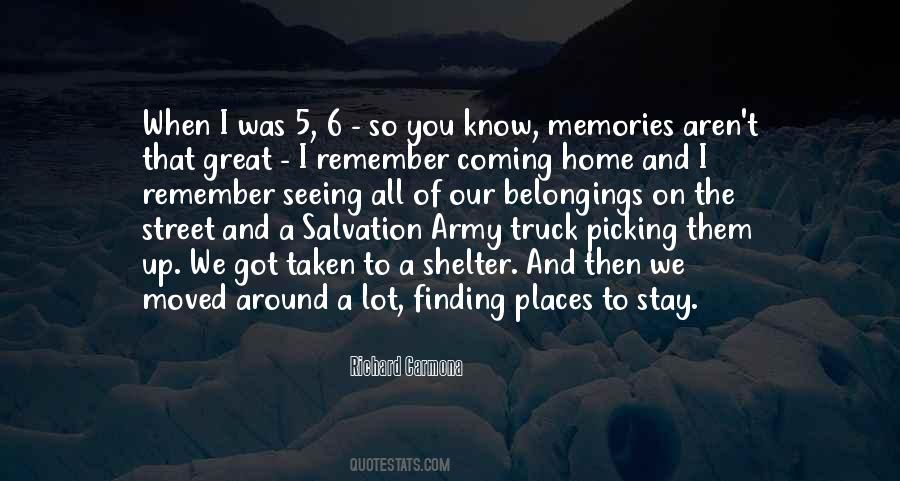 #35. The lily and the poem made it all real for me; now I knew my memories would stay with me forever. I held the lily and the poem to my heart, and concluded that my life was not a series of sand castles. There was meaning to life, and precious memories even amidst the sadness. - Author: Sook Nyul Choi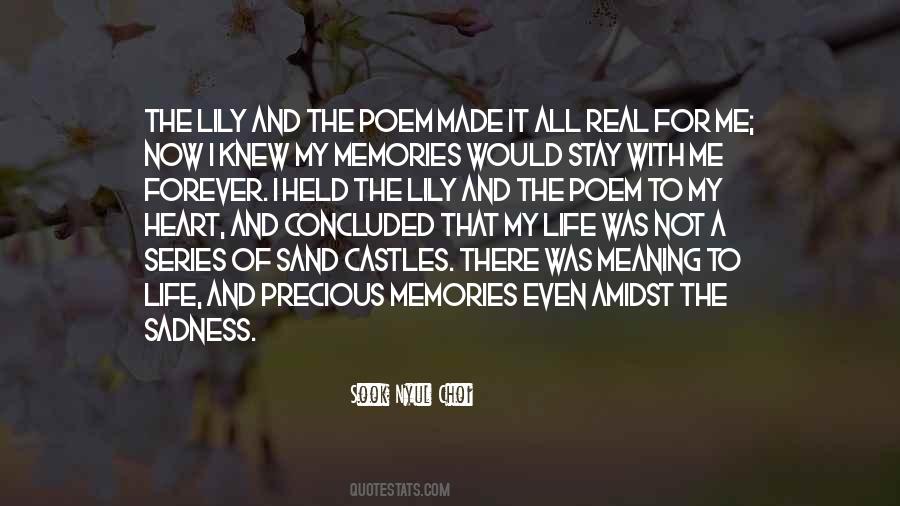 #36. Some studies make such a deep impression on you that they stay etched in your memory forever. - Author: Jan Timman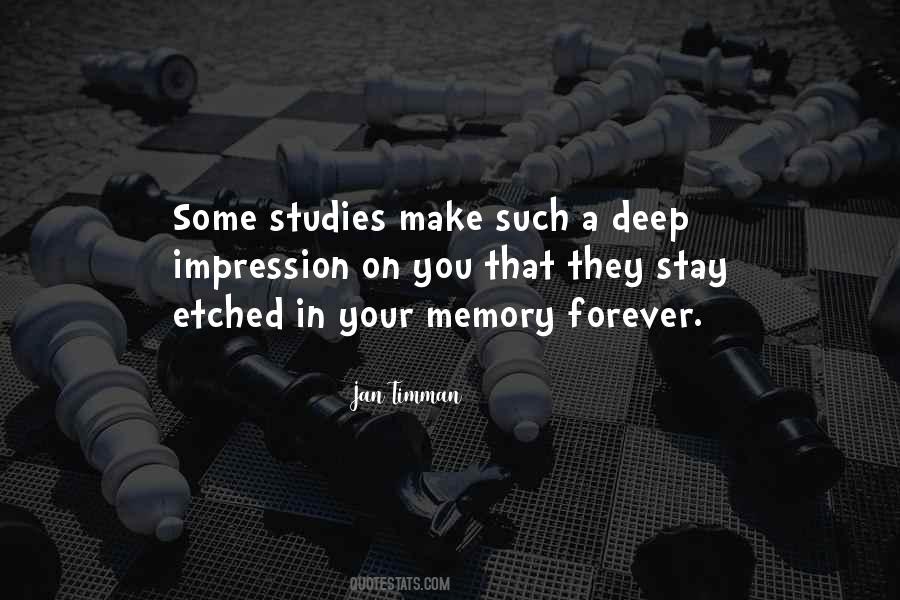 #37. Ascend, may you find so resistance
Just know that you made such a difference
All you leave behind will live to the end
The cycle of suffering goes on
But memories of you stay strong
Some day I too will fly and find you again - Author: Alter Bridge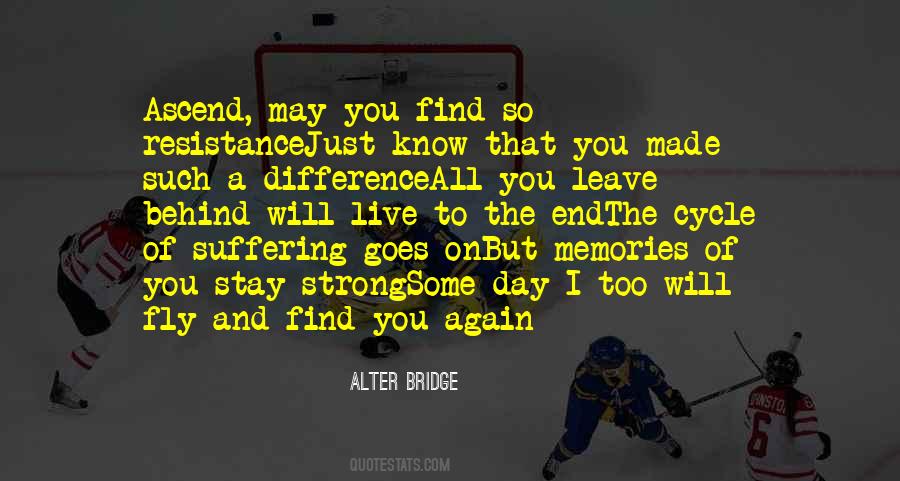 #38. I'm a circle incomplete. I'm a heart that barely beats. All the memories stay forever like tattoos. I'm a star without a sky. I'm hello with no goodbye. I'm the dreams we had that never will come true. That's me with no you. - Author: Bowling For Soup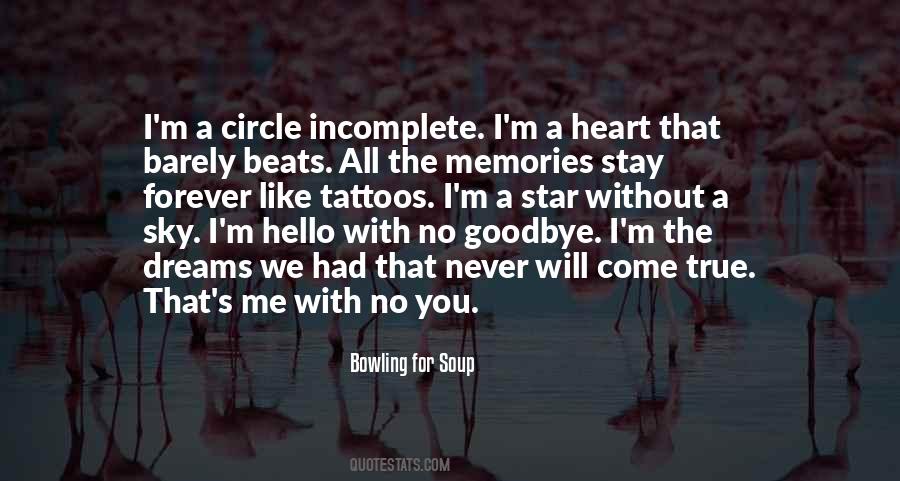 #39. Memories slip, you know, if you don't take the time to find a way to make them stay. - Author: Estelle Laure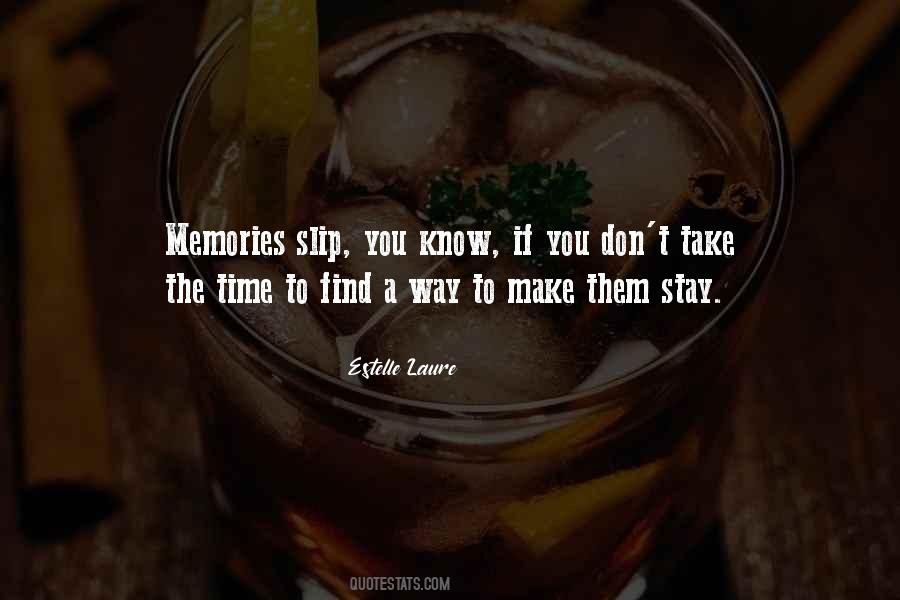 #40. Only powerfully conceived images have the ability to penetrate the memory, to stay there, in short to become unforgettable. - Author: Brassai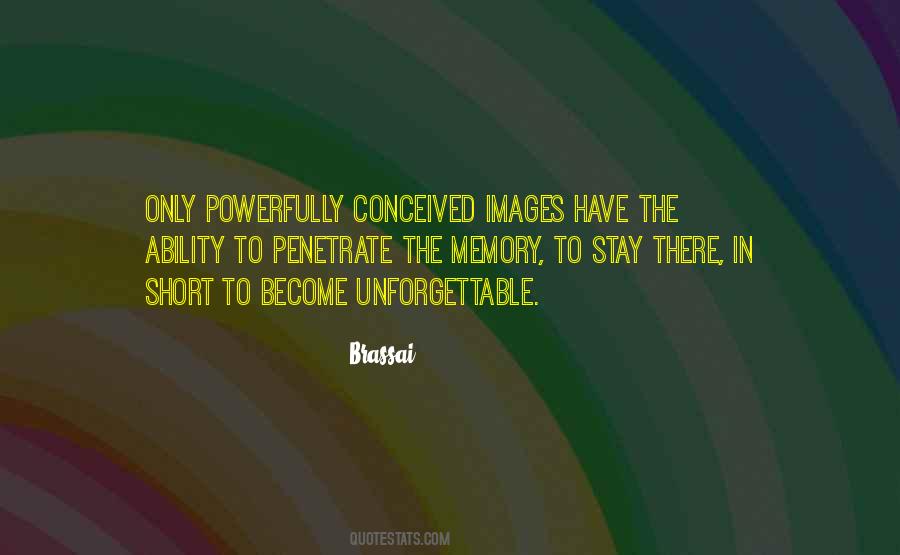 #41. People's memories are maybe the fuel they burn to stay alive. - Author: Haruki Murakami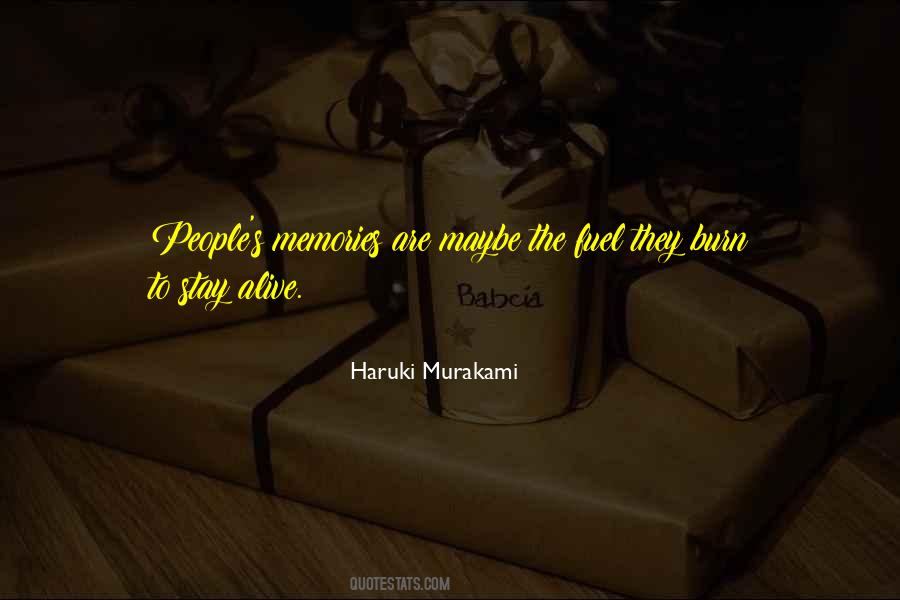 #42. Le Marais?'

'It's a little district in the centre of Paris. It is full of cobbled streets and teetering apartment blocks and gay men and orthodox Jews and women of a certain age who once looked like Brigitte Bardot. It's the only place to stay. - Author: Jojo Moyes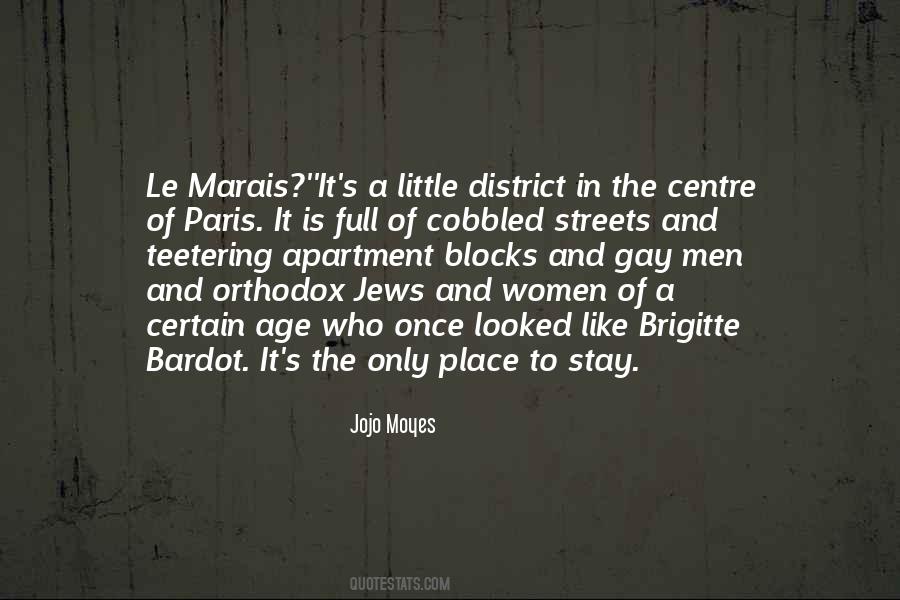 #43. The memory of some bottles can stay with your for life. While the wine doesn't have to be old and rare, a great old bottle can be like a time capsule, capturing in its flavors and aromas the time and place of its creation. - Author: Mireille Guiliano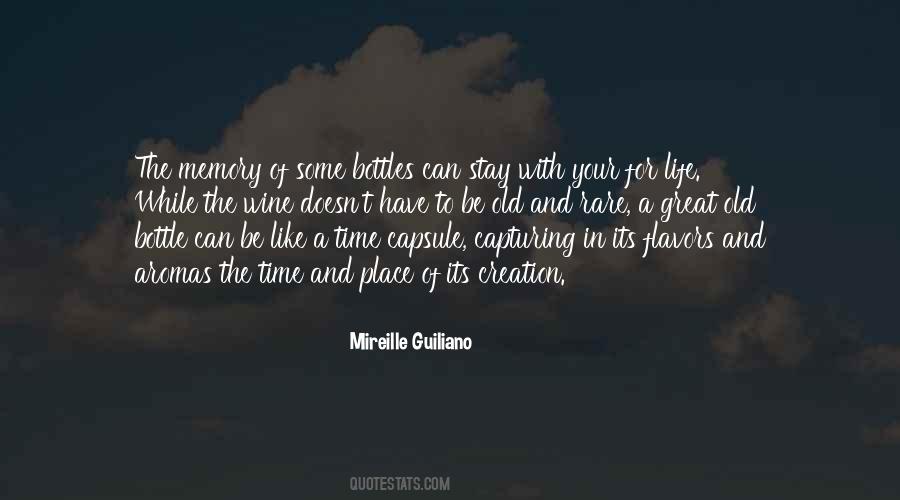 #44. Whoever wishes to remember must not stay in one place, waiting for the memories to come of their own accord! Memories are scattered all over the immense world, and it takes voyaging to find them and make them leave their refuge. - Author: Milan Kundera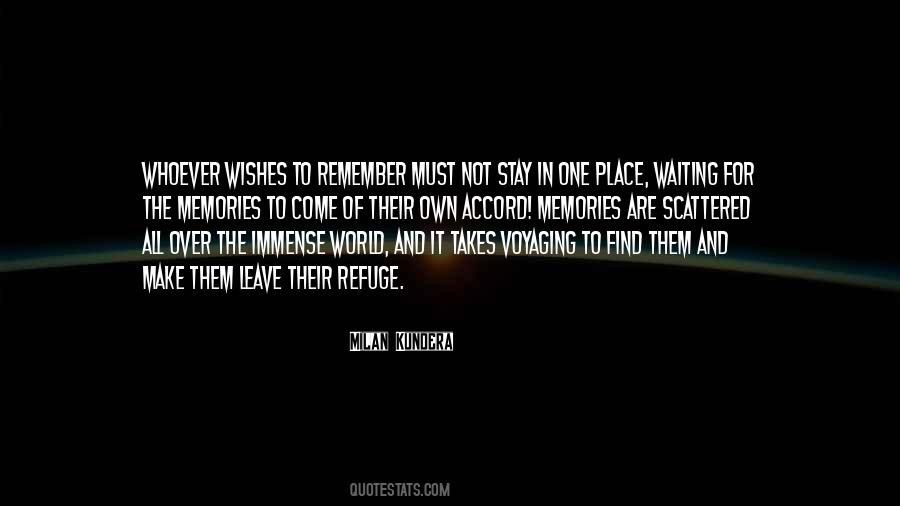 #45. Time can heal and time can help forgive and forget because in time the memories fade. The time will go so slow so fast and love will stay if it's right. - Author: Kate McGahan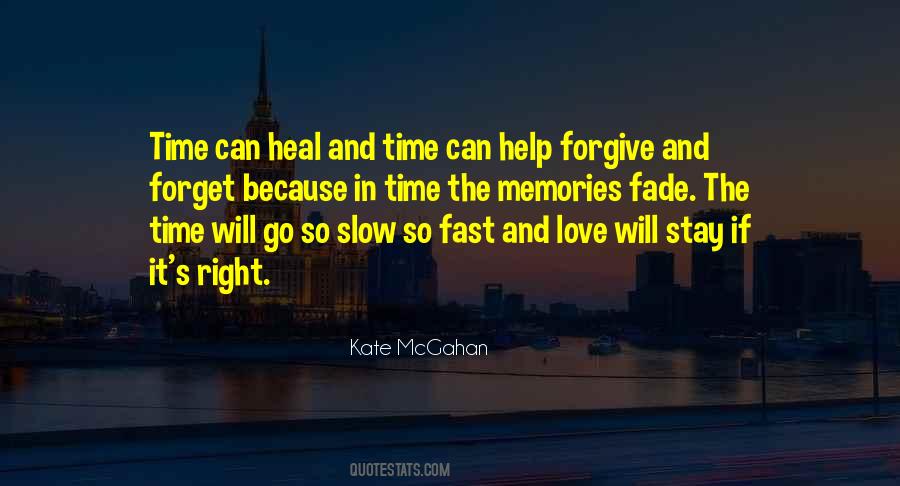 #46. I don't think I've ever tried on a corset, though a certain bridesmaid's dress did require a torturous bustier that will stay forever burned in my sensory memory. - Author: Laura Moriarty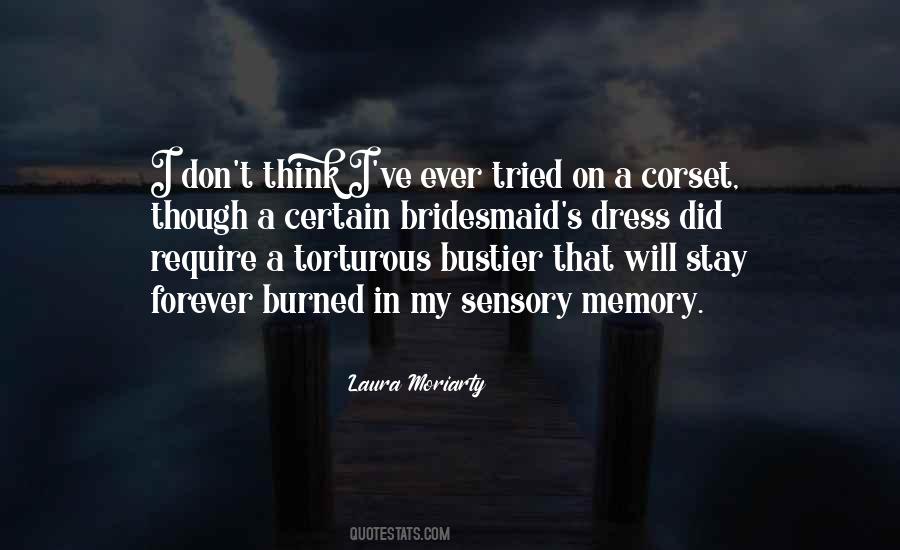 #47. While we are floating against the current toward the future, our minds stay behind with the anchoring memories of the past. - Author: Debasish Mridha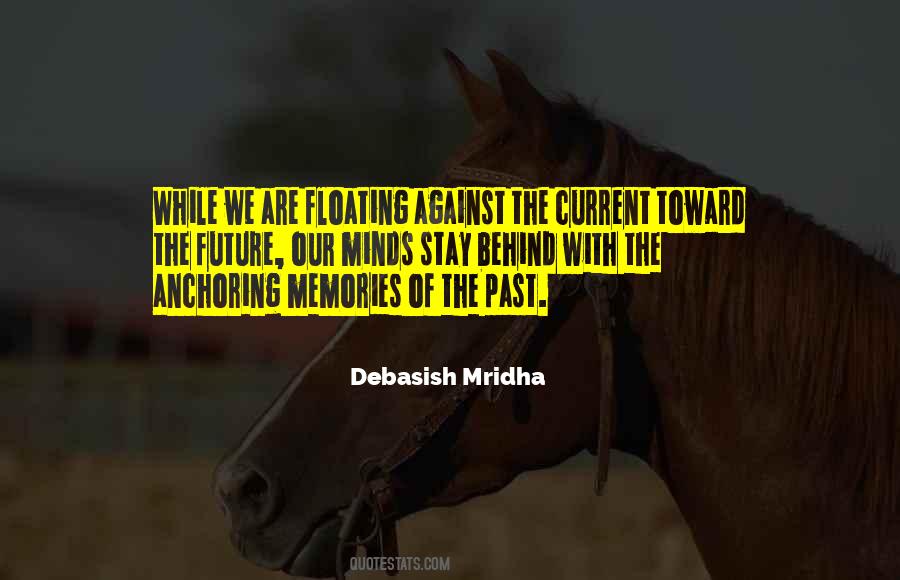 #48. It's only a dream
Just a memory without anywhere to stay - Author: Neil Young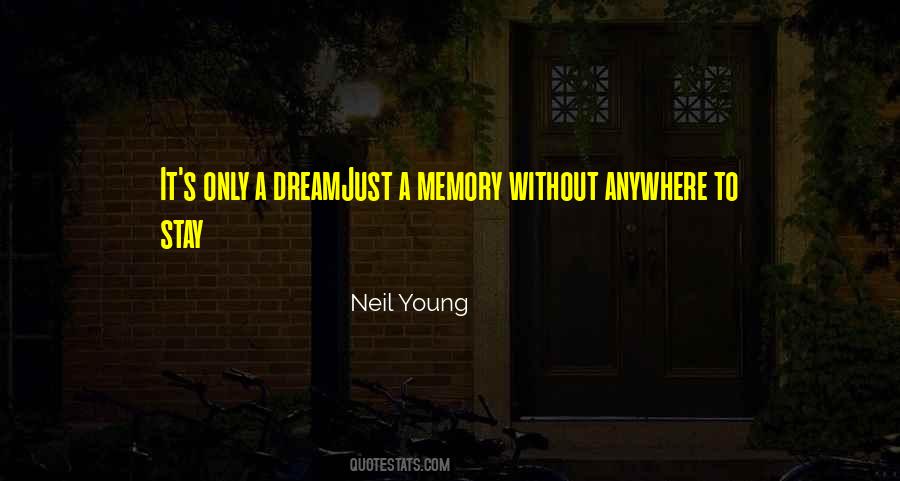 #49. She was the people's princess and that is how she will stay, how she will remain in our hearts and our memories for ever. - Author: Tony Blair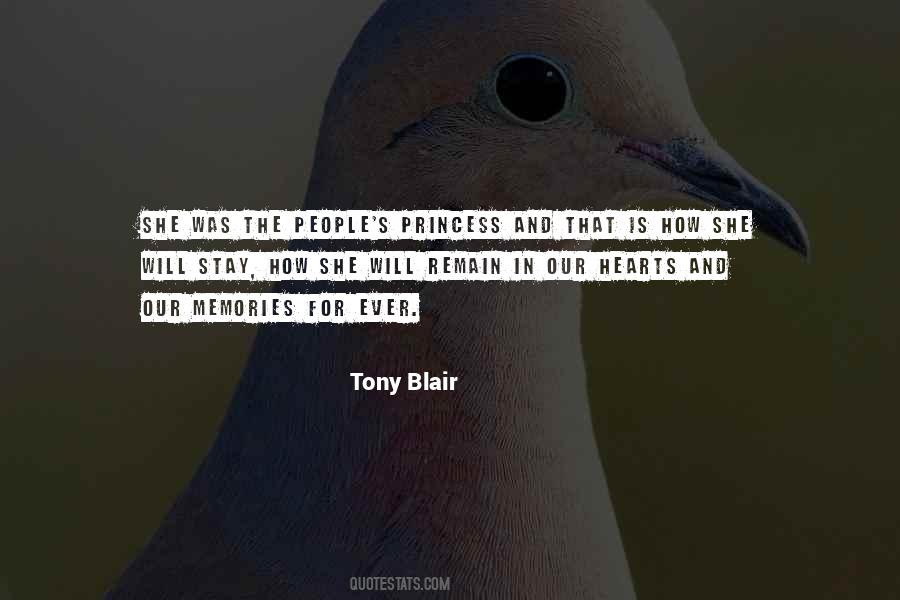 #50. I drink to stay warm, and to kill selected memories - Author: Conor Oberst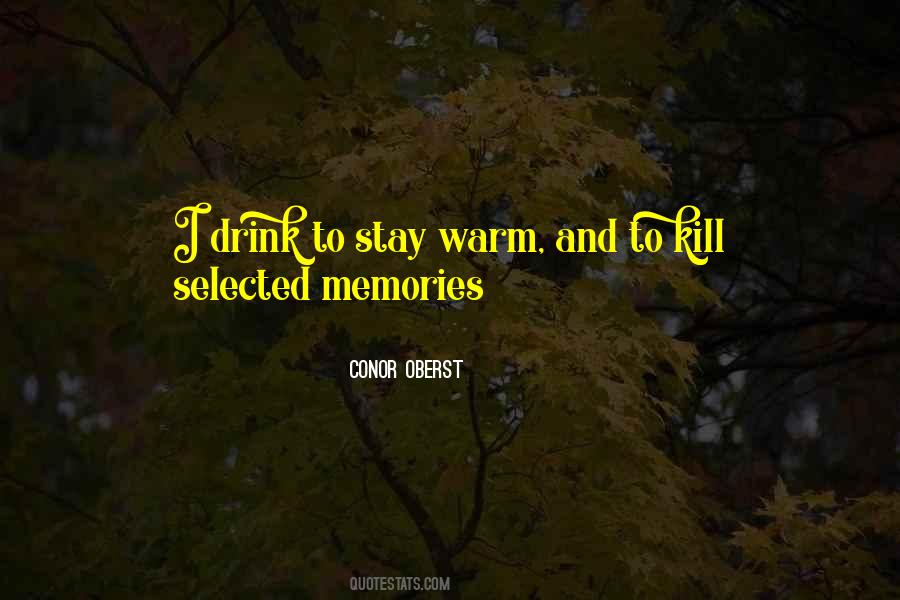 #51. It is hundreds of tiny threads of memories, which sew people together through the years. Despite, their mental separation they stay woven into that tapestry out of habit, emotion, obsession or fear. - Author: Shannon L. Alder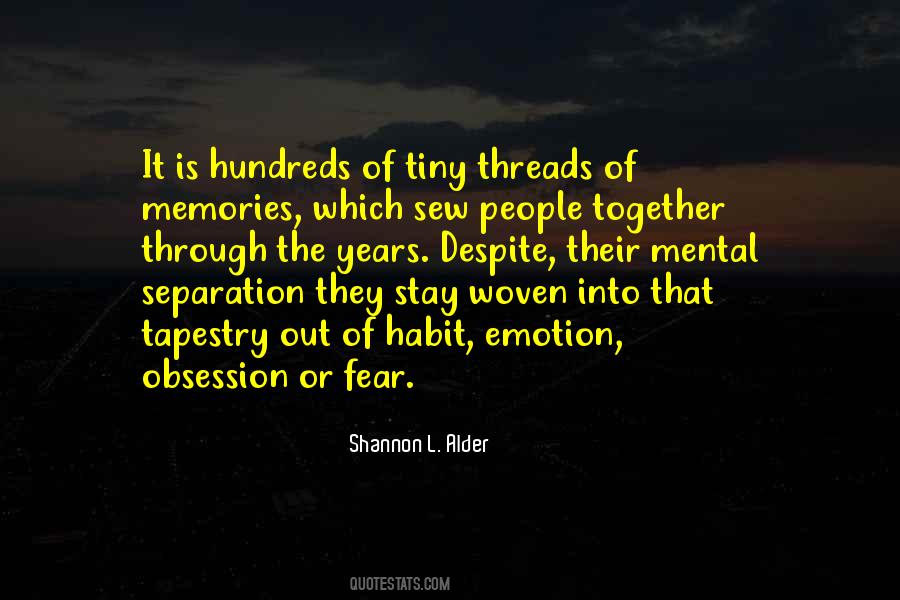 #52. I know emptiness. I know the taste of blood against my teeth. I know what it is to fill your belly with iron. I know hunger. I know pain. I know memories that won't stay. I know the ghost of life and the perfume of souls. - Author: Roshani Chokshi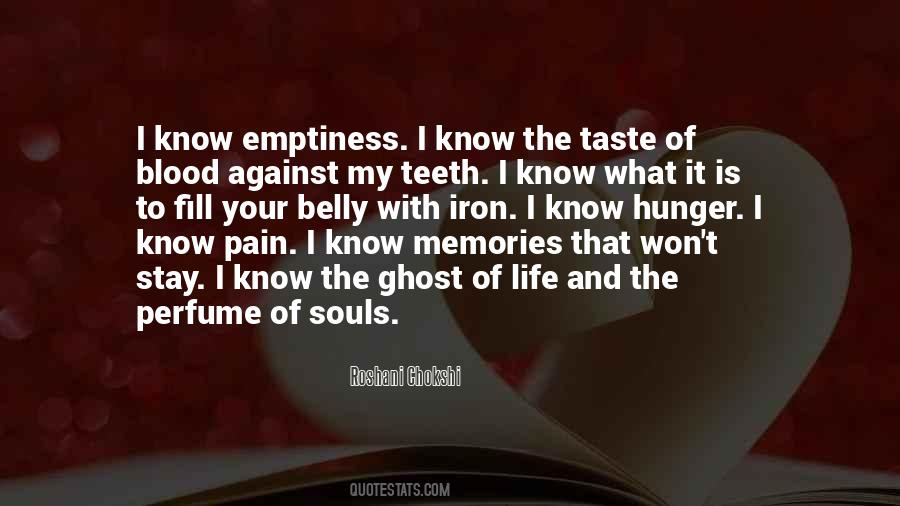 #53. Why do some memories live only on your tongue or in your nose? Why do others always stay in your heart? - Author: Amy Tan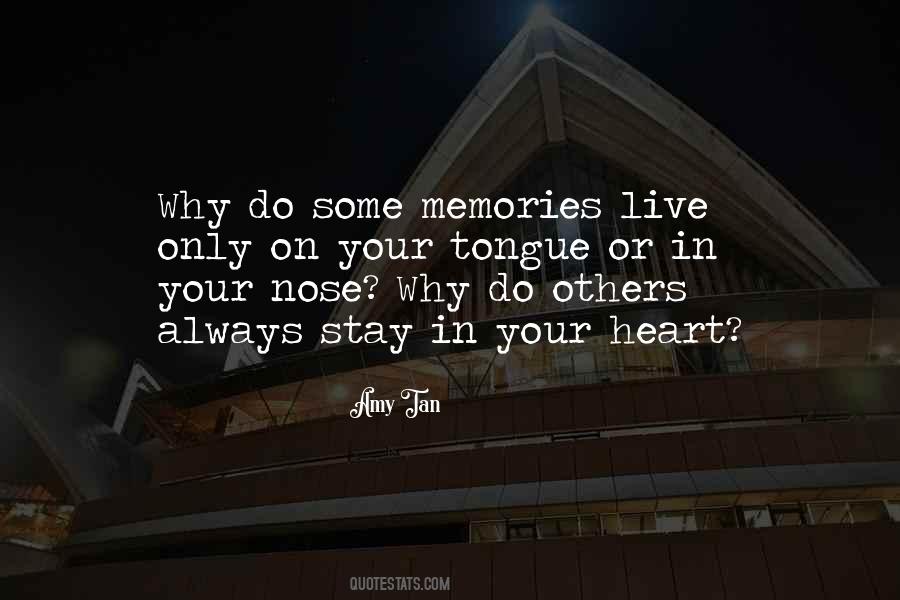 #54. I want to live with all of my memories, even if they're sad memories. I believe that if I stay strong, someday I'll overcome the pain, and then I'll be glad that I have those memories. I believe that there are no memories that are okay to forget. - Author: Natsuki Takaya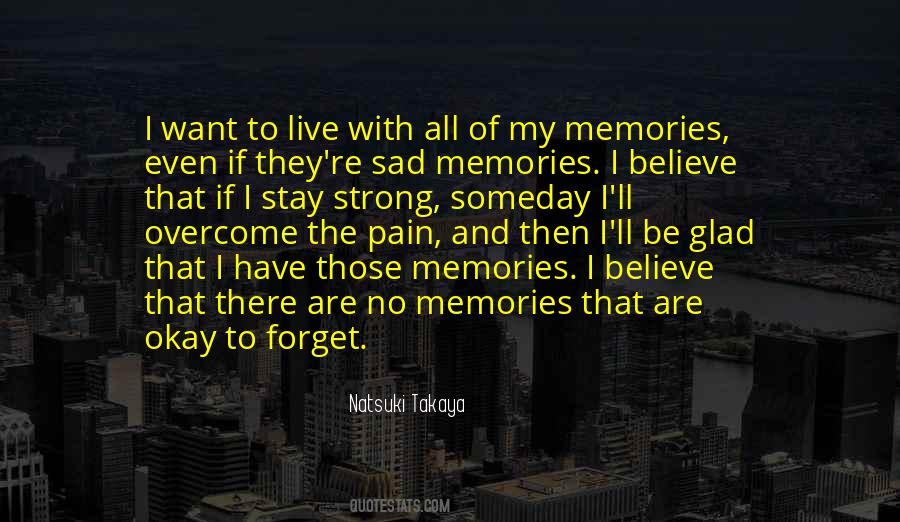 #55. No rules. No Revision. No Doctrine up here. Dizzying. He could be free if he wanted. Among enemies. He could stay here and keep his memories. Or go away and keep his memories. Or go back home and cease to exist. "It feels wretched and wrong."
But it feels. - Author: Aleksandr Voinov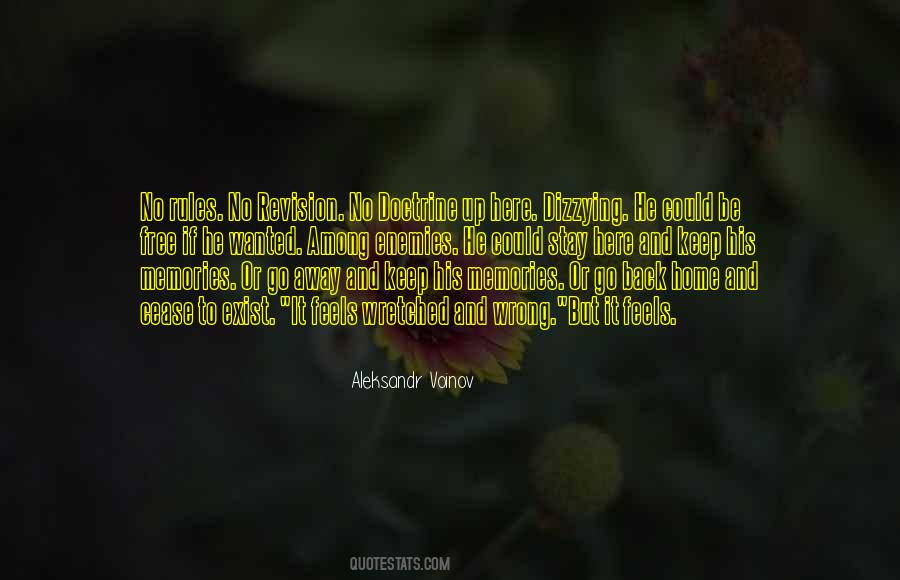 #56. I wanted to freeze the moment. Freeze it and jump inside of it and stay there until it melted into the warm, swishy liquid of happy memories. - Author: Tiffanie DeBartolo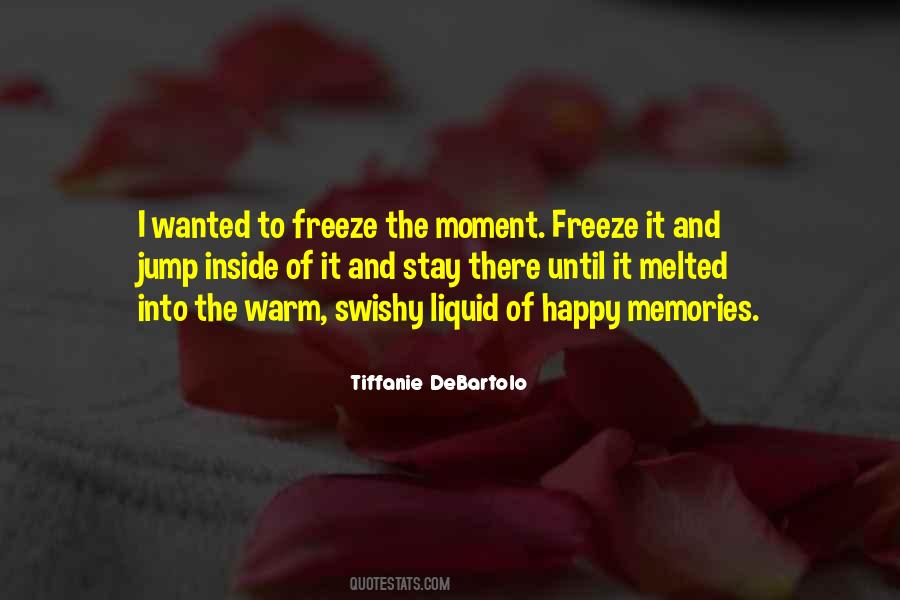 #57. Memories are always precious, they are memories which will stay, and even though the time goes by, they will never be taken away. - Author: Susan Smith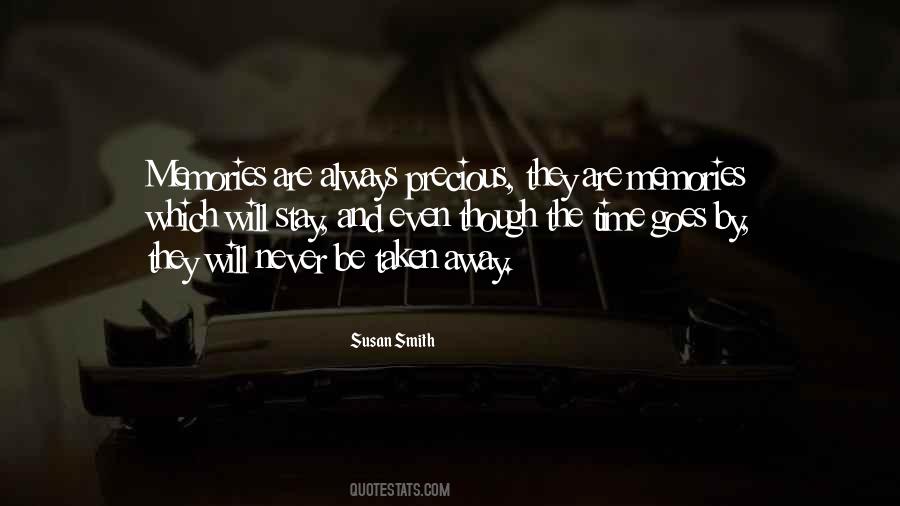 #58. He was on her mind but she doesn't let anyone stay for too long. - Author: Donna Lynn Hope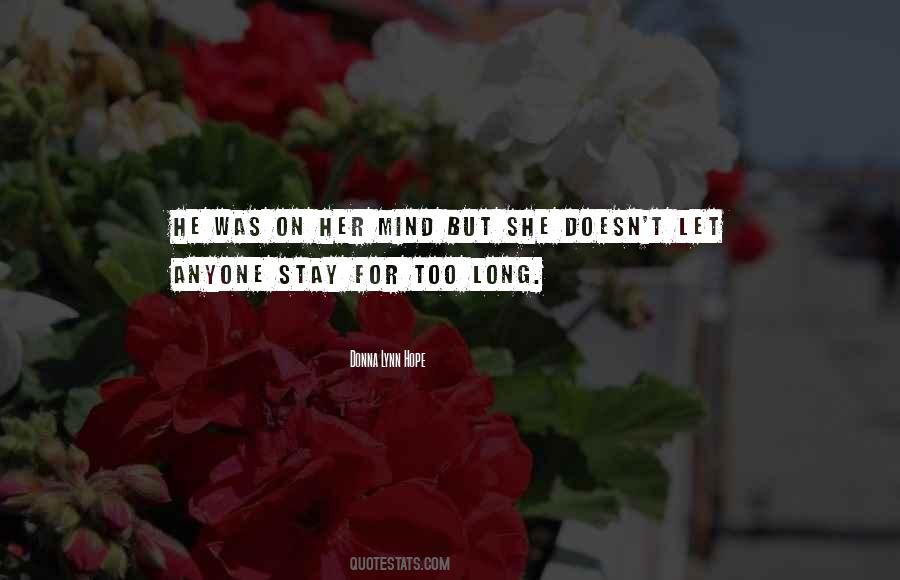 #59. Tis beauty, so to speak, nor good talk necessarily. It's just IT. Some women will stay in a man's memory if they once walked down a street. - Author: Rudyard Kipling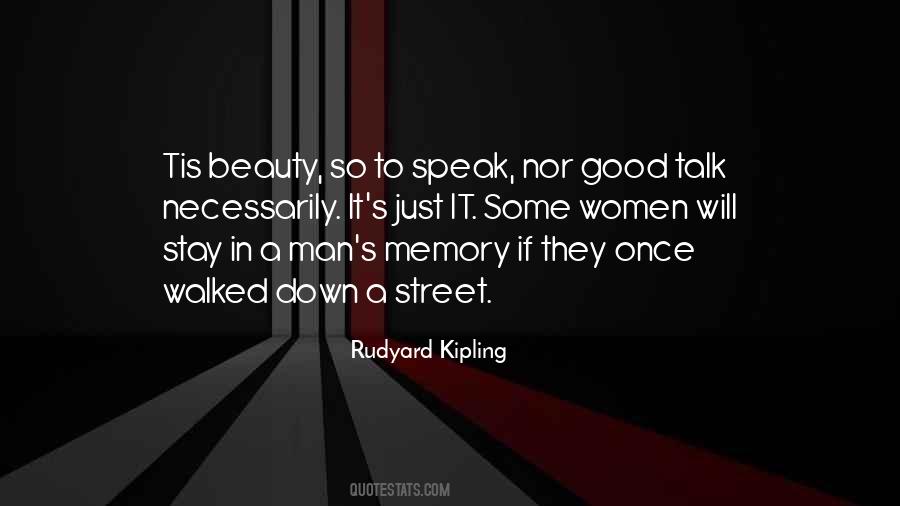 #60. My mind is like a room where the door swings free in the breeze, and many visitors come and go and stay and vanish as they will. - Author: Jane Smiley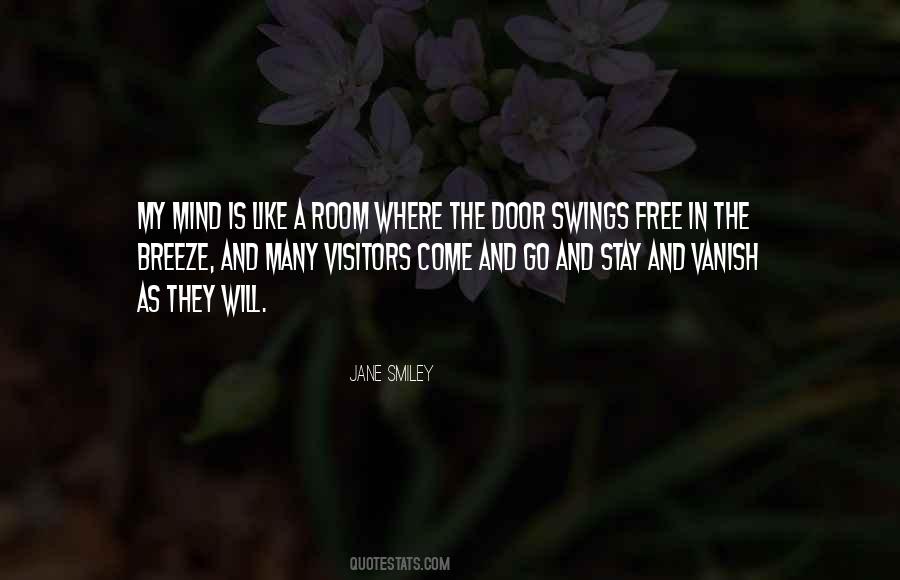 Famous Authors
Popular Topics