Lunch And Dinner Famous Quotes & Sayings
List of top 84 famous quotes and sayings about lunch and dinner to read and share with friends on your Facebook, Twitter, blogs.
Top 84 Lunch And Dinner Quotes
#1. I get up around 6:30. I work from about 8:00 to 1:00, take a break for lunch, work again until about 5:00, and then go for a long walk and have dinner. Then, if my wife and I have no previous plans, we decide what to do for the evening. - Author: Chaim Potok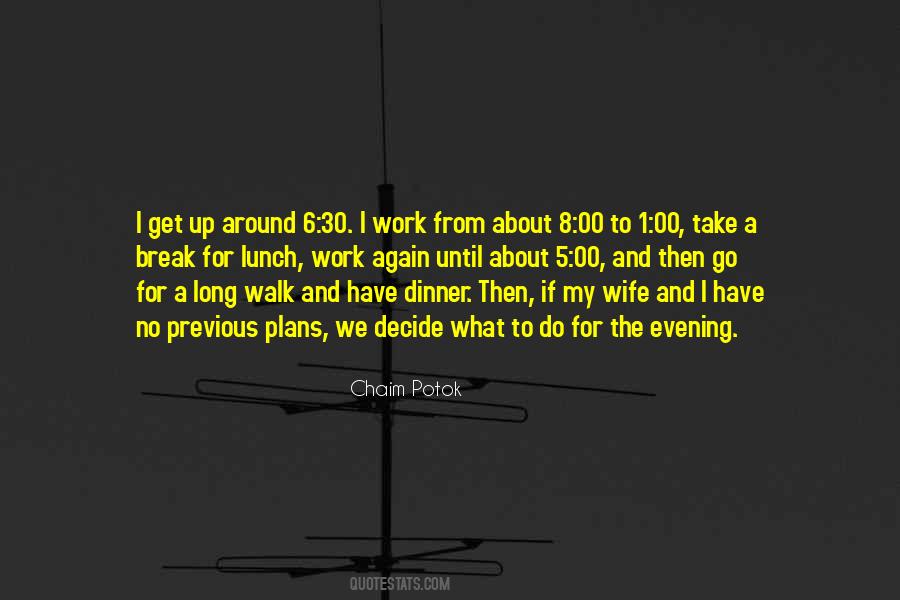 #2. Tea is an affront to lunch and an insult to dinner. - Author: Mark Twain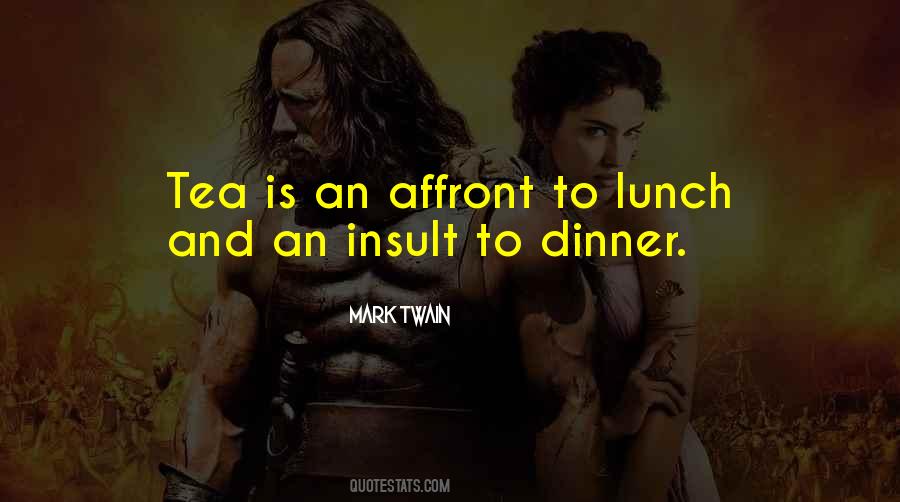 #3. I'm meticulous about tasting everything at the restaurant, so I taste all the preparations before lunch and dinner. That means tasting around 50 dishes twice. There are times when I think I can't taste another thing. - Author: Rick Bayless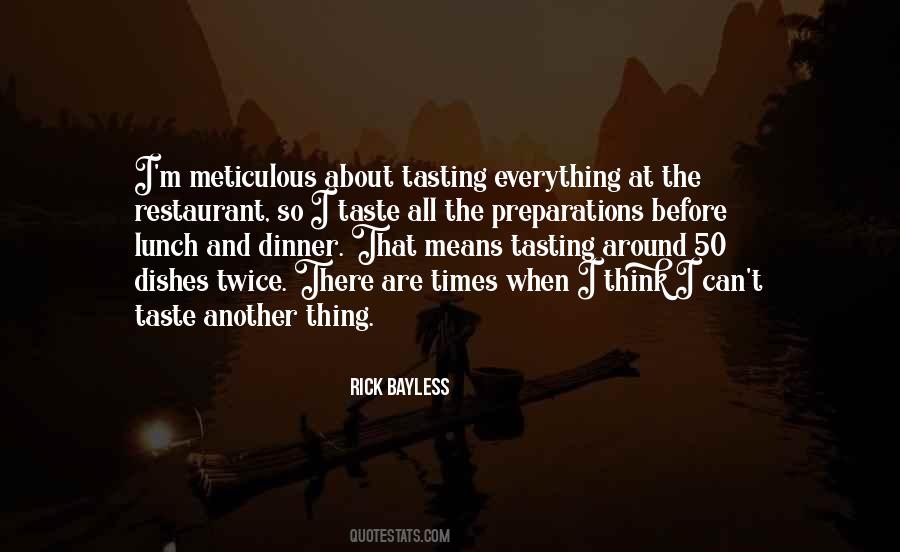 #4. Flatulence peaks twice a day ... five hours after lunch and five hours after dinner. - Author: Mary Roach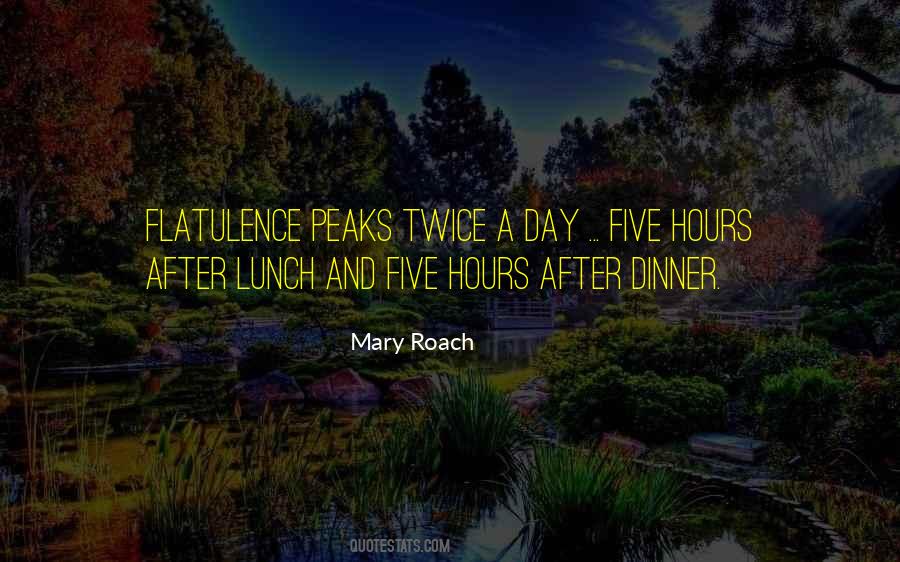 #5. I have come to understand and appreciate writers much more recently since I started working on a book last fall. Before that, I thought golf writers got up every morning, played a round of golf, had lunch, showed up for our last three holes and then went to dinner. - Author: Phil Mickelson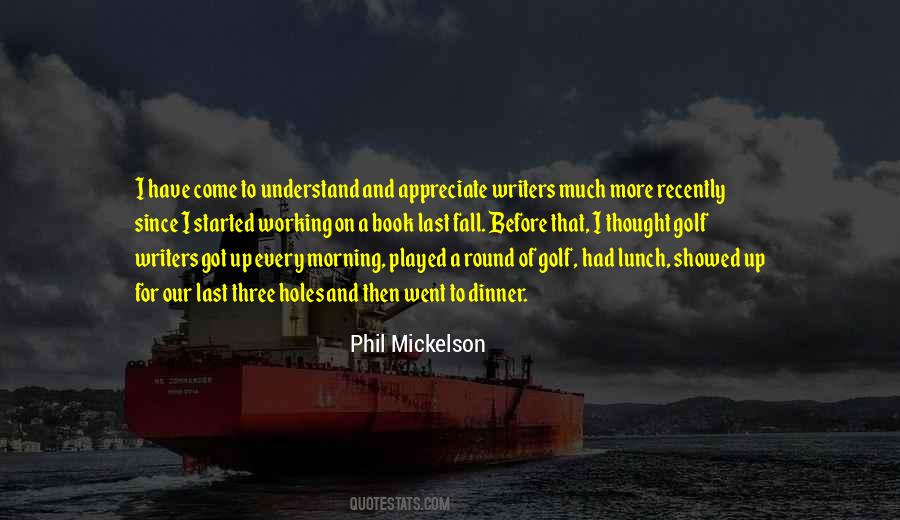 #6. Most Americans are skipping meals and when they do eat, they're starving and they're eating an excess of sugar and calories. Really it's about eating breakfast, snack, lunch, snack, and dinner, and trying to feed yourself. - Author: Jackie Warner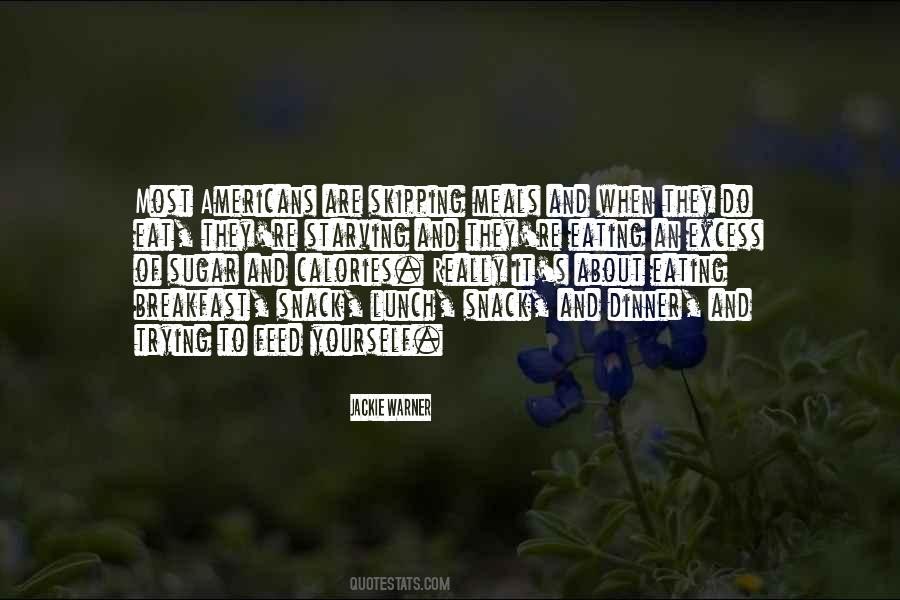 #7. I'm very good about eating breakfast, lunch and dinner. - Author: Yunjin Kim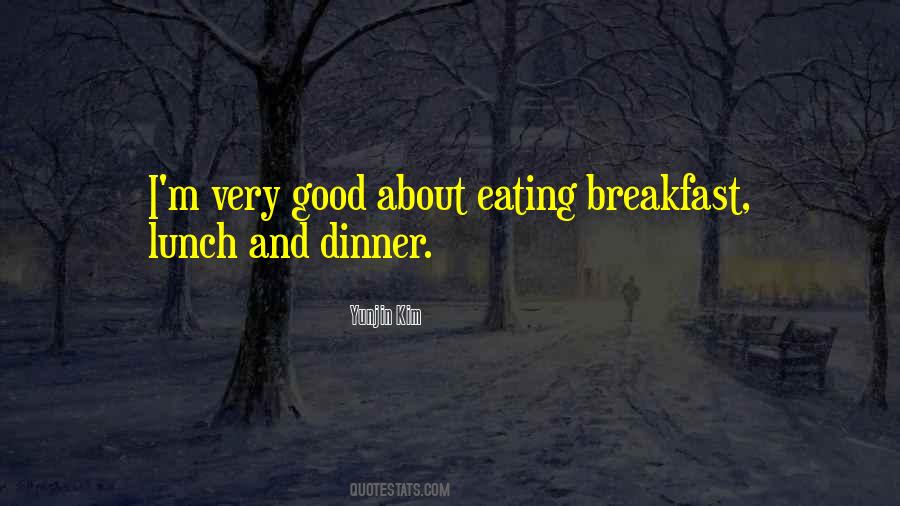 #8. Lunch is formal - that's when my husband and I have our dates. And dinner is formal: we sit down every day with the kids at seven o' clock. - Author: Debi Mazar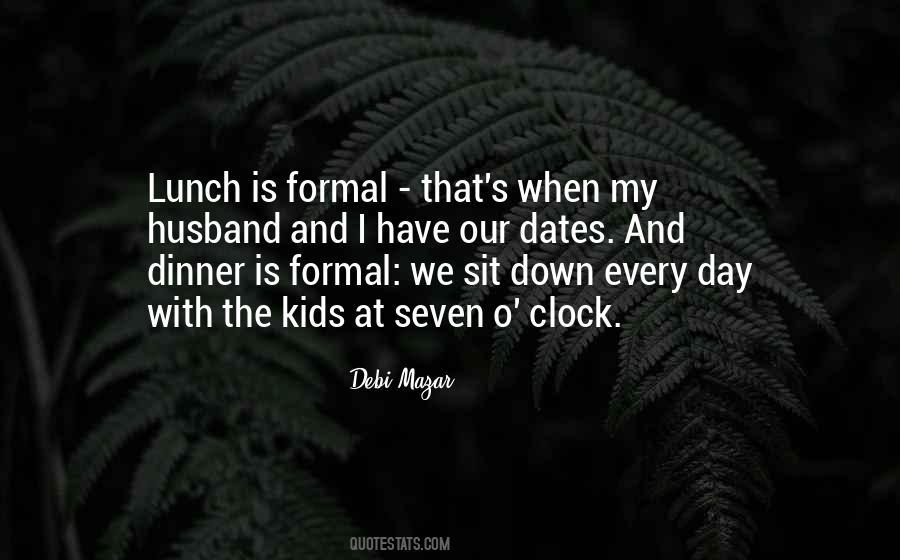 #9. We eat breakfast, lunch, and dinner to the soundtrack of our own impending death. - Author: Courtney Summers
#10. When writing a thank-you if you've had lunch with someone downtown, send an e-mail. If somebody is giving you a dinner party in his or her home and all the work that takes, that person deserves a written thank-you. - Author: Letitia Baldrige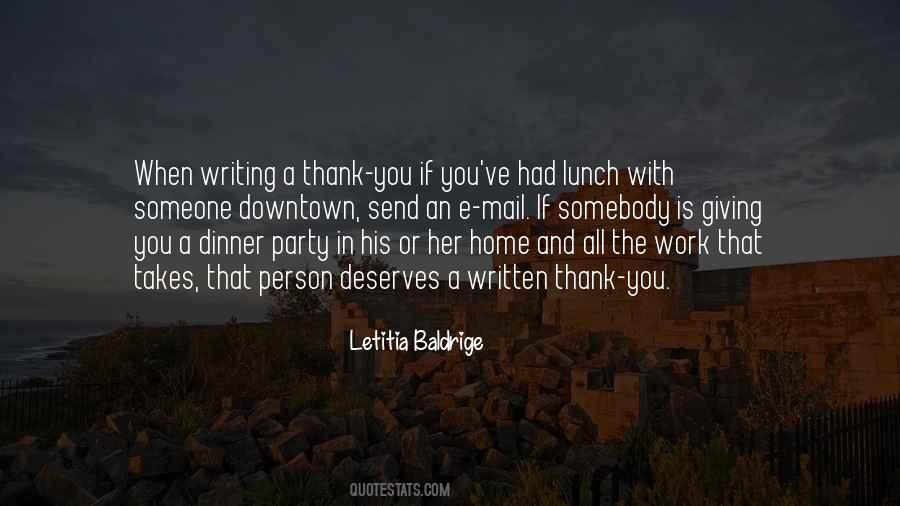 #11. Do you have to discipline yourself to have breakfast, lunch or dinner? Of course not; and so discipline - the usual concept of it - doesn't apply here. I had to discipline myself to learn English, but never to train. - Author: Arnold Schwarzenegger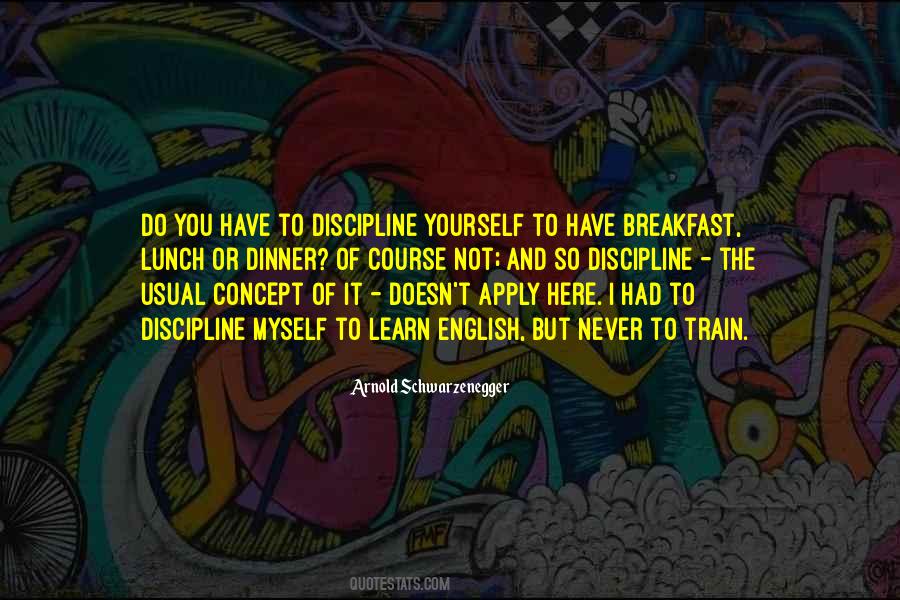 #12. I've never stayed at a bed and breakfast. If I did, I figure you would start to get hungry! "Is that all you got around here? Well, maybe you can direct me to a chair lunch dinner." - Author: Mitch Hedberg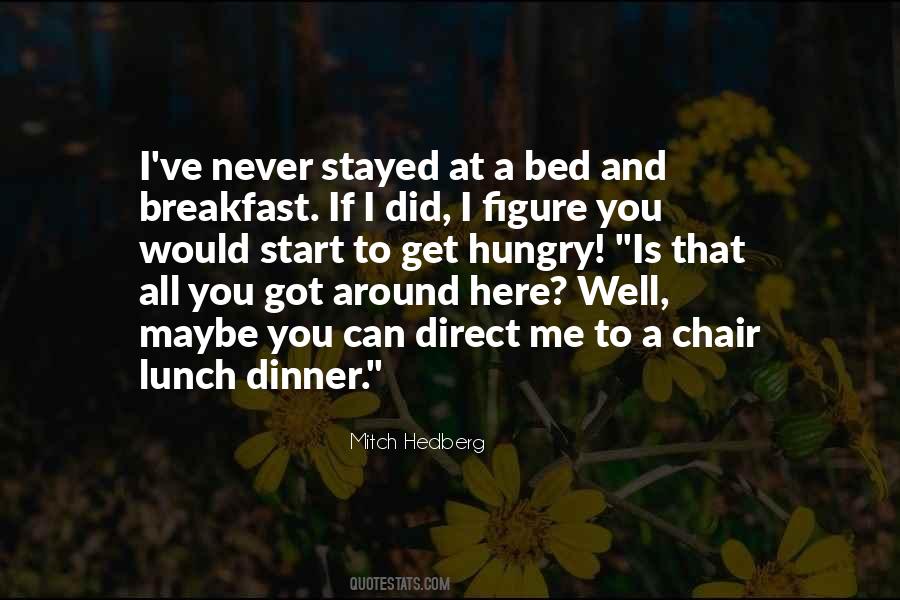 #13. My dad always supported me. Sometimes we didn't have anything to eat for breakfast, but if we could eat lunch and dinner, we weren't poor. - Author: Albert Pujols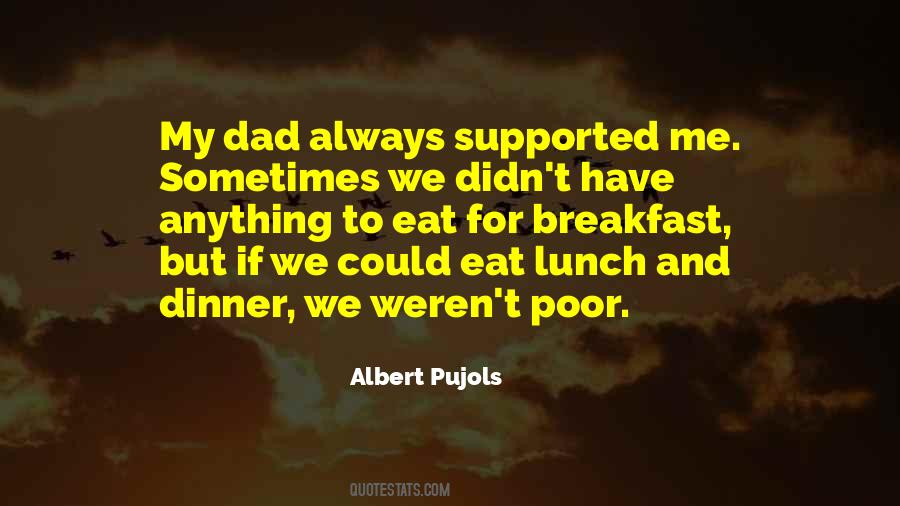 #14. Oh, my friends, be warned by me, That breakfast, dinner, lunch and tea, Are all human frame requires. - Author: Hilaire Belloc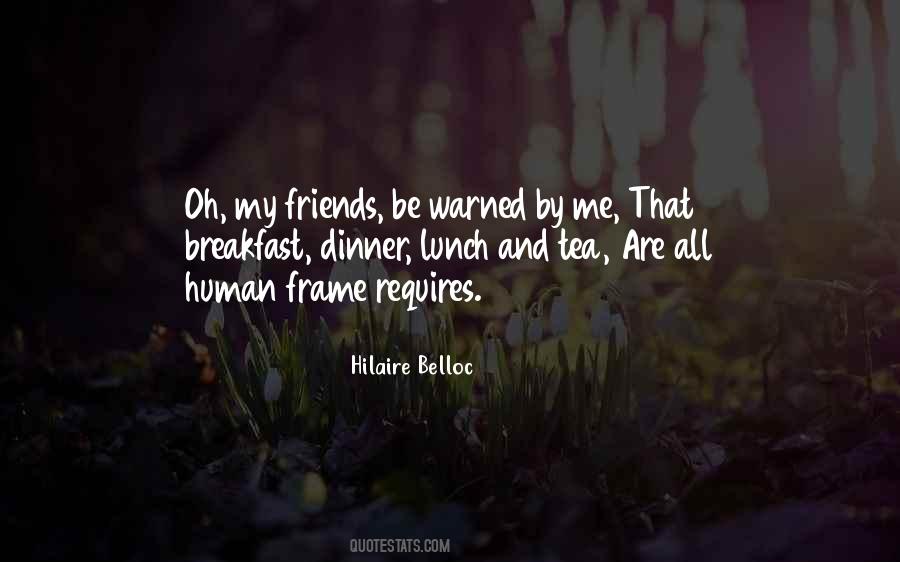 #15. The French have the right respect for dogs
in France we chiens get to go to lunch and dinner anytime, anywhere. - Author: Sheron Long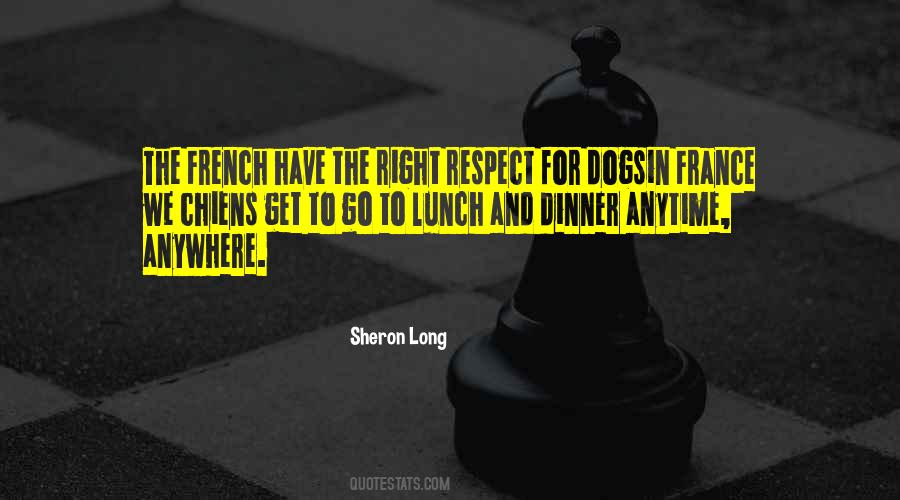 #16. I never had, like, a nanny that took care of me. My mom always fed me breakfast, lunch, and dinner. - Author: Miley Cyrus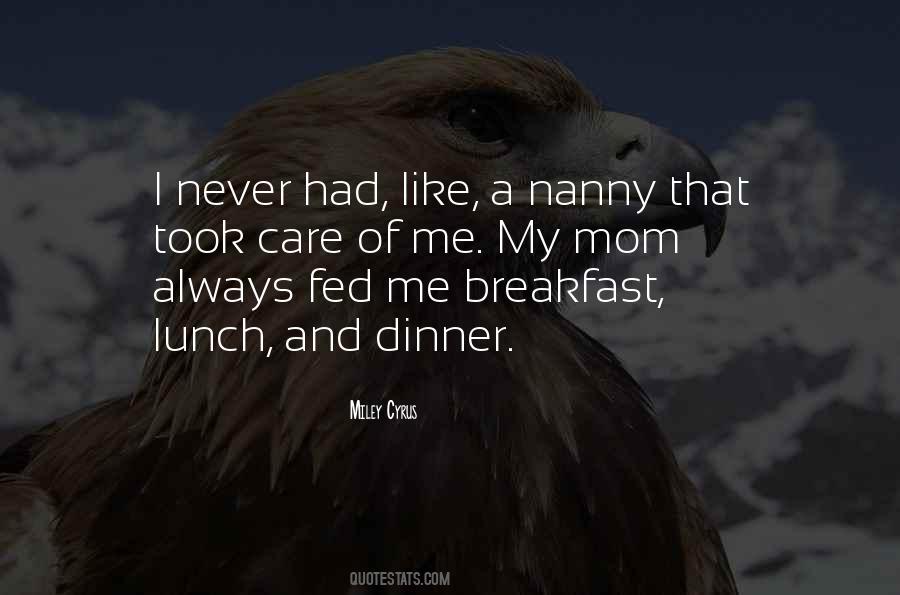 #17. Hosting is work. It means you don't get to go up to your room and disappear and take a nap. Like everybody else does after lunch. I'm talking about hosting, not hosting a dinner party, but hosting people staying in your home. - Author: George Clooney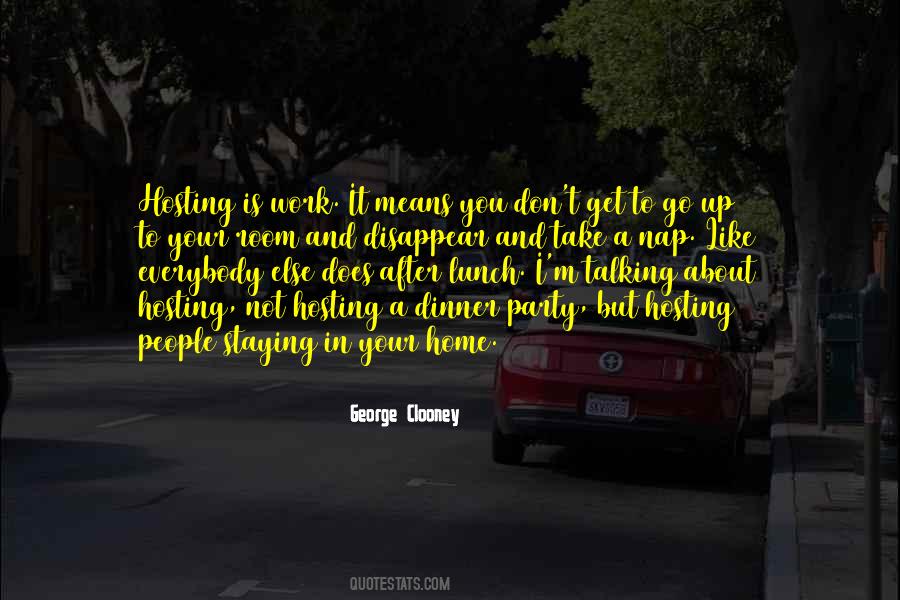 #18. I think the political class in Berlin doesn't need to be supervised and monitored by intelligence services in order to find out what they're thinking. Just go to lunch with them, go to dinner with them, or read the papers. - Author: Angela Merkel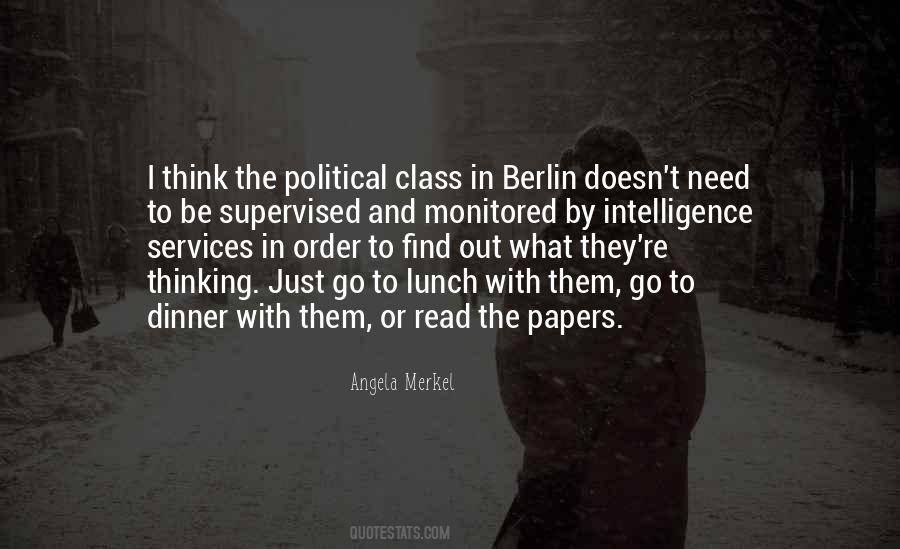 #19. I rarely have time for lunch, so tend to have a big breakfast and big dinner. - Author: Carmen Busquets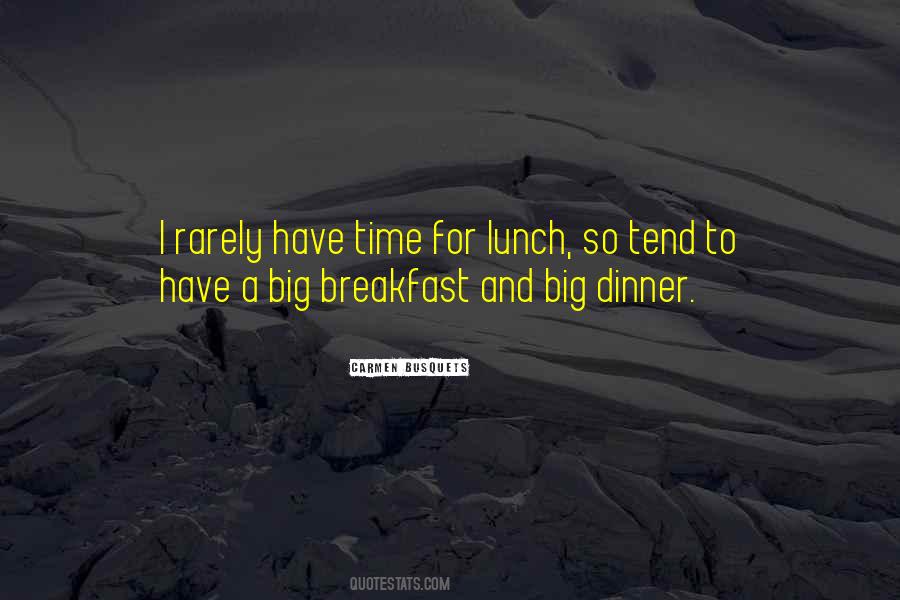 #20. The nice thing about being a director is that I can say, "I can only get into the room after the kids are at school, and I have to be back for dinner. And they're coming for lunch." - Author: Angelina Jolie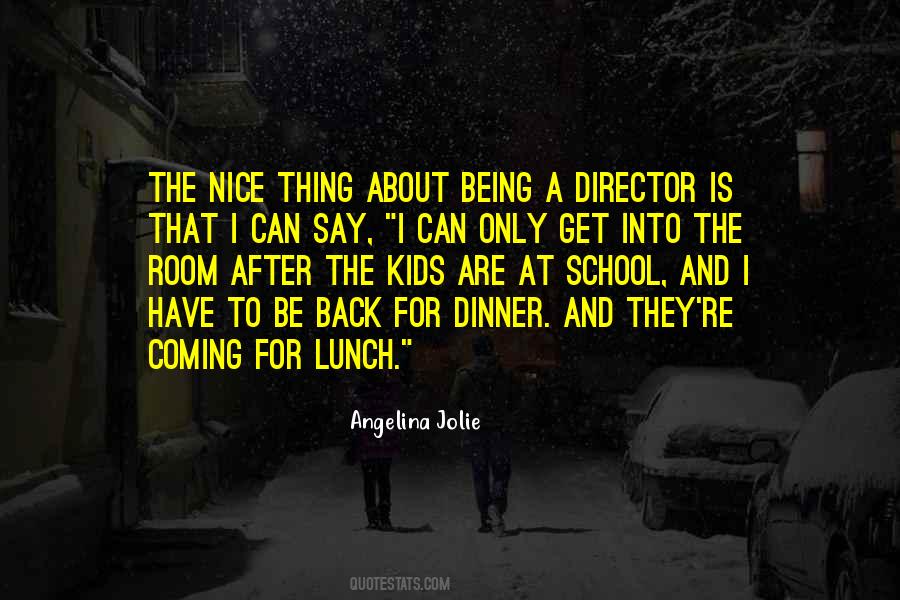 #21. It was a real hand-to-mouth existence in those early days - I'd have whatever dry cereal there was in the house for breakfast, 30 cents to spend on lunch and a hot dog for dinner. I did that for years. So there was definitely a hunger in me, of various kinds, to succeed. - Author: Neil Diamond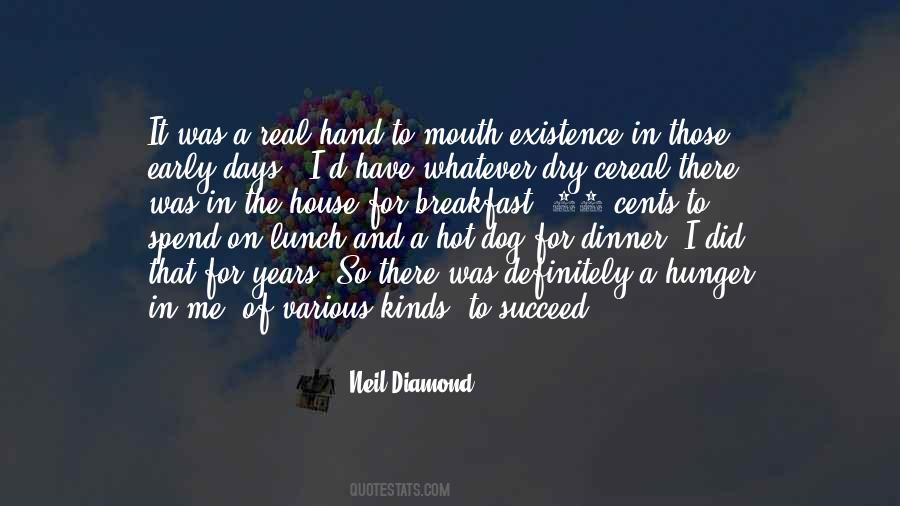 #22. The secret to successfully staying within your budget and enjoying delicious one serving meals at the same time is through planning. Set aside an hour each week and dedicate it to planning your breakfast, lunch and dinner meals. - Author: Claire Daniels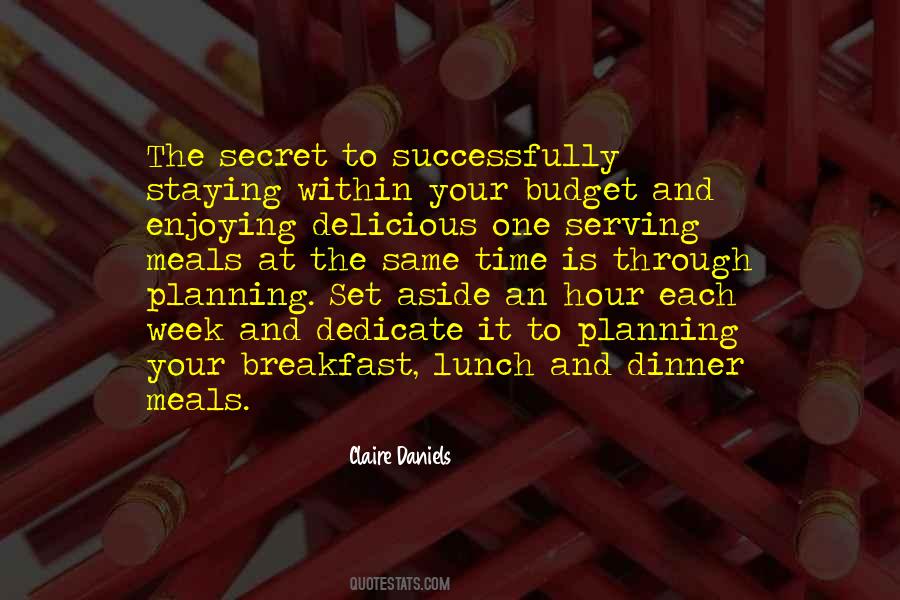 #23. I have an affinity for the old Seattle coffee shops, places like the Green Onion and the Copper Kettle, the classic kind of coffee bar - little places that served breakfast, lunch and dinner and have pretty much disappeared. - Author: Tom Douglas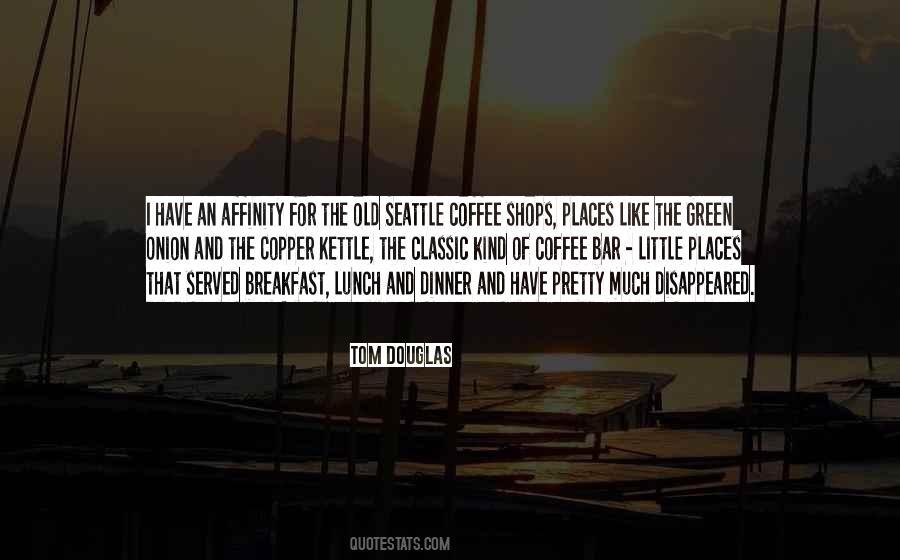 #24. It's important for me to eat really healthy because I have such a sweet tooth. I eat fish and vegetables for lunch and dinner, and I work out every day. - Author: Dylan Lauren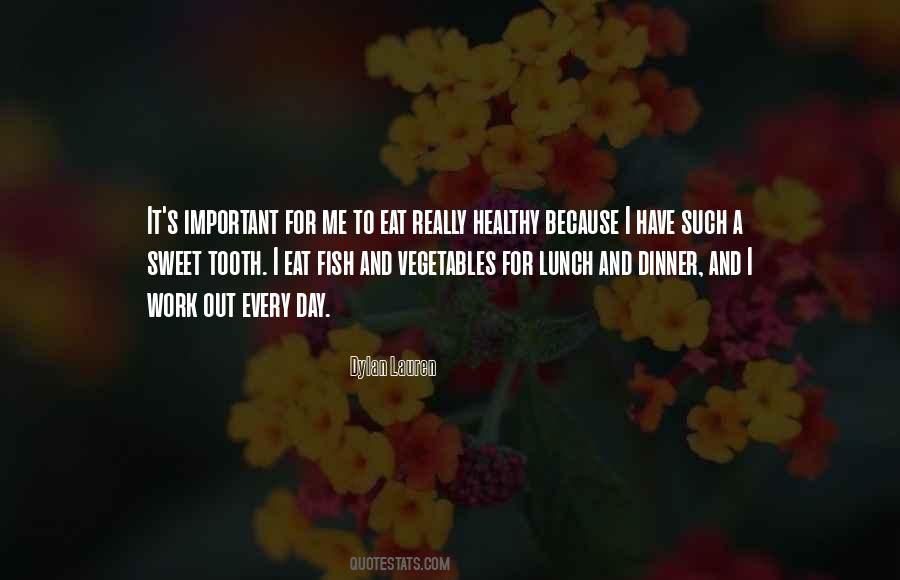 #25. I always think if you have to cook once, it should feed you twice. If you're going to make a big chicken and vegetable soup for lunch on Monday, you stick it in the refrigerator and it's also for Wednesday's dinner. - Author: Curtis Stone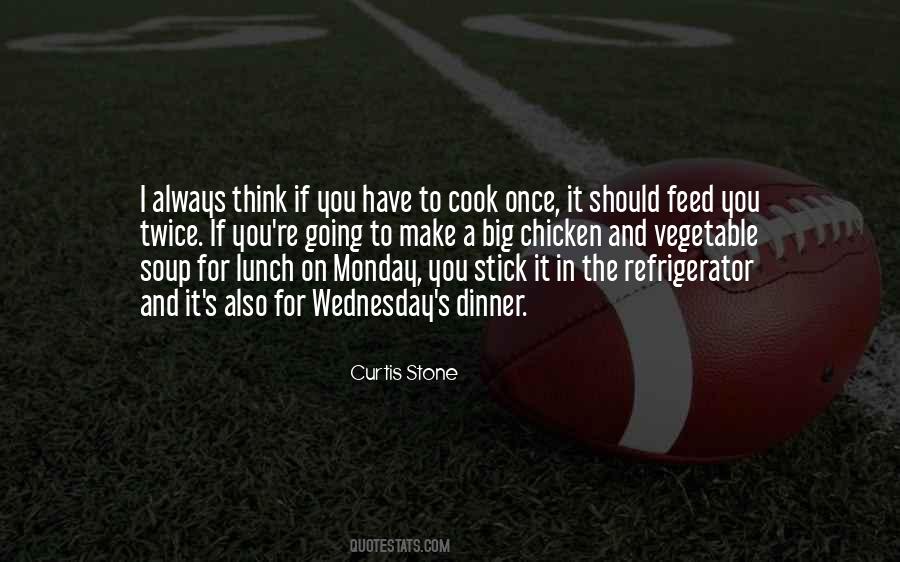 #26. Going away from the people who ate shadows for breakfast and steam for lunch and vapors for dinner. - Author: Ray Bradbury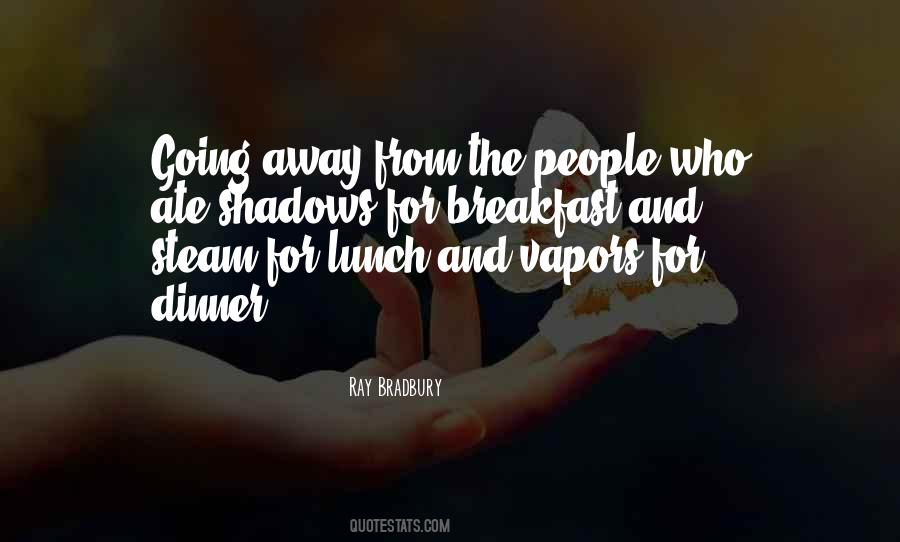 #27. In France, Paul explained, good cooking was regarded as a combination of national sport and high art, and wine was always served with lunch and dinner. "The trick is moderation," he said. - Author: Julia Child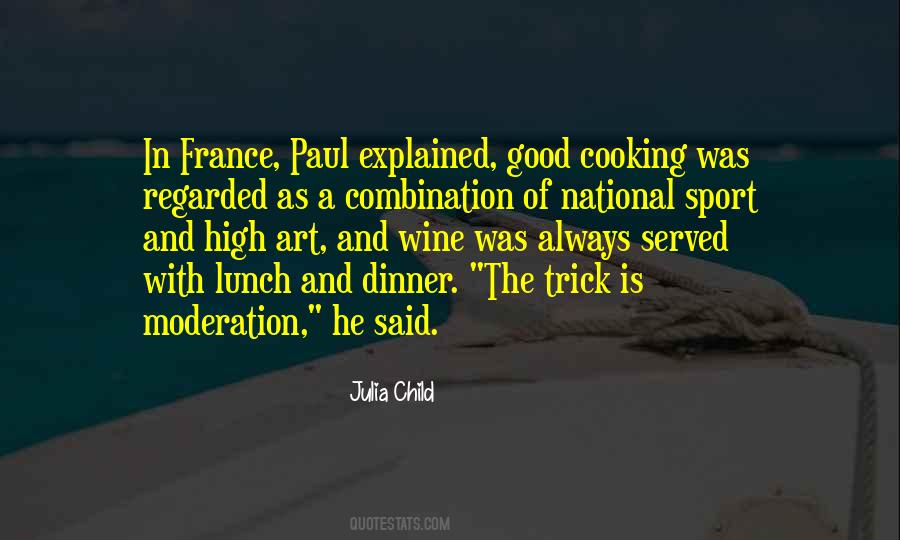 #28. When I was a boy we didn't wake up with Vietnam and have Cyprus for lunch and the Congo for dinner. - Author: Lyndon B. Johnson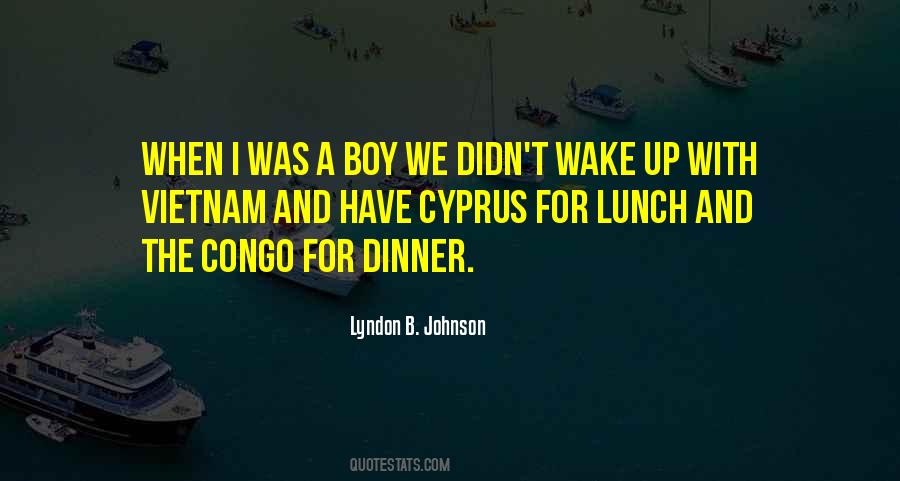 #29. I am someone who tweets about what I have for breakfast, what I have for lunch, what I have for dinner, and for 99.99999 percent of the world, it's useless. It's meaningless. But for my mother, she loves it. - Author: Jack Dorsey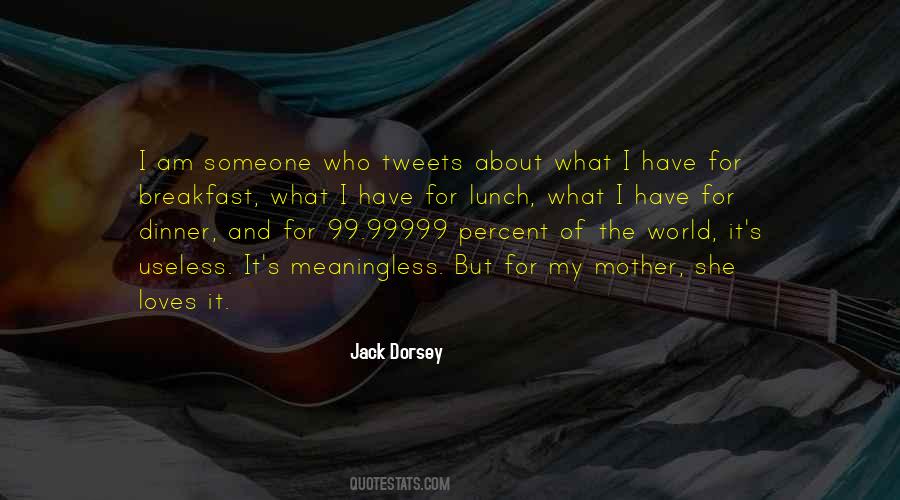 #30. So I have the green smoothie every day for breakfast, and then sometimes even for lunch too, and then I have a normal dinner. - Author: Dita Von Teese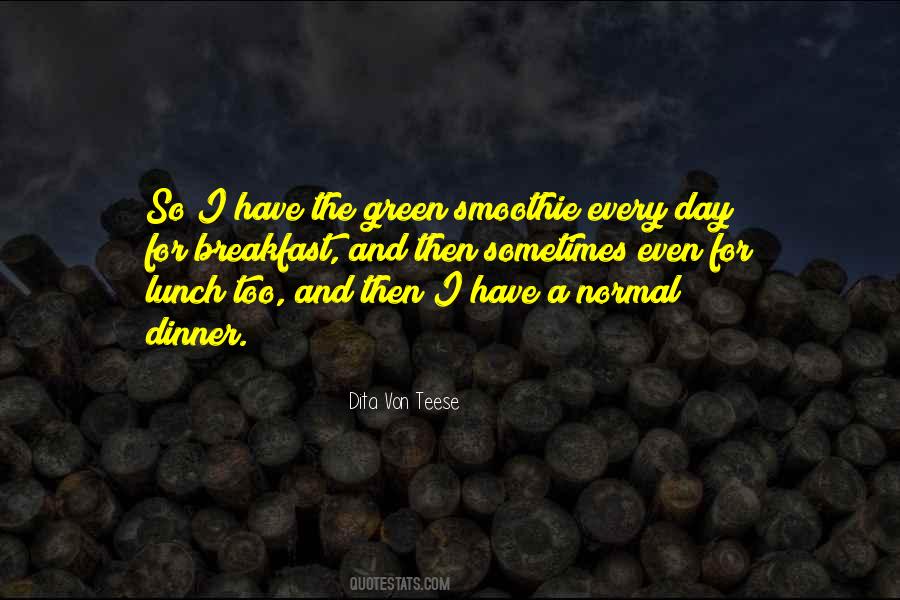 #31. My biggest tip is this ... treat bread like chocolate. You wouldn't have a chocolate bar in the morning and then a double chocolate bar at lunch and then some chocolate before dinner. I was essentially eating a loaf of bread a day. And that doesn't work for me. - Author: James Corden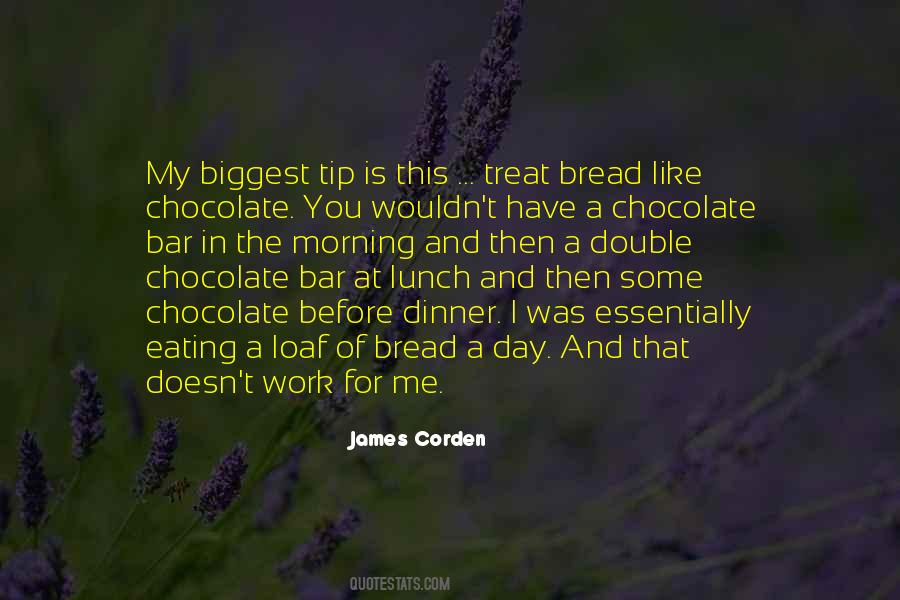 #32. I had a cigarette for breakfast, just for beginners,
Cried for my lunch, and sleep for dinner. - Author: G. Dep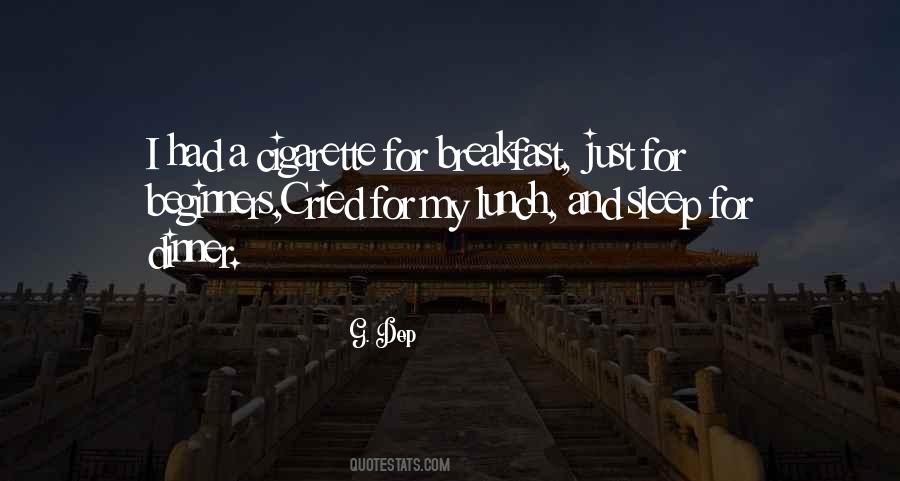 #33. My life at home gives me absolute joy. There are some days when, as soon as you've finished cooking breakfast and cleaning up the kitchen, it's time to start lunch, and by the time you've done that, you're doing dinner and thinking, 'There has to be a menu we can order from.' - Author: Julia Roberts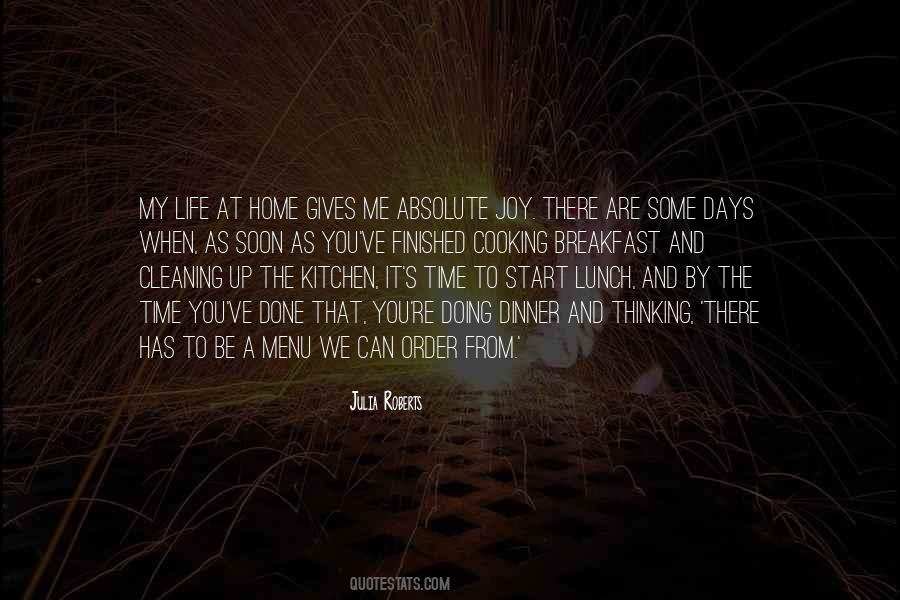 #34. If I could, I'd eat pizza for breakfast, lunch, and dinner. - Author: Lauren Johnson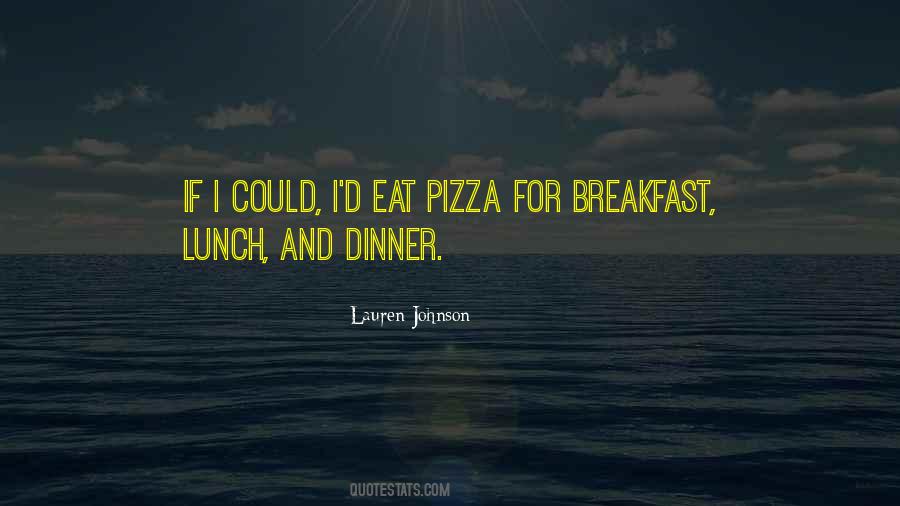 #35. Mostly though, they waited. For the mail. For the news. For the bells. For breakfast and lunch and dinner. For one day to be over and the next day to begin. - Author: Julie Otsuka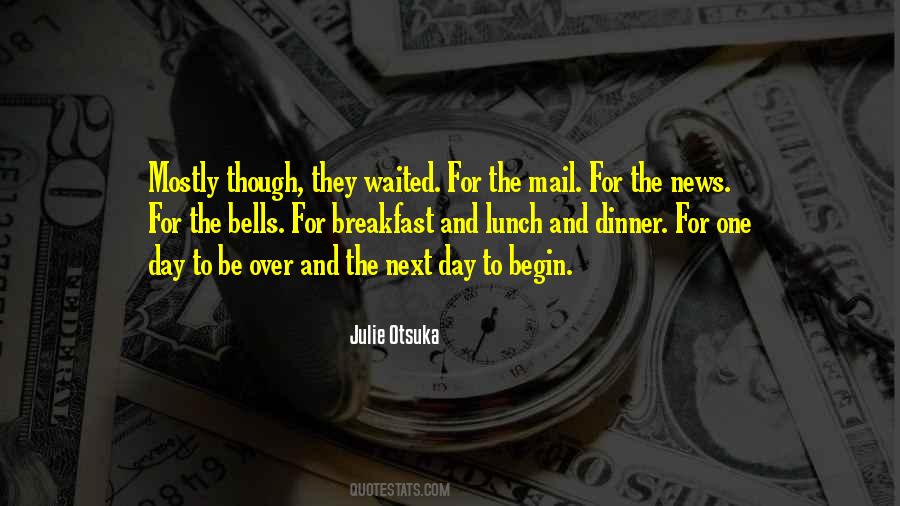 #36. My body is like breakfast, lunch, and dinner. I don't think about it, I just have it. - Author: Arnold Schwarzenegger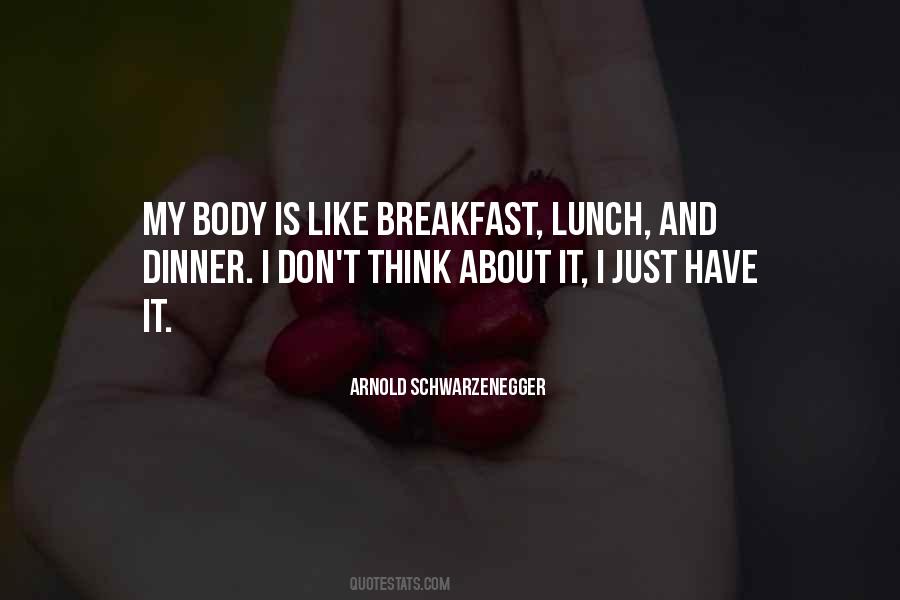 #37. You could be a rebel, a profound thinker, and a rock and roll maniac and still eat breakfast, lunch, and dinner, and drink a nice cup of tea with your friends. - Author: Pamela Des Barres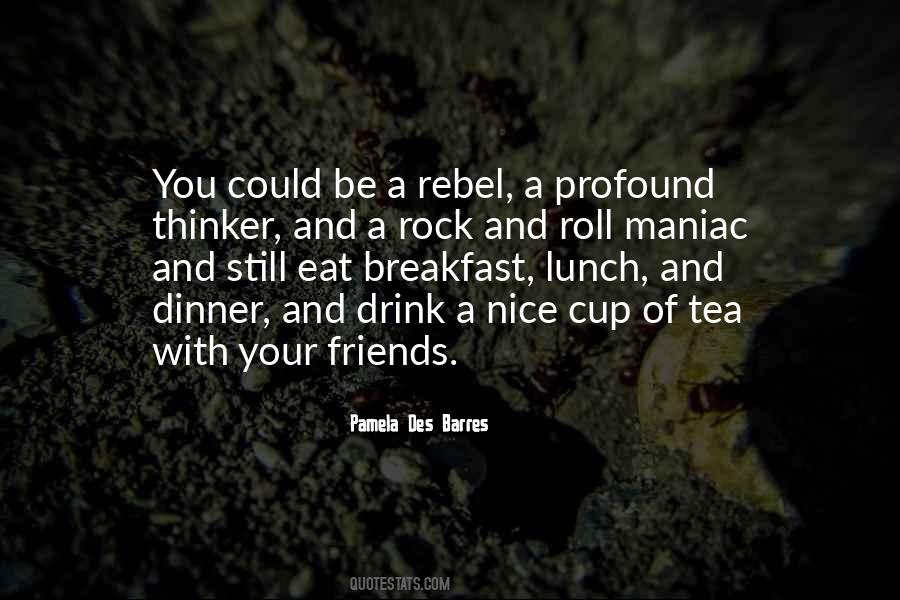 #38. cheese-dip for lunch and dinner and yogurt, oats and blueberries for breakfast. The thought of eating anything else make her stomach queasy. Angie wondered how much longer the food choice would last and what the next few weeks of culinary delights her body would - Author: Ashley Fontainne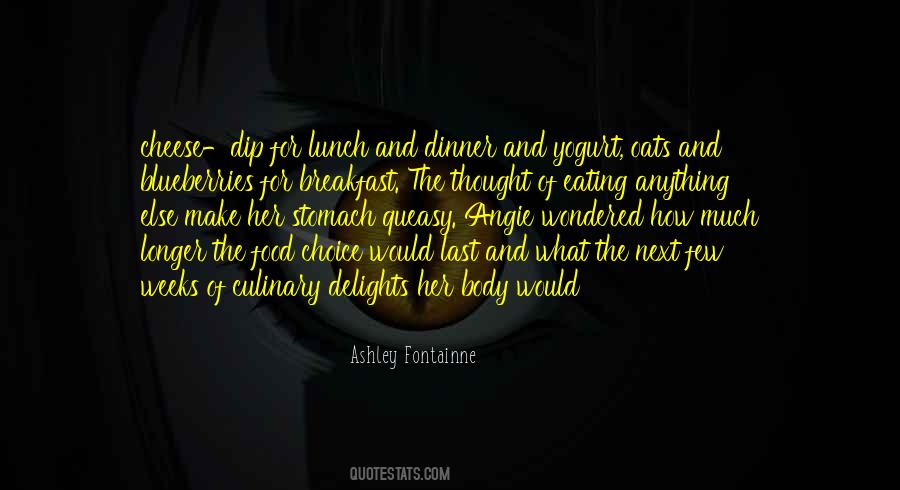 #39. When I'm doing a movie, I eat the same thing every day. For lunch, it's tuna salad or chicken salad and cole slaw. That's it. For dinner it's either veal and rice, fish and rice or steak and rice. It gets boring; boy, does it get boring. - Author: Sylvester Stallone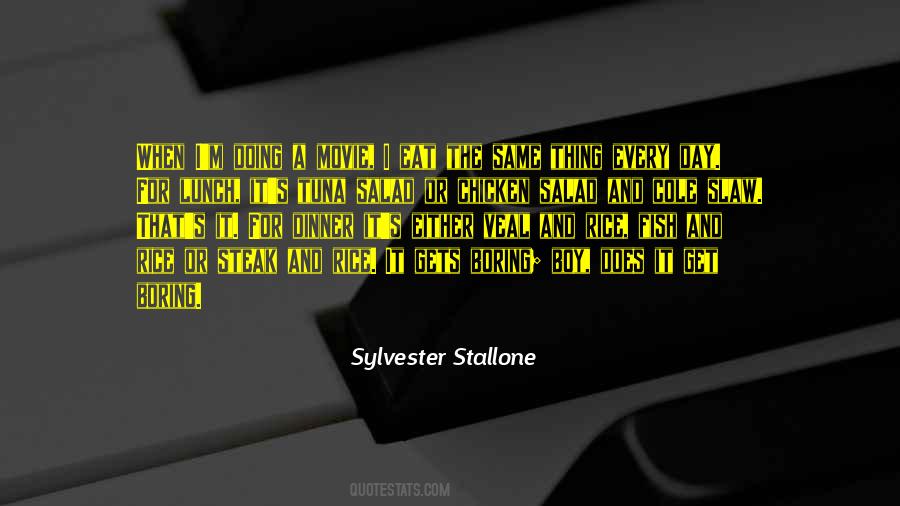 #40. I have to go out for lunch and dinner because I can't cook. I need a woman to come and save me from my cooking. - Author: Carrot Top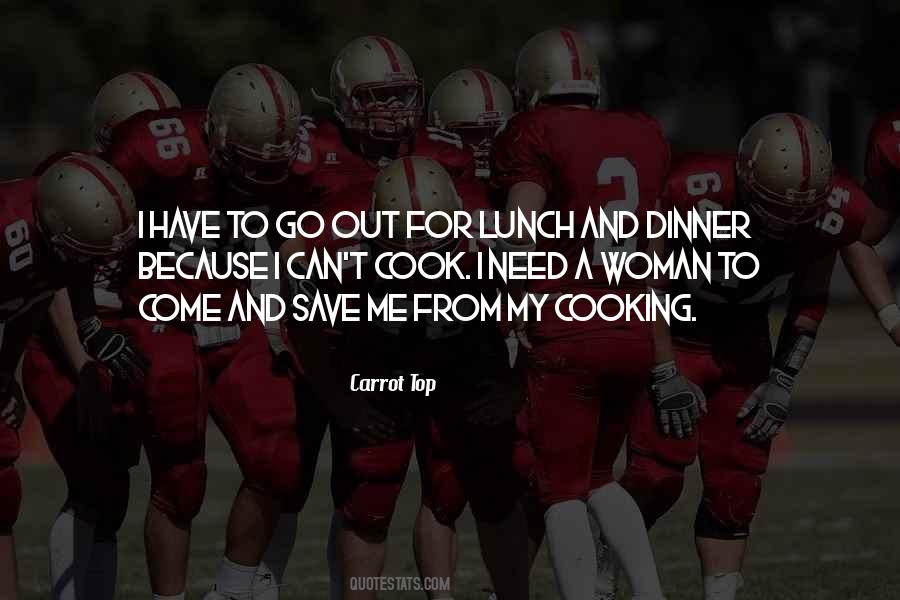 #41. I promised myself that if ever I had some money that I would savor a cigar each day after lunch and dinner. This is the only resolution of my youth that I have kept, and the only realized ambition which has not brought disillusion. - Author: W. Somerset Maugham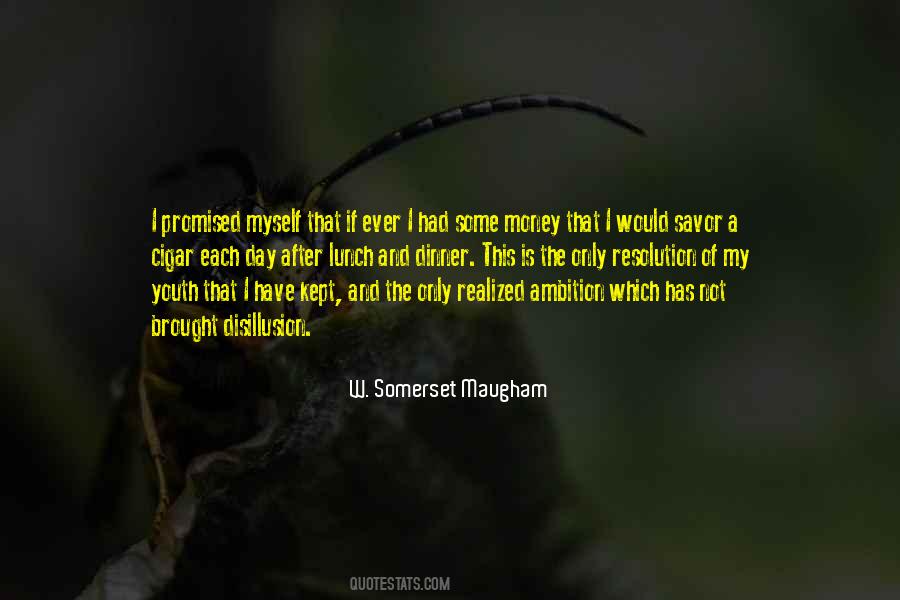 #42. I want him to lose control because of me. I want that man to want me like I'm his next breakfast, lunch, and dinner. Hell, I want him to crave me like a feast. And take me like a beast. - Author: Katy Evans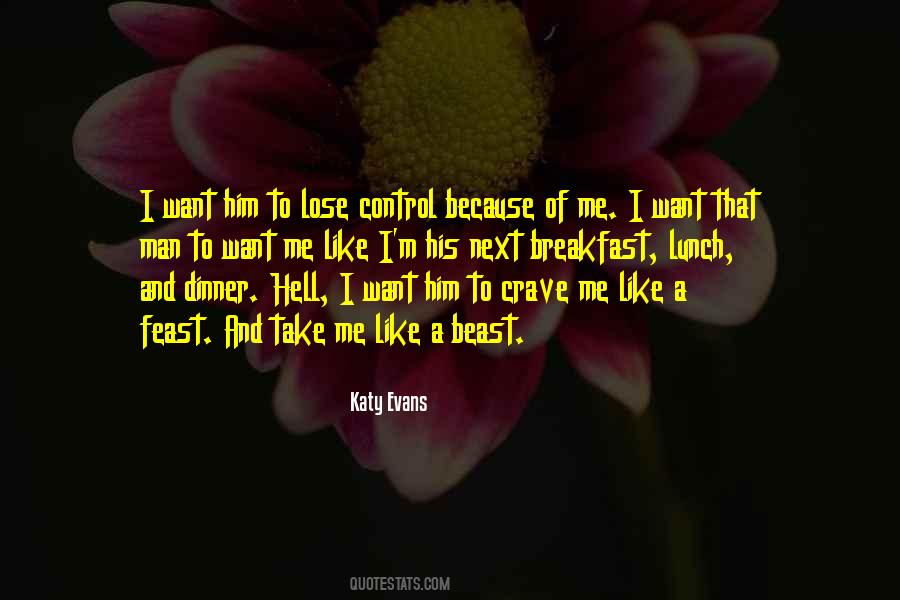 #43. Desire is poison at lunch and wormwood at dinner; your bed is a stone, friendship is hateful and your fancy is always fixed on one thing. - Author: Pietro Aretino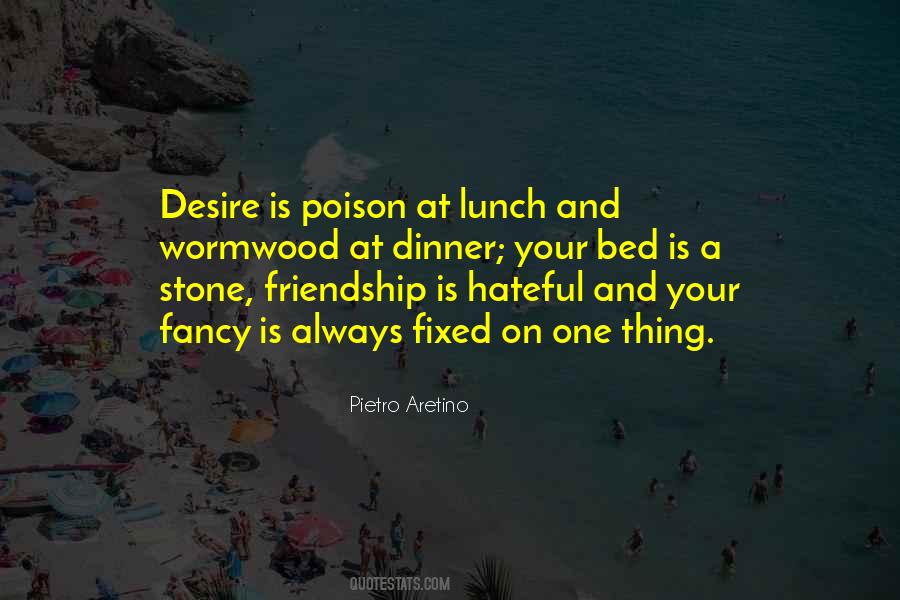 #44. A bachelor's life is a fine breakfast, a flat lunch, and a miserable dinner. - Author: Francis Bacon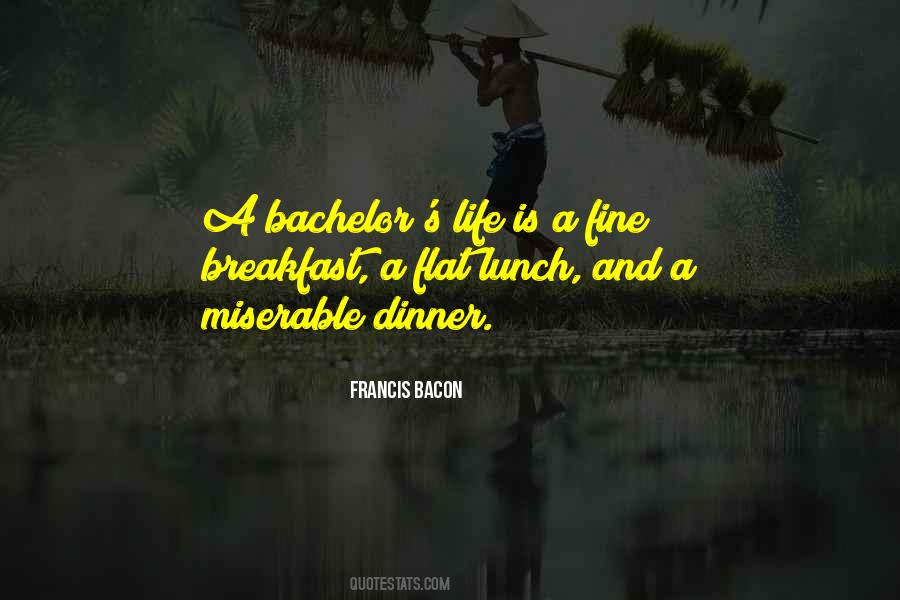 #45. In Spain people have lunch and dinner a lot later - when I return to England I'll have to eat alone at midnight. - Author: David Beckham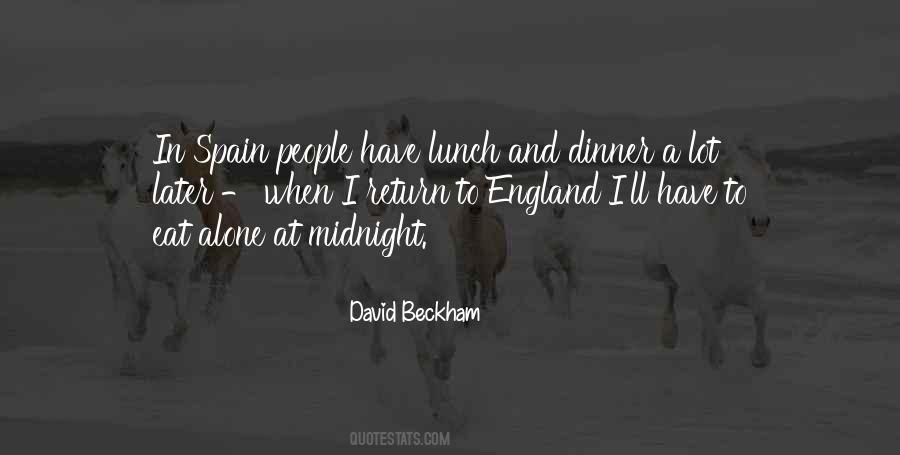 #46. If you've ever been in the West Wing, it's like a little rabbit warren. Everybody's crammed in there on top of each other, and you're eating breakfast, lunch, and dinner at the mess with people. And so you really get to know each other very well. So, I think they just weren't worried. - Author: Donald Verrilli Jr.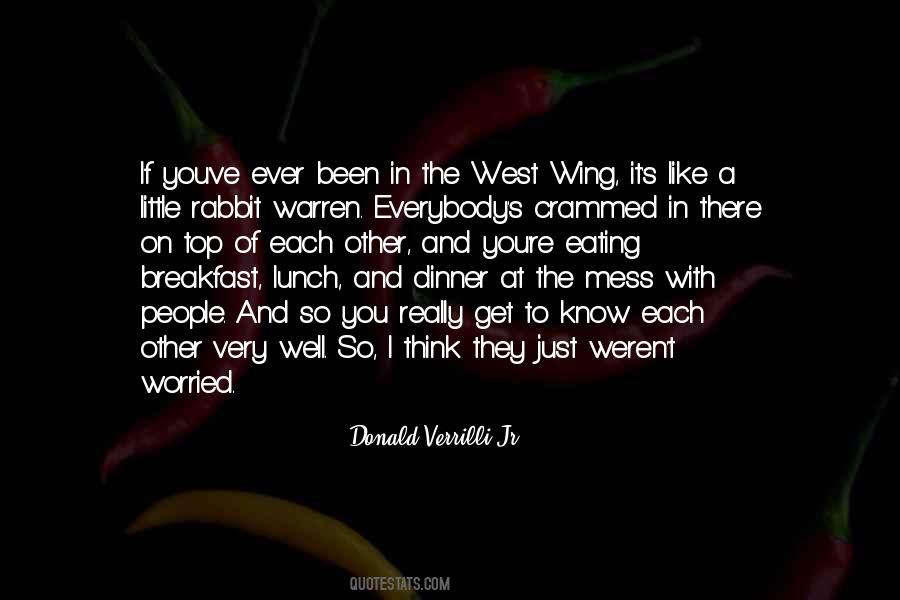 #47. The only extra plates ever permitted are the bread and butter plates which are put on at breakfast and lunch and supper above and to the left of the forks, but never at dinner. - Author: Emily Post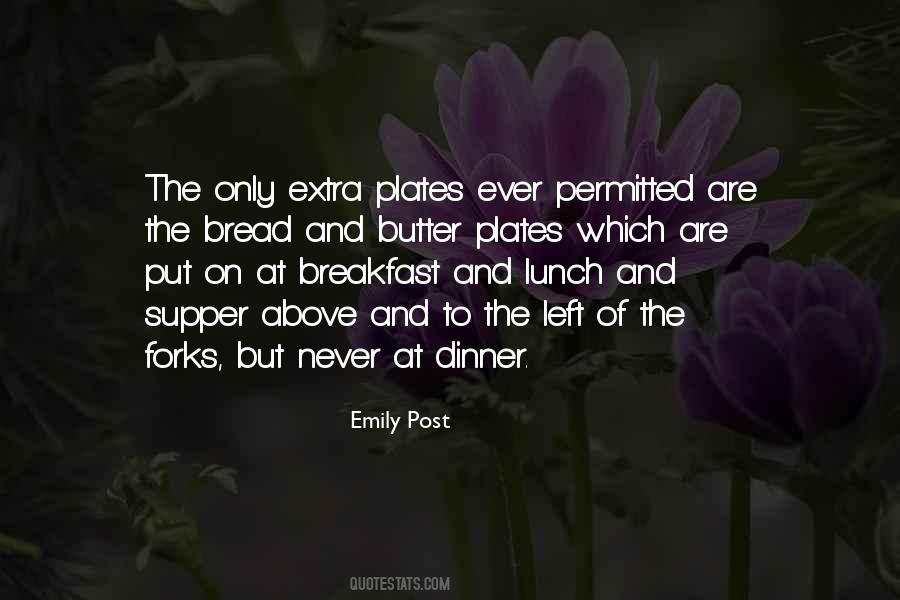 #48. I usually eat six times a day, small meals. For breakfast, an egg and a corn tortilla, salsa and cilantro, and some ham. For snacks, I'll have an apple, some string cheese, a yogurt. For lunch I'll have salad with protein in it and for dinner usually steamed vegetables and chicken or fish. - Author: Sprague Grayden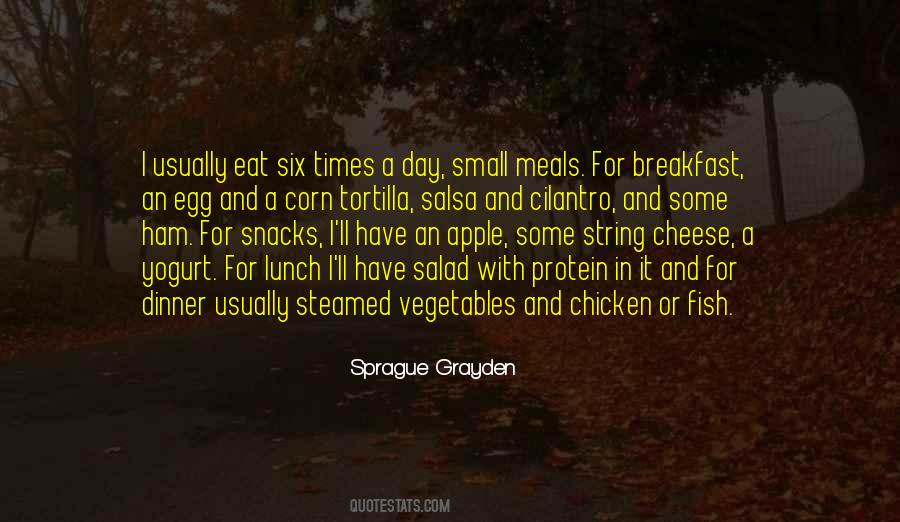 #49. I have many memories of waking up to eat breakfast that my mother carefully prepared for us and her saying, what do y'all want for lunch, and as we're eating lunch, what do y'all want for dinner? It's always about the next meal. - Author: Lisa Loeb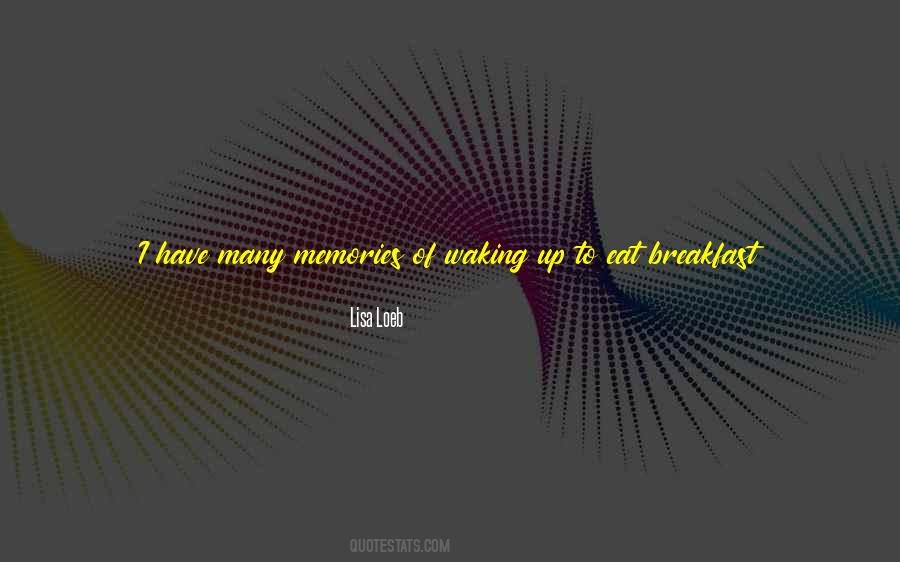 #50. Ask for the sale when the mood is right. The worst possible place is in the prospects' office. Best place is a business breakfast, lunch or dinner. Next best is your office. Next best is a trade show. Ask early, and ask often. - Author: Jeffrey Gitomer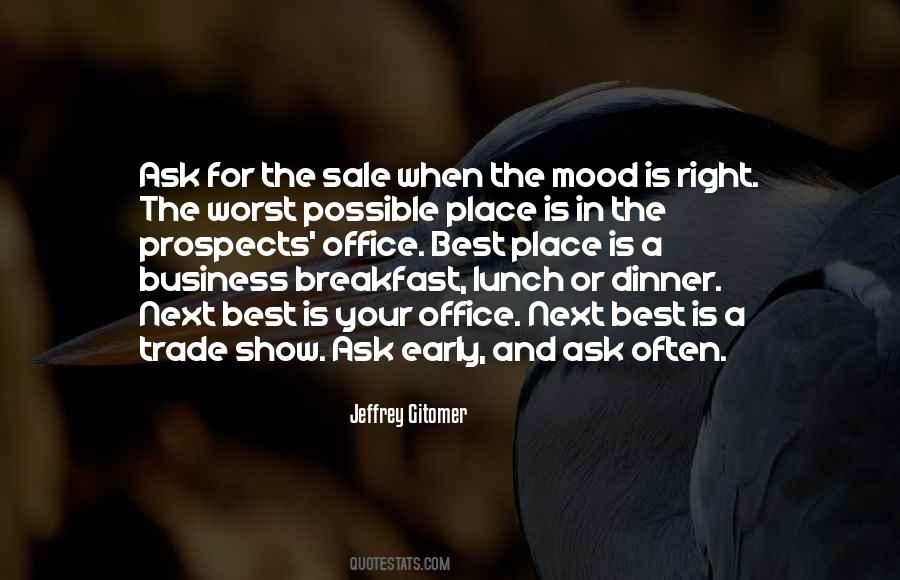 #51. I can direct breakfast, lunch, and dinner. I take pride in my kitchen, but I'm not going to direct a movie. - Author: Julia Roberts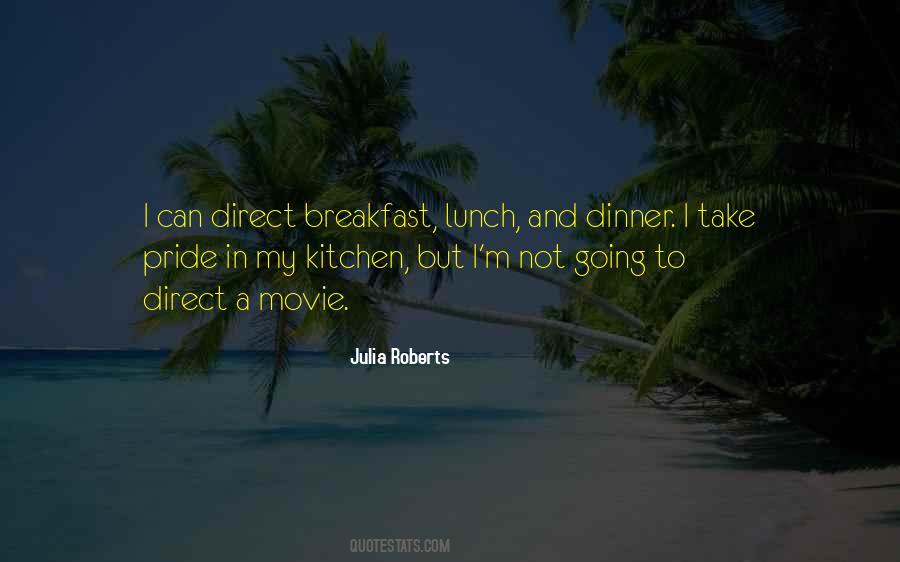 #52. Hot Cheetos! Ohhhhh! I used to crave them. I remember I used to eat them for breakfast, lunch and dinner. I had to stop. I had to turn it around because it was getting addicting. - Author: Rahim Moore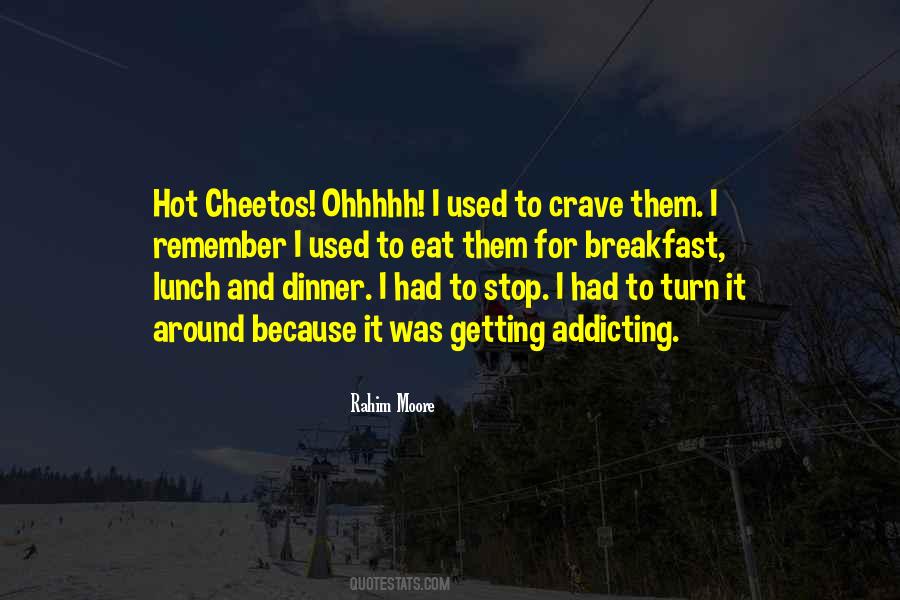 #53. Every single day we sit down to eat, breakfast, lunch, and dinner, and at our table we have food that was planted, picked, or harvested by a farm worker. Why is it that the people who do the most sacred work in our nation are the most oppressed, the most exploited? - Author: Dolores Huerta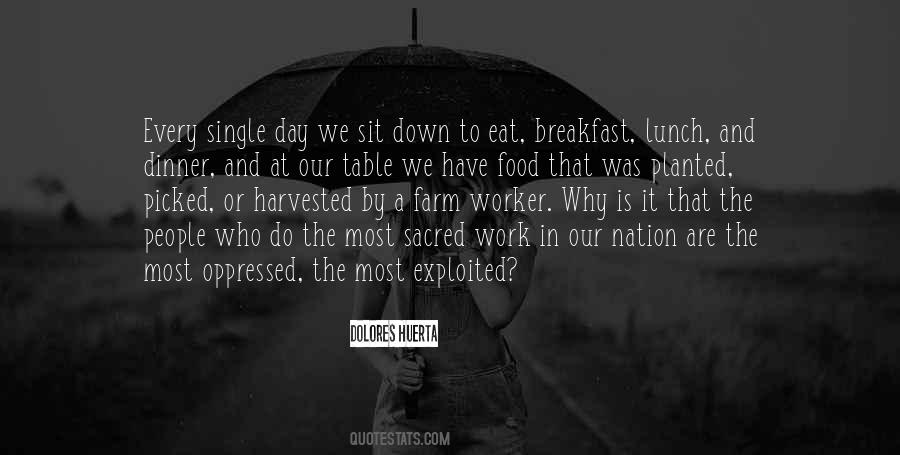 #54. If you had chicken at lunch and chicken at dinner, do you ever wonder if the two chickens knew each other? - Author: George Carlin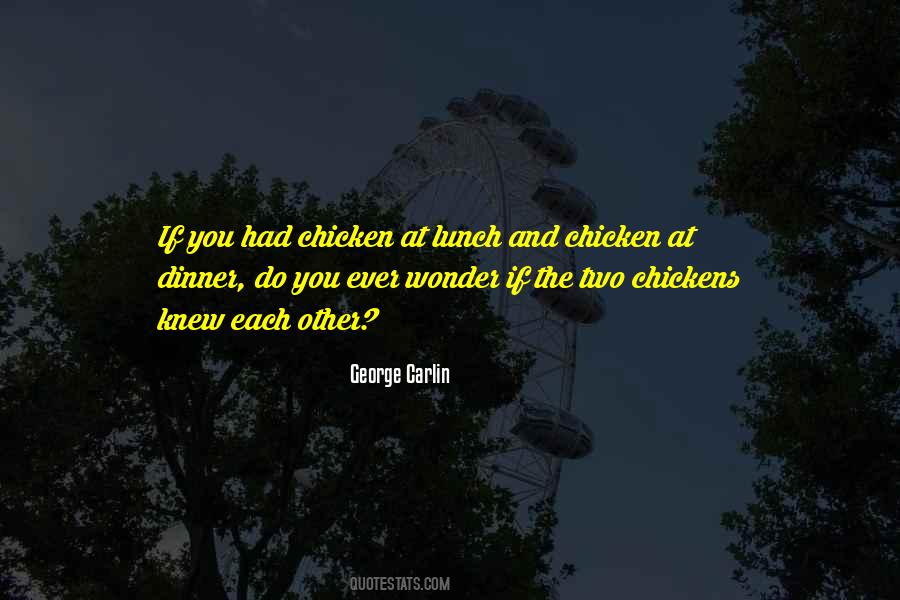 #55. I want to safeguard the value of lunch. For me, it is sacred. My family and I always have lunch and dinner together. And we always sit down. Food does not taste the same if you are standing up! - Author: Brunello Cucinelli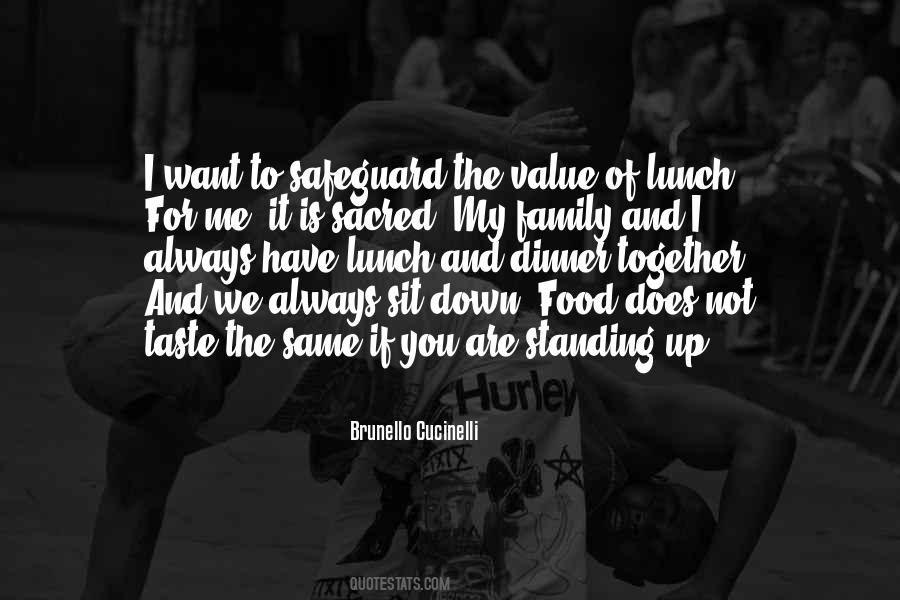 #56. I usually like to throw on some flip flops and go to a really nice lunch in Venice, or Santa Monica, or stay in and cook dinner. - Author: Ben Savage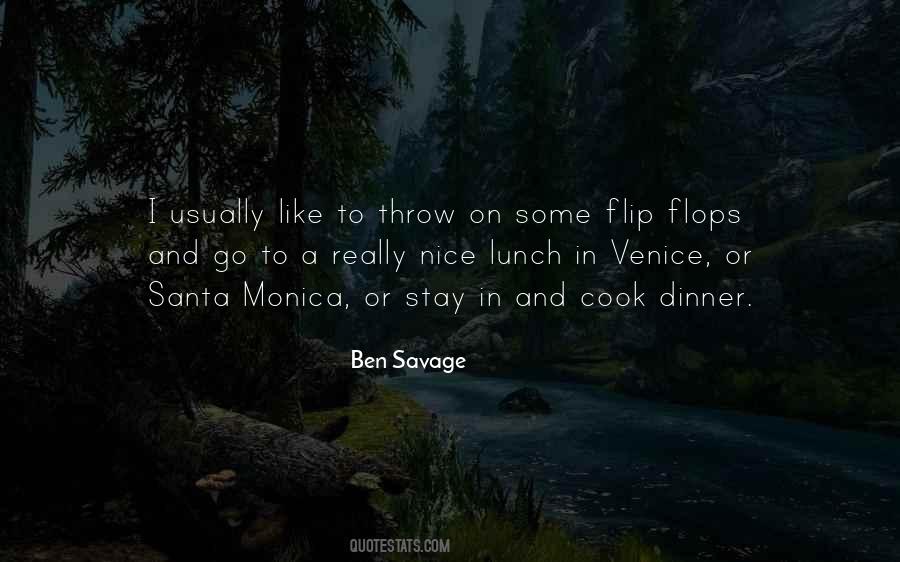 #57. Ours was a family in which everybody was constantly reading, and where literature, politics, history, and the events of the prize ring were discussed at breakfast, lunch, and dinner. - Author: Louis L'Amour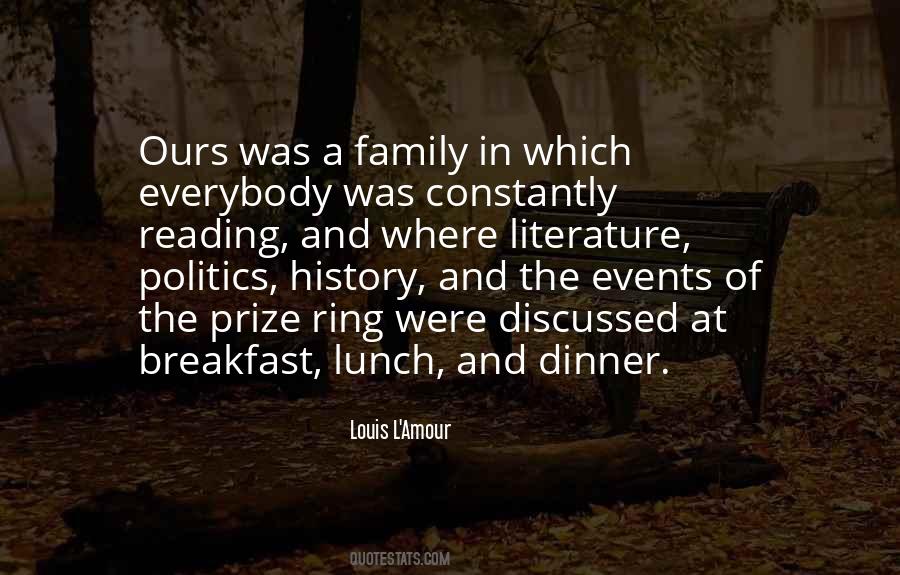 #58. I always have breakfast, say, scrambled egg whites, a vegetable smoothie, or whole-grain cereal with low-fat milk. For lunch and dinner, I eat a lot of fish and vegetables. And throughout the day, I try to stay hydrated. - Author: Beyonce Knowles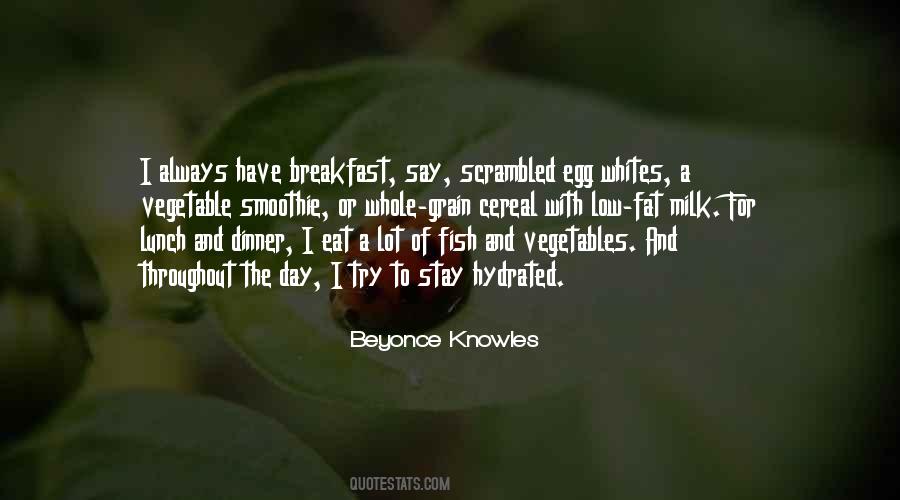 #59. If you accuse a man of murder, you might be believed, but if you accuse him of eating children for lunch and dinner like Gilles de Rais, no one will take you seriously. - Author: Umberto Eco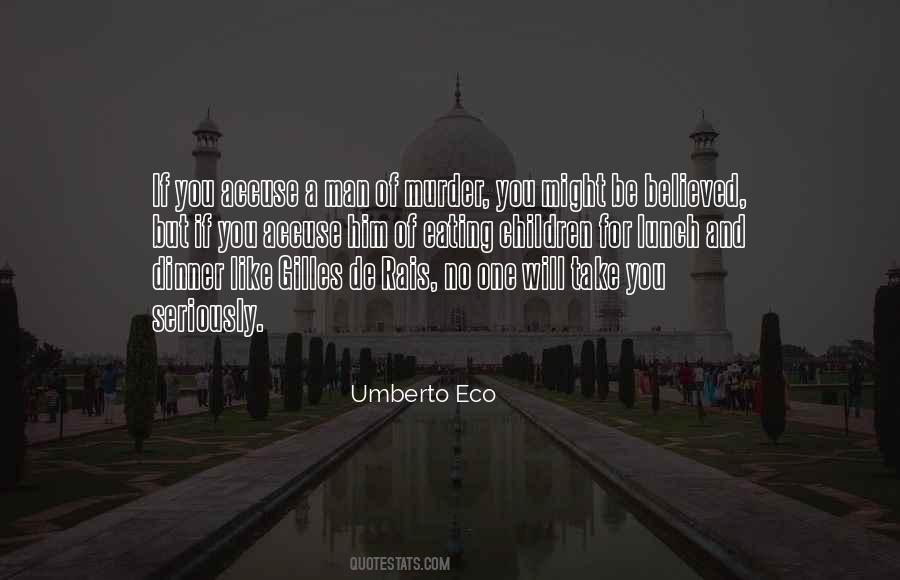 #60. They were most peculiar. And they eat pizza pie." "For breakfast?" "No, for lunch and dinner. But it's not a pie at all, it's a kind of bread with tomato sauce and cheese on it." "Sounds dreadful. - Author: Bill Bryson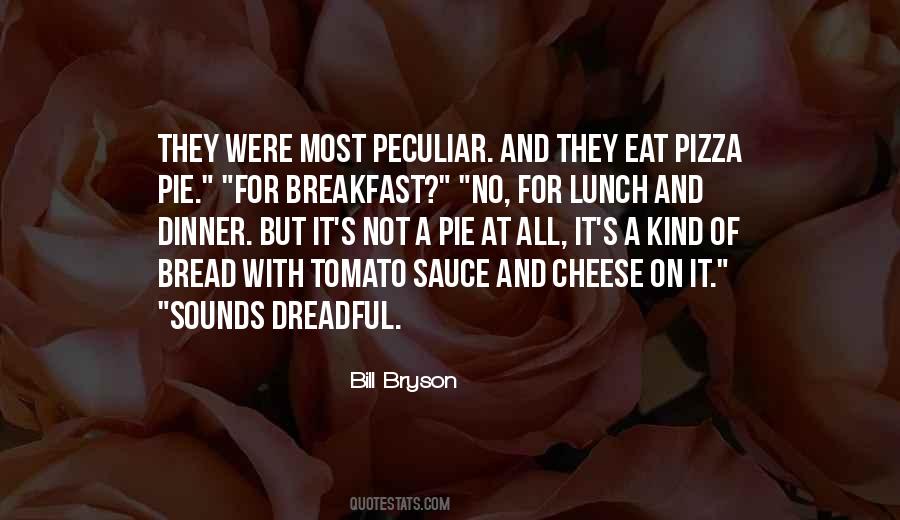 #61. I quite often don't have breakfast, and I never have lunch. I find it helps not to wake my stomach up because if I had a good big breakfast, I would be ready for a snack at 11 and then a three-course lunch, then I'd be ready for tea, then a cocktail and then an enormous dinner. - Author: Joanna Lumley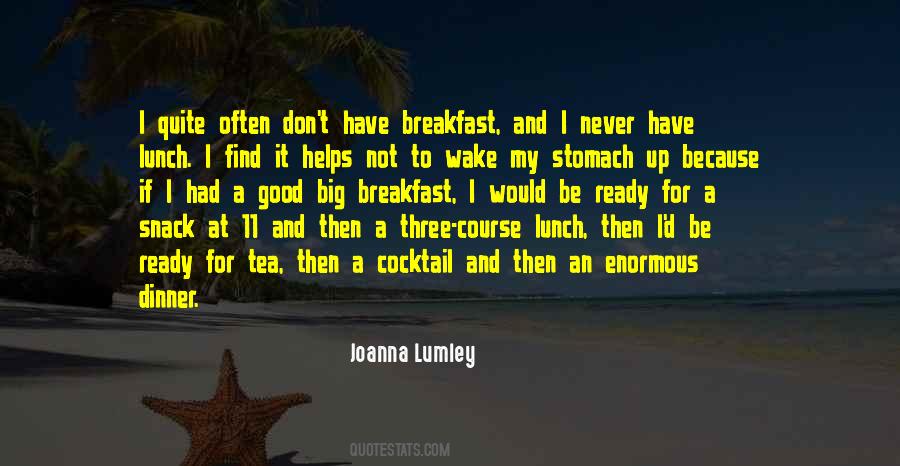 #62. How does someone find out between lunch and dinner one day that they aren't who they thought they were? - Author: Jason F. Wright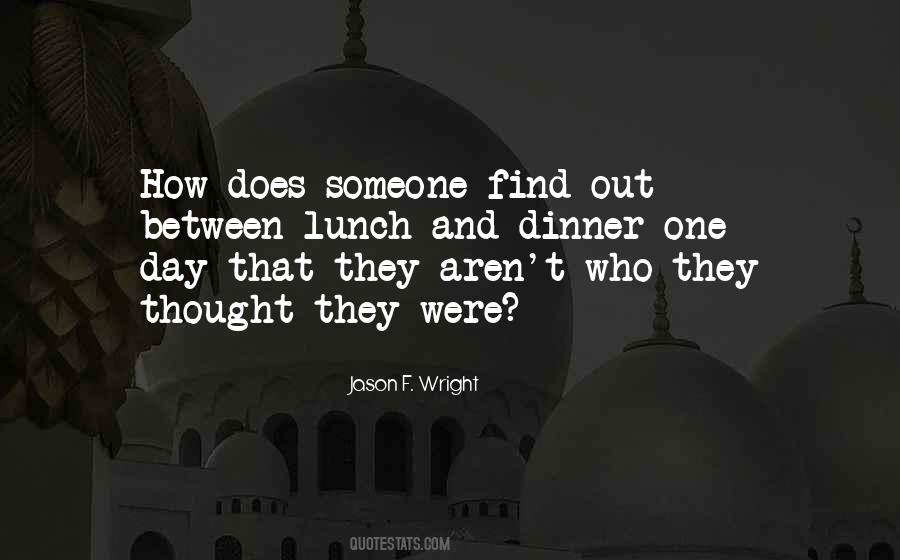 #63. I have a full Tuscan lunch and dinner every day in my home; my husband's a fantastic chef. - Author: Debi Mazar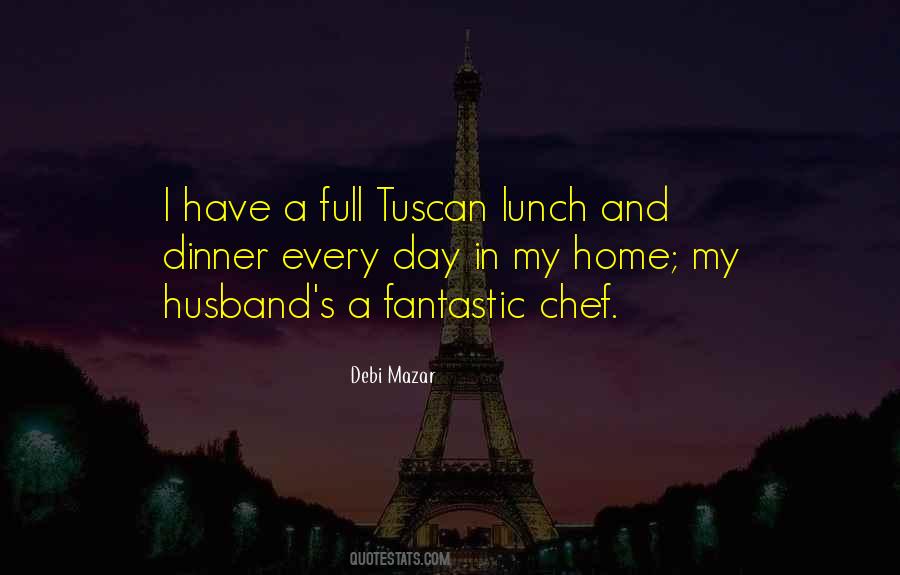 #64. It's just not possible to be a real partner if you aren't materially participating. I believe even the busiest business owners must drive a carpool, pack a lunch, help with homework, make a breakfast or dinner, and consistently attend school events. - Author: Scott Weiss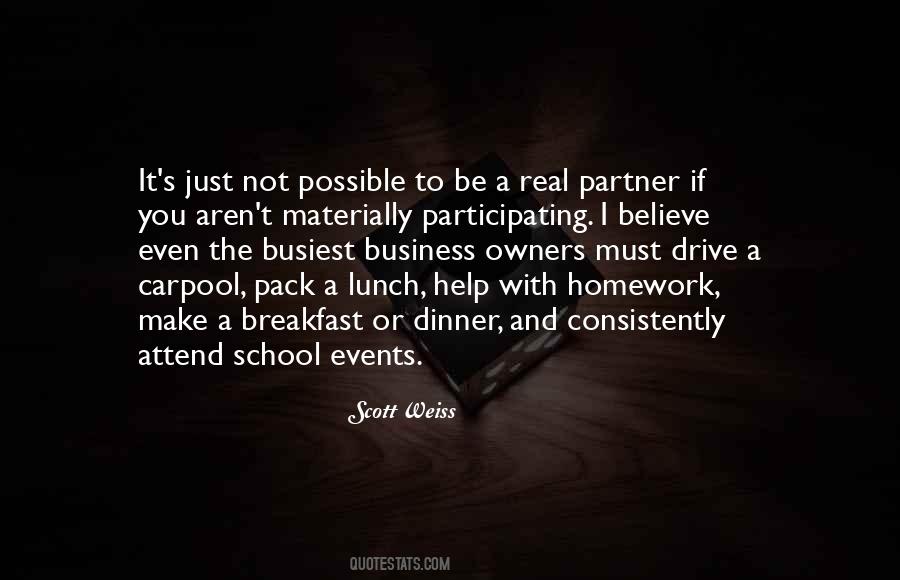 #65. If one swallows a cup of chocolate only three hours after a copious lunch, everything will be perfectly digested and there will still be room for dinner. - Author: Jean Anthelme Brillat-Savarin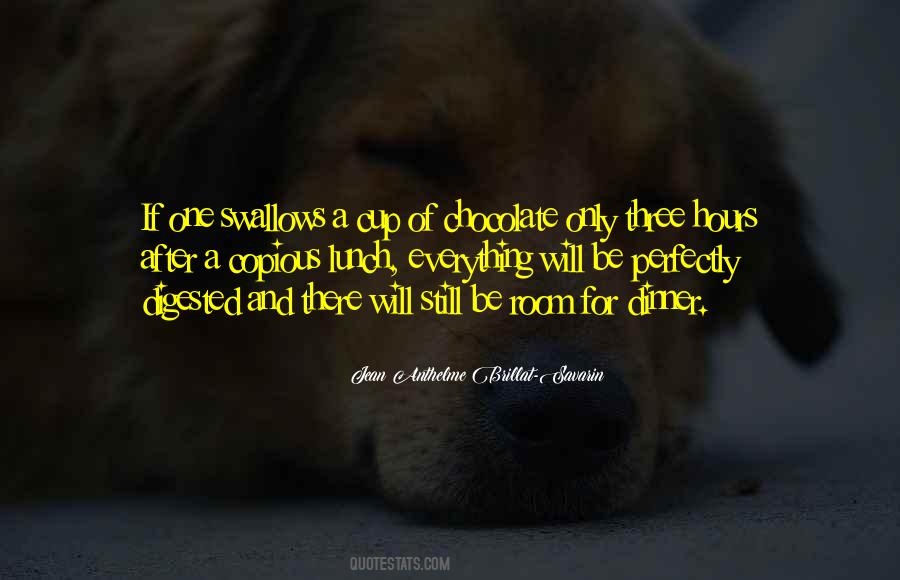 #66. I think in times of bizarre strangeness, what you can and should do is spend time with your family eating lunch or dinner. And if you can do that, you will restore us to the peace. - Author: Mario Batali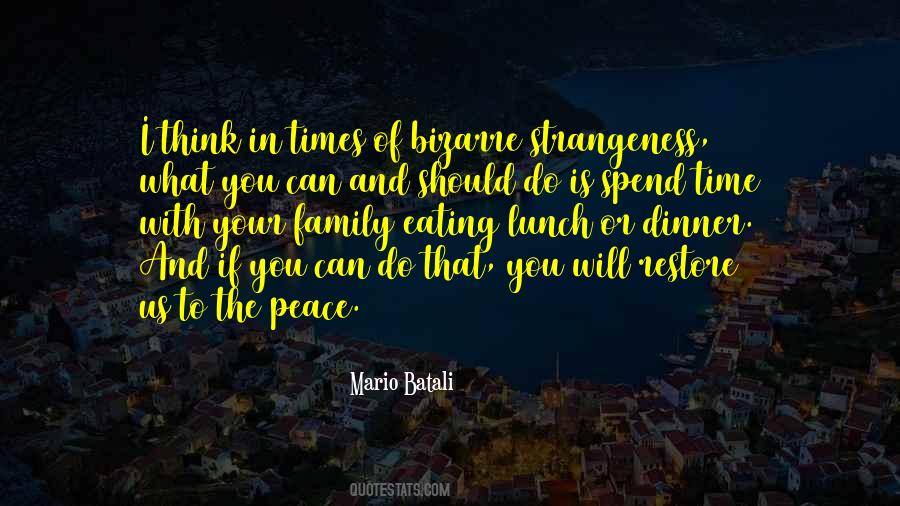 #67. The full California workup: shopping on Rodeo Drive, a ridiculously overpriced lunch at the Ivy, an afternoon at the beach, and dinner at a quaint outdoor bistro in Santa Monica. - Author: Julie James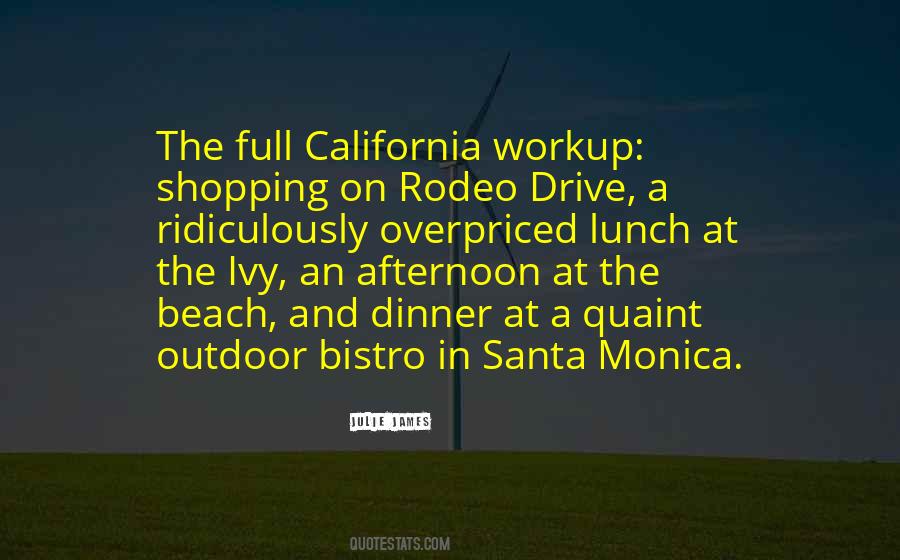 #68. You must sleep sometime between lunch and dinner, and no halfway measures. Take off your clothes and get into bed. That's what I always do. - Author: Winston Churchill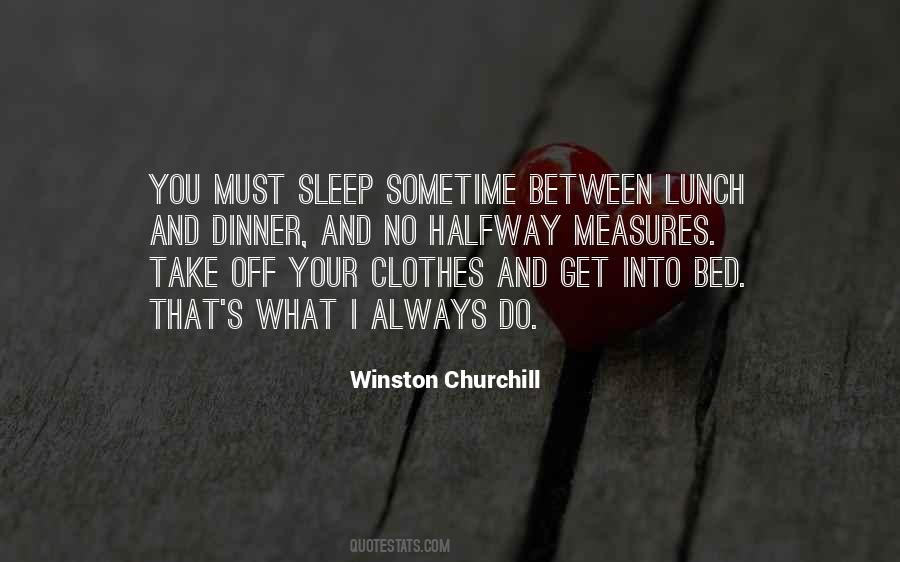 #69. I don't have a huge breakfast, and I sometimes forget to have lunch, so I focus on dinner. I love Thai and Japanese food. - Author: Saffron Aldridge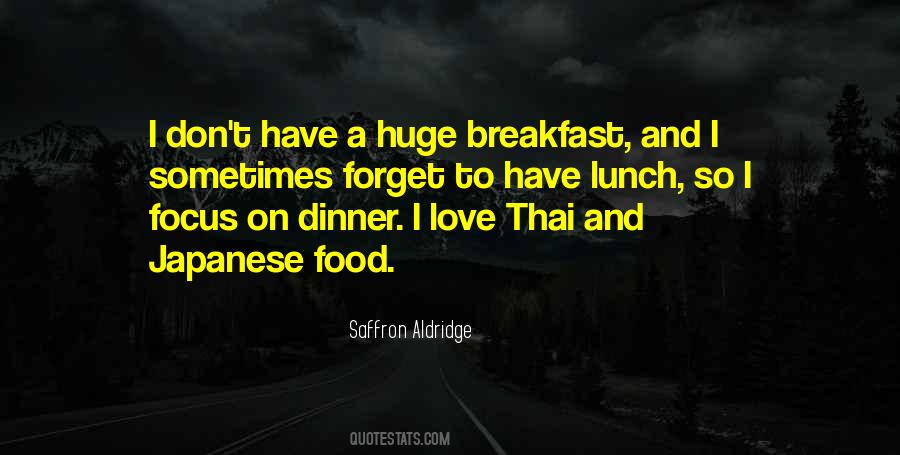 #70. The only difference between working on a huge-budget film and a lesser-budget film, is the quality of lunch and dinner. - Author: Ving Rhames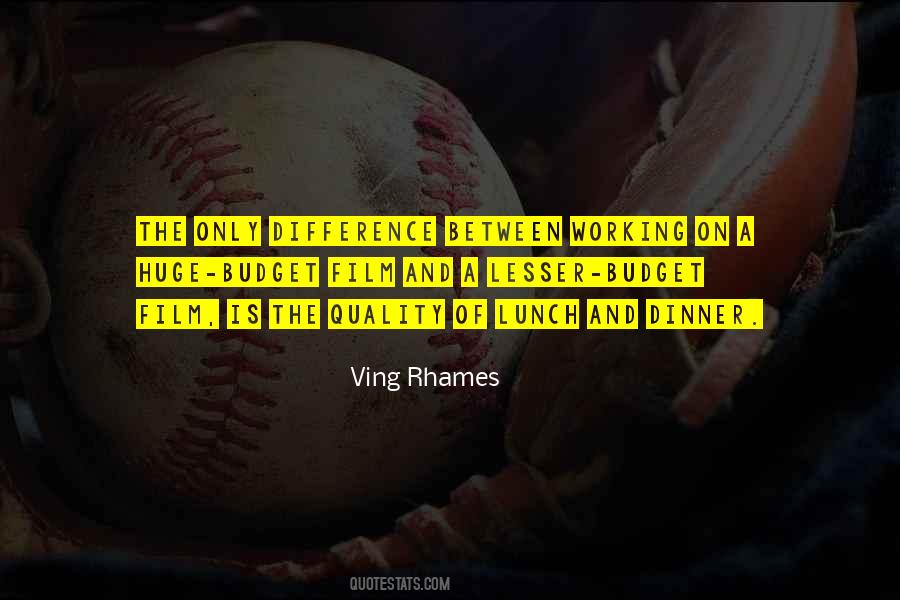 #71. More business decisions occur over lunch and dinner than at any other time, yet no MBA courses are given on the subject. - Author: Peter Drucker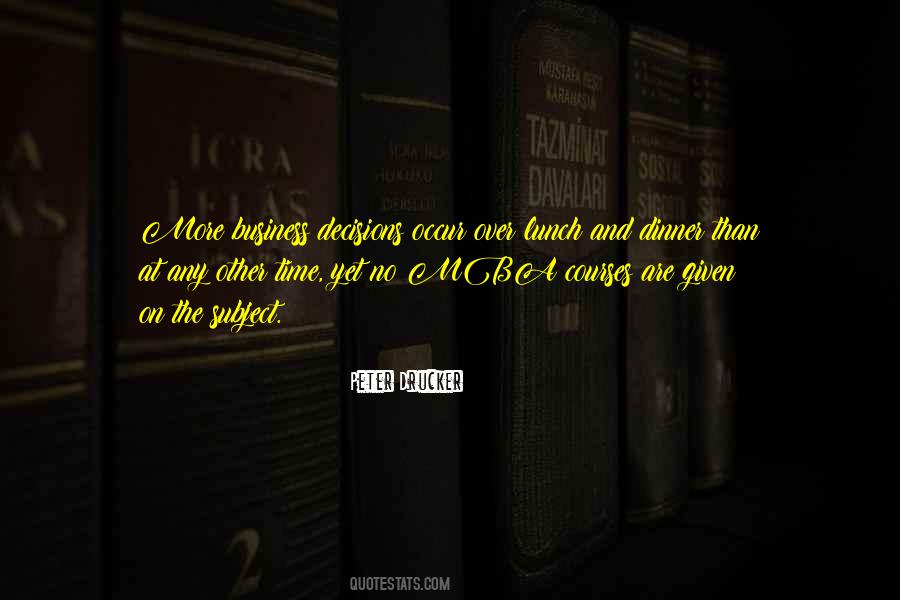 #72. I'm happy to see that we're stopping to eat some dinner, since we didn't actually eat lunch today. Instead we just argued, I pouted, slapped him, bojo'd him, and then I came like a freight train. I've had a very busy day. - Author: Ella Dominguez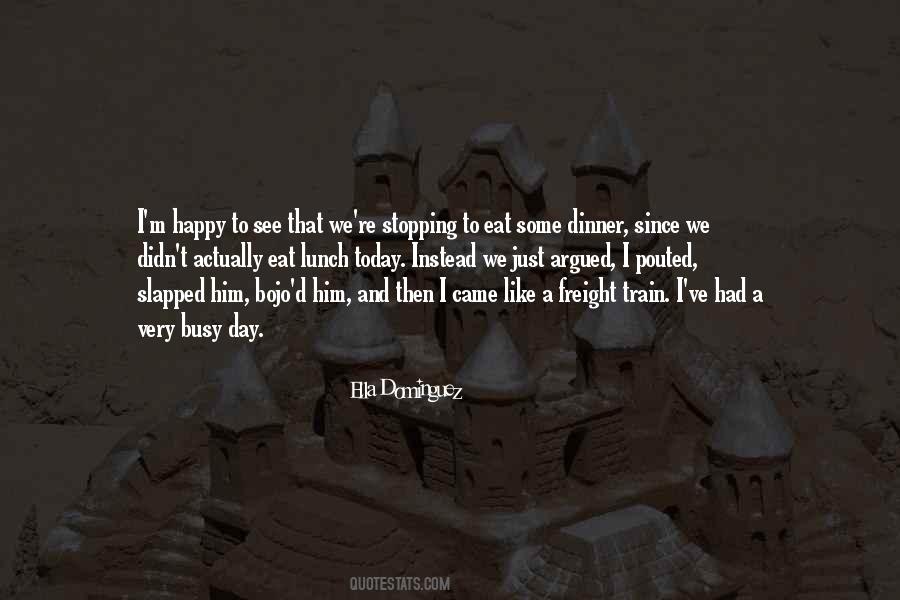 #73. I'm an afternoon tea type of girl. I come from a Russian background where we love our teas. So between lunch and dinner after training I come home and I love a nice cup of tea with jam in it, as we drink it there. Black English Breakfast with raspberry jam is my favorite. - Author: Maria Sharapova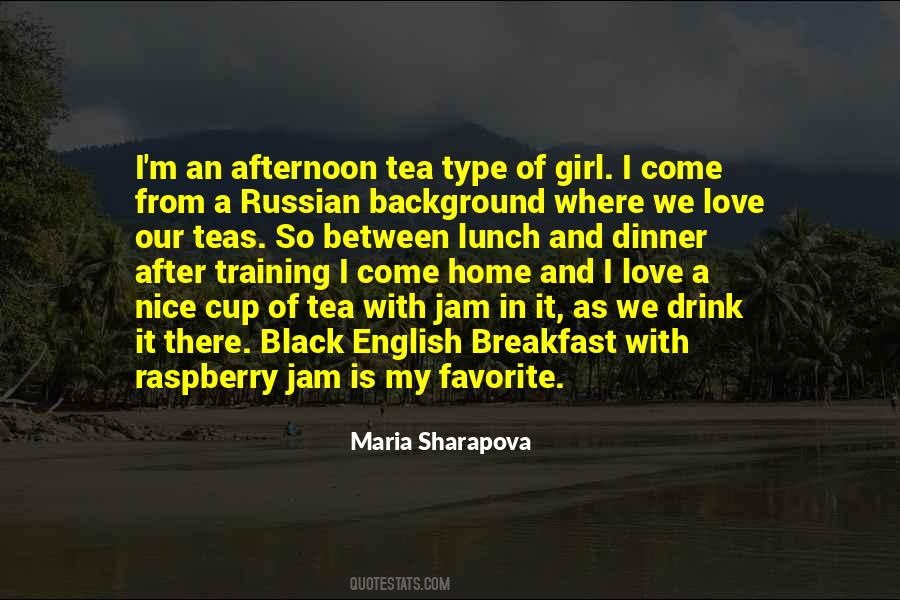 #74. I enter my studio at 9 a.m. I have lunch here, I return right away to my work and I go out to dinner at 8 p.m. My daily tasks vary very much. - Author: Oscar Niemeyer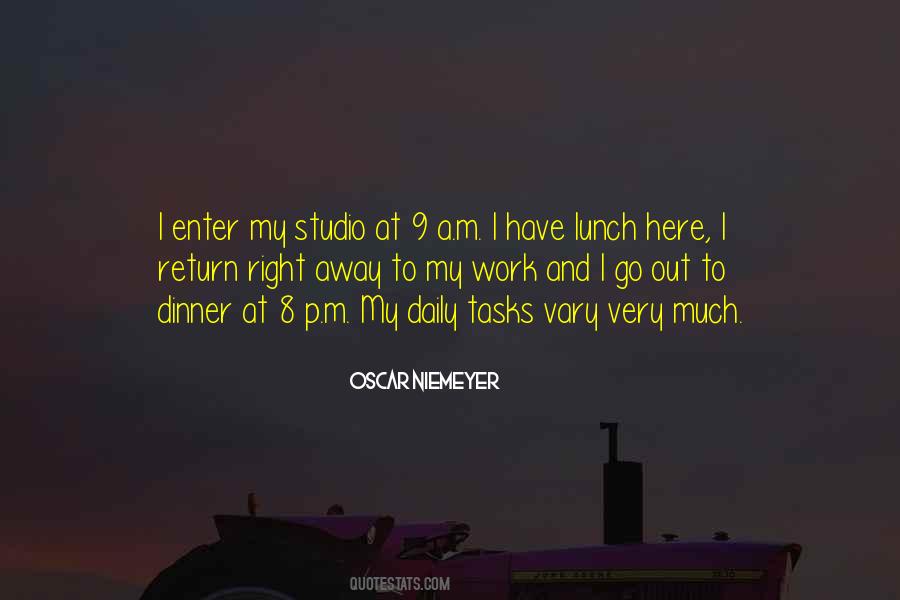 #75. On the three pigs he and his wife own: We acquired the pigs last year. My wife was born on a pig farm and has always been very fond of pigs. Of course, they are for eating, which is why they are named Breakfast, Lunch and Dinner. You wouldn't want to eat Rufus, Marcus and Esmeralda. - Author: John Mortimer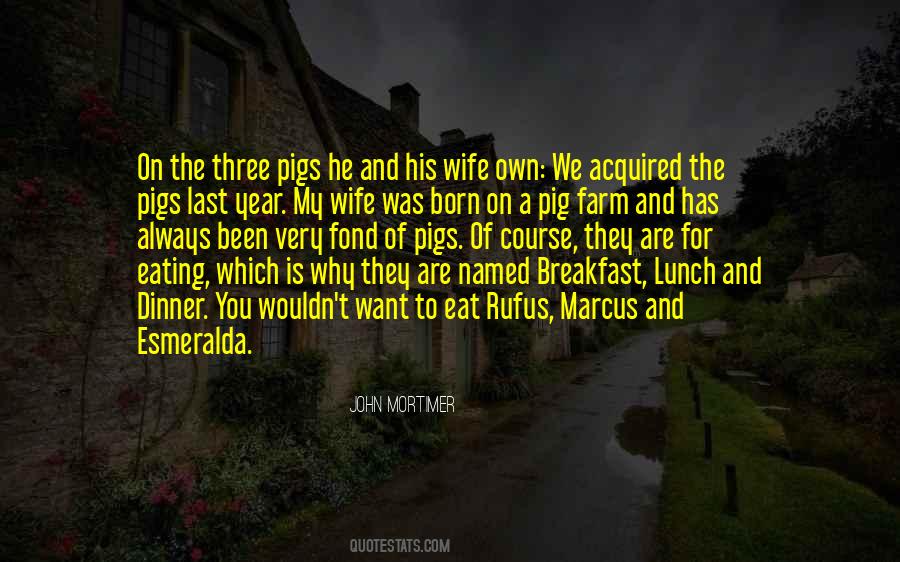 #76. I definitely have a family. I have a boyfriend who has kids, and we do normal things every day, like get up and go to school. Eat breakfast, lunch and dinner. - Author: Tina Yothers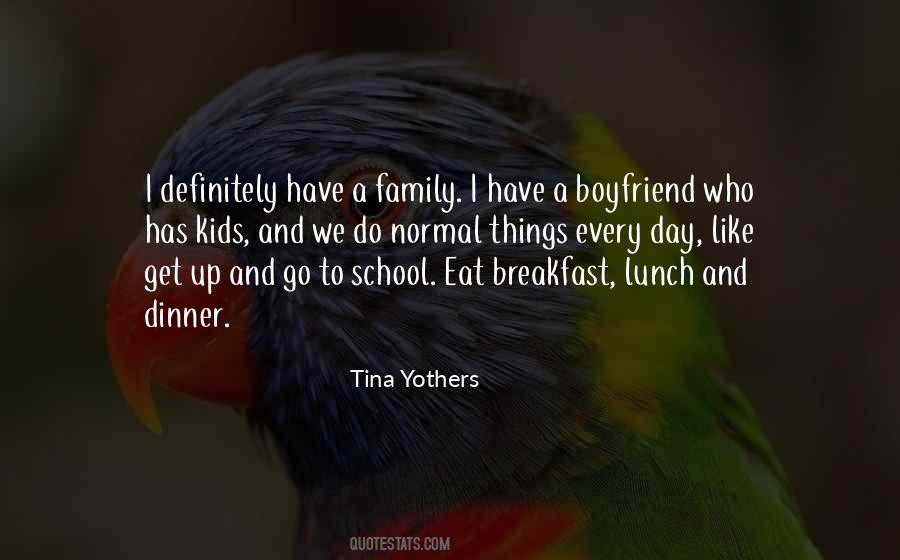 #77. Now there is something about [Tuukka] you probably don't know and that is he loves chicken wings more than any person I've ever met in my life. If he could eat them for breakfast, lunch and dinner he would. - Author: Brad Marchand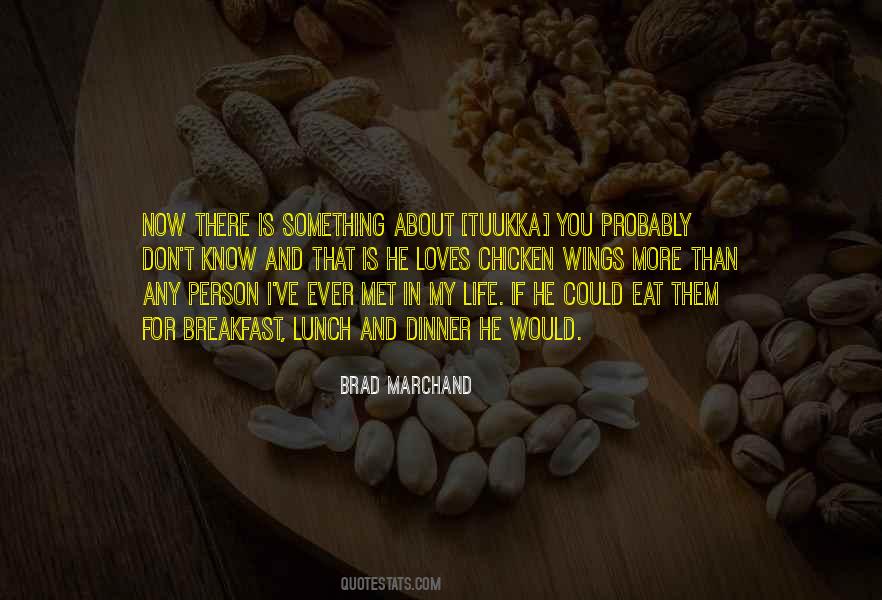 #78. I refuse to work evenings or weekends. If a script sees my character meeting for dinner, I put a line through the words and make them meet for lunch. - Author: Armando Iannucci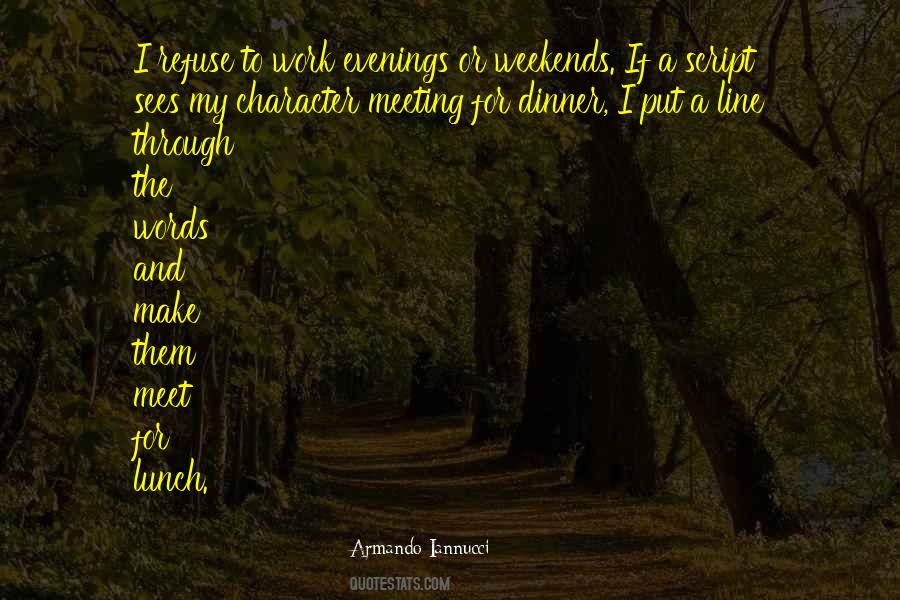 #79. It [Foucault's Pendulum] can be very comforting for people of my generation, who ate disappointment for breakfast, lunch, and dinner. - Author: Umberto Eco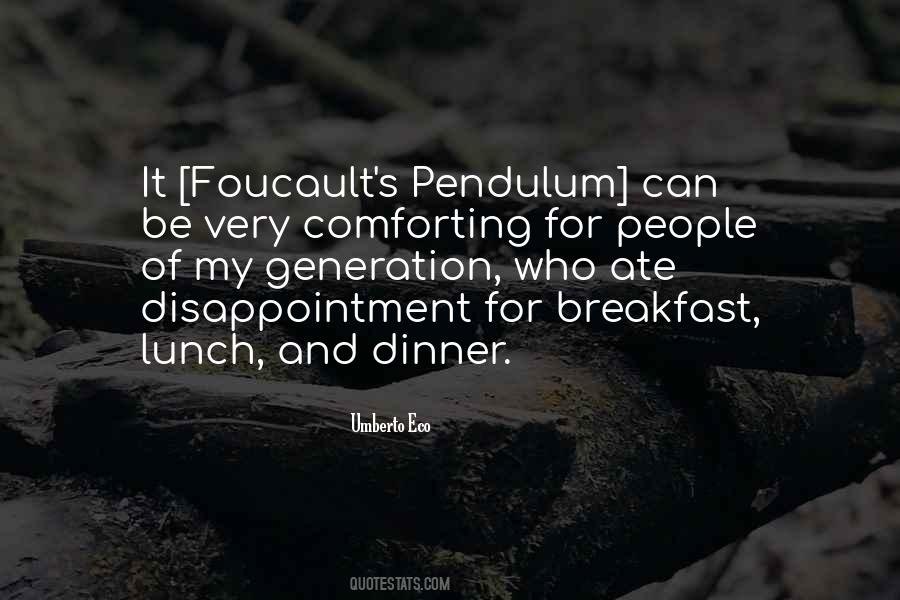 #80. Luncher is a combo of lunch and dinner. Too late for lunch, but too early for dinner. Trademark pending. - Author: Gena Showalter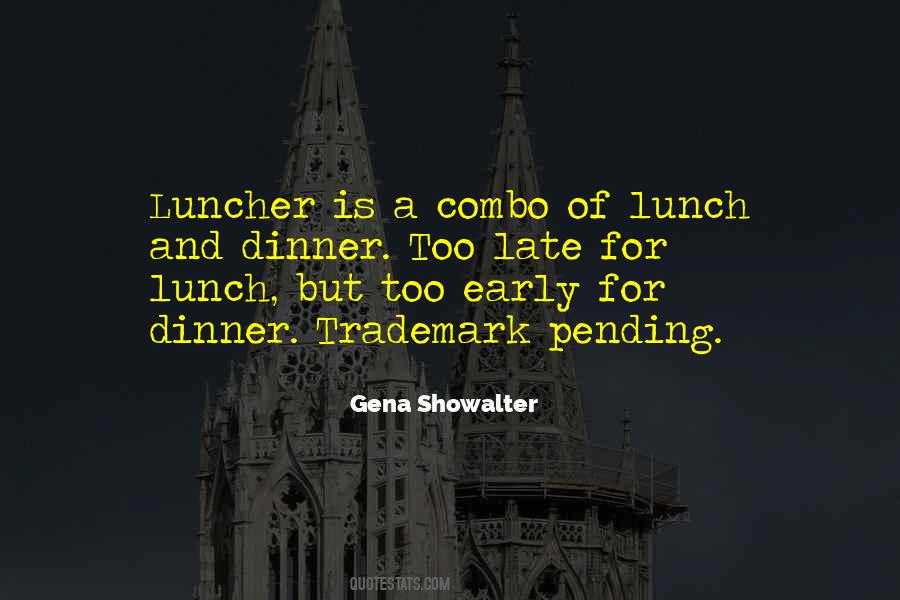 #81. Eat breakfast like a king, lunch like a prince, and dinner like a pauper. - Author: Adelle Davis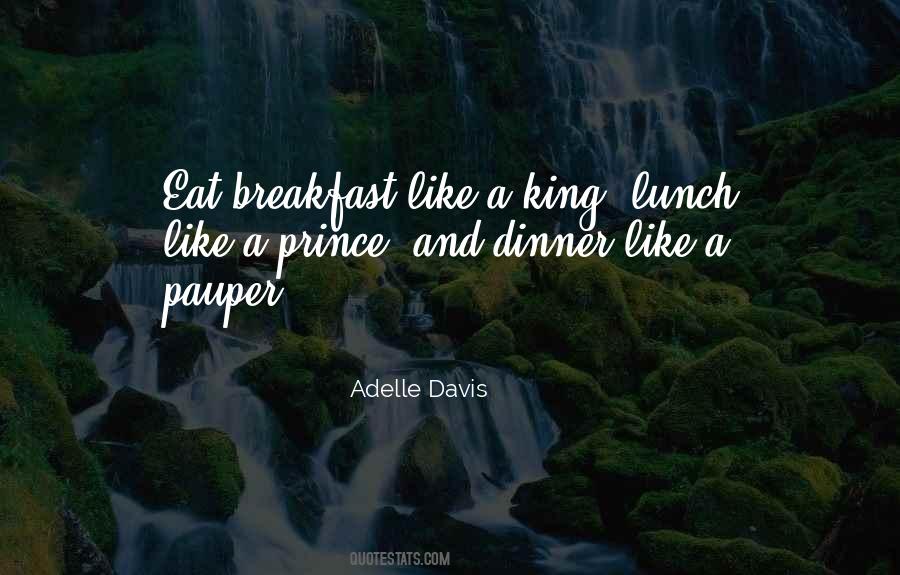 #82. It looked like the kind of dog that ate babies for breakfast, old men for lunch, and virgin sacrifices for dinner. - Author: Francesca Zappia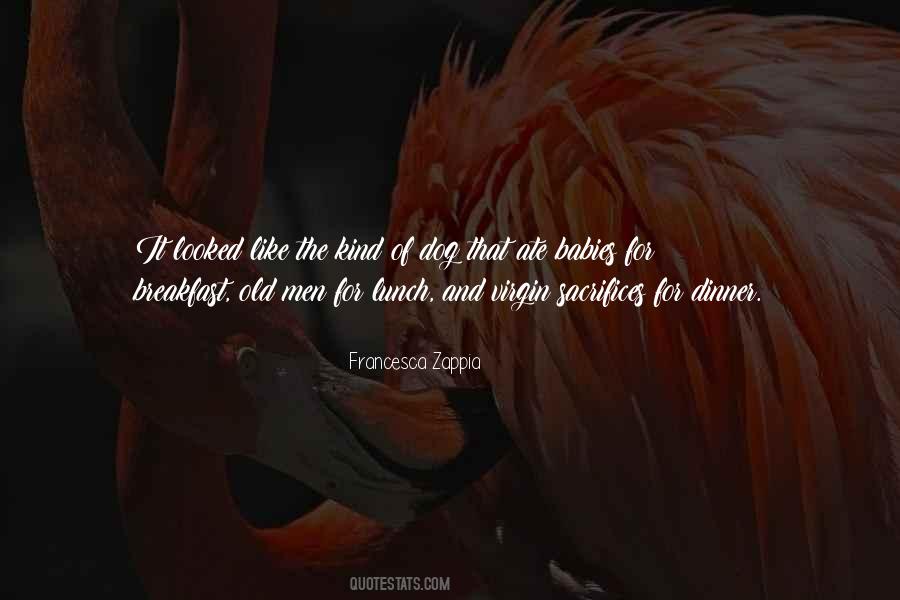 #83. I think people in Italy live their lives better than we do. It's an older country, and they've learned to celebrate dinner and lunch, whereas we sort of eat as quickly as we can to get through it. - Author: George Clooney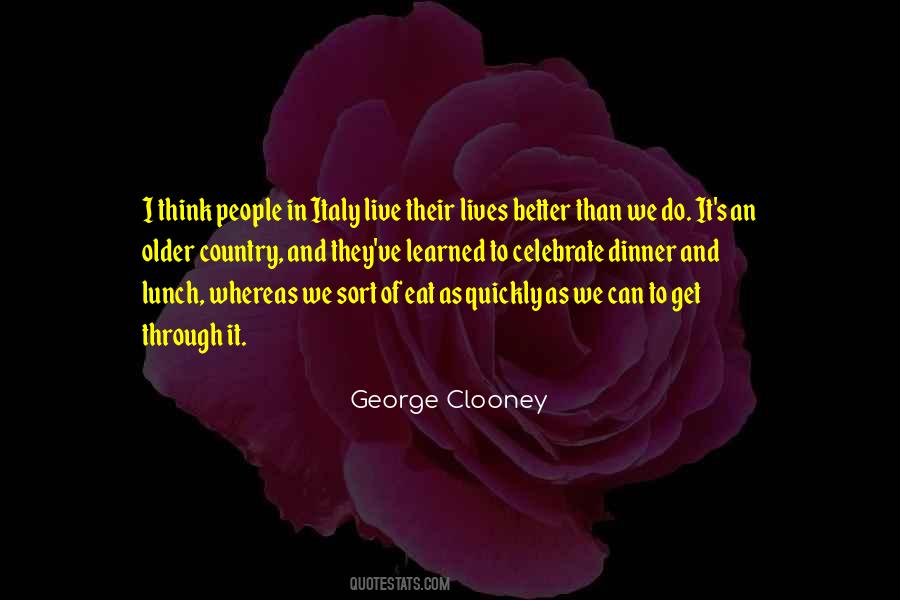 #84. Changing my diet was the big thing. I had to learn correct portion control ... I eat an egg-white omelet for breakfast, shrimp and veggies for lunch, and chicken with asparagus for dinner. - Author: Lauren Alaina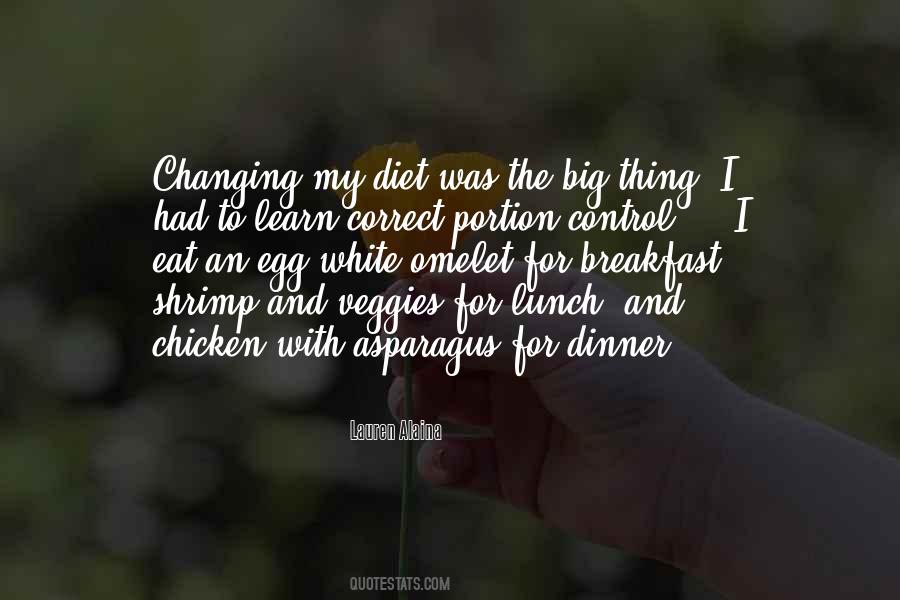 Famous Authors
Popular Topics