Breakfast Lunch And Dinner Famous Quotes & Sayings
List of top 46 famous quotes and sayings about breakfast lunch and dinner to read and share with friends on your Facebook, Twitter, blogs.
Top 46 Quotes About Breakfast Lunch And Dinner
#1. On the three pigs he and his wife own: We acquired the pigs last year. My wife was born on a pig farm and has always been very fond of pigs. Of course, they are for eating, which is why they are named Breakfast, Lunch and Dinner. You wouldn't want to eat Rufus, Marcus and Esmeralda. - Author: John Mortimer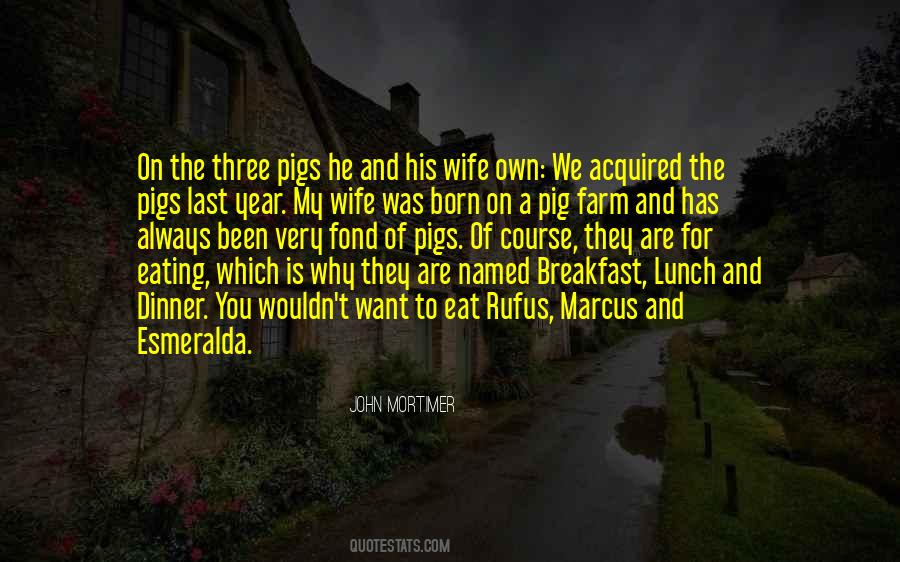 #2. I quite often don't have breakfast, and I never have lunch. I find it helps not to wake my stomach up because if I had a good big breakfast, I would be ready for a snack at 11 and then a three-course lunch, then I'd be ready for tea, then a cocktail and then an enormous dinner. - Author: Joanna Lumley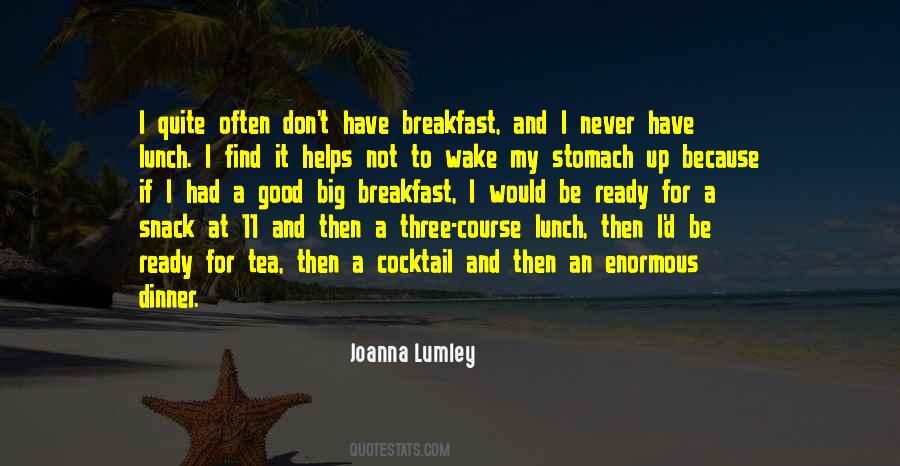 #3. They were most peculiar. And they eat pizza pie." "For breakfast?" "No, for lunch and dinner. But it's not a pie at all, it's a kind of bread with tomato sauce and cheese on it." "Sounds dreadful. - Author: Bill Bryson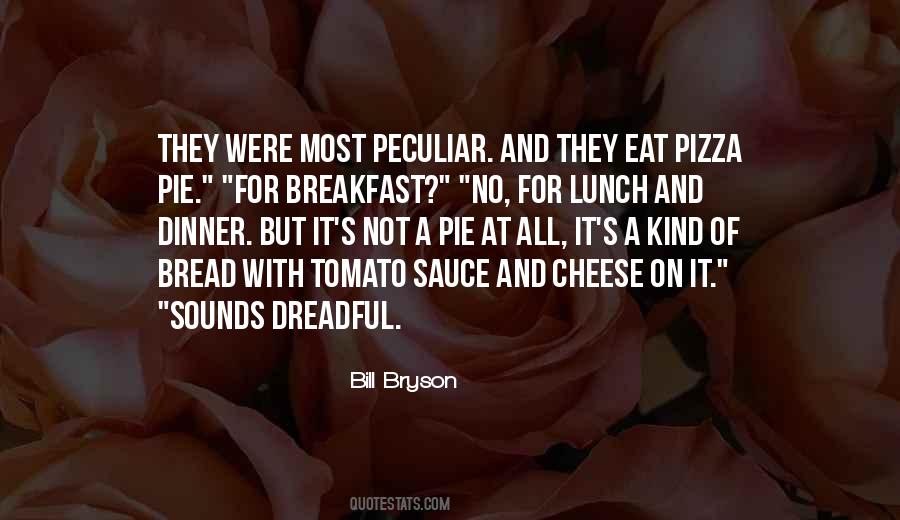 #4. I always have breakfast, say, scrambled egg whites, a vegetable smoothie, or whole-grain cereal with low-fat milk. For lunch and dinner, I eat a lot of fish and vegetables. And throughout the day, I try to stay hydrated. - Author: Beyonce Knowles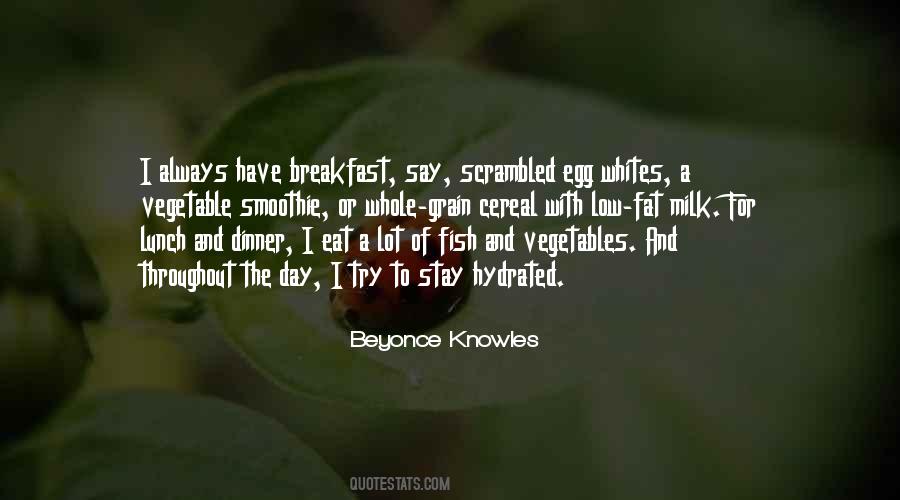 #5. Ours was a family in which everybody was constantly reading, and where literature, politics, history, and the events of the prize ring were discussed at breakfast, lunch, and dinner. - Author: Louis L'Amour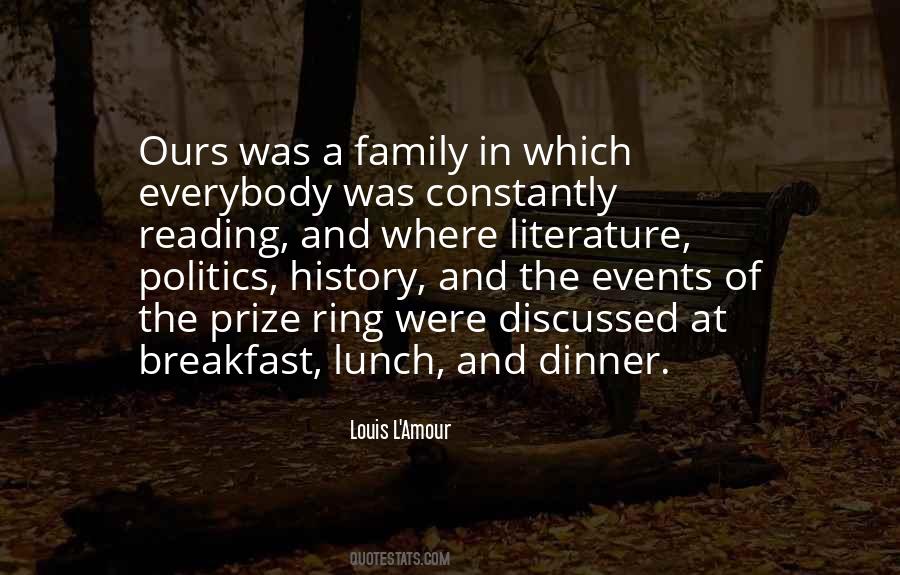 #6. Every single day we sit down to eat, breakfast, lunch, and dinner, and at our table we have food that was planted, picked, or harvested by a farm worker. Why is it that the people who do the most sacred work in our nation are the most oppressed, the most exploited? - Author: Dolores Huerta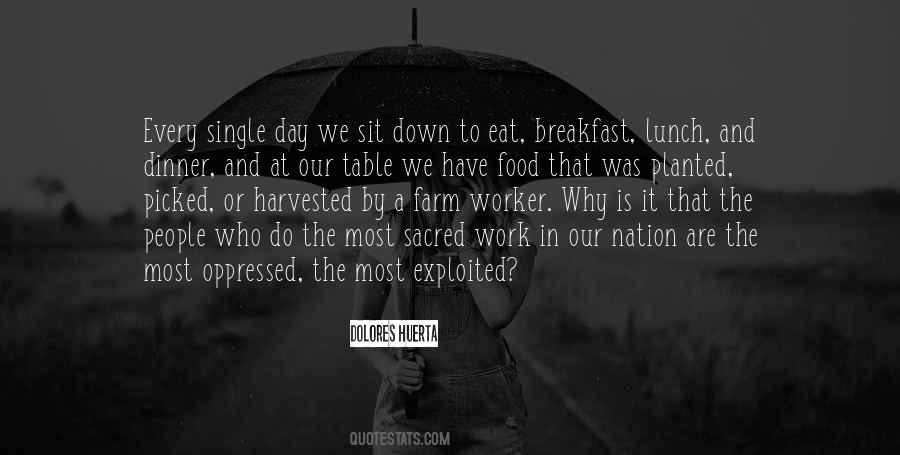 #7. Hot Cheetos! Ohhhhh! I used to crave them. I remember I used to eat them for breakfast, lunch and dinner. I had to stop. I had to turn it around because it was getting addicting. - Author: Rahim Moore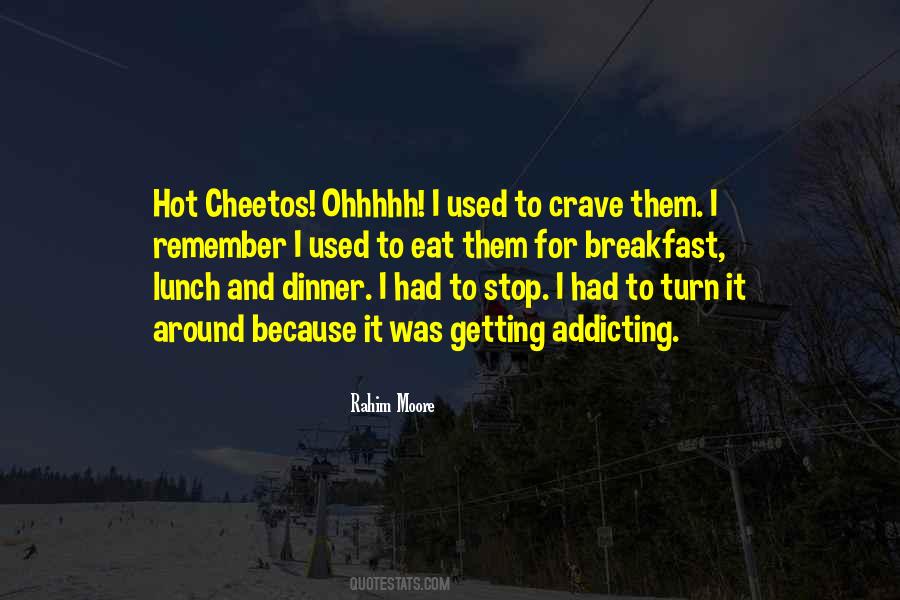 #8. I can direct breakfast, lunch, and dinner. I take pride in my kitchen, but I'm not going to direct a movie. - Author: Julia Roberts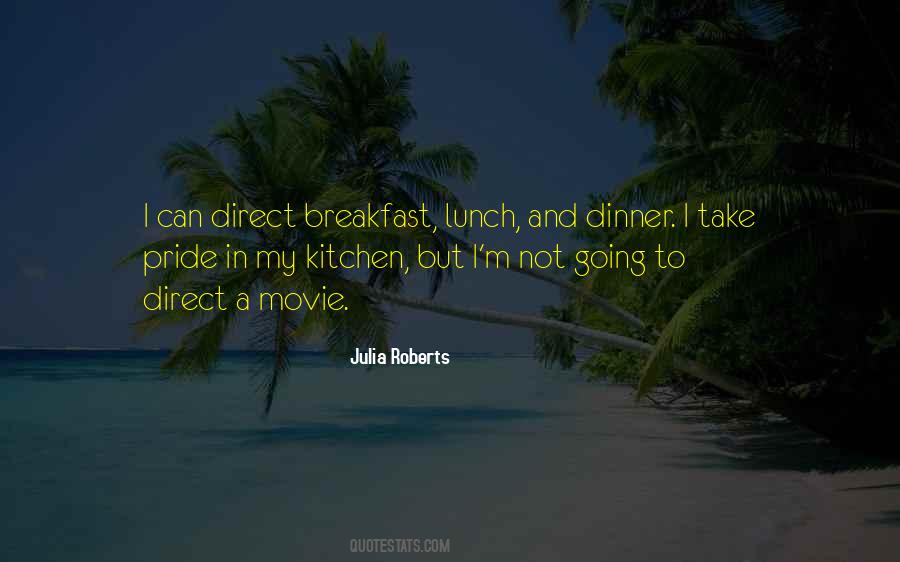 #9. Ask for the sale when the mood is right. The worst possible place is in the prospects' office. Best place is a business breakfast, lunch or dinner. Next best is your office. Next best is a trade show. Ask early, and ask often. - Author: Jeffrey Gitomer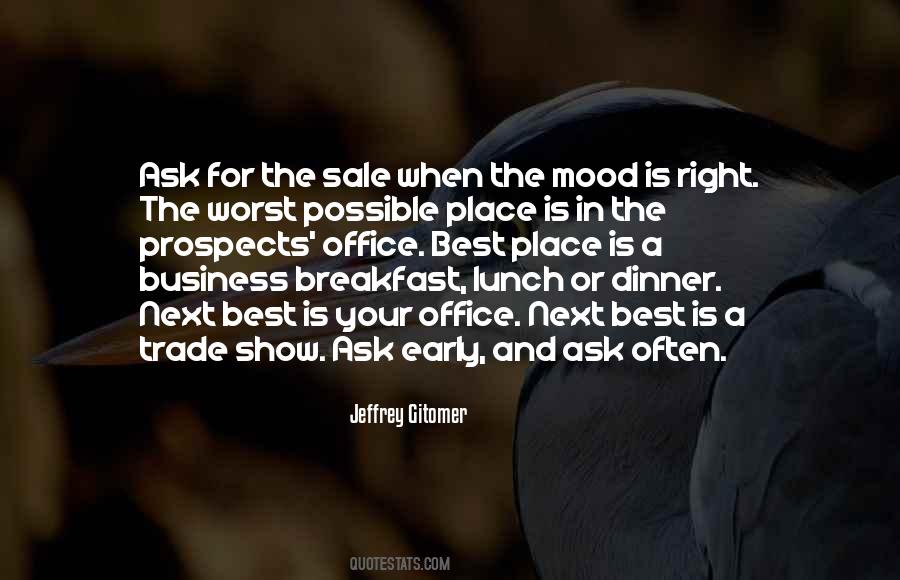 #10. I have many memories of waking up to eat breakfast that my mother carefully prepared for us and her saying, what do y'all want for lunch, and as we're eating lunch, what do y'all want for dinner? It's always about the next meal. - Author: Lisa Loeb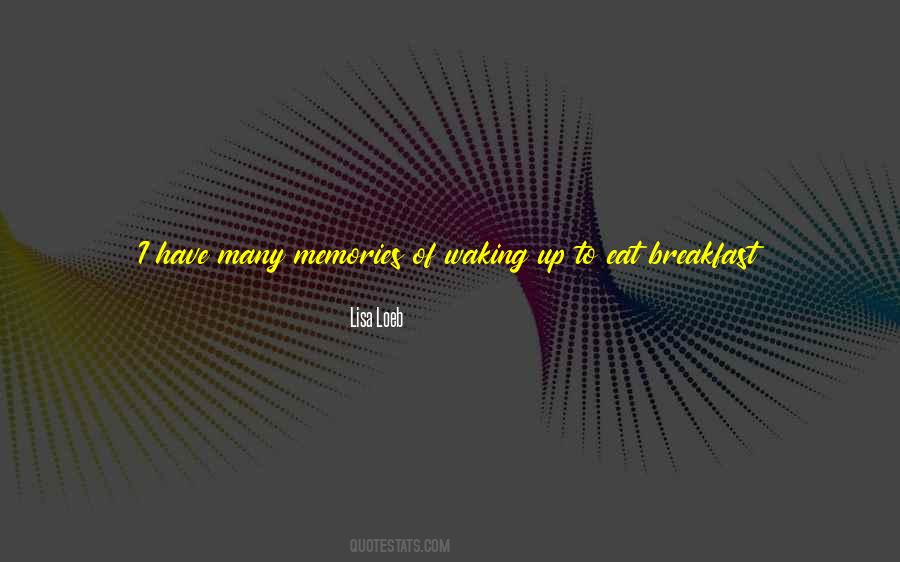 #11. I usually eat six times a day, small meals. For breakfast, an egg and a corn tortilla, salsa and cilantro, and some ham. For snacks, I'll have an apple, some string cheese, a yogurt. For lunch I'll have salad with protein in it and for dinner usually steamed vegetables and chicken or fish. - Author: Sprague Grayden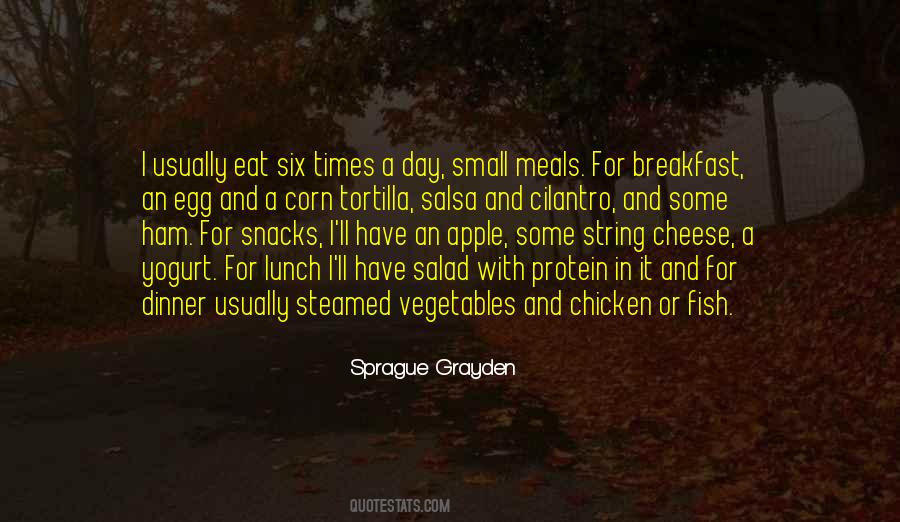 #12. The only extra plates ever permitted are the bread and butter plates which are put on at breakfast and lunch and supper above and to the left of the forks, but never at dinner. - Author: Emily Post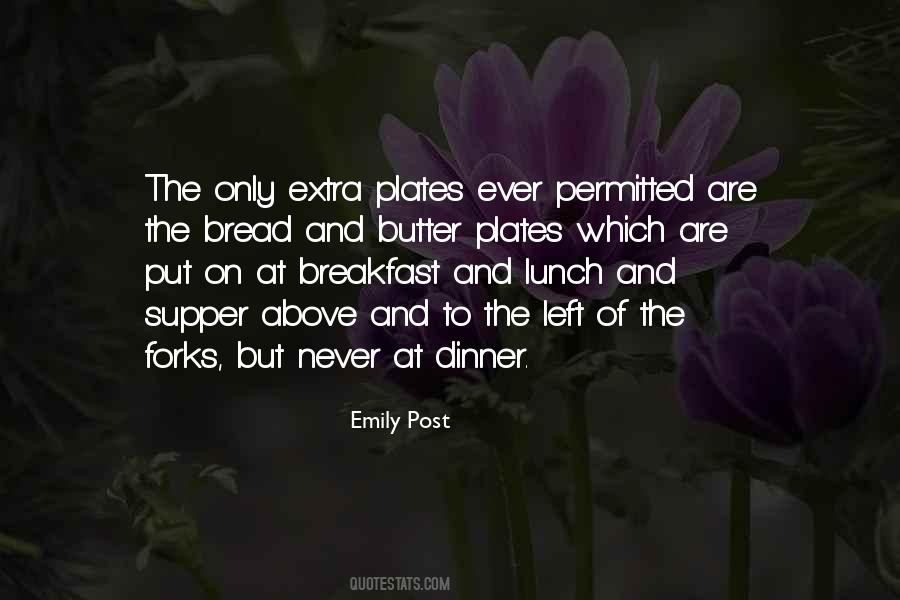 #13. If you've ever been in the West Wing, it's like a little rabbit warren. Everybody's crammed in there on top of each other, and you're eating breakfast, lunch, and dinner at the mess with people. And so you really get to know each other very well. So, I think they just weren't worried. - Author: Donald Verrilli Jr.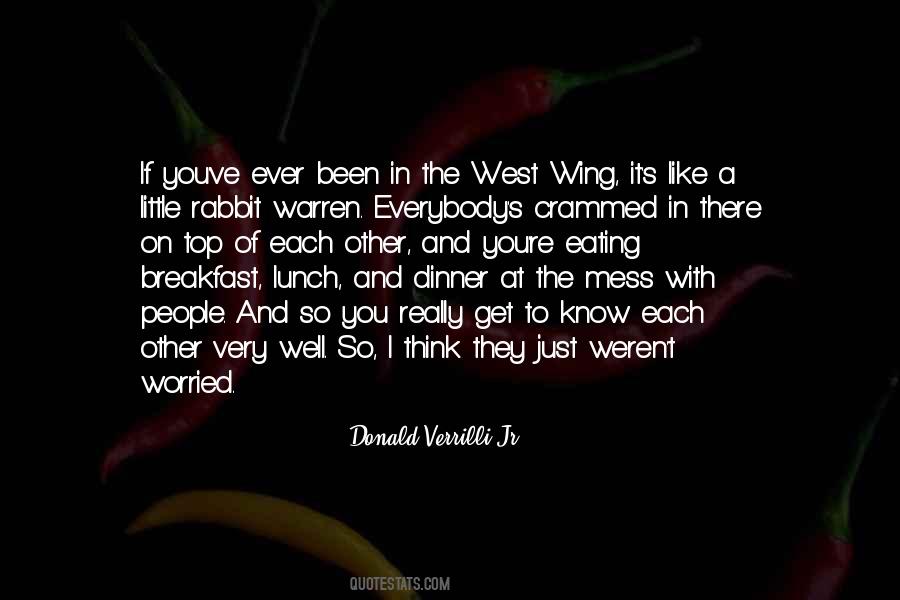 #14. A bachelor's life is a fine breakfast, a flat lunch, and a miserable dinner. - Author: Francis Bacon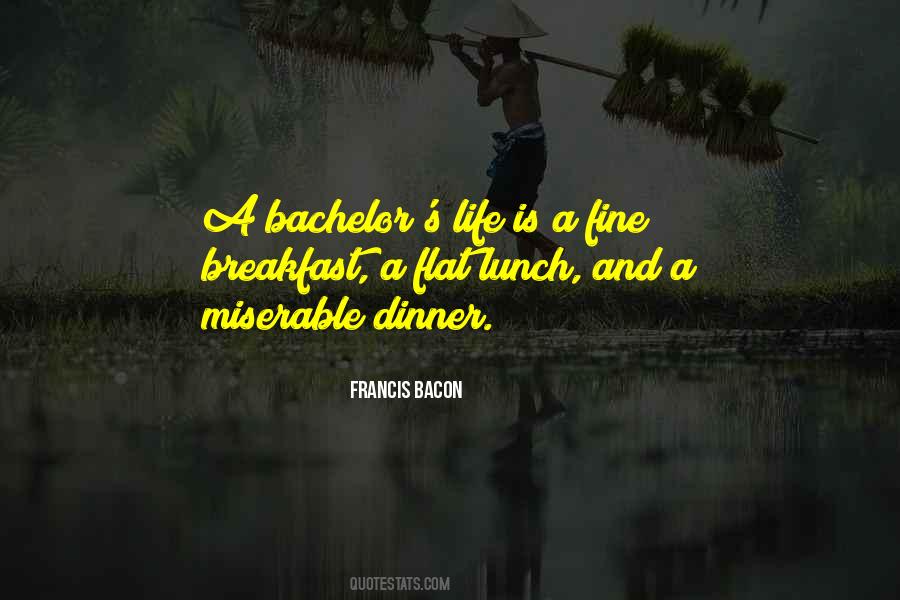 #15. Changing my diet was the big thing. I had to learn correct portion control ... I eat an egg-white omelet for breakfast, shrimp and veggies for lunch, and chicken with asparagus for dinner. - Author: Lauren Alaina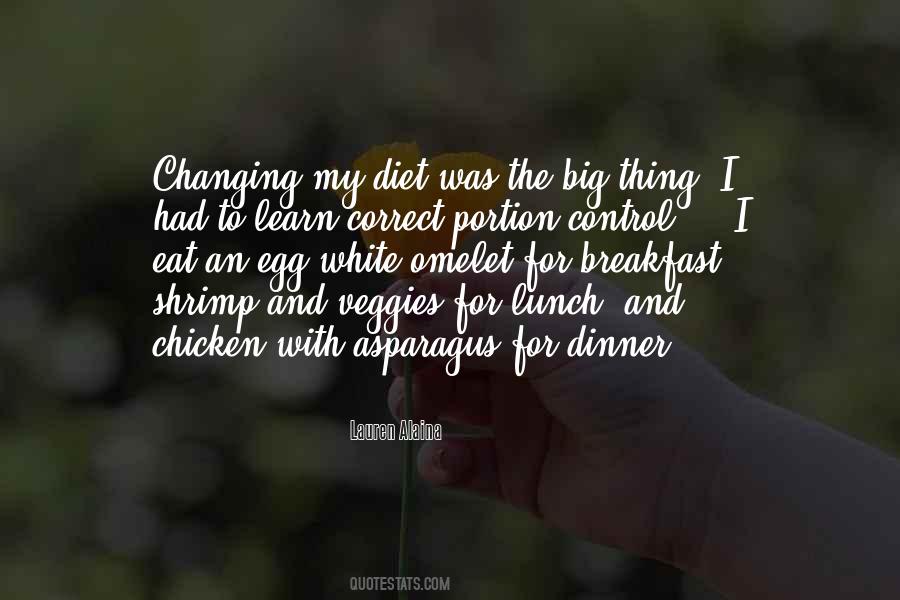 #16. It looked like the kind of dog that ate babies for breakfast, old men for lunch, and virgin sacrifices for dinner. - Author: Francesca Zappia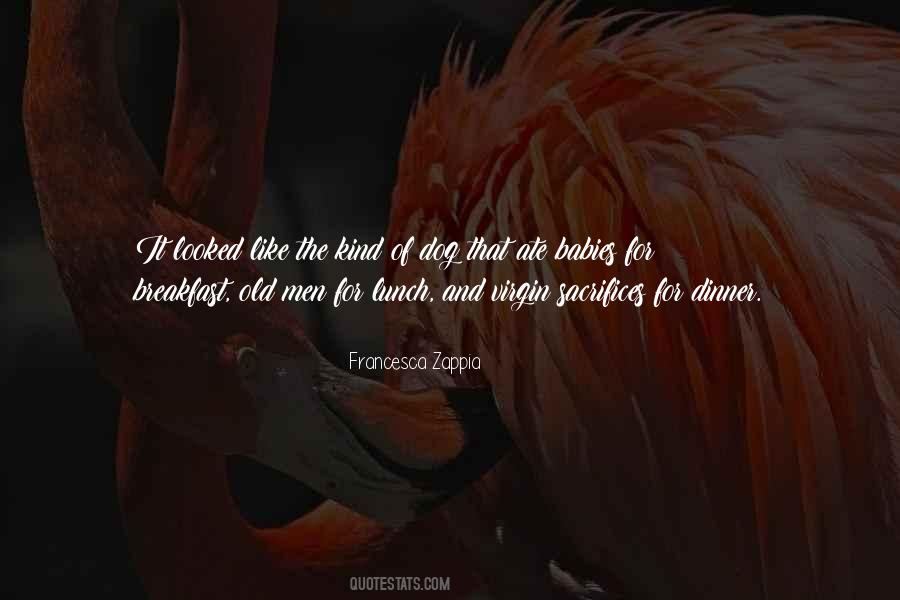 #17. Eat breakfast like a king, lunch like a prince, and dinner like a pauper. - Author: Adelle Davis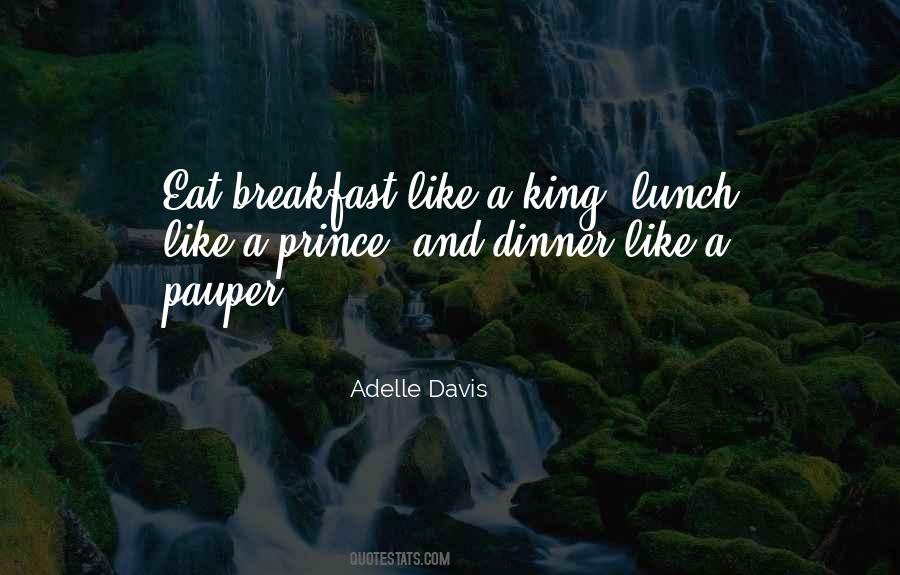 #18. It [Foucault's Pendulum] can be very comforting for people of my generation, who ate disappointment for breakfast, lunch, and dinner. - Author: Umberto Eco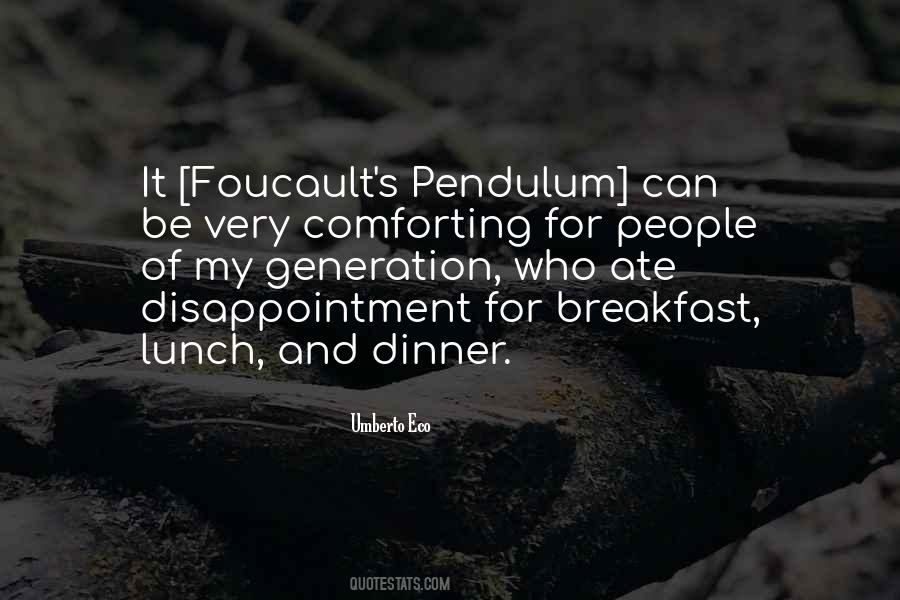 #19. Now there is something about [Tuukka] you probably don't know and that is he loves chicken wings more than any person I've ever met in my life. If he could eat them for breakfast, lunch and dinner he would. - Author: Brad Marchand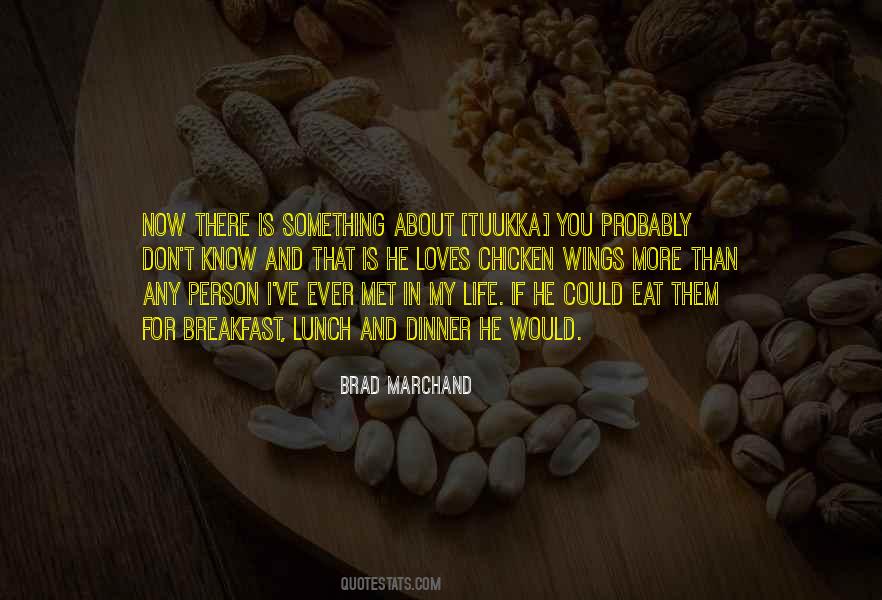 #20. I definitely have a family. I have a boyfriend who has kids, and we do normal things every day, like get up and go to school. Eat breakfast, lunch and dinner. - Author: Tina Yothers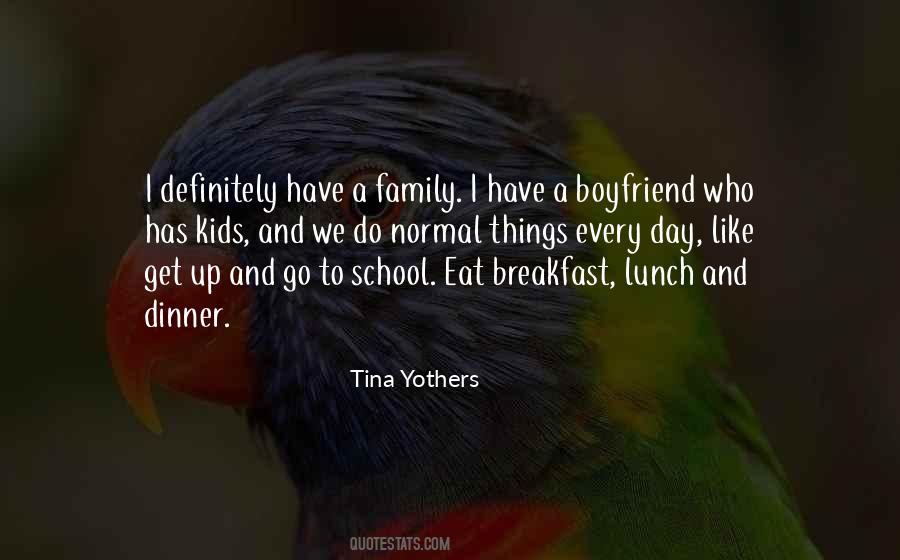 #21. It's just not possible to be a real partner if you aren't materially participating. I believe even the busiest business owners must drive a carpool, pack a lunch, help with homework, make a breakfast or dinner, and consistently attend school events. - Author: Scott Weiss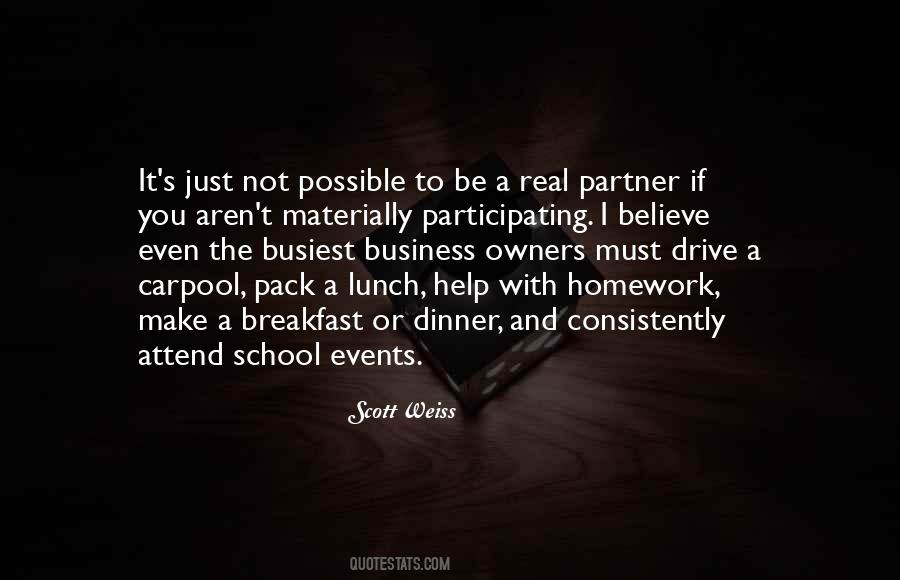 #22. I'm an afternoon tea type of girl. I come from a Russian background where we love our teas. So between lunch and dinner after training I come home and I love a nice cup of tea with jam in it, as we drink it there. Black English Breakfast with raspberry jam is my favorite. - Author: Maria Sharapova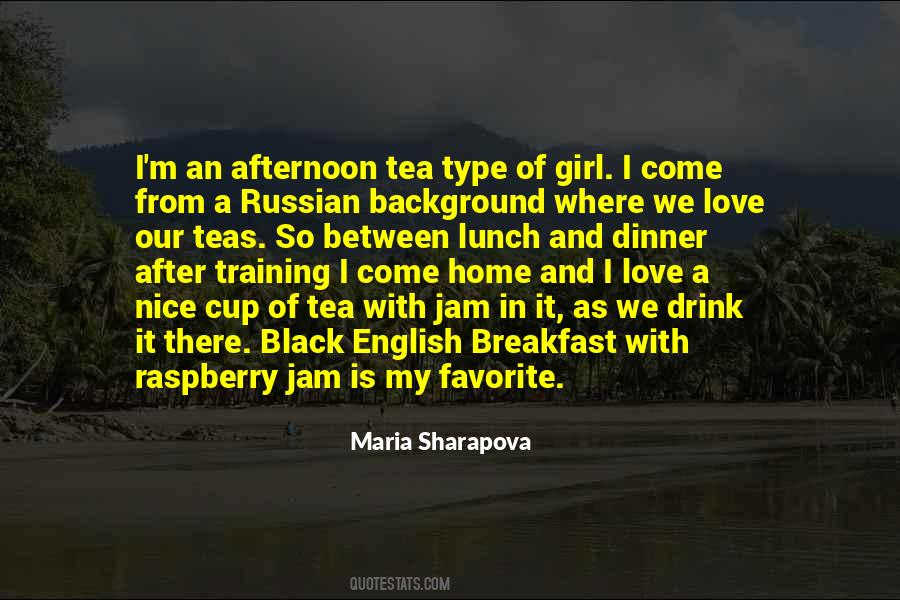 #23. I don't have a huge breakfast, and I sometimes forget to have lunch, so I focus on dinner. I love Thai and Japanese food. - Author: Saffron Aldridge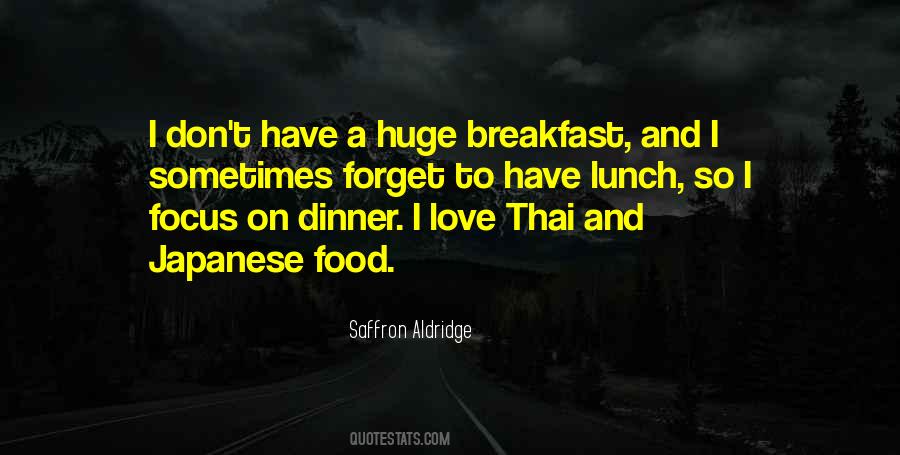 #24. My life at home gives me absolute joy. There are some days when, as soon as you've finished cooking breakfast and cleaning up the kitchen, it's time to start lunch, and by the time you've done that, you're doing dinner and thinking, 'There has to be a menu we can order from.' - Author: Julia Roberts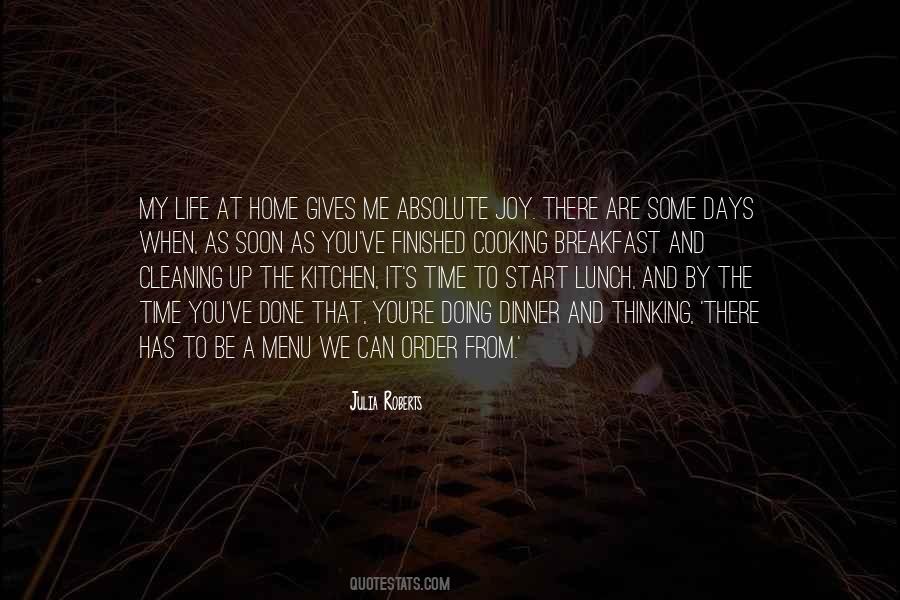 #25. It was a real hand-to-mouth existence in those early days - I'd have whatever dry cereal there was in the house for breakfast, 30 cents to spend on lunch and a hot dog for dinner. I did that for years. So there was definitely a hunger in me, of various kinds, to succeed. - Author: Neil Diamond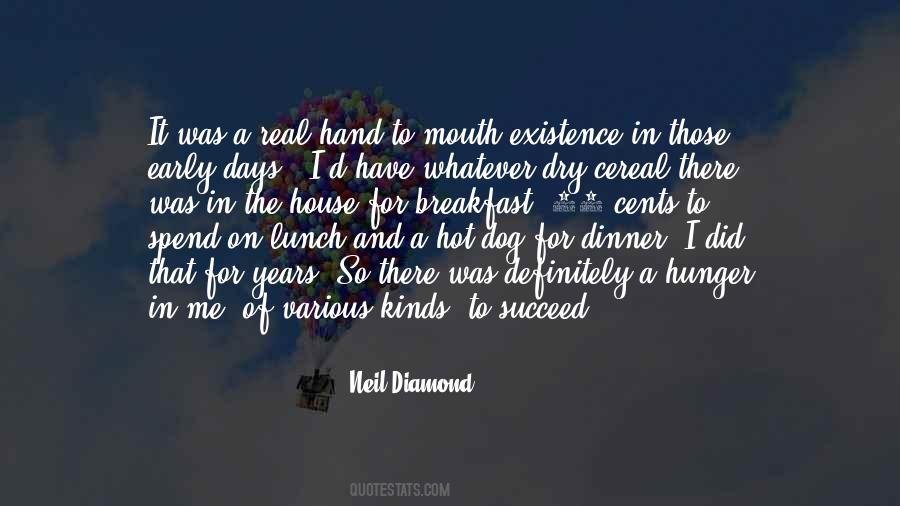 #26. I rarely have time for lunch, so tend to have a big breakfast and big dinner. - Author: Carmen Busquets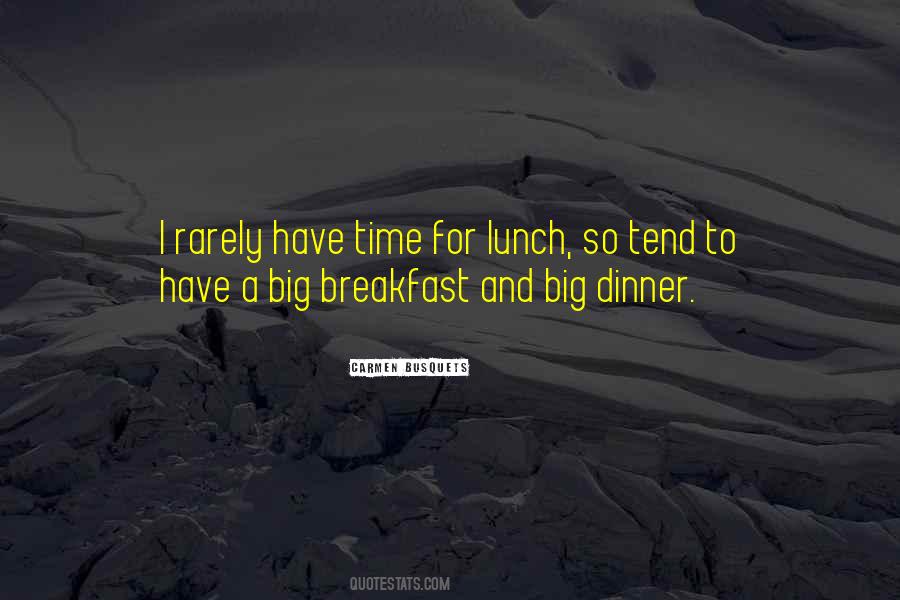 #27. I never had, like, a nanny that took care of me. My mom always fed me breakfast, lunch, and dinner. - Author: Miley Cyrus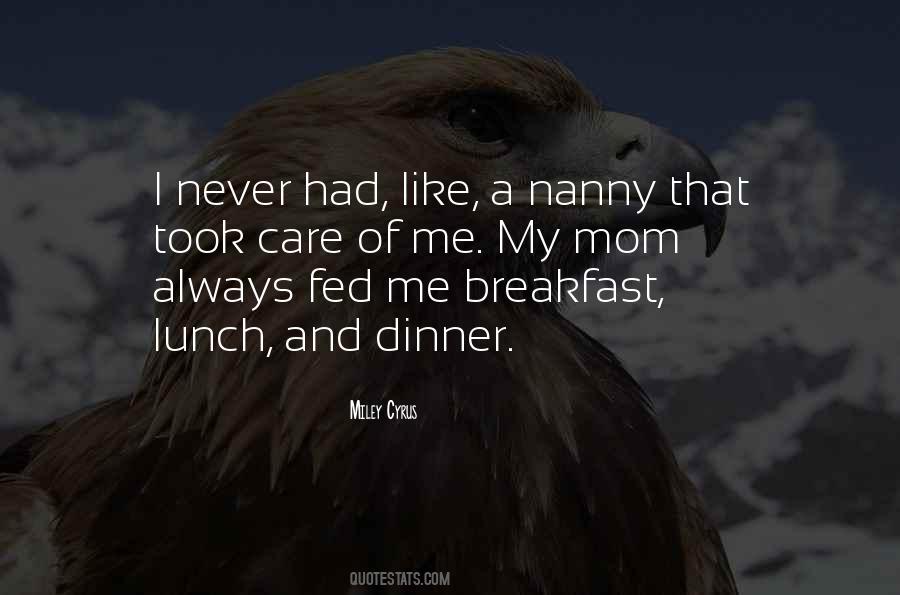 #28. Oh, my friends, be warned by me, That breakfast, dinner, lunch and tea, Are all human frame requires. - Author: Hilaire Belloc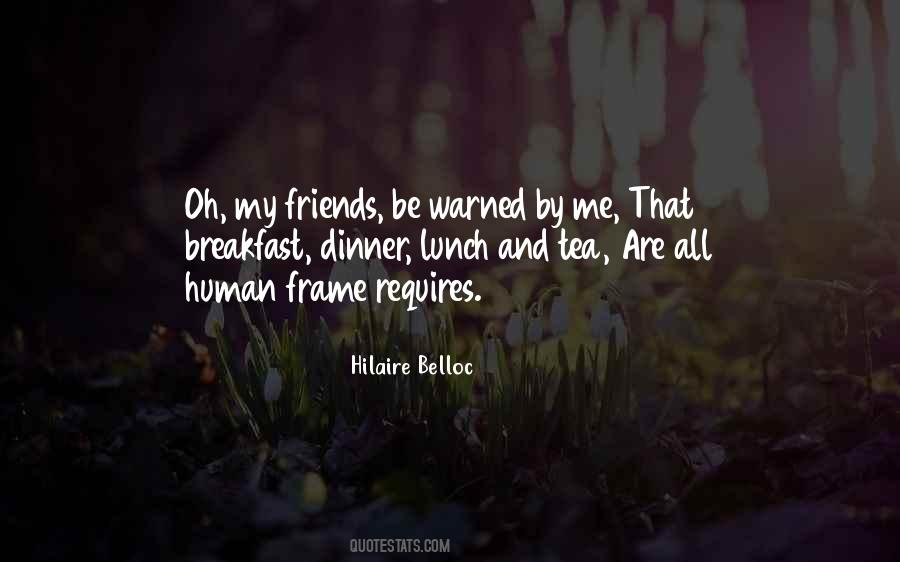 #29. My dad always supported me. Sometimes we didn't have anything to eat for breakfast, but if we could eat lunch and dinner, we weren't poor. - Author: Albert Pujols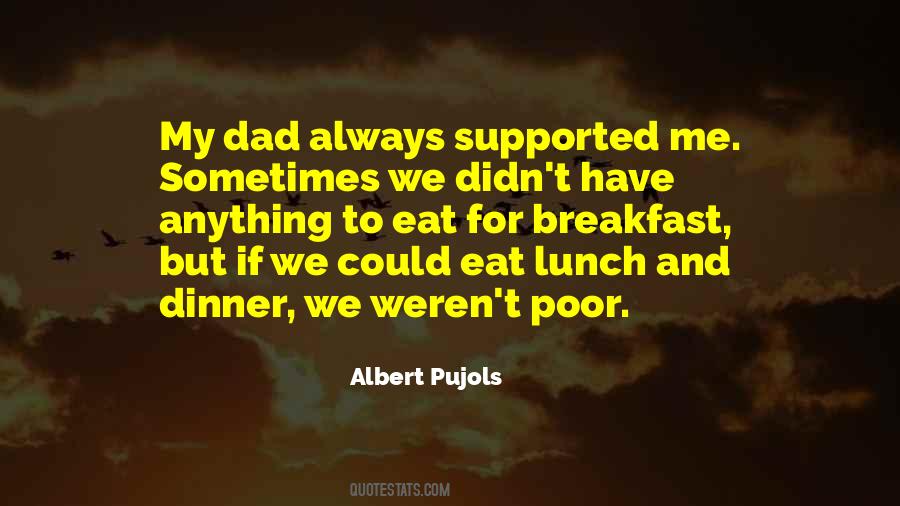 #30. Do you have to discipline yourself to have breakfast, lunch or dinner? Of course not; and so discipline - the usual concept of it - doesn't apply here. I had to discipline myself to learn English, but never to train. - Author: Arnold Schwarzenegger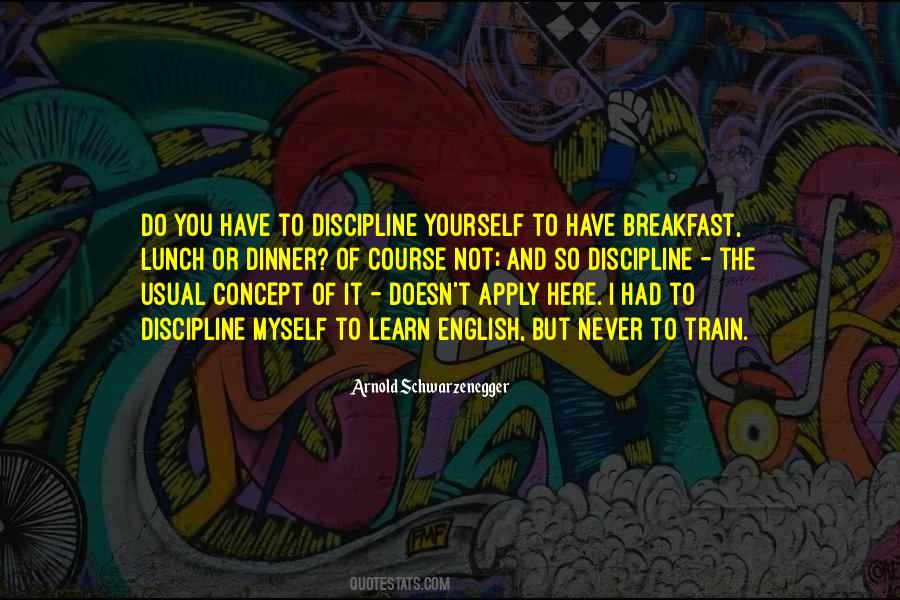 #31. We eat breakfast, lunch, and dinner to the soundtrack of our own impending death. - Author: Courtney Summers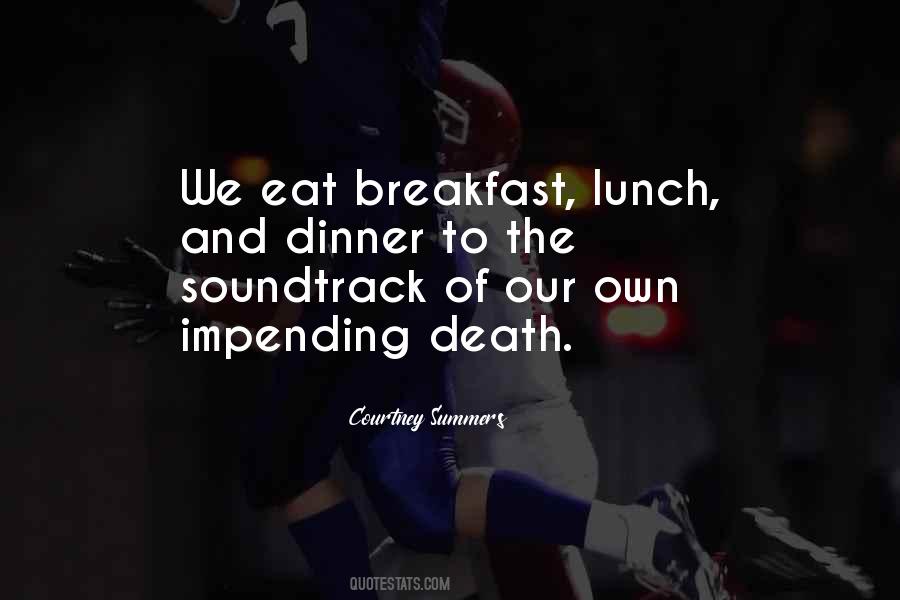 #32. I'm very good about eating breakfast, lunch and dinner. - Author: Yunjin Kim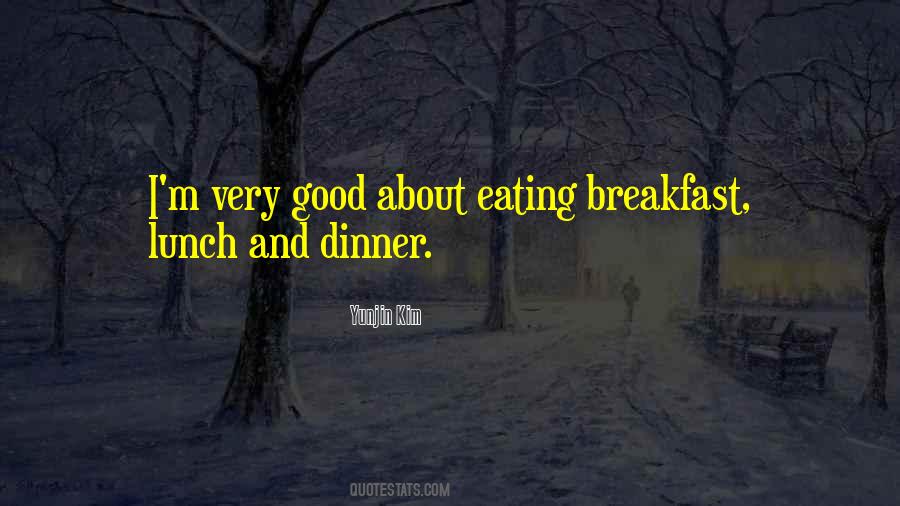 #33. Most Americans are skipping meals and when they do eat, they're starving and they're eating an excess of sugar and calories. Really it's about eating breakfast, snack, lunch, snack, and dinner, and trying to feed yourself. - Author: Jackie Warner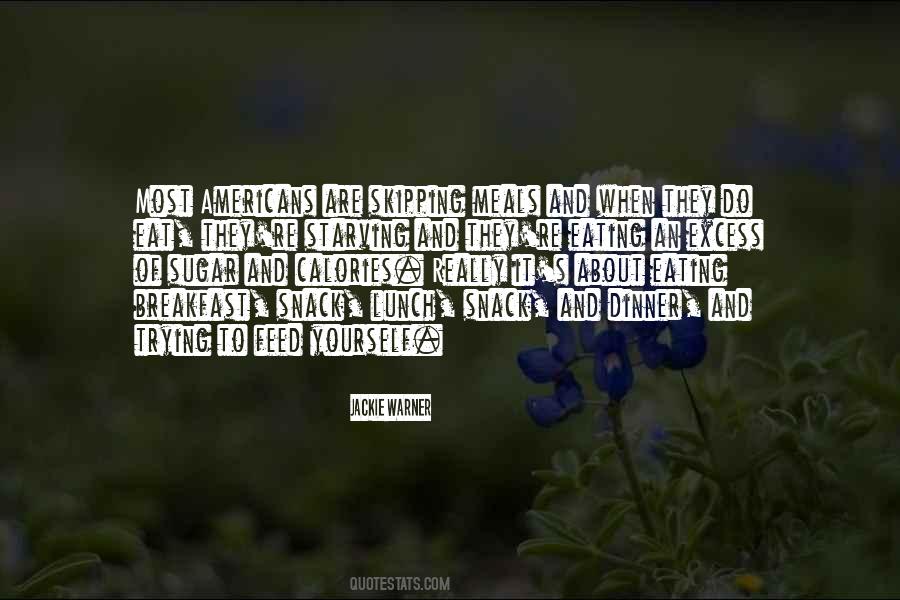 #34. I've never stayed at a bed and breakfast. If I did, I figure you would start to get hungry! "Is that all you got around here? Well, maybe you can direct me to a chair lunch dinner." - Author: Mitch Hedberg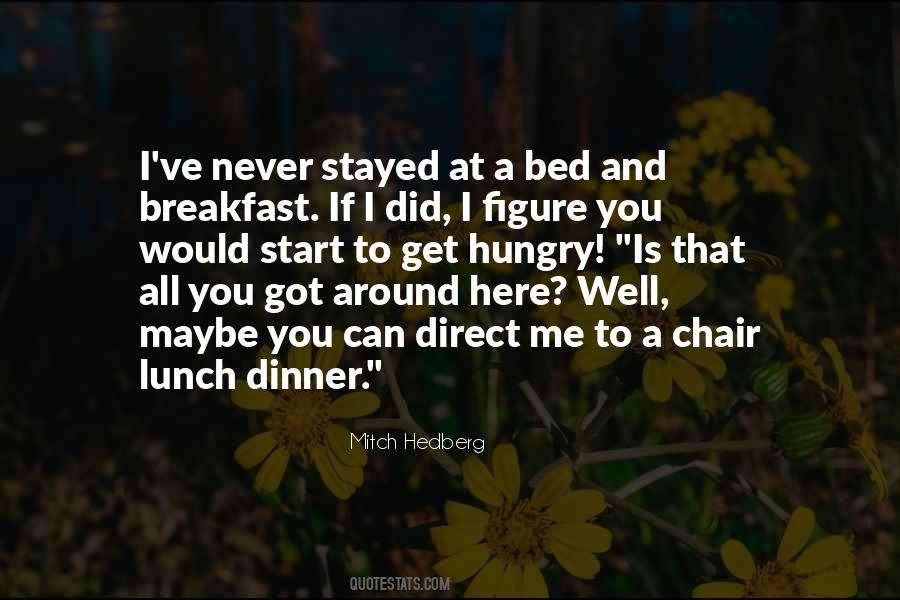 #35. I want him to lose control because of me. I want that man to want me like I'm his next breakfast, lunch, and dinner. Hell, I want him to crave me like a feast. And take me like a beast. - Author: Katy Evans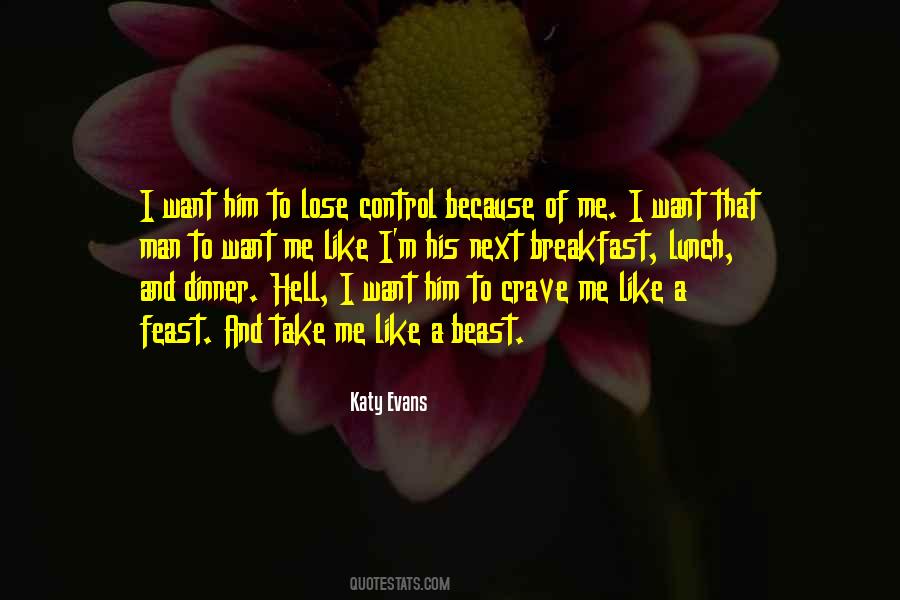 #36. cheese-dip for lunch and dinner and yogurt, oats and blueberries for breakfast. The thought of eating anything else make her stomach queasy. Angie wondered how much longer the food choice would last and what the next few weeks of culinary delights her body would - Author: Ashley Fontainne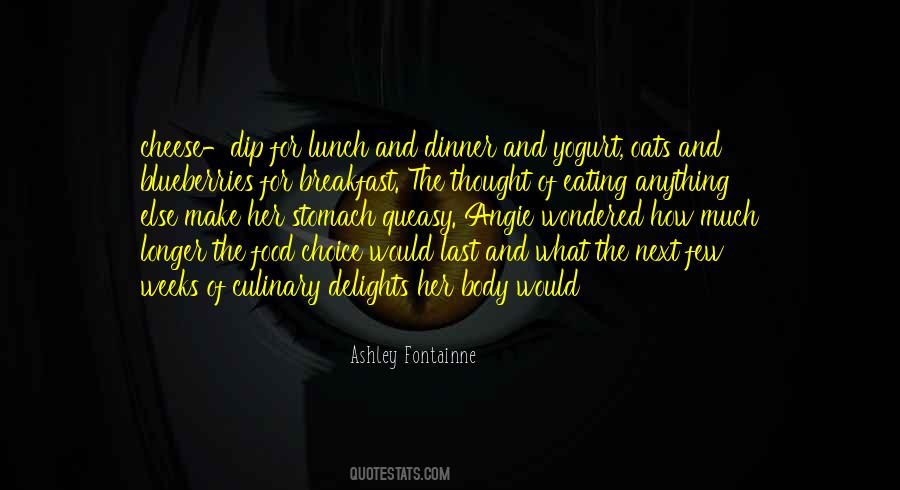 #37. You could be a rebel, a profound thinker, and a rock and roll maniac and still eat breakfast, lunch, and dinner, and drink a nice cup of tea with your friends. - Author: Pamela Des Barres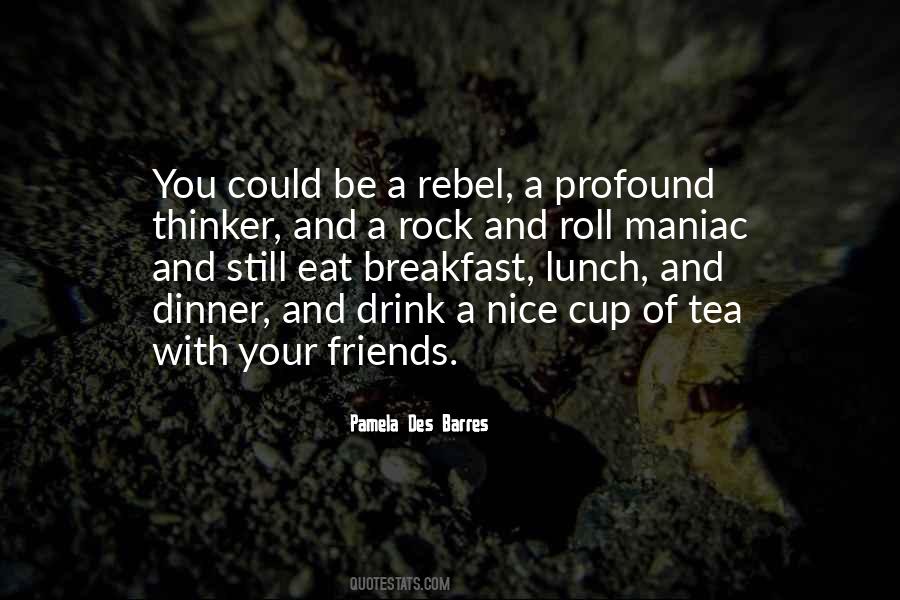 #38. My body is like breakfast, lunch, and dinner. I don't think about it, I just have it. - Author: Arnold Schwarzenegger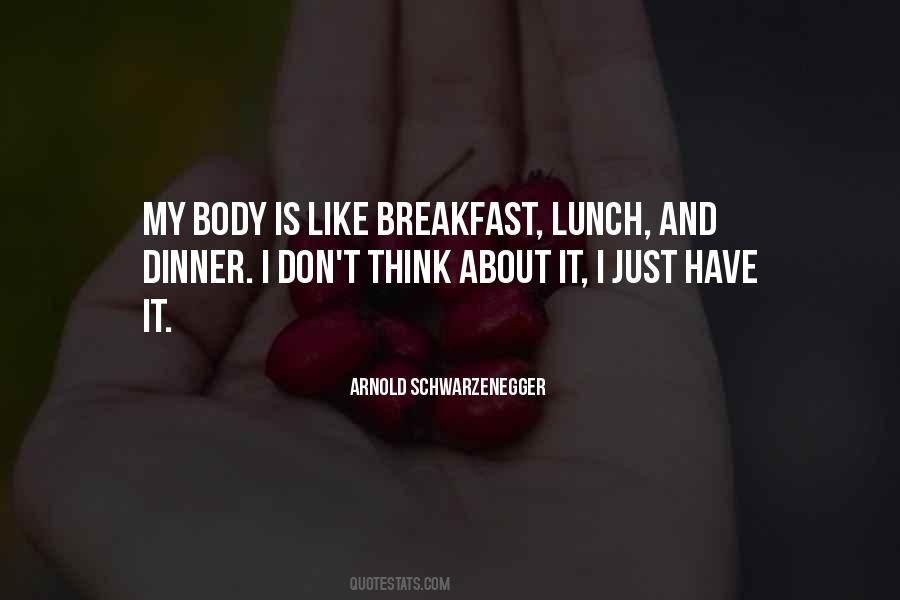 #39. Mostly though, they waited. For the mail. For the news. For the bells. For breakfast and lunch and dinner. For one day to be over and the next day to begin. - Author: Julie Otsuka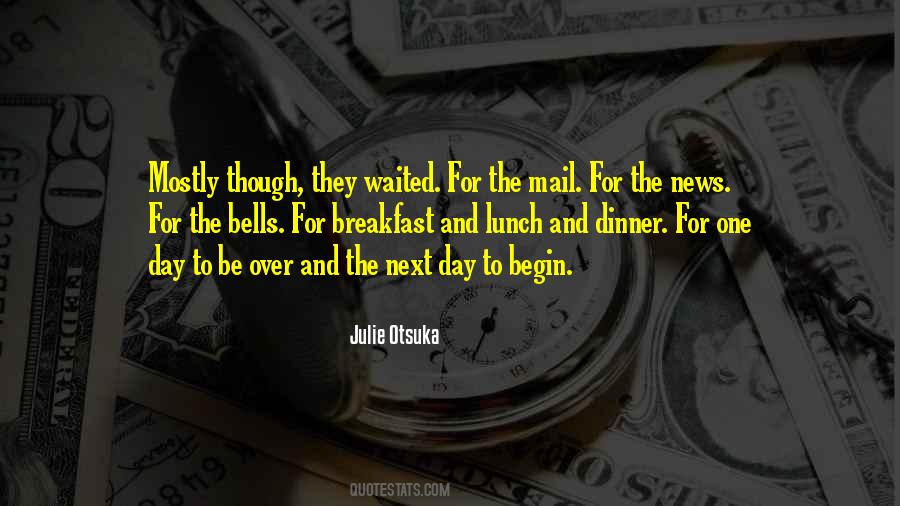 #40. If I could, I'd eat pizza for breakfast, lunch, and dinner. - Author: Lauren Johnson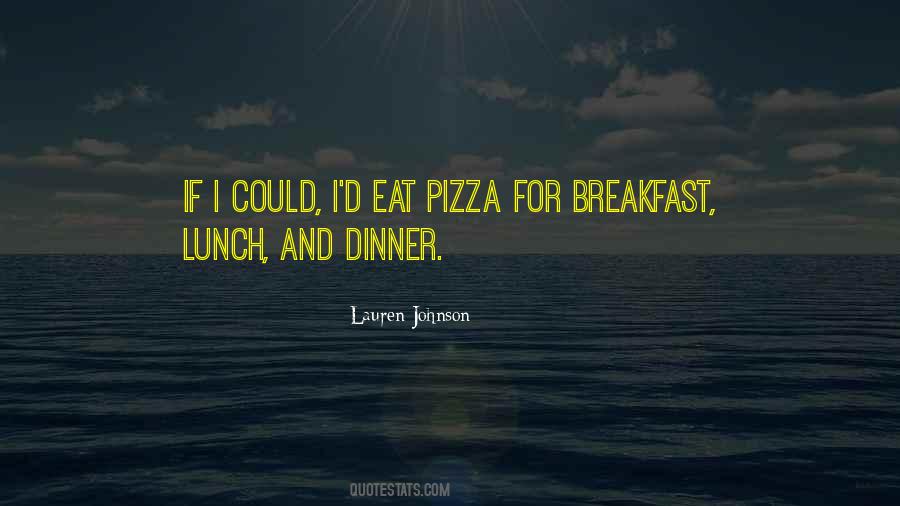 #41. The secret to successfully staying within your budget and enjoying delicious one serving meals at the same time is through planning. Set aside an hour each week and dedicate it to planning your breakfast, lunch and dinner meals. - Author: Claire Daniels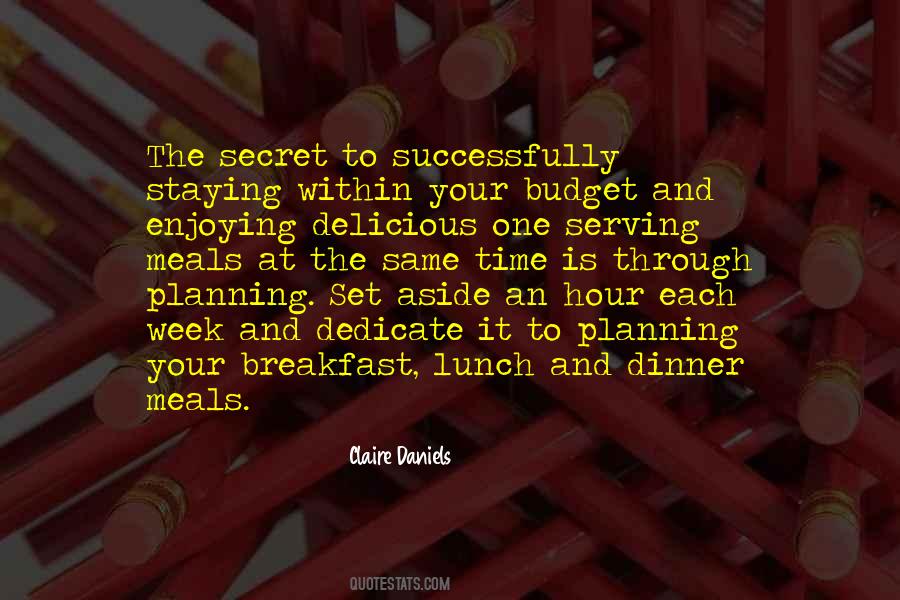 #42. I had a cigarette for breakfast, just for beginners,
Cried for my lunch, and sleep for dinner. - Author: G. Dep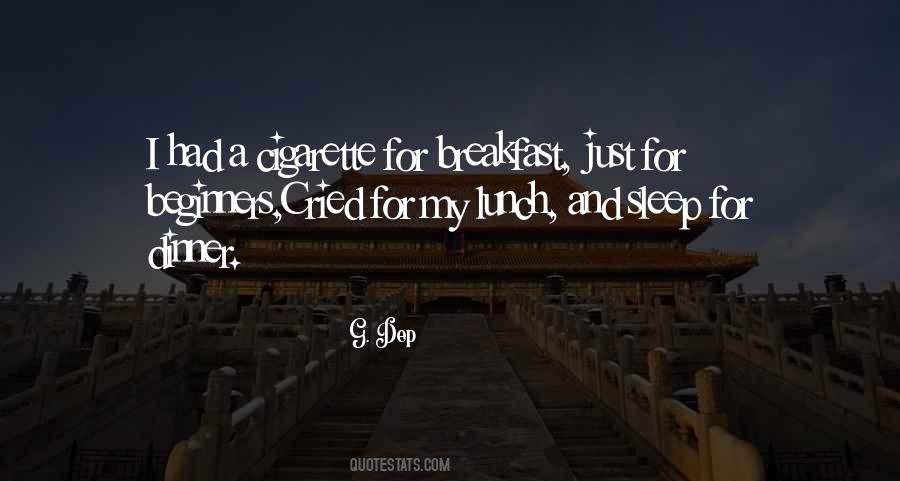 #43. So I have the green smoothie every day for breakfast, and then sometimes even for lunch too, and then I have a normal dinner. - Author: Dita Von Teese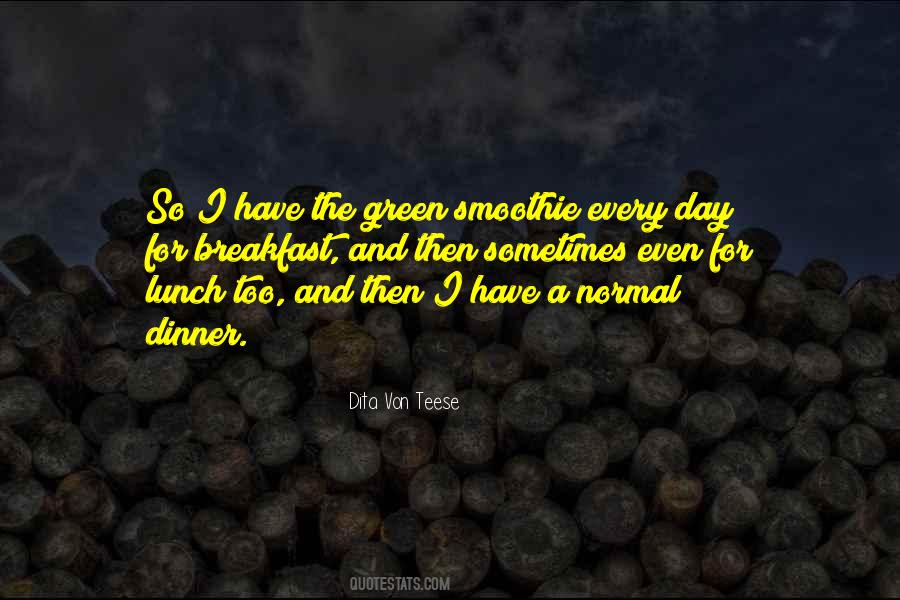 #44. I am someone who tweets about what I have for breakfast, what I have for lunch, what I have for dinner, and for 99.99999 percent of the world, it's useless. It's meaningless. But for my mother, she loves it. - Author: Jack Dorsey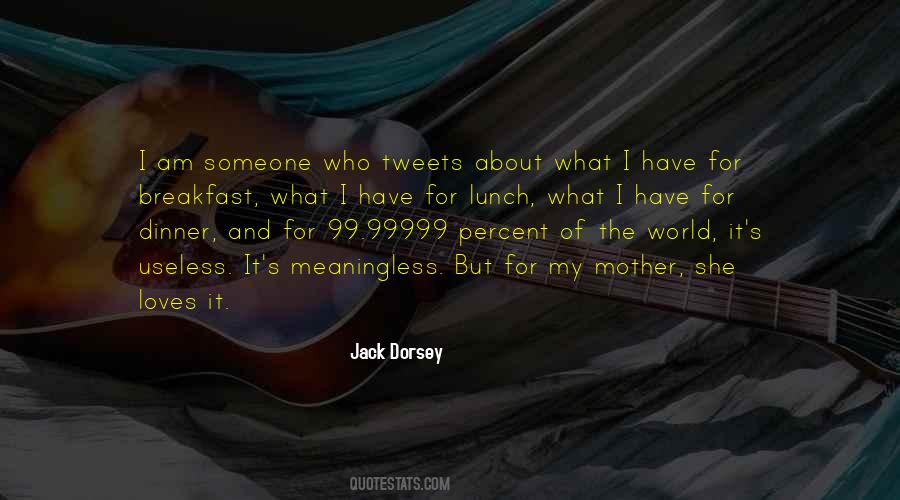 #45. Going away from the people who ate shadows for breakfast and steam for lunch and vapors for dinner. - Author: Ray Bradbury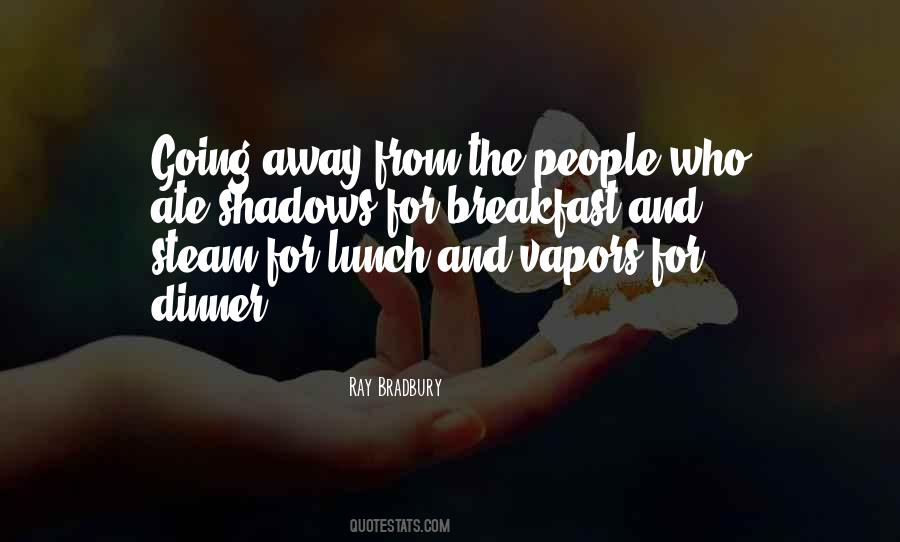 #46. I have an affinity for the old Seattle coffee shops, places like the Green Onion and the Copper Kettle, the classic kind of coffee bar - little places that served breakfast, lunch and dinner and have pretty much disappeared. - Author: Tom Douglas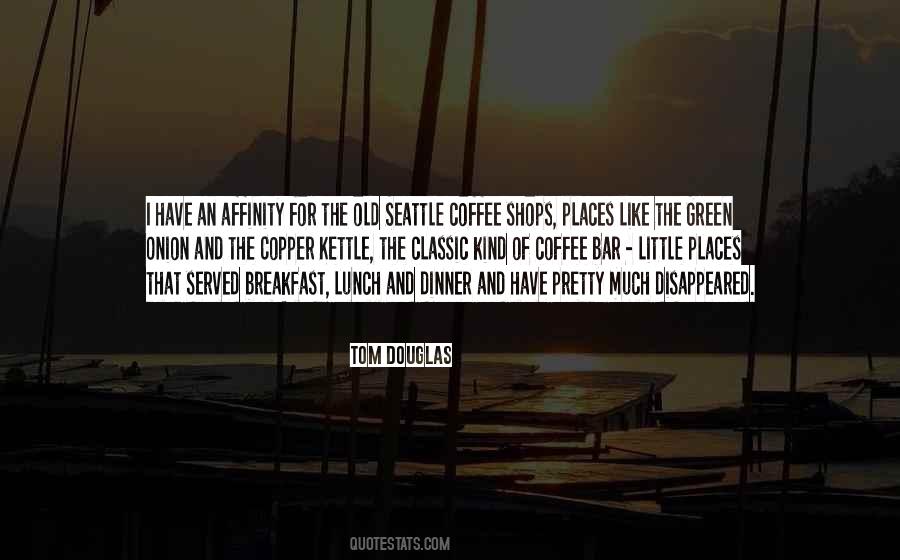 Famous Authors
Popular Topics