Love Criticize Famous Quotes & Sayings
List of top 37 famous quotes and sayings about love criticize to read and share with friends on your Facebook, Twitter, blogs.
Top 37 Love Criticize Quotes
#1. What does it mean to love someone with all your heart? It means to love with all your emotional feelings and with all your devotion. Surely when you love your wife with all your heart, you cannot demean her, criticize her, find fault with her, or abuse her by words, sullen behavior, or actions. - Author: Ezra Taft Benson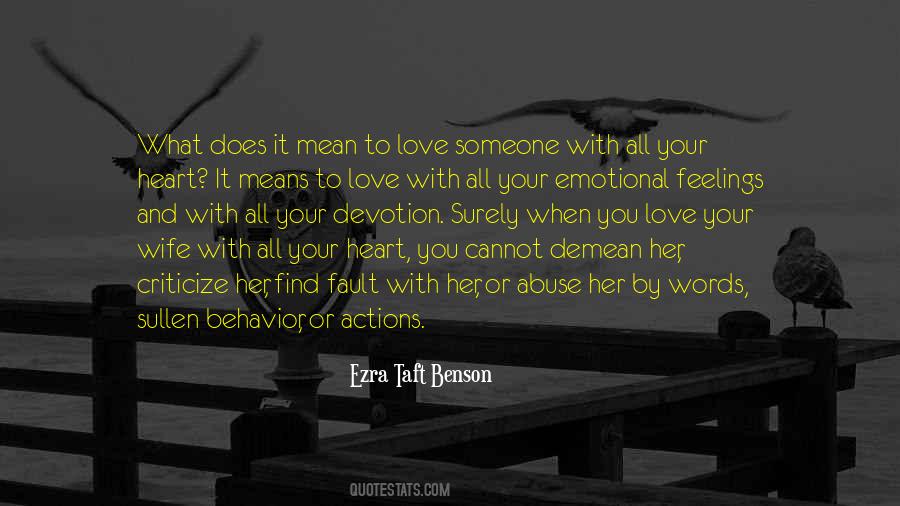 #2. Witness state is not a mental state, it is a state of a spiritual ascent where you become a witness. Best way to practice witness state is not to criticize anyone. - Author: Nirmala Srivastava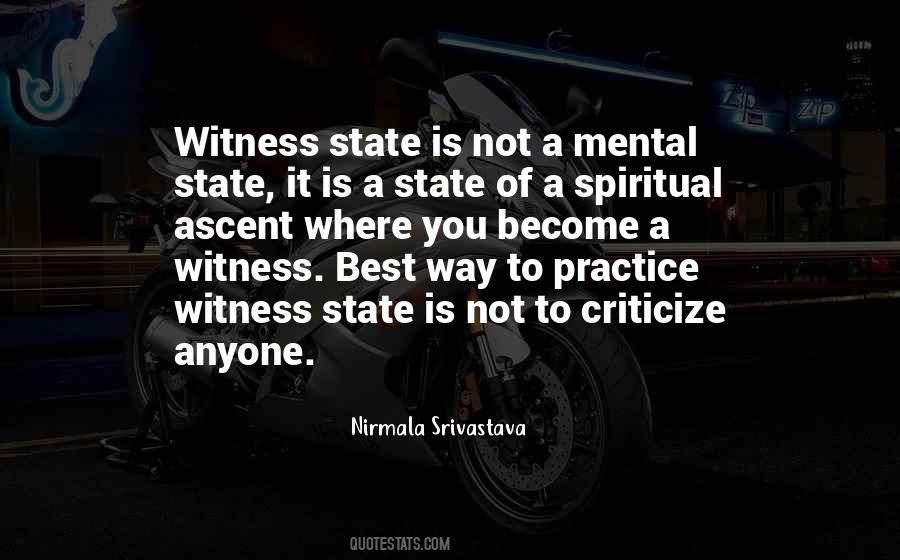 #3. Men don't achieve truth because they lack humility and love of truth. They won't criticize their own beliefs. Truth would overwhelm them. - Author: Henri Frederic Amiel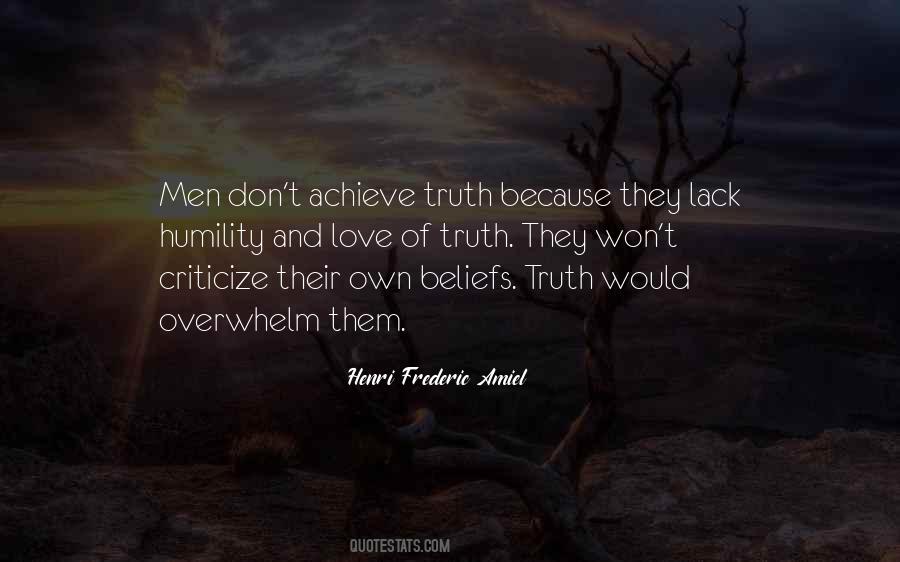 #4. If you can teach me something for my betterment then you get my respect and gratitude, but if you are here only to criticize, then I have no time or ears for you! - Author: Maddy Malhotra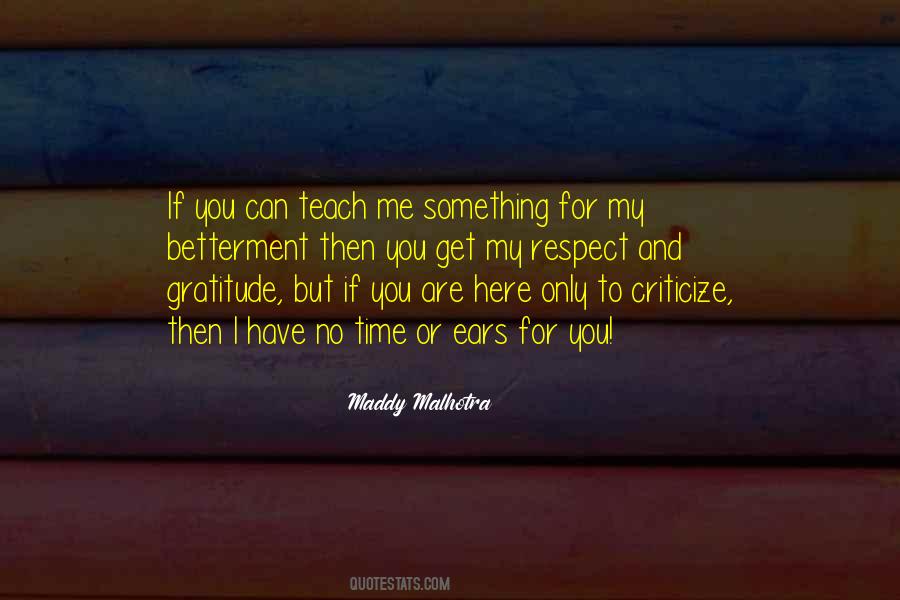 #5. If you live criticizing people, you won't have time to love them. - Author: Johann Wolfgang Von Goethe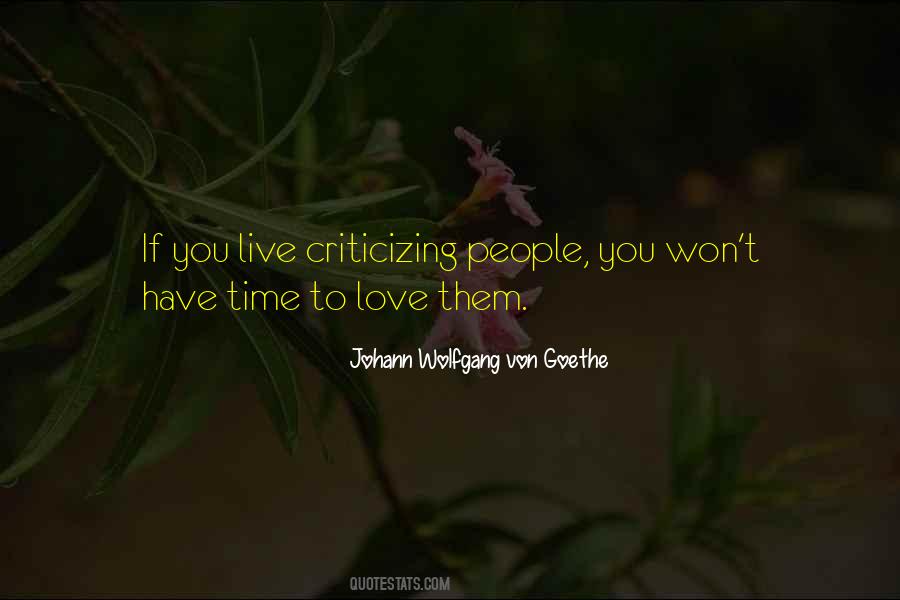 #6. It's useless to criticize things that people love and something that speaks to them. - Author: Kaui Hart Hemmings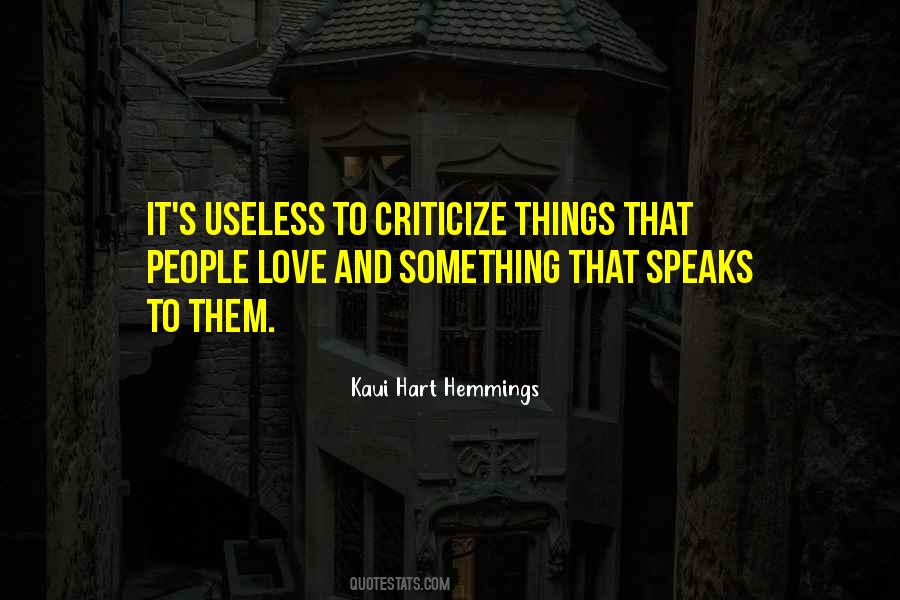 #7. "I criticize America because I love her. I want her to stand as a moral example to the world." - Author: Martin Luther King Jr.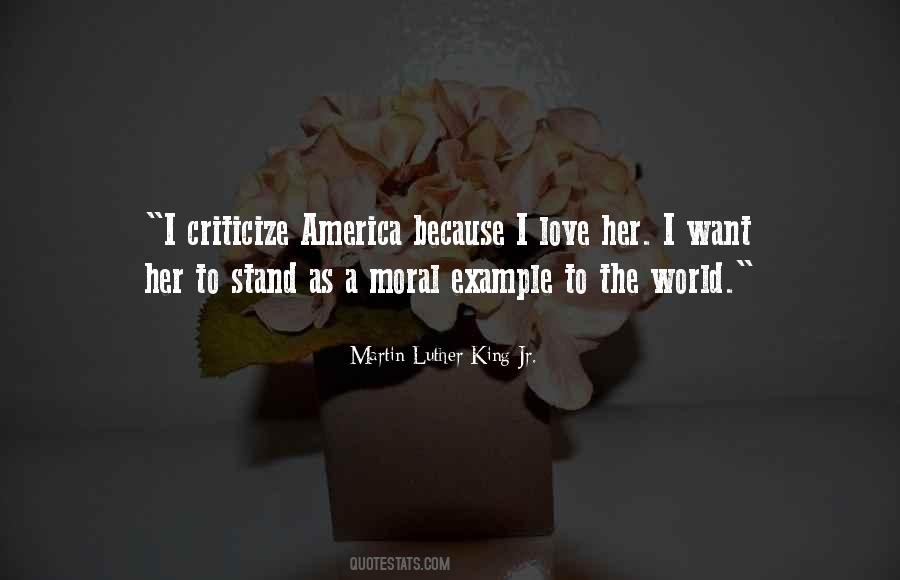 #8. We realize that by criticizing Jewish fundamentalism we are criticizing a part of the past that we love. We wish that members of every human grouping would criticize their own past, even before criticizing others. - Author: Israel Shahak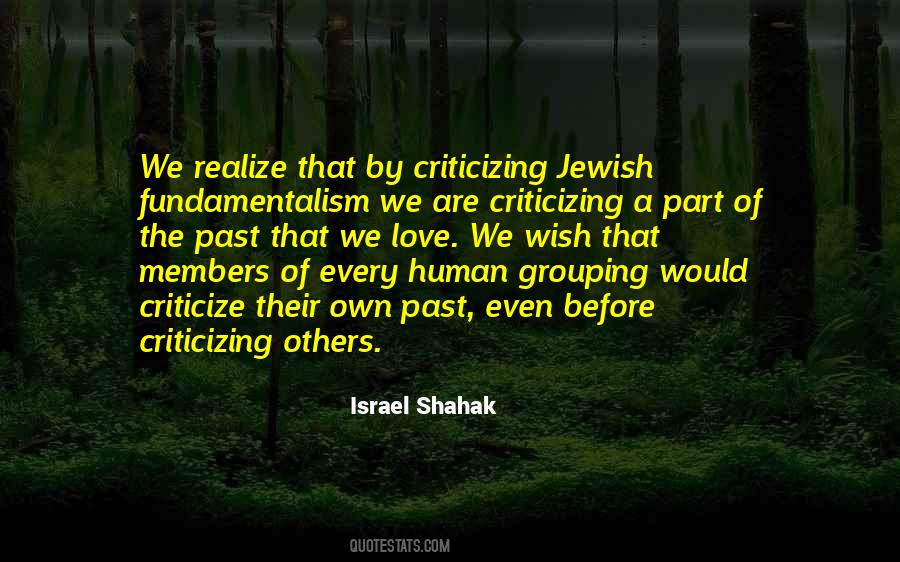 #9. When we criticize people, their consciences console them. When we love them, their consciences indict them. - Author: C. Terry Warner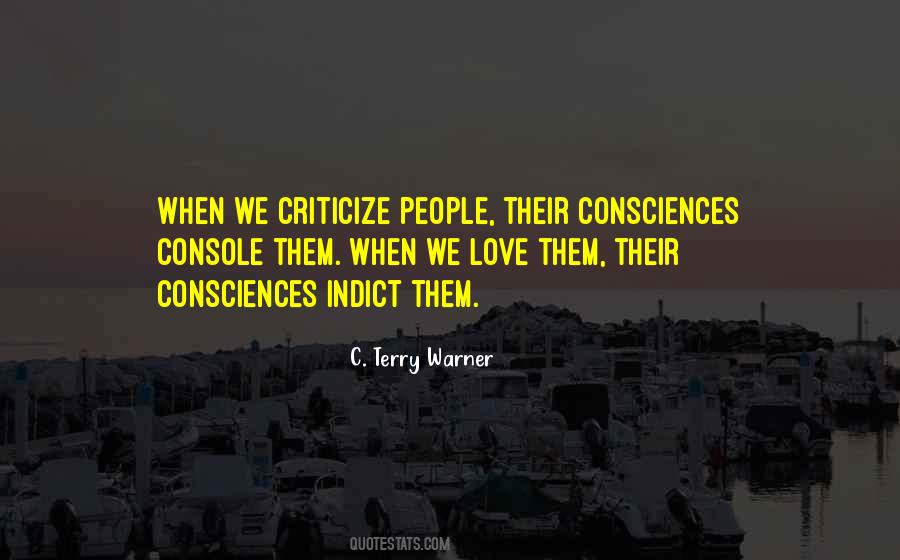 #10. I want to love you without clutching, appreciate you without judging, join you without invading, invite you without demanding, leave you without guilt, criticize you without blaming, and help you without insulting. If I can have the same from you, then we can truly meet and enrich each other. - Author: Virginia Satir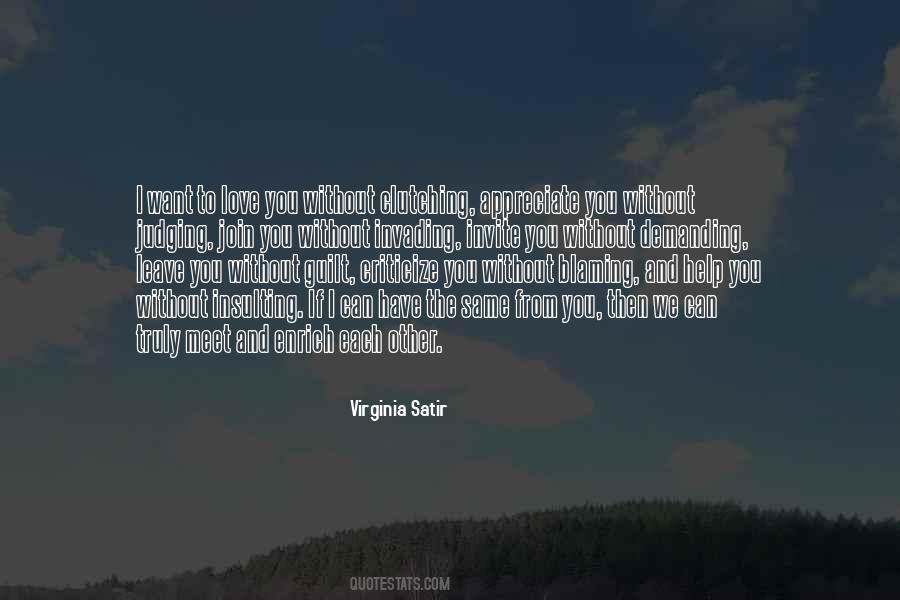 #11. It's hard to criticize someone if you are praying for them. - Author: Elizabeth George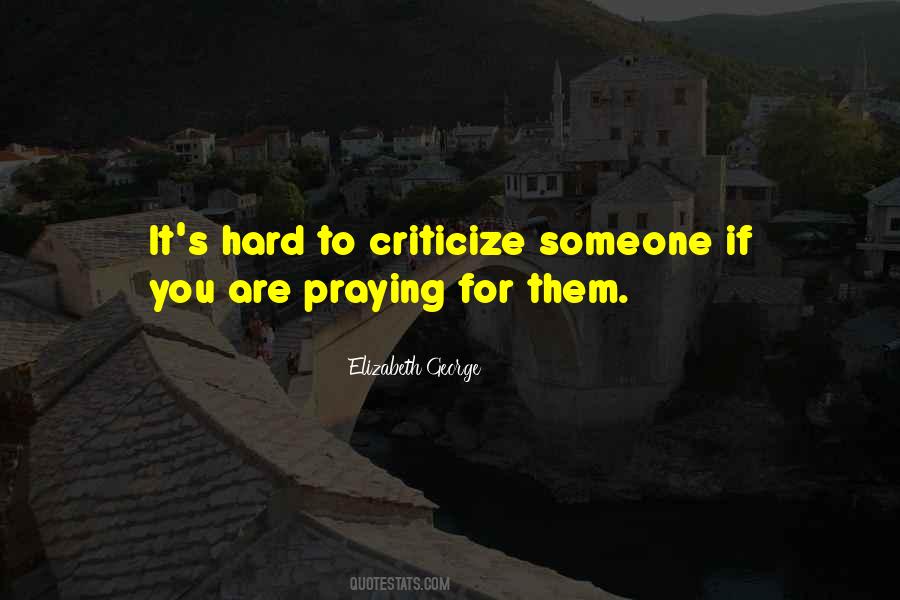 #12. Yahweh instructed, "Don't judge him. Pray for him. Don't criticize him. Honor him. Don't speak against him. Build him up with My Holy Word - the Bible. You were created to love him. Help him fulfill the purposes that I've destined him for. - Author: J. Nell Brown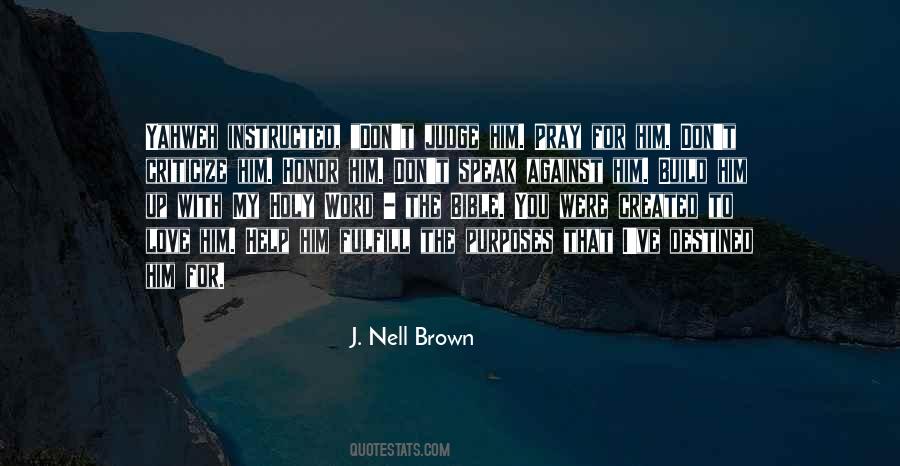 #13. People quick to criticize others, but won't shine the light on themselves. You can't always judge a book by the outside appearance. You have to open it up and read in order to discover how precious it is. - Author: Amaka Imani Nkosazana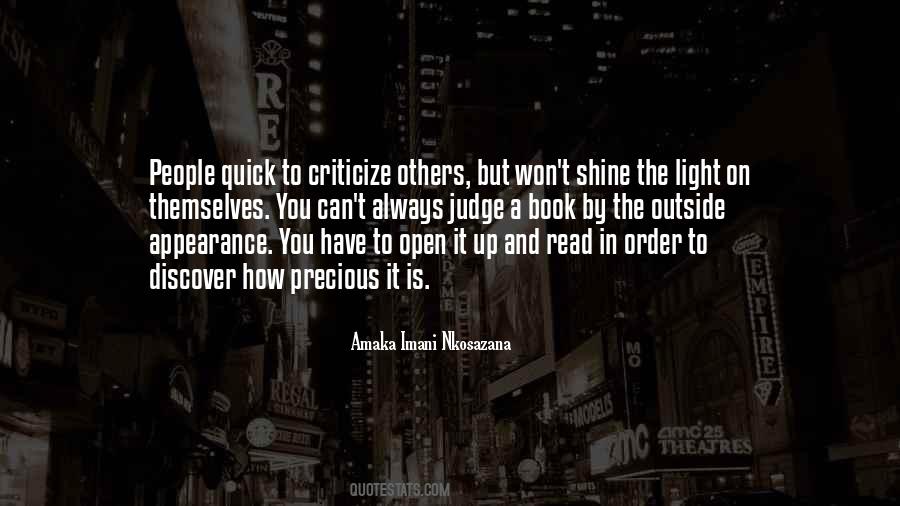 #14. It's so much easier to sit home and not exercise and criticize other people. What I love is inspiring people. People come up to me and say, 'I want to have two kids and wear a bathing suit and not feel terrible about myself. I see how hard you work and it makes me feel like I can do that too.' - Author: Gwyneth Paltrow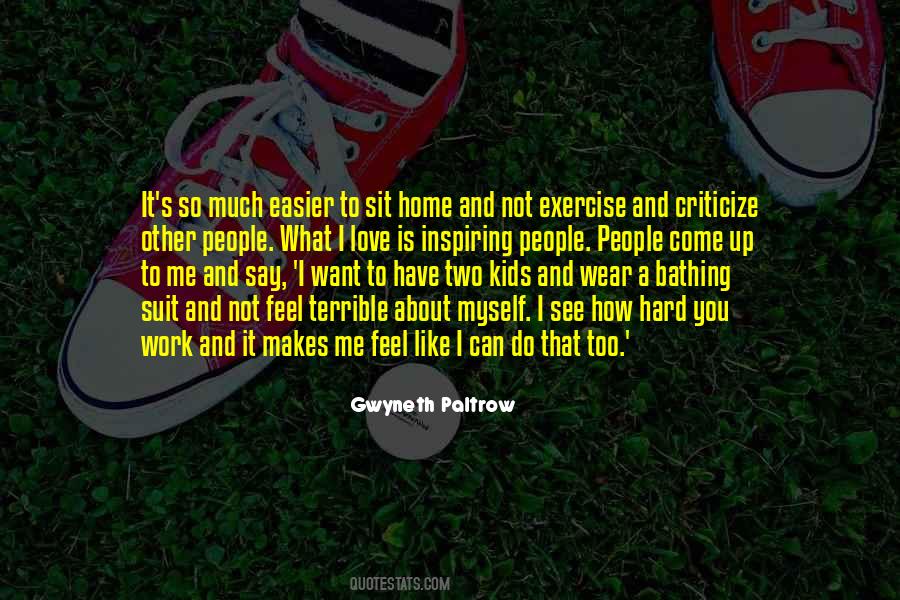 #15. You cannot compel someone to love. Love is like the wind. It comes when it does, it stops when it does, it changes direction when it does. Who are you and I to criticize the wind? - Author: Frederick Lenz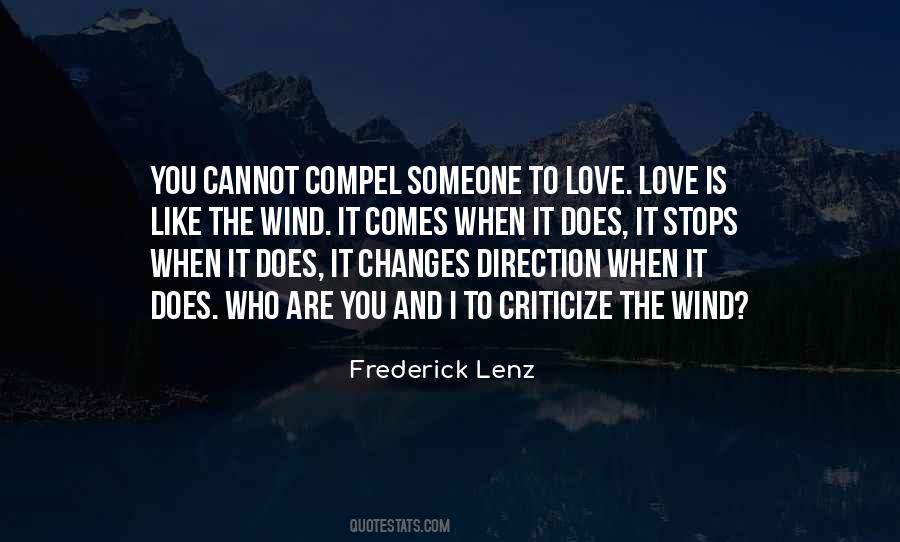 #16. I don't hate America. I love America. I want it to be better. The only way we can get it to be better is to realistically criticize what's wrong with it. - Author: Bill Maher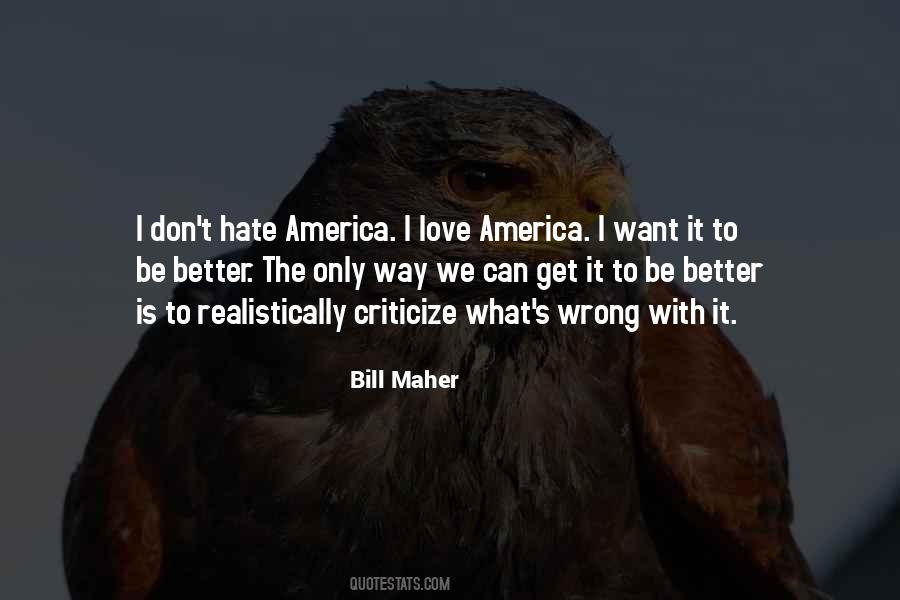 #17. Democrats love to criticize Republicans on guns, but they are generally mute when it comes to taking on Hollywood or the gaming industry. - Author: Mark McKinnon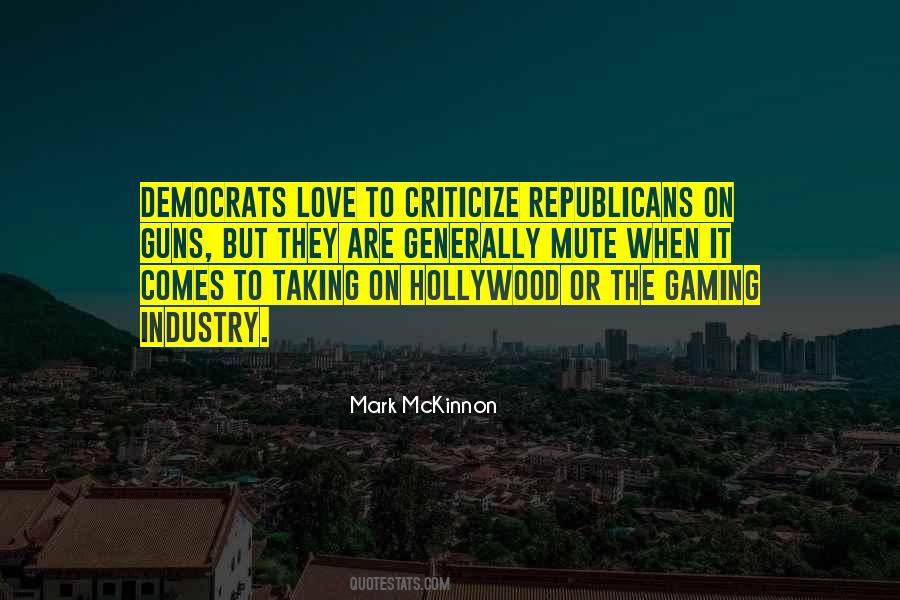 #18. Flatter me, and I may not believe you. Criticize me, and I may not like you. Ignore me, and I may not forgive you. Encourage me, and I will not forget you. Love me and I may be forced to love you. - Author: William Arthur Ward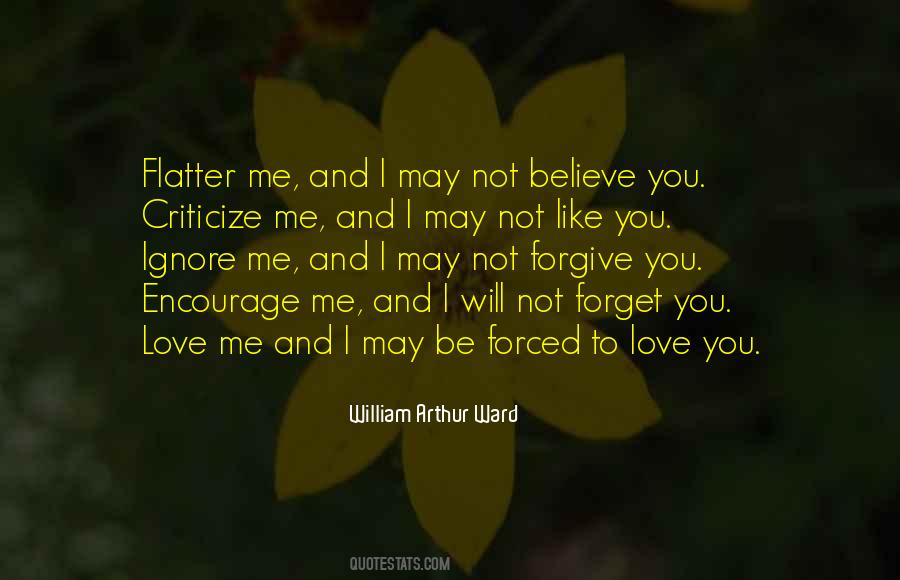 #19. When someone we love is having difficulty and is giving us a bad time, it's better to explore the cause than to criticize the action. - Author: Zig Ziglar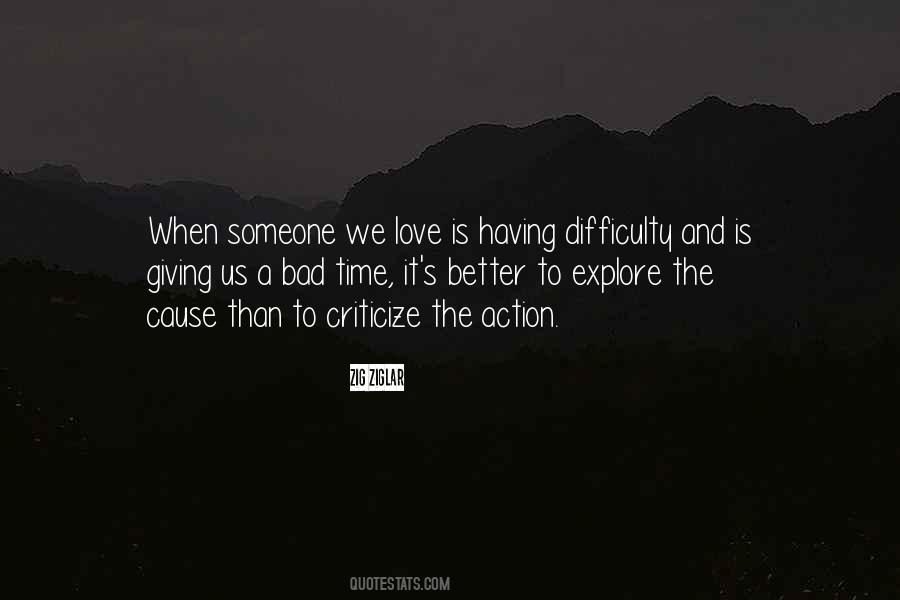 #20. I love America more than any other country in the world and, exactly for this reason, I insist on the right to criticize her perpetually. - Author: James Baldwin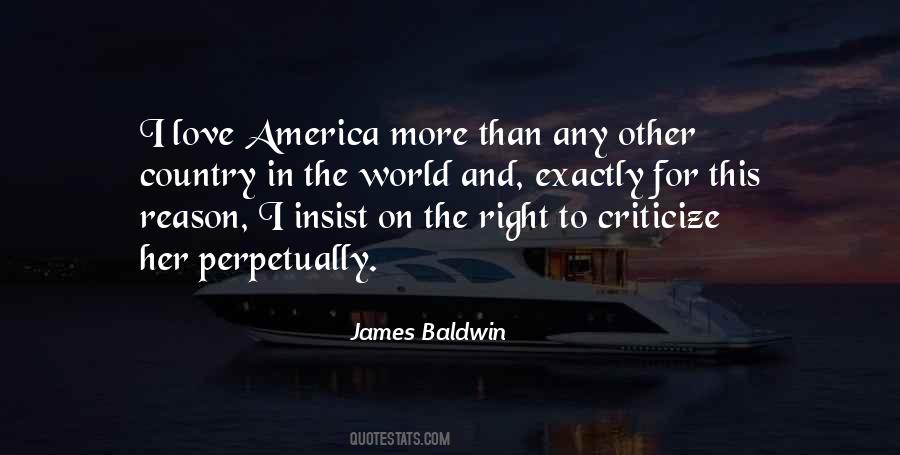 #21. All you'll get from strangers is surface pleasantry or indifference. Only someone who loves you will criticize you. - Author: Judith Crist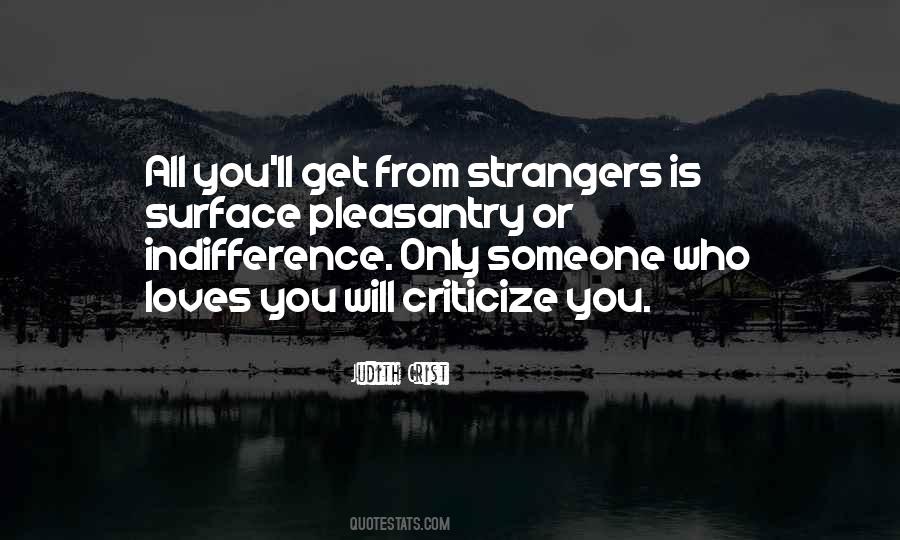 #22. Before you complain, try to understand.
Before you criticize, try to praise.
Before you hate, try to love.
Before you hurt, try to be kind. - Author: Debasish Mridha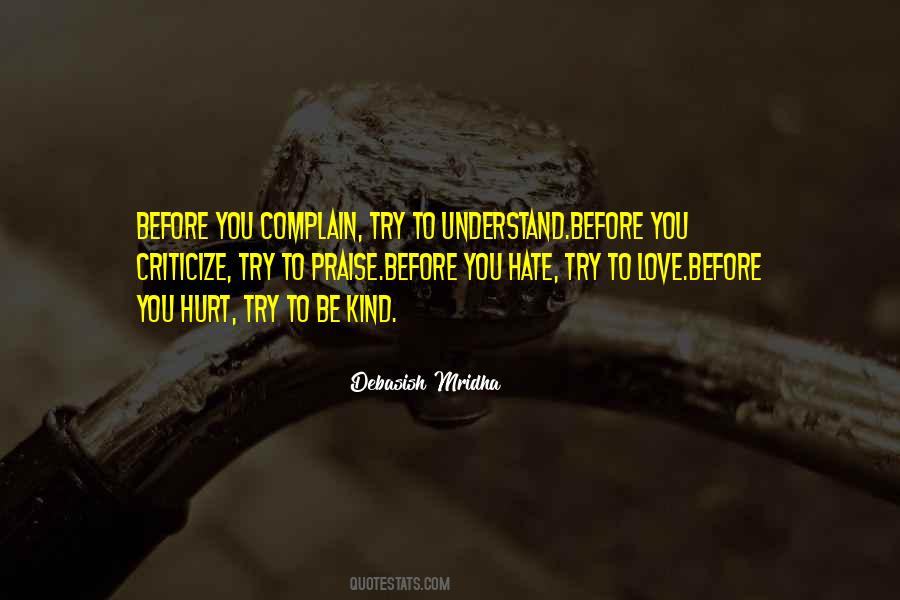 #23. Tony Morrison said, 'Can't I love what I criticize, criticize what I love.' - Author: Michael Eric Dyson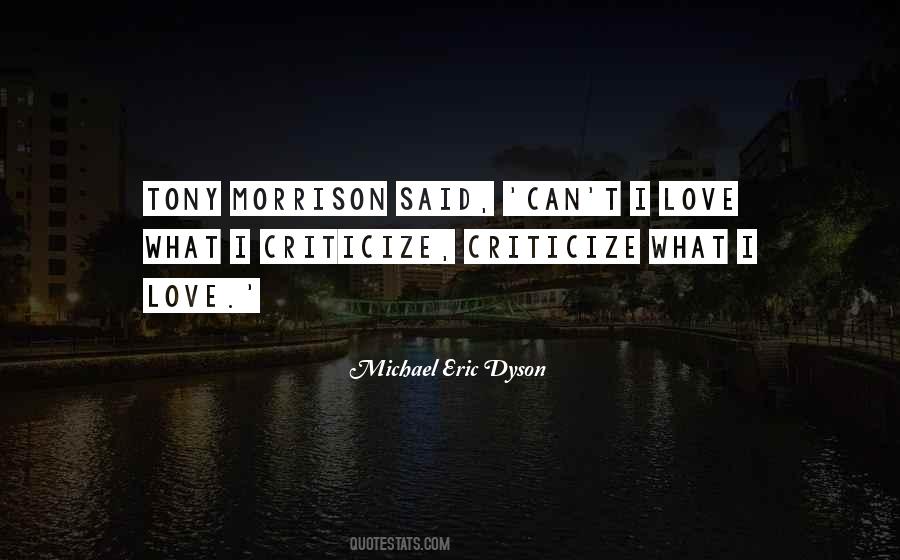 #24. You can't hate yourself happy, You can't criticize yourself thin, You can't shame yourself wealthy. Real change begins with self-love and self care. - Author: Jessica Ortner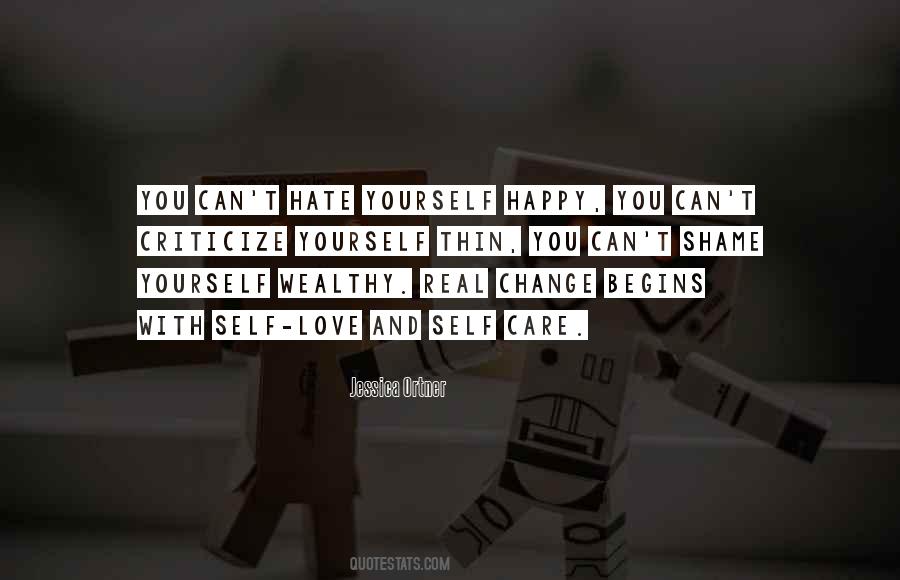 #25. Be aware of people who are standing in your circle who don't smile when you win. - Author: Chris Marvel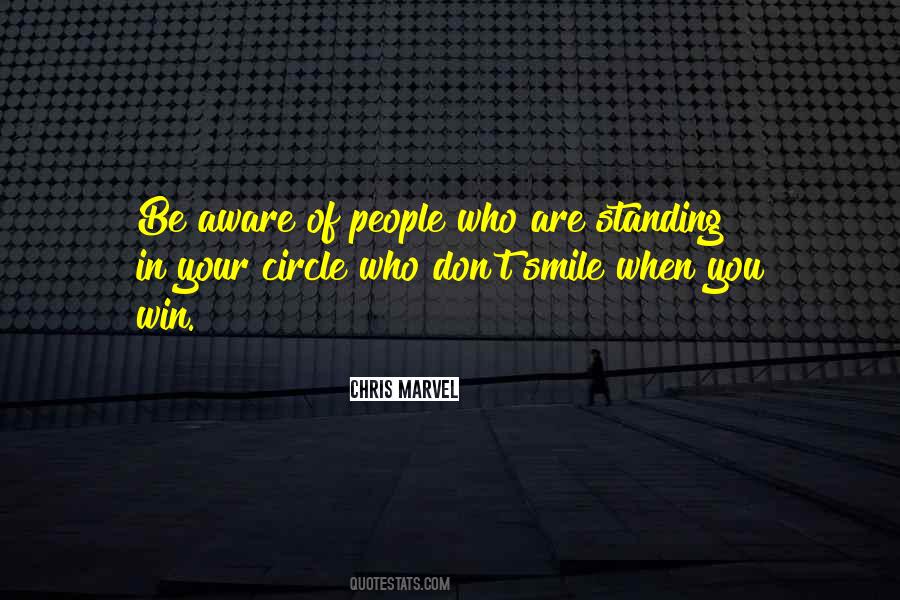 #26. The chilling thought occurred to me that breaking up with someone you love to criticize might be the only way to save yourself from becoming unlovable - Author: Bob Smith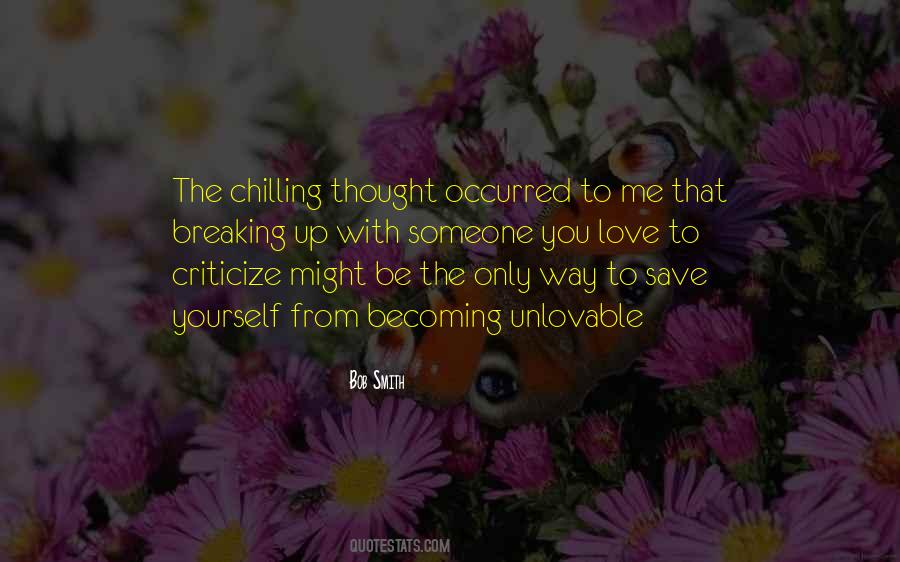 #27. Resolve never to criticize or downgrade yourself, but instead rejoice that you are fearfully and wonderfully made. - Author: Elizabeth George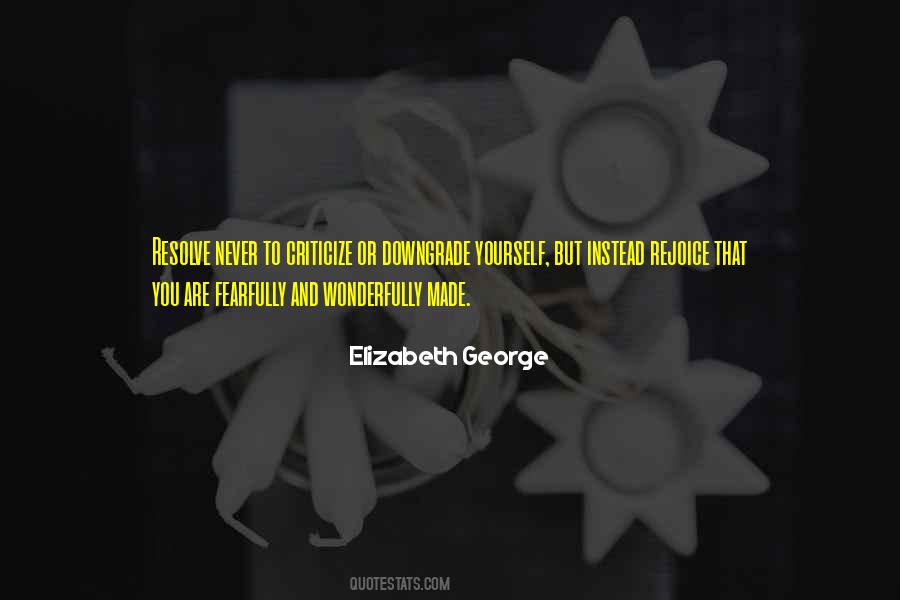 #28. Cynicism places the cynic at the center seat of judgement with the self appointed authority to criticize and condemn. - Author: Jayce O'Neal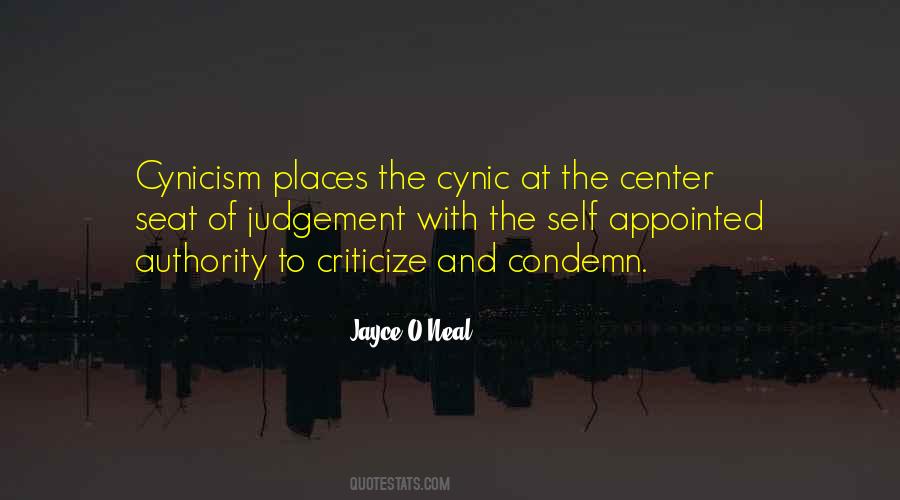 #29. If you have to criticize, do it with deep understanding and love. - Author: Debasish Mridha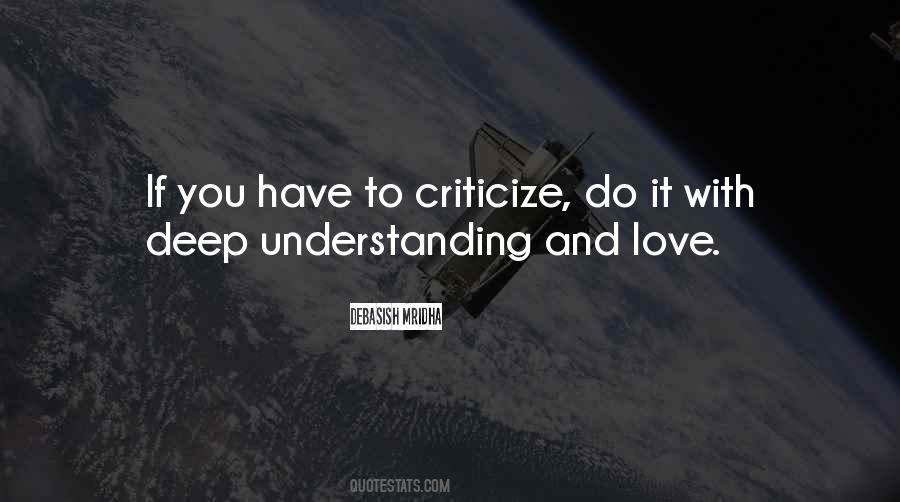 #30. I love commercial music! I can dissect it and criticize it with any critic in the business. But without any thought, I just enjoy it. It's folk music. That's what I'm doing, folk music. I'm not intellectualizing it ... and making it into a phoney art form. I'm just doing the music I enjoy. - Author: John Lennon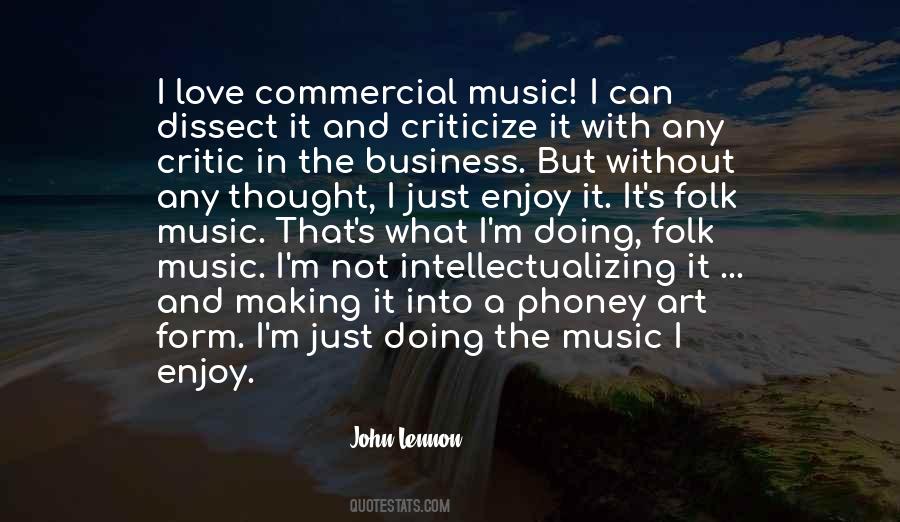 #31. Love can make the difference-love generously given in childhood and reaching through the awkward years of youth ... and encouragement that is quick to compliment and slow to criticize - Author: Gordon B. Hinckley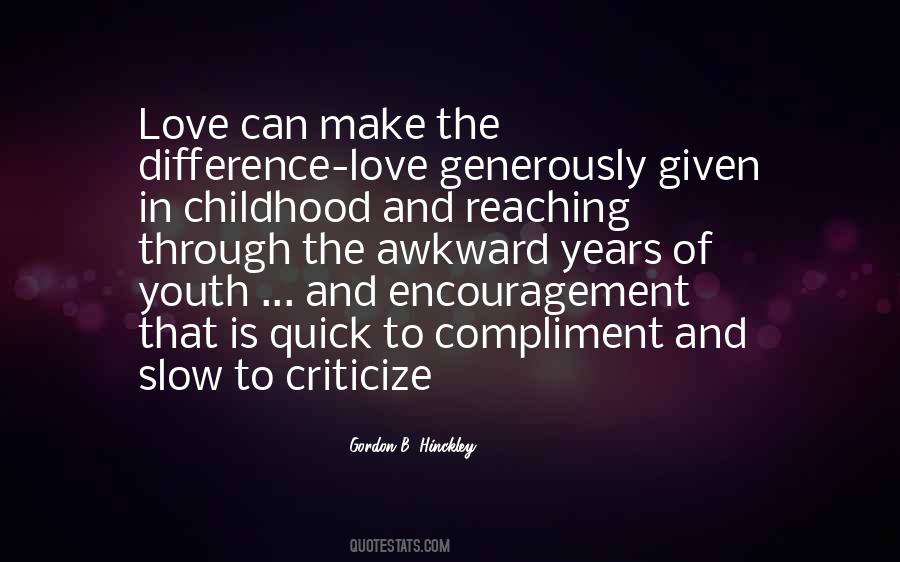 #32. Never criticize, complain or condemn. Never forget to appreciate with love what is good in a person. - Author: Debasish Mridha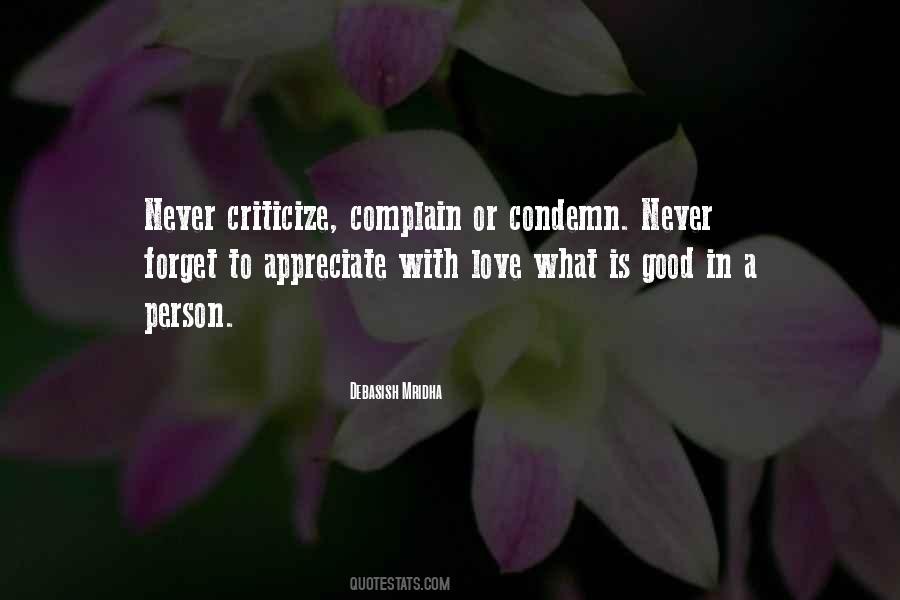 #33. If he lacks verbal expression of it, you may find his love profoundly in his works, deeds and creativity; so recognize rather than criticize. - Author: T.F. Hodge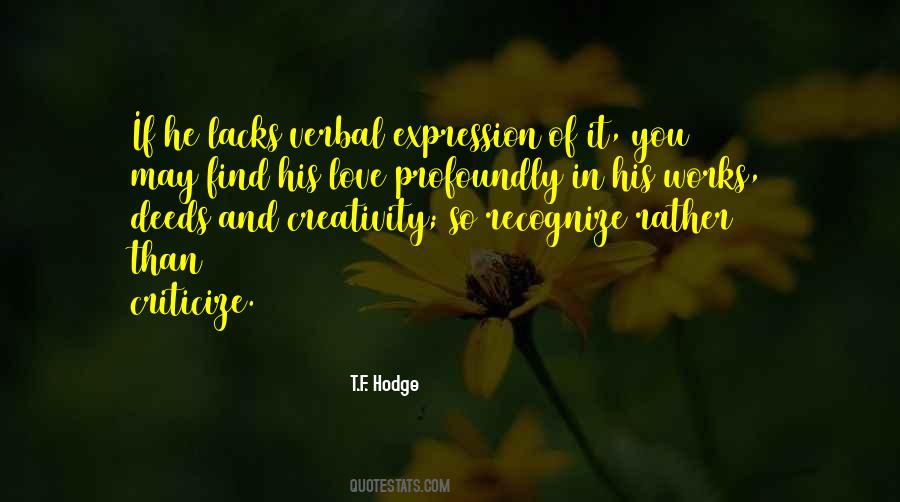 #34. If you are doing what you love then you're doing what is right. Desire and passion resonate with your body, mind and soul. When you're passionate you don't question, judge, criticize, second-guess, or doubt. It's that passion that will fuel the fire to overcome challenges. - Author: Layne Beachley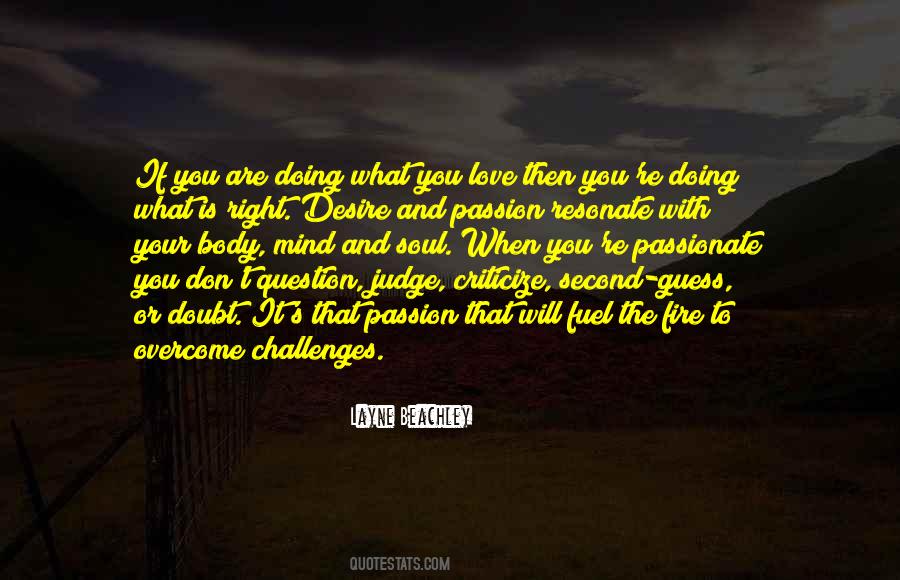 #35. If you love people you criticize them, and if you don't love them you don't criticize them, you let them go to hell, don't you? To help any kind of friendship, your marriage, your children, you criticize because you love. - Author: Ray Bradbury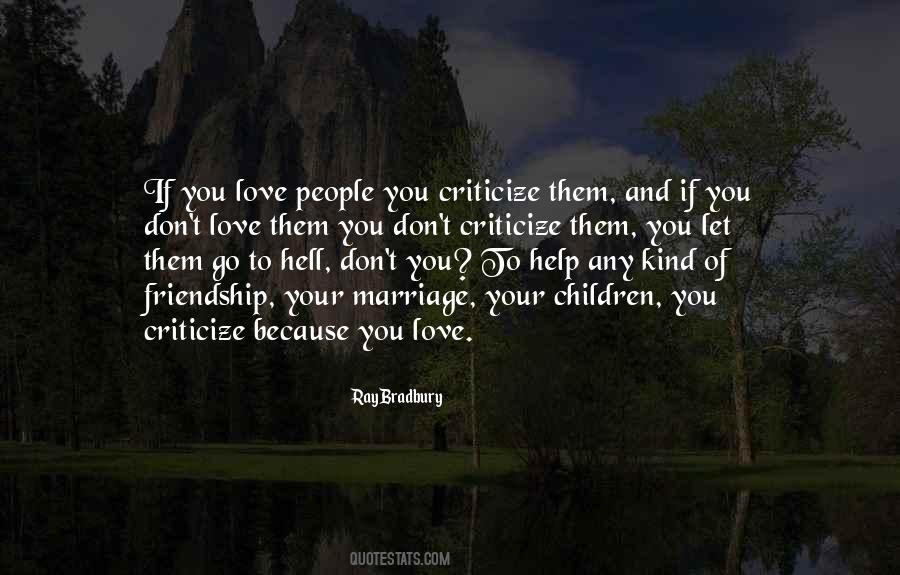 #36. Fight less, cuddle more. Demand less, serve more. Text less, talk more. Criticize less, compliment more. Stress less, laugh more. worry less, pray more. With each new day, find new ways to love each other even more. - Author: Dave Willis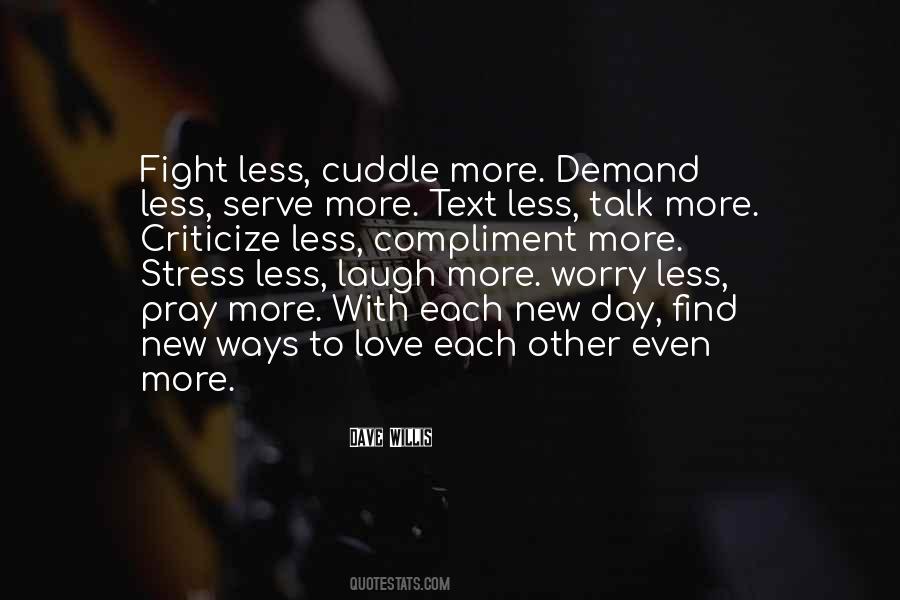 #37. People tend to criticize their spouse most loudly in the area where they themselves have the deepest emotional need. - Author: Gary Chapman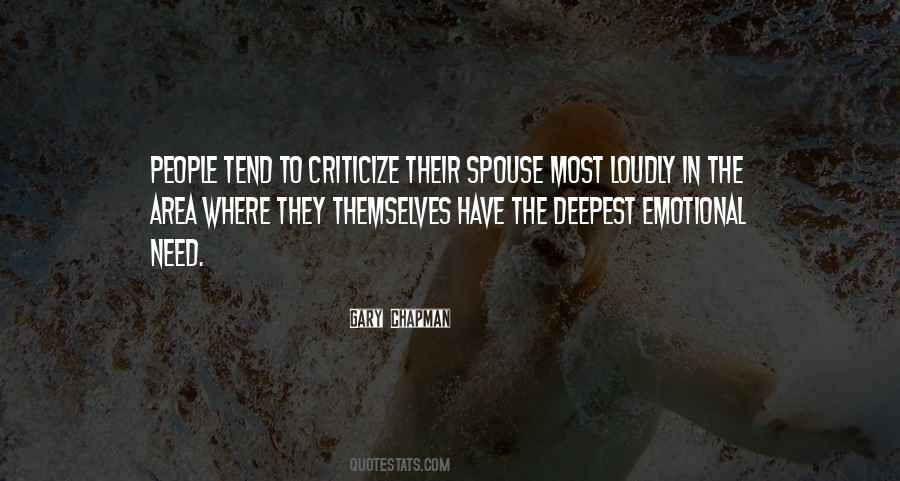 Famous Authors
Popular Topics