Look At Your Own Life Famous Quotes & Sayings
List of top 66 famous quotes and sayings about look at your own life to read and share with friends on your Facebook, Twitter, blogs.
Top 66 Look At Your Own Life Quotes
#1. We all tend to look for life horizontally when the reality is that we will only ever find life vertically. - Author: Paul David Tripp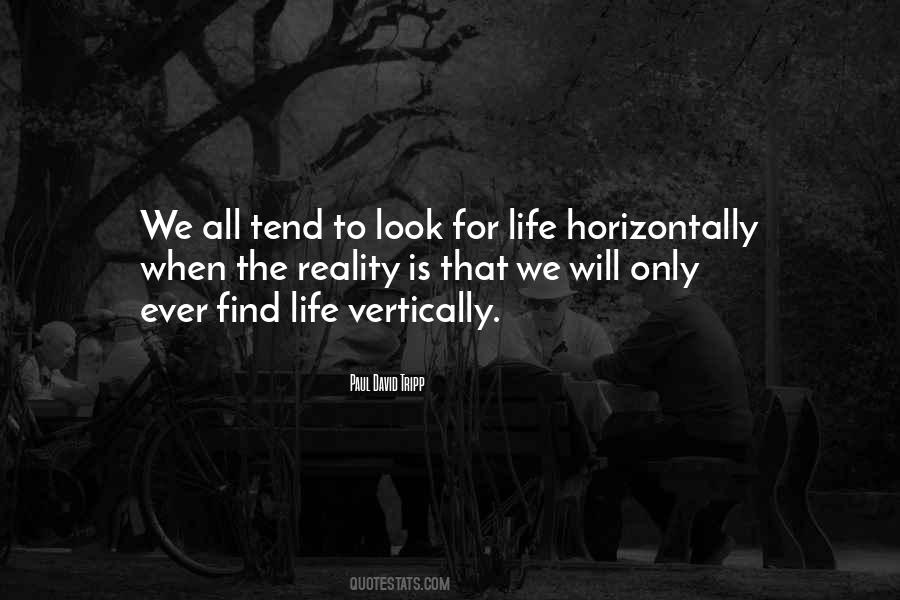 #2. Notice the malice toward an independent man. Look back at your own life. Howard, and at the people you've met. They know. They're afraid. You're a reproach. - Author: Ayn Rand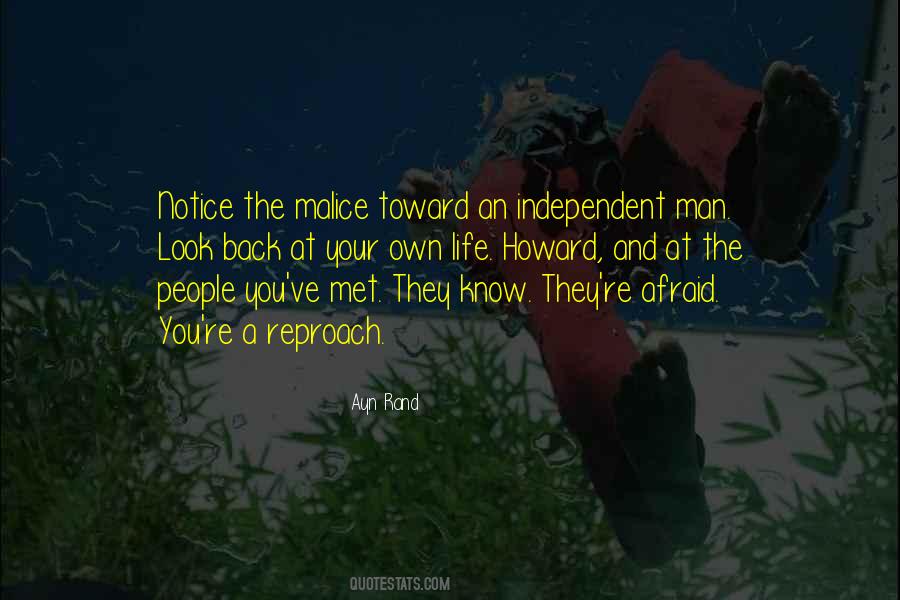 #3. When life tries to define you with its hardship, you gotta push back, look it straight in the eye and say, 'No matter what life throws at me, I'm going to keep telling myself that I will overcome.' And every time you own that truth, you write your own life script. - Author: Nikki Rosen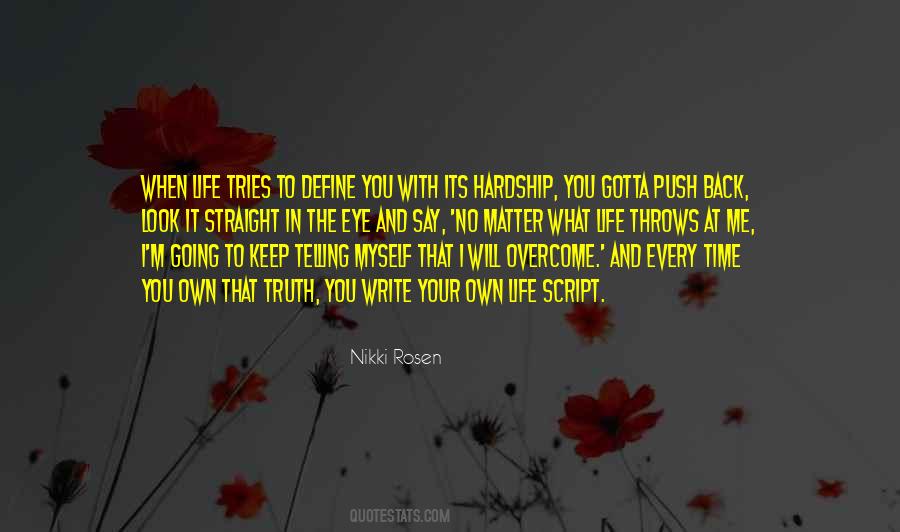 #4. Be careful what you look for and expect in life, because you will either find it or create it. - Author: Christopher Babson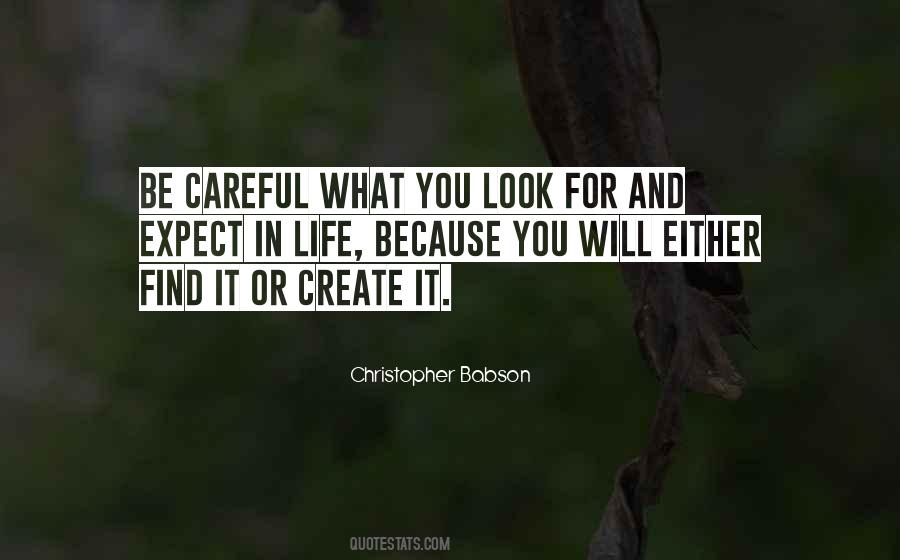 #5. Sometimes life may look complicated than it is, but you'll have to play it just the way it is and make it proper, the way you would wish it to be in your own words. - Author: Auliq Ice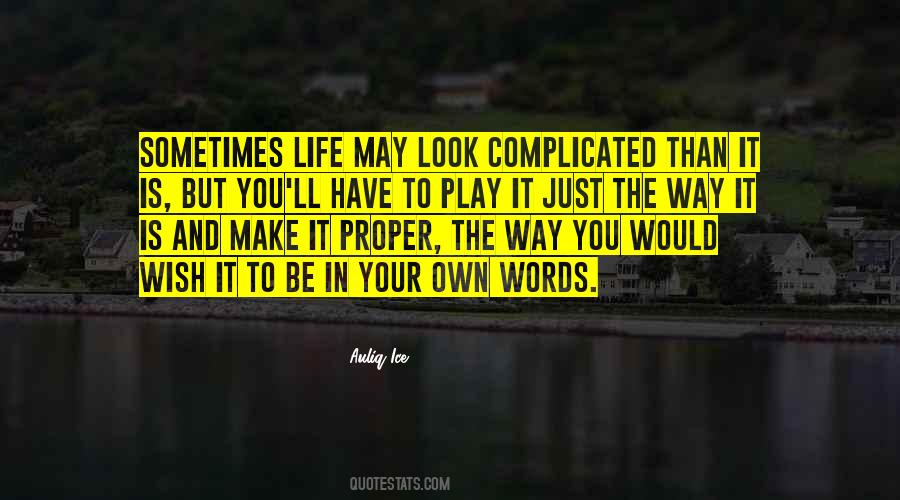 #6. I was twenty one years old and I thought, here I am my health is at risk, my life is going to go down hill from here and I really had to have a look in the mirror to see what the cause was of that and the cause of that was me. - Author: John Assaraf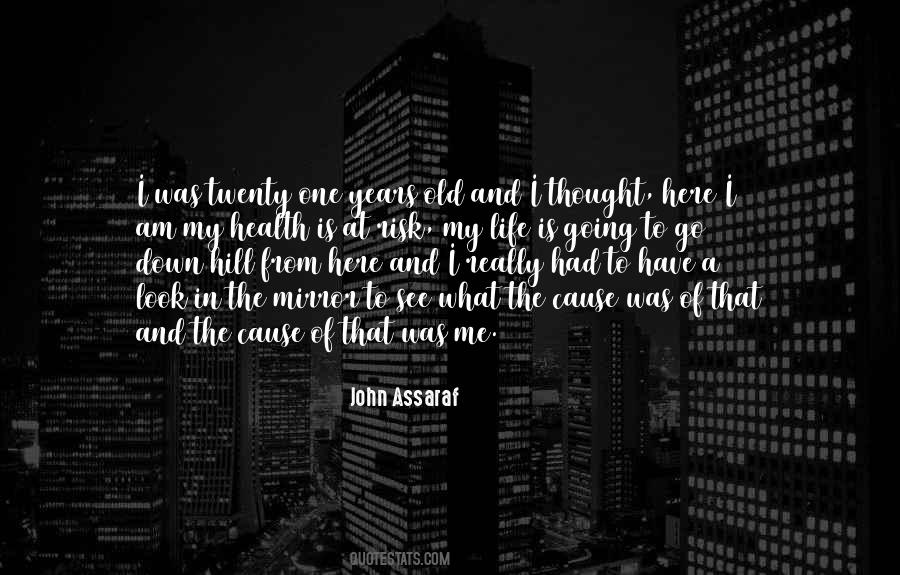 #7. You may lose many things in the way you have chosen, don't look back but serve your purpose. - Author: Giridhar Alwar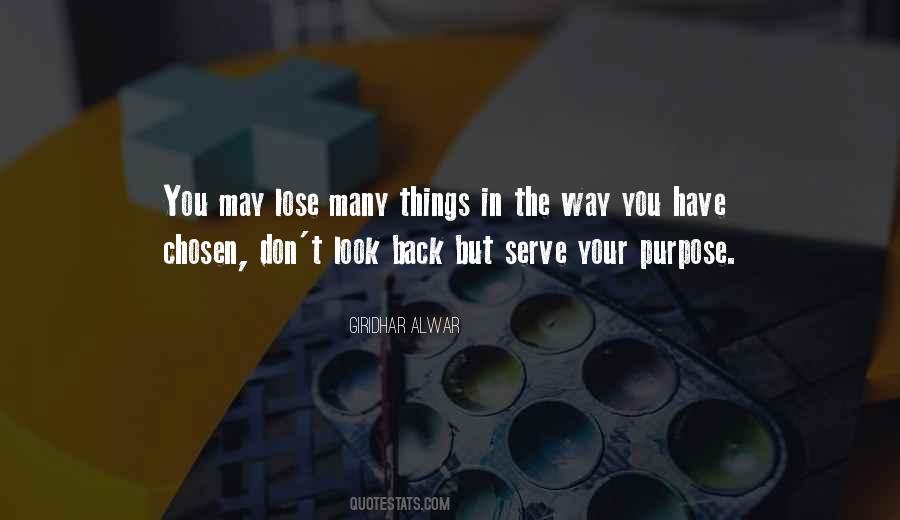 #8. I have made many mistakes and done a lot of foolish things, but when I look back on the person I was, I feel affection for him and laugh at him. - Author: Thomas Moore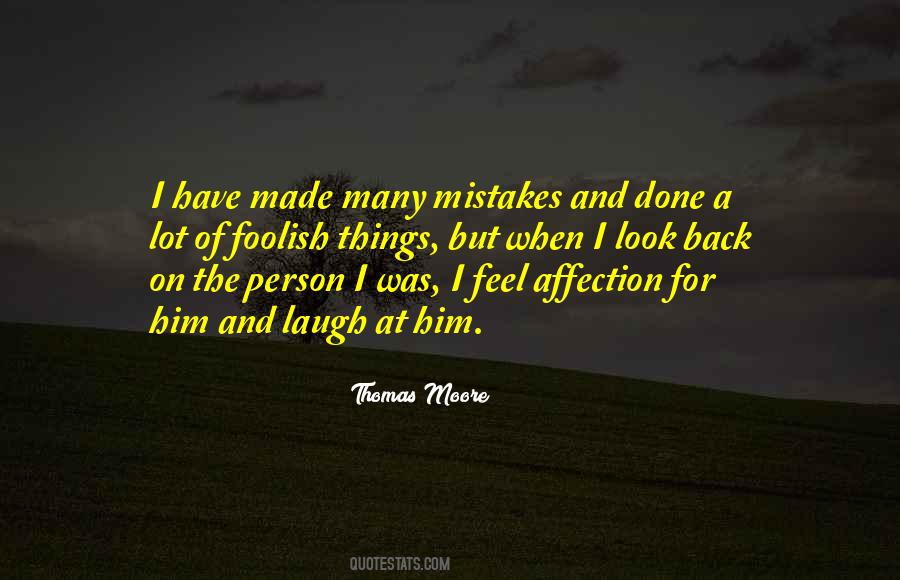 #9. To see the magic of life look through the wondrous eyes of a child. - Author: Debasish Mridha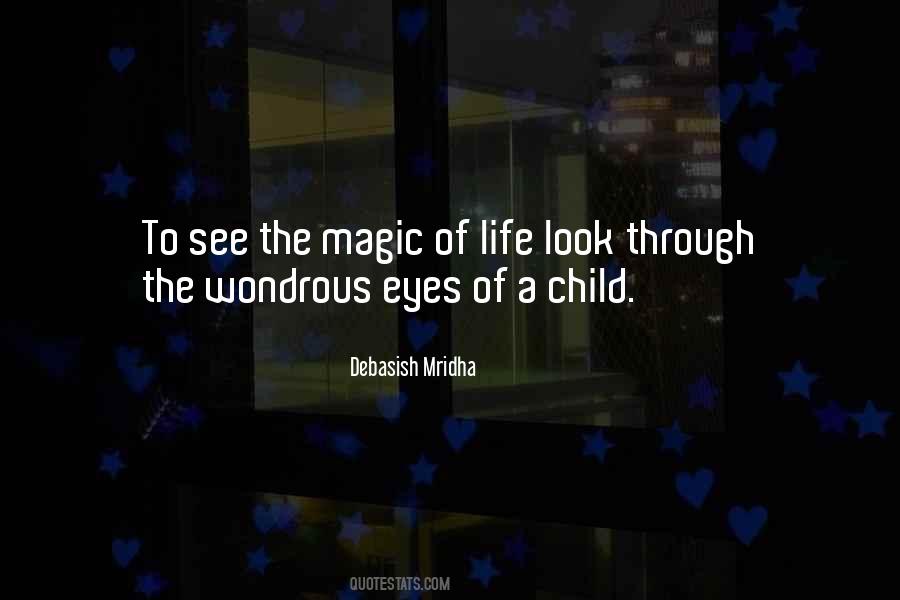 #10. Your life is something opaque, not transparent, as long as you look at it in an ordinary human way. But if you hold it up against the light of God's goodness, it shines and turns transparent, radiant and bright. And then you ask yourself in amazement: Is this really my own life I see before me? - Author: Albert Schweitzer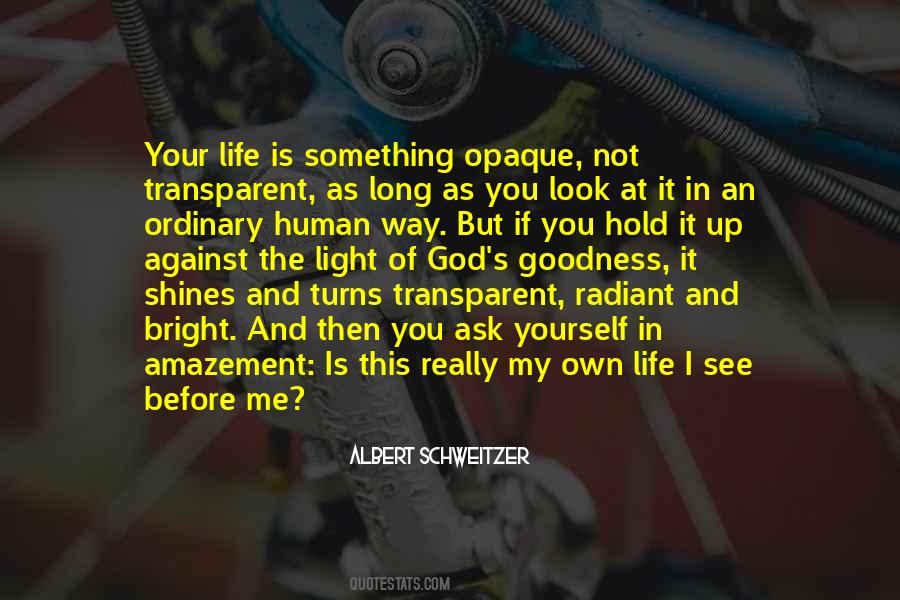 #11. You look like you've never done a thing wrong in your life, and people like that lack common sense. - Author: Lauren DeStefano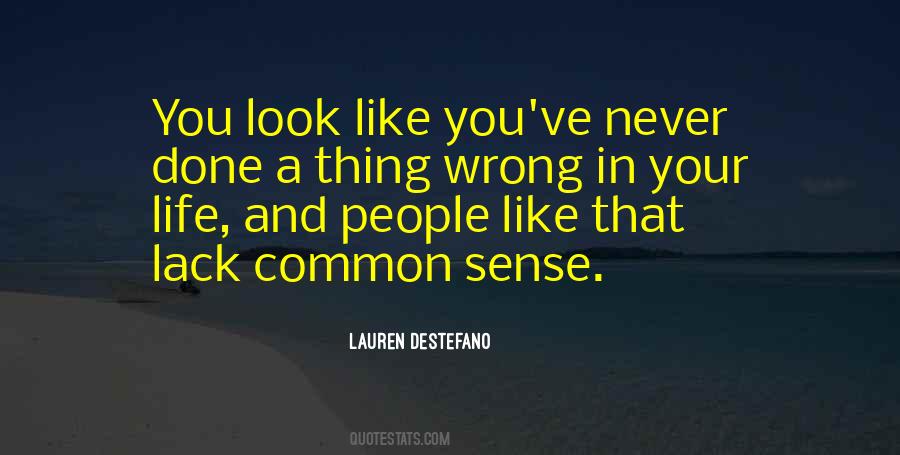 #12. I encourage anyone who has gone through hardships to look back through their life's chapters and see what can be turned into a book. For you never know what heartache God, one day, can turn into a redemptive story. - Author: Jolina Petersheim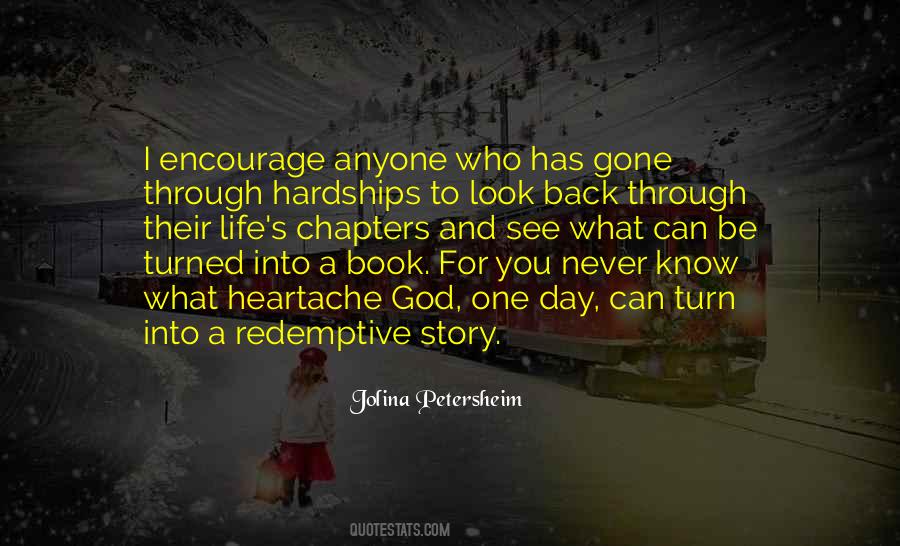 #13. You have to know yourself and know what you can carry. If you're not comfortable, no matter how well dressed you are, you're not going to look right. I'd rather be happy and feel comfy. - Author: Iris Apfel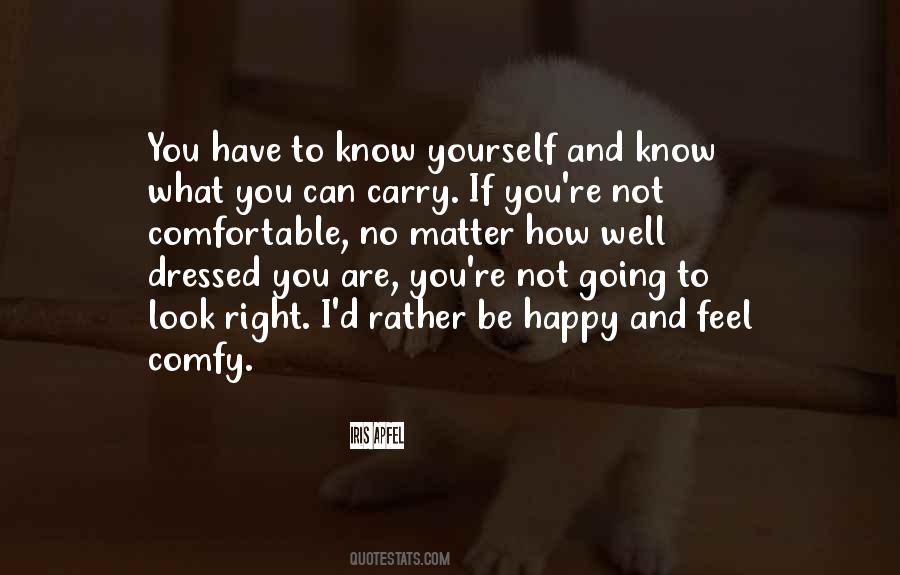 #14. Look for the exceptions to the rule
and let these rule your spirit. - Author: Karen Salmansohn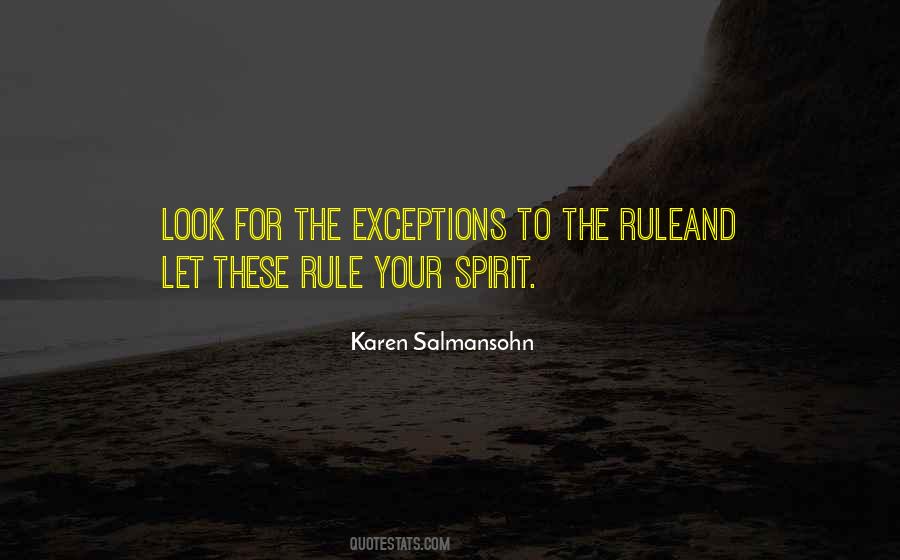 #15. Every cloud doesn't have a silver lining but making time to look at the beauty of clouds can give you peace of mind - Author: C.L. Bennett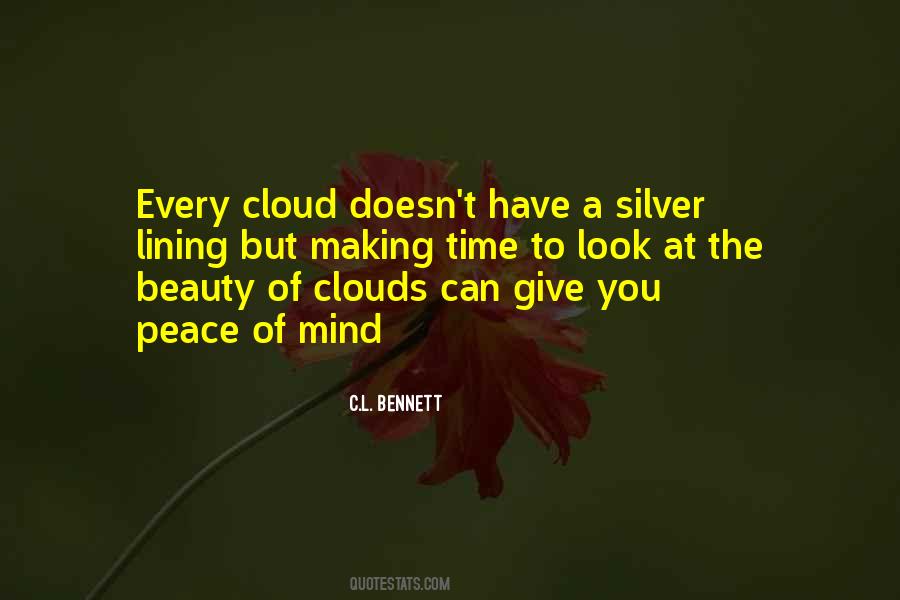 #16. Relationships of trust depend on our willingness to look not only to our own interests, but also the interests of others. - Author: Peter Remnant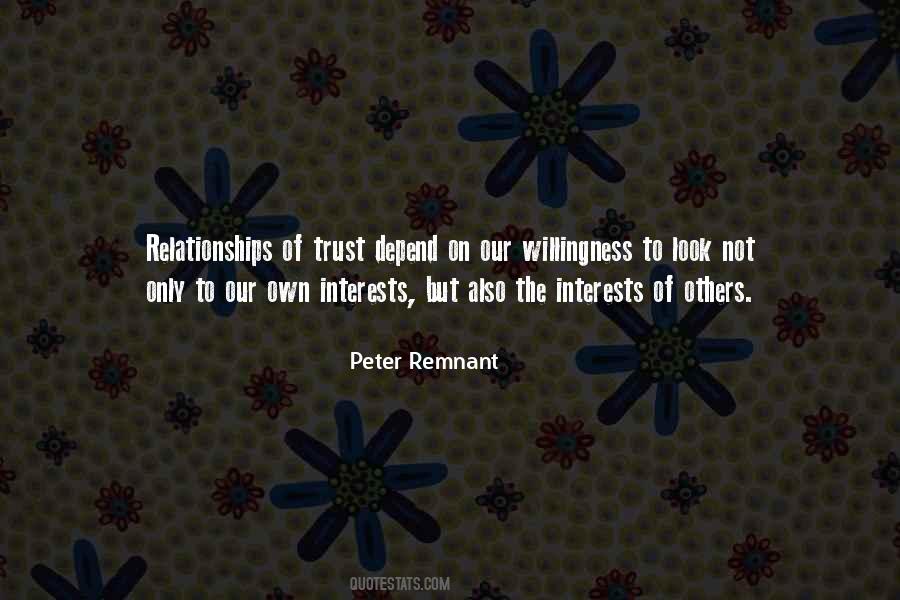 #17. If I look at my old lyrics, they seem to be full of rage, but empty. There was an emptiness in my life. - Author: Green Day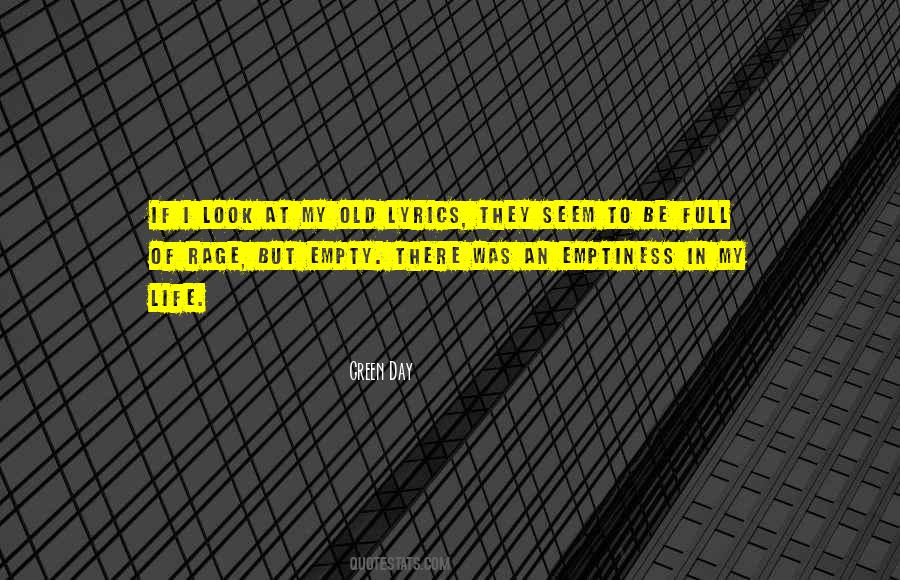 #18. You always look like someone's sucked the life right out of you when something fascinates you. -Tris - Author: Veronica Roth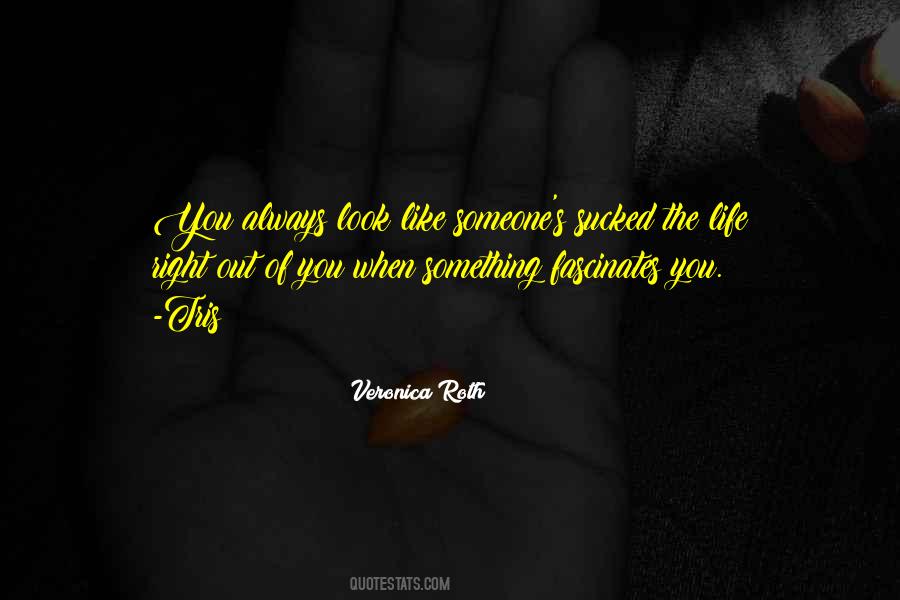 #19. Take a look at anyone's life. Take a look at your own. In the long fold catastrophe that makes up your three-score years and ten you will encounter many cusp catastrophes along the way. - Author: William Boyd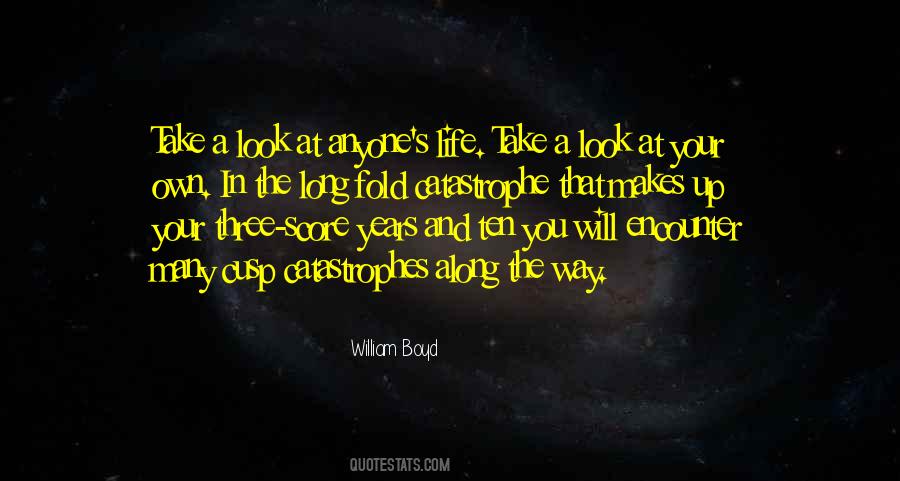 #20. When you look at your passions, your interests, and your own self, and see nothing of worth, then know that life will feed this belief back to you. If you can find a way to value yourself without exerting your will or your effort anymore, you will find that you need to do less, to shine more. - Author: Kelly Martin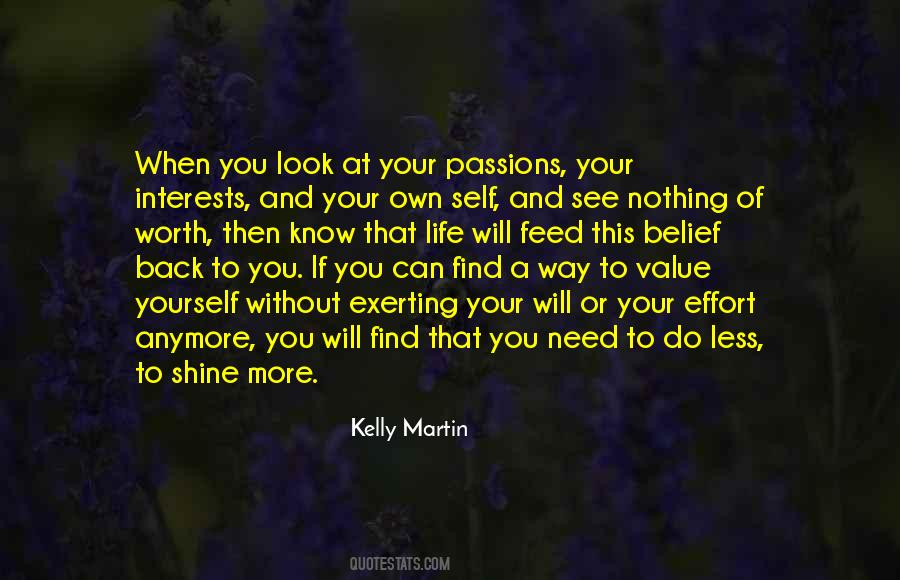 #21. Don't ask for guarantees. And don't look to be saved in any one thing, person, machine, or library. Do your own bit of saving, and if you drown, at least die knowing you were heading for shore. - Author: Ray Bradbury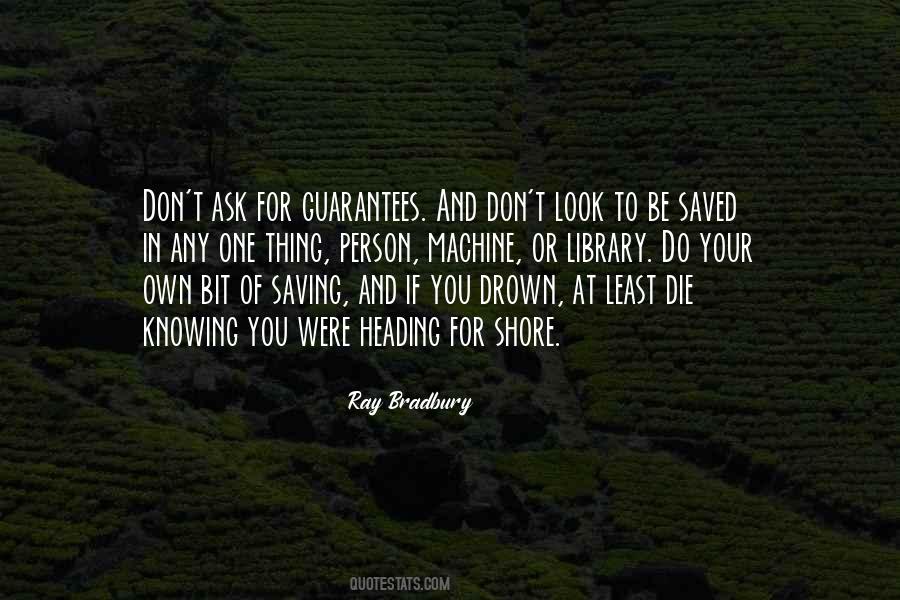 #22. Look at your own poverty
welcome it
cherish it
don't be afraid
share your death
because thus you will share your love and your life - Author: Jean Vanier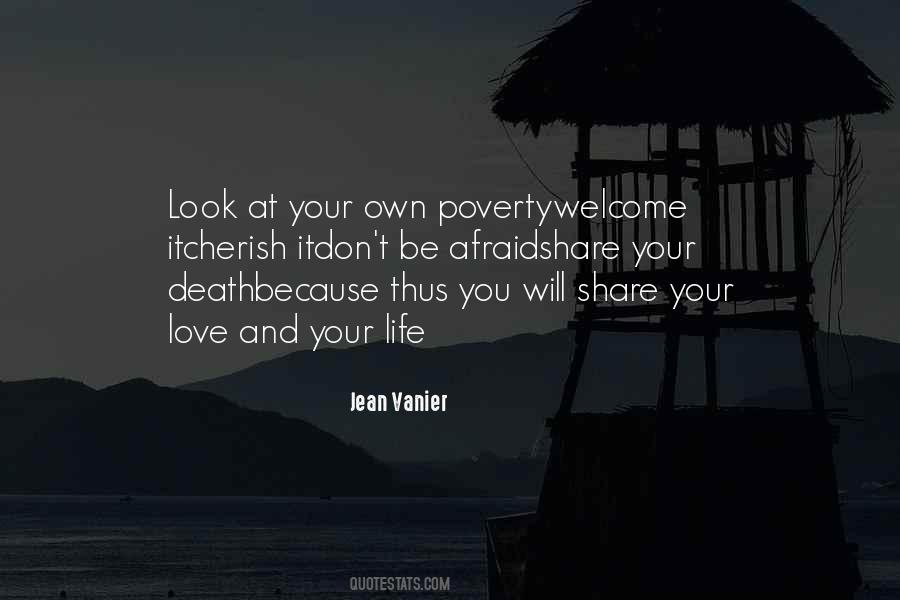 #23. God is always joking. Look at your own life - it is a joke! Look at other people's lives, and you will find jokes and jokes and jokes. Seriousness is illness; seriousness has nothing spiritual about it. Spirituality is laughter, spirituality is joy, spirituality is fun. - Author: Rajneesh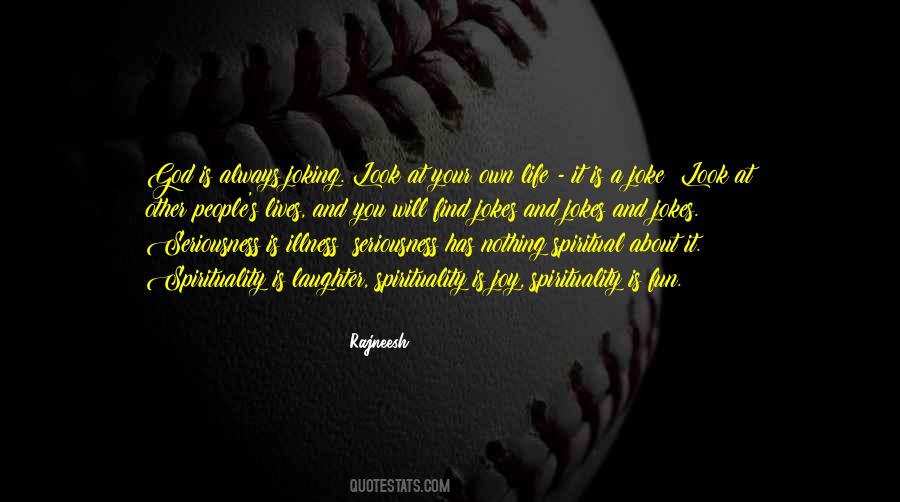 #24. You have to take control of your own life, your own destiny, and your own careers. You can't leave everything up to someone else, 'cause then you can look at them and blame them. - Author: Action Bronson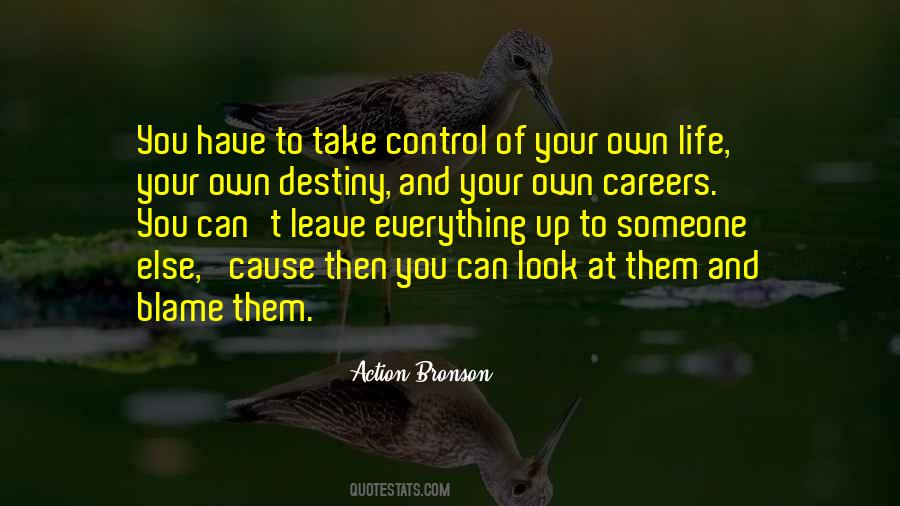 #25. [ ... ] when you look at the world, you put on the goggles of custom, habit and tribal wisdom lest the truth make you insane [ ... ] you see the world reflected in your own image; you see yourself reflected to the image of the world [ ... ] - Author: David Zindell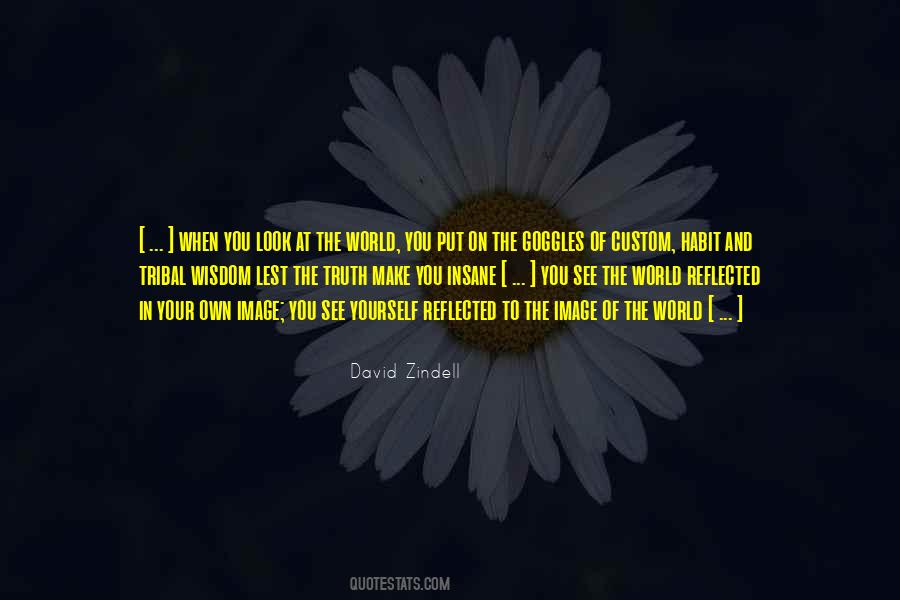 #26. Look closer at the stress in your own life and you can identify that negative emotions are always built on counterfactual statements. - Author: Andrew J. Bernstein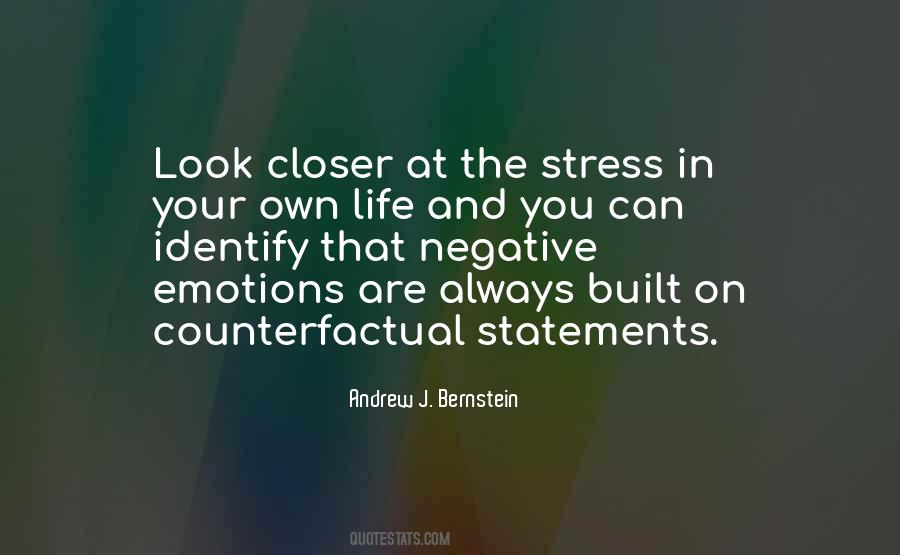 #27. I think sports gave me the first place where this awkward girl could feel comfortable in my own skin. I think that's true for a lot of women-sports gives you a part of your life where you can work at something and you look in the mirror and you like that person. - Author: Teri McKeever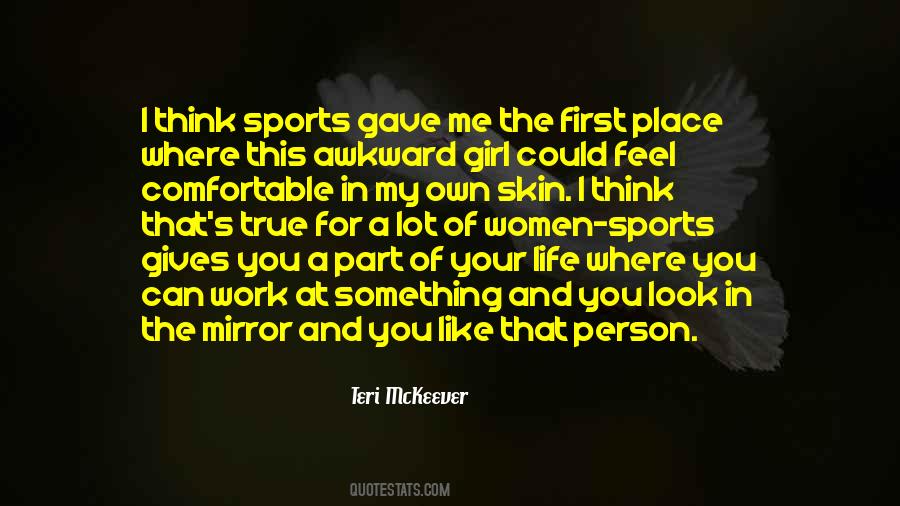 #28. Before you choose whom to love, take a look at yourself, choose your own word, think about how and reassess your time when you have given life to love, Know your ready or not and make sure you are not there to hurt making regrets on your door and paint the word I wish on your window. - Author: Auliq Ice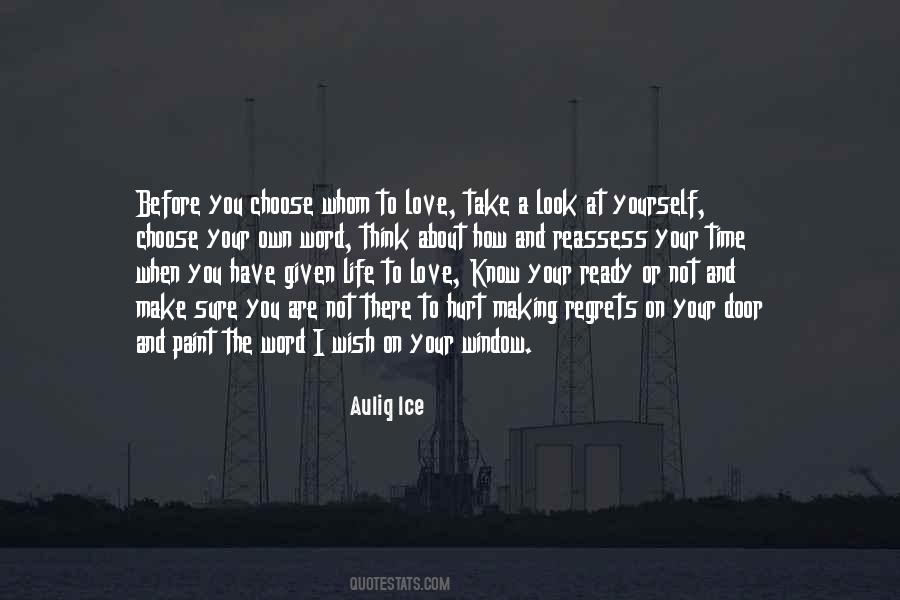 #29. I can look back at my own life and see where a few words of praise have sharply changed my entire future. Can't you say the same thing about your life? - Author: Dale Carnegie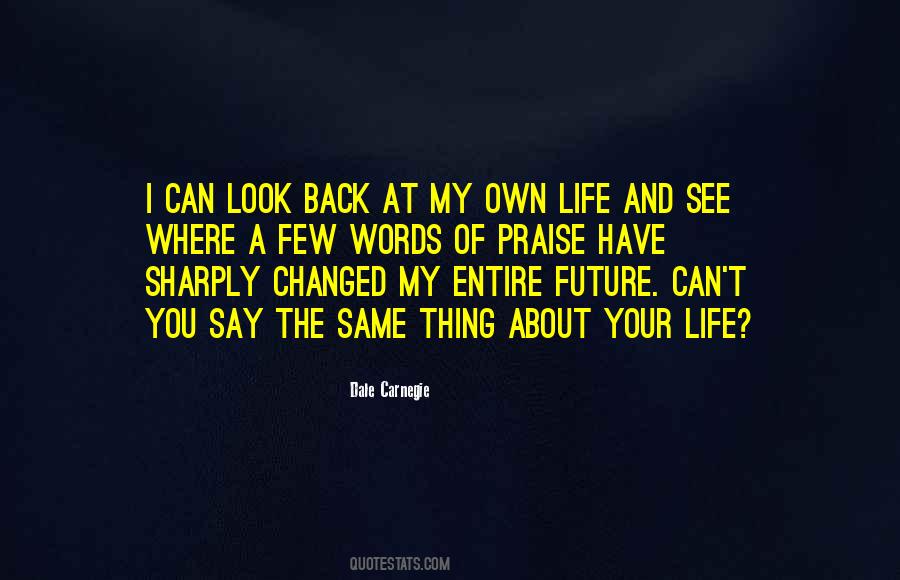 #30. It's a beautiful thing to build your own fan base and pay the bills knowing that you're staying true to your music at the end of the day. I look at life like this, the sky's the limit! - Author: Rahki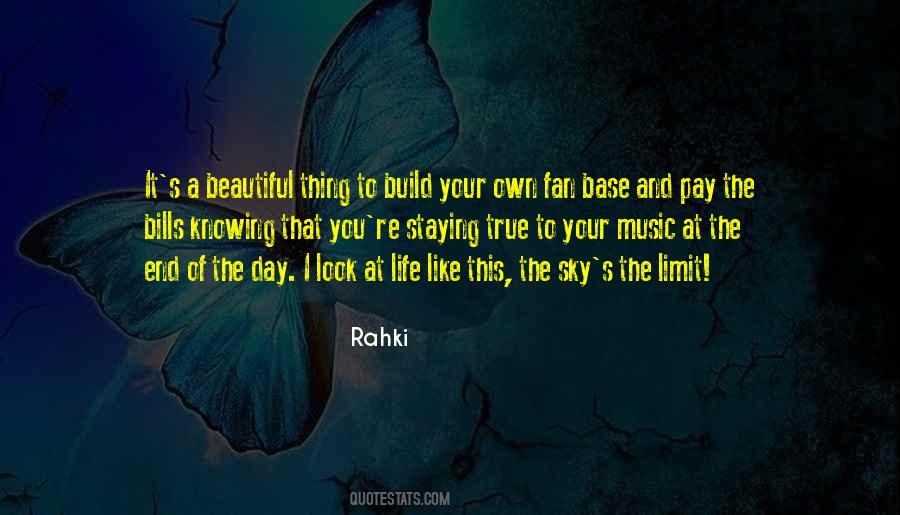 #31. Be your own master, and look at things as a man, as a human being, as a citizen, as a mortal creature. - Author: Marcus Aurelius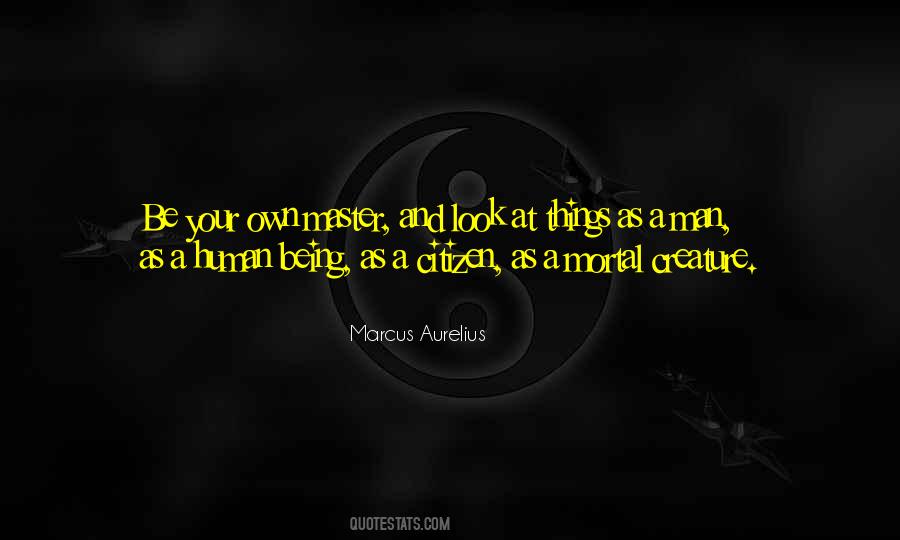 #32. The same view you look at every day, the same life, can become something brand new by focusing on its gifts rather than the negative aspects. Perspective is your own choice and the best way to shift that perspective is through gratitude, by acknowledging and appreciating the positives. - Author: Bronnie Ware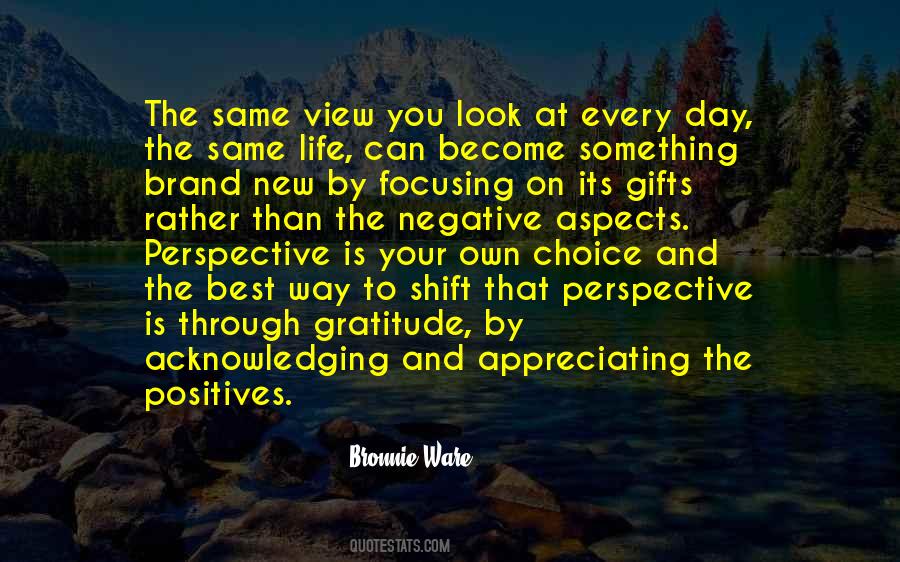 #33. The secret of the creative life is how to feel at ease with your own embarrassment. We're all in the dirty laundry business and we're being paid to take risks and look silly. Race car drivers get paid to risk their lives in a more concrete way; we get paid to risk our lives in an emotional way. - Author: Paul Schrader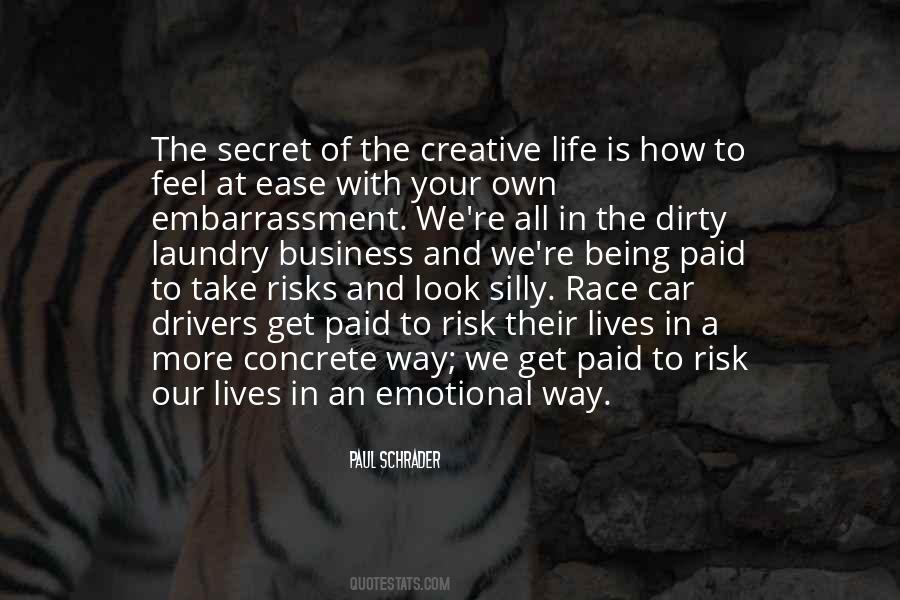 #34. Look at life through the windshield, not the rear-view mirror. - Author: Byrd Baggett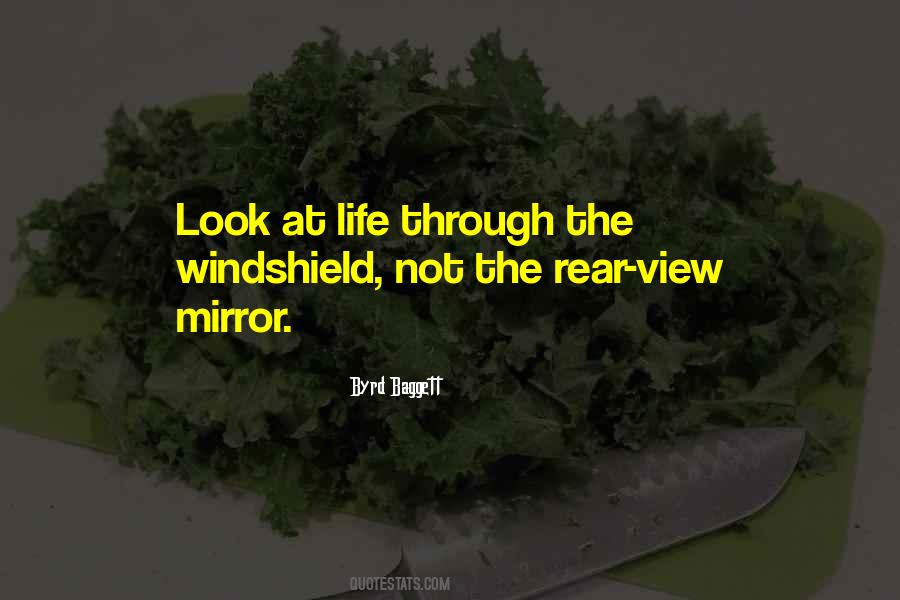 #35. One woman came up to me at a lecture and observed that I was much fatter than on television; I think I look better onscreen than in real life. It's the lights. - Author: Kate Williams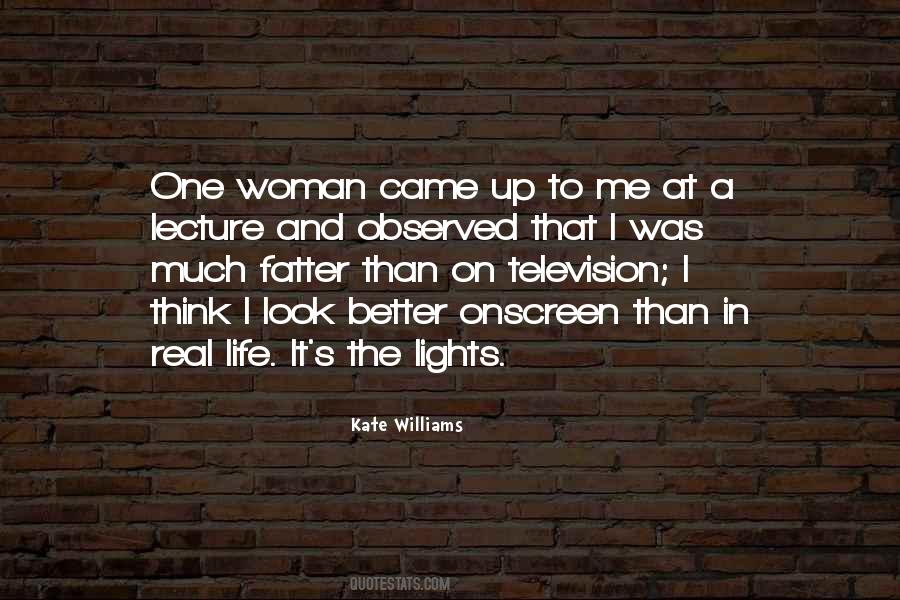 #36. Another coupon tacked onto the pile I'll redeem when I get some power in my fucken life. Look around this life and all you see is folks' coupons tacked everywhere, what they'll do if, what they'll do when. Warm anticipation for shit that ain't even going to happen. - Author: D.B.C. Pierre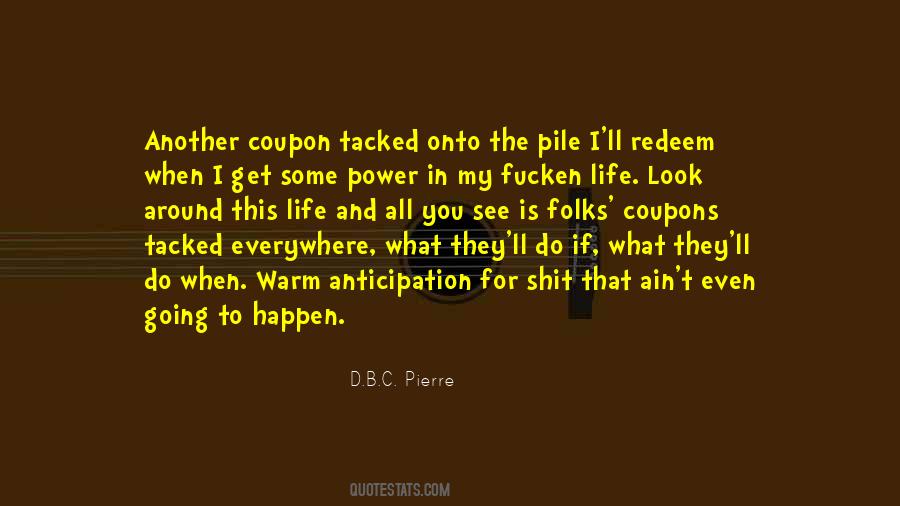 #37. Life seemed too calm; people looked for unhappiness in art as one might look for a raw material in short supply. - Author: Ilya Ehrenburg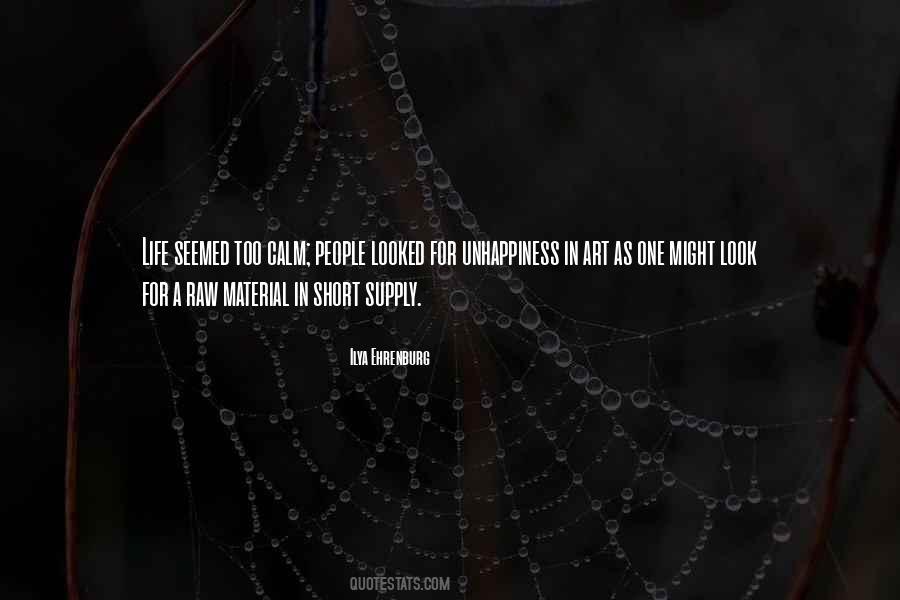 #38. Look at it this way, child, life is a magic show, or should be if people didn't go to sleep on each other. Always leave folks with a bit of mystery, son. - Author: Ray Bradbury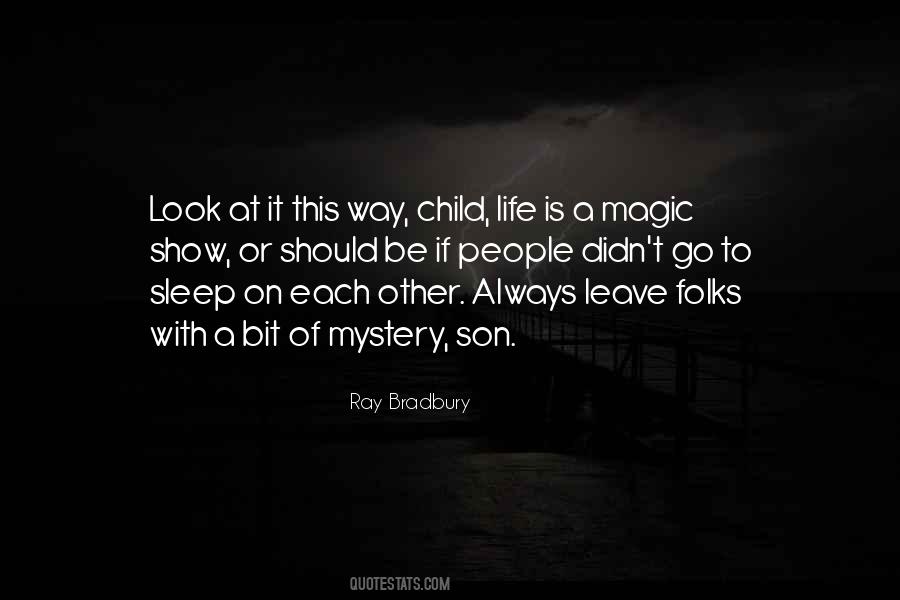 #39. Shall we go away whenever life looks like turning in the slightest uncanny, or not quite normal, or even rather painful and mortifying? No, surely not. Rather stay and look matters in the face, brave them out; perhaps precisely in so doing lies a lesson for us to learn. - Author: Thomas Mann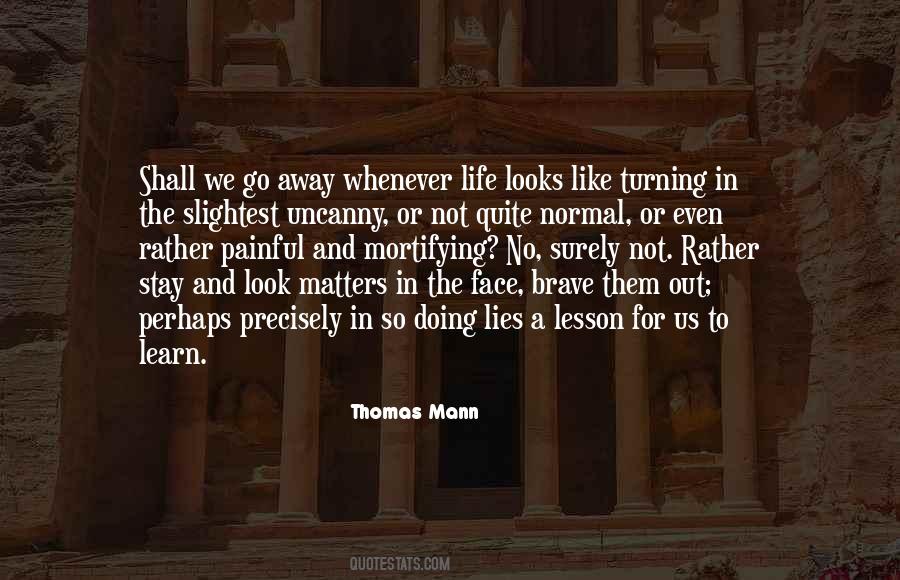 #40. I can't stand these damn shows on museum walls with neat little frames, where you look at the images as if they were pieces of art. I want them to be pieces of life! - Author: W. Eugene Smith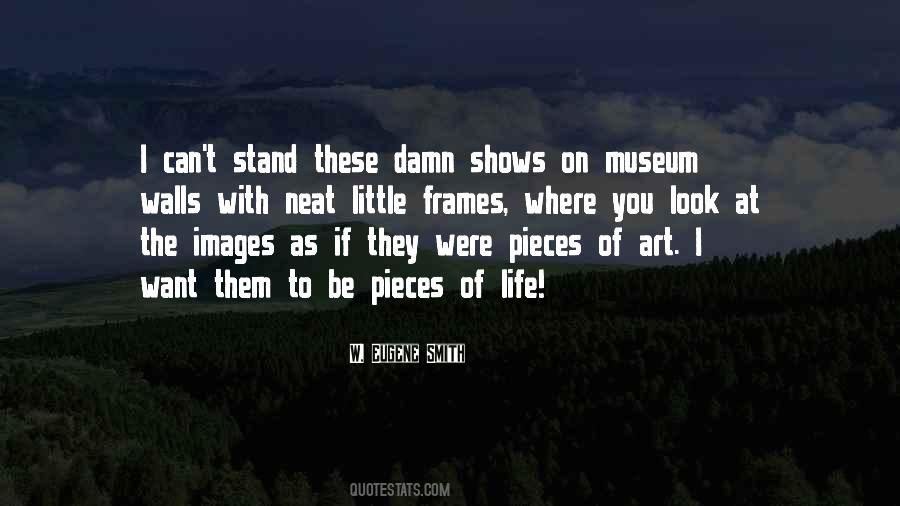 #41. The statistics of life out there and the statistics of intelligent beings and advanced civilization is a certainty, the way I look at it. that It has not been accepted, because we've been in an anthropocentric era. - Author: Story Musgrave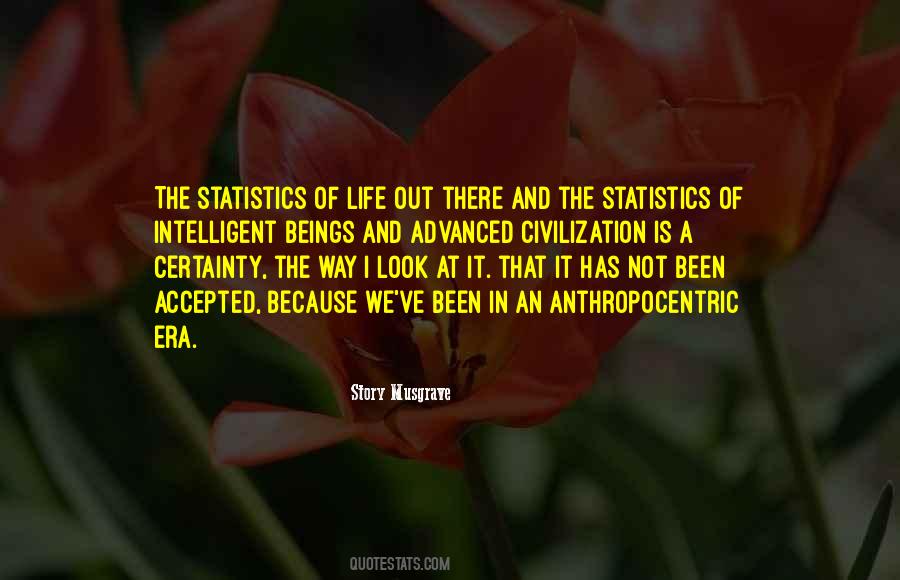 #42. You must live in the present, launch yourself on every wave, find your eternity in each moment. Fools stand on their island of opportunities and look toward another land. There is no other land; there is no other life but this. - Author: Henry David Thoreau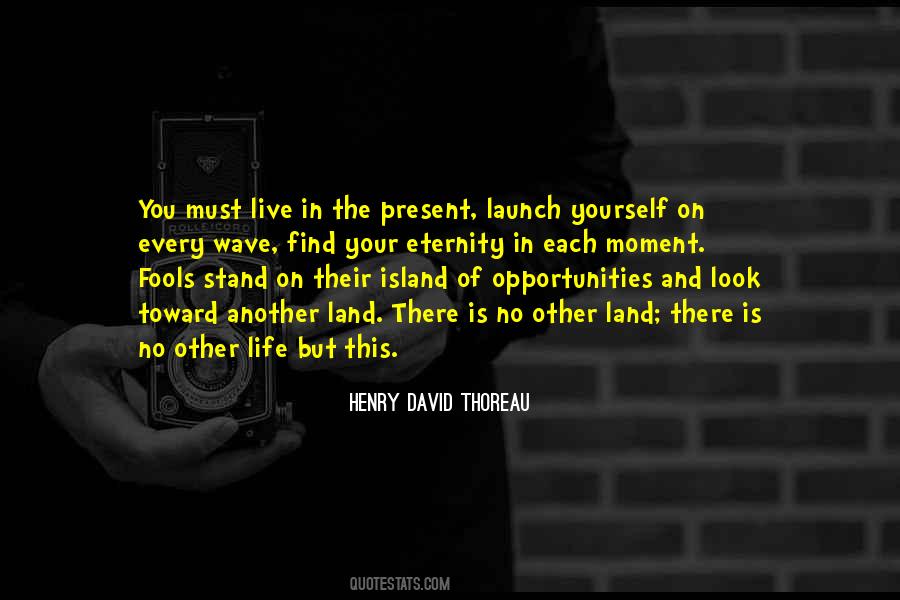 #43. Don't be dependent on anyone else. I want to go everywhere, look at, and listen to everything. You can go crazy with some of the wonderful stuff there is in life. - Author: Shel Silverstein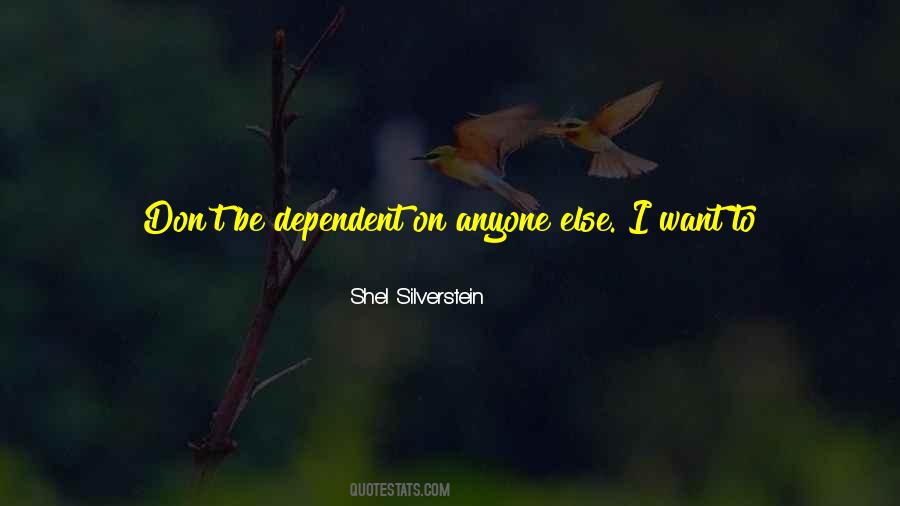 #44. If you look at your class as anything less than life or death, you do not deserve to be a teacher. If you walk into the classroom ten minutes late, week after week, you need to resign. You wouldn't come in late on your job all the time, but I venture to guess that some of you do it on Sunday. - Author: Bill Wilson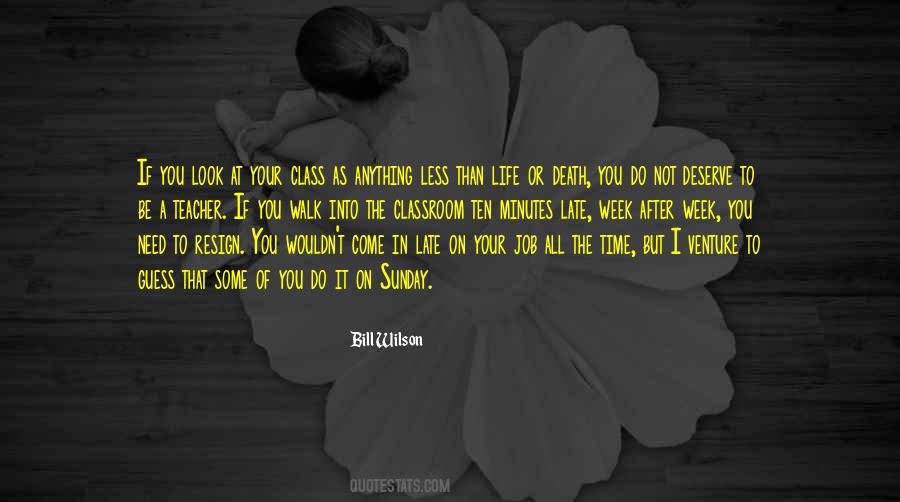 #45. When I look at my life and the lives of my female friends these days - with our dizzying number of opportunities and talents - I sometimes feel as though we are all mice in a giant experimental maze, scurrying around frantically, trying to find our way through. - Author: Elizabeth Gilbert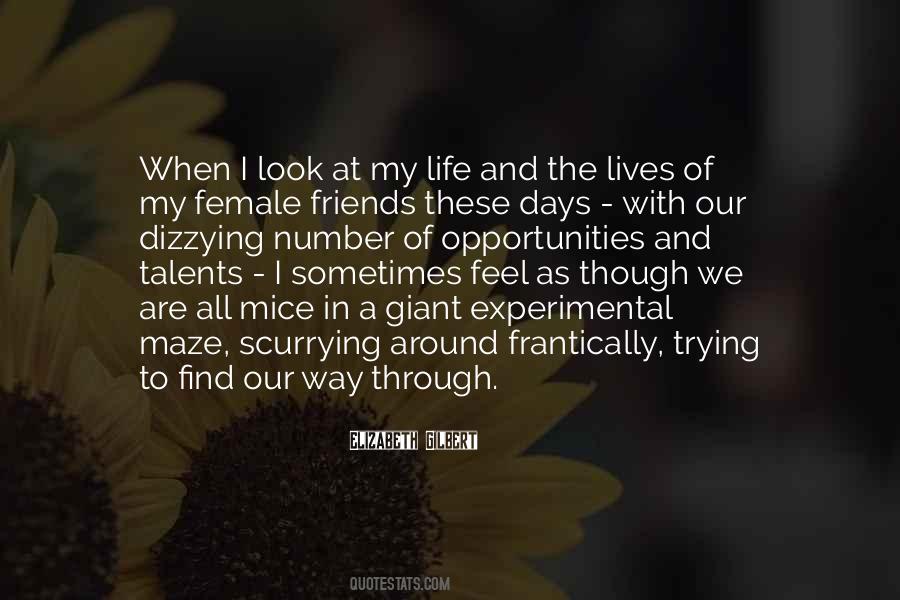 #46. Age and youth look upon life from the opposite ends of the telescope; it is exceedingly long,
it is exceedingly short. - Author: Henry Ward Beecher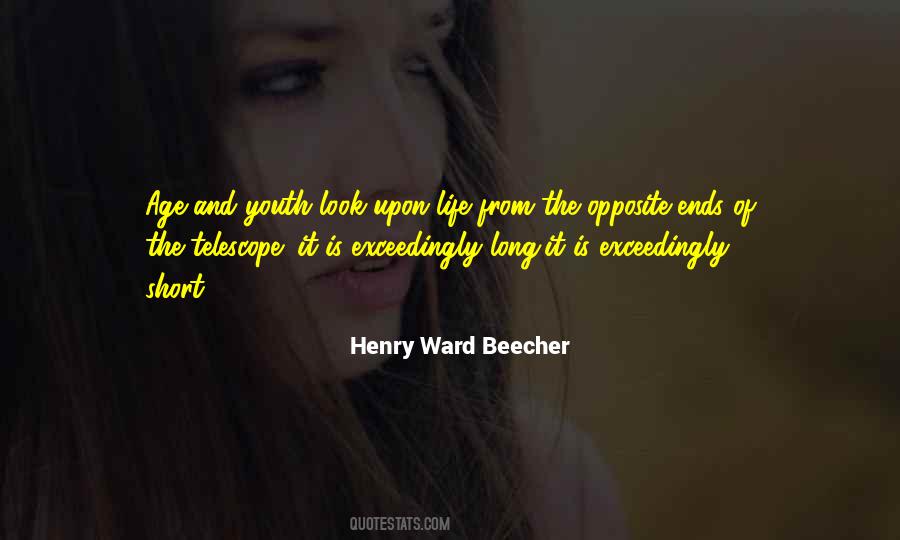 #47. The old white man didn't look into your eyes, he looked clear through your eyes, and straight to the inside of the back of your head. 'Instead of runnin from pain, which is the natural thing in life, in boxing you step to it, get me? - Author: F.X. Toole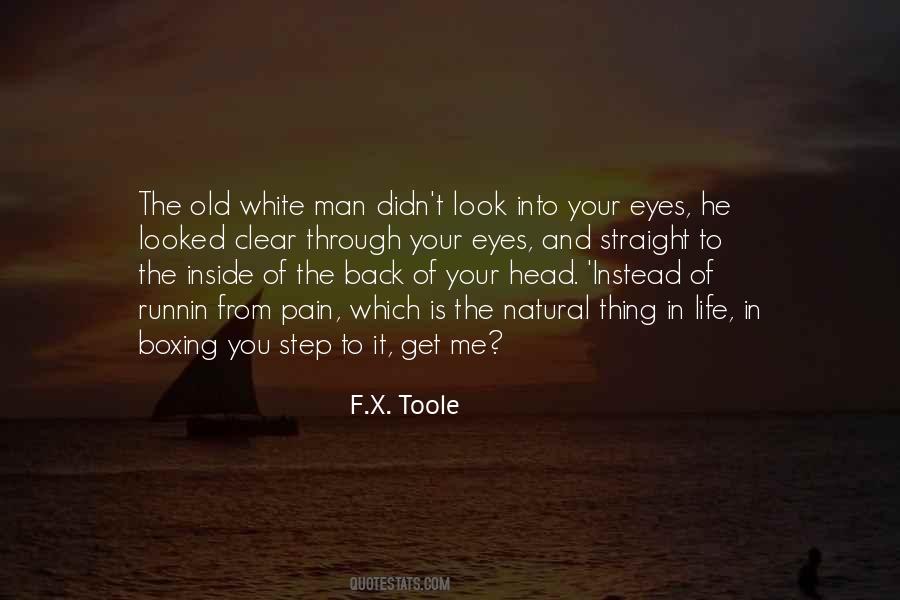 #48. I hope for an America where neither "fundamentalist" nor "humanist" will be a dirty word, but a fair description of the different ways in which people of good will look at life and into their own souls. - Author: Edward Kennedy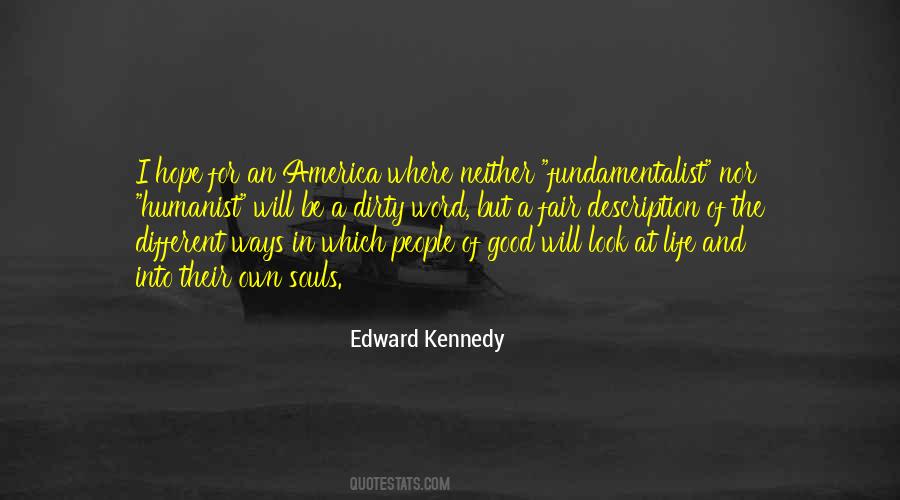 #49. I have a responsibility to not look crazy in public. I don't want to be the person where later in life when I have kids, to say, 'Don't do this' and my kids go, 'But Mom, you did it.' - Author: Raven-Symone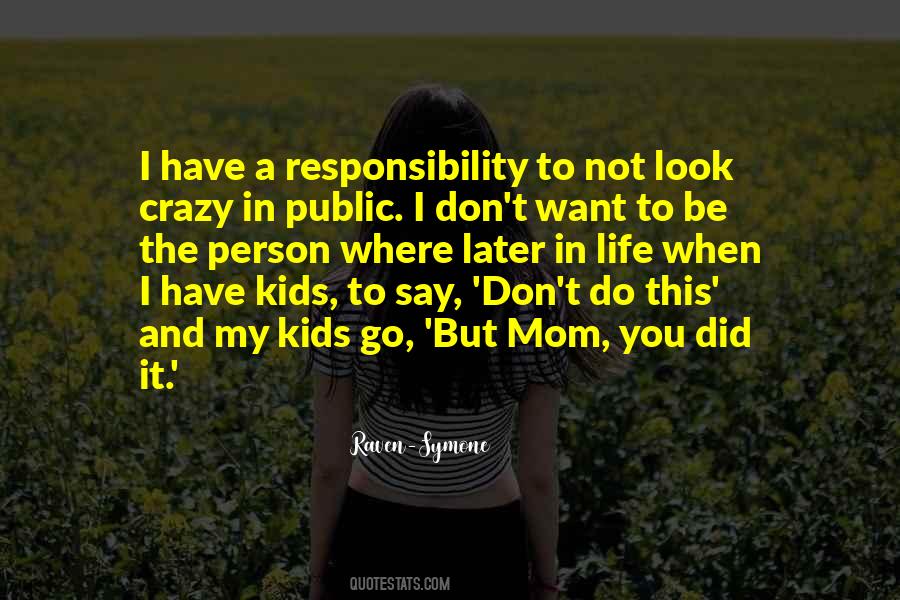 #50. There's a reason we'll all end up with just a handful of true friends in our life. These are the people that have taken the time to look at our heart, so despite any flaws they're forever in our lives. - Author: Ron Baratono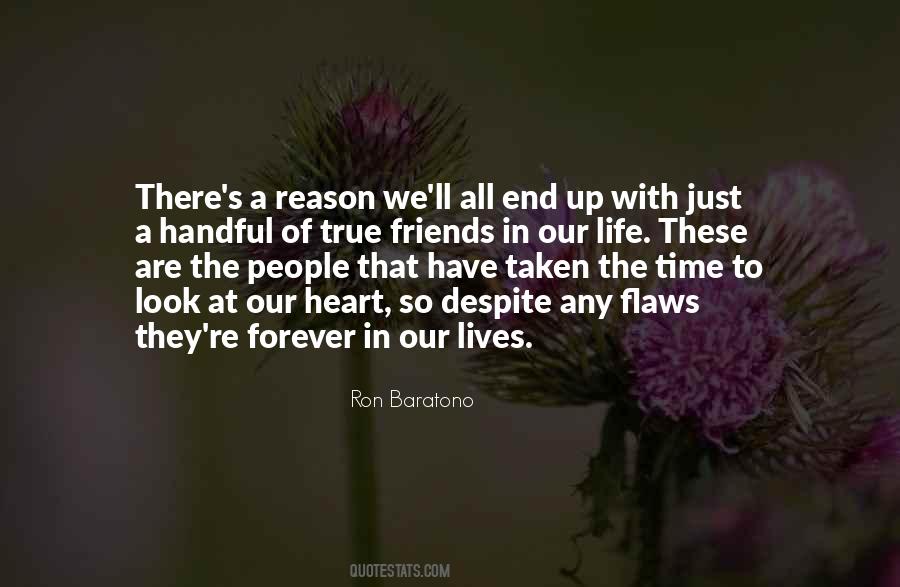 #51. You can look at a person's attitude and know what kind of thinking is prevalent in his life ... It's better to be positive and wrong than negative and right! - Author: Joyce Meyer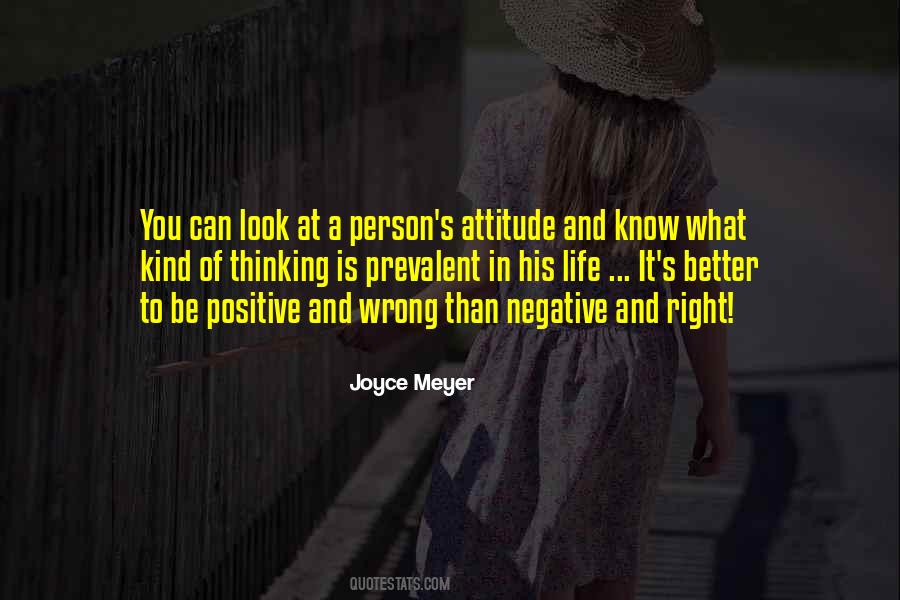 #52. It is hard sometimes to look into the future, you never know what twist and turn the school of life is going to take. - Author: Susan Lucci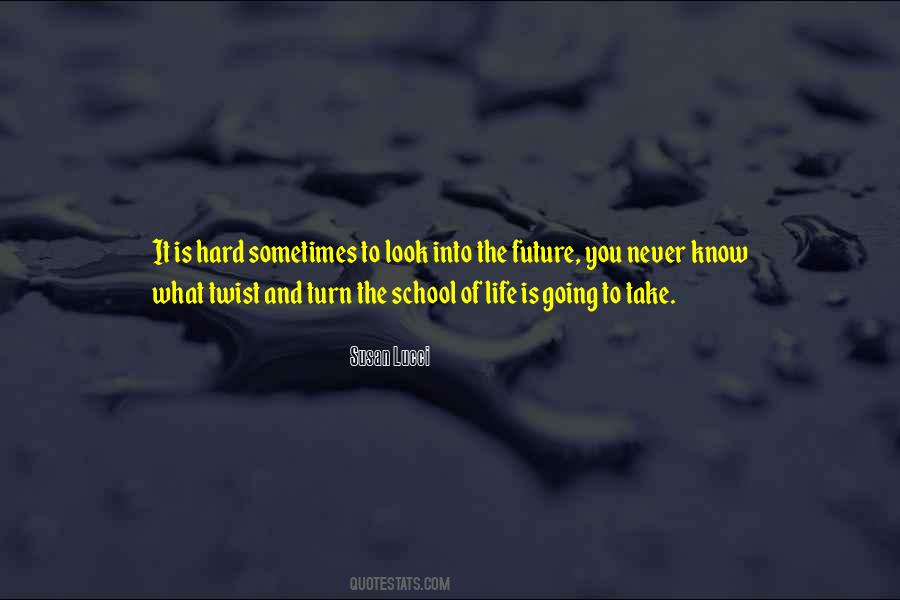 #53. I think you can make good things happen if you look for them. Life is a very positive thing. - Author: Chris Gethard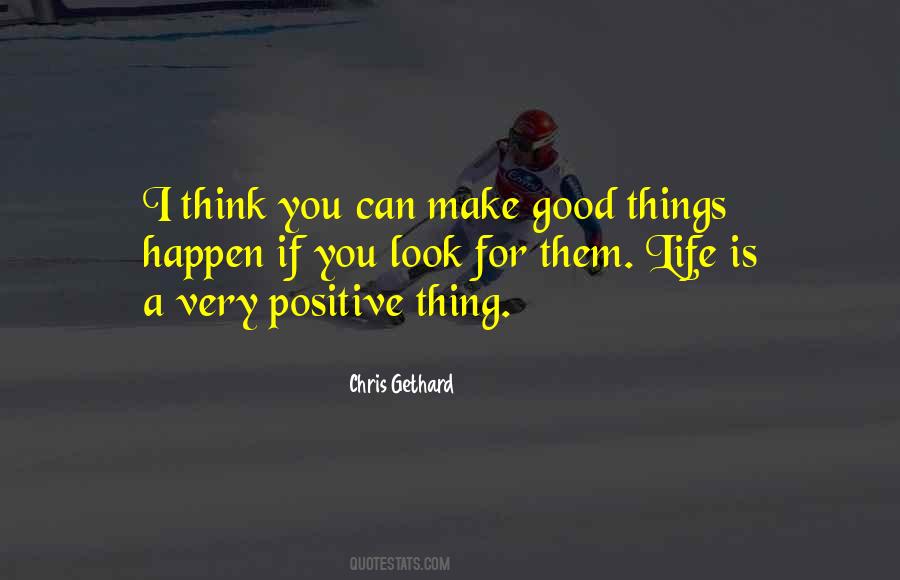 #54. I'm at the point in my life where I don't want to work as hard. Actually, I've had to take a good hard look at workaholism and it's effect on one's mental health. - Author: Alan Ball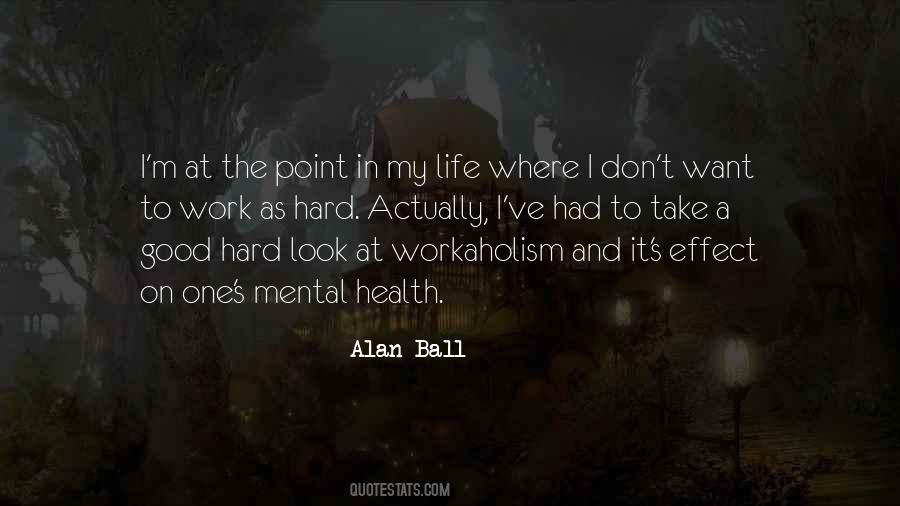 #55. In life and in business, you need to be good-hearted and trustworthy, and to have integrity. This is the way to build long-term relationships. It is also important to be optimistic and to look at challenges as opportunities. - Author: Henry Sy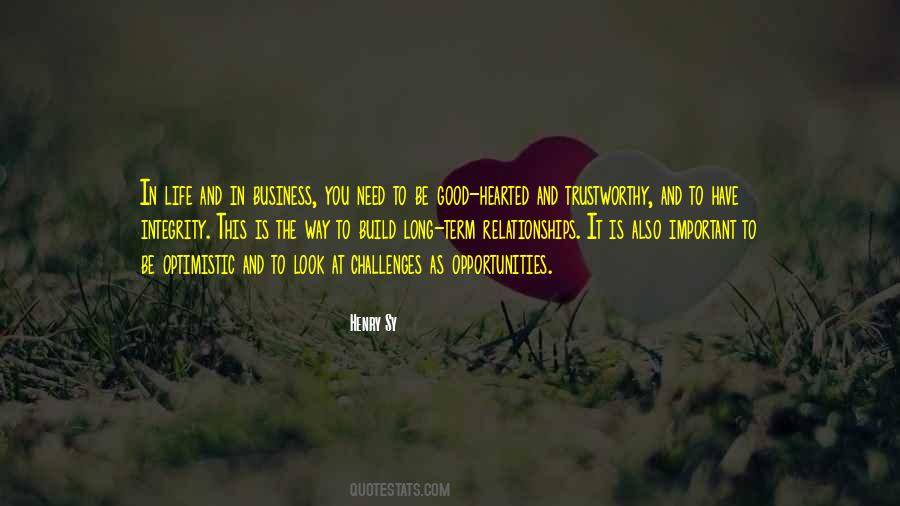 #56. I'm a point guard, I've always been a point guard, I've played point guard all my life. Personally, I feel the best point guards make other players look better and create their own shot. I fit in that category. - Author: Chauncey Billups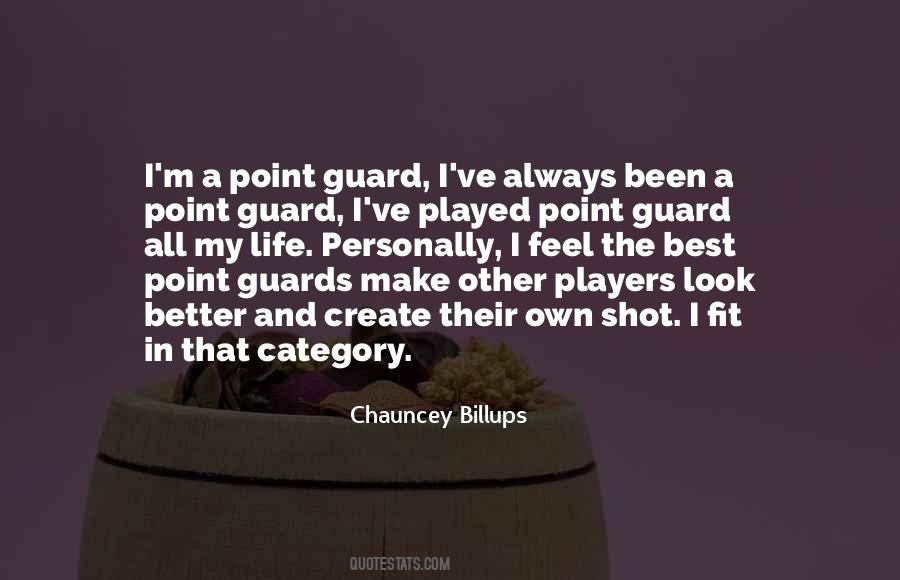 #57. Rainbows is a pretty honest look at my approach to life and love. While I admit to not exactly being an angel, I do try and live life to the fullest and give as much as I can of myself in the process - Author: Beccy Cole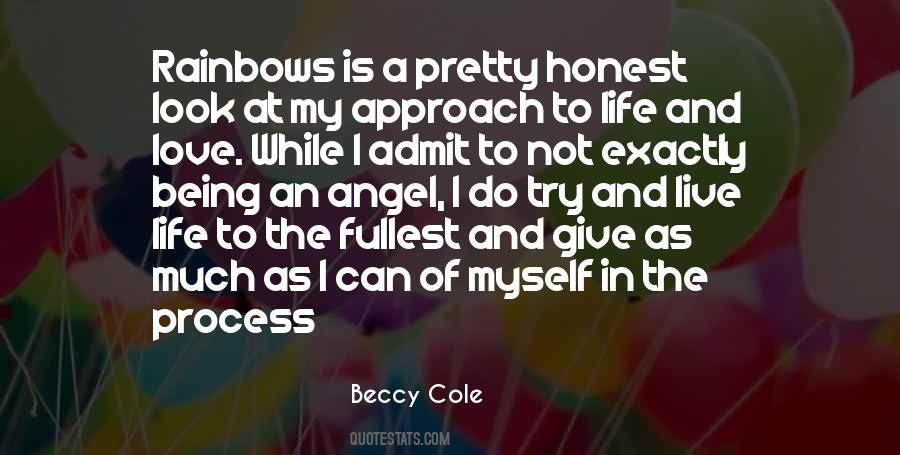 #58. If you can look up, you can get up. - Author: Eric Thomas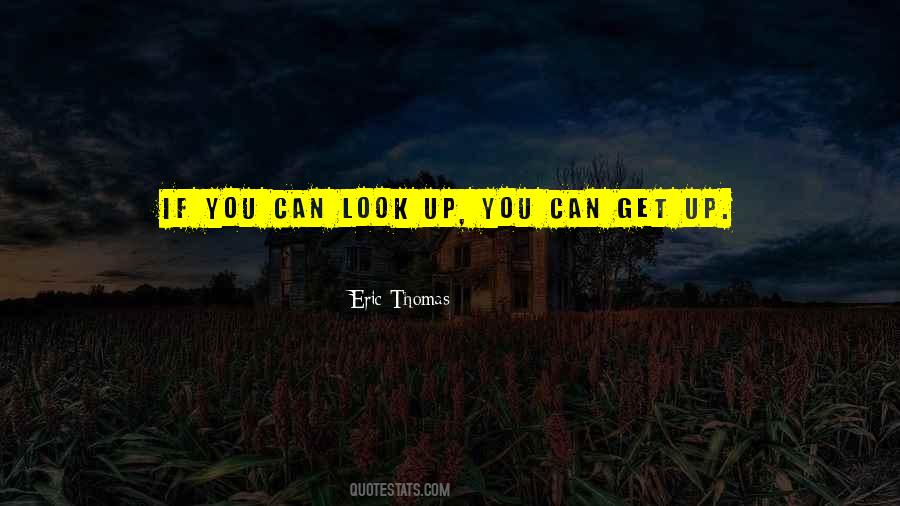 #59. I'm not a bad person. I haven't killed anyone. I (rarely) lie. I don't kick little puppies. So why do people look at me as if the world would be a better place without me? - Author: Gena Showalter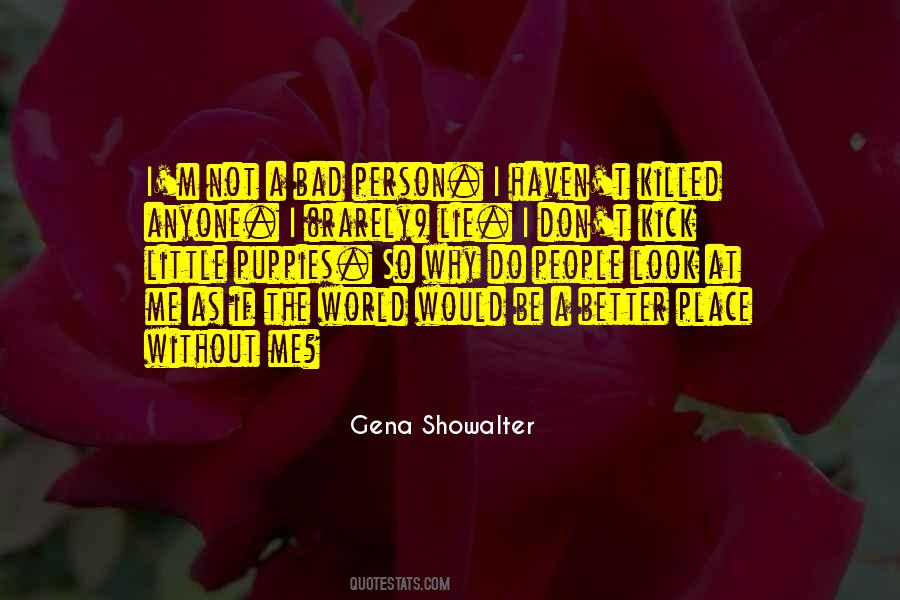 #60. Whenever he was en route from one place to another, he was able to look at his life with a little more objectivity than usual. it was often on trpis that he thought most clearly, and made the decisions that he could not reach when he was stationary. - Author: Paul Bowles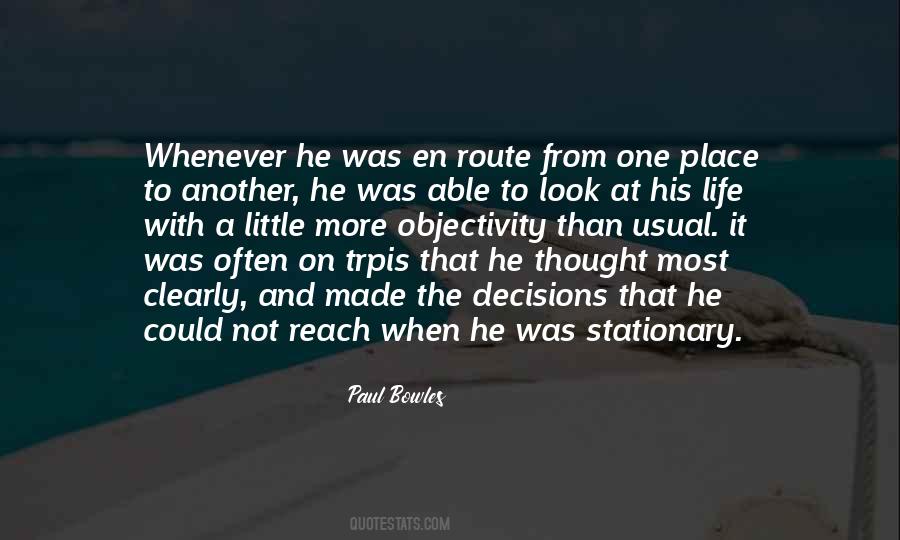 #61. Live a life that will make you look back in old age at your life and grin in satisfaction. - Author: Sunday Adelaja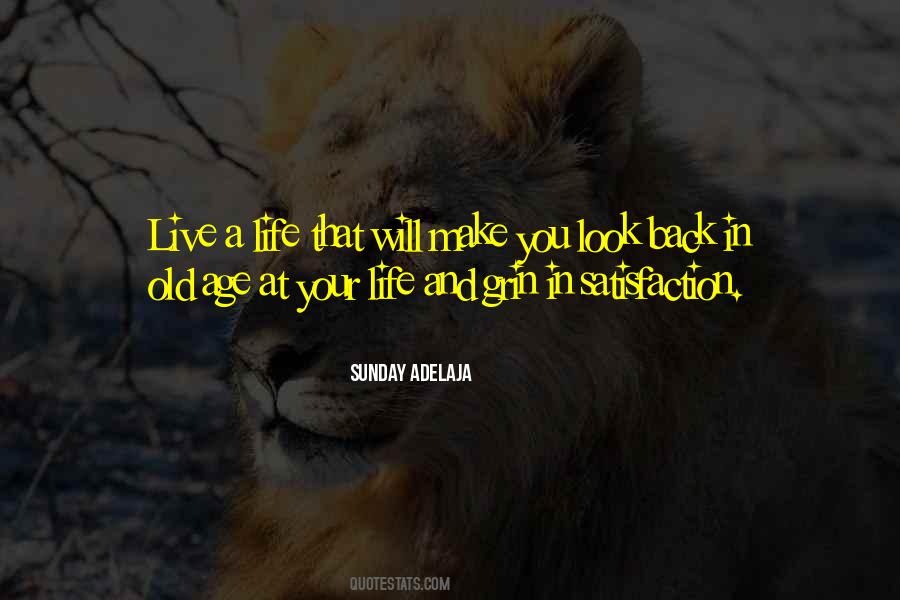 #62. If you want to believe in reincarnation, you have to believe that this life, what you're living through right now, is the afterlife. You're missing out on the afterlife you looked forward to in your last existence by worrying about your next life. This is what happens after you die. Take a look. - Author: Brad Warner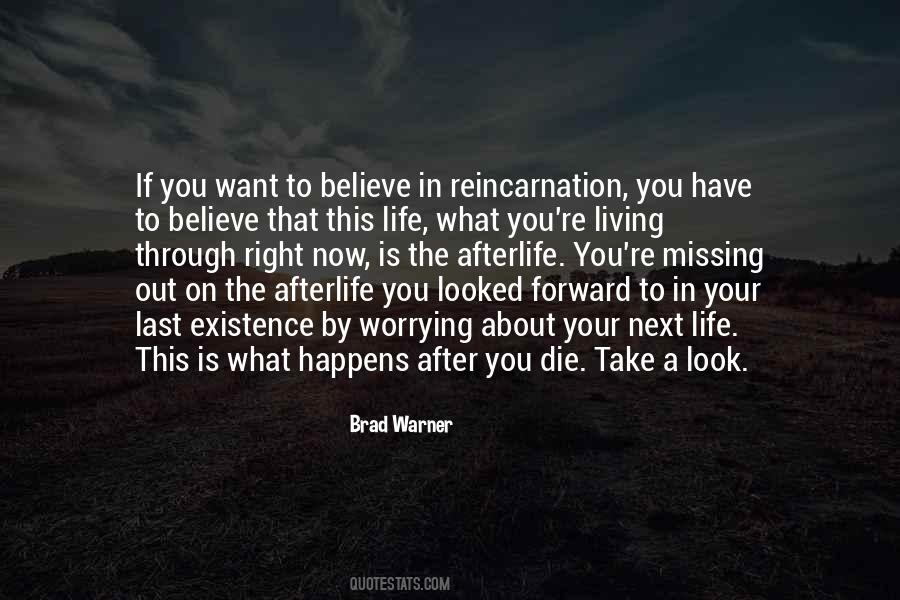 #63. Raise your standards for the one thing over which you have complete control
yourse lf. It means you're committed to being intelligent, flexible, and creative enough to consistently find a way to look at your life in a fashion that makes any experience enriching. - Author: Tony Robbins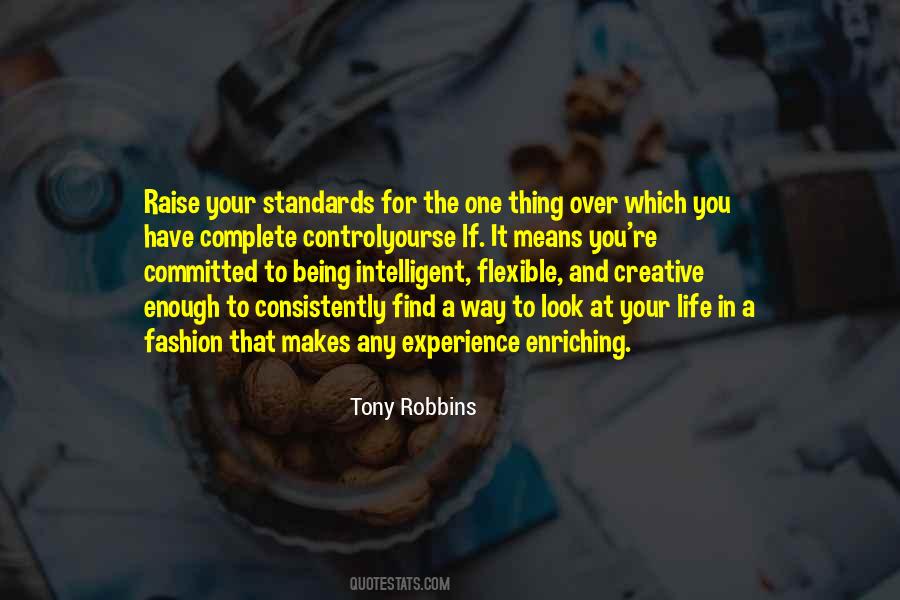 #64. Living life at a young age is like being a sponge thrust into the ocean. You absorb what's around you. If you're around people who are supportive and positive, that's how you look at the world. - Author: Freddie Prinze Jr.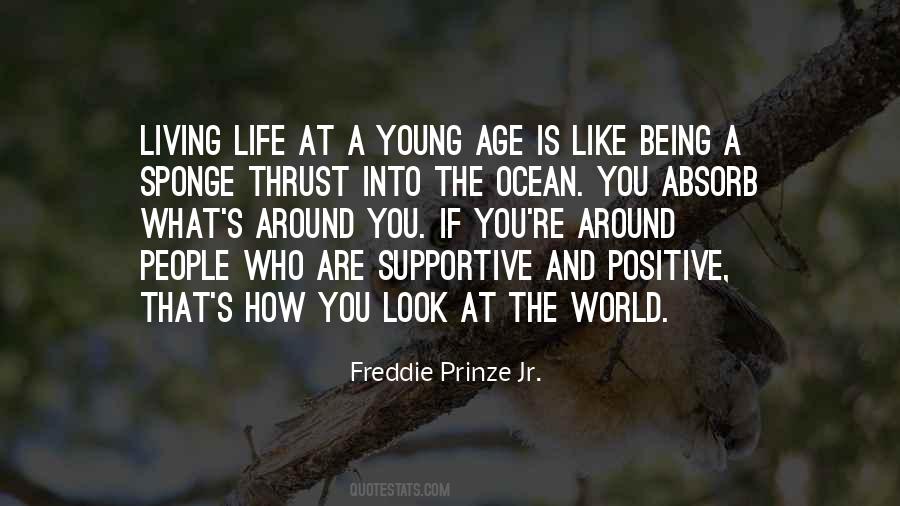 #65. I look back on my life, comin' out of Macon, Georgia - I never thought I'd be a superstar, a living legend. I never heard of no rock and roll in my life. - Author: Little Richard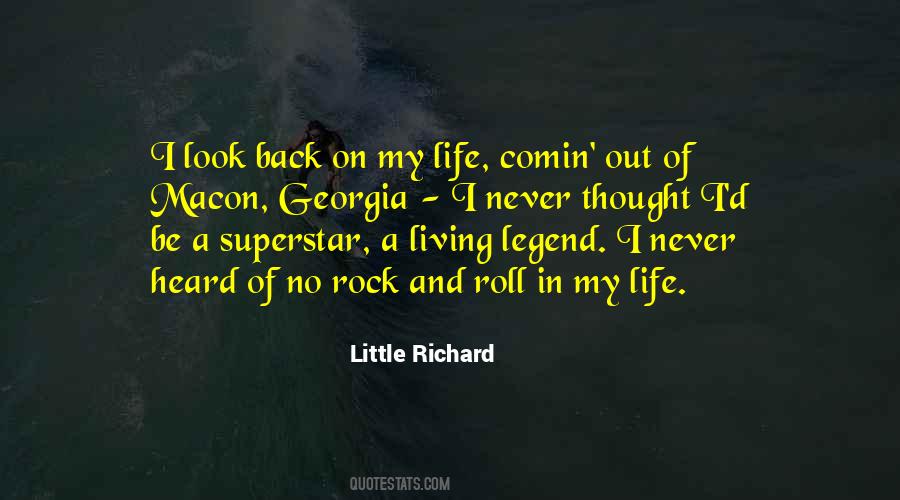 #66. Life is such a miracle, a series of small miracles.It really is, if you learn how to look at it with the right perspective. - Author: James Patterson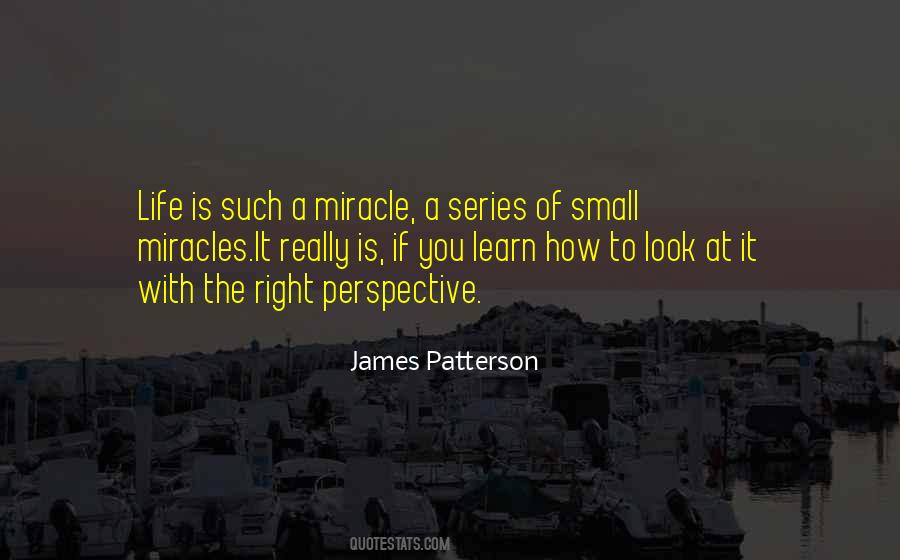 Famous Authors
Popular Topics