Live To Fight Famous Quotes & Sayings
List of top 100 famous quotes and sayings about live to fight to read and share with friends on your Facebook, Twitter, blogs.
Top 100 Live To Fight Quotes
#1. Every little boy wanna pick up the mic,
And try to run with the big boys and live up to the real hype.
But that's like pickin up a ball, playin with Mike,
Swingin at Ken Griffey or challengin' Roy to a fight. - Author: LL Cool J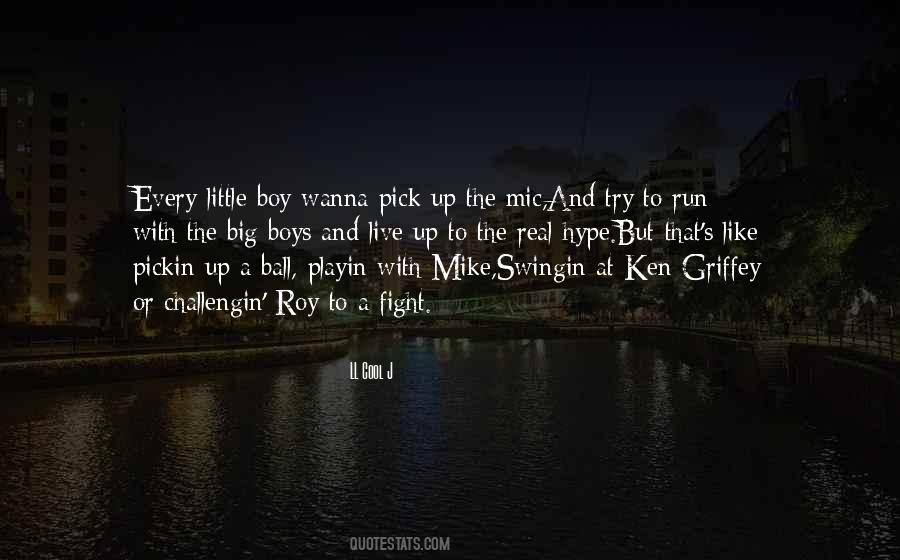 #2. I insist that people - wherever they live - have their rights and they must be able to fight for them. - Author: Vladimir Putin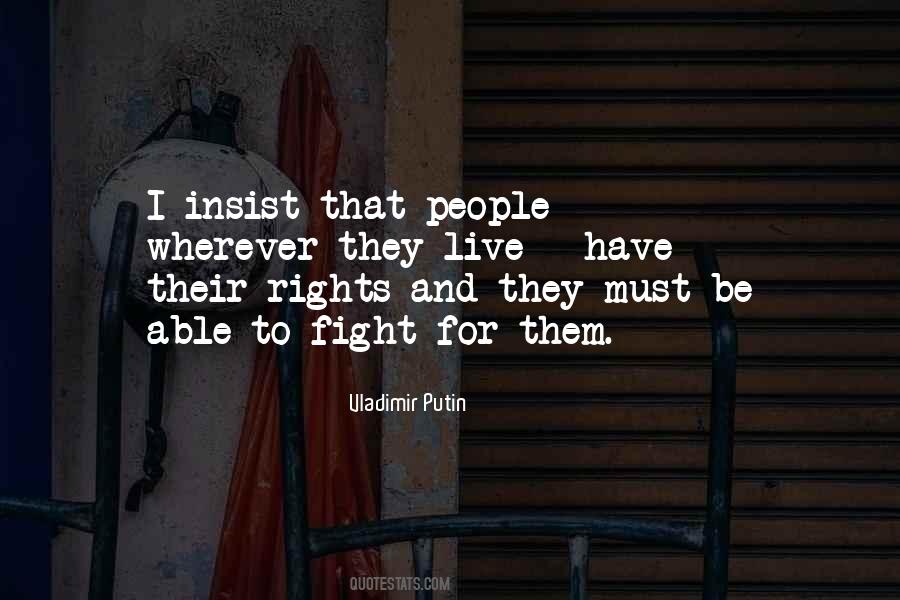 #3. I don't want to fight for the people, I don't want to fight against the people, I don't want to hear of the people. I want to be left alone - to live. - Author: Ayn Rand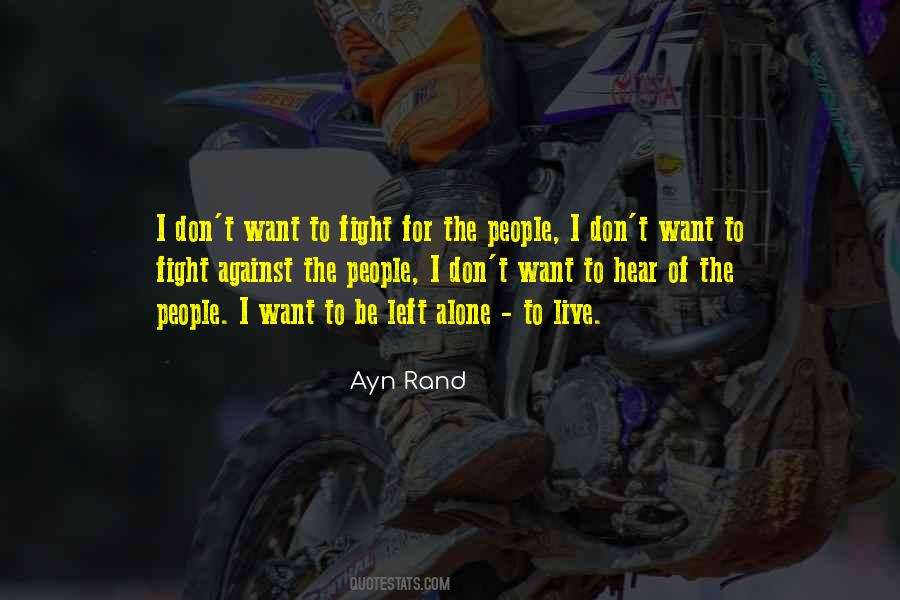 #4. I start to think there really is no cure for depression, that happiness is an ongoing battle, and I wonder if it isn't one I'll have to fight for as long as I live. I wonder if it's worth it. - Author: Elizabeth Wurtzel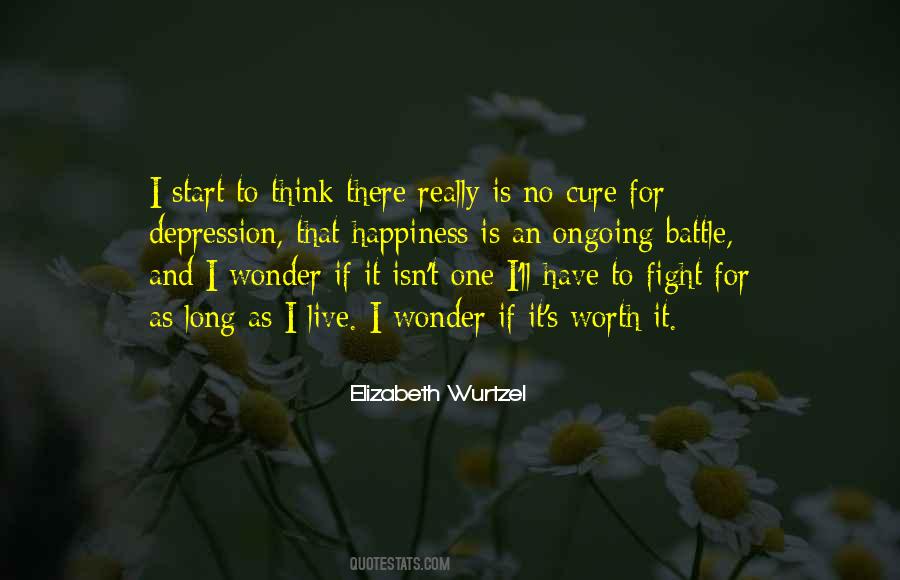 #5. Better to live vigorously, better to fight, than to simply wait for the end...in peace. - Author: Jack Donovan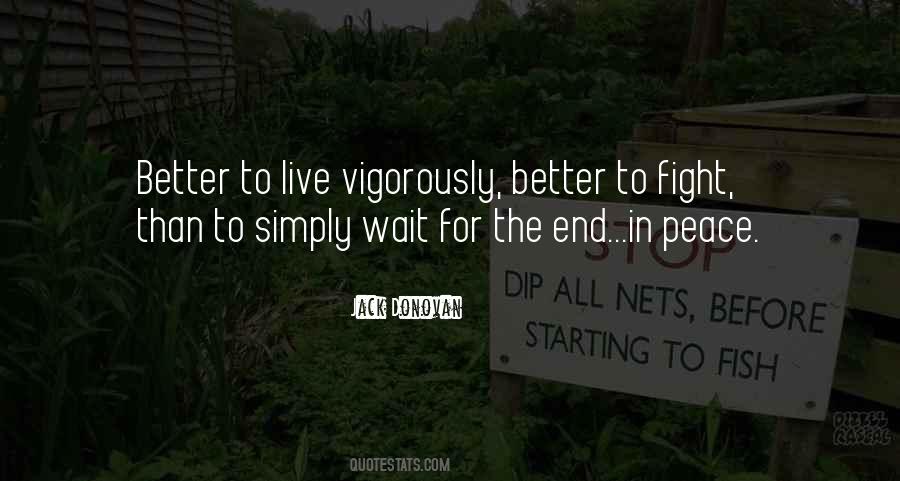 #6. He fought because it was considered the 'thing to do,' because he liked the people he had to live with, and because those people wouldn't have a good opinion of him if he didn't fight. People never needed much of a philosophic motive to make them do the socially approved things. - Author: Walter M. Miller Jr.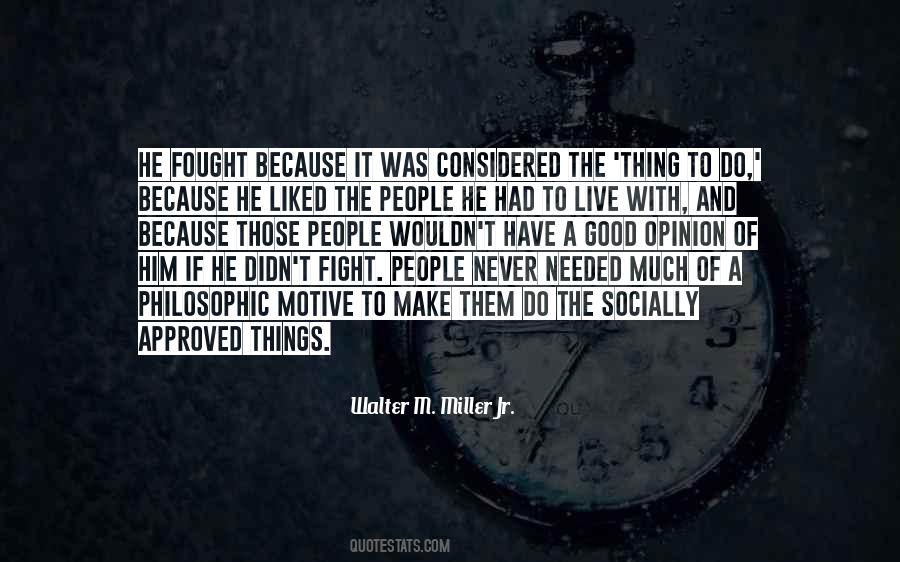 #7. Death is easy. To live is the most painful thing I could imagine and I'm weak and no longer willing to fight. - Author: Hannah Wright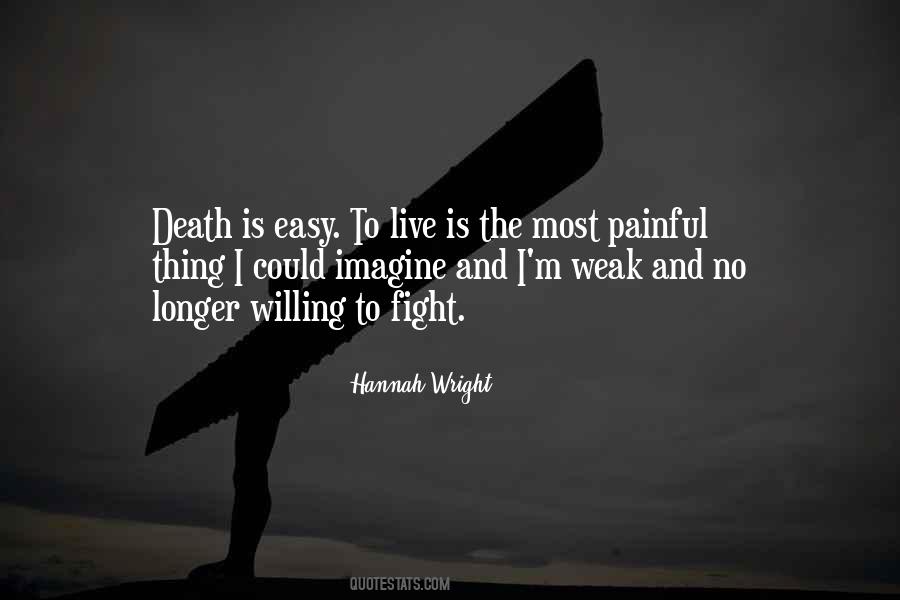 #8. In this world, you have to fight to live. In this world, there's no easy way, there's the hard way, and the harder way. - Author: Darby Browne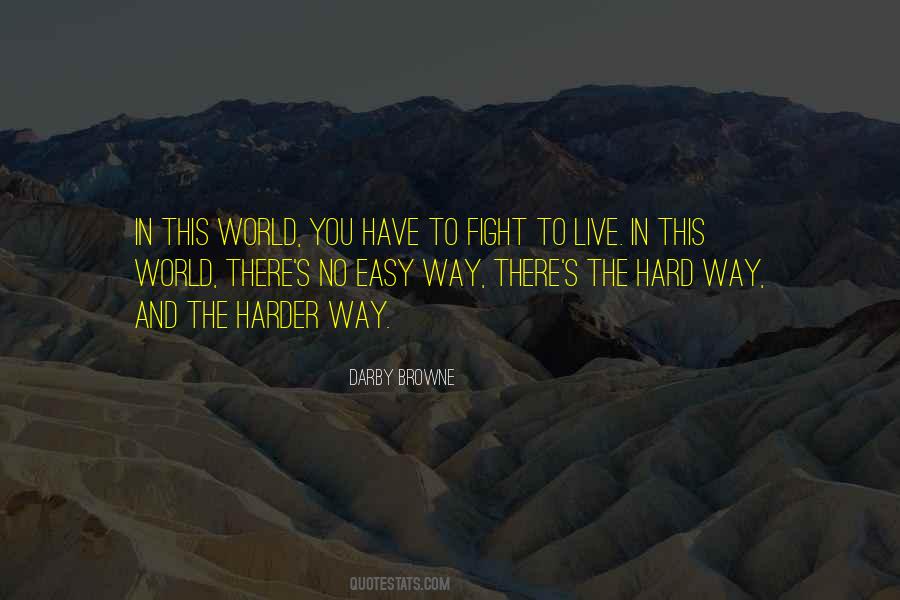 #9. You haven't seen a thing until you've seen this man fight. My sword is sharp. My heart strong. My spirit ferocious - and I am going to live. Let the swords clash. Let the fight begin. - Author: Carew Papritz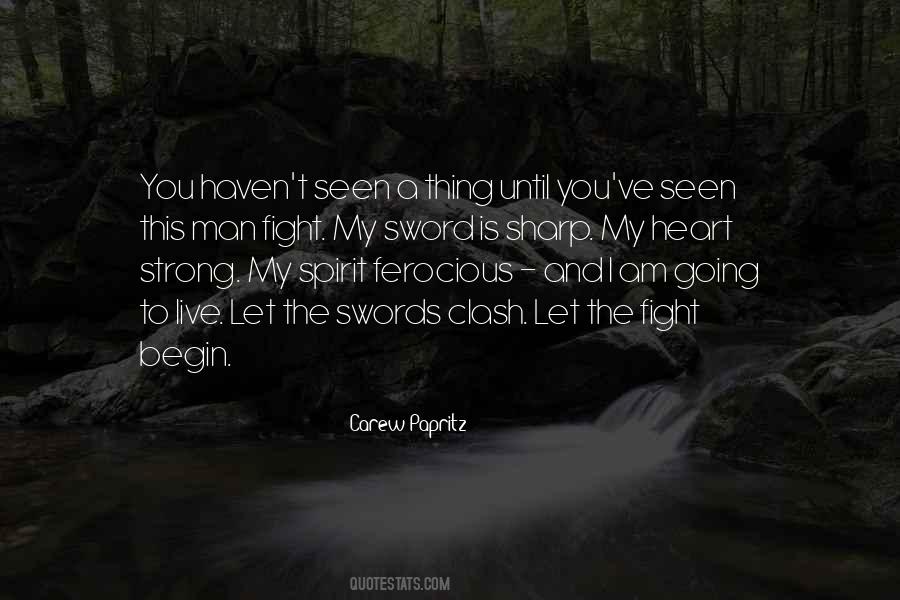 #10. And a good warrior knows when to lose a battle so she can live to fight the - Author: Jennifer Donnelly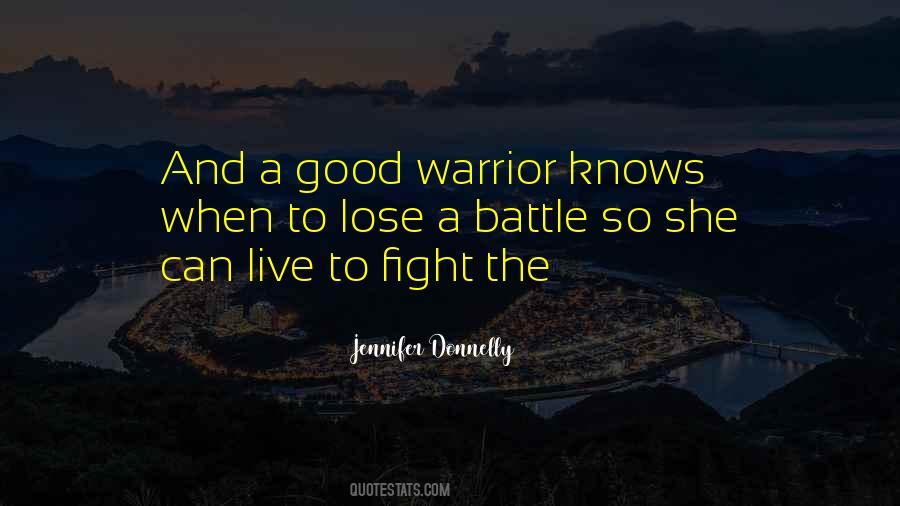 #11. It is often easier to fight for one's principles than it is to live up to them. - Author: Adlai E. Stevenson II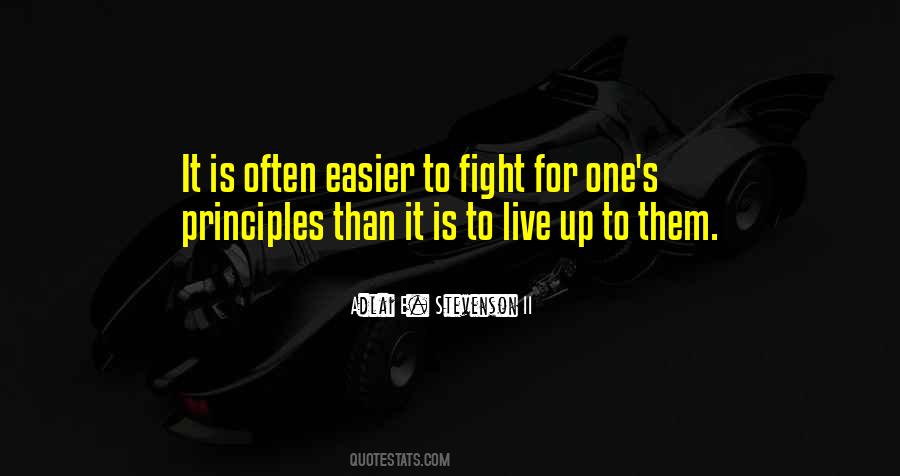 #12. Men want a battle to fight, an adventure to live, and a beauty to rescue. That is what is written in their hearts. That is what little boys play at. That is what men's movies are about. You just see it. It is undeniable. - Author: John Eldredge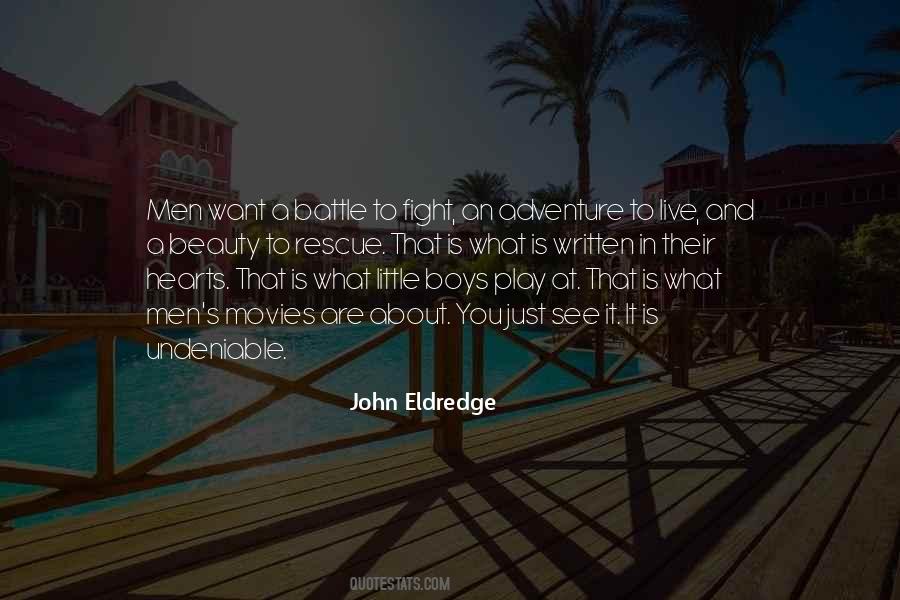 #13. I want to live in my truth. Tell me you don't like me, and I know it. But when you don't tell me, and you work behind my back, it's a lie, and I don't know how to fight that. - Author: Lee Daniels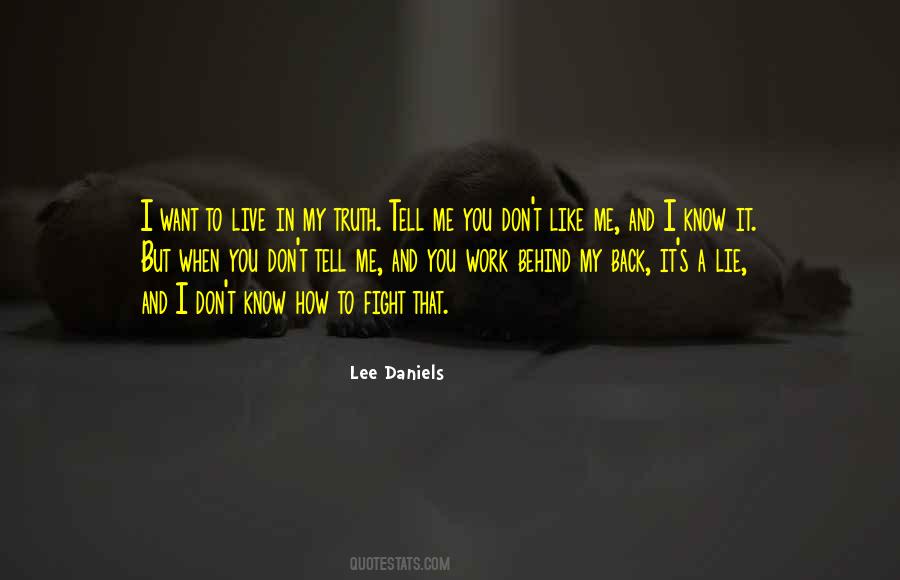 #14. Fighting with self!! Why not? If we can live in harmony with self, we also have a full right to fight ourselves as well. - Author: Mahesh Babu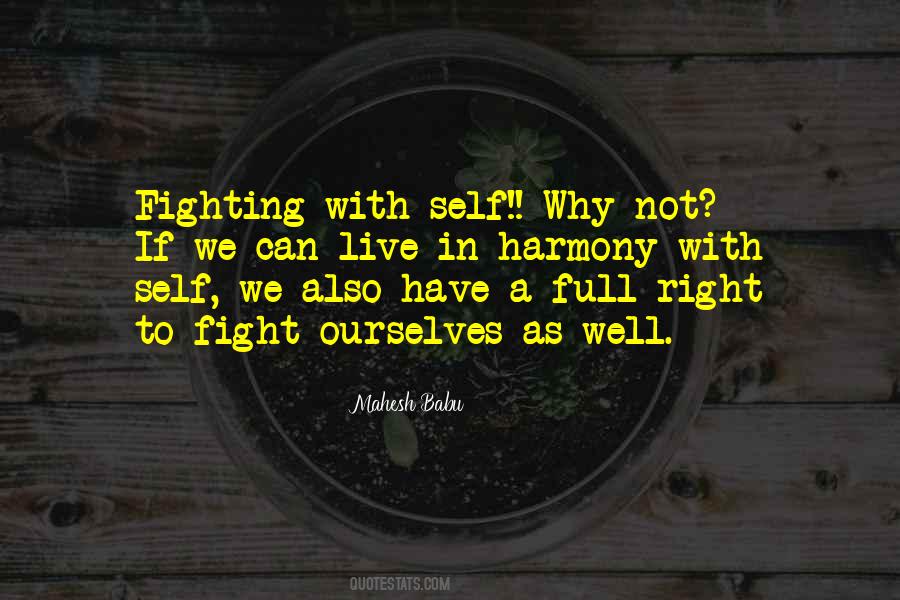 #15. You never made me weak," he said, giving her a little shake. "You make me strong." His big hands smoothed up her arms. "Just knowing you're in this world makes me want to live in it, makes me want to fight. - Author: Kristen Callihan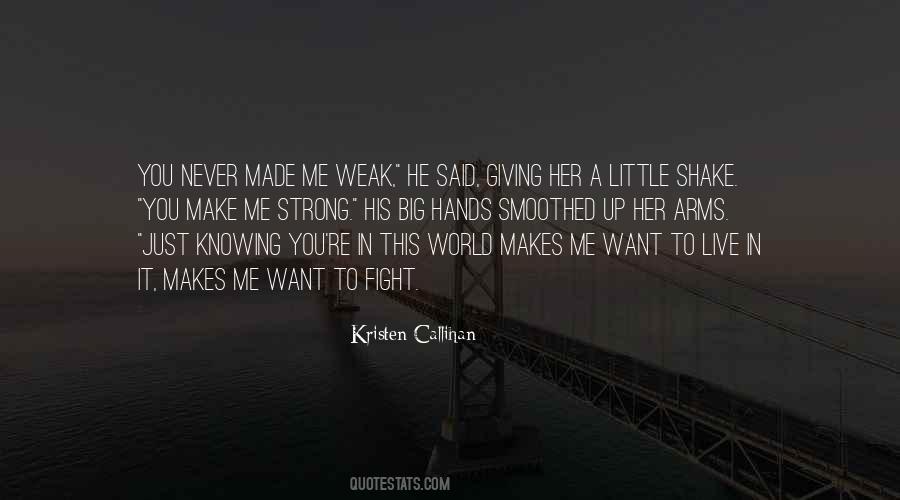 #16. I've certainly had to bite my tongue on occasion and live to fight another day, so to speak, on certain things. But when you're new and fresh, you come out and think, 'I don't want to screw my chance up, so I'll go along with what everybody else does.' - Author: Joe Nichols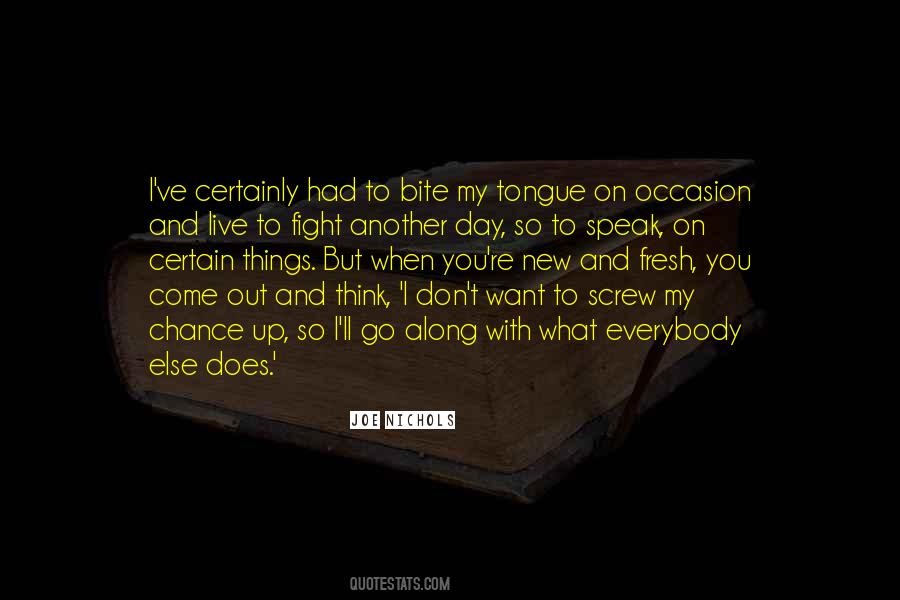 #17. Many of the medicines we use today, to fight everything from AIDS to cancer, originate as a toxin in an amphibian skin. When we lose these animals, we lose resources. We lose keystone species in the environments where they live. - Author: Jeff Corwin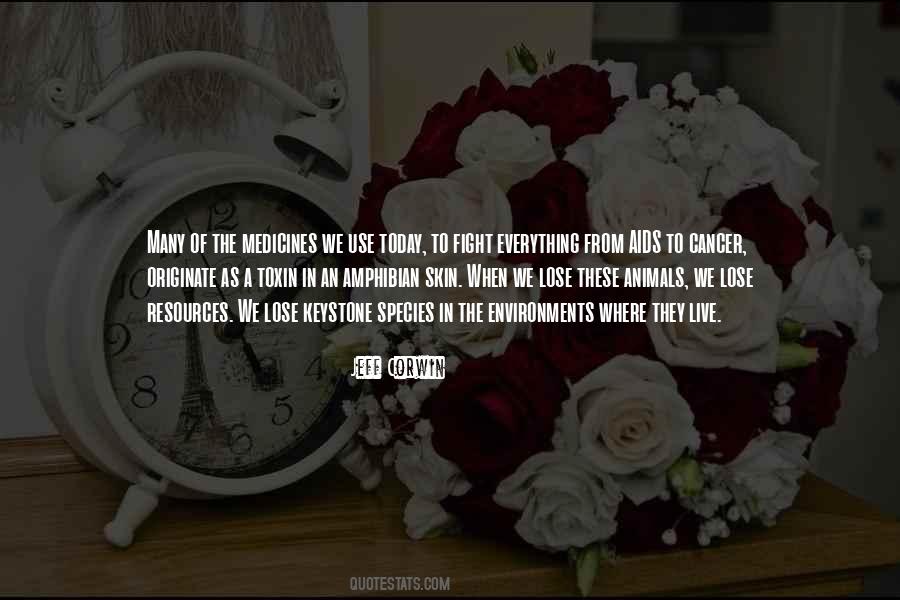 #18. We Amazons-we would prefer to live life to the fullest. We love, we fight, we die. - Author: Rick Riordan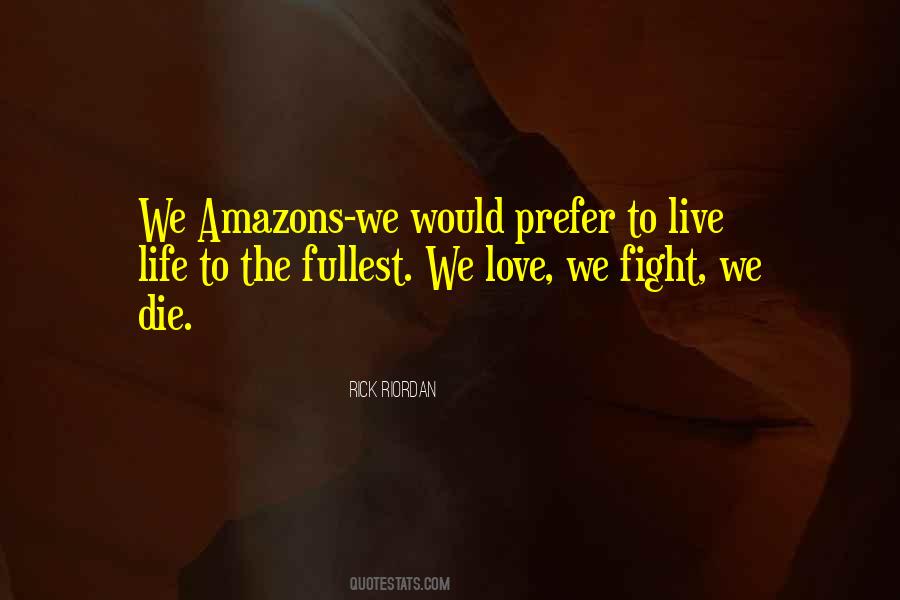 #19. Freedom is the natural condition of the human race, in which the Almighty intended men to live. Those who fight the purpose of the Almighty will not succeed. They always have been, they always will be beaten. - Author: Abraham Lincoln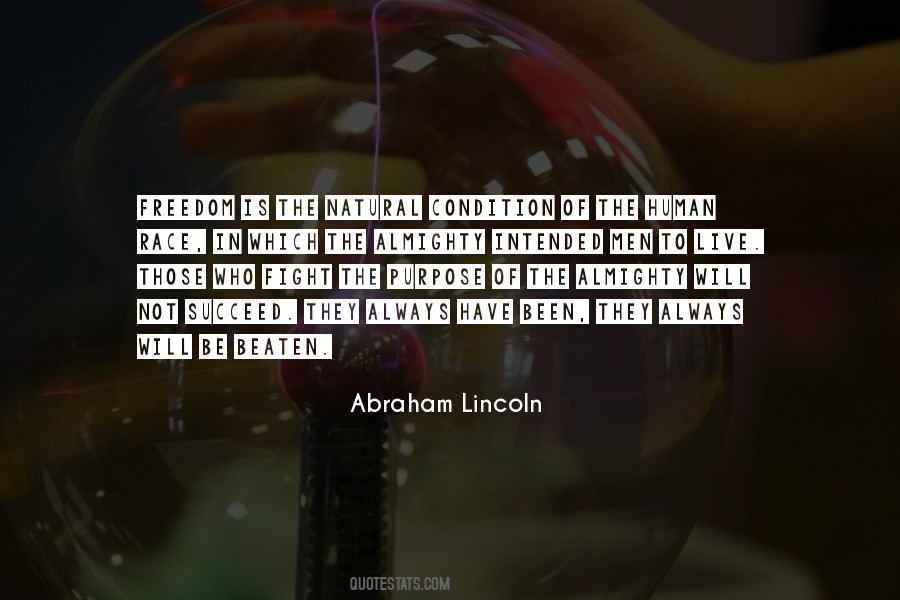 #20. Live. Until you are down to your final breath, love and fight and rage and grieve and live. - Author: Anonymous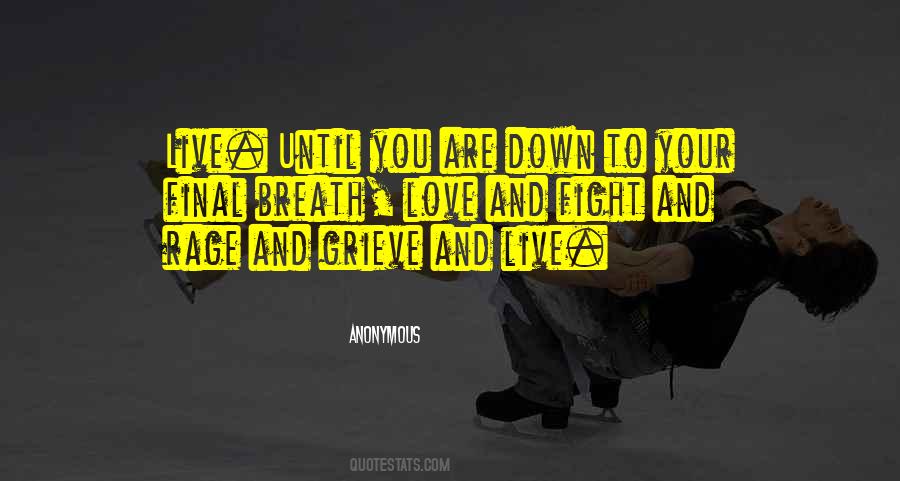 #21. You may have to fight when there is no hope of victory, because it is better to perish than live as slaves. - Author: Winston Churchill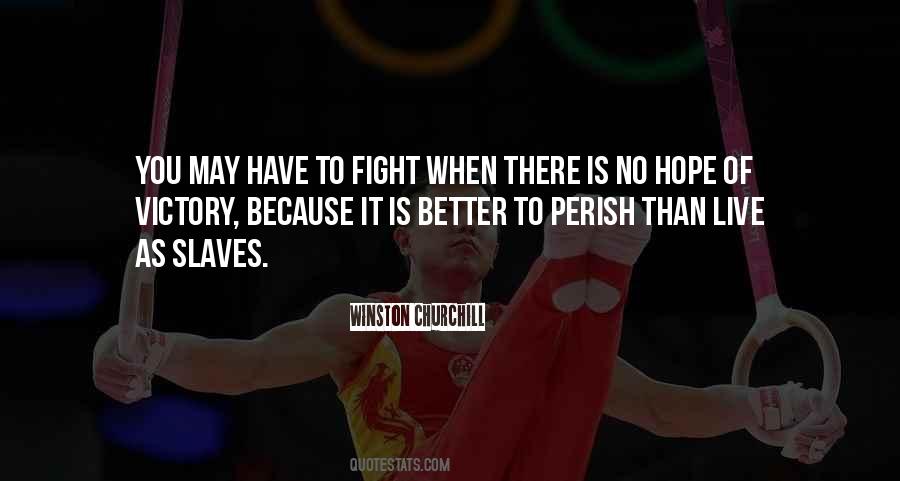 #22. I don't have to fight. I don't have to survive. I can chose a new thing: to live - Author: Patrick McCormick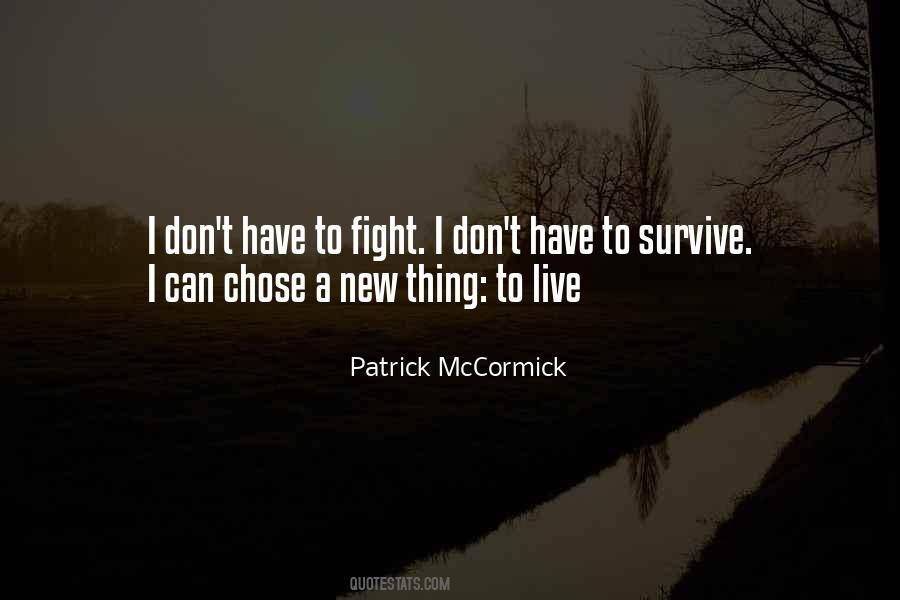 #23. Because no being can live in a perfect world. Life is destined to fight to survive. To thrive. To prosper. To have more than the have-nots. All life destroys in order to live. - Author: Darynda Jones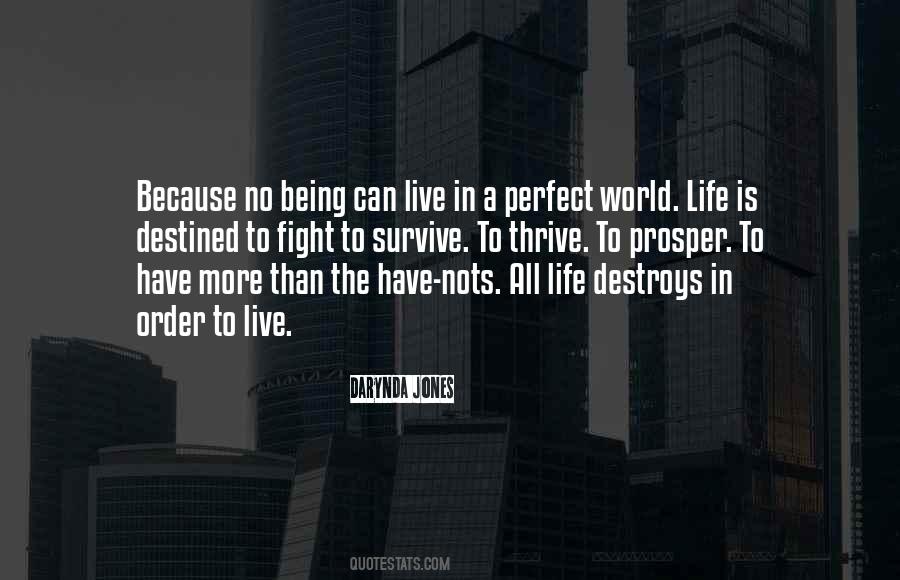 #24. If you have a culture based on hunting and fishing and all the animals are disappearing and the fish are sick, then you can't live traditionally. Then your treaty is being violated. Obviously there are degrees of choice in terms of that decision to fight. - Author: Avi Lewis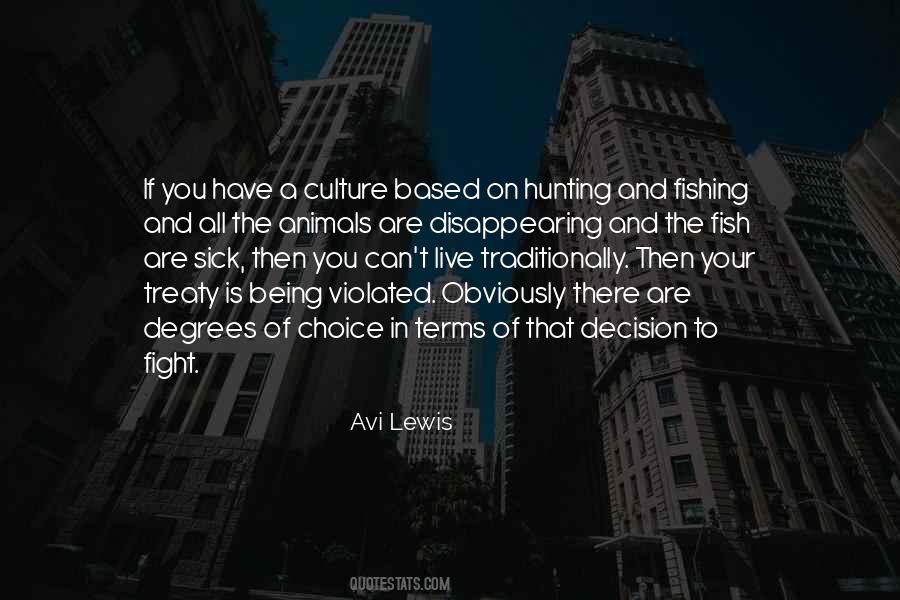 #25. I talk to my mom like any other kid talks to their mom when they live across the country. You call home and check in about what you ate for your breakfast or if I went for a run that day or if I was in a fight with my friend. It's so normal. - Author: Cassidy Gifford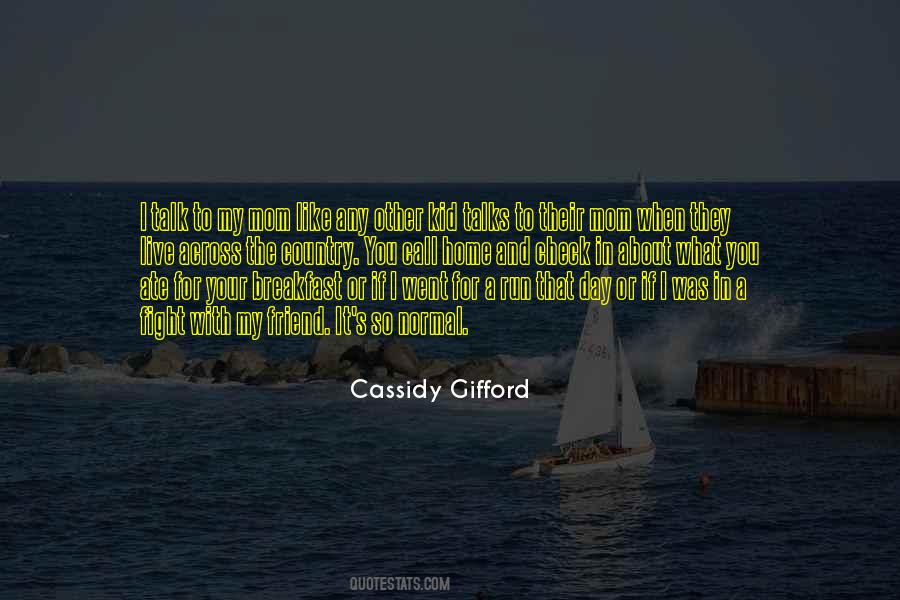 #26. Life is hard, kid. you gotta be harder. you gotta take it on and fight for it and be a fucking man about how you live it. if you're too much of a pussy to do that, then maybe you should leave, 'cause you're dead already - Author: James Frey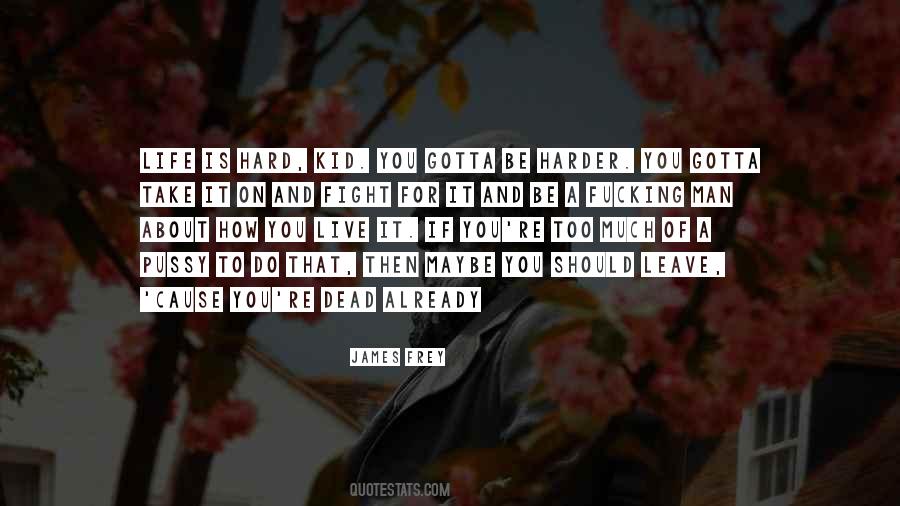 #27. ...go forward with the inclination to live with a faith that embodies action, help a neighbor, fight for a cause, love your family. - Author: William A. Petit Jr.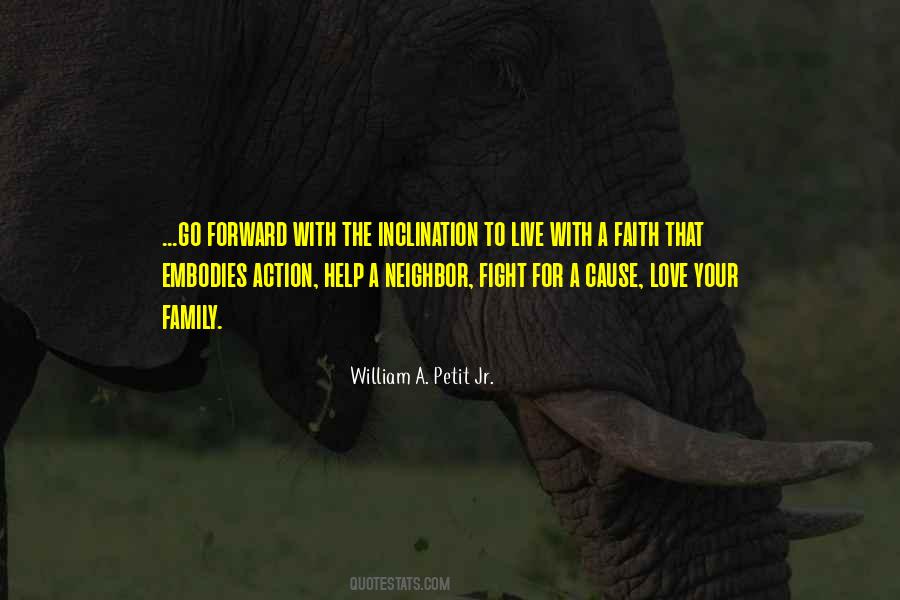 #28. Don't be discouraged at seemingly overwhelming odds in your desire to live and to help others live God's commandments. At times it may seem like David trying to fight Goliath. But remember, David did win. - Author: David B. Haight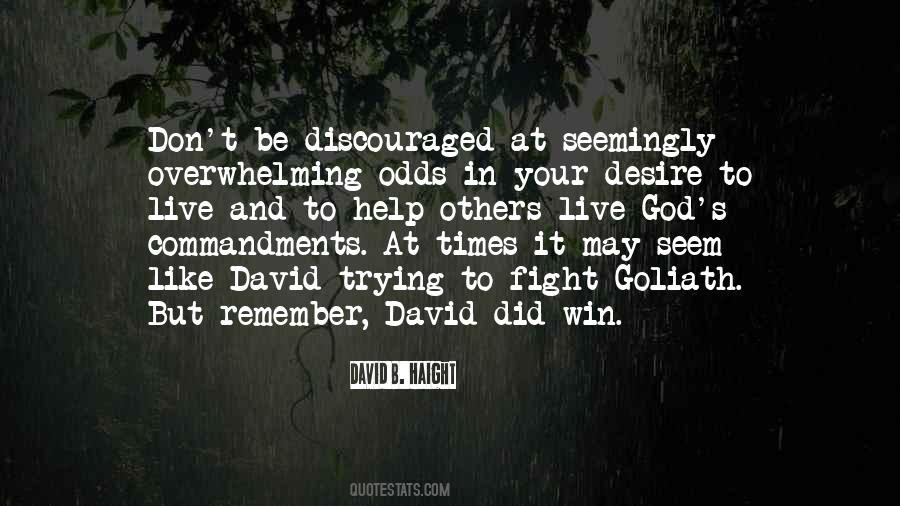 #29. As for biblical or religious theory, I don't ever want to fight about the details of the story, I want to live the reality of the message. - Author: Steve Maraboli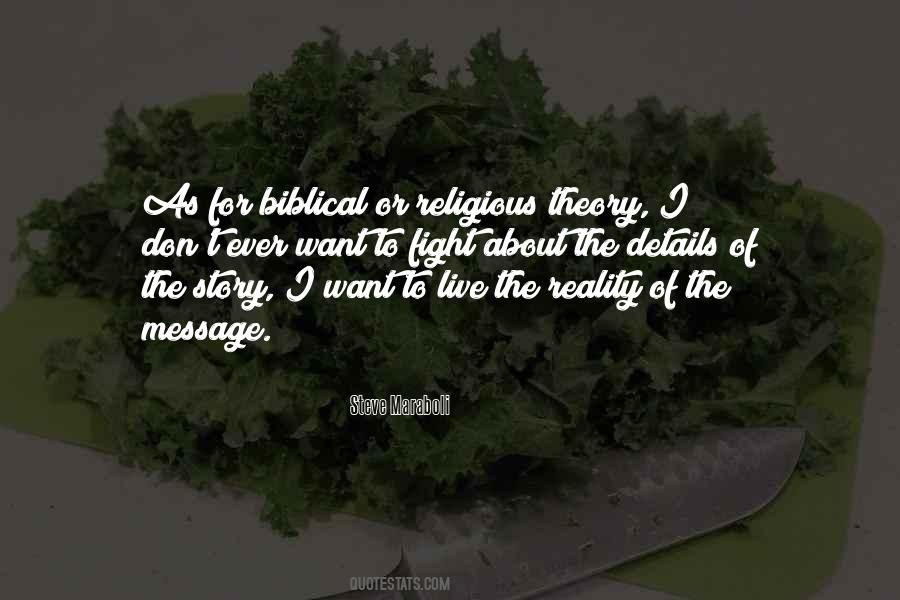 #30. The day is crisp and clear, almost like every other morning he's taken the same walk in the snow, hiking to the forest and back. - Author: M.C. Frank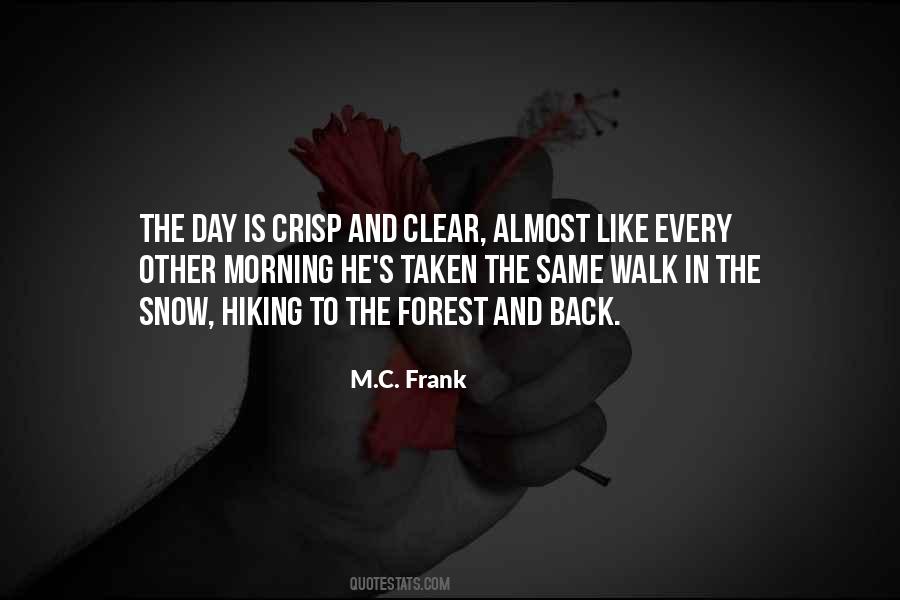 #31. The older you get, the more you fight for your own identity and start to live your own life. - Author: Tia Mowry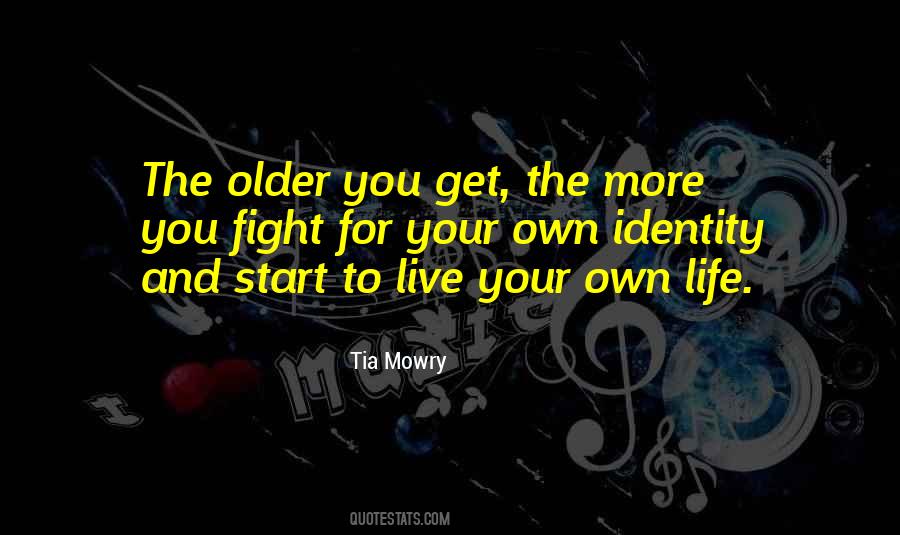 #32. I will fight death for my right to live until my last breath. - Author: A.J. Compton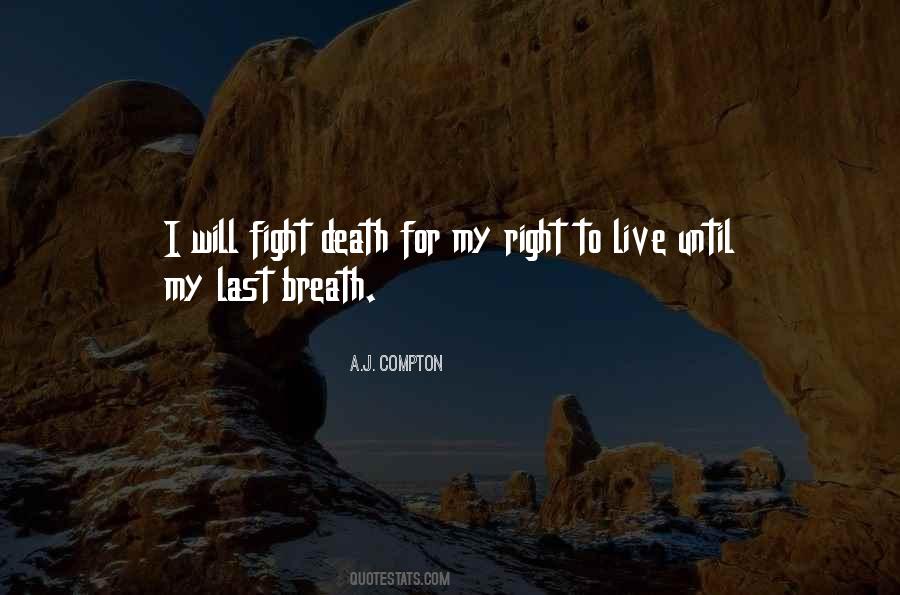 #33. Jiu Jitsu is basic training for life. We are training not to learn how to fight, but how to live. - Author: Chris Matakas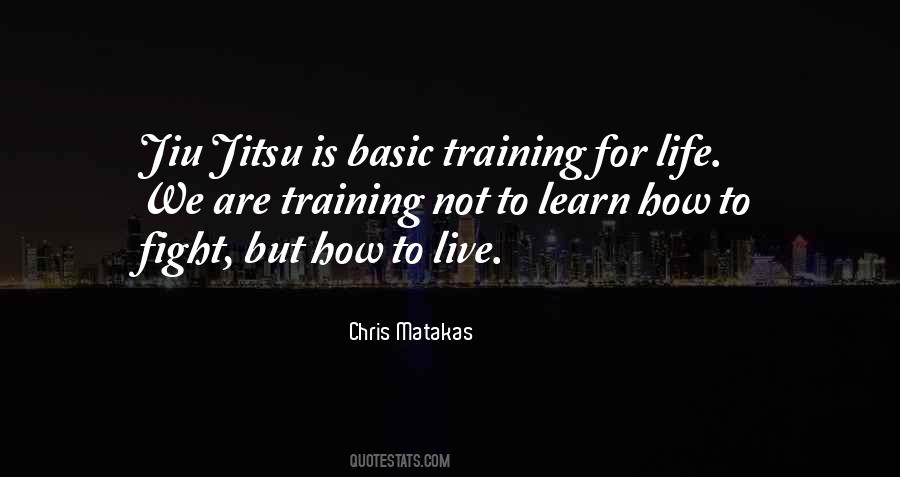 #34. That's how they manage to live together, a billion of them, in reasonable peace. They are not perfect, of course. They know how to fight and lie and cheat each other, and all the things that all of us do. But more than any other people in the world, the Indians know how to love one another. - Author: Gregory David Roberts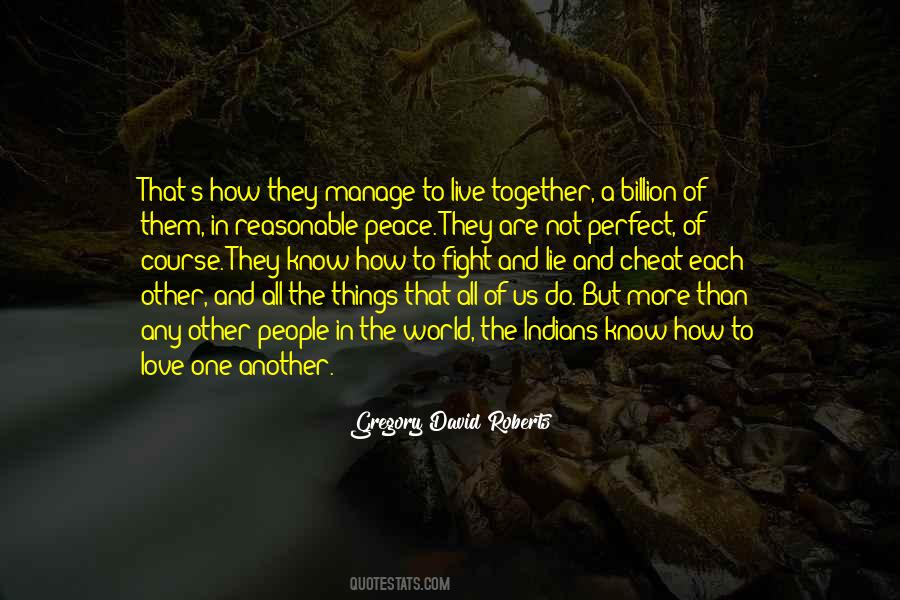 #35. They've flipped the natural order on us, boy. Better to die than live. Better to give up than fight. Better to hide than face. They know the way to break us is to kill us first here. - Author: Rick Yancey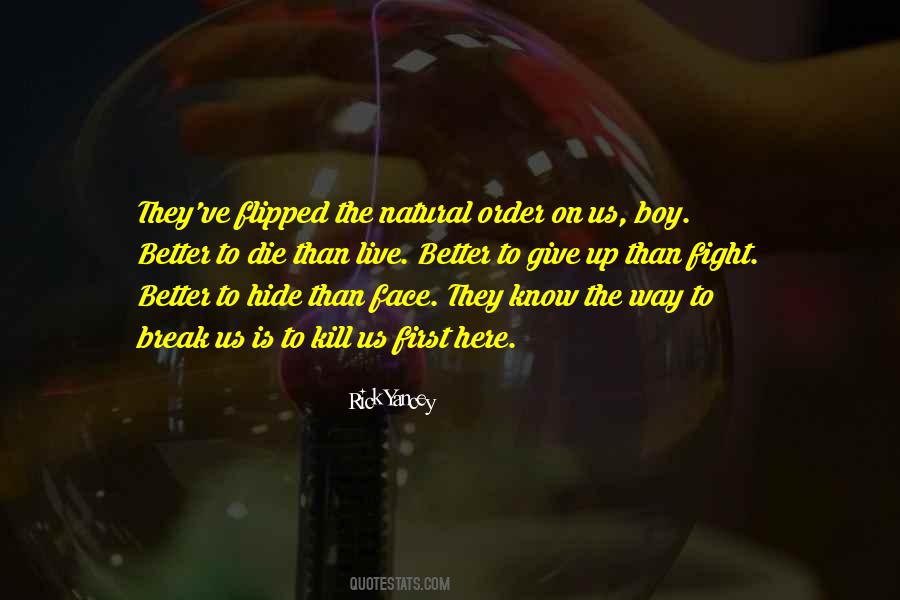 #36. It's okay to be happy, it's okay to live your life exactly the way you want it ... It's okay to find what makes you happy and then to fight for it. To dedicate your life to discovering who you are. - Author: Derrick Jensen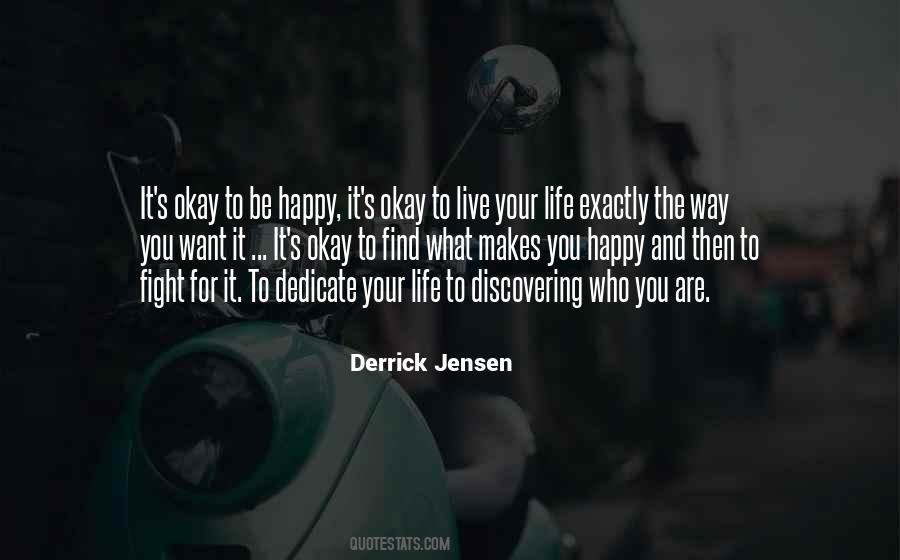 #37. To live an honest life you have to strive hard, get involved, fight, make mistakes, begin something and give it up, begin again, struggle endlessly, and suffer loss. As for tranquility - it's spiritual baseness. - Author: Leo Tolstoy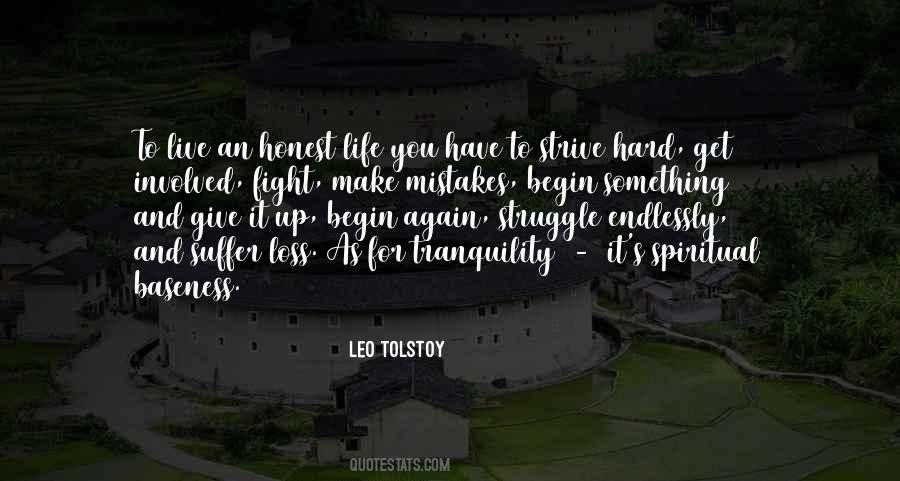 #38. Become simple and live simply, not only within yourself but also in your everyday dealings. Don't make ripples all around you, don't try to be interesting, keep your distance, be honest, fight the desire to be thought fascinating by the outside world. - Author: Etty Hillesum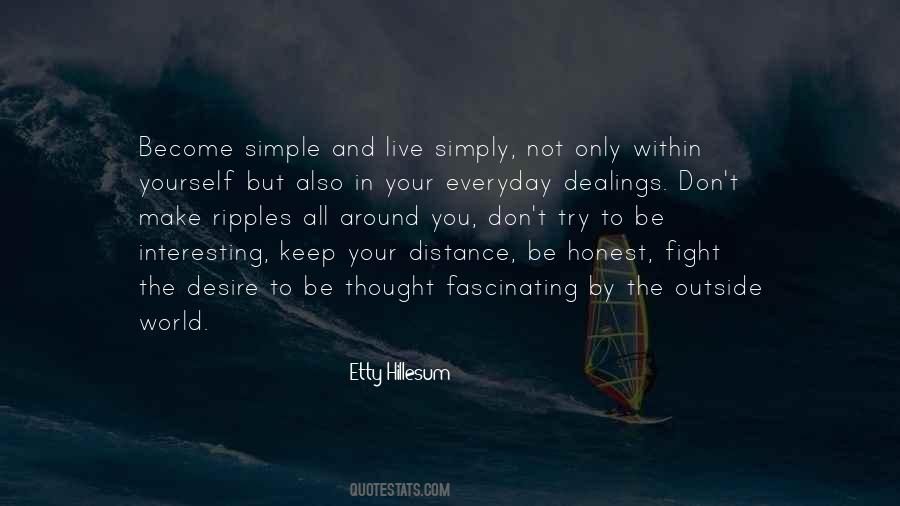 #39. If children live with hostility, they learn to fight. If they live with fear, they learn to be apprehensive. If they live with criticism, they learn to condemn. - Author: Ron Finley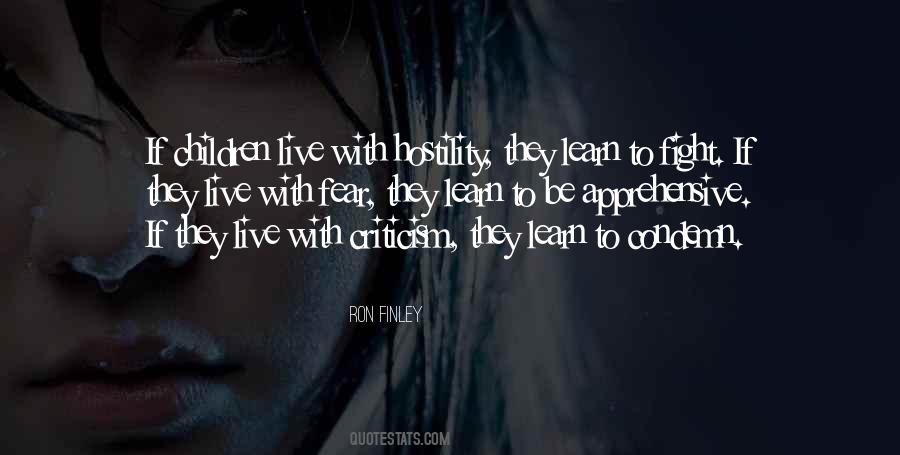 #40. Her country crumbling to dust, and with broken men all around, Queen Shuri went off to her doom. I could have gone with her. But someone had to fight and someone had to live. And after we parted, I wondered- still wonder- how a man walks away and leaves his only sister to die. - Author: Ta-Nehisi Coates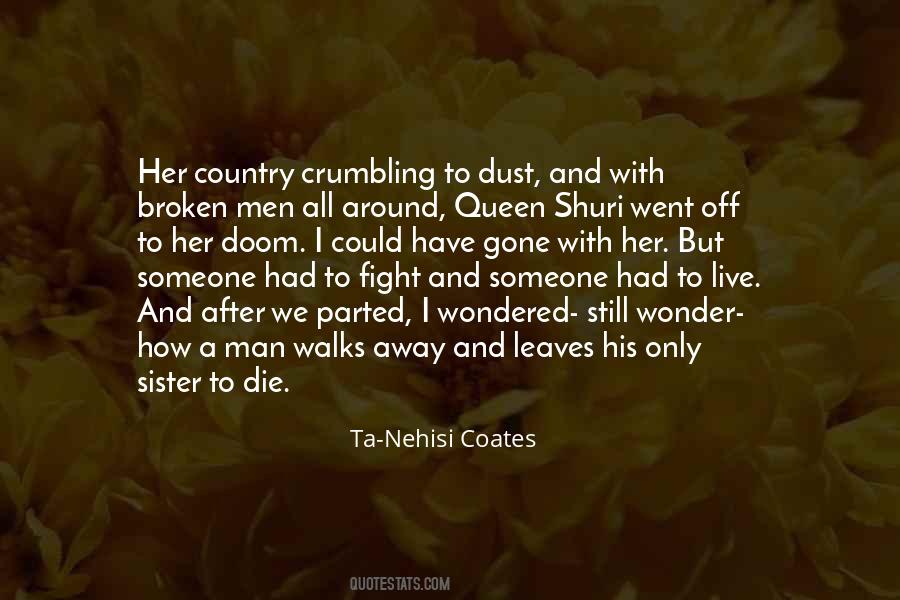 #41. Never kill yourself because you are too poor to feed your children or your family. You are a part of this world, and the country you live on it. It is your right to be happy, educated and with your children and family. You must fight for your rights, kill for your rights but never die for them. - Author: M.F. Moonzajer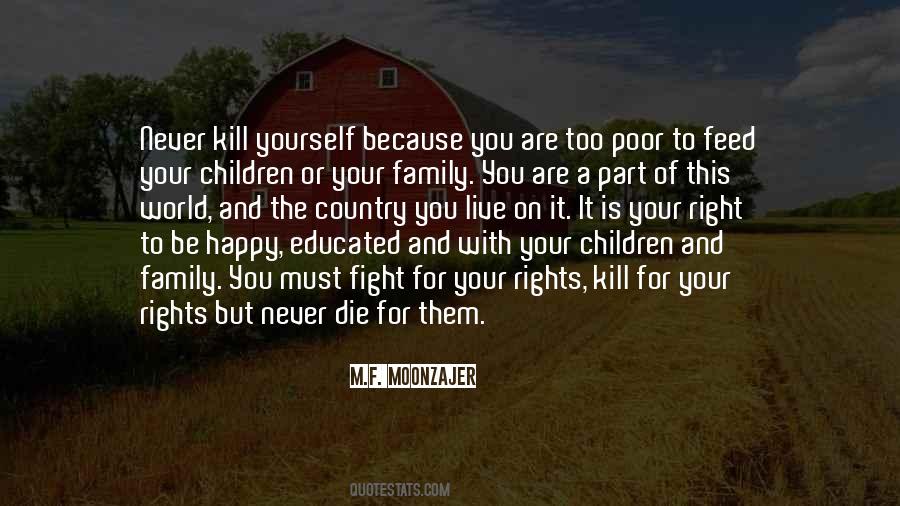 #42. It is distressing to me that we live in an age in which we still must fight to protect our civil rights as Americans, in which a hate crime perpetrated against someone based their sexual orientation can go unpunished, and in which discrimination is being written into our laws. - Author: John Conyers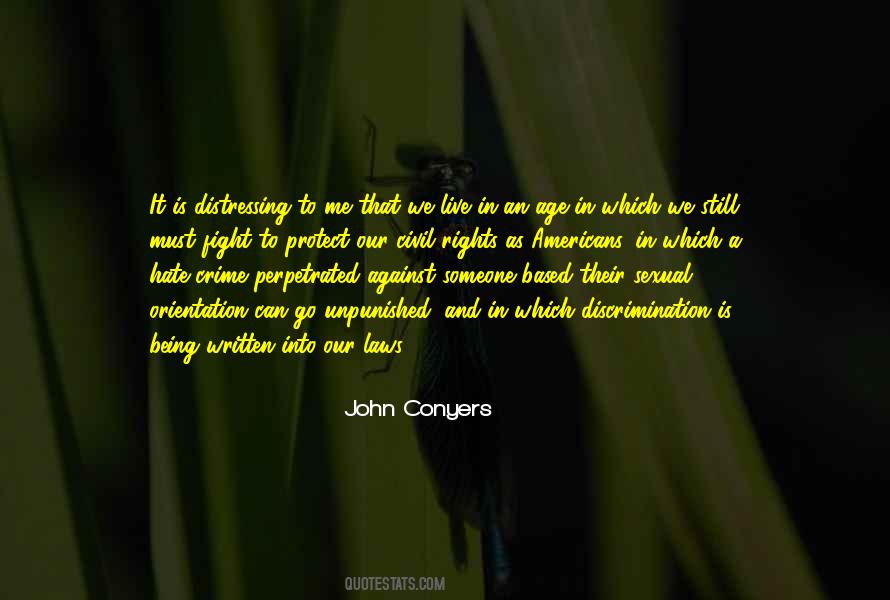 #43. You see, I'm sure we can change. Because we're weak. And because we die. We have to fight in order to live, and that's what will make us strong - Author: Hiromu Arakawa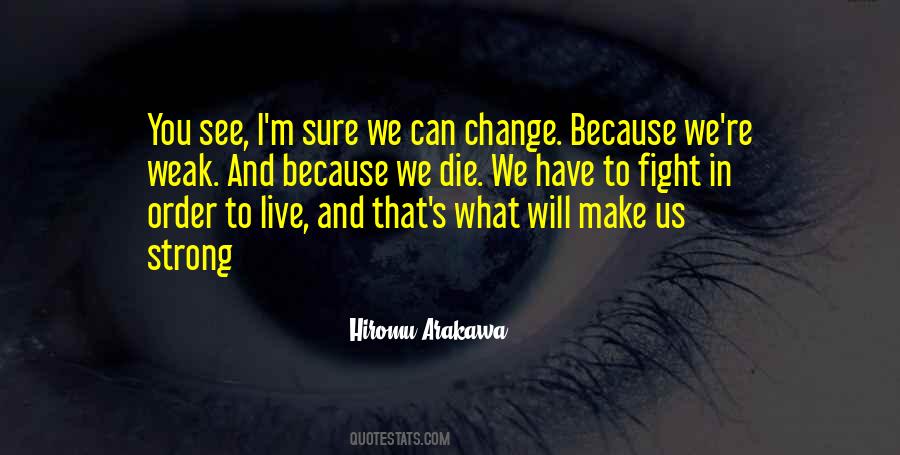 #44. I am sure that if every leader who goes into battle will promise himself that he will come out either a conqueror or a corpse, he is sure to win. There is no doubt of that. Defeat is not due to losses but to the destruction of the Soul of the leaders-the 'live to fight another day' doctrine. - Author: George S. Patton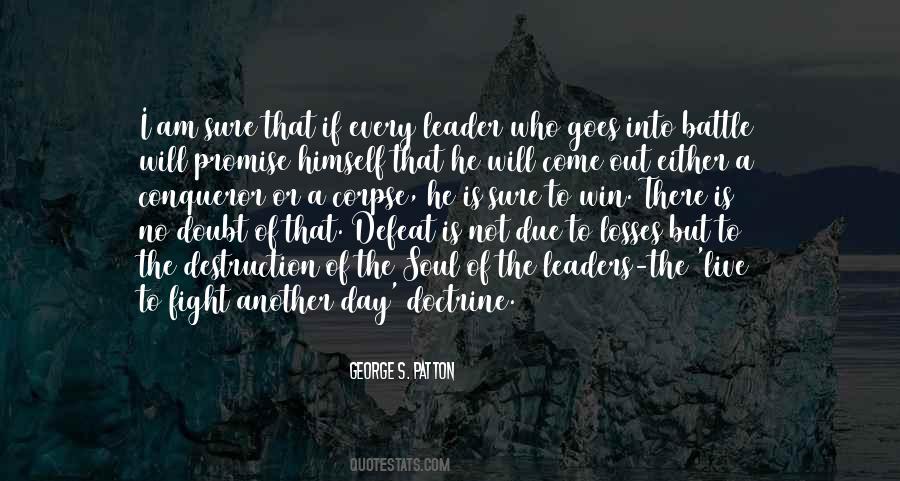 #45. If a man or woman has something redone it is because he or she can no longer live with that part of their body, it is no longer bearable. Either they get help and find the strength to fight or they proceed with the act. - Author: Emmanuelle Beart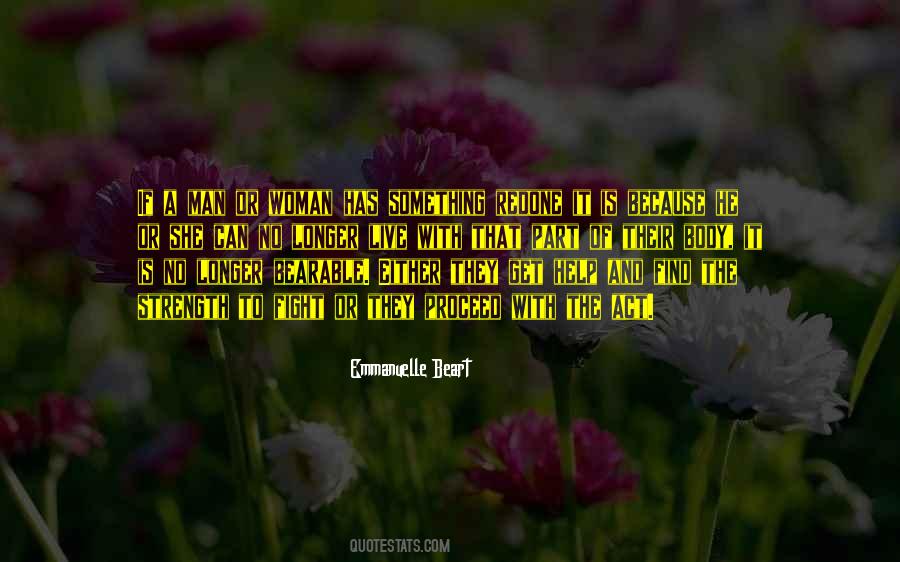 #46. Born to fight.
Learn to win.
Live to help. - Author: Rickson Gracie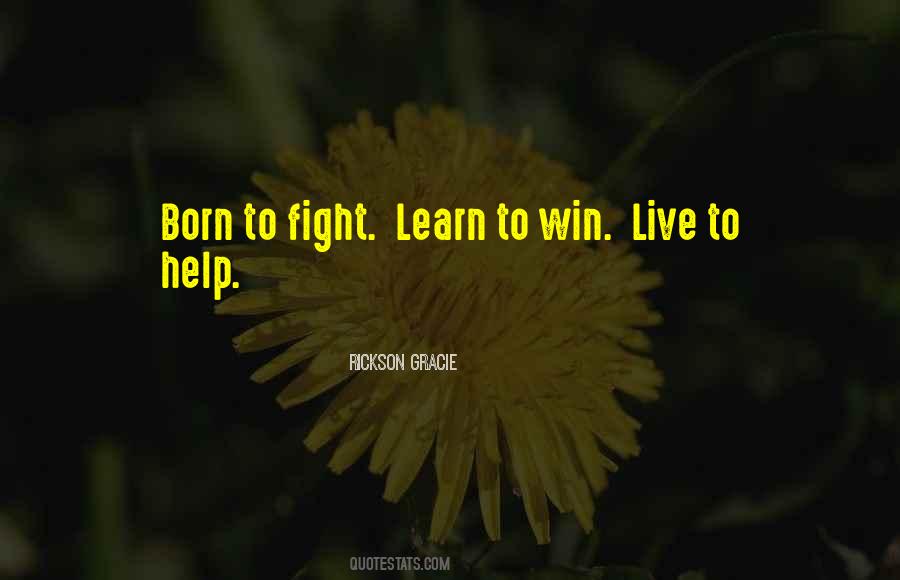 #47. ...life is too short to live without the things you want, to not fight for the things you love... - Author: Natalie Ward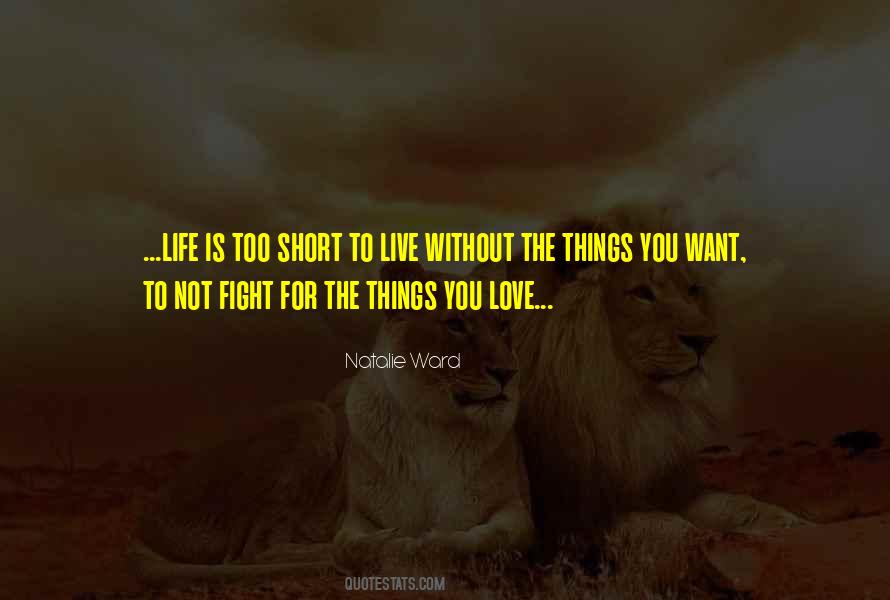 #48. I shut up. I don't fight, I don't scream. Shame rides alongside my terror. But somewhere deep, deep inside, I hear Mom tell me to trust my gut. My gut tells me I am blind and I am lost, and if I fought for freedom now, it would end in my death. I listen to my gut. Because I want to live. - Author: Carolyn Lee Adams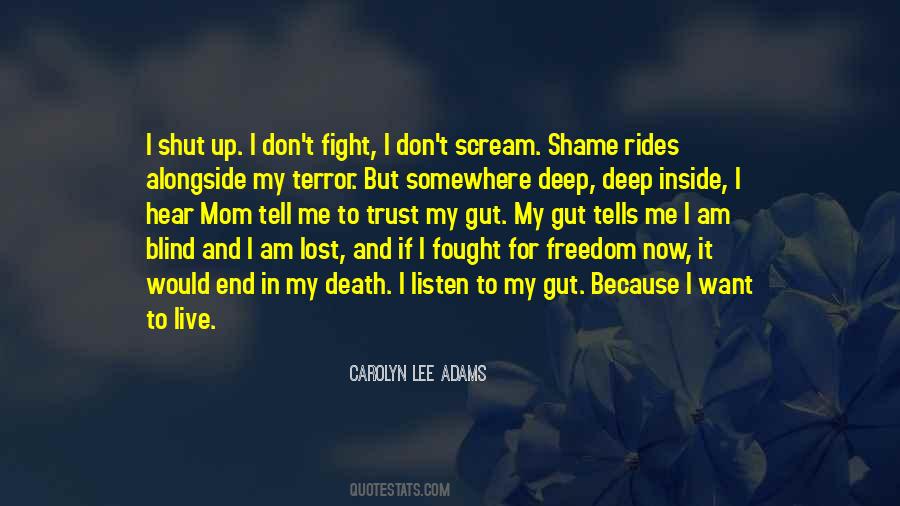 #49. He who fights and runs away
May live to fight another day;
But he who is battle slain
Can never rise to fight again
- Author: Oliver Goldsmith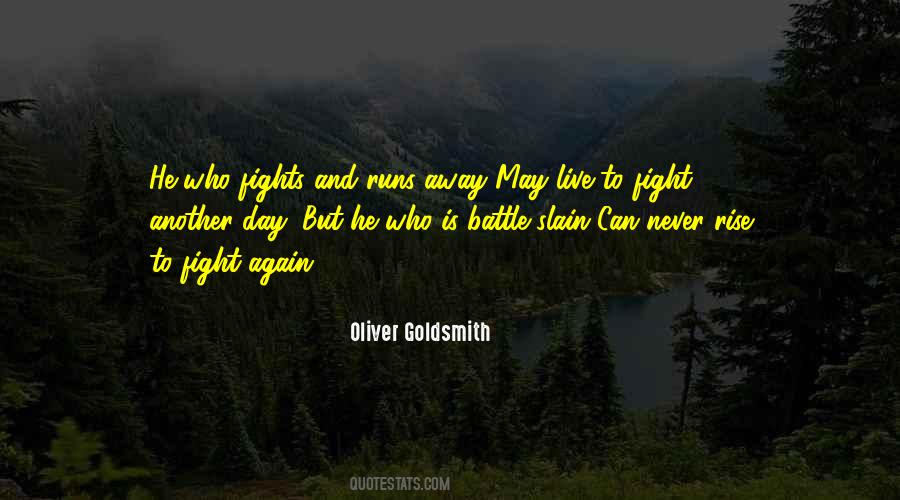 #50. We'll never surrender, we'll win or die
you've to fight the next generation and the next ...
and I'll live more than my hanger - Author: Omar Mukhtar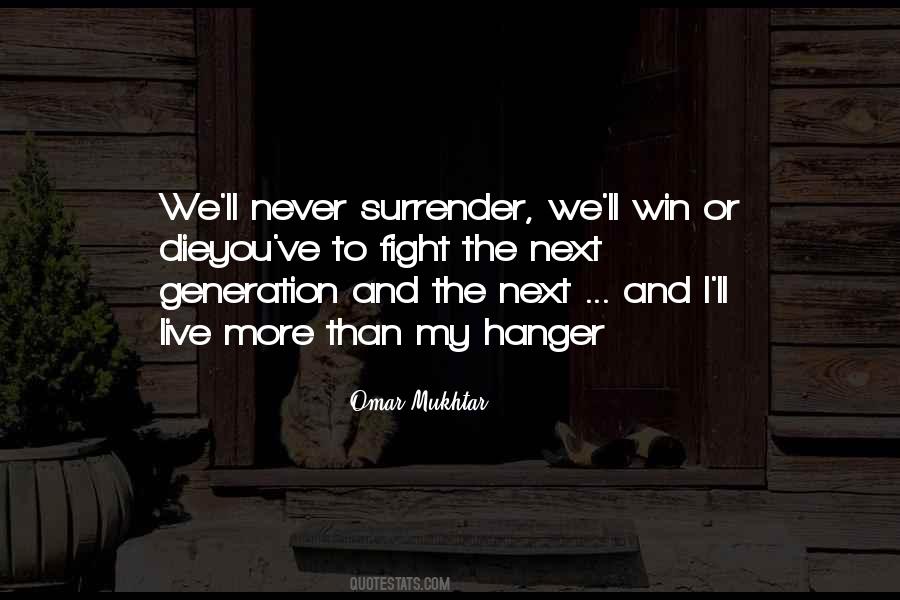 #51. Gay people do not fight for freedom to live in a lavender bubble, but in a more just society. - Author: Urvashi Vaid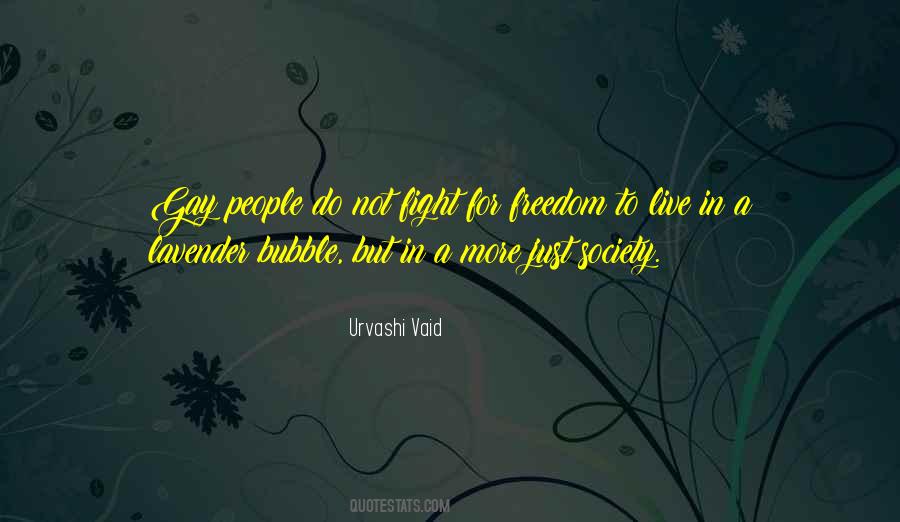 #52. There are occasions when it pays better to fight and be beaten than not to fight at all. - Author: George Orwell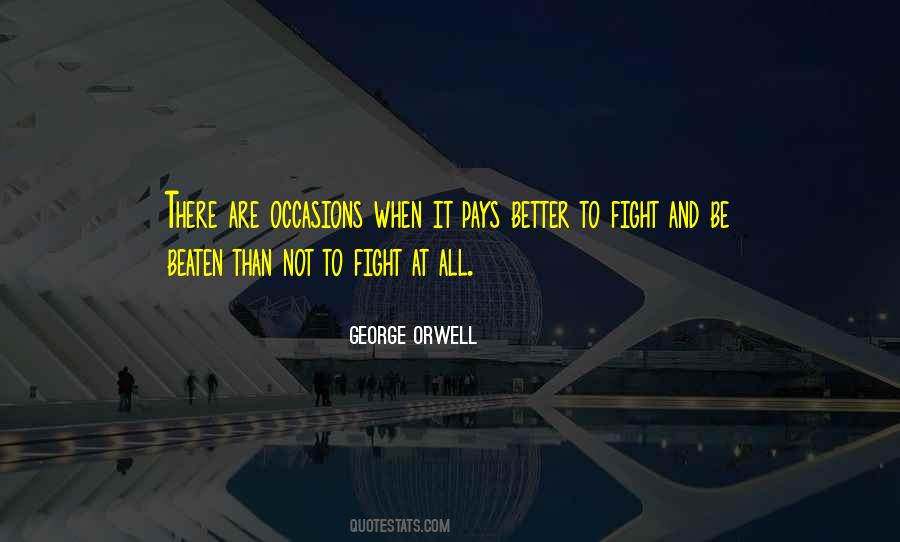 #53. Best fight ever in a movie: 'They Live.' I want to do a martial arts version of that, where you think it's ended, and it just keeps on going. I love that fight. It was funny as well. Unexpected. - Author: Scott Adkins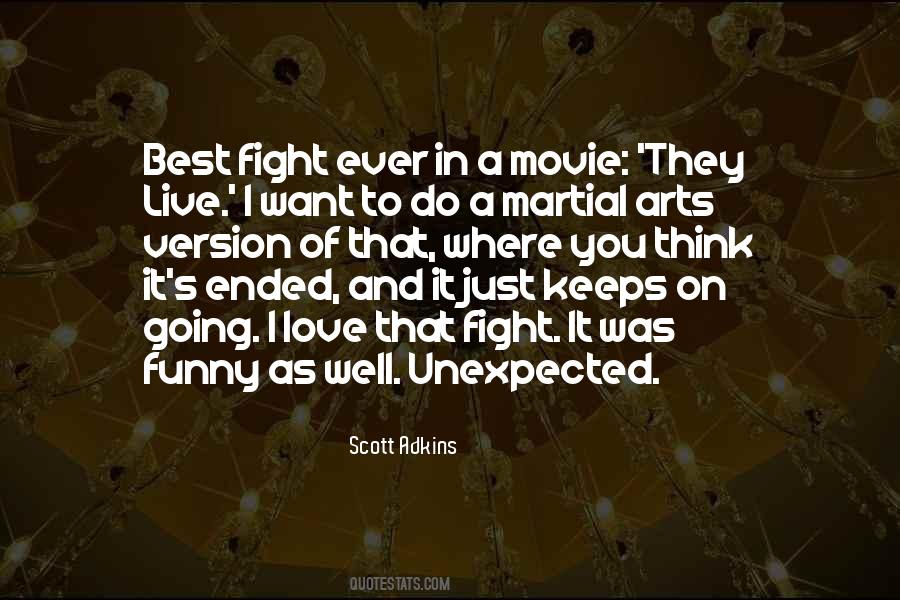 #54. A very considerable body of the German people live in America and propose to fight that Government. Bourke in his great speech last week welcoming the Belgian mission to Boston worked out the President's meaning with care. - Author: Shane Leslie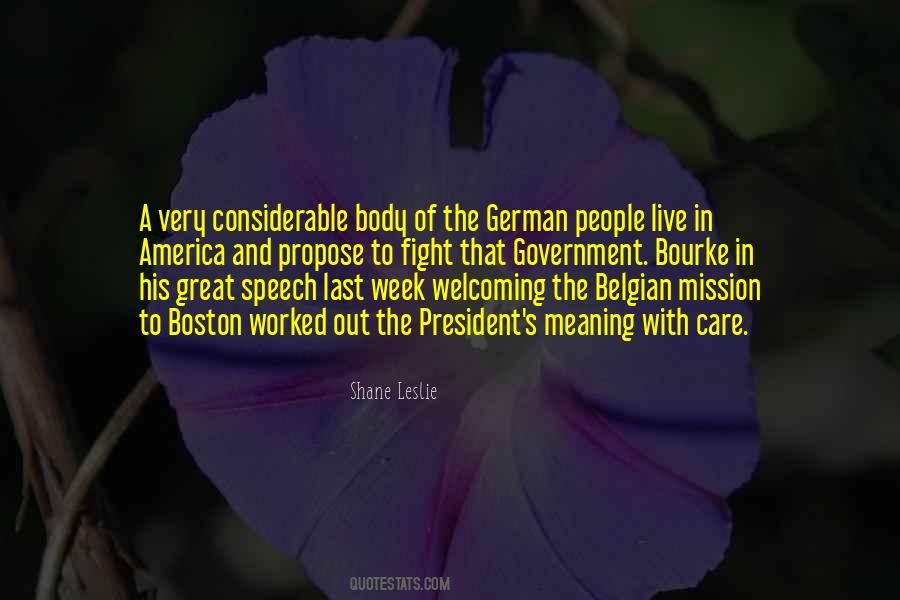 #55. Why am I fighting to live,
If I am just living to fight
Why am I trying to see.
When there aint nothing in sight
Why am I trying to give,
When no one gives me a try
Why am I dying to live,
If I am just living to die? - Author: Tupac Shakur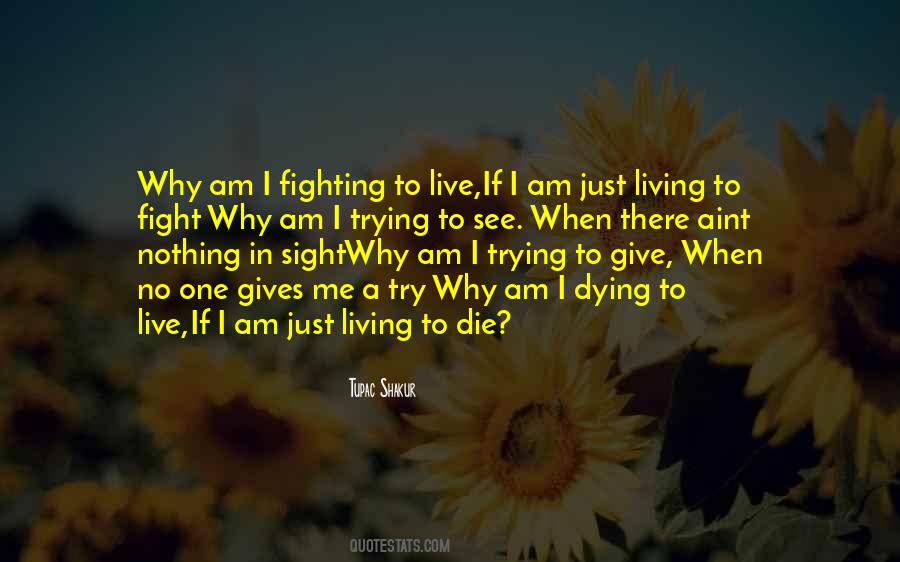 #56. We are all fighters, every single person who walks this earth is a fighter, everything that lives. To live is to fight. And we just fight in different arenas. - Author: Rashad Evans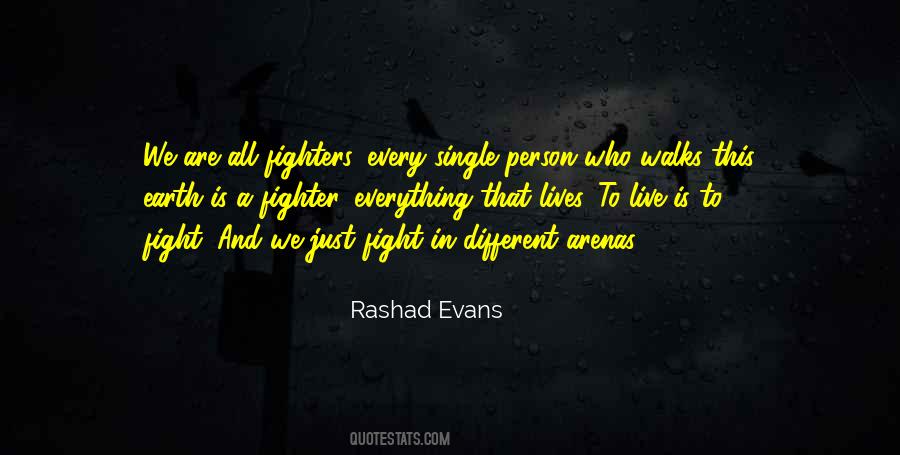 #57. You're going to live longer than you expected, and bad things are bound to happen. Let them bounce off you. Grieve, cry, fight whatever you need to survive, but don't cling to it. Move on. - Author: Annie Nicholas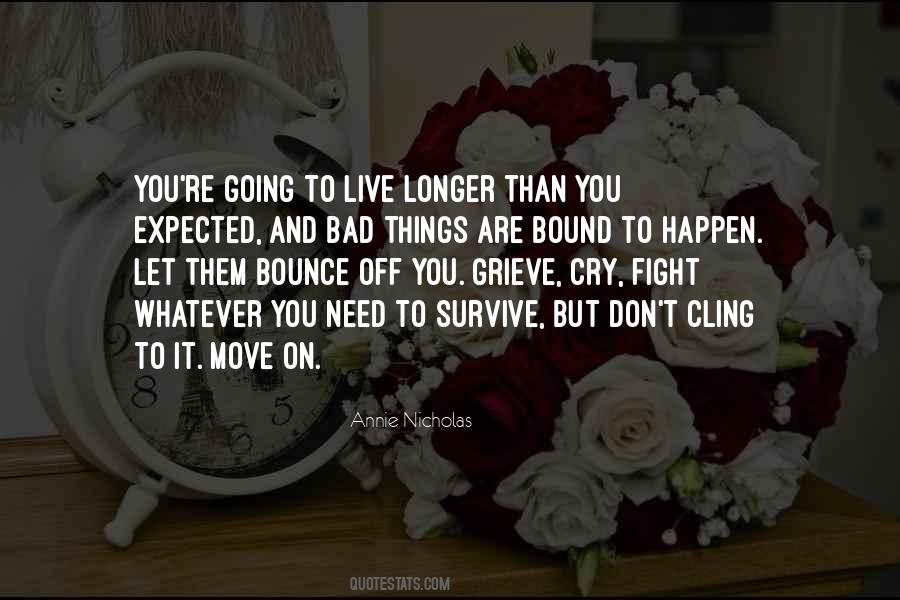 #58. When we renounce our dreams, we find peace and enjoy a brief period of tranquility, but the dead dreams begin to rot inside us and to infect the whole atmosphere in which we live. What we hoped to avoid in the Fight - disappointment and defeat - become the sole legacy of our cowardice. - Author: Paulo Coelho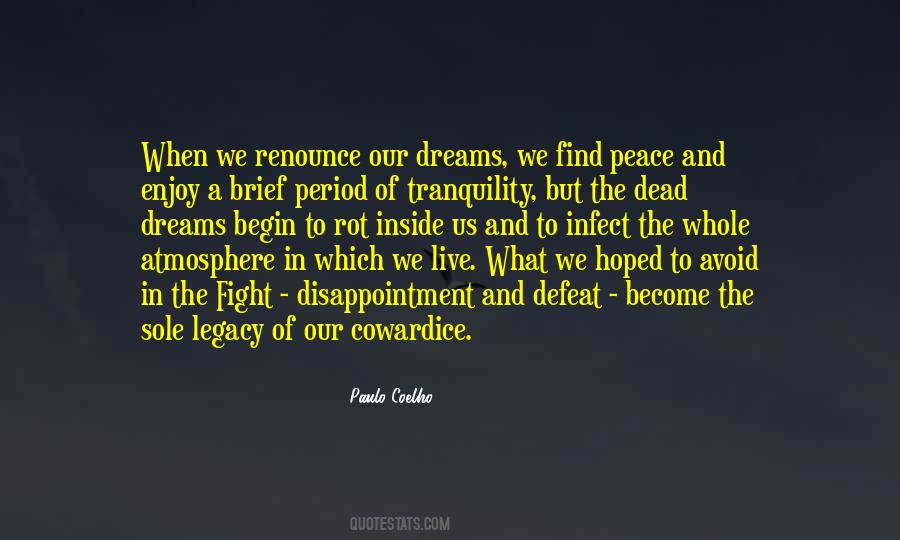 #59. You do know I am my father's son, right? People don't talk to me that way and live. (Syn)
Oh, like I fear you. Never. Besides, a fight might dislodge whatever has crawled up your sphincter and bring back the much nicer version of you. (Shahara) - Author: Sherrilyn Kenyon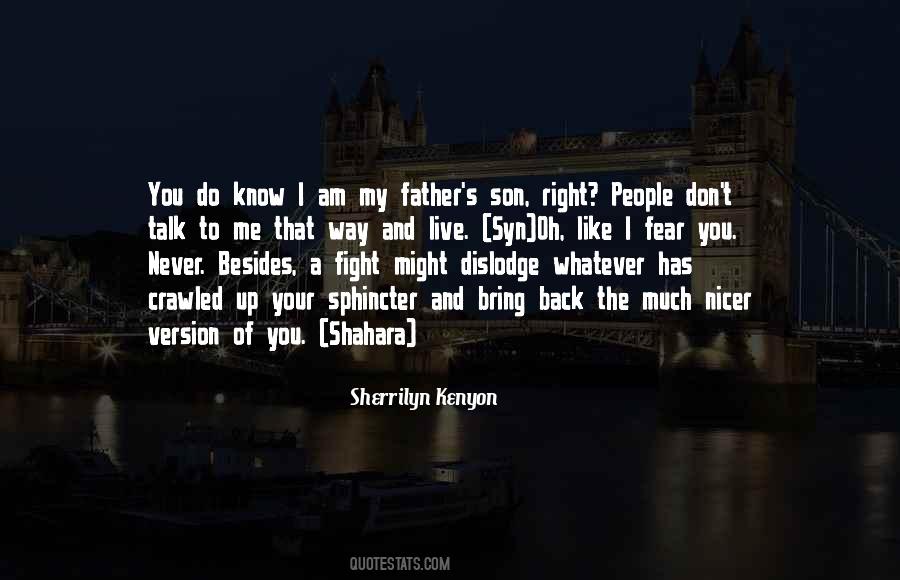 #60. Fight for the right to live in freedom! - Author: Paul McCartney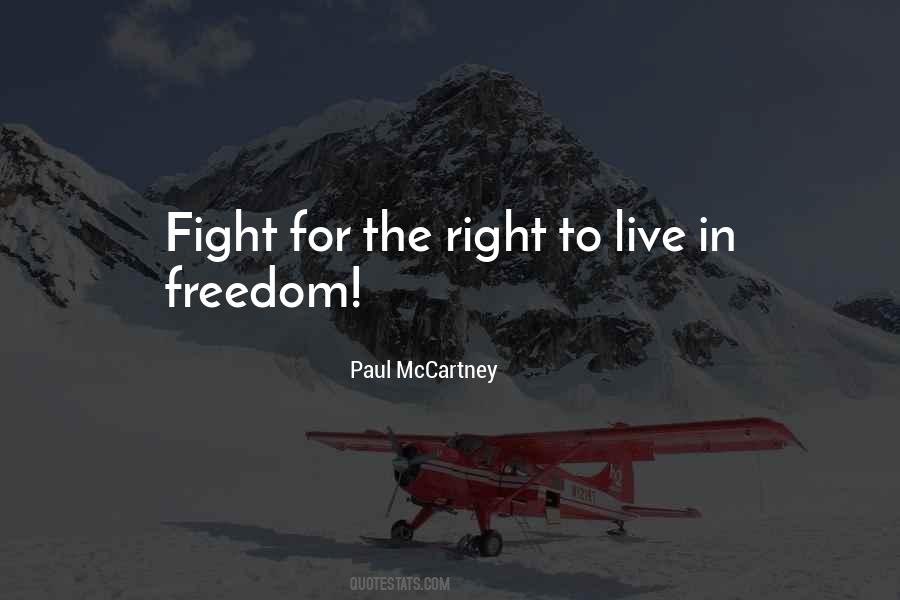 #61. It's still easier to take a blow from outside than it is to be disgusted with myself for not taking a stand. I don't know how people can live and not fight back but apparently millions do. They must hate themselves. - Author: Rita Mae Brown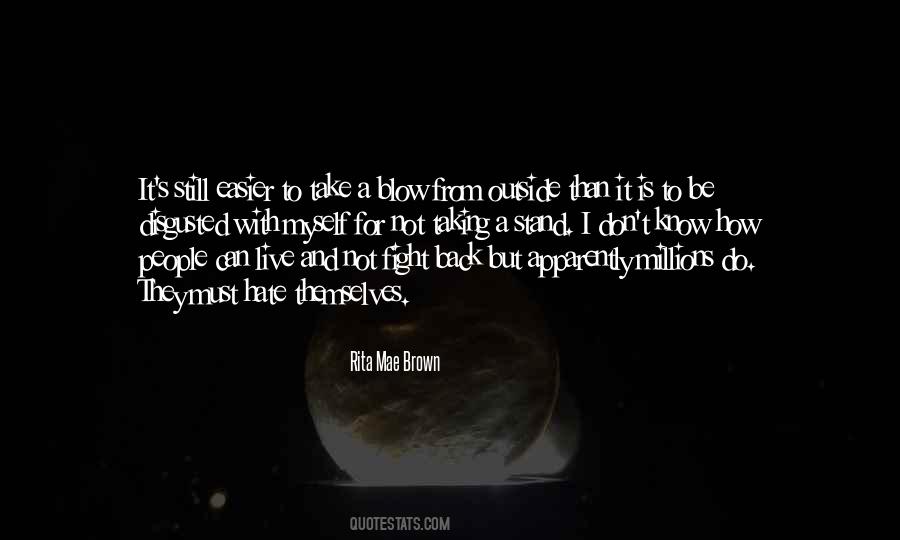 #62. Ah my friend, if you and I could escape this fray and live forever, never a trace of age, immortal, I would never fight on the front lines again or command you to the field where men win fame. - Author: Homer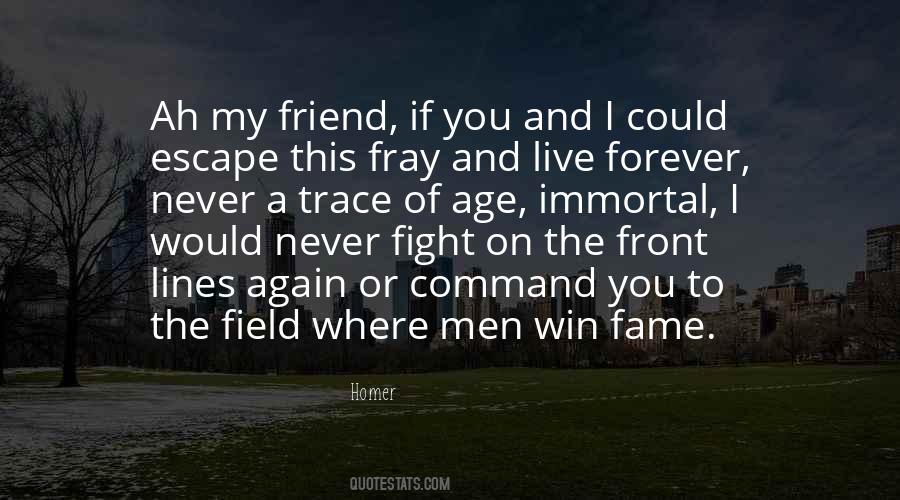 #63. I hope one day to be better, and I'm pretty sure I will be. I hope one day I live in a world where the personal fight for mental stability is viewed with pride and public cheers instead of shame. I hope it for you too. - Author: Jenny Lawson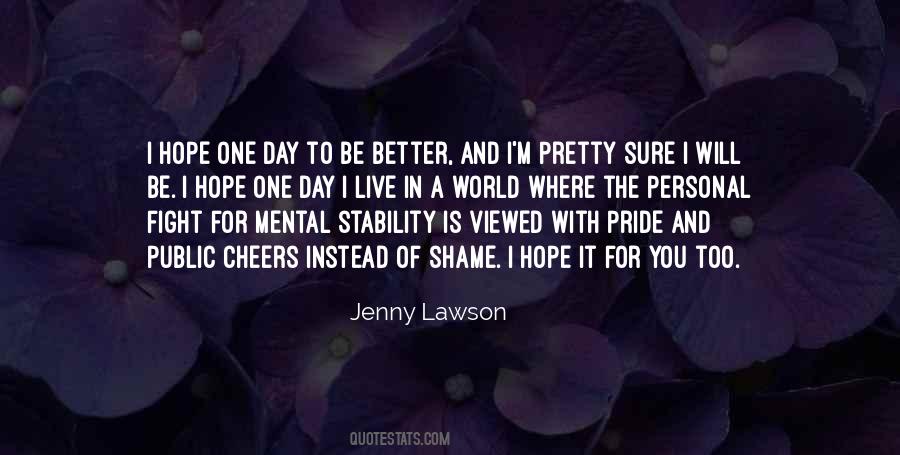 #64. Meditation plays a big role in my life. Meditation fortifies my spirit, improves my focus, my desire. When I fight I try to empty my mind. It's called Mushin. When I don't see anything around me, I only see that moment. Nothing else matters. that was how I was taught to live. - Author: Lyoto Machida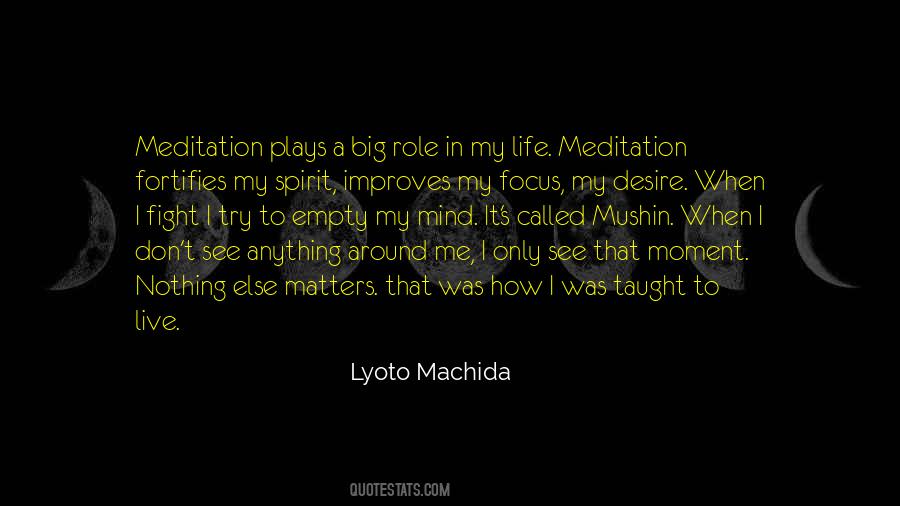 #65. The liberals have not softened their view of actuality to make themselves live closer to the dream, but instead sharpen their perceptions and fight to make the dream actuality ... - Author: Margaret Mead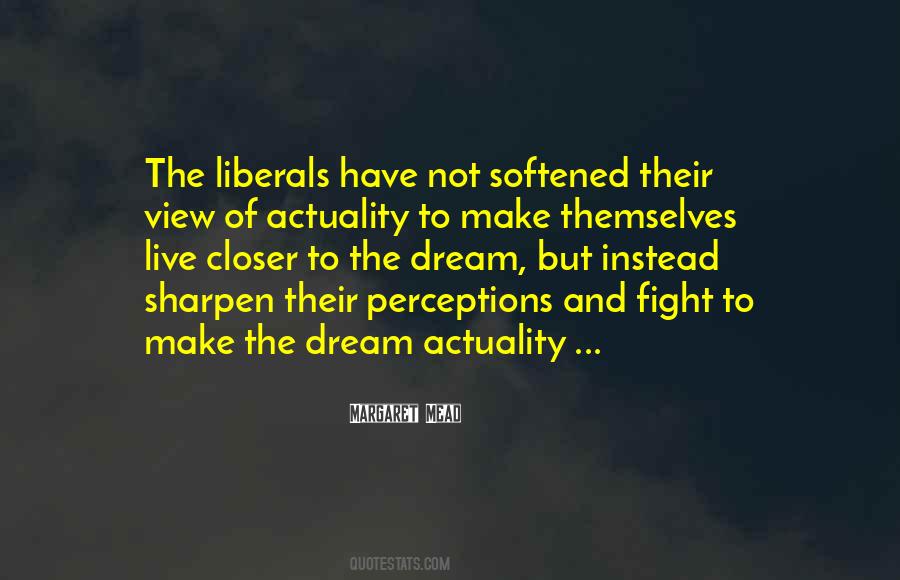 #66. Good warrior knows when to lose a battle so she can live to fight the war. - Author: Jennifer Donnelly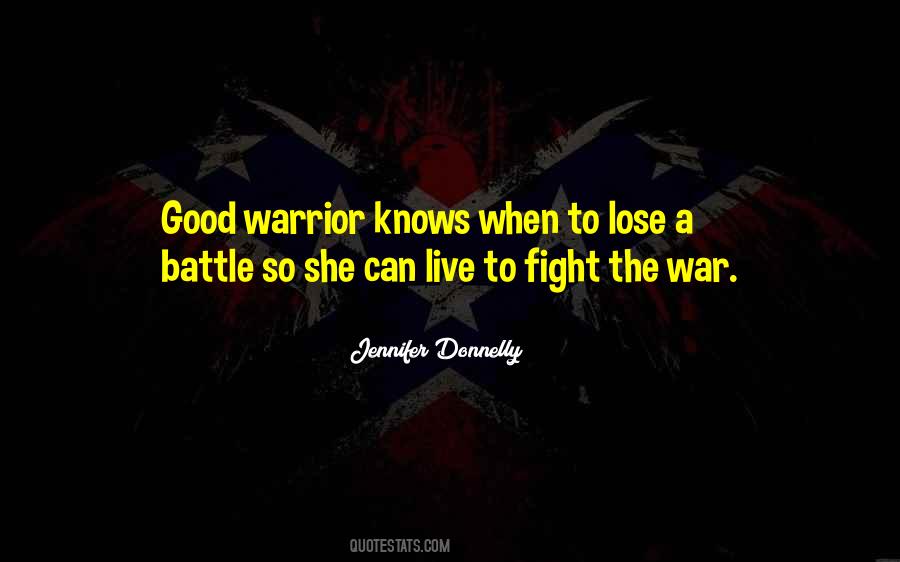 #67. It's my belief that when you're dealing with the supernatural, the supernatural still has to trump we mortals, it still has to be more powerful than we are. You can't really defeat it. You can live to fight another day but it's very rare that a human being can actually destroy a supernatural force. - Author: Frank Spotnitz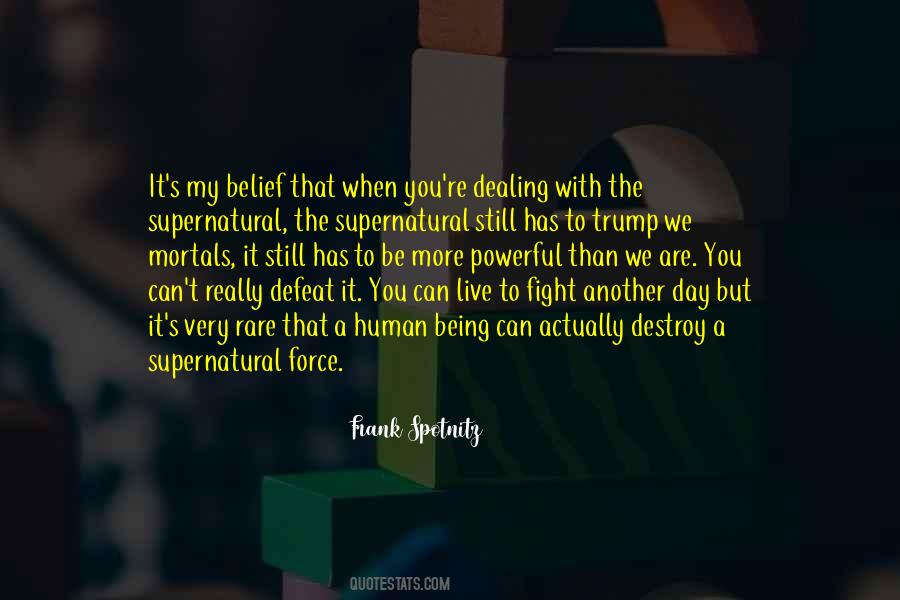 #68. The Internet is emblematic of an era in which what happens in Southeast Asia or southern Africa - from democratic advances to deforestation to the fight against aids - can affect Americans. As has been observed about water pollution, we all live downstream now. - Author: Shashi Tharoor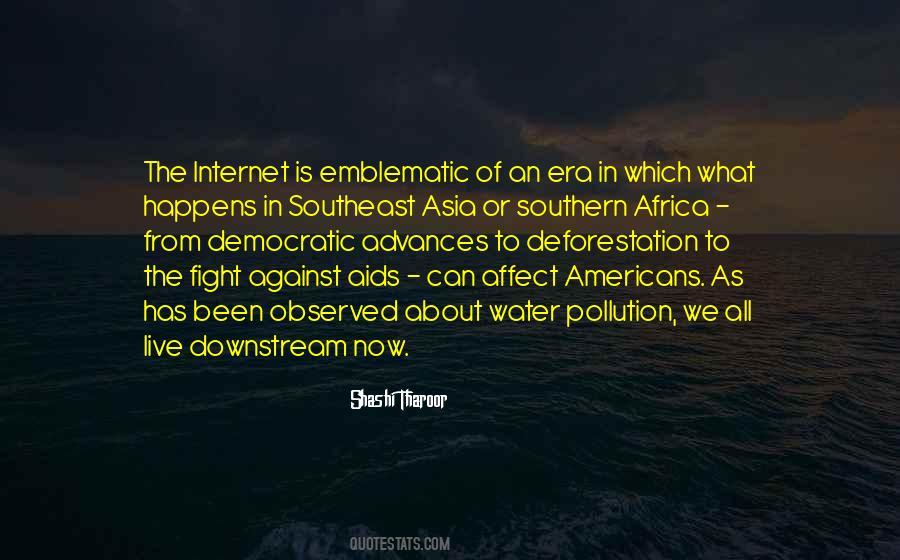 #69. For though we live in the world, we do not wage war as the world does. The weapons we fight with are not the weapons of the world. On the contrary, they have divine power to demolish strongholds. - Author: Beth Moore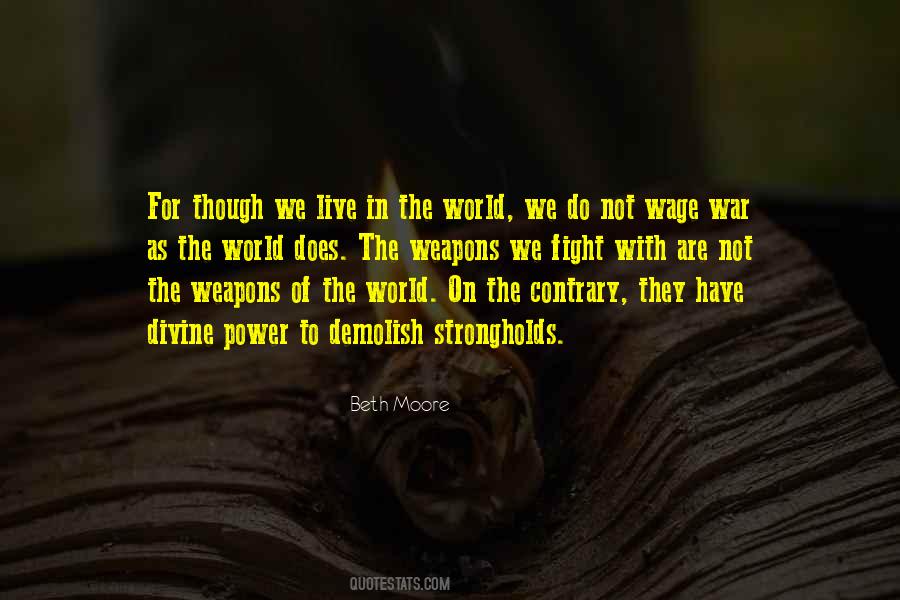 #70. It is easier to fight for one's principles than to live up to them. - Author: Alfred Adler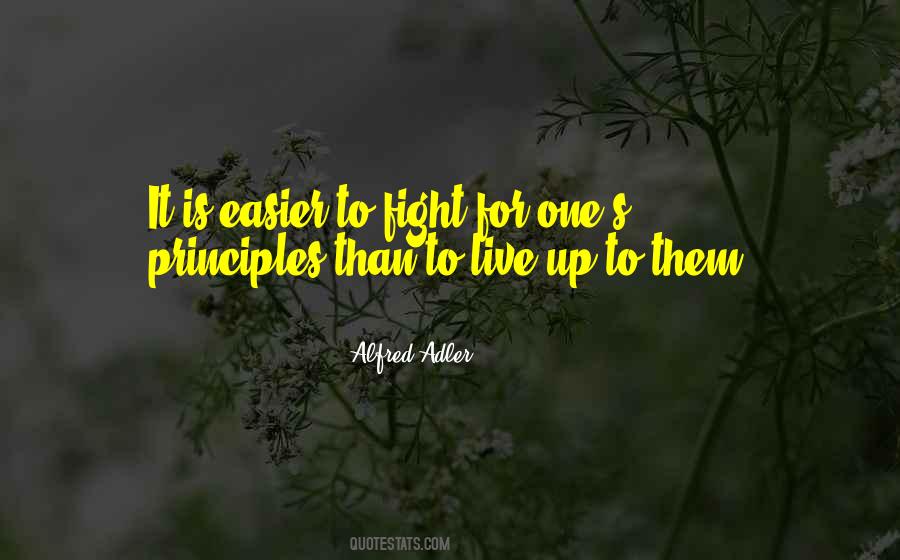 #71. To be a Southerner, or to live Southern, is to feel, well, something special even in the quiet, something fine in itself after all those rebel yells and fight songs have finally faded into silence. - Author: Rick Bragg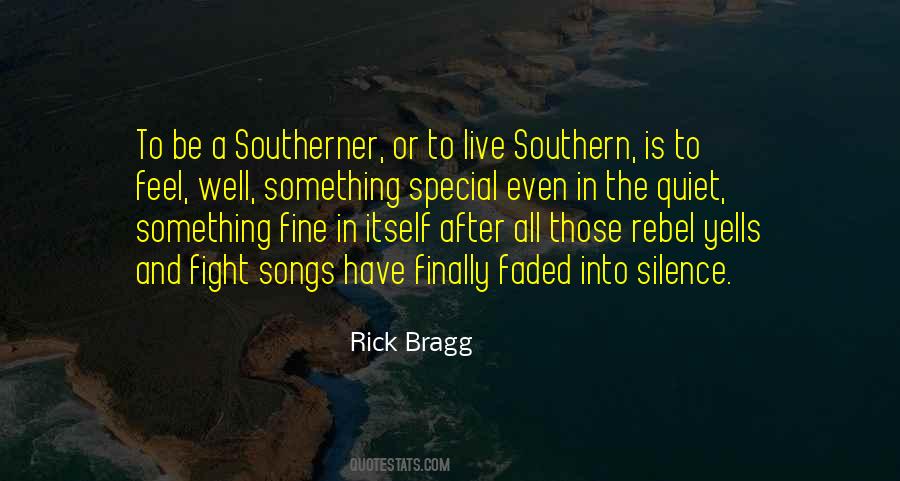 #72. The assumption that women in hijab are less enlightened or empowered than those rocking daisy dukes is arrogant at best. Feminism should fight for all women to have he right to live as they choose, not for all women to live the same exact lives like we're all in some sort of Sims game. - Author: Luvvie Ajayi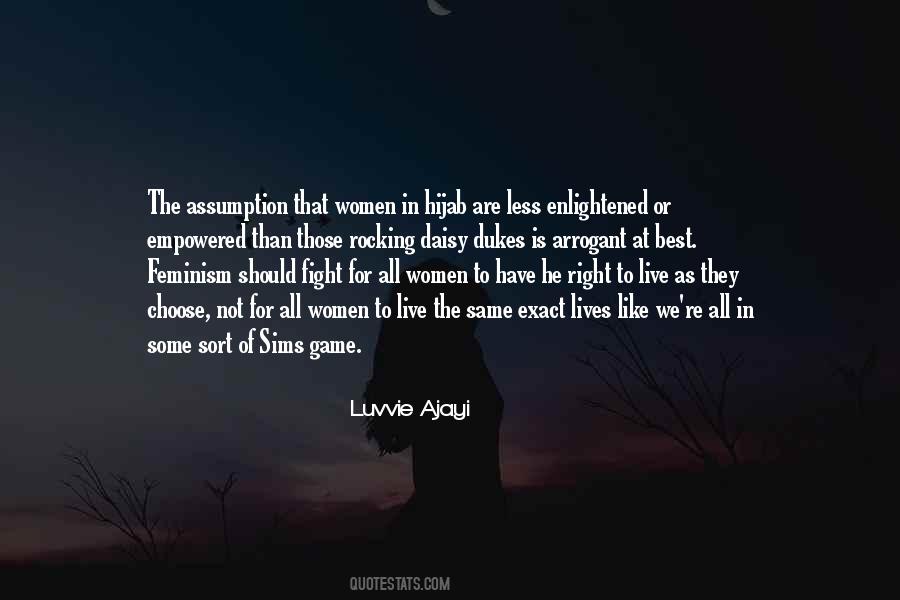 #73. The fight for joy in Christ is not a fight to soften the cushion of Western comforts. It is a fight for strength to live a life of self-sacrificing love. - Author: John Piper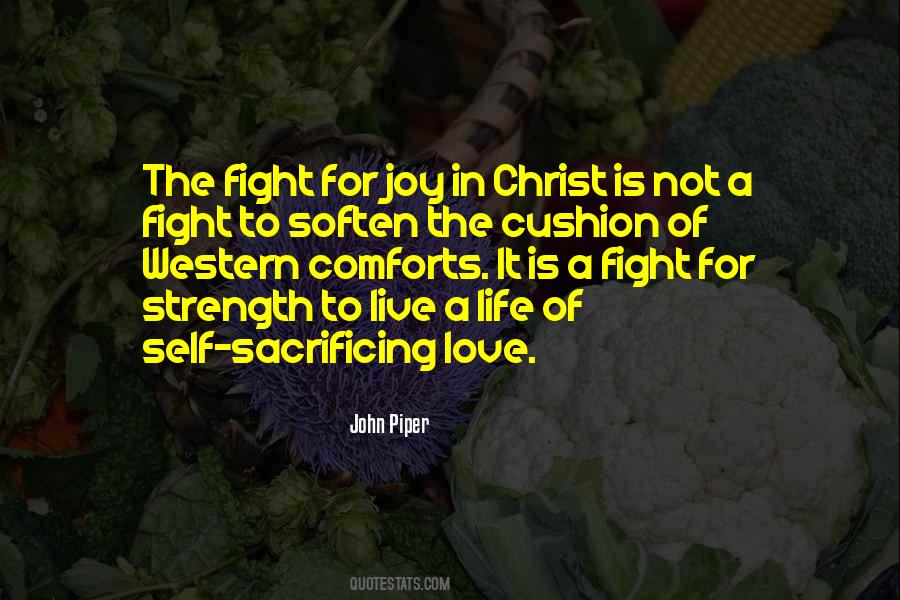 #74. The key to risk management is never putting yourself in a position where you cannot live to fight another day. - Author: Richard S. Fuld Jr.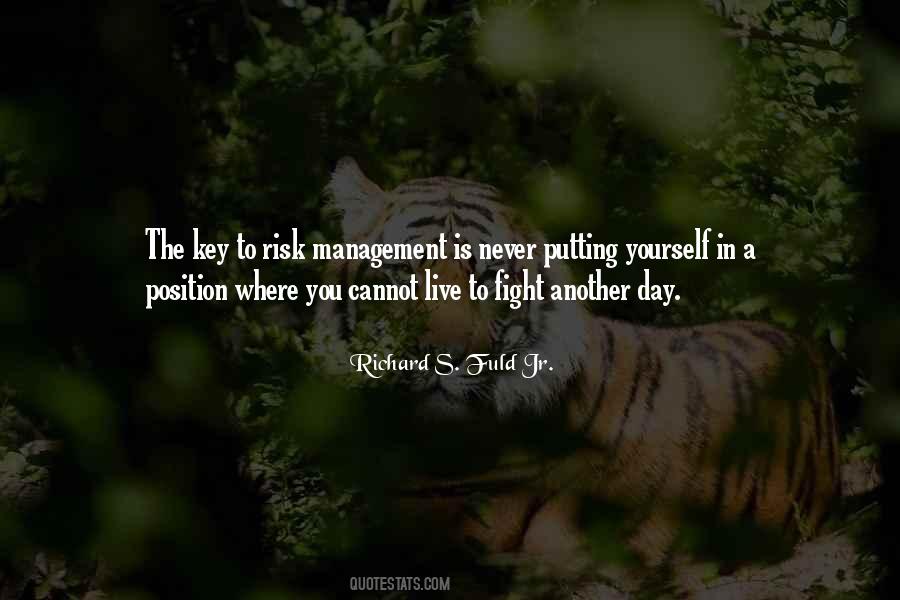 #75. Of course he was afraid of war. Only fools are not. Anaxantis was no fool. He was fully prepared to fight, but only as a last resort. - Author: Andrew Ashling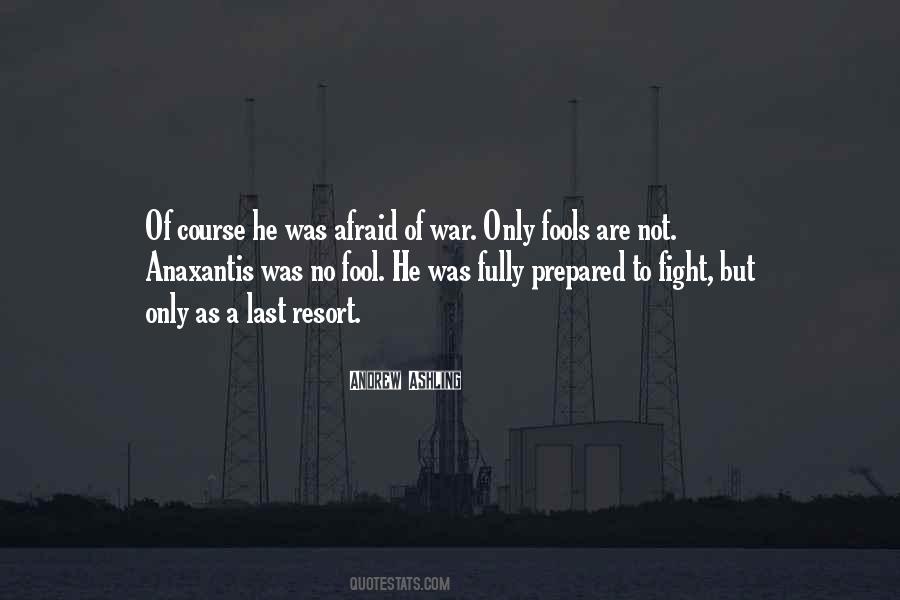 #76. To choose to live, to make that choice to fight for life every day, had to be a choice to accept all the sorrows of all of my tomorrows. But if that choice to live was to be bearable at all, I needed to let loose my embrace of the pain, both yesterday's and tomorrow's. - Author: Bobby Adair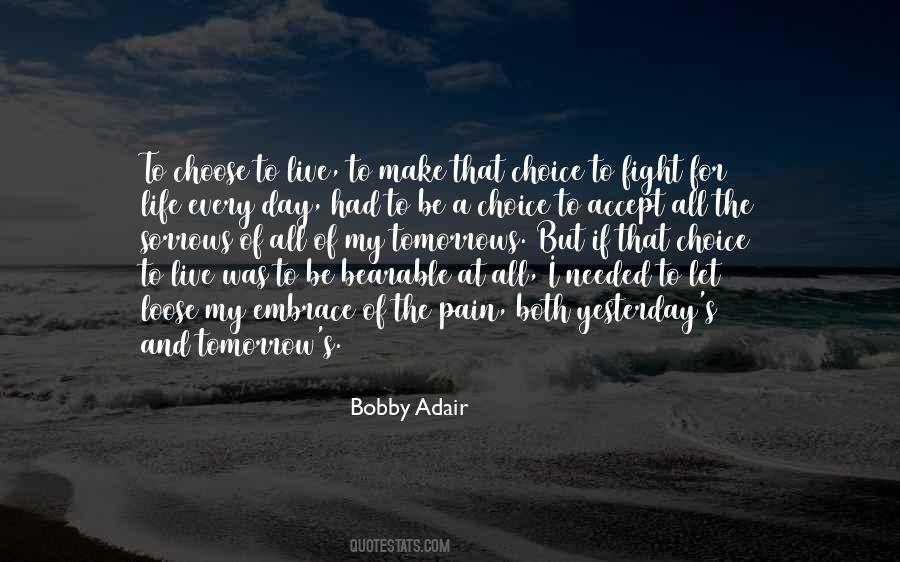 #77. No matter how you fight me, I will never stop. Every day, I'll try again and again. Every hour, I'll touch you, just to prove I'm willing to be everything you need and deserve. You'll never be free of me because I can't live another day without you in my fucking life. - Author: Pepper Winters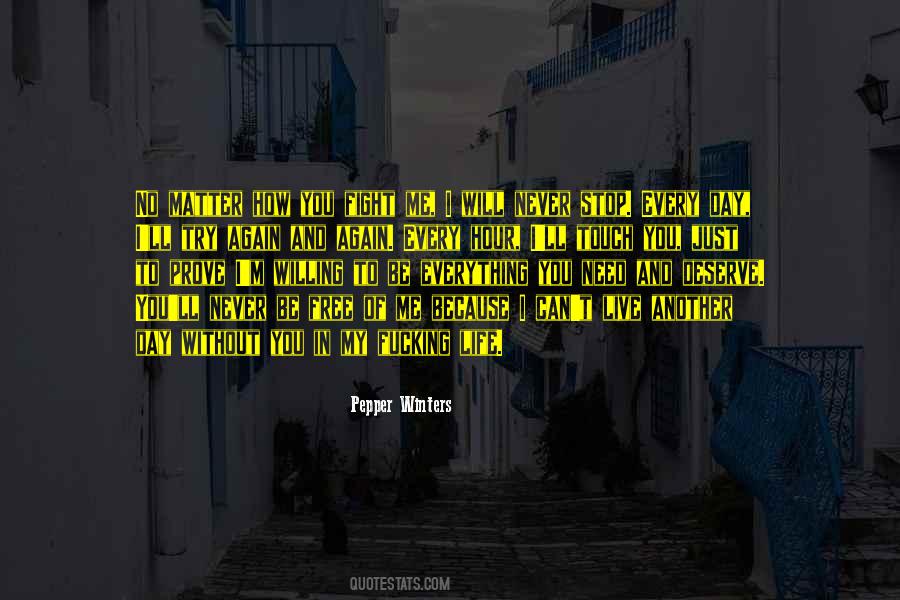 #78. They made me think. Everything has to fight to live. Rats work very hard. If we are not careful they will inherit the earth. - Author: Ben Okri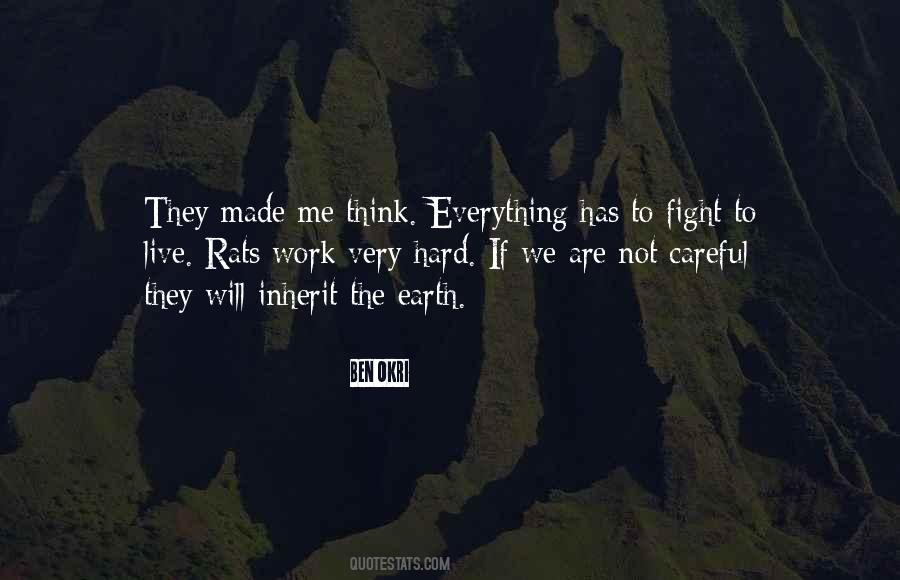 #79. The hardest fight a man has to fight is to live in a world where every single day someone is trying to make you someone you do not want to be
- Author: E. E. Cummings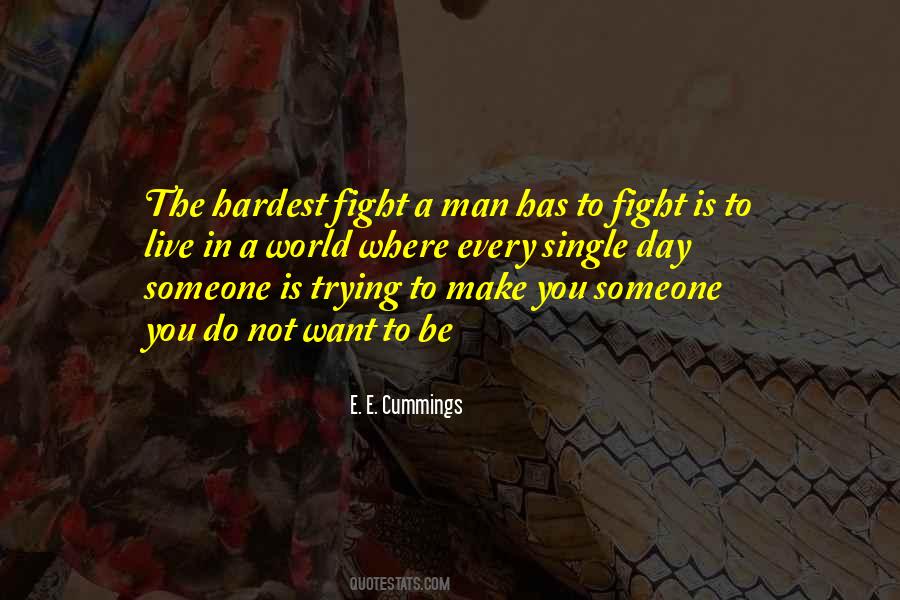 #80. You can spend the rest of your life fighting to be respected, accepted and understood by the people you have created a life with or you can start living a life where that isn't a daily goal and ambition in your relationship. - Author: Shannon L. Alder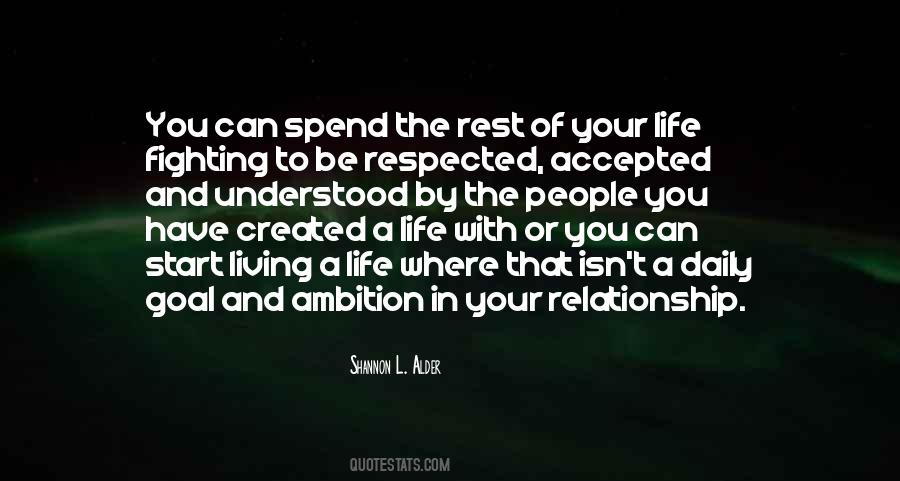 #81. I'm a combative person, I know I am, and the greatest thing about law school was I learned to fight with my brain. I clarified something to myself. No matter how much you want to live in the white man's world, you either live by what you believe in, or you die. - Author: Jim Webb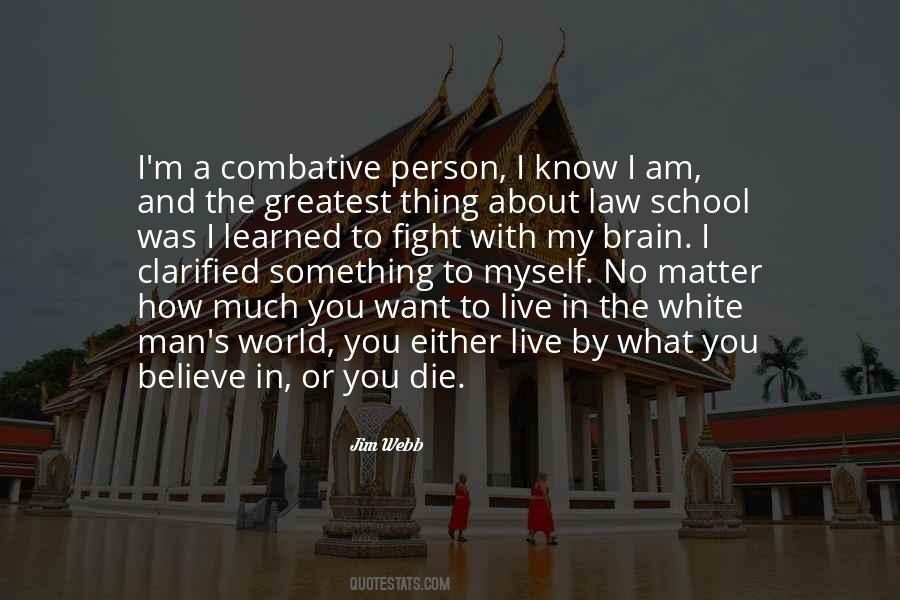 #82. We fight not to enslave, but to set a country free, and to make room upon the earth for honest men to live in. - Author: Thomas Paine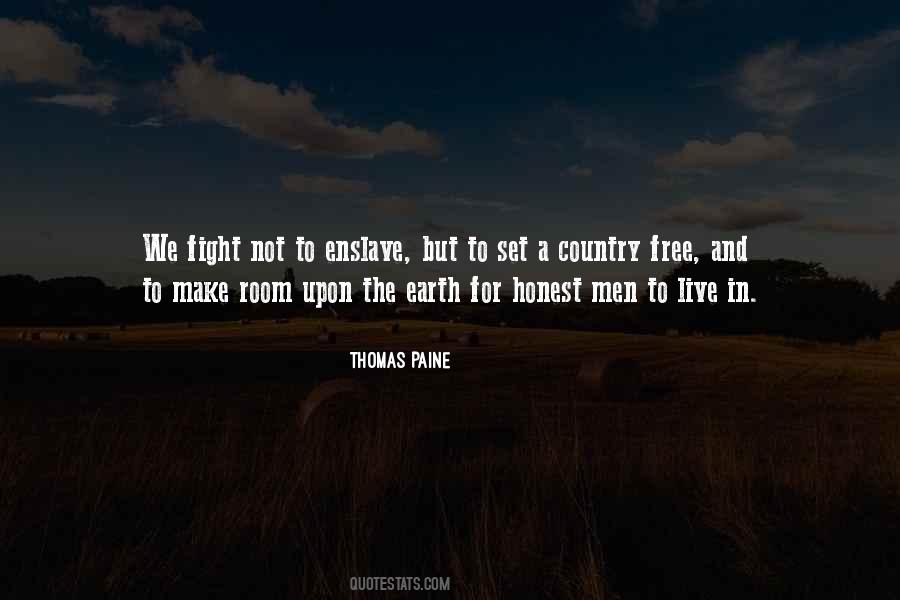 #83. When I think of my past life, and the bitter trials I have endured, I can scarcely believe I live, and yet I do; and, with the help of Him who notes the sparrow's fall, I mean to fight for my down-trodden race while life lasts. - Author: Sarah Winnemucca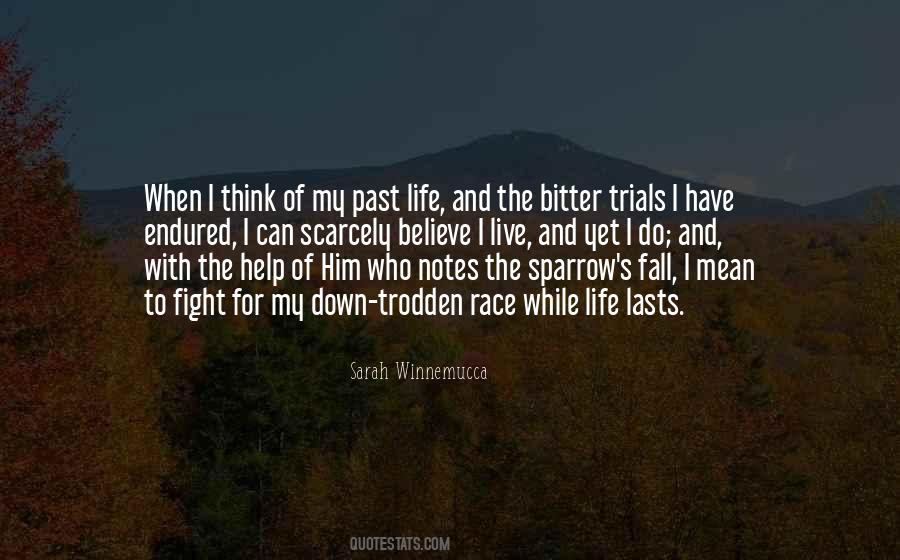 #84. For an individual as well as a society, there is a gulf between merely living and living worthily. To fight in a battle and live in glory is one mode. To beat a retreat, to surrender and to live the life of a captive is also a mode of survival. - Author: B.R. Ambedkar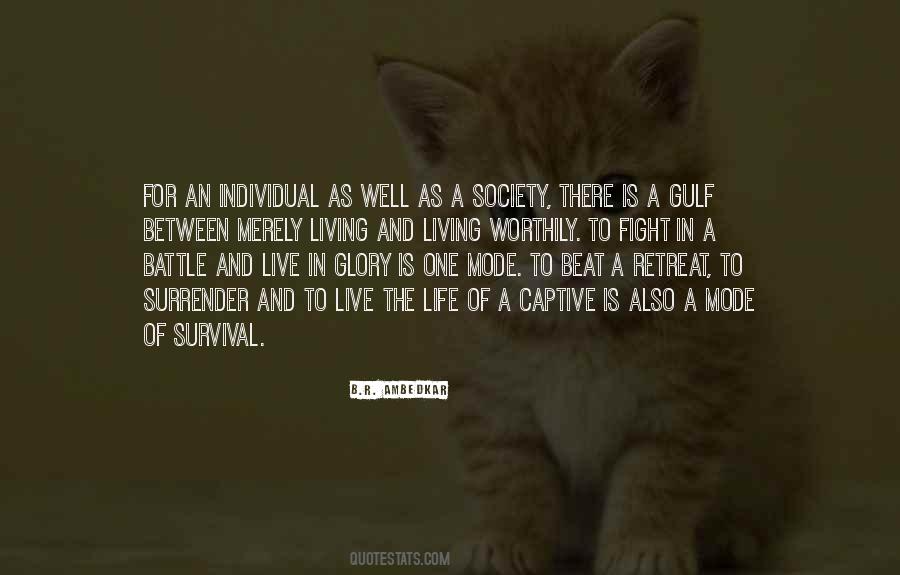 #85. People who want to live like Olympian gods must have slaves whom they throw into their fishponds and gladiators who fight during their masters sumptuous banquets-and the pleasure-seekers never care if some blood splatters on them. - Author: Leopold Von Sacher-Masoch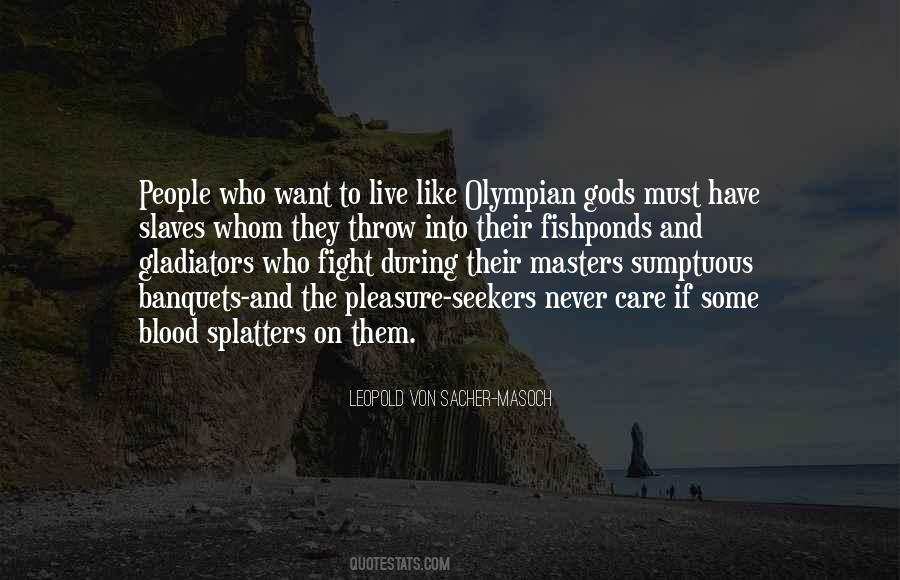 #86. I know that failing - coming up short - is part of the game and I have accepted that .I don't like it, but I have accpted it .God willing , I live to fight another day, NEXT YEAR.. - Author: Jon-Robert Holden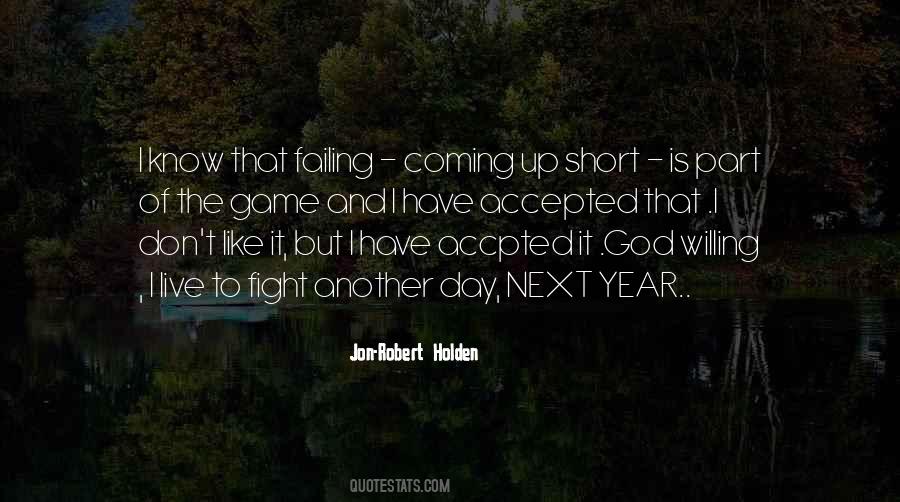 #87. Kill myself? Killing myself is the last thing I'd ever do. Now I have a purpose, a reason to live. I don't care who I have to face, I don't care who I have to fight, I will not rest until this street gets a stop sign! - Author: Dan Castellaneta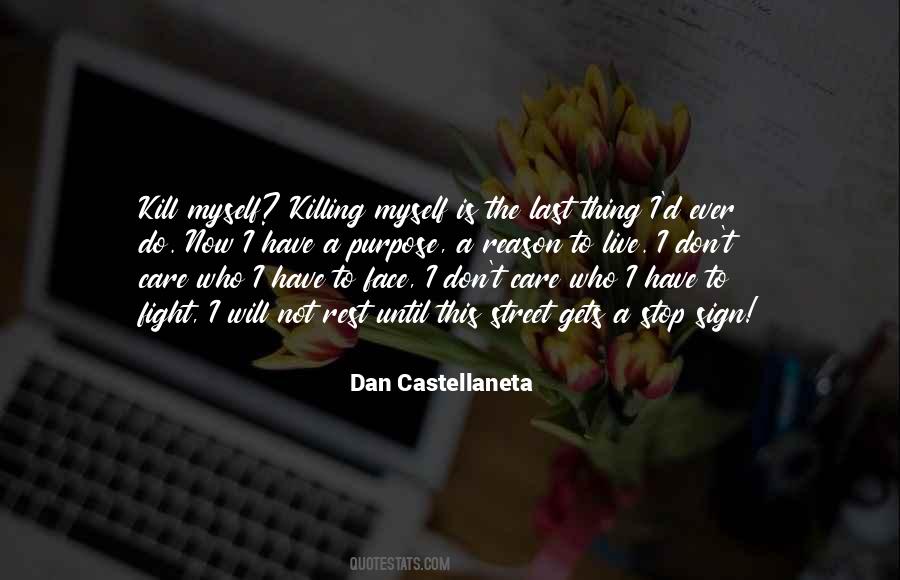 #88. It's not enough to fight for a better world; we also have to live lives worth fighting for. - Author: Eric Greitens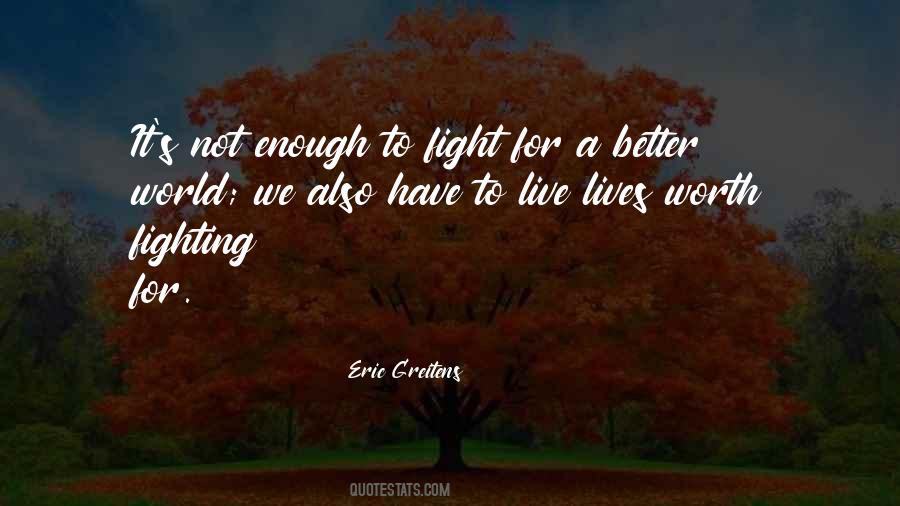 #89. Centuries of fighting, and for what? I say. Today it ends. I can't live in fear any longer. I've cursed this power. I've both enjoyed and misused it. And I've hidden it away. Now I must try to wield it correctly, to marry it to a purpose and hope that is enough. - Author: Libba Bray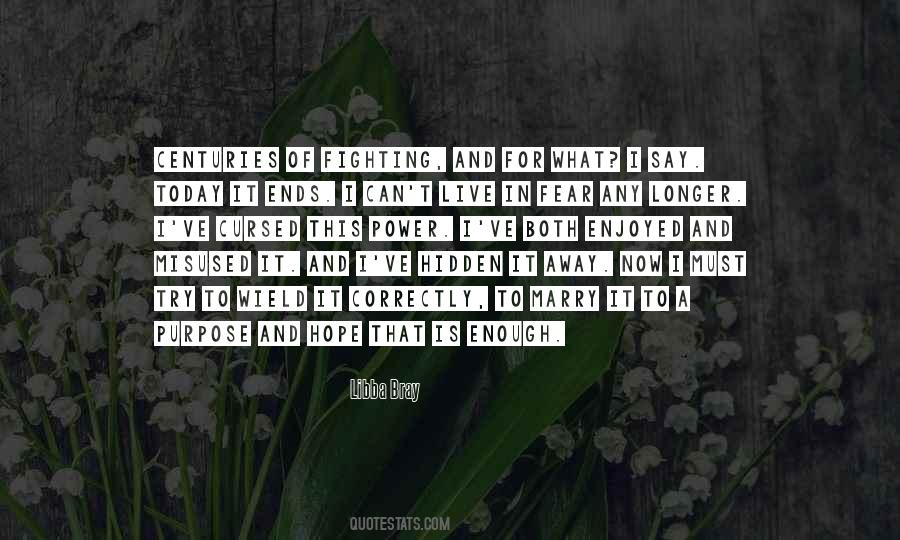 #90. The first step to eternal live is you have to die. - Author: Chuck Palahniuk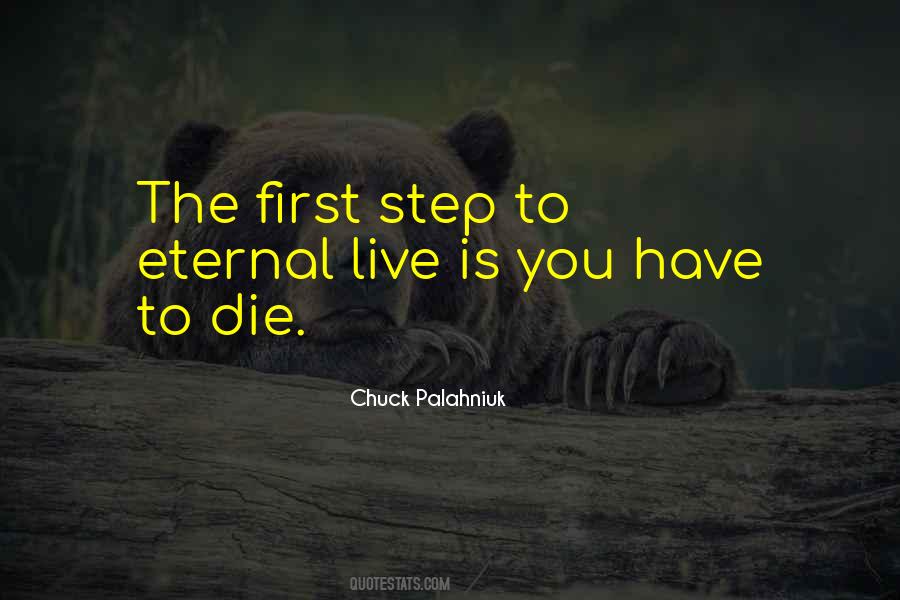 #91. Most people live life on the path we set for them. Too afraid to explore any other. But once in a while people like you come along and knock down all the obstacles we put in your way. People who realize free will is a gift, you'll never know how to use until you fight for it. - Author: The Adjustment Bureau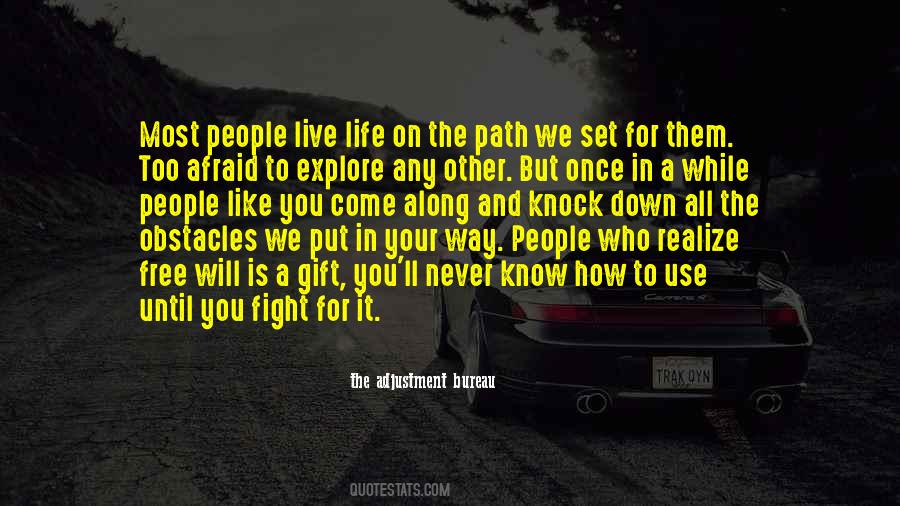 #92. It's meaningless to just live, it's meaningless to just fight, cause i wanna win and survive !!!! - Author: Tite Kubo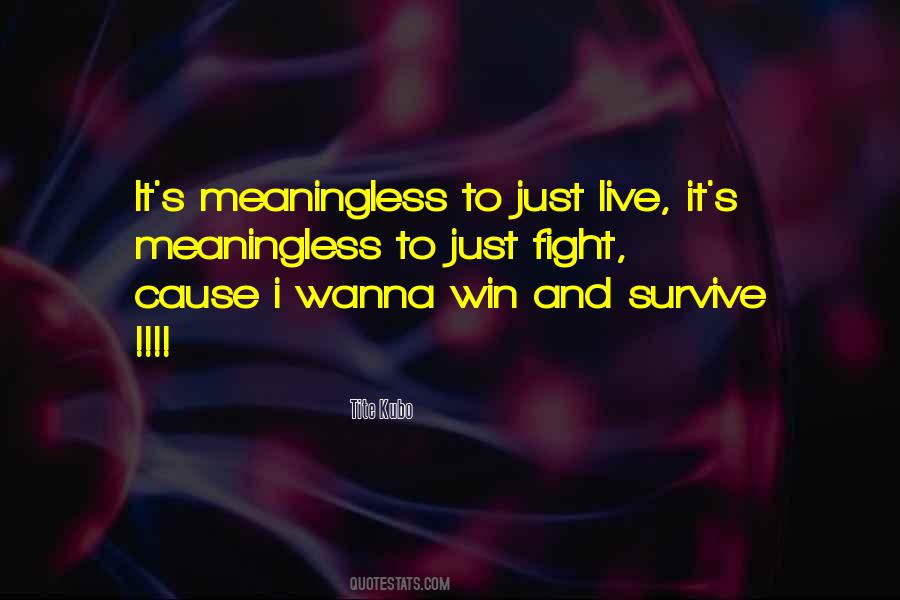 #93. To live is to fight. - Author: Patrick Ness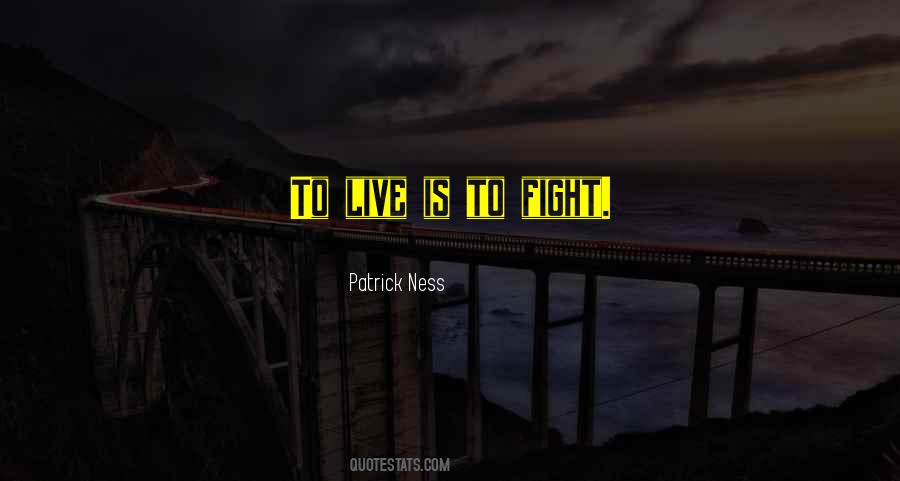 #94. When you're a kid, you live carefree. You notice things that go on around you, but you live like a kid with no worries until you get to that certain age where trials and tribulations come and you gotta fight and stay on your toes. That's when survival instincts kick in. - Author: Jay Rock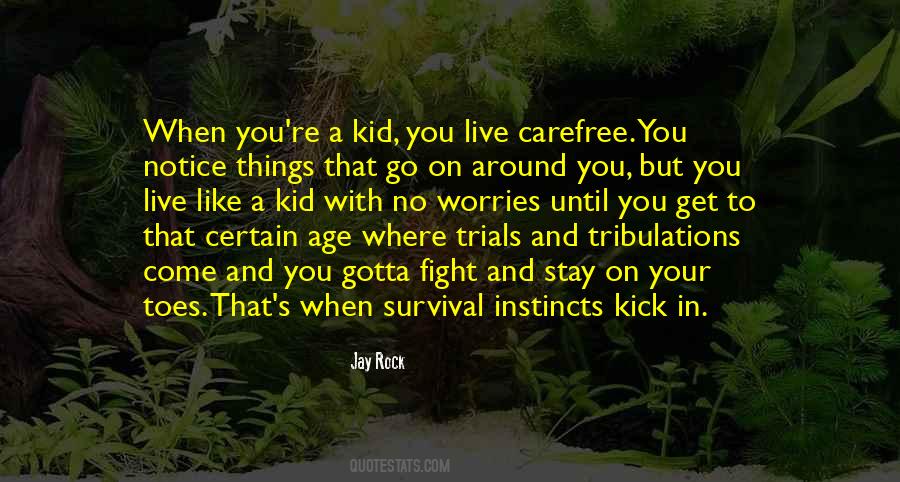 #95. Honestly, to tell you the truth, being trapped in any video game sounds like a living nightmare to me. In most video games, the point is it's a fight for survival, so I think it would be a terrifying place to live. - Author: John C. Reilly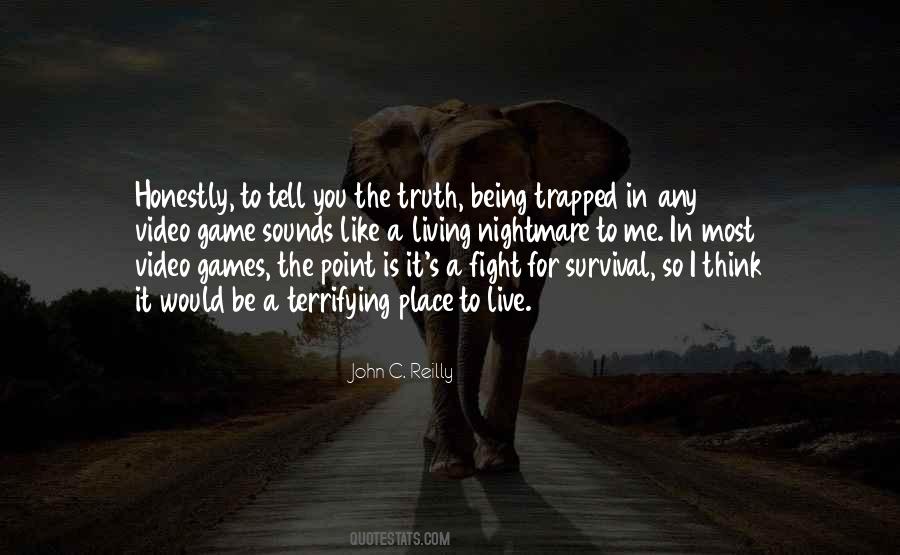 #96. There are thousands of them to fight. Even going after the Dimme in there is suicide. (Sin)
Who wants to live forever? (Kat)
For the record, I do. (Kish)
Then why do you irritate me so often? (Sin)
Suicidal tendencies are inherent in my species? (Kish) - Author: Sherrilyn Kenyon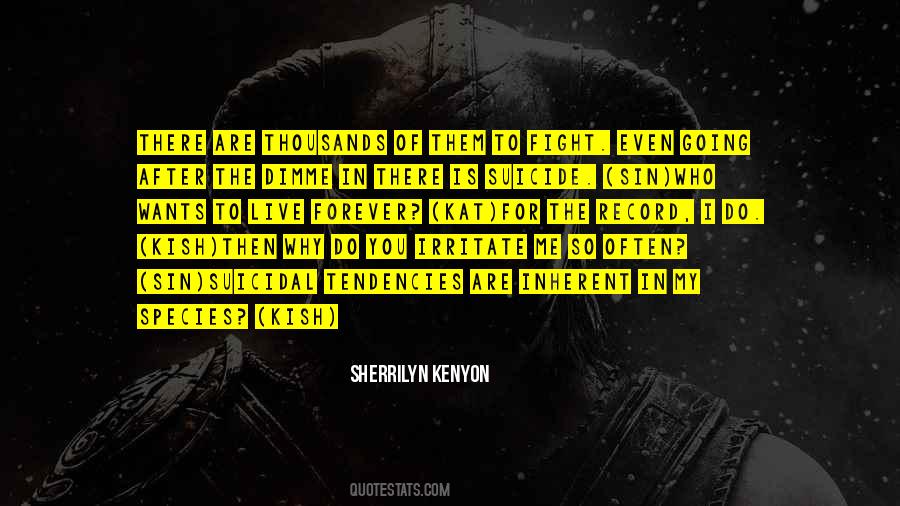 #97. If you're going to die, then die. If you're going to live, then fight. - Author: Emilie Autumn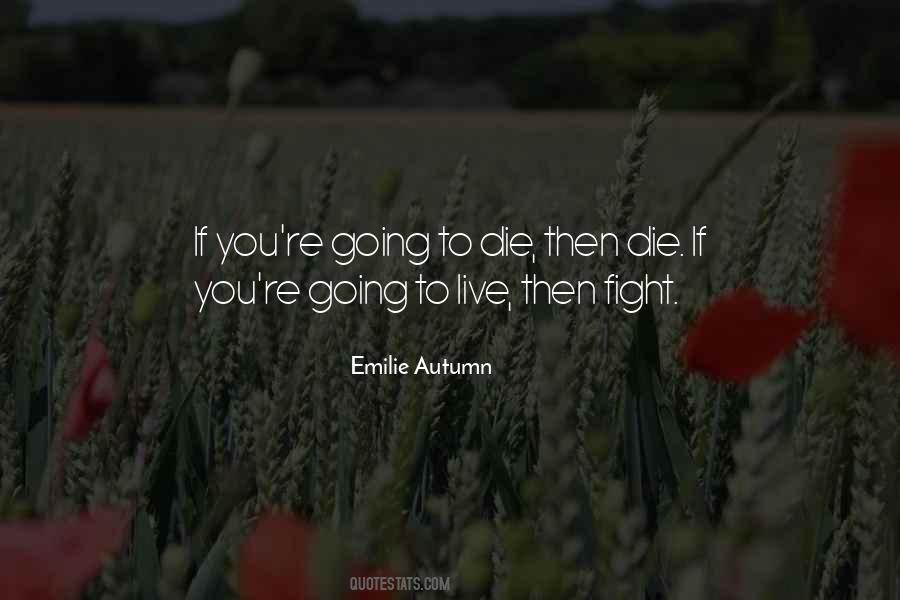 #98. the greatest trick of kings is to fool the poor into thinking we have common cause with the rich simply because we live on the same bog. Then the poor get their heads split open in the battles they fight so the rich can keep their wine cellars well stocked. - Author: Kate Horsley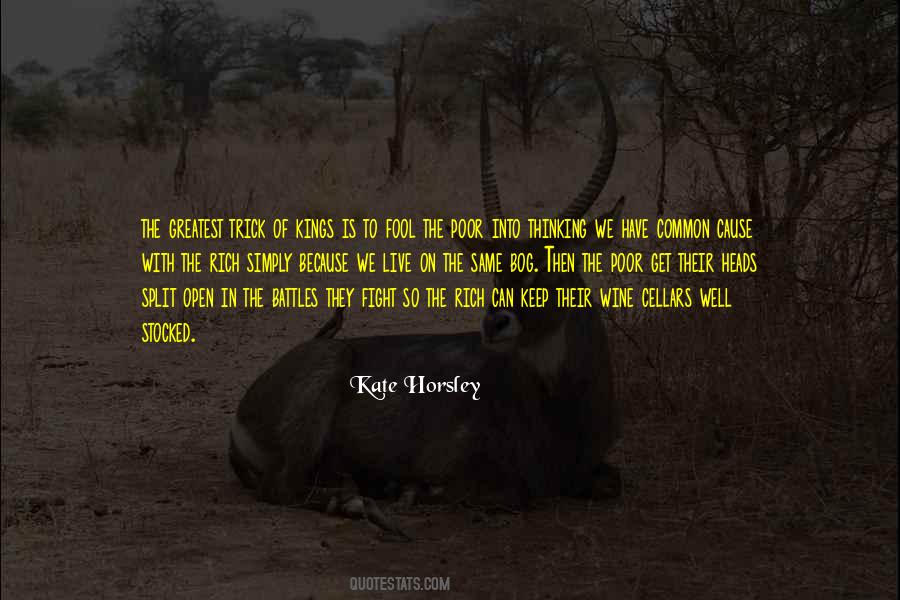 #99. We fight ceaselessly to live or we live joyfully to fight. - Author: Debasish Mridha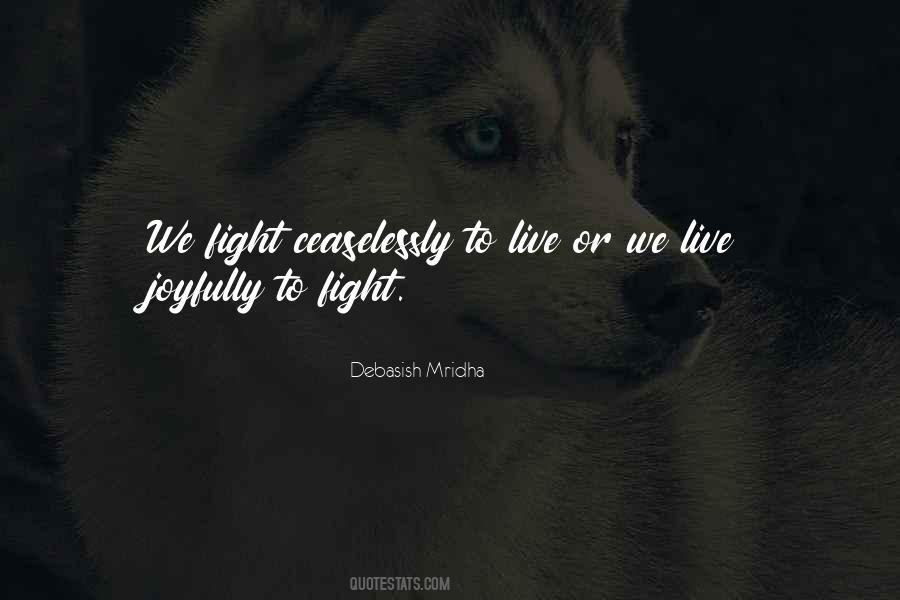 #100. Dreamers strive to live life to the fullest abilities and they fight for their dreams. - Author: Euginia Herlihy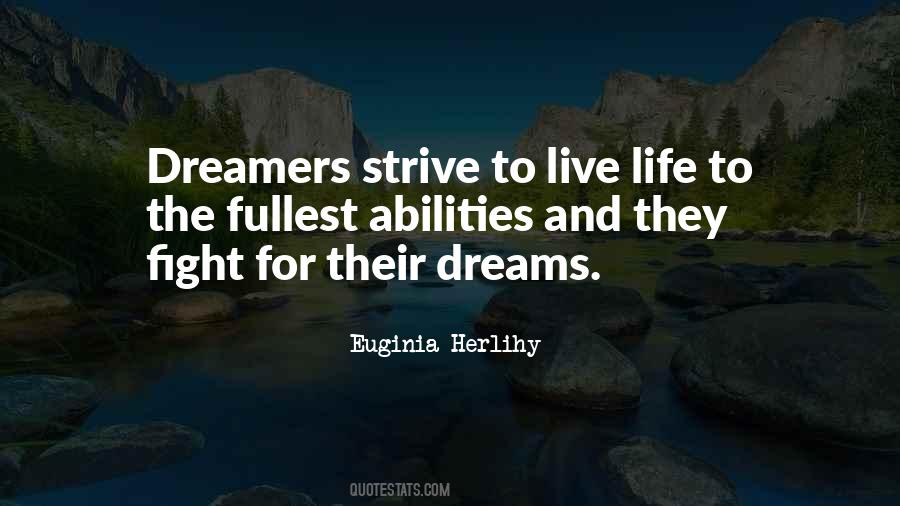 Famous Authors
Popular Topics