Little Voices Famous Quotes & Sayings
List of top 53 famous quotes and sayings about little voices to read and share with friends on your Facebook, Twitter, blogs.
Top 53 Little Voices Quotes
#1. Being a writer is a solitary life. So the little part of me that's an actor still enjoys the theatrical part of reading and doing the voices and telling the story. - Author: Jeffrey Eugenides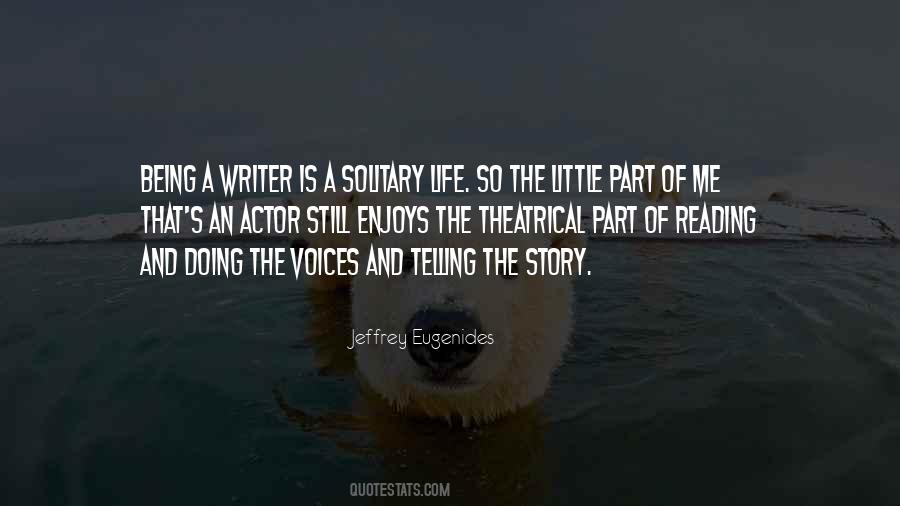 #2. He can't keep this up forever, Joanne. Stop fucking around. Did other people have little voices in their heads that said things like that? - Author: C.E. Murphy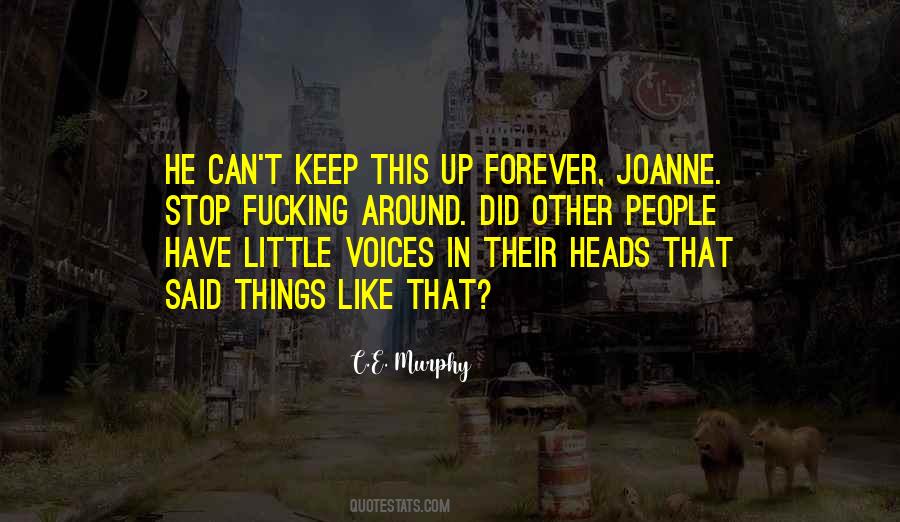 #3. Sometimes the little voices in your head were all that stood between you and oblivion. - Author: Barbara Bretton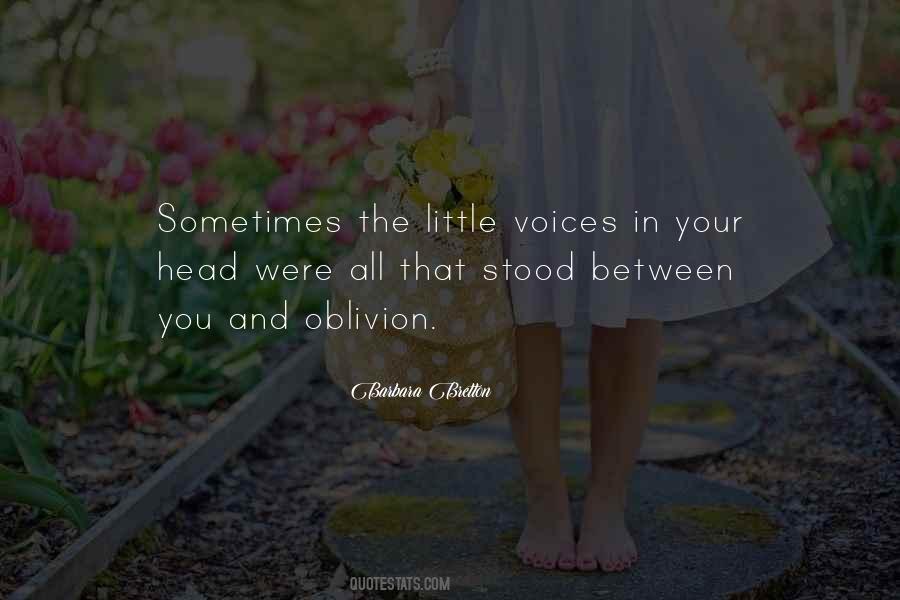 #4. She wasn't religious. She didn't believe in heaven or hell, only in ghosts, Ouija boards, tables which rapped and little inept voices speaking plaintively of flowers - Author: Graham Greene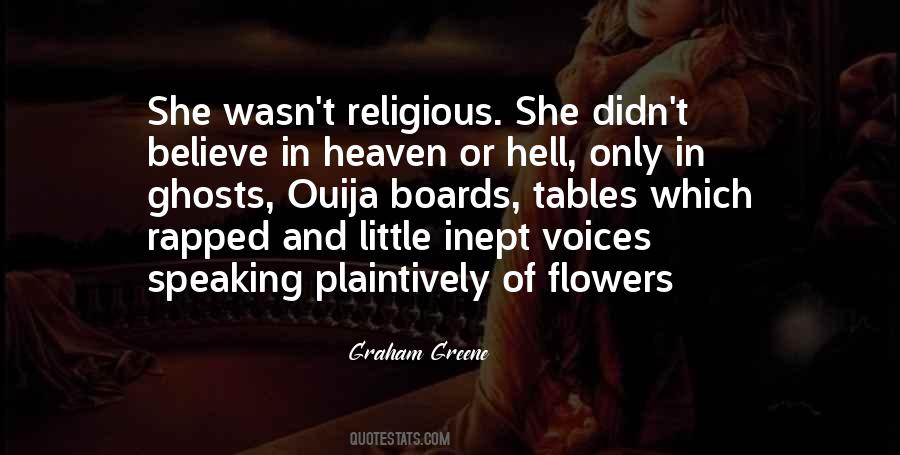 #5. The little owls call to each other with tremulous, quavering voices throughout the livelong night, as they sit in the creaking trees. - Author: Theodore Roosevelt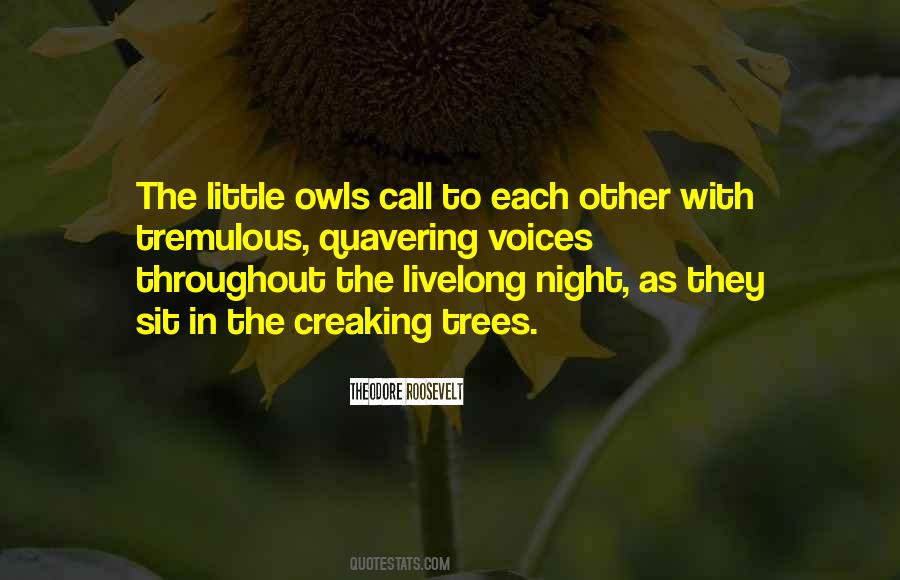 #6. I don't know about the rest of you who have little voices, but something about mine made me feel completely compelled to listen to it. - Author: James Patterson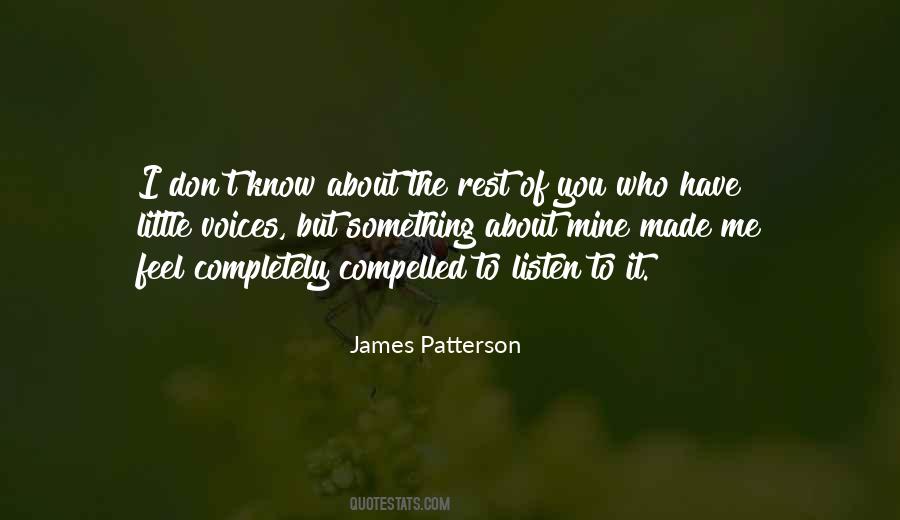 #7. You ignore the little voices that tell you it's all stupid, and you keep going. - Author: Neil Gaiman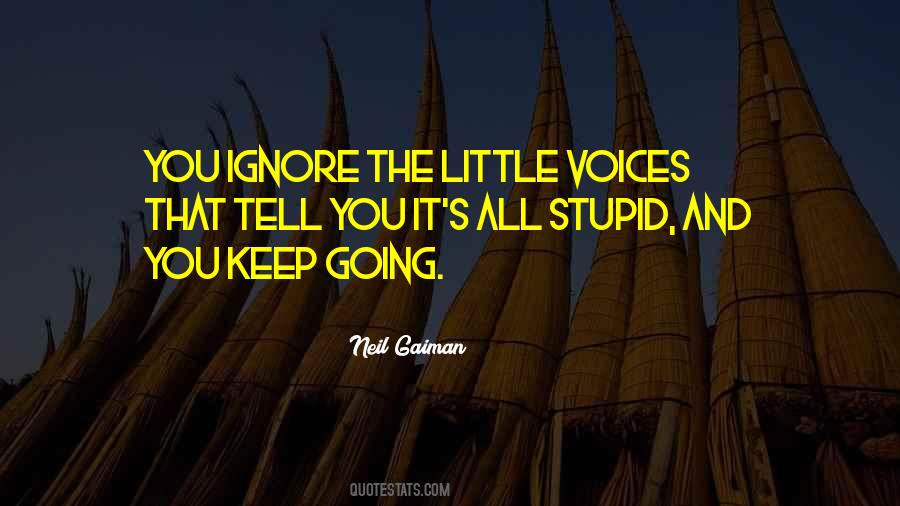 #8. The purpose of writing is both to keep up with life and to run ahead of it. I am little comfort to myself, although I am the only comfort I have, excepting perhaps streets, clouds, the sun, the faces and voices of kids and the aged, and similar accidents of beauty, innocence, truth and loneliness. - Author: William, Saroyan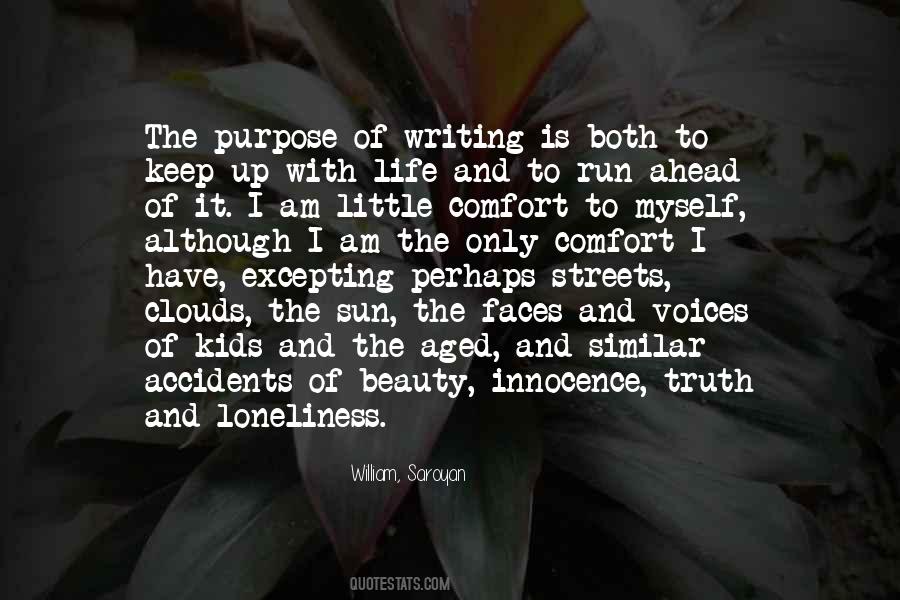 #9. You know, you grow up with the image of John Travolta being super cool - 'Saturday Night Fever,' Brian De Palma, handsome young god ... he, in reality, is a very silly man. And I mean that in a good way. He'll walk around the set talking in little weird voices, making people laugh. - Author: Eric Stoltz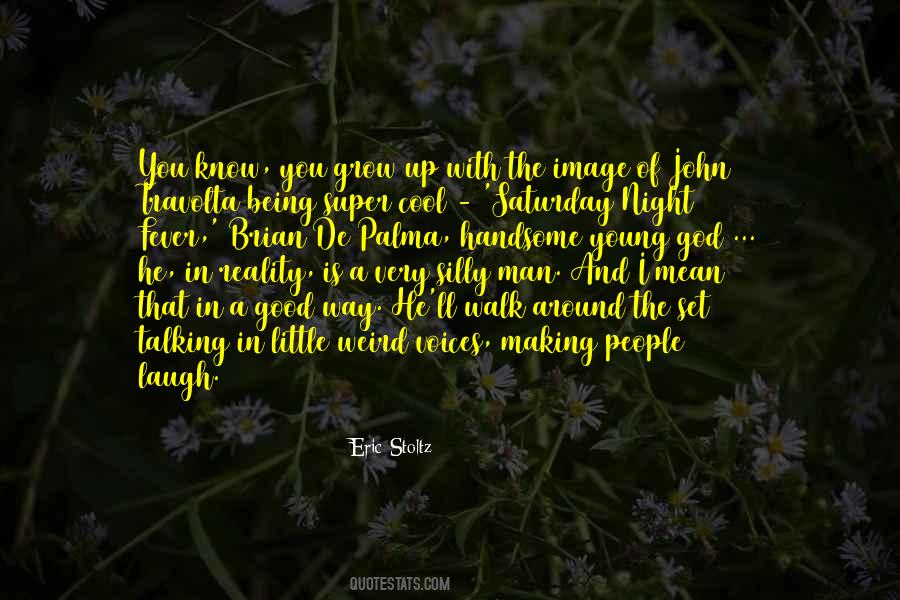 #10. Many novice writers, students in particular, think that writing is little more than copying down their self-talk, the palaver of the voices they hear in their heads. Of course, self-talk is thinking, and writing begins with thinking. - Author: Richard Rhodes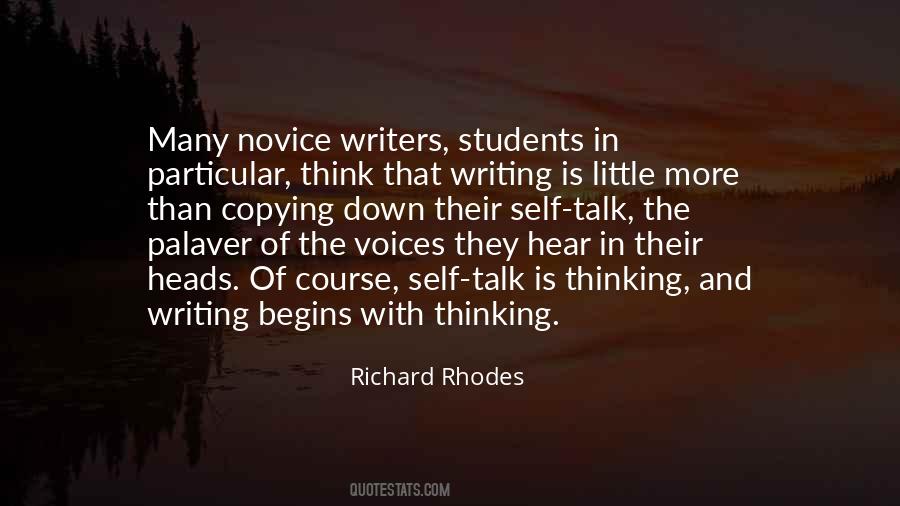 #11. It's raining women's voices
as if they had died
even in memory,
and it's raining you as well-
Marvellous encounters of my life
(o little drops!) - Author: Guillaume Apollinaire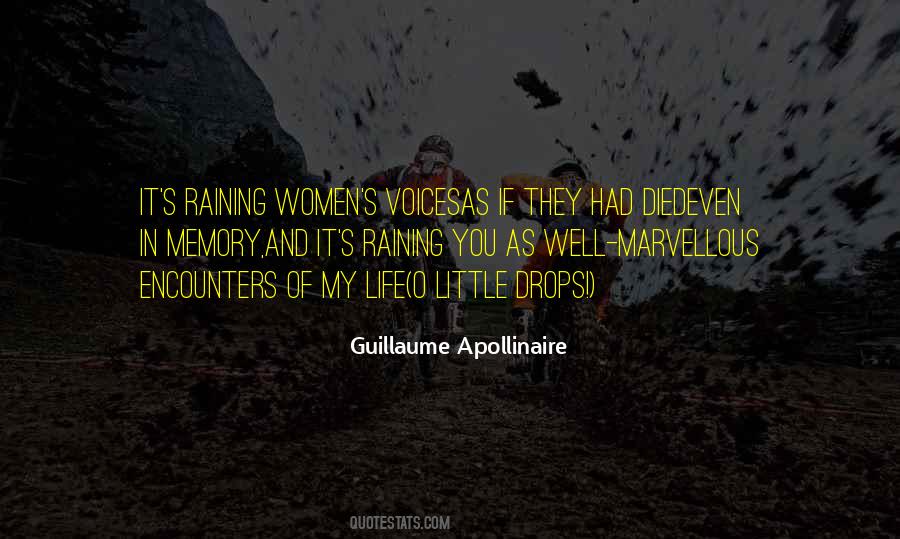 #12. It's a little weird accepting your voice coming out of an animated character. You don't buy it at first because it's your voice and none of us like our voices when we hear them recorded back. - Author: Allison Janney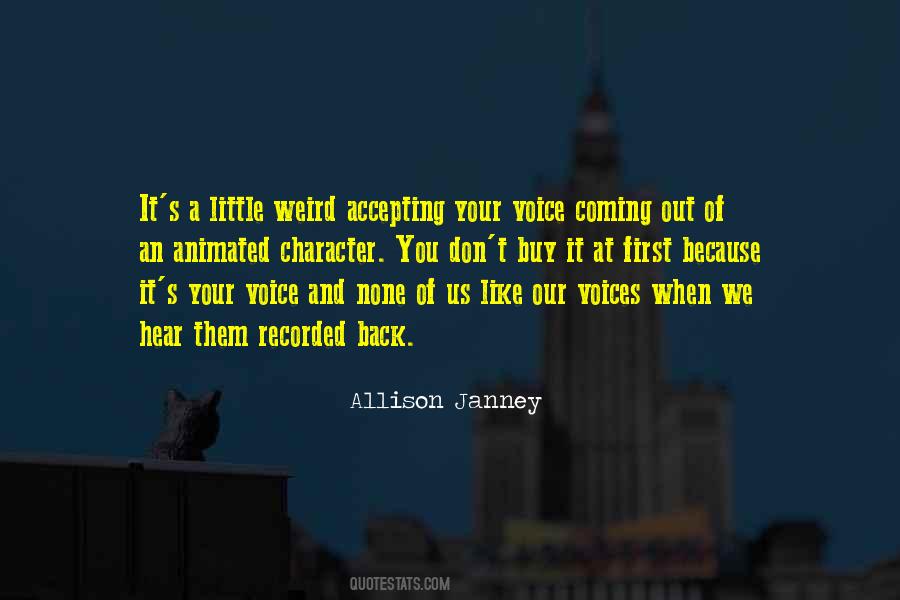 #13. We need to raise our voices a little more, even as they say to us, 'This is so uncharacteristic of you.' Invisibility is not a natural state for anyone. - Author: Mitsuye Yamada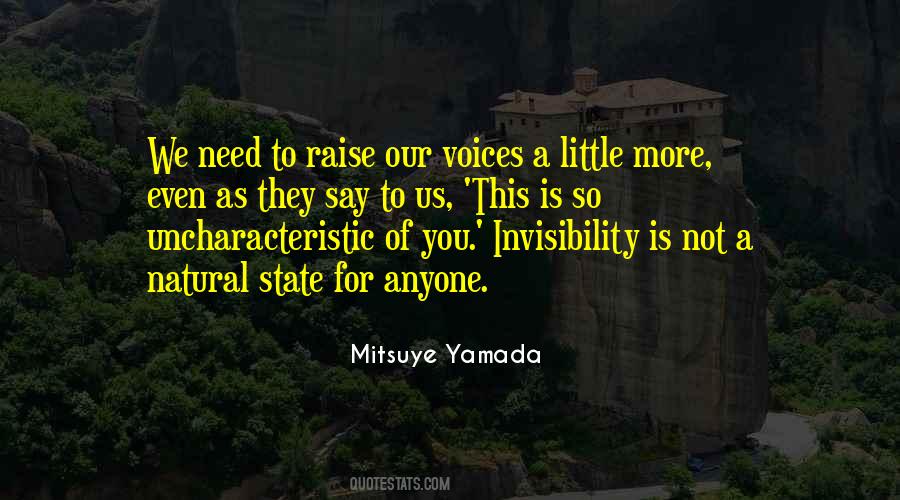 #14. Women's humor seems to be a little more supportive. It's just kind of trying to make the other one laugh through funny voices and kind of talking about other people. I respond to that. I feel less like I'm going to get beat up in a room full of women than I do in a room full of guys. - Author: Paul Feig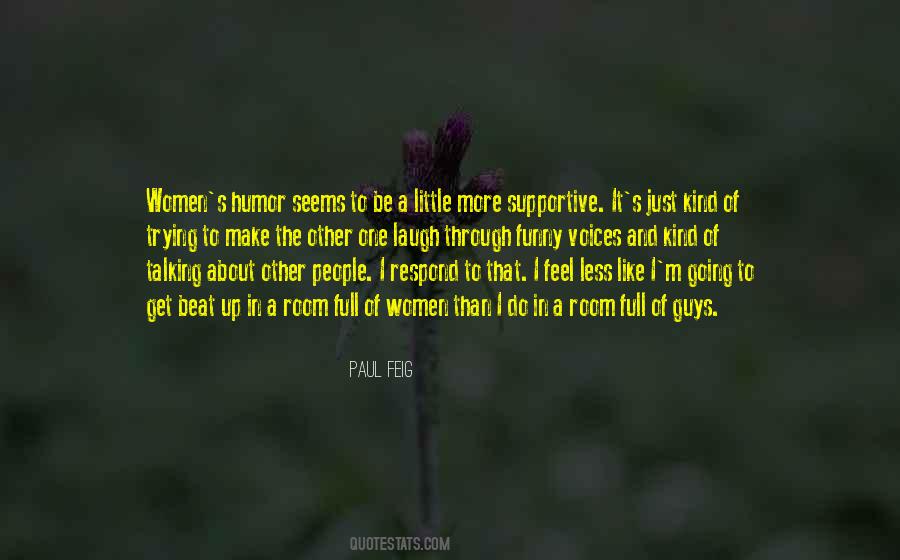 #15. I feel his voice in my stomach. That's not good. Voices should stop at the ears, but sometimes- not very often at all, actually- a voice will penetrate past my ears and reverberate straight down through my body. He has one of those voices. Deep, confident, and a little bit like butter. - Author: Colleen Hoover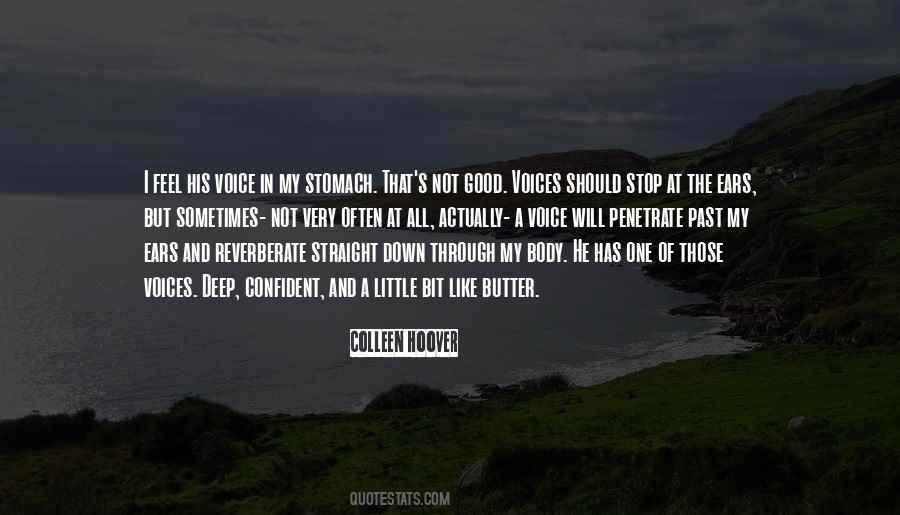 #16. I never noticed my voice. I did become aware as a little kid at camp that I liked doing accents. We'd do plays and skits, and I realized I loved speaking in voices that weren't my own. - Author: Jenny Slate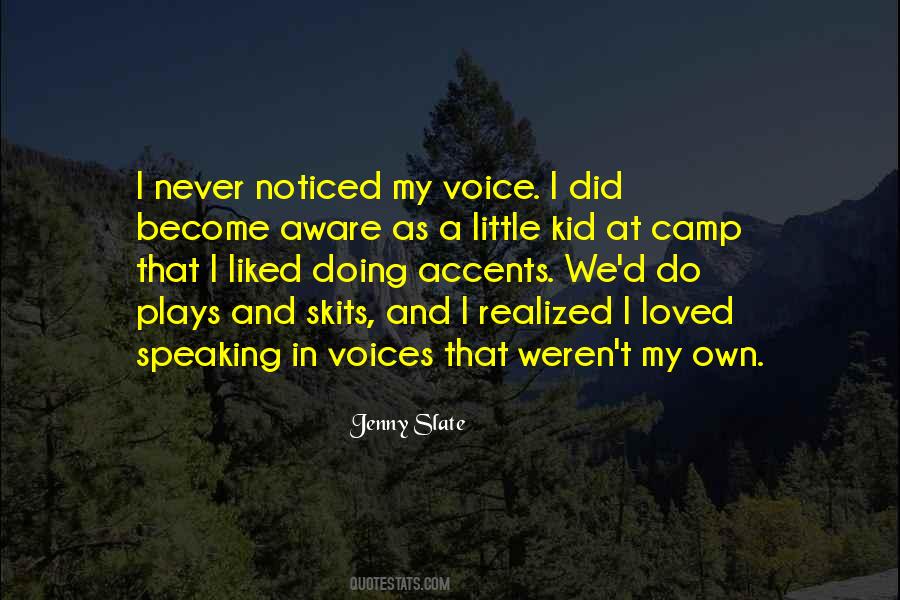 #17. We should all let our inner voices take control from time to time. Let them have their say. We let them take control when we're driving down the motorway sometimes, and they don't do a bad job. Maybe we all need to have a little more faith in ourselves. - Author: Peter James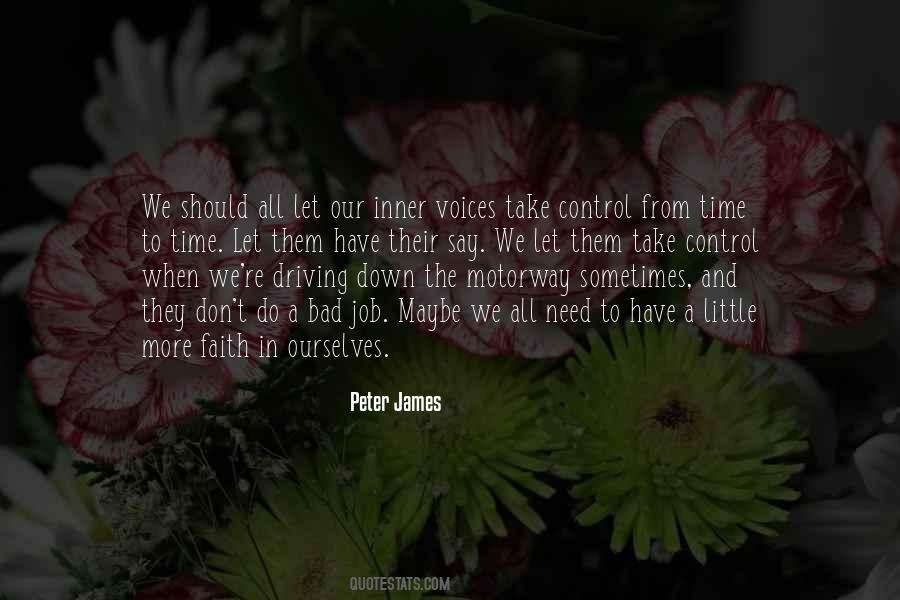 #18. Brad [Dourif] would tell himself that he was not intentionally trying to mimic Jack Nicholson in any way. I think that actually bothers him a little bit. I just think maybe they have similar voices. - Author: David Kirschner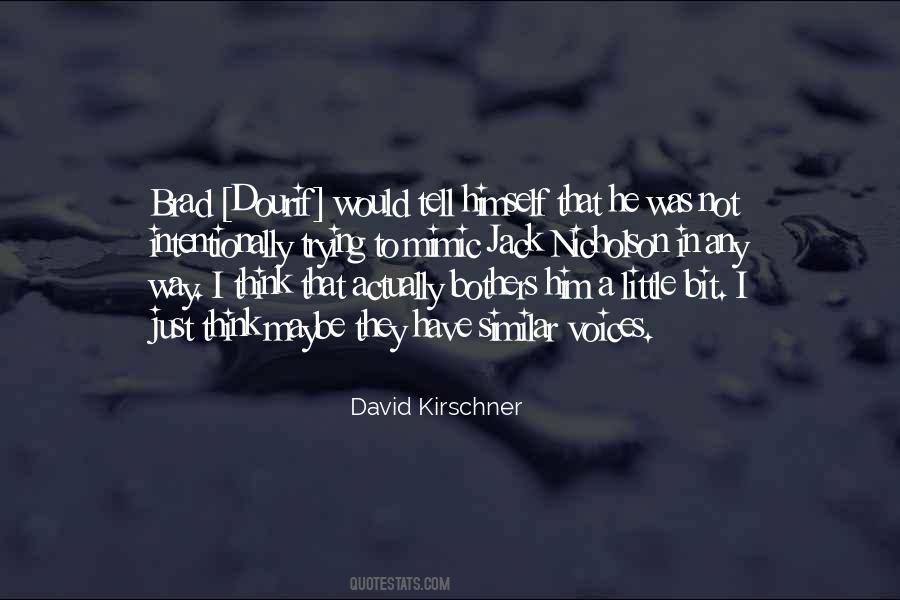 #19. Me, Billy Crystal and John Goodman hang out non-stop, and all we do is silly voices. We hang out in a little closet and do voices together. - Author: Bobby Moynihan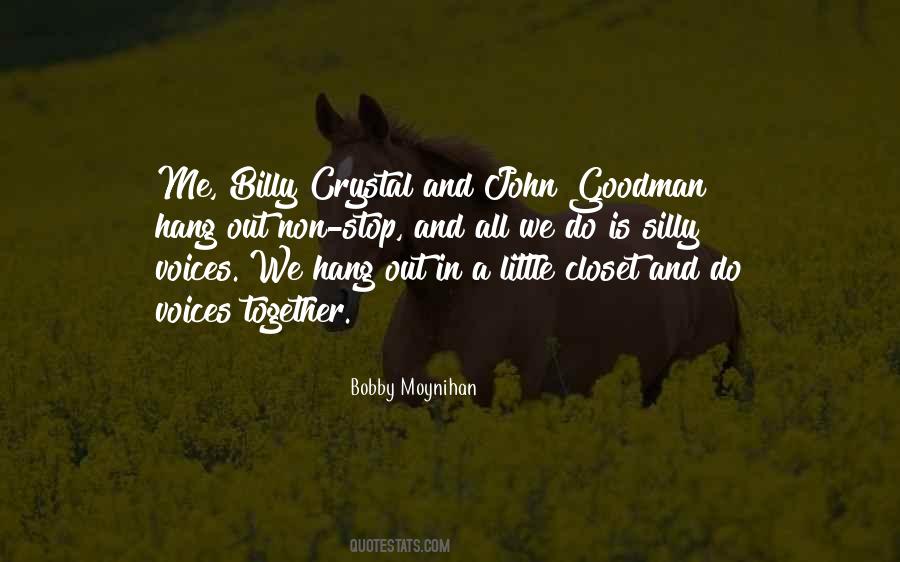 #20. Perhaps the central reason that Ahmadinejad's message, and the hundreds of thousands of voices echoing his call throughout the world, are so dangerous is because the Free World is making precious little effort to assert its own message. - Author: Caroline Glick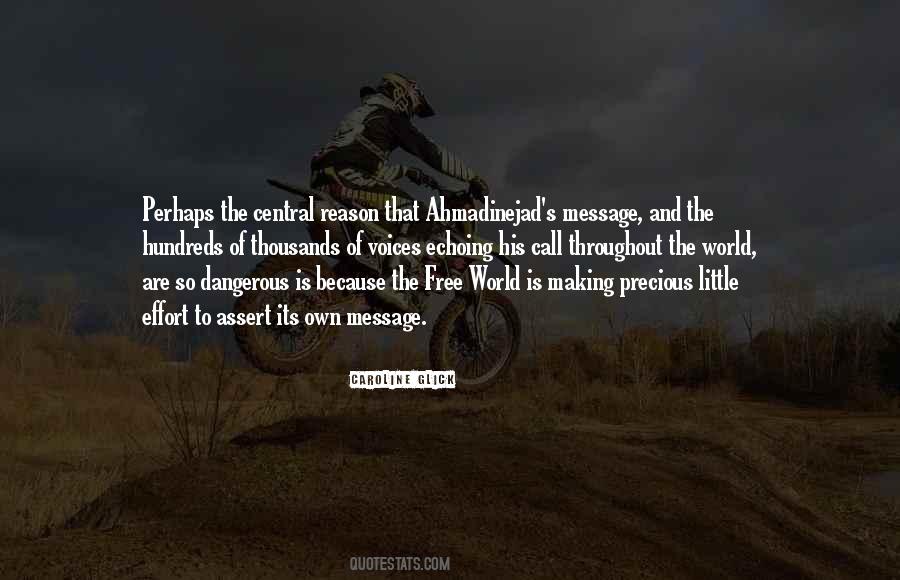 #21. Every moment, as it has passed, has changed something in them; Time has transformed the faces, voices, laughter. For Time is a murderer, and every moment is a little death,(...) - Author: Klaus Mann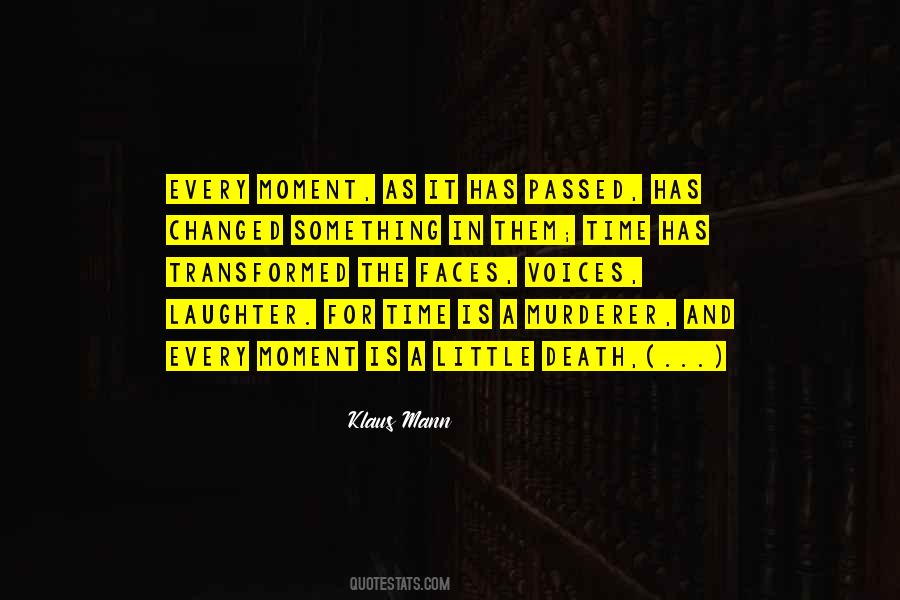 #22. England still waits for the supreme moment of her literature
for the great poet who shall voice her, or, better still, for the thousand little poets whose voices shall pass into our common talk. - Author: E. M. Forster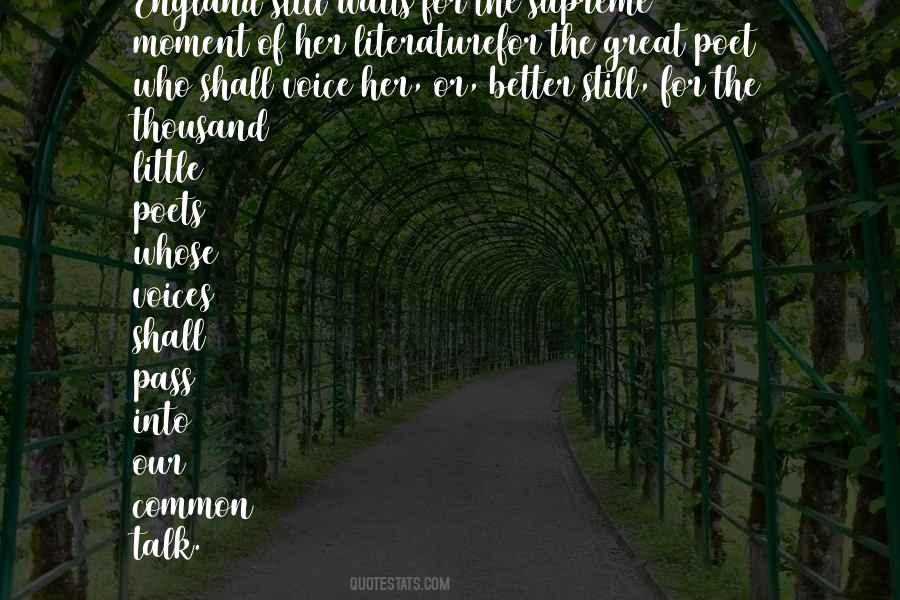 #23. Walking down the red carpet, suddenly I felt very special and different. All the flashlights from cameras and requesting voices from the media, the scene, it was just like what I remembered seeing on TV or a movie when I was a little girl - the scene only when movie stars appeared. - Author: Yani Tseng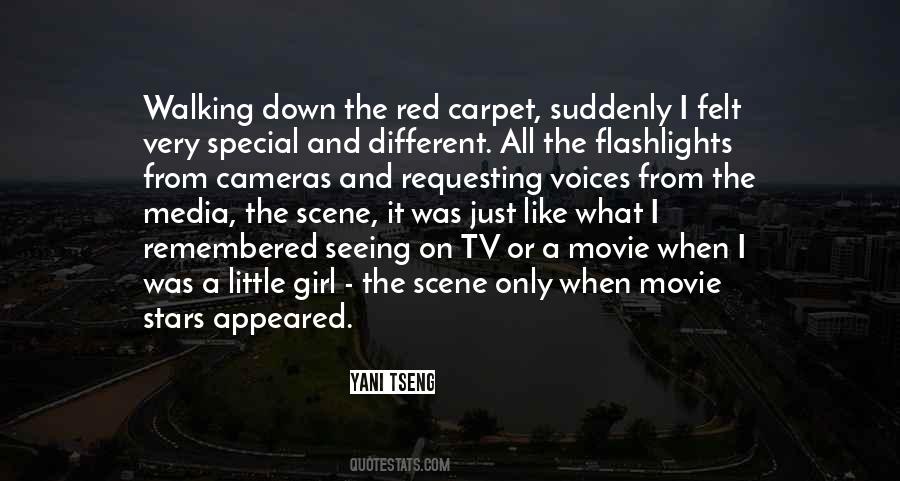 #24. While the rain continued it had seemed like the murmur of their voices, rising and swelling a little now and then with gusts of emotion. - Author: F Scott Fitzgerald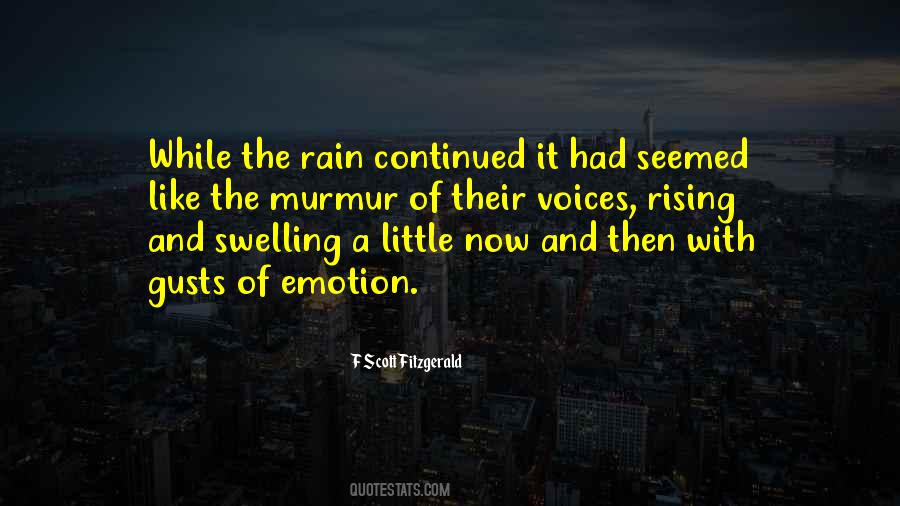 #25. Voice comes to you through a spell, a trance. The best voices are not you ... they're a little away from you. - Author: Barry Hannah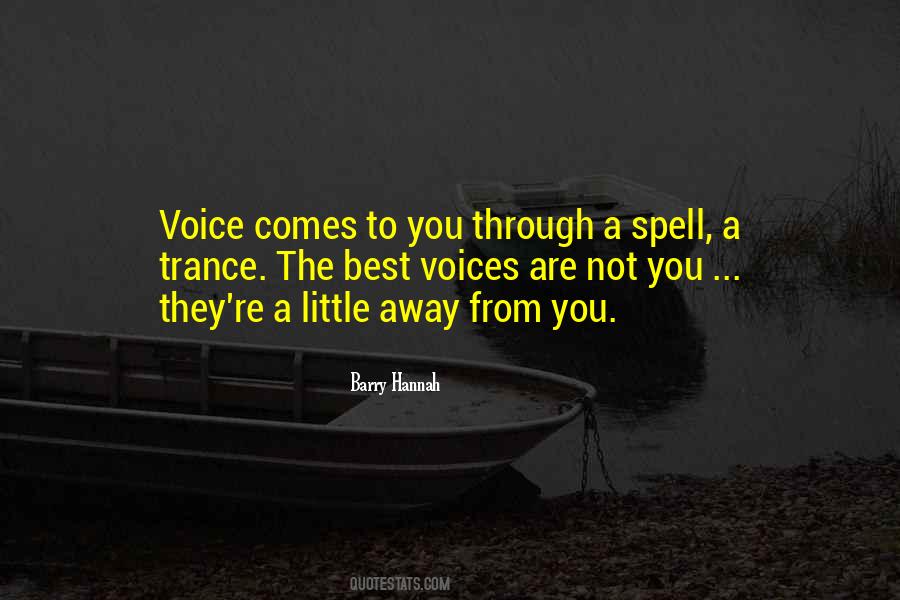 #26. You don't hear it on the radio. There's something about the voices in Sleater-Kinney that's a little too challenging to ever be on the inside. - Author: Janet Weiss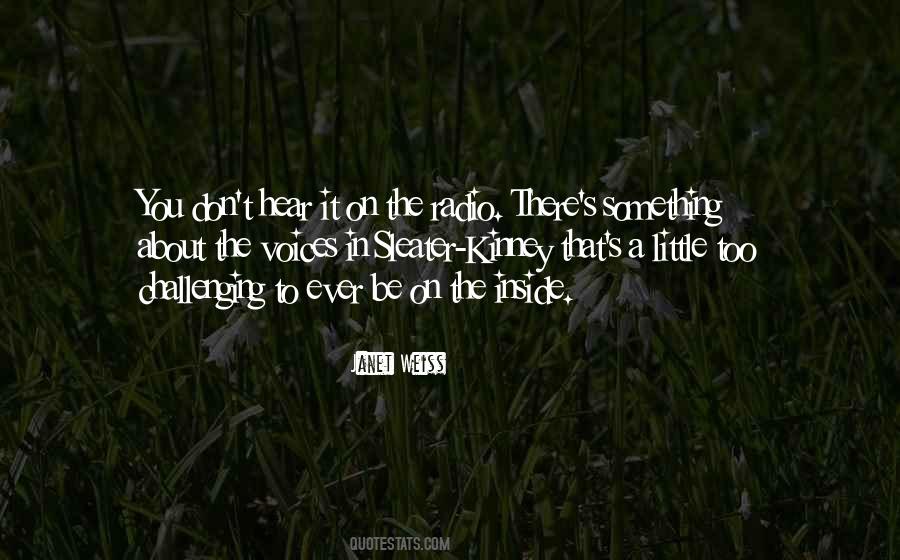 #27. My plea is that we stop seeking out the storms and enjoy more fully the sunlight ... I am asking that we look a little deeper for the good, that we still our voices of insult and sarcasm, that we more generously compliment and endorse virtue and effort. - Author: Gordon B. Hinckley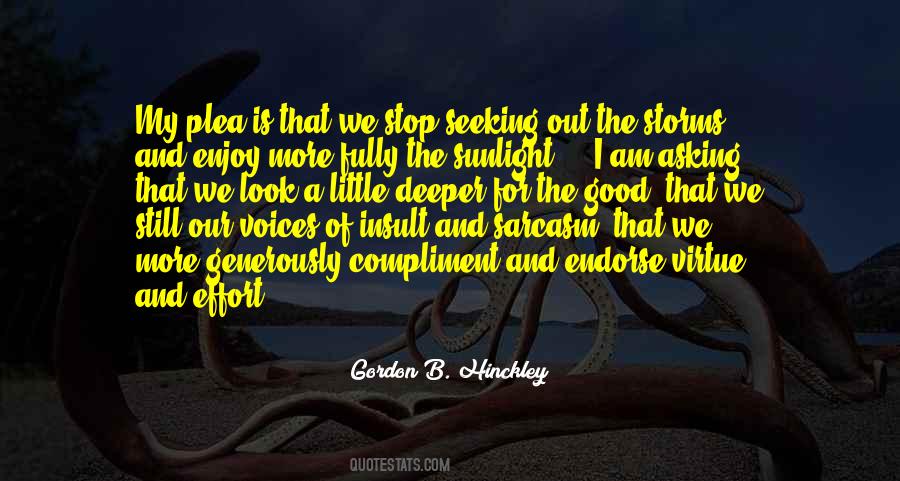 #28. I don't say things straight into the other person's face. I kind of like to make a joke or a remark and make it digestible or just give a little comment that voices my concern, but is not meant to be a critique, but just a comment so that he understands that I am thinking. - Author: Christoph Waltz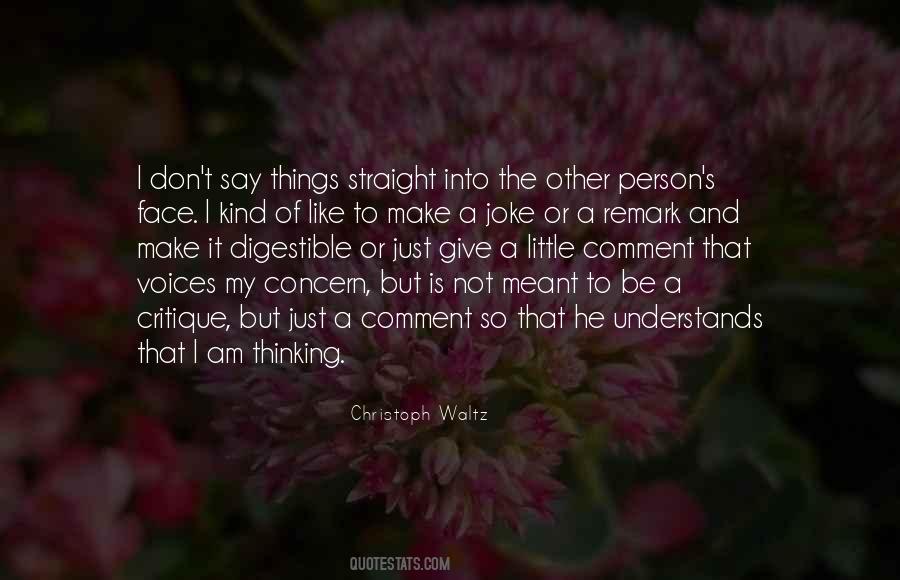 #29. The trouble with living alone, she had discovered-and the reason why most people she knew didn't like to be alone even for a little while-was that the longer you lived alone, the louder the voices on the right side of your brain got. - Author: Stephen King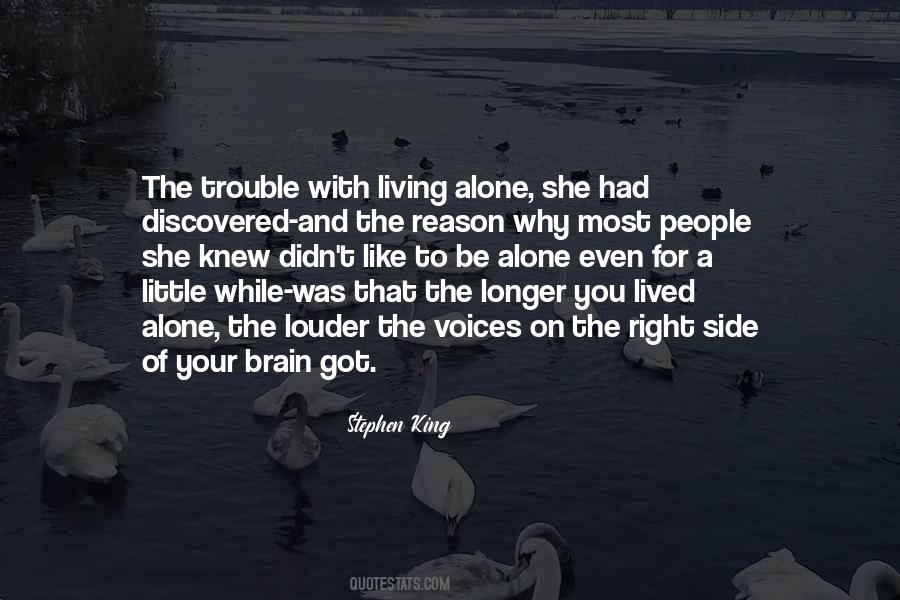 #30. I used to do little sketches into my cassette tape recorder when I was a little boy. I would just turn it on and just start doing voices and characters. I just loved it. - Author: Harland Williams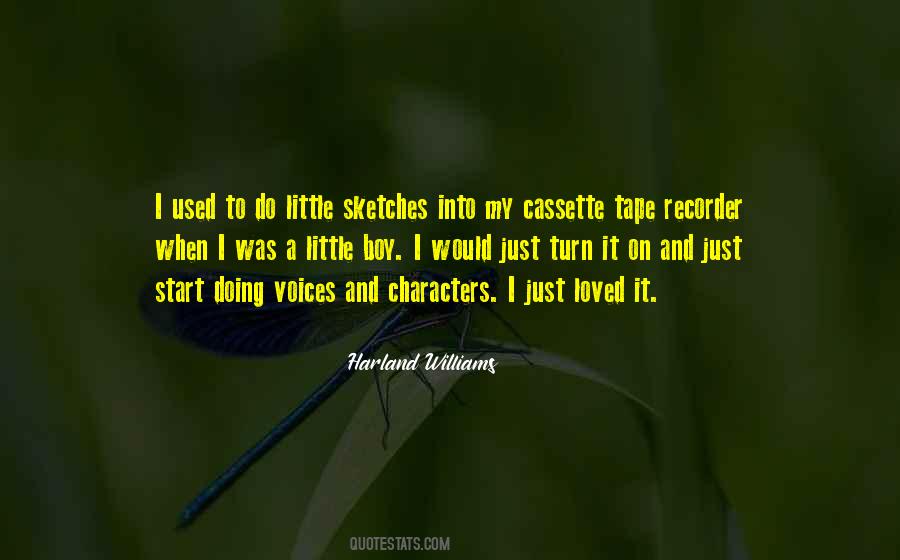 #31. When you're on your own, you have all the self-censorship that everybody has when they try and write. All the little voices that say, 'No, you can't write that, what will they think of that?' - Author: Nick Cave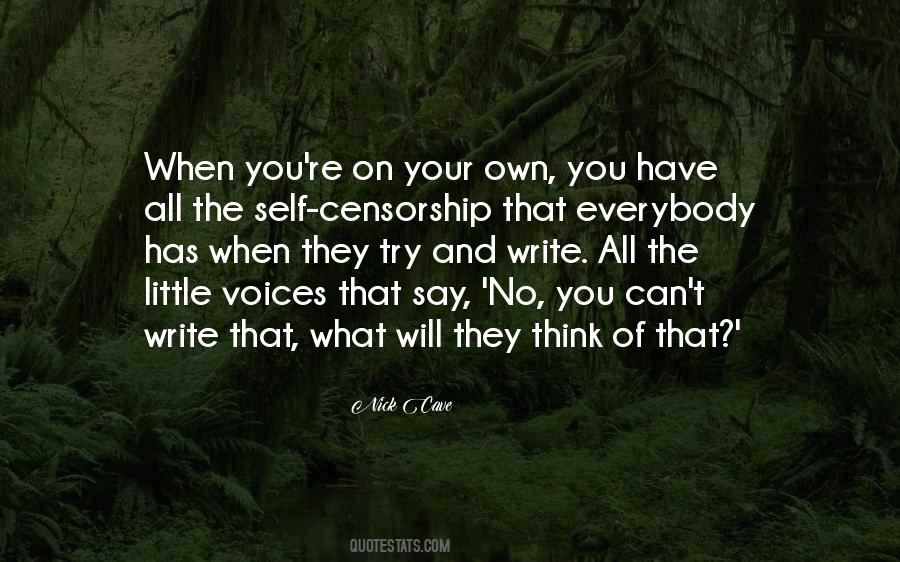 #32. What Great Beast will have their solitude pierced by your grasping little voices? - Author: Garth Nix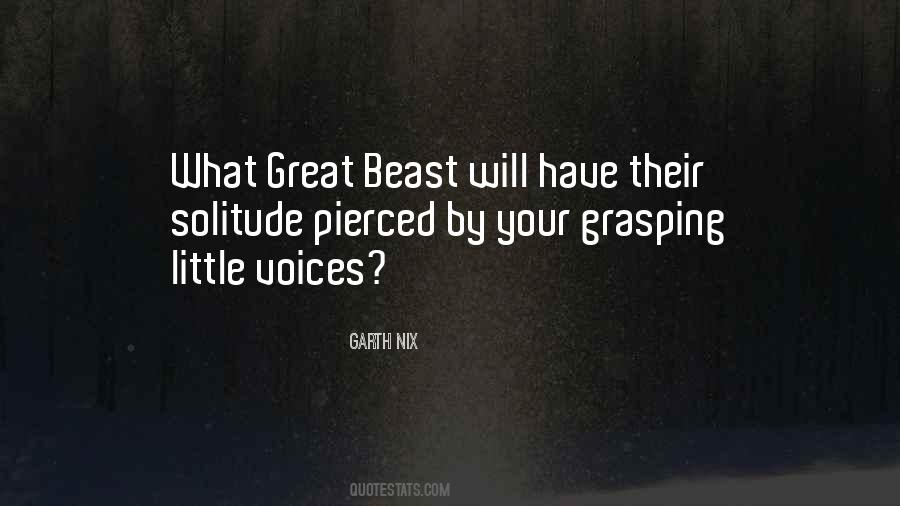 #33. I write in order to make the little voices in my head go away. Thus far it hasn't worked. - Author: Douglas Wilson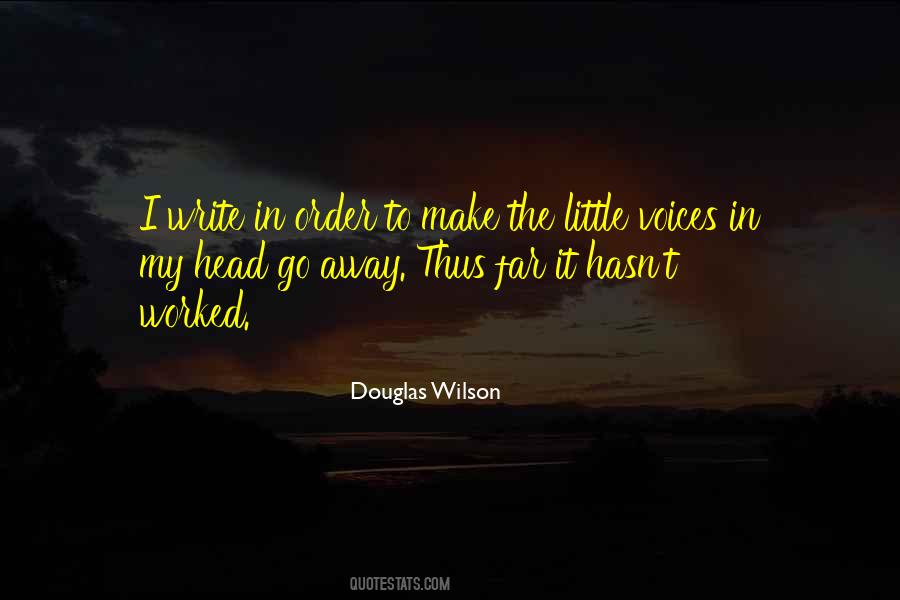 #34. His tone is mild, but there is, and always has been, something a little deeper and more resonant about his voice. It has a slightly different timbre than more voices. Its the kind of thing you forget until you hear it again and remember. Oh yes, His voice has music. - Author: Ally Condie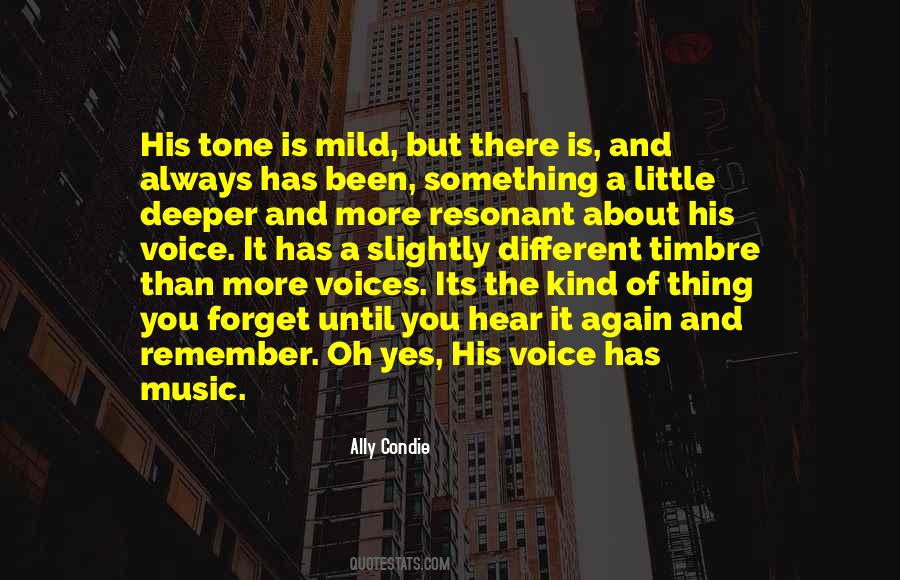 #35. I did a lot of acting, funnily enough, unprofessionally, as a kid. From when I was 10 years old until I was about 19, I was always doing little sketches with my friends, and doing different accents and voices. - Author: Sharlto Copley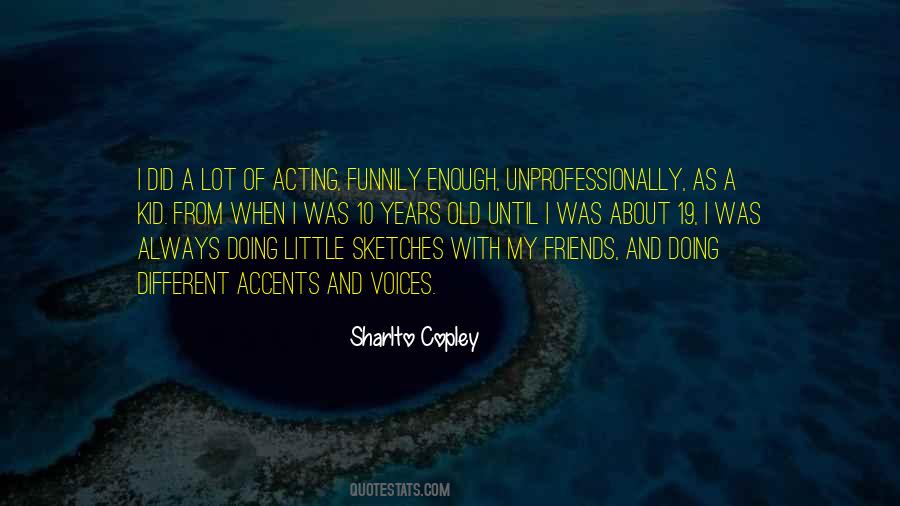 #36. Empty canvas. In appearance - really empty, silent, indifferent. Stunned, almost. In effect - full of tensions, with thousand subdued voices, heavy with expectations. A little frightened because it may be violated - Author: Wassily Kandinsky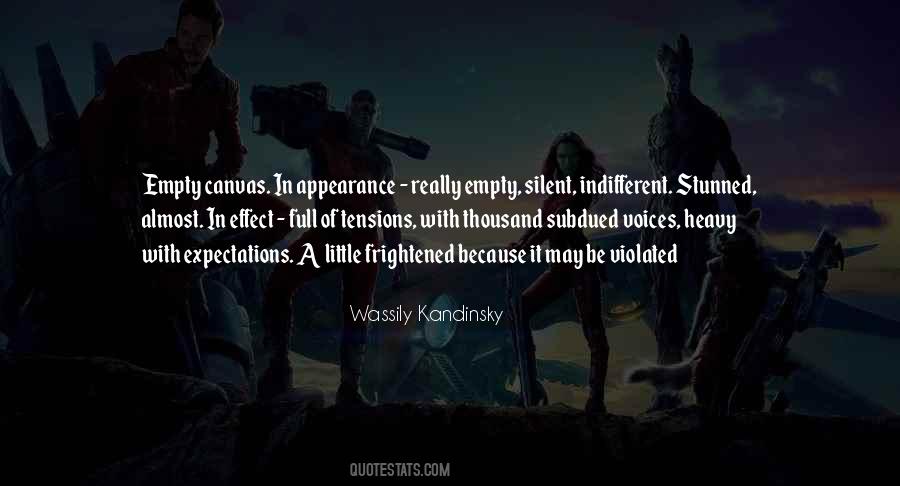 #37. Political scientists after World War II hypothesized that even though the voices of individual Americans counted for little, most people belonged to a variety of interest groups and membership organizations - clubs, associations, political parties, unions - to which politicians were responsive. - Author: Robert Reich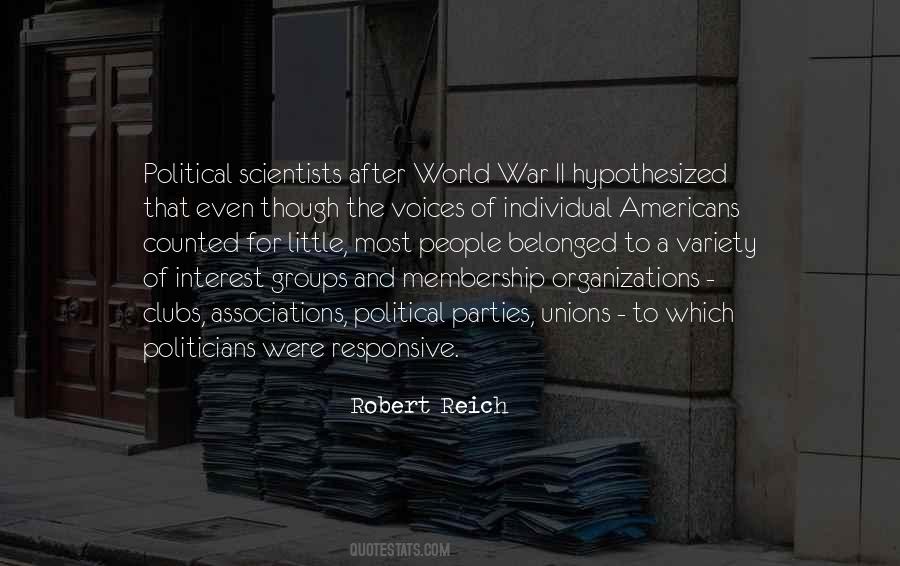 #38. Well, now I'm all jealous. I wish I had little voices in my head. Guess I'll just have to settle for people really being out to get me."
"Bitch," she said cordially.
"Bimbo. - Author: Rachel Caine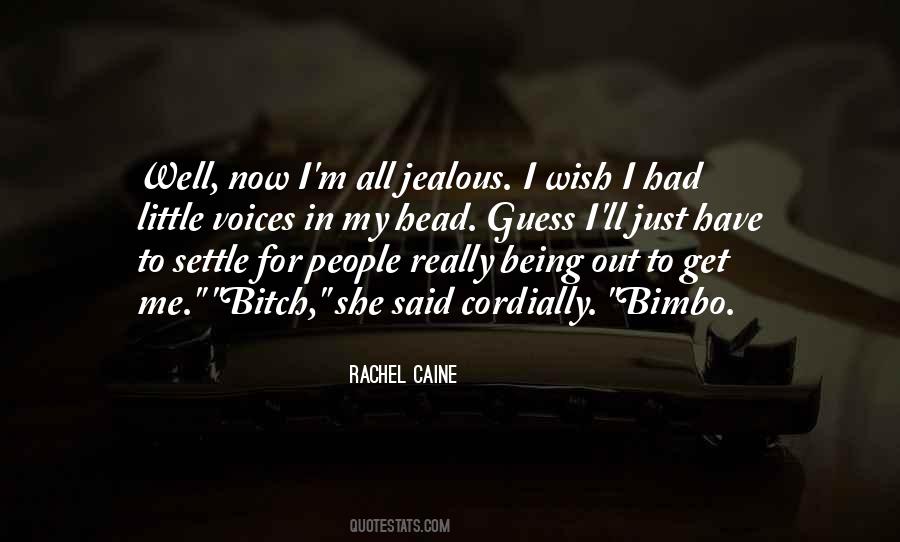 #39. Thousands of Americans are forced to join unions as a condition of employment, with little to no chance of ever having their voices heard. - Author: Tim Scott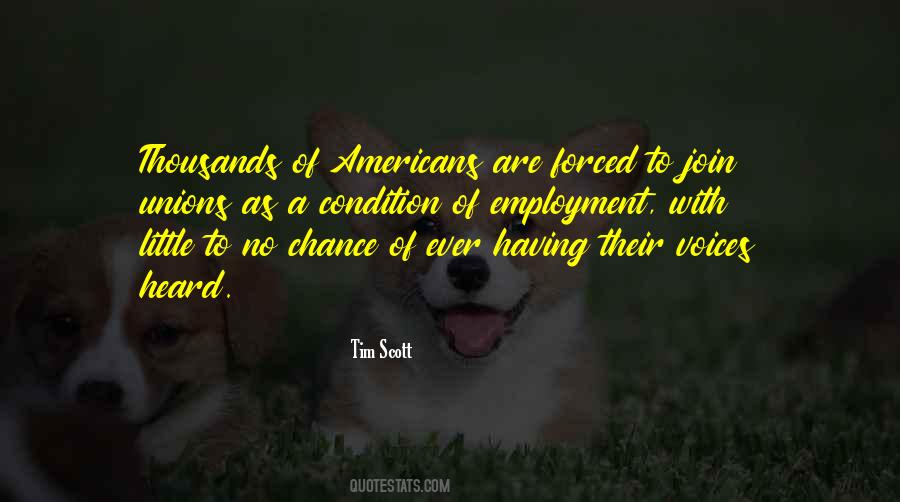 #40. Though the little voices cautioned it was time to settle, settle in, settle for, settle down, I muzzled these mutterings. One more love affair before marriage. One more trip before stagnation. One more adventure before I turn in my car keys and close the front door. - Author: Lili Wright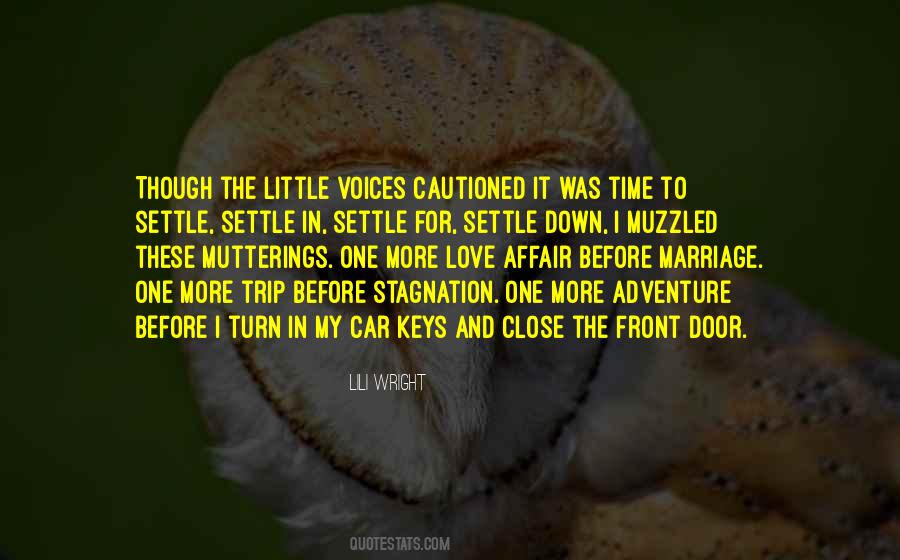 #41. So, say, when they're out in their little boats and they hear voices in the night, they forget whatever destination they had in mind and they go tearing straight towards the sound, screaming their heads off. - Author: Simon Spurrier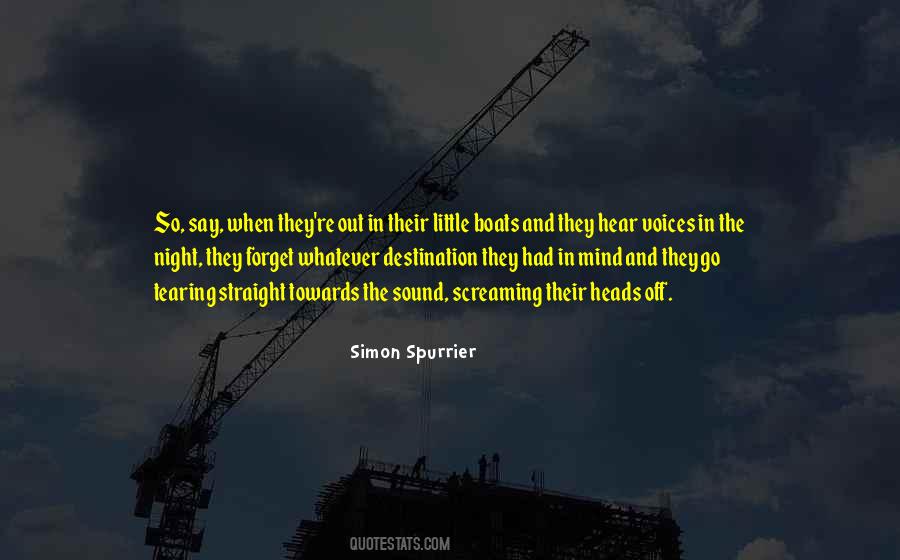 #42. The riders in a race do not stop when they reach the goal. There is a little finishing canter before coming to a standstill. There is time to hear the kind voices of friends and say to oneself, The work is done. - Author: Oliver Wendell Holmes Jr.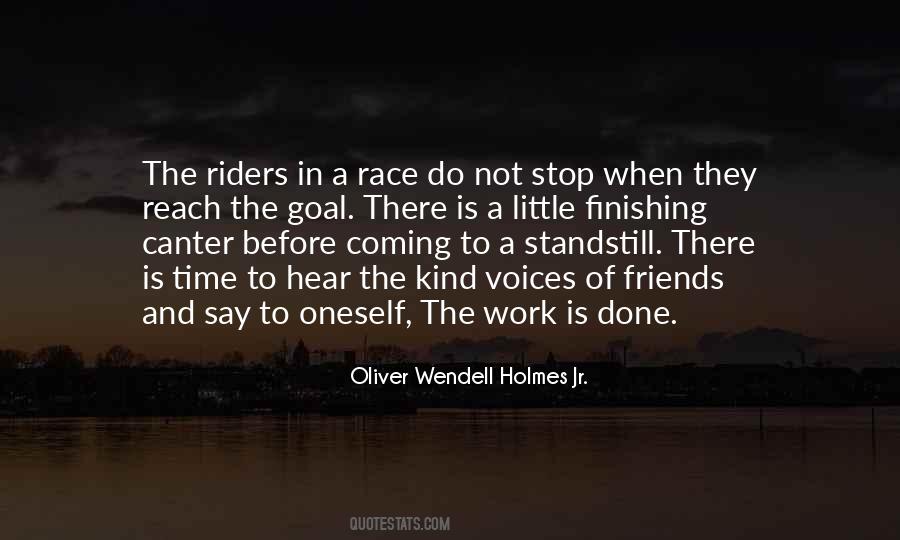 #43. After years of begging, I got my parents to get me a little Craig tape recorder, a reel to reel. Then I started recording voices, or recording Jonathan Winters off television and stuff like that. - Author: Dana Carvey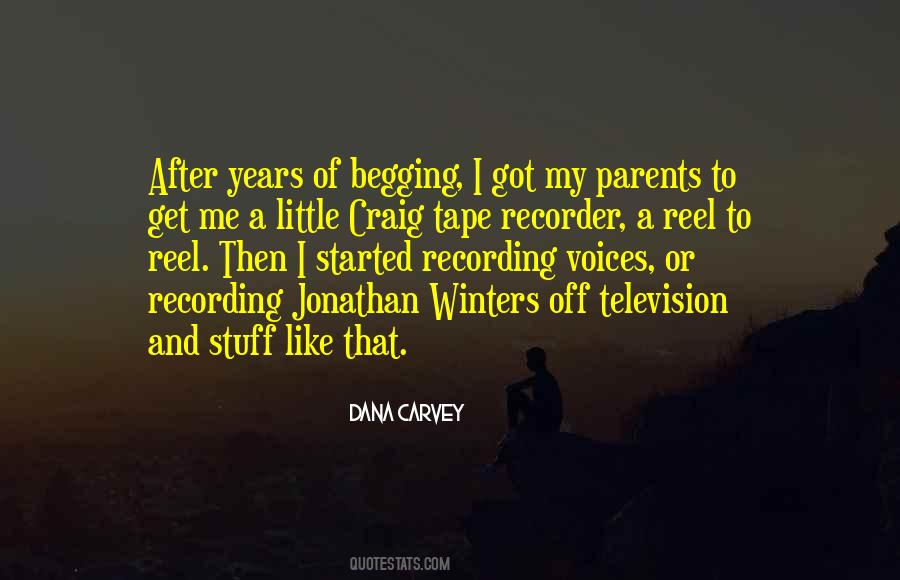 #44. My island was not wild, compared to this.
There are such monsters in a palace. - Author: Foz Meadows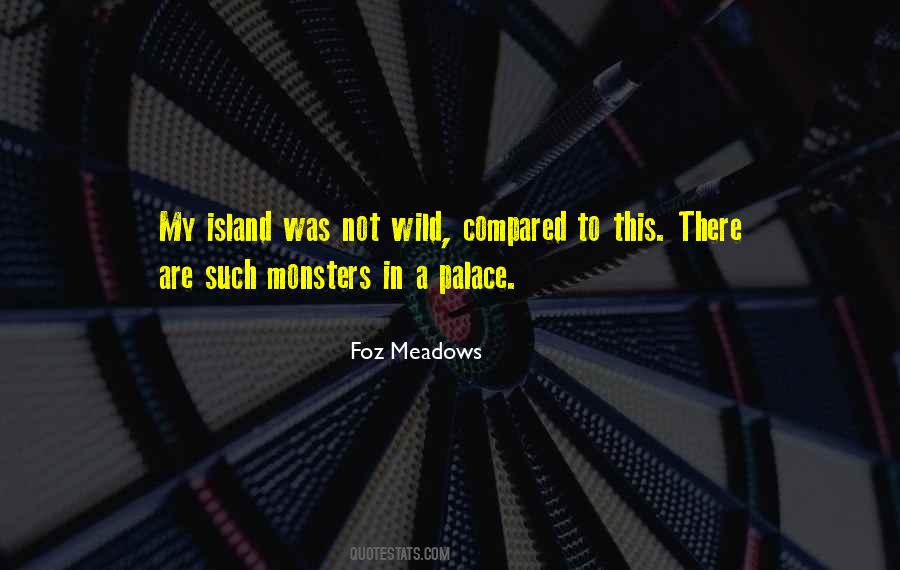 #45. Ever since I was little, people would always make jokes about my low voice. But I think it's so cool that you don't have to have the picture-perfect, girly voice to do an animated film. I think it's great for kids with different voices to know that they could do something like this. - Author: Miley Cyrus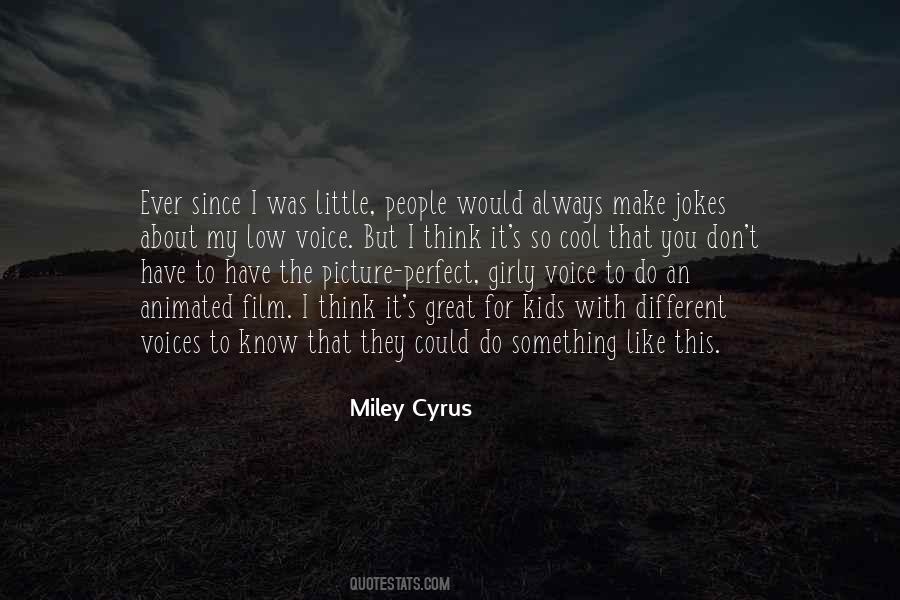 #46. I've been doing voices as long as I can remember. When I was little I could pick up on sounds, and then I discovered you could distort what you hear and make people laugh or disrupt a class. - Author: Frank Welker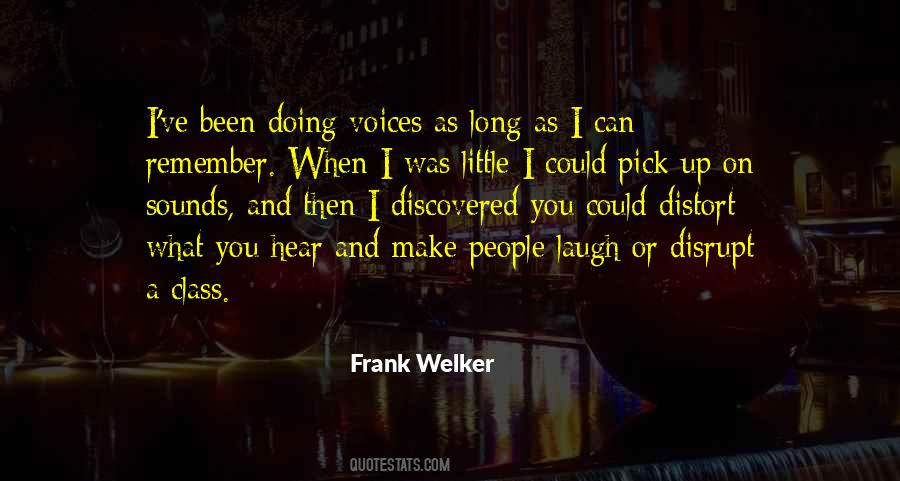 #47. Maybe individual people seem irrational because they aren't really individuals! Each one of us is a little nation-state, doing our best to settle disputes and broker compromises between the squabbling voices that drive us. - Author: Jordan Ellenberg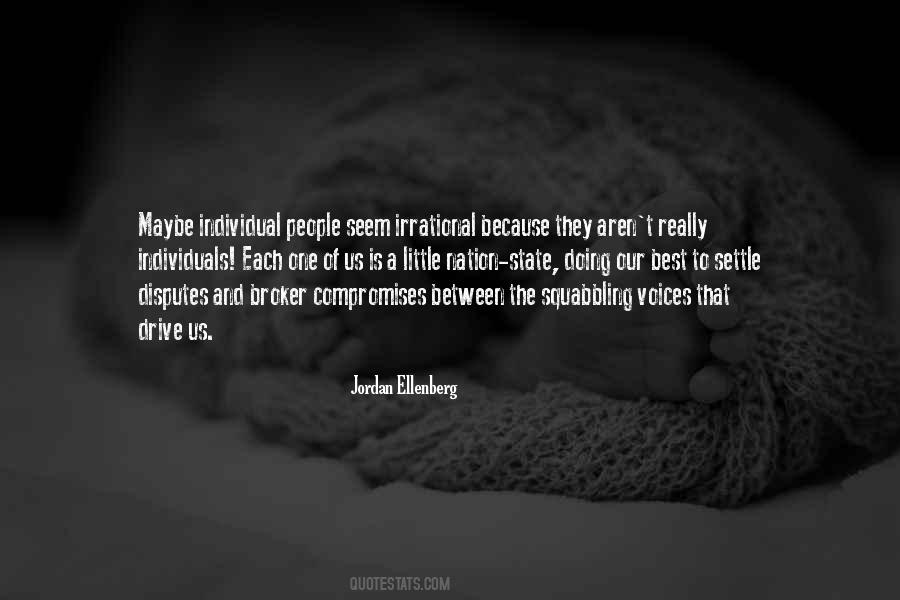 #48. When I was little, we had a Golden Book that had all these Disney characters in one portrait on the first page. My dad used to read from it every night. We'd play this game of find Pluto or find Donald Duck. He'd read us stories and do all the voices. Those are great memories. - Author: Danica McKellar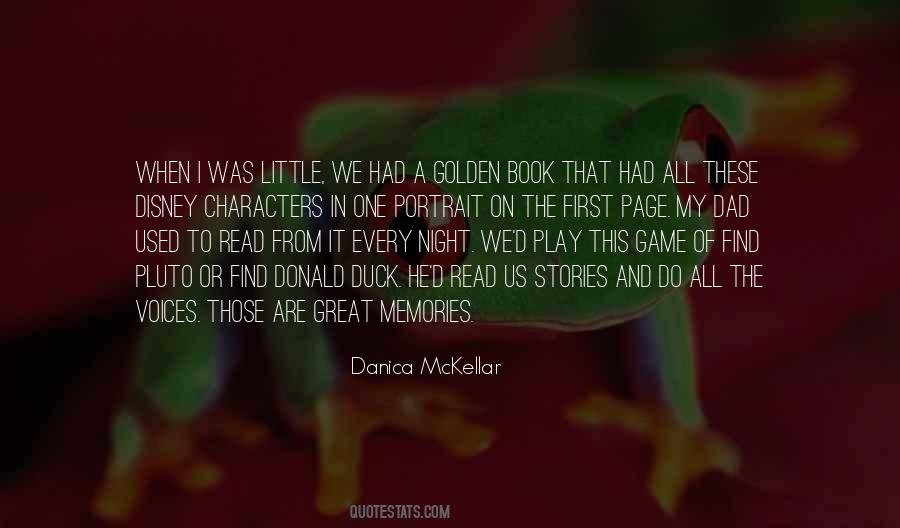 #49. It was nice to hear the voices of little children at play, provided you took care to be far enough away not to hear what they were actually saying. - Author: Terry Pratchett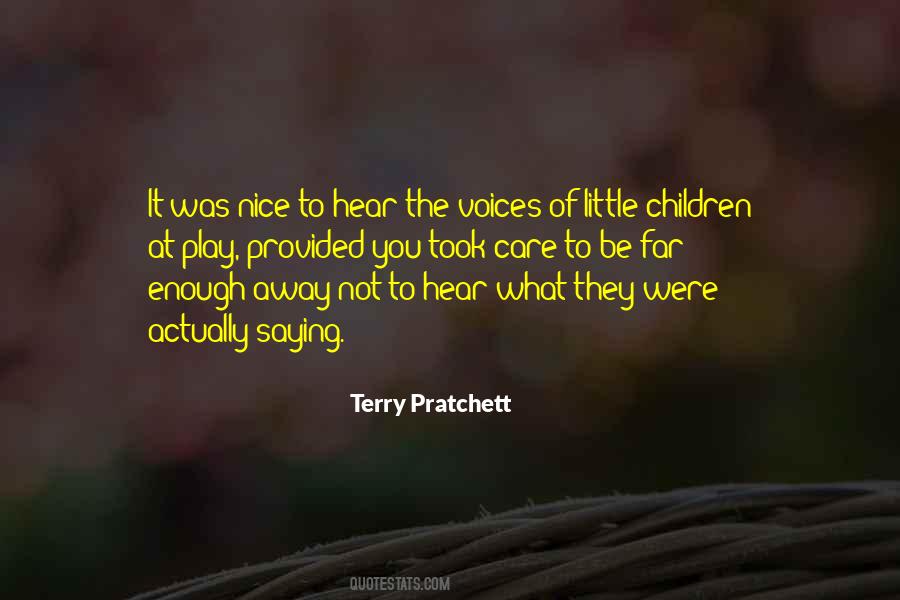 #50. It's an important point, and every little bit helps not least because those who make those kinds of changes are more likely to make their voices heard as citizens. But the ultimate solutions are going to come through policies. - Author: Al Gore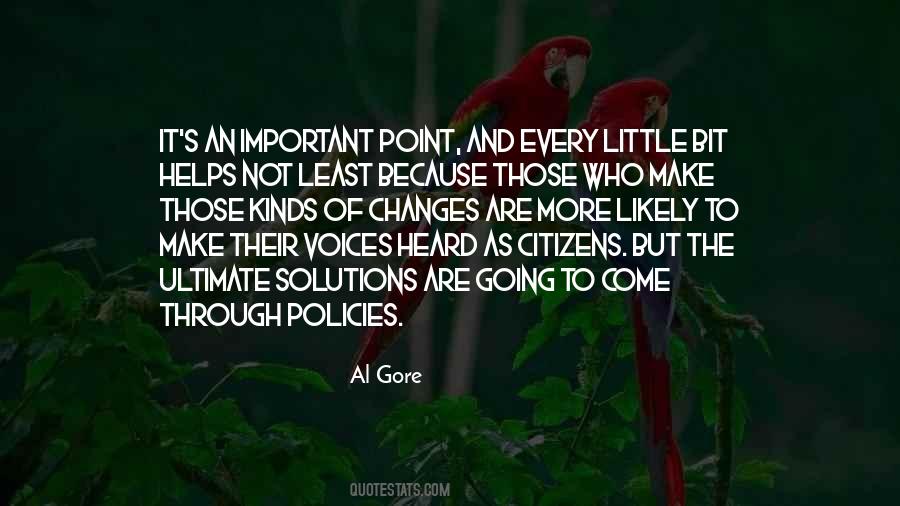 #51. You start screaming. The screams are in Denise's voice, in your father's voice, in the voice of an innocent little girl, in voices you don't recognize and never will. You - Author: Mike Allen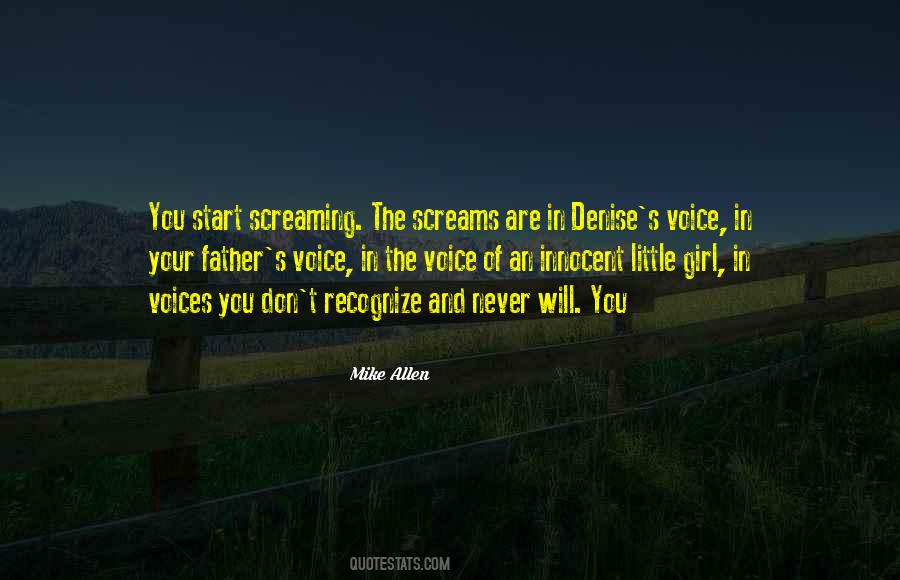 #52. The reason that some singers go on to become great artists has very little to do with their voices, but rather with the fact that they have used their instruments as tools for detailed communication. - Author: Renee Fleming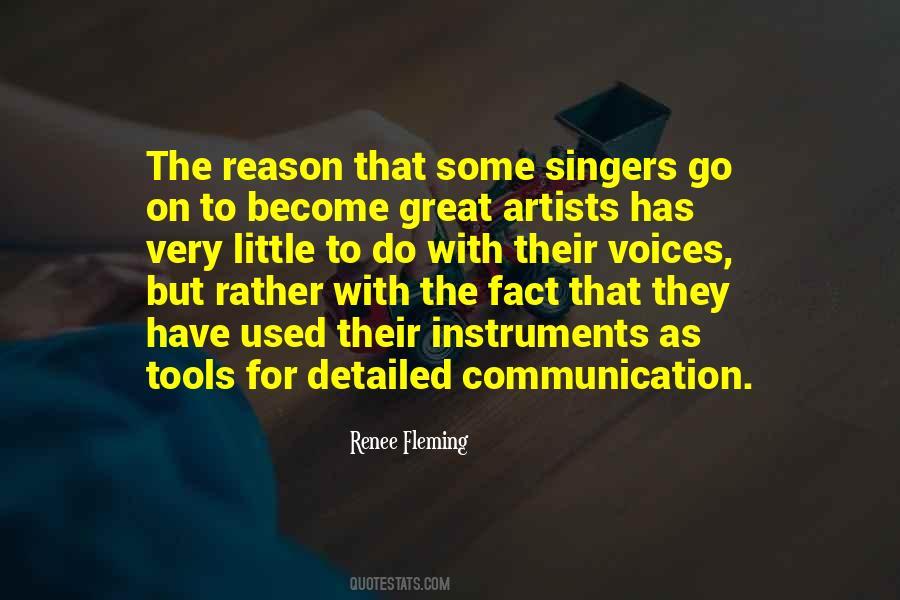 #53. His voice was oddly and beautifully rough-cut, as some small boys' voices are. Each of his phrasings was rather like a little ancient island, inundated by a miniature sea of whiskey. - Author: J.D. Salinger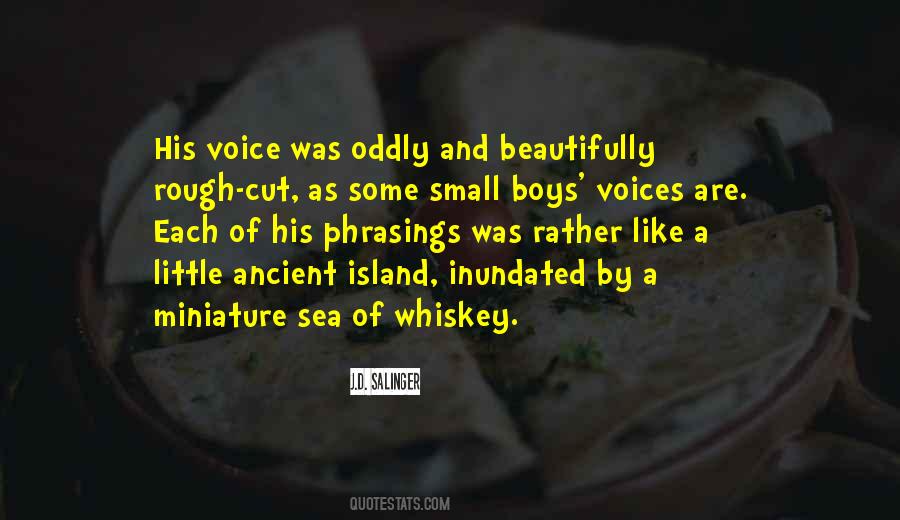 Famous Authors
Popular Topics