Life Scares Me Famous Quotes & Sayings
List of top 40 famous quotes and sayings about life scares me to read and share with friends on your Facebook, Twitter, blogs.
Top 40 Life Scares Me Quotes
#1. I hope I'm going to act for the rest of my life. What scares me is that if I get a big head, my mum said she would take me out of the business instantly - and if you knew my mum, she would do it! - Author: Daniel Logan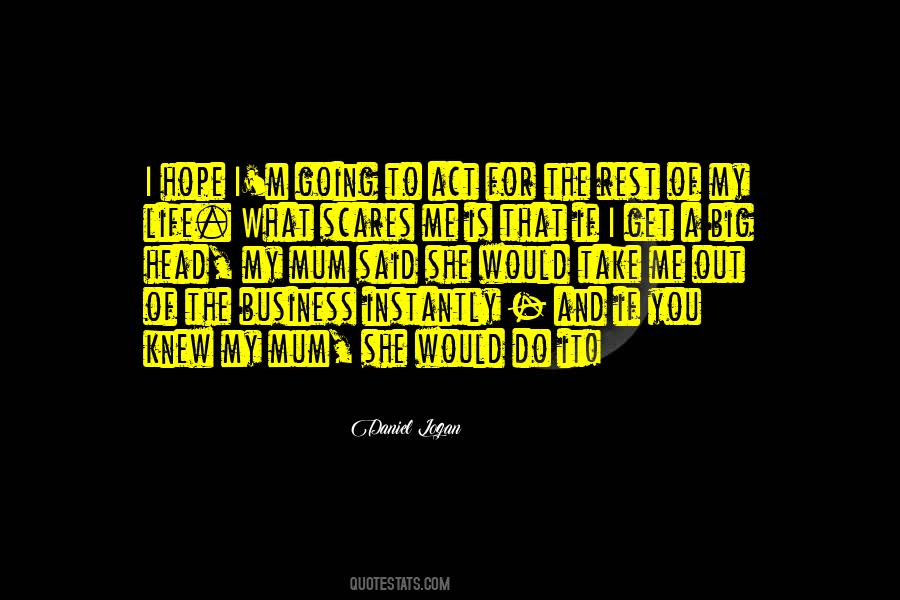 #2. I haven't seen 'The Exorcist,' but I've seen a lot of pictures of the girl in it. So now I don't actually want to see it. She scares me so much. I don't know what it is, but even though it's quite old now, it still has the best and scariest make-up I've ever seen in my life. - Author: Kodi Smit-McPhee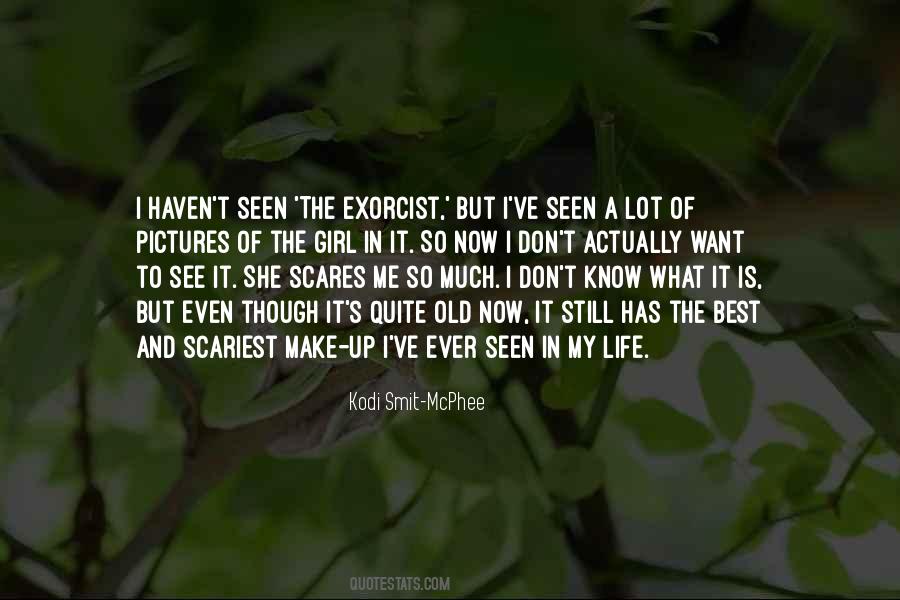 #3. With you, it's different.
I can see the rest of my life before my eyes and that scares me a little. Men don't tame my wild heart but somehow I crossed your path and have never been the same since. - Author: Nikki Rowe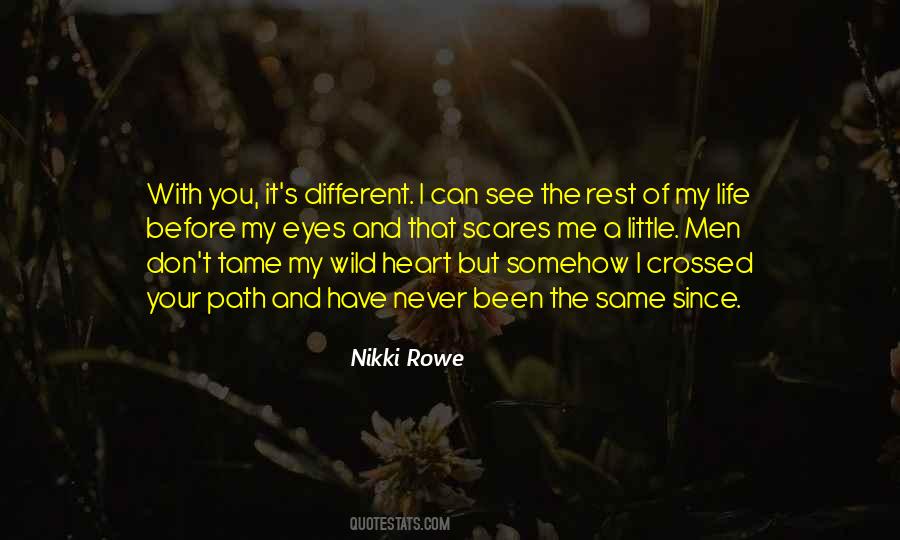 #4. If an opportunity scares you, that's God's way of saying you should jump at it. - Author: Anna Quindlen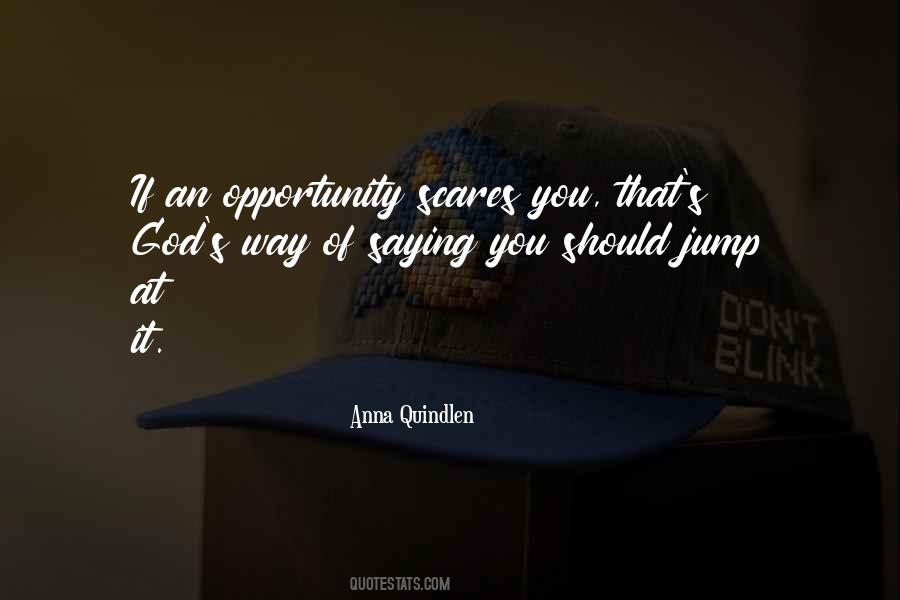 #5. Standing alone scares alot of people it means they have to be themselves and more often than not they haven't the slightest clue who they've been all this time & that's why people stay the same because it's a frightening choice to step away from the crowd. - Author: Nikki Rowe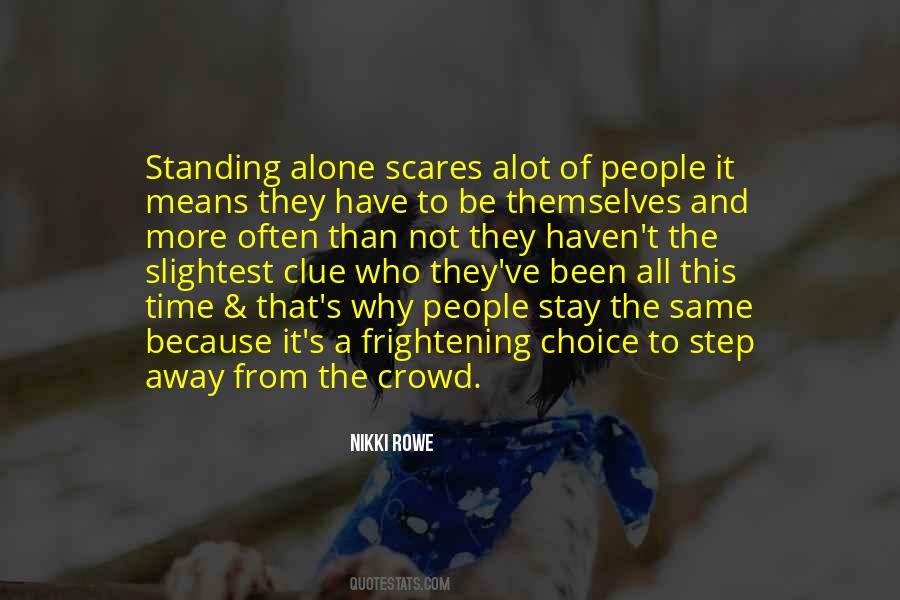 #6. Your greatest regret at the end of your life will be the lions you didn't chase. You will look back longingly on risks not taken, opportunities not seized, and dreams not pursued. Stop running away from what scares you most and start chasing the God-ordained opportunities that cross your path. - Author: Mark Batterson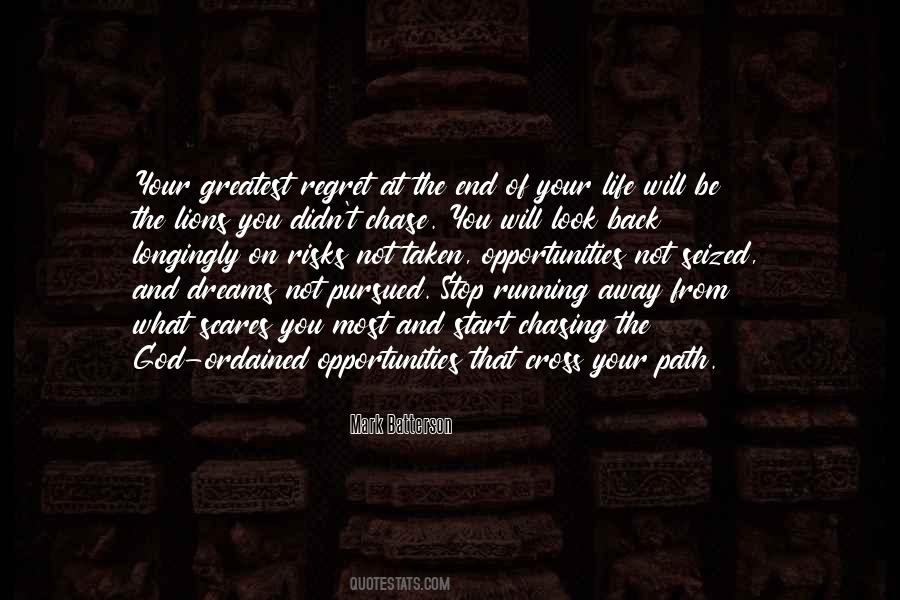 #7. Being misunderstood - that's the thing that scares me. Because my life is about oversharing. - Author: Tyler Oakley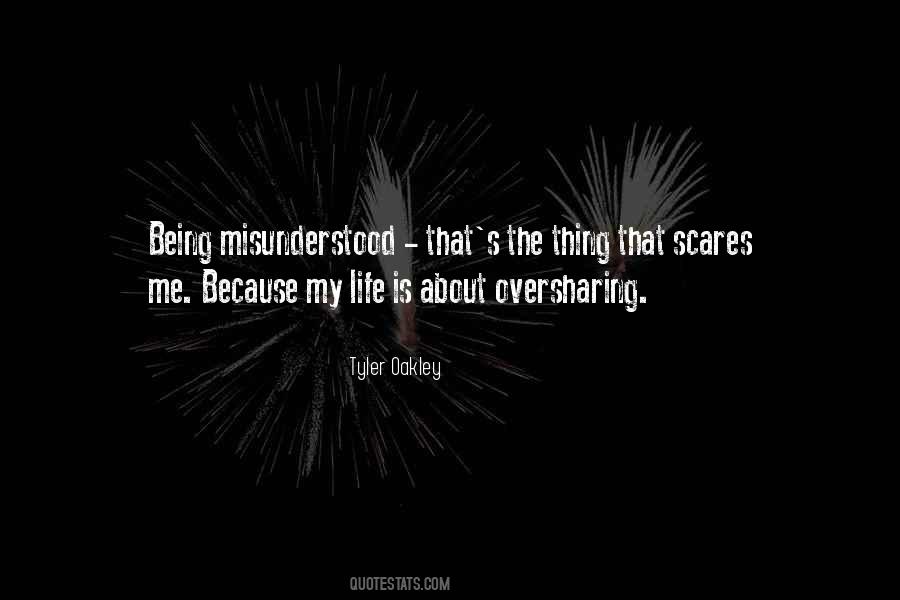 #8. Life should be a risk. It's more than a straight line that you can see clearly from one point to the other. It dips and curves and you never know what's around the bend sometimes until you get there. That scares a lot of people. But that's the beauty of it. - Author: Katie Kacvinsky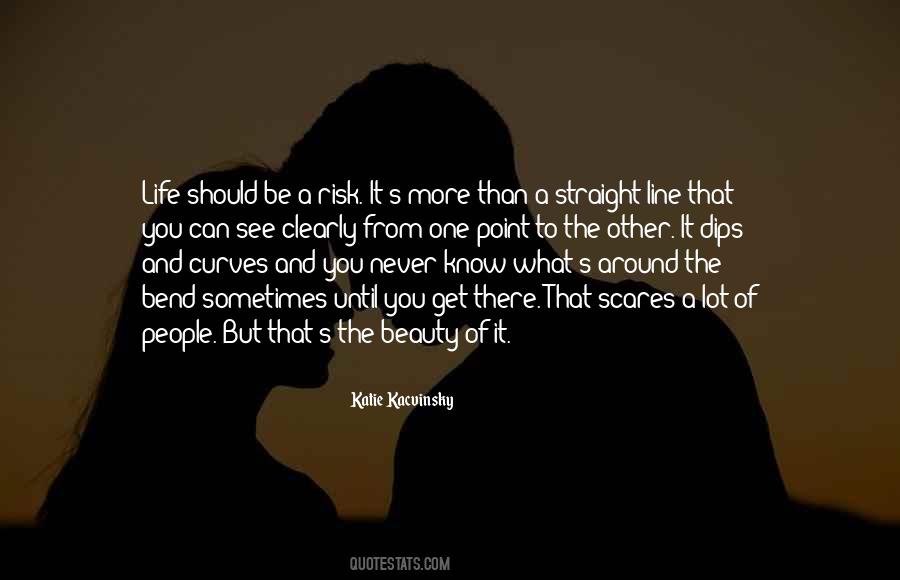 #9. Natural disasters are terrifying - that loss of control, this feeling that something is just going to randomly end your life for absolutely no reason is terrifying. But, what scares me is the human reaction to it and how people behave when the rules of civility and society are obliterated. - Author: Eli Roth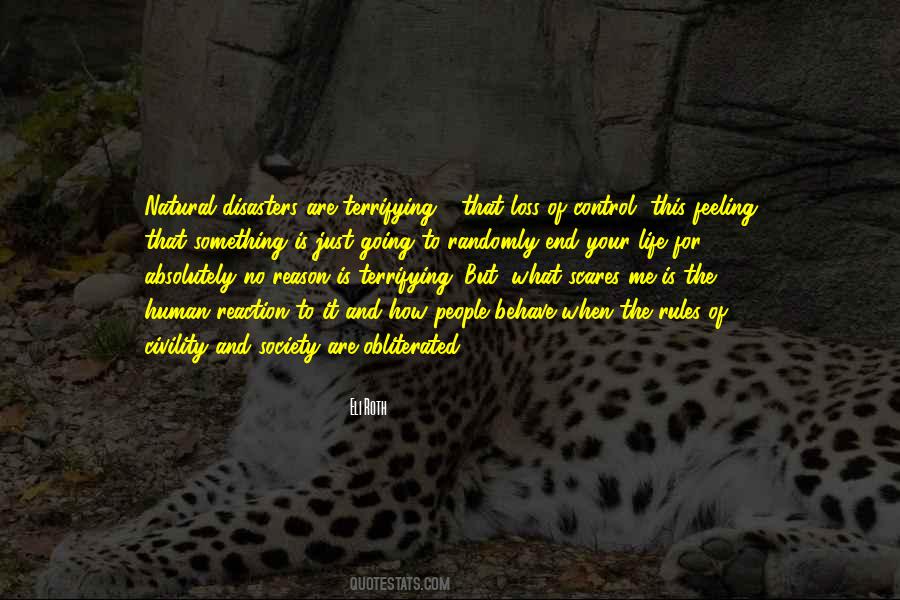 #10. Or perhaps it's not the heartbreak that scares her, but the possibility. The possibility of a heart more than whole, or a life that reaches so far beyond what's expected that you can't see where it ends and forever begins. - Author: Amanda Leduc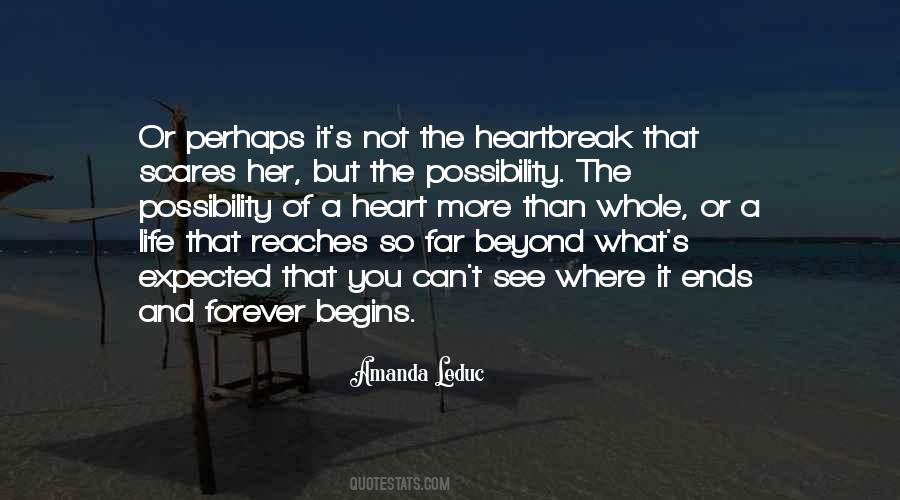 #11. But what scares me the most about him is that he makes me want more - more of everything. More than this life, more than what I am promised, more than I can ever truly have. - Author: Lindy Zart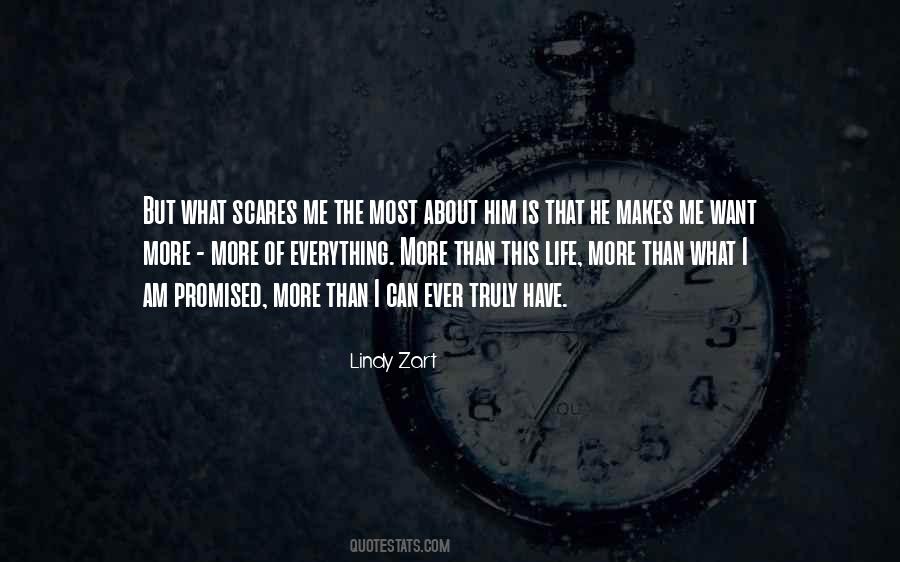 #12. So what oppresses and scares us? It is our own thoughts, obviously, What overwhelms people when they are about to leaves friends, family, old haunts and their accustomed way of life? Thoughts. - Author: Epictetus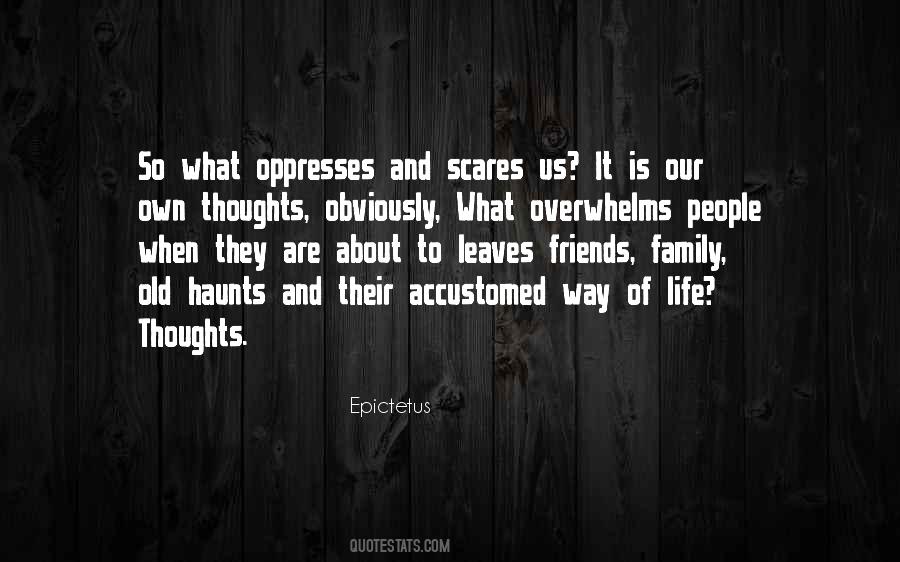 #13. One of the things I've had the advantage of, growing up and being close to the top management of this company and other companies for most of my life, is seeing how CEOs start to believe in their own infallibility. And that really scares me. - Author: William Clay Ford Jr.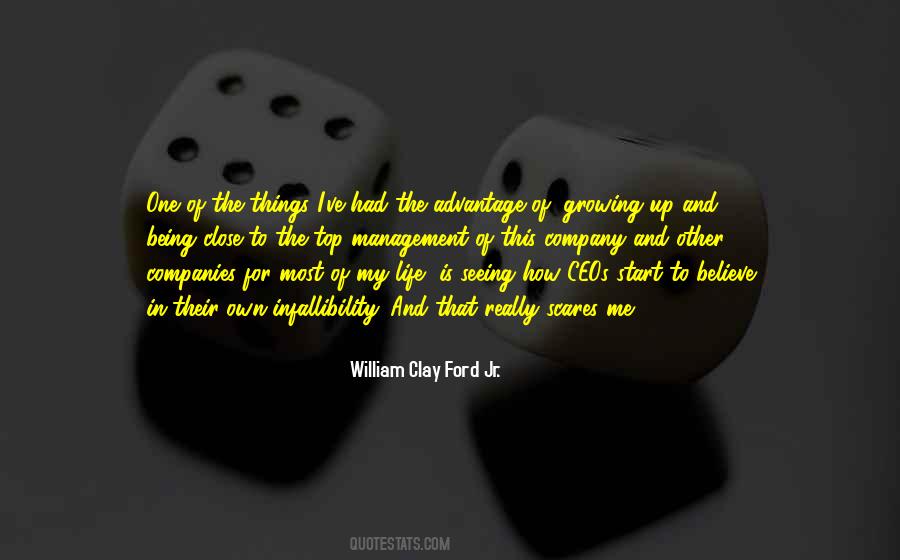 #14. It's not the end that I fear with each breath- It's life that scares me to death. - Author: Tim McIlrath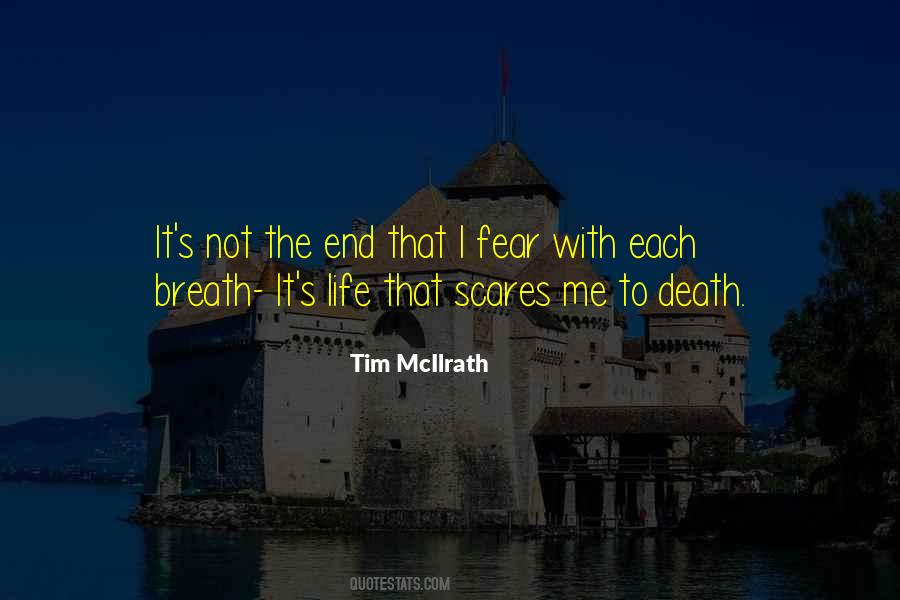 #15. It's time to take a deep breath and sink into the love and goodness that scares the ever-living hell out of me. I have to make my life count for something, or I'll be treading through this pain like a coward until I drop. - Author: Steph Campbell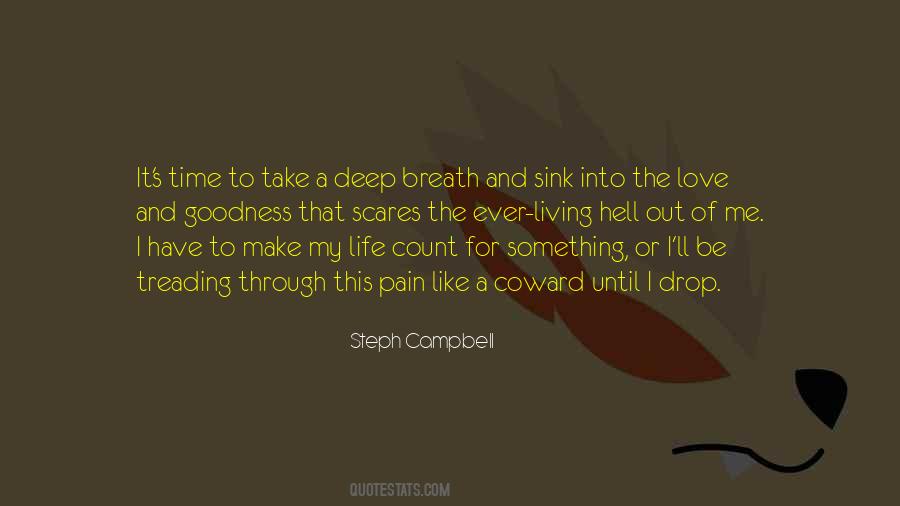 #16. It is a tragedy of modern life that the light of truth scares the society much more than the darkness of ignorance. - Author: Abhijit Naskar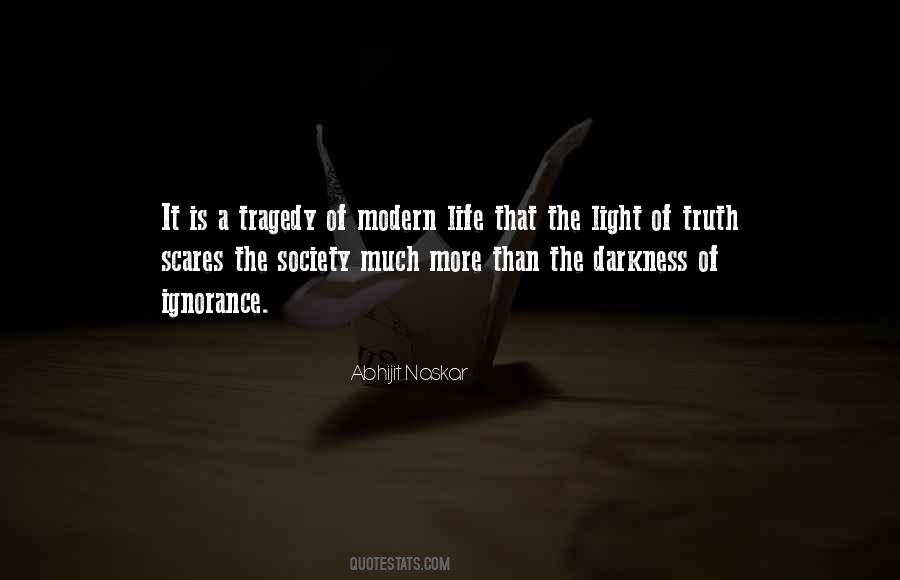 #17. It scares me how hard it is to remember life before you. I can't even make the comparisons anymore, because my memories of that time have all the depth of a photograph. It seems foolish to play games of better and worse. It's simply a matter of is and is no longer. - Author: David Levithan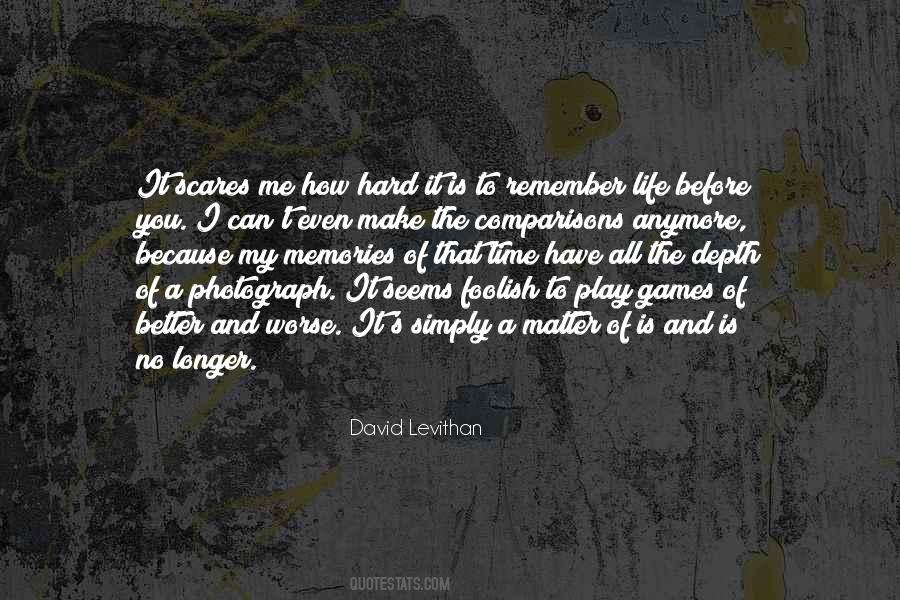 #18. I won't deny that I haven't been this vulnerable for a long time, it scares me ~ all of it, love, emotion and connection but I've reached a point in my life that I now know this type of love doesn't knock often and when it does, maybe it's time to open the door. - Author: Nikki Rowe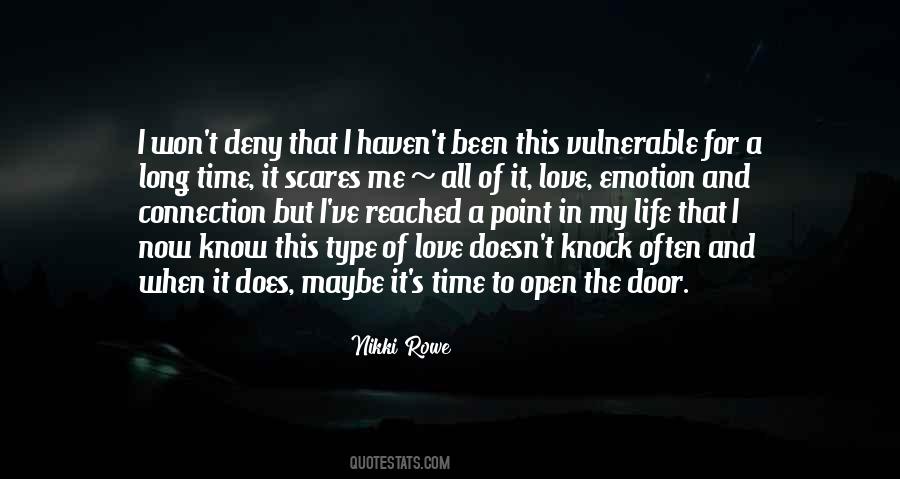 #19. You're my everything. My heart, my soul. And if I don't have you, then nothing else means anything. I know we're young, and I know that scares you, but trust me, there is nothing in this life that I would be happier experiencing without you by my side. I love you, - Author: Maisey Yates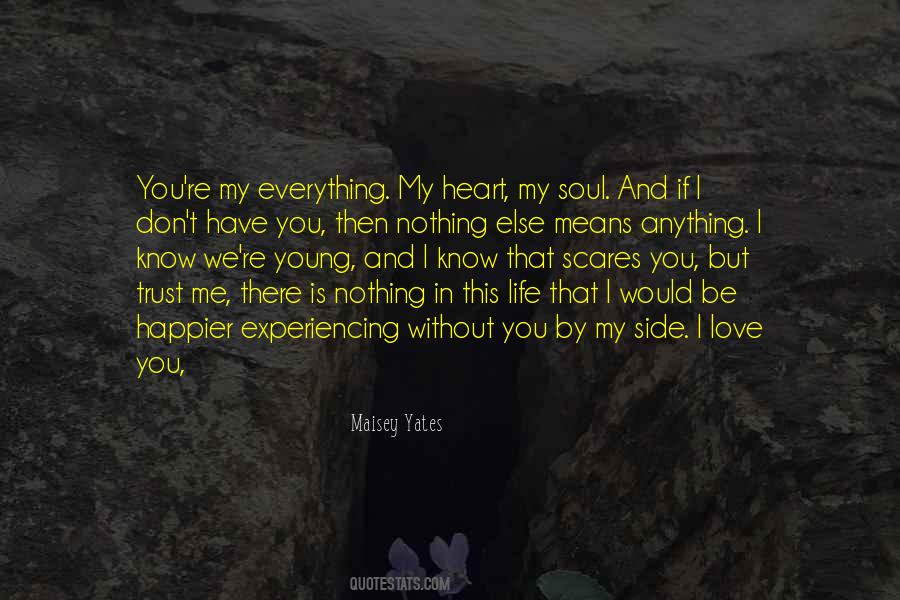 #20. Well I don't like to think too far ahead because it scares me a little to think of what this world will come to after I'm gone, but I suppose life will have to go on, right? At least everyone will still be able to watch reruns of Scrubs. - Author: Zach Braff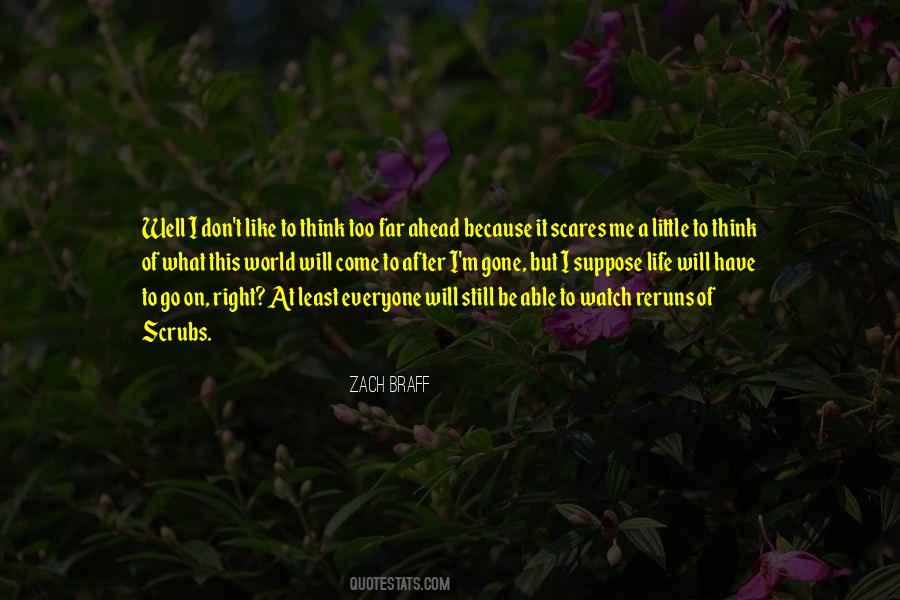 #21. People talk about stage fright, but what scares me is not so much the going on as the going off. I only come to life when people are watching. - Red Skelton - Author: Douglas Wissing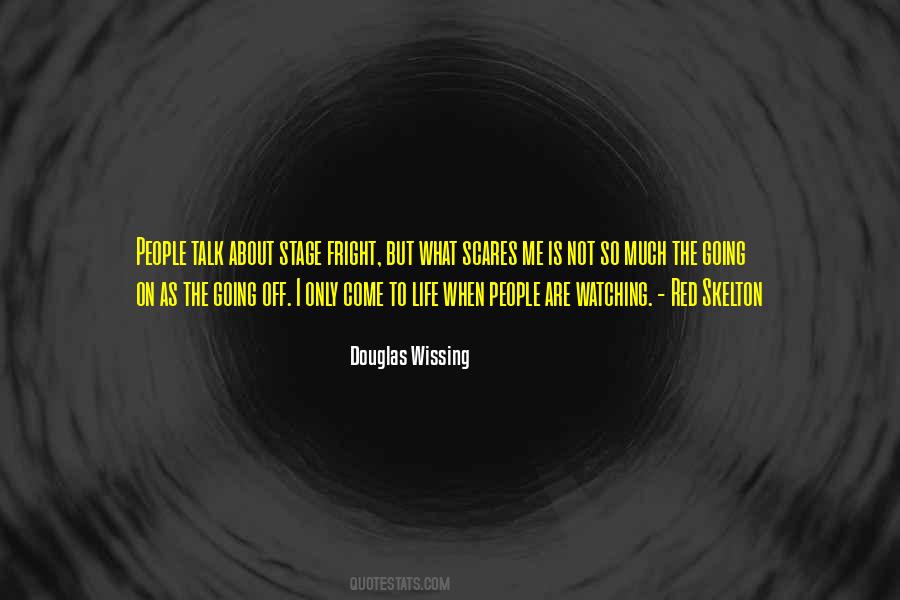 #22. So many people want to live their lives and their dreams through their own Facebook page or their Twitter page. They want to show every detail of their life to everyone in the world. That scares me because I don't have any Facebook page or Twitter I don't like it, I don't want it. - Author: Emmanuel Petit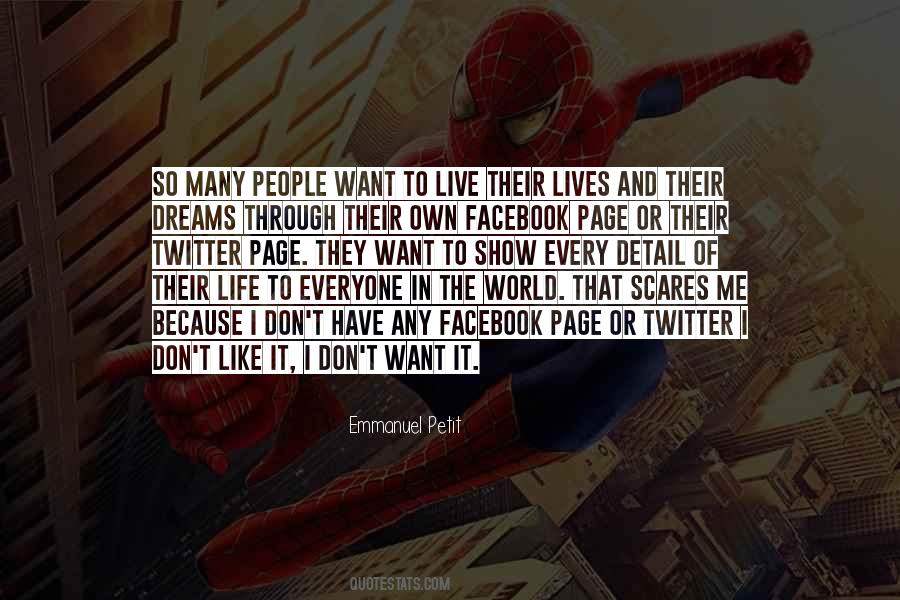 #23. My life is infinitely better for having you in it. And that's what makes all of this so hard; it's why I can't seem to find the words I need. It scares me to know that all of this will be ending soon - Author: Nicholas Sparks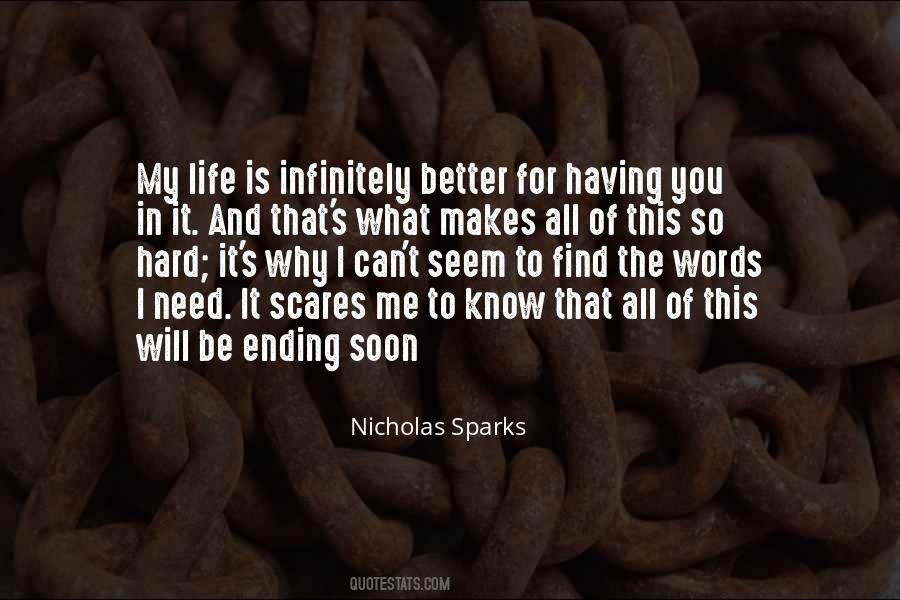 #24. In real life, what scares me is politicians, corporations and people that think they know what the world should be. - Author: Guillermo Del Toro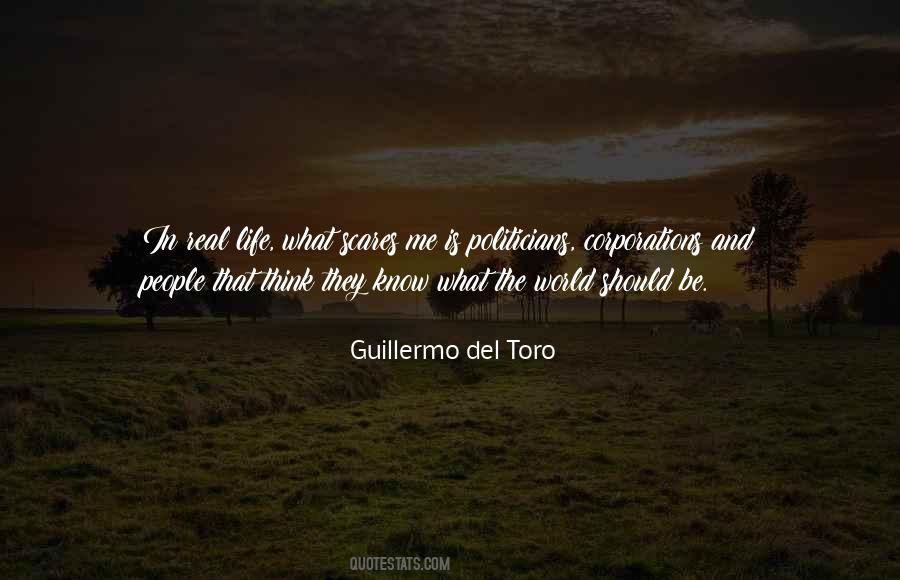 #25. An insignificant life scares me more than death. - Author: Sercan Leylek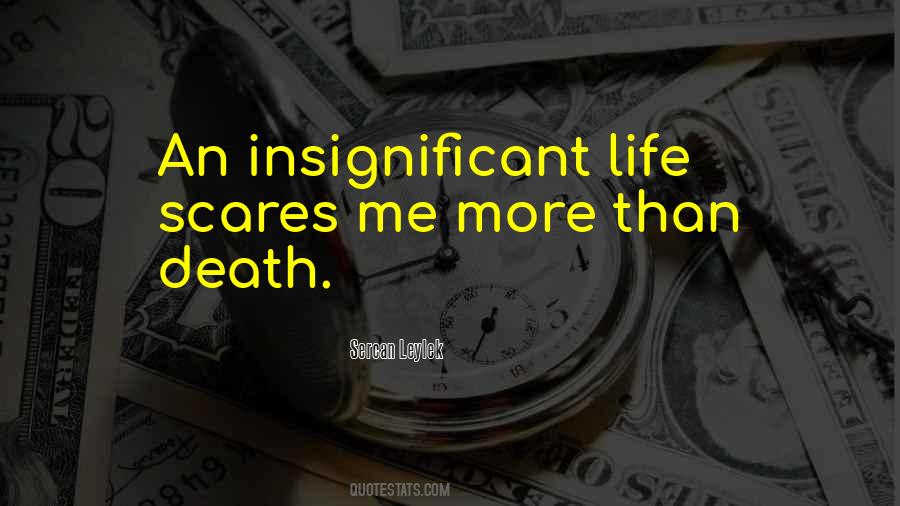 #26. Delhi people can make anything look fancy. Delhi scares me with fast pace vehicles and running life, it can almost thrill anyone. - Author: Parul Wadhwa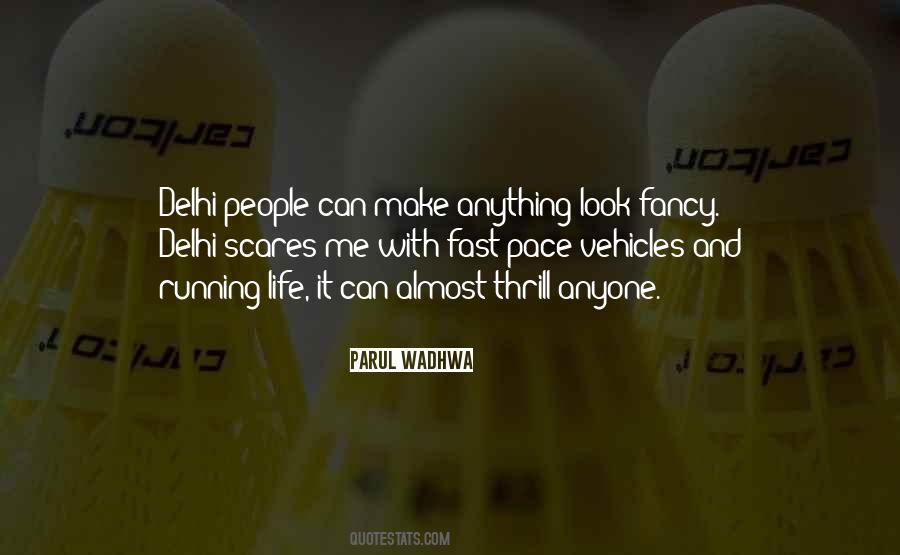 #27. You see, with you, the thing that scares me isn't the thought of losing you. What scares me is not having you in my life in the first place. - Author: Melissa Collins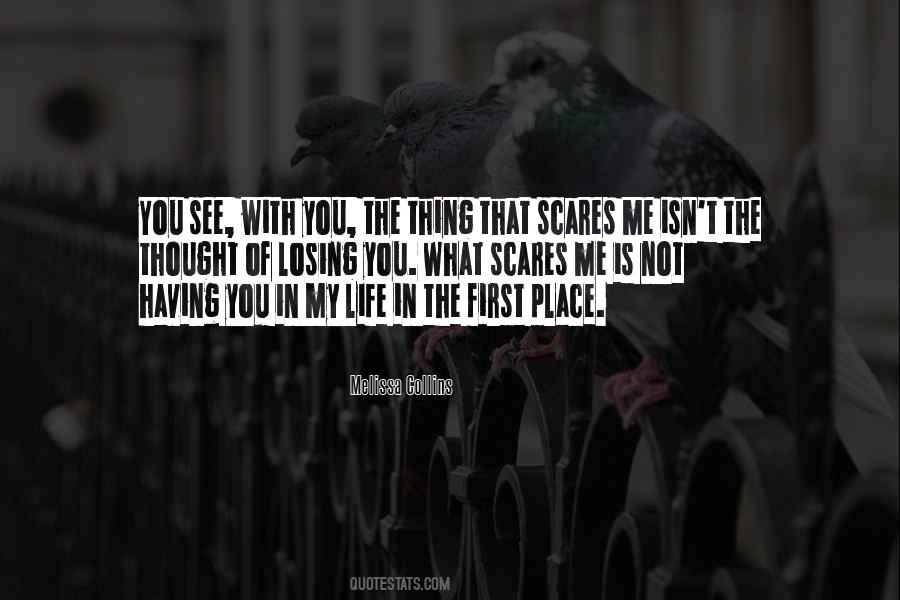 #28. Reading has not only changed my life but saved it. the right picked at the right time - especially the one that scares us, threatens to undermine all we have been told, the one that contains forbidden thoughts - these are the books that become Eve's apples. - Author: Terry Tempest Williams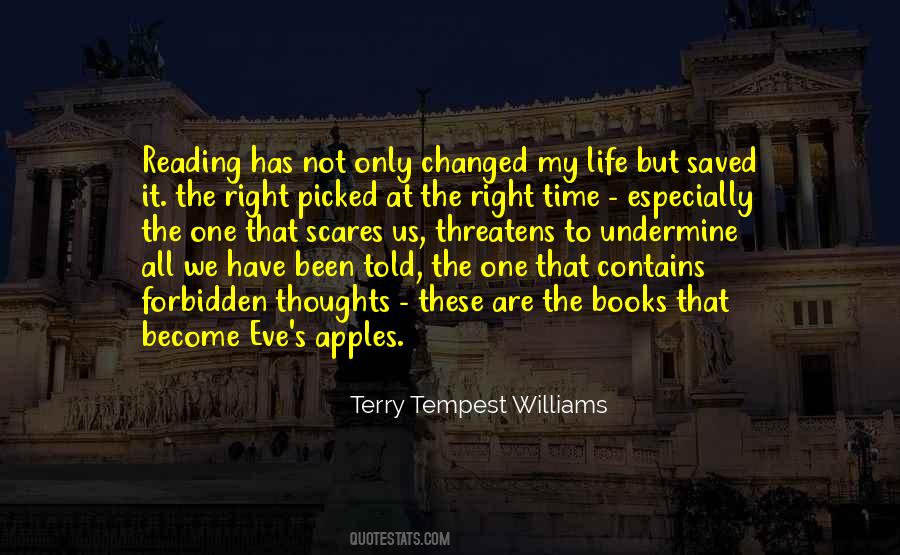 #29. It scares you to think of having someone else's heart in your hands when you can't even manage your own life. I know - Author: Andrew Diamond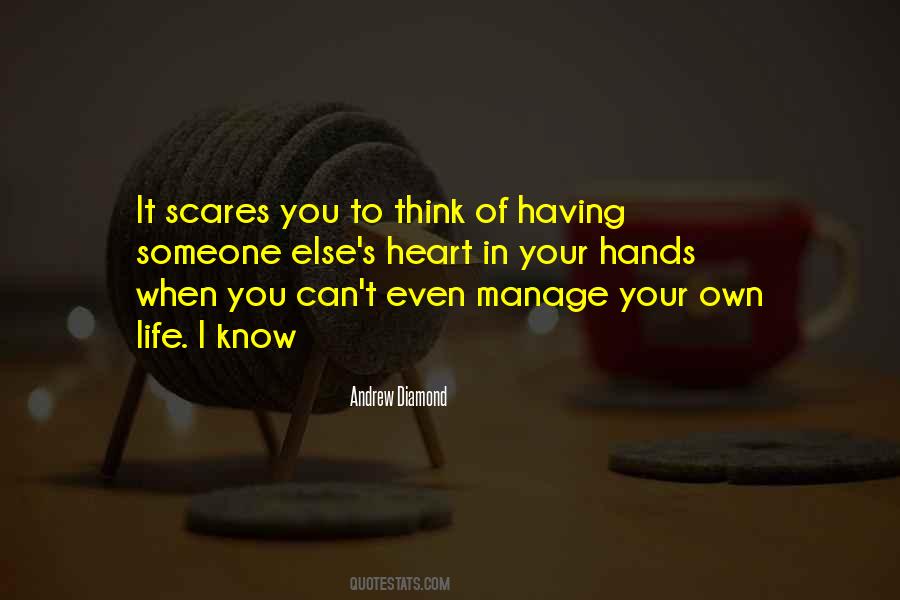 #30. It is not a lack of real affection that scares me away again and again from marriage. Is it a fear of the comfortable life, of nice furniture, of dishonor that I burden myself with, or even the fear of becoming a contented bourgeois. - Author: Albert Einstein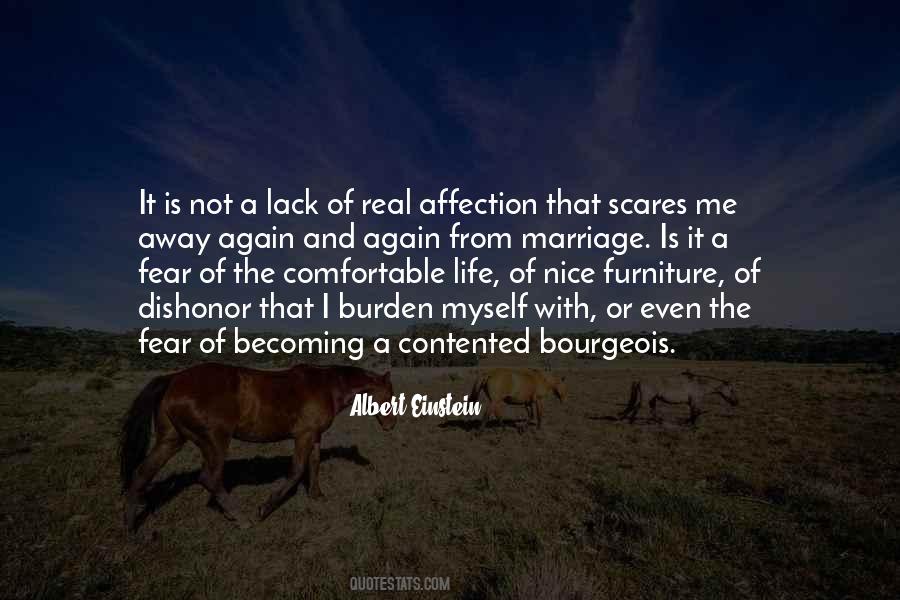 #31. A guy said to a girl he liked; ' I am scared of loving again'
The girl responded ; ' the only thing that scares me is living a life of regret, in never chasing that things that once took my breath away - Author: Nikki Rowe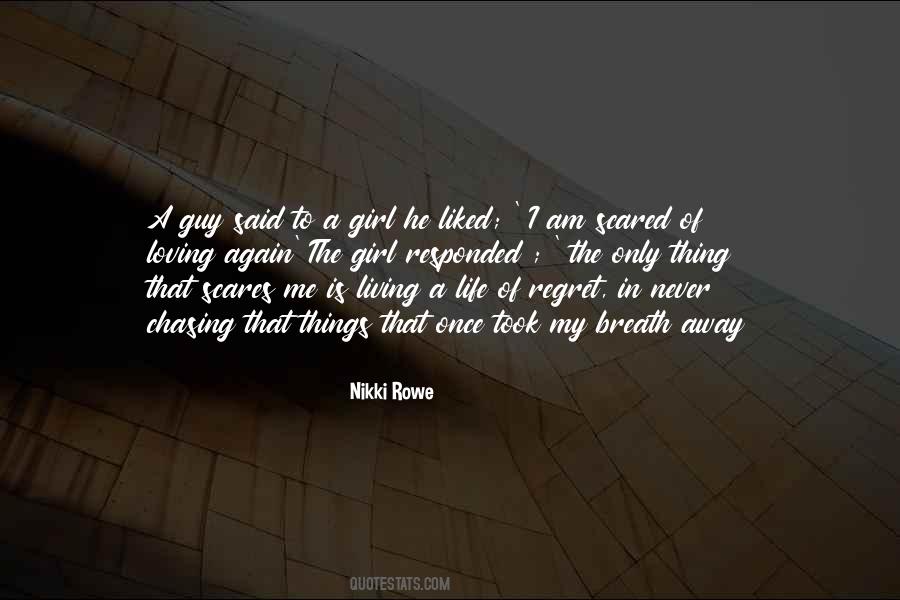 #32. No more fear of hunger. A new kind of freedom. But what then ... what? What would my life be like on a daily basis? Most of it has been consumed with the acquisition of food. Take that away and I'm not really sure who I am, what my identity is. The idea scares me some. - Author: Suzanne Collins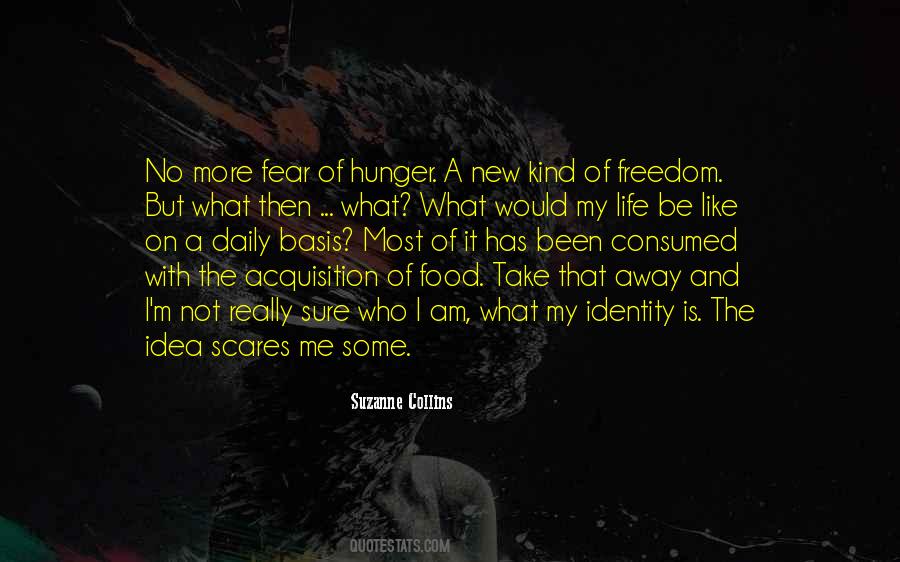 #33. I would say what scares me is that I'm going to ultimately find out at the end of my life that I'm really not lovable, that I'm not worthy of being loved. That there's something fundamentally wrong with me. - Author: Demi Moore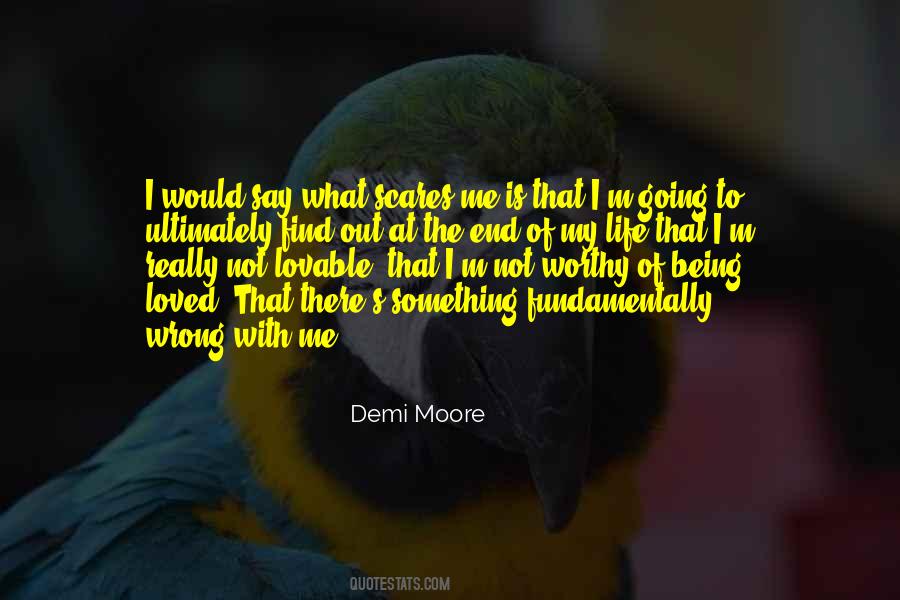 #34. The old vacuum cleaner keeps dying on her
over and over
until at last the cleaning woman
scares it by yelling:
"Motherfucker! - Author: Lydia Davis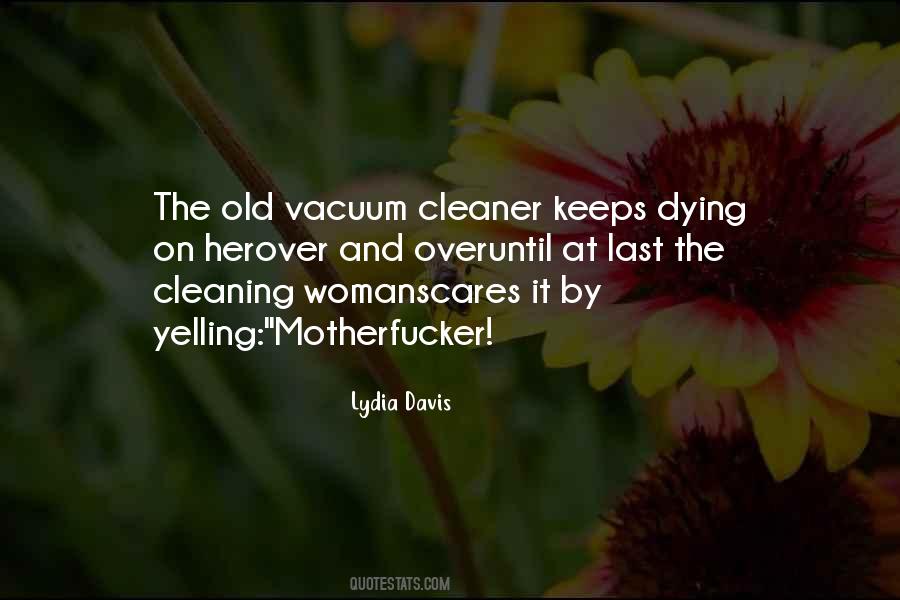 #35. I think that there are laughs in all aspects of life. I'm not a planner; stuff comes along and you read it, and if it scares you or if you think, 'Oh my God, this is so good. I hope I don't screw it up,' then you should probably do it. - Author: Julie White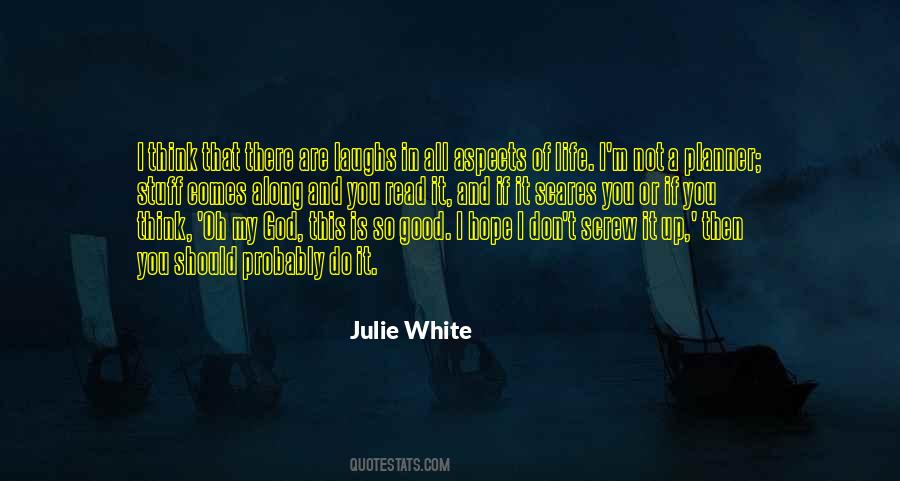 #36. Any time an opportunity scares you that much, you should seriously consider saying yes. - Author: Rob Lowe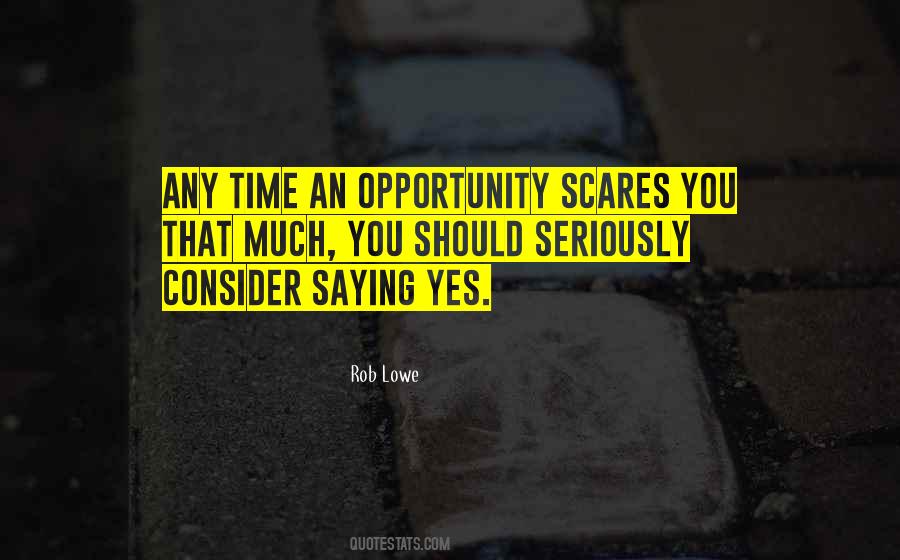 #37. Impossible is a word for other people to use when life scares them. - Author: Chris Hayes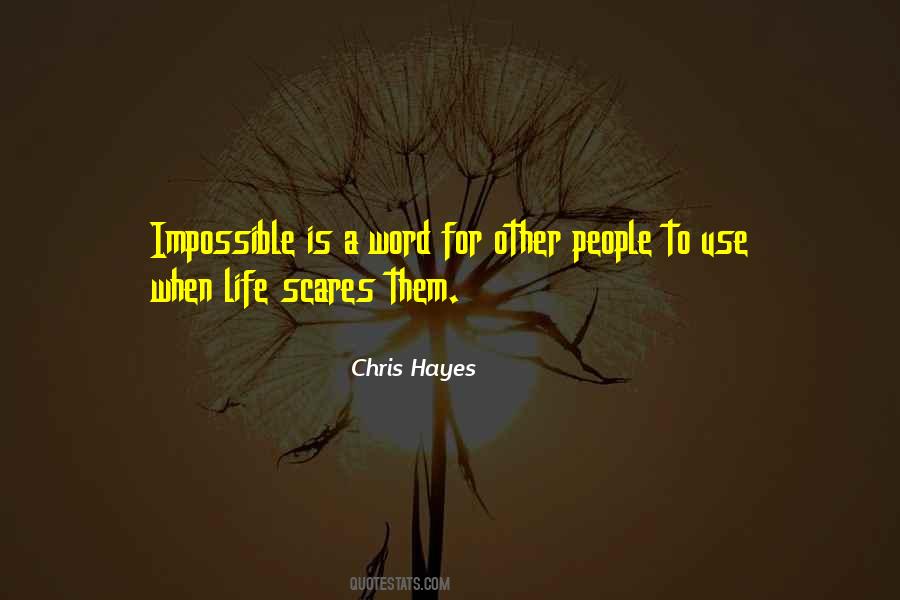 #38. I would like to stay stoned all the time, it scares me it's so good. I would like to stay stoned every minute of every day for the rest of my life. - Author: Beatrice Sparks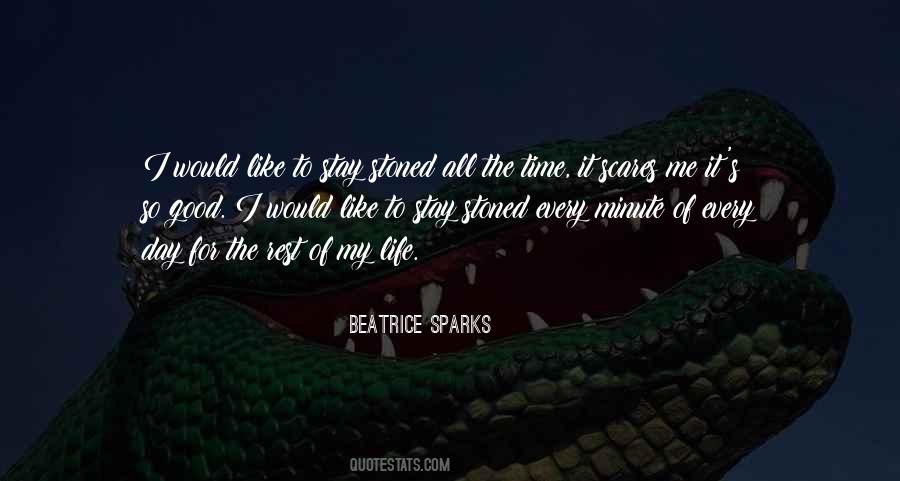 #39. I don't like anything that scares me, and I prefer to face it head on and get over it. Anyone who says they're not scared is a fool, a liar or both. I just don't want that fear in my stomach to be part of my life, so I work to eliminate it. - Author: Anderson Cooper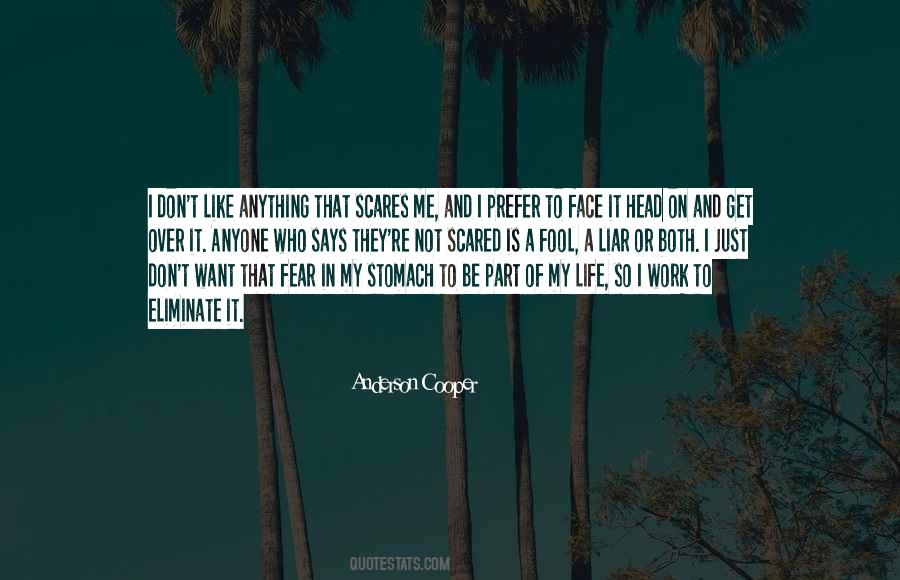 #40. Sometimes,when life gets hard, and people make you angry or even when you're scared, the best response is laughter.Laugh in the face of fear, in the face of what scares you the most.It's the only way to get you through the things that bring you to tears. - Author: Rachel Van Dyken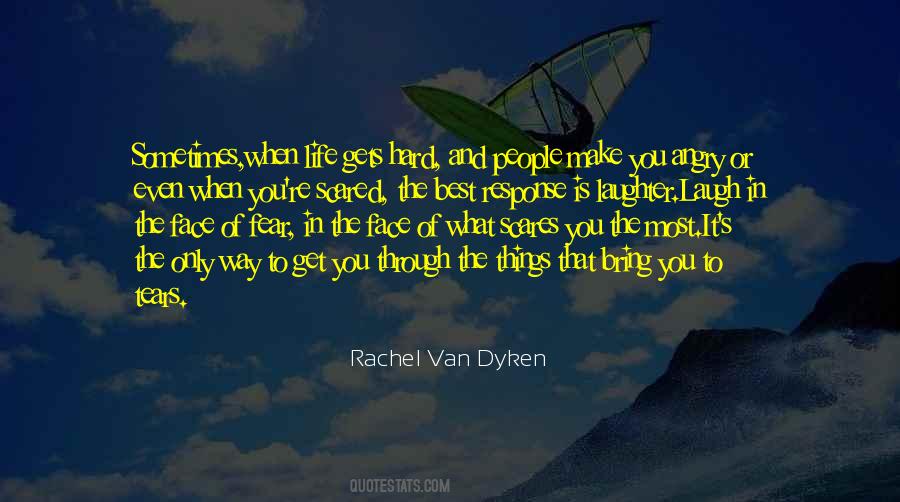 Famous Authors
Popular Topics