Life Crisis Famous Quotes & Sayings
List of top 100 famous quotes and sayings about life crisis to read and share with friends on your Facebook, Twitter, blogs.
Top 100 Life Crisis Quotes
#1. Midlife crisis begins sometime in your 40s, when you look at your life and think, 'Is this all?' And it ends about 10 years later, when you look at your life again and think, 'Actually, this is pretty good.' - Author: Donald Richie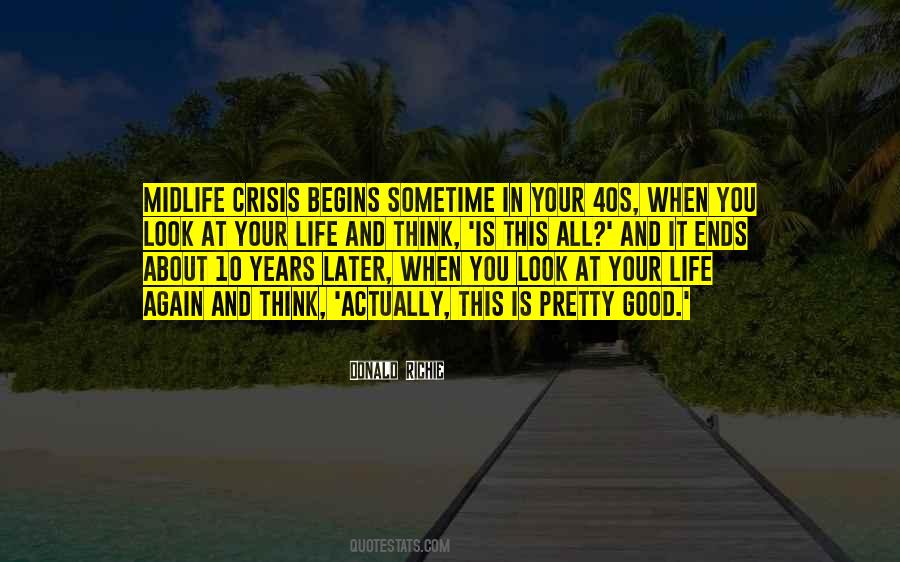 #2. Food has always been my friend. When I wanted to feel better or had a crisis in my life, I opened the icebox. - Author: Marlon Brando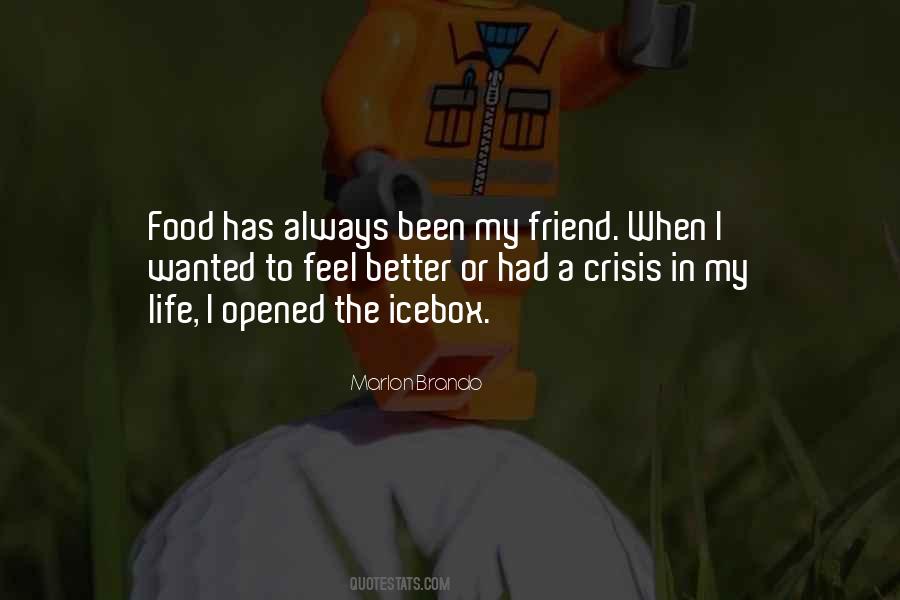 #3. Life is a crisis - so what! - Author: Malcolm Bradbury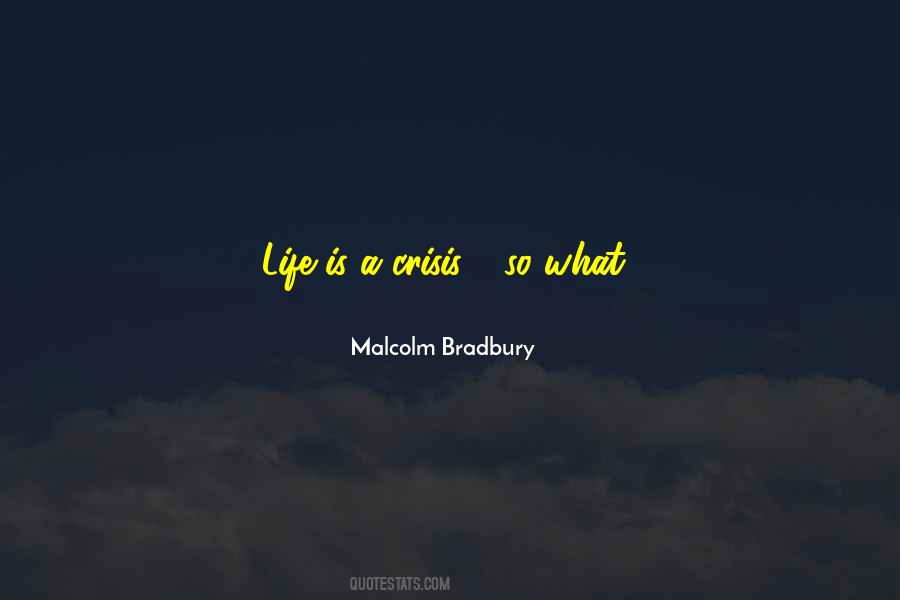 #4. Of this crisis in my life, I remember chiefly a sense of tremendous inevitability, a feeling that fate was settling its own problems, and too much reflection would be out of place. - Author: Anthony Powell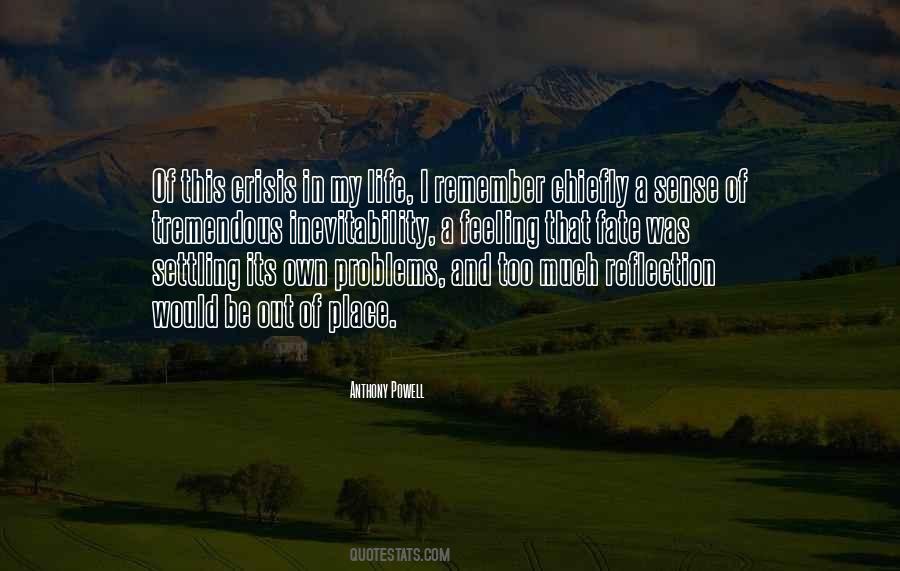 #5. Don't waste time worrying about work/life balance, or looking for your best self, sham "secrets" or any other snake oil being pushed by sloppy hippies who have never built a business, let alone a bankroll, or you will wake up 20 years from now poor, pissed off and primed for a midlife crisis. - Author: Ari Gold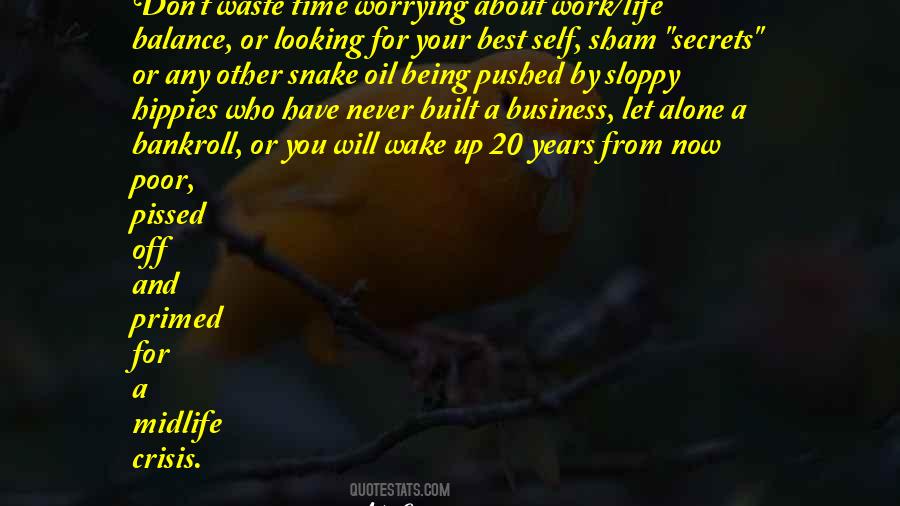 #6. You can either follow your dreams or adjust with your society's expectations ... Either way, consequences are uncertain ... the path to glory or the boulevard of mediocrity, both lead to the grave ... Choose what's worthwhile, for the end is the same. - Author: K. Hari Kumar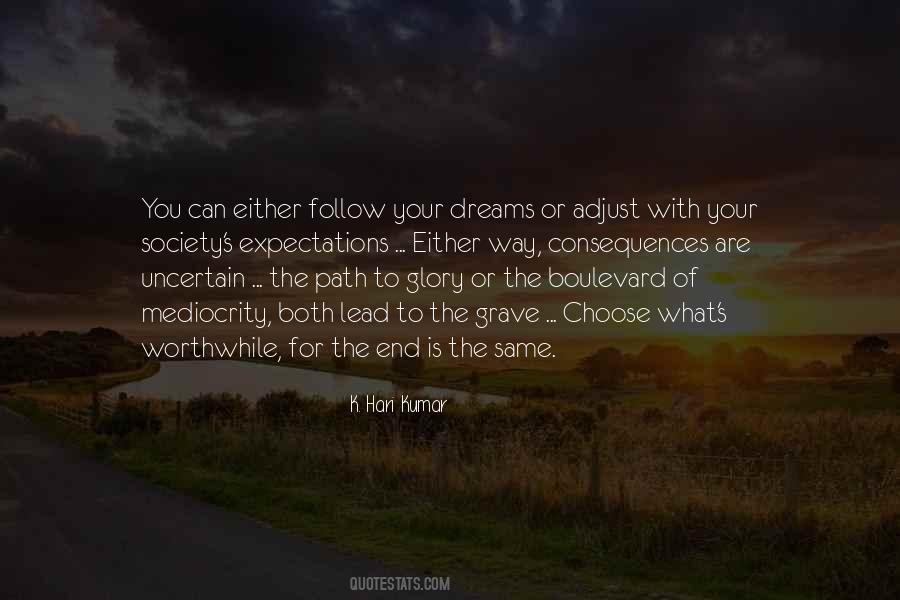 #7. A critical point: Is an inter-phase between crisis and normalcy, life and death, danger and safety, failure and success - Author: Ikechukwu Joseph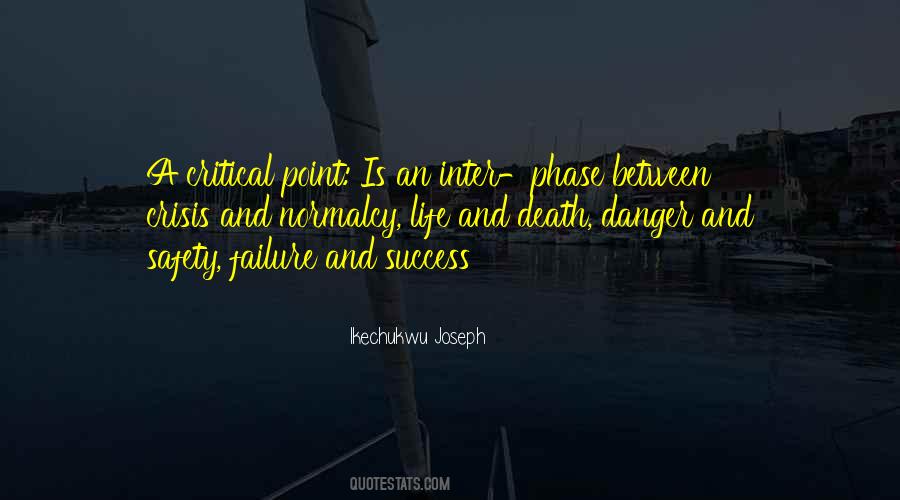 #8. The angst of adolescence is the fear the pretty Italian girls across the street will never come over. The crisis of mid-life is learning they never will. - Author: Mark Darrah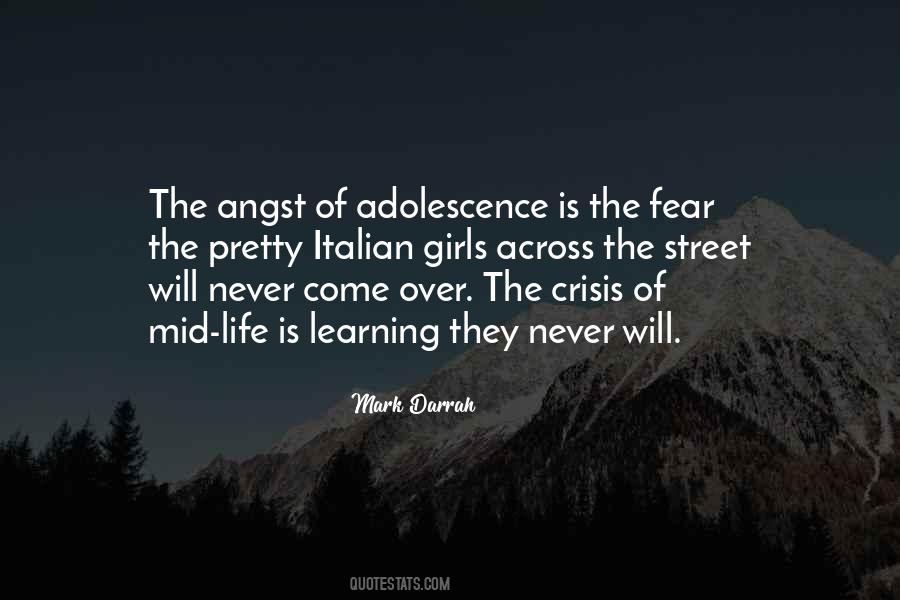 #9. A walk is a walk and must be taken; breakfast and dinner come when they are due. The routines of the living are inviolable, no hiatus called on account of misery, spiritual crisis, or awful weather. - Author: Mark Doty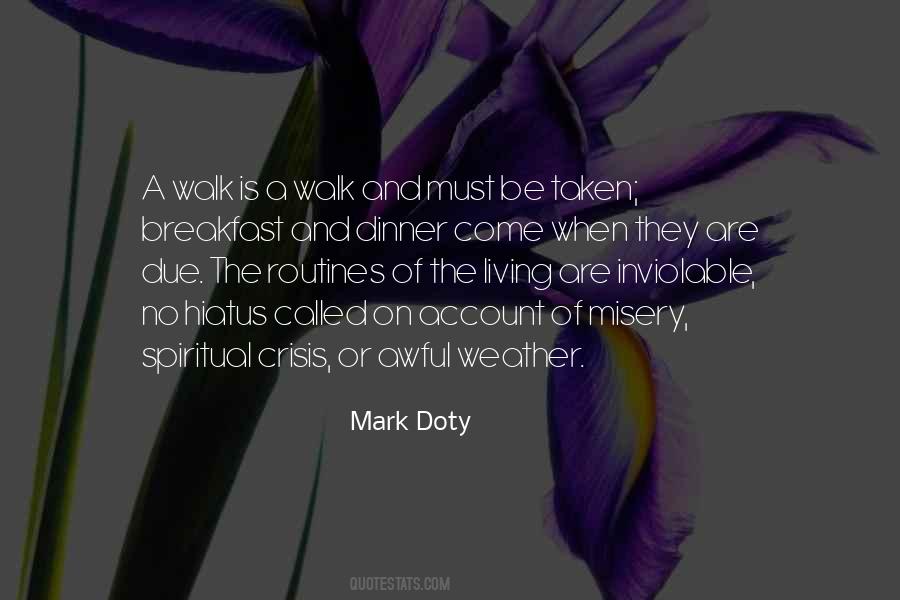 #10. During life's crisis ... try to worry less and smile more. - Author: Timothy Pina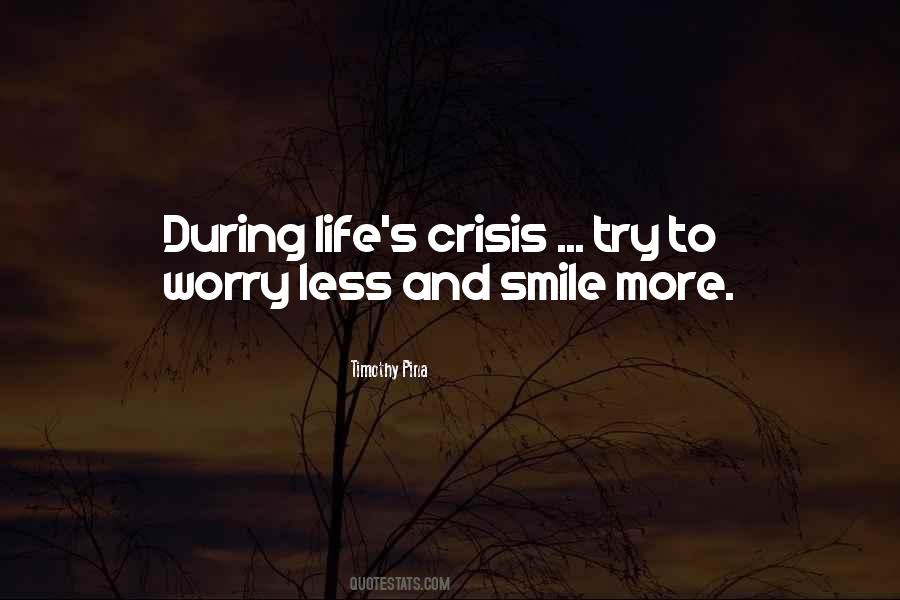 #11. There is a grotesquerie to grief as well. You lose the sense of your existence being rational, or justifiable. You feel absurd. - Author: Julian Barnes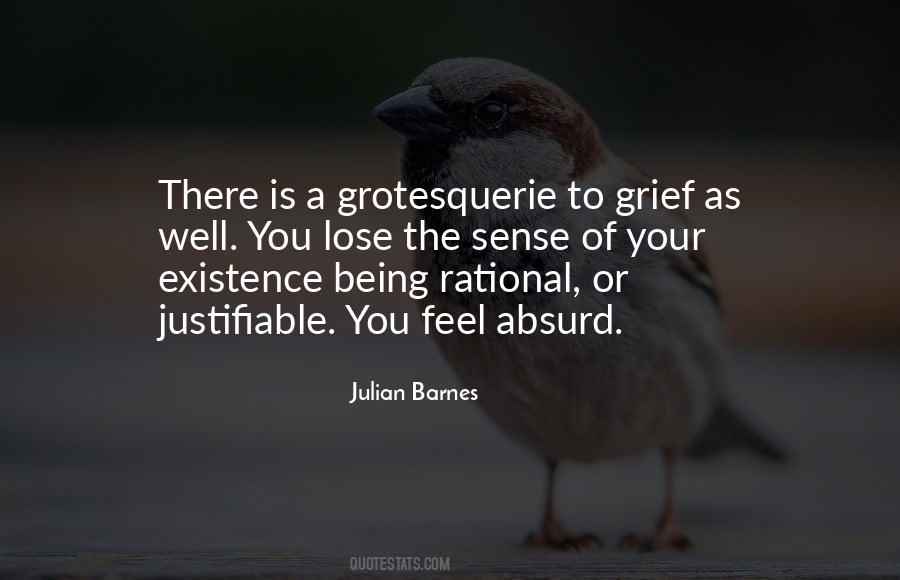 #12. The crisis of our prayer life is that our minds may be filled with ideas of God while our hearts remain far from him. - Author: Henri Nouwen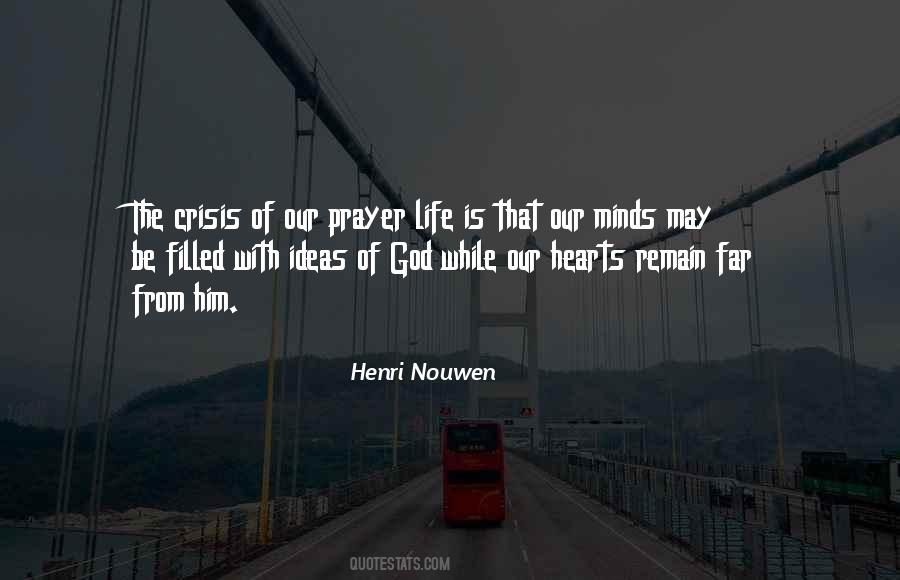 #13. I've suffered from an identity crisis my entire life. It's why I went into acting. - Author: Matthew Rhys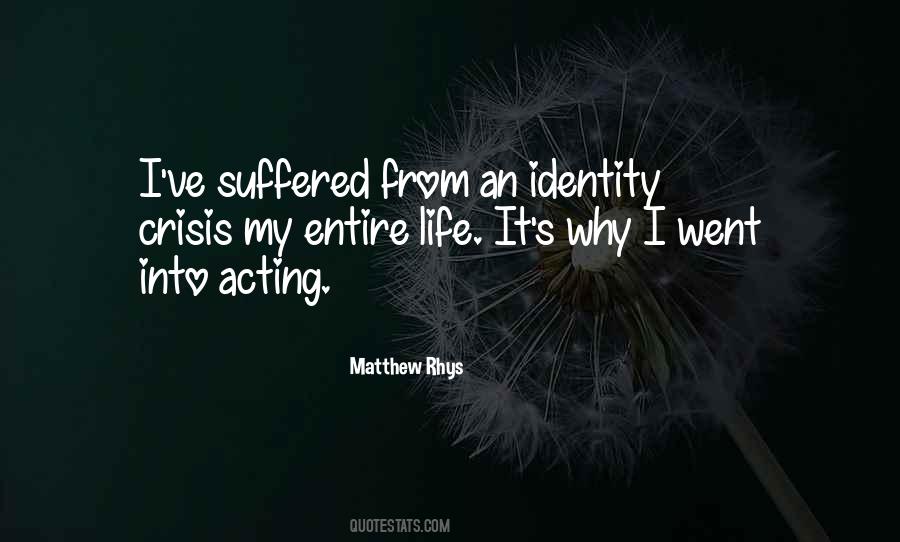 #14. Crisis is both danger and opportunity. - Author: Chinese Quote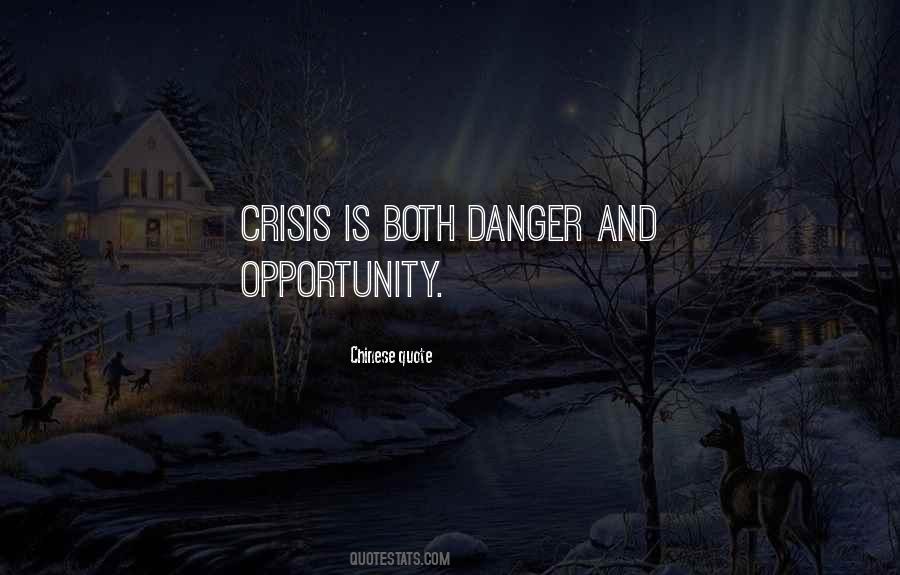 #15. Your work is what you were born to do. No kind of educational system can teach you your true work, because it is your life purpose, and it is revealed by your God-given gifts. - Author: Dr. Myles Munroe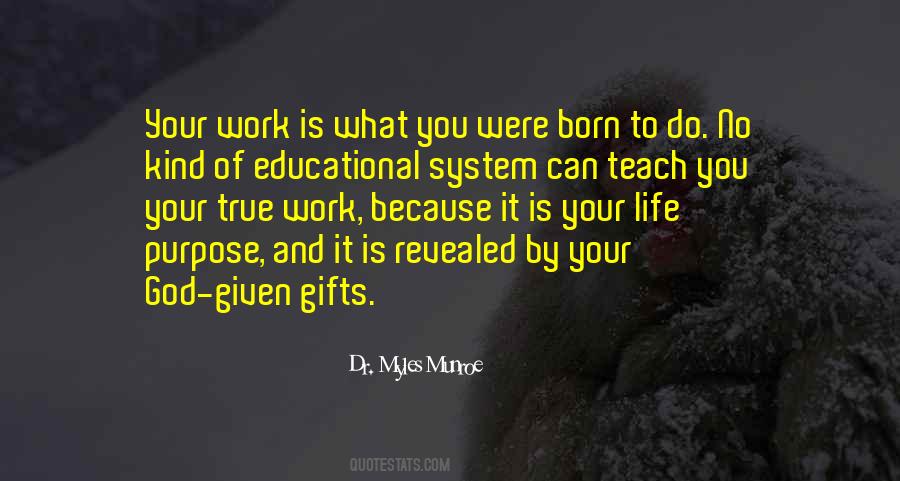 #16. If you're in the middle of a monumental and devastating life crisis, hang in there. It'll be over in about an hour. Two hours, tops. - Author: Anthony Rubino Jr.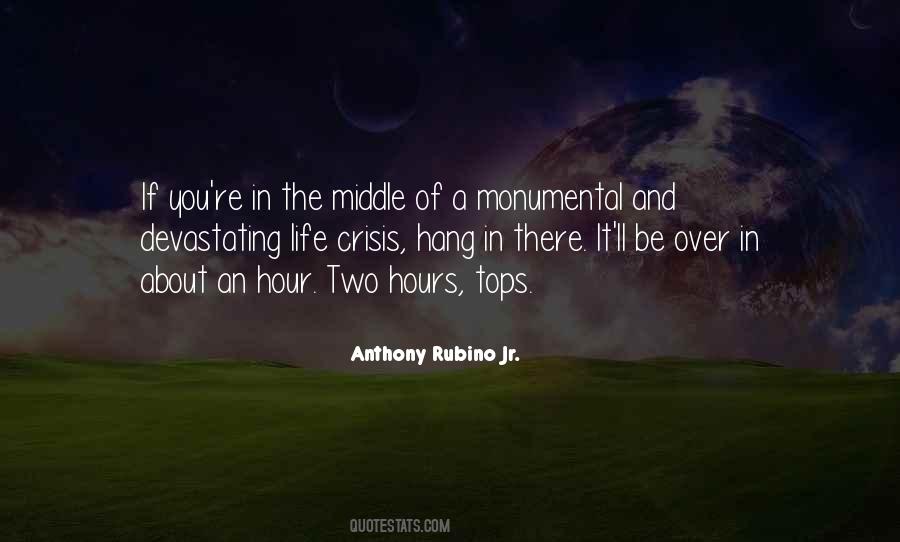 #17. All of nature was a record of crisis and destruction and adaptation and flourishing and being knocked back down again. What had happened on New Terra was singular and concrete, but the pattern it was part of seemed to apply everywhere and maybe always. - Author: James S.A. Corey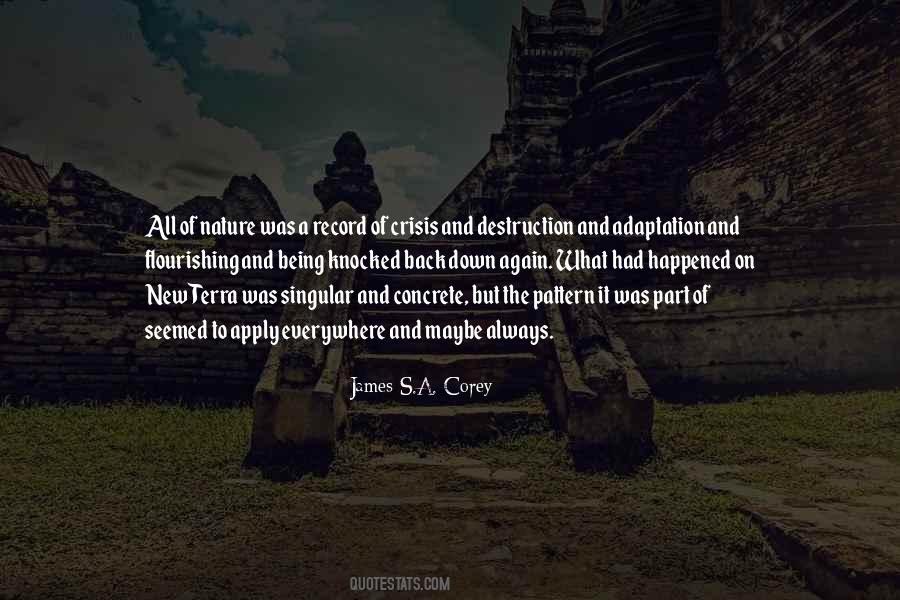 #18. Might be a quarter life crisis, just disturbin' in my soul. - Author: John Mayer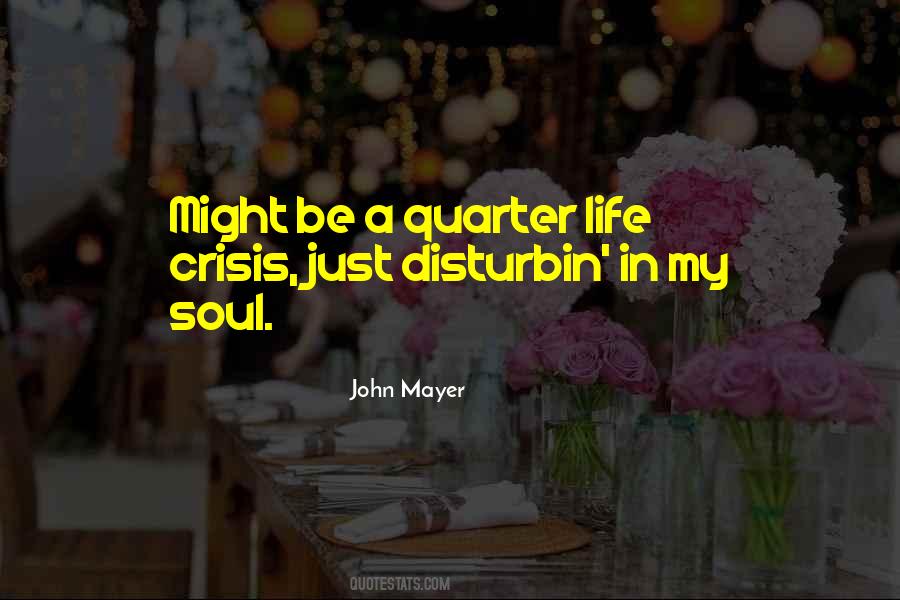 #19. You can't have a mid-life crisis in the airline industry because every day is a crisis. - Author: Herb Kelleher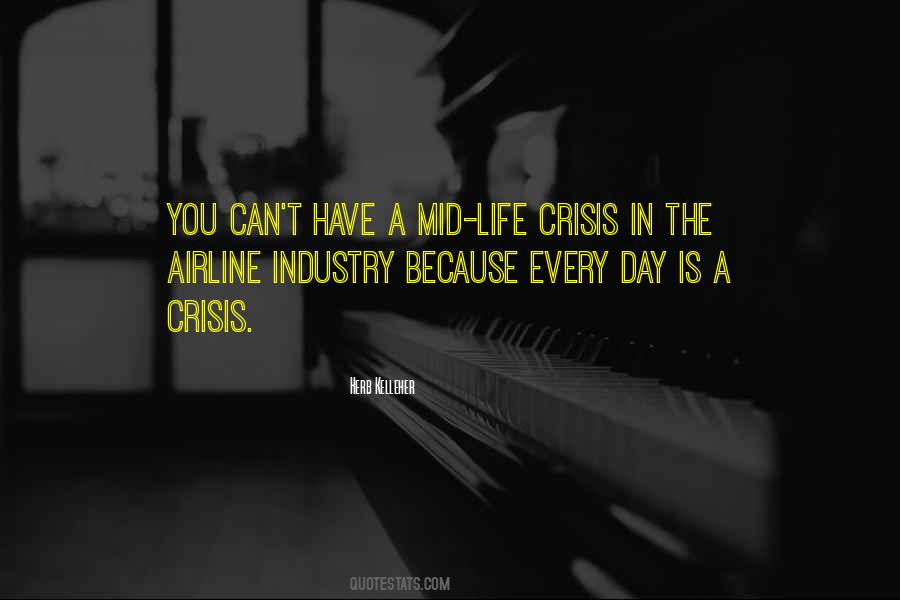 #20. I always felt like if I lived in true authentic self-expression and lived in service and in support of many other people, I would be exempt from having to deal with yet another crisis in my life. I was wrong. - Author: Debbie Ford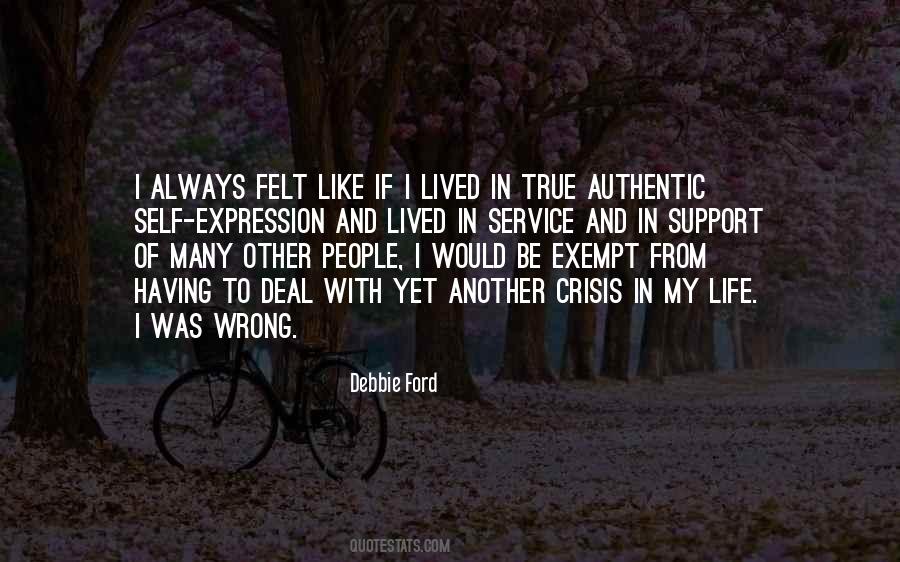 #21. No one can help another very much in these crises of life; but love and sympathy count for something. - Author: Thomas Huxley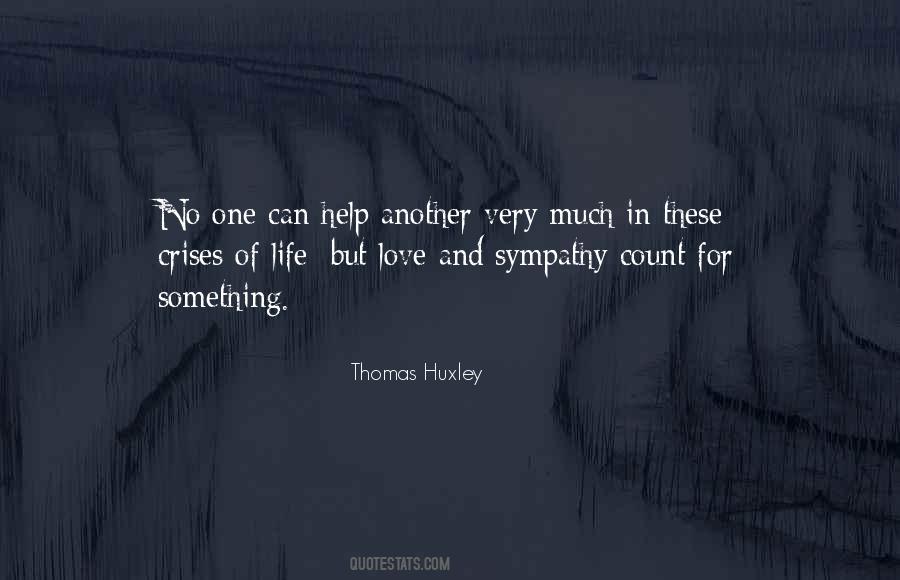 #22. It takes a lot of experience of life to see why some relationships last and others do not. But we do not have to wait for a crisis to get an idea of the future of a particular relationship. Our behavior in little every incidents tells us a great deal. - Author: Eknath Easwaran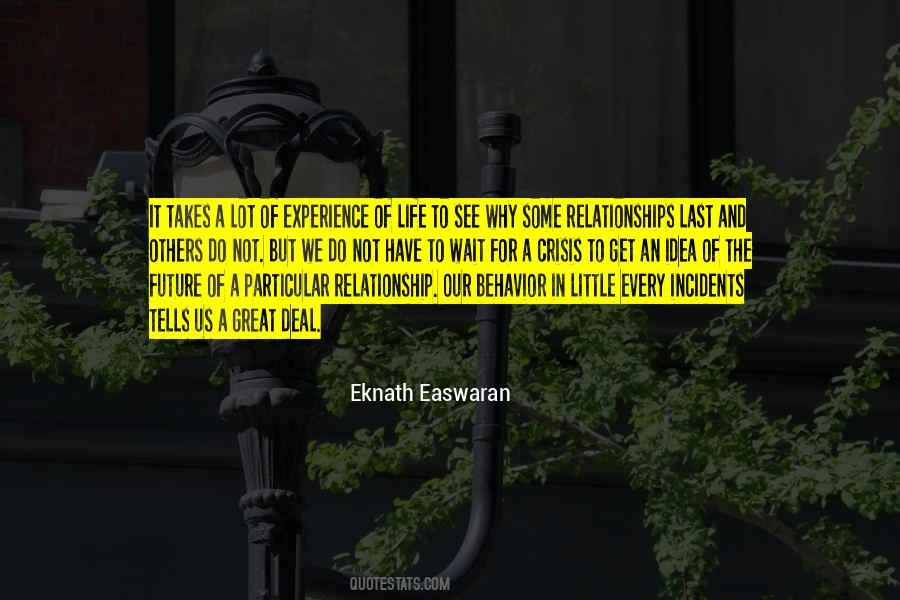 #23. Here comes 40. I'm feeling my age and I've ordered the Ferrari. I'm going to get the whole mid-life crisis package. - Author: Keanu Reeves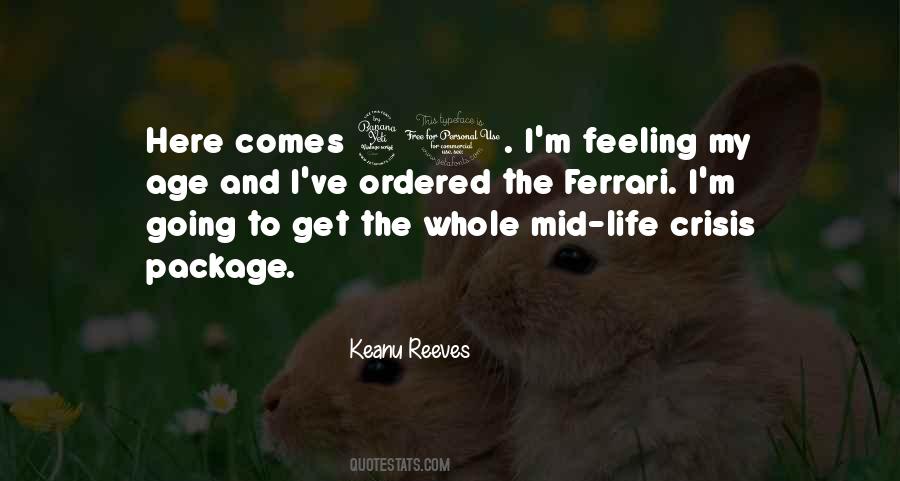 #24. I've had the longest mid-life crisis ever. - Author: Rhys Ifans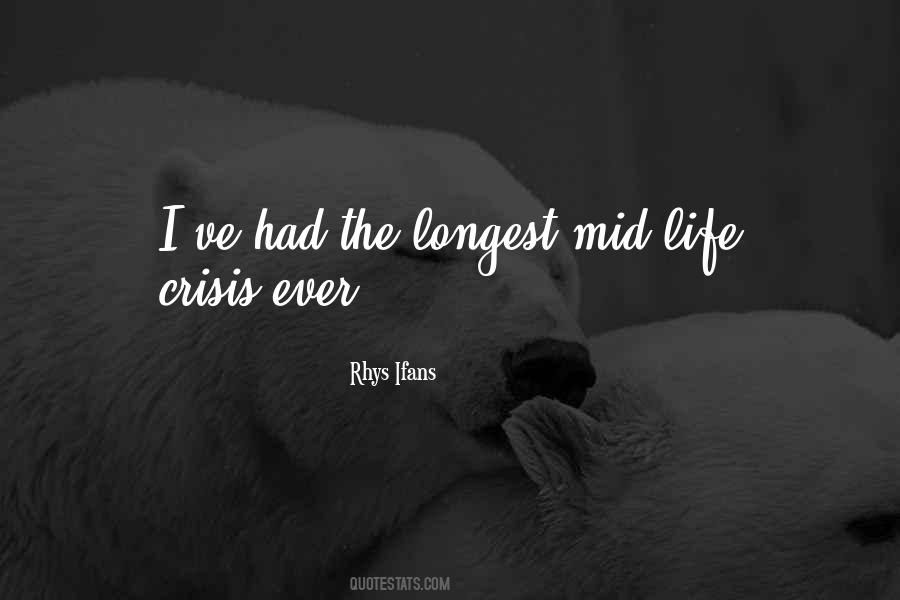 #25. Forget the midlife crisis," I say. "It's all about the sixth-life crisis. - Author: Ned Vizzini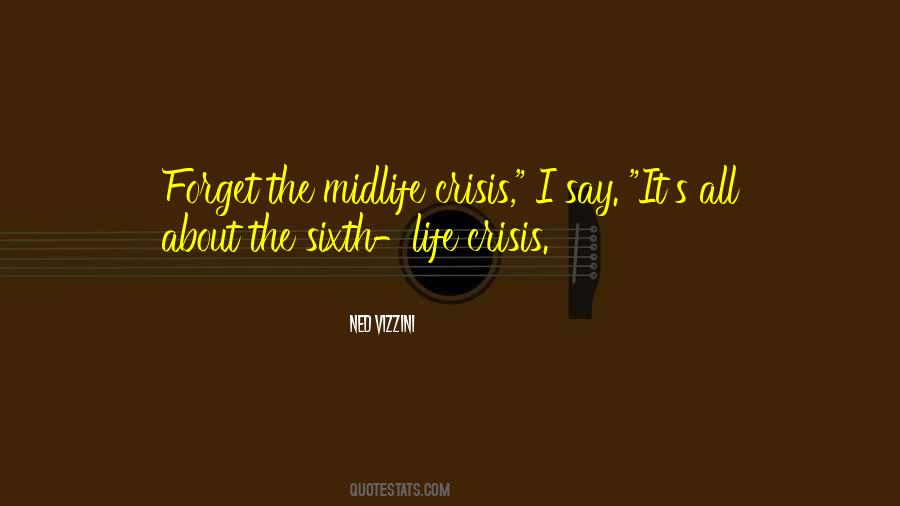 #26. I don't hold to the idea that God causes suffering and crisis. I just know that those things come along and God uses them. We think life should be a nice, clean ascending line. But inevitably something wanders onto the scene and creates havoc with the nice way we've arranged life to fall in place. - Author: Sue Monk Kidd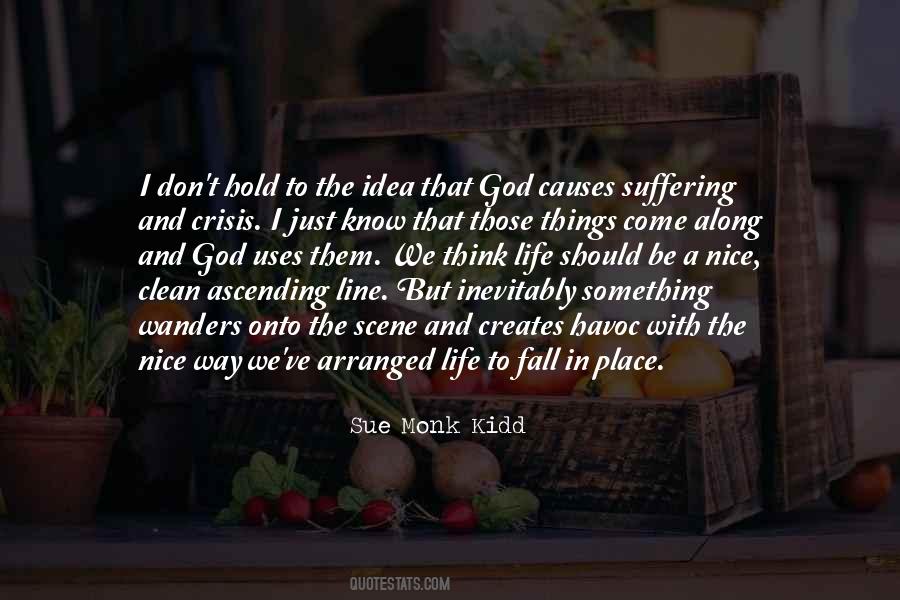 #27. The turning point in the life of those who succeed usually comes at the moment of some crisis. - Author: Napoleon Hill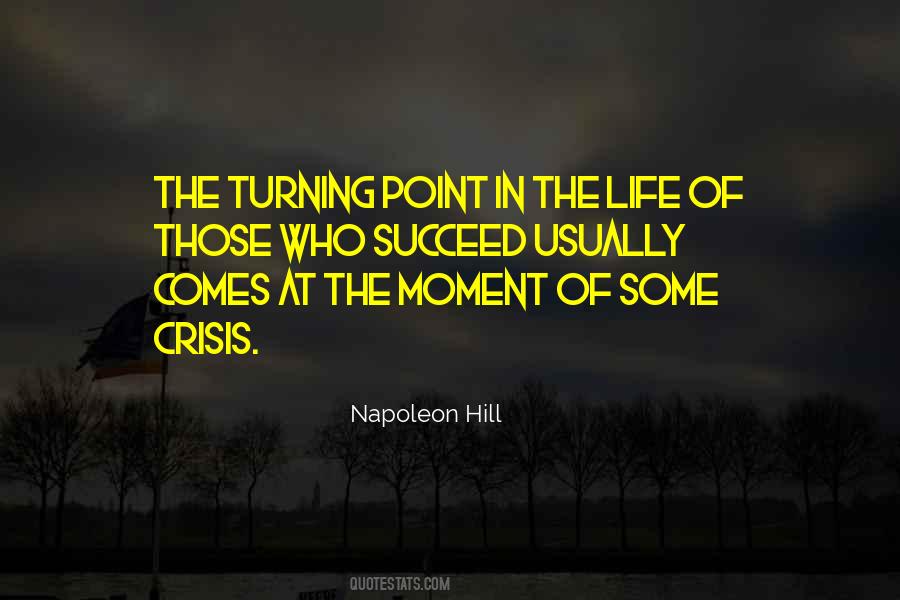 #28. Stop shying away from people. If you actually took a moment to listen to what they have to say, they might just say something that will change your life. - Author: S.R. Crawford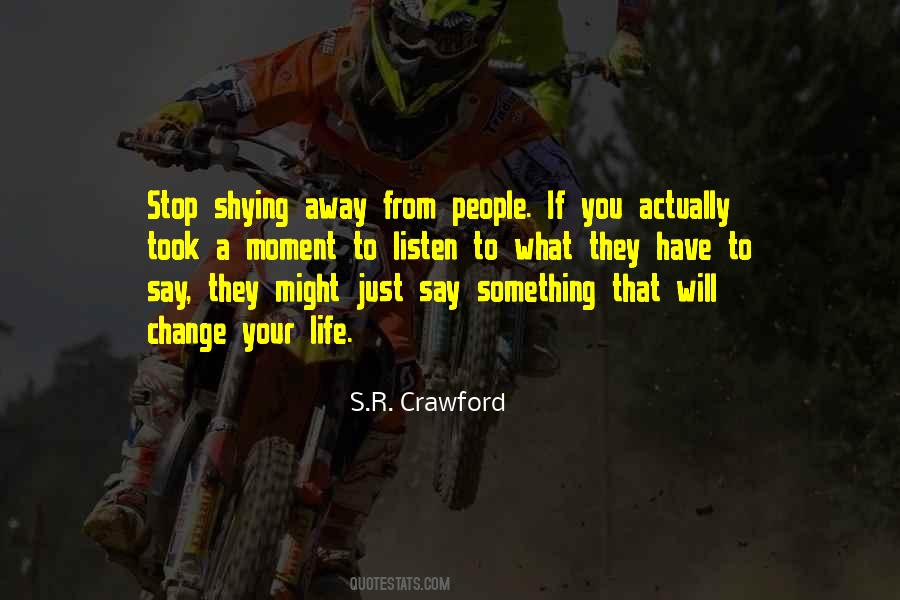 #29. Are you having a midlife crisis?"

"You'll be having an end of life crisis if you say that again," he threatened. - Author: Nicole Castle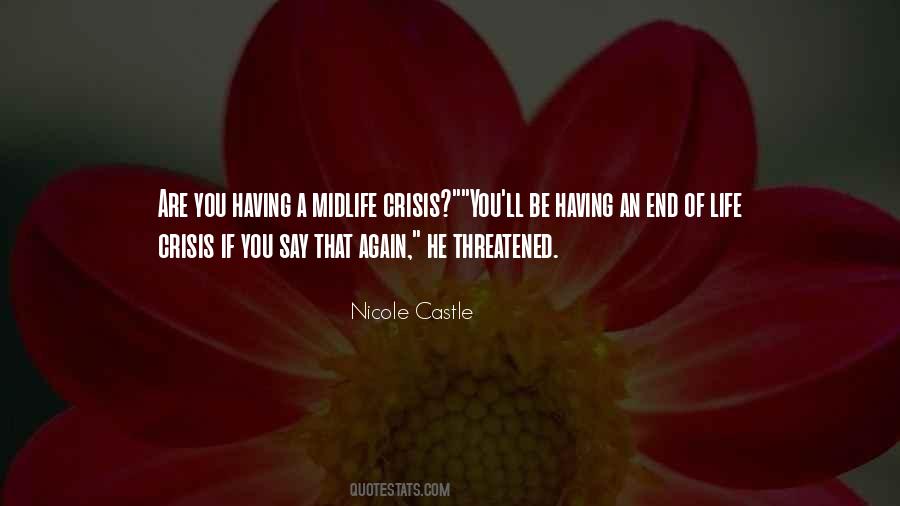 #30. Women only cut their hair in times of crisis ... It's somethin' a woman always has the power to do, even when she loses control over everything else. Cuttin' hair is a cry for help. - Author: Bella Pollen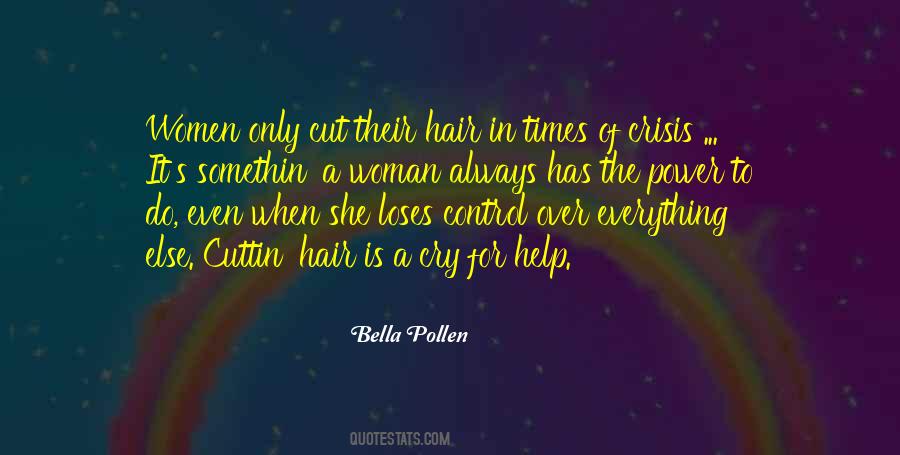 #31. Through each crisis in my life, with acceptance and hope, in a single defining moment, I finally gained the courage to do things differently. - Author: Sharon E. Rainey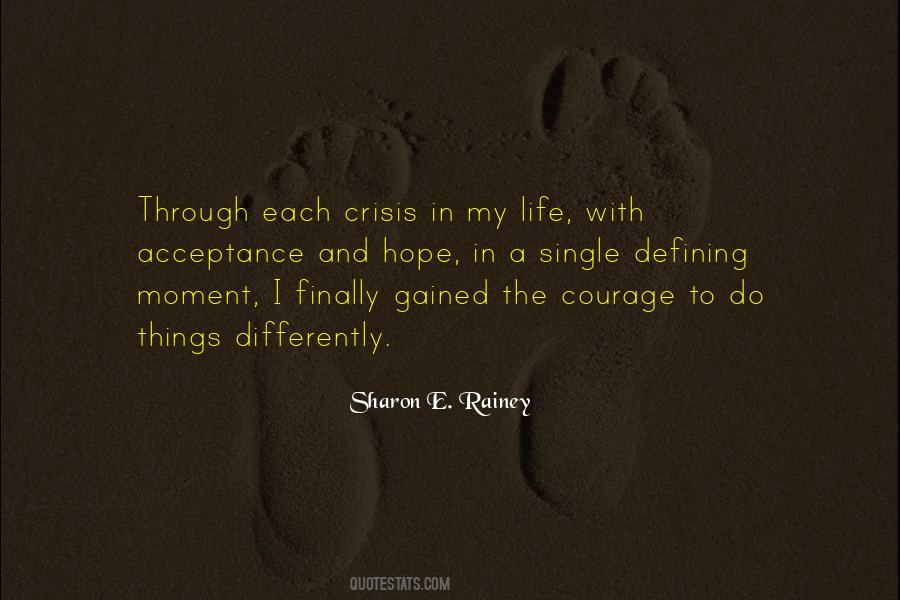 #32. Liberty is the act of making the Government Fear
what you KNOW! - Author: Faith Brashear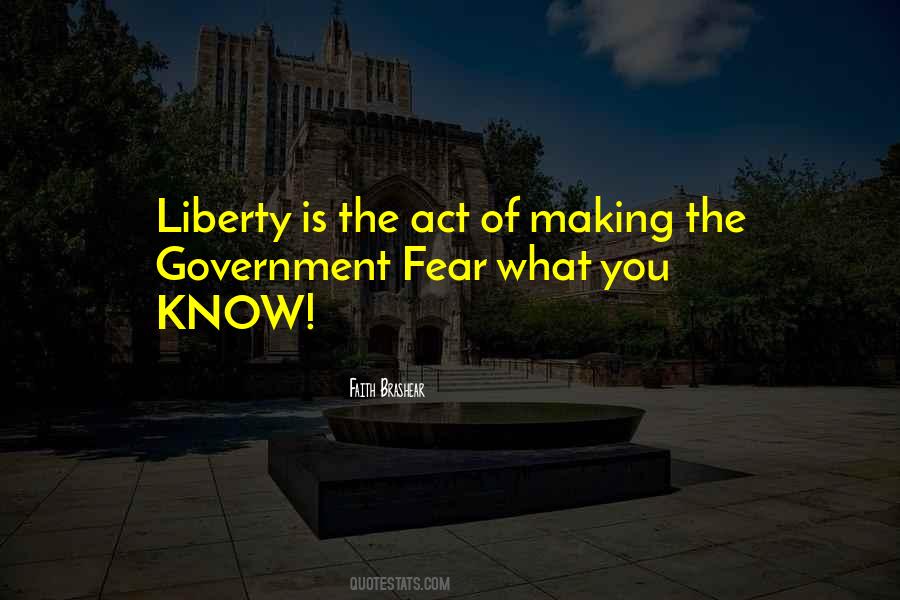 #33. Life isn't like coursework, baby. It's one damn essay crisis after another. - Author: Boris Johnson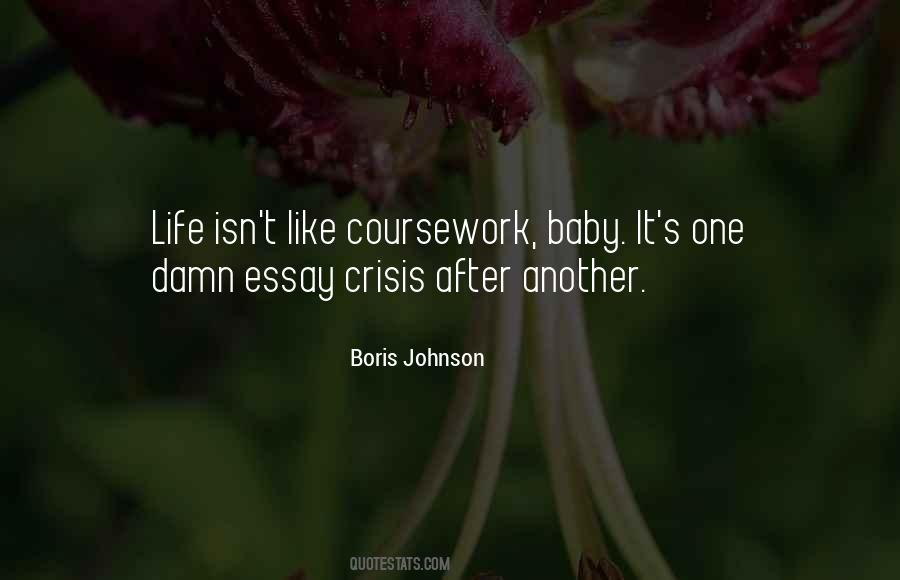 #34. The whole life of an American is passed like a game of chance, a revolutionary crisis, or a battle. - Author: Alexis De Tocqueville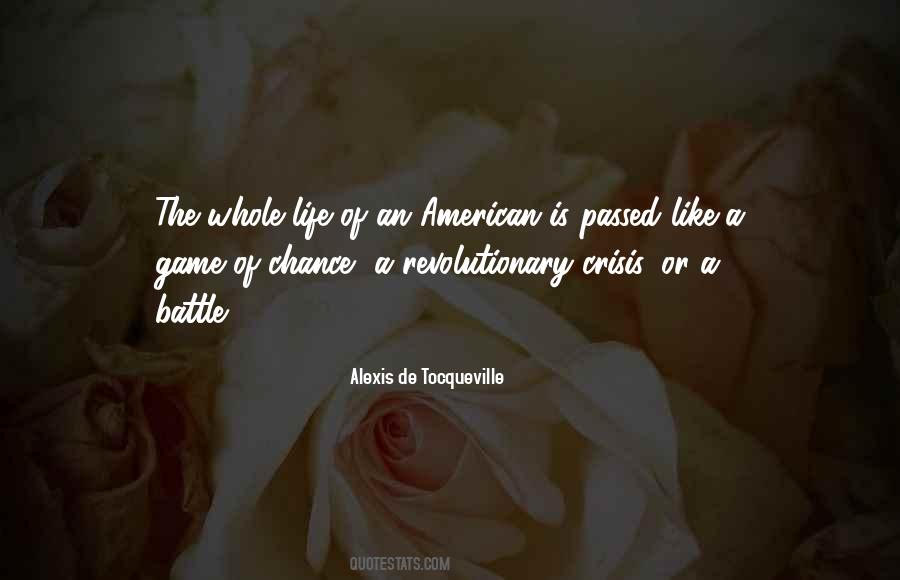 #35. Somewhere along the line, between the idealisms of youth and the realities of adulthood, we become pacified by our jobs; we tolerate how we hurt the world so that we can sustain our lives. At some point, blurred in the past, we traded the greater good for ourselves. - Author: Richard Beckham II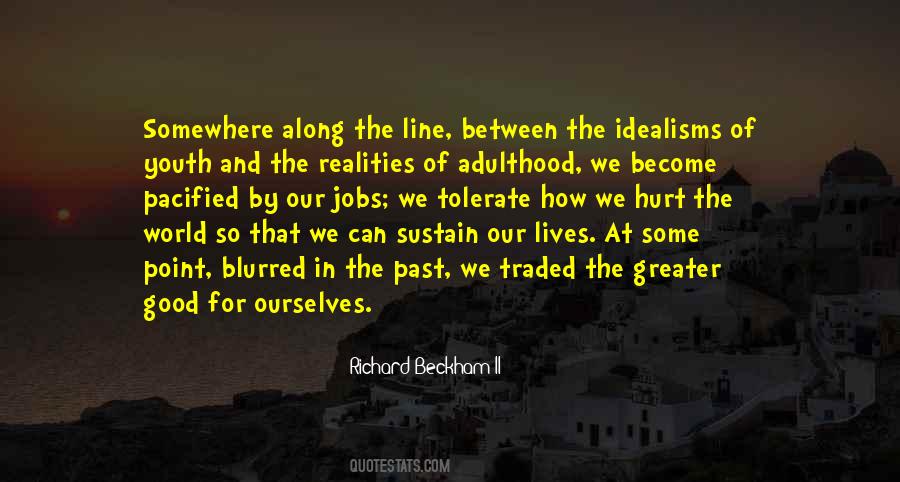 #36. You know what's truly weird about any financial crisis? We made it up. Currency, money, finance, they're all social inventions. When the sun comes up in the morning it's shining on the same physical landscape, all the atoms are in place. - Author: Bruce Sterling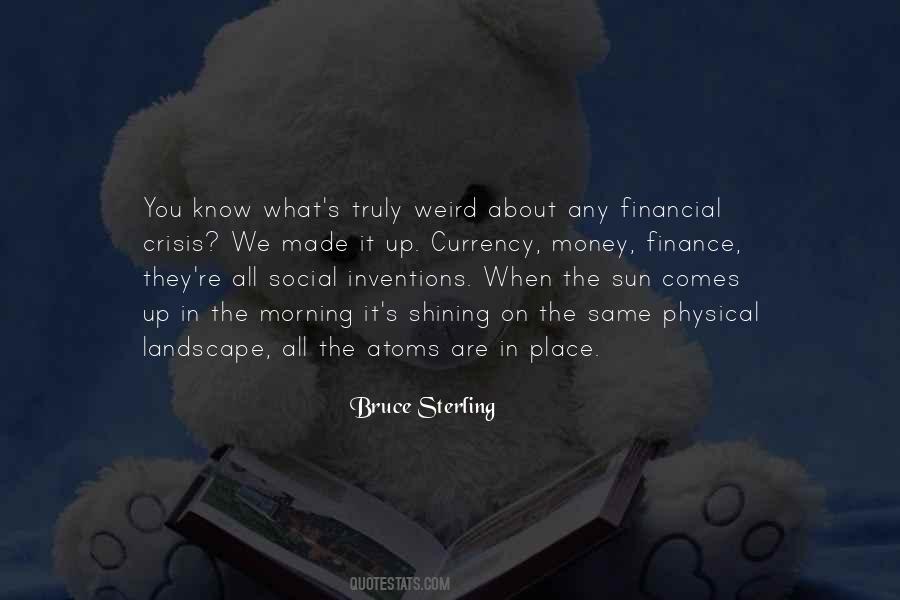 #37. It was one of the most exciting, perfect evenings of my life, my solo debut at Carnegie Hall. And knowing we were all there to raise money for Gay Men's Health Crisis made the evening an extraordinary experience. - Author: Bernadette Peters
#38. I totally relate to Tom Cruise. He's not crazy, it's just the litany of the mid-life crisis. - Author: Bret Easton Ellis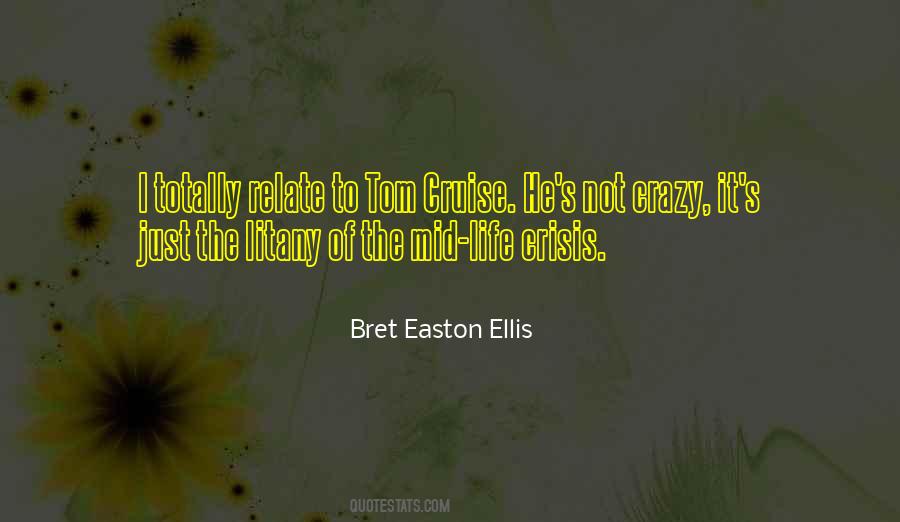 #39. It's bad timing, but a lot of kids become teenagers just as their parents are hitting their mid-life crisis. So everybody's miserable and confused and seeking that new sense of identity. - Author: Laurie Halse Anderson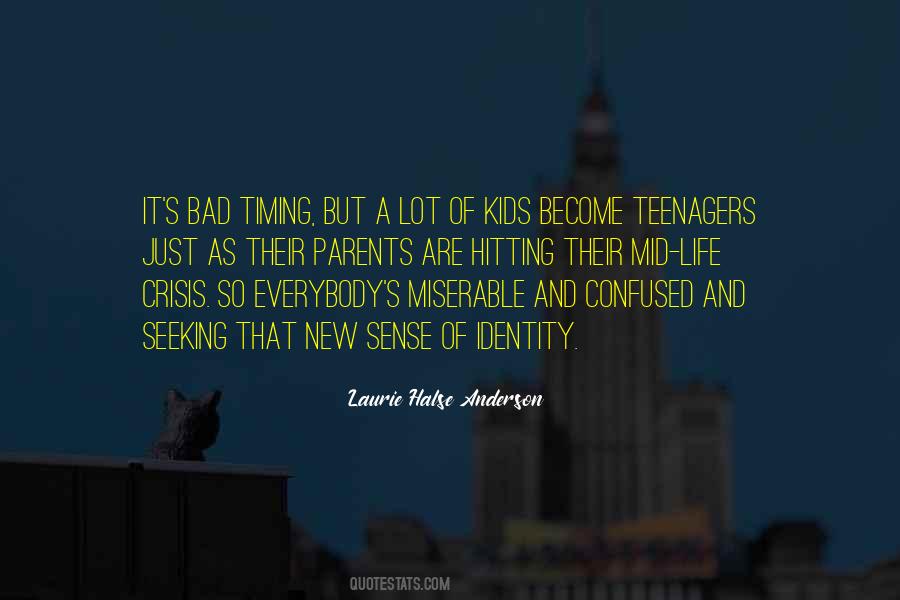 #40. The follies that produced the loss of American virtue following Vietnam begin with continuous overreacting, in the invention of endangered national security, the invention of vital interest, the invention of a commitment which rapidly assumed a life of its own . - Author: Barbara W. Tuchman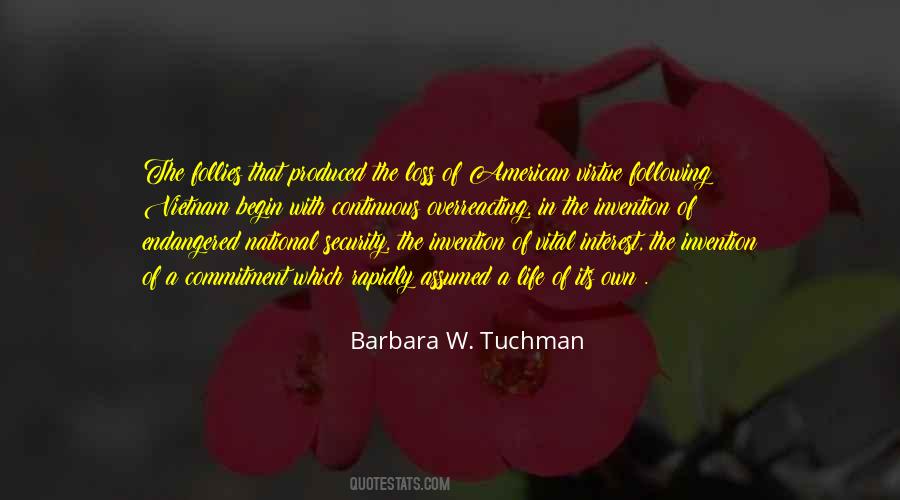 #41. As I approach mid-life, I feel like the old boot that lands on Mayfair after an eight-hour game of Monopoly. - Author: Fennel Hudson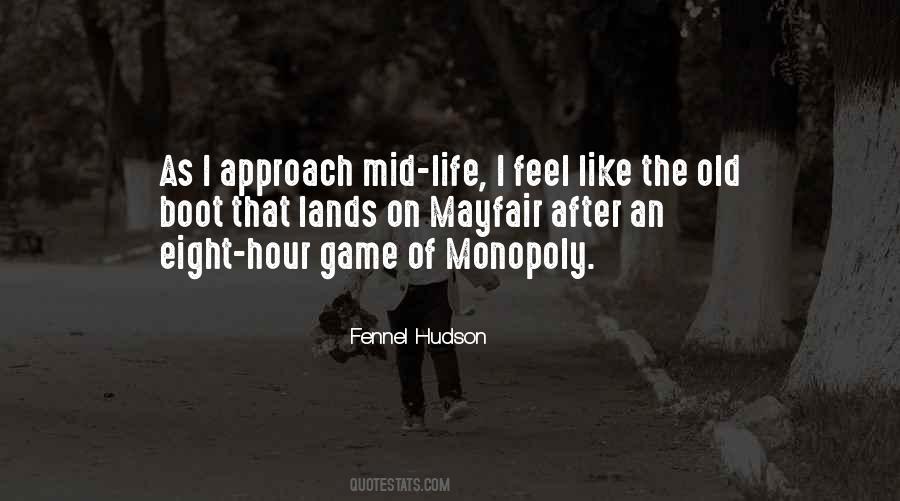 #42. IT TAKES A LOT OF LIFE EXPERIENCE TO SEE WHY SOME RELATIONSHIPS LAST AND OTHERS DO NOT. BUT WE DO NOT HAVE TO WAIT FOR A CRISIS TO GET AN IDEA OF A PARTICULAR RELATIONSHIP. OUR BEHAVIOR IN LITTLE EVERYDAY INCIDENTS TELLS US A GREAT DEAL. - Eknath Easwaran - Author: Jack Canfield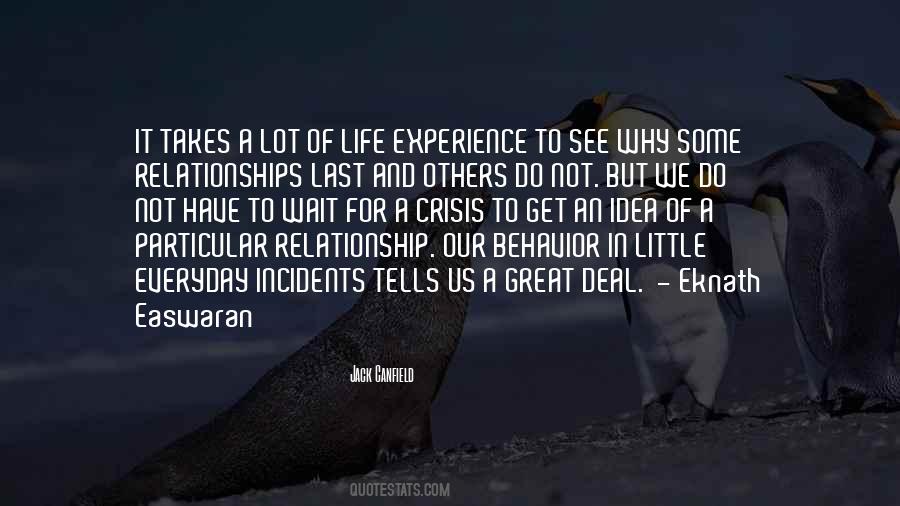 #43. Our free will could convert a curse into a blessing or a blessing into a curse ... To transform a crisis into an opportunity was true wisdom - Author: Radhanath Swami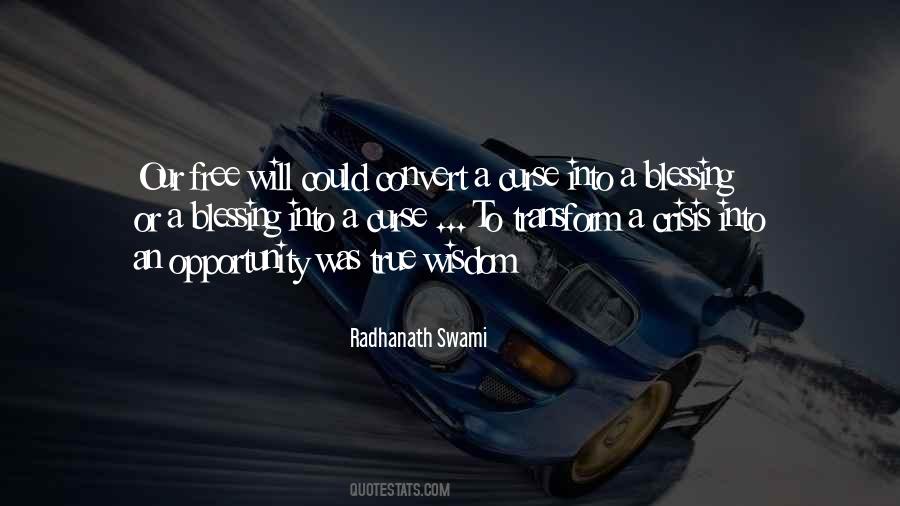 #44. I don't tell her that my grasp on truth, on words, on people, has slipped. I was getting close, so close to normal again, and that's been snatched away. I'm not even back where I started. I'm somewhere else entirely, so far off the map I don't know where to turn next. - Author: Daisy Whitney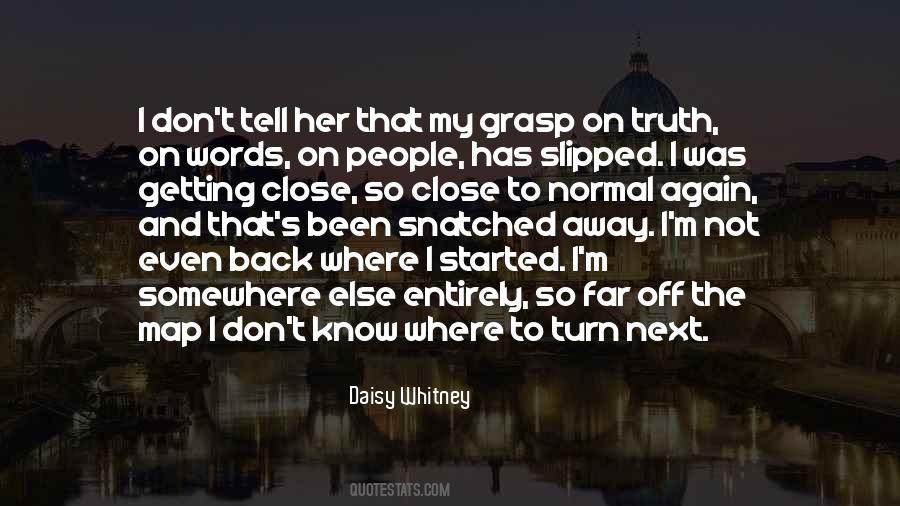 #45. I ran for Congress not because I was having a mid-life crisis. I left the private sector because I saw a looming financial crisis that was coming to this country. It's unsustainable. - Author: Steve Daines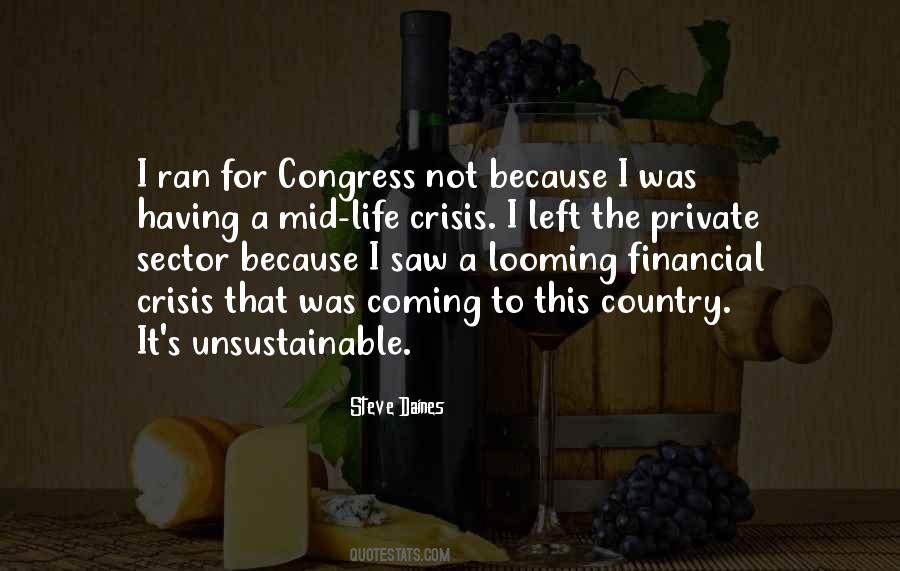 #46. I never wanted to end it ... Everything just fell apart. The happiest time of my life turned out to be in my moment of crisis. - Author: Yuuki Obata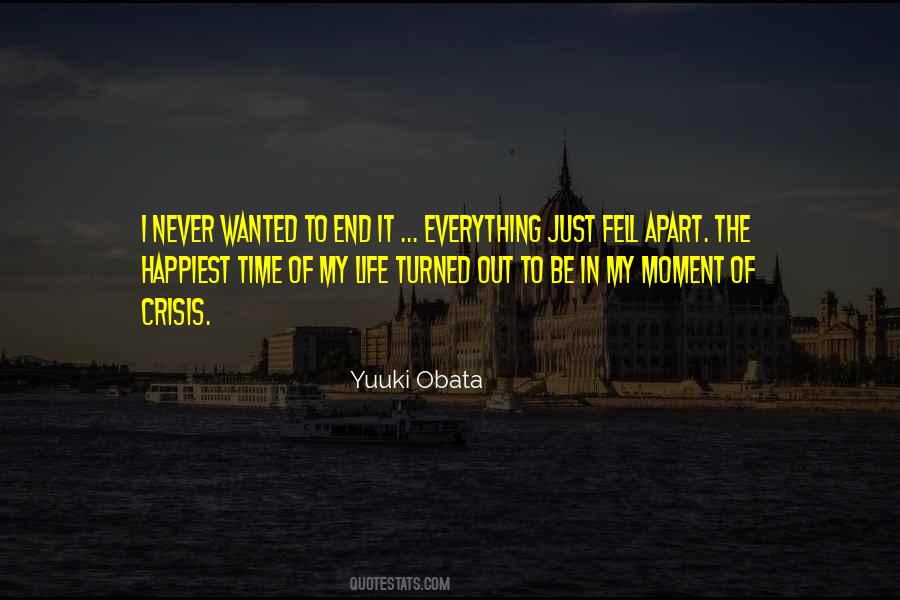 #47. Screw the mid-life crisis
Go have a mid-life spa day
A mid-life quickie
A midlife tiramisu
But whatever you do
DON'T give in to mid-life blues! - Author: Sanjo Jendayi
#48. The healthy life is hardly one marked by an absence of crises. In fact, an individual's psychological health is distinguished by how early he or she can meet crisis. - Author: Bill Vaughan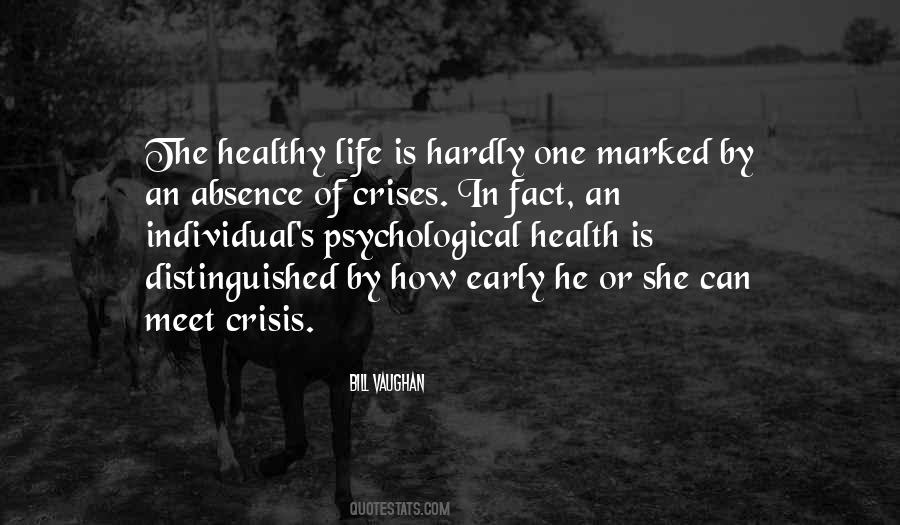 #49. In times of life crisis, whether wild fires or smoldering stress, the first thing I do is go back to basics ... am I eating right, am I getting enough sleep, am I getting some physical and mental exercise everyday. - Author: Edward Albert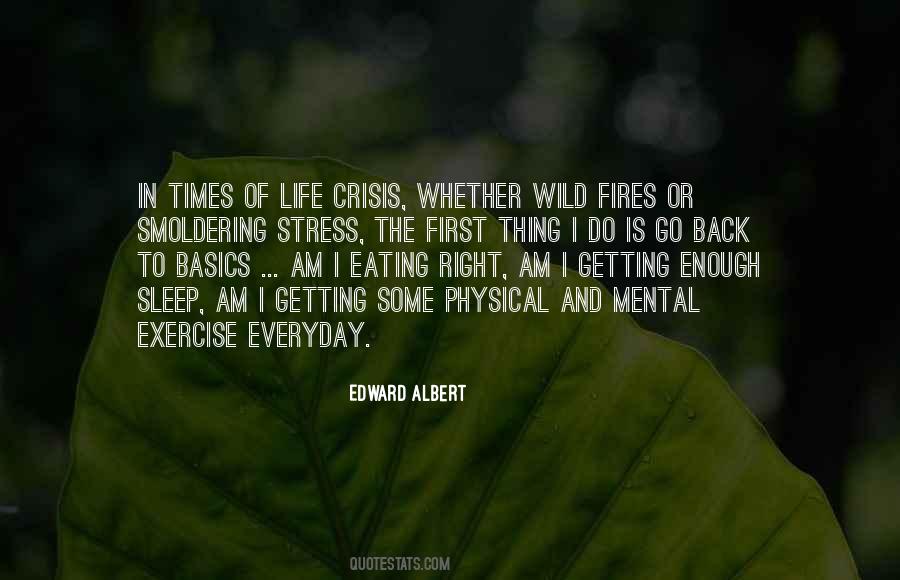 #50. Bad things happen in life, but we must learn to deal with them and move on - Author: Sid Mittra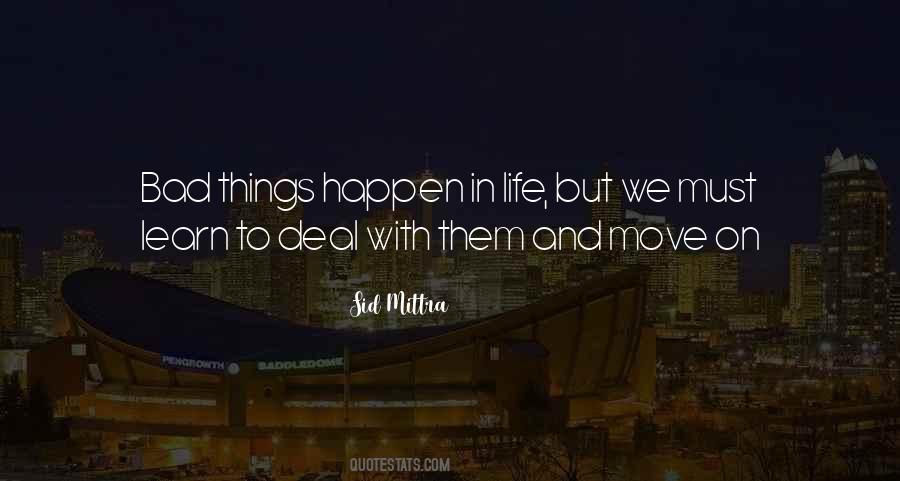 #51. Your folks are like God because you want to know they're out there and you want them to approve of your life, still you only call them when you're in crisis and need something. - Author: Chuck Palahniuk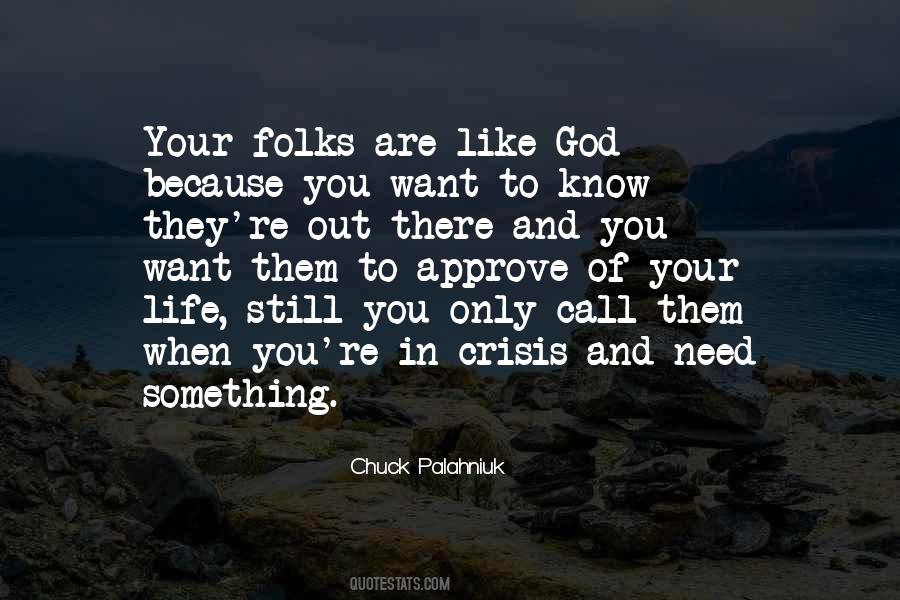 #52. I had a moment a few years ago where I wasn't sure if I was acting for myself or because people expected it of me. A bit of a crisis of faith, I suppose. I did some soul-searching, took a break and decided I was going to live my life only for me. - Author: Adelaide Kane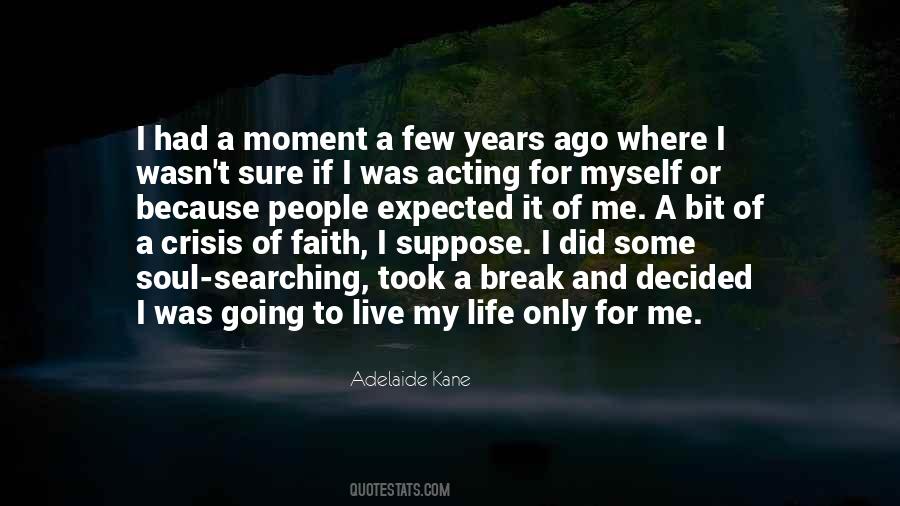 #53. The routine of life goes on, whatever happens, we do the same things, go through the little performance of eating, sleeping, washing. No crisis can break through the crust of habit. - Author: Daphne Du Maurier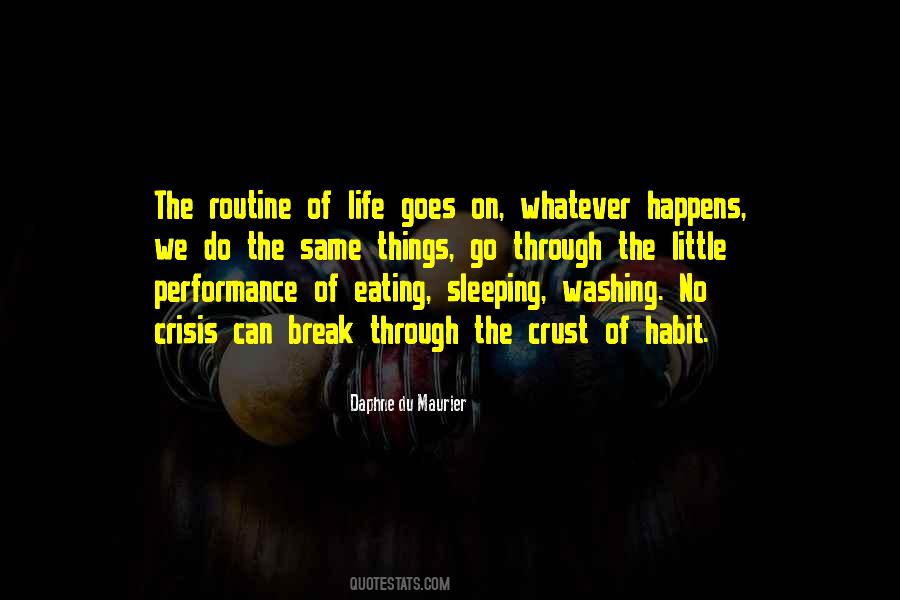 #54. The crisis of our time is essentially a religious crisis. It is a matter of life or death. - Author: Arthur Adamov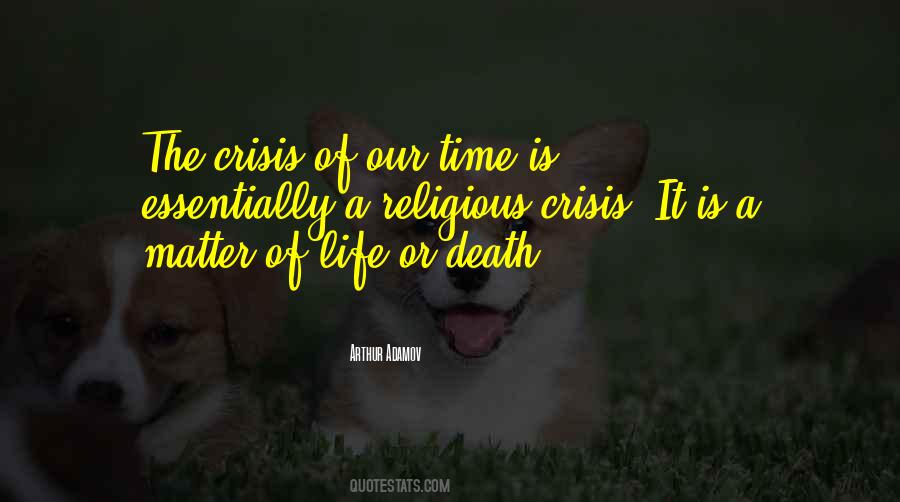 #55. The birth of crisis is a birth of opportunity to change yourself, to rise on the top,to become more powerful and more knowledgeable. - Author: Arya Vidhan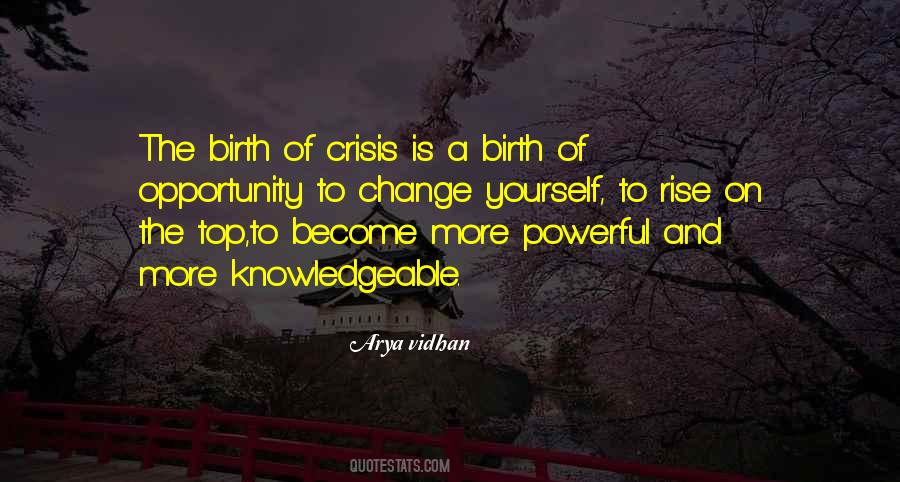 #56. For the briefest moment, Jack's face formed the faintest smile as he considered fear and anxiety, the latter two of which often caused people to forget what truly mattered most. - Author: Jermaine Watkins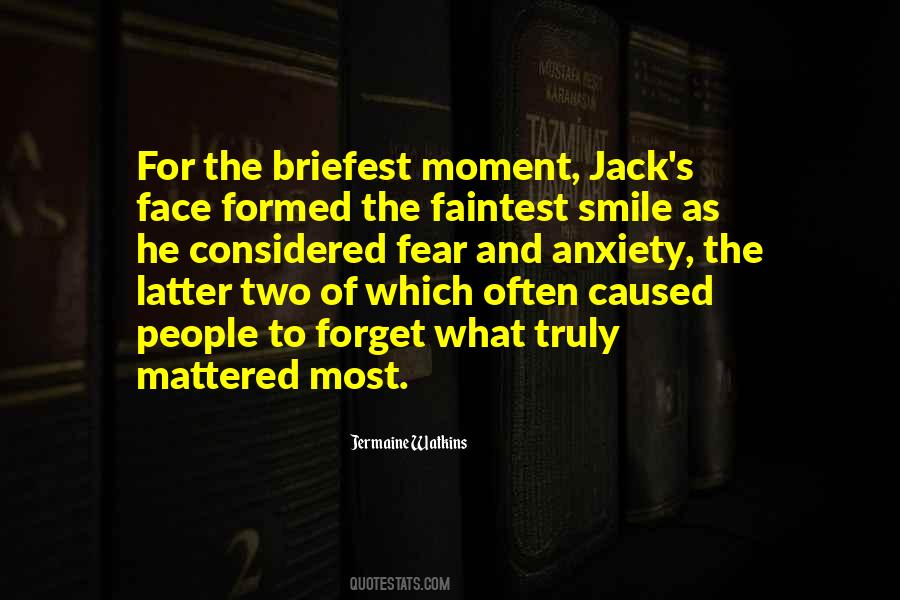 #57. I finished up my graduate degree in quantum mechanics, but underwent a bit of a personal crisis, recognizing that I didn't want to do that for the rest of my life. It was too abstract, too far removed from human concerns. - Author: Francis Collins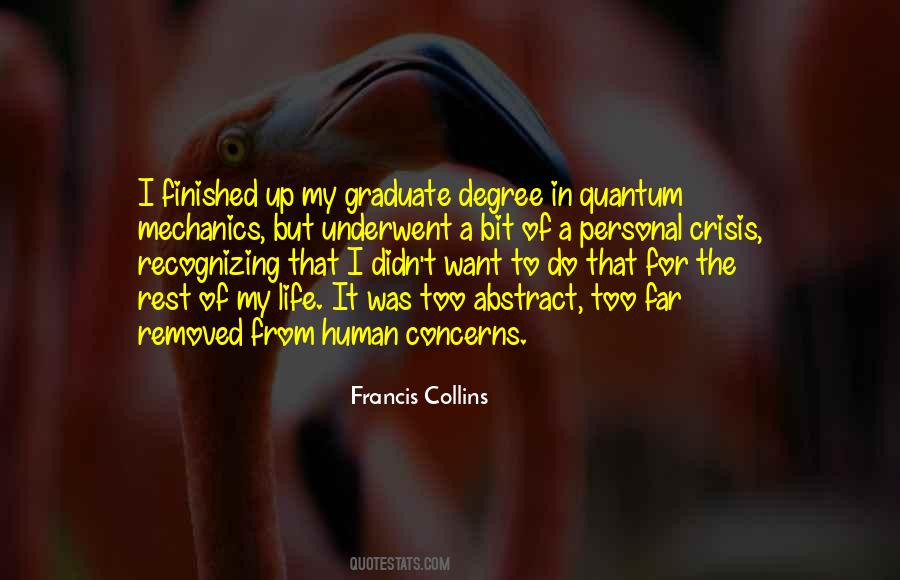 #58. It was hard to have a good crisis when real life kept asking to be lived. - Author: Charlaine Harris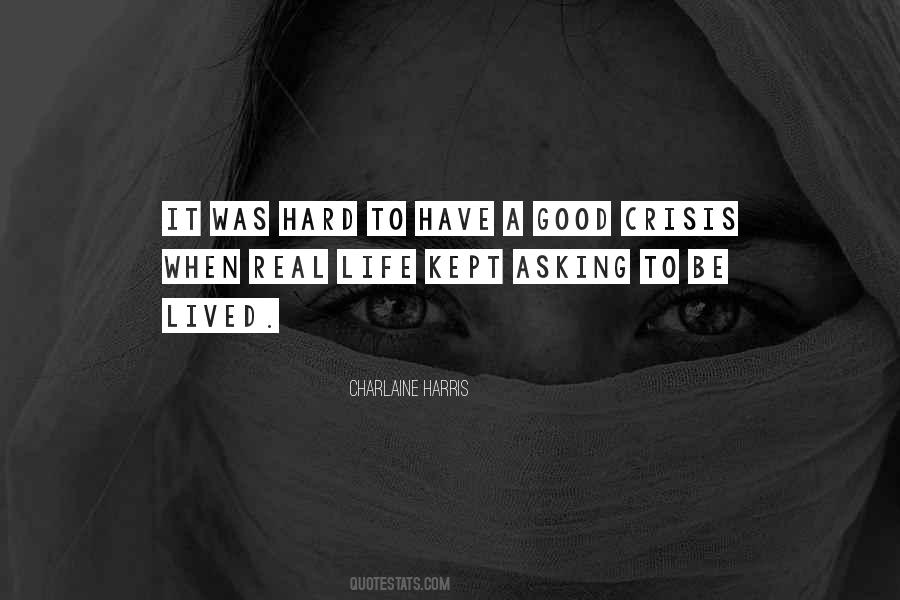 #59. The solution [to a crisis pregnancy] is not to kill the innocent baby but to deal with the mother's values and her attitudes toward life. - Author: Jesse Jackson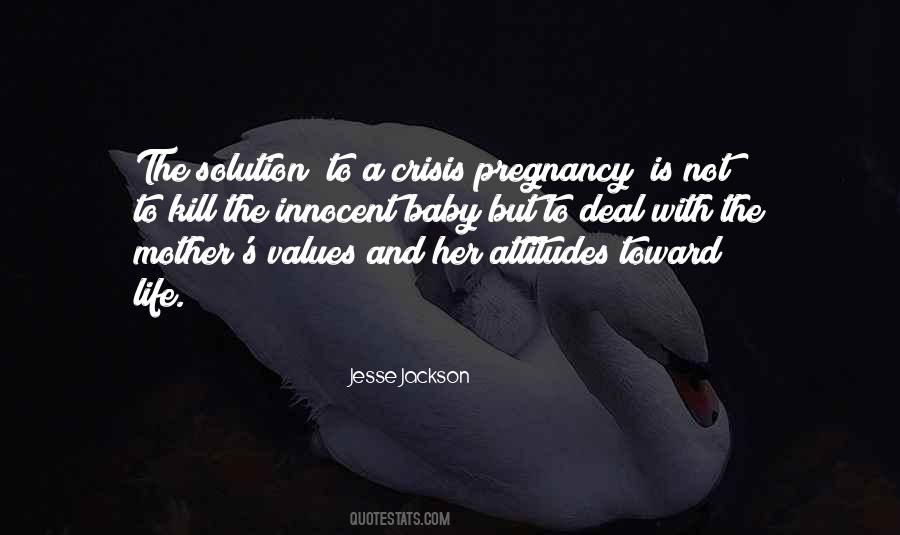 #60. The mid-life crisis hits men harder than women. - Author: Sonia Johnson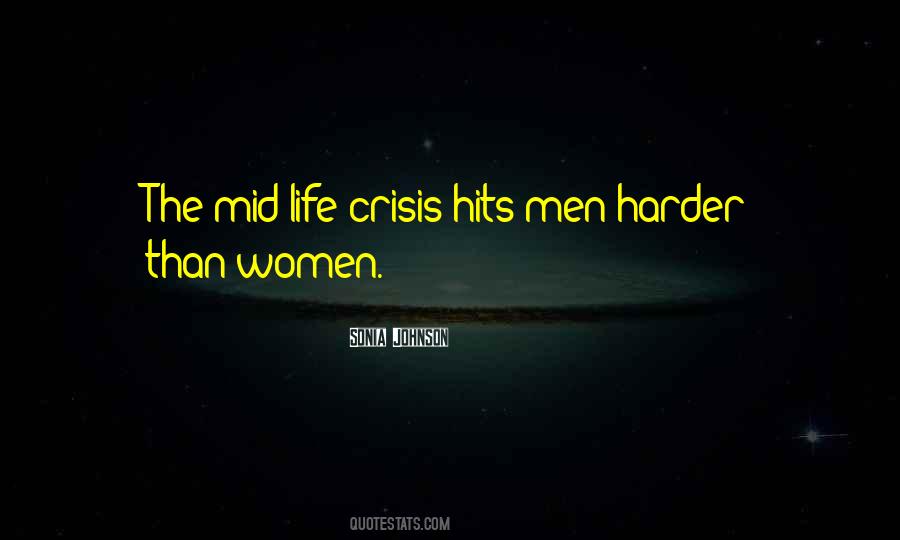 #61. I want to assure your excellency that I am occupying myself permanently and jointly with my team to achieve a solution as soon as possible to this crisis, the principal objective being the safeguarding of the health and life of those who are inside. - Author: Alberto Fujimori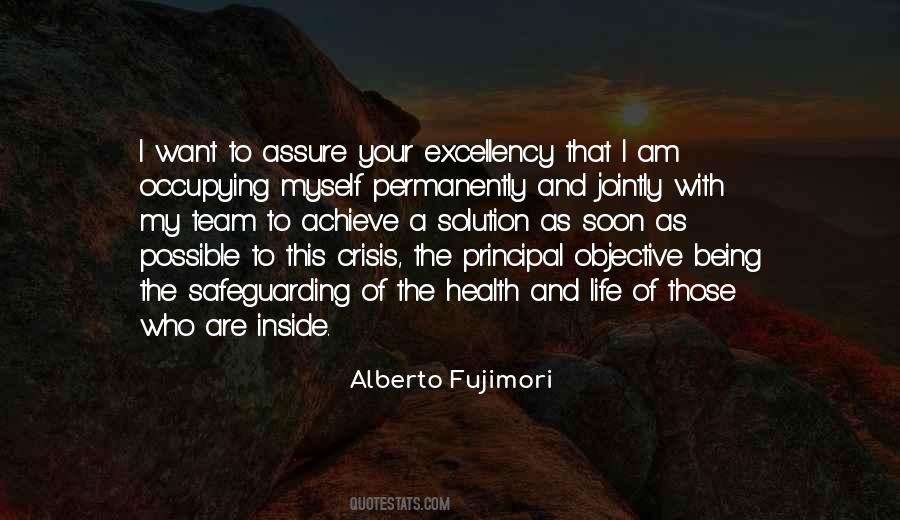 #62. A society living by the laws of the world is moving towards a global crisis in all its spheres of life. - Author: Sunday Adelaja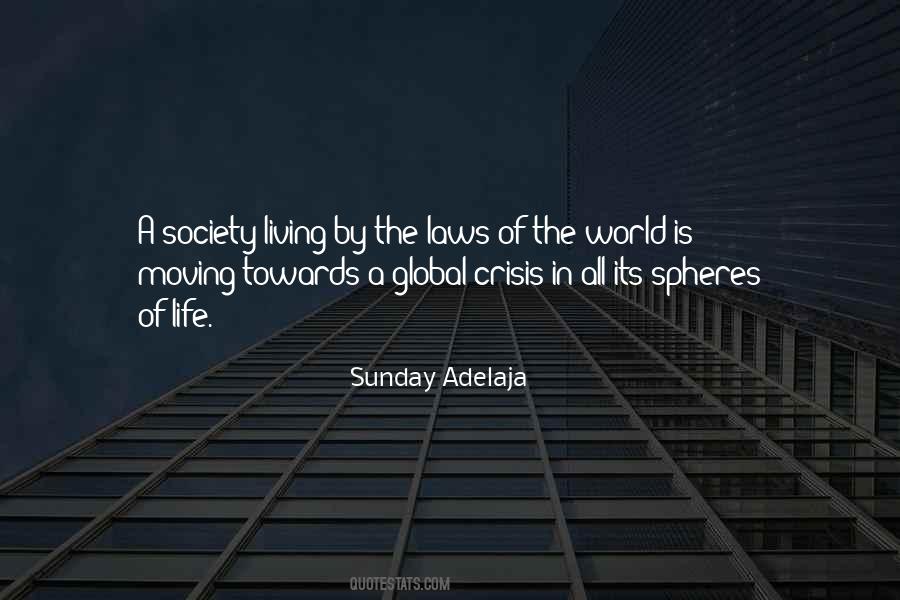 #63. A series of disconcerting questions nibbles at hearts of troubled youths. These same unanswered questions, along with their acerbic toxins, reveal their pungent fumes more frequently and with greater intensity as a person rushes headfirst into life's concrete jungle. - Author: Kilroy J. Oldster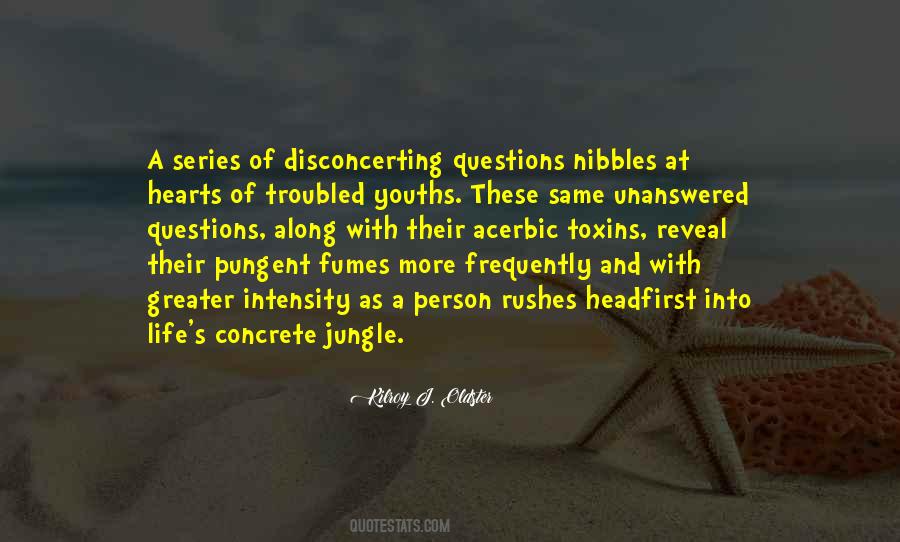 #64. The ultimate goal of those who blame workers for Wall Street's economic crisis is to unravel the fabric of our common life in pursuit of greed and power. - Author: Richard Trumka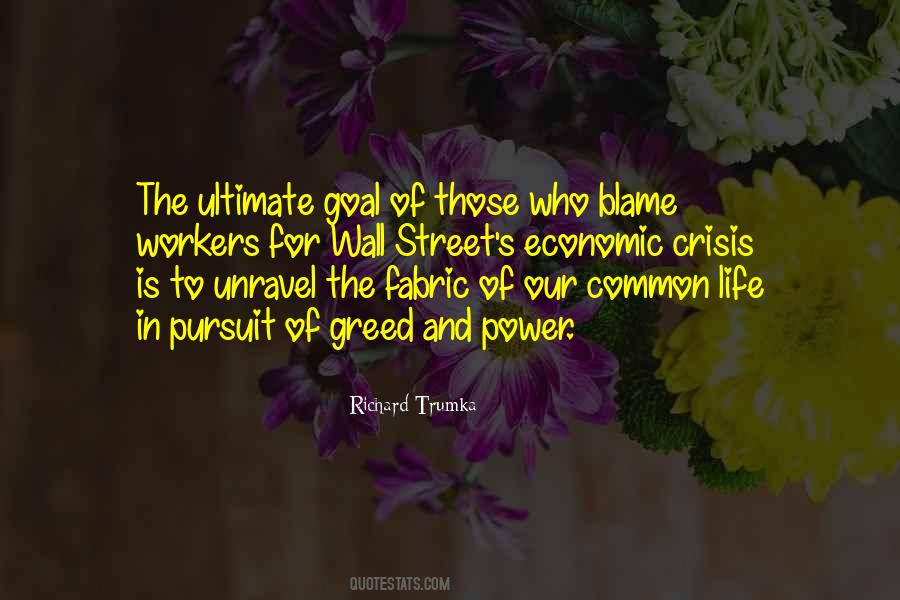 #65. See, what you're meant to do when you have a mid-life crisis is buy a fast car, aren't you? Well, I've always had fast cars. It's not that. It's the fear that you're past your best. It's the fear that the stuff you've done in the past is your best work. - Author: Robbie Coltrane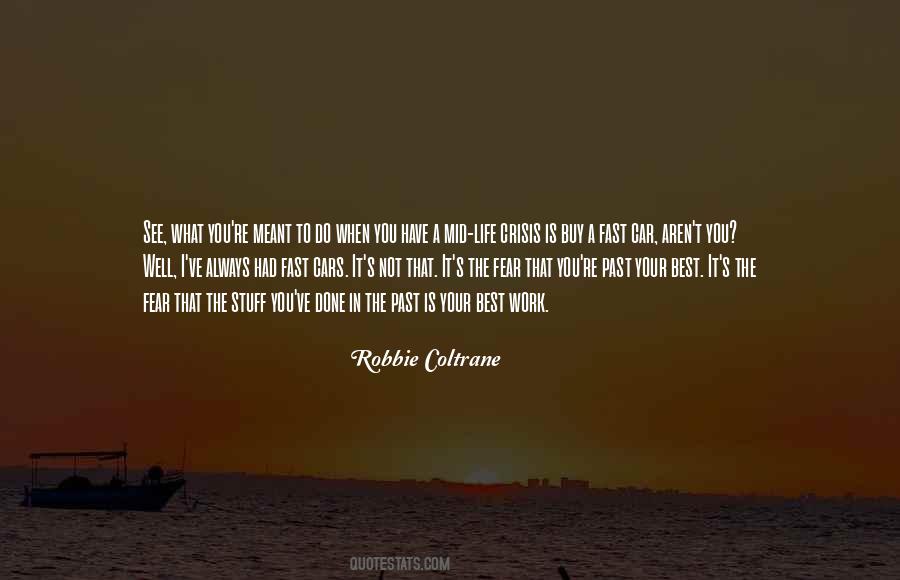 #66. I knew Chloe LOVED to read, but I was in the middle of a MAJOR life crisis! For once, couldn't she just try focusing on ME instead of her stupid book characters?! Then - Author: Rachel Renee Russell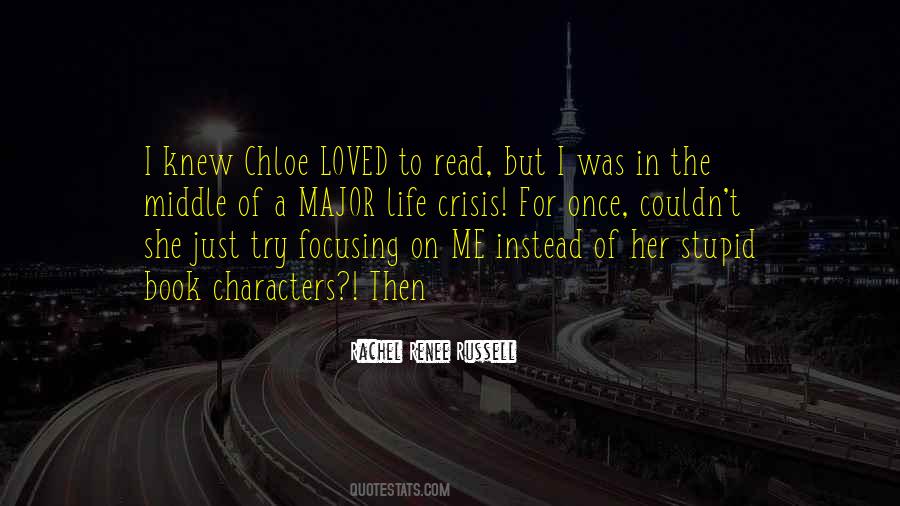 #67. Though it doesn't feel like it, crisis places us front and center of desire, which is the force of power. - Author: S. Kelley Harrell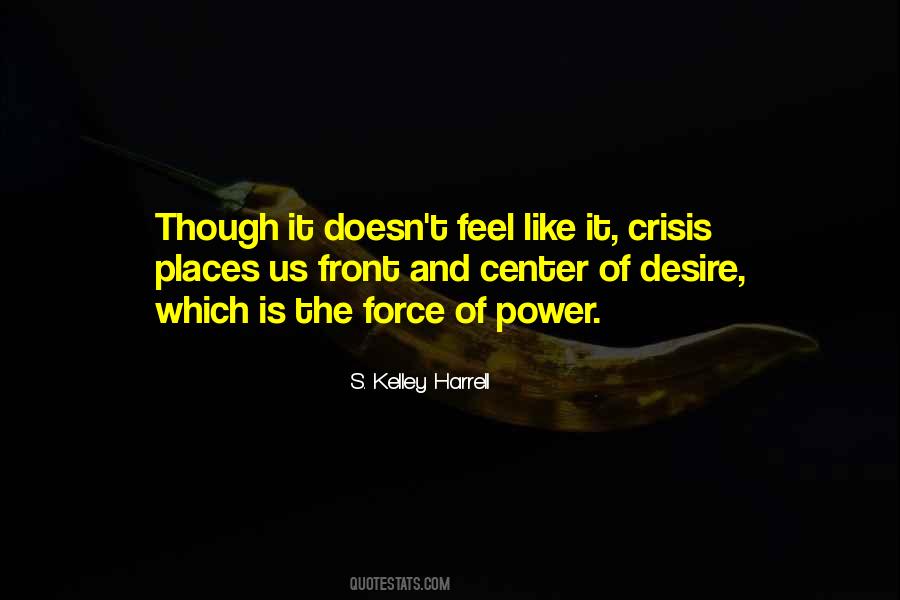 #68. I had moved back to Kenya after undergrad, and I went through this crisis of, 'What is my life going to be about?' - Author: Lupita Nyong'o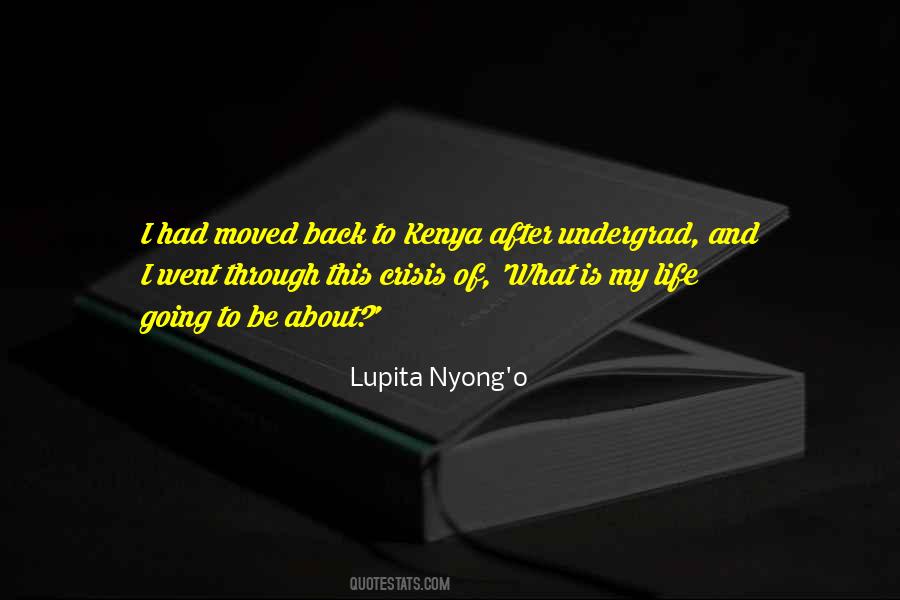 #69. Narratives are the primary way in which we make sense of our lives, as opposed to, for example schema,cognition, beliefs, constructs. Definition of narrative include the important element of giving meaning to events and experiences over time by connecting them as a developing, continuing story. - Author: Jacqui Stedmon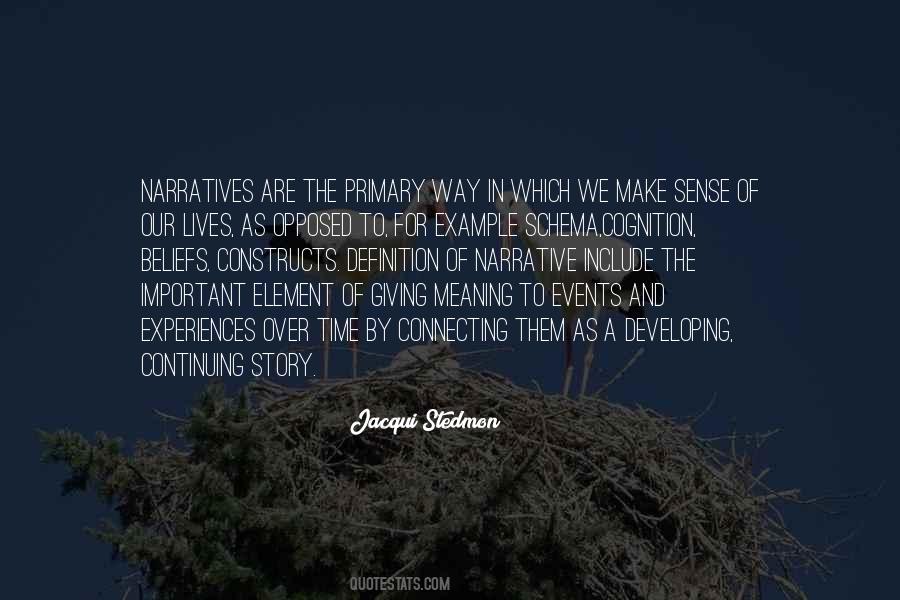 #70. Marriage is the real vocation crisis in the United States ... We have a vocation crisis to life-long, life-giving, loving, faithful marriage. If we take care of that one, we'll have all the priests and nuns we'll need for the Church. - Author: Timothy M. Dolan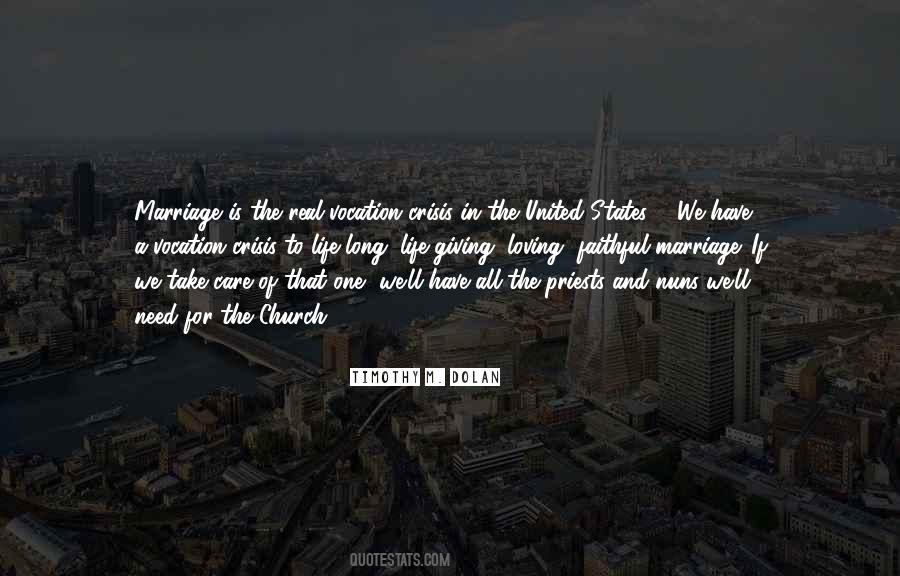 #71. Everyone I meet now is at least ten years younger than me. I feel like Rip van Winkle with a bald spot. - Author: Jaffe Cohen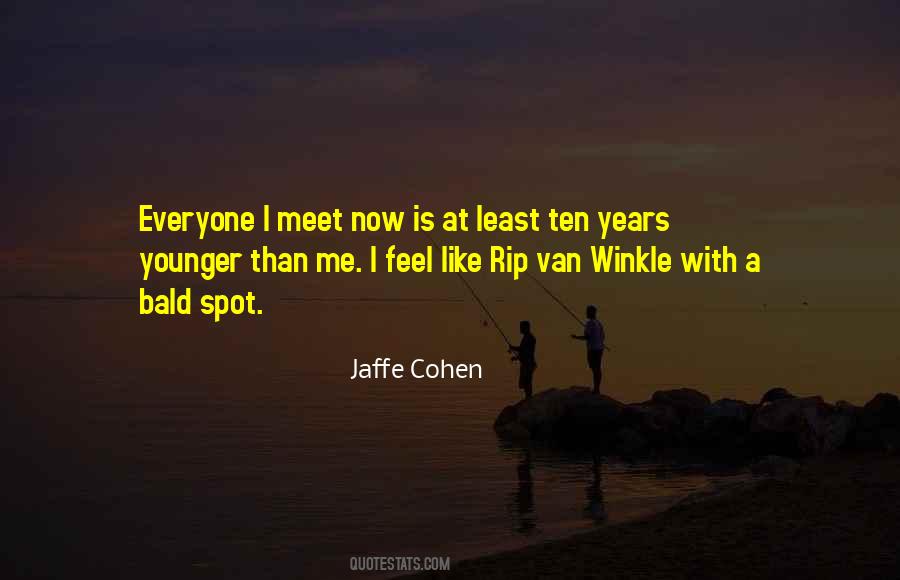 #72. The mid-life crisis is just those times when you're not so into the things you were when you were younger. - Author: Jay Kay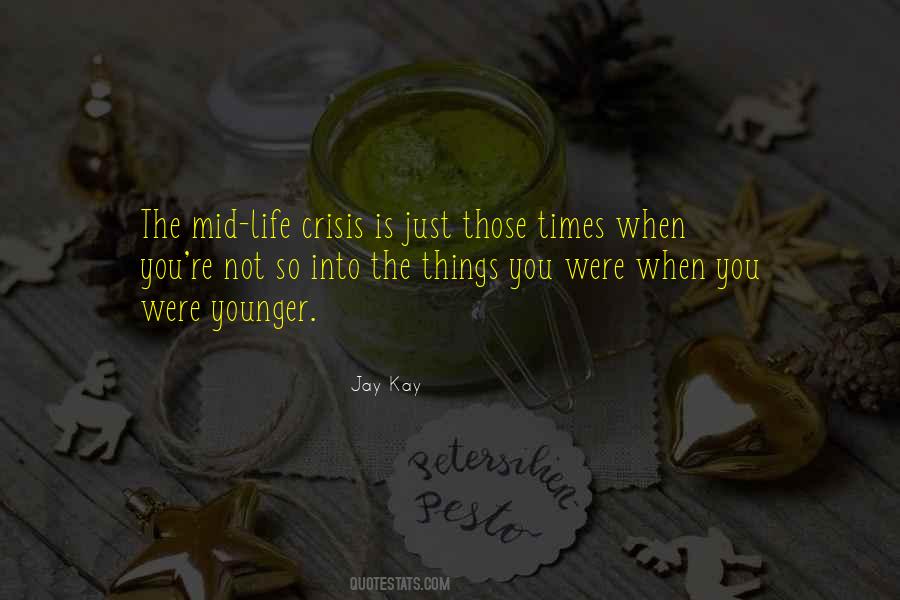 #73. Evangelicals have been distinctive in featuring the crisis conversion. But what is essential to Christianity is the whole life committed to God, from the beginning of faith until death. - Author: Mark A. Noll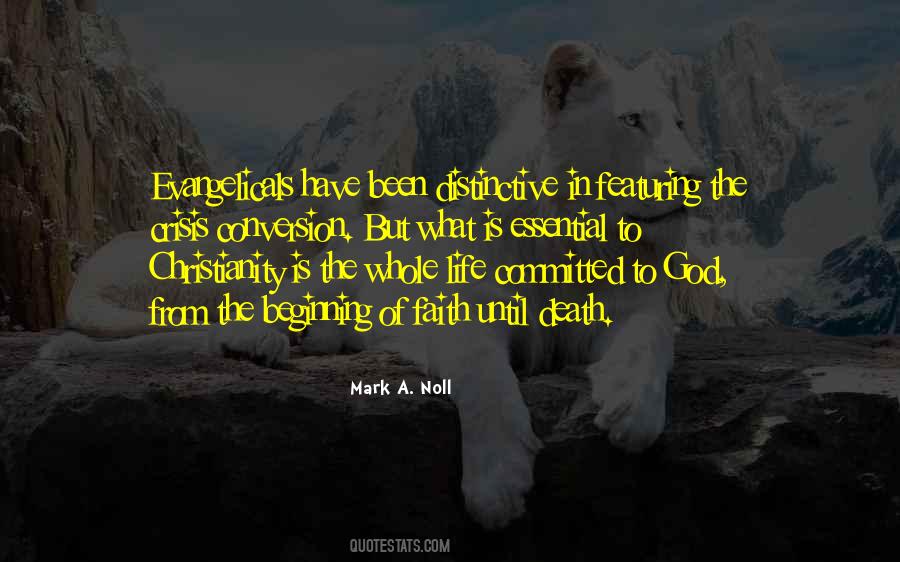 #74. The jobs crisis has reached a boiling point, which is why we see Occupy Wall Street protestors crying out for an America that lets all of us reach for the American Dream again - a dream that says if you work hard and play by the rules, you can have a good life and retire with dignity. - Author: John Garamendi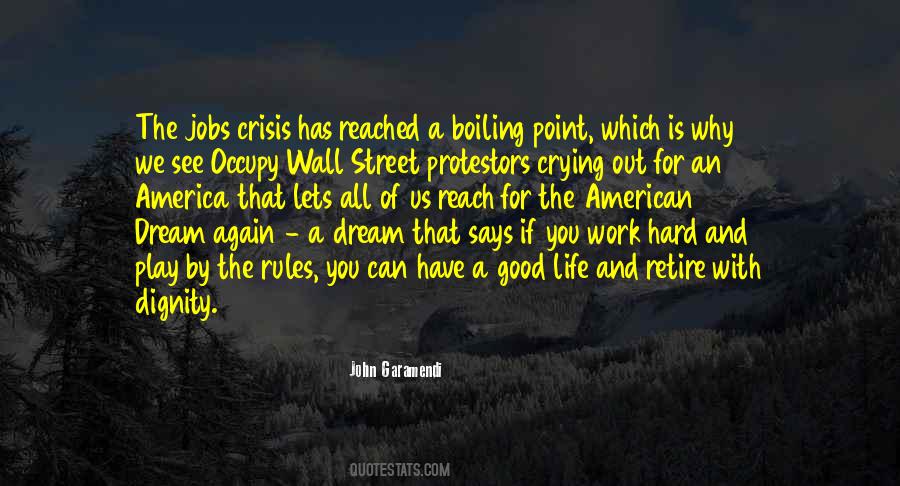 #75. A person experiences anxiety when they realize their insignificance in the cosmic field, which present state of angst can exacerbated by other confusing life questions. - Author: Kilroy J. Oldster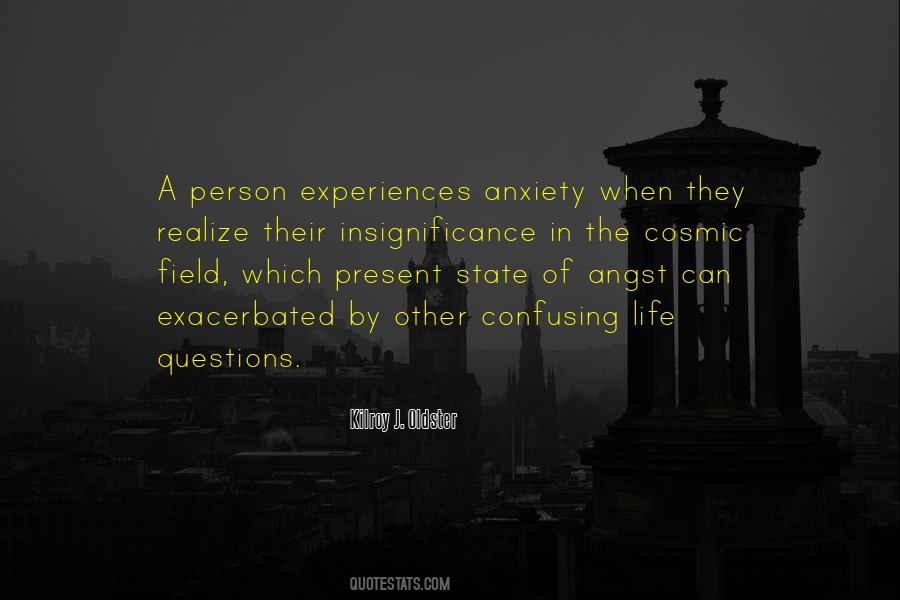 #76. Think about the books that you were reading at a certain crisis in your life, what you were reading, and that's because you needed them to nourish your alma. - Author: Sandra Cisneros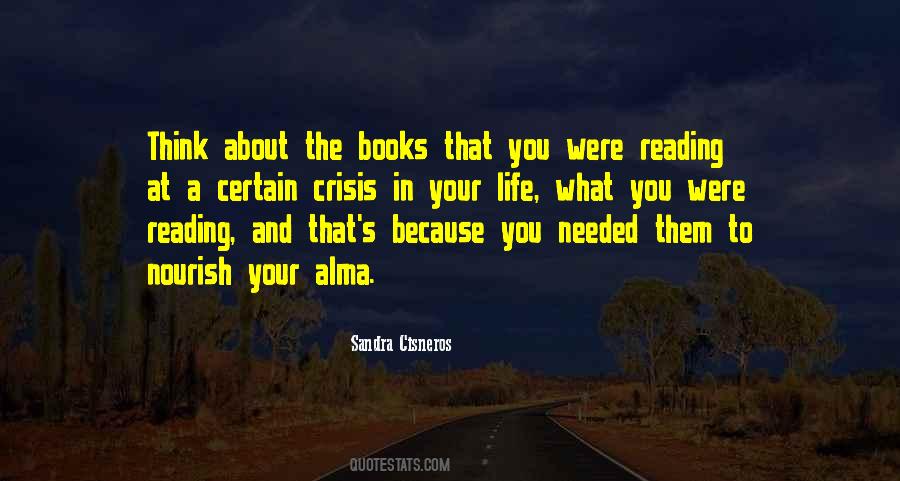 #77. Essentially I see the new atheism as largely part of the crisis of the left. Having failed to carry through its agenda in relation to political and economic life it's rounding on religion, ignoring the fact that, in some key respects, many believers are likely to share leftist aspirations. - Author: George Pattison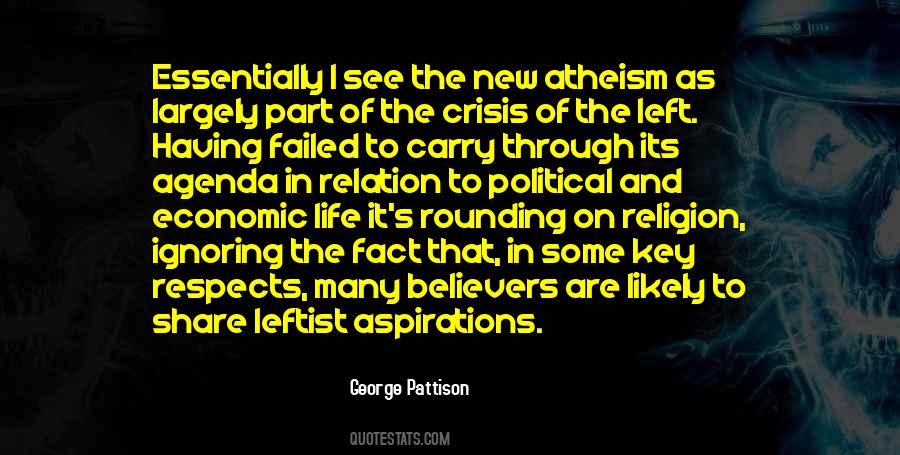 #78. Even if you do not want to, One day
you will look back through your
life ... the Question is, what are you
going to see? How will your rate and
direction of progress make you feel? - Author: Moffat Machingura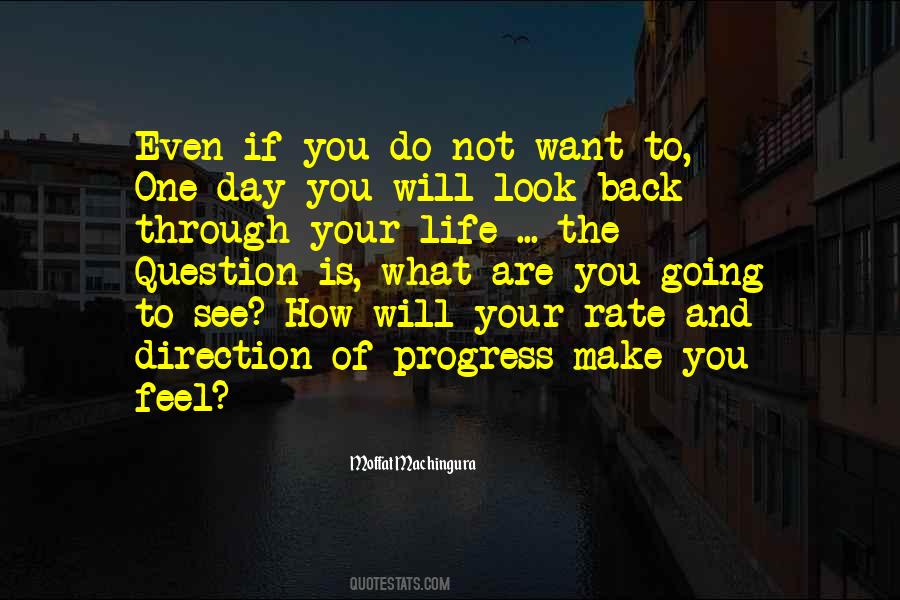 #79. There was no identity crisis in the life of Jesus Christ. He knew who He was. He knew where He had come from, and why he was here. And he knew where He was going. And when you are that liberated, then you can serve. - Author: Howard G. Hendricks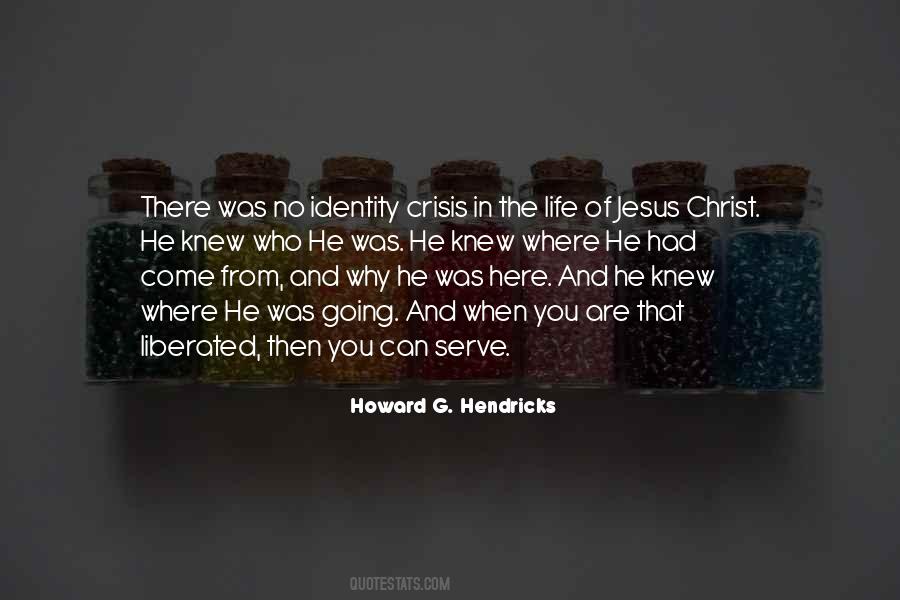 #80. Learning shamanism isn't just about acquiring techniques in how to do it, but also how to incorporate and deal with the
changes it brings to everyday life. - Author: S. Kelley Harrell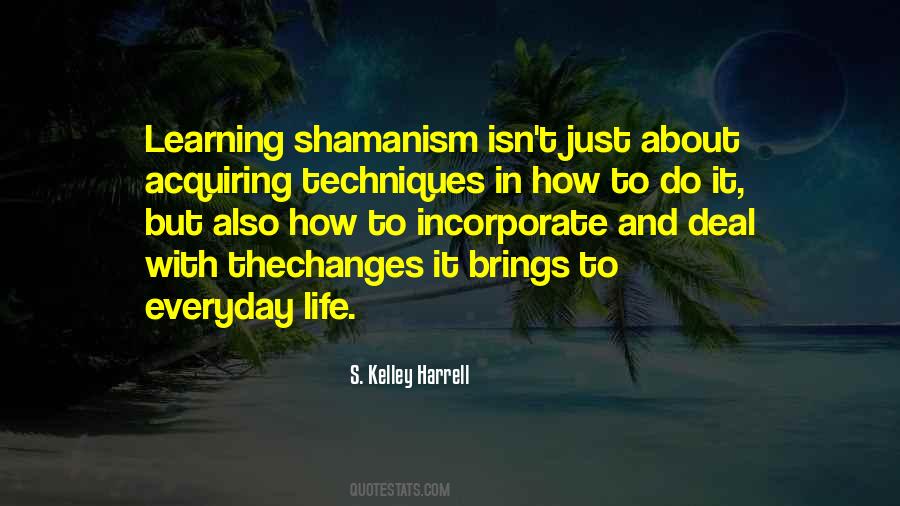 #81. Unalloyed Joy of Life has become a trademark; starting from the day, when the world economy has come to a standstill. - Author: Kristian Goldmund Aumann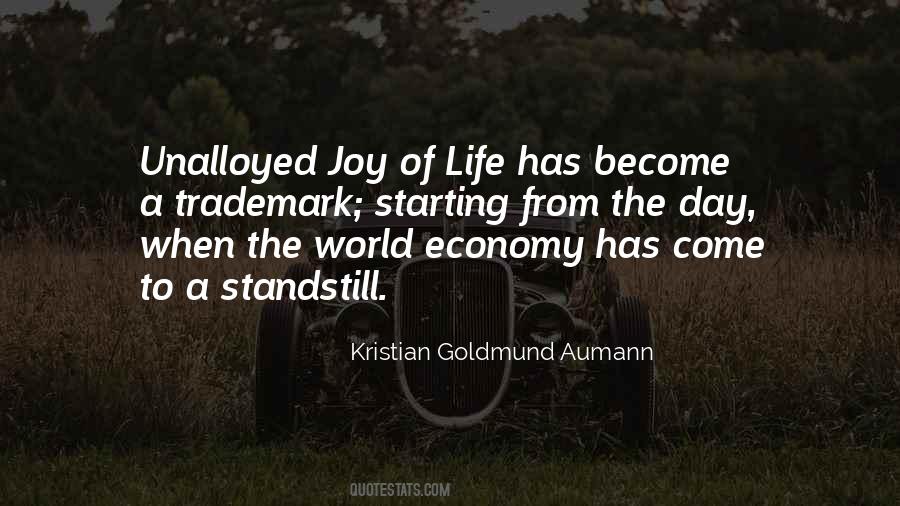 #82. The most fortunate of us all in our journey through life frequently meet with calamities and misfortunes which greatly afflict us. To fortify our minds against the attacks of these calamities and misfortunes should be one of the principal studies and endeavors of our lives. - Author: Thomas Jefferson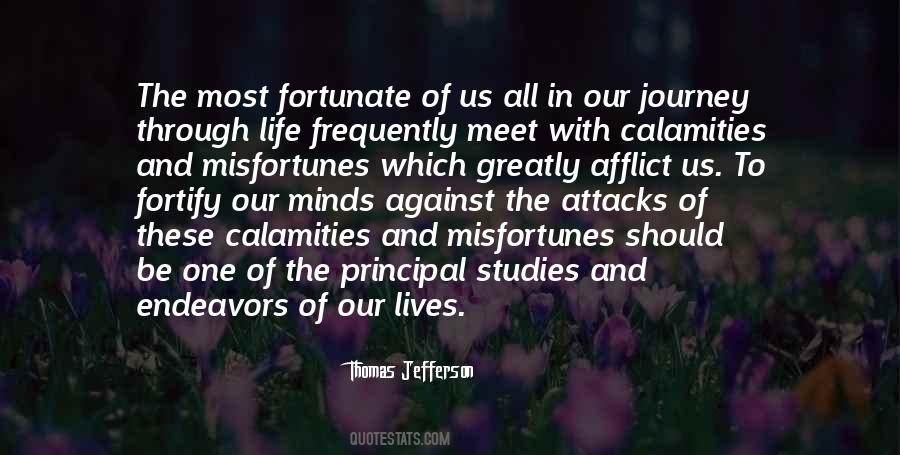 #83. The very worst events in life have that effect on a family: we always remember, more sharply than anything else, the last happy moments before everything fell apart. - Author: Fredrik Backman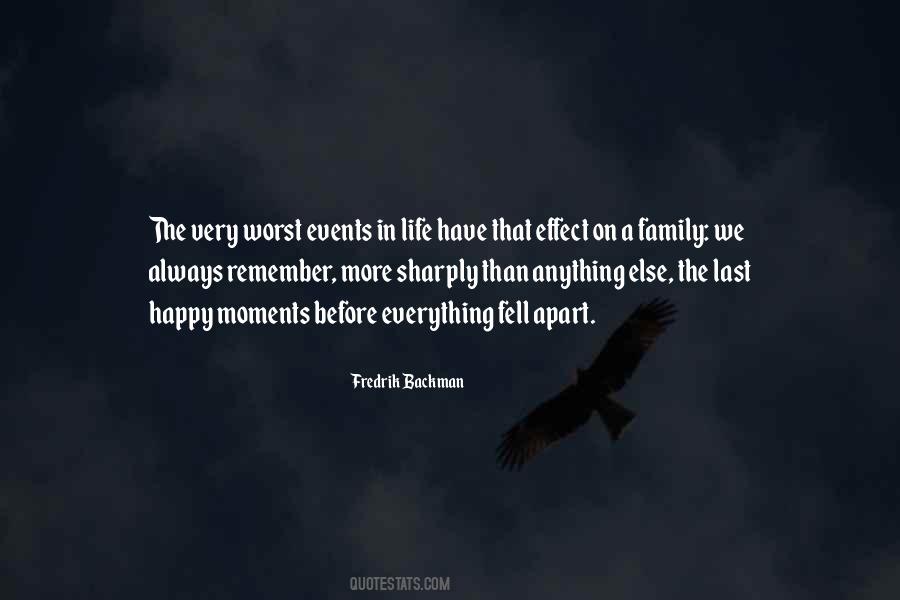 #84. Theology starts with a crisis, the very crisis of reality itself. The crisis is the fact that you live, that you have a life to live. ... The crisis is the very mystery of our existence and the yearning for there to be some kind of meaning to it. - Author: Andrew Root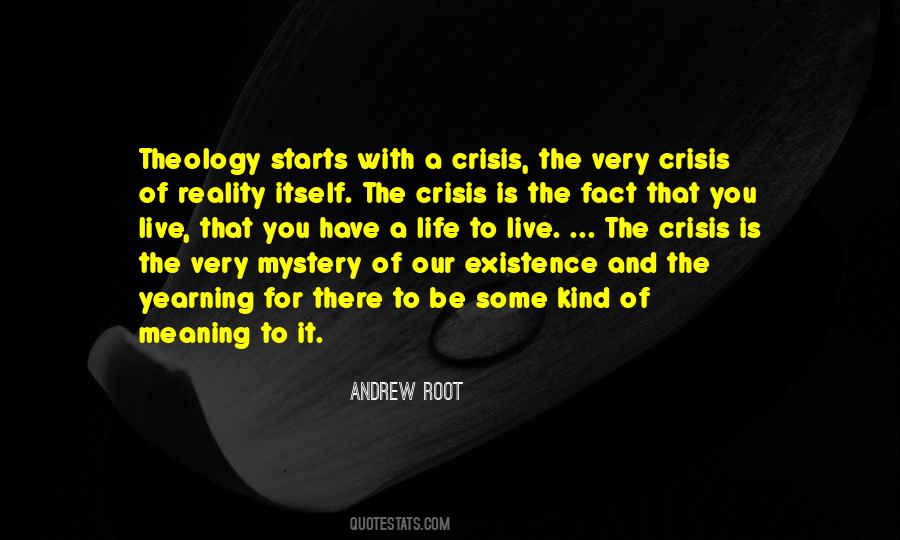 #85. The majority of people perform well in a crisis and when the spotlight is on them; it's on the Sunday afternoons of this life, when nobody is looking, that the spirit falters. - Author: Alan Bennett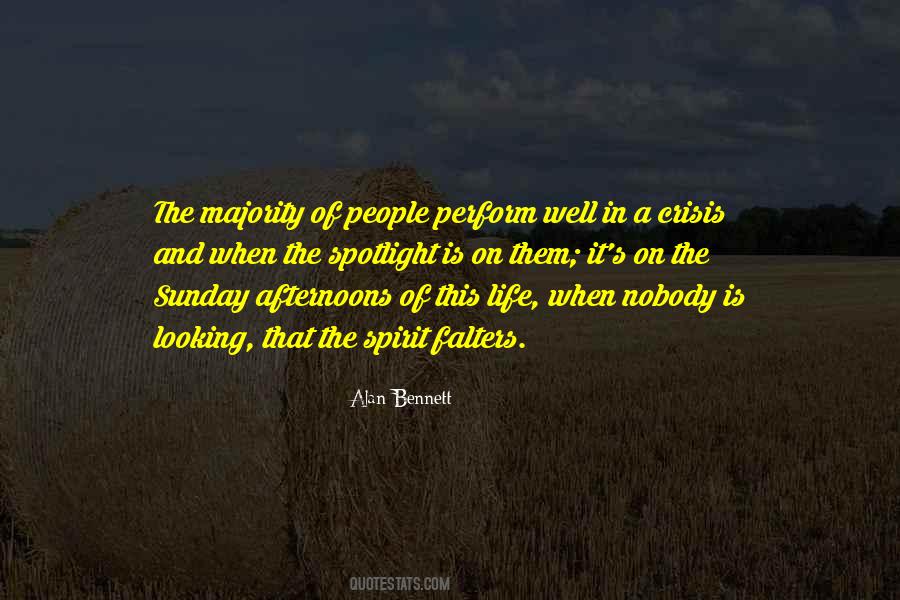 #86. Don't wait until the moment of crisis. Plan ahead, hide God's Word in your heart, and pray in advance for victory, holiness, and a life pleasing to God. - Author: David Jeremiah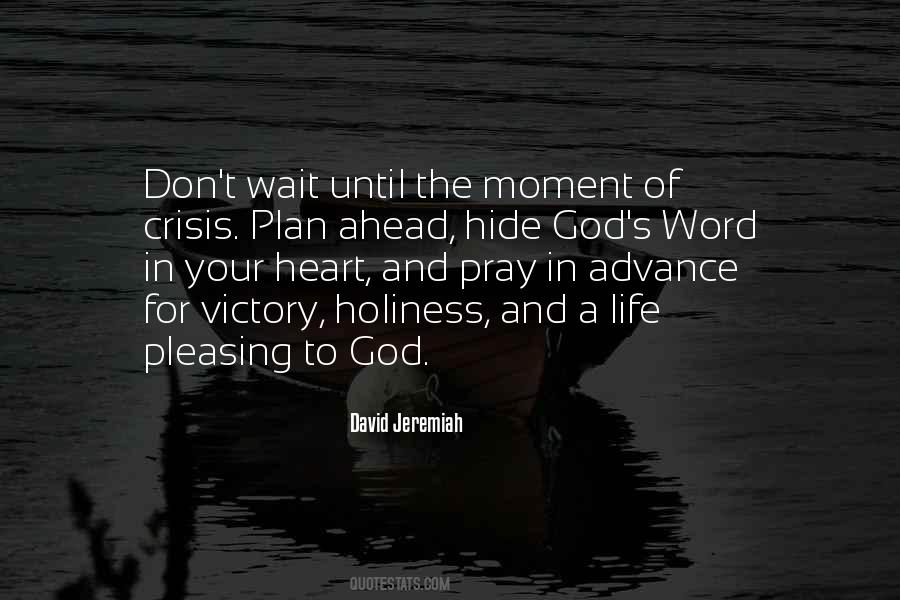 #87. I admire great people who endure crisis and triumph over adversities of life. - Author: Lailah Gifty Akita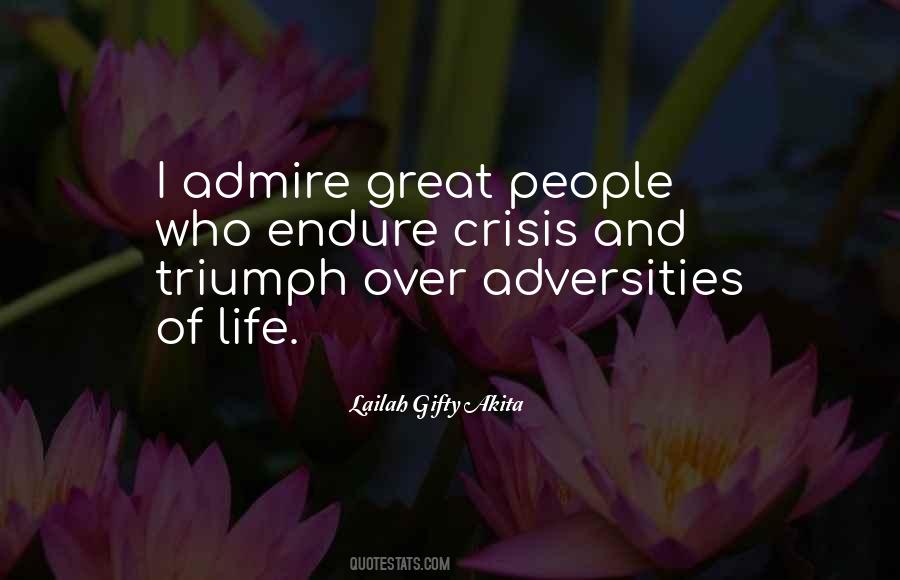 #88. There's a lot of stuff they don't teach you in the mythical editors' school. They don't teach you that you're going to have to spend a lot of your life in crisis management. - Author: Bill Keller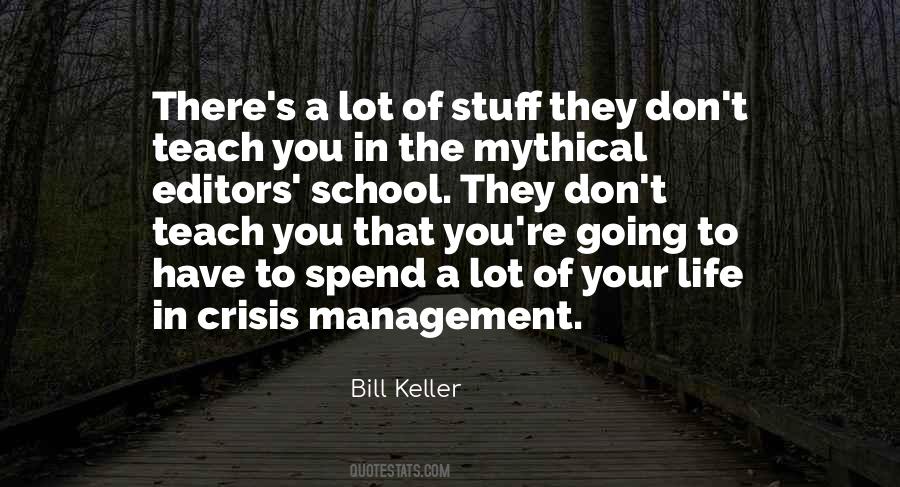 #89. Instead of facing a crisis as I approached middle age, I discovered that a new and better life lay before me. I called the process of discovery 'halftime,' and the outcome led to my second half. - Author: Bob Buford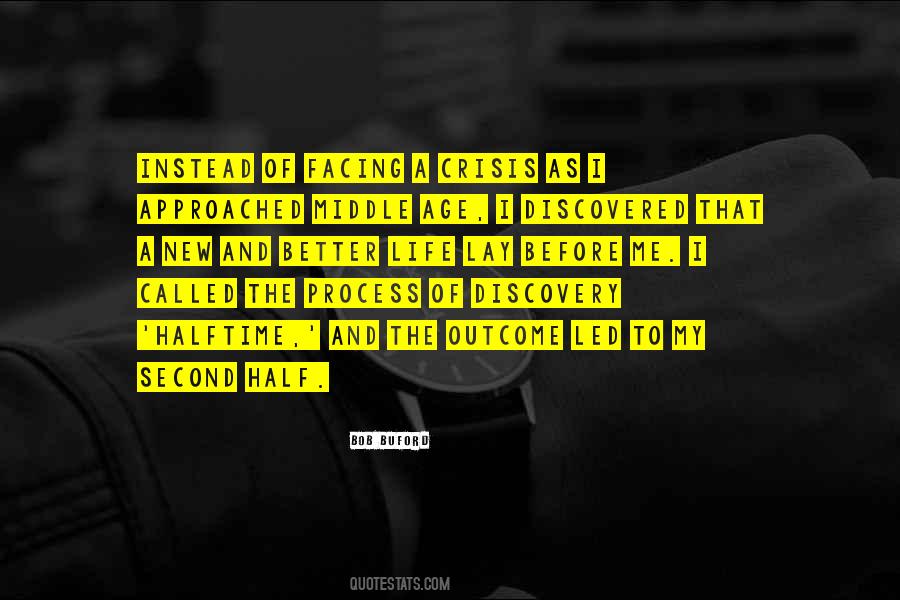 #90. Change is superficial. Transformation is deep. It alters our perception of reality and therefore causes everything in our life to shift. Transformation is what happens when we live our life rather than analyze it. - Author: Frank Natale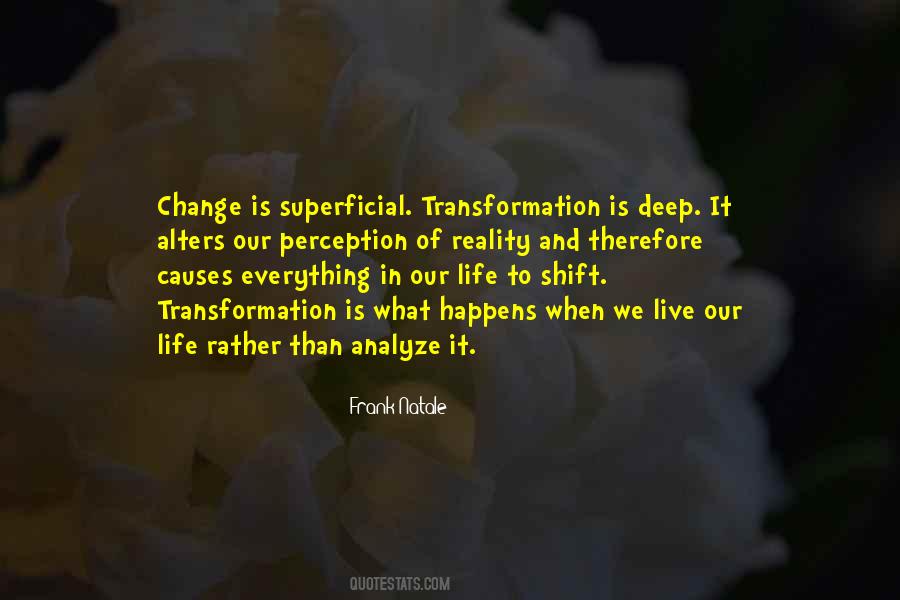 #91. I finally figured out that not every crisis can be managed. As much as we want to keep ourselves safe, we can't protect ourselves from everything. If we want to embrace life, we also have to embrace chaos. - Author: Susan Elizabeth Phillips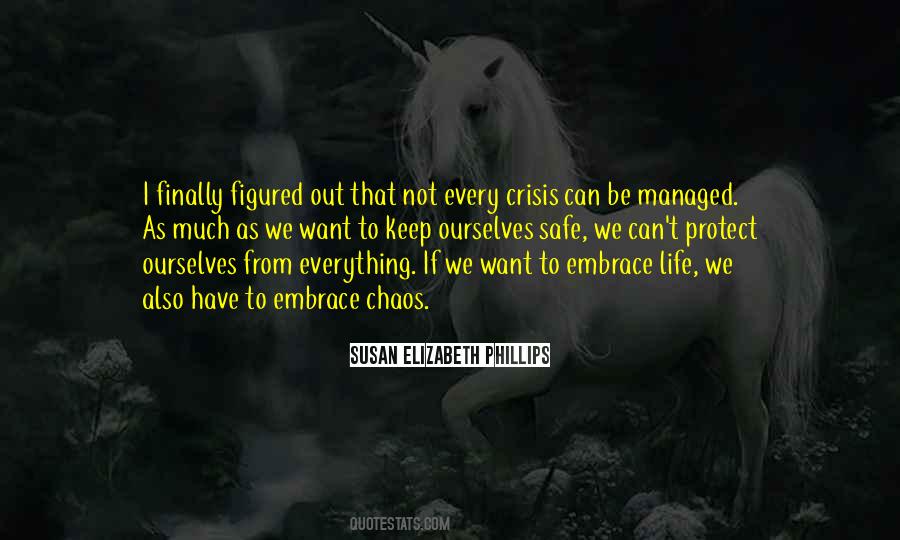 #92. If a decade of diplomatic life had taught Toby one thing, it was to treat every crisis as normal and soluble. - Author: John Le Carre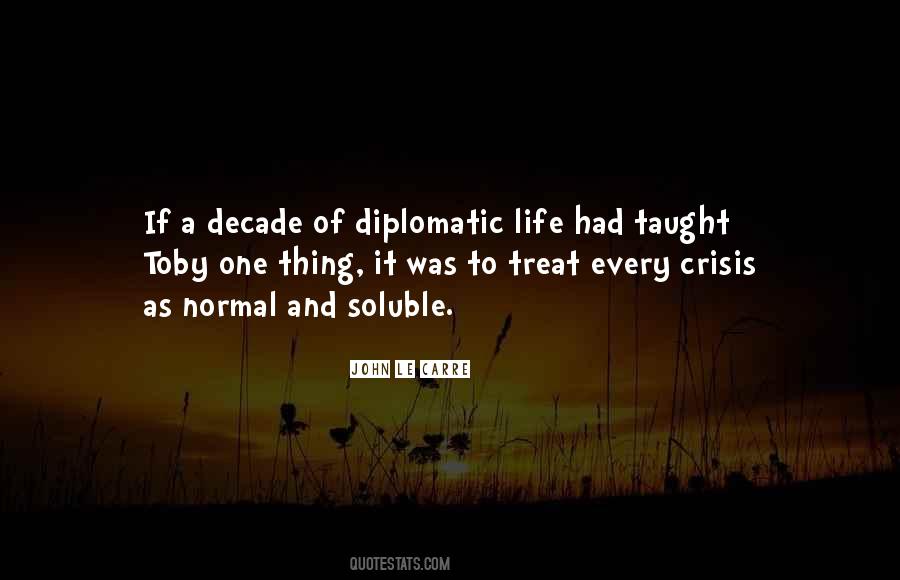 #93. Mainly, the more faddish and newer stages of life are really just marketing schemes. Tweenhood. The young old. The quarter-life crisis. You can sell a lot of junk to a lot of people by inventing a stage of life and giving it a name. - Author: Jill Lepore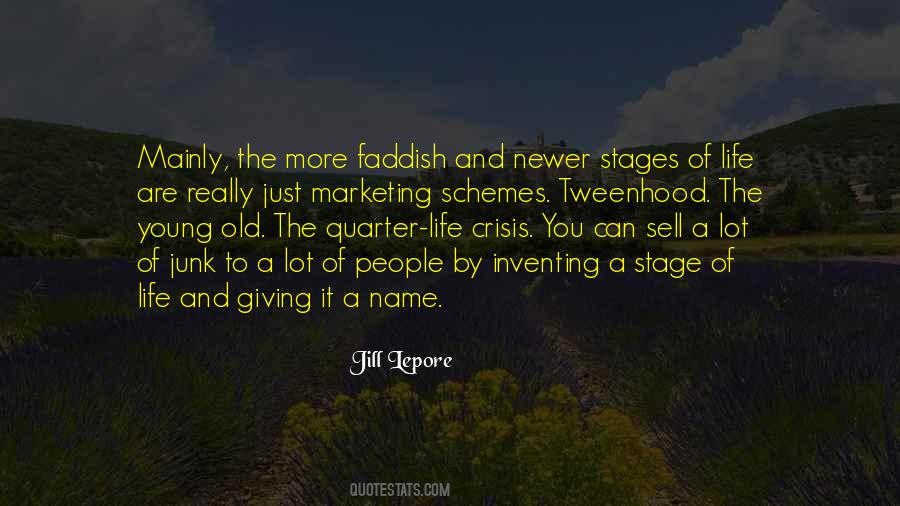 #94. Many of us inhibit our capacity for growth because the culture encourages us to live lives of uniformity. We stall, deny, ignore the ensuing crisis because of confusion, malaise, and yes, even propriety. - Author: Joan Anderson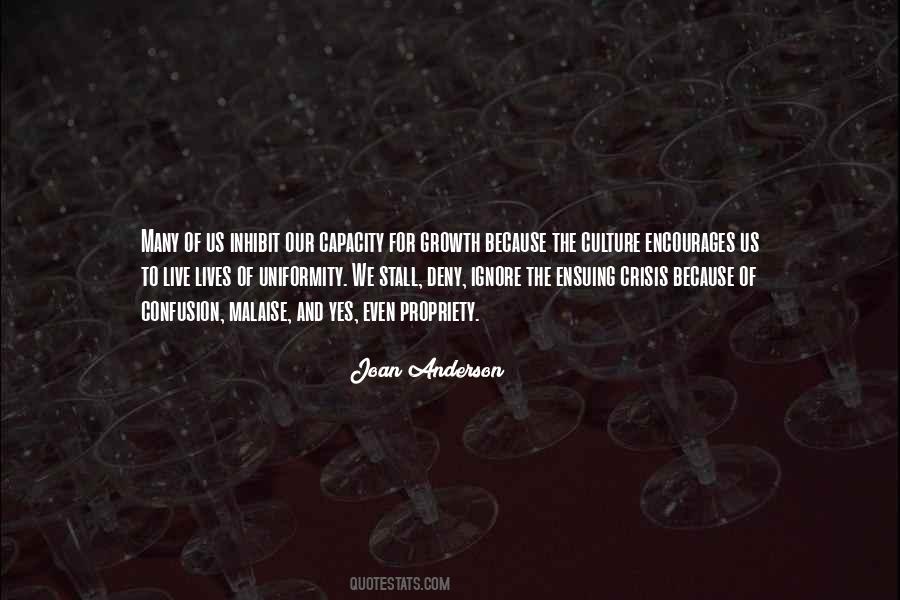 #95. Anomie is not a danger only for the young; it may surface in what is now conventionally called the "crisis of mid-life" or anywhere else. - Author: Walter Brueggemann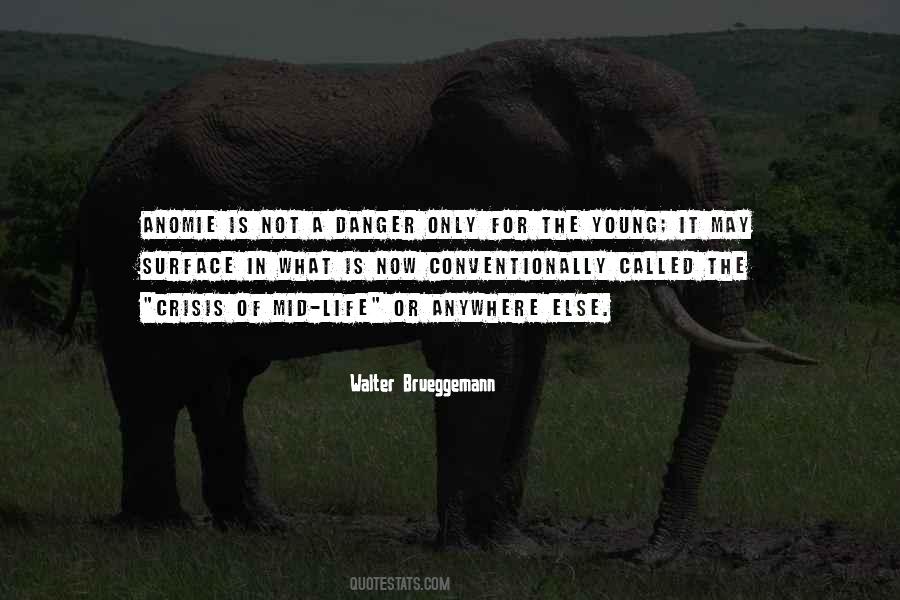 #96. A world of little cares is continually arising, which busy or affluent life knows nothing of, to open the first door to distress. Hunger is not among the postponable wants; and a day, even a few hours, in such a condition is often the crisis of a life of ruin. - Author: Thomas Paine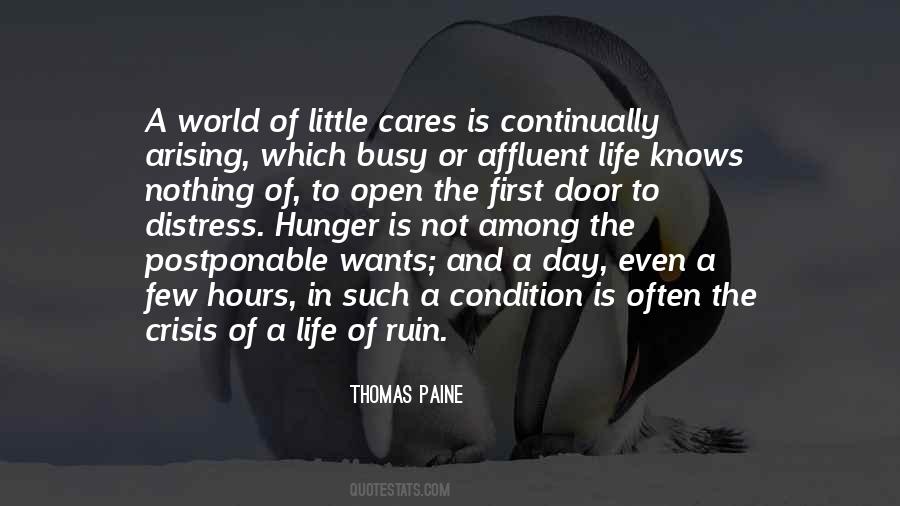 #97. When women are at the height of their beauty power and exercise it, we call it marriage. When men are at the height of their success power and exercise it, we call it a mid-life crisis. - Author: Warren Farrell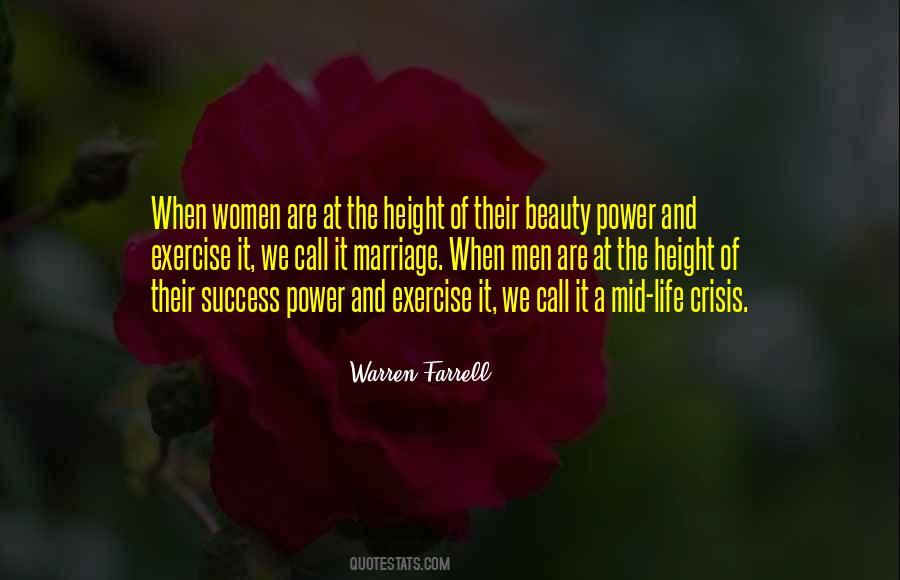 #98. There is no "mid" about it. Life is a crisis from the cradle to the grave. - Author: Graham Joyce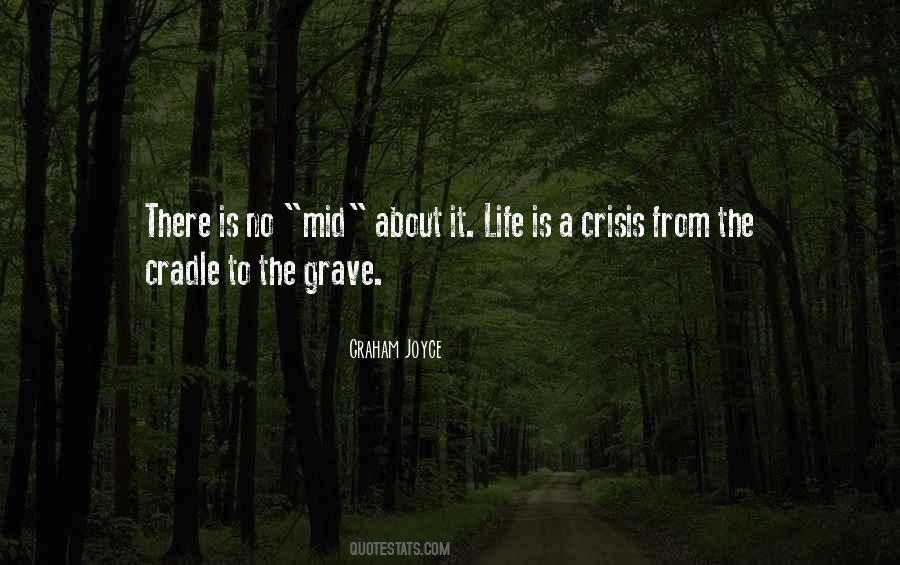 #99. If only life were one long crisis, everyone would be perfect. - Author: Angela Thirkell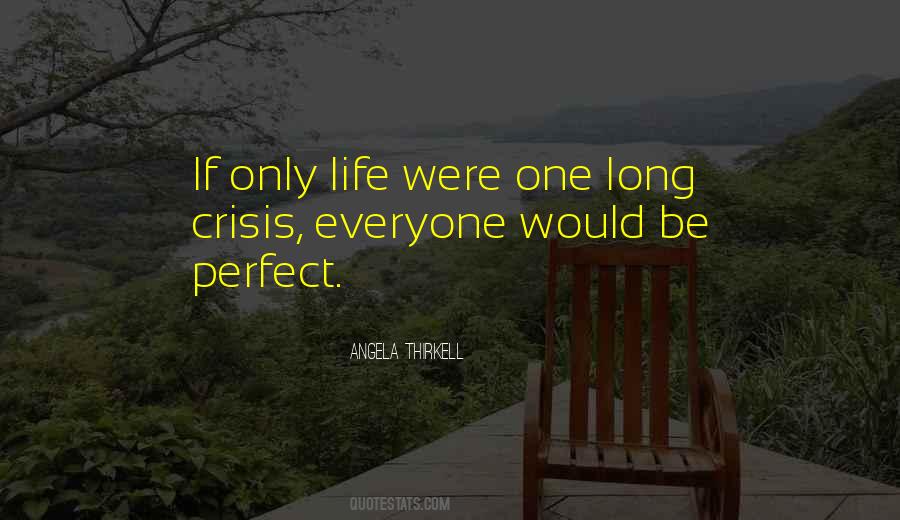 #100. Because of the way society sets them up, women never again experience the need to develop independence - until some crisis in later life explodes their complacency, showing them how sadly helpless and undeveloped they've allowed themselves to be. - Author: Colette Dowling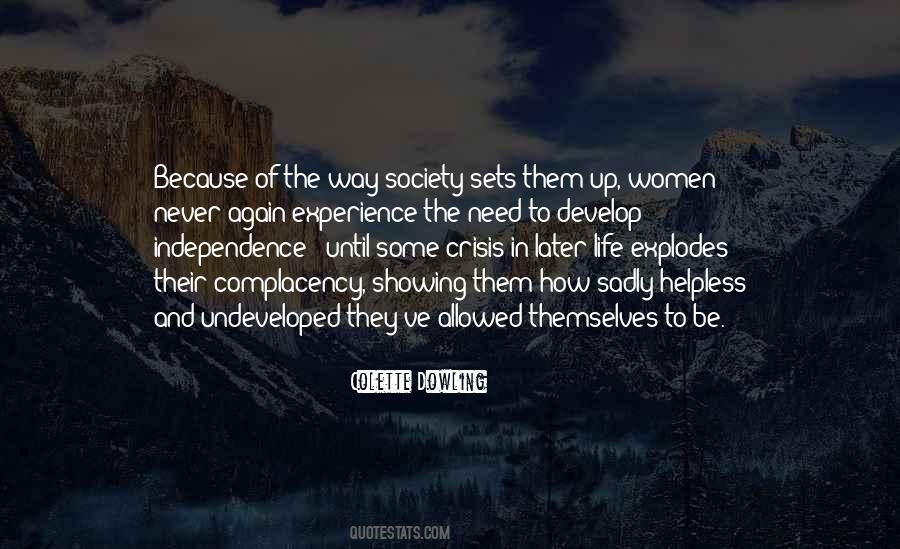 Famous Authors
Popular Topics