Lie And God Famous Quotes & Sayings
List of top 100 famous quotes and sayings about lie and god to read and share with friends on your Facebook, Twitter, blogs.
Top 100 Lie And God Quotes
#1. We of Es Toch tell a little myth, which says that in the beginning the Creator told a great lie. For there was nothing at all, but the Creator spoke, saying, It exists. And behold, in order that the lie of God might be God's truth, the universe at once began to exist. - Author: Ursula K. Le Guin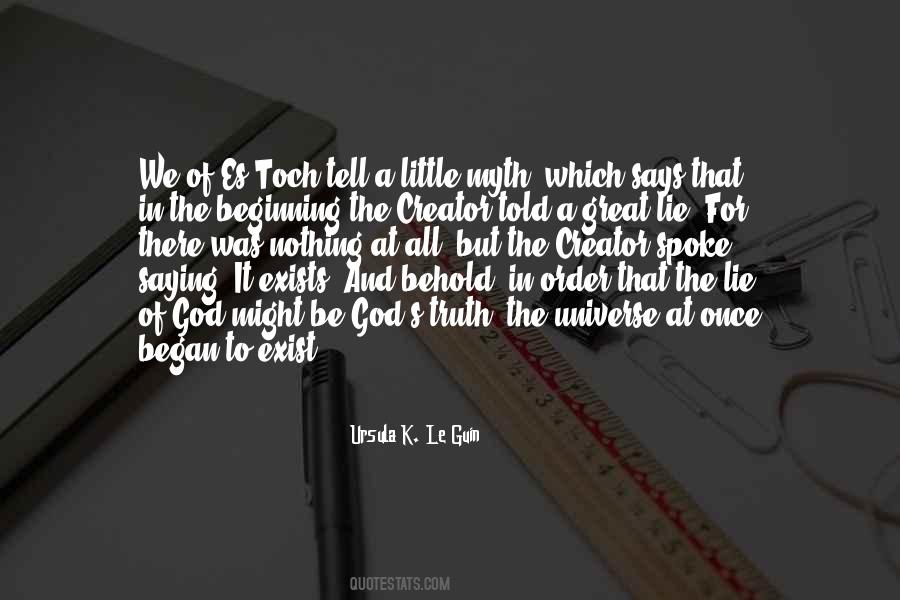 #2. If you say something as if it were, that isn't, is it considered a lie, or speaking it into existence? - Author: N'Zuri Za Austin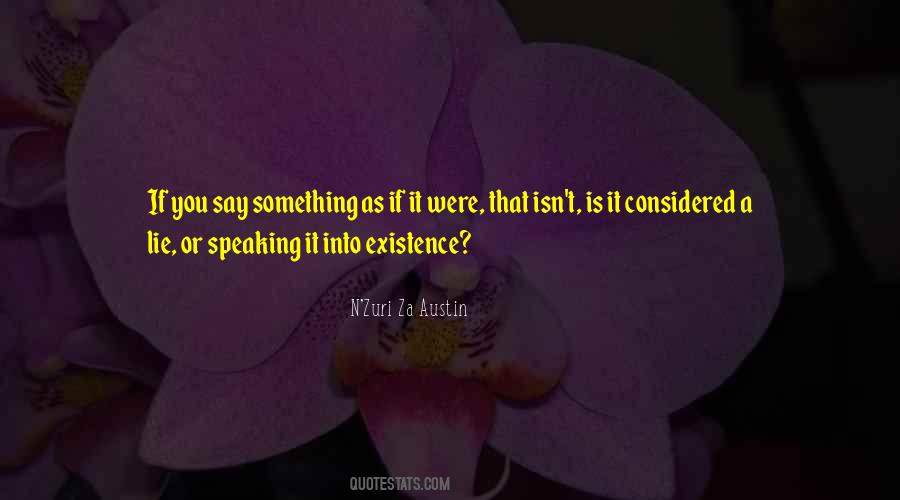 #3. If you think you have never been angry or that at the moment you are not an angry person then you are living in a lie. Anger is God given and everyone is an angry person. - Author: Briggette Carlos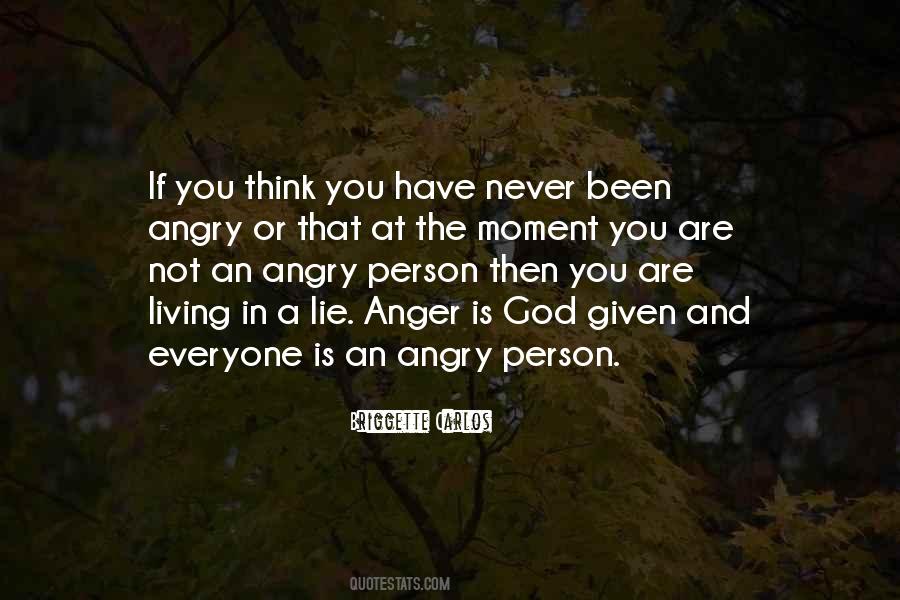 #4. Global evangelism does not take place in a demilitarized zone but on the battleground of spiritual warfare. Satan, in vengeance and jealousy for that which belongs to God, is deceiving the nations and holding them in bondage to a lie. - Author: Ed Stetzer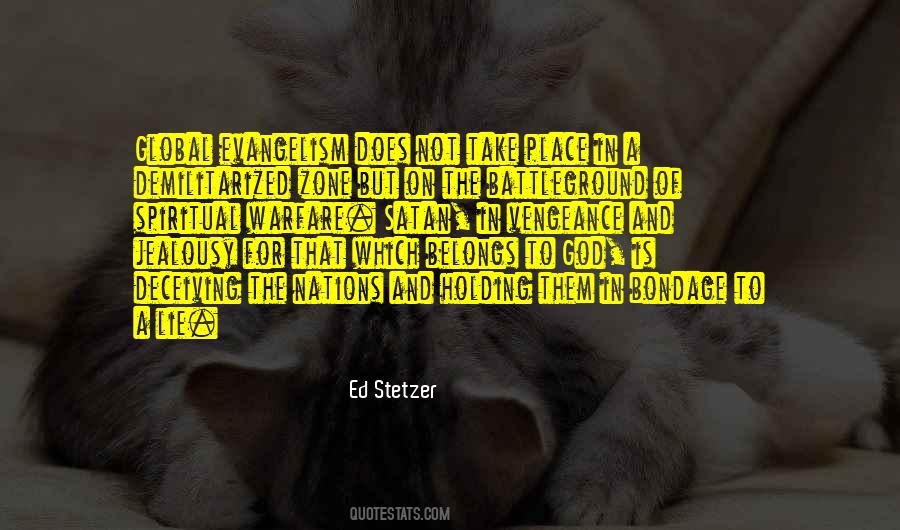 #5. I won't lie to you and make you believe what's evil, is making love, and making friends, and meeting God your own way ... the RIGHT way. - Author: Phil Anselmo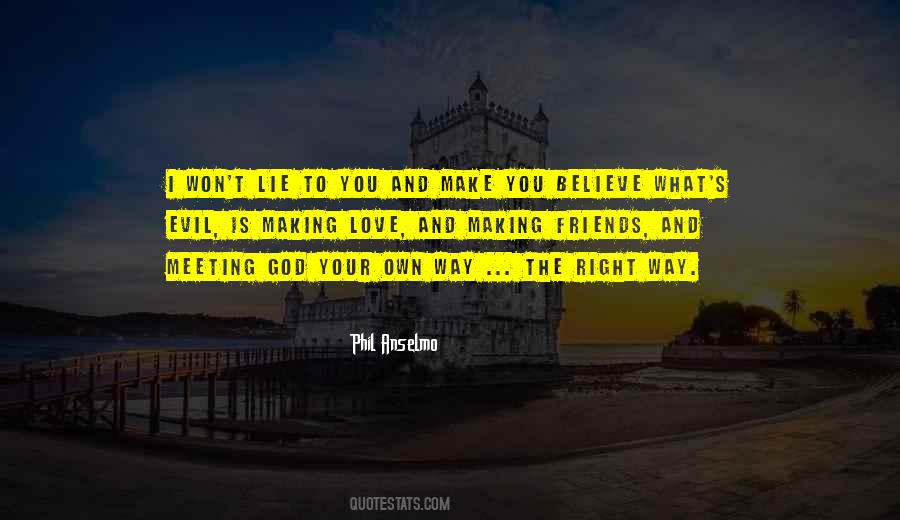 #6. Nothing could add to the horror of hell, except the presence of its creator, God. While I have life, as long as I draw breath, I shall deny with all my strength, and hate with every drop of my blood, this infinite lie. - Author: Robert G. Ingersoll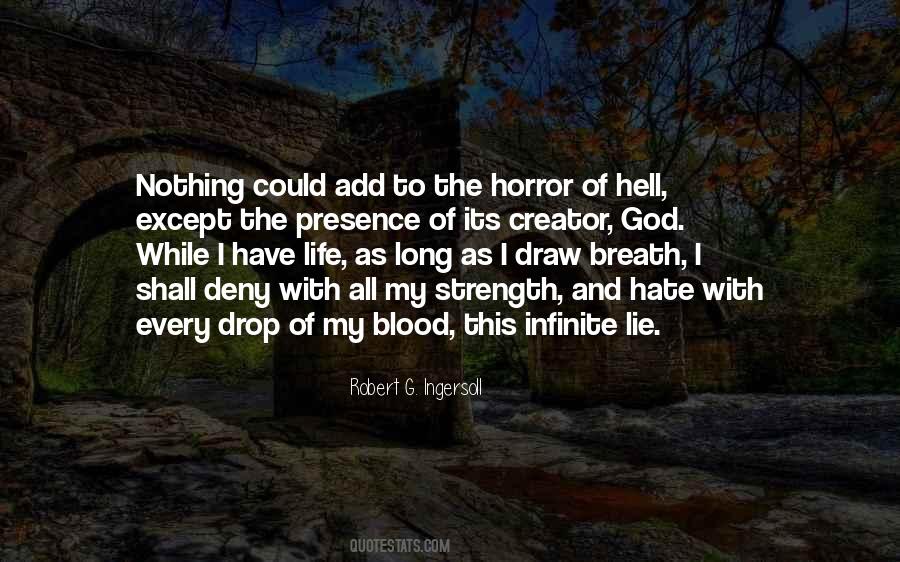 #7. Nothing is so sweet as to lie passive in God's hands, and know no will but His. - Author: Charles Spurgeon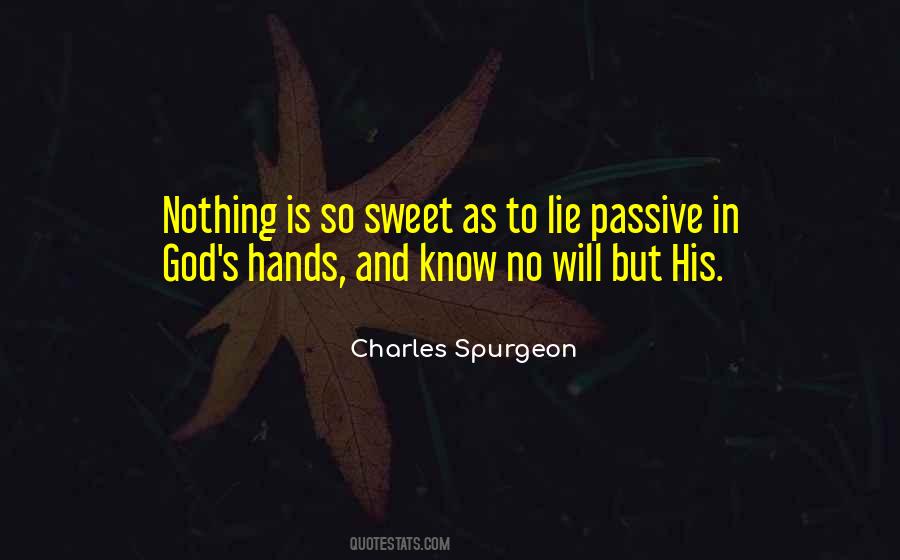 #8. Pontus , instituted among all people, as an addition or corollary of devotion towards God , that festival days and assemblies should be celebrated to them who had contended for the faith (that is, to lie martyrs ). - Author: Isaac Newton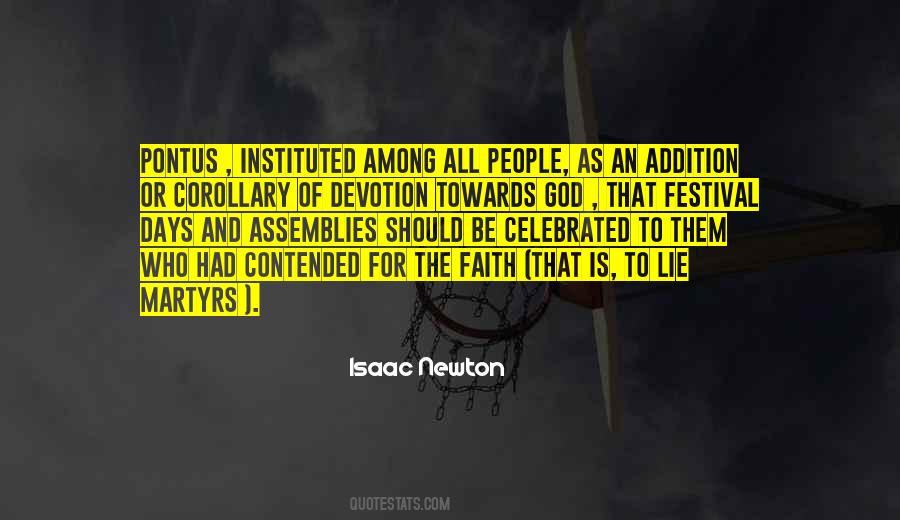 #9. If we once get above our Bibles and cease making the written Word of God our sole rule both as to faith and practice, we shall soon lie open to all manner of delusion and be in great danger of making shipwreck of faith and a good conscience. - Author: George Whitefield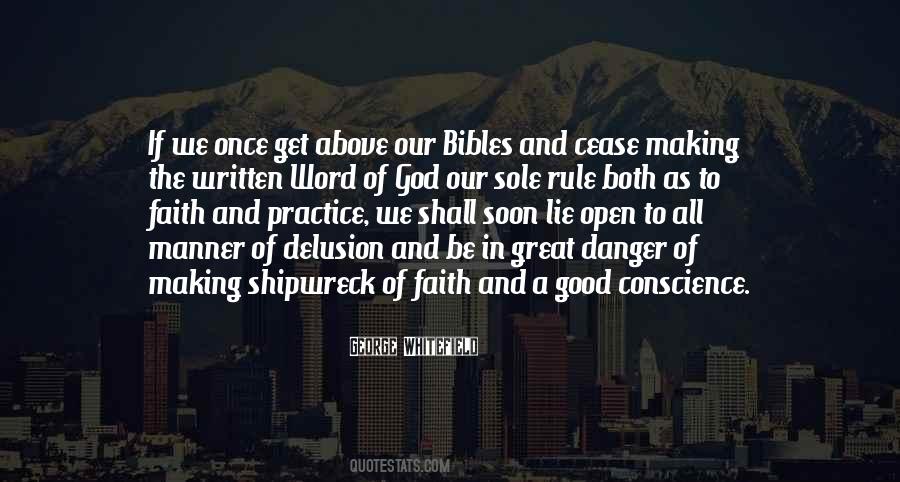 #10. Jesus came into this world and died on the cross to blow apart all the deceptive mental pictures of God that we've been enslaved to since the original fall and that lie at the root of all idolatry and sin, - Author: Gregory A. Boyd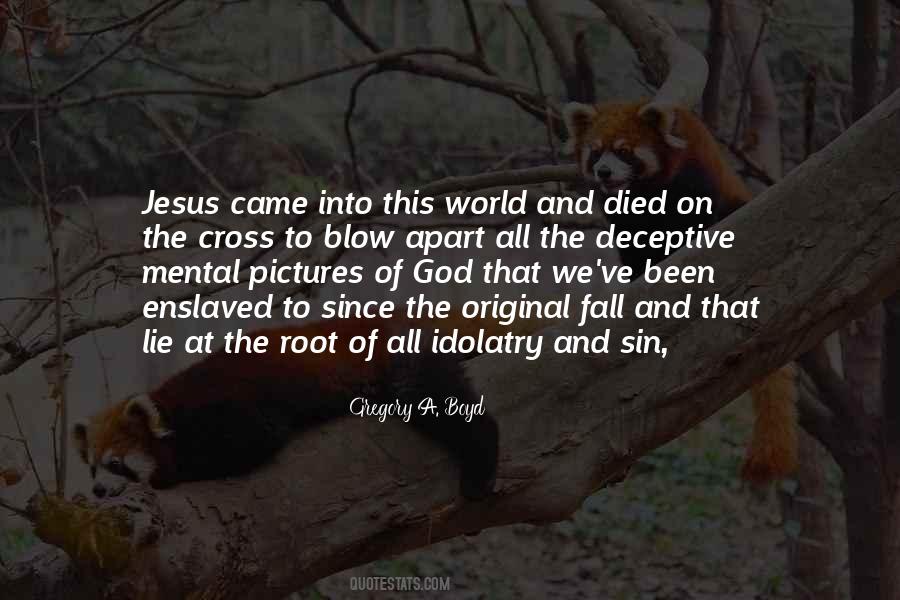 #11. So vile a thing is a lie that even if it spoke fairly of God it would take away somewhat from His divinity; and so excellent a thing is truth that if it praises the humblest things they are exalted. - Author: Leonardo Da Vinci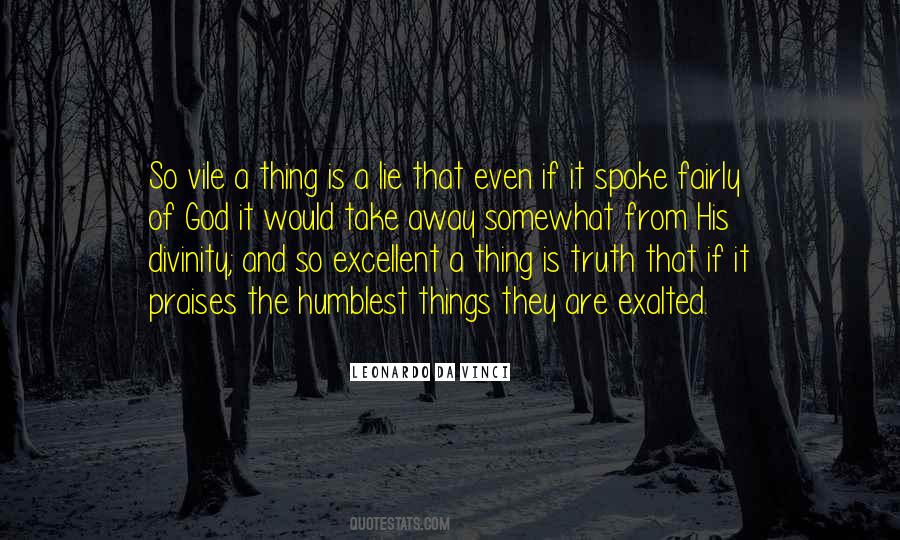 #12. Keep hoping. Be patient and diligent. Never give up. Hold on to your faith. God helps us when we show Him that we are willing to help ourselves. - Author: Kcat Yarza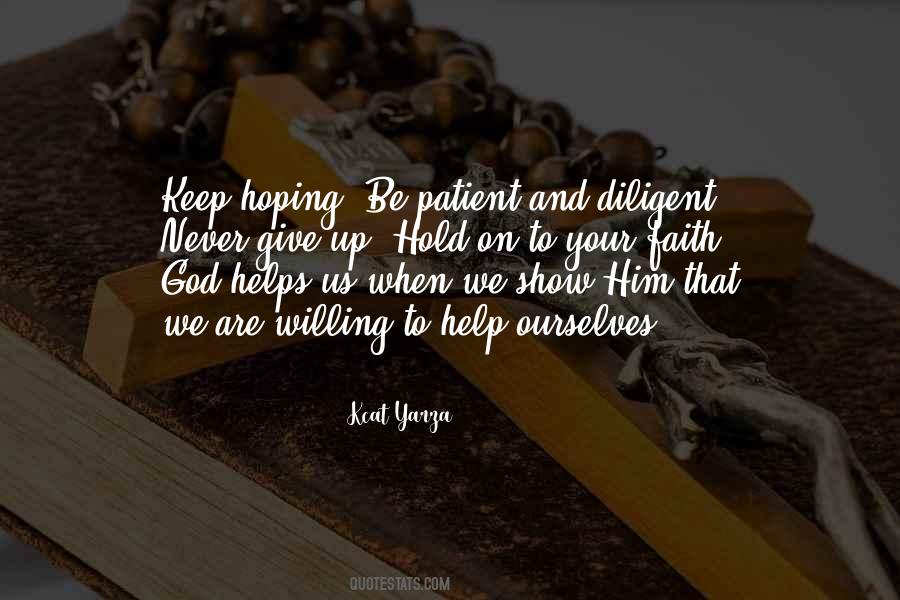 #13. In the minds of most people, Christianity is supposed to be about love of God and neighbor (even though it is true that at the heart of Christianity does not lie human love at all, but God's love for humanity24 - Author: Miroslav Volf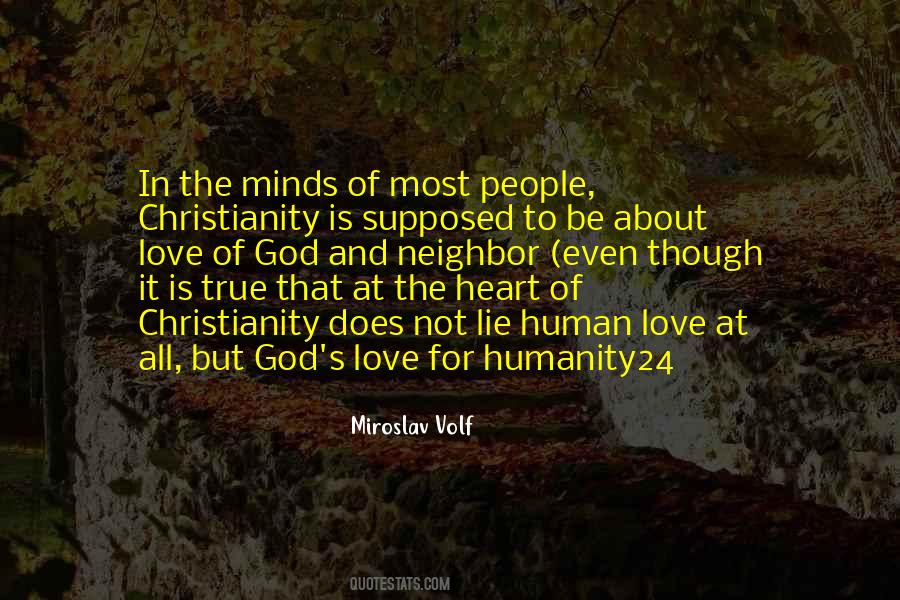 #14. Atheism is cheap on people, because it snobbishly says nine out of ten people through history have been wrong about God and have had a lie at the core of their hearts. - Author: Peter Kreeft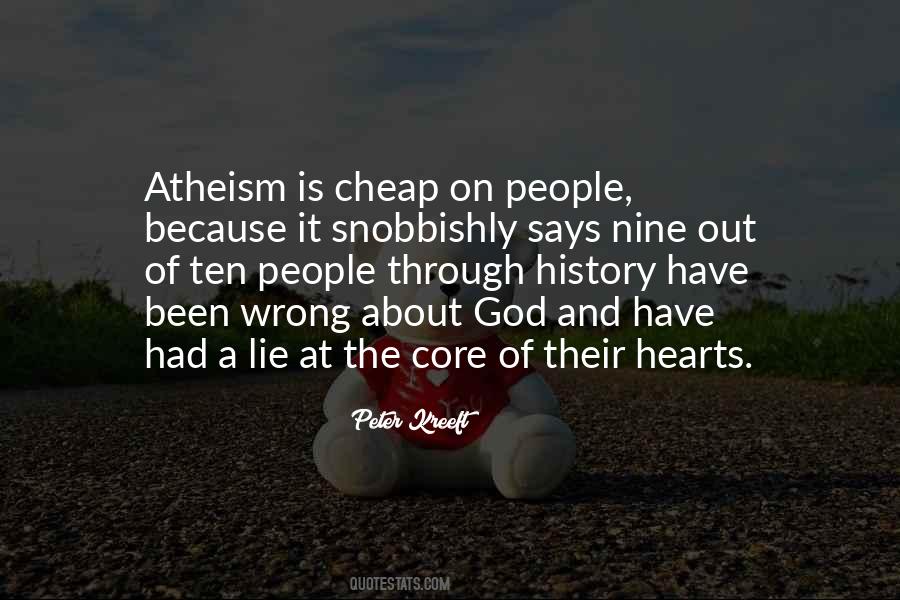 #15. Adorn thyself with simplicity and with indifference towards the things which lie between virtue and vice. Love mankind. Follow God. The poet says that Law rules all. And it is enough to
remember that law rules all. - Author: Marcus Aurelius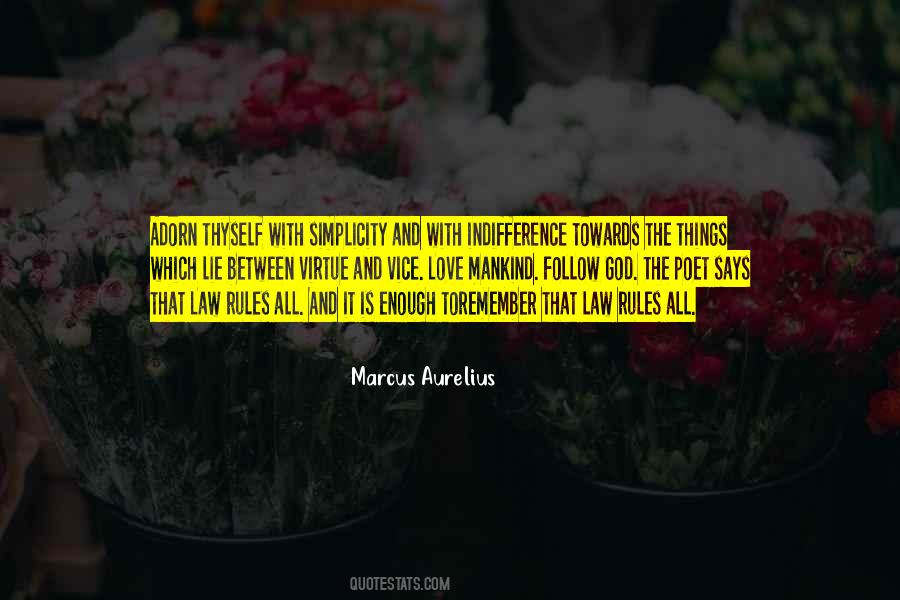 #16. Let the wicked be put to shame and lie silent in the grave."
"What the hell did she just say?"
"I think she just threatened us with the wrath of God. - Author: Shandy L. Kurth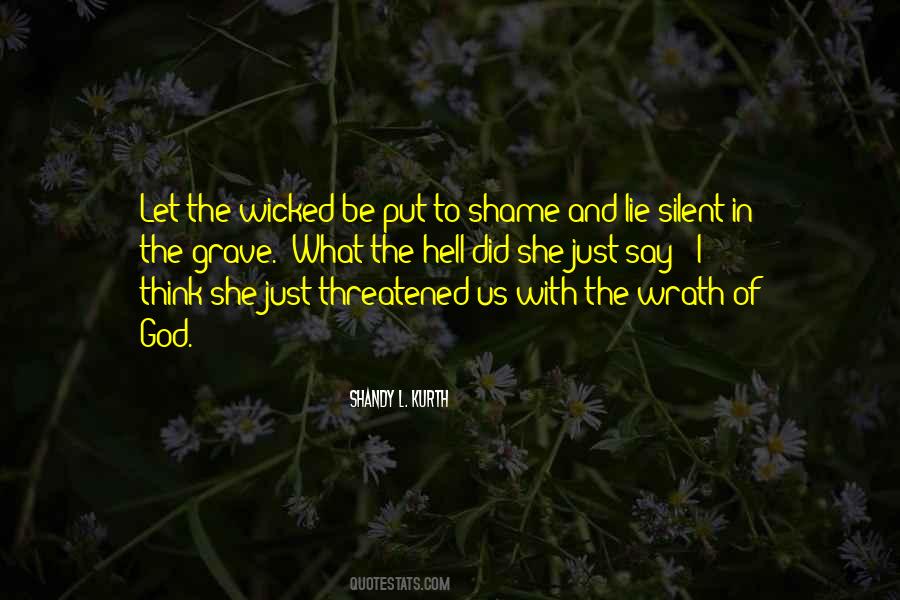 #17. The Bible is a book of promises, and unlike the books of men, it doesn't change or get out of date. The message I have been proclaiming for many years is basically the same - and God does not lie! - Author: Billy Graham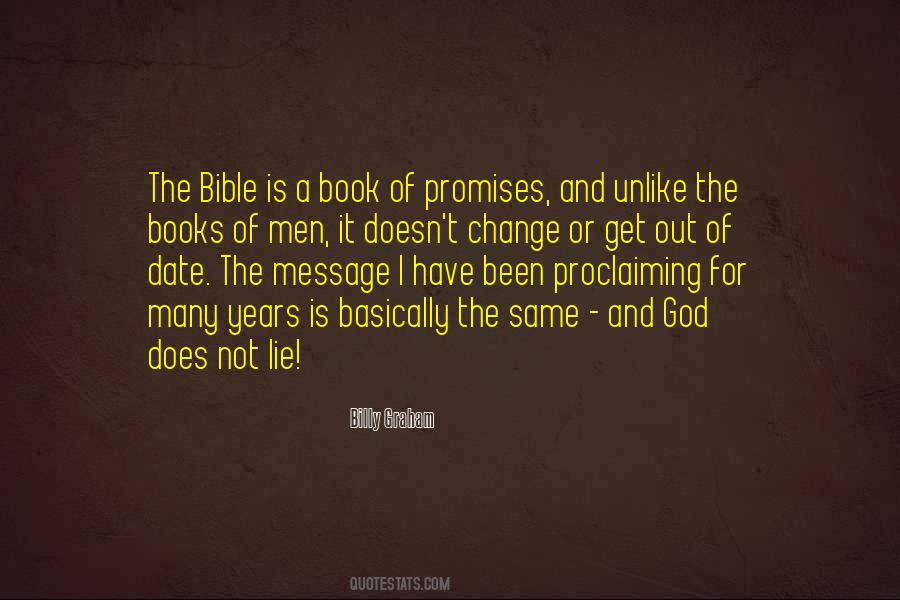 #18. Therefore, dearly beloved brethren, let us cheerfully do all things that lie in our power; and then may we stand still, with the utmost assurance, to see the salvation of God, and for his arm to be revealed. - Author: Joseph Smith Jr.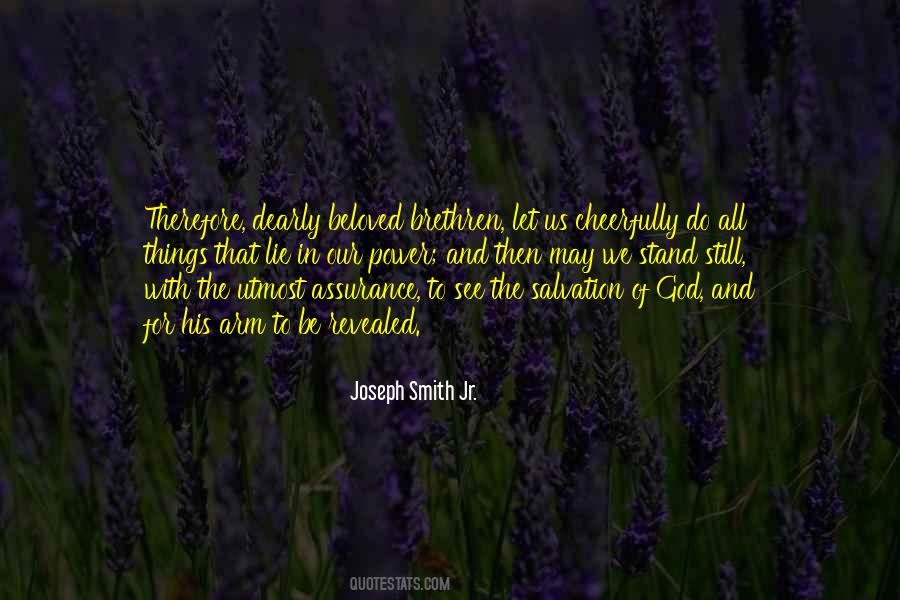 #19. I have come to make distinctions between what I call the academy and literature, the moral equivalents of church and God. The academy may lie, but literature tries to tell the truth. - Author: Dorothy Allison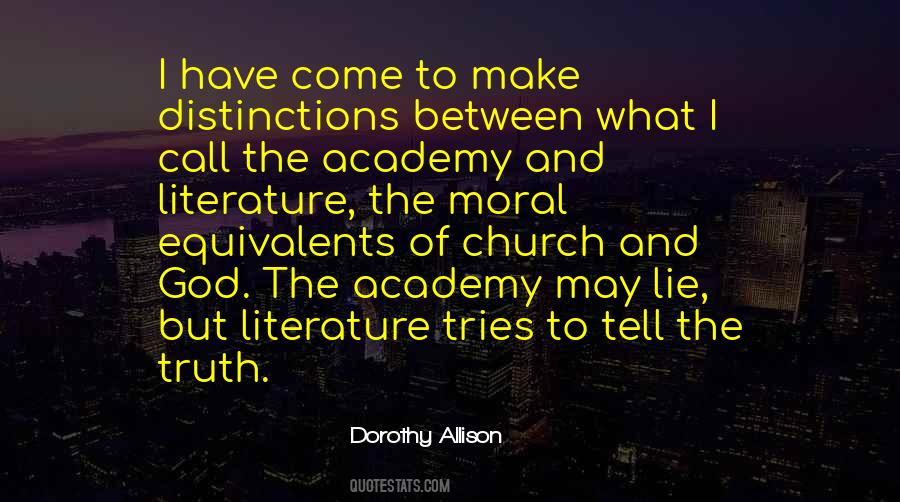 #20. I told her I loved her and all. It was a lie, of course, but the thing is, I meant it when I said it. I'm crazy. I swear to God I am. - Author: J.D. Salinger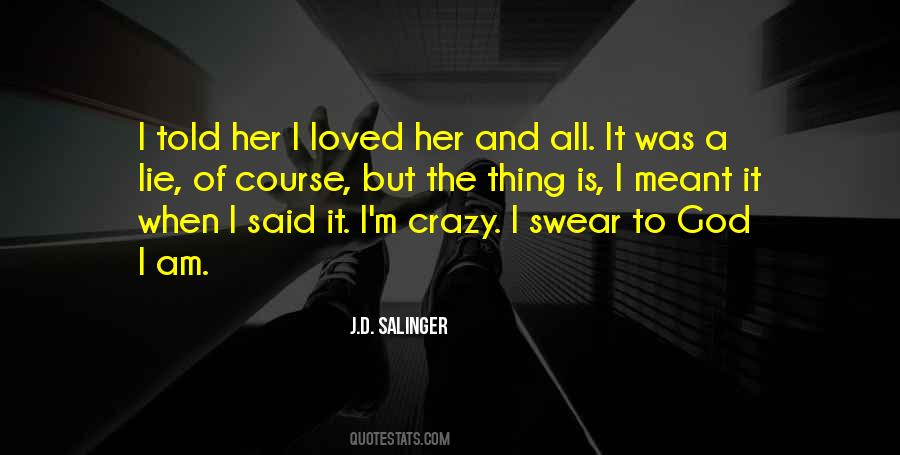 #21. Now you comprehend your first and final lover / in the dark receding planets of his eyes, / and this is the hour when you know moreover / that the god you have loved always / will descend and lie with you in paradise. - Author: Gwendolyn MacEwen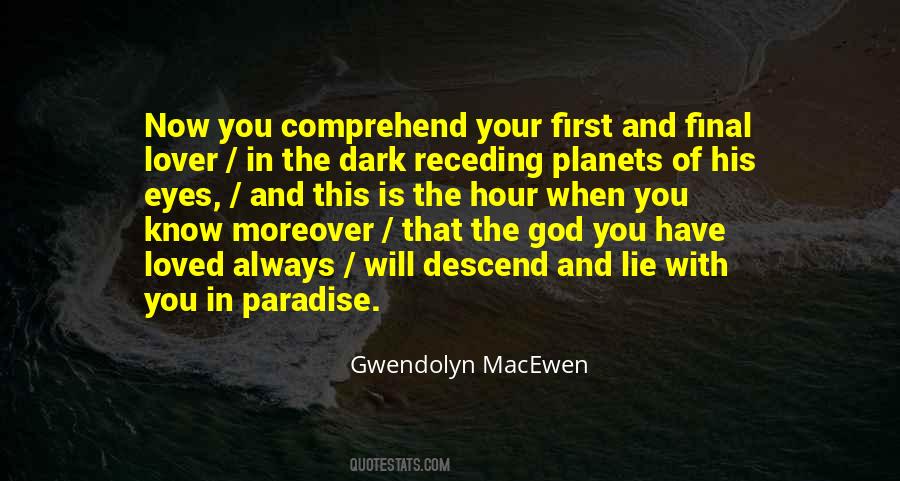 #22. Your circumstances will lie to you. Your emotions will lie to you. Even other people will lie to you. But not God. And because of this, "We have this hope as an anchor for the soul, firm and secure" (Hebrews 6:19). Your identity is secure. Nothing going on in your life can change it. - Author: Holley Gerth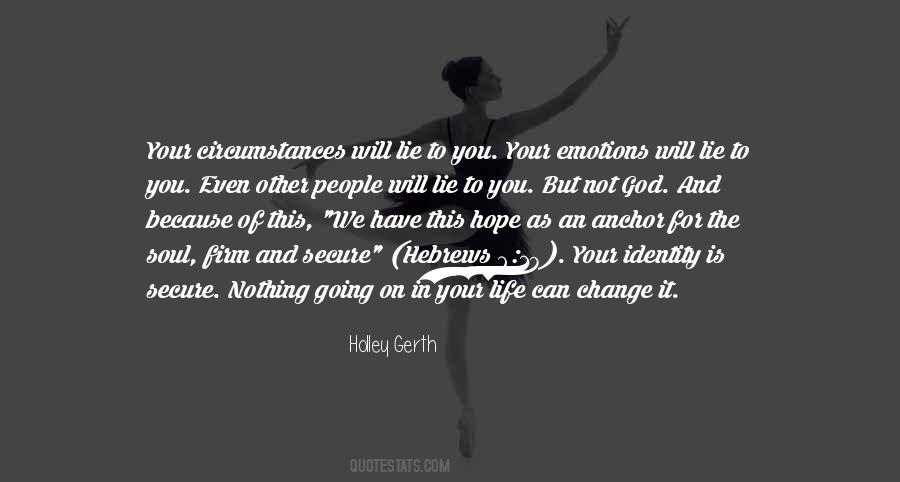 #23. The devil has a thousand names," said Crews, voice rising, "but the name he takes the most pride in is Prince of Lies, because he is such a convincing fraud. Even God himself was fooled by Satan once, so what hope do we have to tell what's truth and what's false? - Author: Robert Ferrigno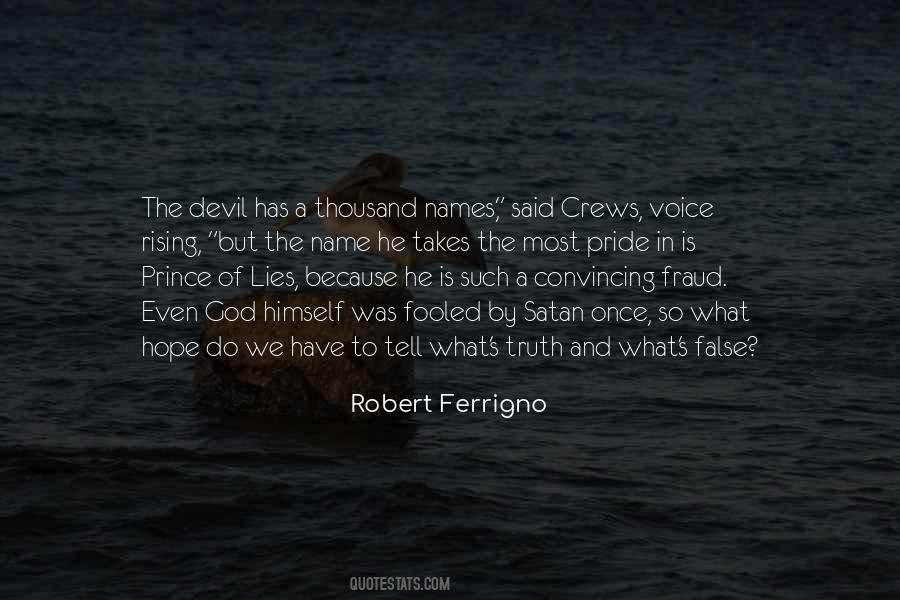 #24. Oh how sweet to work for God all day, and then lie down at night beneath His smile. - Author: Robert M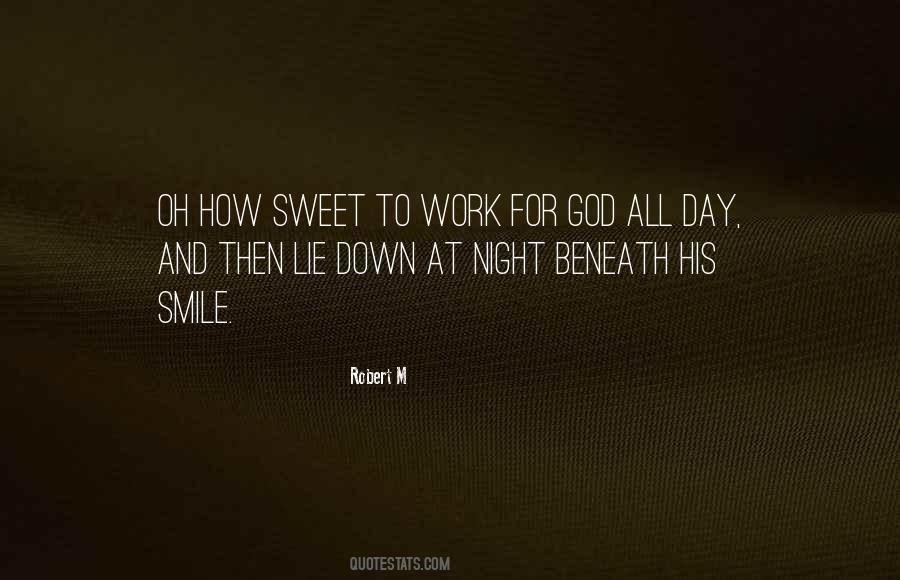 #25. My God, think of the opportunities and thrusts that lie ahead when one knows without a shred of doubt how commonplace and normal one is at heart! - Author: J.D. Salinger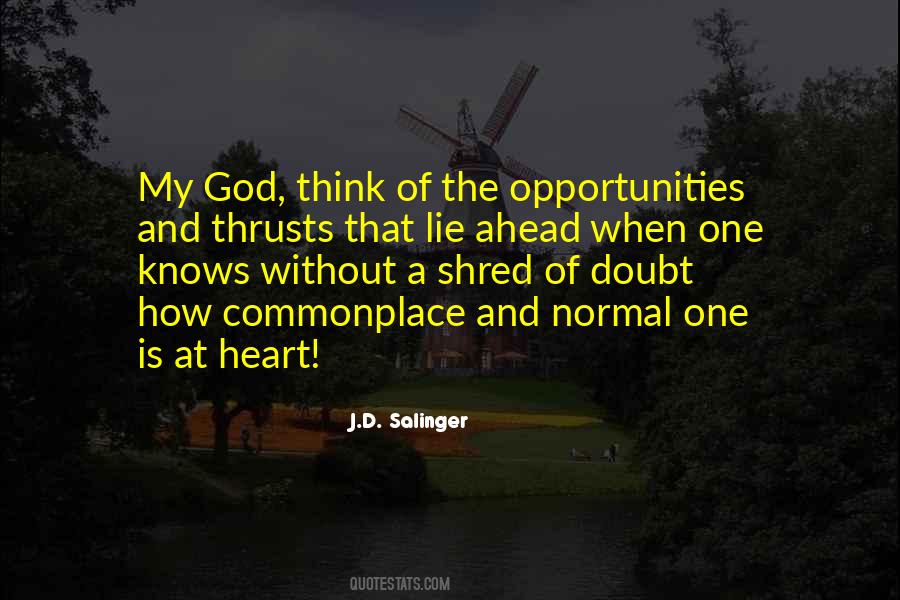 #26. Some kneel and lie to God. - Author: Elton John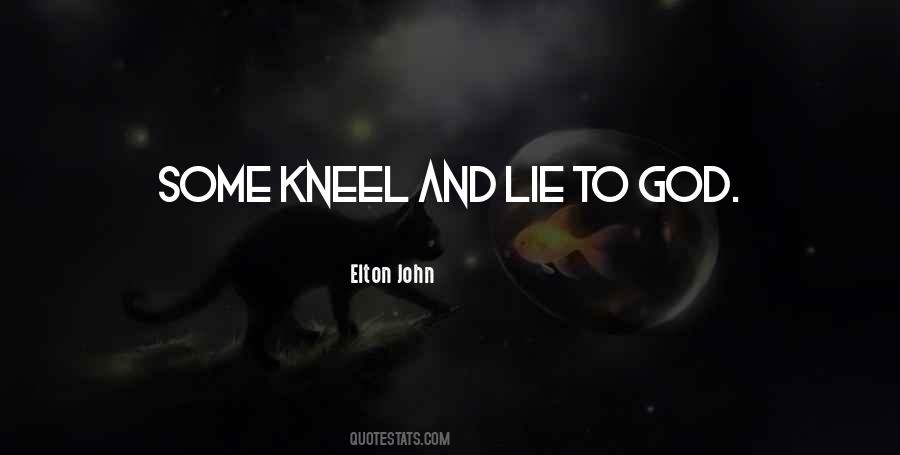 #27. It is not humility to underrate yourself. Humility is to think of yourself as God thinks of you. It is to feel that if we have talents God has given them to us. And let it be seen that, like freight in a vessel, they tend to sink us low. The more we have, the lower we ought to lie. - Author: Charles Spurgeon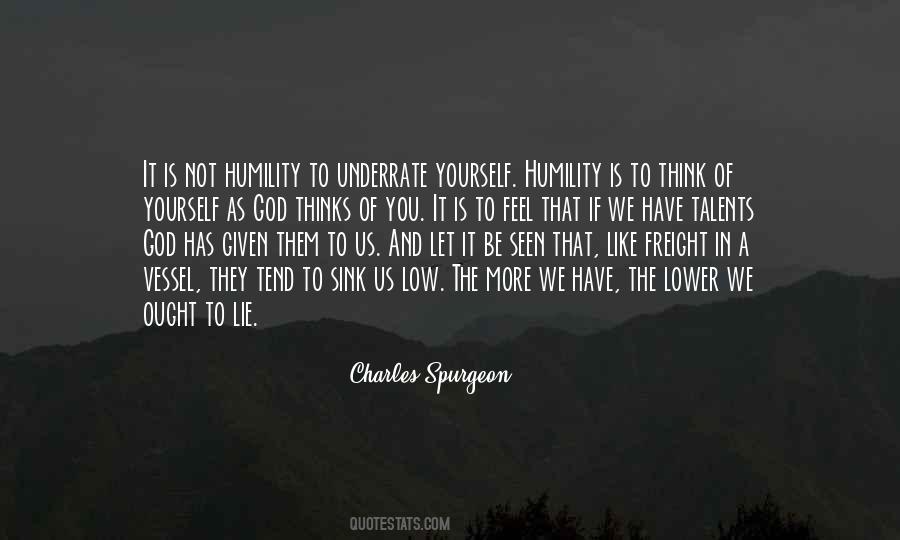 #28. Only to sit and think of God, Oh what a joy it is! To think the thought, to breathe the Name; Earth has no higher bliss. Father of Jesus, love's reward! What rapture will it be, Prostrate before Thy throne to lie, And gaze and gaze on Thee! - Author: A.W. Tozer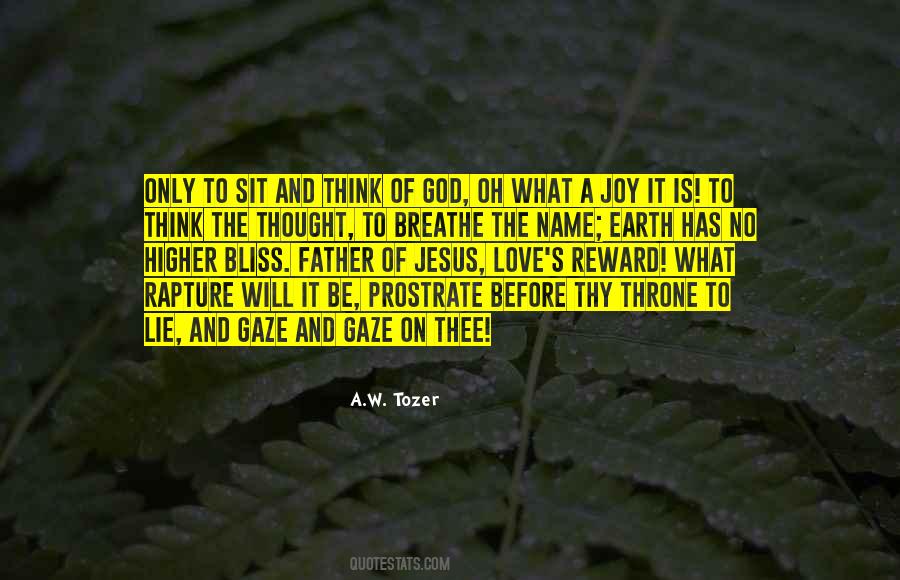 #29. When we break a law (lie, steal, murder, fornicate, blaspheme, lust, hate, covet, gossip, dishonor authority) we are striking out at God's character and in essence saying, "I hate who you are." That is why sin is exceedingly sinful (Rom. 7:13). - Author: Todd Friel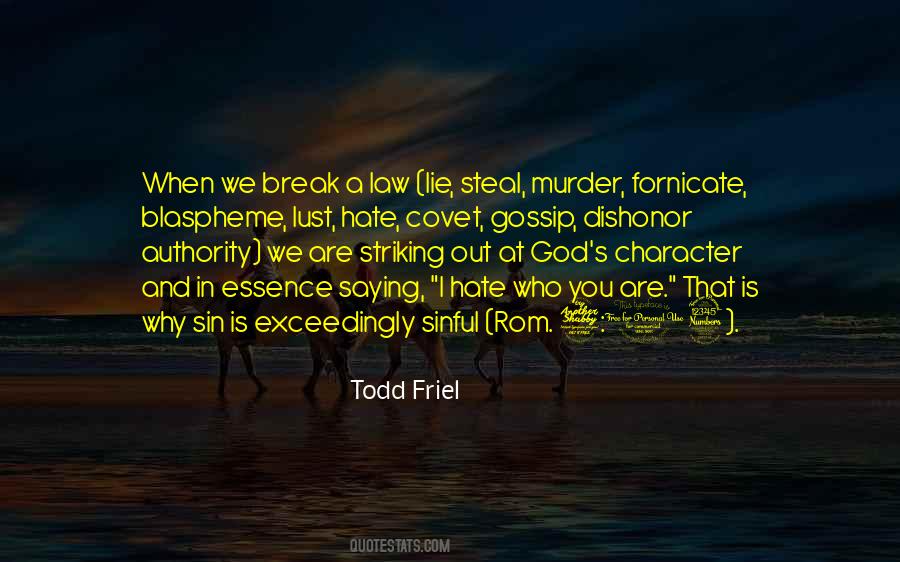 #30. Blessed is he who carries within himself a God, an ideal, and who obeys it: ideal of art, ideal of science, ideal of the gospel virtues, therein lie the springs of great thoughts and great actions; they all reflect light from the Infinite. - Author: Louis Pasteur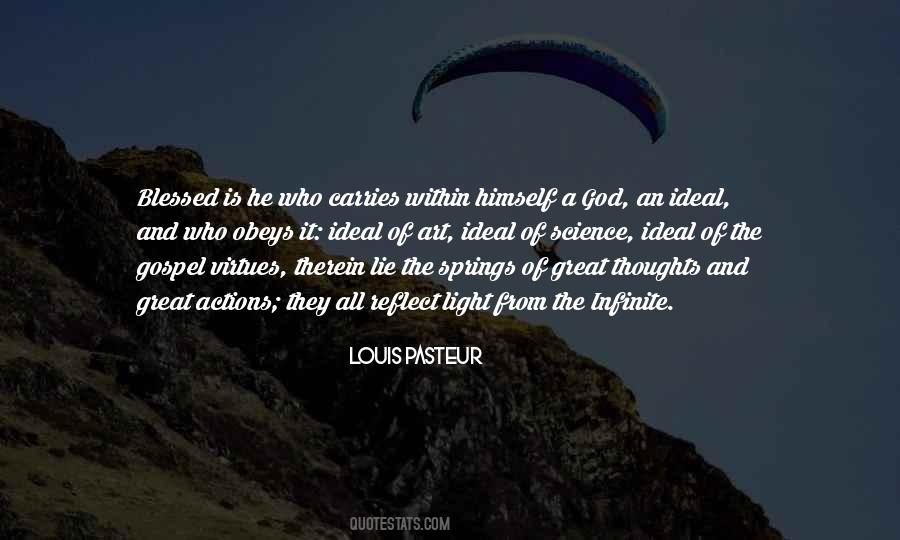 #31. Every time I open my Bible I will read it as the Word of 'God, that cannot lie;' and when I get a promise or a threatening, I will either rejoice or tremble because I know that these stand fast. - Author: Charles Spurgeon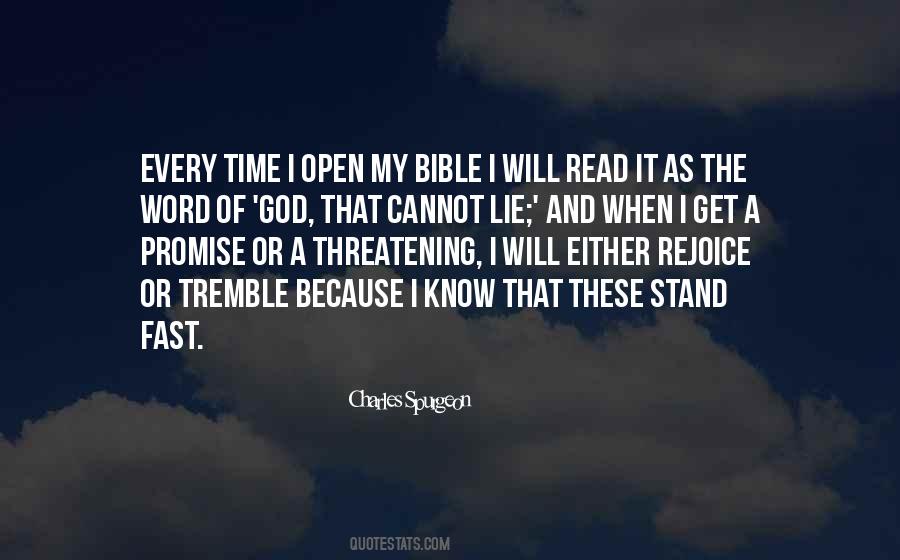 #32. As God is my witness, as God is my witness they're not going to lick me. I'm going to live through this and when it's all over, I'll never be hungry again. No, nor any of my folk. If I have to lie, steal, cheat or kill. As God is my witness, I'll never be hungry again. - Scarlett - Author: Margaret Mitchell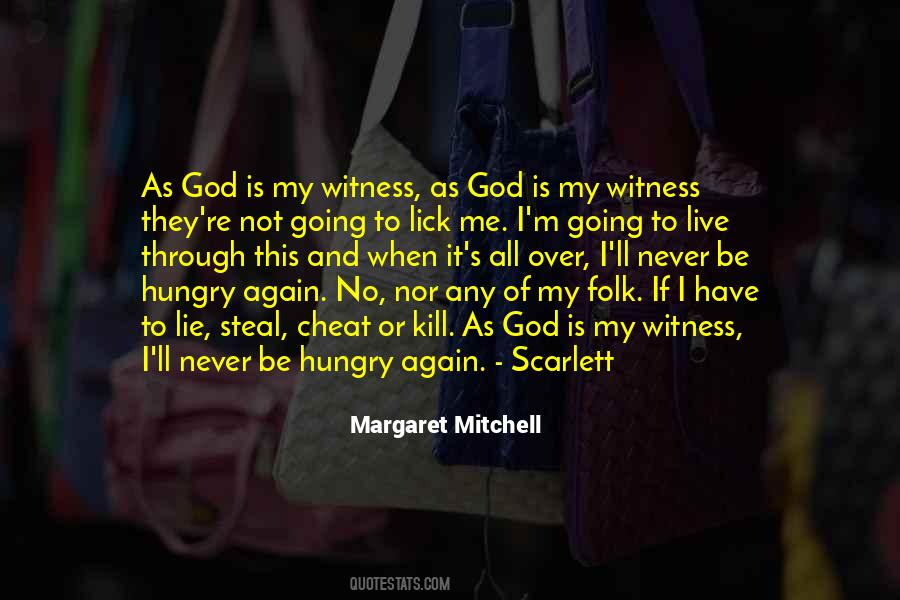 #33. In God's eyes, a man who teaches one truth and nothing else is more righteous than a man who teaches a million truths and one lie. - Author: Criss Jami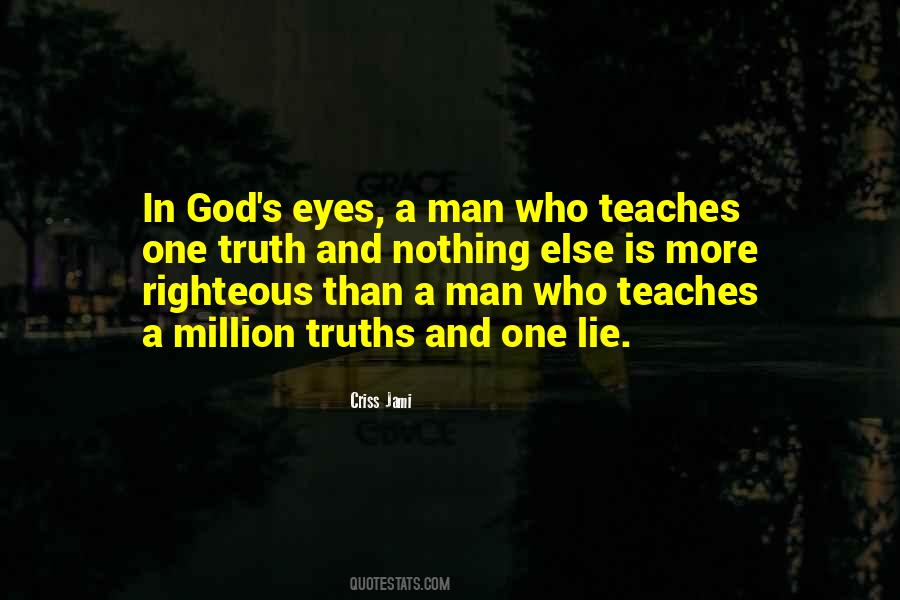 #34. I am going to say something I have never said before and this is the truth. I have no reason to lie to you and God knows I am telling the truth. I think all my success and fame and I have wanted it, I have wanted it because I wanted to be loved. That's all. That's the real truth. - Author: Michael Jackson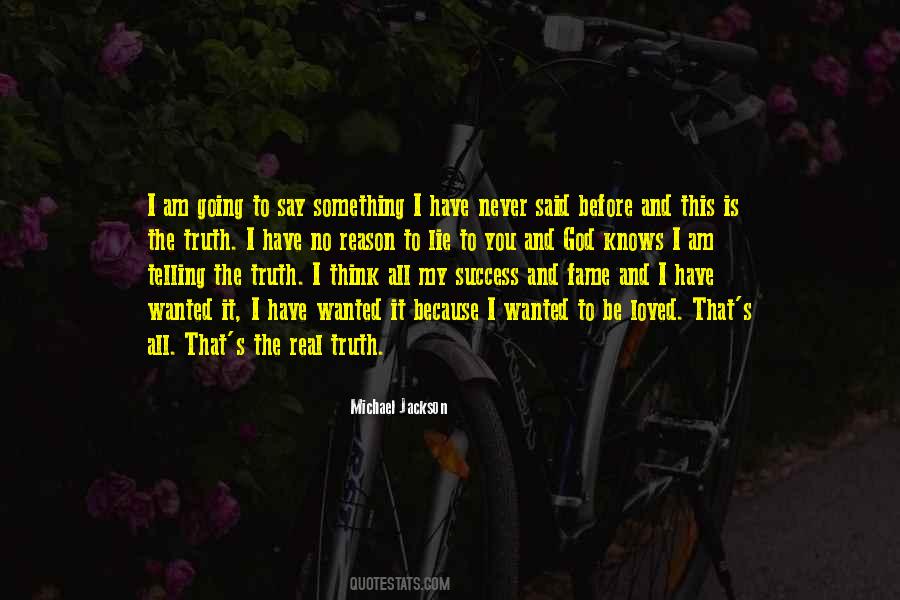 #35. Stand up for your rights and be brave, and don't be intimidated. Read your Bible. That's really given me strength, and it will give you strength. Pray, and use God's name, Jehovah. And never tell a lie, ever. - Author: Margaret Keane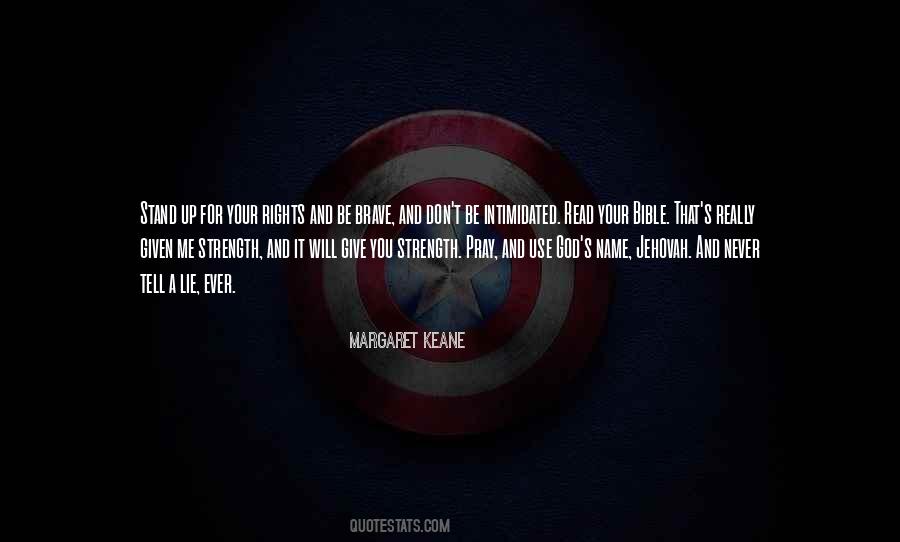 #36. It is the duty of a woman to be obedient to her husband, and unless she is, I would not give a damn for all her queenly right and authority; nor for her either, if she will quarrel, and lie about the work of God and the principle of plurality. - Author: Heber C. Kimball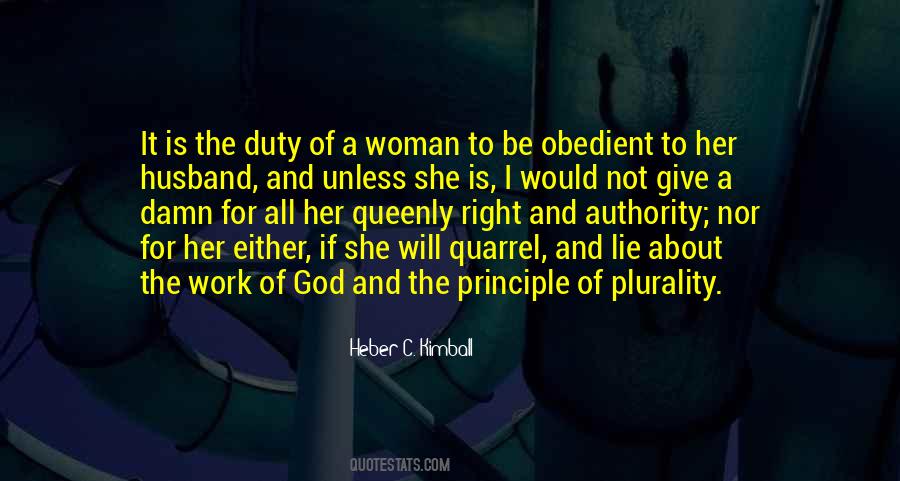 #37. I am so weak that I can hardly write, I cannot read my Bible, I cannot even pray, I can only lie still in God's arms like a little child, and trust. - Author: Hudson Taylor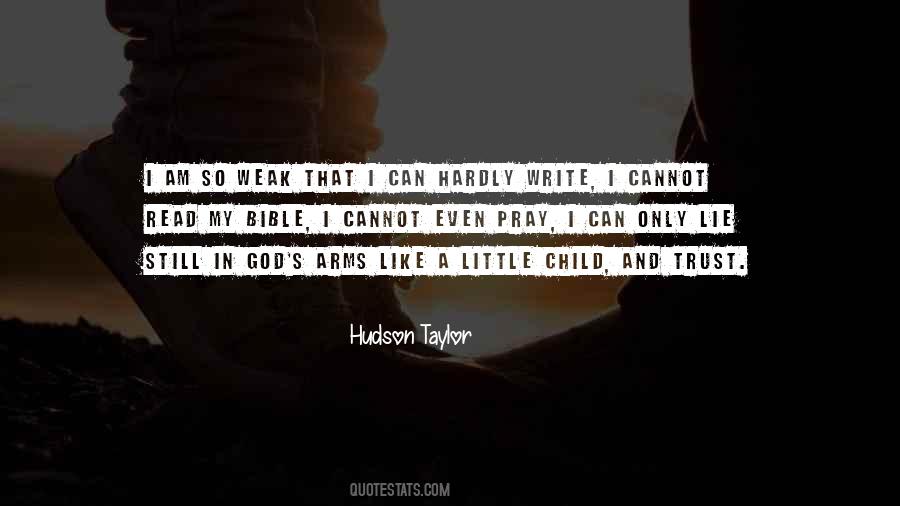 #38. Some people think black is the color of heaven, and that the more they can make their faces look like midnight, the more evidence they have of grace. But God, who made the sun and the flowers, never sent me to proclaim to you such a lie as that. - Author: Henry Ward Beecher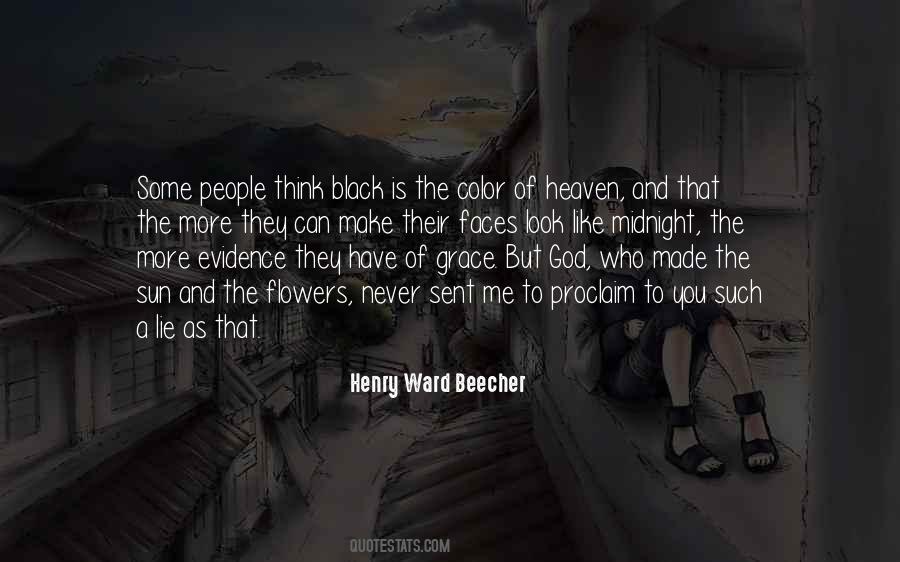 #39. True faith rests upon the character of God and asks no further proof than the moral perfections of the One who cannot lie. - Author: A.W. Tozer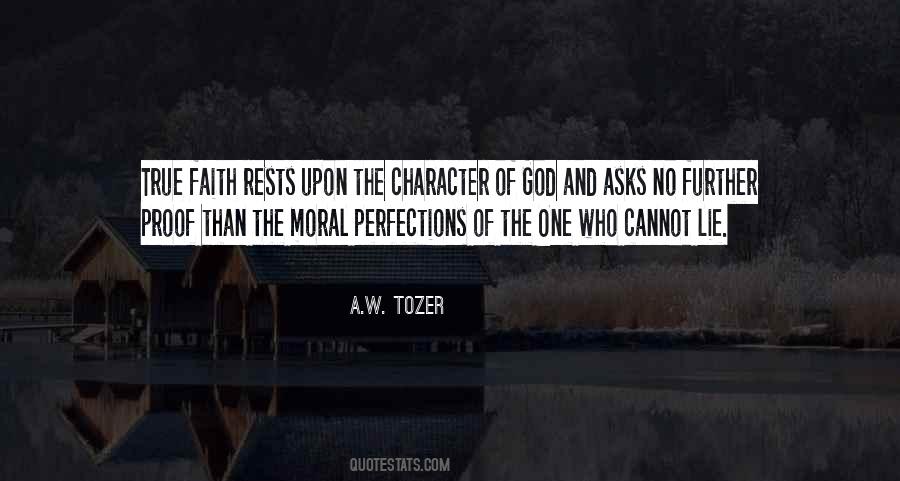 #40. Our concerns sink into insignificance when compared with the eternal value of human personality - a potential child of God which is destined to triumph over lie, pain, and death. No one can take this sublime meaning of life away from us, and this is the one thing that matters. - Author: Igor Sikorsky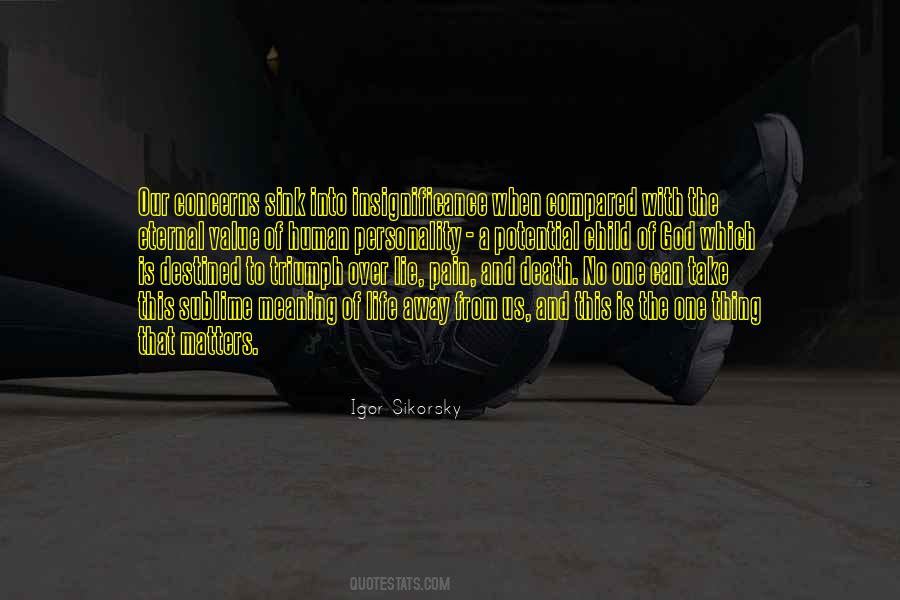 #41. There's an east wind coming all the same, such a wind as never blew on England yet. It will be cold and bitter, Watson, and a good many of us may wither before its blast. But it's God's own wind none the less and a cleaner, better stronger land will lie in the sunshine when the storm has cleared. - Author: Arthur Conan Doyle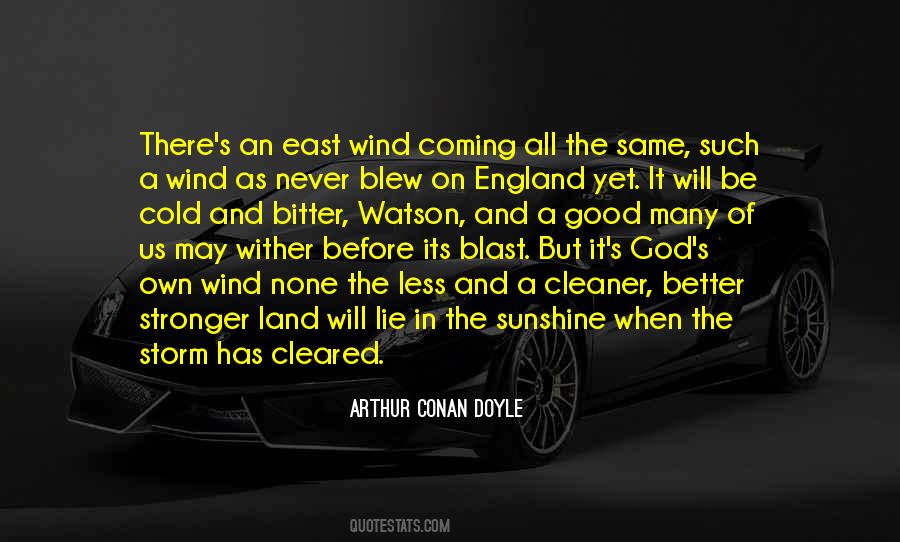 #42. When I am angry, I pray God to swing our globe into the fiery sun and prevent the sorrows of the not-yet-born: but when I am content, I want to lie forever in the shade, till I become a shade myself. - Author: T.E. Lawrence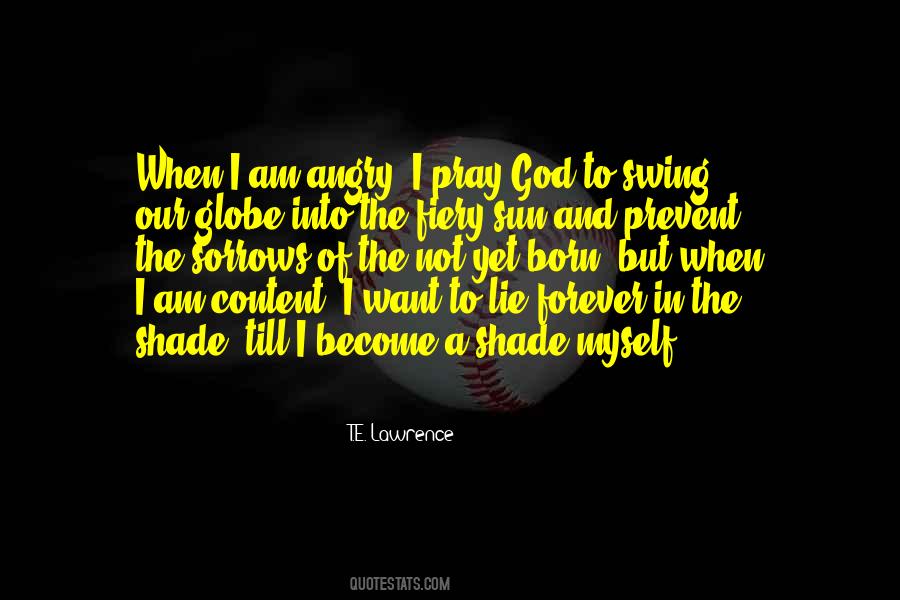 #43. A liar would be brave toward God, while he is a coward toward men; for a lie faces God, and shrinks from man. - Author: Michel De Montaigne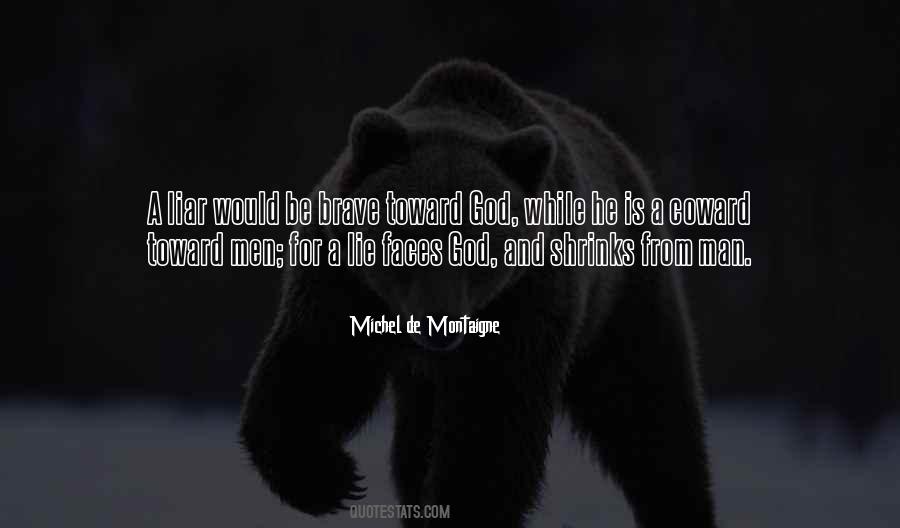 #44. The Devil did not tempt Adam and Eve to steal, to lie, to kill, to commit adultery; he tempted them to live independent of God. - Author: Bob Jones, Sr.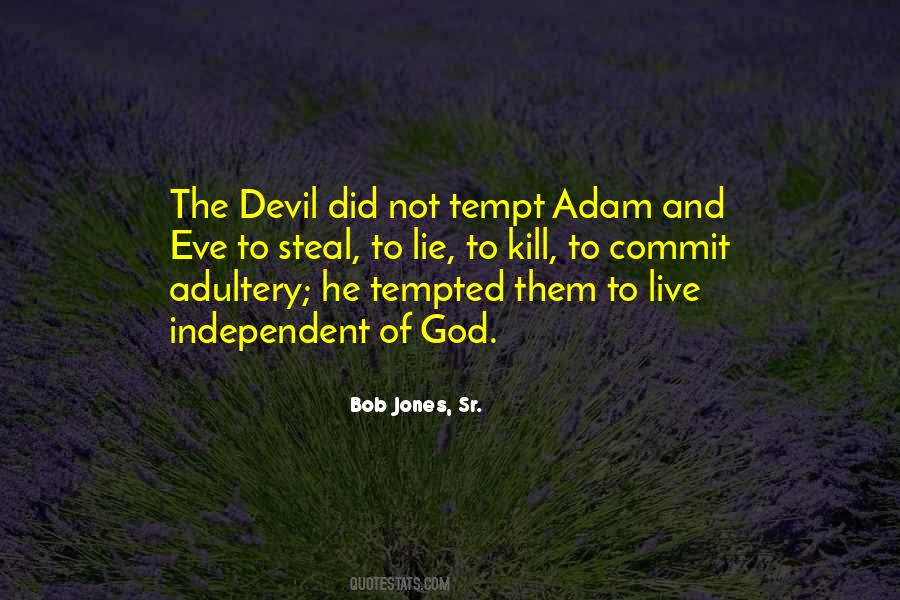 #45. Oh my God, I am such a liar. And I can't even leave it at just one lie, either. Oh, no. I have to pile it on. I am sick, I tell you. Sick. - Author: Meg Cabot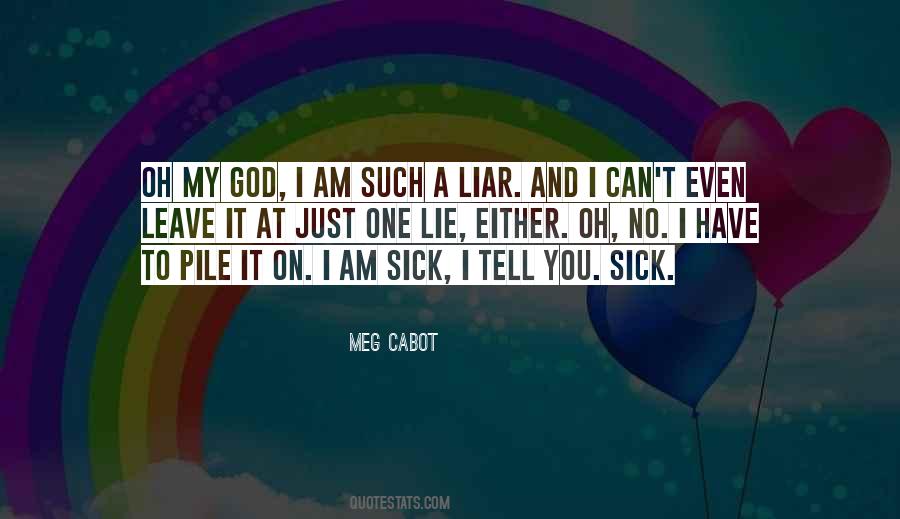 #46. We have full confidence in Jesus Christ. Our confidence rises as the character of God becomes greater and more trustworthy to our spiritual comprehension. The One with whom we deal is the One who embodies faithfulness and truth-the One who cannot lie. - Author: Aiden Wilson Tozer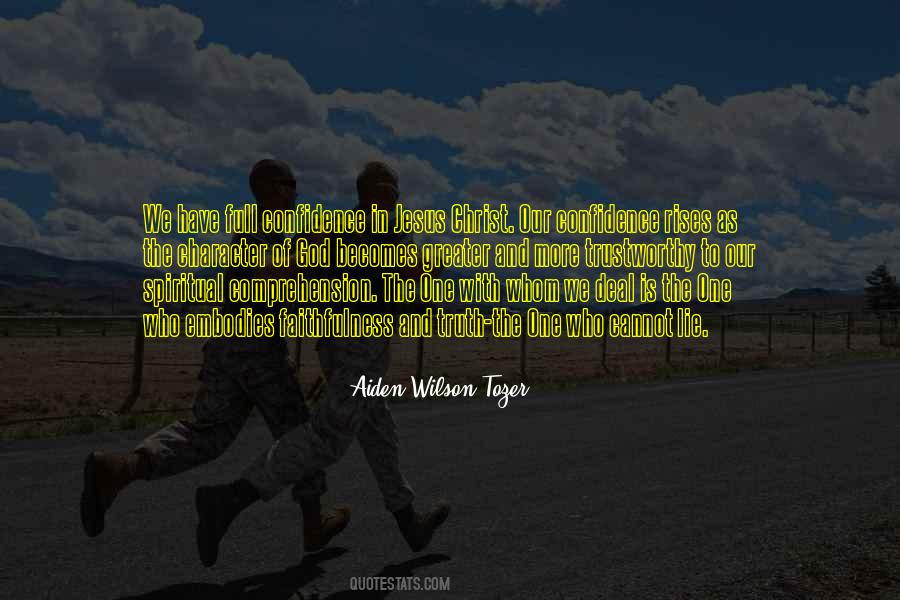 #47. Serve God with integrity, and if you achieve no success, at least no sin will lie upon your conscience. - Author: Charles Spurgeon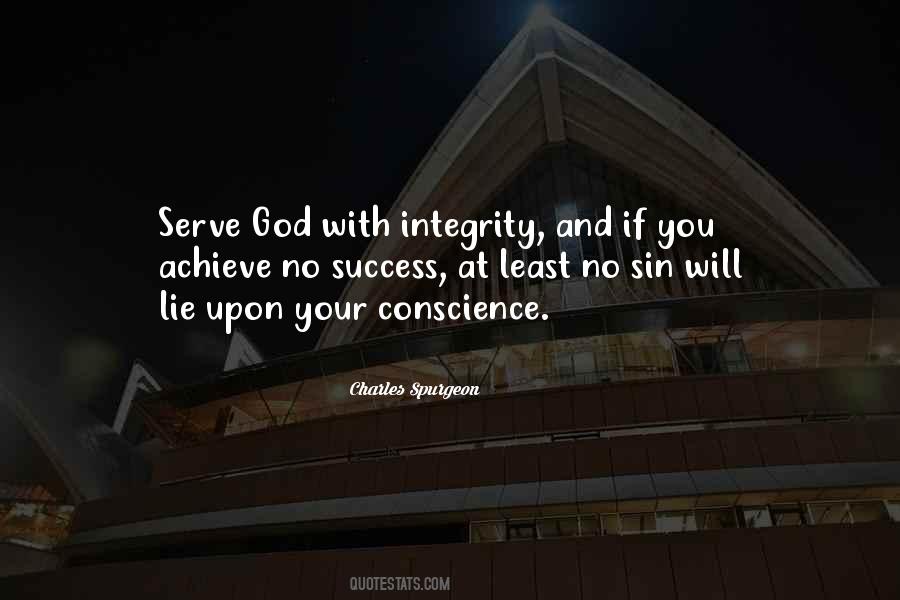 #48. Night by night I will lie down and sleep in the thought of God, and in the thought, too, that my waking may be in the bosom of the Father; and some time it will be, so I trust. - Author: William Mountford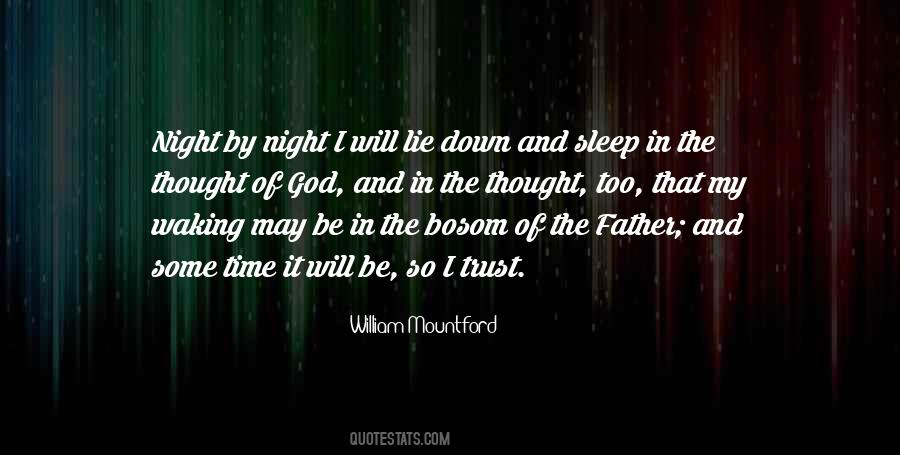 #49. Since in the world you imagines, a world without power and money, with no prohibitions, with no pain or death, each man would be God, and God therefore would not be possible. He would be a lie, because His attributes would be those of every man, woman and child: grace, immortality and supreme good. - Author: Carlos Fuentes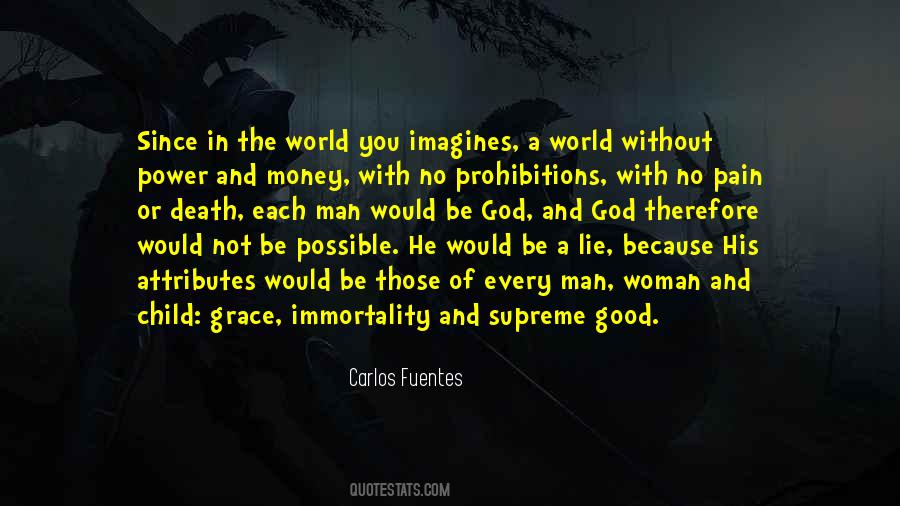 #50. He disliked his own lies as much as his parents', but still he continued to lie
boldly and cunningly. He did this primarily out of need, but also for the pathological pleasure of killing a god. - Author: Ryunosuke Akutagawa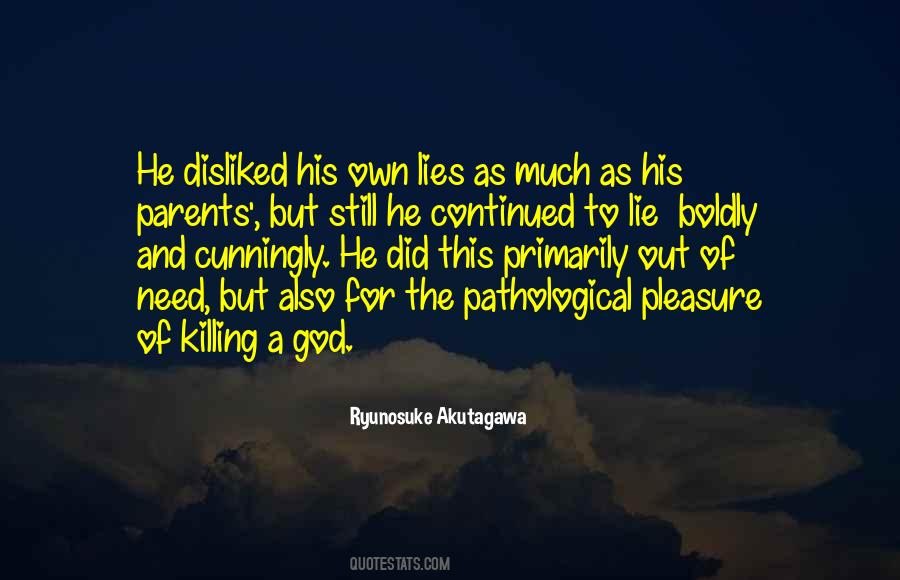 #51. Thor might be god of strength and war, Odin of wisdom, but he sometimes wondered if it wasn't Loki, the trickster god, who stood behind what unfolded. A lie can run deeper than strength or wisdom. And hadn't the world proved to be a bitter joke? - Author: Mark Lawrence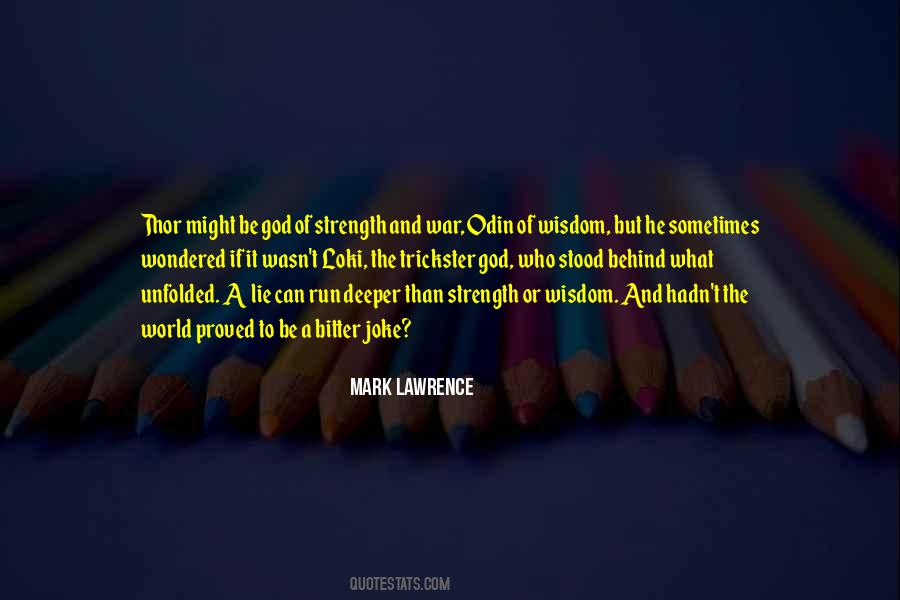 #52. Ursula wondered if it was not preferable to lie down once and for all in her grave and let them throw the earth over her, and she asked God, without fear, if He really believe that people were made of iron in order to bear so many troubles and mortifications. - Author: Gabriel Garcia Marquez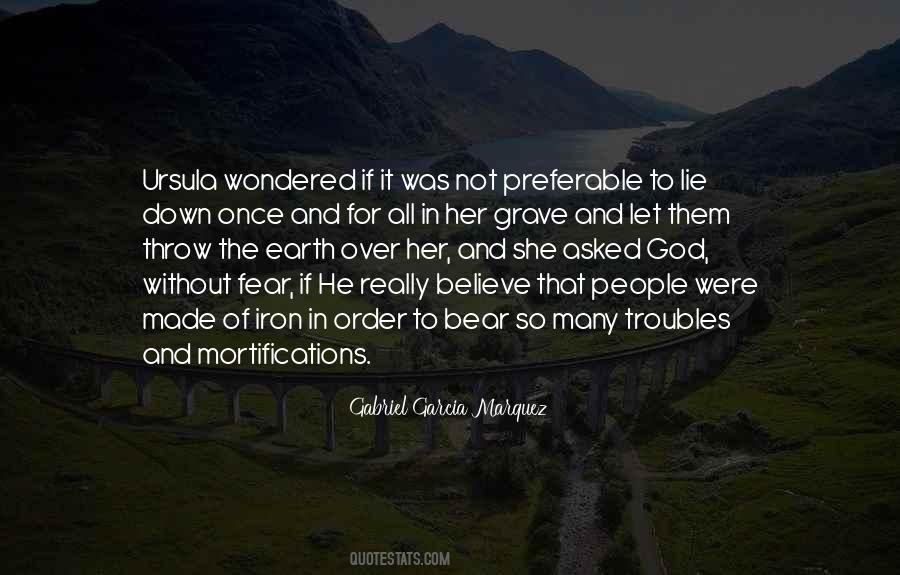 #53. But no sooner had morning broken than he took hold of his whip and ceremoniously stepped out to address his slaves. Each blow was liberating, it was like unshaking proof of the great lie of God's existence. - Author: Juhani Peltonen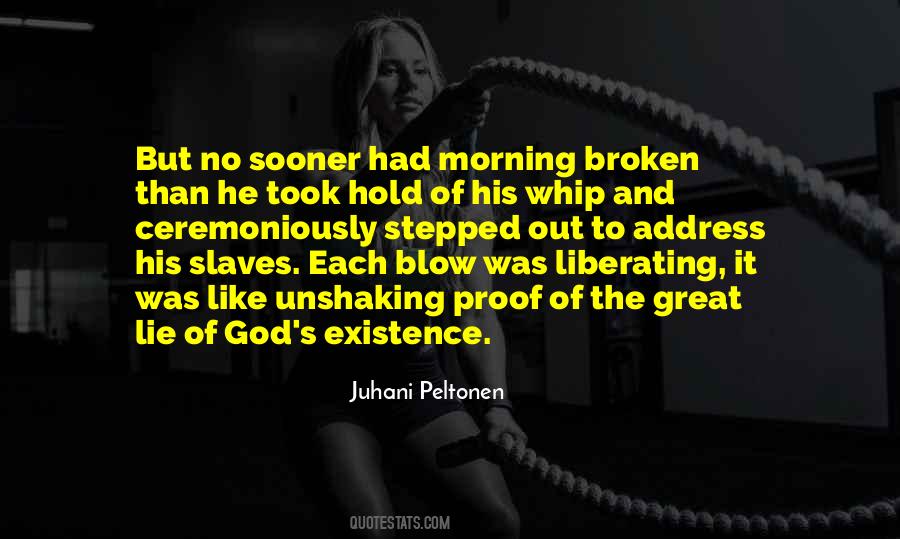 #54. It is better to die for the truth than to live for a lie. Let it cost me what it will, I will not depart from the truth, even to save my own or my father's life. I will obey God, and trust Him for the rest. - Author: Christoph Von Schmid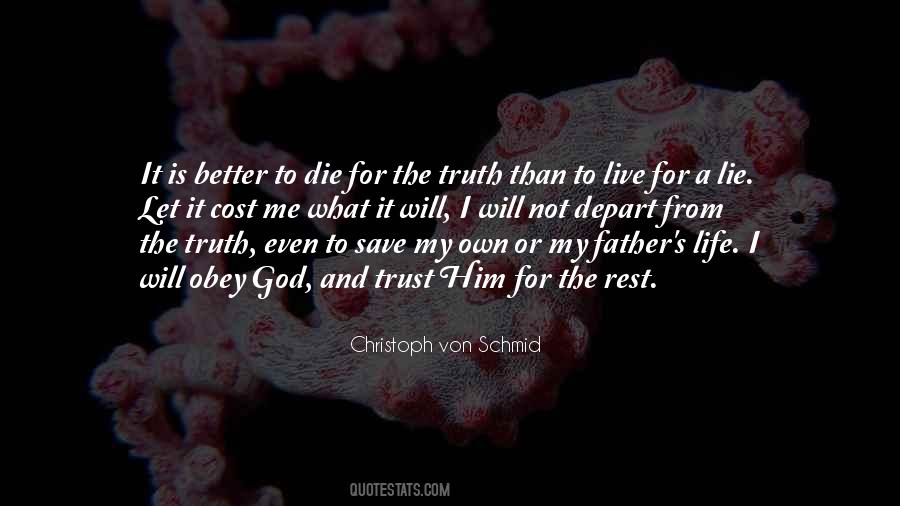 #55. If God doesn't want people to lie, he shouldn't have given the best liars such earnest and innocent faces. - Author: Sherry Thomas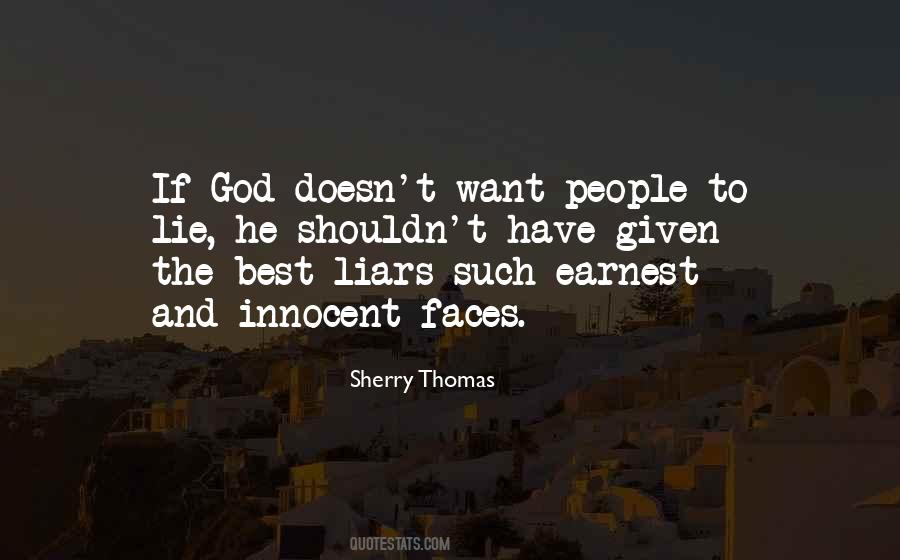 #56. When a man is willing to find an excuse for being God's enemy he need never be at a loss. He who hath to find a fact may find some difficulty; but he who would forge a lie may sit at his own fireside and do it. - Author: Charles Haddon Spurgeon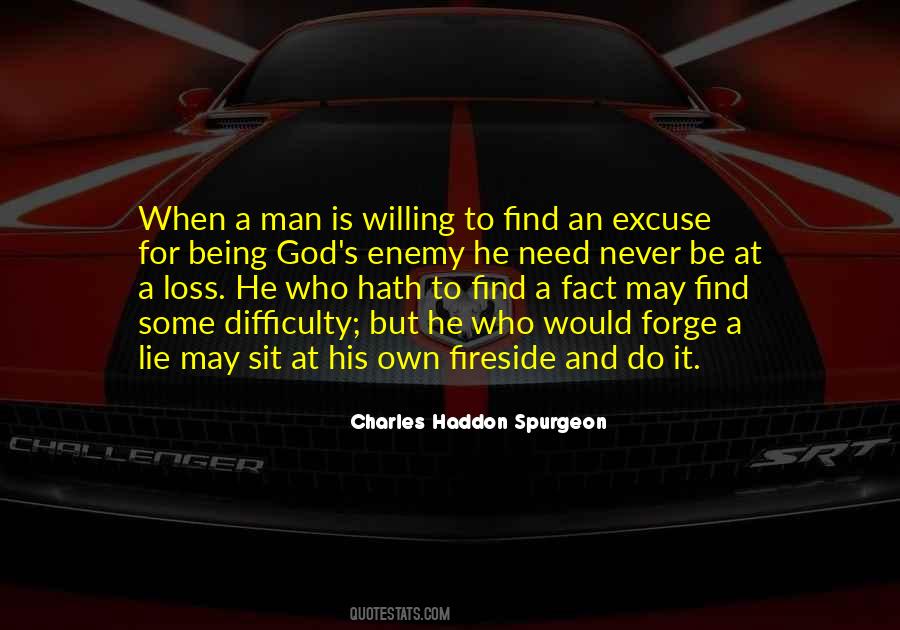 #57. This grace of God is a very great, strong, mighty and active thing. It does not lie asleep in the soul. Grace hears, leads, drives, draws, changes, works all in man, and lets itself be distinctly felt and experienced. It is hidden, but its works are evident. - Author: Martin Luther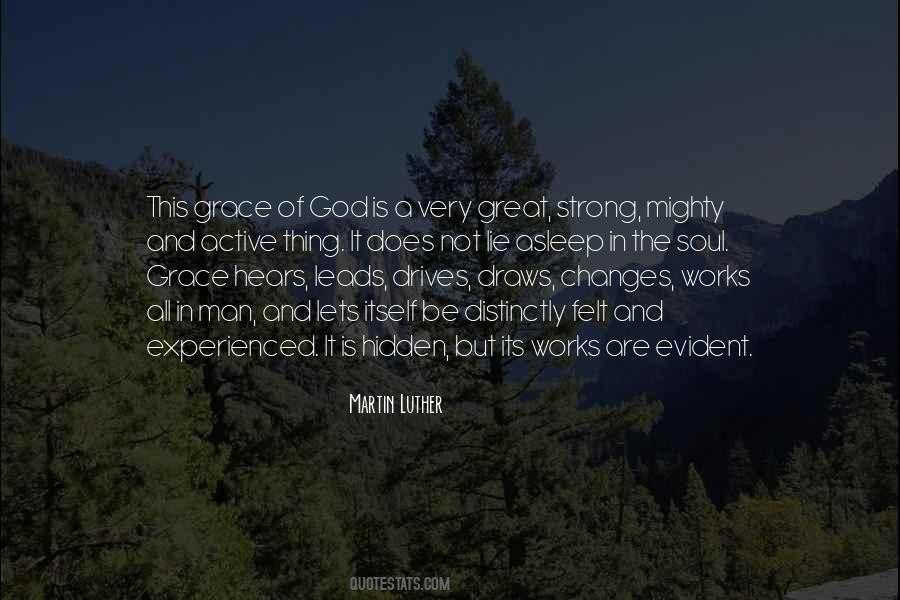 #58. When you lie down on your bed to sleep, remember with thanksgiving the blessings and the providence of God. - Author: Anthony The Great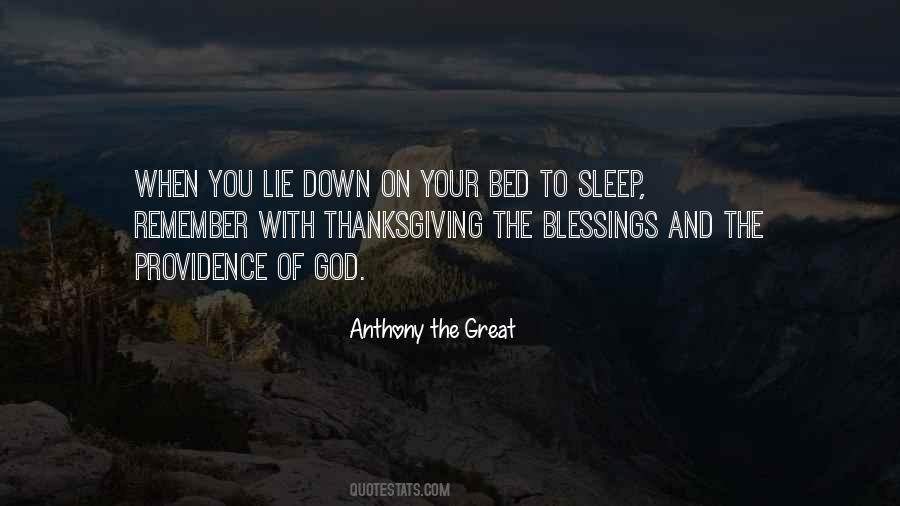 #59. Dr. Bob Jones, Sr. observed, The Devil did not tempt Adam and Eve to steal, to lie, to kill, to commit adultery; he tempted them to live independently of God. - Author: Jim Berg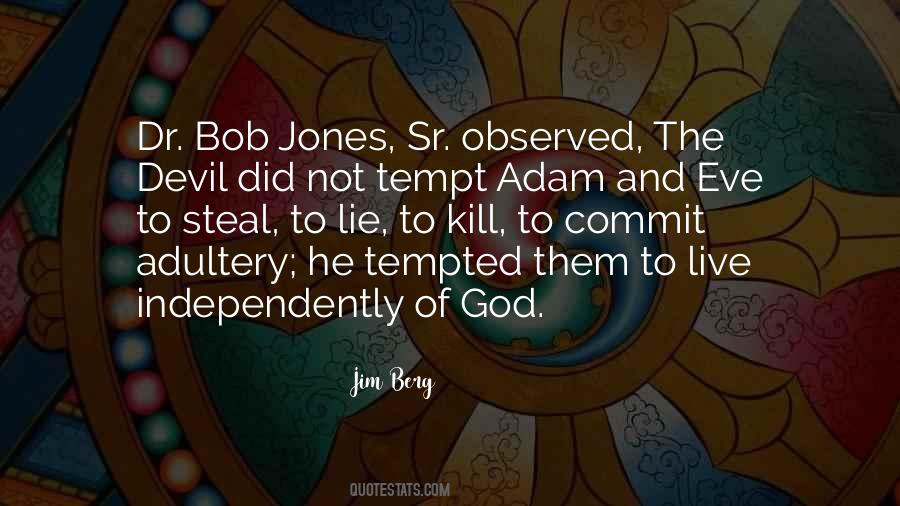 #60. Glorify a lie, legalize a lie, arm and equip a lie, consecrate a lie with solemn forms and awful penalties, and after all it is nothing but a lie. It rots a land and corrupts a people like any other lie, and by and by the white light of God's truth shines clear through it, and shows it to be a lie. - Author: Edwin Hubbel Chapin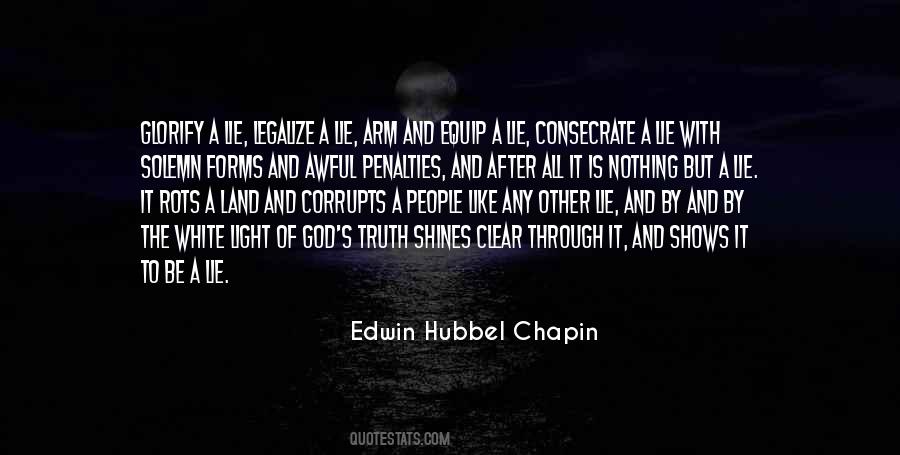 #61. He thought: Because when you tell a lie it must be to keep from saying a worse thing. Then lying is not a Sin and God will not punish you. (But what if God is one of them?) - Author: Davis Grubb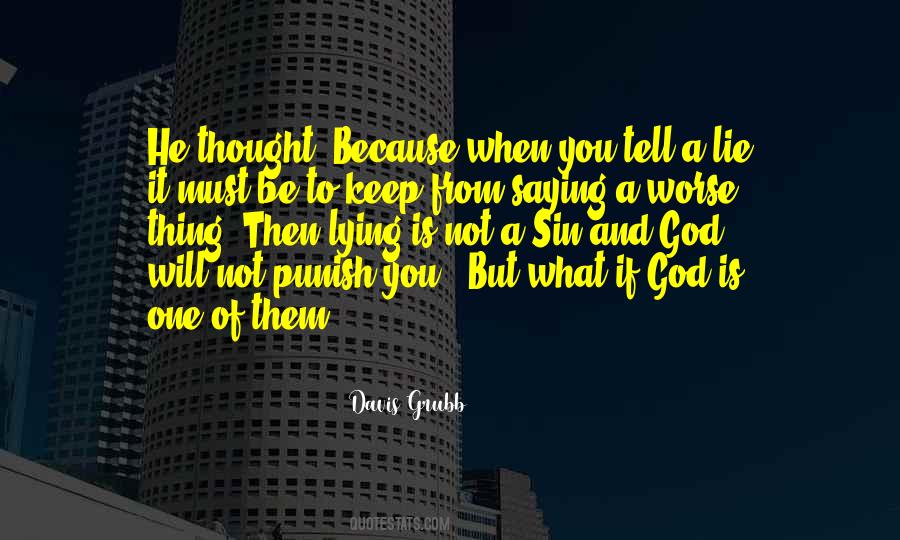 #62. I worship nothing. Not a good lie nor a dark one. If nature is proof of God's amazing creation then I have truly seen the light, and the light is black. Nature is genius at its most cruel and savage. No benevolent God could have come up with such an outrage. - Author: Gary Numan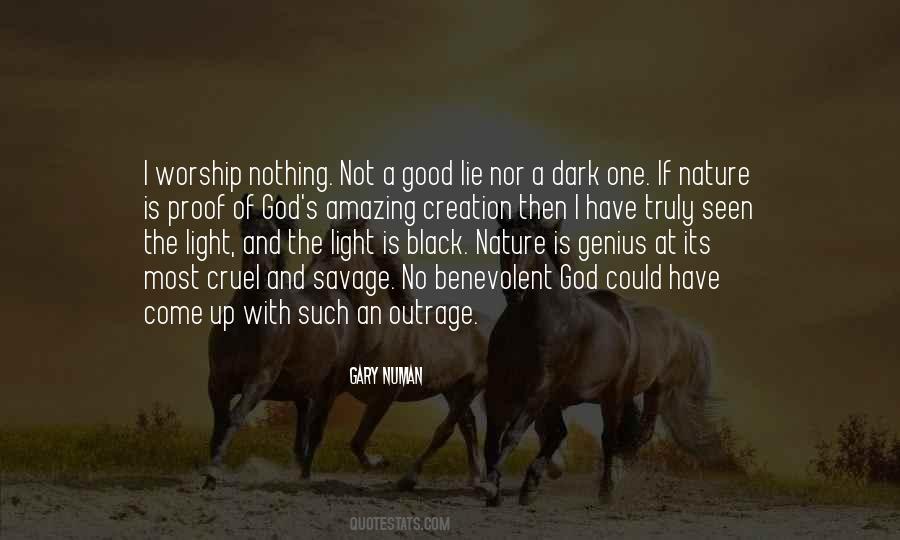 #63. She resented the fact that her veil, which to her was a symbol of her sacred relationship to God, had now become an instrument of power, turning the women who wore them into political signs and symbols. Where do your loyalties lie, Mr. Bahri, with Islam or the state? - Author: Azar Nafisi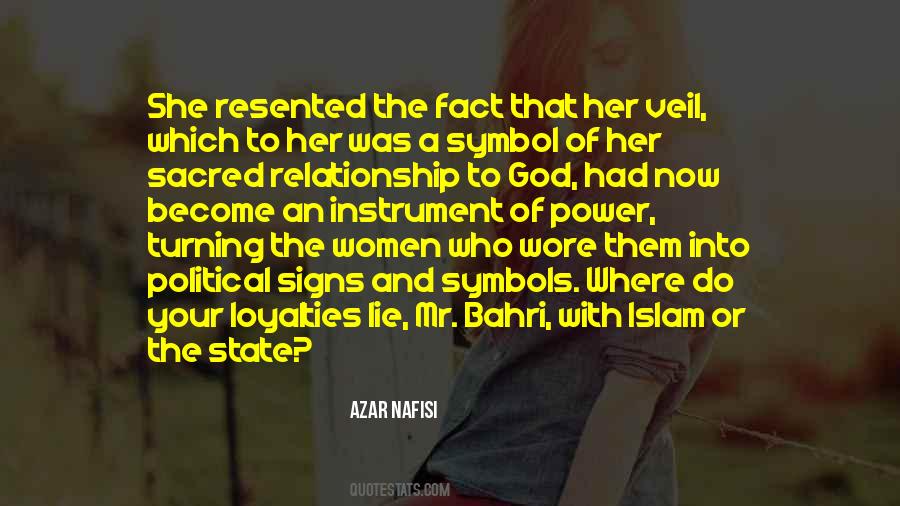 #64. The power of prayer does not lie in the number or earnestness of the words you use, but in a living faith that God Himself accepts both you and your prayer into His loving heart. - Author: Andrew Murray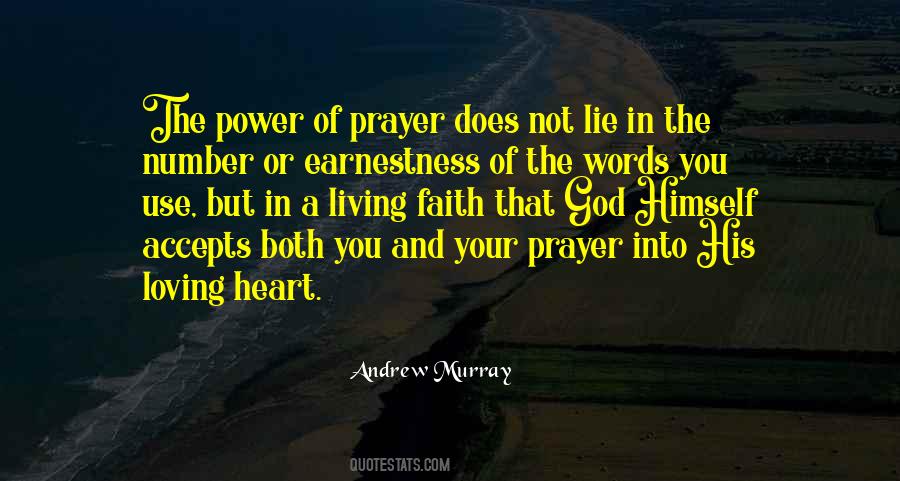 #65. The sin underneath all our sins is to trust the lie of the serpent that we cannot trust the love and grace of Christ and must take matters into our own hands - Author: Martin Luther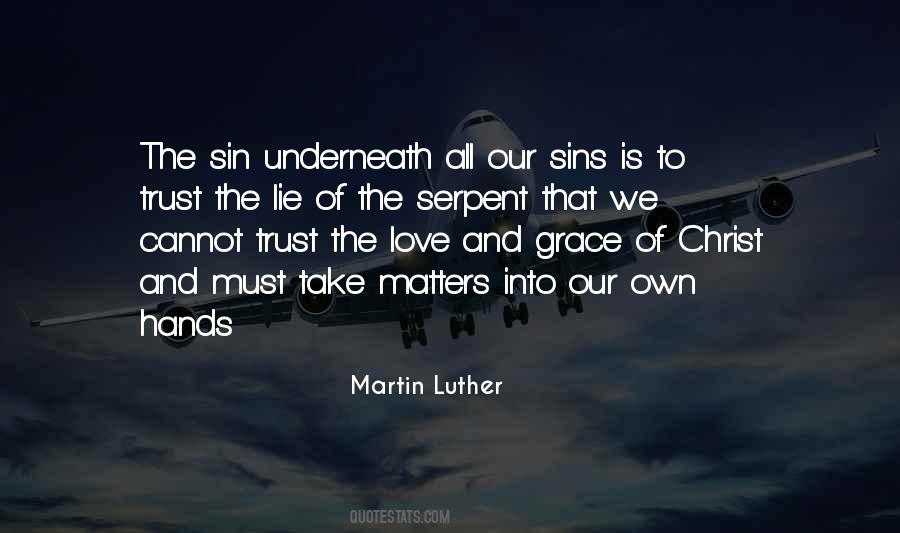 #66. It is the absence of the knowledge of God and man's refusal to obey Him that lie at the root of every problem which besets us. - Author: Billy Graham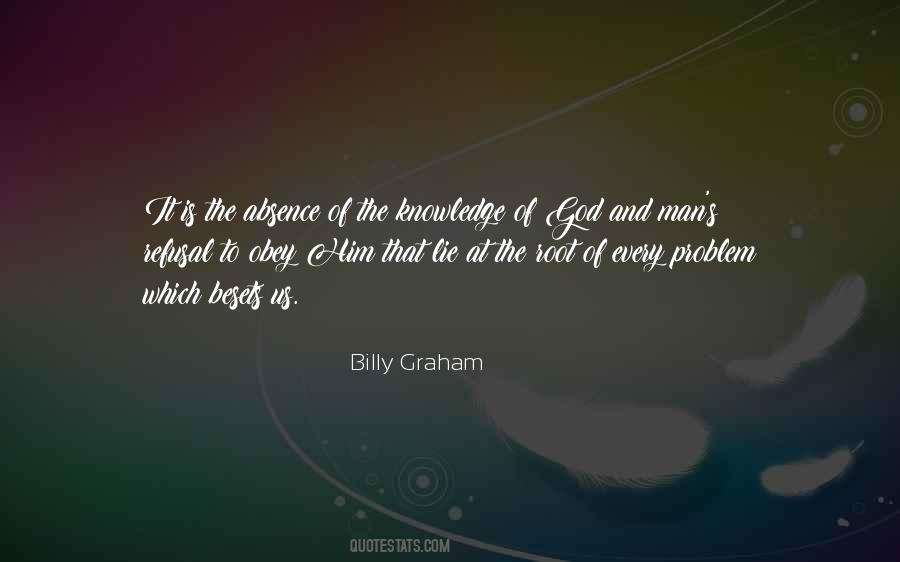 #67. Courage
judgment
integrity
dedication
these are the historic qualities of the Bay Colony and the Bay State ... And these are the qualities which, with God's help, this son of Massachusetts hopes will characterize our government's conduct in the four stormy years that lie ahead. - Author: John F. Kennedy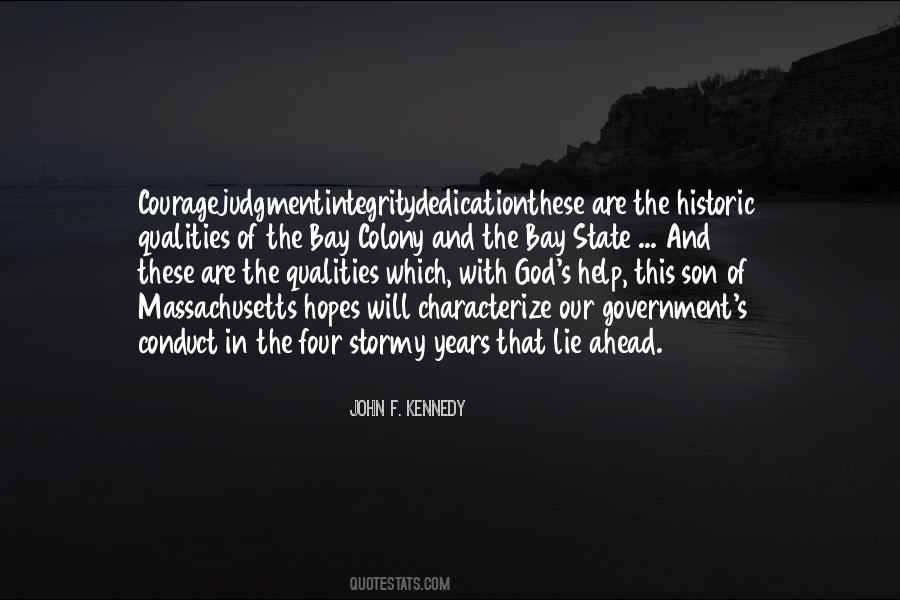 #68. Inside the Bible's pages lie the answers to all the problems that mankind has ever known. I hope Americans will read and study the Bible. - Author: Ronald Reagan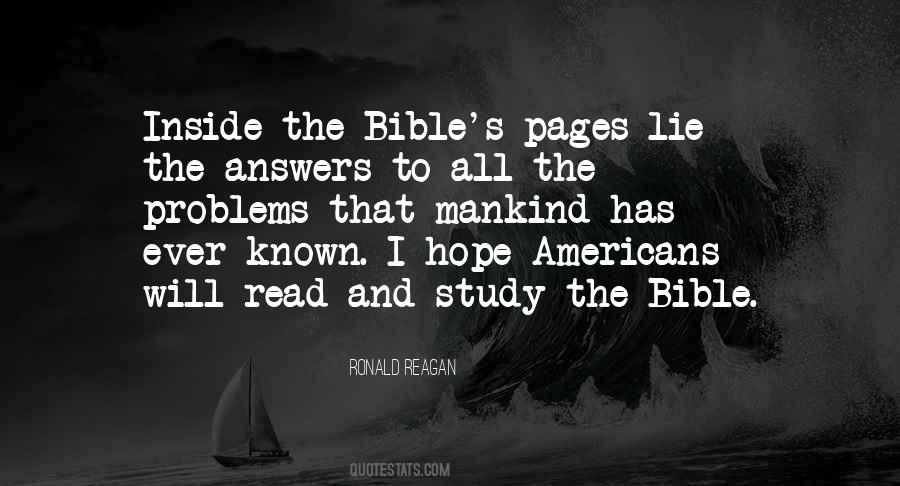 #69. It is long since I could have adventured on eternity, through God's mercy and Christ's merits; but death remained somewhat terrible, and that now is taken away; and now death is no more to me, but to cast myself into my husband's arms, and to lie down with Him. - Author: Donald Cargill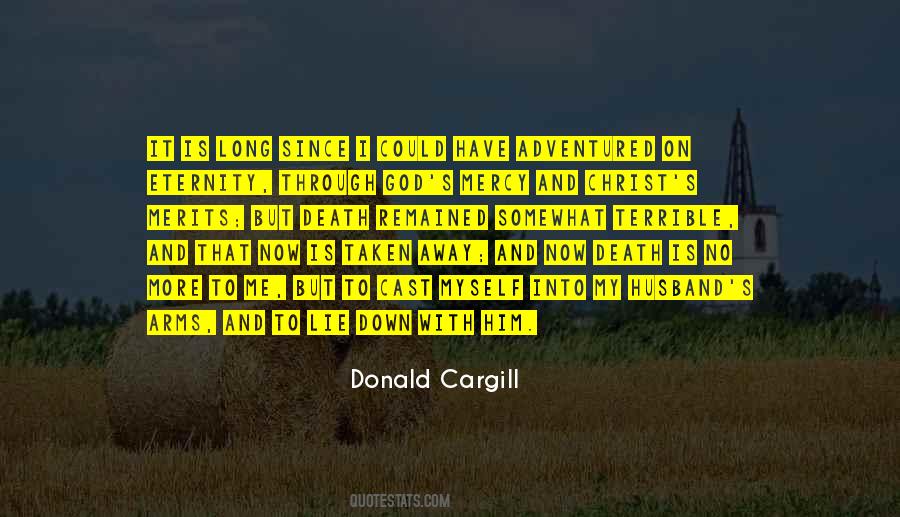 #70. When the sun died, I went up to heaven and saw God and all the people who had died a long time ago. God told me to come back and tell my people they must be good and love one another, and not fight, or steal, or lie. He gave me this dance to give to my people. - Author: Wovoka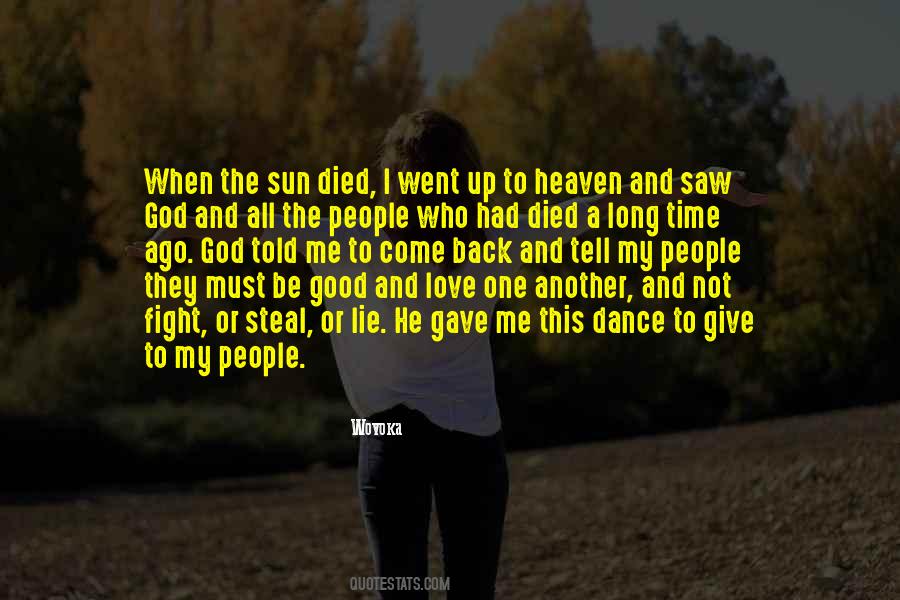 #71. Let us unlearn our wisdom of the world. Let us lie low in the Lord's power, and learn that truth alone makes rich and great. - Author: Ralph Waldo Emerson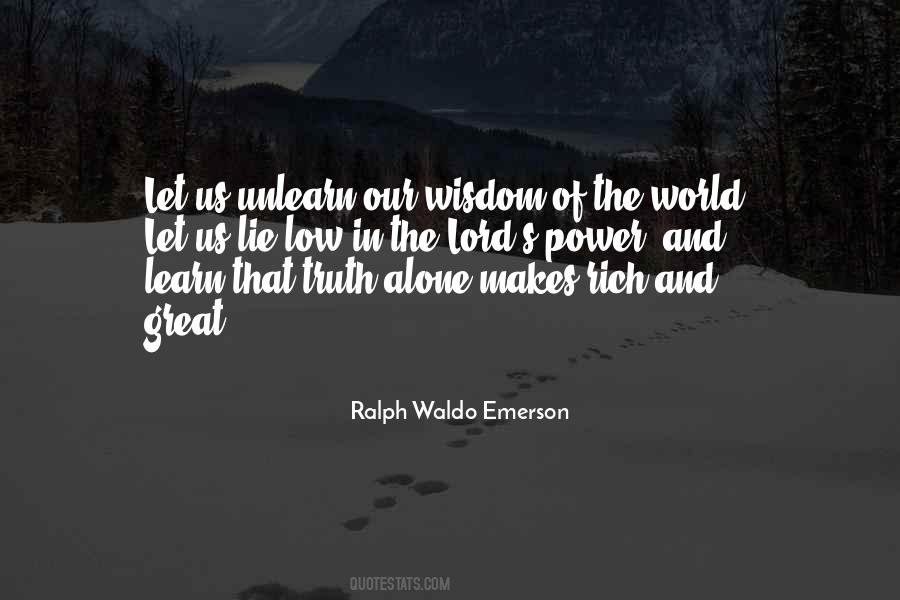 #72. I have to lie, if I don't want to take madmen seriously and become a madman myself - Author: Milan Kundera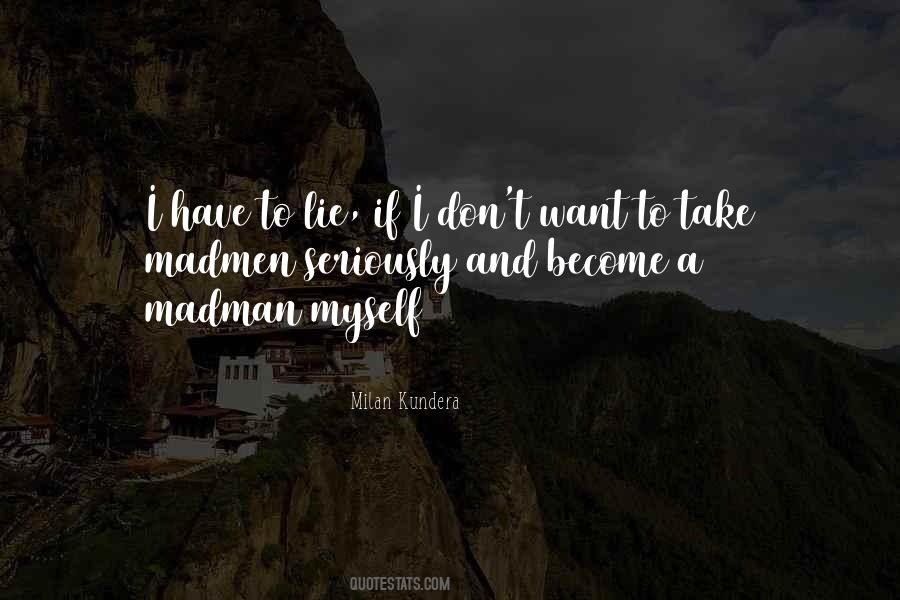 #73. So that's what we're about then," I said. "Staying safe in our gated-community faith, where we make room for God. Well, you know what? It's a fantasy and a lie. - Author: Nancy N. Rue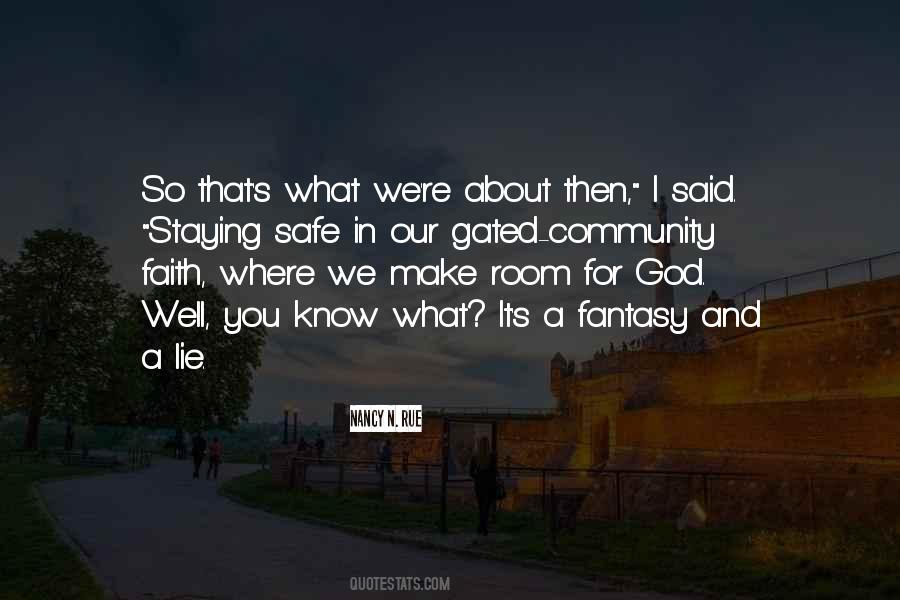 #74. In this age of humanism, man is seduced by society with the lie that he can become his own god ... the New Age movement is polluted with self and it will never bow before God - at least not until Christ returns. - Author: Billy Graham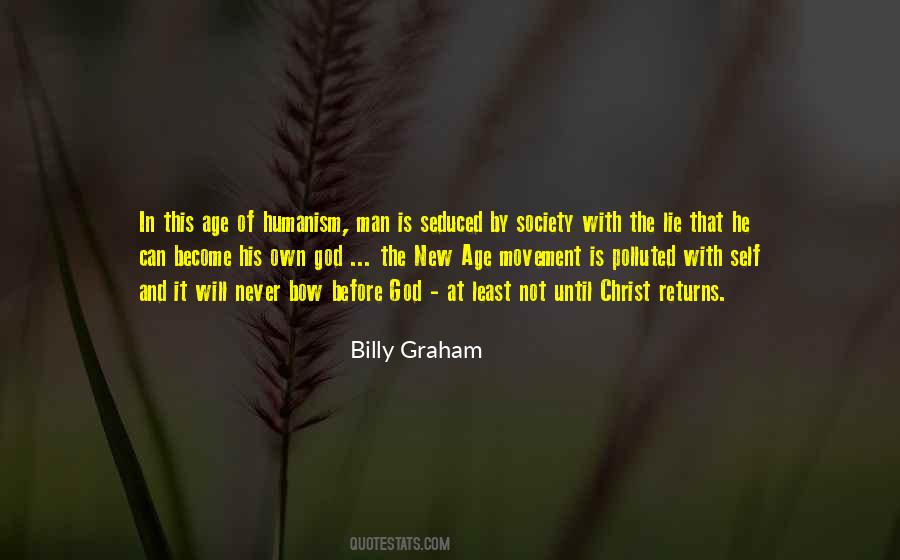 #75. When through fiery trials thy pathways shall lie,
My grace, all sufficient, shall be thy supply;
The flame shall not hurt thee; I only design
Thy dross to consume, and thy gold to refine. - Author: John Rippon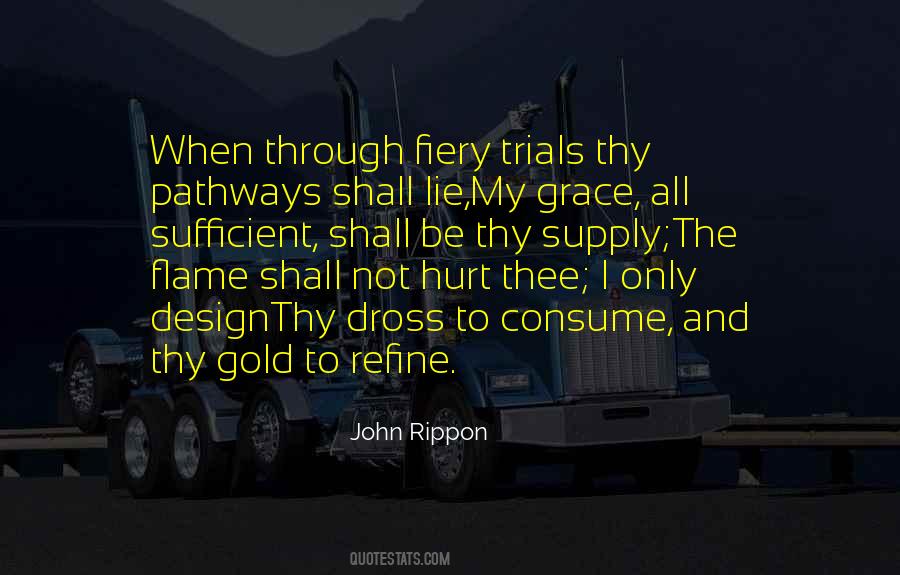 #76. When we refuse to be kind to someone when it would be right to do it; when we lie to each other; when we lash out in violence, we transgress, disregarding the standards and statutes of God. - Author: Henry Cloud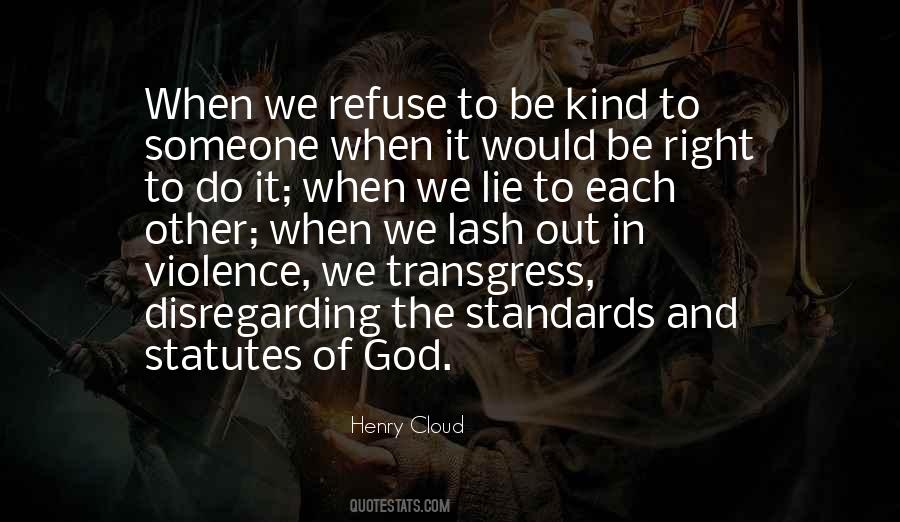 #77. Human desire is the criterion of all truth and all good. Truth does not lie beyond humanity, but is one of the products of the human mind and feeling. There is really nothing to fear. The motive of fear in religion is base ... - Author: D.H. Lawrence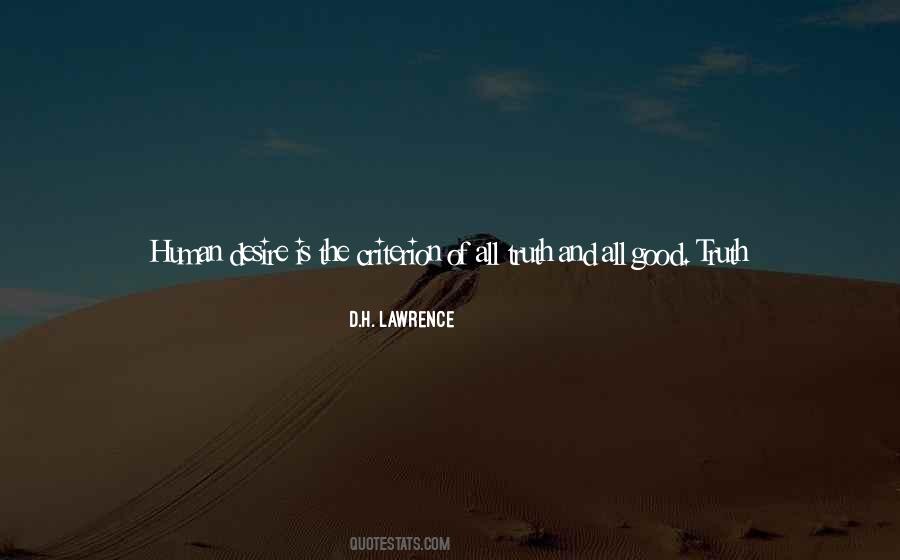 #78. Alas! while the body stands so broad and brawny, must the soul lie blinded, dwarfed, stupefied, almost annihilated? Alas! this was, too, a breath of God, bestowed in heaven, but on earth never to be unfolded! - Author: Thomas Carlyle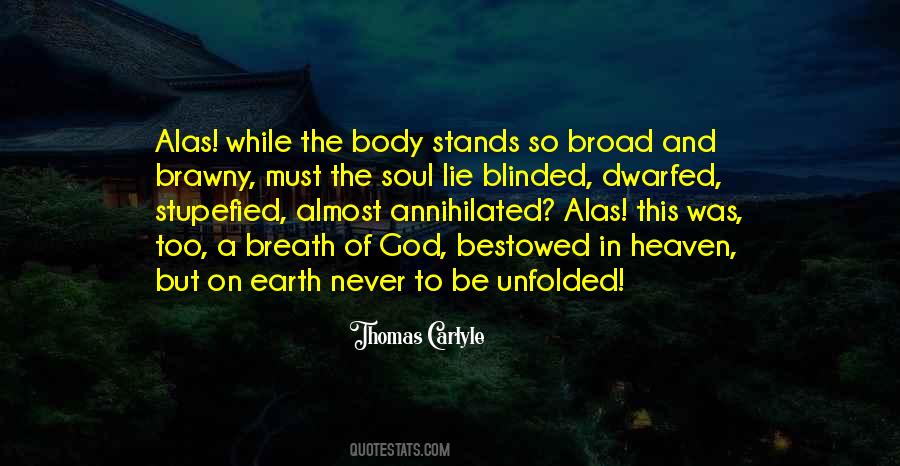 #79. Lie not, neither to thyself, nor man, nor God. Let mouth and heart be one; beat and speak together, and make both felt in action. It is for cowards to lie. - Author: George Herbert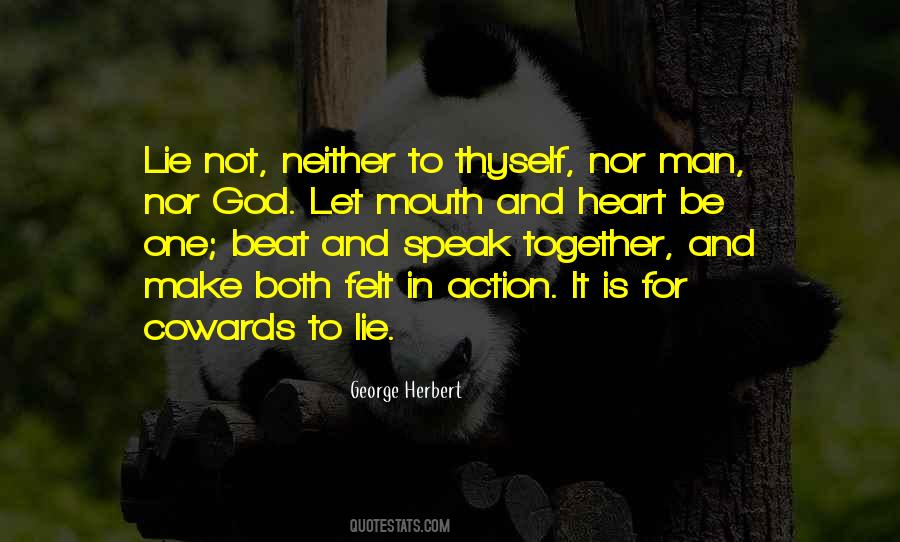 #80. The general confusion is that our moral behavior is what justifies us before God. Most of us would never say that with our mouths but we feel that lie in our heart and believe it in our minds. You can be morally upright and not be a worshipper of Christ at all. - Author: Matt Chandler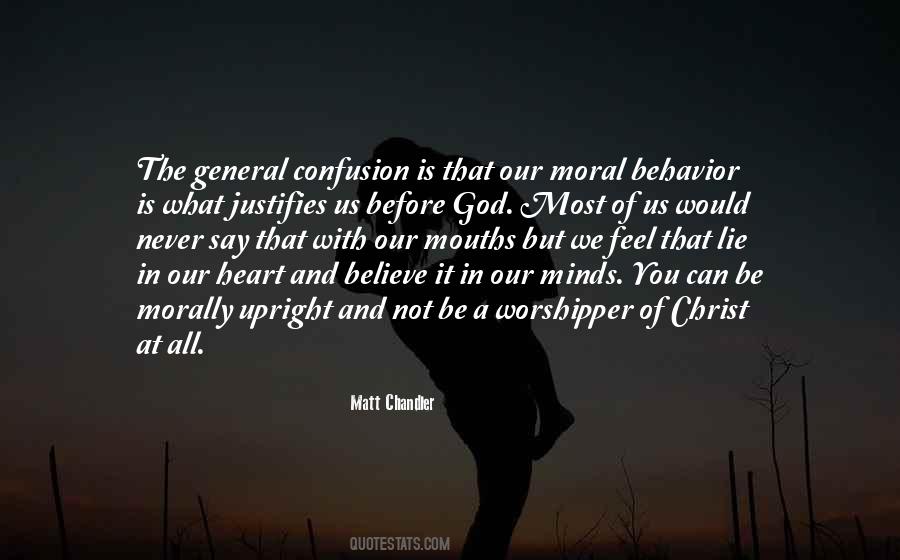 #81. God, I love you, I whisper, and come crashing back into my body with a suddenness that makes me gasp. I don't know what's more shocking
that I've called on the god I don't believe in, or that the lie I told felt so much like the truth. - Author: Stacey Jay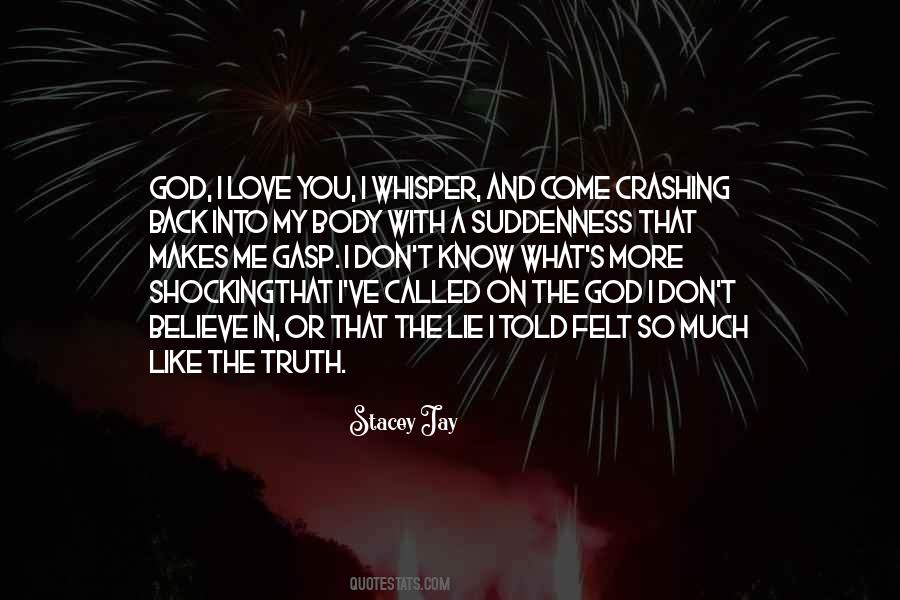 #82. Every great religion on the planet, regardless of what spiritual or cultural tradition from which it is that it emerges, announces and declares that spiritual mastery is an open possibility for every member of the human race. If that is not true, then the highest promise of God is a lie. - Author: Neale Donald Walsch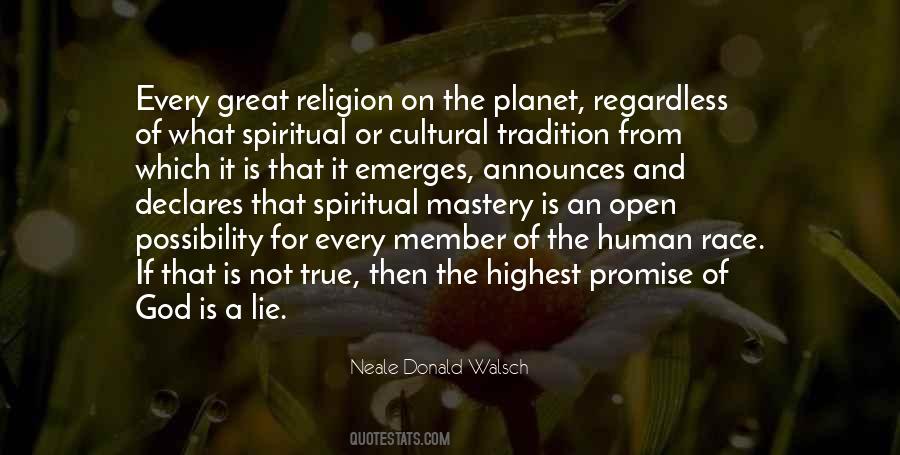 #83. Lord, my culture and my heart tell me that it is wholly due to my hard work that I am not poor. If I believe that lie, I will be ungenerous. I praise you that you are a God with a heart for the poor. Give me the same kind of heart. Amen. - Author: Timothy Keller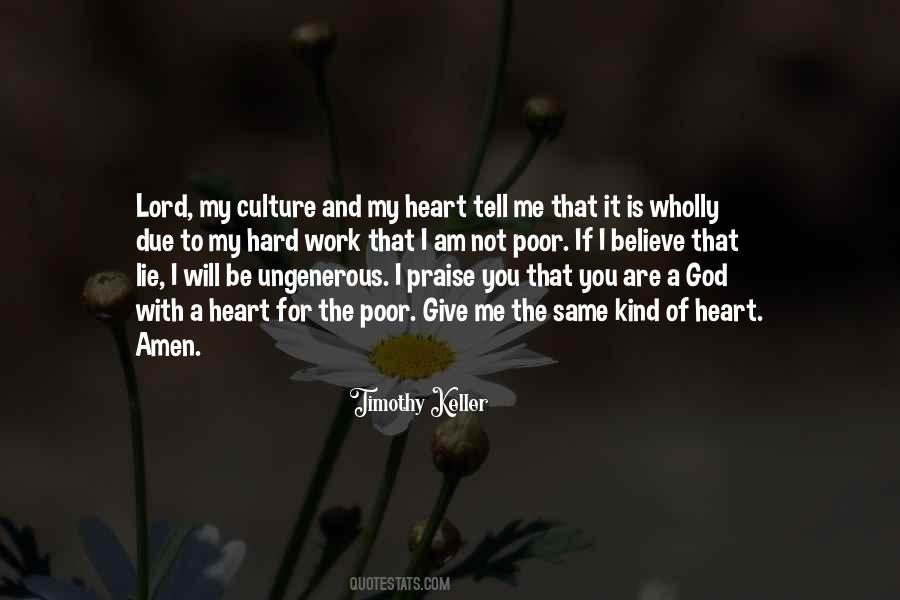 #84. As you submit to God more and more, you will get accustomed to being nourished by the power of truth. He is so holy that He cannot lie. God reveals His truth to His people through the Holy Spirit. - Author: Monica Johnson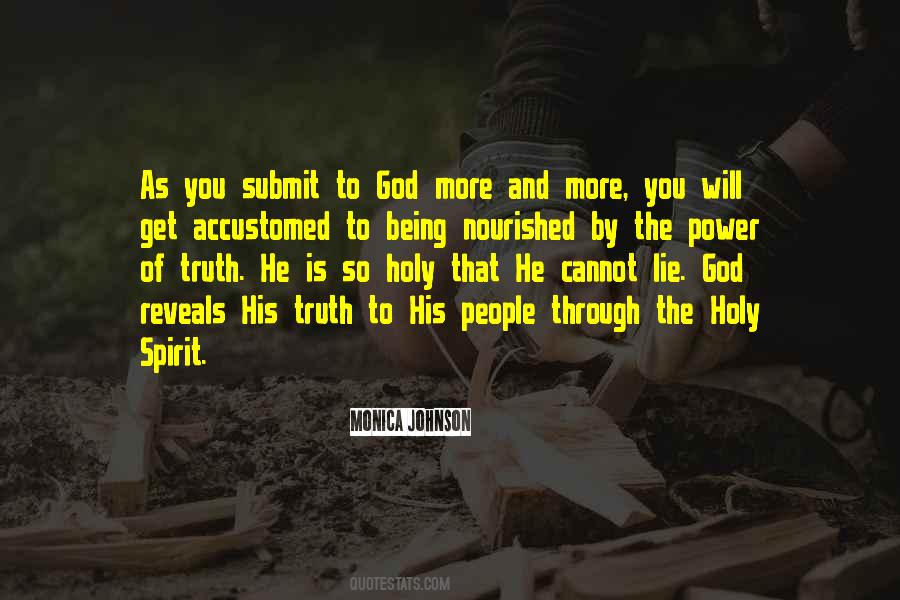 #85. I believe in religion, I believe in religious expression, and I believe that all gods are one God. I do not lie when I pray in the words of another religion, because I believe.
Oisce - Author: Arin Murphy-Hiscock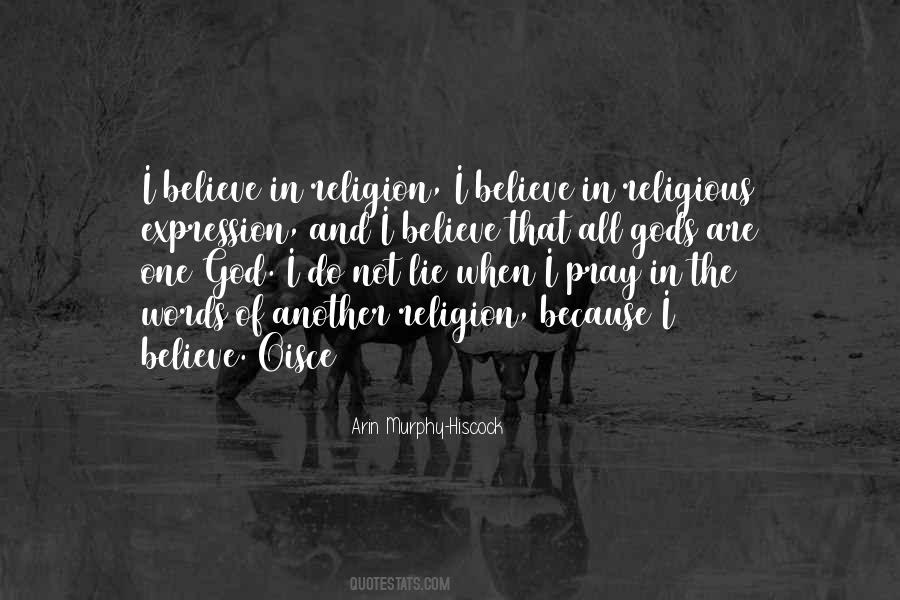 #86. Thank God I have the seeing eye, that is to say, as I lie in bed I can walk step by step on the fells and rough land seeing every stone and flower and patch of bog and cotton pass where my old legs will never take me again. - Author: Beatrix Potter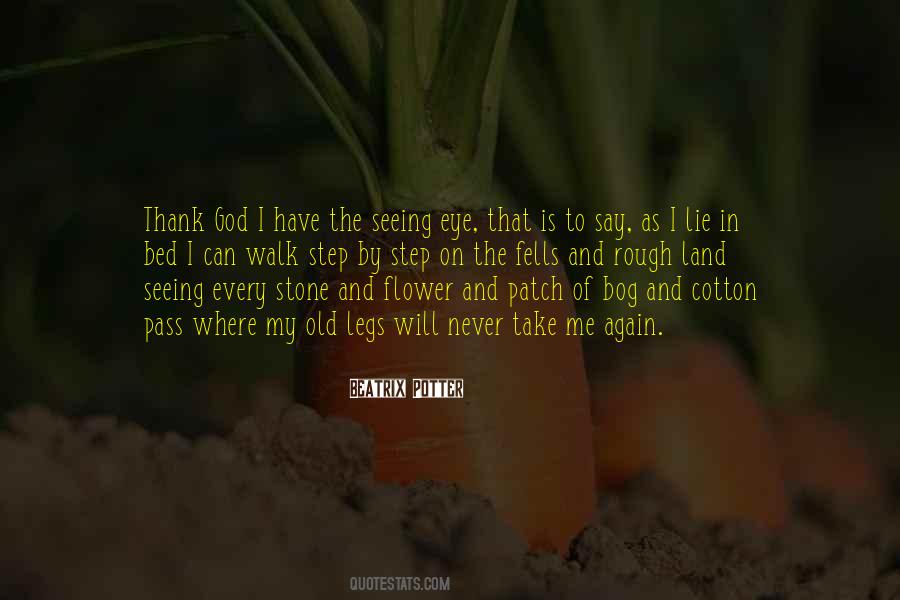 #87. The Word, then, the Christ, is the cause both of our ancient beginning, for lie was in God, and of our well-being. And now this same Word has appeared as man. He alone is both God and man, and the source of all our good things - Author: Tertullian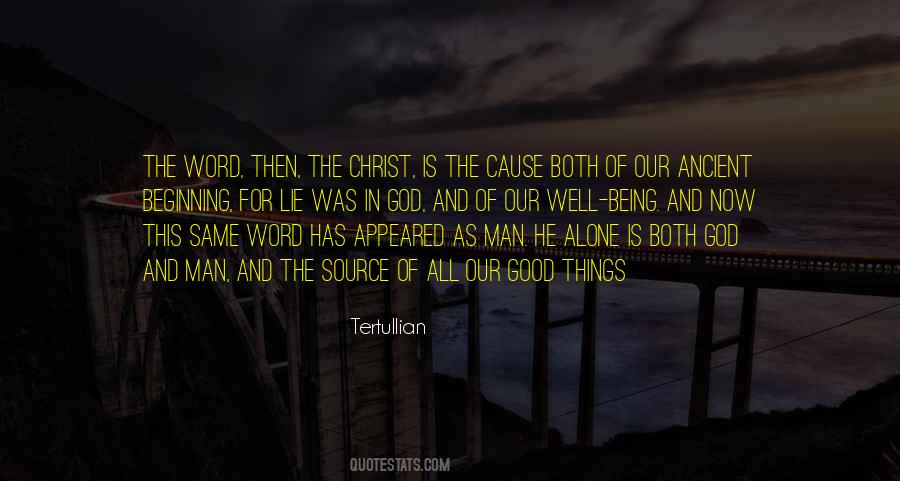 #88. I know it's wrong - God, it's all kinds of wrong - but I just want to lie down with you and wake up with you, just once, just once ever in my life. - Author: Cassandra Clare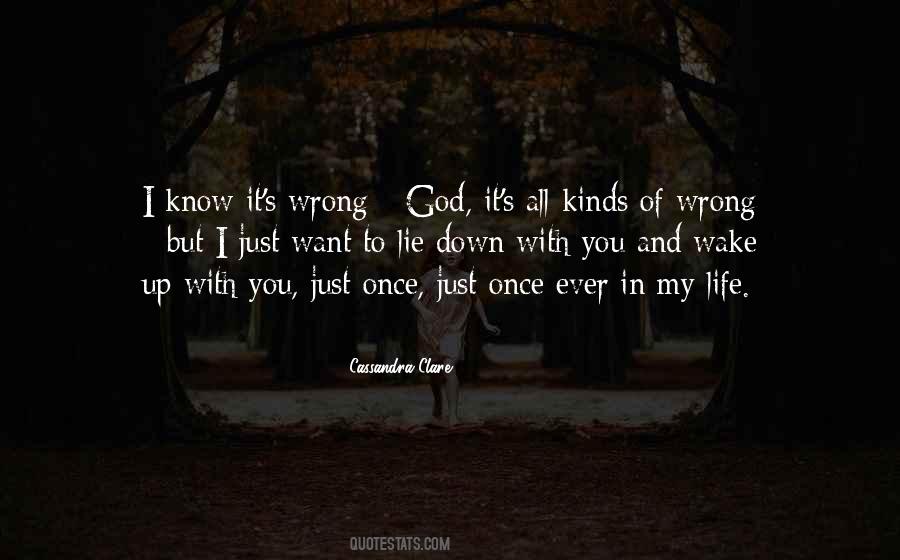 #89. No more, then, shall he infest the saints, no, nor rule the wicked, but he with them, and they with him, shall lie under the immediate execution of God's wrath. For - Author: William Gurnall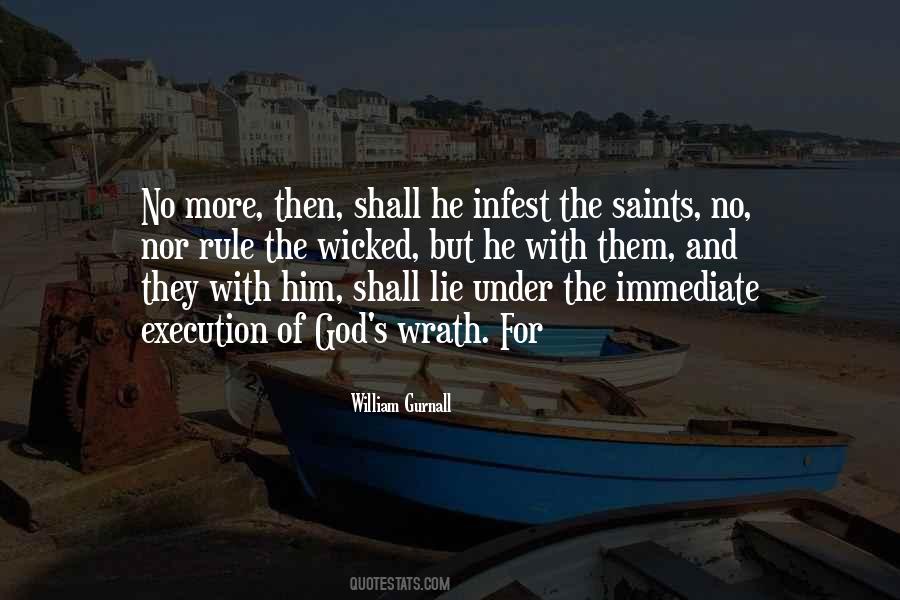 #90. But the problem is not really with God or his word. The problem is with us. The difficulties we have with those texts that deal with the responsibilities of men and women lie in us-not in the clarity or goodness of God's word. We can expect God's word to speak clearly. And it does. - Author: Claire Smith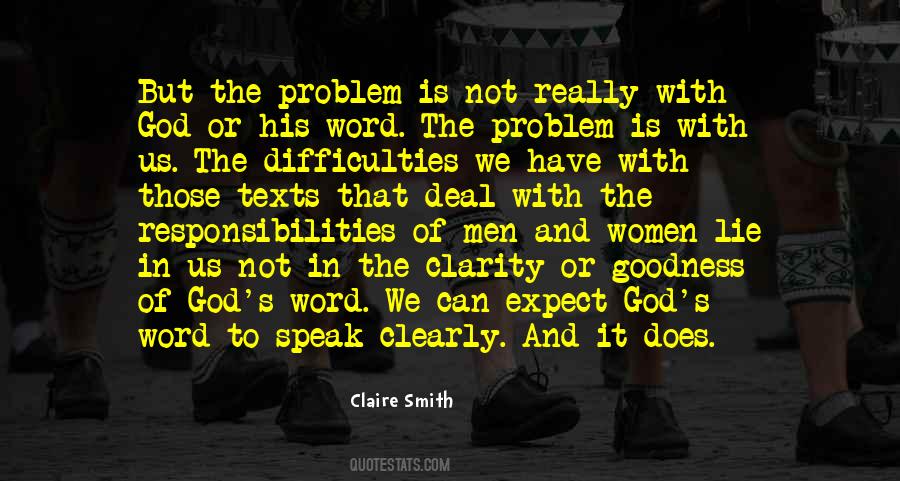 #91. Wild dreams torment me as I lie. And though a god lives in my heart, though all my power waken at his word, though he can move my every inmost part - yet nothing in the outer world is stirred. thus by existence tortured and oppressed I crave for death, I long for rest. - Author: Johann Wolfgang Von Goethe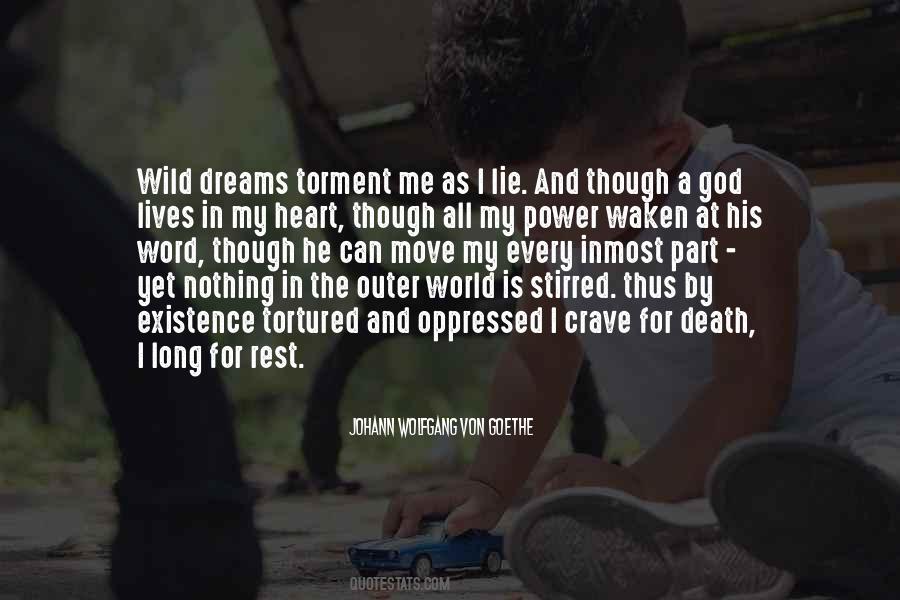 #92. That's just it, Carrie. I'm not going to burden you. You would take it all, I can tell. God, it's tempting. You're tempting, and more so than just this," he says, gesturing his hand around the pergola. "You and your big, clear eyes that make me just want to lie down with you and rest. - Author: Mary Ann Rivers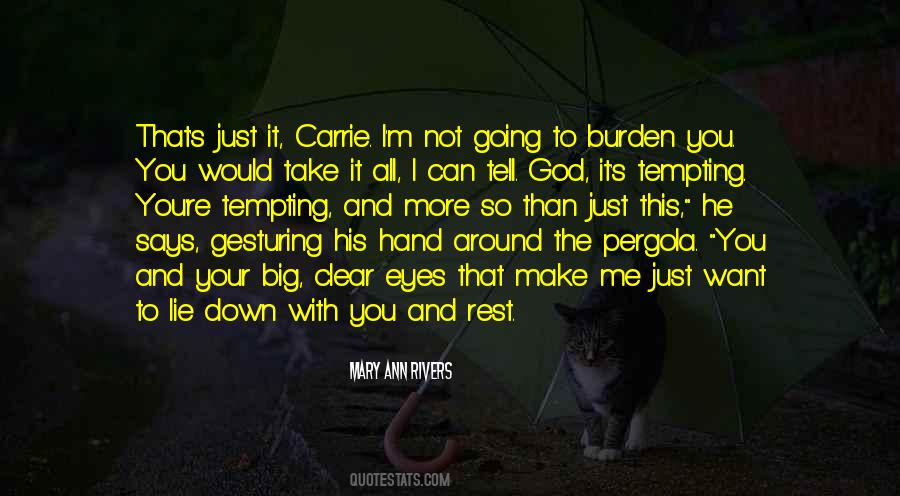 #93. Lie faces God and shrikns from men - Author: Francis Bacon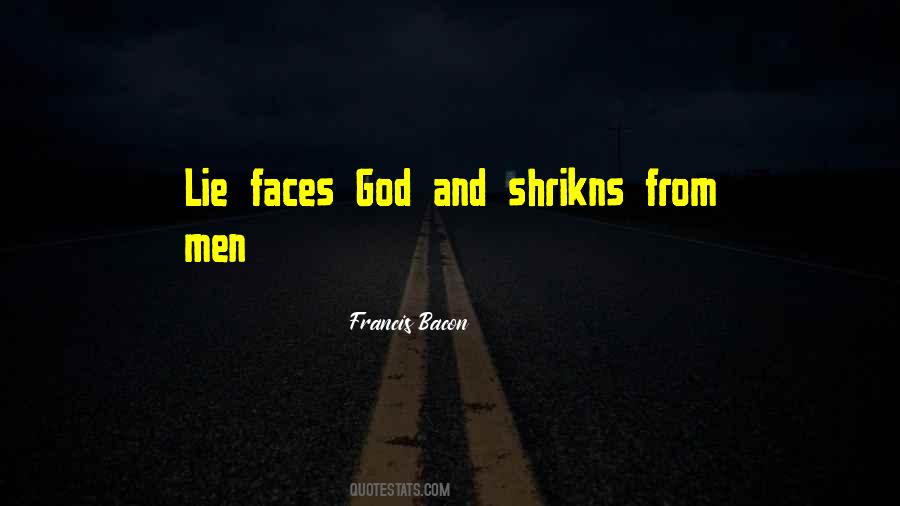 #94. The ultimate reason of things must lie in a necessary substance, in which the differentiation of the changes only exists eminently as in their source; and this is what we call God. - Author: Gottfried Leibniz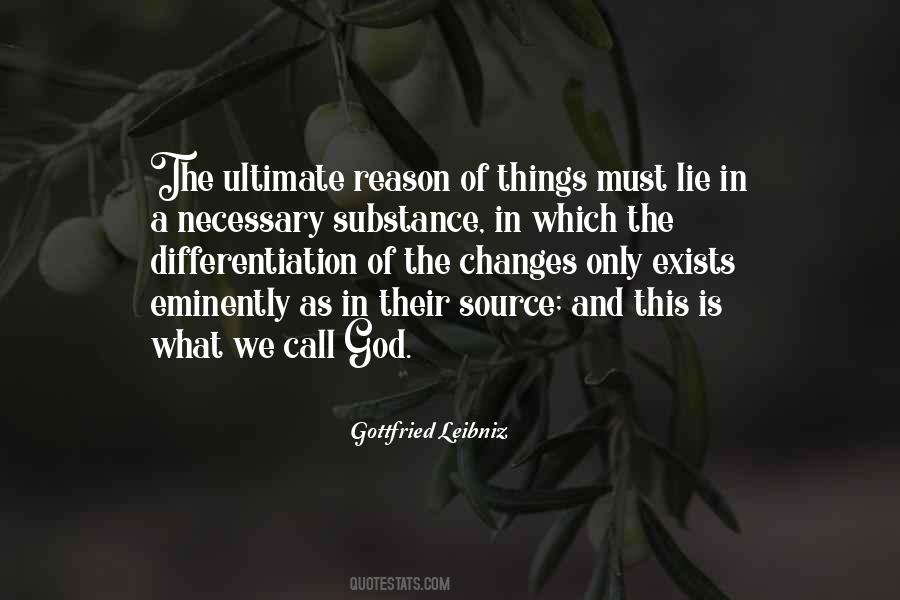 #95. Belief in God meant belief in the old tribal idol called Jehovah; and I would not pretend I did not know whether it existed or not. - Author: George Bernard Shaw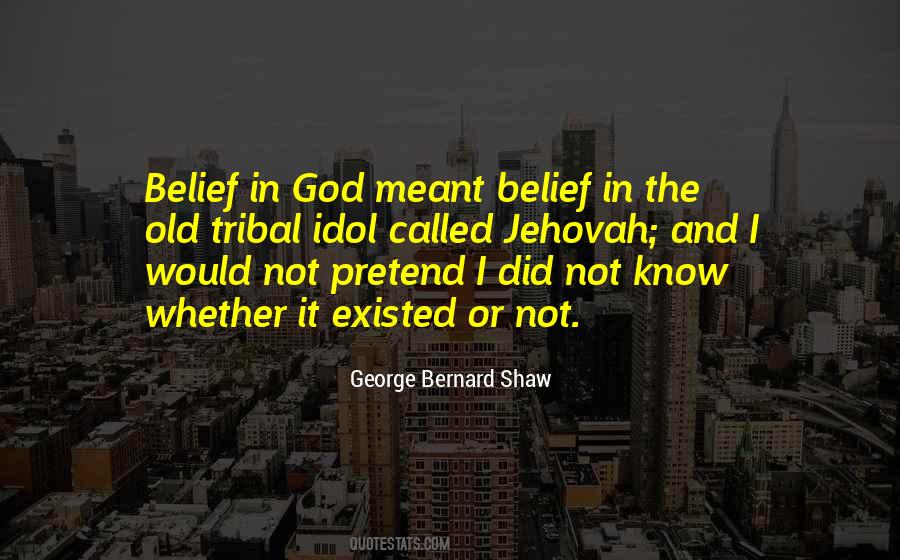 #96. There Adam slept, and God formed the body of woman from one of his ribs, signifying that she should stand at his side as a companion and never lie at his feet like a slave, and also that he should love her as his own flesh. - Author: Christine De Pizan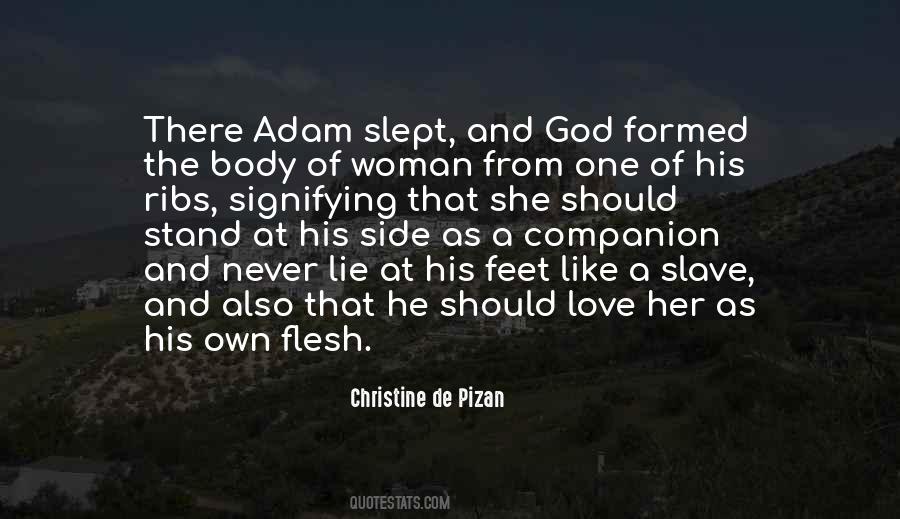 #97. Lie quiet and you will lapse back into peace again. Be like the god Heimdall before the battle call, so still that you can hear the wool grow on the backs of sheep, and the grass grow far away in the lands where the snow melts. - Author: Anne Rice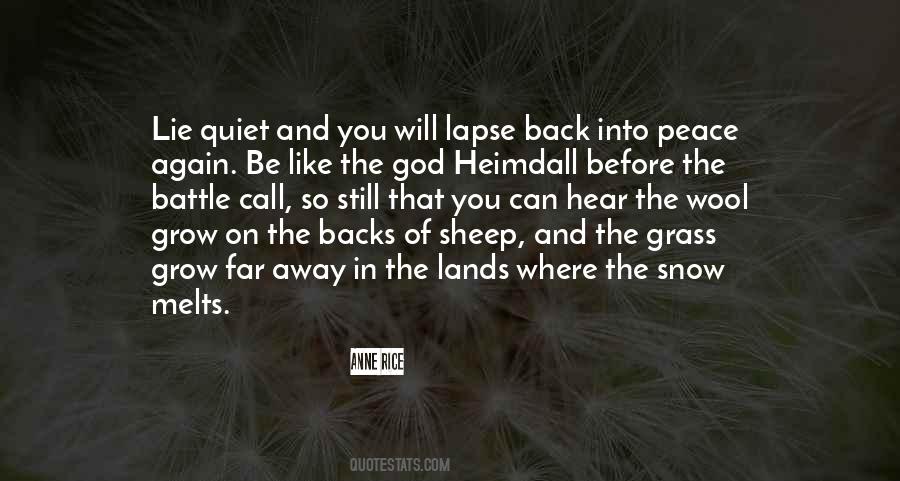 #98. An idle man has a constant tendency to torpidity. He has adopted the Indian maxim that it is better to walk than to run, and better to stand than to walk, and better to sit than to stand, and better to lie than to sit. He hugs himself into the notion, that God calls him to be quiet. - Author: Richard Cecil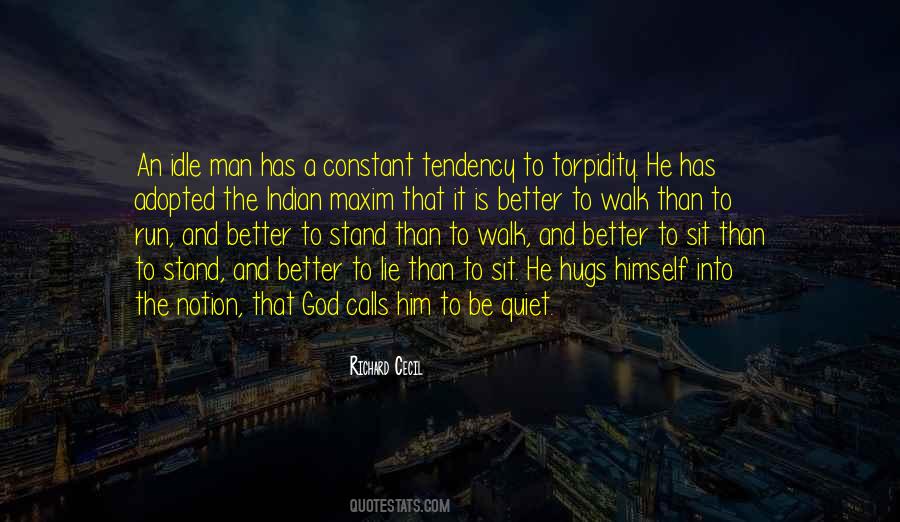 #99. I've discovered most Christians don't know what to do with difficult situations because they have bought into the lie that God owes us (for our good behaviour). The reality of life is that if you live long enough you are going to bleed, cry and hurt. AND God is still God IN that. - Author: Matt Chandler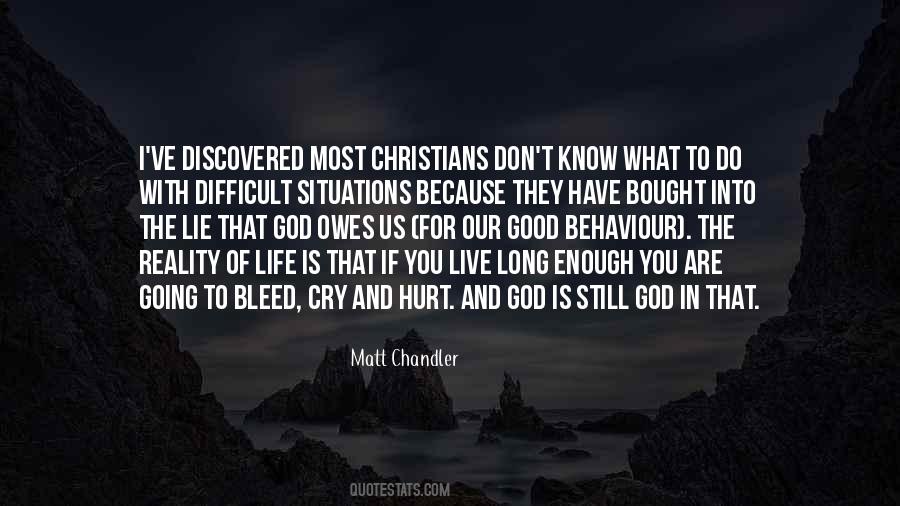 #100. A friend once said, and I found to be true,That everyday people, they lie to God too,So what makes you think, that they won't lie to you. - Author: Lauryn Hill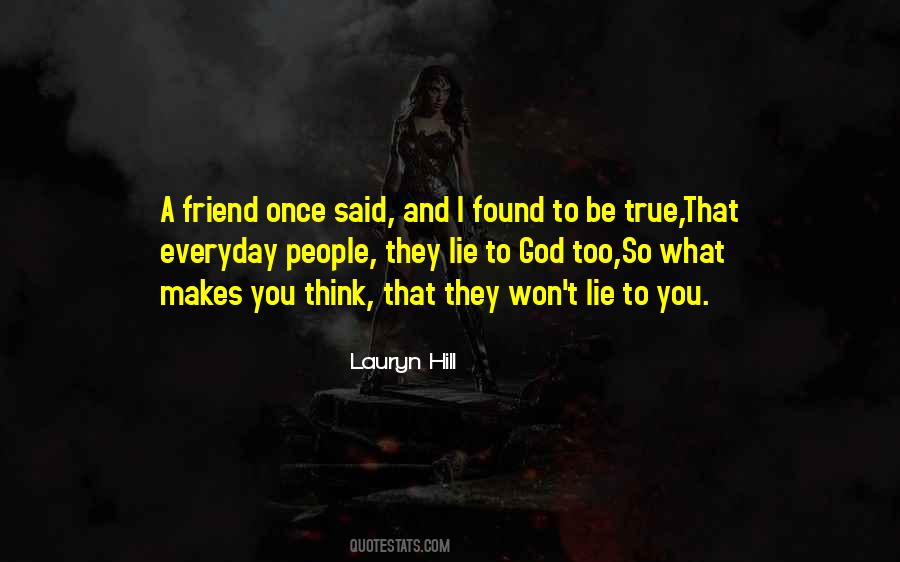 Famous Authors
Popular Topics