Let Your Heart Decide Famous Quotes & Sayings
List of top 34 famous quotes and sayings about let your heart decide to read and share with friends on your Facebook, Twitter, blogs.
Top 34 Let Your Heart Decide Quotes
#1. When you decide to find that shriveled little heart of yours and inflate it back to an acceptable human-size, then we can talk. - Author: Jessica Gadziala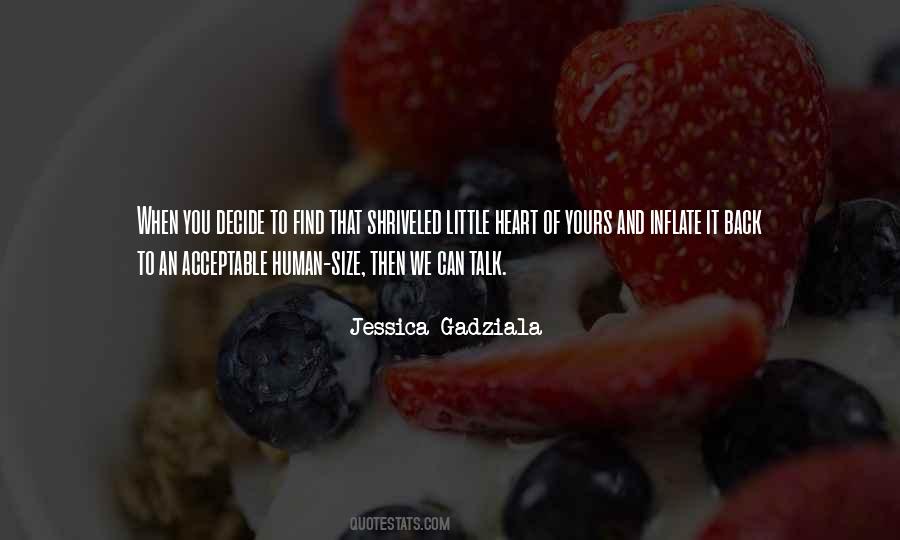 #2. Loving someone isn't a hard task, it's not a chore, you don't wake up one day and decide to break their heart because you got all hot and bothered, that doesn't happen! he boomed. - Author: Holly Hood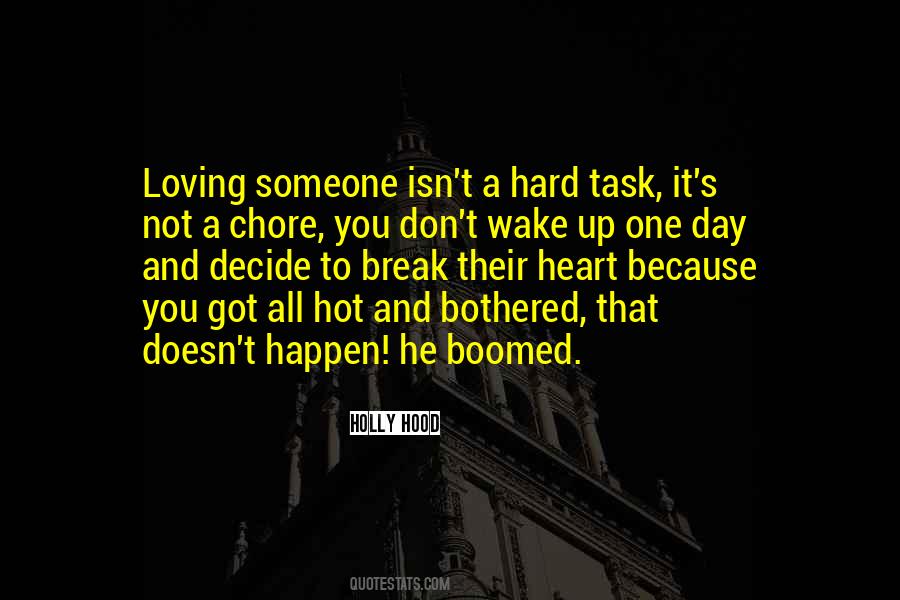 #3. There's a common saying that everybody deep at heart loves their mother, except sometimes we decide our actual mothers don't measure up. And so we look for a replacement. - Author: Peter Sagal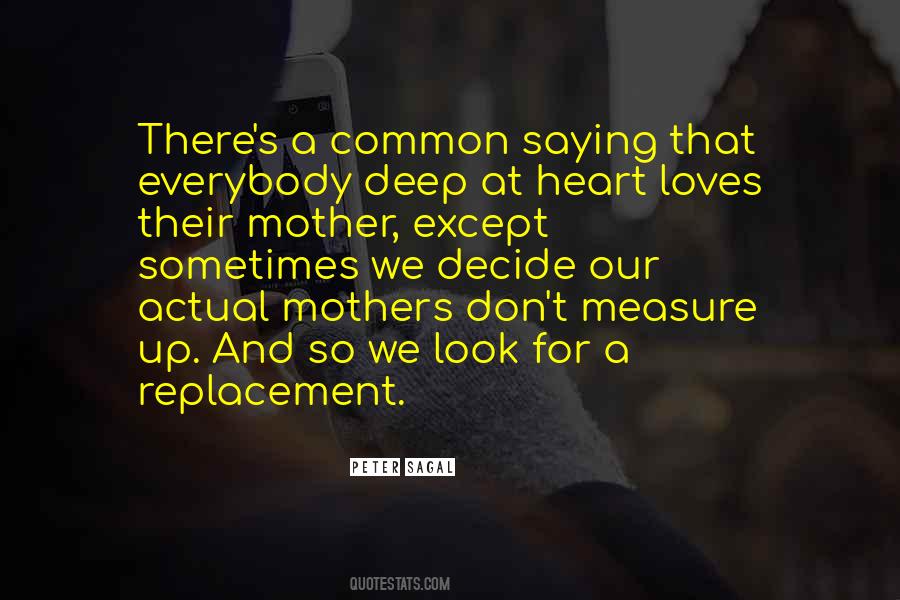 #4. A person cannot be equally divided between two contradictory identities. And if that's what happened, doesn't it stand to reason that when it came to a test he would lose his ability to decide and find himself doing things his heart couldn't be at peace with? - Author: Shimon Ballas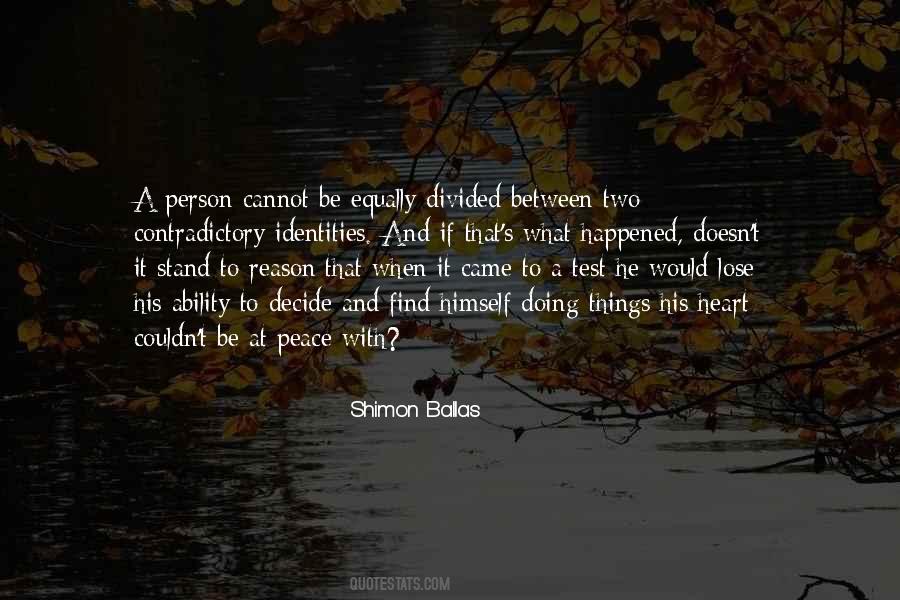 #5. You must use your heart to decide the destination, but use your head to plot the journey. - Author: Amish Tripathi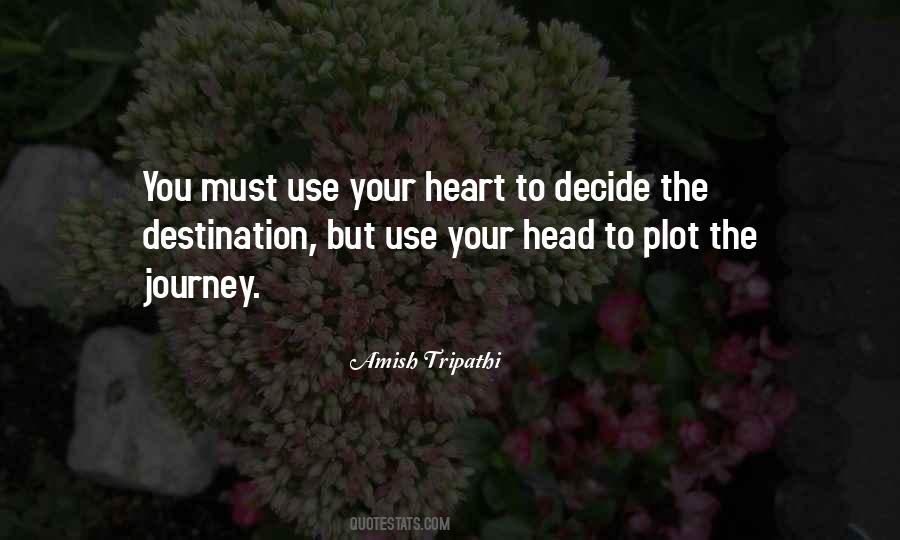 #6. An effective speaker knows that the success or failure of his talk is not for him to decide - it will be decided in the minds and hearts of his hearers. - Author: Dale Carnegie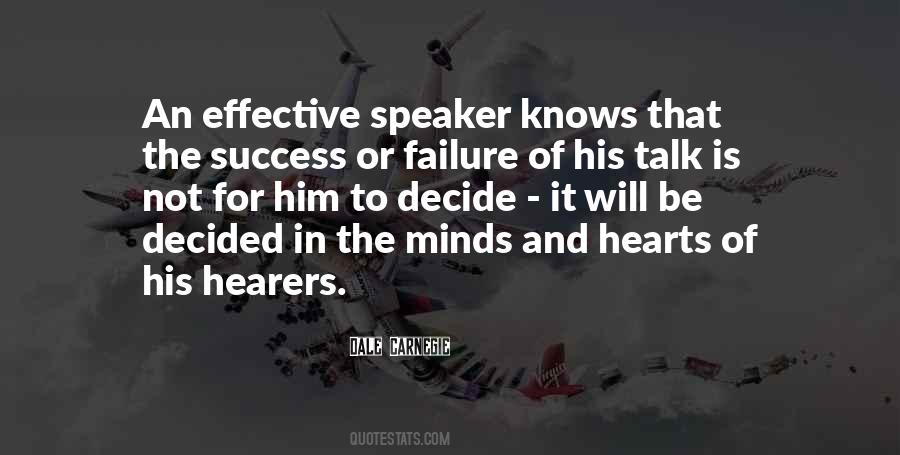 #7. You could close your heart to love forever, but you'd miss out on all the good that came with giving and receiving love. You had to decide if it was worth the risk. - Author: J. Sterling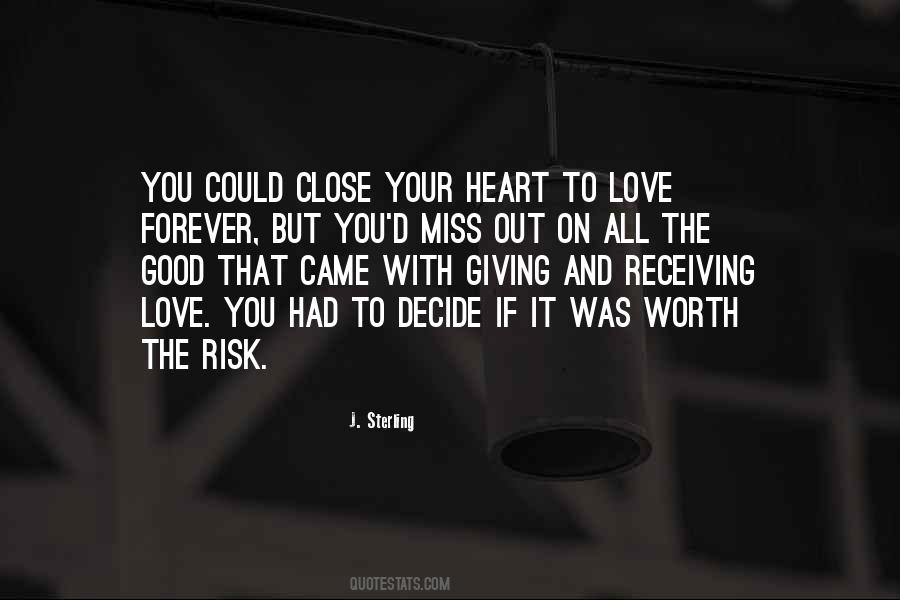 #8. For people sometimes believed that it was safer to live with complaints,
was necessary to cooperate with grief, was all right to become an accomplice in self-ambush ...
Take heart to flat out decide to be well and stride into the future sane and whole. - Author: Toni Cade Bambara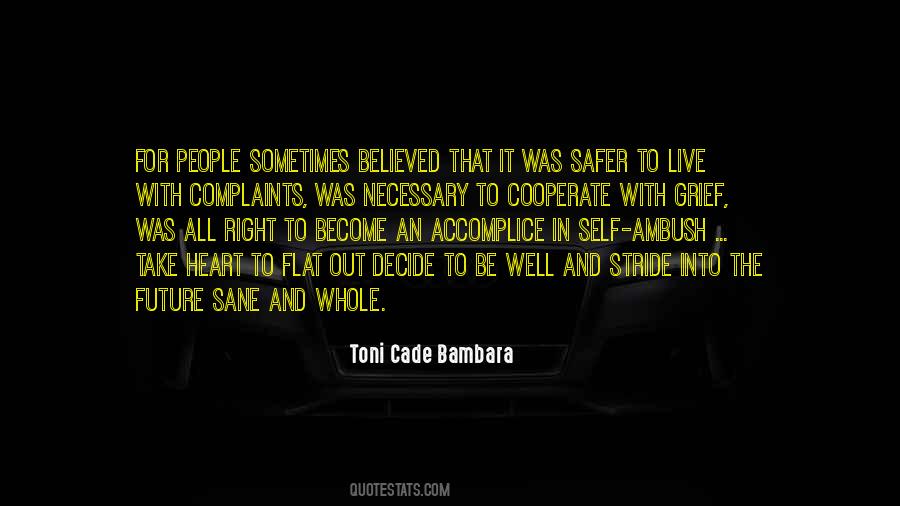 #9. Men it is who think they can rule others' lives, but have no bonds to them. Do you think that to bond or not to bond is for you alone to decide? My heart is my own. I give it where I will. I will not give it to one who thrusts me aside. - Author: Robin Hobb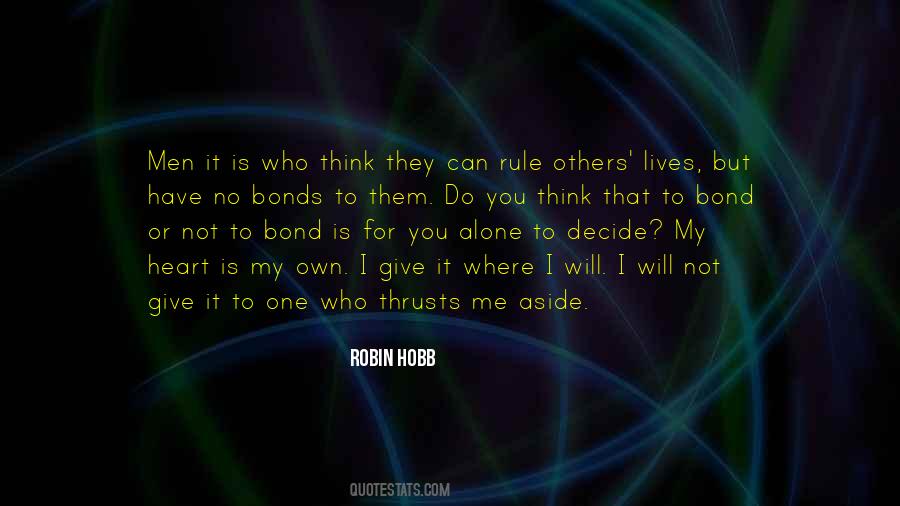 #10. Serving the Lord is not always easy or popular. Folks may laugh at you on your job, mocking and making fun of your faith. But once you decide that there's no turning back, something in your heart rises up and says "no" to the devil and "yes" to the Lord. - Author: T.D. Jakes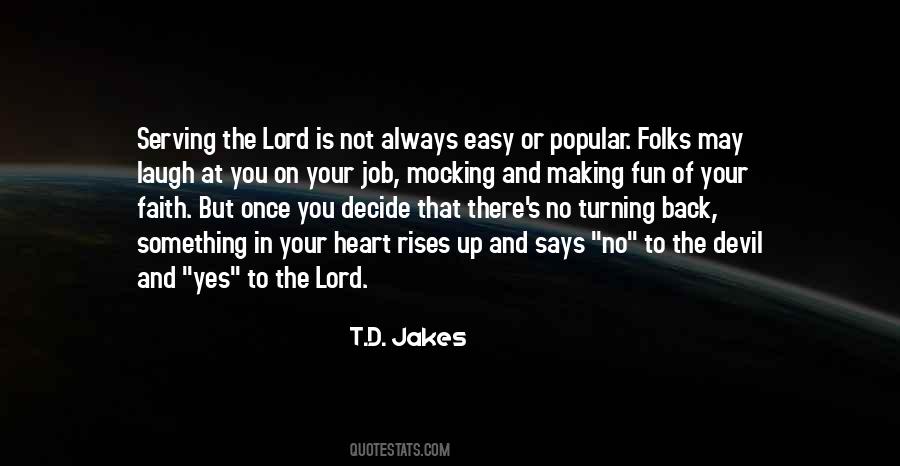 #11. Decide first what is authentic,then go after it with all your heart. - Author: Louise Erdrich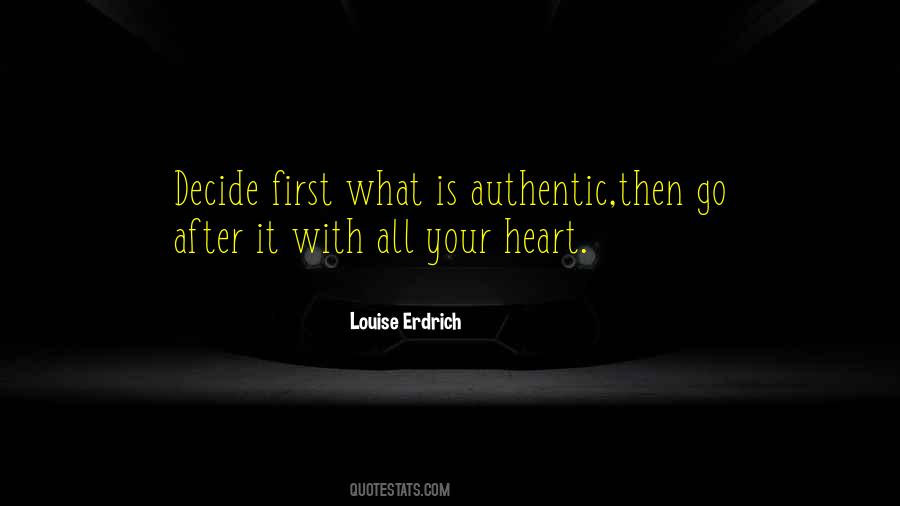 #12. If you think it long and mad the wind of banners that passes through my life
And you decide to leave me at the shore of the heart where I have roots
Remember
That on that day, at that hour, I shall lift my arms
And my roots will set off to seek another land - Author: Pablo Neruda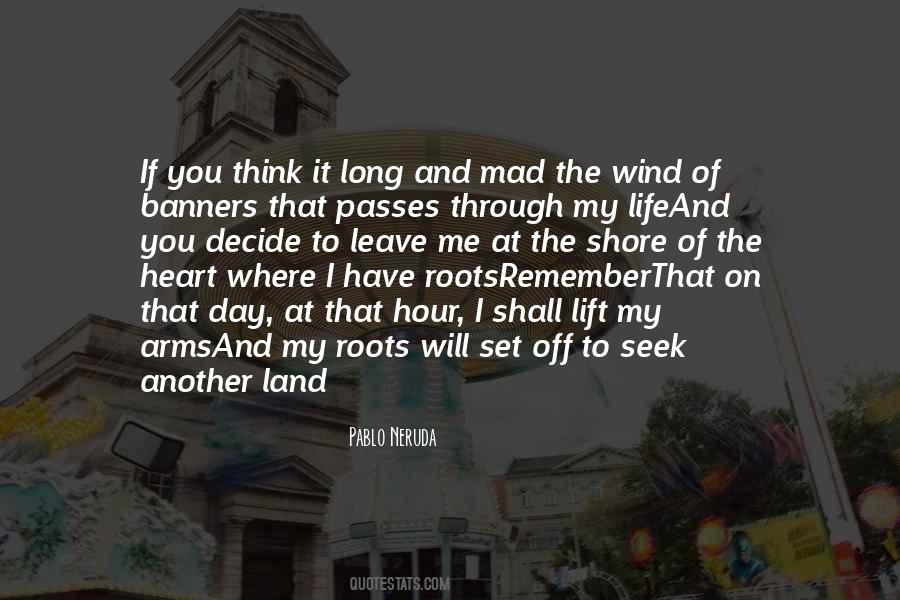 #13. Author Elizabeth Stone once said, Making a decision to have a child - it's momentous. It is to decide forever to have your heart go walking around outside your body. - Author: John Medina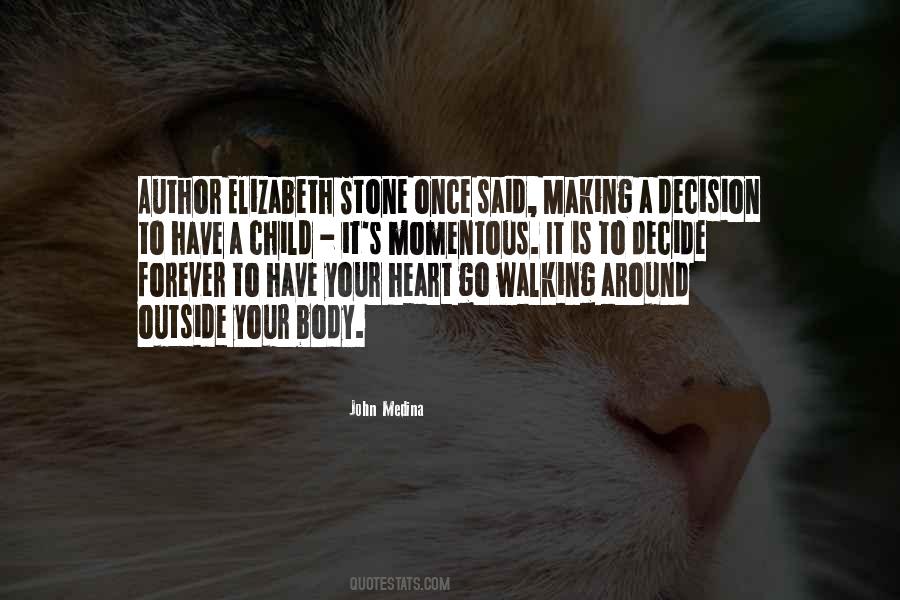 #14. Today, decide to see the world with your heart and not with your head. To imagine what that's like, think about how a mother feels towards her child. No matter how many ways the child may decide to be bad, it's mother doesn't change her love. - Author: Deepak Chopra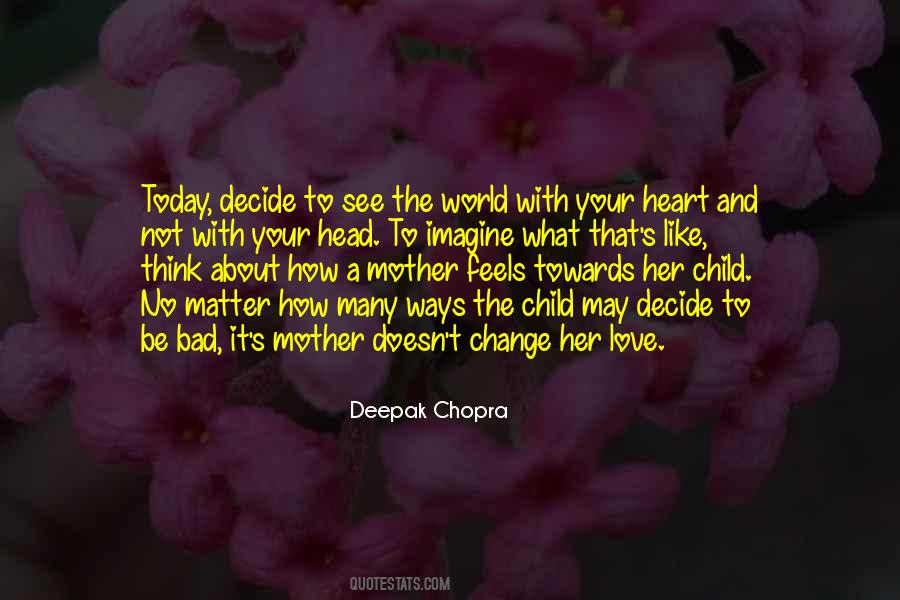 #15. If your head tells you one thing and your heart tells you another ,before you do anything,you should first decide wether you have a better head or a better heart. - Author: Marilyn Vos Savant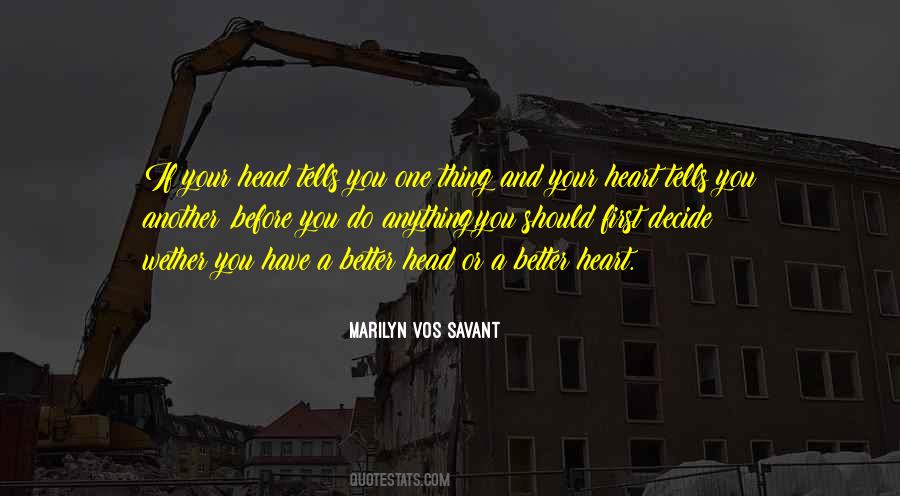 #16. It's not just the embarrassment of tears. That's part of it, no doubt, but what embarrasses me much more, and always will, is the paralysis that took my heart. A moral freeze: I couldn't decide, I couldn't act, I couldn't comport myself with even a pretense of modest human dignity. - Author: Tim O'Brien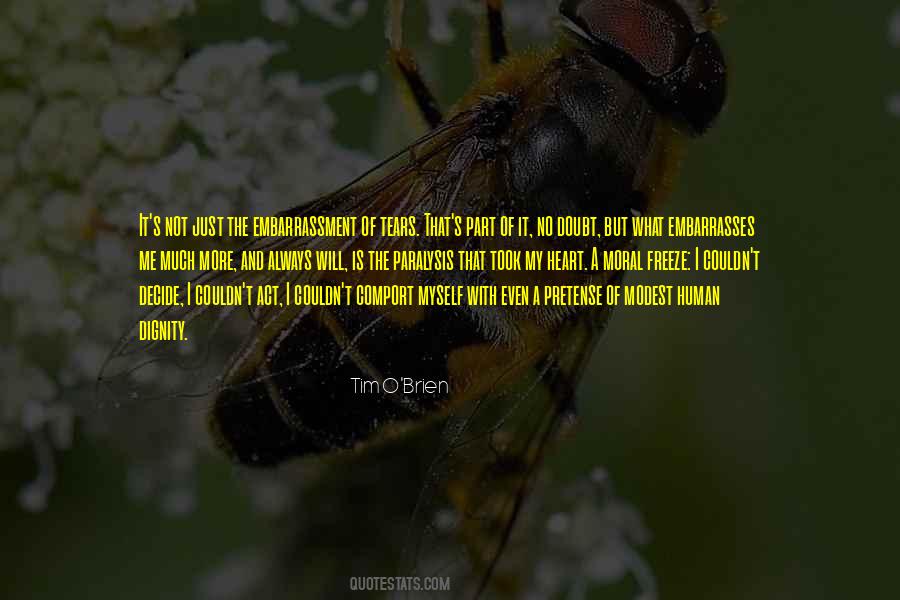 #17. That's because you can't protect your heart. Your heart feels what it feels. Your brain helps you decide if that person is worthy of your love. - Author: Jillian Dodd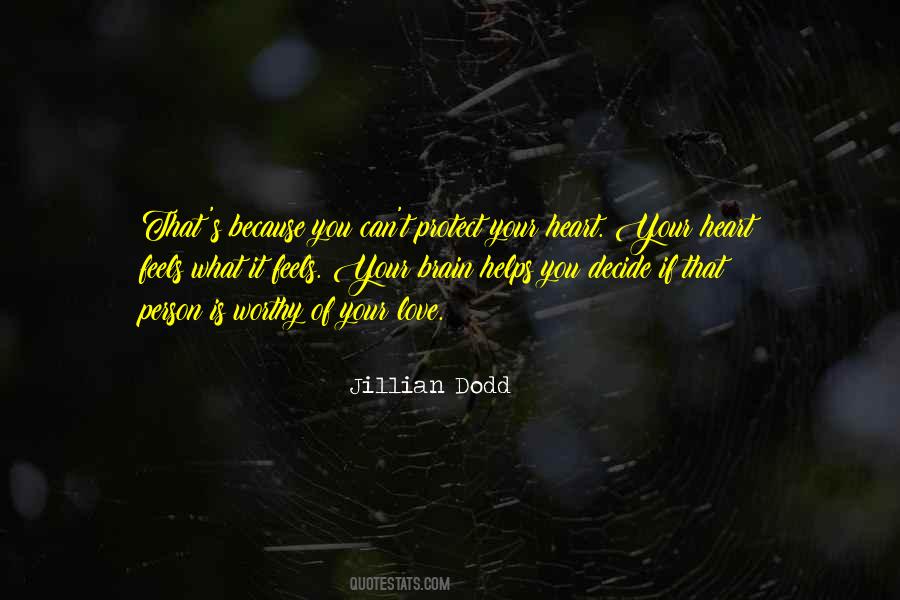 #18. Catey, happiness doesn't just happen to us, especially when we've been living without it for so long. Happiness is a choice we make every single day. We wake up and decide that no matter what happens we will find a way to obtain the very thing our heart needs to flourish. - Author: Lisa N. Paul
#19. Our hearts are bound together,' he said, 'and I am free to decide who I love. And what I want. Nothing - not the pressure of my family, or what anyone else thinks - matters. - Author: Lee Monroe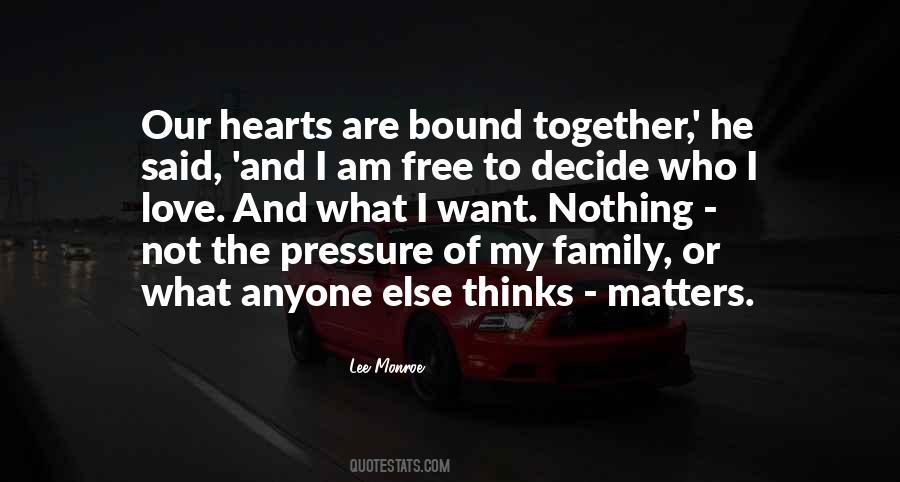 #20. I decide then that love is a terrible, terrible thing. Loving someone as fiercely as my mom loves me must be like wearing your heart outside of your body with no skin, no bones, no nothing to protect it - Author: Nicola Yoon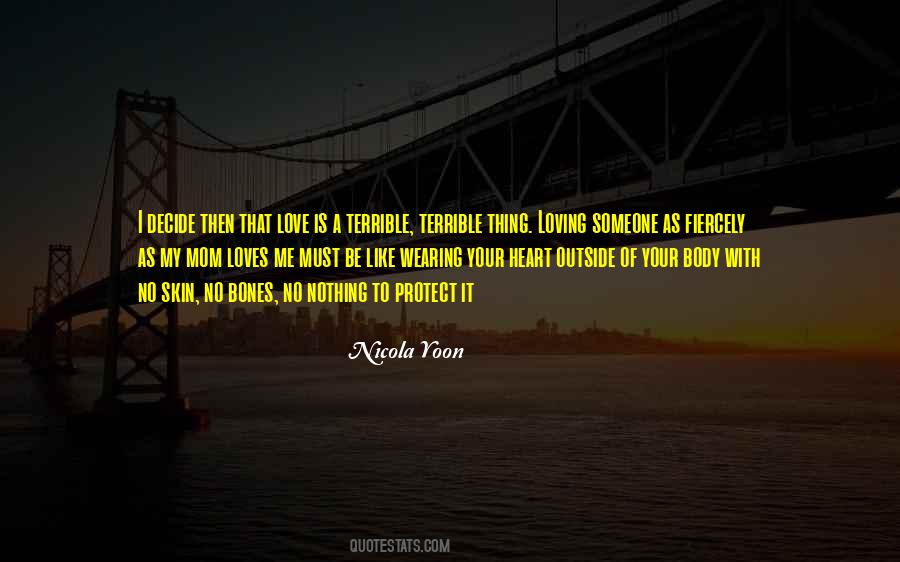 #21. When is there ever a right time to fully give your heart to another? There are always going to be obstacles. You just have to decide which ones are worth it. - Author: Jennifer L. Armentrout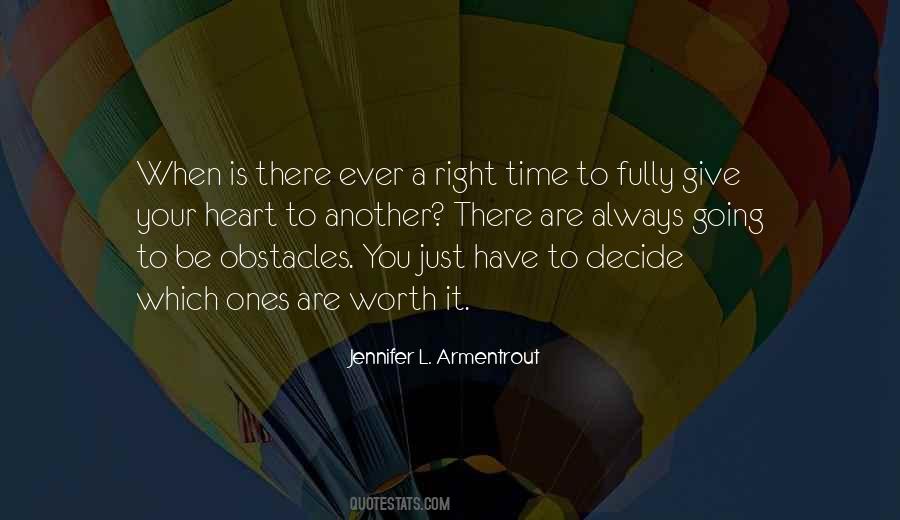 #22. Could a man decide, 'I am right, and everyone else is wrong?'
No evidence of a malfunction, he thought. I am not a coward. Neither am I insane.
His heart cried, 'I am disgusted with this purposeless war. I shall quit fighting it. - Author: Walter M. Miller Jr.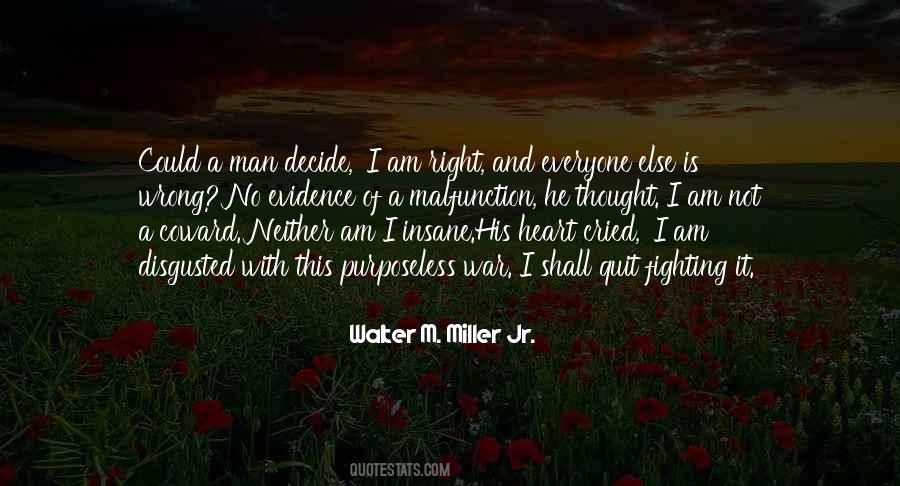 #23. The subconscious part in us is called the subjective mind, because it does not decide and command. It is subject rather than a ruler. Its nature is to do what it is told, or what really in your heart of hearts you desire. - Author: William Thomas Walsh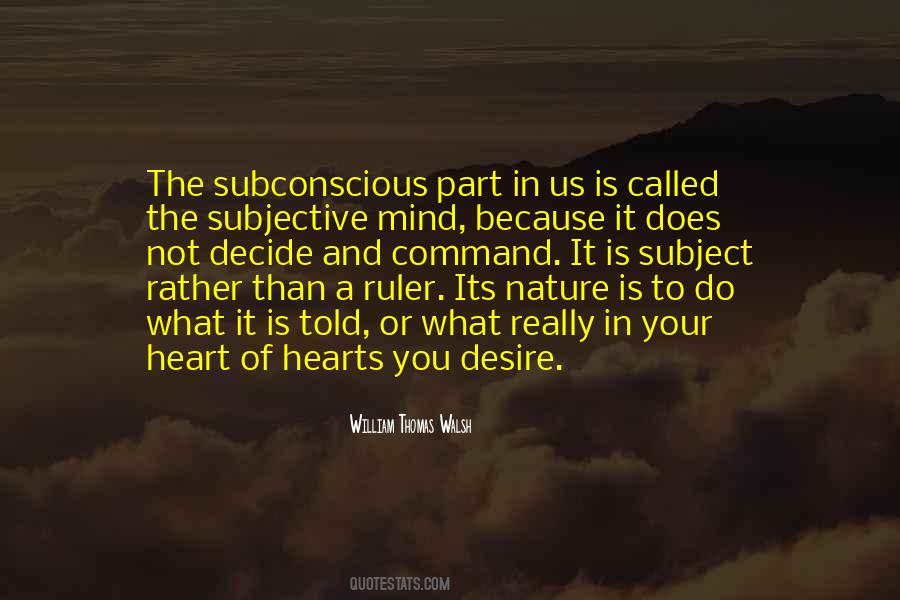 #24. Decide in your heart to be at peace with all men. - Author: Lailah Gifty Akita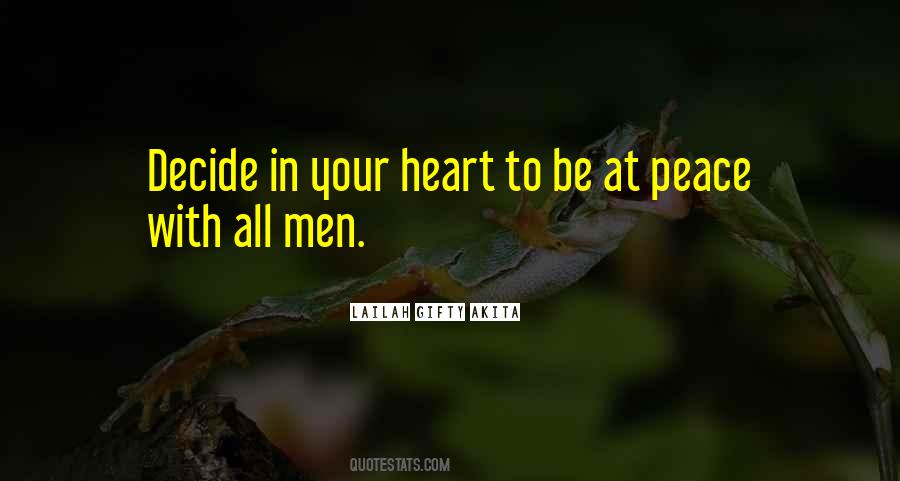 #25. Letting my heart instead of my hormones decide when to do it made what Aiden and I'd done special. And when we passed each other throughout the day, the looks we stole suddenly meant more. Everything meant more, because we both were risking it all and neither of us regretted that. - Author: Jennifer L. Armentrout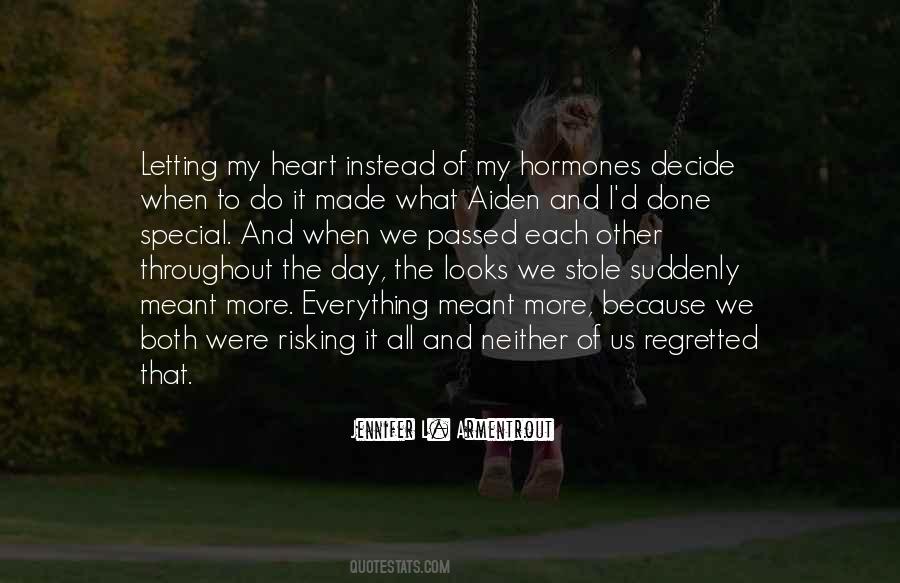 #26. Making the decision to have a child - it is momentous. It is to decide forever to have your heart go walking around outside your body. - Elizabeth Stone - Author: Lisa Scottoline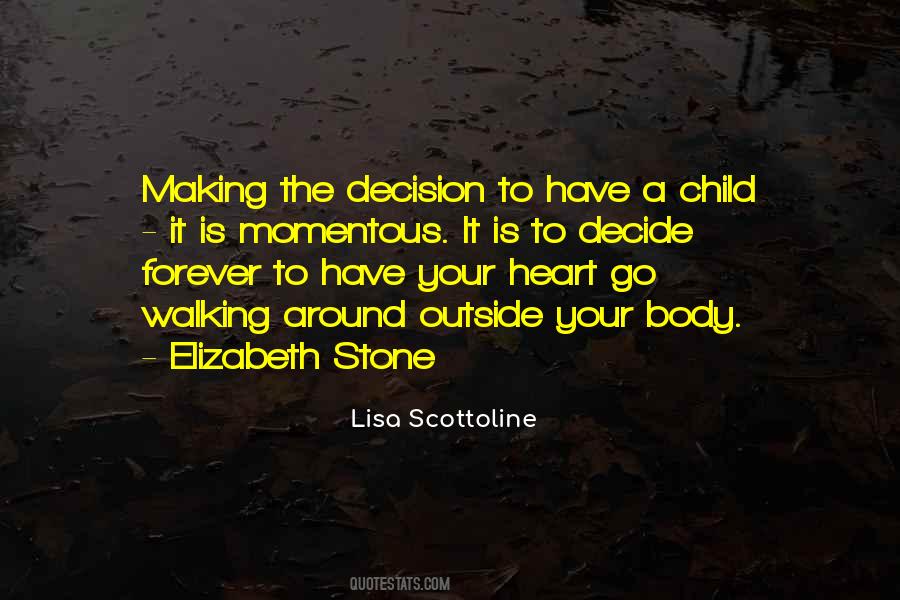 #27. What is real and what is not is for your heart to decide and for your heart to know. - Author: Colleen Houck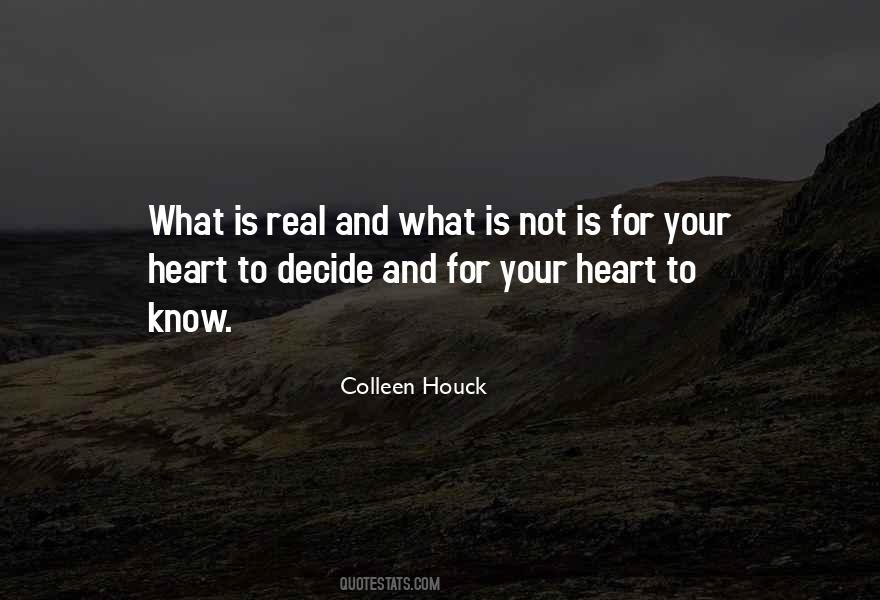 #28. You'll see that I was right and your heart beats for me. Mine, yours - they chime to the same beat. Wherever we end up in the world, whatever you do or whoever you decide to tie your life to, we'll never be whole unless we're one. - Author: Pepper Winters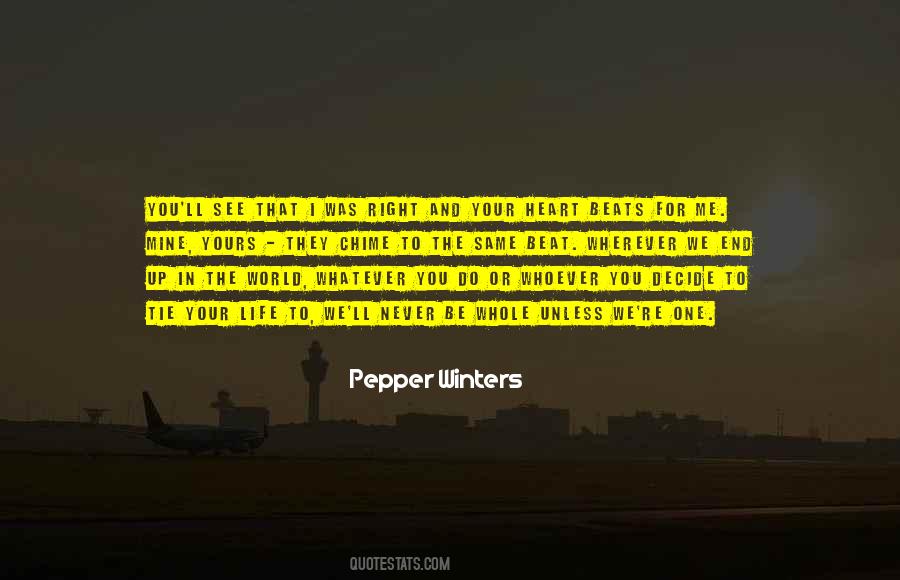 #29. Psychologically, I will not have to seek far if I decide to kill myself, because in my mind and heart I am more ready for this than for the unplanned daily tribulations that mark off the mornings and afternoons. - Author: Andrew Solomon
#30. FATE decides who you meet in your life, your HEART chooses who you want in your life, but your CHOICES decide who will stay - Author: Karen Gibbs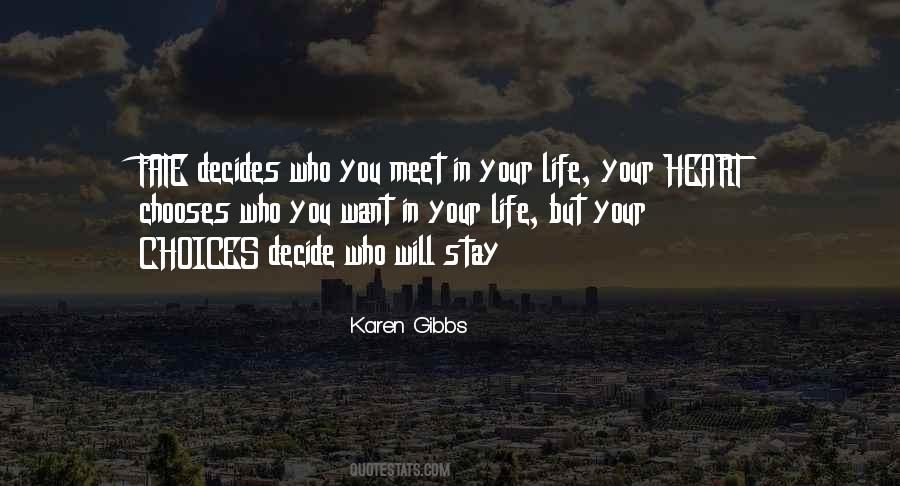 #31. Once you decide to grow out the roses from your heart, and let it spread the roots all over. you should also start to learn to handle the thorns that grow out of their stem. - Author: Akshay Vasu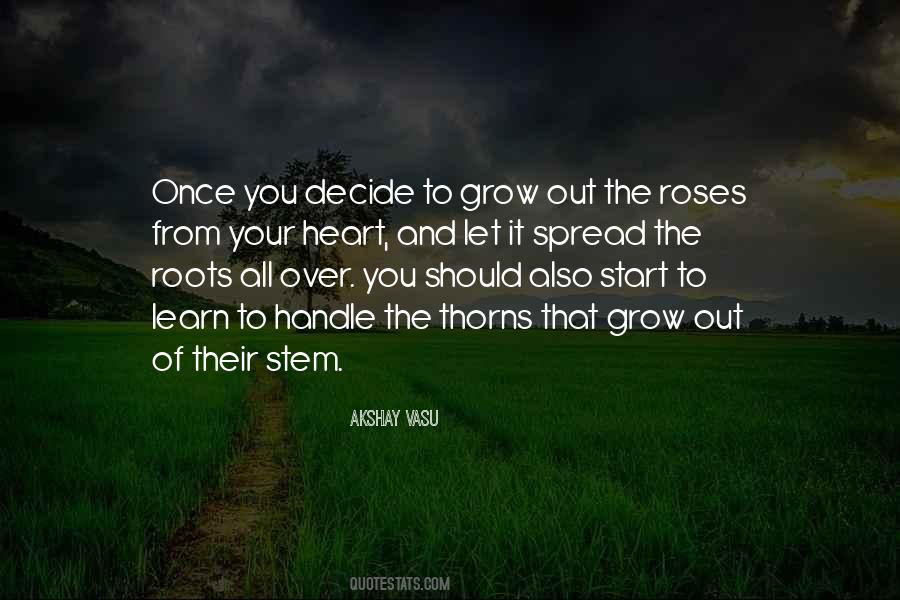 #32. It's hard to decide matters of the heart, especially when Self-love is rooted in our decisions. You'll need to balance your needs with the people you love in order to avoid hurting others. - Author: Auliq Ice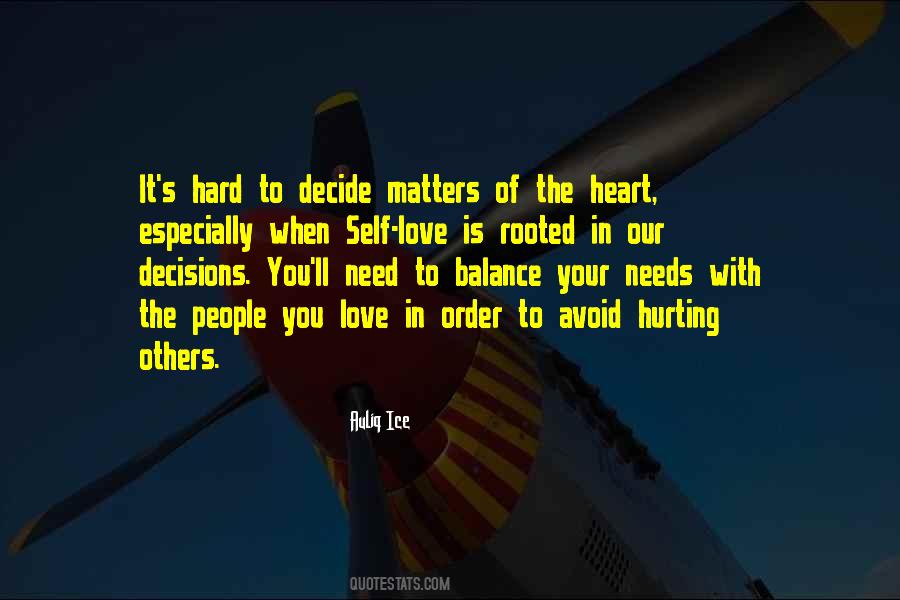 #33. Love is a powerful force. It's also much more potent than evil," she emphasized the word 'evil' and gently patted my hand. "Always remember that. You will know what to do. Listen to your heart and decide what you are willing to sacrifice, my dear Pasha. - Author: Kristen Day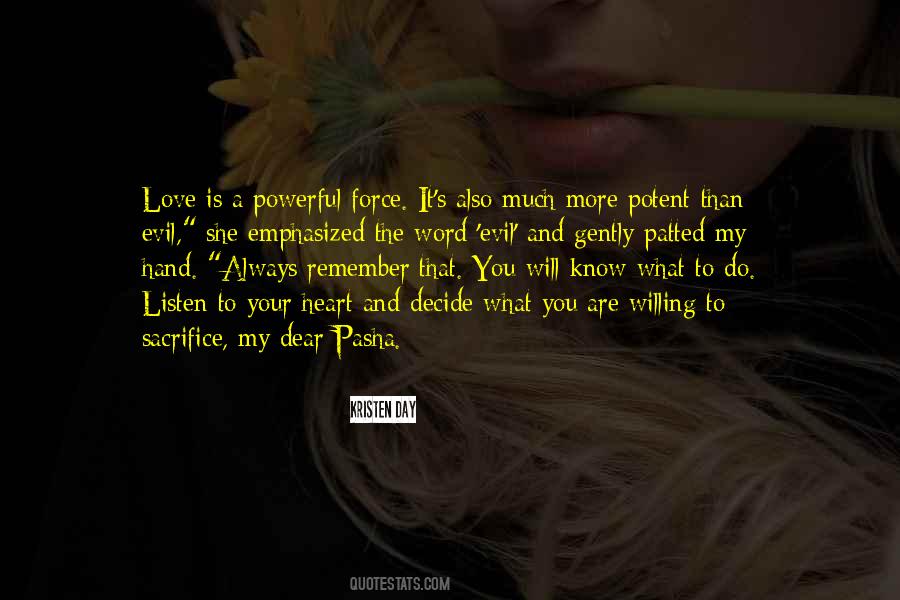 #34. Switch off the mind and let the heart decide who you were meant to be Flick to remote and let the body glide There is no enemy! Etch out a future of your own design Well tailored to your needs Then fan the flame and keep the dream alive ... the future is roses! Roses! - Author: Thomas Dolby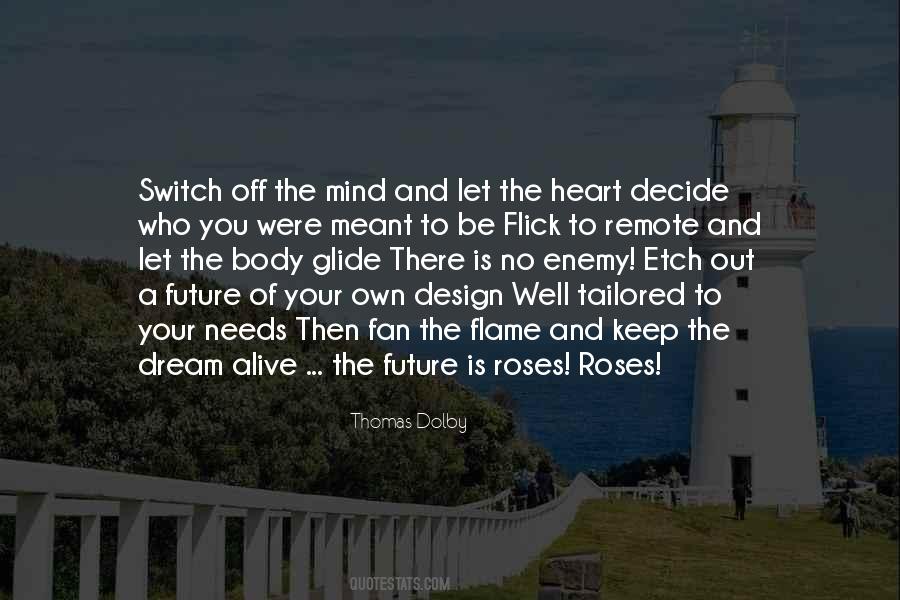 Famous Authors
Popular Topics