Less Talking More Action Famous Quotes & Sayings
List of top 34 famous quotes and sayings about less talking more action to read and share with friends on your Facebook, Twitter, blogs.
Top 34 Less Talking More Action Quotes
#1. It's wise to learn how to cook,' Kessligh fumed, 'but a meal prepared over three weeks is inedible! There is wisdom in action! So stop talking, and act! - Author: Joel Shepherd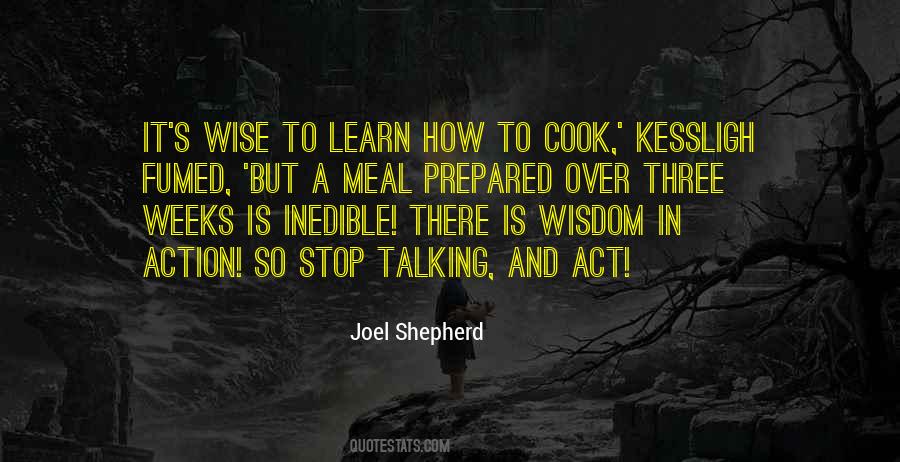 #2. When I call myself an affirmative action baby, I'm talking about the essence of what affirmative action was when it started. - Author: Sonia Sotomayor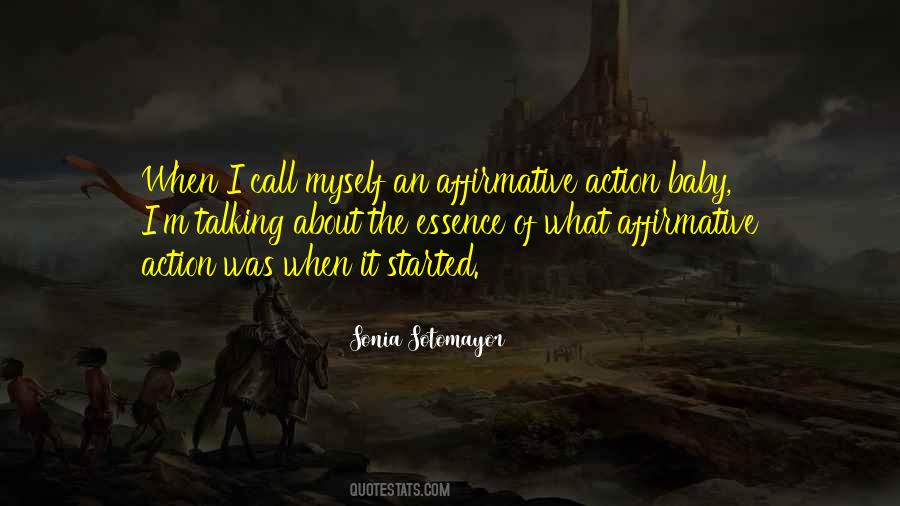 #3. Set out to be the person you know you can be. Thinking about it, and talking about it is the first step. If you can imagine it for yourself then you can do it. Take action! - Author: Ron Baratono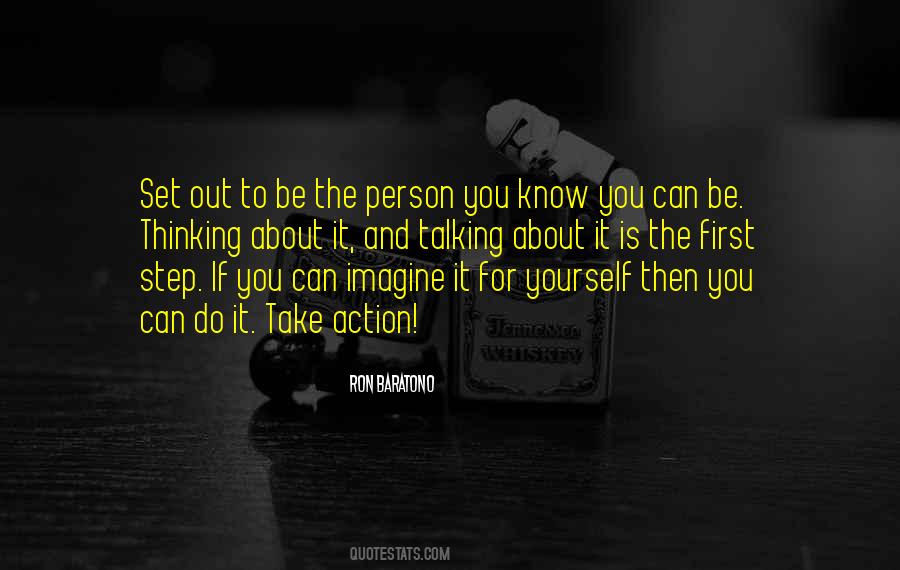 #4. I'm kind of looking for something with a lot less action and more talking and listening. - Author: Brandon Routh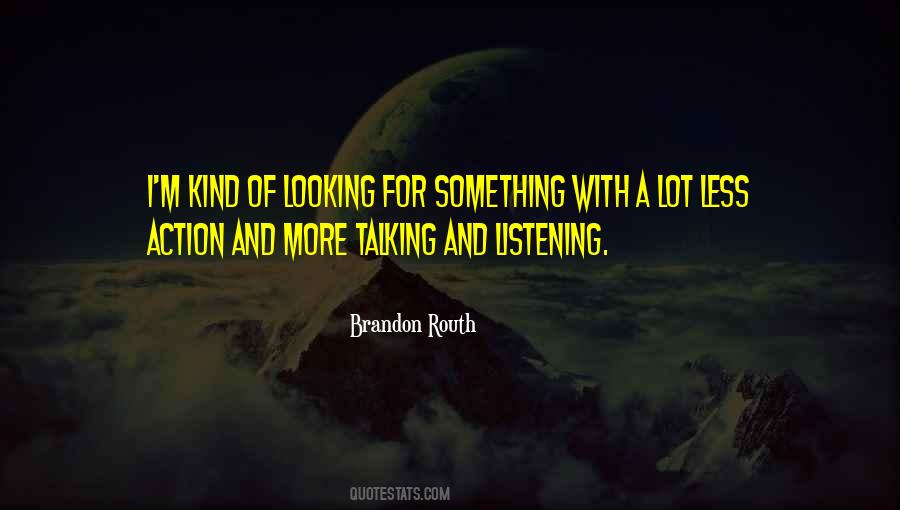 #5. Tell yourself this year is all about seeking, seeking, seeking! It's all about creative, creative, creative! Action, action, action! No more talking, talking, talking! No more whining, whining, whining! Happy New Year 2017. - Author: Euginia Herlihy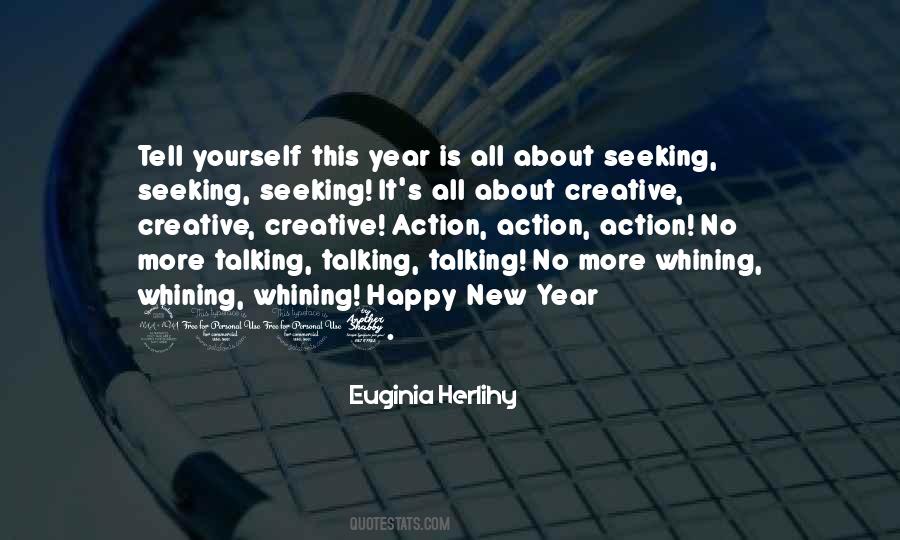 #6. We're talking really huge global-scale change, and I did not feel that I had the prescription for that kind of action, so I'm going to leave it to the reader. - Author: Elizabeth Kolbert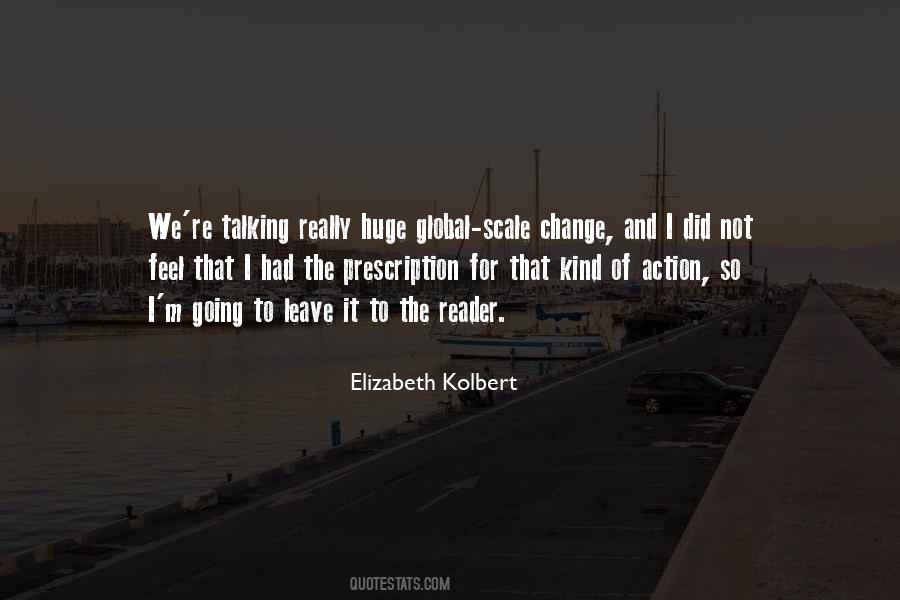 #7. We are to vigorously and violently demolish all the fortifications of the foe, winning the battle and talking him captive for Christ. The Church is not to assume a defensive posture, but may take aggressive action to overcome evil by means of good. - Author: Jay E. Adams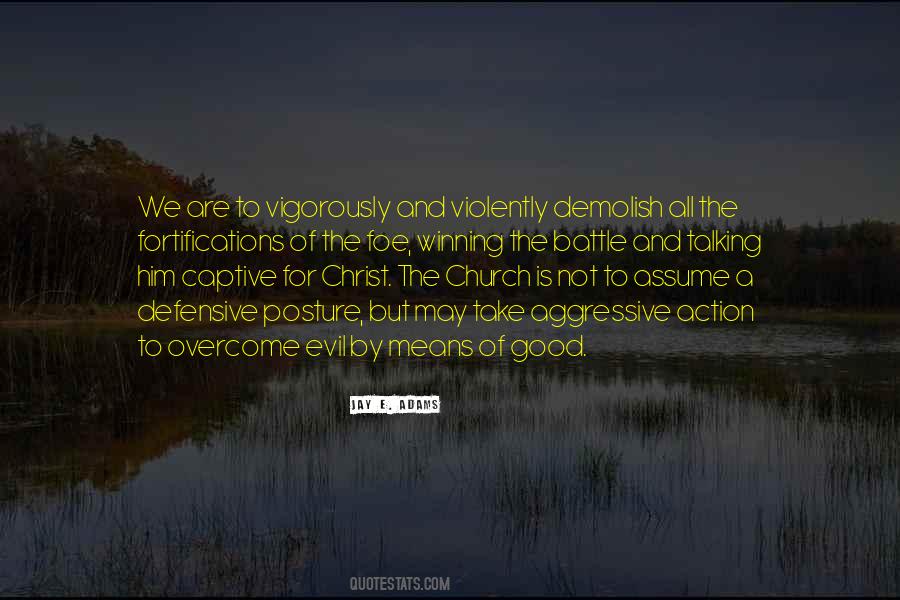 #8. When Scripture talks about the heart, it's not talking about that life-sustaining muscle. It's talking about our entire inner being. The heart is the seat of our emotions, the seat of decisive action, and the seat of belief (as well as doubt). - Author: Billy Graham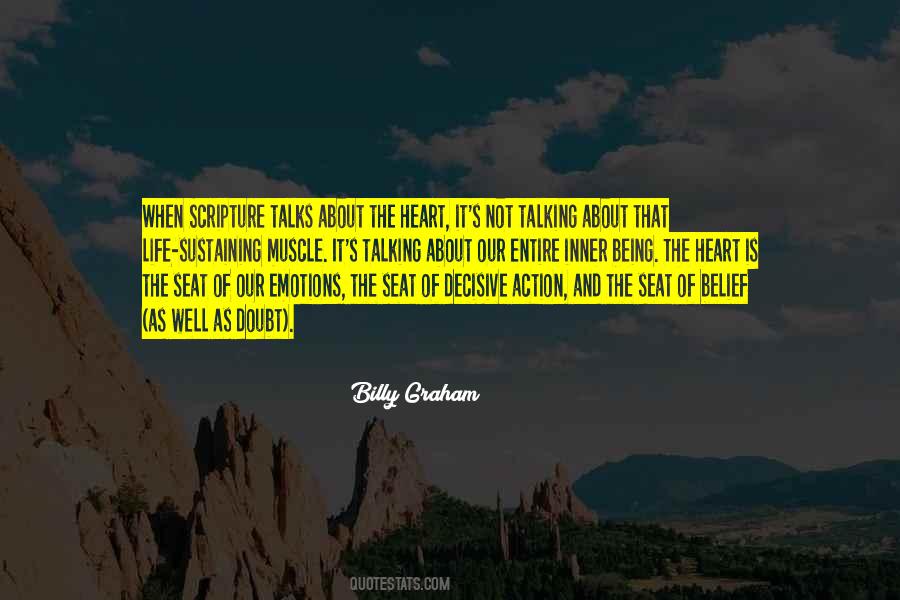 #9. Everybody is talking about the Law of Attraction. Nobody is talking about the Law of Action. - Author: Mokokoma Mokhonoana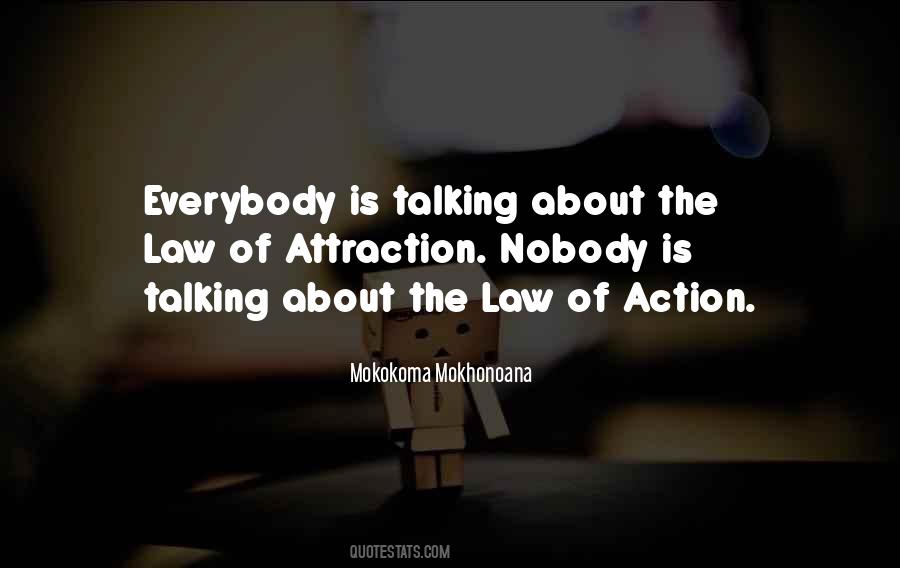 #10. There's steps that I've taken already, and each week, talking with the sports psychologist on a routine basis and working with the different programs that we're going through. This is all stuff that you can say you're going to make a difference, but I'm putting it into action. - Author: Kurt Busch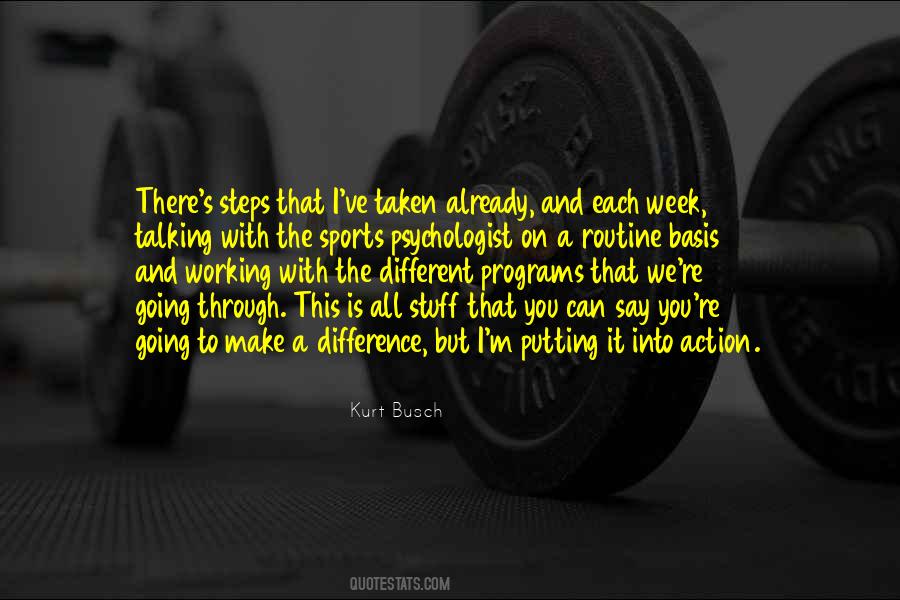 #11. Screaming, it's not me. I tried it before! Action is more my thing. Not talking. It's hard for me to have word fights, fighting with words. I'd rather just listen. - Author: Ziggy Marley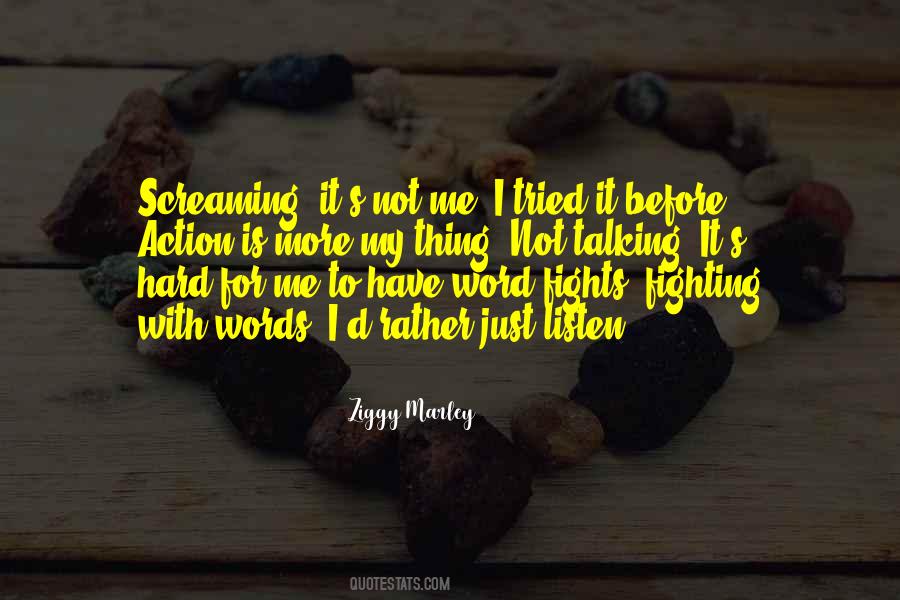 #12. The focus should not be on talking. Talk is cheap. It must be on action. - Author: Howard Berman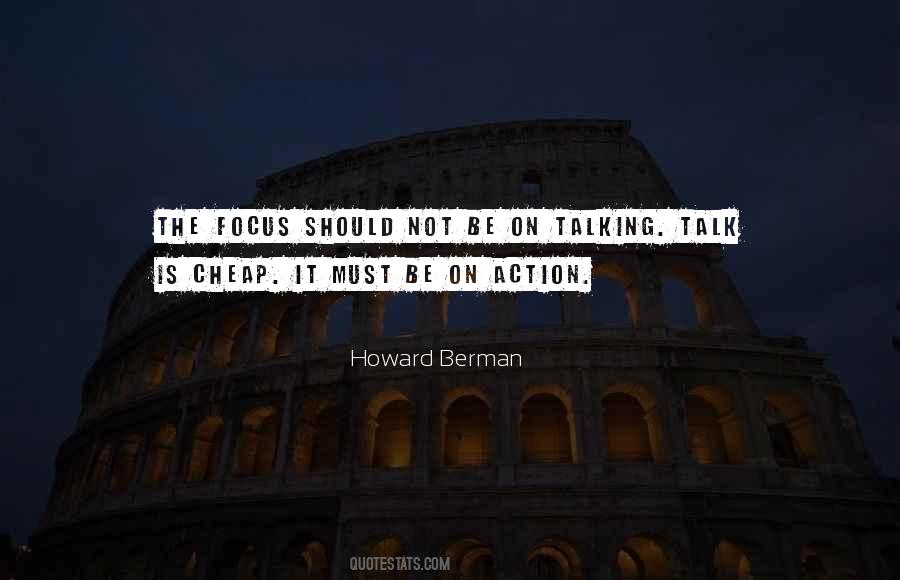 #13. I think the process of being hopeful, being really opportunity oriented, not just in rhetoric but in action, showing that no one get's left behind, not just by talking about it but by doing it, I think is really a key [to political success]. - Author: John Kasich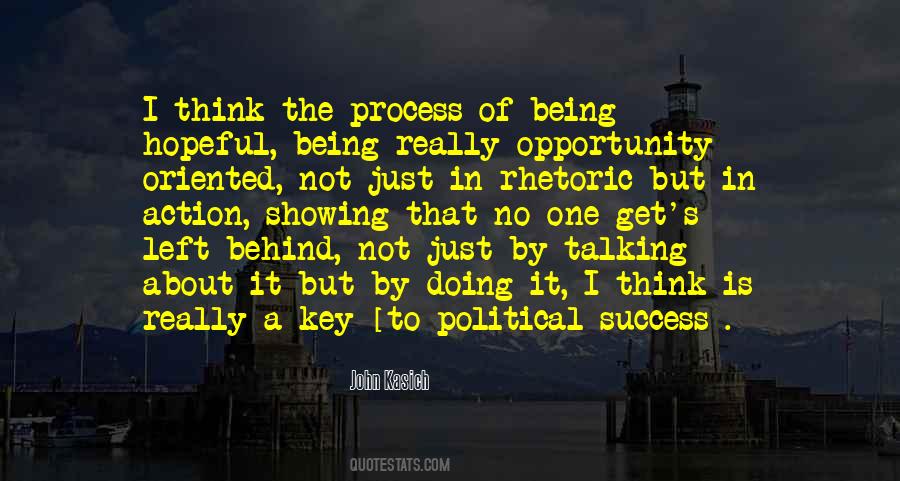 #14. What we're talking about here is goodness, mercy, and justice- and those are not fantasies. They'll exist whether you believe in them or not. However, if you believe, then you'll put your beliefs in action; and if you act you will help ensure that evil doesn't triumph. But only if you act. - Author: Dean Koontz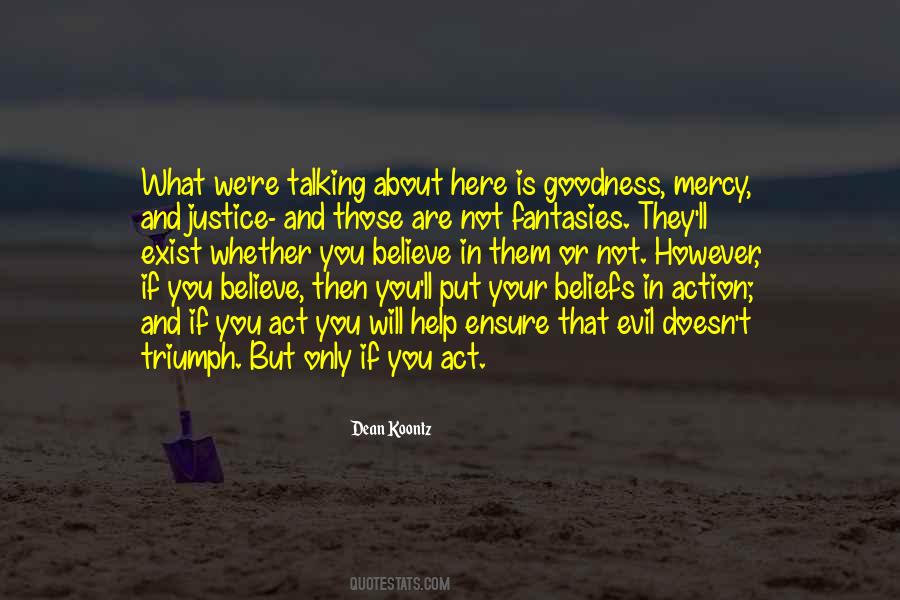 #15. My organization, National Action Network (NAN), was on the ground talking and meeting with people in Ferguson, just as we did in Staten Island following Eric Garner's death. - Author: Al Sharpton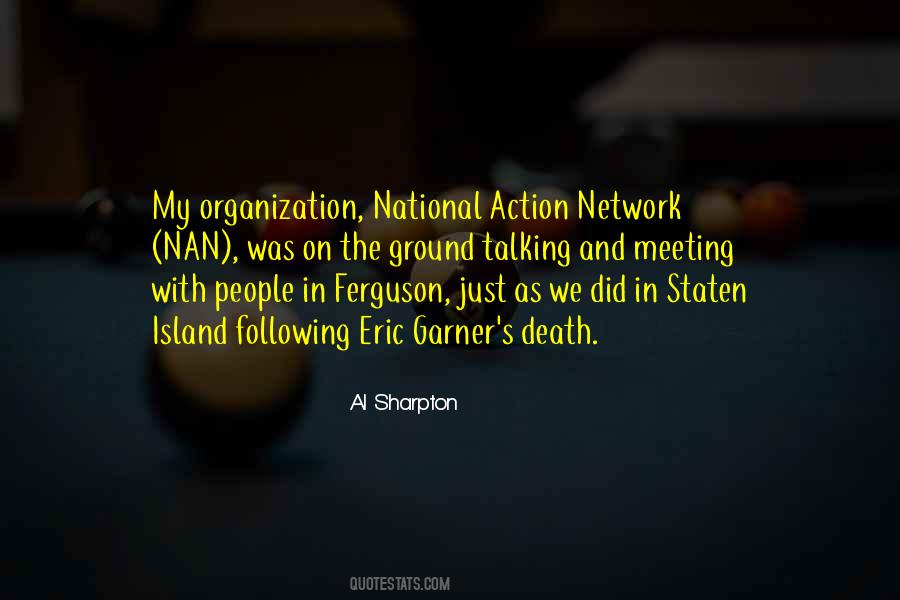 #16. Less fear, more courage.
Less doubt, more faith.
Less talking, more action.
Less ignorance, more knowledge. - Author: Matshona Dhliwayo
#17. I am actually talking about possibly adapting 'The Boys,' by Garth Ennis, which would not be a comedy, but an action movie with comedy elements to it. - Author: Adam McKay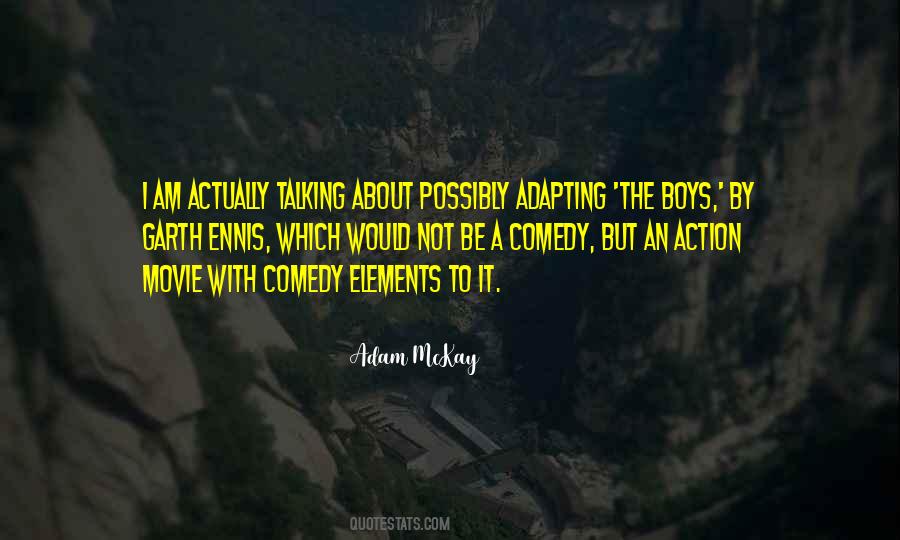 #18. Live action writers will give you a structure, but who the hell is talking about structure? Animation is closer to jazz than some kind of classical stage structure. - Author: Ralph Bakshi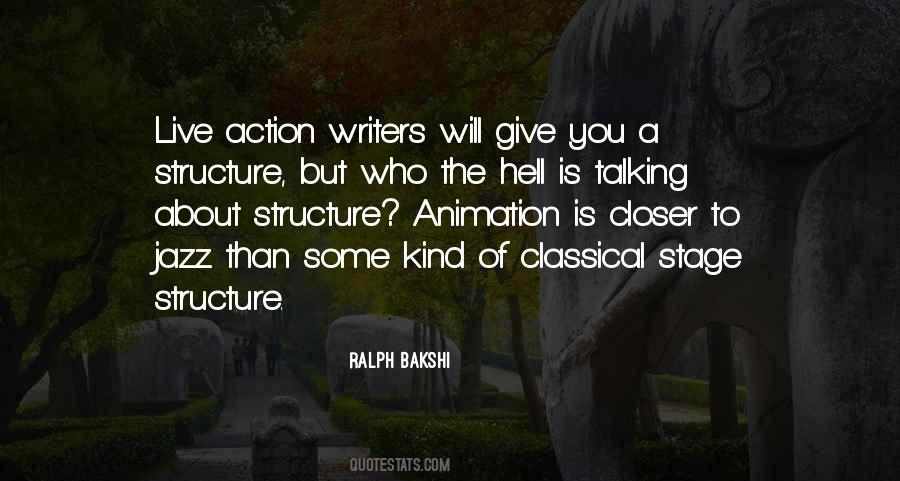 #19. On ACTION: "Stop talking;start DO-ing. - Author: Nanci McGraw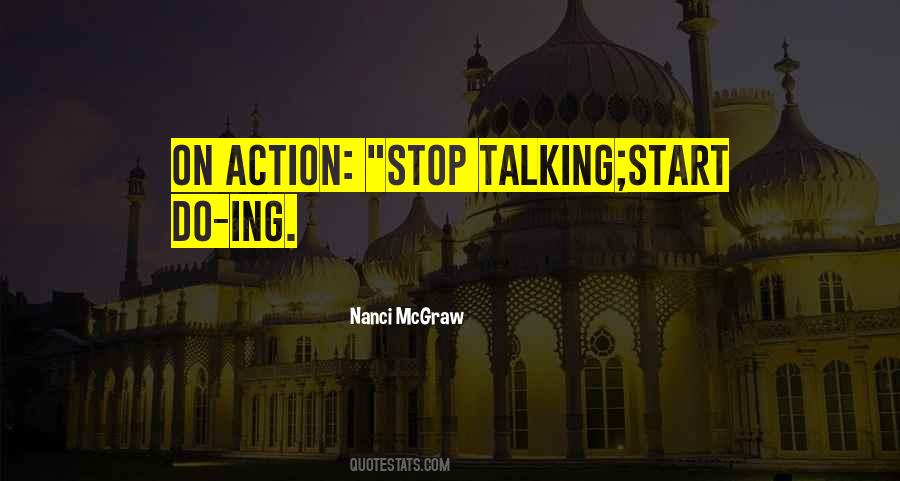 #20. I am sick of talking about What and Why I am doing. I have always believed that the WORK is the word. Action is seen less clearly through reason. There are no shortcuts to directness. - Author: Robert Rauschenberg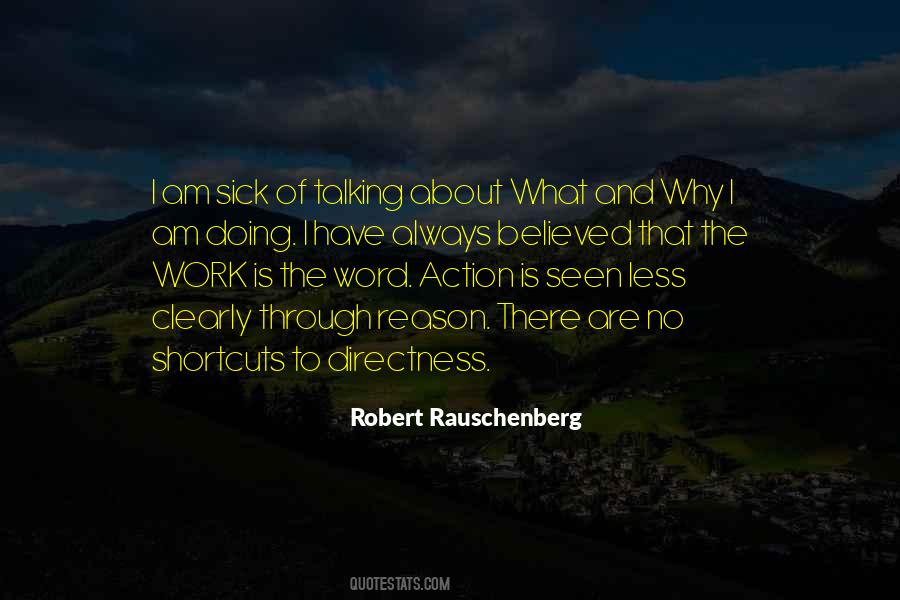 #21. I prefer trying over talking. - Author: Dillon Burroughs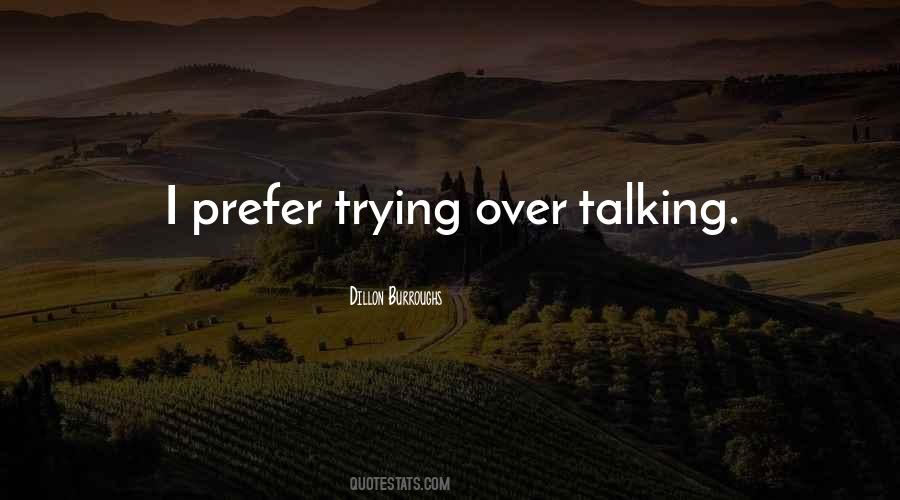 #22. On GOALSETTING: "I don't enjoy talking about what I am GOING to DO. I prefer to let folks find out what I've DONE. - Author: Nanci McGraw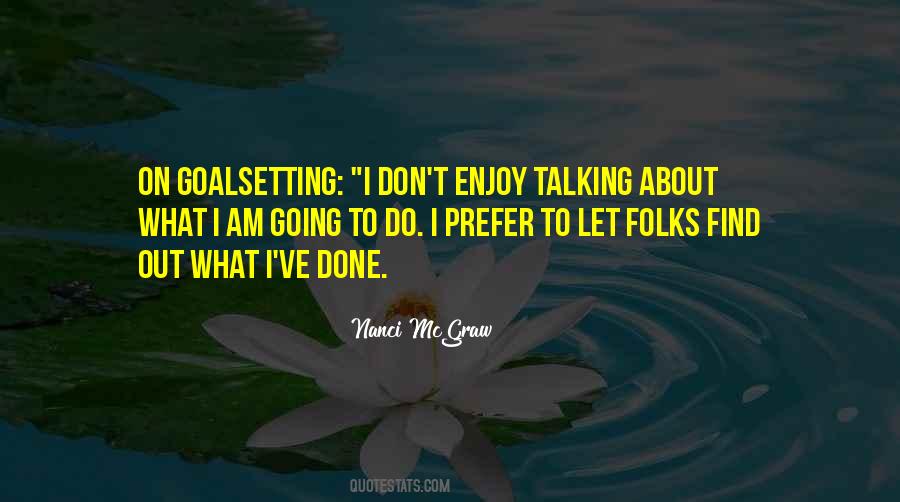 #23. The Australian way of affirmative action is setting goals and recognising discrimination and lack of opportunity and deciding to take action and setting some goals and targets. I guess I prefer that language to talking about quotas. - Author: Quentin Bryce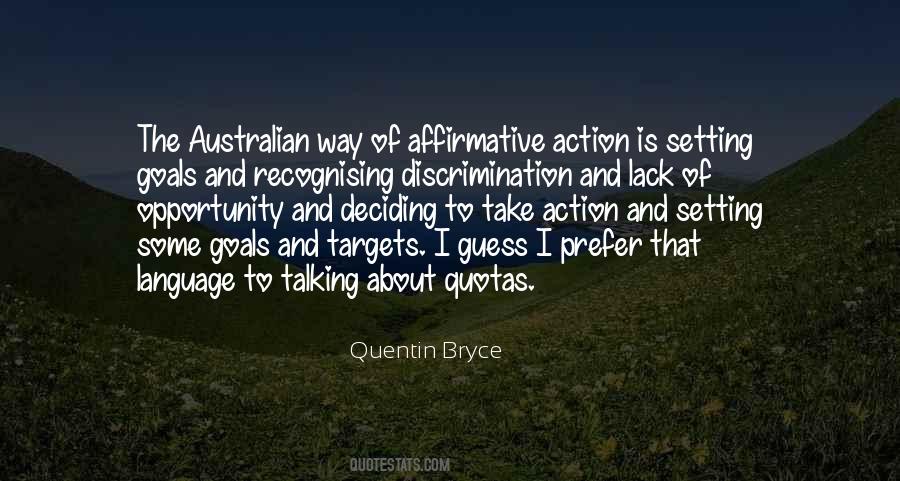 #24. We [with Les Charles] started talking about hotel stories, and we found that a lot of the action was happening in the hotel bar. We actually thought of that while we were in a bar: "Why would anyone ever leave here?" - Author: Amy Poehler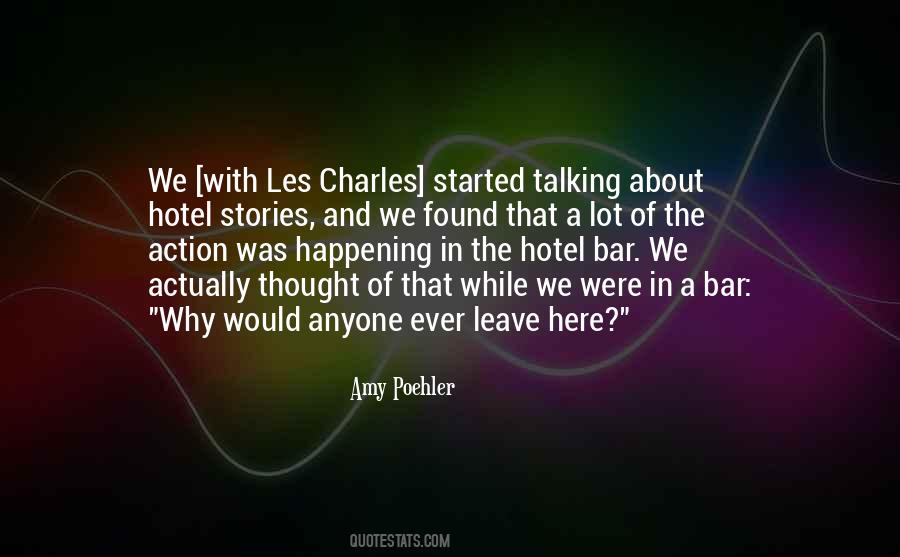 #25. Many people are good at talking about what they are doing, but in fact do little. Others do a lot but don't talk about it; they are the ones who make a community live. - Author: Jean Vanier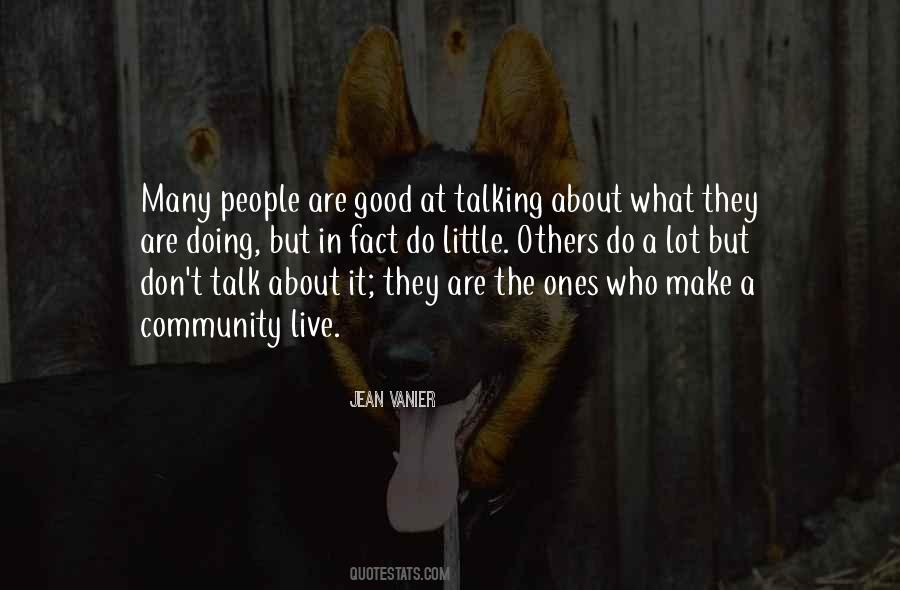 #26. A dream is just as good, and will go as far as an action. - Author: Anthony Liccione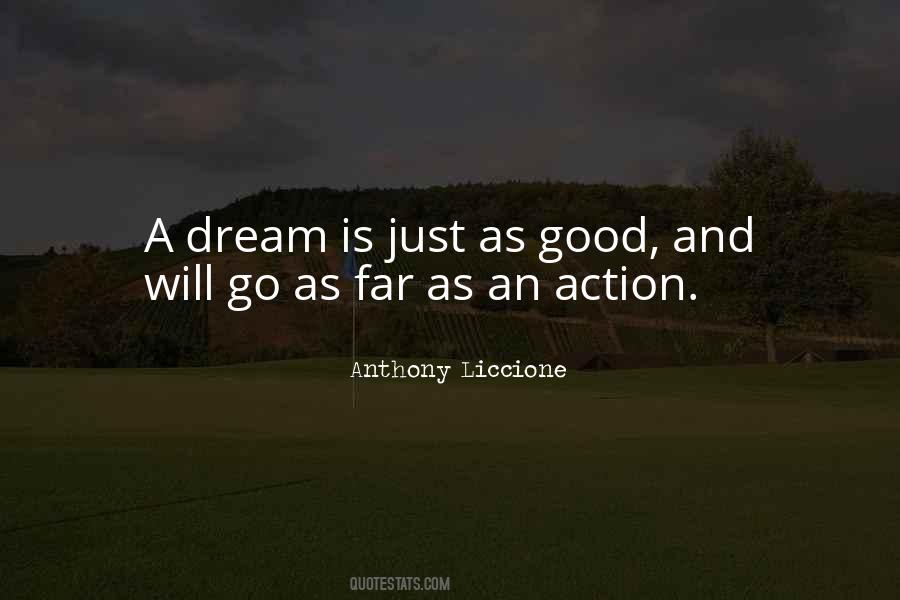 #27. See the Congress' track record. It has taken the nation backwards. They keep talking about Rights. The Nation is tired of your Acts, the Nation needs action. - Author: Narendra Modi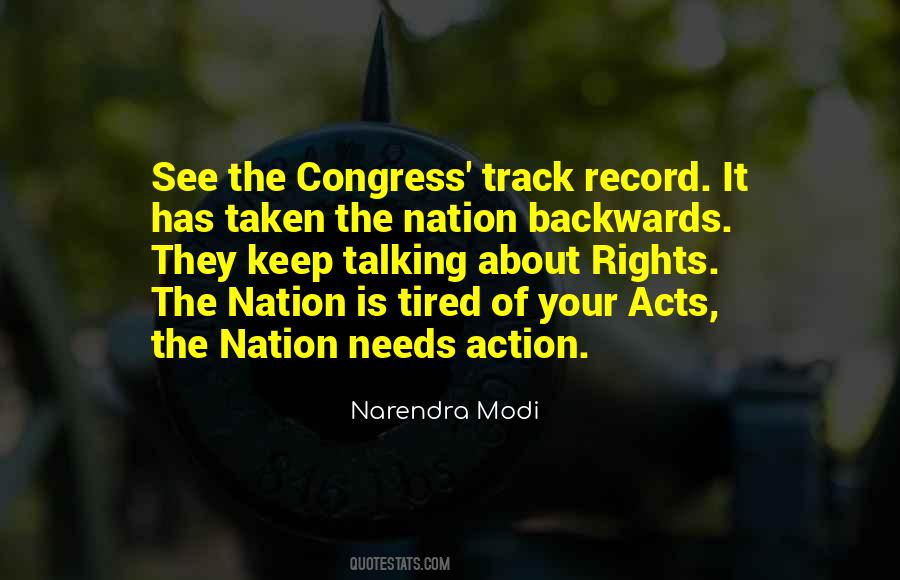 #28. Everybody is talking and everybody is trying to block things out, but eventually you just yell, "Action!," everybody starts moving, the camera starts going, and you get a take. - Author: Craig Gillespie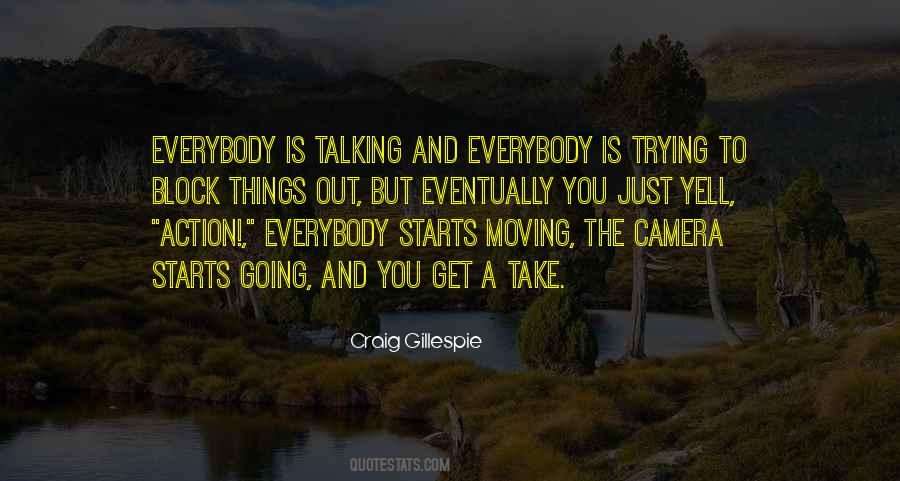 #29. The challenge is not to act automatically. It's to find an action that is not automatic. From painting, to breathing, to talking, to fucking. To falling in love ... - Author: Alex Garland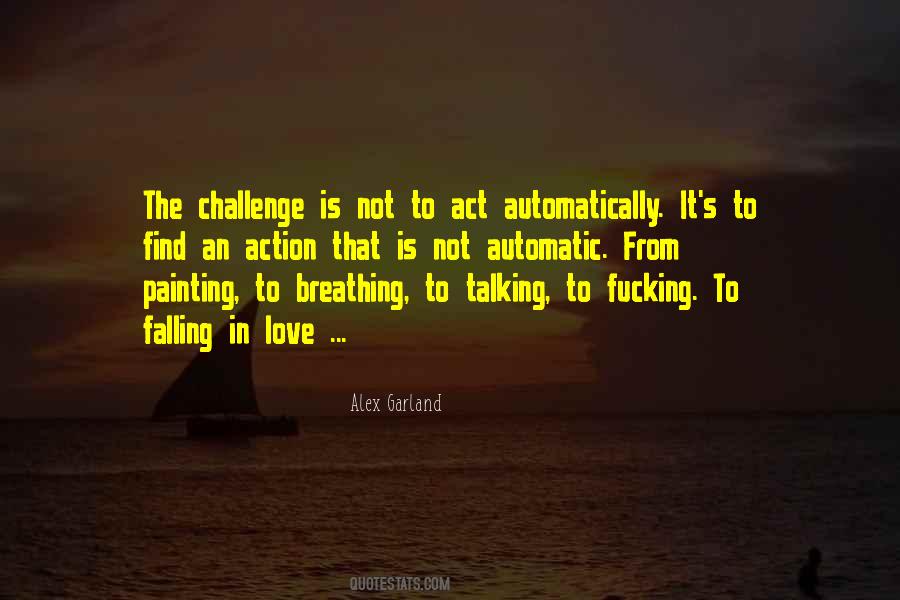 #30. Enough of talking. It is time now to do. - Author: Tony Blair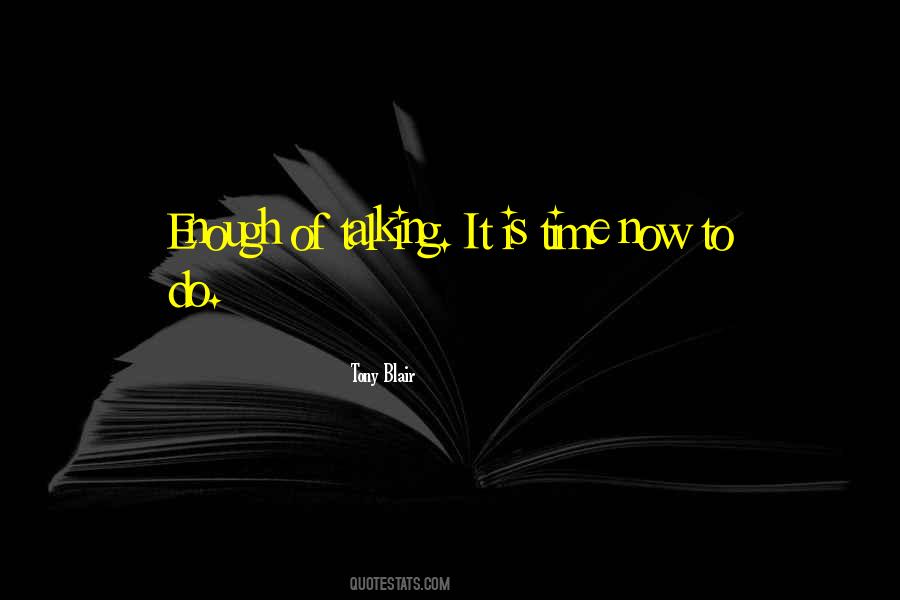 #31. If there are rights or duties of people which are not guaranteed because they're part of a [de facto] union and not of a family, there will be the need of a legislative action to remove the disparity. Obviously, when talking about people I refer to everyone [including homosexuals]. - Author: Gianfranco Fini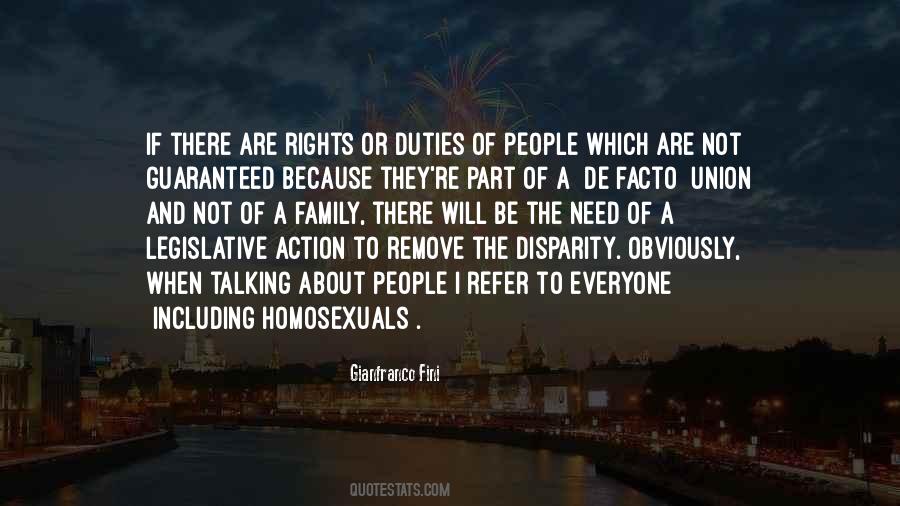 #32. What I really want to do is create great roles for women. And I'm not talking Nicholas Sparks romance. I think women's roles have gotten ghettoized in these sort of places ... I'm thinking women in action, comic books, or like the Tony Soprano of women. We need some complex roles. - Author: Melissa Rosenberg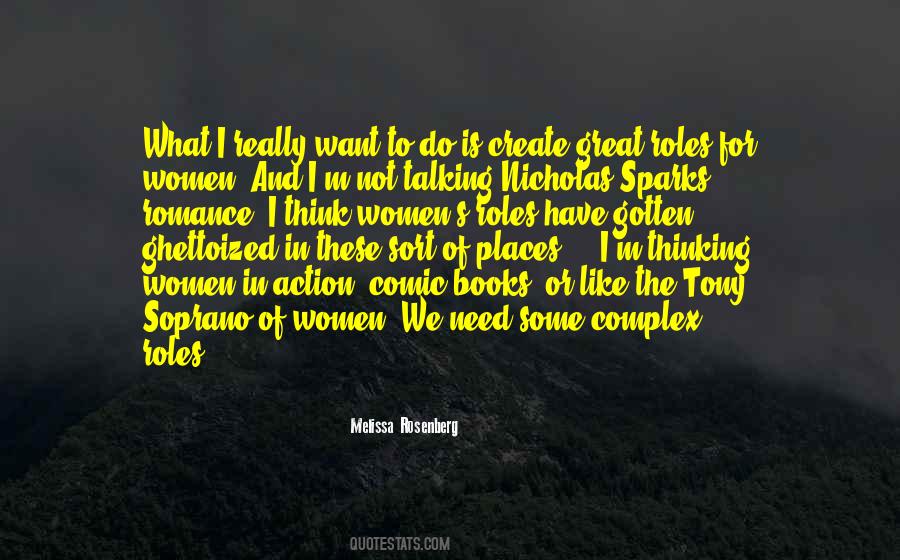 #33. I've been accused many times of not talking very much, but I guess I don't believe in talking things to death. You can talk too much on most anything and it stops being productive. There is a time for action. Eventually you have to pull the trigger. - Author: Edward Whitacre Jr.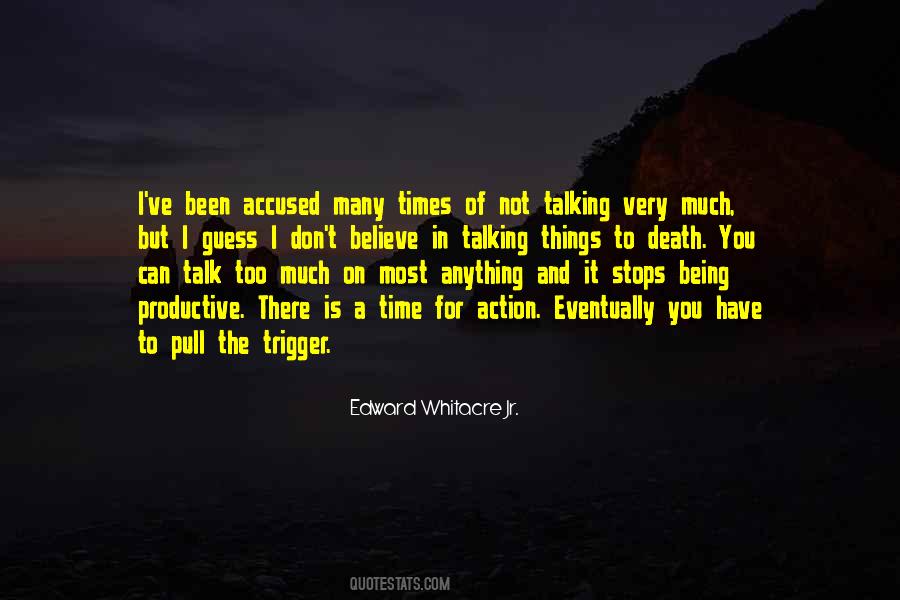 #34. Excessive talking about our plans and dreams lessens our energy to do what is needed to achieve them. - Author: John Patrick Hickey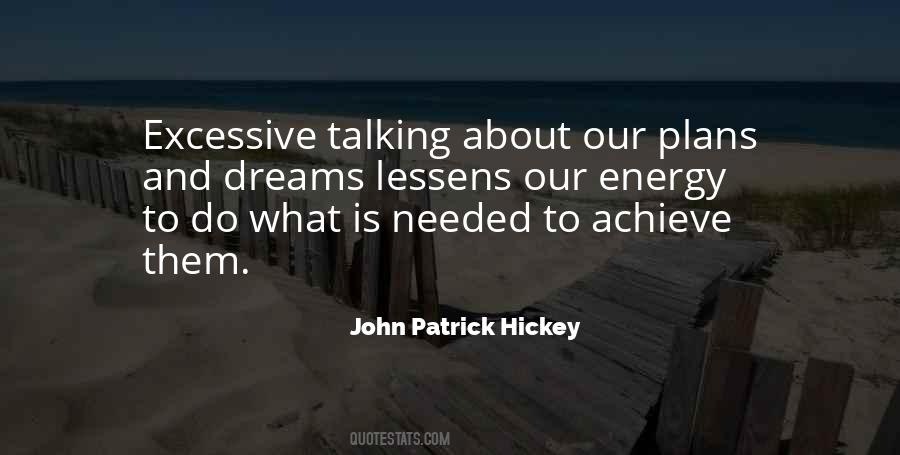 Famous Authors
Popular Topics