King Lion Famous Quotes & Sayings
List of top 47 famous quotes and sayings about king lion to read and share with friends on your Facebook, Twitter, blogs.
Top 47 King Lion Sayings
#1. In defense of games, I want to point out that the writing in plays, including everything by August Strindberg and The Lion King, is 100% pure crap. So we're doing better than they are even though they have the benefit of mostly not being about space marines. - Author: Erik Wolpaw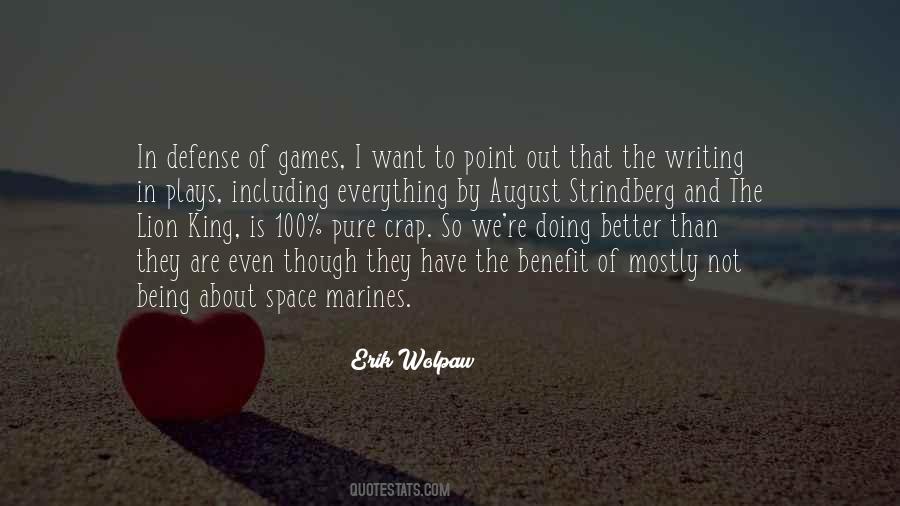 #2. Of all animals, the outward form of the Lion is the most striking ; his look is bold and confident; his gait proud; and his voice terrible ; and from his great strength and agility, is usually styled the king of beasts. - Author: William Pinnock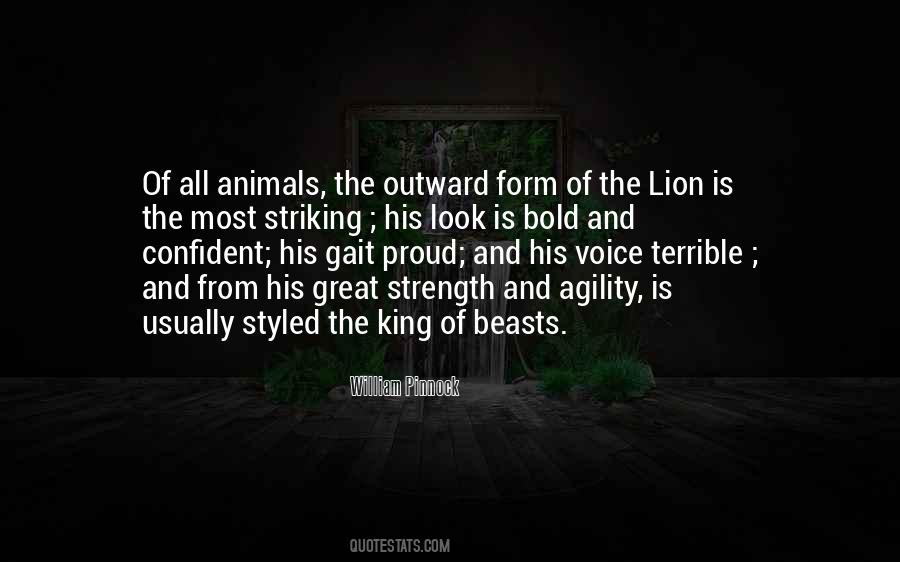 #3. Because of our situation, God has given us an opportunity to almost transcend our gender, which gives us a vision and sensitivity that other people don't have. They think that being white and male is going to save the world; but life is not The Lion King. - Author: Jason Reeves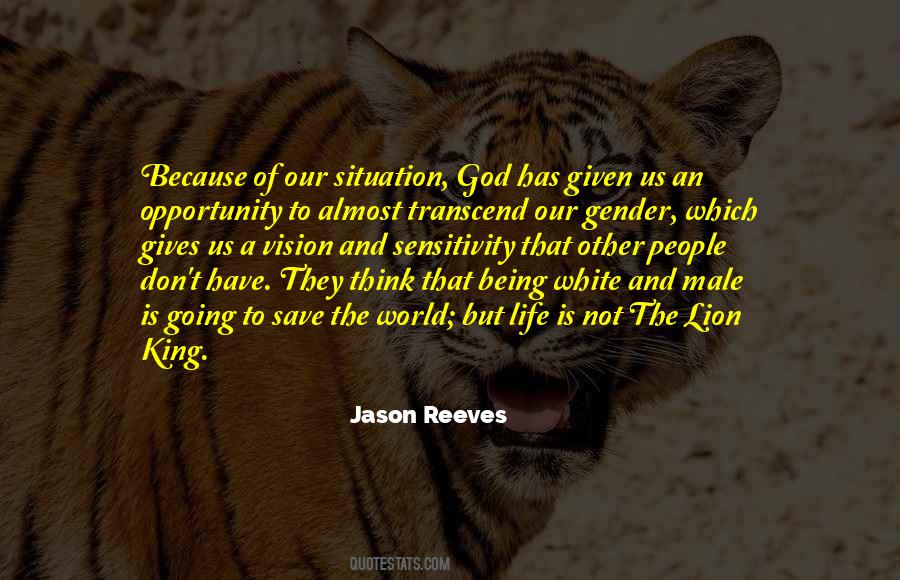 #4. Well, you know, I played Mufasa in the workshop of The Lion King. - Author: Keith David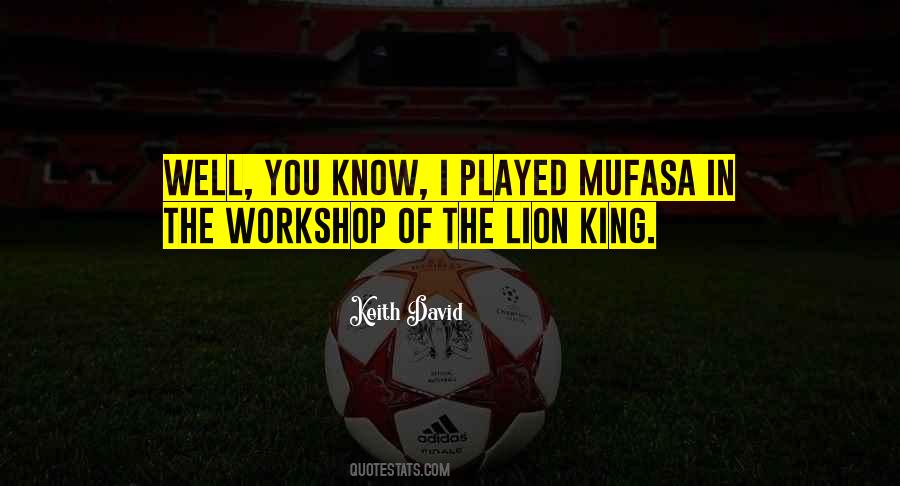 #5. I remember crying my eyes out when I watched the end of the Lion King - Author: Dwayne Johnson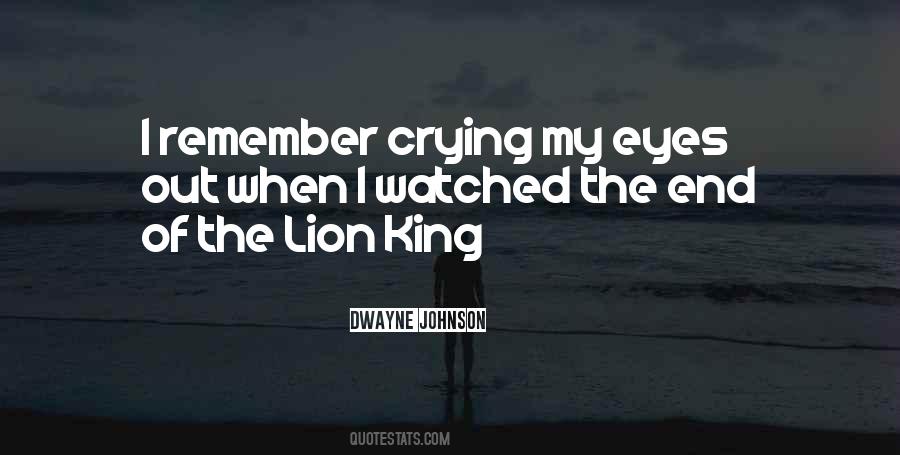 #6. Kiss the girl, already." Johnson begins to sing. Badly. A cheesy tot hits his cheek, and he chucks a wing at Diaz in retaliation. It goes wide. "Isn't that the song the little crab sings in The Lion King?" Dex asks. "It's The Little Mermaid. And stop playing like you don't know. - Author: Kristen Callihan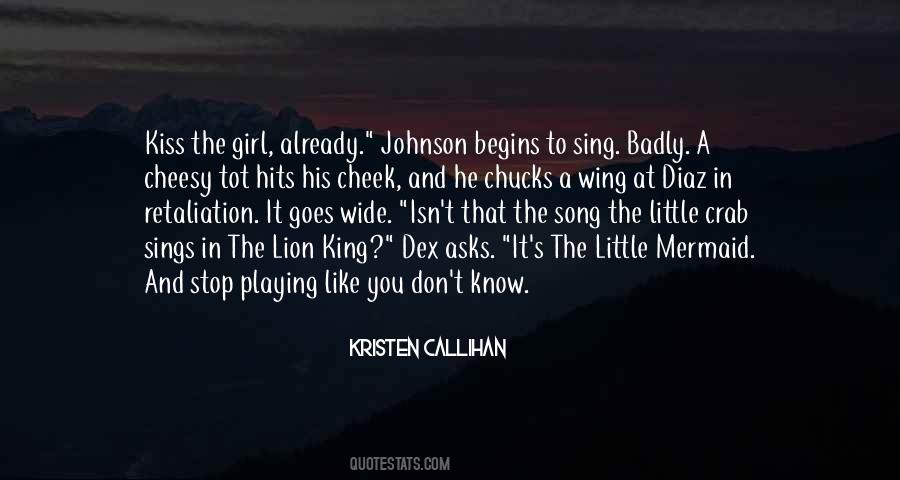 #7. I did an interview once where I was asked who I found attractive and I went on about cartoons and Nala from 'The Lion King' - and it's a bit weird but various of my ex-girlfriends actually did look like Nala. - Author: Eddie Redmayne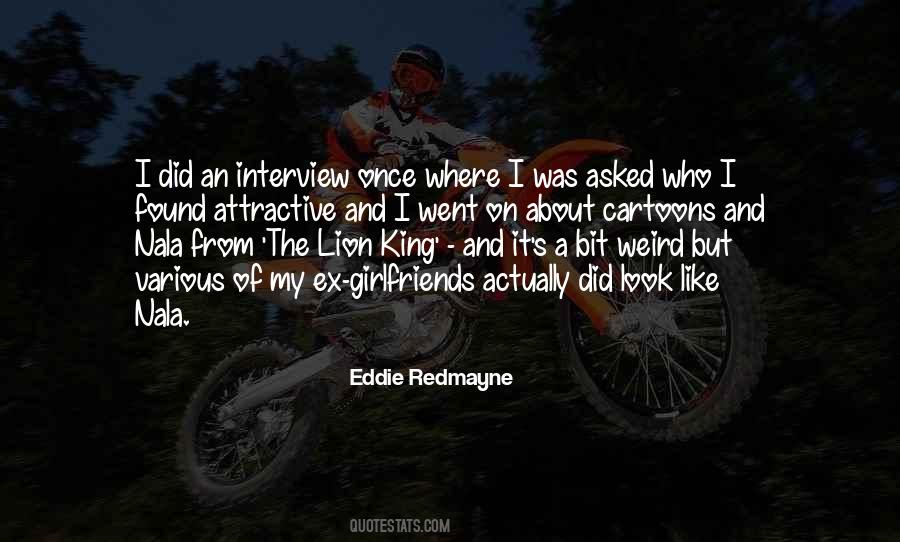 #8. Only take as much as you give, in the circle of life. - Author: Elton John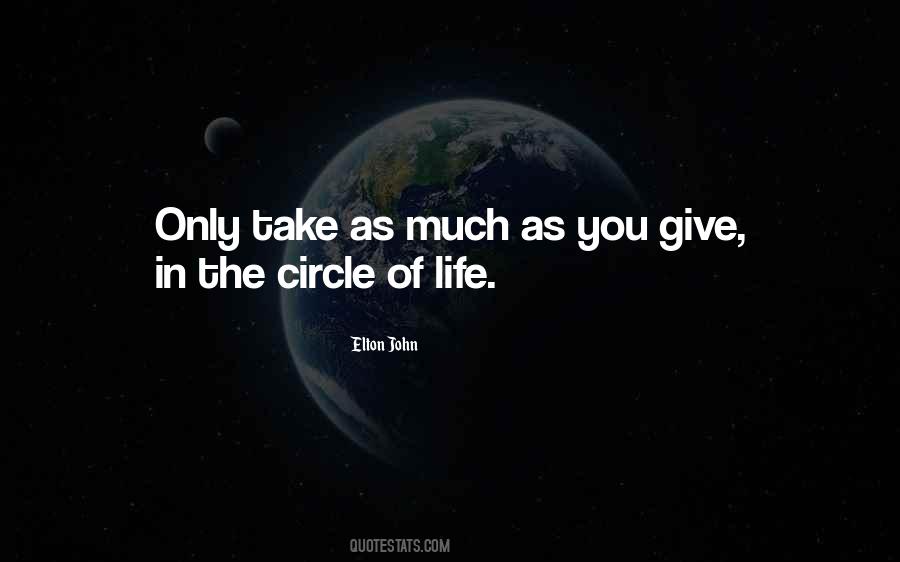 #9. The Lion King always makes me cry, especially when Simba's father gets trampled. - Author: Vanessa Hudgens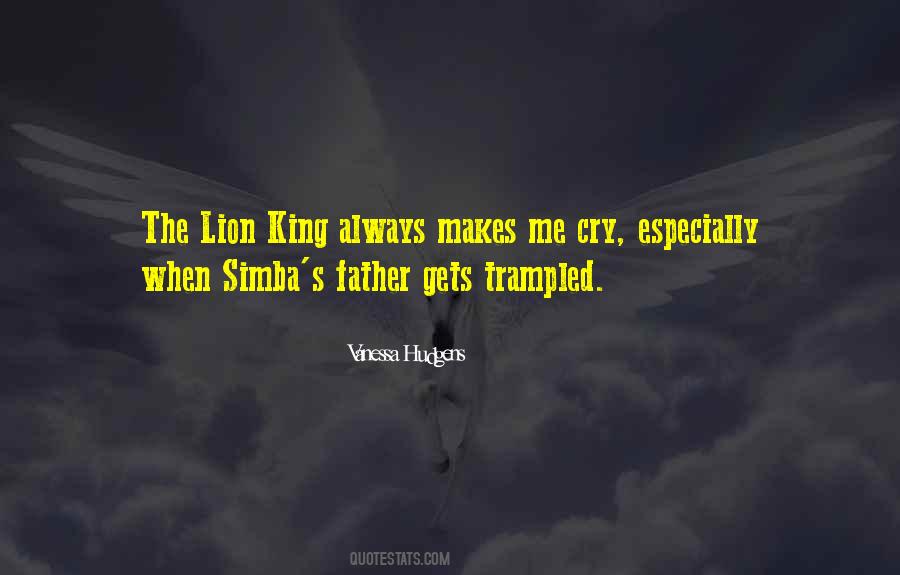 #10. Very effective way to do this with a bunch of second graders, is take a picture of The Lion King for instance, and a teacher might say, 'Do you know that the music for this movie was written by a gay man?' The message is: I'm better at what I do, because I'm gay. - Author: Michele Bachmann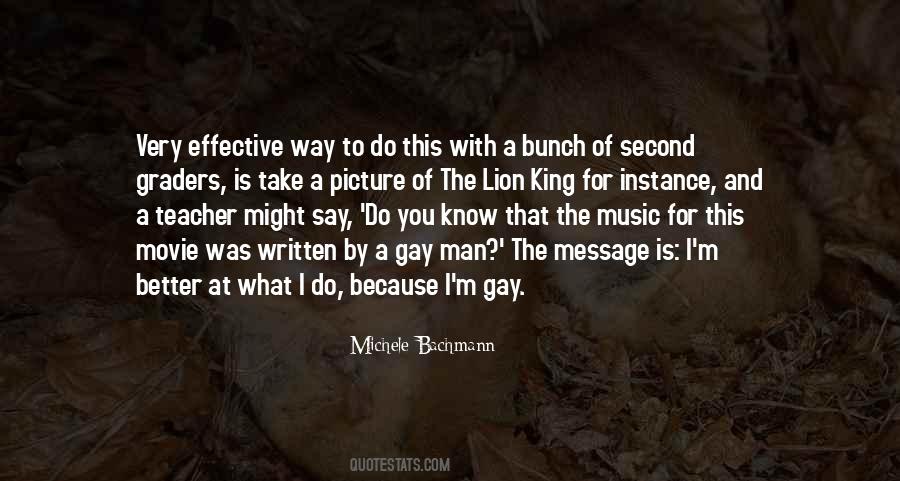 #11. In the land of tigers the lion cannot be king. - Author: Matshona Dhliwayo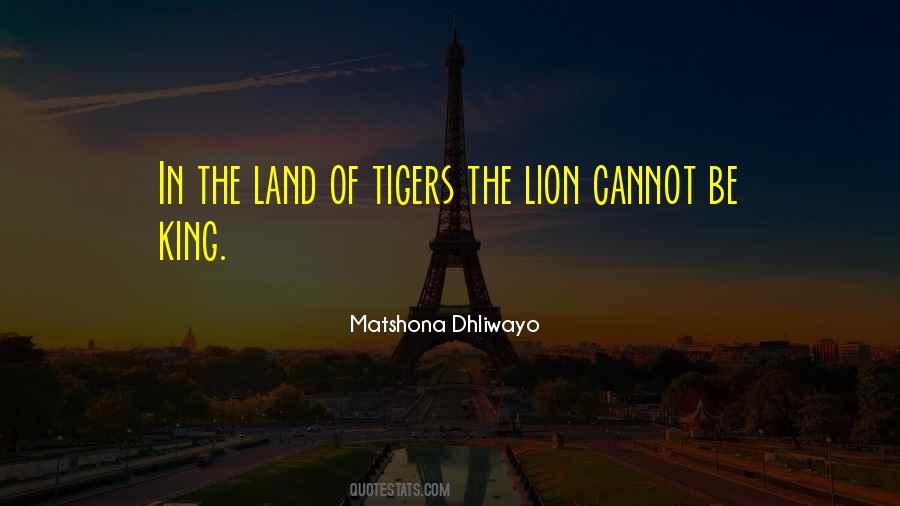 #12. I love watching the Serengeti, the way lions live. The only way the king lion loses his crown is by somebody physically defeating him. - Author: Ray Lewis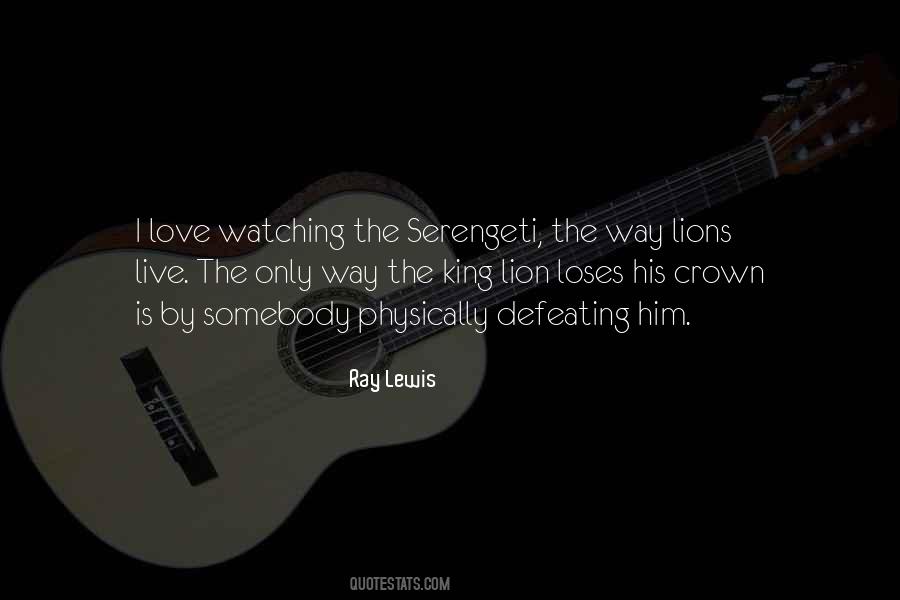 #13. See this abdicated beast, once king
Of them all, nibble his claws:
Not anger enough left - no, nor despair -
To break his teeth on the bars. - Author: Cecil Day-Lewis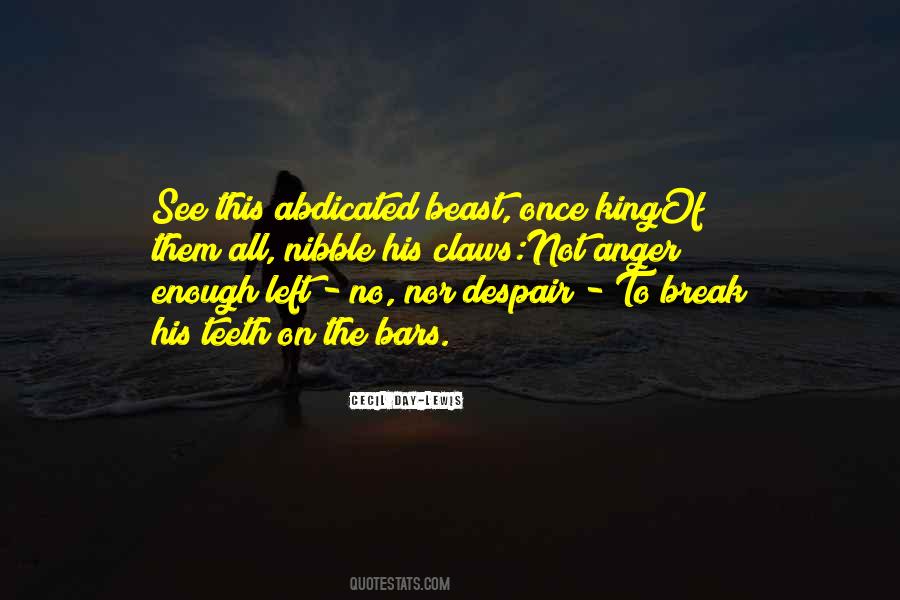 #14. You can be merry with the king, you can share a joke with him. But as Thomas More used to say, it's like sporting with a tamed lion. You tousle its mane and pull its ears, but all the time you're thinking, those claws, those claws, those claws. - Author: Hilary Mantel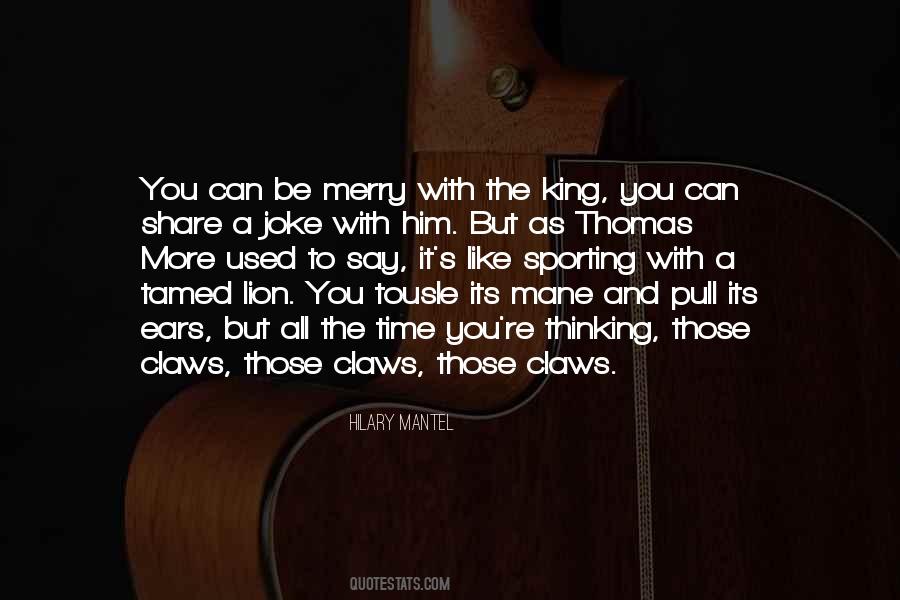 #15. I got to know Elton John's older music by learning to like his newer stuff. 'The Lion King?' That's what I like. - Author: Aaron Schock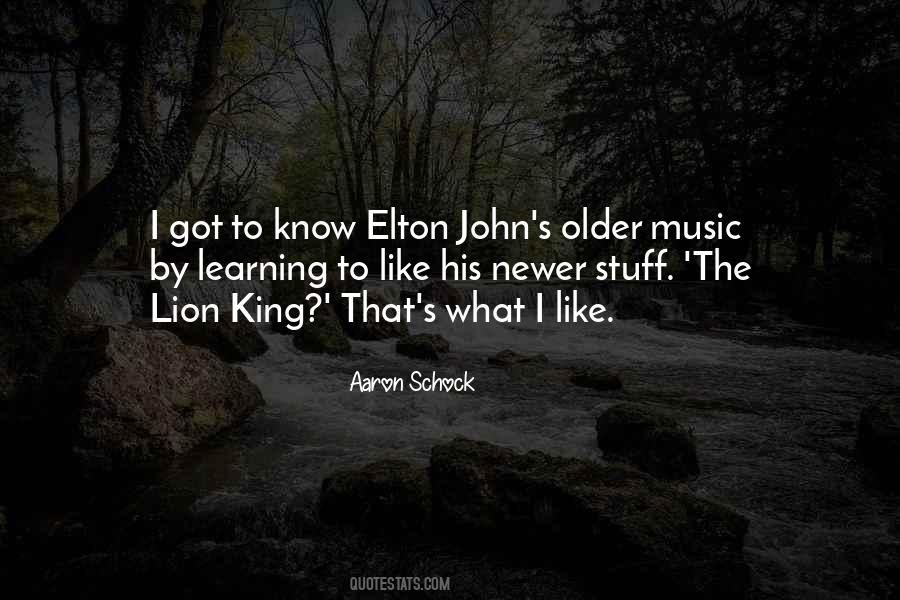 #16. My first memory of loving music happened so early. We would always go to the beach in the summer and I would run from blanket to blanket, from family to family and just sing Lion King songs acapella. - Author: Taylor Swift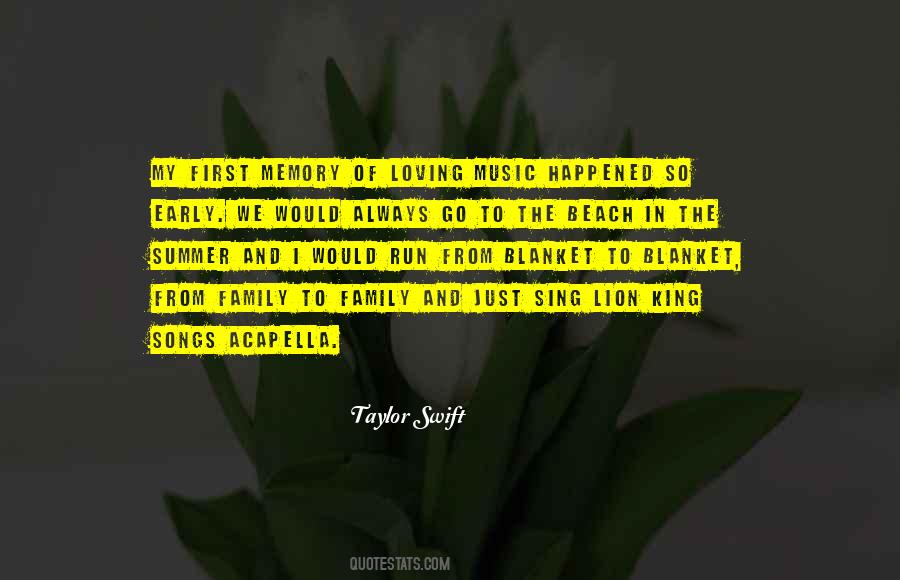 #17. I've loved musicals ever since I saw 'The Lion King' on Broadway. - Author: Mark Indelicato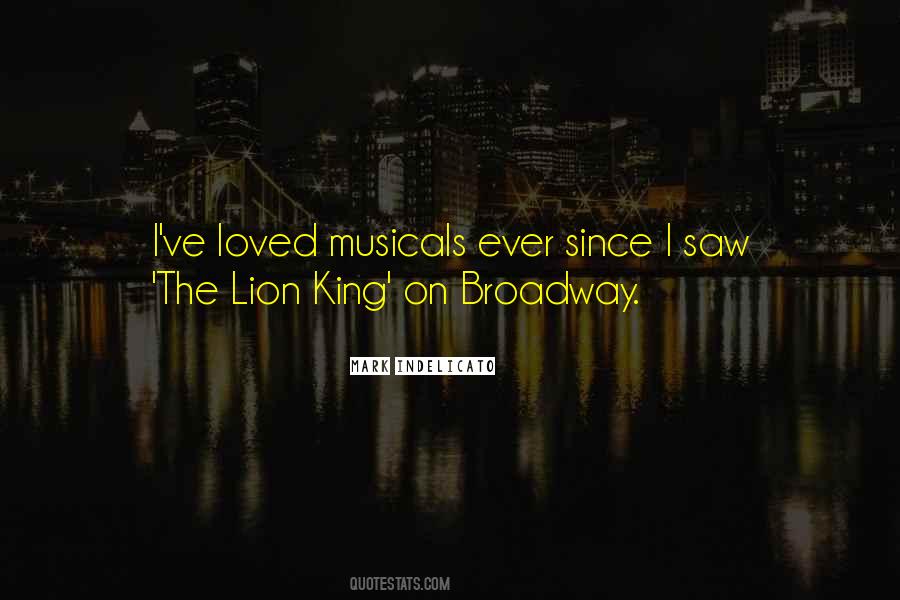 #18. Thomas More once told me: lion or king, never show fear or you are a dead man. - Author: Philippa Gregory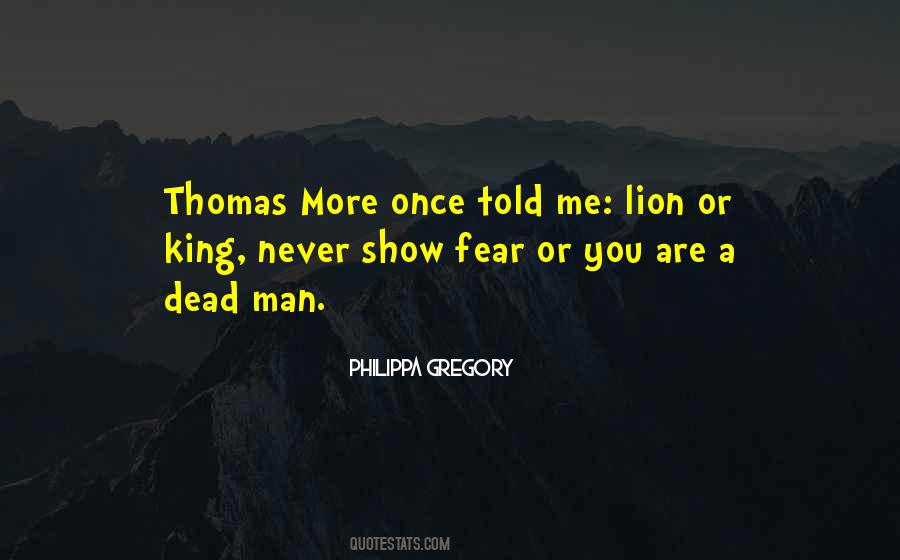 #19. When I was thinking about The Lion King, I said, we have to do what theater does best. What theater does best is to be abstract and not to do literal reality. - Author: Julie Taymor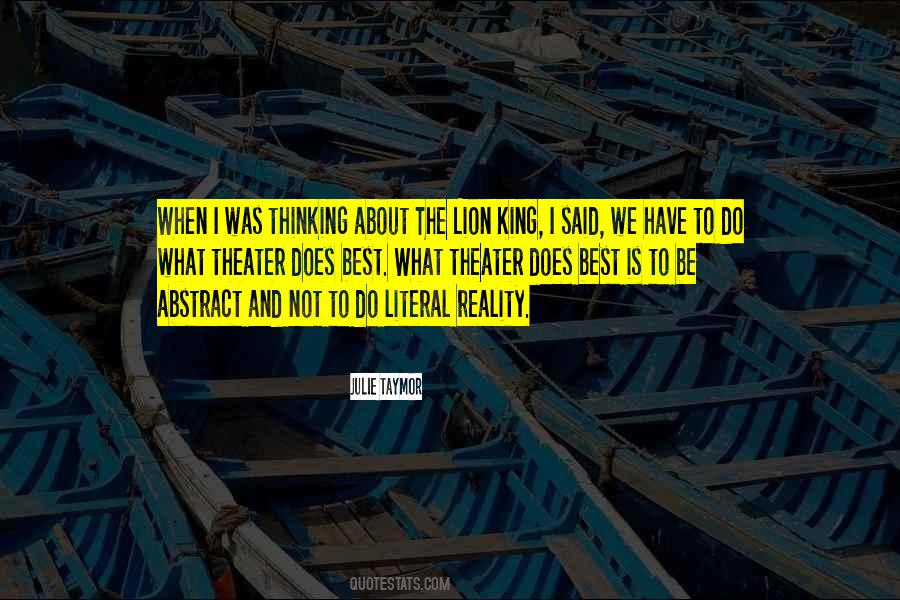 #20. The reason why I praise the lion is because the lion is the king of the jungle. - Author: DJ Khaled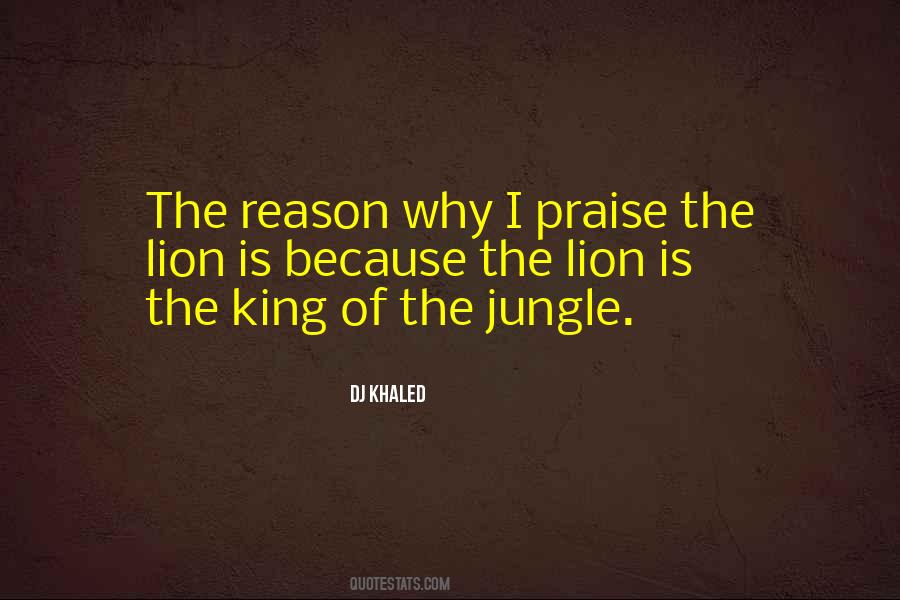 #21. A lion is called a 'king of beasts' obviously for a reason. - Author: Jack Hanna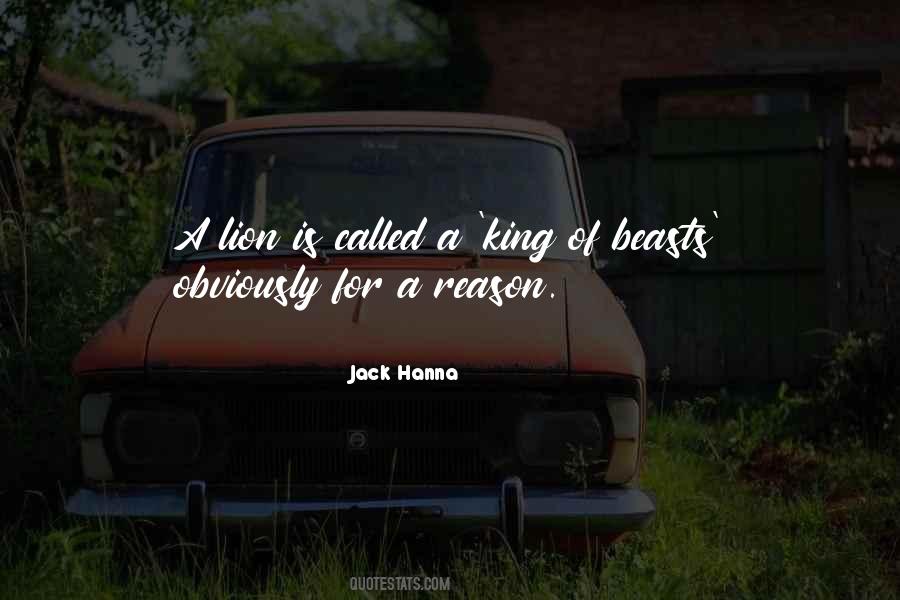 #22. While the Witch plays her pawn, the King sacrifices Himself, and to all appearances, the game is over. But the Lion has one last move ... - Author: Sarah Arthur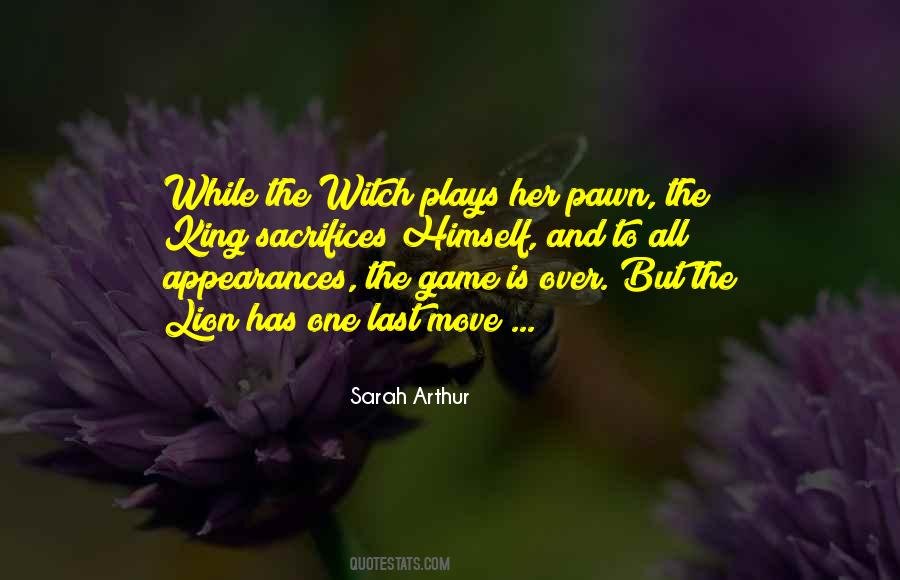 #23. On a high mountain I stood,
And cried the name of Ali, Lion of God.
O Ali, Lion of God, King of Men,
Bring joy to our sorrowful hearts. - Author: Khaled Hosseini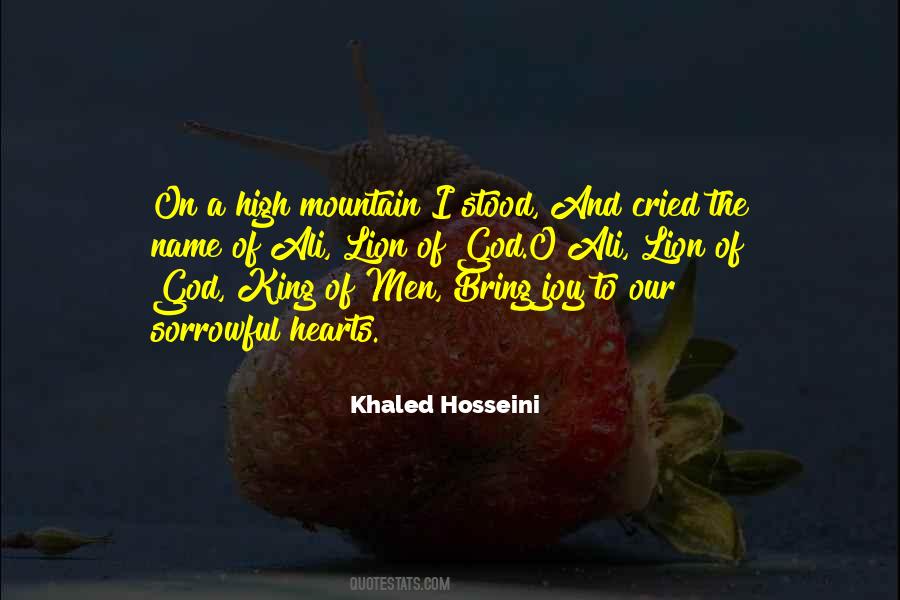 #24. She knew herself the heart of a king buried in a sepulchre (in the land of his love) while the body of the king is elsewhere. My heart lies buried in there like Coeur de Lion (or whoever it was) who had his heart buried at Havre (or wherever it was) and the rest of him buried somewhere else. - Author: H.D.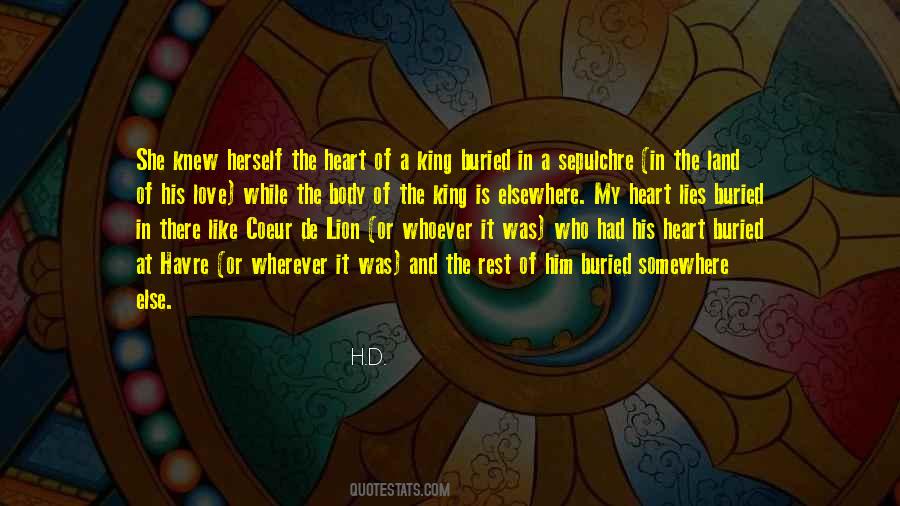 #25. I was just so excited to have a child! I held him up like he was Simba in 'The Lion King.' I wanted to sing 'The Circle of Life.' - Author: Aaron Lazar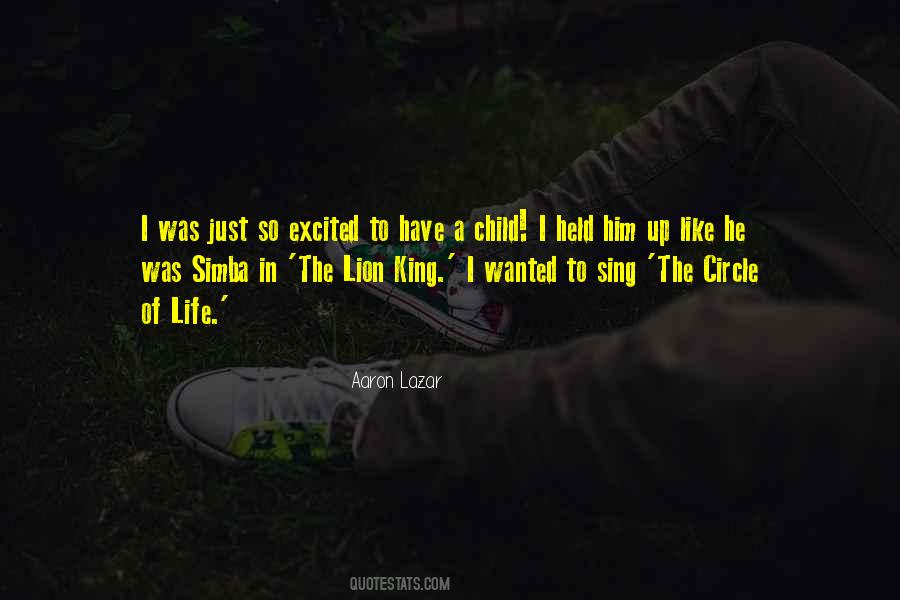 #26. The thing that everyone remembers about 'Bambi' is that moment. 'The Lion King,' took it to quite an extreme because it was an action sequence: his father was killed in a wildebeest stampede - I related, because mine was, too. - Author: Nathan Lane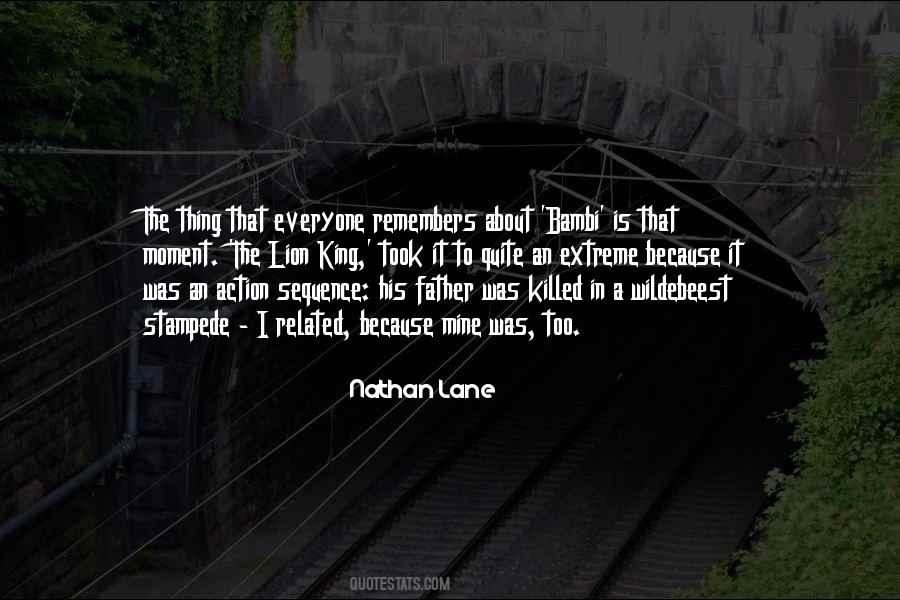 #27. I got a lion on my back because I'm a Leo, and I also just love lions. But I wish I'd researched the artwork a little more. My little sister saw it and said, "Why do you have the Lion King on your back?" - Author: Stephen Dorff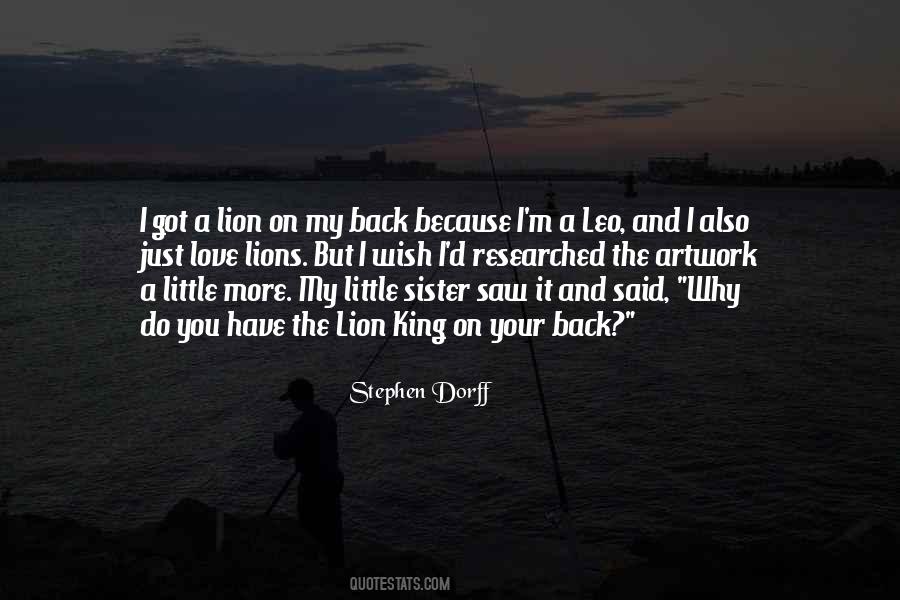 #28. Beware, lion's lady, for your predator is hungry tonight. He may not wait long before devouring you." "Devouring me?" she asked, challenge gleaming in her eyes. "What if I devour him first? - Author: Shelly Thacker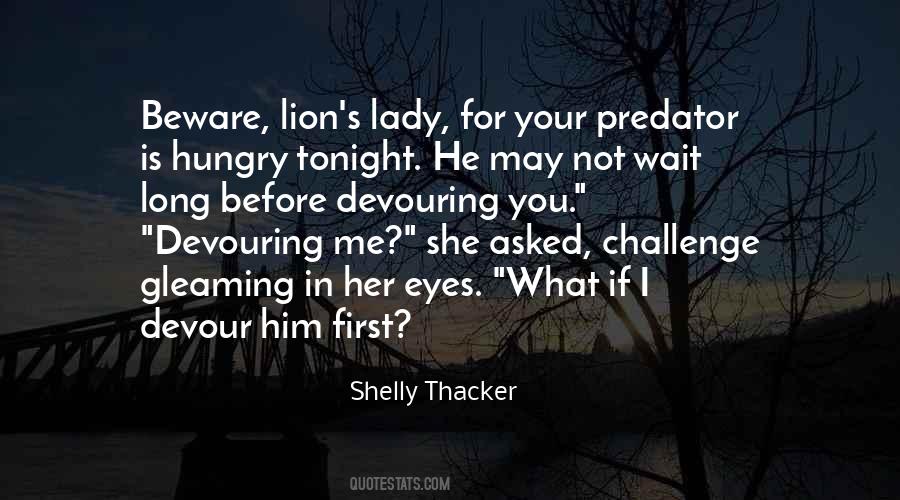 #29. I should only ever tell the king what he ought to do, not what he could do. For if the lion knows his own strength, no man could control him. - Author: Thomas More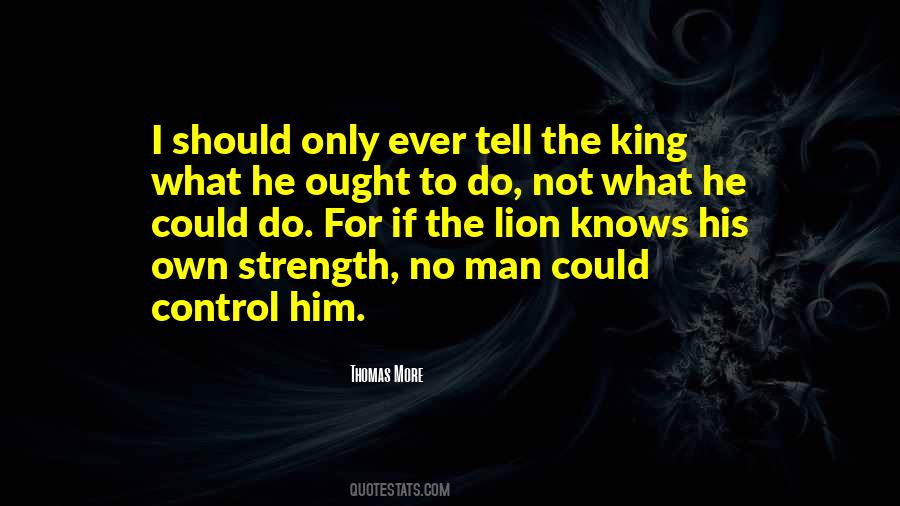 #30. If Sean's voice is layers of wood, and Mina Ma's is the voice a copper pot, then Mathew Mercer's is the voice of a wild animal. I suddenly think of a movie Ammara and I loved when we were little, and I think of Scar, the lion who murdered his brother to become king. That kind of voice. - Author: Sangu Mandanna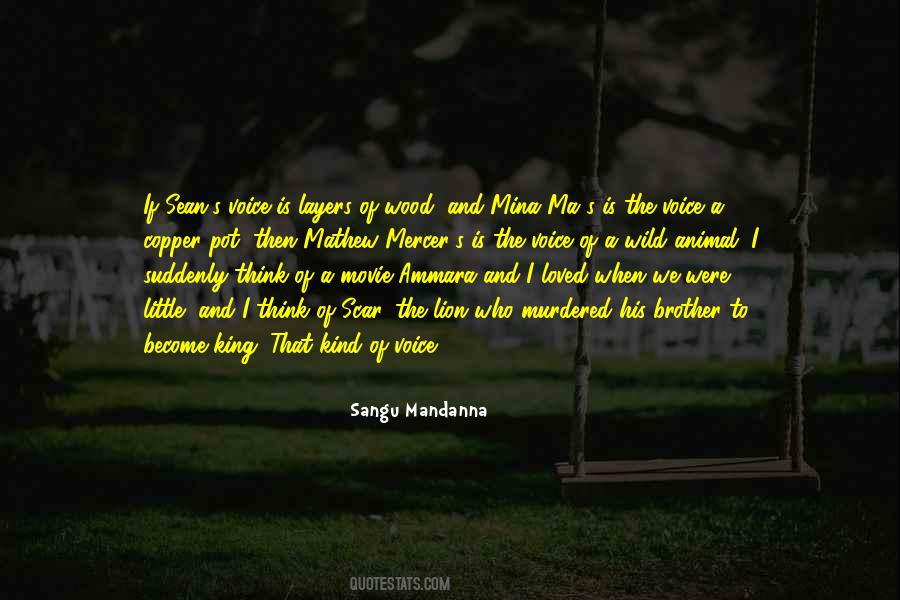 #31. The lion in the jungle makes every other animal sit up and take notice as soon as he lets out a roar. He didn't get that way through artificial paraphernalia or through springs and wires and trick dumbells. He became the king of the jungle through constant natural use of every muscle in his body. - Author: Charles Atlas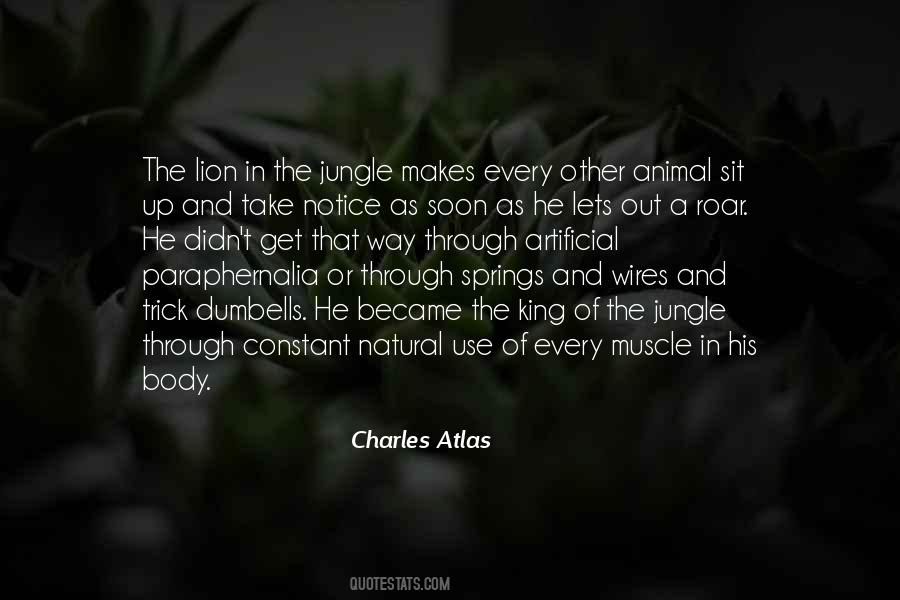 #32. A lioness. She mates with her lion and he thinks the moment is about him when it is really about her, her children, her posterity. Her tricki s to make him think that he is king of the bush, but what he does a king matter? Really, she is king and queen and everything in between. - Author: Yaa Gyasi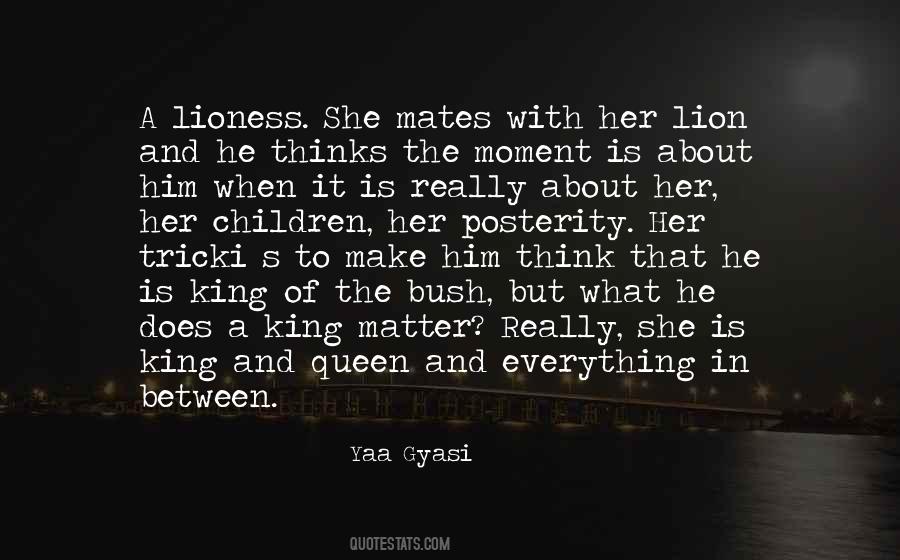 #33. I know, it's weird that I've never done a musical. I turned down two of them. 'The Lion King' and 'The Producers.' I turned two of the biggest Broadway musicals down, am I a mess? - Author: Mario Cantone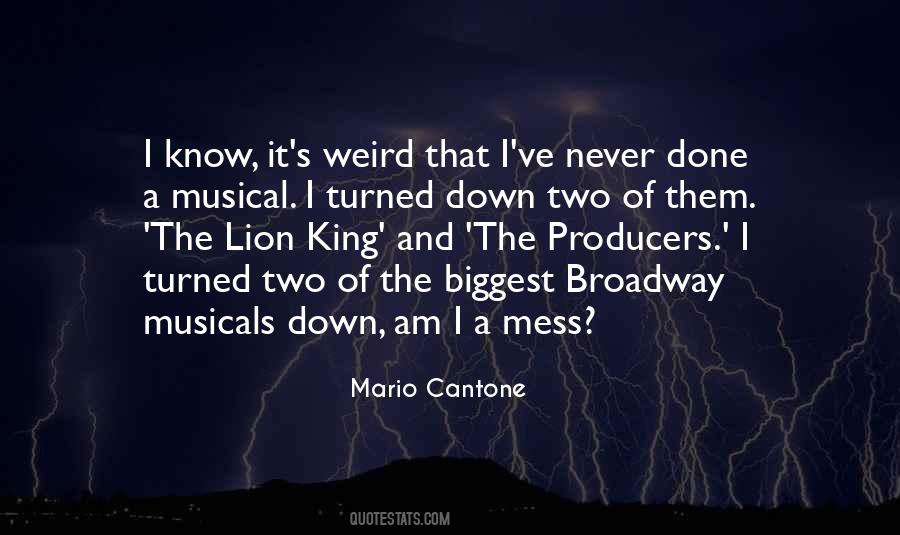 #34. Oh yes, the past can hurt, but the way I see it you can either run from it or learn from it. - Author: Rafiki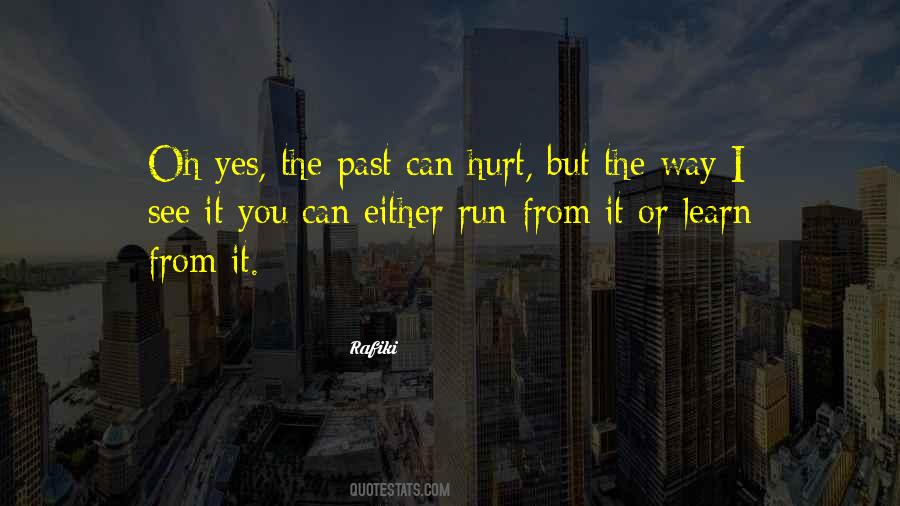 #35. Proverbs 19:10-12 10 It isn't right for a fool to live in luxury or for a slave to rule over princes! 11 Sensible people control their temper; they earn respect by overlooking wrongs. 12 The king's anger is like a lion's roar, but his favor is like dew on the grass. - Author: Anonymous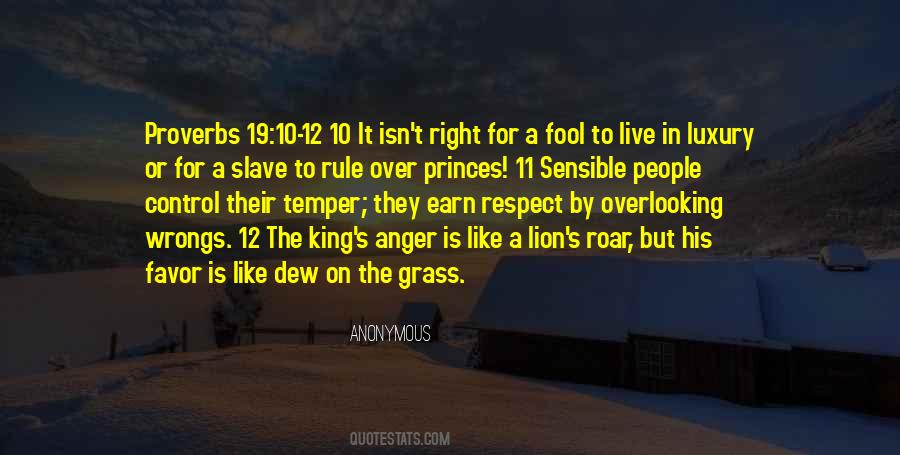 #36. Unpredictable as a hungry lion, he might be feared by everyone else, but he never ripped out my throat, only licked me, and, if his tongue was a little rough sometimes, it was worth it to walk beside the king of the jungle. - Author: Karen Marie Moning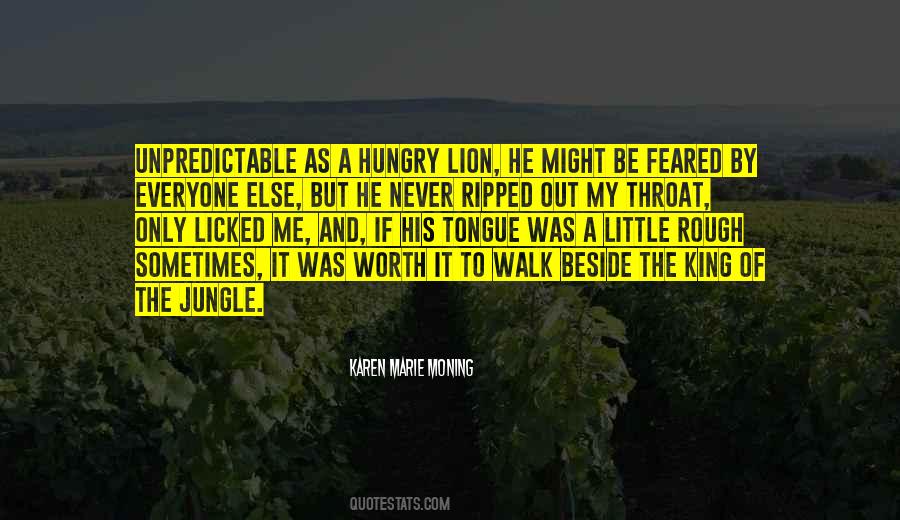 #37. Don't readjust your contacts. No, that is not the slow hyena from The Lion King. That is my four-pound best friend. - Author: Mamrie Hart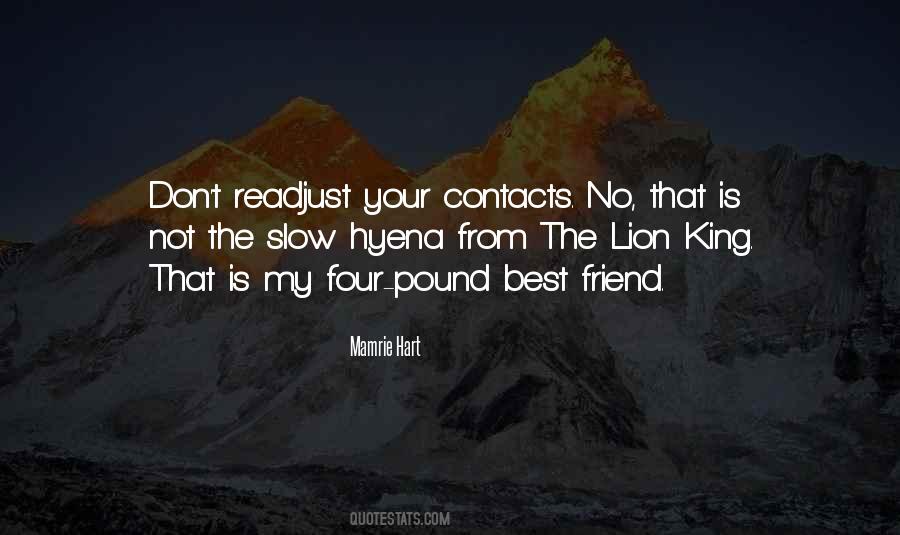 #38. When I have bad days, I just eat lots of chocolate ice cream and dance to the 'Lion King' soundtrack. It's really odd, but it's true. - Author: Blake Lively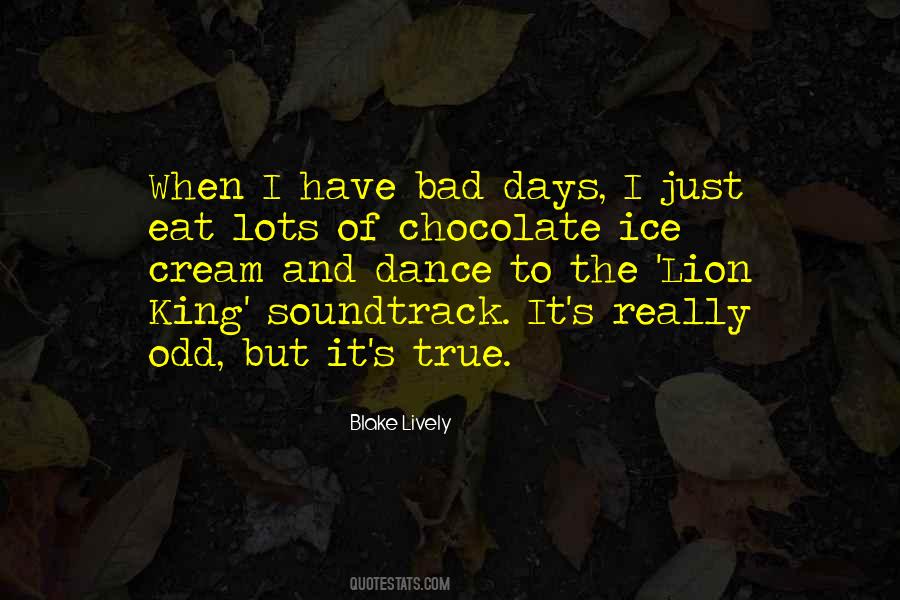 #39. Did you know that in The Lion King, the hyenas - the bad guys - all speak in either black or Latino slang? And that the little cubs are told not to go where the hyenas live?" He looks at me, amused. "Do you realize that Scar, the villain, is darker than Mufasa? - Author: Jodi Picoult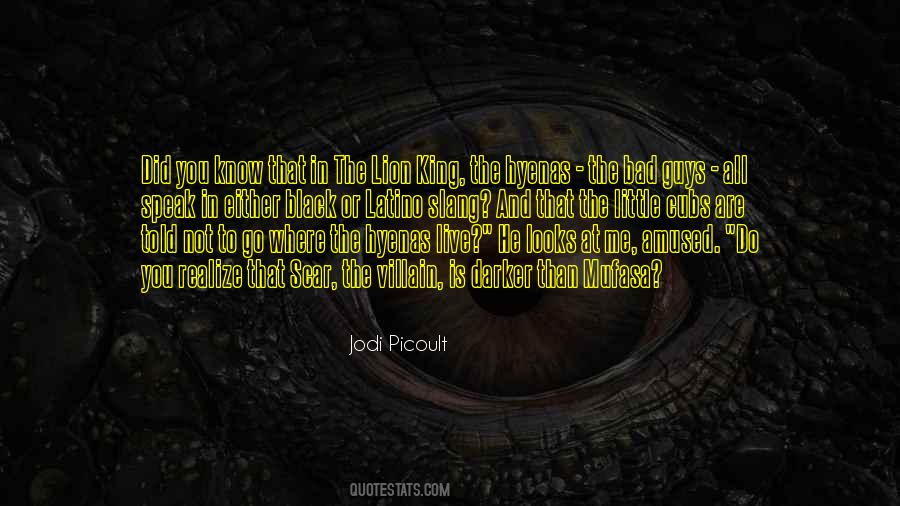 #40. The lion cares less about being king of the beasts than about finding his dinner. - Author: Mason Cooley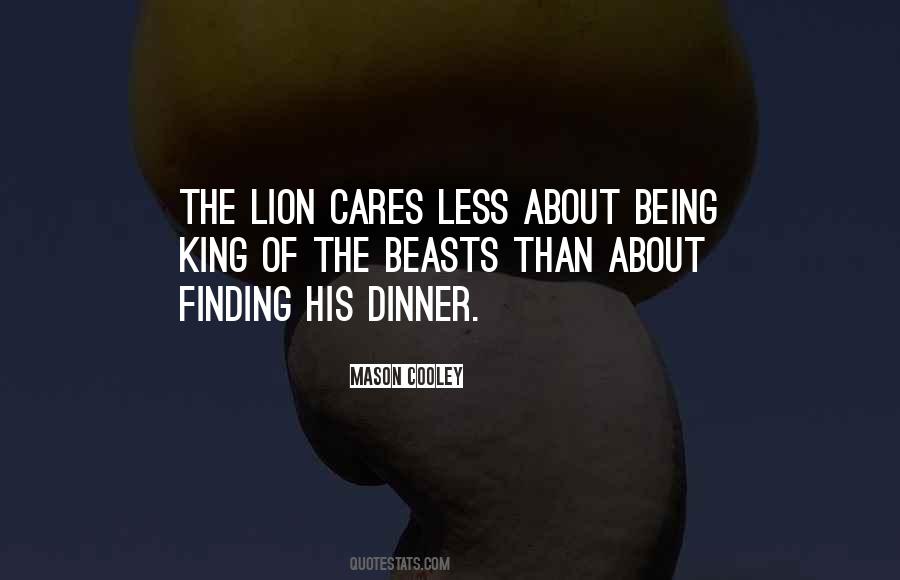 #41. 'Hairspray' was a movie turned Broadway musical turned Hollywood remake, and that is the 'Lion King' circle of life as we know it in Times Square, the creative loop that swings for the stars and sometimes crashes into the upper deck. - Author: James Wolcott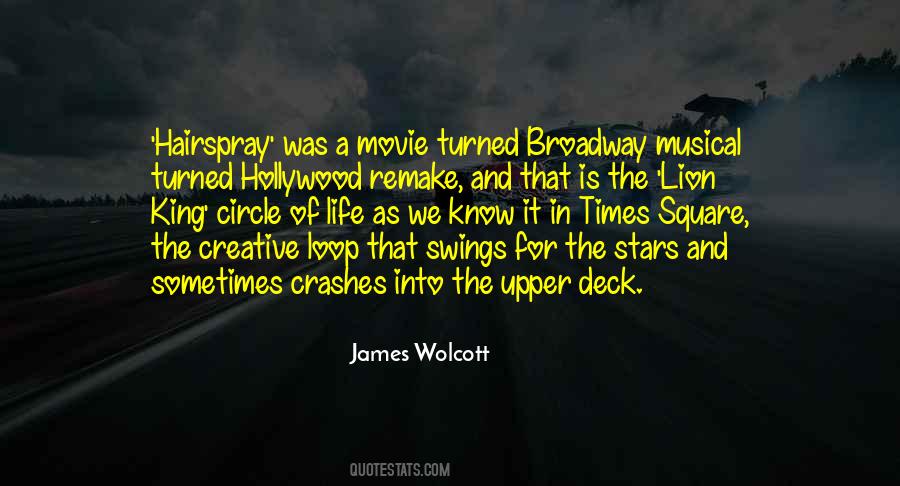 #42. Love is the king of the beasts
And when it gets hungry it must kill to eat
Love is the king of the beasts
A lion walking down city streets - Author: Bill Callahan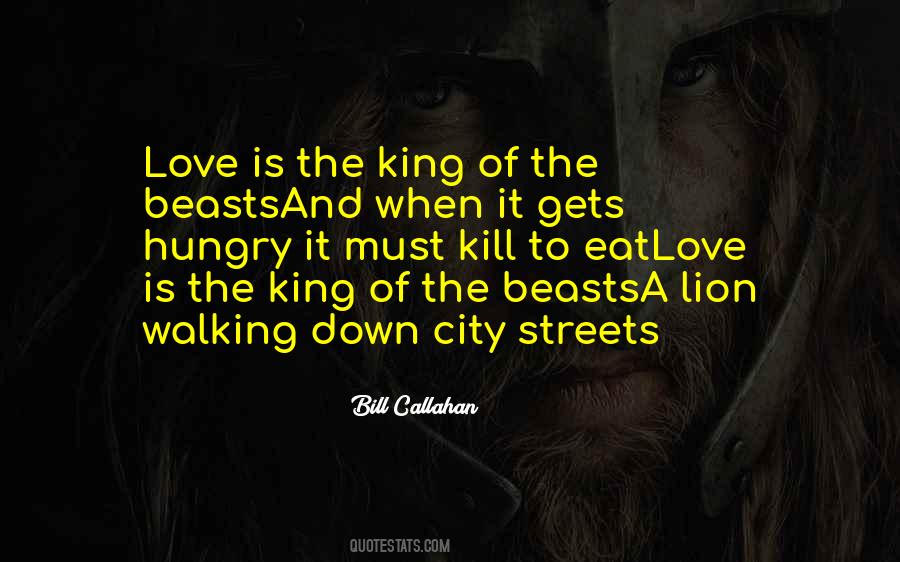 #43. I'm a lion in a strange land. - Author: Criss Jami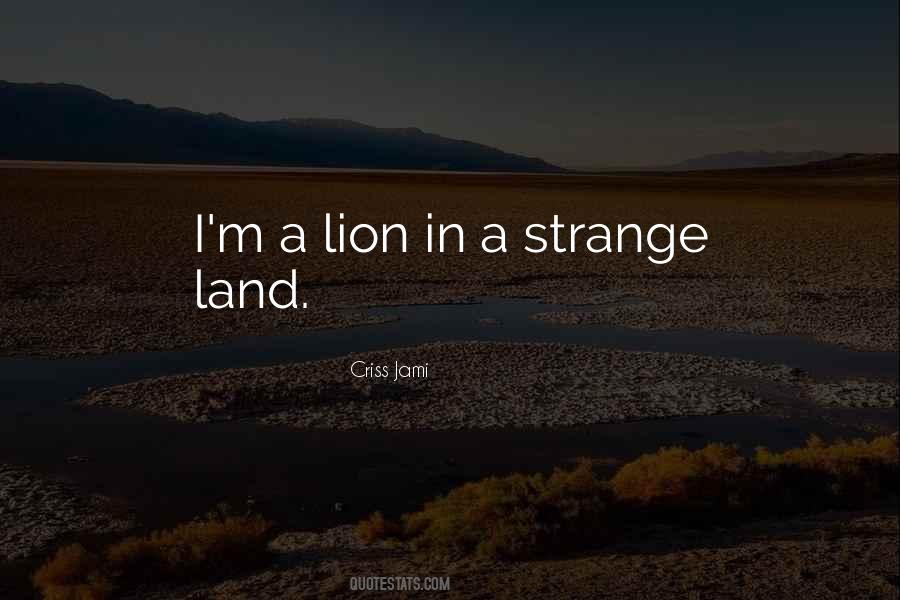 #44. Some of the films that I have really enjoyed include: The Fifth Element, The Crow, Toys, Seven, Forrest Gump, The Lion King, 12 Monkeys, Doctor Zhivago, Being There, and Trainspotting. - Author: Frederick Lenz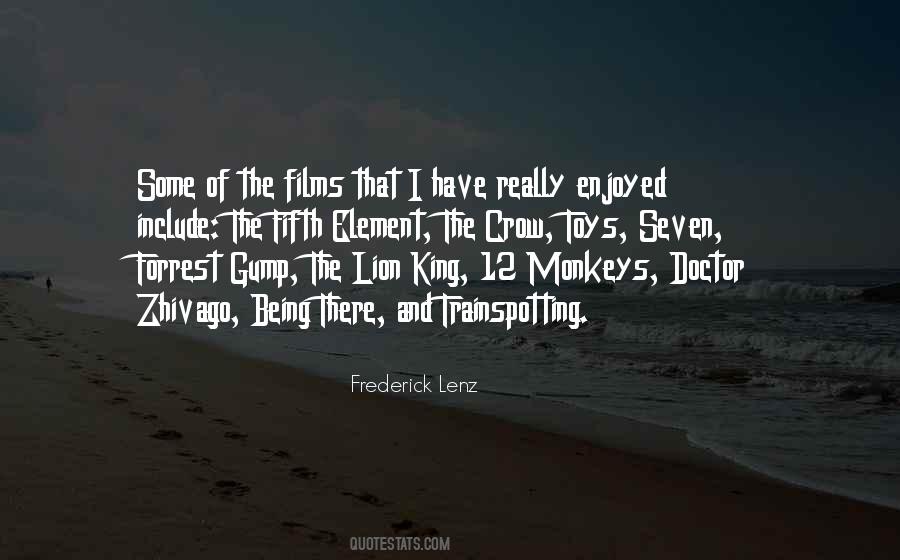 #45. 1Wine is a mocker and beer a brawler; whoever is led astray by them is not wise. 2A king's wrath strikes terror like the roar of a lion; those who anger him forfeit their lives. - Author: Anonymous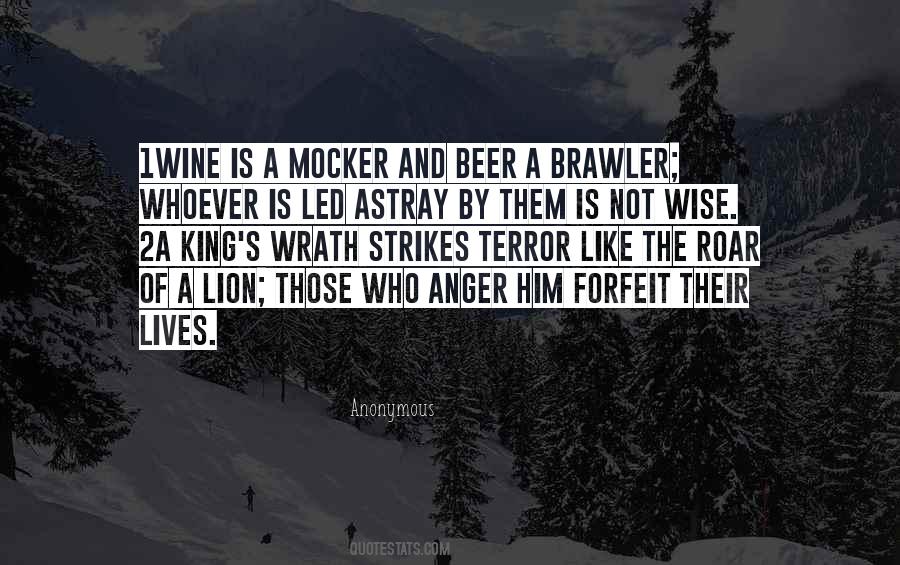 #46. It was a hot summer night, and I had the soundtrack to Disney's The Lion King blasting on my stereo. Tears actually began streaming down my face as I drove past the building. Here I was, the grown-up version of that wide-eyed eight-year-old at Disneyland. I had finally arrived. I was an Imagineer. - Author: Randy Pausch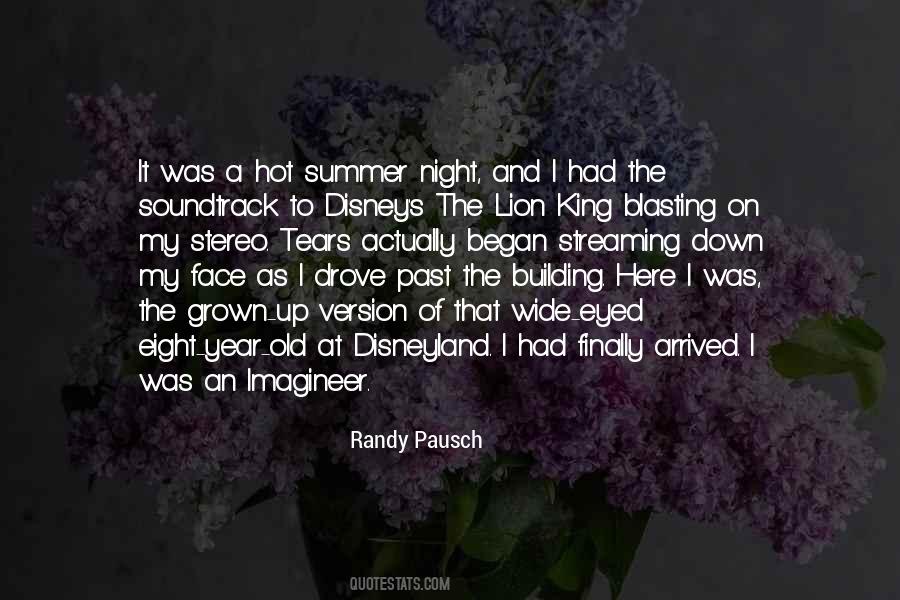 #47. Should five slaves dictate to a king? If five baboons bark, must the black-maned lion tremble? - Author: Wilbur Smith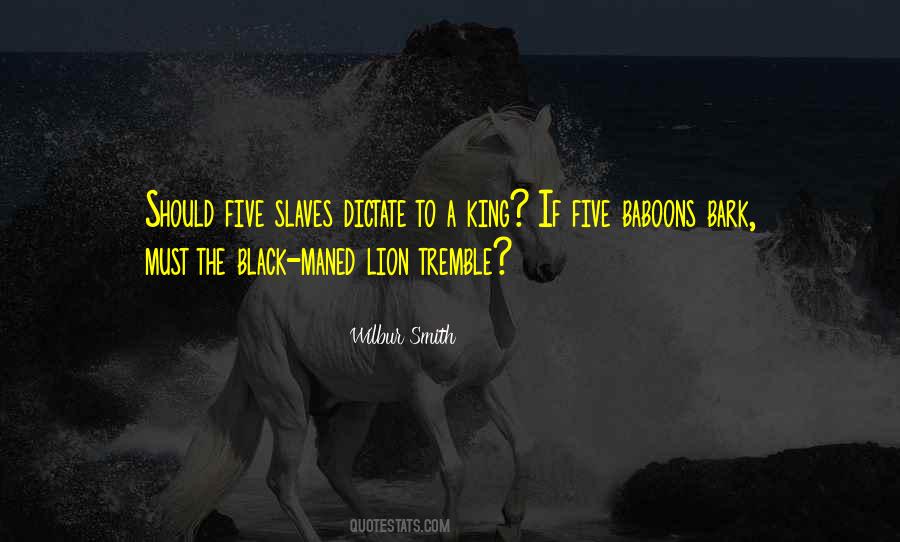 Famous Authors
Popular Topics