Keep It Private Famous Quotes & Sayings
List of top 55 famous quotes and sayings about keep it private to read and share with friends on your Facebook, Twitter, blogs.
Top 55 Keep It Private Quotes
#1. I'd like to keep my personal life private. In reality, I know that's not possible. In the present, I'm trying to pretend it's possible. - Author: Lindsey Vonn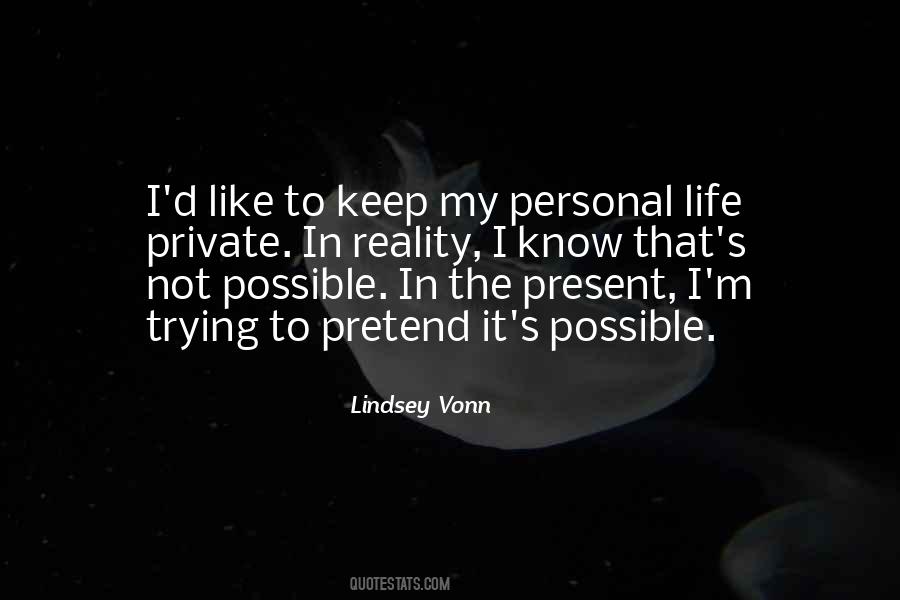 #2. I have a house, with two big plasma-screen TVs, two dogs, a grill, chessboard. I like to keep it low-key: invite friends over, order some Papa John's pizzas and Coors Light, play poker and ping-pong and chill. I'm pretty private. - Author: Jared Padalecki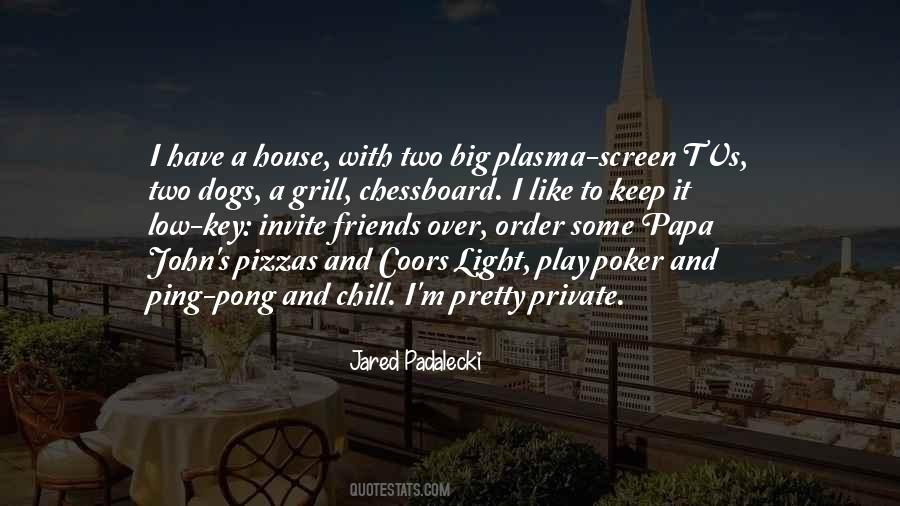 #3. Your past's a private matter, sweetheart. You just keep it locked up in xbox where it can't hurt anyone. - Author: Catherynne M Valente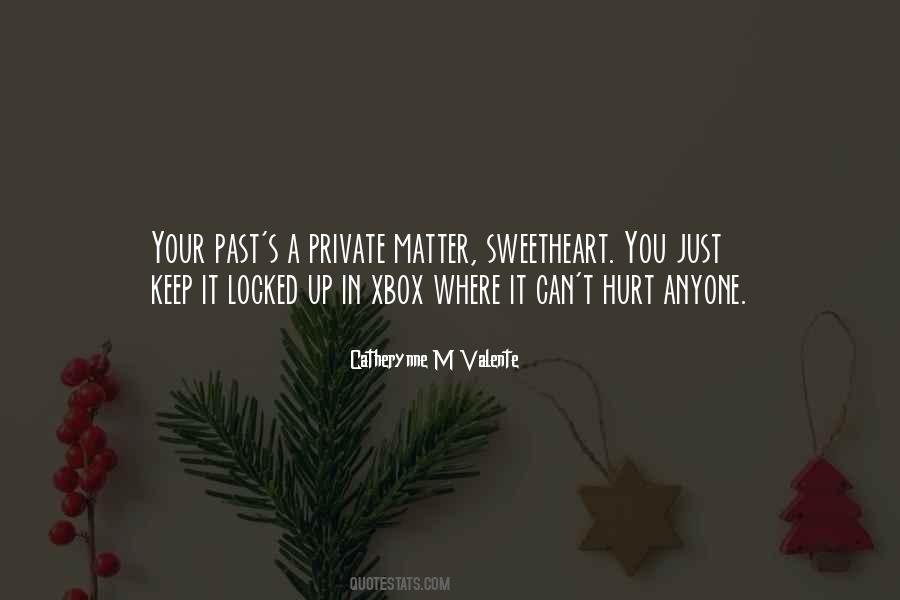 #4. The point where you become free not to kill, not to exploit, not to destroy, not to compete, because you are no longer afraid of death or the devil or poverty or failure. If you discover this nakedness, you'd better keep it private. People don't like it. - Author: Thomas Merton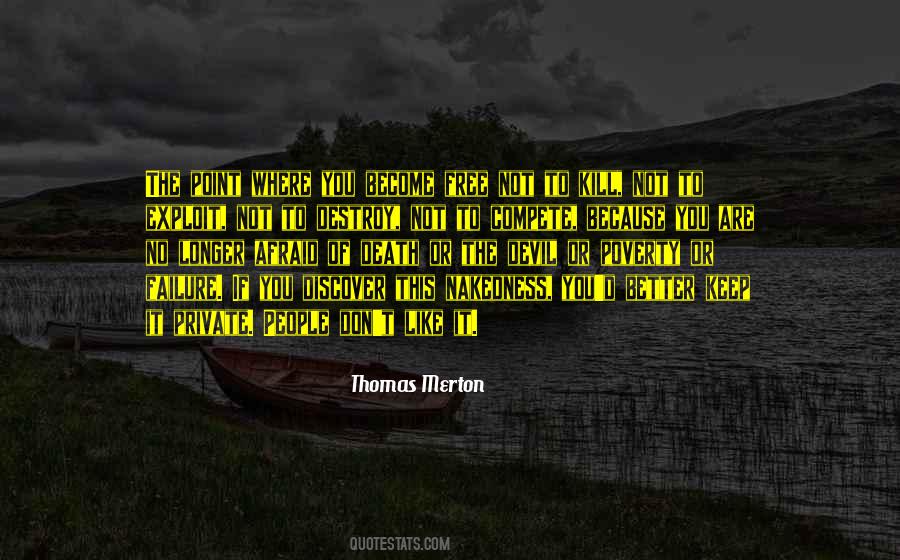 #5. Tailing someone is like maintaining a relationship: you keep at it until they give you the slip, or until they confirm everything you suspect them of. - Author: Mark Crutchfield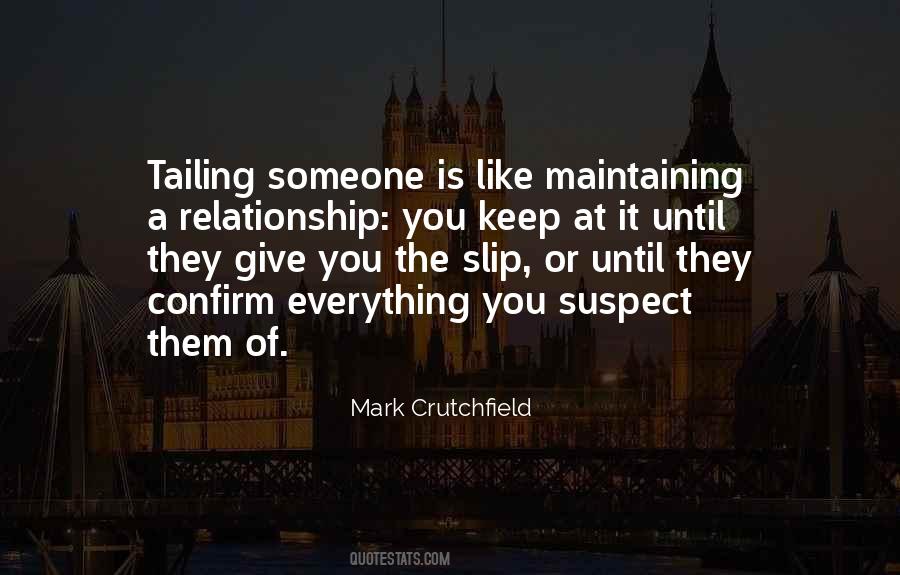 #6. For someone like me, who prefers to keep their life as private as possible, it was disconcerting to have to define so much about myself. I don't want to be labeled as one thing or another. - Author: Amber Heard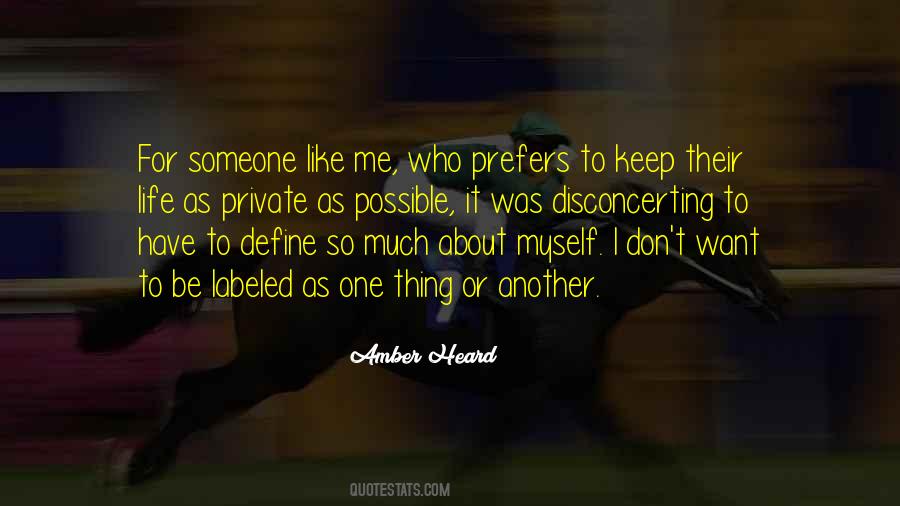 #7. But secrets can also keep things precious. Private. That's what can be hard for people to understand. It can be nice to have something you don't share with the world. -Bridgette - Author: Michele Jaffe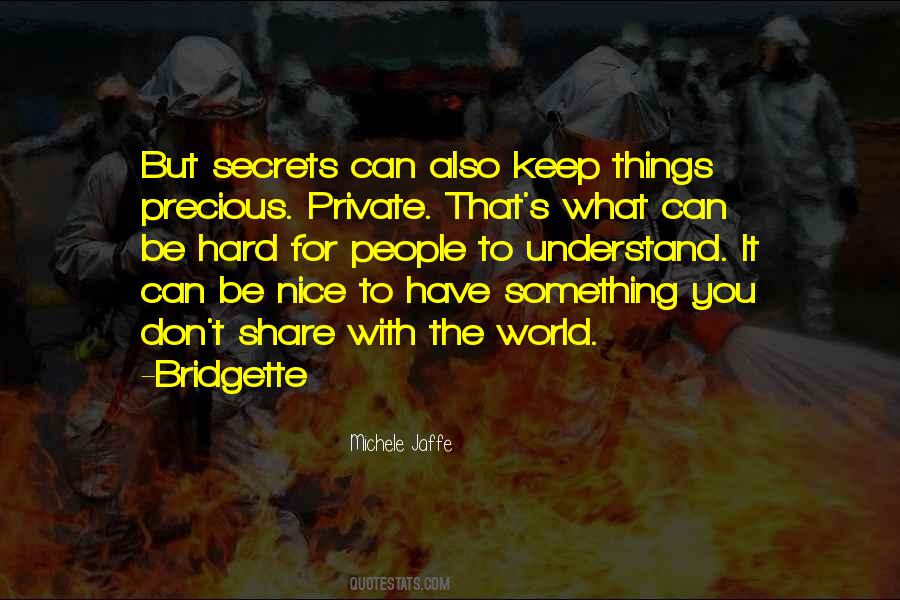 #8. I'm not about to talk about what's romantic in my life - I figure if you talk about it once, then that's an open invitation for everyone to dig into your personal life even further. So, I just keep my private life to myself. - Author: James Van Der Beek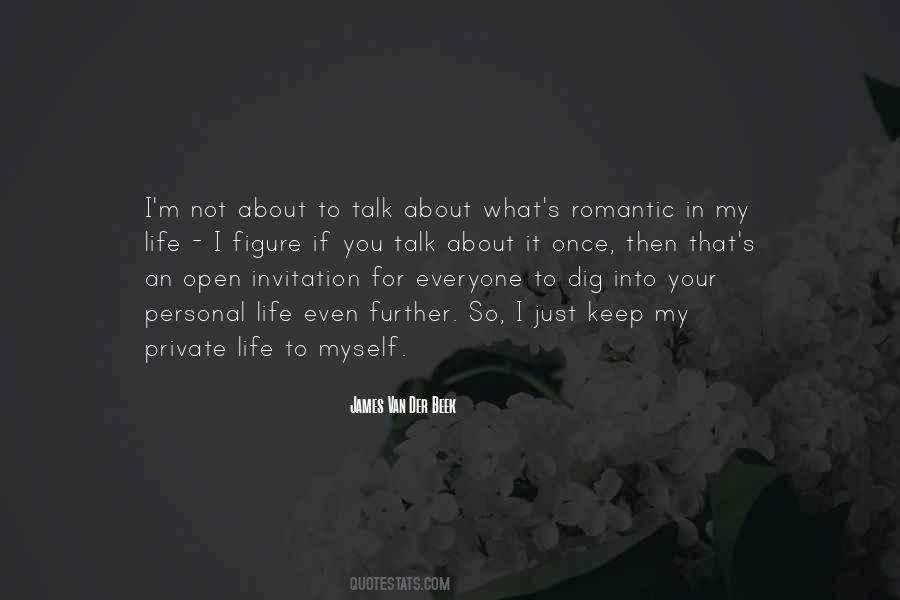 #9. There is no
room for the love of others within the tight, crowded miser's hole of a private
ego. Be empty in order to be filled. 'He that loveth his life shall lose it; and
he that hateth his life in this world shall keep it unto life eternal. - Author: Ayn Rand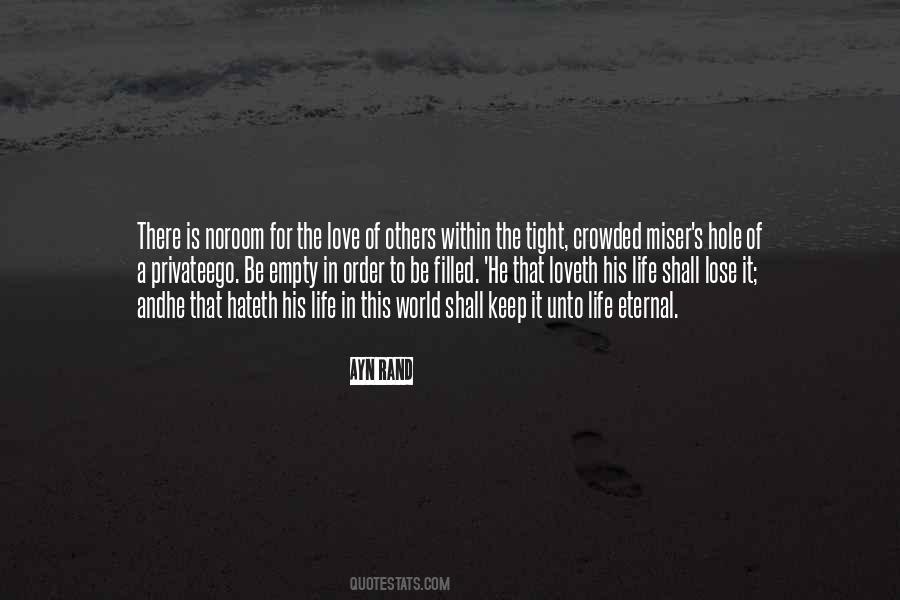 #10. Songwriting can be cathartic, but then you just keep it private. If you're going to play out and have other people listen to you, then you need to make sure there's some point to what you're saying. - Author: Patterson Hood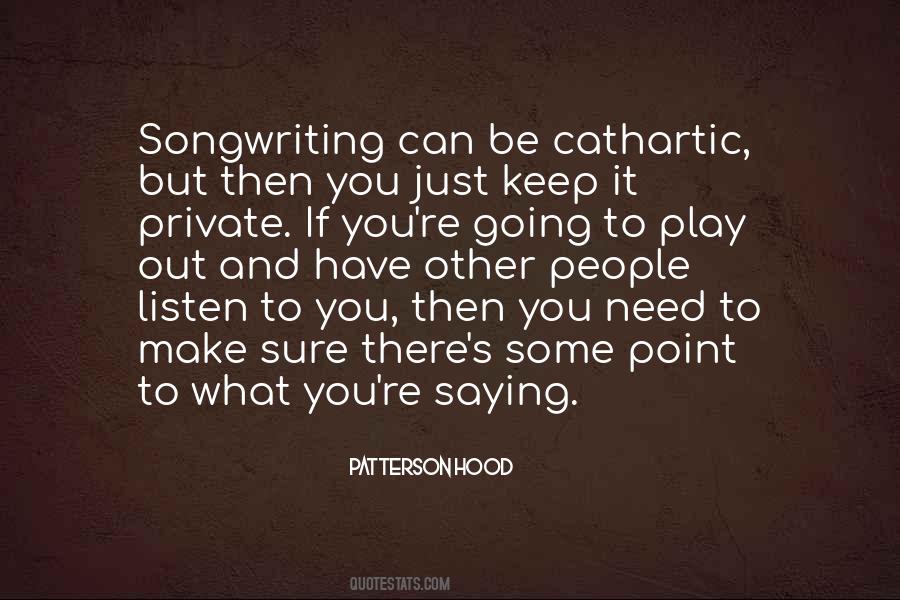 #11. I called up and said, 'Dad, I won a MacArthur.' My father goes: 'I always thought your sister would win that,' and I said, 'Dad, just say congratulations and keep your private thoughts private.' At that point he laughed, then burst into tears, and it was obvious that he was so happy and proud. - Author: Bonnie Bassler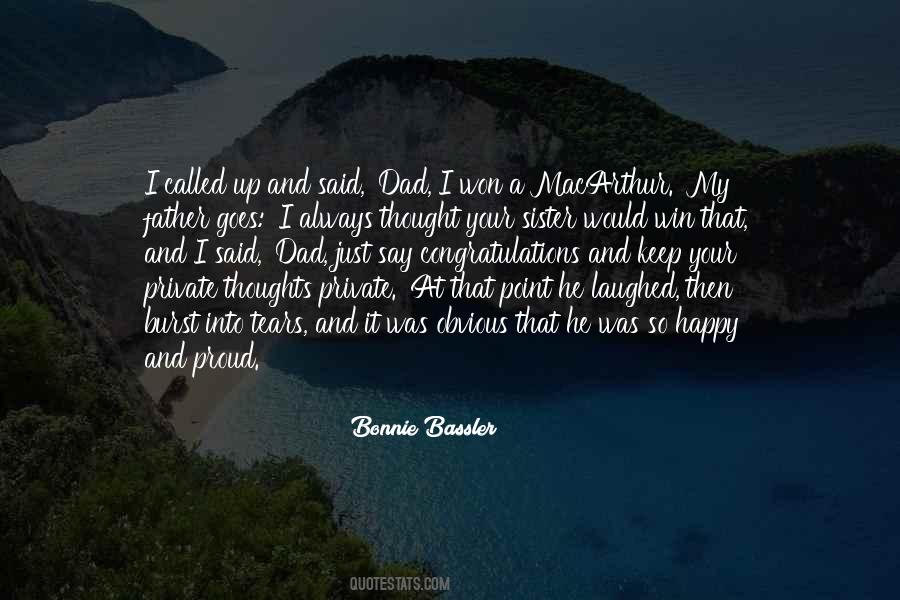 #12. My public Facebook page is what it is. My Twitter account is sort of what it is, but if I'm totally honest with you, that is not my personal, private self. I have another Facebook page that is devoted to my dear friends and family, and they can keep in touch with me that way. - Author: Tim Daly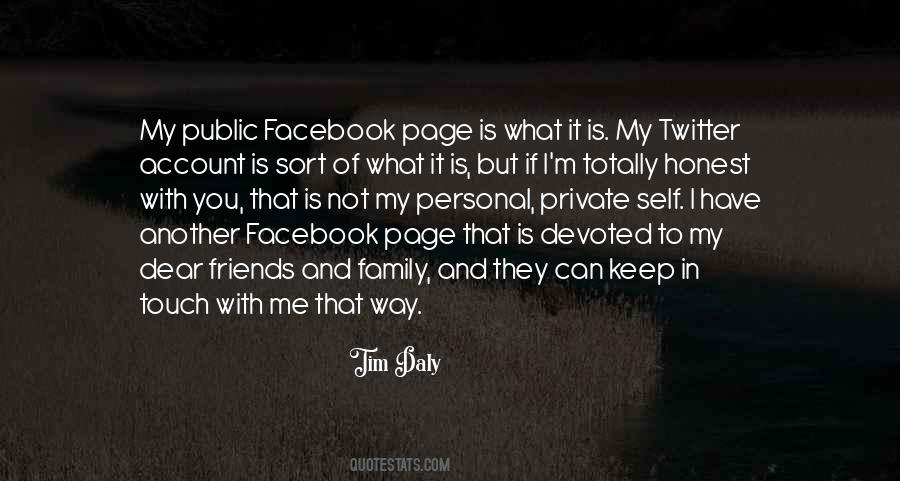 #13. I think it's important to keep things private, and there are certain boundaries I feel very particular about drawing. It may seem fastidious, but my experience of talking to the press is that I need those boundaries to remain very clear. - Author: Jodhi May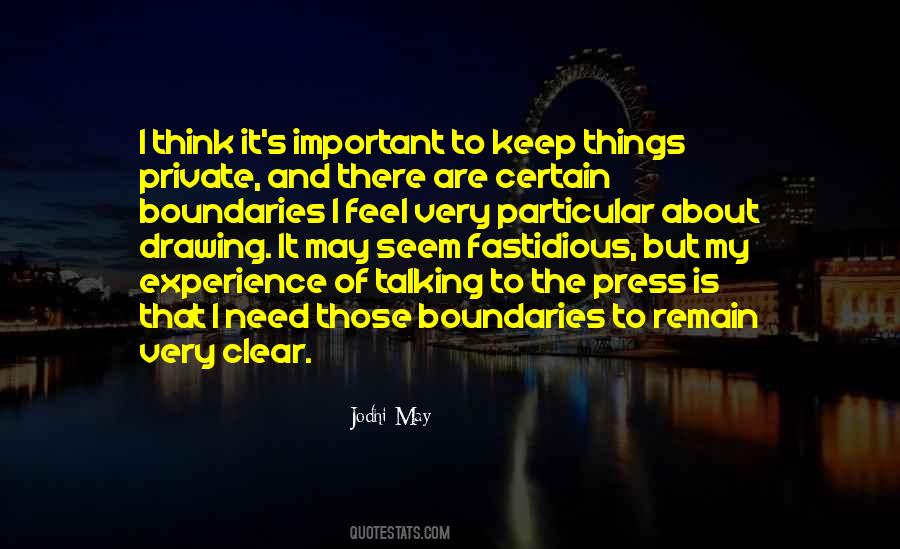 #14. Keeping a private guard this large is like using a wolf to guard the farm. It may keep off the other wolves, but sooner or later it will eat you. - Author: Megan Whalen Turner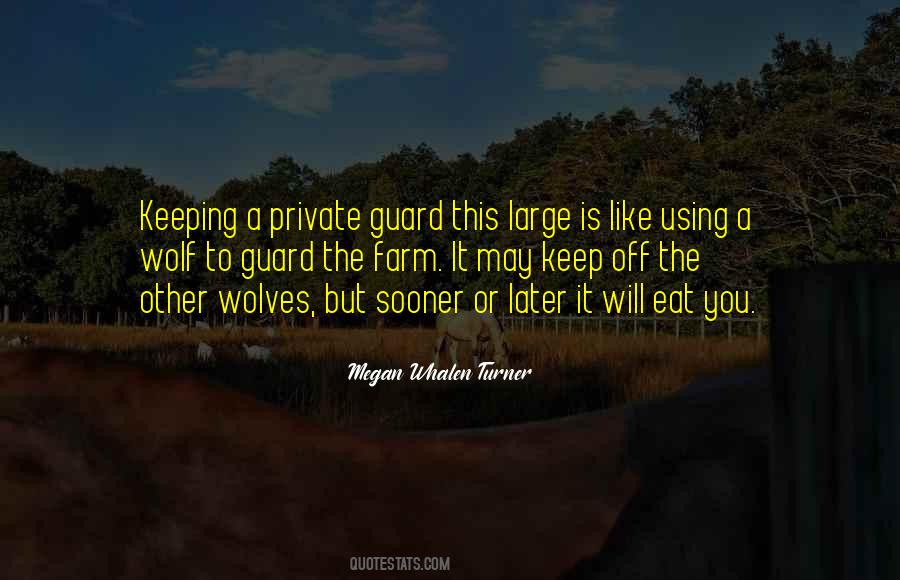 #15. But no one gets access to the parts of me I keep private. So don't think you're going to know me, to understand me. It won't happen. You're buying my body not my life. - Author: Barbara Elsborg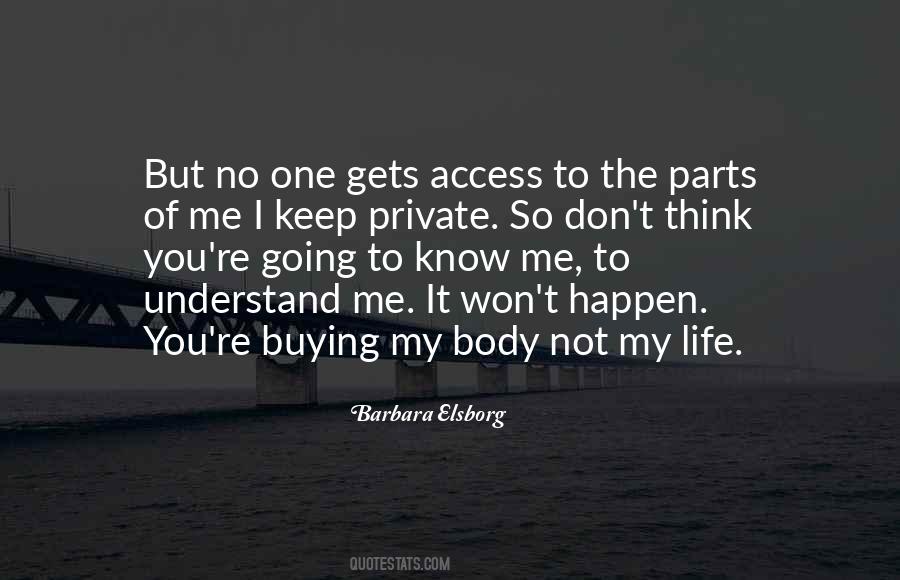 #16. I'm trying my best to keep my private life guarded. It's not easy at all. Non, non, non. - Author: Emmanuelle Beart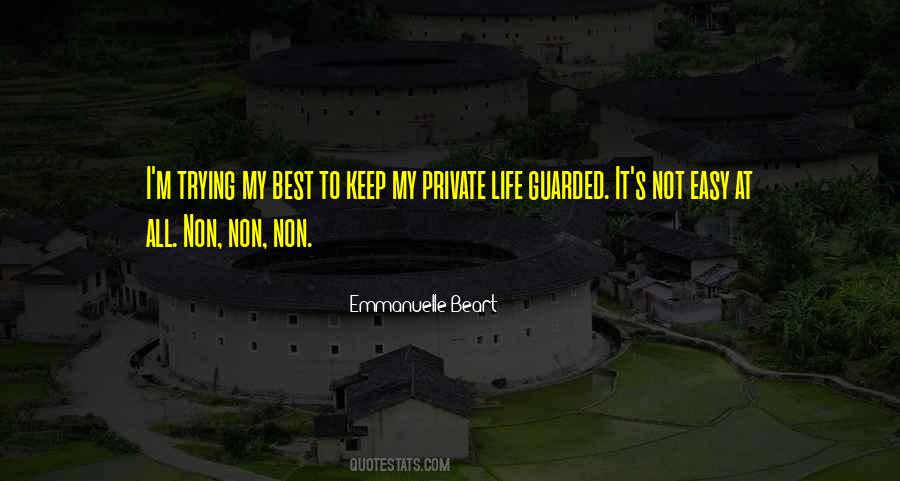 #17. To attempt to increase the wealth of any country, either by introducing or by detaining in it an unnecessary quantity of gold and silver, is as absurd as it would be to attempt to increase the good cheer of private families by obliging them to keep an unnecessary number of kitchen utensils. - Author: Adam Smith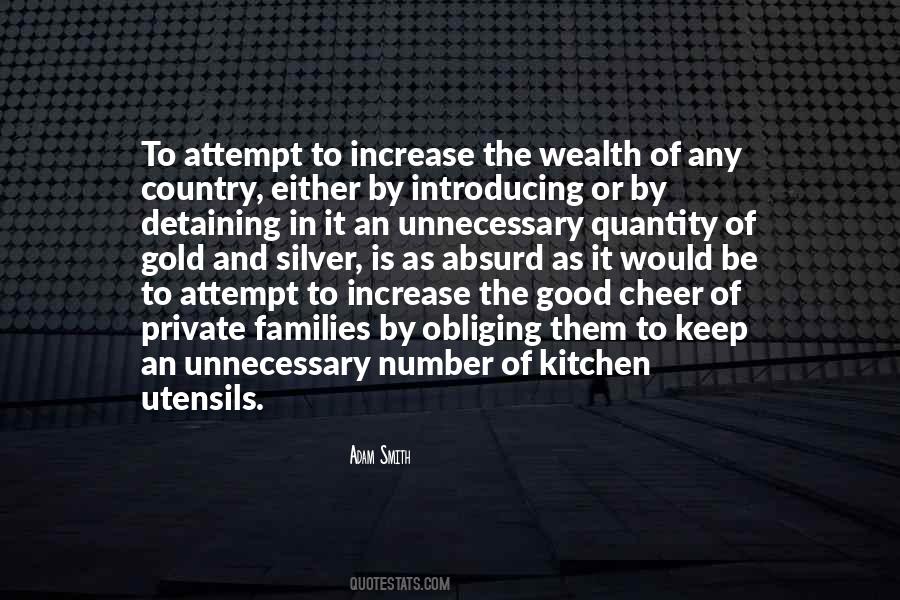 #18. I suppose some rich private collector has it now," Sir Reynold moaned. "But how could he keep it a secret? The mural is one of the most recognizable paintings in the hworld! Every civilized person hwould spot it in an instant!" "What did it look like?" said Fred Colon. - Author: Terry Pratchett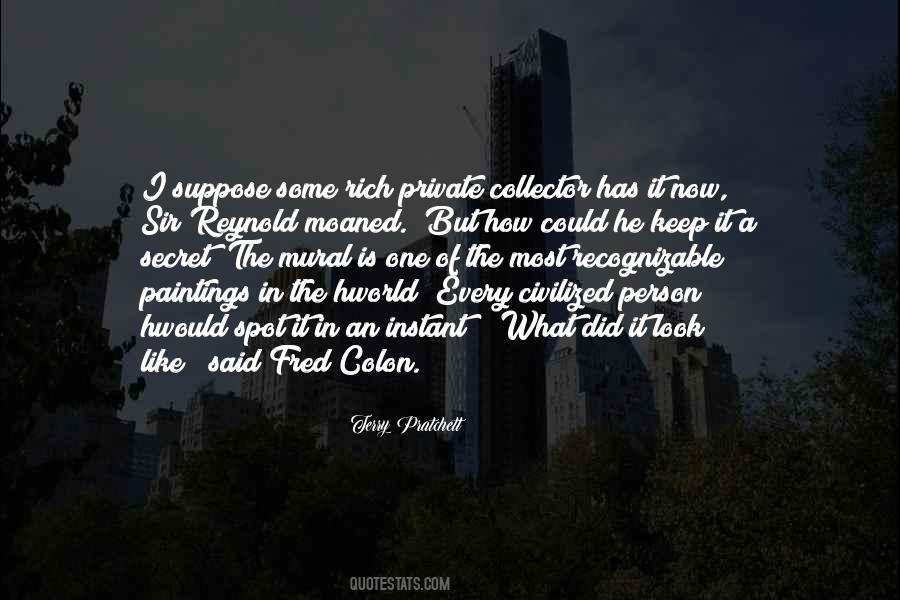 #19. In some countries, of course, Spanish is the language spoken in public. But for many American children whose families speak Spanish at home, it becomes a private language. They use it to keep the English-speaking world at bay. - Author: Richard Rodriguez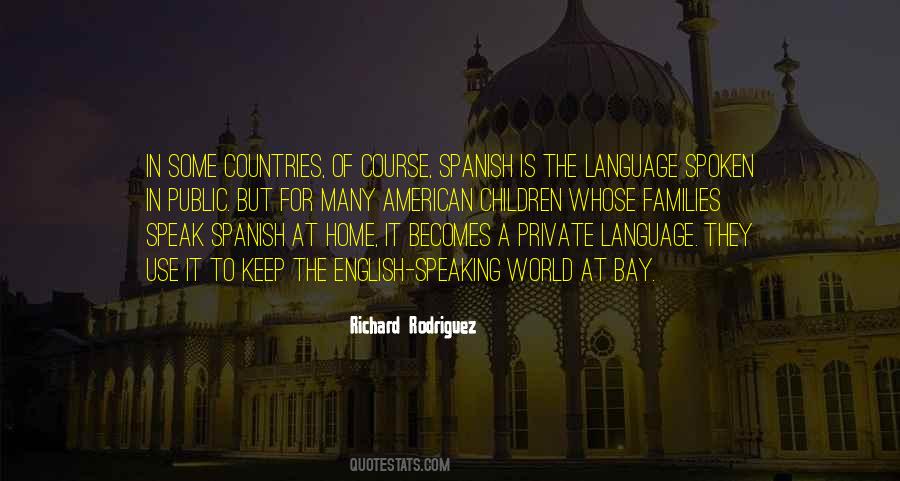 #20. It is no use to keep private information which you can't show off. - Author: Mark Twain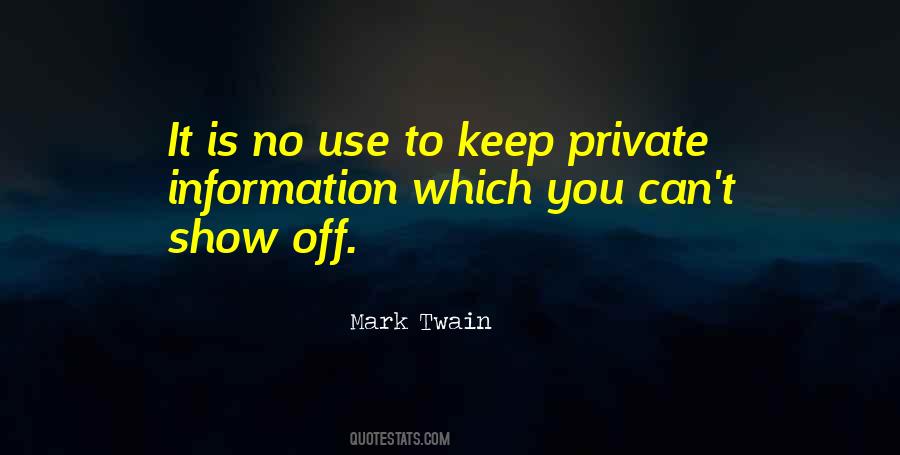 #21. I keep a band of music in my ante-room," he said once to her. "It has orders to play without stopping; it renders me two excellent services. It keeps the sounds of the world from reaching the private apartments, and it makes the world think that dancing's going on within. - Author: Henry James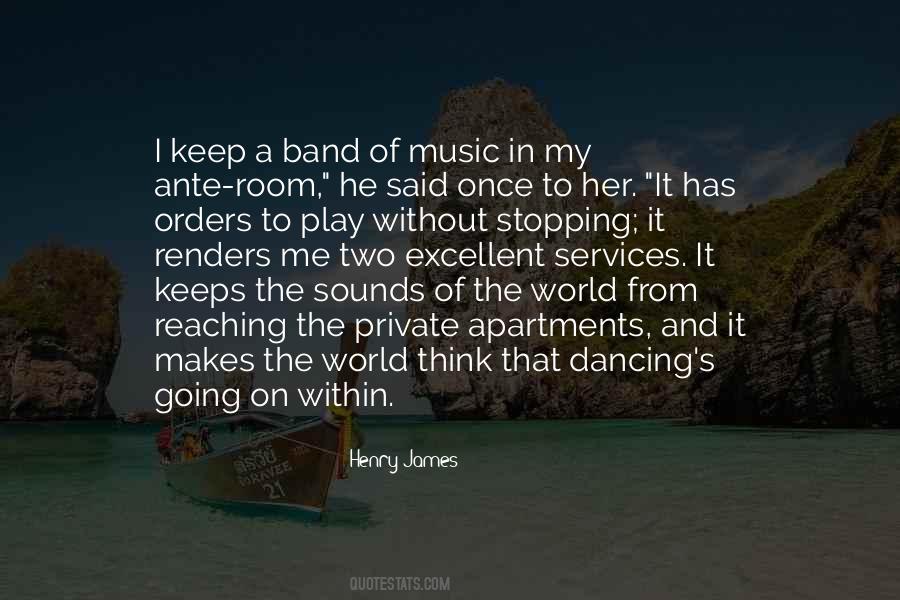 #22. You can't control the paparazzi. But if you go to Coachella you're going to get photographed. Whereas if you're at home, walking down the street you probably won't. It's something I've learnt to navigate my way around but I try to keep my private life private. - Author: Ashley Greene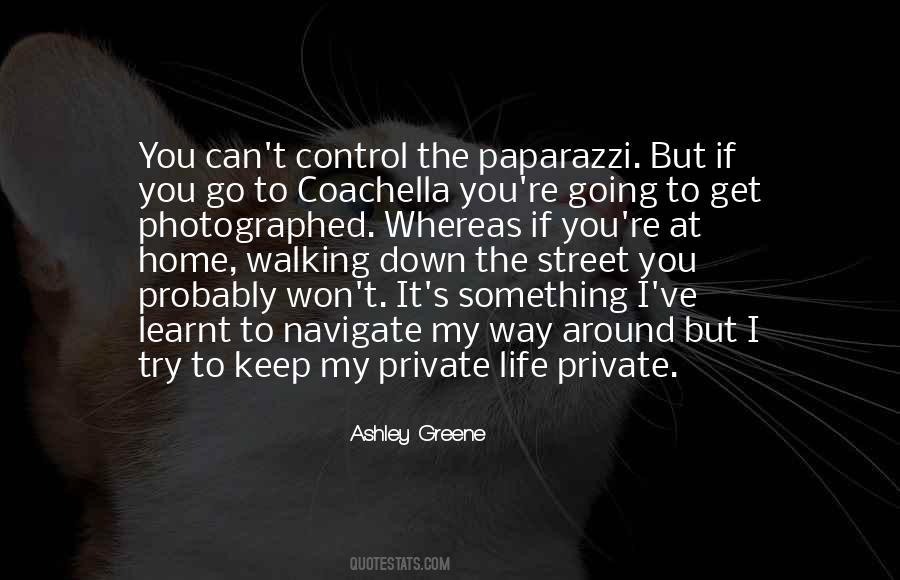 #23. Any society's upper-crust is riddled with immorality, how else d'you think they keep their power? Reputation is king of the public sphere, not private. It is dethroned by public acts. - Author: David Mitchell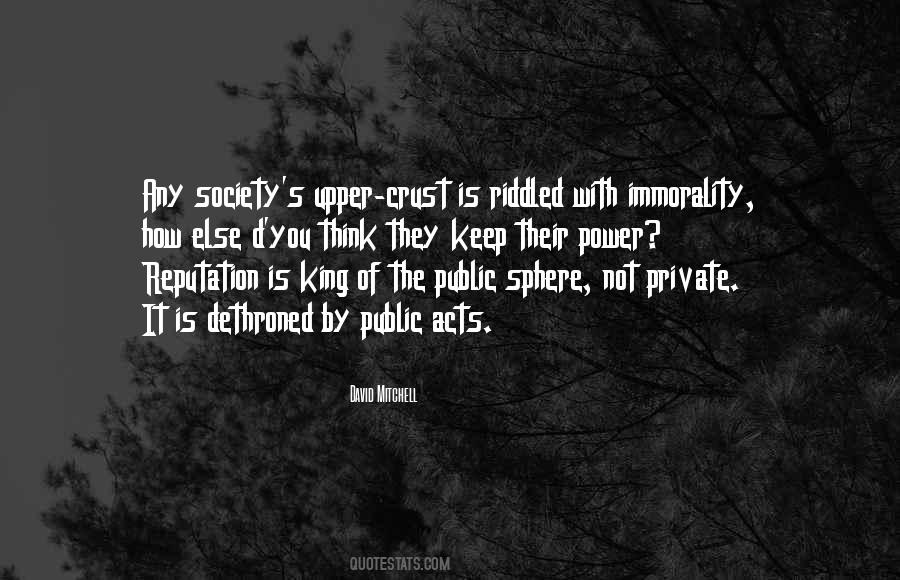 #24. I've been trying to keep the private life private. Not being savvy or trained on how to do good interviews like a politician, I thought it was wiser to follow my mother's advice: If you have nothing good to say, don't say anything at all. - Author: Wesley Snipes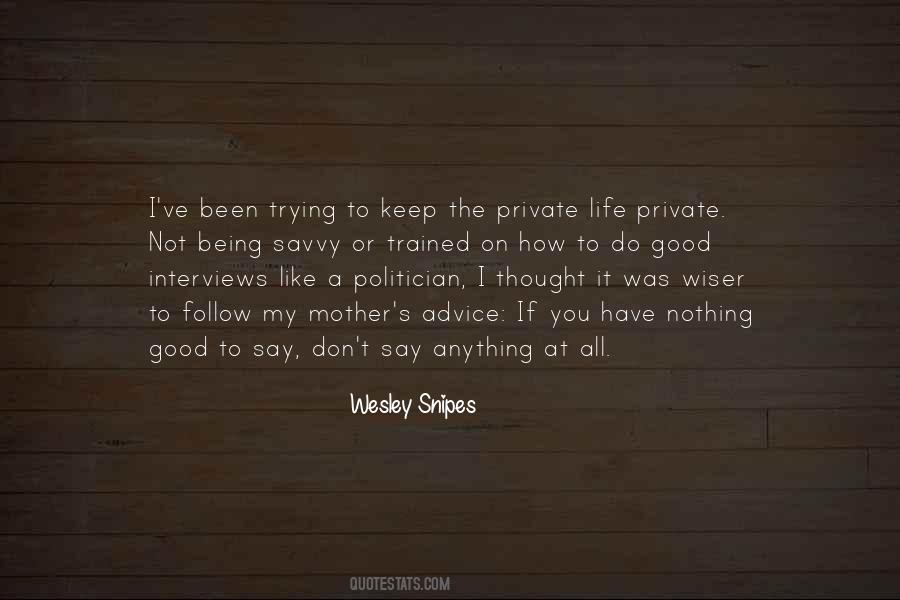 #25. What the deuce does religion have to do with being a good minister? It is a profession like any other profession, young man. You fit yourself to the task, and keep your opinions private. That is what all good ministers do - or should! - Author: Elizabeth Gilbert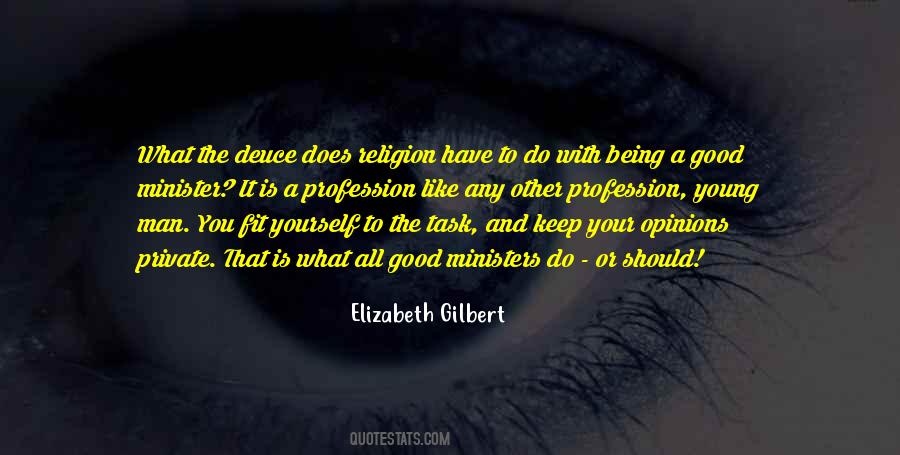 #26. People speculate on your personal life all the time anyway. So I just think it's important to keep my private life private and my public persona more into music, you know? - Author: Prince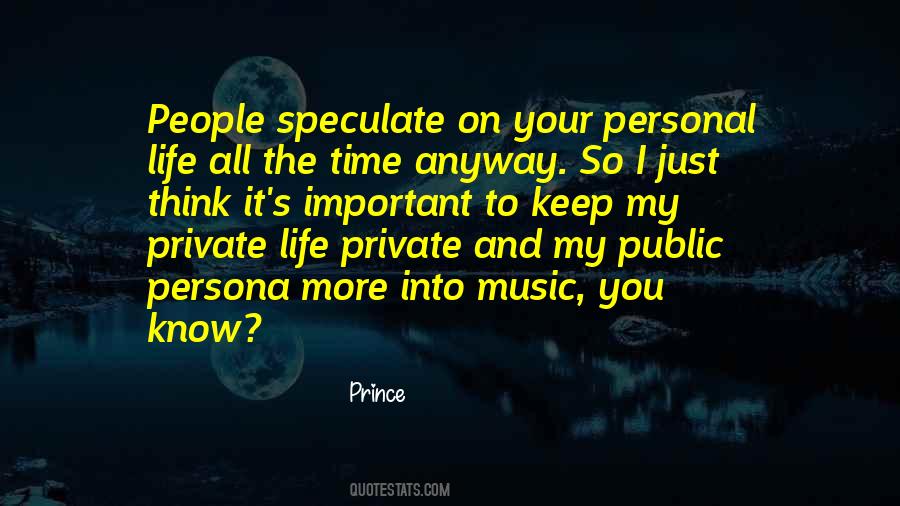 #27. Further, innovators in the private sector are more pragmatic than wonky. They are empirical. They get an idea for improvement, try it, keep it if it works, and dump it if it doesn't. When their proven initiatives and pilots are stitched together, they add up to a new model. It is a mosaic. - Author: John Torinus Jr.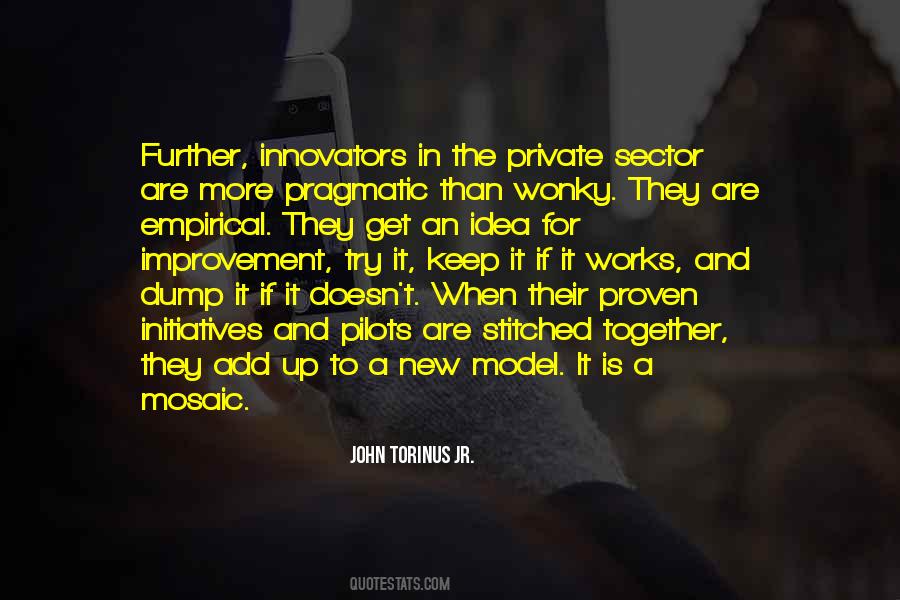 #28. I like having a private name and a public name. It helps keep things straight. - Author: S.E. Hinton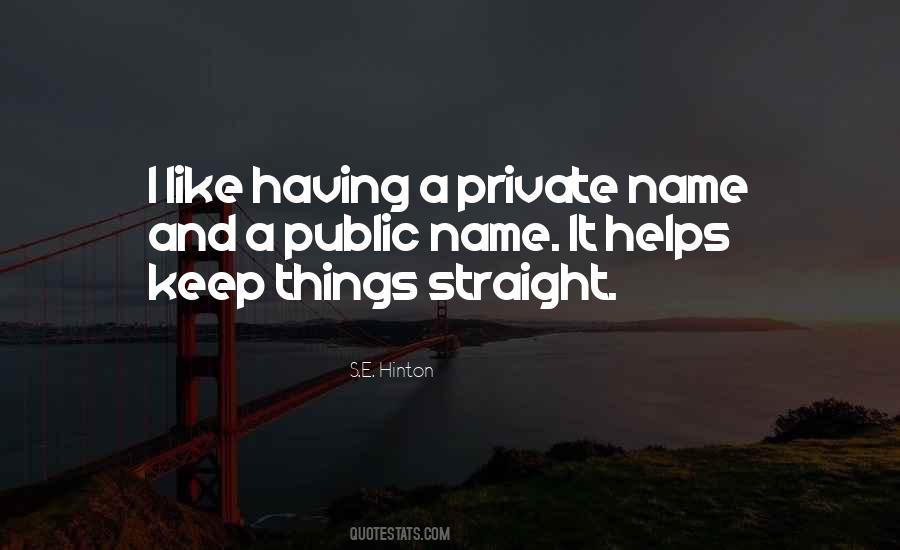 #29. Finally, let's keep well in mind the most important lesson of the auto rescue: While government should stay away from the private sector as much as possible, markets do occasionally fail, and when they do government can play a constructive role, as it did in the case of the auto rescue. - Author: Steven Rattner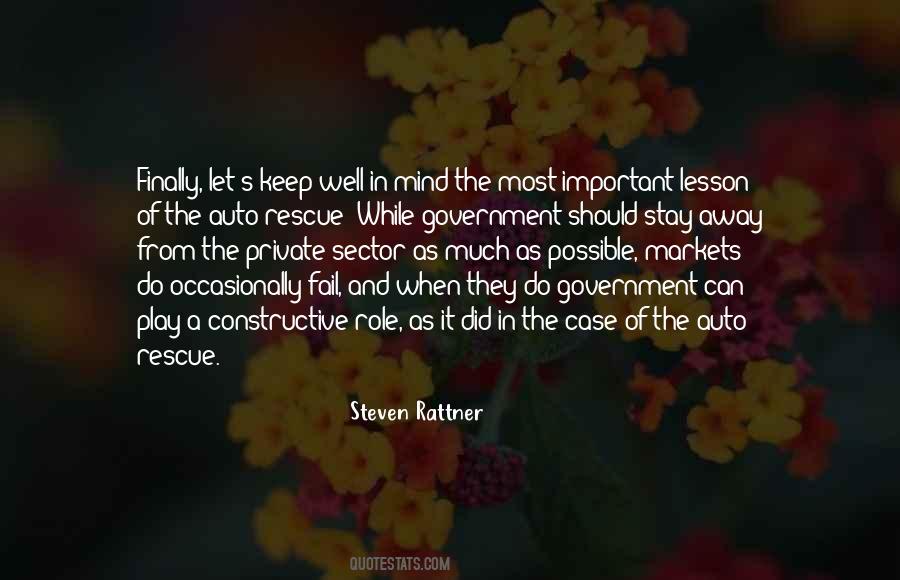 #30. For some people it's real therapy to talk to journalists about their private lives and inner thoughts. But I would rather keep something to myself. - Author: Mick Jagger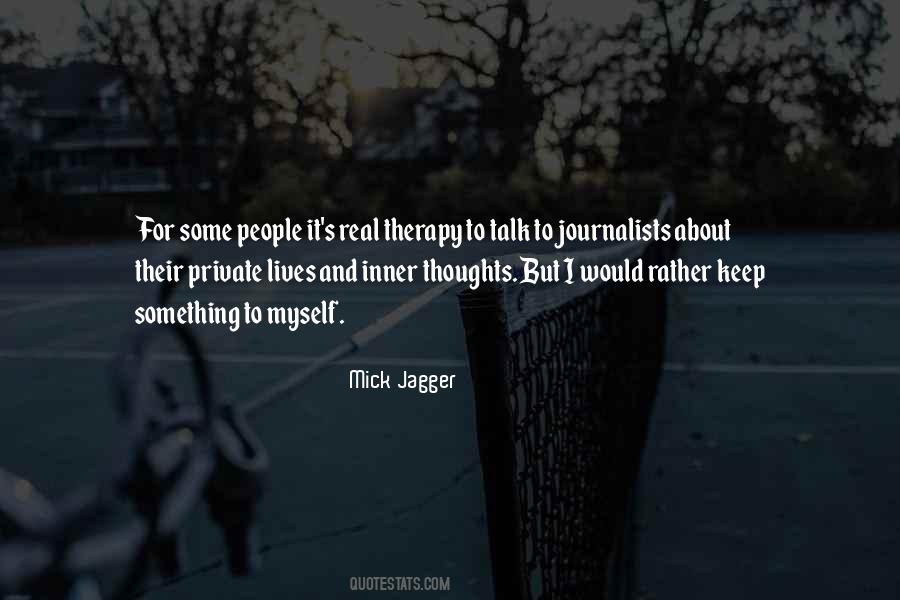 #31. I can't just open myself up the way some people can. And down here, you're raised a certain way. You're taught to keep some things private, family matters especially. It's just the way it's done."

"Everyone worships the past but no one really wants to talk about it. - Author: Cathy Holton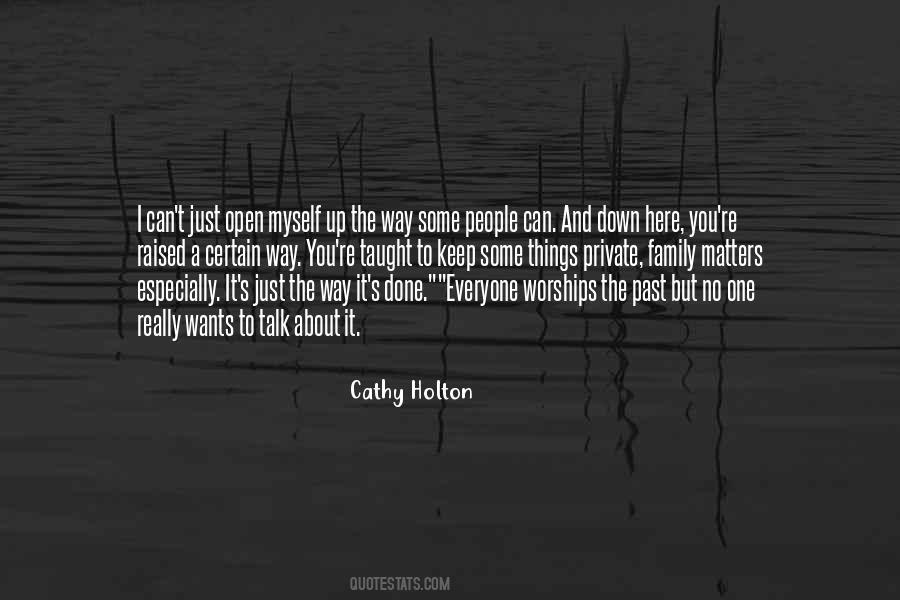 #32. Listen to a name so private it can burn hear it said aloud and learn and learn History is a needle for putting men asleep anointed with the poison of all they want to keep Now - Author: Leonard Cohen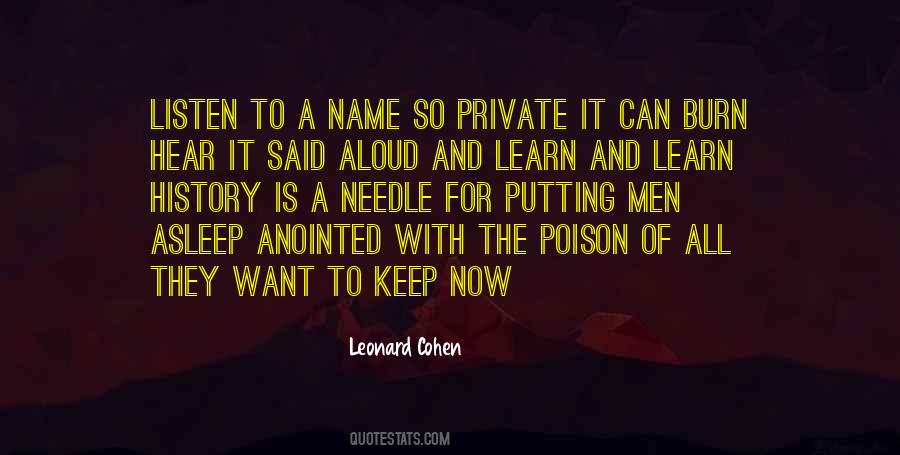 #33. If the constitutional right to keep and bear arms is to mean anything, it must, as a general matter, permit a person to possess, carry and sometimes conceal arms to maintain the security of his private residence or privately operated business. - Author: David Prosser Jr.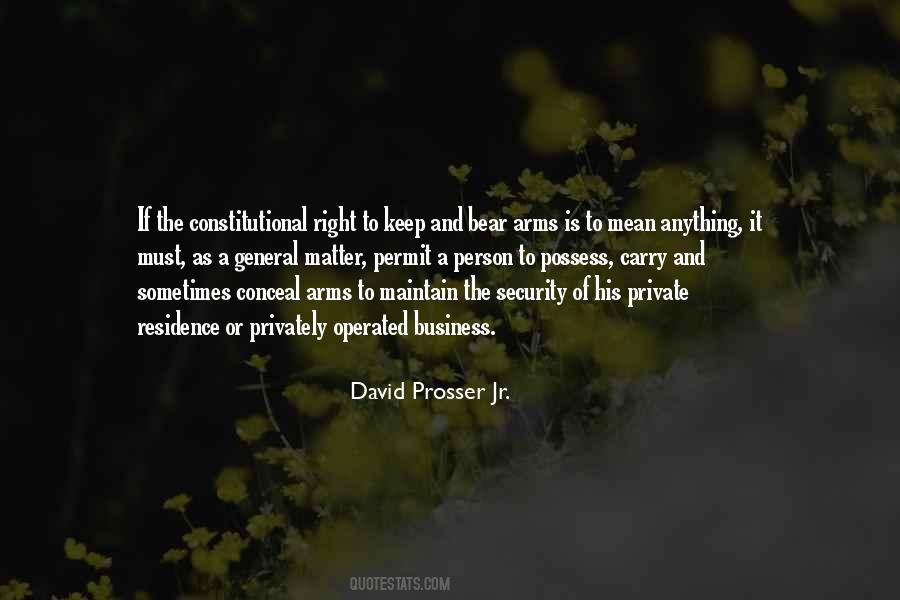 #34. I tend to keep my private life private. I think it's important to have mystique. It's important to keep people thinking and guessing, and you want everyone to think you're singing to them. - Author: Joan Jett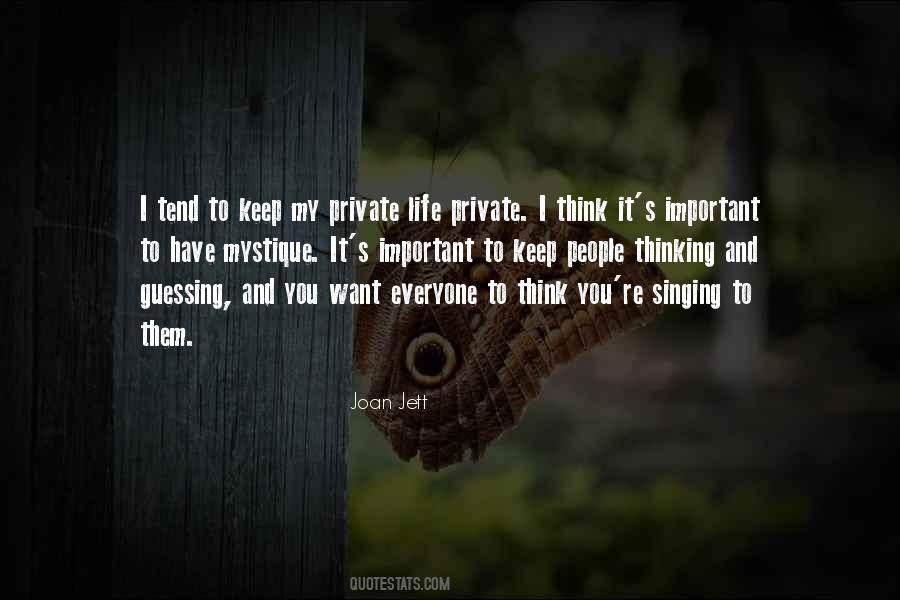 #35. I'm a very private person. Very private. You know, I've lived my entire life in a fishbowl, so it was important for me to keep my personal life private because people can't talk about what they don't know. - Author: Tamera Mowry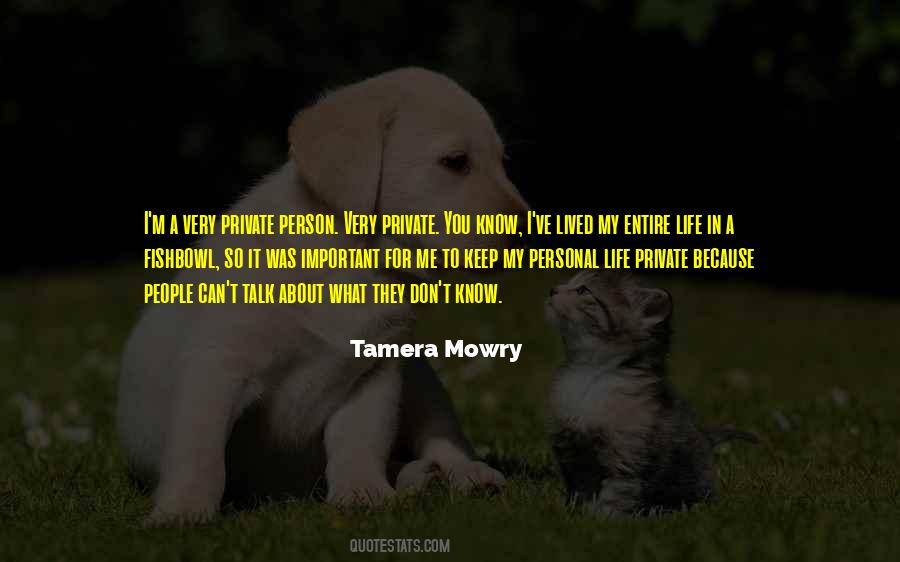 #36. a private enterprise is a failure, it closes down - unless it can get a government subsidy to keep it going; if a government enterprise fails, it is expanded. I challenge you to find exceptions. The - Author: Milton Friedman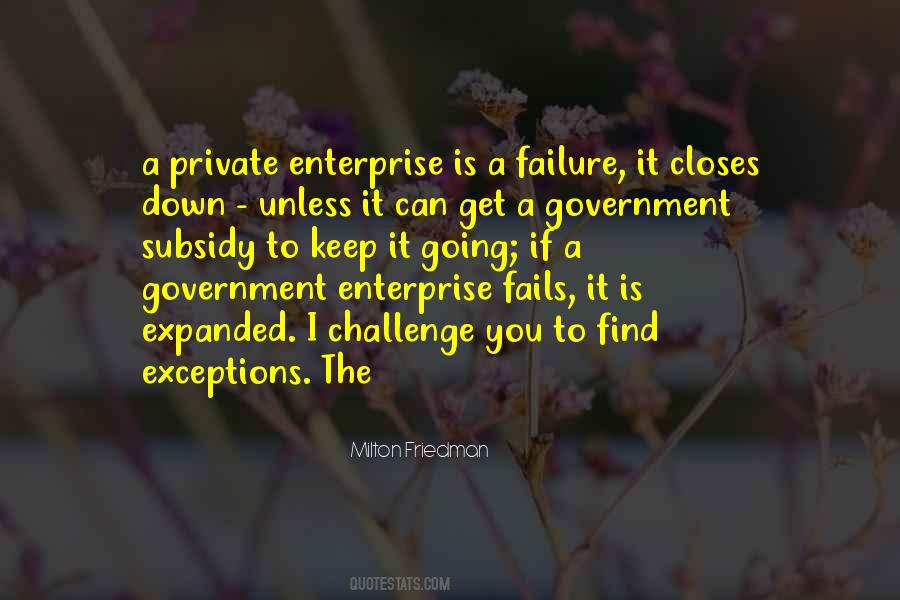 #37. Your private life is your private life and you keep it to yourself. You get more respect that way. - Author: Jay Kay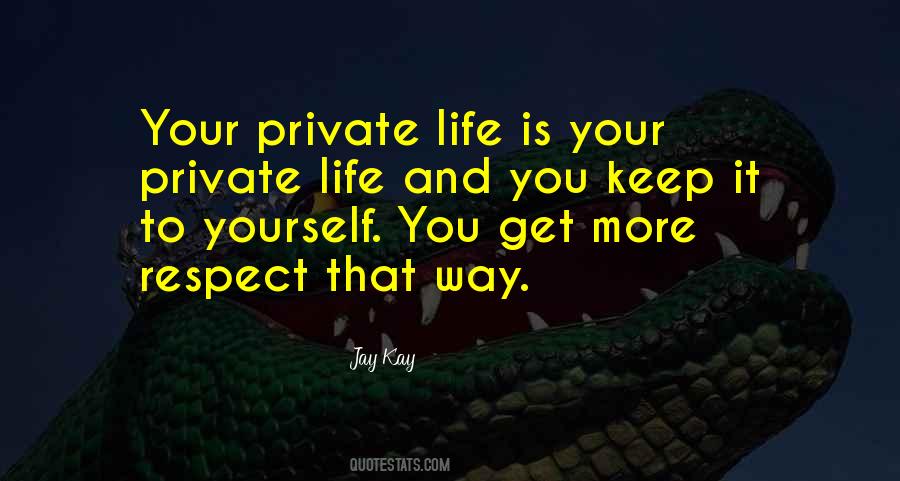 #38. I've learned ... that sometimes coming public with certain things, it inspires other people. And sometimes I want to keep things private ... but then I found out that it helps other families ... - Author: Bubba Watson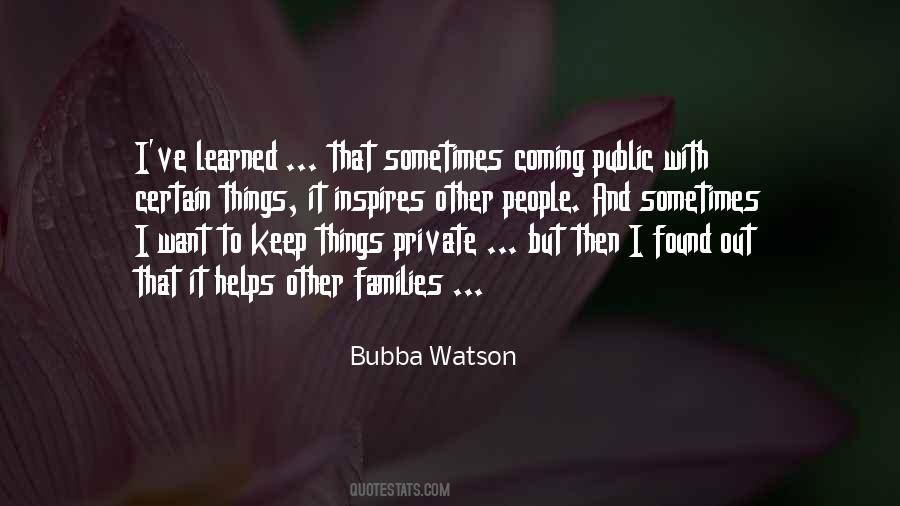 #39. The truth is that I hate to think about other people reading my books," Miranda said. "It's like watching someone go through the box of private stuff that I keep under my bed. - Author: Madeleine L'Engle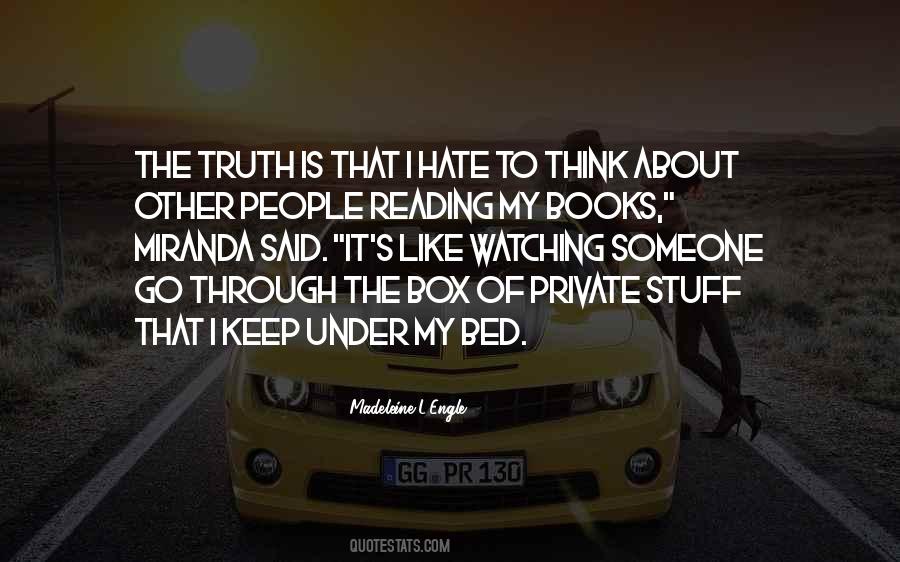 #40. I don't profess to know anything about marriage that anybody else doesn't know, or how to make it right. I don't want to read about somebody who's giving me relationship advice. So I try to keep some things for myself, to have a private life. - Author: Scarlett Johansson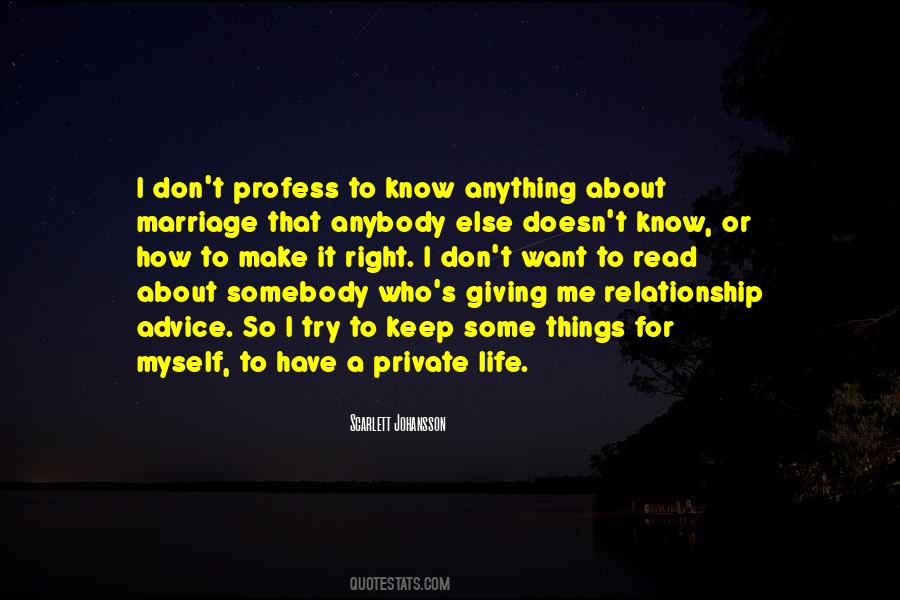 #41. It's a very private moment when your heart breaks. I was thankful we were alone. I knew I couldn't keep her, but I would always do anything to protect her. - Author: S.G. Holster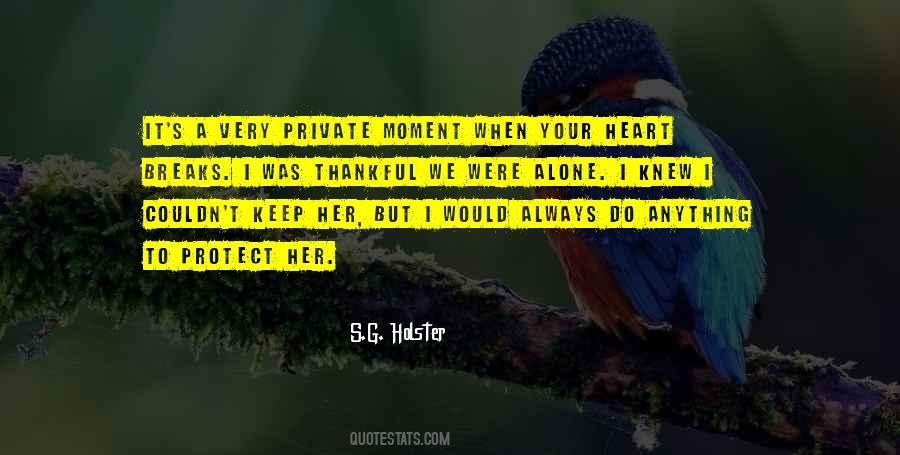 #42. I think they find it - they find me quite confusing, because - they know the music, but they don't know anything about me ... because I keep a very private lifestyle so they end up ... making up stories as such. But I don't really concern myself too much about them. - Author: Enya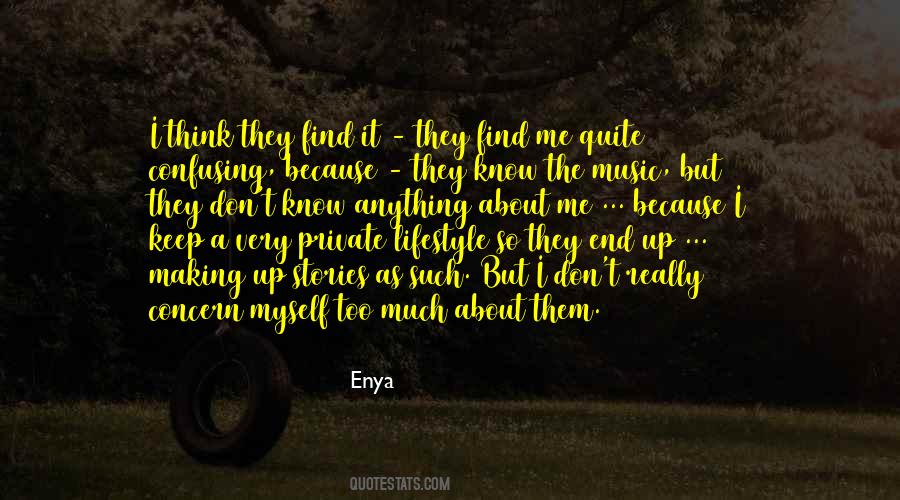 #43. When it comes to your personal life, such as love and romance, girls should take a tip from the men and keep their affairs to themselves. Any man worth his salt regards his private life as his own. To kiss a girl and run and tell would mark him as a cad. Why doesn't that apply to girls also? - Author: Carole Lombard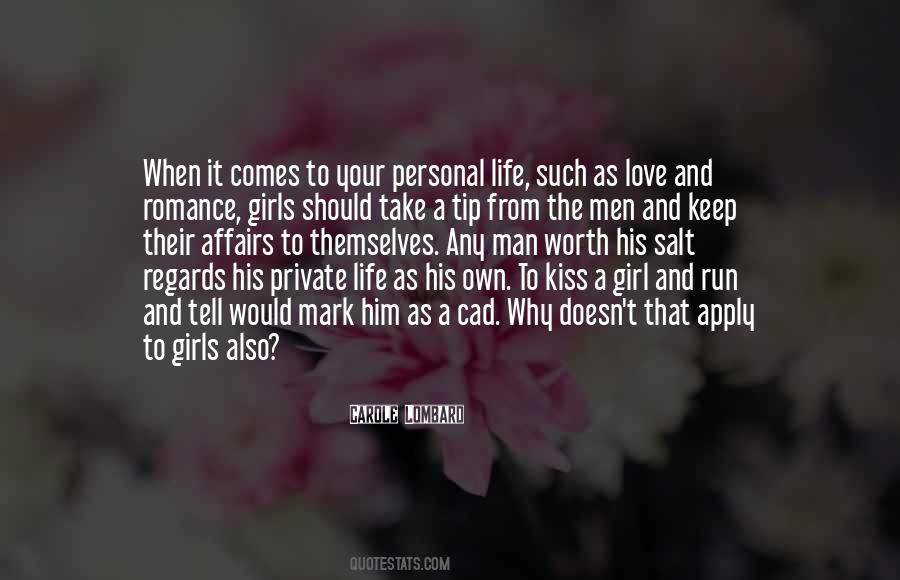 #44. It's very easy for me to keep a low profile because the focus I feel is always on the music. Success and fame are two different things. And so I feel the success is always towards the music, which means that I can have a very normal and private lifestyle. - Author: Enya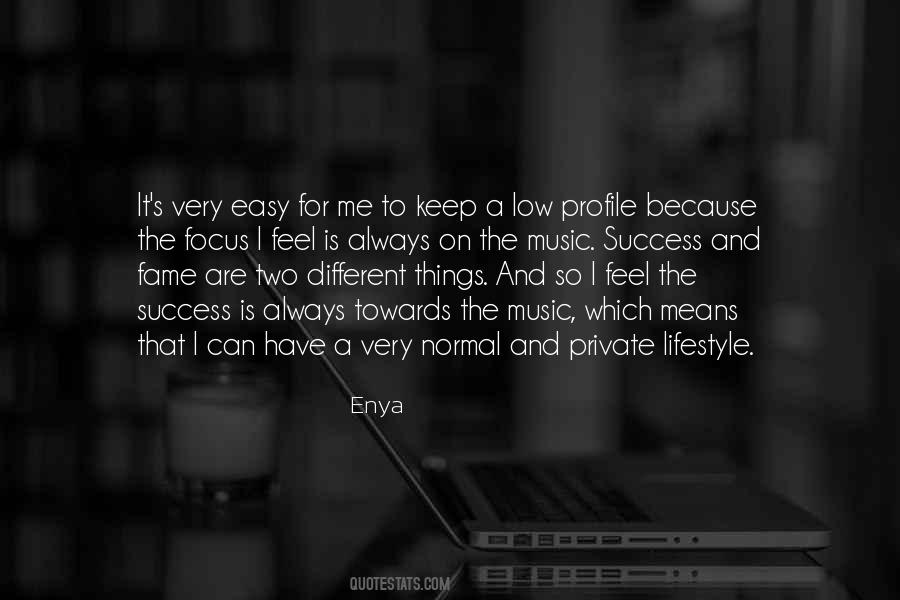 #45. Word of advice, sister mine. If you want to keep your papers private, don't write 'Private' on the cover. It set the mater right off. It was all I could do to stop her sniffing around like some great sniffing thing. - Author: Lauren Willig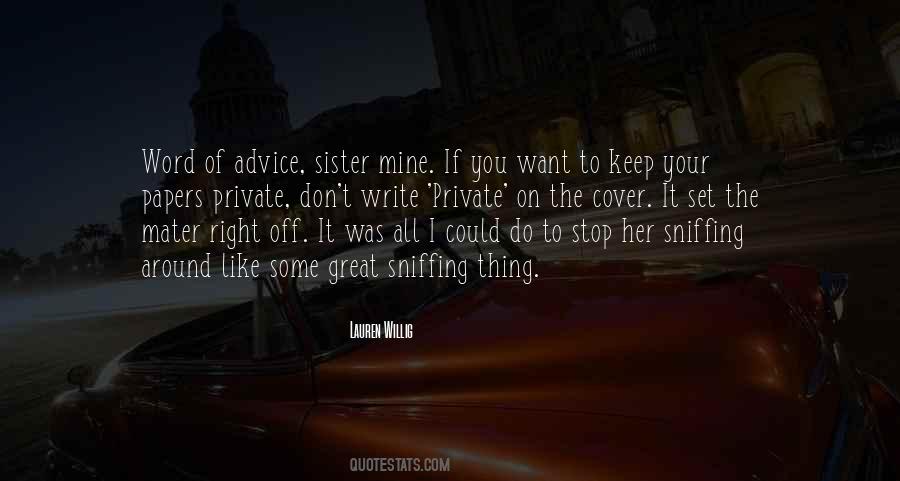 #46. When we get the private sector going through job creation and growth, then the governments at all level have revenues to do the things that they need to do. And that's why it's so important to get this economy moving, to get jobs created. We can't keep going on with this anemic recovery. - Author: Jim Talent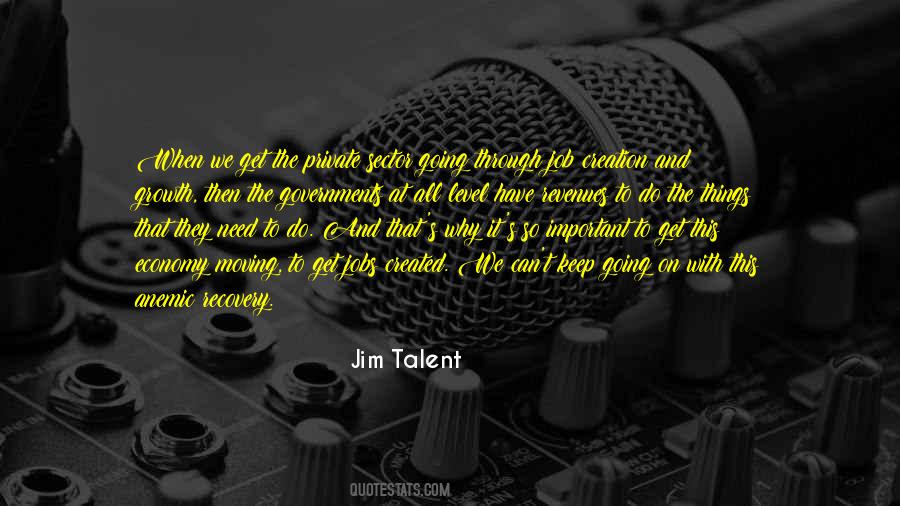 #47. Think it's as though everyone has a small place inside themselves, maybe, a private bit that they keep to themselves. It's like a little fortress, where the most private part of you lives - maybe it's your soul, maybe just that bit that makes you yourself and not anyone else. - Author: Diana Gabaldon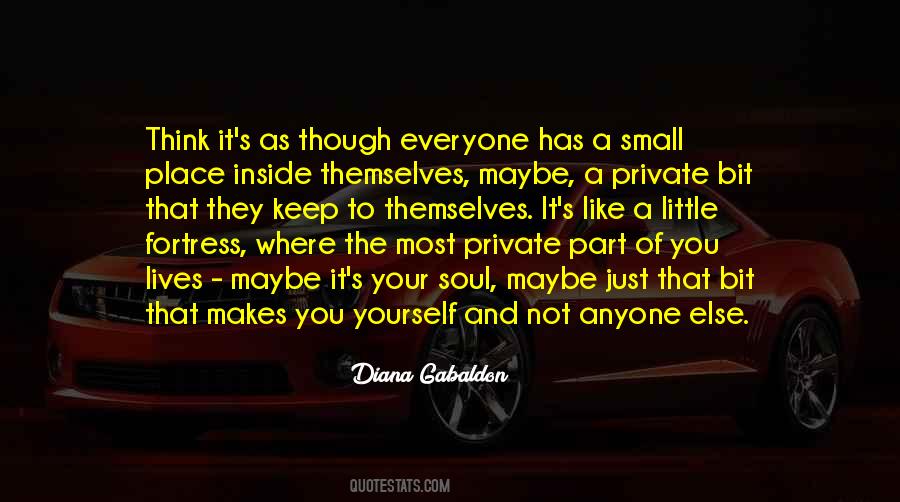 #48. I'm kind of private and I keep things inside a lot, but it's been so wonderful to realize that people care about you in a very deep way and that there is some bond between an actor and his audience. I don't even know how to describe that feeling. - Author: Michael J. Fox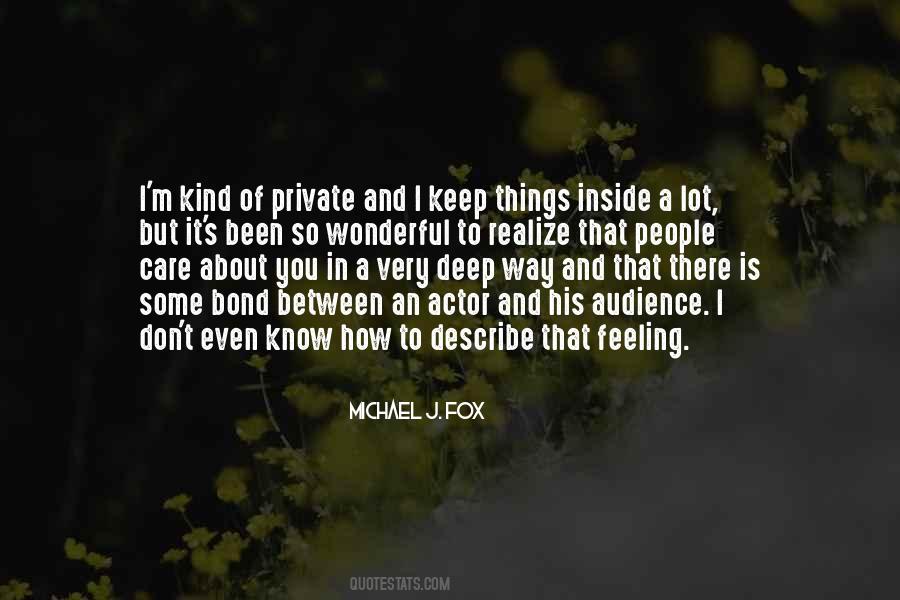 #49. It is known all over the world that there are no secrets in the ghetto and as long as you keep those secrets, you may keep your life. - Author: Felix Alexander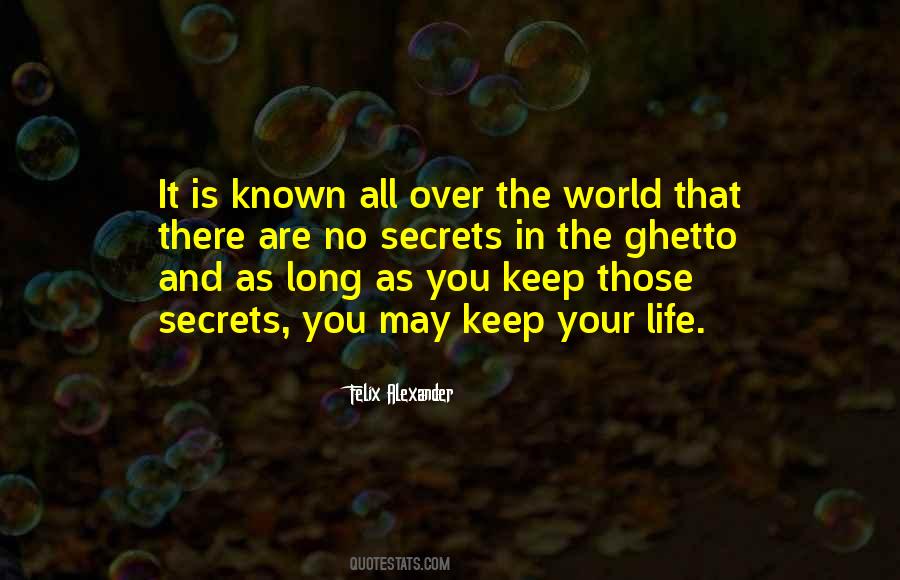 #50. If you don't want something to exist - and there are many reasons to want to keep things private - keep it off the web. But if you put it in digital form, expect it to be bootlegged, remixed, manipulated, and endlessly commented upon. - Author: Kenneth Goldsmith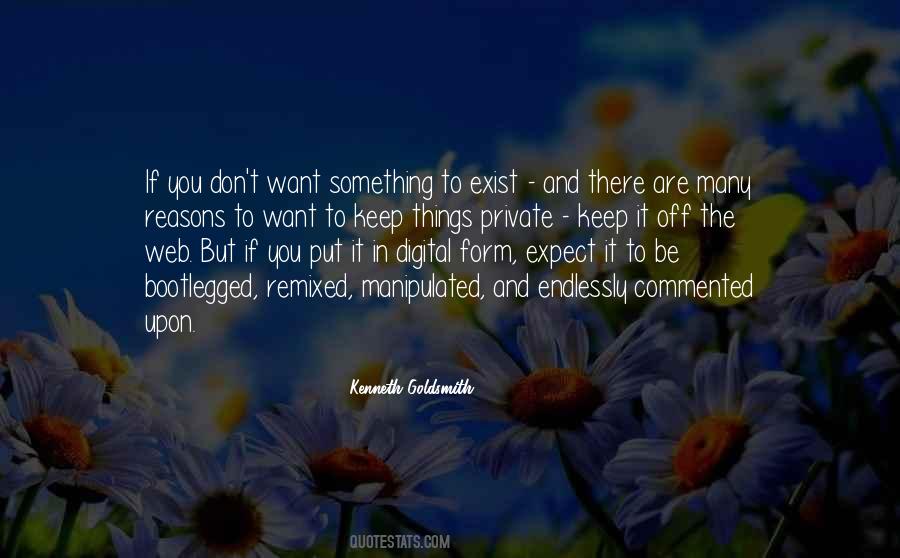 #51. We need to keep a very keen eye on our own government. It's getting too rich and redistributing wealth is a sure way of robbing us of our private property rights and other rights along with them. - Author: Richard Pipes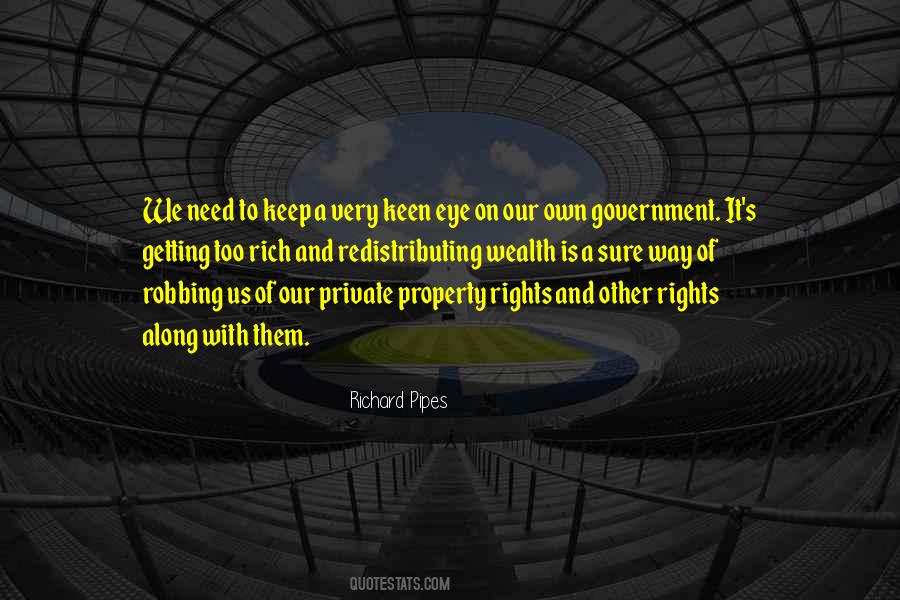 #52. Girls like me smiled politely and always did the right thing. Girls like me definitely didn't sneak away at night to do things that would crush their fathers. And if they did, girls like me knew how to keep it to themselves. - Author: Robin Talley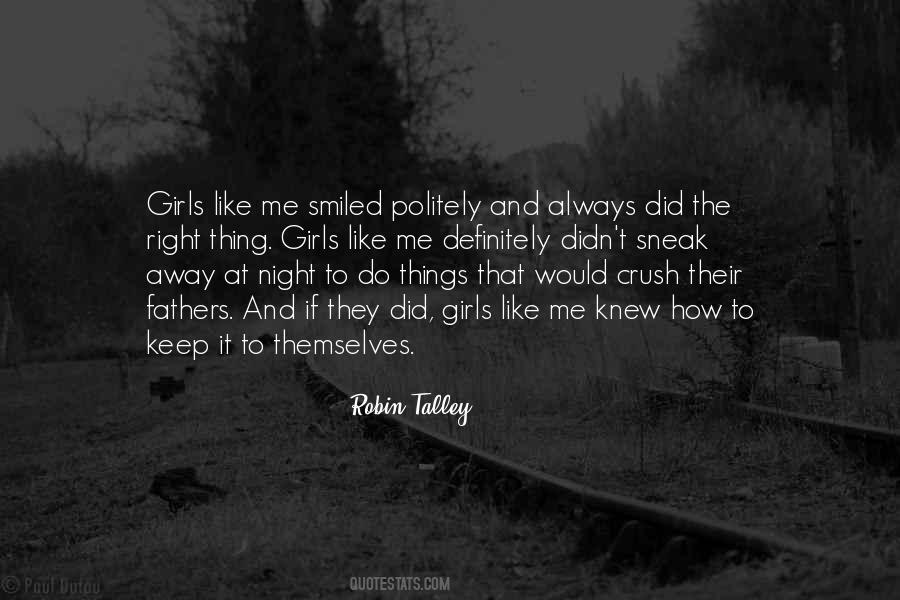 #53. I get that some people just want to do work and keep their lives private. I think for me, it just felt like I needed to be open about who I am. It just felt like the right thing for me to do. - Author: Evan Rachel Wood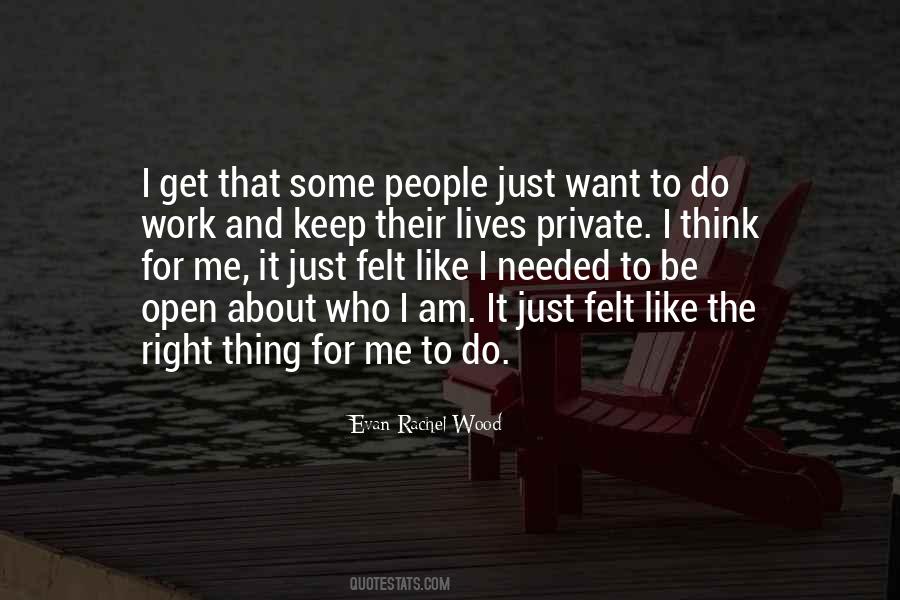 #54. A quiet impression could be a personal instruction from the Lord. It is personal and private. It comes from the Lord. Why is it important to keep sacred writings private? Because then He will give us more. - Author: Richard G. Scott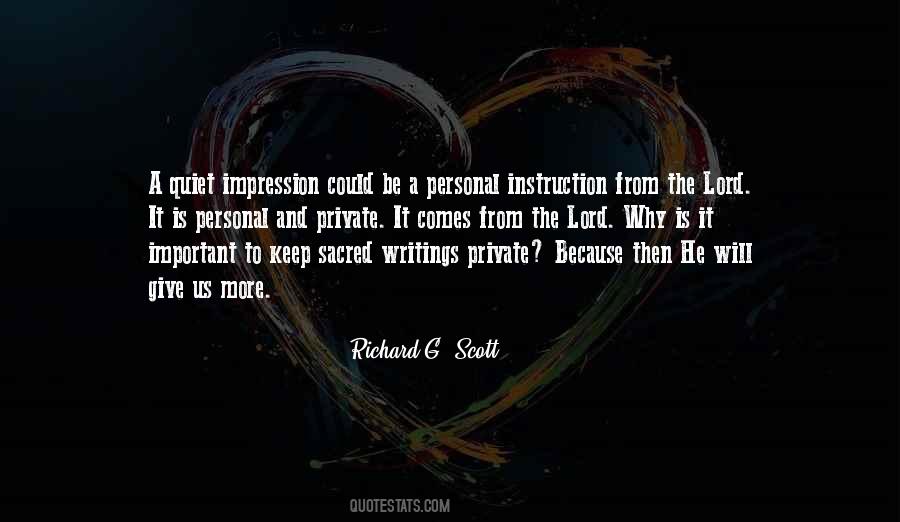 #55. My age is my own private business and I intend to keep it so - if I can. I am not so old that I am ashamed of my age and I am not so young that I couldn't have written my book and that is all the public needs to know about my age. - Author: Margaret Mitchell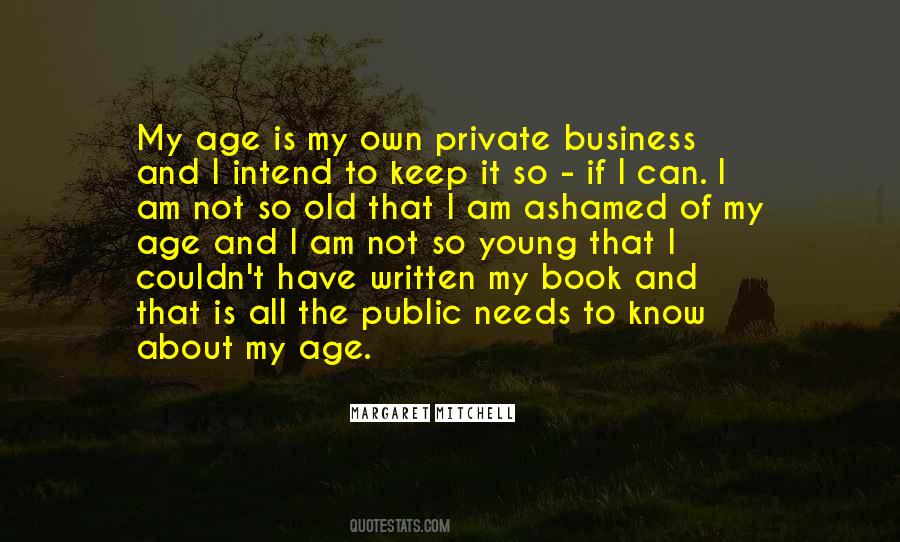 Famous Authors
Popular Topics