Just The Facts Famous Quotes & Sayings
List of top 100 famous quotes and sayings about just the facts to read and share with friends on your Facebook, Twitter, blogs.
Top 100 Just The Facts Quotes
#1. Sometimes paranoia's just having all the facts. - Author: William S. Burroughs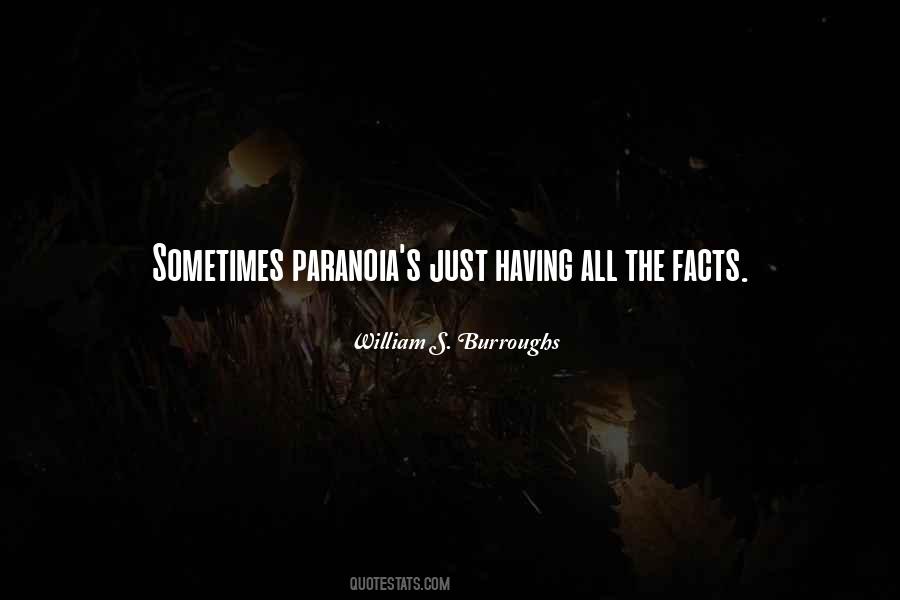 #2. I just kinda like playing. I don't necessarily go on tour to promote my albums. I'm on the road all the time. The fact that I have a new record is out is a coincidence. - Author: David Sanborn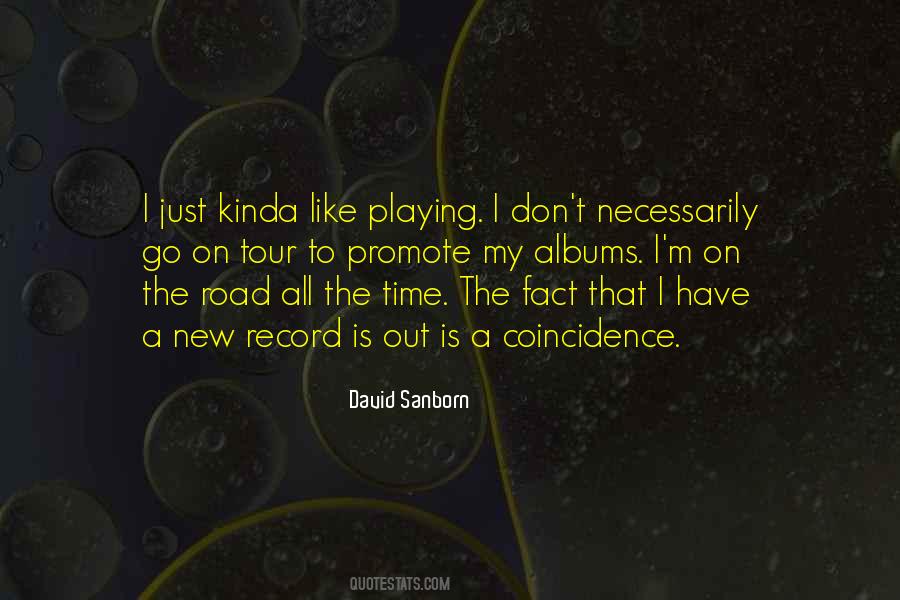 #3. France has never gotten over the fact that it was once a great power and is now just a great nuisance. - Author: Thomas Sowell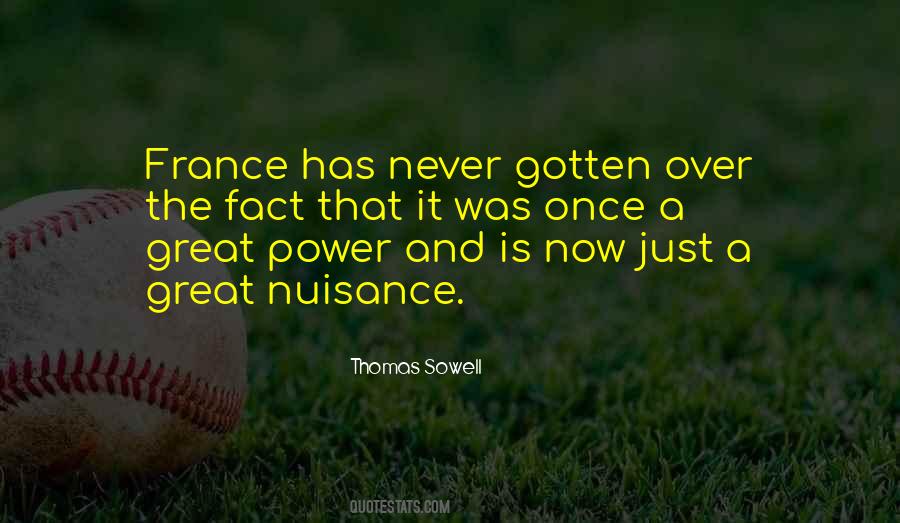 #4. I'm just one gigantic ball of rancid fear and self-consciousness. I'm entirely fueled by fear, so the fact that I knew it could be a catastrophic disaster made me unable to sleep, and made me work quite hard. - Author: Eddie Redmayne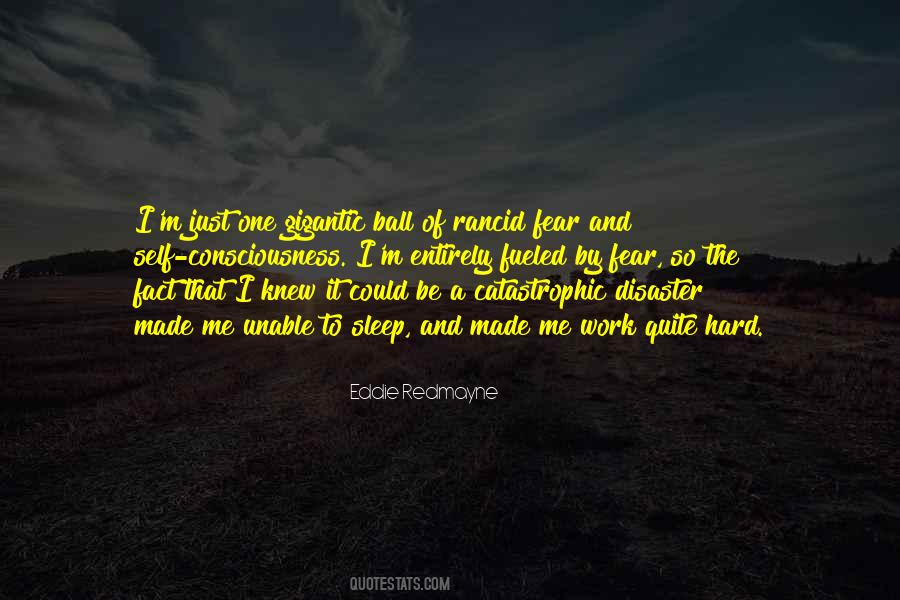 #5. What happens when these young men and women come home so scarred and so wounded? We are ignoring that fact. We're just shoving them under the carpet. - Author: Paul Haggis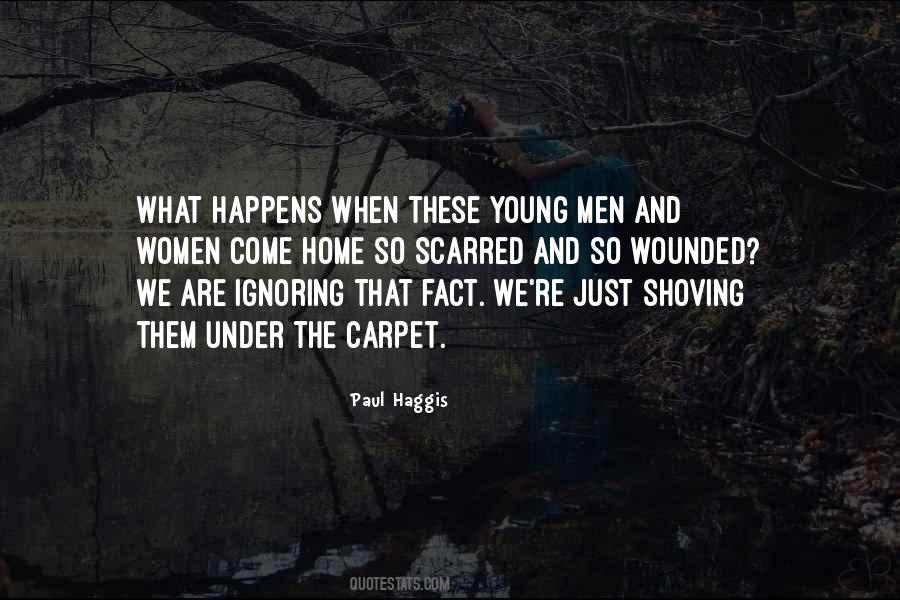 #6. Sometimes on a film you just become taken with the fact that, all right this is as rough as it gets, but I'm going to support my general and I'm going to do the very best I can for him because he's a good general and I like him. - Author: Danny Elfman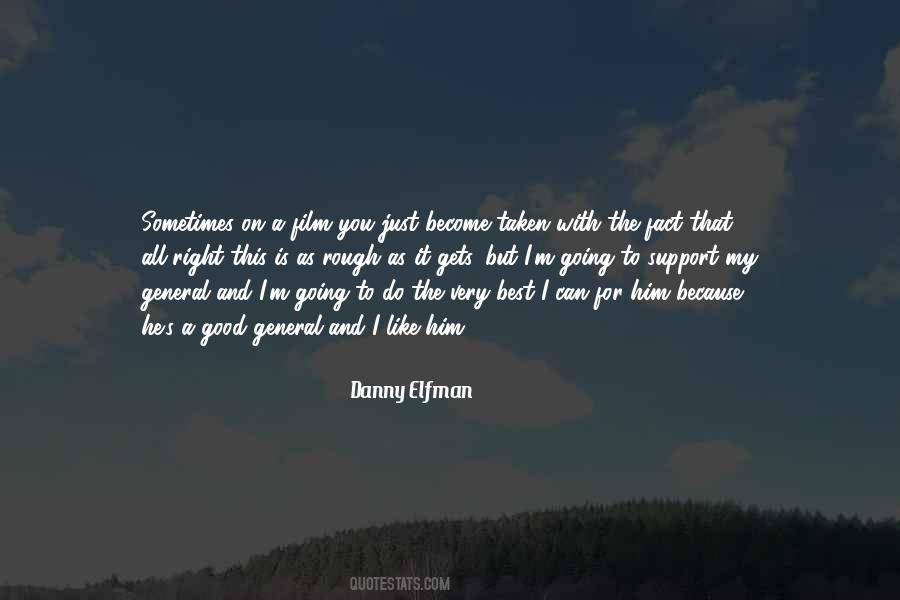 #7. If the facts don't fit your theory, just find some new facts. - Author: Susan Juby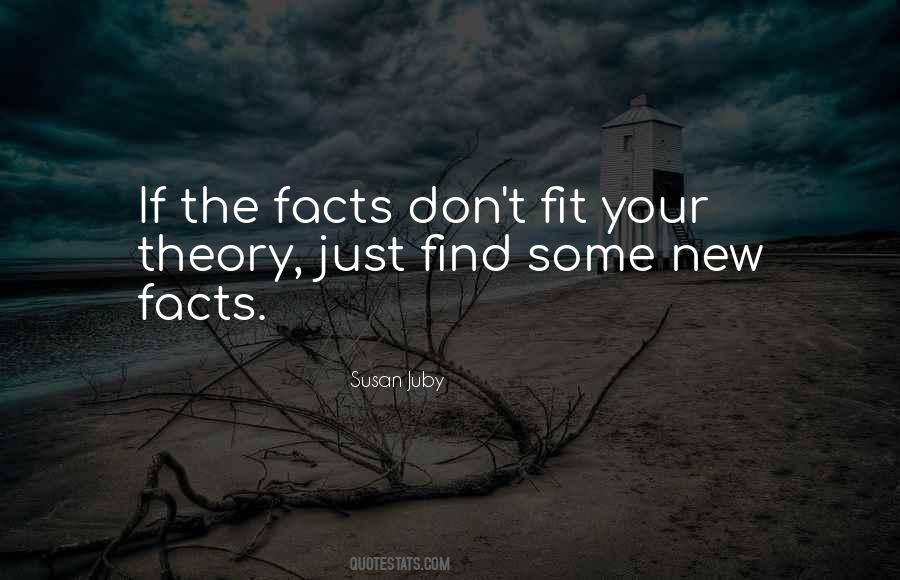 #8. It is not surprising that in talking about uncertainty we should lean heavily on facts, just as the court of law does when interrogating witnesses. Facts form a sort of bedrock on which we can build the shifting sands of uncertainty. - Author: Dennis Lindley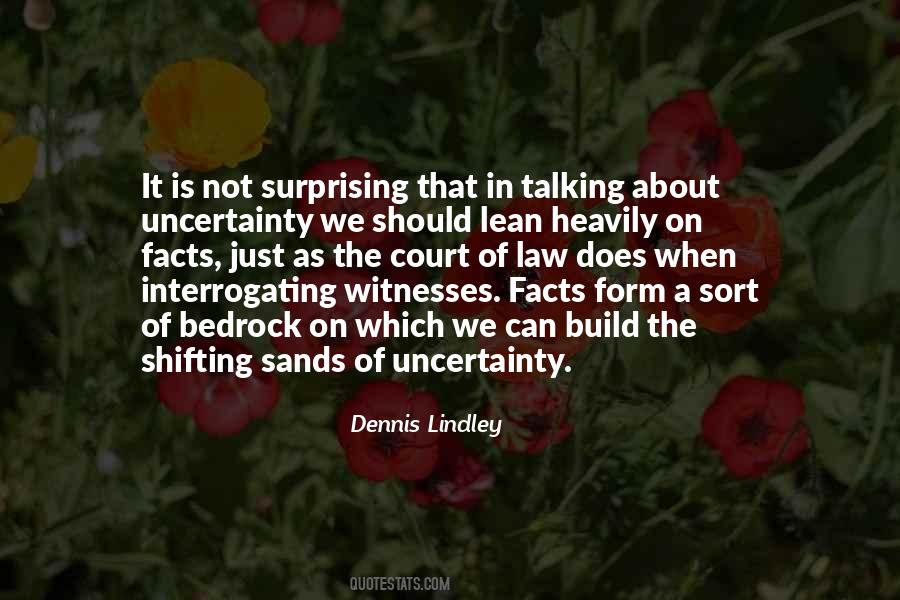 #9. I entirely agree that a historian ought to be precise in detail; but unless you take all the characters and circumstances into account, you are reckoning without the facts. The proportions and relations of things are just as much facts as the things themselves. - Author: Dorothy L. Sayers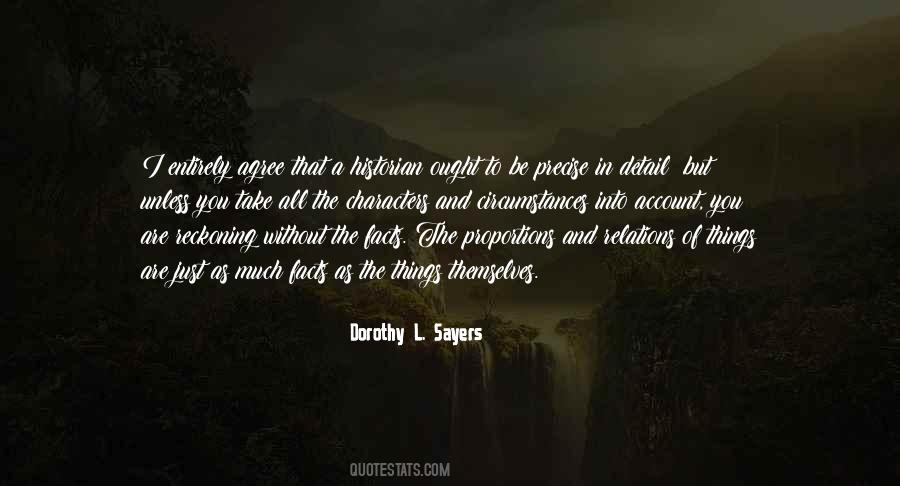 #10. Just when the truth about life sinks in, His truth starts to surface. He takes us by the hand and dares us not to sweep the facts under the rug but to confront them with him at our side. - Author: Max Lucado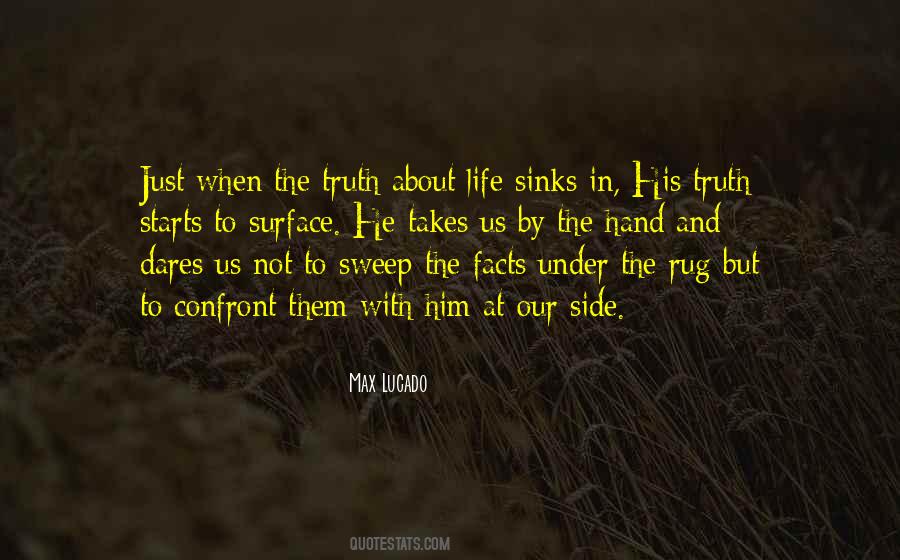 #11. I think Chinese leadership is trying to tell the world they have another set of logic or reasoning or values which are different from yours. Of course, I don't think they believe that. It's just an argument that's made when you can't confront the truth and facts. They really want to maintain power. - Author: Ai Weiwei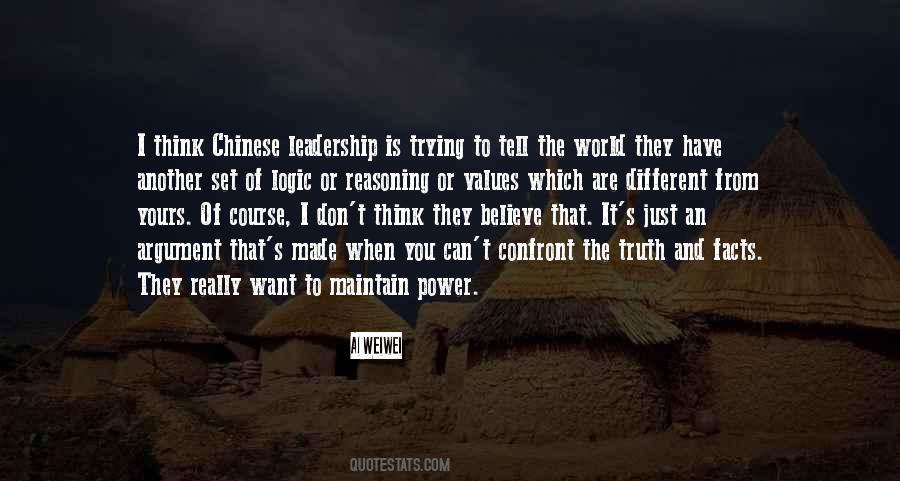 #12. Facing yourself is a question of honesty rather than condemning yourself. Good or bad the idea is simply to face the facts. Just see the simple, straightforward truth about yourself without cutting yourself down. - Author: Chogyam Trungpa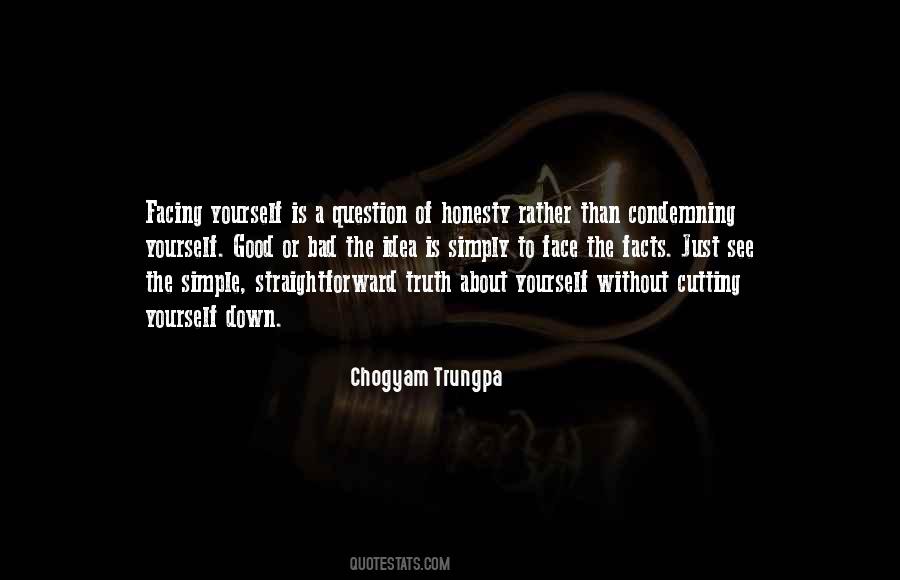 #13. I actually grew up watching 'Survivorman' and Bear Grylls. I know that pine needles are a good source of vitamin C and just random facts from watching the stuff. - Author: Nick Robinson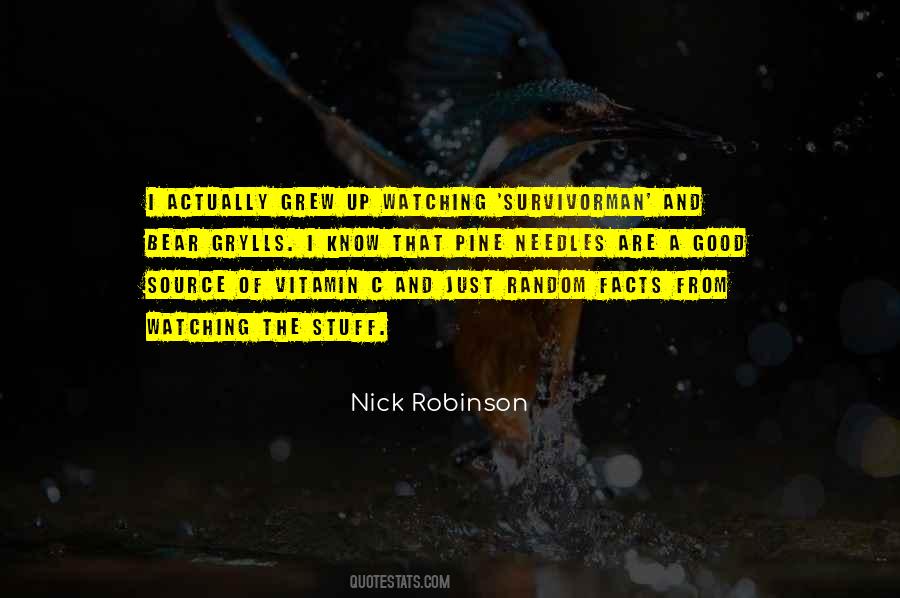 #14. The [Libyan] rebels this week kind of hinted to the United States that they could use a little help. Right. Like, America would just blunder around the Middle East killing people without all the facts. That doesn't sound like the America I know. - Author: Bill Maher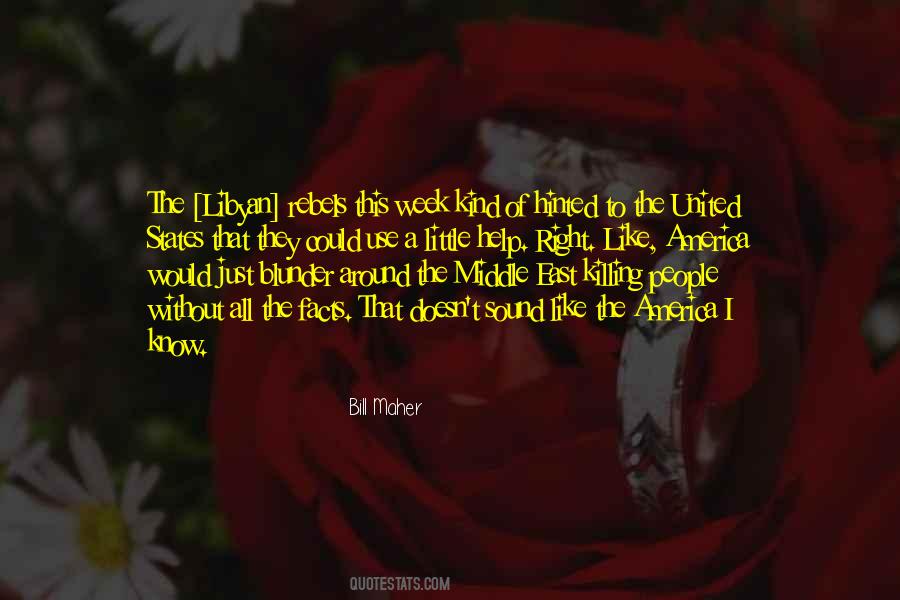 #15. Every so often my life will feel like a story. It doesn't have to be a big thing; in fact, most often, it's just the opposite. - Author: David Sedaris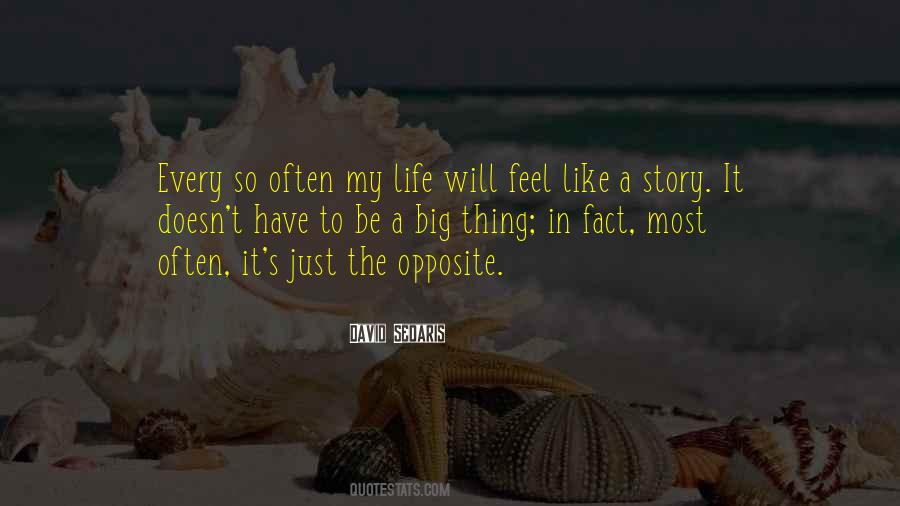 #16. Tea-baggers love the truth. They just hate facts. - Author: Bill Maher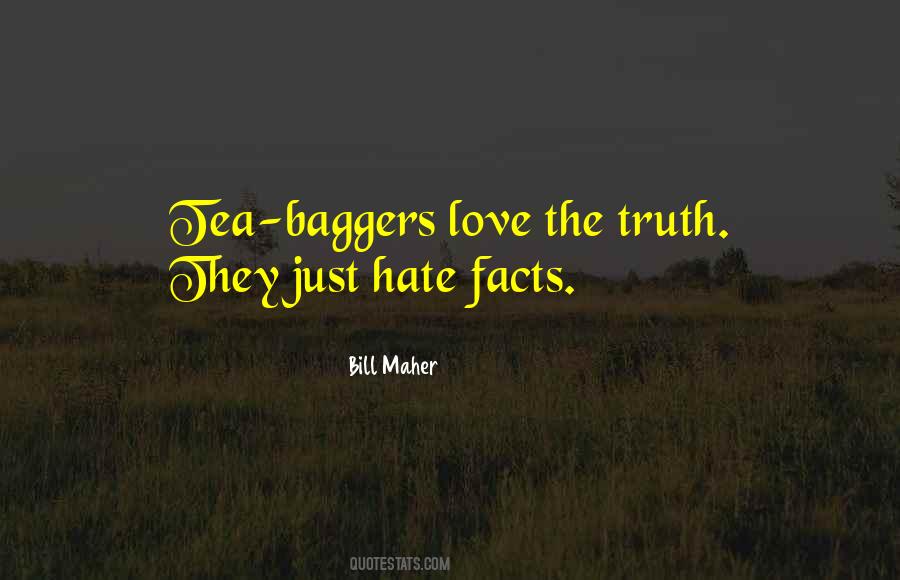 #17. I think you can be tough and aggressive with facts in a way that you cannot be tough and aggressive with emotional retorts. Most of the people that try to be tough on TV are really just being emotional and not factual. - Author: John Sununu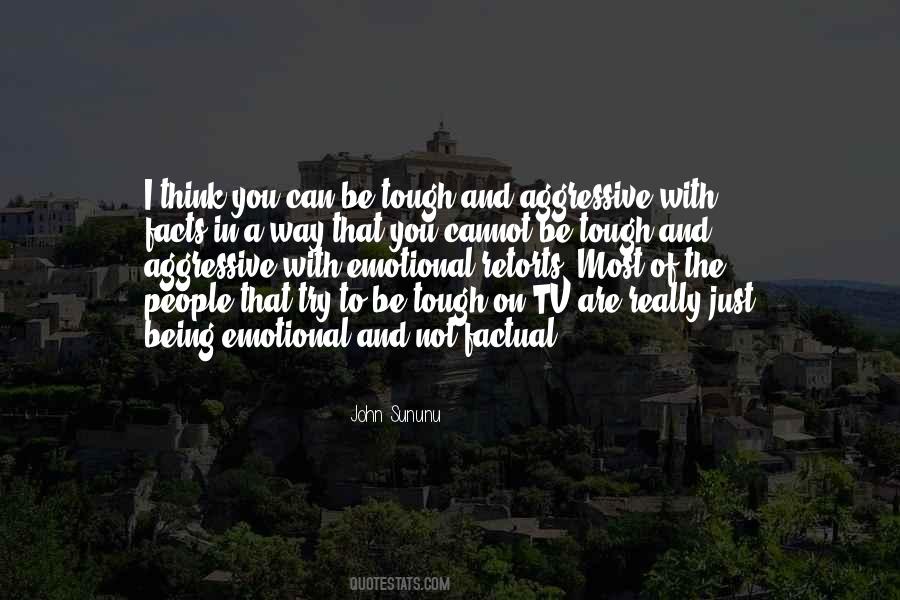 #18. Musicians are affected by the audience just as much as audiences are affected by the musicians. The only problem is that often times musicians won't allow themselves to admit to that fact. - Author: Hamid Drake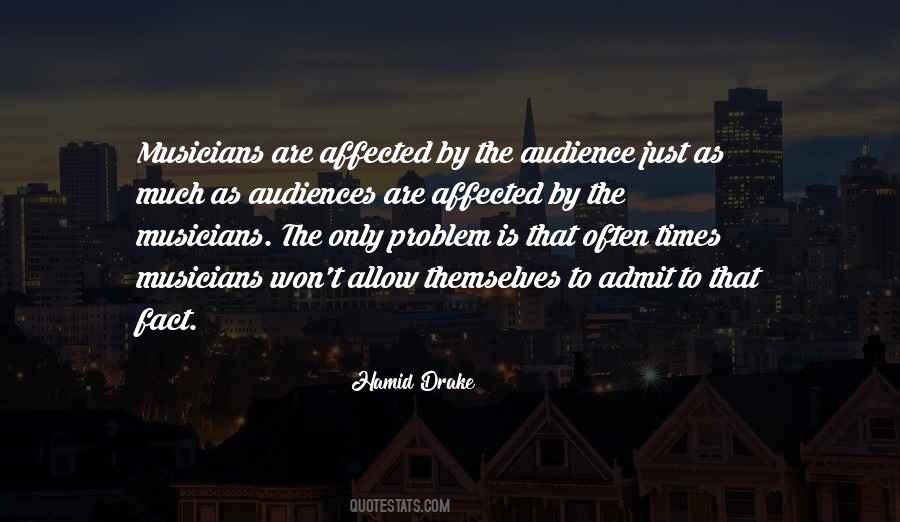 #19. That's the thing about business. Facts and numbers and results actually count. It's not just about words as it is in politics. - Author: Carly Fiorina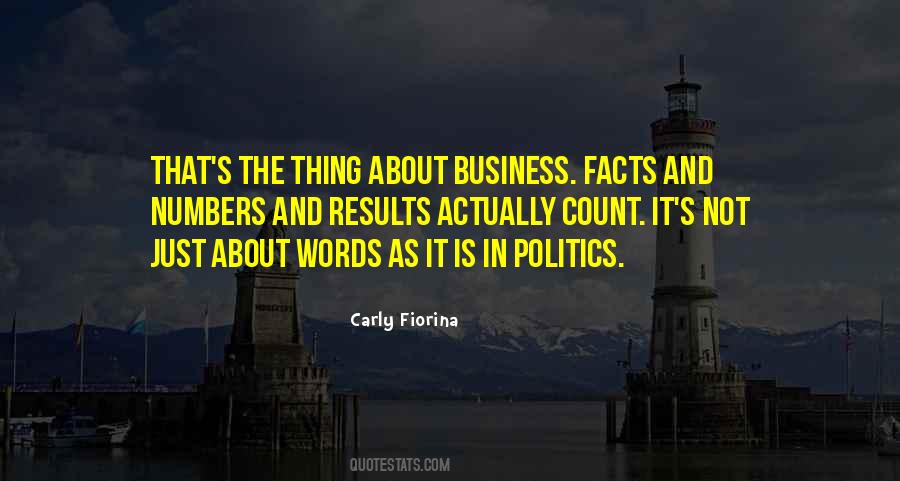 #20. I'm not emotional about investments. Investing is something where you have to be purely rational and not let emotion affect your decision making - just the facts. - Author: Bill Ackman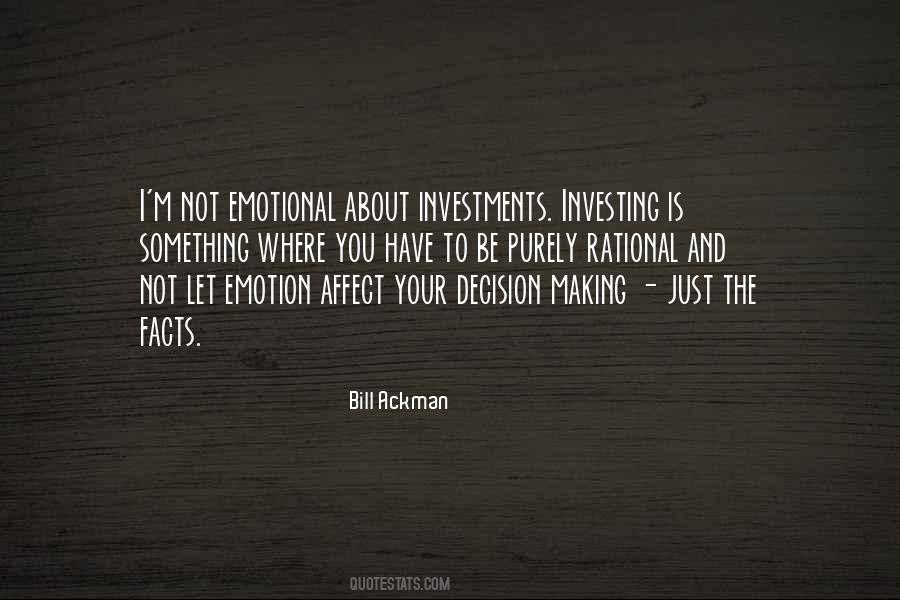 #21. The truth isn't just the facts. You can have all the facts imaginable and miss the truth, just as you can have facts missing or some wrong, and reach the larger truth. - Author: David McCullough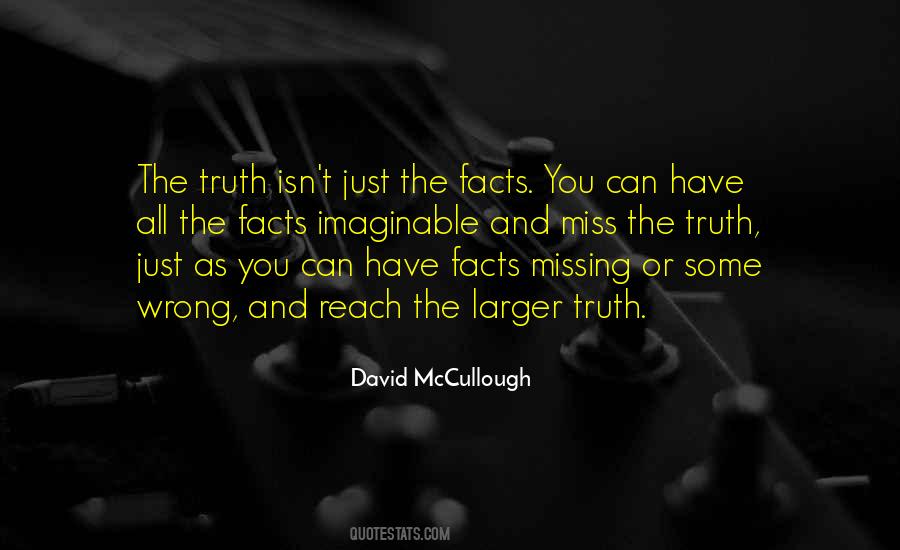 #22. Memory can change the shape of a room; it can change the color of a car. And memories can be distorted. They're just an interpretation, they're not a record, and they're irrelevant if you have the facts. (Leonard Shelby, Memento) - Author: Christopher Nolan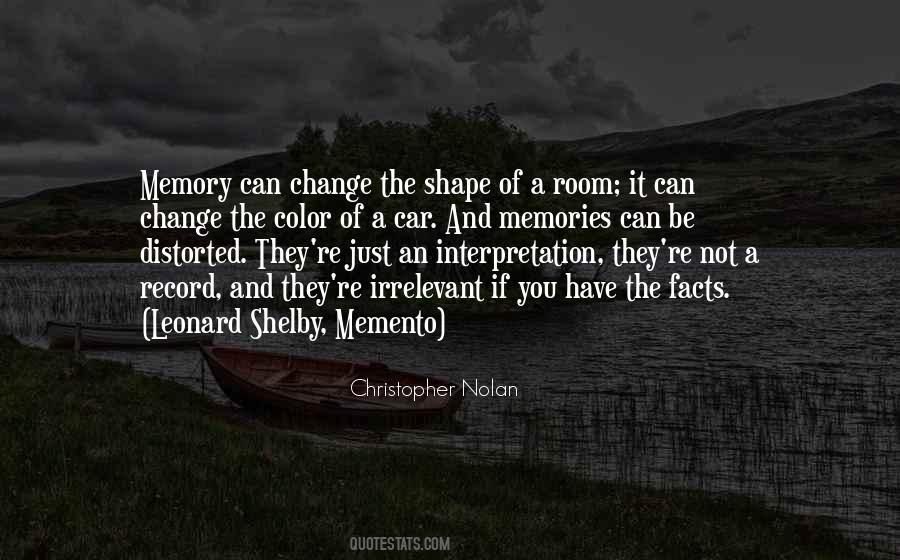 #23. The Koran claims for itself that it is "mubeen," or clear. But if you look at it, you will notice that every fifth sentence or so simply doesnt make sense. Many Muslims and Orientalists will tell you otherwise, of course, but the fact is that a fifth of the Koranic text is just incomprehensible. - Author: Gerd R. Puin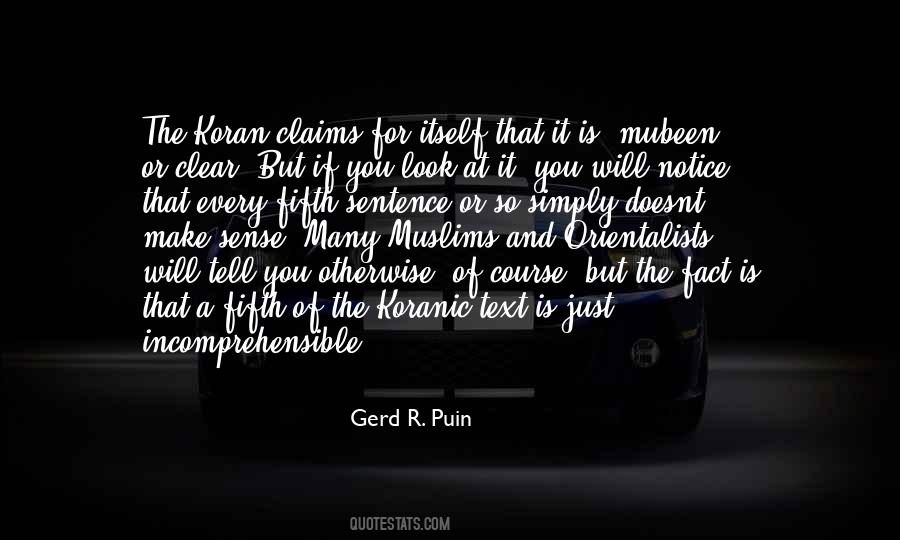 #24. If you write (or paint or dance or sculpt or sing, I suppose),
someone will try to make you feel lousy about it, that's
all. I'm not editorializing, just trying to give you the facts as
I see them. - Author: Stephen King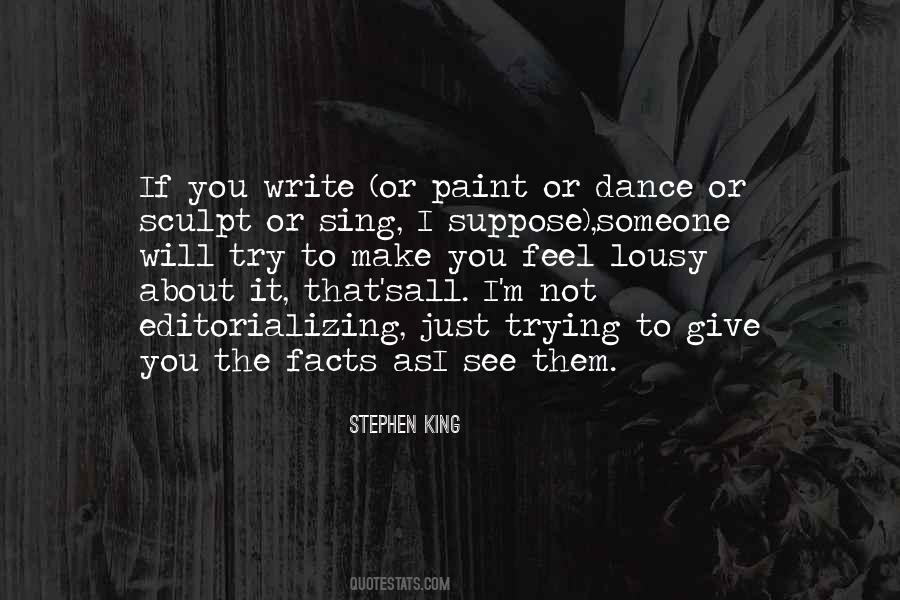 #25. I don't make jokes. I just watch the government and report the facts. - Author: Will Rogers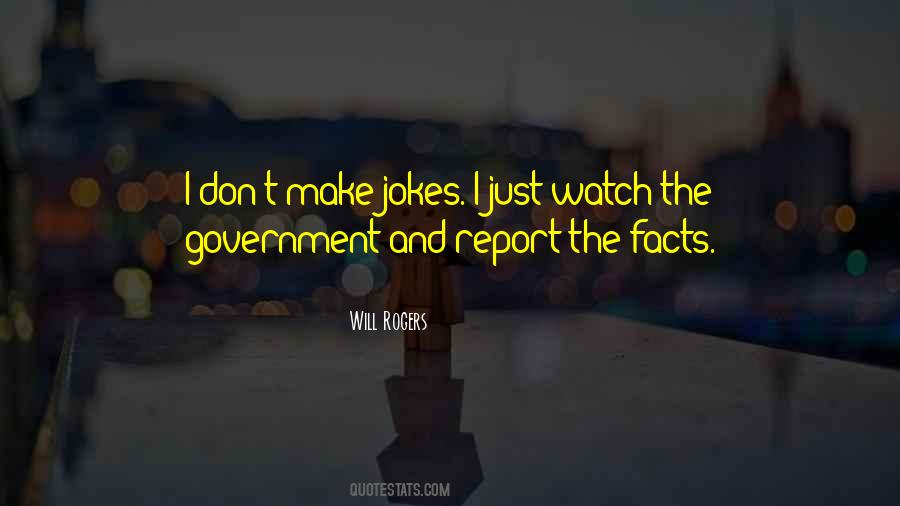 #26. I'm not absolutely certain of the facts, but I rather fancy it's Shakespeare who says that it's always just when a fellow is feeling particularly braced with things in general that Fate sneaks up behind him with the bit of lead piping. - Author: P.G. Wodehouse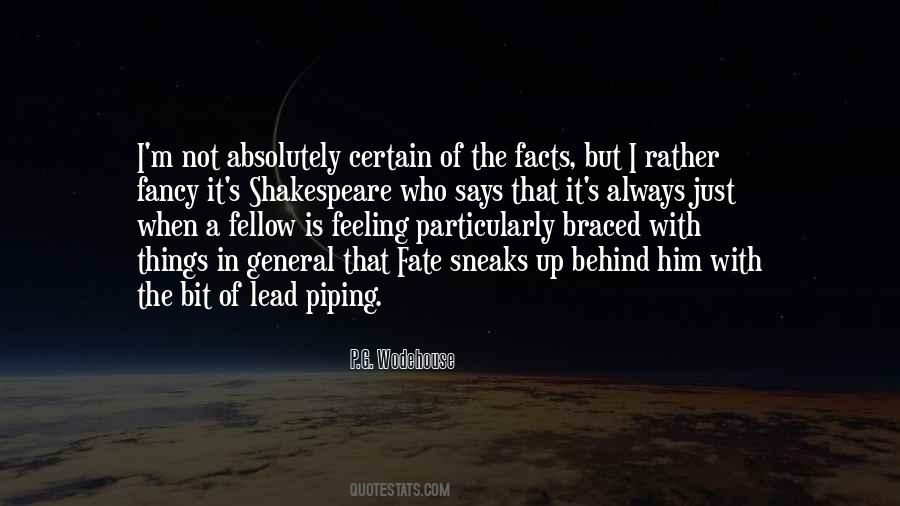 #27. When you decide to do this kind of music then you just accept the facts. - Author: Gary Numan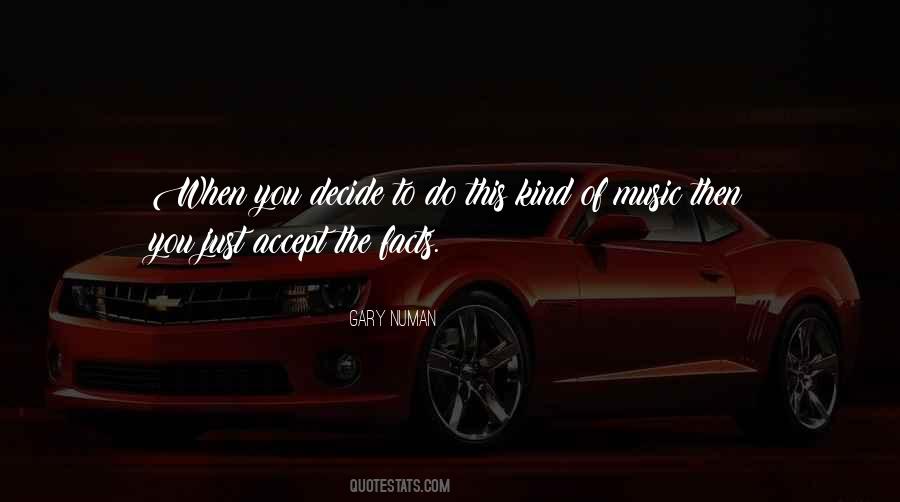 #28. I went from buying my own condominium and a car for myself when I was 17 on 'The Facts of Life' to not being able to pay my rent. I was at the unemployment office all the time. I had to sell my record collection just to make ends meet. And then I started getting these voice-over jobs. - Author: Pamela Adlon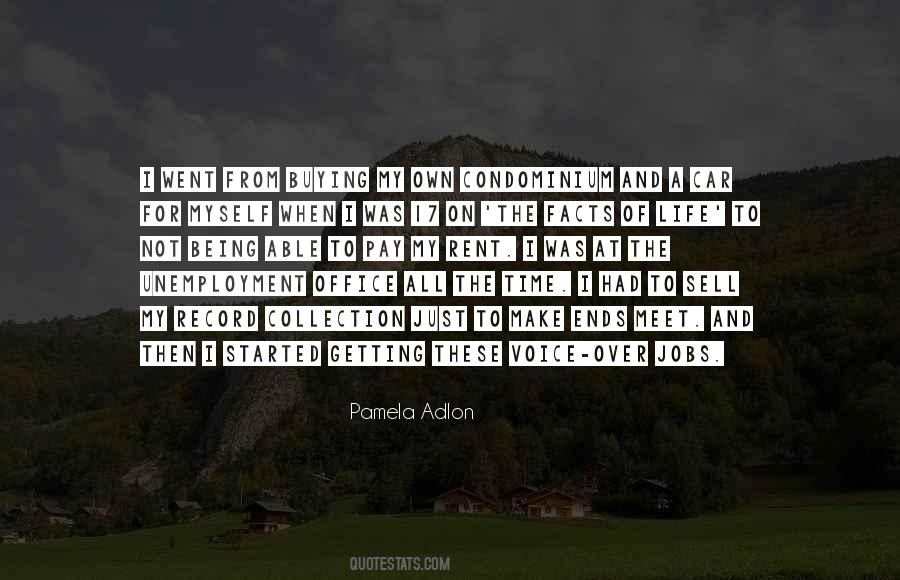 #29. You have a choice. You can just go on the facts and form your own opinions. Or you can hold the truth in your hands, and see it for the gift it is. - Author: Jodi Picoult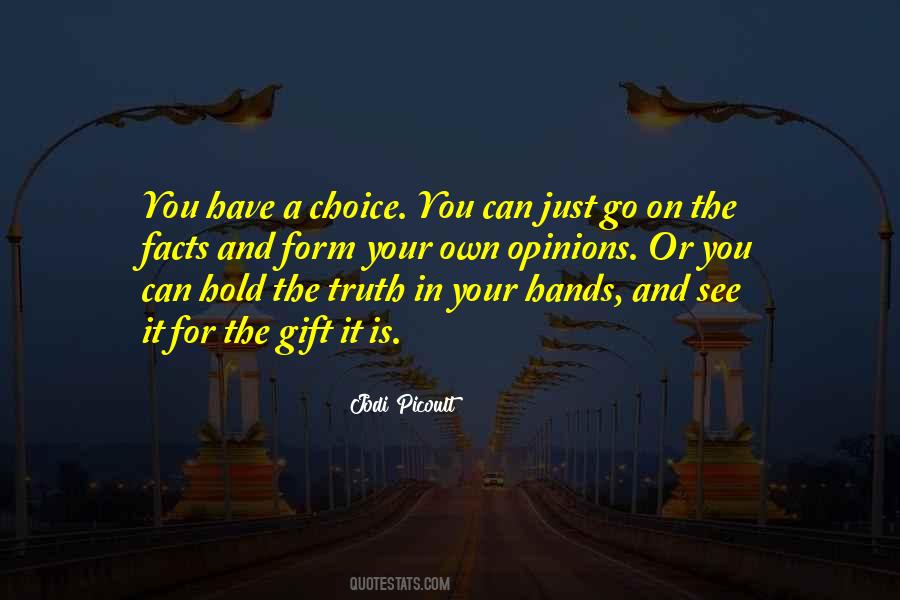 #30. Never, ever lose sight of the power of one individual American. They can have an unbelievable magnifying affect just by the very fact they make up their mind to do so! - Author: H. L. Richardson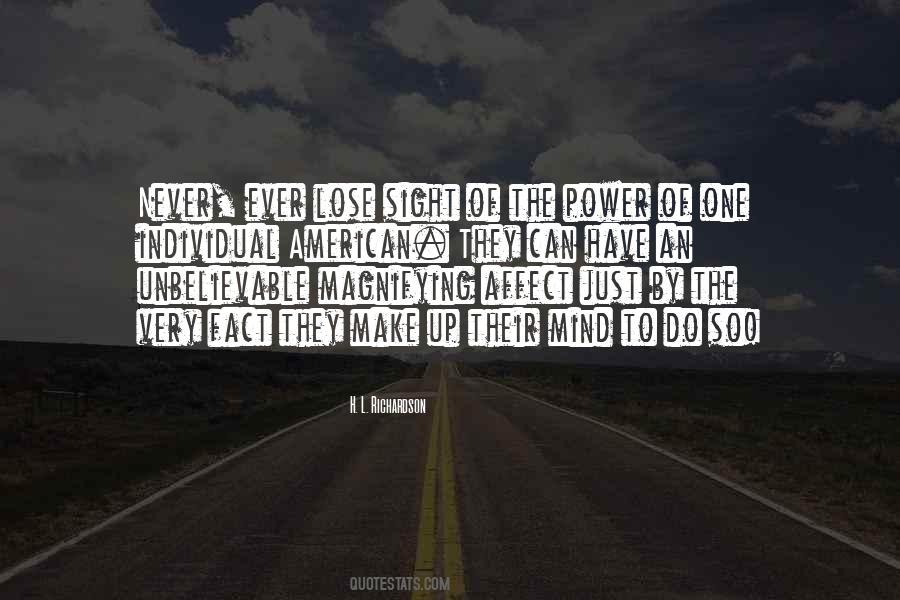 #31. remember, just because you're writing fiction doesn't mean that you can ignore facts. It is those details that make fiction compelling and, in many cases, very real for the reader. - Author: Roy A. Teel Jr.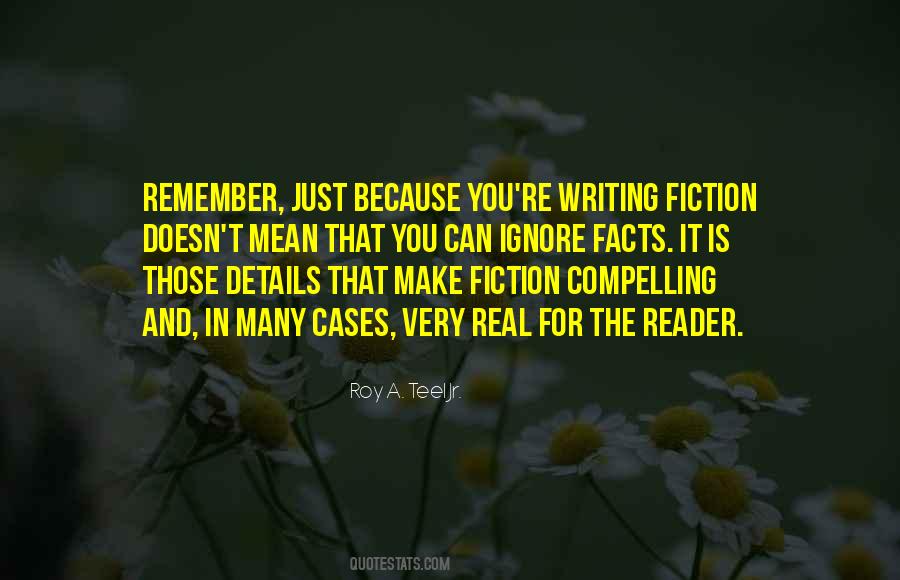 #32. The hardest part about being ghosted is the fact that you can't deal with the ghoster directly. You just never hear from them again, and everything feels odd and incomplete. - Author: Mallory Ortberg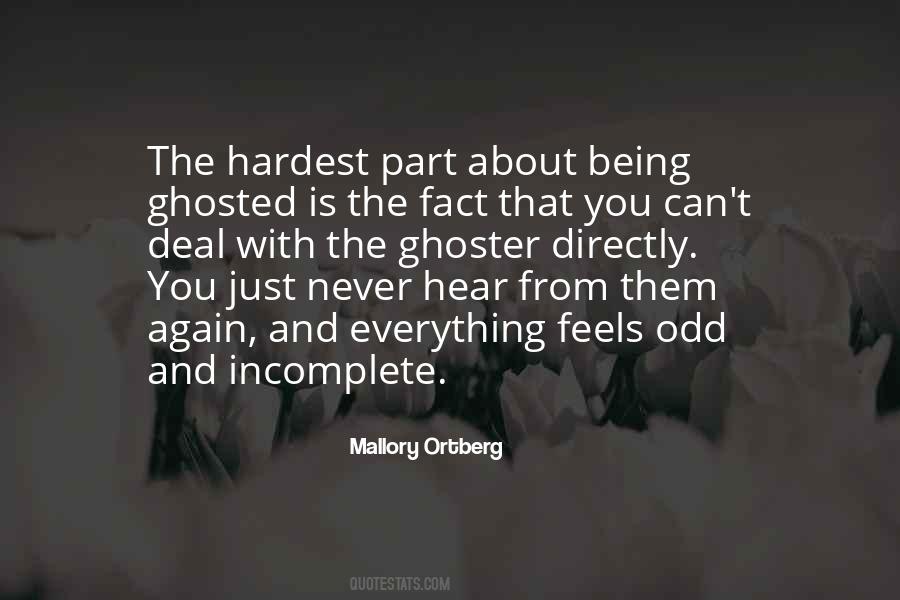 #33. The real world is devoid of narratives, after all. Narratives are just a thing that our brains do with facts in order to draw a line around the incomprehensible largeness of reality and wrestle it into something learnable and manipulable. Existence is devoid of plot, theme, and most of all moral. - Author: Charles Stross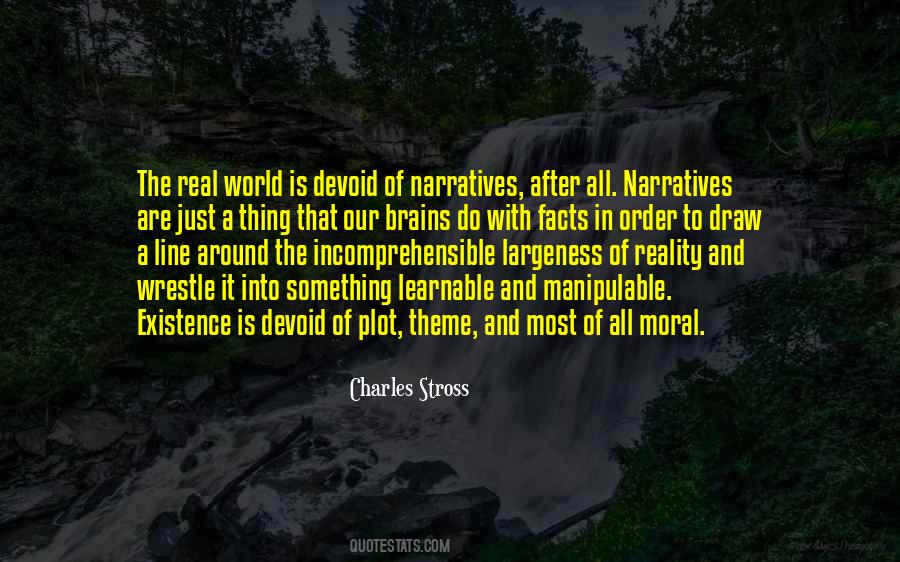 #34. At a certain meeting two and a half people were converted to Christ. A friend asked if he meant, two adults and a child. The facts were just the opposite two children and an adult. When a child is led to Christ, a whole life is saved! - Author: Dwight L. Moody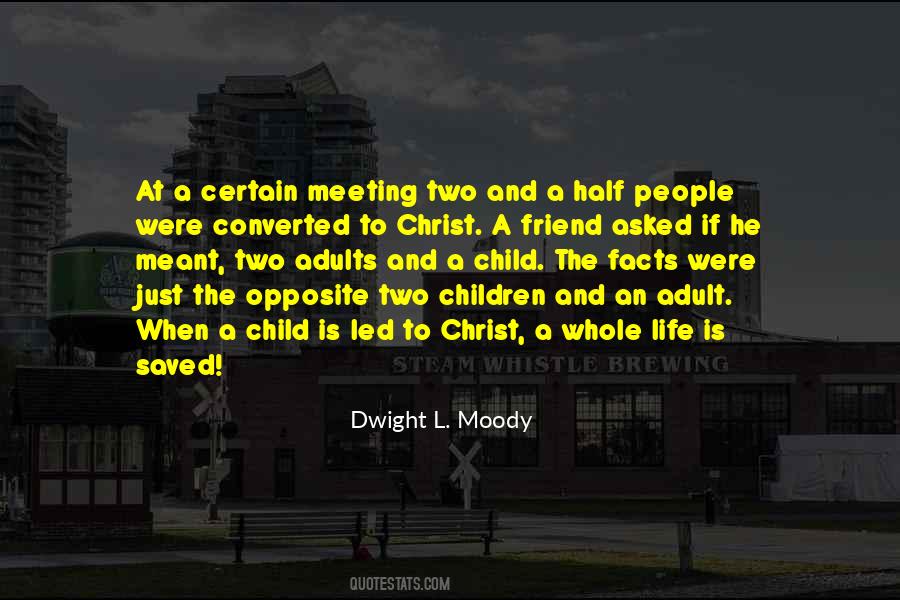 #35. Sitting here with one's knitting, one just sees the facts.
-The Blood-Stained Pavement - Author: Agatha Christie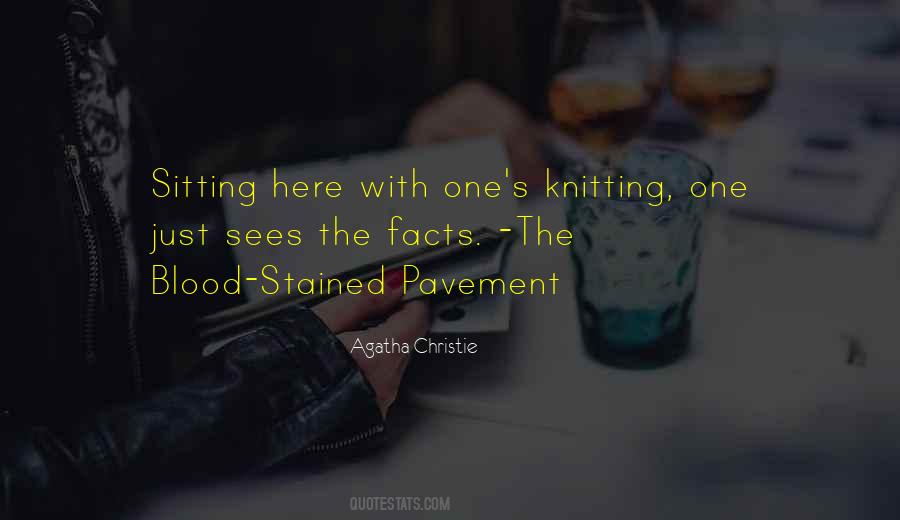 #36. The past is made out of facts ... I guess the future is just hope. - Author: Isaac Marion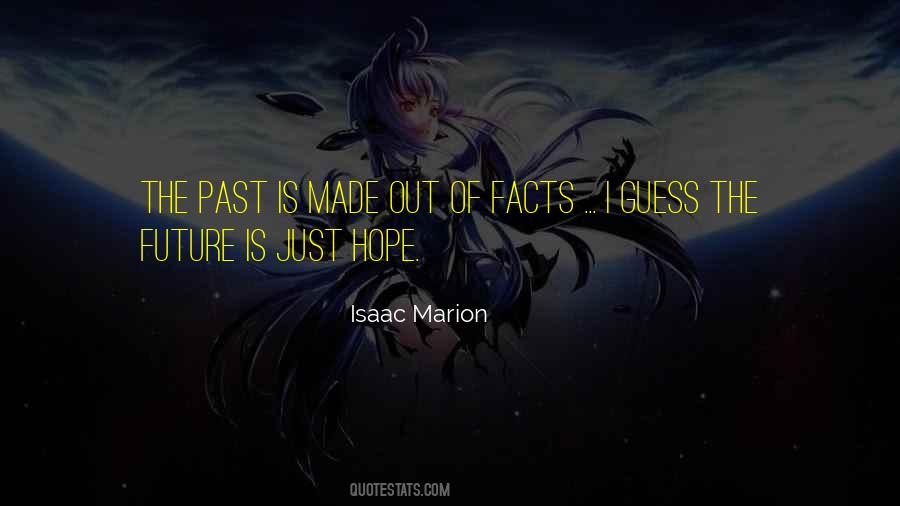 #37. How can one become enlightened in one single moment? One can, because one is enlightened
one just has to recognize the fact. It is not something that happens from the outside, it is something that arises from the inside. It has always been there but you were clouded, you were full of thoughts. - Author: Rajneesh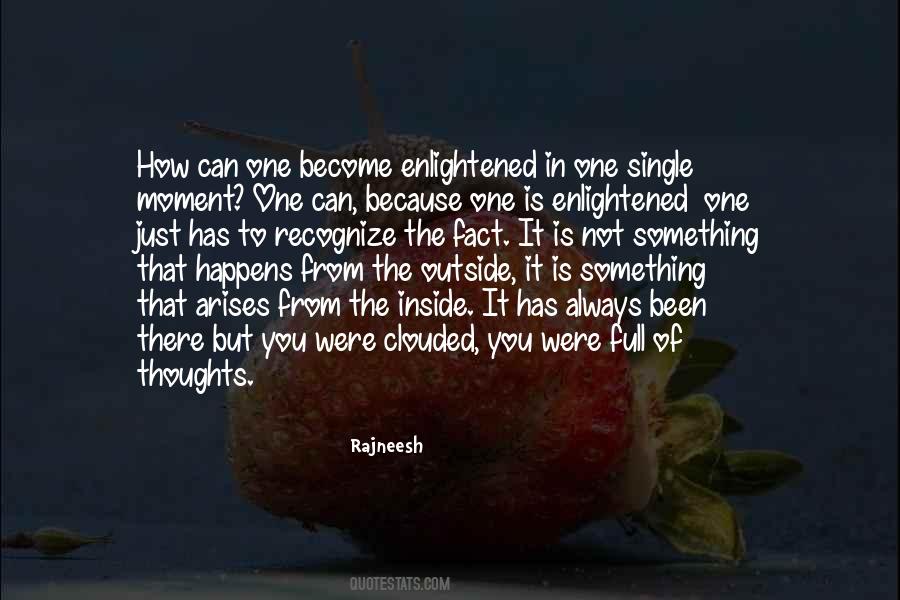 #38. Ever since childhood, I've been interested in history and myth. Not just the facts and figures of the past, but everything that contributes to shape our perception of an age: architecture, art, literature and so forth. - Author: Anne Fortier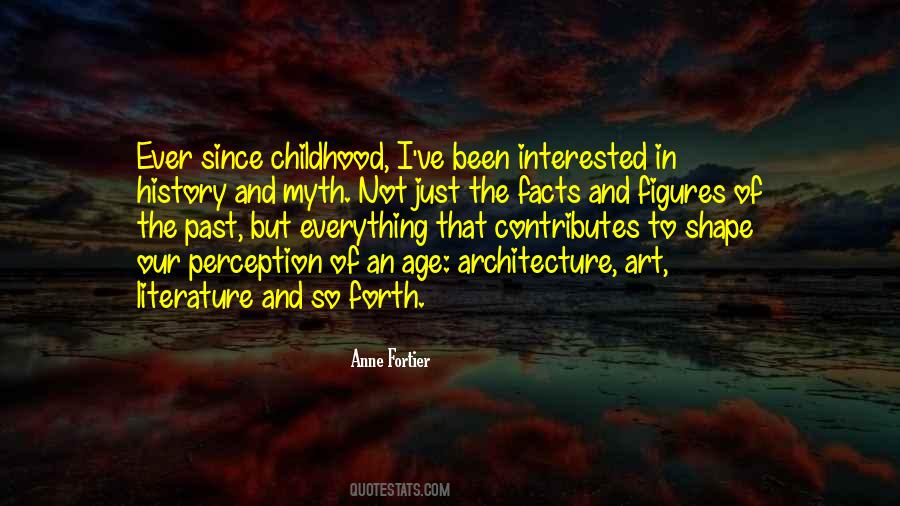 #39. discussing facts or culpability in the matter because the convictions are still on appeal. But I have been repeatedly asked why Sylvia did not just simply run away. I would suggest that by the time Sylvia told her sister she knew she was dying, she had reached profound apathy - Author: John Dean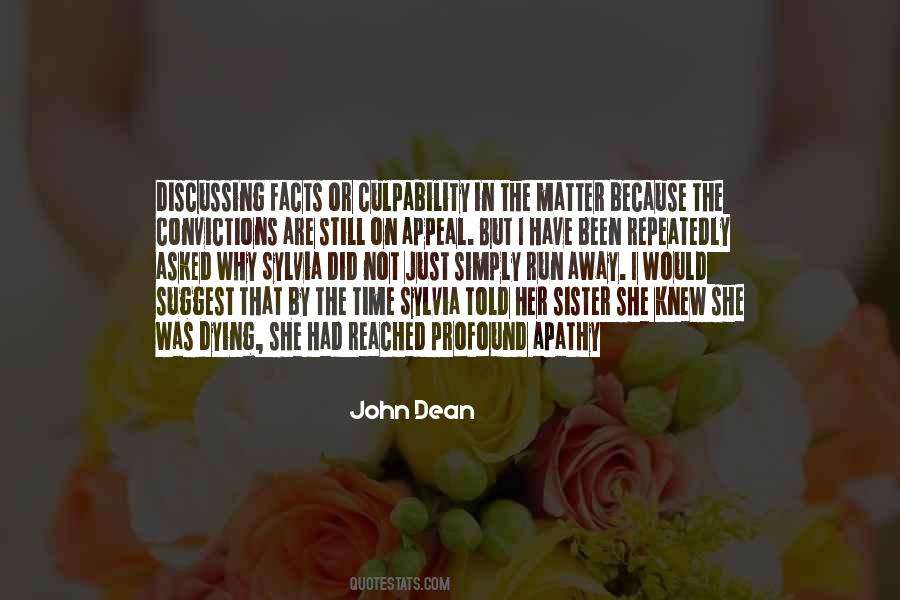 #40. I was then and am now very much a happy warrior, very much joyful. Not engaging in character attacks myself, just putting out, "Here are the facts, here are the evidence."And I noted, for example, that both of them [Marco Rubio and Donald Trump] were relying on fabrications. - Author: Ted Cruz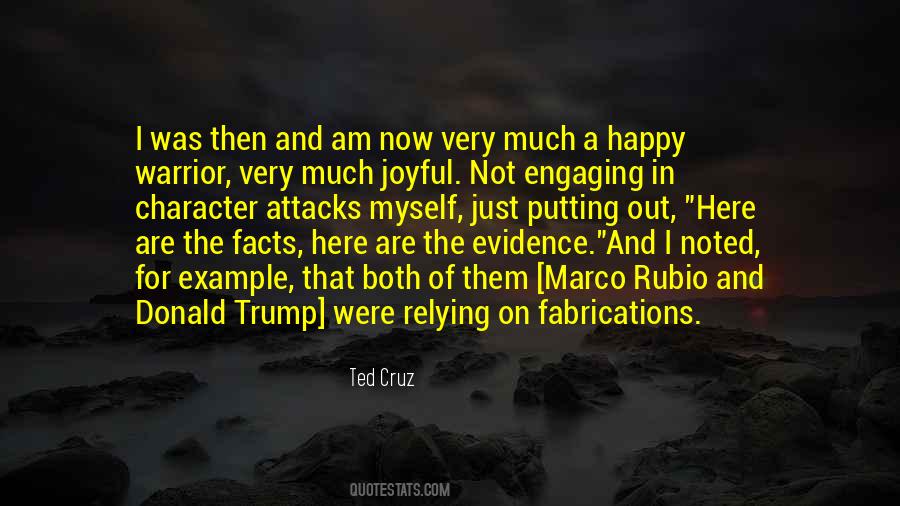 #41. There are going to be situations where people are going to go without assistance. That's just the facts of life. - Author: Daryl Gates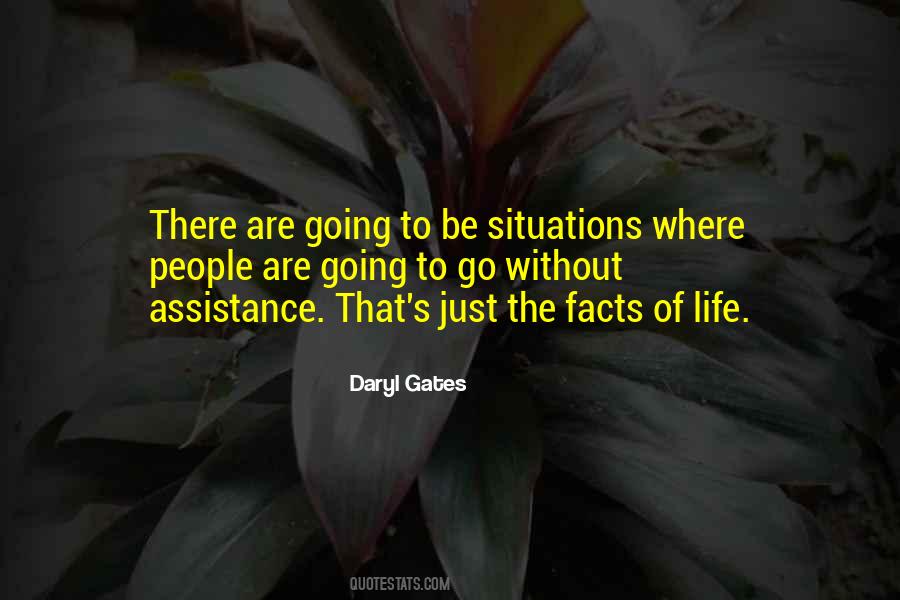 #42. In America you can be armed, just not with the facts. - Author: Bill Maher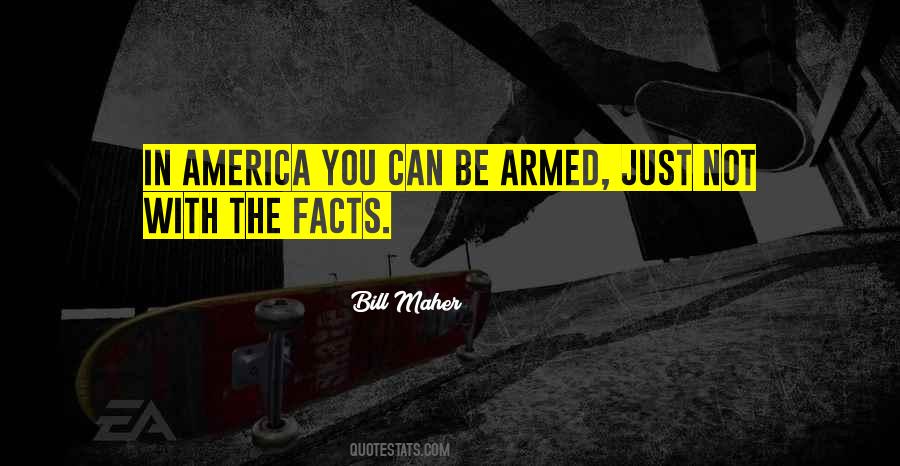 #43. I'm a career prosecutor. I have been trained, and my experience over decades, is to make decisions after a review of the evidence and the facts. And not to jump up with grand gestures before I've done that. Some might interpret that as being cautious. I would tell you that's just responsible. - Author: Kamala Harris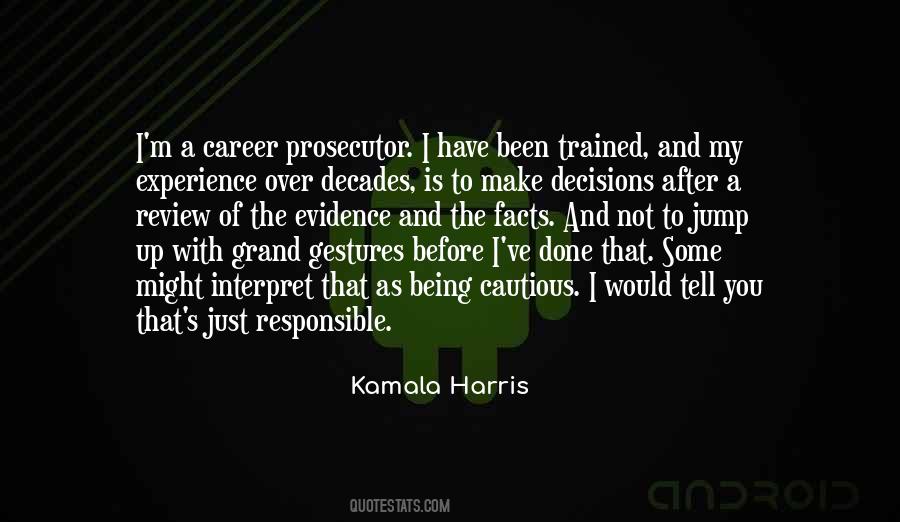 #44. Putting facts by the thousands, into the world, the toes take off with an appealing squeak which the thumping heel follows confidentially, the way men greet men. Sometimes walking is just such elated pumping. - Author: Lyn Hejinian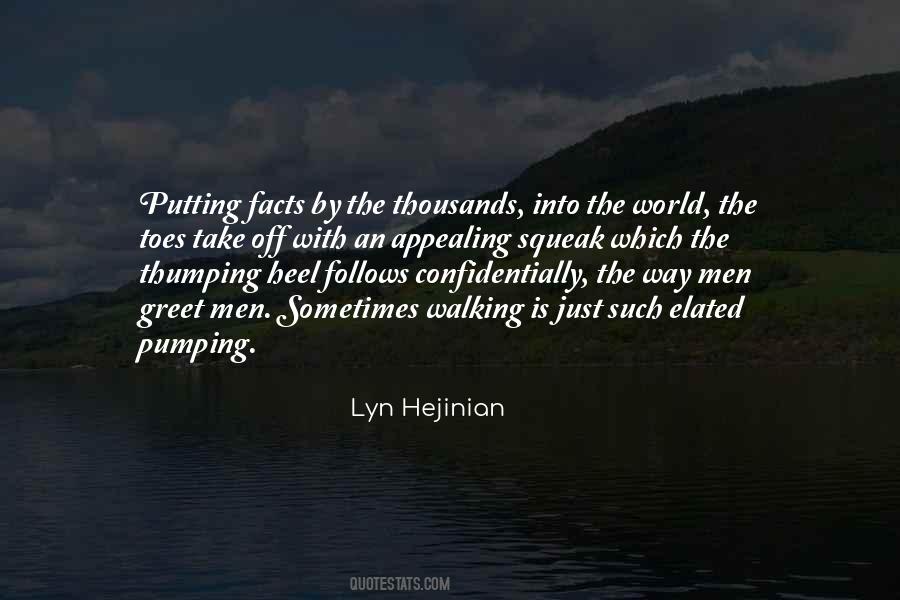 #45. I shook Alan's hand and the feeling just grew stronger. It was a bit frustrating. Like when you're looking for what to say and it's on the tip of your tongue, but no matter how hard you try, it just keeps eluding you. - Author: Pamela Alvarado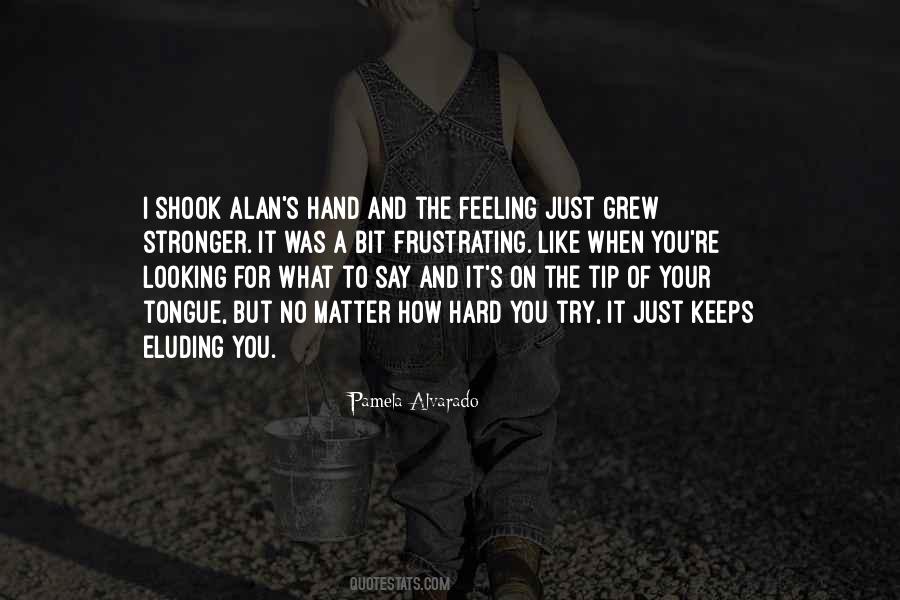 #46. Finally Victoria sighs and says, Julia, I'd be happy if you told me just enough of the facts so I could imagine it. So I could recreate it for myself. So I could imagine that I was really there. - Author: Eleanor Catton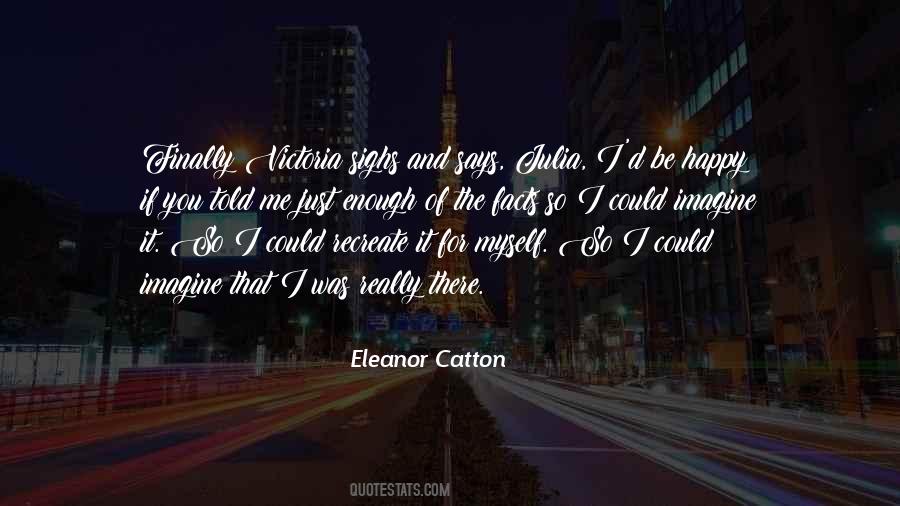 #47. If you just take it down to bare facts, the reason for living is the reason you make it. I mean the brain was made to create. - Author: Sharon Tate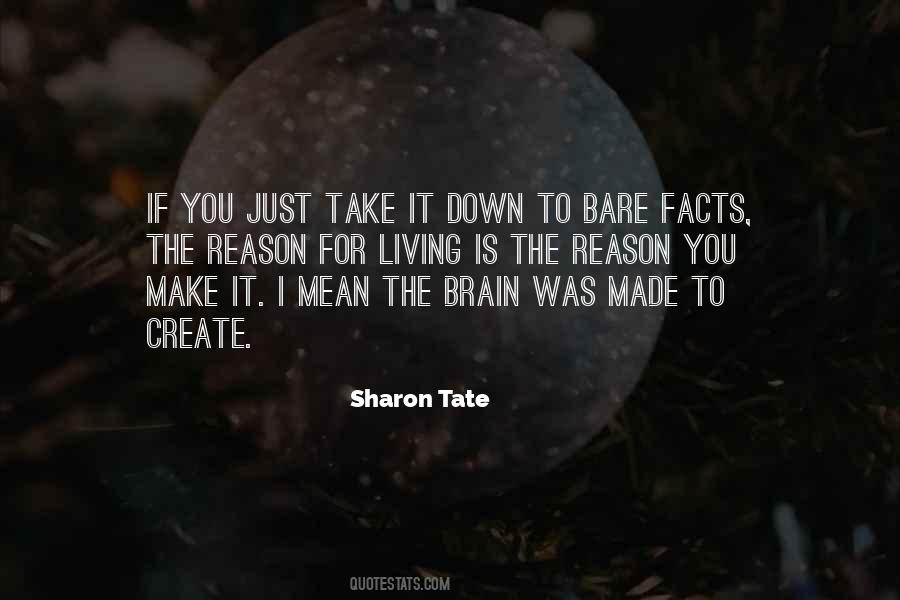 #48. I don't often know where my ideas come from. Maybe it's the fact that I'm obsessively regimented in my analysis, borderline autistic. But whether it's bond selection or asset allocation, we can do it better than just about anybody around. - Author: Jeffrey Gundlach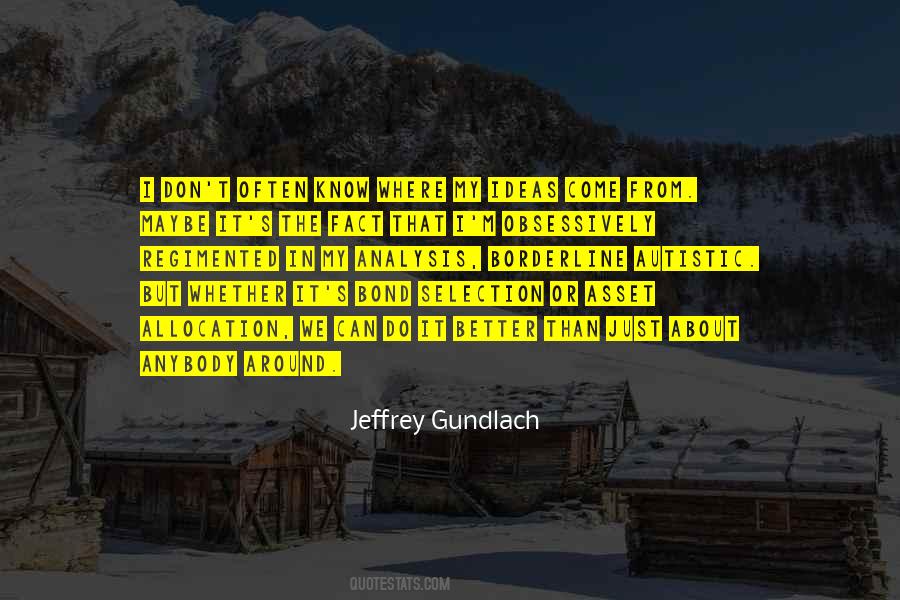 #49. Facts just twist the truth around. - Author: David Byrne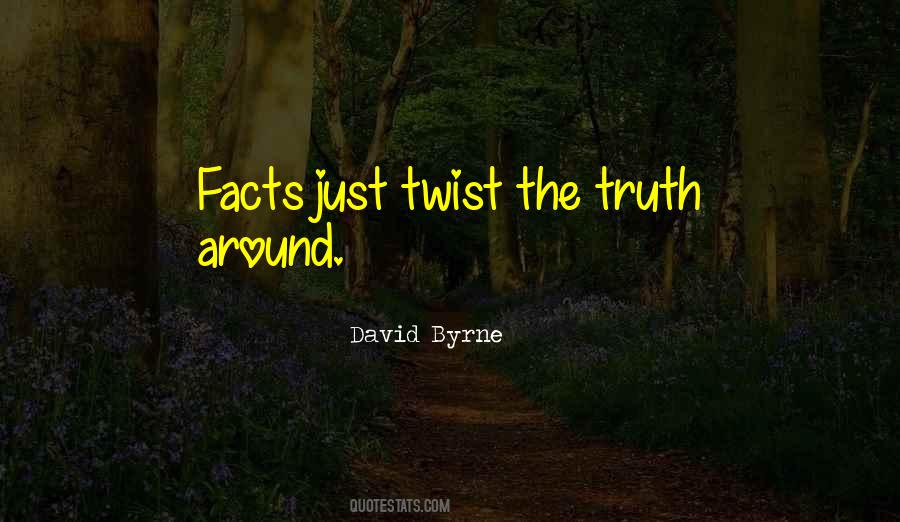 #50. It might be a good idea if the various countries of the world would occasionally swap history books, just to see what other people are doing with the same set of facts. - Author: Bill Vaughan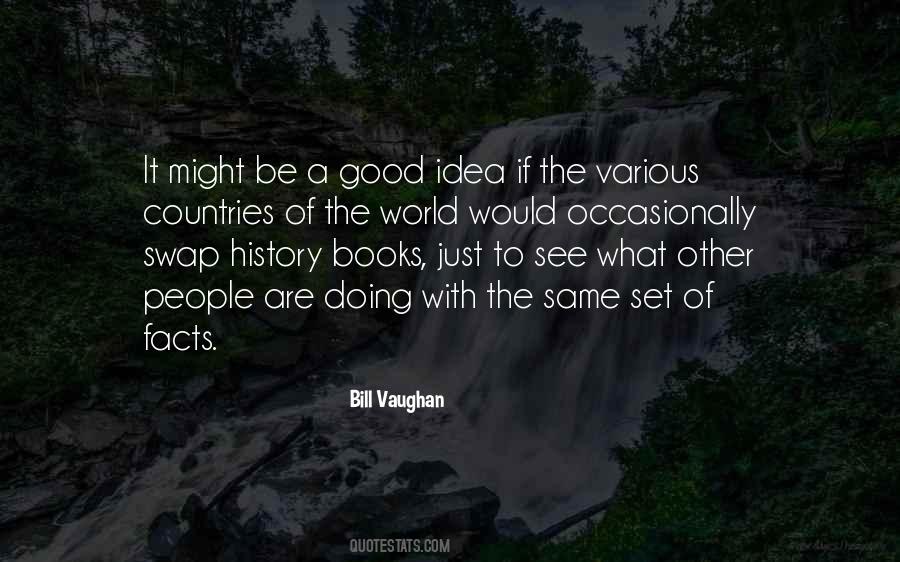 #51. People know the facts of a story just as well as the people on TV do, and they have more platforms to hold the media accountable when they don't get it right. We are a world full of media experts. That's a great thing. - Author: Willie Geist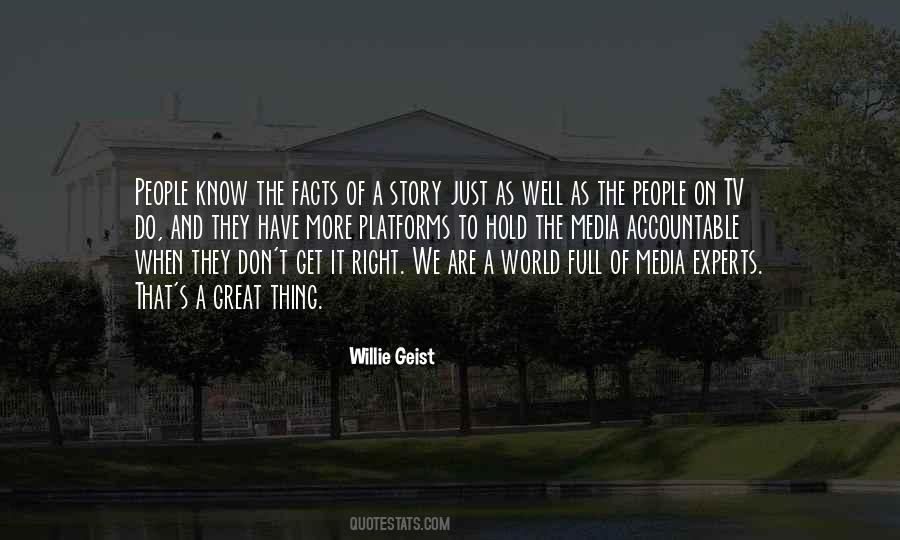 #52. How often is tittle tattle, as you call it, true! And I think if, as I say, they really examined the facts they would find that it was true nine times out of ten! That's really just what makes people so annoyed about it. - Author: Agatha Christie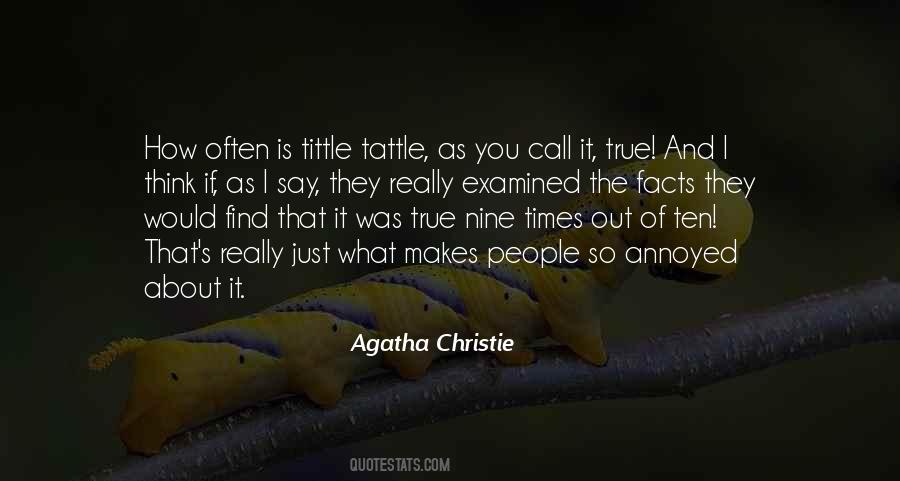 #53. That's why I always recommend a psychedelic experience because it makes you realize that all you've learned is in fact just learned and not necessarily the truth. - Author: Bill Hicks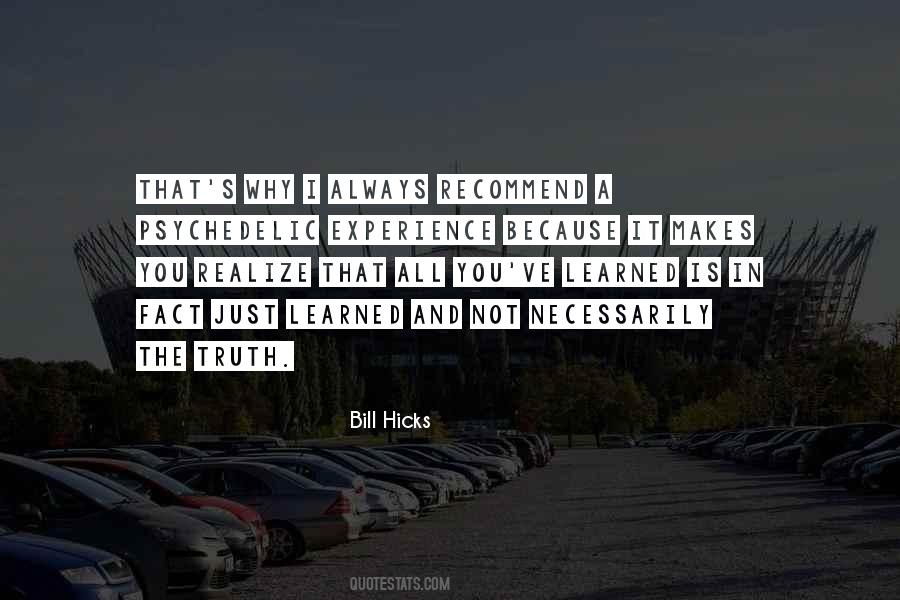 #54. I never rushed the fact that I wanted to be in the NBA or rushed the fact, you know, they asked me about the NBA. I always (unintelligible) back to the fact that I just love playing with my teammates. - Author: LeBron James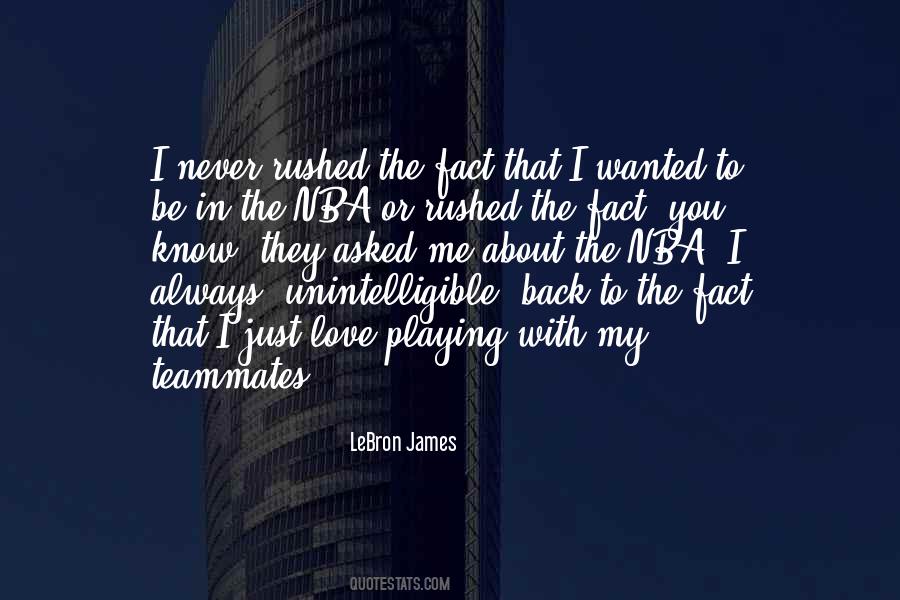 #55. Afghanistan would have been difficult enough without Iraq. Iraq made it impossible. The argument that had we just focused on Afghanistan we'd now be okay is persuasive, but it omits the fact that we weren't supposed to get involved in nation-building in Afghanistan. - Author: Michael Hastings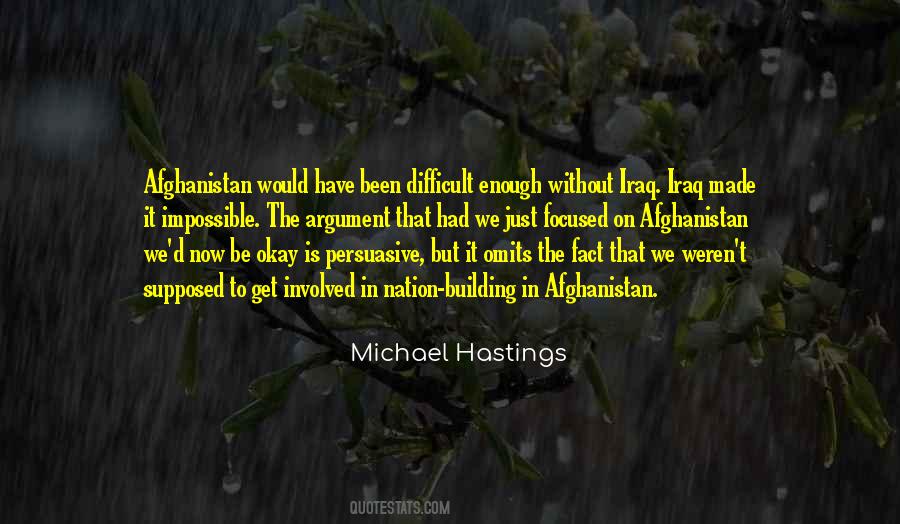 #56. Really, weren't these facts just placeholders until the long view could really assert itself? - Author: David Levithan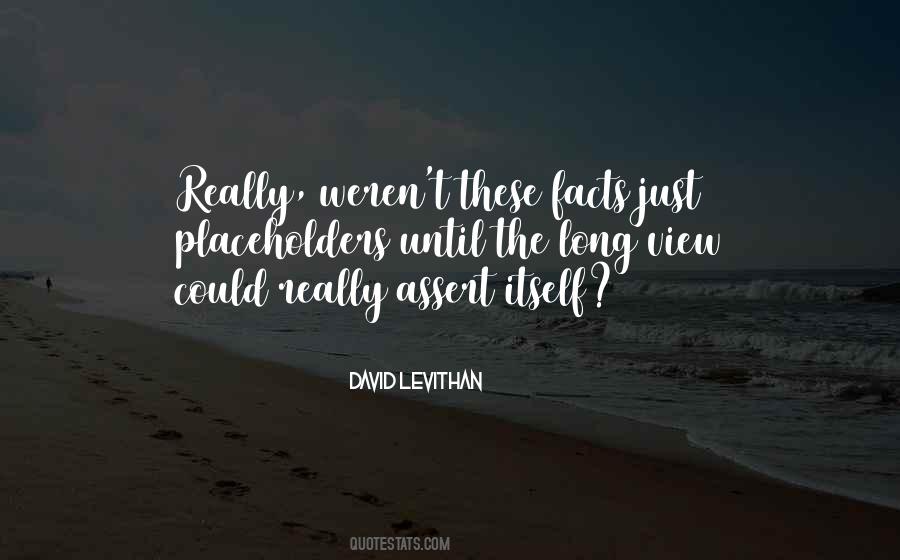 #57. The fact that Cornish exists at all is just incredible as is the work that people are doing down there, it's such an important part of who people are. - Author: Gwenno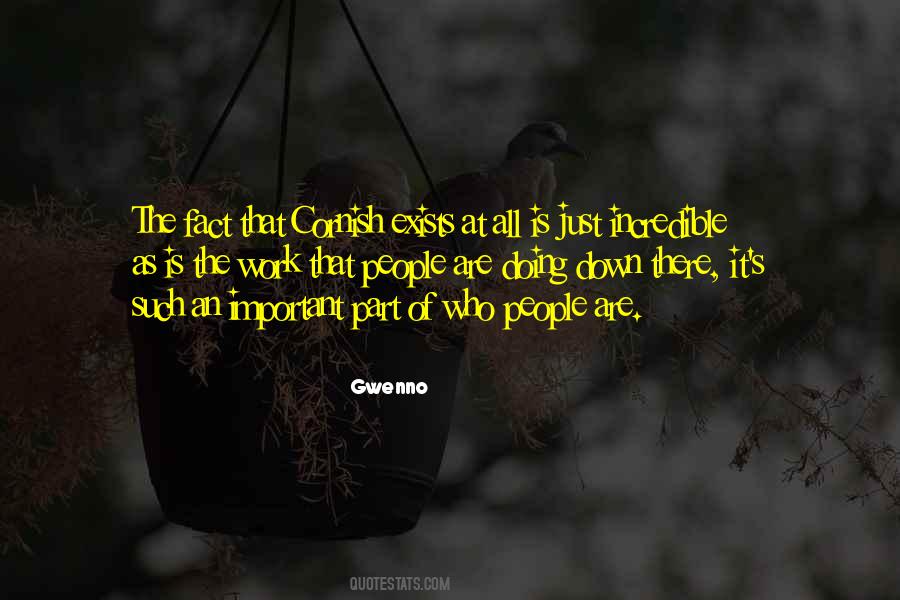 #58. I just think that your private life is private. What I do is obviously public, I get that. I get the fact that people are interested. I'm interested in a lot of people as well. I've just chosen to stay as private as possible. - Author: Derek Jeter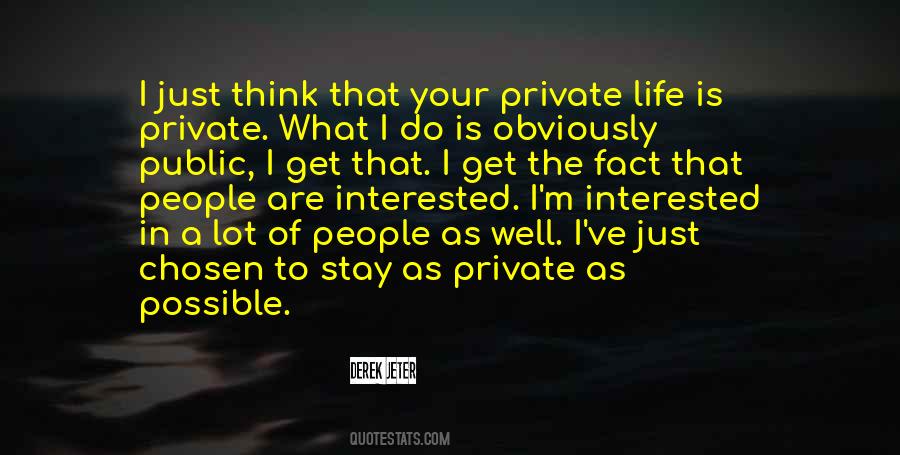 #59. In science one must search for ideas. If there are no ideas, there is no science. A knowledge of facts is only valuable in so far as facts conceal ideas: facts without ideas are just the sweepings of the brain and the memory. - Author: Vissarion Belinsky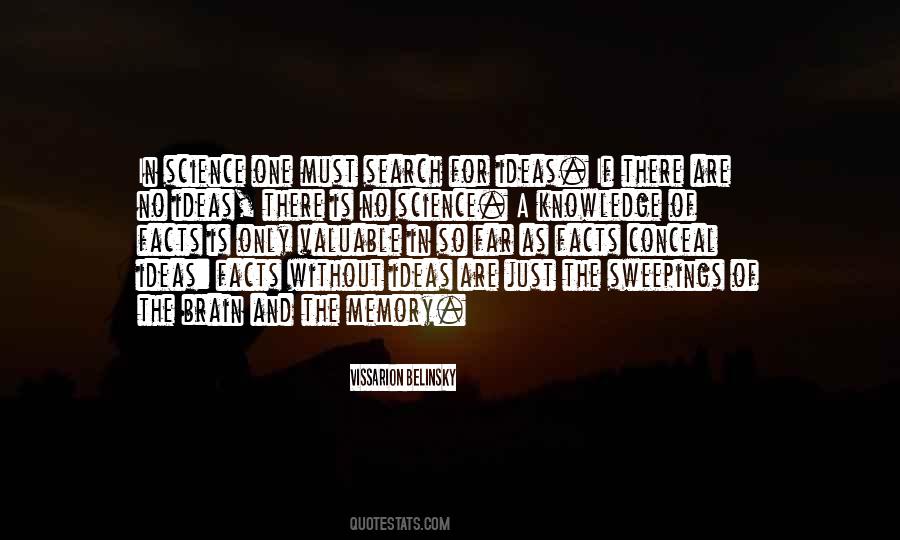 #60. Men don't want to be confused by the facts when their minds are already made up. Women know the art of negotiation - just ask the mother of a four-year-old who refuses to eat his veggies or the parent of a teenager. - Author: Kamla Persad-Bissessar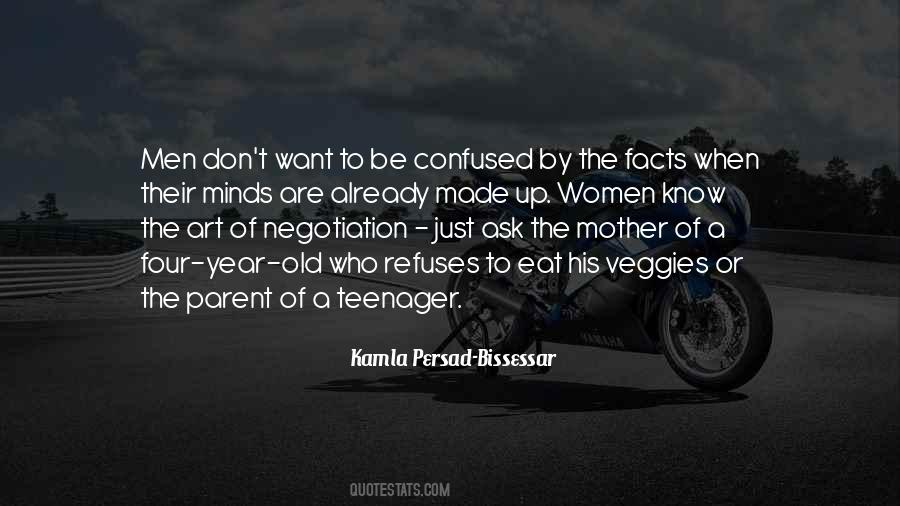 #61. I'm not a celebrity, I'm an activist. The fact that when I see truth it's really hard for me to sit back and just allow it to happen in front of me on my clock makes me, a lot of times, a bad celebrity. - Author: Kanye West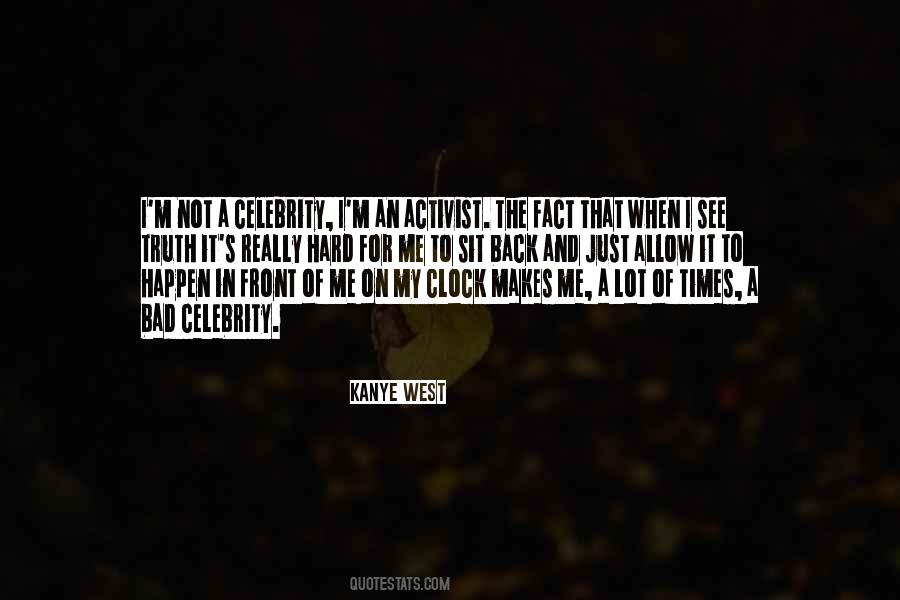 #62. I realized that journalism was not just about regurgitating the facts but about figuring out the point. It wasn't enough to know the who, what, when, and where; you had to understand what it meant. And why it mattered. - Author: Greg McKeown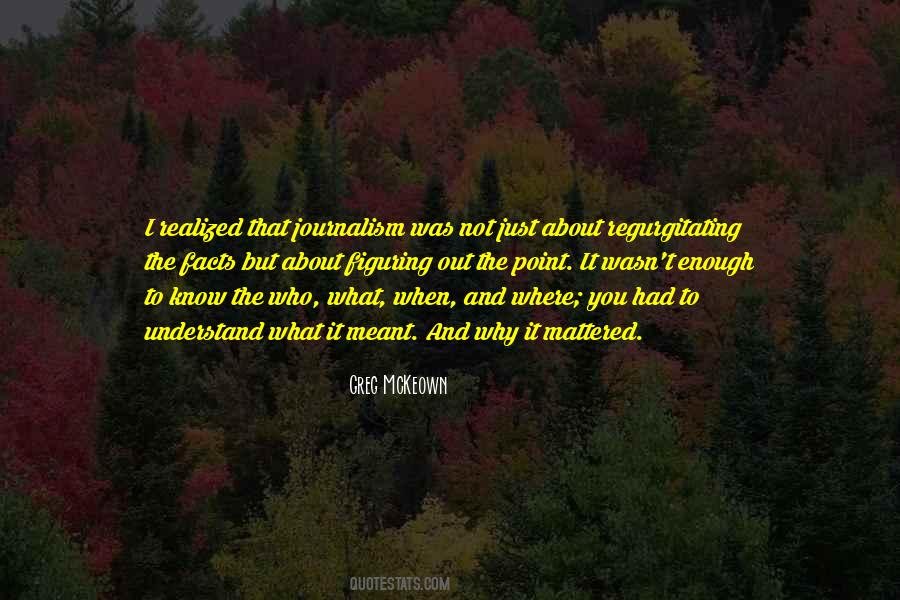 #63. This version of the facts having been restored, it only remains to say it is no better than the other and no less incompatible with the kind of creature I might just conceivably have been if they had known how to take me. So let us consider now what really occurred. - Author: Samuel Beckett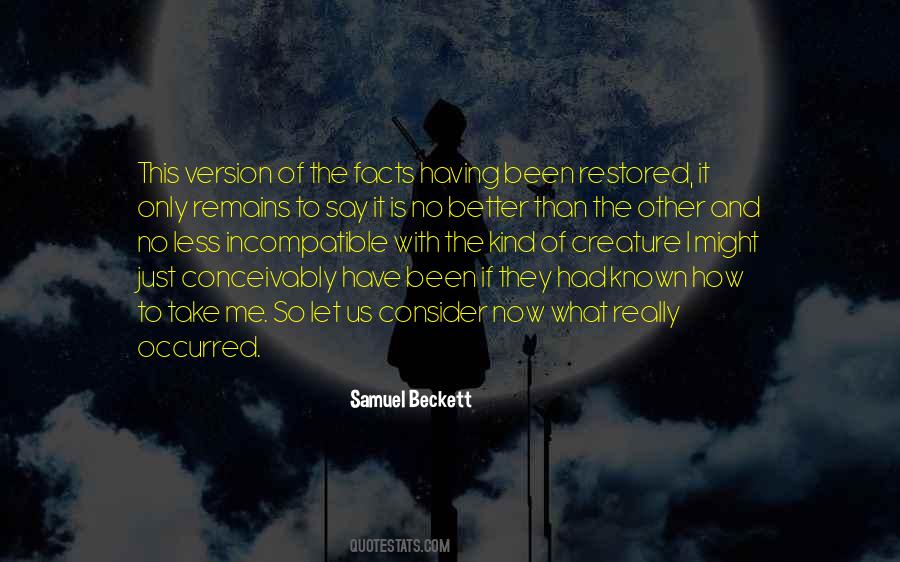 #64. The present educational establishment, to cite just one group, has been obscuring the past so that our children have no way of comparing the facts of history with the distorted version promoted by biased secular historians. - Author: Gary DeMar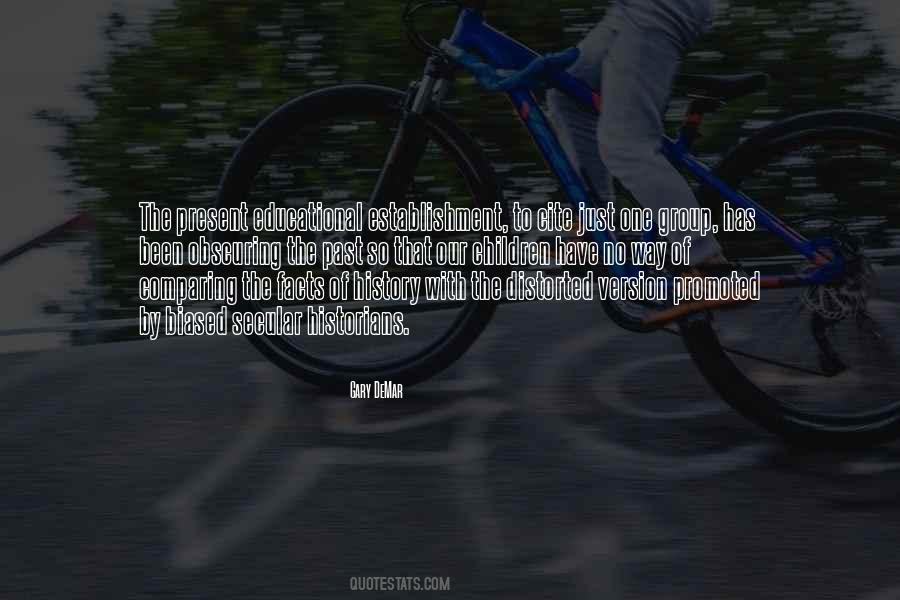 #65. If you're searching for the truth, throw out all your prejudices and just gather the facts. If you do that, you'll be able to see the real truth. - Author: CLAMP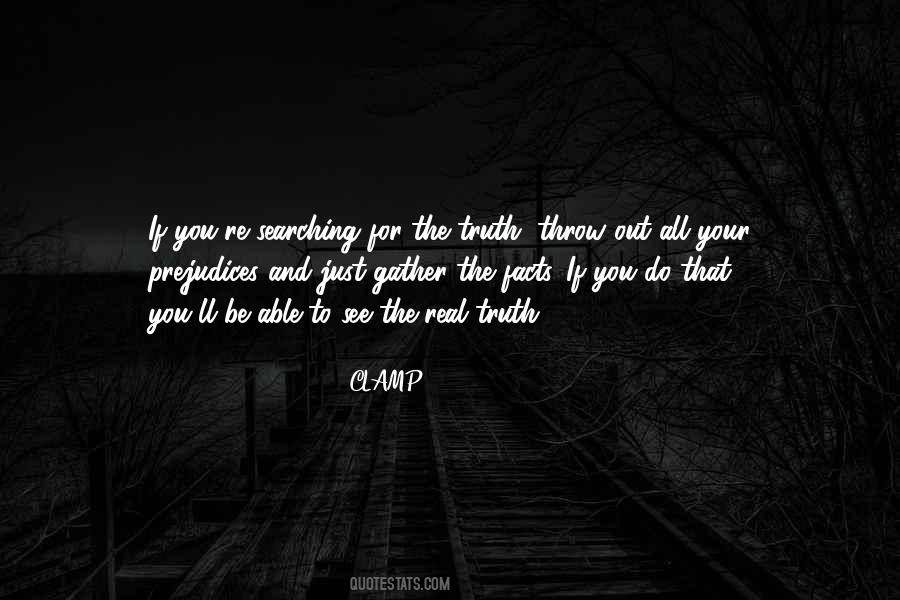 #66. Spin' is a polite word for deception. Spinners mislead by means that range from subtle omissions to outright lies. Spin paints a false picture of reality by bending facts, mischaracterizing the words of others, ignoring or denying crucial evidence, or just 'spinning a yarn' - by making things up. - Author: Kathleen Hall Jamieson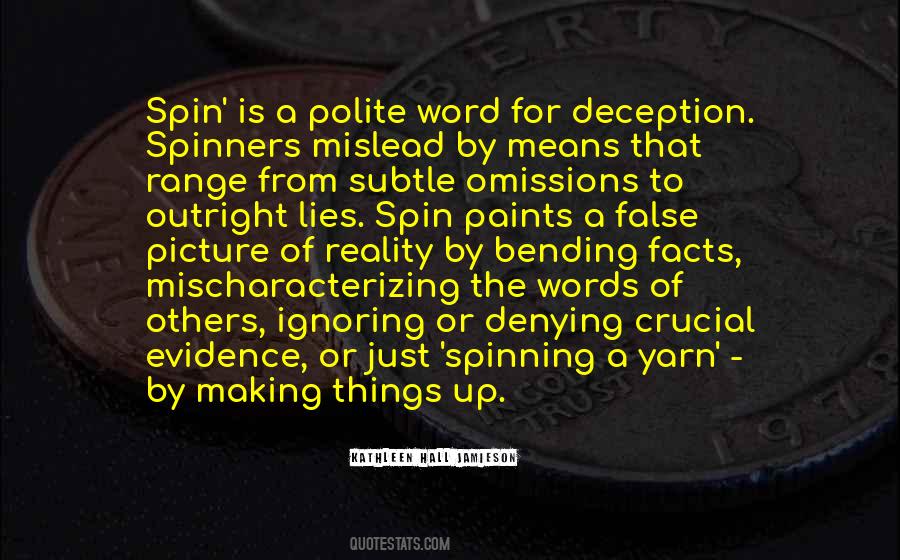 #67. I try to read all news sources - not just CNN or FOX, but worldwide papers and journals, to get opinions from every end of the spectrum - and then I like to try to find out the cut and dried facts - and go from there. - Author: Eric Stoltz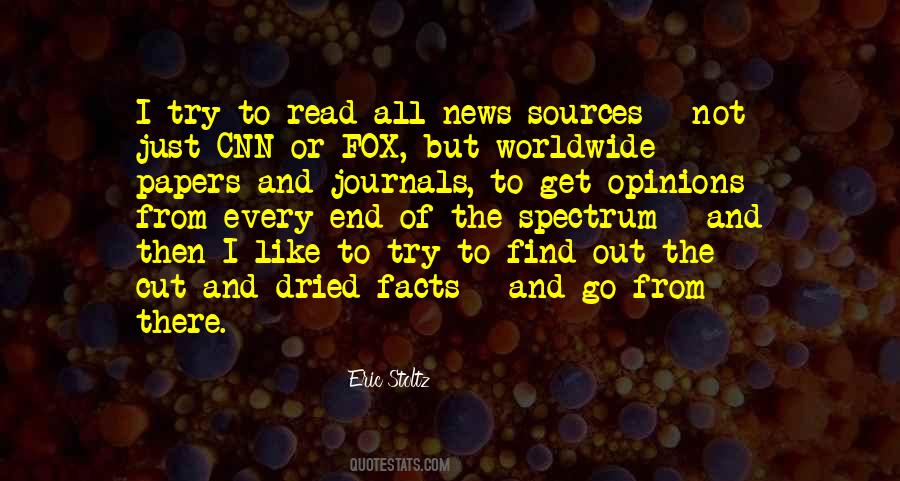 #68. The problem lies in the structure of our minds: we don't learn rules, just facts, and only facts. - Author: Nassim Nicholas Taleb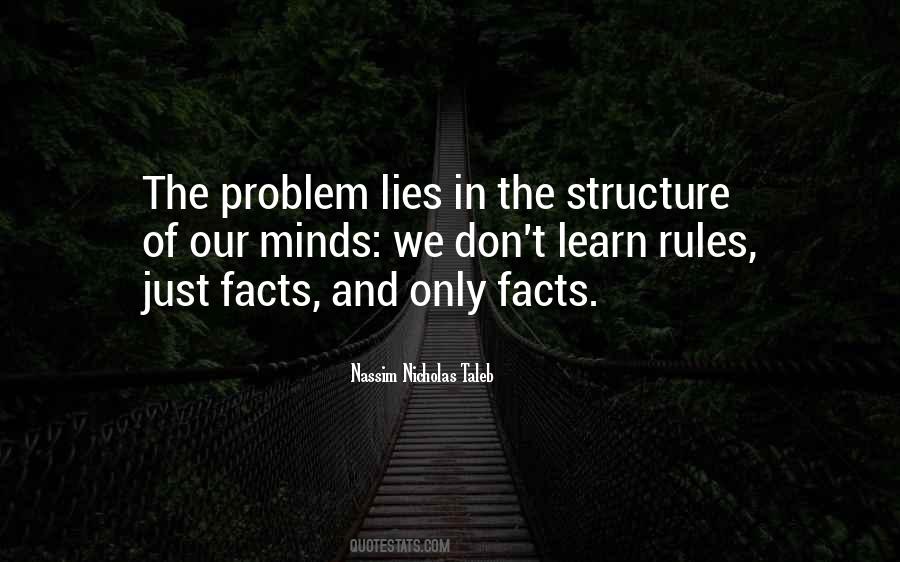 #69. Somehow the fact of enormous privilege and freedom carries with it a sense of impotence, which is a strange, but striking, phenomenon. The fact is, we can do just about anything. There is no difficulty, wherever you are, in finding groups that are working hard on things that concern you. - Author: Noam Chomsky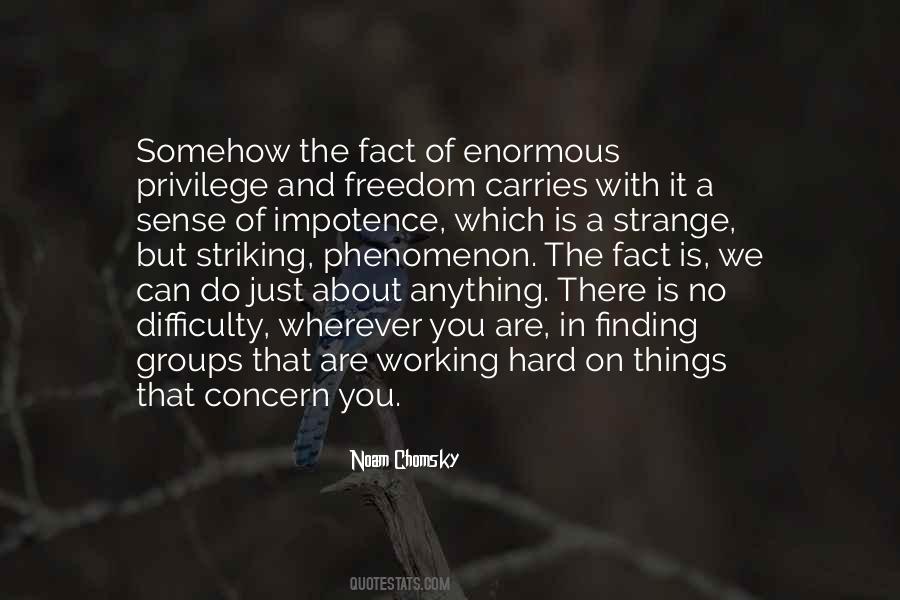 #70. Well, probably the best way to put it might be that at some time, not just in an instant, but over some period of time I became aware of the fact that I wanted to document examples like Kroger or Piggly Wiggly in the late '50s, early '60s. - Author: William Eggleston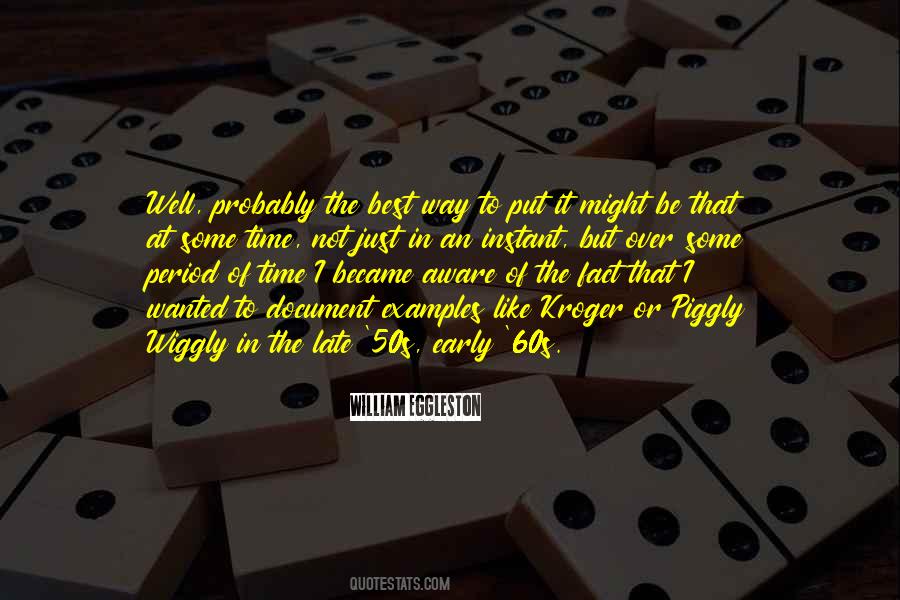 #71. When your girlfriend broke your heart, don't even say a word, just smile because she gives you the opportunity to find someone better than her. - Author: Werley Nortreus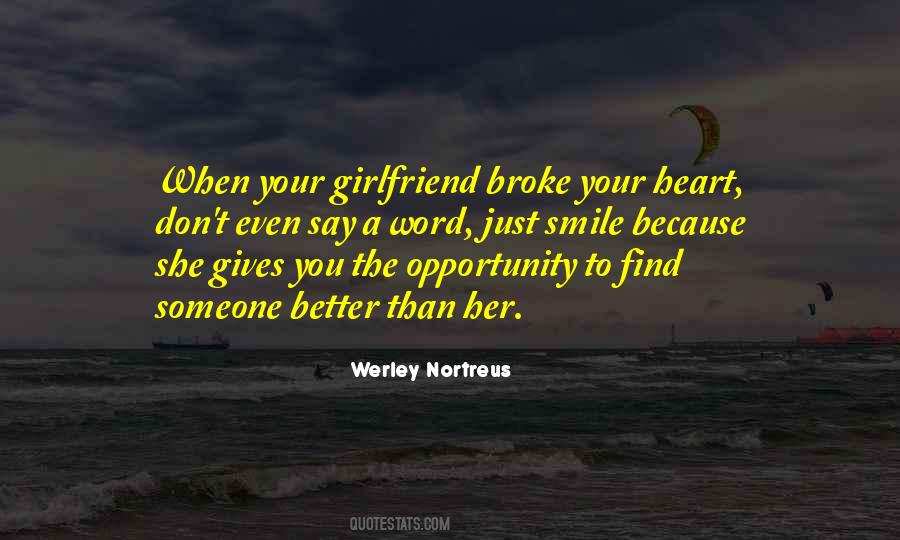 #72. I'm not trying to change an image, I'm just trying to make sure that the facts match the image. The facts are basically that I'm a builder. I have not dissembled any company nor split up any companies, nor do I ever buy any companies with that intent. - Author: Harold Simmons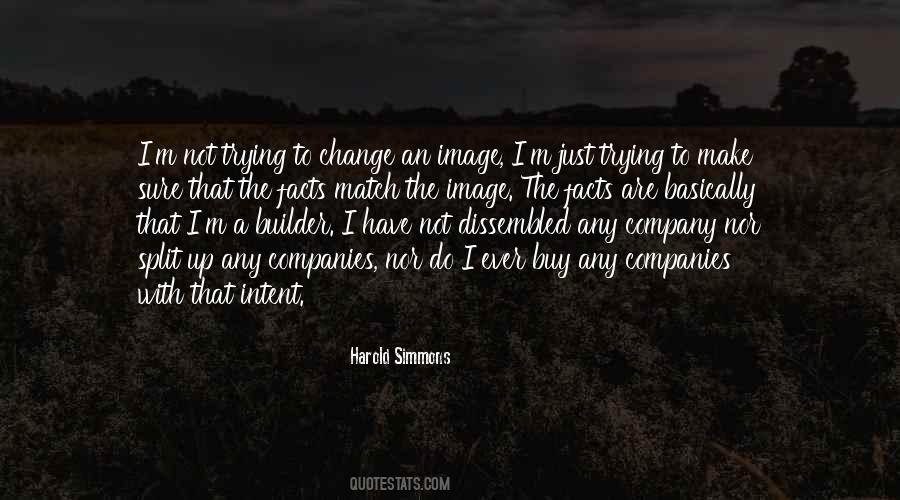 #73. [I am] utterly entranced, at times, with the mere fact that there are other people, and that they experience themselves as the primary center of consciousness just as I do. That fact alone ... Well, that fact alone is staggering. - Author: Joyce Carol Oates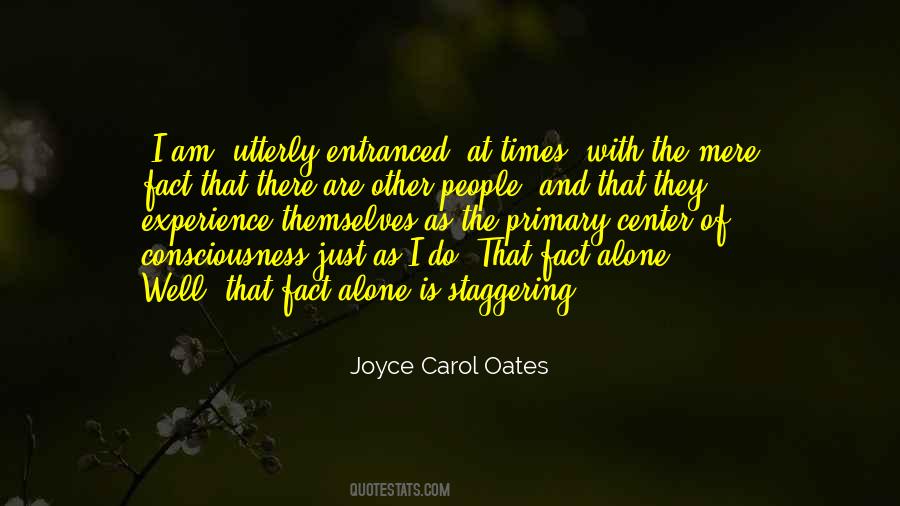 #74. History studies not just facts and institutions, its real subject is the human spirit. - Author: Numa Denis Fustel De Coulanges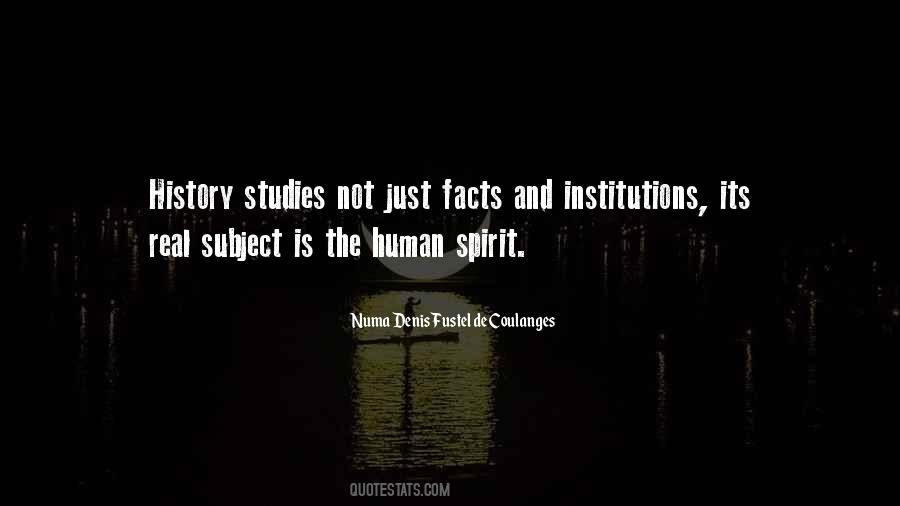 #75. I am saddened, not by Microsoft's success - I have no problem with their success. They've earned their success, for the most part. I have a problem with the fact that they just make really third-rate products. - Author: Steve Jobs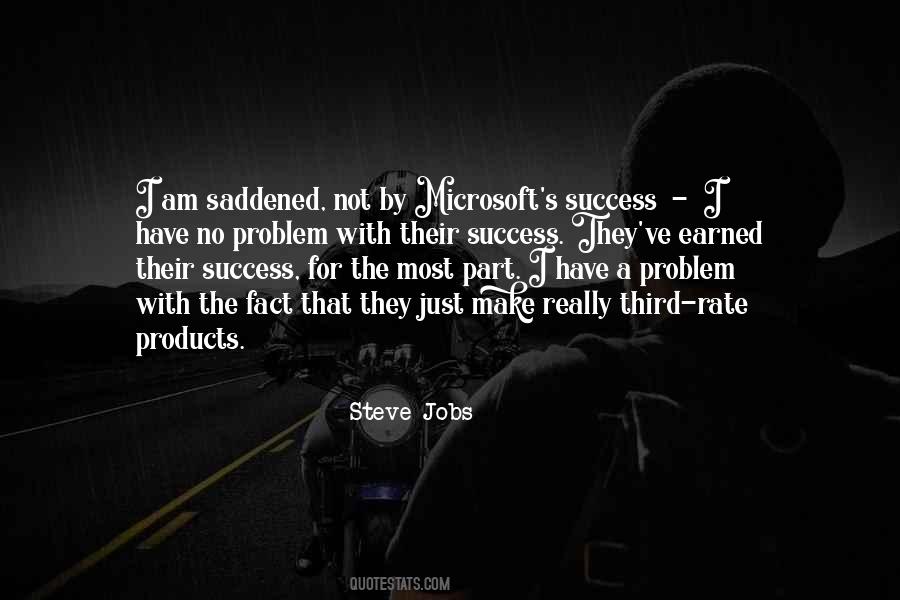 #76. I will tell just one more story ... and I will tell it with the humility and restraint of him who knows from the start that his theme is desperate, his means feeble, and the trade of clothing facts in words is bound by its very nature to fail. - Author: Primo Levi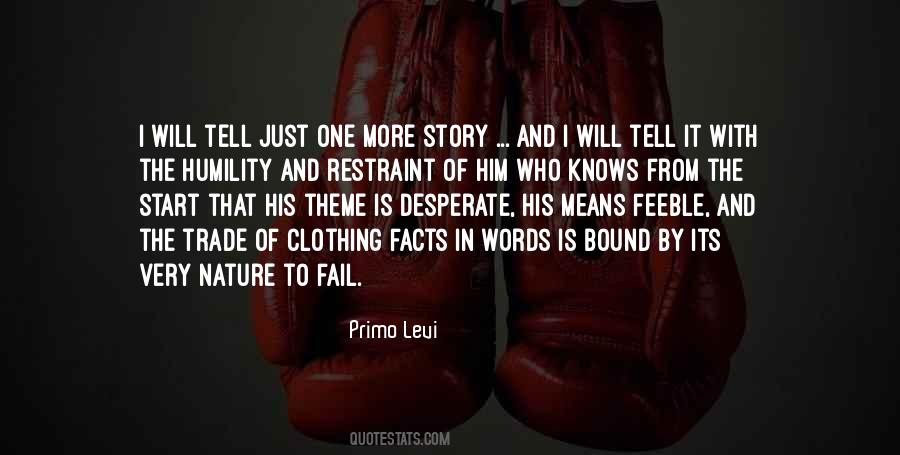 #77. I've never lived outside of Canada, so I've been really cold my entire life. Most of my memories are coloured by the fact that I was really cold, just ... all the time! - Author: Grimes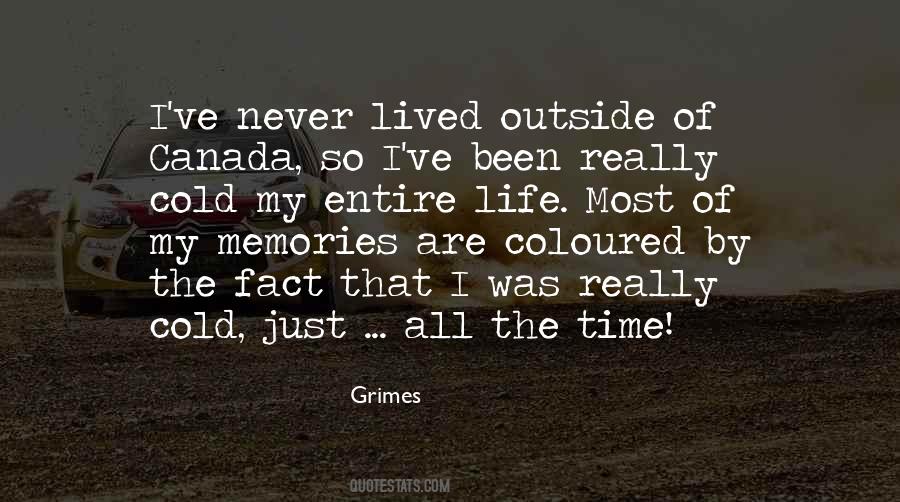 #78. The winners stun us not by their cleverness, but by the fact that every tiny aspect of the business is just a touch better than the norm. - Author: Tom Peters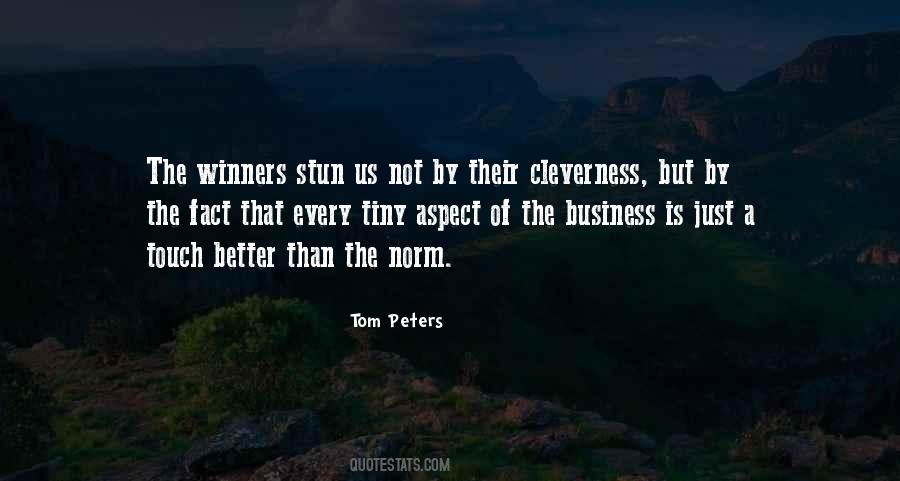 #79. Slavery had very little to do with the economic success of the West. Just look at the facts and figures and how much slavery actually contributed to development. - Author: Ibn Warraq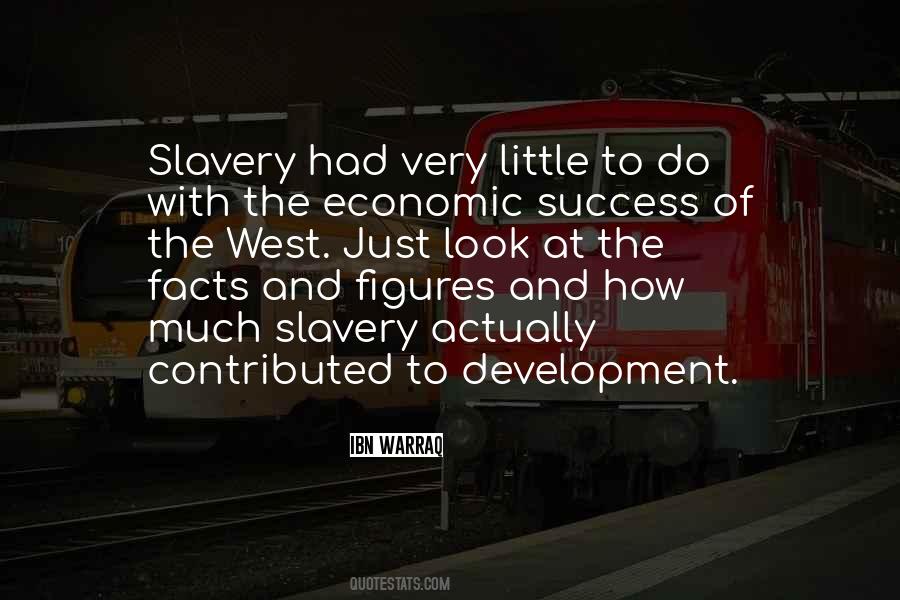 #80. I have a tendency to talk extremely fast ... I think the fastness comes from the fact that I get very excited about things and I just want to spit them out. - Author: Shailene Woodley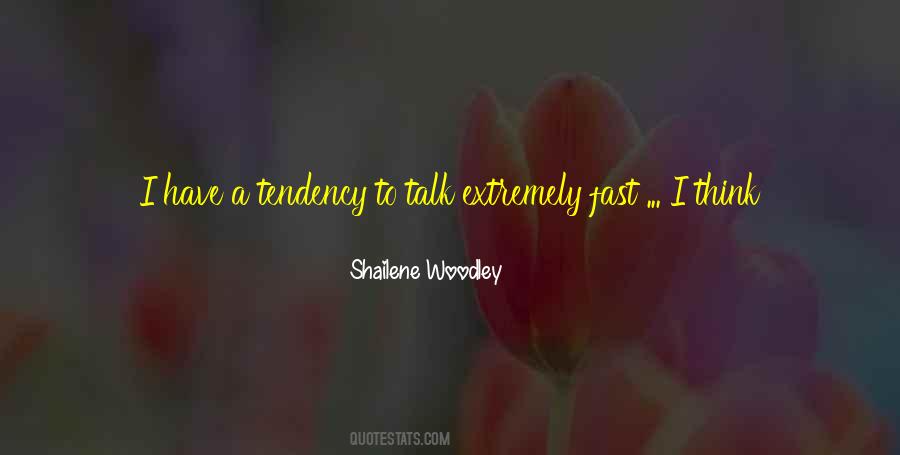 #81. There's a certain kind of research you have to listen to - the factual stuff, not opinion. Facts are facts. Sugar is sweet - it's not a matter of opinion. It just is. - Author: Paul Rand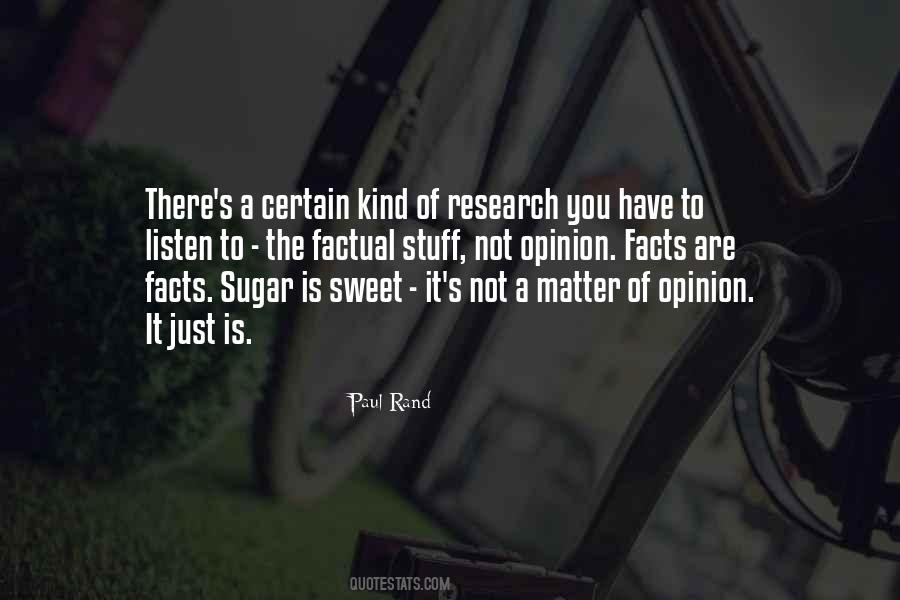 #82. Perhaps I was blind to the facts, stabbed in the back
I couldn't trust my own homies just a bunch of dirty rats - Author: Tupac Shakur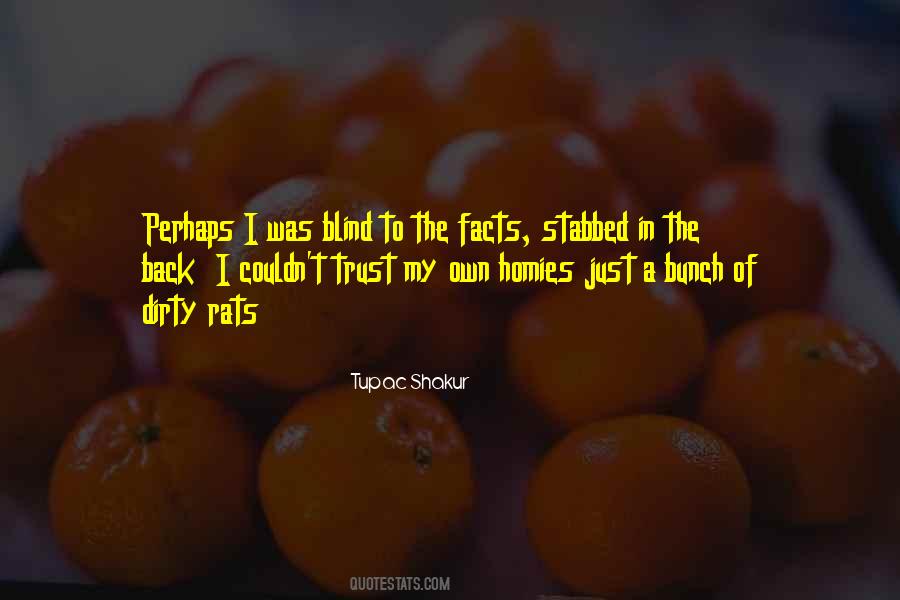 #83. To the goggling unbeliever Texans say, as people always say about their mangier dishes, 'But it's just like chicken, only tenderer.' Rattlesnake is, in fact, just like chicken - only tougher. - Author: Alistair Cooke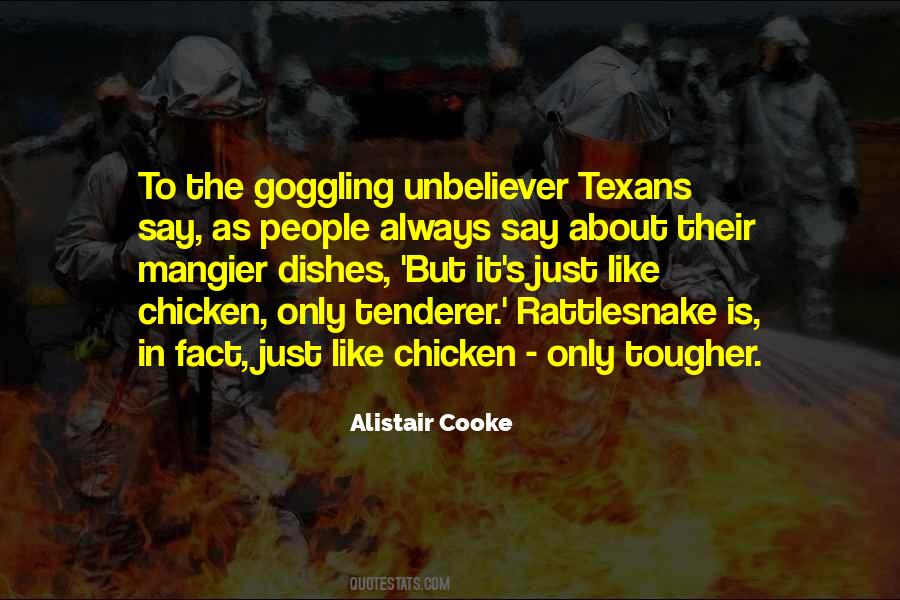 #84. One always returns to the fact that there are just too many of us, the population continues to rise and it's unsustainable - Author: Jeremy Irons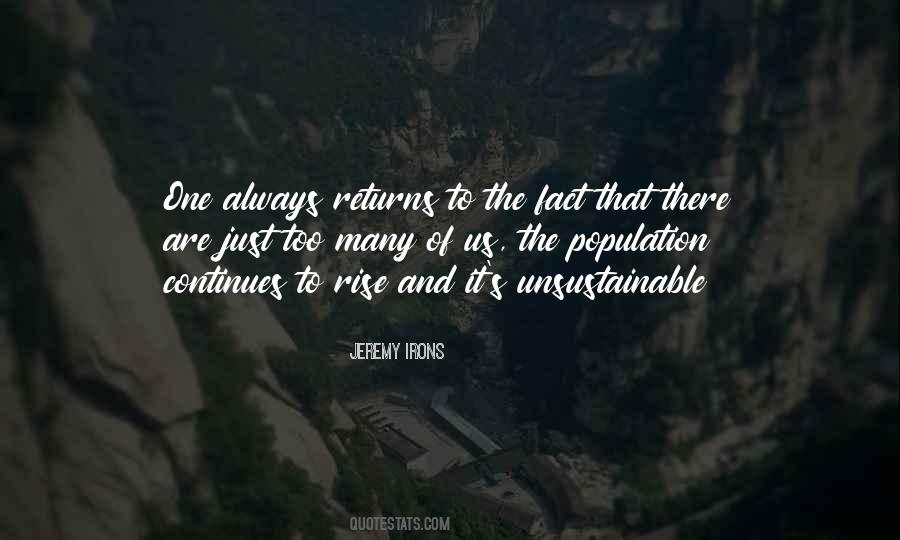 #85. The individual will to survive is often seen as just that, an individual thing. In fact, it's sort of a gene we all carry and like a network of computers it all contributes in some way to when it's individually needed. - Author: Danny Boyle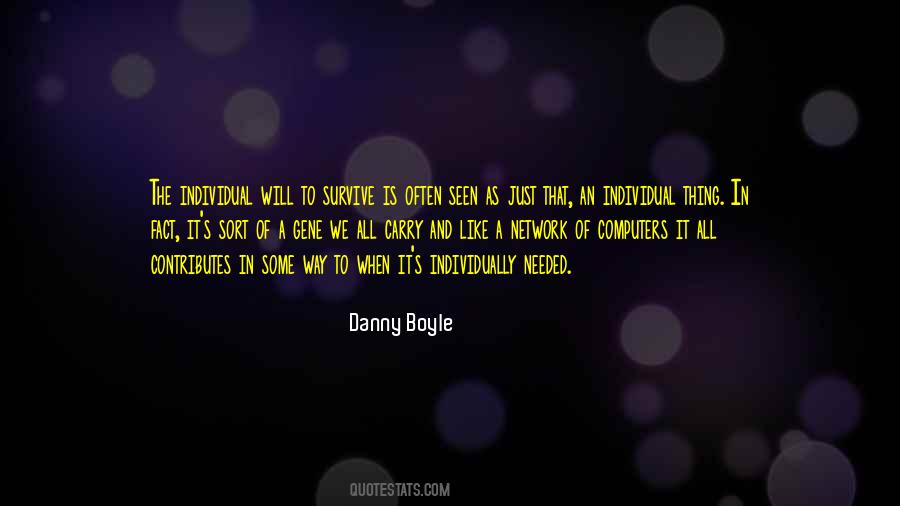 #86. Good words were the difference between Emily eating well and not. And what she had found worked best were not facts or arguments but words that tickled people's brains for some reason, that just amused them. Puns, and exaggerations, and things that were true and not at the same time. - Author: Max Barry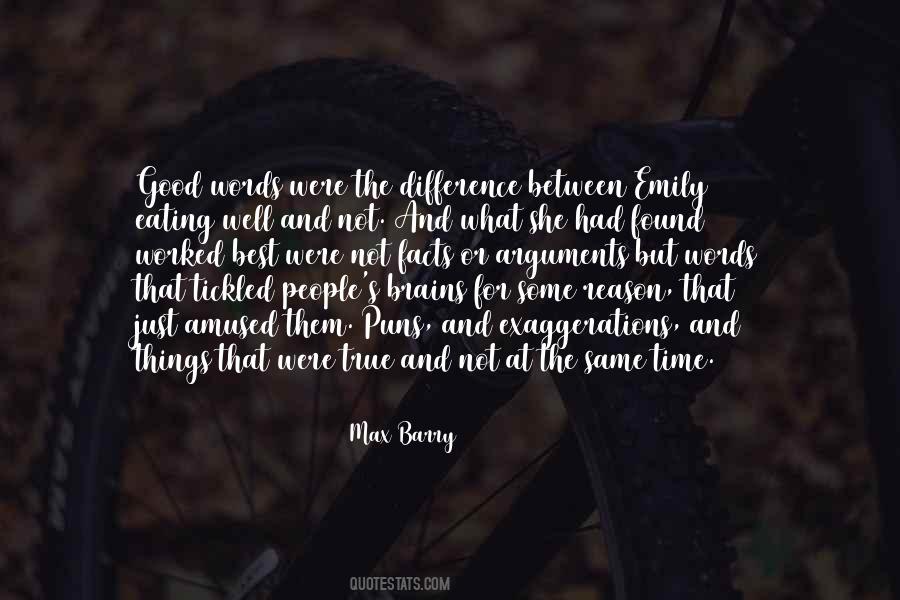 #87. The thing is - I'm not an idiot. I'm rather intelligent, as proven by the fact that I just used the word 'rather' in a sentence. - Author: Christian Finnegan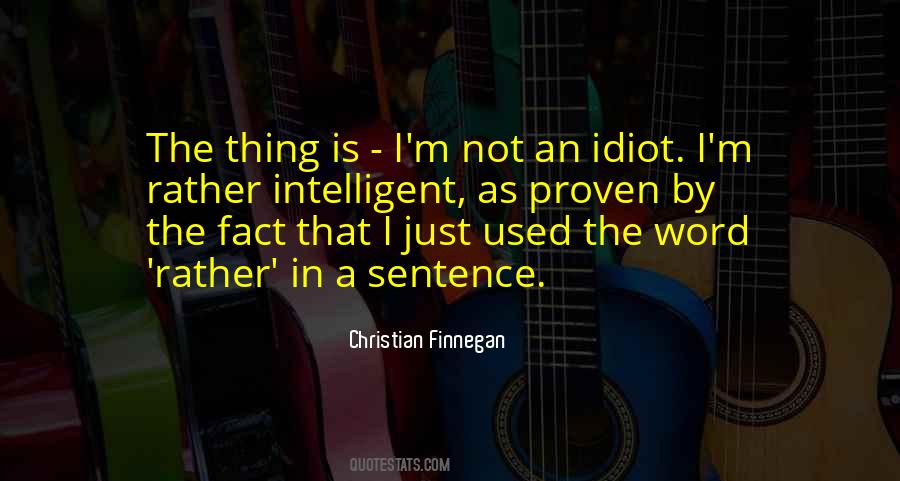 #88. True opinions can prevail only if the facts to which they refer are known; if they are not known, false ideas are just as effective as true ones, if not a little more effective. - Author: Walter Lippmann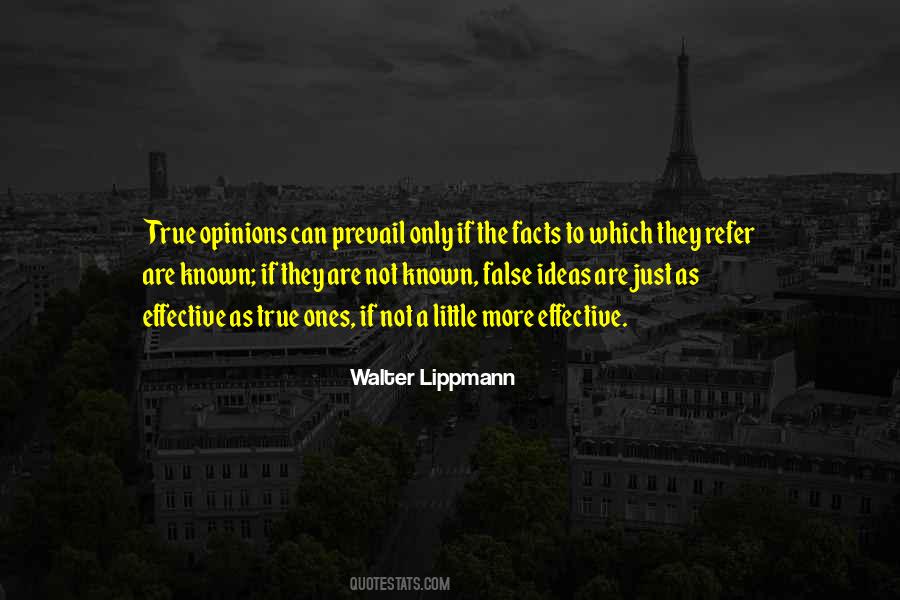 #89. You have just got to face the facts, don't you? I face it head-on. I knew what I was coming in to. I didn't make the impact I hoped for and I believed in. - Author: Ole Gunnar Solskjaer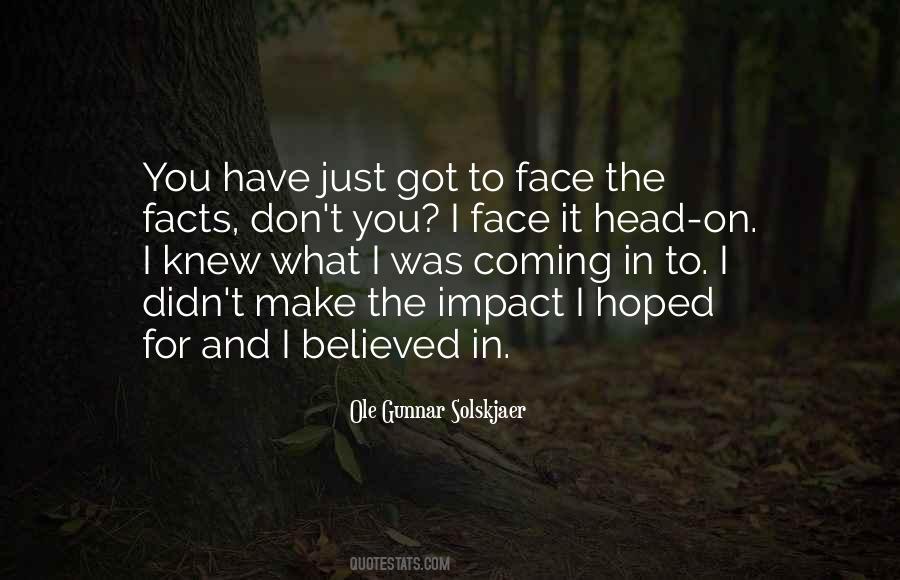 #90. Why not stakeholder action? There's no economic principal that says that management should be responsive to shareholders, in fact you can read in texts of business economics that they could just as well have a system in which the management is responsible to stakeholders. - Author: Noam Chomsky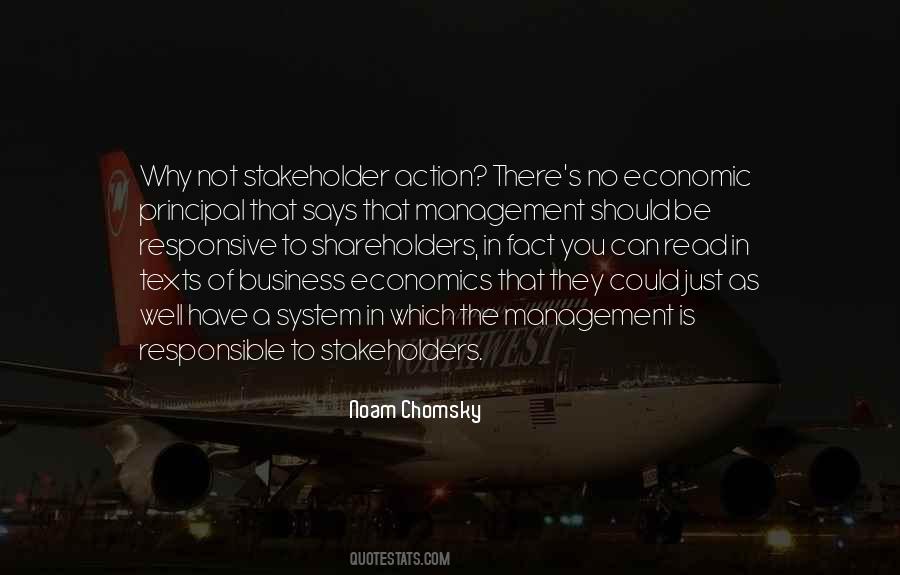 #91. The religious hypothesis, therefore, must be considered only as a particular method of accounting for the visible phenomena of the universe: but no just reasoner will ever presume to infer from it any single fact, and alter or add to the phenomena, in any single particular. - Author: David Hume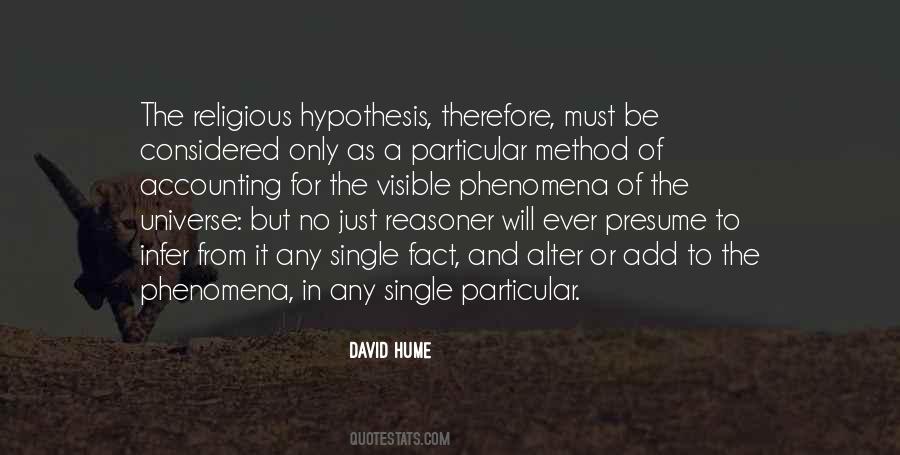 #92. Facts are simple and facts are straight.
Facts are lazy and facts are late.
Facts all come with points of view.
Facts don't do what I want them to.
Facts just twist the truth around.
Facts are living turned inside out. - Author: David Byrne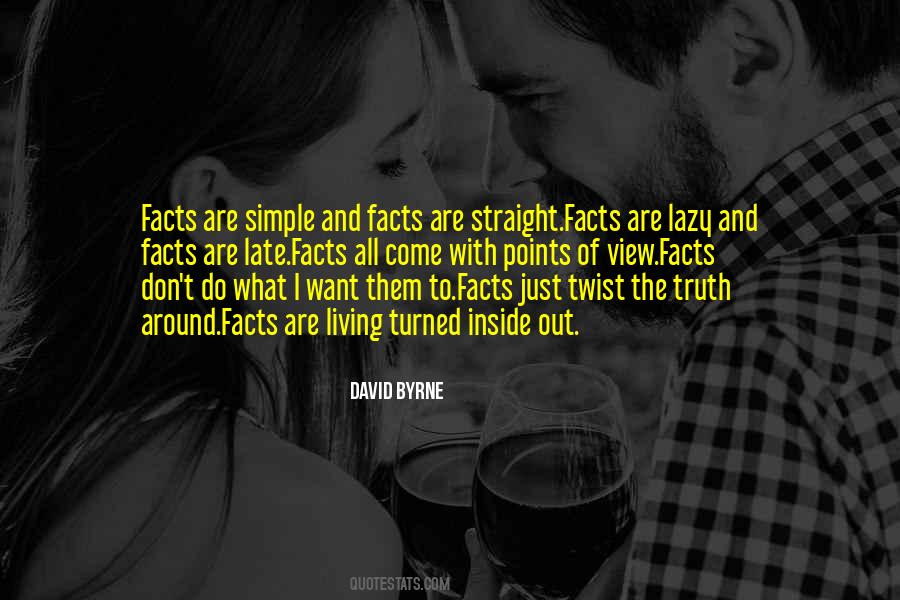 #93. Back when we were more in the industrial vein, it was almost like I had to hide the fact that I could sing. Now, I've just sort of embraced the fact that I can sing and I'm not a screamer or hiding it behind any effects, this is just what I sound like. - Author: Jason C. Miller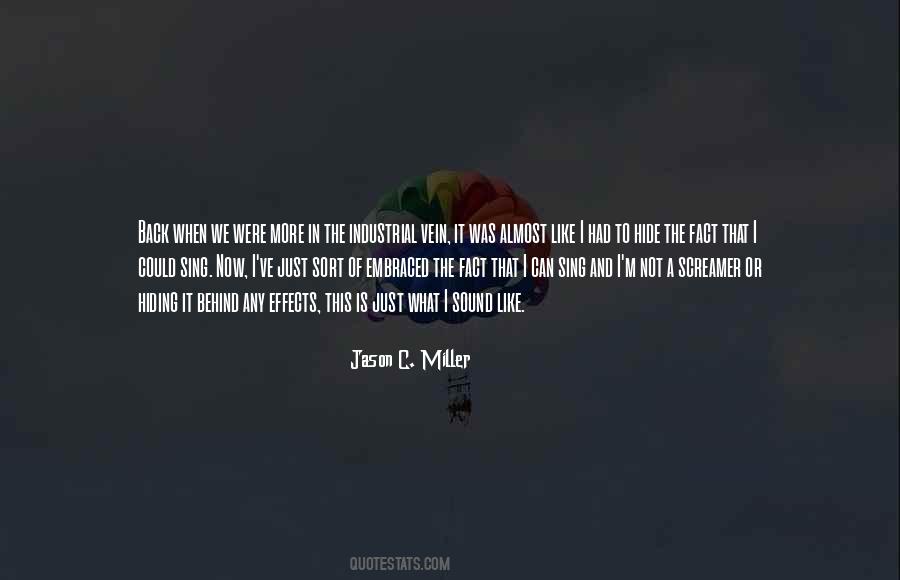 #94. History is not just facts and events. History is also a pain in the heart and we repeat history until we are able to make another's pain in the heart our own. - Author: Julius Lester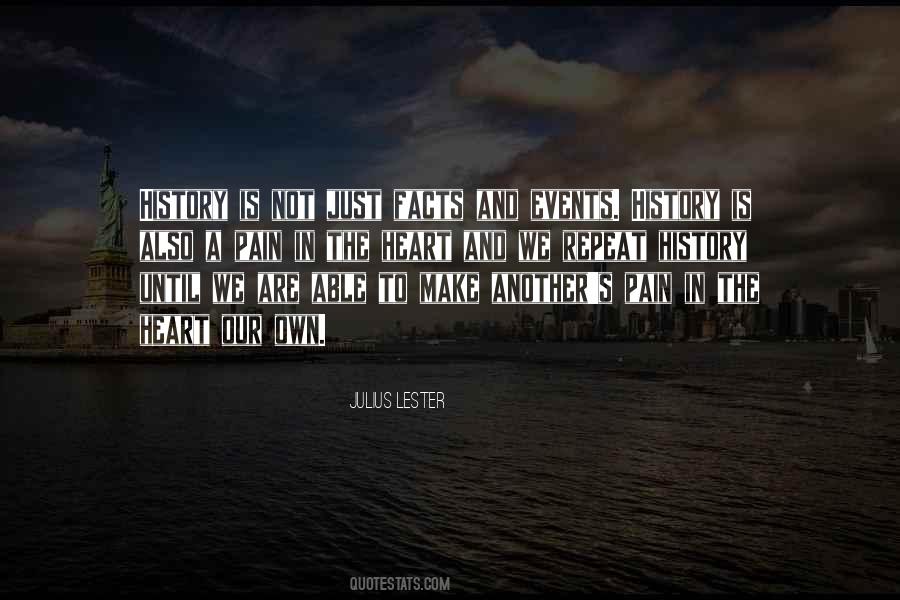 #95. How can one become enlightened? One can, because one is enlightened - one just has to recognize the fact. - Author: Rajneesh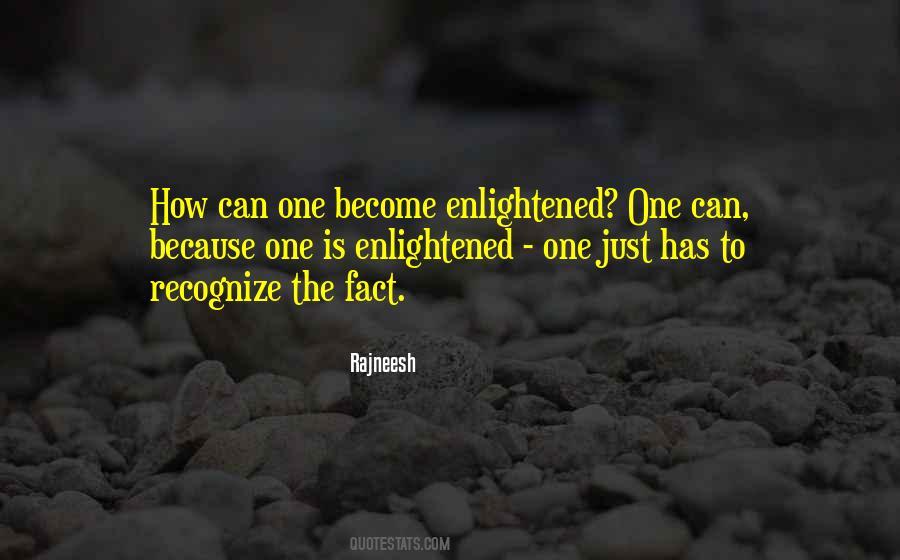 #96. People who decry the fact that businesses are in business "just to make money" seldom understand the implications of what they are saying. You make money by doing what other people want, not what you want. - Author: Thomas Sowell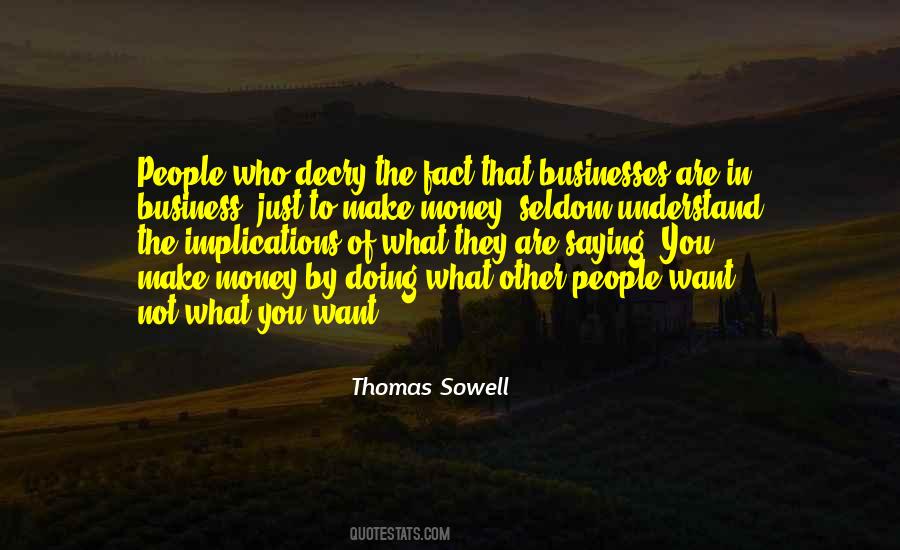 #97. I don't have time to read a lot. And when I do, I read things that have just the facts. - Author: Meryl Streep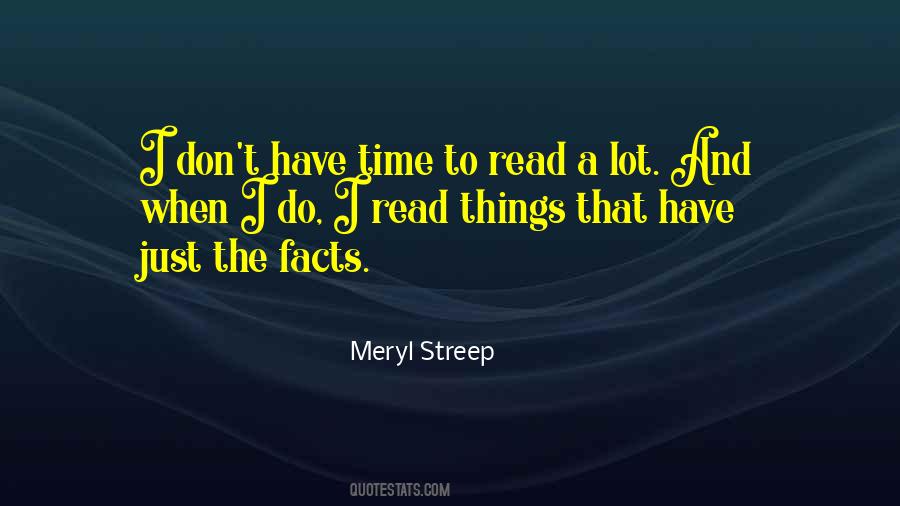 #98. If you perform your part, God will fulfill His. And once you put off specifically, you should just as thoroughly believe that God will renew your mind, despite the fact you know not how. - Author: Watchman Nee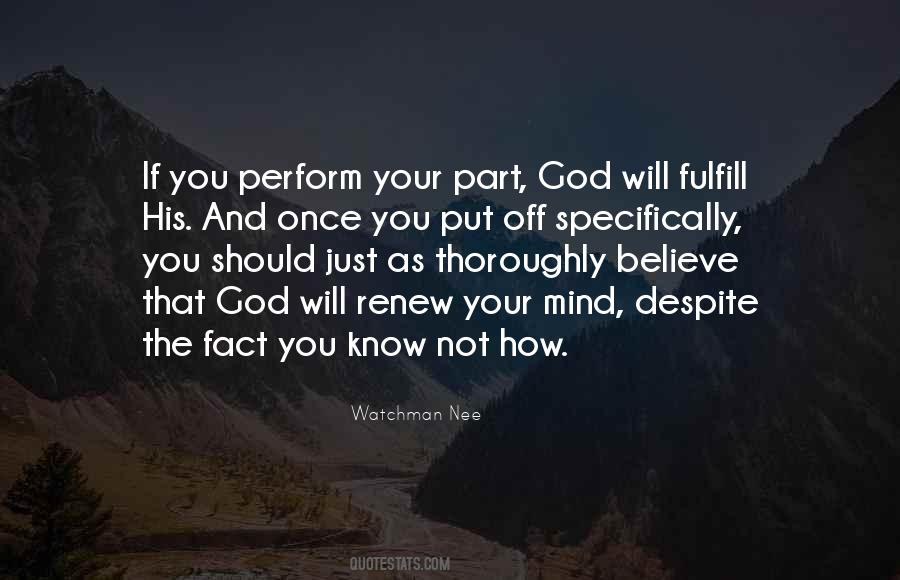 #99. God made sin possible just as he made all lying wonders possible, but he never made it a fact, never set anything in his plan to harmonize with it. Therefore it enters the world as a forbidden fact against everything that God has ordained. - Author: Horace Bushnell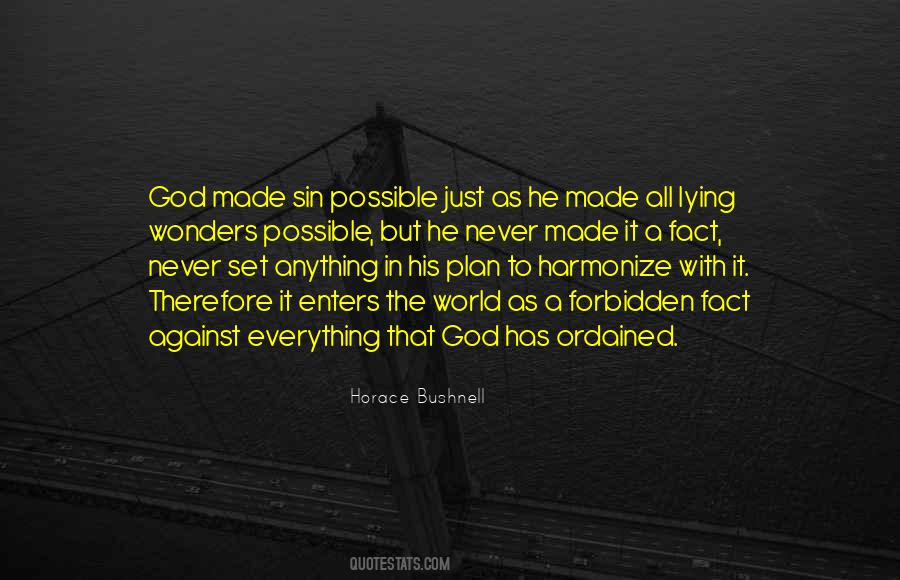 #100. Unlike most people," Fisher said, "questions are what make you tick. Knowing is what gives you a reason to roll out of bed in the morning, because you're not just in search of knowledge. Facts are never enough. You're after something else, something more fundamental. You're after the truth." Fisher - Author: Ted Dekker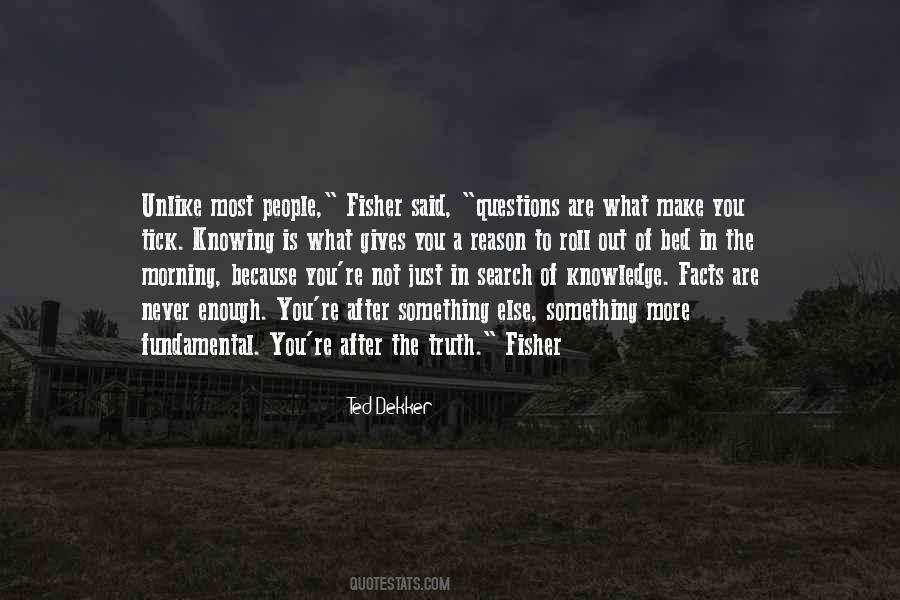 Famous Authors
Popular Topics