It's All About Respect Famous Quotes & Sayings
List of top 36 famous quotes and sayings about it's all about respect to read and share with friends on your Facebook, Twitter, blogs.
Top 36 It's All About Respect Quotes
#1. It's all about educating people to value you as much a they value themselves. If you respect your time, others will too. - Author: Sharon Law Tucker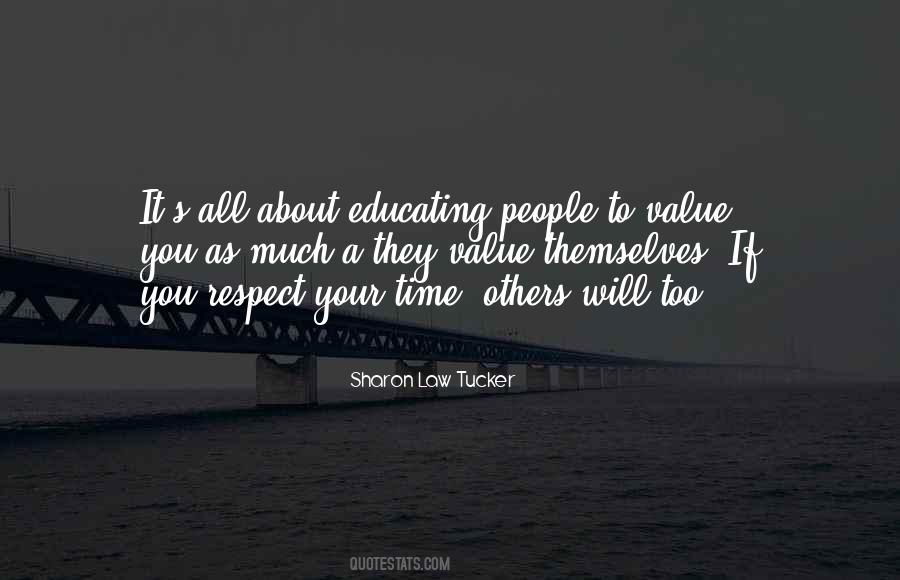 #2. All my life, I've been very aware of my body. I have always used it as a gauge of things. When I look at a person, and I see their body, that's the beginning of knowledge about them. Furthermore, I respect the body. - Author: John Edgar Wideman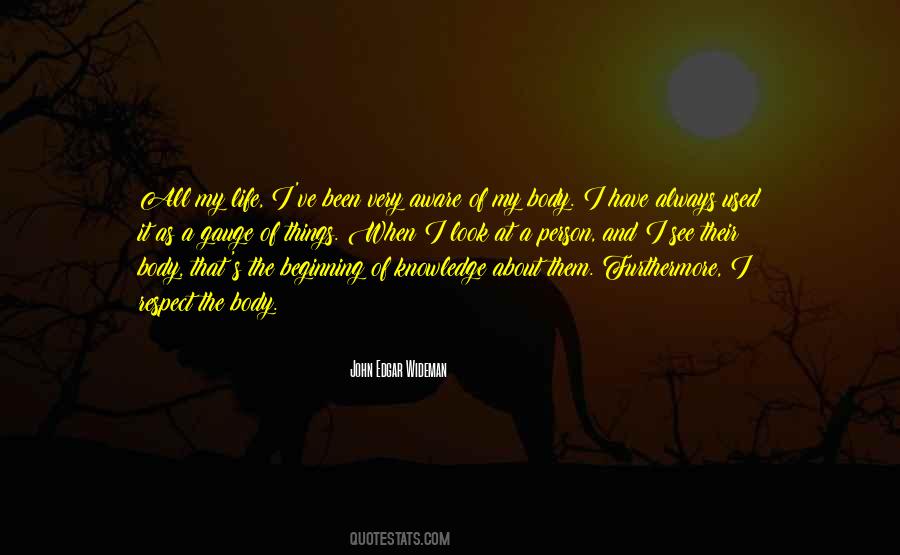 #3. You figure they cheat at the ballpark, they'll cheat on the golf course, they'll cheat in business, and anything else in life. Players may laugh about it and say it's funny, but right down in their heart, they don't think it's funny at all, and they have no respect for a person who cheats. - Author: Bob Feller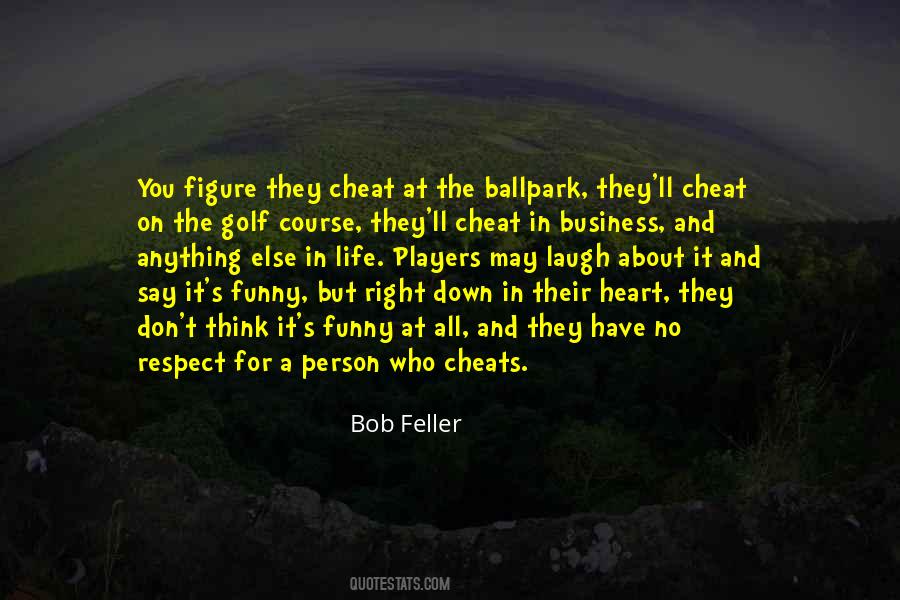 #4. It almost feels like I have the best of both worlds in a sense. I also respect the fact that all of this could be over tomorrow so I do everything I can just to cherish the moments and days and these opportunities I have to share music that I believe in with these people who care about it. - Author: Chuck Ragan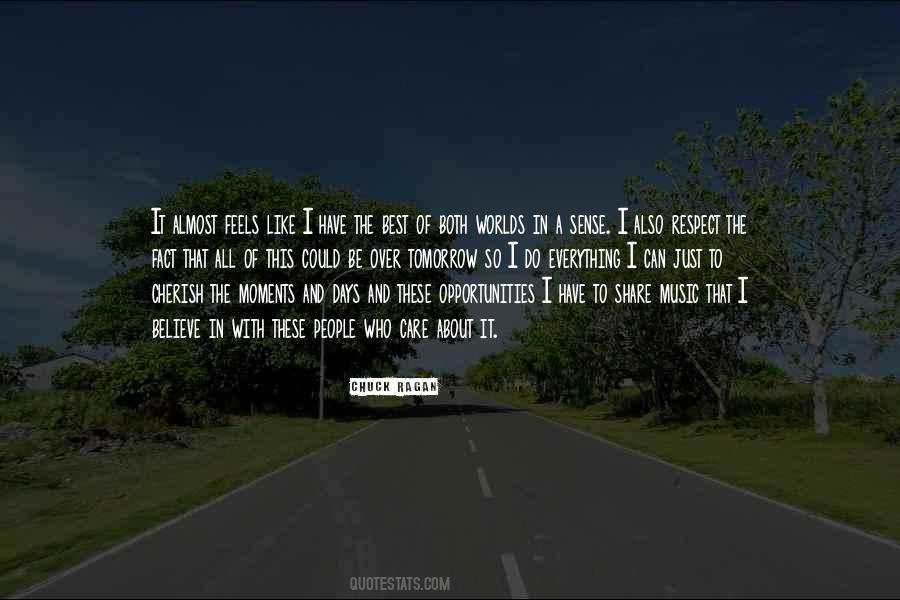 #5. Tolstoy may be right about happy and unhappy families, but in ballet, it works the opposite way: All good ballets are different from each other and all bad ones are alike, at least in one crucial respect - they're all empty. - Author: Robert Gottlieb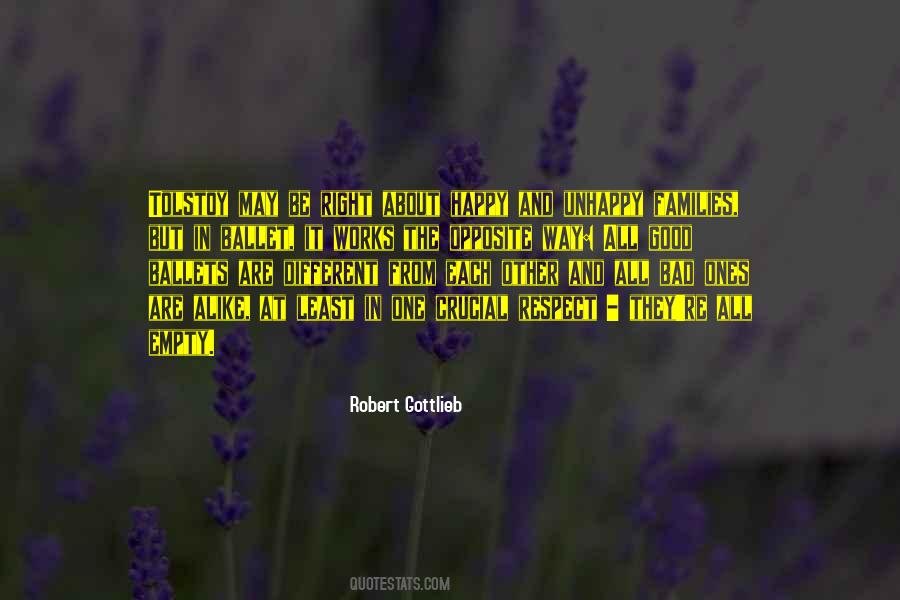 #6. I know you're in love, but don't let any man steamroll you. When all is said and done, marriage is about respect and compromise, but that doesn't mean you can't make a stand now and then for what's important. Remember that, Chelle. When love is right, it makes you stronger, not weaker." "Yes, - Author: Ruth Cardello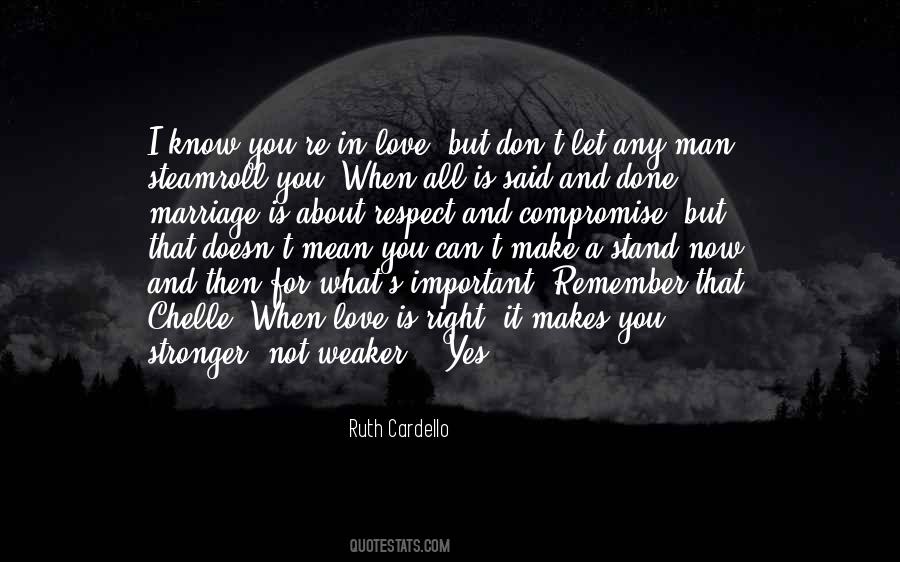 #7. I'm a good listener, you know. My gran used to say that's why you've got two ears and one mouth. I just truly love what I do and treat it with a lot of respect and all these relationships in the music business that people talk about. - Author: Johnny Reid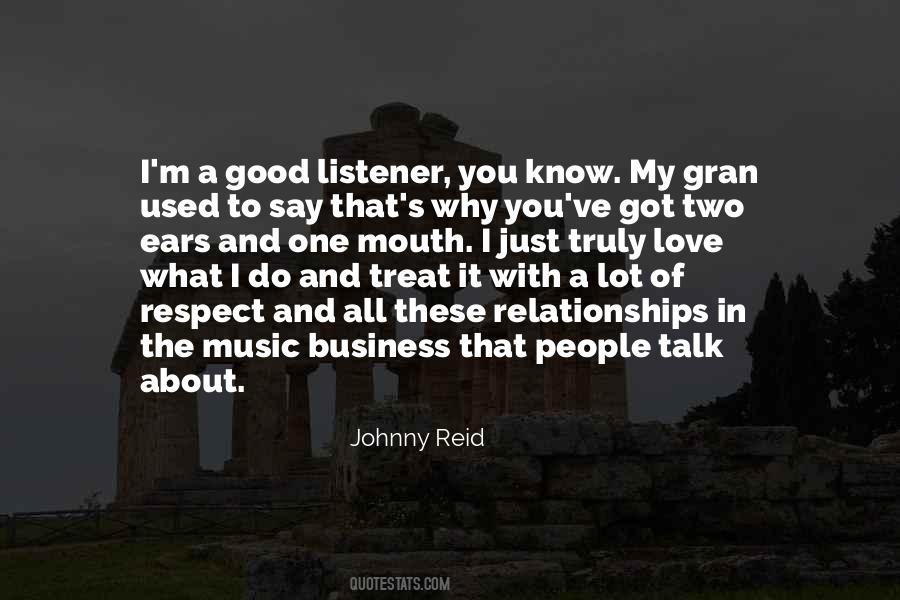 #8. Since I knew wrestling was all choreographed, I thought, Oh, they don't get hurt at all. But I walked away with a renewed respect for the sport. Because I was very ignorant before - I knew nothing about it. - Author: Mickey Rourke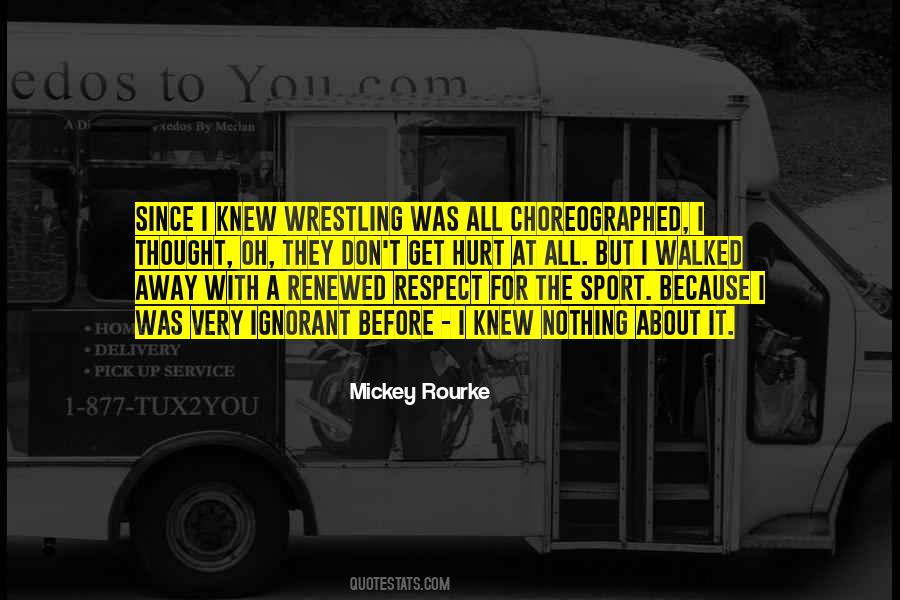 #9. There was very little that Jaime took seriously. Tyrion knew that about his brother, and forgave it. During all the terrible long years of his childhood, only Jaime had ever shown him the smallest measure of affection or respect, and for that Tyrion was willing to forgive him most anything. - Author: George R R Martin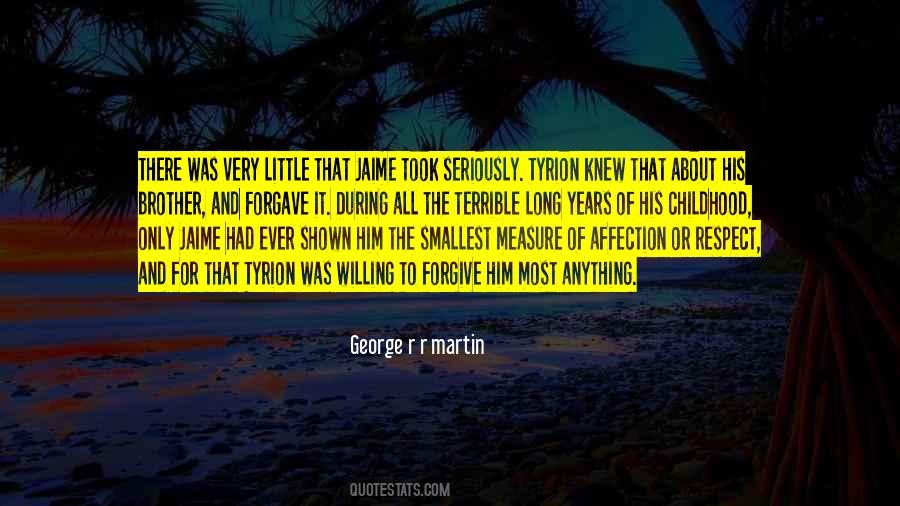 #10. I have many valentines. My mom and my sister and my directors. I got calls from all of them. And my friends. I respect what Valentine's Day stands for because it is about love. - Author: Michelle Trachtenberg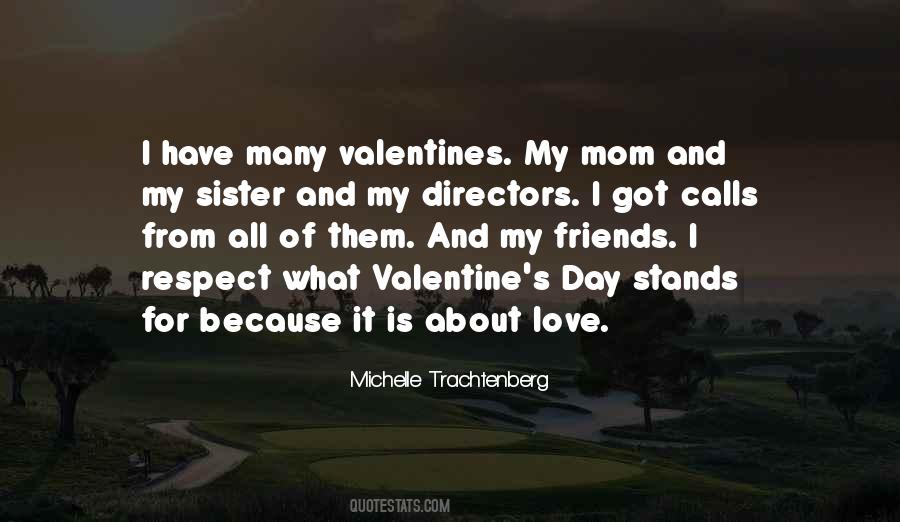 #11. How little we really know about the life all around us. Would we be so cavalier and ruthless with it if we understood it better? - Author: William Longgood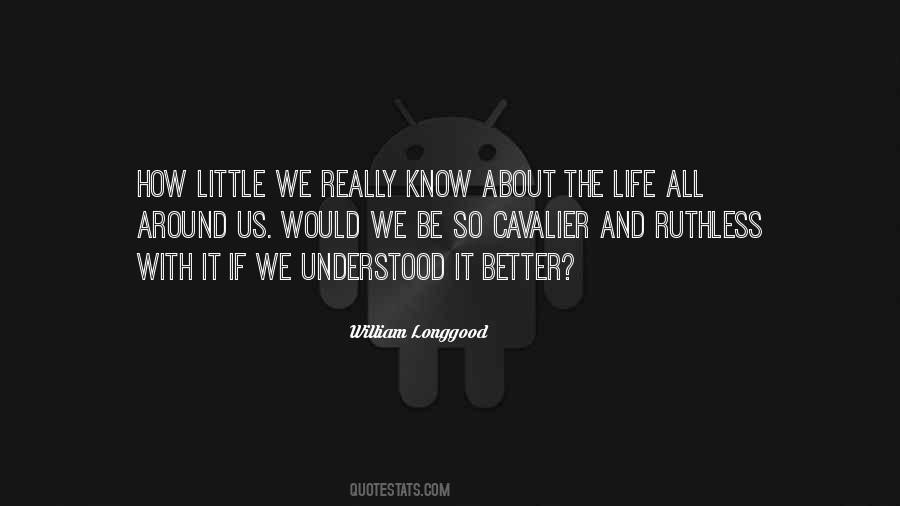 #12. We've done a lot of films now about the IRA, we can move on from all that. I loved '71 because I think it showed a very honest trail and what it was actually like. It wasn't one-sided. I really respect ['71 director] Yann [Demange] for what he did. But we have done a lot of those things. - Author: Saoirse Ronan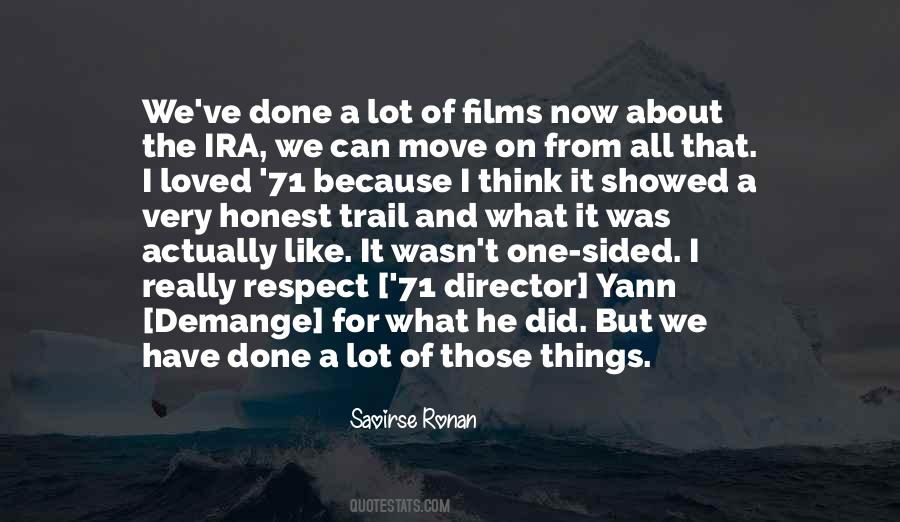 #13. It's amazing though," said Kenneth, "what you can get away with if you give up caring about anything else, like self-respect and pride and all that stuff. Turning yourself into a projectile, so to speak. - Author: Amy Witting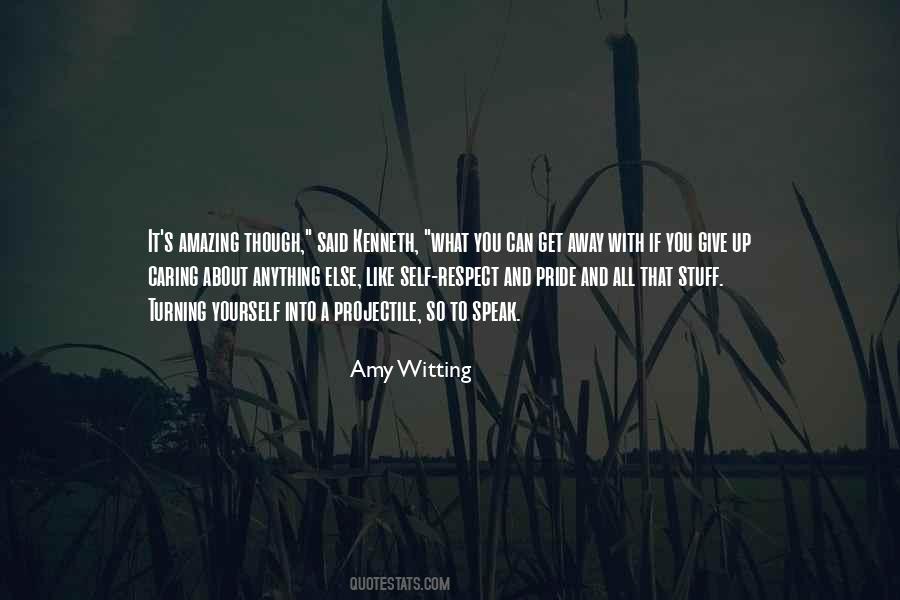 #14. My focus is always on the day. What I've done behind me, I try to have respect for it, and keep an eye on it, and make sure it isn't abused, and obviously be thoughtful about it, because it's all real to me. I'm basically in every band I ever was in, and the songs, I still mean them all. - Author: Ian MacKaye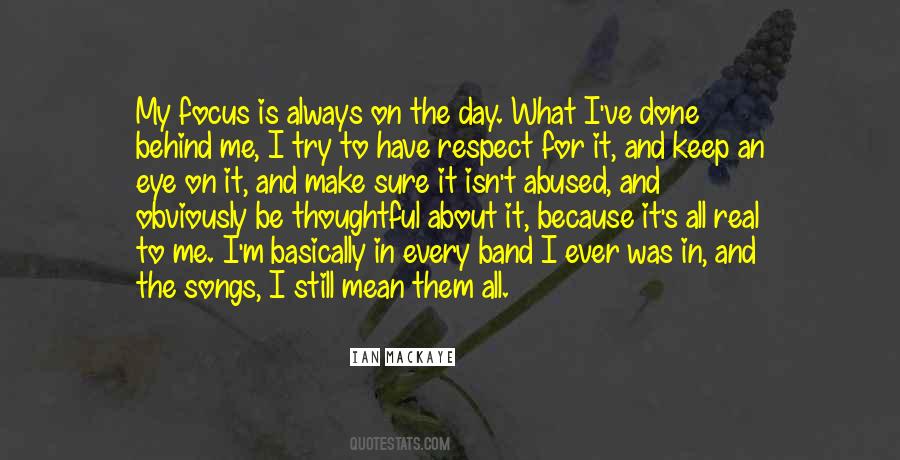 #15. Meditation practice is not about later, when you get it all together and you're this person you really respect. - Author: Pema Chodron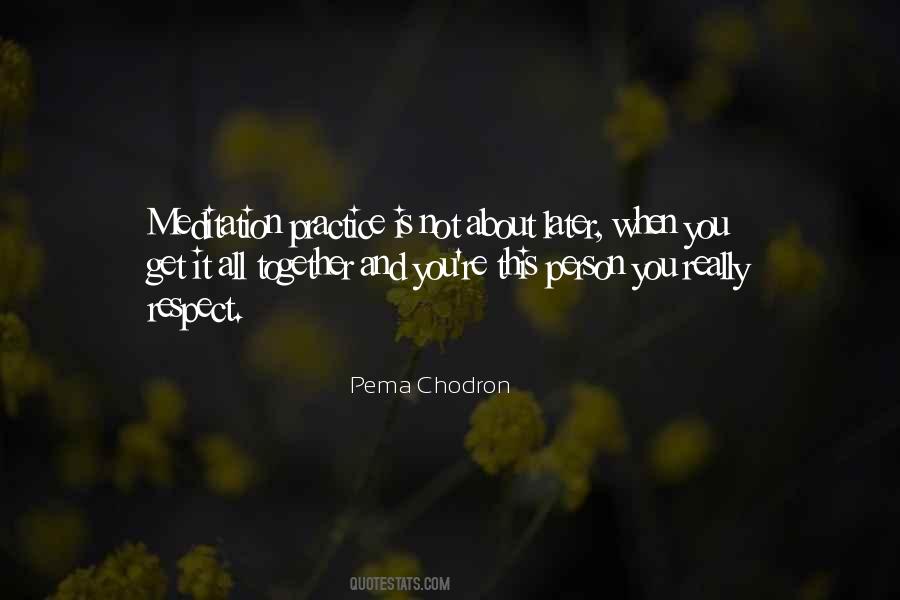 #16. Discipline for me is about respect. It's not even about self-respect; it's about respect for life and all it offers. - Author: Robert Downey Jr.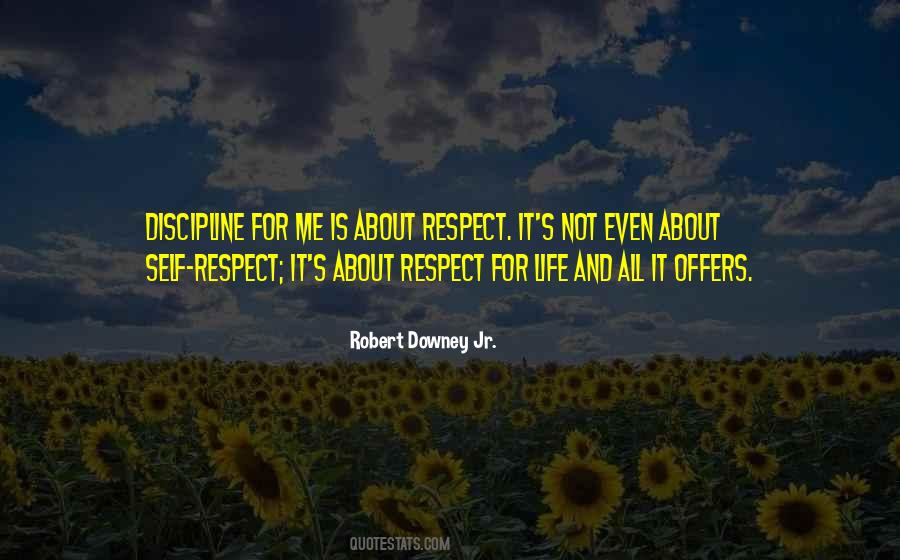 #17. We all moan and groan about the loss of the quality of life through the destruction of our ecology, and yet every one of us, in our own little comfortable ways, contributes daily to that destruction. It's time now to awaken in each one of us the respect and attention our beloved Mother deserves. - Author: Ed Asner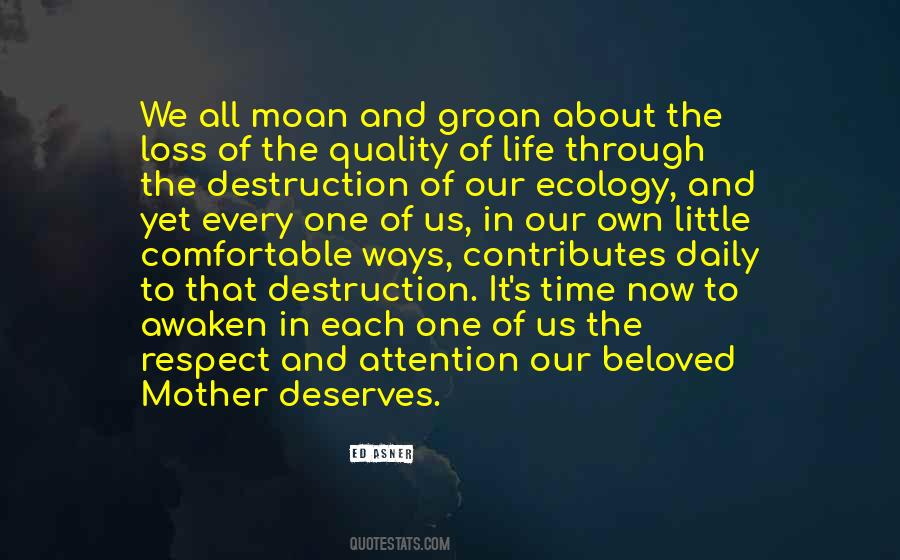 #18. It's important to understand that while honor is an entitlement to respect
and shame comes when you lose that title
a person of honor cares first of all not about being respected but about being worthy of respect. - Author: Kwame Anthony Appiah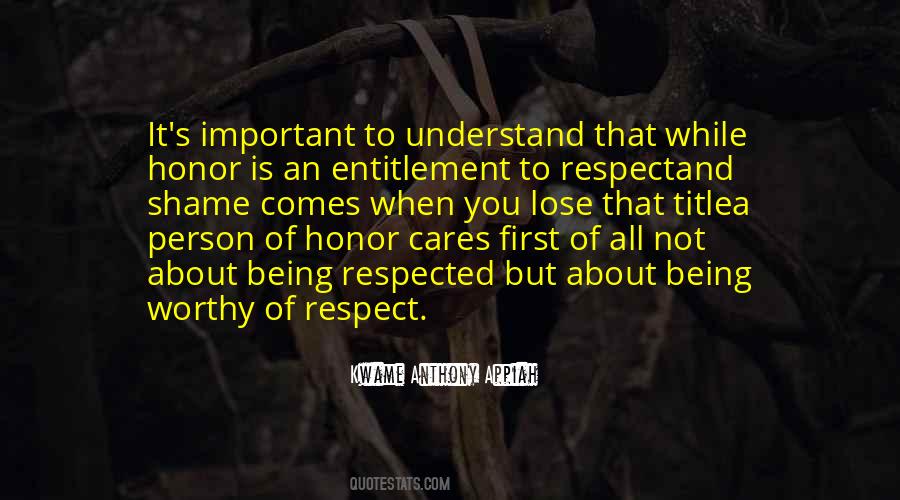 #19. By my reckoning, I'm about 100 kilometers from Pathfinder. Technically it's called "Carl Sagan Memorial Station." But with all due respect to Carl, I can call it whatever the hell I want. I'm the King of Mars. - Author: Andy Weir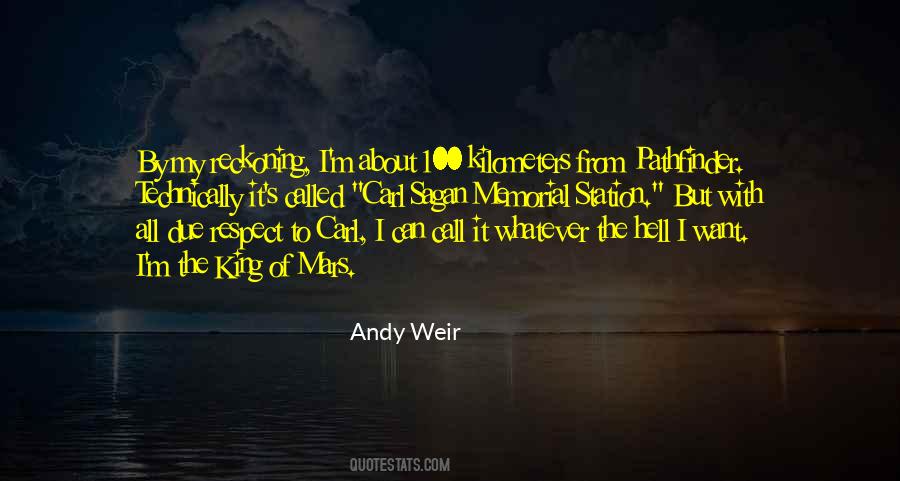 #20. One person actually asked me to marry them! Overall all they have a great respect for me and they know who I am and I am very open about it. In Los Angeles, we actually had two screenings because so many people showed up! - Author: Tommy Wiseau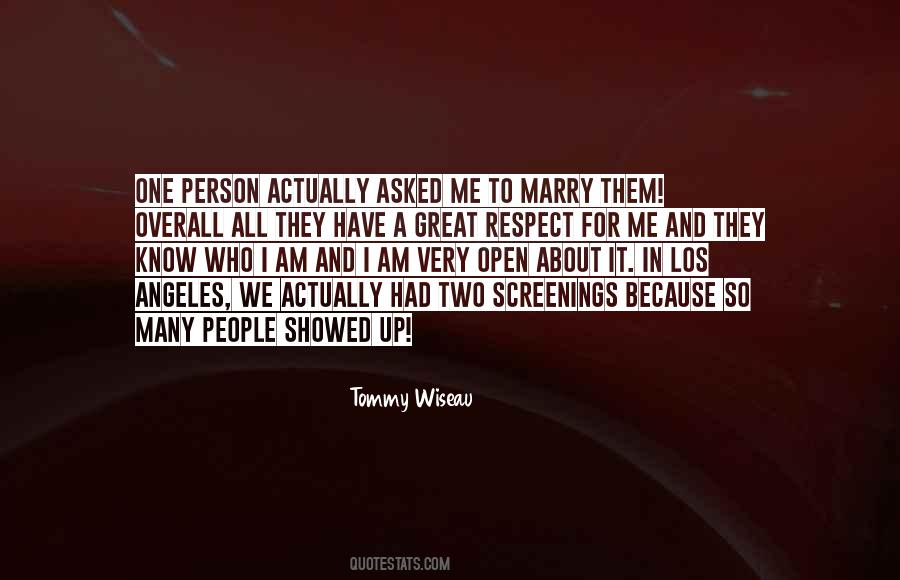 #21. If you do get married, get a prenup. It's not about money at all. It's about having a document that states how you'll dissolve your marriage while you still have a shred of respect for each other. - Author: Alec Baldwin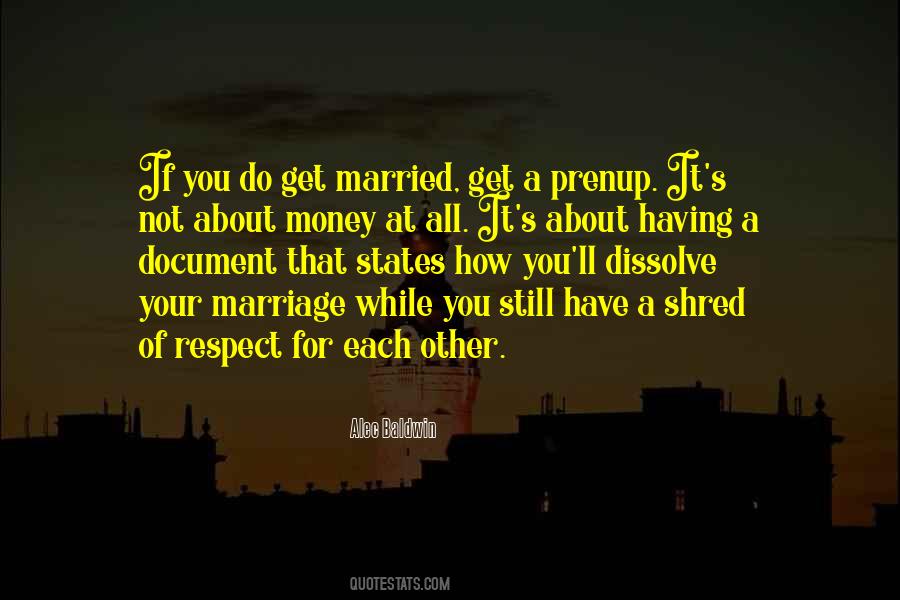 #22. What do you think dignity's all about?'
The directness of the inquiry did, I admit, take me rather by surprise. 'It's rather a hard thing to explain in a few words, sir,' I said. 'But I suspect it comes down to not removing one's clothing in public. - Author: Kazuo Ishiguro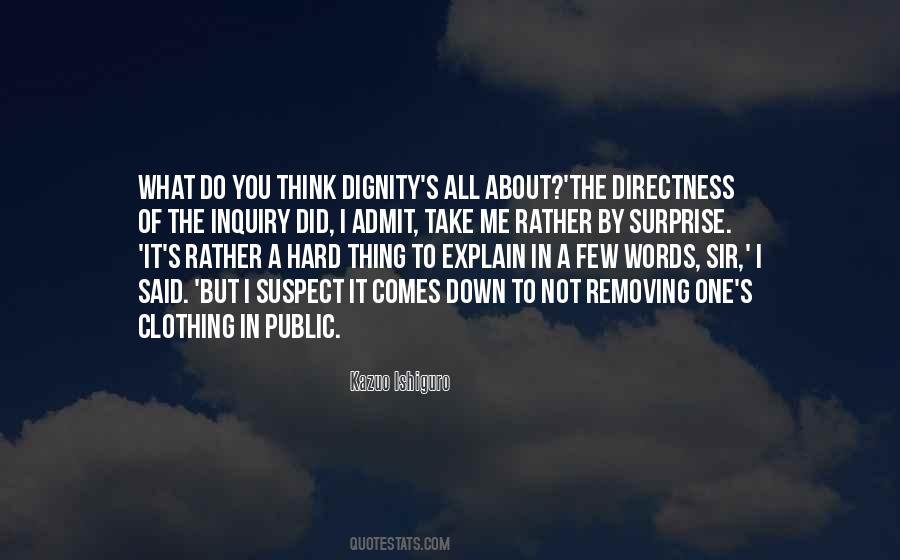 #23. With all due respect to UPS - it's a fine company - nobody cares about logistics. They care about that package arriving at their home, at their office, when it is supposed to and in the condition it's supposed to. FedEx is a much better communicator than UPS. - Author: Frank Luntz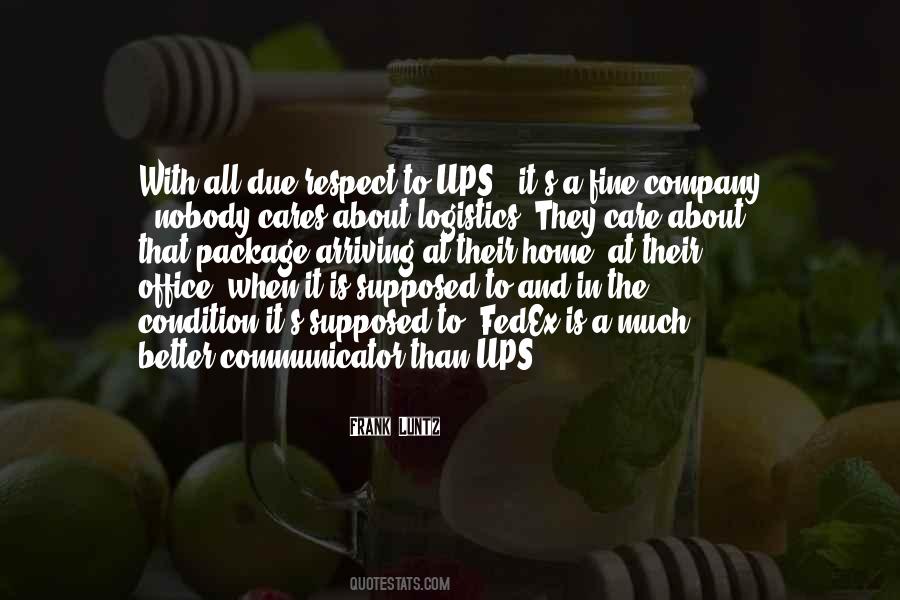 #24. It crossed my mind that my letters are all about me and not you. I would hope that you pay me the same respect. - Author: Bill Callahan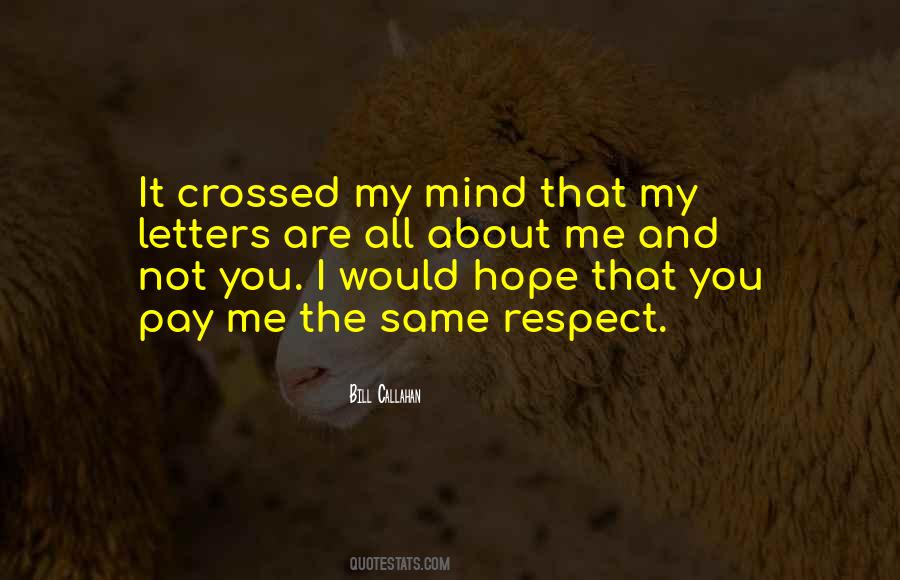 #25. I don't like to trash talk ... I don't know how to do that, it's not me. In the martial arts world that I was brought up it was all about respect. - Author: Uriah Hall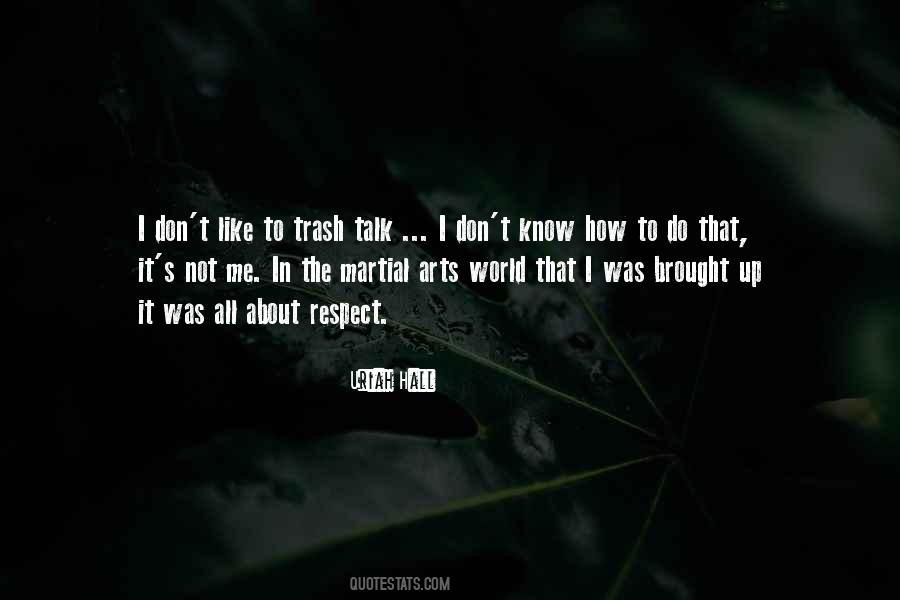 #26. Forcing him to talk about feelings all the time will not only make you seem needy, it will eventually make him lose respect. And when he loses respect, he'll pay even less attention to your feelings. - Author: Sherry Argov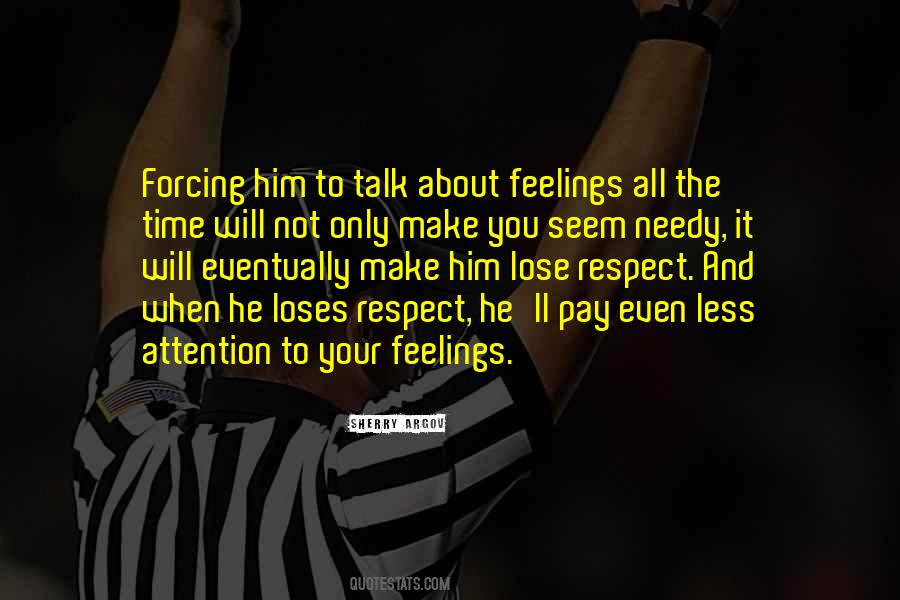 #27. That's what so strange and tragic about all of this,' he said. 'Friends fighting friends, kin against kin....It's all so wrong and unnatural. Here we are, two armies desperate to win, and all the time there's this queer....respect.....between us. - Author: N.A. Perez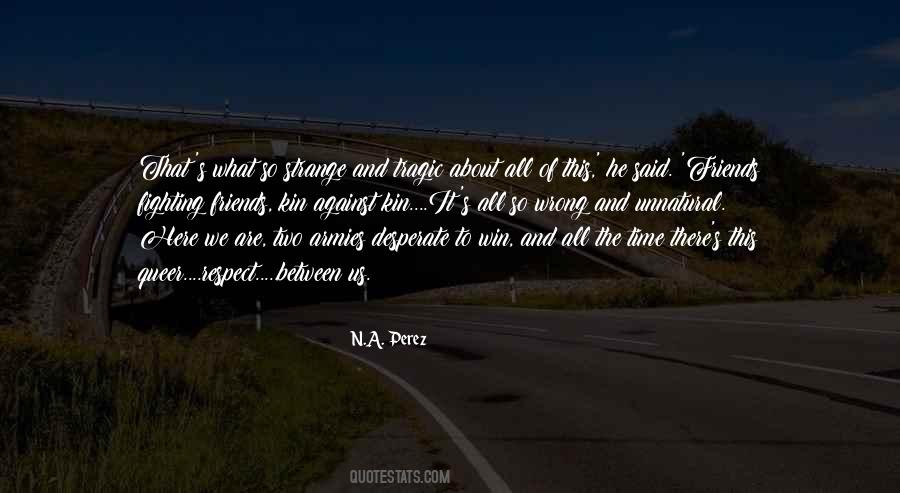 #28. As for the military or service professionals, I have nothing but respect for them, but come on, when it comes to romance novels, we all know it's really about the uniforms and how the guys look in them! - Author: Jill Shalvis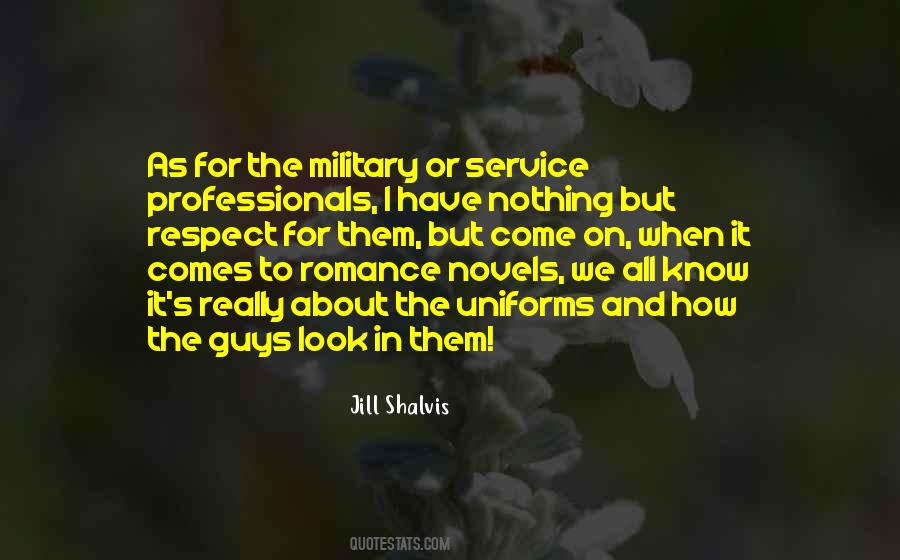 #29. About tidying up a toy box, you should let your kids experience the selection process by touching all of their toys. It's also important how they throw away their toys. They can earn a stronger sense of valuing things when they throw things away with respect and appreciation. - Author: Marie Kondo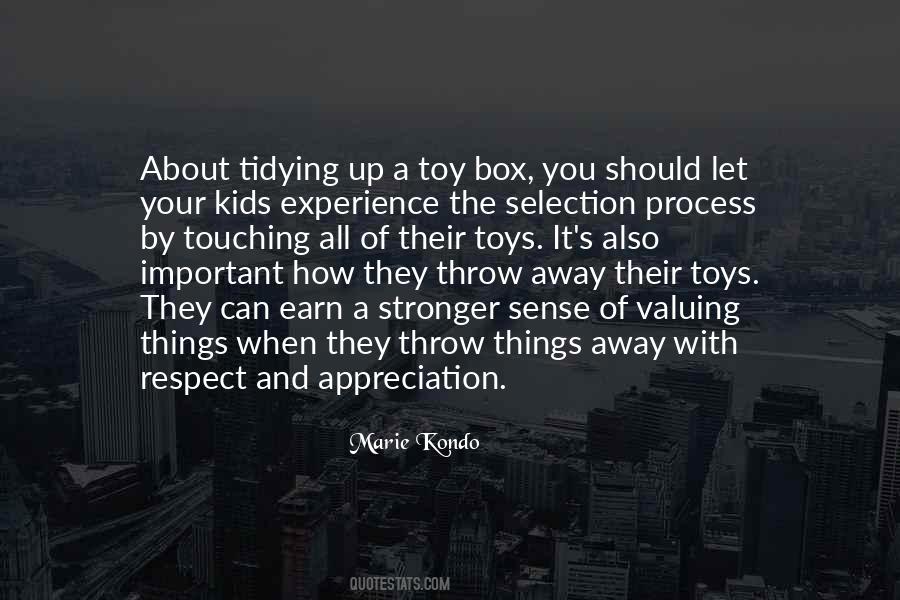 #30. The person who comes up to you and makes the most noise and is the most intrusive is invariably the person in the room who has no respect for you at all, and it's really all about them. - Author: Robbie Coltrane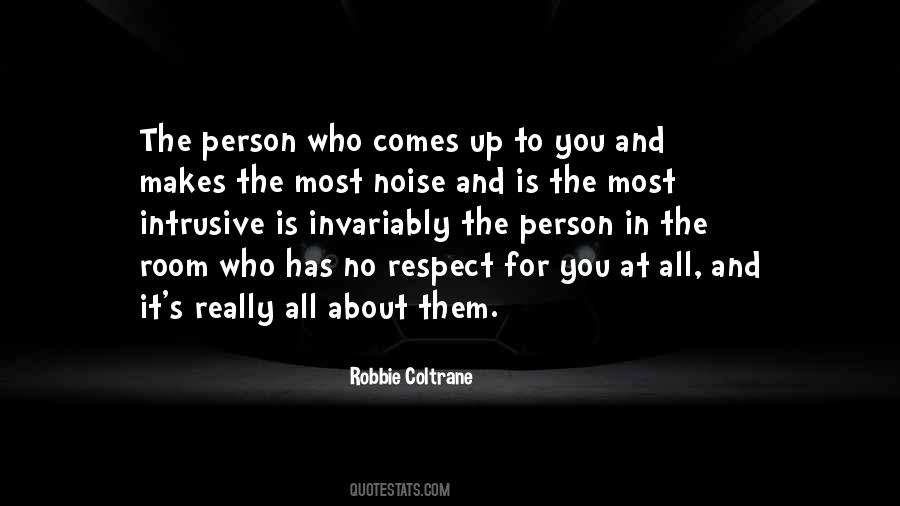 #31. The thing about witchcraft," said Mistress Weatherwax, "is that it's not like school at all. First you get the test, and then afterward you spend years findin' out how you passed it. It's a bit like life in that respect - Author: Terry Pratchett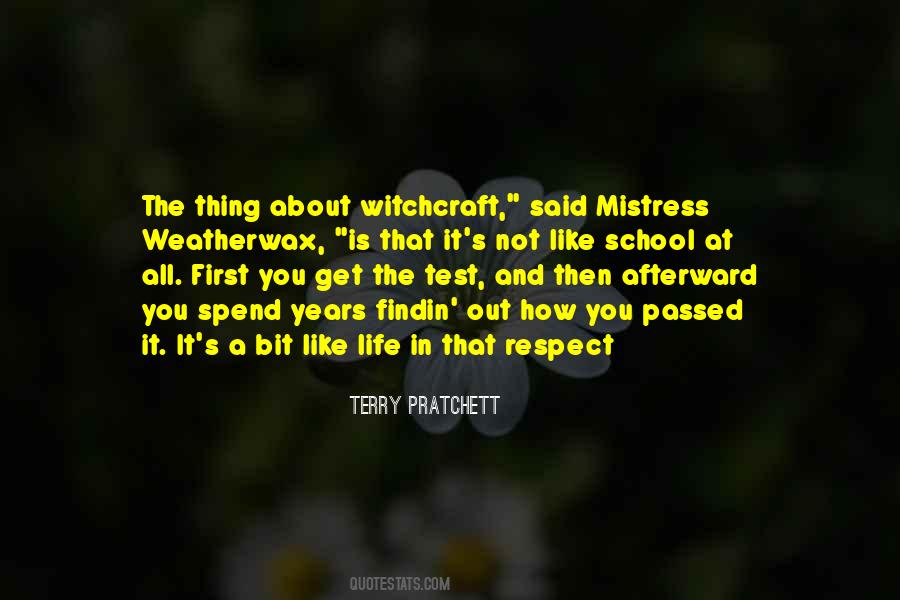 #32. Consider your self as a strong person when you have been challenged enough...(think about it) If you have allowed people to continually step all over you,then you deserve to be used as a doormat! - Author: Auliq Ice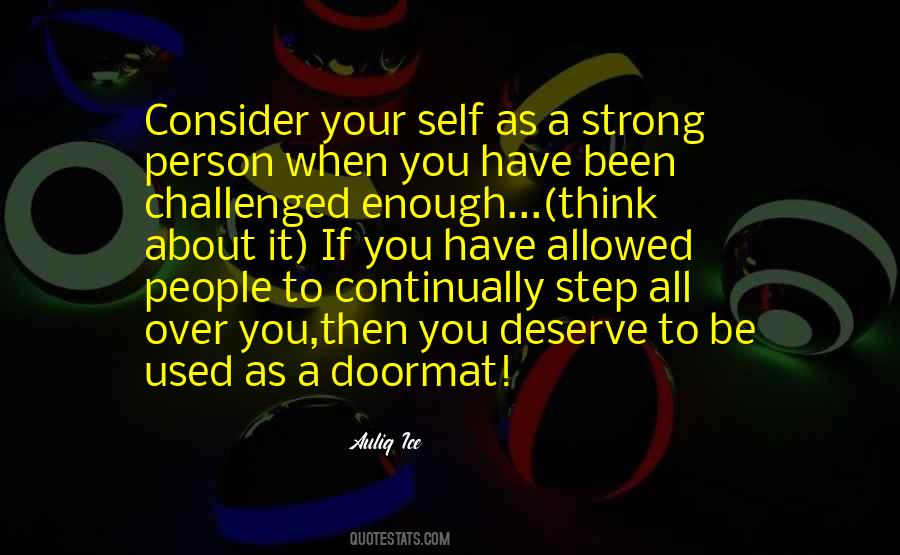 #33. Declined. I went inside to pay cash. This had happened before, but not often. There was something about that word that sucked the self-respect out of your soul. This time it sucked out all my hope as well. - Author: James Anderson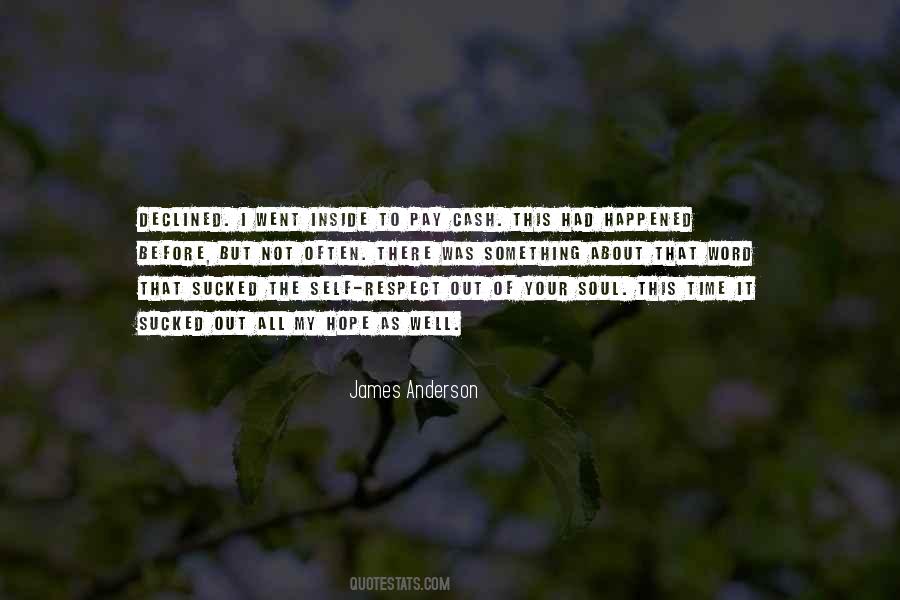 #34. It's absurd. We would all like to see Cuba move toward civil society and free markets and greater respect for human rights. But the U.S. policy is exactly the wrong way to go about it. - Author: Wayne Smith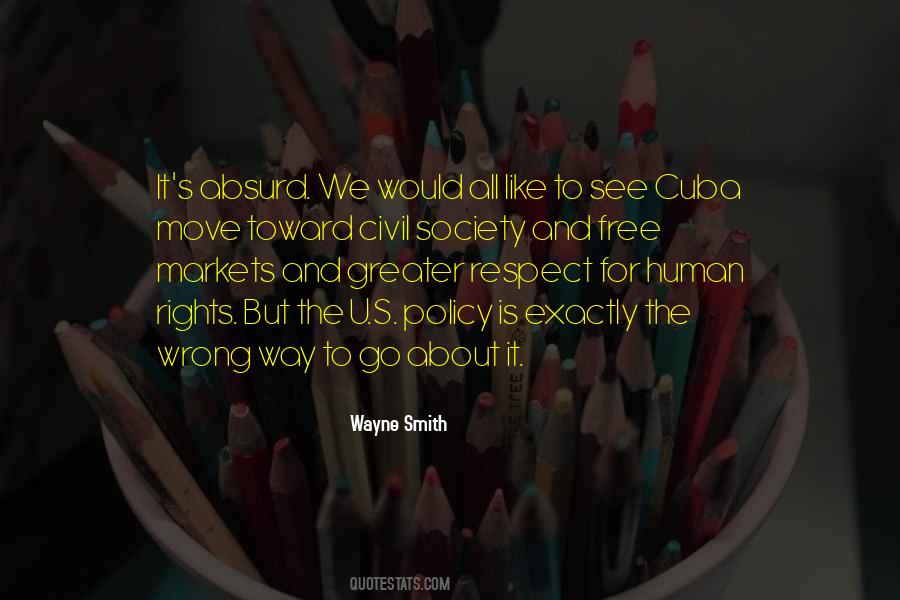 #35. Submission is not about authority and it is not obedience; it is all about relationships of love and respect. - Author: Wm. Paul Young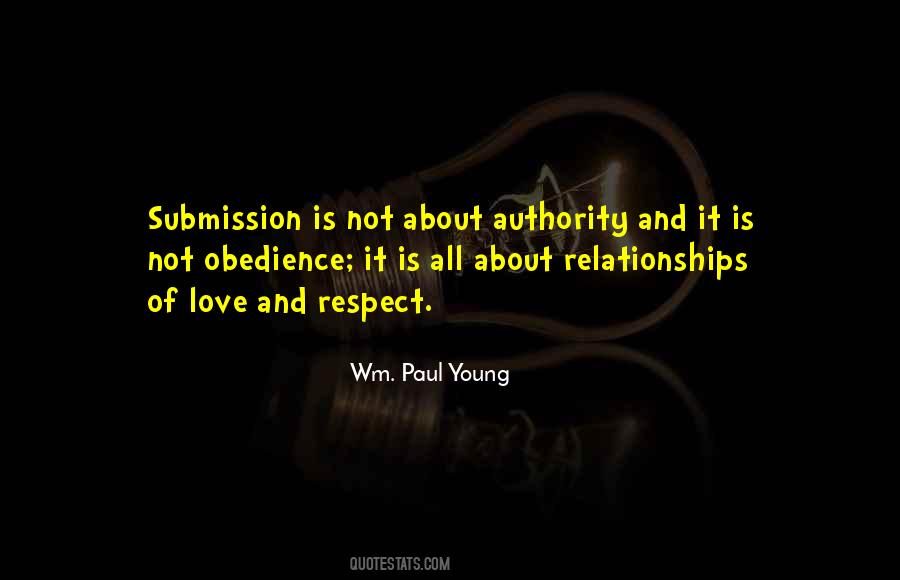 #36. House music is about love, and lots of hip hop is about hate and intolerance, so in that respect, it's not good at all. - Author: Chris Lowe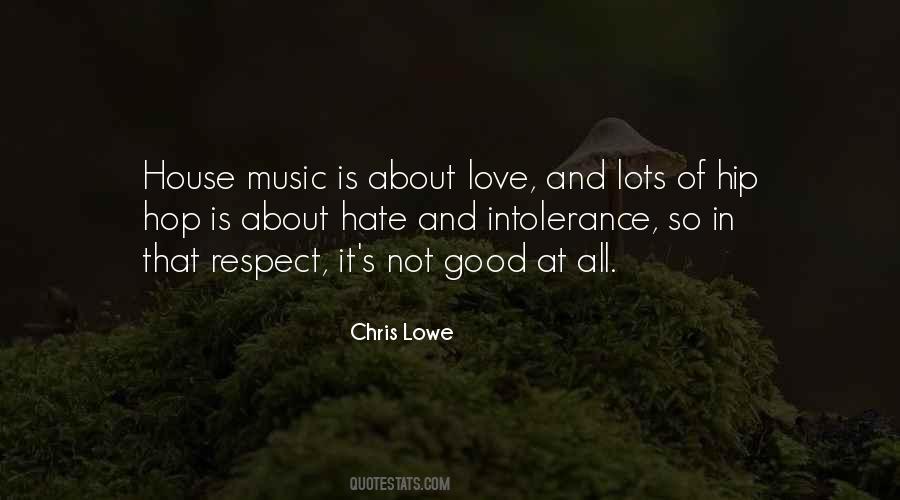 Famous Authors
Popular Topics