I'm Not The Best Person Famous Quotes & Sayings
List of top 65 famous quotes and sayings about i'm not the best person to read and share with friends on your Facebook, Twitter, blogs.
Top 65 I'm Not The Best Person Quotes
#1. Every time I work with a European director, I find they hire the person that captures the spirit of the role. Americans tend to hire the best face. The person that looks more like the role, whether they can perform the role or not is a bonus. - Author: Elizabeth Pena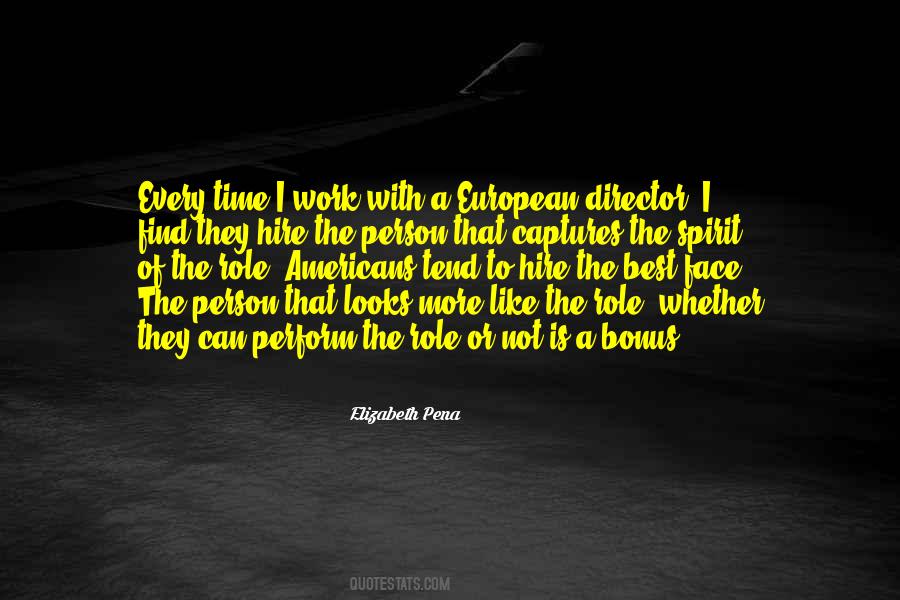 #2. You have to search for the best writer - I'm not saying I'm the one, but it's a bad idea to just find the person who is a copycat of Stieg Larsson. - Author: David Lagercrantz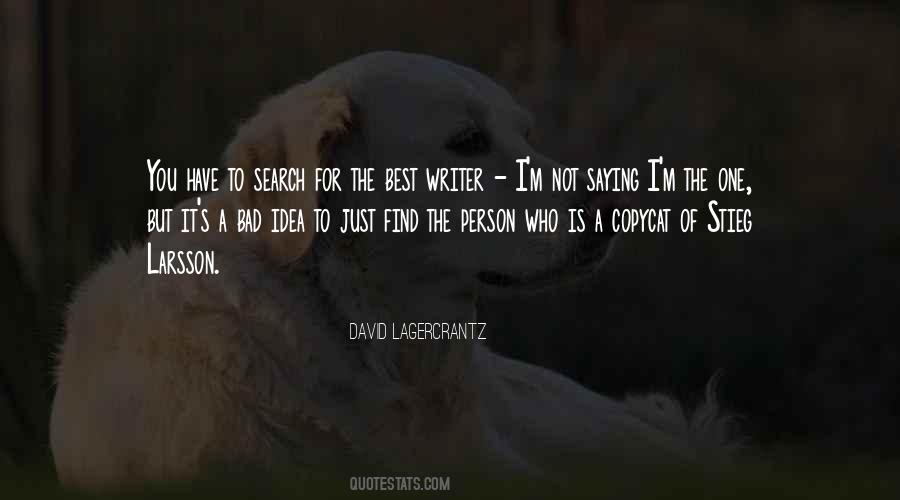 #3. I do my best to limit the amount of compromise in my life so I have more time to do what I want. Not hanging out with many people really helps. I am not a people person and I spend a great deal of time on my own and in this environment, I get a lot done. - Author: Henry Rollins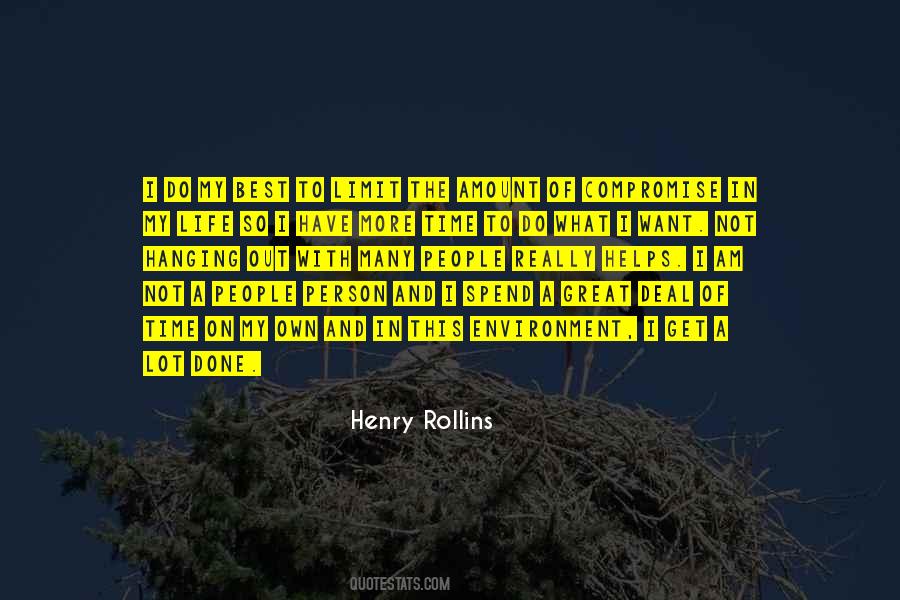 #4. I think that some of the best Crowes stuff we did had that spontaneous vibe. Thats something thats always interested me in music. Im not really the kind of person to get too bogged down in the details. I think that takes away from the emotion and the vibe of what youre doing. - Author: Chris Robinson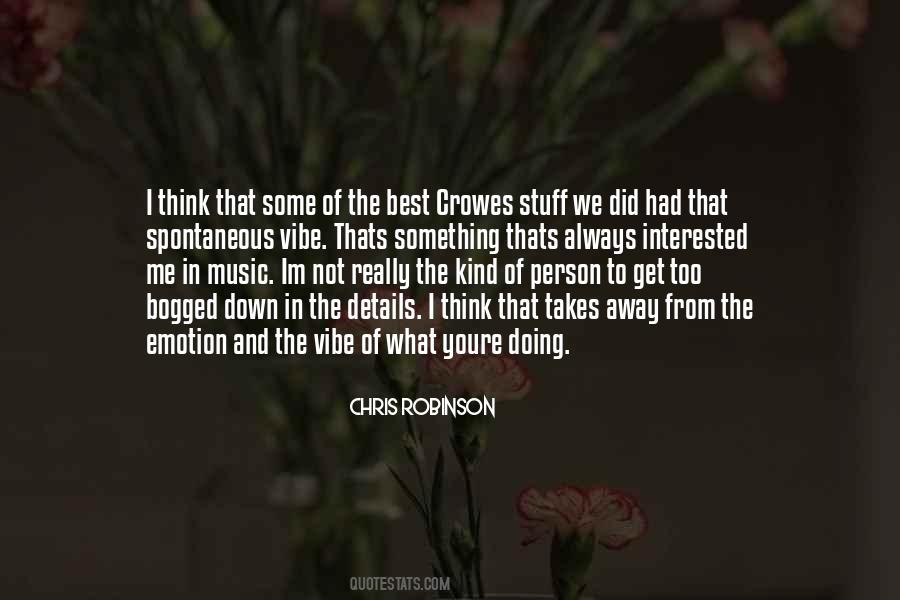 #5. Deep down you've never changed from what you are."
"And what's that?"
"Alone," said Ash. "Outcast to both worlds, demon and human... I'm not afraid of you. I never have been. You're the best person I've ever known, Parvati. In all my lives. - Author: Sarwat Chadda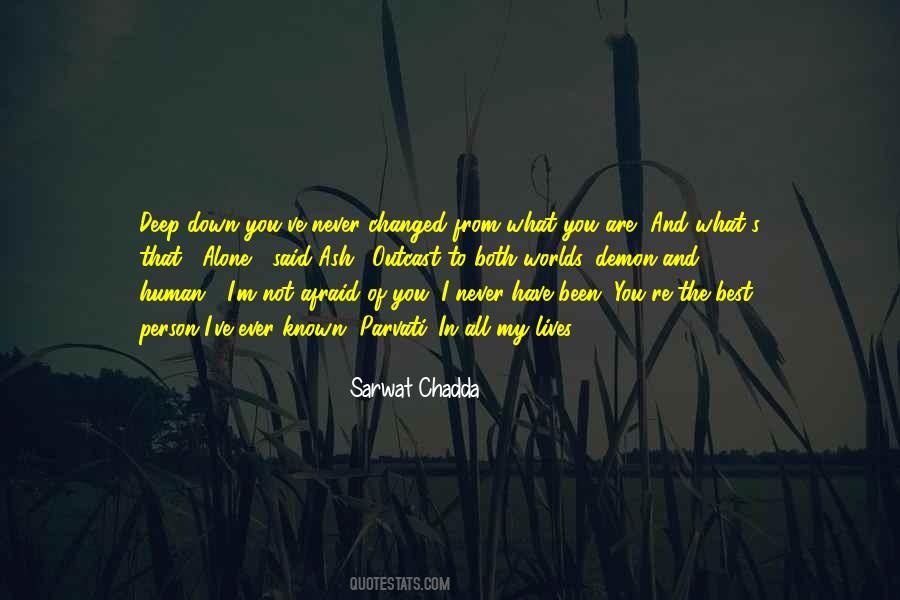 #6. I try my best, but at the same time, I try not to let being out with someone affect my everyday life. Like, if I want to go out and grab a smoothie with a friend who's a male, I'm not gonna let the paparazzi stop me from doing that and living my life and just being a normal person. - Author: Kendall Jenner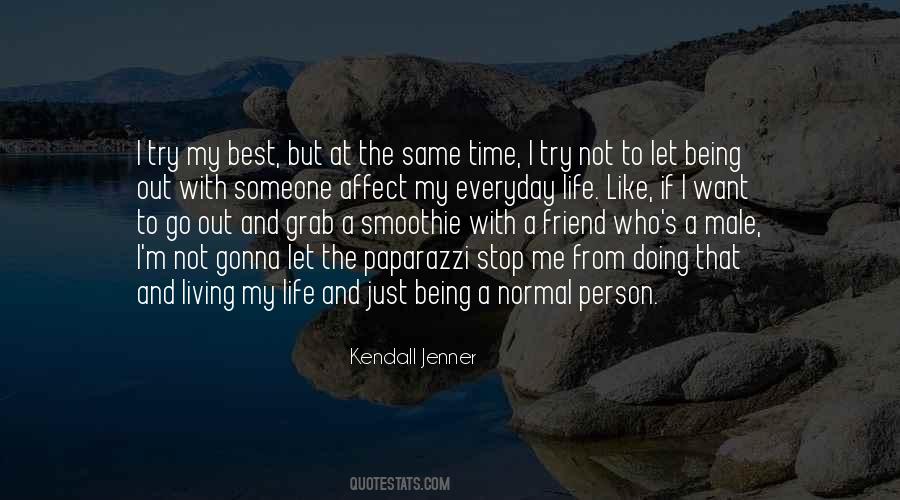 #7. I'm aware, as a sane person, that I'm not the best-looking guy in the world. I'm aware of it. But when I go into a party, I will walk out with your girlfriend. - Author: Gene Simmons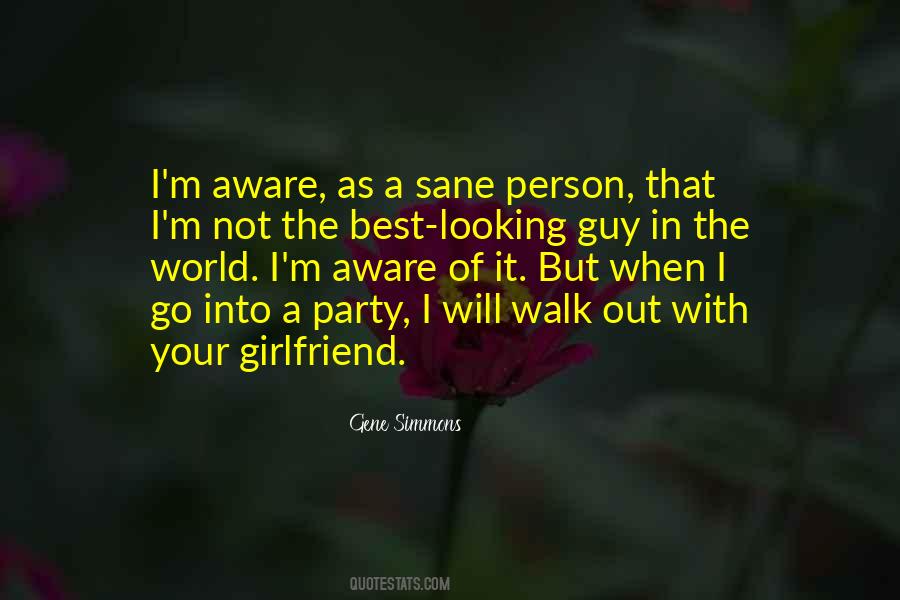 #8. I take pride in my life-my wife, my family. I try my best not to have football define the person that I am. - Author: Troy Polamalu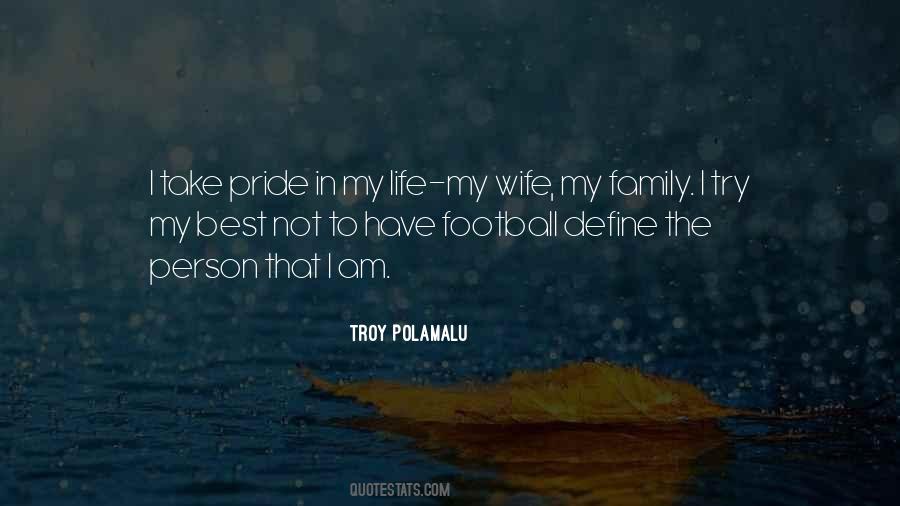 #9. I'm not a showbiz person. I just enjoy talking nonsense on the radio. I'm not bothered about going to clubs or the paparazzi, I genuinely prefer my neighbours. Spending time with my family and watching Coronation Street are what I love best. People are just people, aren't they? - Author: Tony Blackburn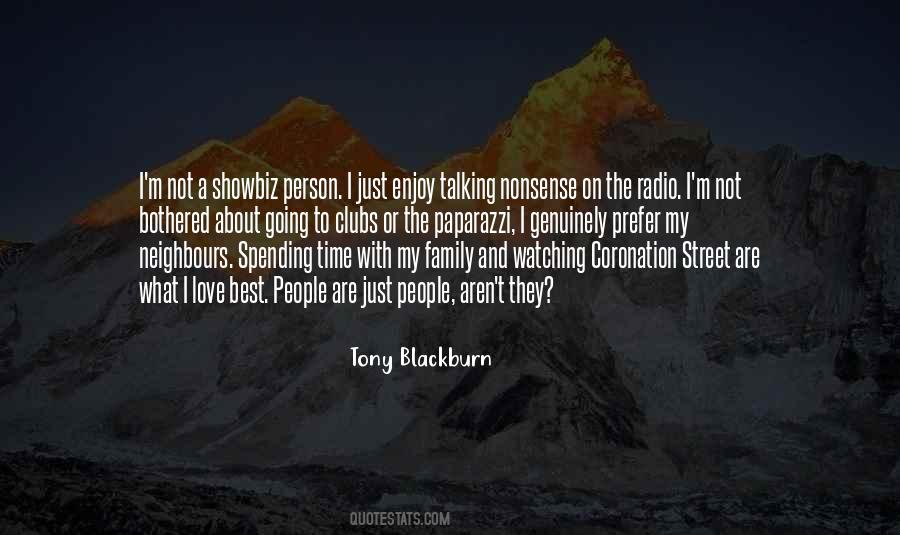 #10. I've now been doing this for ten years, and I actually got to skip a stage of going to casting directors, and now I meet with the directors, either for lunch or an audition room, and I still read sides; you're never going to get around that, but I'm not the best person to go on an audition. - Author: Carly Schroeder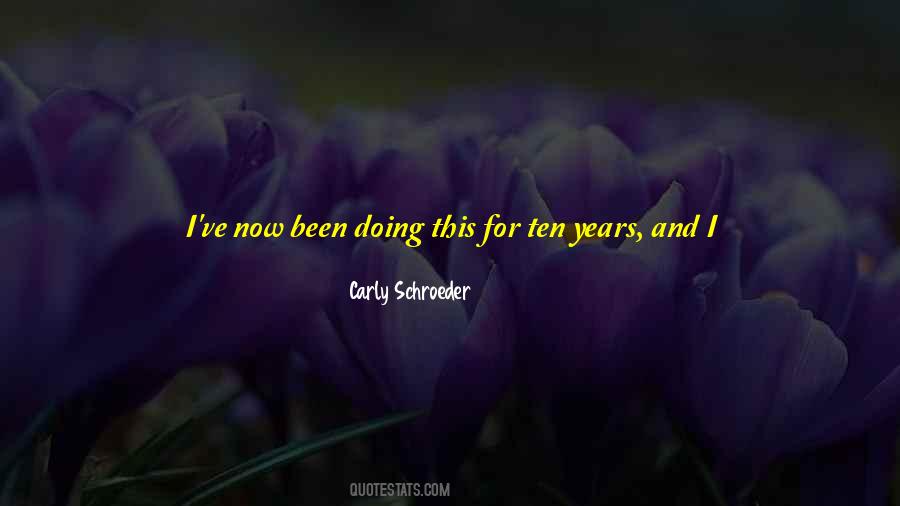 #11. I'm not the best person to analyze any kind of evolution in my work, but I do feel like it's been an ongoing struggle to basically teach myself how to tell the kinds of stories that interest me in comics form. - Author: Adrian Tomine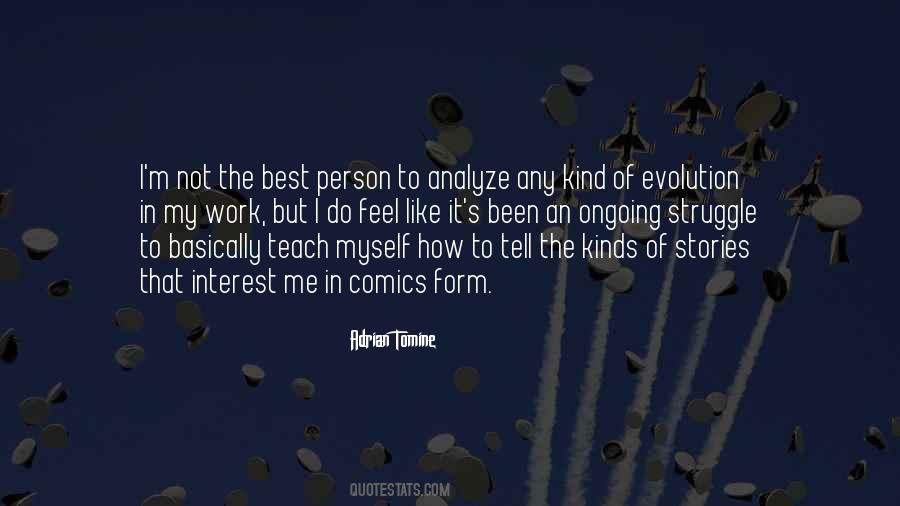 #12. I love my wife and I know she loves me. We're best friends. We're just lucky to have found each other. It takes a lot of work but I just feel very blessed that I found the right person. It's a very fortunate situation and not everyone has that. - Author: Harry Connick Jr.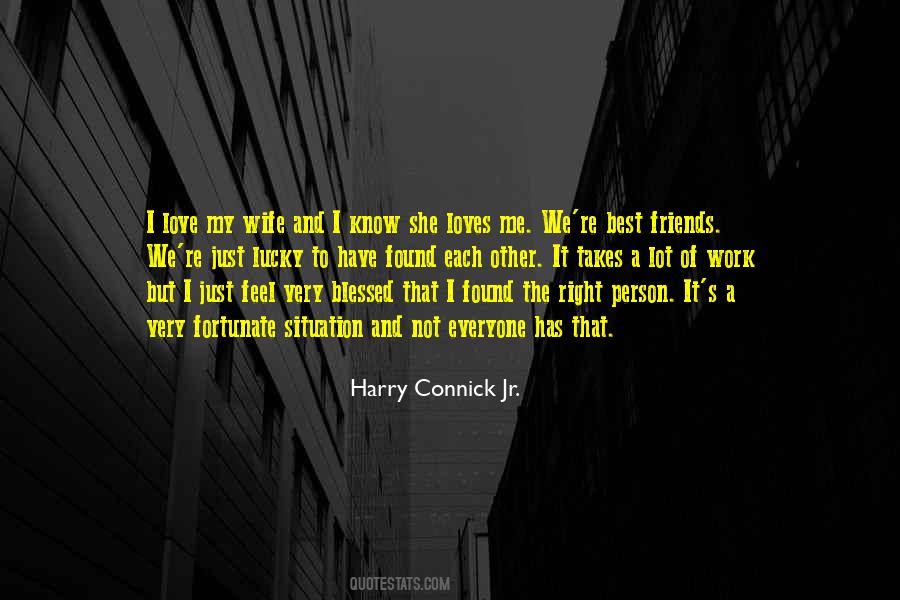 #13. Since I am suffering with type 2 bipolar disorder mainly on the depressive side of the bipolar disorder.
I am not afraid nor am I disappointed with it; if this is what God Almighty want me to have; I will make sure that I will make good use of this disorder; and, be the best person that I can be. - Author: Temitope Owosela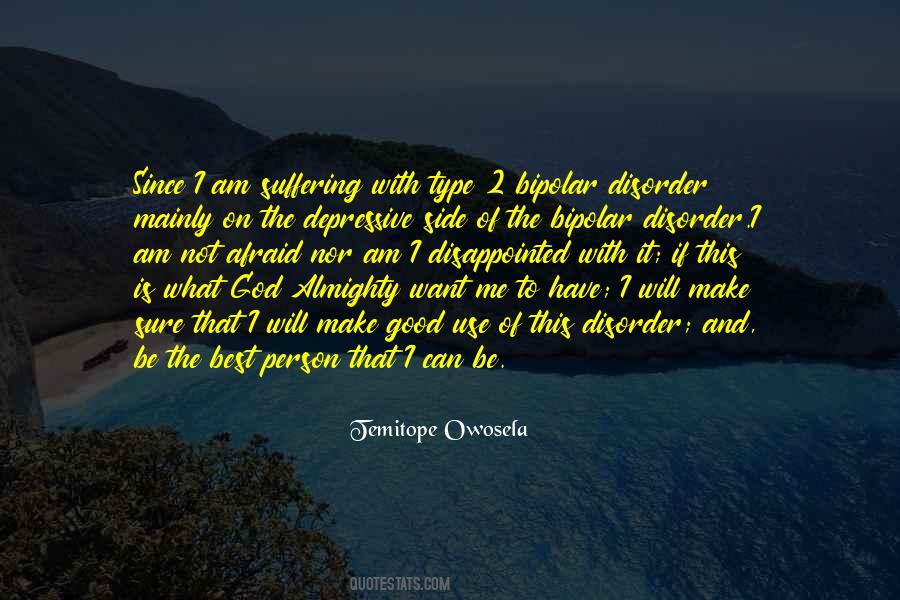 #14. I am not and never will be perfect. I am not always as honest, respectful, responsible, fair or as kind as I should be. All I can do is what I should do: strive every day, with every decision to be the best person I can be. I don't expect to be perfect but I know I can be better. - Author: Michael Josephson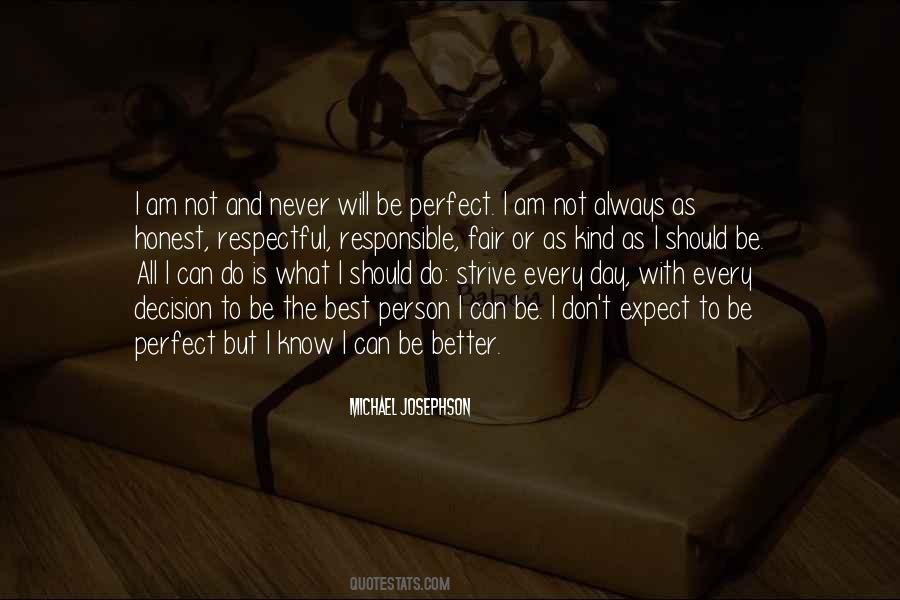 #15. My belief in God is personal, I do not need to browbeat anyone into agreeing with me, because I believe what I believe and I try to live by it. My belief in God is about trying to be the best person I can be in this life ... - Author: Dorothy Koomson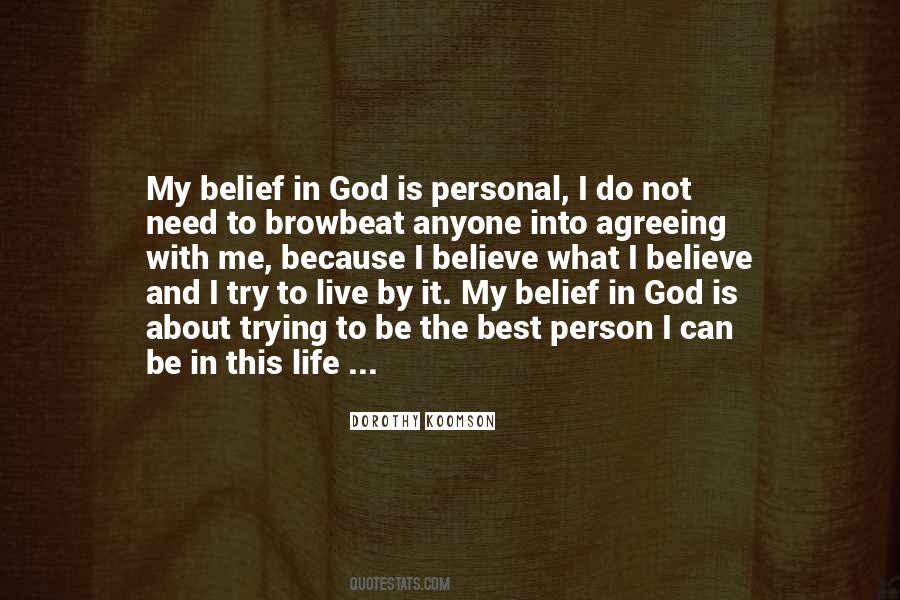 #16. I'm a novelist, I'm not an activist. I'm not a non-fiction writer, I'm not a journalist. I'm not a foodie, I'm not even really an animal person, or an environmentalist. I did the best I could with this, but it's not who I am. - Author: Jonathan Safran Foer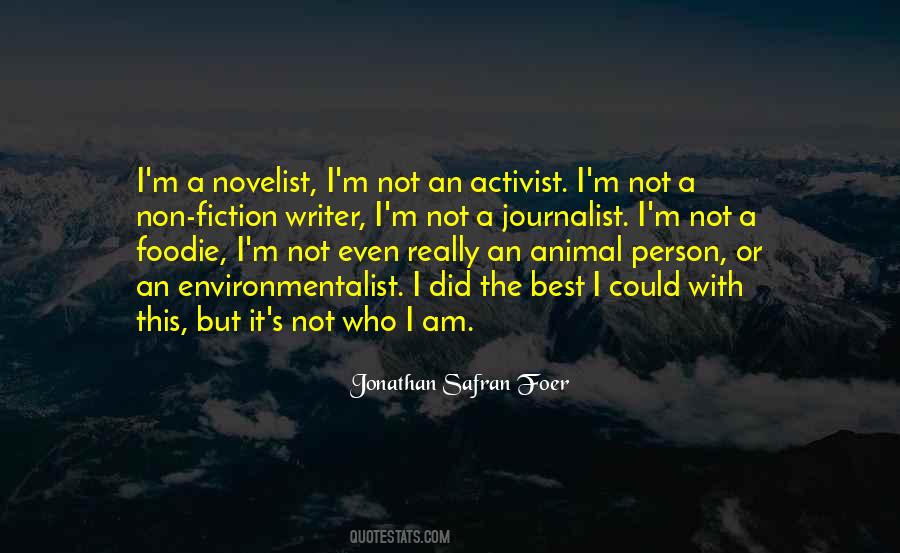 #17. I want to know what it is to build the foundation of the friendship for real, to have my best friend and not because we're just intimate, but because we're mentally intimate. So I'm waiting for that person to come into my life. - Author: LisaRaye McCoy-Misick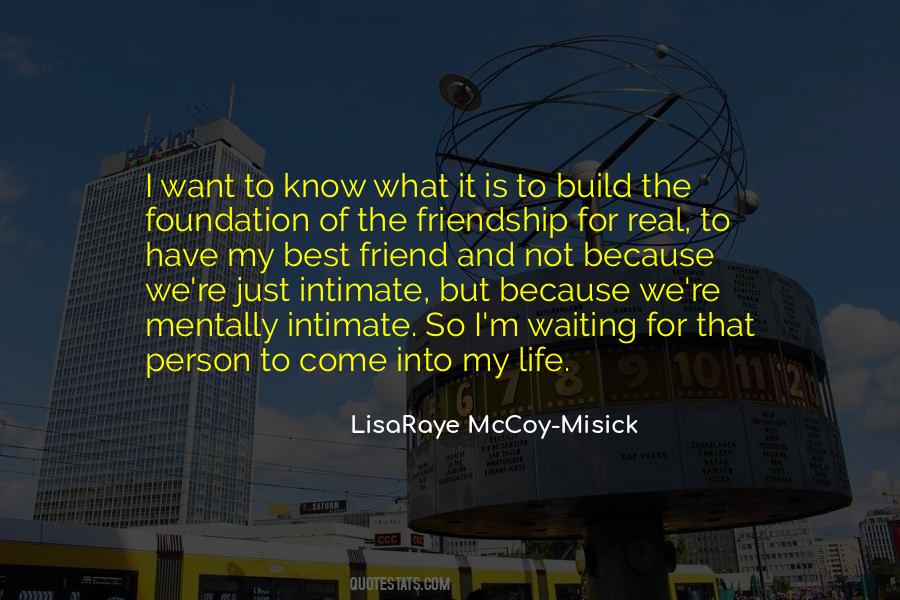 #18. I'm not what you would call a 'nice person'. I tolerate people on the best of days. - Author: Belle Aurora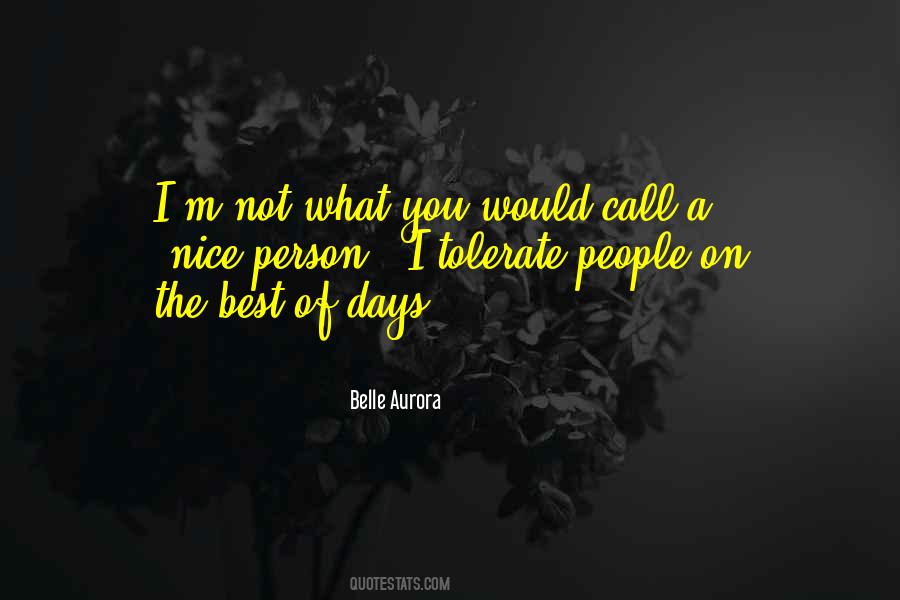 #19. I need a close contact to the client, whoever it is, and a commitment of the client to go out and do a process together. I want to do the best for him. I need his respect and his patience. I want to work with a sophisticated person who's interested in a good building and not in my name. - Author: Peter Zumthor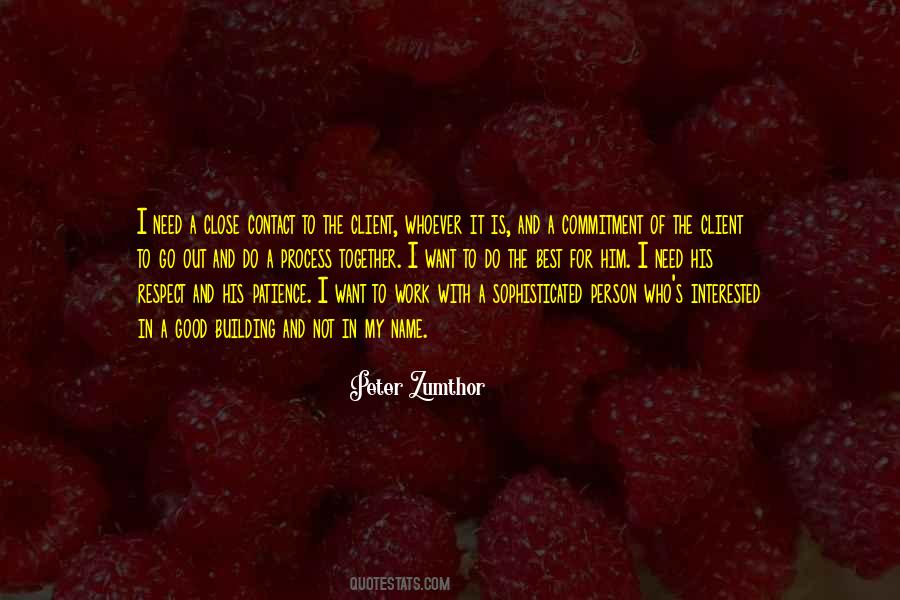 #20. Oh, I wish I organized my books. But I don't. I'm not an organized person. The best I can do is put the books I really like in one sort of general area, and poetry in another. - Author: Elizabeth Strout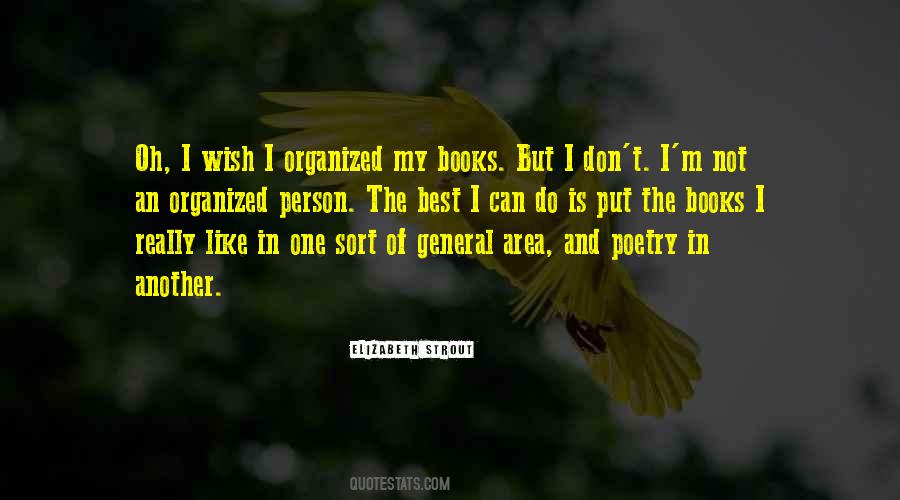 #21. I have picked the very, very best deputy that I could. David Parker is a fantastic guy. He's a person who I trust absolutely. He's got a wonderful sense for policy. He will be great on organisation, and I know that I could not have a better deputy. - Author: David Cunliffe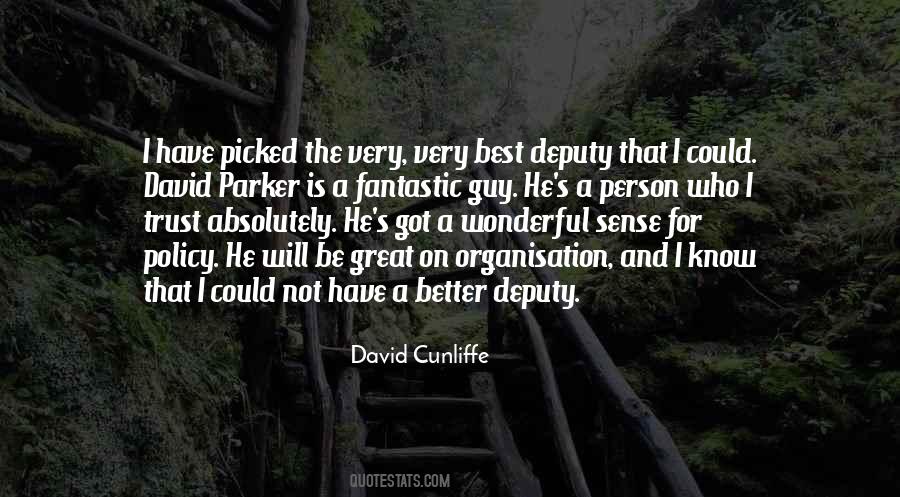 #22. I figure this current era of history is the one with the best chance of quality of life for a black, female, disabled, middle-aged, queer person who's most comfortable not fitting in. The odds still aren't great, mind you. But I'll take my chances with the 21st century. - Author: Nalo Hopkinson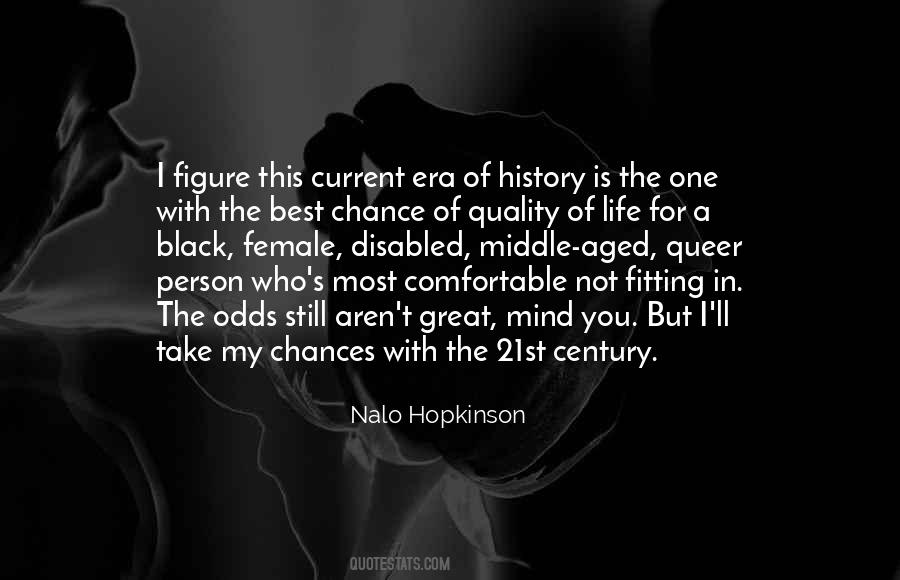 #23. I always told people in the private sector, 'You can be the smartest person in the world, you can have the very best ideas, but if you can't sell them and you can't get other people to work with you, you're not going to succeed.' - Author: Henry Paulson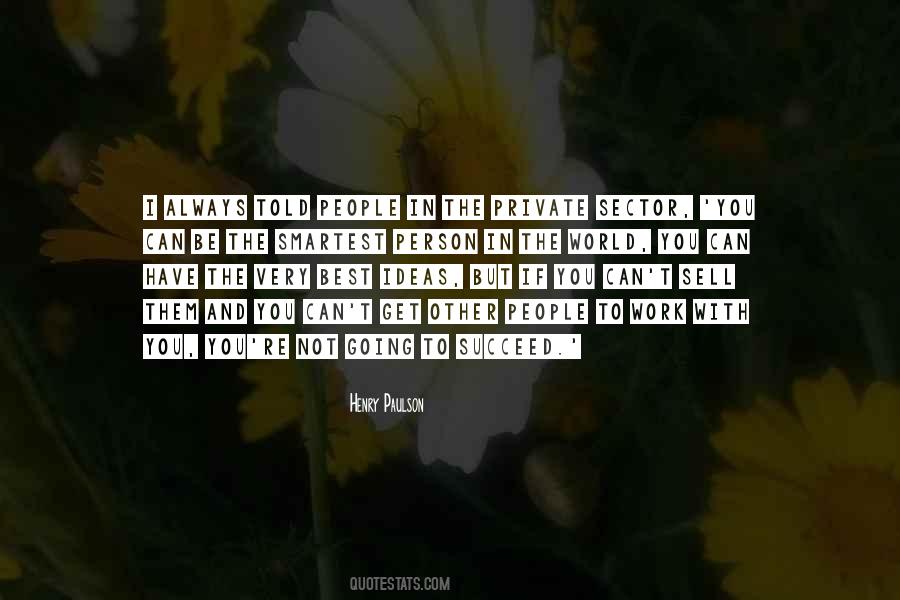 #24. I don't get grumpy at a 'Strictly' level, you understand. We're just making a television show - the person I'm dancing with can't dance; they're doing their best, and we're not going to win the World Championships. - Author: Anton Du Beke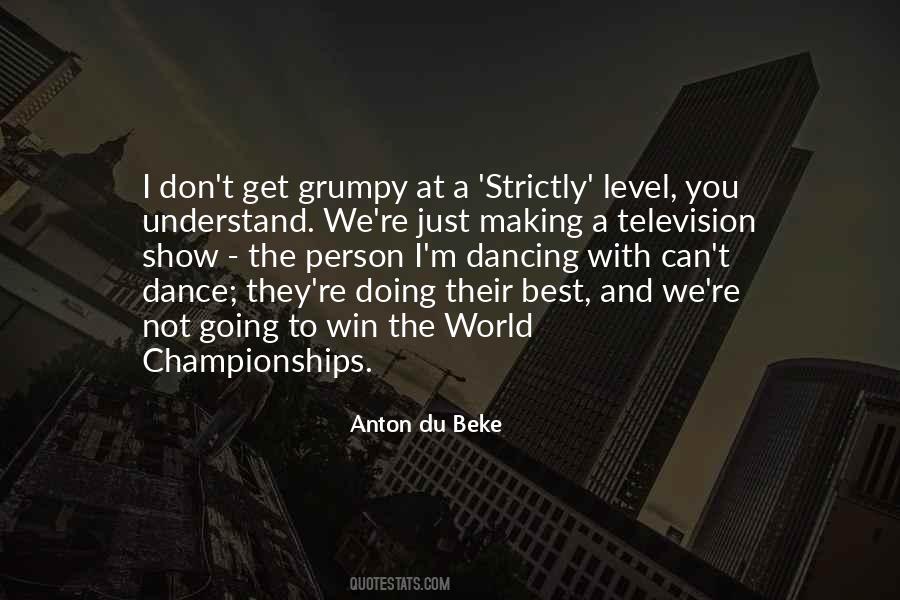 #25. If you want to pay me back one day, that's up to you. I'm not asking for it, and I never will. The best way you can pay me back is by becoming the person you want to be. - Author: C.R. Strahan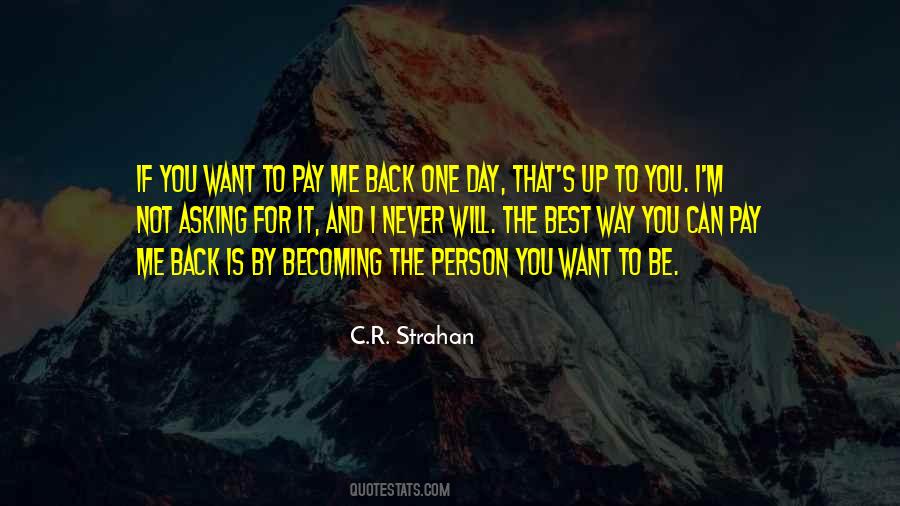 #26. I would say my best decision I ever made was to pursue my dream and give it my all. Thankfully, I have not yet made really bad decisions, I'm the kind of person to play it on the safe side. - Author: Zendaya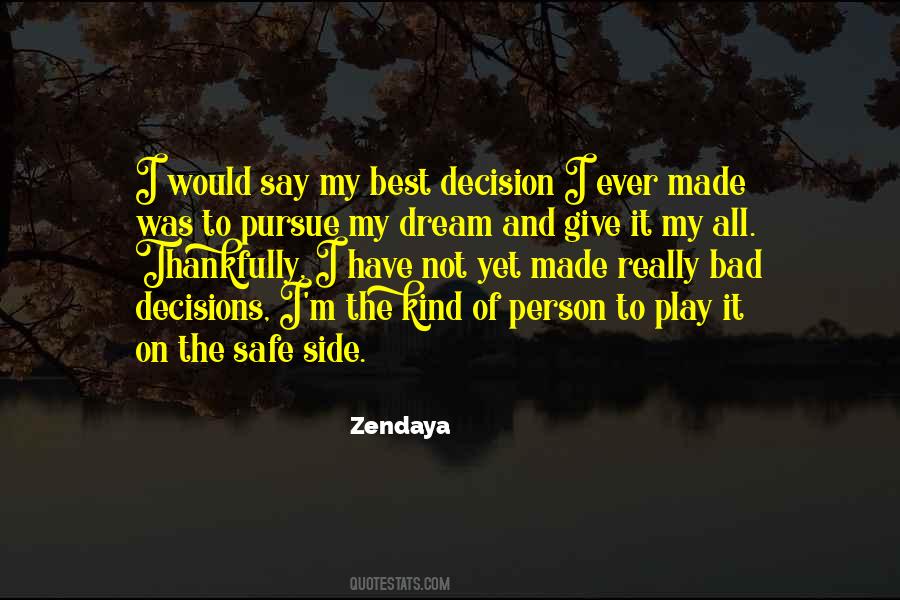 #27. I learned the hard way that not only do you not have to be superwoman, but it's better not to be and not to try to be. What I would like to be is just a good person - someone who tries her best and puts her best foot forward. - Author: Cindy McCain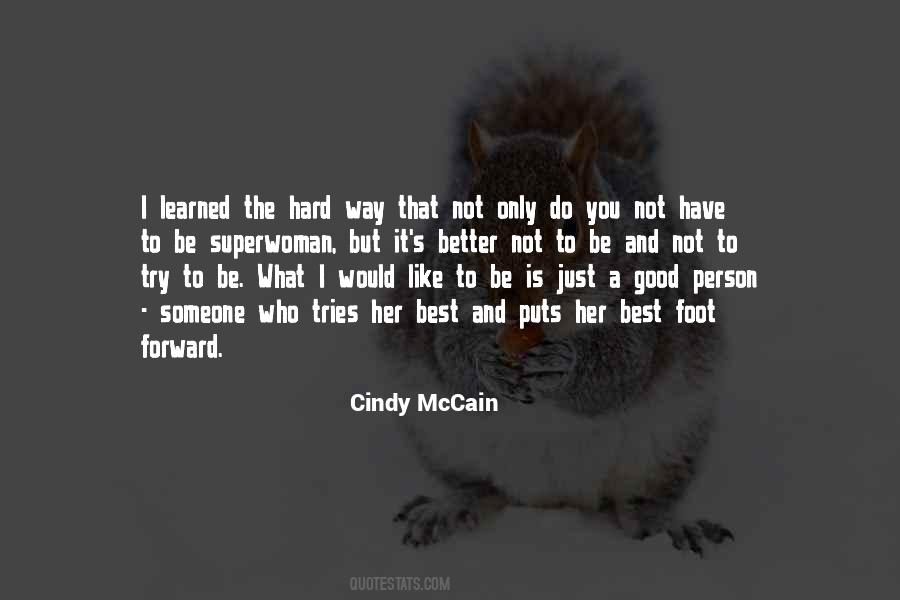 #28. I'm not working at the Chevron, although I'd probably be the best person to work the night shift. Look at me. Nobody would try to steal a Snickers on my watch. - Author: Al Jourgensen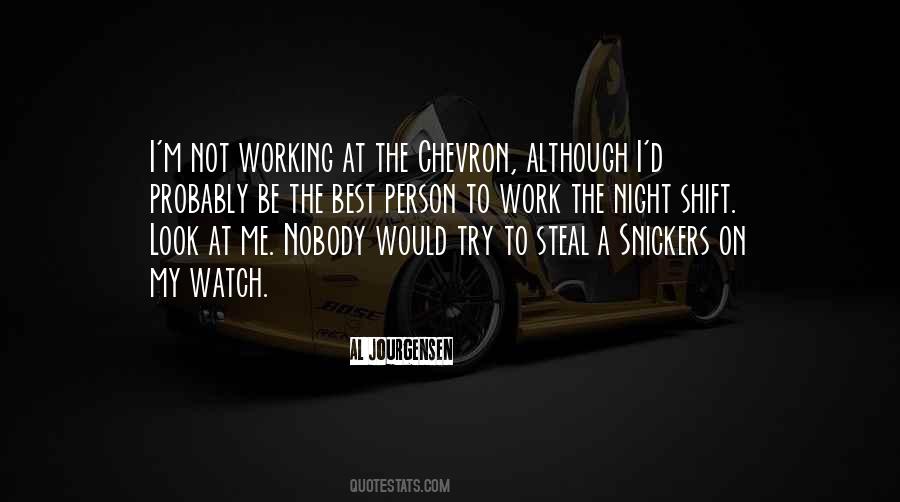 #29. I learned that the best way to take all people, black or white, is to take them for what they think they are, then leave them alone. That was when I realised that a nigger is not a person so much as a form of behavior; a sort of obverse reflection of the white people he lives among. - Author: William Faulkner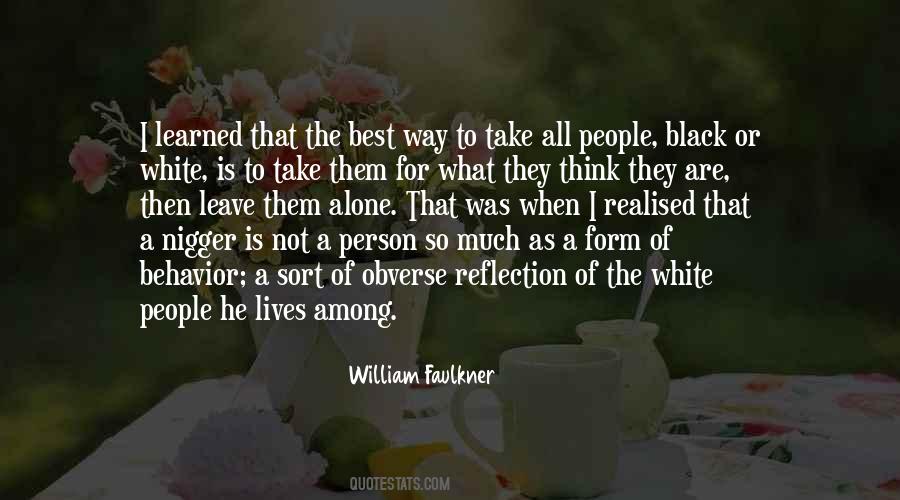 #30. I just think I'm not the best person to demonstrate all the goodness humanity has to offer. I don't want you to be too disappointed when you realize that. - Author: Marissa Meyer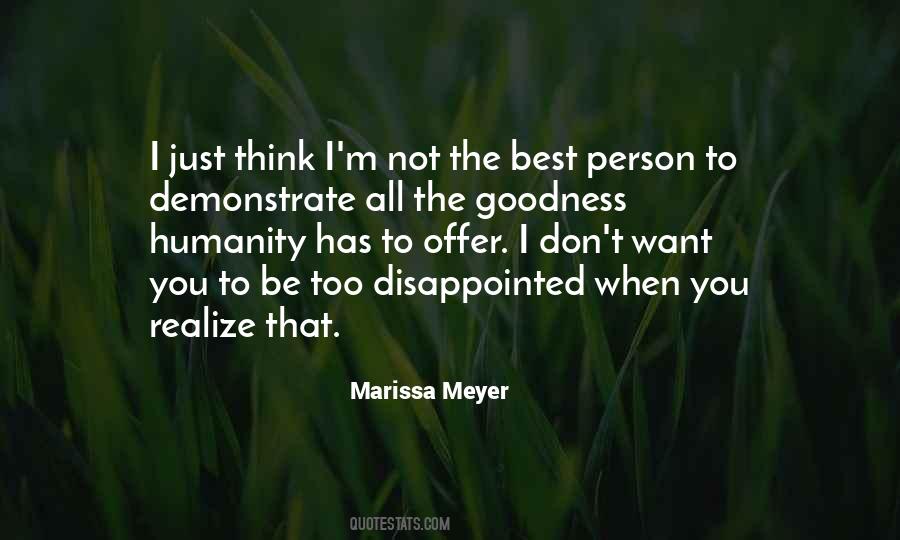 #31. I'd like to professionally ... continue my education and hopefully become an attorney. I think that's the best way to stop the miscarriage of justice that happened to me from happening to somebody else. I don't think it should ever happen to anyone ever again - not one person. - Author: George Zimmerman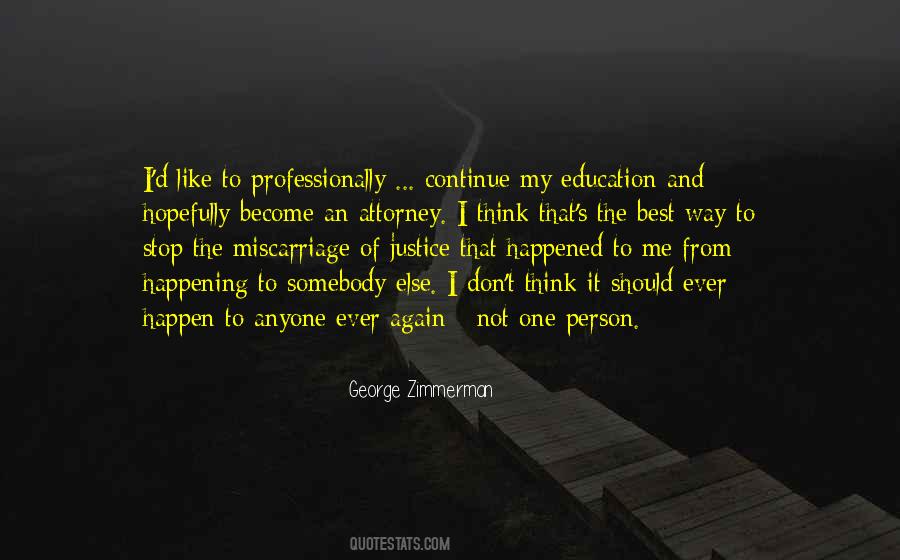 #32. I'm not going to lie to you: being Speaker of the State Assembly is the best job I've ever had in my entire career. But you know, I got into politics 'cause I wanted to make a difference, and I was always raised that one person could make a difference. - Author: Jeff Fitzgerald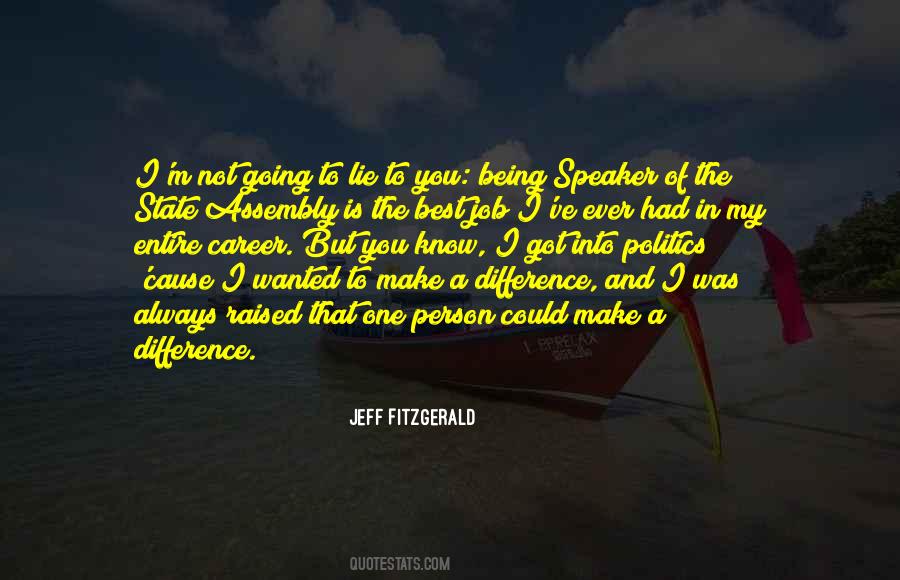 #33. I never was a person who wanted a handout. I was a cafeteria worker. I'm not too proud to ask the Best Western manager to give me a job. I have cleaned homes. - Author: Shirley Jackson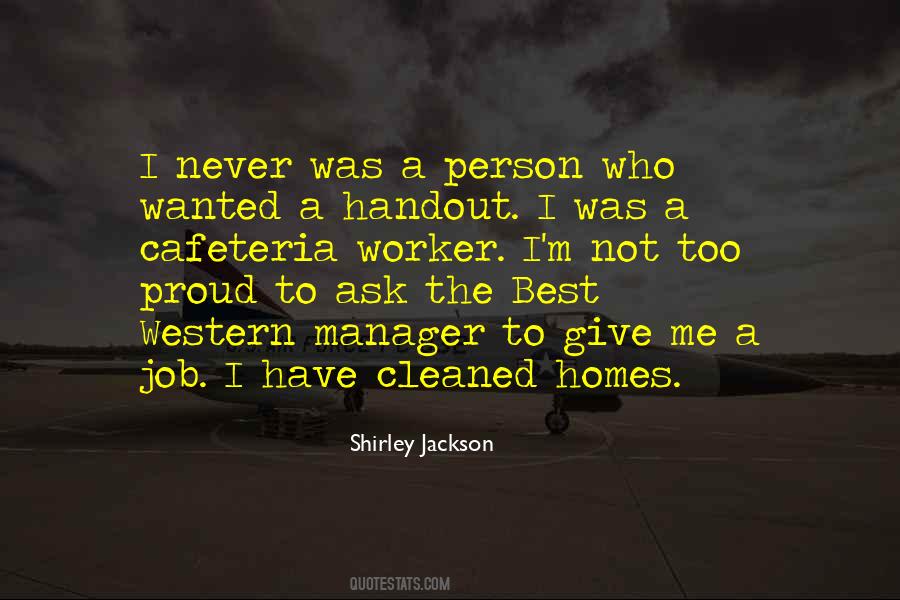 #34. We also all know people who could do so much more if only they believed in themselves. Like so many things, a lack of confidence can become a self-fulfilling prophecy. I don't know how to convince anyone to believe deep down that she is the best person for the job, not even myself. - Author: Sheryl Sandberg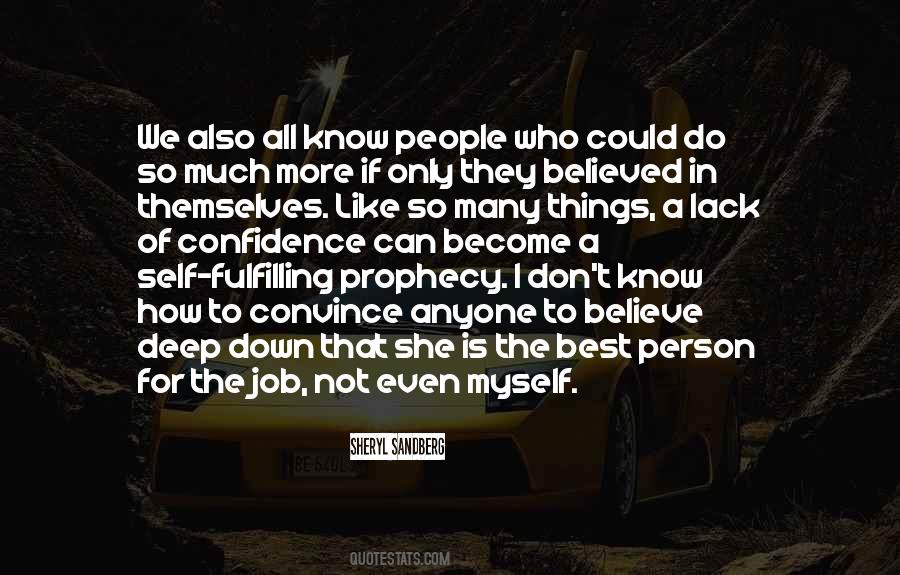 #35. I'm giving you everything I have, Triss. I want to be yours, and I want you to be mine. No matter what storms lay ahead of us, I know that as one we can make it. I'm not perfect by anyone's standards but you make me want to strive to be the best person I can be. - Logan - Author: Karice Bolton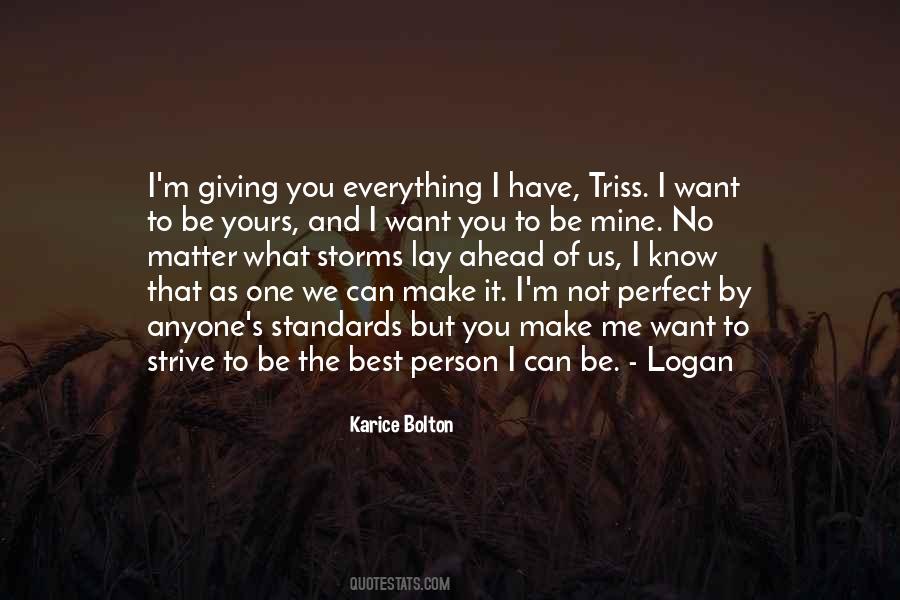 #36. I'd still trust an overly fat person over a skinny one any day. The best adviser would have a very specific body type: pudgy or just a little overweight. This makes it clear they have a somewhat unhealthy relationship with food, but not a clinical problem. They - Author: Jim Gaffigan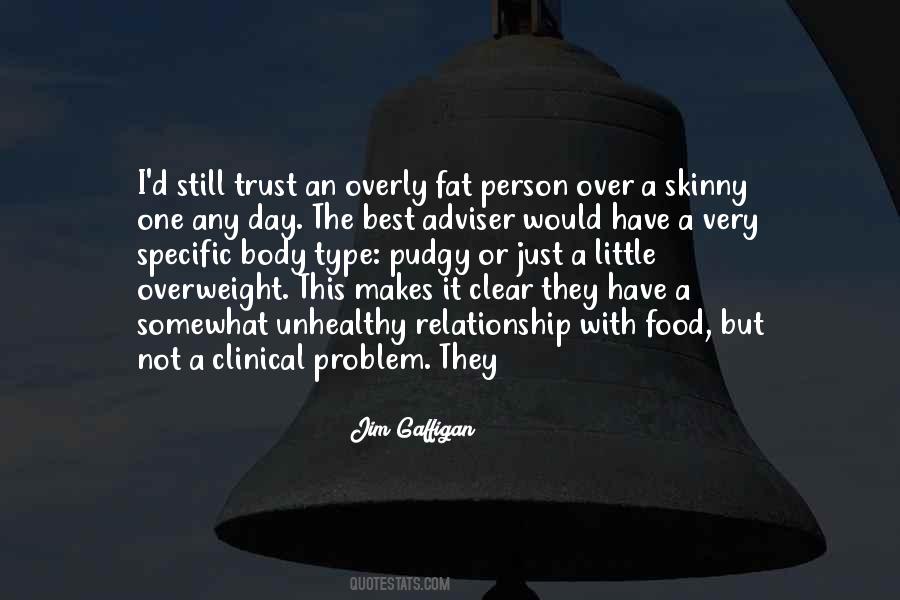 #37. I'm not politically committed at all in the popular sense; that is, to any party. I'm committed to whatever's best for the normal working person. I'm not a great fan of politics. - Author: Frank Oz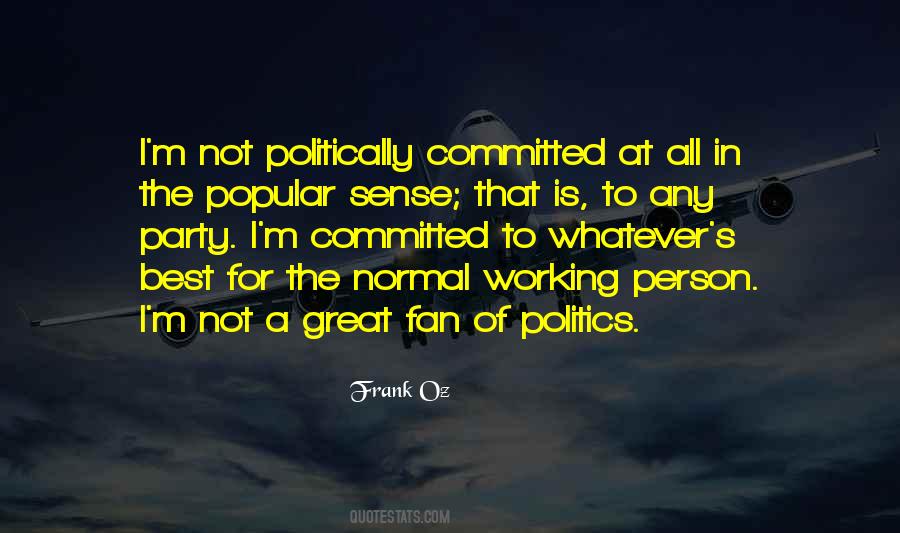 #38. I am not in favour of quotas. Just put the best person into the job. It is not about gender; it is about experience, leadership and vision. - Author: Angela Ahrendts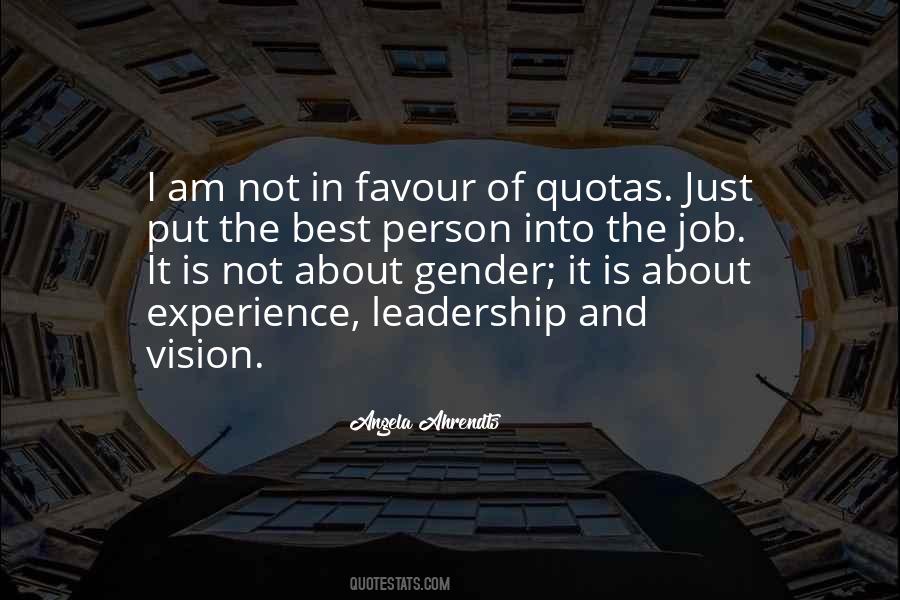 #39. I'm not a morose person; it's just that my best songs reflect on the sadder aspects of life. - Author: Robert Smith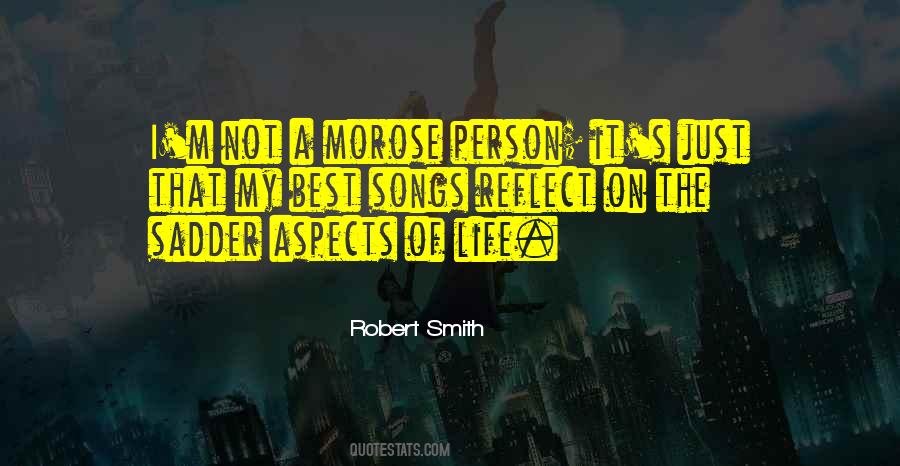 #40. I'm always active in trying to educate people when it comes to eating animal products, testing on animals, and the health benefits of being vegan, although I'm probably not the best person to be talking about the latter at the moment. - Author: Daniel Johns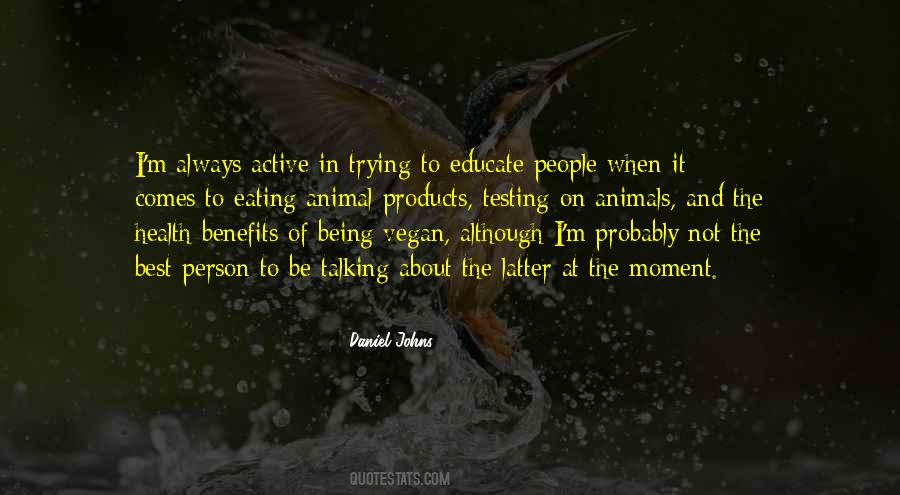 #41. I see only defects because I'm not following the scene as it were. I'm not following the other person. It's like the best thing to clarify this is the theater. - Author: Omar Sharif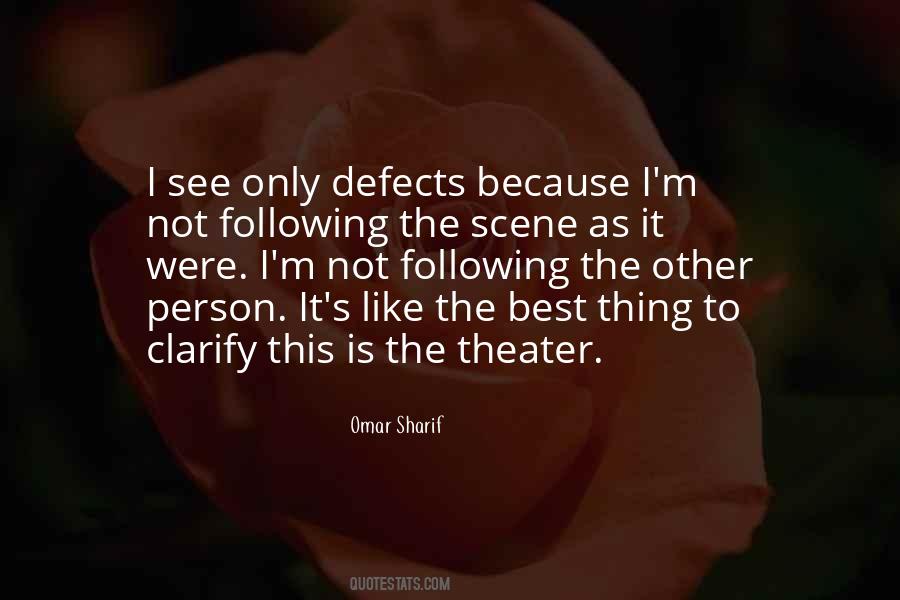 #42. I'm super hard on myself anytime I think of an idea for a collaboration. I will rack my brain trying to think of one. I wait for the right person. It stresses me to think that I'd do a collaboration with someone and not make it the best possible opportunity. - Author: Lilly Singh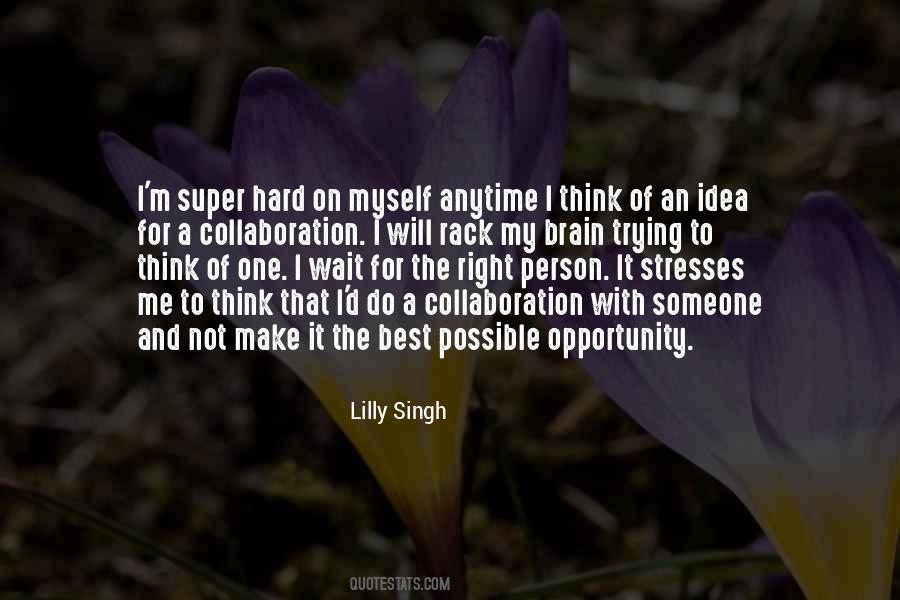 #43. And I don't just mean that they change you. A lot of people can change you - the first kid who called you a name, the first teacher who said you were smart, the first person who crowned you best friend. It's the change you remember, the firsts and what they meant, not really the people. - Author: Sara Zarr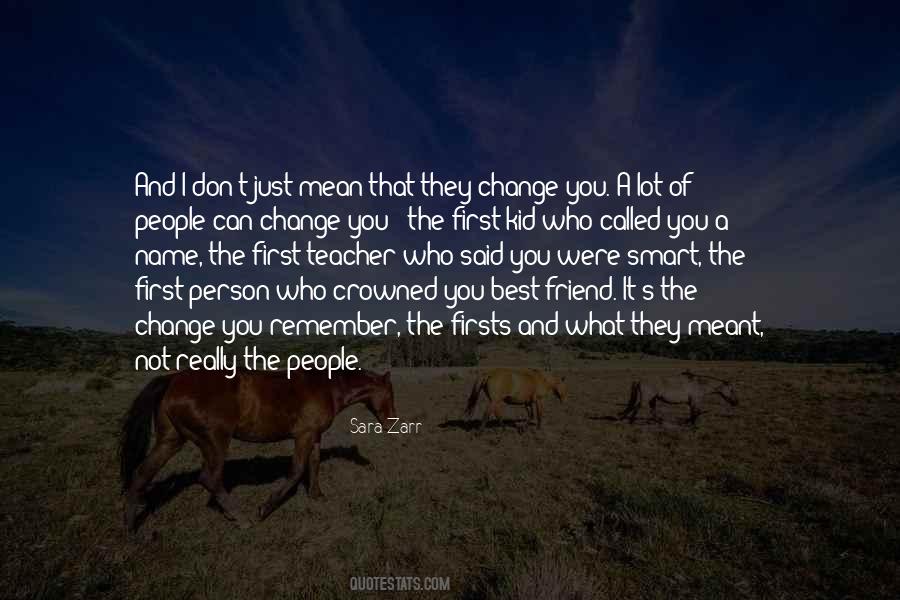 #44. I'm not a snob. If I feel like there's a star that's the best person for that role, then that's who I get. - Author: Steven Soderbergh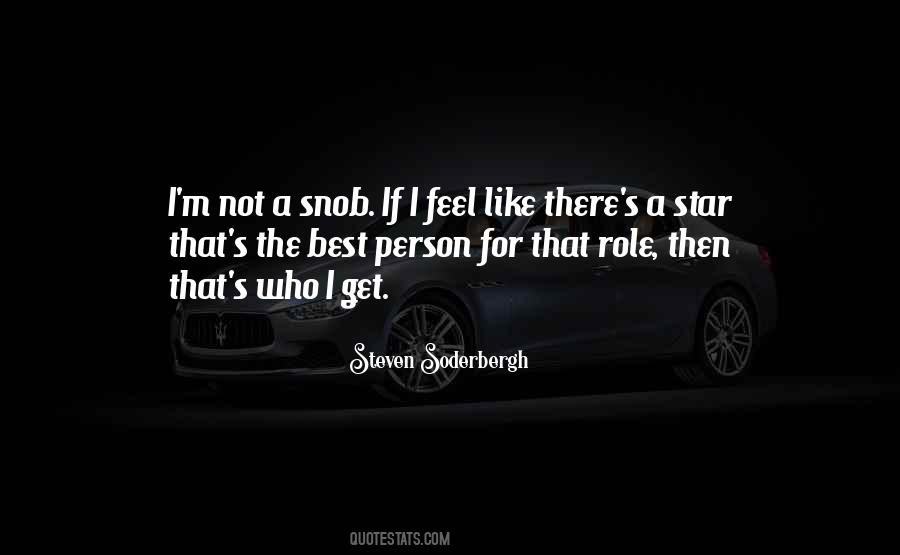 #45. But as much as being the person who is the best Christian, who "follows Jesus" the most closely can feel a little seductive, it's simply never been who I am or who my parishioners need me to be. I'm not running after Jesus. Jesus is running my ass down. - Author: Nadia Bolz-Weber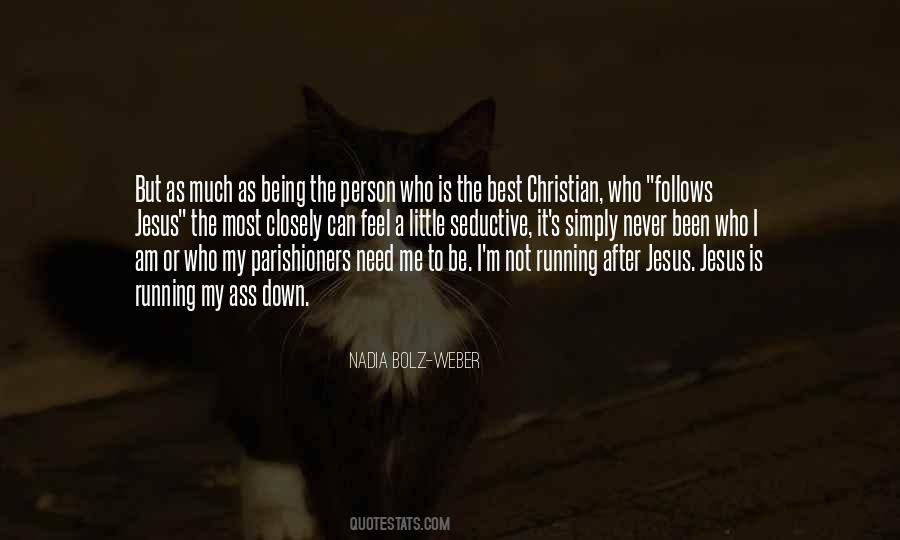 #46. It's not my place to say how good I was because the thing is, every champion from every era is a great fighter and it's up to one person's interpretation to who is actually the best. - Author: Joe Calzaghe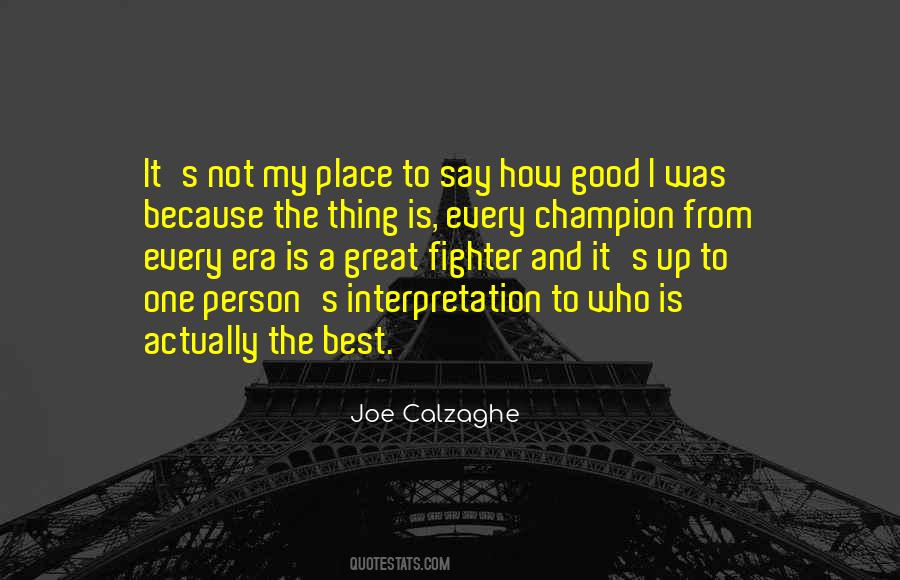 #47. In my heart, I know I haven't been the best person, the best quarterback for the Steelers. I'm not talking just on the field, I'm talking off the field. - Author: Ben Roethlisberger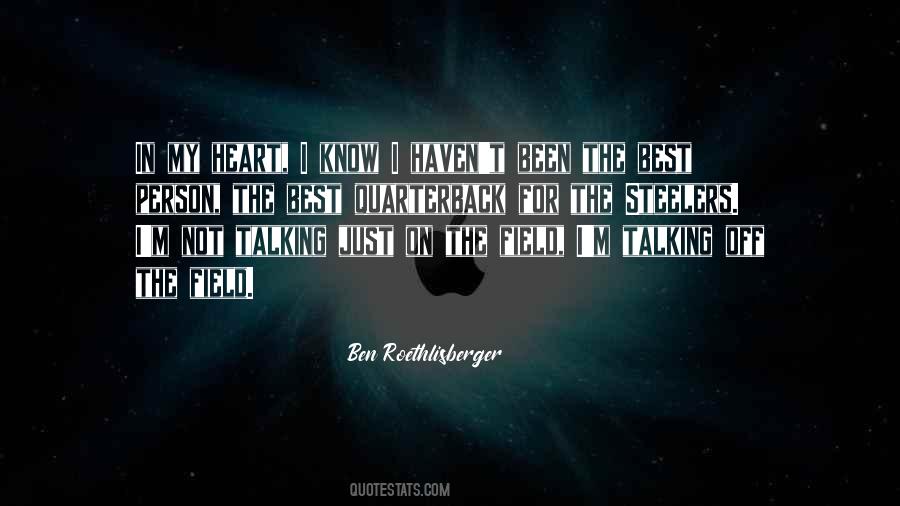 #48. Real person. real name. I won't divulge too much, but it's not a fake name. And it's not a fake person. I guess that's the best answer I can say: It's not a fake name and it's not a fake person. But it's not her real name and it's not a real person either. - Author: Justin Vernon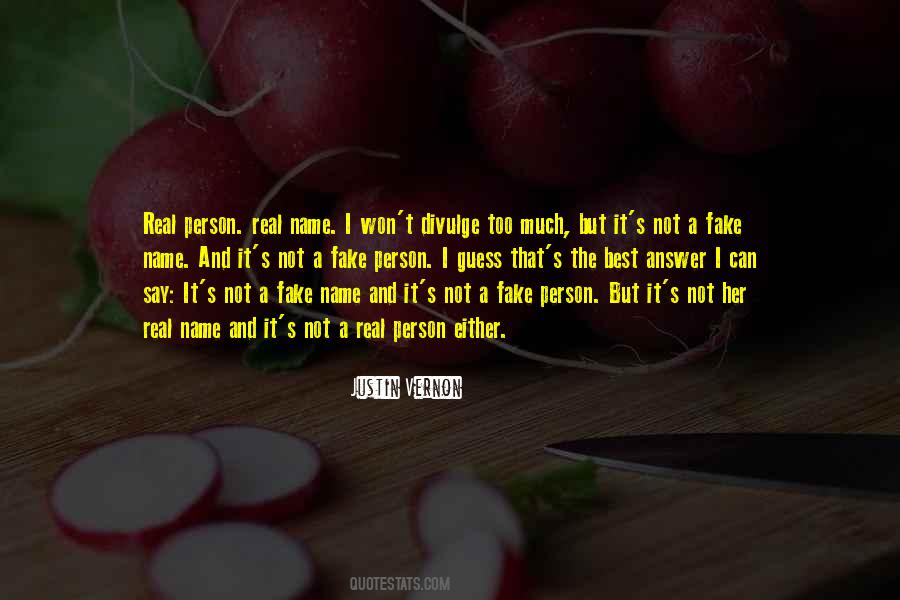 #49. I will make mistakes, after all I am not perfect, but I will do my best to make them up to you. I would never hurt you intentionally. I would not give up on you, so I hope you don't give up on me.
Sincerely,
The Person that Loves You - Author: Carlos Salinas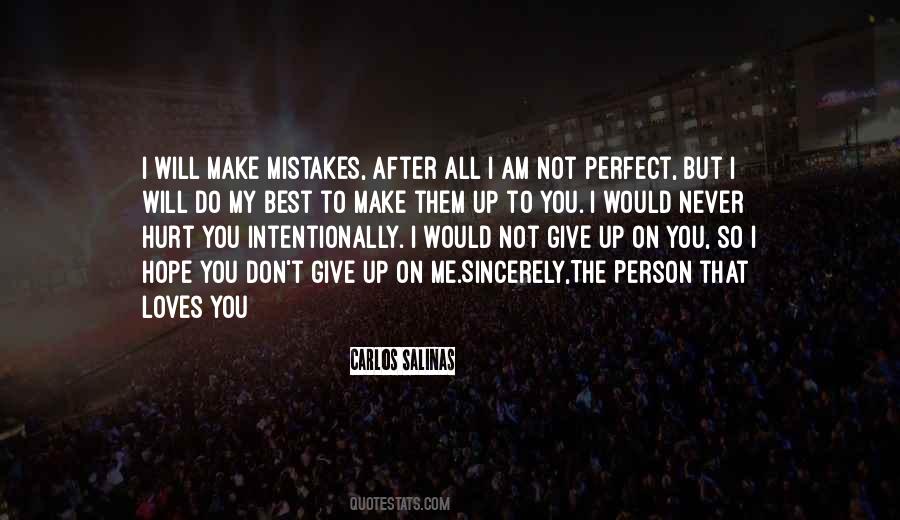 #50. I know that I'm definitely not a big big snob, and I know that at the times that I am a diva I know I'm being a diva. It's kind of annoying to know that you are. Because it's a person I do not want to be. So I'm trying my best not to become a jerk. - Author: Jackie Evancho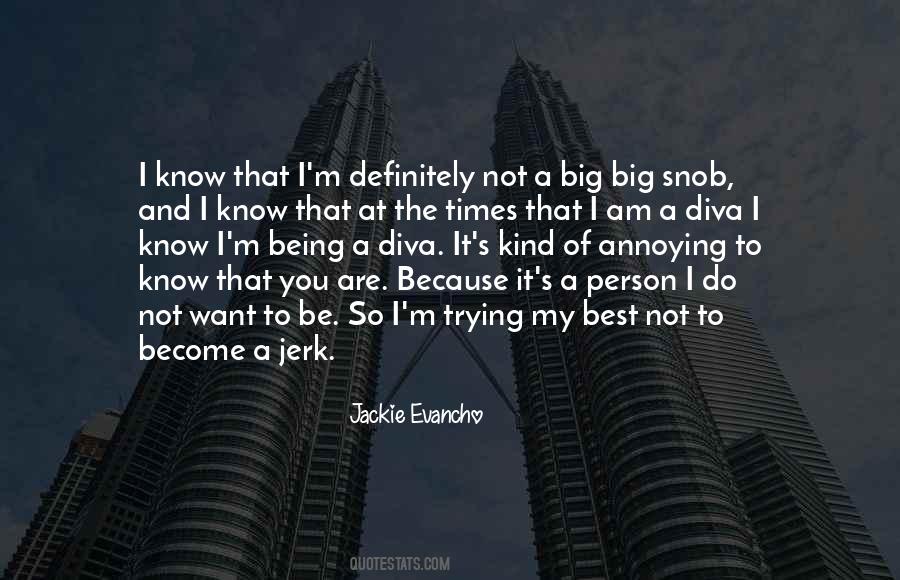 #51. Like Naokuo, I'm not really sure what it means to love another person. Though she meant it a little differently. I do want to try my best though. I have to, or else I won't know where to go. Like you said before, Naoko and I have to save each other. It's the only was for us to be saved! - Author: Haruki Murakami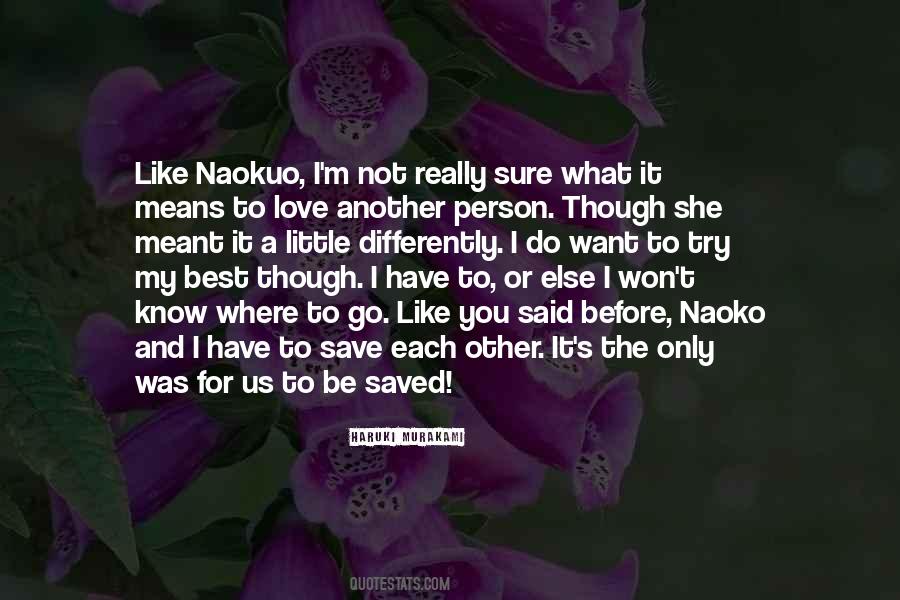 #52. I'm not the best person at putting words together. I can't give you the melody. But I might inspire somebody. - Author: Meek Mill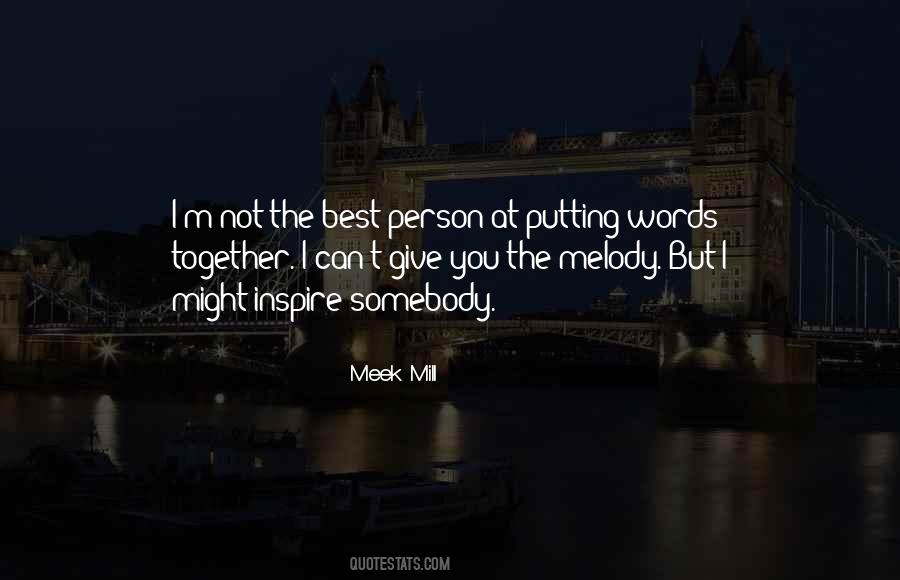 #53. Kate, I'll say it like this. Vincent is my best friend. There's not a person in this world I'm closer to. But for the past year, I have betrayed him in my heart every single day because I want for myself what he loves the very most. - Author: Amy Plum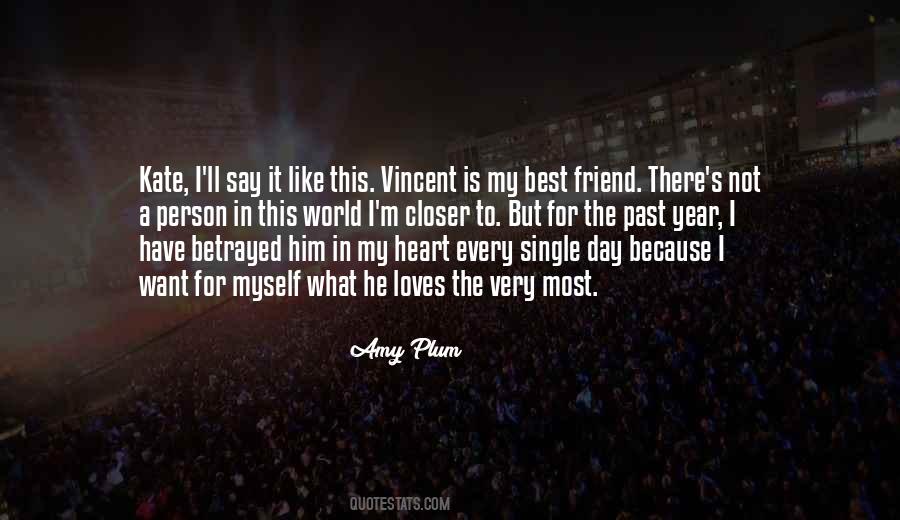 #54. I hardly ever go to parties. If I really have to, I'll go, but I'm not the most open person, which is sometimes not the best quality. - Author: Eva Green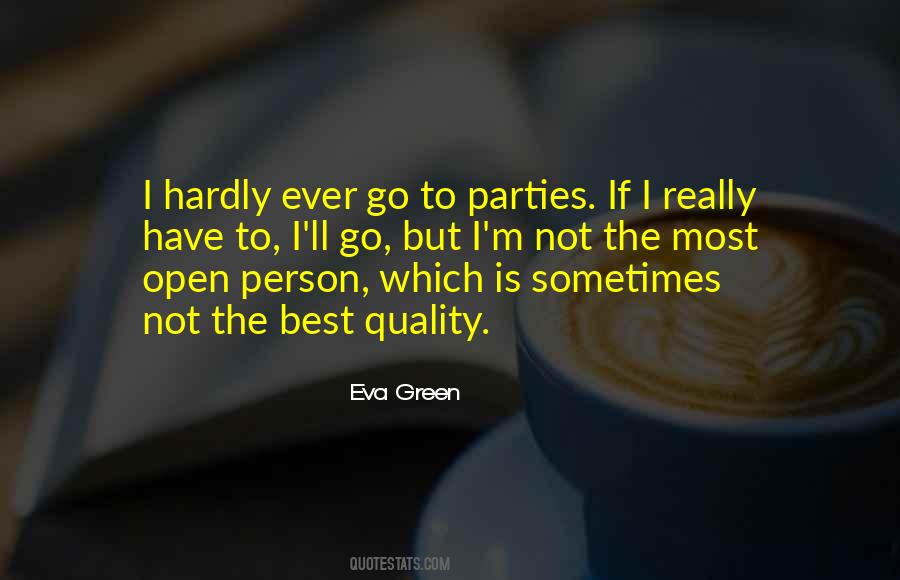 #55. I do not believe there is a way in which this deeply entrenched evil can be quickly healed. But until this goal is reached there is no greater satisfaction for a just and well-meaning person than the knowledge that he has devoted his best energies to the service of the good cause. - Author: Albert Einstein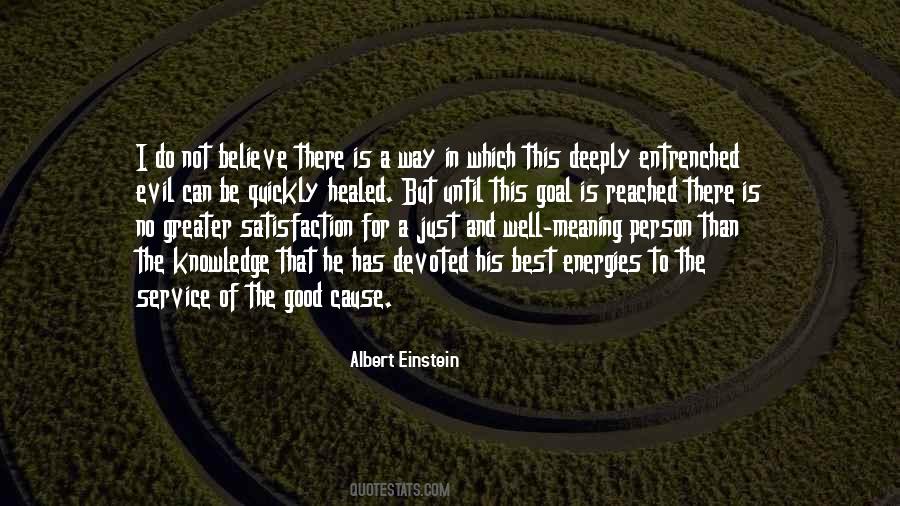 #56. I love my voice. But I'd be the first one to make a criticism of it, so I'm not the best person to critique because I'm pretty hard on myself. - Author: Leigh Bingham Nash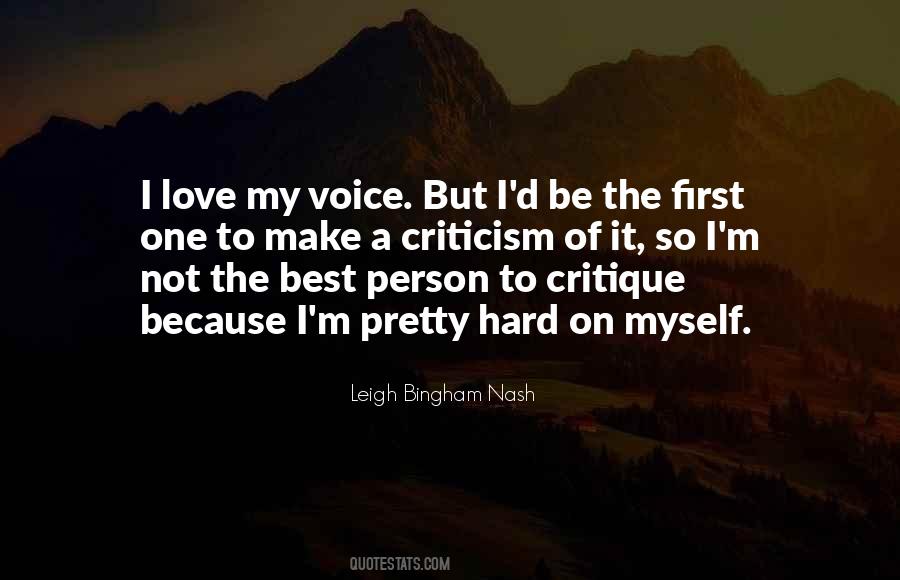 #57. I wake up in the morning and I feel like I'm missing something. I know that there's something not right, and it takes me a while to remember what it is ... then I remember. My best friend is gone. My only friend. It was silly of me to rely so much on one person. - Author: Cecelia Ahern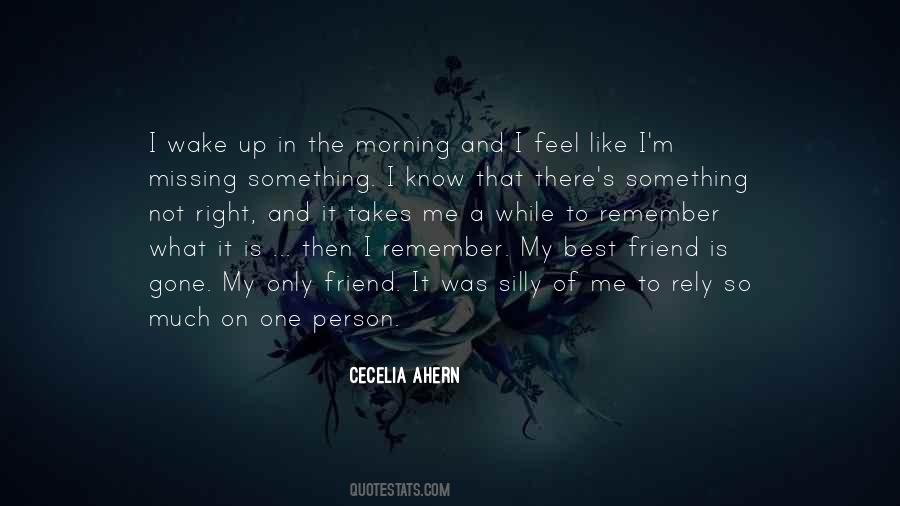 #58. I'm trying to find myself as a person, sometimes that's not easy to do. Millions of people live their entire lives without finding themselves. But it is something I must do. The best way for me to find myself as a person is to prove to myself that I am an actress. - Author: Marilyn Monroe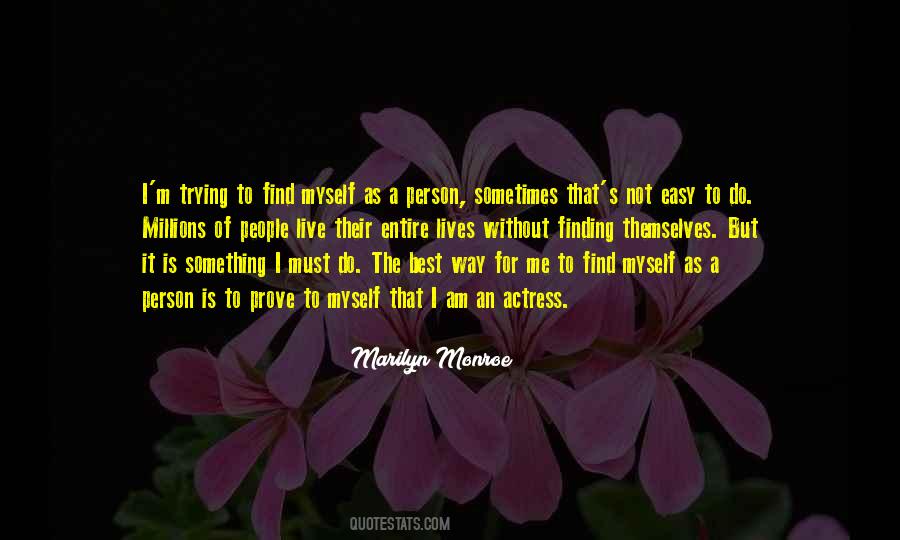 #59. I'm just a person, just Jay Park, but people expect me to be the best dancer or a man with the perfect personality. That's not me. - Author: Jay Park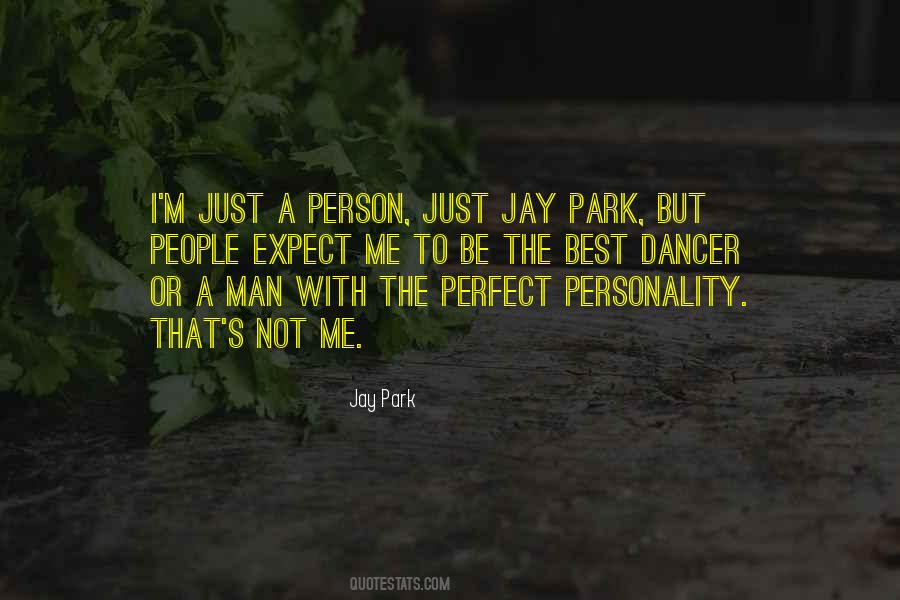 #60. I'm figuring out what I want by trial and error, and maybe that's not the best way, but it's all I've got. All I know is that I need to be my own person, someone shaped by my desire, not fear of disappointing the people who are supposed to love me. - Author: Cora Carmack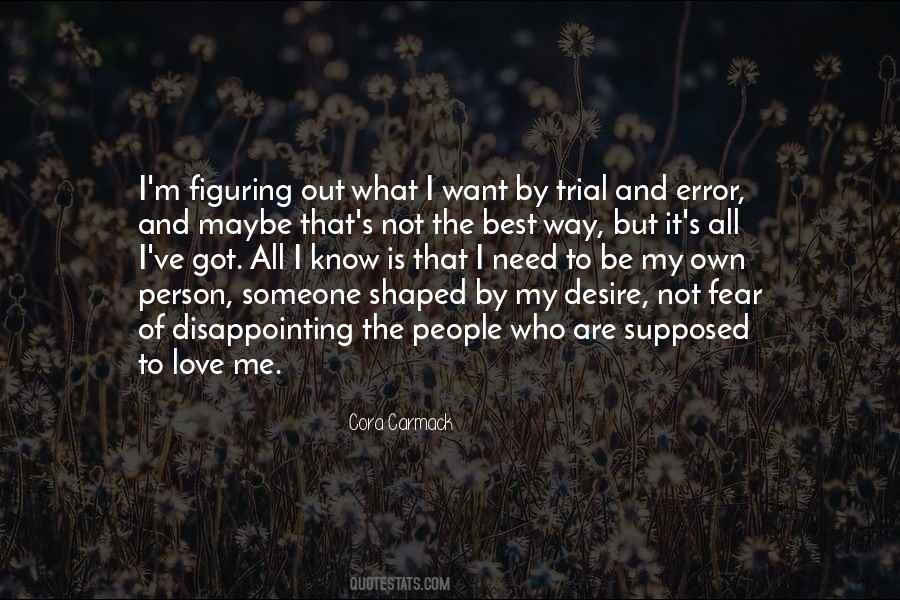 #61. I do spend really focused time with my wife, my kids, grandkids, and so when I'm doing something or on a golf course, work has stopped. I'm not always thinking and working ... I think a leader has to really be a balanced, whole and healthy person personally in order to be the best leader on the job. - Author: Mike Duke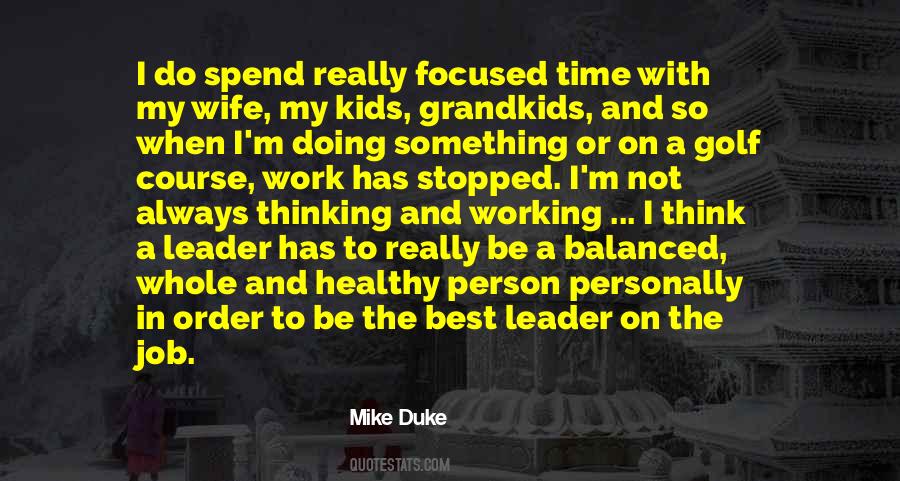 #62. Every successful person I have heard of has done the best he could with the conditions as he found them, and not waited until next year for better. - Author: E.W. Howe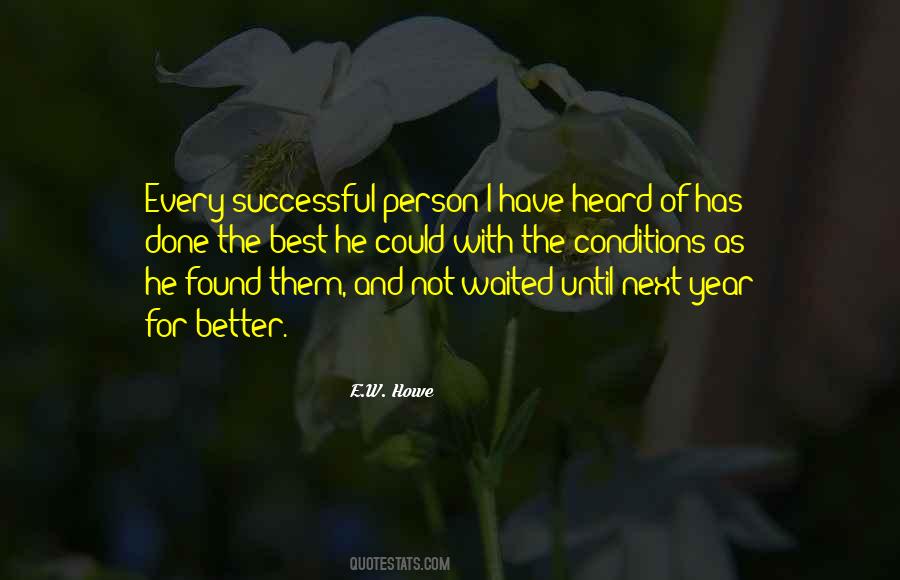 #63. I come from the best era of film I believe; when people were taking chances on films. It's time for us to bring more truth to the story and not necessarily carry a torch for every Black person in America; just tell a story, and a good one too. - Author: Romany Malco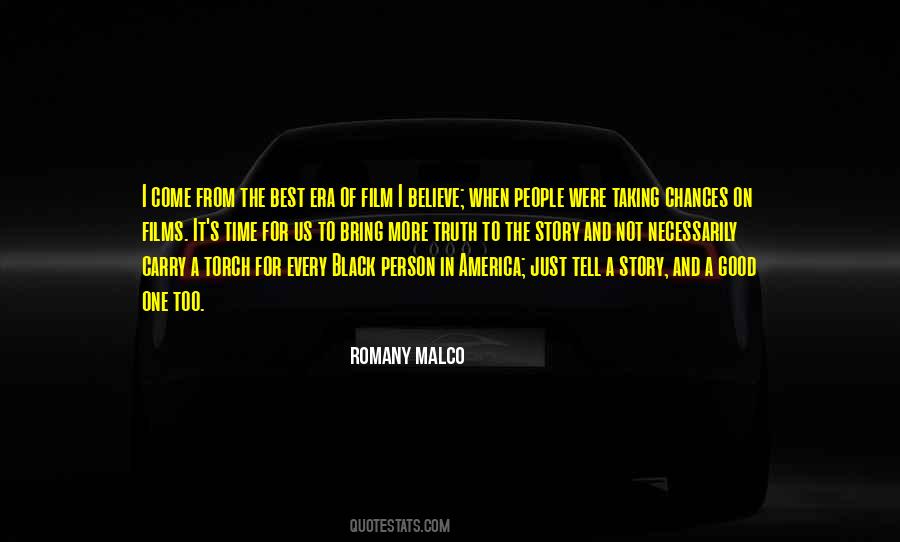 #64. I believe in the Bible and I try to follow the Bible. I know I'm an imperfect person, I'm not making myself out to be an angel. Because I'm not an angel & I'm not a devil either. I try to be the best I can and I try to do what I think is right. It's that simple. - Author: Michael Jackson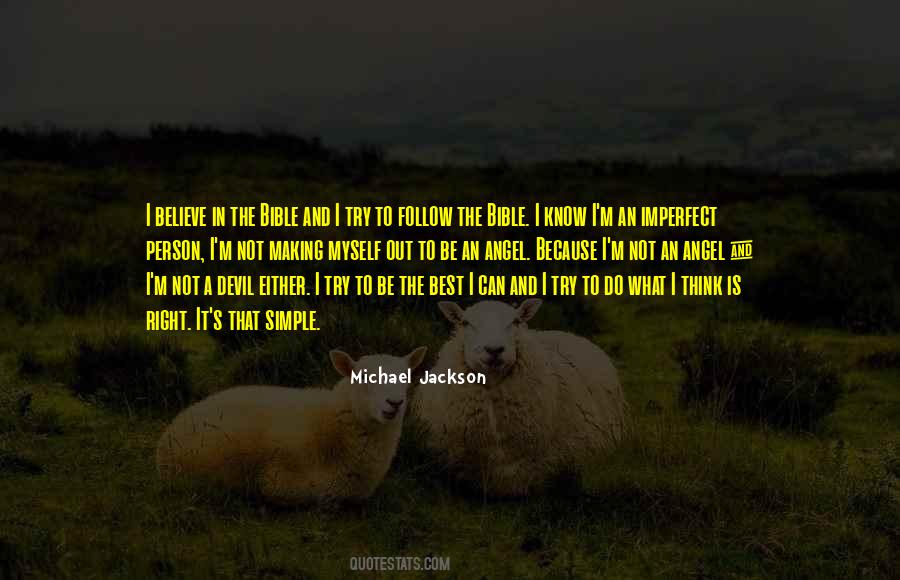 #65. I would prefer you not to say, "That was the most terribly written piece I've ever read." That would hurt me. But you don't think I'm the best person in the world? Well, alright. - Author: Anne Roiphe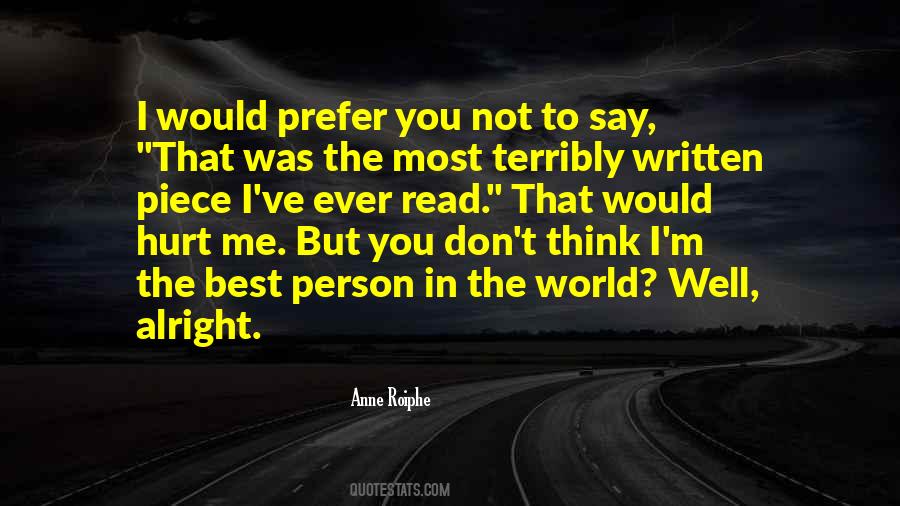 Famous Authors
Popular Topics