I Forgive You But Famous Quotes & Sayings
List of top 100 famous quotes and sayings about i forgive you but to read and share with friends on your Facebook, Twitter, blogs.
Top 100 I Forgive You But Quotes
#1. I don't want to be in some relationship that's just about trading apologies when things get hard. Doing that won't make it all OK, you know? So, no, I don't forgive you. But I fucking accept you, including all the shit you do that tests my patience. Because I love you. - Author: Liora Blake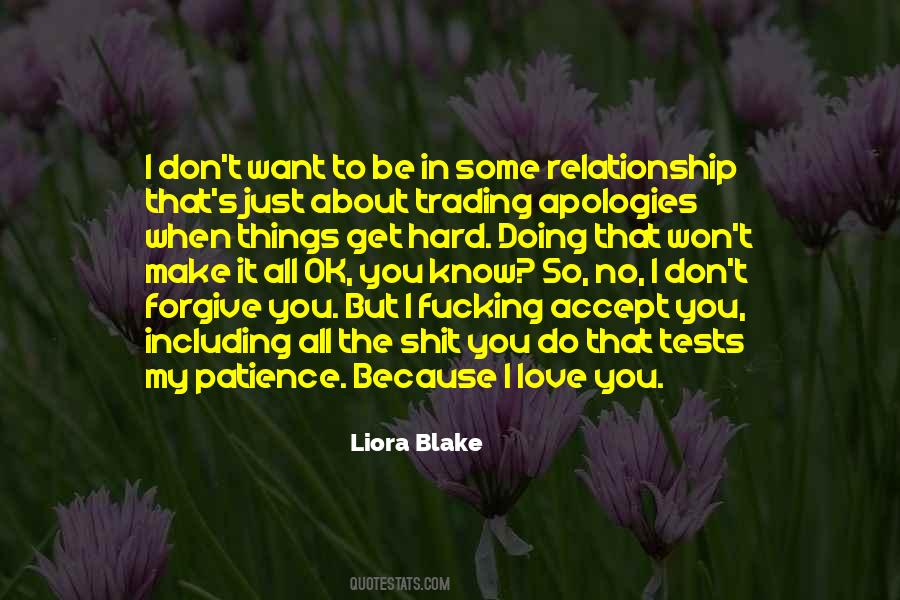 #2. I'm worthless," Lionheart says. "I couldn't save her. I couldn't redeem my honor." "You never can," the Prince replies. He takes Lionheart by the shoulders and forces him to sit up, to face him. "But do you think my grace insufficient to forgive you? - Author: Anne Elisabeth Stengl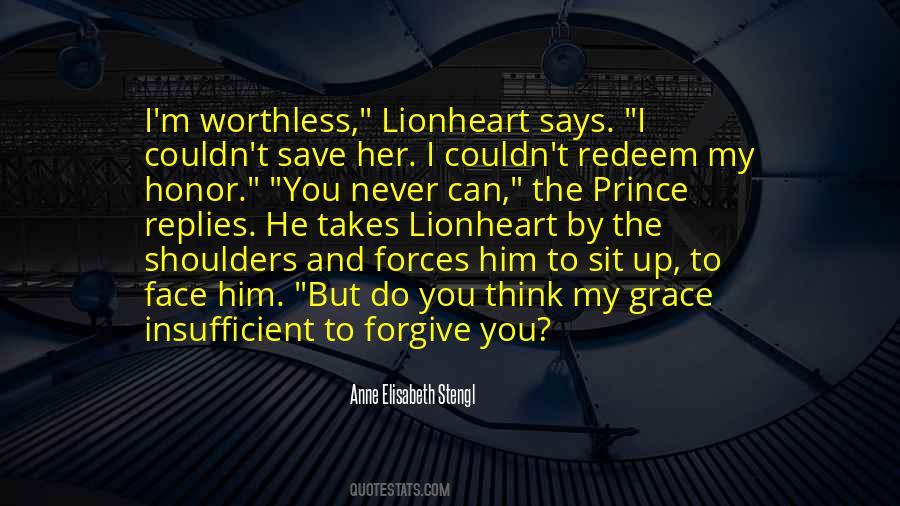 #3. I'll say I'm sorry for the rest of my life if you'll forgive me," he whispered in her ear.
"I want to hate you."
He pressed his forehead to hers. "You want to, but you don't?"
"I love you, you ass. - Author: Bernadette Marie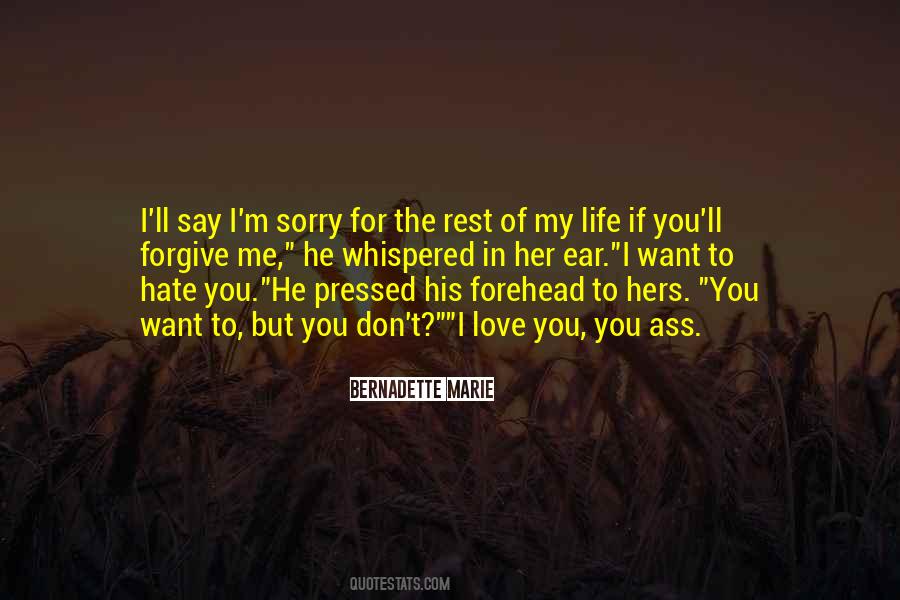 #4. This is why I forgive, but I don't forget. When you forget someone, the forgiveness doesn't mean anything anymore. - Author: Barry Lyga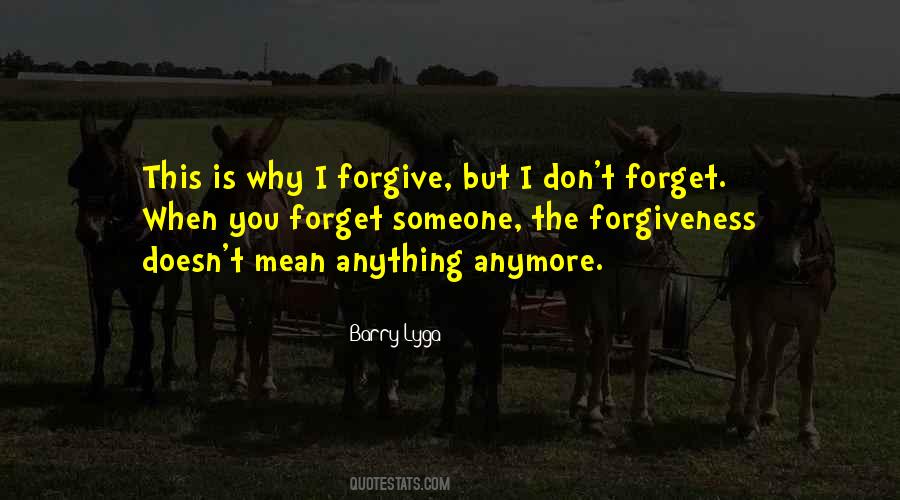 #5. Not the same thing in my opinion. You forgive for you. To find peace. You don't want that toxic shit eating up your soul. But you can use the injustice to fuel you." I - Author: Leslie N. Johnson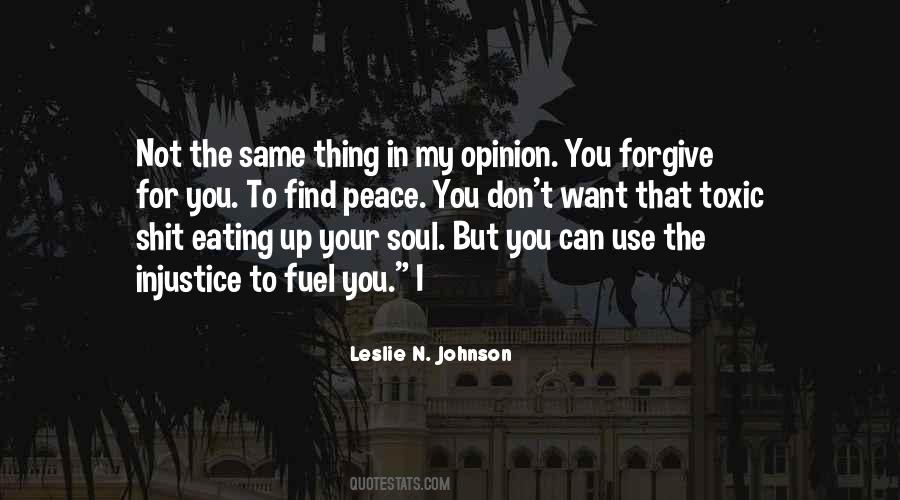 #6. Forgive me, Paul, and I do get a little abrupt from time to time, but titles don't mean a damn thing. Your boss can give you a title. Your boss can't make people listen to you. You have to earn that. It doesn't sound like you get that yet. - Author: Ken Goldstein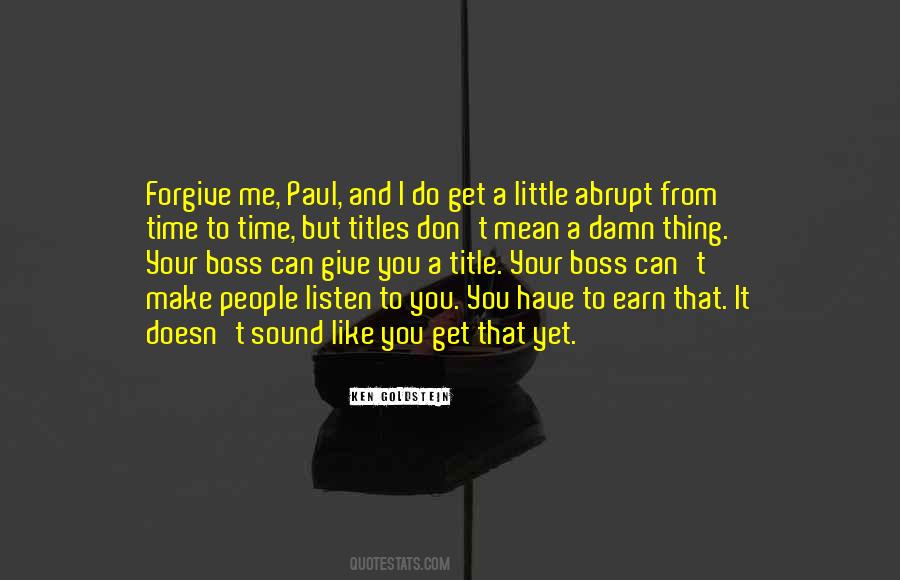 #7. I wonder if I'll ever forgive Evandar? I wonder even more if I should bother," Aderyn said.
"Of course you should," Nevyn said wearily, "but for your own sake, not his. Hatred binds a man to what he hates, and I think me you need to be free of him. - Author: Katharine Kerr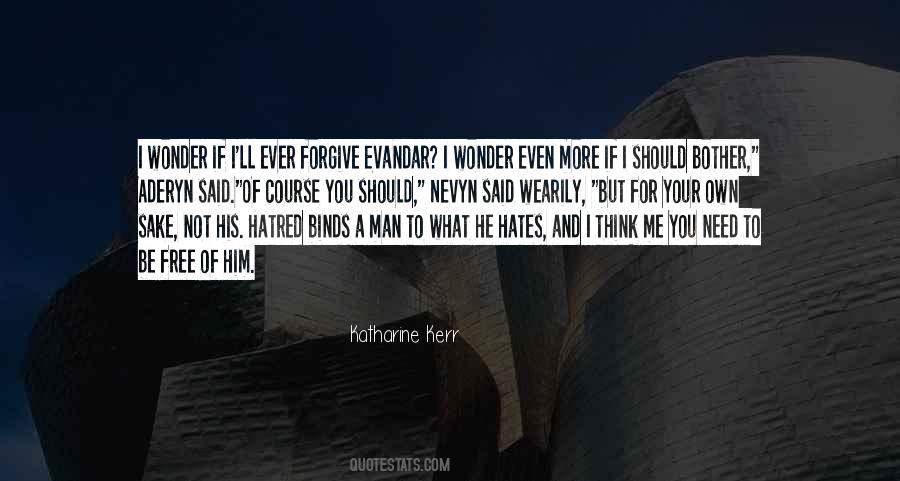 #8. You like me." "I do not," she lied. "But I didn't mean to hurt your feelings." He was undaunted. "Aye, you like me, lass. I can tell. You called me by my given name and you are frowning, with dewy eyes. I forgive you for being cruel and thoughtless. - Author: Karen Marie Moning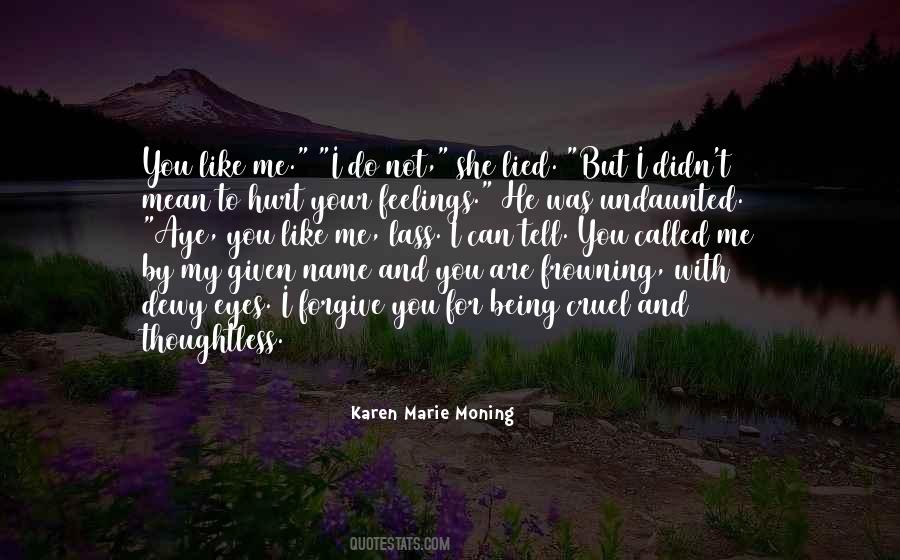 #9. If I say, 'I forgive you,' I have implicitly said you have done something wrong to me. But what forgiveness is at its heart is both saying that justice has been violated and not letting that violation count against the offender. - Author: Miroslav Volf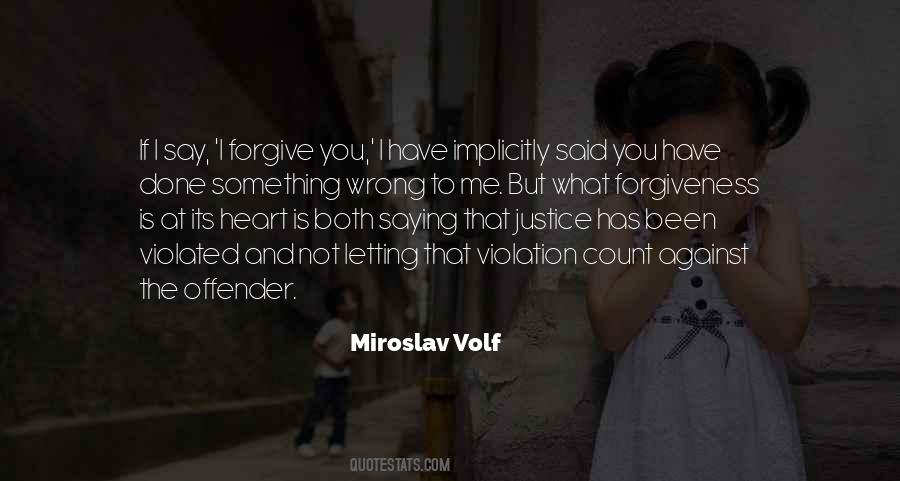 #10. But even if you should betray me, I will forgive you. - Author: Yun Kouga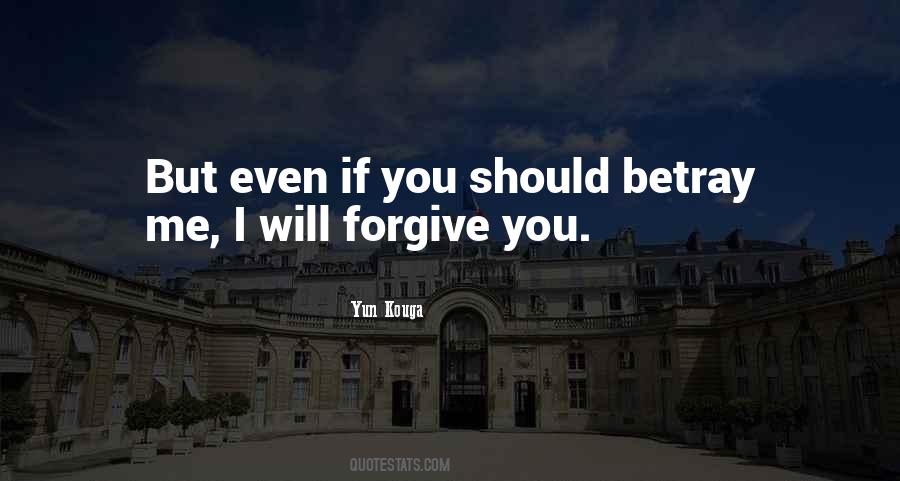 #11. I know you don't want to forgive me, but at least allow me to live by your side. - Author: Paulo Coelho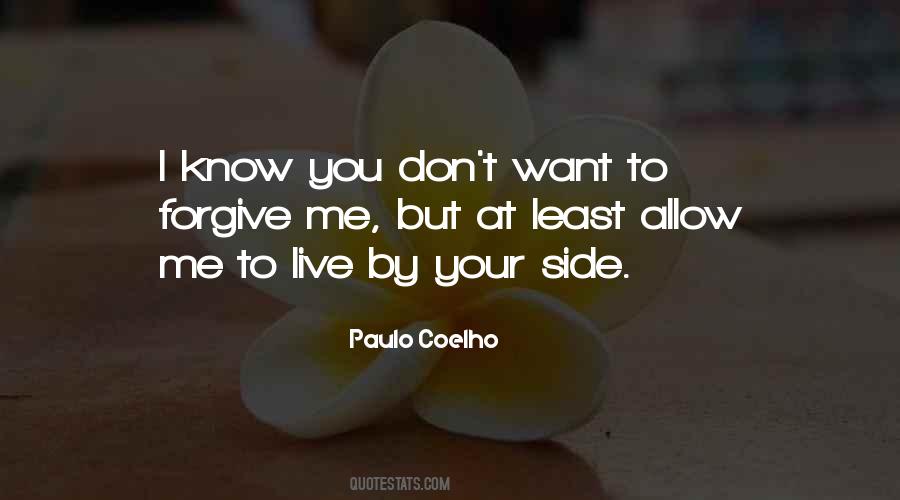 #12. No worries. They don't scare me. (Devyn) All right, but if my brain matter ends up smeared against a wall, I'll never forgive you. (Alix) - Author: Sherrilyn Kenyon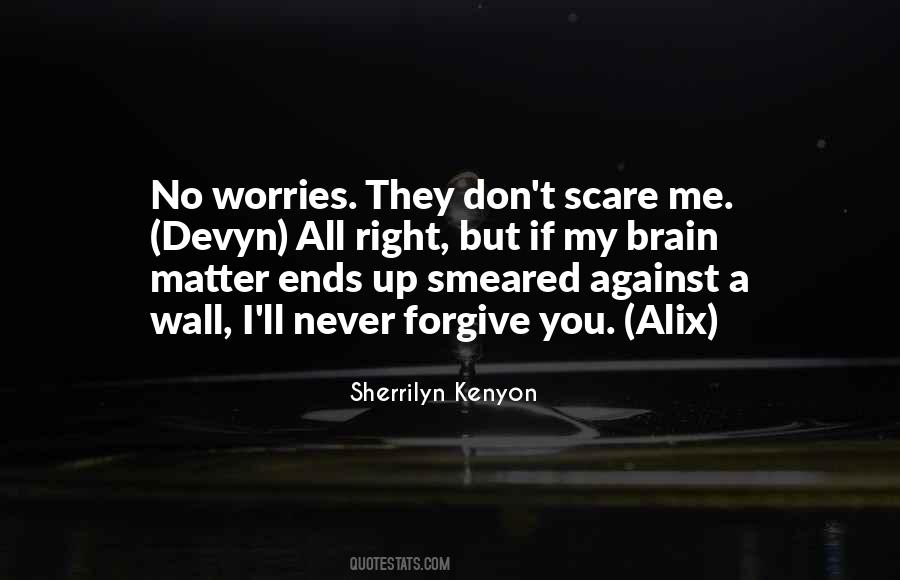 #13. Forgive me, that I manage badly,
Manage badly but live gloriously,
That I leave traces of myself in my songs,
That I appeared to you in waking dreams. - Author: Anna Akhmatova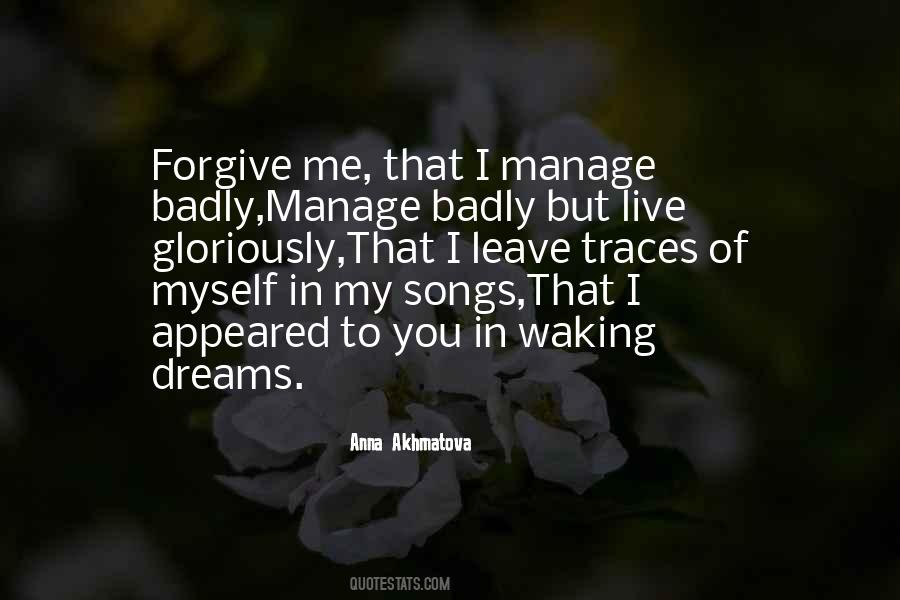 #14. And forgive me if this is harsh, but I don't want you getting it into your head that the love you have for Ridge will be enough to hold you over until the day Maggie dies. Because Maggie isn't dying, Sydney. Maggie's living. She'll be around a lot longer than Ridge's heart could ever survive you. - Author: Colleen Hoover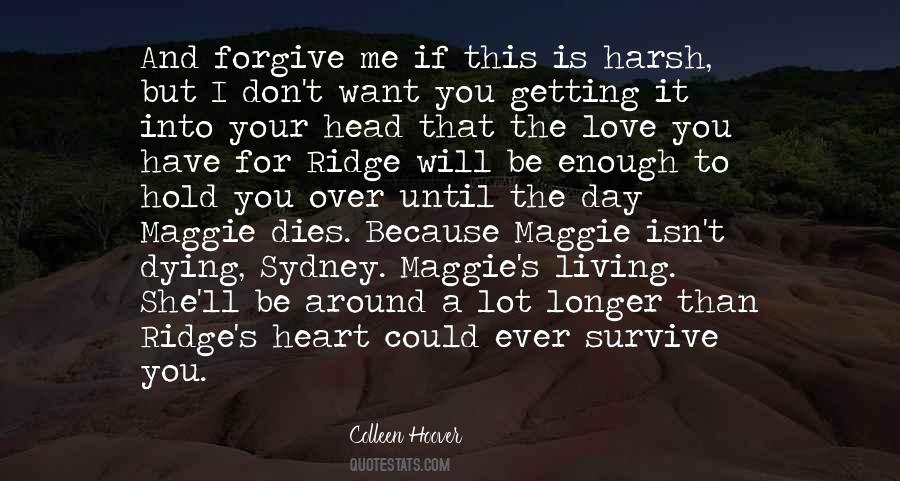 #15. Why are women always the ones who have to forgive? If you cheated on a man, he would be like, 'You're disgusting, and I want nothing to do with you.' But women, we're supposed to be like, 'He messed up. He made a mistake.' - Author: Adrienne Bailon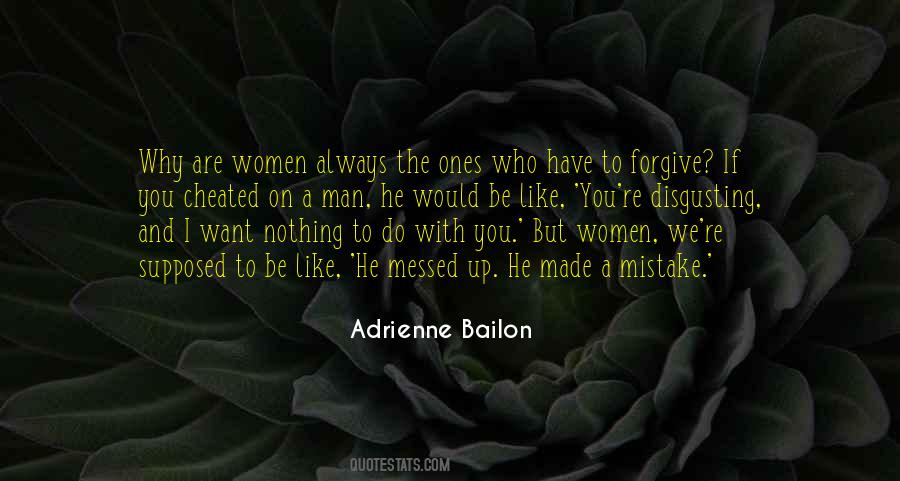 #16. I've not forgiven you." I could feel my legs shaking, hear the tears in my voice. "I don't know how long it's going to take me to forgive you, or if I ever will, but I'm so happy that you're here right now. - Author: Myra McEntire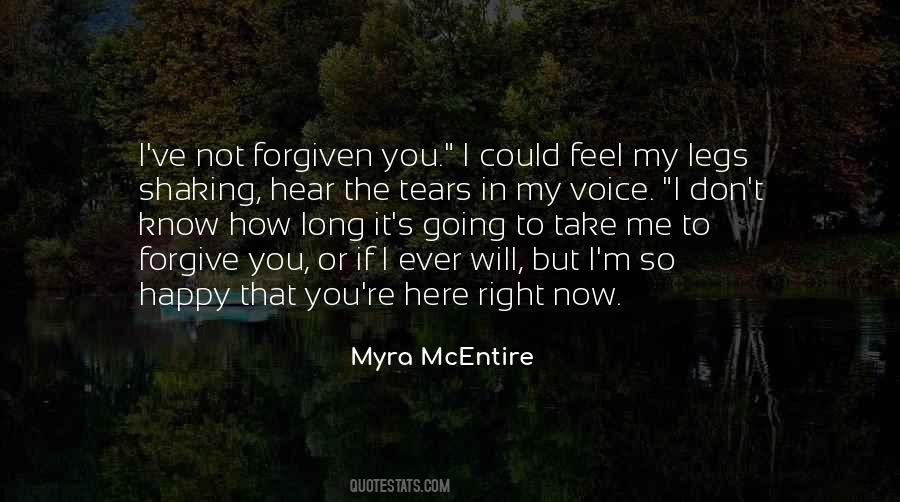 #17. You'll forgive me for saying so, my dear, but I perceive very little aura around you. Very little receptivity to the resonances of the future. - Author: J.K. Rowling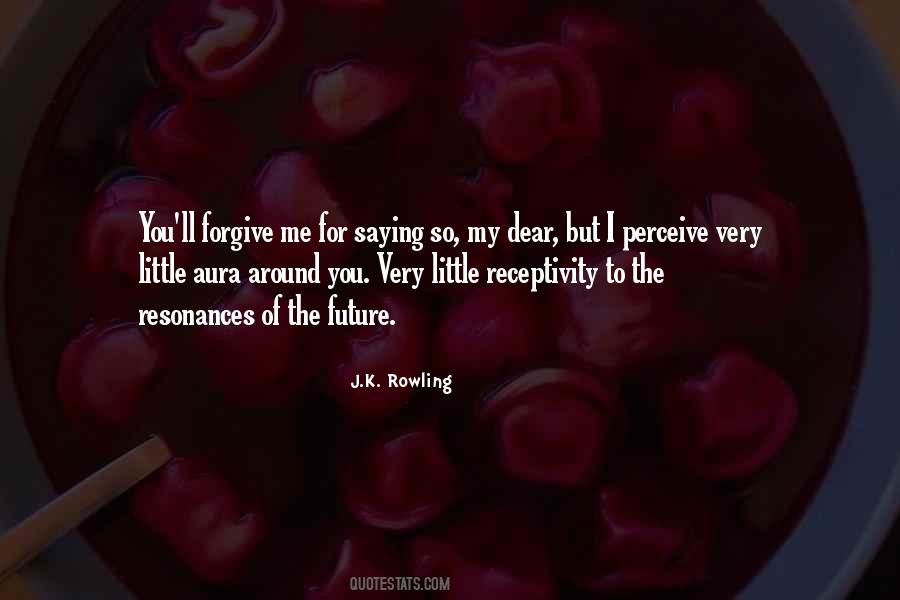 #18. We are all going to die soon. Do you really wish to waste time being angry at me?"
"Yes. I remain an unrepentant optimist. If i see that I am about to die, or you, I will forgive you. But not until then, you bastard. - Author: Sherry Thomas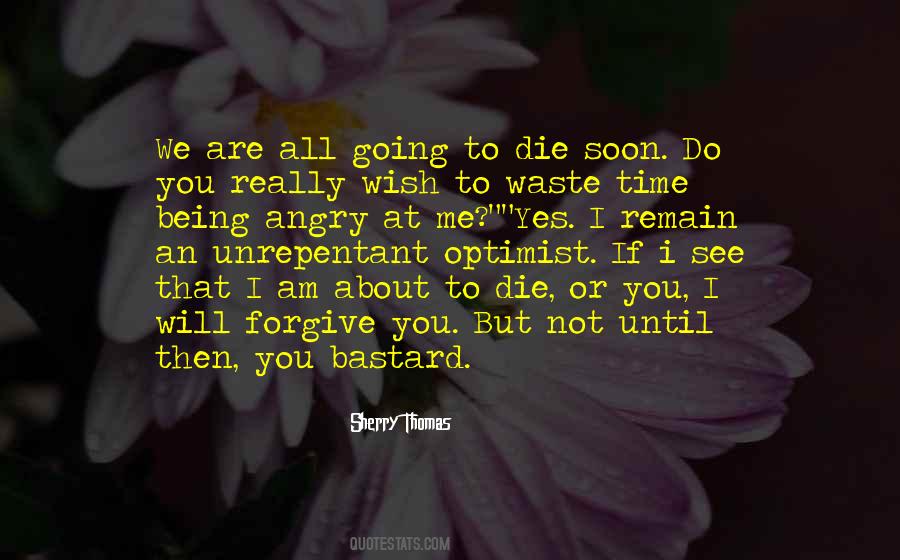 #19. Is not seeing any ugly parts in myself an ugly part? Is not wanting to forgive someone's ugly parts an ugly part in oneself?
Yeah. I didn't understand a word you said, but yeah. - Author: Francisco X Stork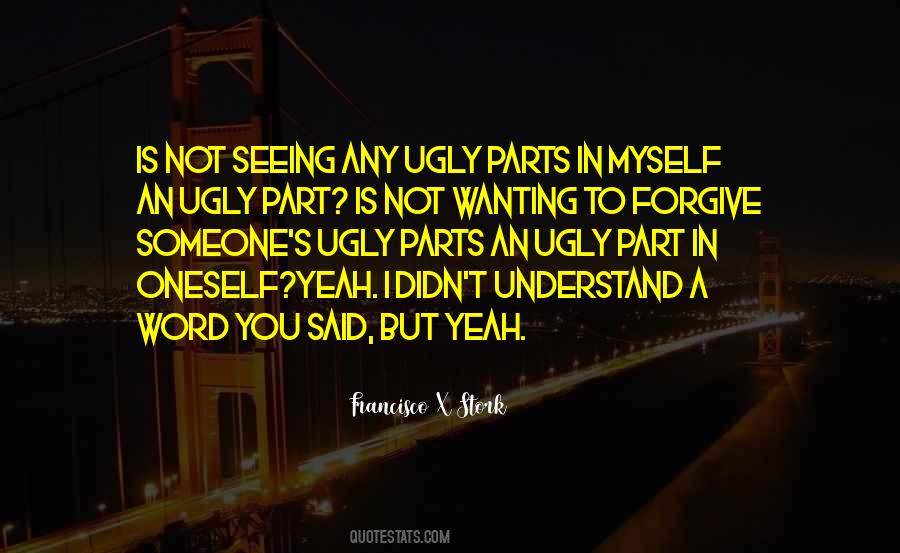 #20. Forgive the pessimism, if not the sonority. But I know how much you demand from a thing, you little bastard. - Author: J.D. Salinger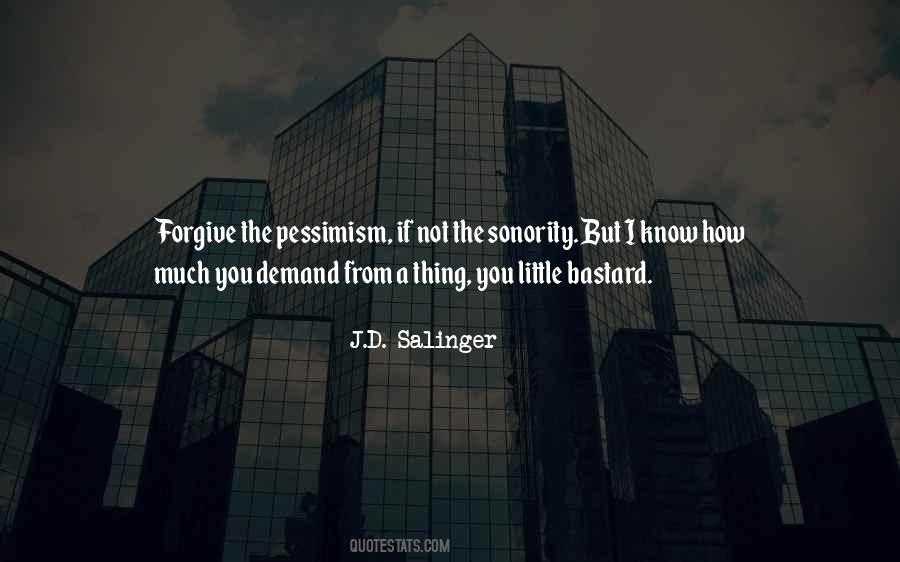 #21. You didn't have to rip my dress," she said plaintively when he let her breathe. "I love this one. Nellie worked on it for days." "I'm sorry, lass," he said somberly. " 'Twas an accident, lass. Sometimes I forget my strength. I mean to be gentle but it doesn't come out that way. Can you forgive me? - Author: Karen Marie Moning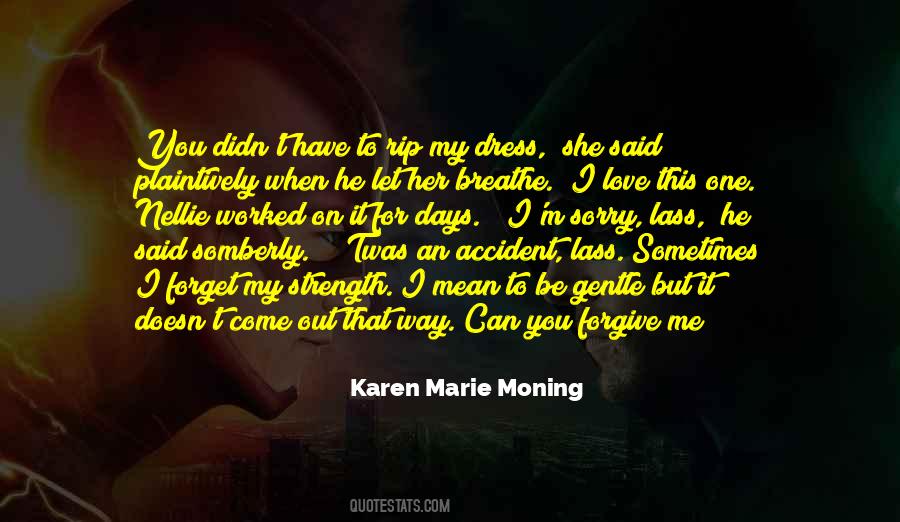 #22. I don't write this letter to put bitterness into your heart, but to pluck it out of mine. For my own sake I must forgive you. - Author: Oscar Wilde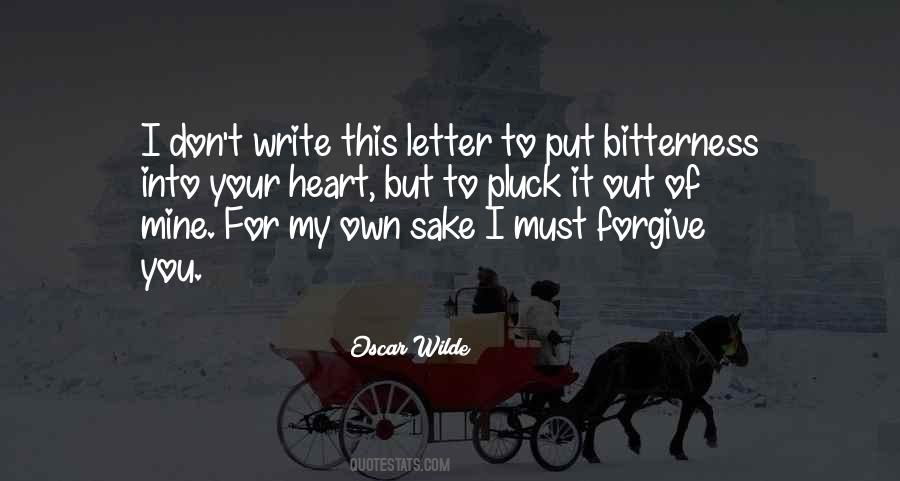 #23. Also your mom. Bro, I saw your mom kiss you on the cheek this morning, and forgive me, but I swear to God I was like, man, I wish I was Q. And also, I wish my cheeks had penises. - Author: John Green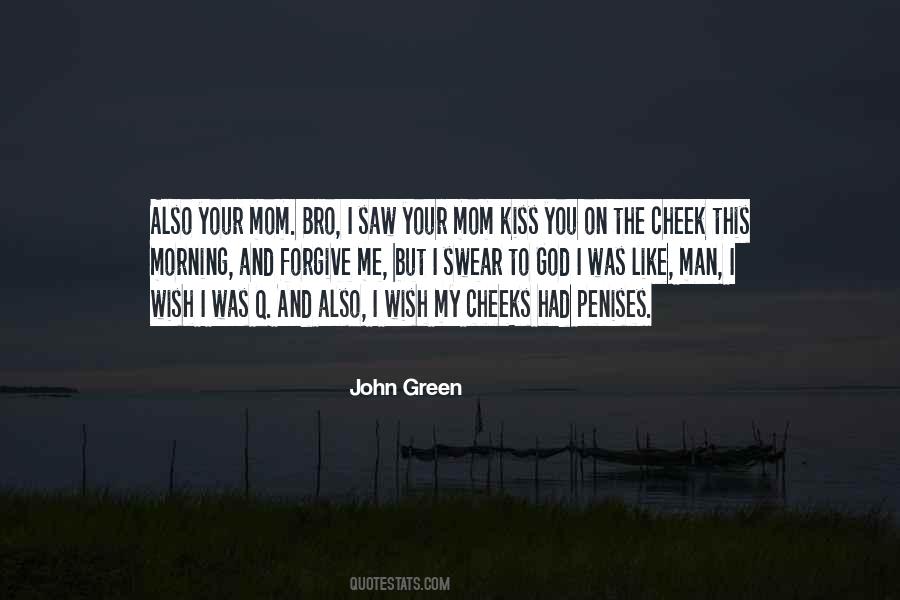 #24. No. You hurt people because you didn't have any idea what love really was. You were trying to understand it in the only way you knew how. It's horrible, yes. But it's forgivable. I forgive you. I forgive a thousand worse things you may have done. I can forgive anything. - Author: Laurelin Paige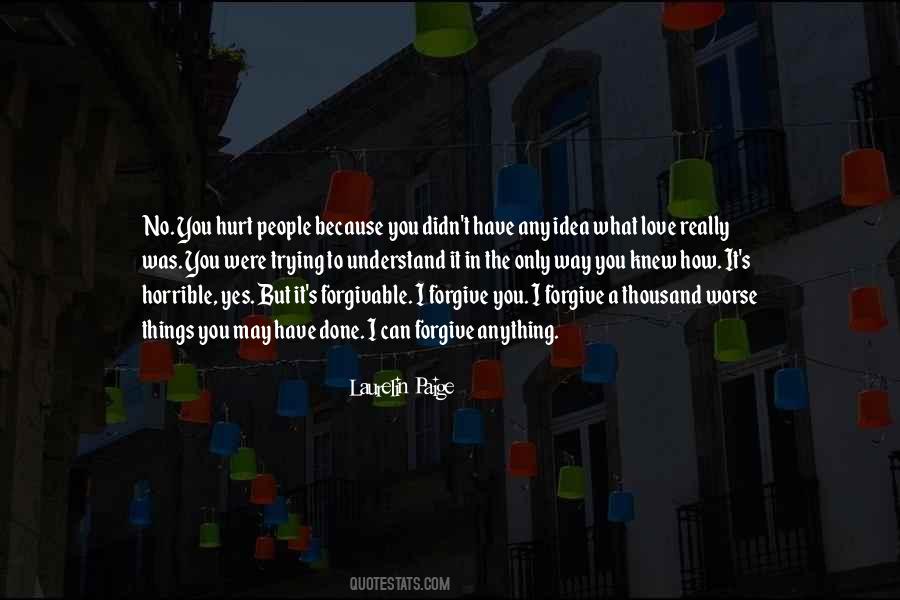 #25. But wasn't a best friend also someone you could trust not to hurt you? I had hurt Vicki, yet here she was, opening her home and heart to me again. So maybe being a best friend entailed the ability to forgive. - Author: Barbara Delinsky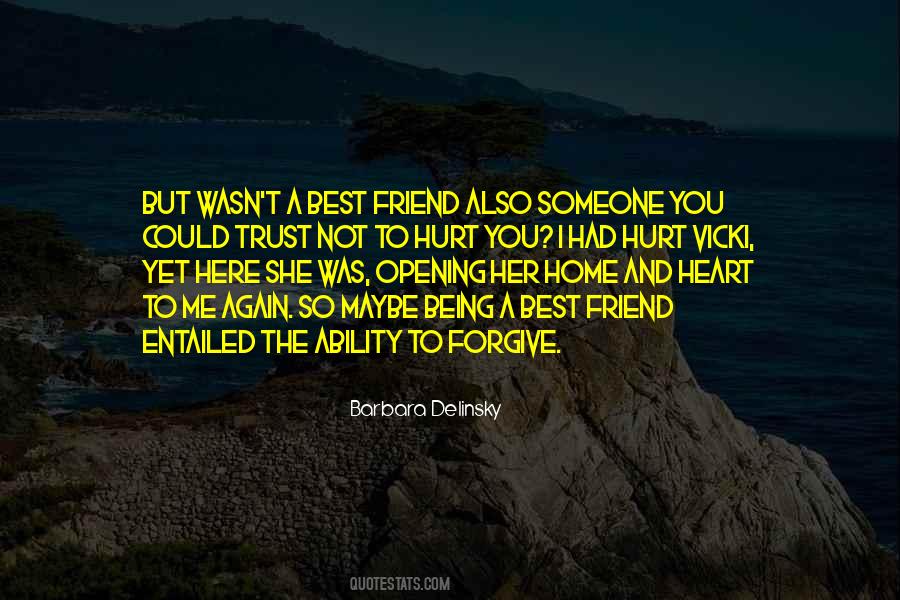 #26. And you, being a good man, can pass it as such, and forgive and pity the dreamer, and be lenient and encouraging when he wakes?"
Rick
"Indeed I can. What am I but another dreamer, Rick?"
Guardian - Author: Charles Dickens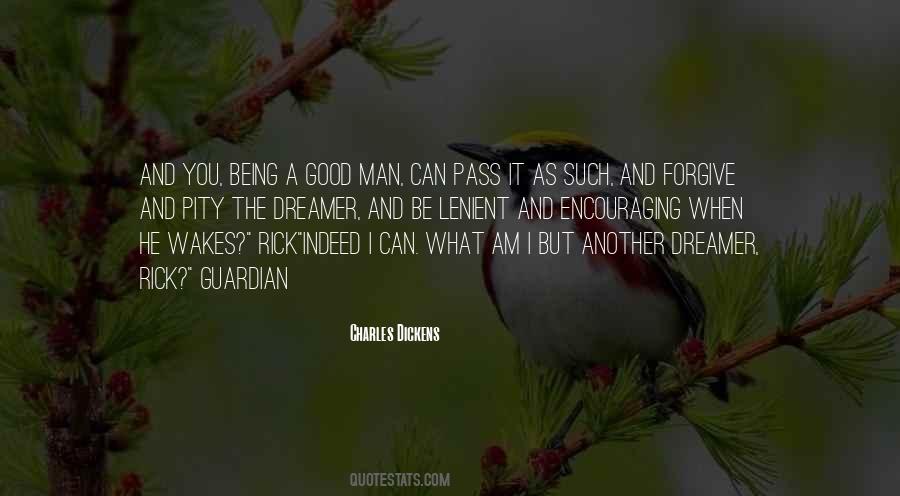 #27. I do think it imperative that you recover from fear of rejection. Forgive me, but that is the sin of pride, and you must avoid that particular manifestation of the sin if you are to reach the goal ... you hope for. - Author: John Farrar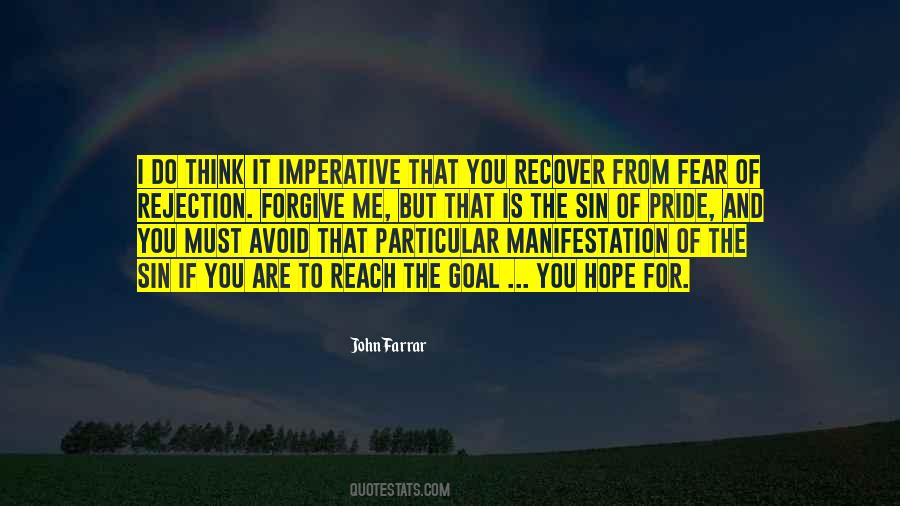 #28. To Harald, may God forgive you and forgive me, too, but I prefer to take my life away and our baby's before I bring him with shame or killing him, Lupe. [Suicide note.] - Author: Lupe Velez
#29. God come save the youth, Ain't nothin else to do but have faith in you, Dear Lord I live the life of a Thug, hope you understand Forgive me for my mistakes, I gotta play my hand. - Author: Tupac Shakur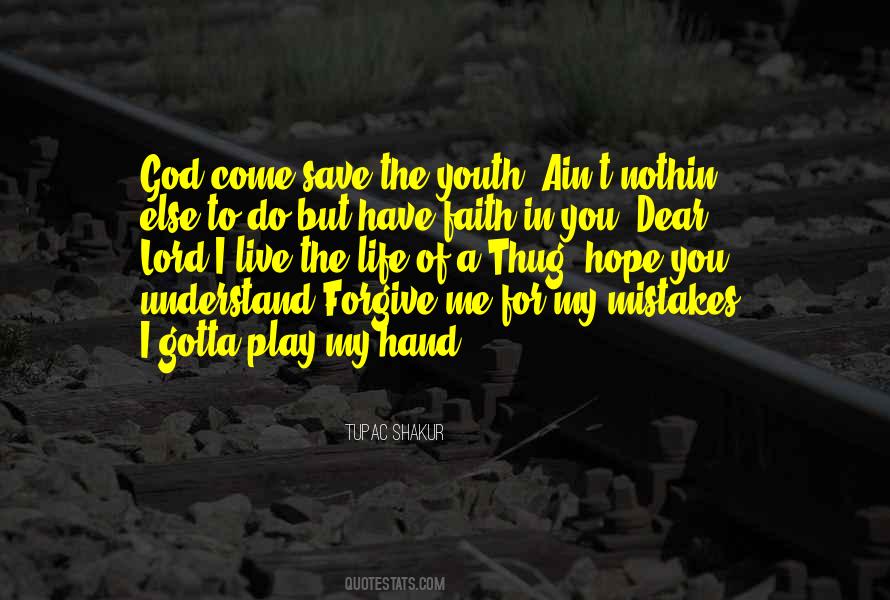 #30. Very well, Mr. Baggins,' said the leader, pushing the barrier aside. 'But don't forget I've arrested you.'
'I won't,' said Frodo. 'Never. But I may forgive you. - Author: J.R.R. Tolkien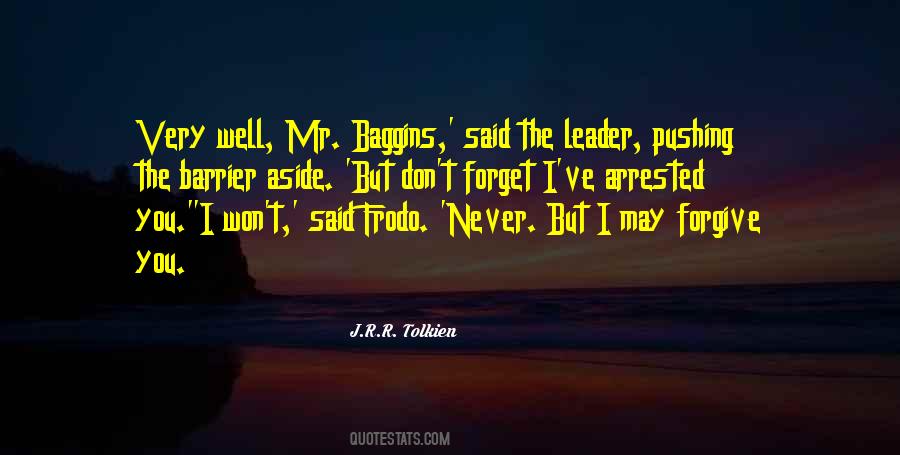 #31. I'll forgive you for running from the past. But at least . . . stop running from the present and the future. - Author: Ryohgo Narita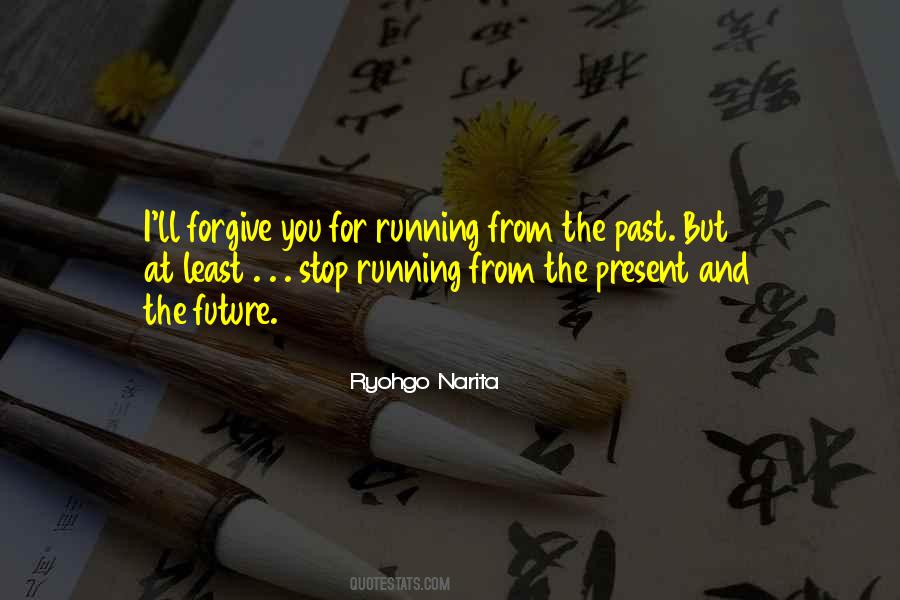 #32. I think maybe my greatest weakness is that I trust people too much. I'm too trusting. And when they let me down, if they let me down, I never forgive. I find it very, very hard to forgive people that deceived me. So I don't know if you would call that a weakness, but my wife said "let up." - Author: Donald Trump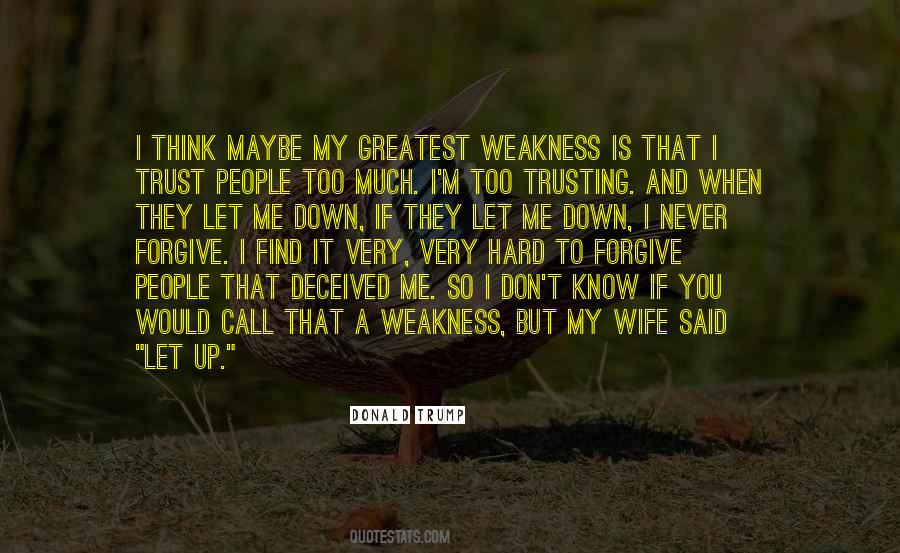 #33. He frames my face with his hands as he says, "Tess. Only you could be brave enough to die with me. But I want you to live for me."
We kiss, as desperate as though we were drowning. When our lips part, Alec says, "Forgive me. - Author: Claudia Gray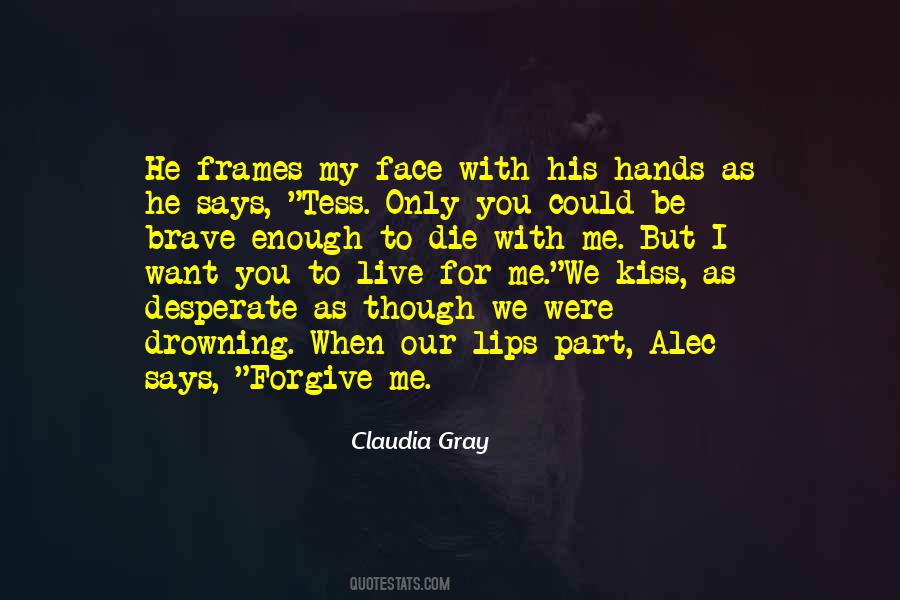 #34. I miss you. You don't know how much I miss you. You don't know how my heart sinks inside me when I think how far away you are. But then, maybe you know that feeling. I hope you do. No, I wouldn't wish that on you. But then, yes I would . . .. Forgive me for missing you that much. - Author: Kristen D. Randle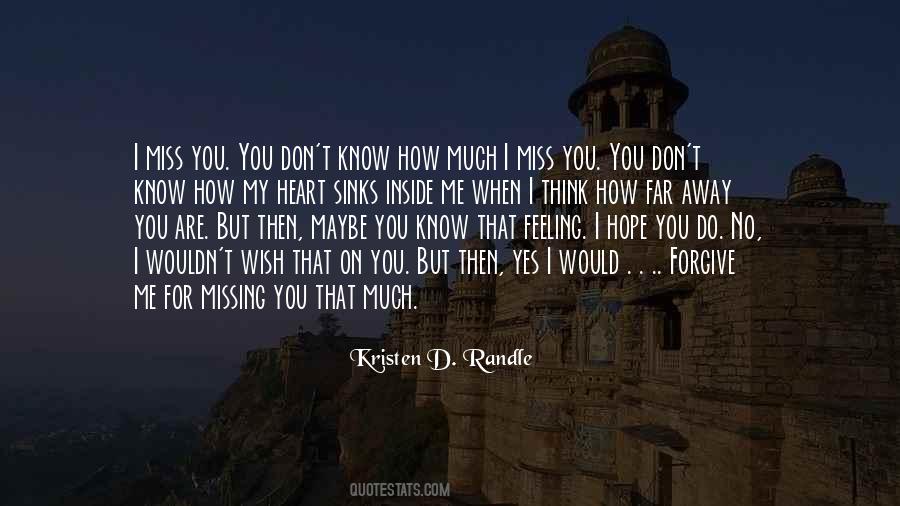 #35. Forgive me...Elliot. Perhaps I could have saved you...but I don't want to deny the story in which you existed. ...I...will not allow the past to be altered...!
-Leo - Author: Jun Mochizuki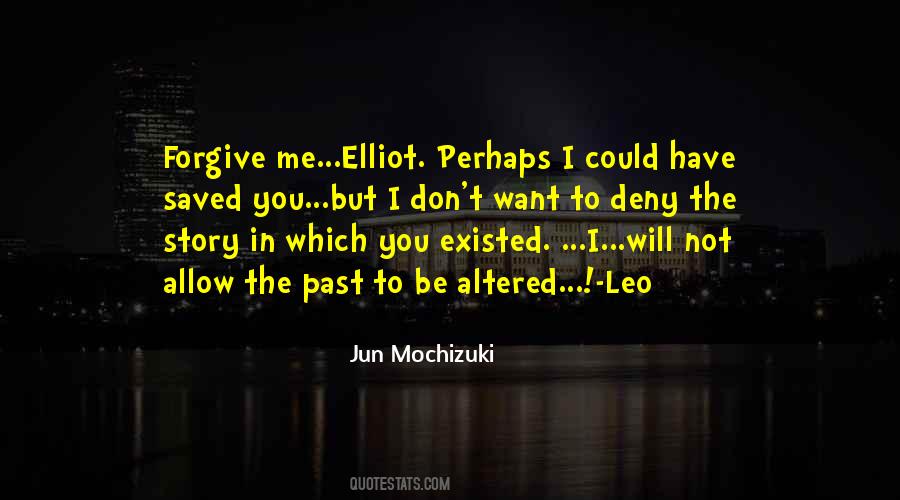 #36. Sydney, my future wife, I will forgive you but perhaps I should punish you first," he teased. "Ah yes, a spanking perhaps? - Author: Kym Grosso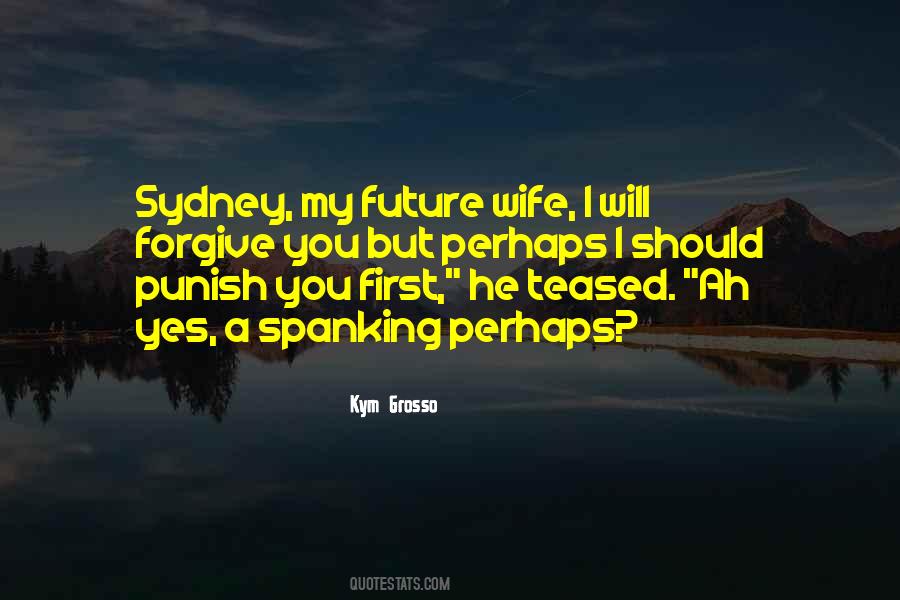 #37. You will forgive me, for I never visit. I am from the fields, you know, and while quite at home with the Dandelion, make but sorry figure in a Drawing
room
Did you ask me out with a bunch of Daisies, I should thank you, and accept
- Author: Emily Dickinson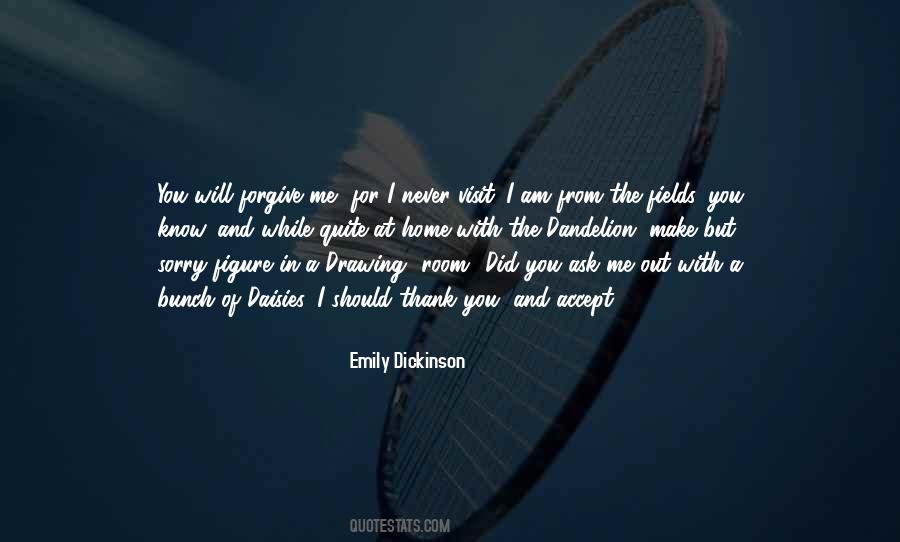 #38. I can forgive you for leaving, but not for coming back. - Author: Jonathan Safran Foer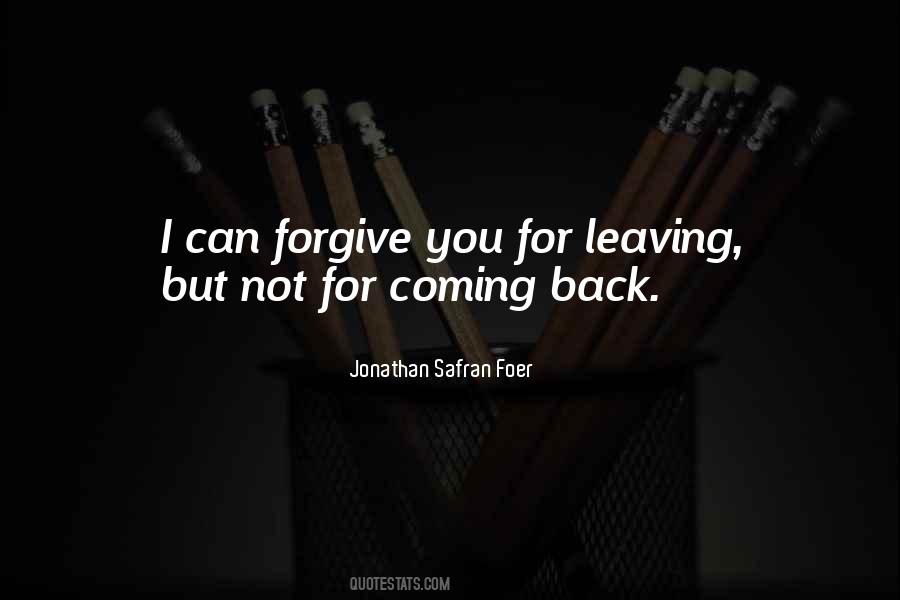 #39. Anything worth having is hard to keep,
I love you like my coffee, so hot and so sweet.
So, let's stick it out so we never regret it,
I could forgive the past-but I never forget it. - Author: Ghostface Killah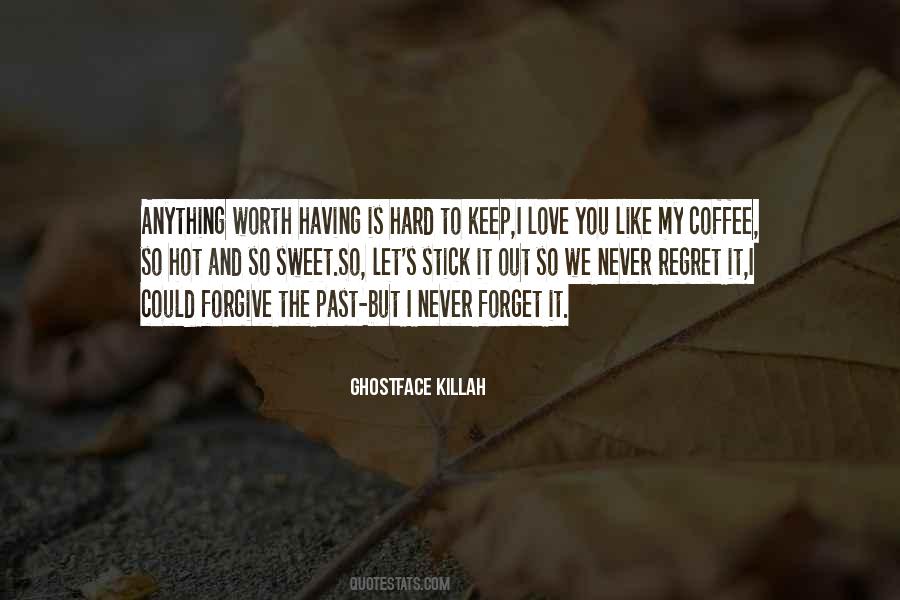 #40. In my eyes you're perfect, until you lie to me. Betraying my trust is something I can forgive, but never forget. Stay perfect. - Author: D.C. Akers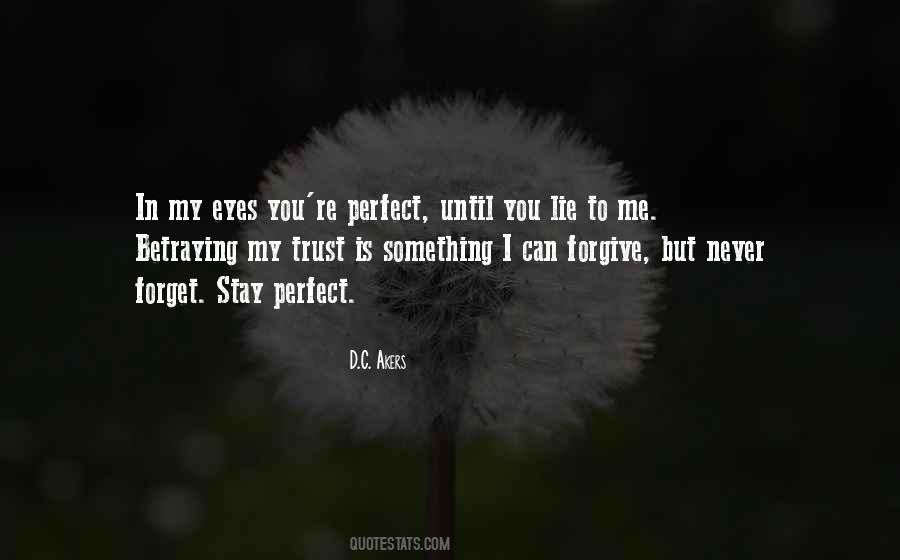 #41. It matters not if we fail, but I need you to at least try, because then you can forgive yourself. Regrets will keep you chasing demons for the rest of your life. - Author: O.E. Boroni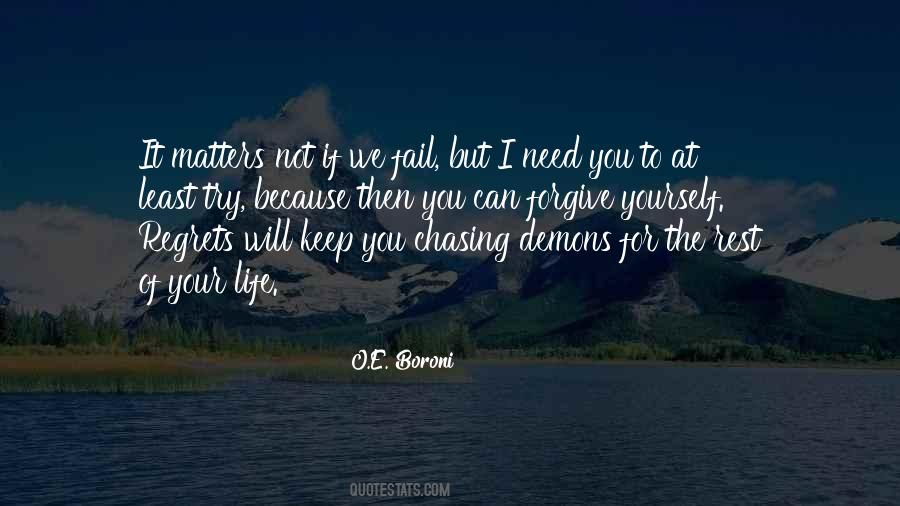 #42. Jaime, dear, forgive me, but I don't think you are man enough to take care of my Cass. She's a special kind of difficult. - Author: Mercy Celeste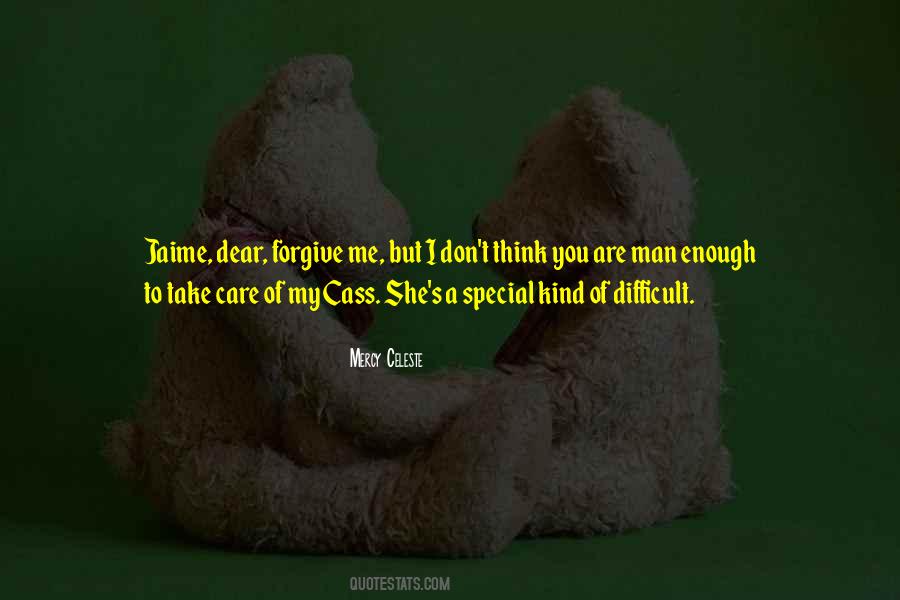 #43. But, I still can't totally forgive Dave for blowing my world apart. DO YOU HEAR THAT, DAVE?! - Author: K.M. Shea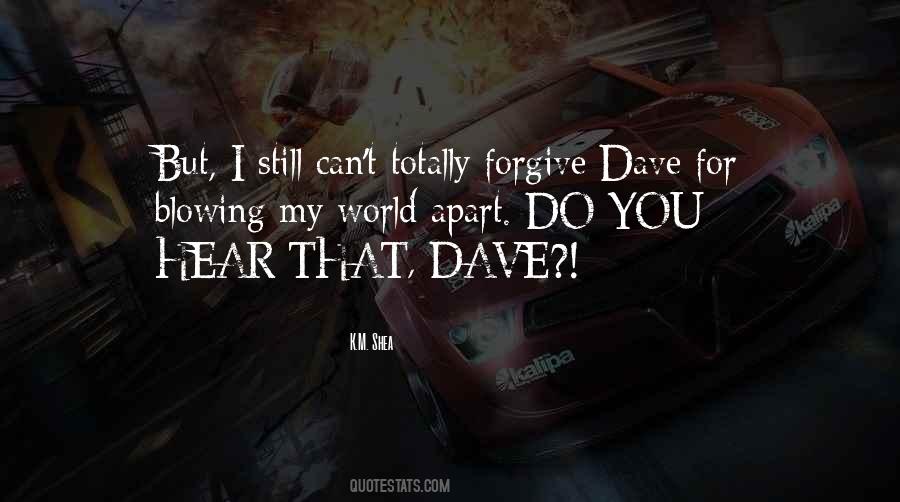 #44. The Doctor: I just don't like nastiness, and people getting away with it.
Churchwell: That sounds a rather, if you forgive me, innocent view.
The Doctor: That's as may be, but I'm sticking to it. - Author: Paul Magrs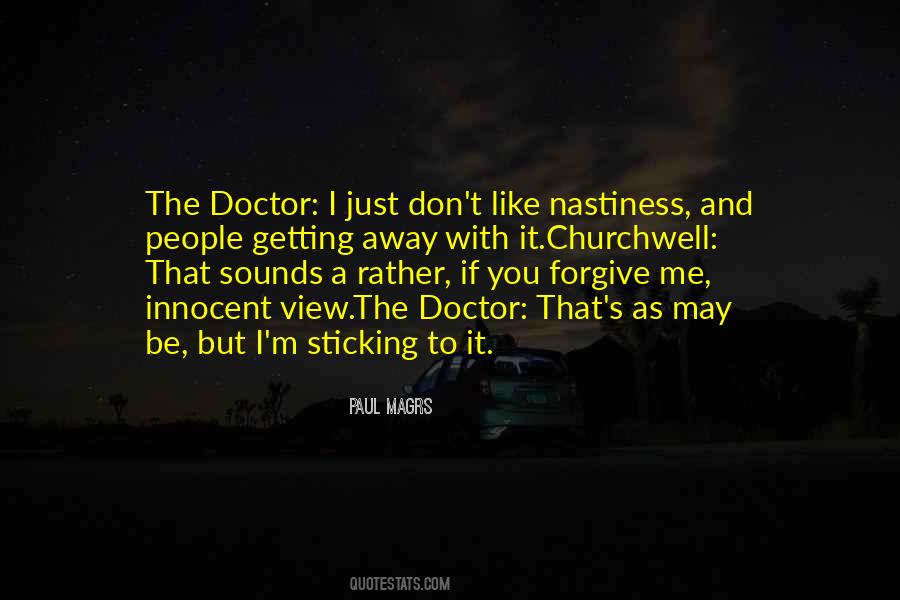 #45. Parents always forgive you. Like sometimes, you see parents on the news, and their kid just got busted for murdering a 7-11 clerk, and they're like, 'But my Bubba's a good boy. He'd never hurt a fly.' So I'm sure your parents would forgive you for whatever you did. - Author: Alex Flinn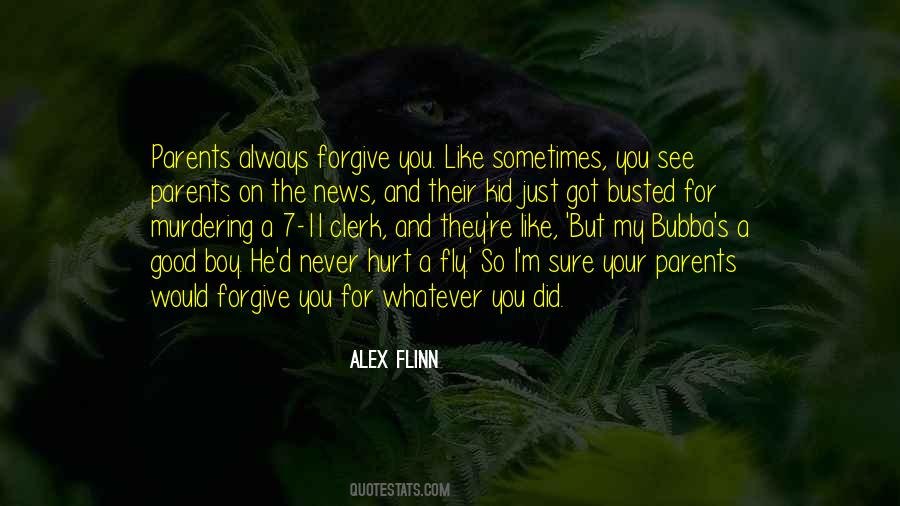 #46. I'm so sorry I wasn't here sooner, but you'll have to forgive an old vampire for being a bit rusty in the dreamscape. - Author: Sara Humphreys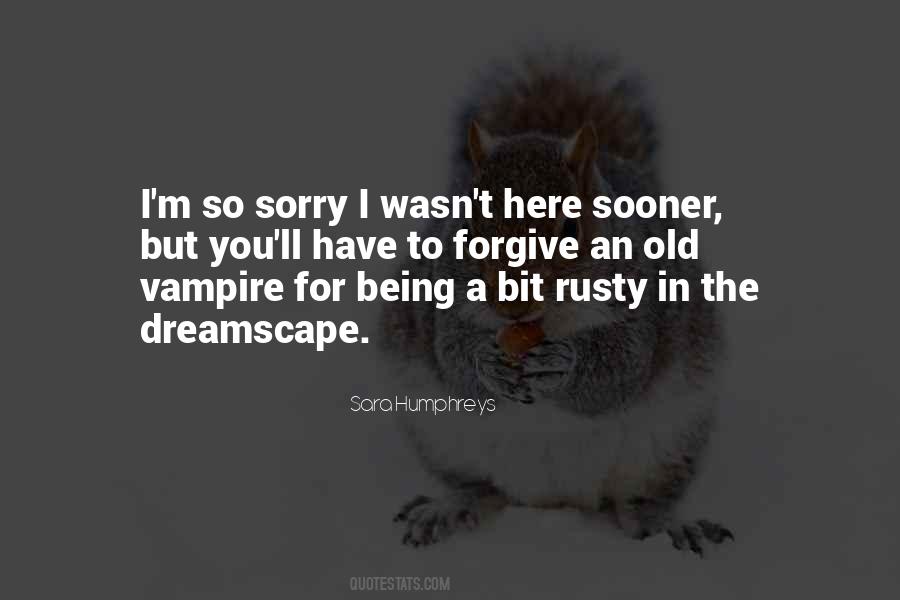 #47. It was unforgiveable," I said. "But I forgive you. - Author: Jamie McGuire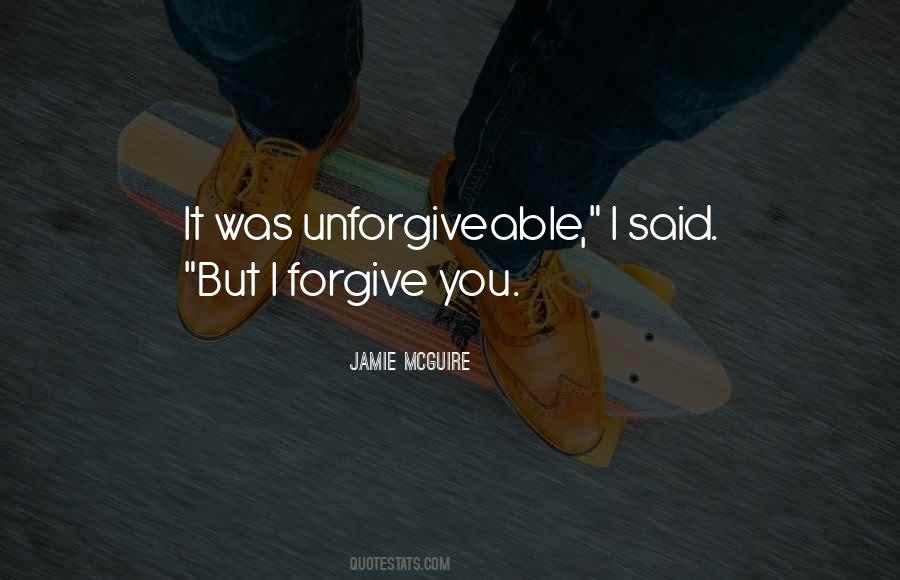 #48. I don't ask you to forgive me. I don't ask you to love me as you used to love me. But couldn't we be friends? - Author: W. Somerset Maugham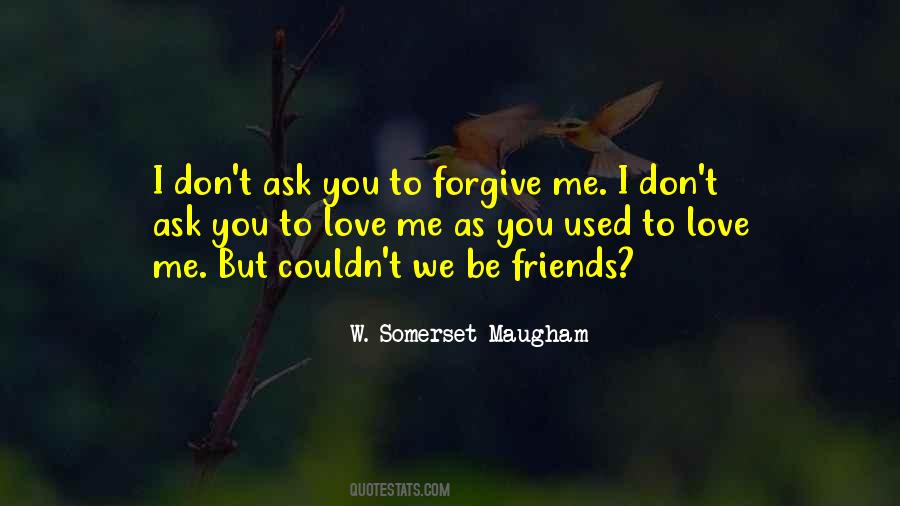 #49. Jack: "Gwendolen, it is a terrible thing for a man to find out suddenly that all his life he has been speaking nothing but the truth. Can you forgive me?"
Gwendolen: "I can. For I feel that you are sure to change. - Author: Oscar Wilde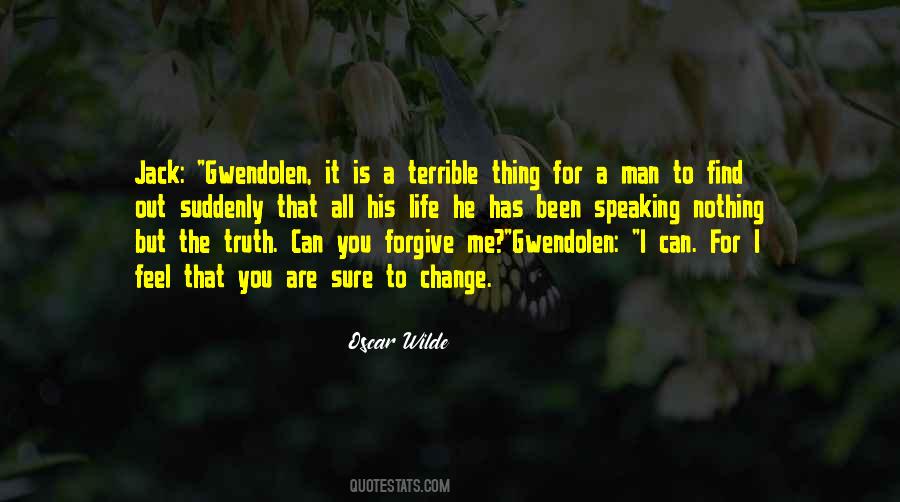 #50. Now one day, maybe I can forgive John Andersen for what he done to these trees, but I ain't gonna forget it. I figure forgiving is not letting something nag at you - rotting you out. - Author: Mildred D. Taylor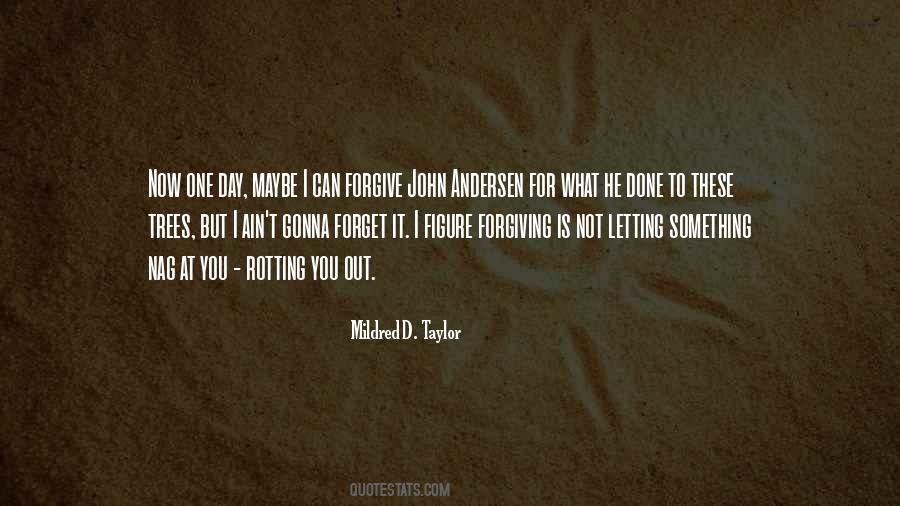 #51. No one was perfect. But we all did the best we could. I guessed you had to forgive when you could, move on when you couldn't, and love your family and friends for who they were instead of punishing them for who they weren't. - Author: Sarah Mlynowski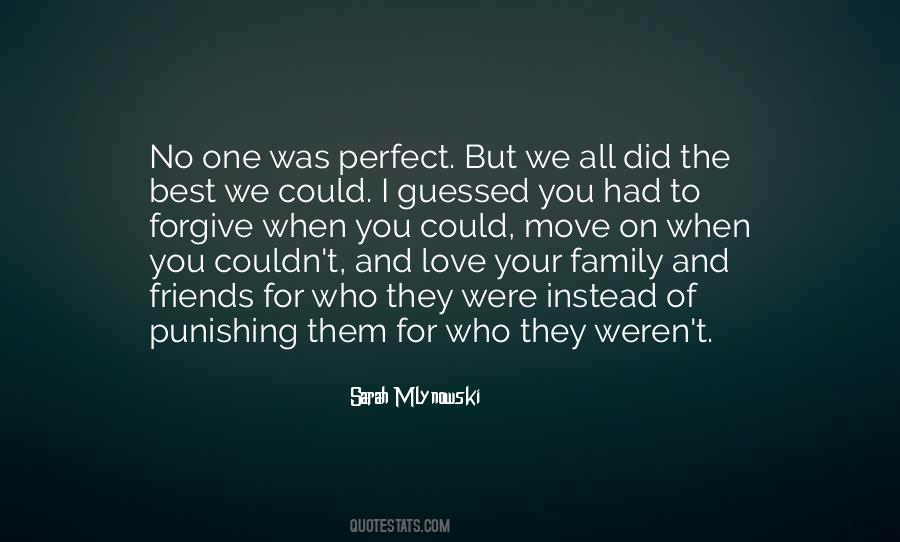 #52. I know I always screw up,
but you know me better,
so just always know this was one of my totally lame jokes.
Because deep inside your heart I know there is love and friendship,
and I know someday you will forgive me - Author: Orey Brockington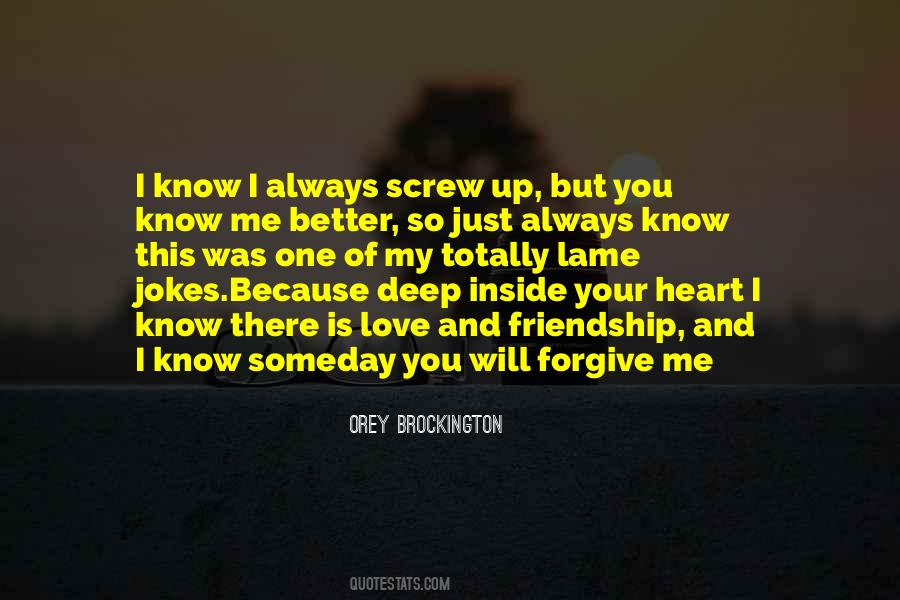 #53. There is not justice in this world. Father, forgive me wherever you are, but this world has brought one vile abomination after another down on the heads of the gentle, and I'll not live to see the meek inherit anything. - Author: Barbara Kingsolver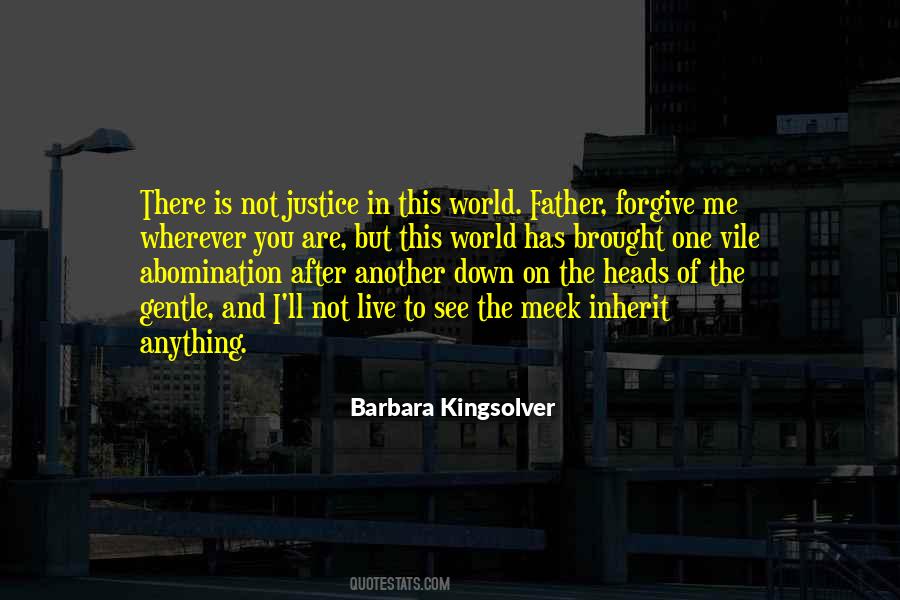 #54. Mother, you can still hold hold on but forgive, forgive and give for long as long as we both shall live, I forgive you, Mother. - Author: Barbara Kingsolver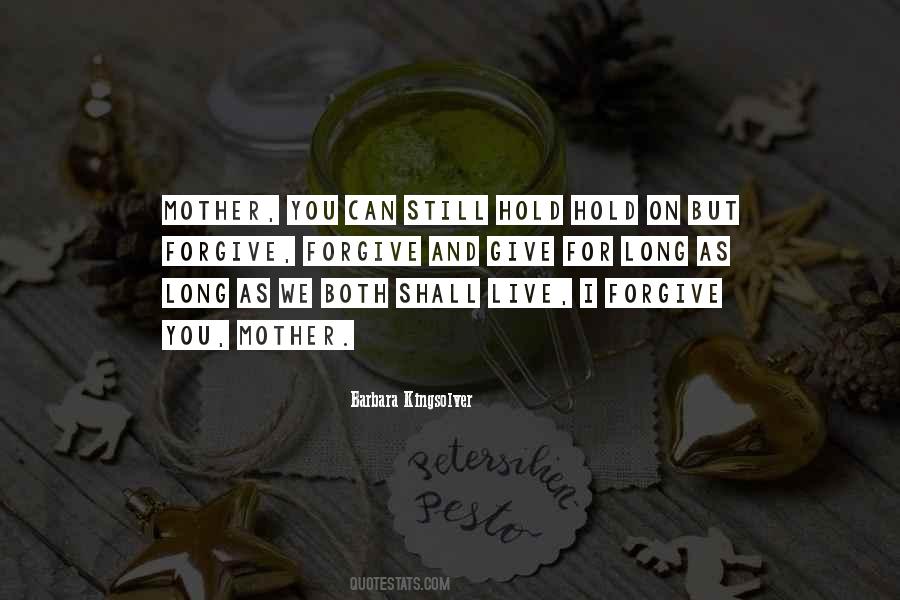 #55. I'm not a natural researcher, and I don't get bogged down in it, but I think if you get it right in the first half, people will forgive you, and then you can move on with the story. - Author: Sarah Pinborough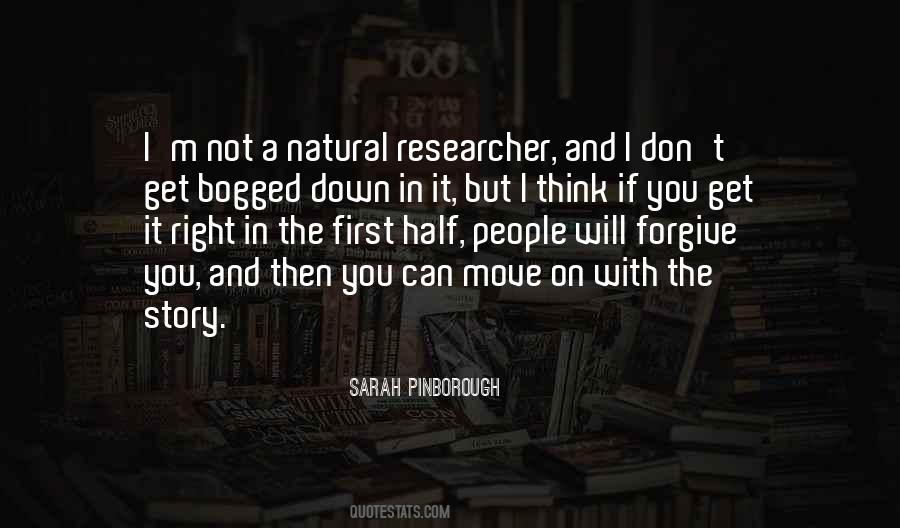 #56. God may forgive you if He chooses, but not I. Au revoir. - Author: Lee Smith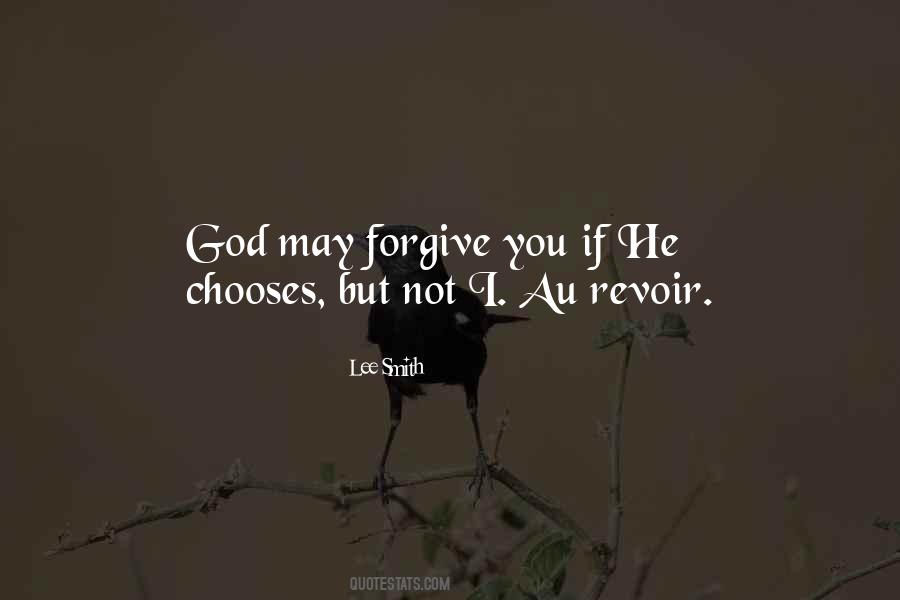 #57. I'll never forgive you for what you did to me. You cheated me, you've driven me out of my home and now I'm in a no-man's-land but good - there's no place for me any more in Maycomb, and I'll never be entirely at home anywhere else. Her - Author: Harper Lee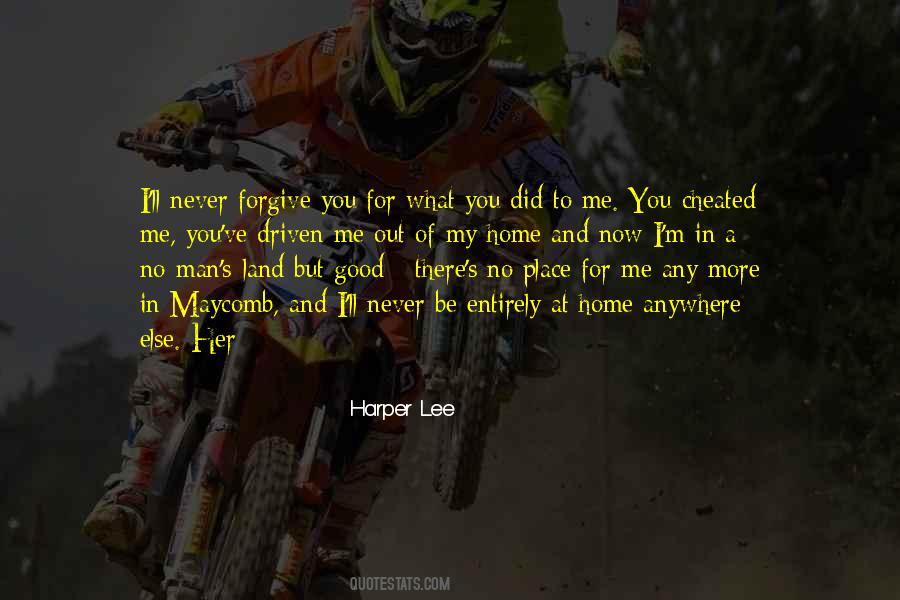 #58. If I repent now will God forgive me?
No, but if God forgives you, you will repent. - Author: Rabia Basri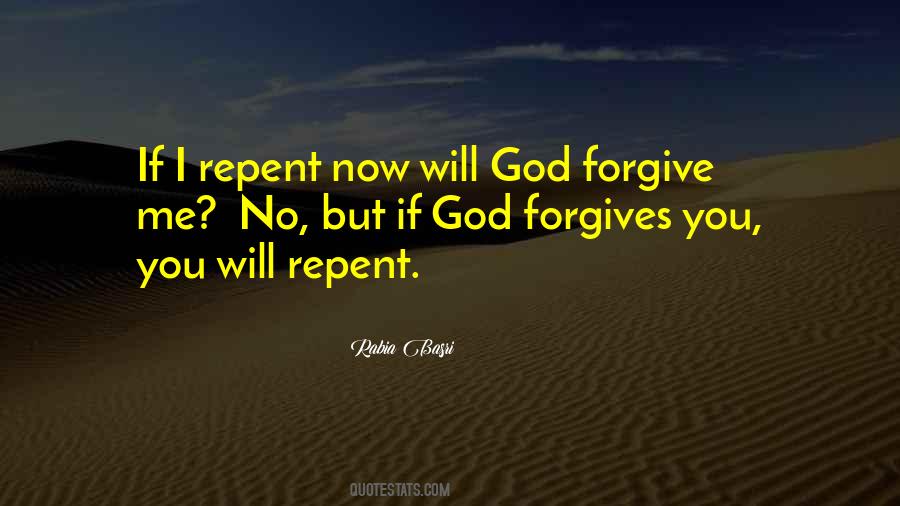 #59. She knew he was angry, but she couldn't stop laughing. "Forgive me, Po. I was only trying to get your attention."
"And I suppose it never occurs to you to start small. If I told you my roof needed rebuilding, you'd start by knocking down the house. - Author: Kristin Cashore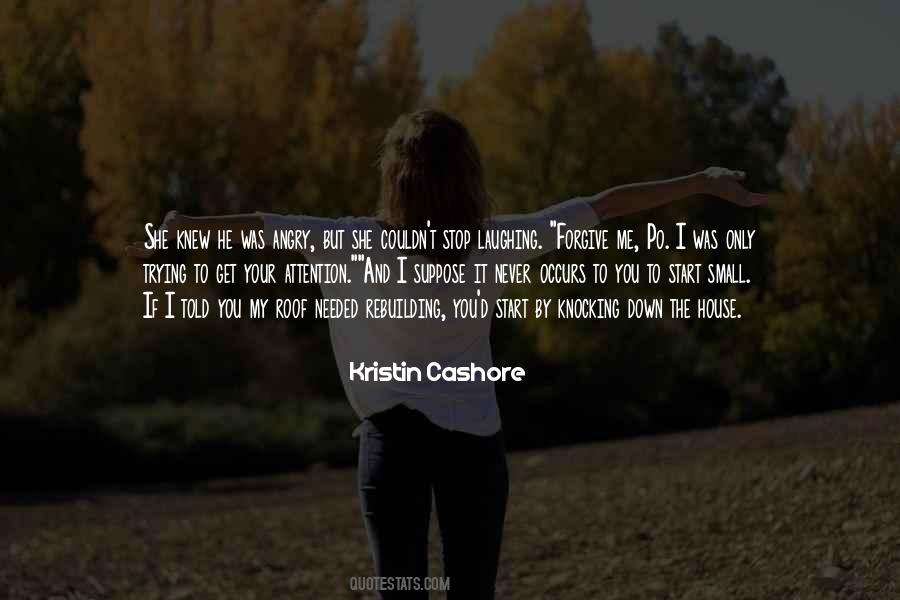 #60. Forgive me my friend, I tried to hold on, but you fell, you fell - Author: Damon Galgut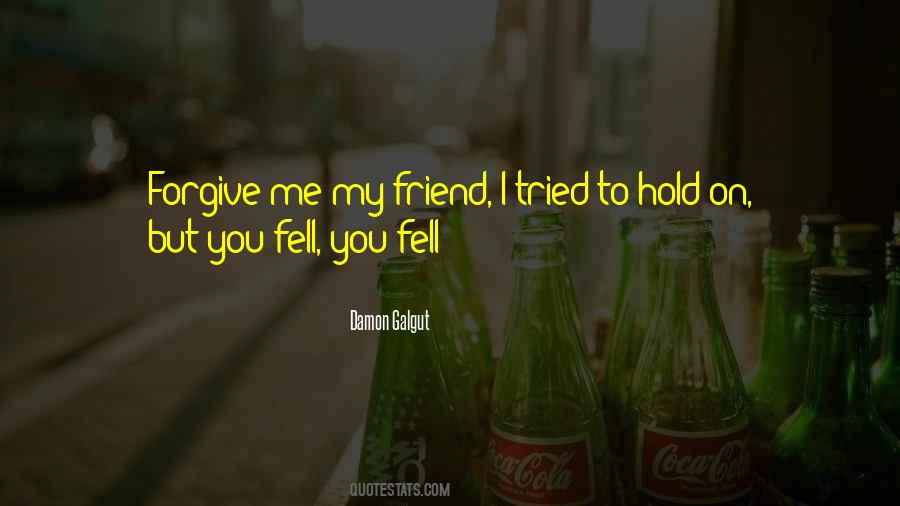 #61. I can't make you forgive me. I don't deserve your forgiveness. I can't change the past. All I can do is give you what you want. If this is what you want, I'll walk away, Blaire. It'll kill me but I'll do it. - Author: Abbi Glines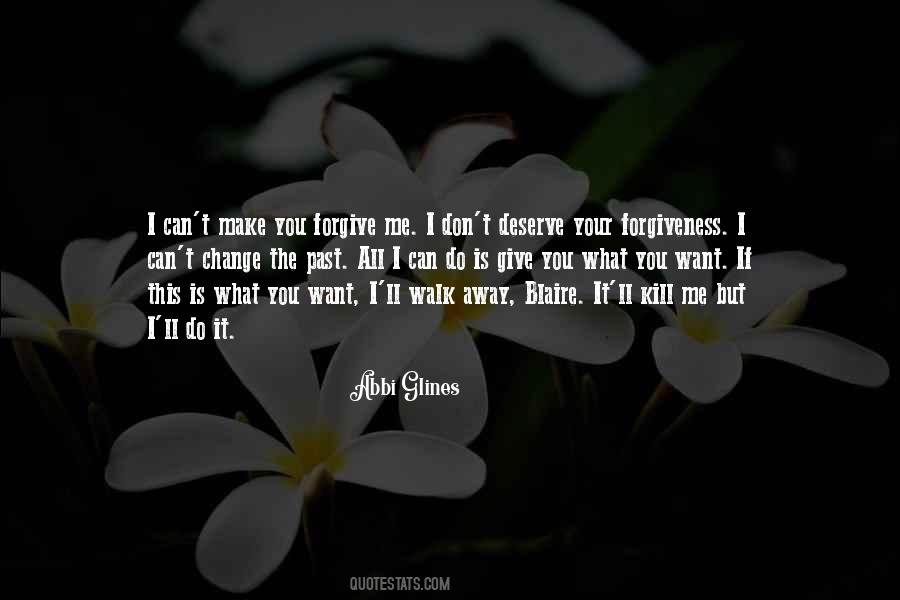 #62. But your book is wrong, Mrs. Strunk, says George, when it tells you that Jim is the substitute I found for a real son, a real kid brother, a real husband, a real wife. Jim wasn't a substitute for anything. And there is no substitute for Jim, if you'll forgive my saying so, anywhere. - Author: Christopher Isherwood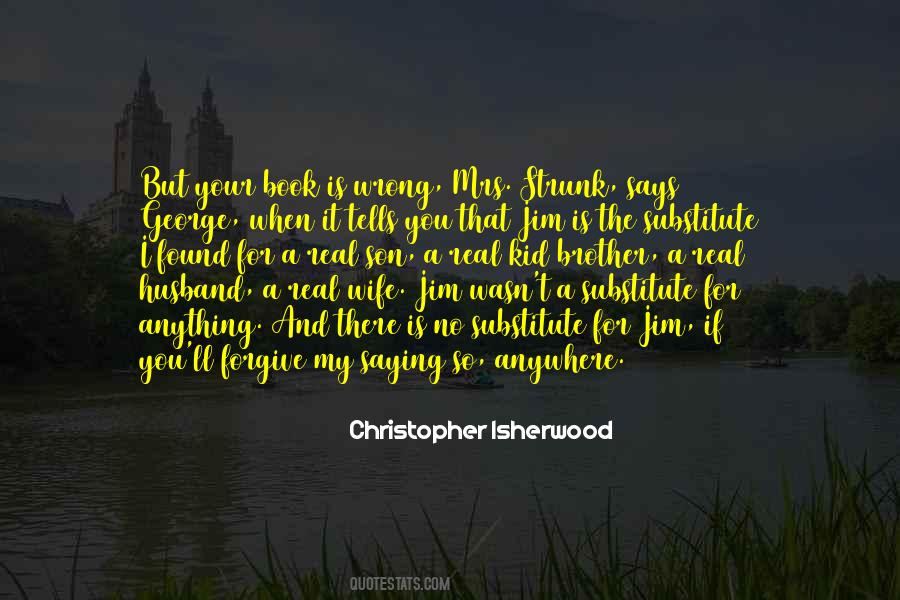 #63. I wish I could tell you what happened, but I can't. Someday I will, but I can't right now and I need you to accept that. Please. And I'm not apologizing to you,because I don't want you to forget what happened and you should never forgive me for it. EVER. Never make excuses for me, Sky. - Author: Colleen Hoover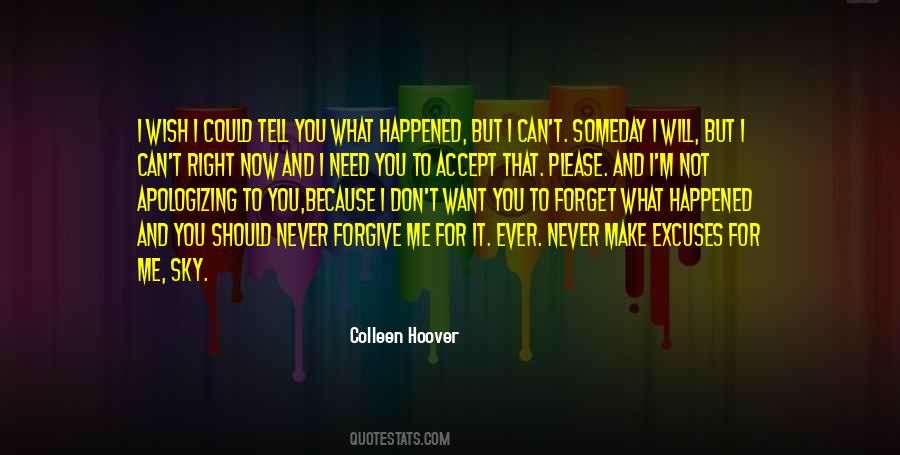 #64. Life is not a beauty contest, some [ugly people] are great. What I hate is nasty, ugly people ... the worst is ugly, short men. Women can be short, but for men it is impossible. It is something that they will not forgive in life ... they are mean and they want to kill you. - Author: Karl Lagerfeld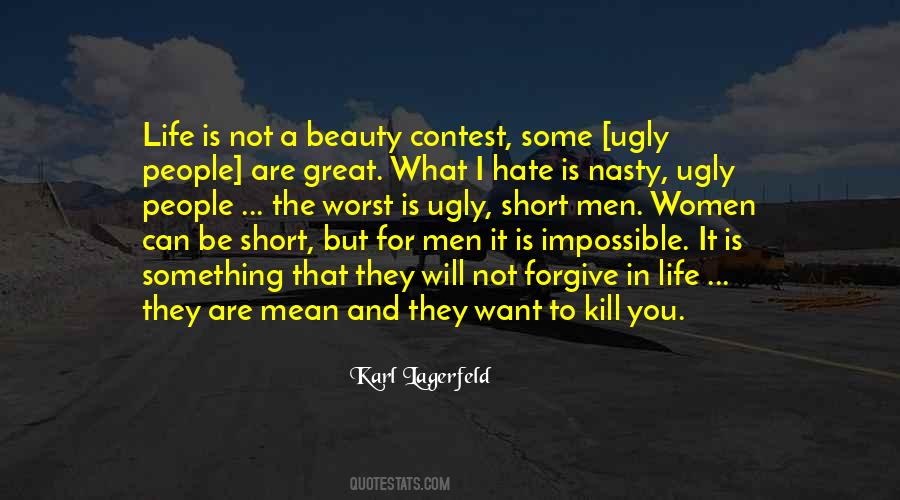 #65. I'm gonna fuck up. I'm gonna fuck up a lot, Pidge, but you have to forgive me. - Author: Jamie McGuire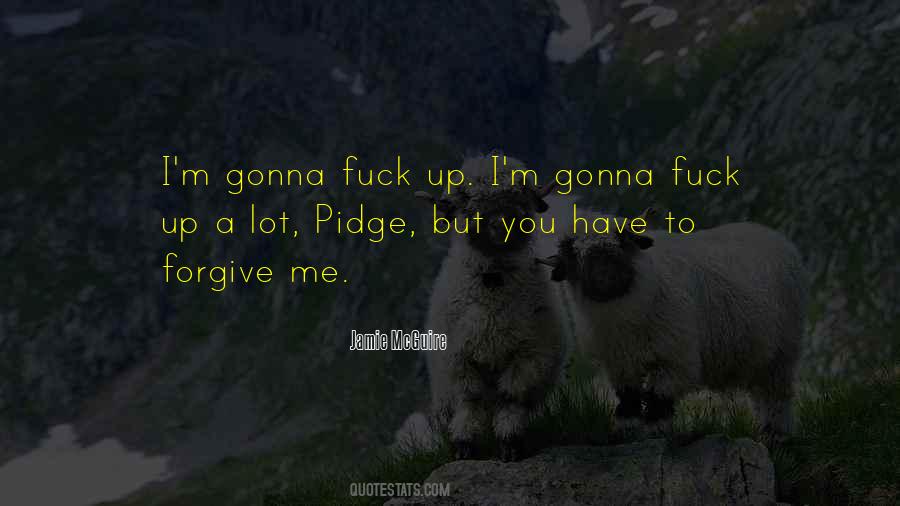 #66. Some say it should come easy if it's real love but that's just not true. Love is never easy - love hurts sometimes. It causes insecurities and jealousies. Relationships take work - love takes work. And happiness requires forgiving others. I forgive you. - Author: A.D. Justice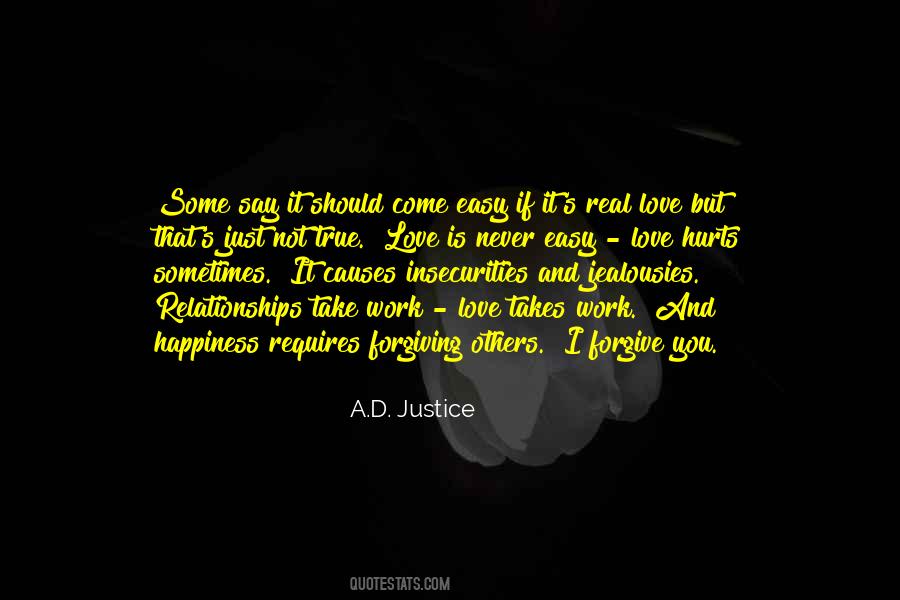 #67. When you forgive, you free your soul. But when you say I'm sorry, you free two souls. - Author: Donald L. Hicks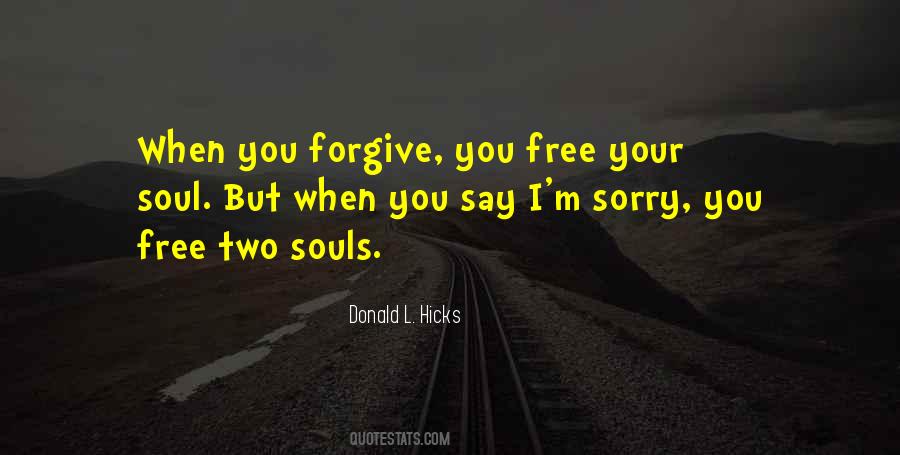 #68. That's the thing with relationships, I understood: it doesn't mean we don't hurt one another; how can we help it sometimes, we're only human. But if you love someone, you get hurt and you manage to forgive. And be forgiven. - Author: Marian Keyes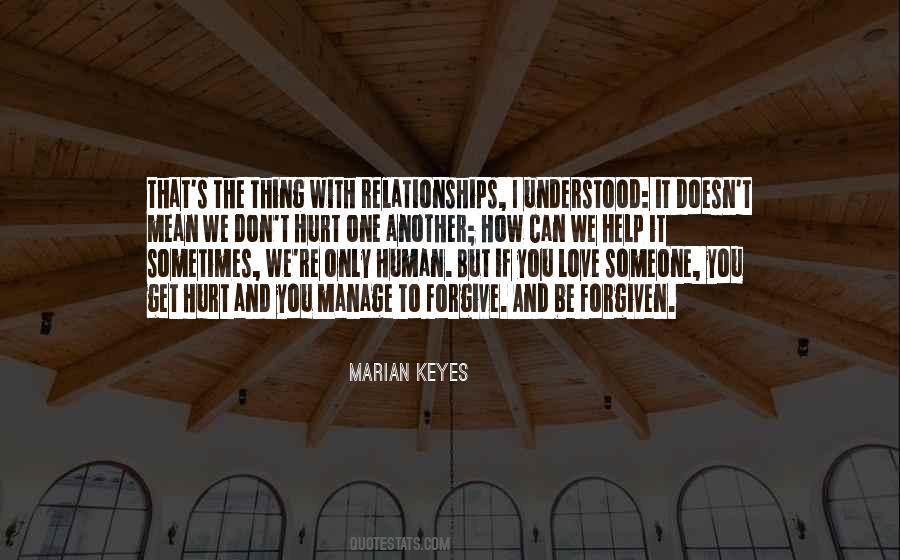 #69. I forgive, but I also learn a lesson. I won't hate you, but I'll never get close enough for you to hurt me again. I can't let my forgiveness become foolish. - Author: Tony Gaskins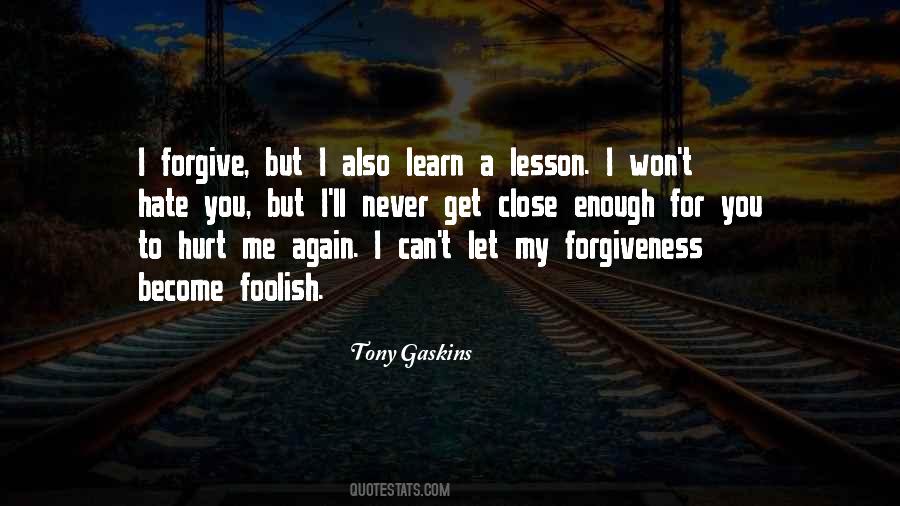 #70. I'll do my bit tonight, but forgive me if it's a little harder to keep going than normal. Forgive me if I'm not superwoman after all."
"Not superwoman?" he exclaimed, putting a hand on his chest in mock surprise.
"You've lied to me all these years! - Author: Laurell K. Hamilton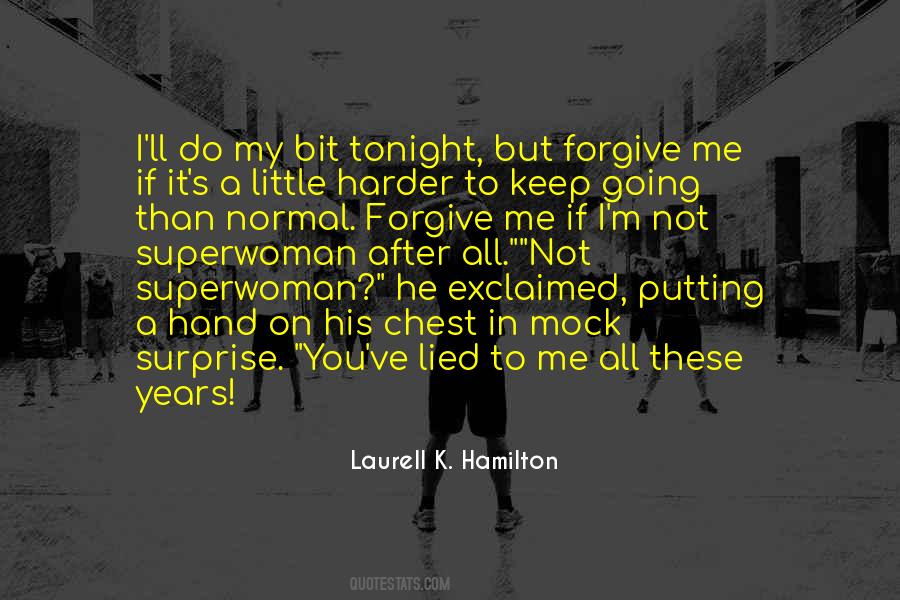 #71. For my part," I replied, "I find forgiveness overrated. There are times and places when it's appropriate. But not when the demand that you forgive is used to keep you in your place. - Author: Ann Leckie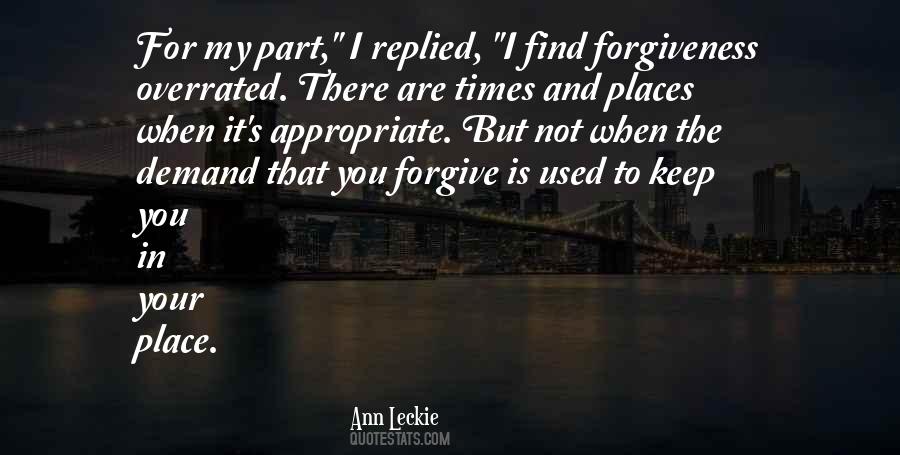 #72. No soul can withstand the sun's bones of light and reason dims when darkness falls - so we shape barrows in the night for you and your kin." "Forgive my interruption, then," said I. "The dead never interrupt," said the mason, "they but arrive. - Author: Steven Erikson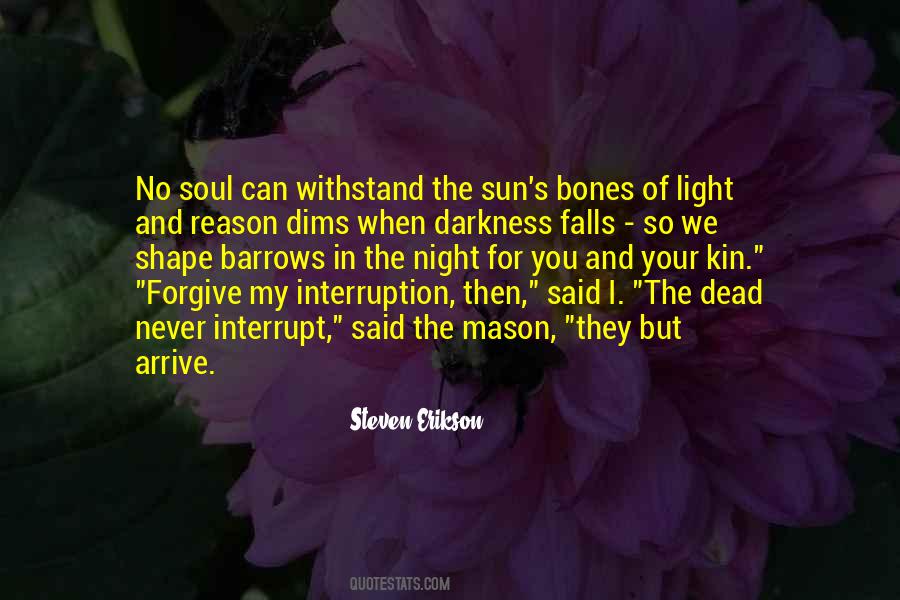 #73. Forgive me for speaking frankly, but after the past quarter-hour's conversation, I am unconvinced that any of you possess the sense or sensitivity to impart the news in any respectful fashion - Amelia - Author: Tessa Dare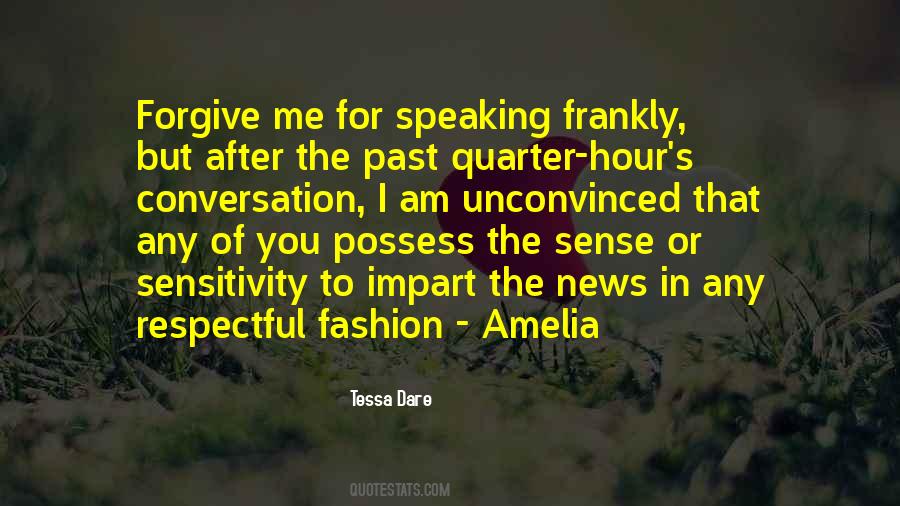 #74. If at times my words seem angry, you must forgive me. In my mind, there is great anger. No one who has seen the suffering of our children and the tears of our grandmothers cannot be angry. But in my heart I struggle to forgive, because the land is my teacher, and the land says to forgive. - Author: Kent Nerburn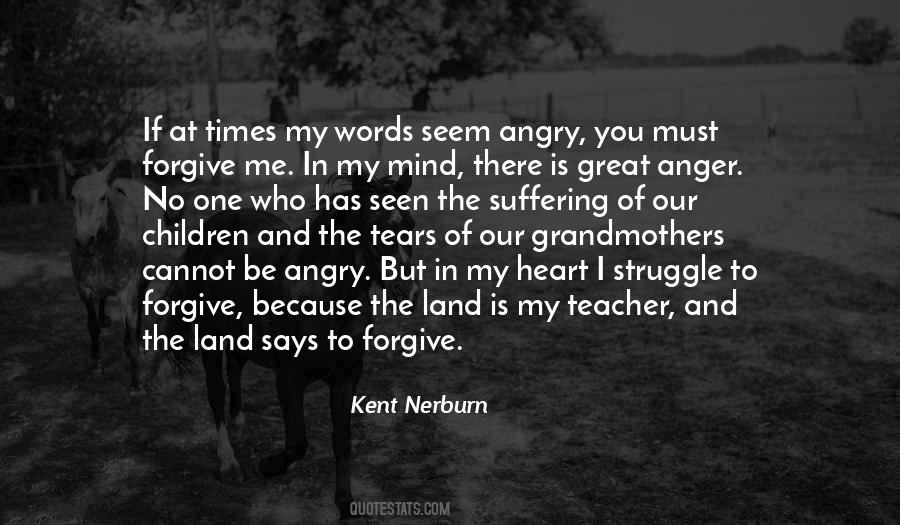 #75. God forgive you, but I never can. - Author: Elizabeth I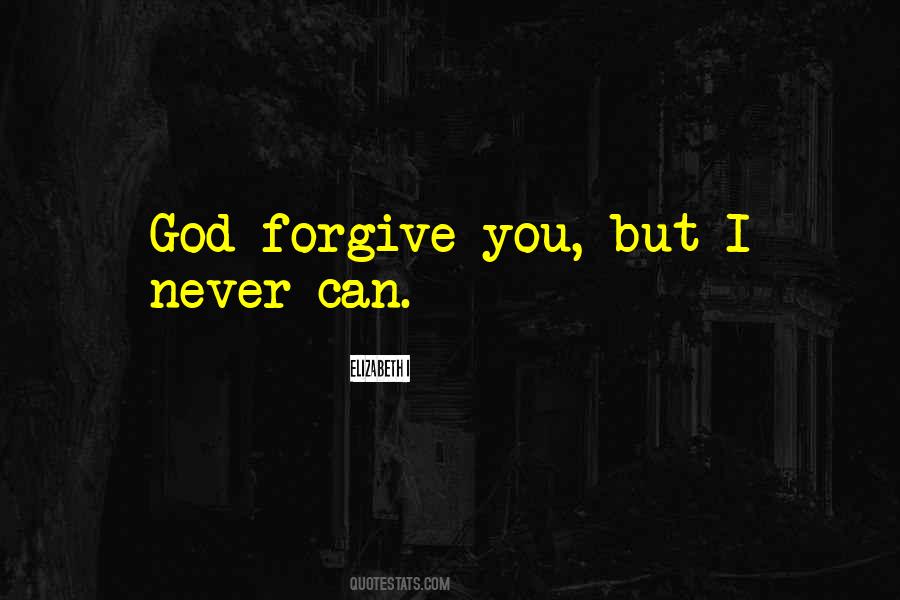 #76. Or I can forgive and forget ... Oh, but my treasure, it is so much less exhausting. You only have to forgive once. To resent, you have to do it all day, every day. You have to keep remembering all the bad things ... we always have a choice. - Author: M.L. Stedman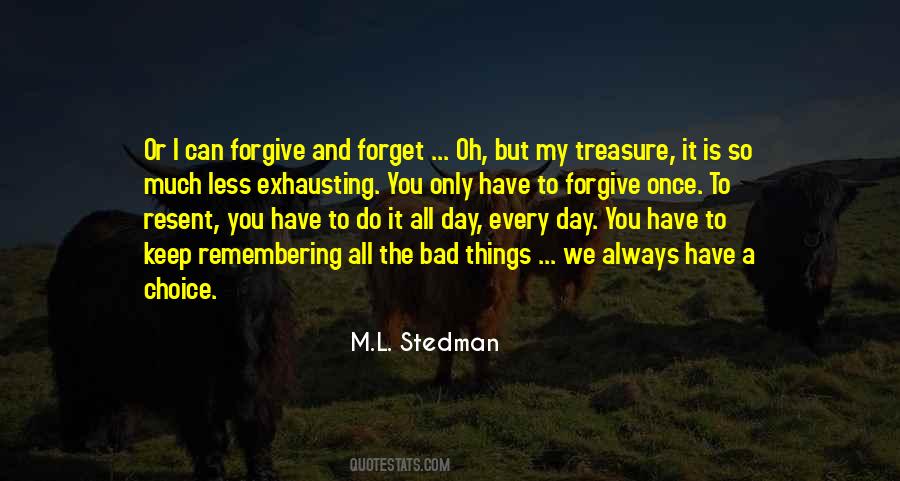 #77. You can tell the people that if they succeed in killing me, that I forgive and bless those who do it. Hopefully, they will realize they are wasting their time. A bishop will die, but the church of God, which is the people, will never perish. - Author: Oscar Romero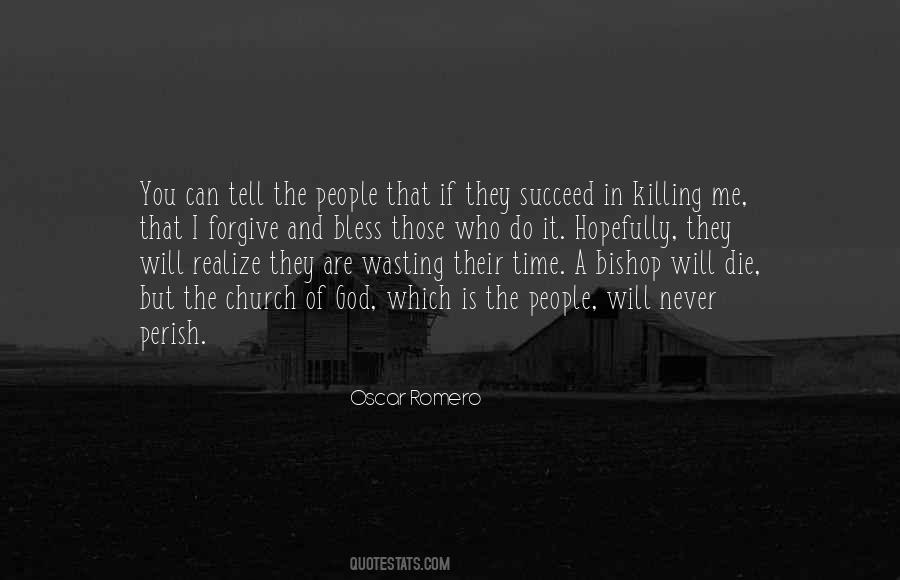 #78. If you believe in God you get to the point where (you feel) "Yeah, you know what, God forgave my sins but I still have to forgive myself." - Author: Kevin Sorbo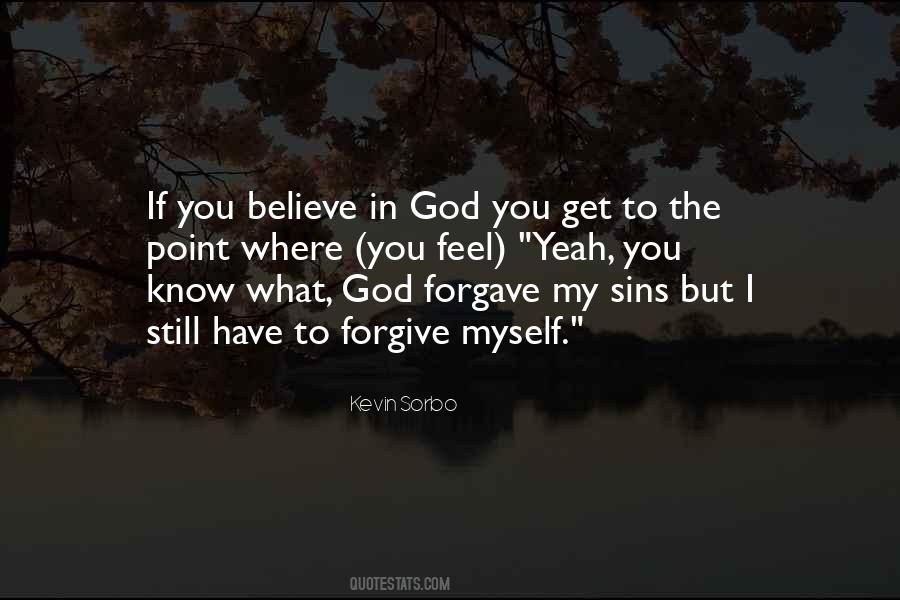 #79. Oh, you will, some day, just as I'll hurt you too. That makes part of this
whole thing called being human, but to excel it and sincerely forgive the other
faults ... that is what makes a real friendship, what strengthens it. - Author: Leia Kiuski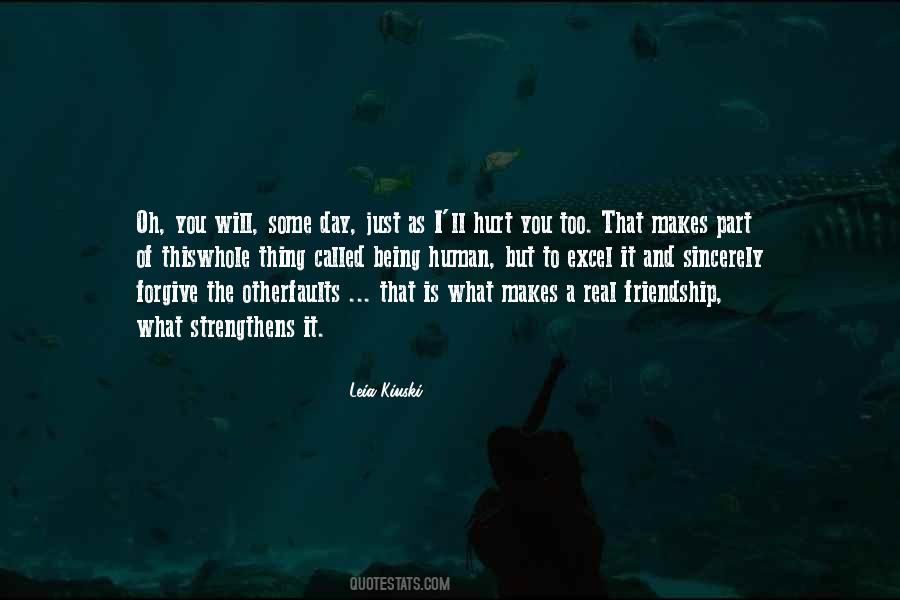 #80. Also, it'd be kinda hard to be together if I was in prison."
"What are you talking about?" Helen asked, suddenly alarmed. "Why would you go to prison?"
"For killing the guy that took your virginity," he replied. "You I would forgive. But the guy? Dead man. - Author: Josephine Angelini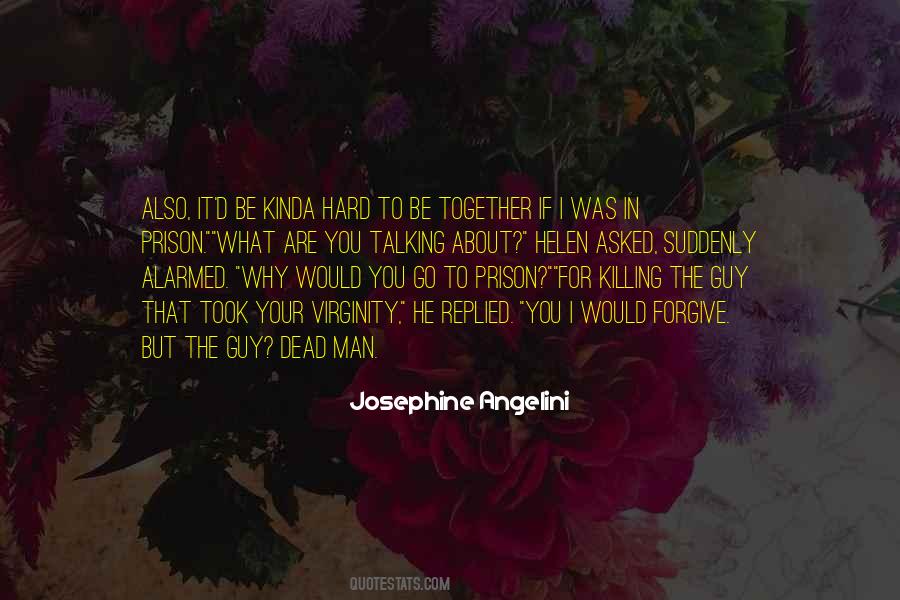 #81. I will forgive,
but I wont forget,
and I hope you know,
you've lost my respect - Author: Papa Roach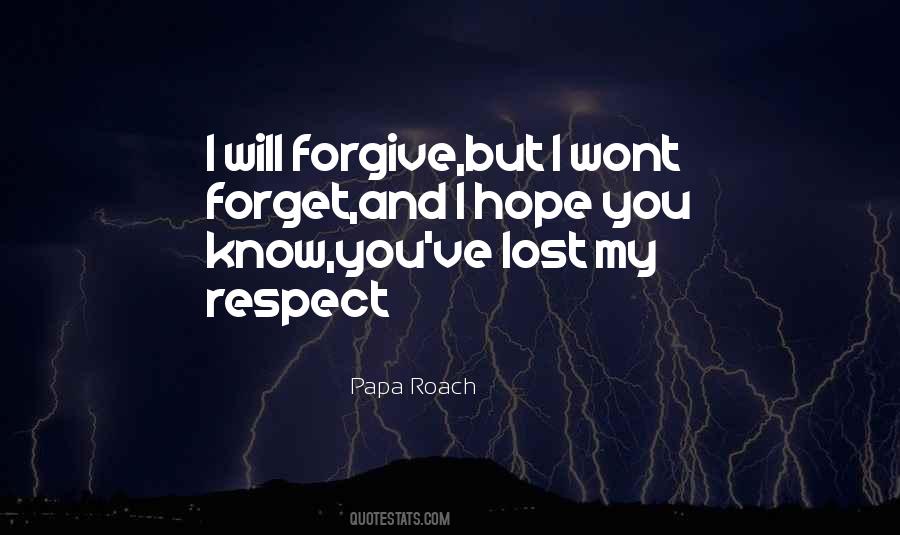 #82. Is that what you think this is about? Your letting me die? I don't know what clouds your judgement worse. Your guilt or your antiquated sense of morality. Bruce, I forgive you for not saving me. But why... Why on God's earth--??!
Is he still alive!!?? - Author: Judd Winick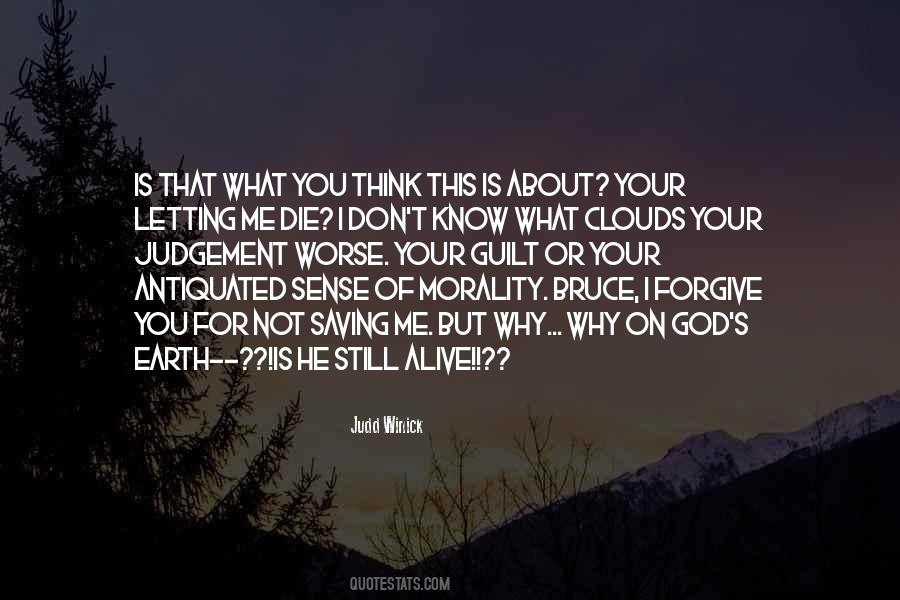 #83. Holy Father, forgive me for grumbling. I know I've sounded just like the Israelites. I long to dwell not on the If Onlys but on You. Make me wise like the old woodcutter - content with what I know, not perturbed by what I don't know. - Author: Linda Dillow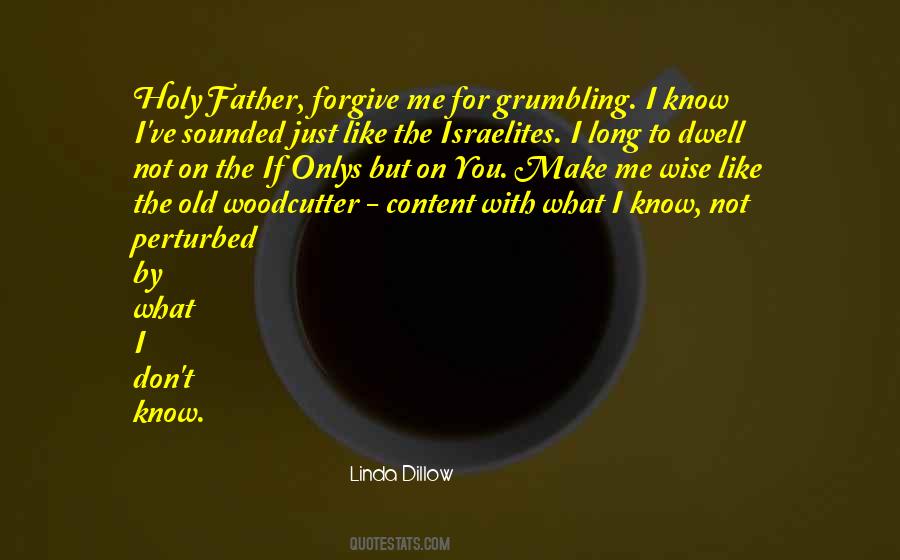 #84. And if your friend does evil to you, say to him, 'I forgive you for what you did to me, but how can I forgive you for what you did to yourself? - Author: Friedrich Nietzsche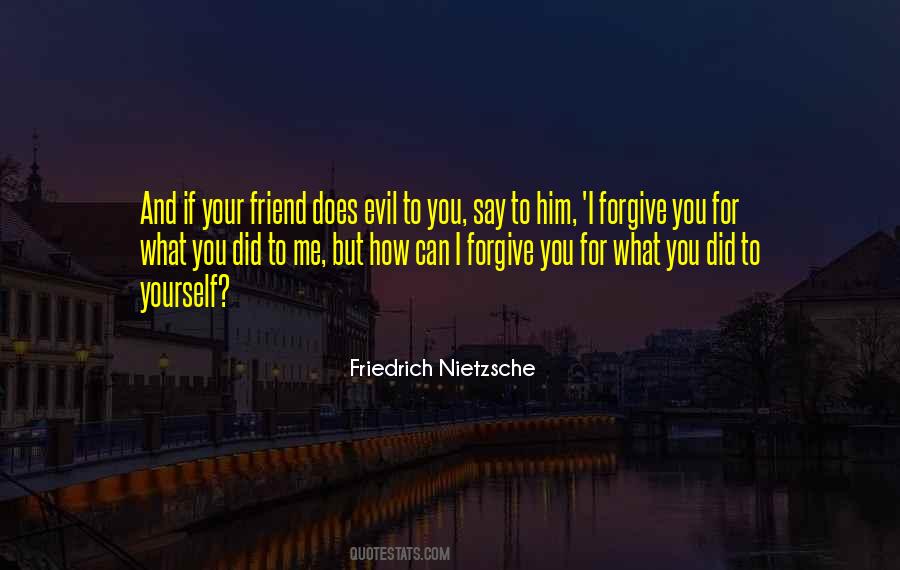 #85. I want to fix an image of him in my head, but all I can see when I close my eyes is his body, still and lifeless in my arms. I let him go, and I will never forgive myself for that. - Author: Clare Mackintosh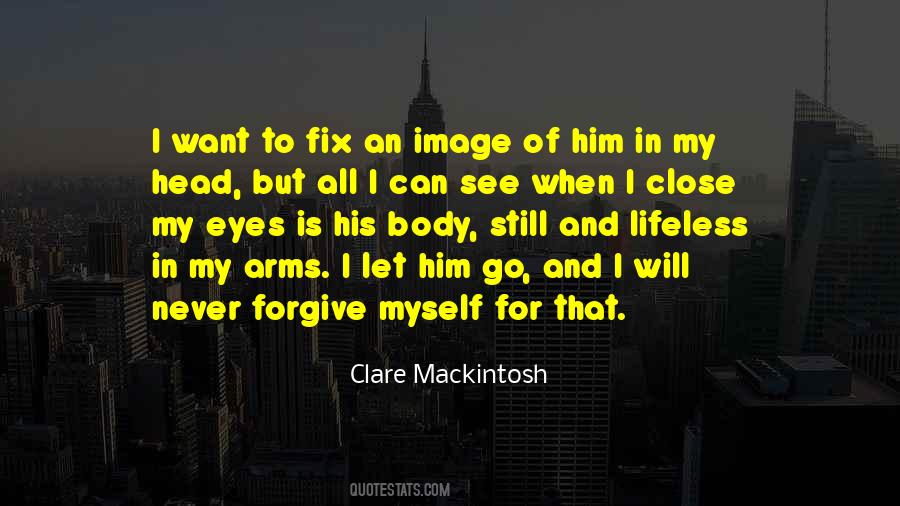 #86. Please forgive me. I couldn't always follow you in your wild escapades, just like I can't follow you now. But then as now, my thoughts and heart go with you. I hope that you finally meet the love of your life in Paradise. Try not to tease the angels. - Author: Alan McCluskey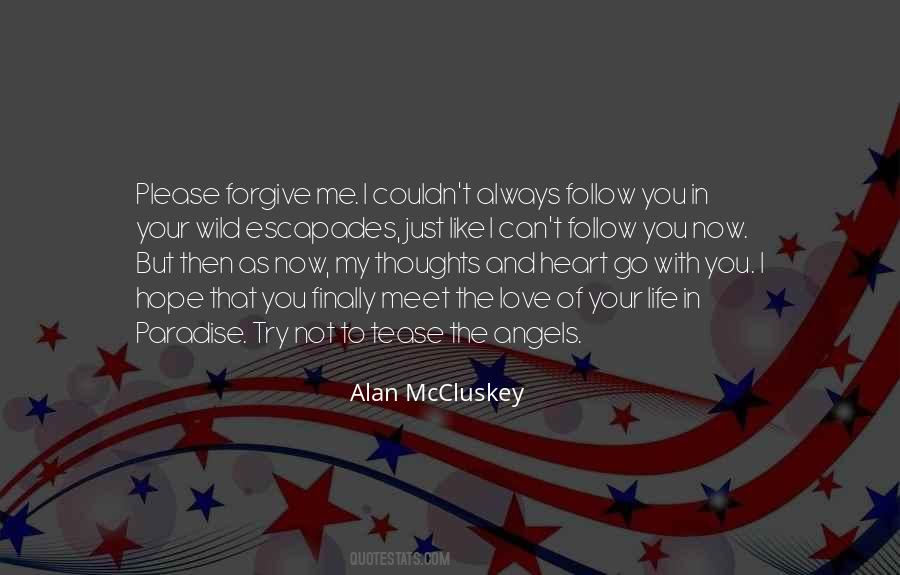 #87. Finally, Carol said in a tone of hopelessness, "Darling, can I ask you to forgive me?"
The tone hurt Therese more than the question. "I love you, Carol."
"But do you see what it means? - Author: Patricia Highsmith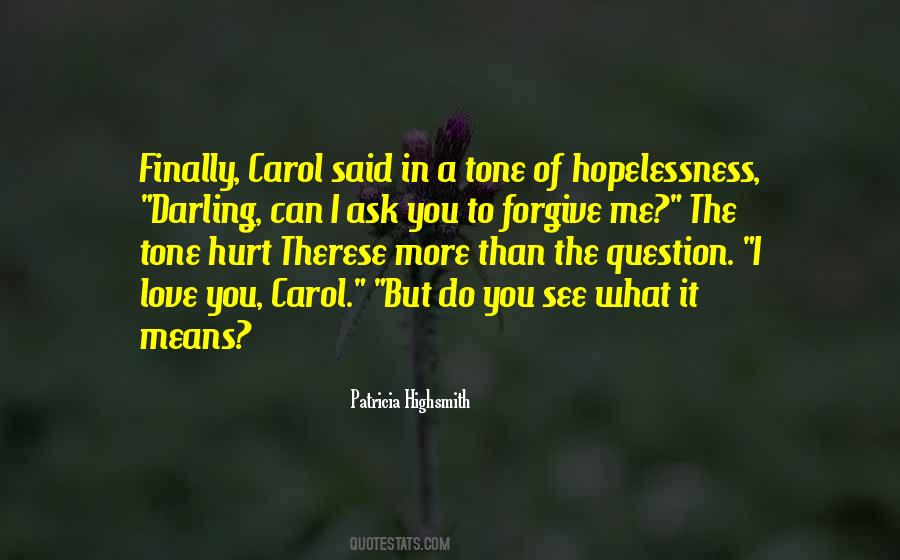 #88. Forgive me if I stare, I knew you were young, but even then I was expecting someone a little more, well, more. - Author: Christopher Paolini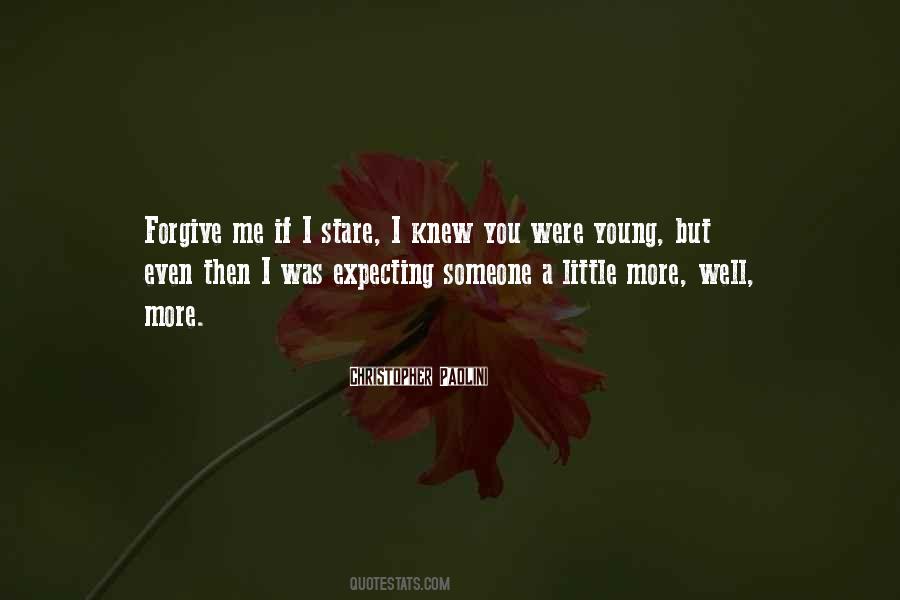 #89. You've already said this is your dream job. And forgive me if I'm wrong, but I promised before God, Reverend Walsh, and a congregation of our nearest and dearest to 'cherish you, uphold your hopes and dreams, and keep you safe at my side.' - Author: E.L. James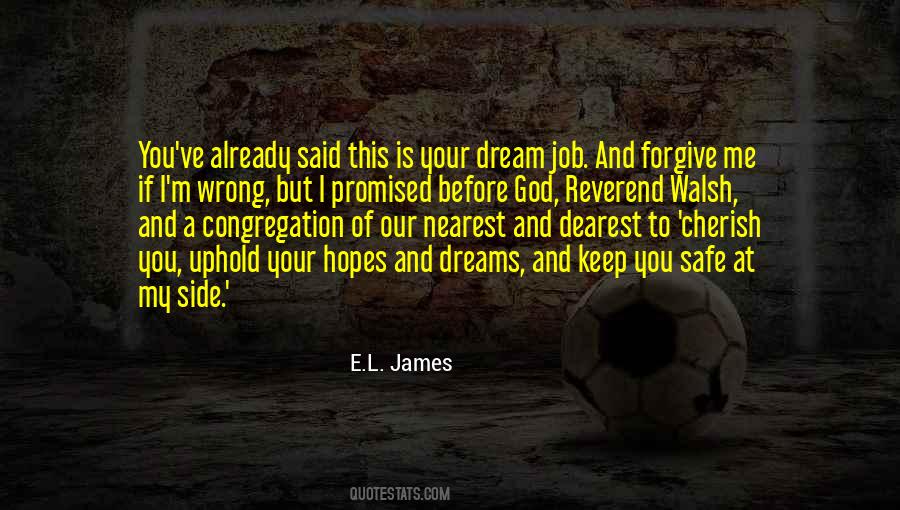 #90. As an old acquaintance of mine used to say, "If you can't duck it, fuck it." I'm pretty sure he knew it was duct and not duck, but I'll forgive him for the sake of the rhyme. - Author: Cherie Priest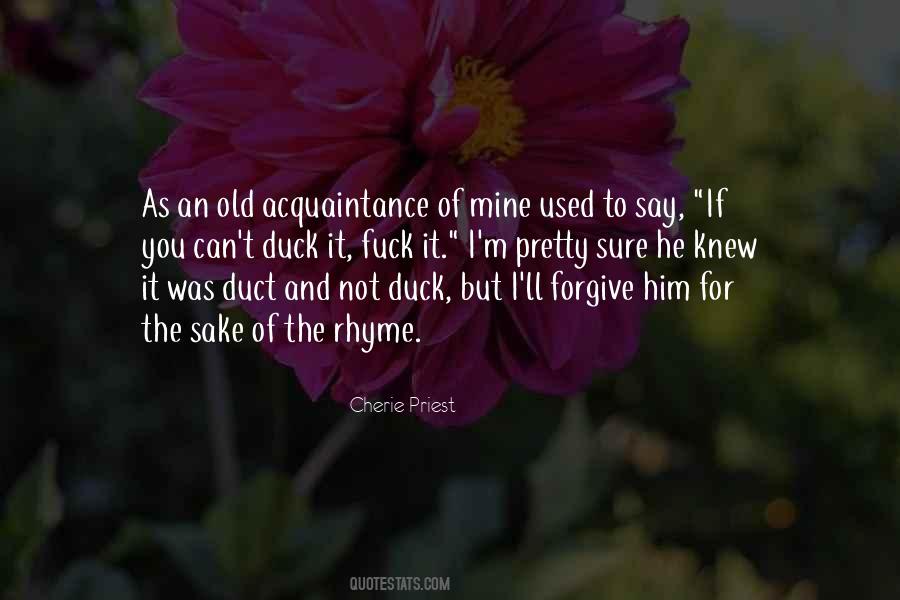 #91. Understand two thoughts, and fear them. One says, "You are a saint," the other, "You won't be saved." Both of these thoughts are from the enemy, and there is no truth in them. But think this way: I am a great sinner, but the Lord is merciful. He loves people very much, and He will forgive my sins. - Author: Silouan The Athonite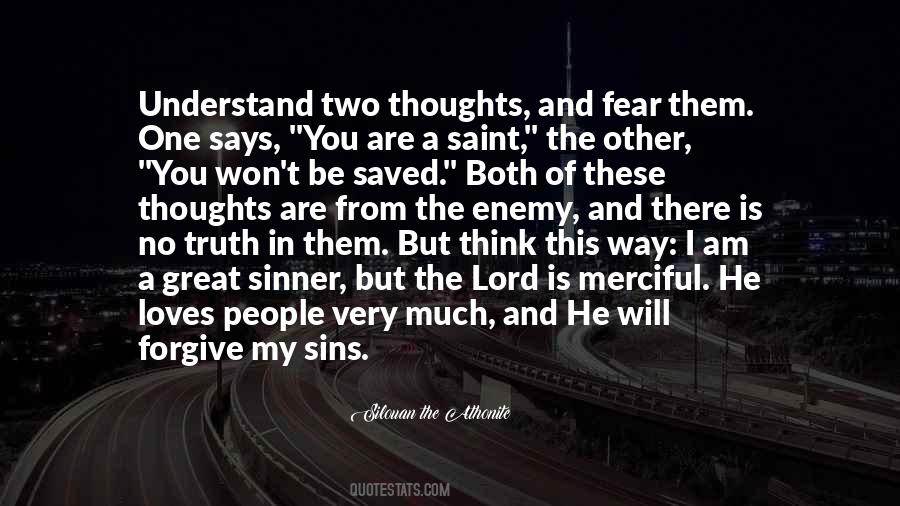 #92. When you hate someone so much, a part of you wants desperately to forgive them. But you can't decide if it's because you really want, or if you just want to stop hating. I still don't know if forgiveness is generous or selfish. Maybe both. - Author: Miguel Syjuco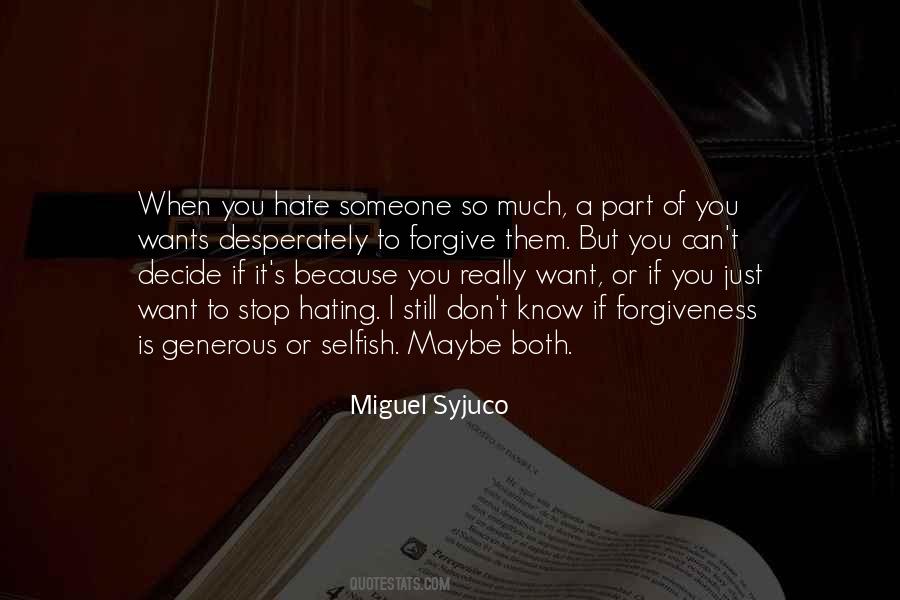 #93. If I've done wrong, I'm dying for it. It is enough! You left me too; but I won't upbraid you! I forgive you. Forgive me! - Author: Emily Bronte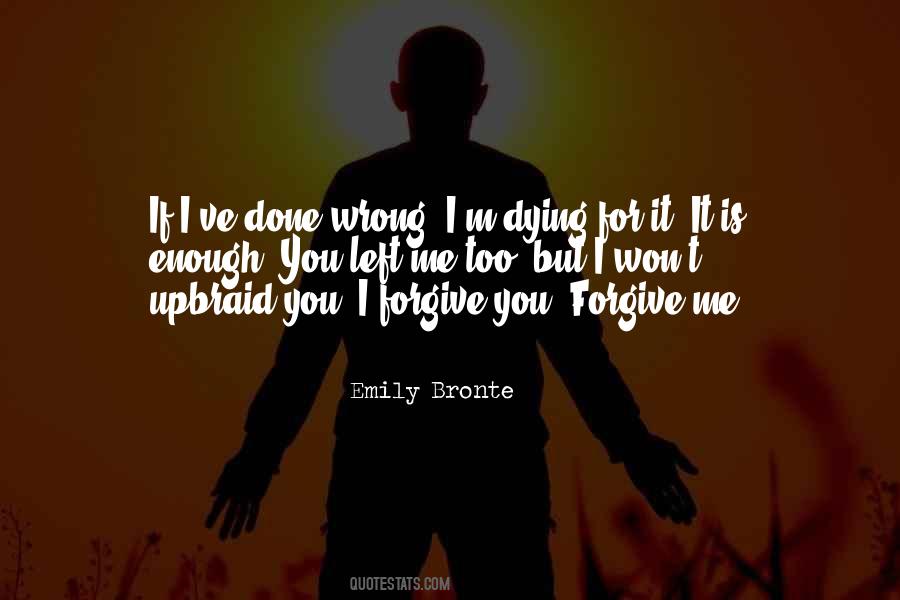 #94. You can spill drinks on me, even spit on me. I'll just laugh about it. But If you dare to hurt my friends ... I WON'T FORGIVE YOU! - Author: Eiichiro Oda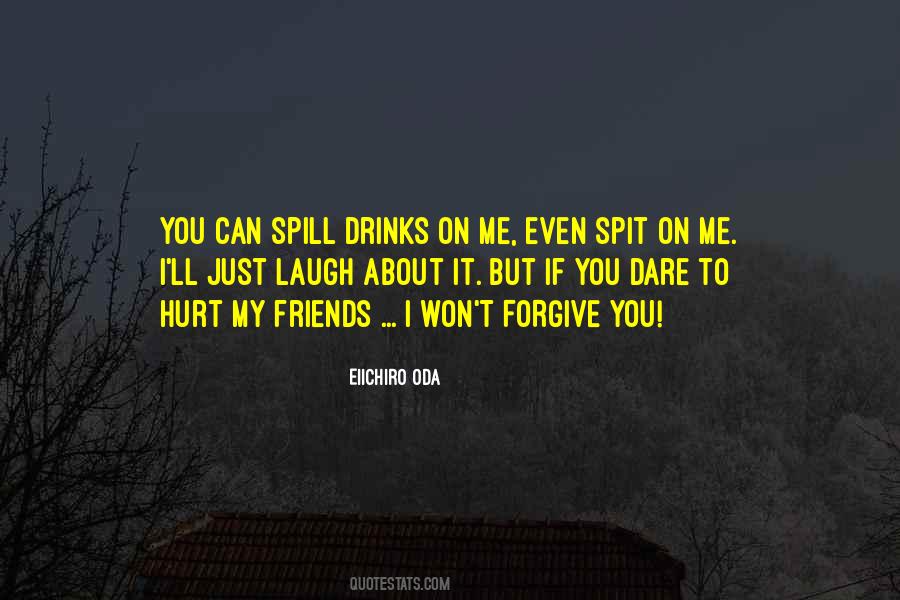 #95. I hated my father all my life but in his final days I forgave him for all the suffering he caused us. As you grow older, marry, and have children of you own, you learn and forget. I do not forget easily, but I do forgive. - Author: Sophia Loren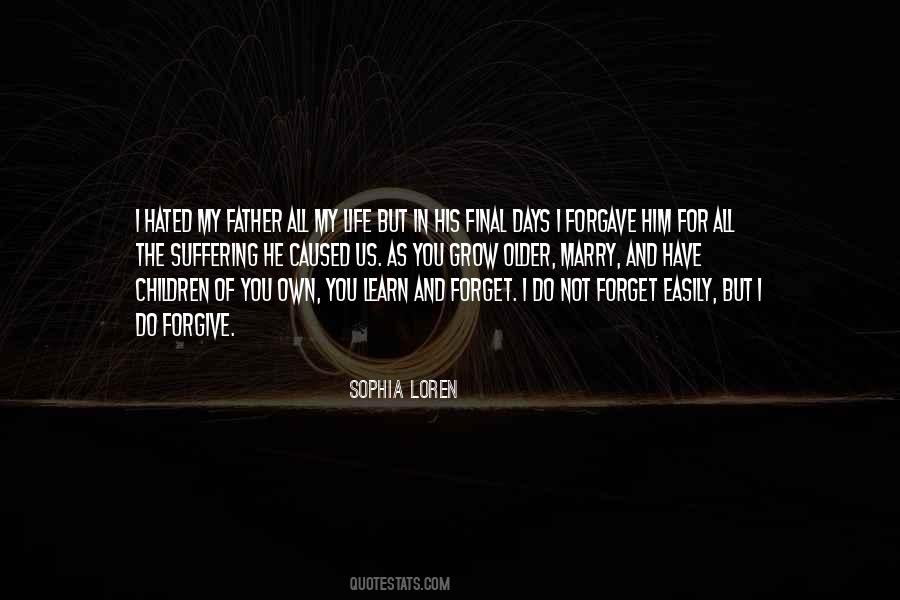 #96. The words 'I will forgive you, but I'll never forget what you've done' never explain the real nature of forgiveness. - Author: Martin Luther King Jr.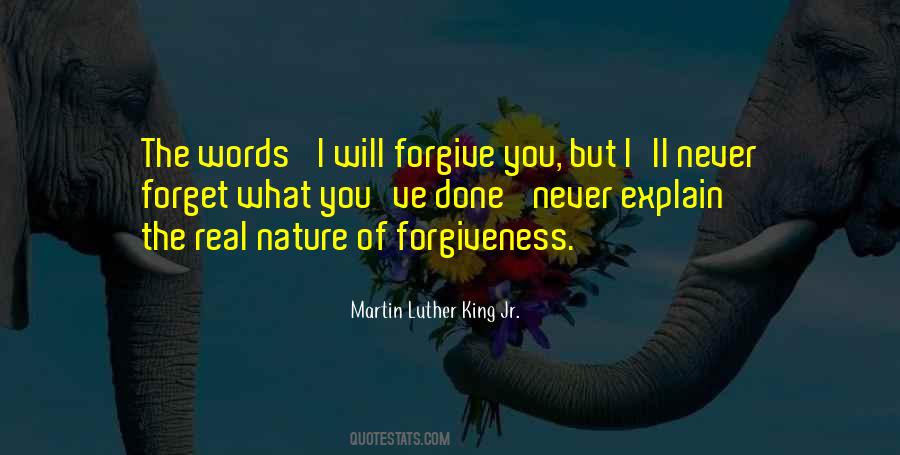 #97. I have consummated the work to which I pledged myself, using all the abilities that You (God) gave me; I have shown the glory of Your works to men, but if I have pursued my own glory among men while engaged in a work intended for Your glory, be merciful, be compassionate, and forgive. - Author: Johannes Kepler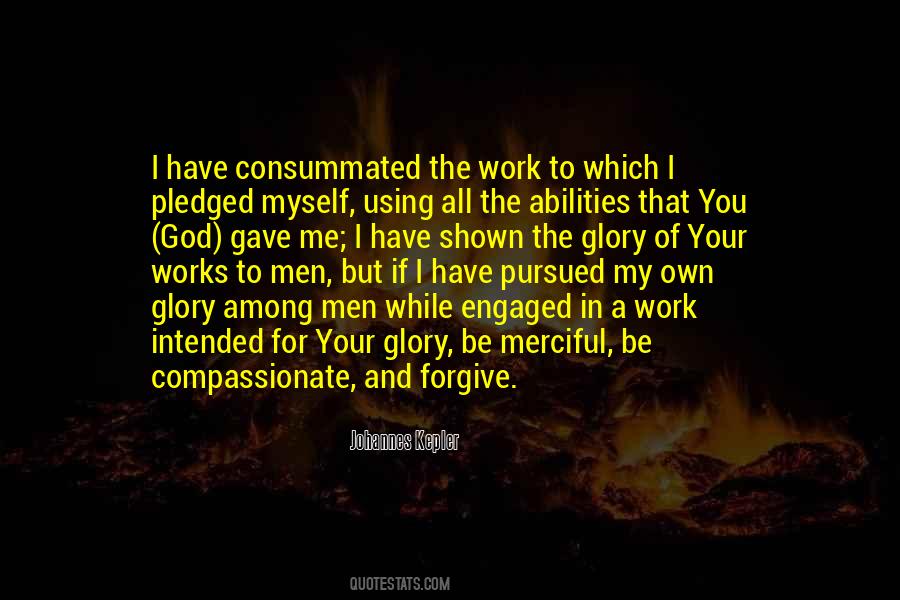 #98. Please don't tell her i told you. I know how much you love her, Hardy, and i know the reason she didn't want you to know is because she loves you, too. I've never seen two people your age feel so deeply about each other. I understand you needing to know, but she would never forgive me. - Author: M. Leighton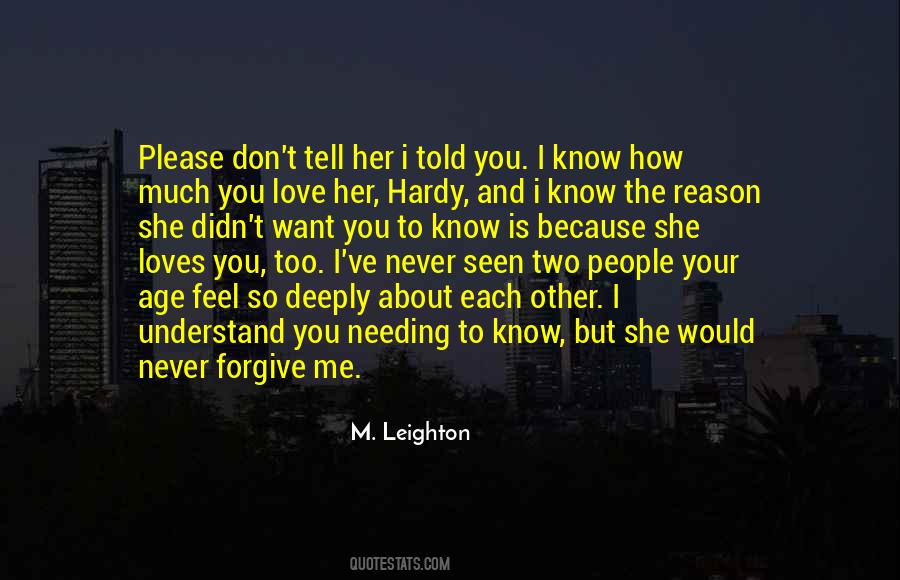 #99. You don't bless what you love ... It's when you want to love and you can't manage it. You stretch out your hands and you say God forgive me that I can't love but bless this thing anyway ... We have to bless what we hate ... It would be better to love, but that's not always possible. - Author: Graham Greene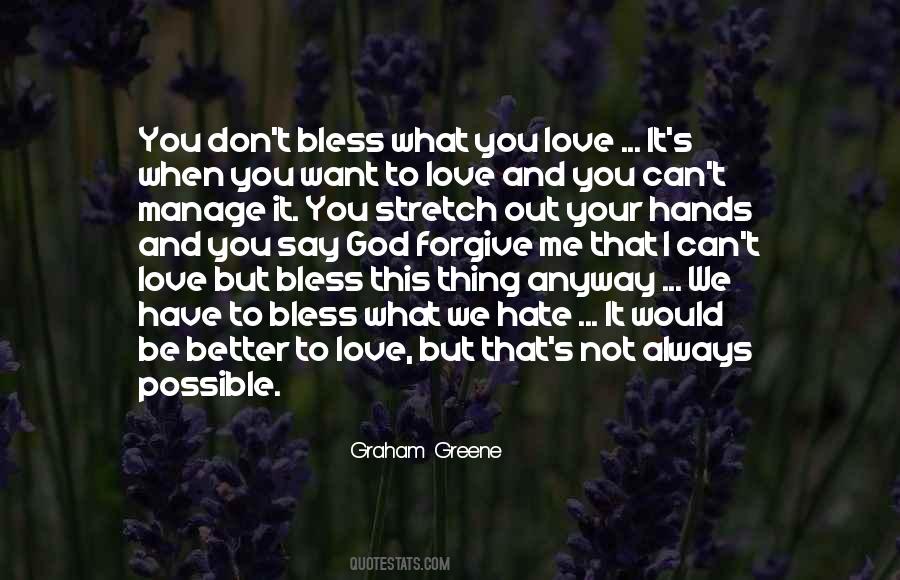 #100. If it helps you. I forgive you. But i have learned in recent weekd that seeking forgiveness from others is meaningless unless you can forgive yourself. - Author: Maya Banks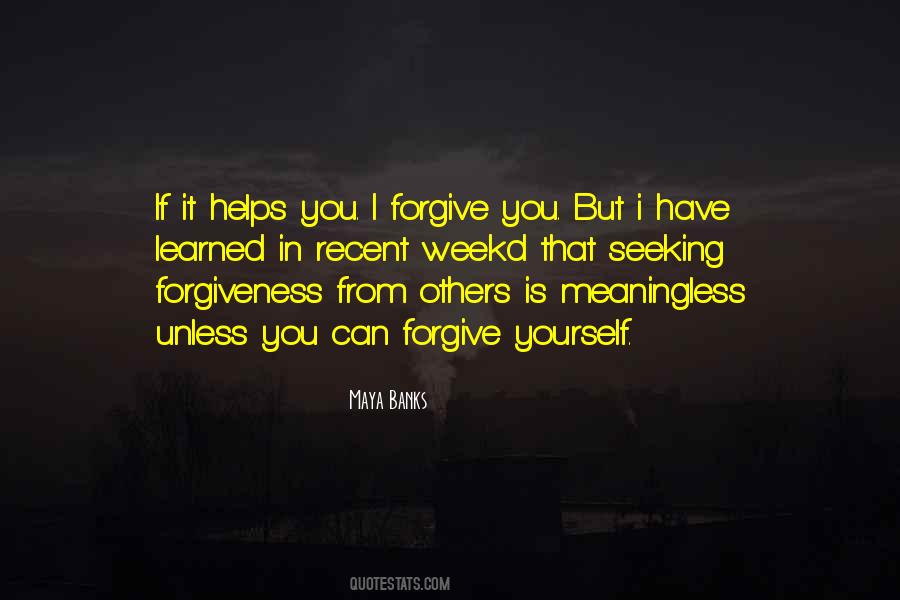 Famous Authors
Popular Topics