Heart Is Broken Famous Quotes & Sayings
List of top 100 famous quotes and sayings about heart is broken to read and share with friends on your Facebook, Twitter, blogs.
Top 100 Heart Is Broken Quotes
#1. You're creating an intimacy that everybody feels, that it's their experience, not yours. I'll never introduce a song and say, now this song is about 'my' broken heart. - Author: Diana Krall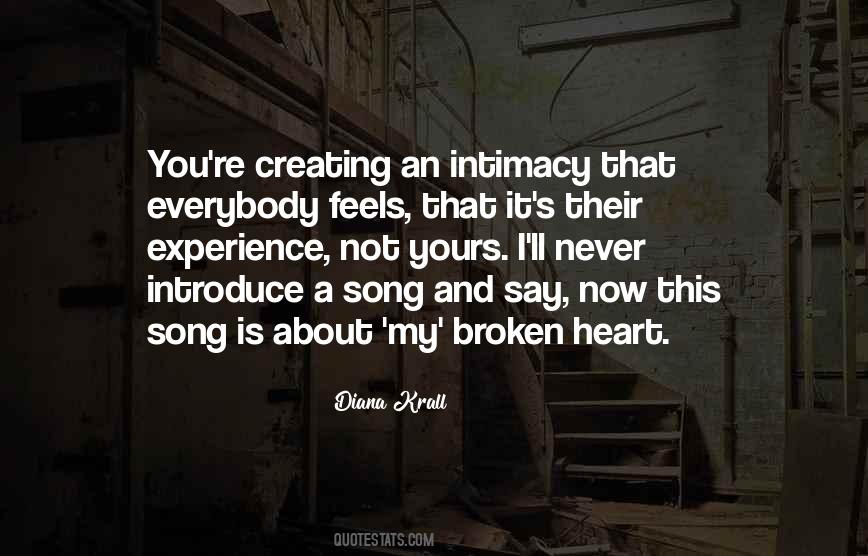 #2. to be compassionate with myself, even when my will is weak and my body fails me; to give myself freely to those I love, even when it means my heart may be broken; and to live fully and completely while I have the chance - just - Author: Camille Pagan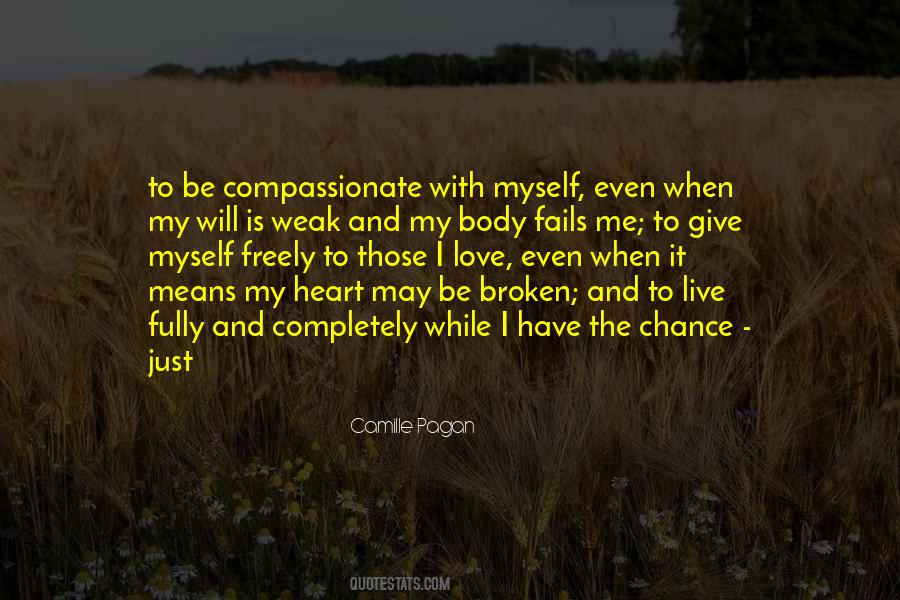 #3. The truth is most people have experienced a broken heart. You are not alone. - Author: Pamela Hart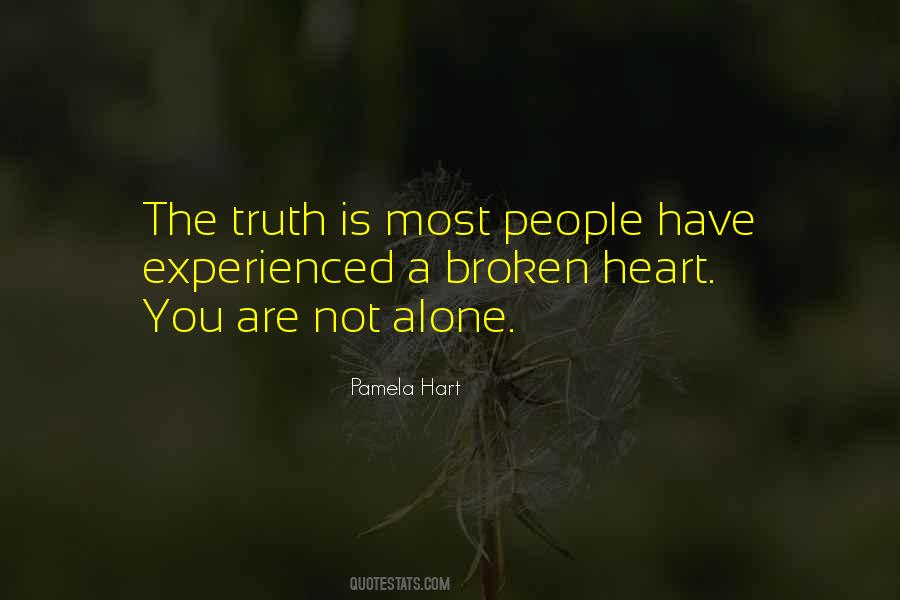 #4. Bleeding for a decade
For a decade,
We bleed like there is no hell but the earth
We bleed like we were born to dare
We bleed like there is nothing alive inside.
We find a clue
After a decade
Bleeding is just to breath
Simply keeps us alive. - Author: Arzum Uzun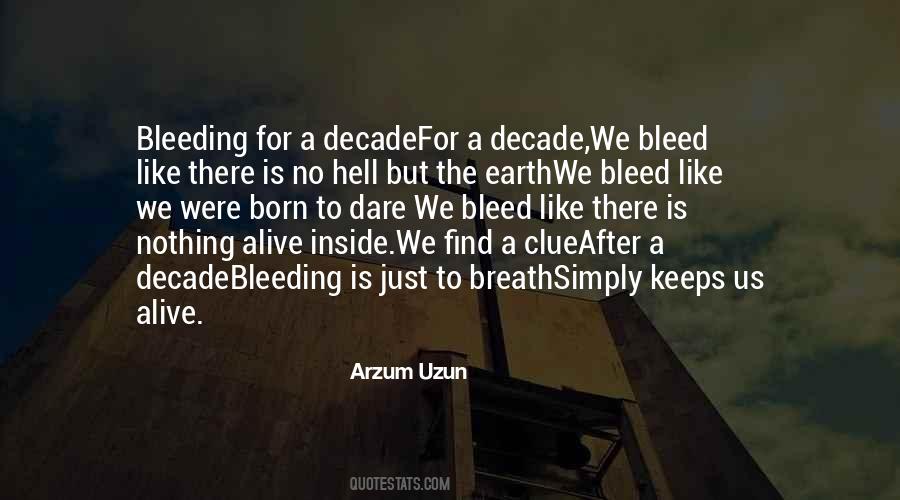 #5. It is a grave misconception to regard the mystical progress as passing mostly through ecstasies and raptures. On the contrary, it passes just as much through broken hearts and bruised emotions, through painful sacrifices and melancholy renunciations. - Author: Paul Brunton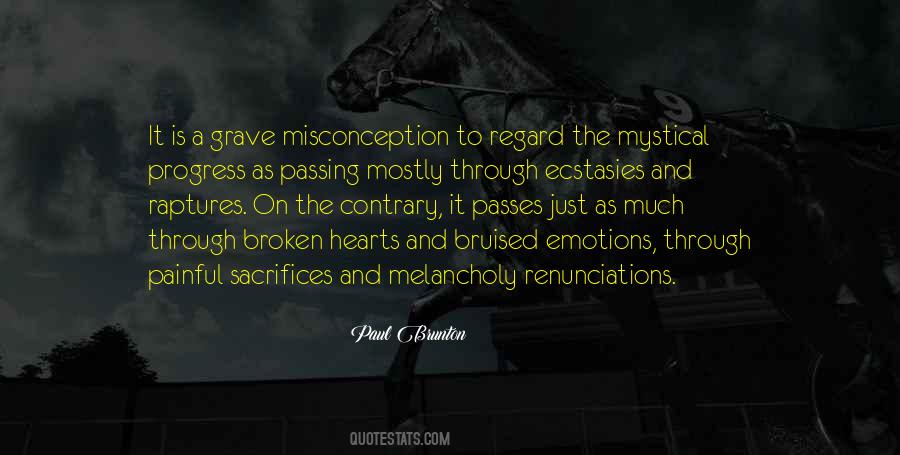 #6. When you're dreaming with a broken heart, the waking up is the hardest part. You roll outta bed and down on your knees and for a moment you can hardly breathe. - Author: John Mayer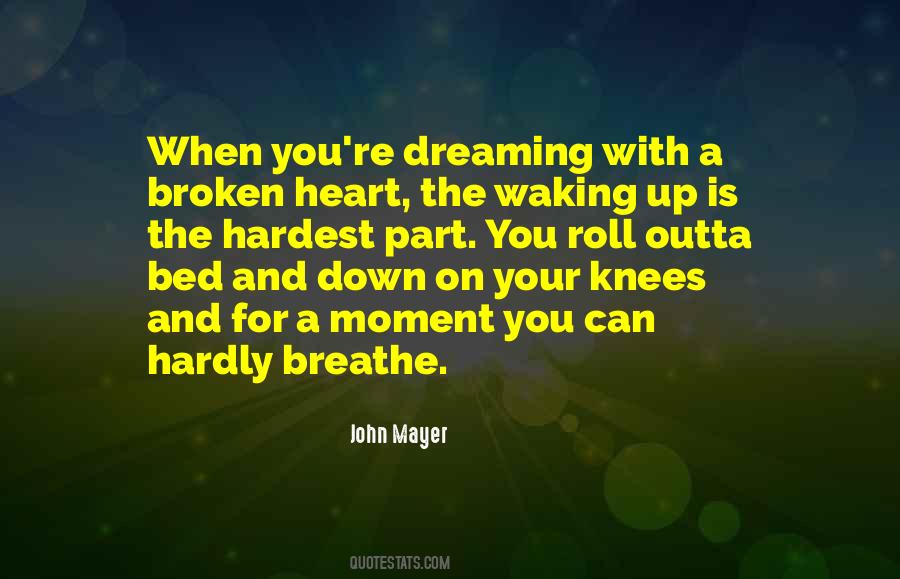 #7. It is amazing how women spend too much time and energy scheming, plotting and seducing men when they should spend more time listening, learning and getting over desperation. - Author: Benyf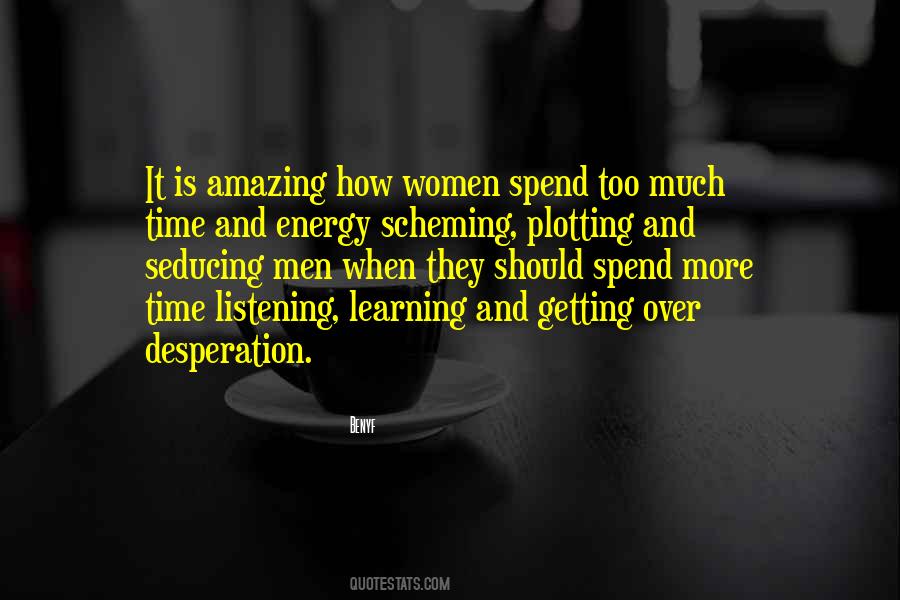 #8. Raphael said, "There are no tears in Heaven, no chances of a broken heart. Maybe being witness to great love is why I love coming to Earth. And maybe true love is why some angels choose to stay. - Author: D.F. Jones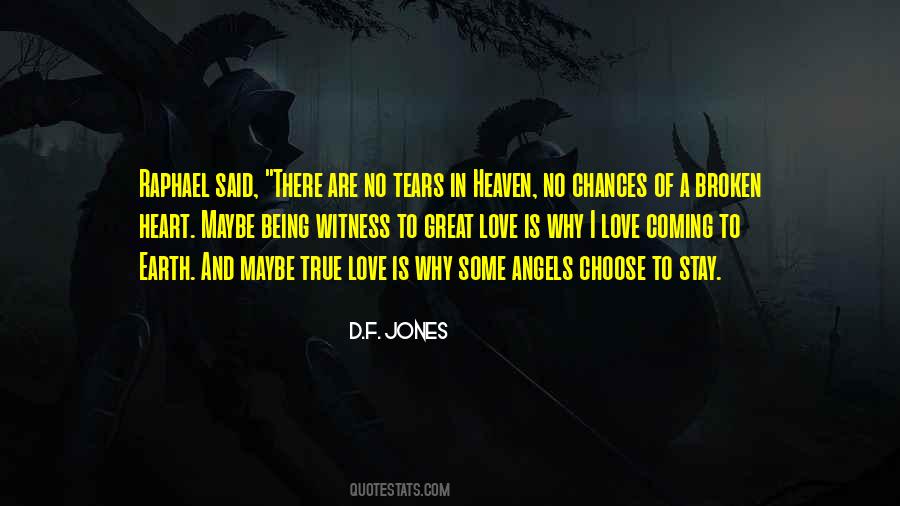 #9. It would appear that getting your heart broken is a wonderful way to boost sales. - Author: Elodie Nowodazkij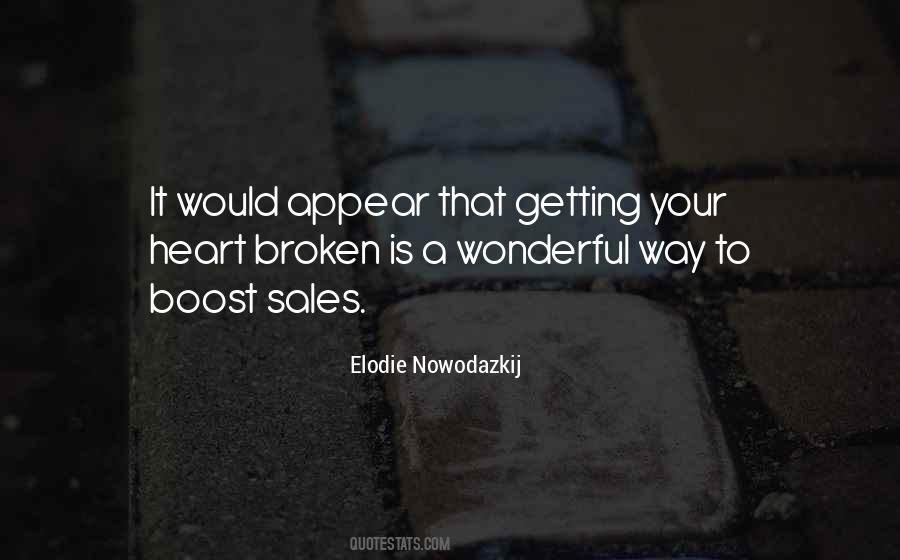 #10. A happy heart is good medicine and a cheerful mind works healing, but a broken spirit dries up the bones. (Proverbs 17:22) - Author: Joyce Meyer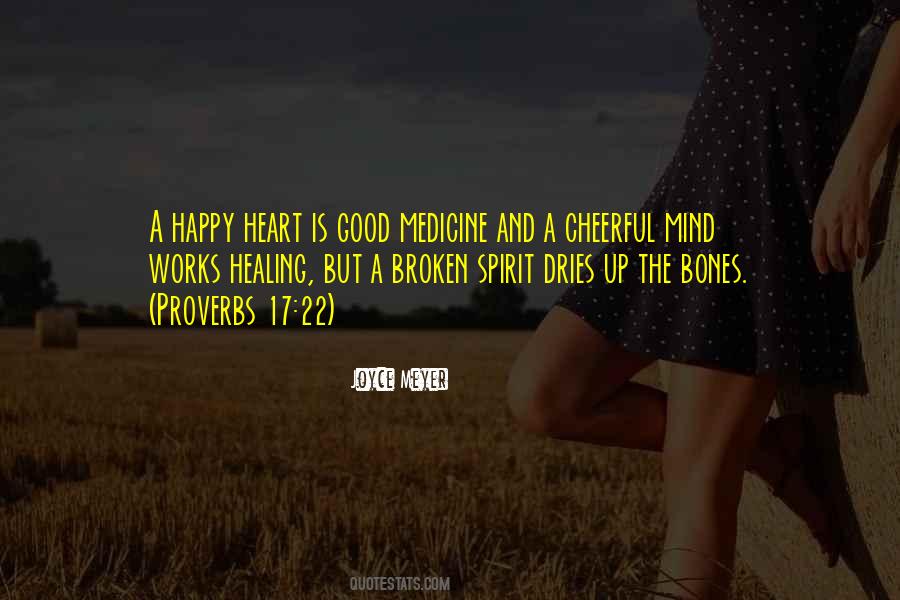 #11. A broken heart is a whole heart. A leaning ladder is a straight ladder. - Author: Simcha Raz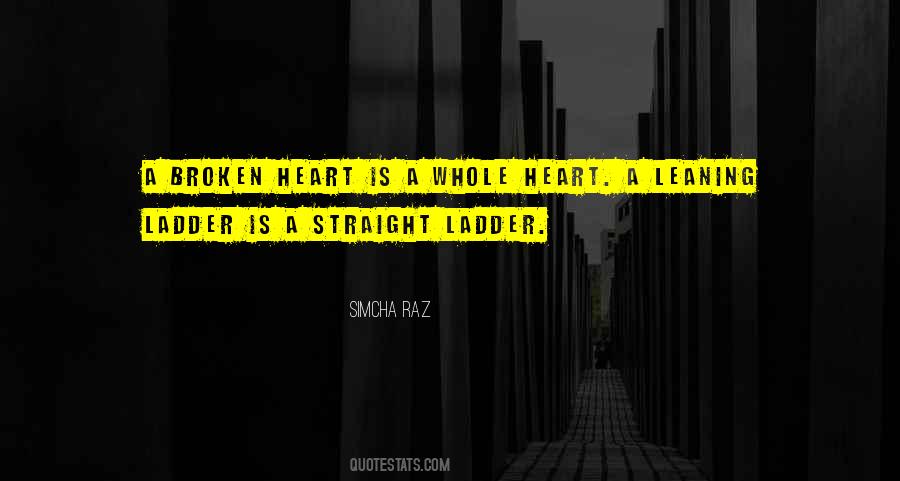 #12. There may be some tenderness in the conscience and yet the will be a very stone; and as long as the will stands out, there is no broken heart. - Author: Richard Alleine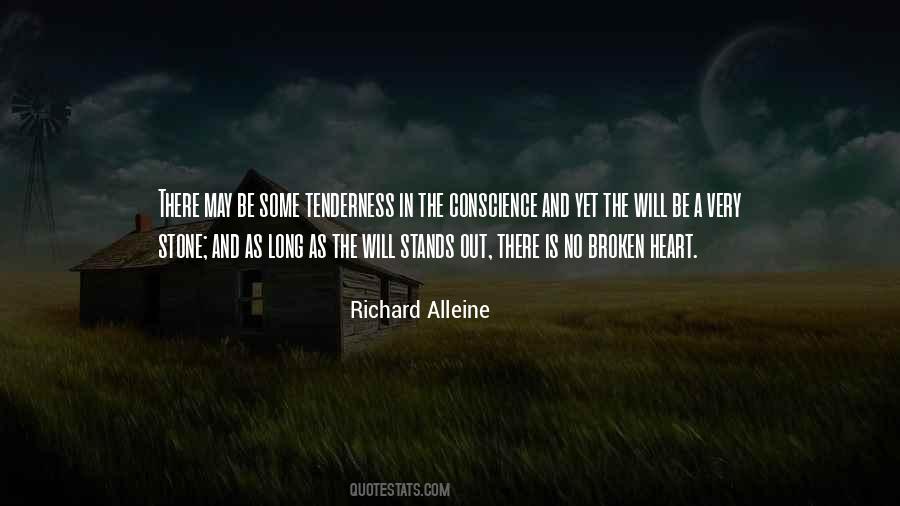 #13. God is the shaper of your heart. God does not display his work in abstract terms. He prefers the concrete, and this means that at the end of your life one of three things will happen to your heart: it will grow hard, it will be broken, or it will be tender. Nobody escapes - Author: Ravi Zacharias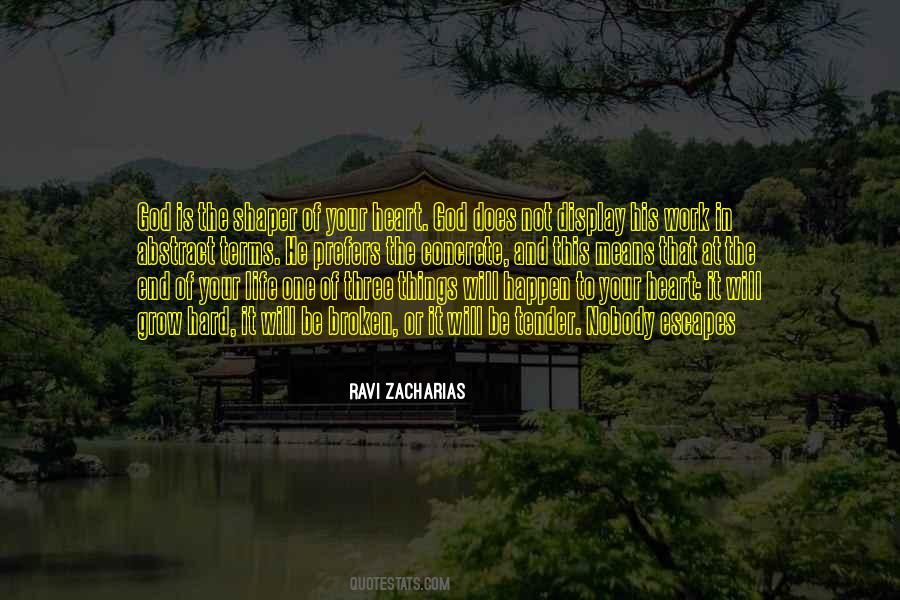 #14. Love is a chemical imbalance, too. That perilous highs and desperate lows and extravagant flurries of mood are not always symptoms of a broken mind, but signs of a beating heart. - Author: Terri Cheney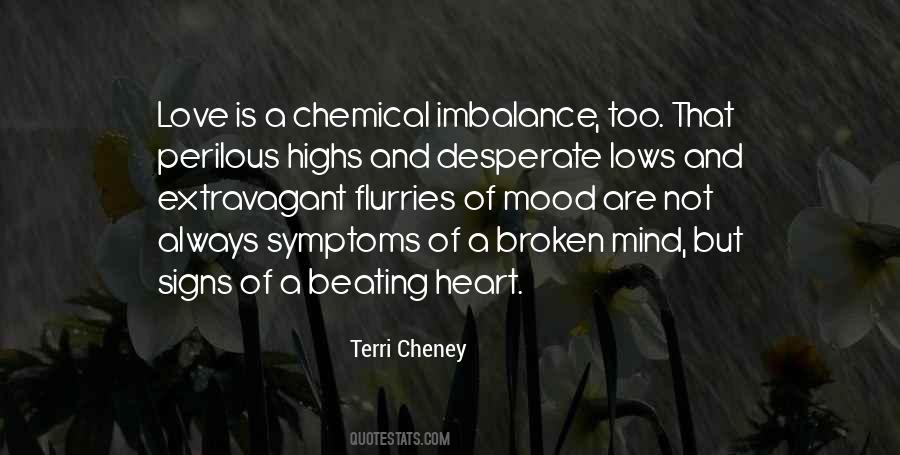 #15. When the heart is torn and broken, only love and kindness can mend it. - Author: Debasish Mridha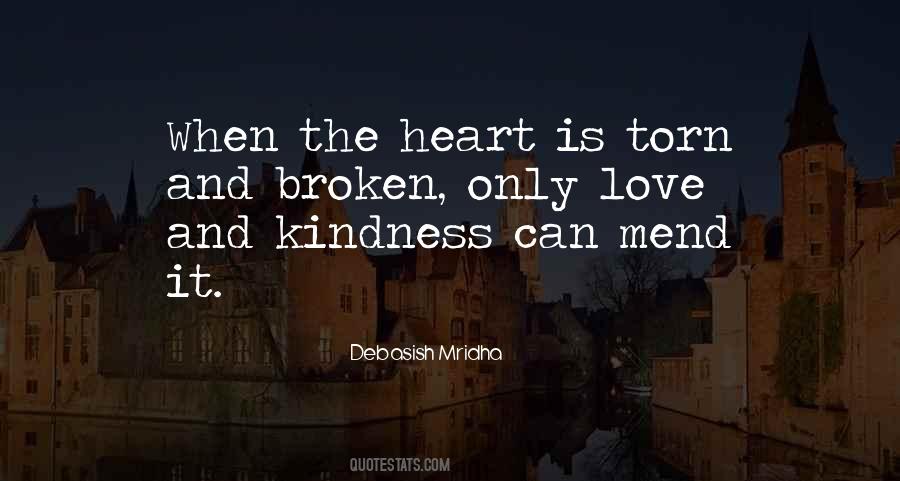 #16. Jesus knows the burdens we carry and the tears we shed, but He is the healer of broken hearts, broken dreams, and broken lives. Trust him. He never fails. - Author: John Hagee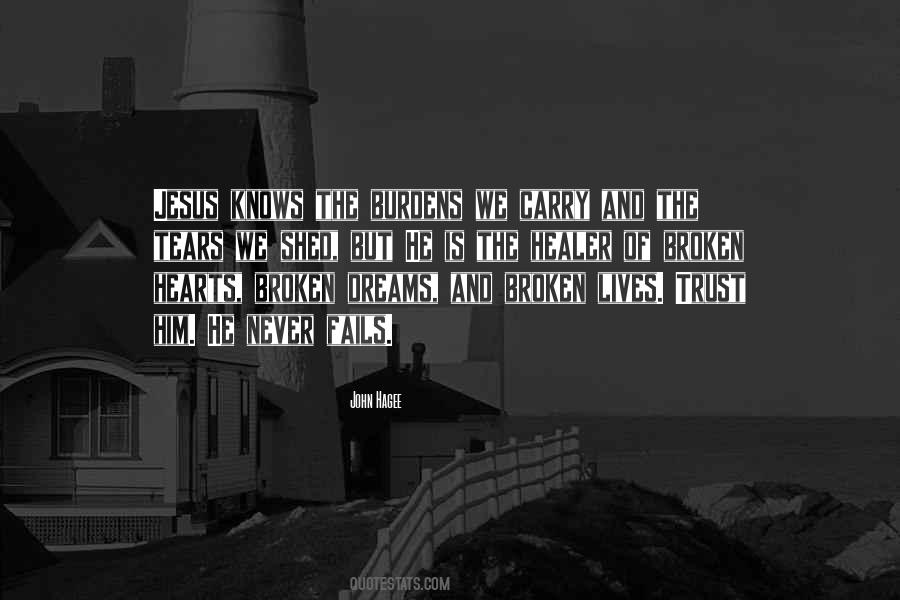 #17. My heart is one part predator
And one part saint!
Most of it is crazy
And a little bit too sane
It falls for all
But beats for none
It's one part broken
Still shoots like a machine gun! - Author: Jaishree Garg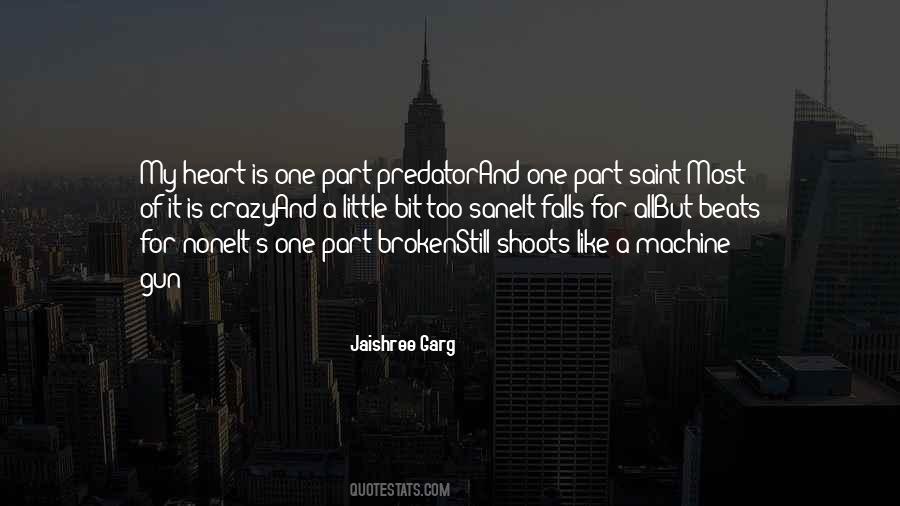 #18. Every happy girl has a broken heart. But every broken heart girl is not happy - Author: M.F. Moonzajer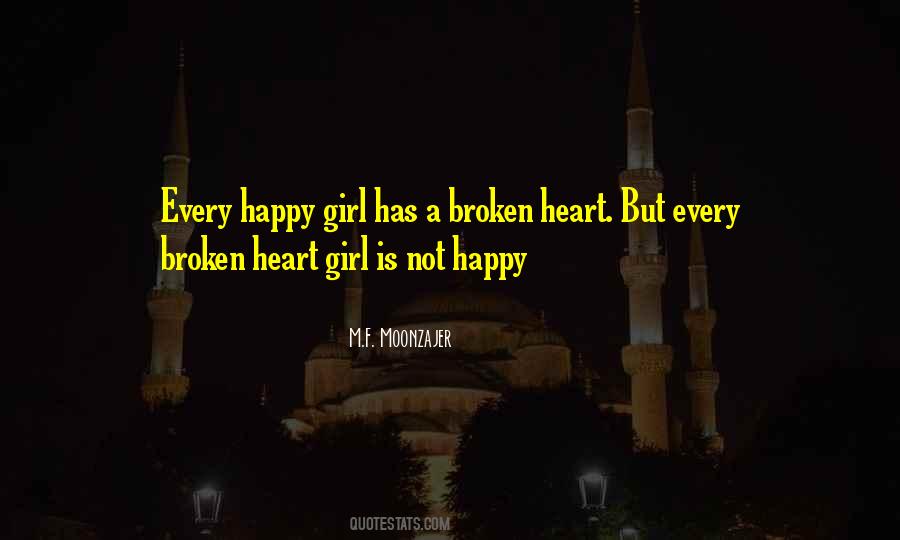 #19. Love is as simple as the absence of self given to another. God, when invited, fills the void of any unrequited love; hence loving is how one is drawn closer to God no matter its most horrific repercussions. - Author: Criss Jami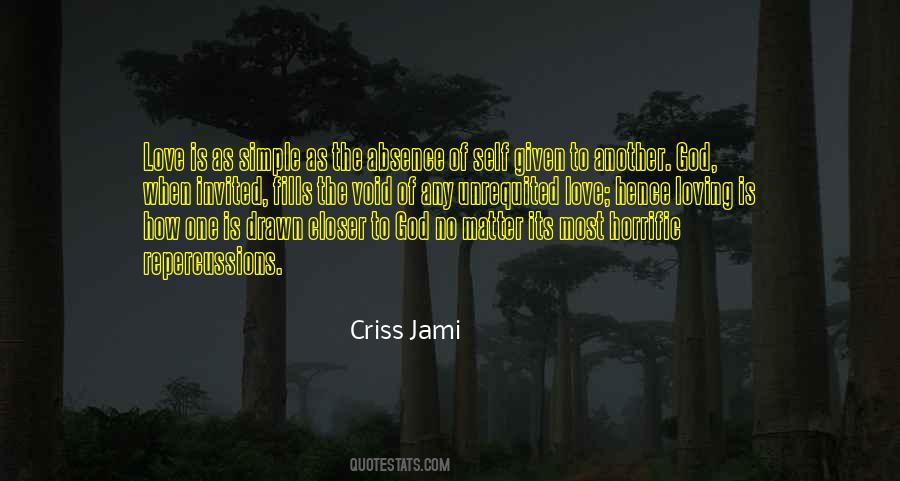 #20. I look down and see my hands uncapping the pen, turning the notepad right-side up on my knees. My mouth is dry, my stomach is in knots, my life is over, my heart is broken.

I start to write. - Author: Amanda Maciel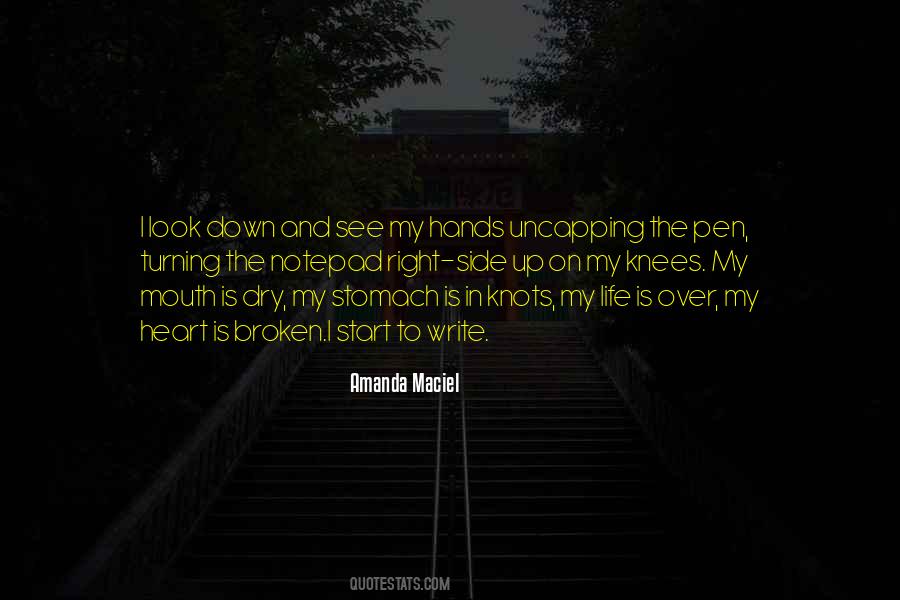 #21. Perhaps this is what the stories meant when they called somebody heartsick. Your heart and your stomach and your whole insides felt empty and hollow and aching. - Author: Gabriel Garcia Marquez
#22. You are right, none of us live enough, and sometimes I think it is because we mistake hurrah and hullabaloo for experience, we get a sock in the eye and think it is a broken heart ... - Author: Katherine Anne Porter
#23. Till men are deeply humbled, they can part with Christ and Salvation for a lust, for a little wordly gain, for that which is less than nothing. But when God hath enlightened their consciences, and broken their hearts, then they would give a world for Christ. - Author: Richard Baxter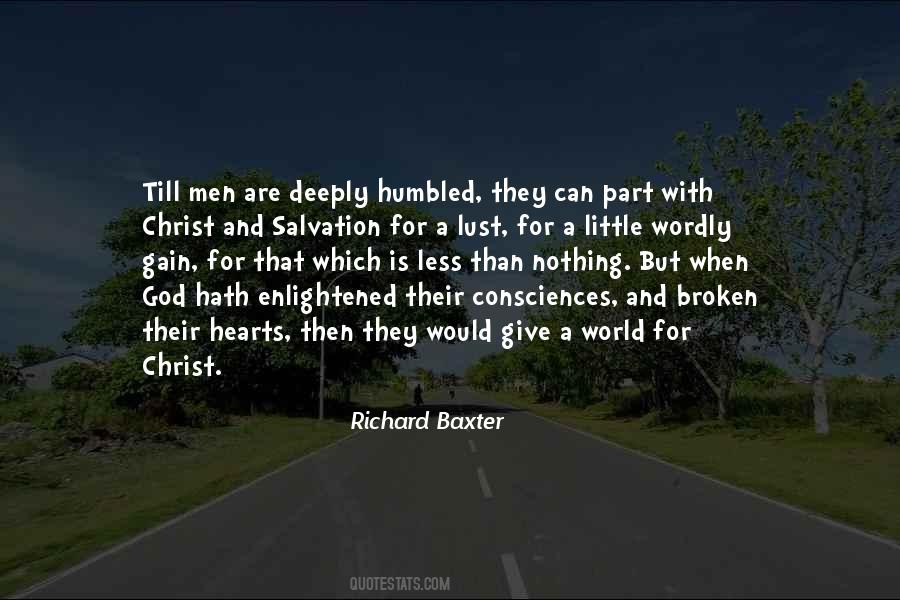 #24. That crack in your broken heart is actually the place from where love enters inside you. - Author: Supriya Kaur Dhaliwal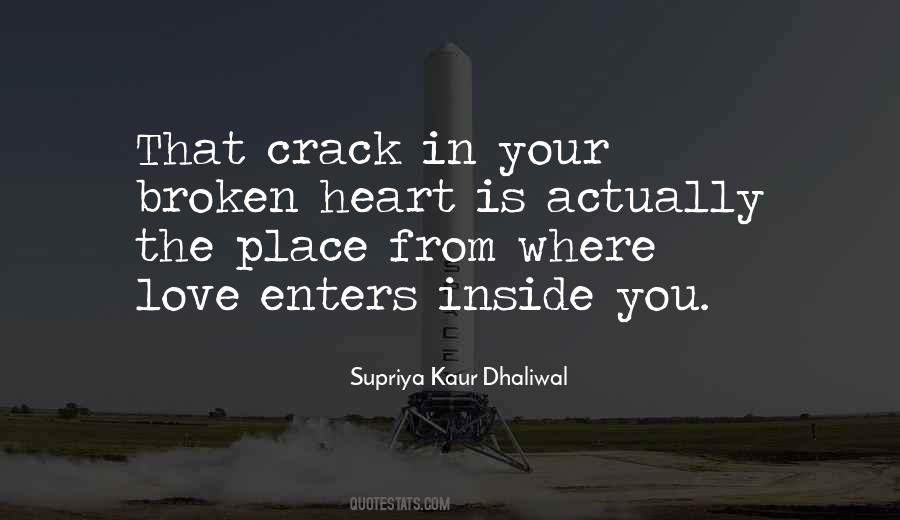 #25. We never love a person after judging them because that's not love then, But today's life lesson is to judge a person before falling in love with that person, It's hard to trust anyone in this cruel world where all are determined to hurt you by any mean. - Author: Debolina Bhawal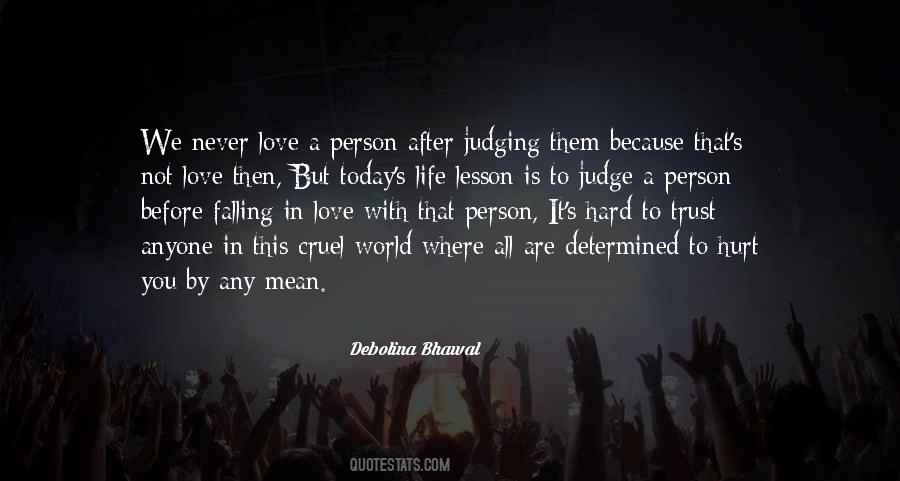 #26. Someone called my character the Meg Ryan of the Broken Hearts bunch. Now maybe the perception is that I'm a Meg Ryan type. - Author: Dean Cain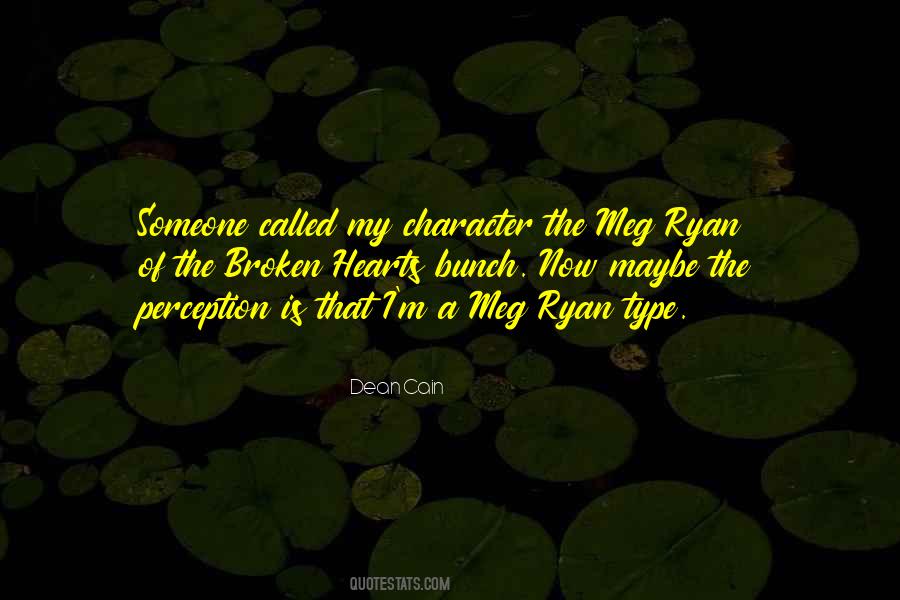 #27. Know that no one is capable of making you upset without your consent. - Author: Wayne Dyer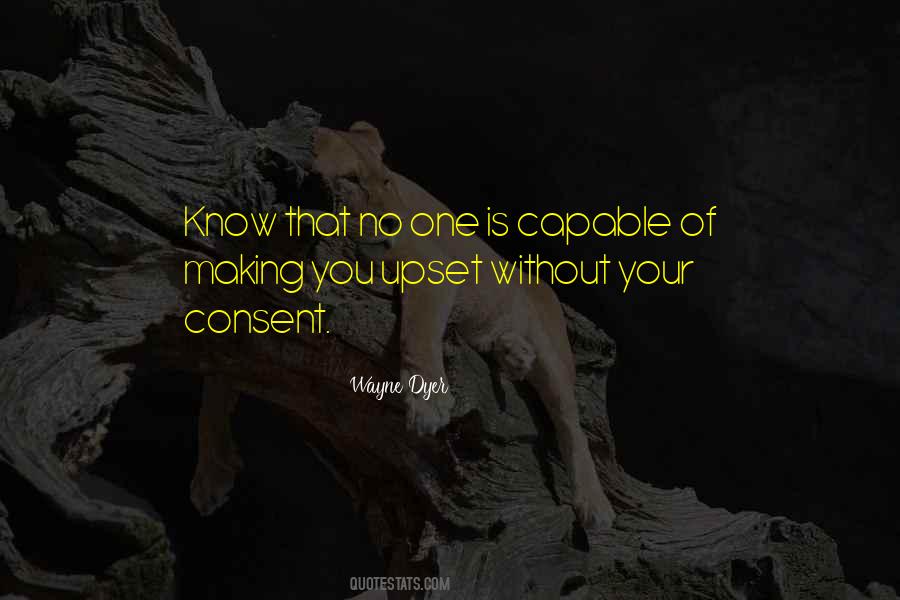 #28. When a man you like switches from what he said a year ago, or 4 years ago, he is a broad-minded person who has courage enough to change his mind with changing conditions. When a man you don't like does it, he is a liar who has broken his promises. - Author: Franklin P. Adams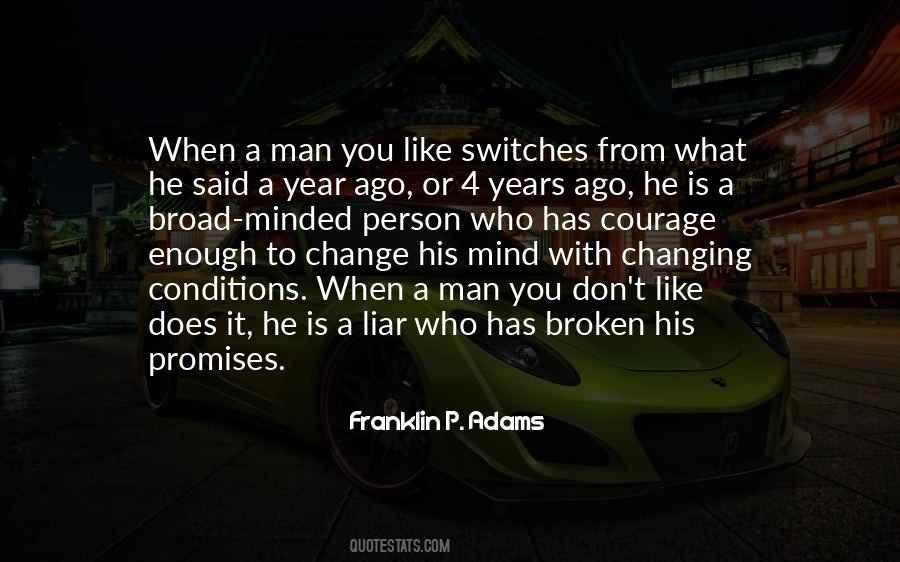 #29. I wasn't crying, but my heart was crying. I wasn't feeling, but my heart was bleeding. Now I am crying, but my heart is healing. I am learning that I know nothing. - Author: Benyf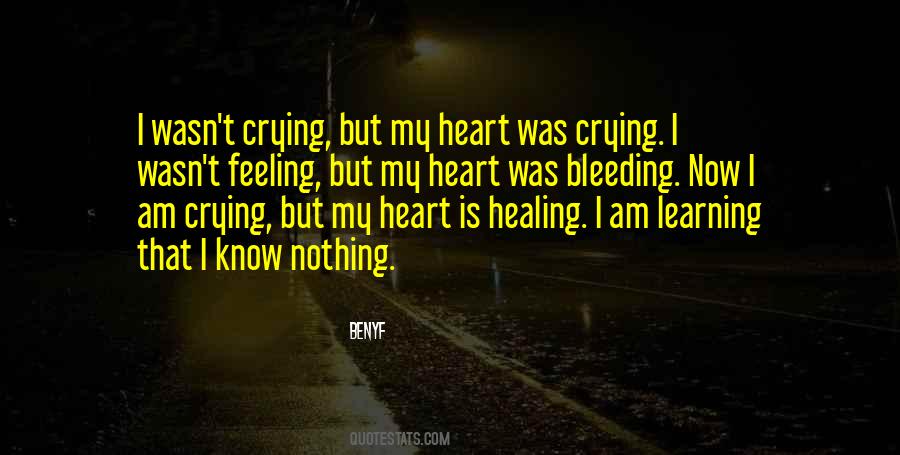 #30. I swallowed darkness, and darkness swallowed me. Without light, without the beat if a heart to count the time, you learn that eternity is nothing fear. In fact, if they'd just leave you to it, an eternity alone in the dark can be a welcome alternative to the business of living. - Author: Mark Lawrence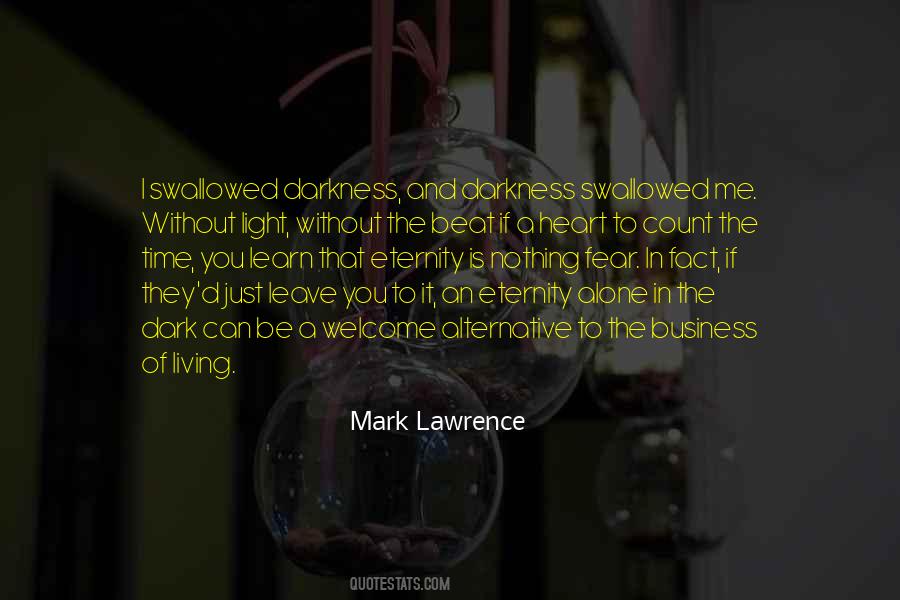 #31. Captain America is definitely the most handsome Avenger," said Cristina. "But I like the Hulk. I would like to heal his broken heart." "We're Nephilim," said Julian. "We're not even supposed to know about the Avengers. Besides," he added, "Iron Man is obviously the best-looking." "Can - Author: Cassandra Clare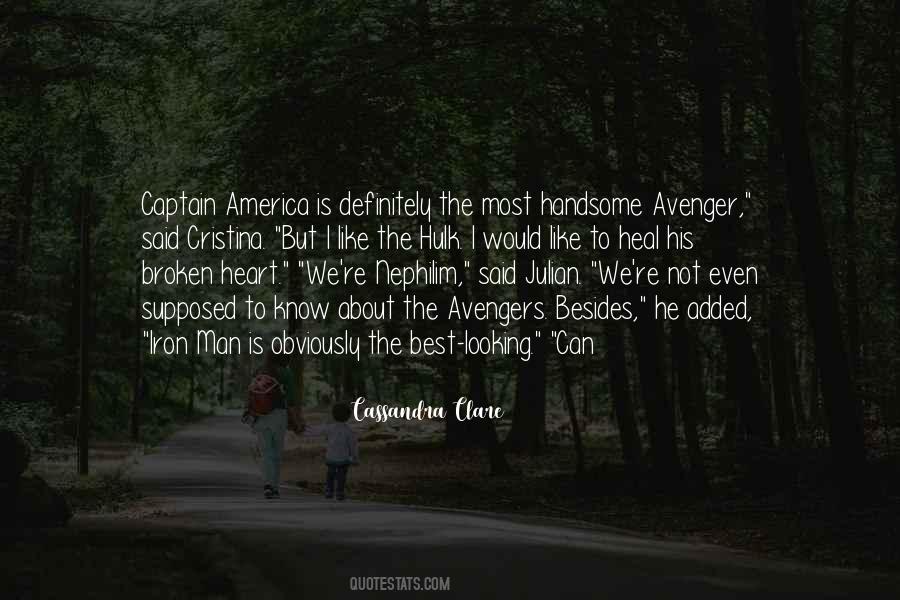 #32. Answer me something. This life, where you get to meet people and know them, and become friends, and then in a few days or a few weeks, either they leave or you do...is it worth it? I am not sure. I think so. Maybe having your heart broken like that is what keeps it open. - Author: James Maskalyk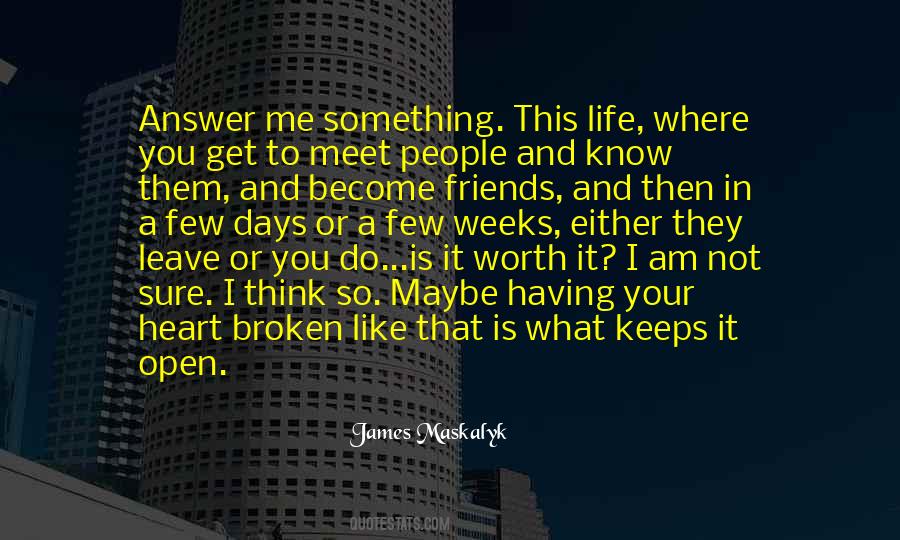 #33. It is strange how often a heart must be broken
Before the years can make it wise. - Author: Sara Teasdale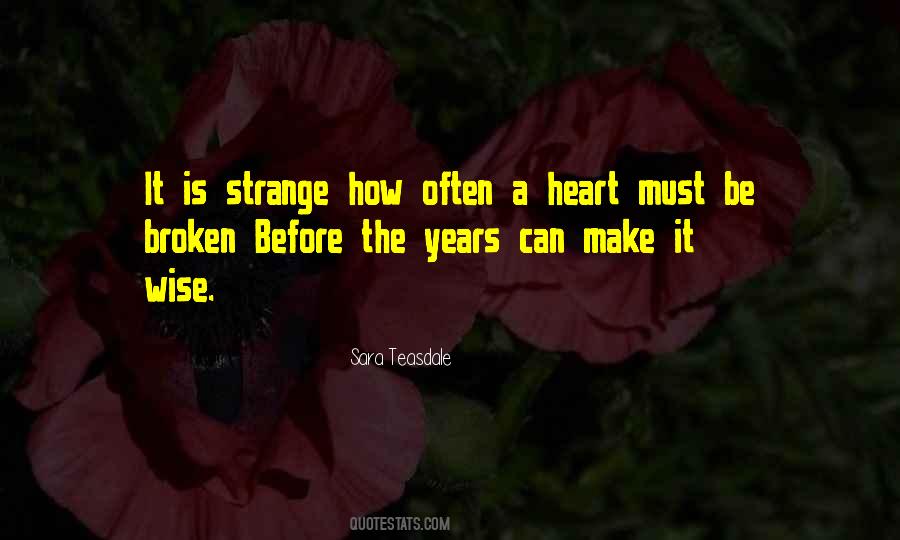 #34. This is why for thousands of years Christians have found the cross to be so central to life. It speaks to us of God's suffering, God's pain, God's broken heart. It's God making the first move and then waiting for our response. - Author: Rob Bell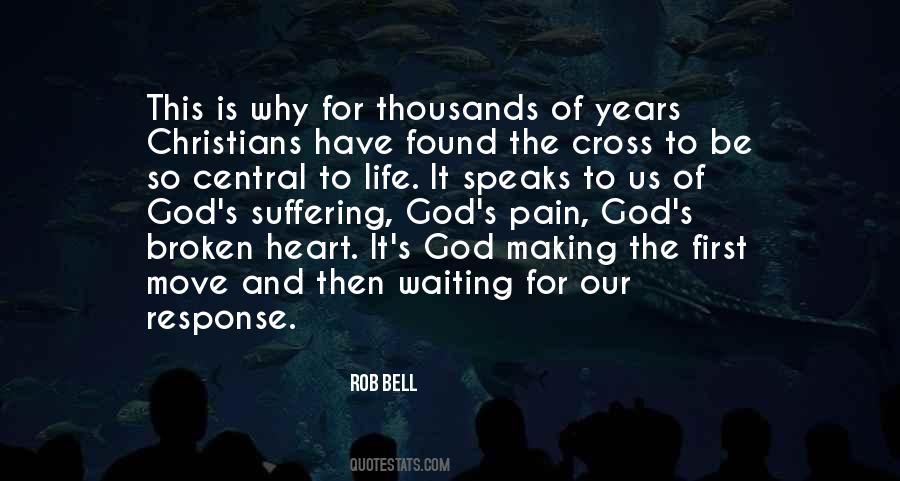 #35. She looked at me and she said, Branden, the best things in life are worth the greatest risk.Falling in love is one of those things. Can it breaks our heart?Yes. Most definitely. But more often than not, before we fall, we fly. - Author: Courtney Cole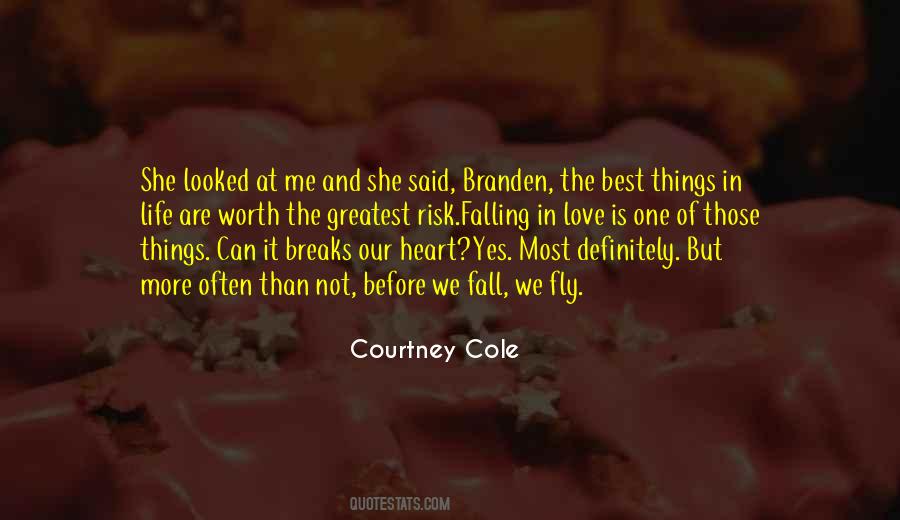 #36. Her heart may be cracked, but it is pure. She may be jaded, but she is hopeful. She may be broken, but she is strong. She may be here, but she will leave. - Author: LeAnne Mechelle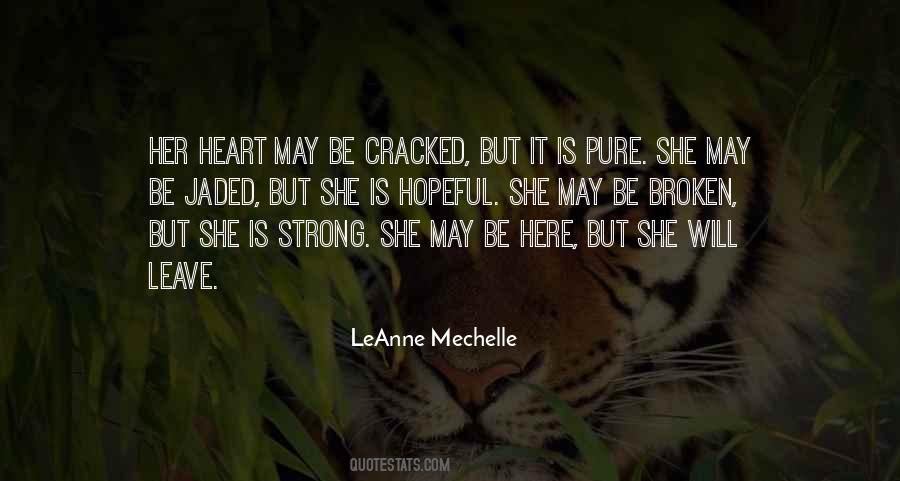 #37. Broken heart is too much dangerous ...
when it break ... it produce too much energy ...
which can rise u on d top or can fall u in d bottom also..
where u will go ... it'll depend only on u - Author: Arya Vidhan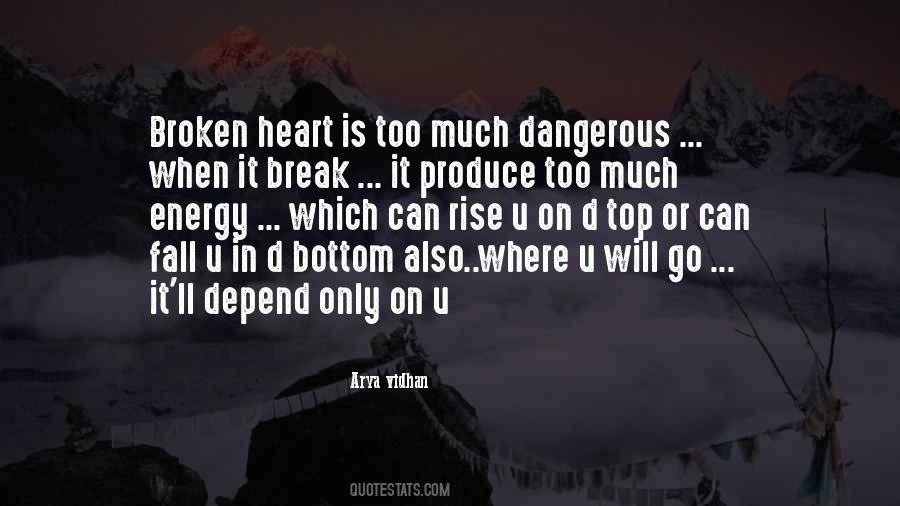 #38. Extreme torture is mute, and so we sat silent, petrified, like columns of marble buried under the sand of an earthquake. Neither wished to listen to the other because our heart-threads had become weak and even breathing would have broken them. - Author: Kahlil Gibran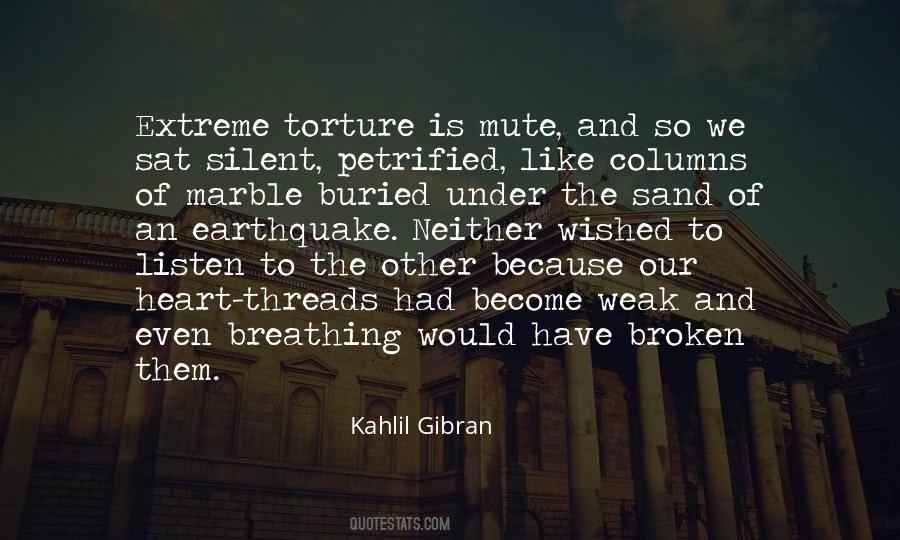 #39. When your heart is broken, it's easier to follow rules - Author: Betsy Cornwell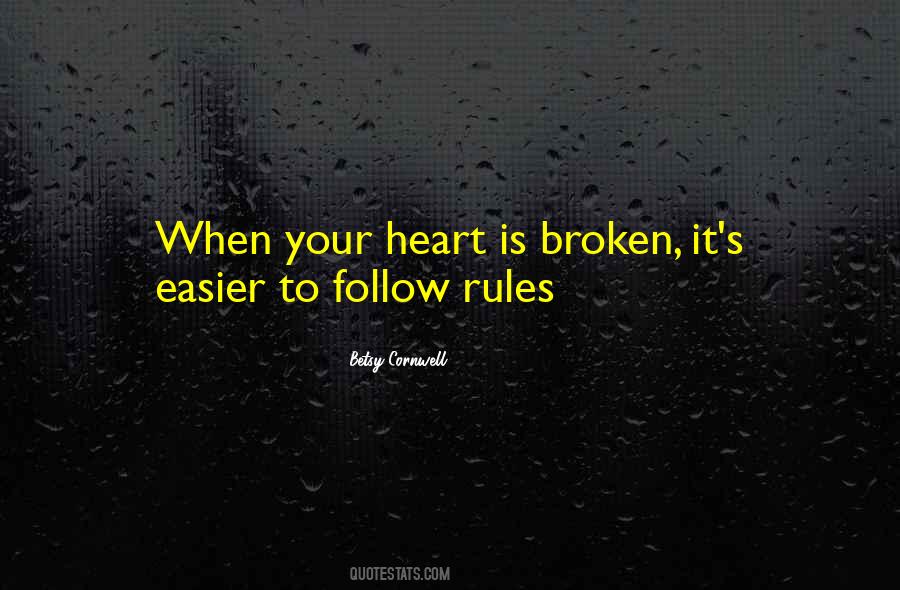 #40. Desiree. It's like falling in love every night and having your heart broken every morning ... Having more memory is just a way of distorting a greater amount of the past. - Author: Craig Clevenger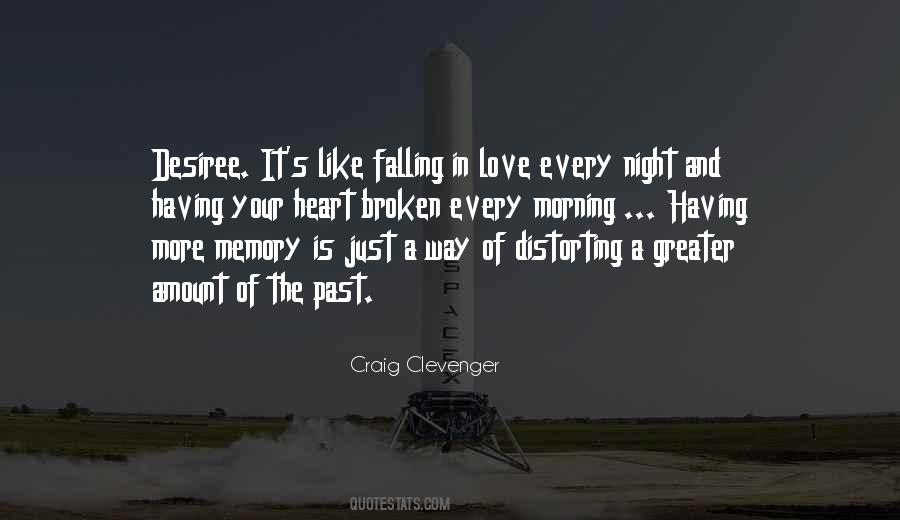 #41. Love is a place for your heart to get broken. - Author: Hector Schiller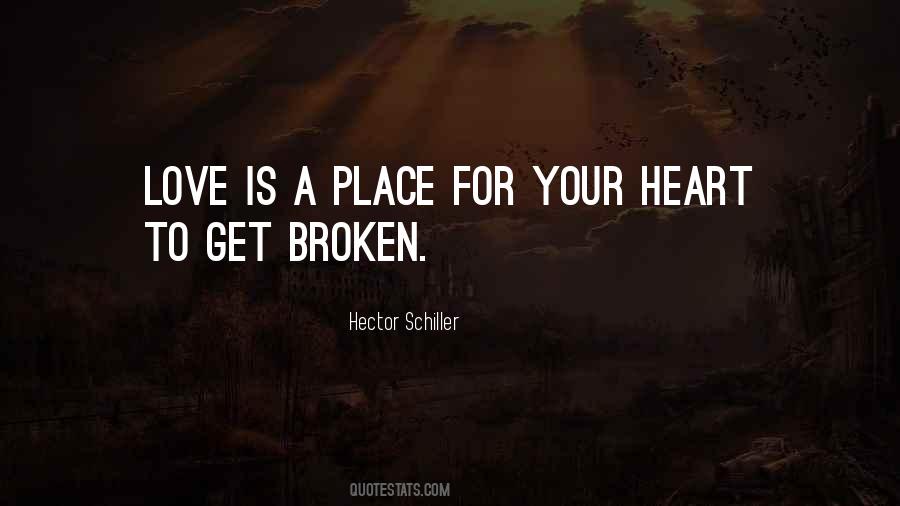 #42. The most common way Jesus comes into our lives is through a broken heart. - Author: Rick Warren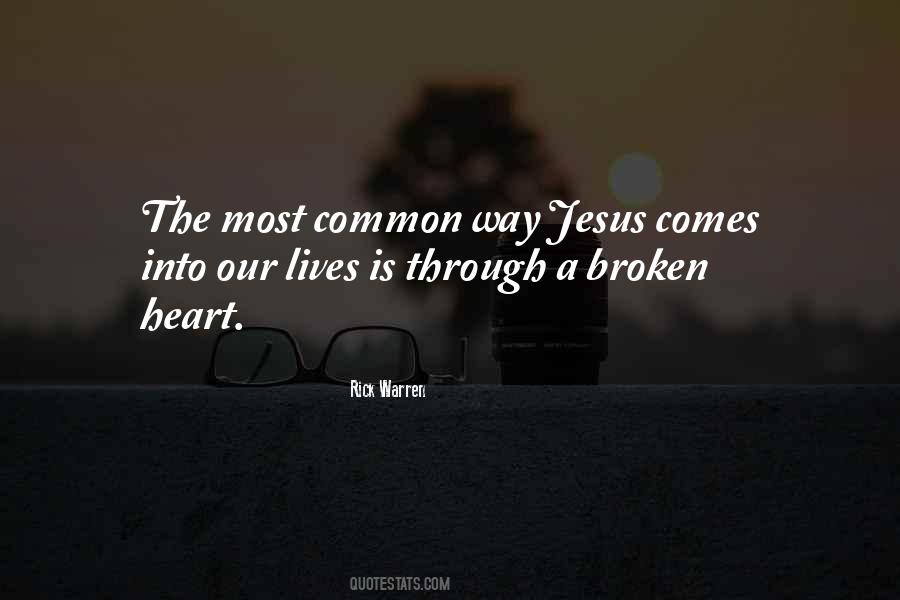 #43. When you're trapped in a prison, and your heart is broken, and you can't move a finger because you don't know what to do, that's when you wake up. - Author: Robin Gregory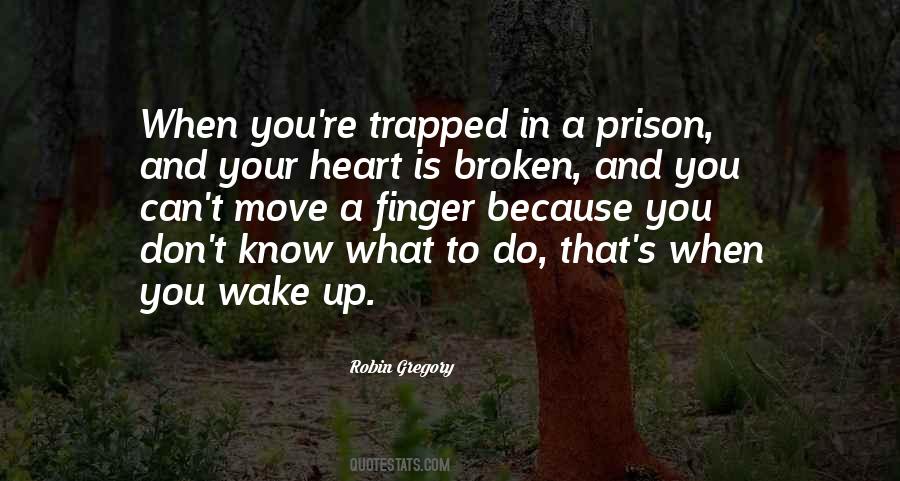 #44. When I wrote this song I felt pretty unoriginal because everybody writes love songs, and everybody feels like their love is the most important and when their love ends and they get their heart broken, that nobody understands. And ... that's ridiculous, but so am I. - Author: Tegan Quin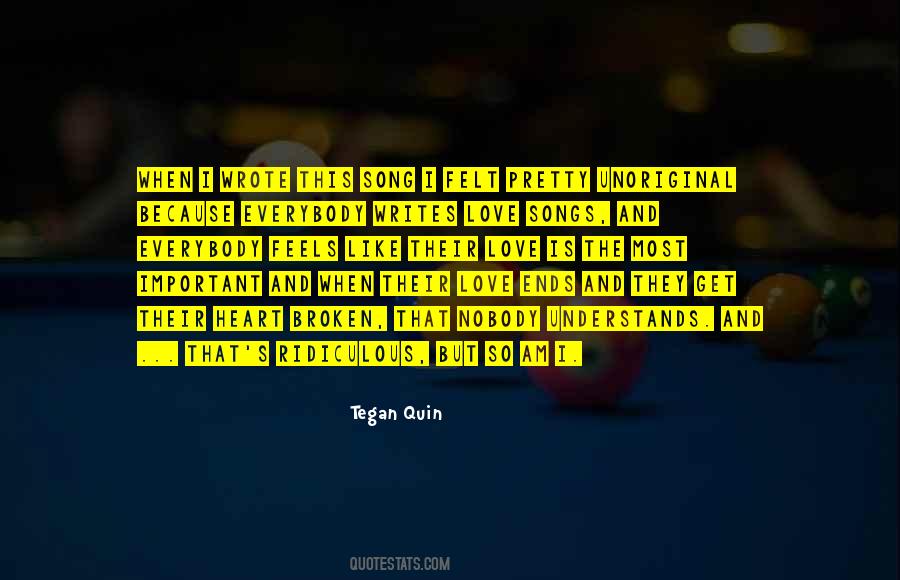 #45. Since you went the sun refuses to shine The sky joins me in weeping for your absence All our pleasure is gone with you ... Silence reigns everywhere ... Oh come back! Already the shepherds and their flocks call for you! Come back soon, or it will be winter in May. - Author: Jakob Michael Reinhold Lenz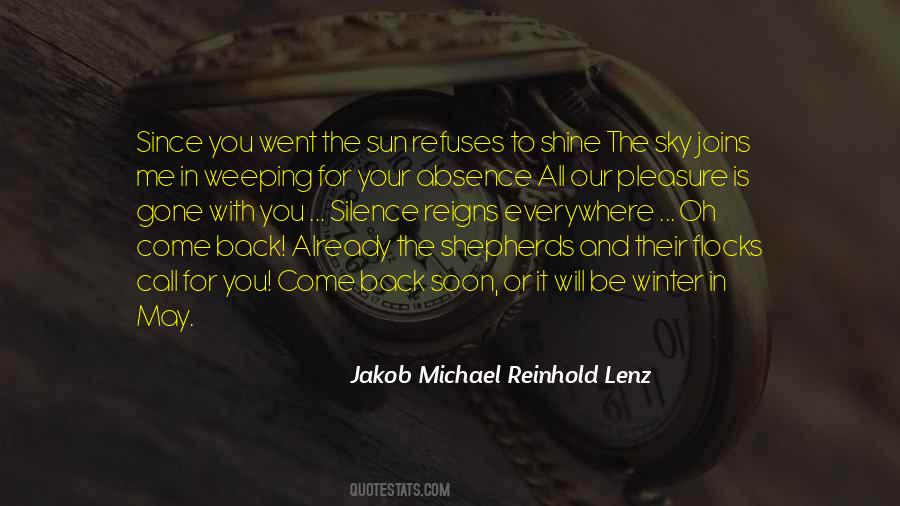 #46. You don't know how people are going to respond. But I would add to that, that getting your heart broken is not the worst thing and it's actually quite unavoidable. I think in some ways I had to break my father's heart and then face that in order to have a real relationship with him. - Author: Melissa Febos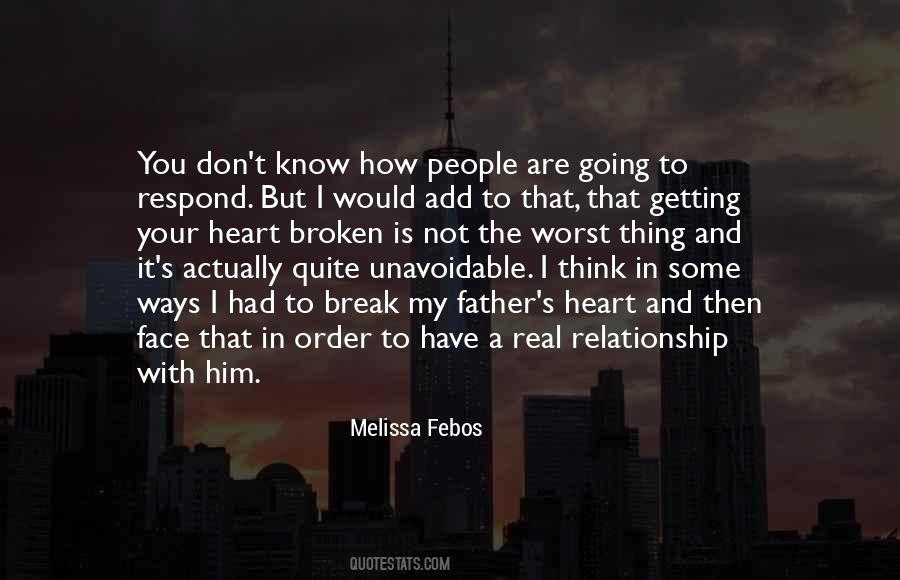 #47. That situation is a broken heart just waiting to happen - Author: Jamie McGuire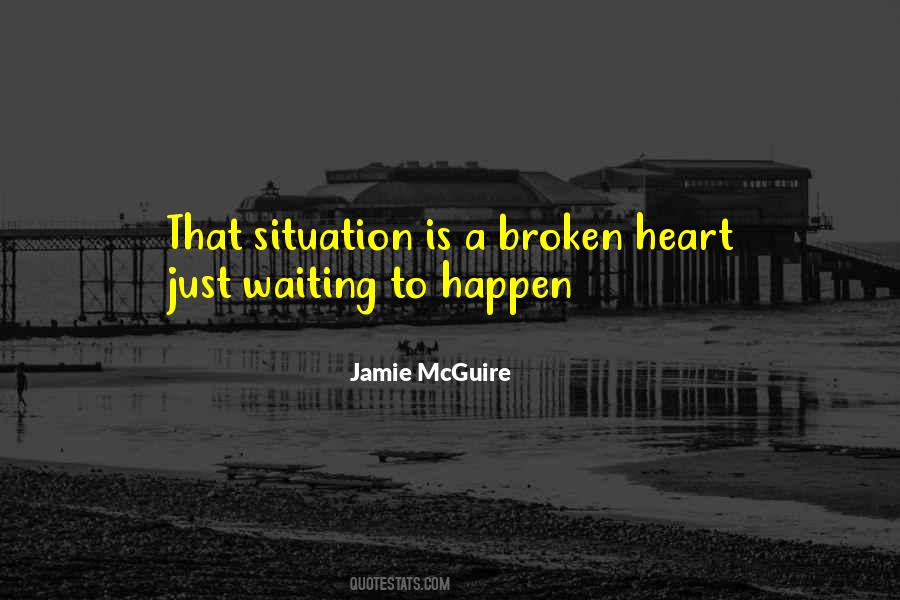 #48. The best way to not get your heart broken, is pretending you don't have one. - Author: Charlie Sheen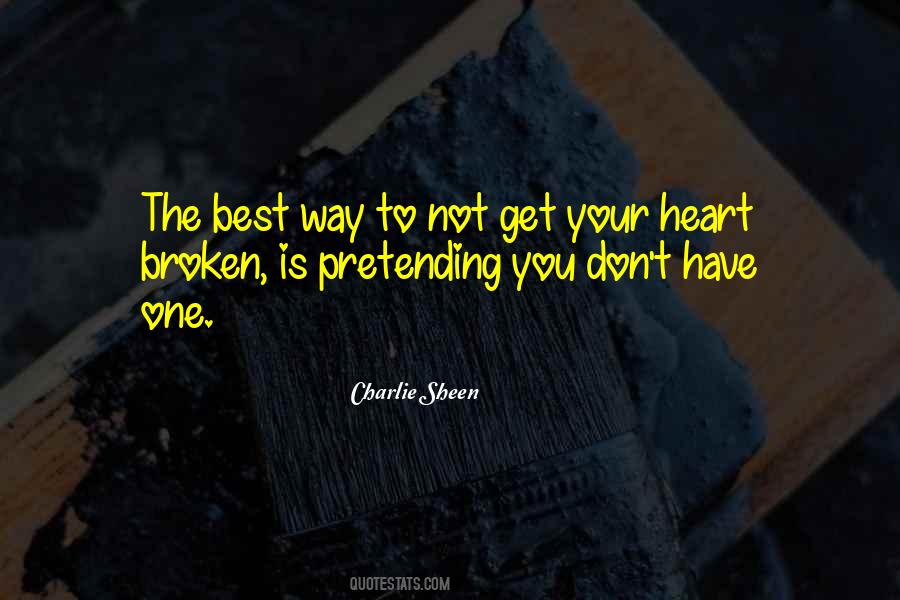 #49. Because you are his heart, Elena. A man with his heart torn out is a broken creature. I know. - Author: Nalini Singh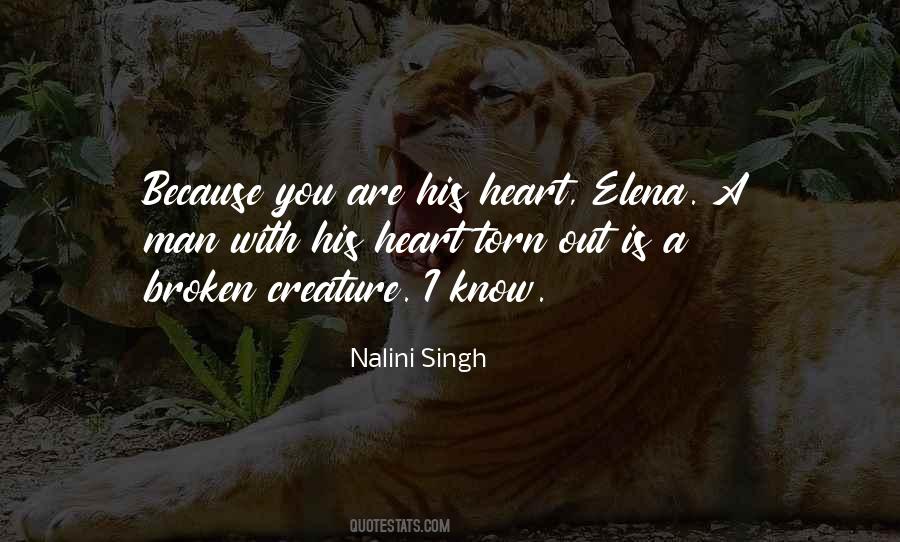 #50. Love is floating somewhere in the beautiful horizon with an equal wave length with same frequency of intense feelings - Author: Seema Gupta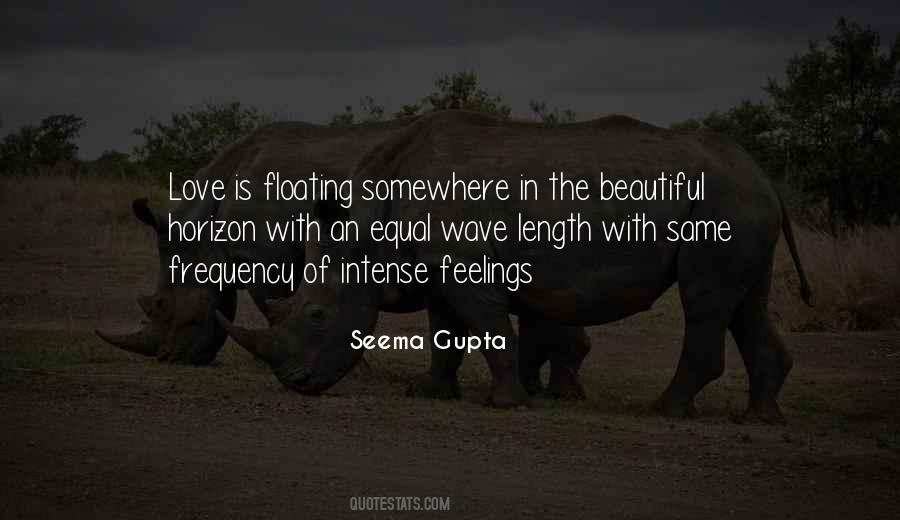 #51. The heart will find solace after a lost love, but once the soul is betrayed and broken it will always bleed and the wounds will never really heal,,,, - Author: Camelia C.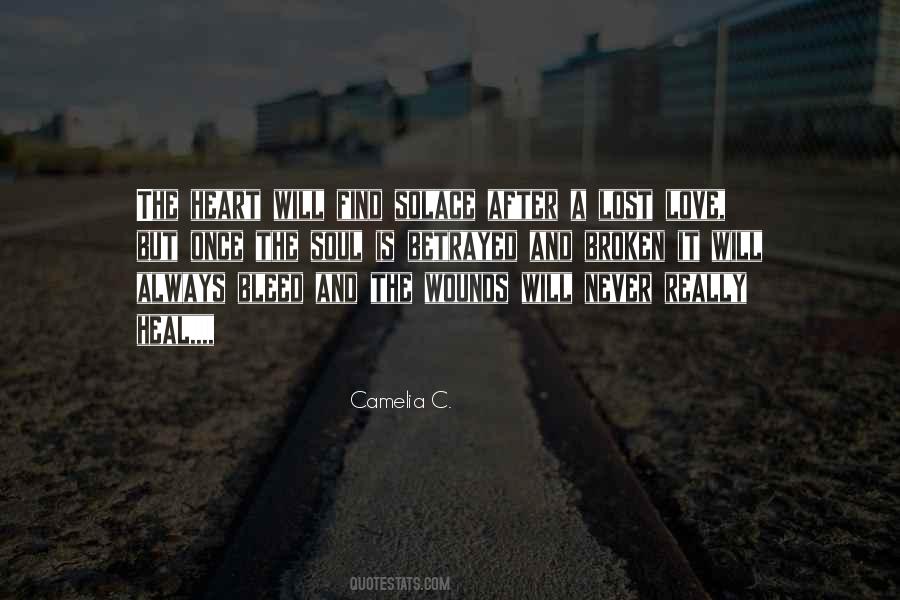 #52. Deep down a broken heart, all the sadness one can bear is misery. - Author: Auliq Ice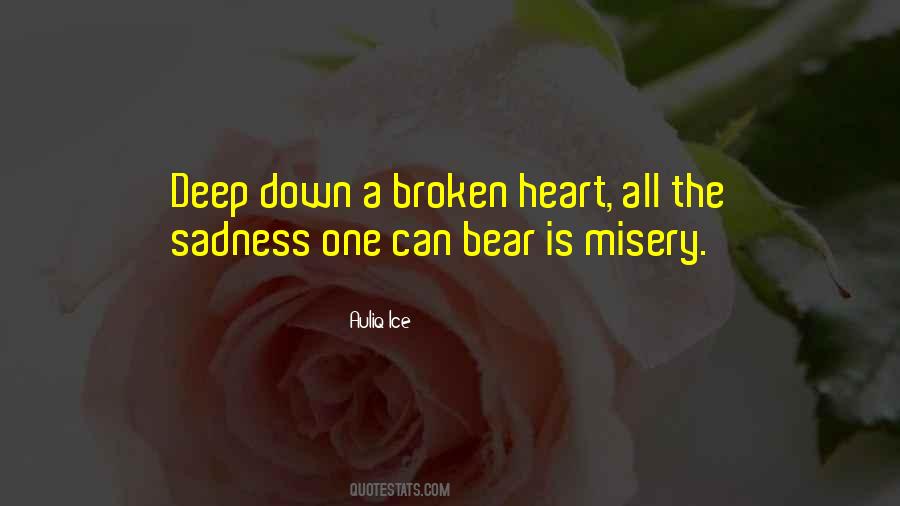 #53. A broken heart is just the growing pains necessary so that you can love more completely when the real thing comes along. - Author: J.S.B. Morse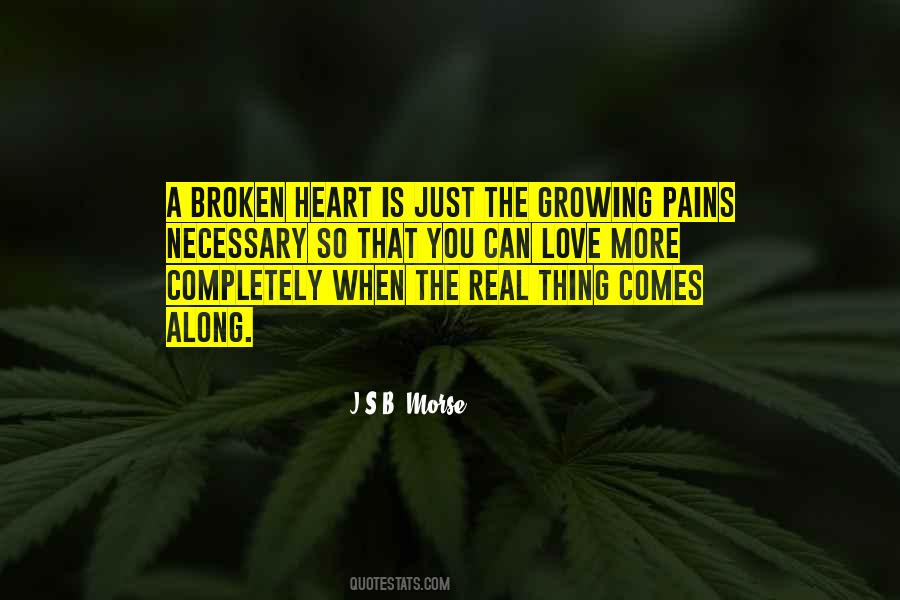 #54. A broken heart is not the same as sadness. Sadness occurs when the heart is stone cold and lifeless. On the contrary, there is an unbelievable amount of vitality in a broken heart. - Author: Elizabeth Lesser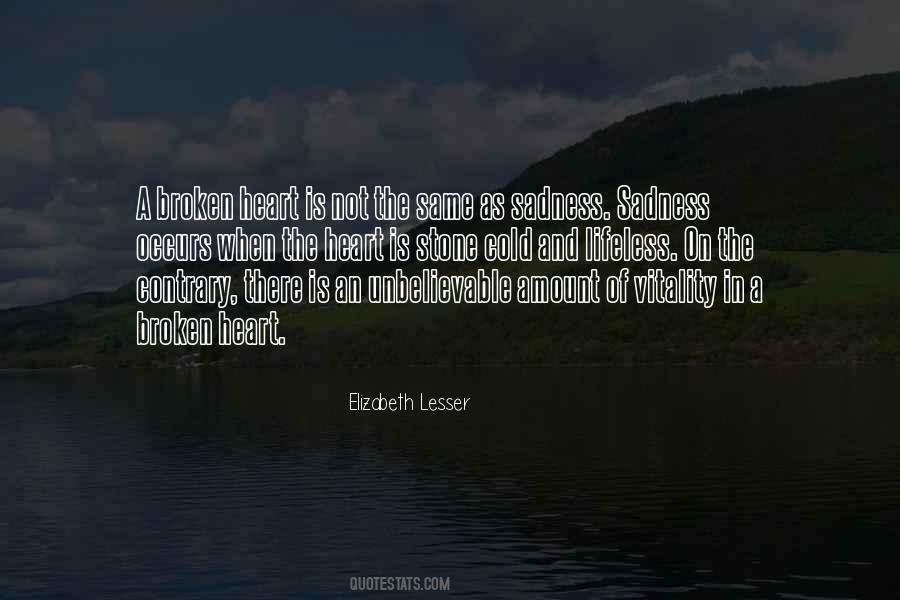 #55. And, though my faith be broken,
And, though my heart be broken,
Here is a ring, as token
That I am happy now! - Author: Edgar Allan Poe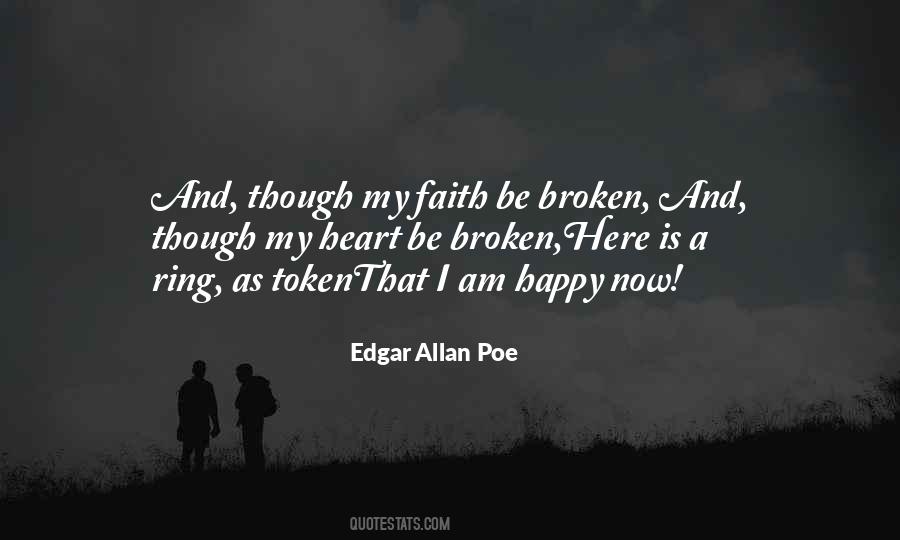 #56. Light has more space to enter a heart when it is broken. - Author: Matshona Dhliwayo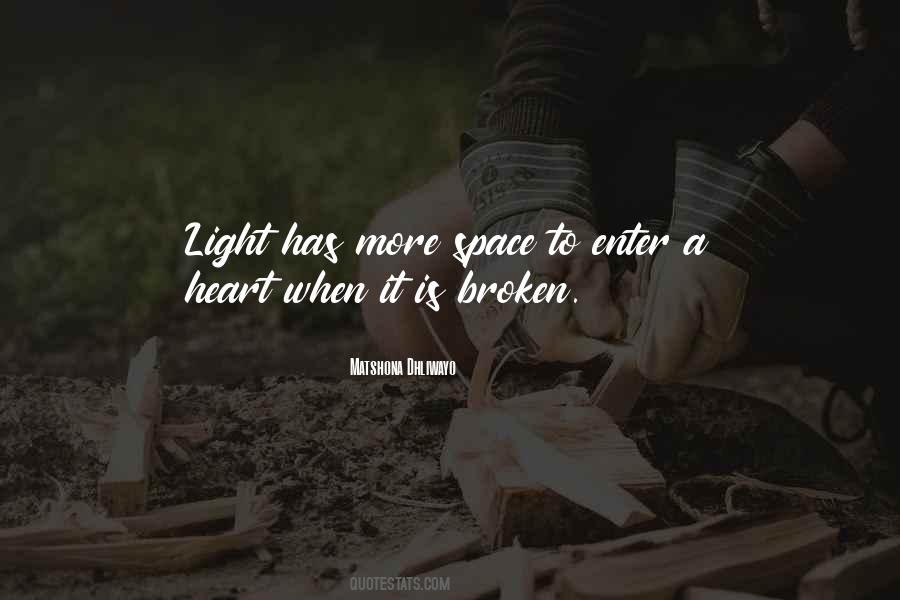 #57. Nobody think about that broken heart ... life goes on, broken heart never join together but it tries very hard to get joined again. That;swhy may be it said Heart is like a mirror, if its broken can never be joined. - Author: Shahid Islam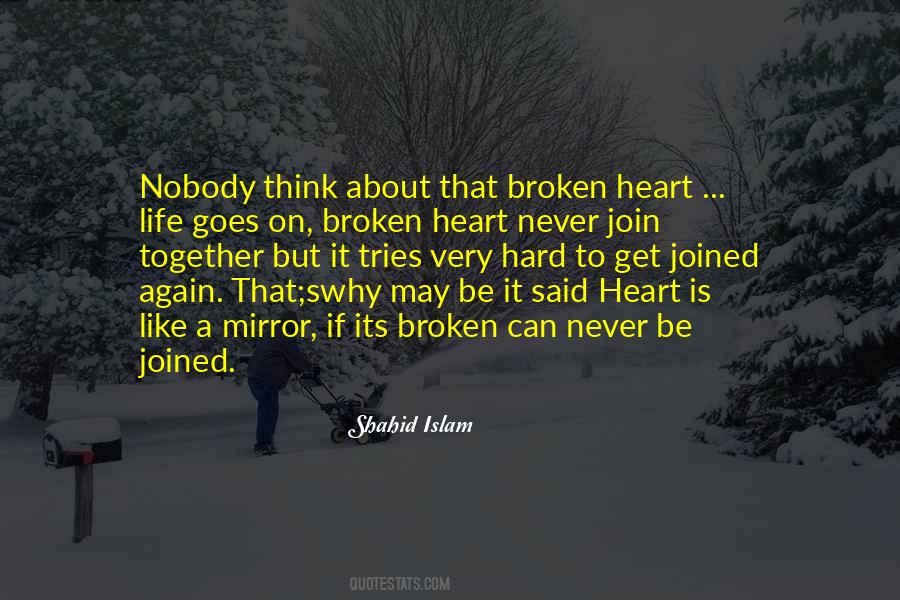 #58. The human heart is the only thing in this world that weighs more when it is broken - Author: Michael Xavier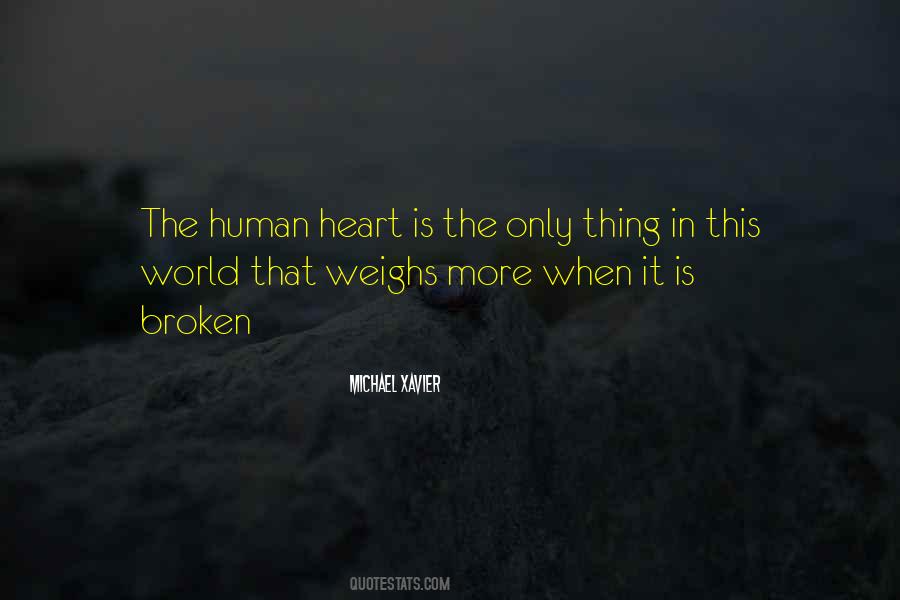 #59. While baseball and parties can help, the only thing that heals a broken heart is time. - Author: Josh Radnor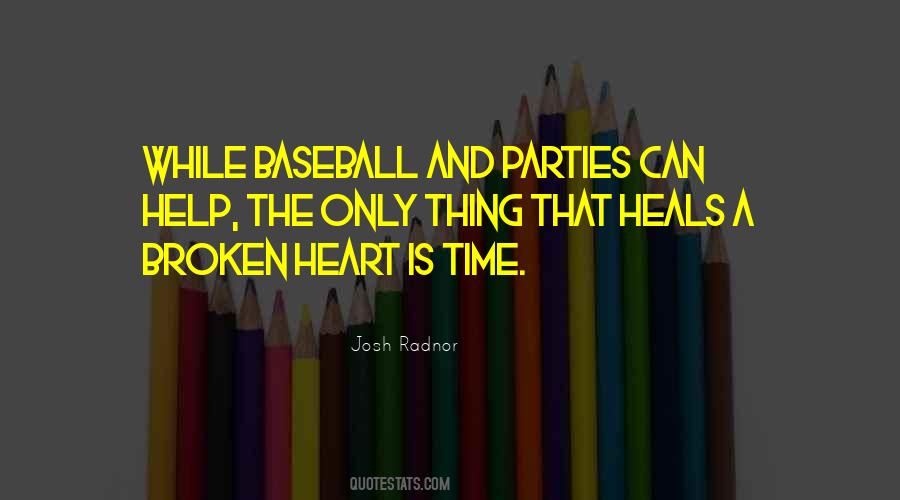 #60. When my heart yearn for silence in a crowd full of cheerful people, thats not the lonliness i seek but want to feel the rustling of my abandoned desires pouring upon the broken hearts. All the noise i want to here now is the symphony of love and of healing. - Author: Annie Ali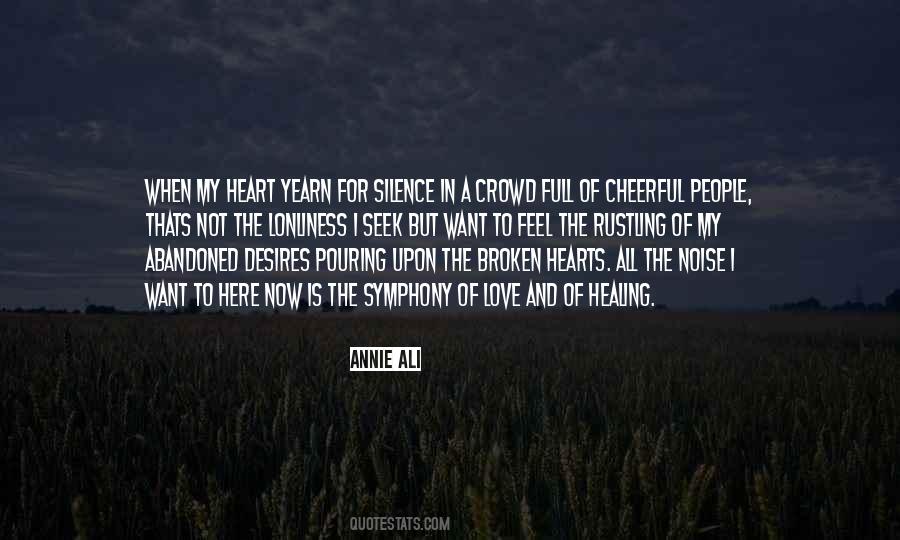 #61. Rejection never feels good, but it certainly hurts less when we are not needing something from the person who is rejecting us. - Author: Susan Jeffers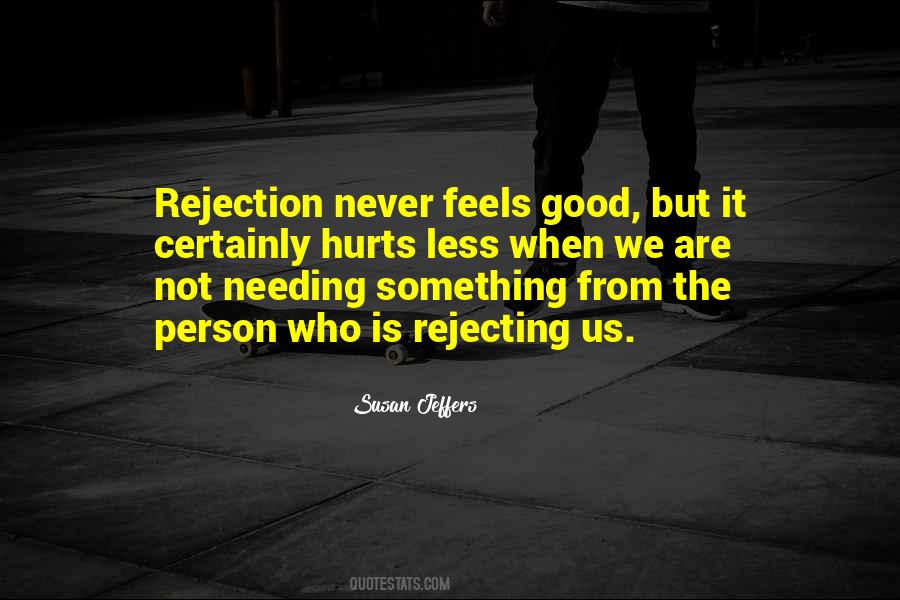 #62. There are various ways of mending a broken heart, but perhaps going to a learned conference is one of the more unusual. - Author: Barbara Pym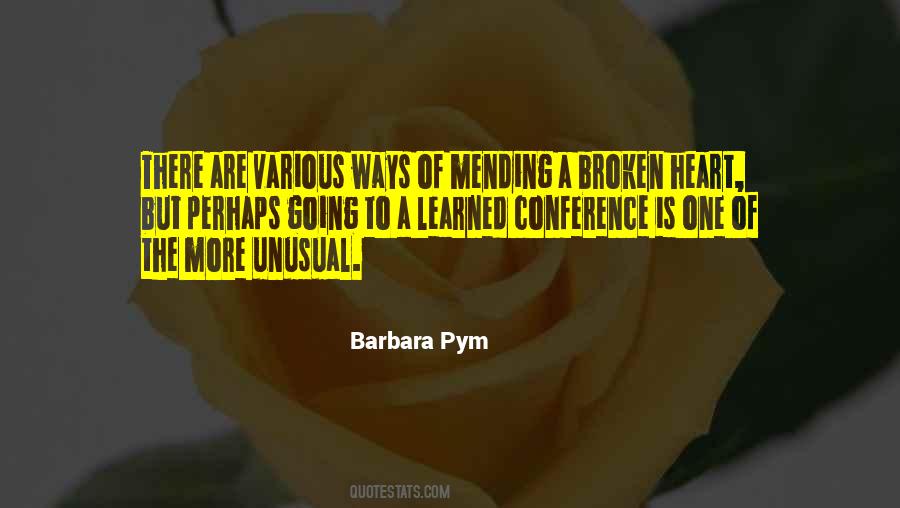 #63. Empty Cradle, Broken Heart is written with great awareness and sensitivity. Deborah Davis gets it just right. - Author: Sheila Kitzinger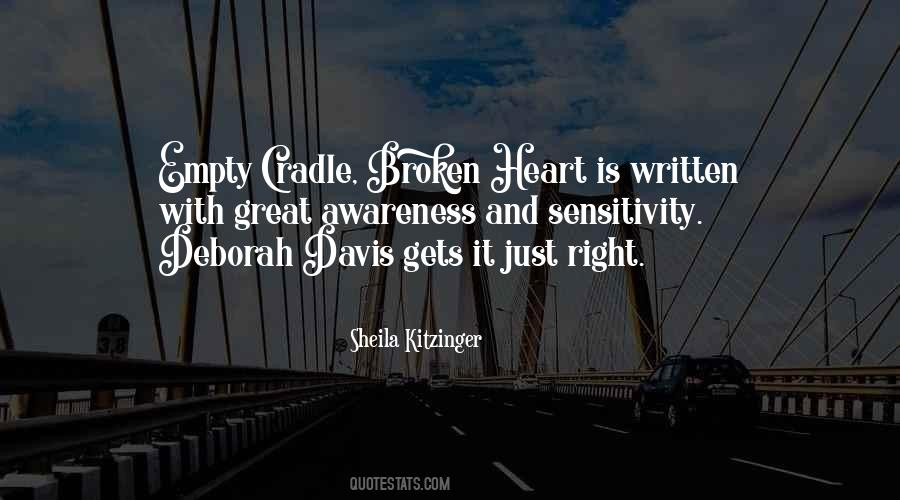 #64. Do not chafe at your bonds, dear.
It is only my heart that holds you;
That is easily broken. - Author: Muna Lee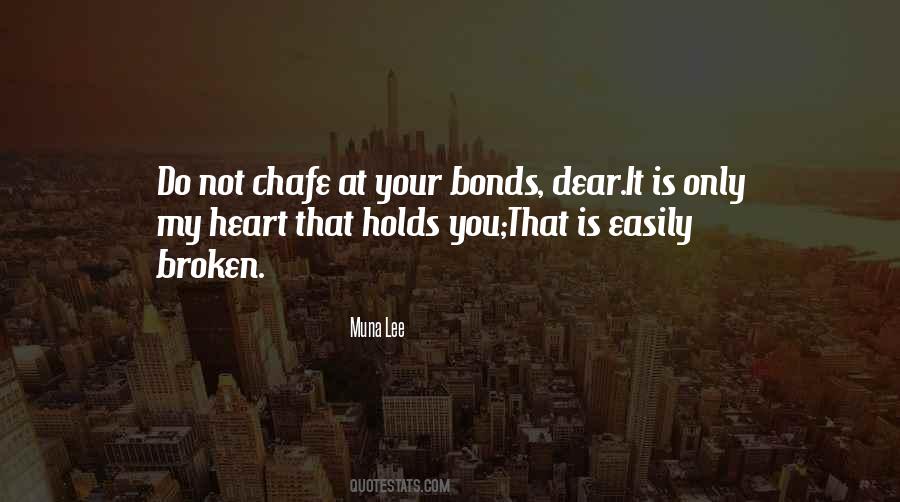 #65. Julie smiled a tight little smile and shook her head at her own foolhardiness.
But I did it because I love him, she told herself. I love him still. God help me. So this is how it feels to have your break ... - Author: Jennifer Wilde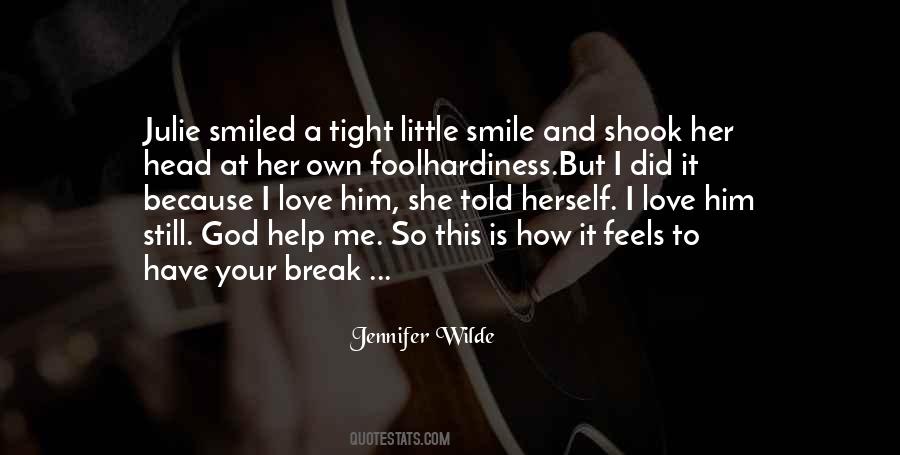 #66. A broken heart is a distemper which kills many more than is generally imagined, and would have a fair title to a place in the bills of mortality, did it not differ in one instance from all other diseases, namely, that no physicians can cure it. - Author: Henry Fielding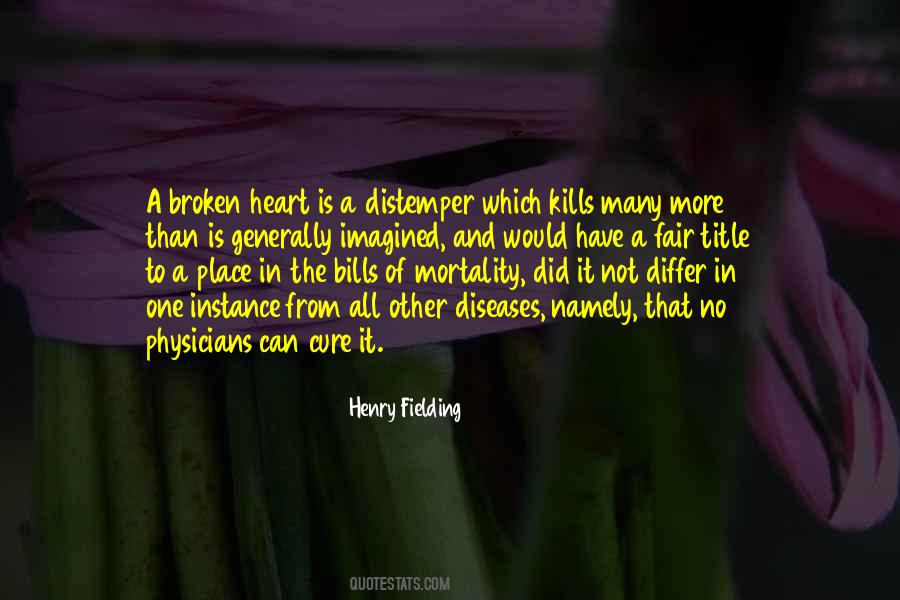 #67. . . . because she knows the secret: that humans need contact to thrive, that a broken heart is only one crack away from a broken spirit, and that both can be mended by smoothing on thin layers of love. - Author: Amy Matayo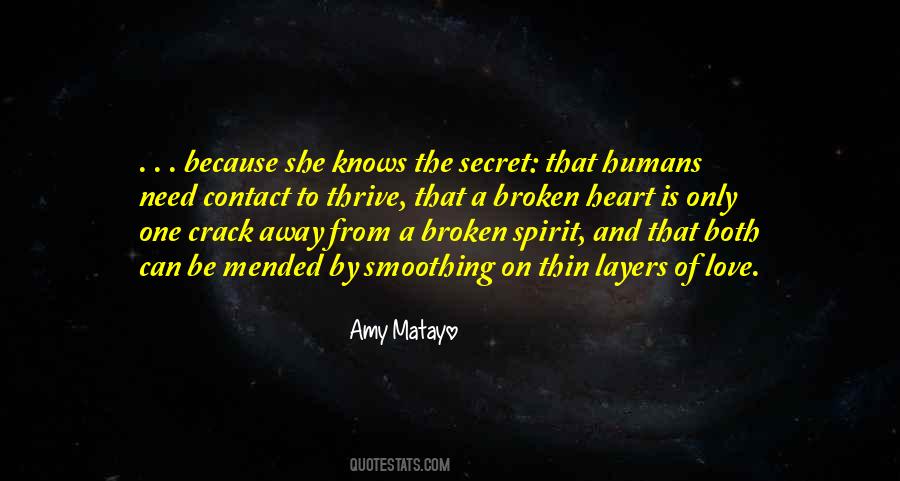 #68. One of the symptoms of having a broken-heart is the fact that even ghosts will give up on the hope of scaring you as you have already lived through your worst fear. - Author: Faraaz Kazi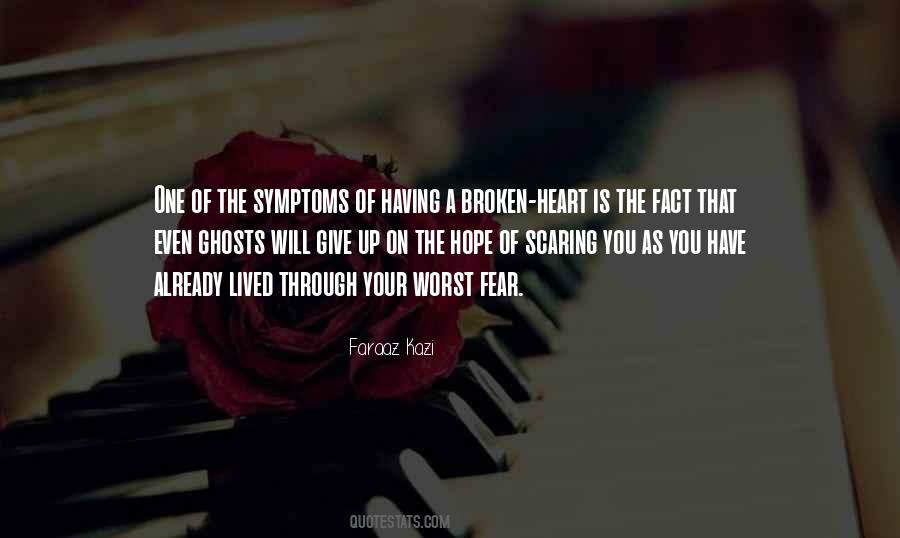 #69. I will always believe in love and I don't care what happens to me or how many times I get my heart broken, or how many breakup songs I write, I'm always going to believe that someday I am going to meet somebody who is actually right for me and he's going to be wonderful and it's going to work out. - Author: Taylor Swift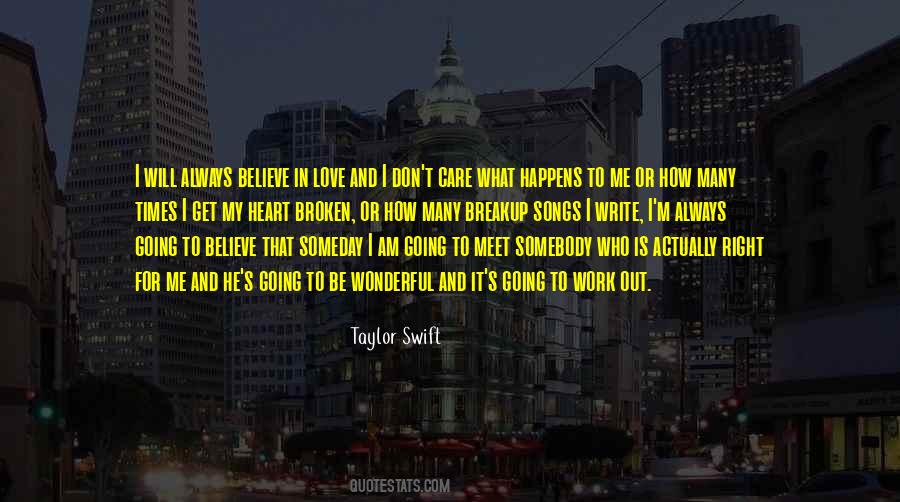 #70. Everything comes out in blues music: joy, pain, struggle. Blues is affirmation with absolute elegance. It's about a man and a woman. So the pain and the struggle in the blues is that universal pain that comes from having your heart broken. Most blues songs are not about social statements. - Author: Wynton Marsalis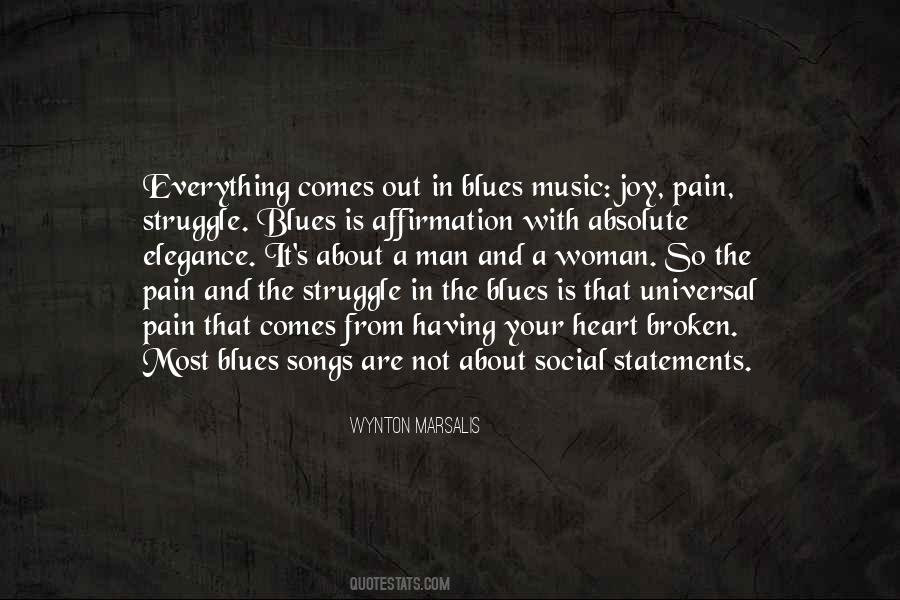 #71. I just watched another person I care deeply about basically turn into Gollum and my heart is broken. - Author: Grimes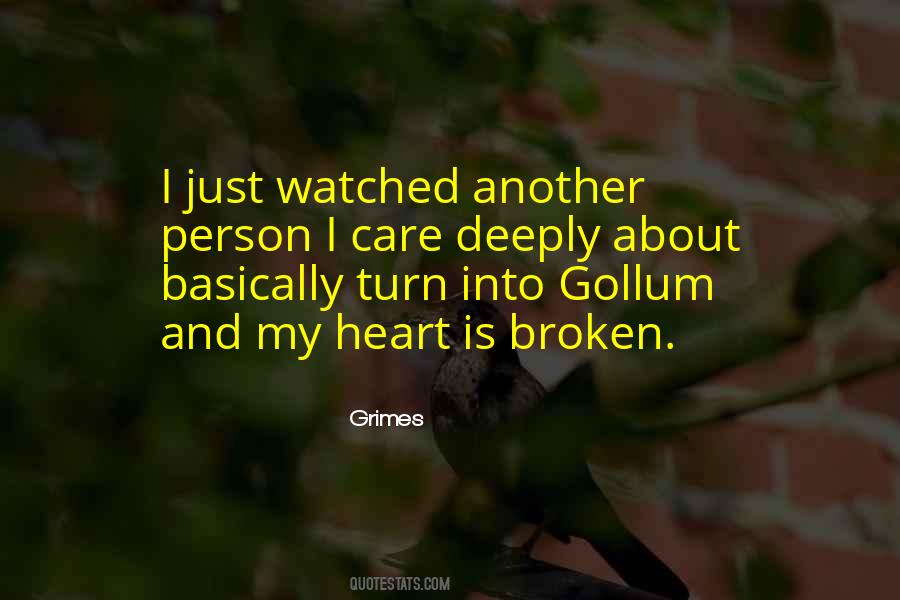 #72. Poetry is more than just art, it's like super glue to a broken heart. It can also be a light when your life seems a little dark. - Author: Delano Johnson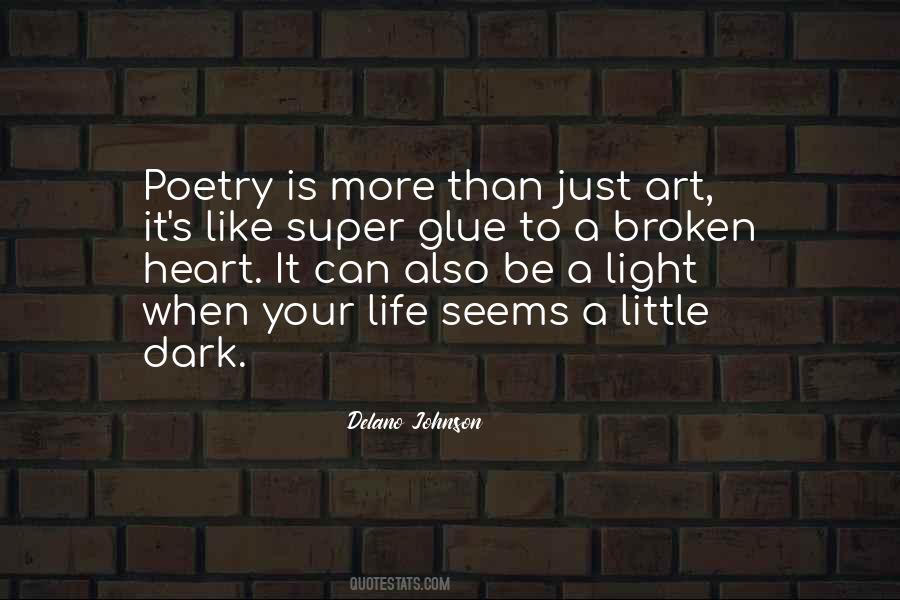 #73. My heart is broken," she goes. "It's turned to a piece of stone. I'm no good. That's what's as bad as anything, that I'm no good anymore. - Author: Raymond Carver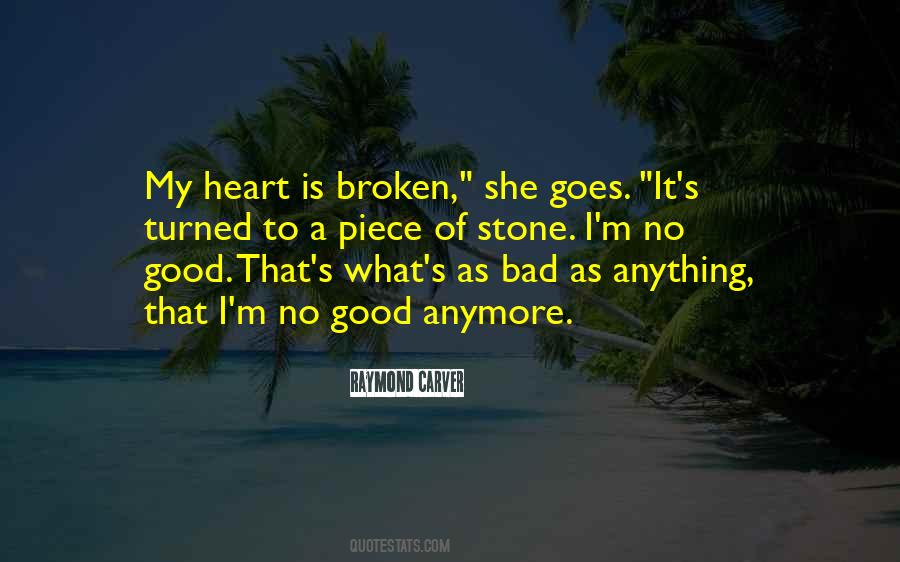 #74. It's important to preach like there's a broken heart on every pew. That's always been a phrase that stuck with me. Not everybody is having a tough time, but you can bet your buck that there's a good tenth of your church that's going through a hard season. There really is a broken heart on every pew. - Author: Max Lucado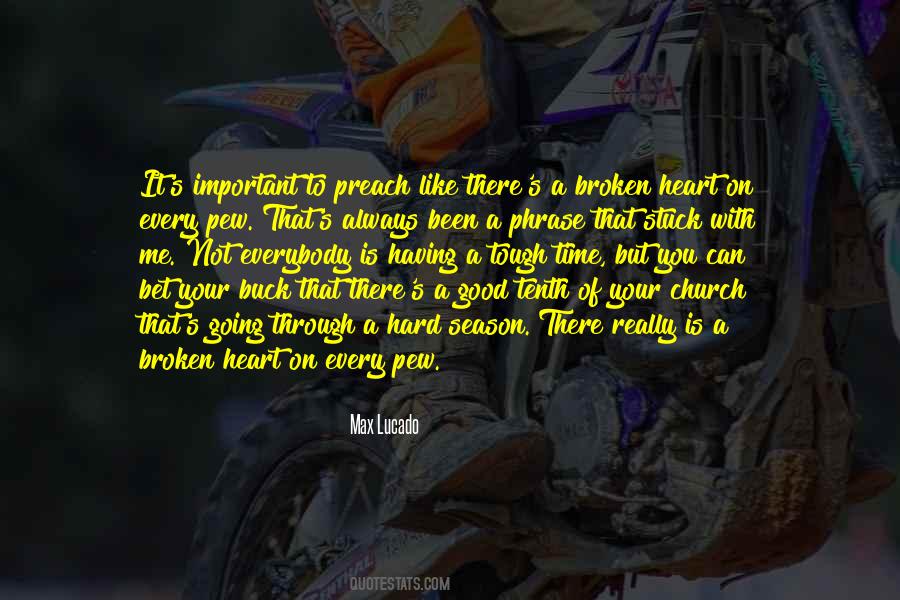 #75. Anytime a broken heart is suffered, and there is a crushing pain inside the chest, this is a physical manifestation of the emotional experience as embodied by the anahata (heart) chakra. - Author: Alanna Kaivalya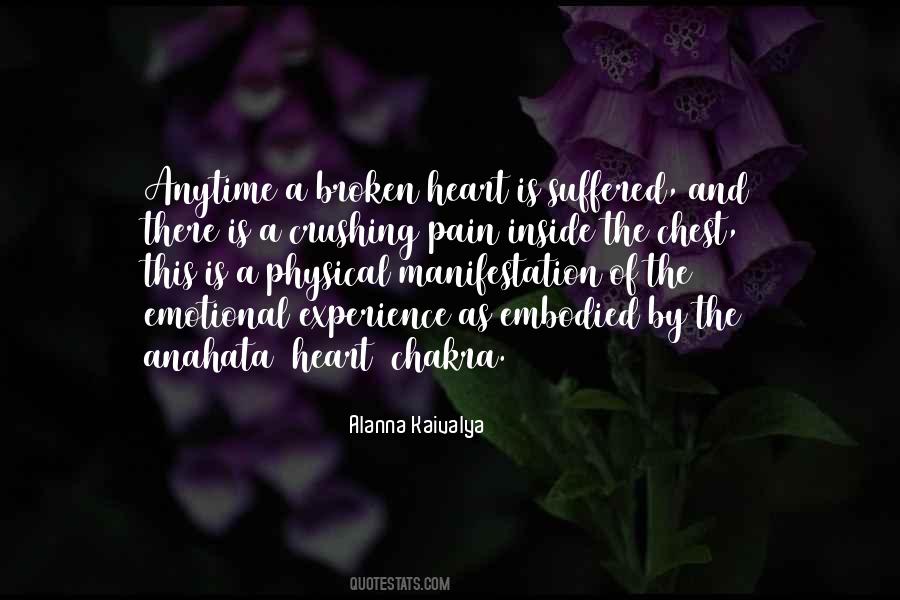 #76. I've been hurt and disappointed so many times that, in a way, I have given up. My heart is finally healed, and I'm not sure I'm ready to expose it at the risk of it getting broken again. - Author: Justine Faeth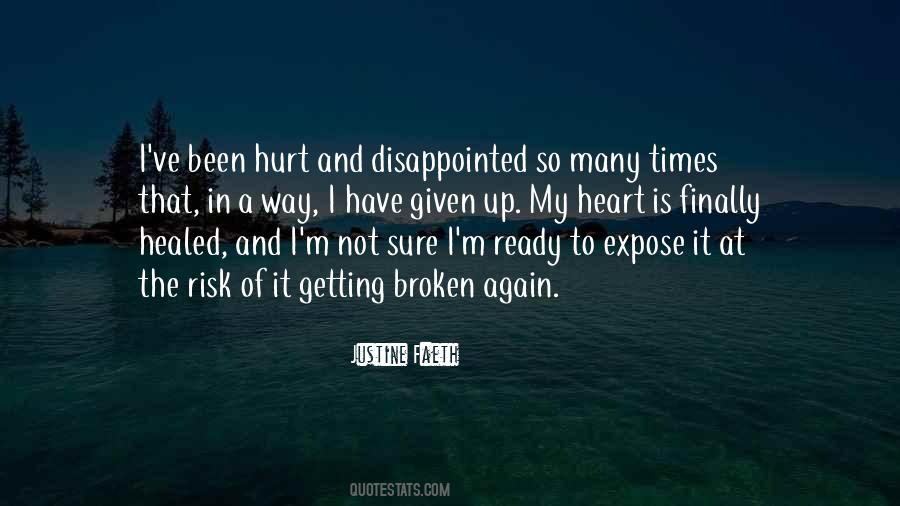 #77. My heart is broken and I grieve, for I have known love. Your heart is broken and you grieve, for you have not. - Author: Jesikah Sundin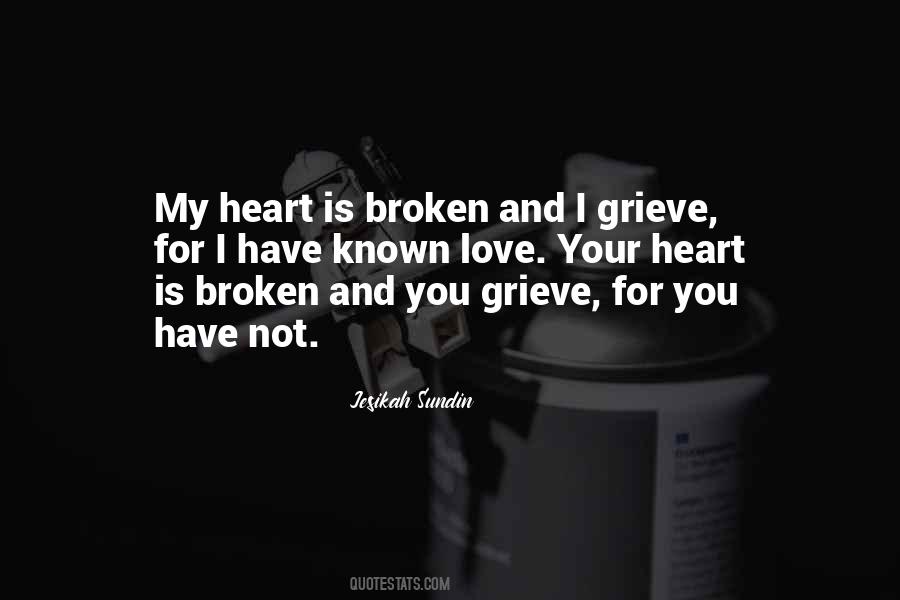 #78. The passion you forbade my lips to utter Will not be silenced. You must hear it in The sullen thunders when they roll and mutter: And when the tempest nears, with wail and din, I know your calm forgetfulness is broken, And to your heart you whisper, "He has spoken." - Author: Ella Wheeler Wilcox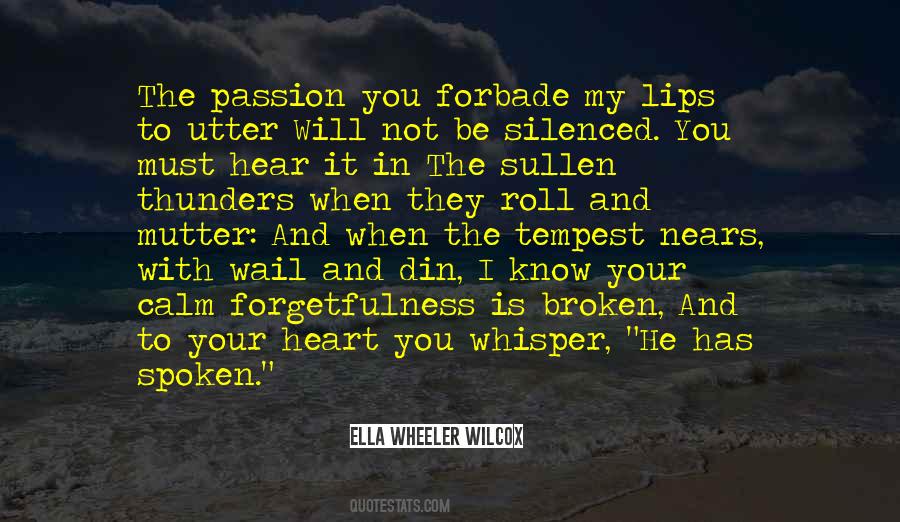 #79. I don't think the pain of a broken heart is one I will survive," I said, lying across the upstairs landing so that everybody would notice my plight. - Author: Matthew Crow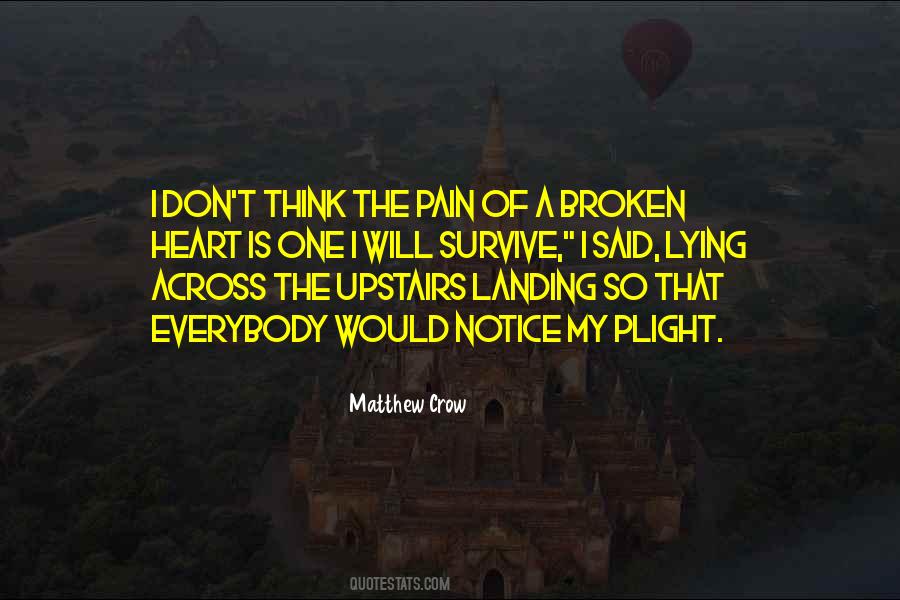 #80. Did the destruction of one dream leave a vacuum that required filling with another? Is a broken heart more vulnerable? - Author: Cinda Williams Chima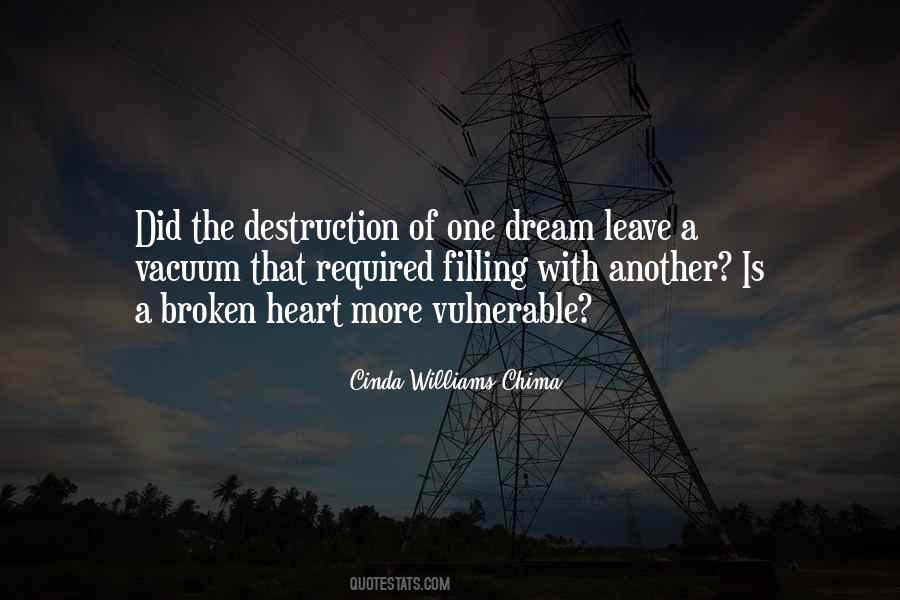 #81. Mental pain is less dramatic than physical pain, but it is more common and also more hard to bear. The frequent attempt to conceal mental pain increases the burden: it is easier to say "My tooth is aching" than to say "My heart is broken. - Author: C.S. Lewis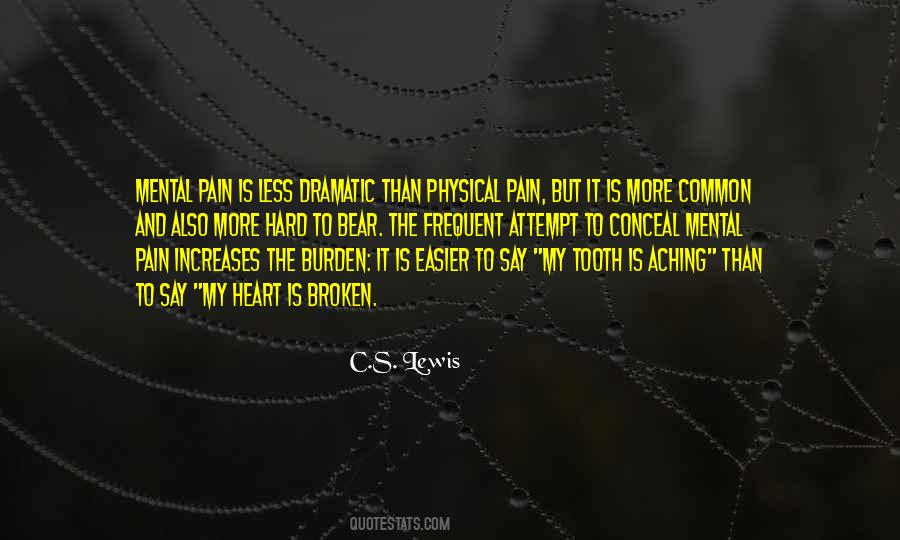 #82. How horrifying that morning when you wake up and your first thought is not of the person who has left. That's when you know, I will never die of a broken heart. - Author: Kamila Shamsie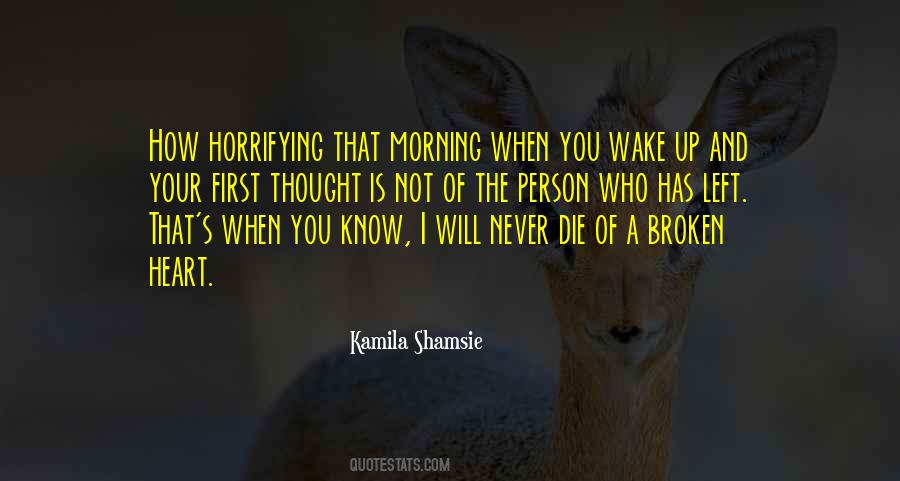 #83. When your spirit is heavy, when your heart is broken, when your burdens seem unbearable - trust Him. Look to Him. - Author: Anne Graham Lotz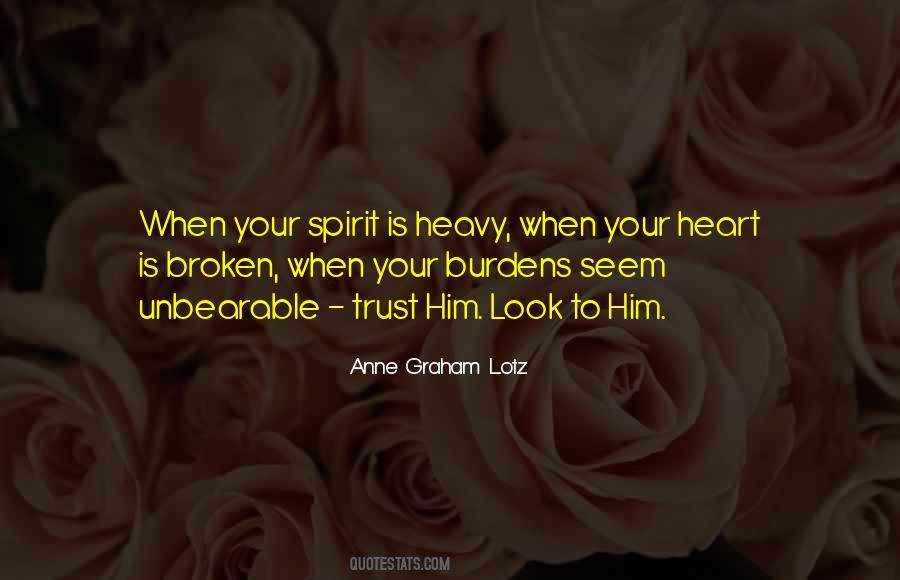 #84. Whenever my phone blinks fist thought come to mind is u and only u. - Author: Pavankumar Nagaraj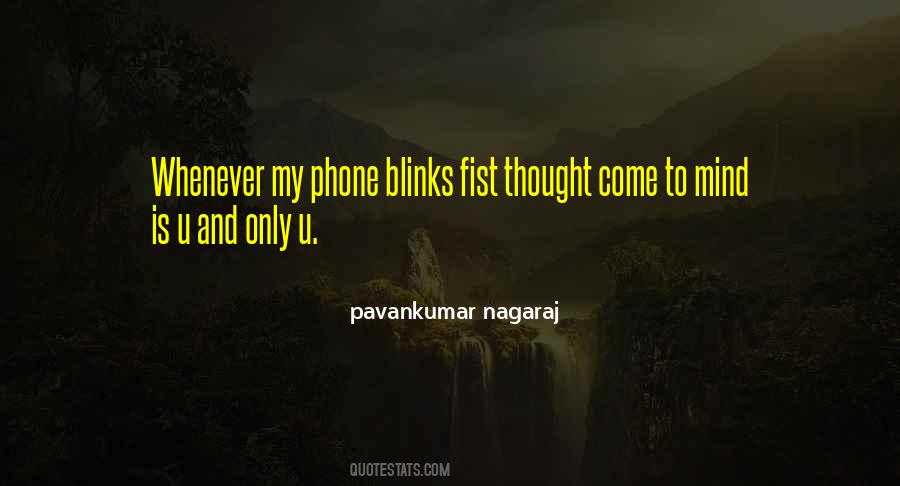 #85. Good part about life is everyone is broken ... - Author: Shujoy Chowdhury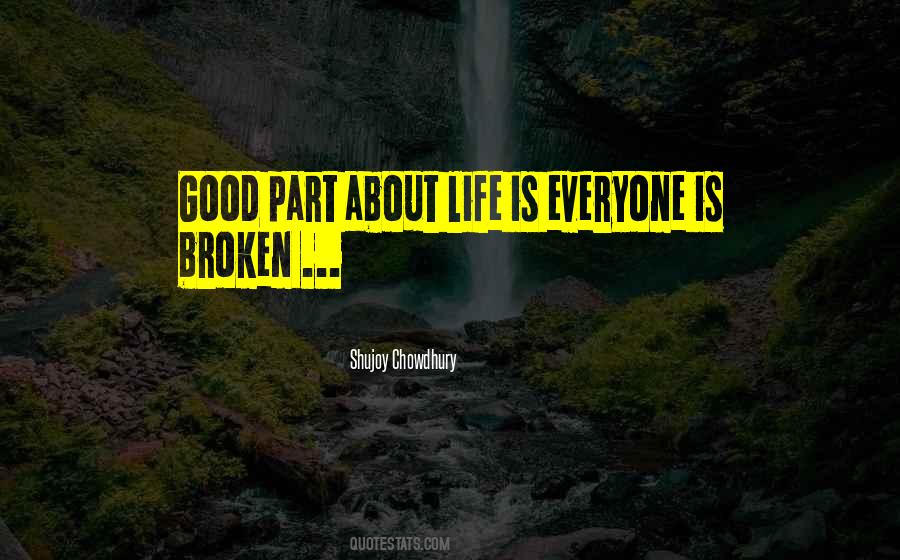 #86. There is no pain like the first time you get your heart broken. - Author: Ne-Yo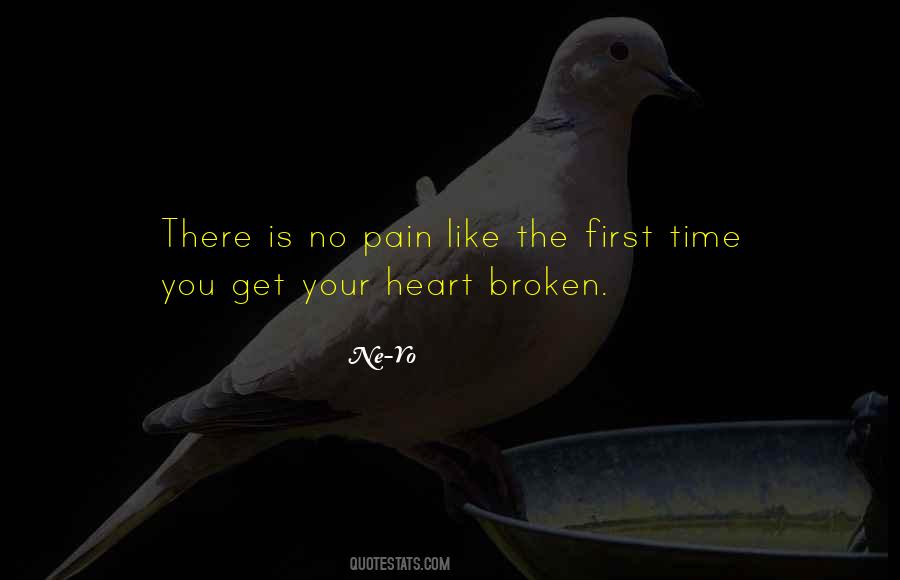 #87. Love happens only once, and the second time is always a compromise made to forget the first love. - Author: Ayan Khan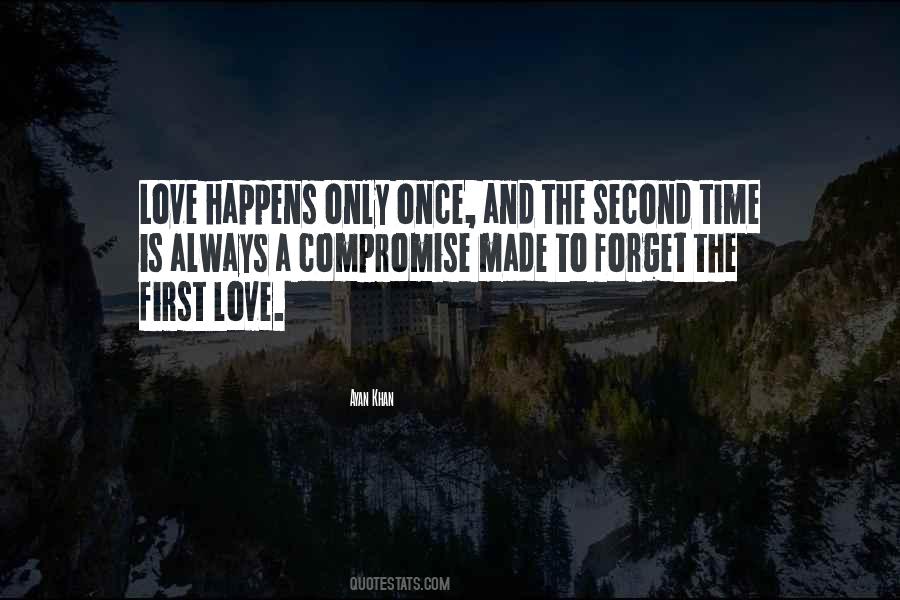 #88. A broken heart is probably tougher the second time around but just remember those pieces will come together again. The hurt and pain will fade. You will then remember how strong you are. You will thank a broken heart someday, remember that. - Author: Aline Alzime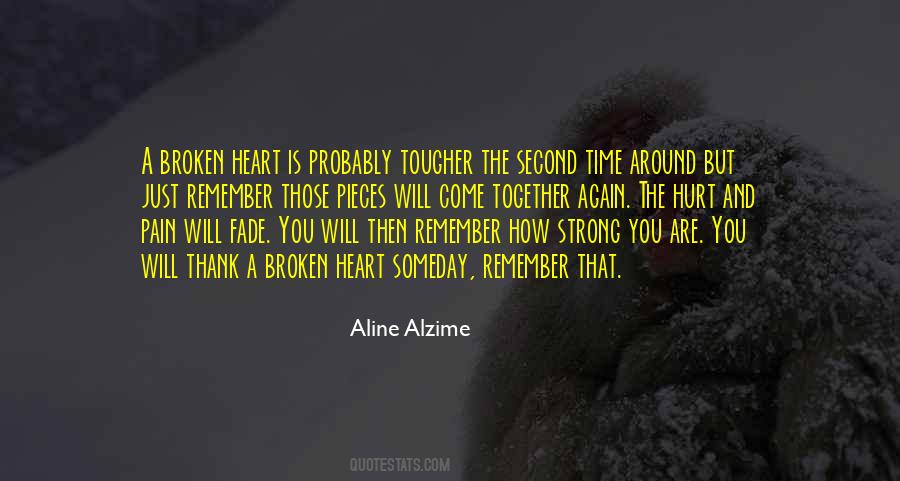 #89. The only relationship where you'll never have your heart broken is the relationship between you and Allah. - Author: Little_adam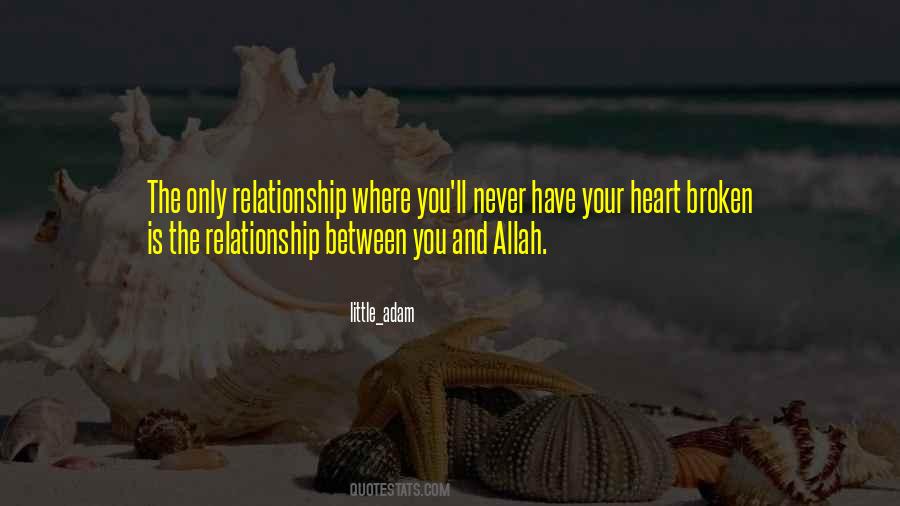 #90. Why is the heart that is broken considered so much more valuable than the one or the two who must cause the pain lest they themselves perish?"
- Author: Ellen Key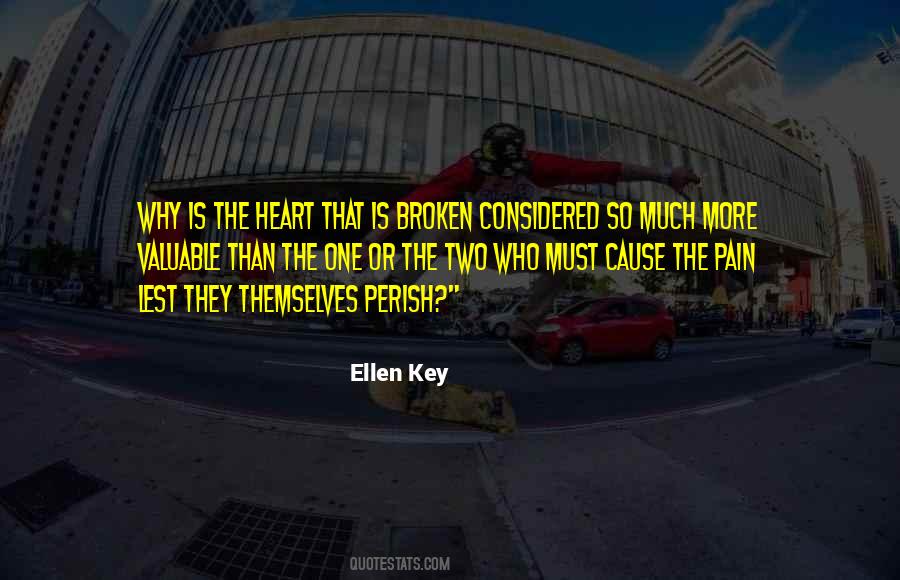 #91. Funny the way it is, not right or wrong, somebody's heart is broken, and it becomes your favorite song. - Author: Dave Matthews Band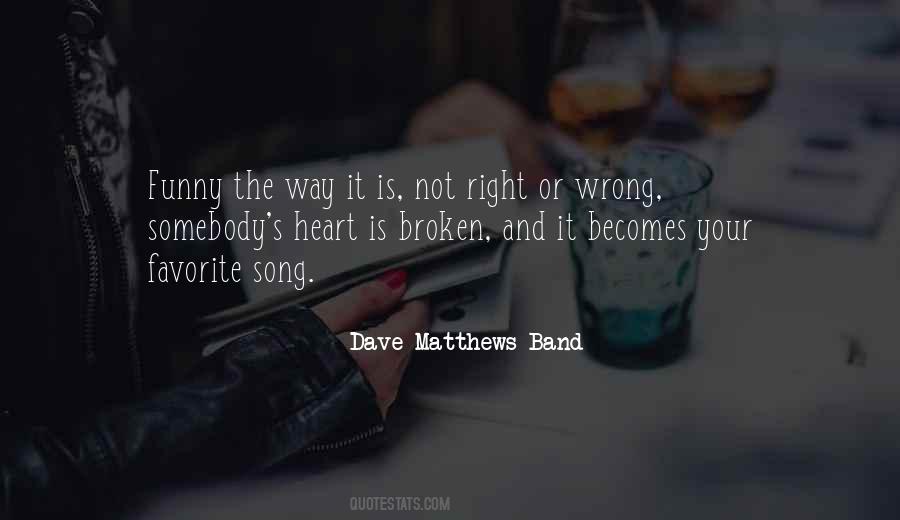 #92. Life is supposed to be messy. Being human means you will get our heart broken and your fingernails dirty. - Author: Kaitlyn Jane Mauro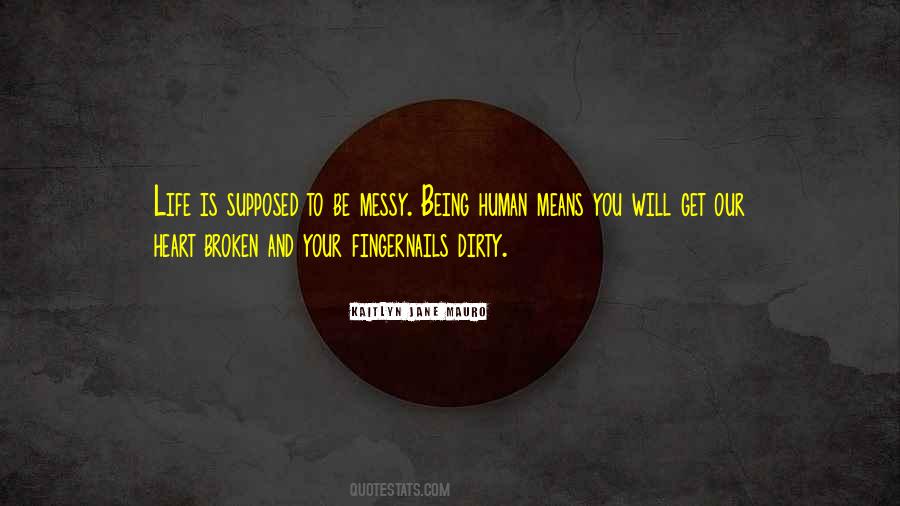 #93. Love is not the way you think, Jade Moon. Your heart is not full or broken all at once. Pieces heal and break and heal again. - Author: Anonymous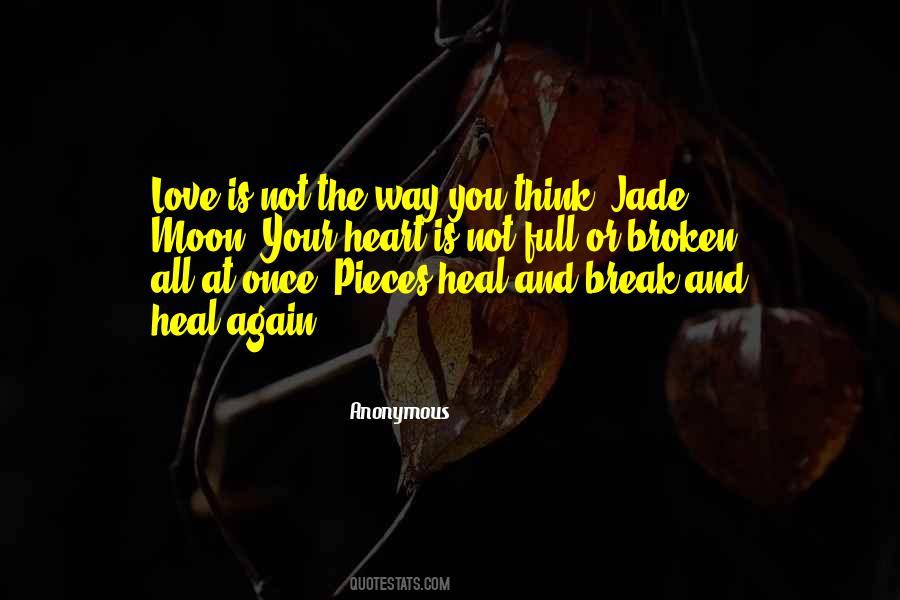 #94. The wailing of broken hearts
is the doorway to God. - Author: Rumi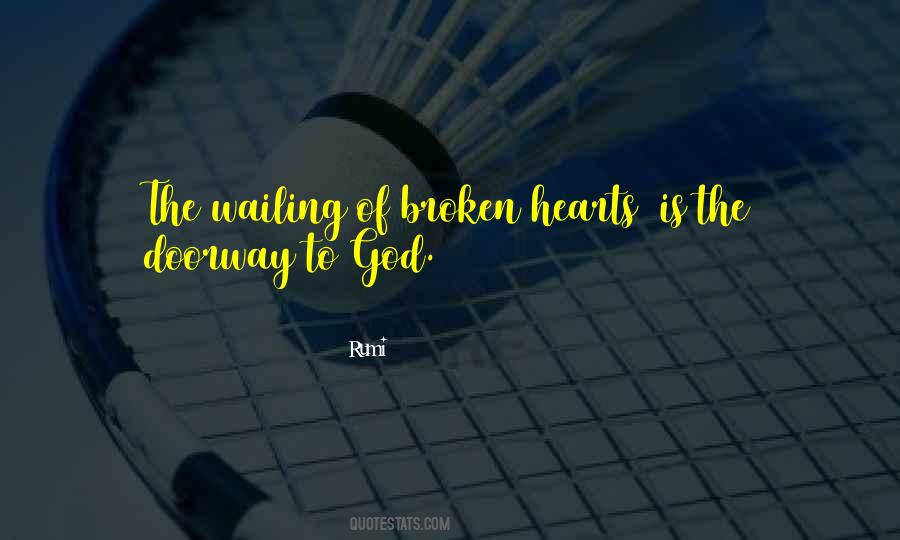 #95. I'm just trying to outrun a broken heart, which is nothing to sneeze at, for a broken heart breaks a person. - Author: Sarah Hina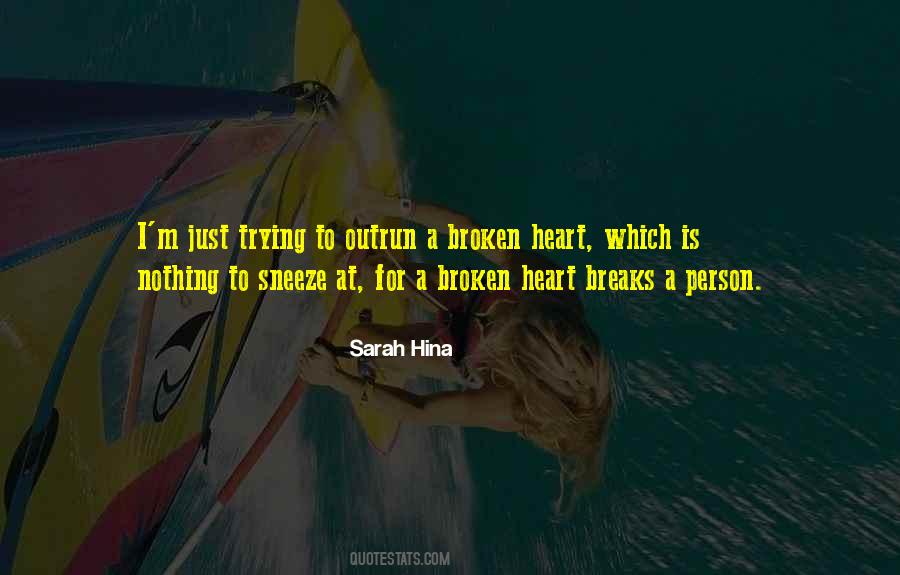 #96. Vitamin E, get much sleep, drink much water, travel to a place far away...meditate and teach your heart that this is destiny." - Wayan - Author: Elizabeth Gilbert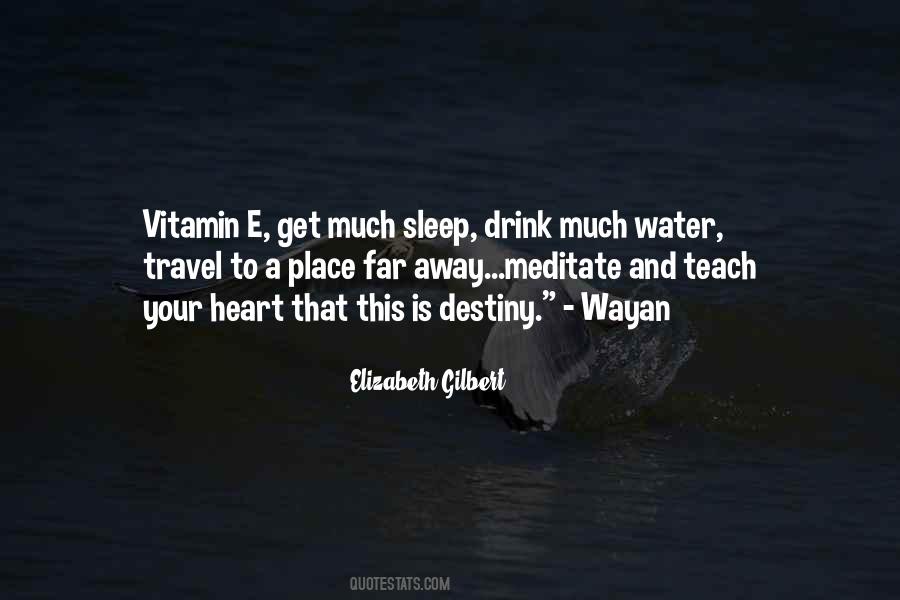 #97. One day ... " Gabe whispered. "When my heart is mine again. When I'm not sharing it with a dying girl ... I'll give you everything."
"Gabe," I said, sighing. "Right now? I'm perfectly happy with the pieces. No matter how broken they may be. - Author: Rachel Van Dyken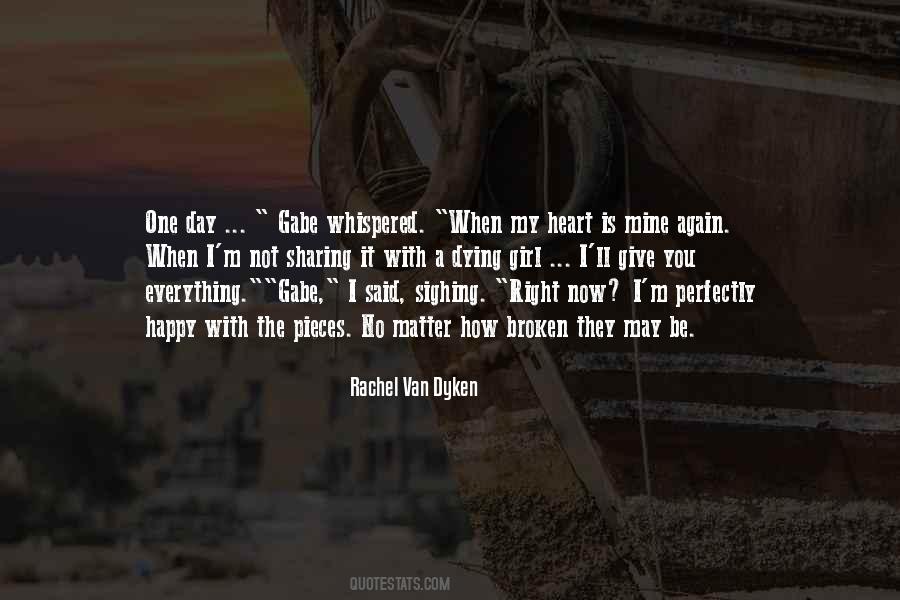 #98. When someone who's starved of love is shown something that looks like sincere affection, is it any wonder that she jumps at it and clings to it? - Author: Sayo Masuda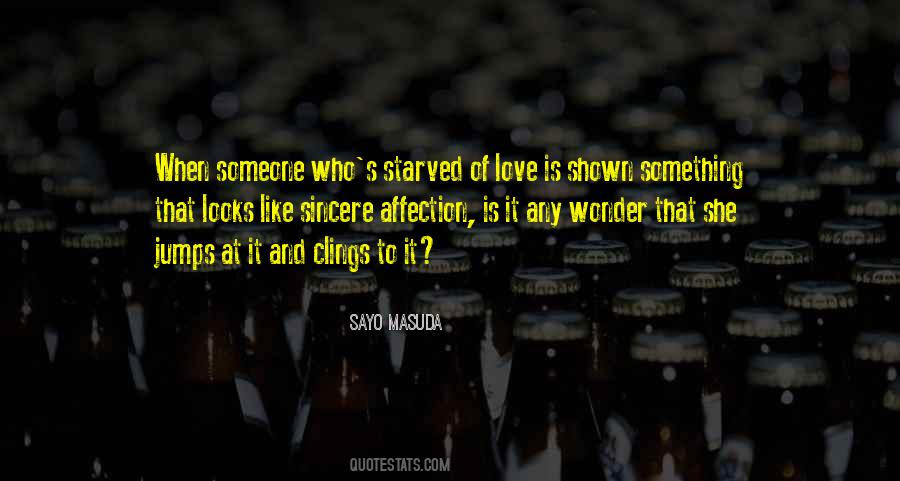 #99. To offer a man friendship when love is in his heart is like giving a loaf of bread to one who is dying of thirst. - Author: Frank Frankfort Moore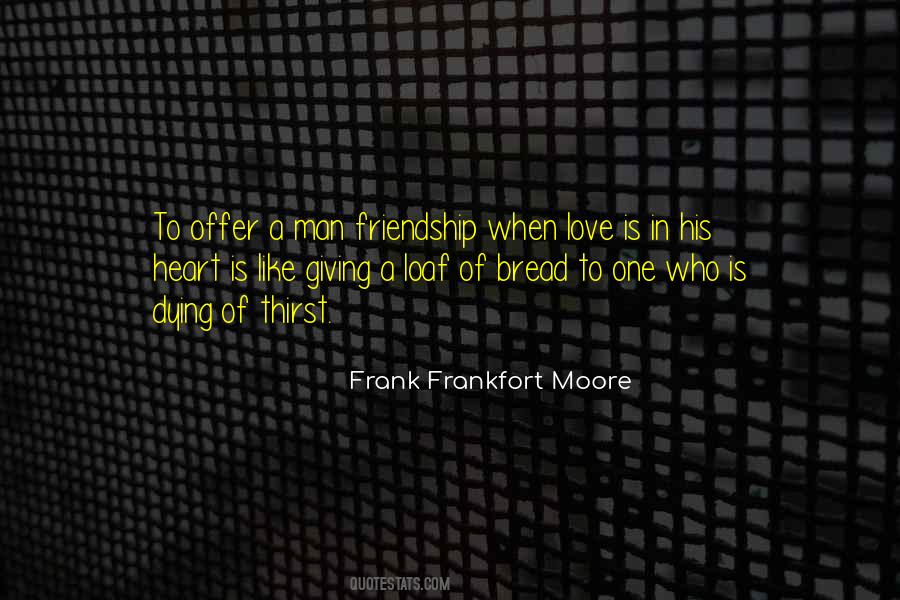 #100. This is what it felt like to have a broken heart. It felt less like a cracking down the middle and more like she had swallowed it whole and it sat bruised and bleeding in the pit of her stomach. - Author: Wendy Wunder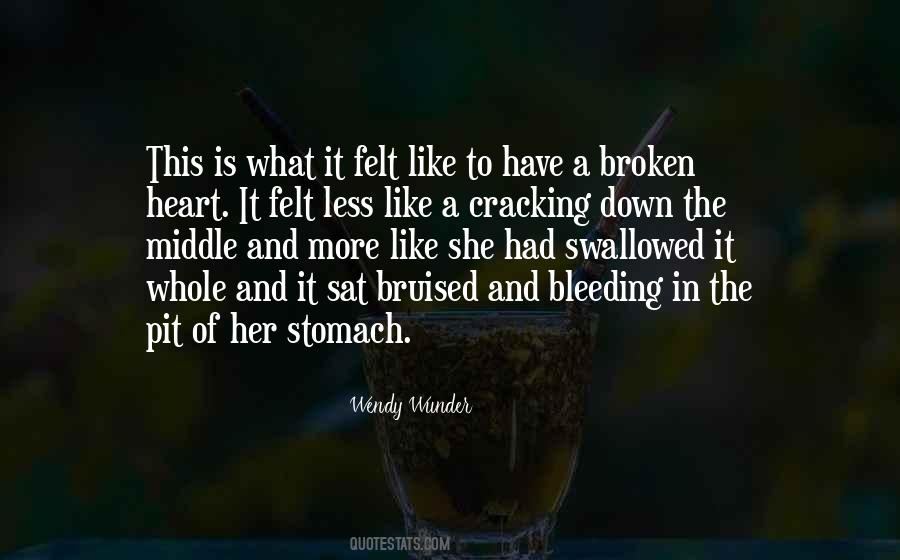 Famous Authors
Popular Topics