He Will Leave Famous Quotes & Sayings
List of top 100 famous quotes and sayings about he will leave to read and share with friends on your Facebook, Twitter, blogs.
Top 100 He Will Leave Quotes
#1. Learning from books and teachers is like traveling by carriage, so we are told in the Veda. But, the carriage will serve only while one is on the highroad. He who reaches the end of the highroad will leave the carriage and walk afoot. - Author: Johannes Itten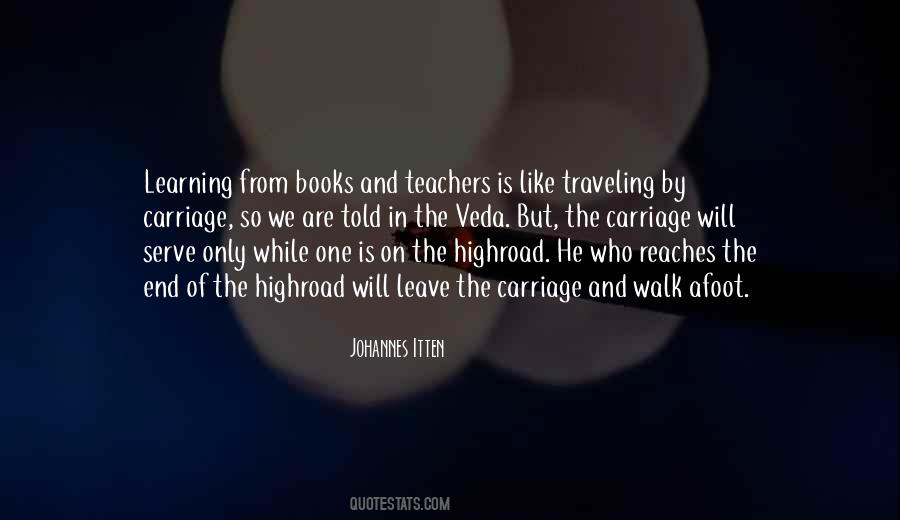 #2. She has been trying to pull her worth from him for so long. She has been trying to extract her beauty from his skin. She has been dying to be loved by him again ... but he will always leave her empty - Author: Coco J. Ginger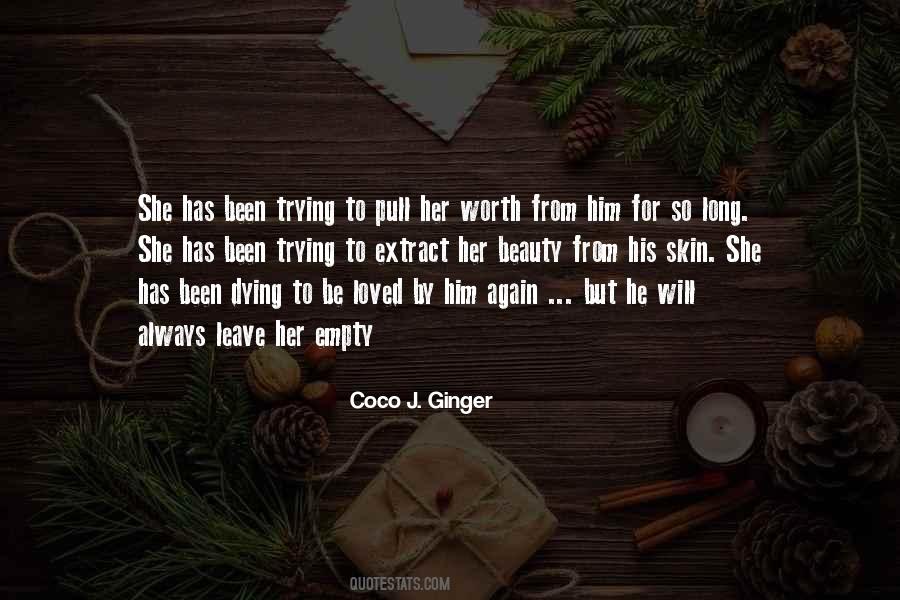 #3. He is not only a distraction I can't afford but a heartbreak waiting to happen. His allegiances are shaky at best. One day he will leave, or die, or betray me like so many others have. One day, he will hurt me. - Author: Victoria Aveyard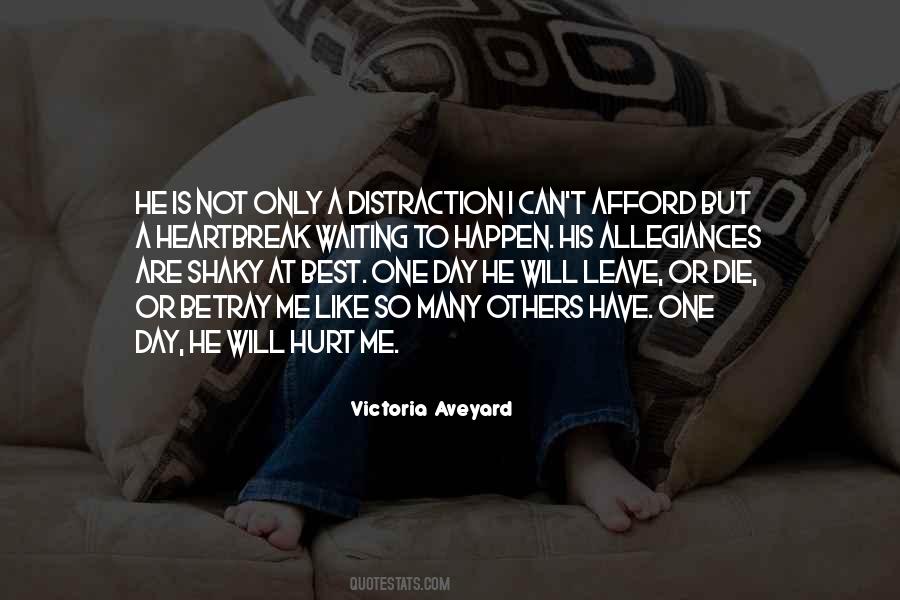 #4. Children leave ... and parents stay behind. Still, some things are deeper than time and distance. And your father will always be your father ... And he will always leave a light on for you. - Author: Fred Savage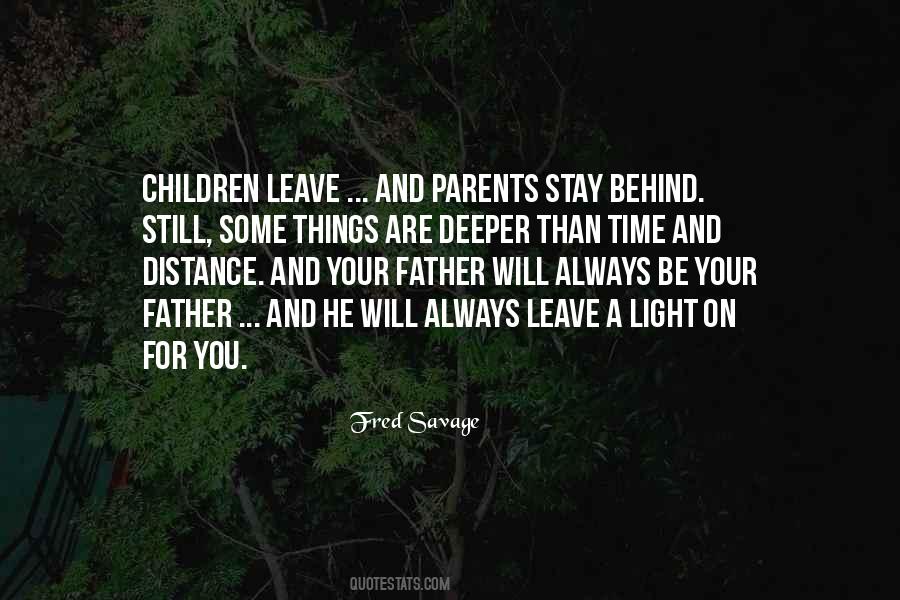 #5. He thought he would become accustomed to the idea, not yet understanding that it is useless to become accustomed to the loss of a father, for it will never happen a second time: might as well leave the wound open. - Author: Umberto Eco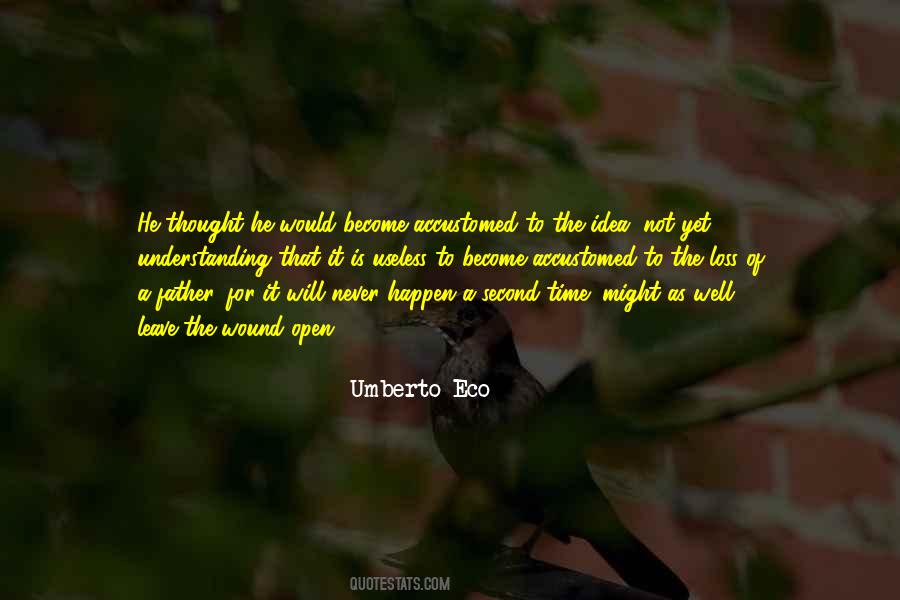 #6. As Christians, God doesn't promise us an easy life, but he does promise to be with us in whatever we go through. He will never leave us or forsake us. - Author: Jefferson Bethke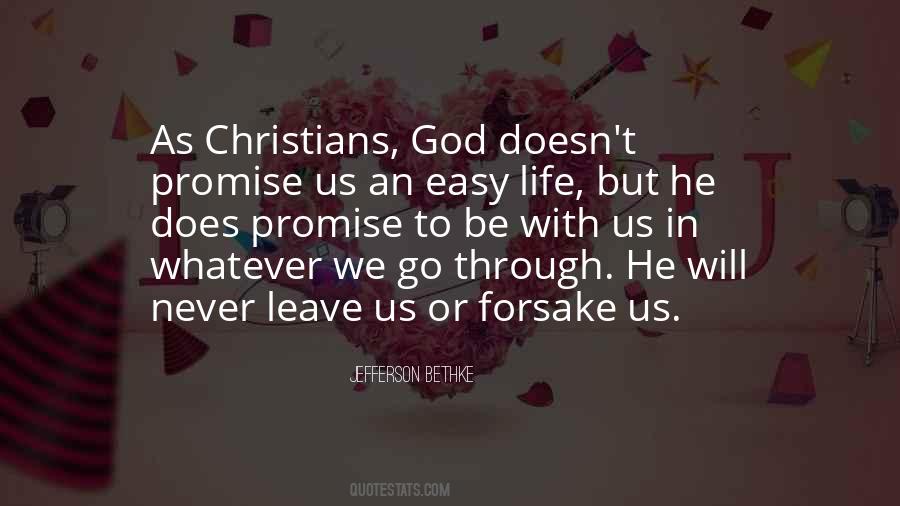 #7. If Christ justifies you, He will sanctify you! He will not save you and leave you in your sins. - Author: Robert Murray M'Cheyne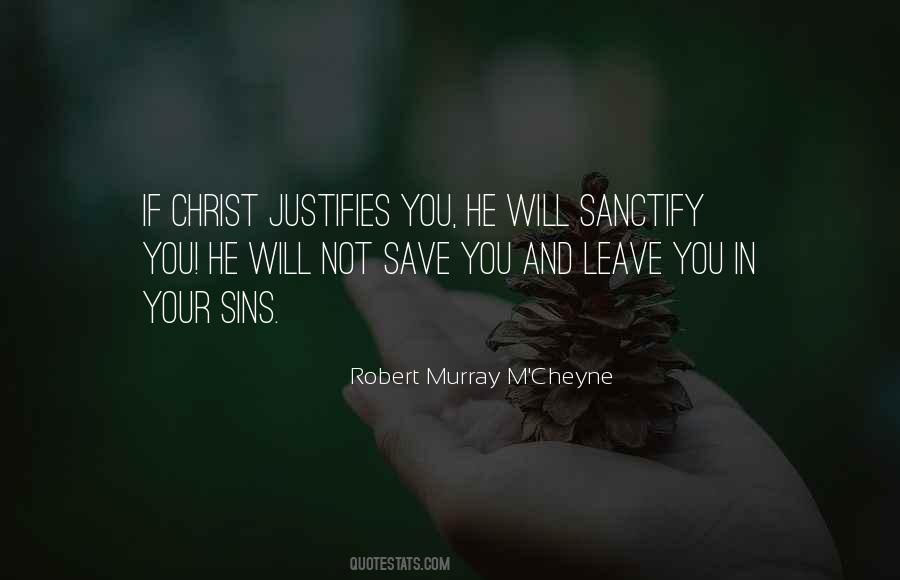 #8. I (God) will leave man to make the fateful guess, Will leave him torn between the no and yes, Leave him unresting till he rests in me, Drawn upward by the choice that makes him free, Leave him in tragic loneliness to choose, With all in life to win or all to lose. - Author: Edwin Markham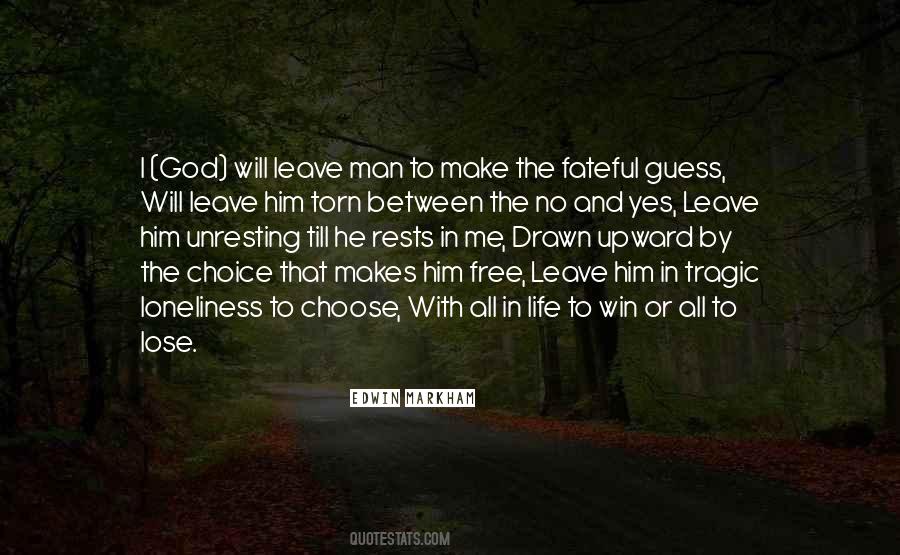 #9. If he sees you unclothed, I will have to kill him," he spoke in her ear. She didn't know if she should believe him or not, but she took no chances. "Tell him to leave, then," she said calmly but sternly. - Author: Madison Thorne Grey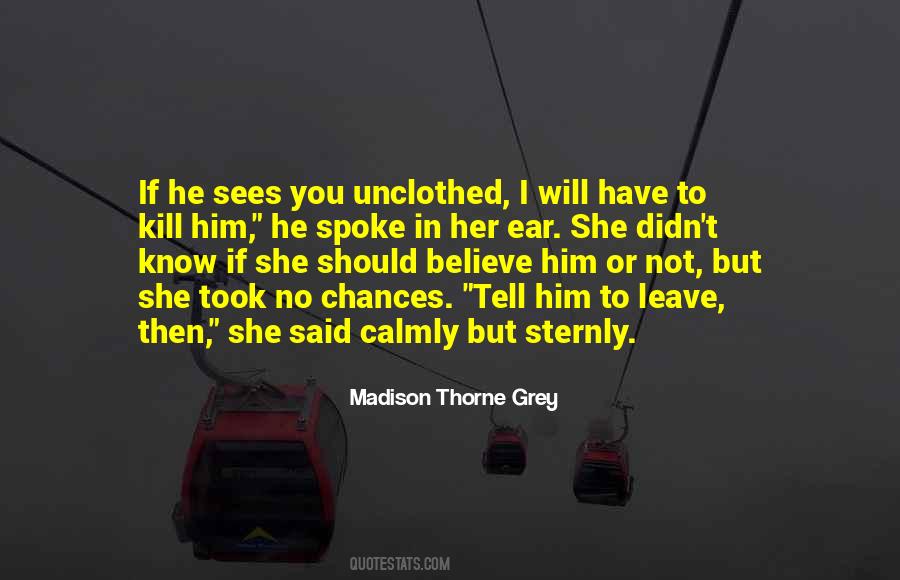 #10. The problems of our day loom ominously before us. Surrounded by the sophistication of modern living, we look heavenward for that unfailing sense of direction, that we might chart and follow a wise and proper course. He whom we call our Heavenly Father will not leave our sincere petition unanswered. - Author: Thomas S. Monson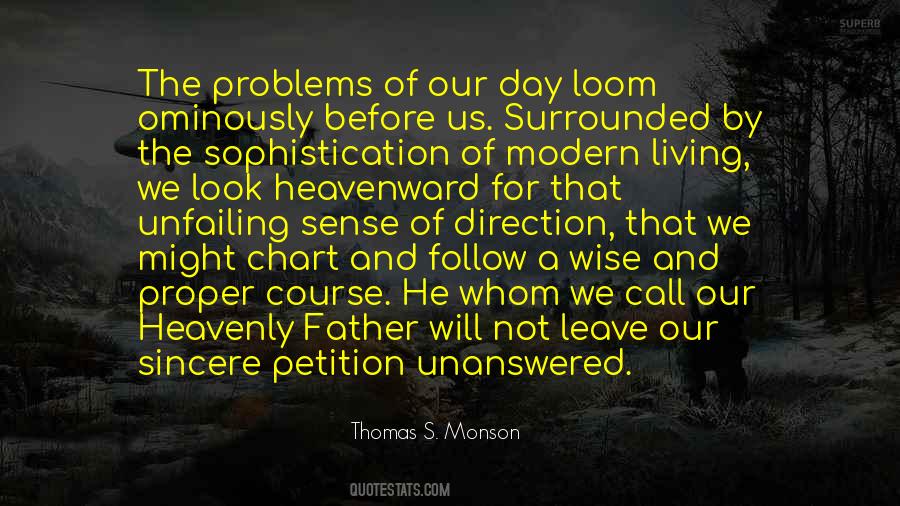 #11. Now that you will leave, now that the day of payment
dawns, now that no one knows
who he will kill and how he will die
take with you the boy who saw the light
under the leaves of that plane tree
and teach him how to study the trees. - Author: Giorgos Seferis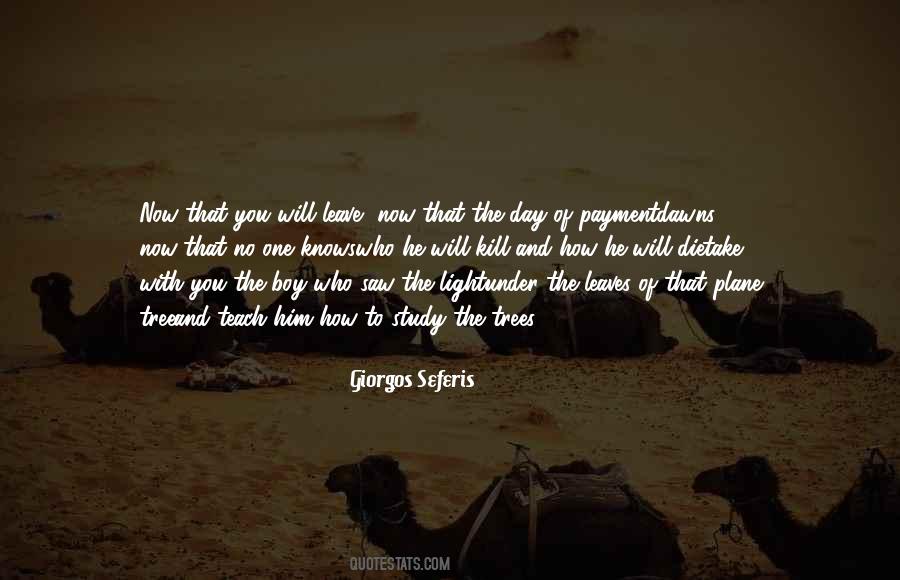 #12. Since God will have us leave father and mother for his sake, certainly he will have us leave lords (governors) for his sake. - Author: Martin Luther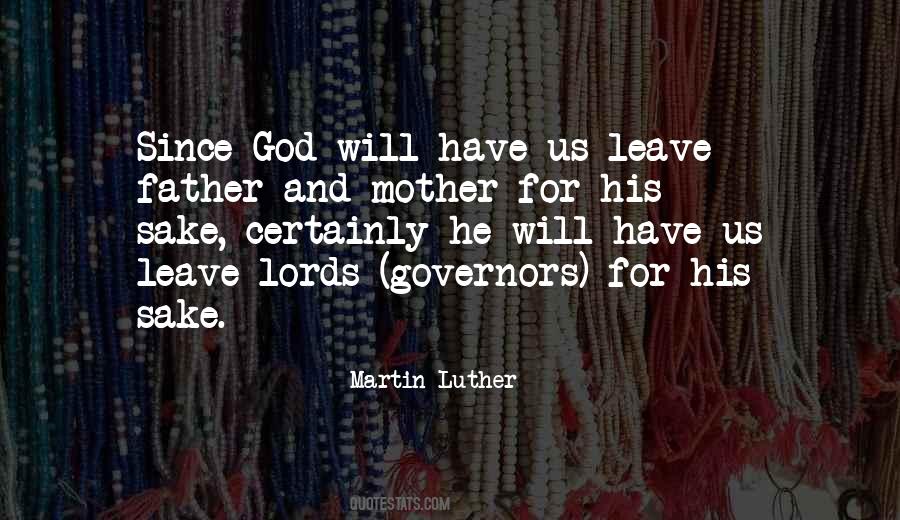 #13. You scratch whatever itches you choose," Charles told her, his voice cold and quiet."Enjoy yourself. But at the end of the day, you remember that Isaac belongs to my father - and to me. He is necessary to us as you are not. You will leave him unharmed or I will hunt you down and destroy you. - Author: Patricia Briggs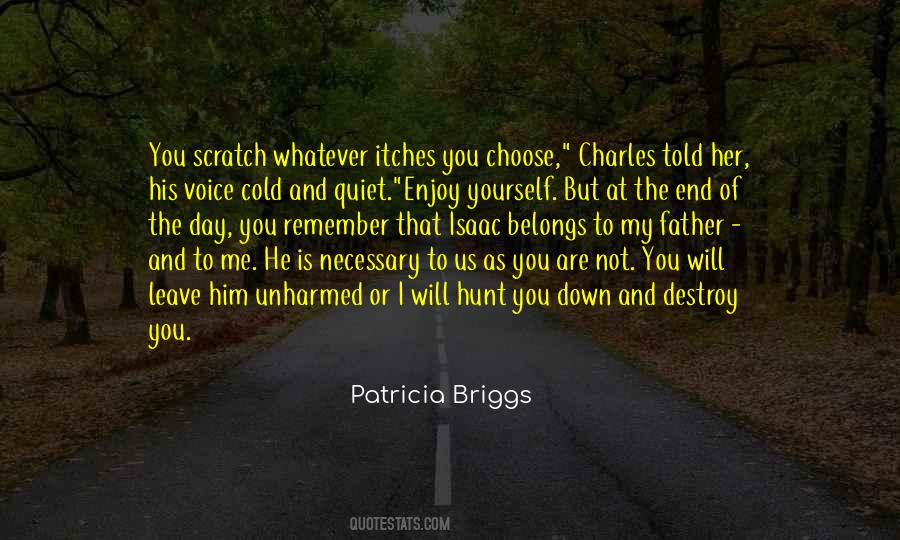 #14. A man who declares his heart too early will leave you wondering whether he truly meant it." ~Catriona - Author: Stephanie Laurens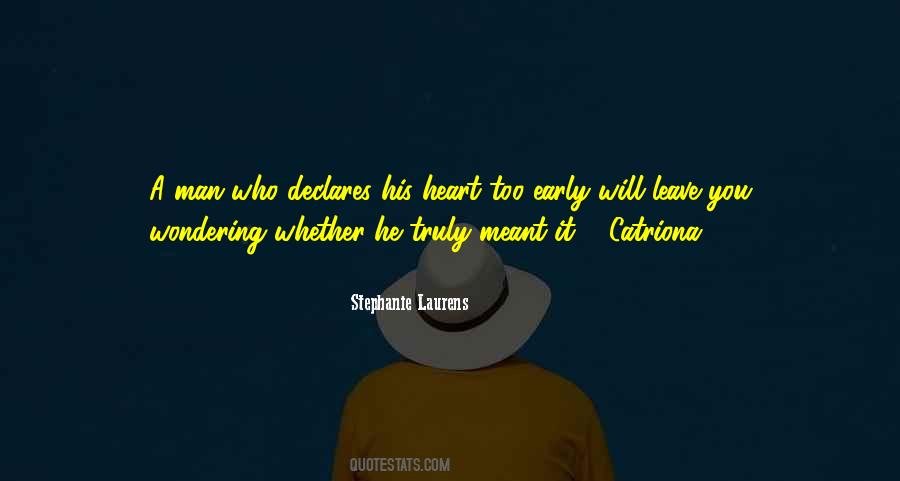 #15. We must clean this, and then you must leave here. He will find you. He will smell you out as I did. You are full of purity and goodness. It's like candy to my kind. - Author: Candace Knoebel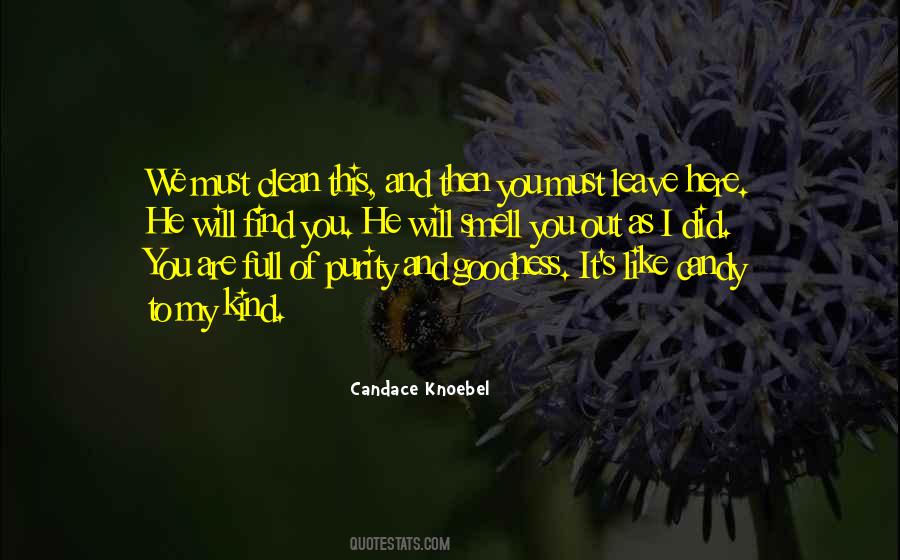 #16. When Psyche got up to leave, Eros once again mentioned that he would miss her on Sunday."Even if you come on Sunday, I shall not be able to give you what you want. I shall be having my period then & it will be too messy for your liking," his secretary advised him.[MMT] - Author: Nicholas Chong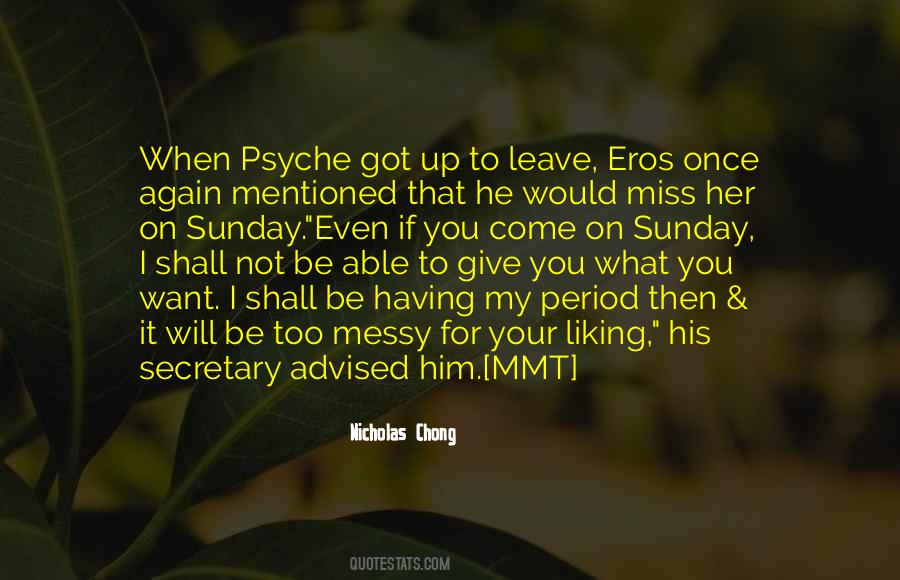 #17. Be strong and of good courage. do not fear of be afraid of them ; for the Lord your God, He is the One who goes with you. he will not leave you or forsake you. Deut.31:6. - Author: Anonymous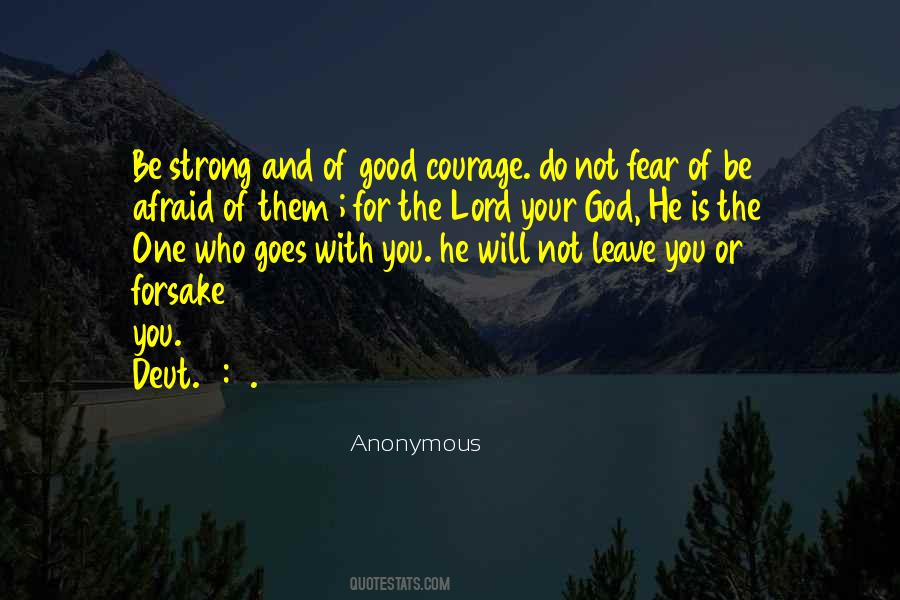 #18. Each Warrior wants to leave the mark of his will, his signature, on important acts he touches. This is not the voice of ego but of the human spirit, rising up and declaring that it has something to contribute to the solution of the hardest problems, no matter how vexing! - Author: Pat Riley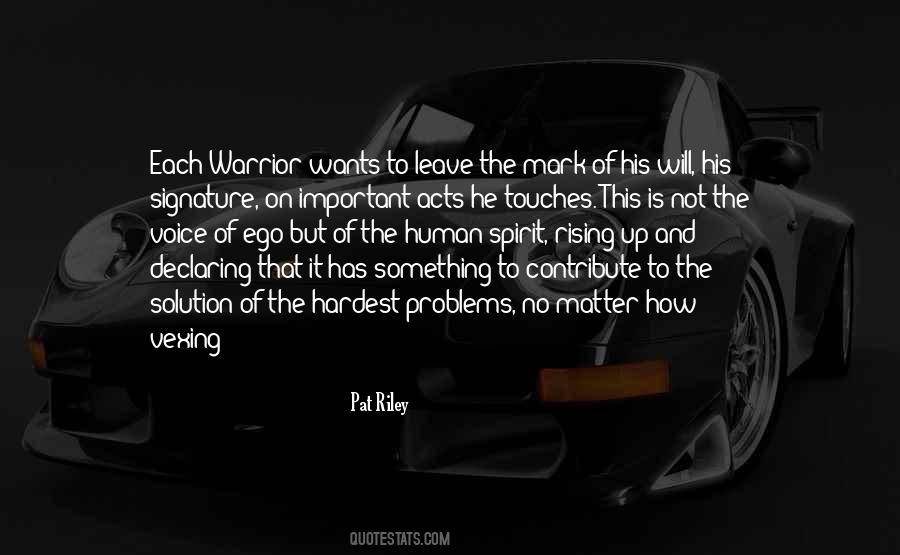 #19. He taught me to be a Da Vinci
and I sit here, with his portraits
waiting for him to return
I do not think he will
Is that what it means to be human
to be all powerful,
to build a temple to yourself
and leave
only the walls to pray - Author: Phil Kaye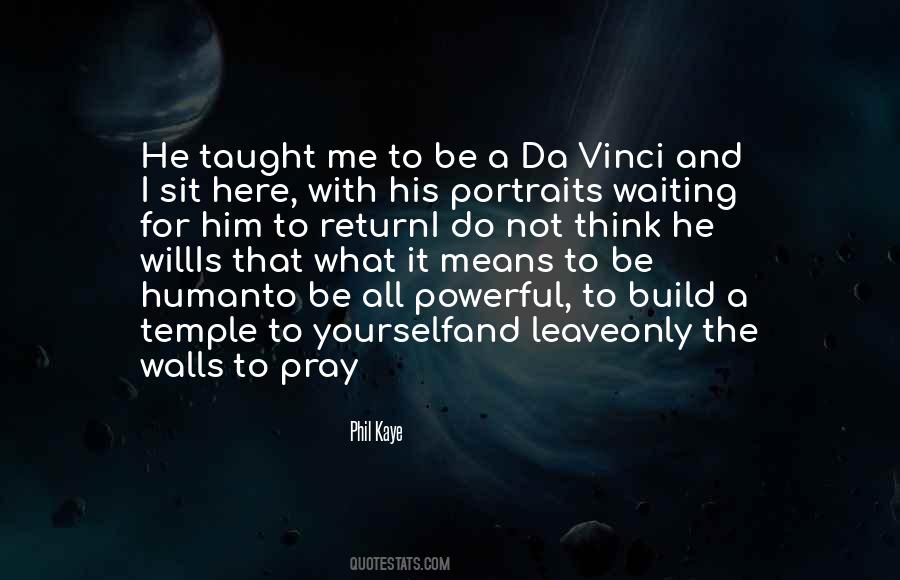 #20. He combed his hair like Elvis and had a slightly dangerous look, like a sailor two drinks into a shore leave that will end badly. - Author: Stephen King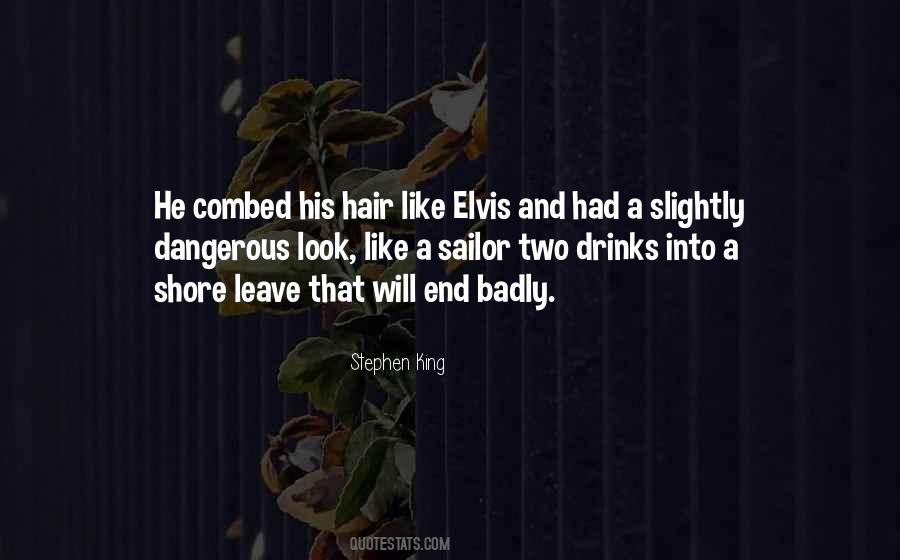 #21. I will sit here but an hour or two, then leave."
I yawn. "So very long as that?"
When he answers, there is a wry note in his voice. "I do have my reputation to protect. - Author: R.L. LaFevers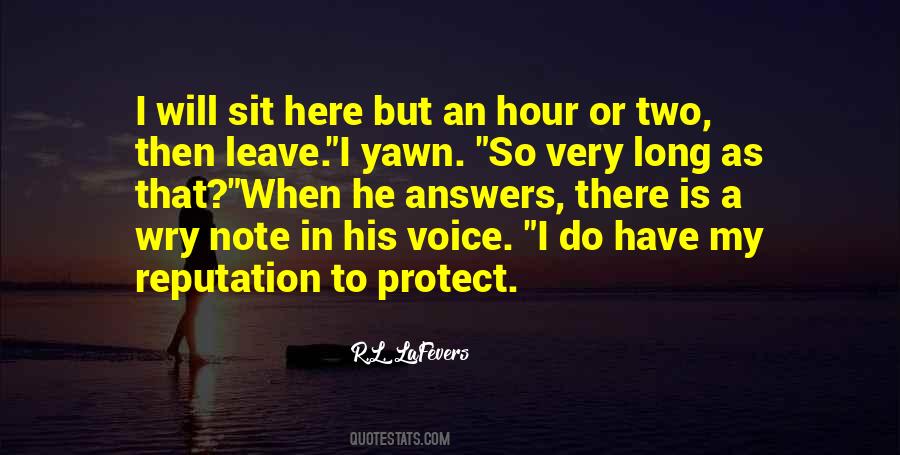 #22. If Death is your father, you don't ever have to worry about what part of his body the disease will strike next. If Death is your lover, you don't have to be afraid that he will ever leave you. - Author: Francesca Lia Block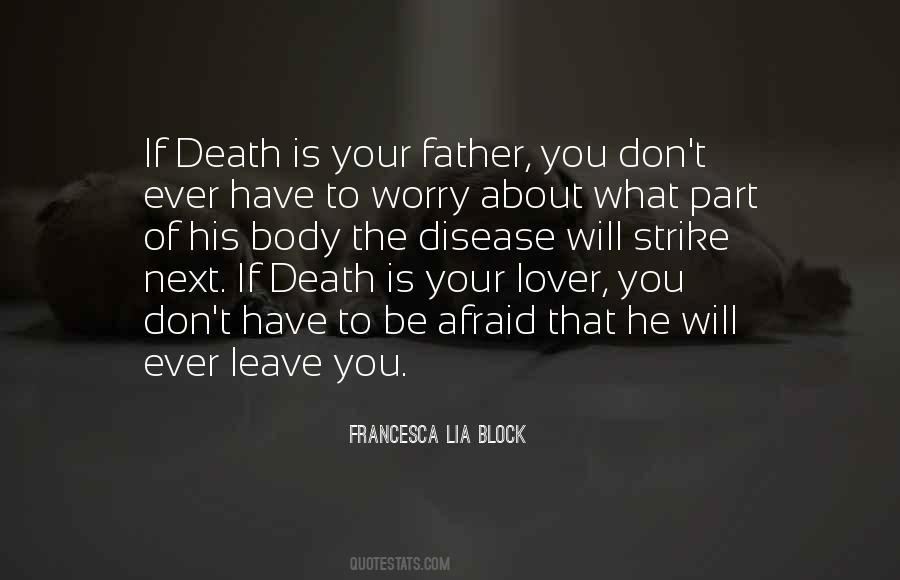 #23. Death is my son-in-law. Death is my heir.
My daughter he hath wedded. I will die,
And leave him all. Life, living, all is Death's. - Author: William Shakespeare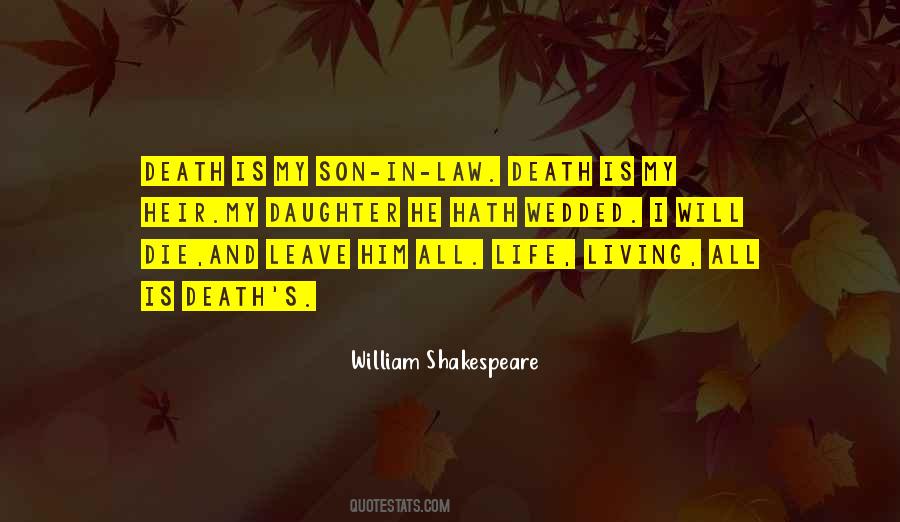 #24. All men are chums who will never leave each other in the lurch. A chum doesn't forgive, he just forgets - women forgive everything but never forget. Being forgiven is very unpleasant. - Author: Tove Jansson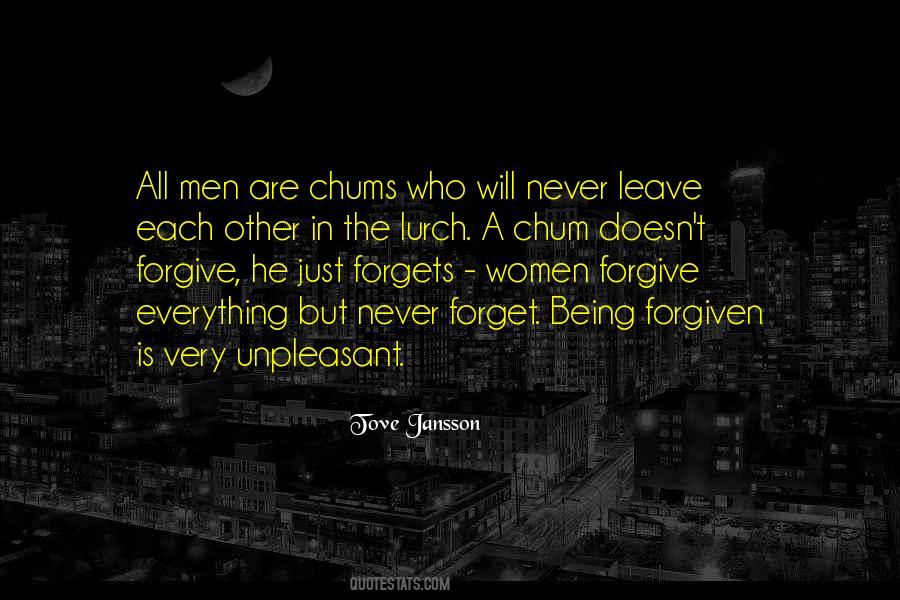 #25. We are such lovers of self-reliance, that we excuse in a man many sins, if he will show us a complete satisfaction in his position, which asks no leave to be, of mine, or any man's good opinion. - Author: Ralph Waldo Emerson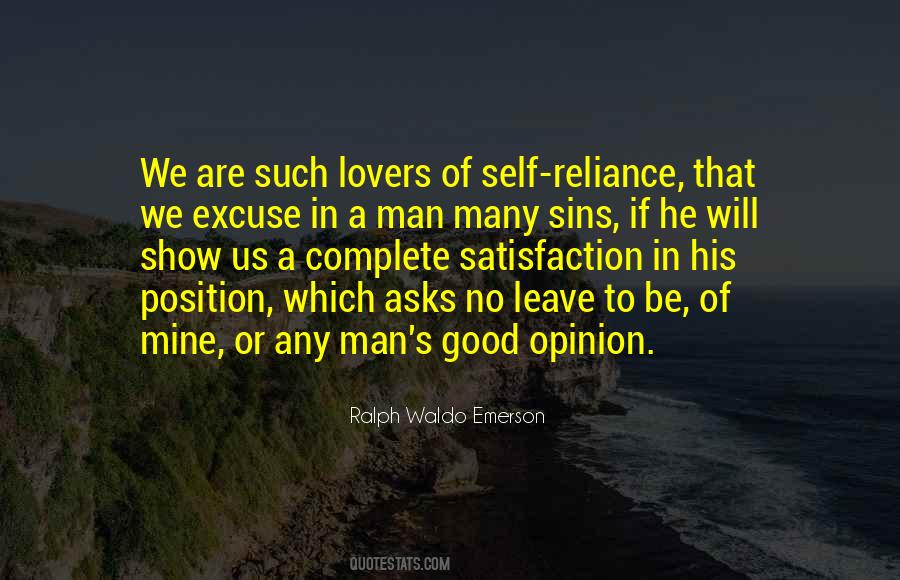 #26. Blessed be His name, He will not leave us to face the struggle without Him, for Jesus never forsakes His own. Yet, - Author: Charles Haddon Spurgeon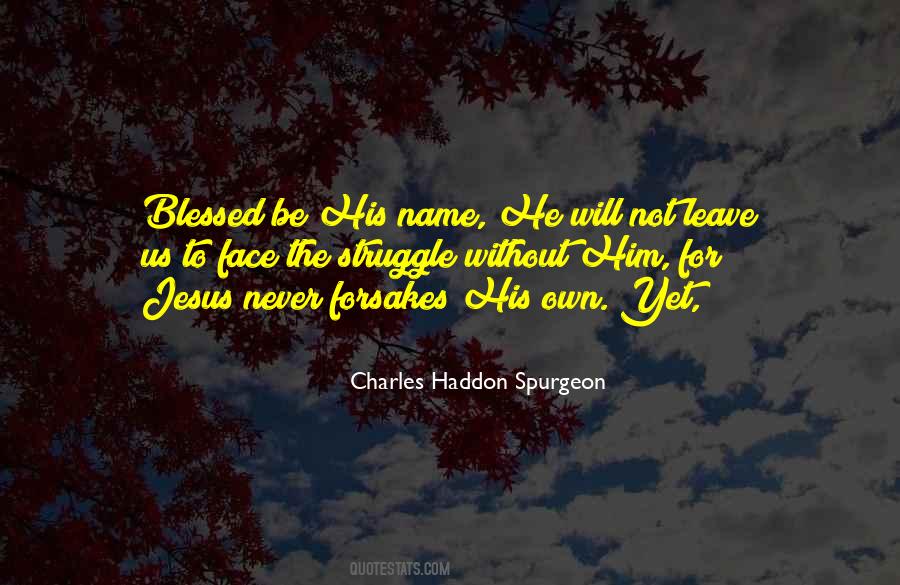 #27. It goes on, he thought. The internecine hate. Perhaps the seeds are there, in that. They will eat one another at last, and leave the rest of us here and there in the world, still alive. Still enough of us once more to build and hope and make a few simple plans. - Author: Philip K. Dick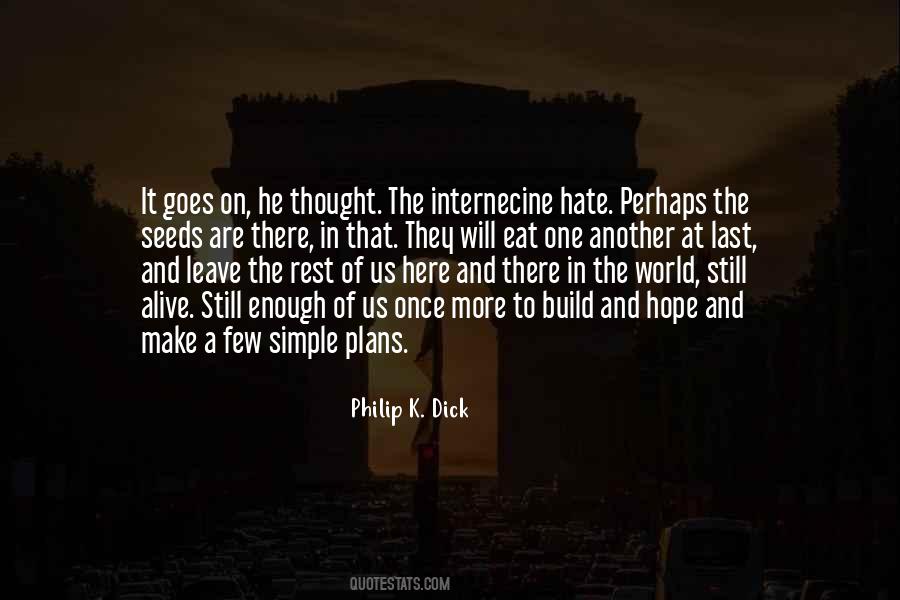 #28. It's good that the first half of the speech emphasized freedom, because George W. Bush has been the global champion for freedom. As he said, if we don't fight tyranny it will not leave us alone in peace. - Author: Ernest Istook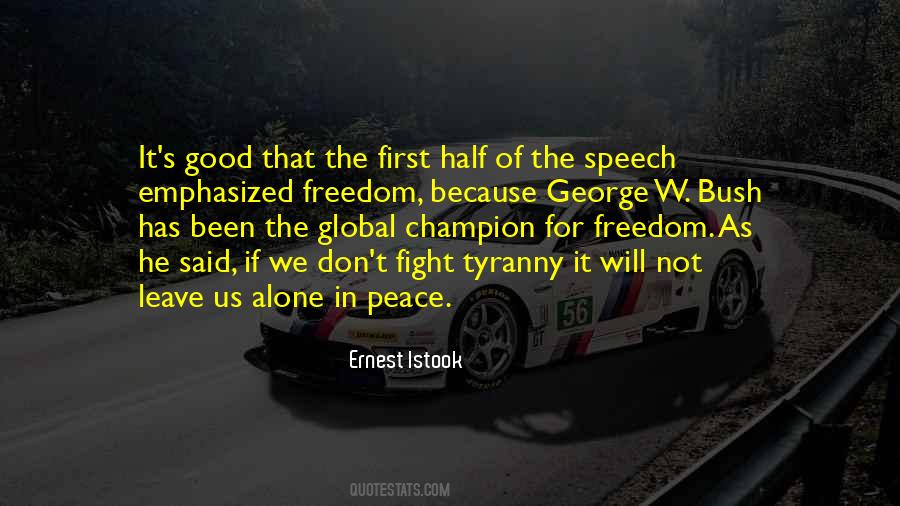 #29. Promise me that if you get a chance to escape without me, you will do it. He won't kill me. Go find your men and come back for me."
His eyelids and brows lowered. " You don't know me very well or you wouldn't say such a thing. I won't leave you. - Author: Melanie Dickerson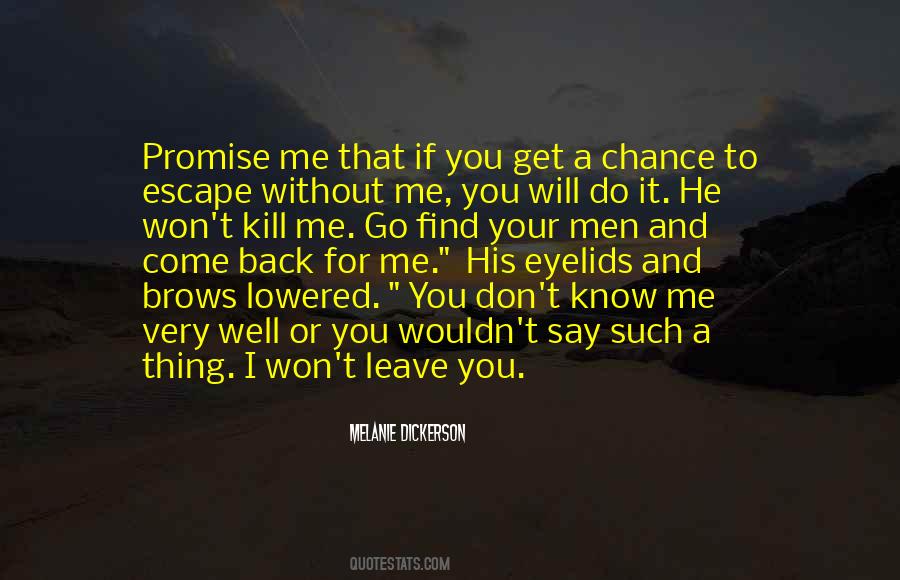 #30. A man can be riddled with malaria for years on end, with its chills and its fevers and its nightmares, but if one day he sees that the water from his kidneys is black, he knows he will not leave that place again, wherever he is, or wherever he hoped to be. - Author: Beryl Markham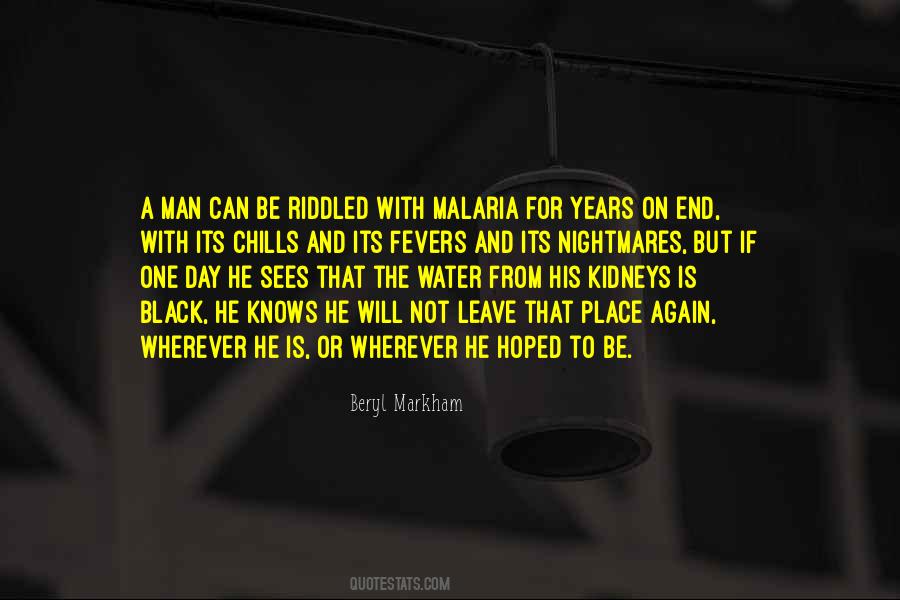 #31. Open up!" he roared, pounding it with his fist. Nothing. "Lass, if you open up now, I'll leave you in one piece, but I swear to you, if you keep me in here one more moment I will tear you limb from wee limb," he threatened. Silence. "Lass! Wench! Gwen-do-lynnnnnn! - Author: Karen Marie Moning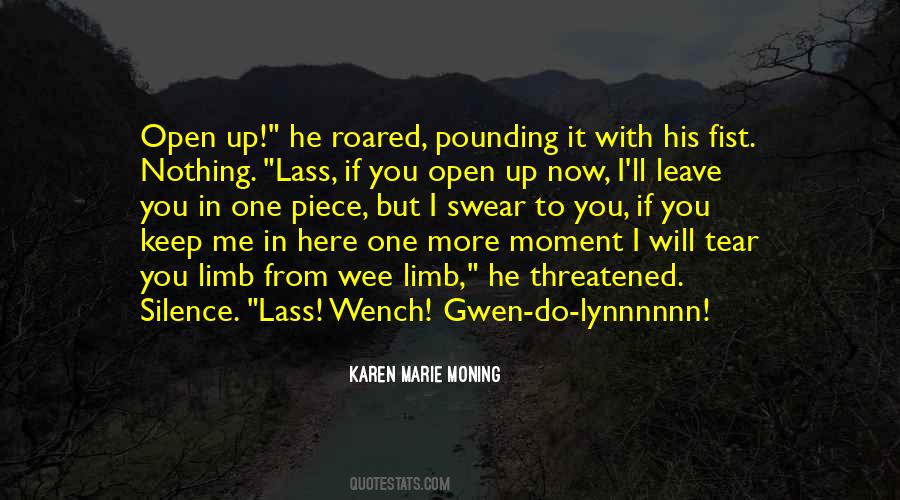 #32. A surety rose in me, lodged in my throat. I will never leave him. It will be this, always, for as long as he will let me. - Author: Madeline Miller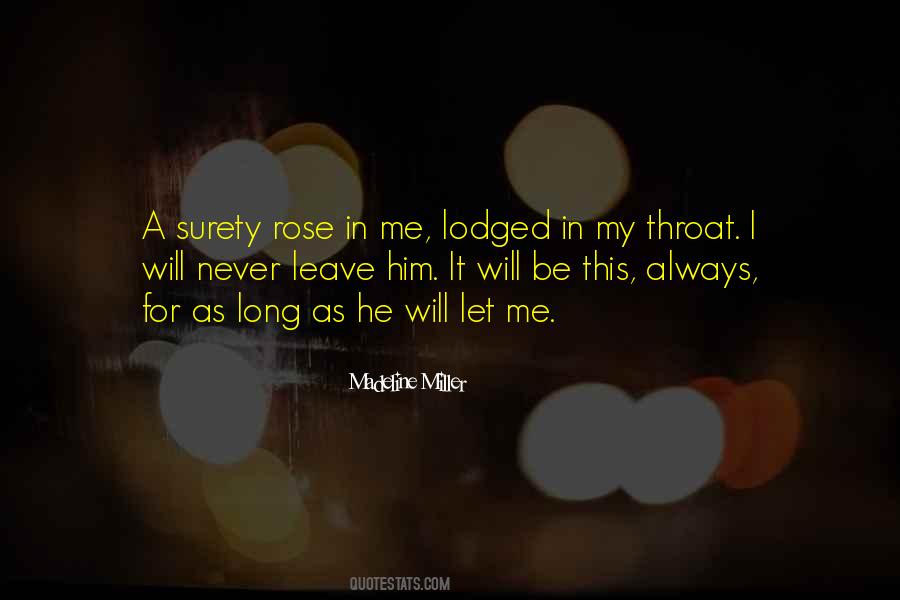 #33. God is not an employer looking for employees. He is an Eagle looking for people who will take refuge under his wings. He is looking for people who will leave father and mother and homeland or anything else that may hold them back from a life of love under the wings of Jesus. - Author: John Piper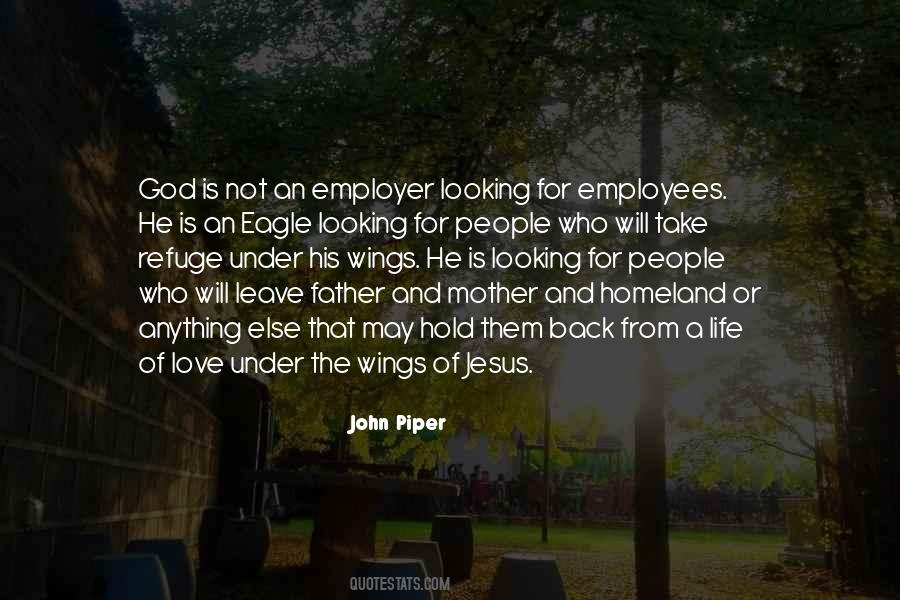 #34. When you leave a man alone with his Bible and the Holy Ghost inspires him, he's going to be a Catholic one way or another, even though he knows nothing about the visible church. His kind of Christianity may not be socially desirable, but will be real in the sight of God. - Author: Flannery O'Connor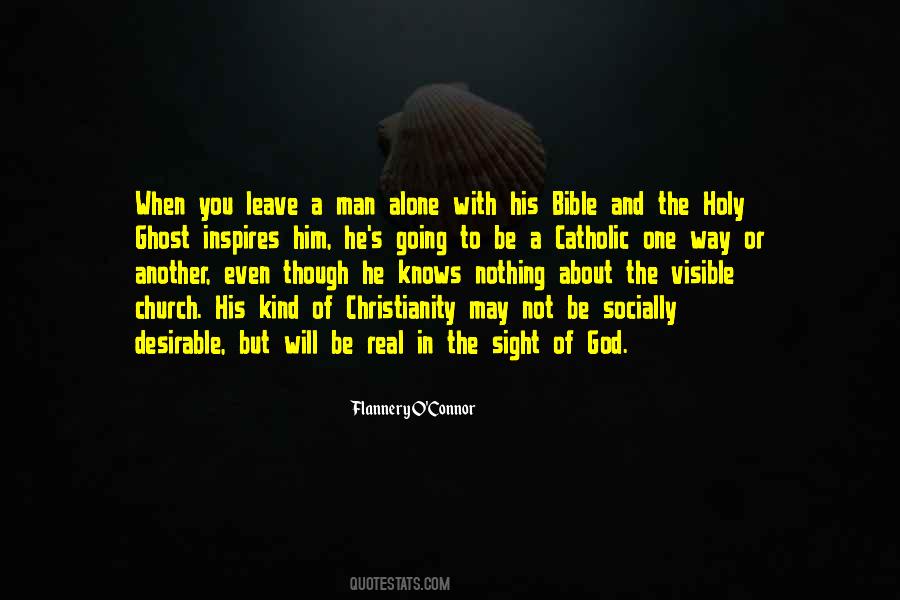 #35. When I walk, I walk with God. He's always with me, He never leaves me and He will shine the light on me. - Author: Shamcey Supsup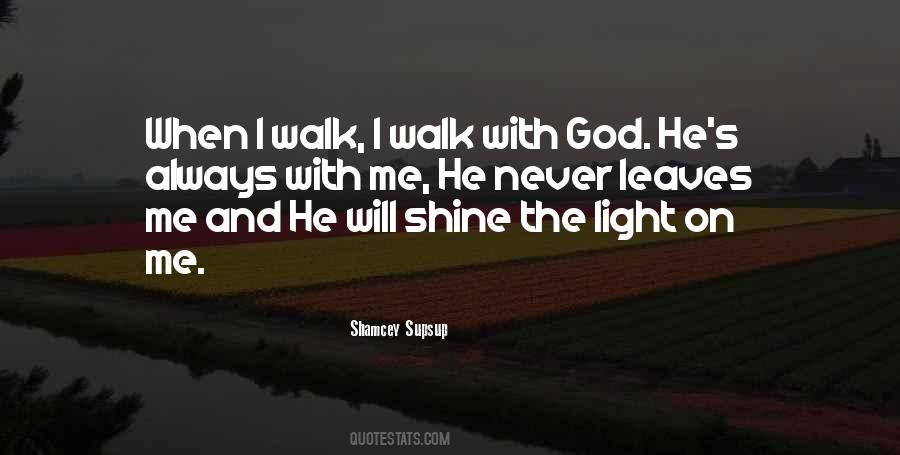 #36. I will die, however," he said quite seriously, "if you leave me again. Just watch me. - Author: Julie Anne Long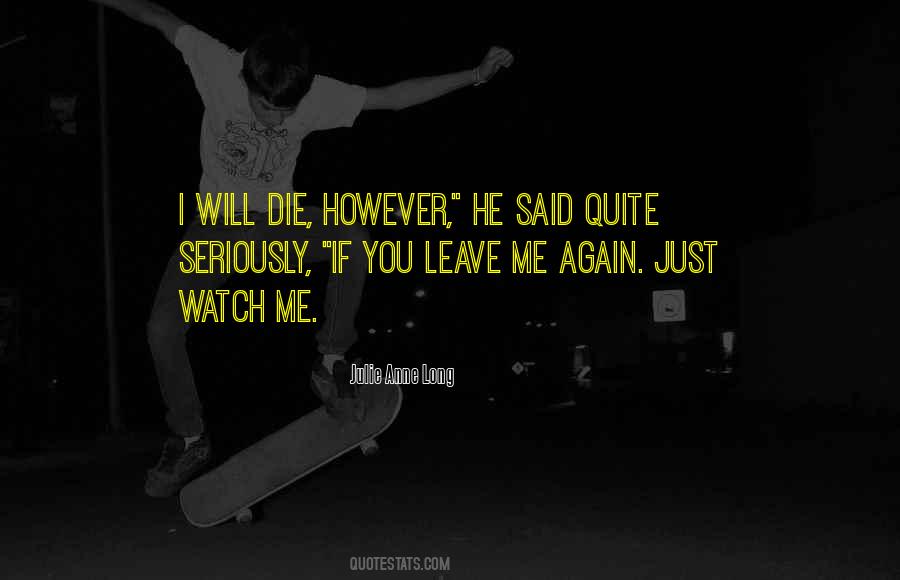 #37. The soul should take care of the body, just as the pilgrim on his way to Makkah takes care of his camel; but if the pilgrim spends his whole time in feeding and adorning his camel, the caravan will leave him behind, and he will perish in the desert. - Author: Al-Ghazali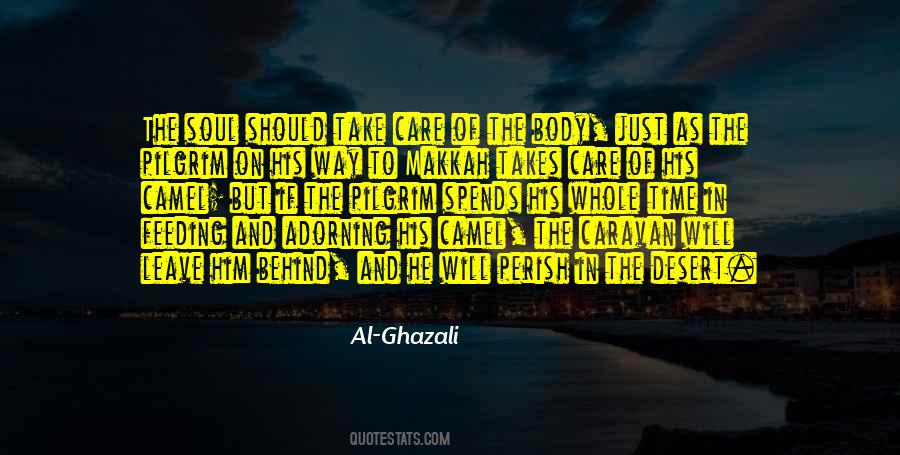 #38. He will sweep it up - everything you left behind when you woke. And then he will burn it, to leave the stage fresh for your dreams tomorrow. - Author: Neil Gaiman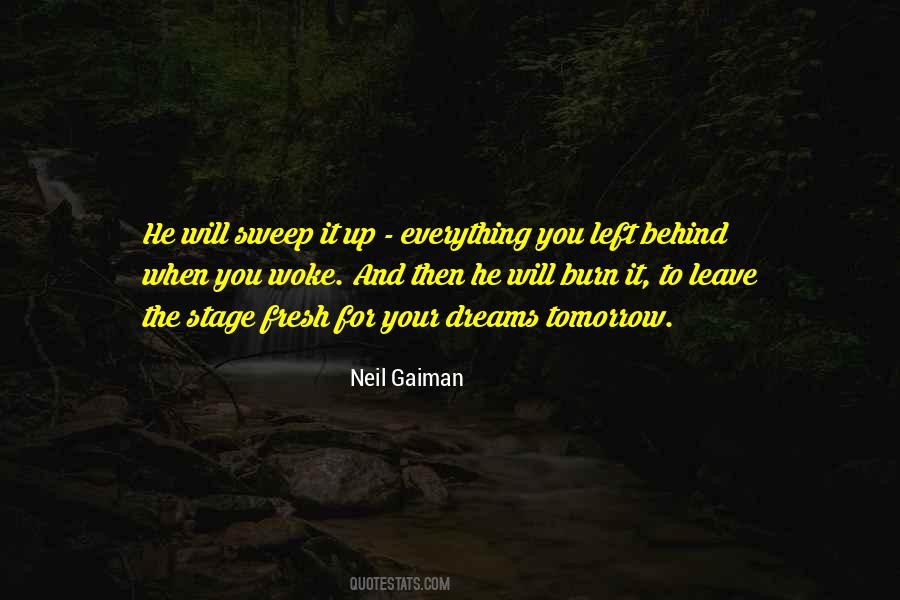 #39. He who cannot calmly leave his affairs in God's hand, but will carry his own burden, is very likely to be tempted to use wrong means to help himself. - Author: Charles Haddon Spurgeon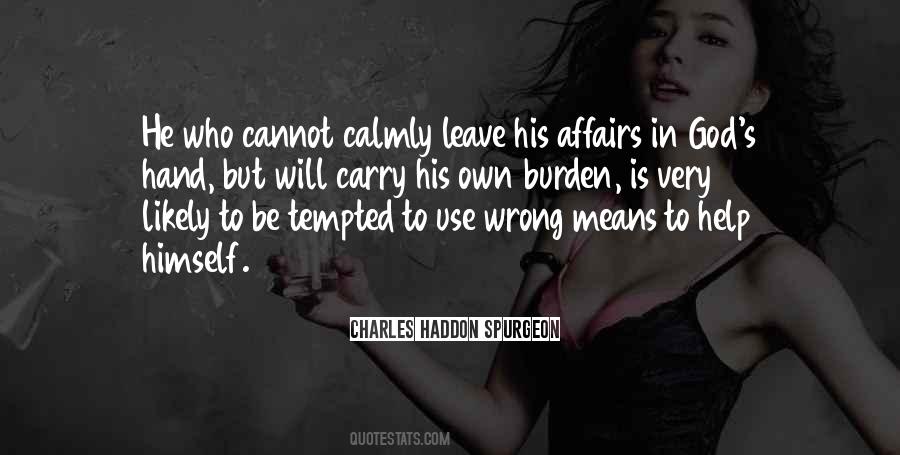 #40. We do not serve a distant and detached God who spouts encouraging cliches safely from the sideline. Instead, he enters into our suffering. Jesus did it in the Incarnation and his Spirit does it in us now. God will never leave us alone in our suffering. - Author: Rick Warren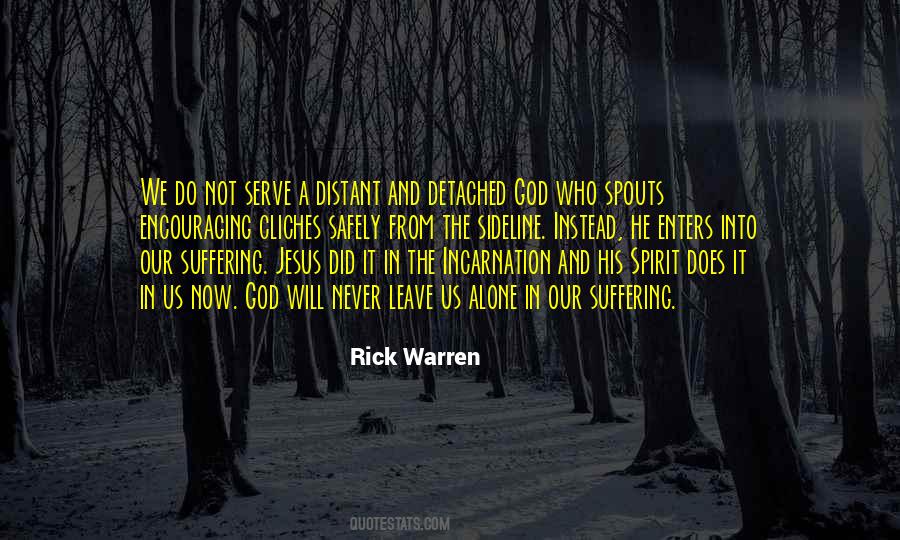 #41. If the American Negro is to have a culture of his own he will have to leave America to get it. - Author: Paul Robeson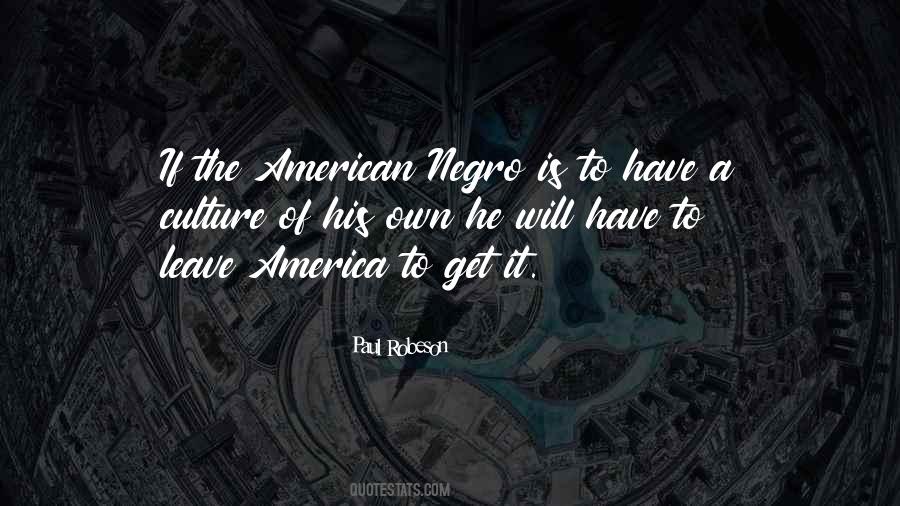 #42. Nothing further then he uttered--not a feather then he fluttered-- Till I scarcely more than muttered, "Other friends have flown before-- On the morrow he will leave me, as my hopes have flown before." Then the bird said, "Nevermore. - Author: Edgar Allan Poe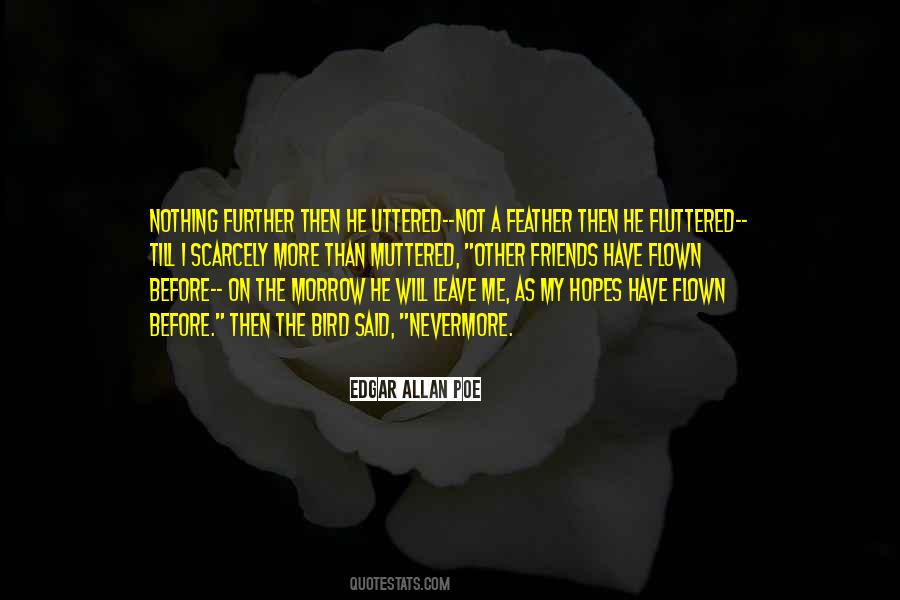 #43. Cling to God, and leave all the rest to Him: He will not let you perish. Your soul is very dear to Him, He wishes to save it. - Author: Margaret Mary Alacoque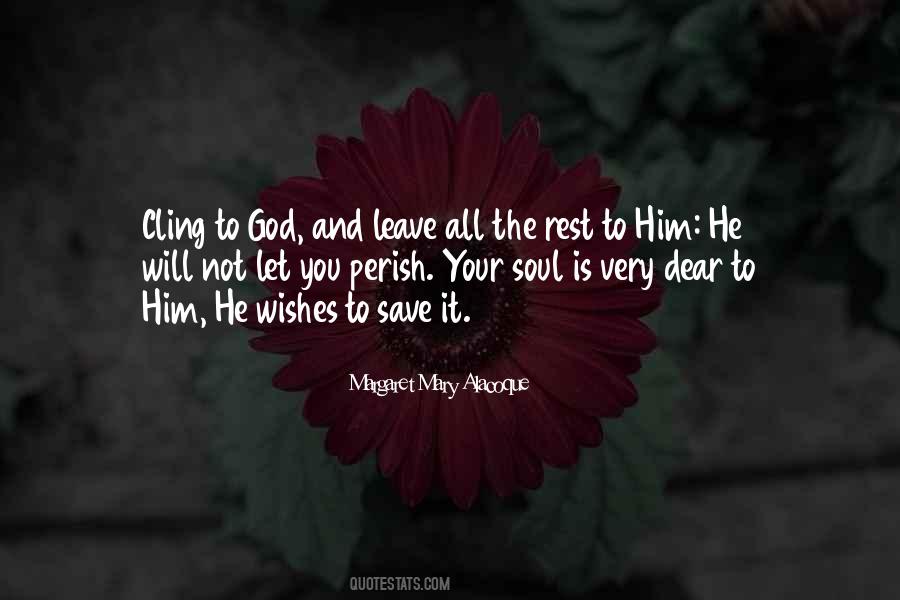 #44. You're afraid he'll leave you and you'll fall apart. You don't know that you can get along without him and you're afraid to find out because then your whole potty theory will come tumbling down. You'll have to stop thinking of yourself as weak and dependent and you hate that. - Author: Erica Jong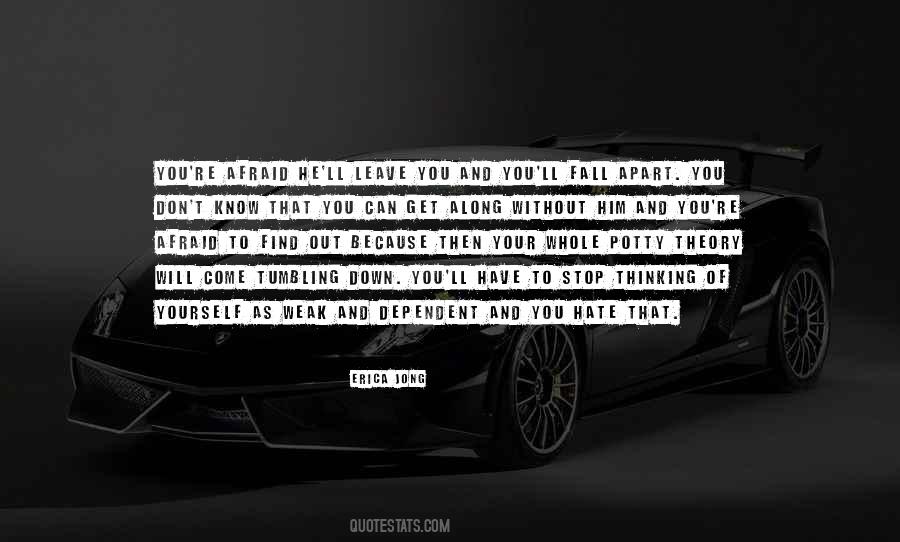 #45. Love Jesus and keep Him as your friend. When all others forsake you He will not leave you nor will He allow you to perish on the last day. Whether you like it or not the day will come when you will find yourself separated from everyone and from everything. - Author: Thomas A Kempis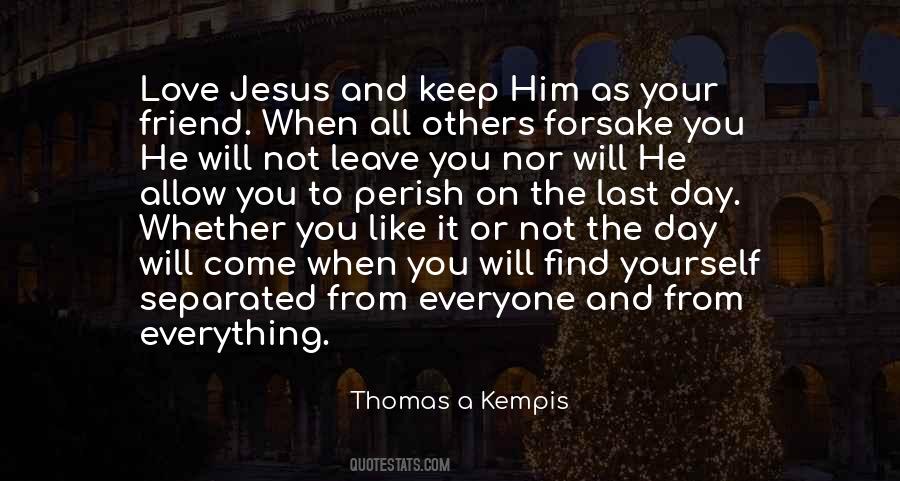 #46. A man who will not leave his room because he does not know how, or is afraid to open the door, is trapped just the same whether or not the door is locked. - Author: Thomas Campbell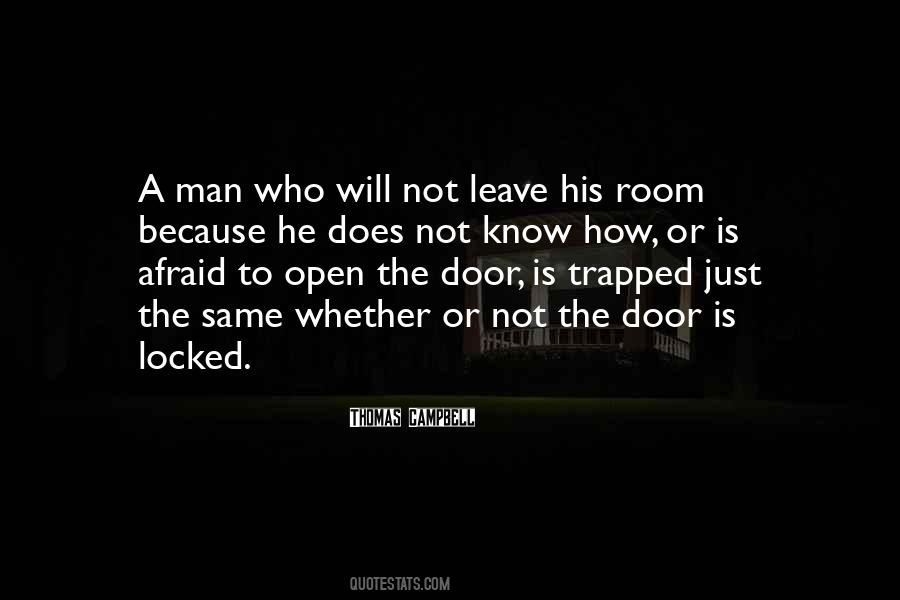 #47. You will return to Lord Gyles and inform him that he does not have my leave to die. - Author: George R R Martin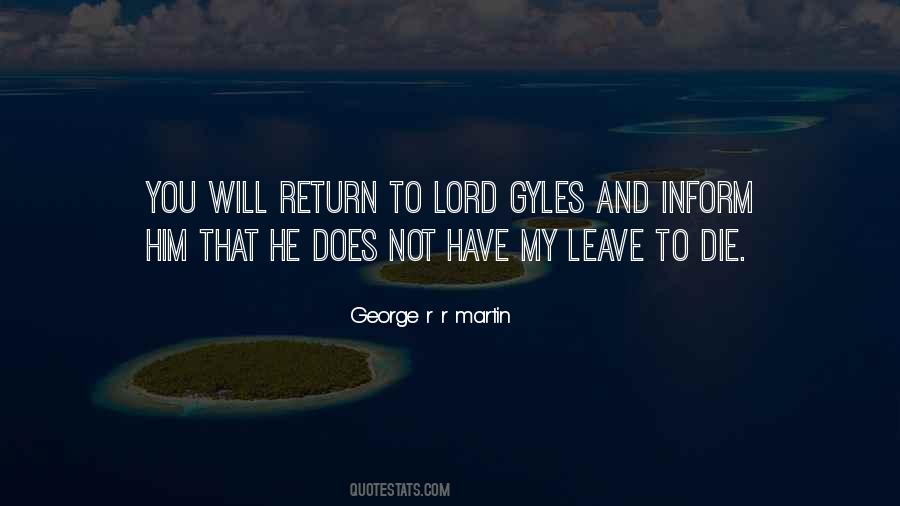 #48. I will never get enough of you. Don't leave me," he murmurs and kisses my belly.
"I'm not going anywhere, Christian, and I seem to remember that I wanted to kiss your belly," I grumble sleepily.
He grins at my skin. "Nothing stopping you baby. - Author: E.L. James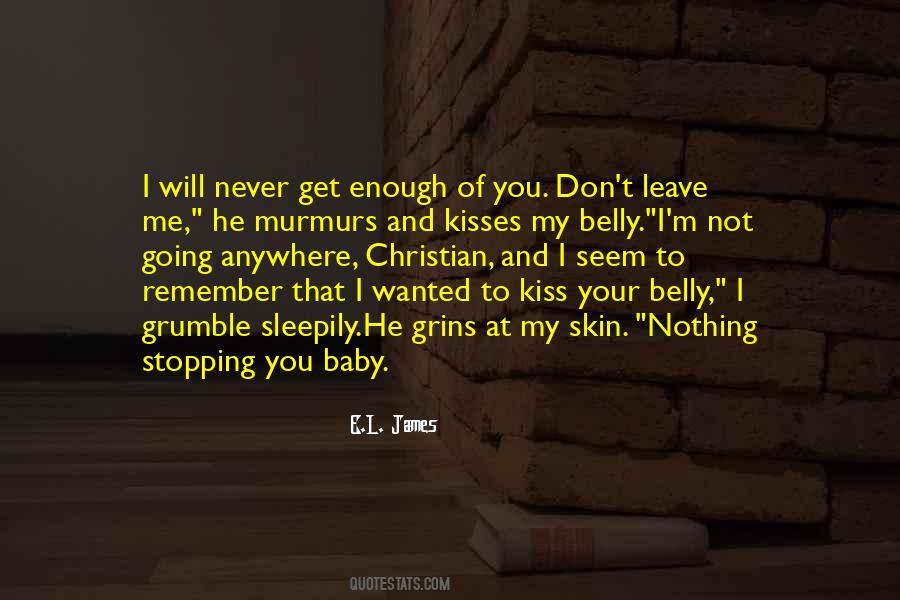 #49. God is not blind. He knows about you and your problems. He knows of those who are suffering ... and His love for His children will never leave in times of trouble. - Author: Billy Graham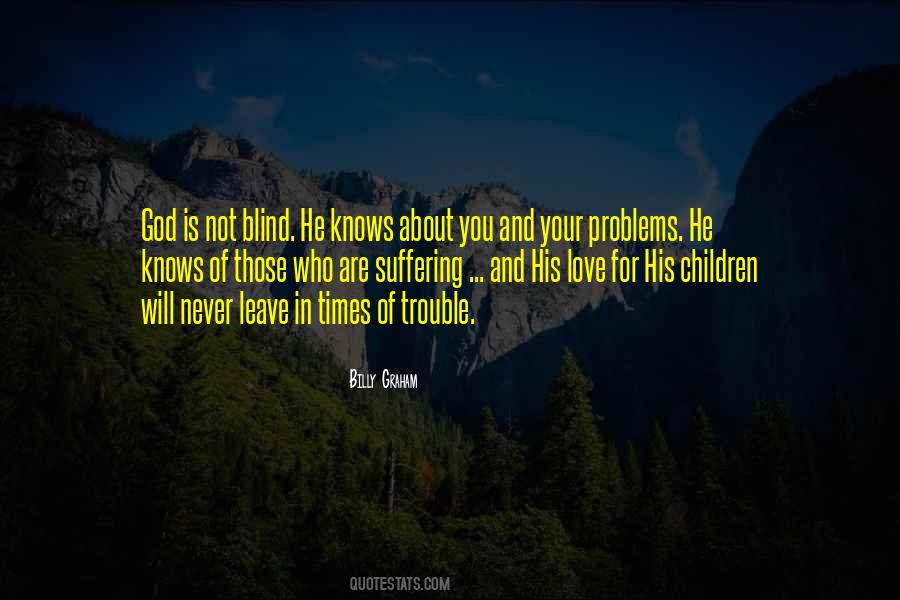 #50. Just continue to "walk in the light" you have been given, and leave the future in God's hands. If He is calling you to do a job, He will make it possible for you to care for your family and overcome any other barriers to that responsibility. - Author: James C. Dobson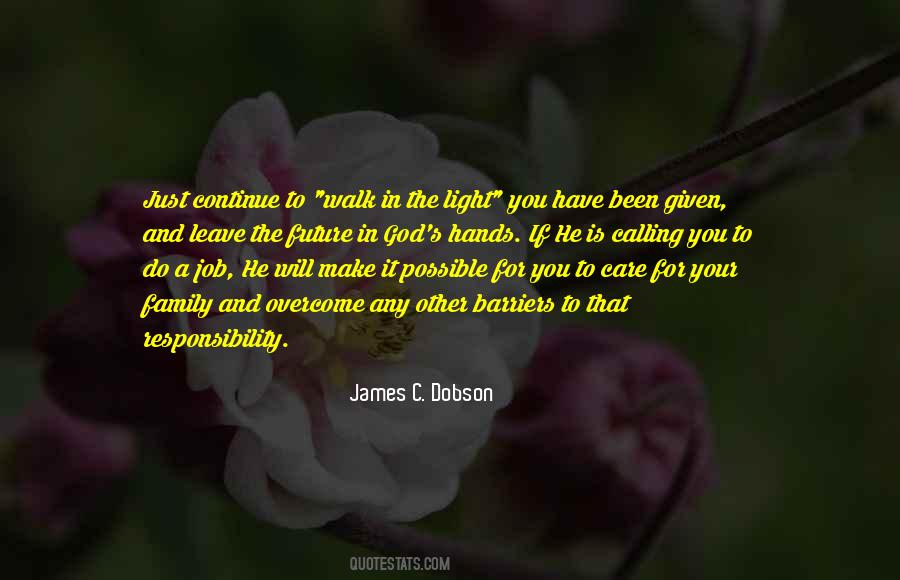 #51. As long as she is near or within his power to reach, he will be drawn to her, leaving less of him for others and that's why she had to leave. She knew, despite her own great desire, that there are consequences and responsibilities that are more important and life-altering than personal feelings. - Author: Donna Lynn Hope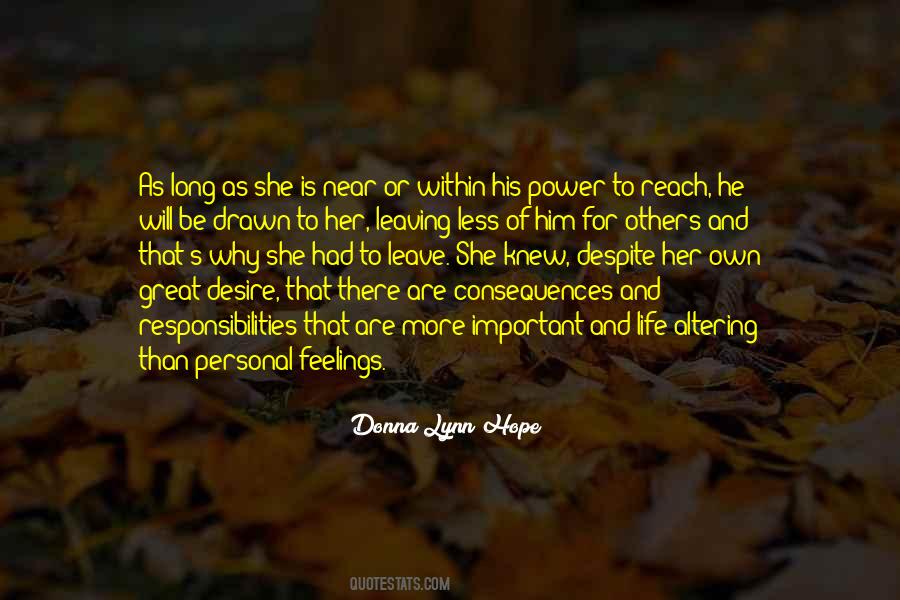 #52. A good man is like a good corset. He will always be supportive and never leave you hanging.
MISS ABIGAIL JENKINS, 1875 - Author: Margaret Brownley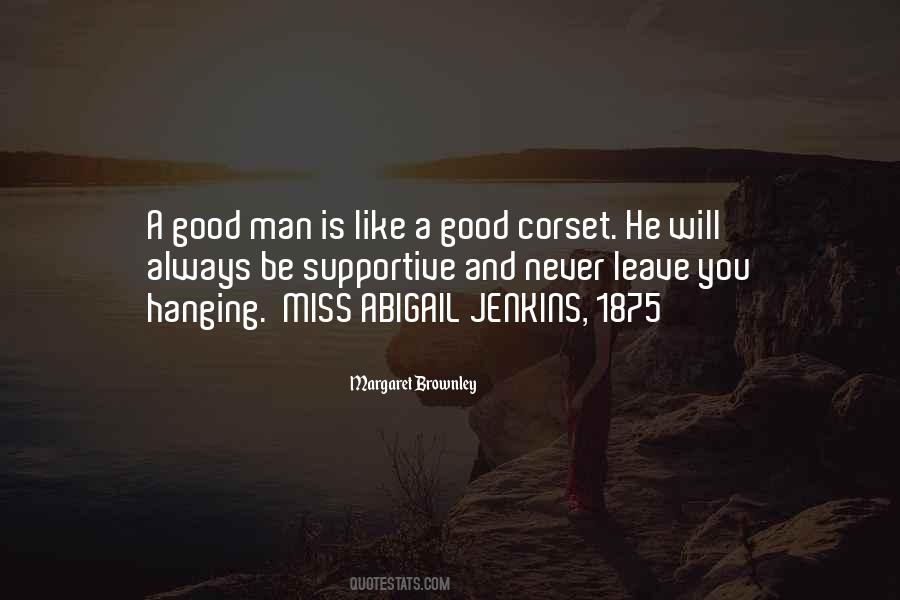 #53. You were planting a seed and a butterfly was standing on a flower afar, just watching you ... Do you know what it has in mind? It is just saying, "go ahead and plant ... I will help you with pollination". God will never leave you. He will make your flowers bear fruits if only you GO AHEAD - Author: Israelmore Ayivor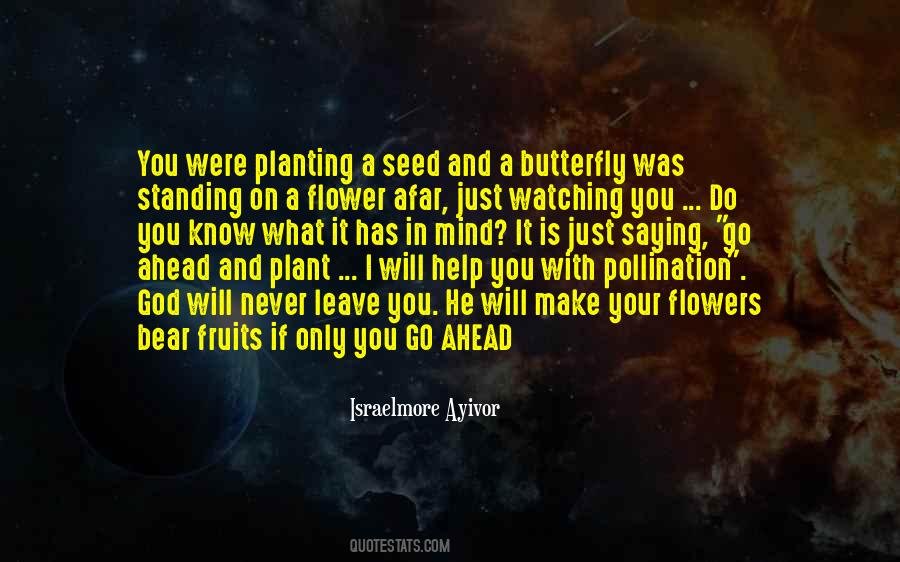 #54. You are beautiful," he said, "But I will have to leave you. - Author: Milan Kundera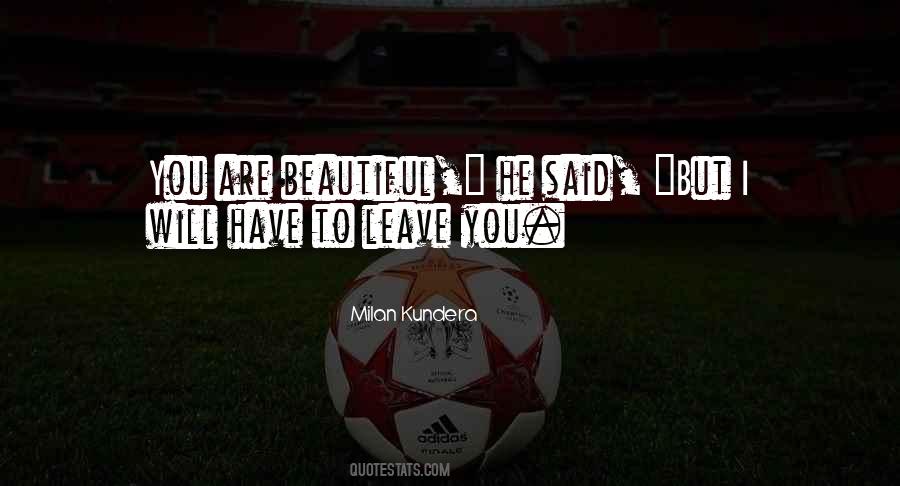 #55. If death is your lover, you don't got to be afraid ever that he will ever leave you - Author: Francesca Lia Block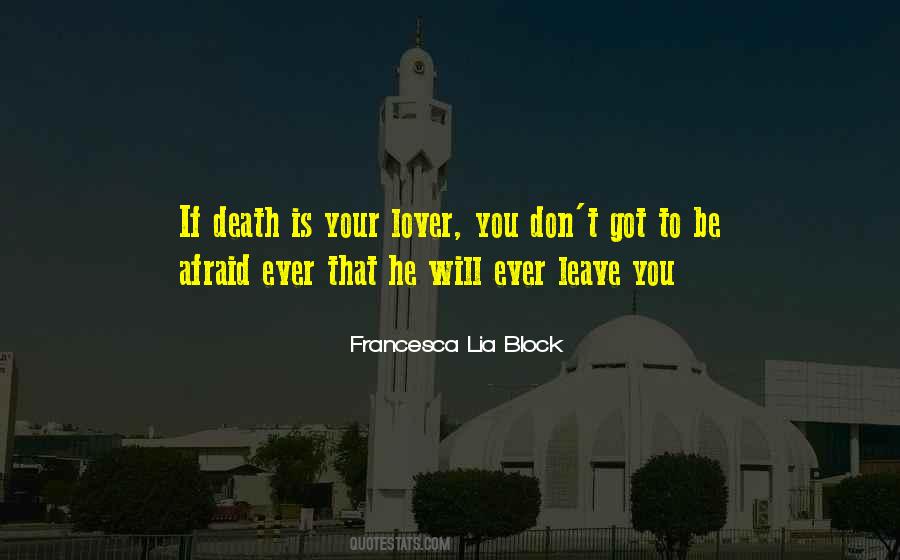 #56. Do I love him? Yes. Is he perfect? No. Am I? No. Will I leave him? No. Okay, that's resolved. Time for a nap. - Author: Karen Marie Moning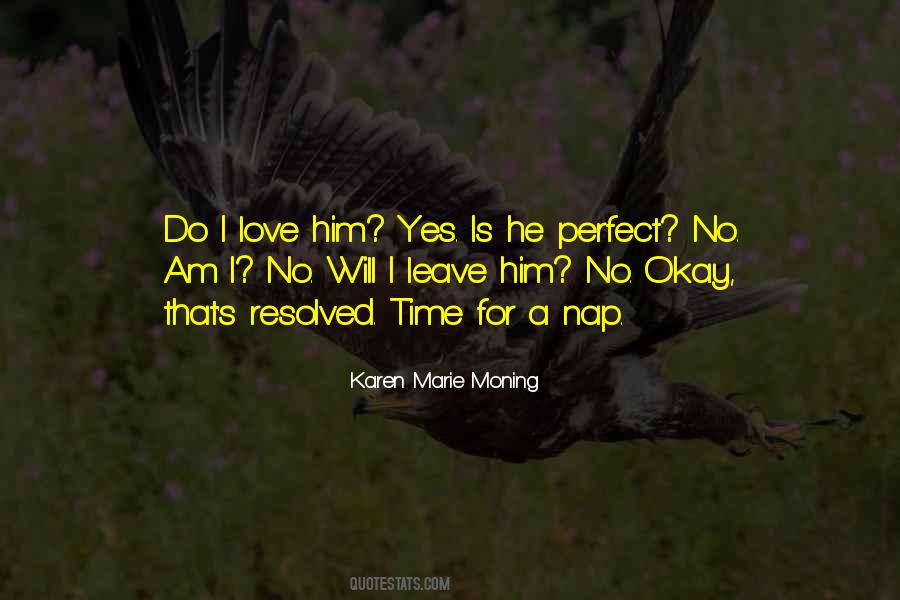 #57. You bring light to my life. When you leave, there will only be a black hole inside of me. You'll take my heart with you." His breath deepened and he looked into my eyes. "Vera, I am in love with you. - Author: Karina Halle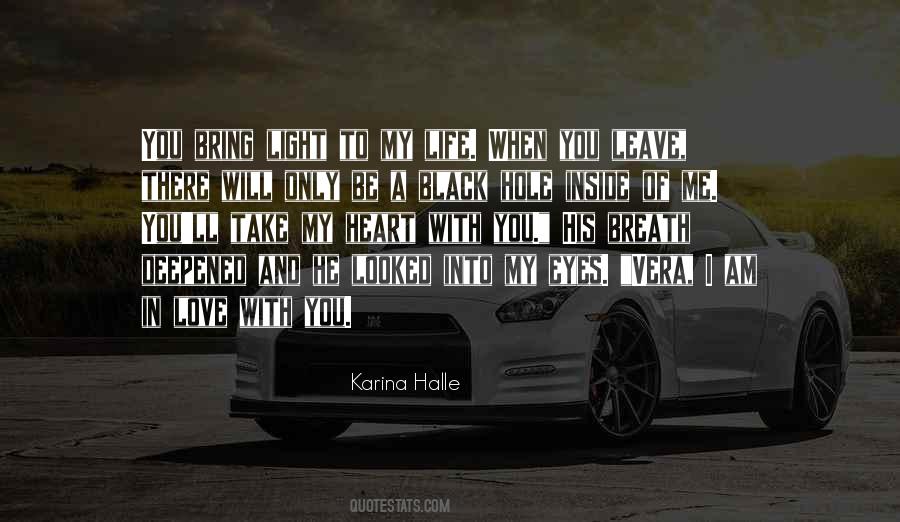 #58. The wind is awake, pretty leave, pretty leaves, Heed not what he says, he deceives, he deceives; Over and over To the lowly clover He has lisped the same love (and forgotten it, too). He will be lisping and pledging to you. - Author: John Vance Cheney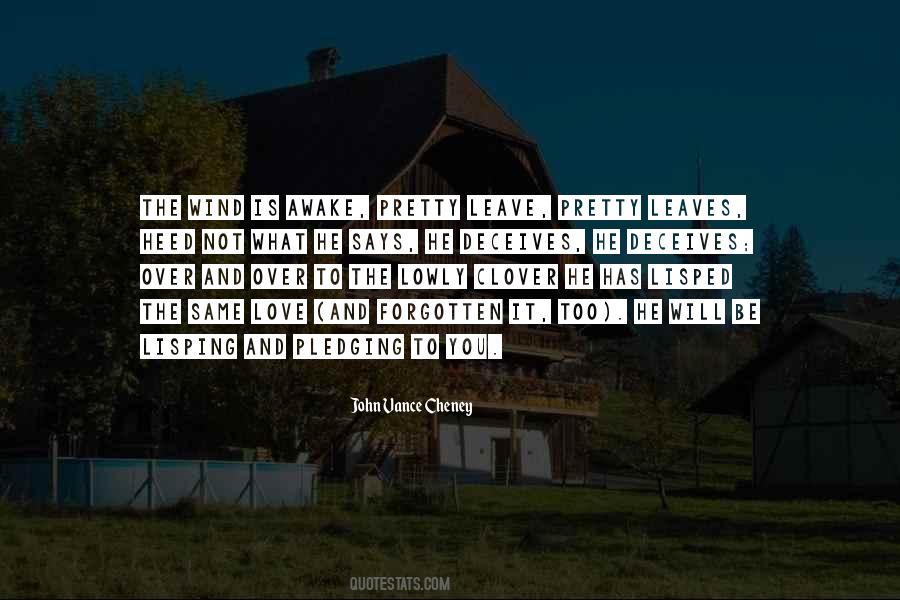 #59. I will protect him until I know he is safe and then I will have to leave him behind. I cannot be so selfish as to try to drag him into this war because of my own pain and suffering. - Author: Kia Carrington-Russell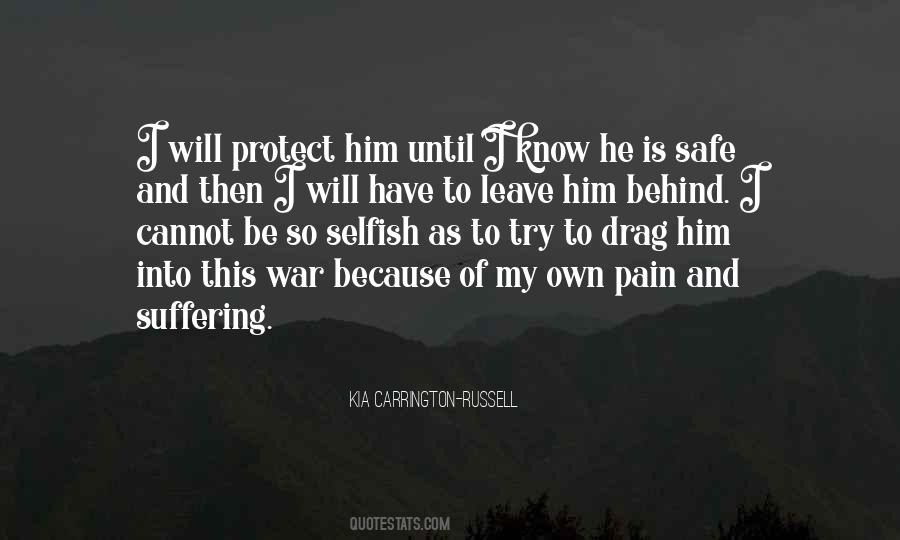 #60. I like to think of my people as mute optimists - leave the elephant alone and, eventually, perhaps with the help of a couple mimosas, he will disappear from the room on his own accord. - Author: Julie Buxbaum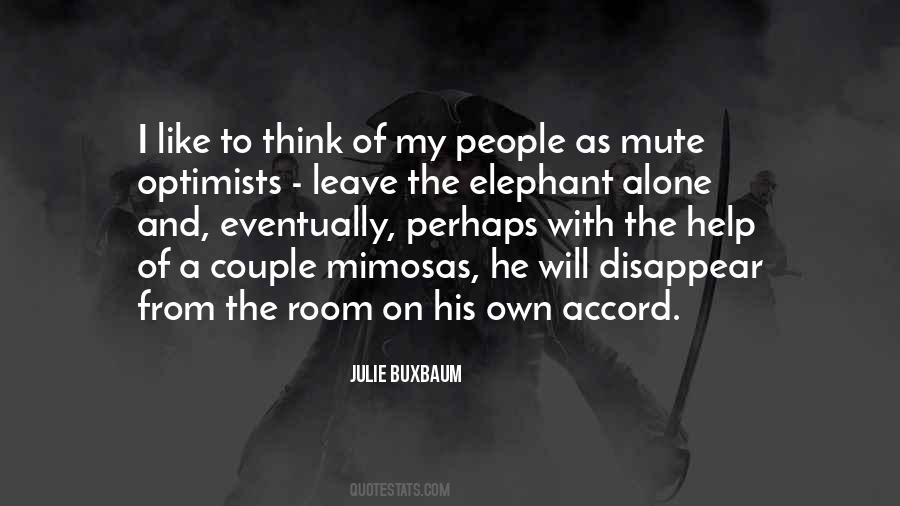 #61. To take Christ into our well-ordered, well-kept lives is in many ways to ask for trouble, for he will not leave well enough alone. - Author: Ronnie McBrayer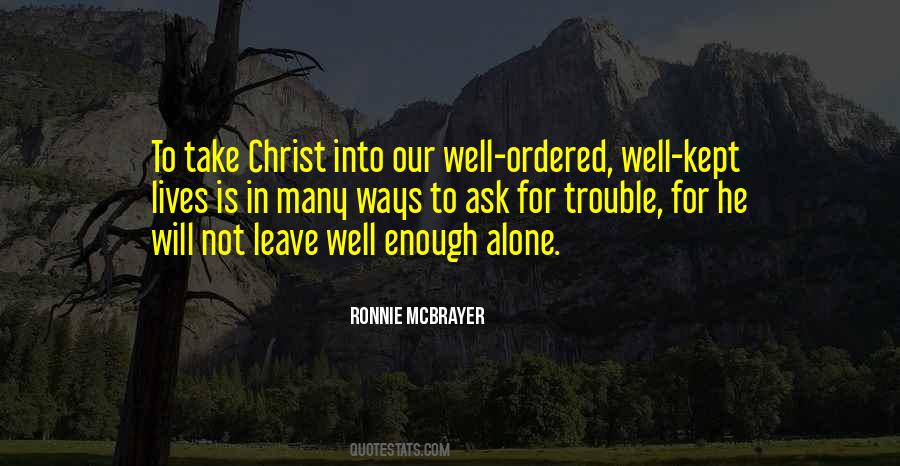 #62. The LORD himself goes before you and will be with you; he will never leave you nor forsake you. Do not be afraid; do not be discouraged. - Author: Anonymous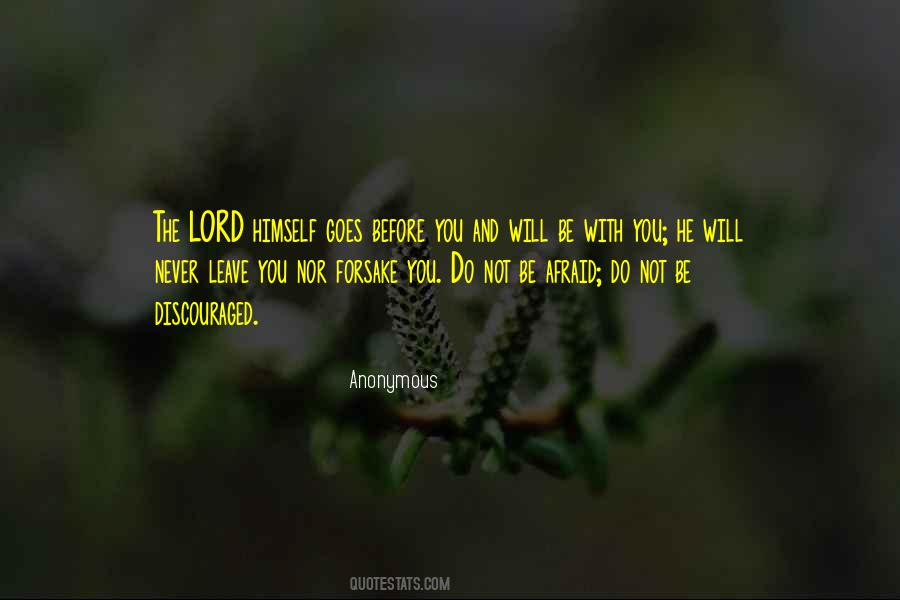 #63. It's who I am. I can't just pretend to be some normal kid. That won't work either. They'll never leave me alone. But here's what I know: a block is a strike, and the more an adversary thinks he has succeeded, the more devastating the strike will be. - Author: Jacques Antoine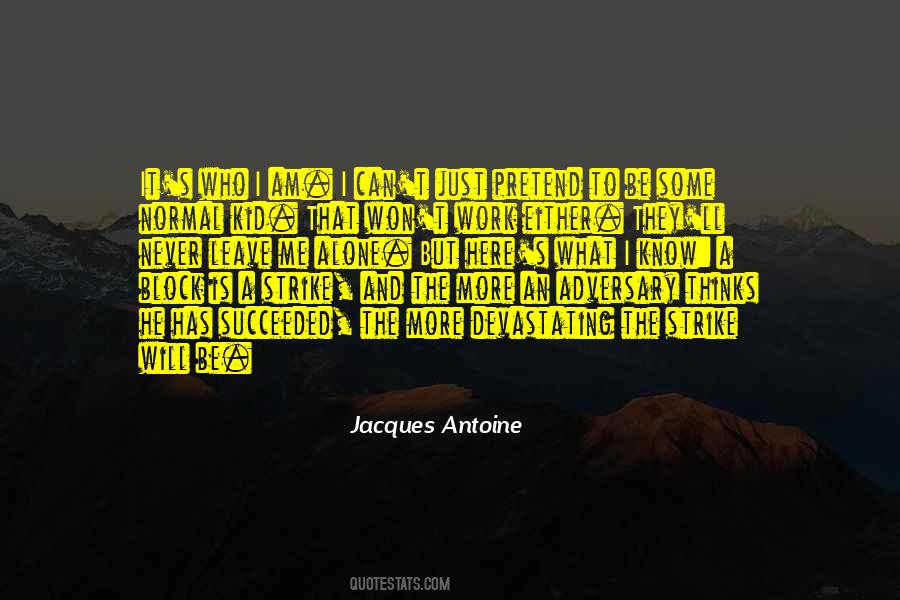 #64. I'll come back to you," he whispered, not meaning to say it out loud. "And I will ravish you over breakfast, and I will never leave you alone another night of my life. - Author: Charlotte Featherstone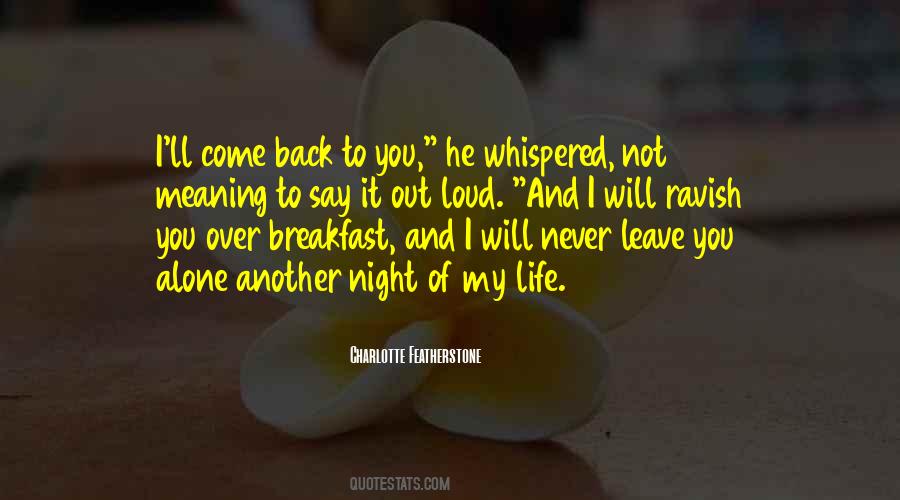 #65. I suppose that every one of us hopes secretly for immortality; to leave, I mean, a name behind him which will live forever in this world, whatever he may be doing, himself, in the next. - Author: A.A. Milne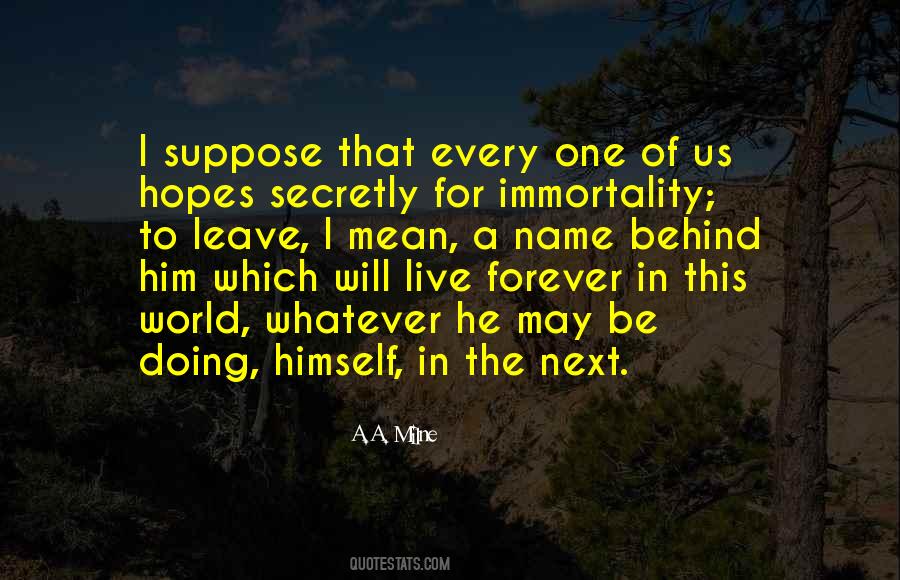 #66. PSA37.32 The wicked watcheth the righteous, and seeketh to slay him. PSA37.33 The LORD will not leave him in his hand, nor condemn him when he is judged. - Author: Anonymous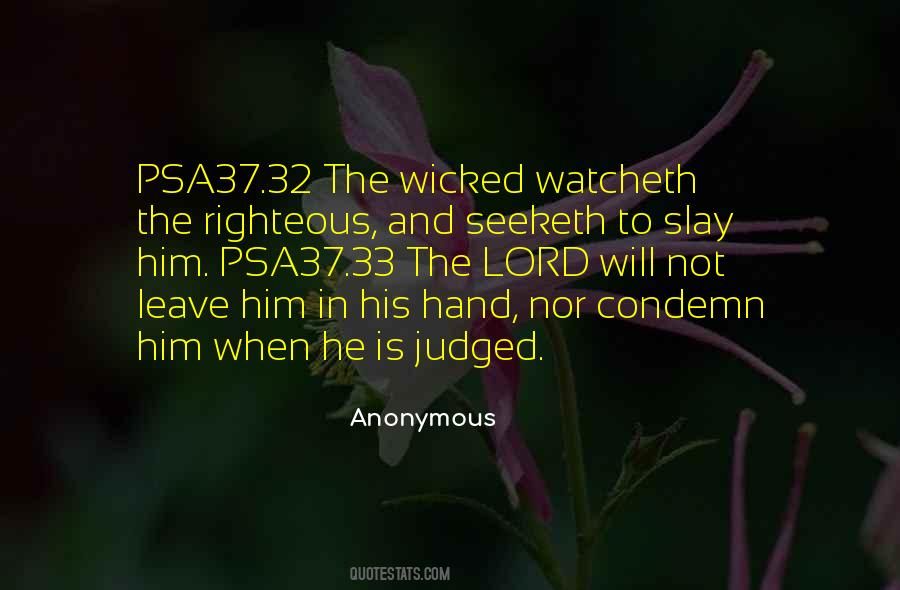 #67. If we aren't profitable by December 20, I will close the business. That would leave him about $800,000, plus his retirement money and home, and he would do something else to earn a living. - Author: Dave Ramsey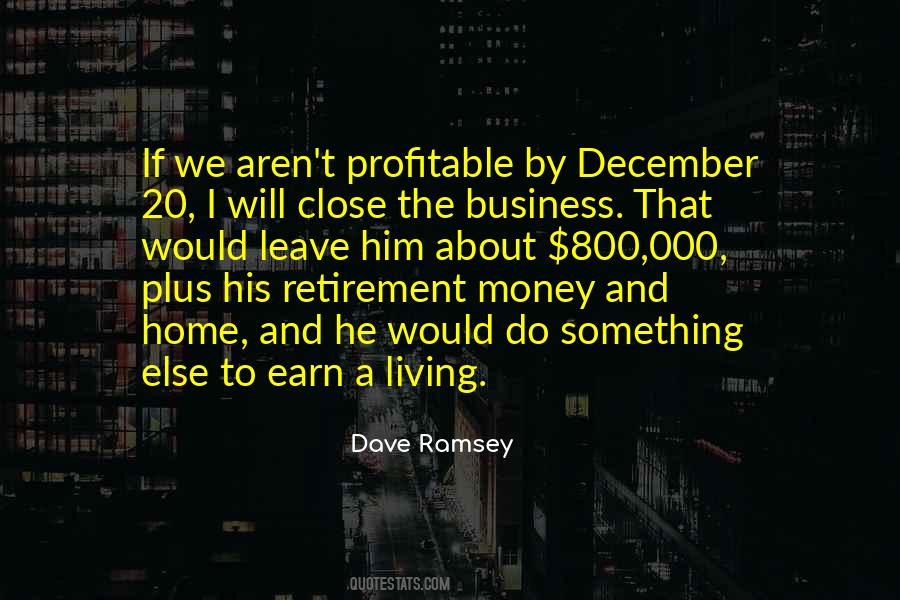 #68. My queen," he breathed, one hand reaching up to frame my cheek, making my stomach jump and twirl. "I belong to you. No matter what Mab says, no matter how long I've been in Tir Na Nog, my life is yours. Nothing will ever make me leave your side. - Author: Julie Kagawa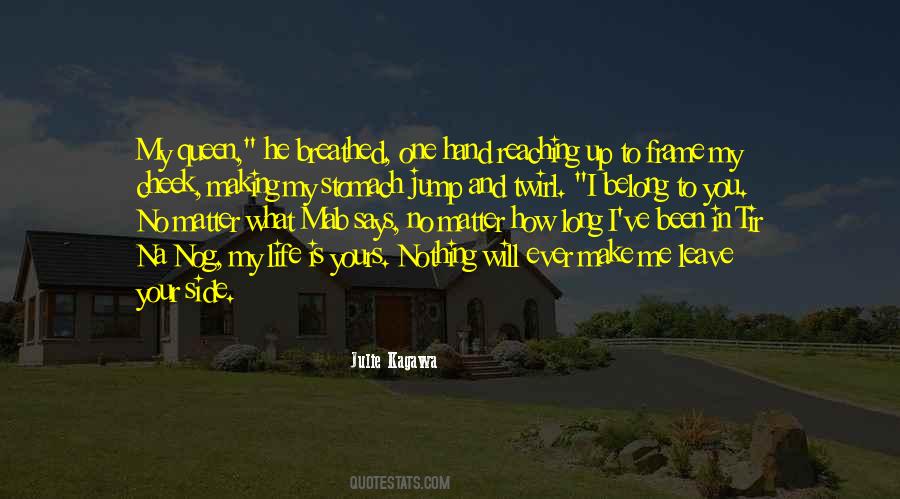 #69. He will provide the way and the means, such as you could never have imagined. Leave it all to Him, let go of yourself, lose yourself on the Cross, and you will find yourself entirely. - Author: St. Catherine Of Siena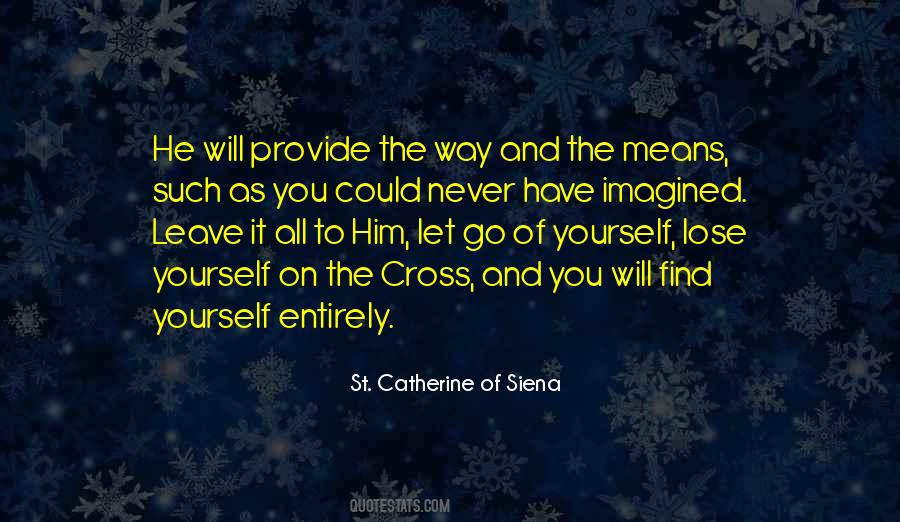 #70. Character enough of an opposite description ... My opinion is ... that you could as soon scrub the blackamore white, as to change the principles of a profest Democrat; and that he will leave nothing unattempted to overturn the Government of this Country. - Author: George Washington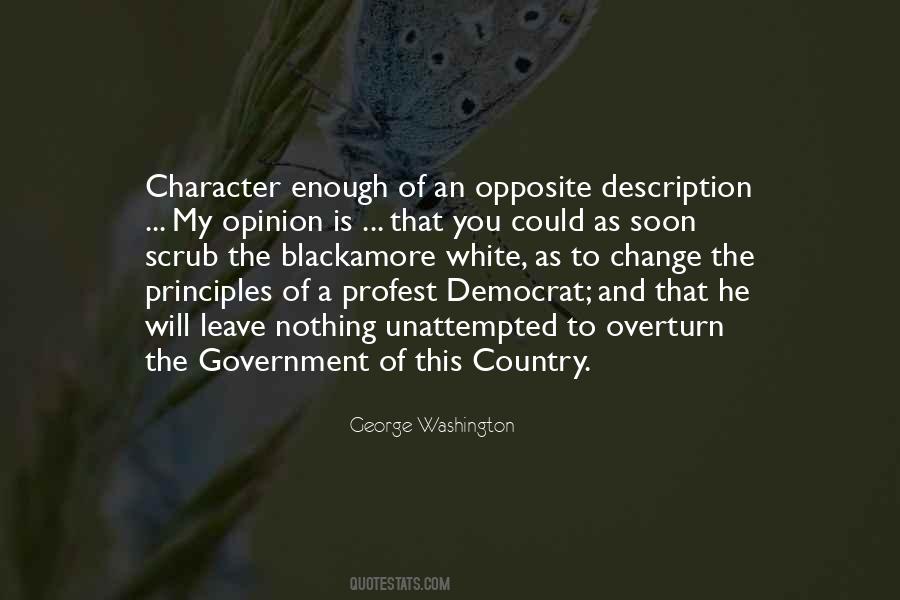 #71. Up on the Brooklyn Bridge a man is standing in agony, waiting to jump, or waiting to write a poem, or waiting for the blood to leave his vessels because if he advances another foot the pain of his love will kill him. - Author: Henry Miller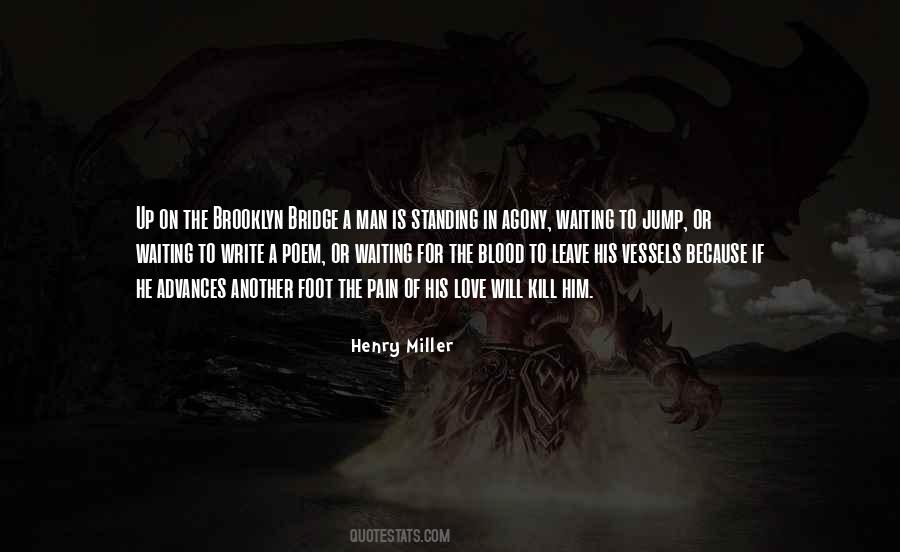 #72. If you make a fool of yourself in front of a cat, he will sneer at you, if you are sober; he will leave the room if you are drunk. If you make a fool of yourself in front a dog, he will make a fool of himself, too. - Author: Chuck Jones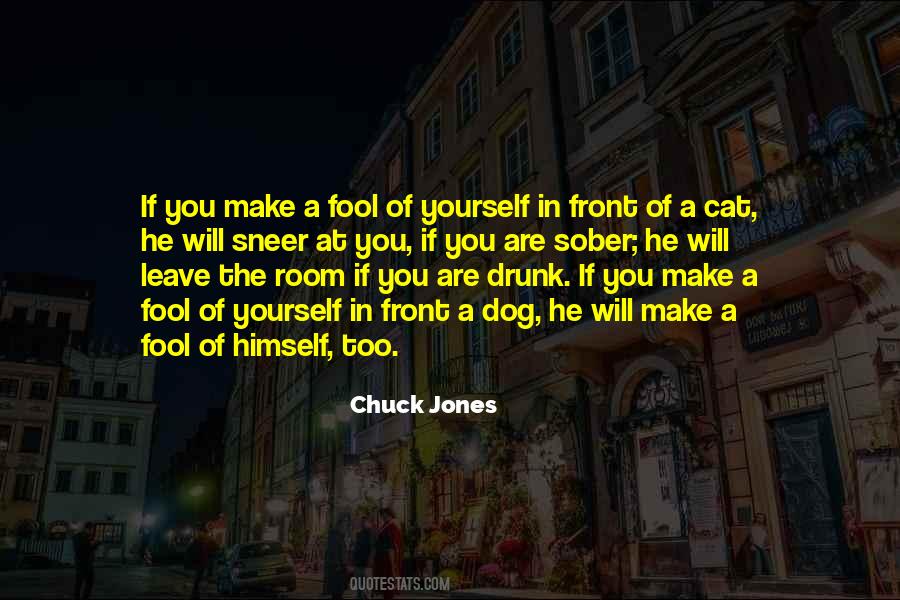 #73. God is good at both comfort and challenge. You remember He says I am with you always, I will neither leave you nor forsake you, you are the apple of my eyes, you are a complete package, you don't need somebody to complete you, I know what you need. - Author: Patience Johnson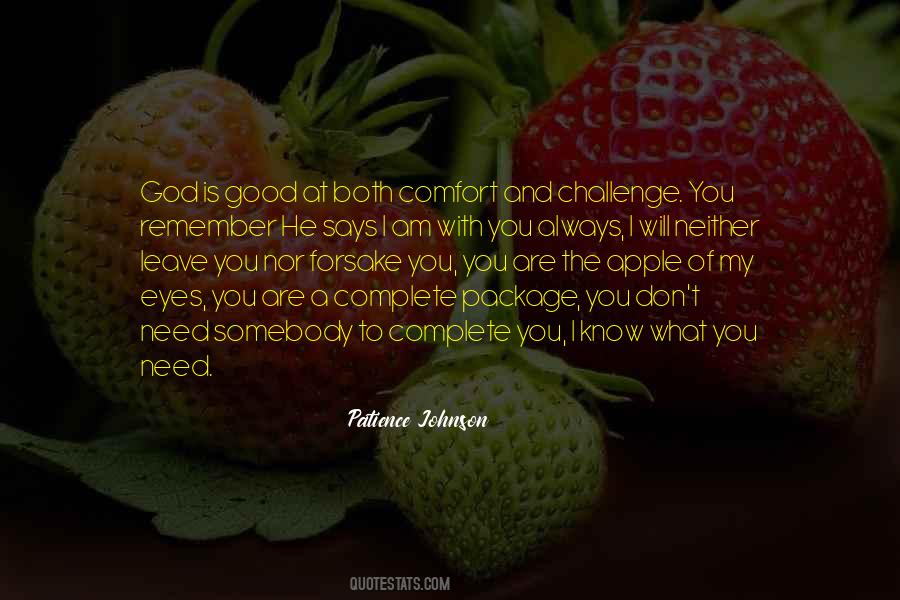 #74. The Bible tells us that God will meet all our needs. He feeds the birds of the air and clothes the grass with the splendor of lilies. How much more, then, will He care for us, who are made in His image? Our only concern is to obey the heavenly Father and leave the consequences to Him. - Author: Charles Stanley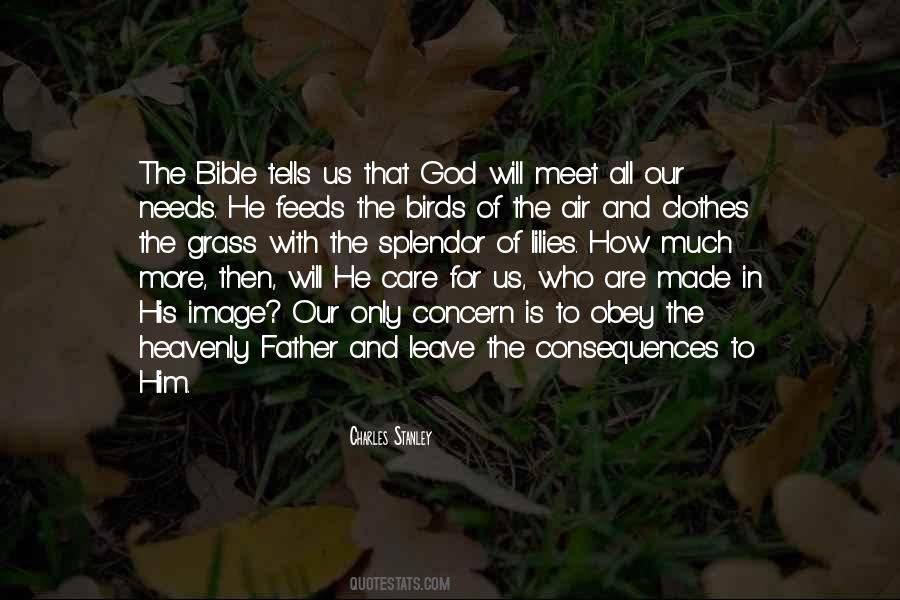 #75. 18 Then I hated all my labor in which I had toiled under the sun, because I must leave it to the man who will come after me. 19 And who knows whether he will be wise or a fool? - Author: Anonymous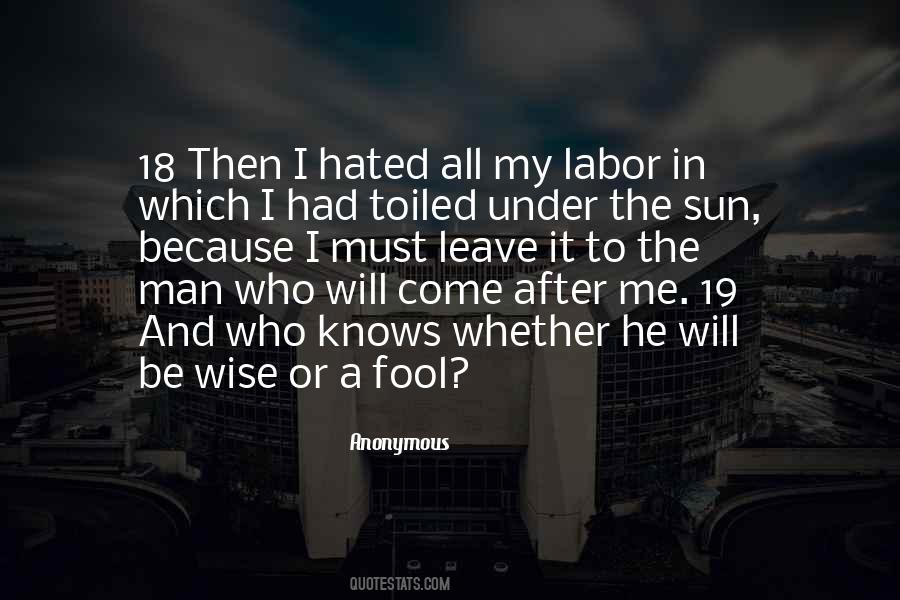 #76. The man I am writing about is not famous. It may be that he never will be. It may be that when his life at last comes to an end he will leave no more trace of his sojourn on earth than a stone thrown into a river leaves on the surface of the water. - Author: W. Somerset Maugham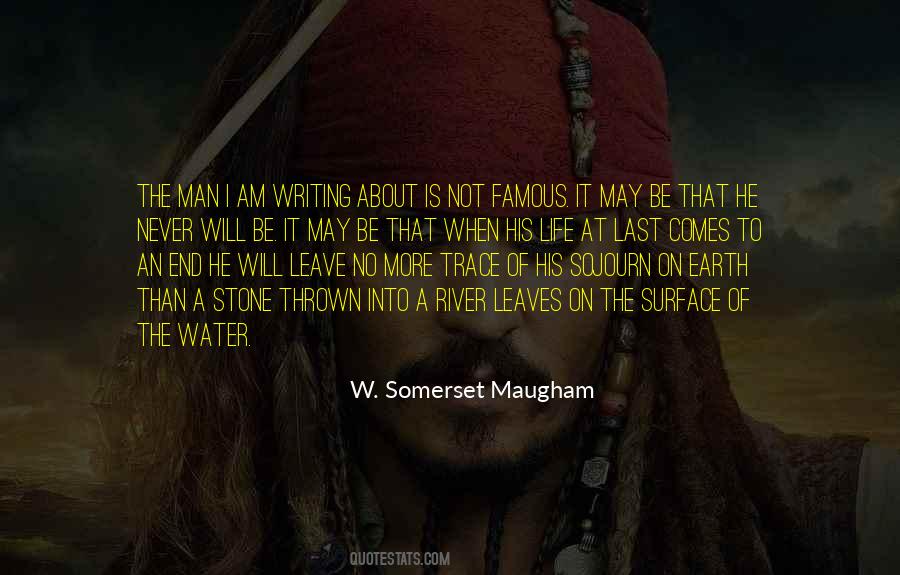 #77. You will leave Starkiller at once and come to me with Kylo Ren. Leave immediately." He added grimly, "It appears that he may have been right about the girl. - Author: Alan Dean Foster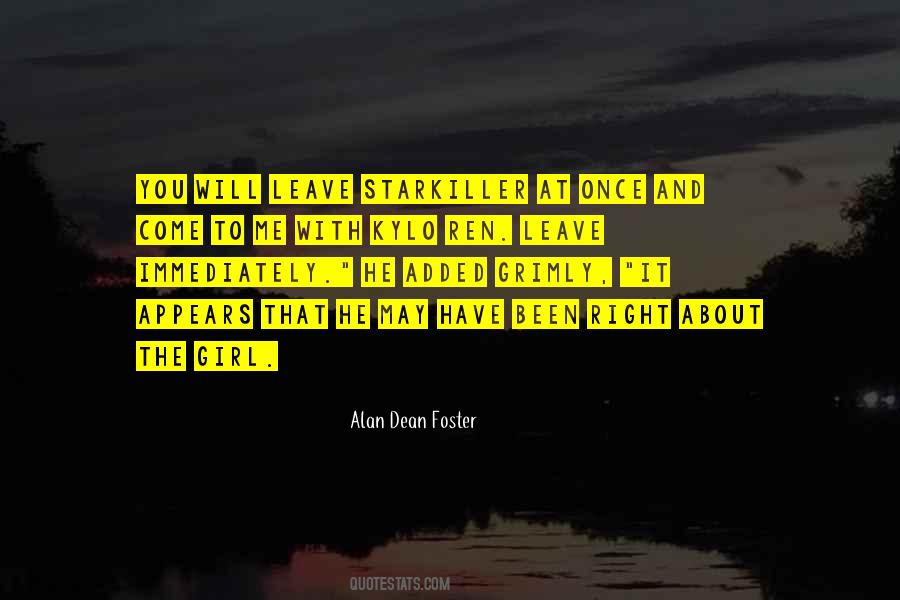 #78. Now we see you, you nasty little creature! We will eat you and leave your bones and skin hanging on a tree. Ugh! he's got a sting has he? Well, we'll get him all the same, and then we'll hang him head downwards for a day or two." While - Author: J.R.R. Tolkien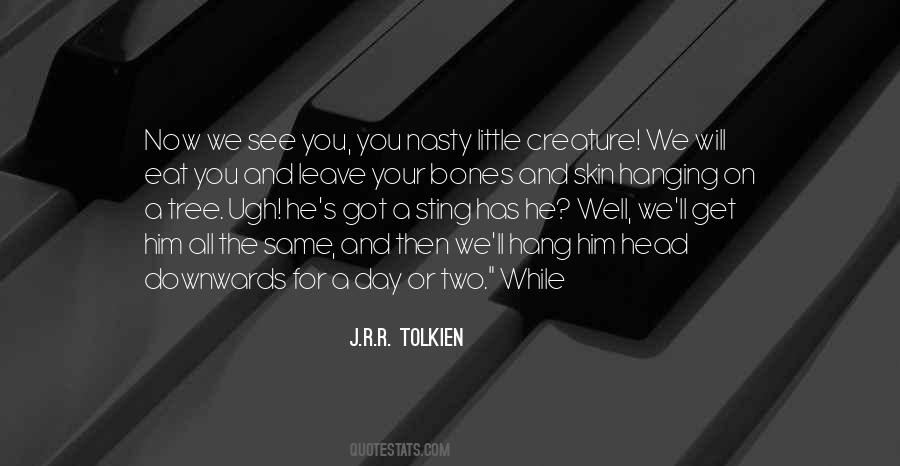 #79. But then he whispers, "It will be okay, Mary." He pulls my head down to his chest and he wraps both his arms around me and all I can think is why can't life just stop here and now and leave us be in this moment. - Author: Carrie Ryan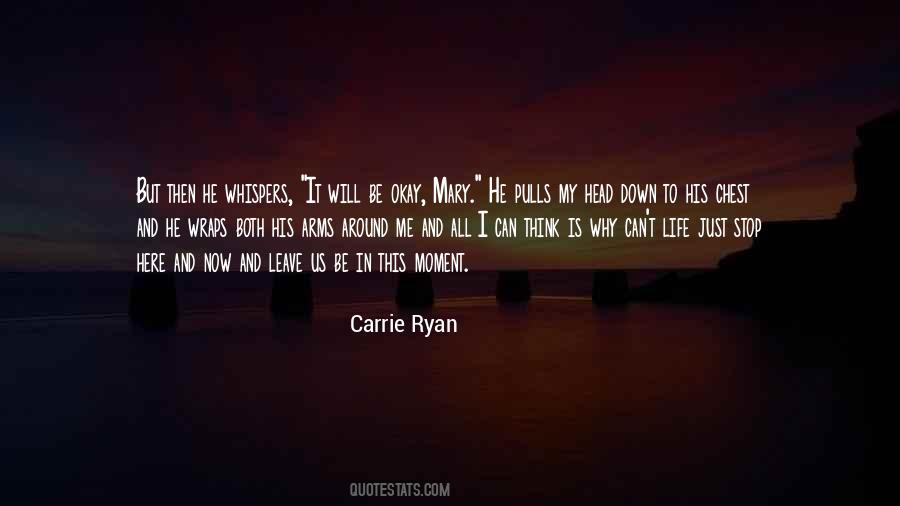 #80. Just when I thought this couldn't get any worse, he opens his mouth and tears me down even further. I'm starting to believe that my time with Jackson Stone will leave me even more damaged than I ever thought possible. - Author: Anonymous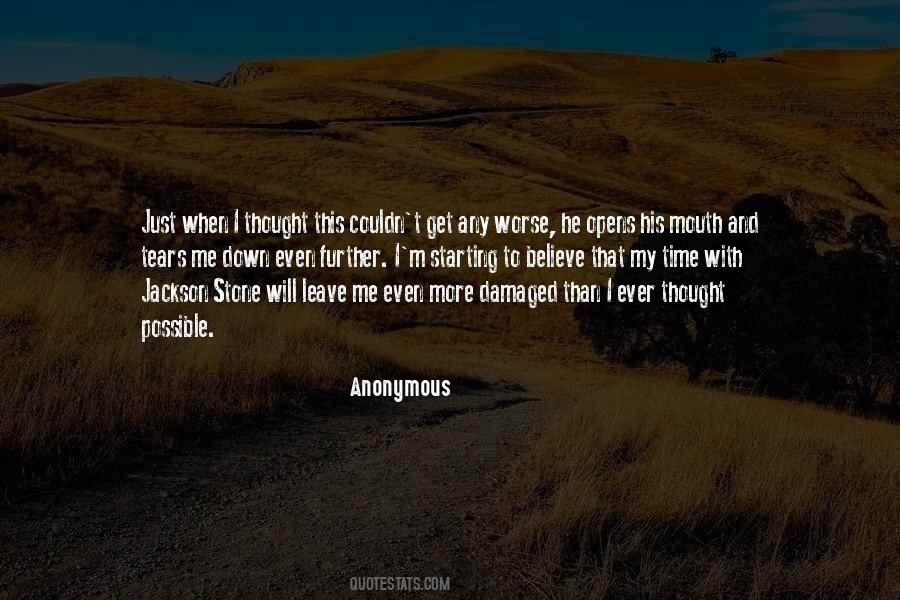 #81. You have a wonderful child. Then, when he's thirteen, gremlins carry him away and leave in his place a stranger who gives you not a moment's peace. You have to hang in there, because two or three years later, the gremlins will return your child and he will be wonderful again. - Author: Jill Eikenberry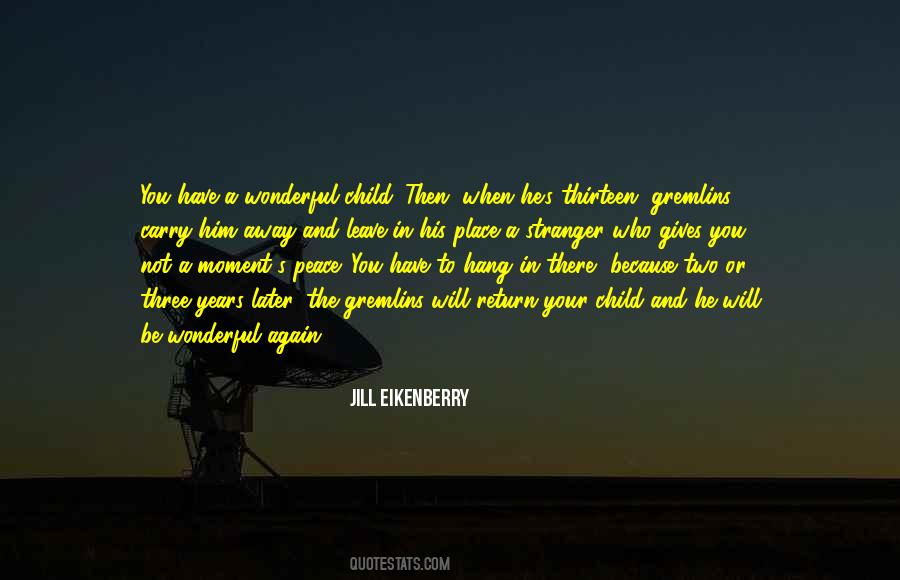 #82. A person who doesn't understand both sides of an issue can't relate to the side he is trying to sway, so his words will bounce off of them without leaving any impression. - Author: Daniel Willey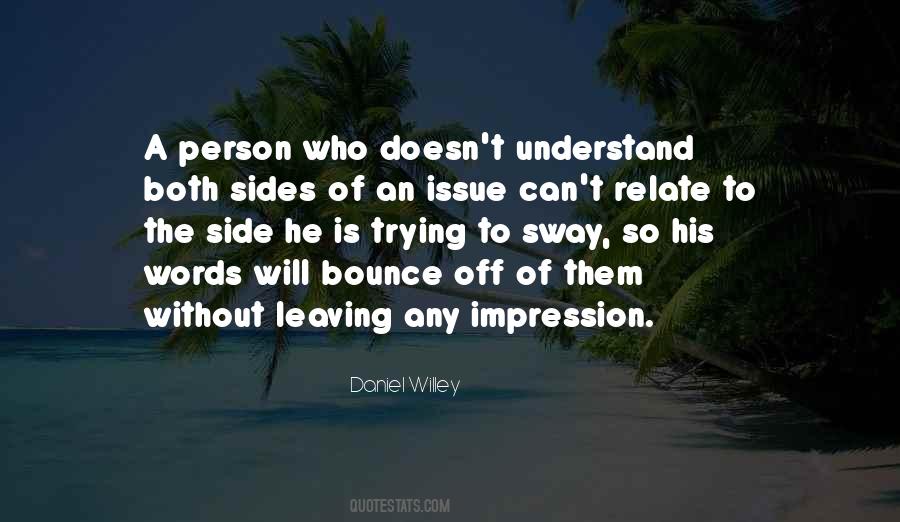 #83. I would do anything for you, lass. You only have but to ask. Sleep now, and we will leave soon."
"I am...ready for more," she whispered.
He laughed. "'Tis good to know. I have been ready forever. - Author: Terry Spear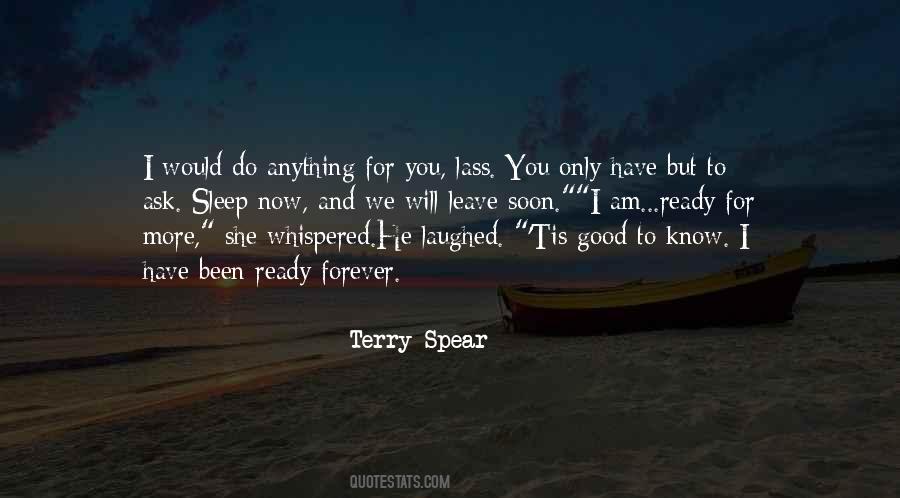 #84. The home only fulfills its true purpose when it is God-controlled. Leave Jesus Christ out of your home and it loses its meaning. But take Christ into your heart and the life of your family, and He will transform your home. - Author: Billy Graham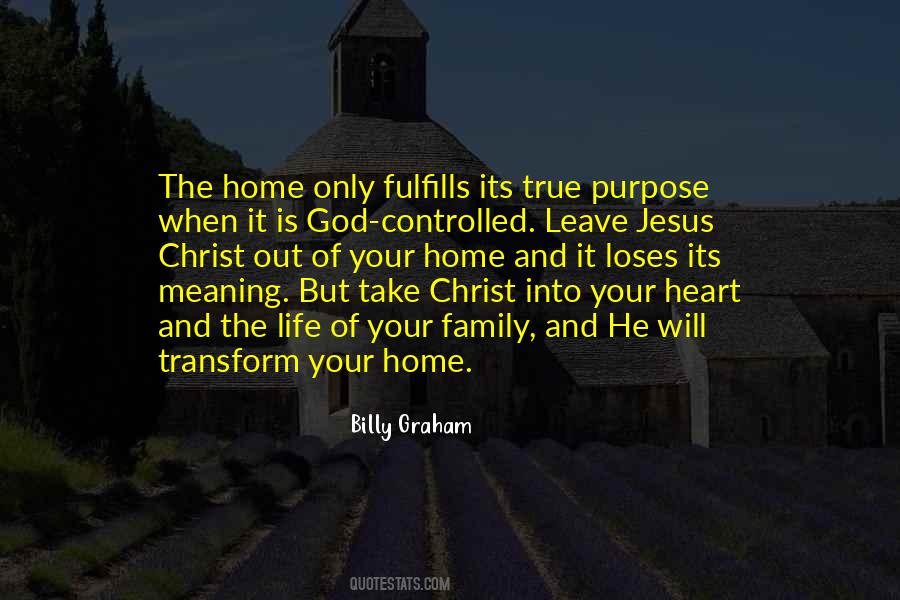 #85. If he was, somehow at the margin deficient, it was because the country did not rise to ask of him the performance of a thunderbolt. He gave what he was asked to give. And he leaves us (or "will leave") if not exactly bereft, lonely; lonely for the quintessential American. END. - Author: William F. Buckley Jr.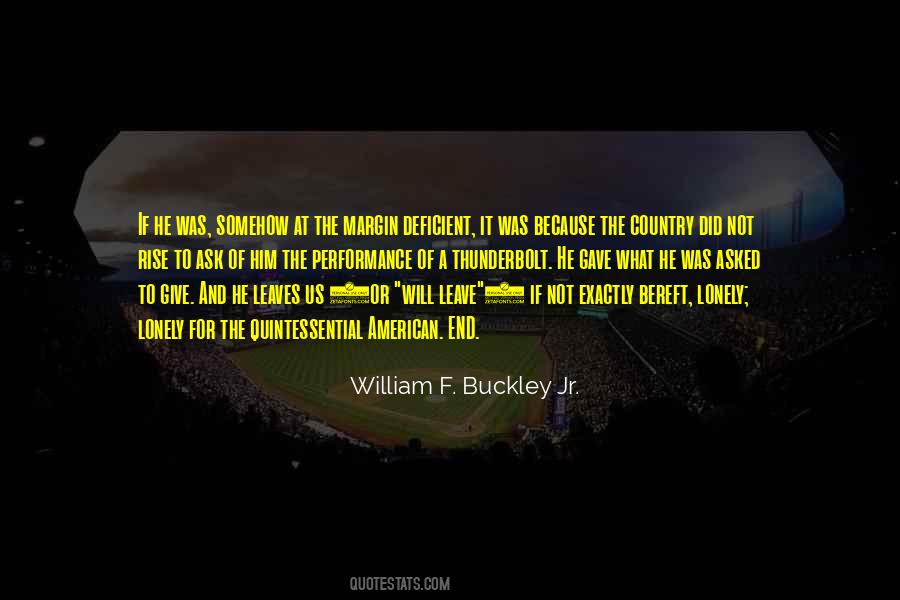 #86. There are times in a man's life when he says things he will never be able take back. It's true words can have a physical impact on somebody. A person can concuss with their words. Words can snap as fast as a trap in the woods and leave a victim to writhe for weeks. - Author: Donald Miller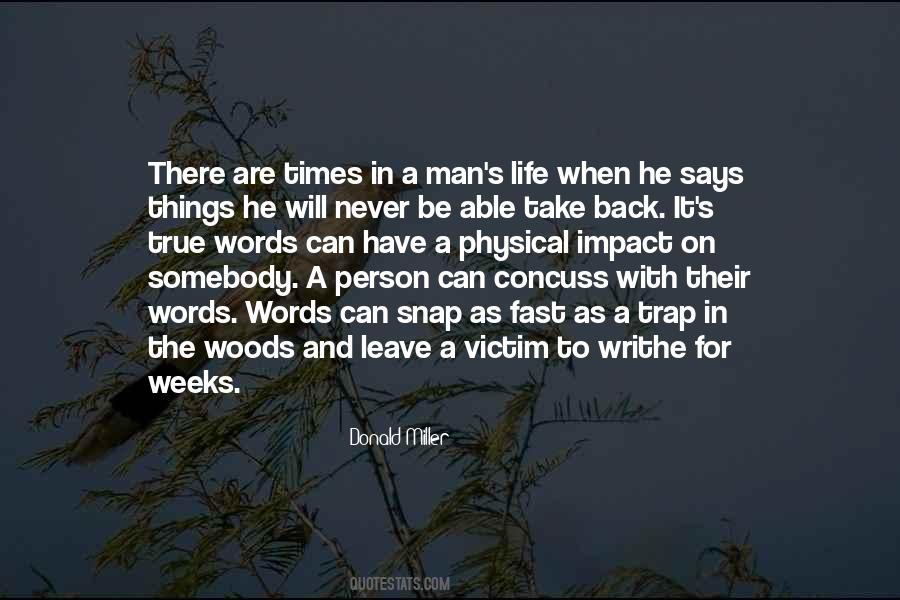 #87. I take it that it is best for all to leave each man free to acquire property as fast as he can. Some will get wealthy. I dont believe in a law to prevent a man from getting rich; it would do more harm than good. - Author: Abraham Lincoln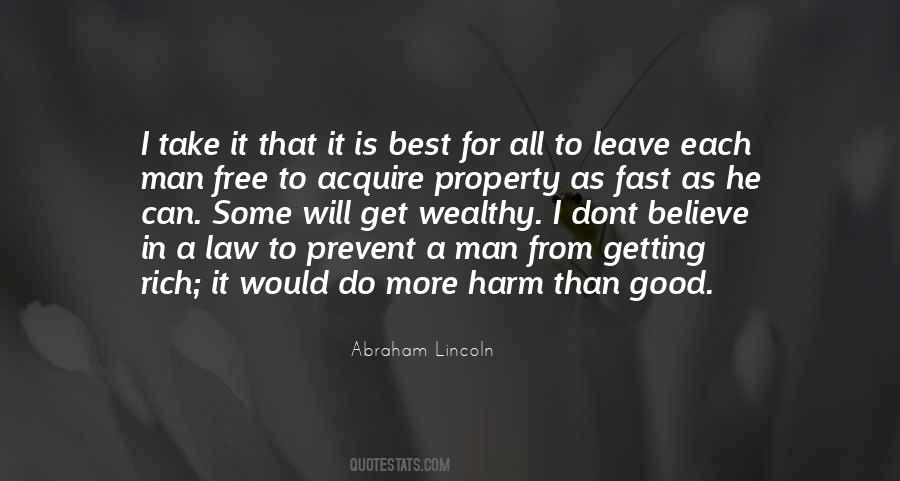 #88. He will hear this voice in uneasy dreams for the rest of his life, never quite remembering what he has dreamed, only knowing that the dreams leave him feeling ill somehow - walking restlessly, straightening pictures in loveless rooms, listening to the call to muzzein in alien town squares. - Author: Stephen King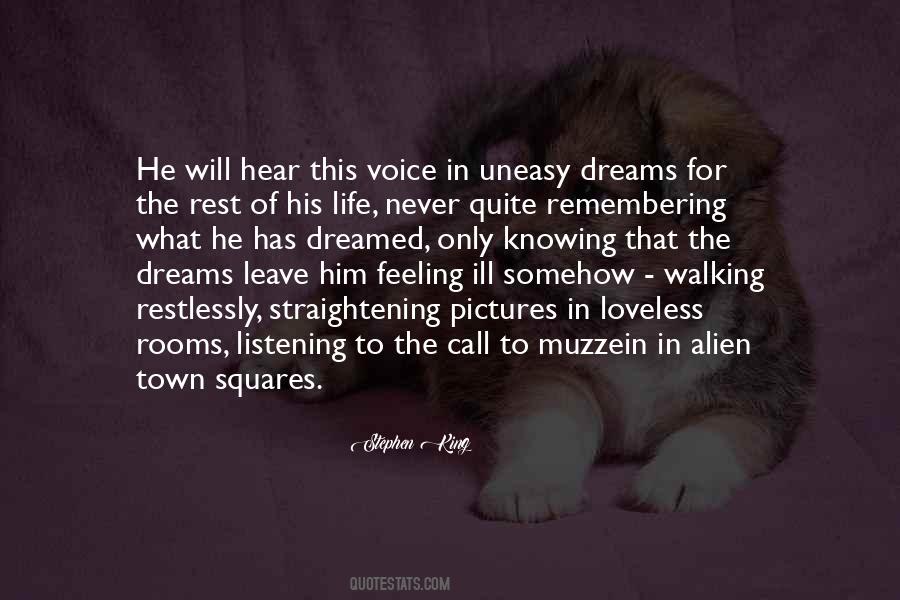 #89. With very little ado I stop the first sally of my emotions, and leave the subject that begins to be troublesome before it transports me. He who stops not the start will never be able to stop the course; he who cannot keep them out will never, get them out when they are once got in; - Author: Michel De Montaigne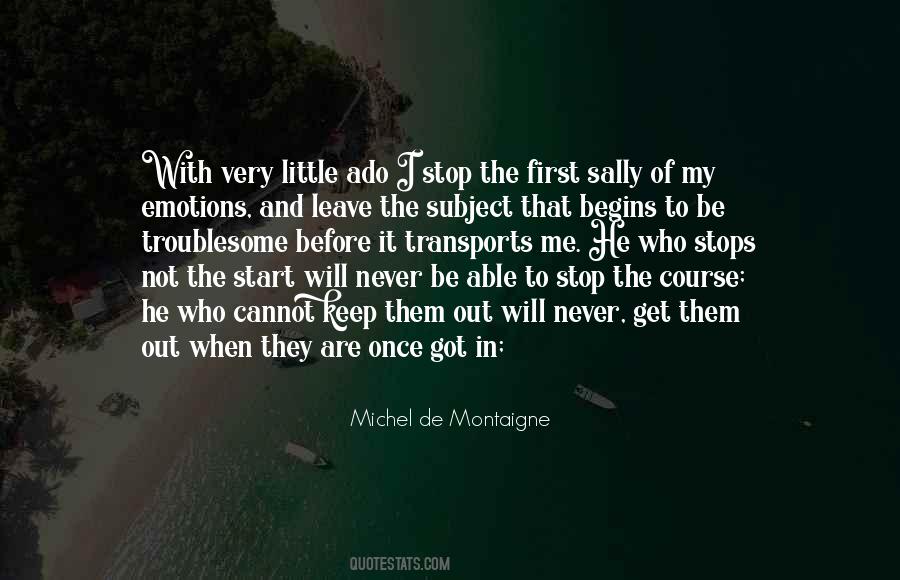 #90. I know you better then anyone. You're practically my son, and I think that it's the fact that you don't want to see her leave. You are afraid of change." He paused; he was right. "You are afraid that she will change. - Author: Shannon A. Thompson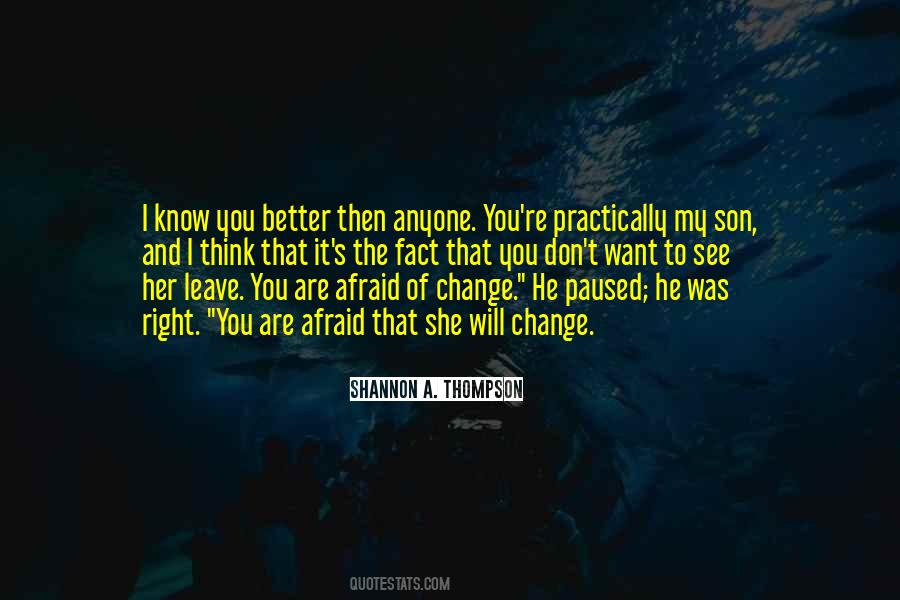 #91. The most important lesson that I have learned is to trust God in every circumstance. Lots of times we go through different trials and following God's plan seems like it doesn't make any sense at all. God is always in control and he will never leave us. - Author: Allyson Felix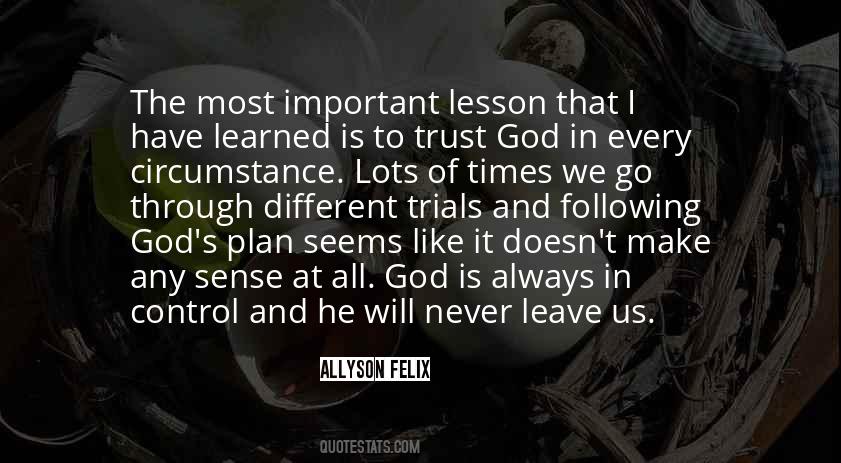 #92. It's important that he accepts my love for Jeb. I'll have to tell Jeb the same thing about Morpheus before I'm gone. I will not leave them with lies hanging between us. "I love you both." - Author: A.G. Howard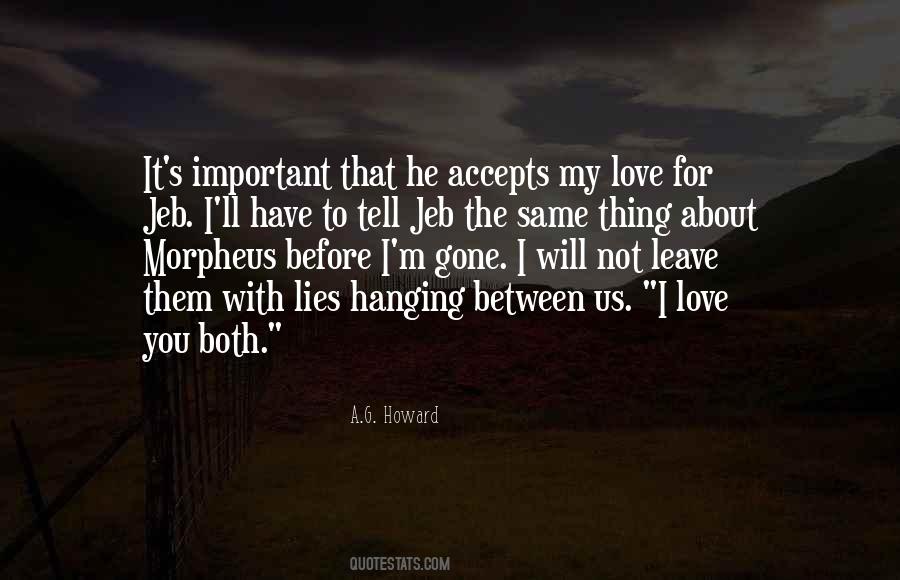 #93. You always blush when you lie."
"I do not." I felt the flush spread down my neck.
"If you keep lying, I think I will have to leave," he threatened halfheartedly. "I don't feel like my virtue is safe."
"You're virtue?" I huffed. "Whatever."
"I know how you get." His eyes closed. - Author: Jennifer L. Armentrout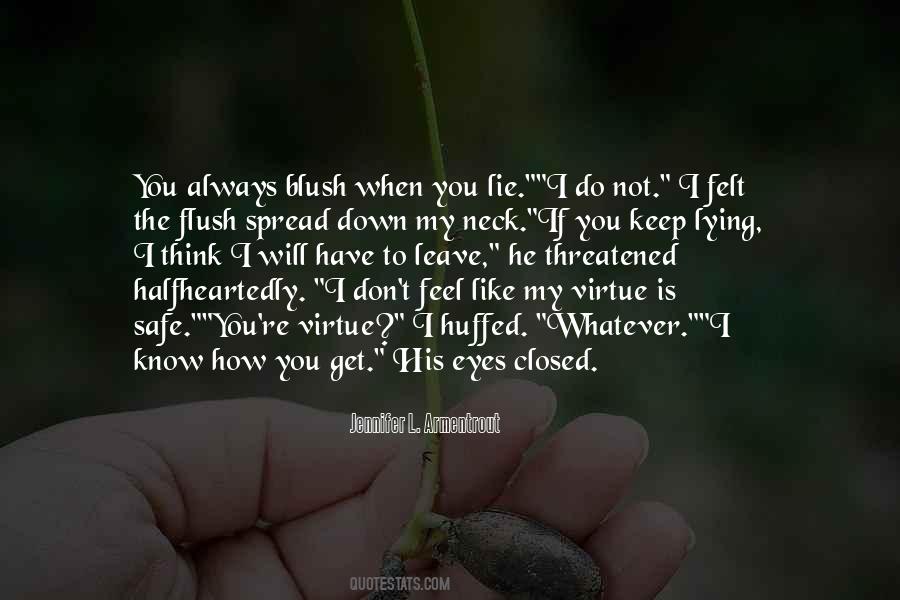 #94. We have someone with us who is dying
someone whose spirit is ready to leave this world, she thought to the tree. But he wants to be with his clan. With his forest. Will you take us? - Author: Tony DiTerlizzi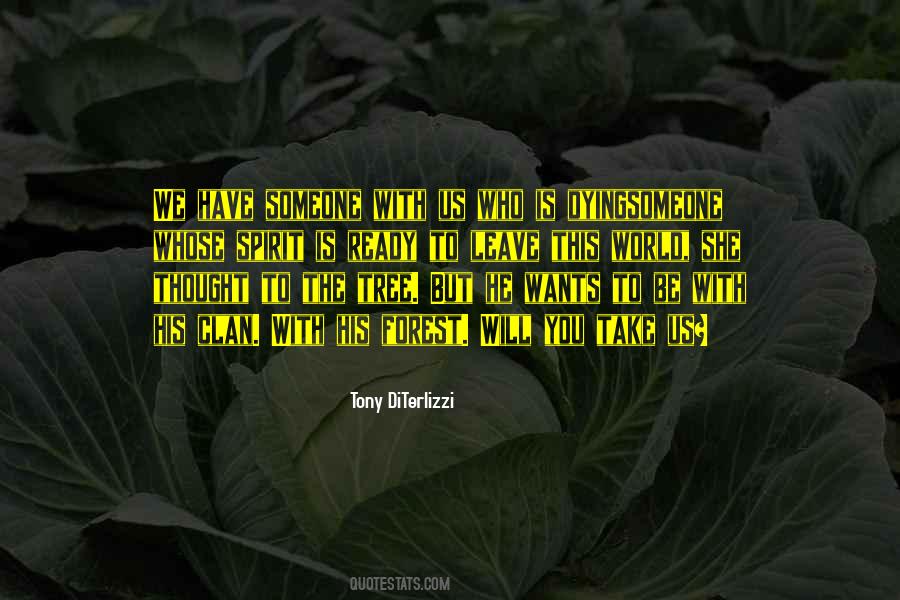 #95. A farmer slaughters his cattle because he must eat to survive, but he also protects the herd from thieves and predators. If you leave the pen, the wolves will find you, child. - Author: Rachel Vincent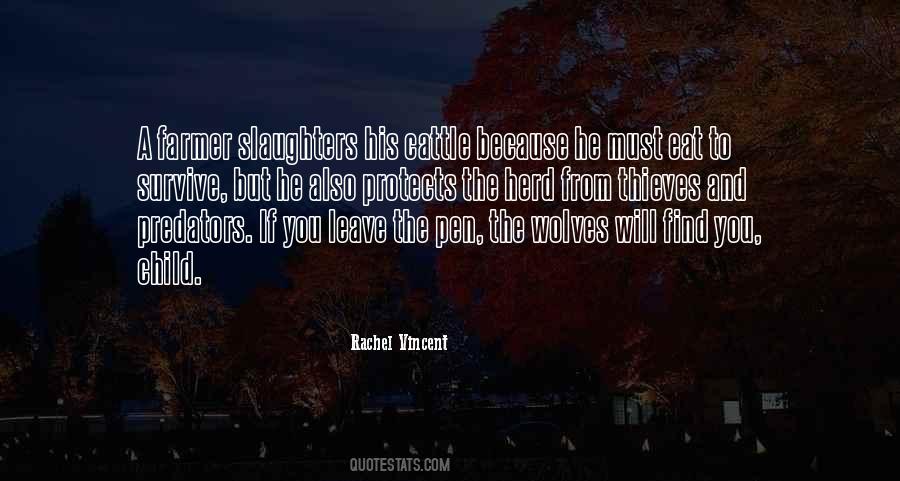 #96. God hasn't forgotten you, God will never forget you. He says He will never leave you comfortless, and He won't. You can't use Him up or wear Him out. Hang on to him. He wont forget you. So please don't forget Him. - Author: Krickett Carpenter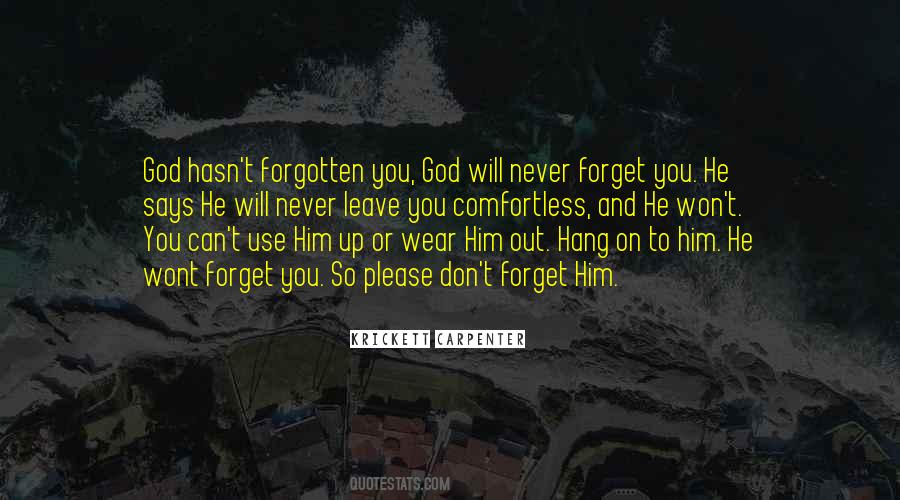 #97. I will not be defined by the marks left on me by the world, but by the mark I leave on the world (referring to the facial scars he still carries from his successful 1991 battle against cancer, which caused him to be turned down for a customer service job because he was "too ugly"). - Author: James Houston Turner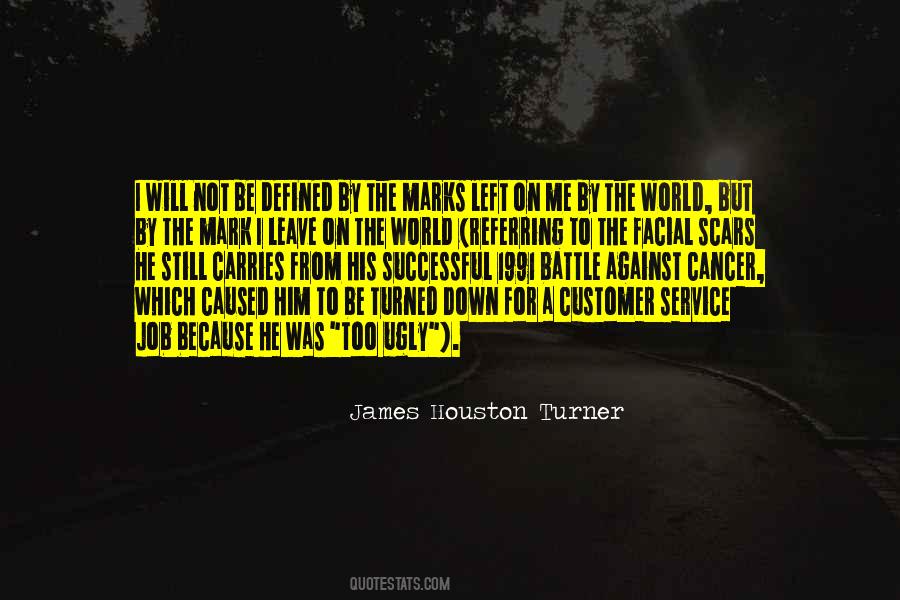 #98. When a man's trust is violated, he will leave even his friend. Hey, you shouldn't leave him! There is the energy of the absolute Self within and if the knowledge of the Self is attained, one may even attain the state of the absolute-Self! - Author: Dada Bhagwan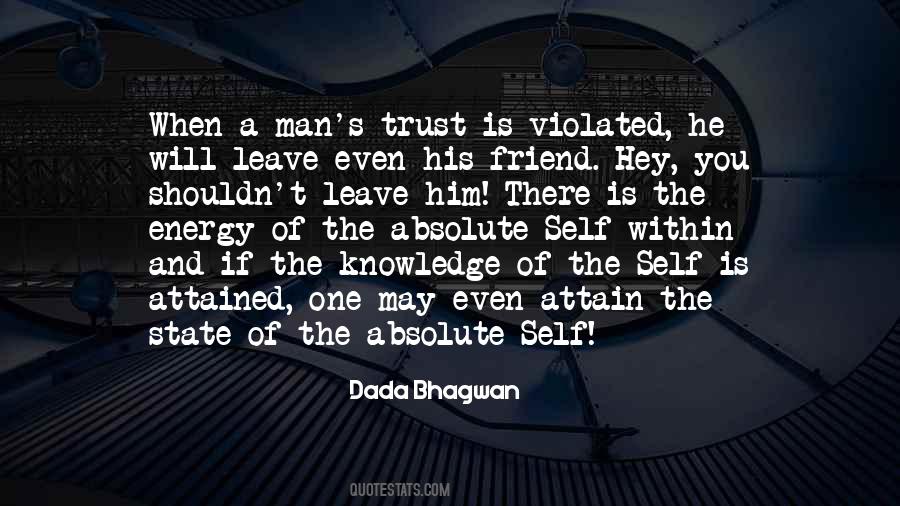 #99. But he doesn't open the box anymore. It sits, firmly closed, in the tree. He thinks maybe he should throw it away, but he cannot bring himself to do it. Perhaps he will leave it in the tree and let the bark grow over it, sealing it inside. - Author: Erin Morgenstern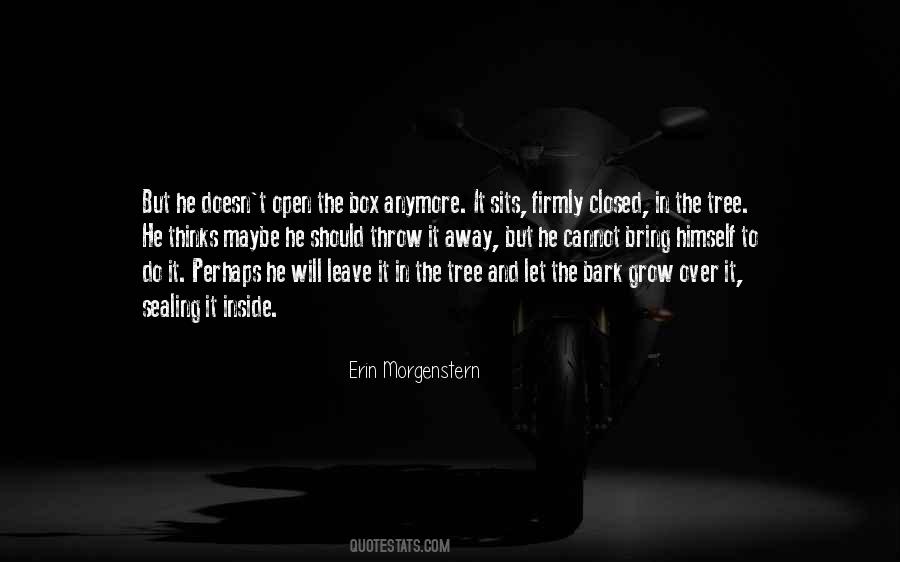 #100. Yeshua shows us the Way to be saved from all that we think threatens us on the dark seas of our lives. Only when we, too, see what He sees can we leave the treasured boat that we think will save us and walk on the troubled waters that we thought would surely drown us. - Author: Ted Dekker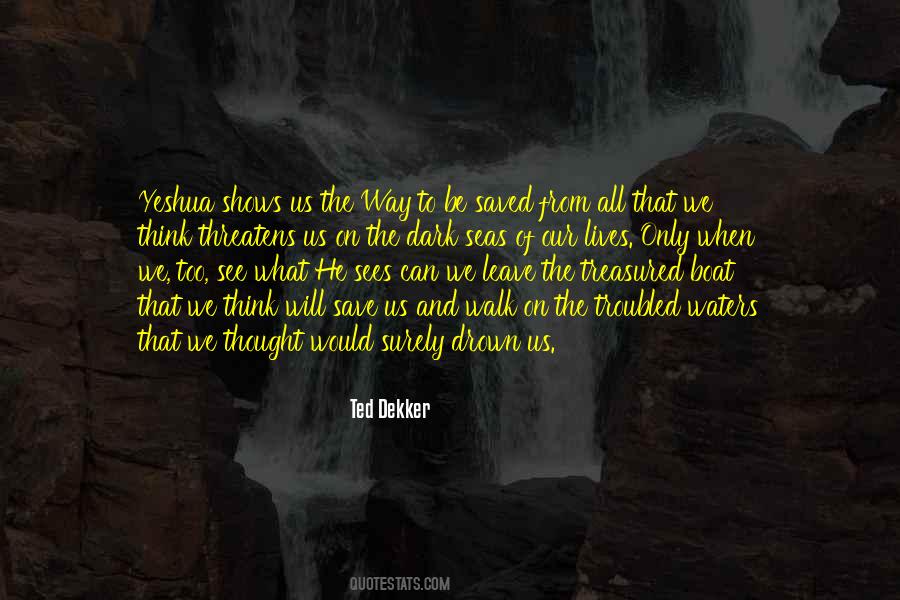 Famous Authors
Popular Topics