God Scripture Famous Quotes & Sayings
List of top 100 famous quotes and sayings about god scripture to read and share with friends on your Facebook, Twitter, blogs.
Top 100 God Scripture Quotes
#1. This truth of the gathering together of God's children is in Scripture seen realised in various localities, and in each central locality the Christians resident therein composed but one body: Scripture is perfectly clear on that head. - Author: John Nelson Darby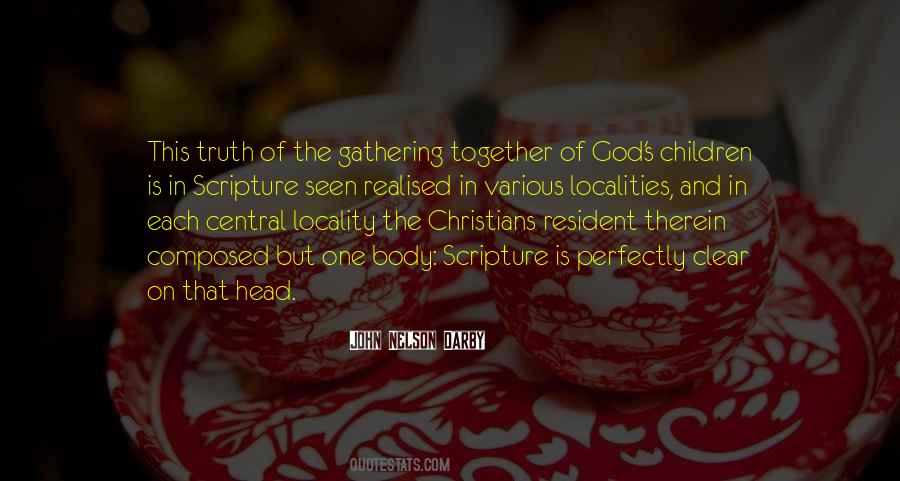 #2. Scripture doesn't promise that God will remove temptation, only that you'll be given strength to withstand it. - Author: Garrison Keillor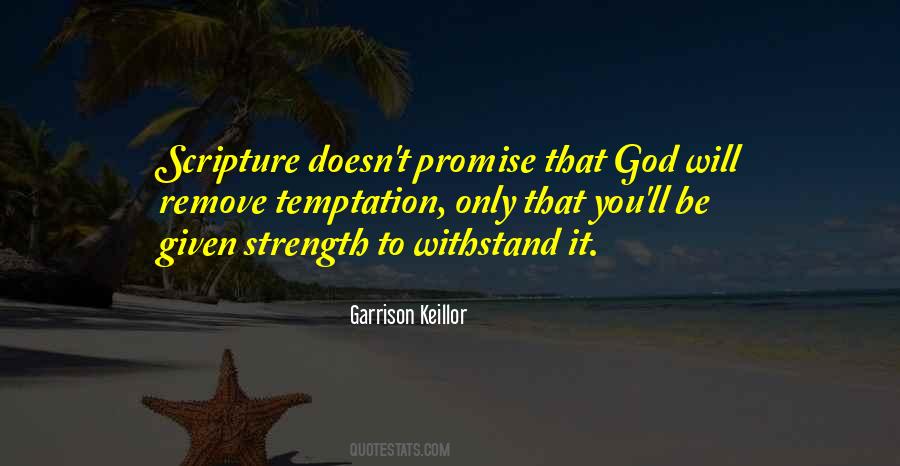 #3. To understand the Scripture is not simply to get information about God. If attended to with trust and faith, the Bible is the way to actually hear God speaking and also to meet God himself. - Author: Timothy J. Keller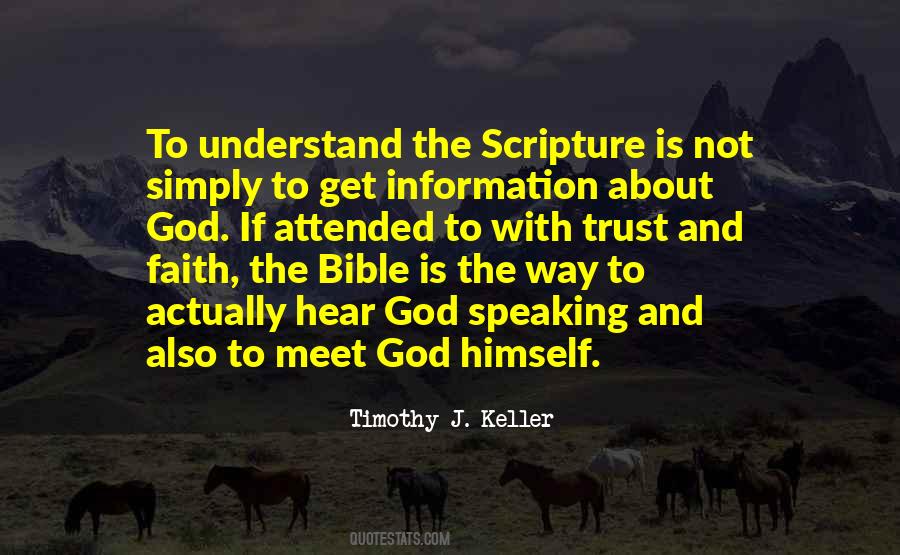 #4. God uses our weaknesses to strengthen us..... 2 Corinthians 12:7-10 - Author: Amanda Penland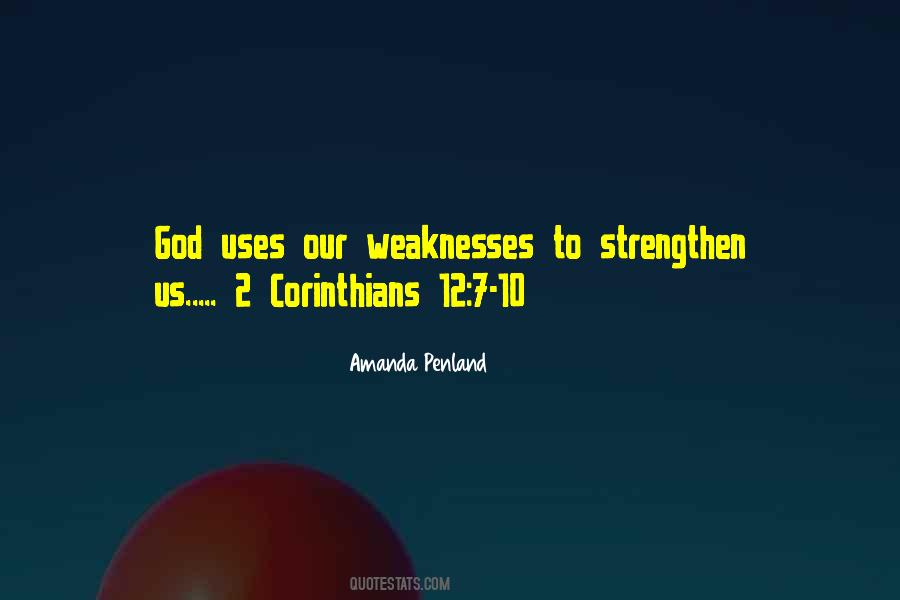 #5. Scripture doesn't speak of people who found God. Scripture speaks of people who walked with God. - Author: Rachel Held Evans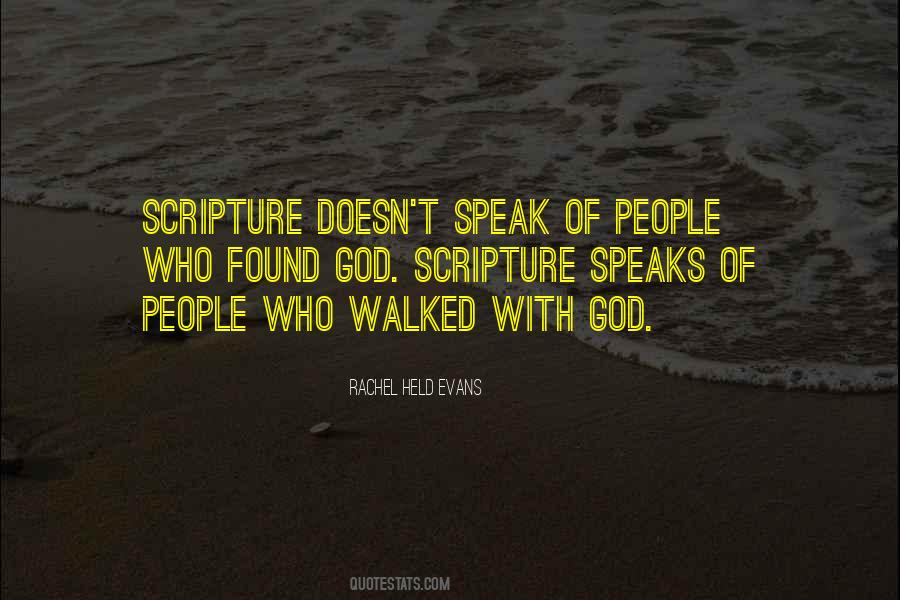 #6. Scripture repeatedly recounts the intentional actions of the providential God. The - Author: Bruce R. Reichenbach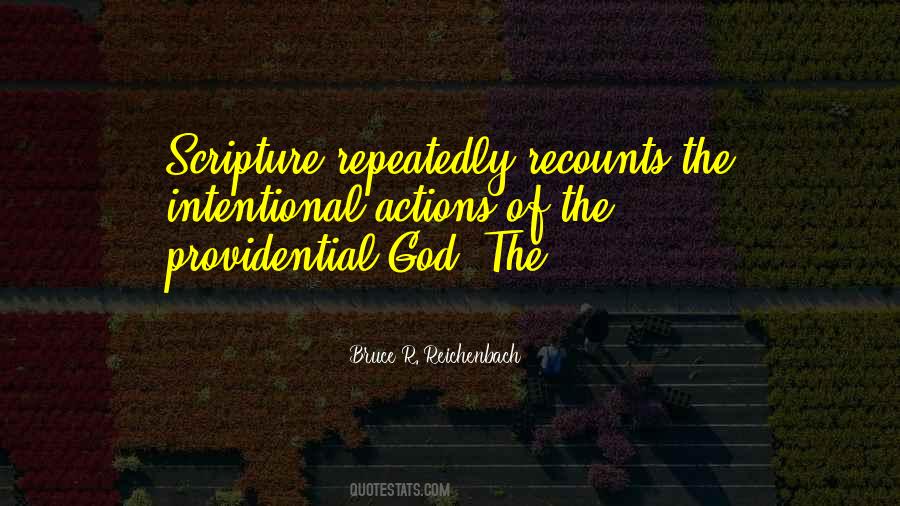 #7. Read the Scripture to renew your mind.
Mediate on the Scripture to nourish your soul.
Affirm the Scripture to revive your spirit - Author: Lailah Gifty Akita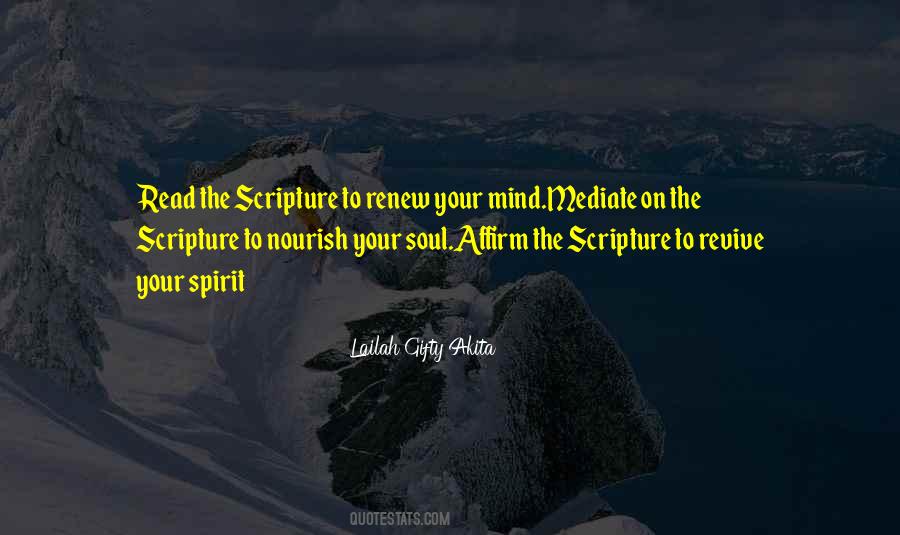 #8. After a long, impartial enquiry of the truth, and after much and earnest calling upon God, to give unto me the spirit and revelation in the knowledge of Him, I find myself obliged, both by the principles of reason and Scripture, to embrace the opinion I now hold forth. - Author: John Biddle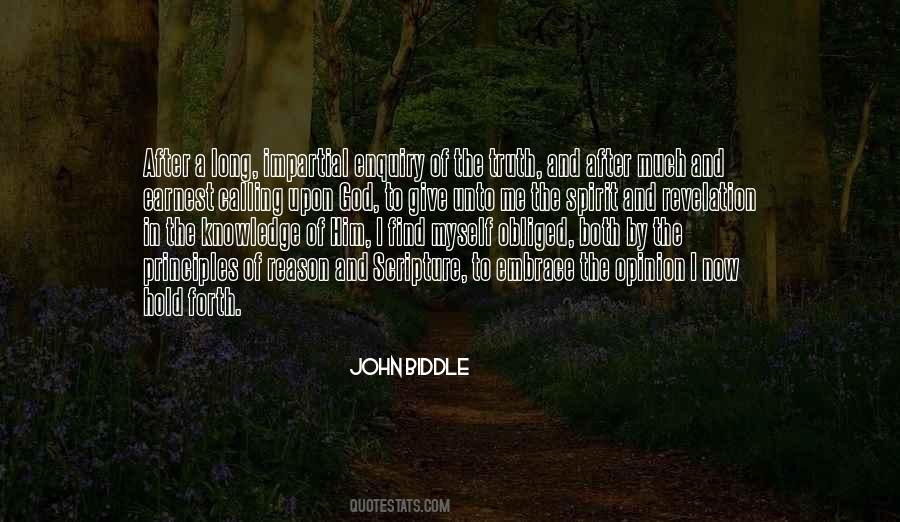 #9. If you're anxious about the state of the world, that's understandable. But trade your anxiety for the blessing of hearing the words of Scripture, keeping them in faith and obedience, and remembering the time is near. - Author: David Jeremiah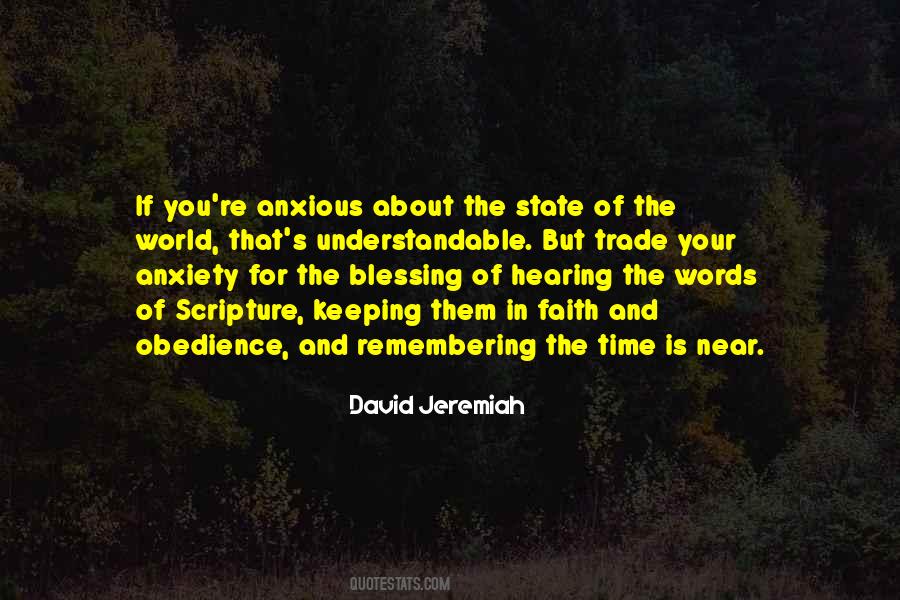 #10. No insistence in the Scripture is more pressing than that we must pray ... How clear it is, when the Bible is consulted, that the almighty God is brought directly into the things of this world by the prayers of His people. - Author: Edward McKendree Bounds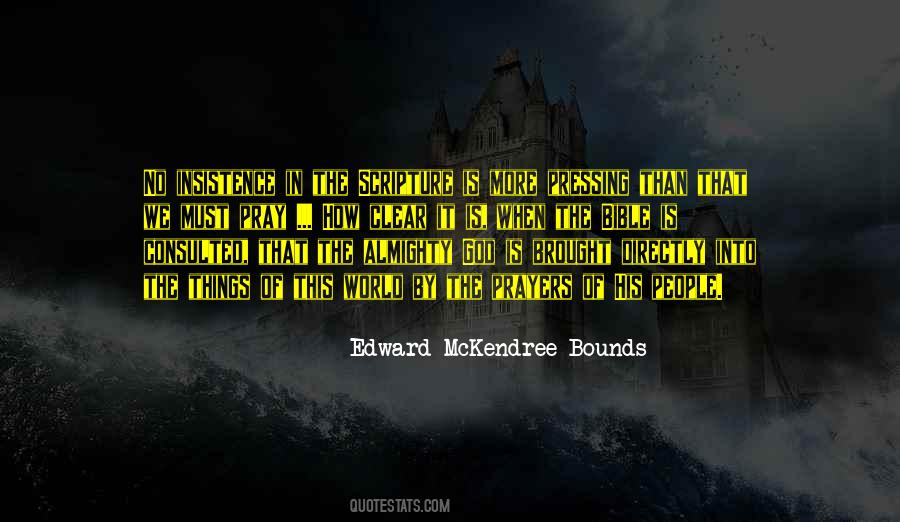 #11. In scripture God brings the animals to the human for naming. In that simple act the human is brought to recognize the particular personality and worth of each living creature. Too bad we forget so often. - Author: Joan D. Chittister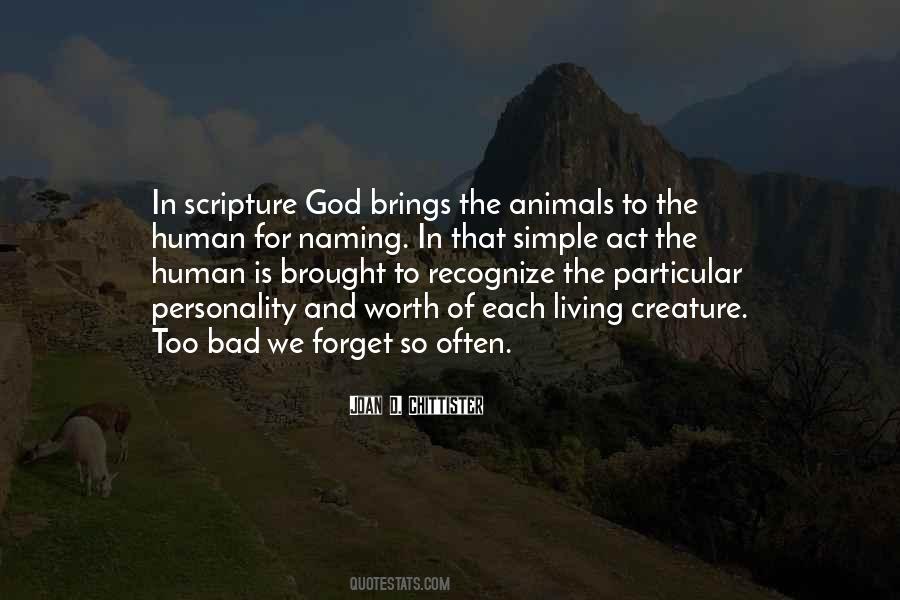 #12. The Holy Scripture is the Spirit of Holy One. - Author: Lailah Gifty Akita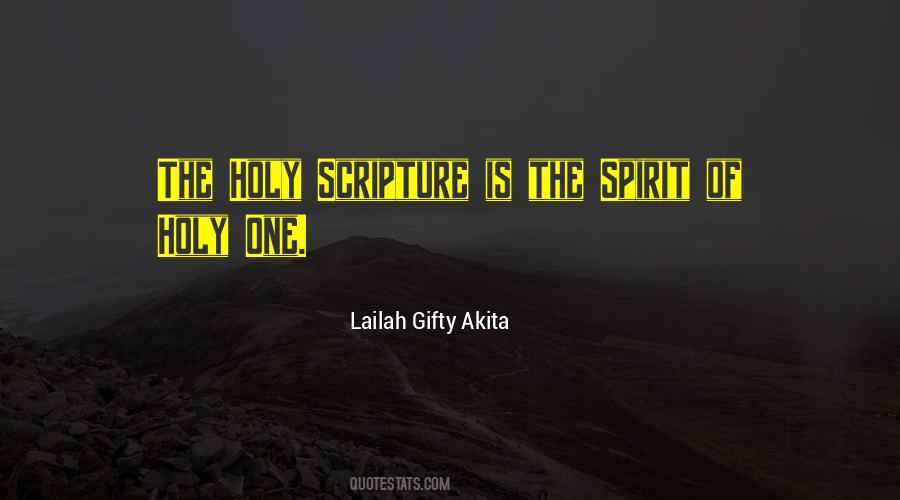 #13. Sacred scripture is like a mirror in which we see God, although each in a different way. - Author: Emanuel Swedenborg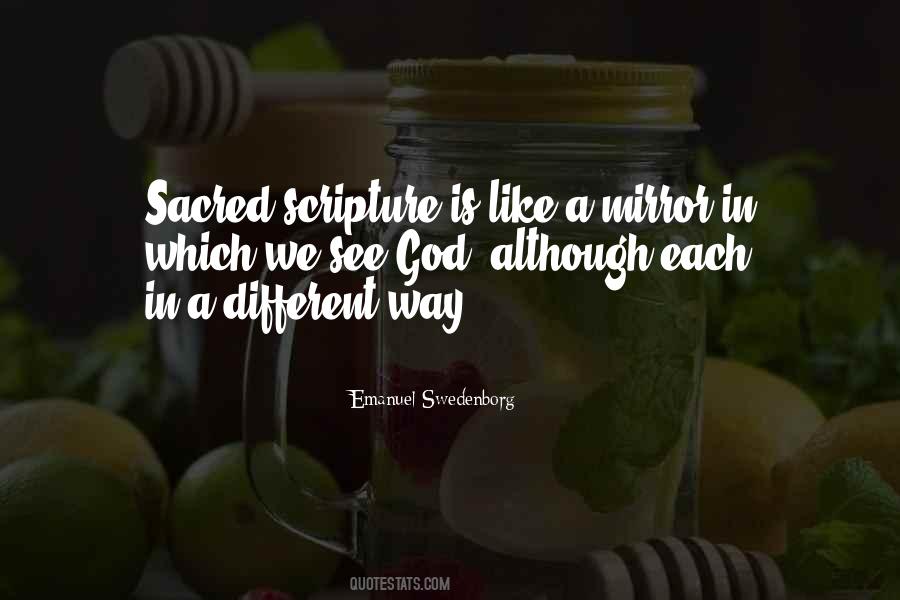 #14. The scripture is clear that we have a capacity for love because of God's love for us - Author: Sunday Adelaja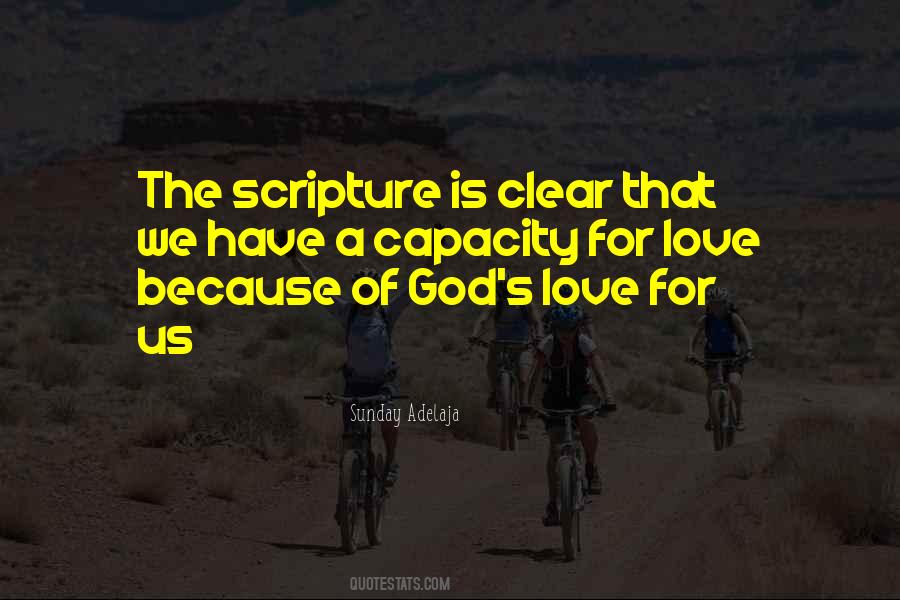 #15. Scripture instructs God's people to give our best to whatever task we turn our hands to, to conduct ourselves as if we work for the Lord himself, not for man. - Author: Karen Witemeyer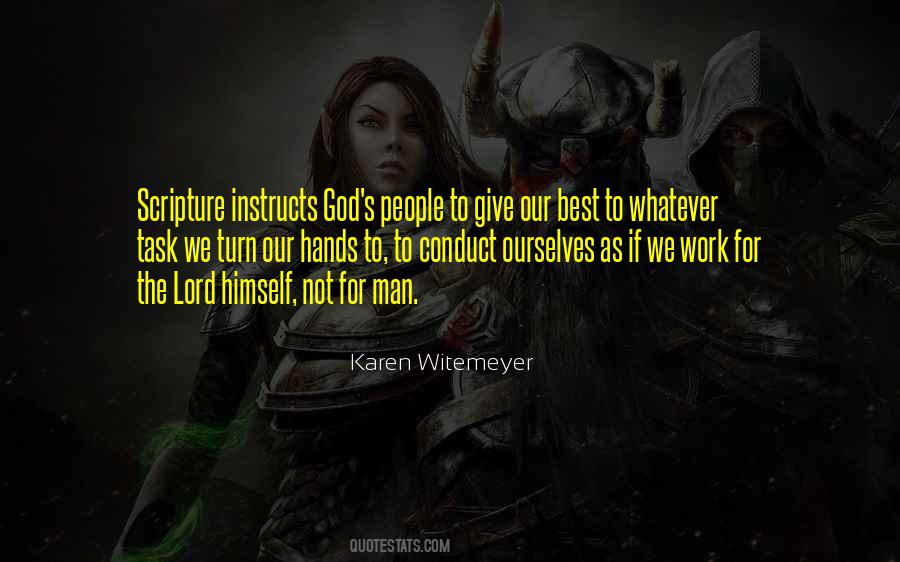 #16. Blessed is the man who walks not in the counsel of the ungodly, nor stands in the path of sinners, nor sits in the seat of the scornful; 2)But his delight is in the law of the Lord, and in His law he meditates day and night. - Author: Anonymous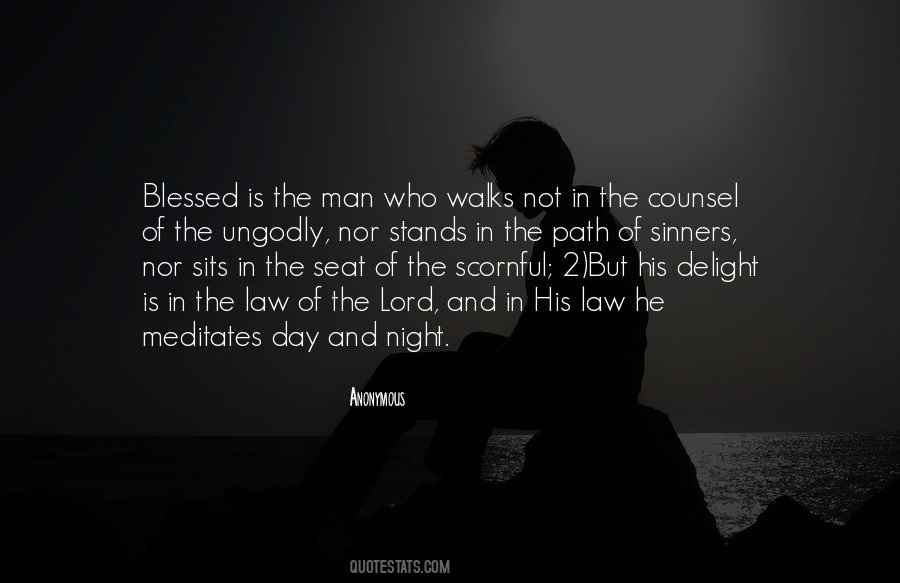 #17. We treasure the word of God not only by reading the words of the scriptures, but by studying them. We may be nourished more by pondering a few words, allowing the Holy Ghost to make them treasures to us, than to pass quickly and superficially over whole chapters of scripture. - Author: Henry B. Eyring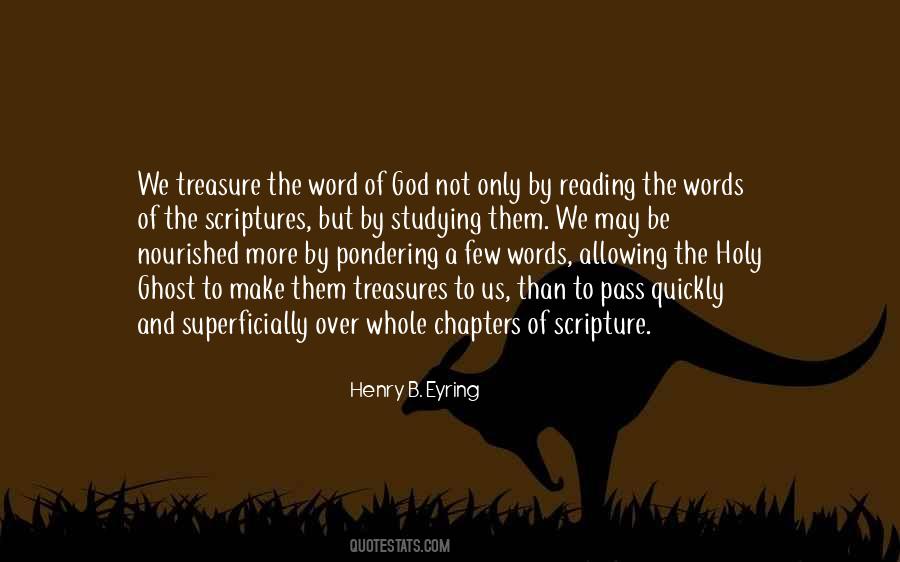 #18. You have to plan it [your devotion to God] every day. And, the best time to plan it is before your day begins. If you don't plan it, your day will plan you. And so, I make a disciplined life of the study of the scriptures, reading the word every day. - Author: Ravi Zacharias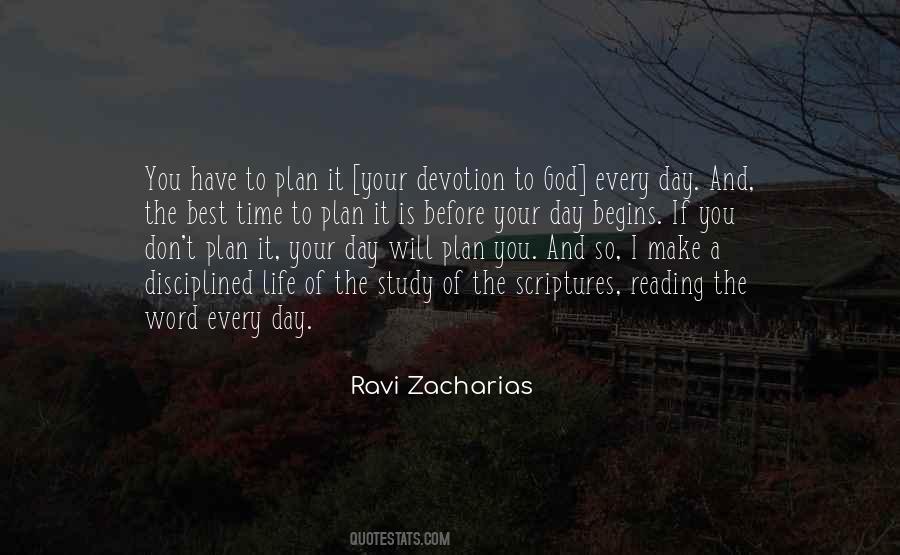 #19. God has two textbooks - Scripture and Creation - we would do well to listen to both. - Author: Francis Bacon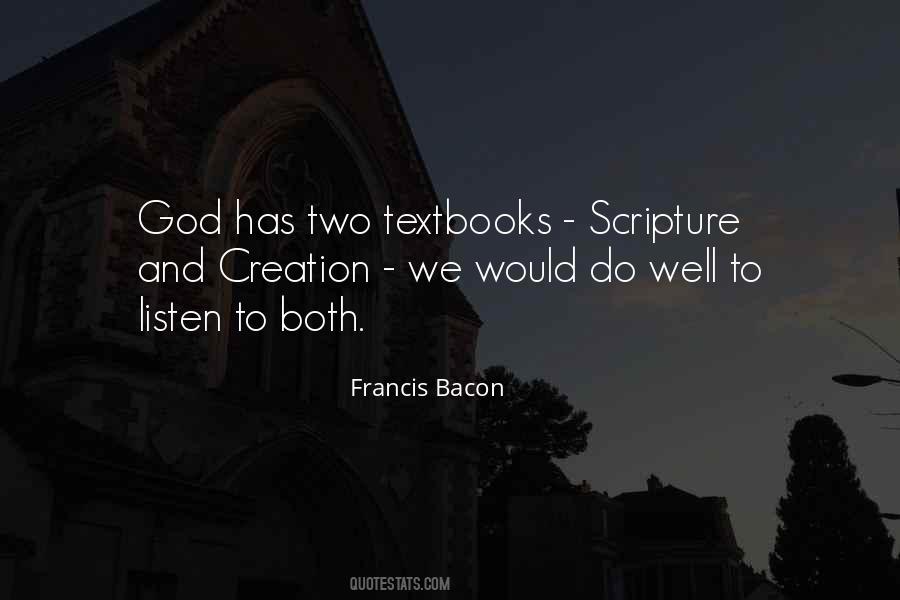 #20. I would say 90 percent of Christians do not have a worldview, in other words a view of the world, based on the Scripture and a relationship with God. - Author: Josh McDowell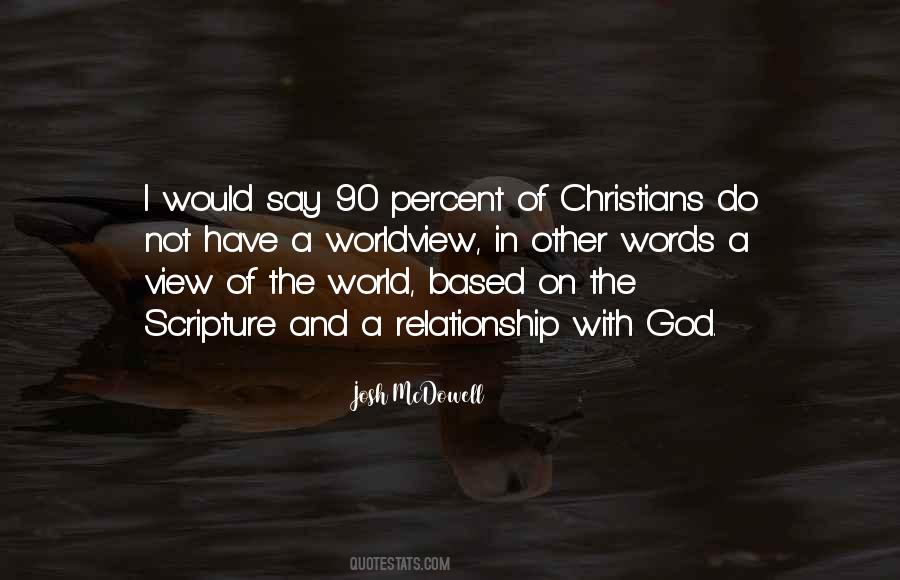 #21. I believe very confidently in the truth of Scripture, where it says that there is no authority, no power given to man except as given by God. - Author: Steven Curtis Chapman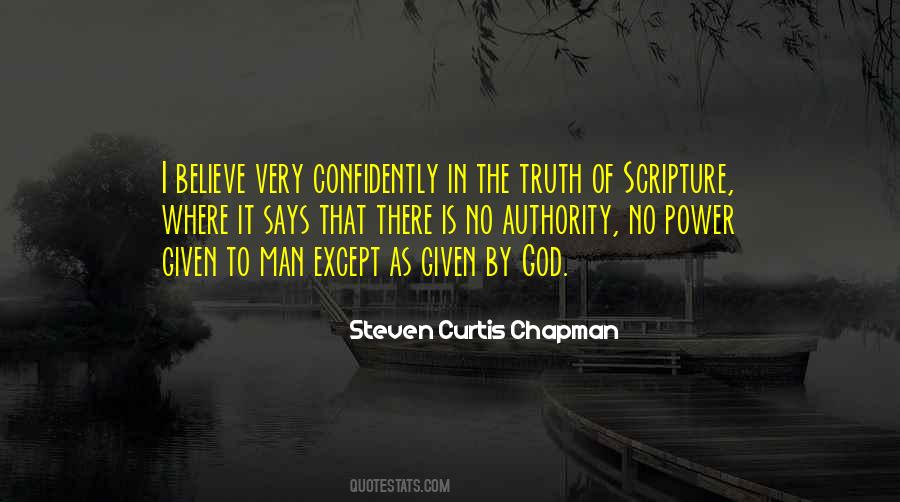 #22. If there be any difference among professed believers as to the sense of Scripture, it is their duty to tolerate such difference in each other, until God shall have revealed the truth to all. - Author: John Milton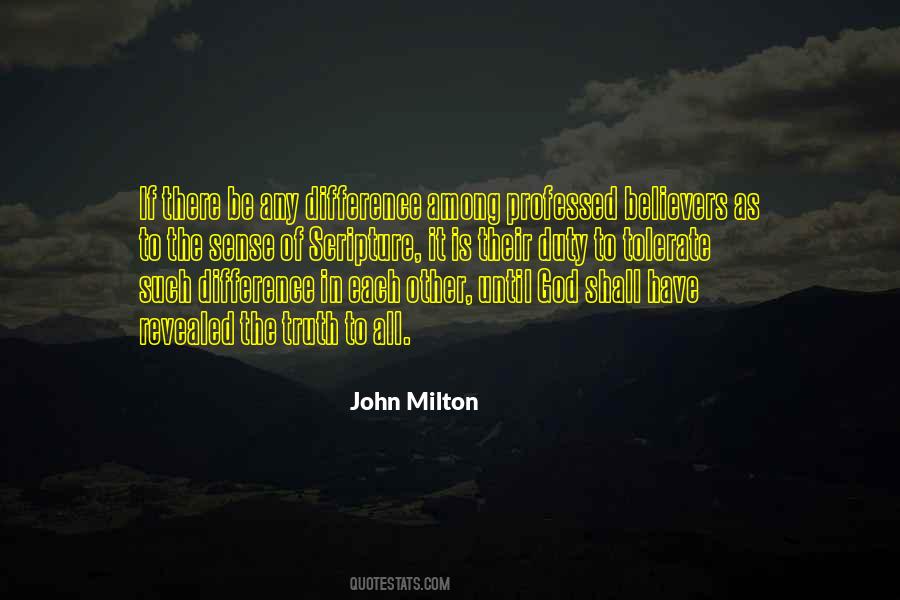 #23. As we tune our ears to the kind of preaching that makes the primary point of the sermon the primary point of a particular passage of Scripture, we grow accustomed to listening to God. - Author: Thabiti M. Anyabwile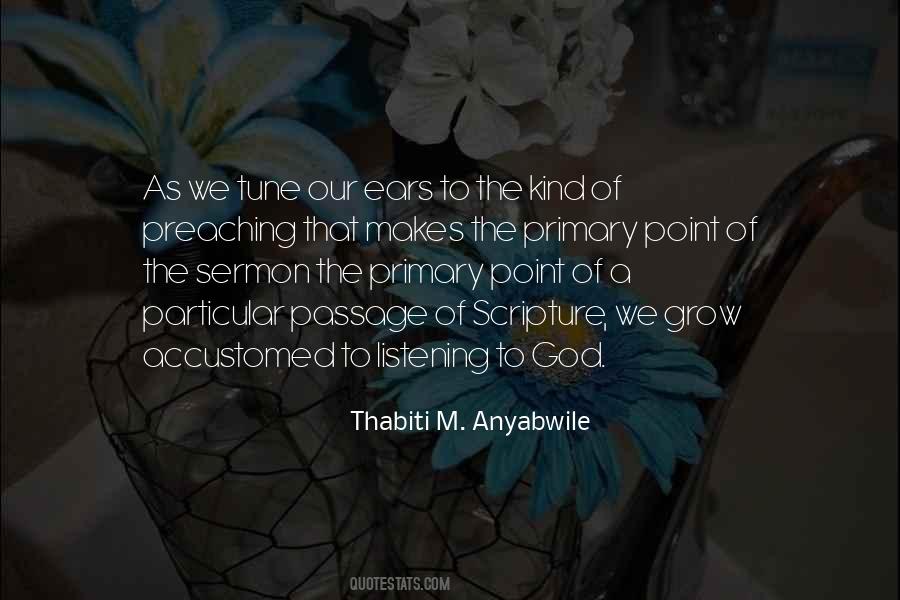 #24. When life is good, enjoy it. But when life is hard, remember:
God gives good times and hard times, and no one knows what tomorrow will bring. (Ecclesiastes 7:14, New Century Version) - Author: Anonymous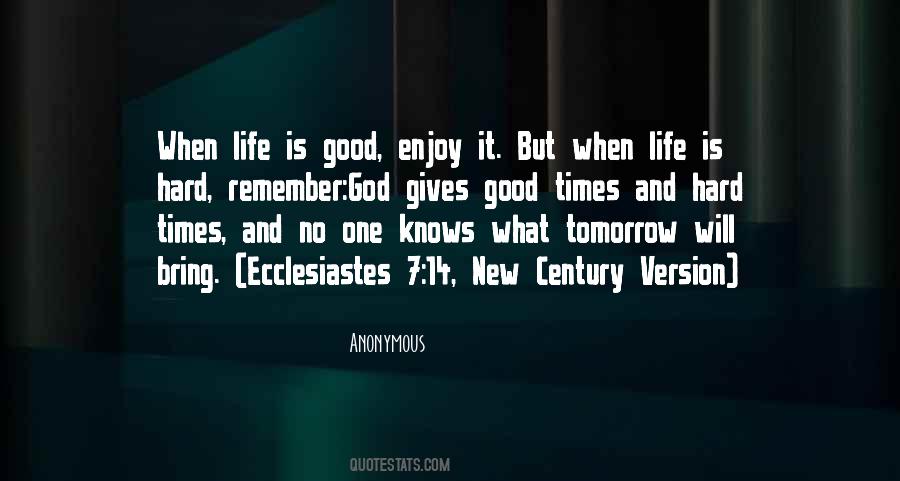 #25. I still believe that many Americans have a deep longing for that glorious moment when a sermon is more Biblical than American. - Author: Criss Jami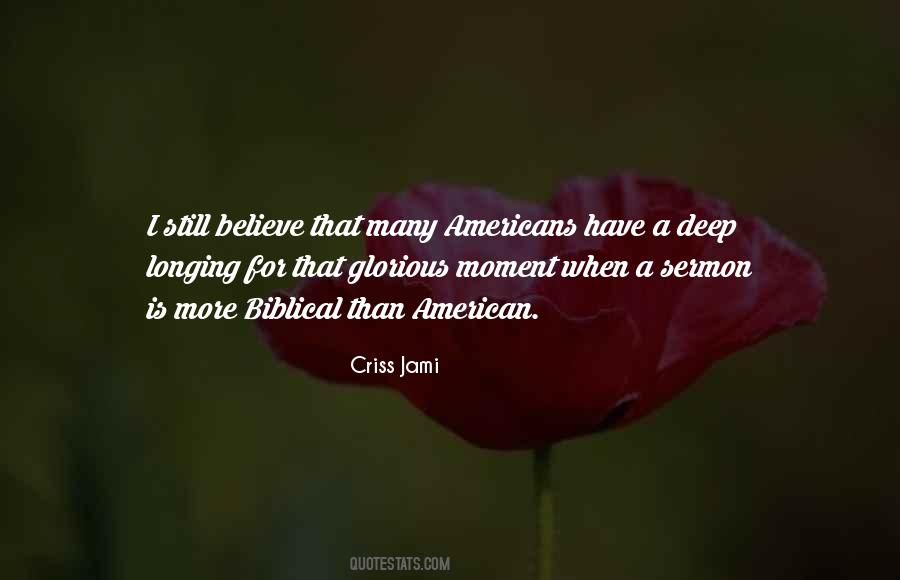 #26. The doctrine of Scripture teaches us about the authority of God's Word. Scripture must be the final rule of faith and practice for our lives. Not our feelings or emotions. Not signs or prophetic words or hunches. - Author: Joshua Harris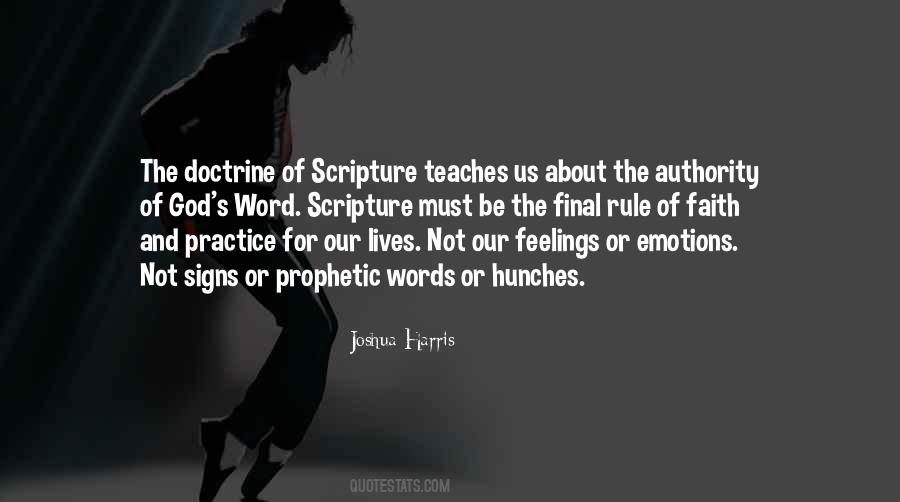 #27. It is possible through sin to harden our hearts against God so long that we lose all desire for God. The Scripture says: "God also gave them up" [Romans 1:24 KJV]. - Author: Billy Graham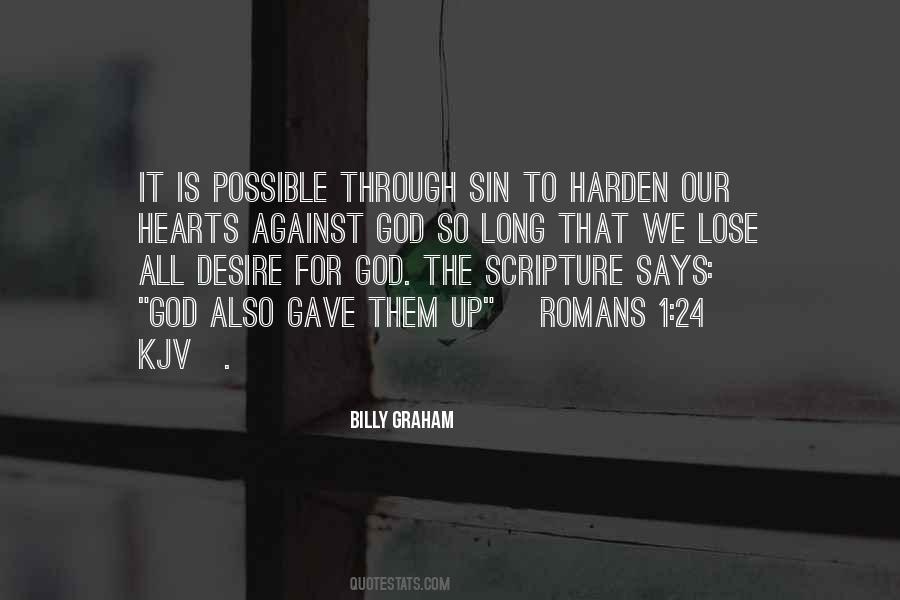 #28. When we want to speak to God, we pray. And when we want Him to speak to us, we search the scriptures. - Author: Robert D. Hales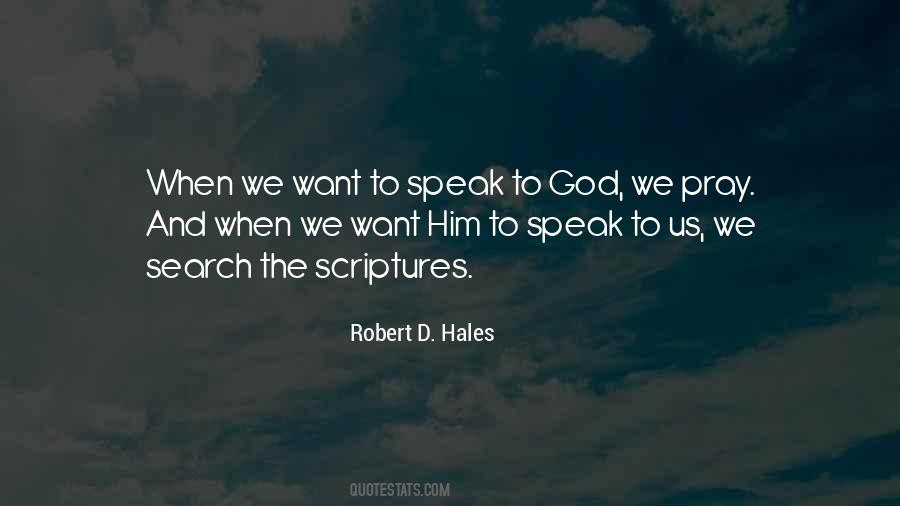 #29. When the nature of the thing is incomprehensible, I can acquiesce in the Scripture: but when the signification of words is incomprehensible, I cannot acquiesce in the authority of a Schoolman. - Author: Thomas Hobbes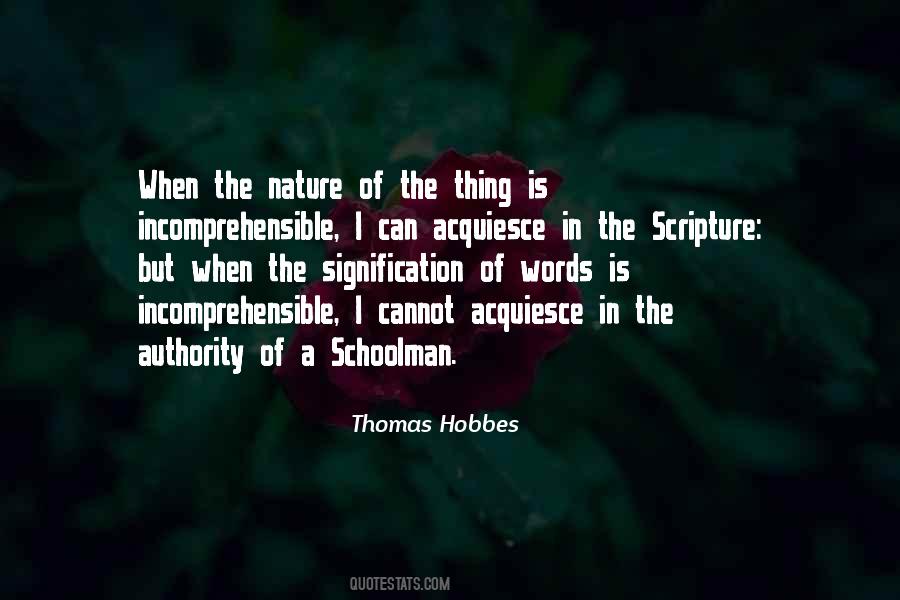 #30. He who, while unacquainted with these writings, nevertheless knows by the natural light that there is a God having the attributes we have recounted, and who also pursues a true way of life, is altogether blessed. - Author: Baruch Spinoza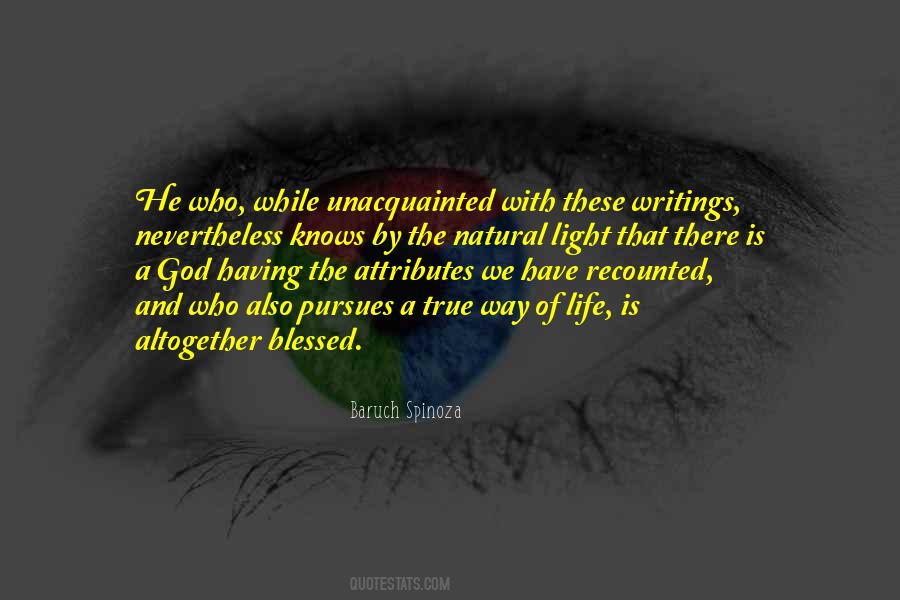 #31. The Bible is the textbook of revelation.
In God's great classroom there are three textbooks - one called nature, one called conscience, and one named Scripture. In the written textbook of revelation - the Bible - God speaks through words. - Author: Billy Graham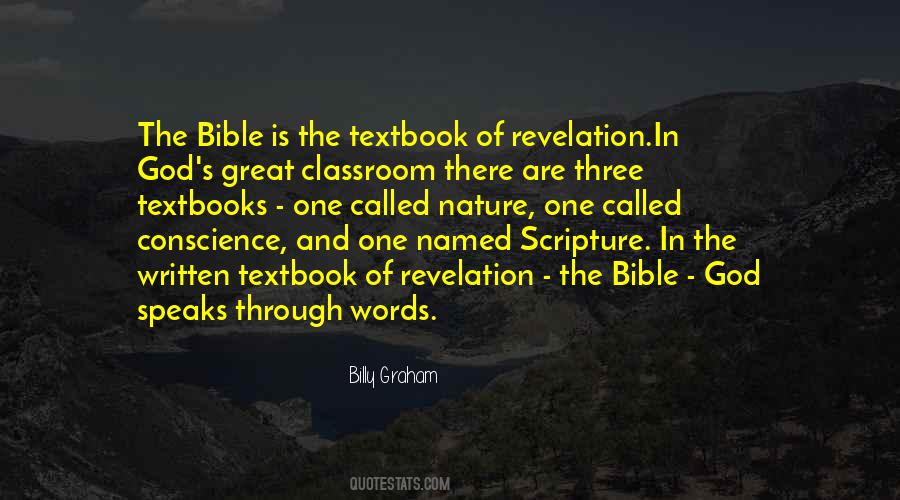 #32. We know the story of the Deluge from the Holy Scripture. Why did the first race of men come to such a tragic end? Because they had abandoned God and must die, guilty and innocent alike. They had only themselves to blame for their punishment. And it is the same today. - Author: Wilm Hosenfeld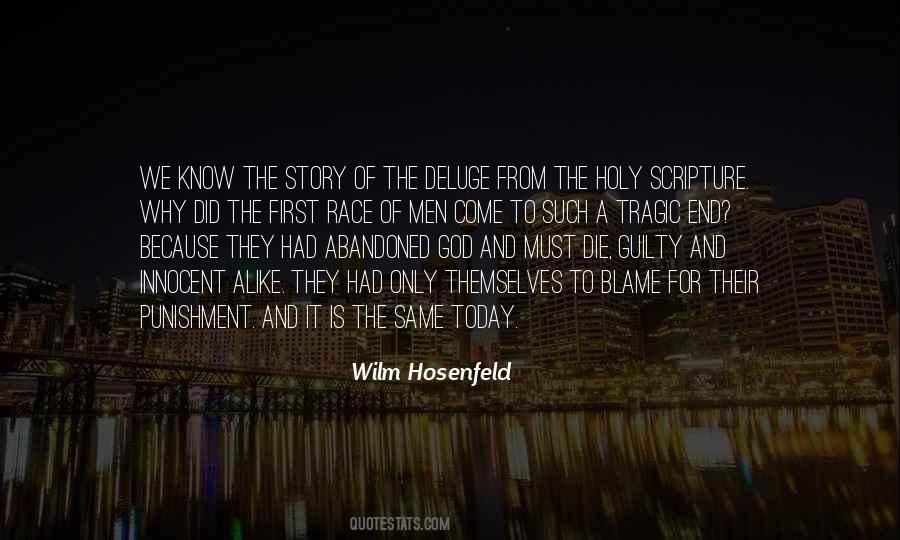 #33. As we see in Ezra's life, committed study of Scripture can bring about much more than merely head knowledge. It can bring God himself into all the recesses of our being, for "the word of God is living and active" (Heb 4:12). Take - Author: Richard J. Foster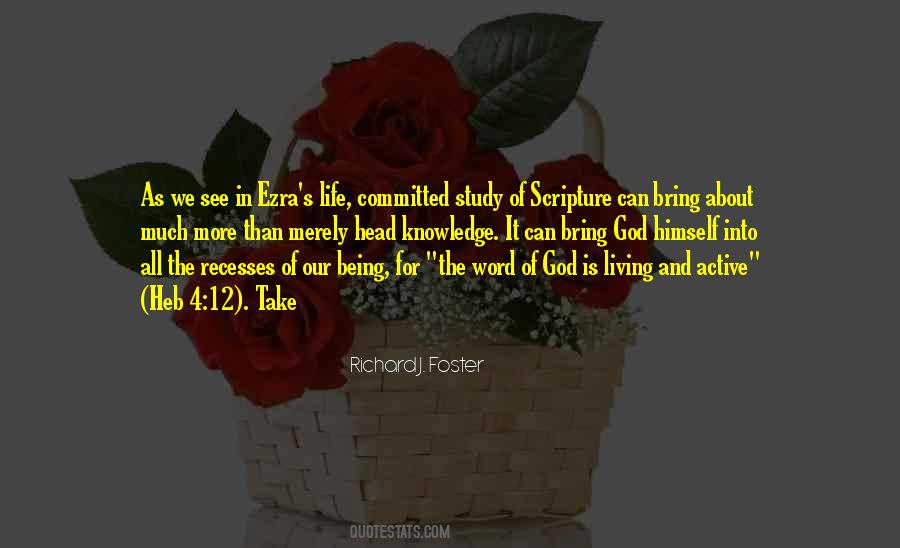 #34. Surely Scripture is right when it makes the sin of sins that unbelief, which is at bottom nothing else than a refusal to take the cup of salvation. Surely no sharper grief can be inflicted upon the Spirit of God than when we leave His gifts neglected and unappropriated. - Author: Alexander MacLaren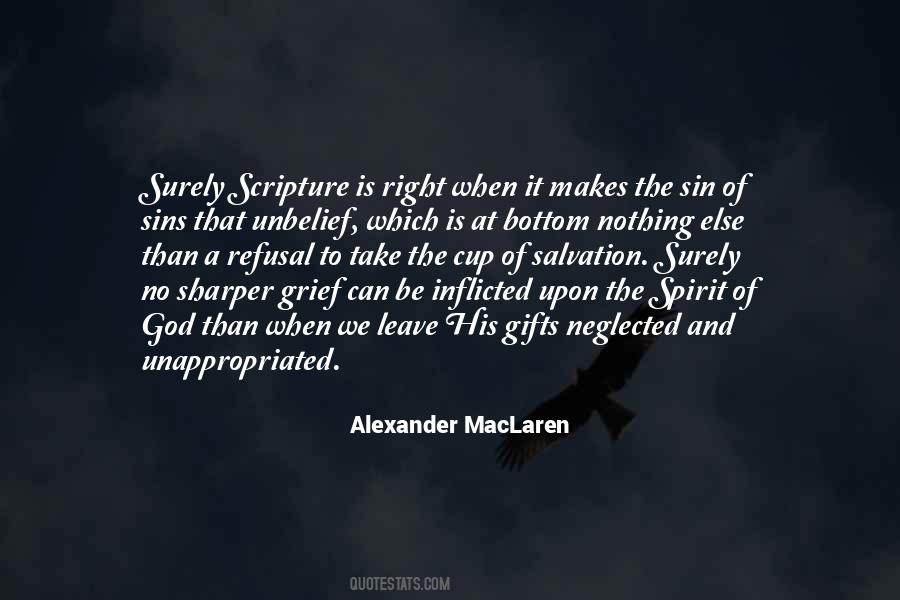 #35. Scripture said that "pride goes before fall". Just let pride go alone. Don't go in its company, else fall pursues both of you! - Author: Israelmore Ayivor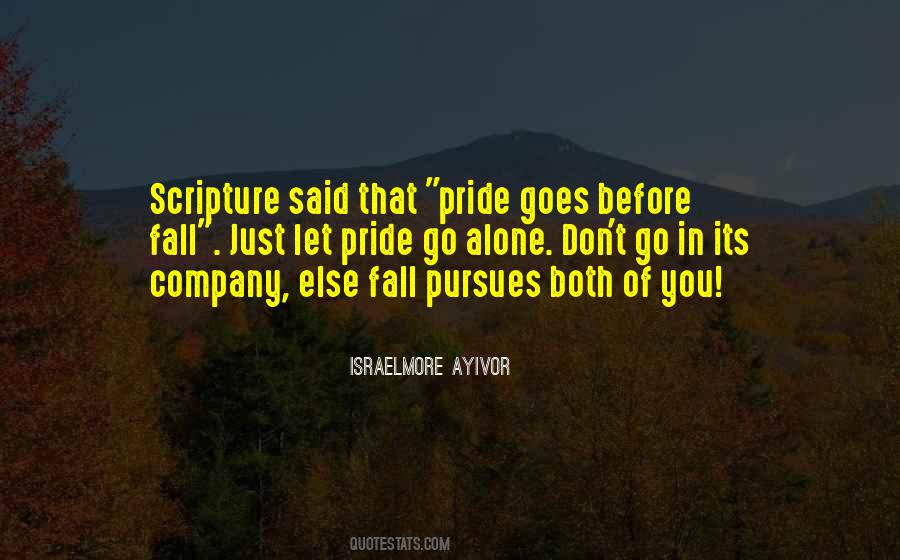 #36. Ignorance of Scripture is the root of every error in religion, and the source of ever heresy. To be allowed to remove a few grains of ignorance, and to throw a few rays of light on God's precious word, is, in my opinion, the greatest honor that can be put on a Christian. - Author: J.C. Ryle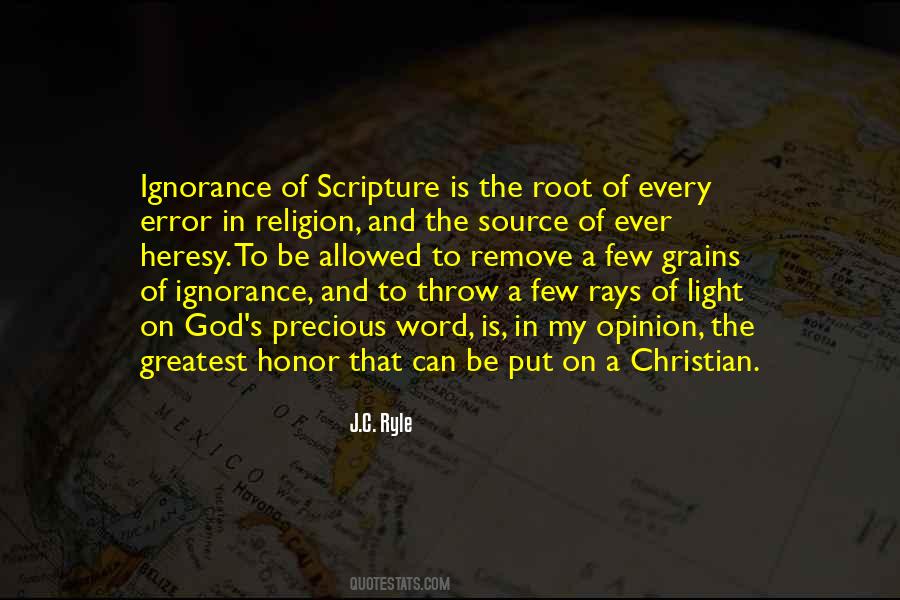 #37. In the day of prosperity rejoice, but in the day of adversity consider: God hath set the one over against the other, to the end that man should find nothing after him. - Author: Anonymous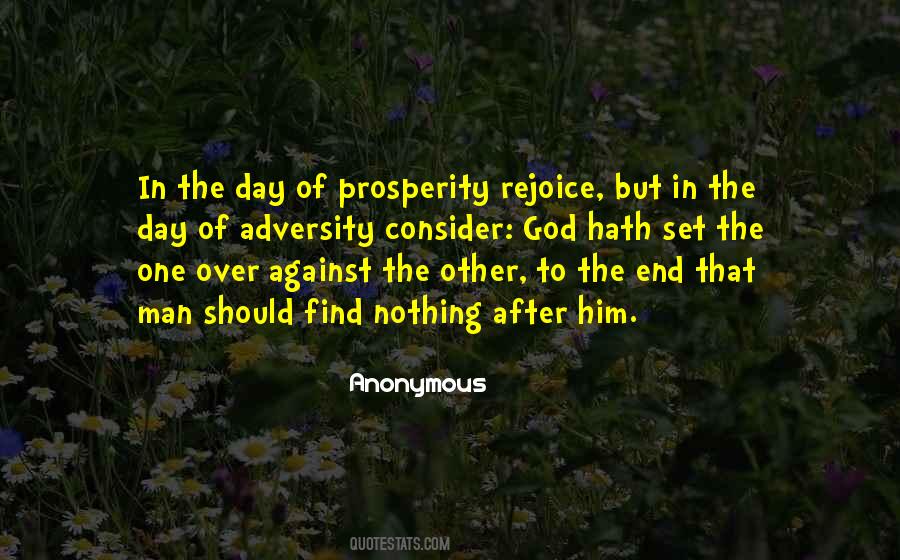 #38. We corrupt the Word of God most dangerously, when we throw any doubt on the plenary inspiration of any part of Holy Scripture. - Author: J.C. Ryle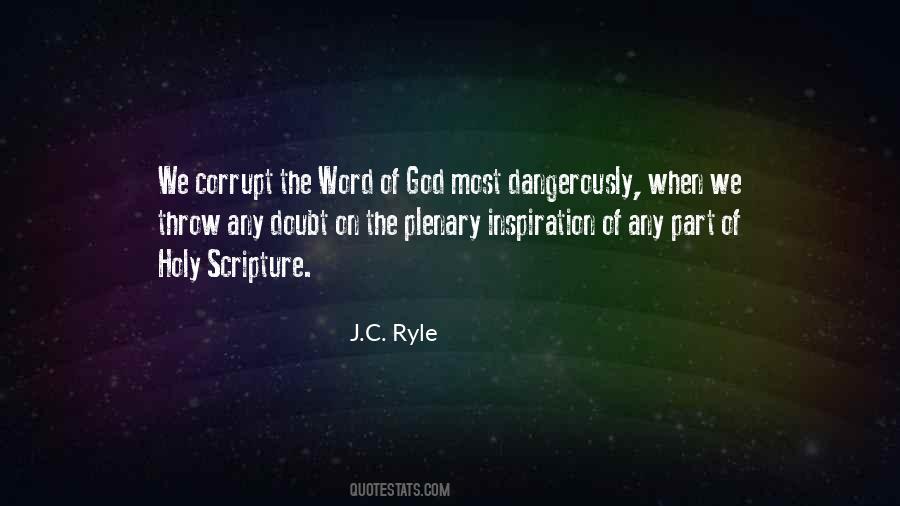 #39. The collapse in evangelical doctrinal consensus is intimately related to the collapse in the understanding of, and role assigned to, Scripture as God's Word spoken within the church. p. 98 - Author: Carl R. Trueman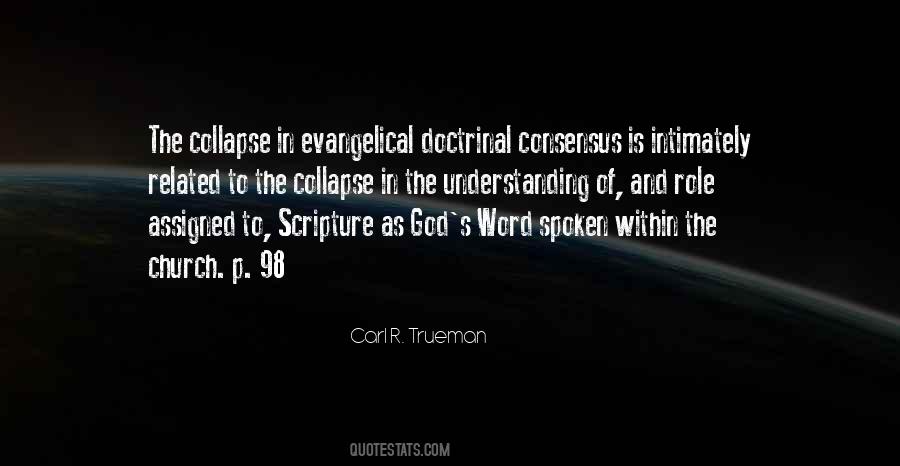 #40. The more I read, the more I see. Connections get made. Lights go on. God speaks. Often, when I am facing some difficult or puzzling situation, God reminds me of a Scripture passage I have read. And it makes all the difference. - Author: Ann Spangler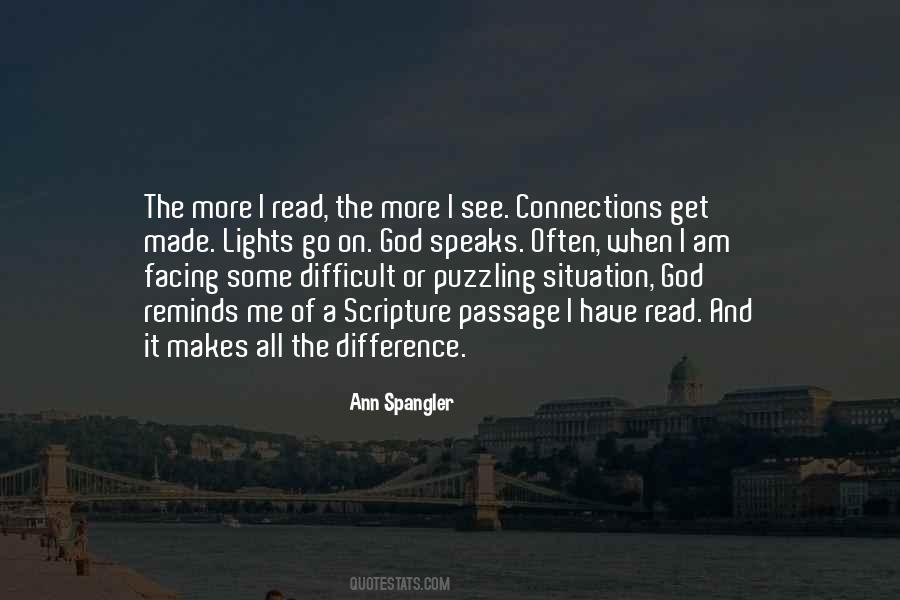 #41. So it is with scripture. The word of God is there, able to transform your life. But you must probe for it. You have to penetrate the surface with more than just a cursory glance. - Author: Howard G. Hendricks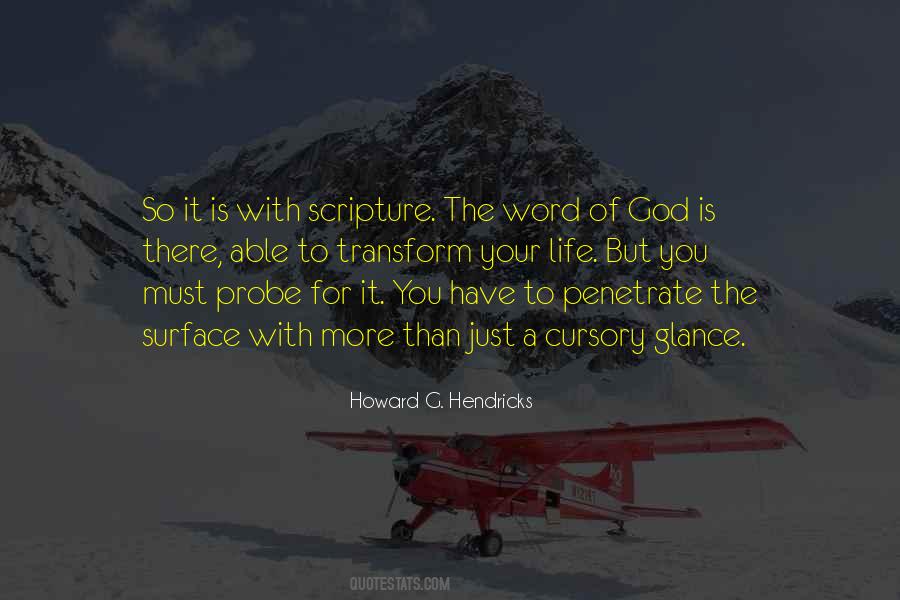 #42. I don't think you should spend your life praying for things, but I do believe you should thank God for what He's given you ... but I think the scripture teaches us that we can pray for our dreams, pray for the big things ... he's not a small God; this God is incredible. - Author: Joel Osteen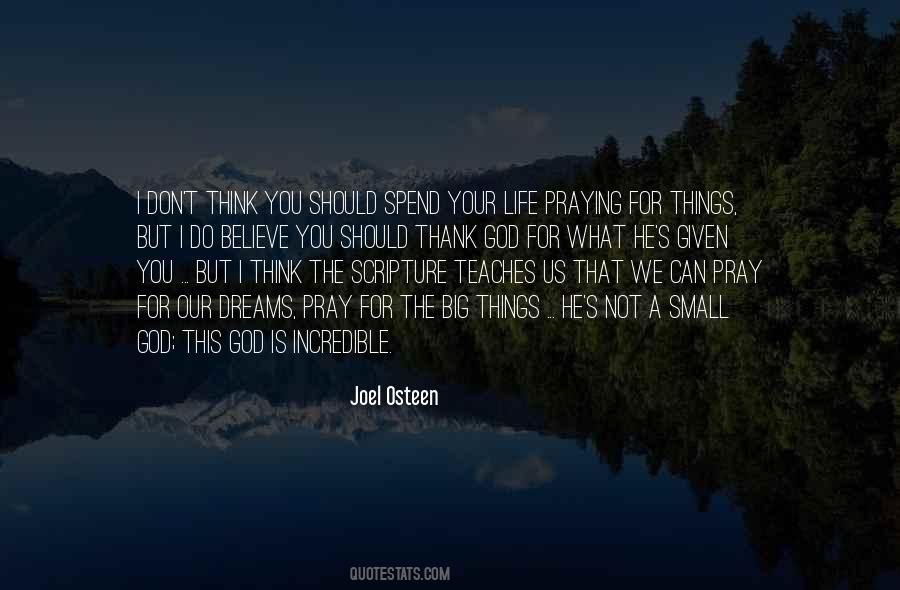 #43. The sufficiency of Scripture means that Scripture contained all the words of God he intended his people to have at each stage of redemptive history, and that it now contains all the words of God we need for salvation, for trusting him perfectly, and for obeying him perfectly. - Author: Wayne Grudem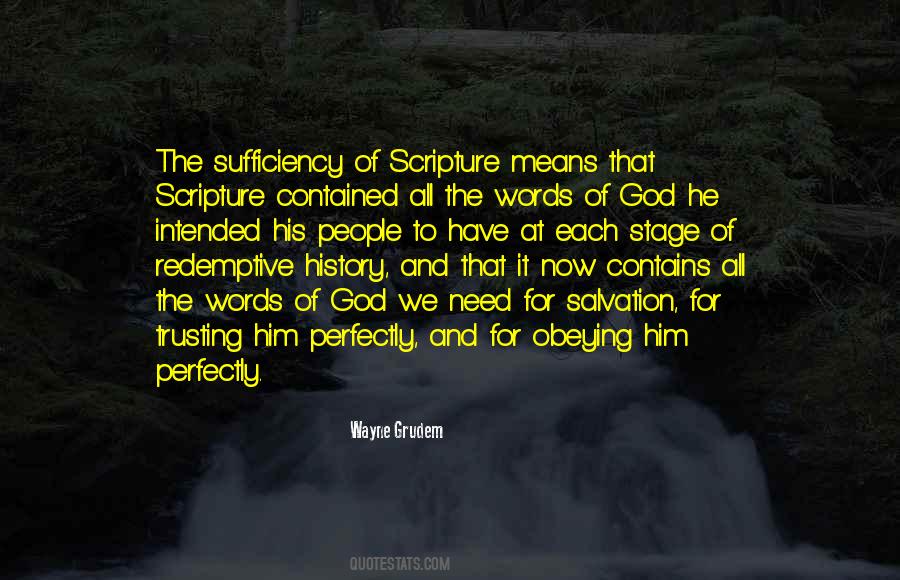 #44. It is a basic tenet throughout the Scriptures that God rewards diligence, faithfulness, endurance, and steadfastness. - Author: Rick Joyner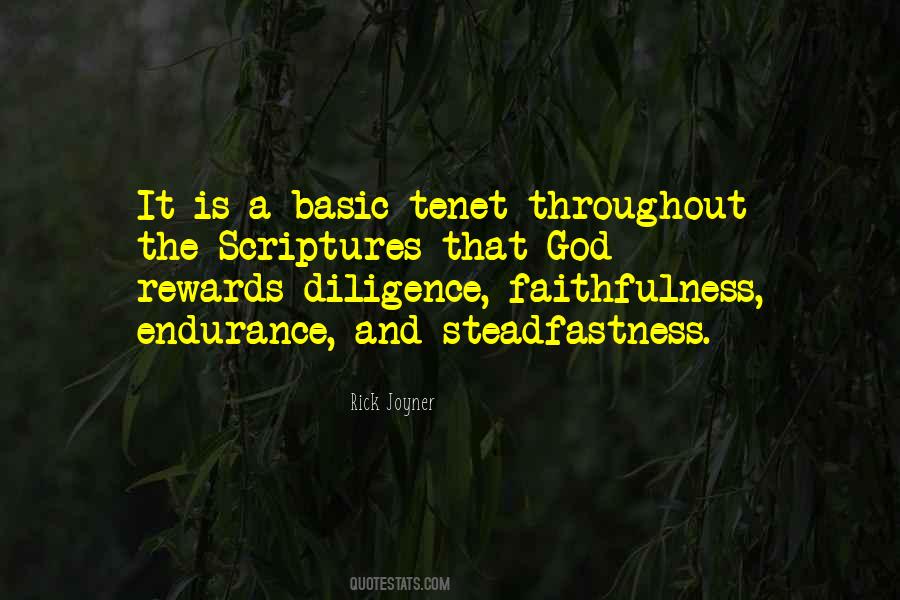 #45. We do not wish to abolish teaching and to make every man his own master, but if the curates will not teach the gospel, the layman must have the Scripture, and read it for himself, taking God for his teacher. - Author: William Tyndale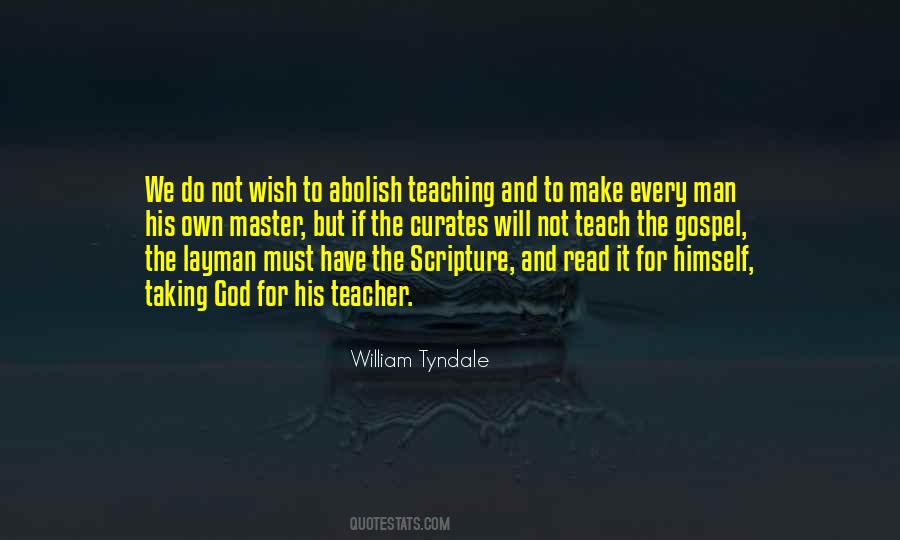 #46. The response to stress is not less time in God's Word, but more. - Author: Dillon Burroughs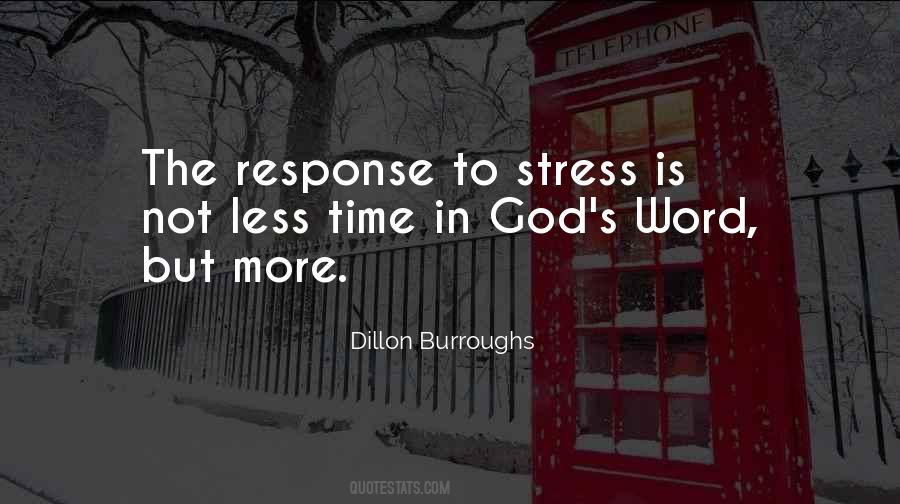 #47. When you think on the powerful truths of Scripture, God uses His Word to change your way of thinking. - Author: Elizabeth George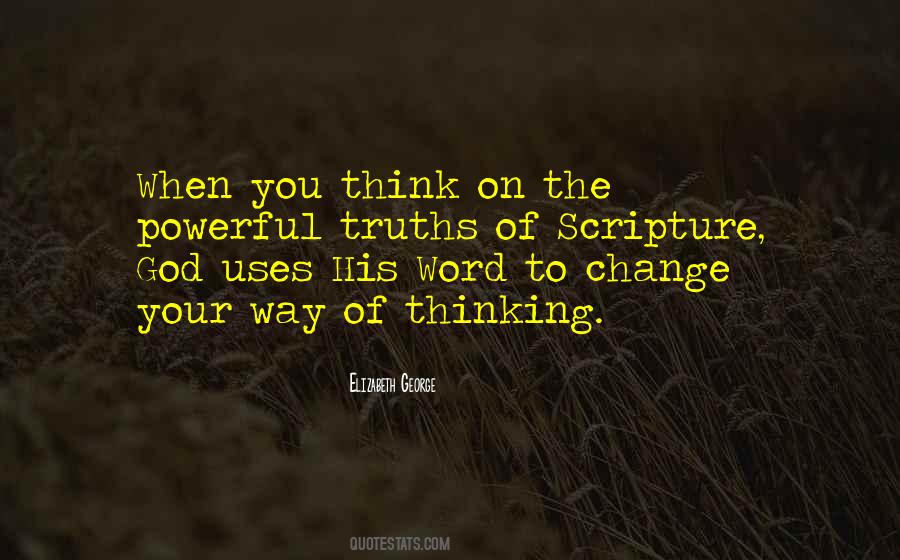 #48. Scripture suggests that meditating on the Word of God can have an always-on effect of peace and strength in difficult times. - Author: David Jeremiah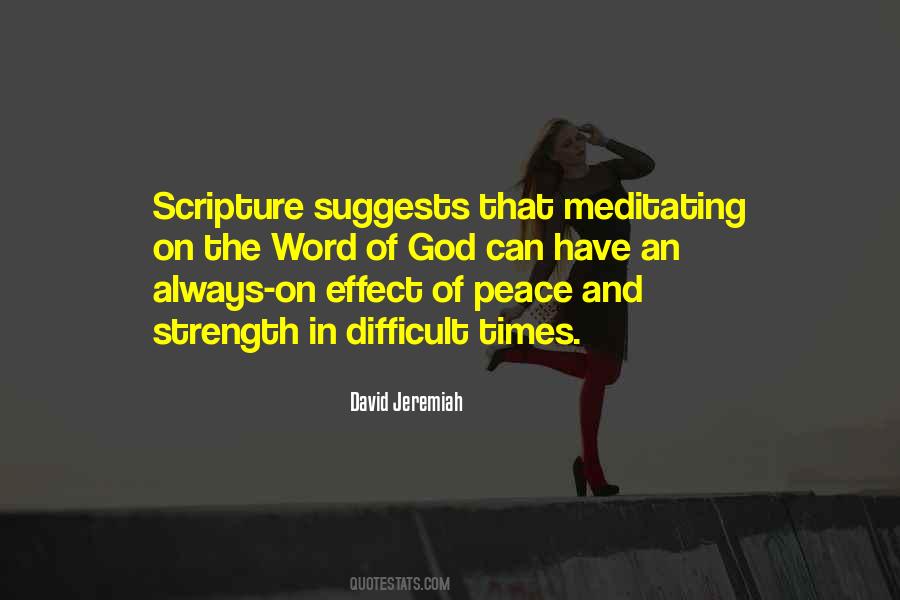 #49. One of Cranmer's goals in writing and revising the Book of Common Prayer was to get Scripture into the ears of the people so that their hearts might be turned to God and their lives transformed by his love. Cranmer - Author: Michael Jensen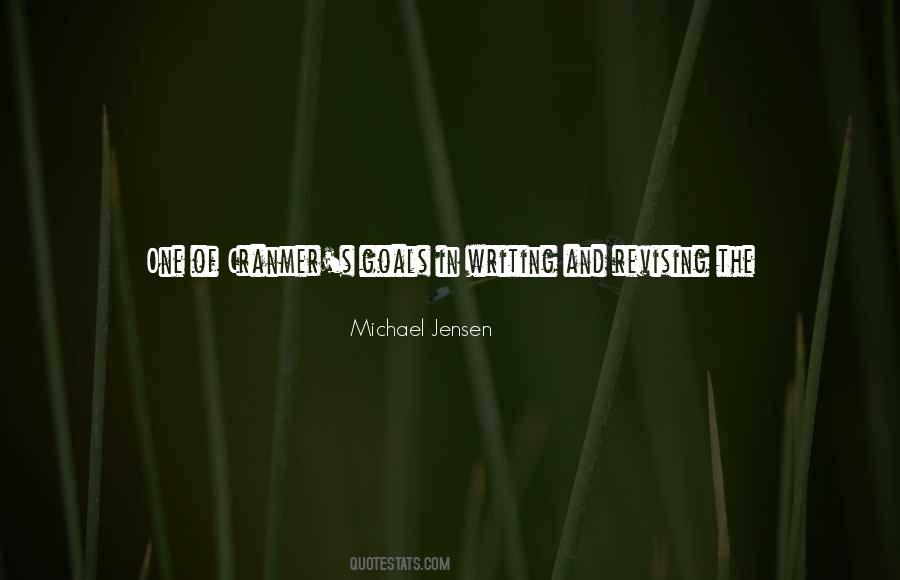 #50. God reveals Himself to us through Scripture and His creation; if we can't discern His will, the revelation serves no-purpose. Thus, God has given us knowledge (Proverbs 2:6). Since humans have limited capacity for all knowledge, He has also given us the ultimate gift--faith. - Author: Samuel C. Tseng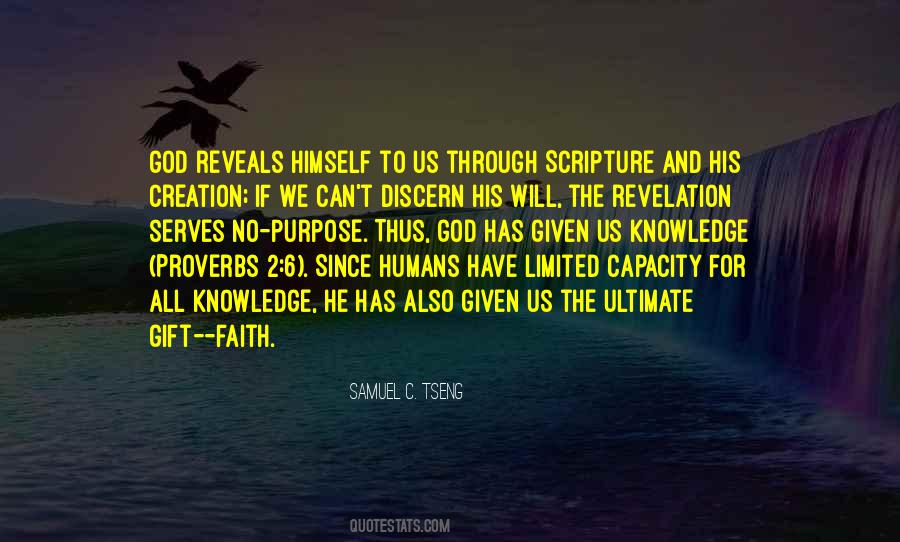 #51. Divine election is a theme mentioned often in sacred Scripture. God has chosen to reveal this truth for the spiritual nurture and growth of the people of God. - Author: John Samson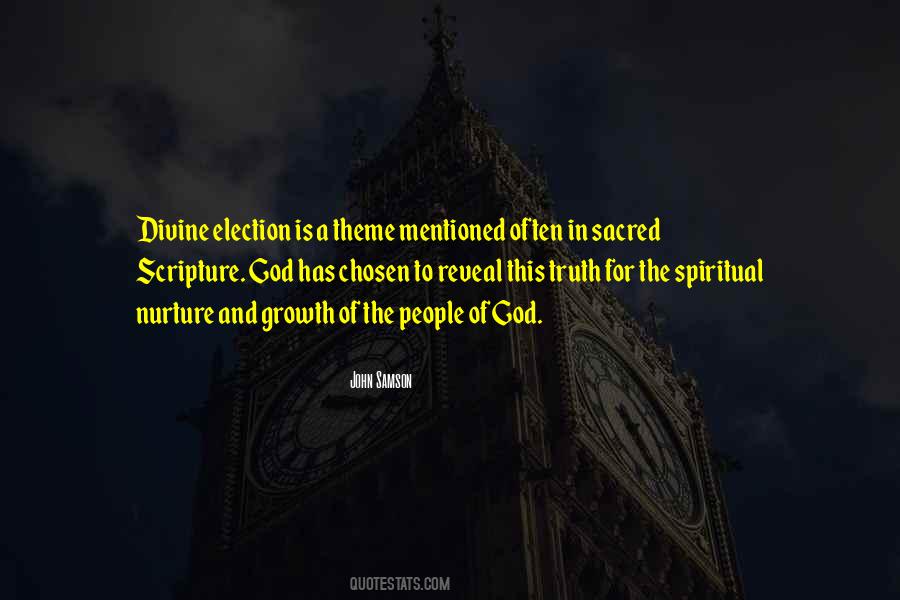 #52. Intimate knowledge of God is possible if we habitually search His Holy Scriptures & translate what we find into obedience. - Author: George Muller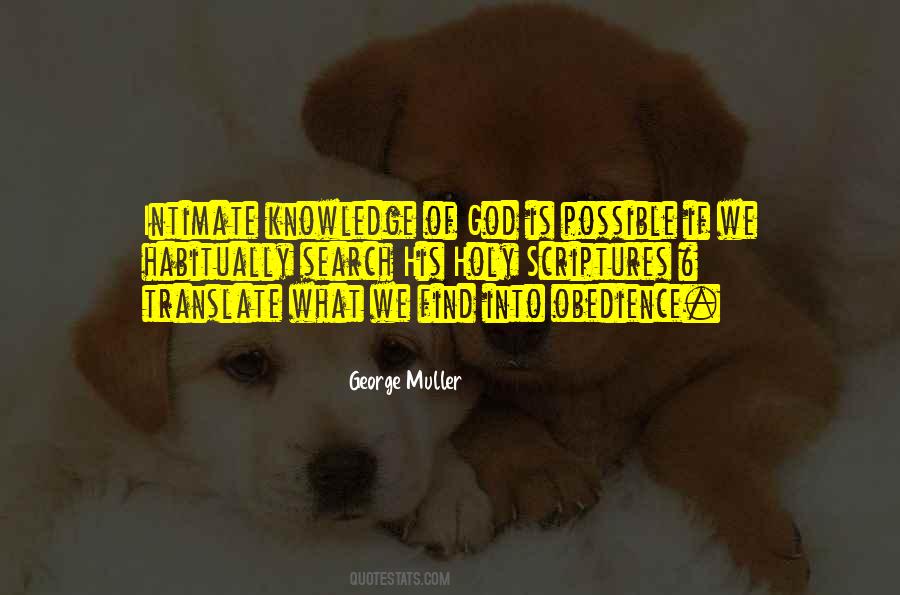 #53. I came to believe that God has reserved the office of elder for men, and I came to this conclusion not because of what my church taught or because of cultural trends but because of intense personal study of Scripture and the work of biblical scholars and linguists much wiser and more skilled than I. - Author: Anonymous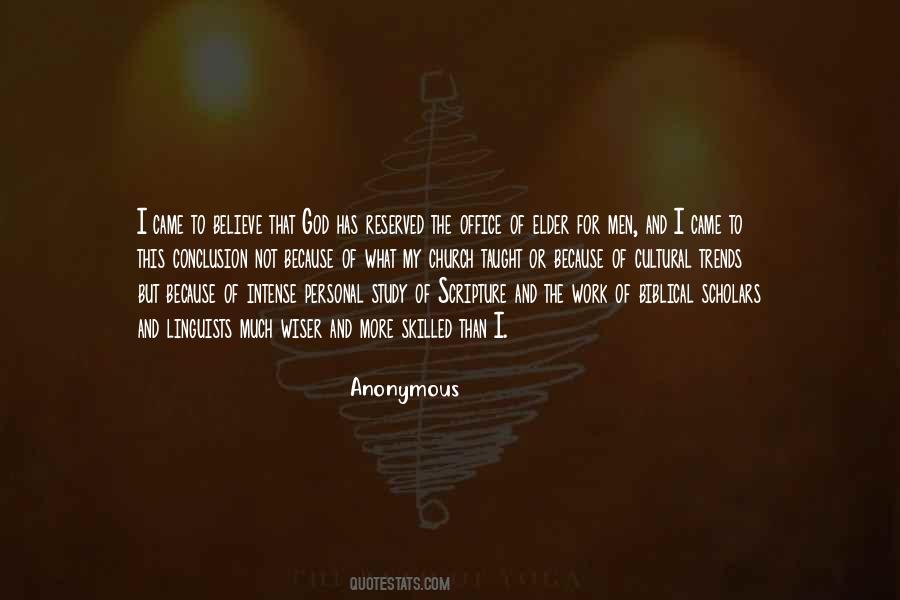 #54. We are guilty of idolatry every time we think about God in any way other than the way Scripture portrays Him. - Author: Barbara Hughes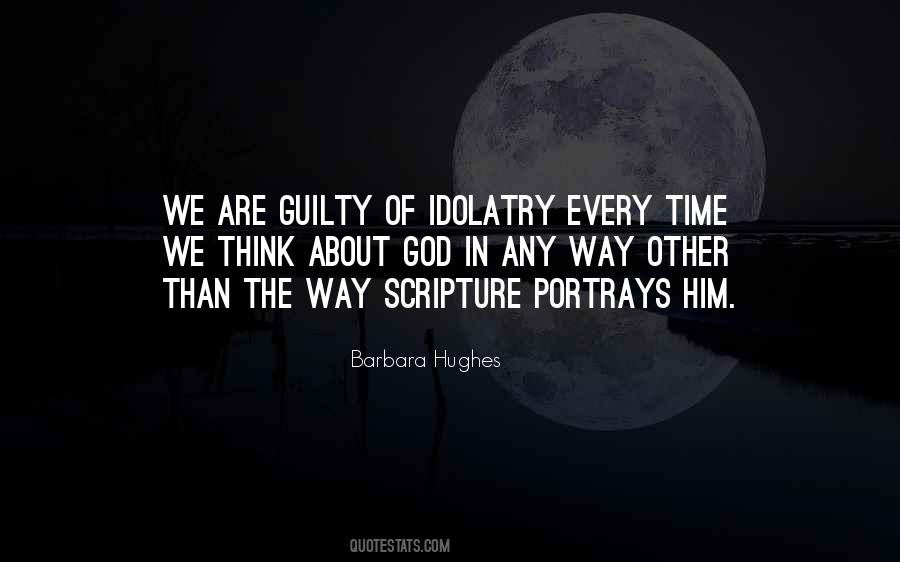 #55. Our hearts are broken today for the parents and grandparents, sisters and brothers of these children and the families of the adults we lost ... May god bless the memory of the victims and in the words of scripture heal the broken hearted and bind up their wounds. - Author: Barack Obama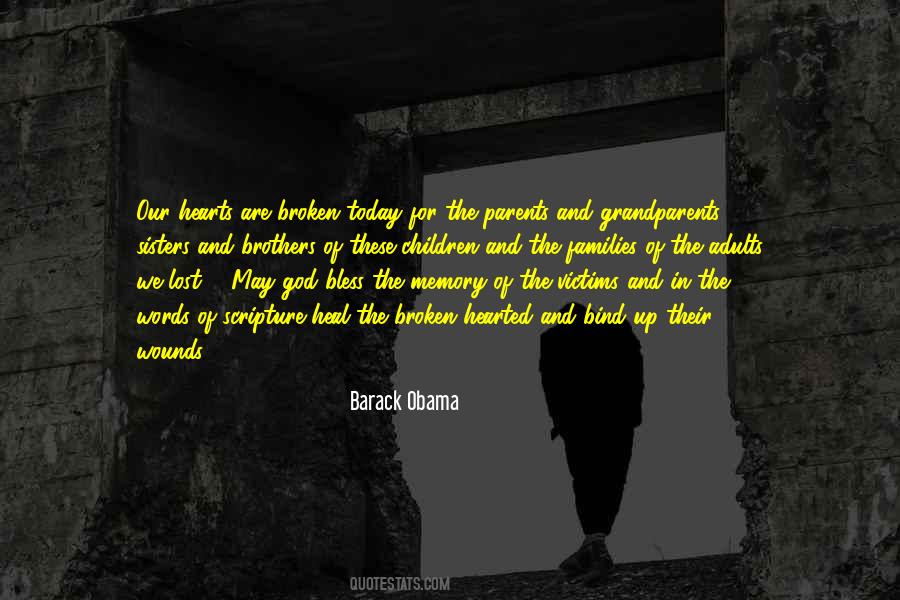 #56. But to call God "almighty" does cause problems for some. J.I. Packer says, "Men treat God's sovereignty as a theme for controversy, but in Scripture it is a matter of worship. - Author: Raymond F. Cannata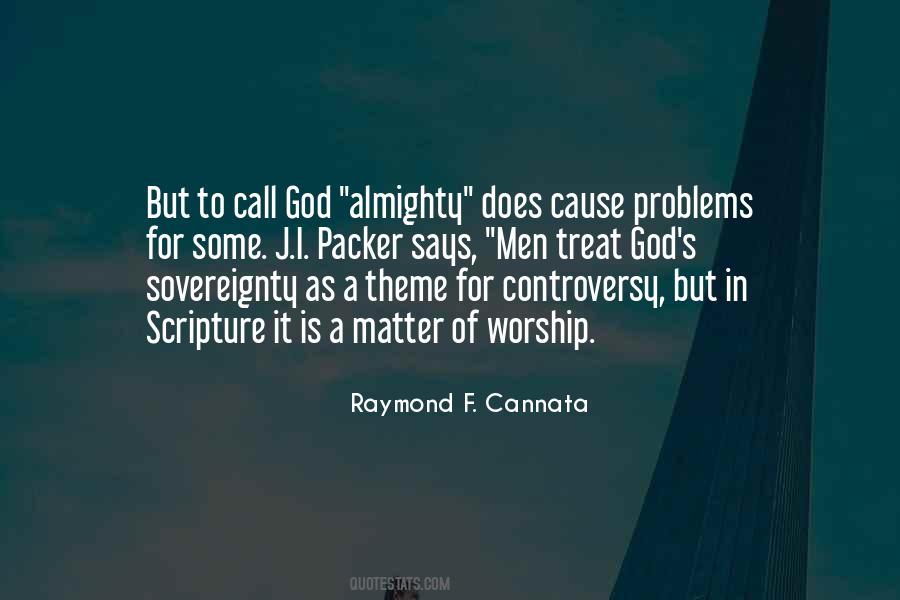 #57. God's use of the ordinary to bring about the extraordinary is as much in evidence here in the early events of Exodus as anywhere in Scripture. His tendency to bring about his will through ordinary items, ordinary people, and ordinary events is no less at work today than it was in Jochebed's. - Author: Ann Spangler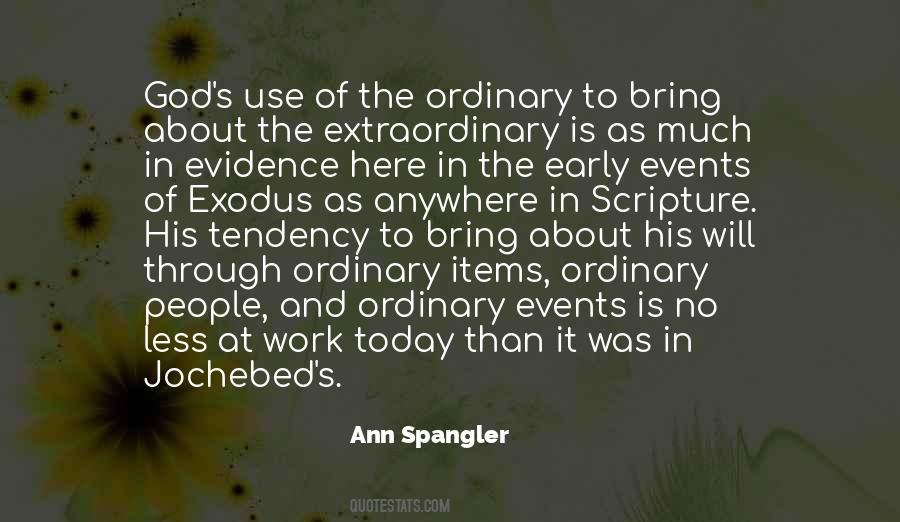 #58. Our Scripture awakened that most glorious of things, the spontaneous love our Lord so desires His children to bear Him, for it is what He bears them. - Author: Amy Rachel Peterson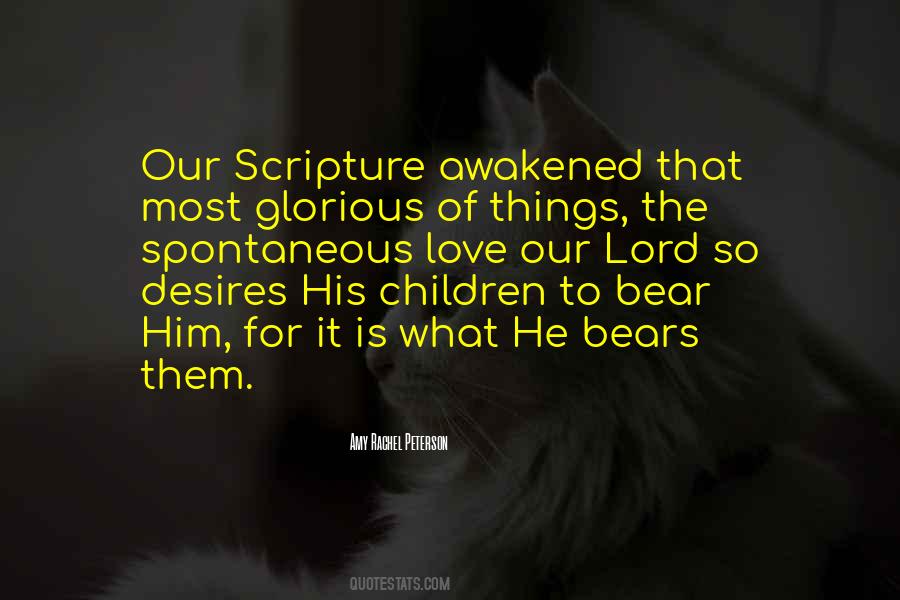 #59. Scripture sees hell as self-chosen ... Hell appears as God's gesture of respect for human choice. All receive what they actually chose. Either to be with God forever, worshipping Him, or without God forever, worshipping themselves. - Author: J.I. Packer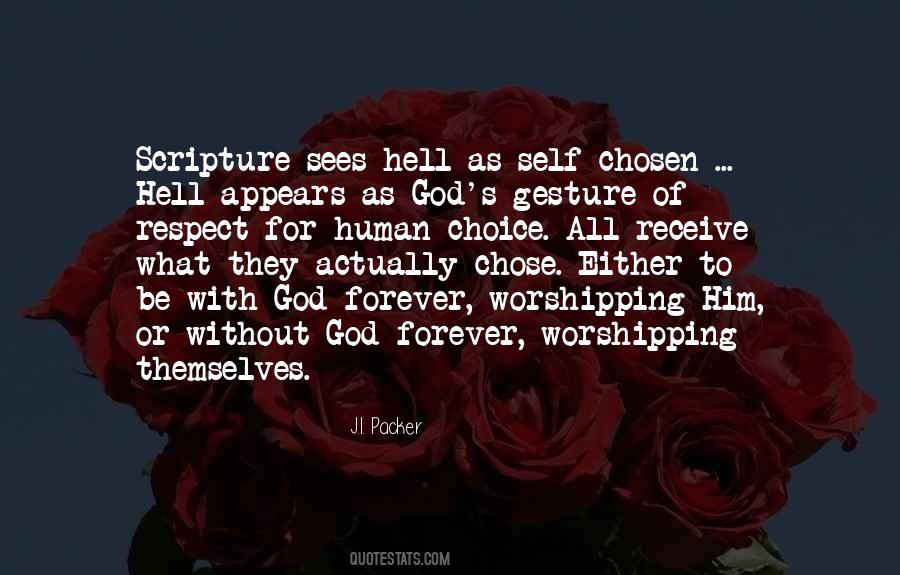 #60. While there are references to what we do for God in Scripture, the overwhelming admonition from Scripture is not what we create for Him. It's what we create standing next to Him, knowing that He's with us. - Author: Gary A. Molander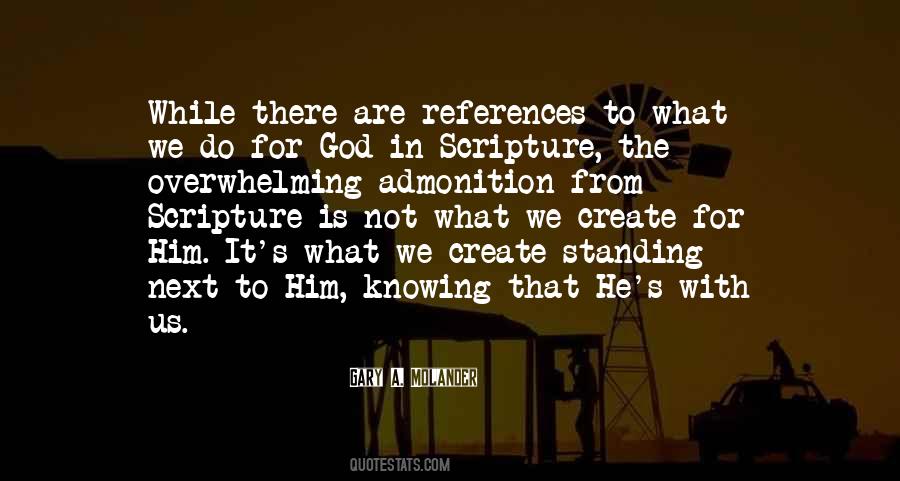 #61. Scripture is God speaking. Though the words they'd read had been penned more than a thousand years earlier, still God spoke in the reading of those words. Jesus held them accountable for the words of Scripture as if God Himself had spoken those words directly to them! - Author: James R. White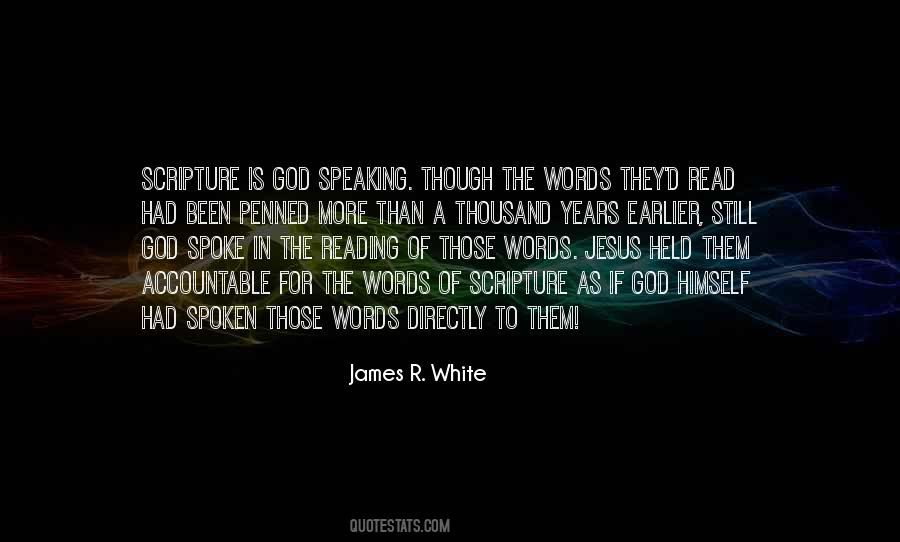 #62. Nothing so readily renews the decrepit soul, and enables it to approach the Lord, as fear of God, attentiveness, constant meditation on the words of Scripture, the arming of oneself with prayer, and spiritual progress through the keeping of vigils. - Author: Brock Bingaman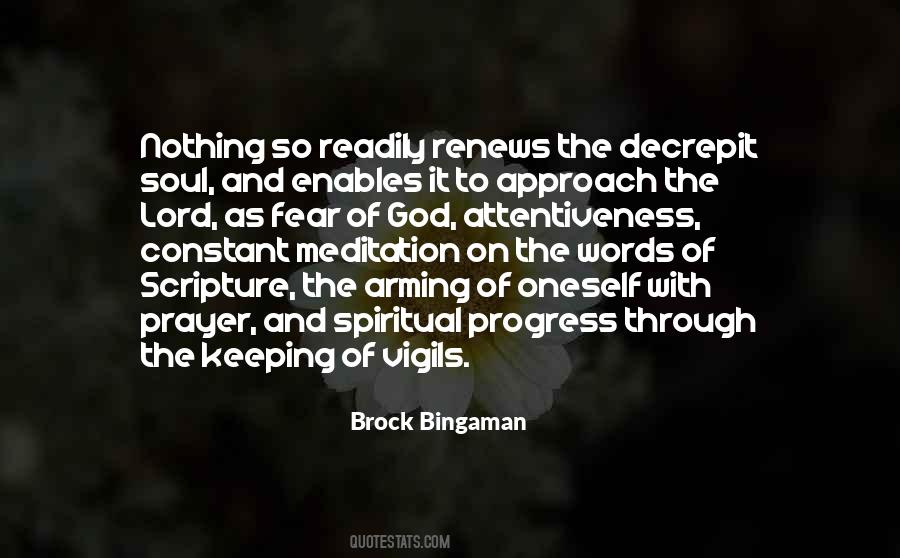 #63. One of the reasons that Christians read Scripture repeatedly and carefully is to find out just how God works in Jesus Christ so that we can work in the name of Jesus Christ. - Author: Eugene H. Peterson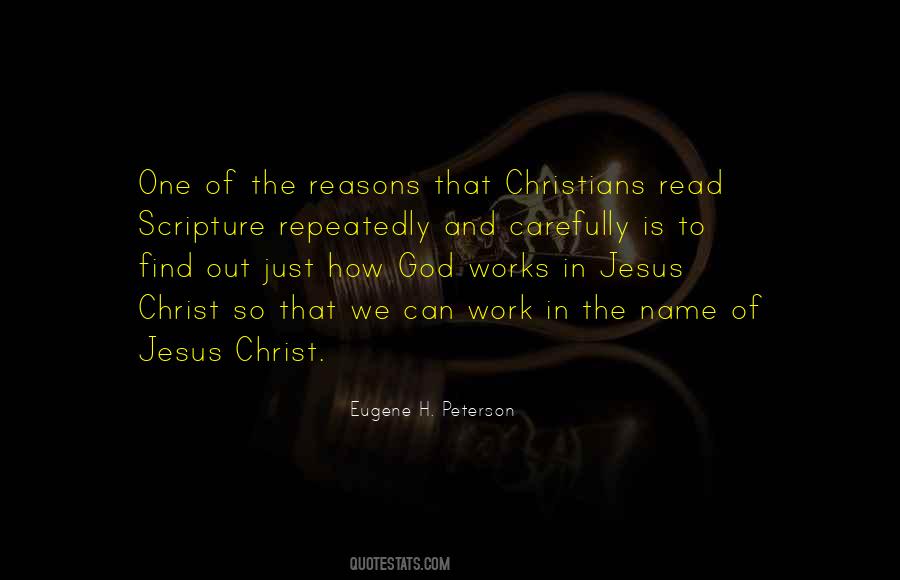 #64. I have sometimes called this 'double listening'. Listening to the voice of God in Scripture, and listening to the voices of the modern world, with all their cries of anger, pain and despair. - Author: John Stott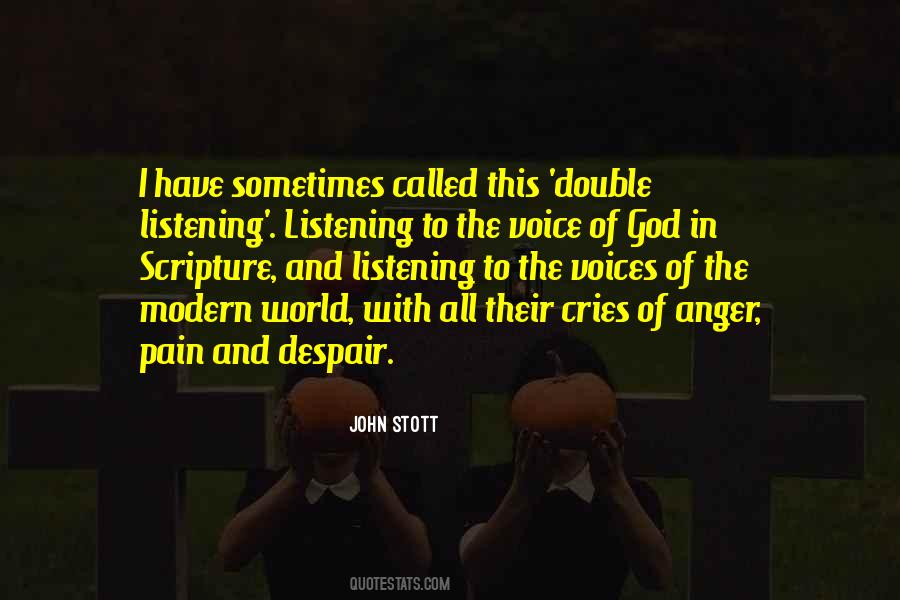 #65. Most of the heroes of Scripture rose to their greatest victories after their worst mistakes. God is in the redemption business, and He testifies of this through the lives of everyone He calls. - Author: Rick Joyner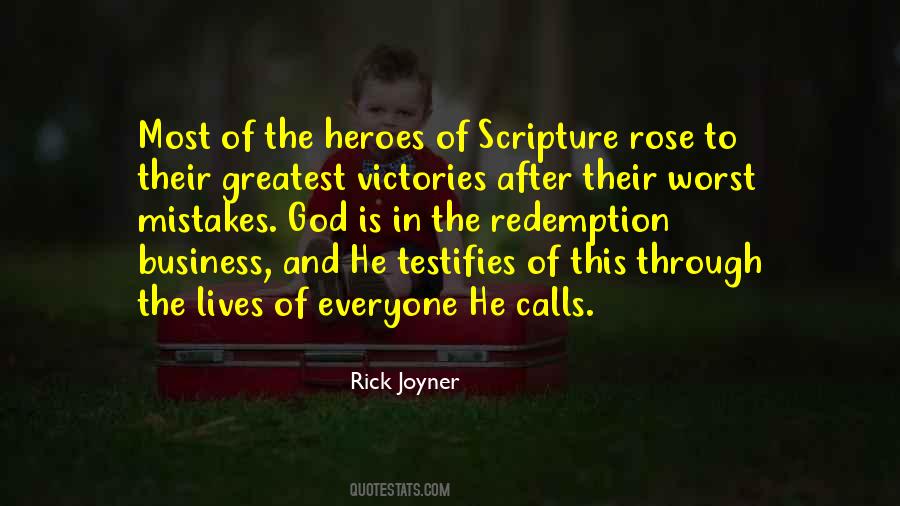 #66. We need to be very careful to go to the pages of the Scripture to learn about God's will and the leading of the Spirit, and not simply to listen to the popular teachings of the Christian subculture in which we live. - Author: R.C. Sproul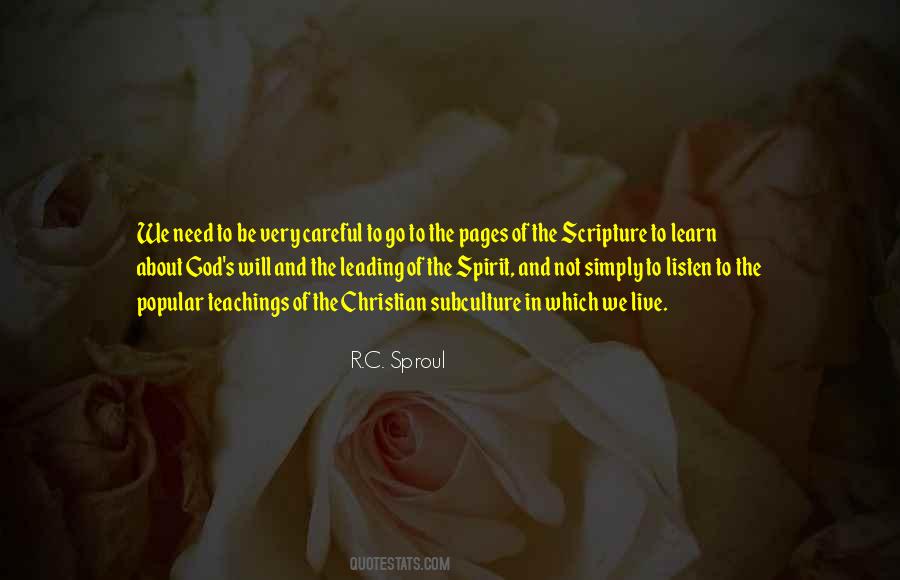 #67. Be assured that thy God will be thy counsellor and friend; he shall guide thee; he will direct all thy ways. In his written Word thou hast this assurance in part fulfilled, for holy Scripture is his counsel to thee. Happy are we to have God's Word always to guide us! - Author: Charles Haddon Spurgeon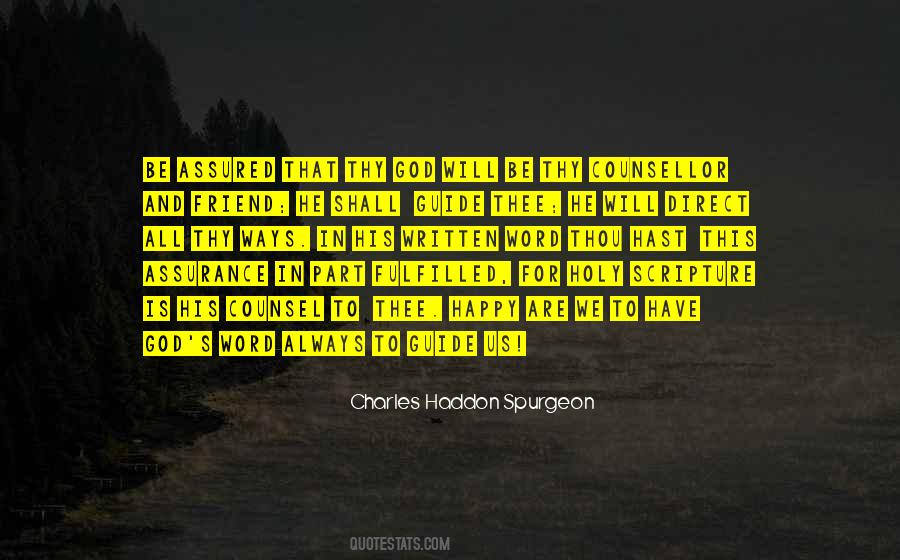 #68. The word of God is an immense wealth. - Author: Lailah Gifty Akita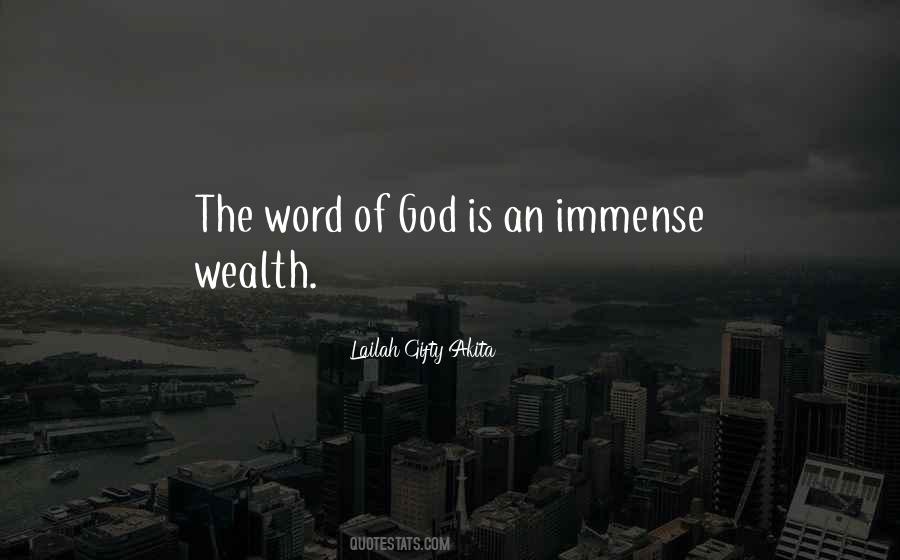 #69. No Scripture is exhausted by a single explanation.
The flowers of God's garden bloom not only double,
but sevenfold;
they are continually pouring forth fresh fragrance. - Author: Charles Spurgeon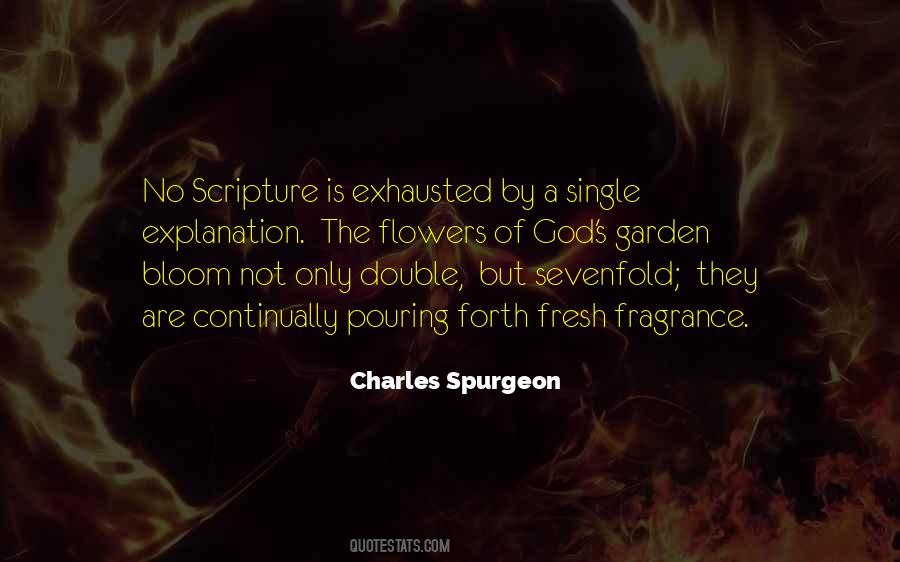 #70. Scripture carries God's authority, the highest authority, because Scripture is God's very own Word. - Author: Anonymous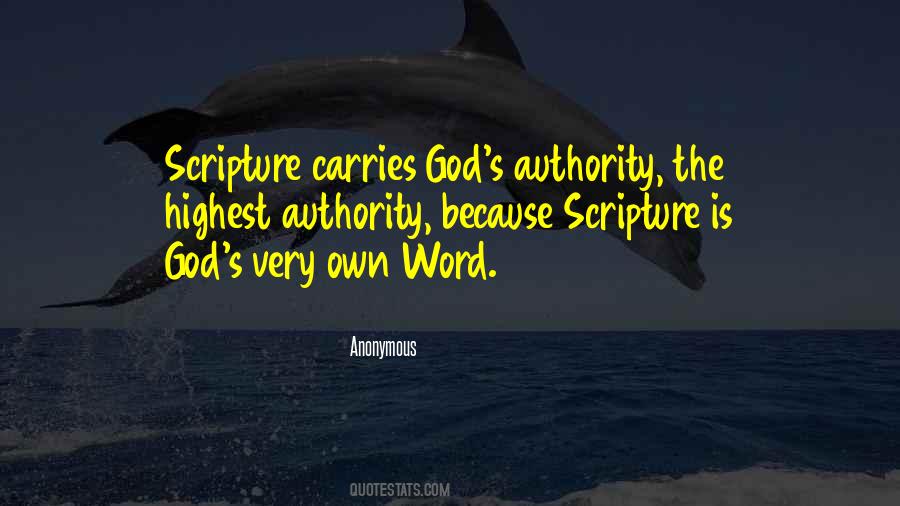 #71. God is consistent with his nature and declared purposes in Scripture, but he is not limited to our finite understanding of him or the ways we think he should work. - Author: Craig S. Keener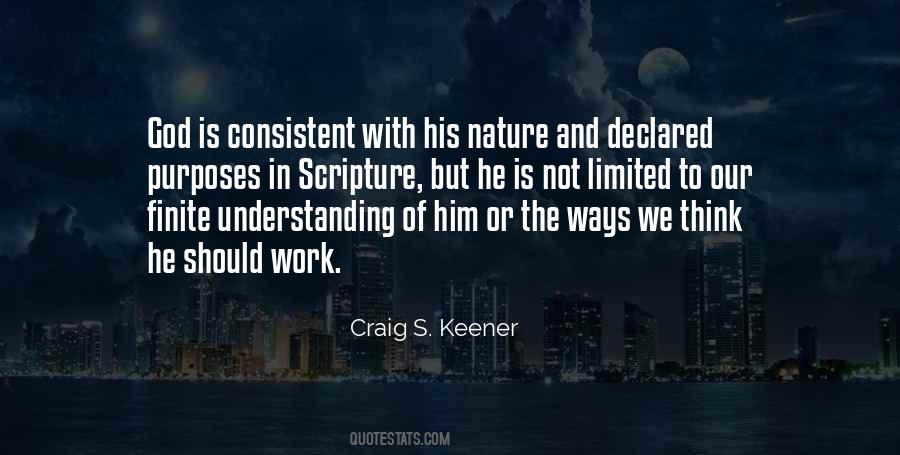 #72. Attentive reading of God's Word will set you up for frequent Holy Spirit warnings as He uses Scripture to set off alarms of danger in your life. As you grow spiritually, you may discover direct "prompts" God's Spirit gives, but they will always be in harmony with what God says in His Word. - Author: James MacDonald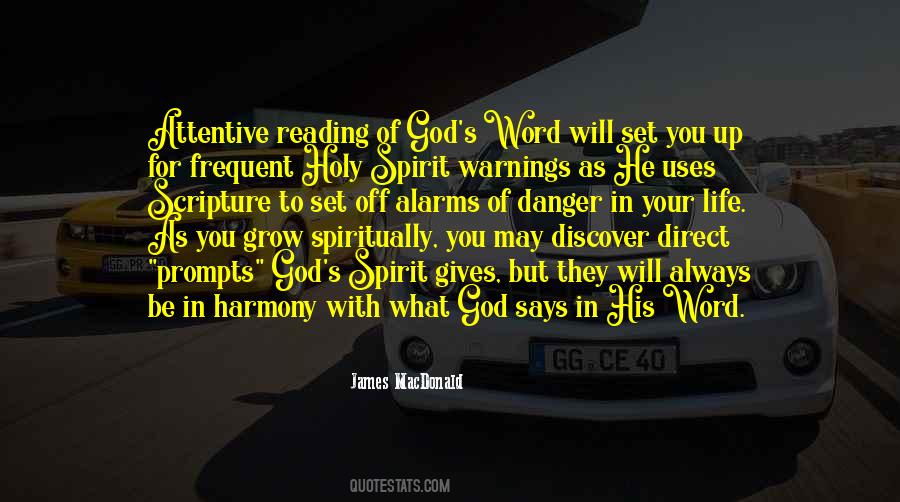 #73. If we believe the Canon is closed and Scripture is sufficient, then we believe God is not speaking new words apart from Scripture. - Author: Dan Phillips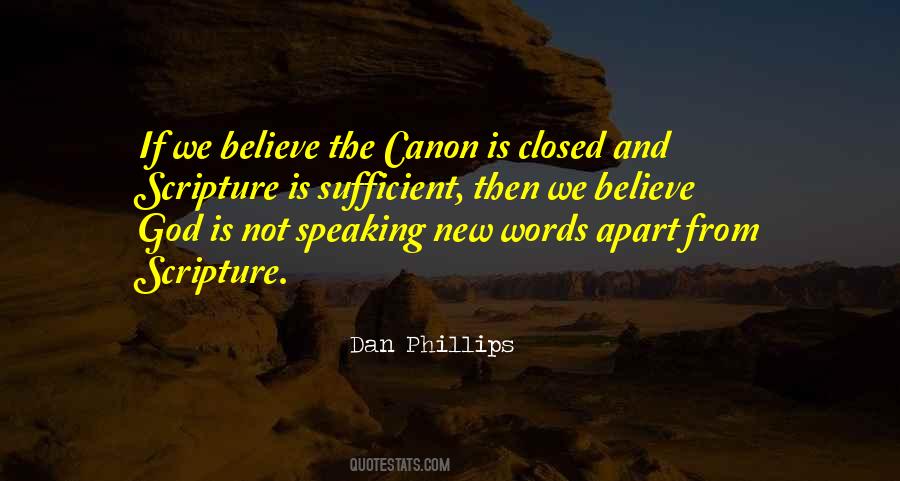 #74. The truth is in Jesus and it leads to the fullness of truth about God, man, creation, history, sin, righteousness, grace, faith, salvation, life, death, purpose, meaning, relationships, heaven, hell, judgement, eternity, and everything else of ultimate consequence. - Author: John F. MacArthur Jr.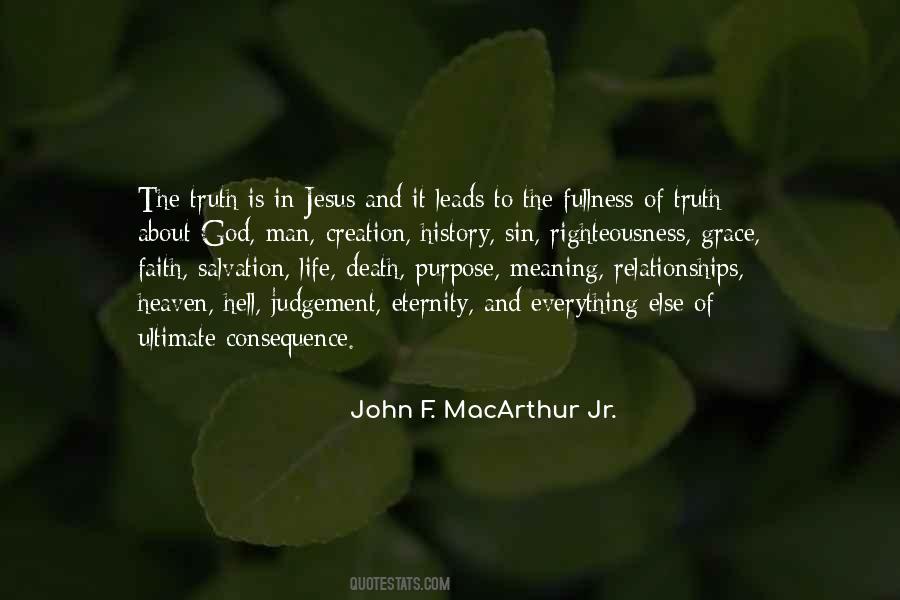 #75. The end and design of all that is written in Scripture is to call us back from the spirit of Satan, the flesh, and the world, to full dependence on and obedience to the Spirit of God. - Author: Andrew Murray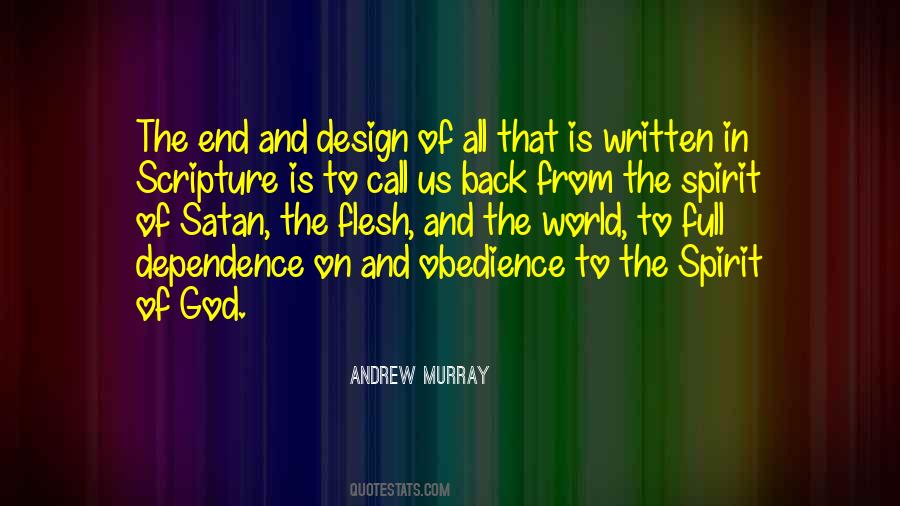 #76. God's will concerning financial prosperity and abundance is clearly revealed in the Scriptures. - Author: Gloria Copeland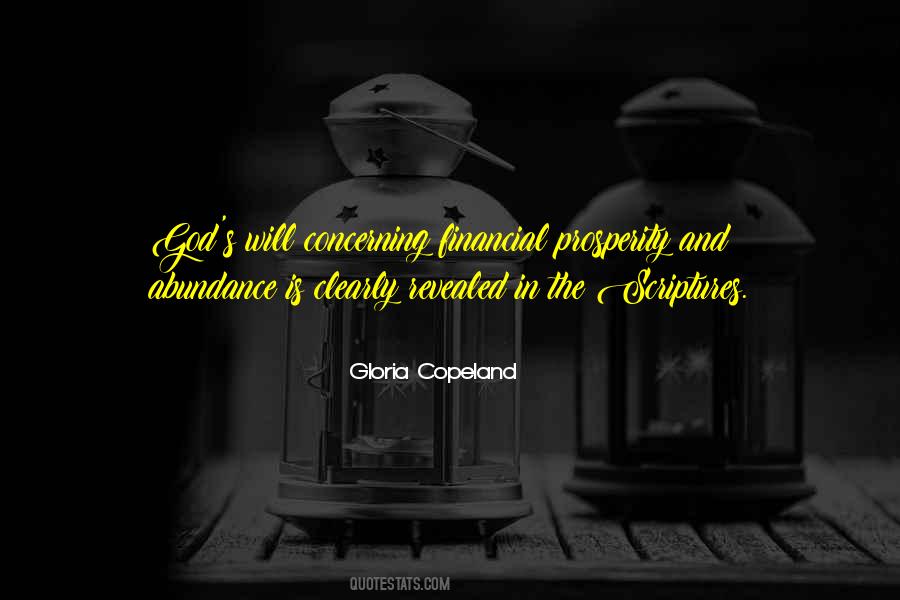 #77. Real joy and happiness come from living in such a way that our Heavenly Father will be pleased with us ... One cannot break God's commandments and be happy. We should remember the scripture, "Wickedness never was happiness" - Author: W. Eugene Hansen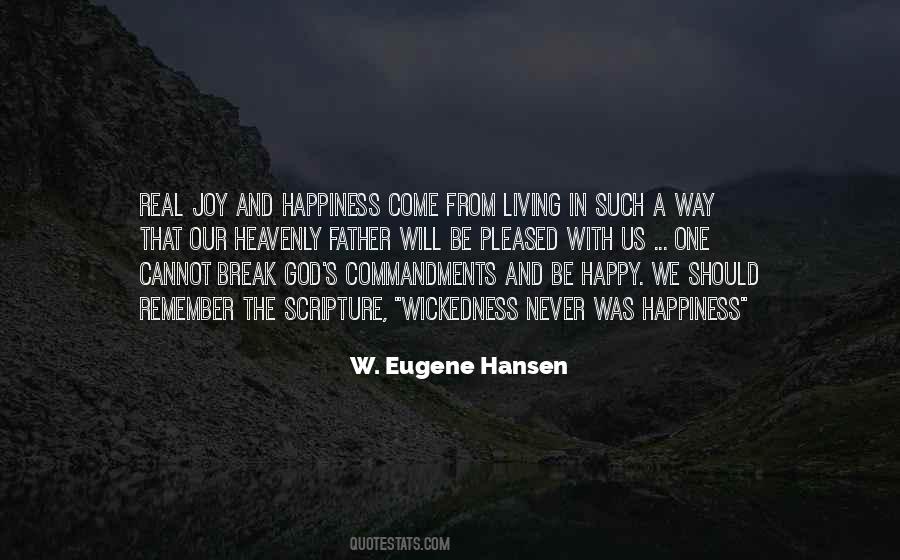 #78. Scripture is the holy Word from the holy God, delivered by holy men, to teach holy truths and to make people holy. - Author: Kenneth H. Blanchard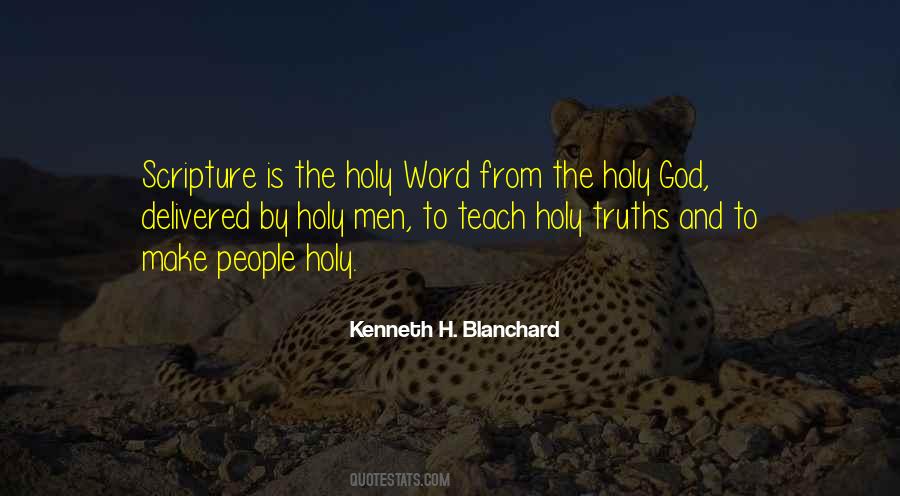 #79. Sometimes when Katy prayed, she could almost hear God's answer - the quiet, still resonance of a Scripture deep in her heart or silent words of wisdom spoken by her parents or the Flanigans. - Author: Karen Kingsbury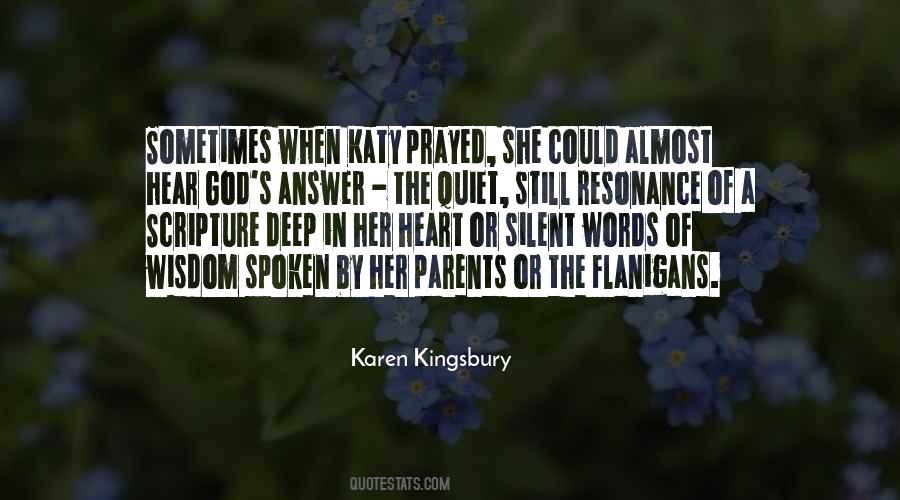 #80. The Bible is the story so far in the true novel that God is still writing. - Author: N. T. Wright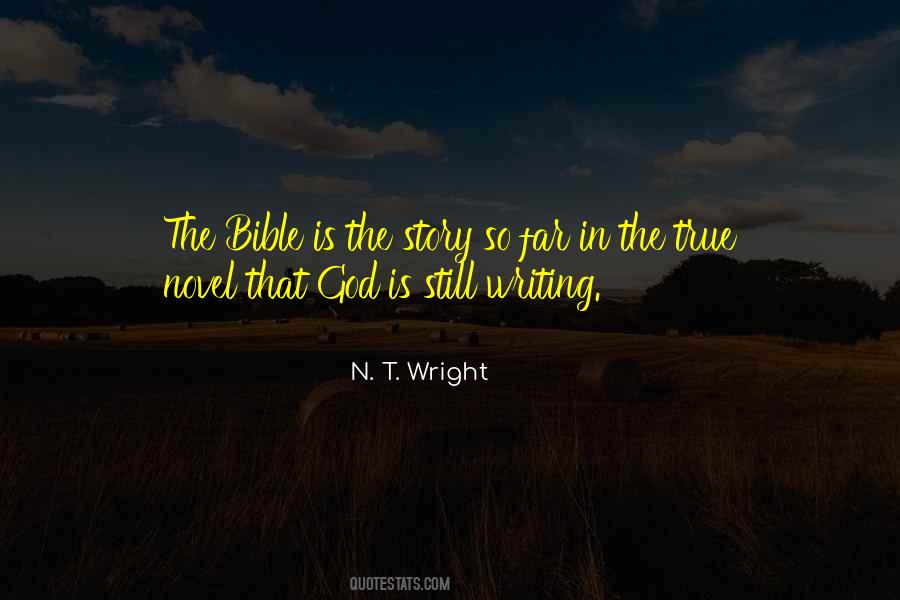 #81. You want God? Don't look at Scripture, look everywhere, at the planets, the constellations, the universe. Look at a bug, a flea. Look at the manifold wonders of creation, including the Nazis. That's the kind of God you're dealing with. - Author: E.L. Doctorow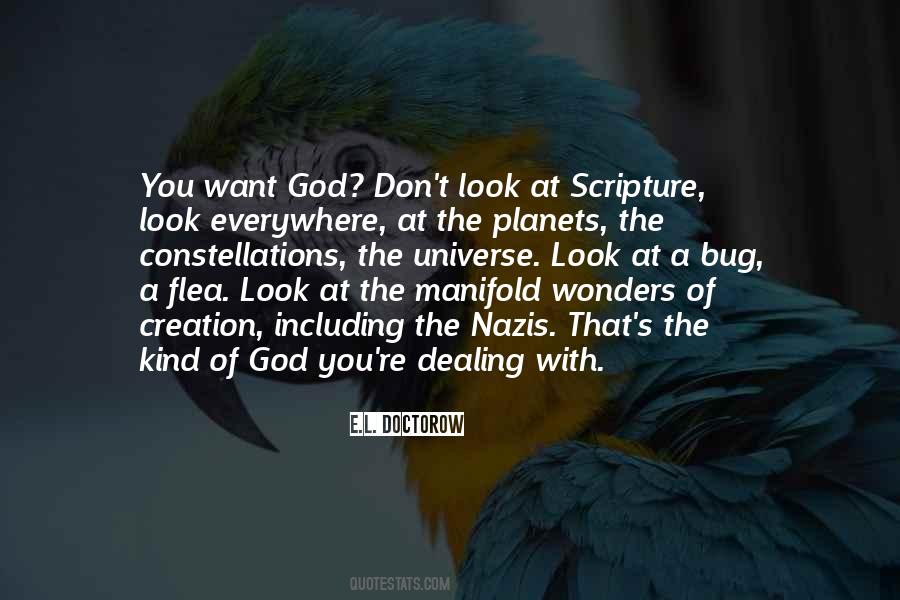 #82. Live in the wisdom of accepted tenderness. Tenderness awakens within the security of knowing we are thoroughly and sincerely liked by someone ...
Scripture suggests that the essence of the divine nature is compassion and that the heart of God is defined by tenderness. - Author: Brennan Manning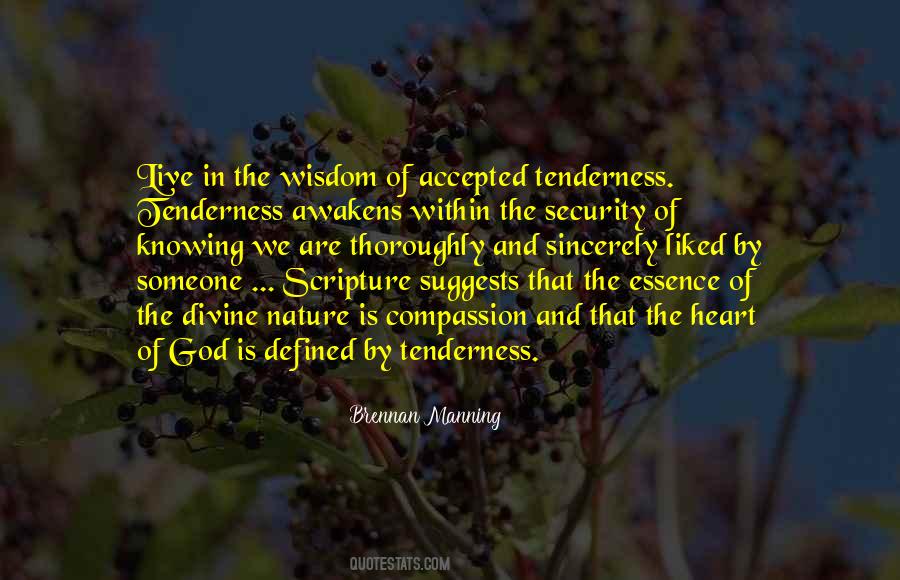 #83. Don't ever be ashamed of being thought of as being tied to Holy Scripture. Don't ever be ashamed of exalting Holy Scripture. You're following in the steps of Jesus who bound himself to the Word of God, and insisted by his obedience to fulfil what was written of him. - Author: J. Alec Motyer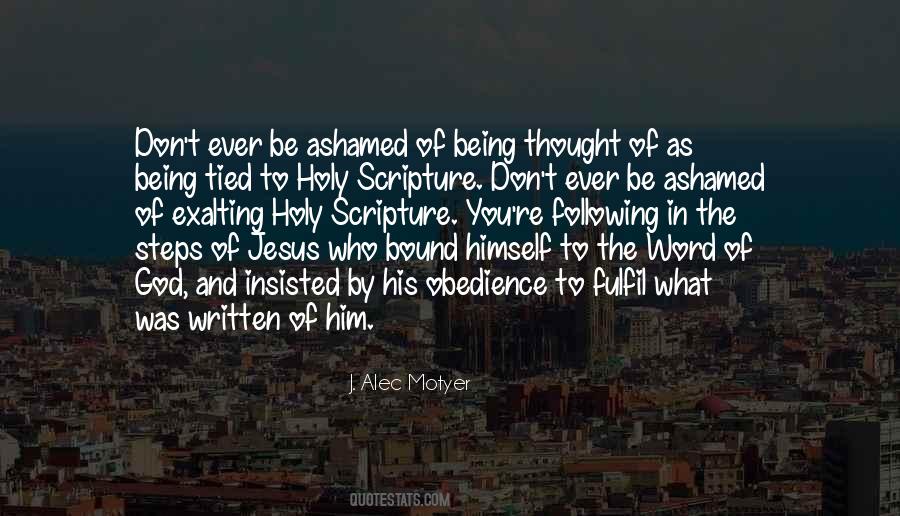 #84. Christ wears "two shoes" in the world: scripture and nature. Both are necessary to understand the Lord, and at no stage can creation be seen as a separation of things from God. - Author: Johannes Scotus Eriugena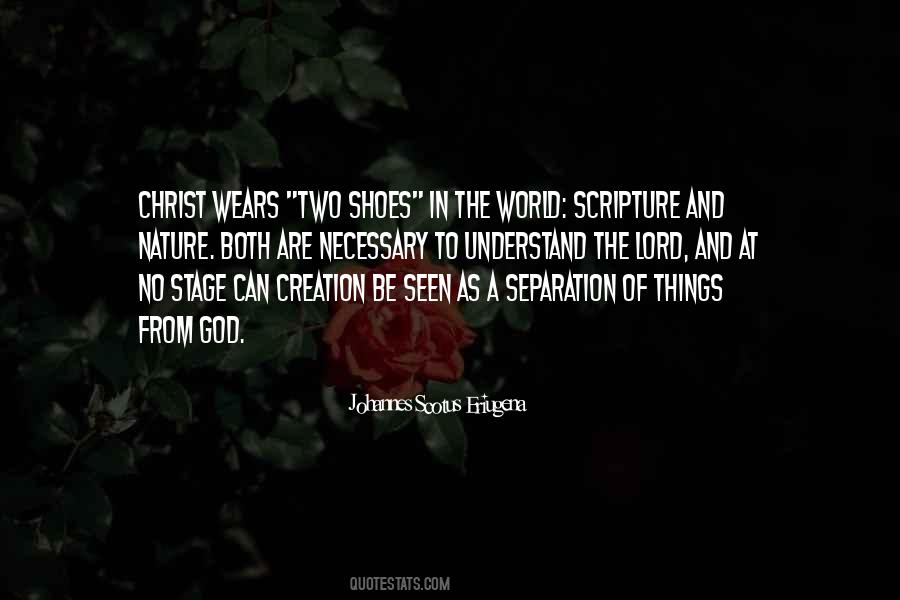 #85. Some people keep God in a Sunday morning box and say, 'Hey, I did my religious duty.' That's fine, but the scripture says to pray without ceasing. And I think that means all through the day you're talking to God. Even if it's in your thoughts. - Author: Joel Osteen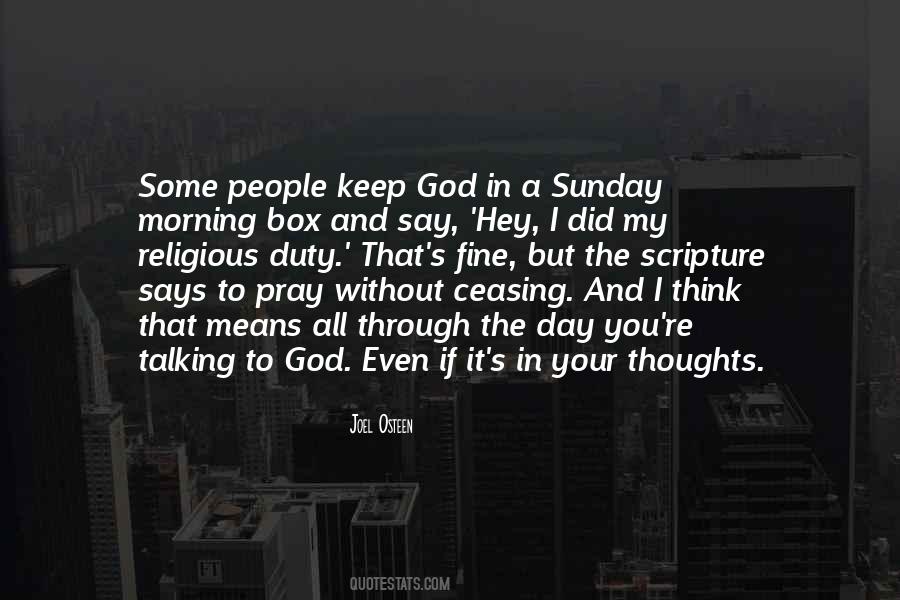 #86. The clarity of Scripture means that the Bible is written in such a way that its teachings are able to be understood by all who will read it seeking God's help and being willing to follow it. - Author: Wayne Grudem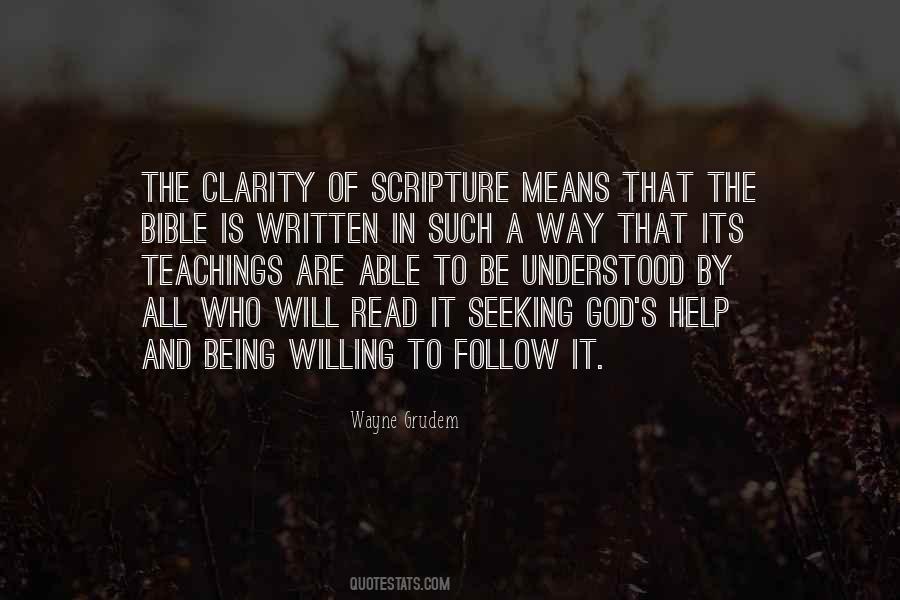 #87. During my days of deepest grief, in all of my shock, sorrow and struggle, I sat at the feet of God. I literally spent hours each day reading God's word, meditating on scripture and praying. I intentionally spent a significant amount of time being still before God. - Author: Rick Warren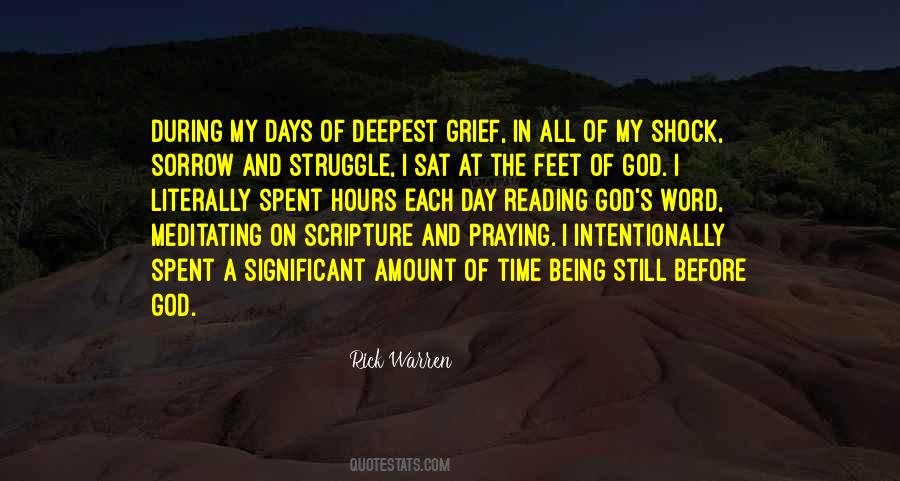 #88. God then does not profess to answer in Scripture all the questions that we, in our boundless curiosity, would like to ask about Scripture. He tells us merely as much as He sees we need to know as a basis for our life of faith. - Author: J.I. Packer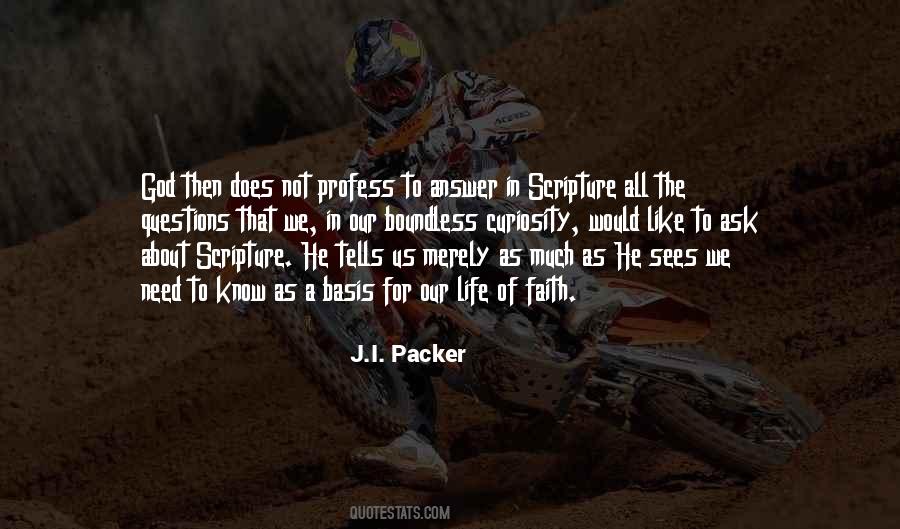 #89. The Fanaticism which discards the Scripture, under the pretense of resorting to immediate revelations is subversive of every principle of Christianity. For when they boast extravagantly of the Spirit, the tendency is always to bury the Word of God so they may make room for their own falsehoods. - Author: John Calvin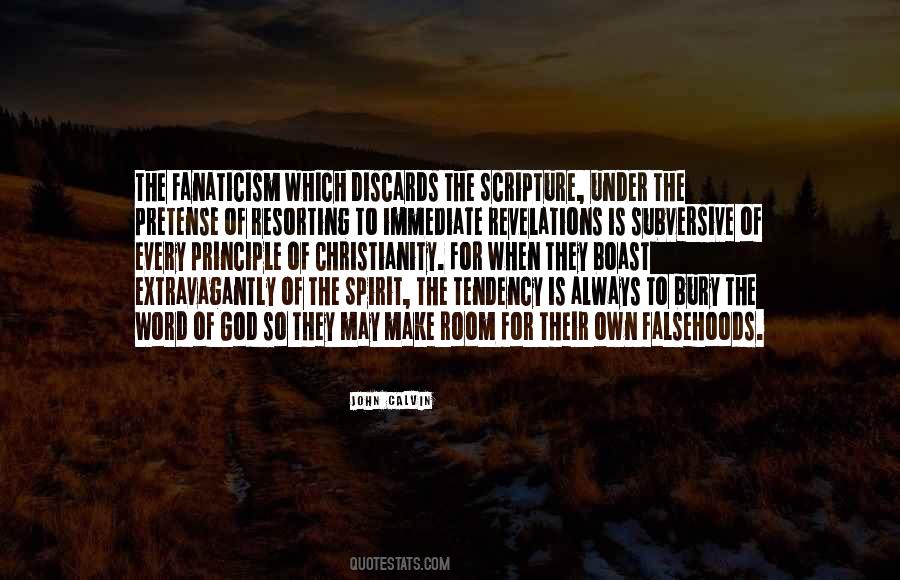 #90. How does "Let go and let God" measure up against Scripture? Remember, the test isn't what sounds deep, what sounds holy, or even what makes sense to us. For the Christian, the test is Scripture. - Author: Dan Phillips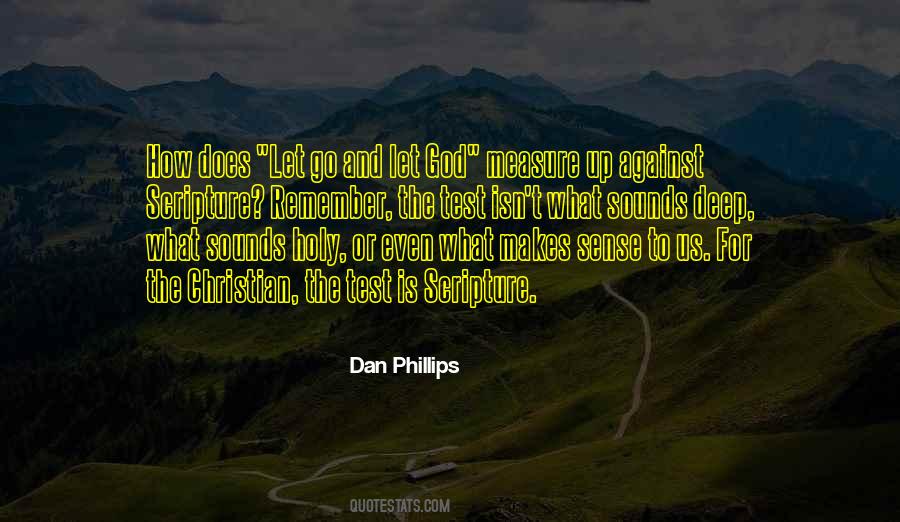 #91. The second challenge is to make sure that, growing up in this culture, they have a healthy view of life and God and Scripture. So, that's my other challenge. So, finding that balance is certainly no easy task but it can be very fulfilling. So, that's part of what we talk about in this book. - Author: Alex Kendrick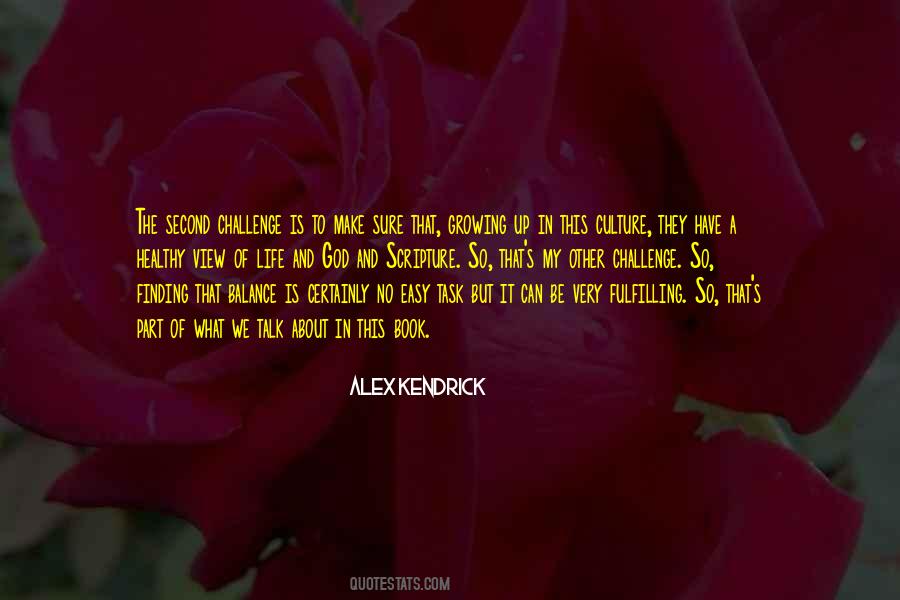 #92. Does Scripture forbid homosexual behavior? Of course it does. Jesus and his apostles taught that God's intention in marriage is for a man to leave his parents and join himself to one woman. - Author: Michael Horton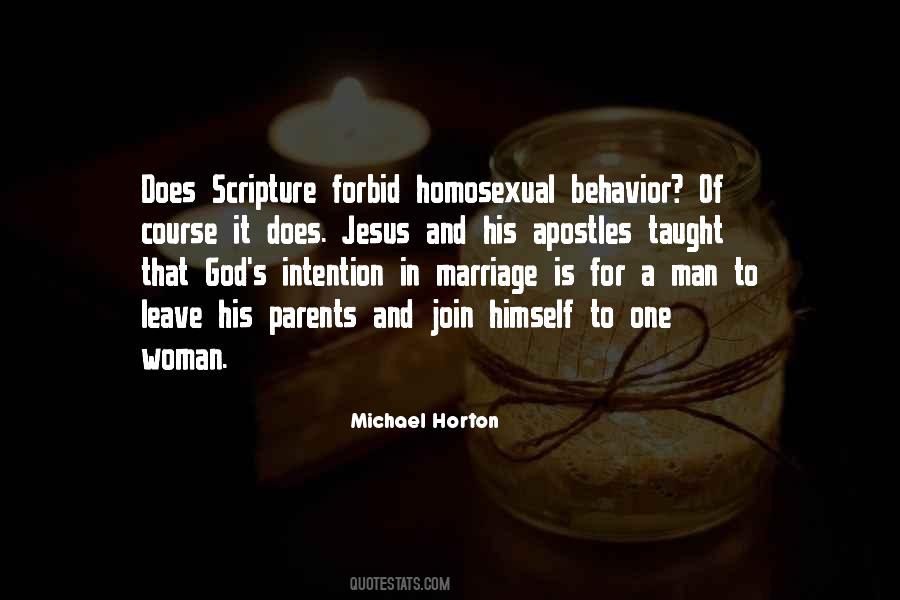 #93. I've learned a simple principle: all I have to do is be the best 'me' that I can be. One day when I read the Scripture about David, that he fulfilled his purpose for his generation. I knew God spoke to me. - Author: Joel Osteen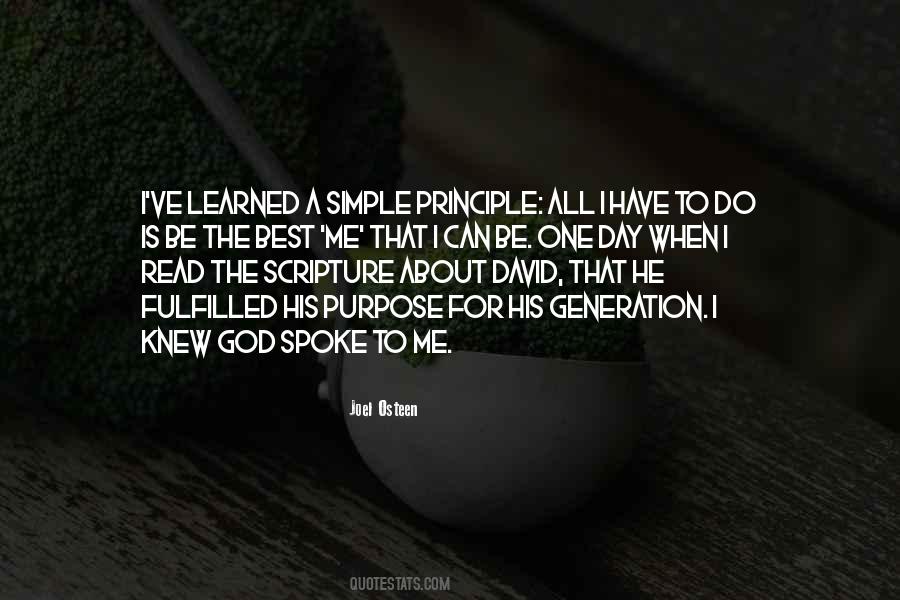 #94. I felt that I had been born anew and that the gates of heaven had been opened. The whole of Scripture gained a new meaning. And from that point on the phrase, 'the justice of God' no longer filled me with hatred, but rather became unspeakable sweet by virtue of a great love. - Author: Martin Luther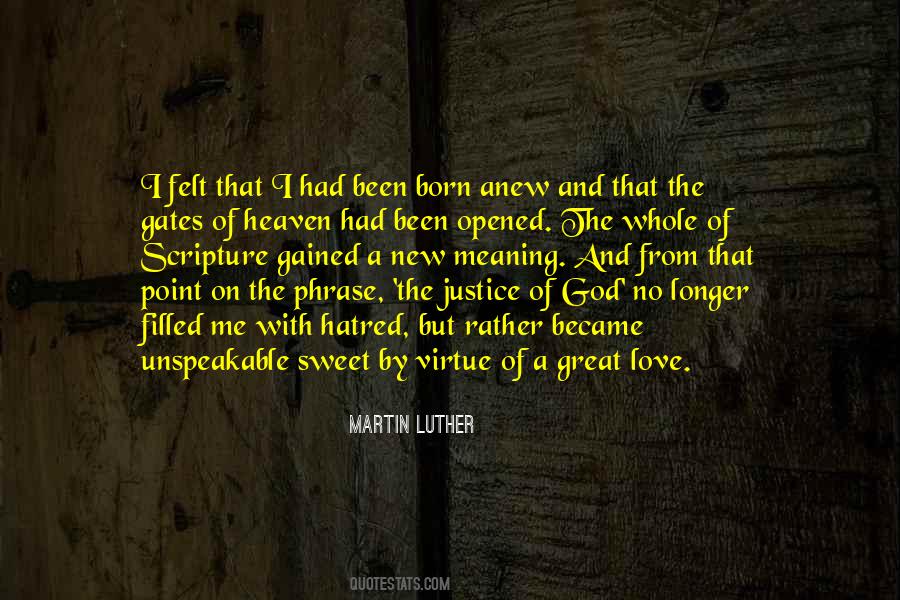 #95. Strong affections for God, rooted in and shaped by the truth of Scripture - this is the bone and marrow of Biblical worship. - Author: John Piper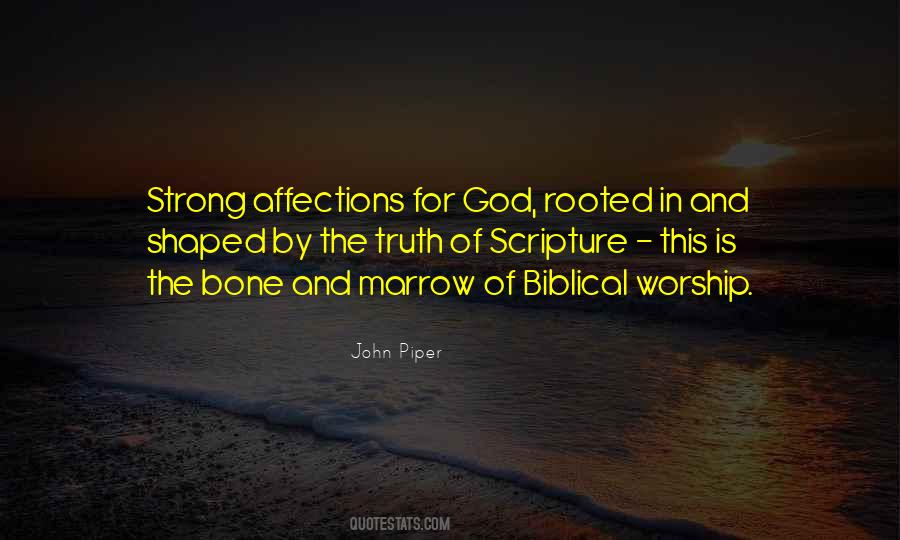 #96. I think any apparent contradiction in scripture is my limited capacity. Me trying to understand God is like an ant trying to understand the Internet. I don't have the brain capacity. - Author: Rick Warren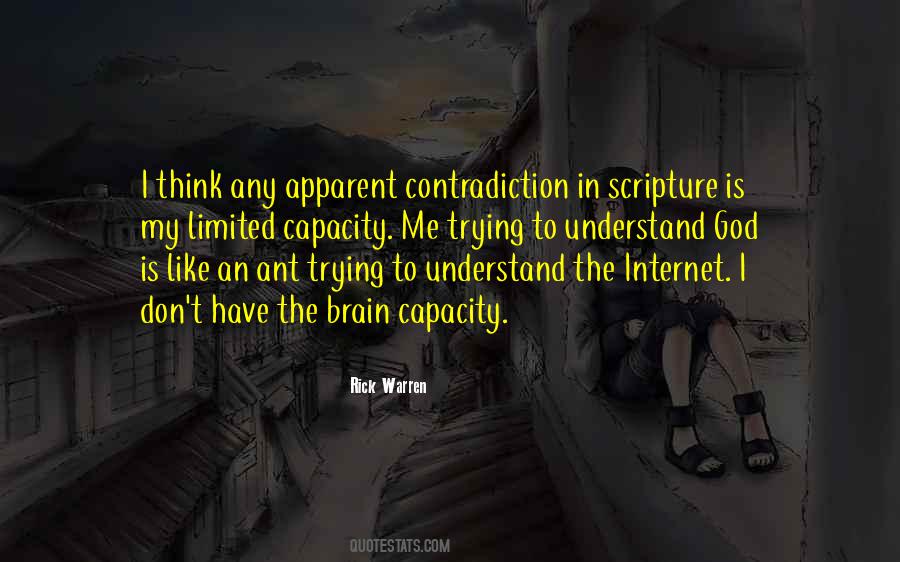 #97. A defining reality for me is what Scripture teaches in Hebrews 12, that God is our father, and that a sign that he loves us is that he disciplines us, he takes us through hardship to build character in us that could not be shaped apart from difficulty. - Author: Joshua Harris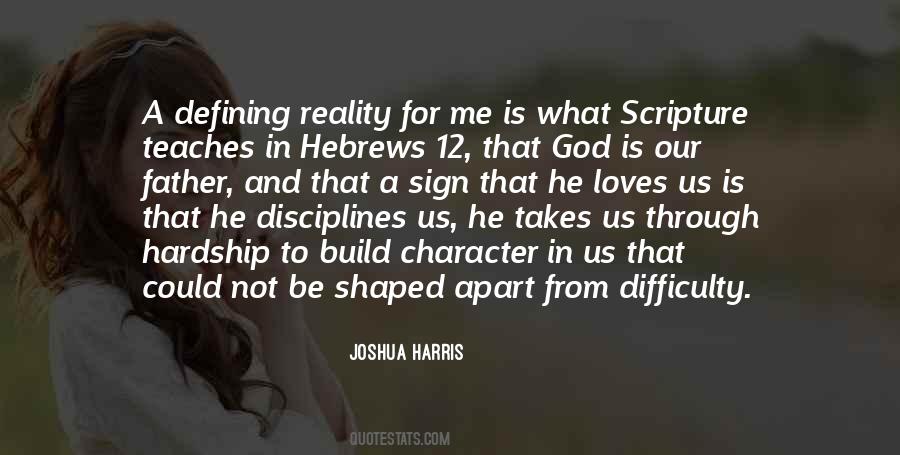 #98. Someone burns your beloved scripture in front of you, yet you are not bothered even the slightest bit. That's when you know, you have achieved divinity. - Author: Abhijit Naskar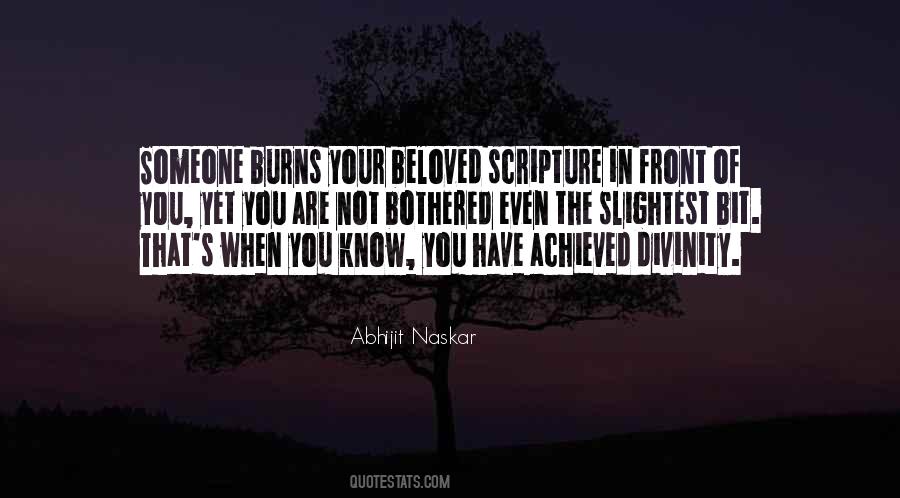 #99. Just as at sea those who are carried away from the direction of the harbor bring themselves back on course by a clear sign, on seeing a tall beacon light or some mountain peak coming into view, so Scripture may guide those adrift on the sea of the life back into the harbor of the divine will. - Author: Gregory Of Nyssa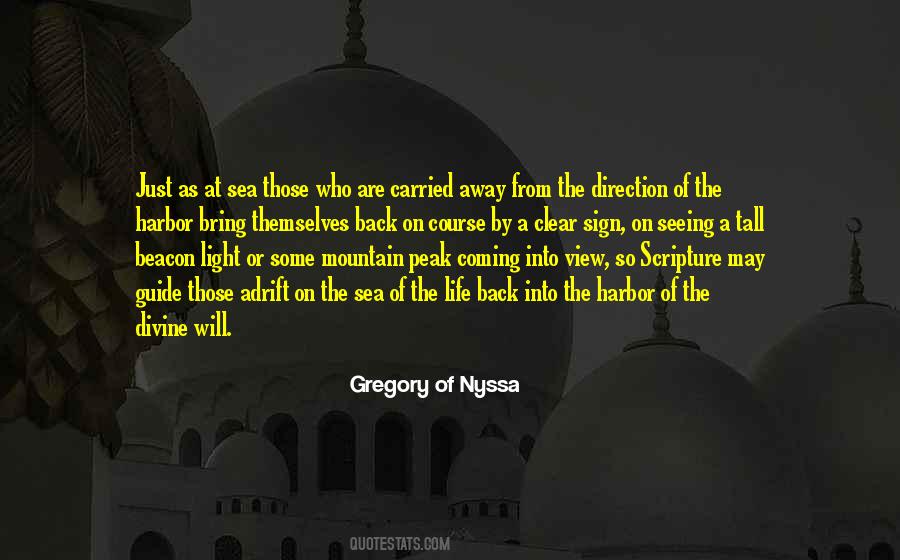 #100. A true servant of God will never teach a false doctrine. He will never deny new revelation. He never will tell you that the canon of scripture is full, or that the New Testament is the last revelation ever intended to be given to man. - Author: Orson Pratt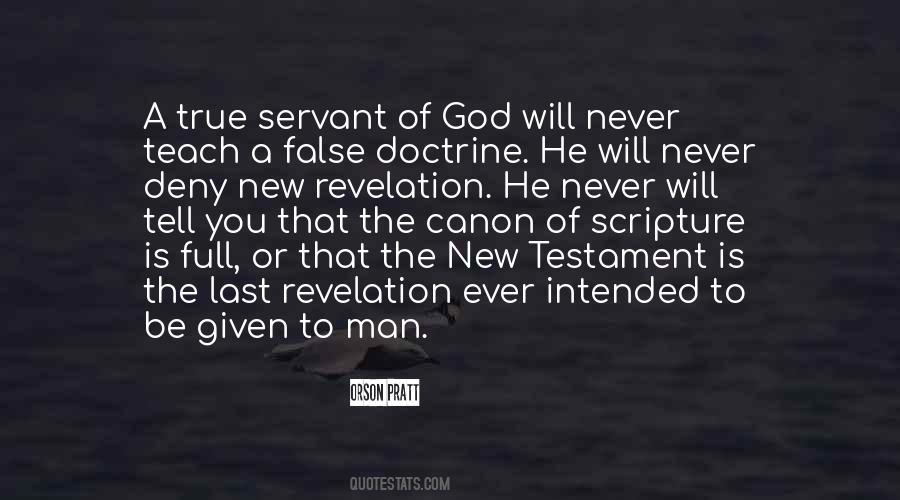 Famous Authors
Popular Topics