God Love And Grace Famous Quotes & Sayings
List of top 100 famous quotes and sayings about god love and grace to read and share with friends on your Facebook, Twitter, blogs.
Top 100 God Love And Grace Quotes
#1. We want big results-sooner rather than later. And we've forgotten that God showers his extraordinary gifts through ordinary means of grace, loves us through ordinary fellow image bearers, and sends us into the world to love and serve others in ordinary callings. Michael Horton, Ordinary, 14 - Author: Michael S. Horton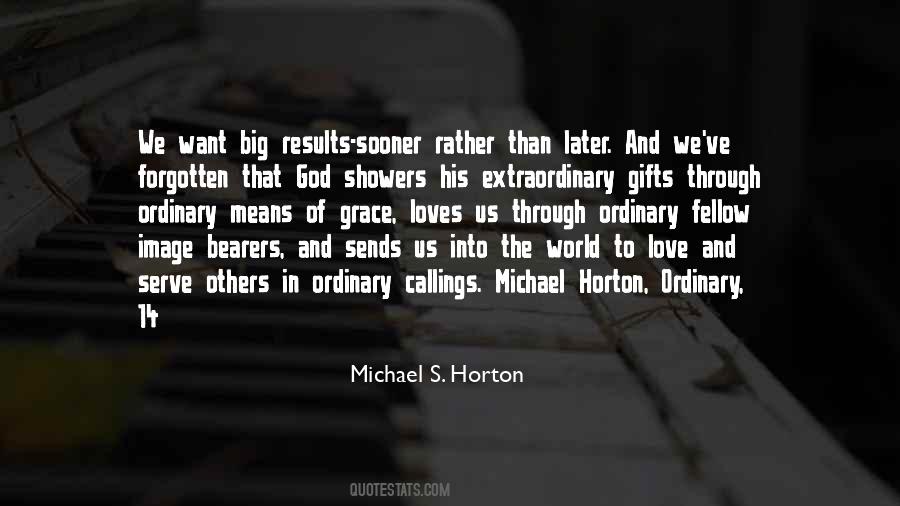 #2. Mercy is compassion, kindness, empathy, forgiveness. While grace might be described as blessings and favor from God that we do not necessarily deserve, mercy represents not receiving what we do deserve because of the patience, love, and atonement of the Master. - Author: Brent L. Top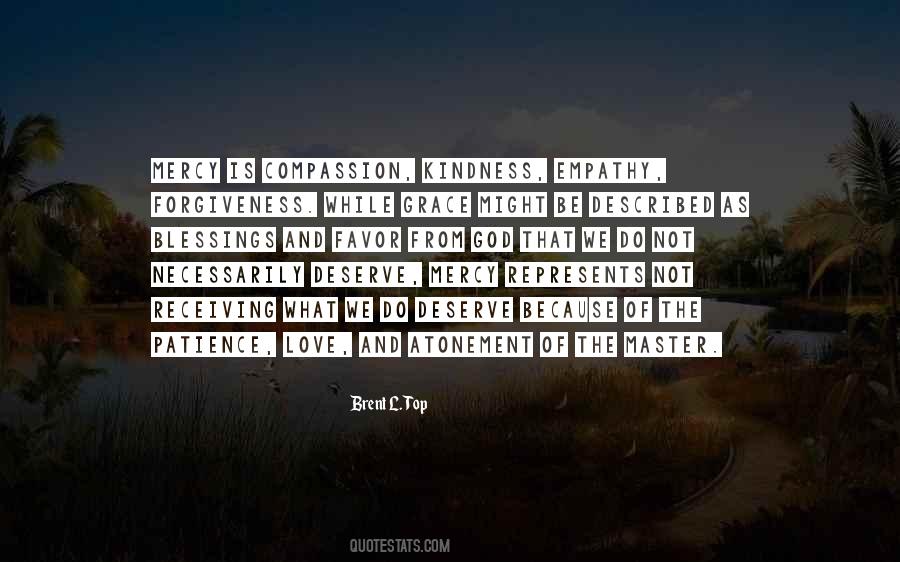 #3. God is Holy.
God is pure.
God is faithful.
God is gracious.
God is merciful. - Author: Lailah Gifty Akita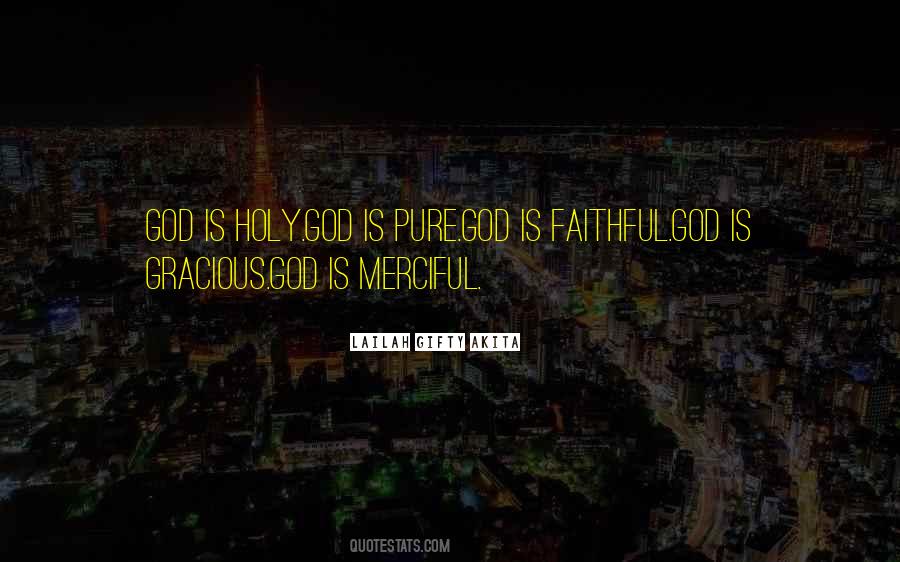 #4. And I'd be dead , but by God's grace
Drive on, don't mean nothin'
My children love me, but they don't understand
And I got a woman who knows her man
Drive on, don't mean nothin', drive on - Author: Johnny Cash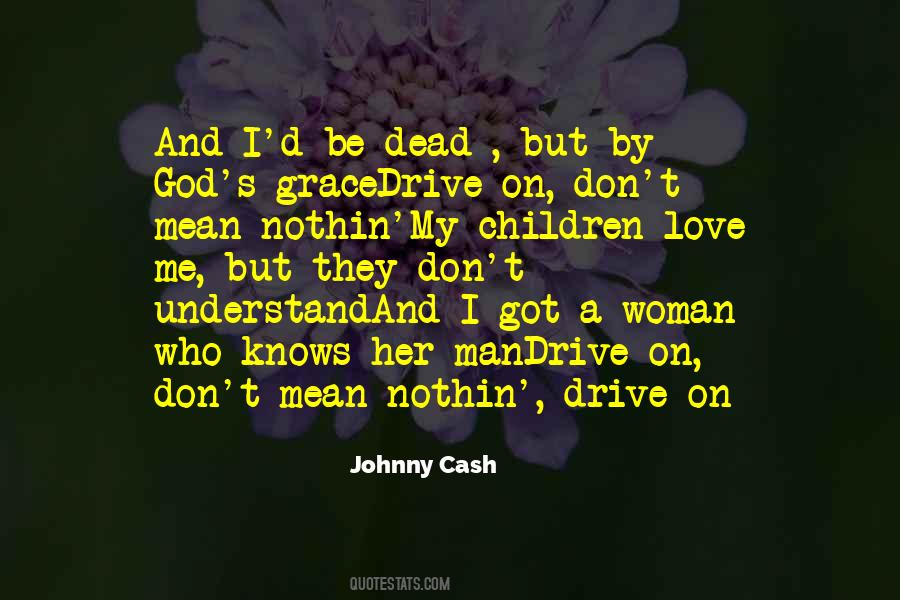 #5. For Paul, the centre of the Christian faith was that we can never earn or deserve the favour of God, nor do we need to. The whole matter is one of grace, and all that we can do is to accept in wondering love and gratitude and trust what God has done for us. - Author: William Barclay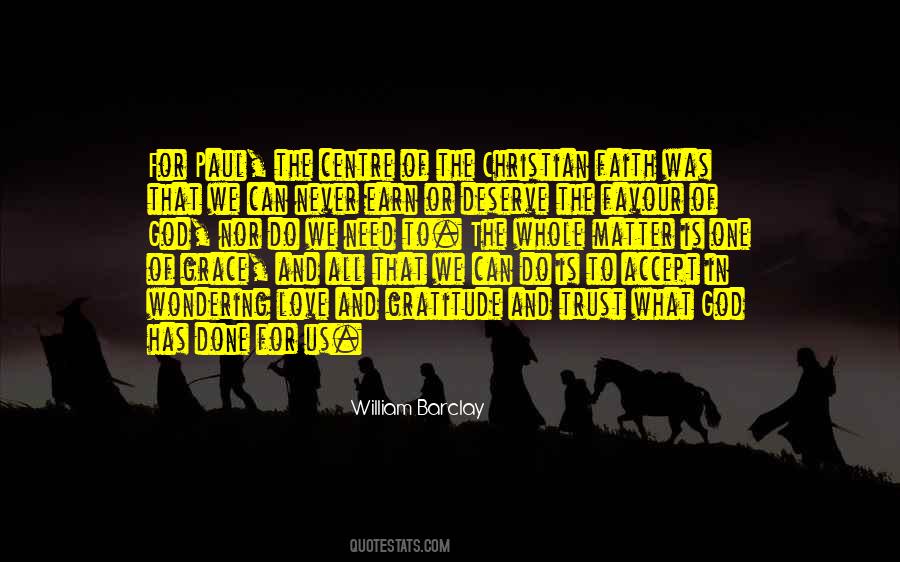 #6. The true act of heroism in Jesus on the cross and the emptying of the tomb is so that his people can return to the grace of doing life with God in a place, with love for our neighbors, and the freedom to enjoy God in the work, play, rest, and love that he gives us there. - Author: Zack Eswine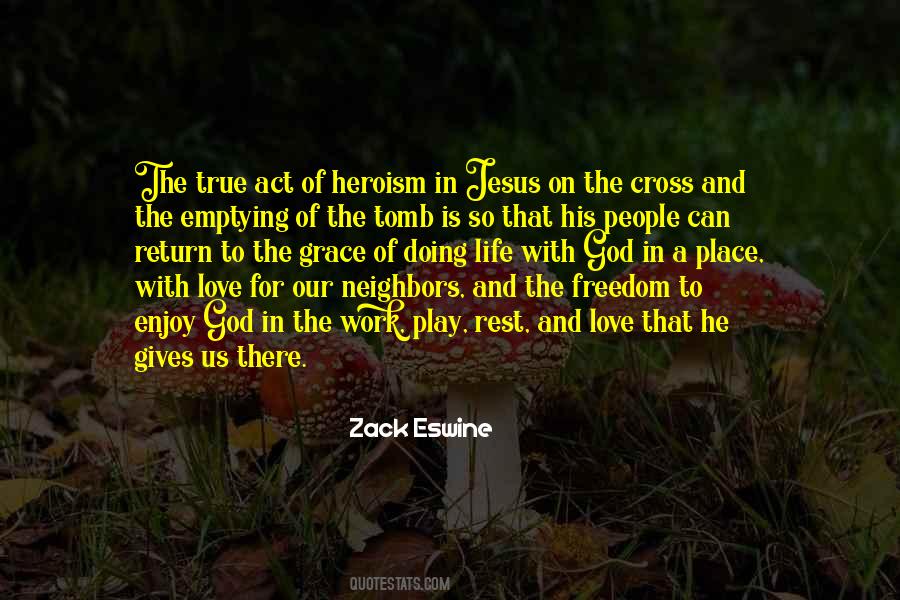 #7. But the day will come when you will have to answer for it! You know I didn't come here alone to-day - - !" Both men looked startled and glanced uneasily into the shadows, as if there might be someone lurking there. "God came with me and He knows! He'll make you remember some day! - Author: Grace Livingston Hill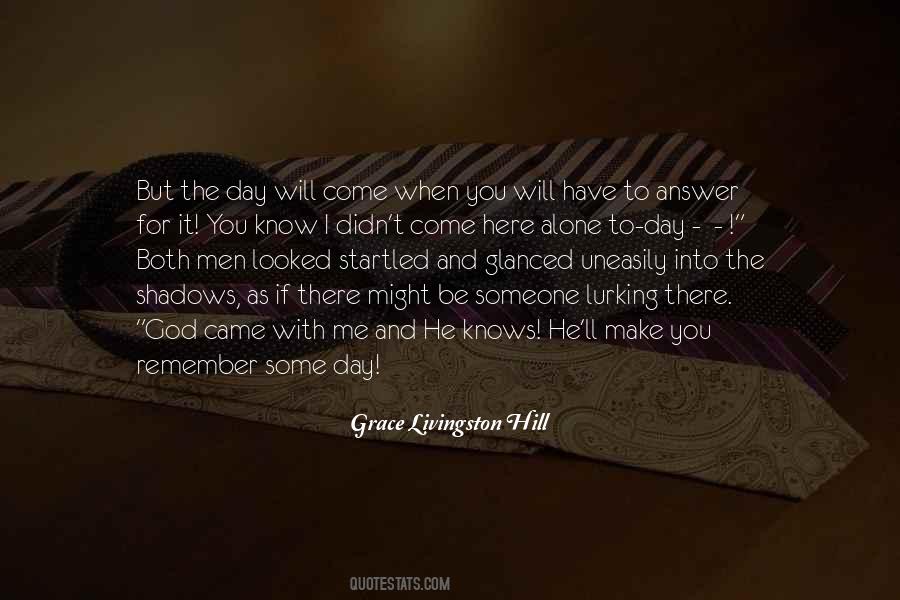 #8. You are capable of loving the unlovable.
The grace of God gives you the power to love.
It also takes conscious effort and decision to choice to love. - Author: Lailah Gifty Akita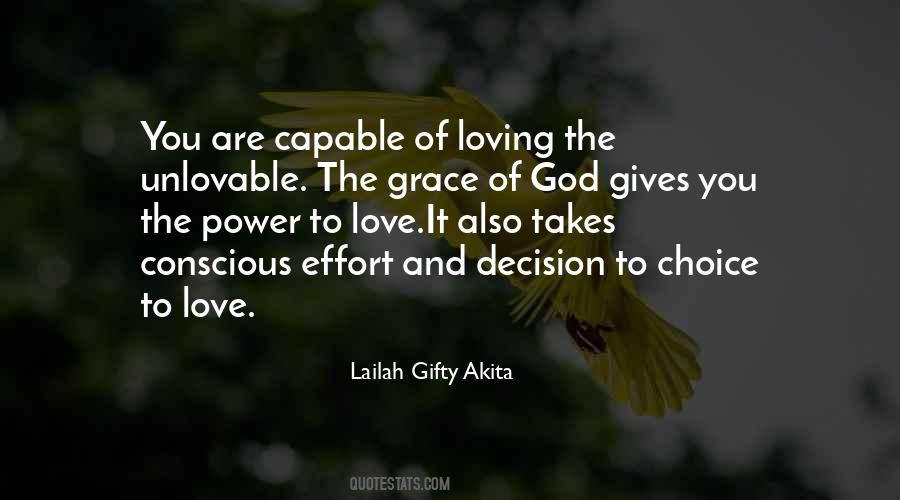 #9. The righteousness of God in His election means, then, that as a righteous Judge God perceives and estimates as such the lost cause of the creature, and that in spite of its opposition He gives sentence in its favour, fashioning for it His own righteousness. - Author: Karl Barth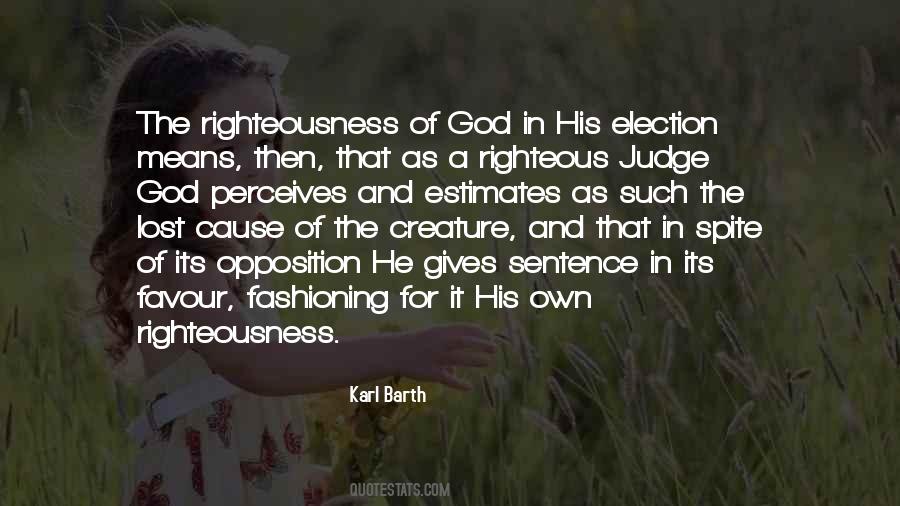 #10. I'm not God, and I can't always offer chances. I'm not sure if this won't be your last. - Author: Kellyn Roth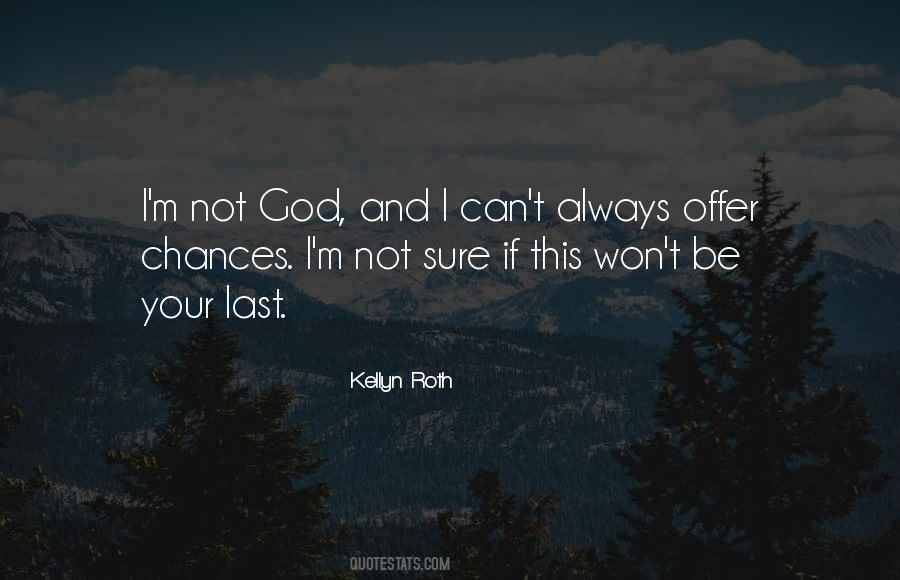 #11. Obedience does not consist in paying God back and thus turning grace into a trade. Obedience comes from trusting in God for more grace - future grace - and thus magnifying the infinite resources of God's love and power. - Author: John Piper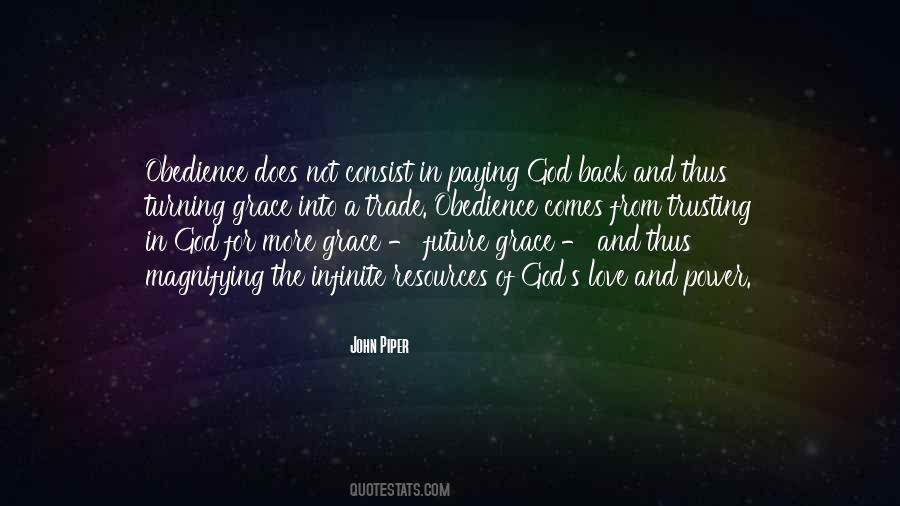 #12. The more we see the grace of God in Christ, the spirit of fear is diminished and replaced by a spirit of love and boldness. - Author: Richard Sibbes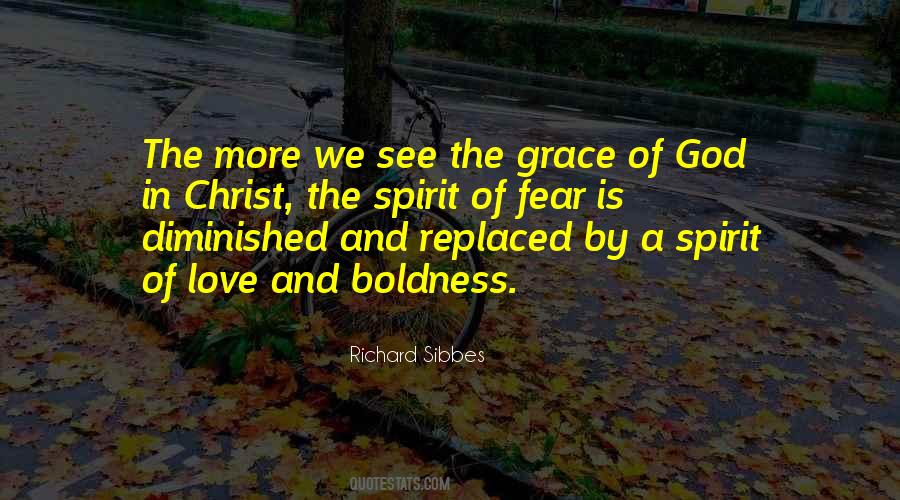 #13. The internal call is when the Spirit of God accompanies the outward administration of the Word to call a man from ignorance to knowledge, and a state of nature to a state of grace. - Author: Christopher Love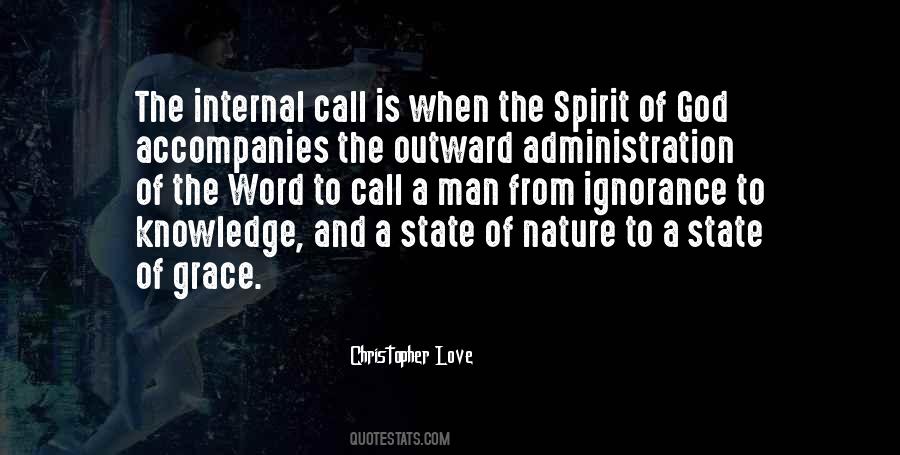 #14. What do we want? What would we be at? What do our souls desire? Is it not that we might have a more full, clear, stable comprehension of the wisdom, love, grace, goodness, holiness, righteousness, and power of God, as declared and exalted in Christ unto our redemption and eternal salvation? - Author: John Owen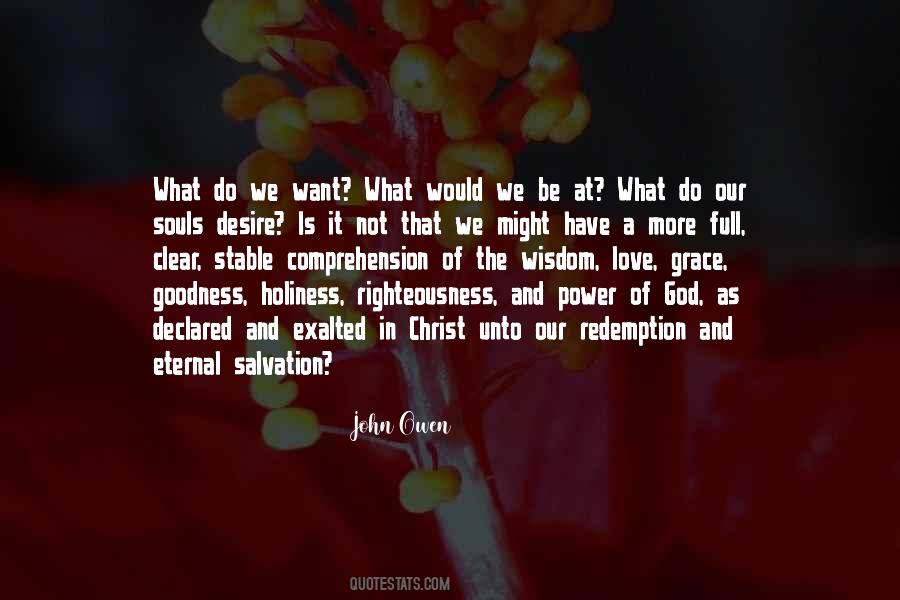 #15. I would like to comment on the God fiber within each living thing. This essence, this fiber of love and grace, runs in every vein, no matter how deeply buried. Each person has a God fiber, whatever their actions or hurt they have caused you or others. - Author: Meredith L. Young-Sowers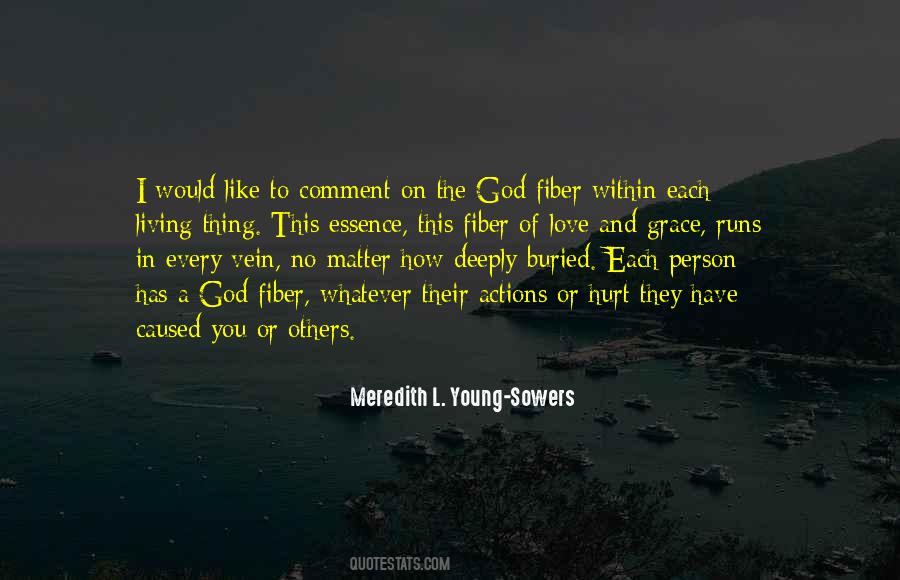 #16. Great God of wonders and great provider.
When I had nothing, God alone was more than enough.
God meet every need. - Author: Lailah Gifty Akita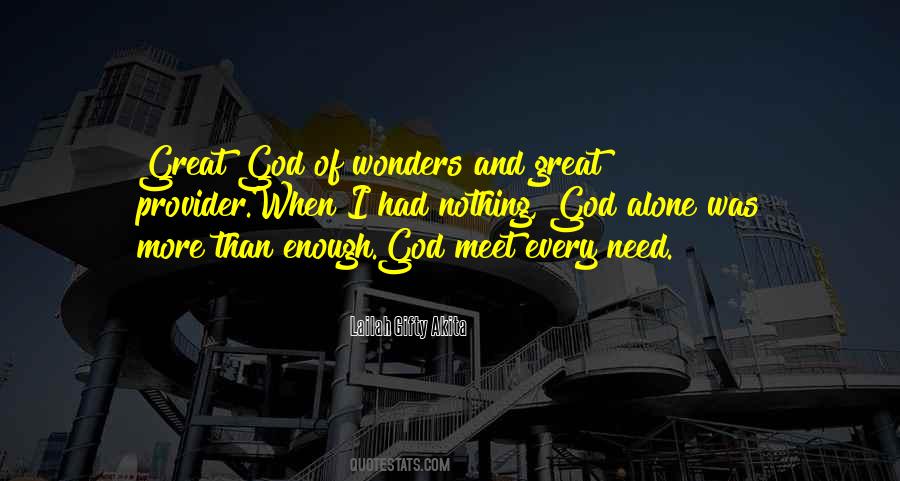 #17. Where God is like the sun, the Devil is like a raindrop. There is no 'God vs. Satan' because they aren't even that close in power and authority. The former is very patient; the latter is at mercy. - Author: Criss Jami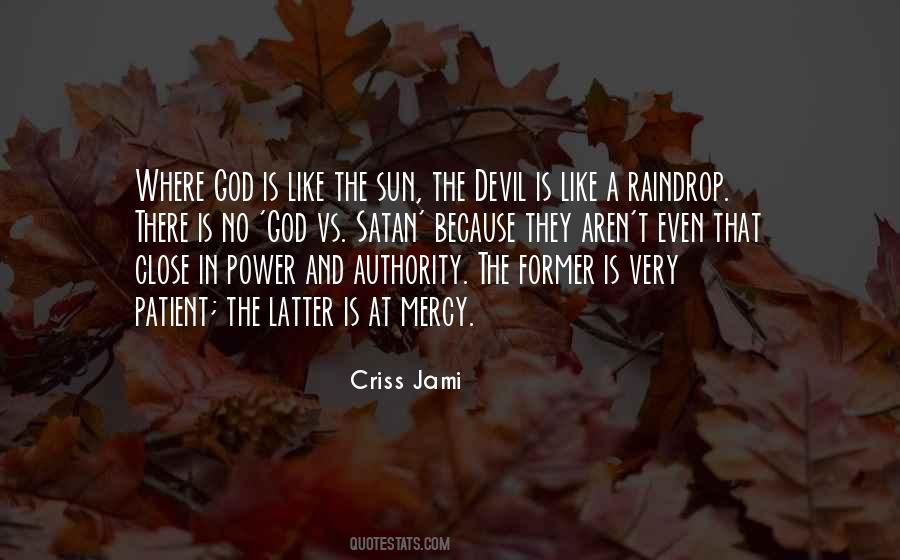 #18. We're so worried about the legal details of crossing doctrinal t's and dotting sociopolitical i's that we miss the big picture. The love picture. The one thing Jesus was really clear about: LOVE. If we could just get that one thing down, I believe the details would take care of themselves. - Author: Cathleen Falsani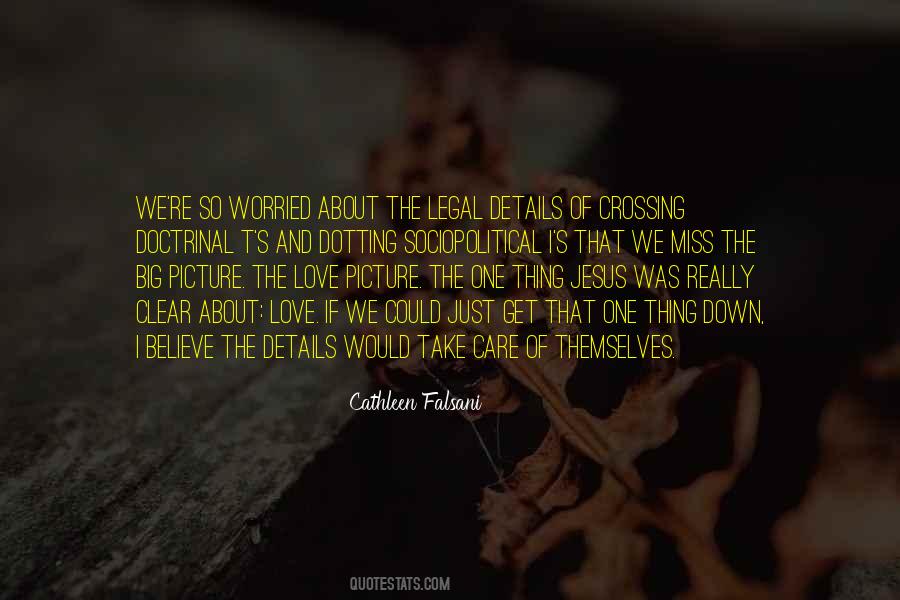 #19. Grace isn't something we deserve, Gabriel," Julia said softly. "It comes from love. And God wraps the world in second chances and sticky little leaves and mercy, even though some people don't want them. - Author: Sylvain Reynard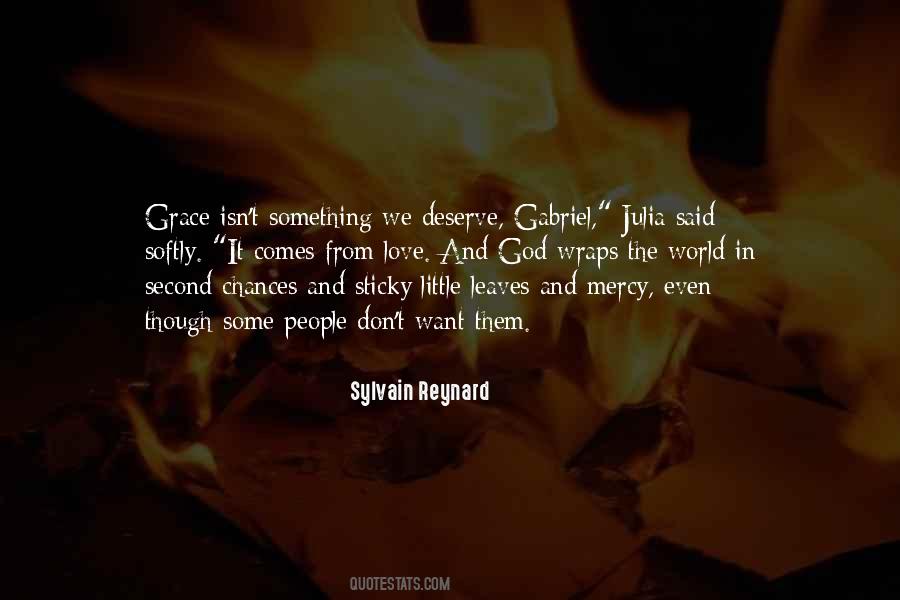 #20. God's grace - His goodness and love toward us in spite of our sin - is the wellspring of our salvation. - Author: Billy Graham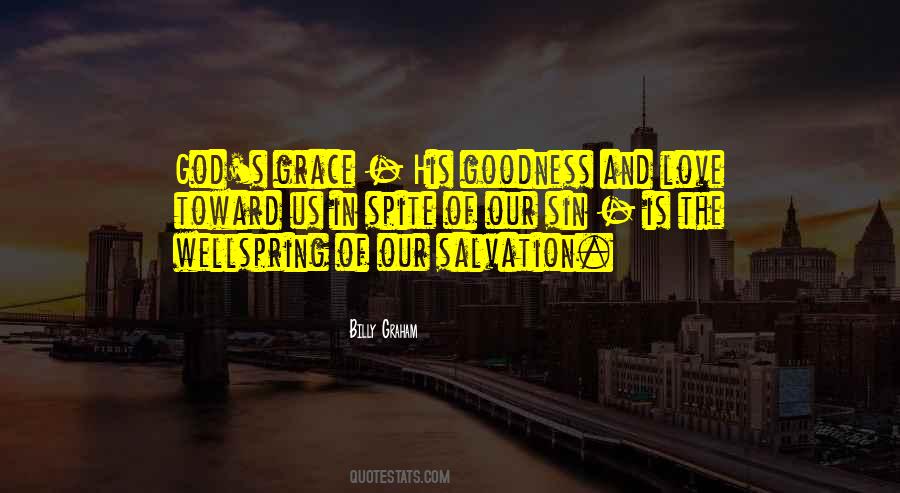 #21. I know that I'm here because of the grace of God. But I also know that I've been given this second chance for a specific reason, and that is to bring love to the world again through the voice of my music, and I'm so honored to be able to do it. I'm so blessed that God has chosen me to do that. - Author: El DeBarge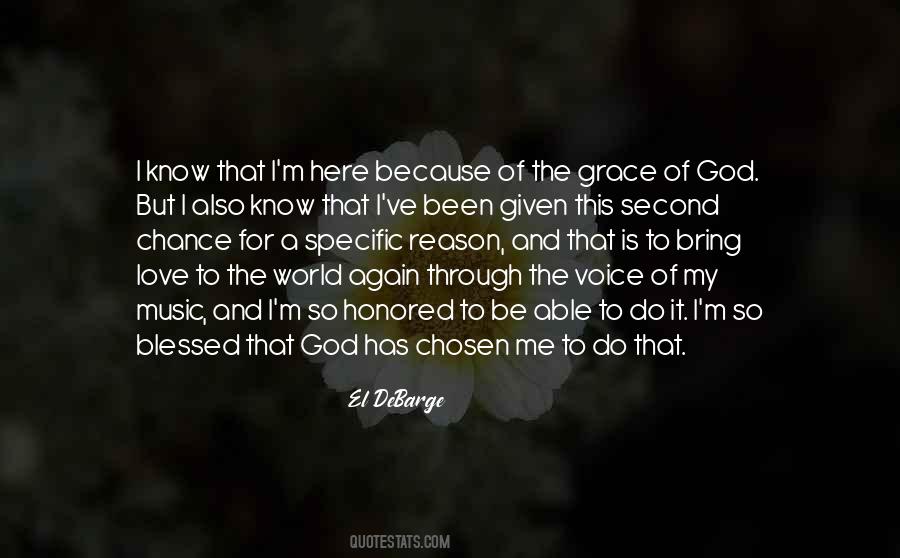 #22. Grace means there is nothing we can do to make God love us more - and grace also means there is nothing we can do to make God love us less. - Author: Neta Jackson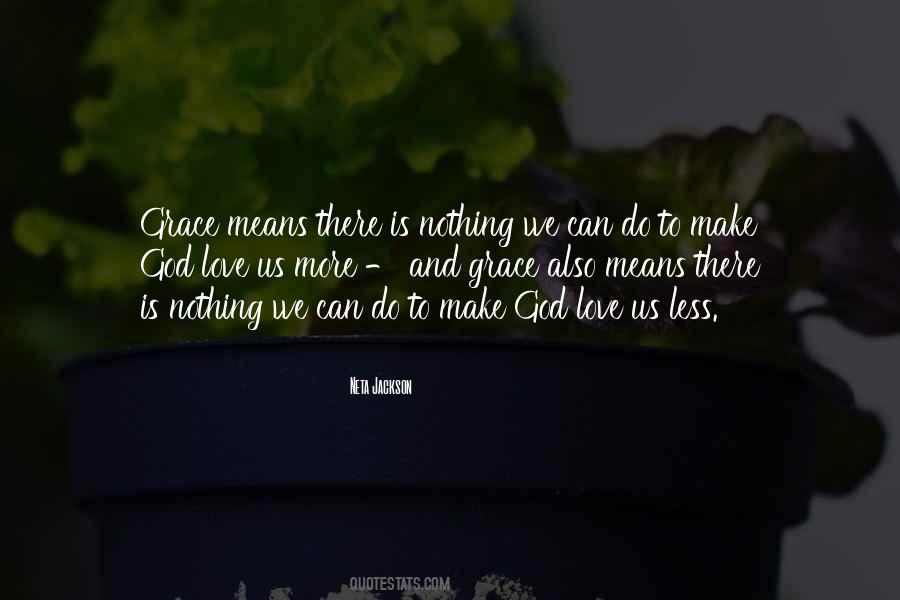 #23. But it isn't about perfection, and it isn't about performance. You'll miss the richest moments in life - the sacred moments when we feel God's grace and presence through the actual faces and hands of the people we love - if you're too scared or too ashamed to open the door. - Author: Shauna Niequist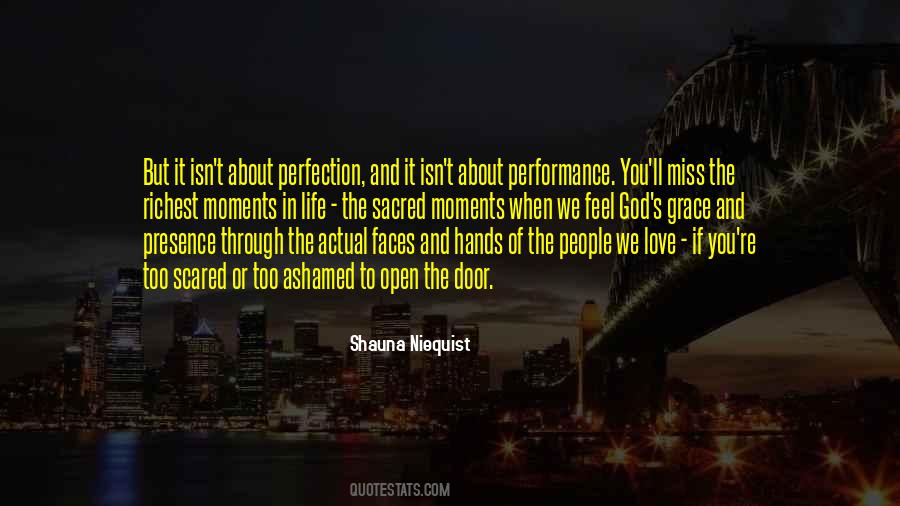 #24. What really holds their marriage together are mutual respect of an awesome depth, a shared sense of humor, faith that they were brought together by a force greater than themselves, and a love so unwavering and pure that it is sacred. - Author: Dean Koontz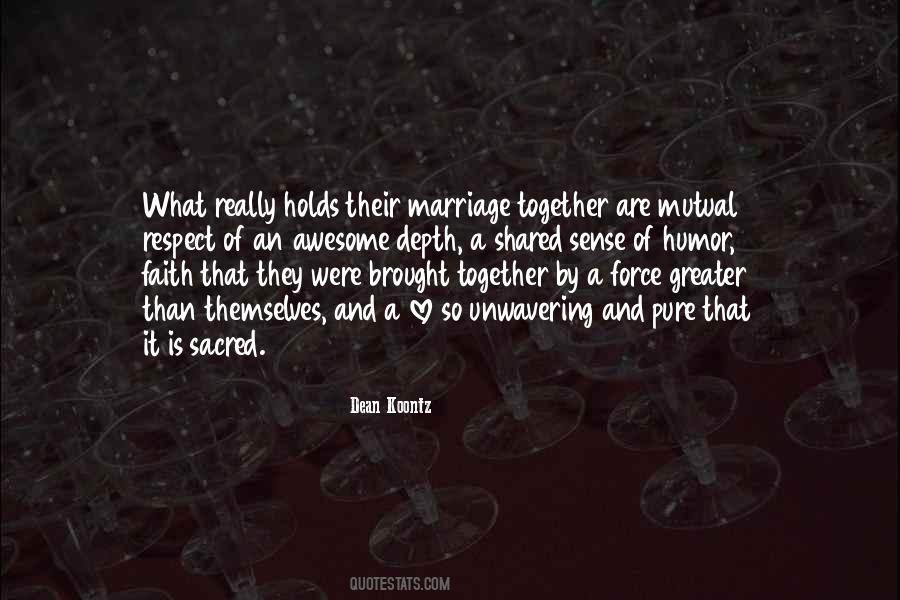 #25. To still seek God after discovering Him may be a love paradox of the soul, as A.W. Tozer reminds us; but to earnestly continue to perceive God and make Him perceivable, is the quintessence of worship. - Author: Tristan Sherwin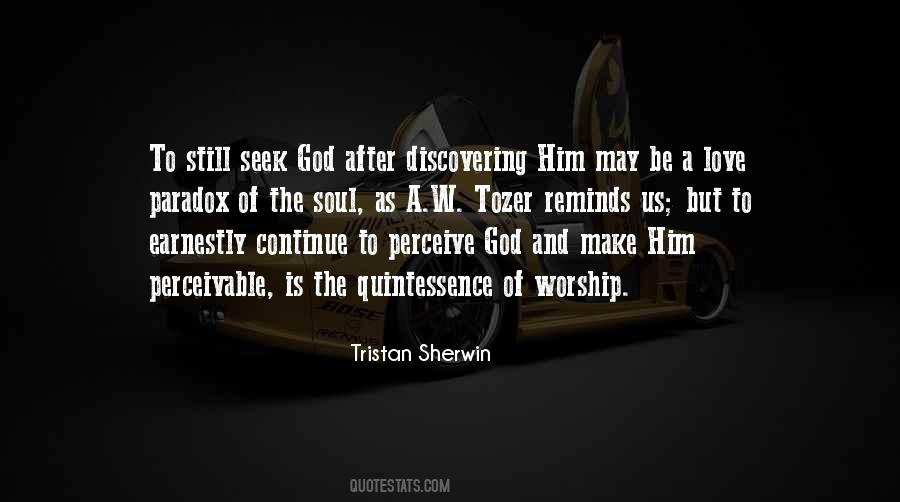 #26. To obey the commands of Scripture can finally become a delight when we see that the reasons almost always center around God's love and provision for us in Christ. - Author: Matt Chandler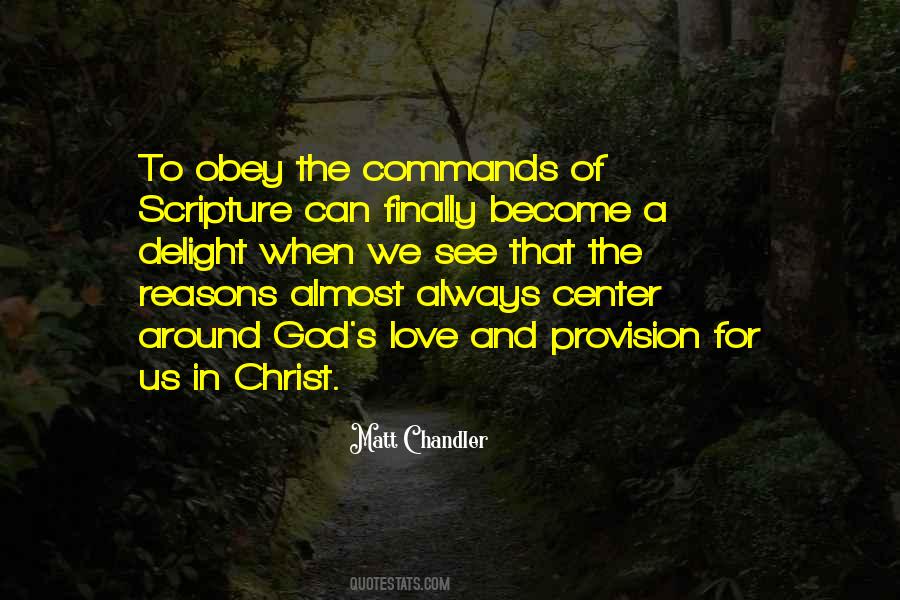 #27. The more clearly we see the infinite chasm between God's glory and our sinful falling short thereof, the greater will be our appreciation of His grace and love in bridging that gulf to redeem us. - Author: Dave Hunt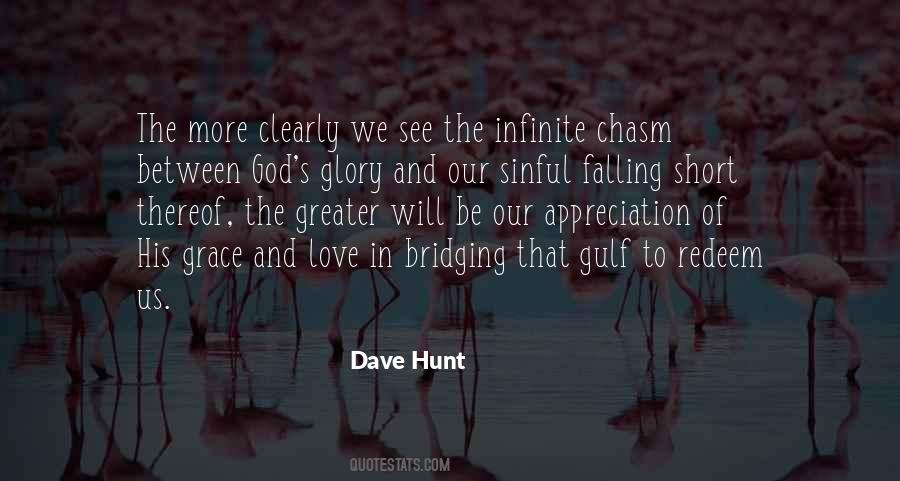 #28. Please Lord ...
May you give me that last one gift, the privilege of manifesting from my lips: Your Greatness, Holiness, Kindness, Love, Mercy, Grace and Magnificence as I draw my last breath, So that all on earth may see that You are GOD Alone. - Author: Timothy Pina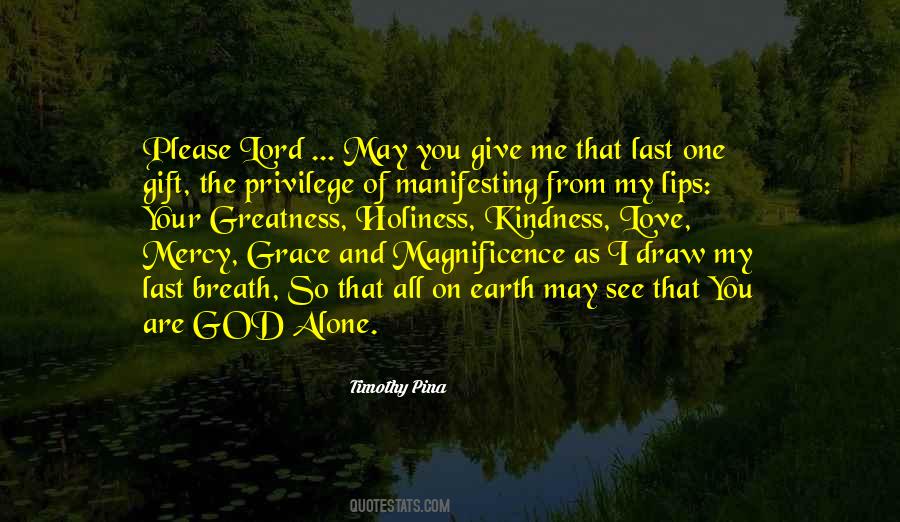 #29. Don't be troubled if you don't feel the love of God in yourself, but thing about the Lord, that He is merciful, and guard yourself from sins, and the grace of God will teach you. - Author: Silouan The Athonite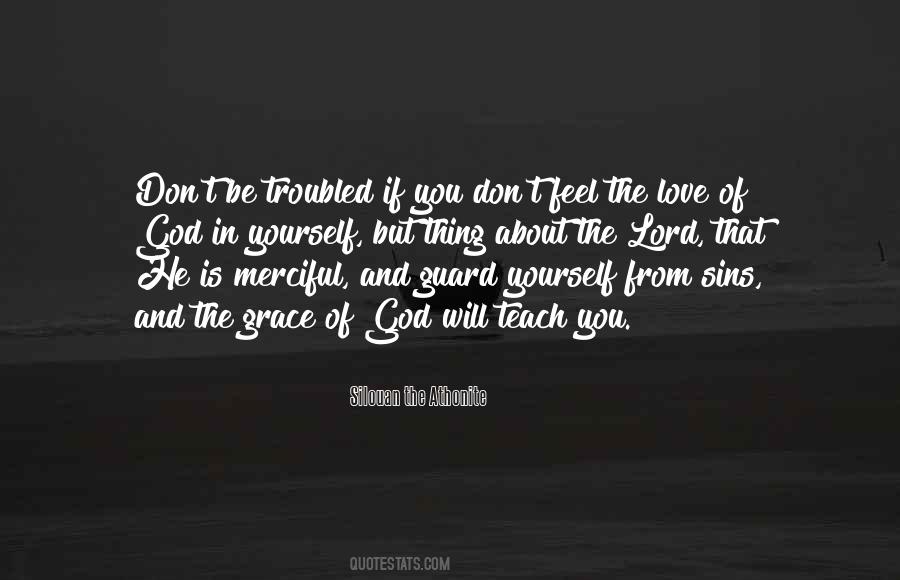 #30. All of my secrets and scars and wishes and dreams can live together in this one body without shame, without blame, and without fear. I am all loved, all accepted, and all in service to God. In his eyes, regardless of what I did or didn't do today, I am loved. I am His, so I am enough. - Author: Anna White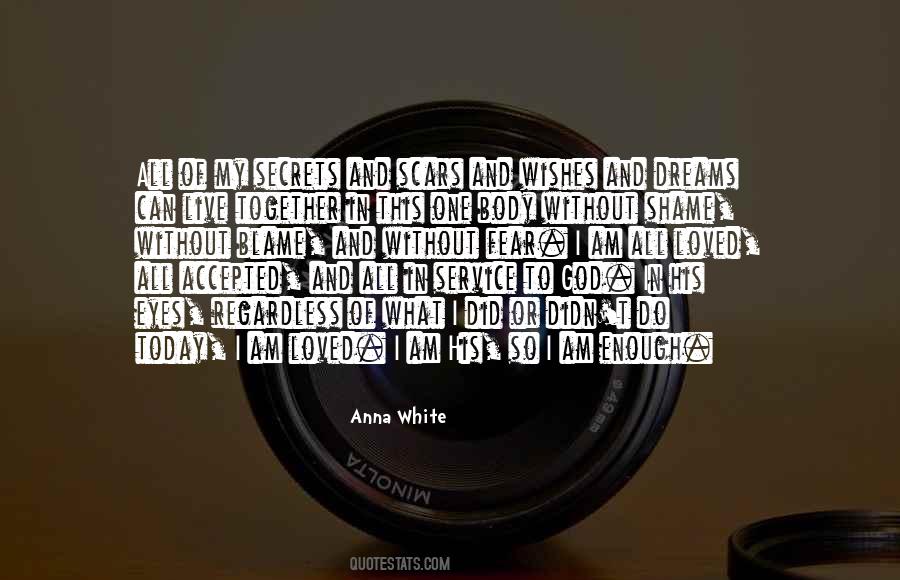 #31. With all your power, ask the Lord for humility and brotherly love, because God freely gives His grace for love towards one's brother. Do an experiment on yourself: one day ask God for love towards your brother, and another day - live without love. You will see the difference. - Author: Silouan The Athonite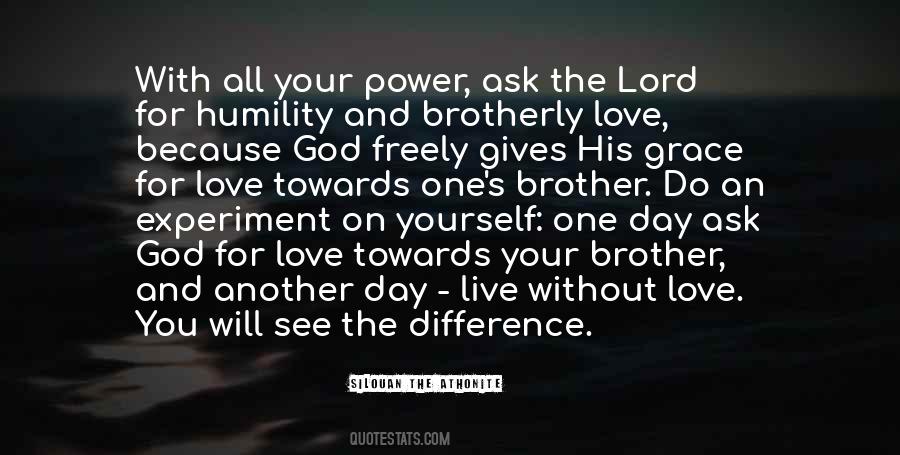 #32. There is no straight line to Goodness, to Love, or to God. And thank God, Grace is always retroactive. - Author: Richard Rohr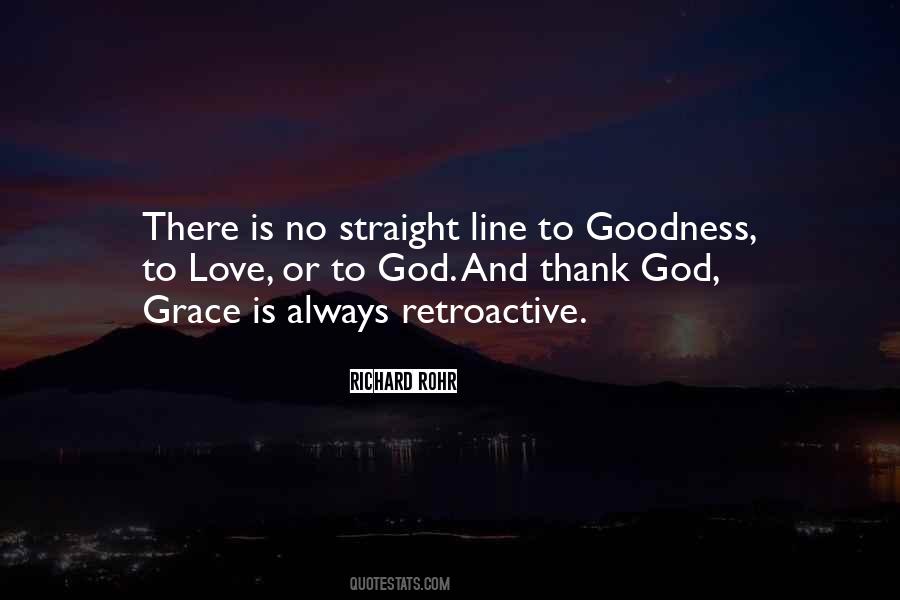 #33. Grace within us will employ prayer, and faith, and hope, and love, to cast out the evil; it takes unto it the "whole armour of God," and wrestles earnestly. These two opposing natures will never cease to struggle so long as we are in this world. - Author: Charles Haddon Spurgeon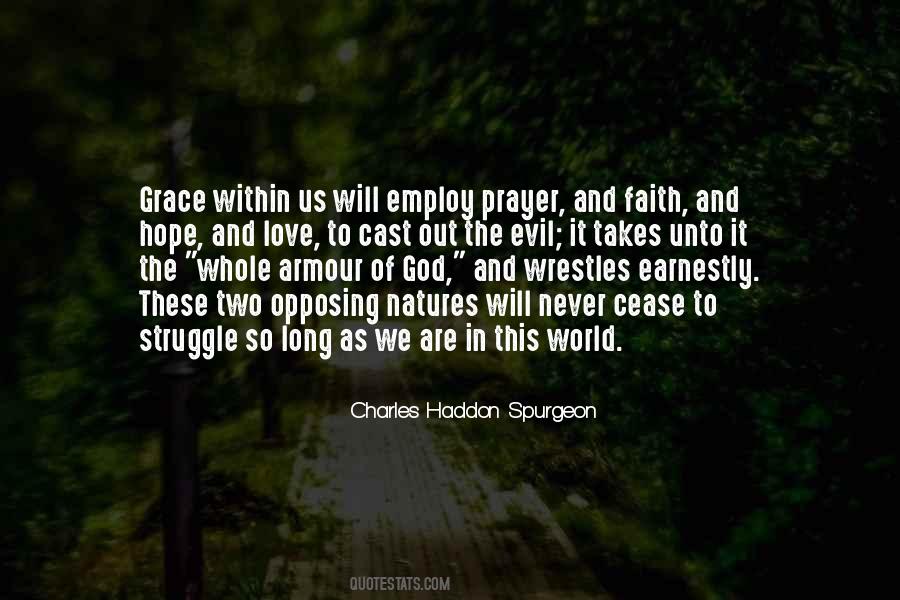 #34. He rules the world with truth and grace, and makes the nations prove, the glories of His righteousness and wonders of His love. - Author: Isaac Watts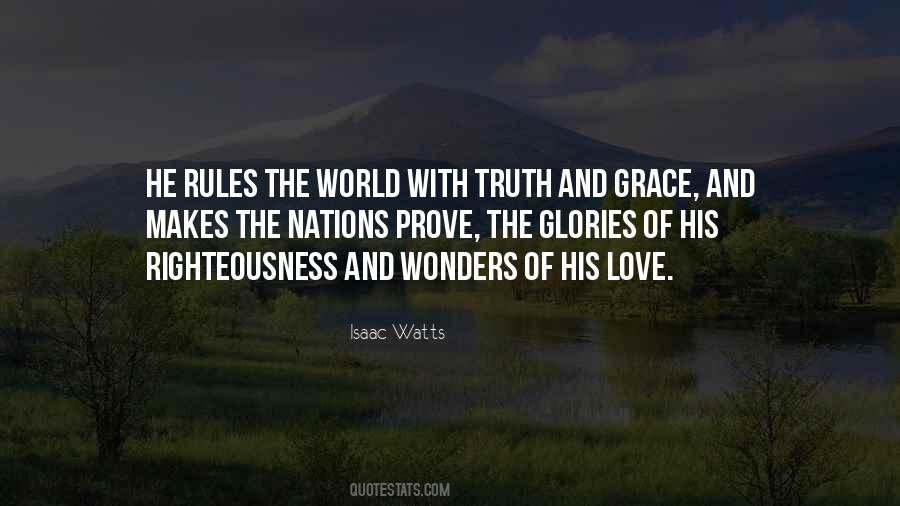 #35. Life,disassembled and
reassembled into a thing of beauty,reflect GOD love in a manifestation of unlimited grace. - Author: Peter Adejimi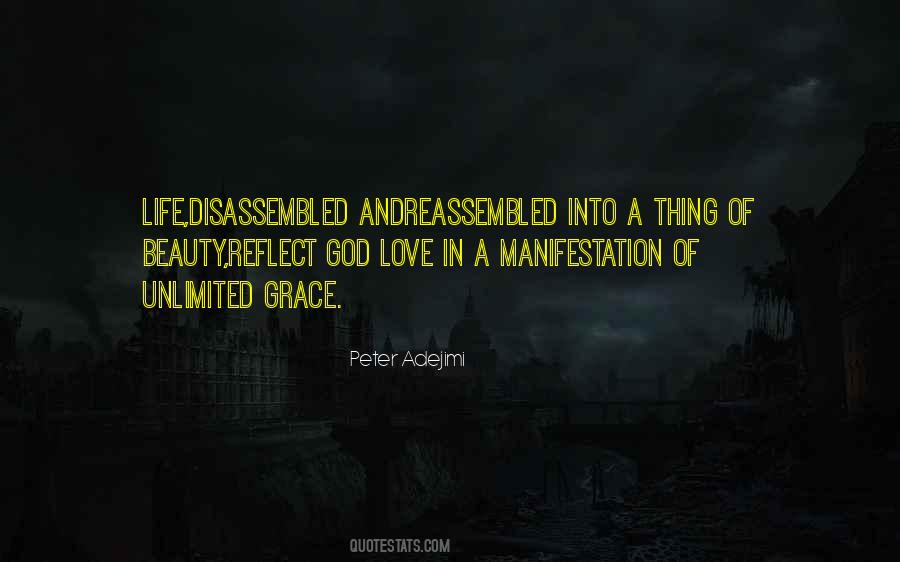 #36. We "talk" relationship but we "live" religion, with unsatisfying results. Christianity defines itself, first and foremost, as a relationship with God. Even though this is true, our human nature tends toward living a relationship with God as if it were a religion - Author: Mark Cowper-Smith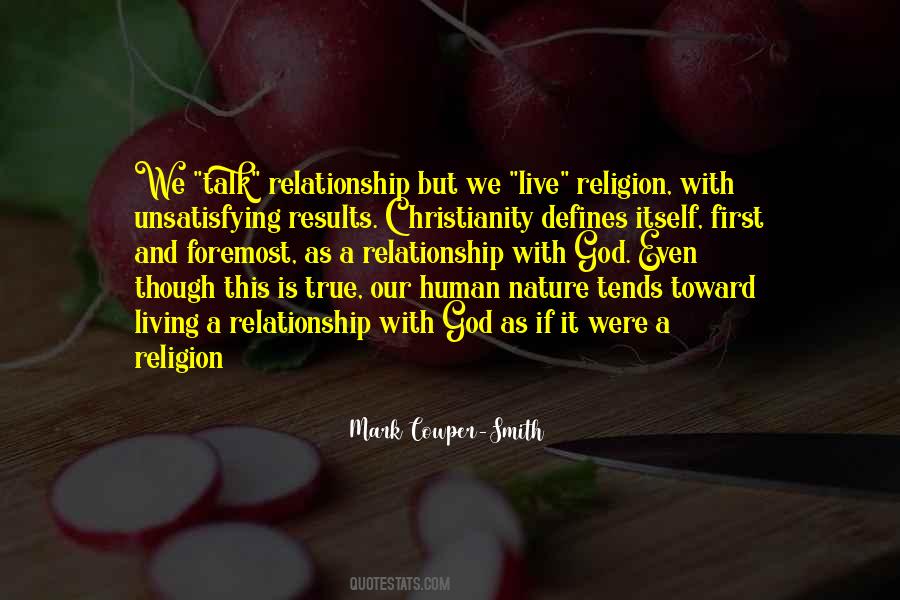 #37. O fire of love! Was it not enough for You to have created us to Your image and likeness, and to have recreated us in grace through the Blood of Your Son, without giving Yourself wholly to us as our Food, O God, Divine Essence? What impelled You to do this? Your charity alone. - Author: St. Catherine Of Siena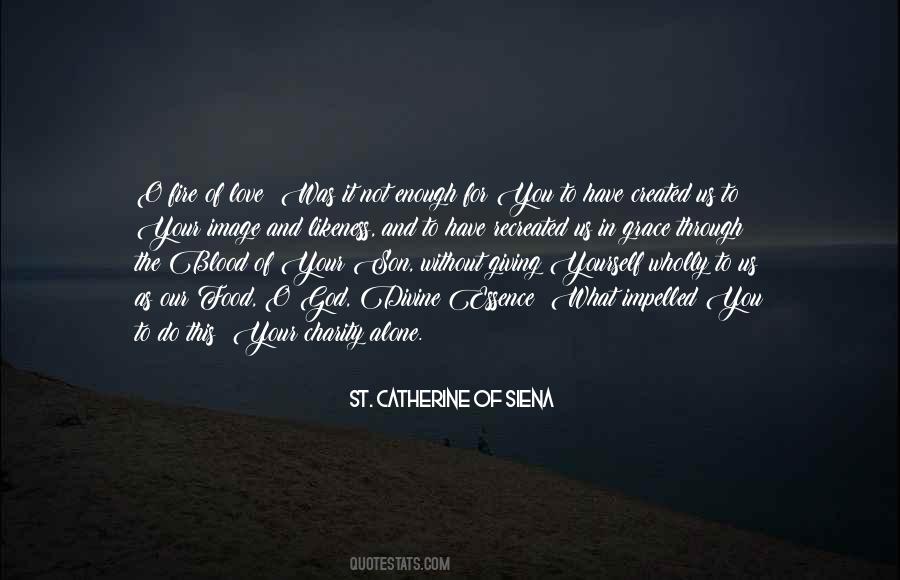 #38. How thankful I am, how thankful we all must be, for the women in our lives. God bless them. May His great love distill upon them and crown them with luster and beauty, grace and faith. - Author: Gordon B. Hinckley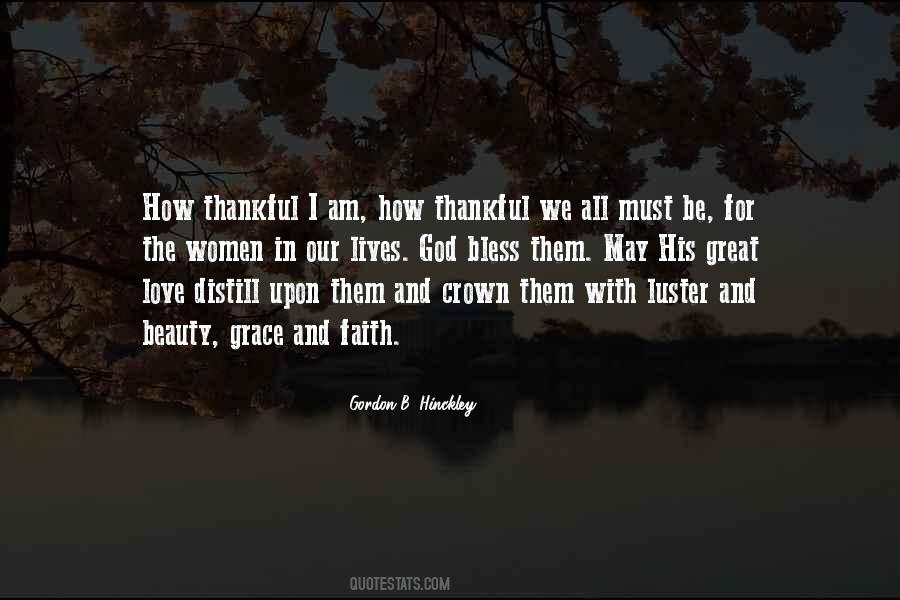 #39. A marriage filled with unconditional love experiences the depth of grace and mercy. - Author: Elizabeth George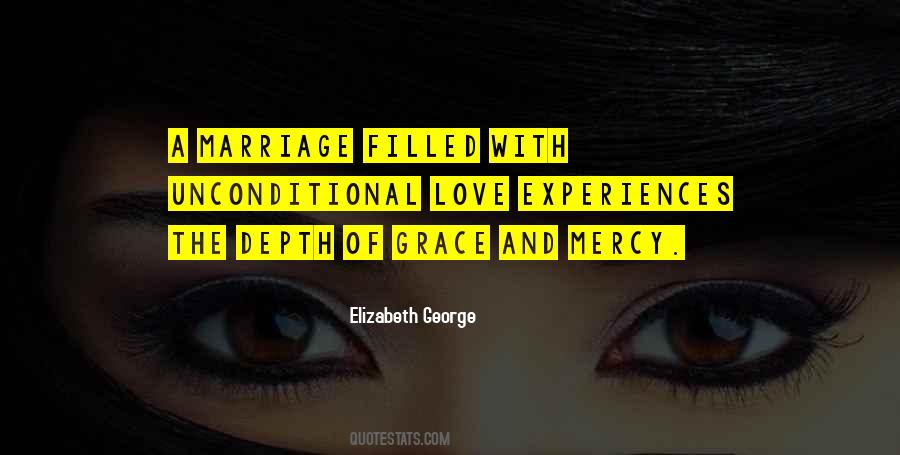 #40. My God, since you are with me and since, by Your will, I must occupy myself with external things, please grant me the grace to remain with You, in Your presence. Work with me, so that my work might be the very best. Receive as an offering of love both my work and all my affections. - Author: Brother Lawrence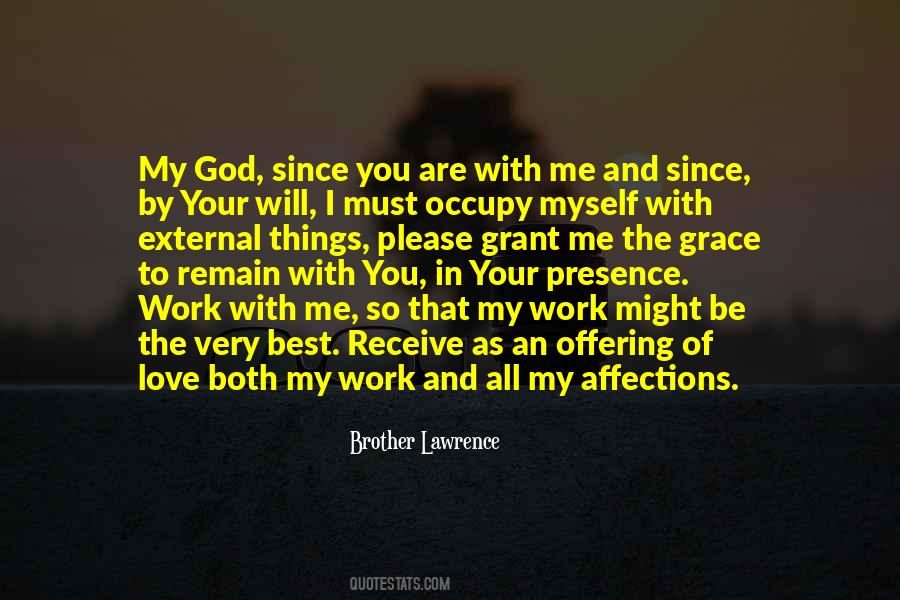 #41. Love is not a possession but a growth. The heart is a lamp with just oil enough to burn for an hour, and if there be no oil to put in again its light will go out. God's grace is the oil that fills the lamp of love. - Author: Henry Ward Beecher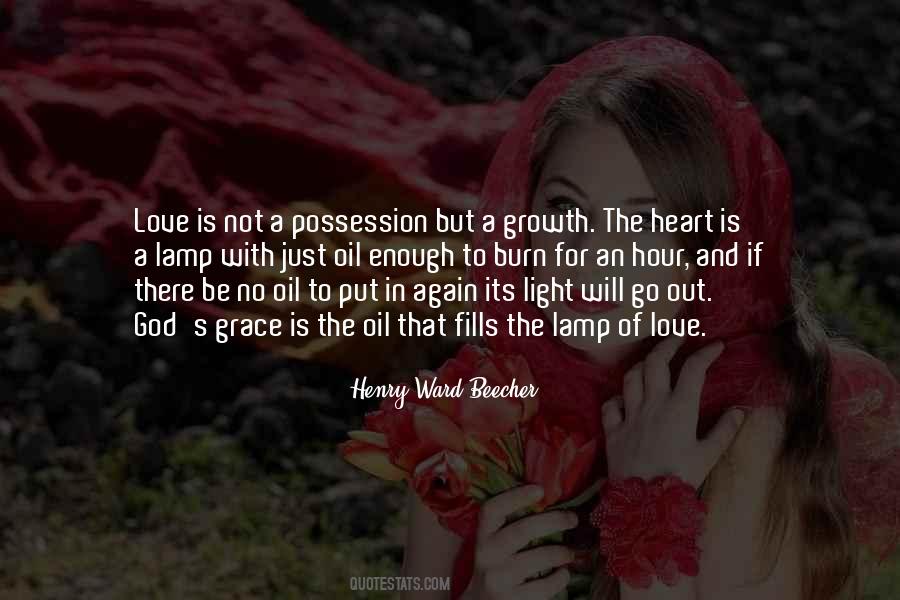 #42. Think about the holes children make when they dig in the sand on the seashore. When the waves come in, the holes are swallowed up by the ocean. Similarly, when we know Christ, our physical death is overwhelmed by the love and grace of God. Death is swallowed up in the victory of Christ. - Author: Billy Graham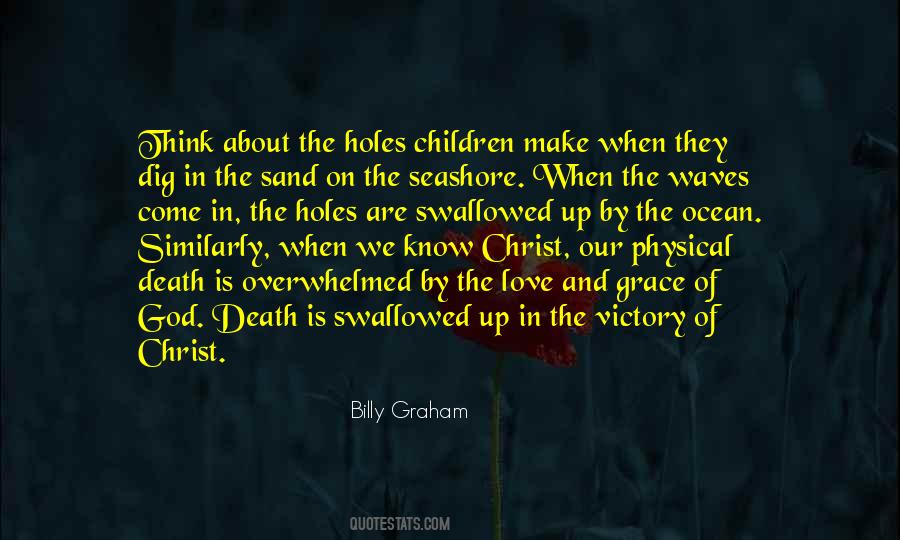 #43. I'm a very spiritual person, and I believe in God and all that kind of stuff. So my perfect type of guy would be spiritually grounded, extremely respectful and funny because I love to laugh. - Author: Grace Gealey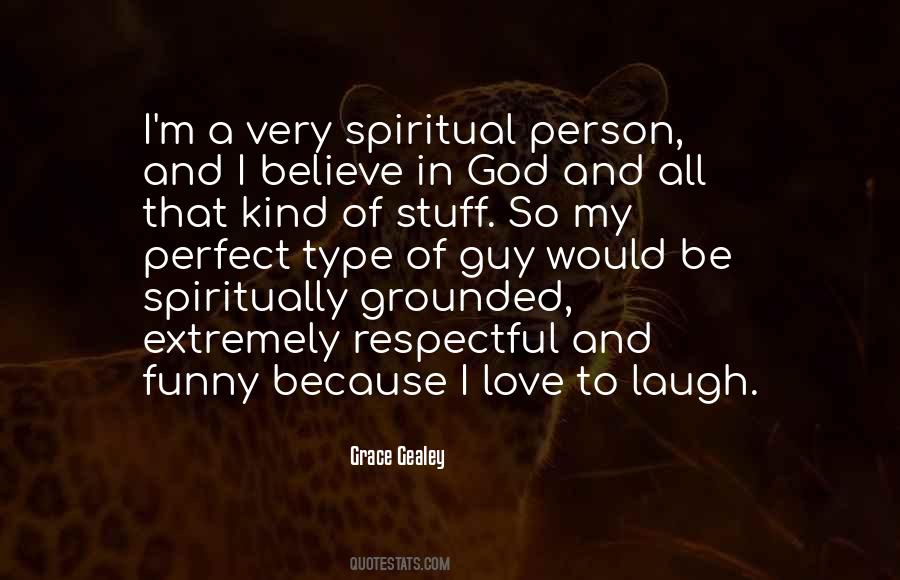 #44. We have messed-up lives, but we're good people and we have grace. And even though we don't have to do good for God to love us, I want to do good for Him. - Author: Lacey Mosley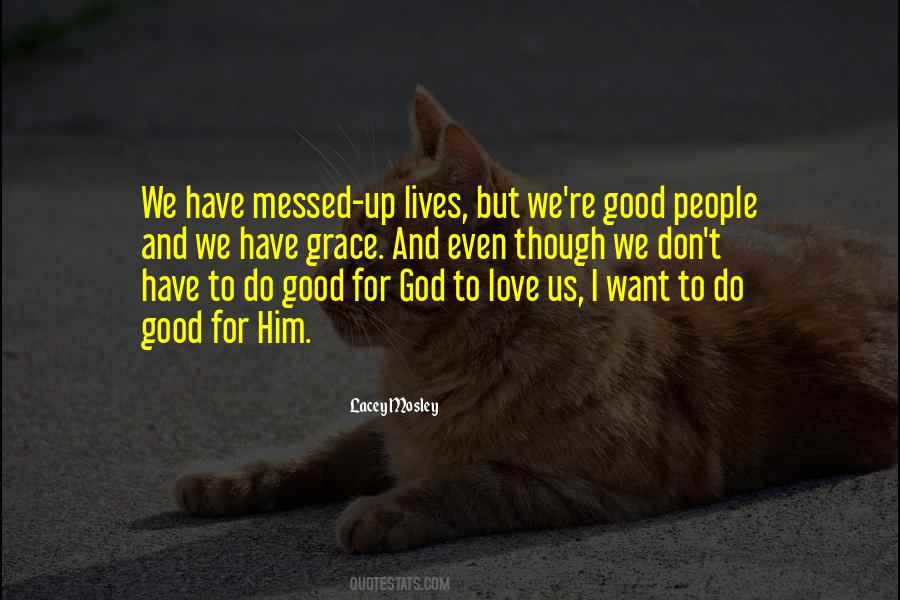 #45. When your humanness is confronted by the magnificence and holiness of God, you are made SO aware of your need for God's grace ... Romans 12:1 teaches us how to live this life of worship and love. - Author: Darlene Zschech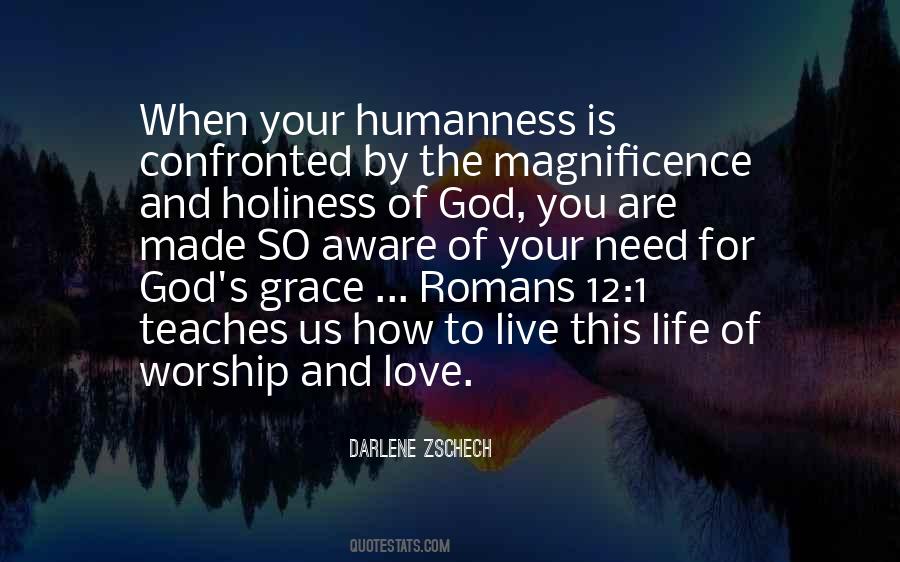 #46. Attack anything that makes you feel unworthy, inadequate, hopeless, powerless and useless. That is the evidence of the enemy. All those things need to be attacked with joy, with peace, with love and grace, with mercy, with kindness and the goodness of God. - Author: Graham Cooke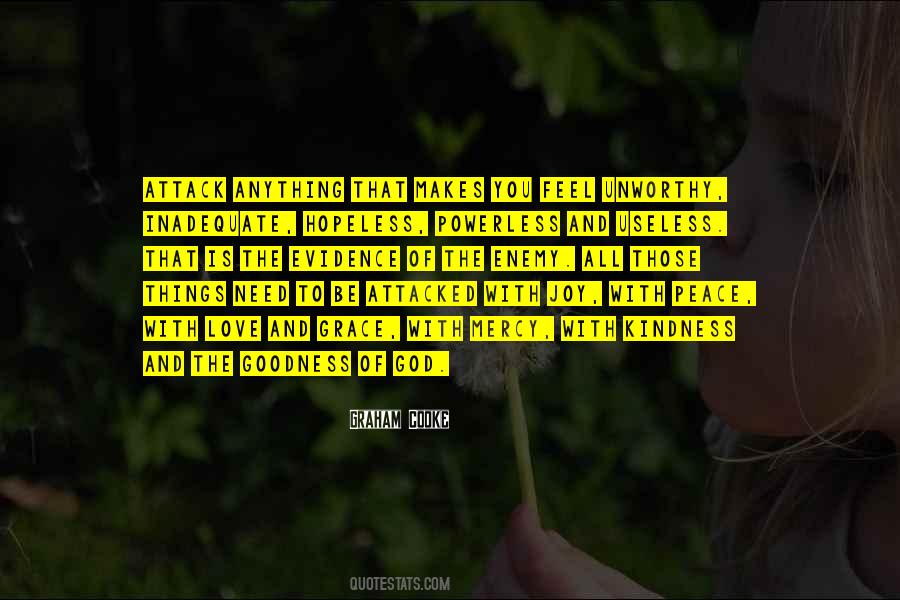 #47. God is a supreme being.
God is a great God of wonders.
God is love and life
God is faithful to His promises.
God is all powerful and mighty. - Author: Lailah Gifty Akita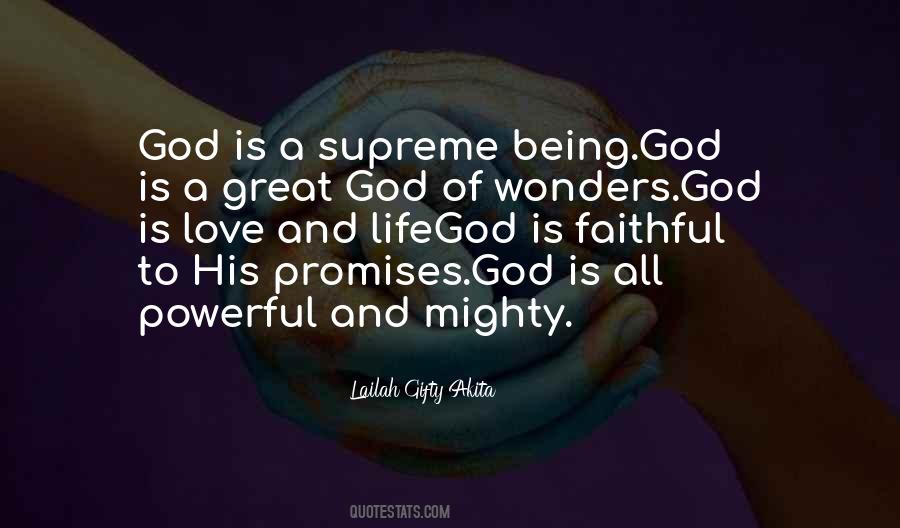 #48. No one preached to me ... No one had to ... I wouldn't have listened anyway. I became a believer from a direct encounter with an answered prayer. I came face to face with God and all his power in a tiny bathroom in Washington. - Author: Jacci Mendelsohn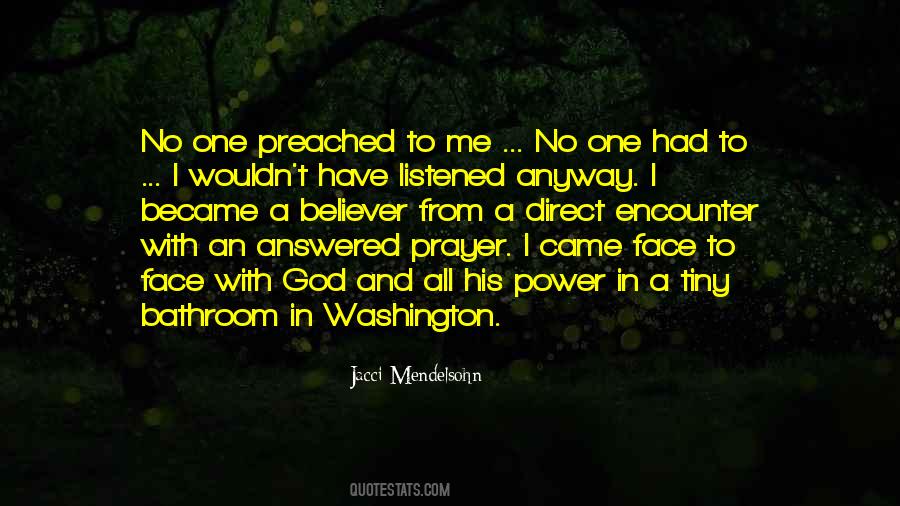 #49. Come and discover a love you don't have to work for. - Author: E'yen A. Gardner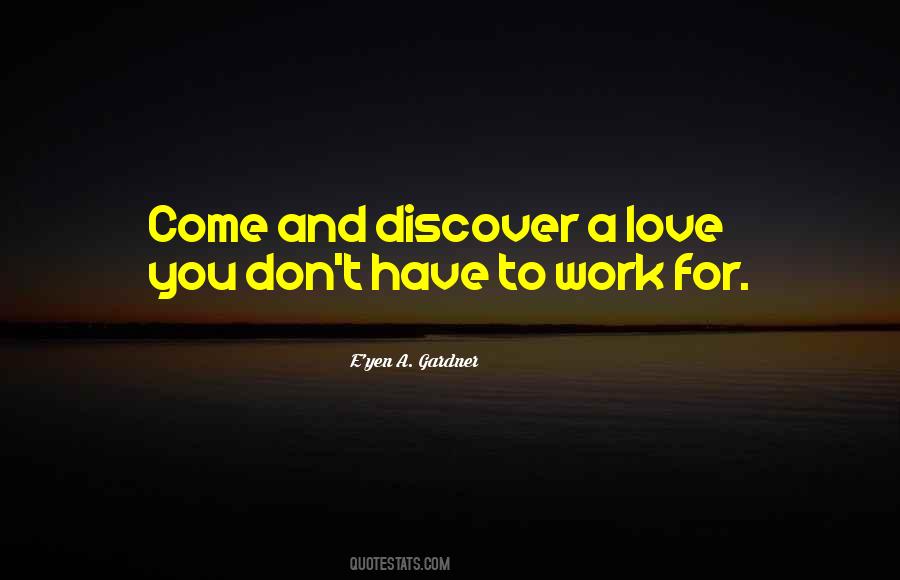 #50. In essence, Satan doesn't want you to believe what God thinks of Himself and what God thinks about you. - Author: Ralph Harris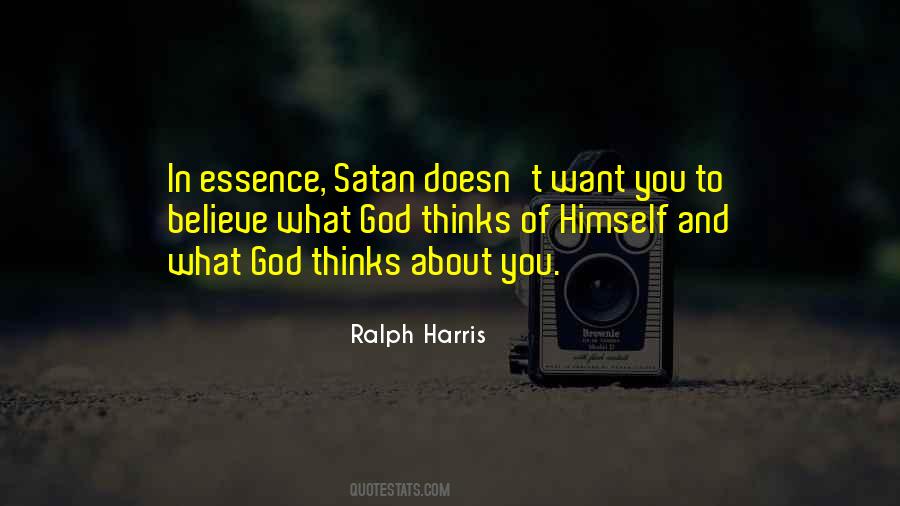 #51. All outward means of grace, if separate from the spirit of God, cannot profit, or conduce, in any degree, either to the knowledge or love of God. All outward things, unless he work in them and by them, are in vain. - Author: John Wesley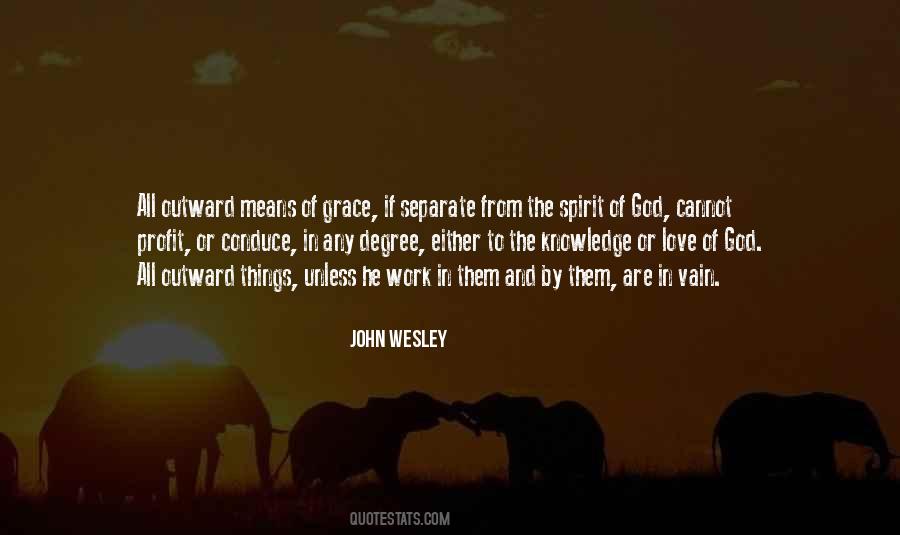 #52. We do not make friends with God; God makes friends with us, bringing us to know him by making his love known to us ... The word know, when used of God in this way, is a sovereign-grace word, pointing to God's initiative in loving, choosing, redeeming, calling and preserving. - Author: J.I. Packer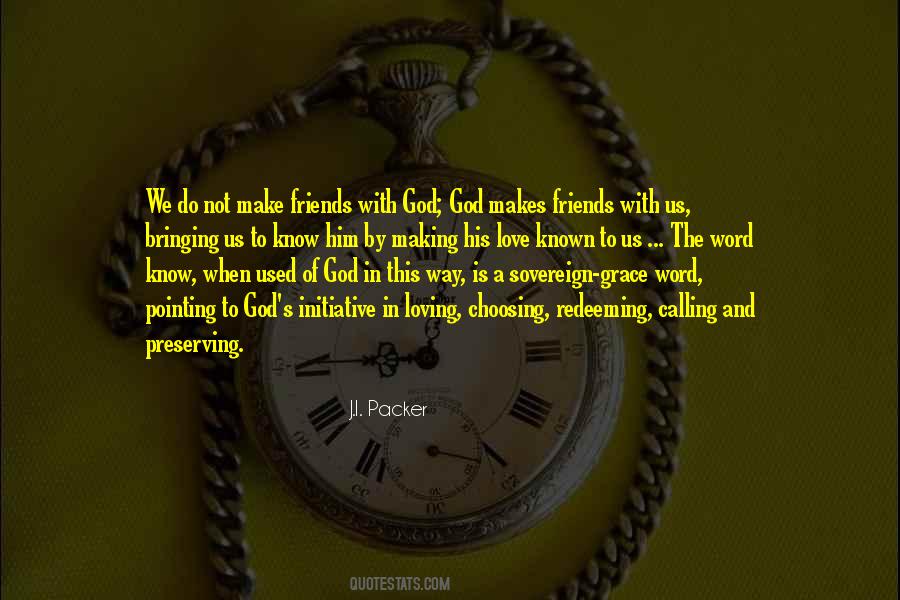 #53. We expect God to be an angry father who demands justice, but through Jesus, He gives us love and grace when we don't deserve it. - Author: Kyle Idleman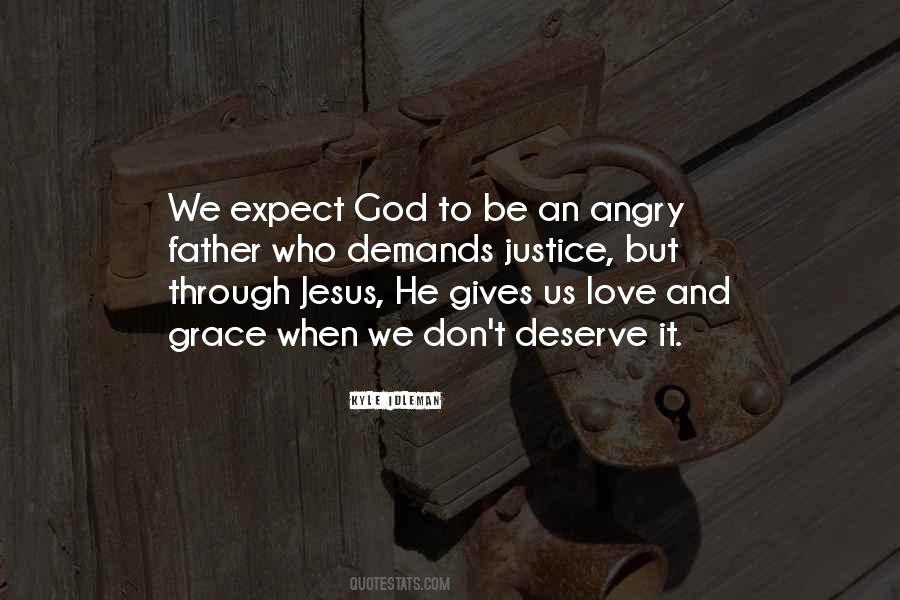 #54. God always drops love like rainfall and if you walk in it, you shall always be refreshed by it in so far as it continues to shower. Note however that you may never be able to quench your test no matter how long you shall keep standing in the rains whilst you keep your lips closed. - Author: Ernest Agyemang Yeboah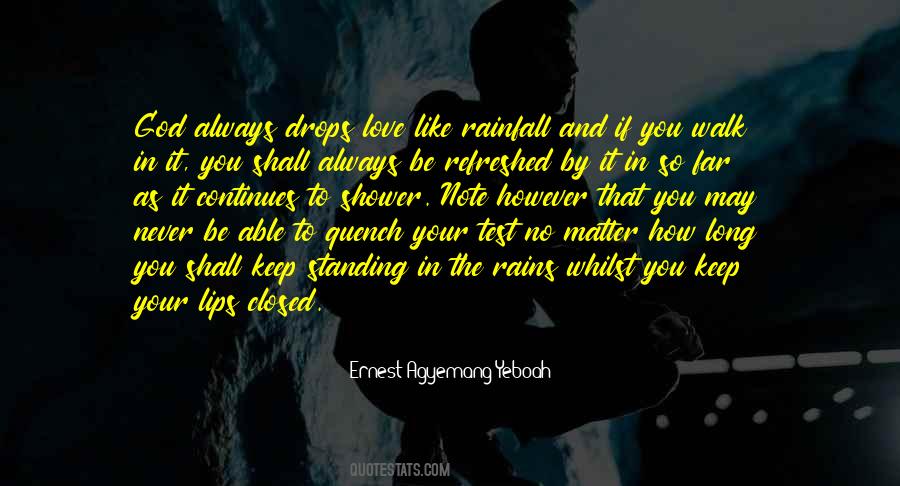 #55. All these things He must be in me, abiding, living, speaking in me; that I may be the righteousness of God in Him (2 Cor. v. 21); not in love, nor in gifts and graces which follow; but in Him. - Author: Martin Luther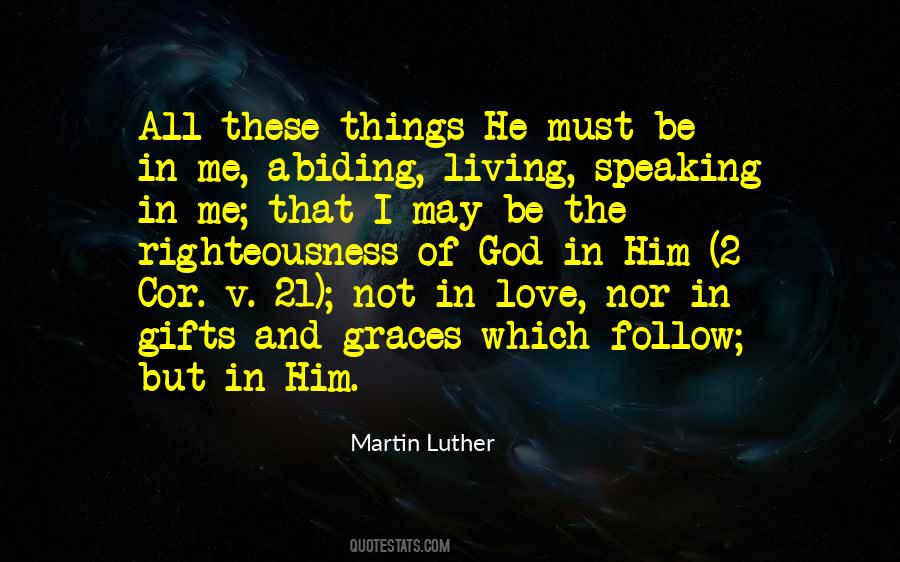 #56. We can do little things for God; I turn the cake that is frying on the pan for love of him, and that done, if there is nothing else to call me, I prostrate myself in worship before him, who has given me grace to work; afterwards I rise happier than a king. - Author: Brother Lawrence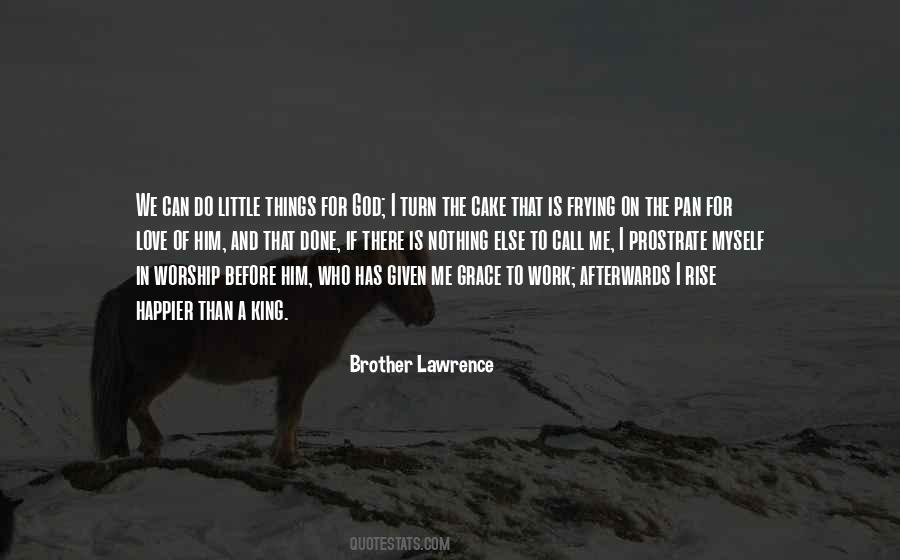 #57. God looked through eternity past and He saw you and He chose to reach out and redeem you by His own grace. It's hard to imagine that kind of love. - Author: James MacDonald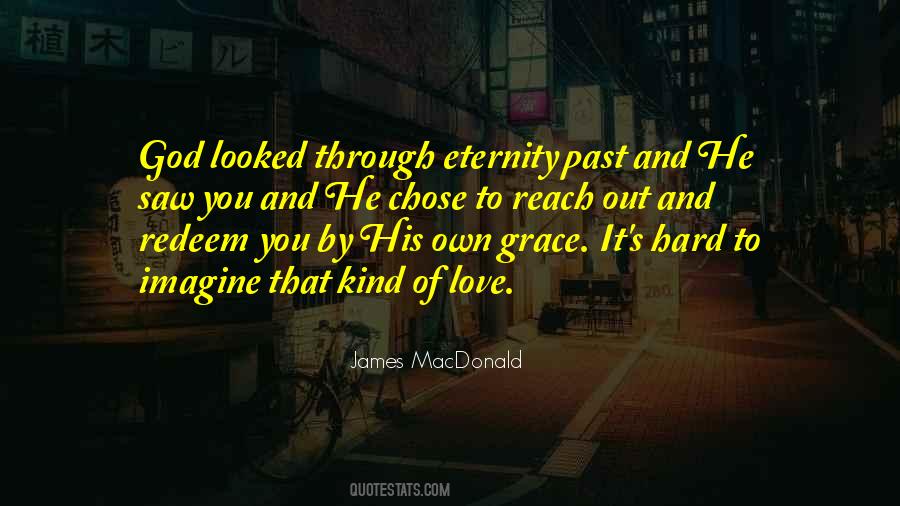 #58. A true Christian does not see God's promise of forgiveness as a license to sin, a way to abuse His love and presume on His grace. Rather, he sees God's gracious forgiveness as the means to spiritual growth and sanctification. He continually thanks God for His great love and willingness to forgive. - Author: John F. MacArthur Jr.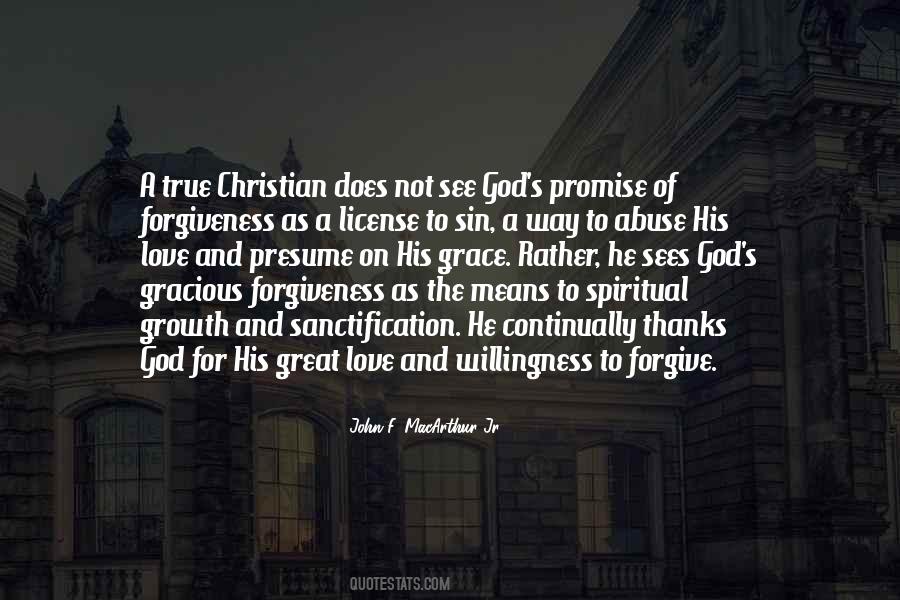 #59. You have a God who hears you, the power of love behind you, the Holy Spirit within you, and all of heaven ahead of you. If you have the Shepherd, you have grace for every sin, direction for every turn, a candle for every corner, and an anchor for every storm. You have - Author: Max Lucado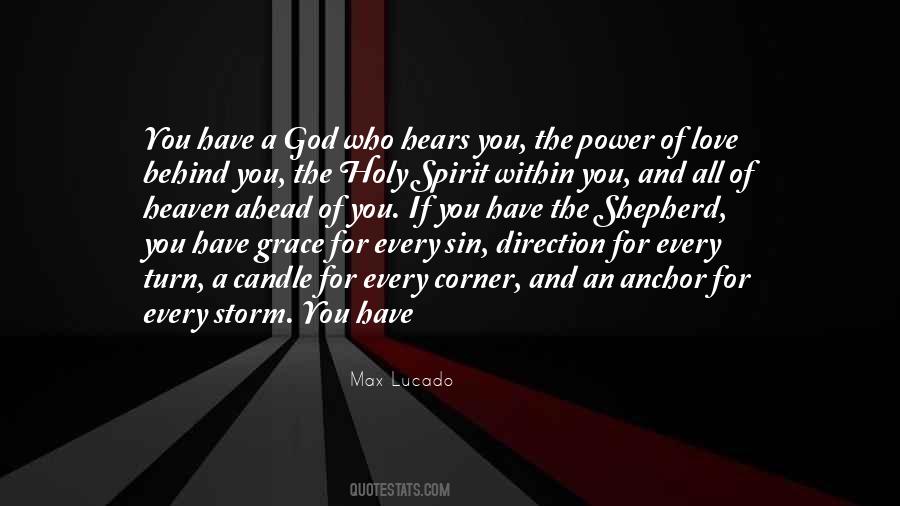 #60. The burden of life is from ourselves, its lightness from the grace of Christ and the love of God. - Author: William Bernard Ullathorne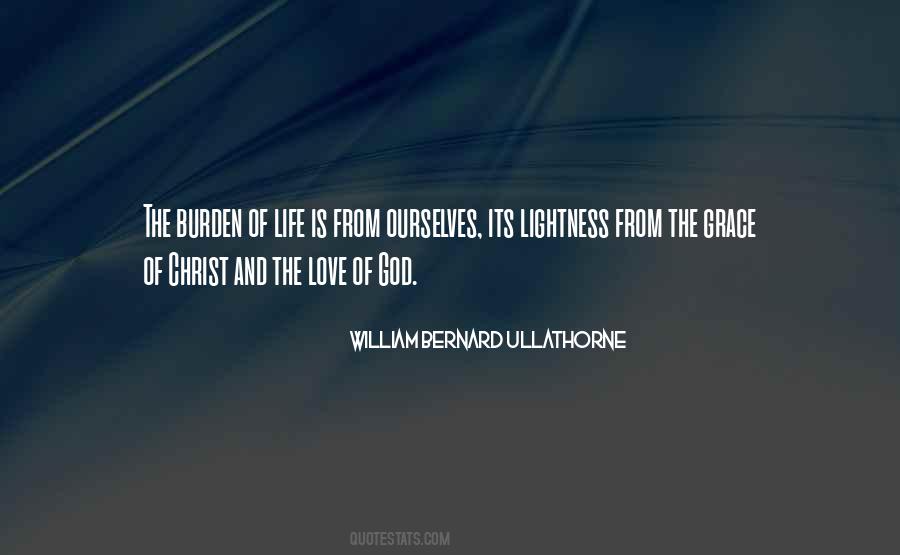 #61. In the Bible there are three distinctive meanings of grace; It means the mercy and active love of God; It means the winsome attractiveness of God; It means the strength of God to overcome. - Author: Charles L. Allen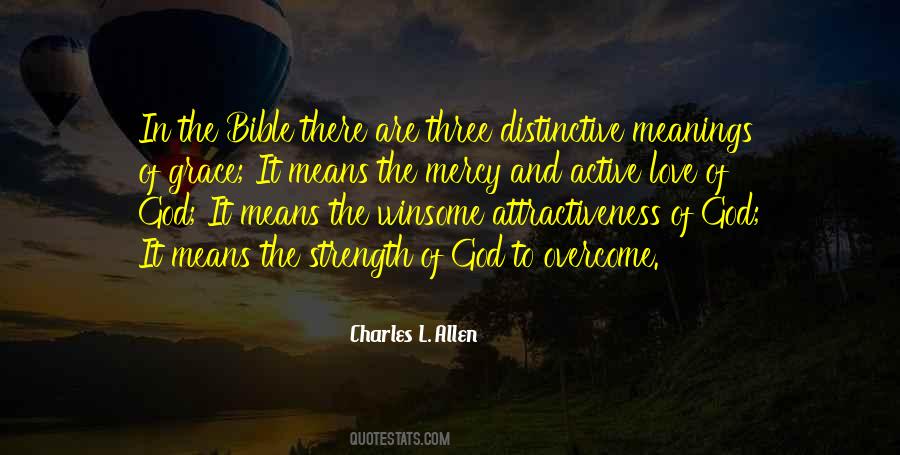 #62. We fail in the work of grace and love when there is too much of us and not enough of God. - Author: Suzanne Woods Fisher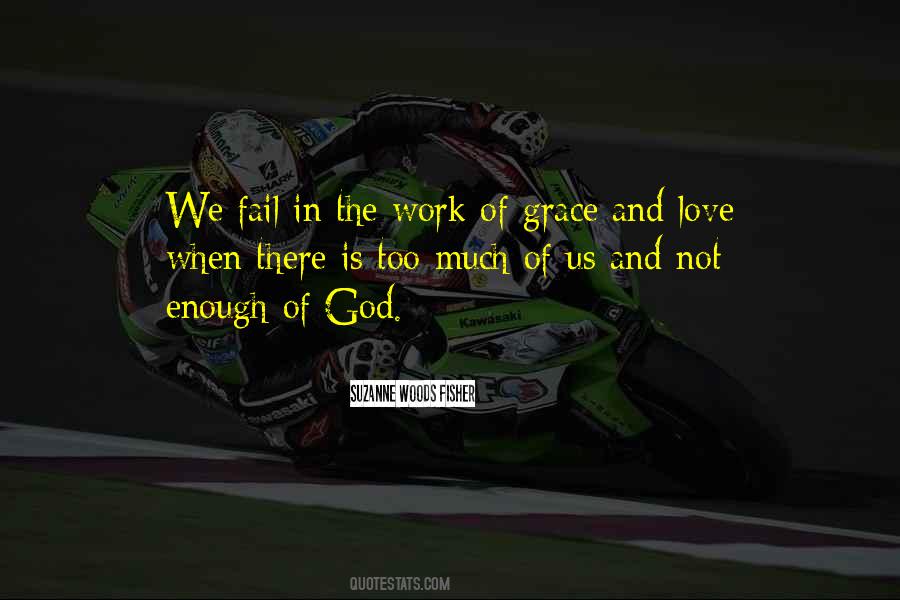 #63. Once I knew what it was to rest upon the rock of God's promises, and it was indeed a precious resting place, but now I rest in His grace. He is teaching me that the bosom of His love is a far sweeter resting-place than even the rock of His promises. - Author: Hannah Whitall Smith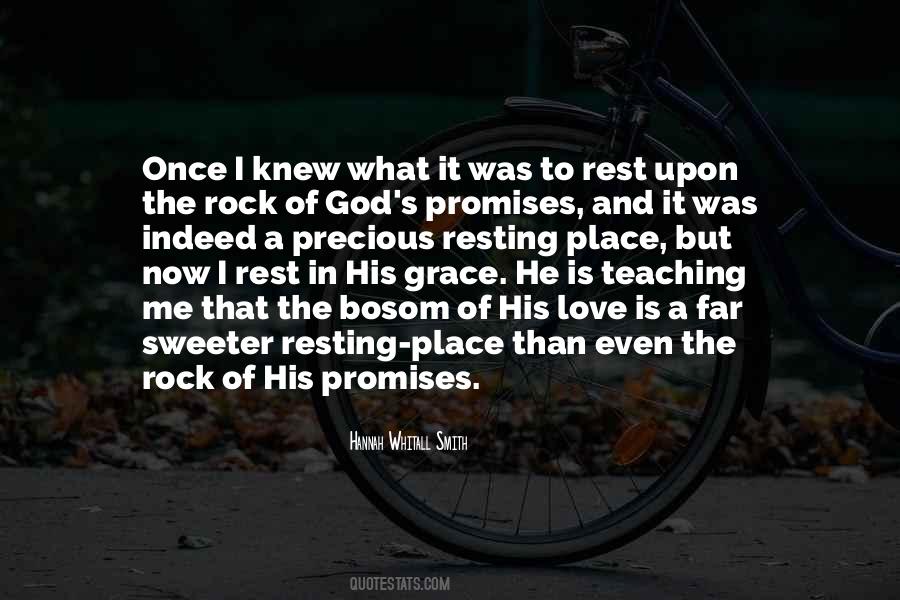 #64. God is not an employer looking for employees. He is an Eagle looking for people who will take refuge under his wings. He is looking for people who will leave father and mother and homeland or anything else that may hold them back from a life of love under the wings of Jesus. - Author: John Piper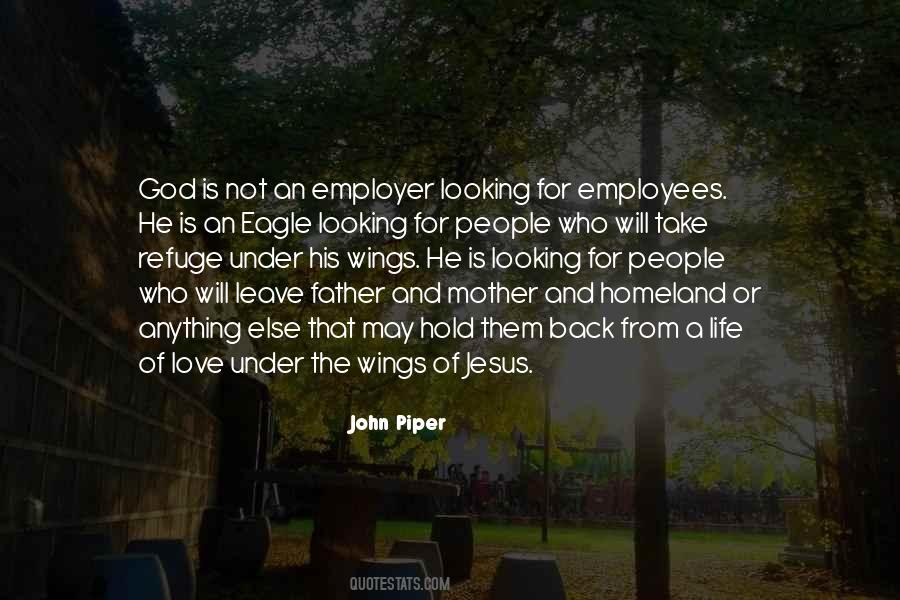 #65. The sin underneath all our sins is to trust the lie of the serpent that we cannot trust the love and grace of Christ and must take matters into our own hands - Author: Martin Luther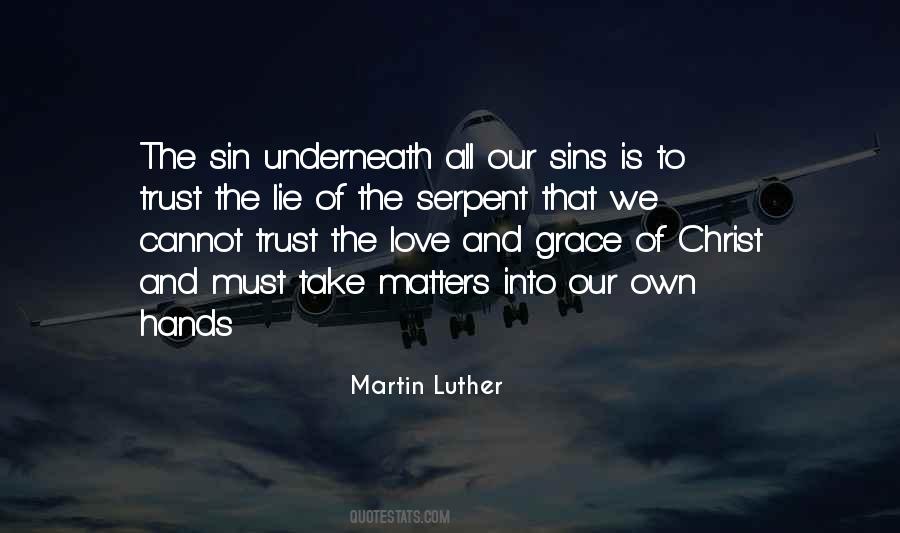 #66. Grace overwhelms us with God's love, and as a result our heart resonates with the desires of God: His purposes become our own. - Author: Bryan Chapell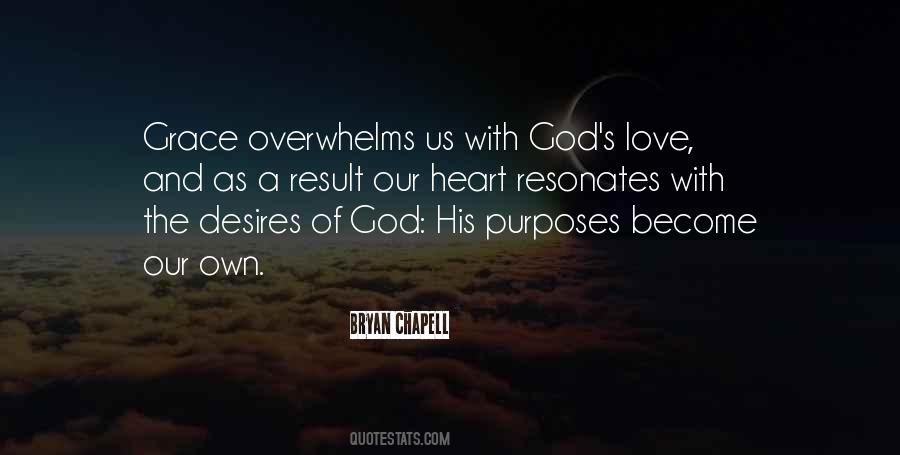 #67. We suffer because we have no humility and we do not love our brother. From love of our brother comes the love of God. People do not learn humility, and because of their pride cannot receive the grace of the Holy Spirit, and therefor the whole world suffers. - Author: Silouan The Athonite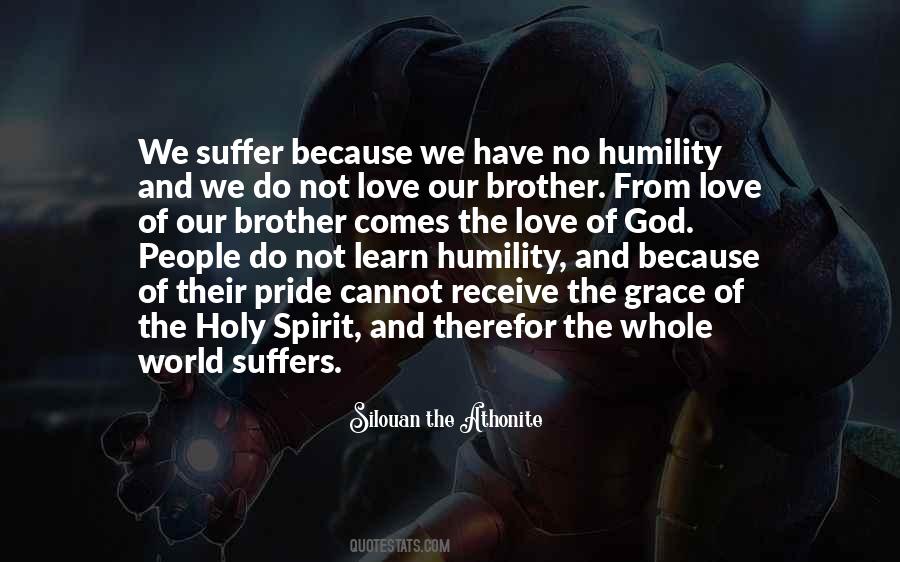 #68. God's love is his holiness reaching out to sinners; grace is but the price that his love pays to his holiness; the cross is but its victory over sin and death; and faith is but the way in which we bring our worship to him who is holy. - Author: David F. Wells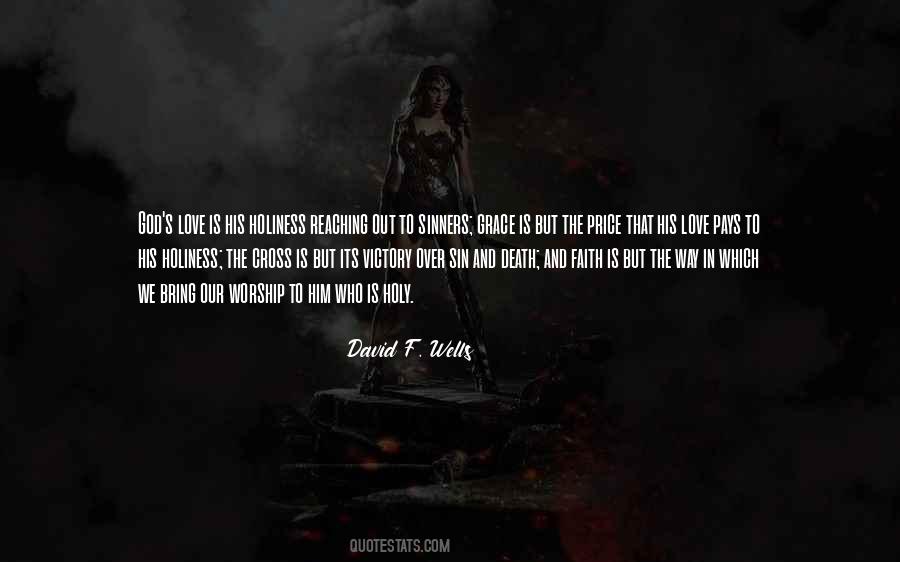 #69. By faith we receive the saving grace of God that delivers us from guilt and sin. In love we participate in the victorious struggle of God against the principalities and powers of evil. - Author: Gabriel Fackre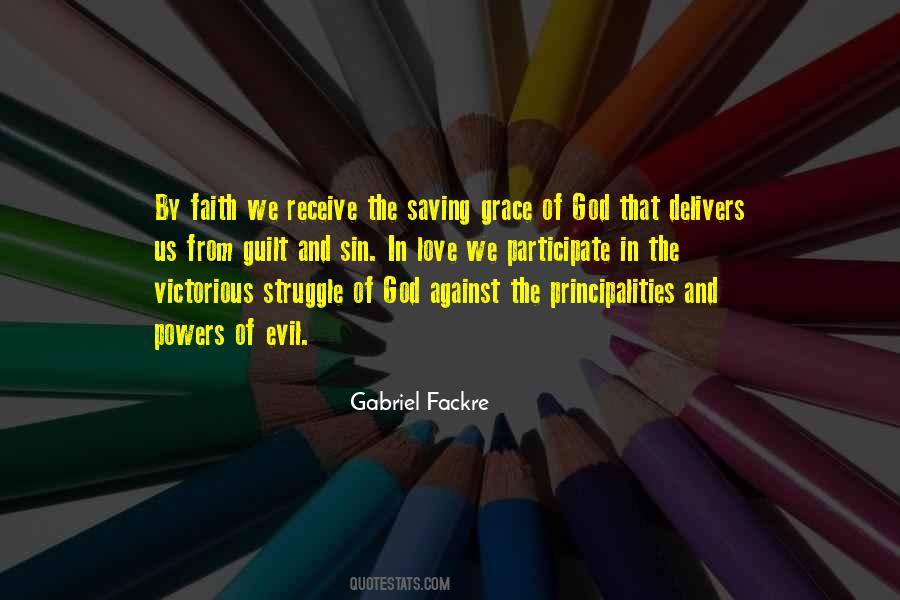 #70. No matter your past or your future, the depth of your sin or the mistakes that you've made, the weariness of your soul or the obstacles in your path, you can experience God's love right here, right now, right where you are. And that's the beauty of grace. - Author: Dawn Camp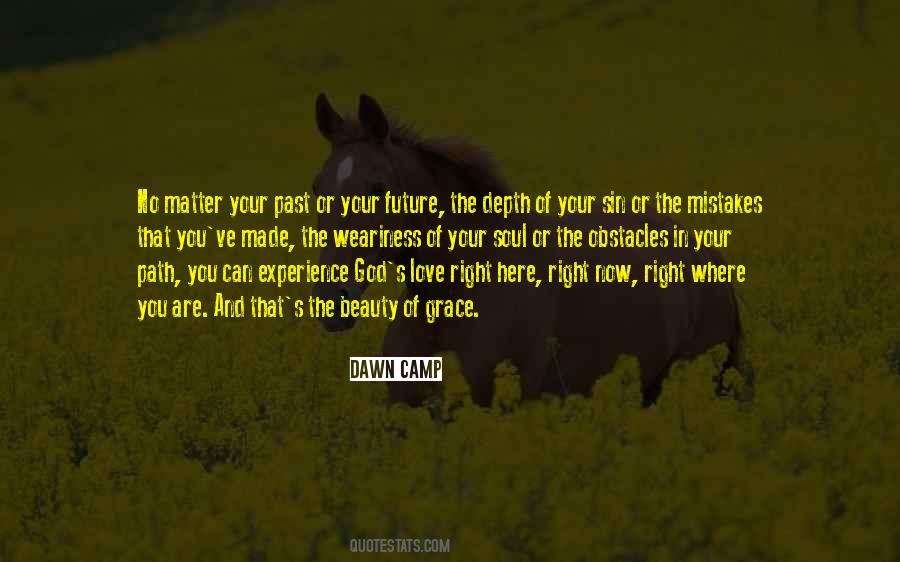 #71. Beyond the ephemeral and the dark stands "a sign from eternity, solemn and mighty, bathed in the radiance of the divine sun of grace and light - the cross. And there [God] hangs, his arms outstretched as if to embrace the entire world in love."42 - Author: Charles Marsh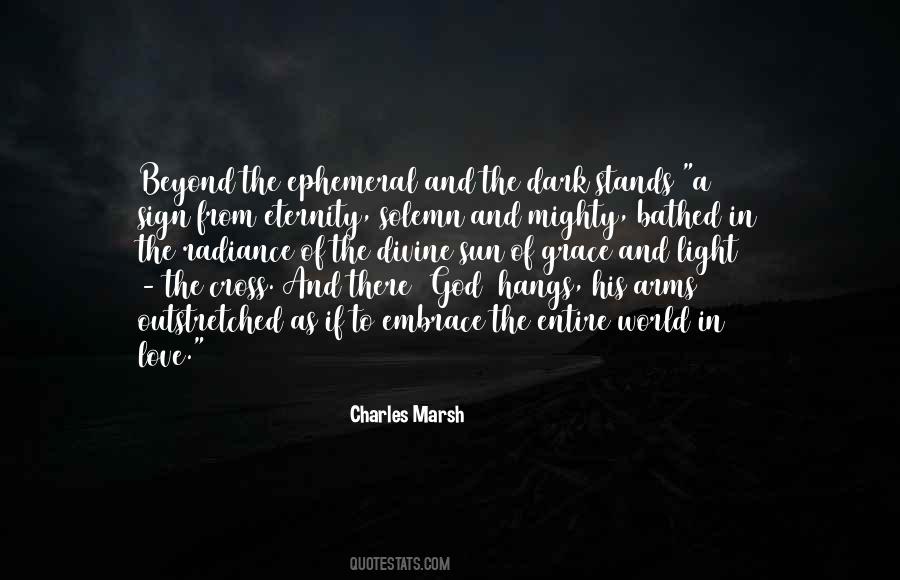 #72. I'm alive with love in my heart.. I'm grateful for each moment.. With a little patience and god's grace I know everything in my life will work out on its own time! - Author: Nehali Lalwani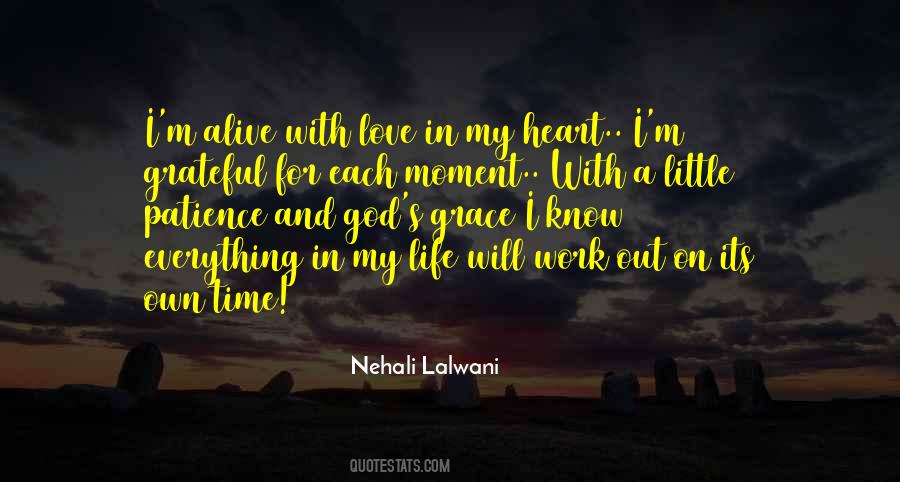 #73. Sound preaching arises out of two loves - love of the Word of God and love of people - and from them both a desire to show people God's glorious grace. - Author: Timothy Keller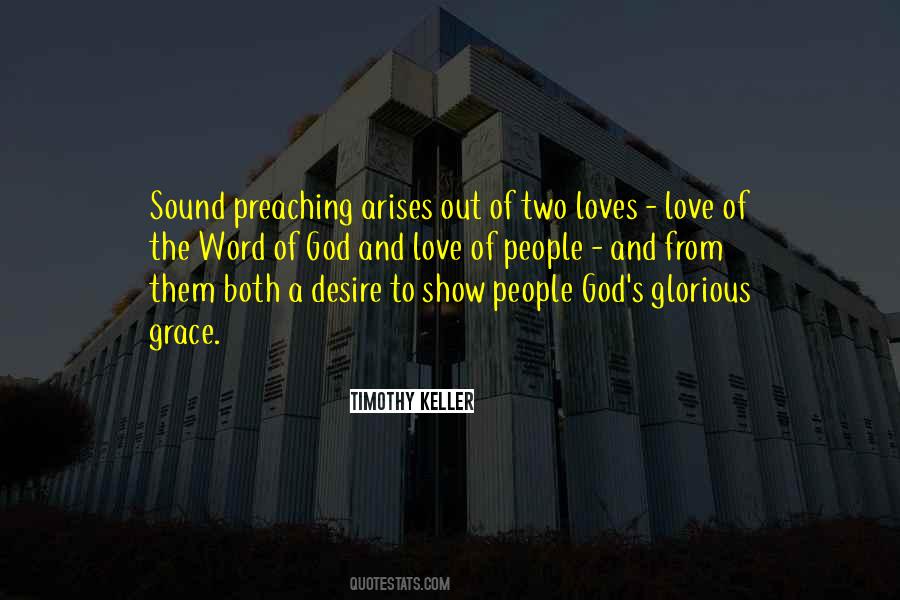 #74. Hope is in the name of God, the name of our Lord Jesus Christ. Hope is when you compare your suffering to the infinite, immeasurable love and grace of God. - Author: Nick Vujicic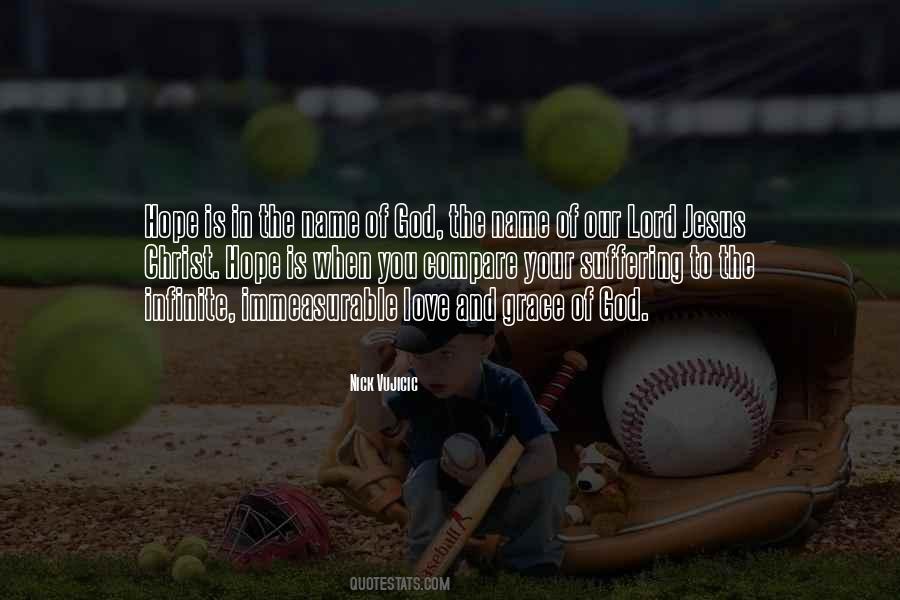 #75. In the best case, notions of God's love and grace provide some relief - but the central message of these faiths is that each of us is separate from, and in relationship to, a divine authority who will punish anyone who harbors the slightest doubt about His supremacy. - Author: Sam Harris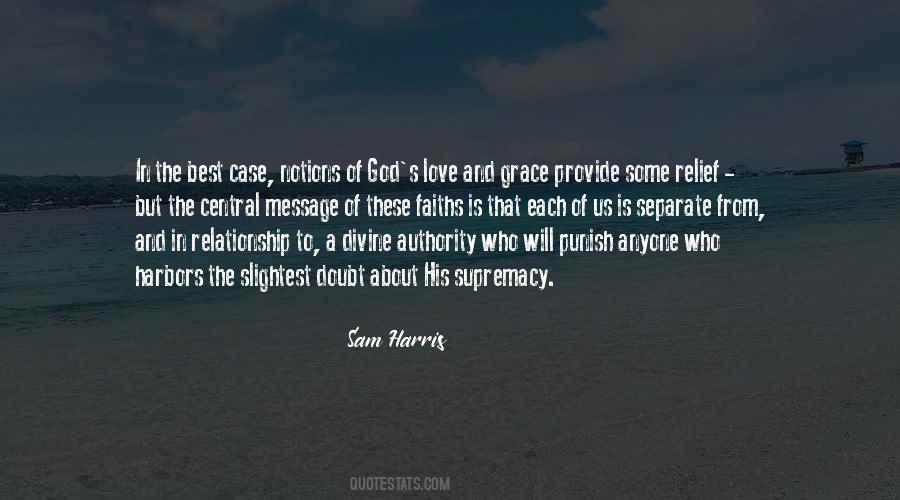 #76. I want to inspire and encourage people and intrigue them to want to know what makes me tick, which is ultimately the love of God, the grace, peace and forgiveness of God that I'm so thankful & grateful for. - Author: Christian Hosoi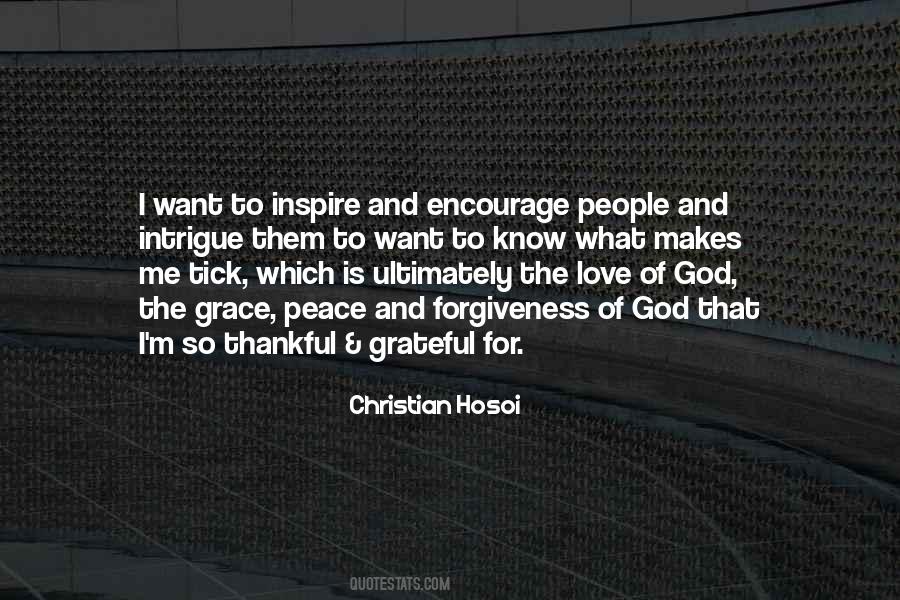 #77. Not being changed by prayer is sort of life standing in the middle of a spring rain without getting wet. It's hard to stand in the center of God's acceptance and love without getting it all over you. - Author: Steve Brown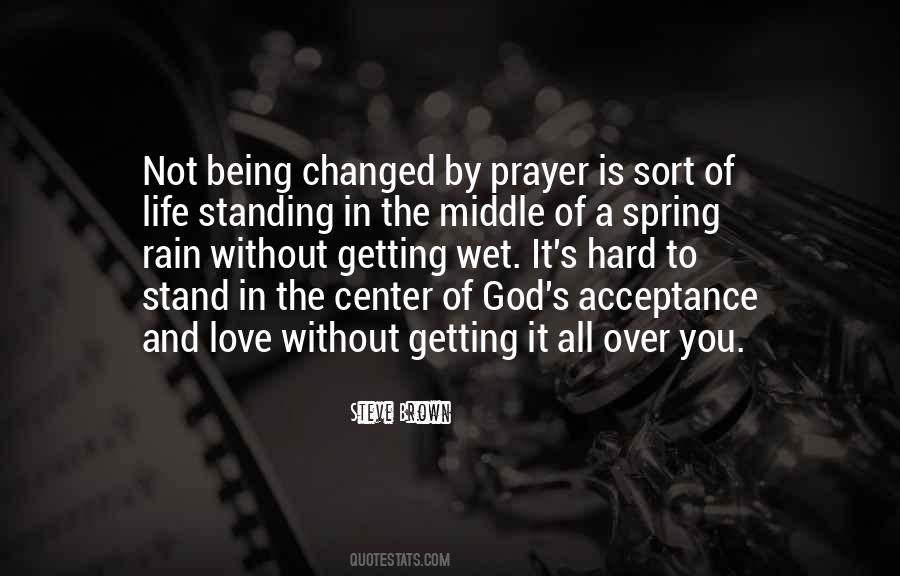 #78. A life of hospitality begins in worship, with a recognition of God's grace and generosity. Hospitality is not first a duty and responsibility; it is first a response of love and gratitude for God's love and welcome to us. - Author: Christine Pohl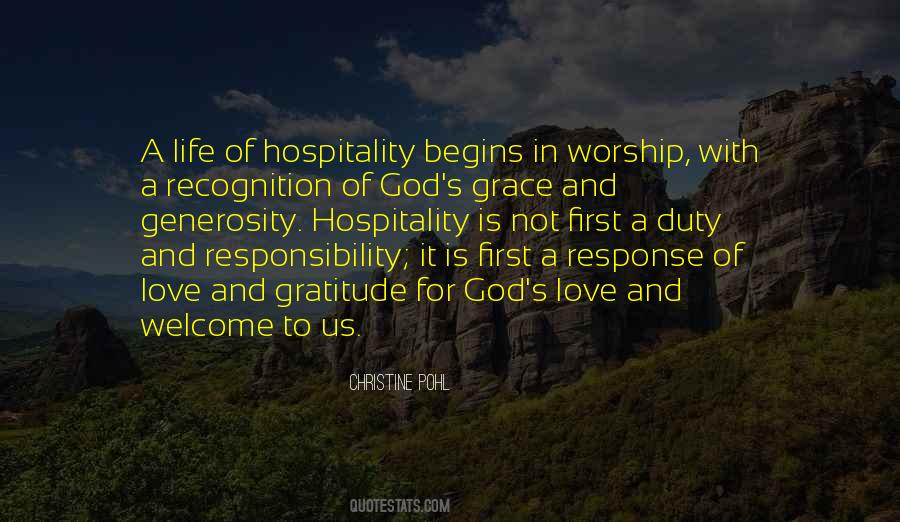 #79. You go nowhere by accident. Wherever you go, God is sending you. Wherever you are, God has put you there; He has a purpose in your being there. Christ who indwells you has something He wants to do through you where you are. Believe this and go in His grace and love and power. - Author: Mark Batterson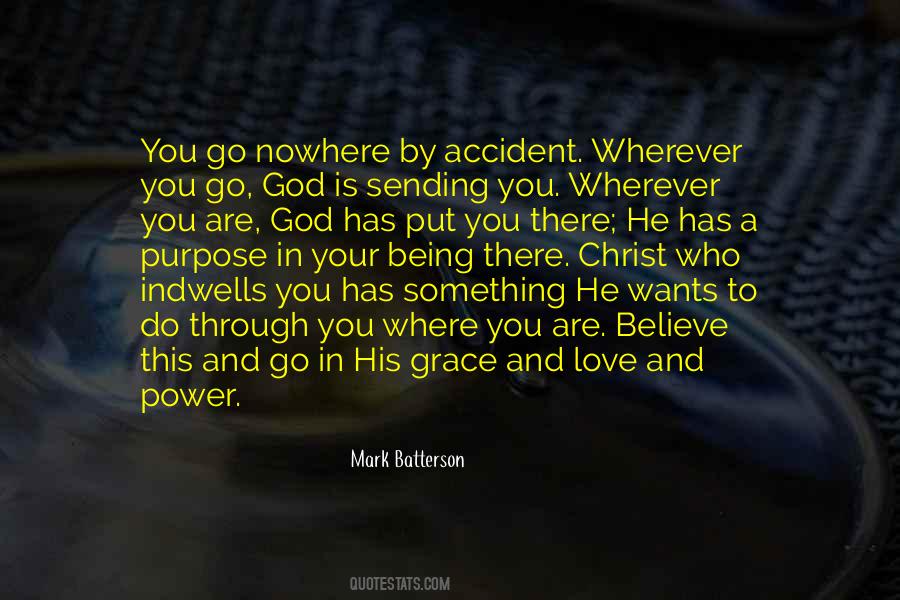 #80. I want us to enter into the laughter of the God that is before, during and after the experience of being human, to swim in grace, to revel in messiness, to find joy in the suffering and love in the chaos. - Author: Tobin Wilson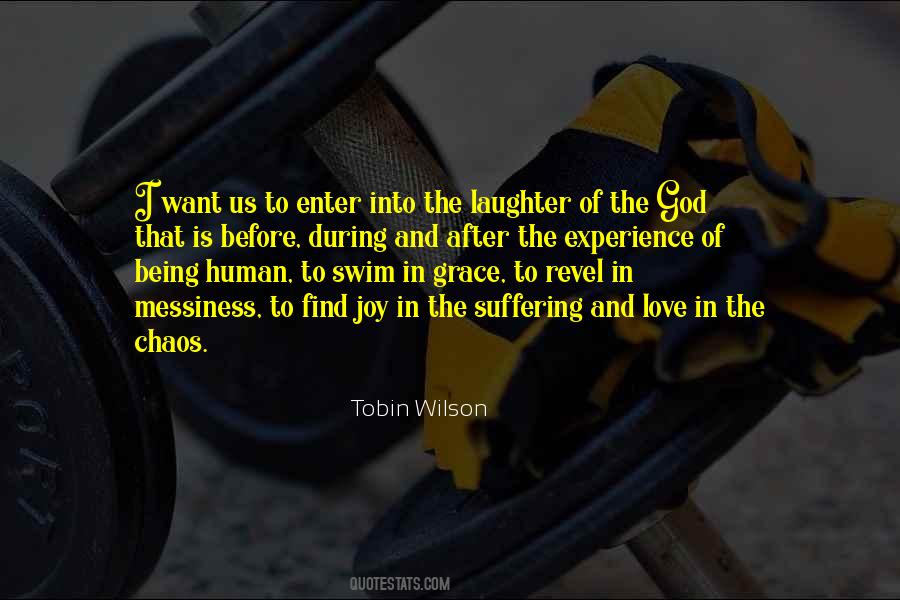 #81. Grace is the offer of God's ceaseless presence and irrational love that cannot be stopped. - Author: John Ortberg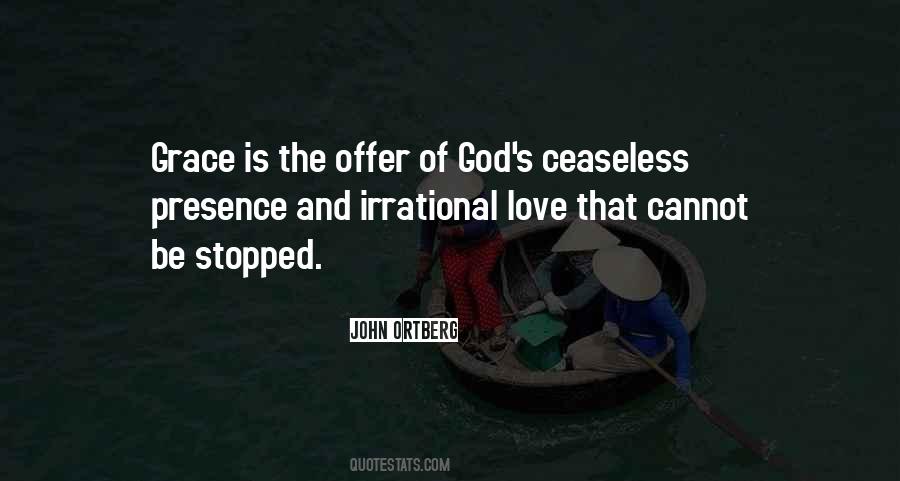 #82. Move from an earthly mindset that makes us bristle at the thought of submission to a joyful expectation of good, we must focus on the One who is leading. We must look at the full spectrum of His love, grace, and wisdom. - Author: Amy Layne Litzelman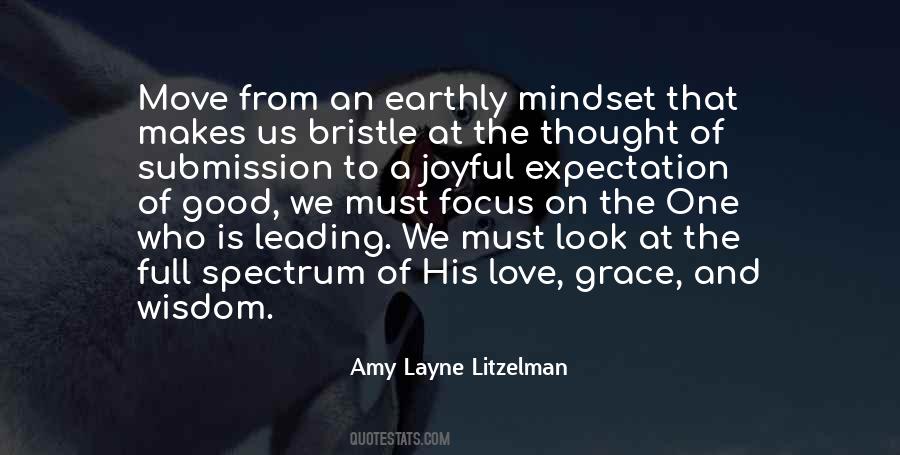 #83. God's irresistible grace binds our wandering hearts to himself and frees us to love him back and overflow in love to our neighbors. - Author: Gloria Furman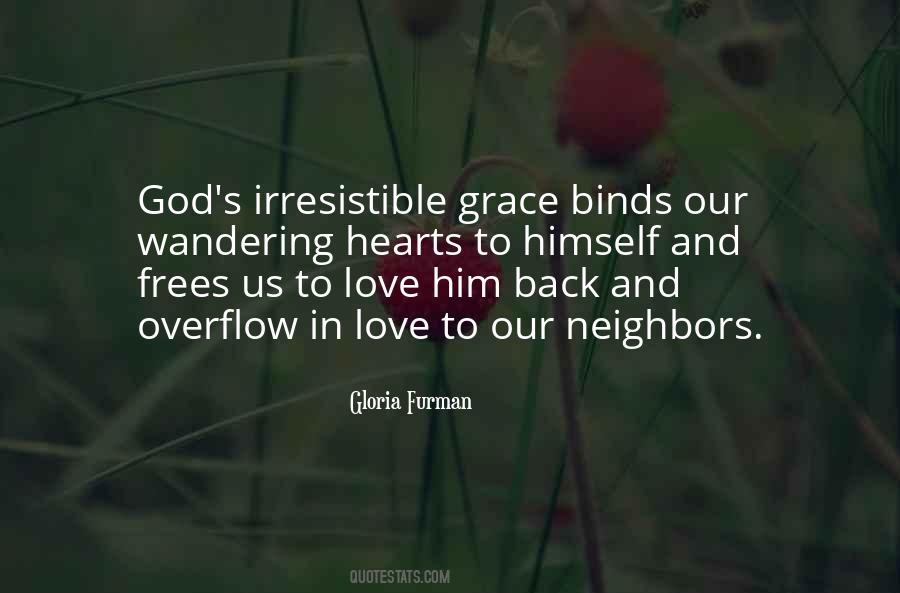 #84. Grace is found at the depths and in the death of everything. After these smaller deaths, we know that the only "deadly sin" is to swim on the surface of things, where we never see, find, or desire God and love. - Author: Richard Rohr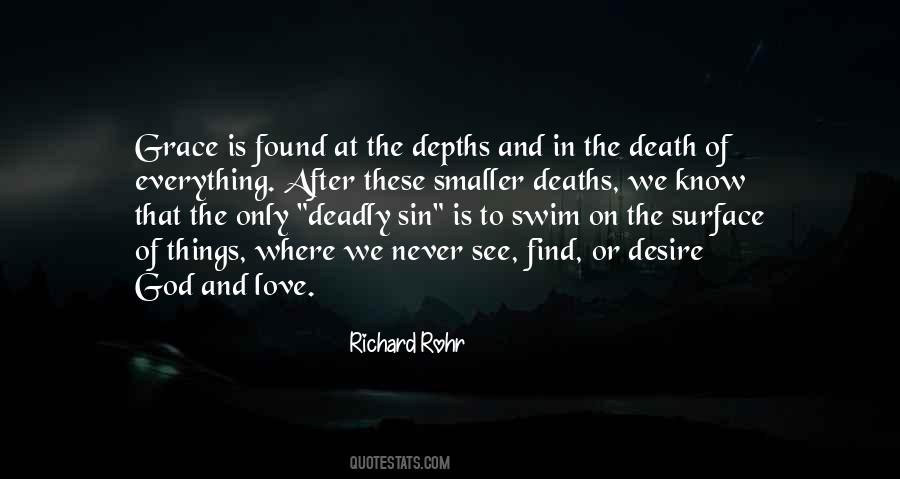 #85. To elevate abstract doctrines and dogmas over living, breathing, embodied experiences of God's love and grace, then, is going the wrong direction. It's taking flesh and turning it back into words. - Author: Rob Bell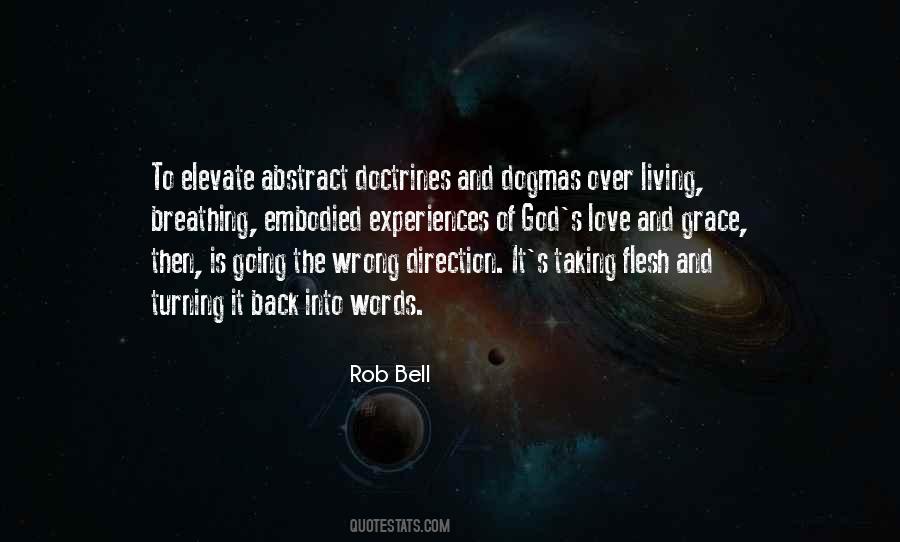 #86. Repent, return and be restored by Jesus Christ. - Author: Lailah Gifty Akita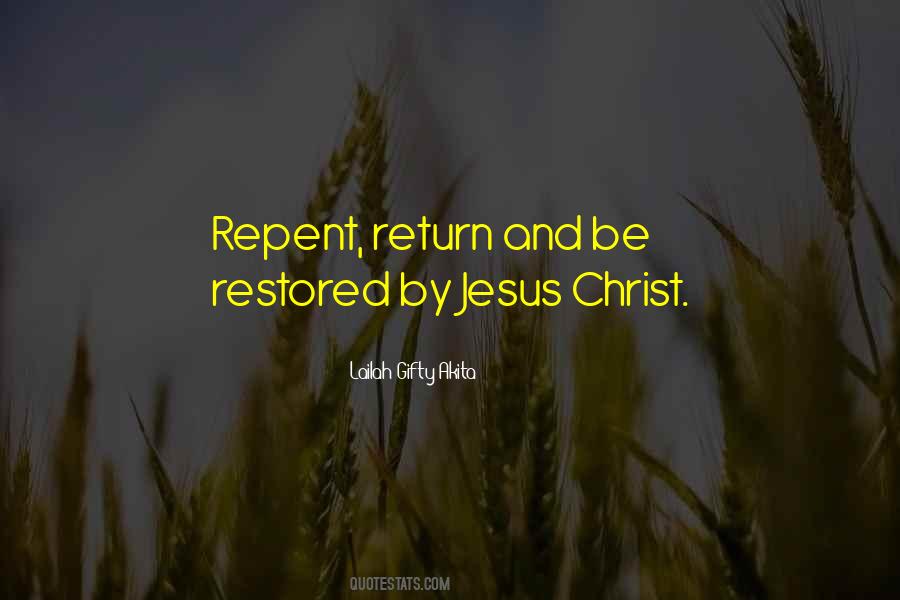 #87. Grieve not the Christ of God, who redeems us; and remember that we grieve Him most when we will not let Him pour His love upon us, but turn a sullen, unresponsive unbelief towards His pleading grace, as some glacier shuts out the sunshine from the mountain-side with its thick-ribbed ice. - Author: Alexander MacLaren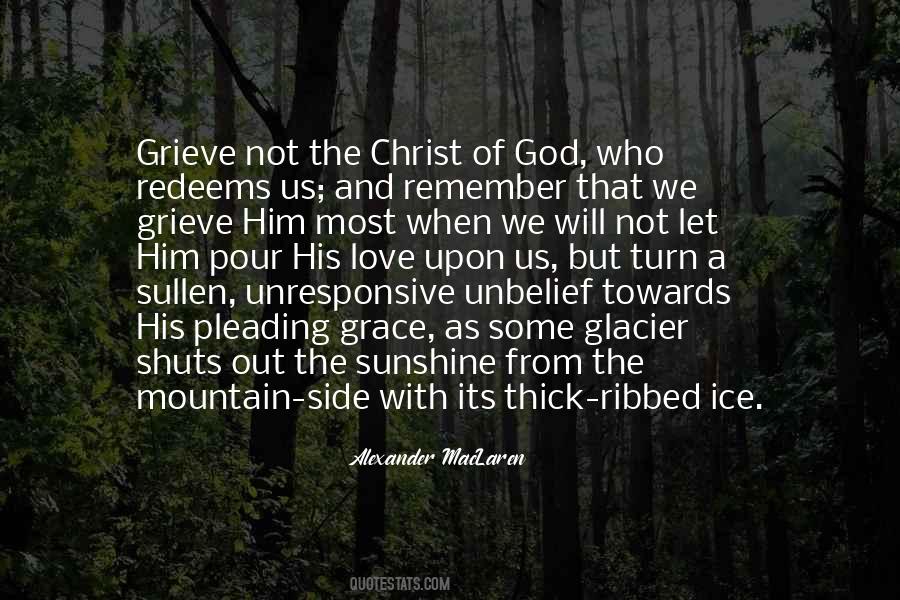 #88. I am blessed and highly favoured. - Author: Lailah Gifty Akita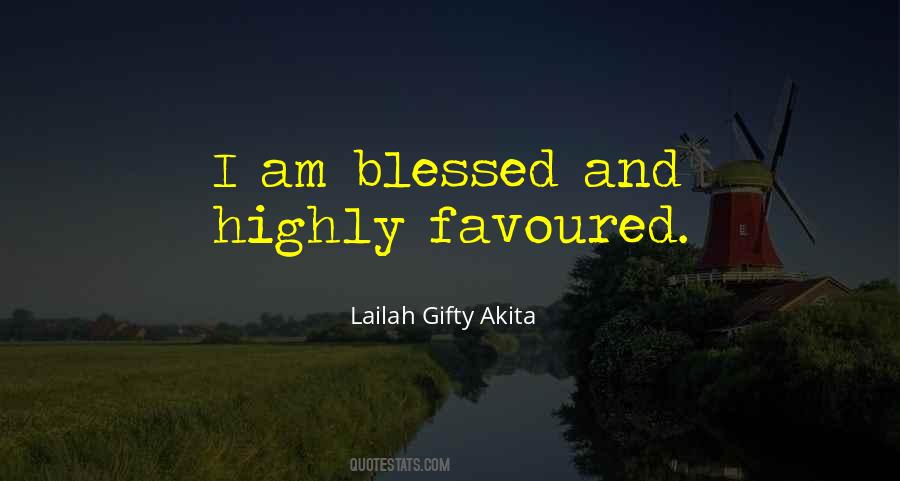 #89. At the cross a world of sin is absorbed by the love of God and recycled into grace and mercy. This is what the cross is about! This is what Christianity reveals. Christianity - Author: Brian Zahnd
#90. To pray is to change. This is a great grace. How good of God to provide a path whereby our lives can be taken over by love and joy and peace and patience and kindness and goodness and faithfulness and gentleness and self-control. - Author: Richard J. Foster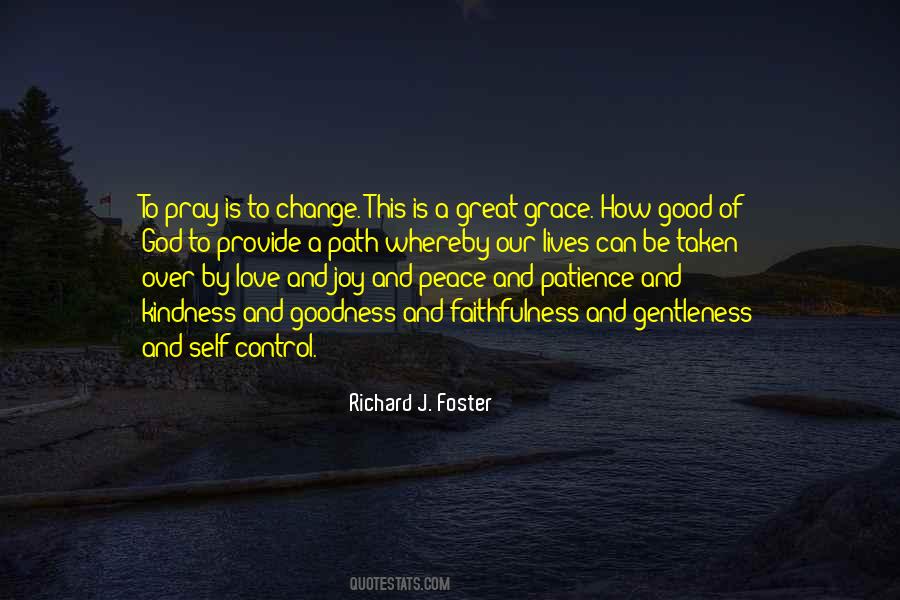 #91. The grace of the Lord Jesus Christ, and the love of God, and the fellowship of the Holy Spirit be with all of you. 2 Corinthians 13:13 - Author: Beth Moore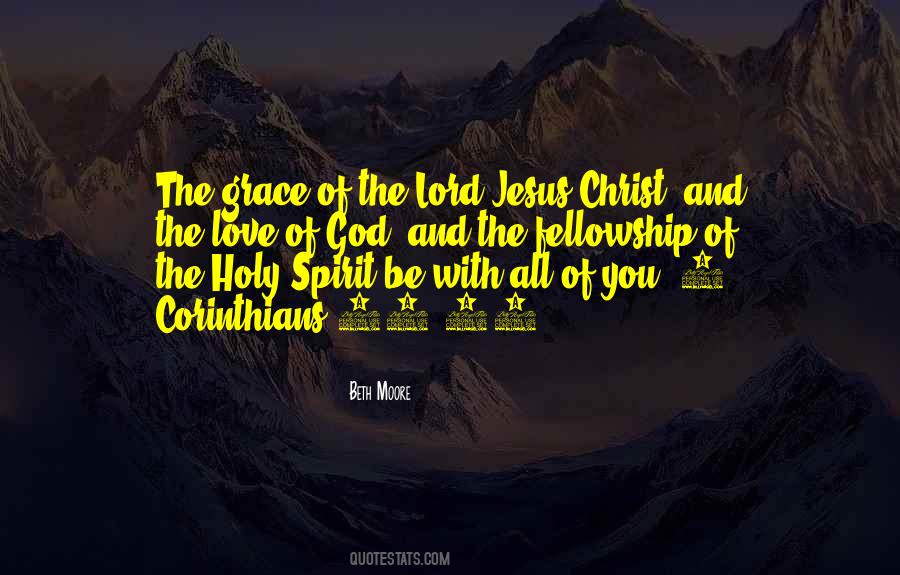 #92. No matter how much individuals do through their own efforts, they cannot actively purify themselves enough to be disposed in the least degree for the divine union of the perfection of love. God must take over and purge them in that fire that is dark for them, as we will explain. - Author: San Juan De La Cruz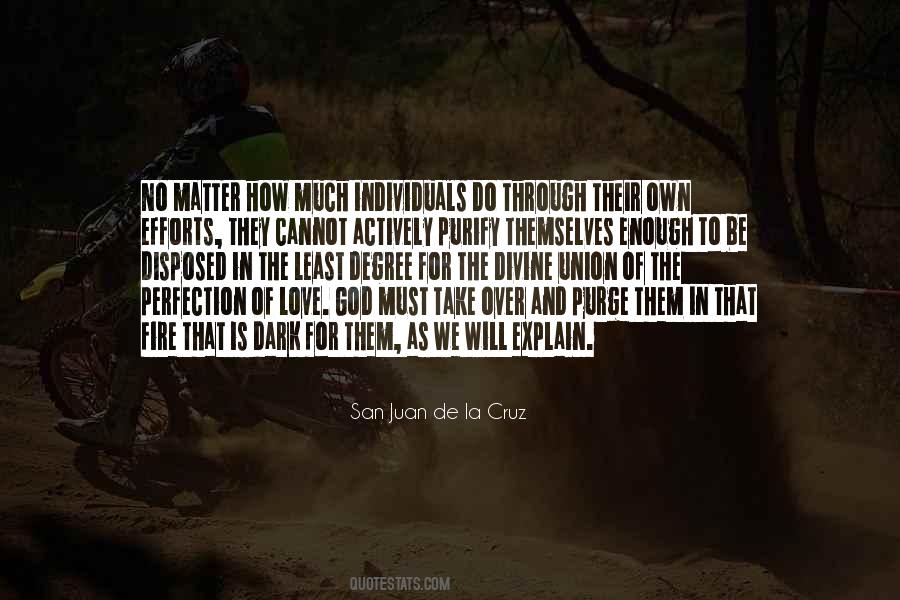 #93. Hope is the supernatural grace of God for
survival of hard times. - Author: Lailah Gifty Akita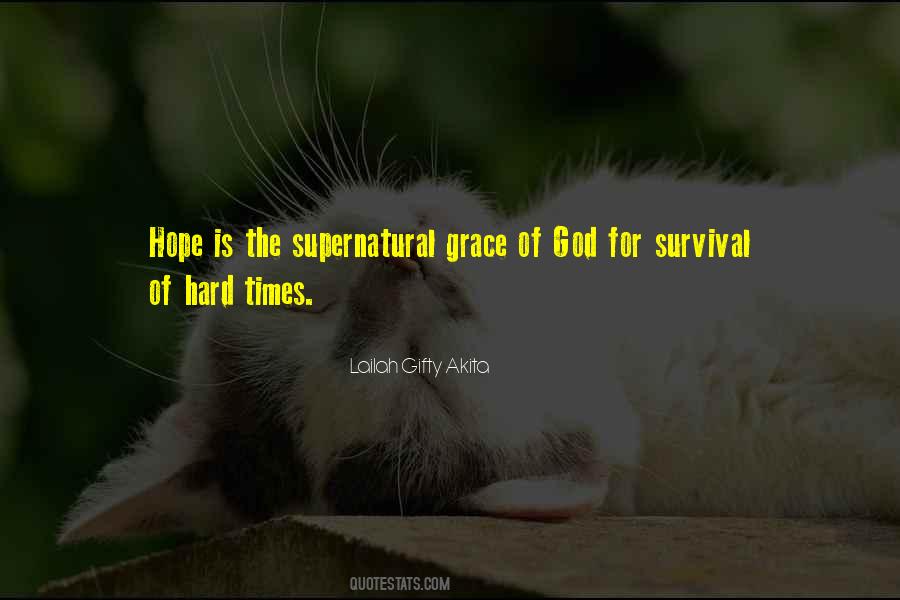 #94. The biblical way to express God's love to a sinner is to show him how great his sin is (using the Law - see Romans 7:13; Galatians 3:24), and then give him the incredible grace of God in Christ. - Author: Ray Comfort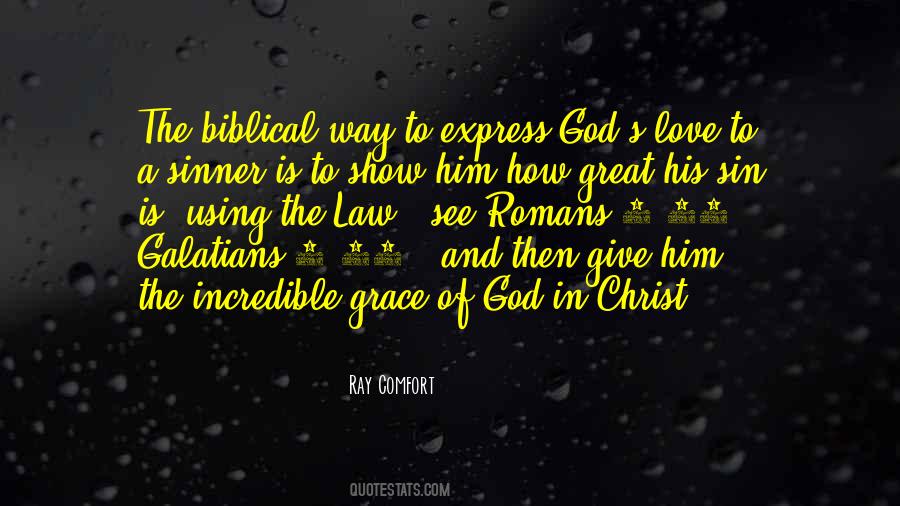 #95. May spending time with You be my first priority, may listening and obeying mark my life, may extravagant childlike joy and amazement mark my demeanor, may an openness to share your grace quickly and easily flow from me, may I seek your forgiveness and excitedly accept it. - Author: Katie Kiesler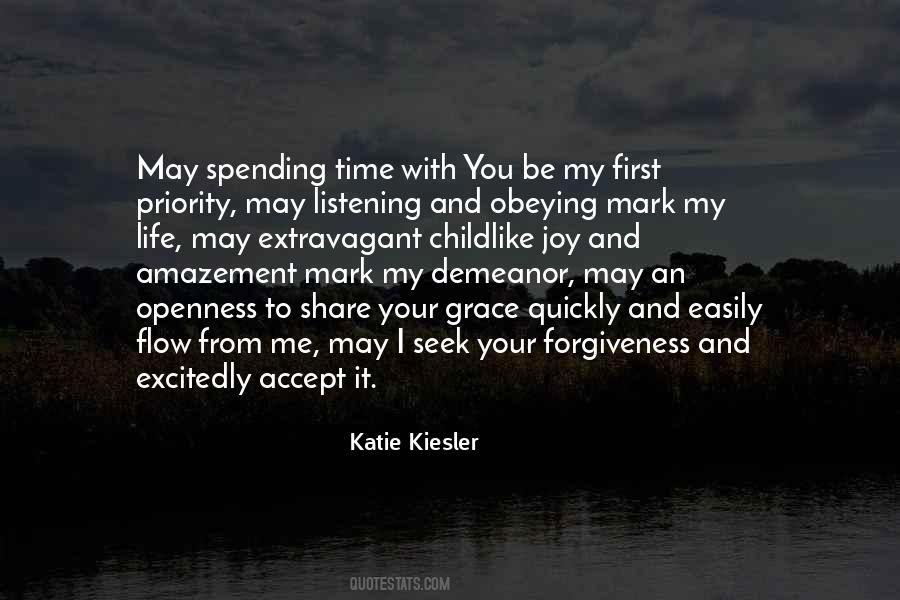 #96. What God requires of us he himself works in us, or it is not done. He that commands faith, holiness, and love, creates them by the power of his grace going along with his word, that he may have all the praise. - Author: Matthew Henry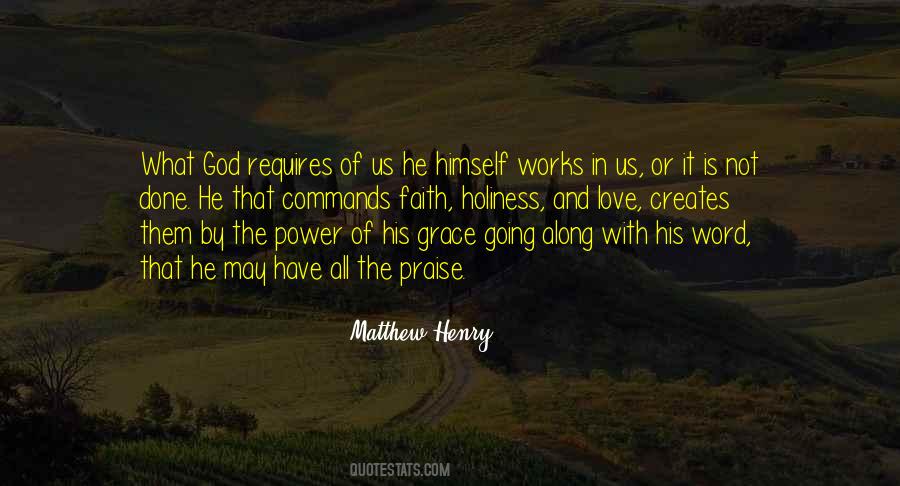 #97. I take the love of God and self-denial to be the sum of all saving grace and religion. - Author: Richard Baxter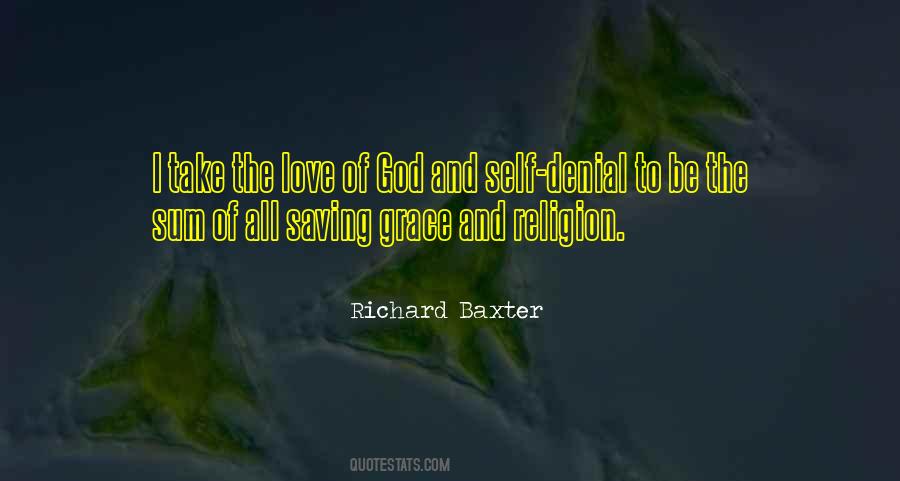 #98. Plato also knew clearly, and indicated by allusions in his works, the dogmas of the Trinity, mediation, the incarnation, the Passion and the notions of grace and salvation through love. He knew the essential truth. Namely, that God is good. He is only all-powerful in addition. - Author: Simone Weil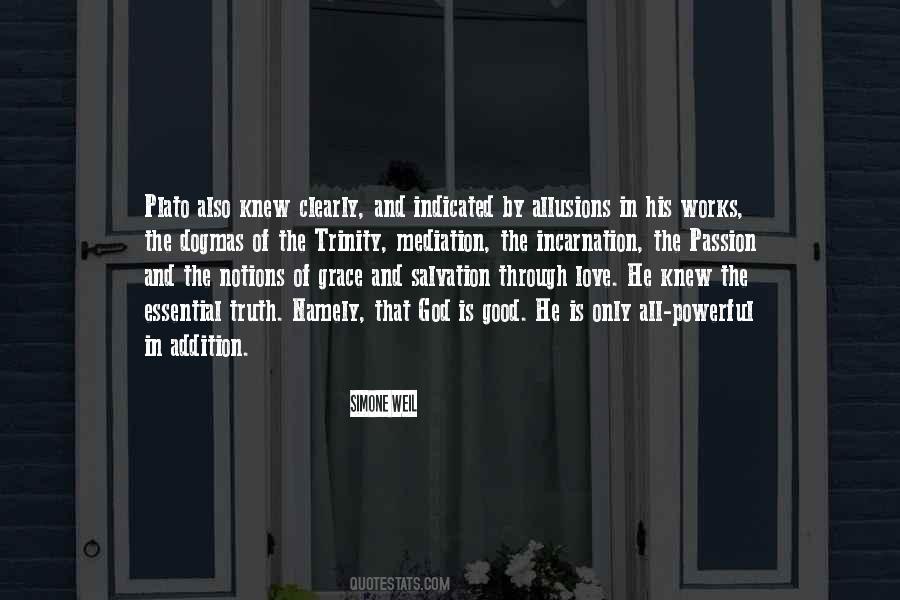 #99. Experiencing something of the grace of God should always cause our self-perceived ideas about 'Who He is' and 'How He works' to pop. - Author: Tristan Sherwin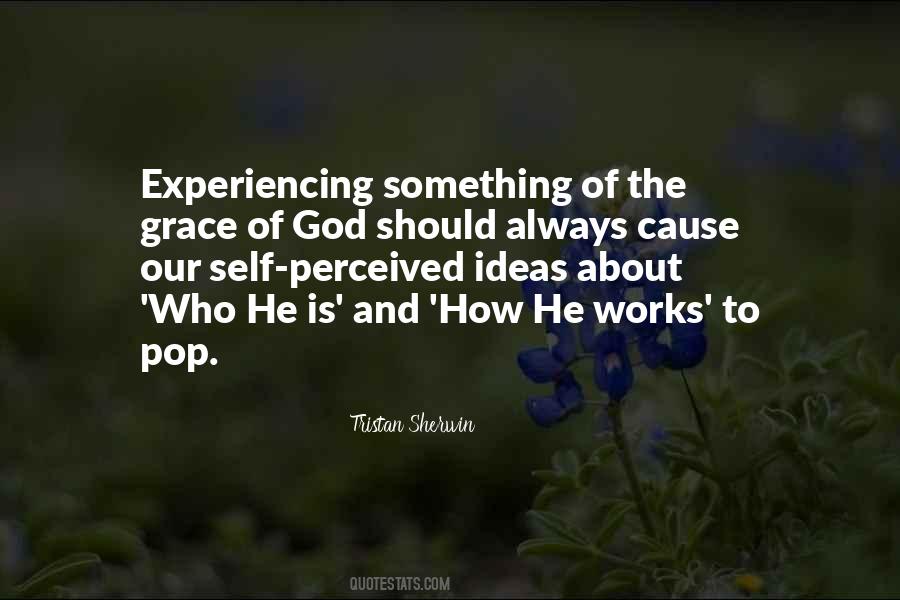 #100. We've forgotten that God showers his extraordinary gifts through ordinary means of grace, loves us through ordinary fellow image bearers, and sends us out into the world to love and serve others in ordinary callings. - Author: Michael S. Horton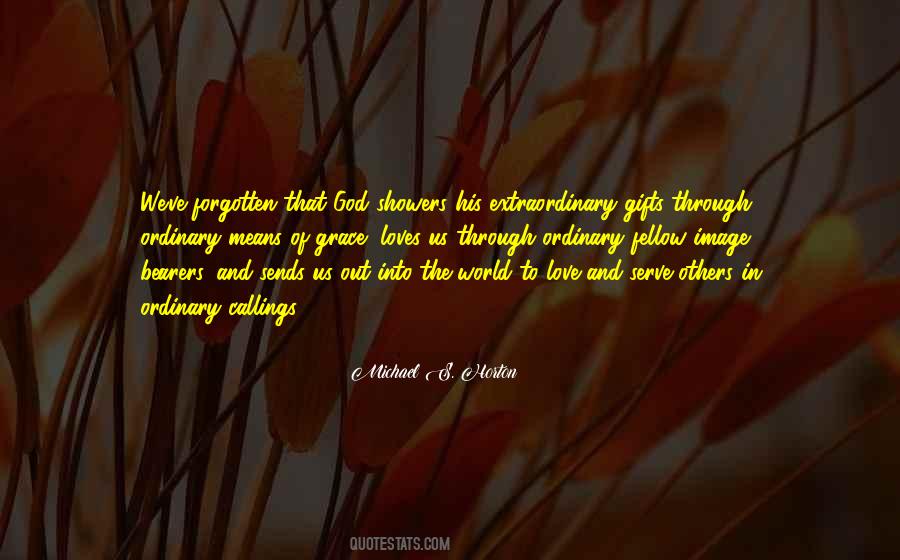 Famous Authors
Popular Topics