God Is The Strength Famous Quotes & Sayings
List of top 100 famous quotes and sayings about god is the strength to read and share with friends on your Facebook, Twitter, blogs.
Top 100 God Is The Strength Quotes
#1. Joy is a decision. Circumstances and situations will scream distractions.
Come what may, decide to be joyful in God and by the Holy Spirit
you will be joyful. - Author: Kunle Olusegun-Emmanuel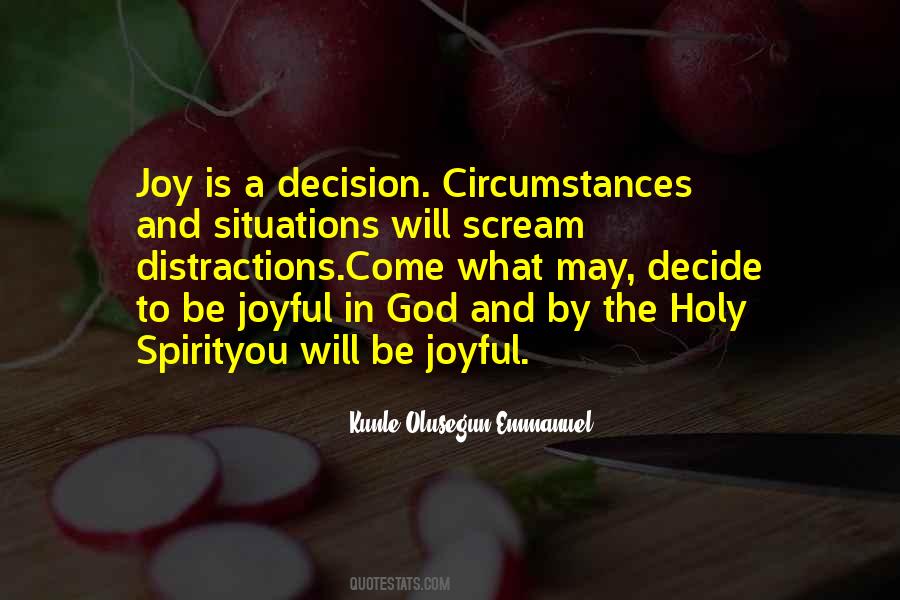 #2. The one thing God is doing in all of redemptive history is to show forth his mercy in such a way that the greatest number of people will throughout eternity delight in him with all their heart, strength, and mind. - Author: John Piper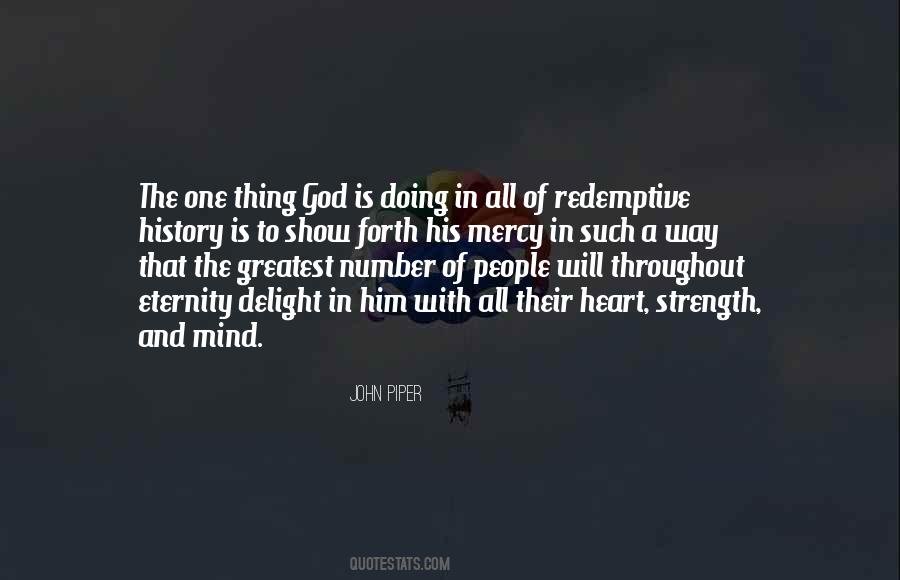 #3. The Lord is my rock, and my fortress, and my deliverer; My God, my strength, in whom I will trust; My shield, and the horn of my salvation; my stronghold. - Author: Anonymous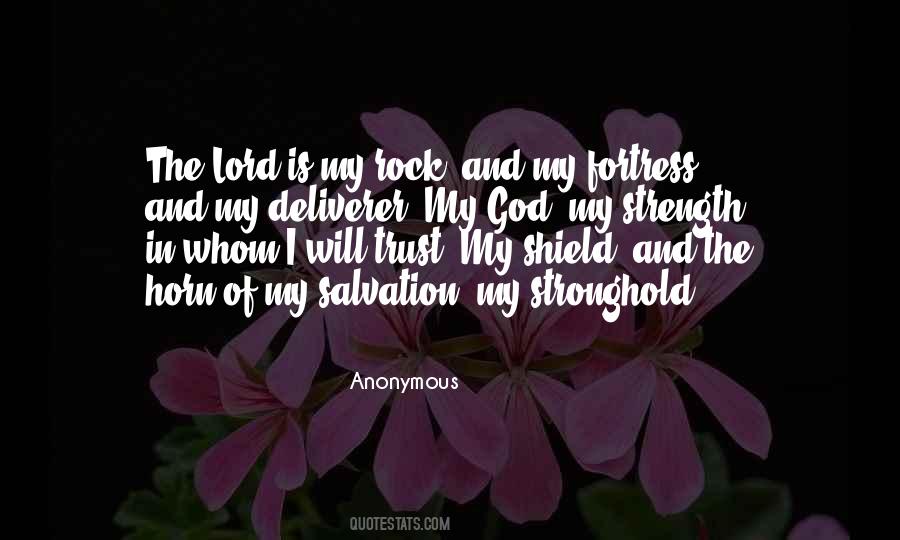 #4. Whenever we are struggling, we must fall on the promises of God that are founded in the Word. That is where our strength must always come from. - Author: Ben Zobrist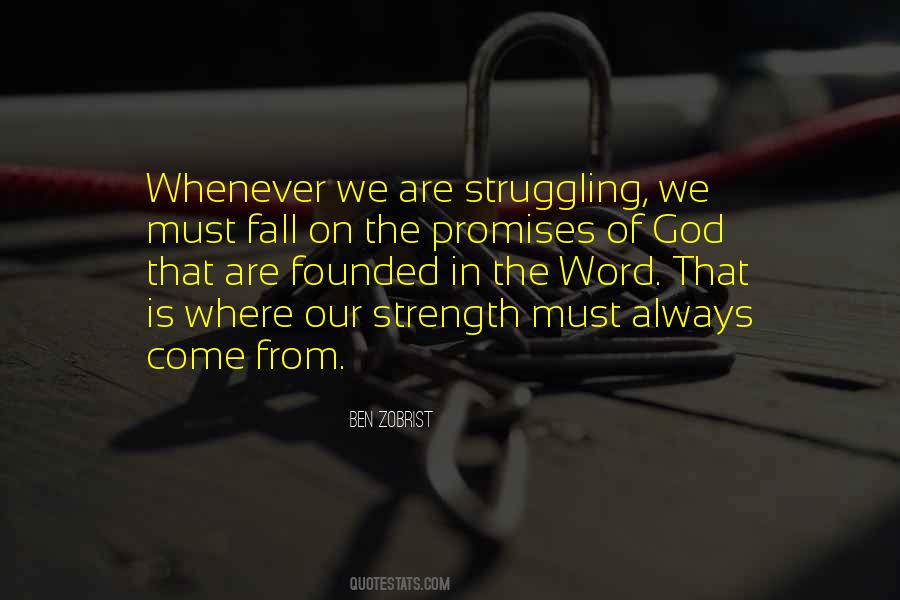 #5. The dream is free - to live it requires HUSTLE. - Author: Bobby F. Kimbrough Jr.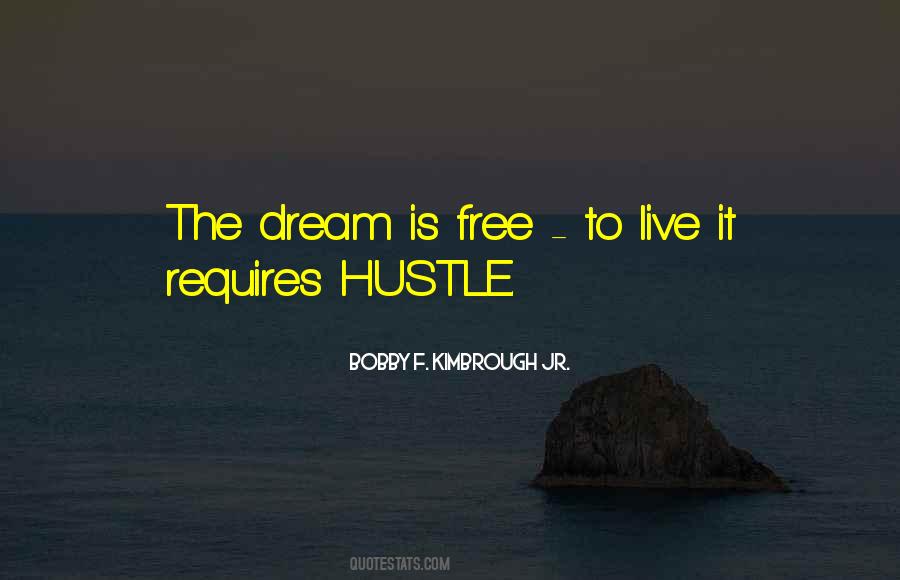 #6. God is too great to be glorified only through the lives of His victorious children. He is glorified by our suffering and even by our sin. His sustaining strength is glorified when we walk through the furnace of affliction. - Author: Elyse M. Fitzpatrick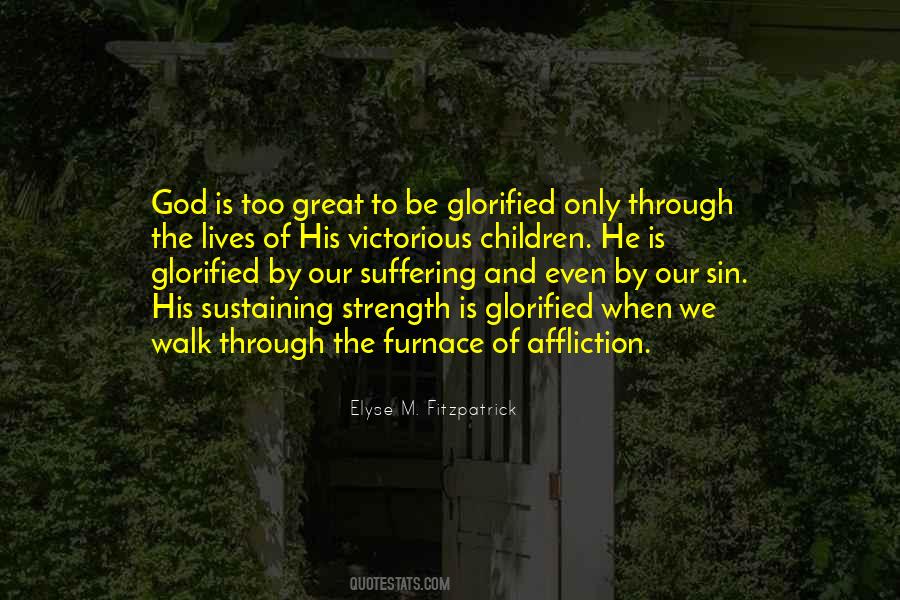 #7. The spirit of God is mighty upon us. - Author: Lailah Gifty Akita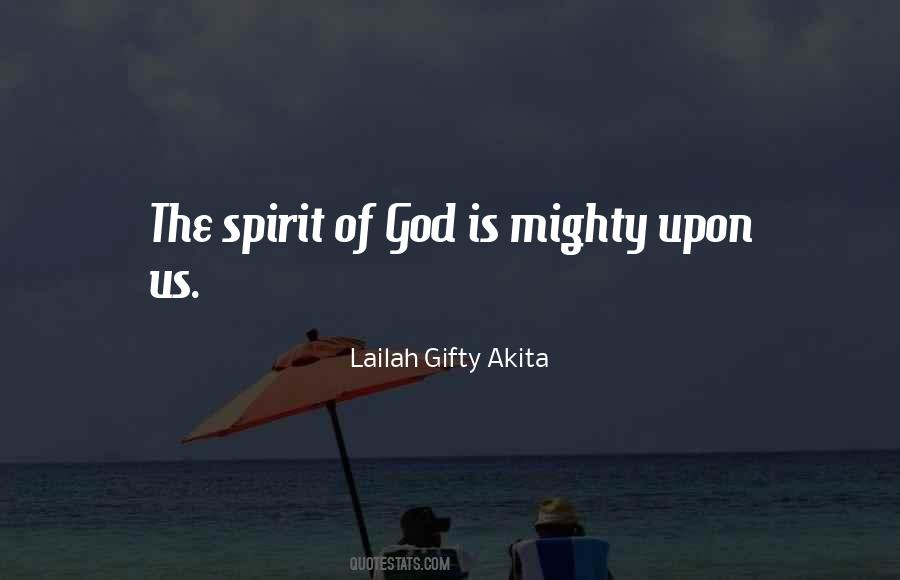 #8. Why do we need to pray? Because the Christian life is a journey, and we need God's strength and guidance along the way. - Author: Billy Graham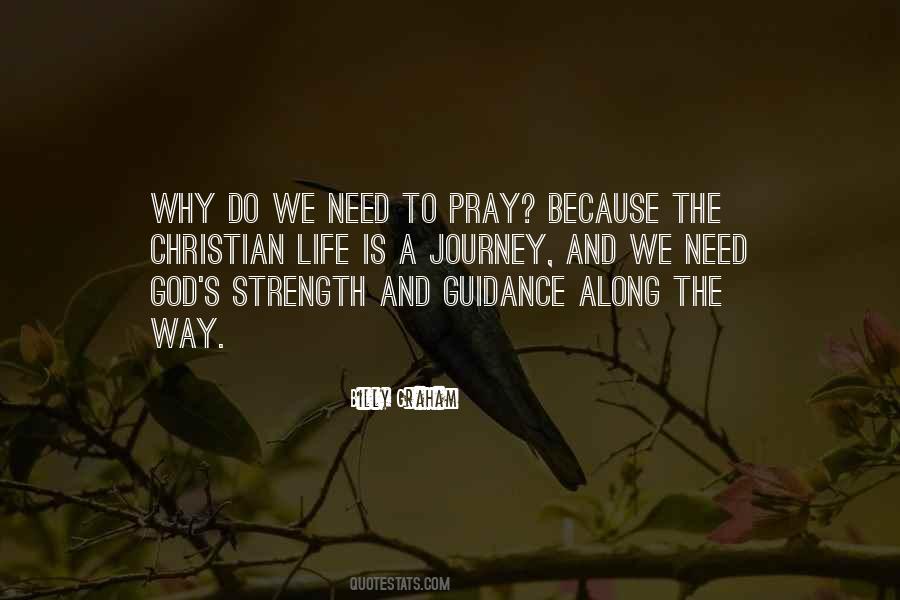 #9. God gives strength to the weak.
God grace is the power for godly living. - Author: Lailah Gifty Akita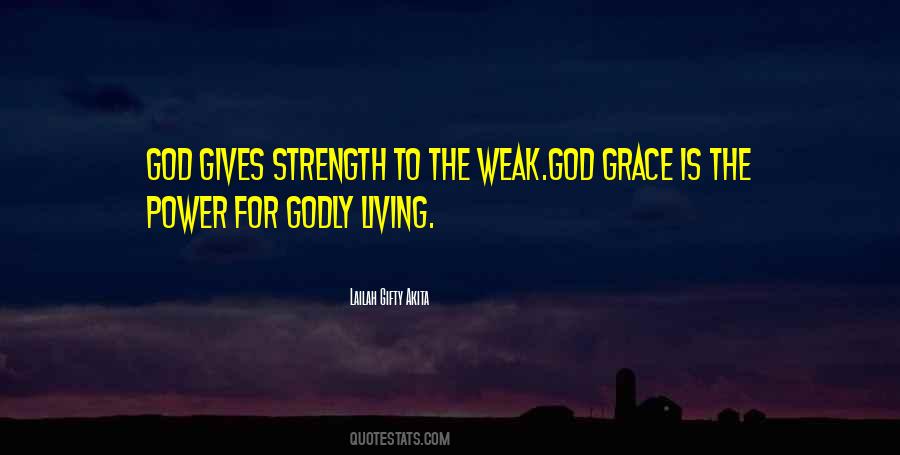 #10. The essential commitment and, above all, the visible grace and source of supernatural strength for the Church as the People of God is to persevere and advance constantly in Eucharistic life and Eucharistic piety and to develop spiritually in the climate of the Eucharist. - Author: Pope John Paul II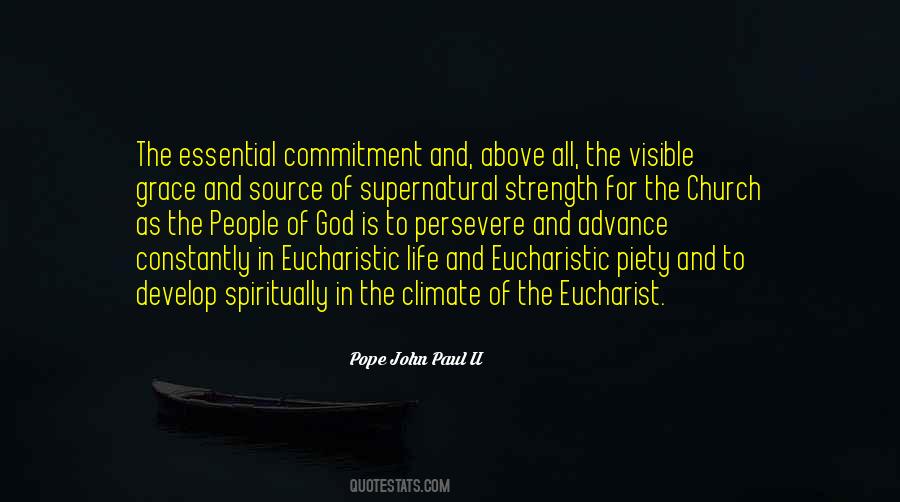 #11. There is only one thing for which God has sent me into the world, and that is to develop every kind of virtue or strength, and there is nothing in all the world that I cannot use for this purpose. - Author: Epictetus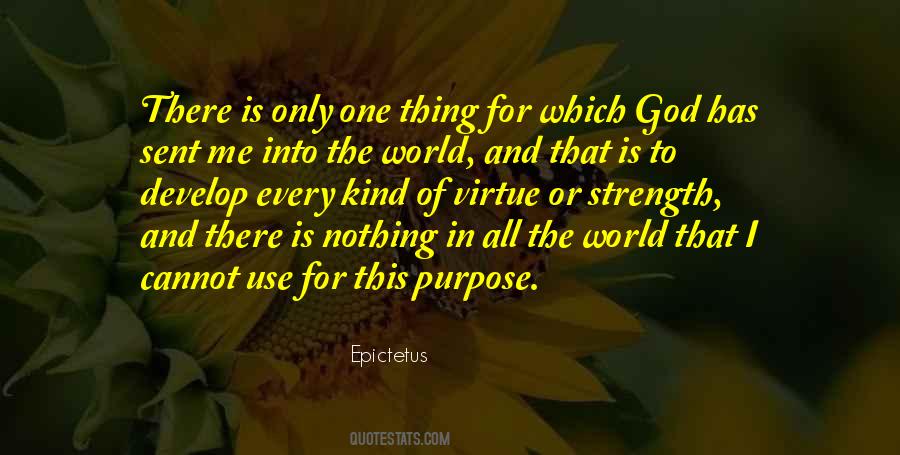 #12. God's grace is the strength for every good deed. - Author: Lailah Gifty Akita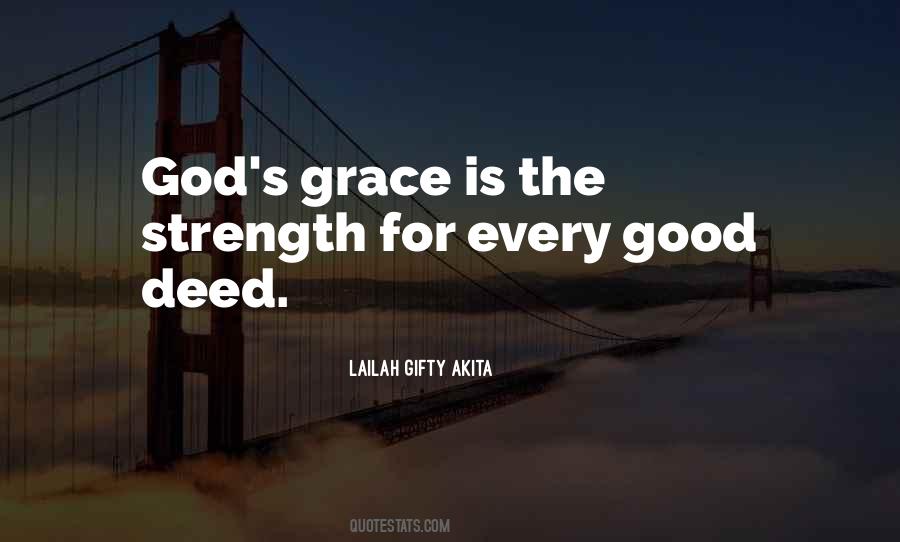 #13. What constitutes the bulwark of our own liberty and independence? It is not ... the guns of our war steamers, or the strength of our gallant and disciplined army ... our reliance is in the love of liberty which God has planted in our bosoms ... - Author: Abraham Lincoln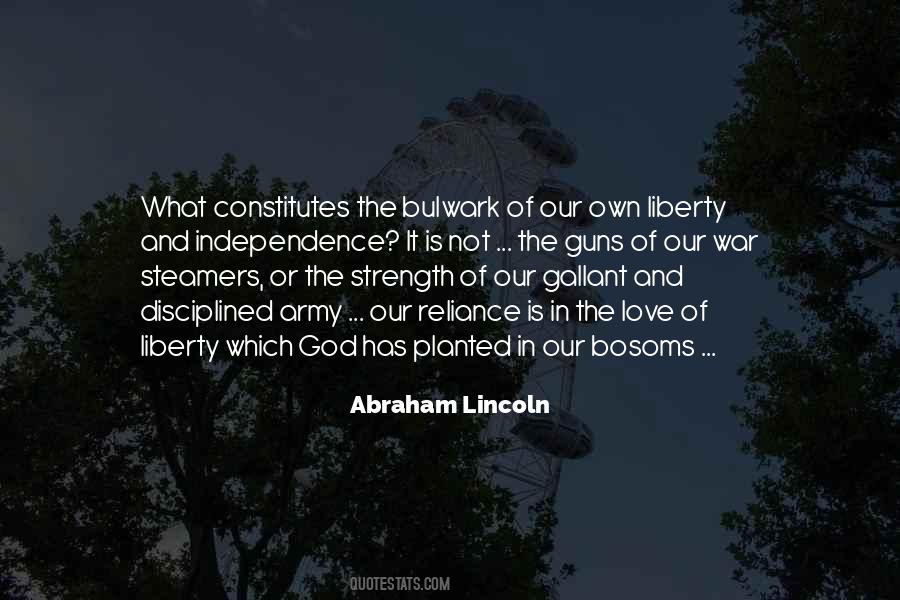 #14. The highest form of prayer is to the goodness of God ... God only desires that our soul cling to him with all of its strength, in particular, that it clings to his goodness. - Author: Ann Voskamp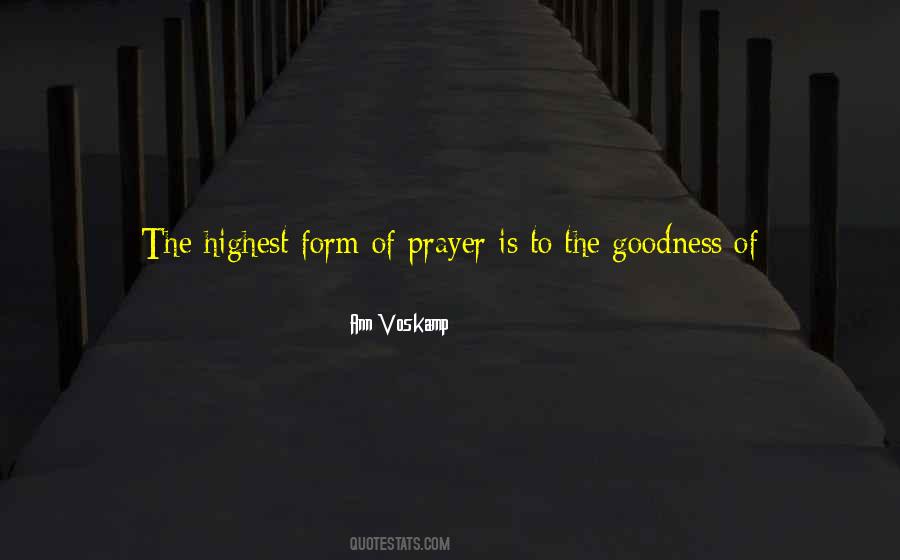 #15. God is not accustomed to refusing a good gift to those who ask for one. Since he is good, and especially to those who are faithful to him, let us hold fast to him with all our soul, our heart, our strength, and so enjoy his light and see his glory and possess the grace of supernatural joy. - Author: Saint Ambrose
#16. What is the devotion if there is no temptation which is master on their own? The man is not God and his strength is just in that to suppress its nature, if there is nothing to suppress what's the difference? - Author: Mesa Selimovic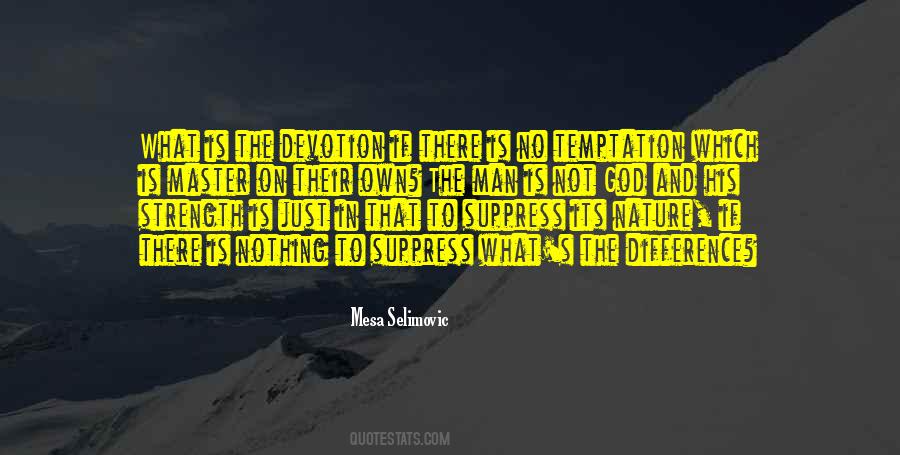 #17. God's strength is made perfect in weakness. The weaker I became, the more powerful became the preaching. - Author: Billy Graham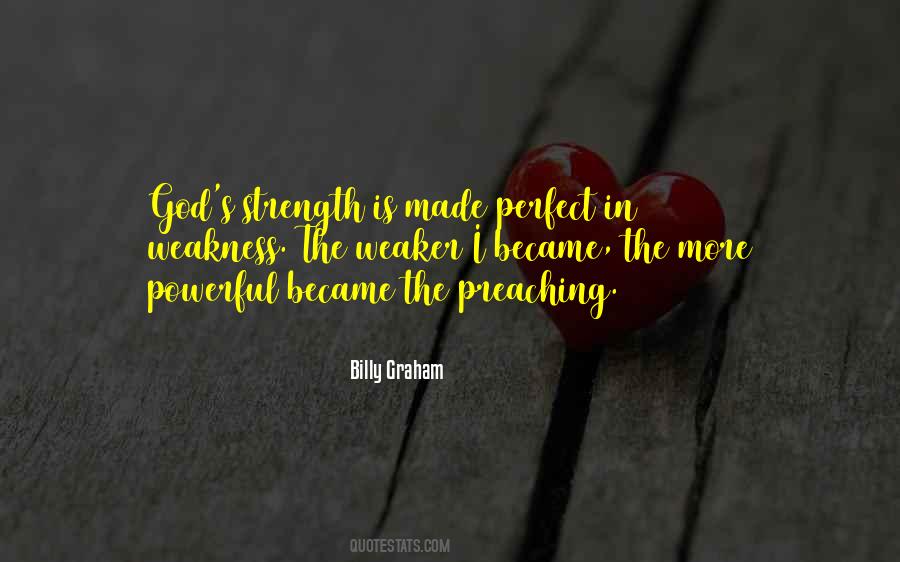 #18. For next to God, who is our strength, all depends upon the valour of our arms. - Author: Bernal Diaz Del Castillo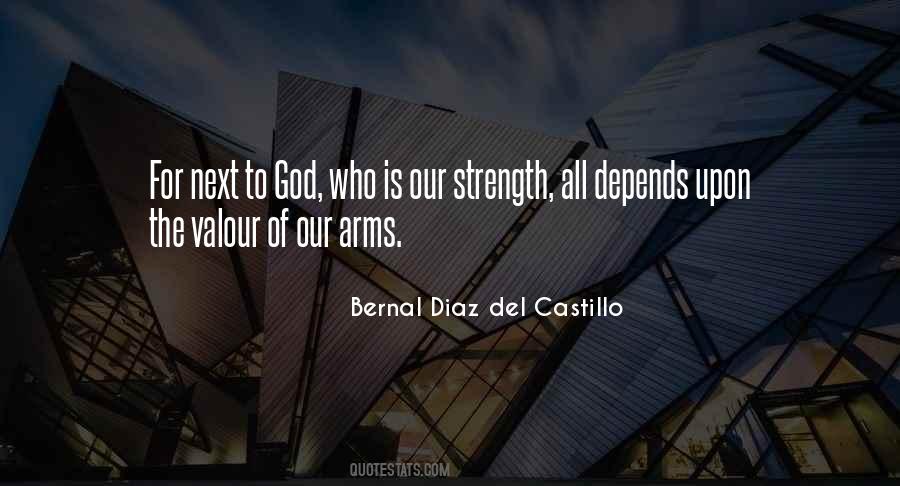 #19. The religion is a personal thing in my life and fighting in the ring, it's boxing. It's my profession. God always gives me strength. - Author: Manny Pacquiao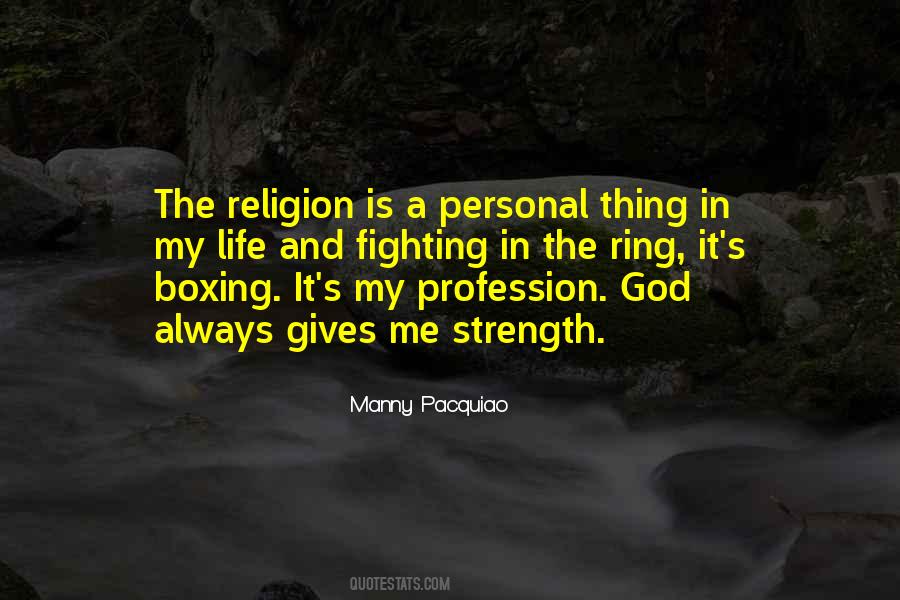 #20. Hope is holding on to the promises of God. - Author: Lailah Gifty Akita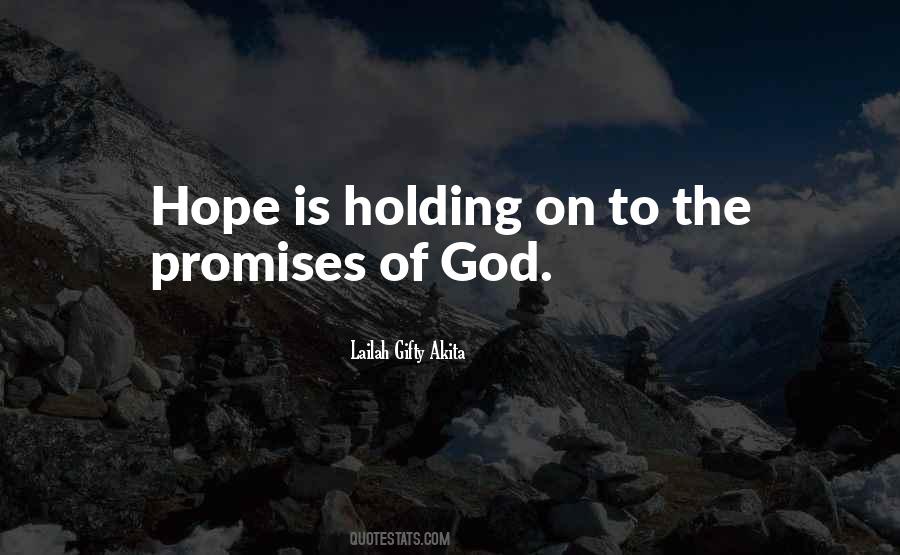 #21. The source of my power and strength is God, and I know it, without a shadow of a doubt. - Author: Derek Fisher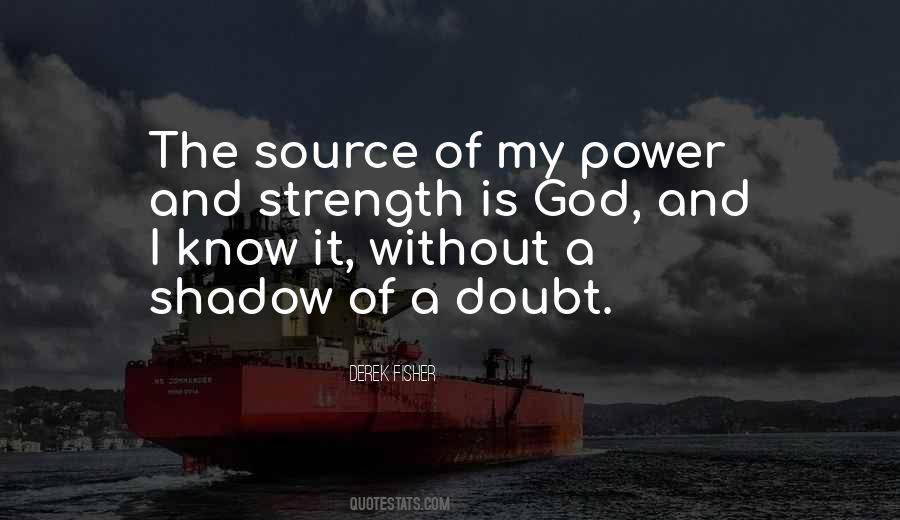 #22. God is our refuge and strength, and ever-prethent help in trouble. Therefore we will not fear, though the earth give way and the mountainth fall into the heart of the sea, though its waterth roar and foam and the mountains quake with their thurging. - Author: Dan Simmons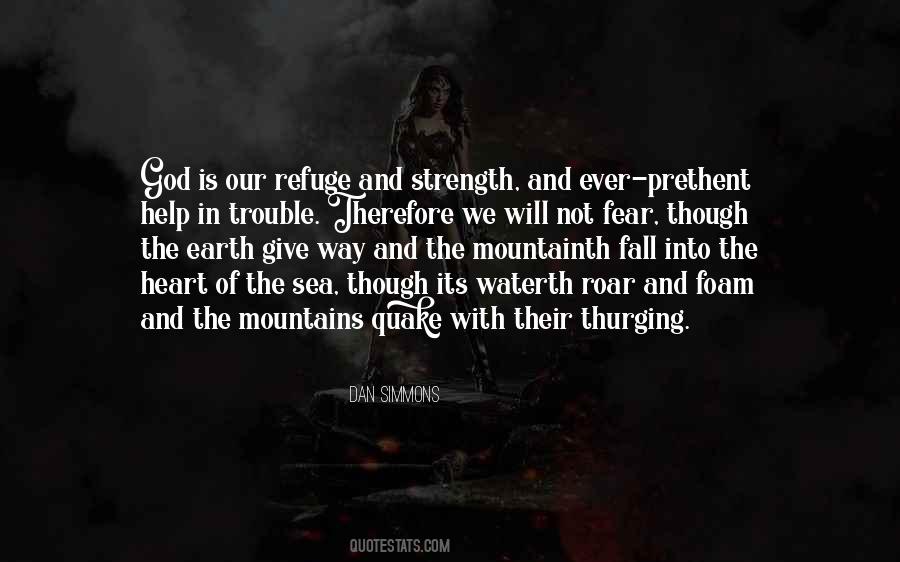 #23. The anxious heart, in its flailings, loses its hold on whatever grace God has bestowed upon it, and is sapped of the strength to resist the temptations of the Evil One, who is all the more ready to fish ... in troubled waters. - Author: Lauren F. Winner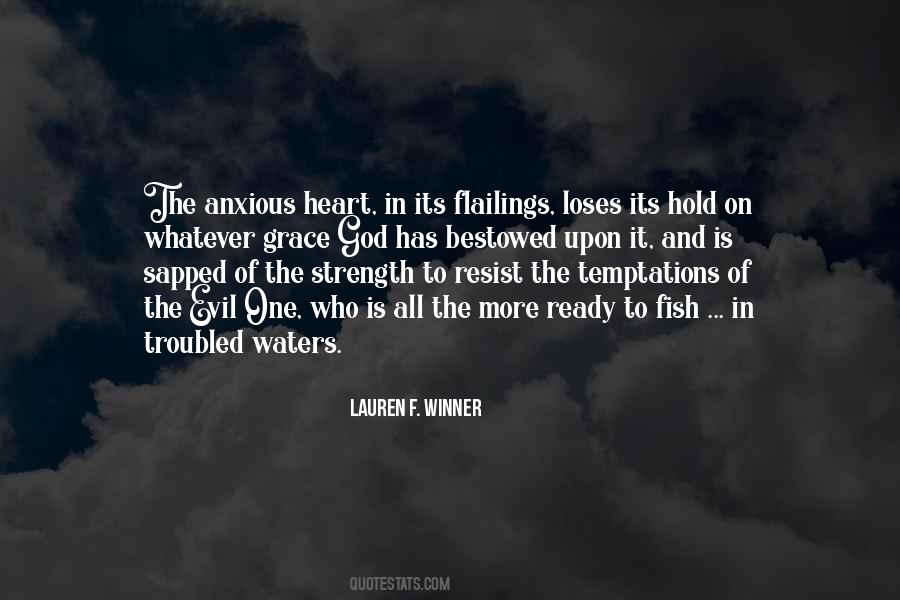 #24. The best penance is to have patience with the sorrows God permits. A very good penance is to dedicate oneself to fulfill the duties of everyday with exactitude and to study and work with all our strength. - Author: Peter Damian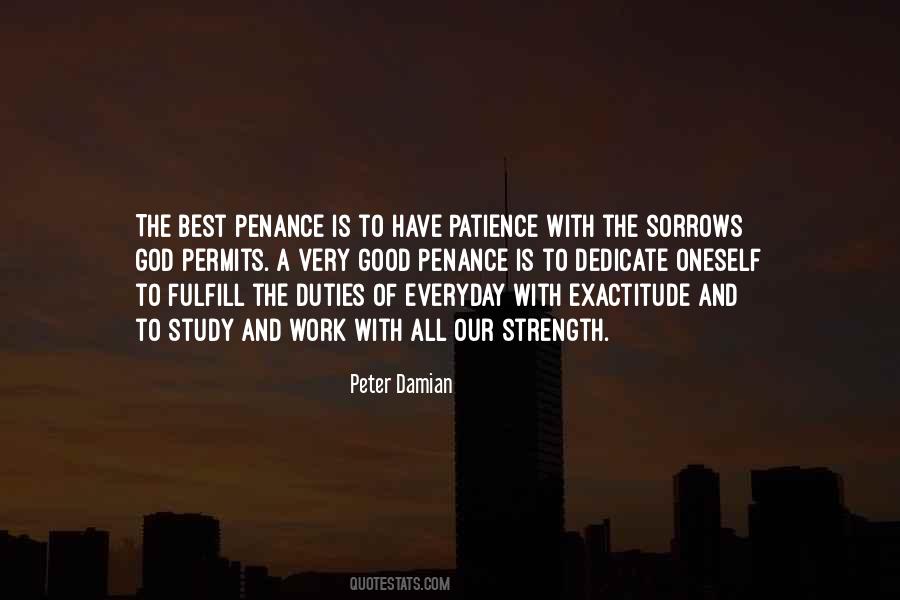 #25. Feeling the security and constancy of love from a spouse, a parent or a child is a rich blessing. Such love nurtures and sustains faith in God. Such love is a source of strength and casts out fear. Such love is the desire of every human soul. - Author: David A. Bednar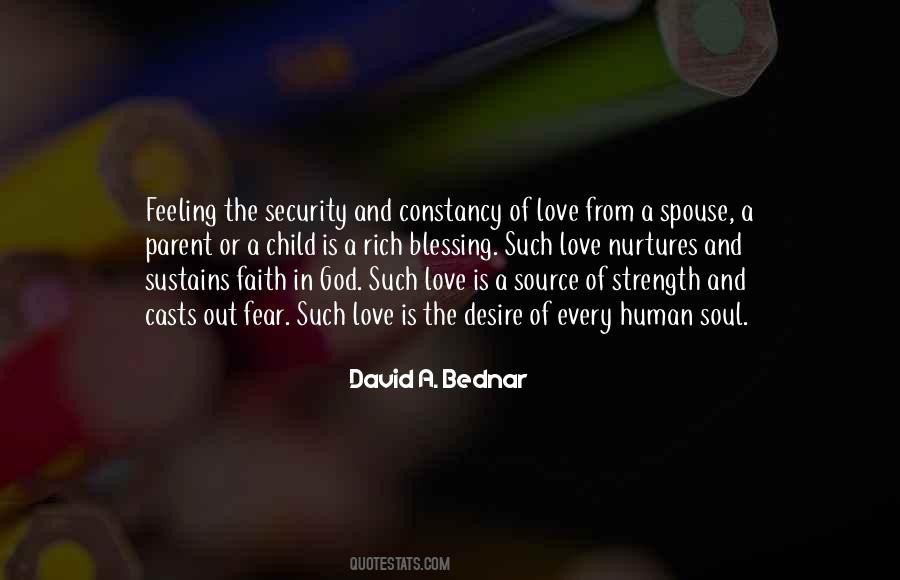 #26. I know what it is to be in need and what it is to have more than enough. I have learnt this secret, so that anywhere, at any time, I am content, whether I am full or hungry, whether I have too much or too little. I have the strength to face all conditions by the power that Christ gives me. - Author: Anonymous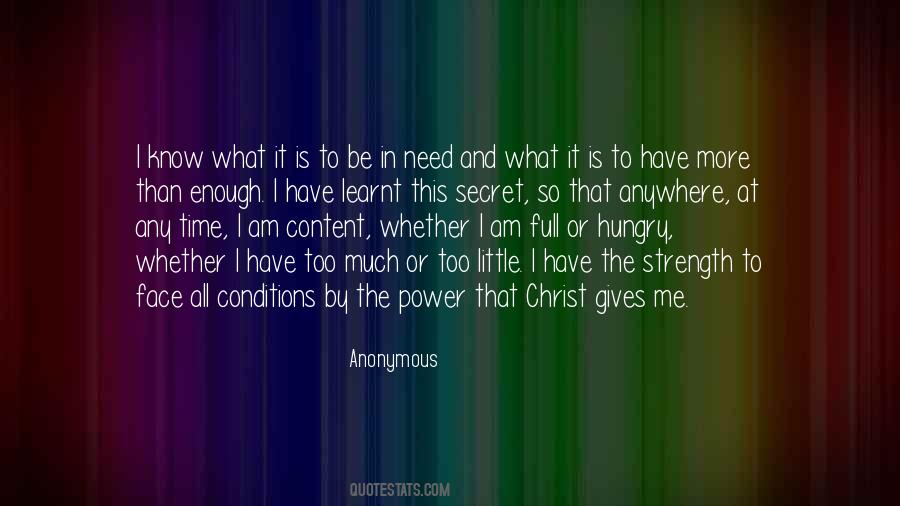 #27. Christianity is being concerned about [others], not building a million-dollar church while people are starving right around the corner. Christ was a revolutionary person, out there where it was happening. That's what God is all about, and that's where I get my strength. - Author: Fannie Lou Hamer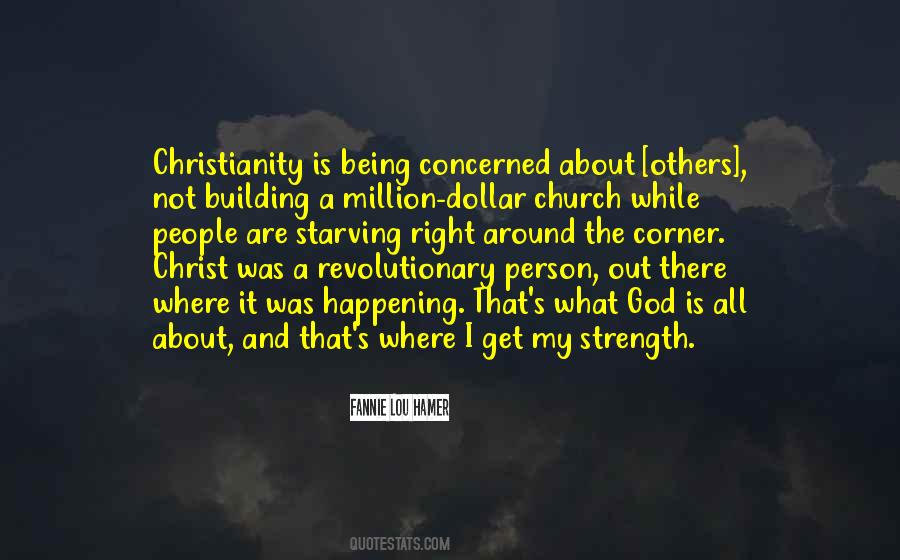 #28. Praying for your children is the most powerful way you can care for them. - Author: Elizabeth George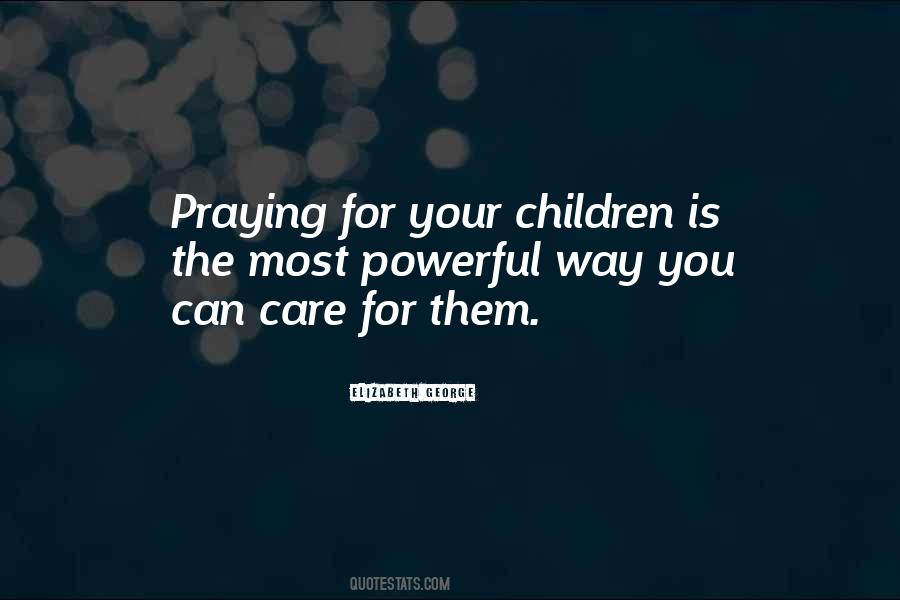 #29. If you feel proud, let it be in the thought that you are the servant of God, the son of God. Great men have the nature of a child. They are always a child before Him; so they are free from pride. All their strength is of God and not their own. It belongs to Him and comes from Him. - Author: Ramakrishna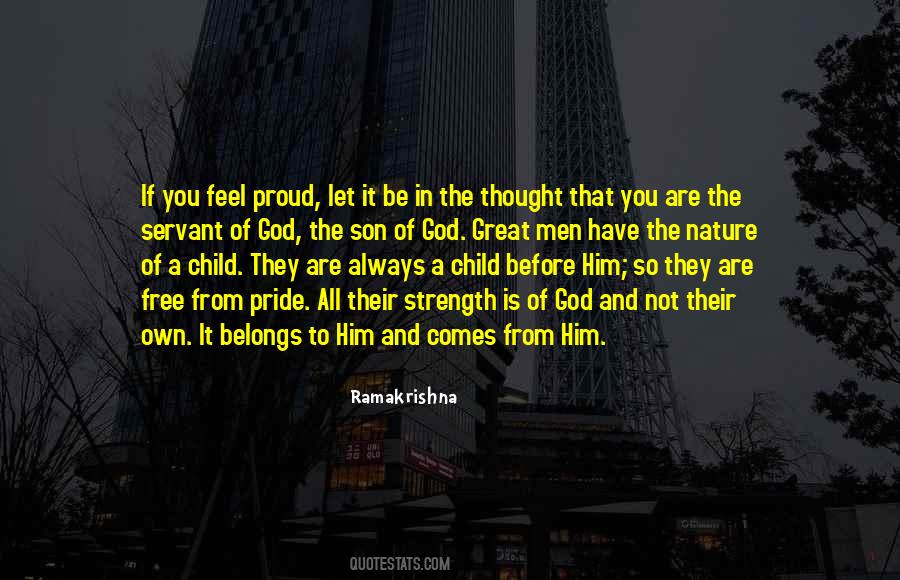 #30. The supreme force in salvation is God's grace. Not our works. Not our talents. Not our feelings. Not our strength. Salvation is God's sudden, - Author: Max Lucado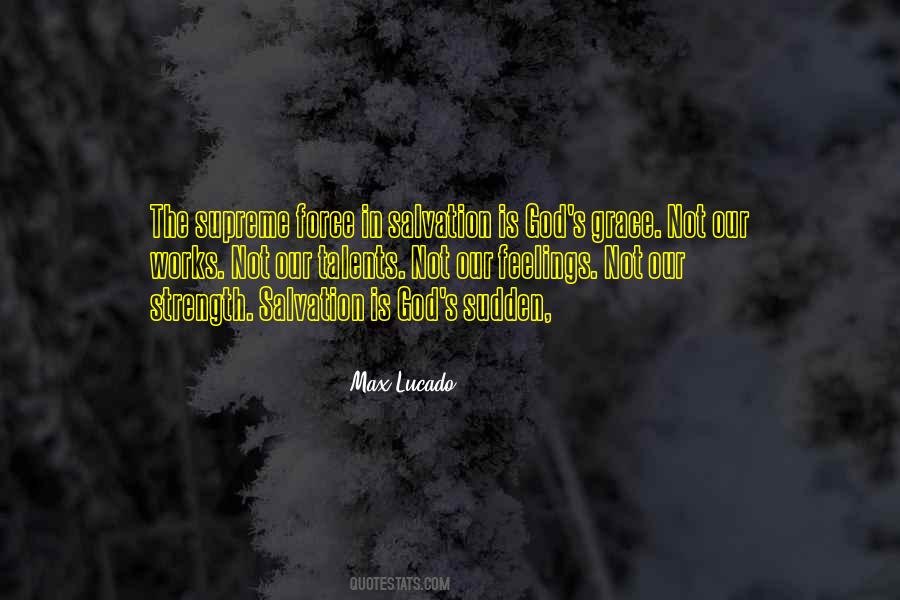 #31. God uses broken things. It takes broken soil to produce a crop, broken clouds to give rain, broken grain to give bread, broken bread to give strength. It is the broken alabaster box that gives forth perfume. It is Peter, weeping bitterly, who returns to greater power than ever. - Author: Vance Havner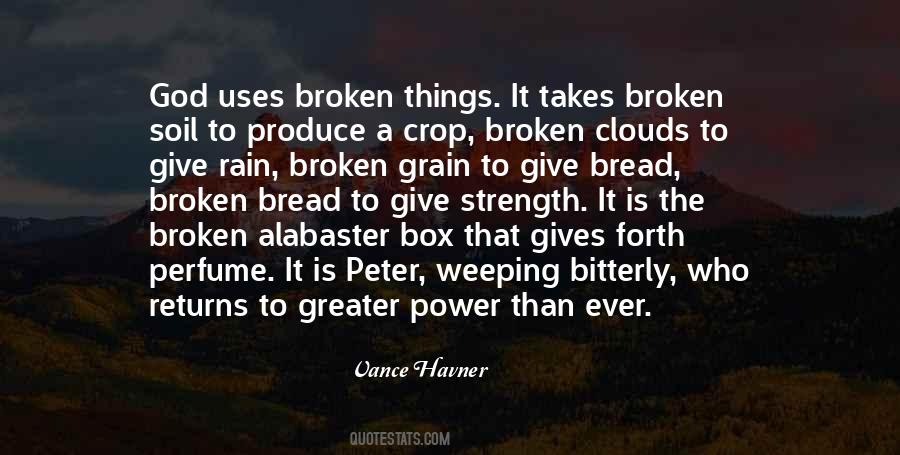 #32. With God, there is no burden beyond the strength of endurance. - Author: Lailah Gifty Akita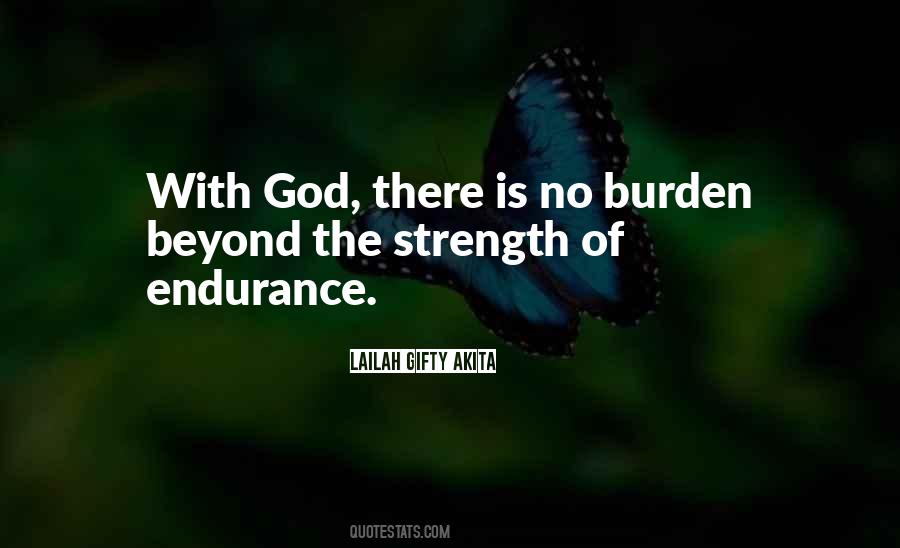 #33. Surely God is my salvation; I will trust and not be afraid. The LORD, the LORD, is my strength and my song; he has become my salvation. - Author: Isaiah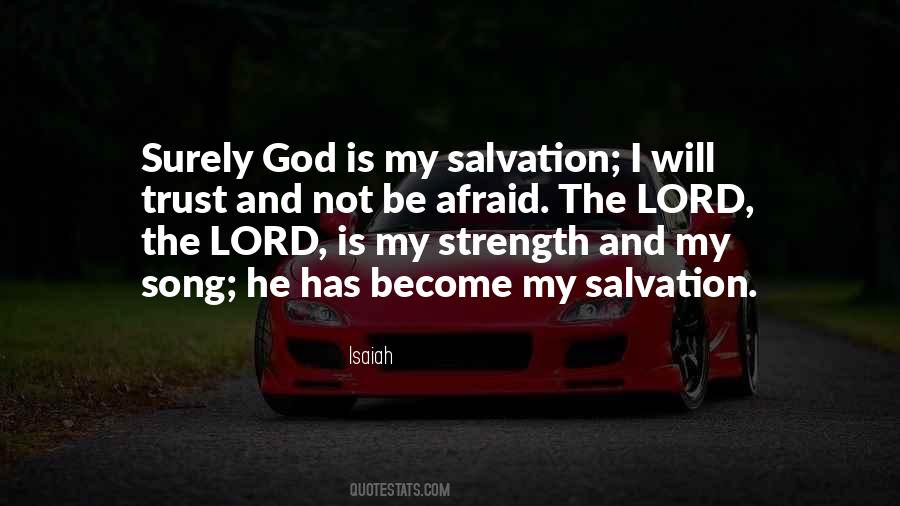 #34. Nothing on earth compares to the strength God is willing to interject into lives caught in the act of believing. - Author: Beth Moore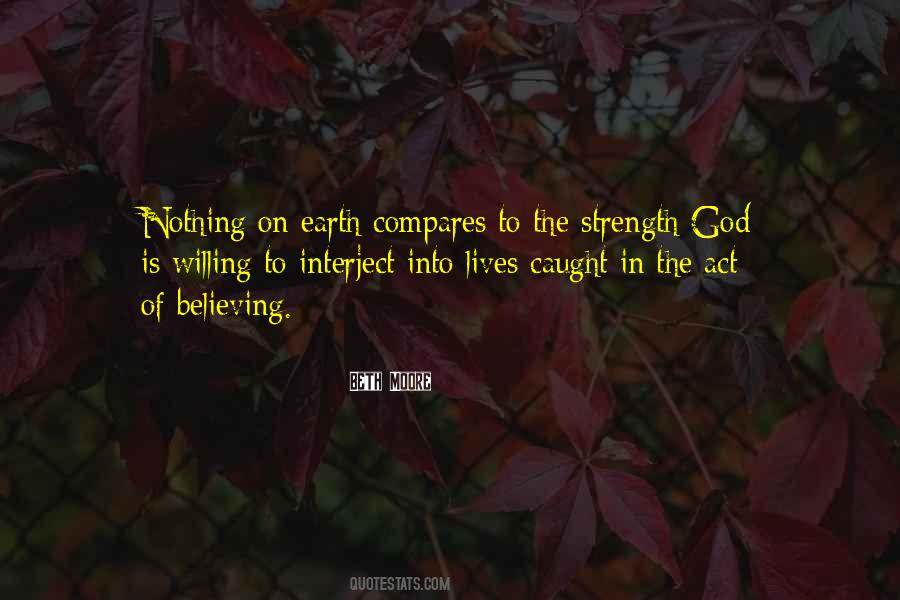 #35. While sitting in the darkness in complete silence, I never realized how much there was to see and hear. There is sight and sound in darkness and silence. Learn to look and listen. - Author: Bobby F. Kimbrough Jr.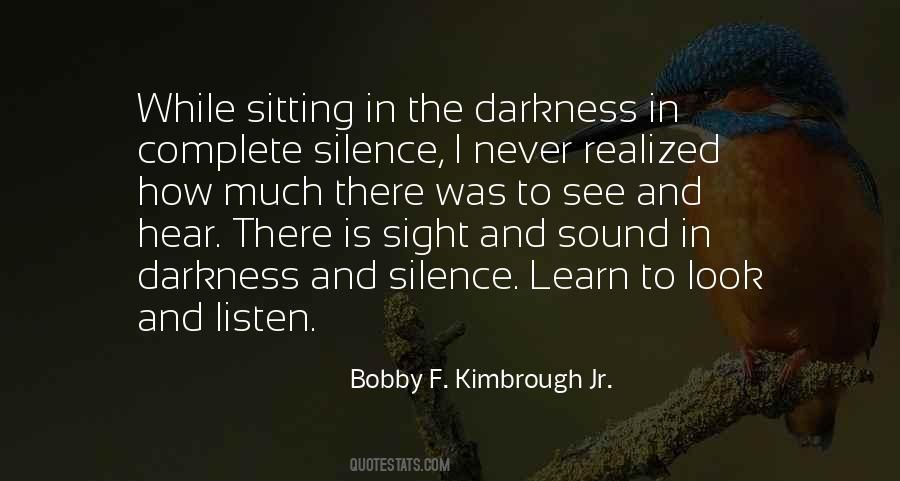 #36. Faith is not a hothouse plant that must be shielded from wind and rain, so delicate that it has to be protected, but it's like the sturdy oak which becomes stronger with every wind that blows upon it. An easy time weakens faith, while strong trials strengthen it. - Author: Elizabeth George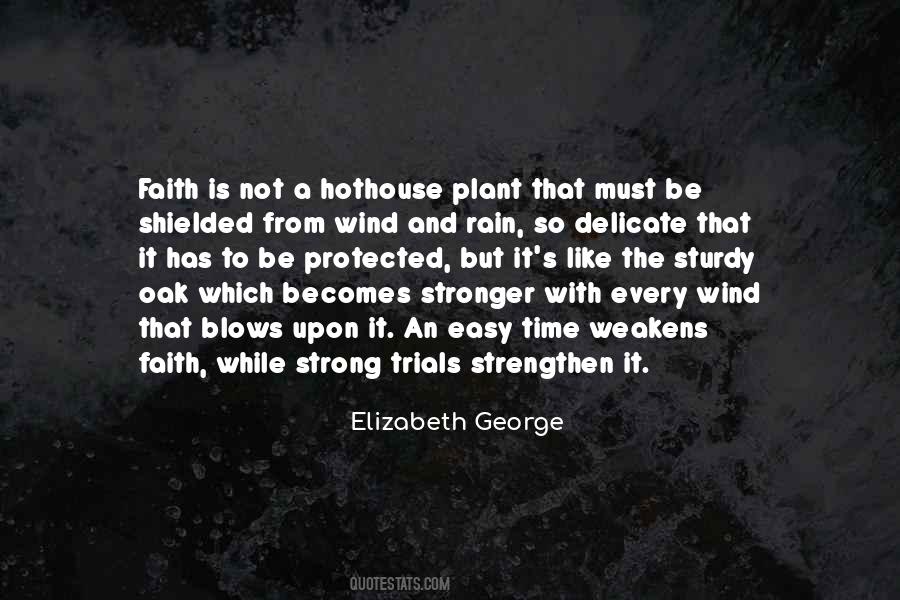 #37. My joy in my life comes from my strength in my life and in my experience with God. That cannot be separated from football. It is all the same to me. It is one. I am one with it. - Author: Troy Polamalu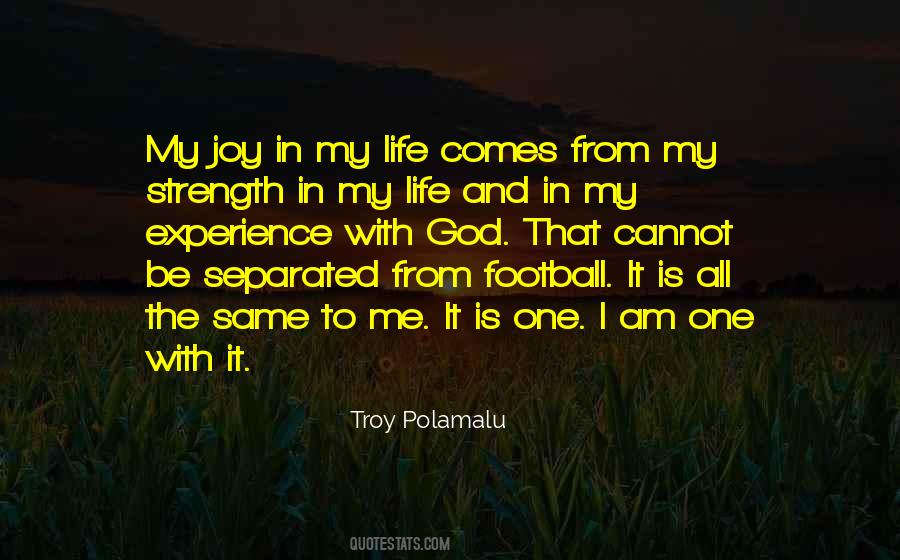 #38. To be conscious of one's weakness and to trust in God's help is the way to authentic strength and victory. - Author: Alice Von Hildebrand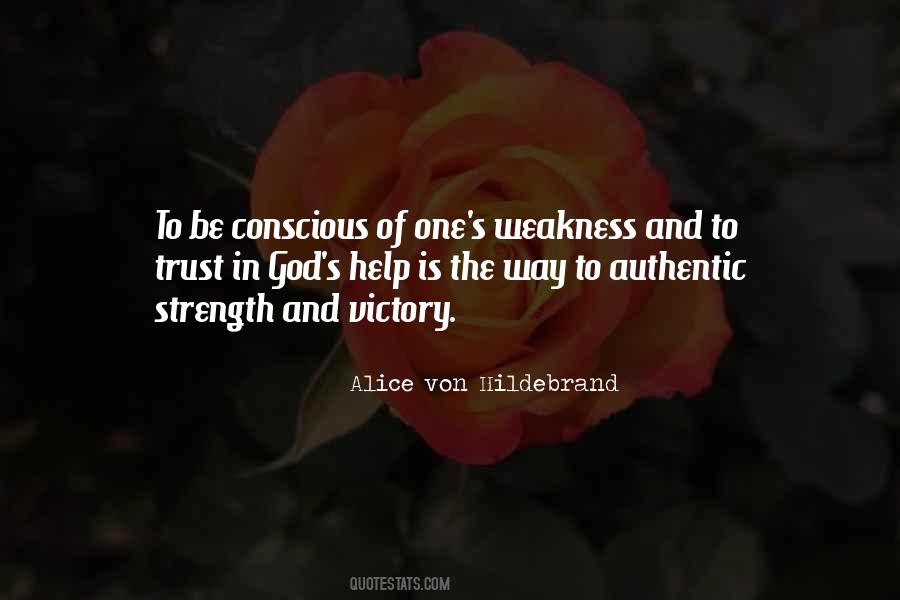 #39. Feel like Christ and you will be a Christ; feel like Buddha and you will be a Buddha. It is feeling that is the life, the strength, the vitality, without which no amount of intellectual activity can reach God. It is through the heart that the Lord is seen, and not through the intellect. - Author: Swami Vivekananda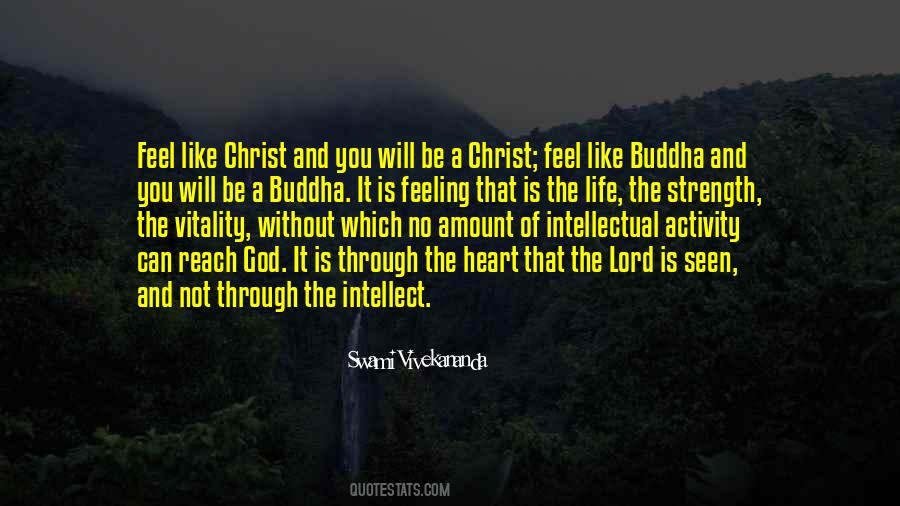 #40. For god is nothing other than the eternally creative source of our relational power, our common strength, a god whose movement is to empower, bringing us into our own together, a god whose name in history is love ... - Author: Carter Heyward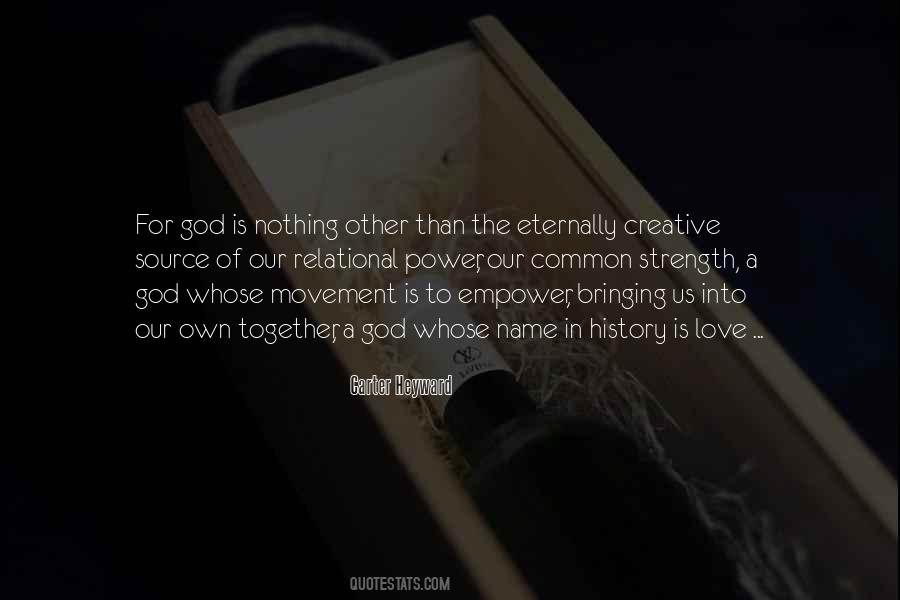 #41. ... I never understood until the past months why the Master so often withdrew alone into the wilderness. There is not only food and medicine for one's body; there is also healing for the heart and strength for the soul in nature. One gets very close to God ... in these temples of God's own building. - Author: Harold Bell Wright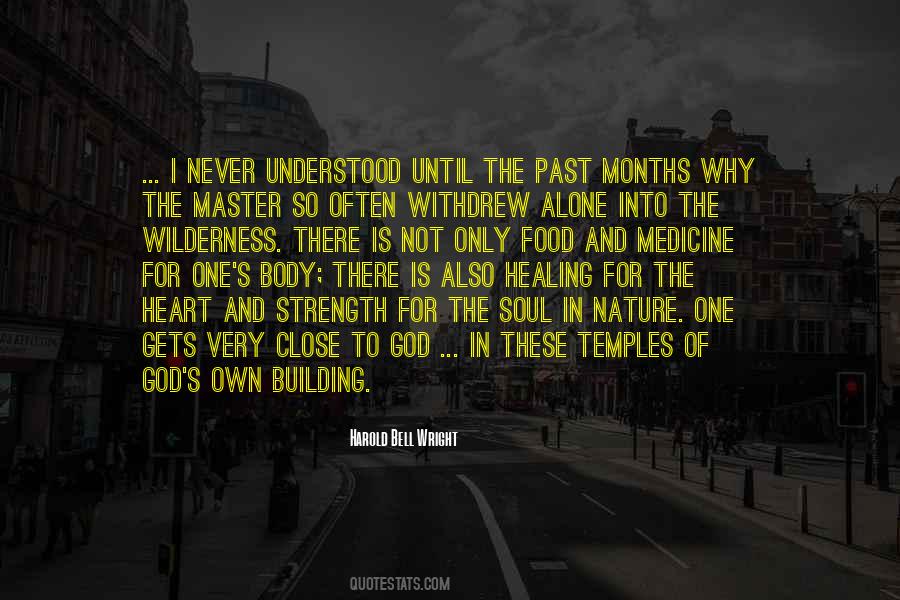 #42. Sometimes letting go is not about a lack of faith in God, but a lack in faith that you have it in yourself to pull off the greatest plan he has in store for you. - Author: Shannon L. Alder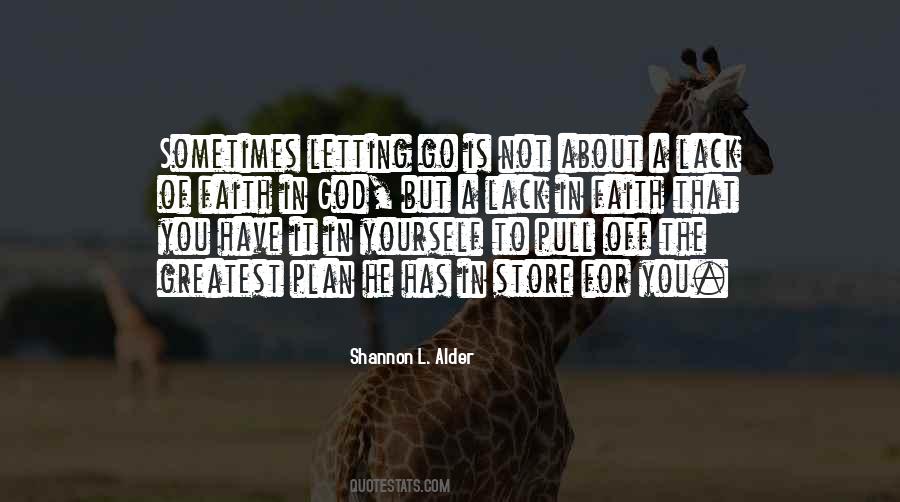 #43. May God give you - and me- the courage, the wisdom, the strength always to hold the kingdom of God as the number one priority of our lives. To do so is to live in simplicity. - Author: Richard J. Foster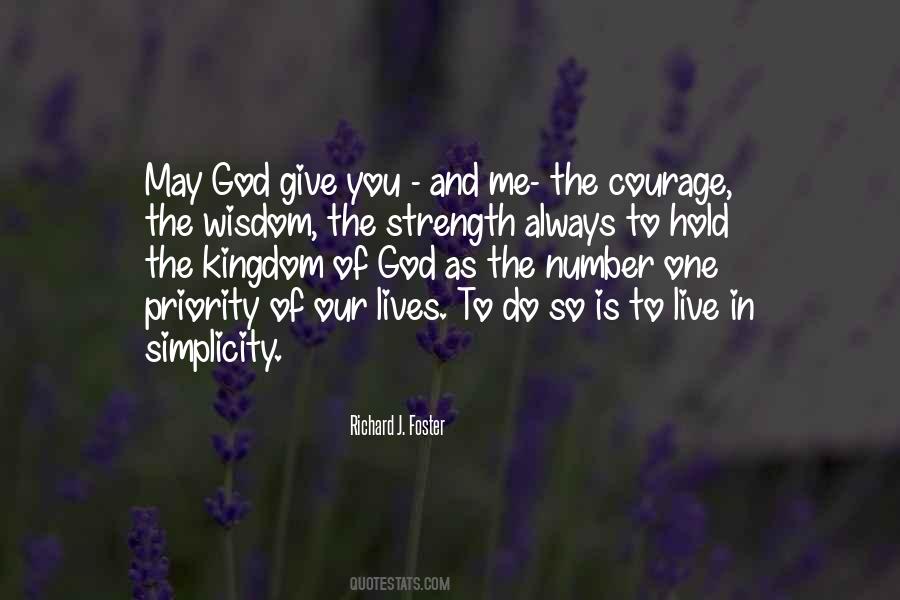 #44. No situation is beyond the strength within. - Author: Lailah Gifty Akita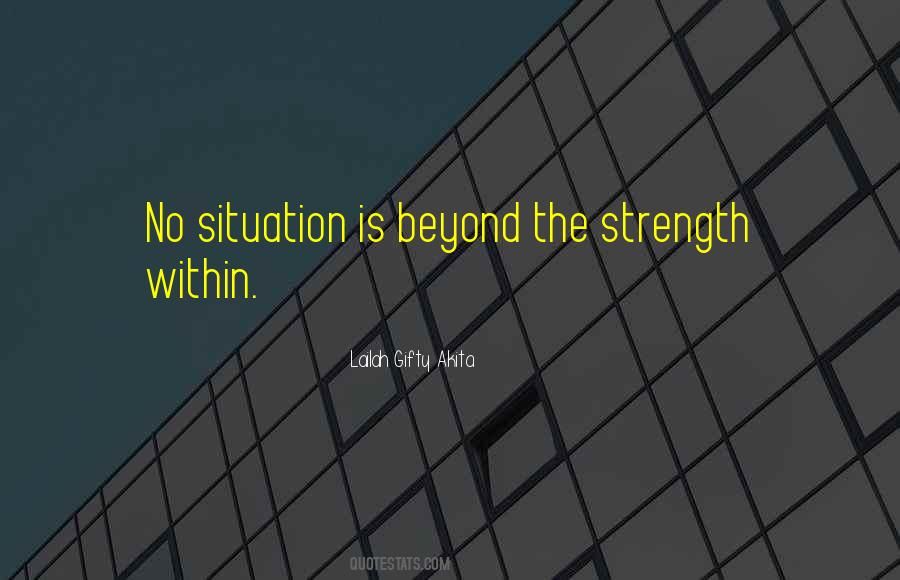 #45. No matter how old you are or how long
or short!
you've been married, the day you accelerate your growth in the Lord is the day your marriage is positively impacted, improved, and strengthened! - Author: Jim George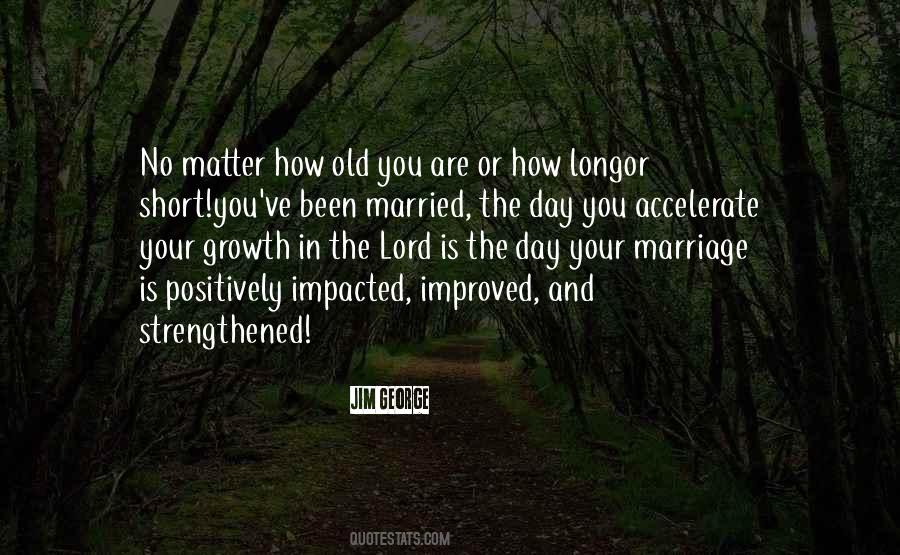 #46. Legalism is when we try to obtain the result of obedience by our own means and strength. It is self-righteousness, as opposed to God's righteousness covering us, and the two are as different as spirit and flesh. - Author: Kelly Minter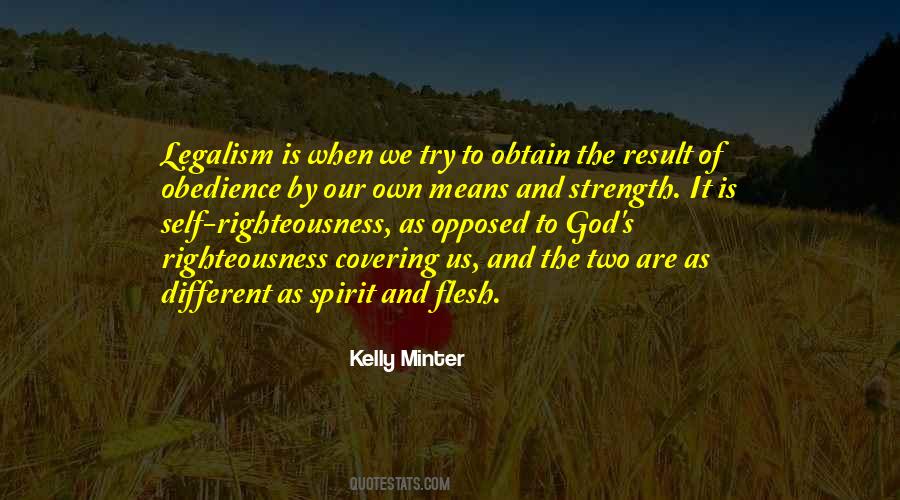 #47. Remember: even the smallest drop of God's strength is more than enough to cover our frailties, our shortcomings, and the places where we deem ourselves weak. - Author: Lysa TerKeurst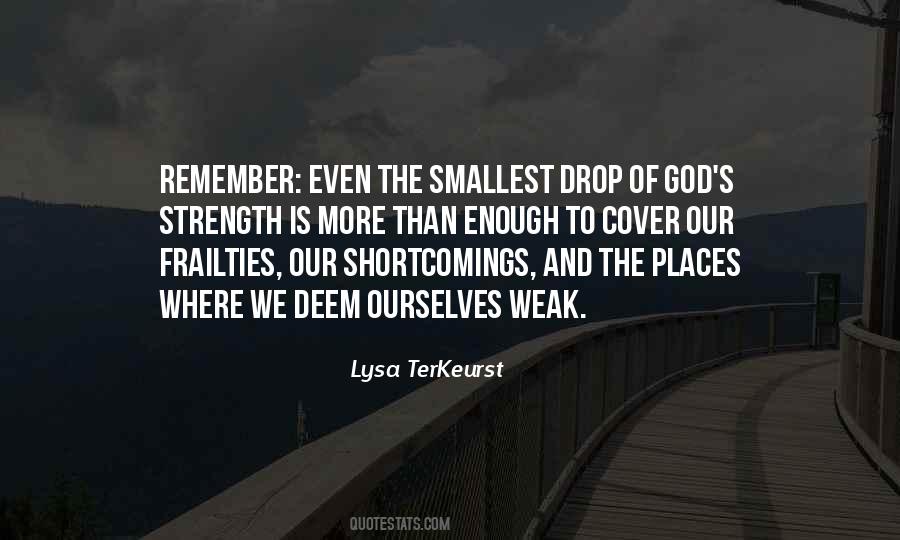 #48. All the weapons of hate and cruelty cannot stand against God's love. The spiritually blind and intentionally evil try to oppose it, but they cannot ultimately win. That's because all creation was formed and is sustained by God - Author: Stormie O'martian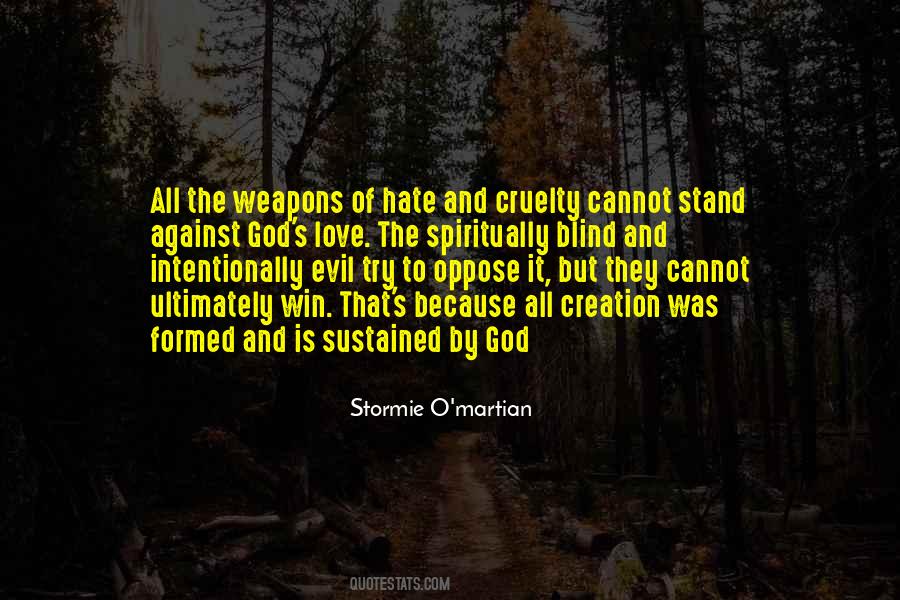 #49. To bear all kinds of tortures without a murmur of resentment is not possible for a human being without the strength that comes from God. - Author: Mahatma Gandhi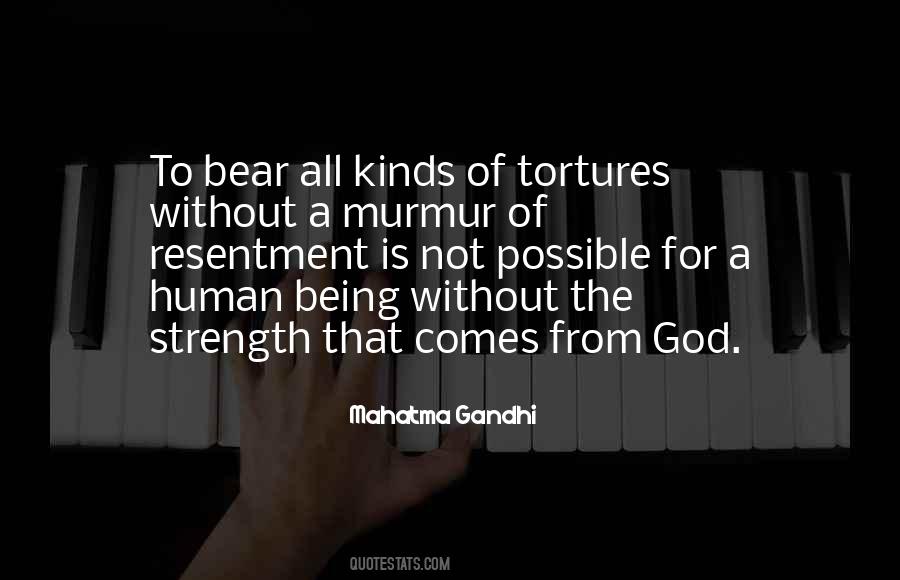 #50. God is able to really use a person, who puts all that he has got into his work, who works hard, sweating his guts out to the point of complete exhaustion, using the last of his strength - Author: Sunday Adelaja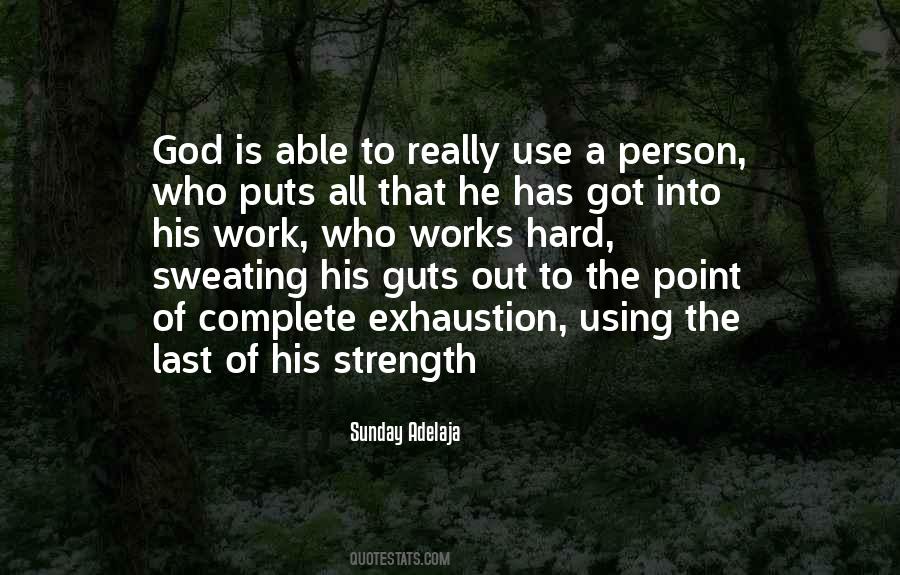 #51. Sleep is a patch of death, but three in the morn, full wide-eyed staring, is living death! You dream with your eyes open. God, if you had the strength to rouse up, you'd slaughter your half-dreams with a buckshot! But no, you lie pinned to a deep well-bottom that's burned dry. - Author: Ray Bradbury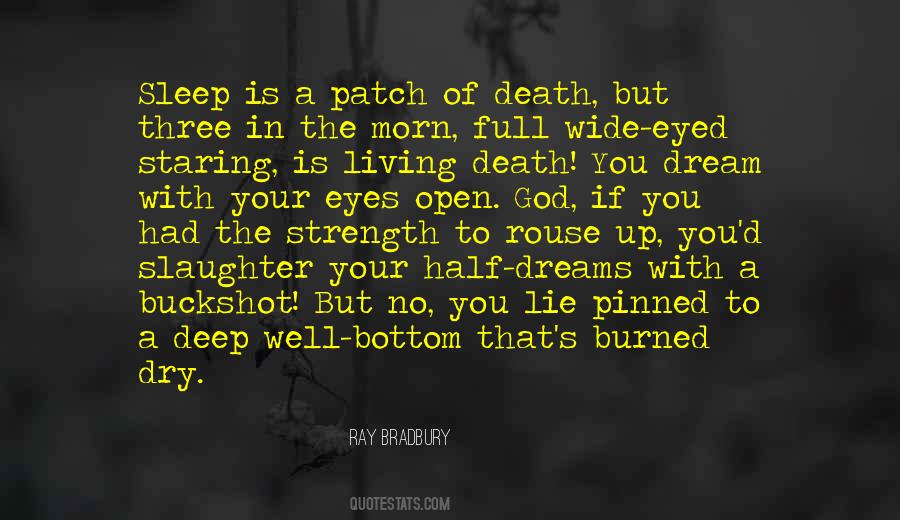 #52. God's strength is rooted in being faithful to his true Self, in just Being good. The Devil's strength depends on synergies, agreements, cooperation and beliefs. - Author: Robin Sacredfire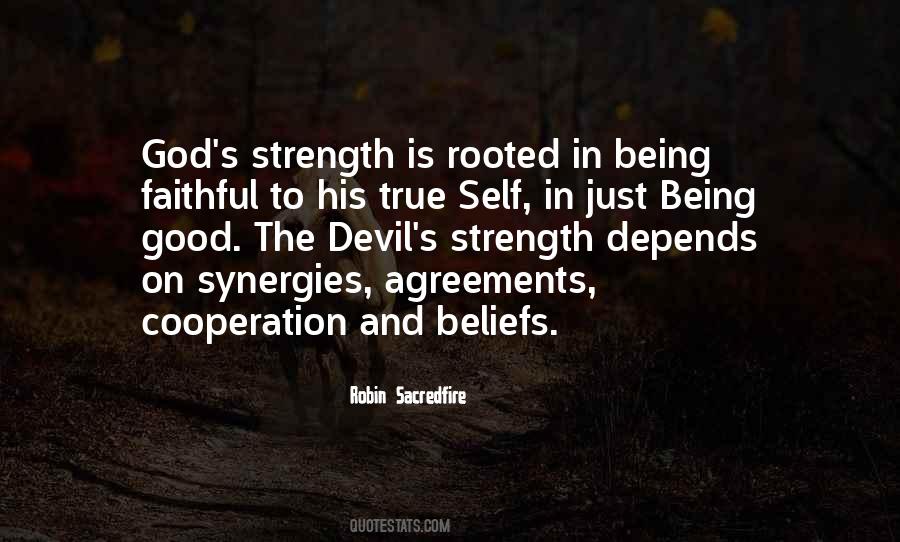 #53. THE PREMIER COMMANDMENT. [Deut. 6:4, 5] Hear, O Israel: The LORD our God, the LORD is one.4 Love the LORD your God with all your heart and with all your soul and with all your strength. - Author: Anonymous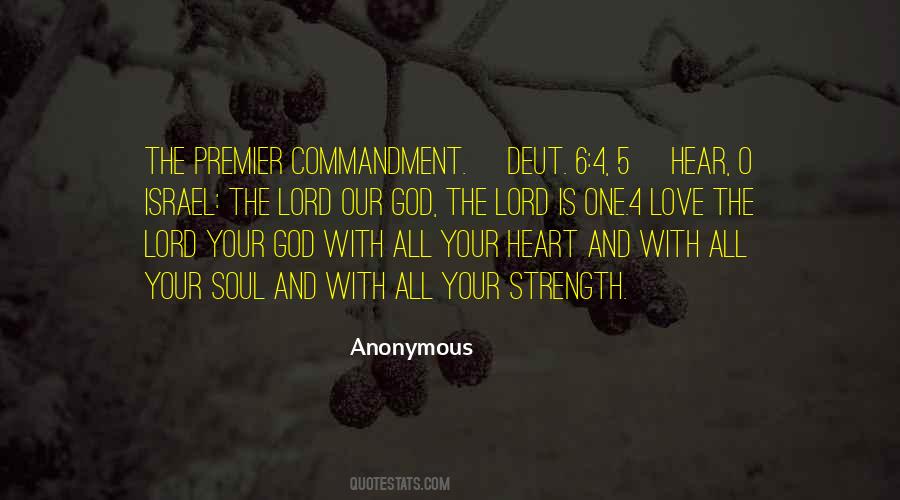 #54. Let all the 'free-will' in the world do all it can with all its strength; it will never give rise to a single instance of ability to avoid being hardened if God does not give the Spirit, or of meriting mercy if it is left to its own strength. - Author: Martin Luther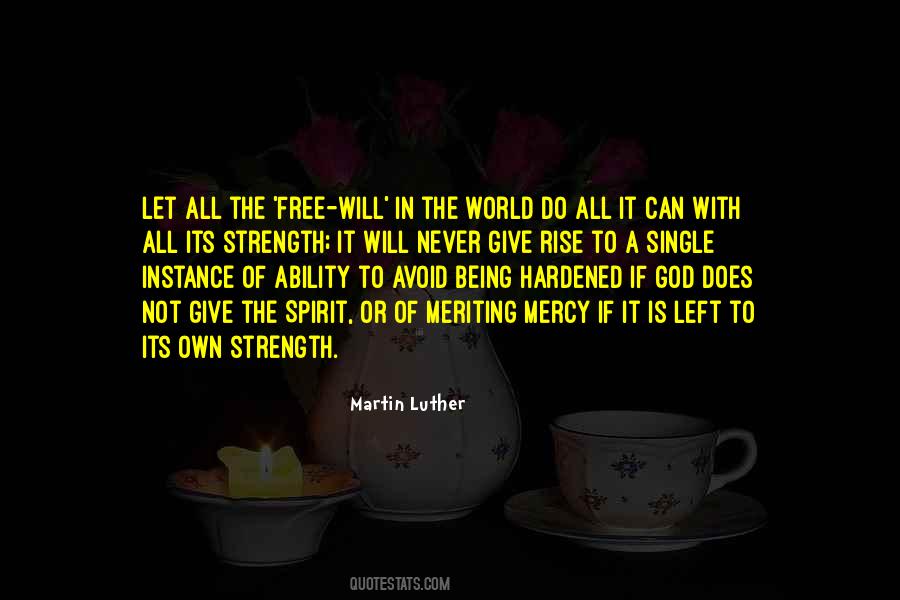 #55. The acid test for any theology is this: Is the God presented one that can be loved, heart, soul, mind, and strength? ... If it fails to set a lovable God
a radiant, happy, friendly, accessible, and totally competent being
before ordinary people, we have gone wrong - Author: Dallas Willard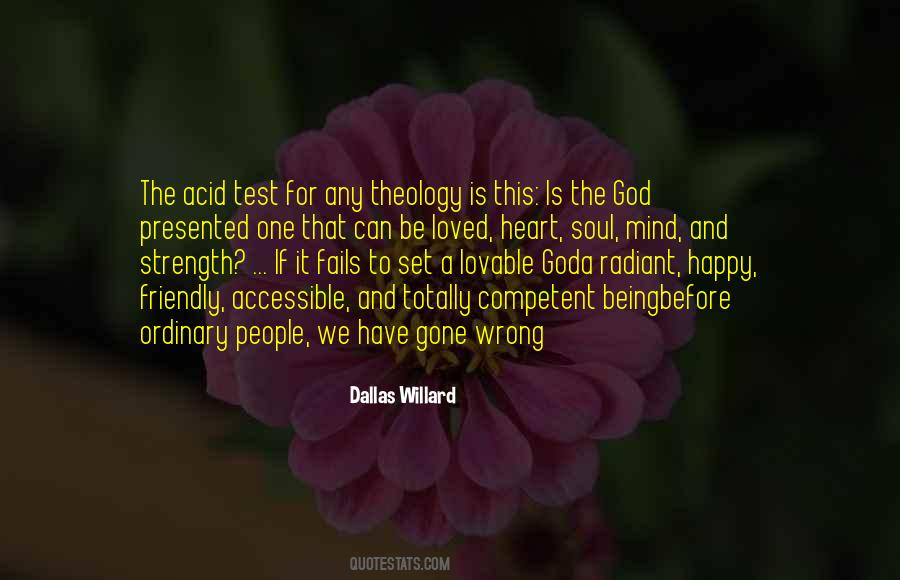 #56. God walks with us. He scoops us up in His arms or simply sits with us in silent strength until we cannot avoid the awesome recognition that yes, even now, He is there. - Author: Gloria Gaither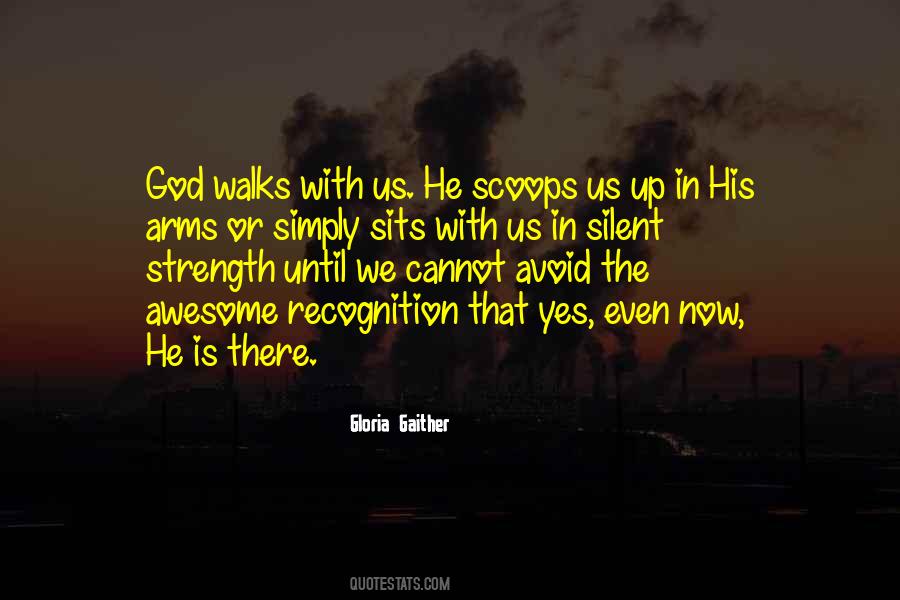 #57. But alas, if I have not maintained my victory, it is God's fault for not making man and the devil of equal strength. - Author: Victor Hugo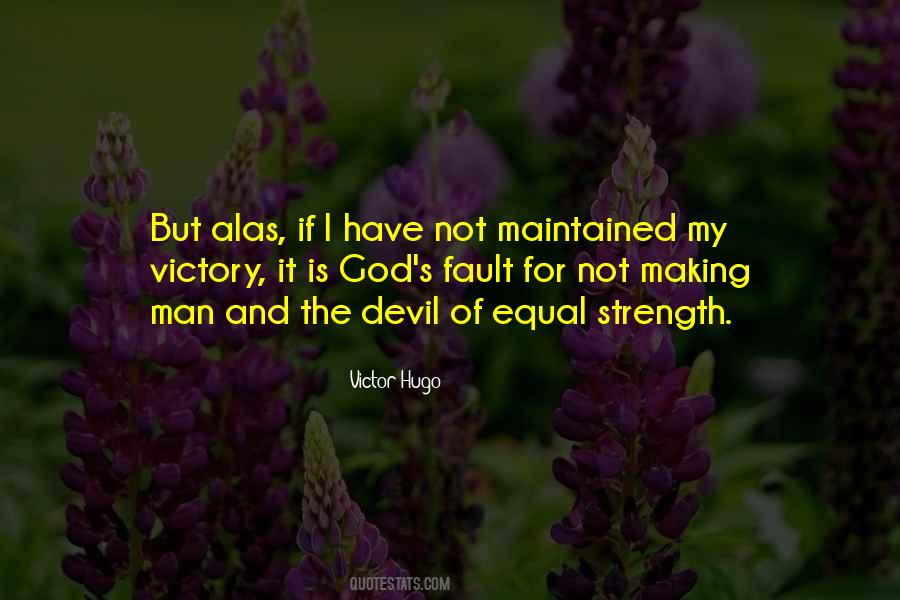 #58. To slay the sinner is then the first use of the Law, to destroy the life and strength wherein he trusts and convince him that he is dead while he lives; not only under the sentence of death, but actually dead to God, void of all spiritual life, dead in trespasses and sins. - Author: John Wesley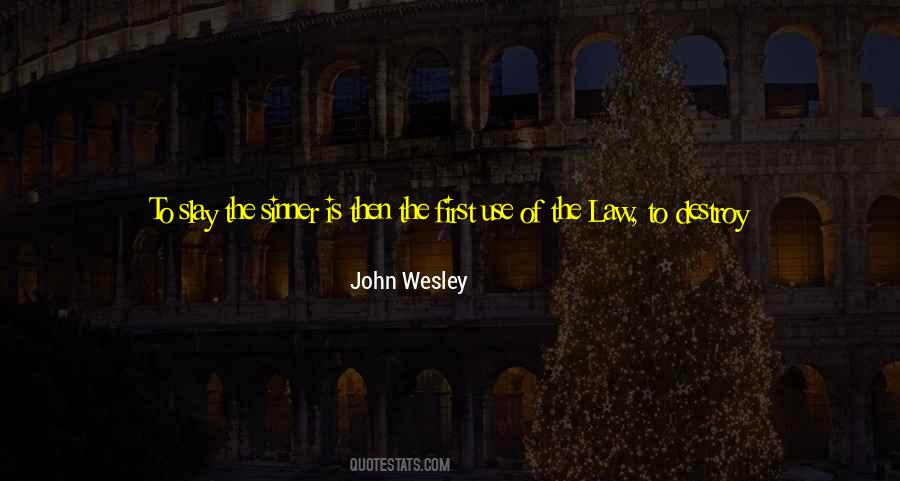 #59. It is God that accomplishes all term to hopes, God, who overtakes the flying eagle, outpasses the dolphin in the sea; who bends under his strength the man with thoughts too high. - Author: Pindar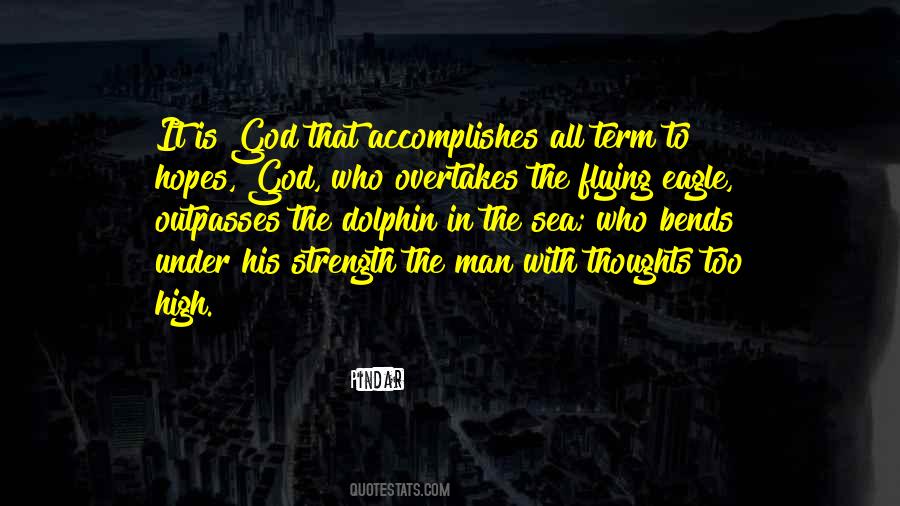 #60. Faith is not the belief that everything will be all right tomorrow, but the belief that I possess the strength to make everything all right today. - Author: Charles F. Glassman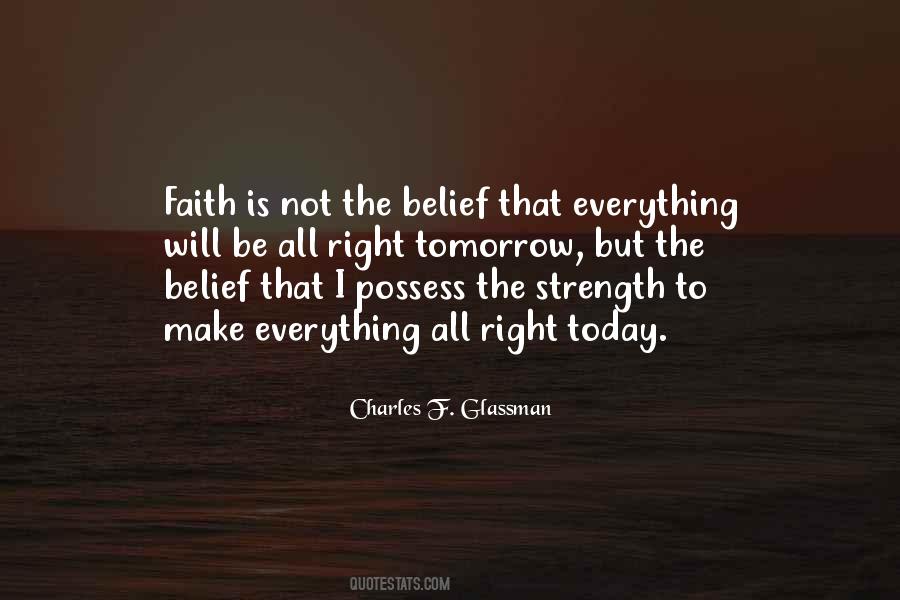 #61. Being molded into something God wants you to be is such a moving force that your whole personality would change. Joy, peace, strength, compassion, the light, the road ... all would touch your life like a moving orchestra. Breathing life into your soul. - Author: Phil Mitchell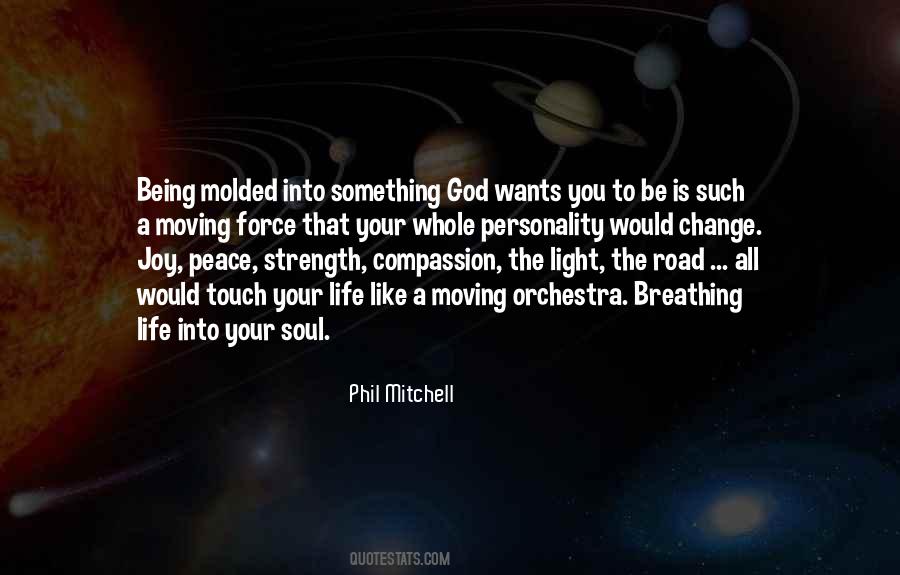 #62. I do not know how we could run so far and so fast and so long. We did not run with our own strength but with strength from God. That is the only explanation. The - Author: Lopez Lomong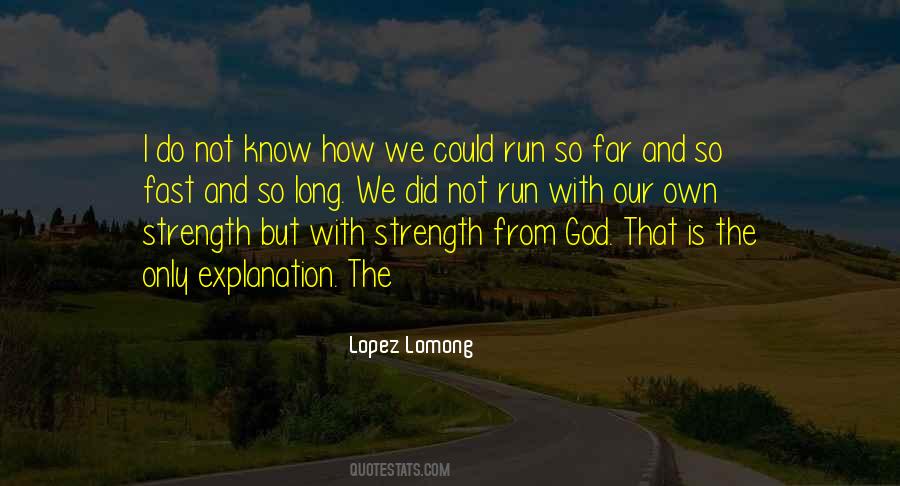 #63. It is only God who gives strength and wisdom for fulfill the God-given dream. - Author: Lailah Gifty Akita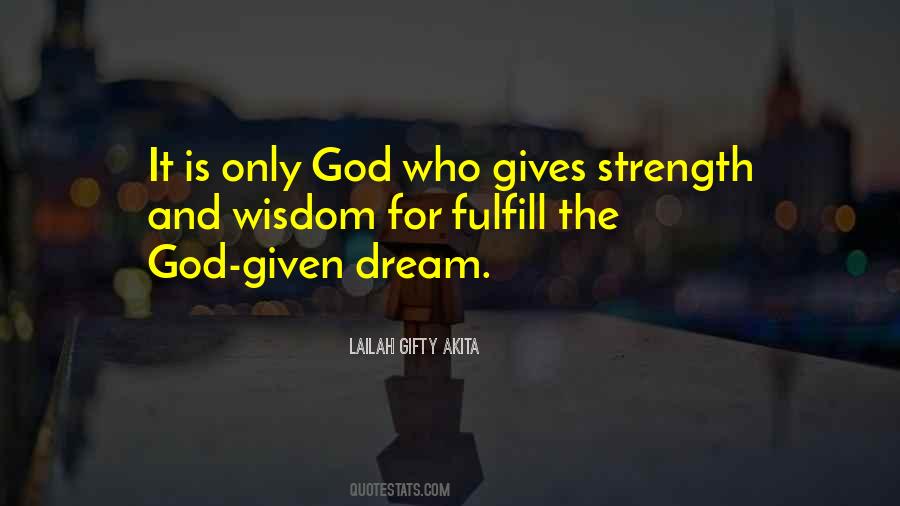 #64. The strength of patience hangs on our capacity to believe that God is up to something good for us in all our delays and detours. - Author: John Piper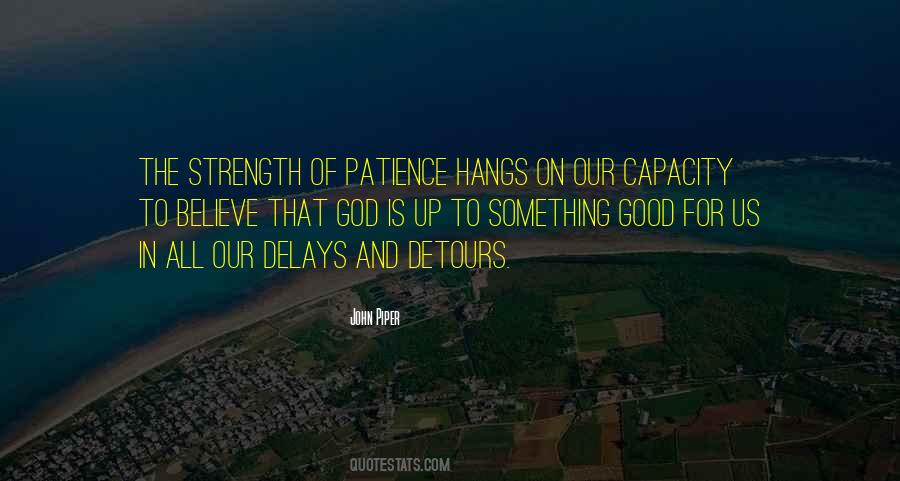 #65. The problem is people want help, but when help arrives you want to tell the help how to help you. Learn to RECEIVE help. - Author: Bobby F. Kimbrough Jr.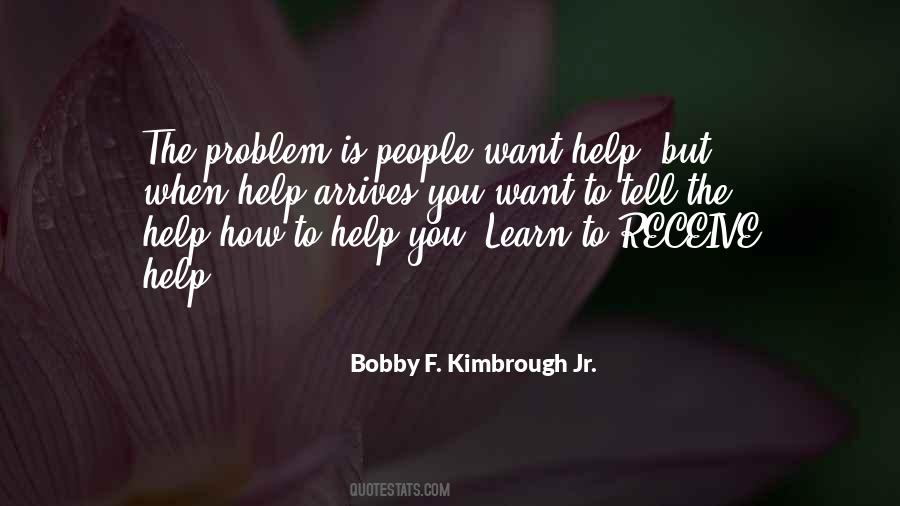 #66. For knowledge to become wisdom, and for the soul to grow, the soul must be rooted in God: and it is through prayer that there comes to us that which is the strength of our strength, and the virtue of our virtue, the Holy Spirit. - Author: William Mountford
#67. God is an inner strength that is inside humans, therefore faith should be about breaking away from material bondage and the mechanical fabrication of human nurture.'

- Jagdeep Takk - Author: Jagdeep Takk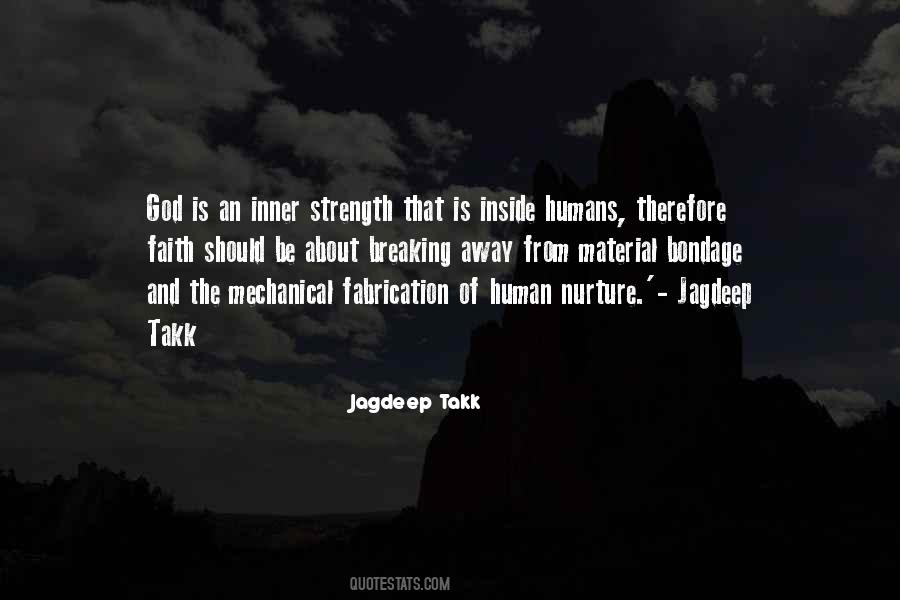 #68. What is a godly mother? A godly mother is one who loves the Lord her God with all her heart, soul, mind, and strength and then passionately, consistently, and unrelentingly teaches her child to do the same. - Author: Elizabeth George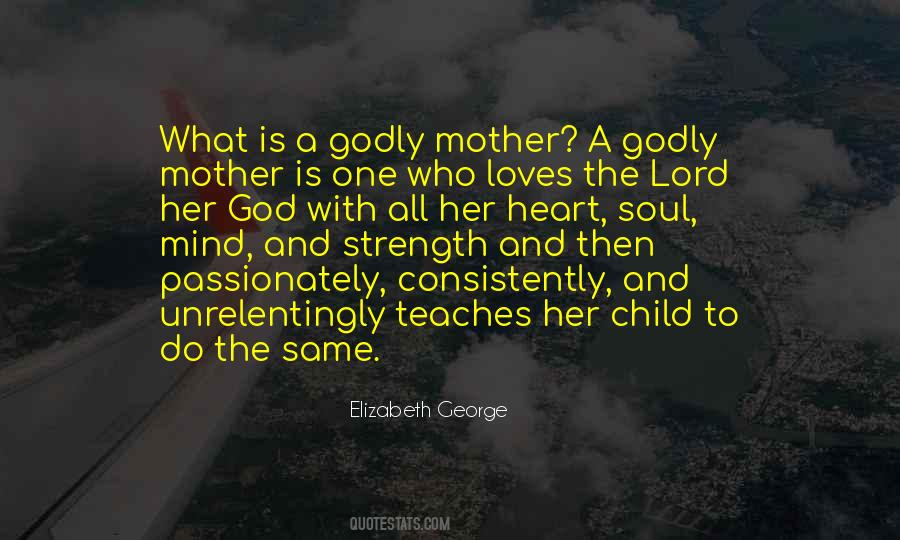 #69. There is nothing that we can see on earth which does not either show the wretchedness of man or the mercy of God. One either sees the powerlessness of man without God, or the strength of man with God. - Author: Blaise Pascal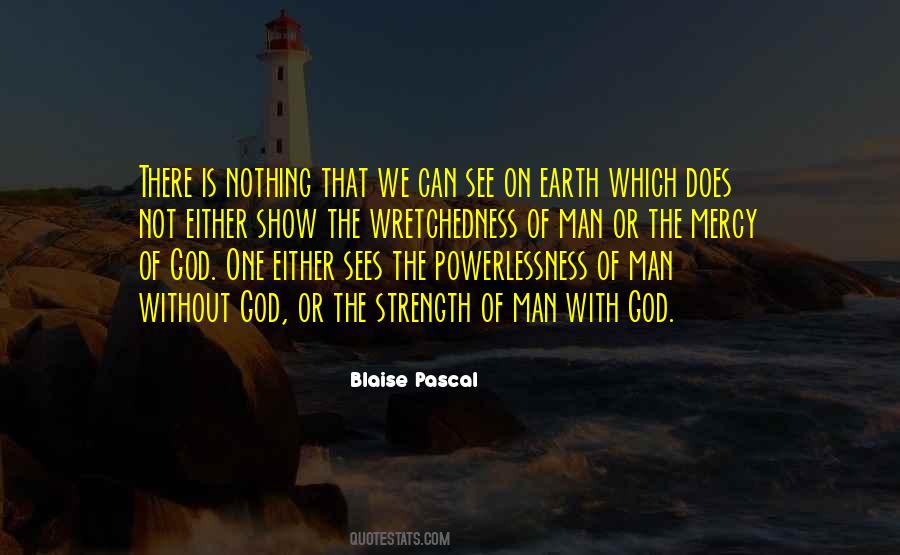 #70. The strength of opening manhood is never so well employed as in practicing subserviency to God's revealed will; it lends a grace and a beauty to religion, and produces an abundant harvest. - Author: Richard Mant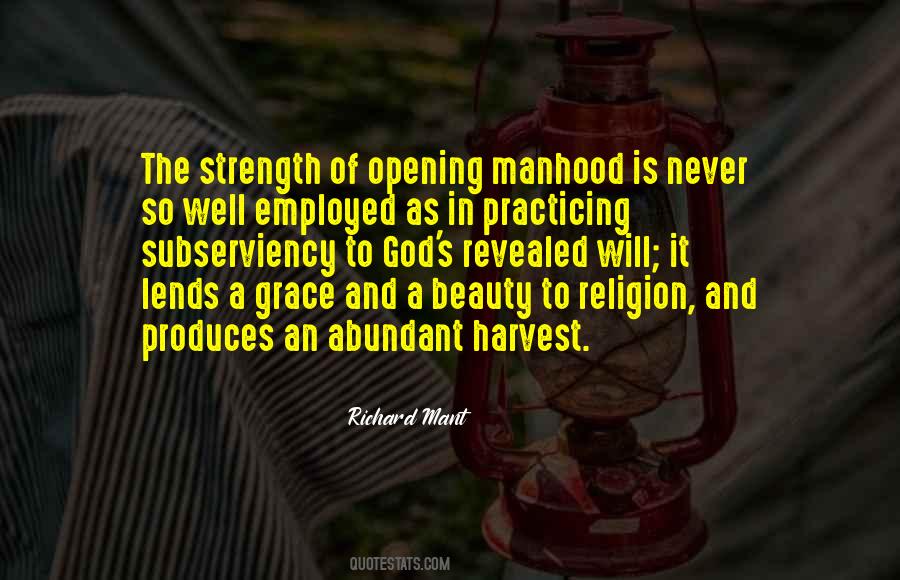 #71. The God we serve does not seek out the perfect, but instead uses our imperfections and our shortcomings for his greater good. I am humbled by my own limitations. But where I am weak, He is strong. - Author: Rick Perry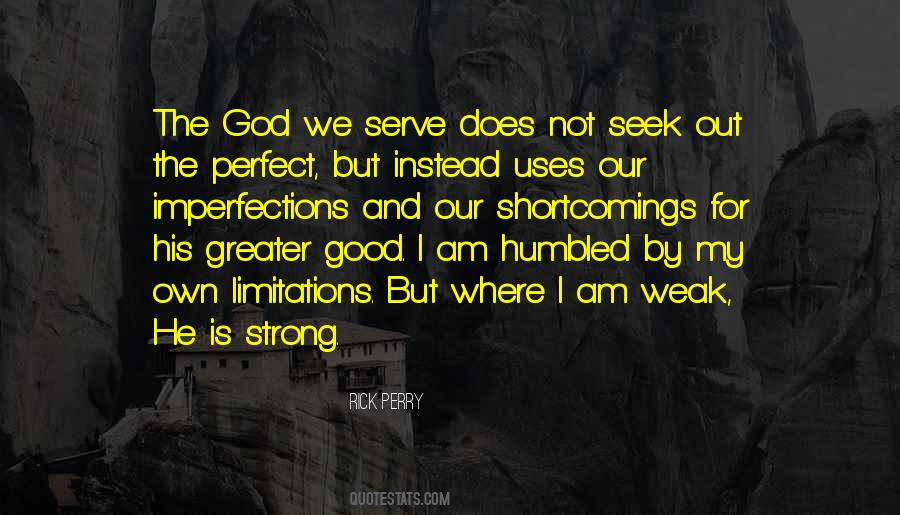 #72. Proportion thy charity to the strength of thine estate, lest God proportion thine estate to the weakness of thy charity. Let the lips of the poor be the trumpet of thy gift, lest in seeking applause, thou lose thy reward. Nothing is more pleasing to God than an open hand and a closed mouth. - Author: Francis Quarles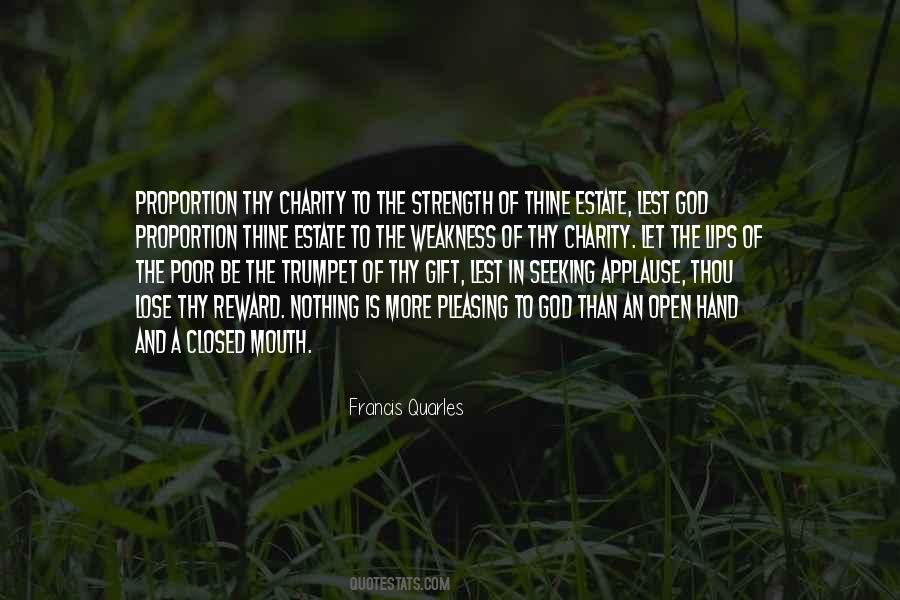 #73. God is a kind Father. He sets us all in the places where he wishes us to be employed. He chooses work for every creature which will be delightful to them if they do it simply and humbly. He gives us always strength enough and sense enough for what he wants us to do. - Author: John Ruskin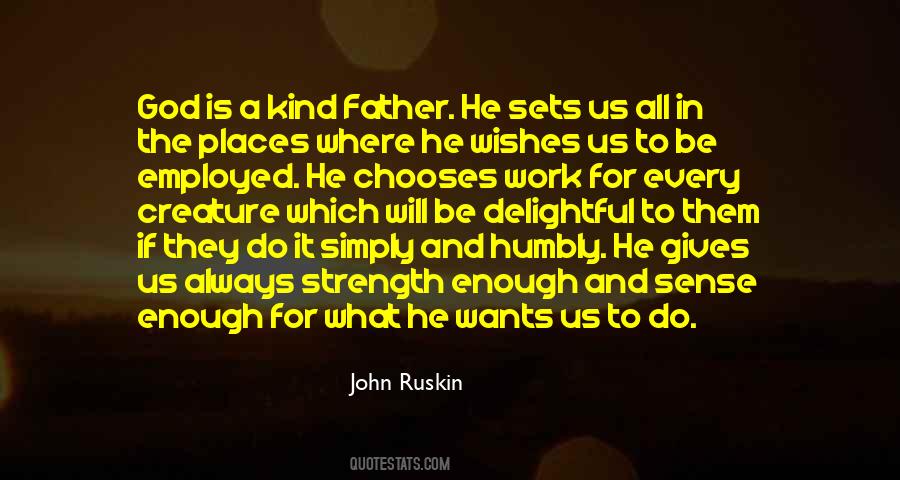 #74. It is impossible that one who has turned to the world and feels its anxieties, and engages his heart in the wish to please men, can fulfill that first and great commandment of the Master, 'You shall love God with all your heart and with all your strength' (Mt. 22:37). - Author: Gregory Of Nyssa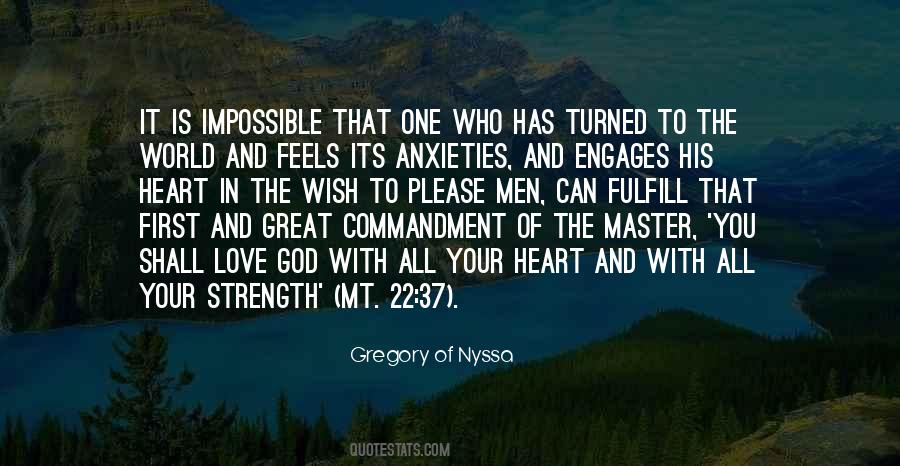 #75. The absence of tumult, more than its presence, is an enemy of the soul. God meets you in your weakness, not in your strength. He comforts those who mourn, not those who live above desperation. He reveals Himself more often in darkness than in the happy moments of life. - Author: Dan B. Allender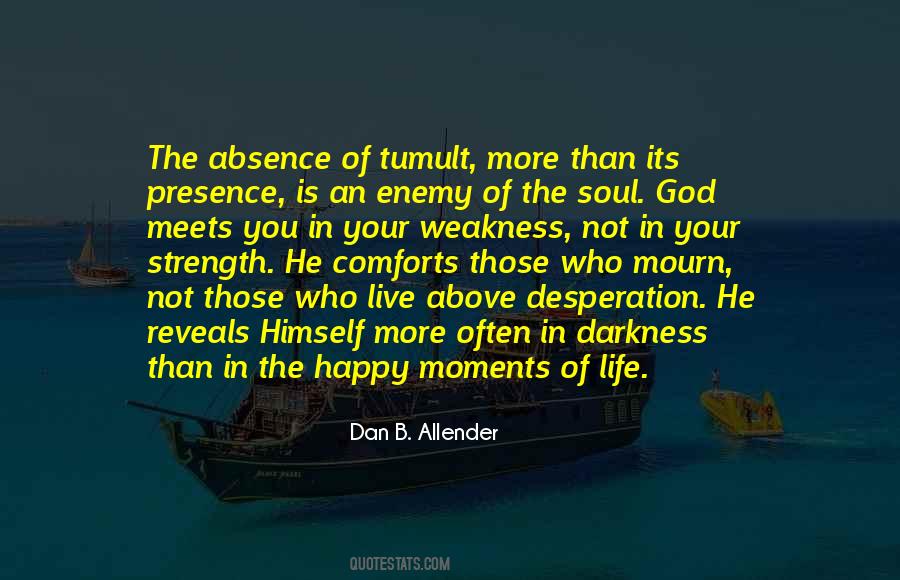 #76. The Lord God is my hope, my joy and my strength. - Author: Lailah Gifty Akita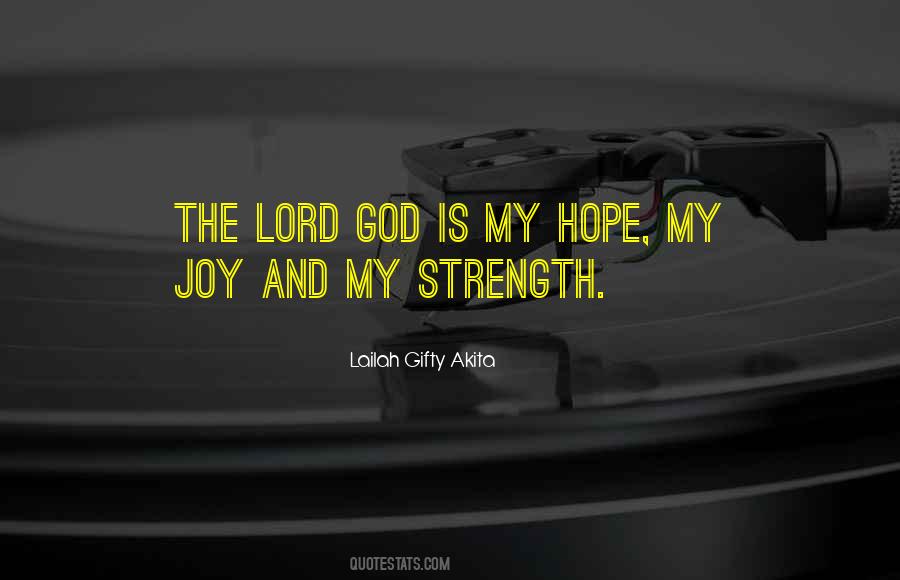 #77. The glory of God is upon you. - Author: Lailah Gifty Akita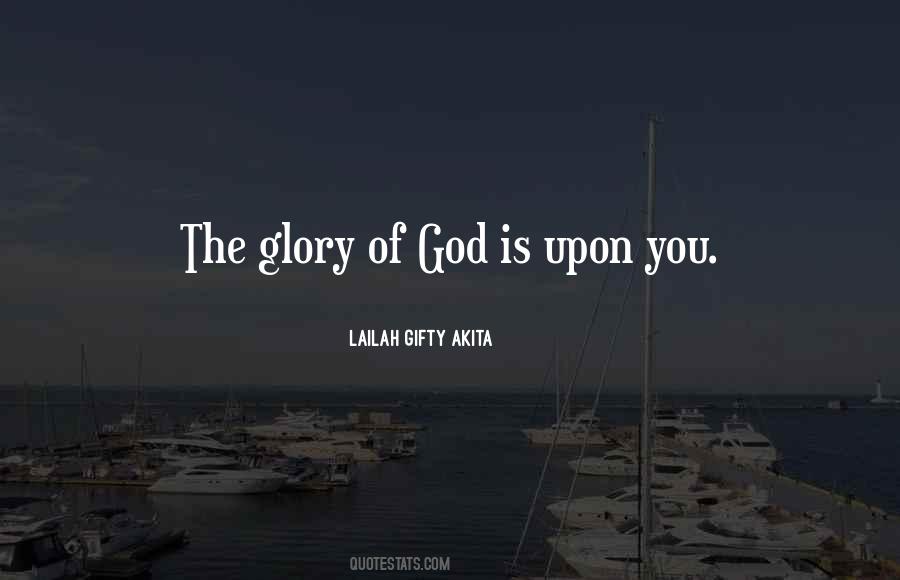 #78. I think God leaves me alone to let me find my own strength because no one else can give it to me. Sometimes it is very lonely. But I know the lonely times teach me the most. I must let go in order to let anything in. No one can love me, for me. Take. - Author: Sabrina Ward Harrison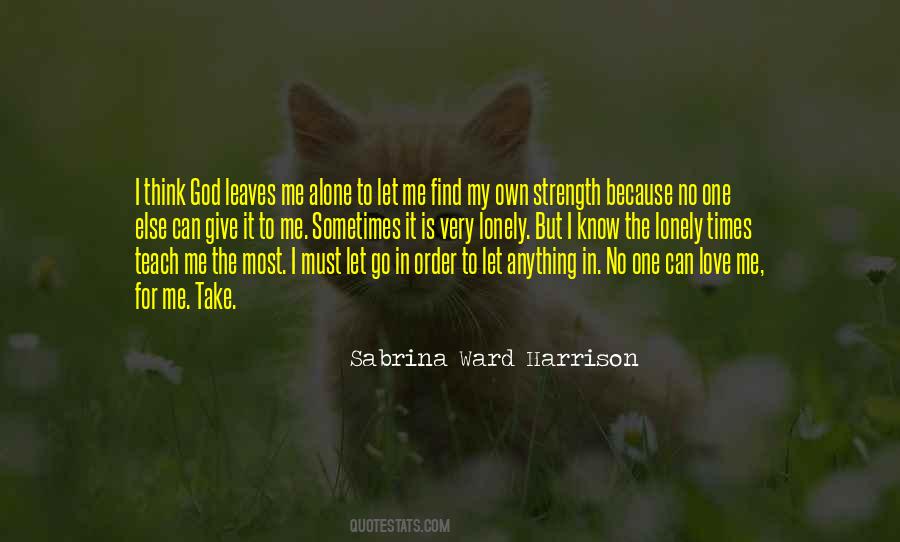 #79. A foundation of healing is built on the promise that God will be your strength. He is in the midst of this healing process with you - right where you are. - Author: Suzanne Eller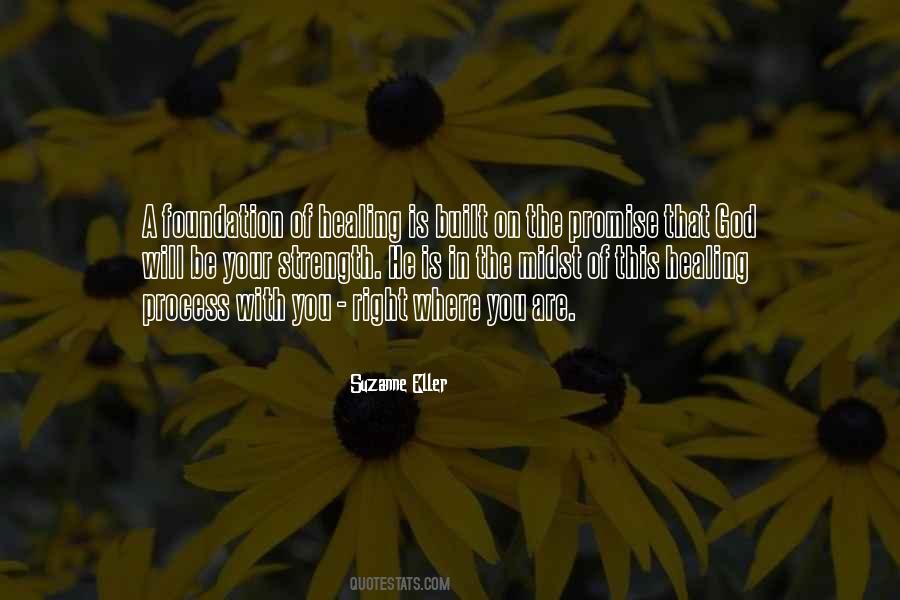 #80. Admitting the weighty problems and staggering disappointments, Christianity affirms that God is able to give us the power to meet them. He is able to give us inner equilibrium to stand tall amid the trials and burdens of life. He is able to provide inner peace amid our outer storms. - Author: Martin Luther King Jr.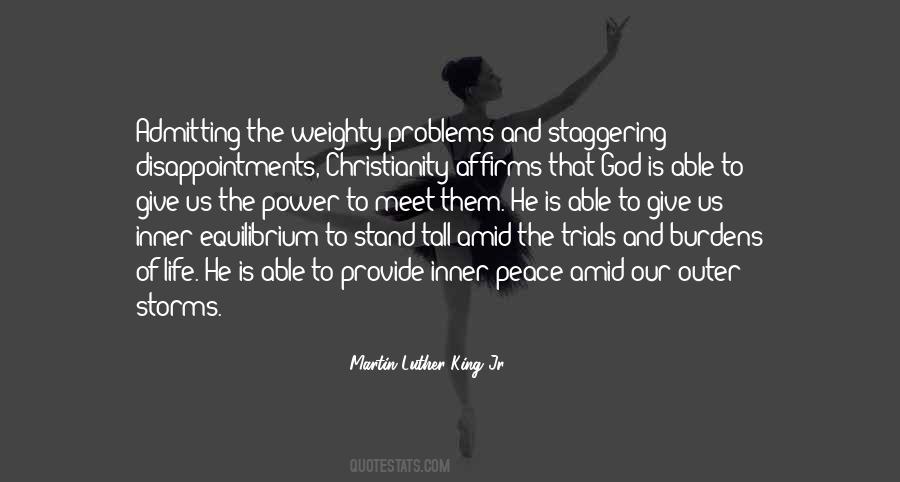 #81. The strength of a man consists in finding out the way God is going, and going that way. - Author: Henry Ward Beecher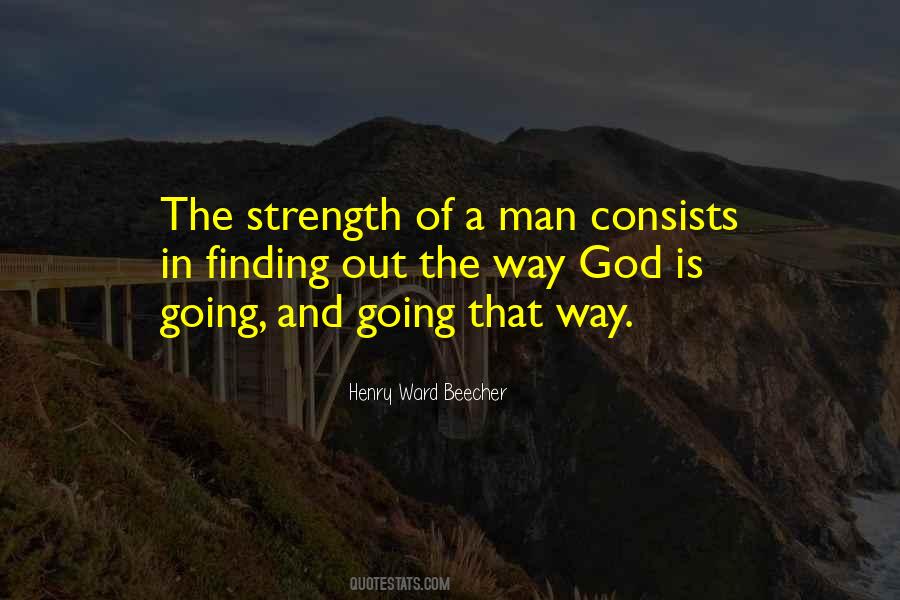 #82. God will help you do it if you trust and lean on Him for guidance and strength. - Author: Tamara L. Chilver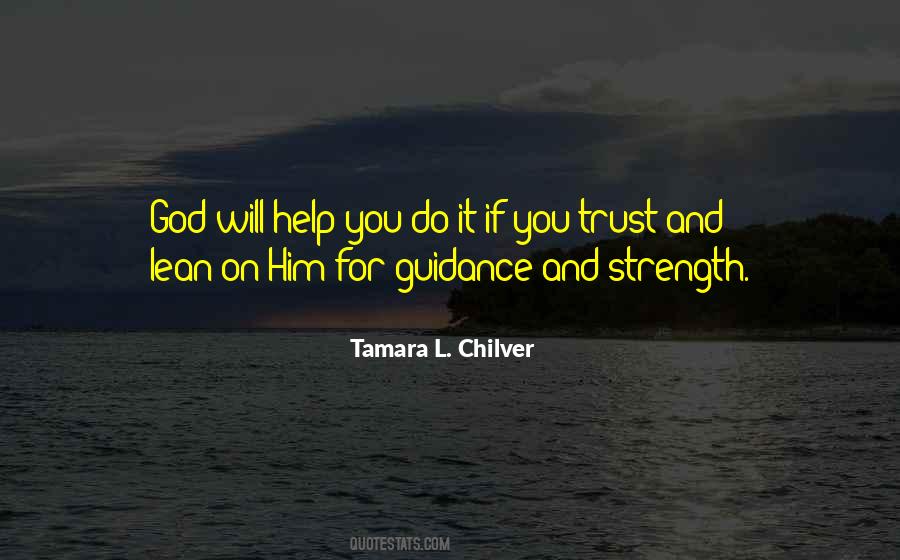 #83. Gentleness is strength under control. It is the ability to stay calm, no matter what happens. - Author: Elizabeth George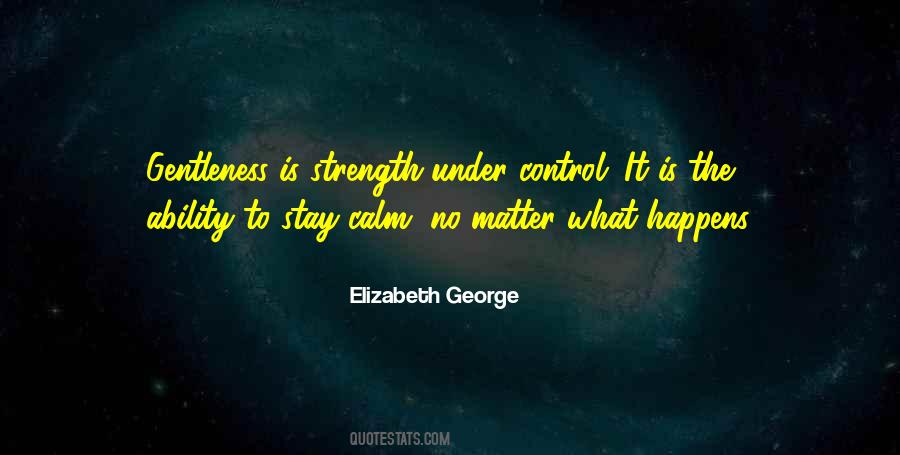 #84. To know and believe in God is the best thing that can happen in your life because He can turn what appears to be the worst event into the best. He can transform your struggles into your learning. He can turn your suffering into strength. He can use your failures to bring success. - Author: Nick Vujicic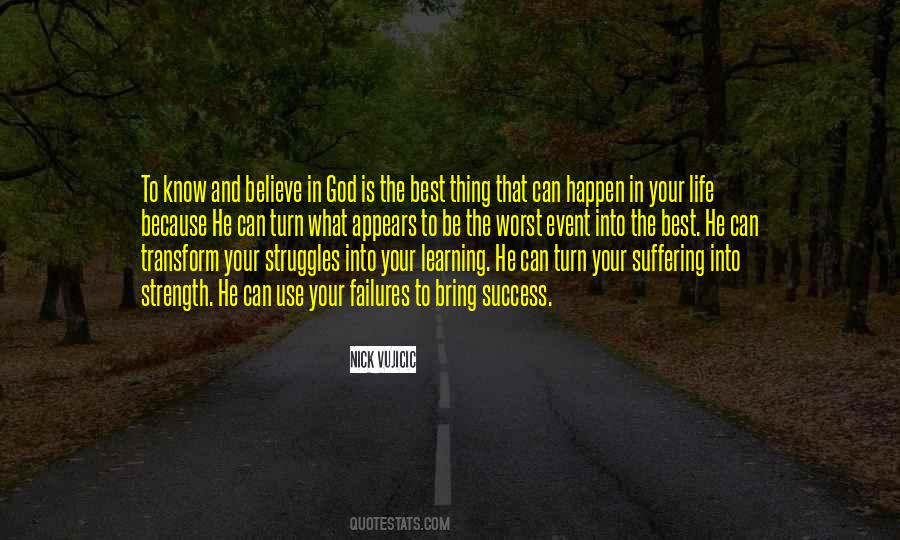 #85. God does not dispense strength and encouragement like a druggist fills your prescription. The Lord doesn't promise to give us something to take so we can handle our weary moments. He promises us Himself. That is all. And that is enough. - Author: Charles R. Swindoll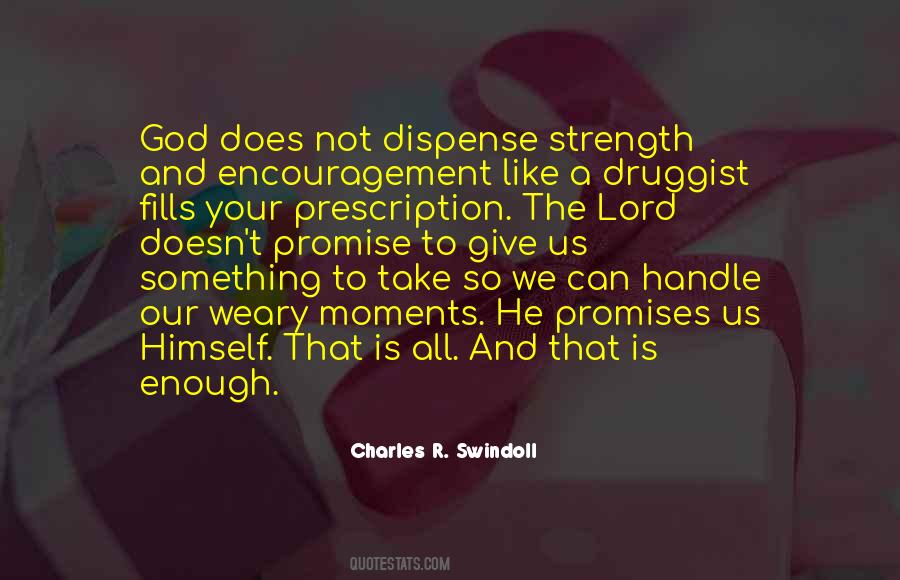 #86. Sometimes God's way of answering prayer is not by removing the pressure, but by increasing your strength to bear it. - Author: Elizabeth George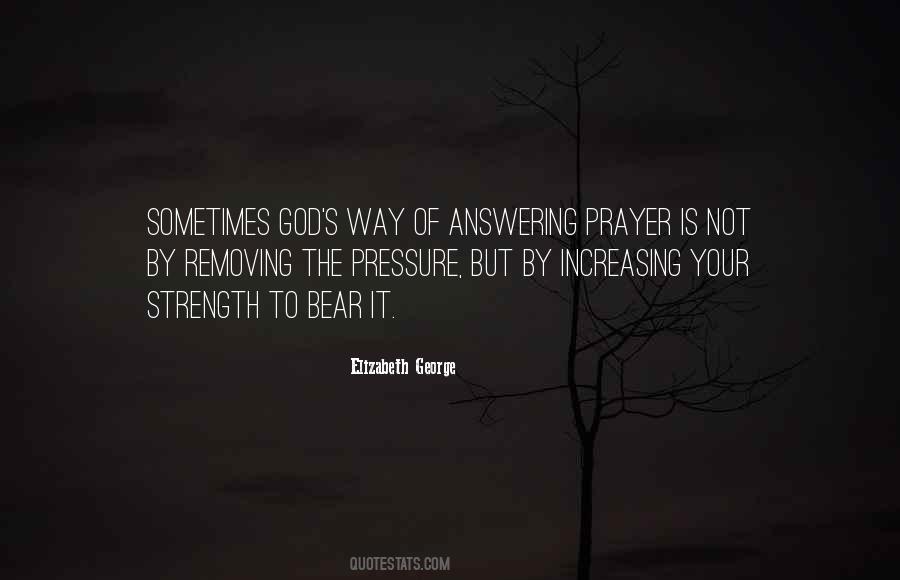 #87. Just deciding to forgive isn't enough because willpower alone won't work - we need divine strength from God. As He gives us the strength, we need to pray for our enemies and bless them. Praying for those who have hurt us is vital to successfully forgiving them. - Author: Joyce Meyer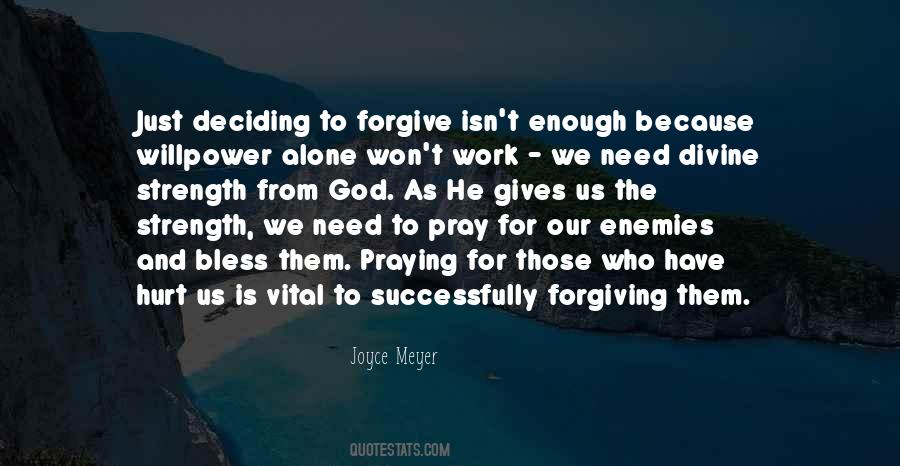 #88. Struggle is the meaning of life; defeat or victory is in the hands of God. But struggle itself is man's duty and should be his joy. - Author: Sir Sultan Muhammad Shah Aga Khan III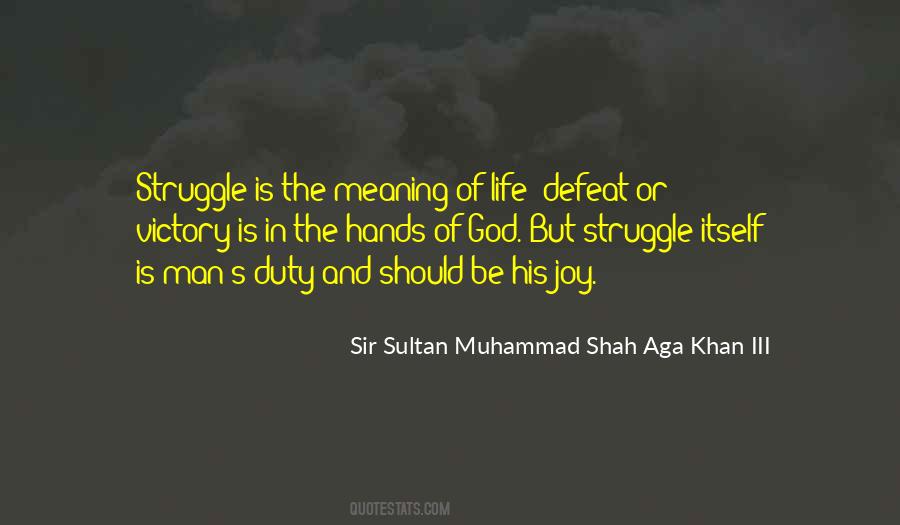 #89. The divine strength is greater than human strength. - Author: Lailah Gifty Akita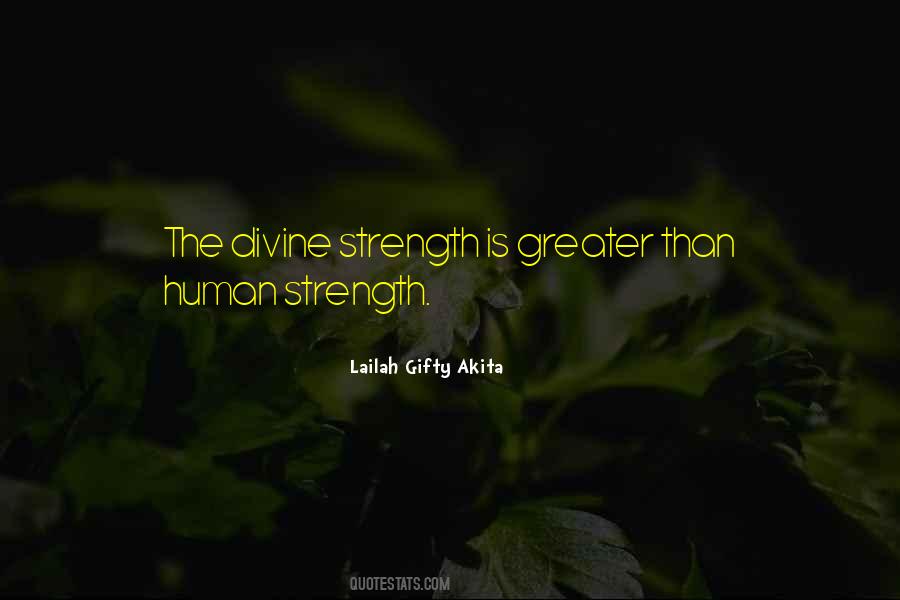 #90. The dark times are there for you to grow and to create a dependency on God. This is all part of your sanctification process. - Author: Michael Barbarulo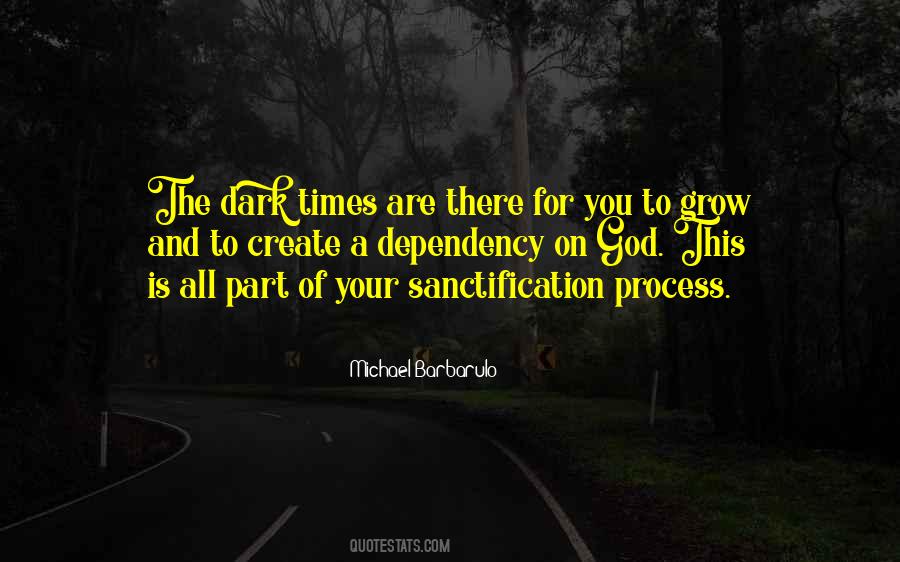 #91. God's great grace wipes out everything else on the landscape. It is not puny but plentiful. Not teeny but torrential. Not mini but majestic. It meets us right now and equips us with courage, wisdom, and strength. So hang on - the next wave is coming! - Author: Max Lucado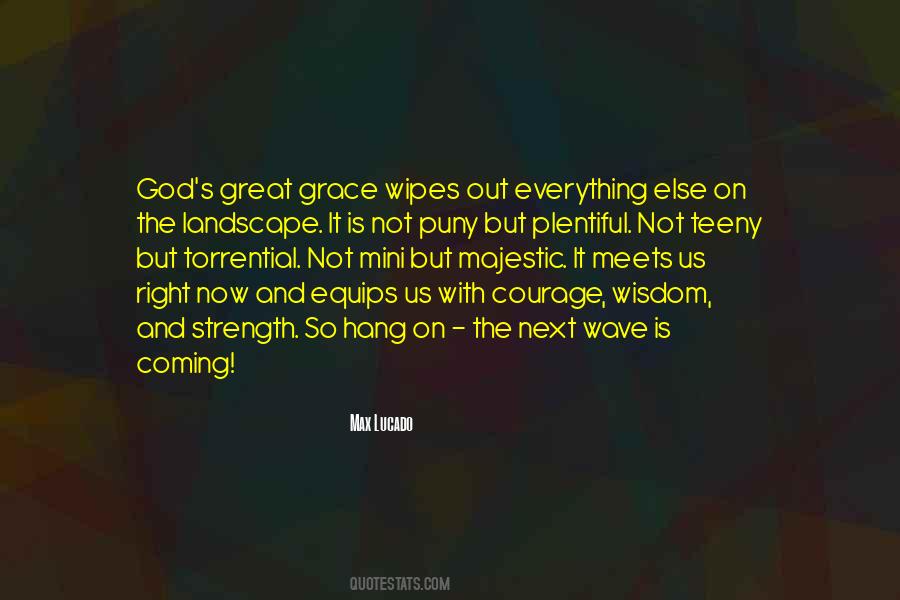 #92. In this world is a God whose matchless strength is a fit contrast to the sordid weakness of man. - Author: Martin Luther King Jr.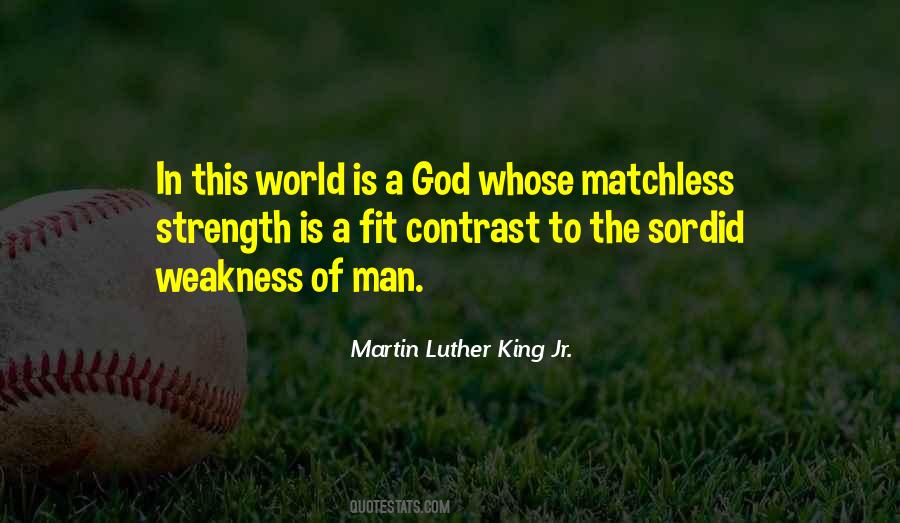 #93. When God wants to move a mountain, he does not take a bar of iron, but he takes a little worm. The fact is, we have too much strength. We are not weak enough. It is not our strength that we want. One drop of God's strength is worth more than all the world. - Author: Dwight L. Moody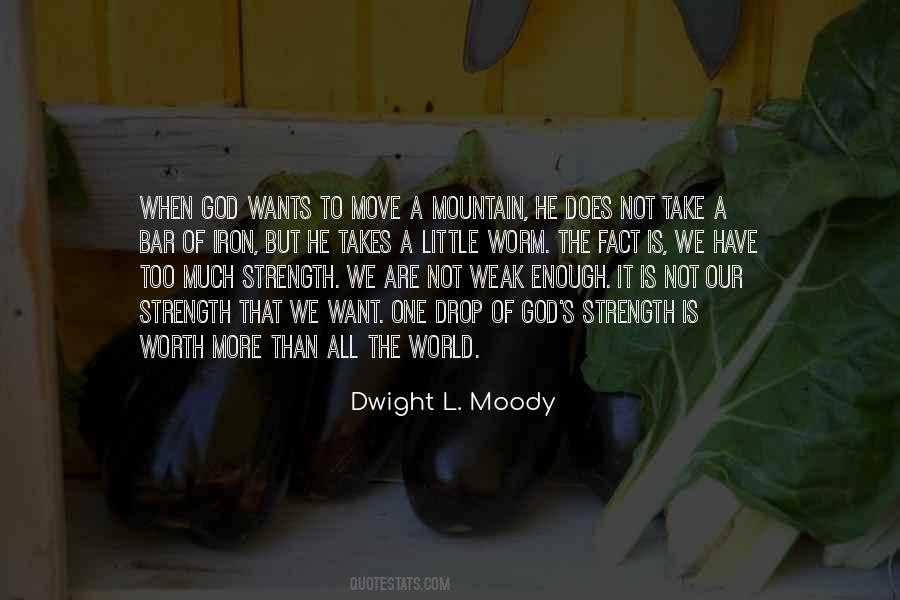 #94. The Lord is our mighty shield.
The Lord is our greet strength. - Author: Lailah Gifty Akita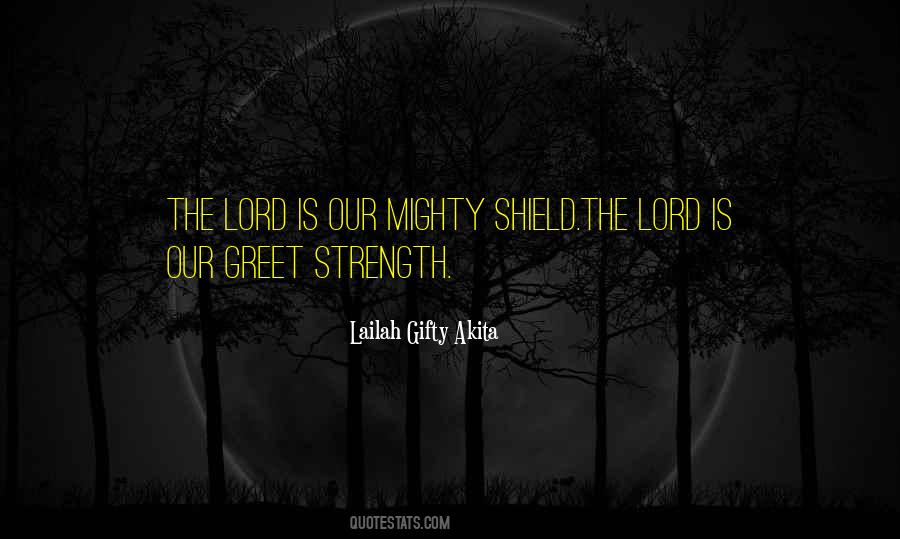 #95. God has always given me the strength to say what is right. - Author: Rosa Parks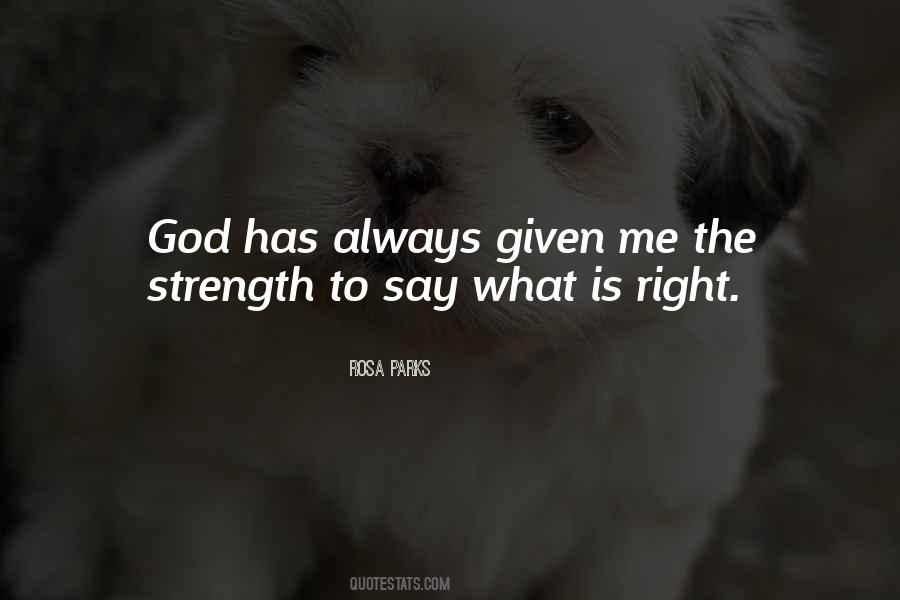 #96. Often times God wants us to sit before Him in quietness. He doesn't want us to do all the talking. As Is. 30:15 says "In quiet and confidence will be your strength." - Author: Charles Stanley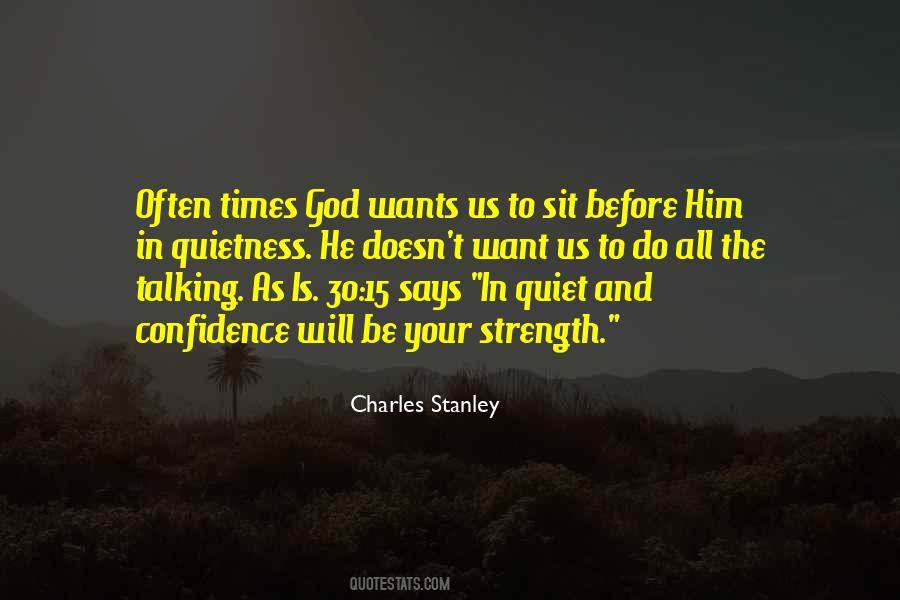 #97. Interest in Education will acquire great strength only from the moment when belief in a God and His care is renounced, just as the art of healing could only flourish when the belief in miracle cures ceased. - Author: Friedrich Nietzsche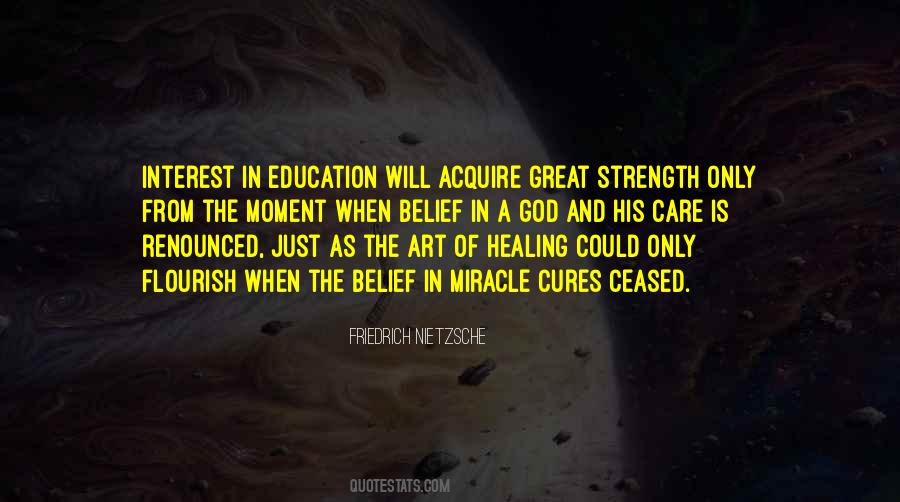 #98. The glory of God is upon you.
Arise in great might and chase your dream. - Author: Lailah Gifty Akita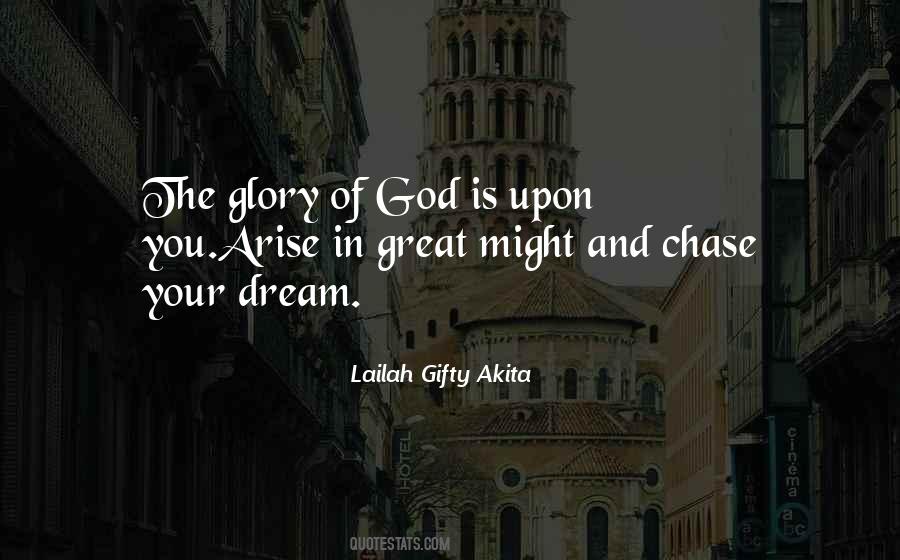 #99. We need not join the mad rush to purchase an earthly fallout shelter. God is our eternal fallout shelter. From Strength to Love, 1963 - Author: Martin Luther King Jr.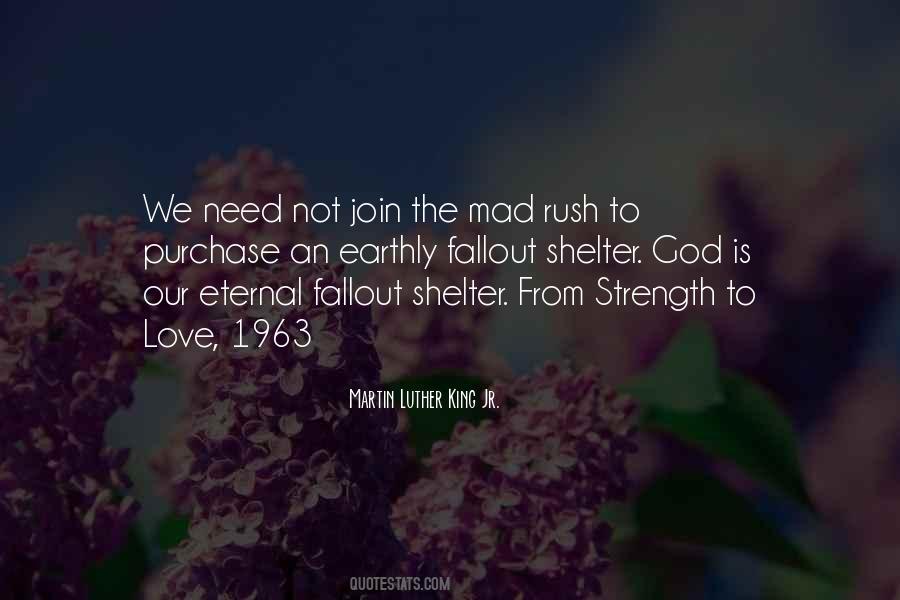 #100. Self-confidence is not the temper which God uses for His instruments. He works with 'bruised reeds,' and breathes His strength into them. It is when a man says 'I can do nothing,' that he is fit for God to employ. 'When I am weak, then I am strong.' Moses - Author: Alexander MacLaren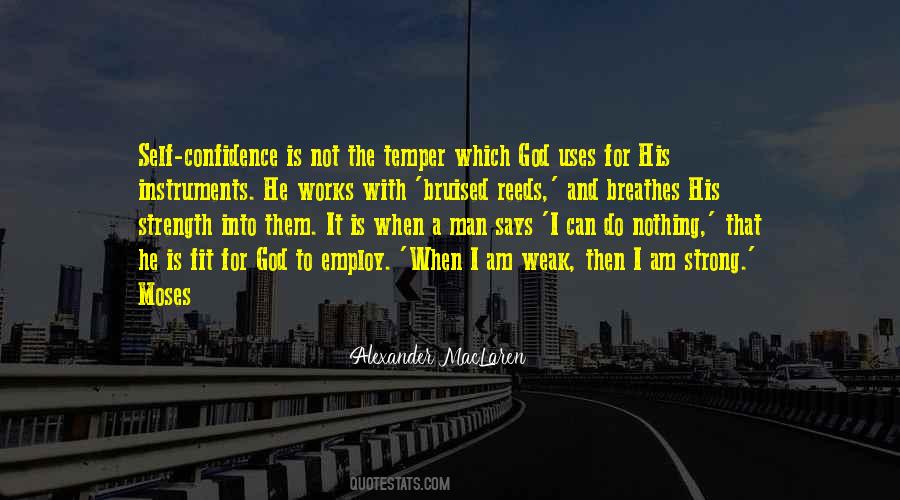 Famous Authors
Popular Topics