God Strength Famous Quotes & Sayings
List of top 100 famous quotes and sayings about god strength to read and share with friends on your Facebook, Twitter, blogs.
Top 100 God Strength Quotes
#1. Thank you God for helping me to overcome the bad to live the good. - Author: Jonathan Anthony Burkett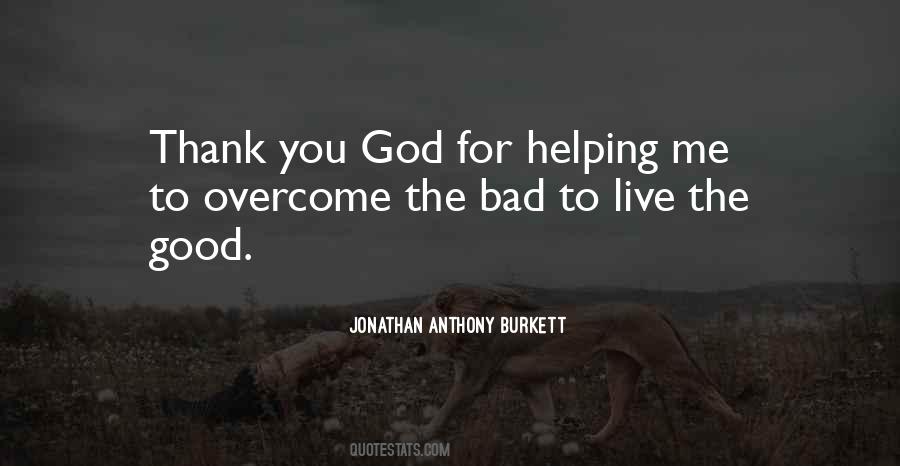 #2. Scripture doesn't promise that God will remove temptation, only that you'll be given strength to withstand it. - Author: Garrison Keillor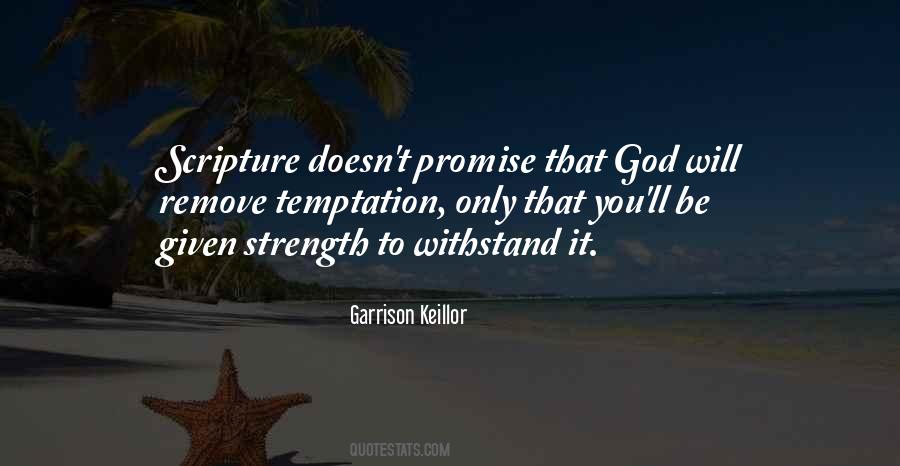 #3. Let no one define how you se yourself ... save God alone. See yourself through His eyes and His strength, and you'll see who you can be despite being who you are. - Author: Tamera Alexander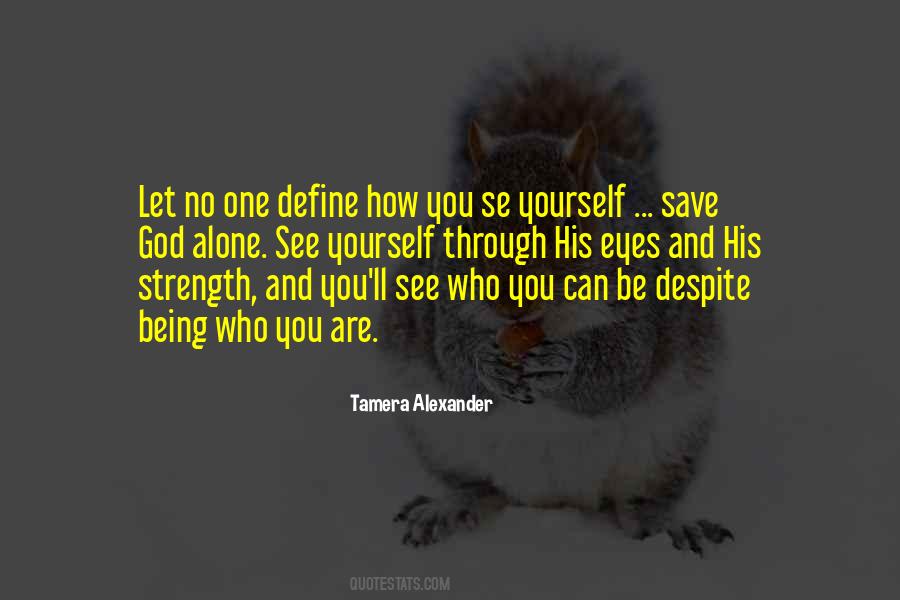 #4. I can't tell you what's in all of God's plans, but I do know part of them. He empowers you with reason and will. Those are your strengths. That's what gives you the chance to be great in his sight. He gave you a mind and codes to live by so you could be in charge of your own actions. - Author: Dan Groat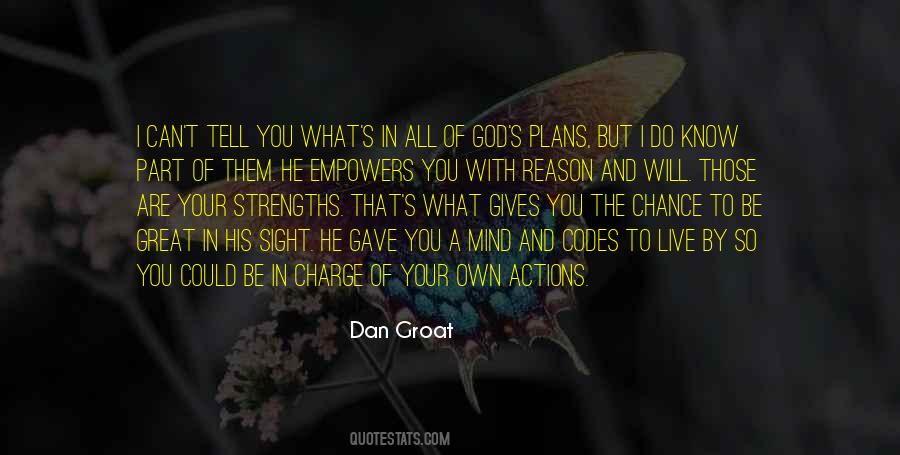 #5. Price and Cost. Sometimes we pay more. Sometimes we pay less. You've got to determine what you are willing to pay for success. - Author: Bobby F. Kimbrough Jr.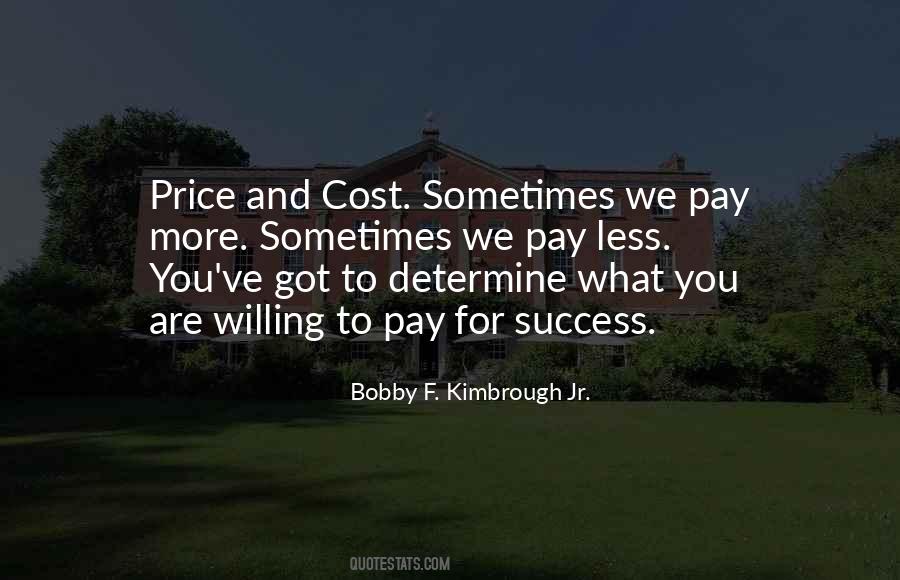 #6. You are a tower of God. - Author: Lailah Gifty Akita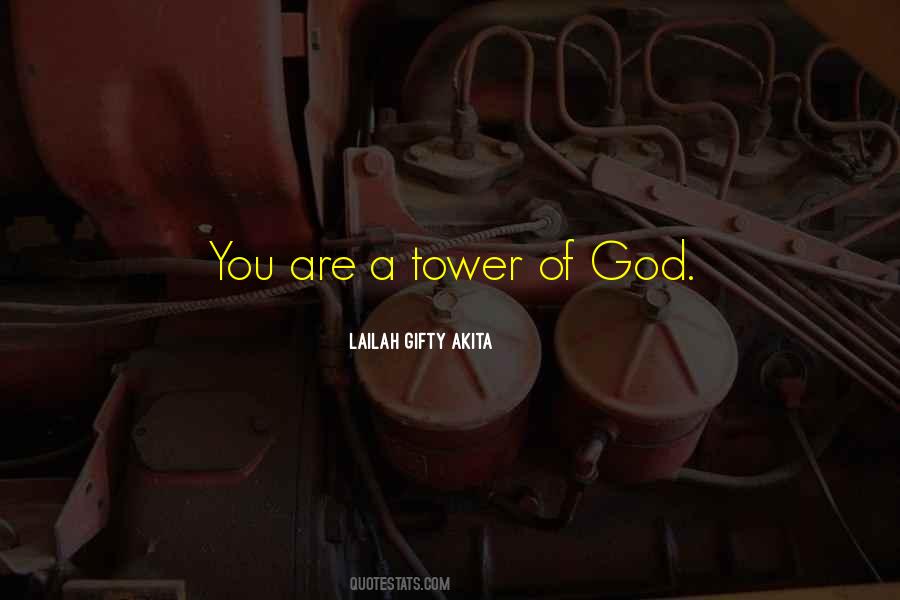 #7. I always have the feeling we are merely fearfully trying to save room for God; I would rather speak of God at the center than at the limits, in strength rather than weakness, and thus in human life and goodness rather than in death and guilt. - Author: Dietrich Bonhoeffer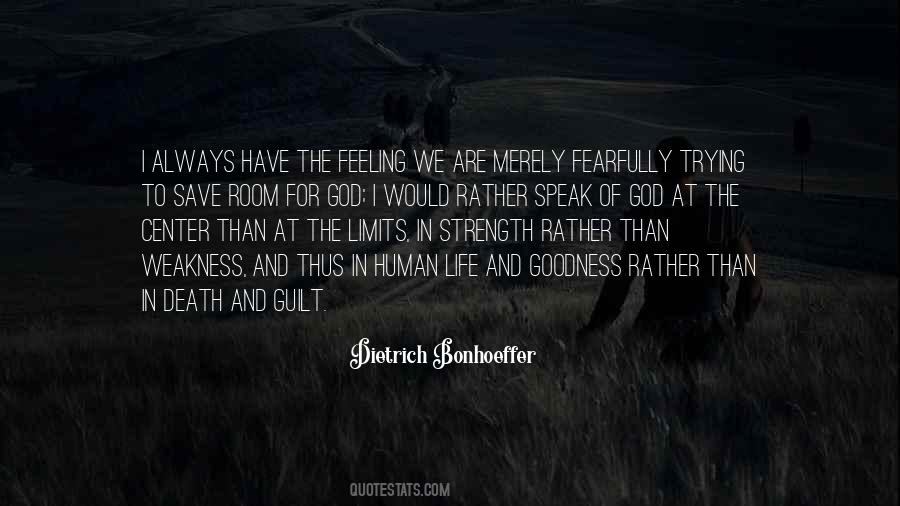 #8. Have you ever learned the beautiful art of letting God take care of you and giving all your thought and strength to pray for others and for the kingdom of God? It will relieve you of a thousand cares. - Author: A.B. Simpson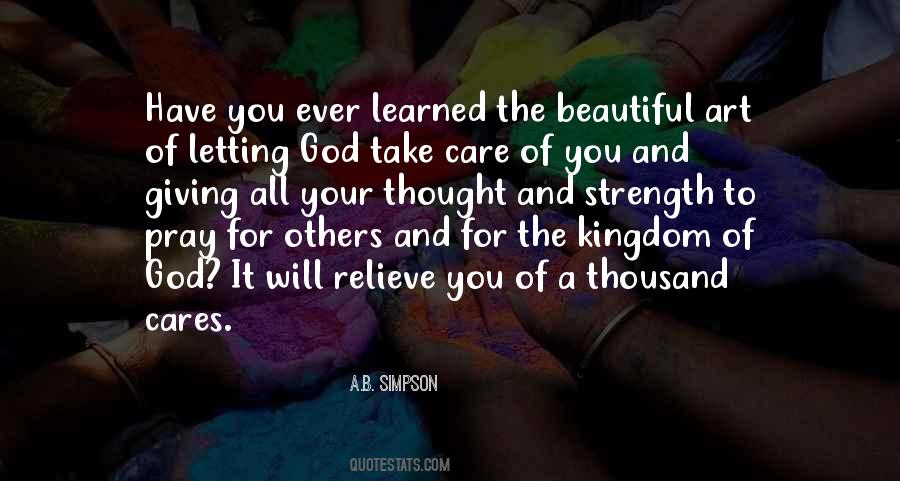 #9. The rule of God's kingdom strengthens fulfilment of mandate - Author: Sunday Adelaja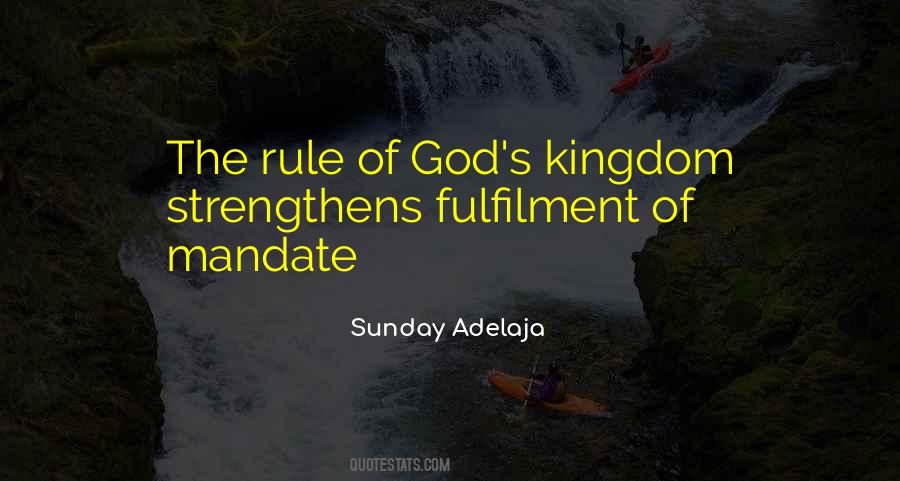 #10. A guy who is equipped mentally and educationally doesn't need a confidence check. He is positioned and prepared to GO. Are you? - Author: Bobby F. Kimbrough Jr.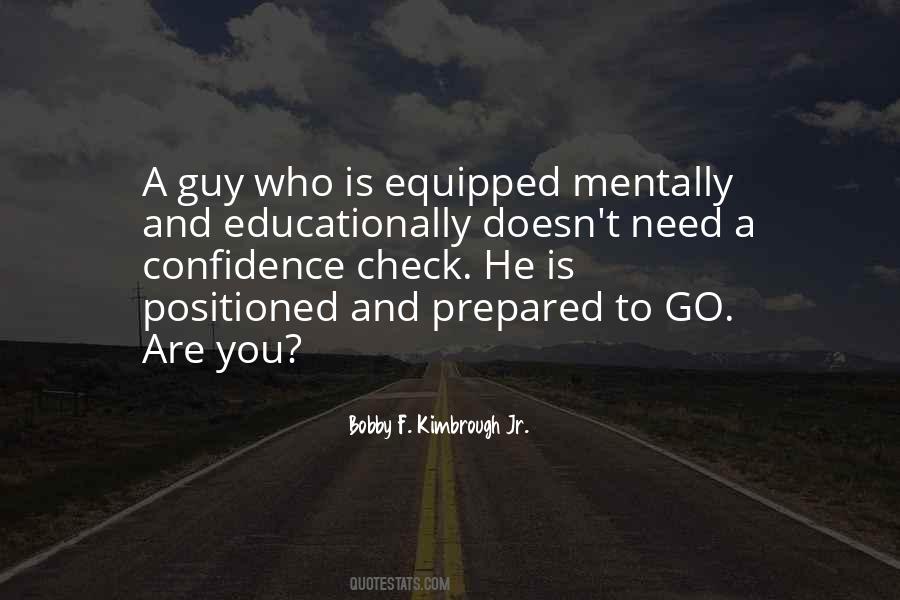 #11. PSALM 46 God is our c refuge and strength, a very d present [2] help in e trouble. - Author: Anonymous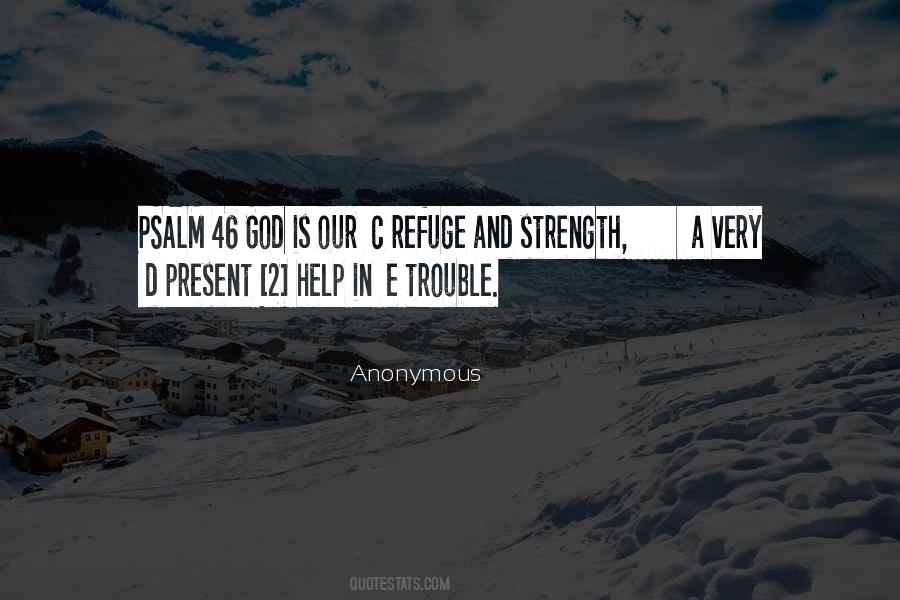 #12. We do emphasize the matter of working with God and not working for God by our own strength. Yes, we should work with God and even by God. But - Author: Witness Lee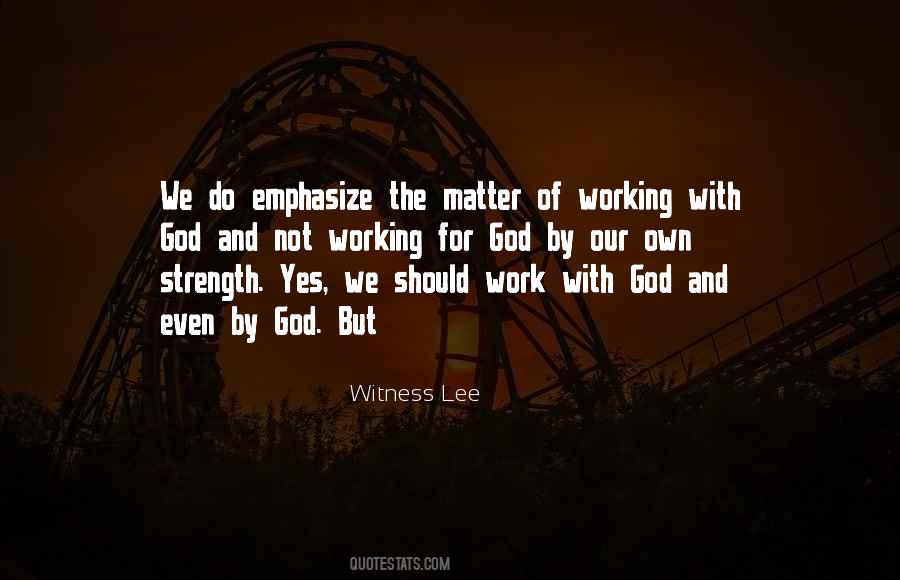 #13. God's grace gives strength overcome any situation. - Author: Lailah Gifty Akita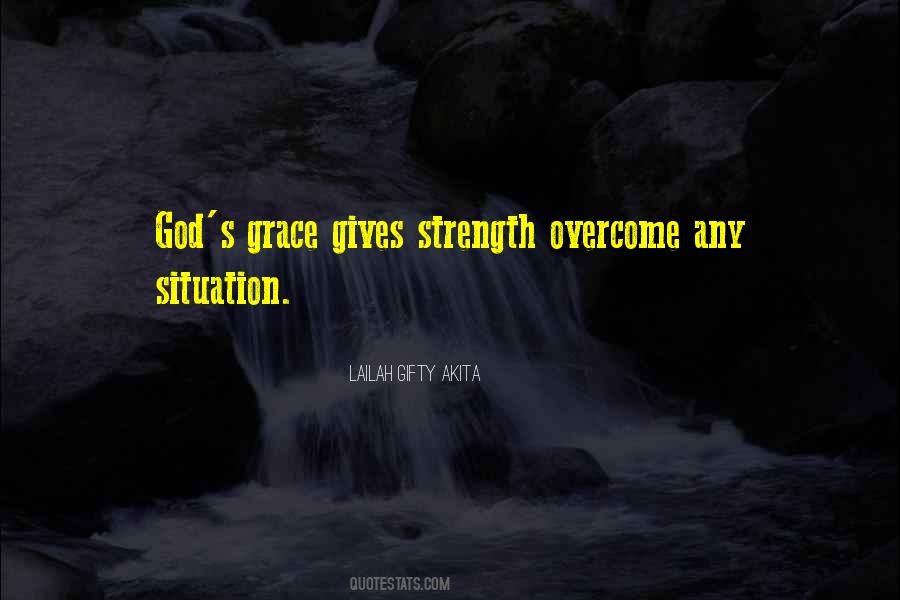 #14. The divine strength is greater than human strength. - Author: Lailah Gifty Akita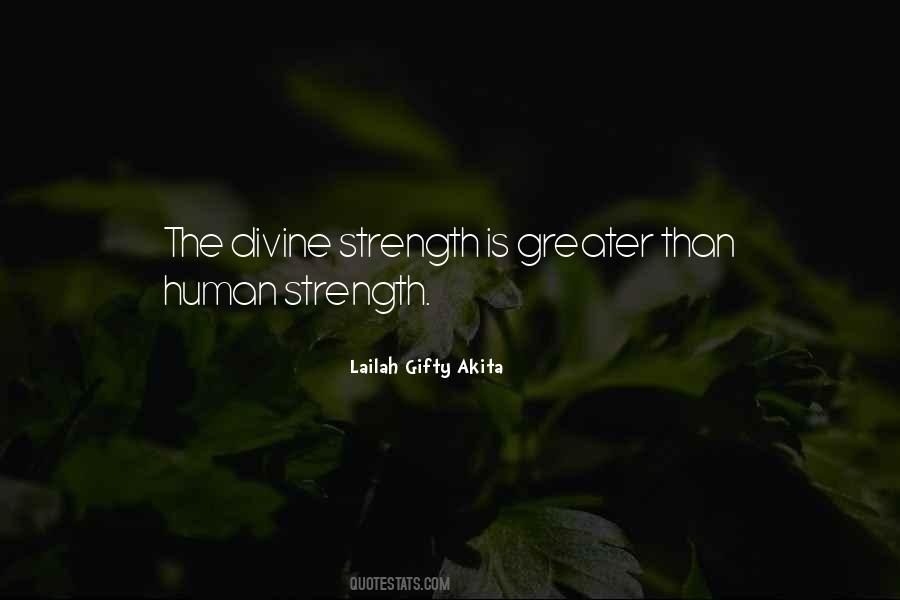 #15. Your love for your friend should be grounded in Me, and for My sake you should love whoever seems to be good and is very dear to you in this life. Without Me friendship has no strength and cannot endure. Love which I do not bind is neither true nor pure. - Author: Thomas A Kempis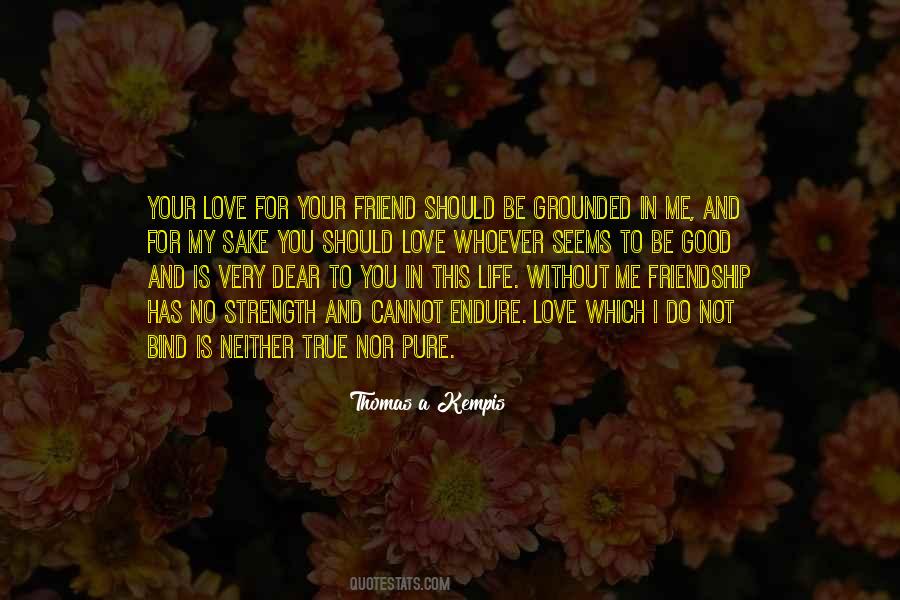 #16. O Lord, Thy Word, heals my wounds. - Author: Lailah Gifty Akita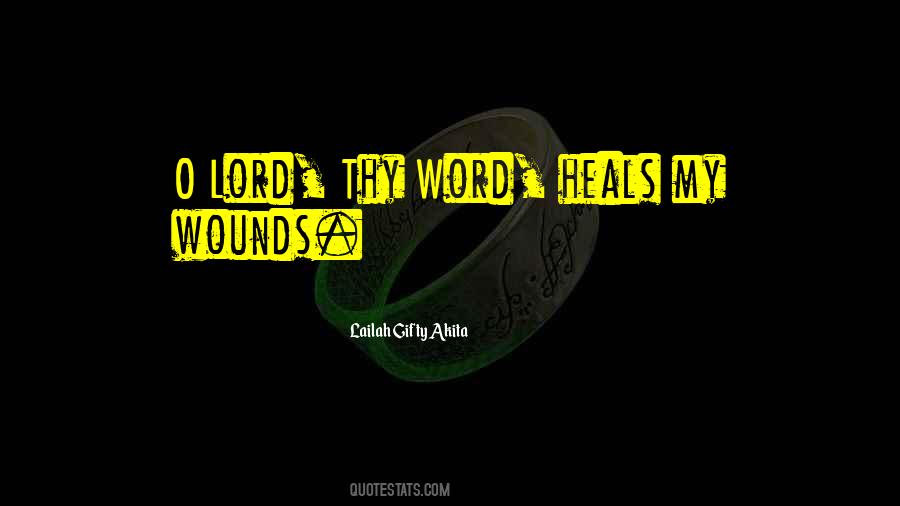 #17. The absence of tumult, more than its presence, is an enemy of the soul. God meets you in your weakness, not in your strength. He comforts those who mourn, not those who live above desperation. He reveals Himself more often in darkness than in the happy moments of life. - Author: Dan B. Allender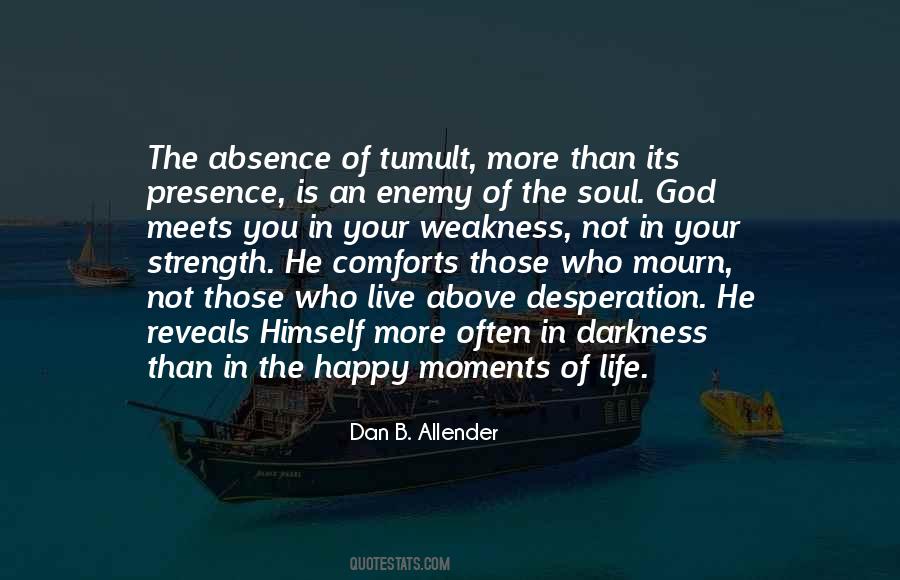 #18. It is impossible that one who has turned to the world and feels its anxieties, and engages his heart in the wish to please men, can fulfill that first and great commandment of the Master, 'You shall love God with all your heart and with all your strength' (Mt. 22:37). - Author: Gregory Of Nyssa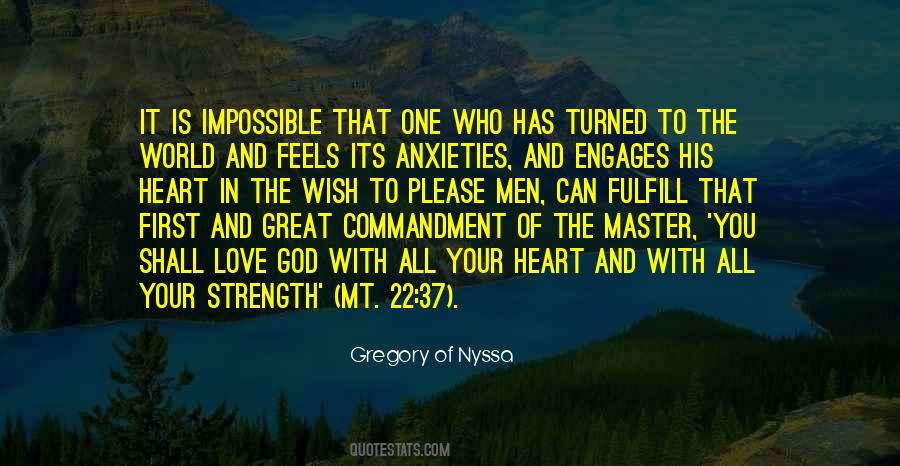 #19. Let our voices be heard. I hope they will not be shrill voices, but, I hope we shall speak with such conviction that those to whom we speak shall know of the strength of our feeling and the sincerity of our efforts. - Author: Gordon B. Hinckley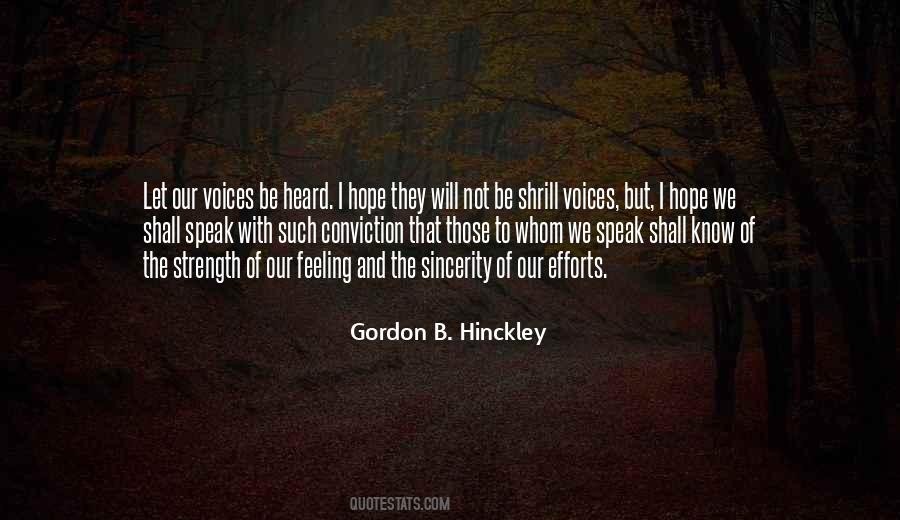 #20. Abundant grace, amazing life. - Author: Lailah Gifty Akita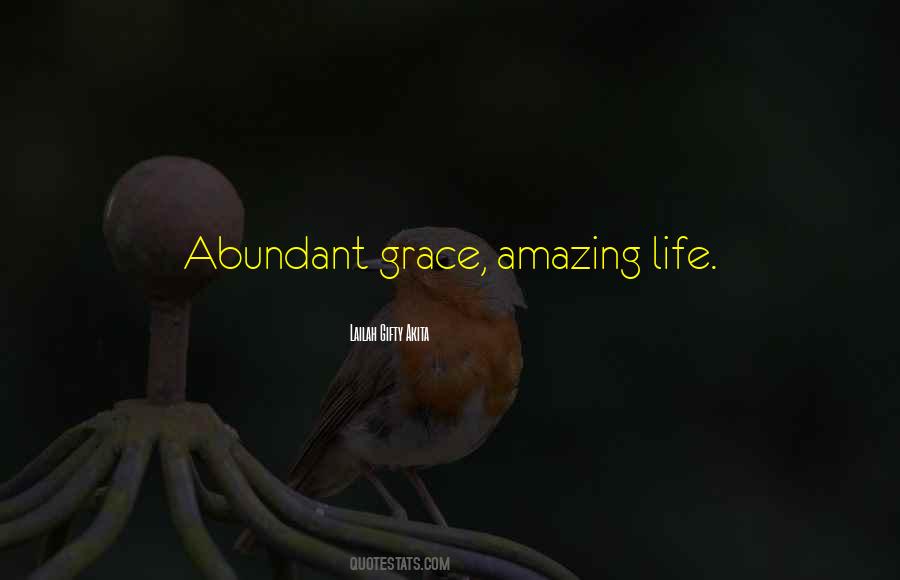 #21. God is a kind Father. He sets us all in the places where he wishes us to be employed. He chooses work for every creature which will be delightful to them if they do it simply and humbly. He gives us always strength enough and sense enough for what he wants us to do. - Author: John Ruskin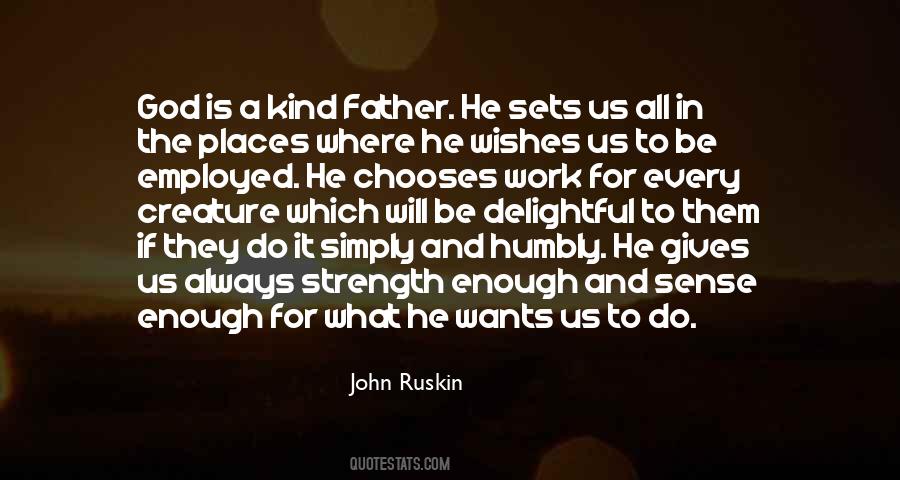 #22. To all the fallen: may they be young forever in heaven. To all the wounded: may they have strength and heal. To all the bereaved: may they feel joy again. And please God," he added quietly, "may there one day be an end to war. - Author: Jo Beverley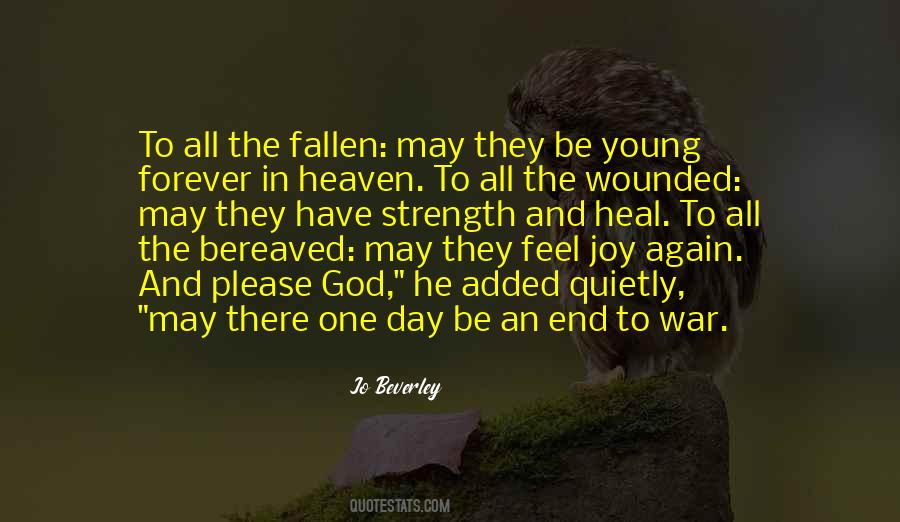 #23. Count your blessings. Once you realize how valuable you are and how much you have going for you, the smiles will return, the sun will break out, the music will play, and you will finally be able to move forward the life that God intended for you with grace, strength, courage, and confidence. - Author: Og Mandino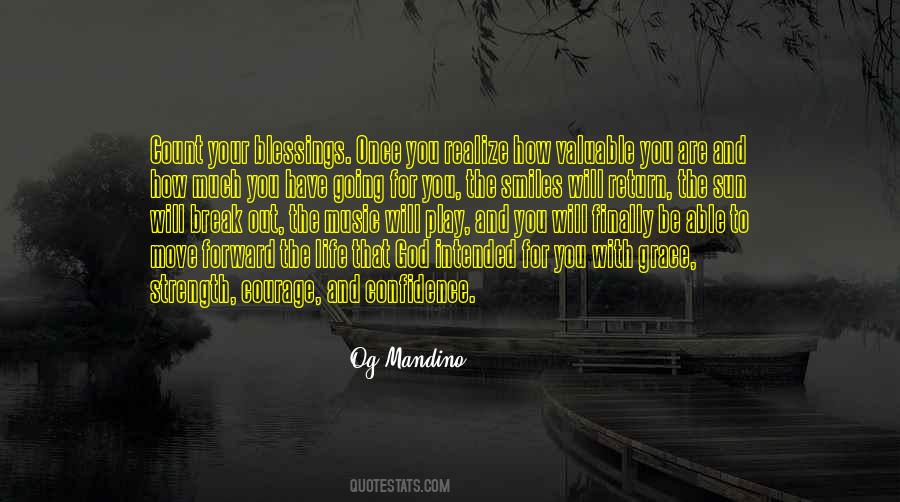 #24. When you take time with God and listen to His voice, He renews your strength and enables you to handle life. - Author: Joyce Meyer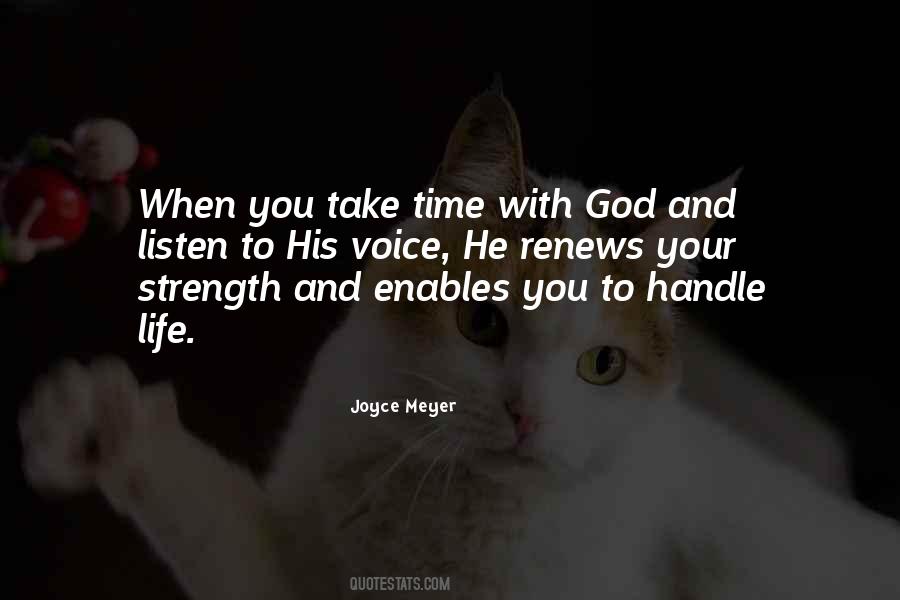 #25. If Strength comes through Suffering, why then I should be the strongest of all women, yet I am the weakest. God help me. Help me. - Author: Lee Smith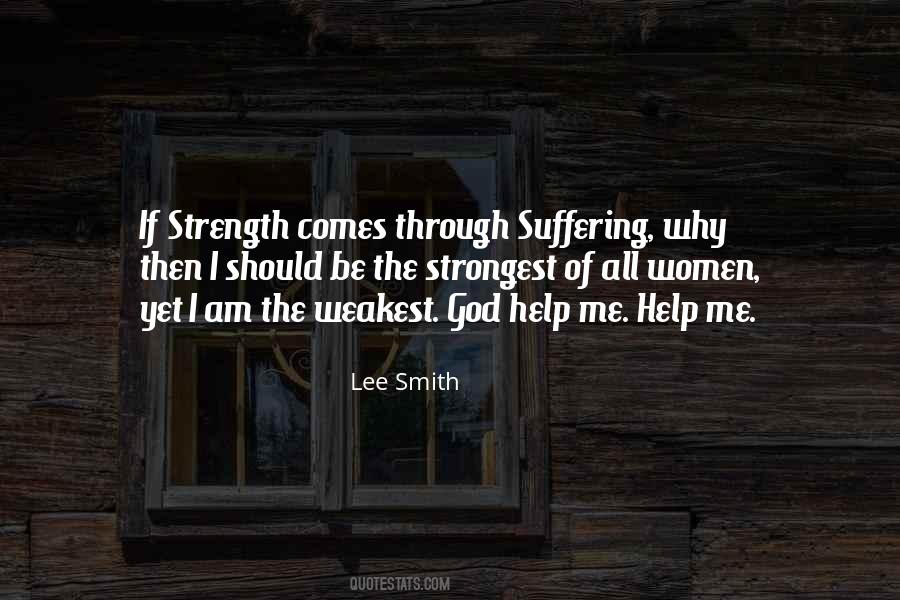 #26. God knows how to turn your weakness to strength - Author: Sunday Adelaja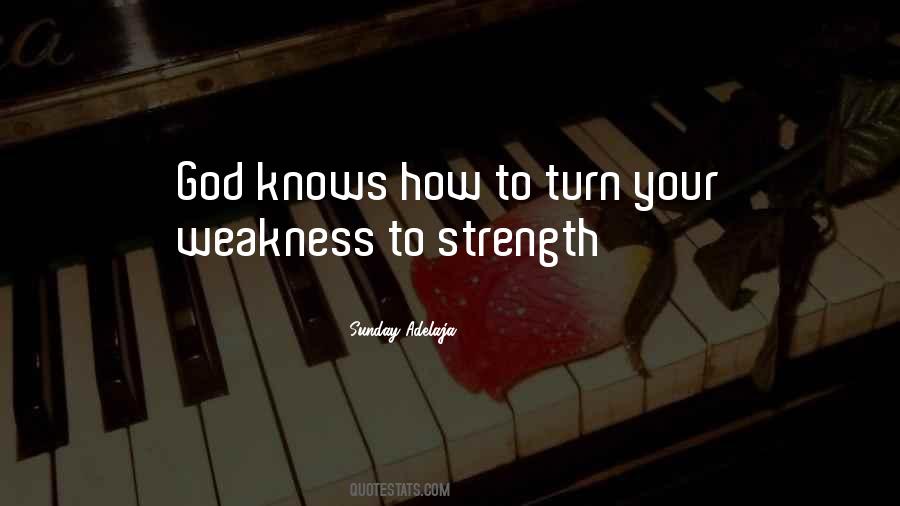 #27. God is glorified not by calling strong women but by giving His strength to weak women. - Author: Lydia Brownback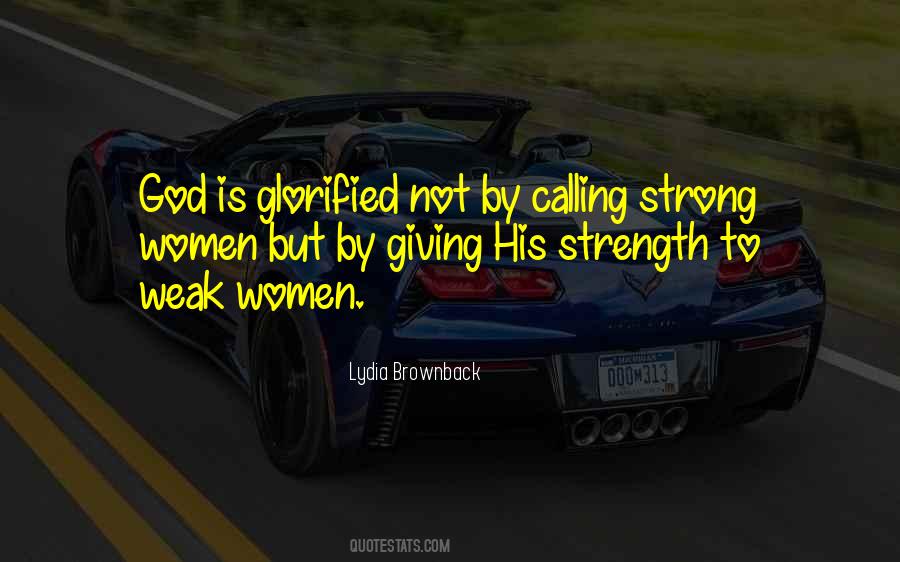 #28. Break away from every yoke of bondage in Jesus Name. - Author: Lailah Gifty Akita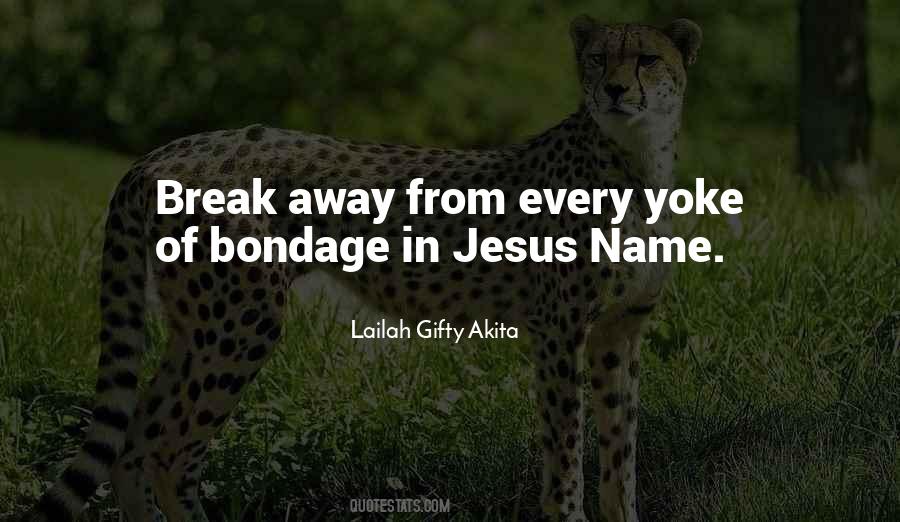 #29. In this life you will have some trials and tribulations. You cannot allow what happens to you to dictate who and what you become. Make a decision to do better and be better. - Author: Bobby F. Kimbrough Jr.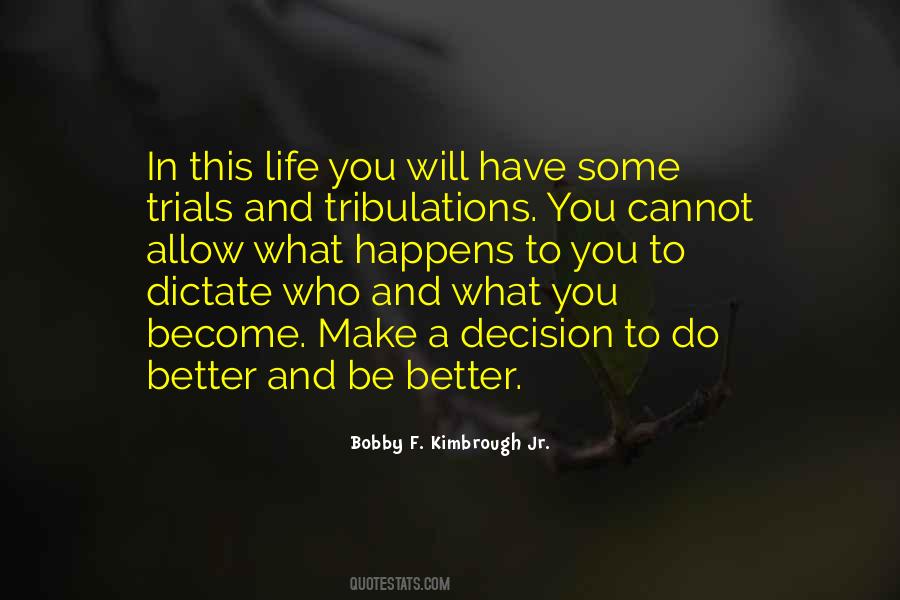 #30. Proportion thy charity to the strength of thine estate, lest God proportion thine estate to the weakness of thy charity. Let the lips of the poor be the trumpet of thy gift, lest in seeking applause, thou lose thy reward. Nothing is more pleasing to God than an open hand and a closed mouth. - Author: Francis Quarles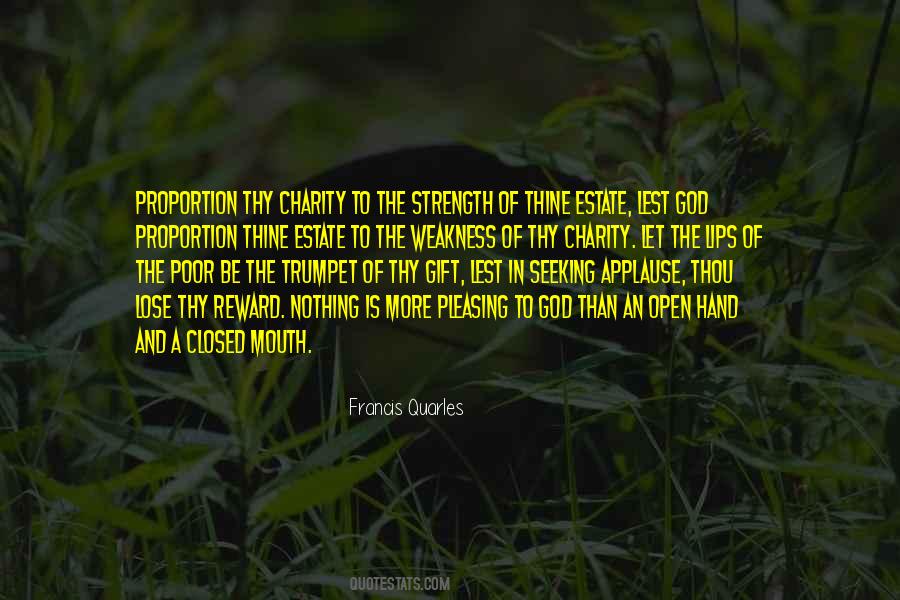 #31. In times of suffering, may God strengthen you. - Author: Lailah Gifty Akita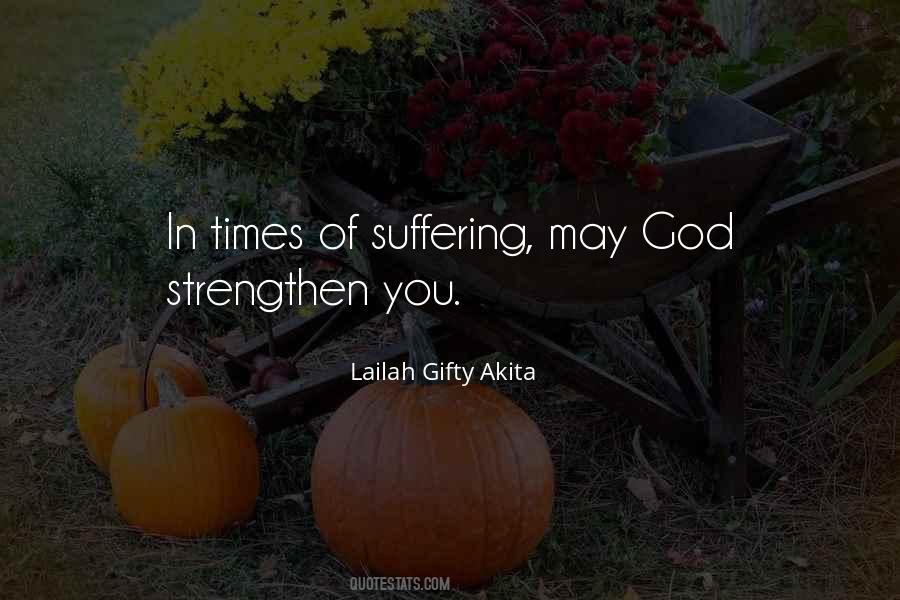 #32. God gave me the strength to see, and breathe, and talk. - Author: Leon Spinks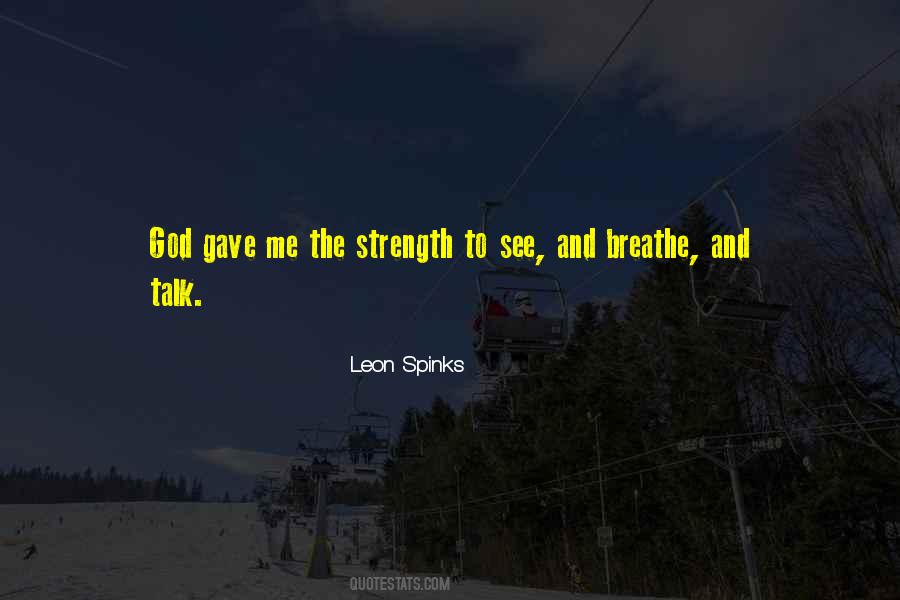 #33. The God we serve does not seek out the perfect, but instead uses our imperfections and our shortcomings for his greater good. I am humbled by my own limitations. But where I am weak, He is strong. - Author: Rick Perry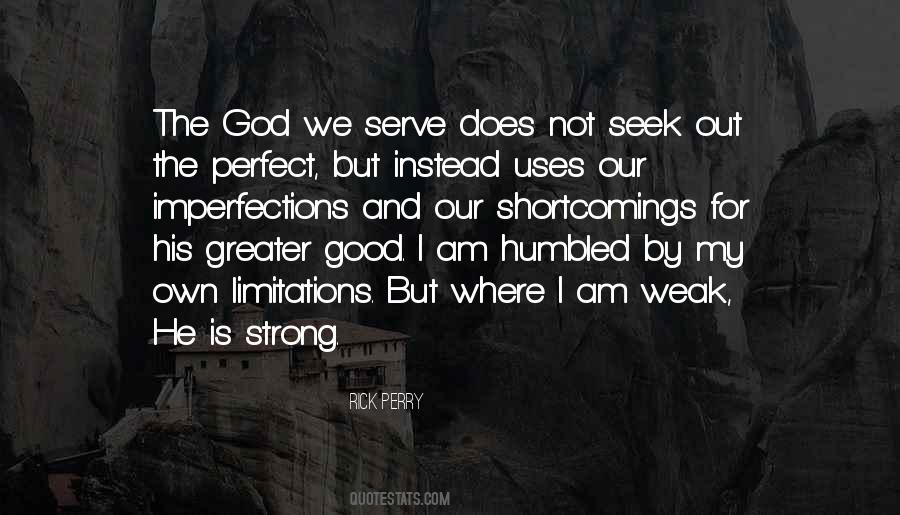 #34. Grass that is here today and gone tomorrow does not require much time to mature. A giant oak tree that lasts for generations requires much more time to grow strong. - Author: Henry T. Blackaby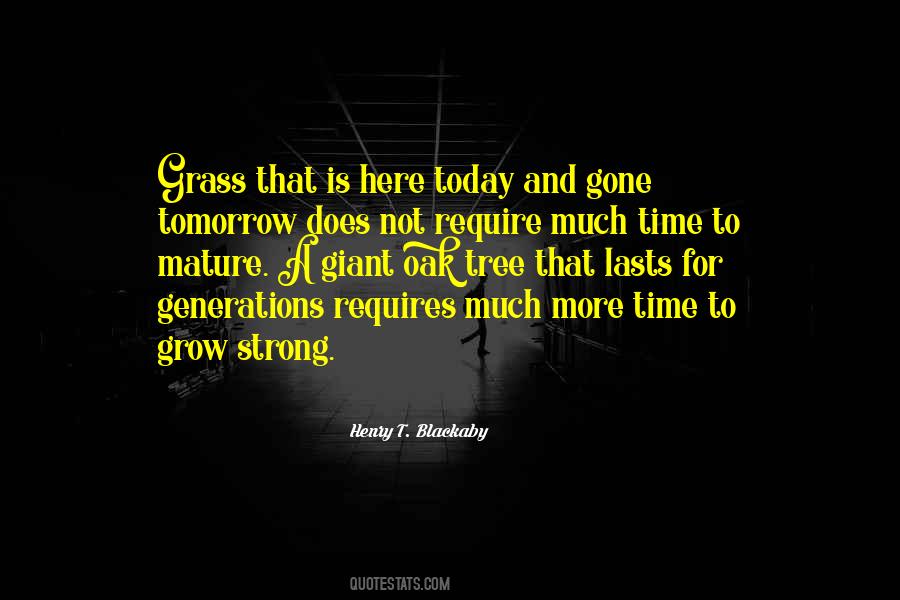 #35. The strength of opening manhood is never so well employed as in practicing subserviency to God's revealed will; it lends a grace and a beauty to religion, and produces an abundant harvest. - Author: Richard Mant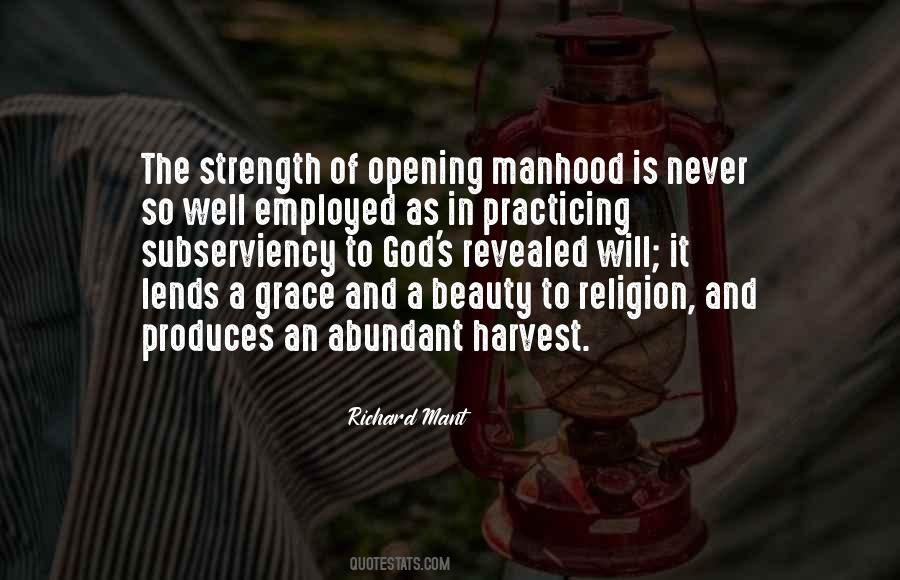 #36. Above his Lord. Perhaps because Knox himself found such abundant strength in the midst of great personal weakness, he was used of God to raise - Author: Douglas Bond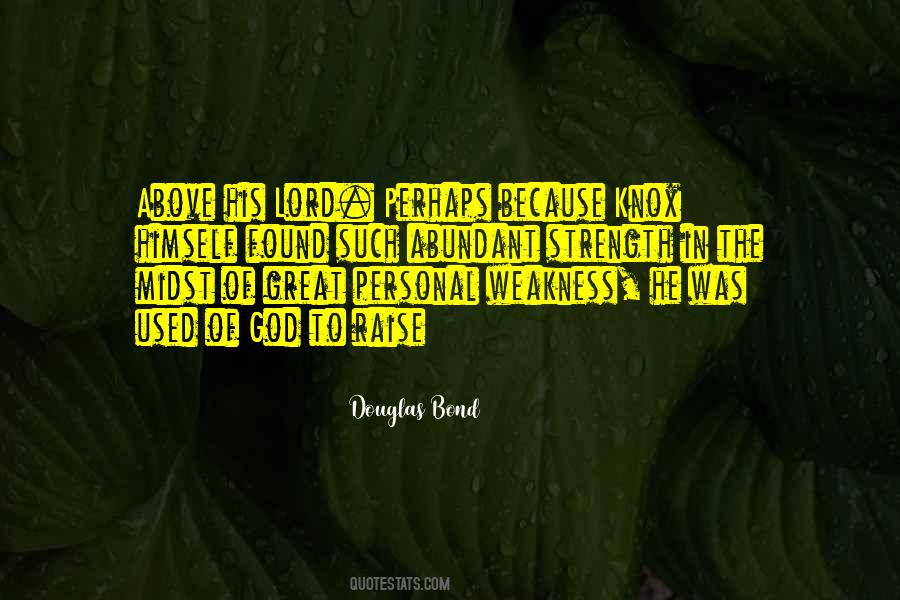 #37. It takes courage to speak up for your beliefs. - Author: Jim George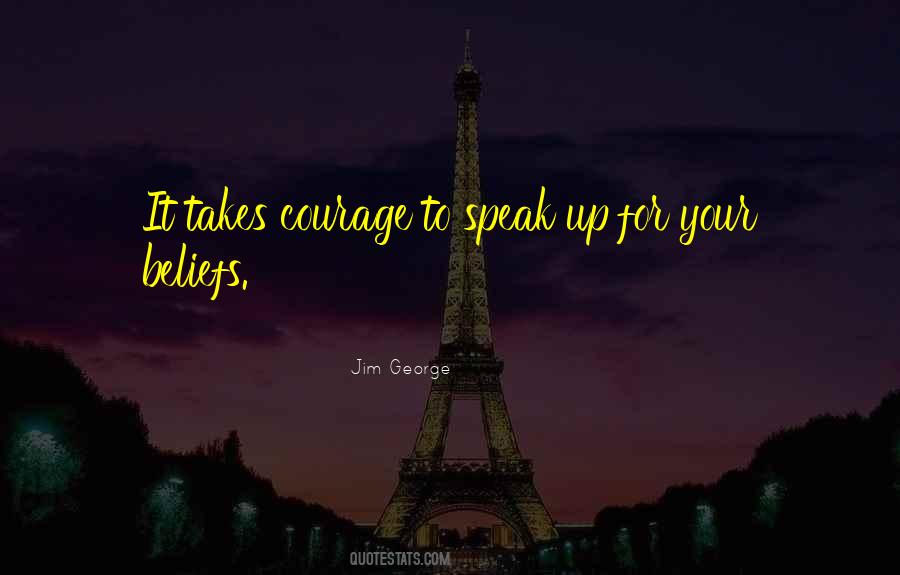 #38. There is nothing that we can see on earth which does not either show the wretchedness of man or the mercy of God. One either sees the powerlessness of man without God, or the strength of man with God. - Author: Blaise Pascal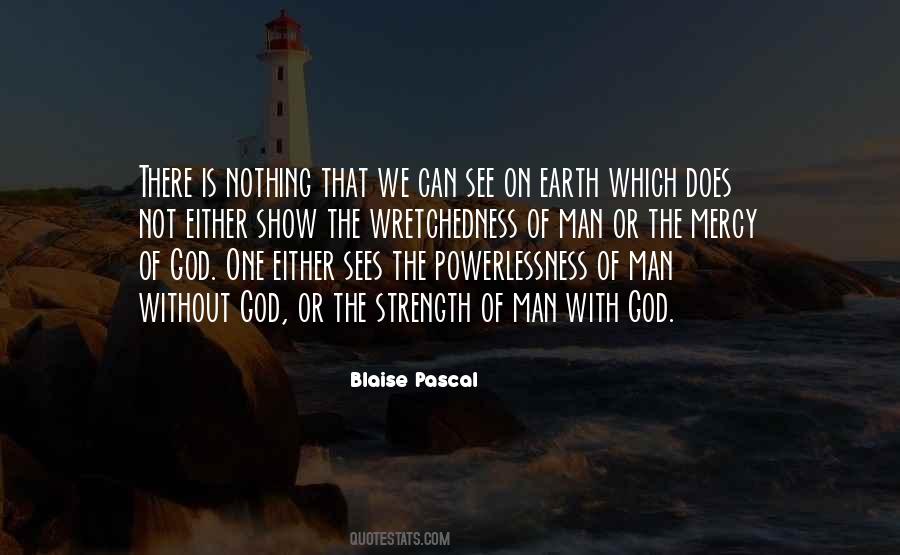 #39. That was what made them so hilarious and unafraid. That was the strength of the Nazis. [ ... ] They understood God better than anyone. They knew how to make Him stay away. - Author: Kurt Vonnegut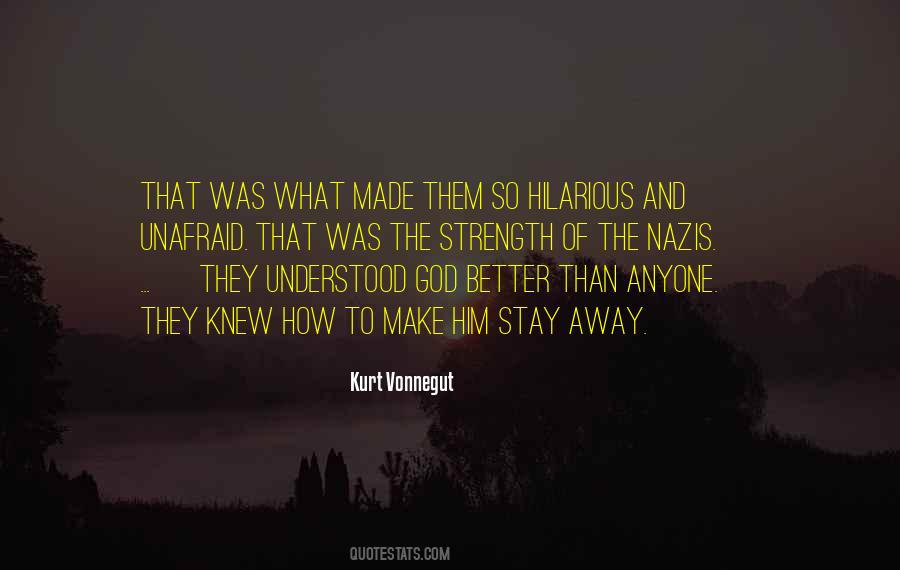 #40. King of Kings; my rock, my refuge! - Author: Lailah Gifty Akita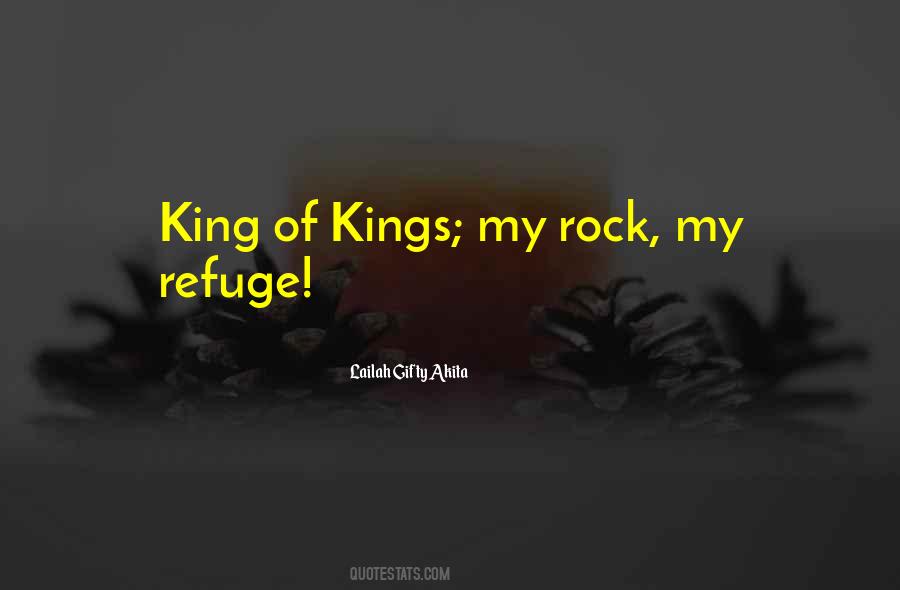 #41. Strength has two arms to reach for success.
Skill has ten arms to reach for success.
Wisdom has a hundred arms to reach for success.
Faith has a thousand arms to reach for success.
God has infinite arms to reach for success. - Author: Matshona Dhliwayo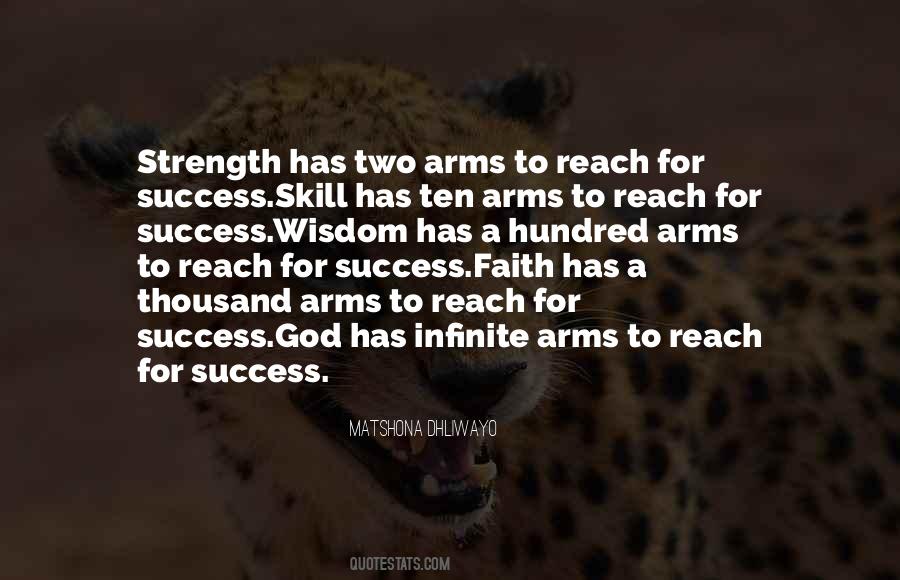 #42. What is a godly mother? A godly mother is one who loves the Lord her God with all her heart, soul, mind, and strength and then passionately, consistently, and unrelentingly teaches her child to do the same. - Author: Elizabeth George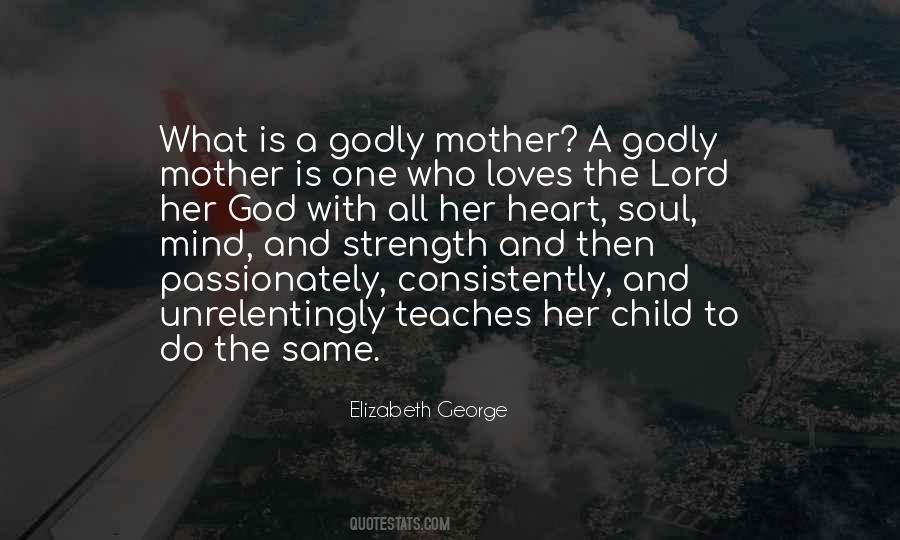 #43. Be sure that God Ne'er dooms to waste the strength he deigns impart. - Author: Robert Browning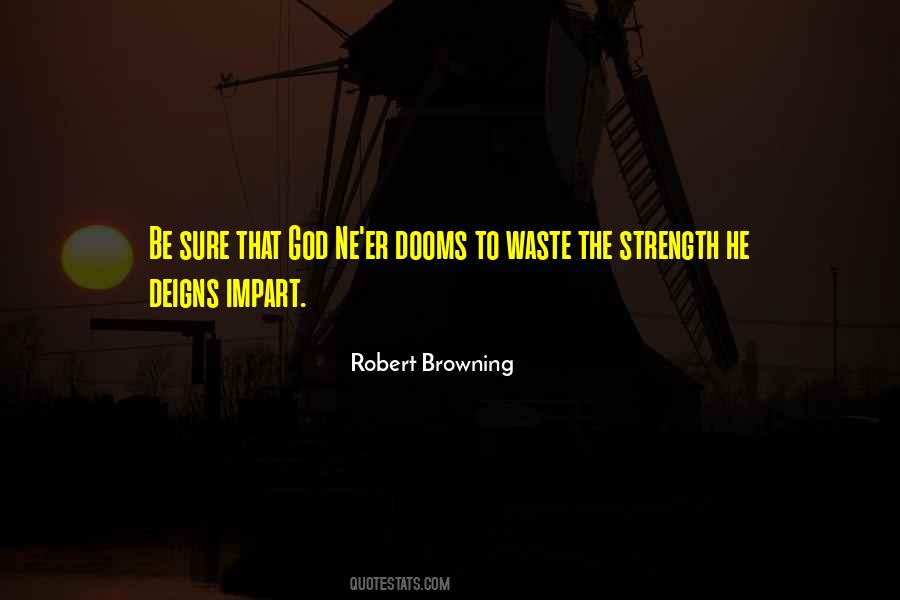 #44. God will give us strength to overcome the trials sent into our lives and will give us victory in every situation - Author: Sunday Adelaja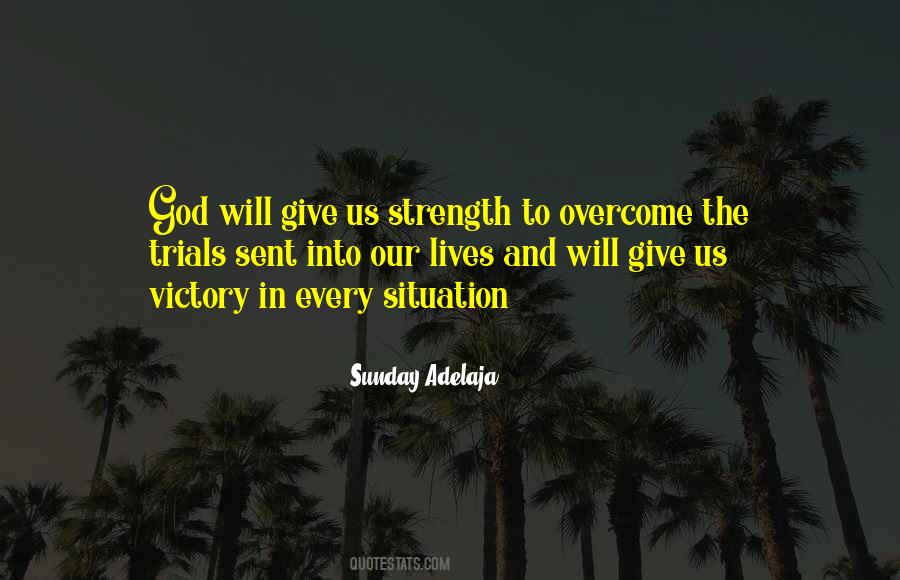 #45. I am so thankful to God for His daily provisions, grace, strength, protection, guidance and blessing. - Author: Lailah Gifty Akita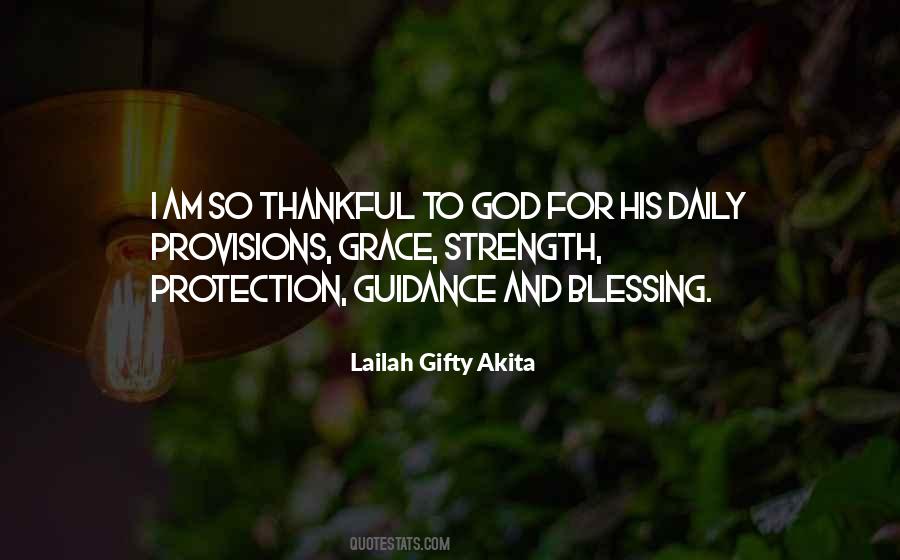 #46. But how good God is! How well He fits our trials to our strength! - Author: John Beevers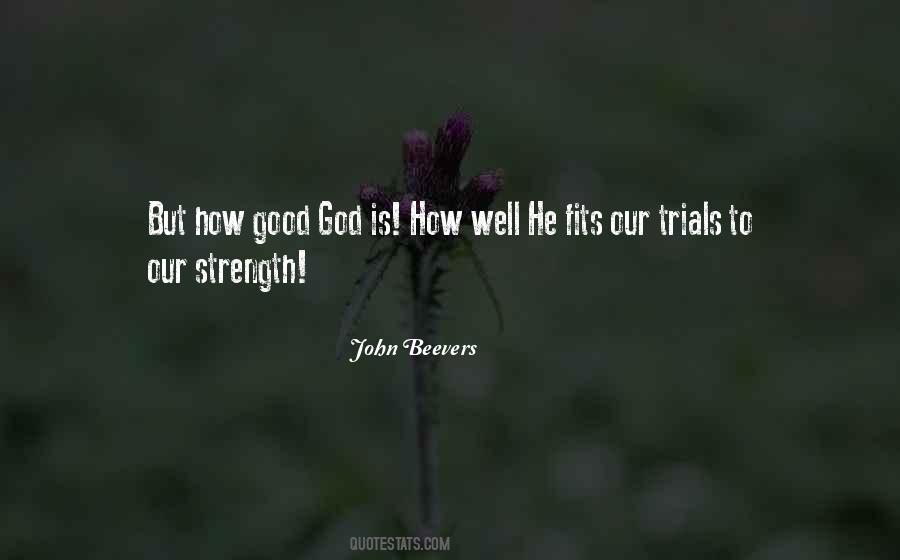 #47. God is an inner strength that is inside humans, therefore faith should be about breaking away from material bondage and the mechanical fabrication of human nurture.'

- Jagdeep Takk - Author: Jagdeep Takk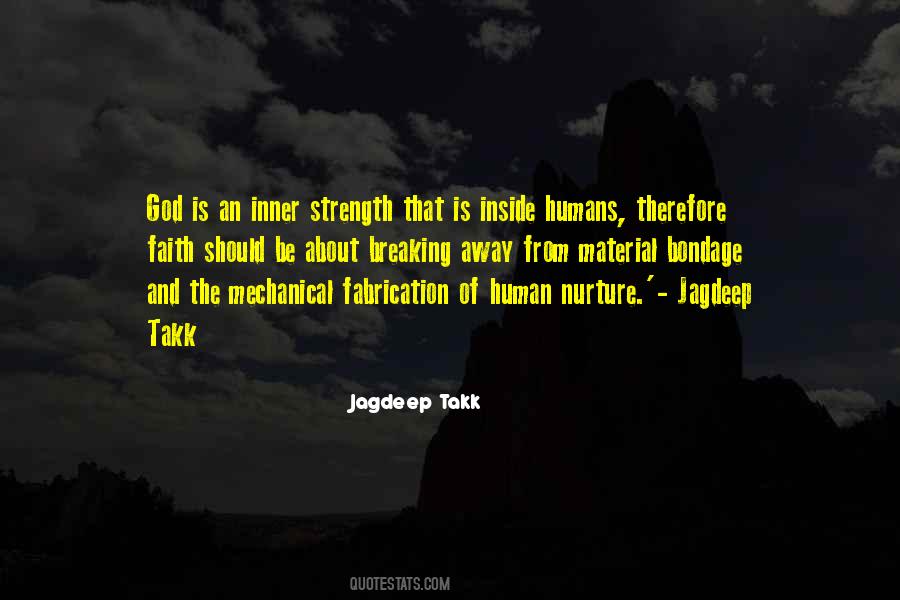 #48. His straight and perfect figure, muscled as the best of the ancient Roman gladiators must have been muscled, and yet with the soft and sinuous curves of a Greek god, told at a glance the wondrous combination of enormous strength with suppleness and speed. - Author: Edgar Rice Burroughs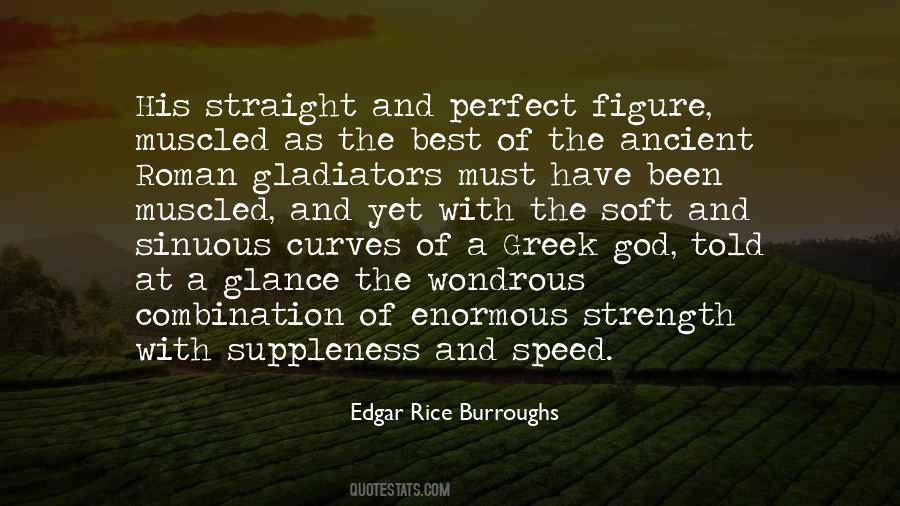 #49. Let us learn how the love of Christ, received into the heart, triumphs gradually but surely over all sin, transforms character, turning even its weakness into strength, and so, from the depths of transgression and the very gates of hell, raises men to God. - Author: Alexander MacLaren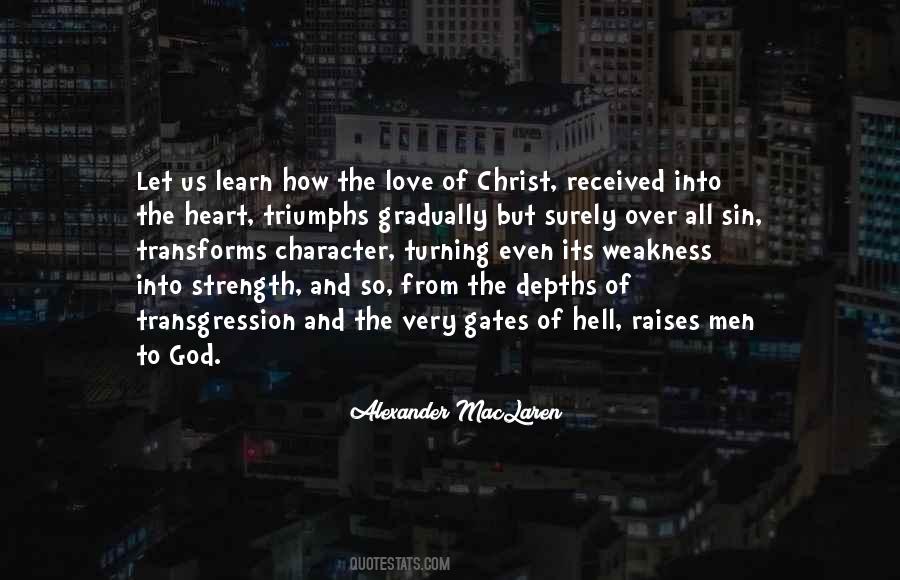 #50. For knowledge to become wisdom, and for the soul to grow, the soul must be rooted in God: and it is through prayer that there comes to us that which is the strength of our strength, and the virtue of our virtue, the Holy Spirit. - Author: William Mountford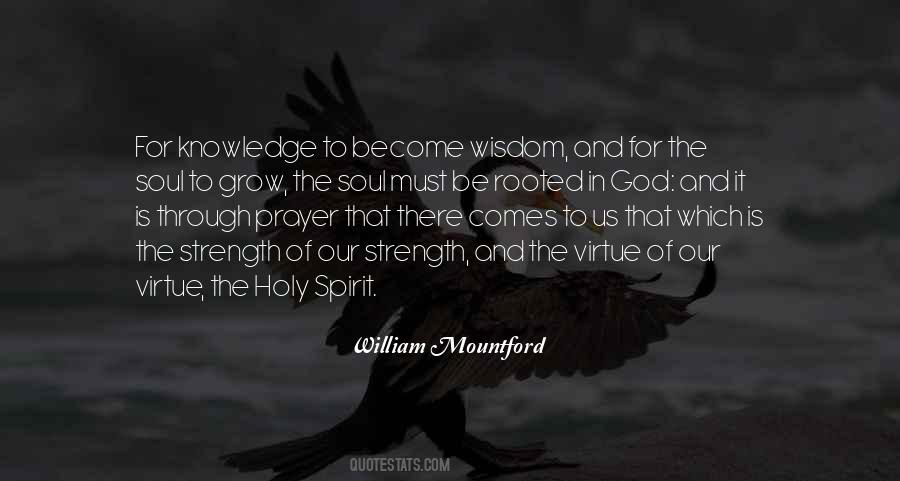 #51. We do fall away from faith. God's grace gives us strength to rise again. - Author: Lailah Gifty Akita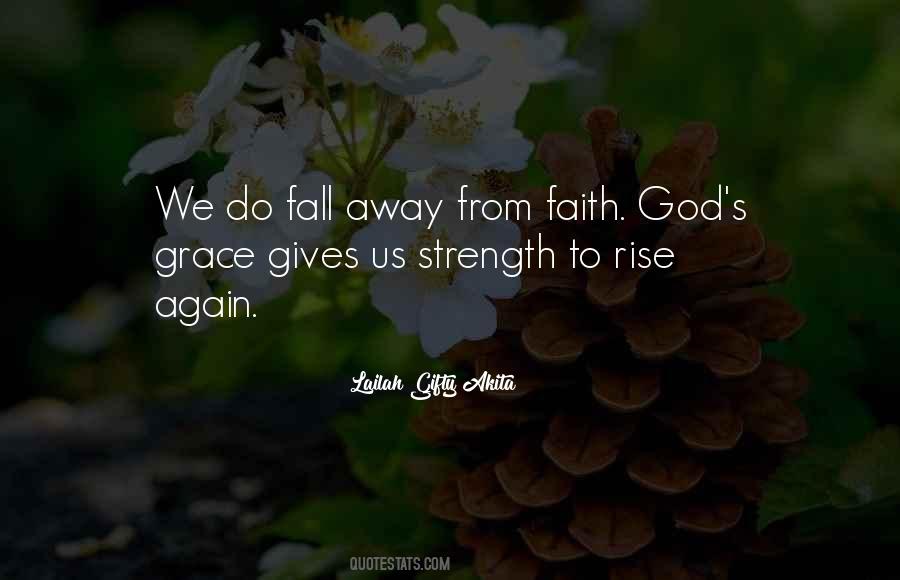 #52. My hope is in you, Lord. Be my refuge, for You are my strength ... Into Your hands, Lord, I commend my spirit. You have redeemed me, Lord, God of Truth. - Author: Bernadette Soubirous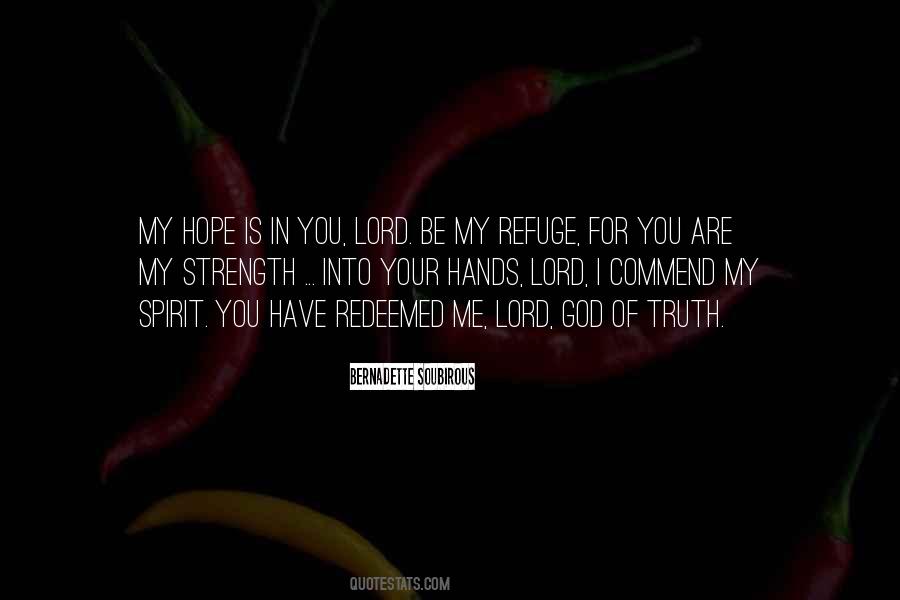 #53. The pressures of life and influence of society have caused many to become something and someone they are not. Remove the layers. Dig through the dust and debris. Find the genuine jewel - YOU. - Author: Bobby F. Kimbrough Jr.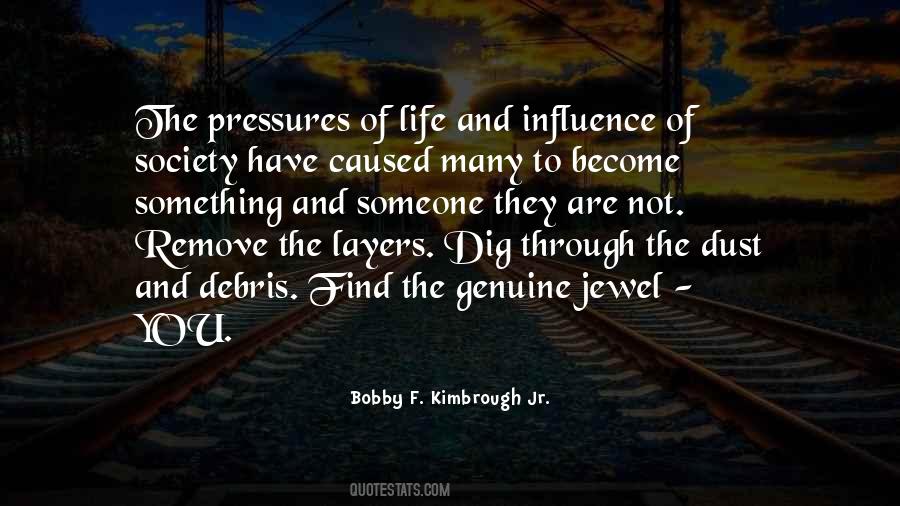 #54. The problem is people want help, but when help arrives you want to tell the help how to help you. Learn to RECEIVE help. - Author: Bobby F. Kimbrough Jr.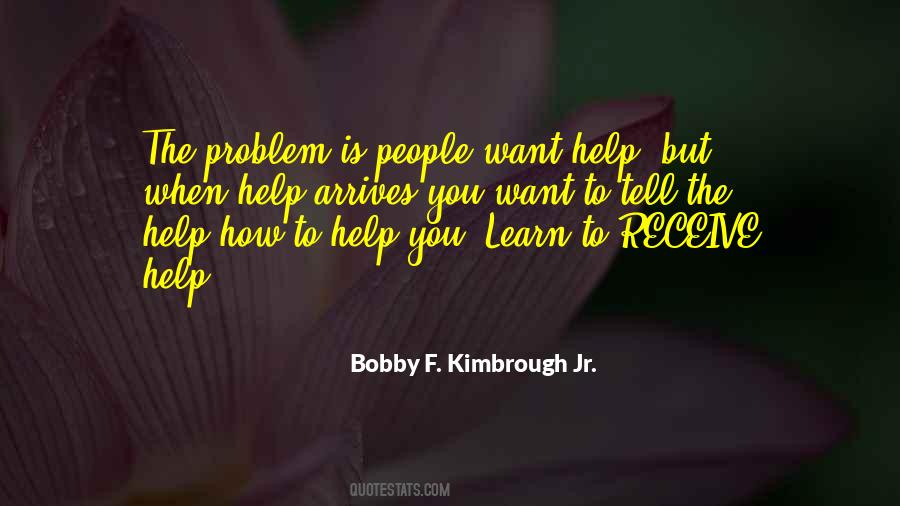 #55. Sleep is a patch of death, but three in the morn, full wide-eyed staring, is living death! You dream with your eyes open. God, if you had the strength to rouse up, you'd slaughter your half-dreams with a buckshot! But no, you lie pinned to a deep well-bottom that's burned dry. - Author: Ray Bradbury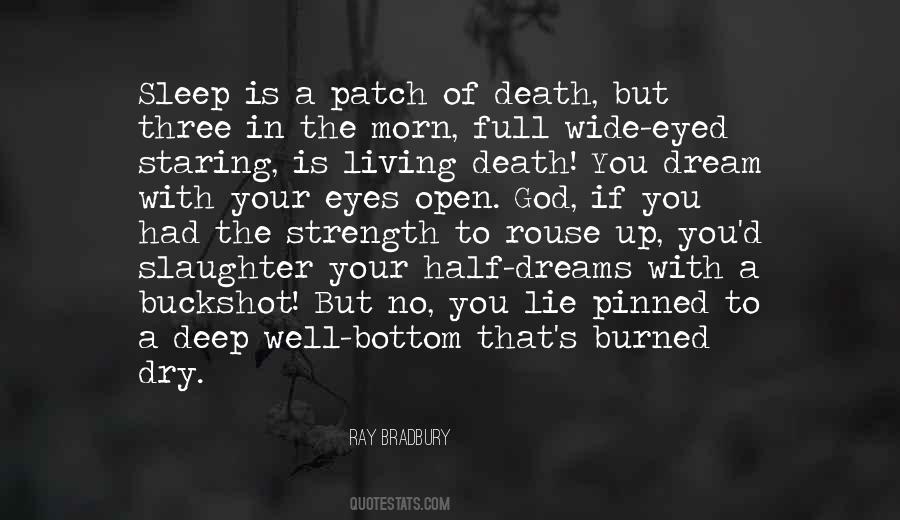 #56. Everything is given by God. All talent, creativity, ability, insight, and strength comes from him. In our own strength we can do nothing. - Author: Marvin J. Ashton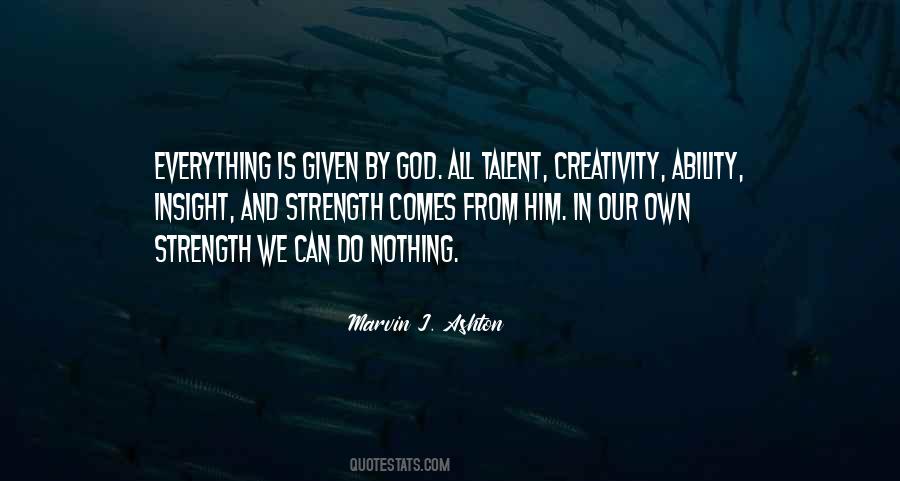 #57. Only when we cease to rely on our own strength can we discover that God's strength is always there for us. - Author: Scott Hahn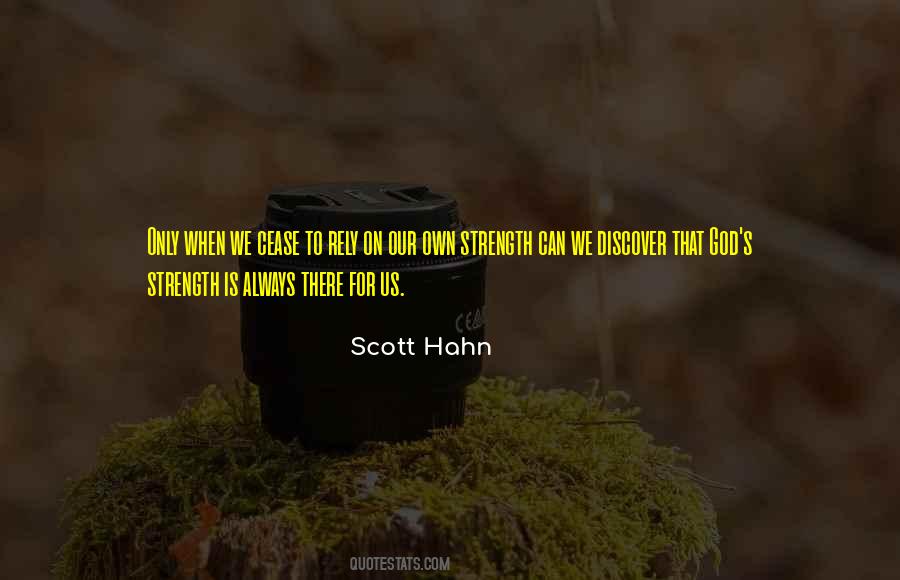 #58. It is only God who gives strength and wisdom for fulfill the God-given dream. - Author: Lailah Gifty Akita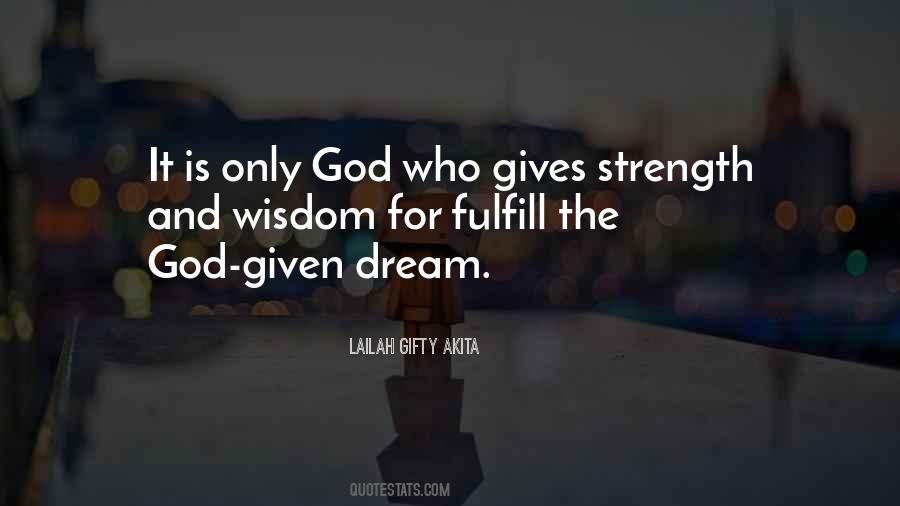 #59. Then Anu and Bel called by name me, Hammurabi, the exalted prince, who feared God, to bring about the rule of righteousness in the land, to destroy the wicked and the evil-doers; so that the strong should not harm the weak. - Author: Code Of Hammurabi 1772 B.C.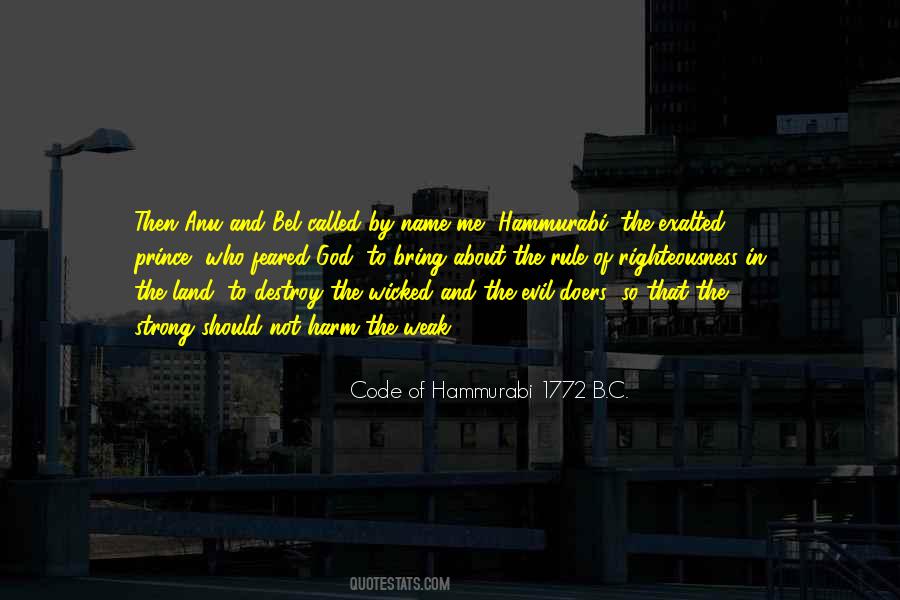 #60. I do not know how we could run so far and so fast and so long. We did not run with our own strength but with strength from God. That is the only explanation. The - Author: Lopez Lomong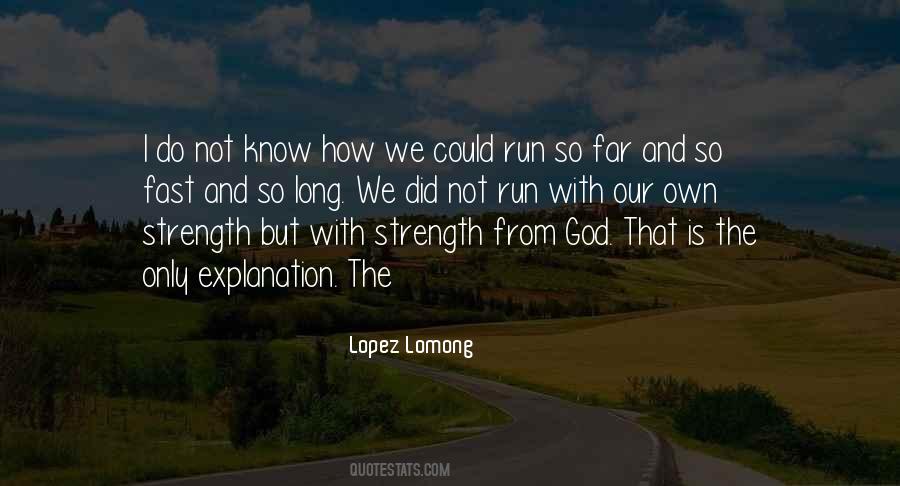 #61. God is our refuge and strength, an ever-present help in trouble. (Psalm 46:1) - Author: June Hunt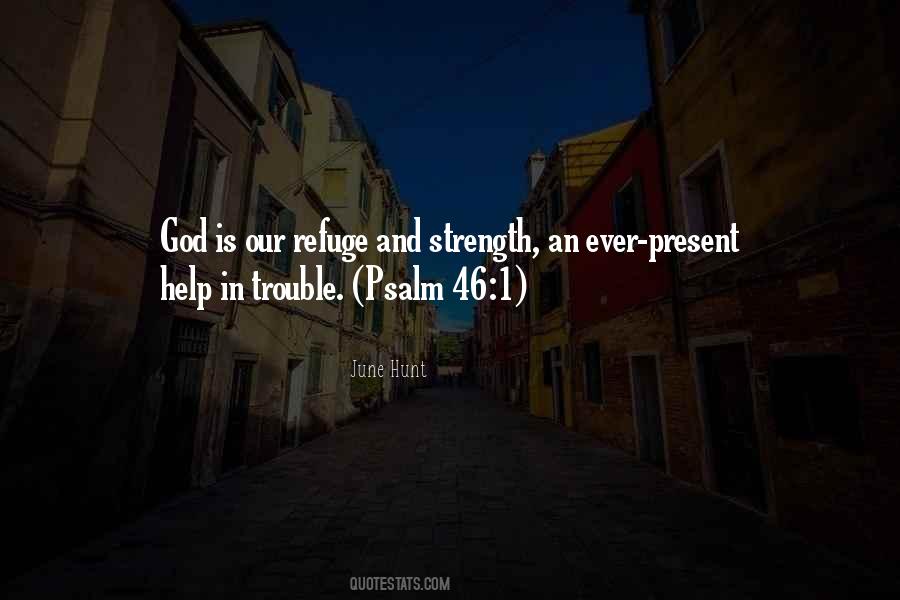 #62. Mary had Joseph. Esther had Mordecai. Ruth had Boaz. We will not become the women God intends us to be without the guidance, counsel, wisdom, strength, and love of good men in our lives. - Author: John Eldredge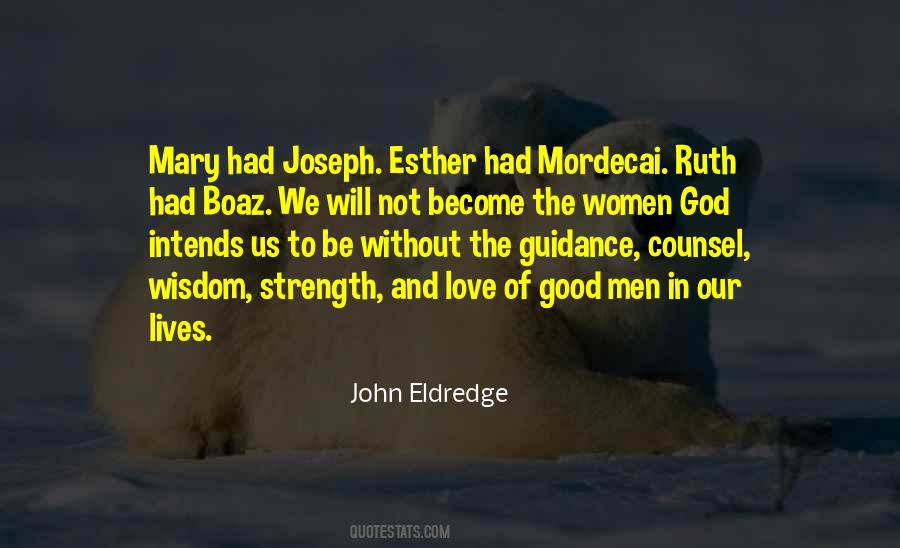 #63. God commands us to love Him, not as much as He deserves, because He knows our capabilities and therefore He does not ask us to do what we cannot do. But He asks us to love Him according to
our strength, with all our soul, all our mind, and all our heart. - Author: Pio Of Pietrelcina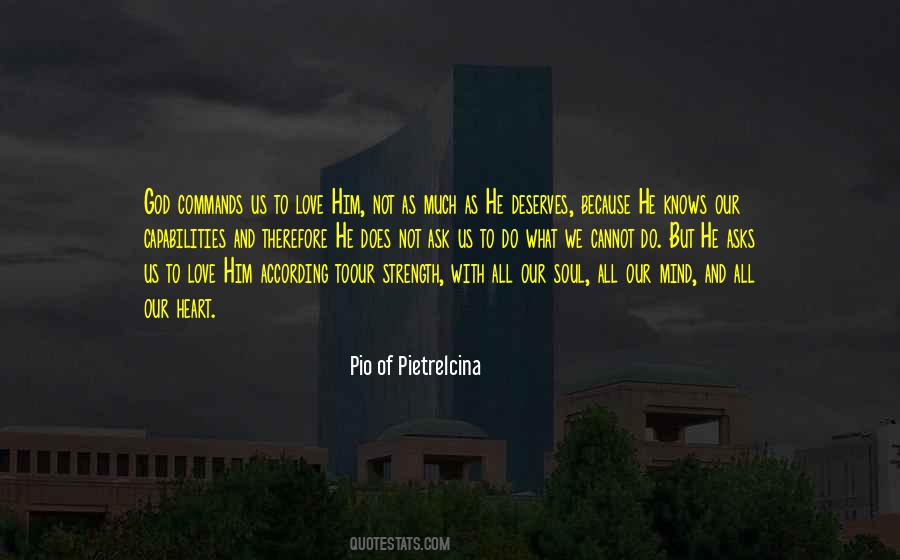 #64. Indeed, on the face of it, this man of abnormal strength and constitution and obscure ambition, whom Hugh would never know, could never deliver nor make agreement to God for, but in his way loved and desired to help, had triumphantly succeeded in pulling himself together. - Author: Malcolm Lowry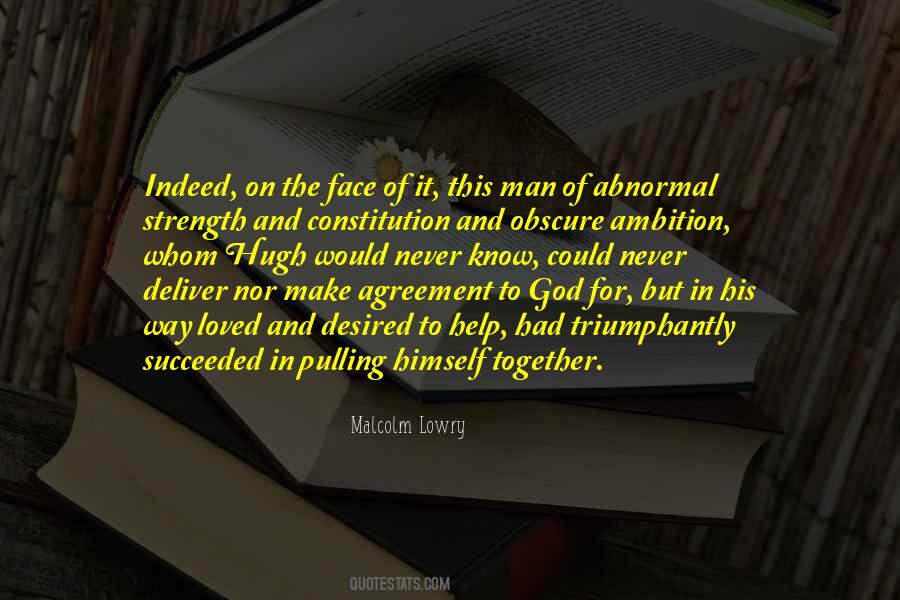 #65. But they are deeply guilty, for their own strength is their god. - Author: Anonymous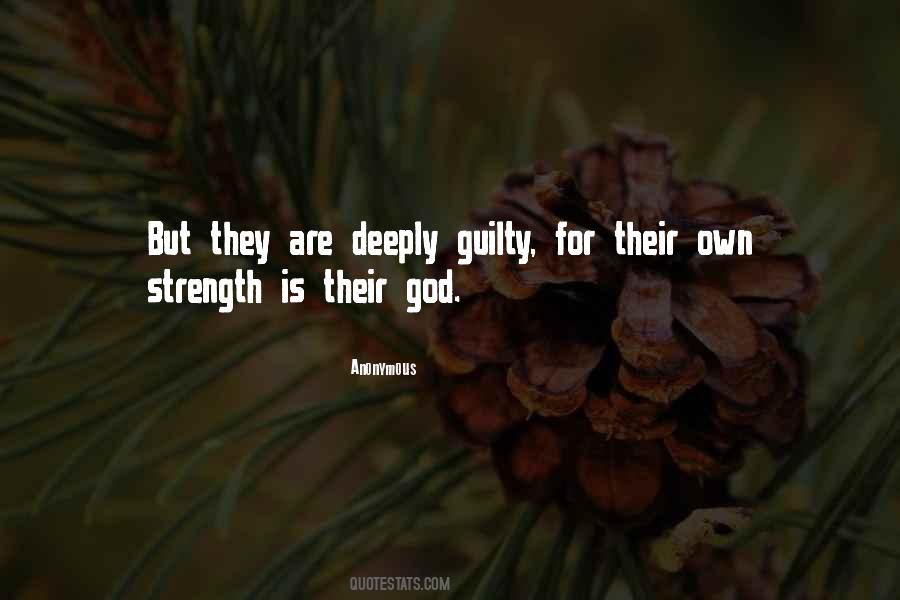 #66. There are problems and conditions of this world that man nor woman can solve; it requires His grace and mercy. - Author: Bobby F. Kimbrough Jr.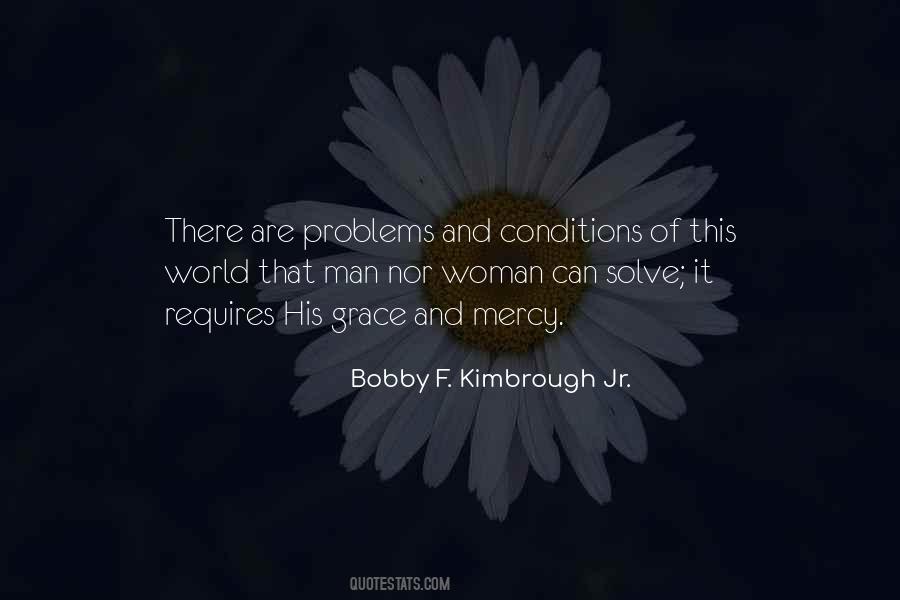 #67. It is only by grace and hope in great God of wonders, we receive strength and vitality for everyday life. - Author: Lailah Gifty Akita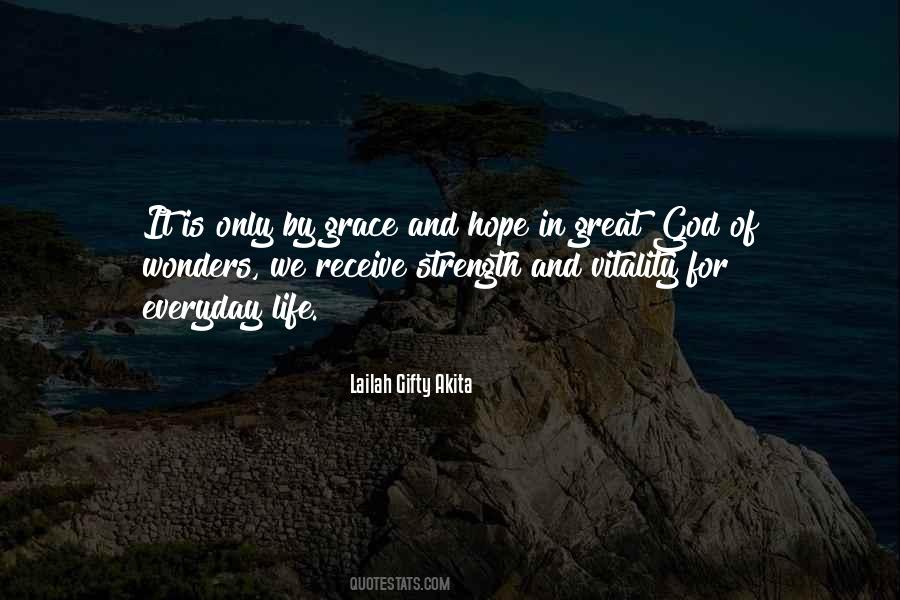 #68. Being molded into something God wants you to be is such a moving force that your whole personality would change. Joy, peace, strength, compassion, the light, the road ... all would touch your life like a moving orchestra. Breathing life into your soul. - Author: Phil Mitchell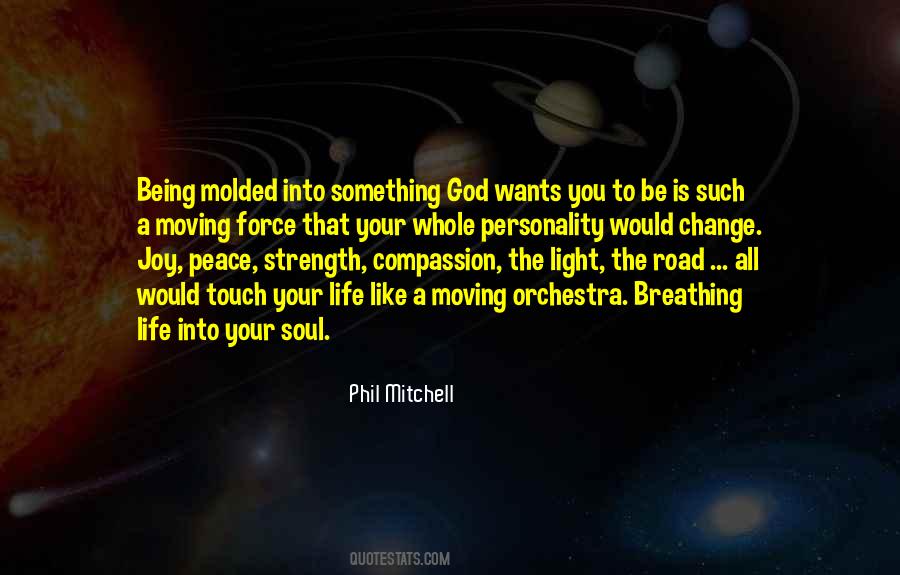 #69. Self-realization means to know truth through yourself, and not through others. By seeking God first, through Self-realization, all things-strength, power, prosperity, wisdom, health, and immortality-will be added unto you. - Author: Paramahansa Yogananda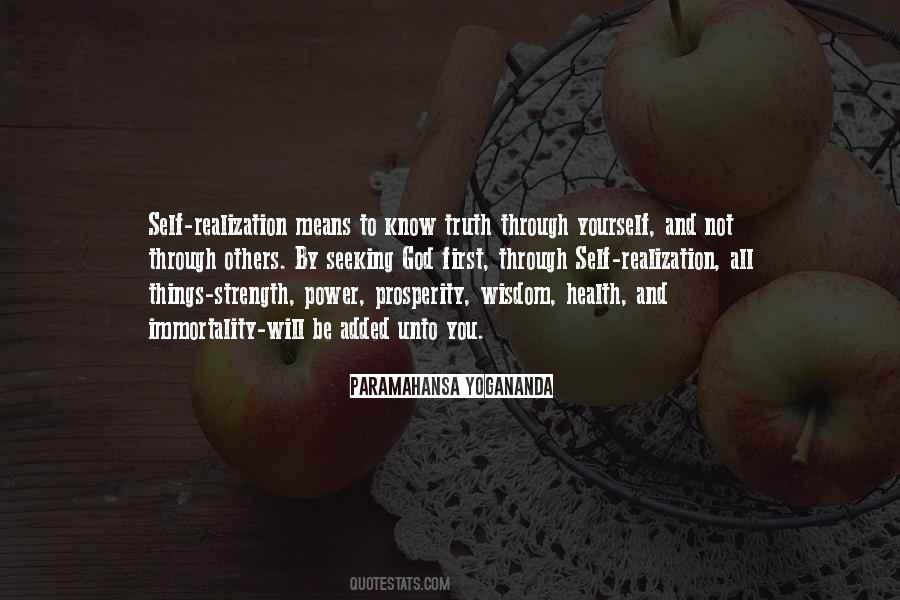 #70. God has never promised a life without suffering, but He has promised to comfort us and give us the strength to carry on. He has also promised to work good out of everything that happens to us if we love Him and continue wanting His will in our lives (Rom. 8:28). - Author: Joyce Meyer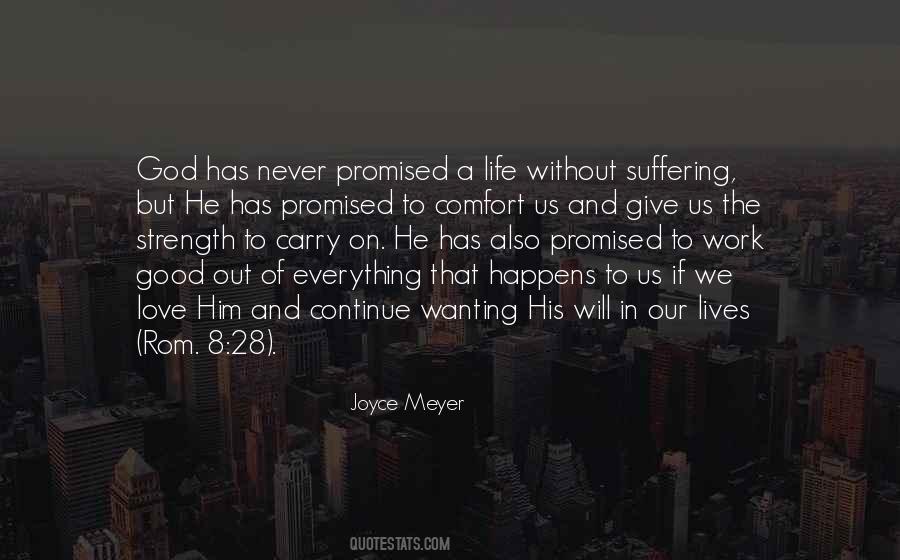 #71. This was thing about temptations. God didn't take them away. They were there - powerful and still needing to be dealt with. If you gave them an inch of leeway, they had the dark strength to take you under. - Author: Becky Wade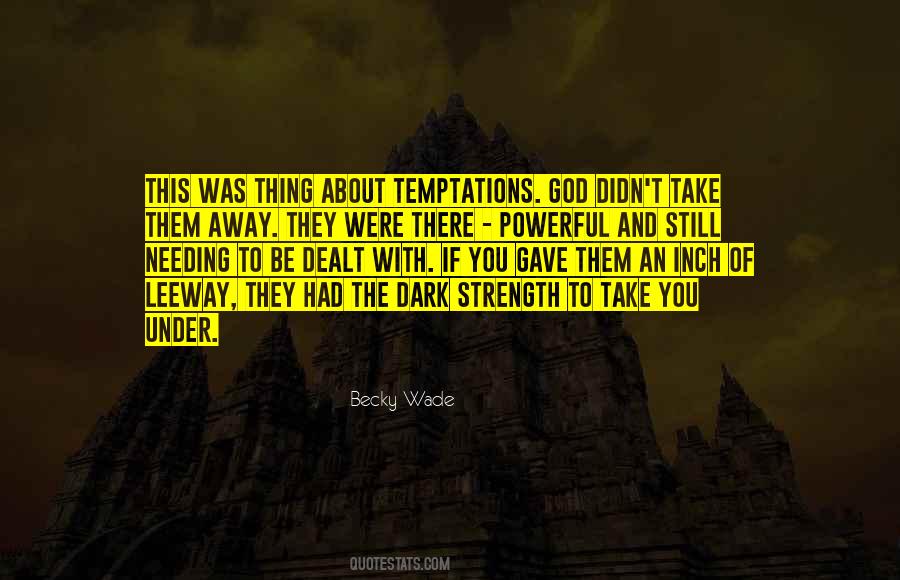 #72. You must love the Lord your God with all your heart, all your soul, all your strength, and all your mind." And, "Love your neighbor as yourself." - Luke 10:27 - Author: Gary Chapman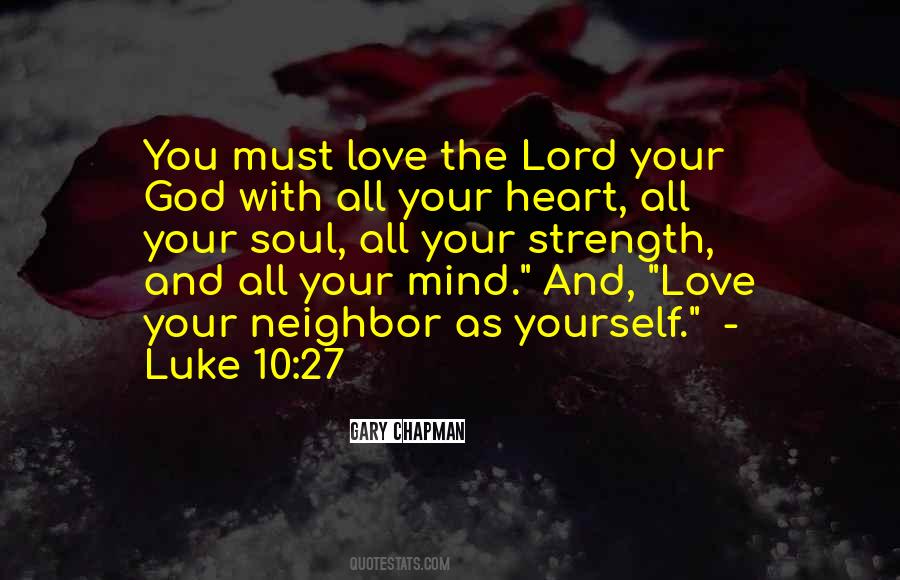 #73. Faith is not the belief that everything will be all right tomorrow, but the belief that I possess the strength to make everything all right today. - Author: Charles F. Glassman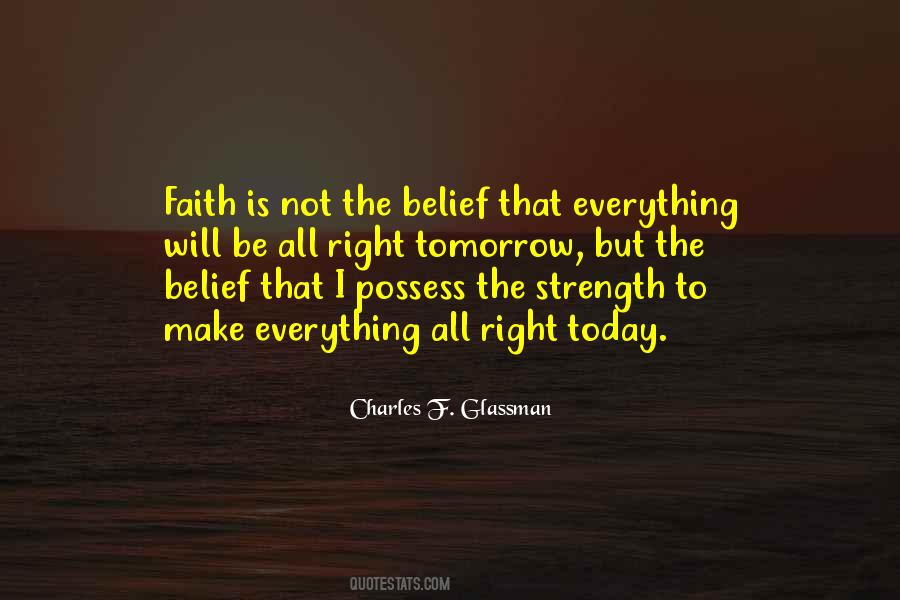 #74. It is God that accomplishes all term to hopes, God, who overtakes the flying eagle, outpasses the dolphin in the sea; who bends under his strength the man with thoughts too high. - Author: Pindar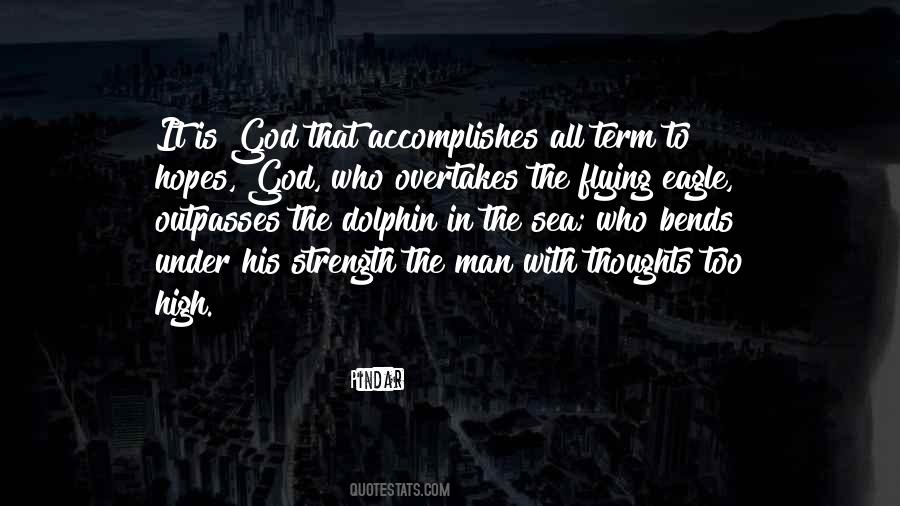 #75. Man should earnestly desire the well - being of all God's creations and pray that we may have the strength to do so. - Author: Mahatma Gandhi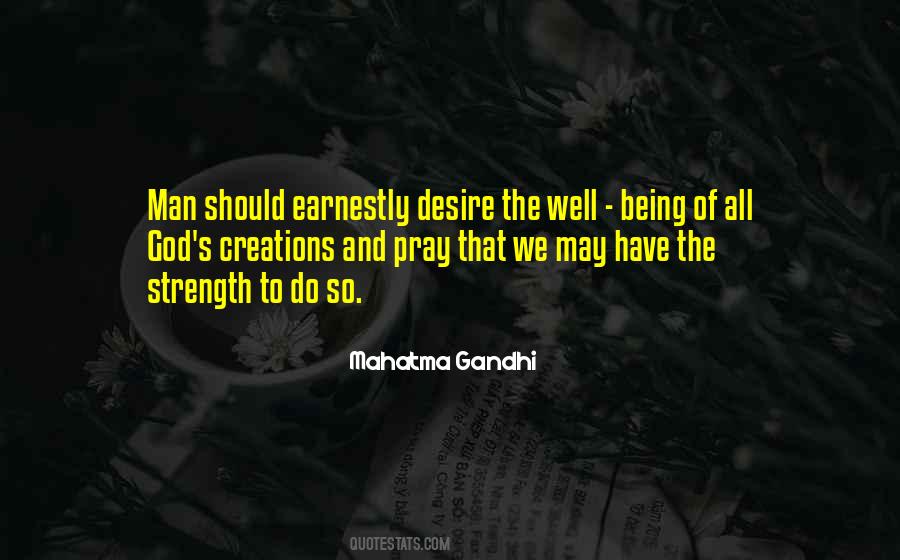 #76. Thor might be god of strength and war, Odin of wisdom, but he sometimes wondered if it wasn't Loki, the trickster god, who stood behind what unfolded. A lie can run deeper than strength or wisdom. And hadn't the world proved to be a bitter joke? - Author: Mark Lawrence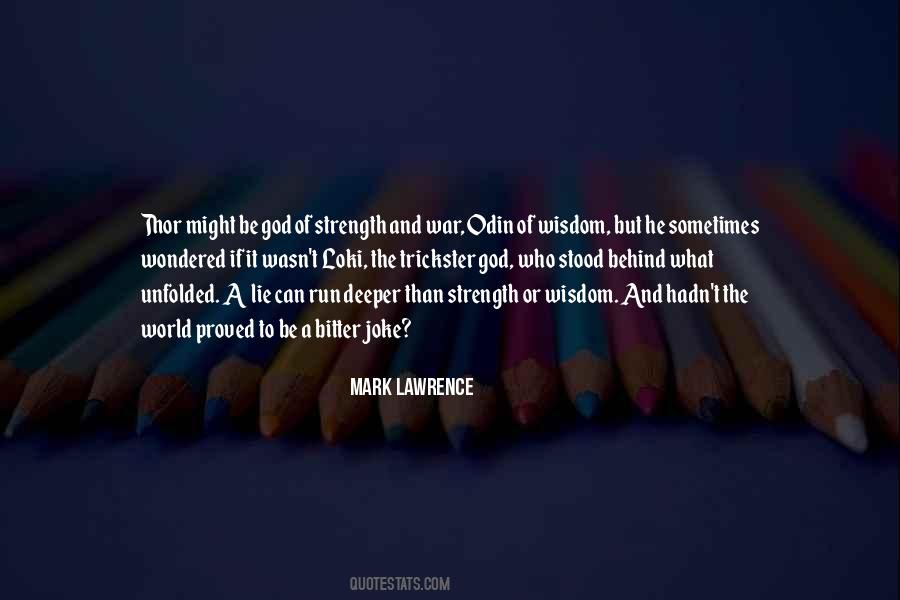 #77. God has always been in my heart and a part of my life and my familys lives. It is through Him that we draw our strength. - Author: Michael Jackson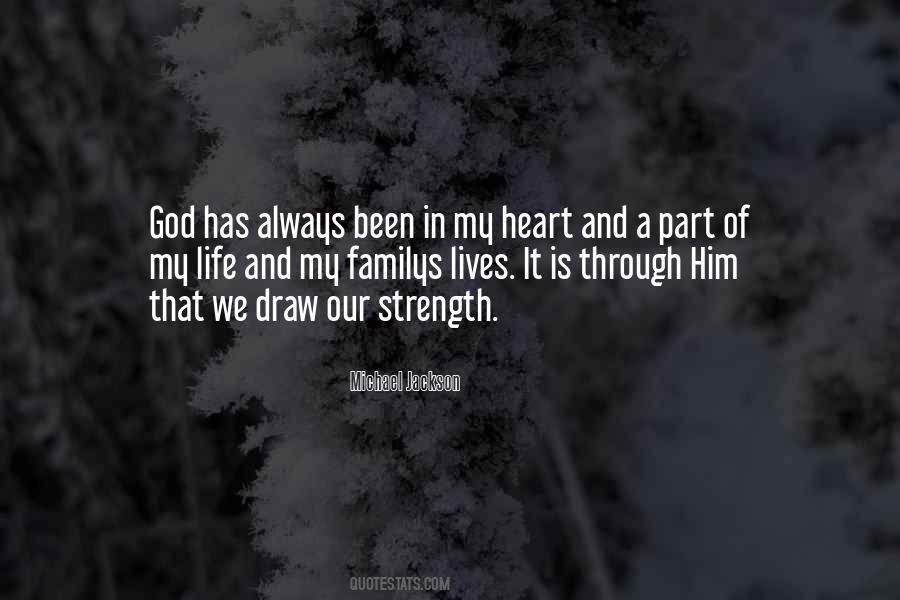 #78. May the strength of God pilot us, may the wisdom of God instruct us, may the hand of God protect us, may the word of God direct us. Be always ours this day and for evermore. - Author: Saint Patrick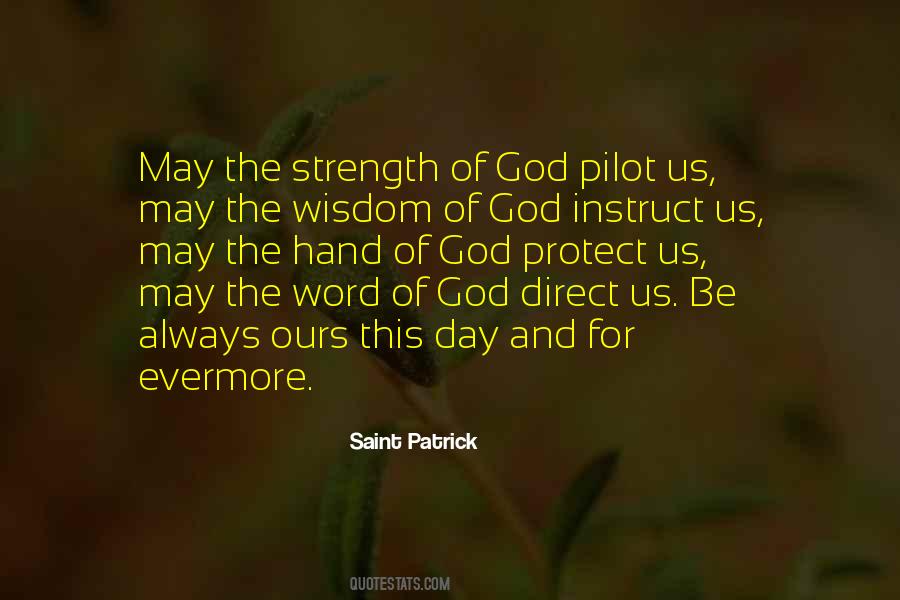 #79. A religious man is a person who holds God and man in one thought at one time, at all times, who suffers harm done to others, whose greatest passion is compassion, whose greatest strength is love and defiance of despair. - Author: Abraham Joshua Heschel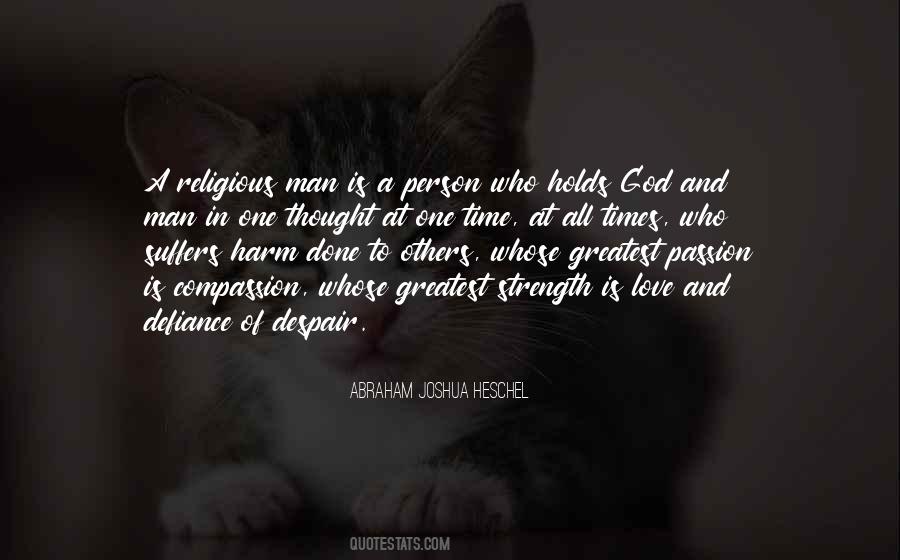 #80. Fall to your knees and thank God for Fox News. Pray for Roger Ailes and Rupert Murdoch. Pray for them. Pray for strength and spine, and pray that everybody involved has chicken salad for lunch so it doesn't clog anybody's arteries. Keep them going. - Author: Glenn Beck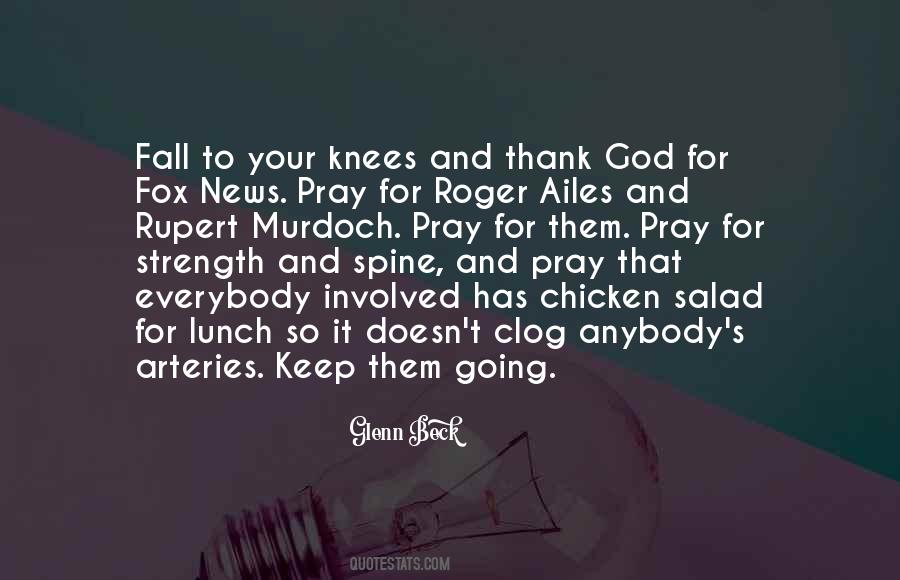 #81. May God strengthen you for a great work. - Author: Lailah Gifty Akita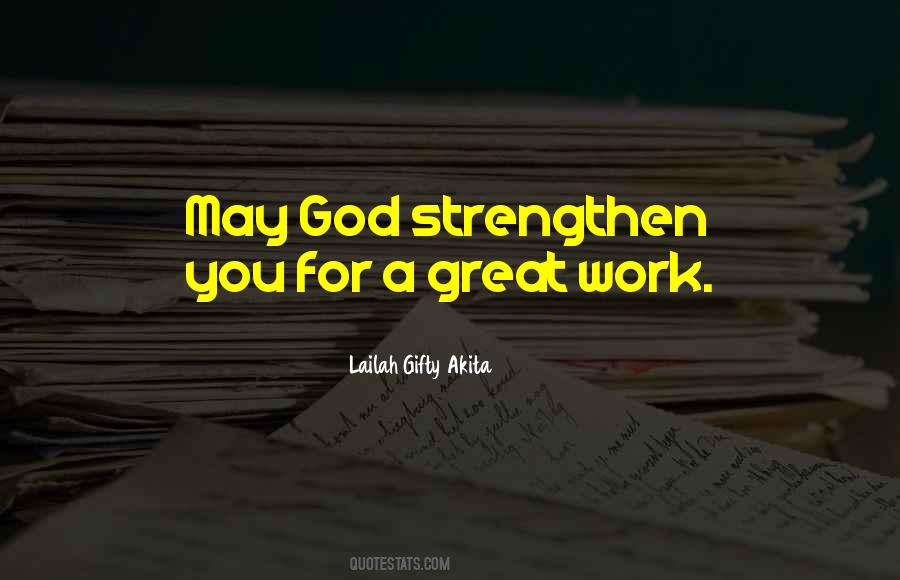 #82. In the Bible there are three distinctive meanings of grace; It means the mercy and active love of God; It means the winsome attractiveness of God; It means the strength of God to overcome. - Author: Charles L. Allen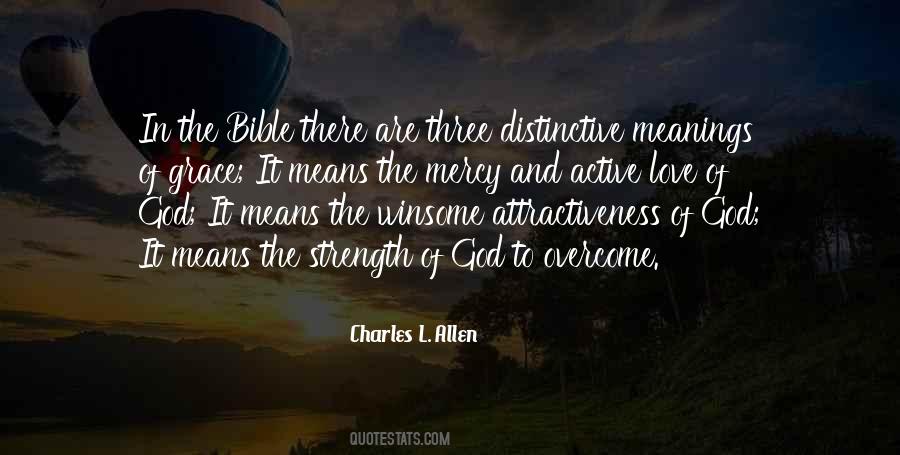 #83. Find what strength you have to terrorize your enemy and the enemy of God. - Author: Yasser Arafat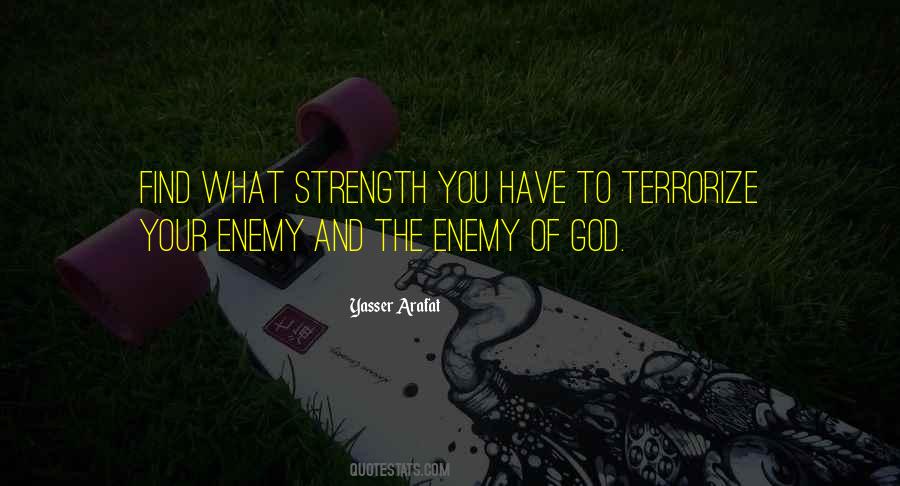 #84. When your strength goes down, remember God is up to uplift you! - Author: Ernest Agyemang Yeboah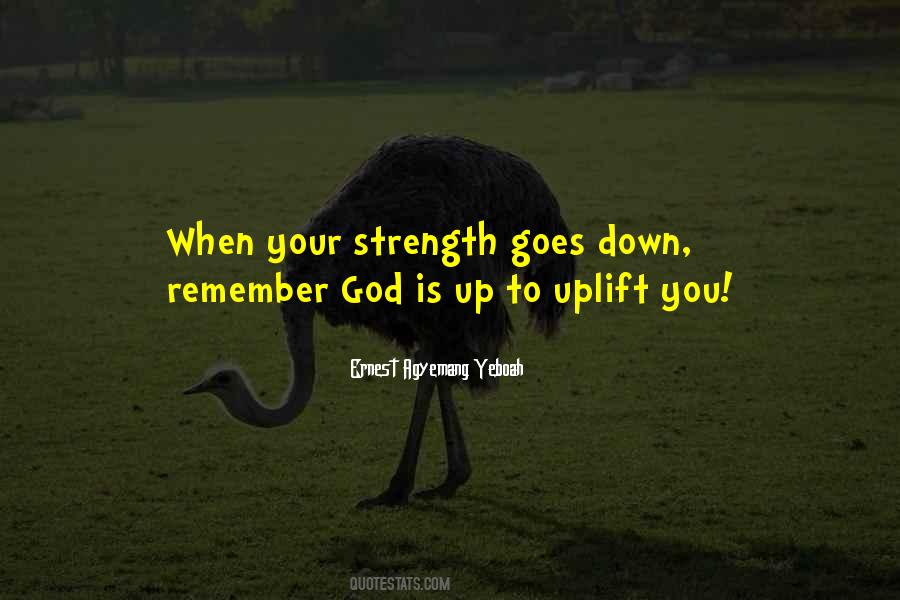 #85. Once more, Never think that you can live to God by your own power or strength; but always look to and rely on him for assistance, yea, for all strength and grace. - Author: David Brainerd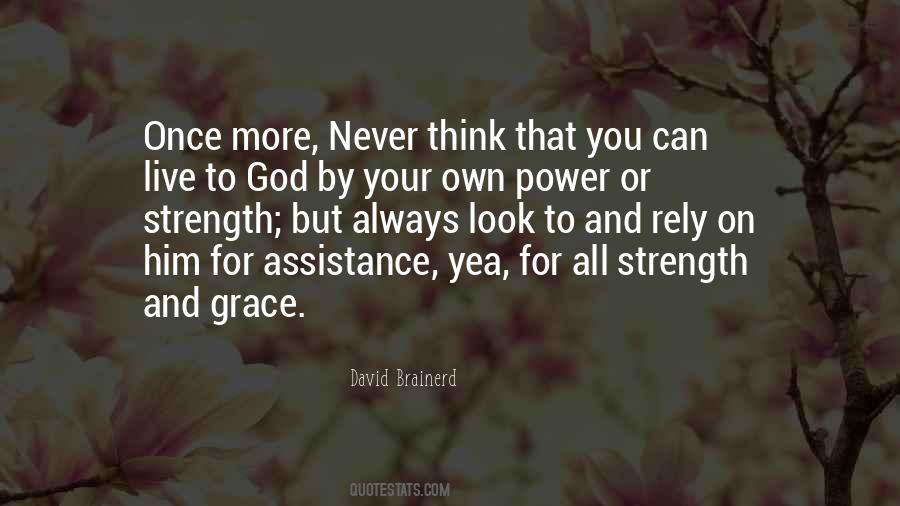 #86. God looked and smelled so fucking delicious, like masculinity and aftershave. Day knew the grip on his neck was not to hurt him, it was to show him who was in charge. God's sheer strength and power had Day feeling like he could come right there in the small conference room. "Oh, - Author: A.E. Via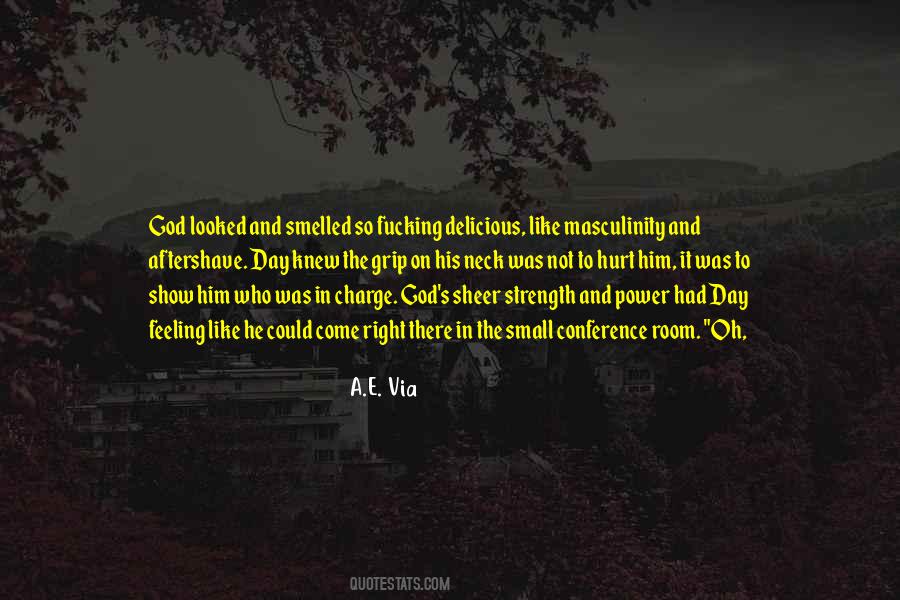 #87. Offering thanks and singing praises to God, compels the Lord to act in our behalf, to either calm the storm to a whisper, or to give us the strength to endure the storm. Whichever He chooses, He brings us out of our distress and into His peace." Meet Him on the Mountain pg. 138. - Author: Sheldon K. Bass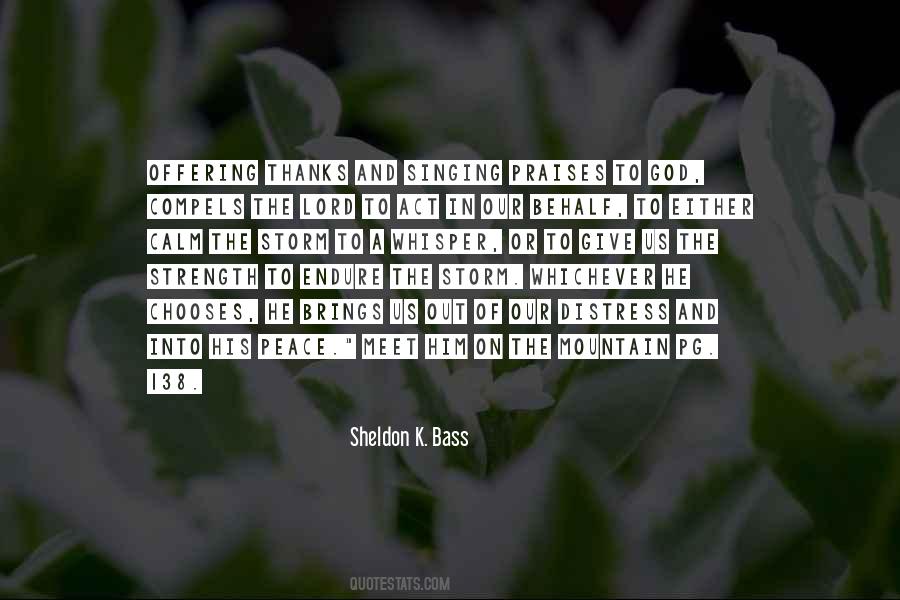 #88. No one is strong in himself, but God gives strength. - Author: G.A. Henty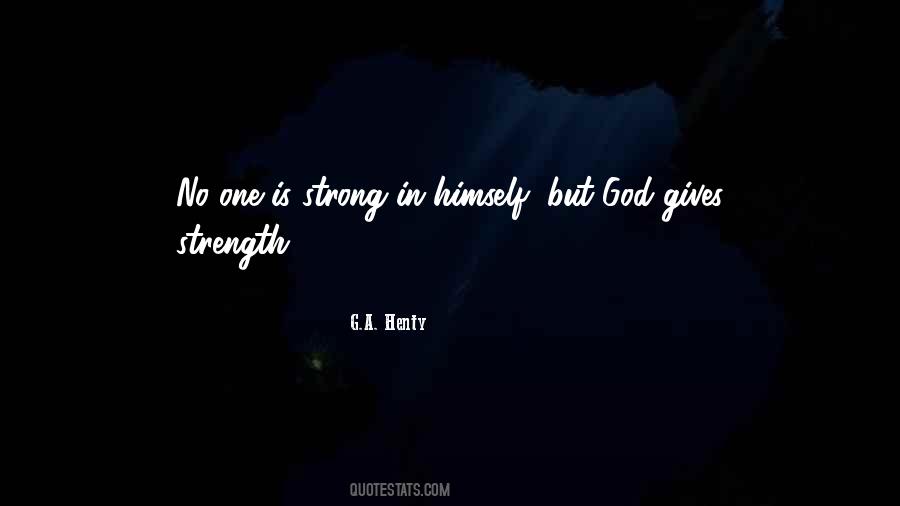 #89. To slay the sinner is then the first use of the Law, to destroy the life and strength wherein he trusts and convince him that he is dead while he lives; not only under the sentence of death, but actually dead to God, void of all spiritual life, dead in trespasses and sins. - Author: John Wesley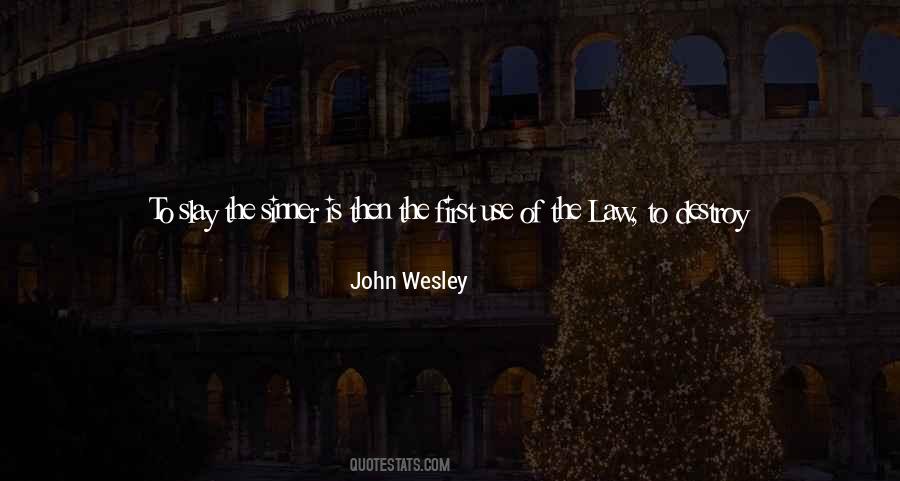 #90. But alas, if I have not maintained my victory, it is God's fault for not making man and the devil of equal strength. - Author: Victor Hugo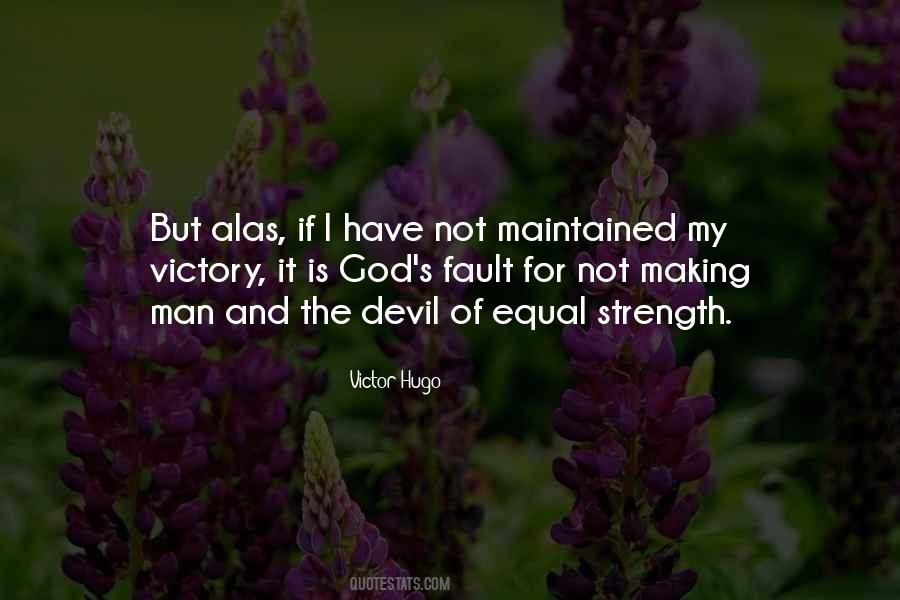 #91. God loves you and created you in His own image. - Author: Lailah Gifty Akita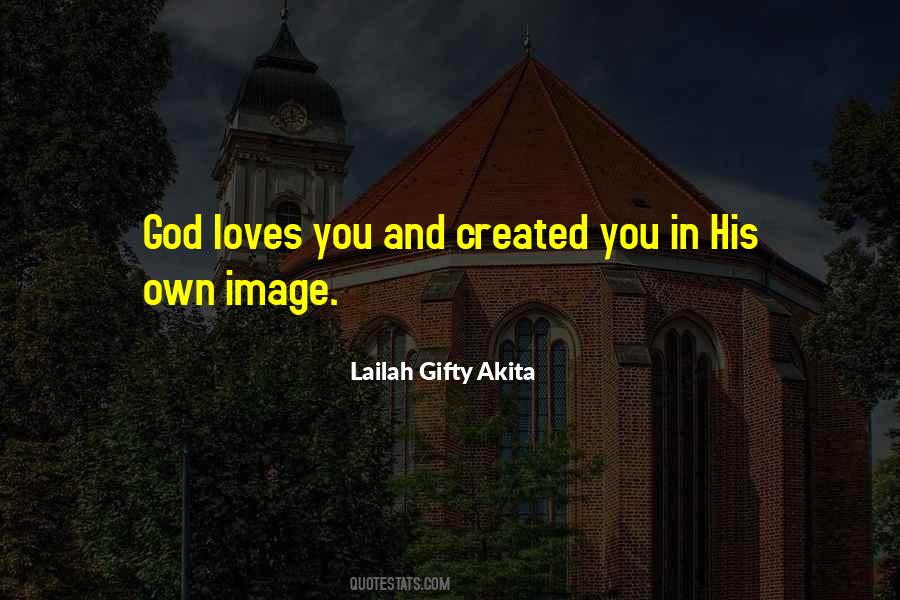 #92. Do not fear weakness. Lean on God who will be your strength through every dark storm. - Author: Dana Arcuri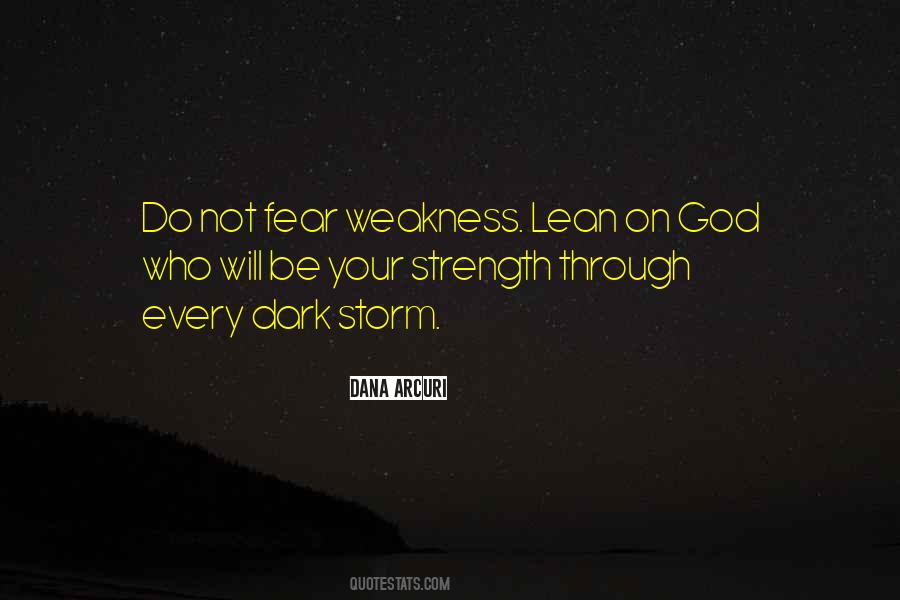 #93. God walks with us. He scoops us up in His arms or simply sits with us in silent strength until we cannot avoid the awesome recognition that yes, even now, He is there. - Author: Gloria Gaither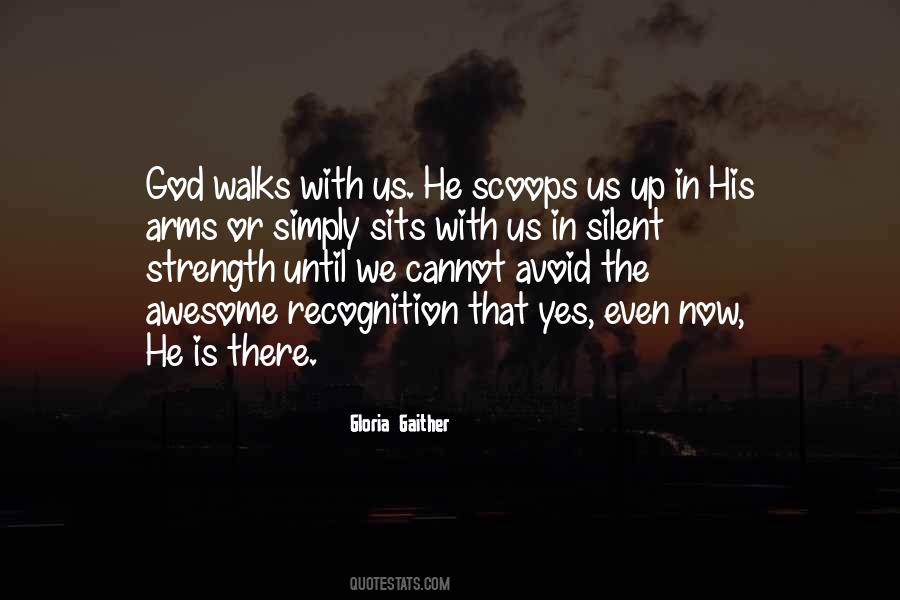 #94. The acid test for any theology is this: Is the God presented one that can be loved, heart, soul, mind, and strength? ... If it fails to set a lovable God
a radiant, happy, friendly, accessible, and totally competent being
before ordinary people, we have gone wrong - Author: Dallas Willard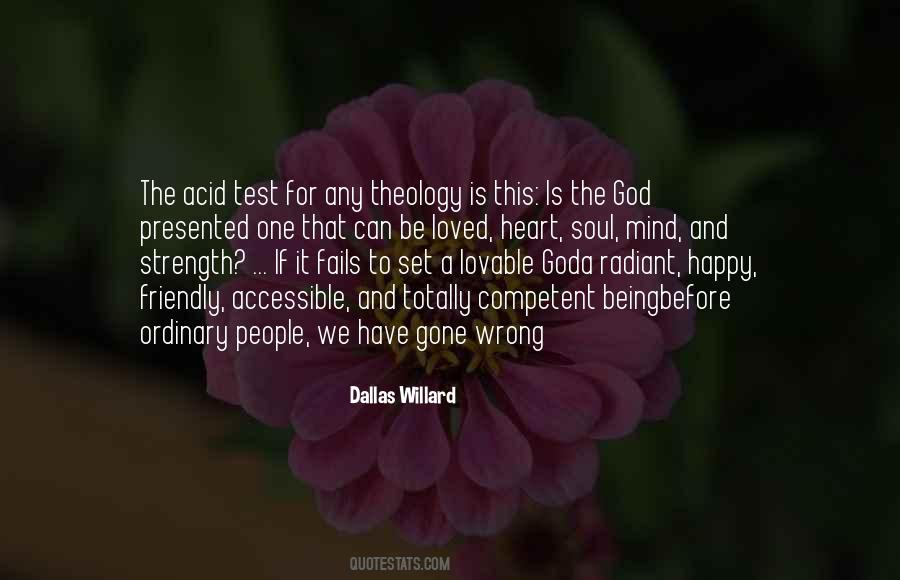 #95. A conviction that you are a daughter of God gives you a feeling of comfort in your self-worth. It means that you can find strength in the balm of Christ. It will help you meet the heartaches and challenges with faith and serenity. - Author: James E. Faust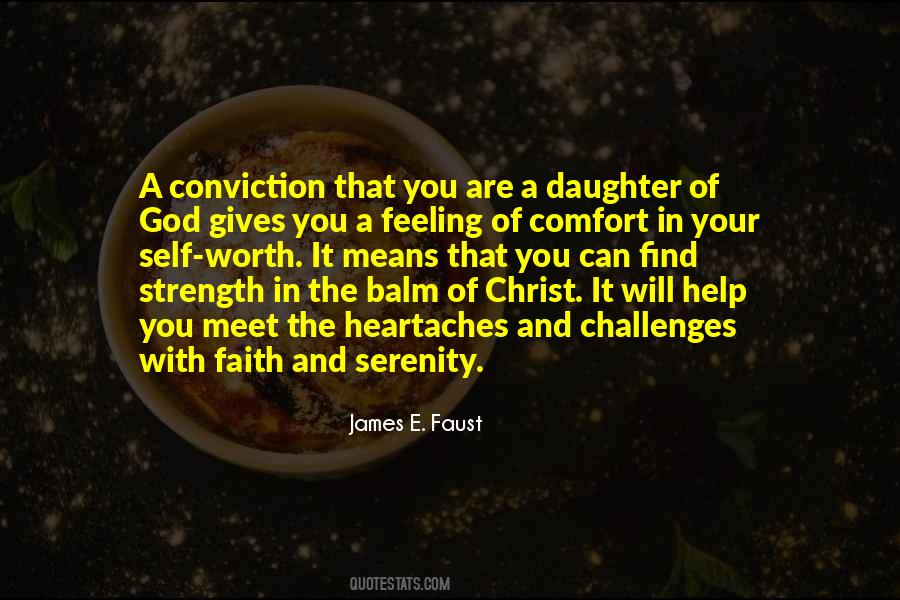 #96. God rescues us by breaking us, by shattering our strength and wiping out our resistance. - Author: Aiden Wilson Tozer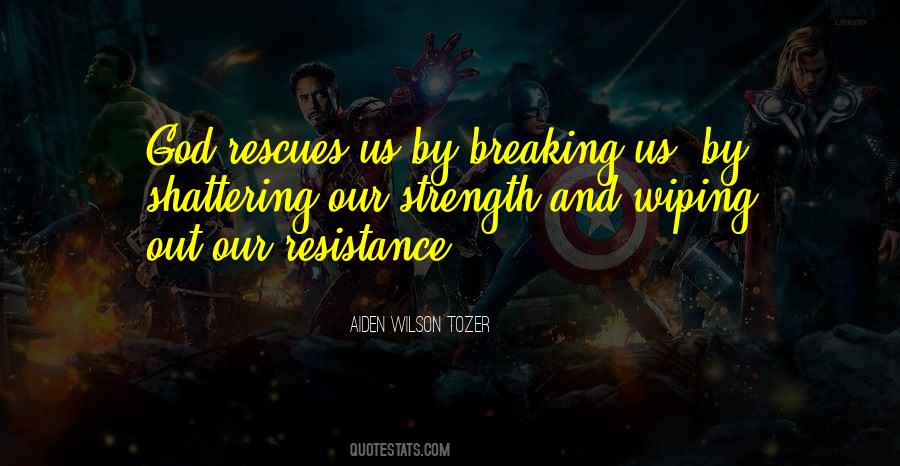 #97. Let all the 'free-will' in the world do all it can with all its strength; it will never give rise to a single instance of ability to avoid being hardened if God does not give the Spirit, or of meriting mercy if it is left to its own strength. - Author: Martin Luther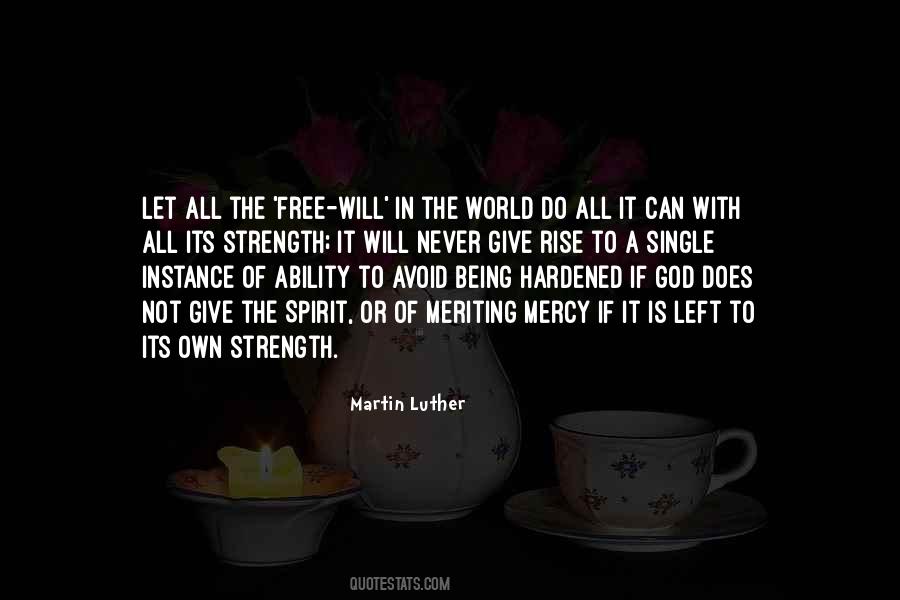 #98. I pray God that we shall never use our physical prowess to oppress the human race, but we will use our strength, physically, morally and otherwise to preserve humanity and civilization. - Author: Marcus Garvey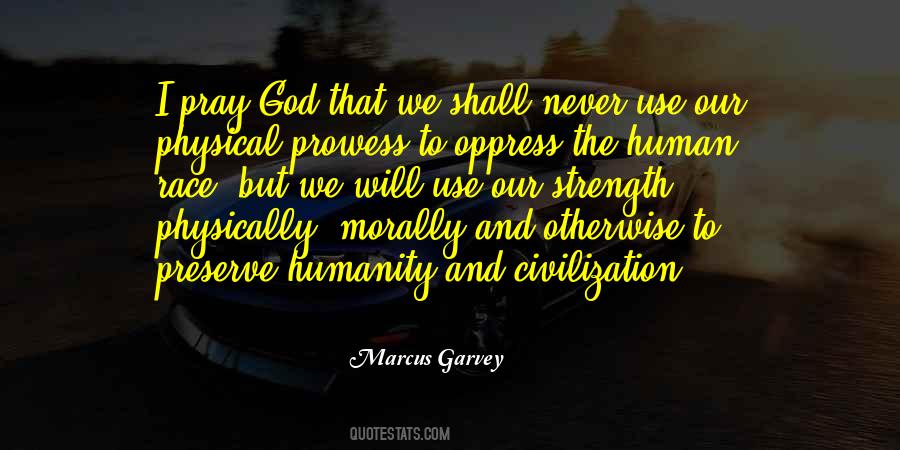 #99. THE PREMIER COMMANDMENT. [Deut. 6:4, 5] Hear, O Israel: The LORD our God, the LORD is one.4 Love the LORD your God with all your heart and with all your soul and with all your strength. - Author: Anonymous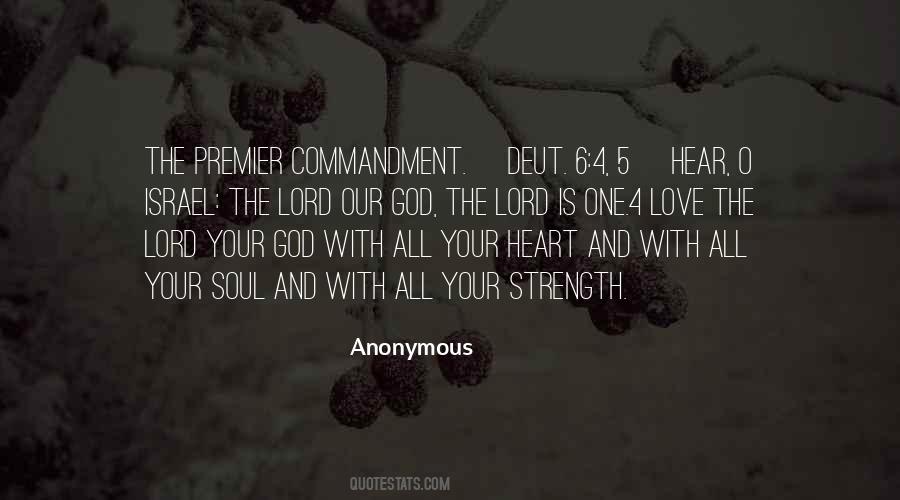 #100. God's strength is rooted in being faithful to his true Self, in just Being good. The Devil's strength depends on synergies, agreements, cooperation and beliefs. - Author: Robin Sacredfire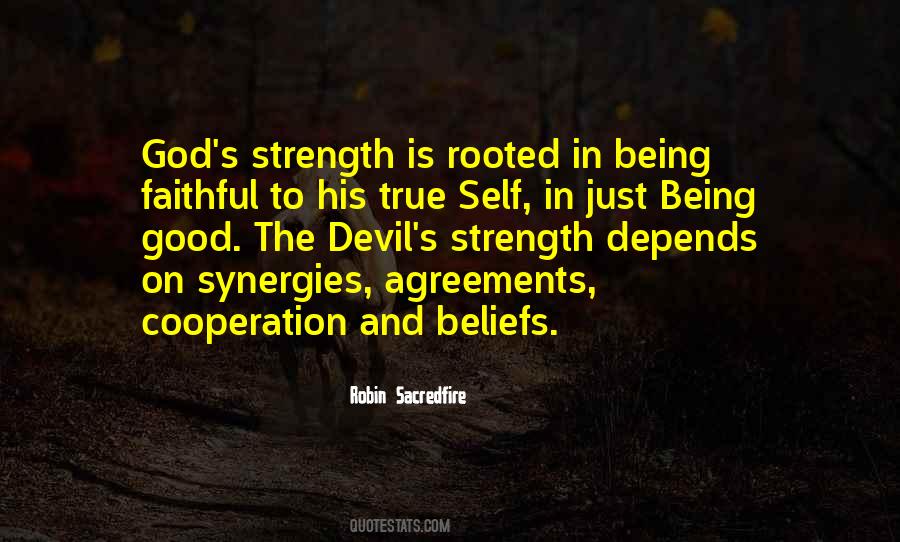 Famous Authors
Popular Topics