God Is In Control Of Everything Famous Quotes & Sayings
List of top 38 famous quotes and sayings about god is in control of everything to read and share with friends on your Facebook, Twitter, blogs.
Top 38 God Is In Control Of Everything Quotes
#1. it is clear that divine sovereignty and human freedom contradict each other.[16] If God controls everything, including man's thoughts, then man is not free from God. If man is free from God in any sense or to any degree, then God does not control everything. - Author: Vincent Cheung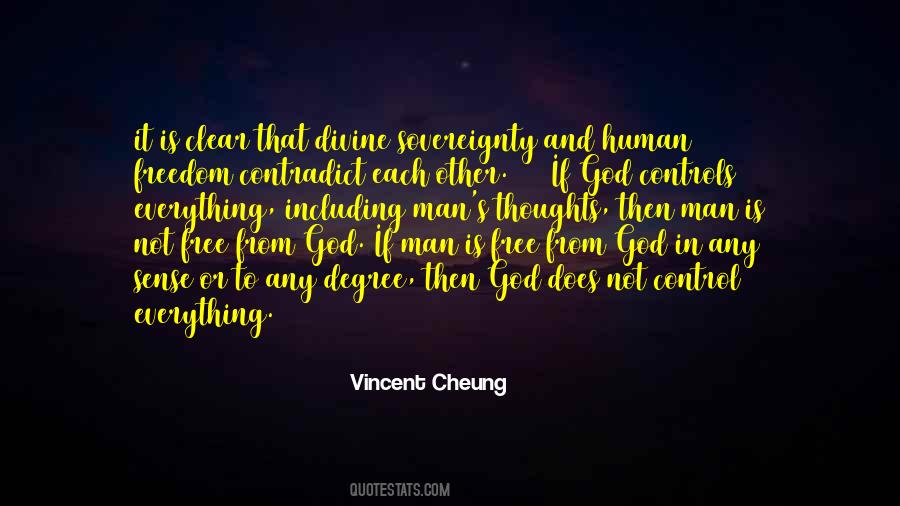 #2. Just as airplane pilots must maintain contact with air traffic control towers, you and I must stay in touch with God - the one who sees the big picture of our lives and who orchestrates everything that involves us. He - Author: Joyce Meyer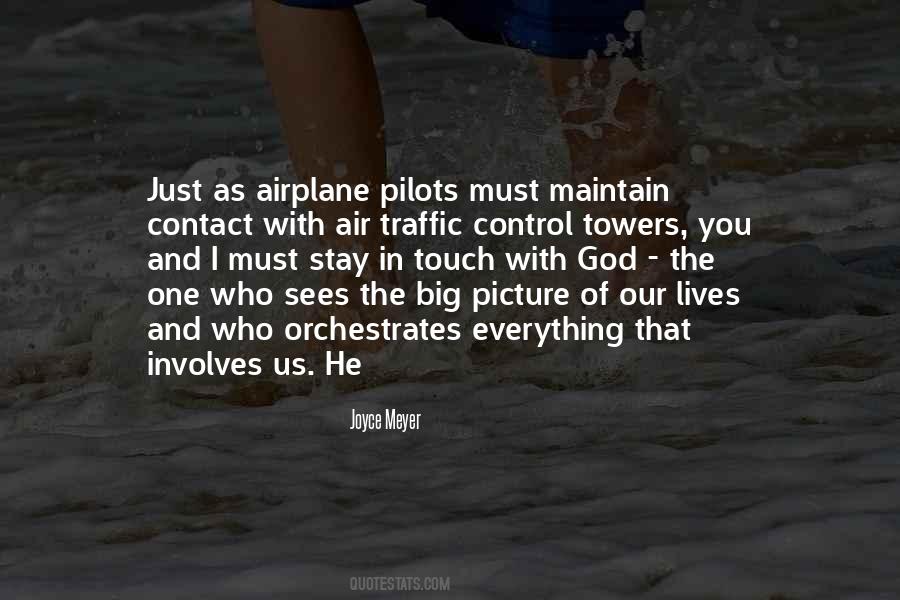 #3. I have never known more than fifteen minutes of anxiety or fear. Whenever I feel fearful emotions overtaking me, I just close my eyes and thank God that He is still on the throne reigning over everything and I take comfort in His control over the affairs of my life. - Author: John Wesley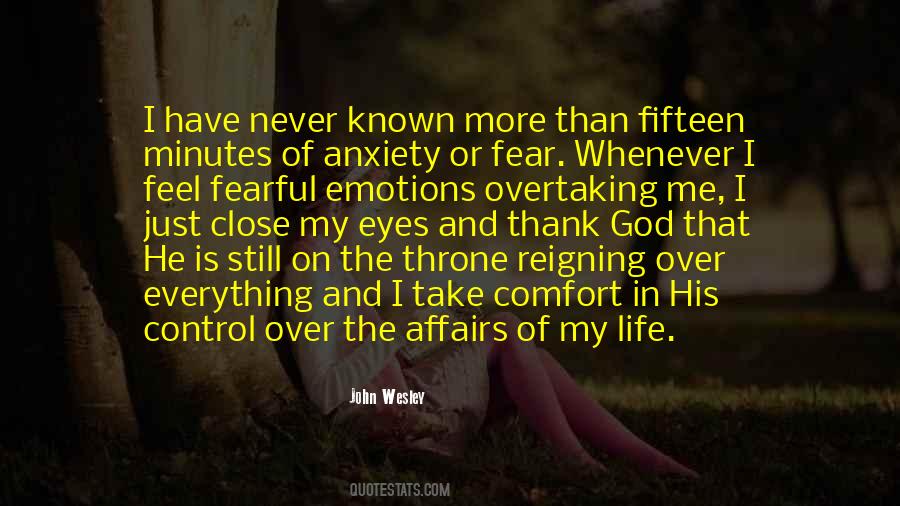 #4. When we live by faith, we believe that God has everything under control. But if we start to worry, how we live says the opposite. - Author: Craig Groeschel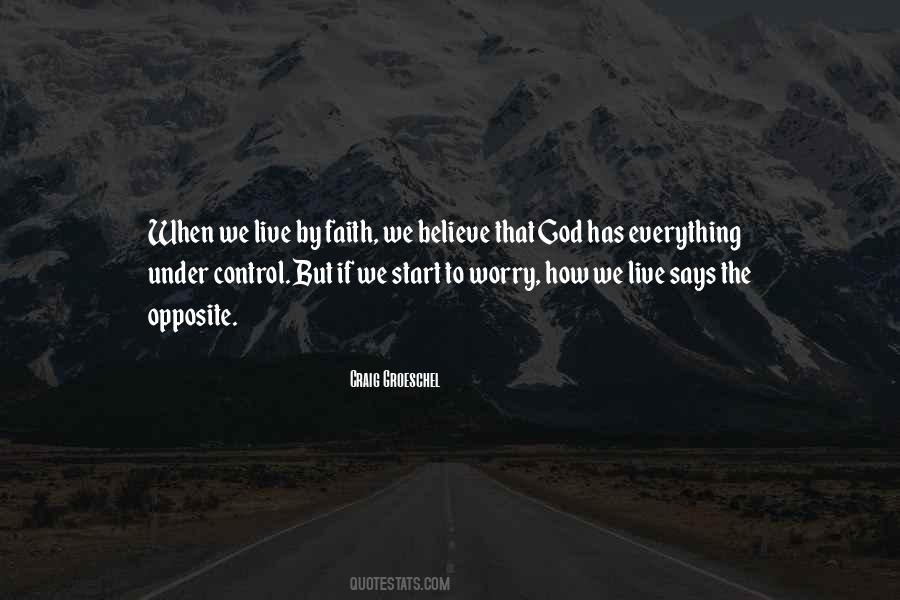 #5. Stress and worry is a residual of relying on yourself and being your own god, in control of everything. Worship allows us to rely on God's power to steer us through life. - Author: T.D. Jakes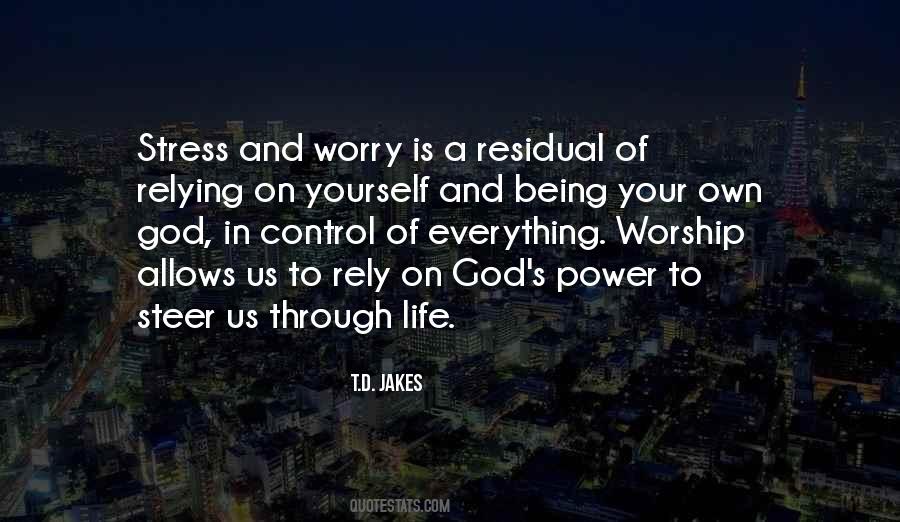 #6. God is in control, and therefore in EVERYTHING I can give thanks - not because of the situation but because of the One who directs and rules over it. - Author: Kay Arthur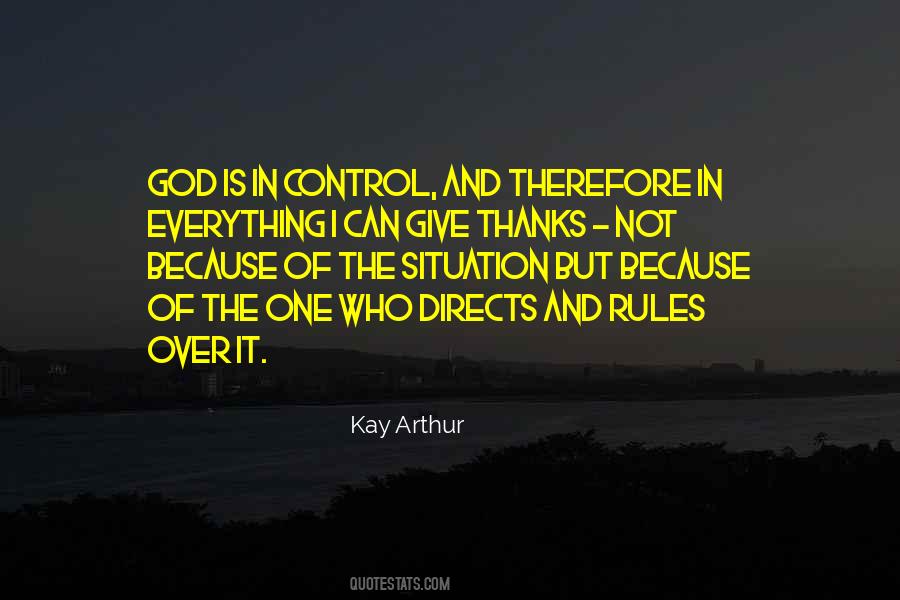 #7. God is the one that's ultimately in control of everything. You can't try to change things when they're not meant to be changed. - Author: Ricky Stenhouse Jr.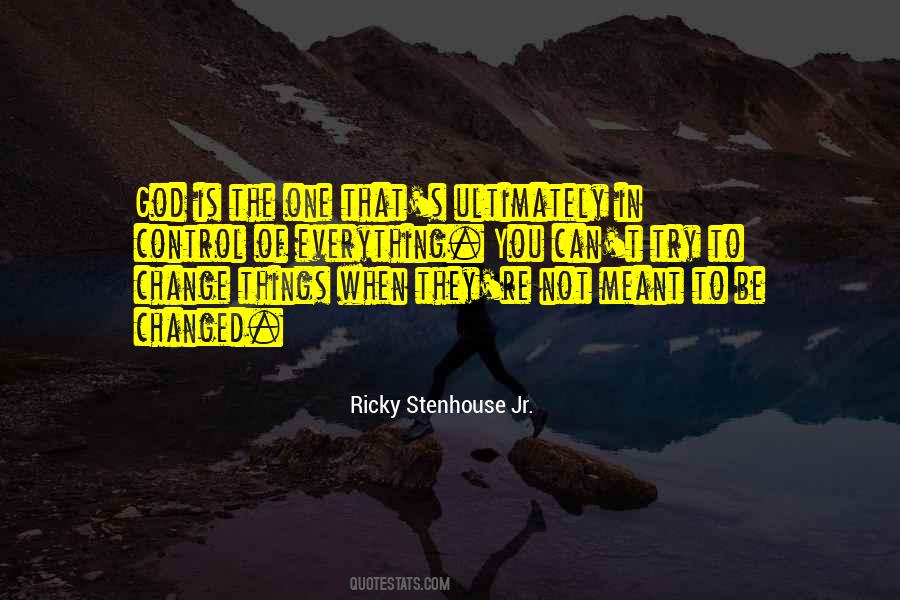 #8. We underestimate God and we overestimate evil. We don't see what God is doing and conclude that he is doing nothing. We see everything that evil is doing and think it is in control of everyone. - Author: Eugene H. Peterson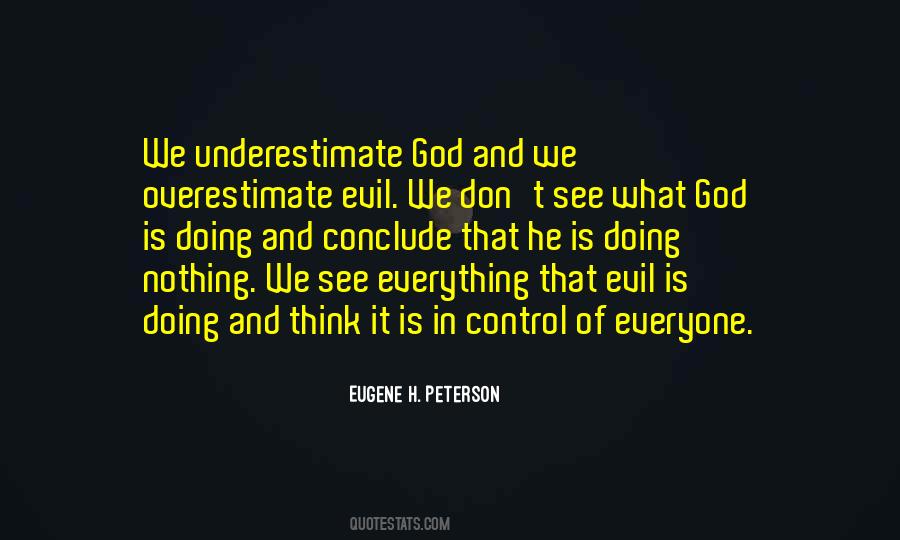 #9. I don't know that I believe that God is in control of everything that happens. As a Jew, I believe that we have free will and we are responsible for our actions. But I guess it's something I'm still probing. - Author: David Gregory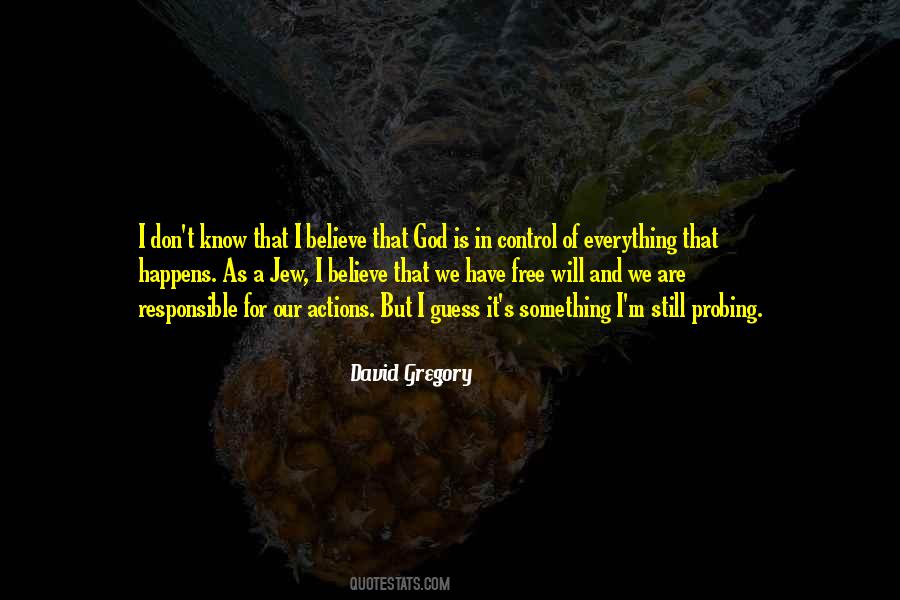 #10. My dad is still Christian Scientist. My mom's not, and I'm not. But I believe in God, and that there's a higher power and an intelligence that's bigger than us and that we can rely on. It's not just us, thinking we are the ones in control of everything. That idea gives me support. - Author: Ellen DeGeneres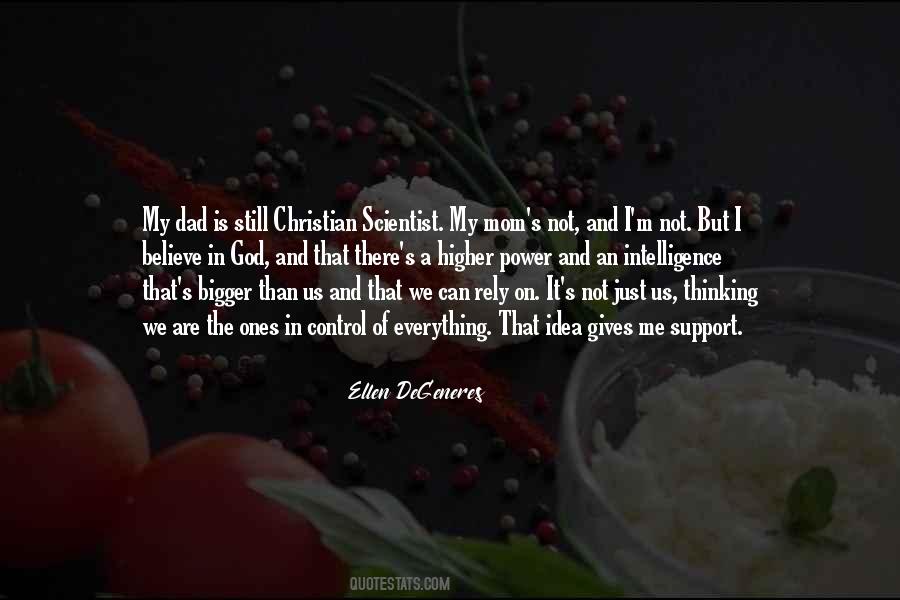 #11. Everything you do in life, I don't care, good or bad - don't blame God, don't blame the devil, don't blame me, blame you. You control everything! The thoughts you think, the words you utter, the foods you eat, the exercise you do. Everything is controlled by you. - Author: Jack LaLanne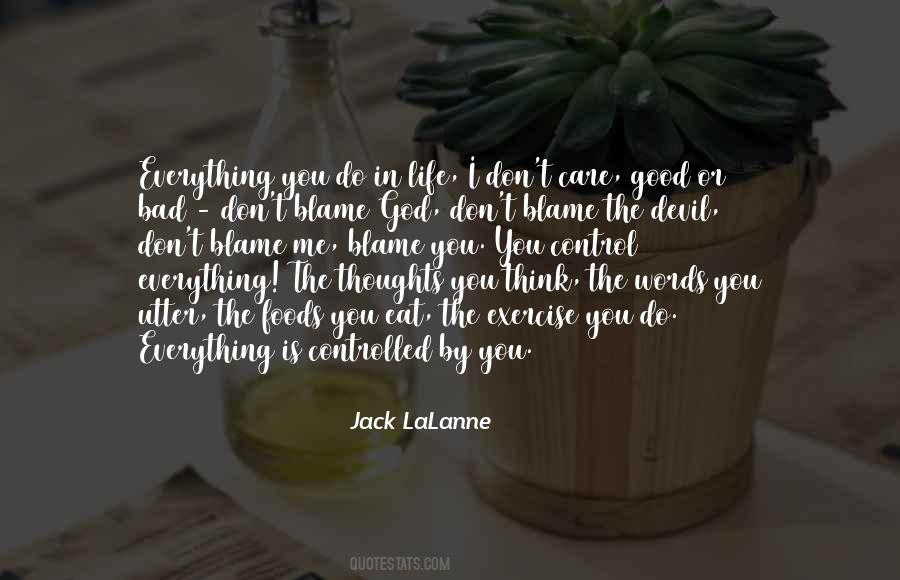 #12. Having faith in God means trusting in Him even when everything inside of you wants to take control. - Author: Dan Ellis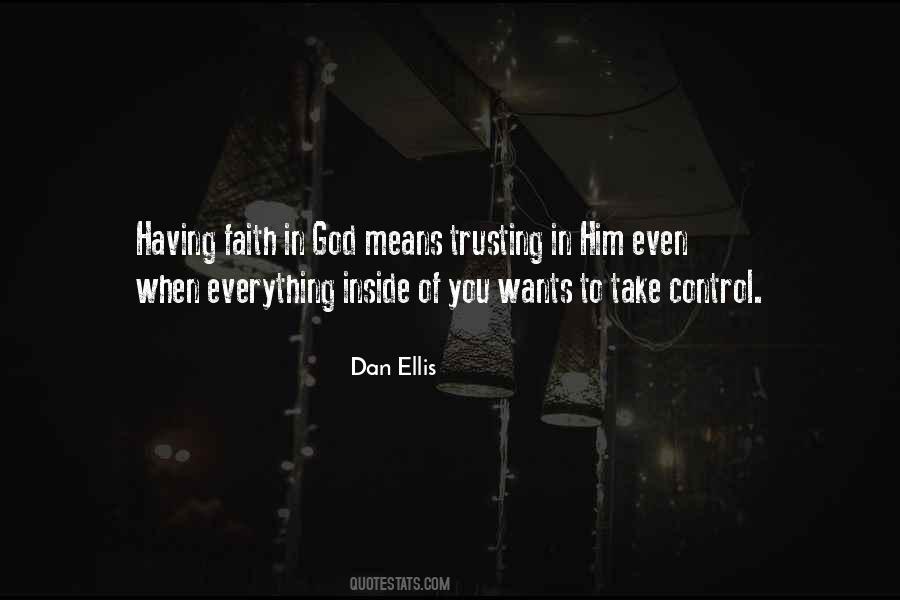 #13. Meekness" is the word that is used to describe how to break a horse. It means "strength under control." That is who Jesus is; he is meek. He is the pure power of God, always under control. Everything he does, he does out of love. - Author: John Riccardo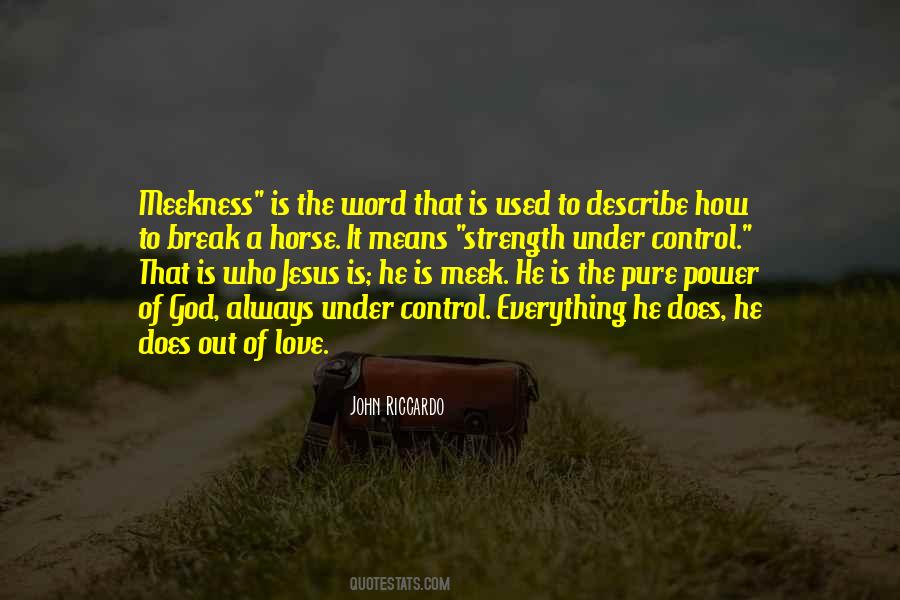 #14. Submission ... involves getting rid of everything which hinders God's control over our lives. - Author: Billy Graham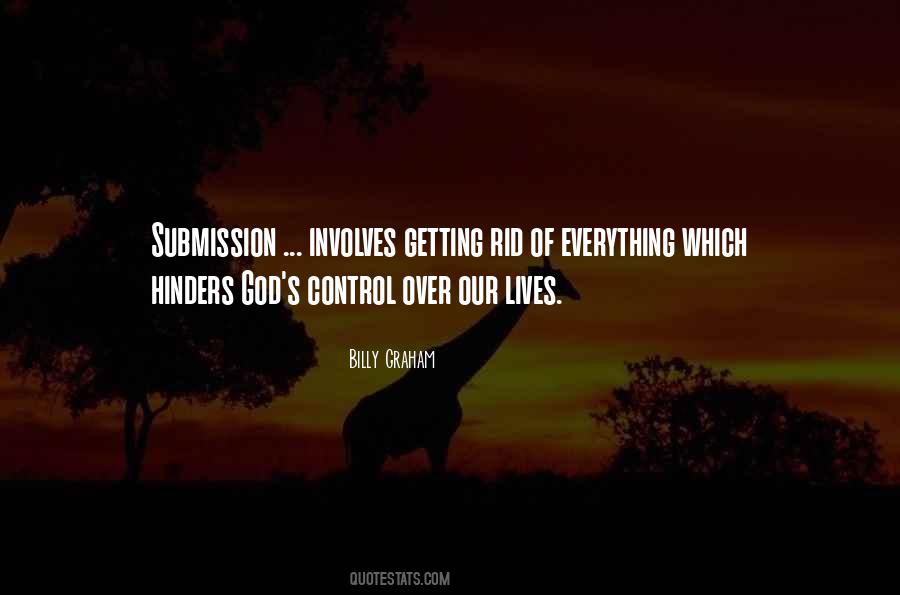 #15. Joy is the settled assurance that God is in control of all the details of my life, the quiet confidence that ultimately everything is going to be all right, and the determined choice to praise God in all things. - Author: Kay Warren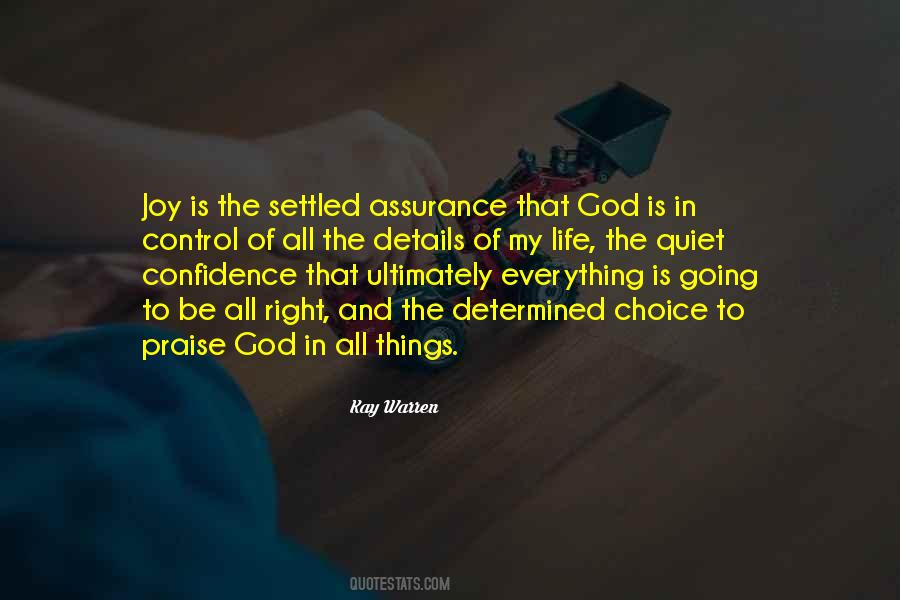 #16. You think you're in control, and you're trying to get that square peg in that round hole. You're frustrated, and you realize that you're not in control of everything. You need to just step back and let God. - Author: Cheryl Ladd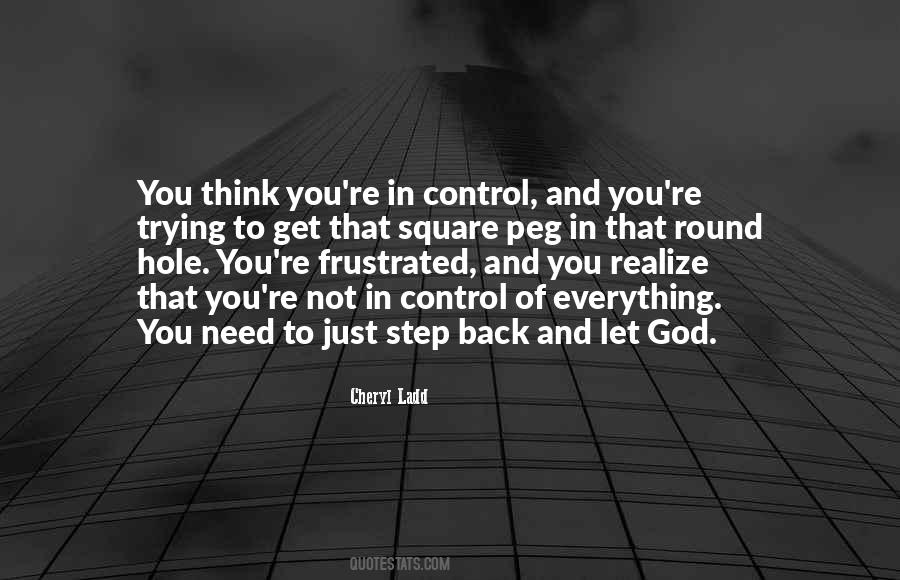 #17. We like to control the map of our life and know everything well in advance. But faith is content just knowing that God's promise cannot fail. This, in fact, is the excitement of walking with God. - Author: Jim Cymbala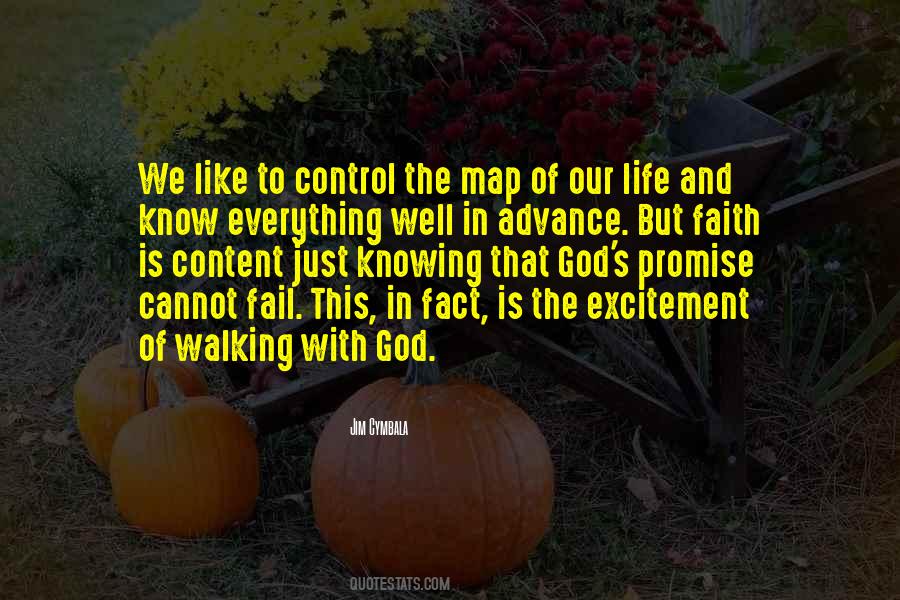 #18. You control what path you take. Keep doing the right thing and handling the things within your control, and God will take care of the things that are out of your control. Everything will work out as it should. - Author: Deatri King-Bey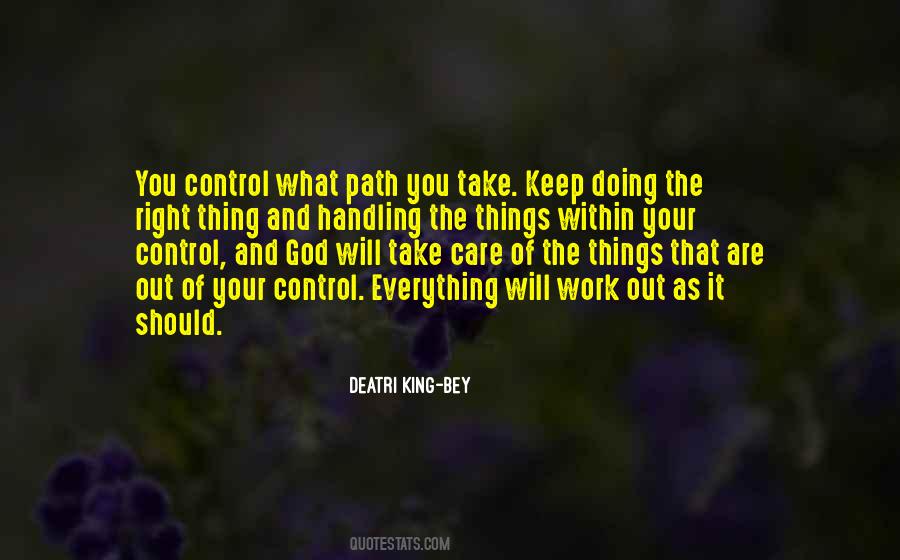 #19. Admitting we are not God - not in control, not running anything, not responsible for everyone's well-being, not the solution for everything and everyone, not at the center of all things - doesn't belittle us; it frees us. - Author: Louie Giglio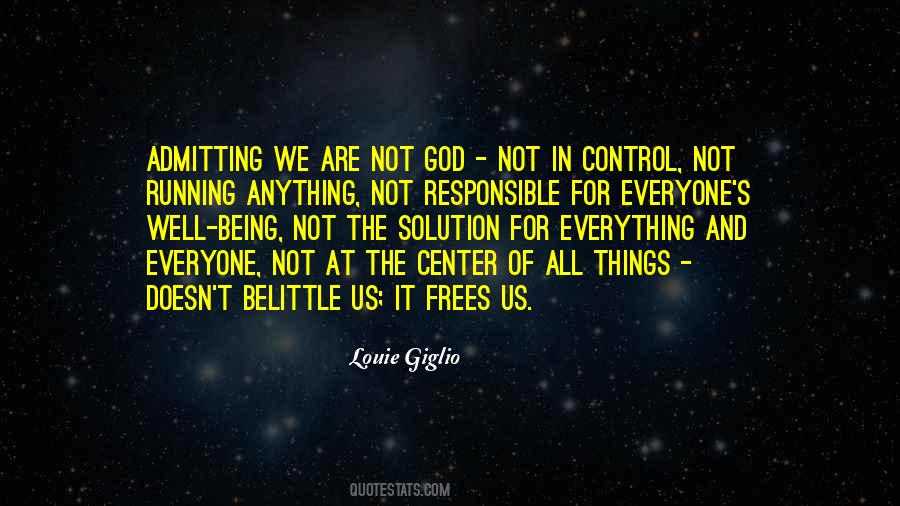 #20. I think God is how you deal with everything that's out of your own control. - Author: Douglas Coupland
#21. I know you can't control everything, and everything is in God's hands ultimately, but I'm going to fight, go out and perform for everybody, I don't care. - Author: Kanye West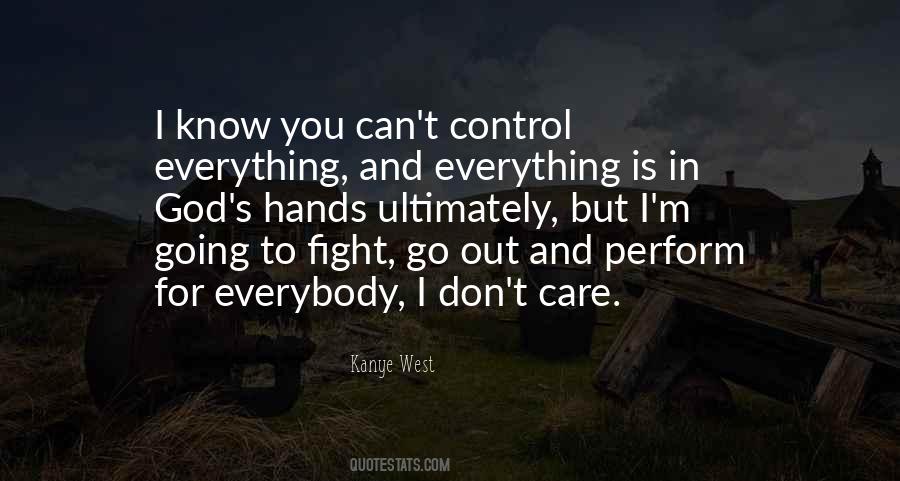 #22. When I don't know where to turn, You always draw me near; when I start to feel alone, I can feel Your presence here, reminding me of everything I ever need to have or be has already found a place somewhere inside of me. - Author: Lisa Mischelle Wood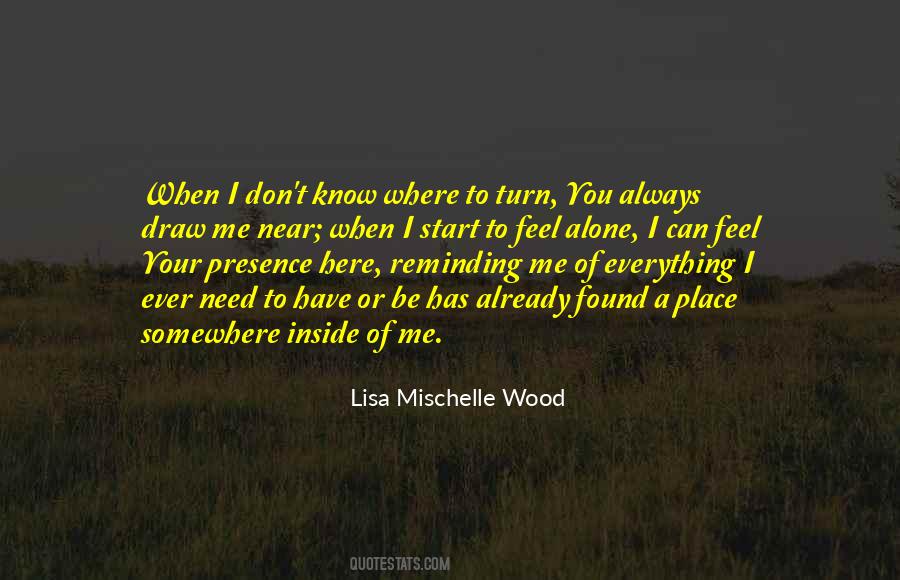 #23. When it is going well, it is the best job [writing] in the world. For those few hours, you are god, in control of everything. However, for me, the great joy of writing is that it has allowed me to travel the world in search of stories. - Author: Michael Scott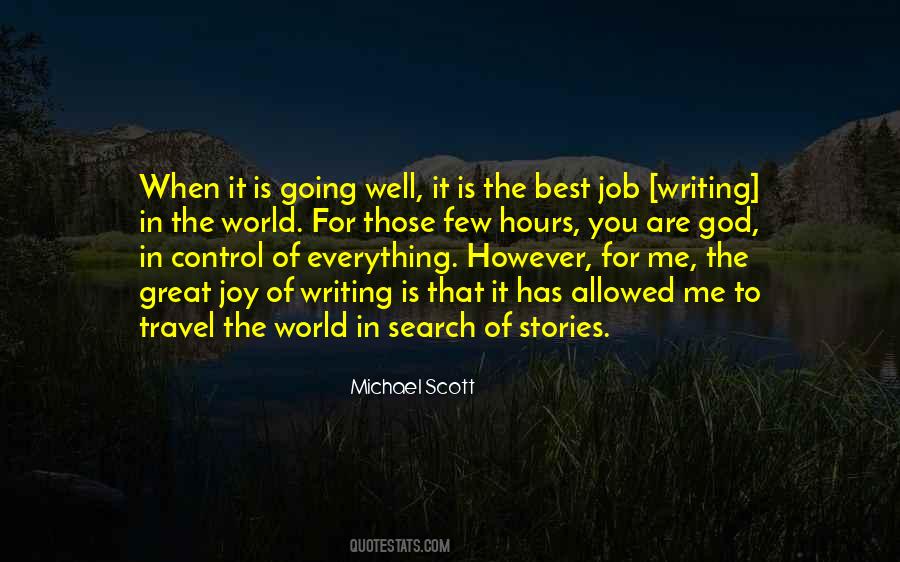 #24. There's no god, it's the elements that control this world and everything on it. - Author: Scott A. Butler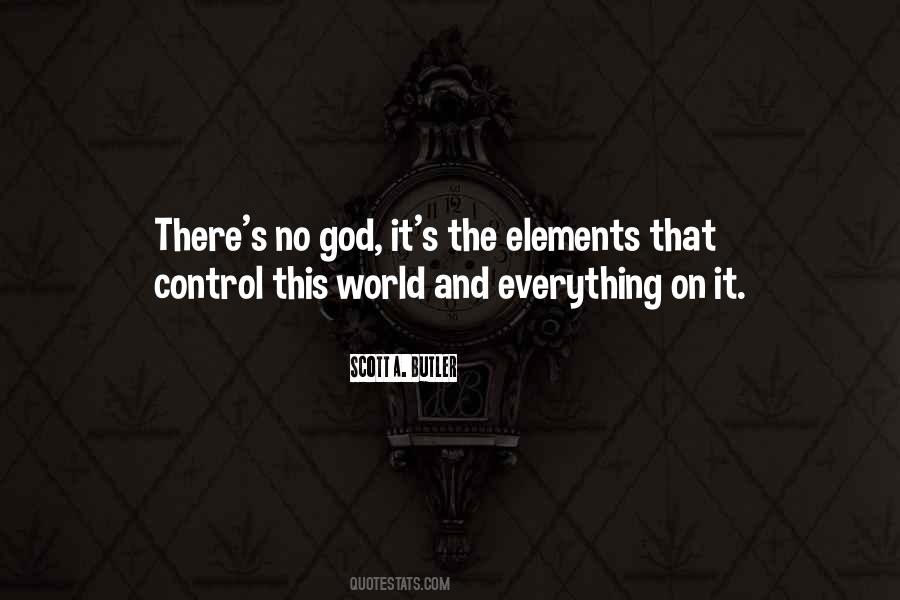 #25. Why should I seek for love or study it?
It is of God and passes human wit;
I study hatred with great diligence,
For that's a passion in my own control,
A sort of besom that can clear the soul
Of everything that is not mind or sense. - Author: William Butler Yeats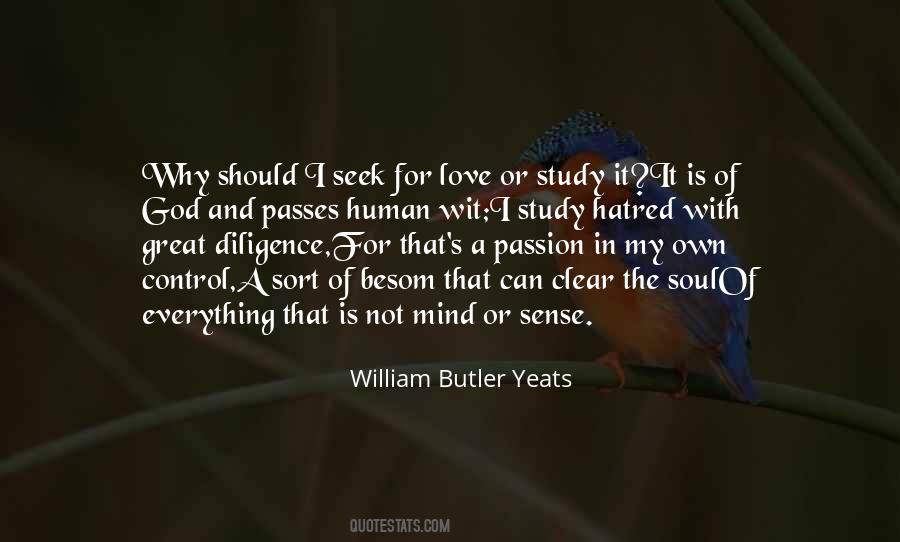 #26. God is alive now and in control of everything that happens. There is no free will, only one almighty will that is infinitely powerful. - Author: Steven Colborne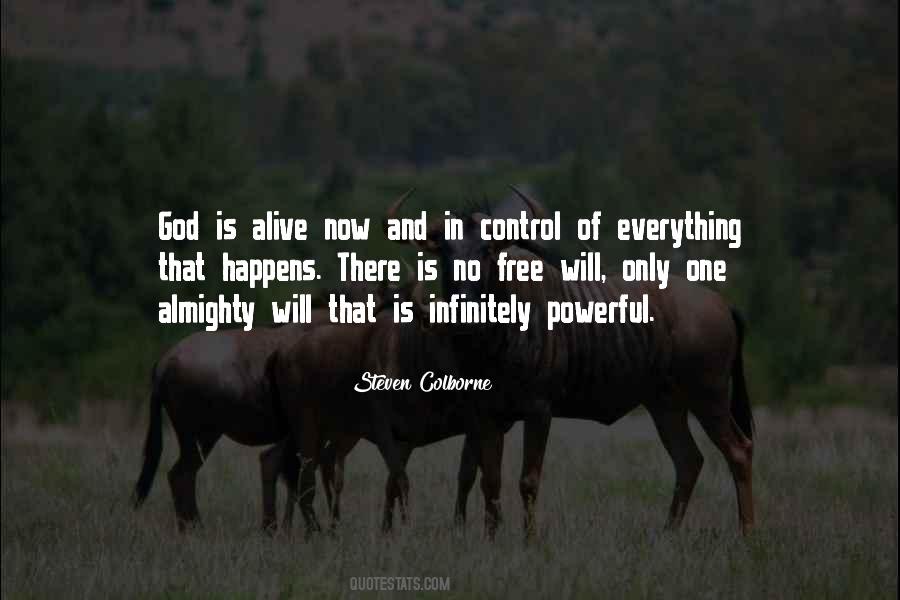 #27. When people find God, Jesus or the Divine, they are merely allowing the connection that was always there. You are God/the Universe both in part and totality, and you should realize your control of and connection to everything. - Author: Russell Anthony Gibbs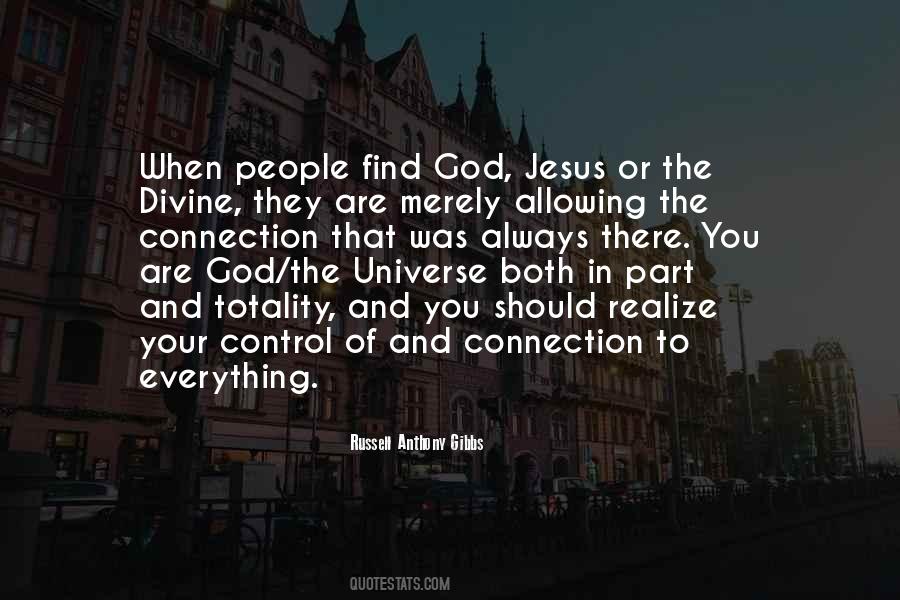 #28. God has control over everything, and obviously, everything to everyone is god-given. - Author: Troy Polamalu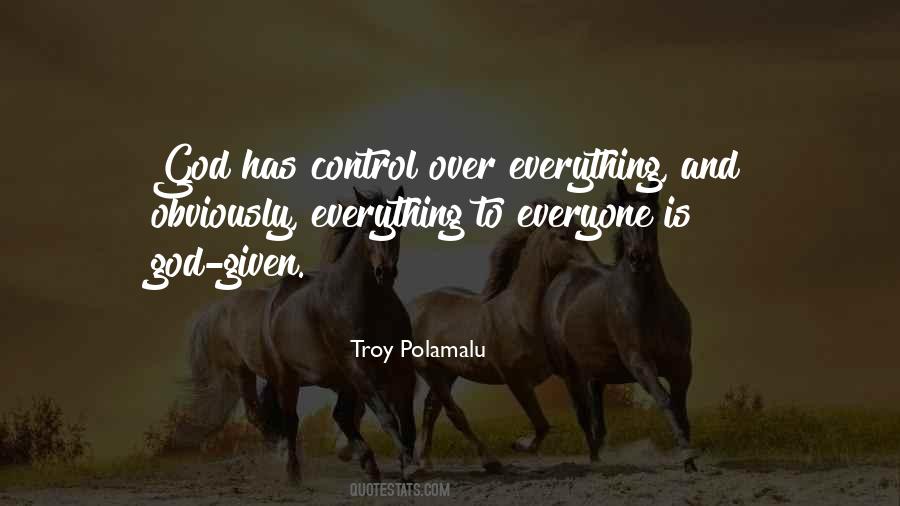 #29. Even in the midst of difficult times when everything seems to be out of control, you can still control one thing. You can commit yourself to pray every day and to trust God no matter the circumstances, so He could guide you and fill you with His peace that surpasses all understanding. - Author: Yilda B. Rivera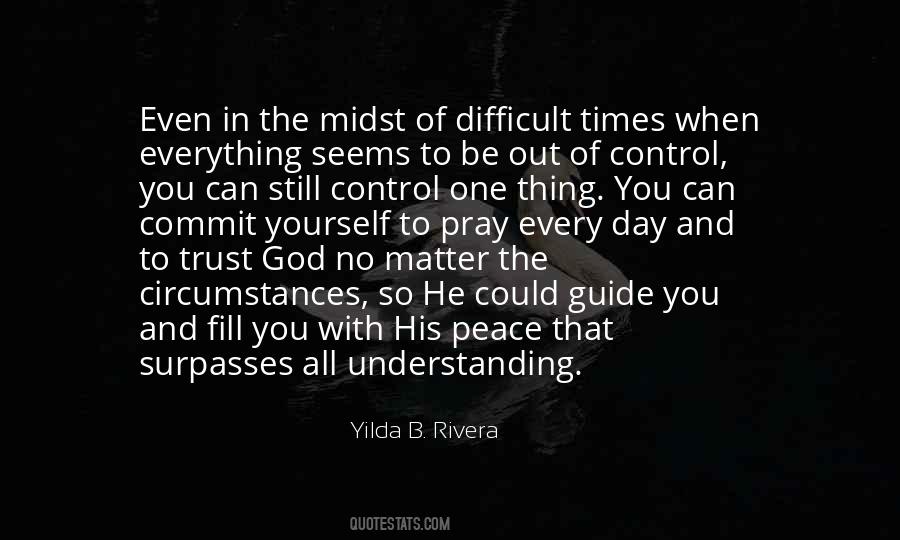 #30. I have learned from personal experience that putting trust in God means there will be some unanswered questions. That was a hard lesson for me because I naturally want to understand everything ... to know what's going on so I can feel like I'm in control. - Author: Joyce Meyer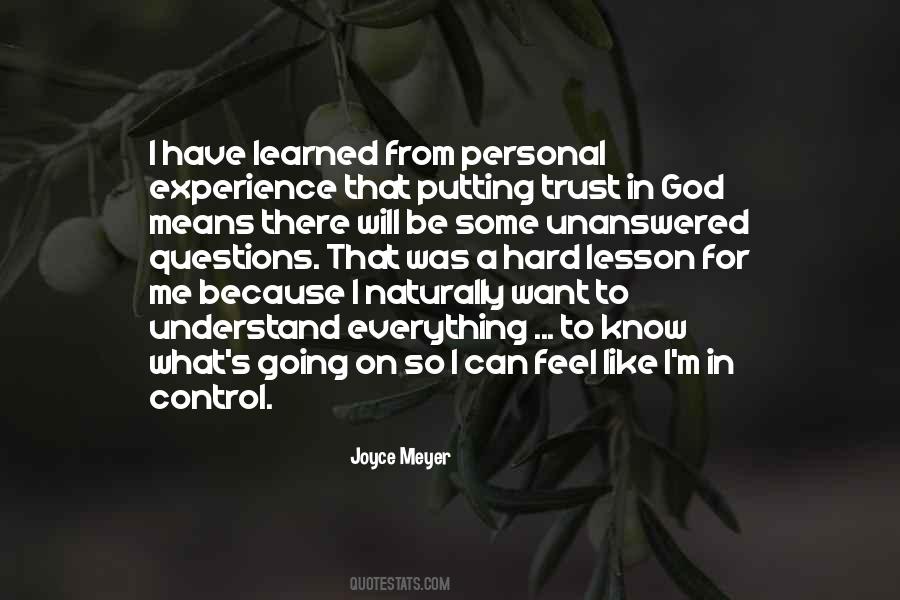 #31. Every progress made by Satan and every technological breakthrough in human history occurs because God allowed it; God created Satan and God is in complete control of everything. Job 1:6-12 - Author: Felix Wantang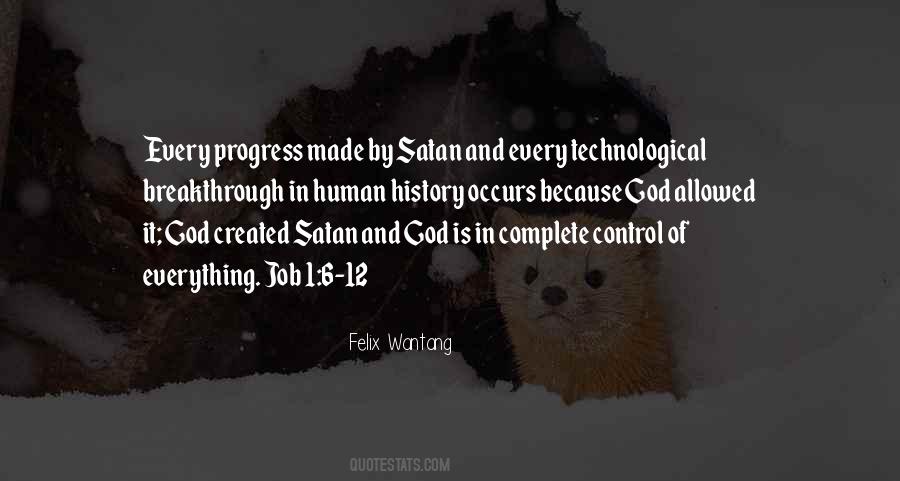 #32. If you would stop worrying about things you don't control and release what God has put into you, you will change everything around you. - Author: Steve Maraboli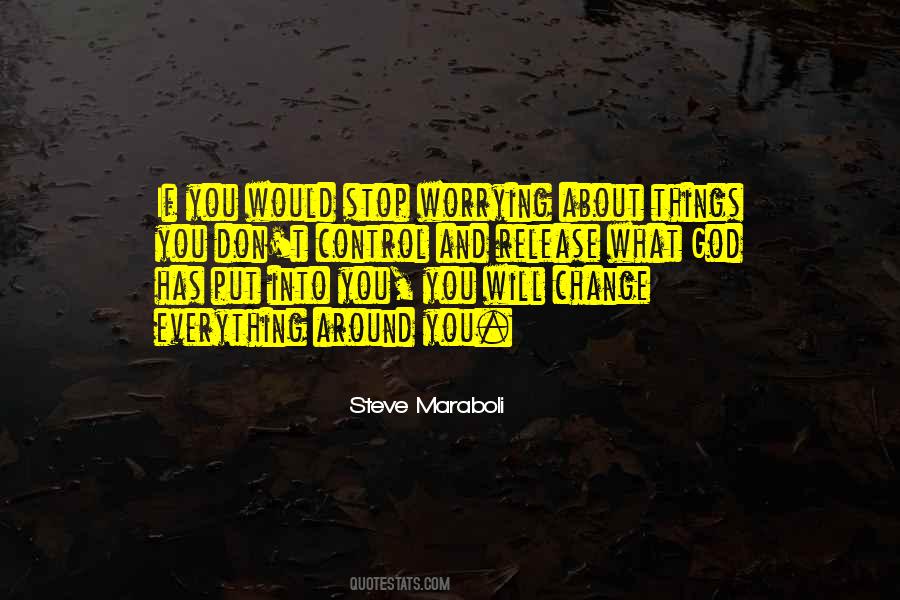 #33. Heavenly comfort, rather, is truth, which blows away human fantasies that we can live forever, control everything, or fake our lives before God. - Author: Sara Miles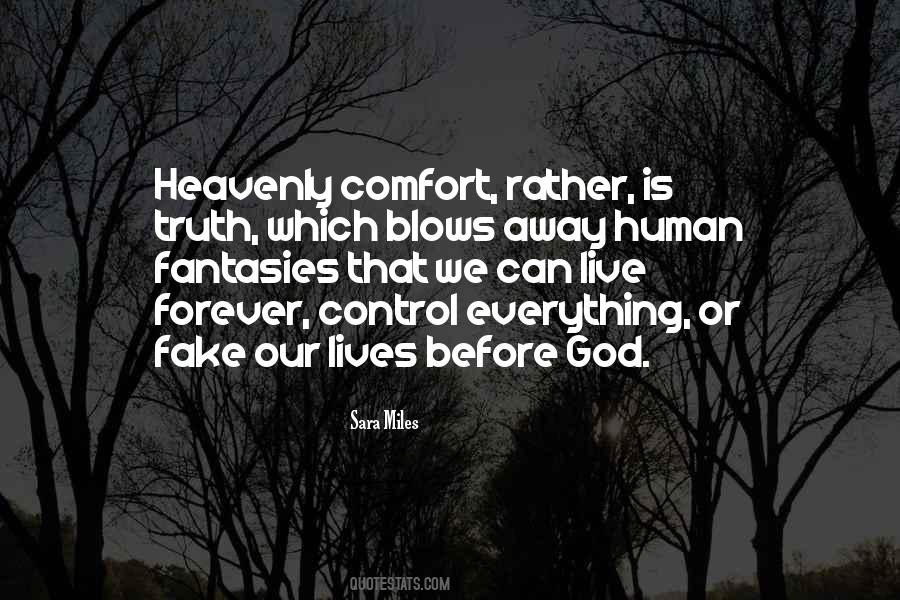 #34. God is good only when everything is good. When everything is bad, the devil takes control; god reappears when everything is in order once again. That's what my pastor taught me. - Author: Bangambiki Habyarimana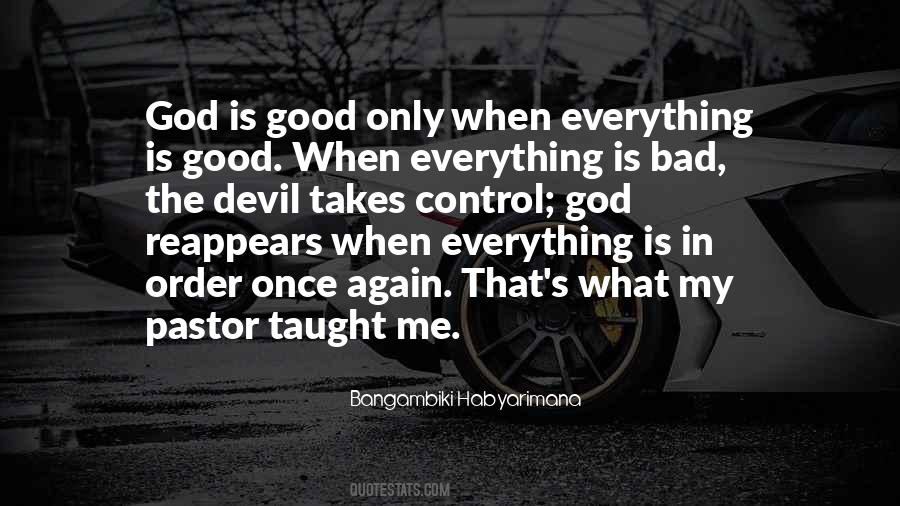 #35. You've got to believe that God is in control of your life. It may be a tough time but you've got to believe that God has a reason for it and he's going to make everything good. - Author: Joel Osteen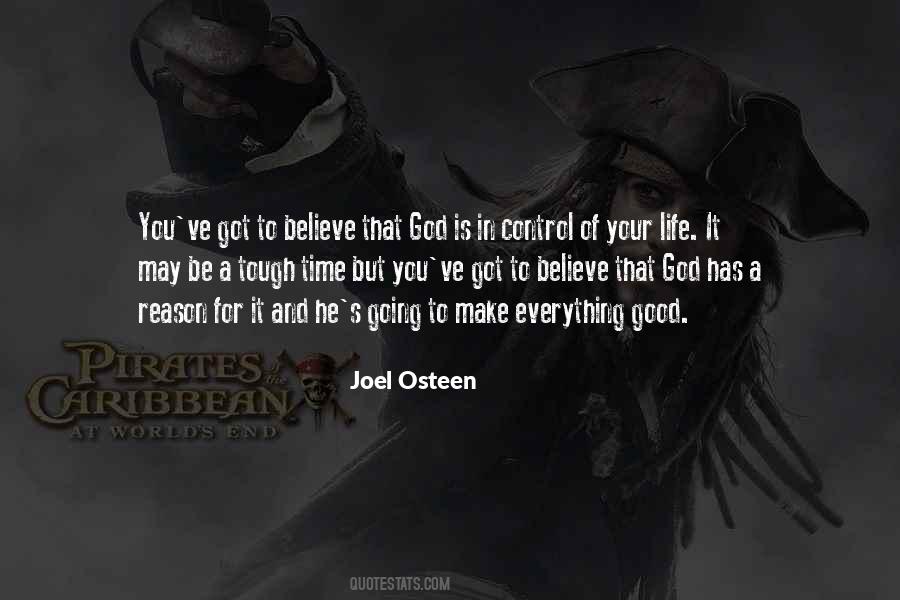 #36. Everything in its time, and timing is God's playground. Trust me, being surprised by everything is so much better than needing to control everything. - Author: Wm. Paul Young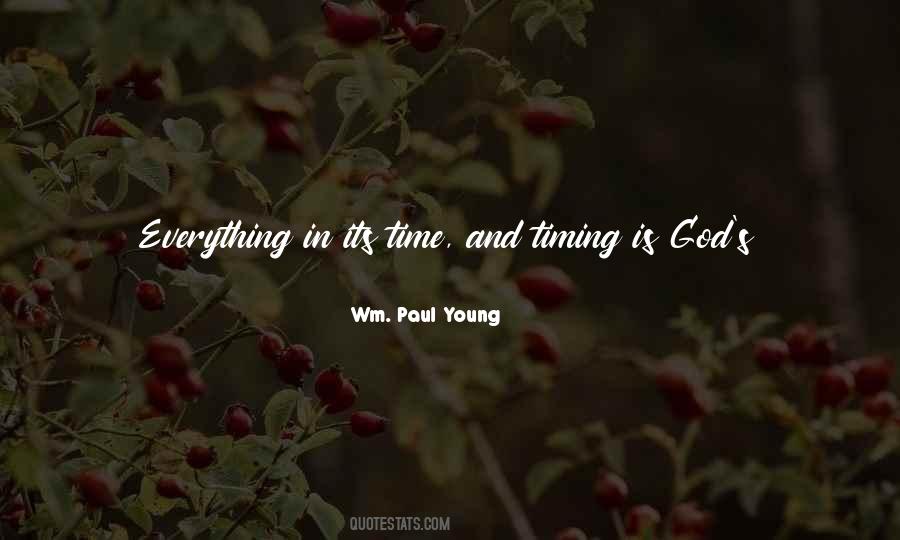 #37. Confession and repentance might be described as the negative side of submission; this involves getting rid of everything which hinders God's control over our lives. Yielding to God might be described as the positive side ... placing ourselves totally into the hands of God. - Author: Billy Graham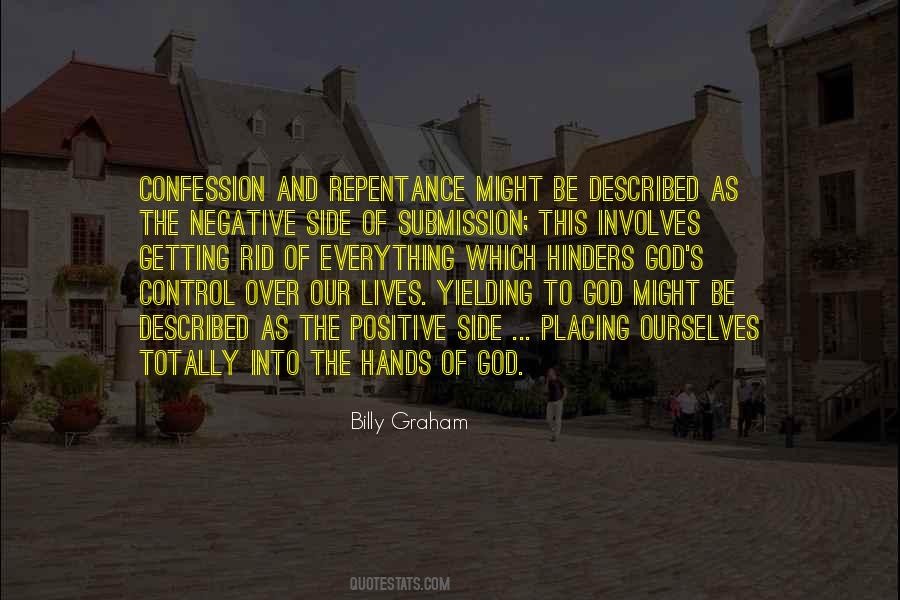 #38. On the path of love we don't feel we necessarily have control. In the yoga of love we feel it's only God who does everything. We can't breathe one breath without God. - Author: Frederick Lenz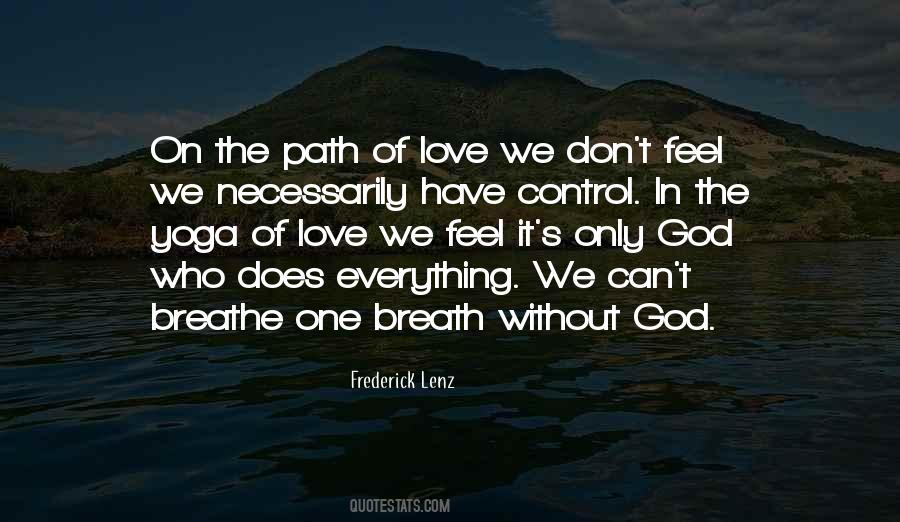 Famous Authors
Popular Topics