Format Famous Quotes & Sayings
List of top 100 famous quotes and sayings about format to read and share with friends on your Facebook, Twitter, blogs.
Top 100 Format Quotes
#1. Ahhhh ... I see. I think. Perhaps I don't. It may be easier to grasp if you presented it in a musical format. A lyrical song or two, accompanied by a whimsical dance to interpret the words. - Author: Nicole Sager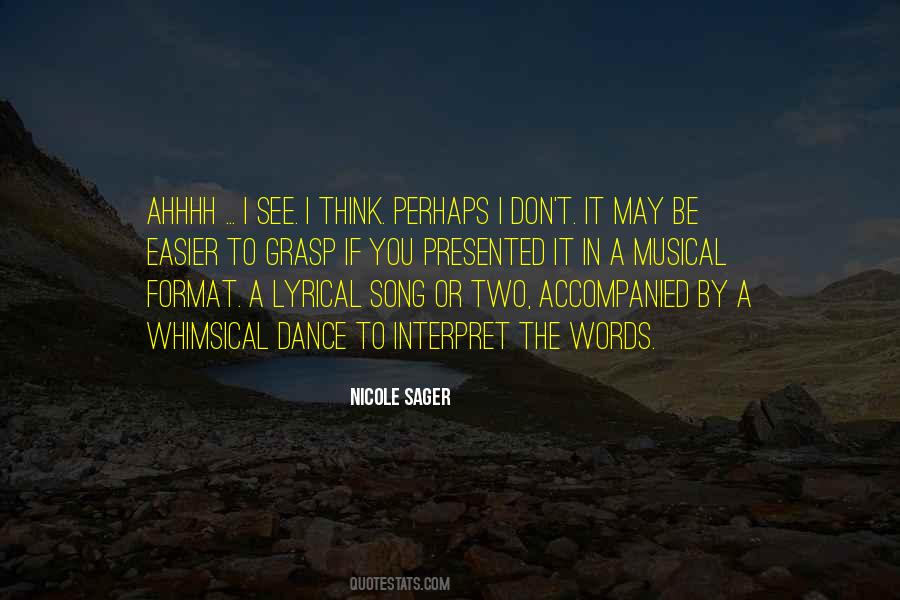 #2. I'm a shareholder in three networks in Holland. That allows me to put ideas that we create in Holland on air in Holland, and if it works, then we distribute the show's format globally. - Author: John De Mol Jr.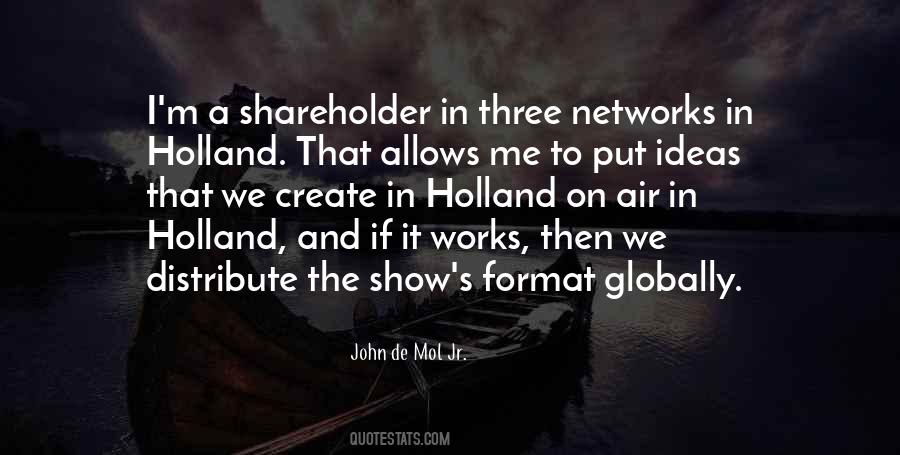 #3. The female format is a beautiful one in which to function. Foolhardy as it may be. I change my image all the time, it's whatever suits me at the moment. - Author: Lydia Lunch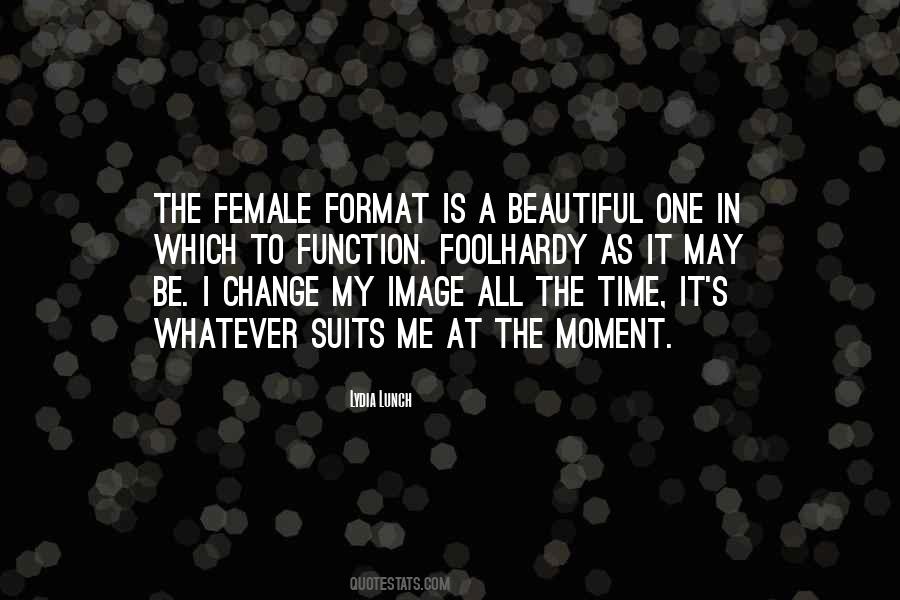 #4. Everyone is involved in experiments of one kind of another. Everything we do in life is the result of our own or someone else's experimentation. My experiment simulations are just conducted in a more honest format." Dillon explained. - Author: Jill Thrussell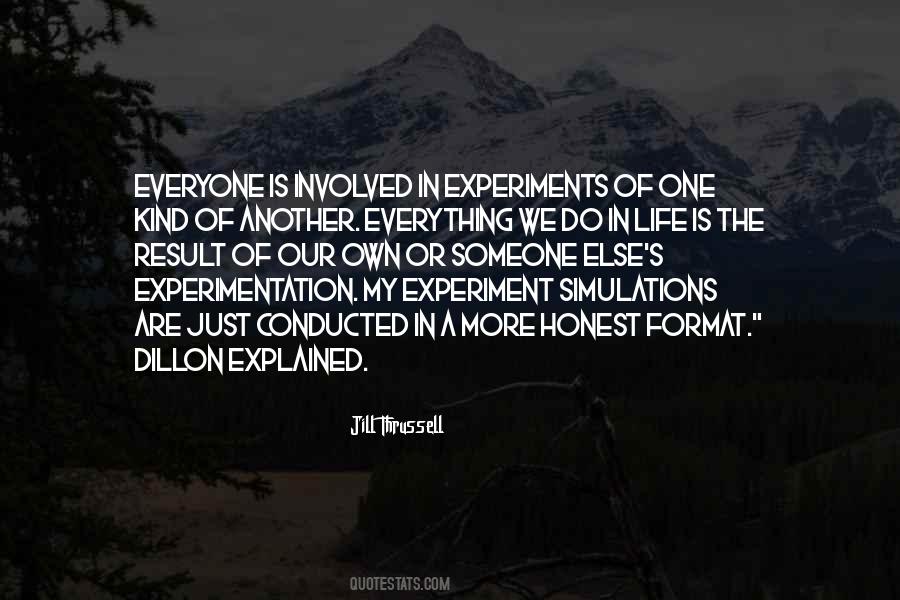 #5. I've done thousands of interviews in my life, and it's a format that I quite enjoy, because I think of questions in interviews as an opportunity to sort of gauge my growth in a way. It gives me an idea of how I'm navigating this world that I'm in. - Author: Ian MacKaye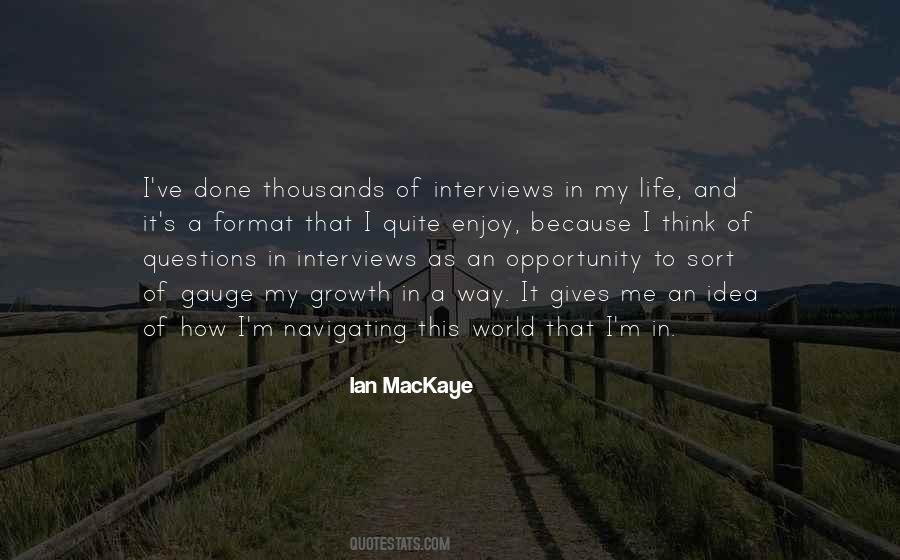 #6. Part of the beauty of a long-format story is that the characters become as much yours as they are mine, and you dream of them in a different way than I do. - Author: Joshua Jackson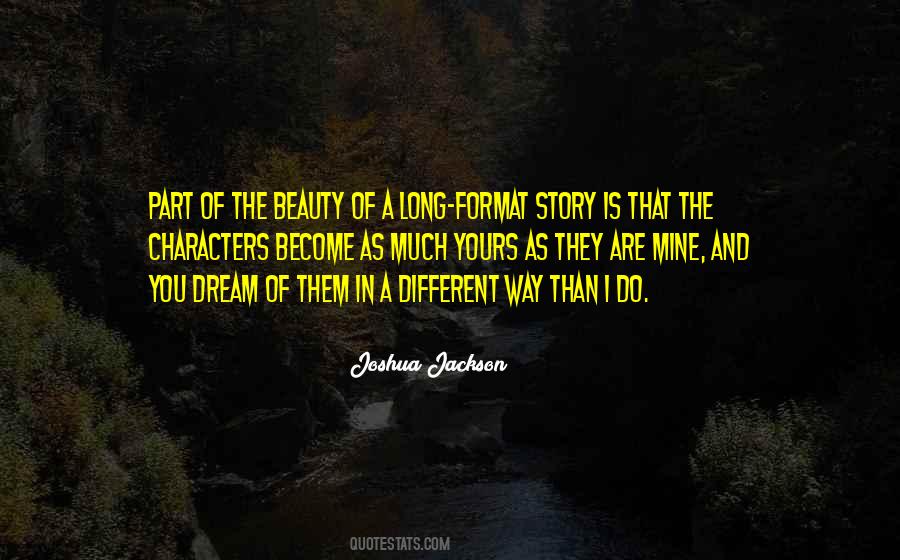 #7. Contrastingly to the new model of distribution, we shot Hand of God using the traditional format of film. I myself use very few apps and tend not to engage in social media. I do use Instagram under my production company's name, but that's it. - Author: Marc Forster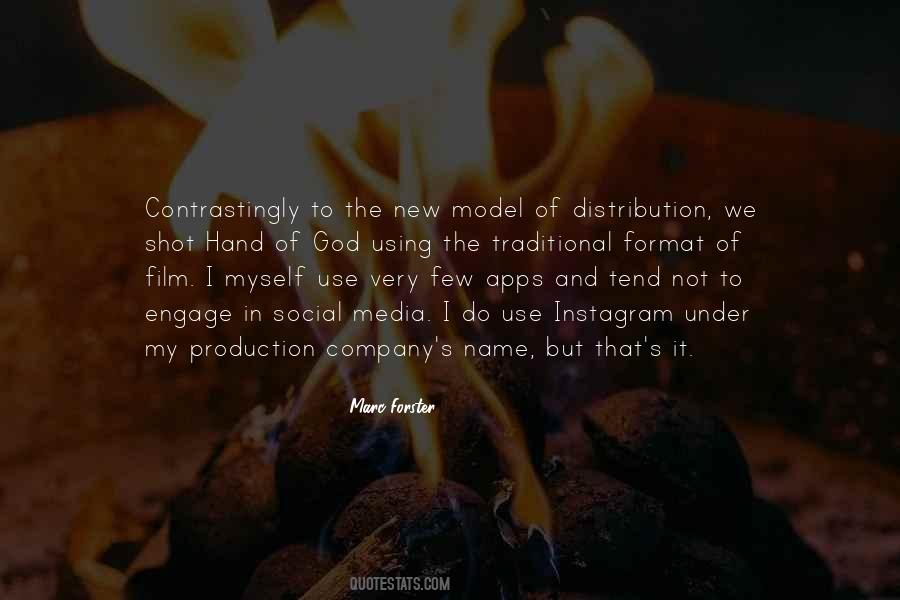 #8. I think anytime you start relying on a format to get you by you've got weak material to begin with. - Author: Drew Curtis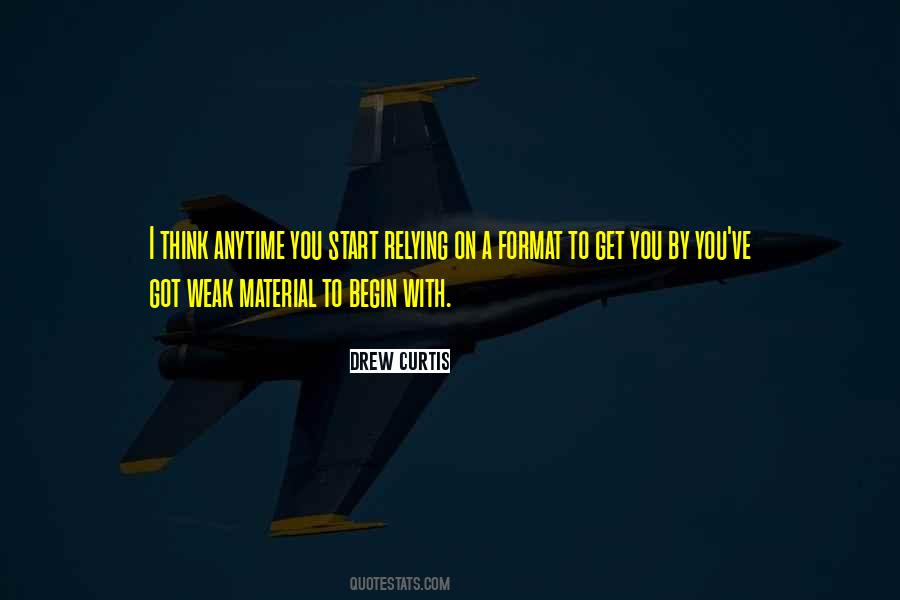 #9. These are all personal crises, I'm sure, that I manifest in a song format and project into physical situations. You make little stories up about how you feel. It's as simple as that. - Author: David Bowie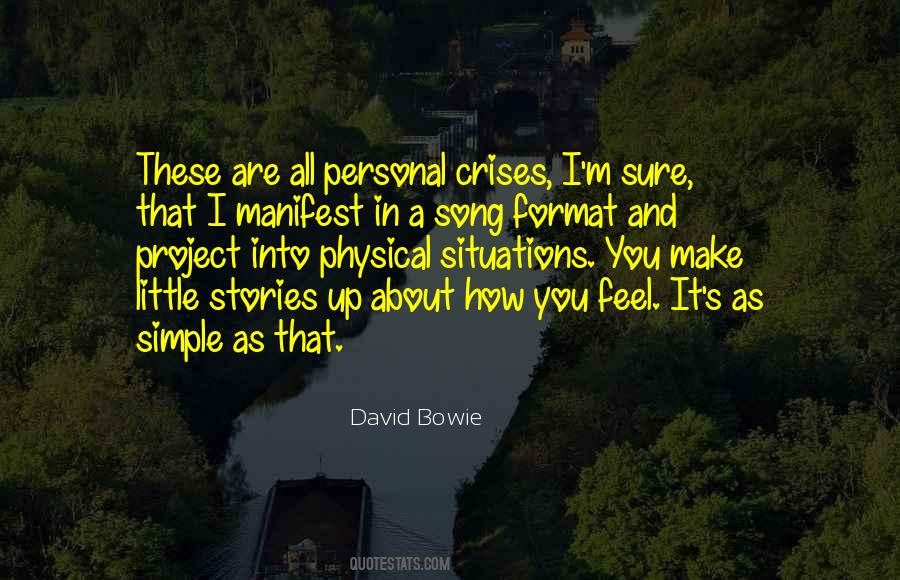 #10. I think I have probably adjusted the way I see the world, I interpret the world and I communicate the world into book format simply because of this familiarity. Possibly in another society and another context I might have been a storyteller or who knows what. - Author: Jackie French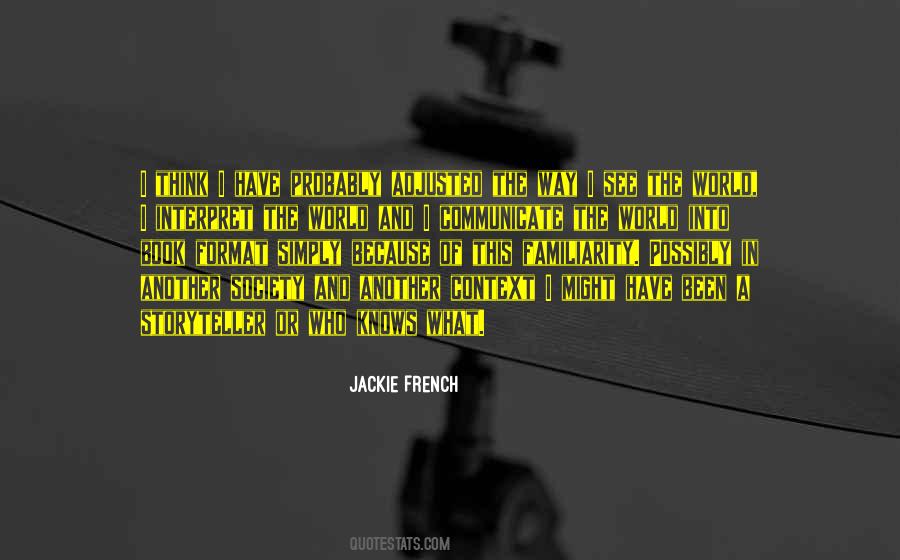 #11. I decided that instead of apologizing for having a lot to say, I wanted to create a format where people would come to hear me sing and speak. - Author: India.Arie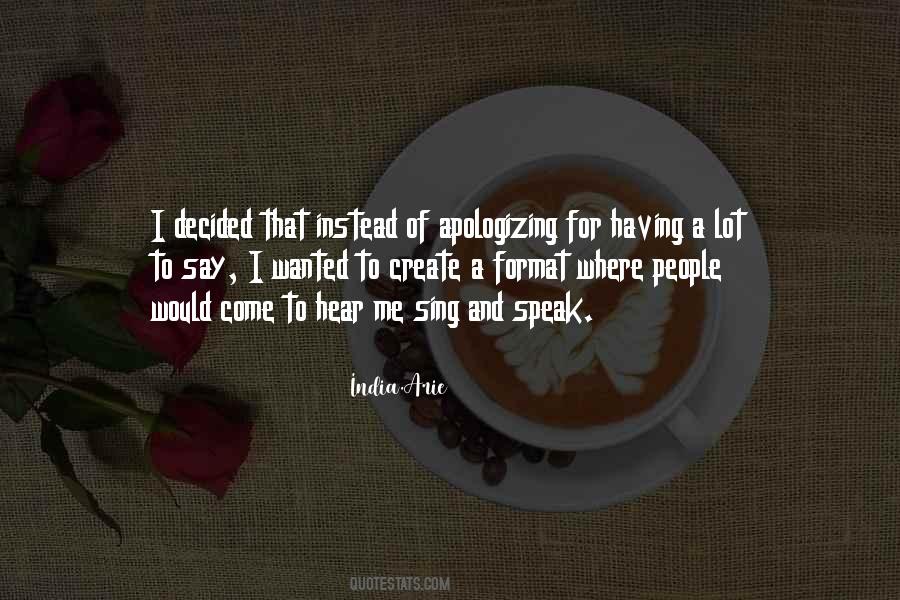 #12. Keep the process easy but effective by structuring your goal in this format: "I'm going to _. - Author: Roosh V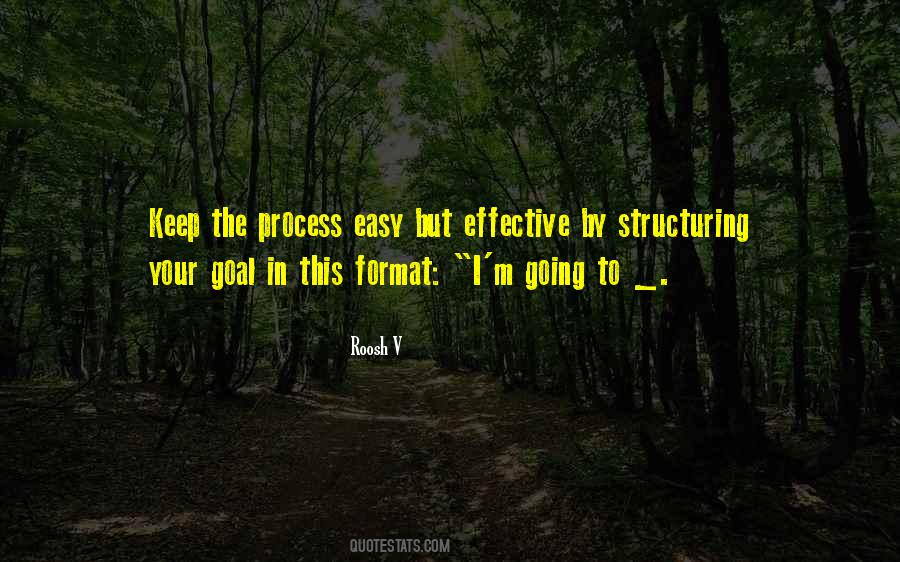 #13. Readership is highly dependent upon format and distribution as much as it is on content. - Author: Sara Sheridan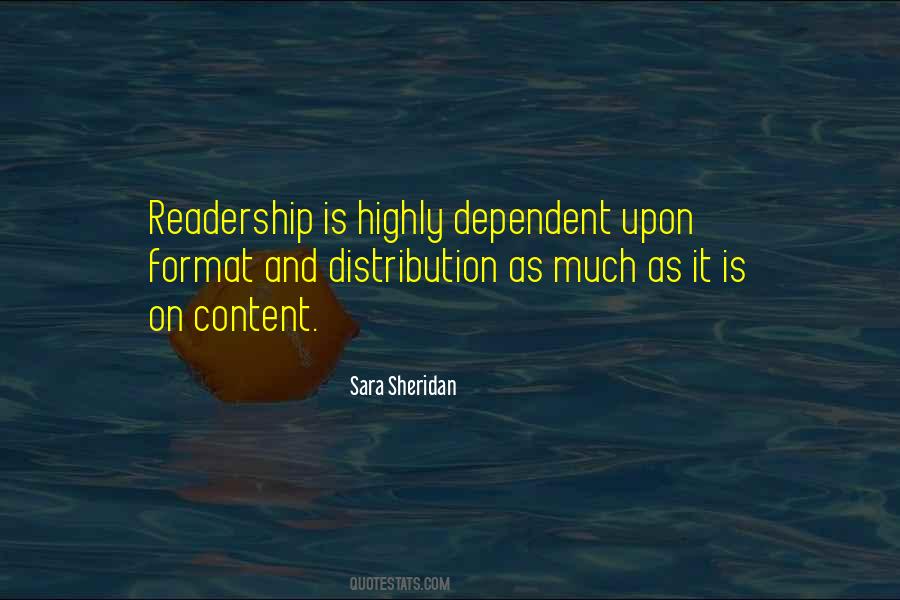 #14. You can provide a short-format content, and it can grow, and it can spread virally across the entire Twitter system, and it can contain within it a link to something that's much longer, that's a long essay or that's a video. - Author: Biz Stone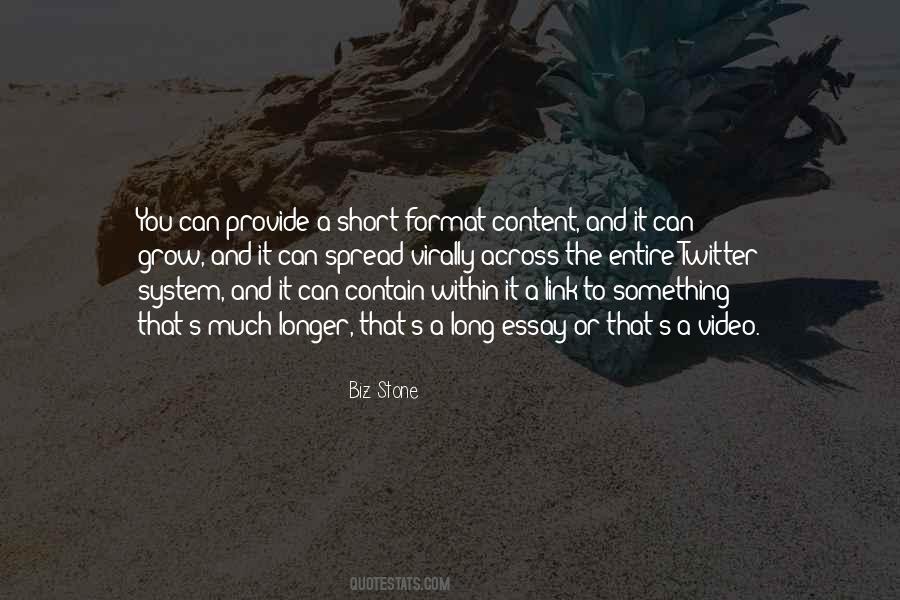 #15. You have a lot of companies developing stuff that's just derivative. If 'The Voice' is the No. 1 show on TV, they say, 'Let's do 100 different versions of 'The Voice.' The problem is, by the time you get to market, it's already saturated, and everybody hates the format. - Author: Shane Smith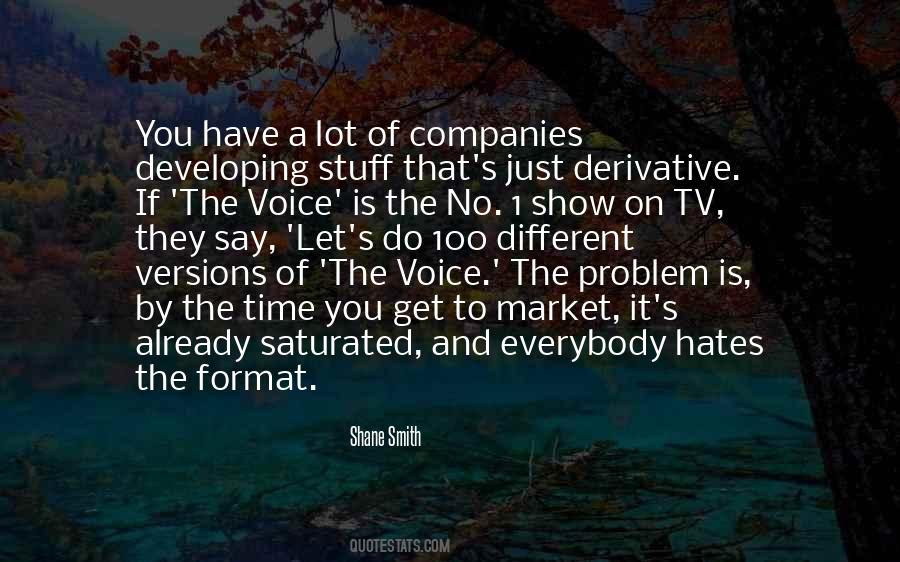 #16. The music industry is saying, This is the format, and if you'll fit into this format, you can be on radio, and if radio will play you, MTV will expose you, and MTV will expose you, we'll sell records. - Author: Nikki Sixx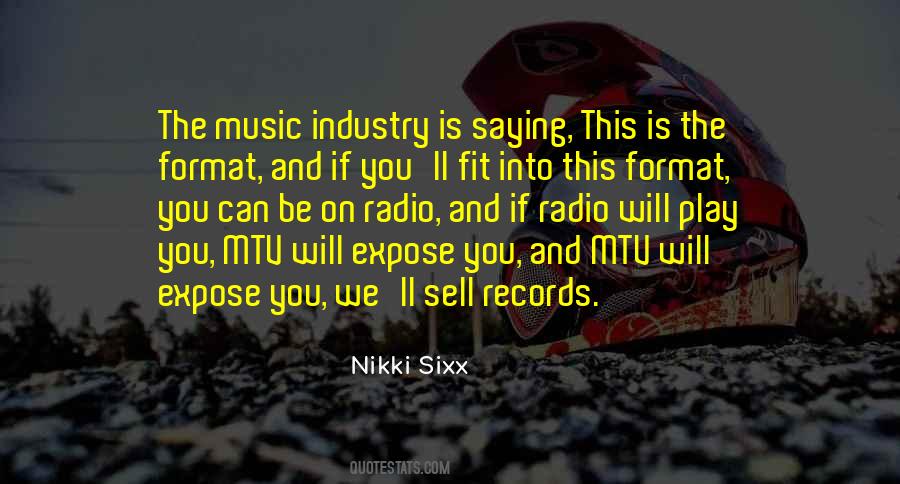 #17. But we also think that we've got more quite alot more support than any new format has ever had. - Author: Trip Hawkins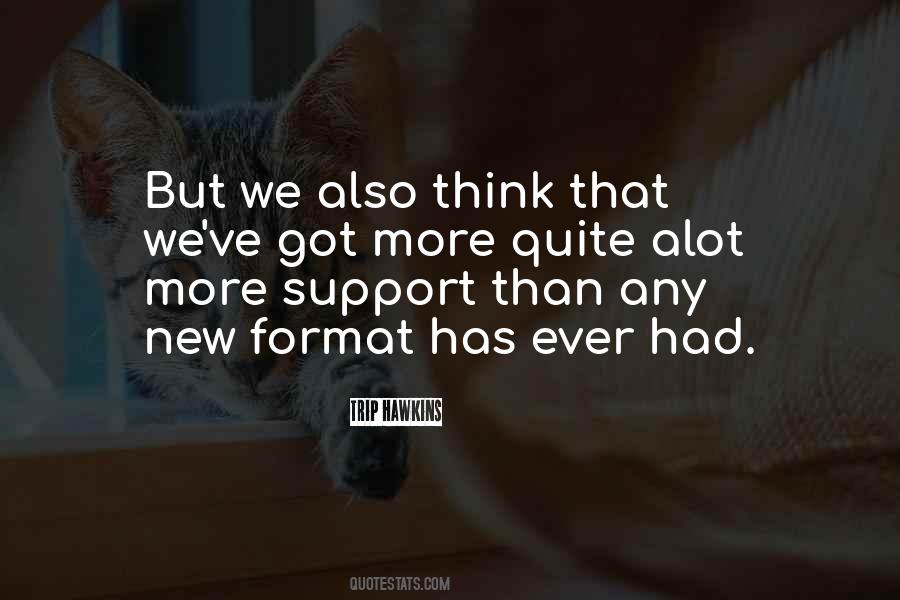 #18. I really believe that the movie will never be as good as the book, both because the book goes on longer - a movie is basically an abridgment of a book - and because books are internal. But they are incredibly powerful. The visual format is, you know, amazing. - Author: Scott Turow
#19. All songs have a message whether it's I love you, do you love me or this government sucks in a basic format and then you expand upon your beliefs and your thinking process about what's going on around you in the world. - Author: Rob Halford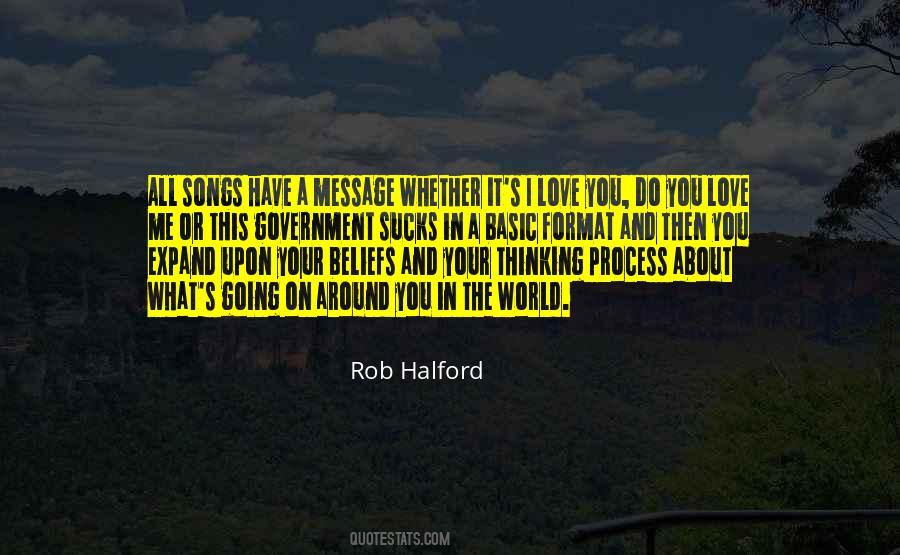 #20. I prefer recording drums in the analog format, but that does not mean I would only do it that way. - Author: Randy Castillo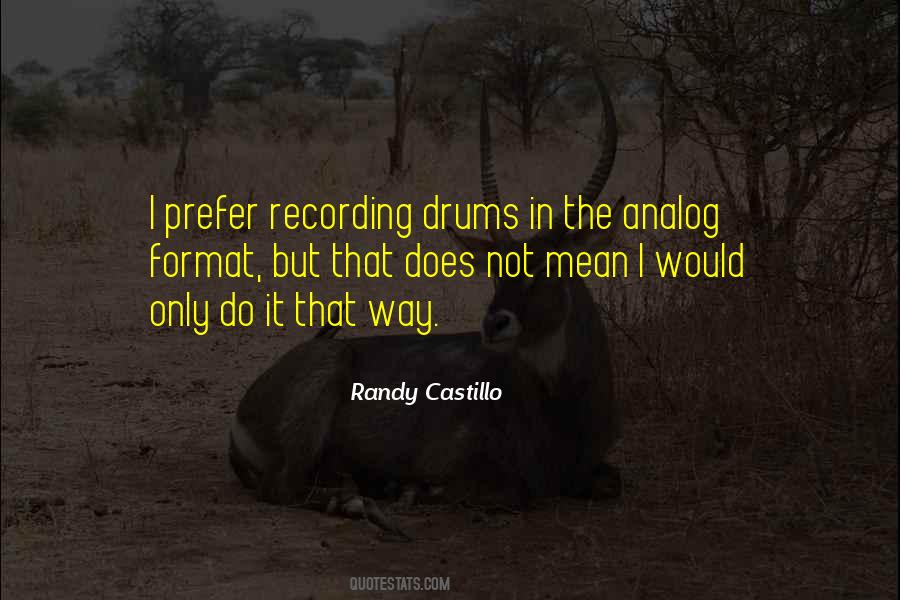 #21. One of the things that Flipboard is great at is certainly looking at the news in a realtime format, which a lot of the personal news aggregators don't really focus on, so you can see things right up to the minute. - Author: Mike McCue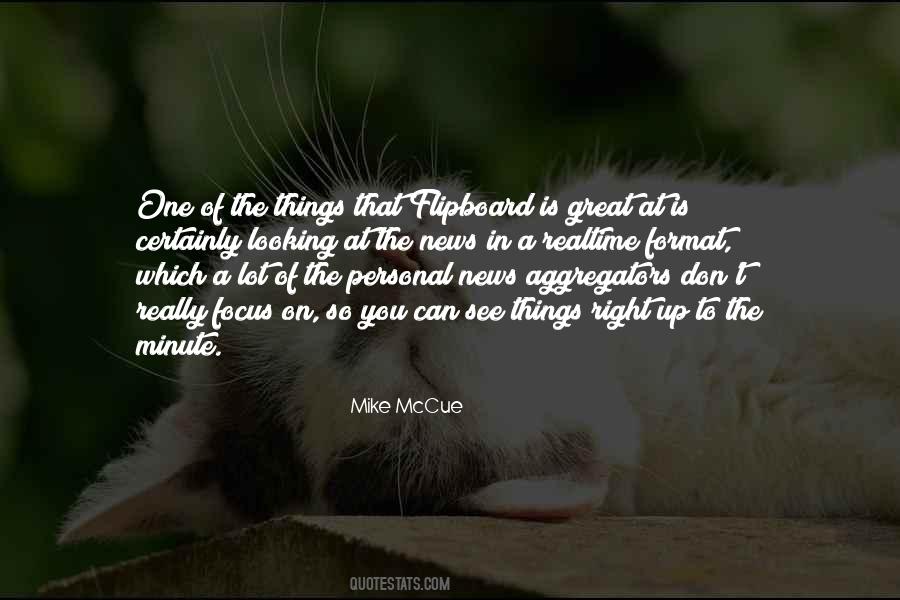 #22. I've seen comedians make people laugh by being either really dark and sad and touching, or really strange and bizarre and creepy. You can take the format and do whatever you want with it, and that seemed interesting to me. - Author: Amy Seimetz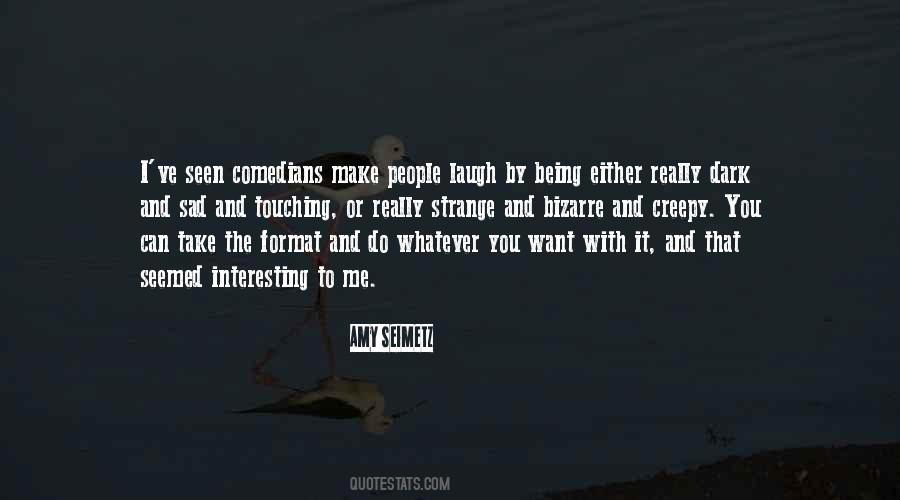 #23. Since we made Shrek in the digital format, you actually can see it in its purest form digitally. - Author: Jeffrey Katzenberg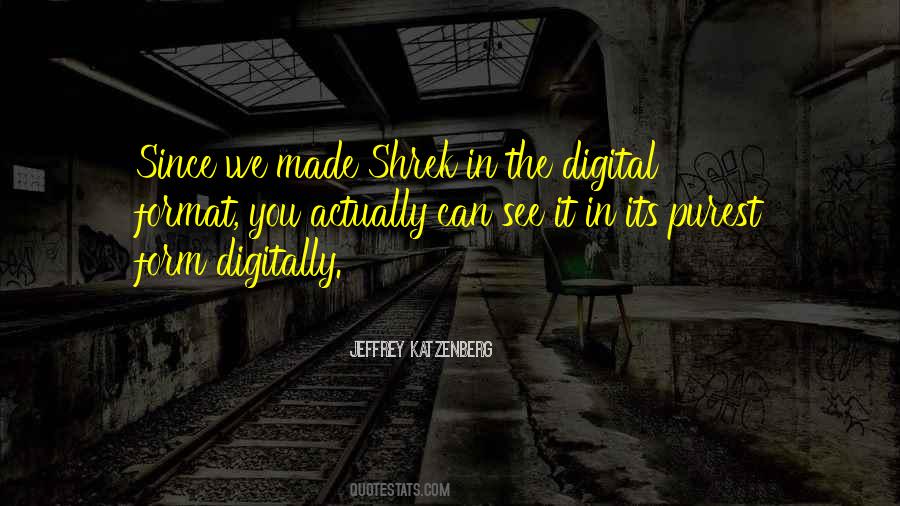 #24. It's kind of a strange world when you can trust a game format or platform more than the network news. - Author: Michael Ironside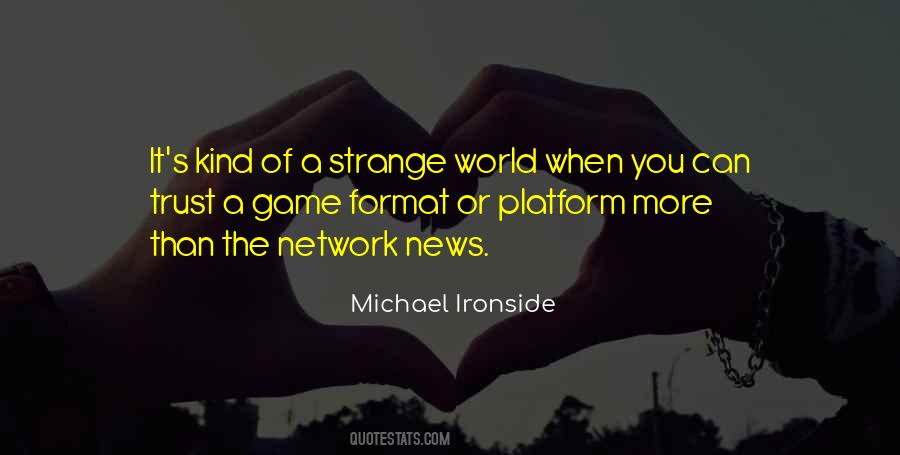 #25. American shows can go on for 20 years. I respond more to the British format. Three seasons is a long run for them to tell a story. - Author: Alia Shawkat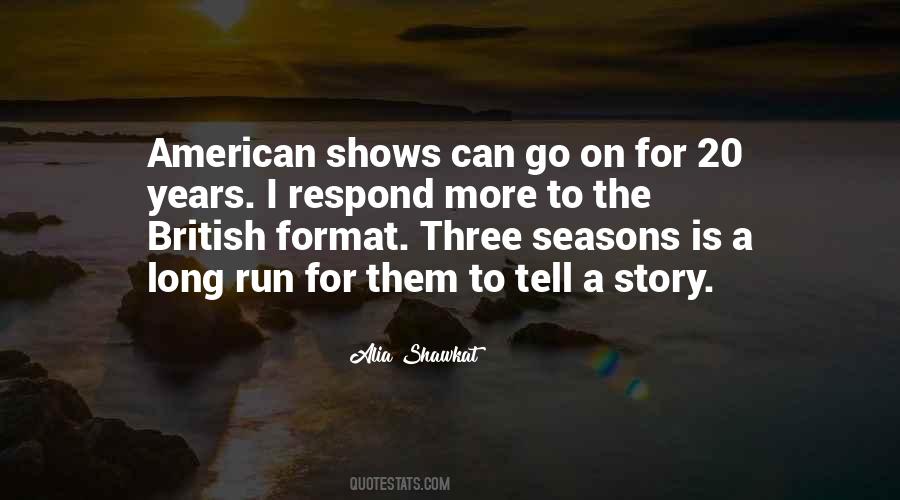 #26. I've seen 13, 14-year-olds opening CDs as though they're records from the 1920s, going 'Look at this - there's a little book!' ... That makes me think the format has probably had its day. - Author: Jonny Greenwood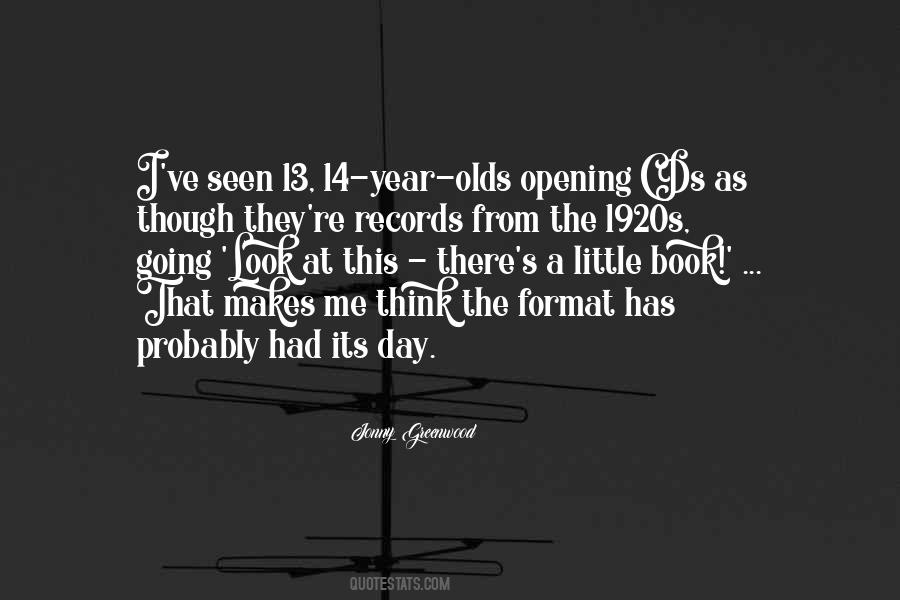 #27. We didn't want to worry about the formula that has been implanted into our brains - this verse/pre-chorus/chorus format. When we were writing 'The Papercut Chronicles,' we had no idea about any of that. We didn't know how to count bars or how to write what's considered a well-formatted pop song. - Author: Travie McCoy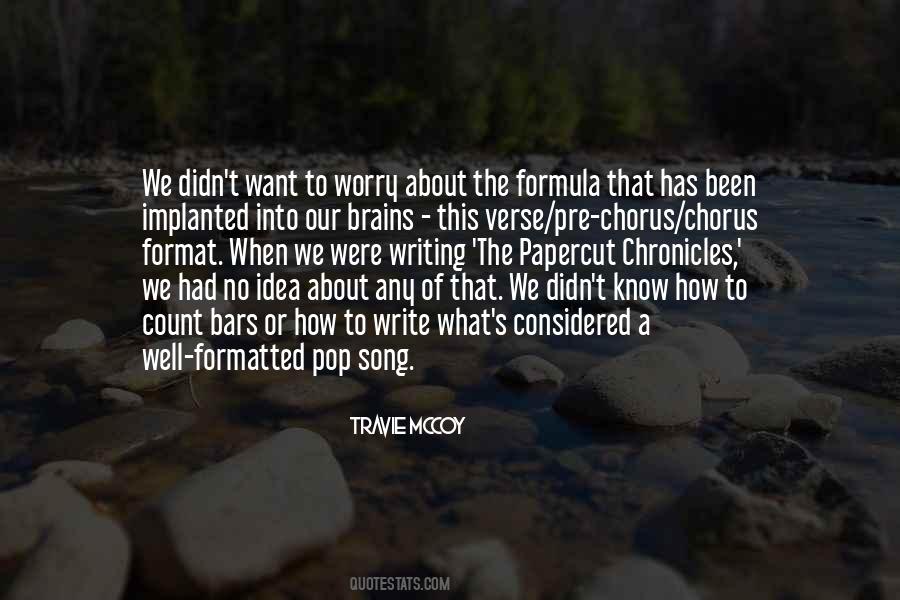 #28. As long as we are engaged in storytelling that moves the culture forward, it doesn't matter what format it is. - Author: LeVar Burton
#29. Provides ease of use, flexibility in format - Author: Anonymous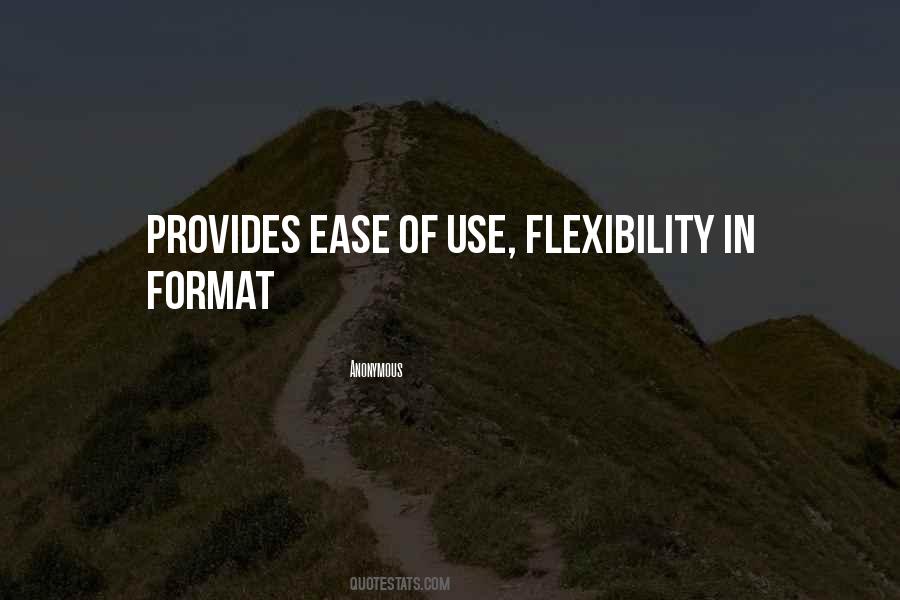 #30. As a writer, it's fun to create. And once you get into a long-running show with very established characters and a very established tone and format, after a while it's a really great job, but that's what it is - a job. - Author: Alan Ball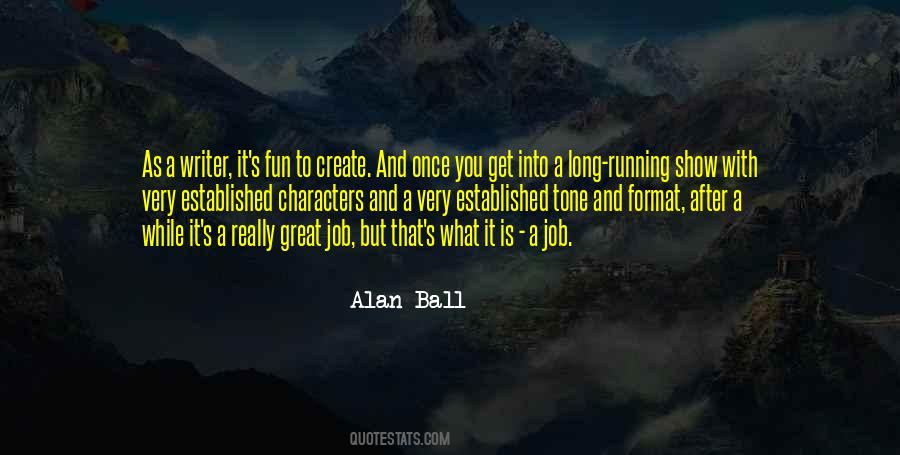 #31. My major contribution to the format was to suggest that I be able to step out of the plot and speak directly to the audience, and then be able to go right back into the action. That was an original idea of mine; I know it was because I originally stole it from Thornton Wilder's play Our Town. - Author: George Burns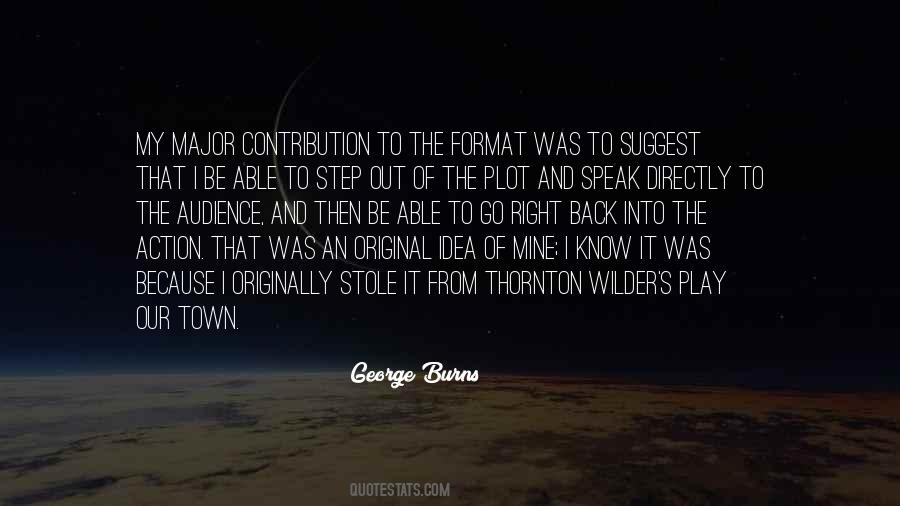 #32. I said that the only way I could have a band that would work in the format of my show is if the band were crap. So if I have a band they'd have to really suck. - Author: Craig Ferguson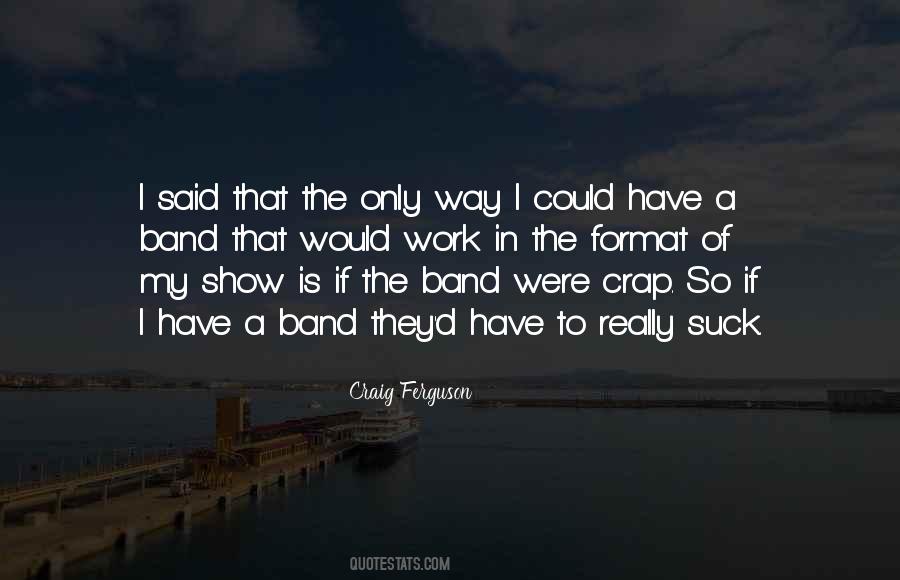 #33. The whole format of 'Game of Thrones' is that you just don't know what to expect. - Author: Gwendoline Christie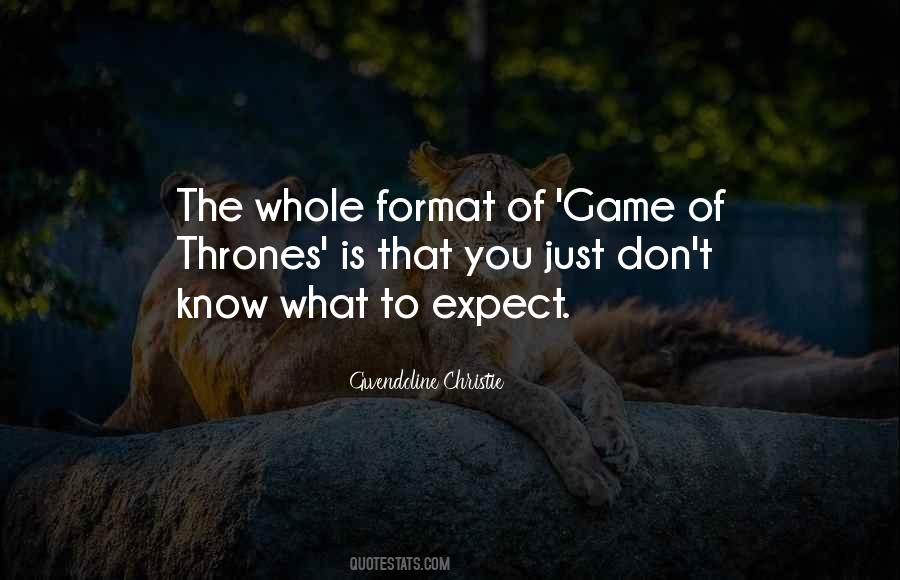 #34. Performing music is a way to do comedy, but without the obligation to do a solid hour, hour and half of a standup. I could intersperse it with music, so it became a really good format for me. - Author: Steve Martin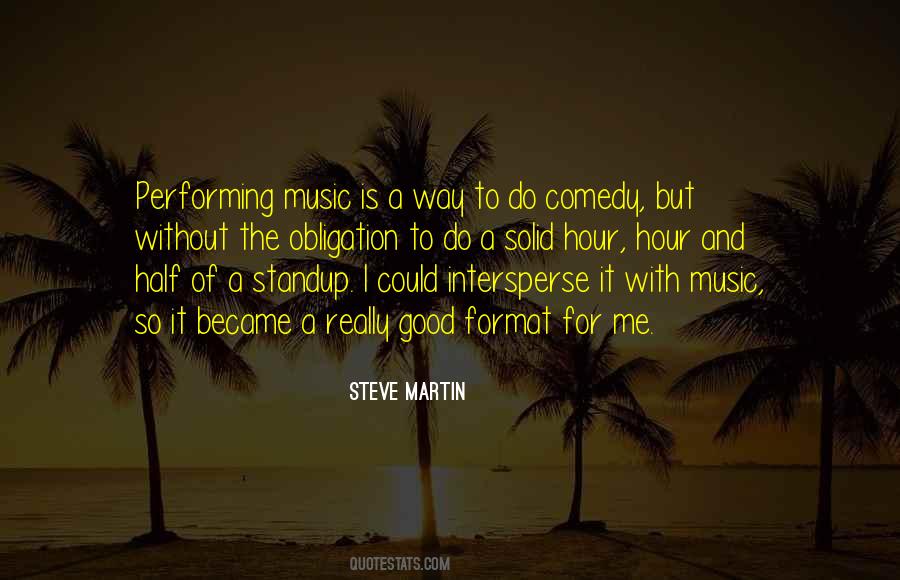 #35. I've always liked the format of YouTube, sharing things for free, which is a nice exchange between people. - Author: Bo Burnham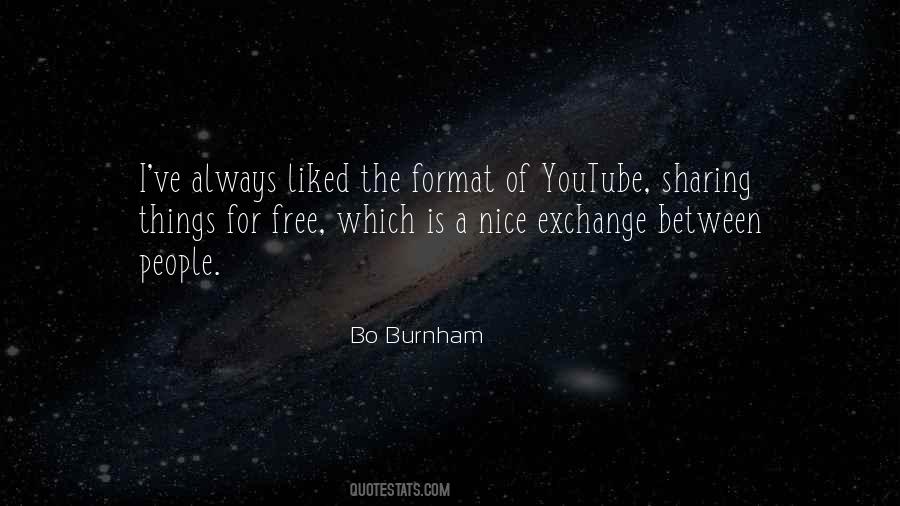 #36. For me, while writing I am an engineer, so if I decide to change the format, I want to add a section, to move a section, reorganize the section, anything I want to do, I just boot words, and I do what I want to do. So, I feel completely empowered when I'm a writer. - Author: Guy Kawasaki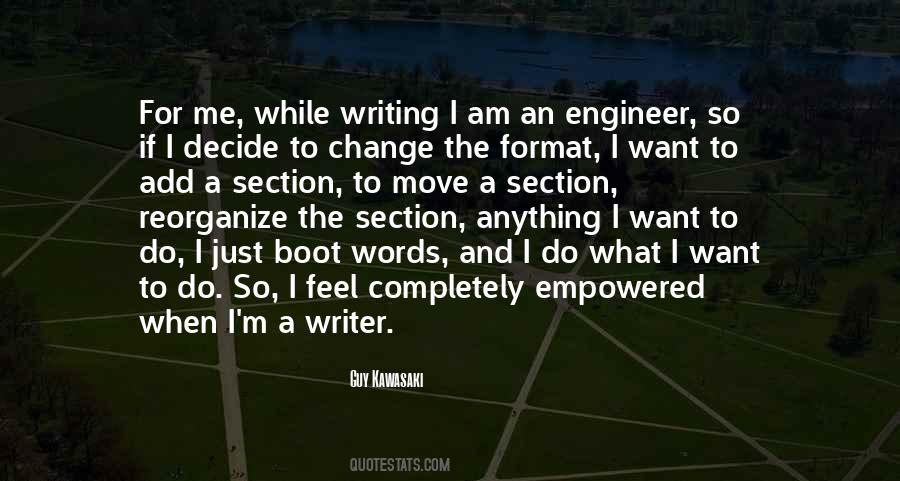 #37. For years (decades even), I genuinely believed that world would beat a path to my books and stories, but eventually, as everything I wrote went rapidly out of print and stayed there, I wised up and started assembling them in e-format editions. - Author: Scott Bradfield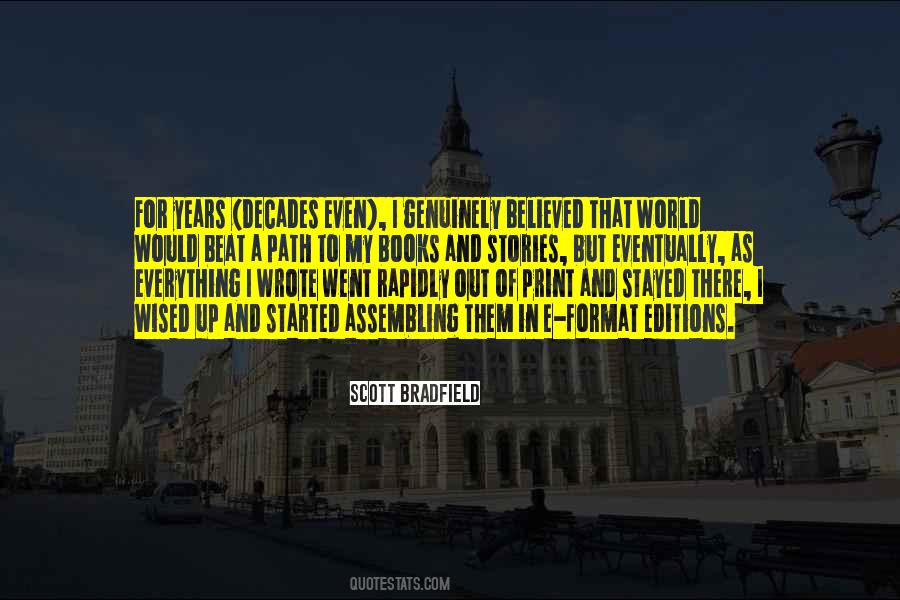 #38. So what you're saying is you can't explain it."
"I did explain it."
"No, you used nouns and verbs together in a pleasing but illogical format. - Author: Maggie Stiefvater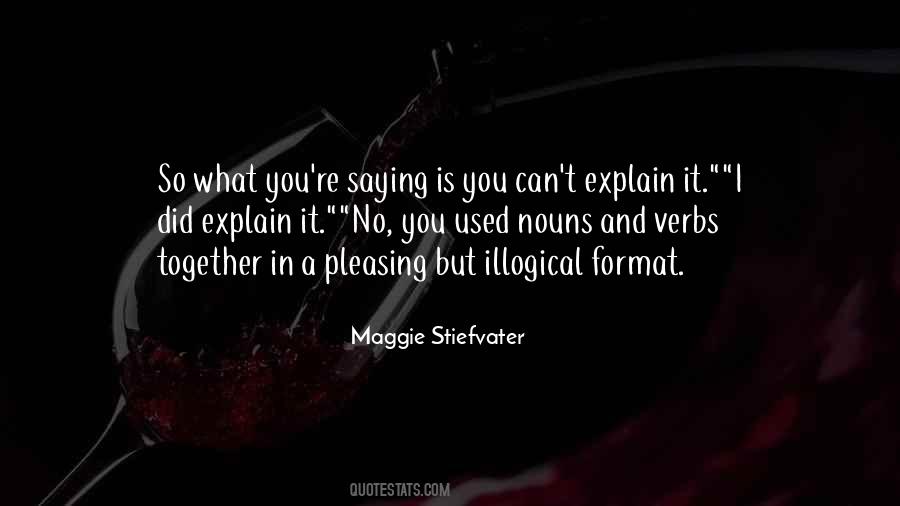 #39. Remember: TV is a format, film is a format, and books are a format. - Author: Robert Gottlieb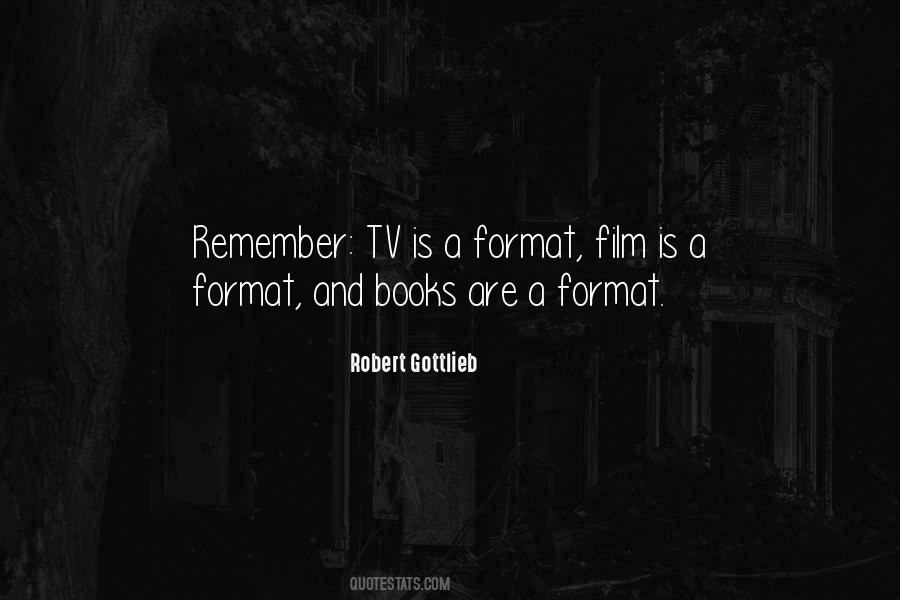 #40. When you feel the urge to design a complex binary file format, or a complex binary application protocol, it is generally wise to lie down until the feeling passes. - Author: Eric S. Raymond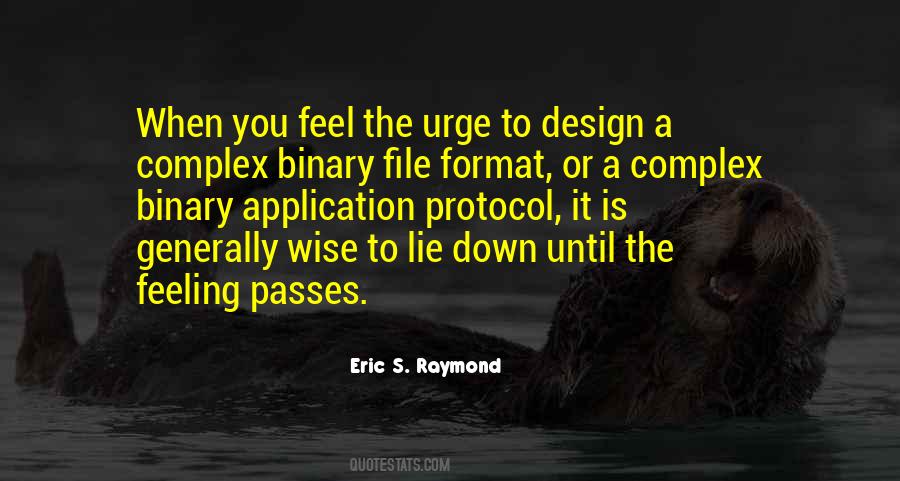 #41. Learning how to use different formats has made me a better photographer. When I started working in medium format, it made me a better 35 mm photographer. When I started working in 4x5, it made me a better medium-format photographer. - Author: Mary Ellen Mark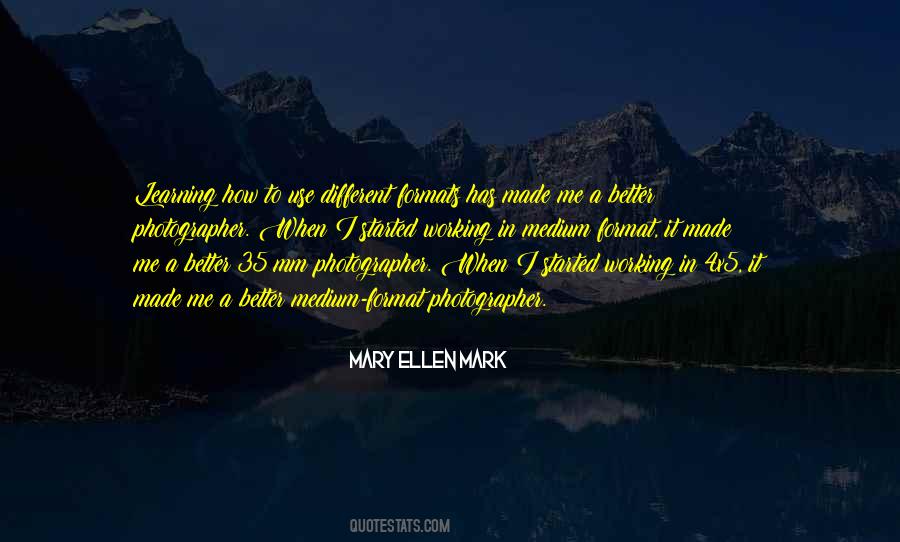 #42. I think that that is a wonderful format - you know, having individual stories over a period of weeks that are thematically connected in terms of genre - there's not enough of that out there. - Author: Richard Thomas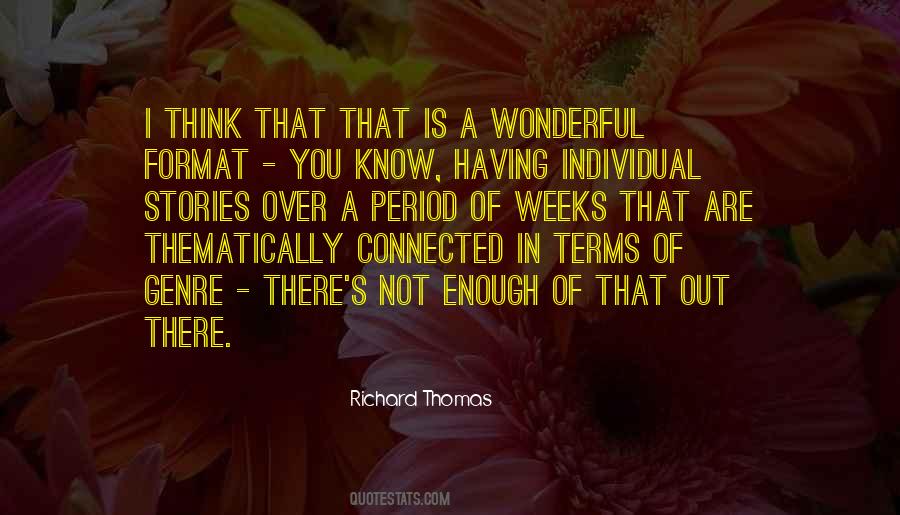 #43. There are many things that have stayed consistent. But the biggest change, of course, is technology, the way it's used, the way films are shot, the format that they're shot in, and the way films, of course, are edited. It's very different than it was in the past. - Author: Howard Shore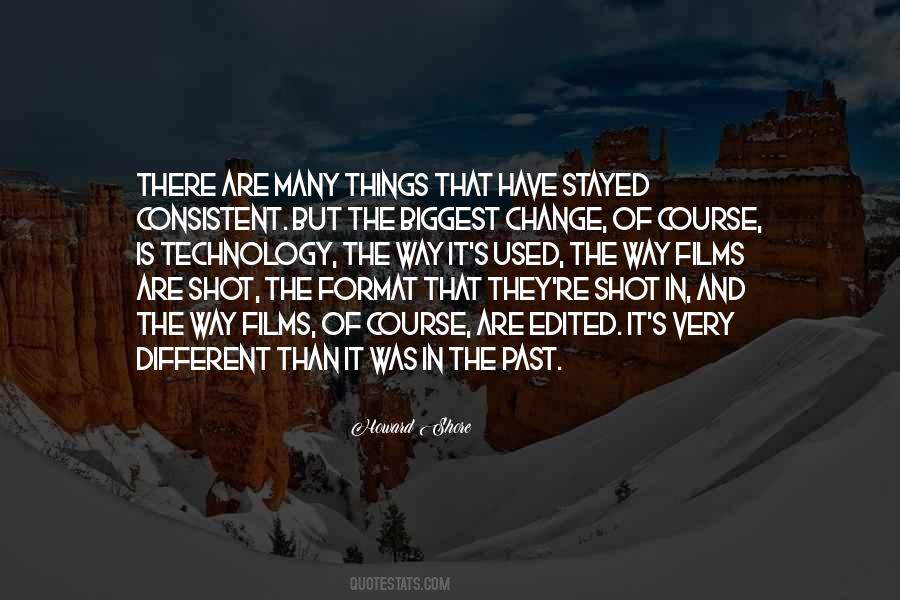 #44. We get used to a certain kind of colour of form or format, and it's acceptable. And to puncture that is sticking your neck out a bit. And then pretty soon, that's very acceptable. - Author: Lee Krasner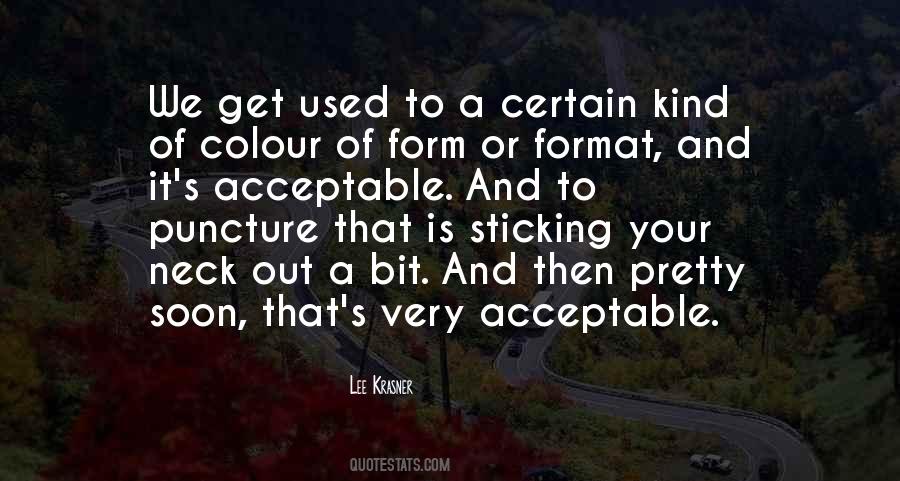 #45. I never meet anybody who actually likes the format, and it's always a source of great concern to me when you're charging a higher price for something that nobody seems to really say they have any great love for. - Author: Christopher Nolan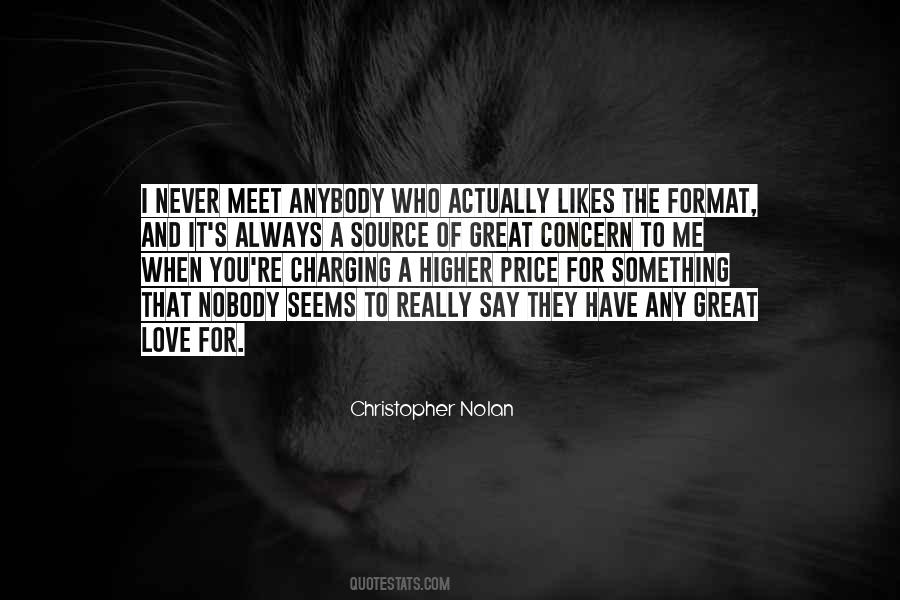 #46. Compress Image Size is most wonderful and useful online tool that supports users to perform different operations related with image size, image format etc. This specific tool helps users to reduce, enlarge and change the size of images according to their requirements. - Author: Compress Image Size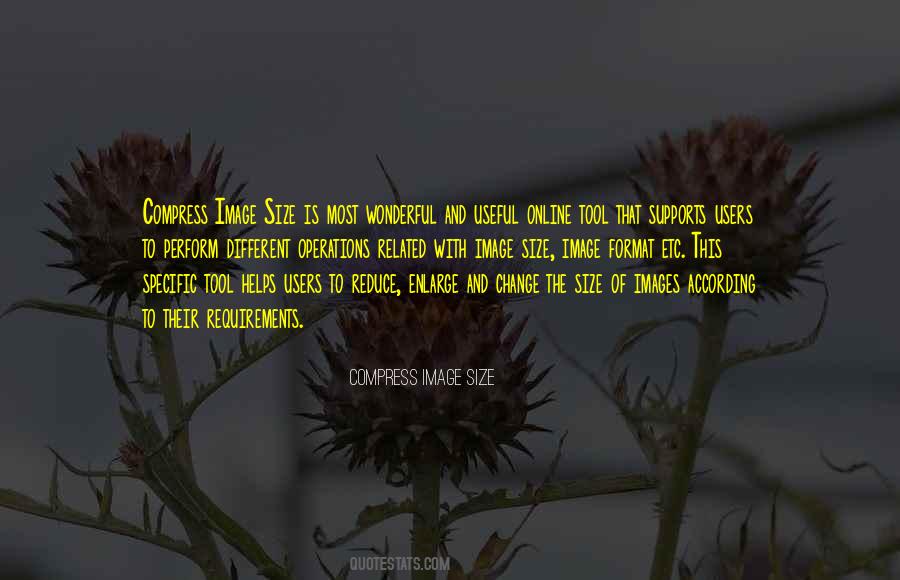 #47. It's a challenge to work a character's arc into a format in which you only have a very limited amount of time to grow and develop a character. - Author: Ginnifer Goodwin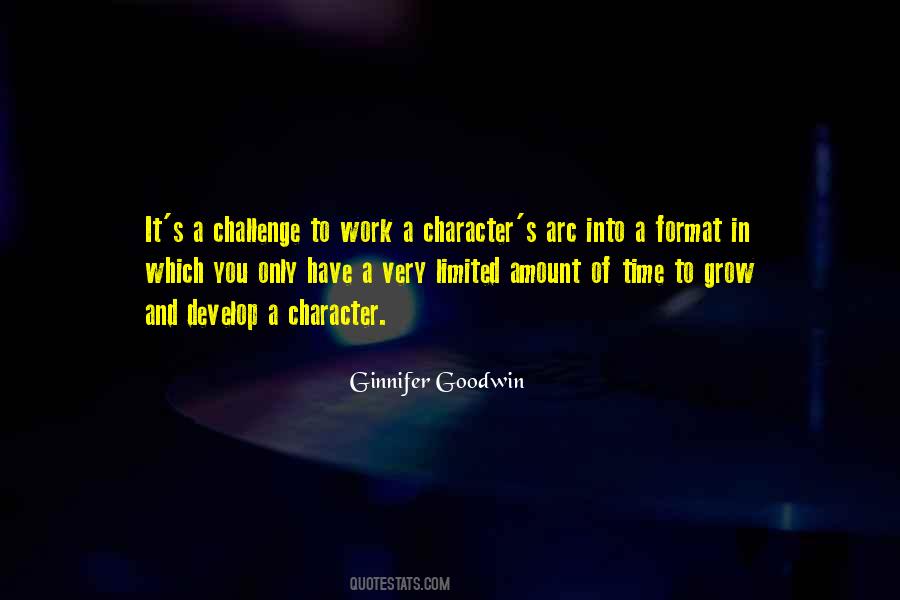 #48. The cool thing about the universe is that it can format itself into tiny little manifestations that are not entirely aware of all aspects of life. - Author: Frederick Lenz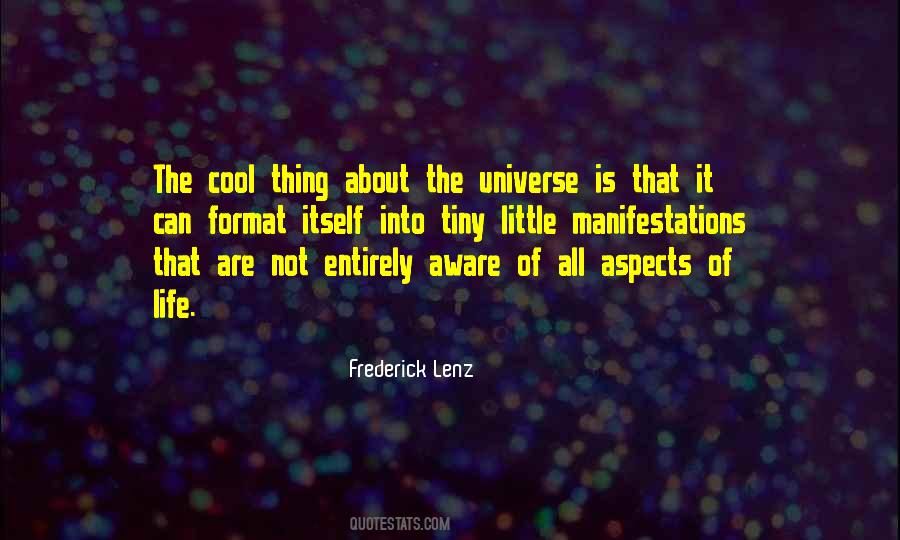 #49. Sporting competitions seem to be what we obsess over, frankly. So if we can put engineering, science, technology into a format of healthy, fun competition, we can attract all sorts of kids that might not see the kind of activity we do as accessible or rewarding. - Author: Dean Kamen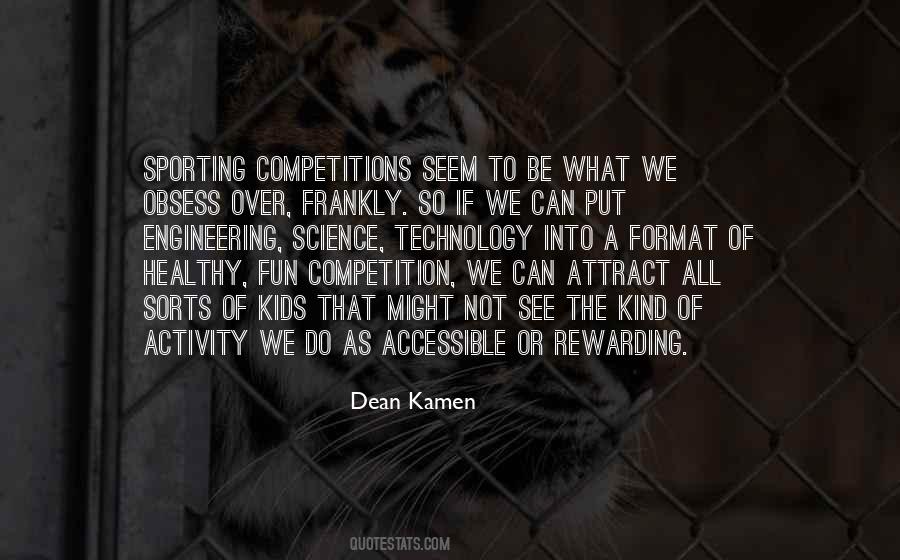 #50. I'm just a sucker for new-agey synth sounds and instrumentation. I wasn't really thinking of soft rock, but I know that kind of quiet-storm format uses a lot of these sounds. - Author: Dan Bejar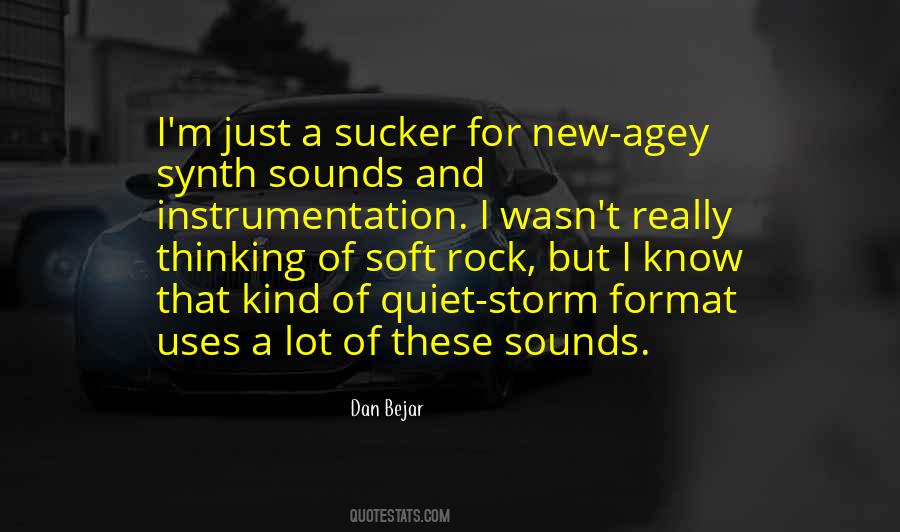 #51. Honestly, the essence of publishing hasn't changed. Since the days of the cave man carving stuff on the cave walls, people have wanted stories, and storytellers have wanted an audience. That is still the case. The changes are really a matter of format. - Author: Susan Wiggs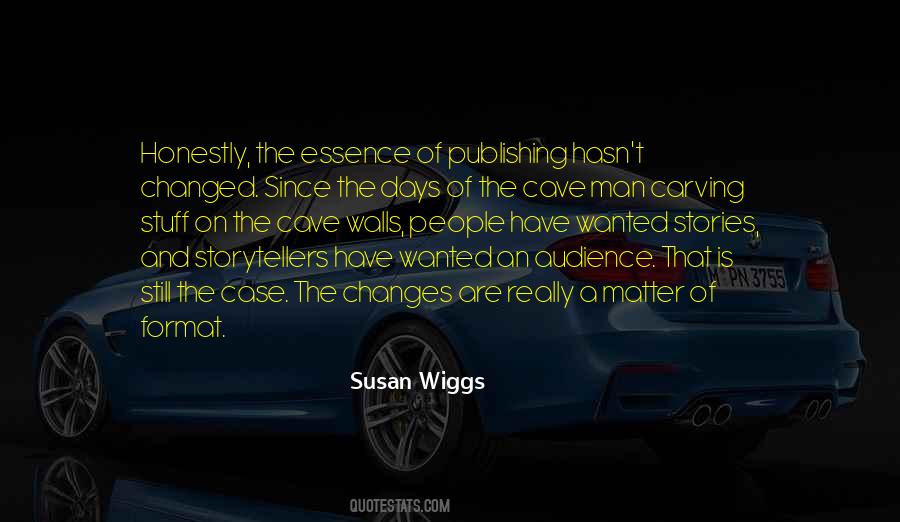 #52. And that format was - we'd been using that format, I guess, since the late '70s, and it was starting to get very predictable. In other words, certain songs would surface in the same points in the set every so often; it was like rotation. - Author: Phil Lesh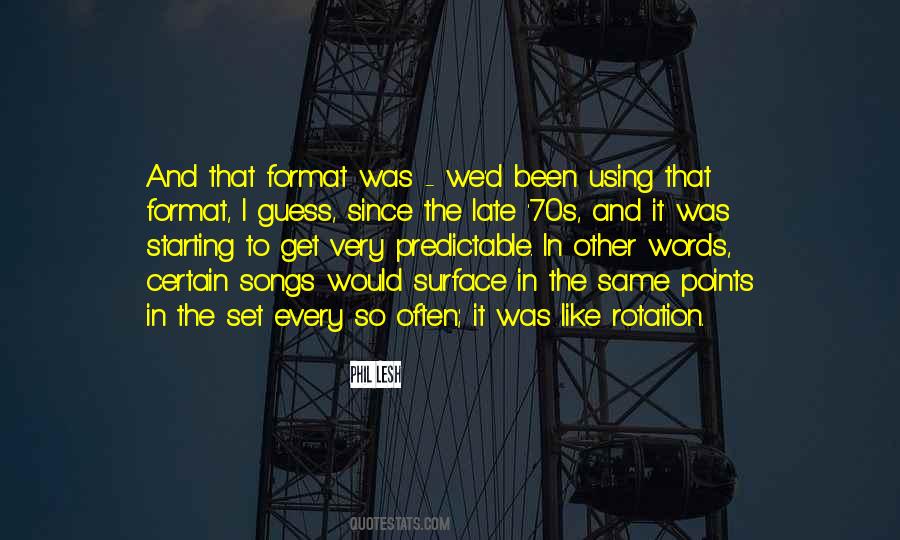 #53. I'm trying to use people like Meredith Monk and Philip Glass and Terry Riley as the backing tracks for new pop songs. It's really hard trying to use the format and write a pop song on top of avant-garde music, so we'll see. It could be cool, or it could totally flop. - Author: Autre Ne Veut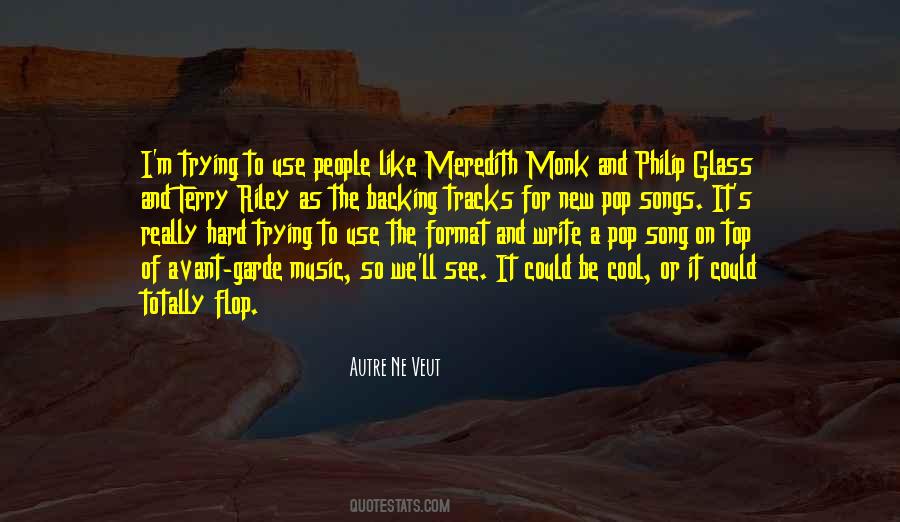 #54. I am obsessed with cricket. But to be honest, I prefer the IPL format to test matches. - Author: Shilpa Shetty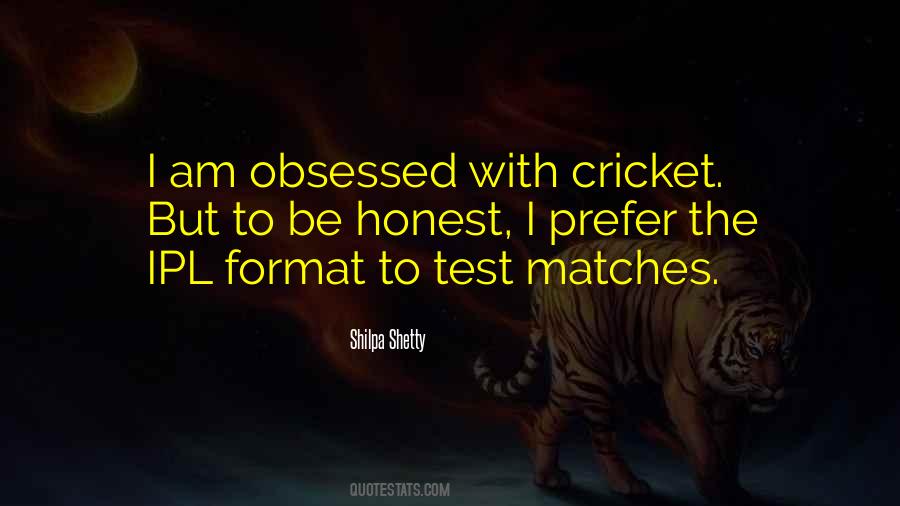 #55. I personally like the idea of newspapers. It's a good format. You can read it in whatever order you want. You can glance at it. There is something about a single screen and scrolling through pages that just doesn't have the same appeal. - Author: Matt Groening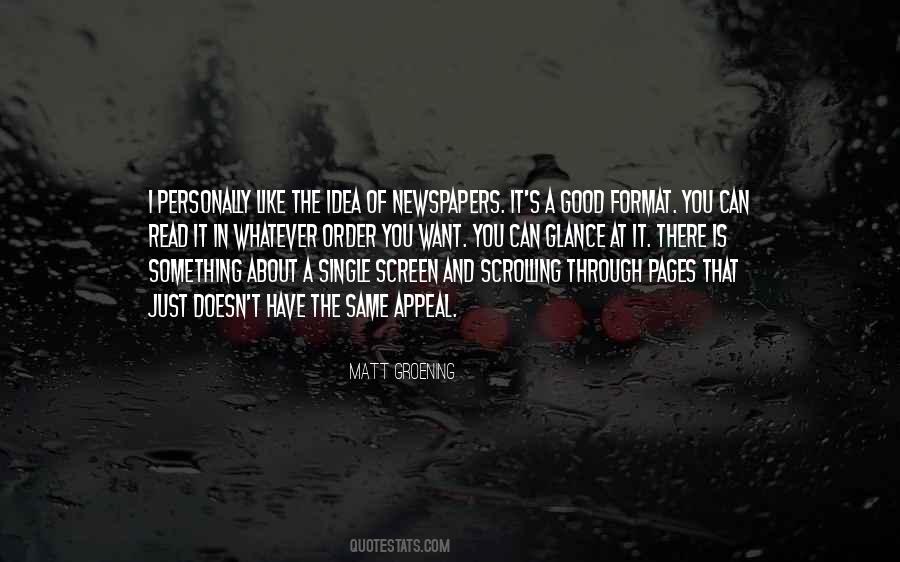 #56. I like the freedom of podcasting. With podcasting you can really mess around with the form and the format. You can do as much time as you like without having to pause for commercials. - Author: Adam Carolla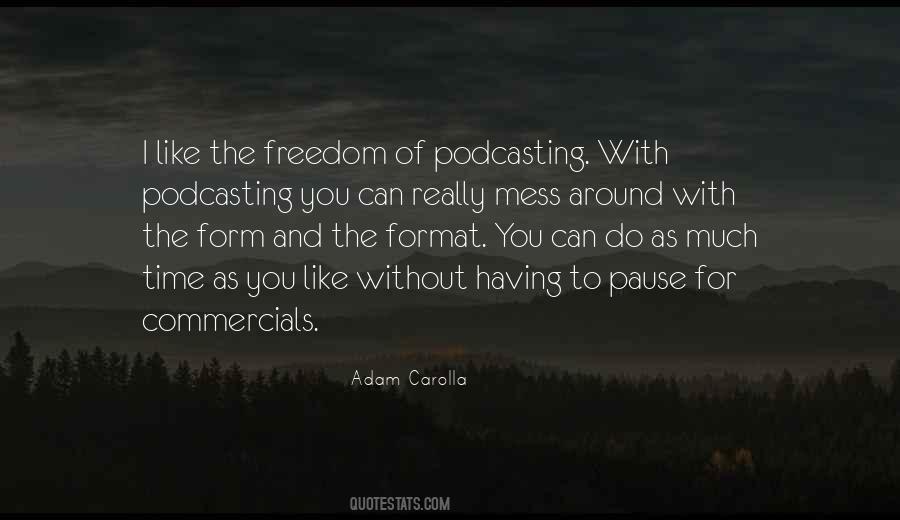 #57. If one party is trusting, it is very easy during sex for the other party to format someone, to put thoughts in their mind, to jam their consciousness or attention, to lower their energy or just take power from them. - Author: Frederick Lenz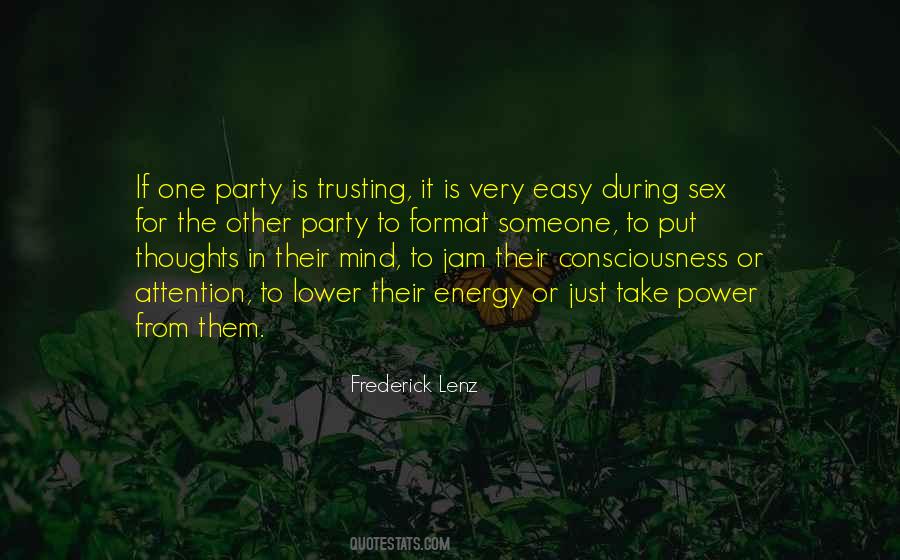 #58. When people tell you Web content is better than television content, they probably don't mean that, they probably enjoy the format of the Web better than the format of TV. - Author: Ricky Van Veen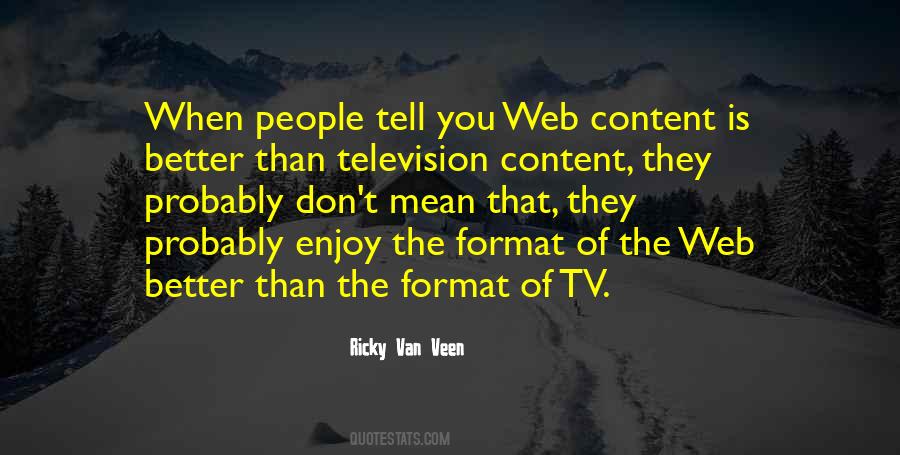 #59. You can write when you're dyslexic, you just can't read it. But I started writing short stories as a child and I found the short story format a real nice one. I love short stories and I love short documentaries or short films of any kind. - Author: Billy Bob Thornton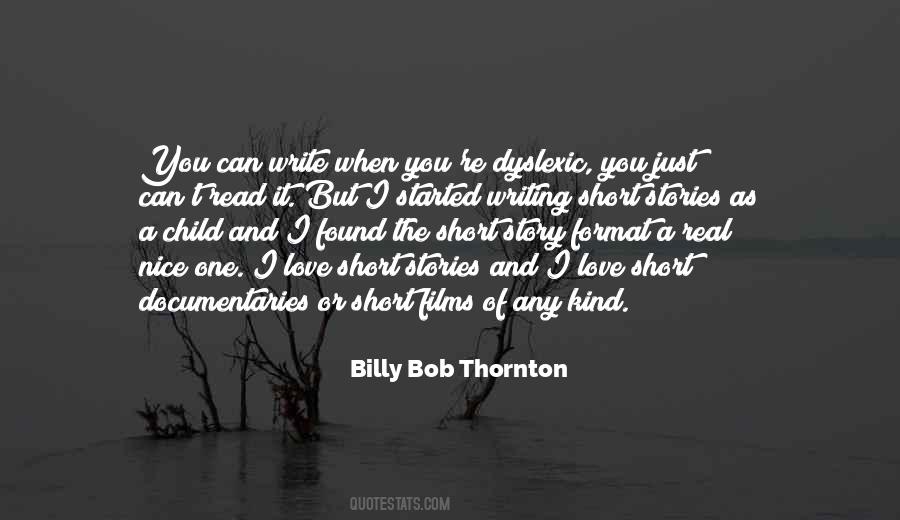 #60. I've enjoyed the time I've had working on films. I've enjoyed television movie-of-the-week format. I've enjoyed the few comedies that I've done, and I've enjoyed one-hour television. - Author: Michael Cudlitz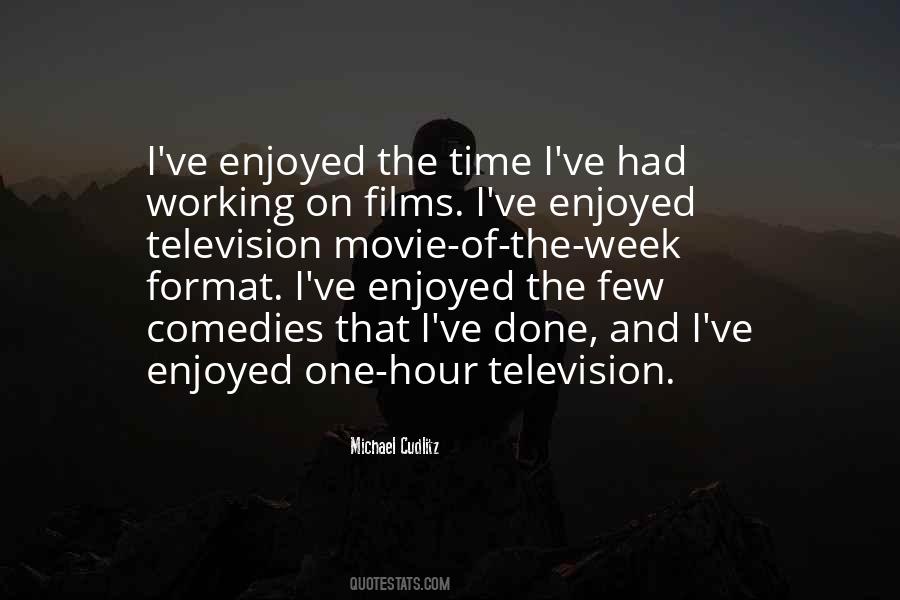 #61. The BEST representation of Source Energy that you will ever find in your physical format is inexpressible. It's that feeling of love and appreciation that just WELLS up within you, that is so sensational that you can hardly find words for it. That's the true ESSENCE of who you are. - Author: Esther Hicks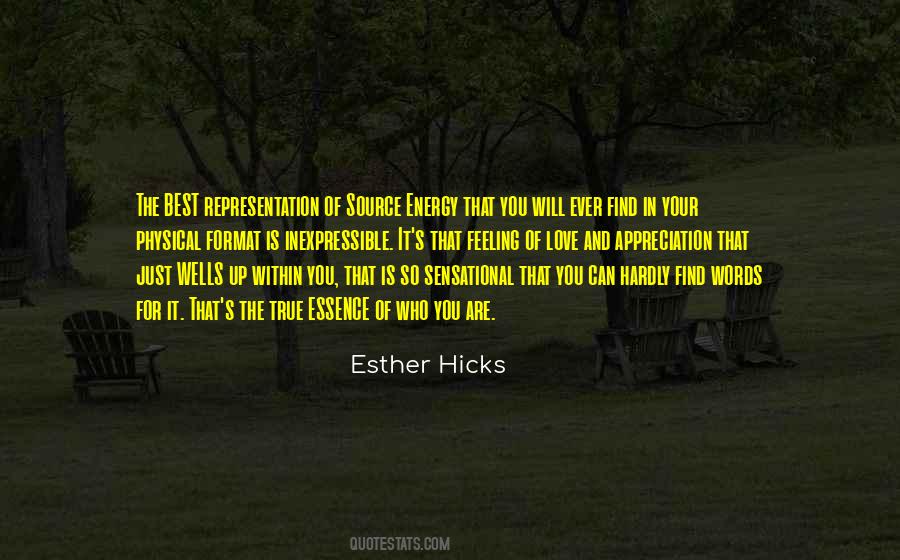 #62. The more we do this, the more the audio-drama format is opening up to us in new ways. So I think there's an experimental element, or at least an confidence in experimenting, that's running though our work now - and it wasn't there in the first season. - Author: Glenn McQuaid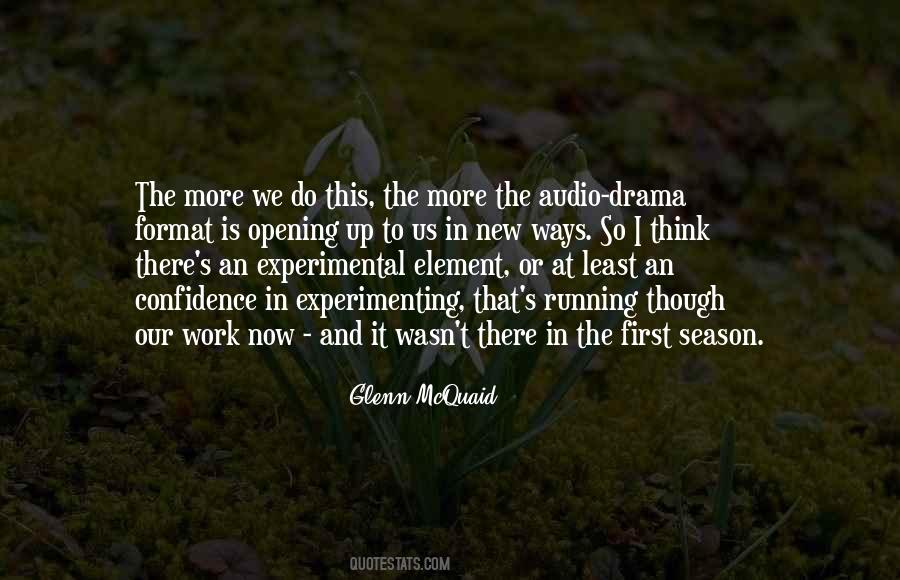 #63. Bizarrely funny ... Rarely is a documentary as well attuned to its subject as Howard Brookner's BURROUGHS, which captures as much about the life, work and sensibility of its subject as its 86 minute format allows. - Author: Janet Maslin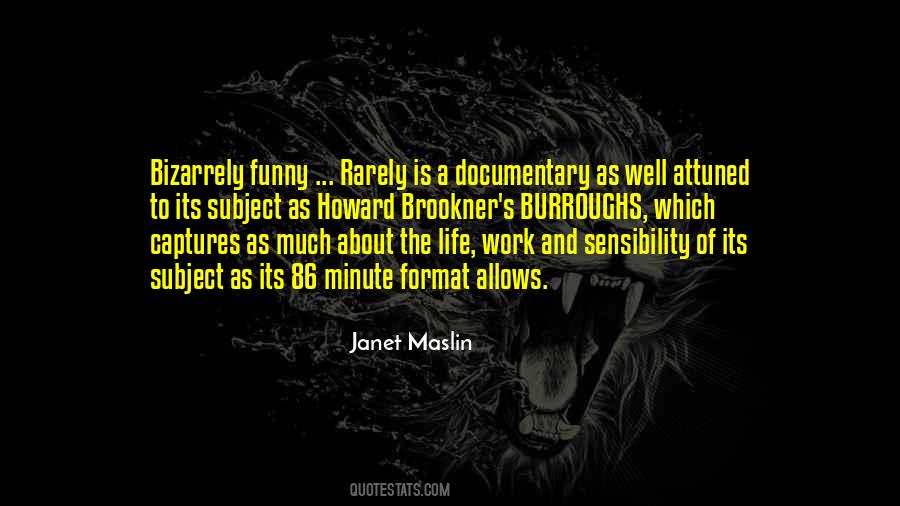 #64. The anthology format is completely normal to me. That's just how TV works in my experience. - Author: Noah Hawley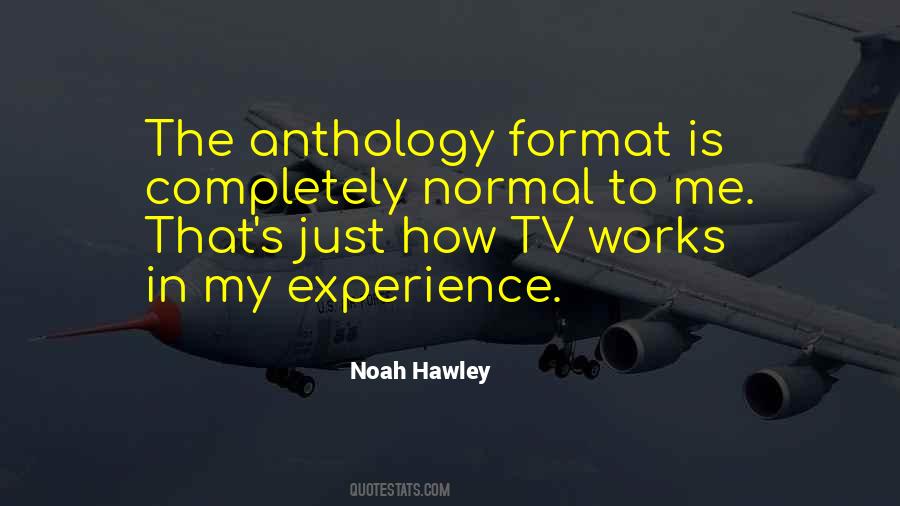 #65. I want all my stuff to be converted into digital format so I can have my reference library to carry with me wherever I go. - Author: Jim Lee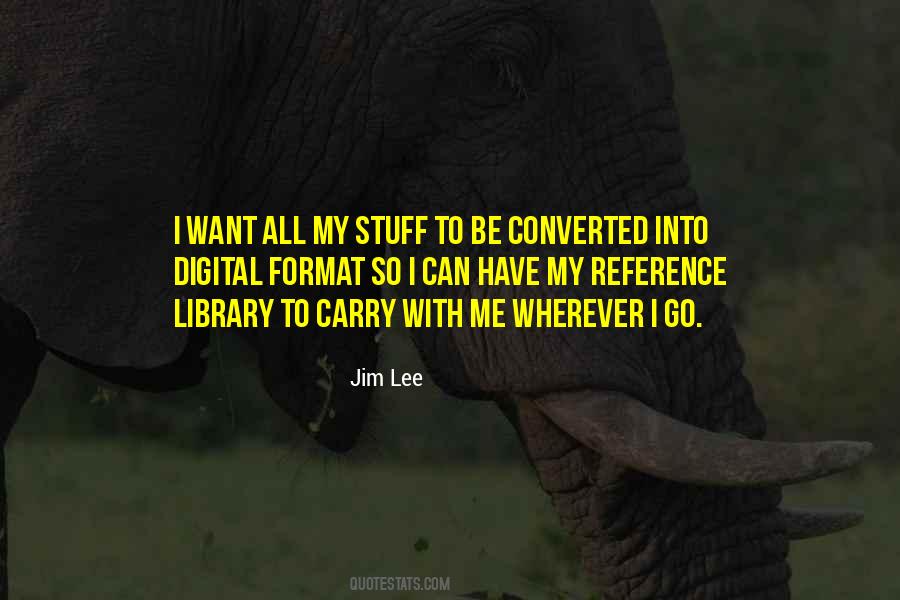 #66. The web and its technologies are digital representations of everything we did before in a more private, bigger, faster and more empowering format than ever before. - Author: David Amerland
#67. One of the advantages of this found footage format is that you can have deliberately badly composed frames. Here we can put a camera in the weirdest angle and it kind of throws you off. You never know what you are supposed to be paying attention to. It's deliberate chaos. - Author: Oren Peli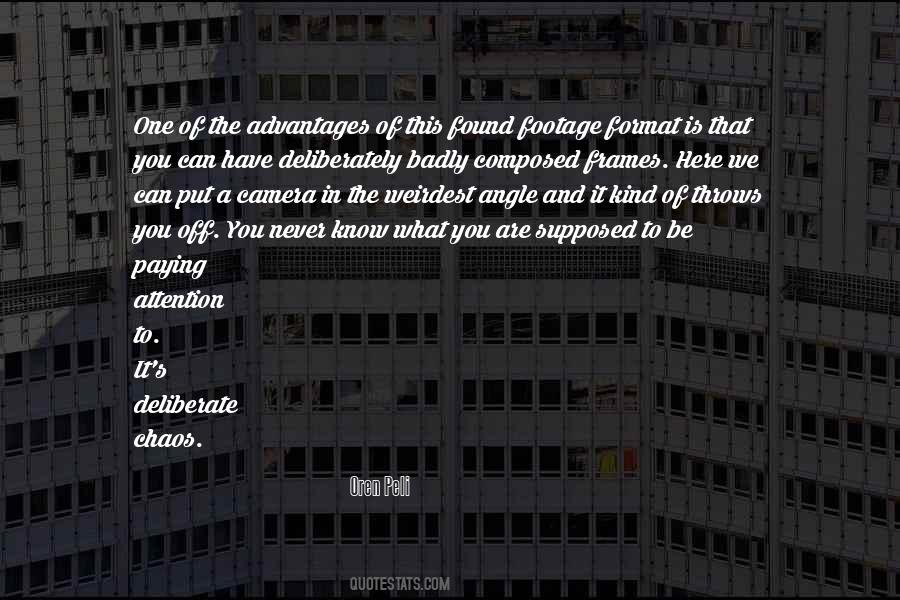 #68. I'm encouraging these women, like Cheryl Strayed, to take the jump to writing for the screen. She is adapting her book Tiny Beautiful Things for us. They're infinitely capable of tackling the format. - Author: Reese Witherspoon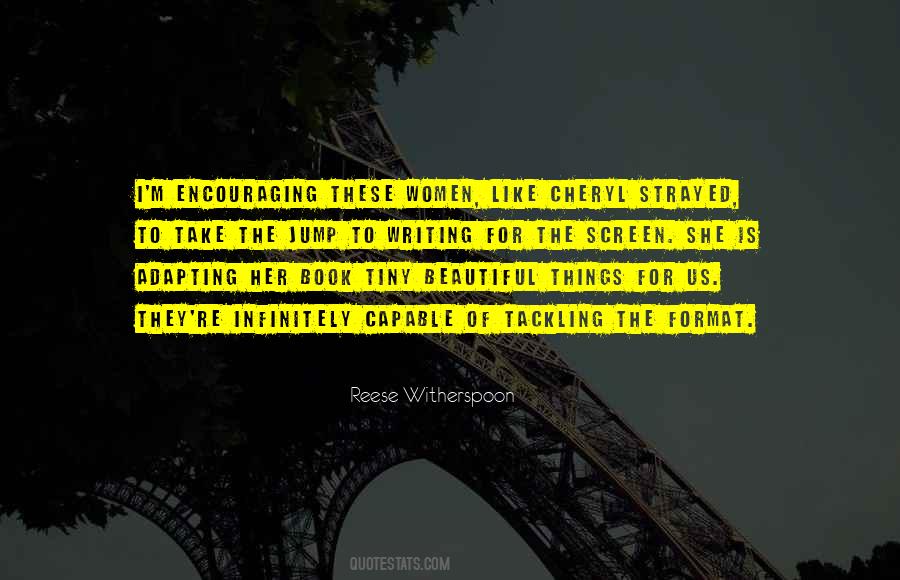 #69. Composition, the aim of which is expression, alters itself according to the surface to be covered. If I take a sheet of paper of given dimensions, I will jot down a drawing which will have a necessary relation to its format. - Author: Henri Matisse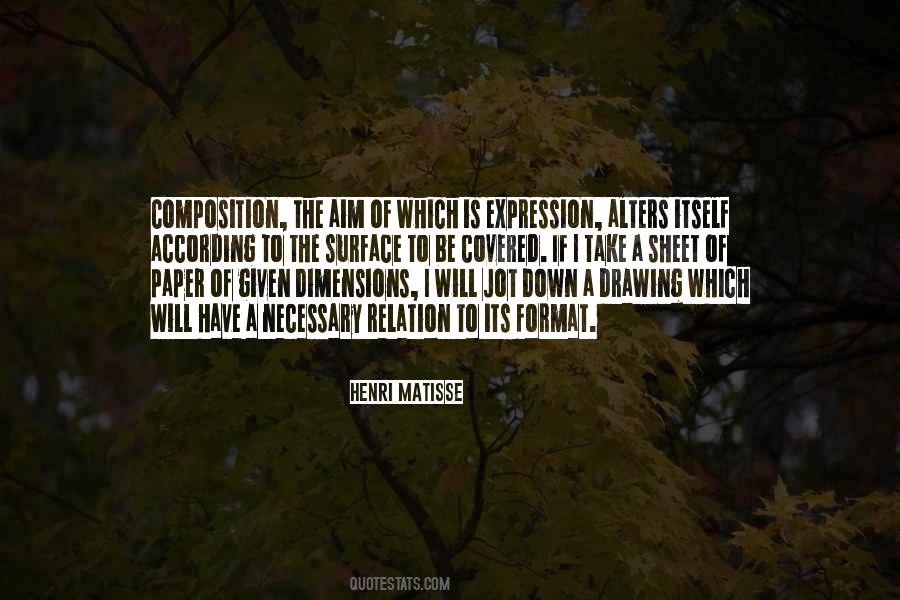 #70. I have several computer companies. One of them I have a program for wide-format printing. I have a beauty program. So I have several different programs that I own for printing. - Author: Jerry Mathers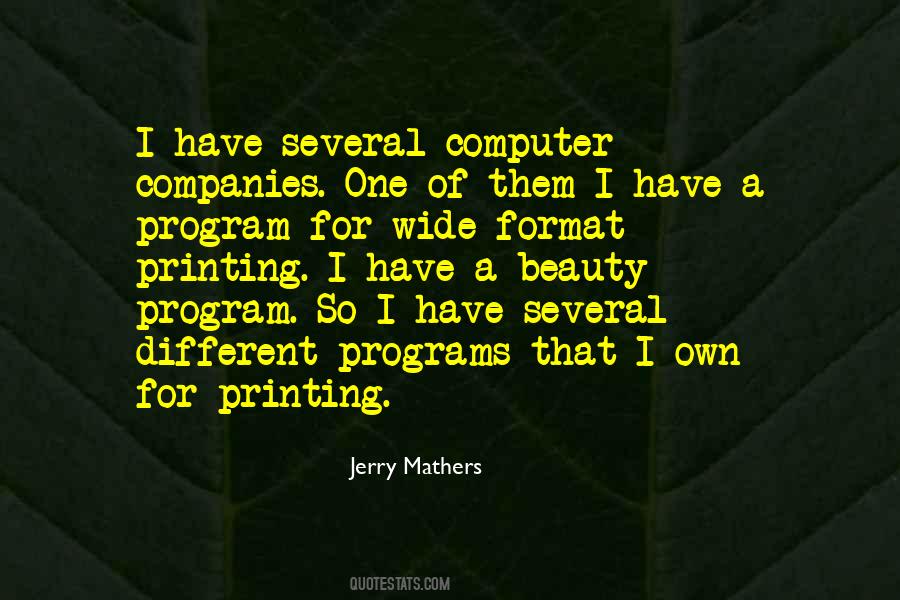 #71. I hadn't thought specifically about doing graphic novels until a couple of my friends got contracts for them. Then I started picturing how various of my stories or poems would work in an illustrated format and thinking how cool that would be. - Author: Sharon Shinn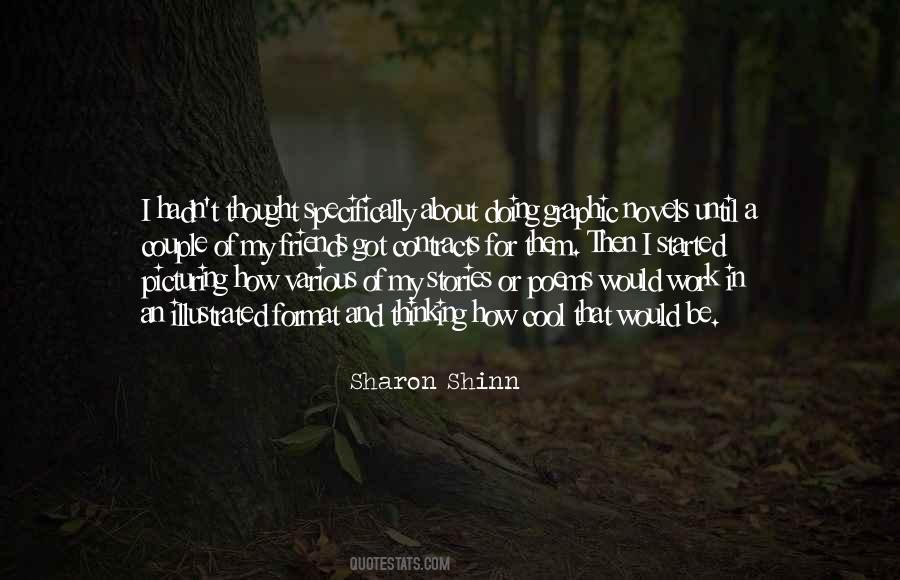 #72. We've been waiting for a format like triple-A where you can hear Crowded House, Joni Mitchell and R.E.M. - Author: Vonda Shepard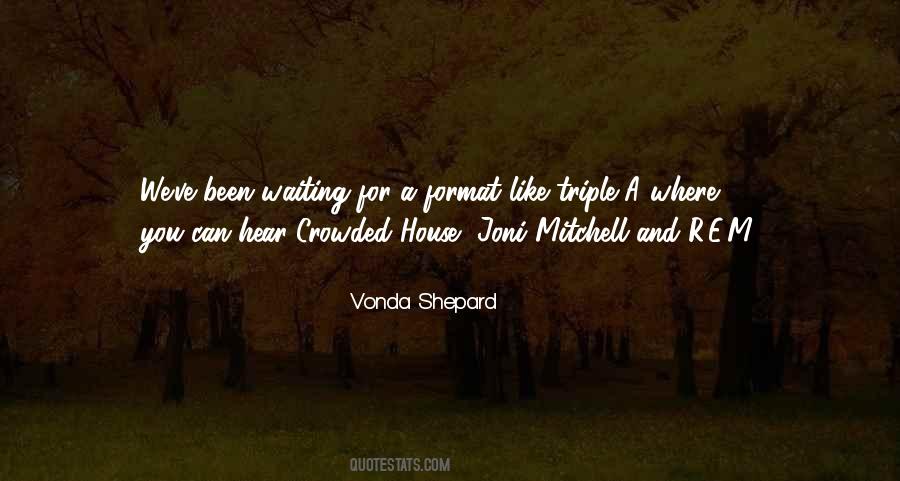 #73. I love 'The Office' format so much that I wanted to close it out. - Author: Greg Daniels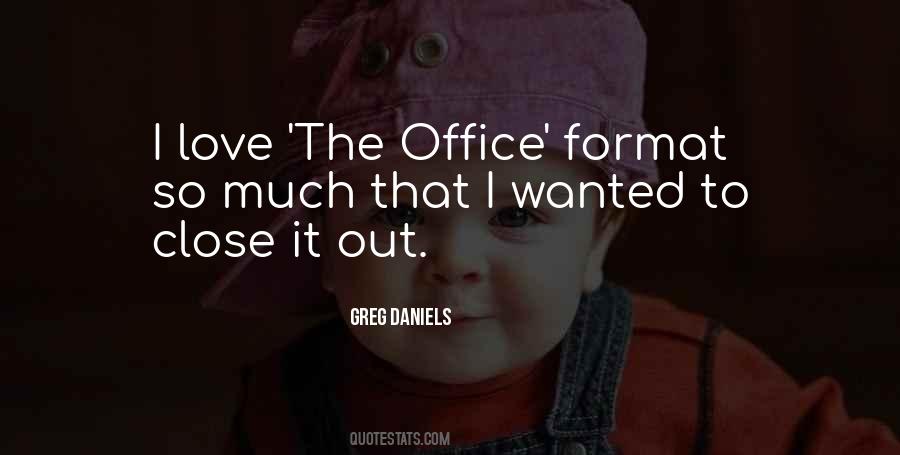 #74. I don't like to tell people what format they can get things in, or say, "I'm only going to release this on vinyl and nothing else. You have to come to my world." I don't like to say that to people either. But, I do think there's a loss of romance. - Author: Jimmy Page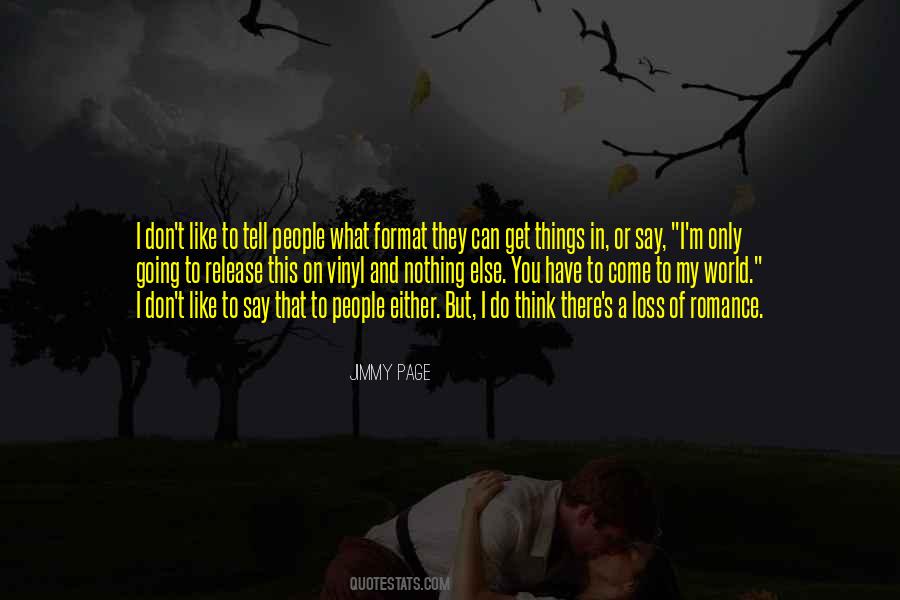 #75. The 13-episode model lends itself to a more serialised format, which is nice and gives writers a chance to breathe some space into it. - Author: Eddie Cahill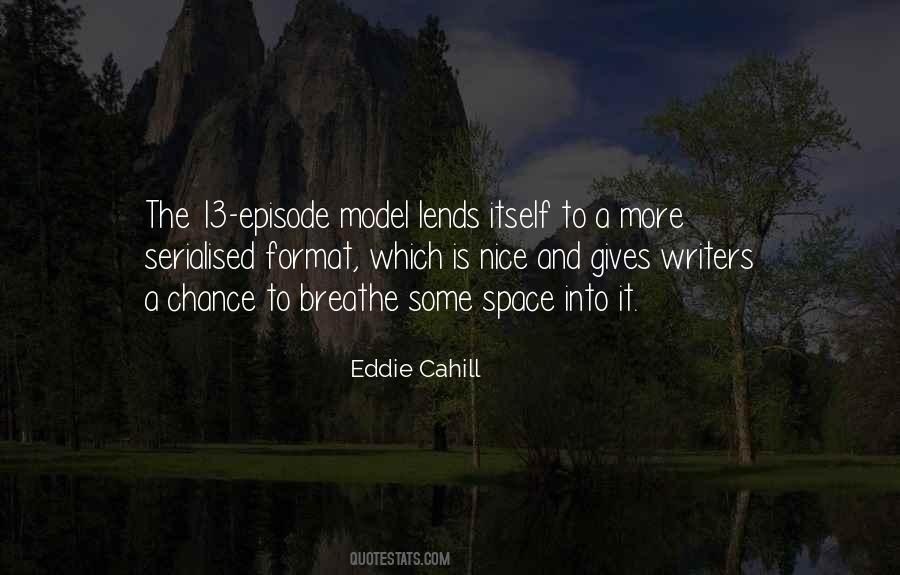 #76. Sometimes I write songs that just come out in a pop format because I grew up on melody and these amazing artists during the 80s. It's my tradition and it's something that I can't really control. - Author: Robyn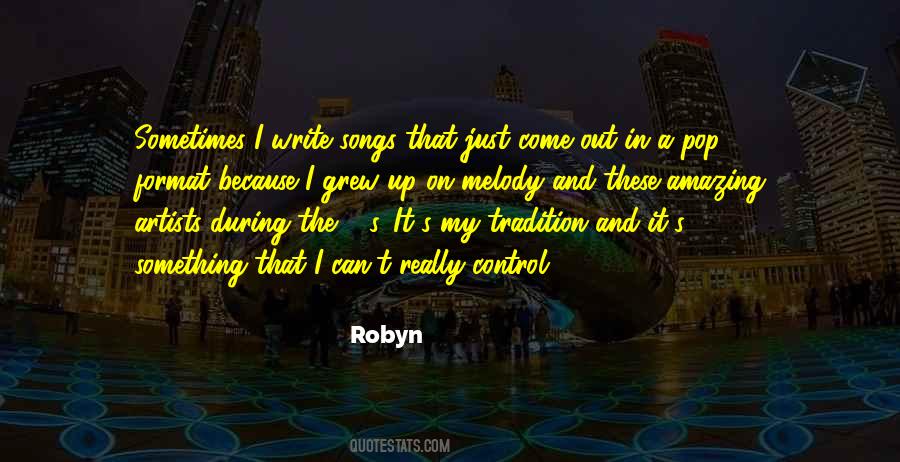 #77. I like working with modern sounds in the studio as much as I'm happy to work with a basic rock n' roll format. - Author: Chris Squire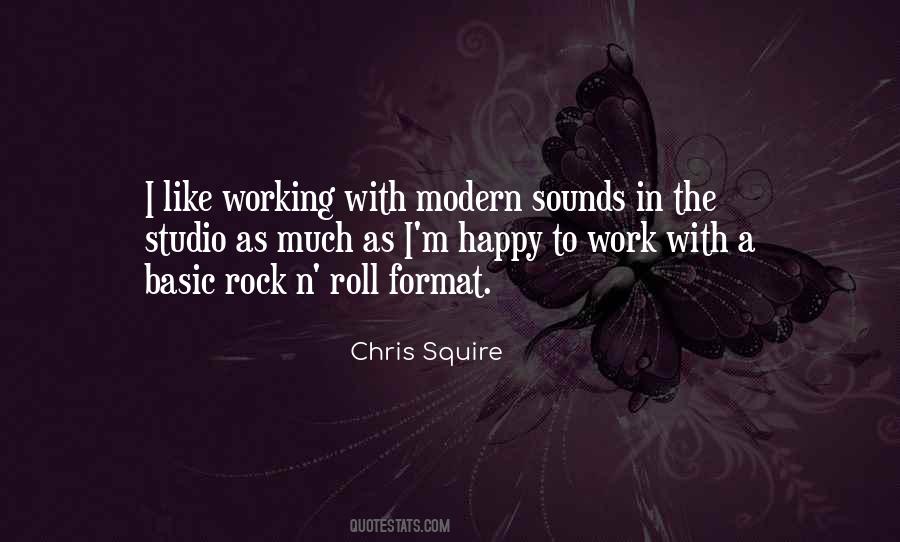 #78. I know, we can barely fit them in. That is a big challenge. Treating four lead characters equally, within a 30-minute format, is definitely challenging. - Author: Mark Duplass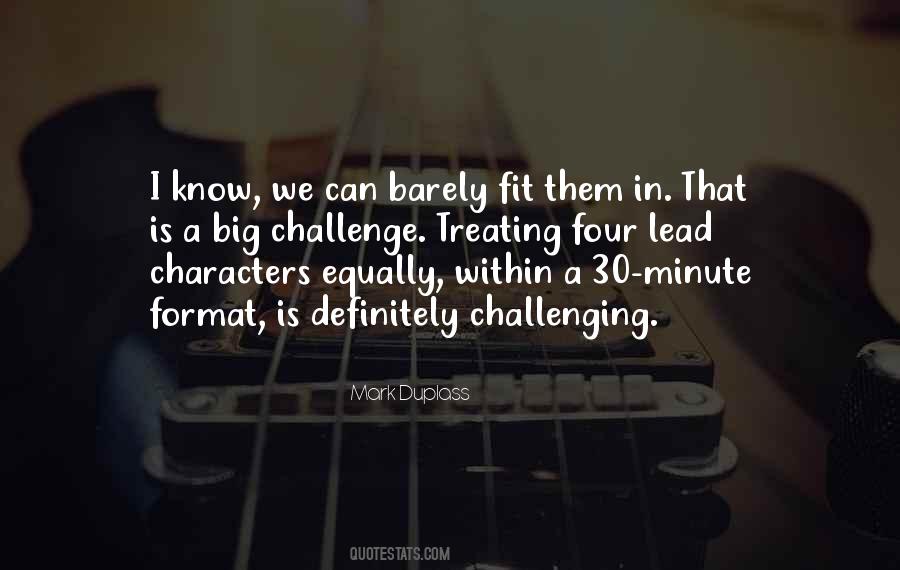 #79. If I didn't have to worry about money, I would be doing the same thing I'm doing now. Additionally, I would maintain other creative outlets
glassblowing and woodworking. I would operate a salon-format venue geared towards deviation; a destabilization of the audience/rock star dynamic. - Author: Jean Smith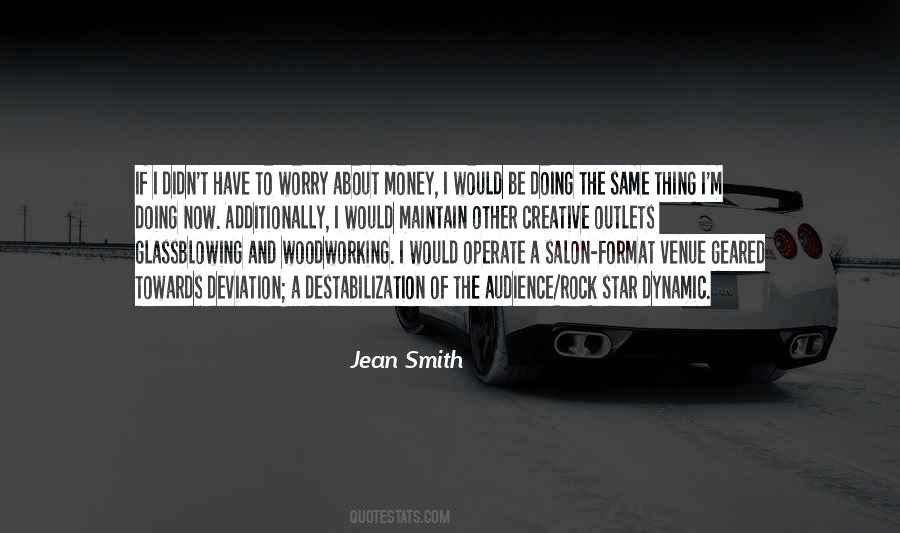 #80. It's a 360-degree sound experience. Like you're in the middle of the band. A lot of people have the technology to play the format, so why not put it out there. It sounds great. - Author: Aaron Neville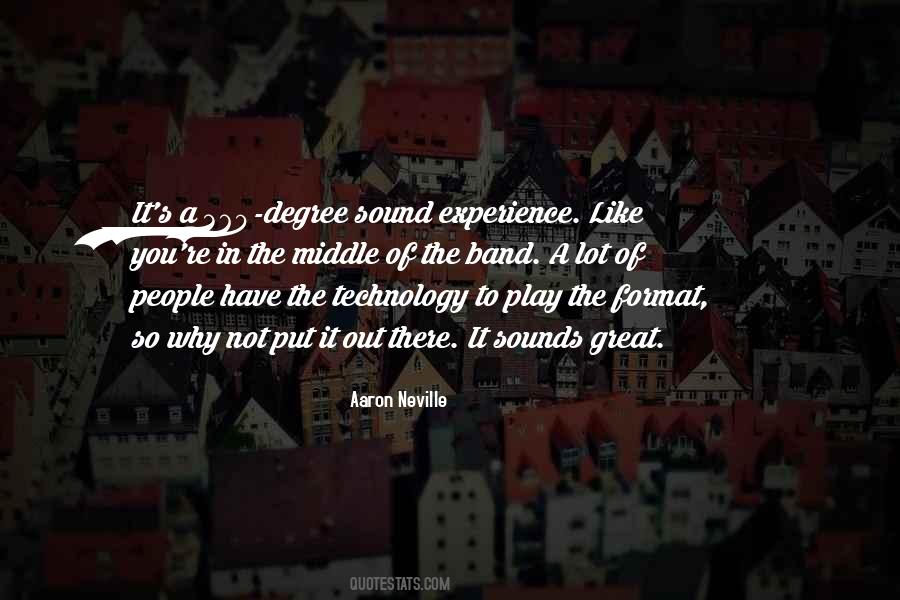 #81. Like a painter, a filmmaker should change their format, their support, despite their career they shouldn't be stuck in a system that is stuck in the past. - Author: Marion Vernoux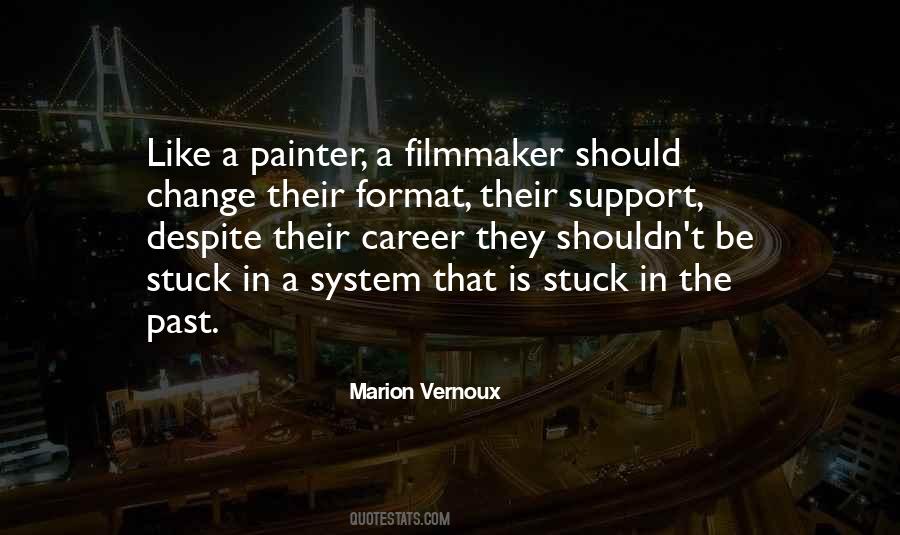 #82. I love the long-form format of television. I love being able to develop a character, over a long period of time. - Author: Anson Mount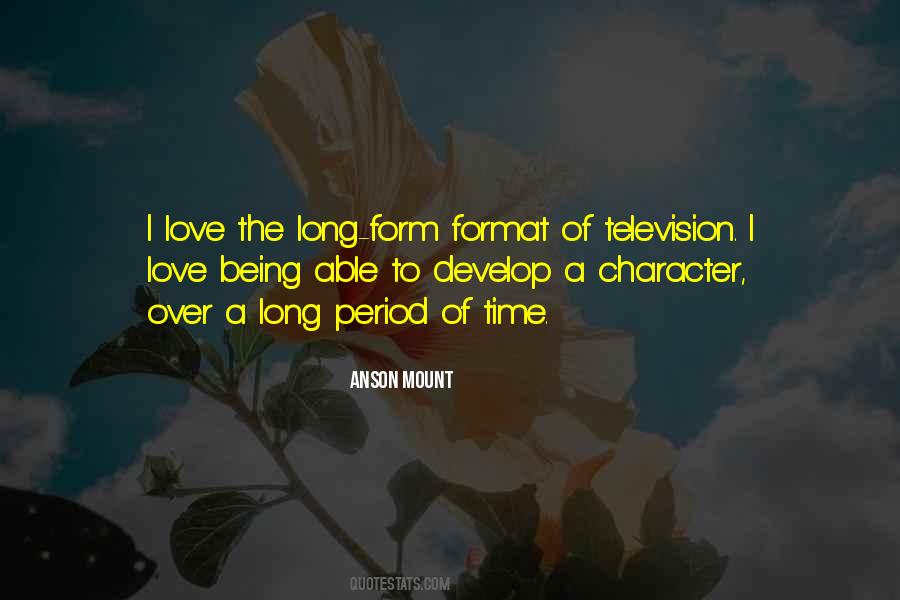 #83. In the 1960s, people were trying to get away from the pop song format. Tracks were getting longer, or much, much shorter. - Author: Brian Eno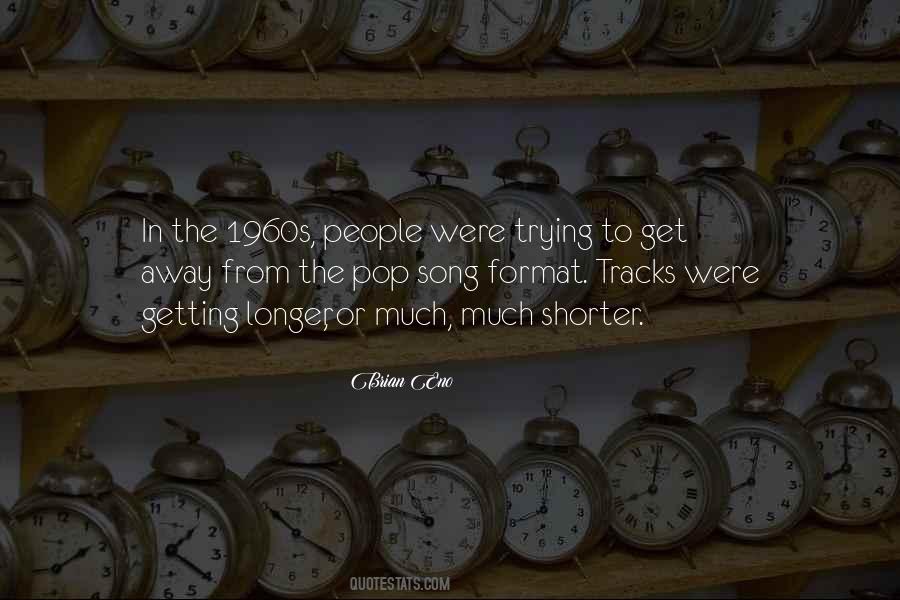 #84. I'm not fundamentally a writer. I know writers, and I have a tremendous amount of respect for them. It bothers me that no matter how well I do it, it's not really my format. - Author: Marc Maron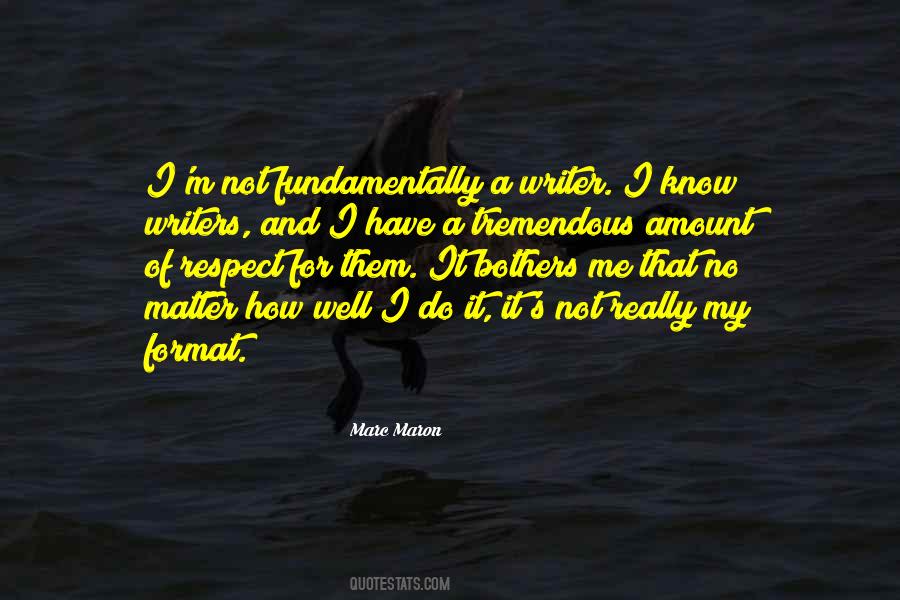 #85. Record labels have enjoyed a 100-year monopoly of selling plastic and now they're up against a different format. - Author: Ian MacKaye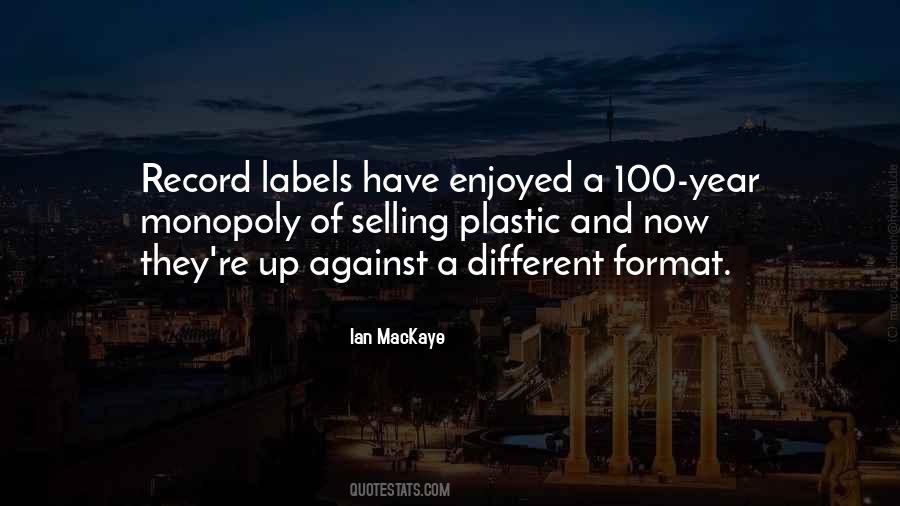 #86. Every digital video player - RealPlayer, Windows Media Player, Vevo, Hulu, YouTube - all of them had different ways of getting you the video, but it was still always the same series of rectangles. The format never changed. - Author: Chris Milk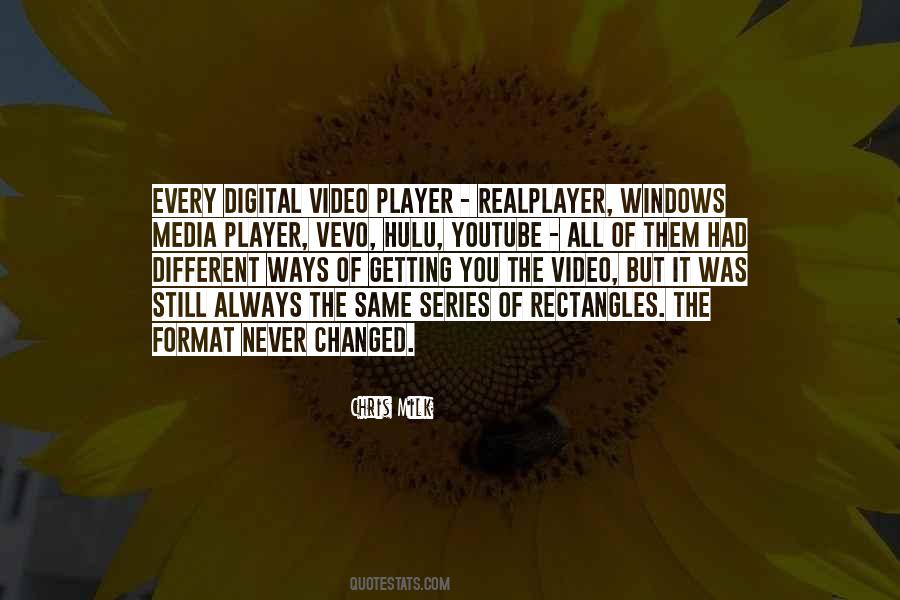 #87. I write stuff down. I have a chalkboard in the kitchen where I will scrawl stuff down if I have a faint outline of an idea. And I'll go into my office or whatever. But that goes from format to format. - Author: John Darnielle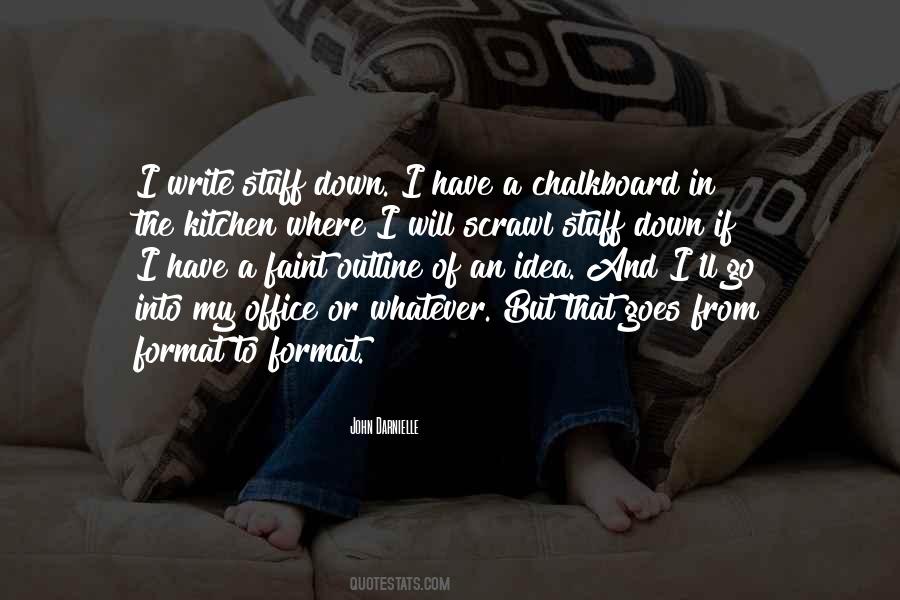 #88. You should choose a set of simple rules that govern the format of your code, and then you should consistently apply those rules. If you are working on a team, then the team should agree to a single set of formatting rules and all members should comply. - Author: Robert C. Martin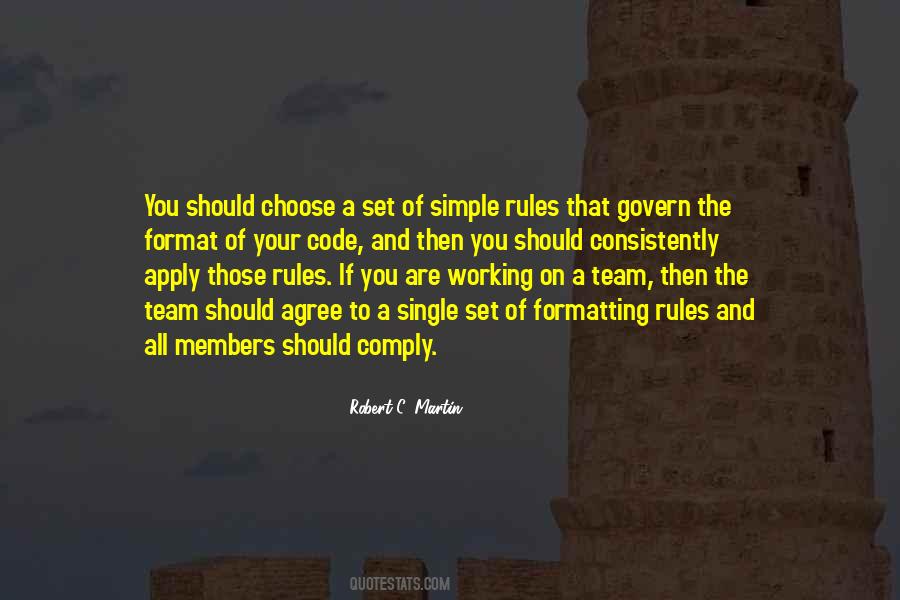 #89. The format of the race weekend is also very well thought out. We have enough practice time to get the cars well set-up and have a proper qualifying session where we can do as many laps as we like, which is great for the drivers and spectators. - Author: Nigel Mansell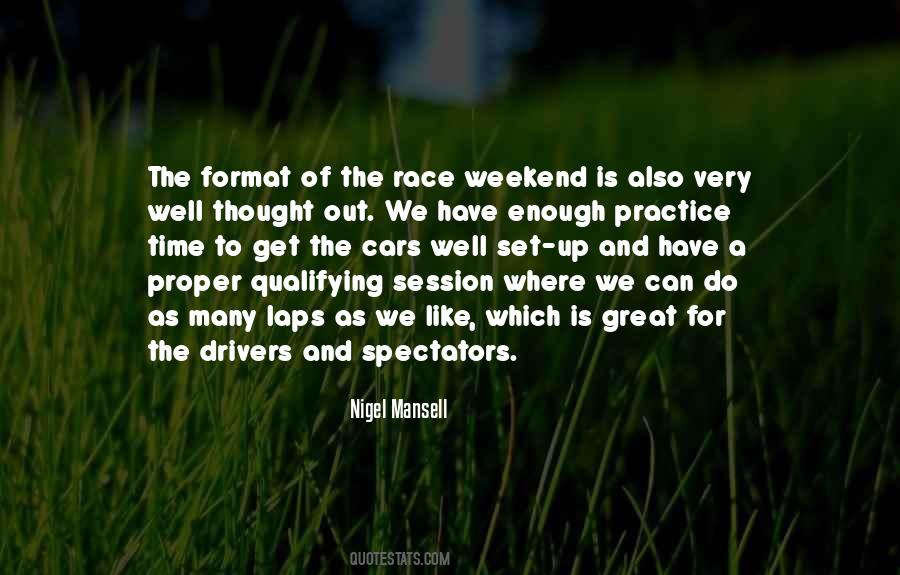 #90. The majority of my background is multi-camera format, which is very broad and a very arch perception of reality. Whereas single camera tends to be more truthful and a little more intimate of a medium. - Author: Matt LeBlanc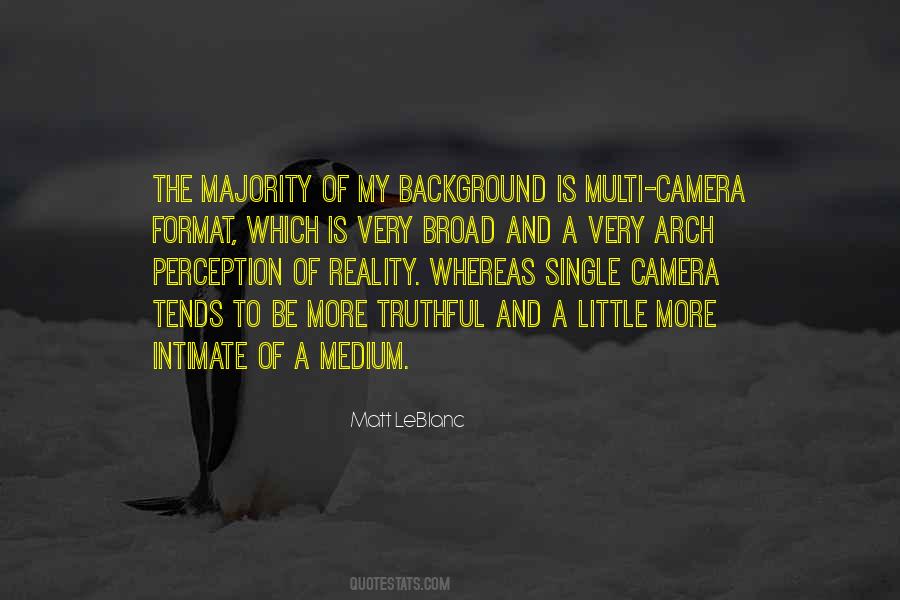 #91. I don't really have a certain format that I go by. - Author: Drake Bell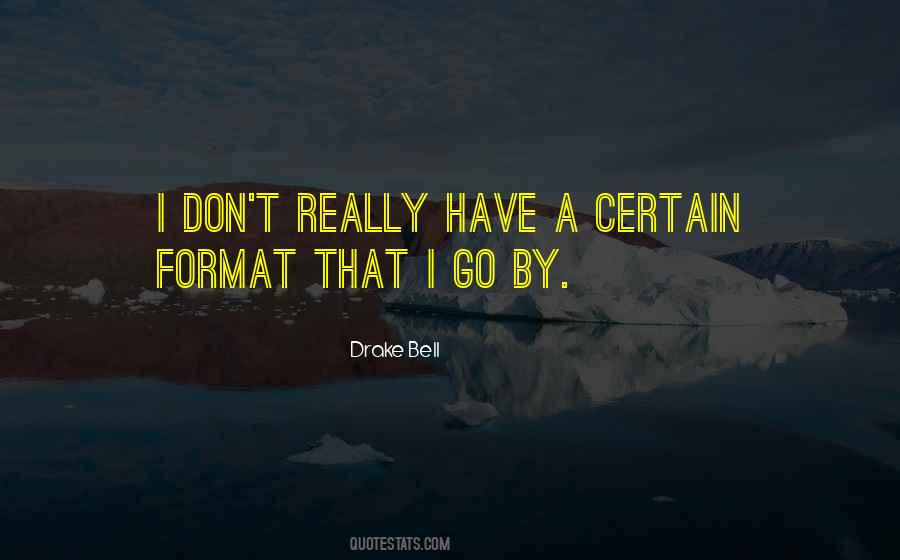 #92. We just think that there are all these different ways that people want to share, and that compressing them all into a single blue app is not the right format of the future. - Author: Mark Zuckerberg
#93. I want to go back to the format that radio started with rock n' roll, with country artists and rhythm and blues with that oldies type feeling. I want to put it all together and create a Top 40 of rhythm and blues and country and straight blues with Wolfman at the reins. - Author: Wolfman Jack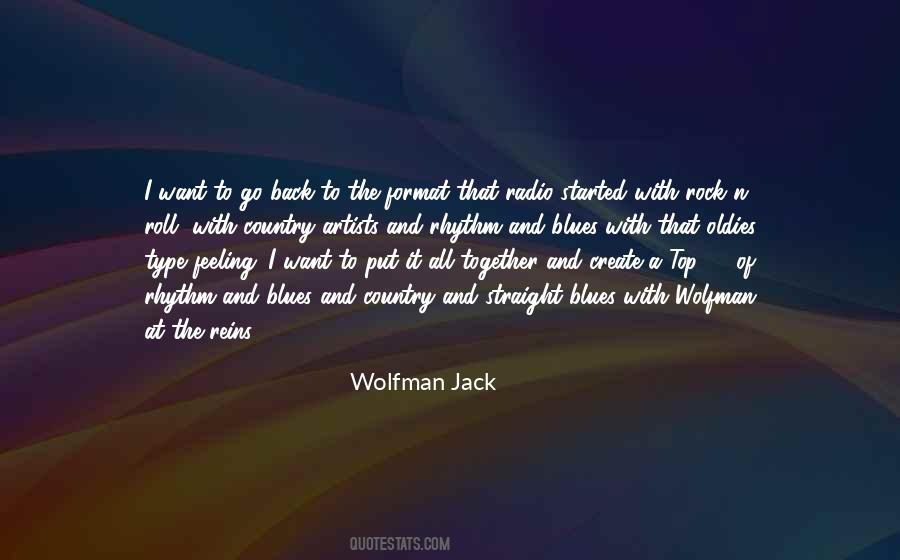 #94. I like DVDs so much - it's such a better format than VHS. - Author: Roland Joffe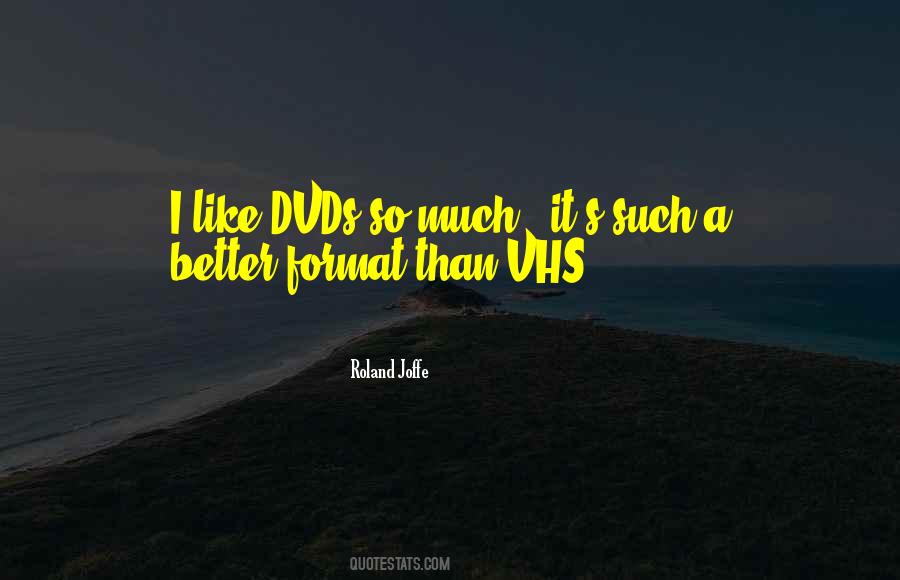 #95. We have more choice than ever before about where and how we buy and read books. - Author: Sara Sheridan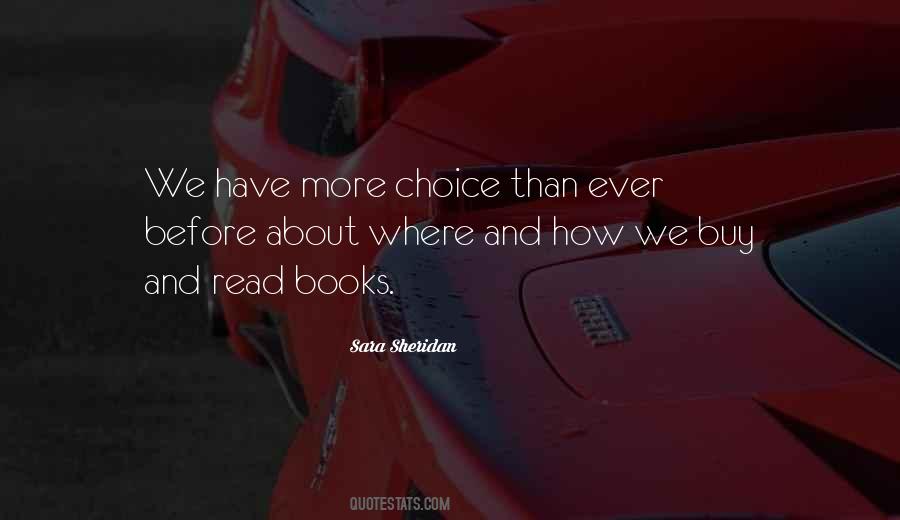 #96. Cabaret is a great format. All you have to do is sing and be funny sporadically. - Author: Julie Klausner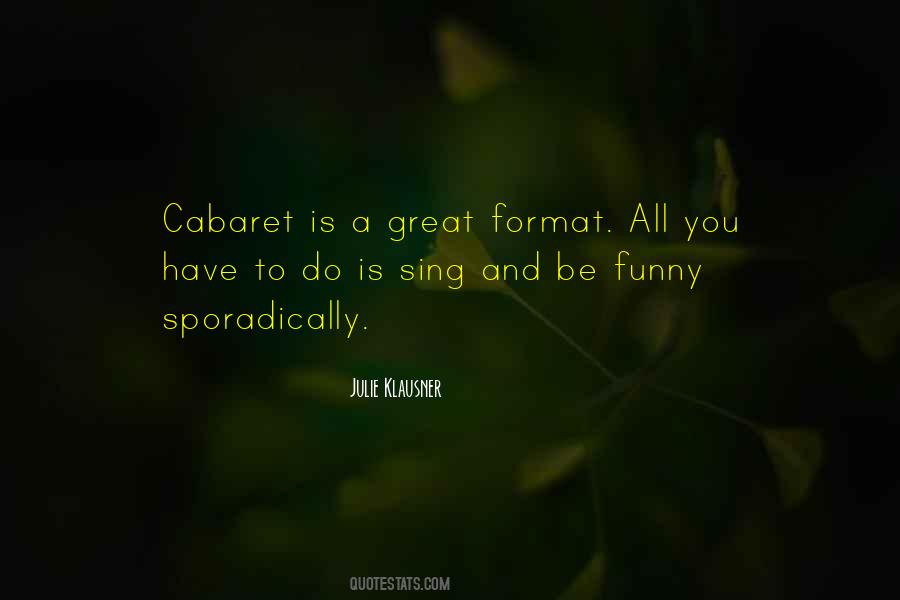 #97. I got to know every format of every station and who was on and what time. - Author: Bob Edwards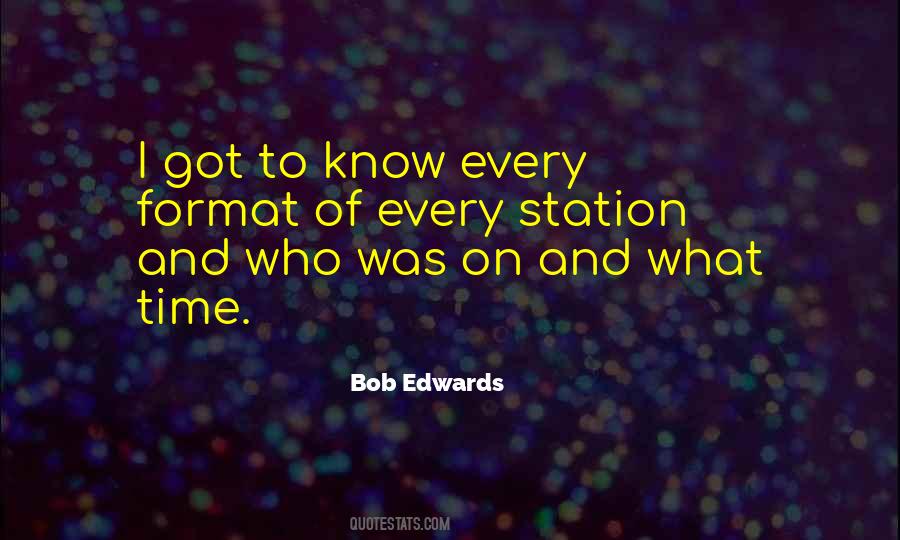 #98. The essence of conversation is not which media format we choose to talk to each other with, so we don't differentiate between snaps and chats. It's just someone wanting to talk to you. - Author: Evan Spiegel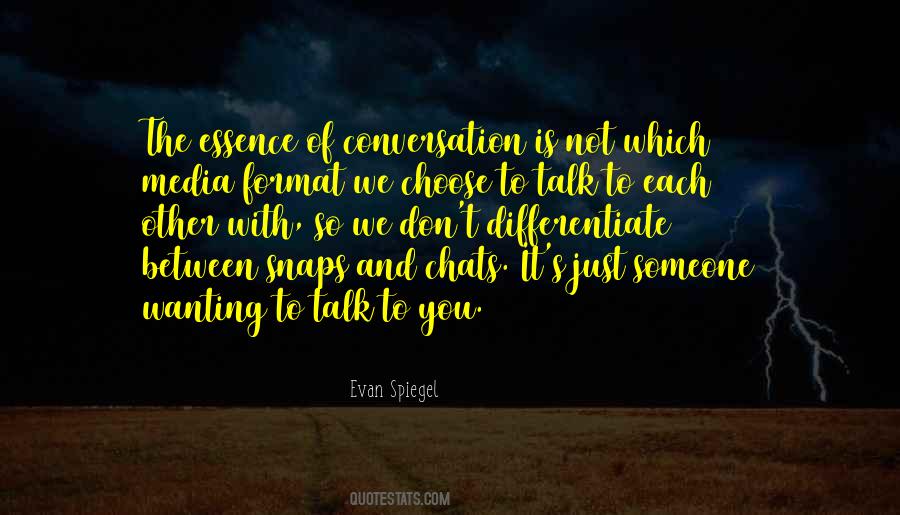 #99. Don't forget, the superior Betamax technology did not beat out the substandard VHS technology as the standard format for videotape in the 1980s. - Author: Simon Sinek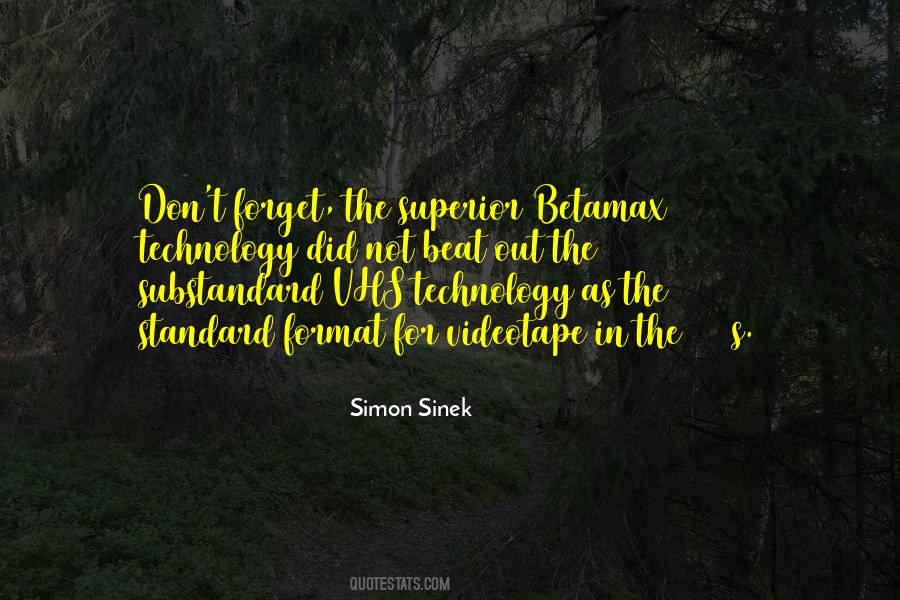 #100. It is relatively easy to design for the perfect cases, when everything goes right, or when all the information required is available in proper format. - Author: Donald Norman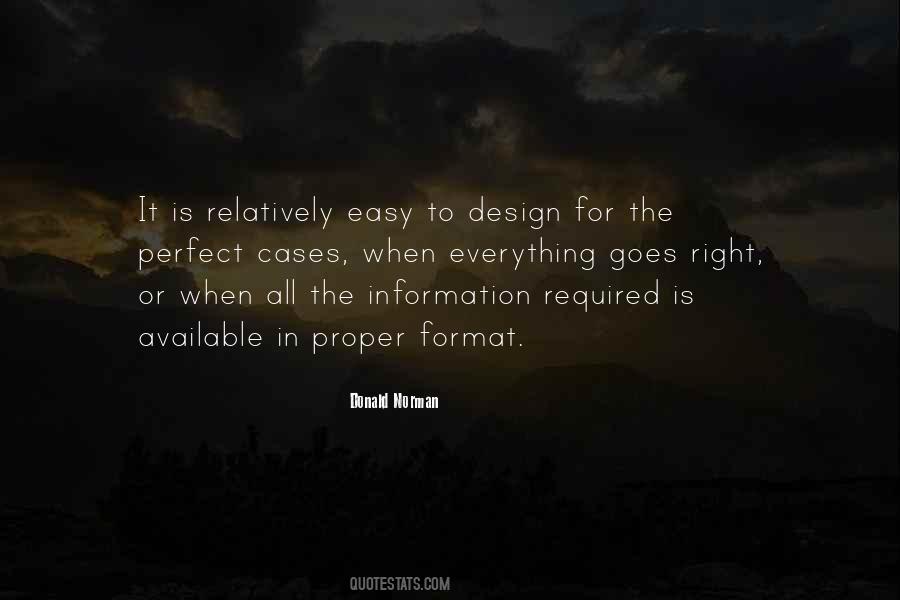 Famous Authors
Popular Topics