Follow The Law Famous Quotes & Sayings
List of top 85 famous quotes and sayings about follow the law to read and share with friends on your Facebook, Twitter, blogs.
Top 85 Follow The Law Quotes
#1. I believe Western culture
rule of law, universal suffrage, etc.
is preferable to Arab culture: that's why there are millions of Muslims in Scandinavia, and four Scandinavians in Syria. Follow the traffic. I support immigration, but with assimilation. - Author: Mark Steyn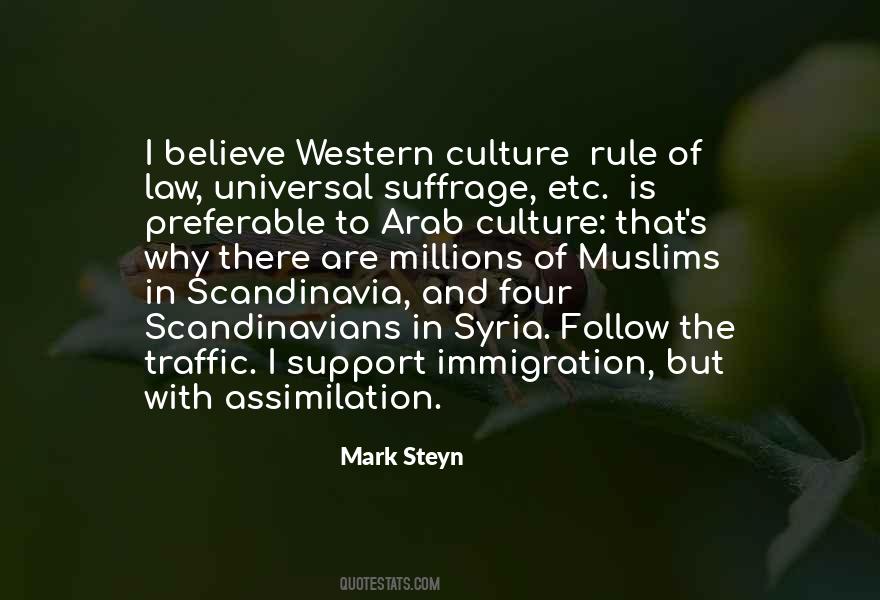 #2. Surely, I must at all times attempt to obey the law of the state. But when the will of God and the will of the state conflict, I am compelled to follow the will of God. - Author: Bayard Rustin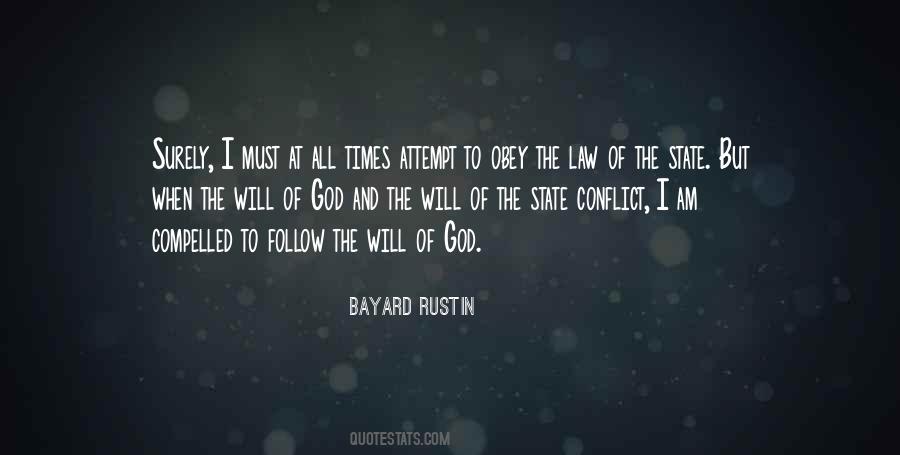 #3. That's the key: get the constitution in place. Get rule of law in place, capital will come, electricity will follow. - Author: Steve King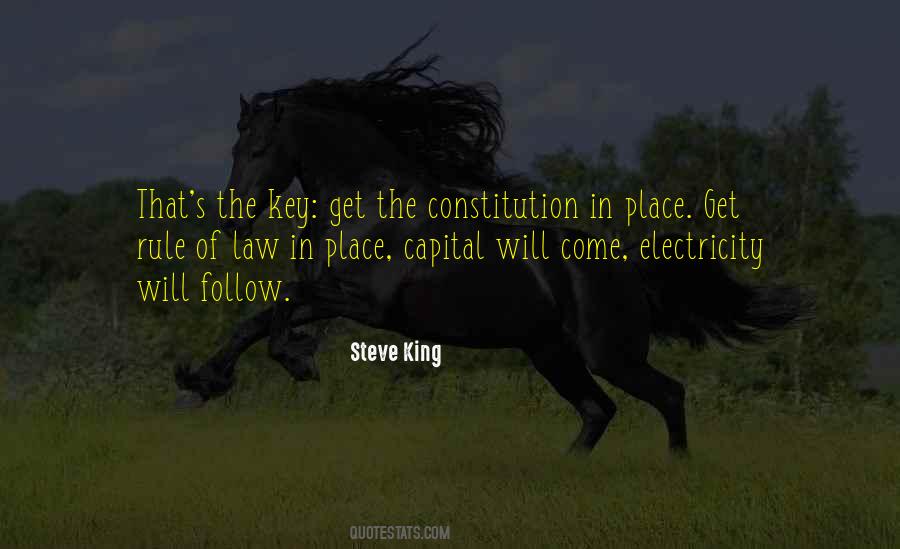 #4. As in the piling up of hypothetical alternatives, creative accidents follow the law of probabilities the more we fish, the more likely we are to get a strike. - Author: Alex Faickney Osborn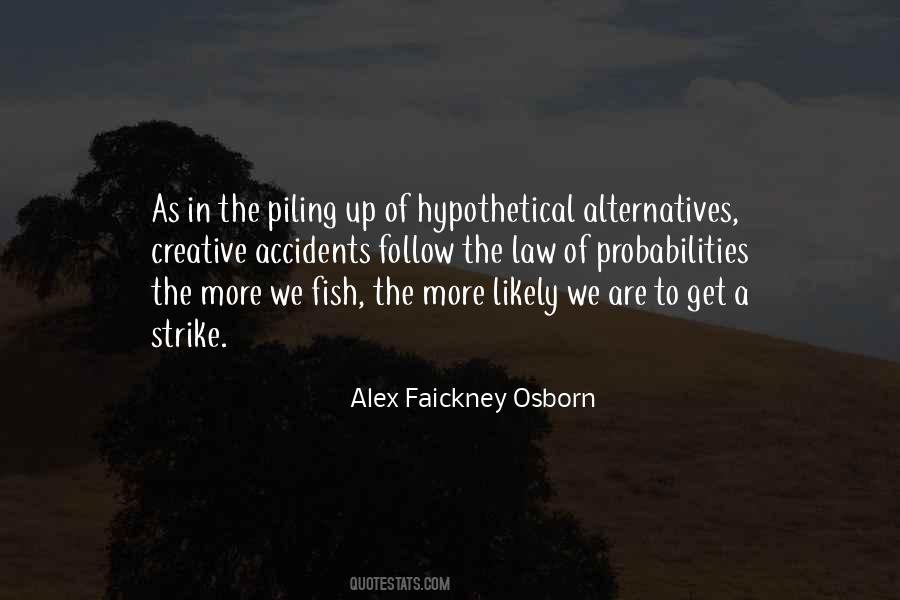 #5. When you say "I am," the words that follow are summoning creation with a mighty force, because you are declaring it to be fact. - Author: Rhonda Byrne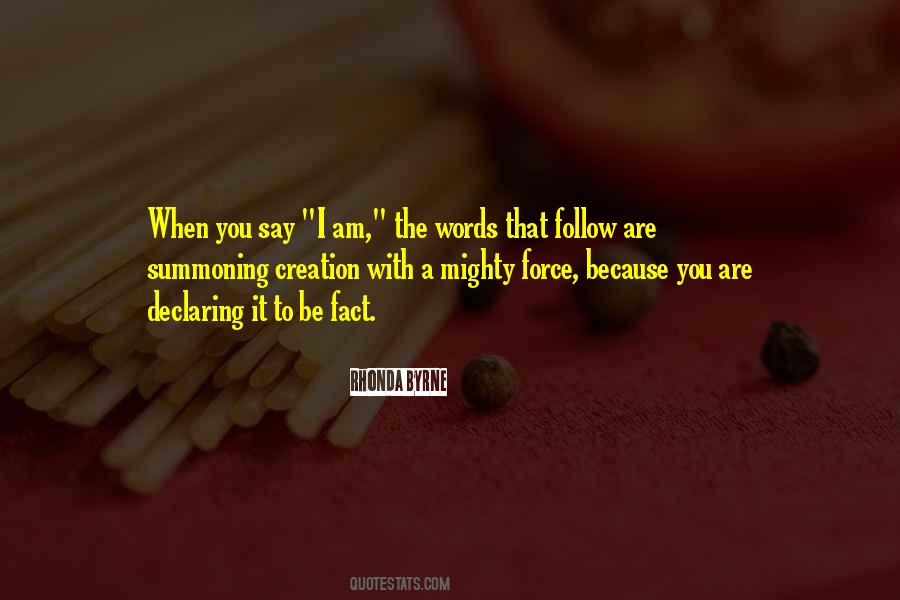 #6. Your memo is trumping a Congressional statute. You don't have the discretion on whether to follow the law or not. - Author: Trey Gowdy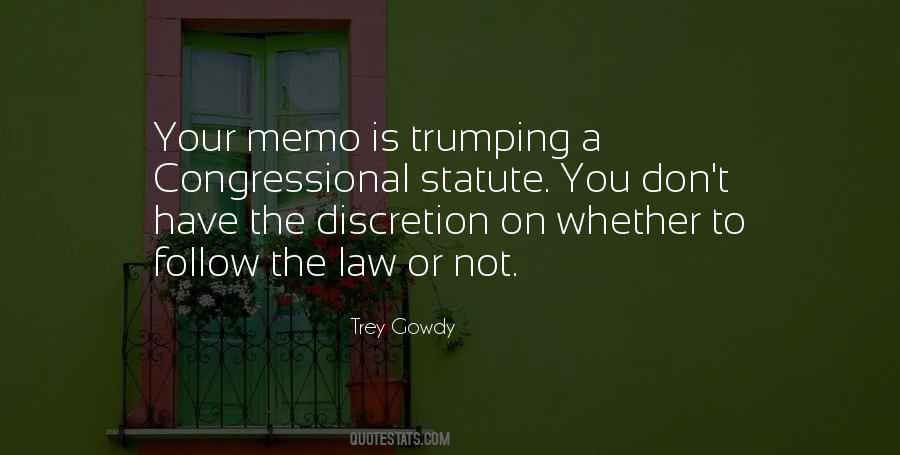 #7. Adolescence is a time of active deconstruction, construction, reconstruction
a period in which past, present, and future are rewoven and strung together on the threads of fantasies and wishes that do not necessarily follow the laws of linear chronology. - Author: Louise J. Kaplan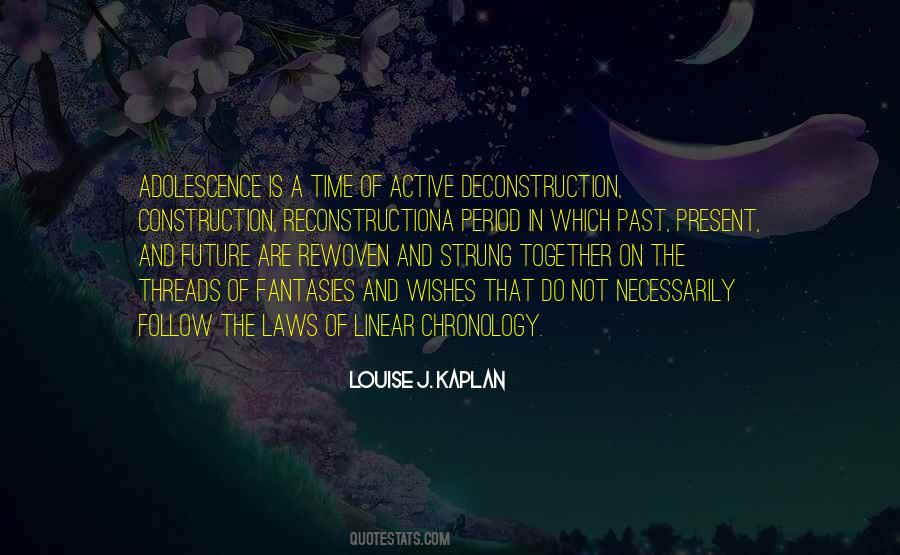 #8. The Dead are a larger army than any ever assembled, and they follow no leader, fear no threat, and accept no bribe or compromise. The Dead are the silent majority, and should they ever decide to say something, it will be the new law of the land. - Author: Isaac Marion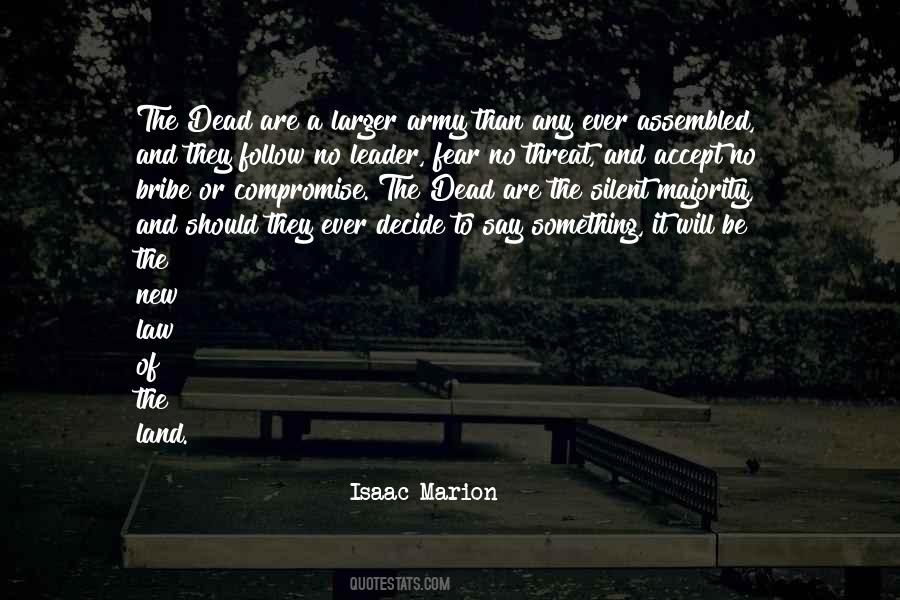 #9. I have been told by persons of experience in matters of taste, that the fashions follow a law of gradation, and are never arbitrary. The new mode is always only a step onward in the same direction as the last mode; and a cultivated eye is prepared for and predicts the new fashion. - Author: Ralph Waldo Emerson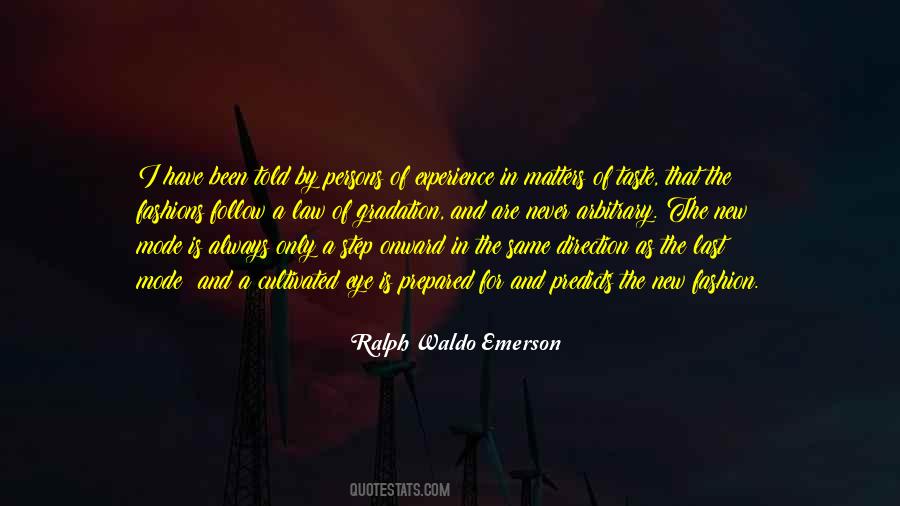 #10. For those who practise tyranny and deprive others of their rights, I will be harsh and stern, but for those who follow the law, I will be most soft and tender. - Author: Umar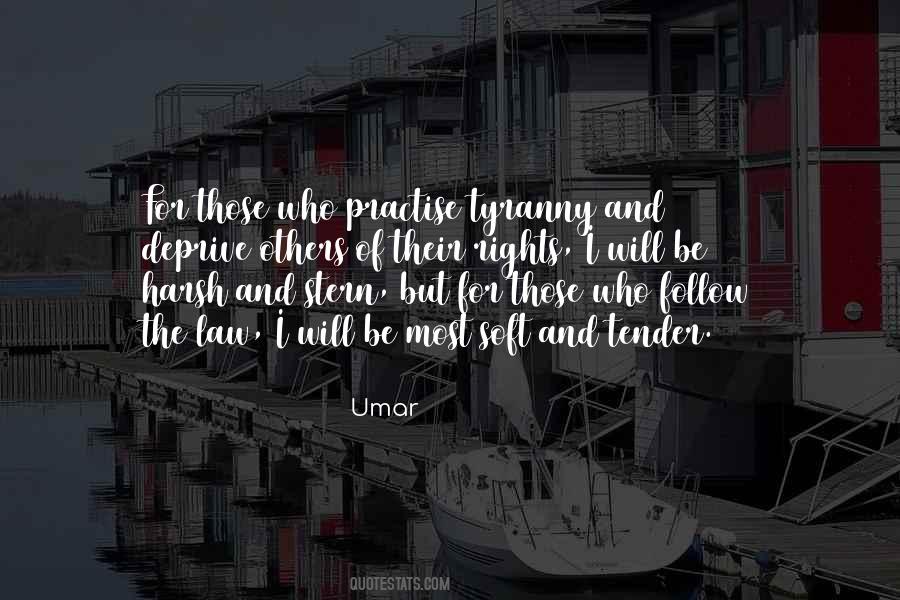 #11. God and Nature first made us what we are, and then out of our own created genius we make ourselves what we want to be. Follow always that great law. Let the sky and God be our limit and Eternity our measurement. - Author: Marcus Garvey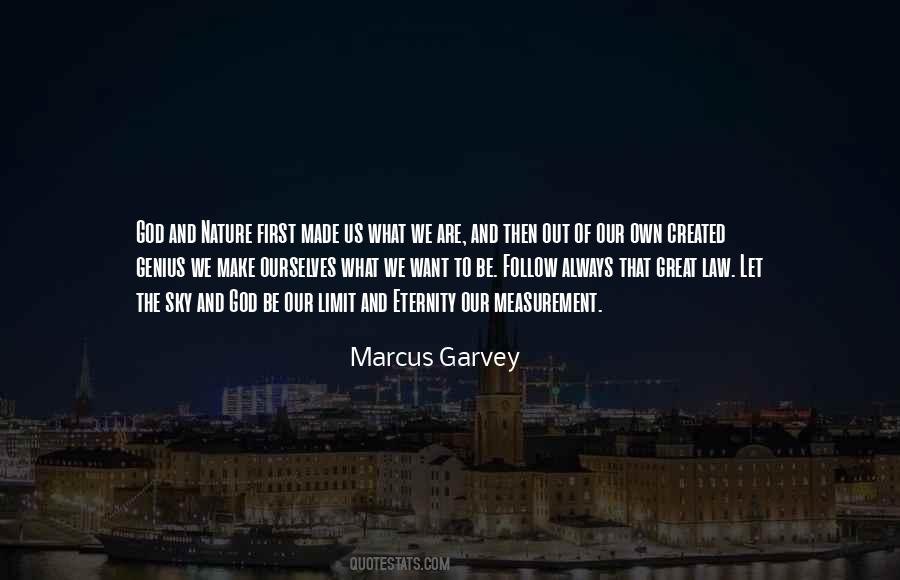 #12. We are not called to live the gospel but to believe the gospel and to follow the law in view of God's mercies. - Author: Michael S. Horton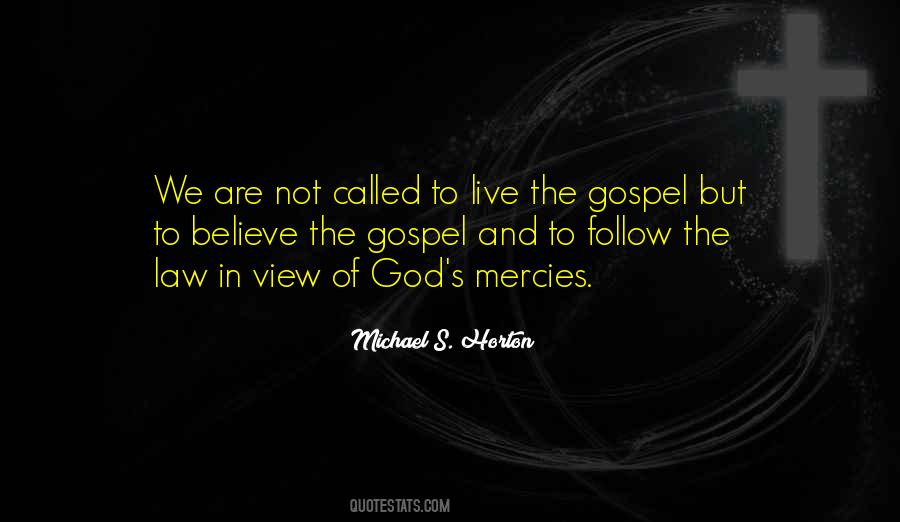 #13. people only follow their inclinations, and sooner or later find their reward or retribution. That's the natural law of life, - Author: R.K. Narayan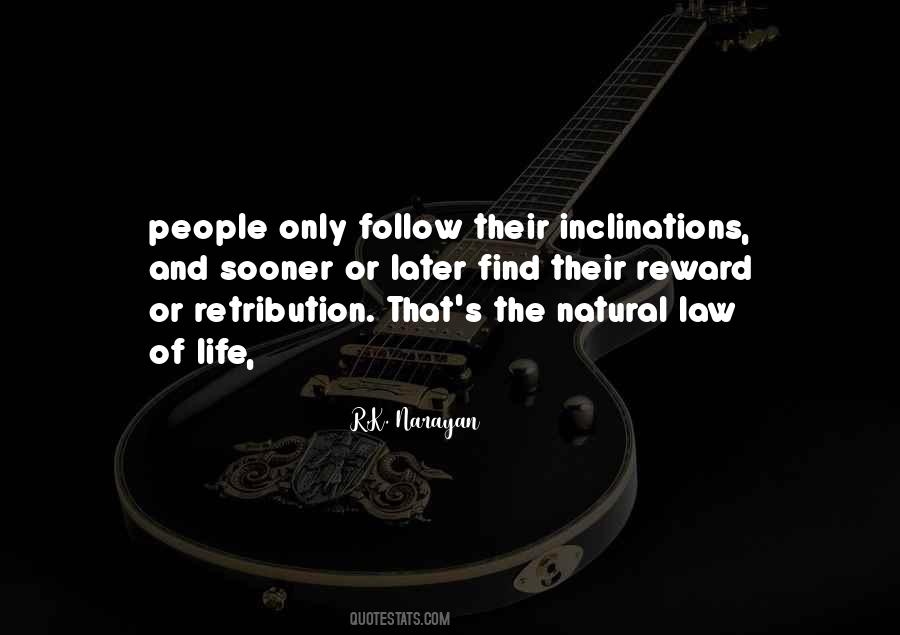 #14. Vice may triumph for a time, crime may flaunt its victories in the face of honest toilers, but in the end the law will follow the wrong-doer to a bitter fate, and dishonor and punishment will be the portion of those who sin. - Author: Allan Pinkerton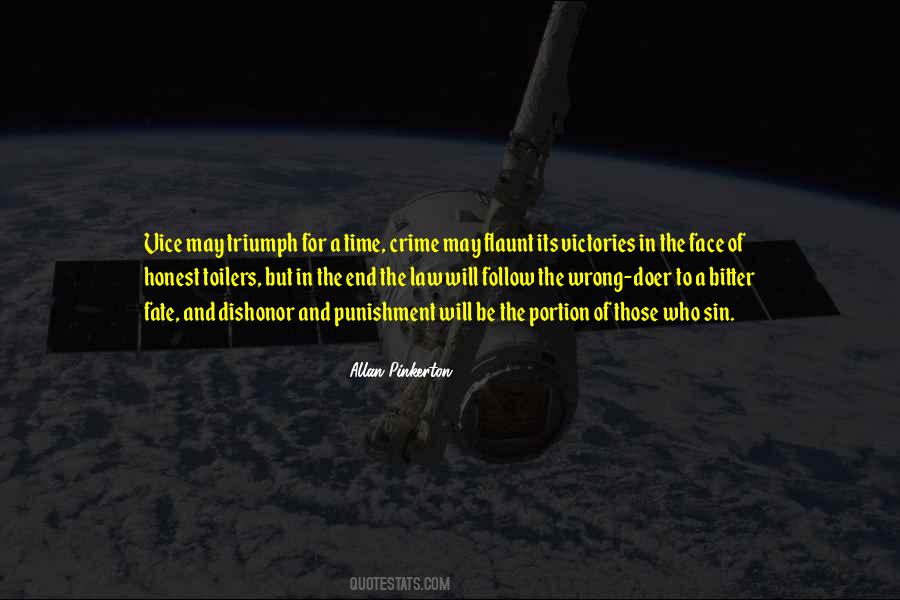 #15. What everybody misses here is that we are doing the same thing my father did. He licensed and litigated and protected his property, and we have to follow the same tradition, because the way the law reads, if you don't protect it, you lose it. - Author: Dexter Scott King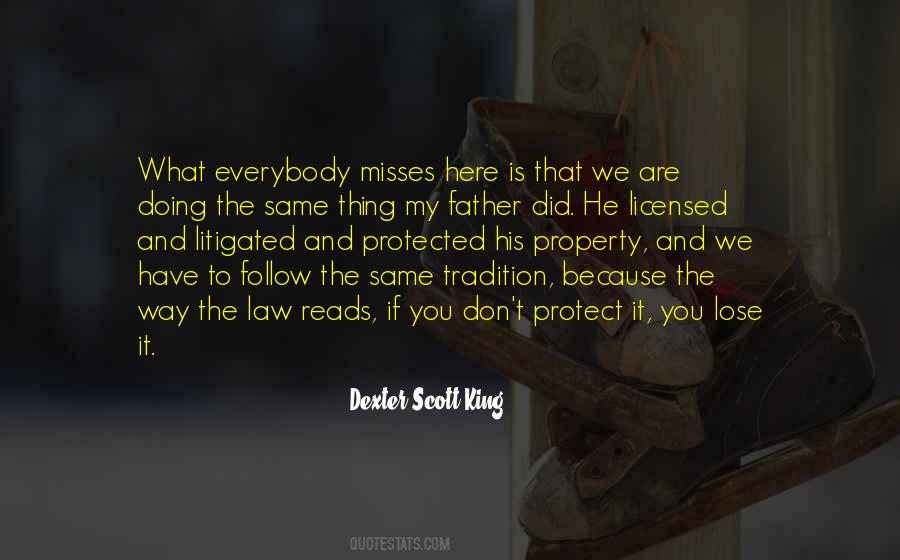 #16. I lead no party; I follow no leader. I have given the best part of my life to careful study of Islam, its law and polity, its culture, its history and its literature. - Author: Muhammad Iqbal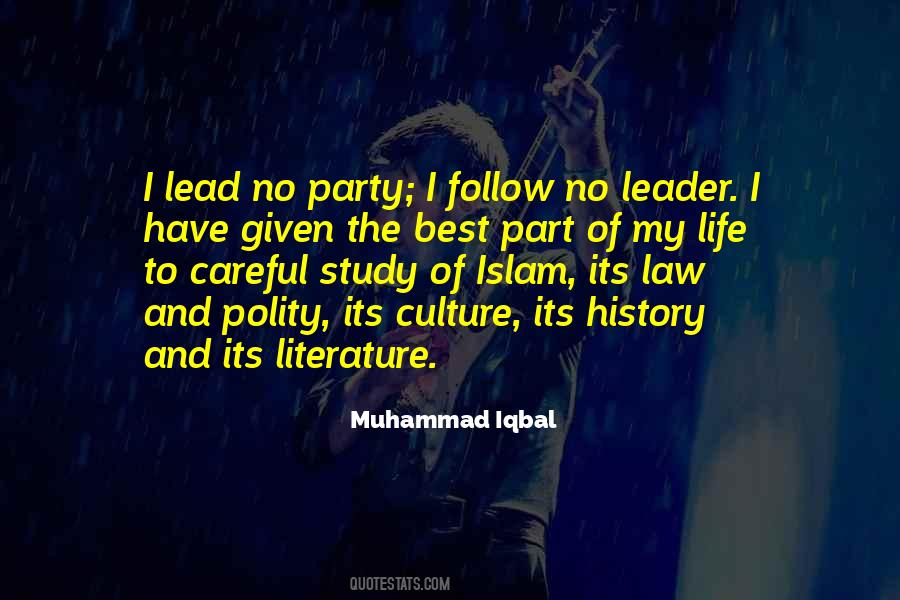 #17. Where other men blindly follow the truth, Remember, nothing is true.
Where other men are limited by morality or law, Remember, everything is permitted.
We work in the dark to serve the light.
We are assassins. - Author: Assassins Creed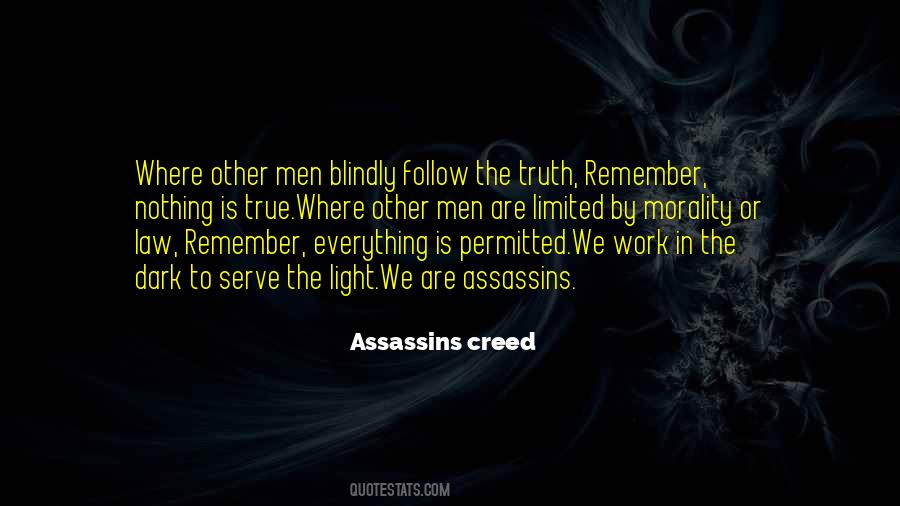 #18. Whether humanity will consciously follow the law of love, I do not know. But that need not disturb me. The law will work just as the law of gravitation works whether we accept it or not. - Author: Mahatma Gandhi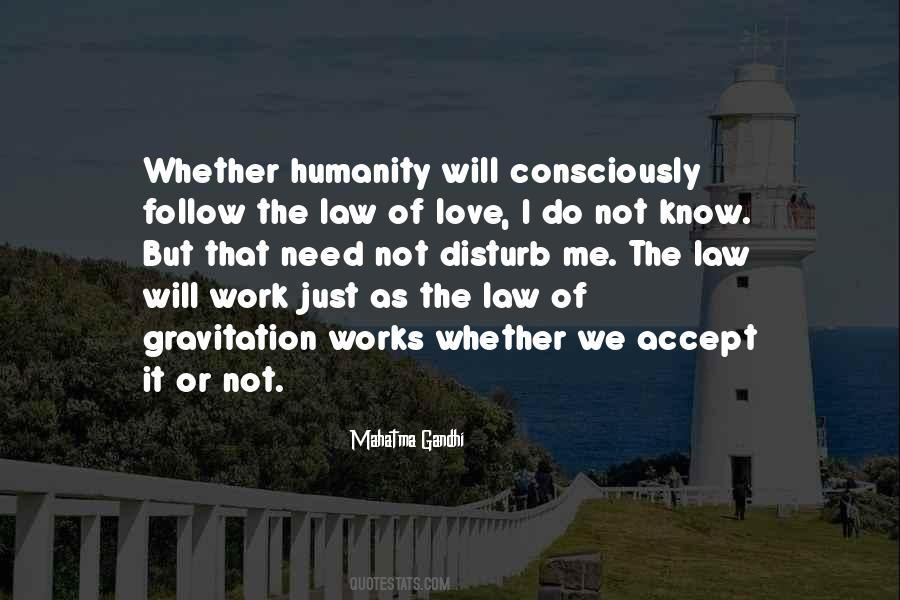 #19. In order for the Constitution to work, you have to have law-abiding people. You have to have people willing to obey the Constitution, willing to follow the law. Obama doesn't care. He is the law. - Author: Rush Limbaugh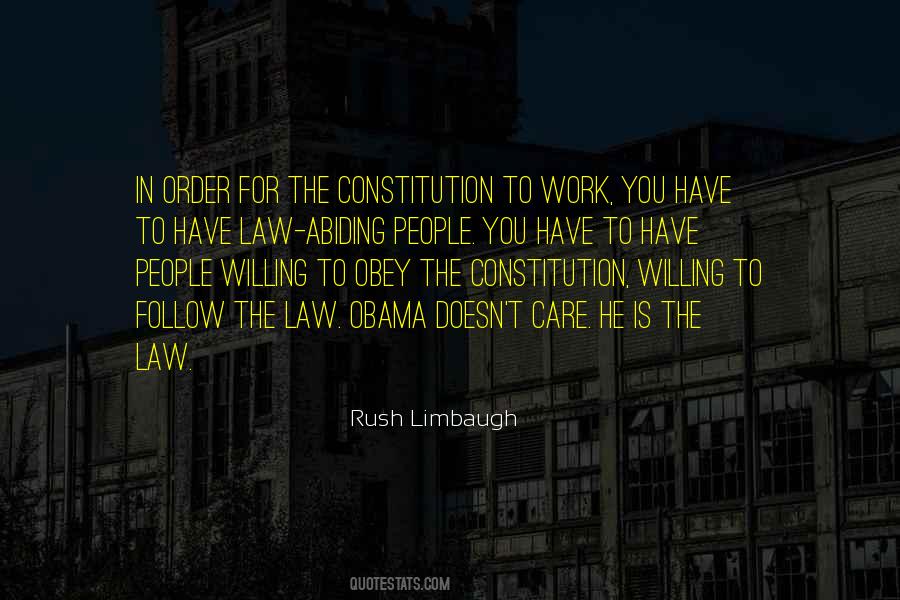 #20. The Talmud is to this day the circulating heart's blood of the Jewish religion. Whatever laws, customs or ceremonies we observe-whether we are orthodox, conservative, reform or merely spasmodic sentimentalists-we follow the Talmud. It is our common Law. - Author: Herman Wouk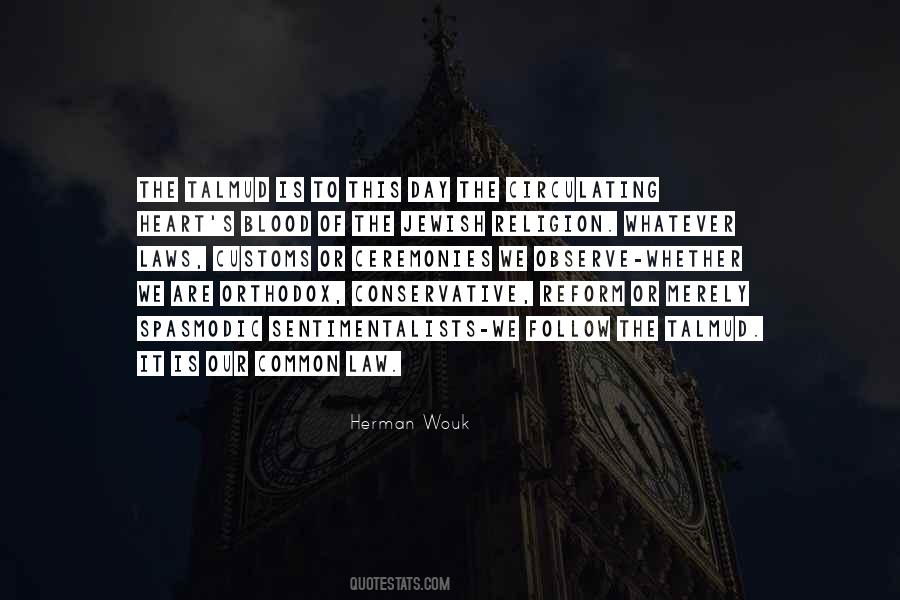 #21. The first and fundamental law of Nature, which is, to seek peace and follow it. - Author: Thomas Hobbes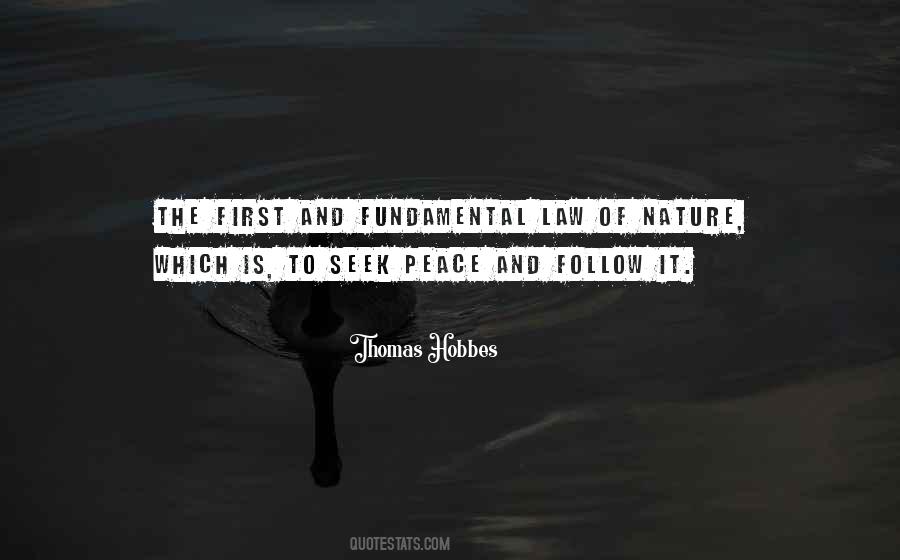 #22. I pay about a third in taxes, I give away about a third, and I follow the law. - Author: Ray Dalio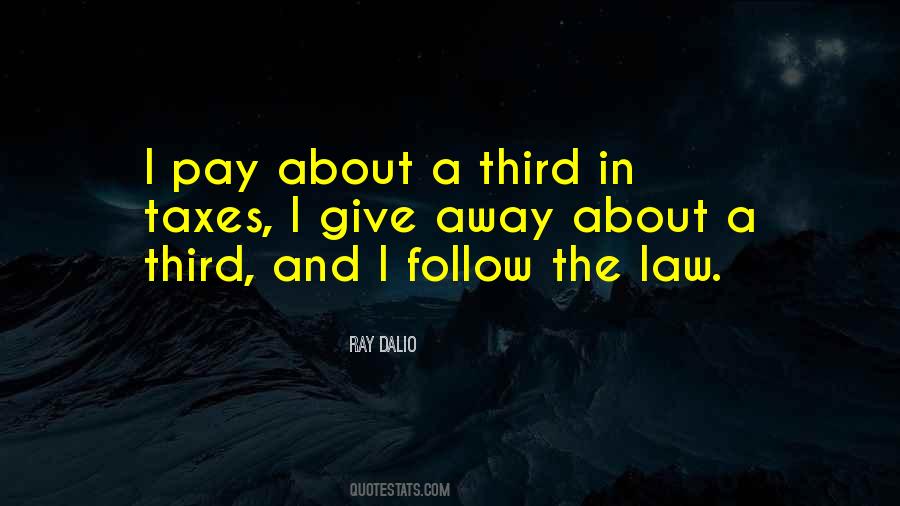 #23. He was not thinking that the Christian law which he had wanted to follow all his life prescribed that he forgive and love his enemies; but the joyful feeling of love and forgiveness of his enemies filled his soul. - Author: Leo Tolstoy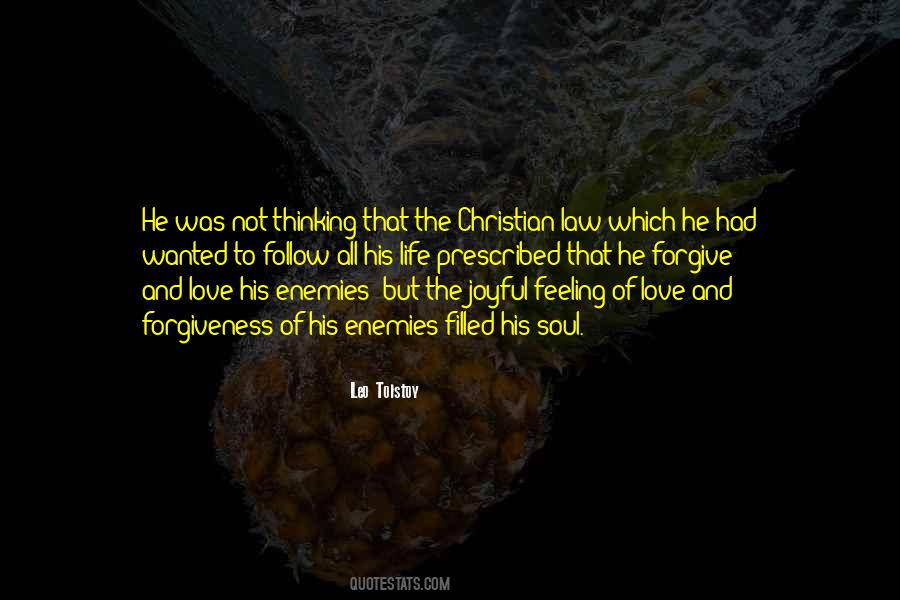 #24. It's a lot easier to see, at least in some cases, what the long-term limits of the possible will be, because they depend on natural law. But it's much harder to see just what path we will follow in heading toward those limits. - Author: K. Eric Drexler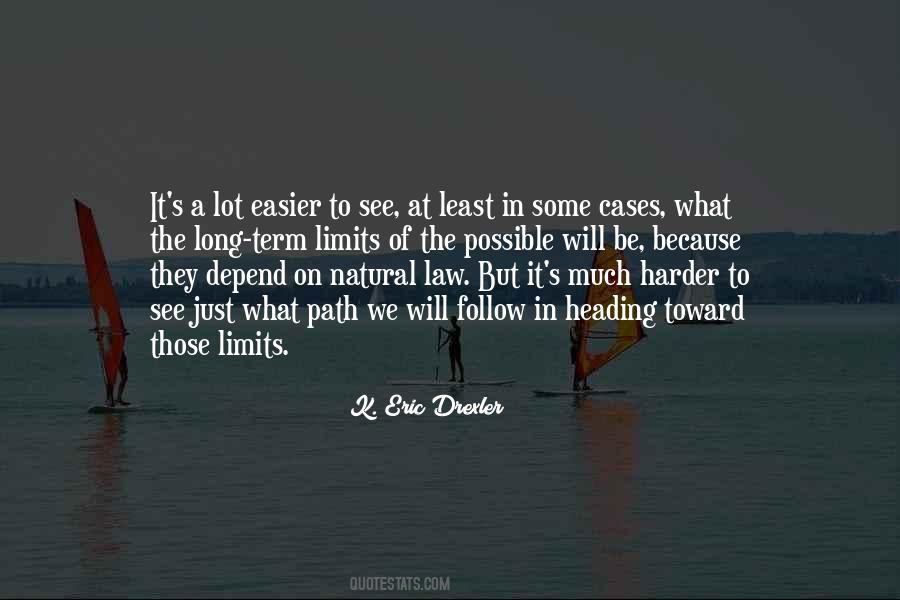 #25. Few cross the river of time and are able to reach non-being. Most of them run up and down only on this side of the river. But those who when they know the law follow the path of the law, they shall reach the other shore and go beyond the realm of death. - Author: Horace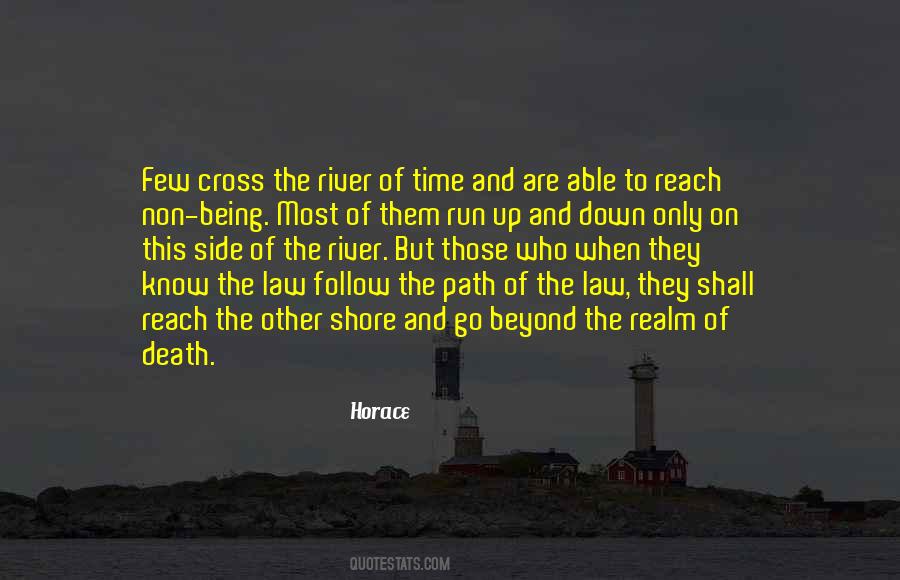 #26. We have one authority and one law and everyone has the responsibility to follow that law and that authority. - Author: Mahmoud Abbas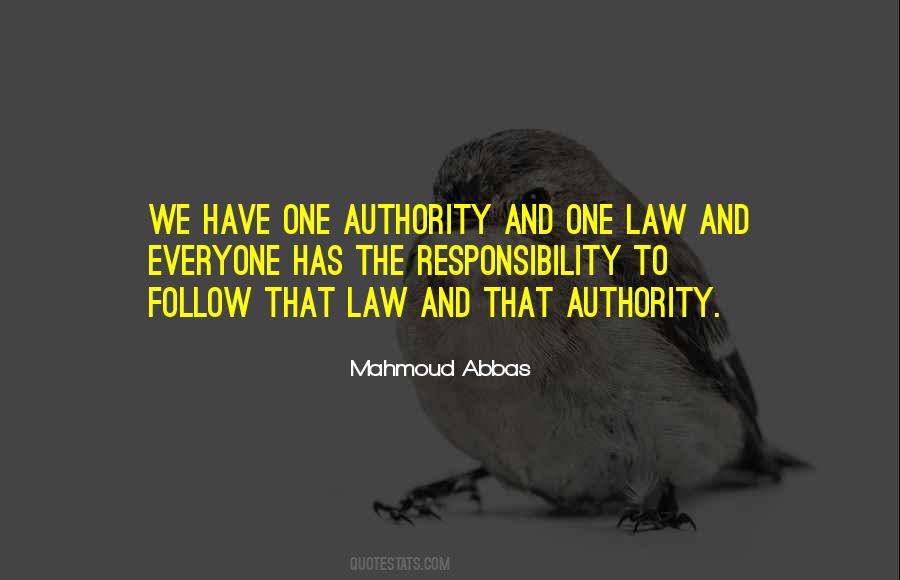 #27. My head's never really quiet. The only time I can get it to turn off is if I watch 'CSI' or 'Law & Order,' where I have to follow the crime. If I can't turn my head off during that, I know I've really got a problem. - Author: Taylor Swift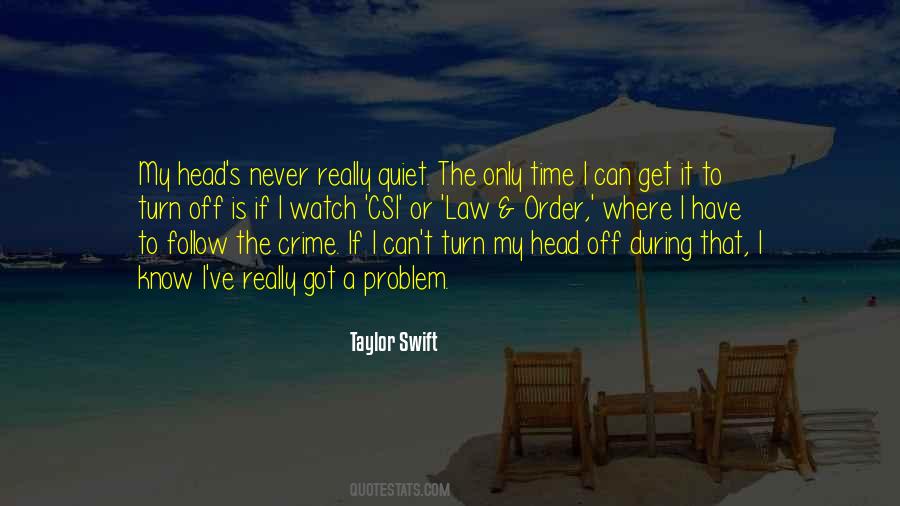 #28. No matter what theory of the origin of government you adopt, if you follow it out to its legitimate conclusions it will bring you face to face with the moral law. - Author: Henry Van Dyke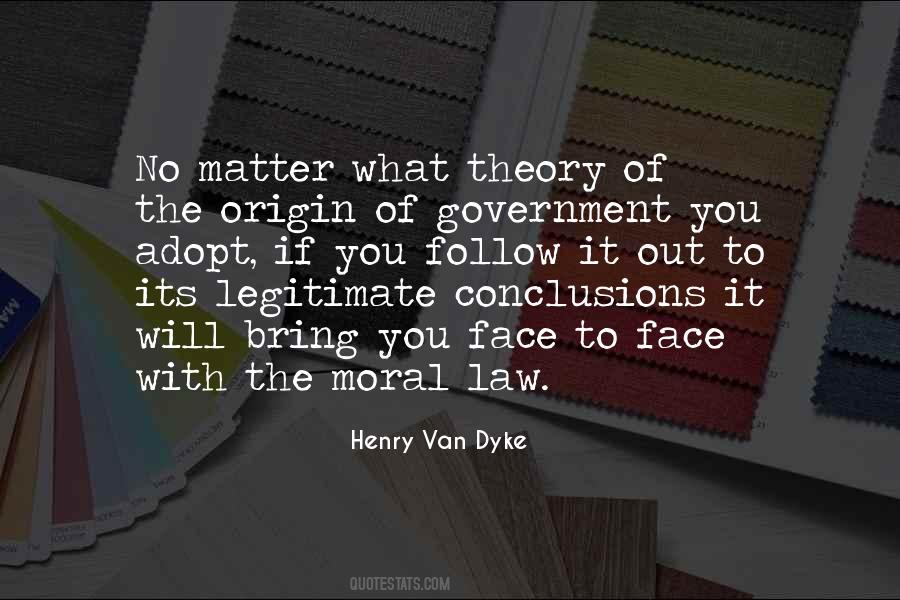 #29. I follow the Law - the Most Excellent Law.' the Lama - Author: Rudyard Kipling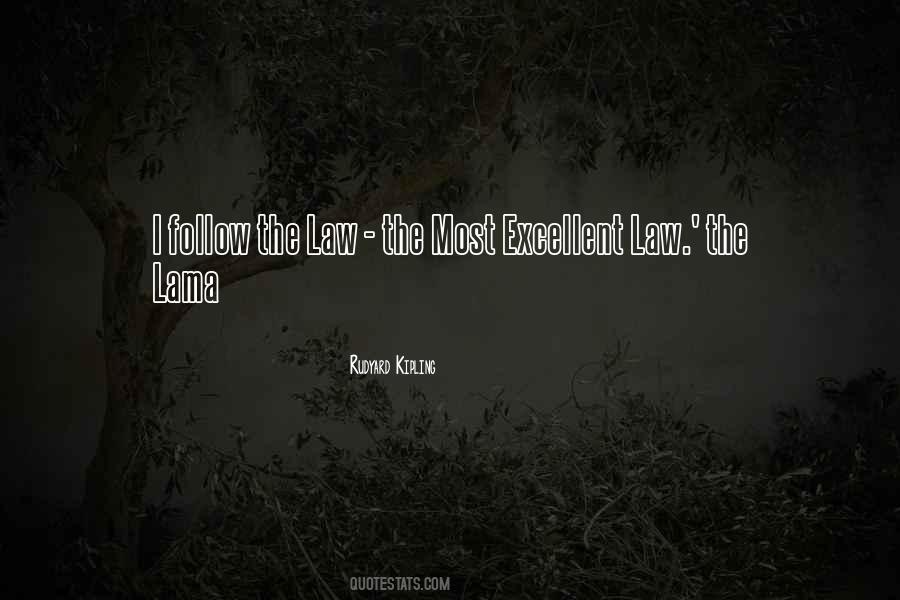 #30. Politeness requires this thing; decorum that; ceremony has its forms, and fashion its laws, and these must always follow, never the promptings of our own nature. - Author: Henri Rousseau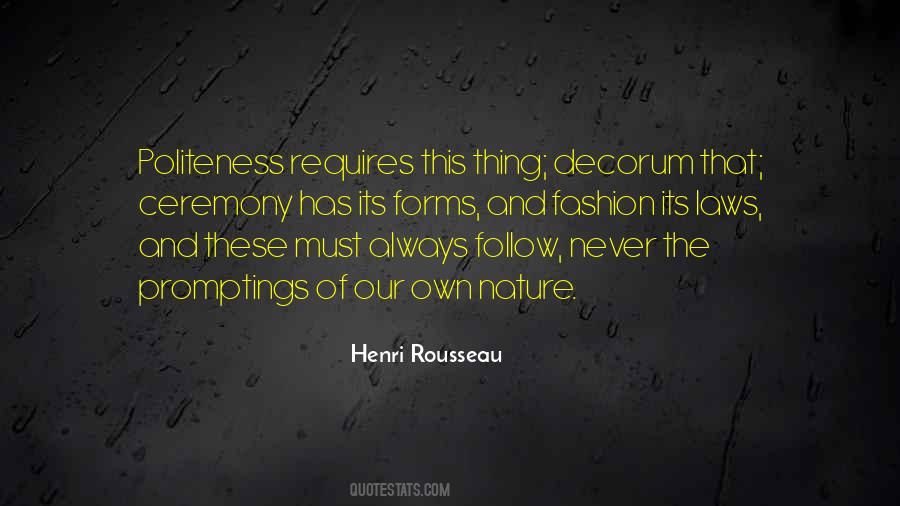 #31. If you can't influence people, then they will not follow you. And if people won't follow, you are not a leader. That's the Law of Influence. - Author: John C. Maxwell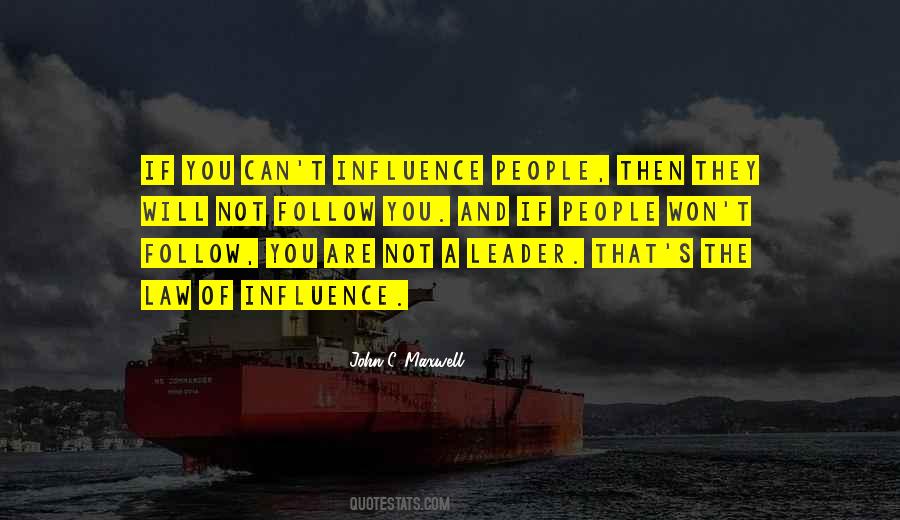 #32. The production of wealth is the result of agreement between labor and capital, between employer and employed. Its distribution, therefore, will follow the law of its creation, or great injustice will be done. - Author: Leland Stanford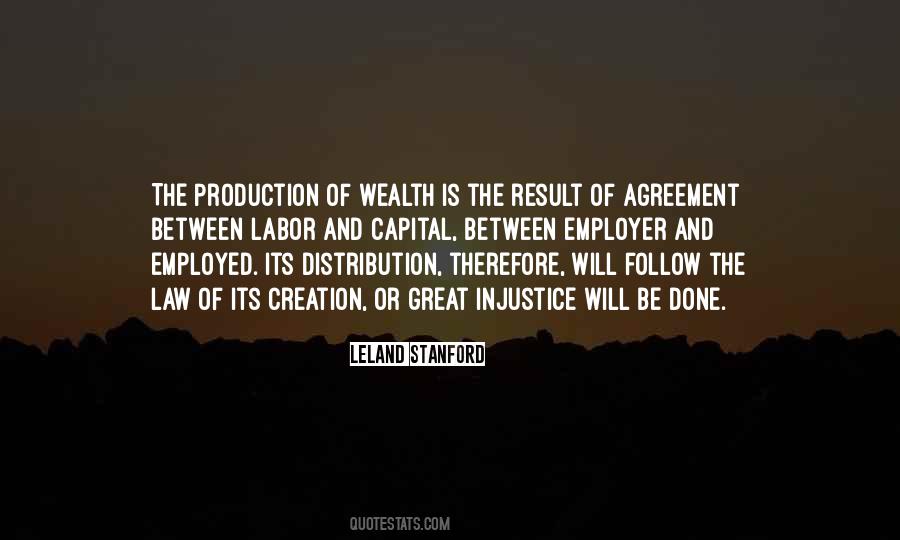 #33. Thought and science follow their own law of development; they are slowly elaborated in the growth and forward pressure of humanity, in what Shakespeare calls
... The prophetic soul,
Of the wide world dreaming on things to come. - Author: Matthew Arnold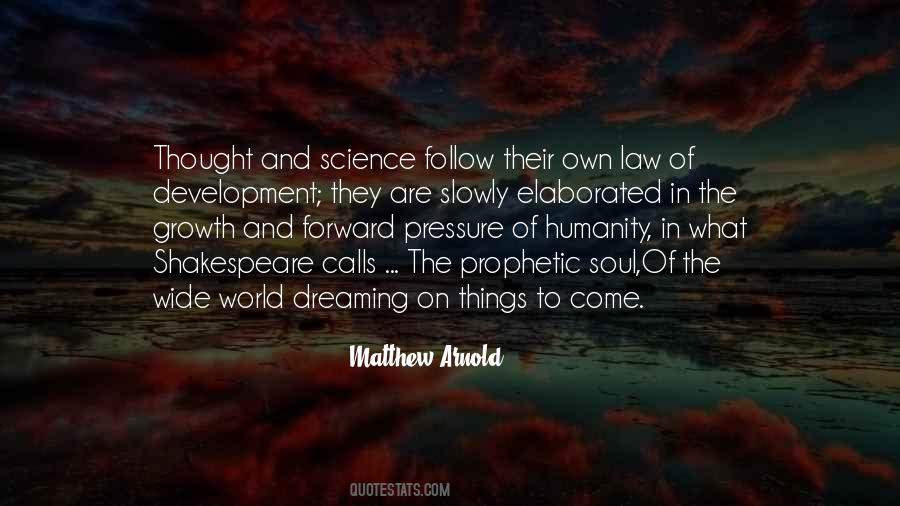 #34. If large financial institutions can break the law and accumulate million in profits - and, if they get caught, settle by paying out of those profits - they do not have much incentive to follow the law. - Author: Elizabeth Warren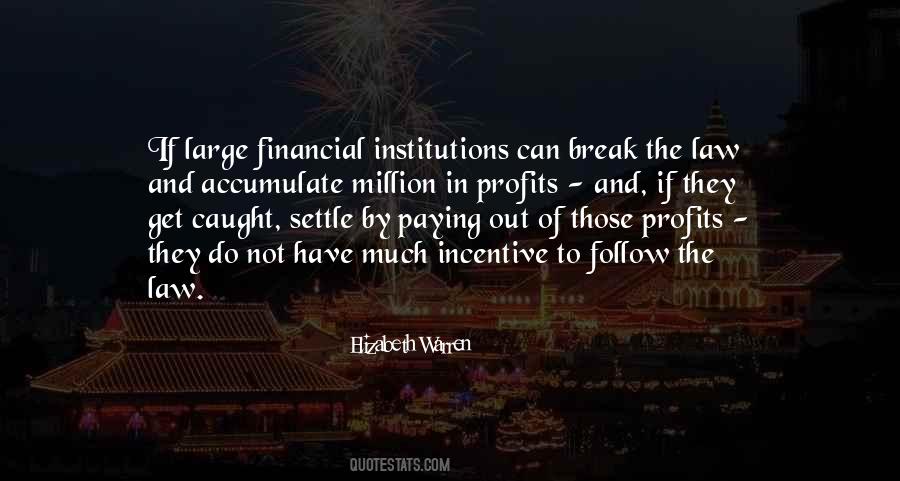 #35. People who follow their religion to the letter of the law are just silly. I mean, I want to tell Hasidic Jews I promise you, God will not mind if you wear a nice cotton blend in the summer. - Author: Sarah Silverman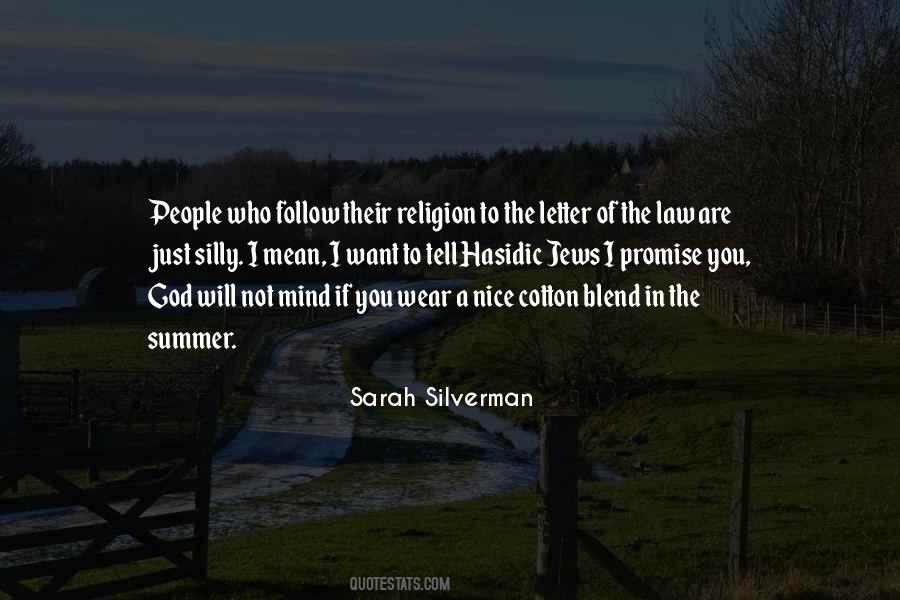 #36. Adorn thyself with simplicity and with indifference towards the things which lie between virtue and vice. Love mankind. Follow God. The poet says that Law rules all. And it is enough to
remember that law rules all. - Author: Marcus Aurelius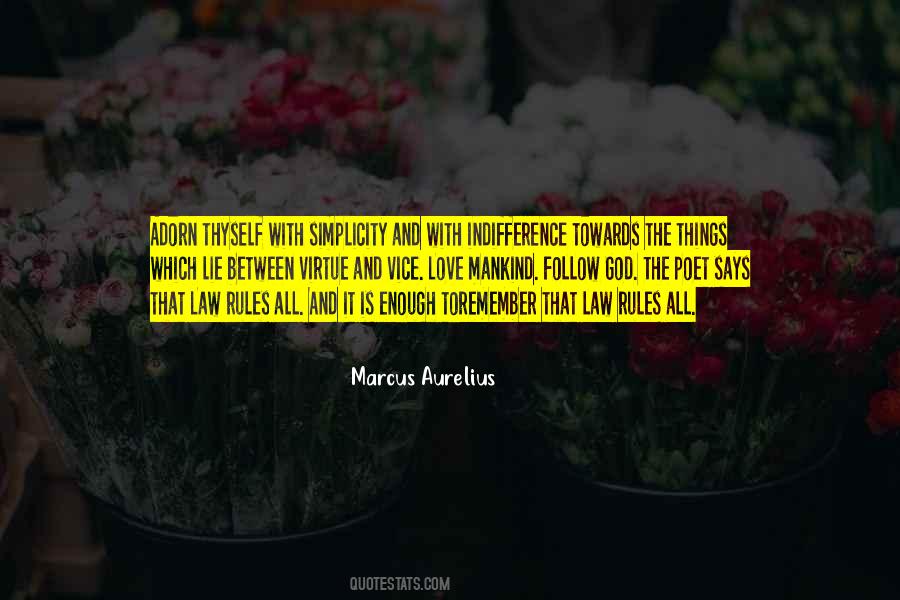 #37. I'd think people would want me to follow the law and pay only what the tax code requires. - Author: Mitt Romney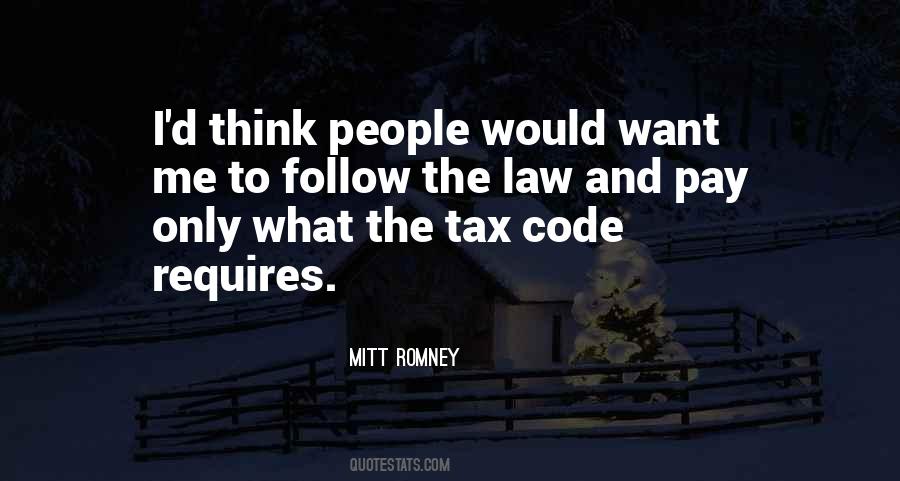 #38. In Hollywood everything is formatted, everything is compulsory, so therefore we have to follow the law of benefits and profit and money, let us say the law of Hollywood. - Author: Jean-Pierre Jeunet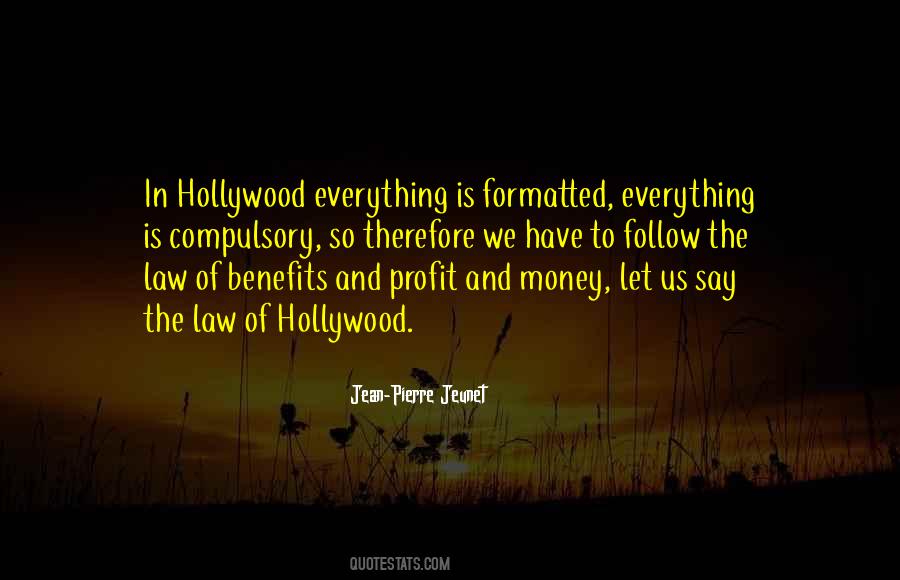 #39. Obviously you follow the law of the land, there are many laws I disagree with, but you follow the law. You fight to change the law, you don't break the law. I believe that's the American way. - Author: George Pataki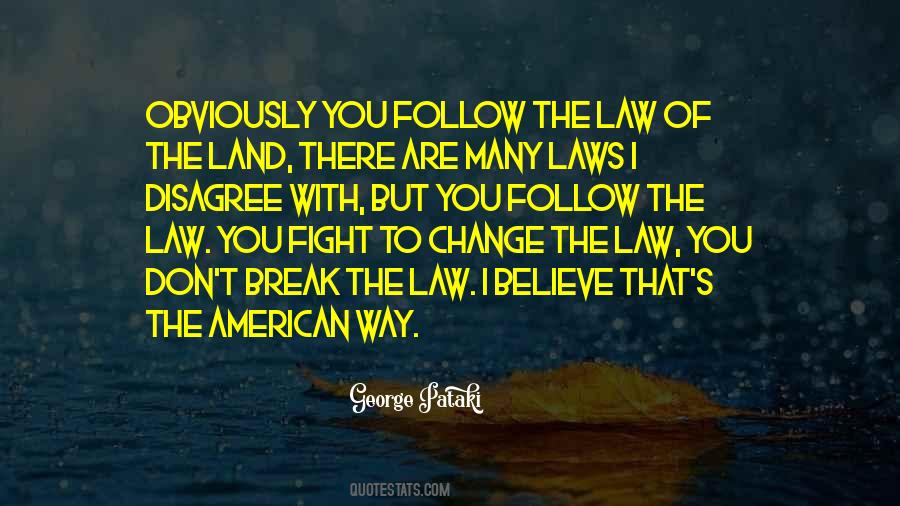 #40. The revealed things belong to us and our children forever, so that we may follow all the words of this law. Deuteronomy 29:29 - Author: Beth Moore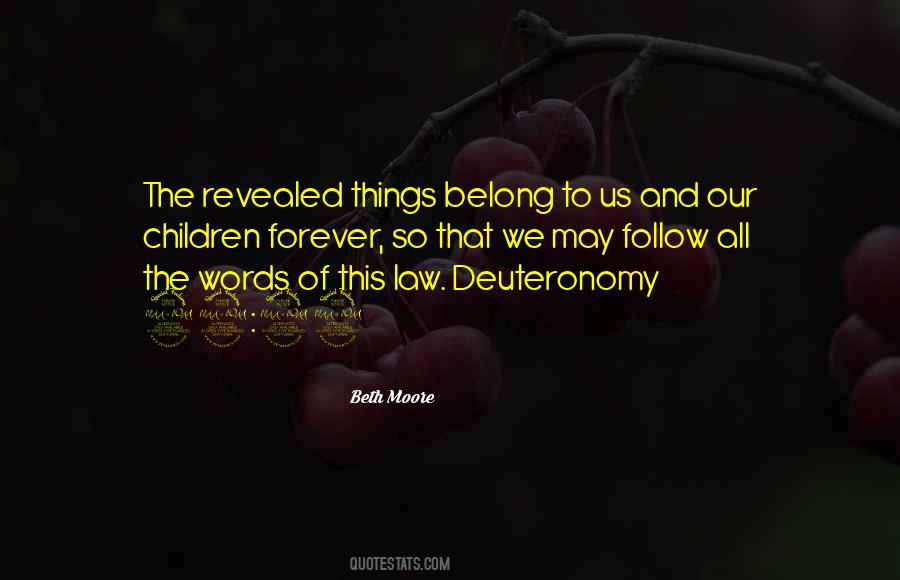 #41. I'm a big believer in the system, but I just don't think we follow our own system and laws very well. I think ultimately we'll see the system collapse. Because no system has ever stayed around forever. - Author: Matt Lindland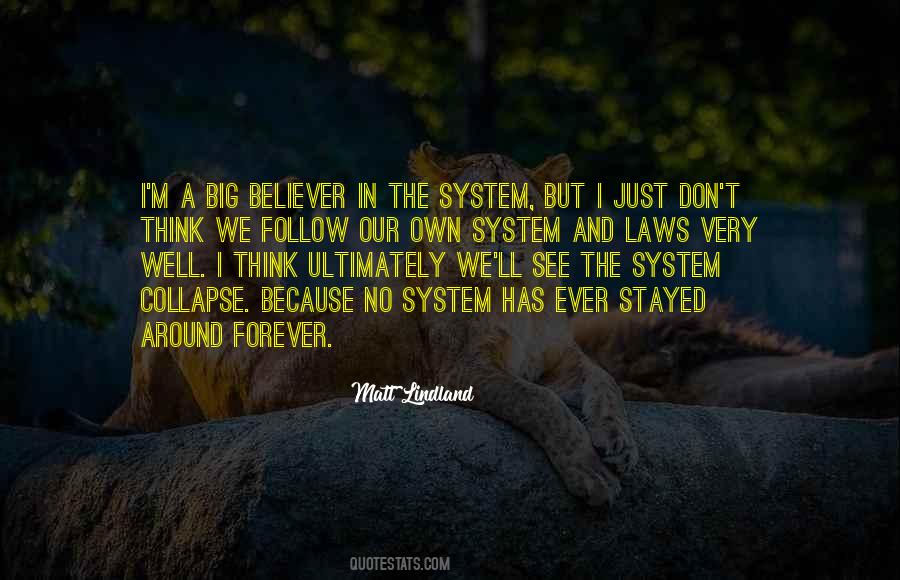 #42. I often think the happiest consequences seem to follow when a gentelman consults his lawyer, and takes all the law allows him. - Author: Robert Louis Stevenson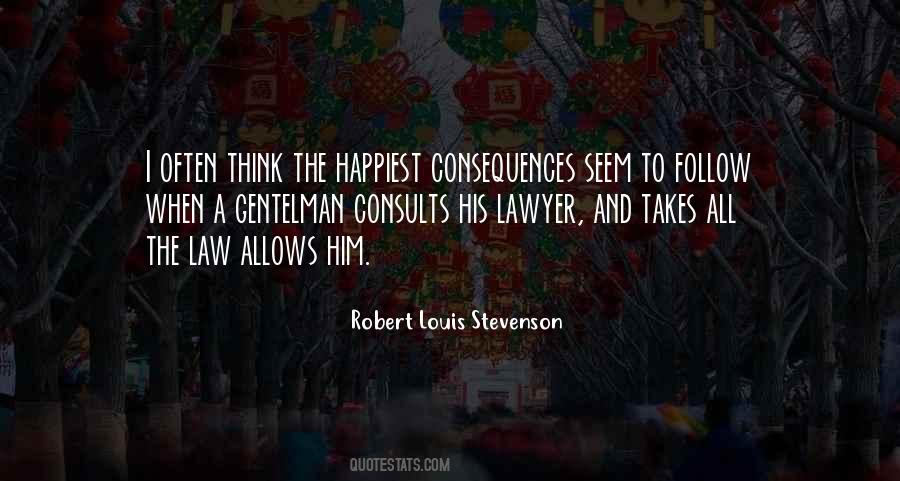 #43. If you have an intuitive or instinctive feeling, follow it, and you will find that the Universe is magnetically moving you to receive what you asked for. - Author: Rhonda Byrne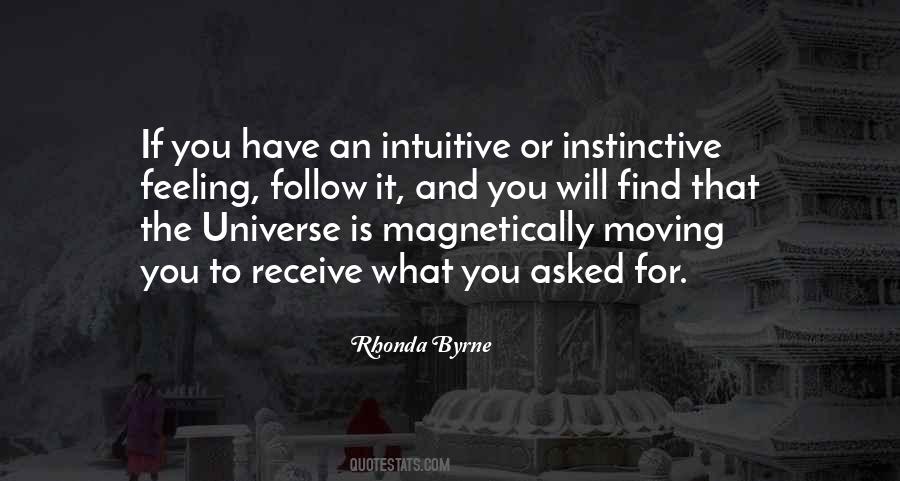 #44. Being a judge is sometimes like raising children: litigants get the time they need, not necessarily the time they want, and you have to earn people's respect by communicating to them that you're going to listen, follow the law and make a fair decision. - Author: Steven Pacey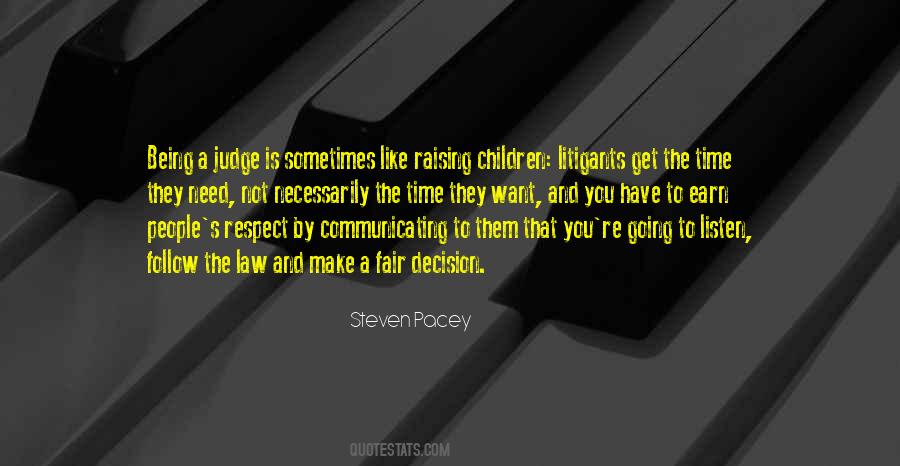 #45. I believe that George Bush won the election through the vote of the people and the way our republic is set up. All we did was follow the law in the Department of State. - Author: Katherine Harris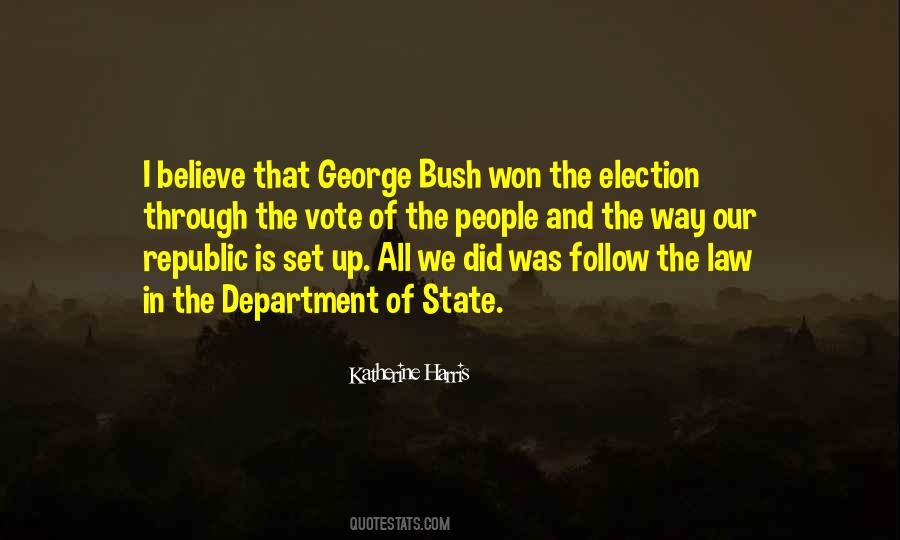 #46. The Law, as quoted, lays down a fair conduct of life, and one not easy to follow. - Author: Rudyard Kipling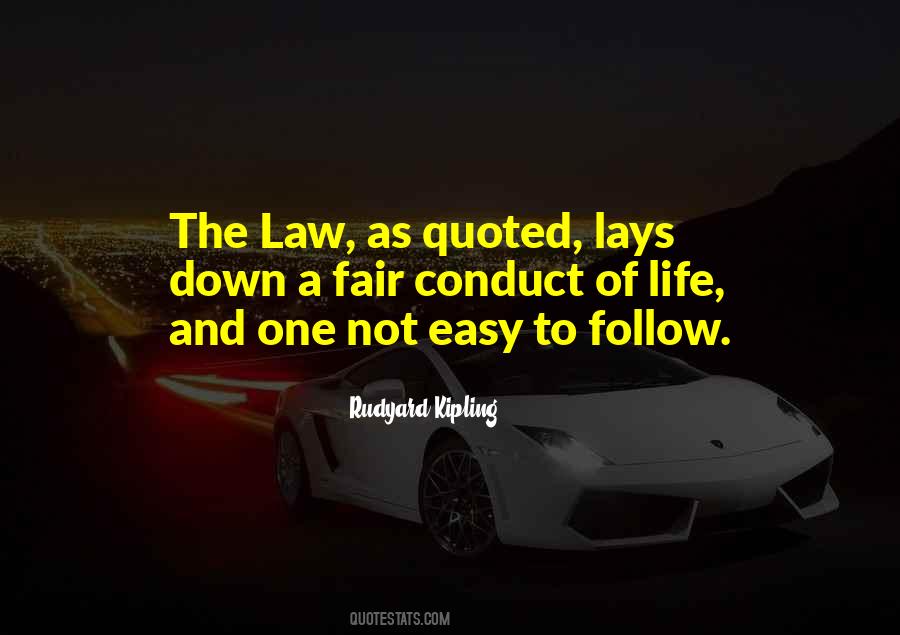 #47. Since the birth of modern Orthodox Judaism in 19th-century Germany, a central goal of the movement has been to normalize the observance of traditional Jewish law - to make it possible to follow all 613 biblical commandments assiduously while still participating in the reality of the modern world. - Author: Noah Feldman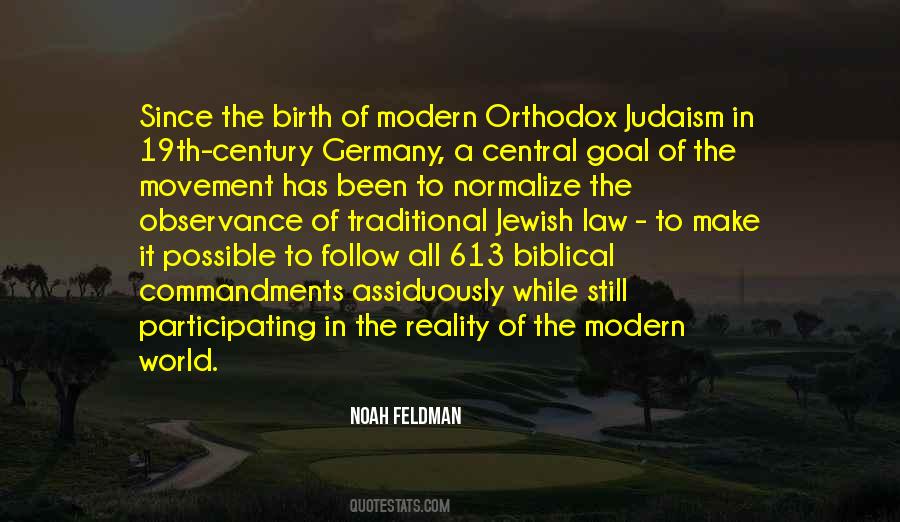 #48. In the eye of the law no doubt, man and wife are for many purposes one: but that is a strong figurative expression, and cannot be so dealt with as that all the consequences must follow which would result from its being literally true. - Author: William Henry Maule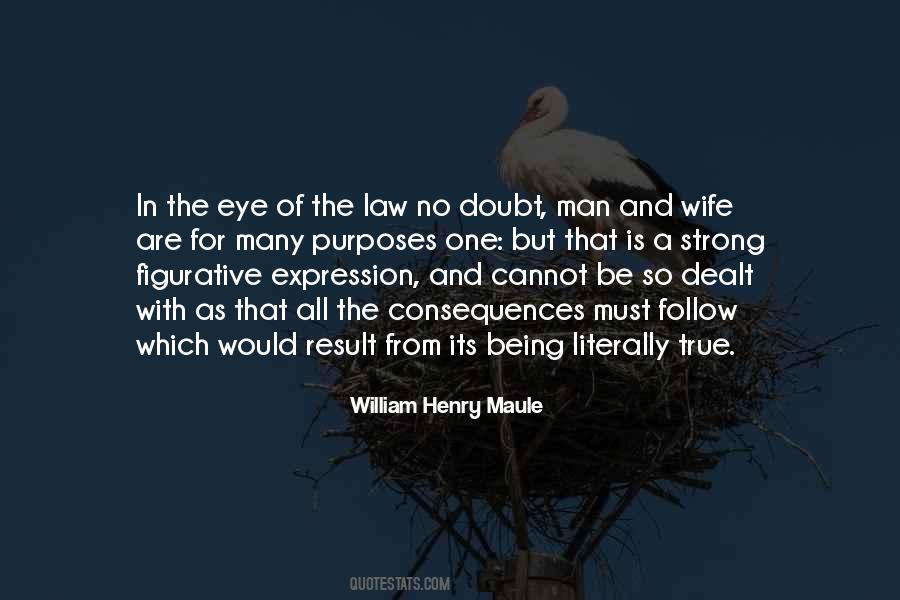 #49. Compliance with Laws, Rules and Regulations Employees must follow applicable laws, rules and regulations at all times. Employees with questions about the applicability or interpretation of any law, rule or regulation, should contact the Legal Department - Author: Anonymous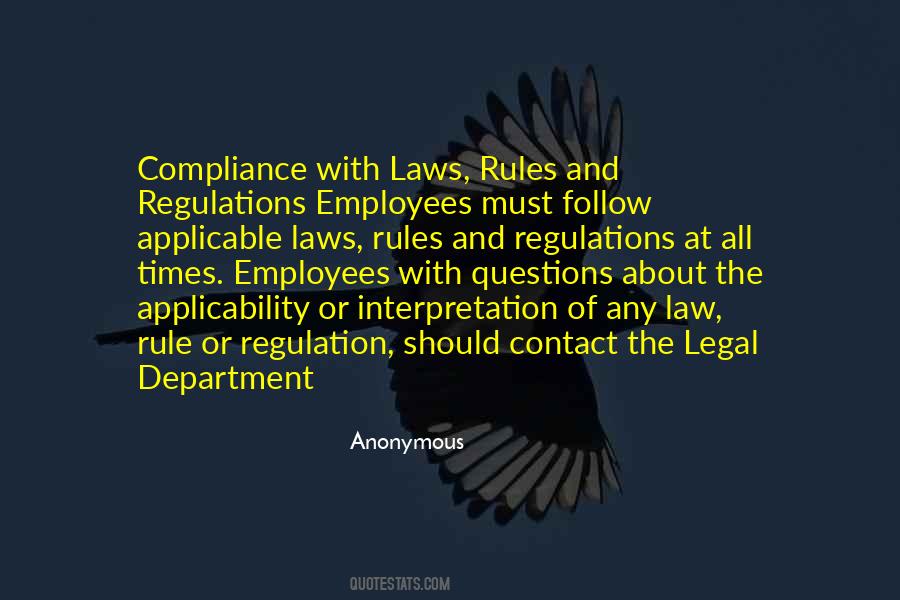 #50. Are you planning to follow a career in Magical Law, Miss Granger?" asked Scrimgeour.
"No, I'm not," retorted Hermione. "I'm hoping to do some good in the world! - Author: J.K. Rowling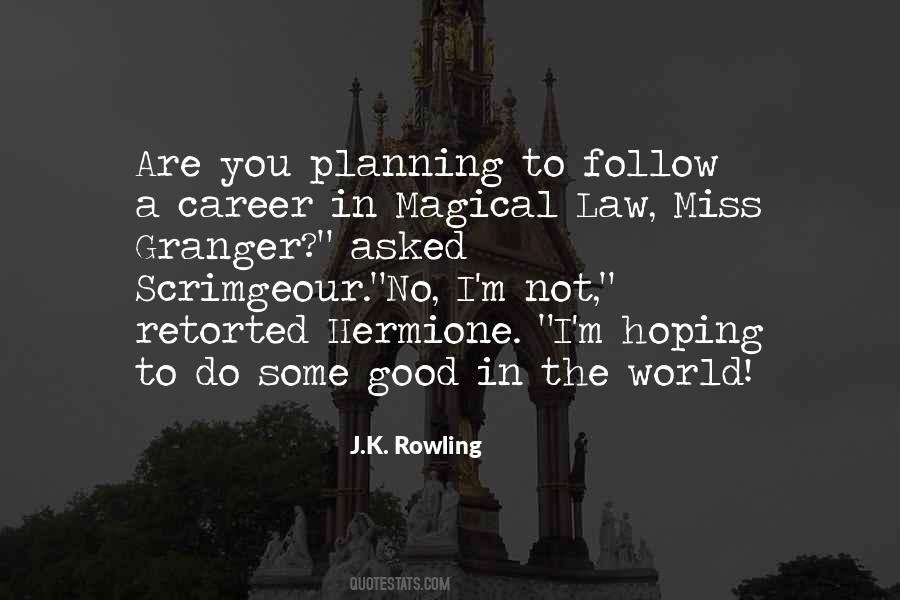 #51. Support is not always easy to come by if you wait for the world to see your worth. Discover your own worth and the world will indeed follow your lead. Its the law of cause and effect! It has to happen. Support yourself. - Author: Sereda Aleta Dailey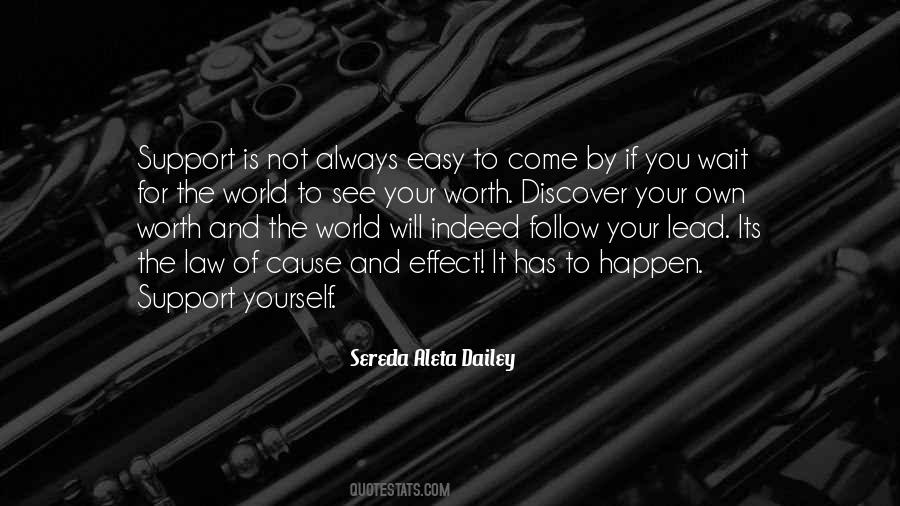 #52. I draw a distinction between traditional Islam and Islamism. Islamism emerged in its modern form in the 1920s and is driven by a belief that Muslims can be strong and rich again if they follow the Islamic law severely and in its entirety. This is a response to the trauma of modern Islam. - Author: Daniel Pipes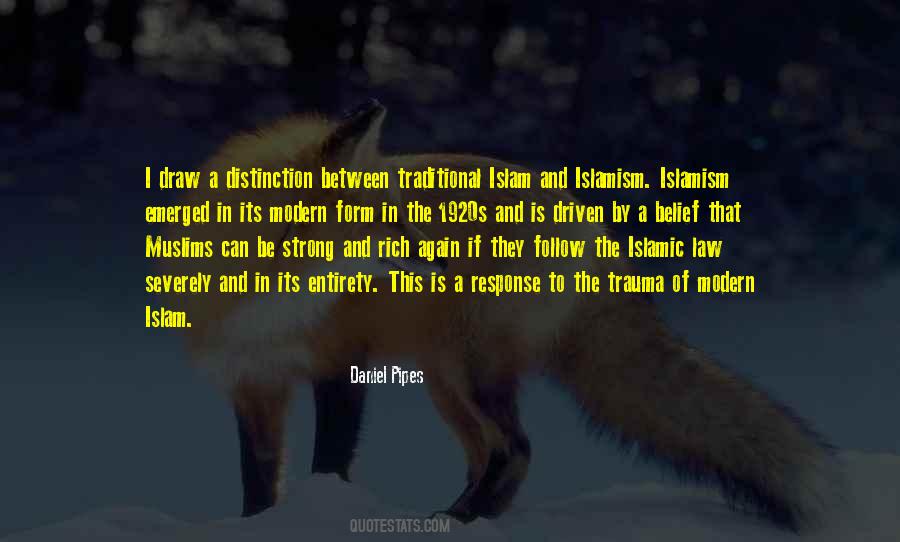 #53. Charged with the mission of operating beyond the boundaries of civilization with minimal support and no communication from higher authority, they lived and often died by the motto, 'Order first, then law will follow. - Author: Thomas W. Knowles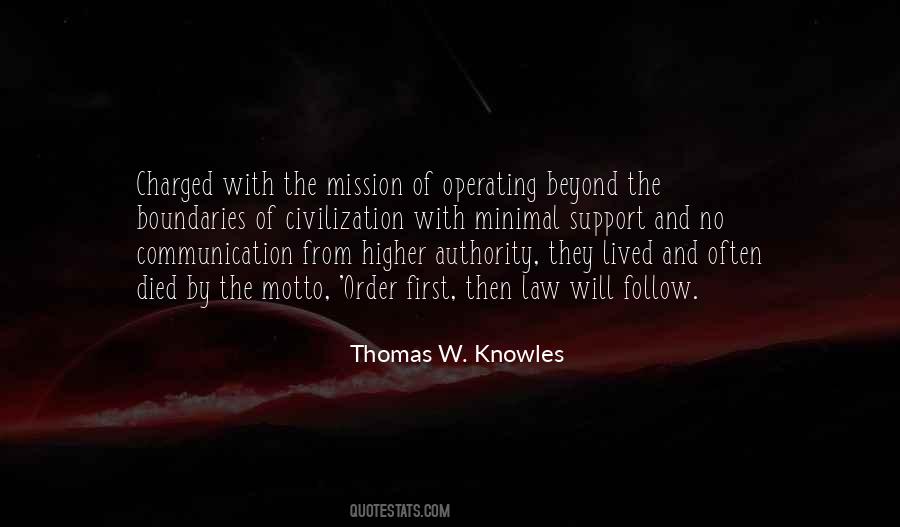 #54. It has been thought that the people are not competent electors of judges learned in the law. But I do not know this to be true, and, if doubtful, we should follow principle. - Author: Thomas Jefferson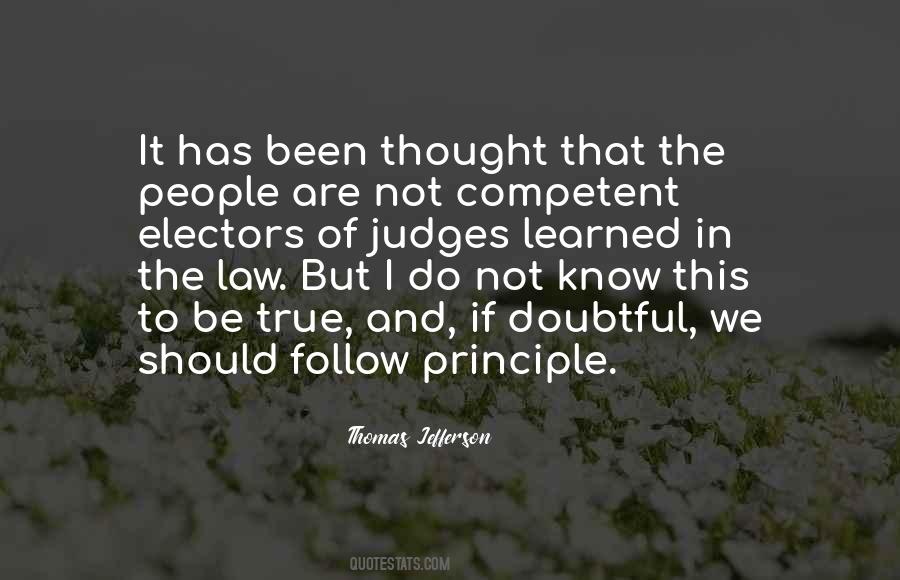 #55. There are no laws set in stones, follow your basic instincts, they contain the laws that guide you existence. - Author: Bangambiki Habyarimana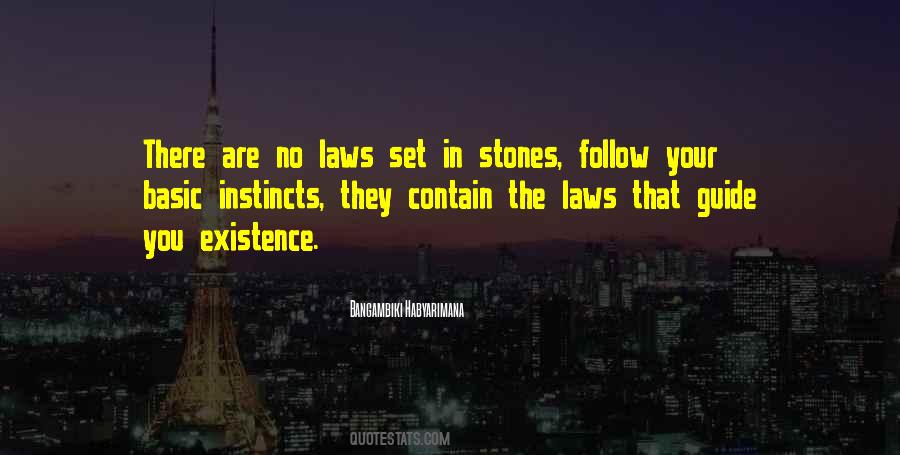 #56. There is no letter of the law to follow in Zen. There is a lot of etiquette, but there are no rules. - Author: Frederick Lenz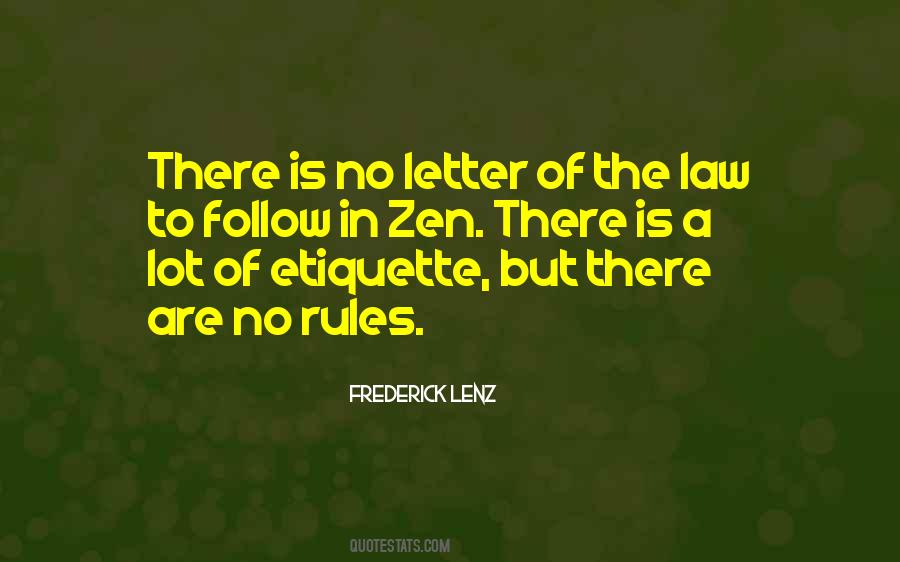 #57. Unfortunately, I have to follow the law. - Author: Dirk Kempthorne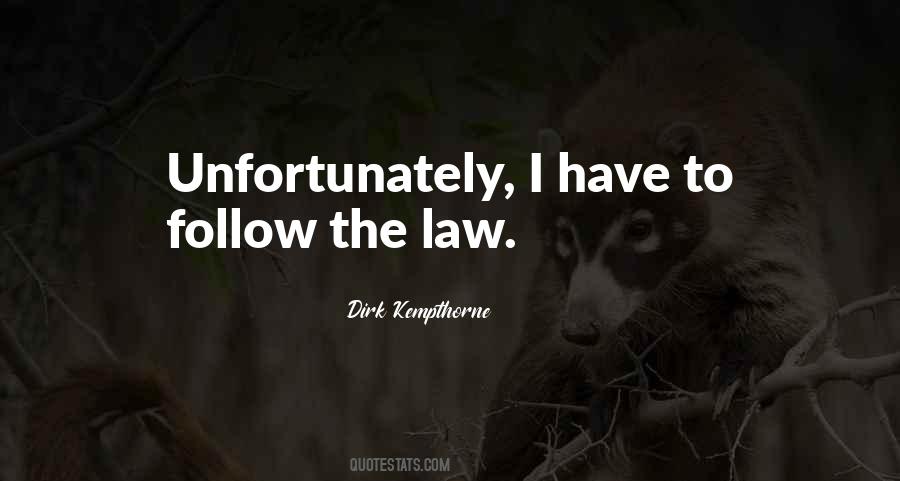 #58. America undermines its own ideals when it ignores the very values it is promoting around the world. You cannot ask other people in the world to follow the law and act responsibly if we don't do the same ... and being afraid is not an excuse. - Author: Aasif Mandvi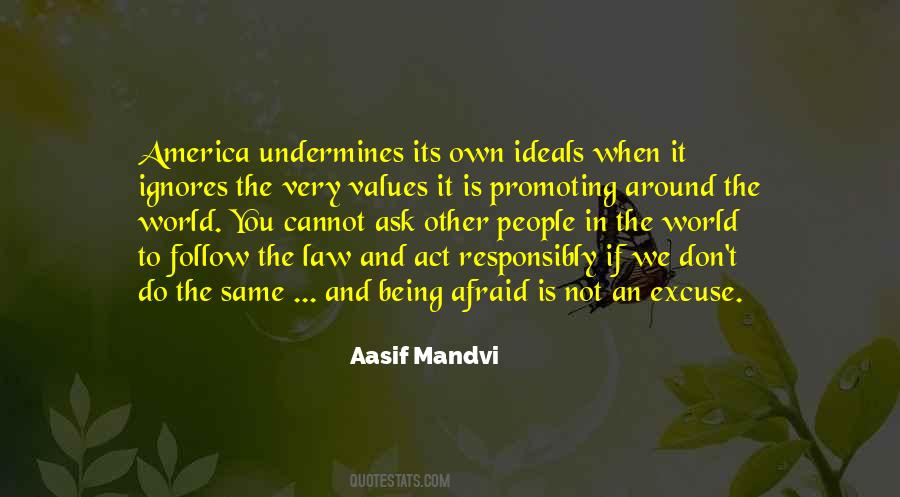 #59. The power granted the Attorney General to intervene in all equal-protection-of-the-law cases is extremely broad and dangerous. Choices made by the Attorney General could follow a political and selected pattern. - Author: John Sparkman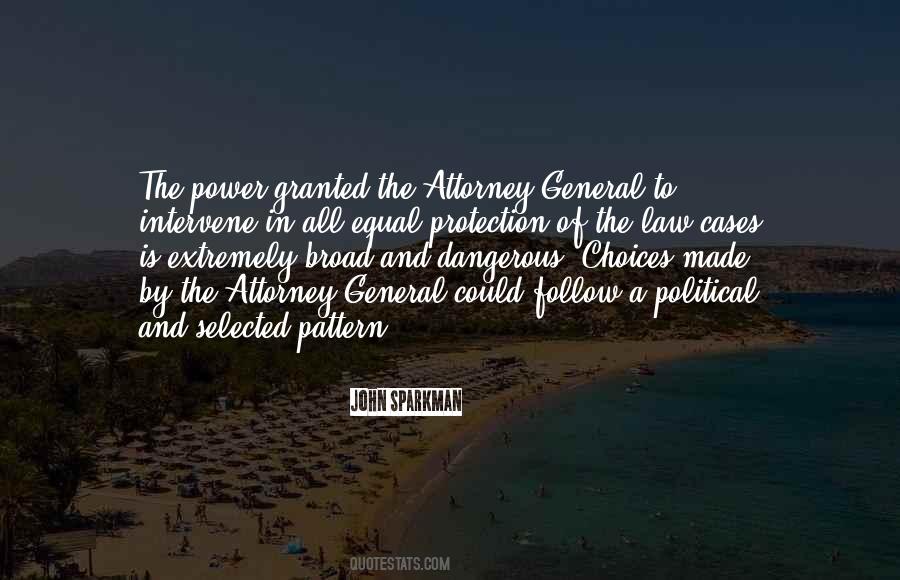 #60. 5,6. The Moral Law causes the people to be in complete accord with their ruler, so that they will follow him regardless of their lives, undismayed by any danger. - Author: Sun Tzu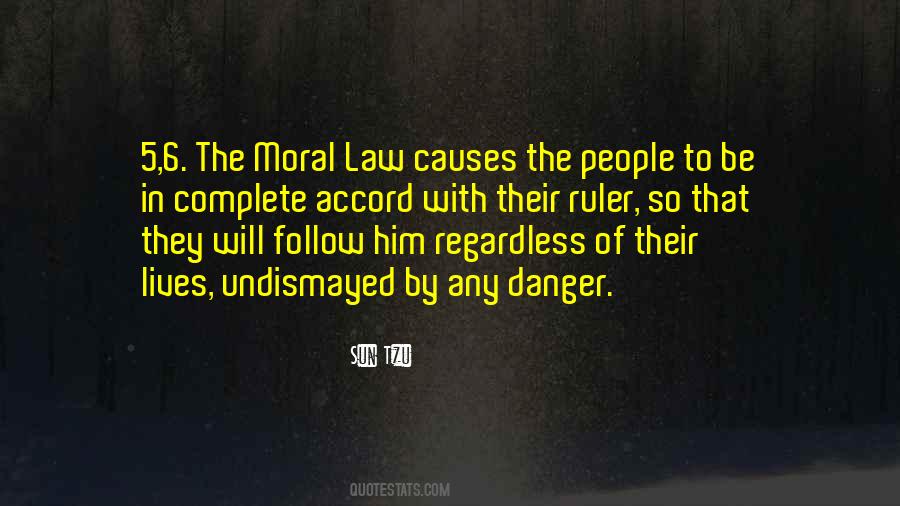 #61. It is a good thing to follow the First Law of Holes: if you are in one, stop digging. - Author: Denis Healey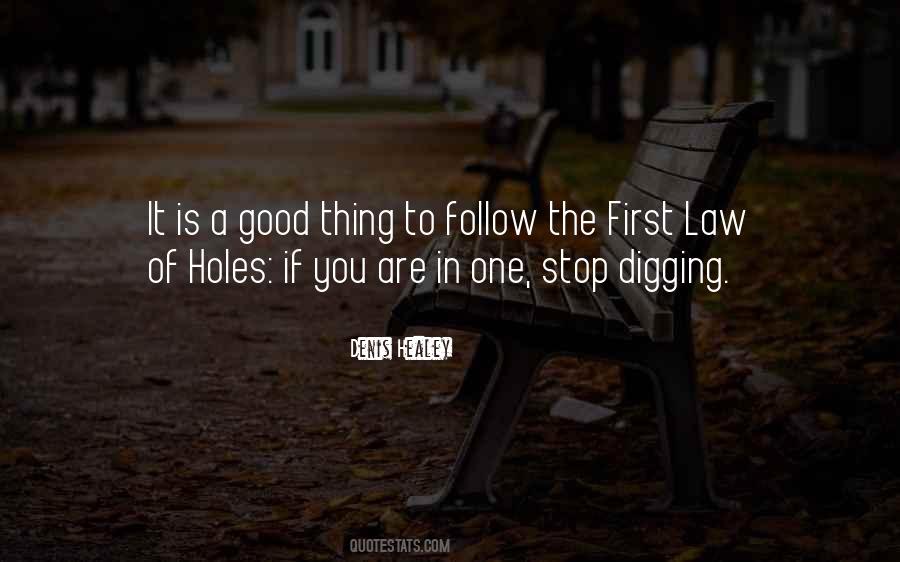 #62. Zero-tolerance on drinking and driving - meaning no drinking at all before driving - is a collective punishment that, in essence, only affects responsible adults who follow the law. - Author: David Harsanyi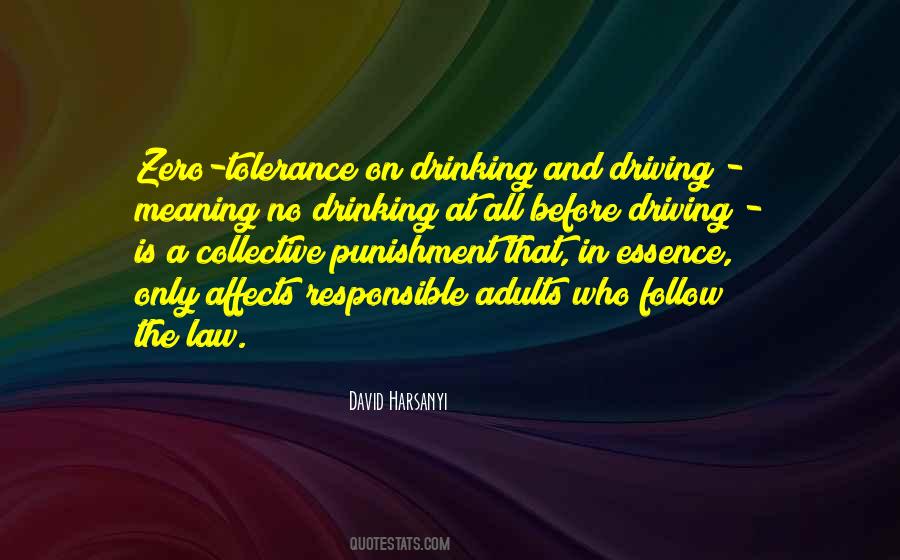 #63. When a man's conscience and the laws clash, it is his conscience that he must follow. - Author: Henry David Thoreau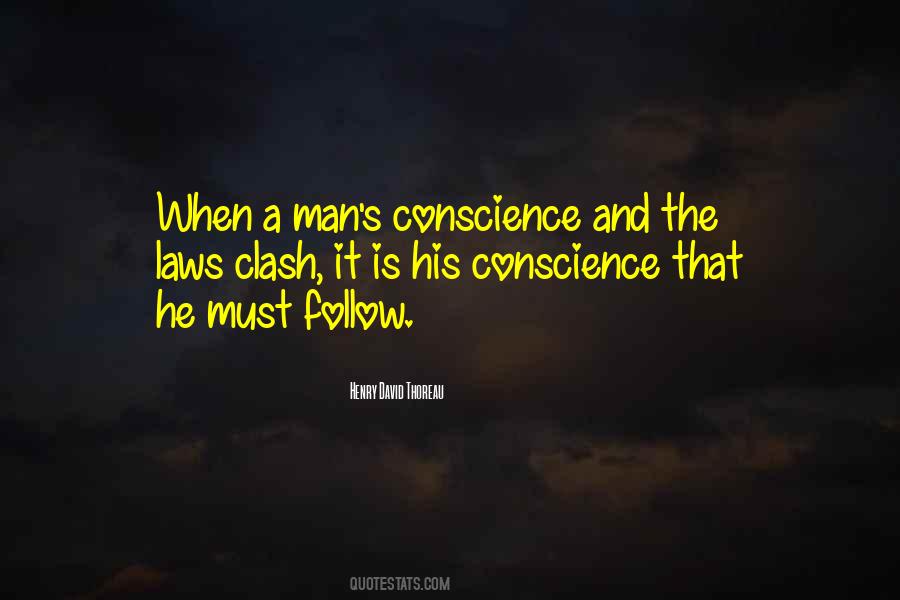 #64. Anger is one of those emotions that doesn't follow the letter of the law. It speaks before it thinks. It rears up on its hind legs and charges. - Author: Lynn Coady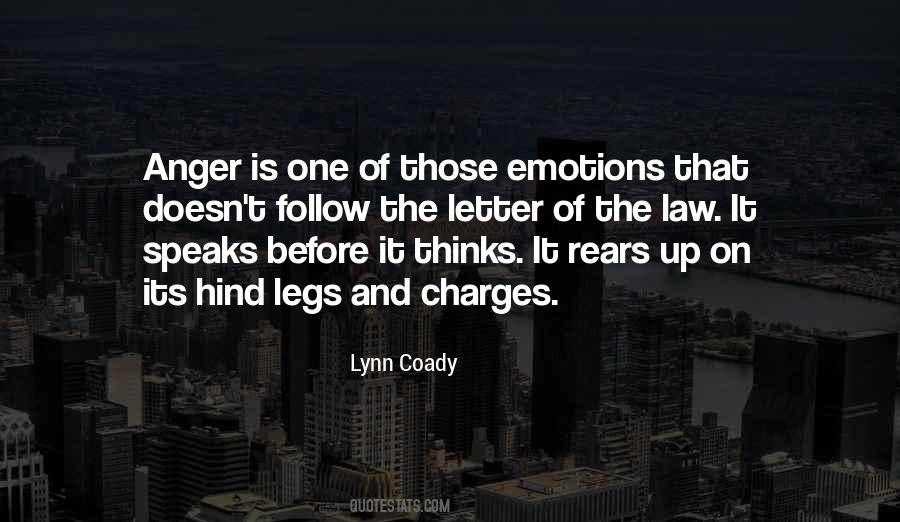 #65. We followed the law, we follow our policies, we self-report, we identify problems, we fix them. And I think we do a great job, and we do, I think, more to protect people's civil liberties and privacy than they'll ever know. - Author: Keith B. Alexander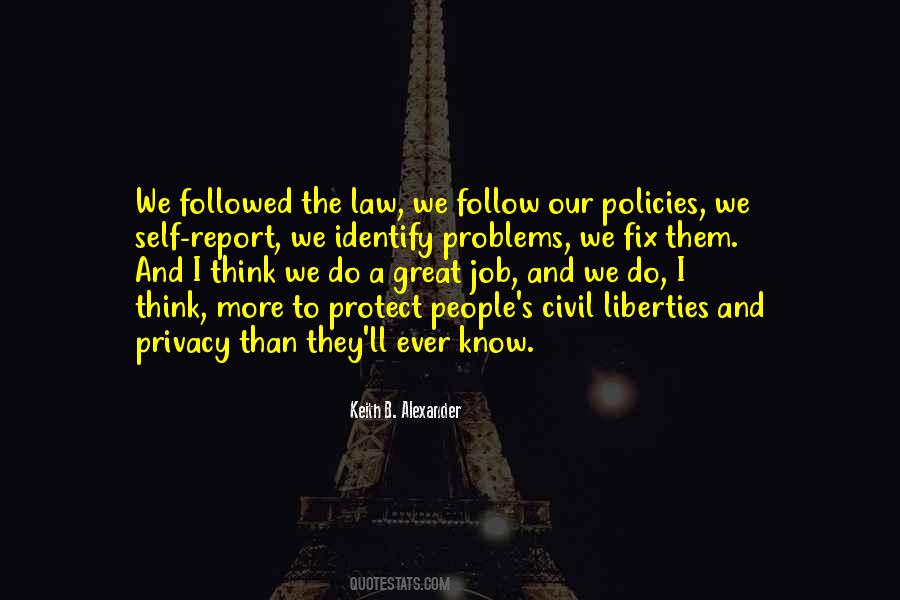 #66. I believe we should follow the text of every law, even (a) law I disagree with, it's one of the real differences
if you look at President Obama and the lawlessness, if he disagrees with a law he simply refuses to follow it or claims the authority to unilaterally change. - Author: Ted Cruz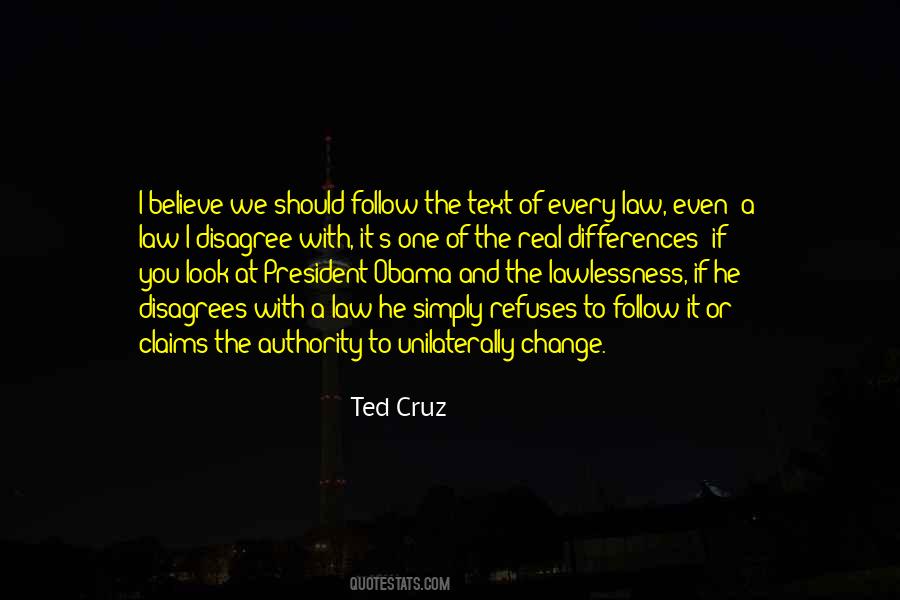 #67. One understands why law clerks follow the Bluebook. But why a judge would direct his law clerks to do so, or even tolerate their doing so, is a mystery to me. Are judges sheep? Why should they care what kids at the Harvard Law Review consider proper abbreviation? - Author: Richard A. Posner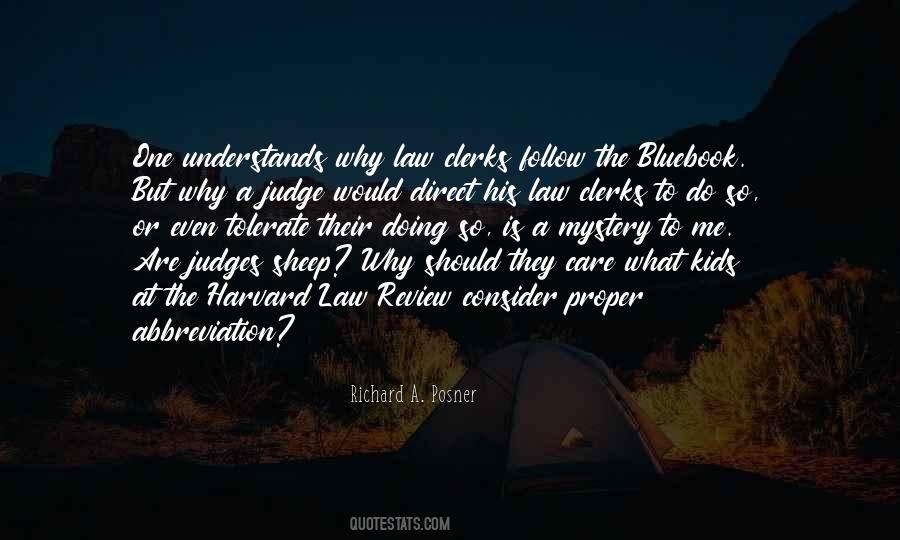 #68. But in truth, a general prohibition in a state may increase the sum of liberty, and a general permission may diminish it. It does not follow, as these people would have us believe, that a man is more free where there is least law and more restricted where there is most law. - Author: H.G.Wells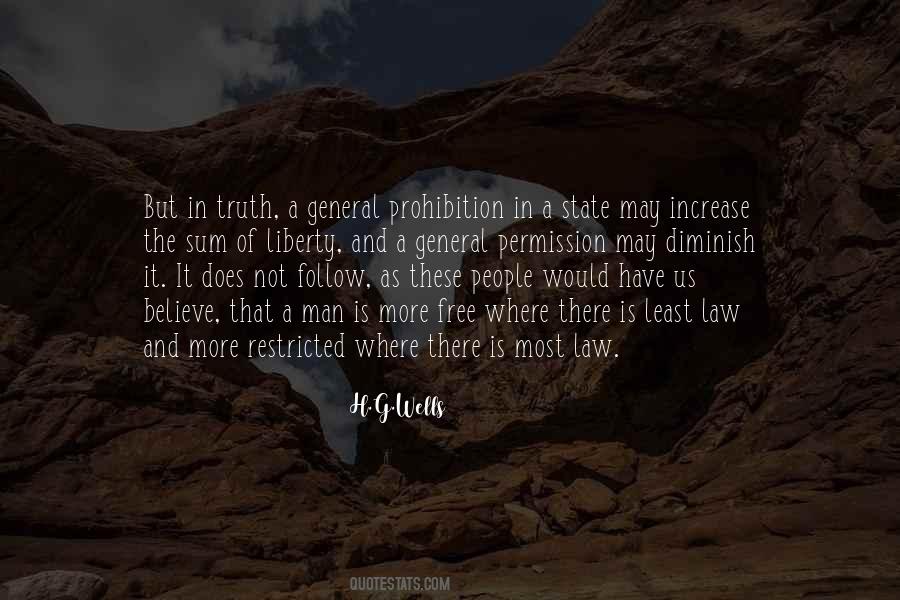 #69. You might think otherwise, but it doesn't naturally follow that because a law has been passed by Congress and signed by the president, said law actually has to be implemented. - Author: Matt Taibbi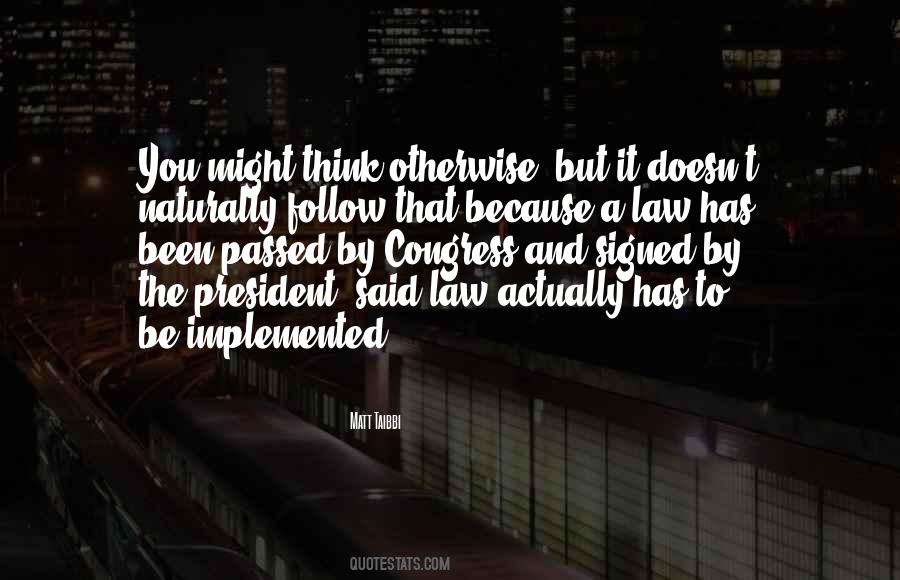 #70. In spite of the fact that the law of revenge solves no social problems, men continue to follow its disastrous leading. History is cluttered with the wreckage of nations and individuals that pursued this self-defeating path. - Author: Martin Luther King Jr.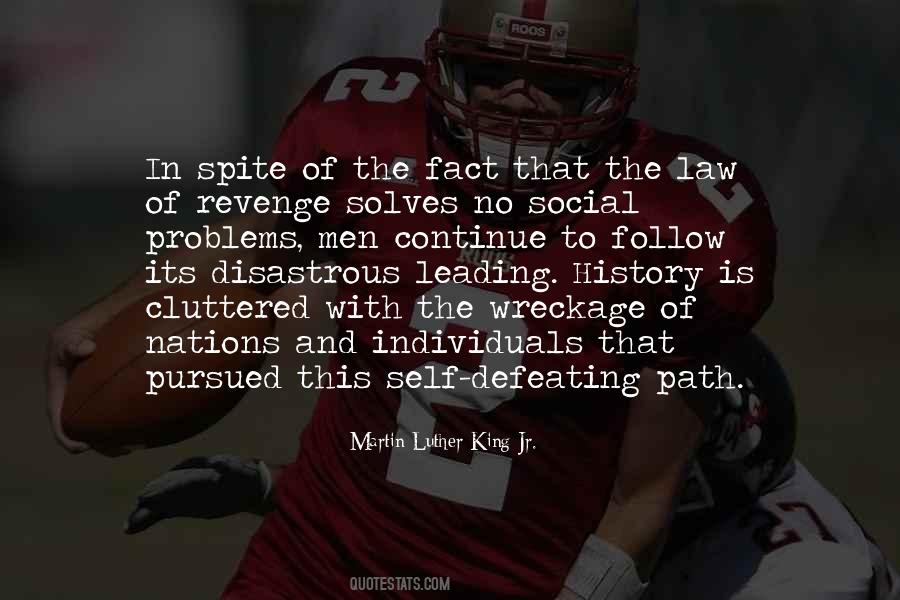 #71. The Law of Reflection Learning to Pause Allows Growth to Catch Up with You "Follow effective action with quiet reflection. From the quiet reflection will come even more effective action." - PETER F. DRUCKER - Author: John C. Maxwell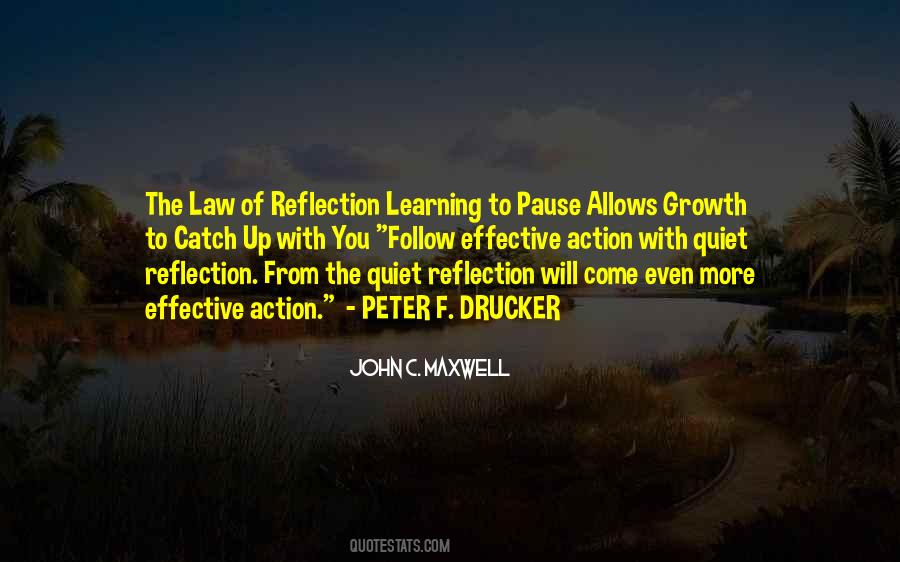 #72. We need to use the United Nations Security Council and believe that preserving law and order in today's complex and turbulent world is one of the few ways to keep international relations from sliding into chaos. The law is still the law, and we must follow it whether we like it or not. - Author: Vladimir Putin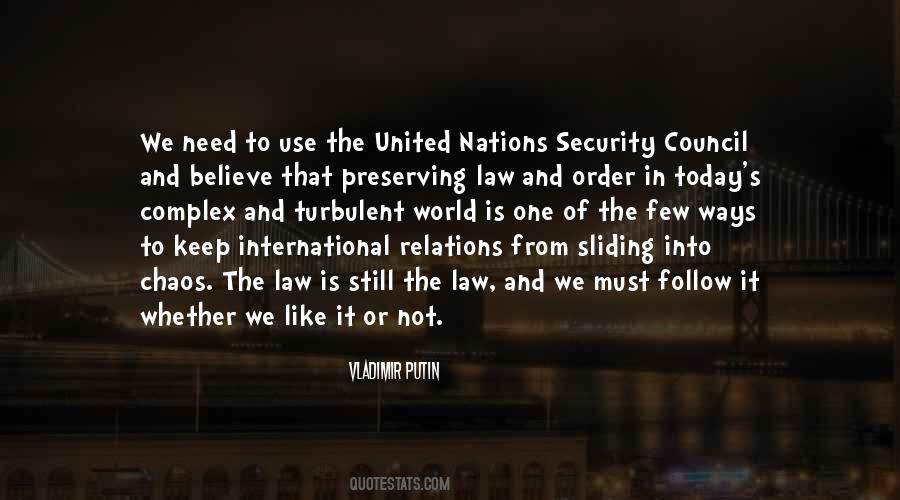 #73. Legislation and adjudication must follow, and conform to, the progress of society. - Author: Abraham Lincoln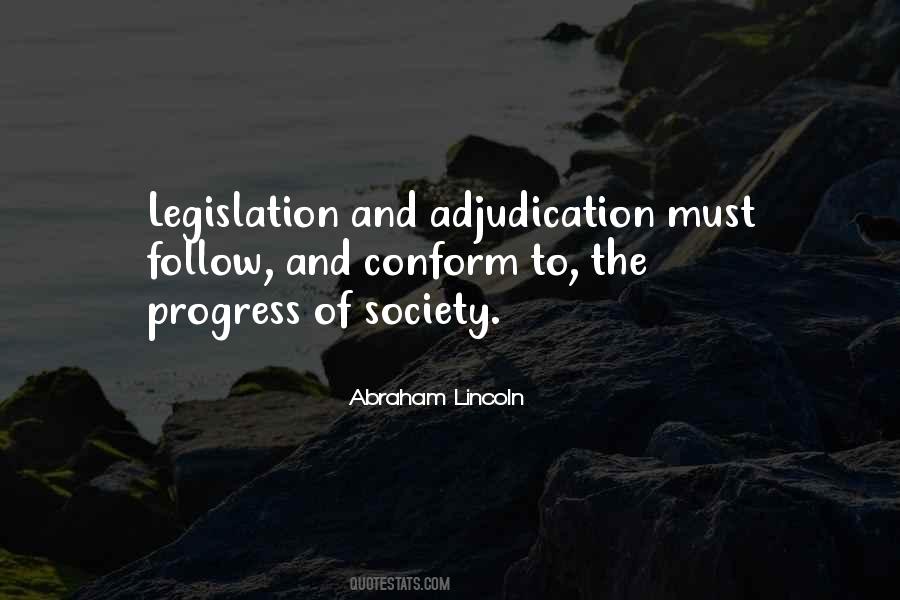 #74. I follow my law and fulfil it all duly and look! when your doubt runneth high North points to the needle! - Author: Edith M. Thomas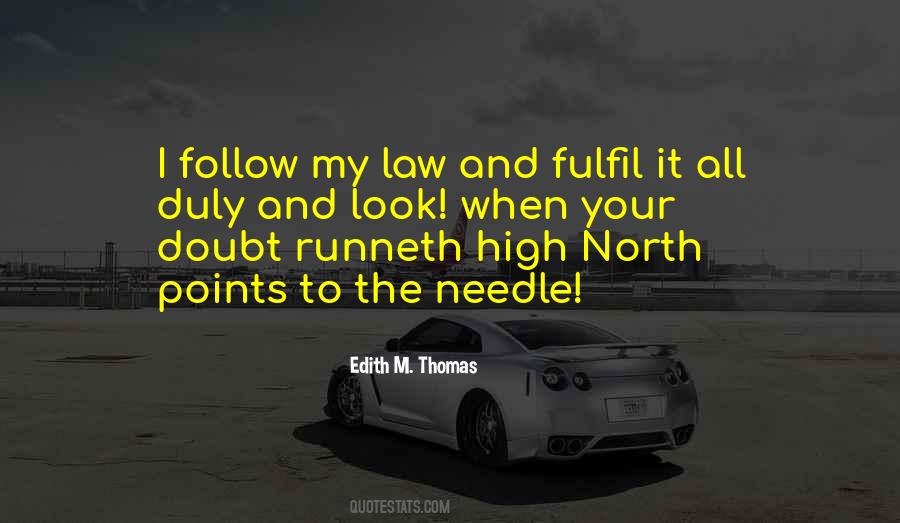 #75. The law, in this country, is dead. The Supreme Court doesn't follow the Constitution, Congress doesn't follow the Constitution. The President doesn't even want to follow the Constitution. And yet we're the ones called radical. - Author: Matt Shea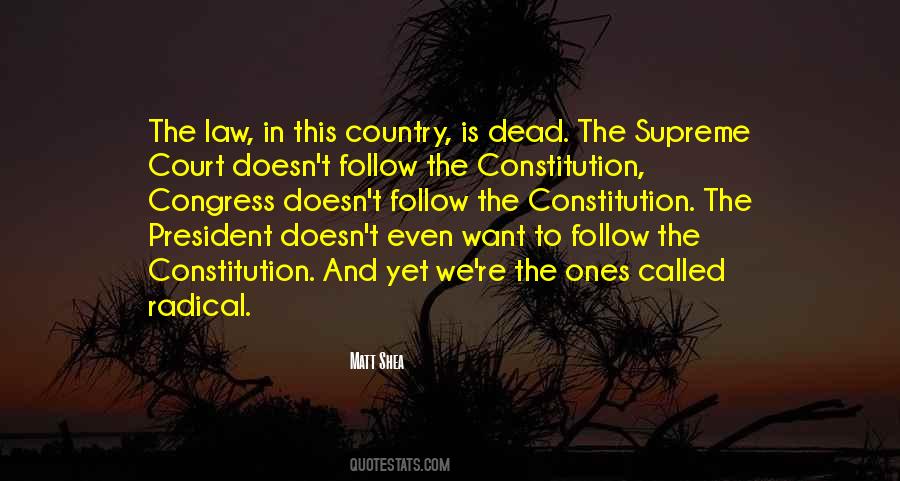 #76. I'm duty-bound to follow the law and apply to the law to the facts as I find them. - Author: Stephanie Tubbs Jones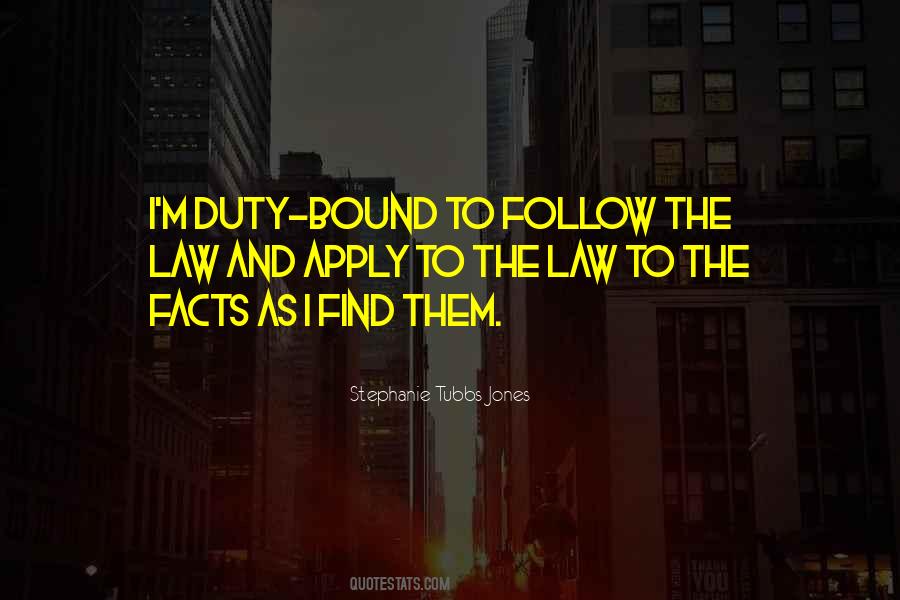 #77. I absolutely believe that those who come here illegally should not be given favoritism or a special route to becoming permanent residents or citizens that's not given to those people that have stayed in line legally. I just think we have to follow the law. I think that's the right course. - Author: Mitt Romney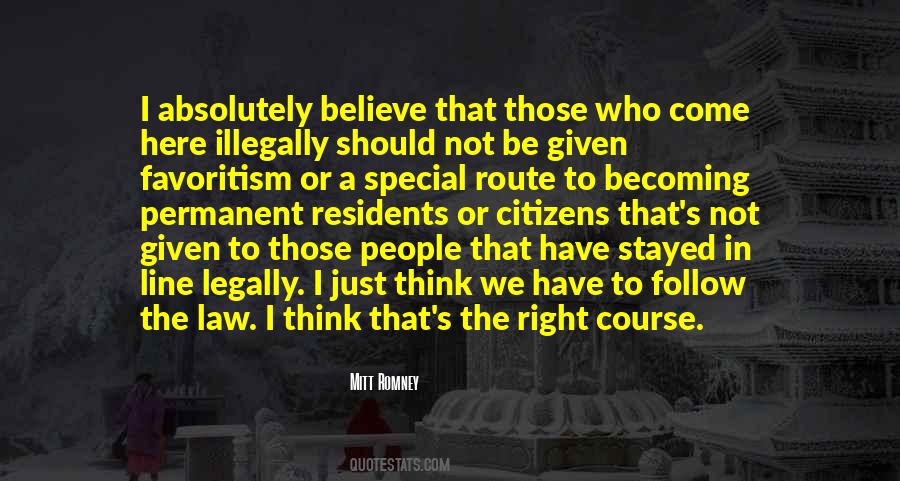 #78. It's an Islamic principle that you must follow the law of the land where you reside. - Author: Cat Stevens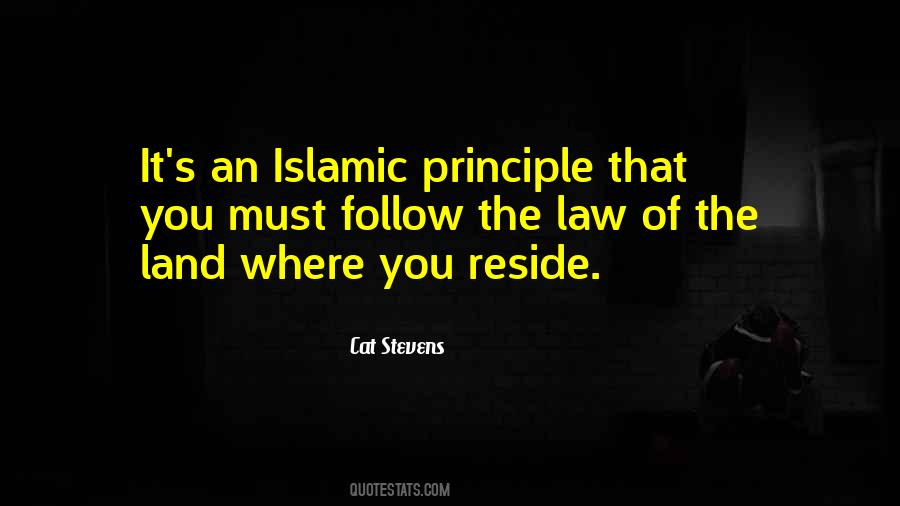 #79. The mind has been likened to a piece of paper that has been folded. Ever afterwards it has a tendency to fold in the same crease-unless we make a new crease or fold, when it will follow the last lines. - Author: William Walker Atkinson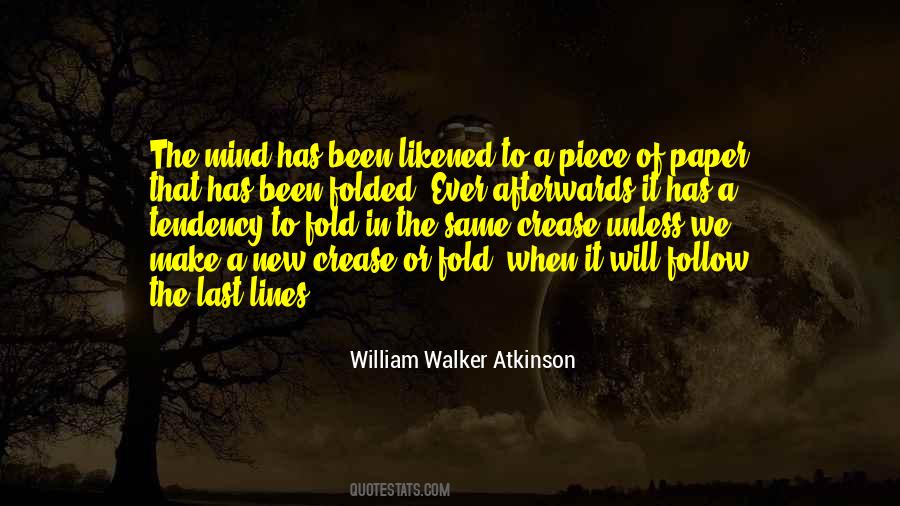 #80. I respect people who feel things passionately. I do. But when someone is a judge, that is not what they should bring to the bench. It is not really passion, except in rare instances, that serves the bench well. It is, rather, an ability to understand the law and follow it. - Author: Chuck Schumer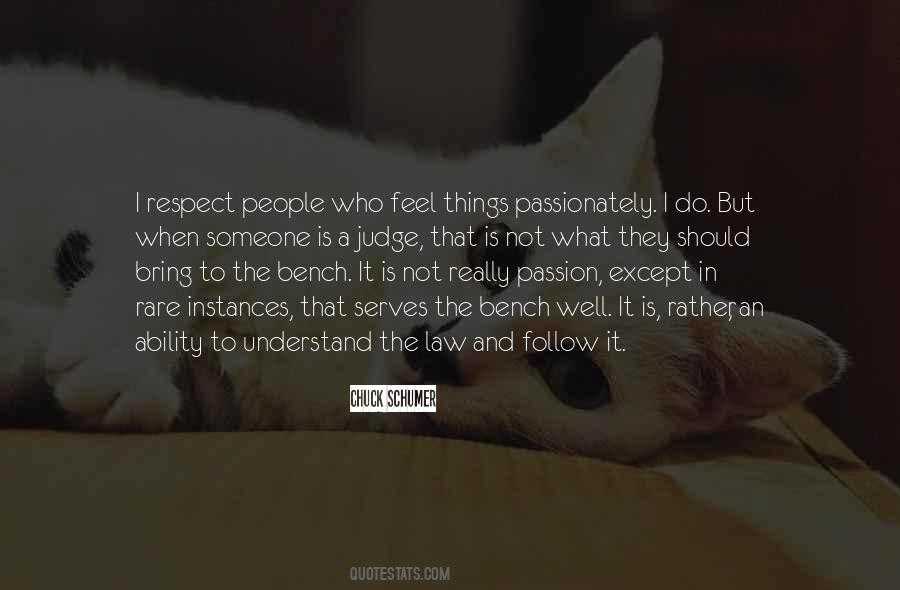 #81. It will be seen that the formula - 'Do what thou wilt shall be the whole of the Law' has nothing to do with 'Do as you please.' It is much more difficult to comply with the Law of Thelema than to follow out slavishly a set of dead regulations. - Author: Aleister Crowley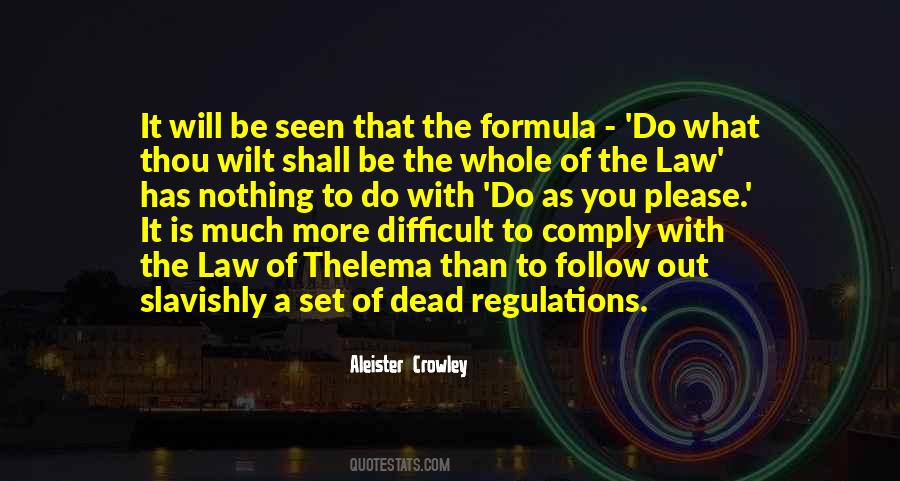 #82. There is no higher "law" to be obeyed than the law of love. That, at the end of the day, is what it means to follow Jesus. - Author: Peter Enns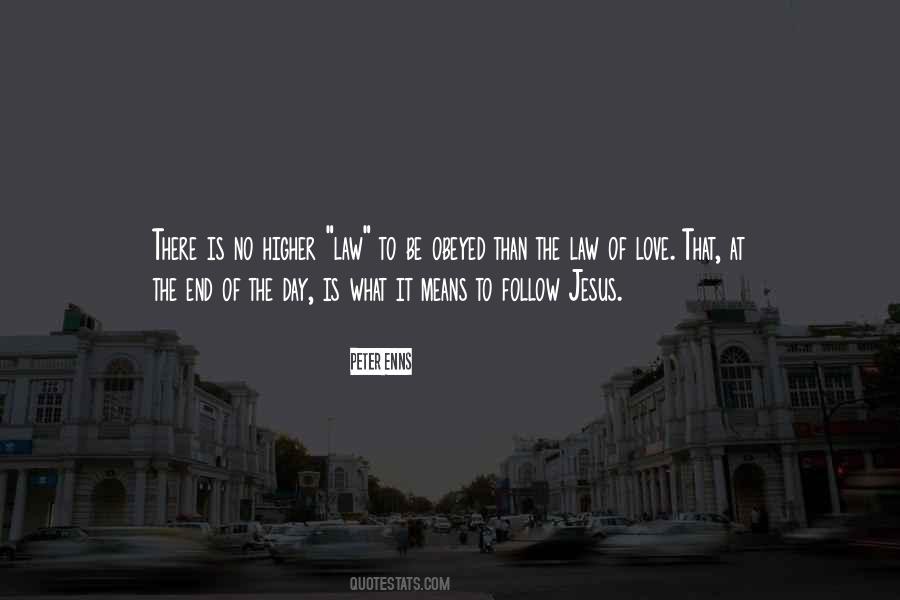 #83. What I desire to point out is that I wish the law was not so, but that being the law, I must follow it. - Author: Christina Romer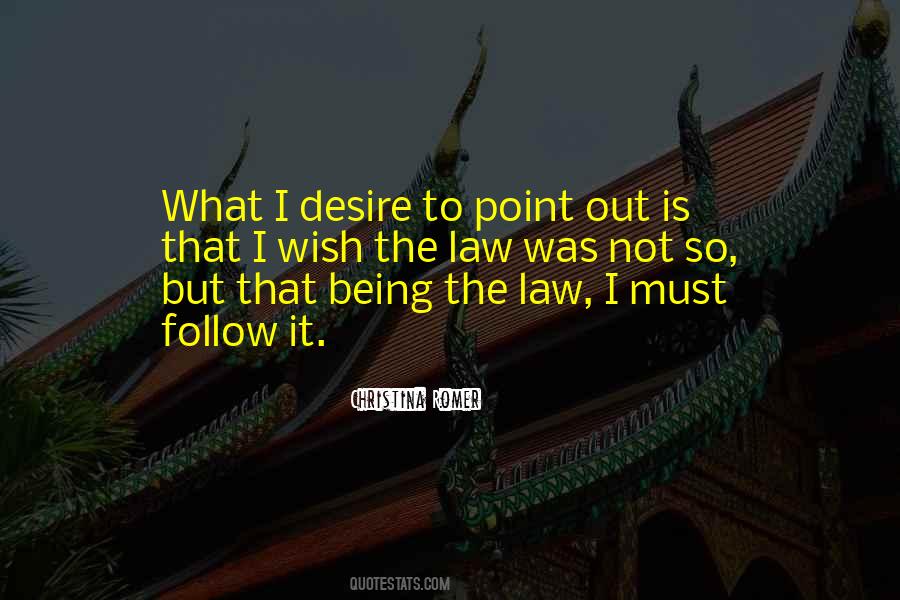 #84. The beauty of a living organism-be it good or evil-is that it will follow the law of God with singular vision.
Be fruitful and multiply.
-Bertrand Zobrist - Author: Dan Brown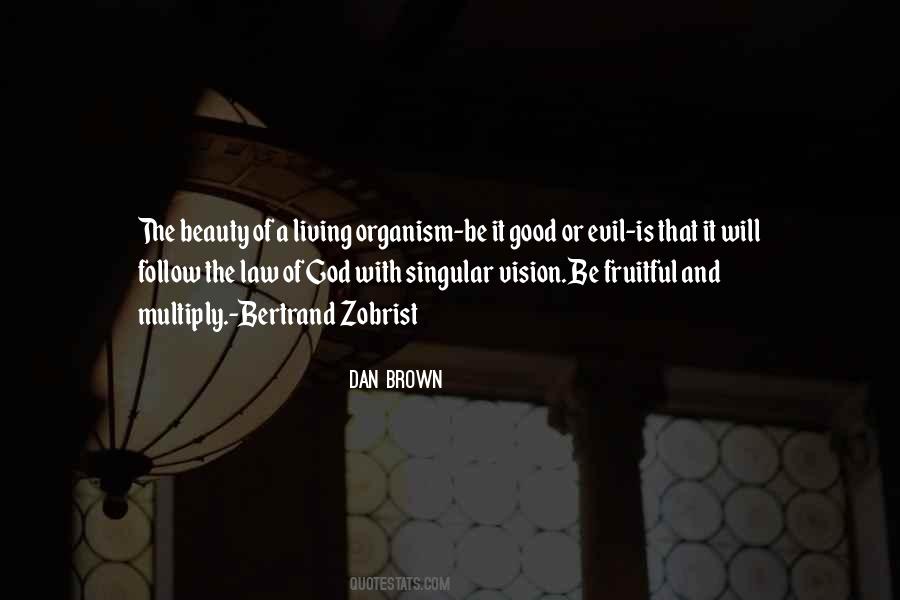 #85. And this is the mission of the church
not civilization, but salvation
not better laws, purer legislation, social elevation, human equality and liberty, but first, the "kingdom of God and His righteousness;" regenerated hearts, and all other things will follow. - Author: Abbott Eliot Kittredge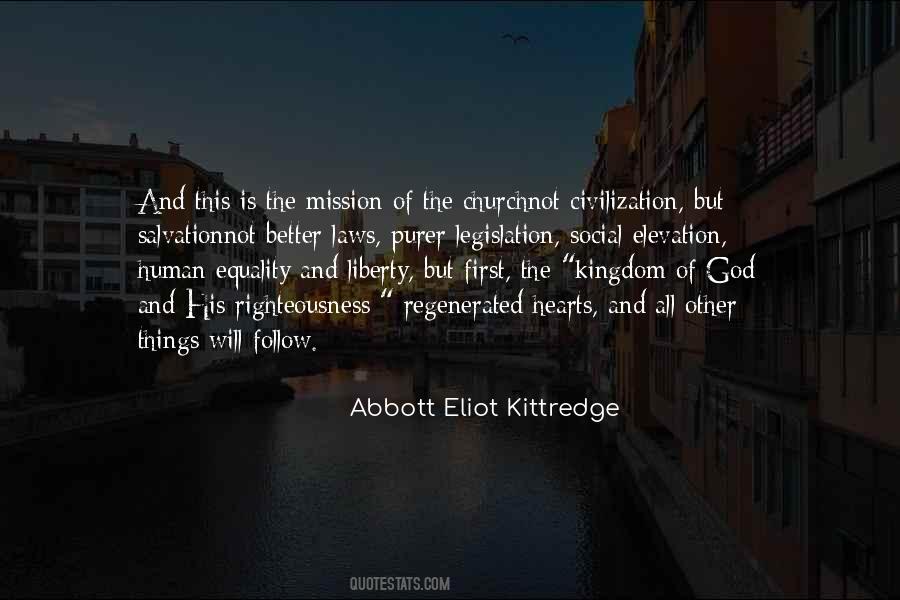 Famous Authors
Popular Topics