Fight Over Man Famous Quotes & Sayings
List of top 64 famous quotes and sayings about fight over man to read and share with friends on your Facebook, Twitter, blogs.
Top 64 Fight Over Man Quotes
#1. Life is hard, kid. you gotta be harder. you gotta take it on and fight for it and be a fucking man about how you live it. if you're too much of a pussy to do that, then maybe you should leave, 'cause you're dead already - Author: James Frey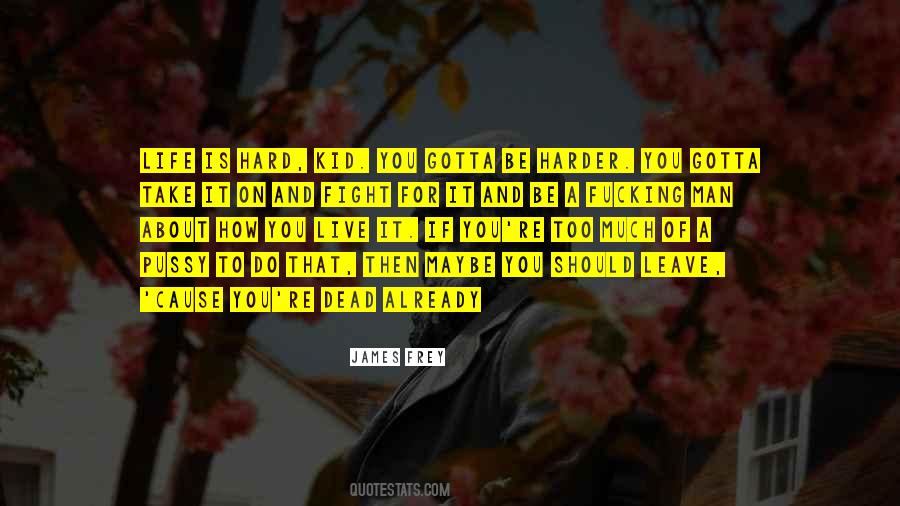 #2. It is difficult to fight against anger; for a man will buy revenge with his soul. - Author: Heraclitus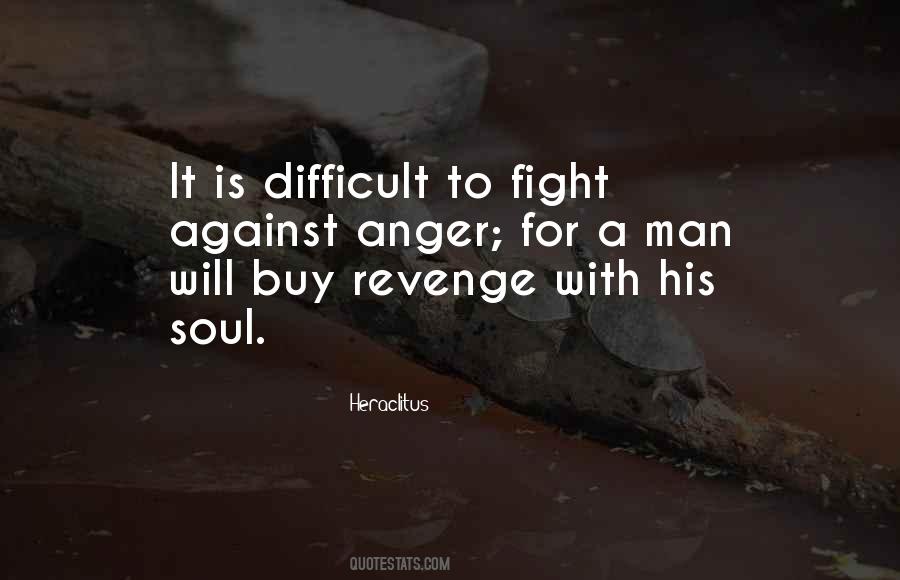 #3. I do not believe I ever would have the courage to fight a duel. If any man should wrong me to the extent of my being willing to kill him, I would not be willing to give him the choice of weapons with which it should be done, and of the time, place and distance separating us, when I executed him. - Author: Ulysses S. Grant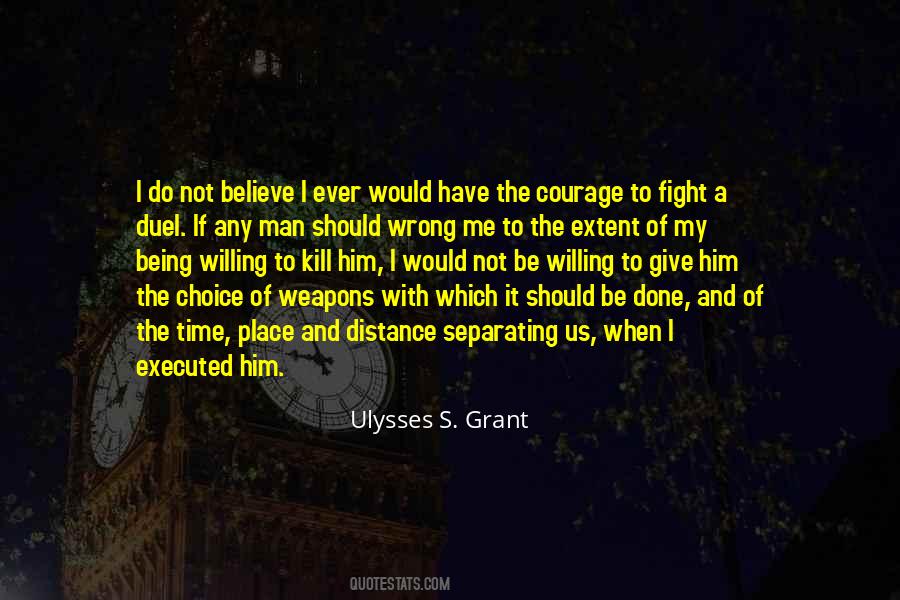 #4. Man does not drift into goodness ... the chance port of an aimless voyage. He must fight ever for his destination. - Author: William George Jordan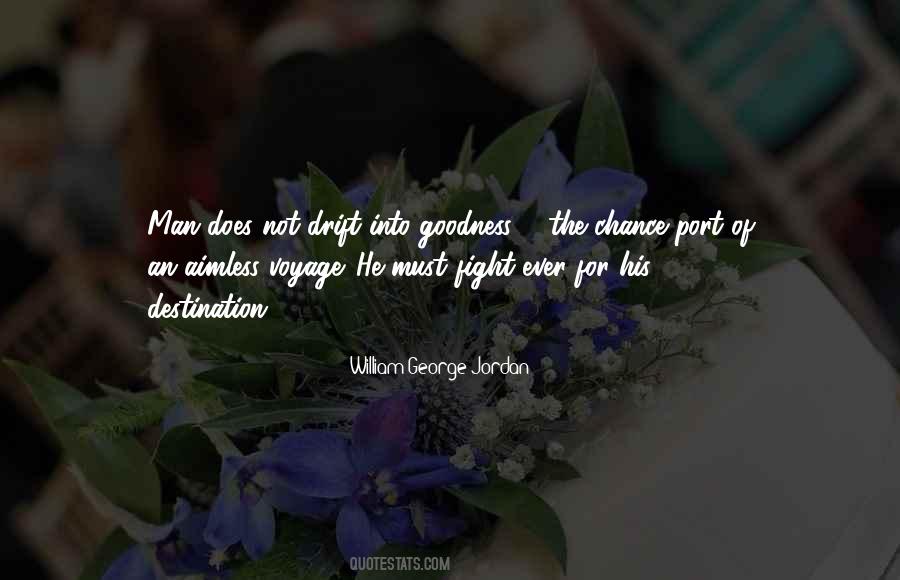 #5. He'd never sat vigil for someone before - didn't know what he was supposed to do other than wait. And lust for the man sitting by his side. As if Death weren't enough to fight off, the world had to go and throw Desire into the fray as well. - Author: Rhys Ford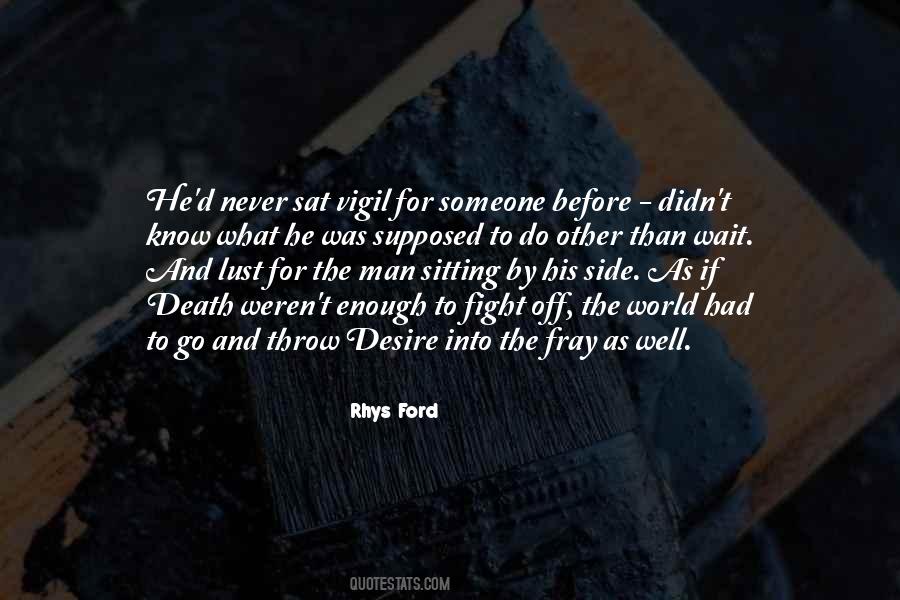 #6. I saw the gun. I sensed the van as it rushed forward, seconds away and coming faster. I heard the screams of the fight behind us. But nothing that night was louder than the masked man's astonished whisper as he looked at the boy who stood beside me and said, 'you? - Author: Ally Carter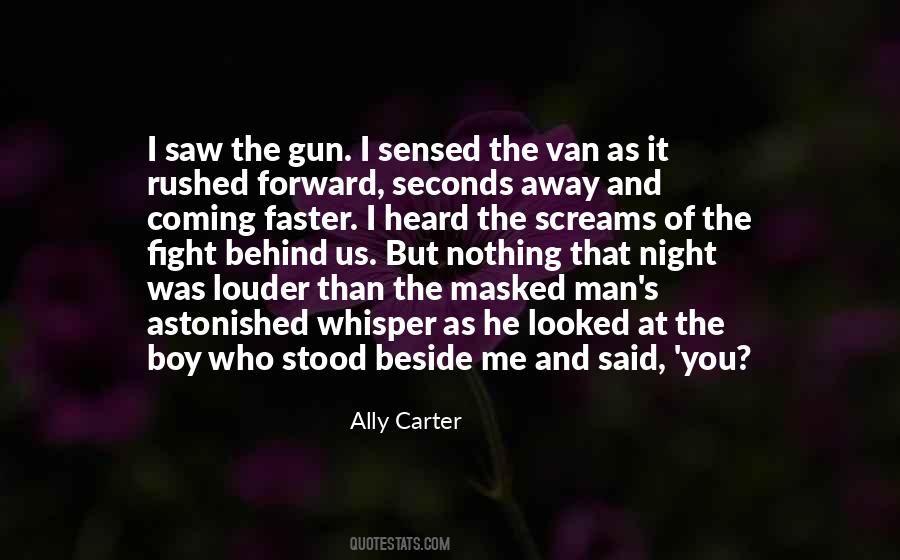 #7. Let no man surrender so long as he is unwounded and can fight. - Author: Bernard Law Montgomery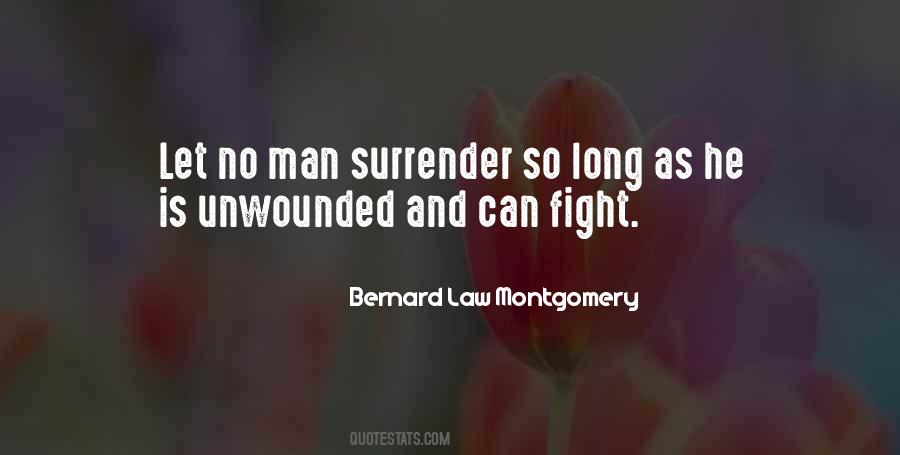 #8. No man is an island. To fight the good fight we need help. - Author: Paulo Coelho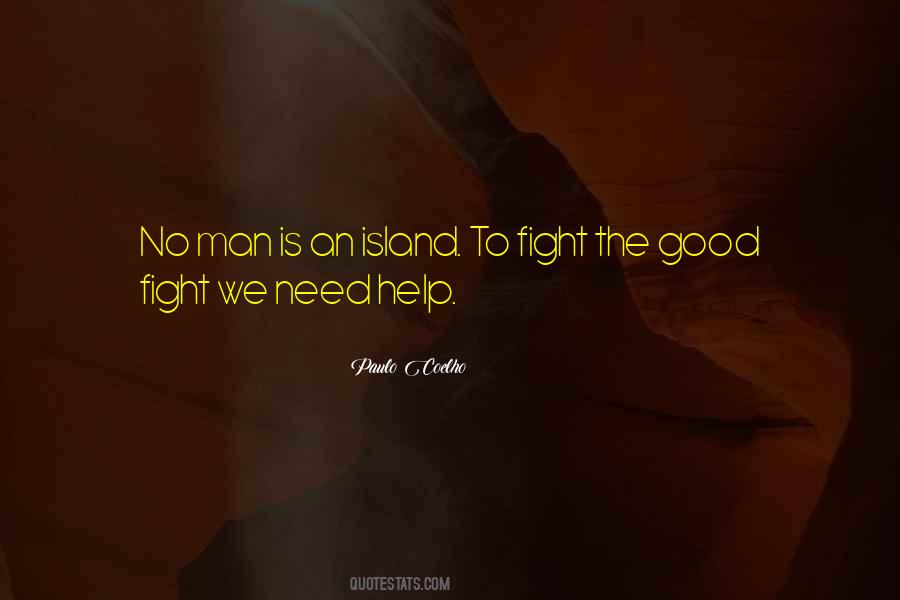 #9. There is no common sense in going to the field to fight and leaving a man at home to undo all that you accomplish. - Author: Robert Green Ingersoll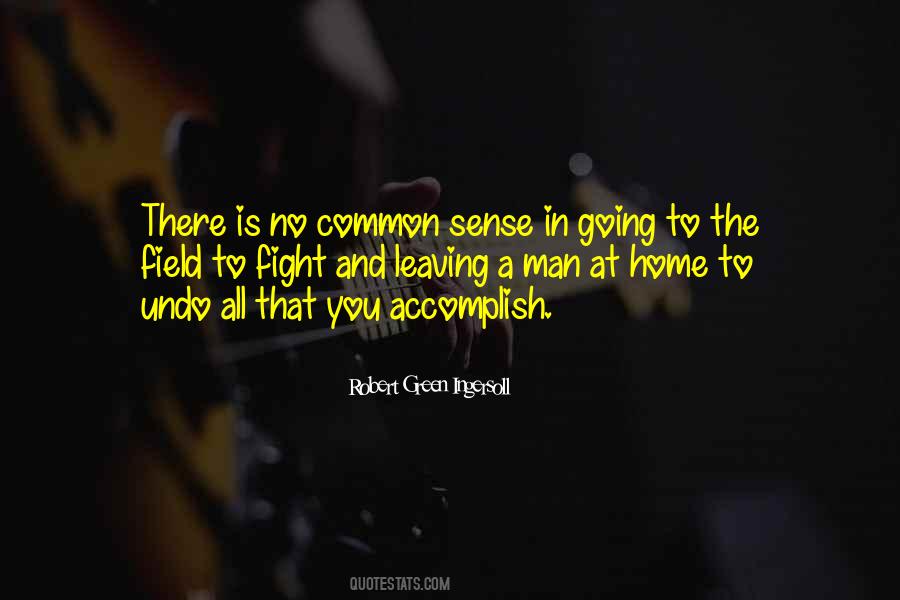 #10. Persevere in the fight, struggle on, do not let go, think magnanimously of man and life, for man is good and life is affluent and fruitful. - Author: Luc De Clapiers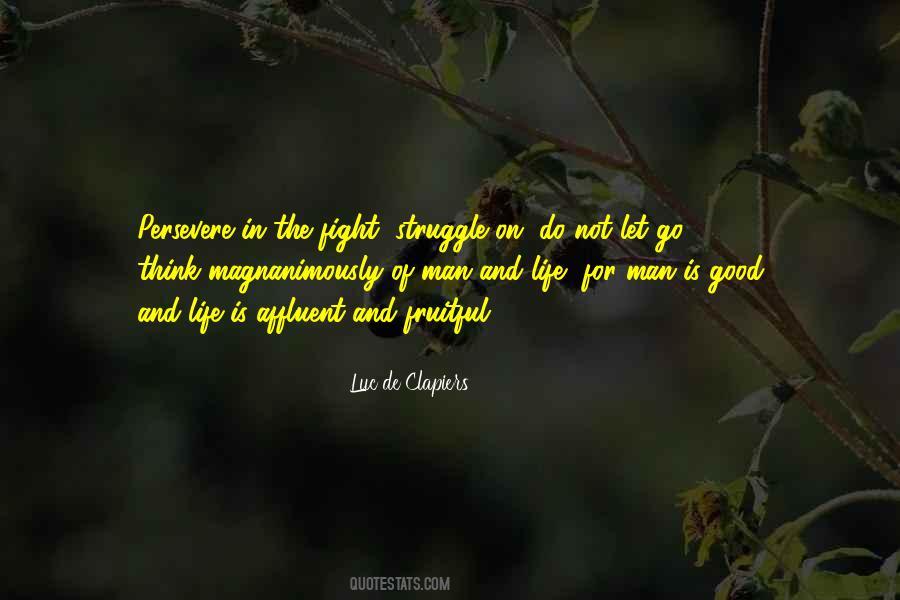 #11. I'm very flexible. I've got flexibility in any weight class. If you guys out there want to fight me man, I will fight you guys. - Author: Adrien Broner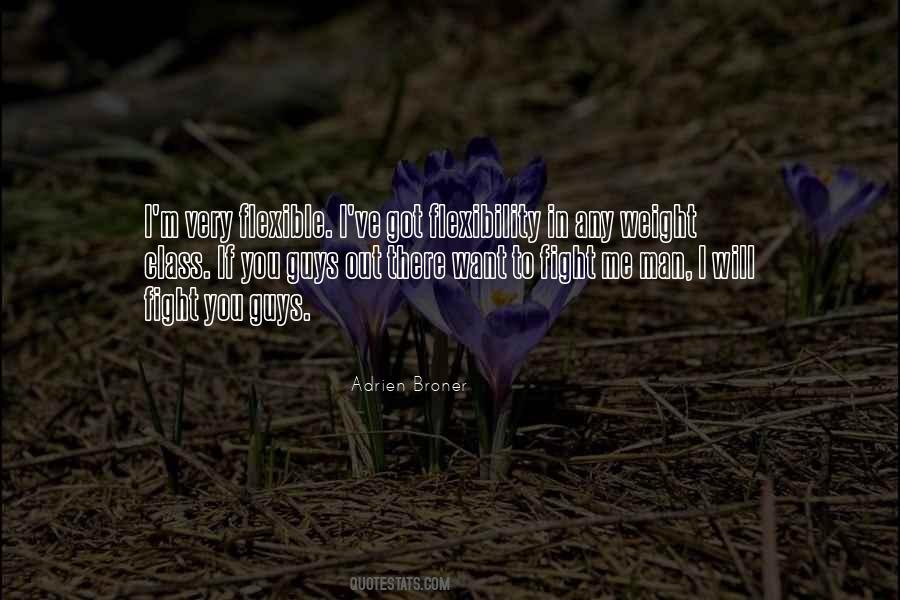 #12. Granamyr doesn't fight humans, Granamyr wins. - Author: Larry DiTillio
#13. Forgiveness, both its extension and receipt, requires a lower, humble position before both God and man. Forgiveness, both its extension and receipt, is not the natural inclination of man, and I must fight for it. - Author: Seth Haines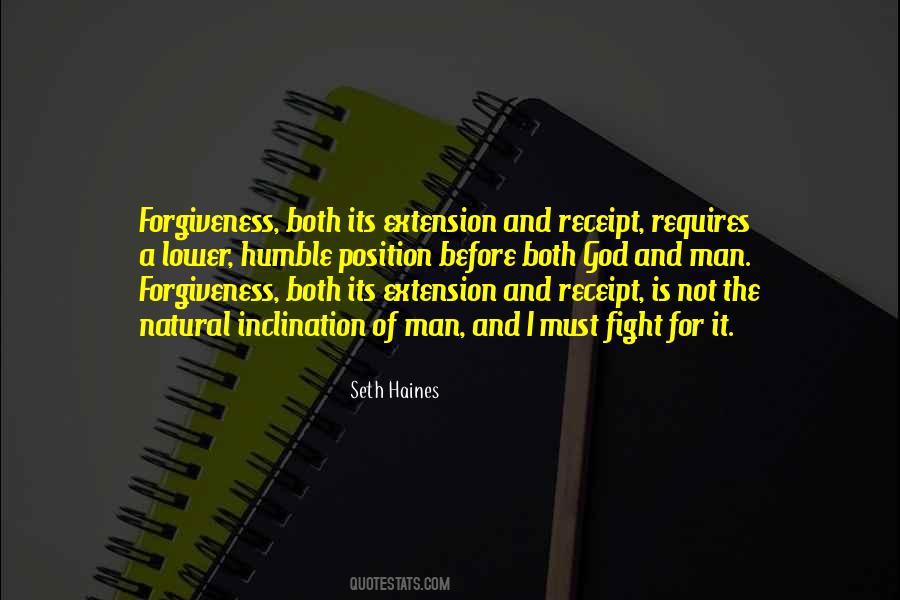 #14. You're not ready to hear this yet," he concluded. "But I do need you to know that I'm going to fight for you. I'm not making the mistake of walking away from you again. The only man in your future is me, Liv. The only kids in your future are mine. - Author: Samantha Young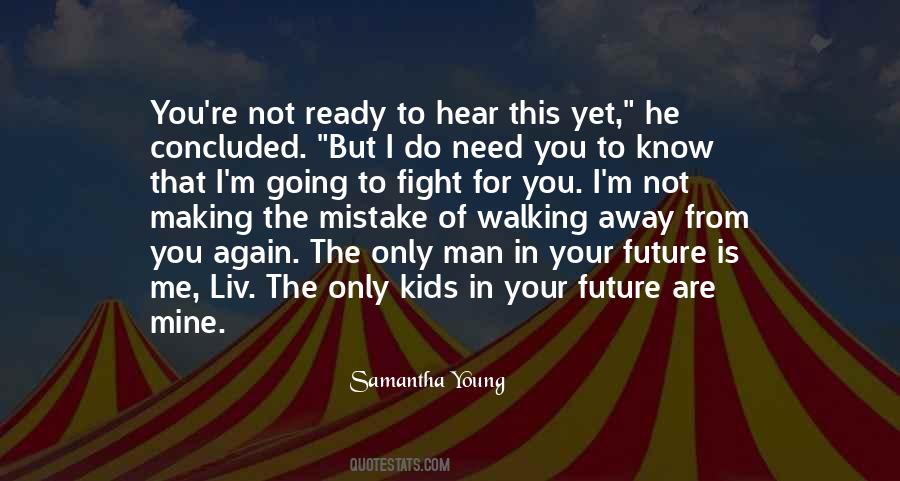 #15. I would be the master of my own fate. Me and the goddess Morrigan. No one else- and certainly no man. Mael and Aeddan could fight over me until they were both bloody. My father could deny me my blade. But they couldn't force me from my warrior's path unless I let them. - Author: Lesley Livingston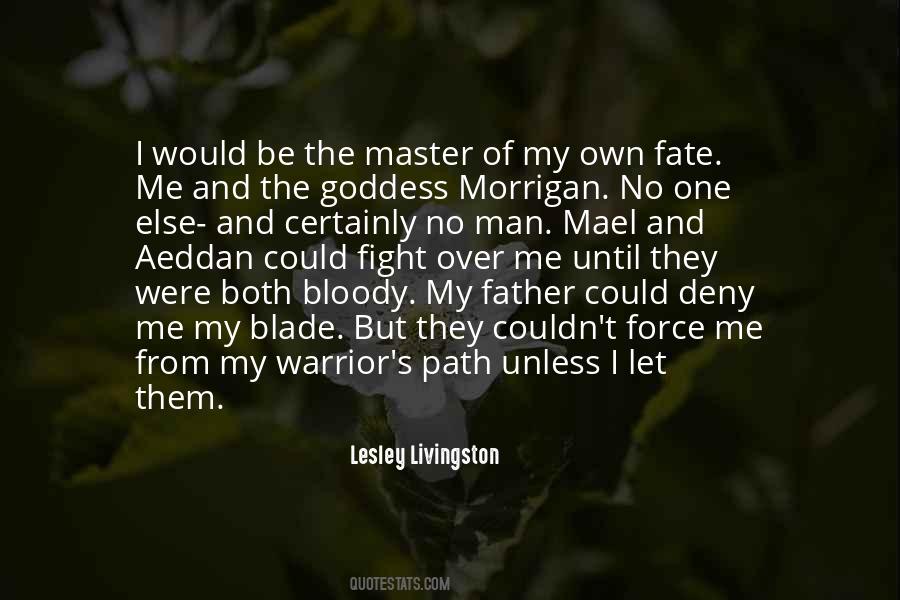 #16. I know what you are, Talon. You are the man I was born to love. The only man I was born to love."
"I'm not a man. Not anymore."
"You are mine and I will not let you go without a fight. - Author: Sherrilyn Kenyon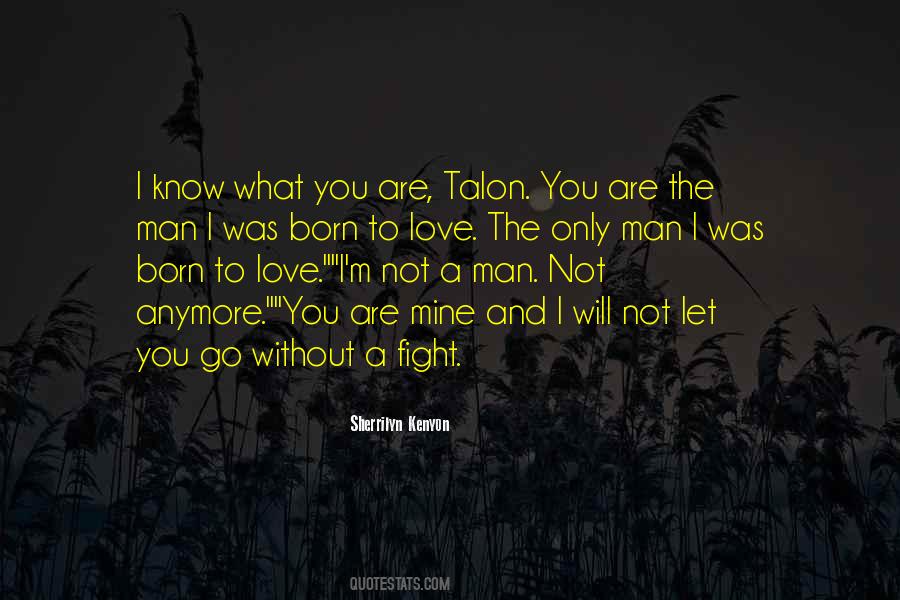 #17. Look, man. Nothing worth having comes easy. You gotta fight for what you want in this life. You taught me that. Just thought you might need a reminder. - Author: Jennifer Bonds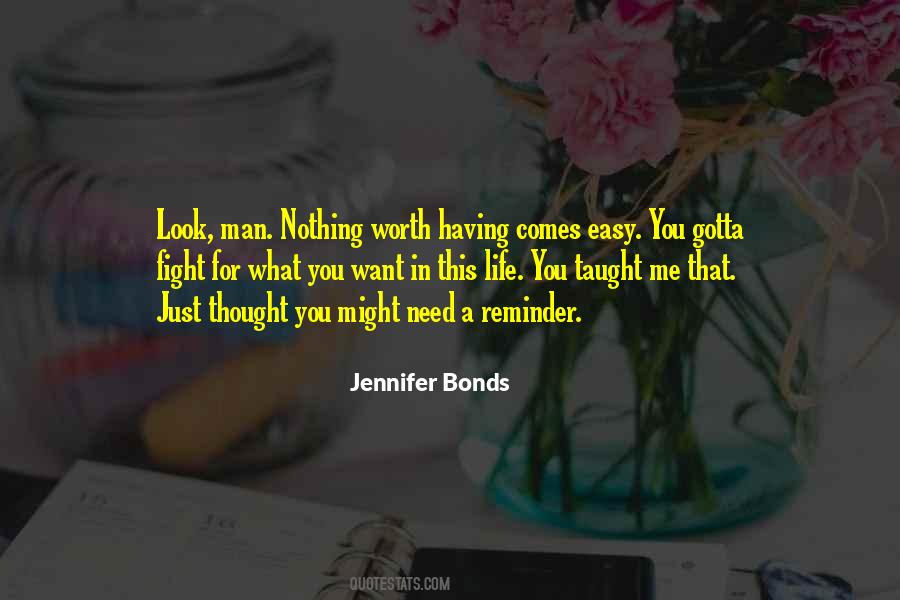 #18. Ask a man how much a dollar is worth, and he'll tell you, 'Almost nothing.' Try to take a dollar away from him, and you'll get yourself a fight. - Author: Ilona Andrews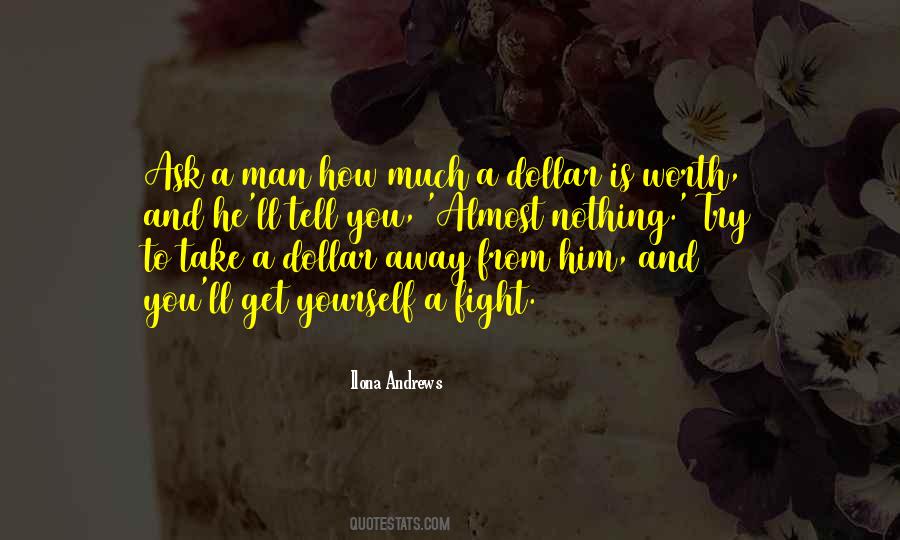 #19. There must always be those with the fire of rebellion in their blood! There must always be those who will dare to fight an unbeatable enemy! Only thus can the race of man remain strong and fearless! - Author: Stan Lee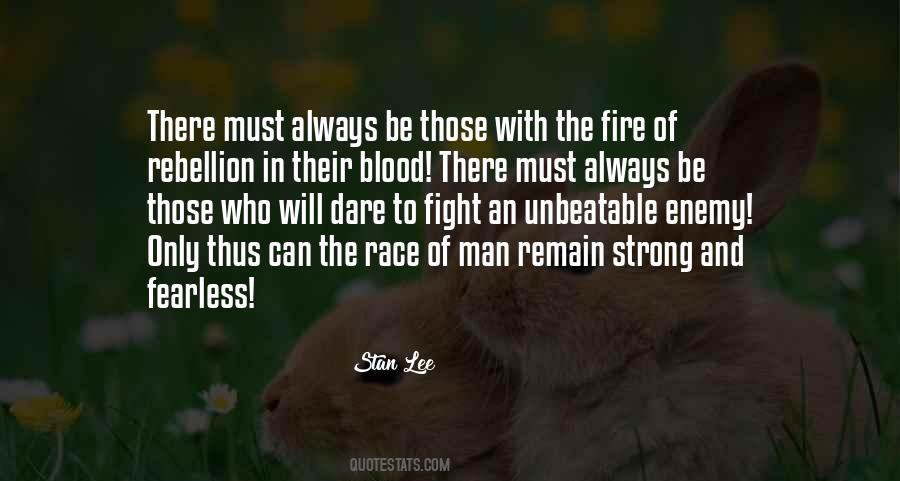 #20. You have power over a powerful man. His love for you gives you the power, though I suspect there are times the two of you fight like cats. - Author: J.D. Robb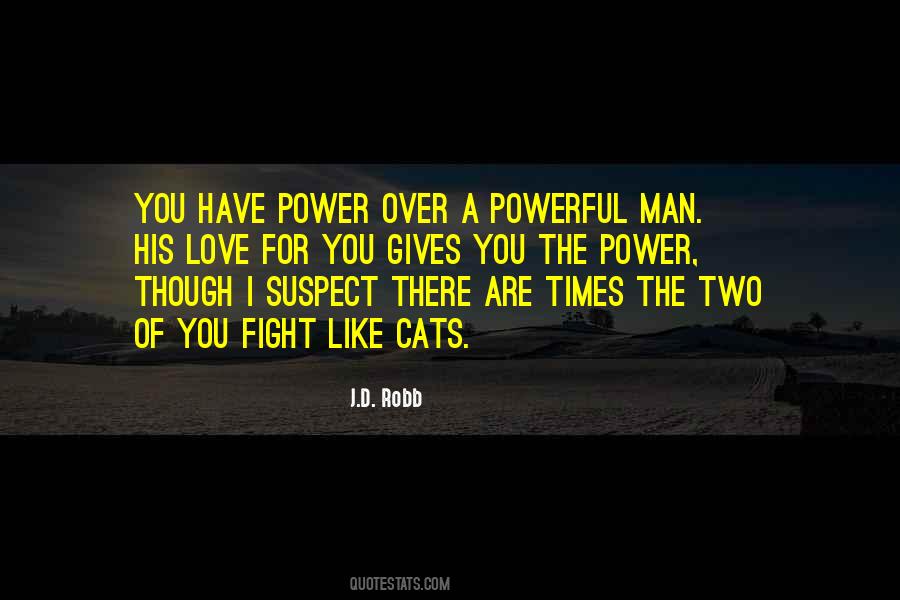 #21. Joe lulls the man into the afterlife, places his head gently on the ground, closes the lids over his empty eyes, retrieves his gun and continues to fight for a freedom he would never be fully entitled to. - Author: Bernice L. McFadden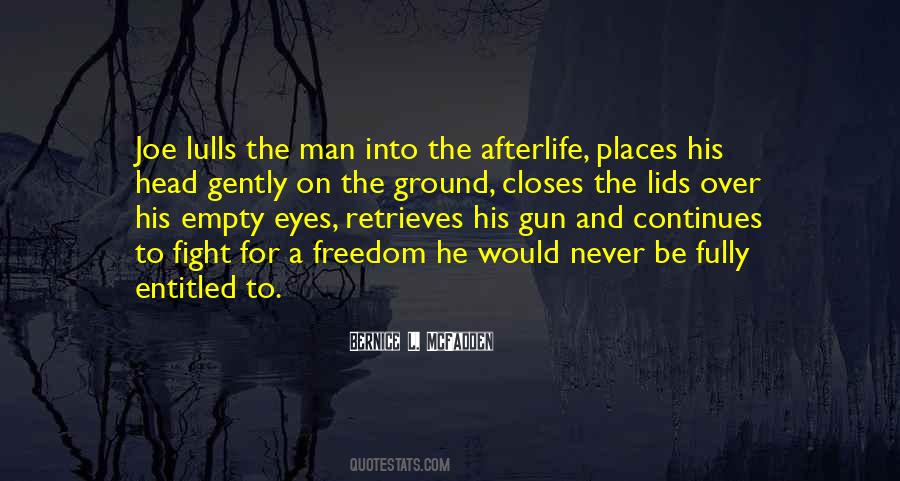 #22. The fight isn't over until you win, Fitz. That's all you have to remember. No matter what the other man thinks. Or the horse. - Author: Robin Hobb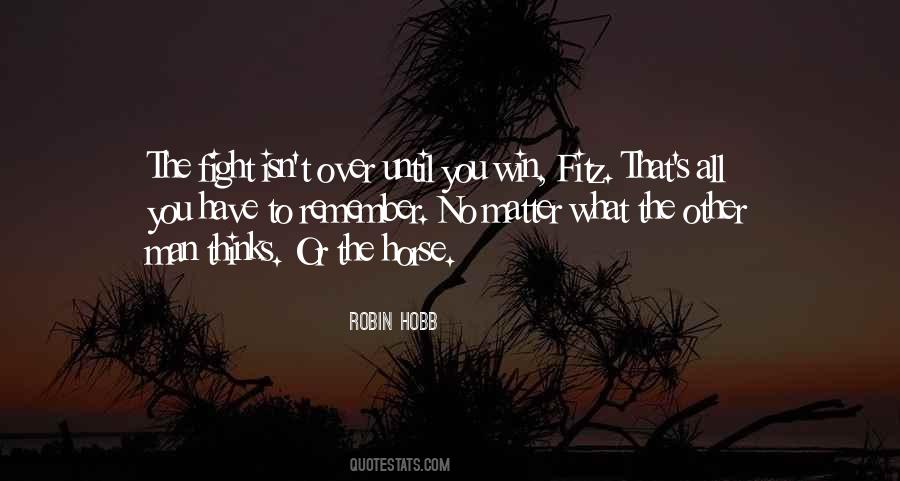 #23. In Milwaukee last month a man died laughing over one of his own jokes. That's what makes it so tough for us outsiders. We have to fight home competition. - Author: Robert Benchley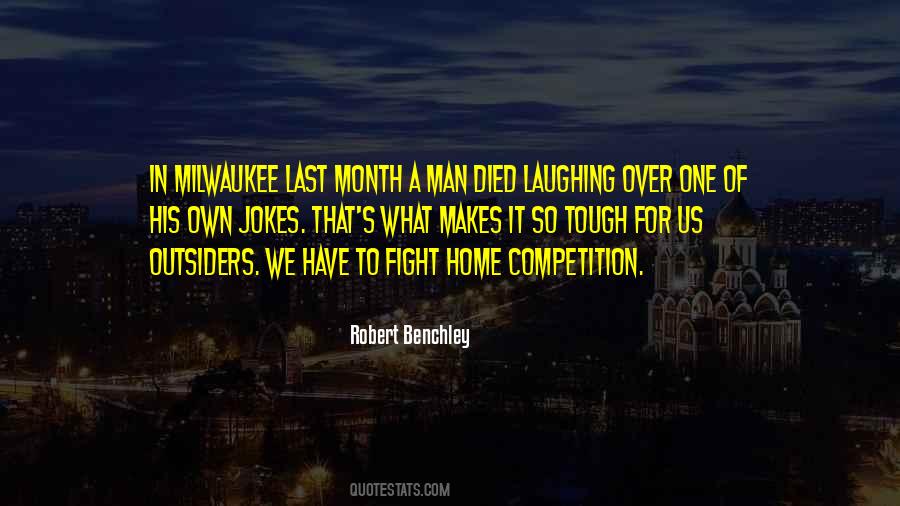 #24. The great thing about rock n' roll is, if you want to fight - like, fight the system, fight the man, fight the government, fight the people in front of you - it's Don Quixote all over again. You're really chasing windmills. - Author: Billy Corgan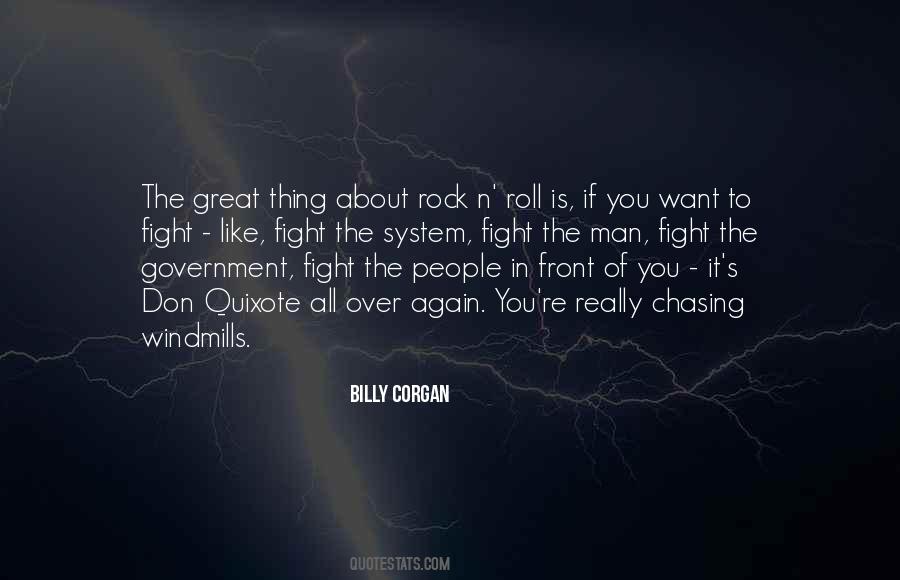 #25. He'd been raised to give women what they wanted. 'You can fight,' his father told him. 'You can bitch. If you're a real prick, you can overpower. But the pain over the long haul ... just not worth it, son. Surrender young and happily with fewer scars.' The old man was right about that. - Author: Lisa Unger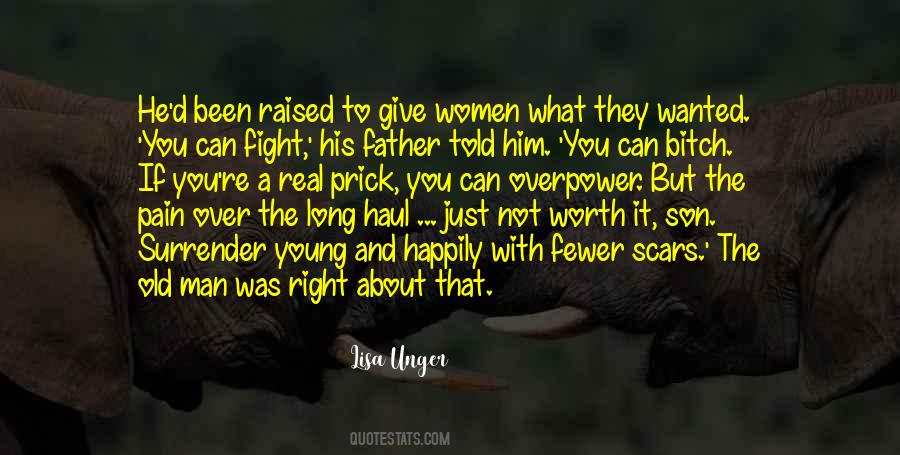 #26. And those fingers just keep on wagging until some gay teenager hangs himself because he can't fight the fucking tornado of hatred whirling around his head, and that ill wind keeps blowing, until over in Kenya, some man lifts a knife and cuts out a young girl's clitoris? It's all connected, Dale. - Author: Eden Connor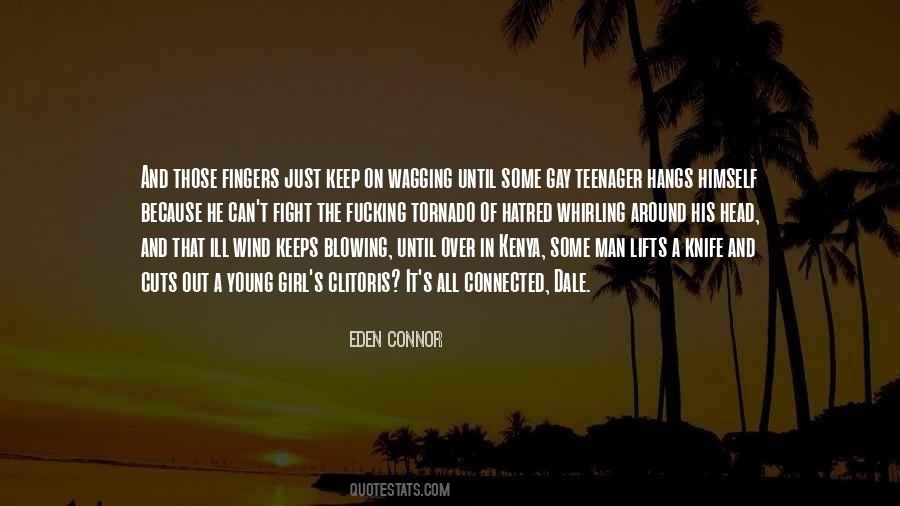 #27. God is good, all the time, every time. These guys on this team are unbelievable, man. The fight - the fight, we're in this fight over and over again. People used to doubt, man. We're just excited to be on this team. - Author: Jerry Brewer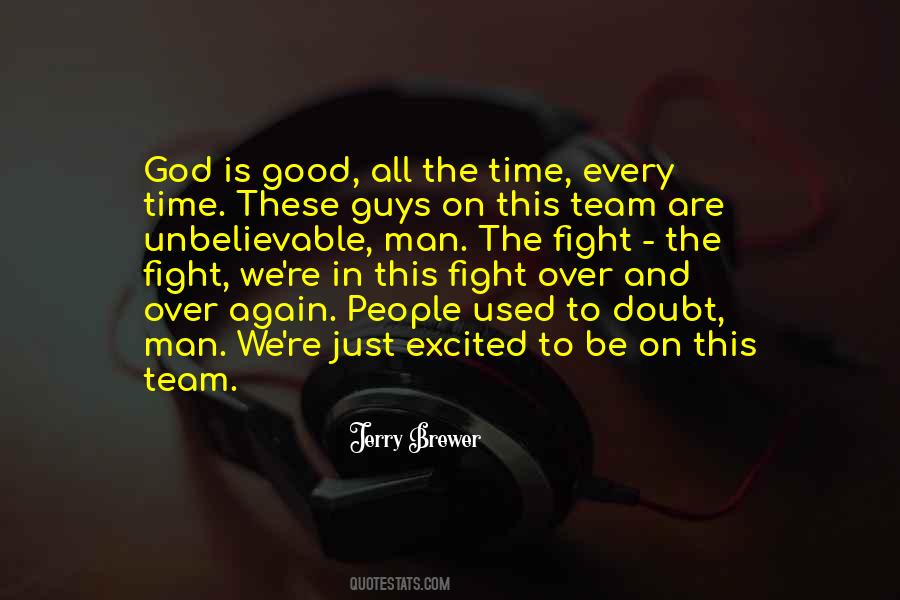 #28. The fight isn't over until you win it, Fitz. That's all you have to remember. No matter what the other man says. - Author: Robin Hobb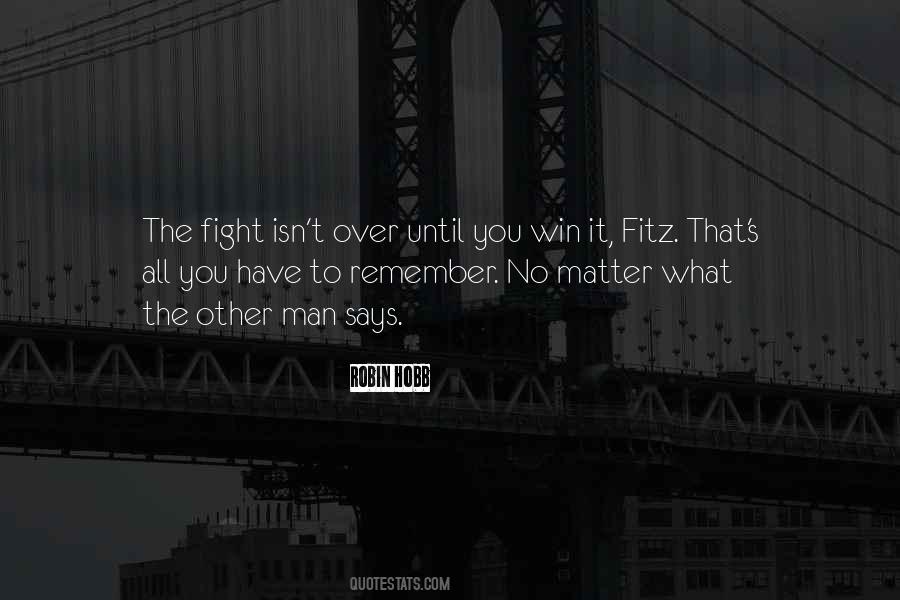 #29. In politics and in war, monsters are defined by which side of a fight a man claims. He is still a man to those who share his beliefs, perhaps even a hero. To those that oppose his philosophy, he is a beast, a creature, one of a thousand unspeakable demons clashing over an ideal. - Author: Lee Thomas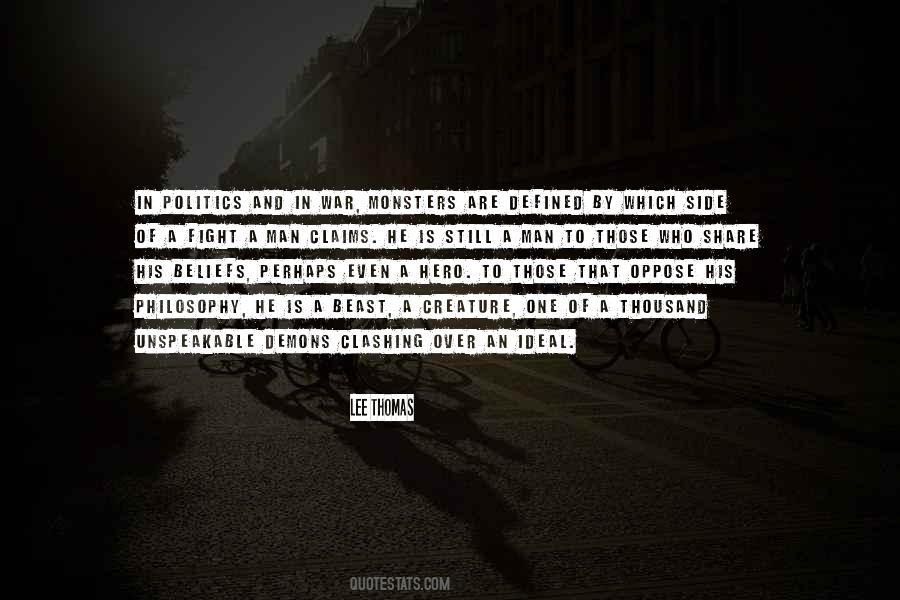 #30. When you call me a sexy bitch? I like that. If you're just going to call me a bitch, prepare to fight. I'm not going to let another man run over me. Not now. Not ever." Damn. - Author: Scott Hildreth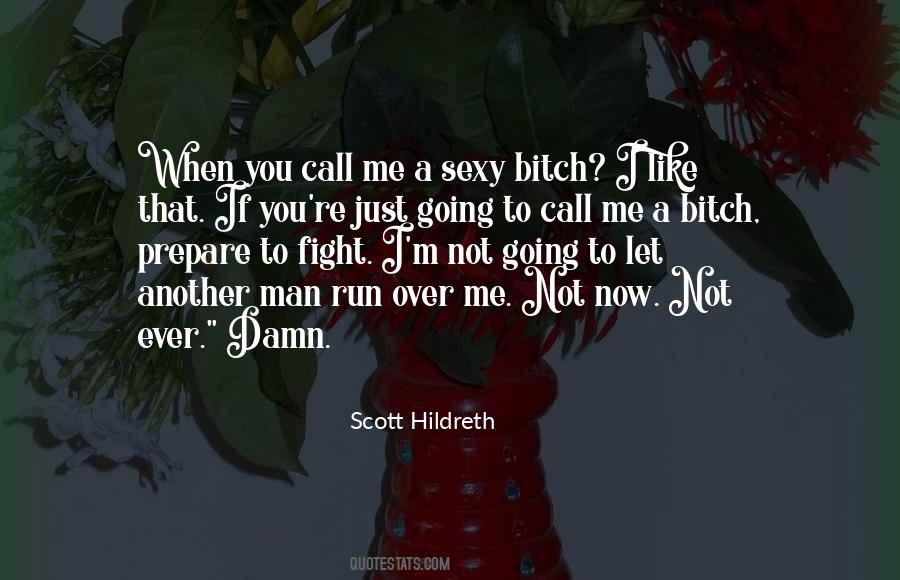 #31. The fight isn't over until you win it ... That's all you have to remember. No matter what the other man thinks. - Author: Robin Hobb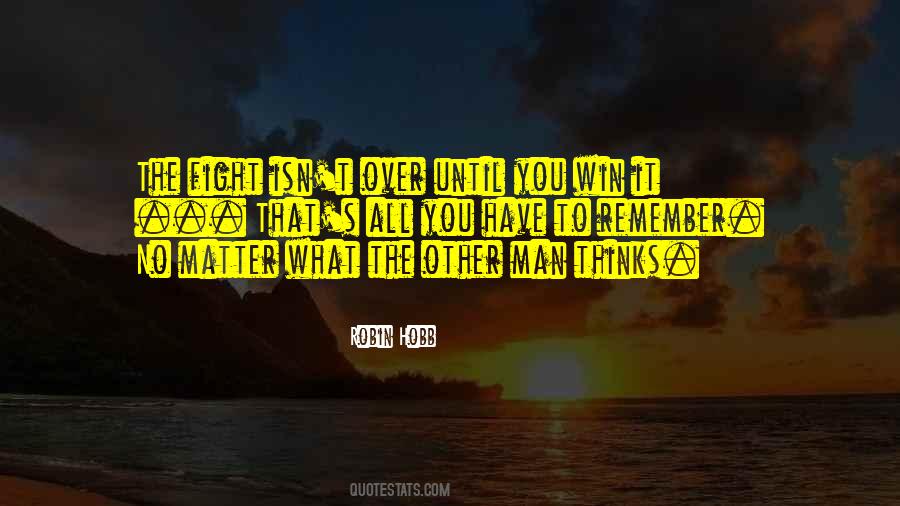 #32. I'll fight a man with three children and a nice house any day over a man that's living out of a car. - Author: Art Briles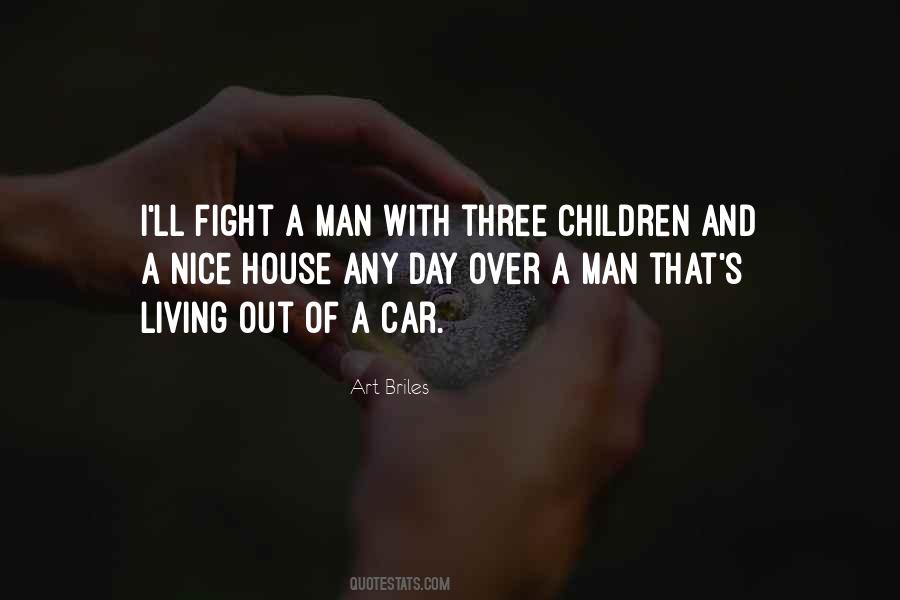 #33. You haven't seen a thing until you've seen this man fight. My sword is sharp. My heart strong. My spirit ferocious - and I am going to live. Let the swords clash. Let the fight begin. - Author: Carew Papritz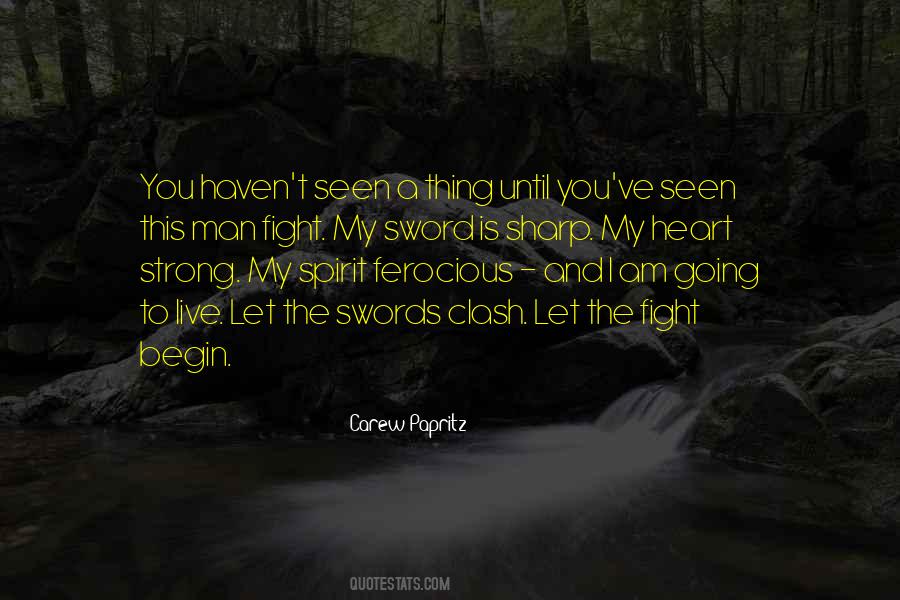 #34. Give a man a noble cause and he would fight to the death for what he believed in,but get the woman he loves to leave him and his once honourable principles would cease to be quite so important. - Author: Mike Gayle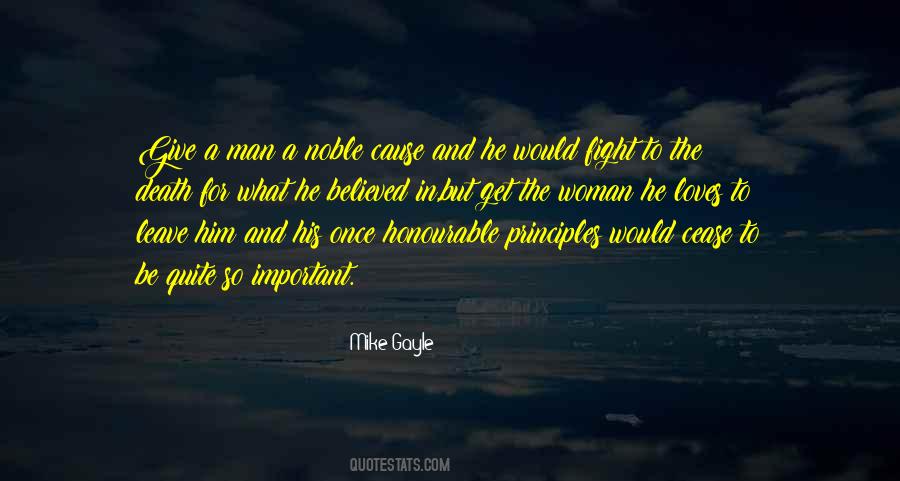 #35. My own father used to boast to me of biting off a man's ear in a street fight. - Author: Richard Elman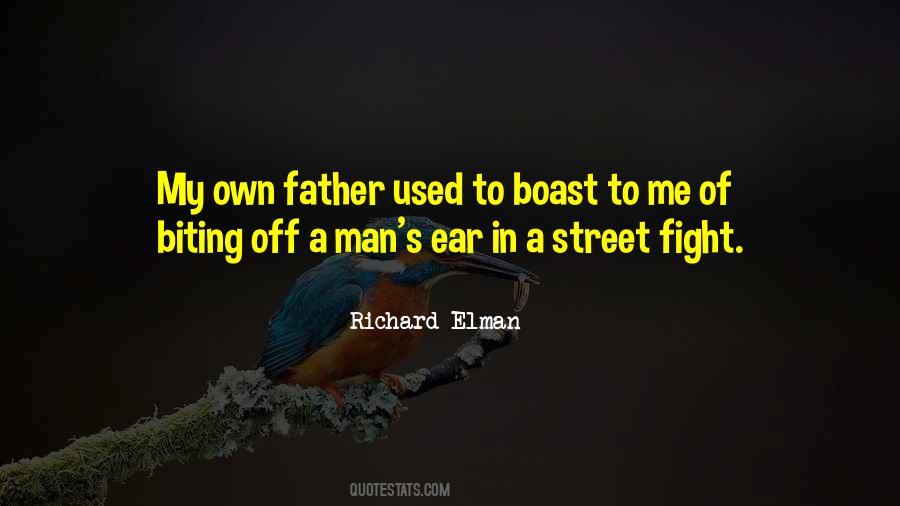 #36. I have always thought it bad manners to let one's fingers stay too long in another man's snuffbox. - Author: Anna Freeman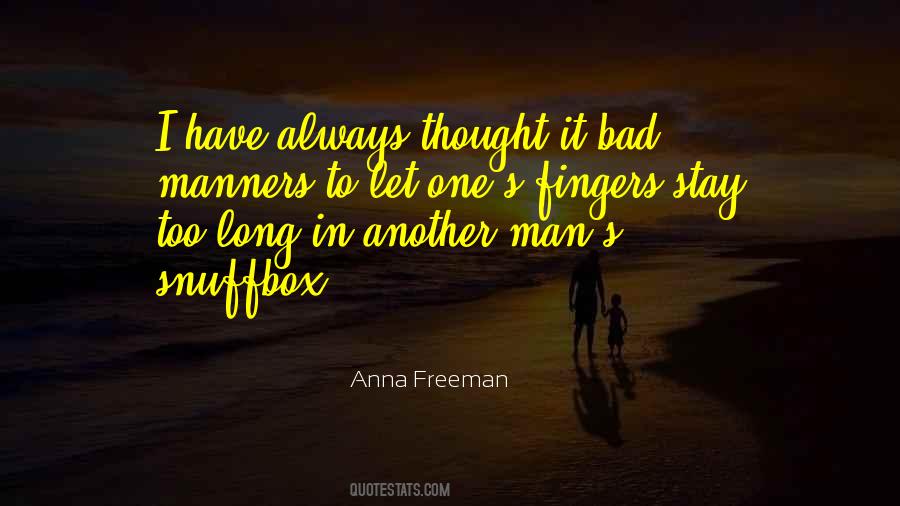 #37. You're love is nothing I can't fight. Can't sleep with a man who dims my shine. - Author: Lady Gaga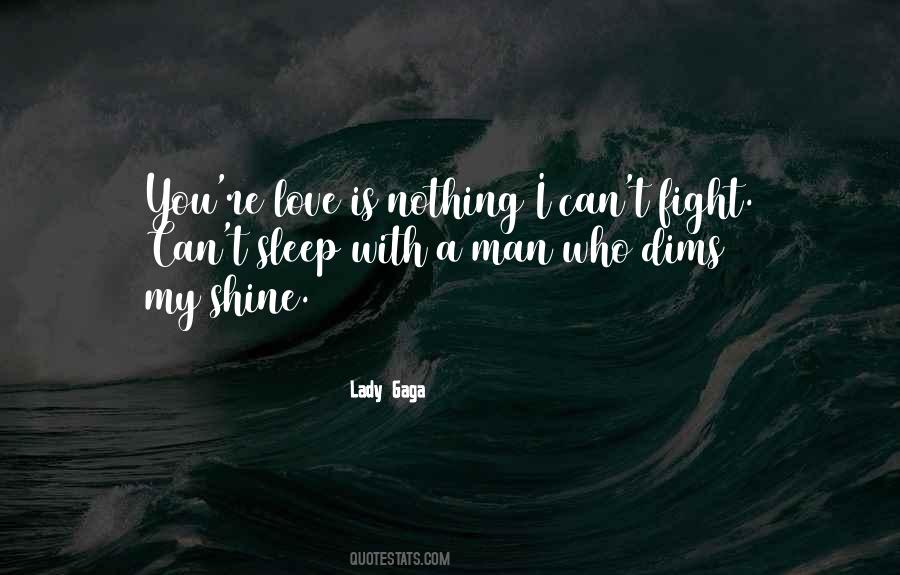 #38. If you want to get known as a singer you hire five sexy chicks and let them fight over you onstage and for the cameras. That's publicity, man. - Author: Sammy Davis Jr.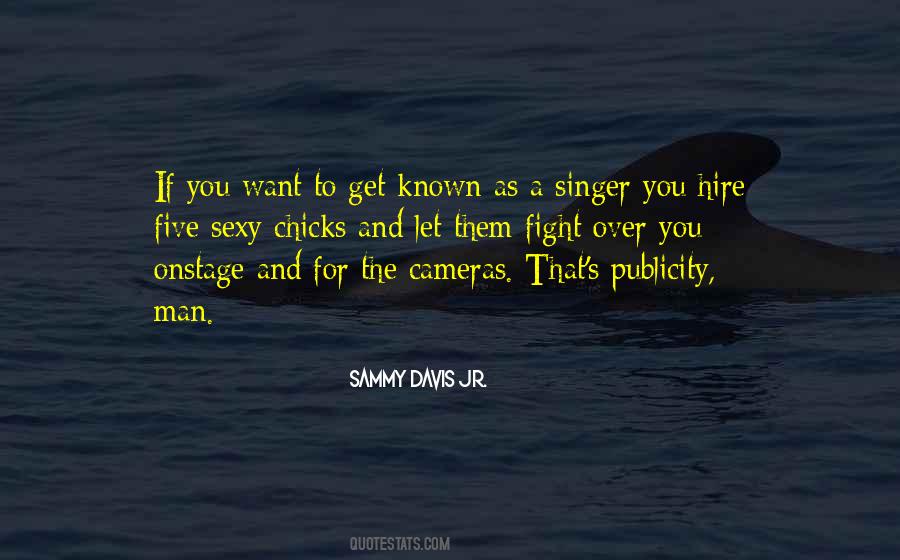 #39. Architecture is the constant fight between man and nature, the fight to overwhelm nature, to possess it. The first act of architecture is to put a stone on the ground. That act transforms a condition of nature into a condition of culture; it's a holy act. - Author: Mario Botta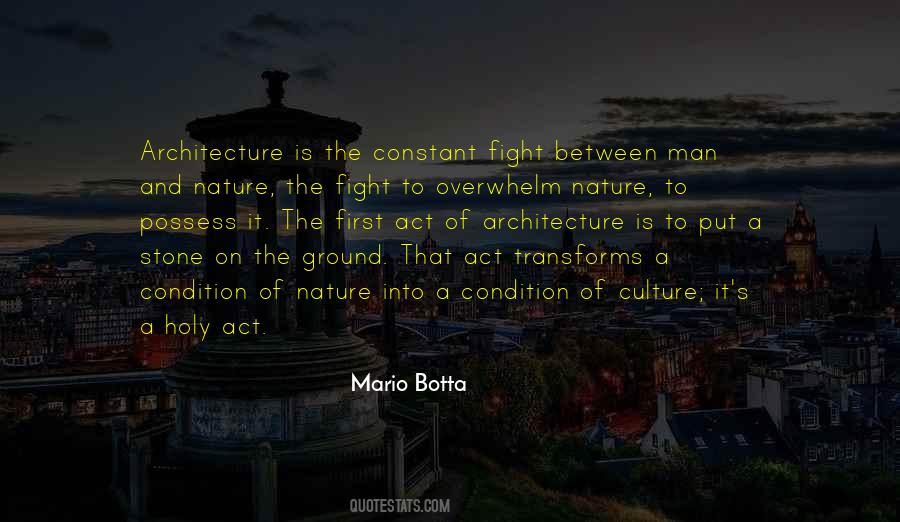 #40. I've often thought it unfair that women are expected to stay at home when there's a fight to be won. If a
woman has the strength to bear a child, she can swing a sword as well as any man. - Author: Karen Hawkins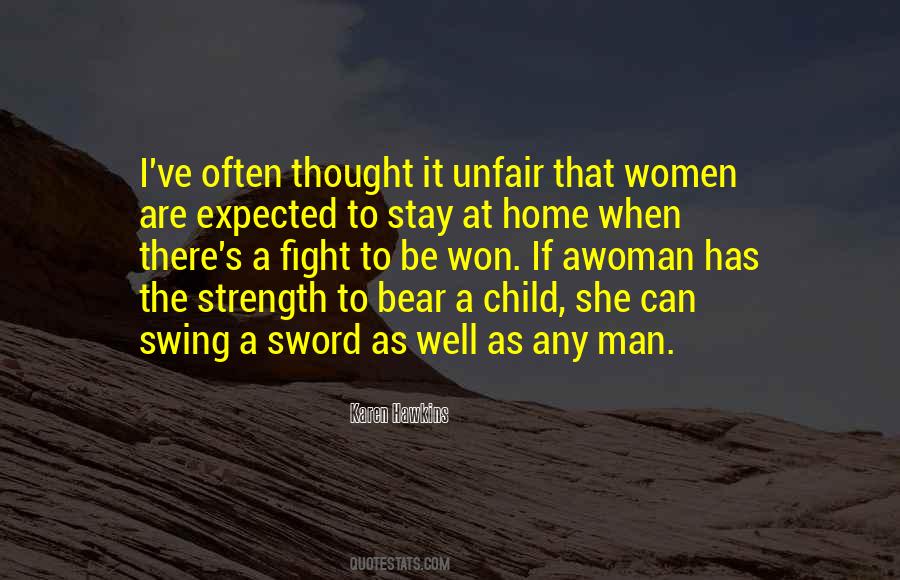 #41. The only thing I knew to do with a man was what I'd learned from my parents: to fight or not fight. I had no idea how to craft a partnership beyond that one basic thing. - Author: Veronica Chambers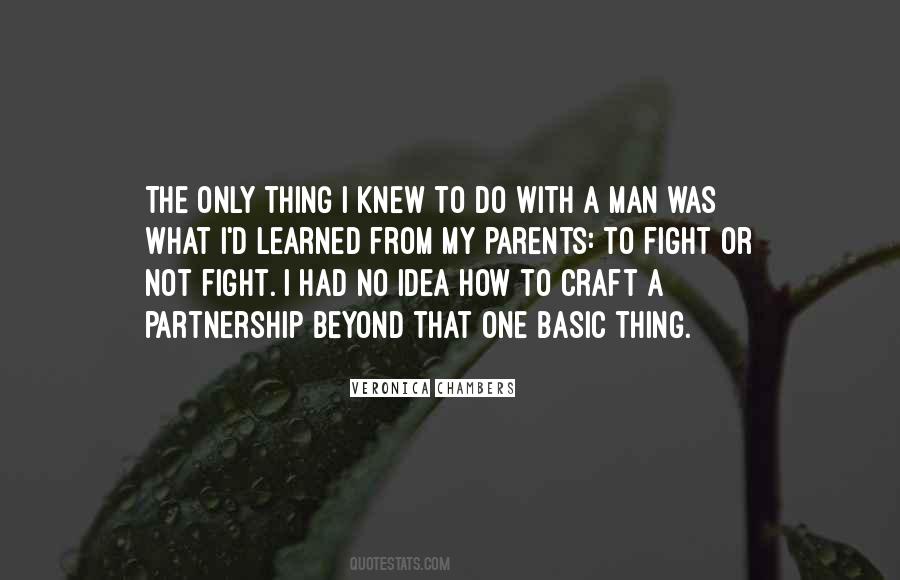 #42. The Afghans I met were some of the nicest and most honorable people I've ever encountered. There is a code called 'Pashtunwali,' so if someone invites you into their village, every last man will fight to protect your life. I was impressed by that. - Author: Brad Thor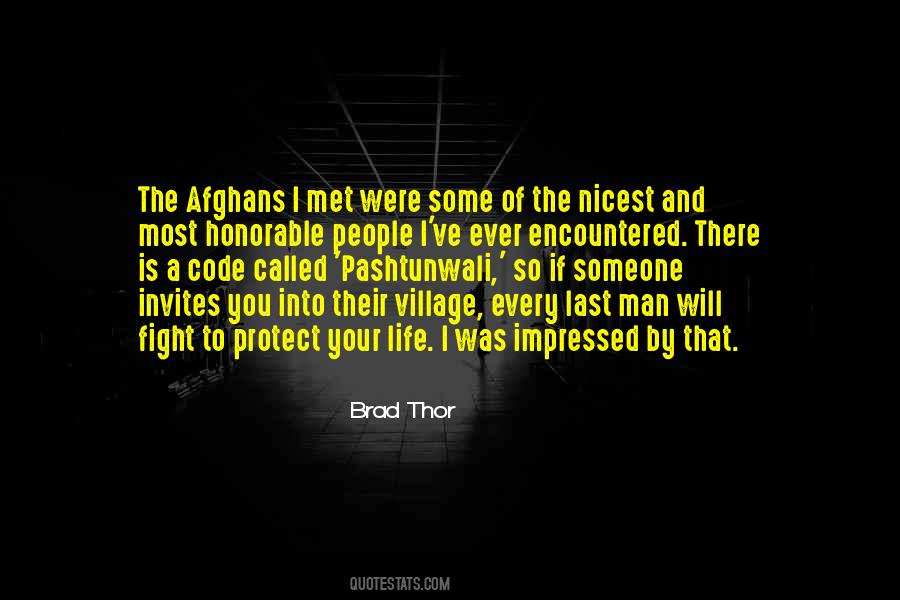 #43. Craster is his own man. He has sworn us no vows. Nor is he subject to our laws. Your heart is noble, Jon, but learn a lesson here. We cannot set the world to rights. That is not our purpose. The Night's Watch has other wars to fight. - Author: George R R Martin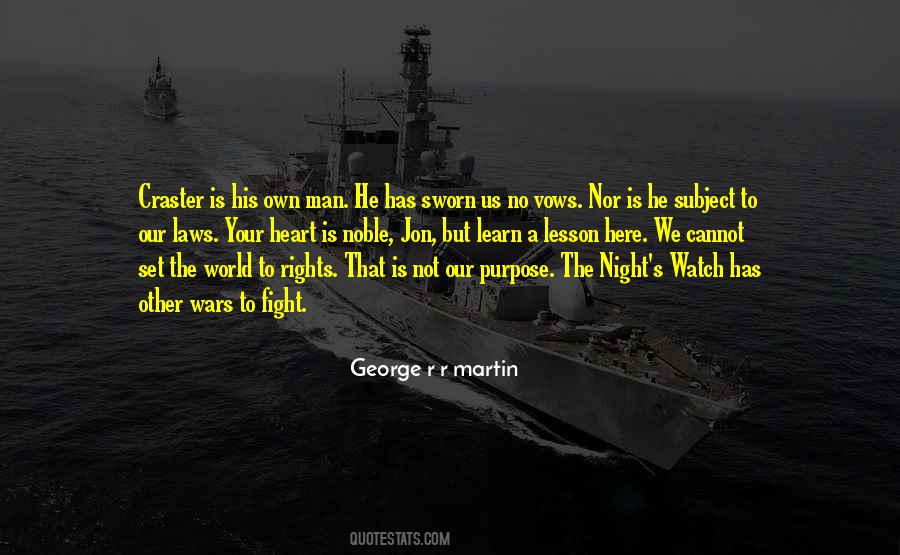 #44. Tis hard to fight with anger but the prudent man keeps it under control. - Author: Democritus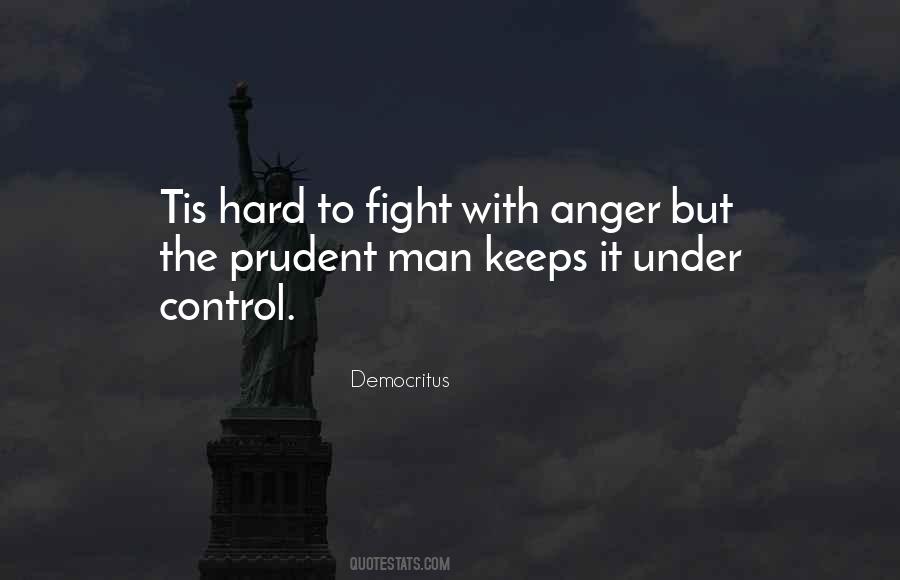 #45. In my personal life I'm not very tough at all, but in my professional life, having to deal with being a woman in a man's world, I'm really tough. I never back down from a fight or an argument. I'm willing to stand there toe to toe with anyone. - Author: Cher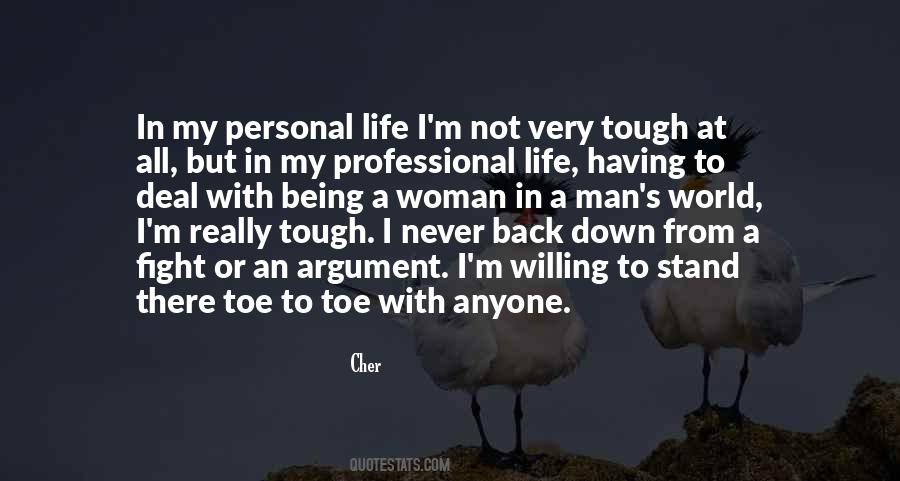 #46. Seems a lot of men never saw one such as me. A girl what could keep up and fight and ride and curse with the best of them. A girl what ain't trapped in some dress or some house or some bed. A girl what ain't waiting on some man to do what she ought to her own damn self. - Author: J.D. Jordan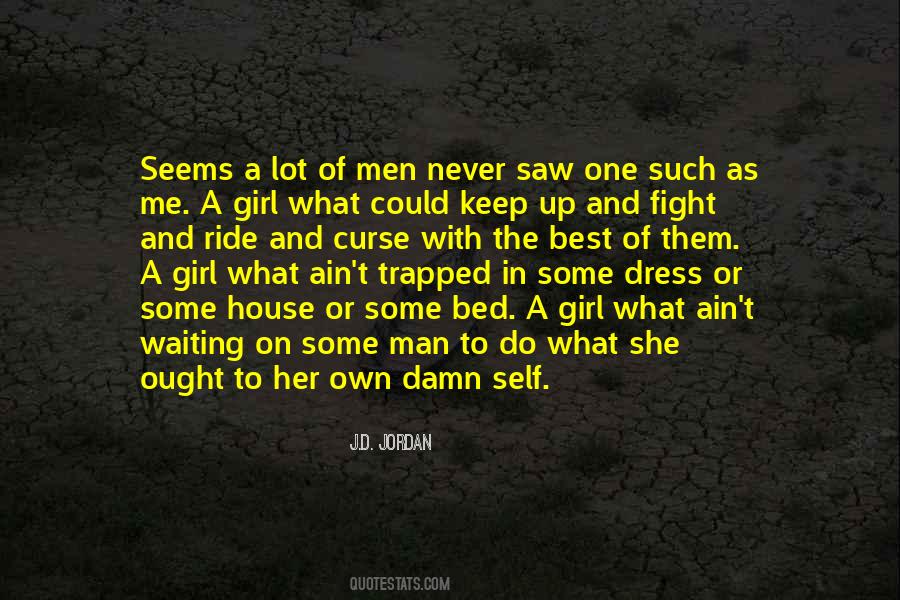 #47. A man convinced against his will, stands opposed ever still. A man convinced he is right, gives the effort twice the fight. - Author: Jeffrey Fry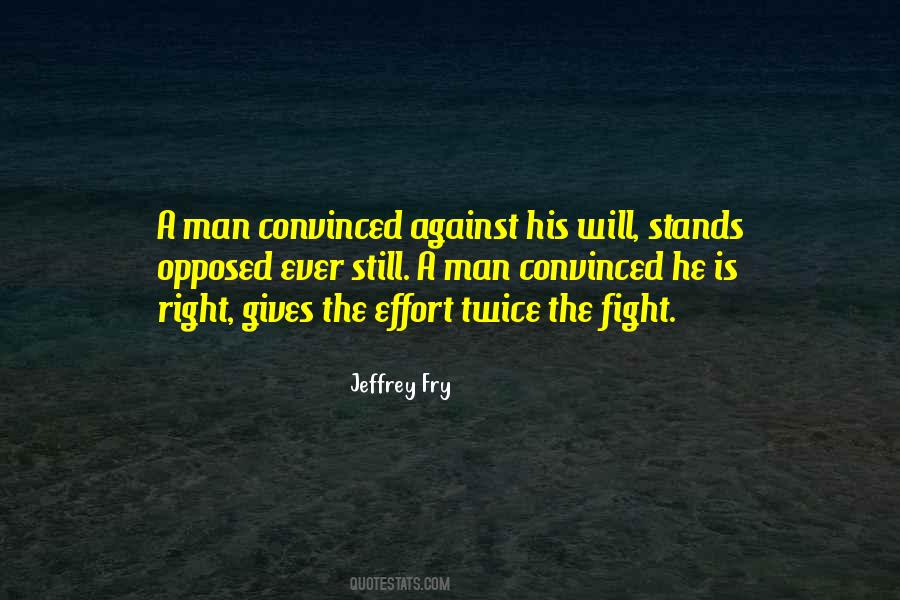 #48. A man from the west will fight over three things: water, women and gold, and usually in that order. - Author: Barry Goldwater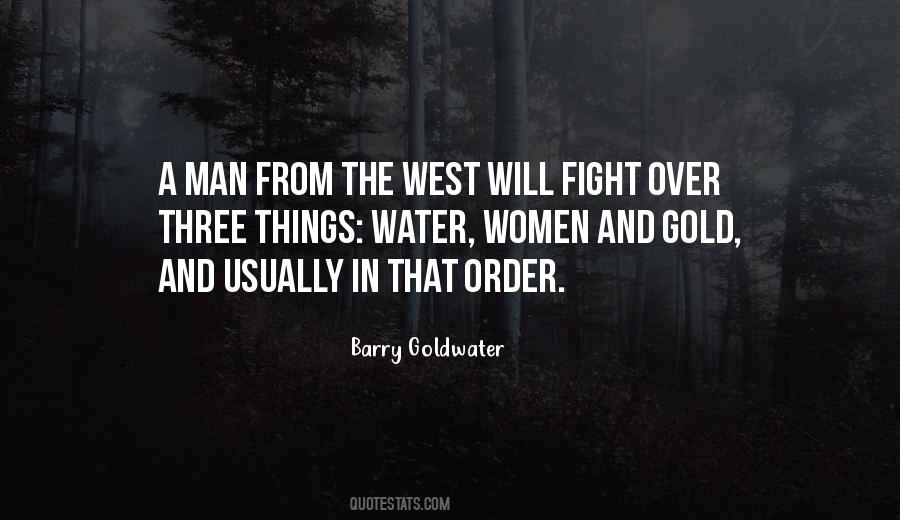 #49. Subjection of any kind and in any place is beneath the dignity of man ... the highest joy is to fight by the side of those who for any reason of their own making or ours, are unable to develop to full human stature. - Author: Agnes Smedley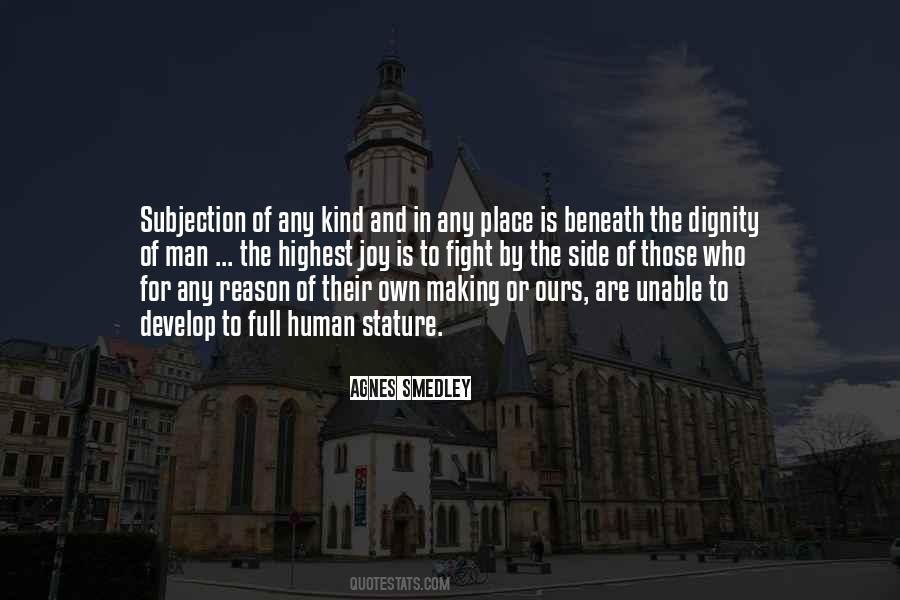 #50. This is the time for a young man to stop saying, "Why is life so hard?" He takes the hardness as the call to fight, to rise up, take it on. - Author: John Eldredge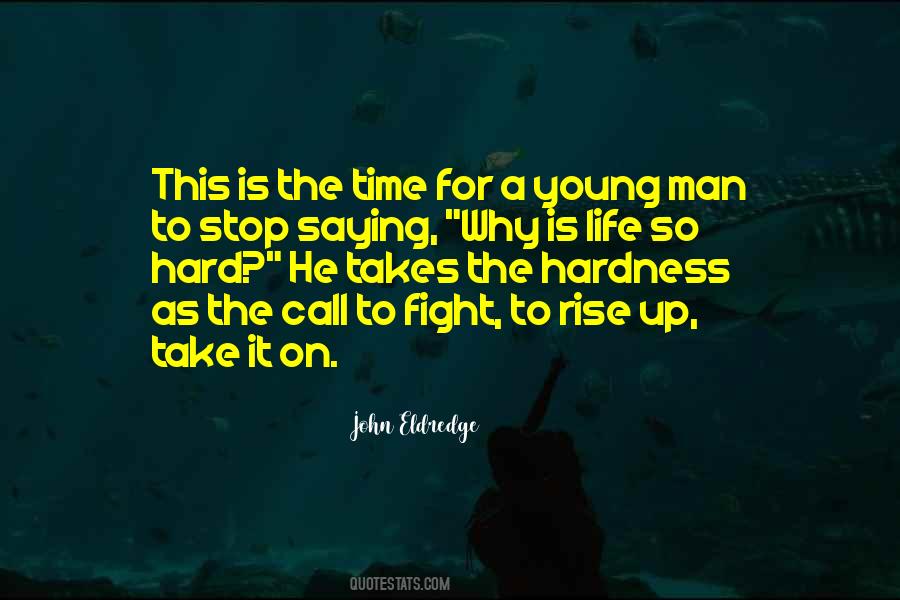 #51. It's a difficult thing to be a man. To try to be noble and honorable in a world of conflict and strife. To distinguish selfish desire from sincere concern. To know when to fight and when to forfeit. - Author: Brownell Landrum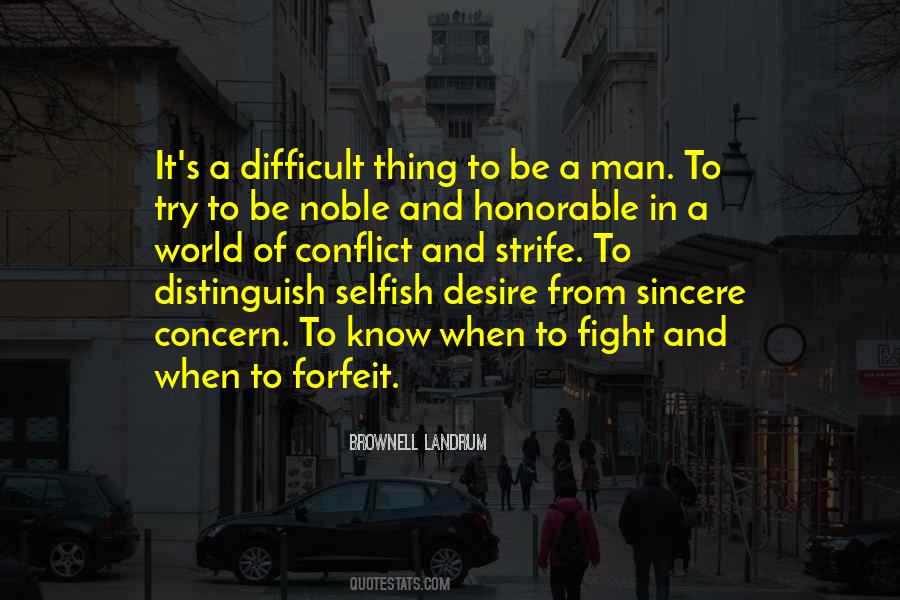 #52. Barbarianism and finesse cannot be rolled into one, Pricey defeats this theory. The barbarianism born from his fight to make it in life, his finesse brought about by his sensitivity that was deprived of him when he was a child. - Author: Stephen Richards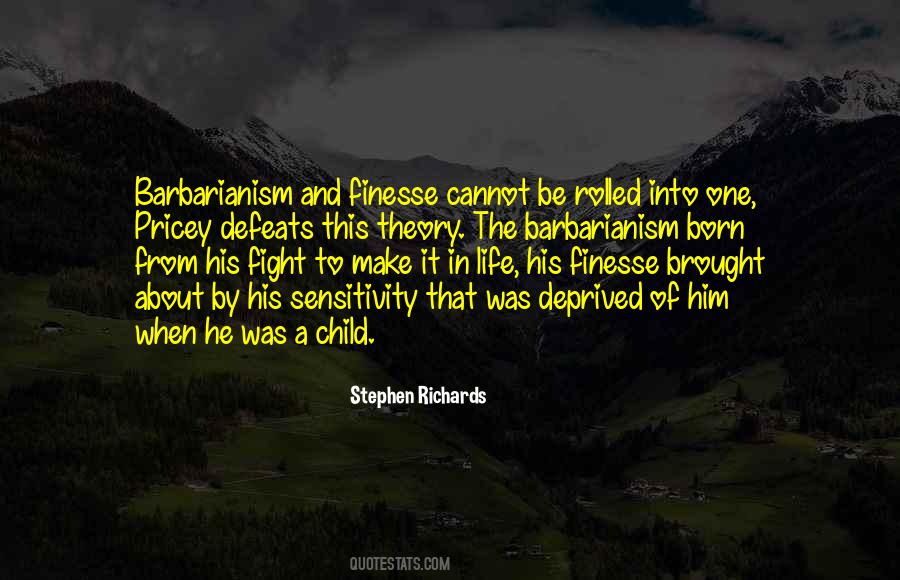 #53. If Lord Duryodhana was an evil man, why did great men like Bhishma, Drona, Kripa, Karna, entire army of Krishna fight war on his side?? - Author: Anand Neelakantan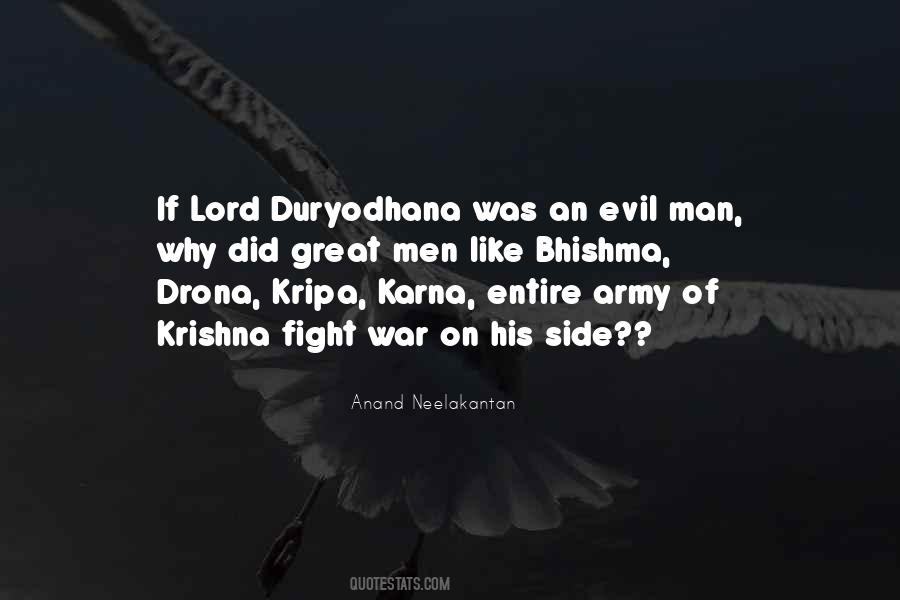 #54. Crows will fight over a dead man's flesh and kill each other for his eyes. - Author: George R R Martin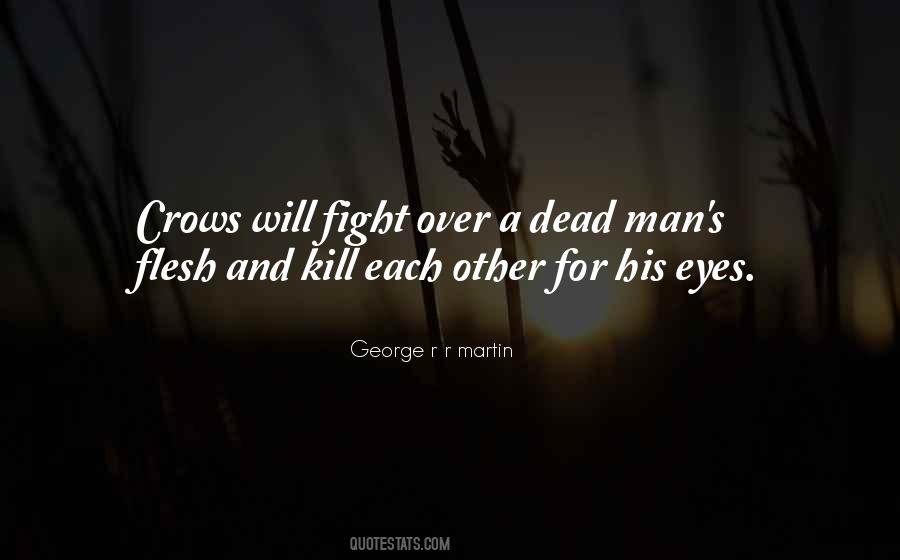 #55. If there is going to be war within countries, states, cities, or neighbours let the respective leaders fight those wars themselves; and do not bring innocent man and women into the fight. - Author: Temitope Owosela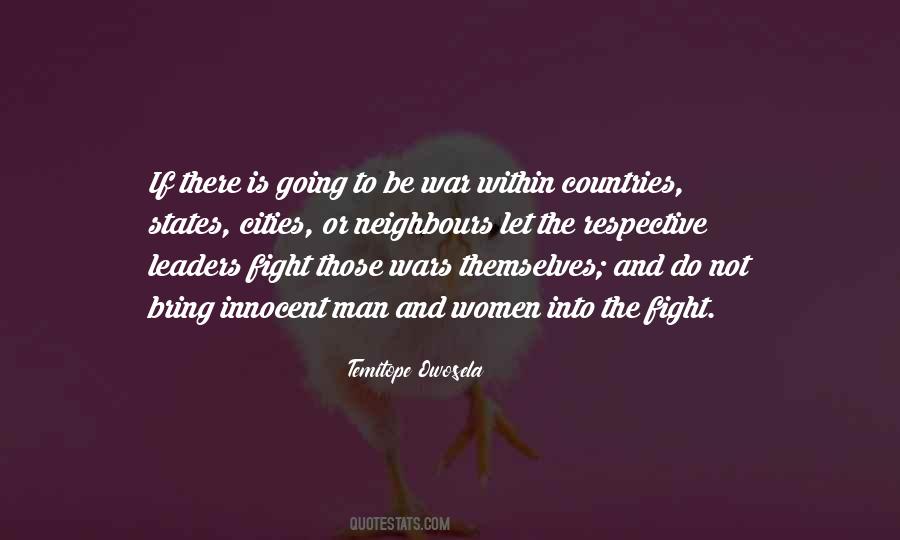 #56. There are only two options for a ship: Either to sail to the sea and fight with the waves or rot in a port! The same is valid for the man! - Author: Mehmet Murat Ildan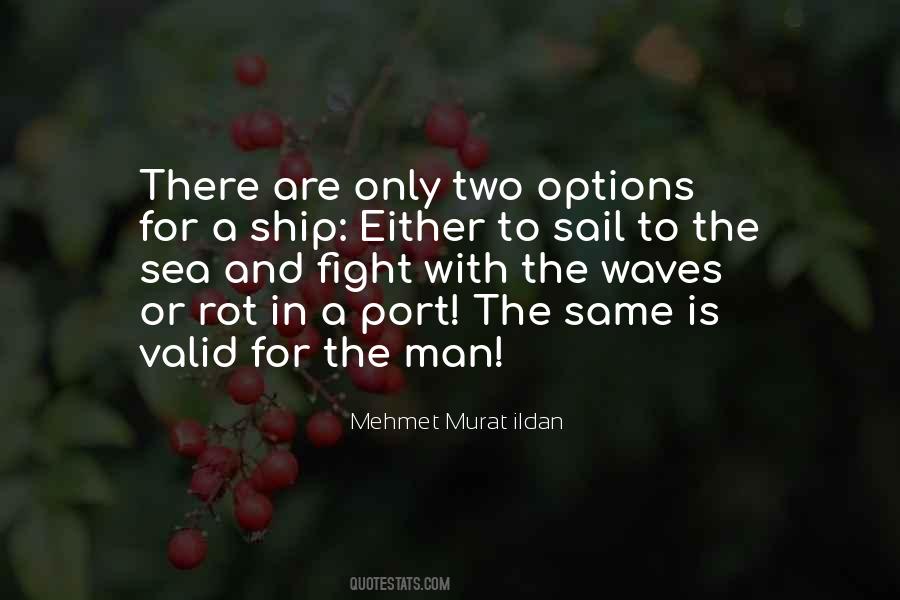 #57. Non-violence does not signify that man must not fight against the enemy, and by enemy is meant the evil which men do, not the human beings themselves. - Author: Mahatma Gandhi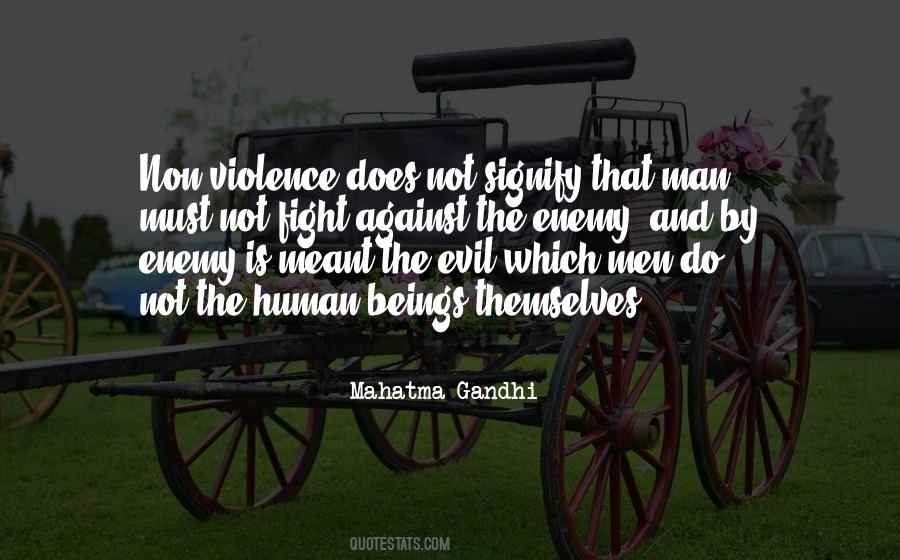 #58. Every man at some point in his life is gonna lose a battle. He's gonna fight and he's gonna lose. But what makes him a man is that in the midst of that battle, he does not lose himself. - Author: Eric Taylor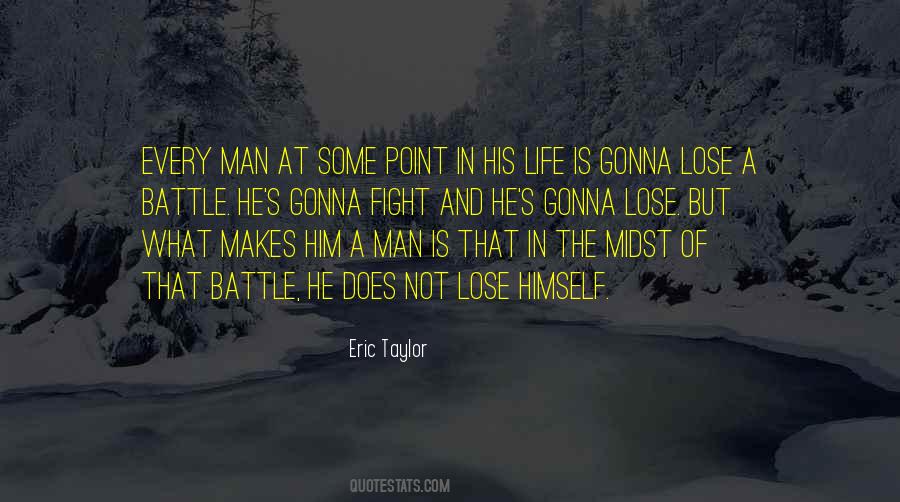 #59. A man who is willing to accept restriction and barriers and is not afraid of them is free. A man who does nothing but fight restrictions and barriers will usually be trapped. - Author: L. Ron Hubbard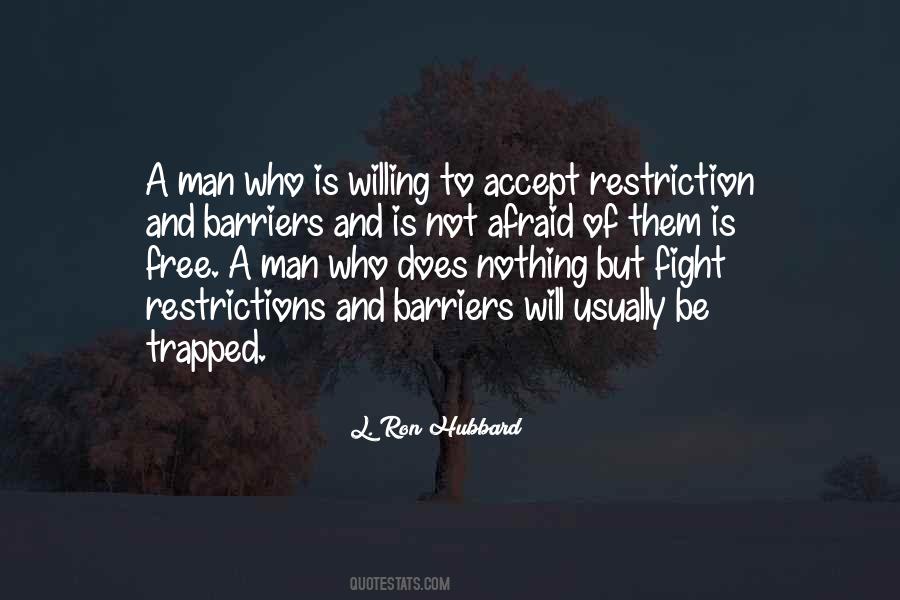 #60. Beyond his strength no man can fight, although he be eager. - Author: Homer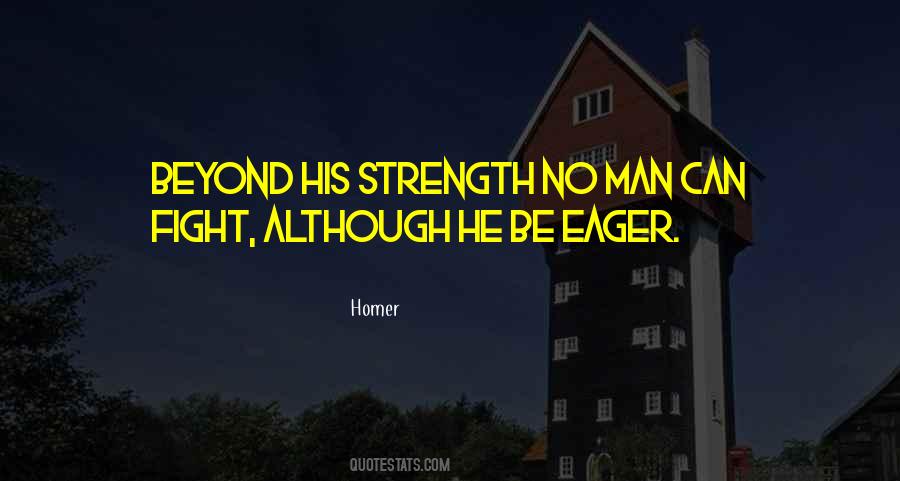 #61. It was hard to keep up the fight for the freedom of your fellow man when your fellow man was a bastard. - Author: K.J. Charles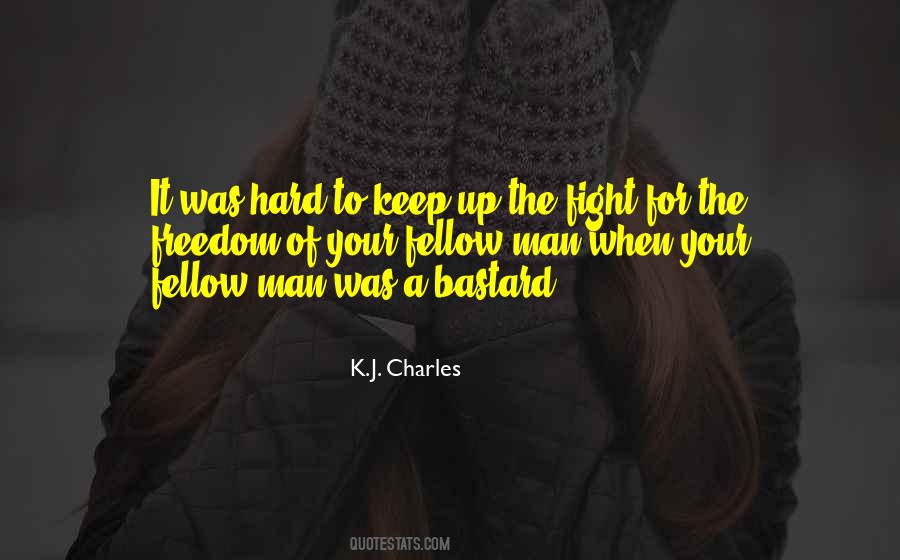 #62. They say a good man is worth fighting for. But a man who's good for YOU shouldn't make you fight just for the right to be in his life. - Author: Kyra Davis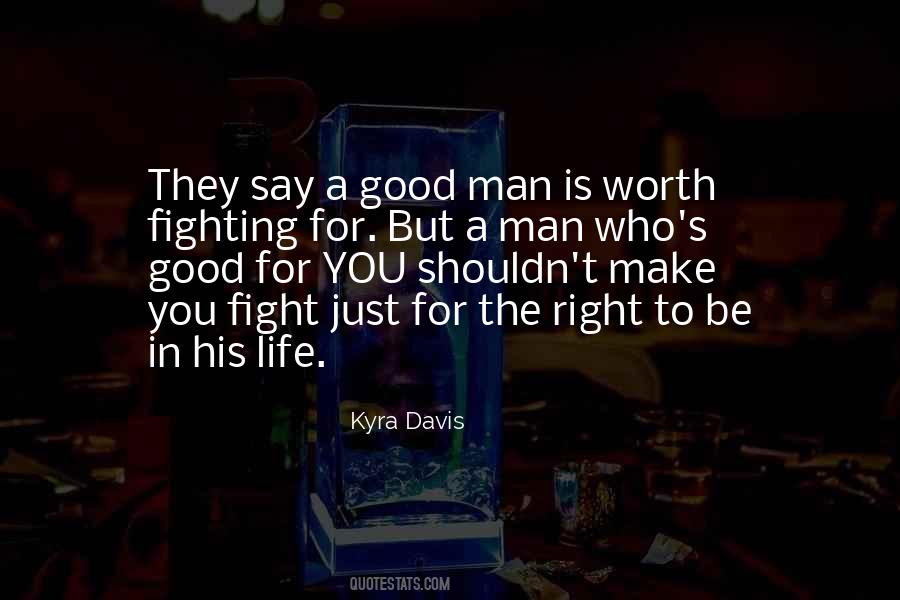 #63. We give all we have, lives, property, safety, skill ... we fight, we die, for a simple thing. Only that a man can stand up. - Author: Esther Forbes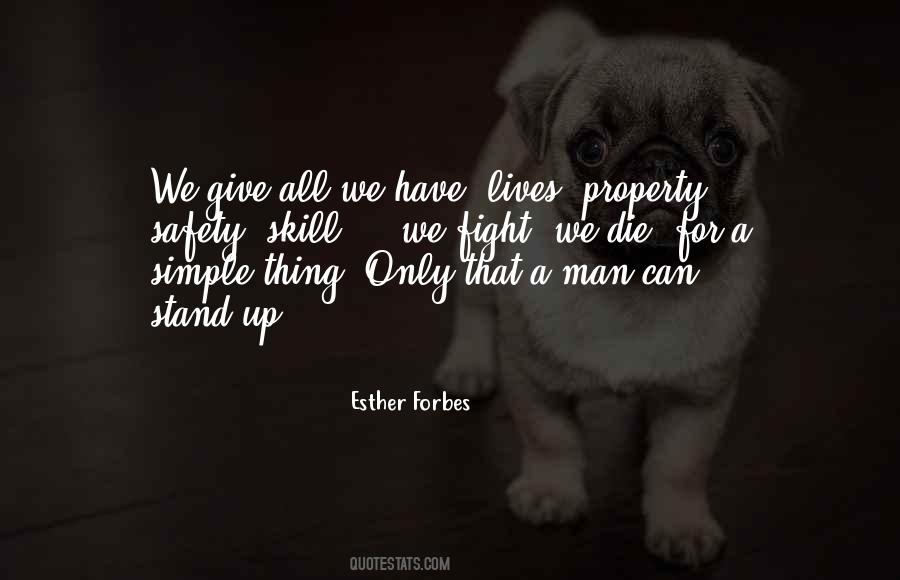 #64. I love Frank Capra. He believed in the goodness of people and one man's ability to fight and often triumph. - Author: Tom Shadyac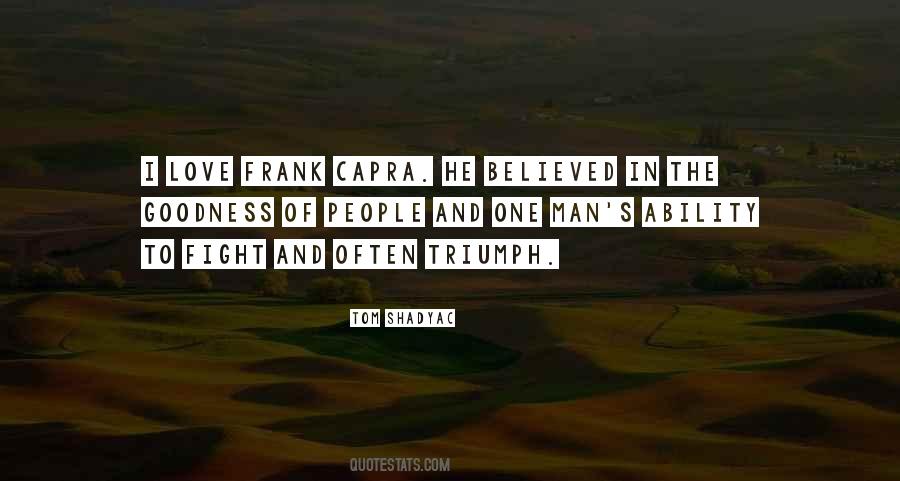 Famous Authors
Popular Topics