Feared Famous Quotes & Sayings
List of top 100 famous quotes and sayings about feared to read and share with friends on your Facebook, Twitter, blogs.
Top 100 Feared Quotes
#1. And be careful of this, that each day at your meals you have two overseers over your household when you sit at meals, and of this be sure, that you shall be very much feared and reverenced. - Author: Robert Grosseteste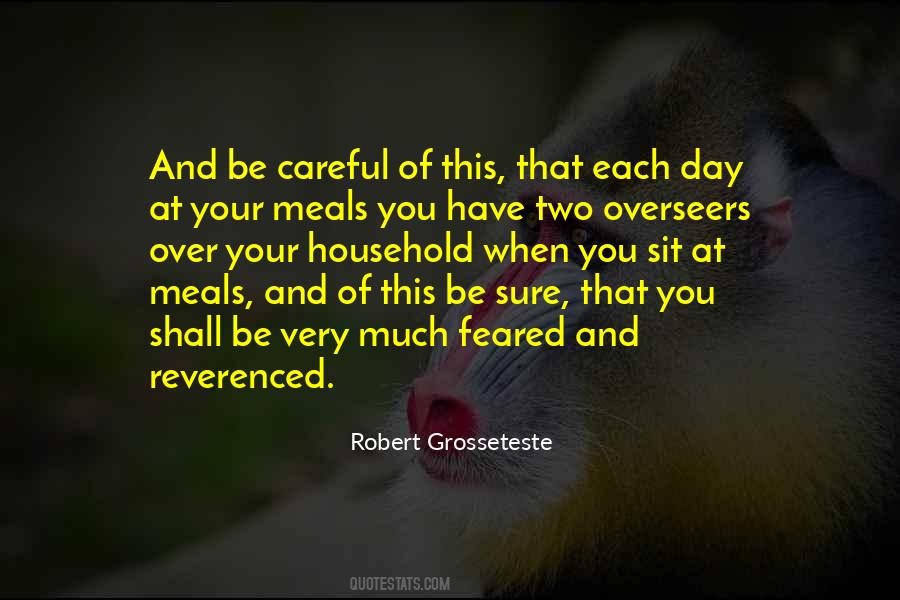 #2. Change is not a force to be feared, but an opportunity to be seized. - Author: Sam Weiss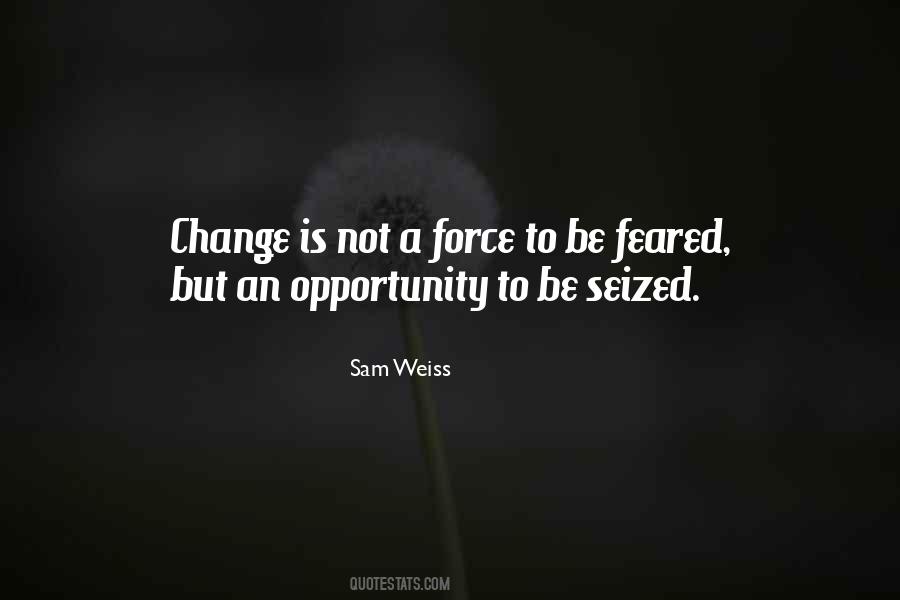 #3. Once I had feared that telling the truth would be like falling, that love would be like hitting the ground, but here I was, my feet firmly planted, standing on my own. - Author: Rachel Hartman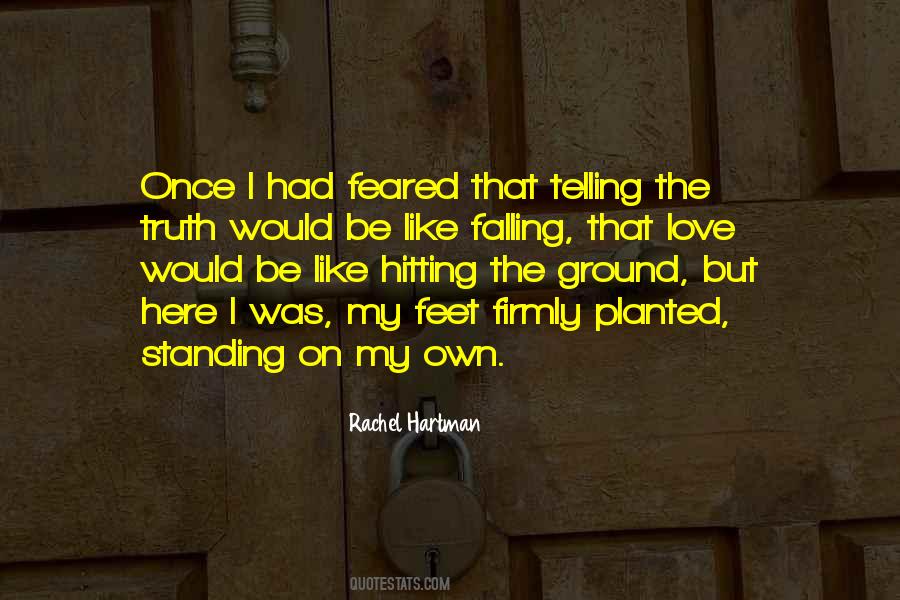 #4. The next day Mrs Honeyfoot told her husband that John Segundus was exactly what a gentleman should be, but she feared he would never profit by it for it was not the fashion to be modest and quiet and kind-hearted. - Author: Susanna Clarke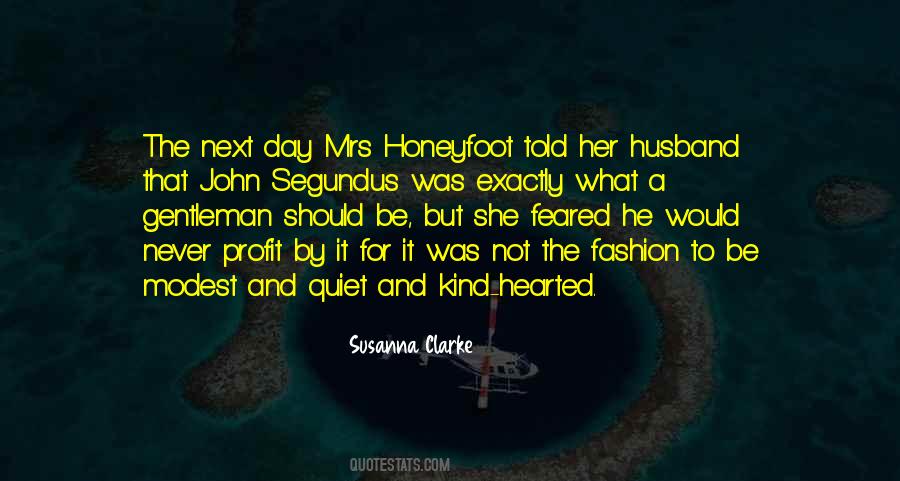 #5. Just a child. All this time we've feared you, sought you. And you're nothing more than a human child. - Author: Joshua Winning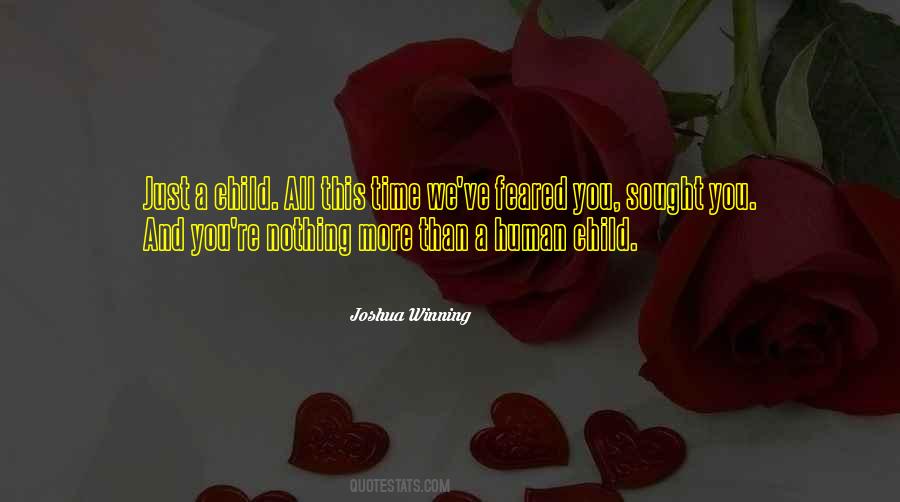 #6. Now the long-feared Asiatic colossus takes its turn as world leader, and we
the white race
have become the yellow man's burden.Let us hope that he will treat us more kindly than we treated him. - Author: Gore Vidal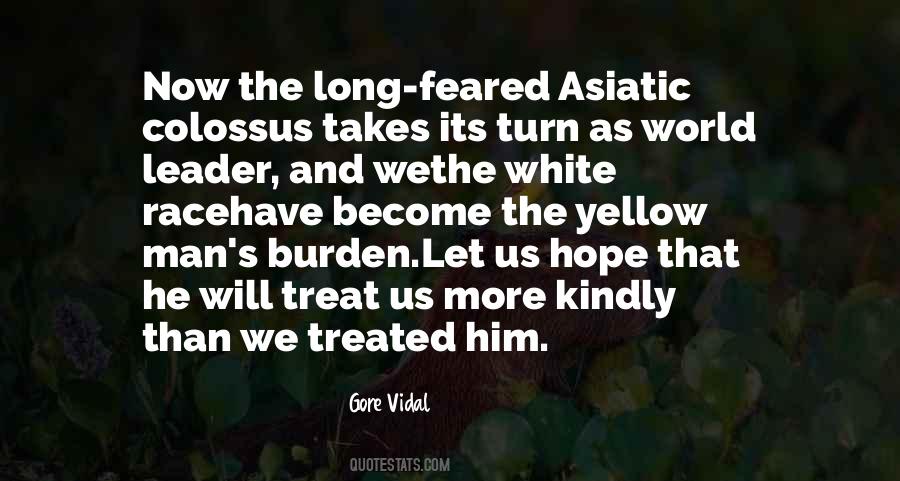 #7. We were sent to the Judengottesdienst, the children's service at the synagogue on Saturday afternoons. The maid was supposed to take us. But she was a Catholic, like most Austrians, and she feared the synagogue; and my mother - a working woman, dependent on her help - feared the maid. - Author: Edith Hahn Beer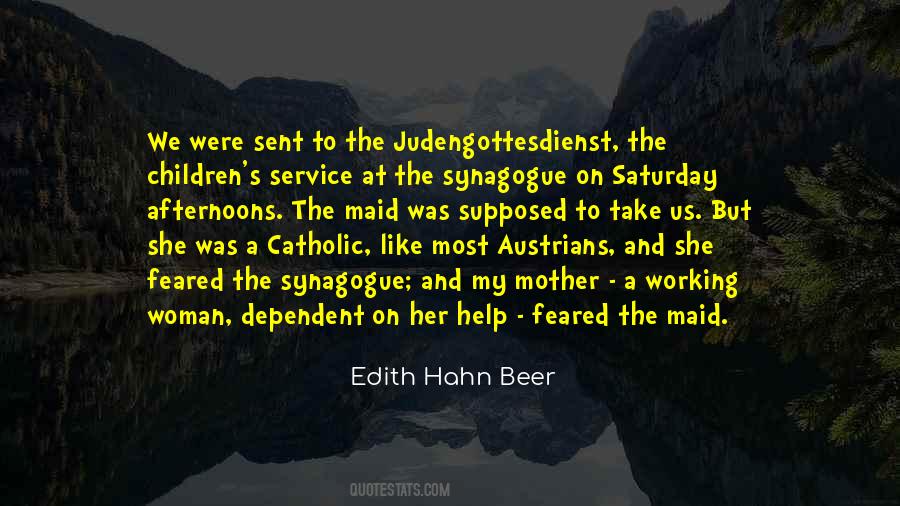 #8. Death should be KNOWN. Known as a difficult mental, physical and emotional process, respected and feared for what it is. - Author: Caitlin Doughty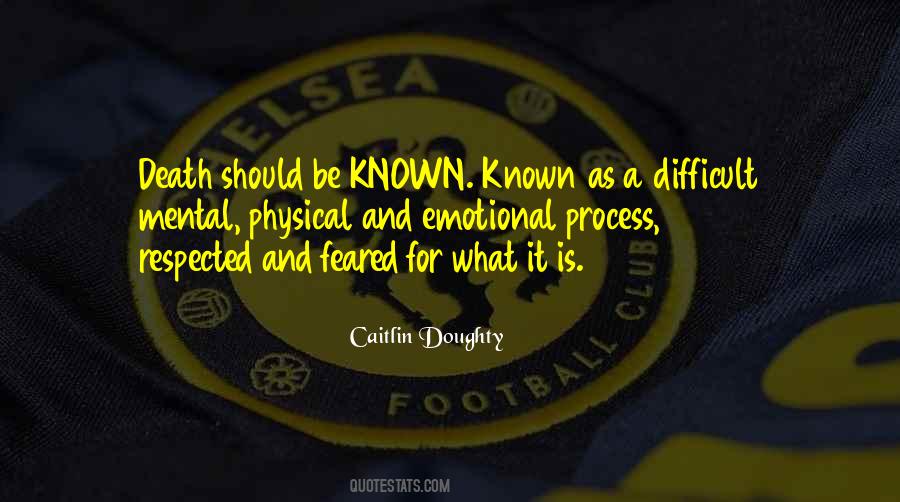 #9. If you truly feared failure, you'd be very successful. - Author: Barbara Sher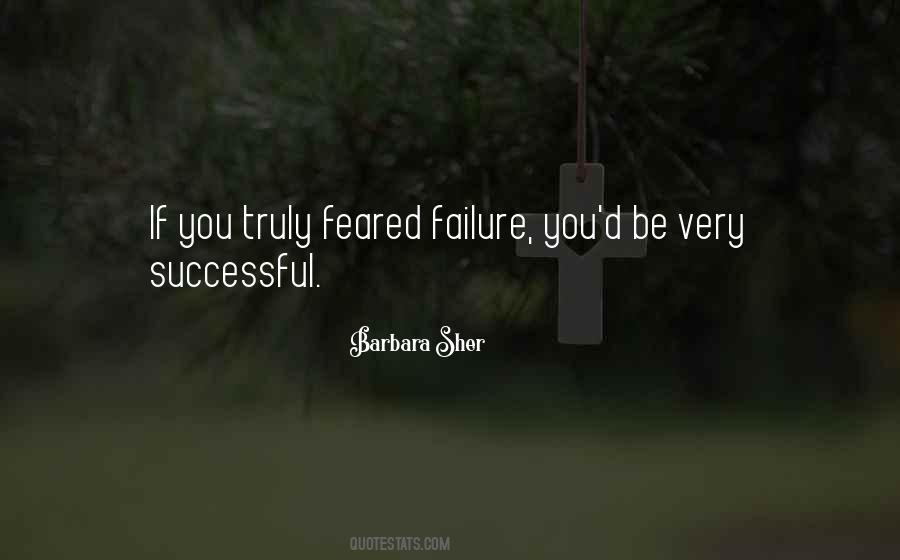 #10. As Sean seem determined to shadow her every move, she concluded that young boys were much like cats. They insisted on giving their company to those who most feared or distrusted them. - Author: J.D. Robb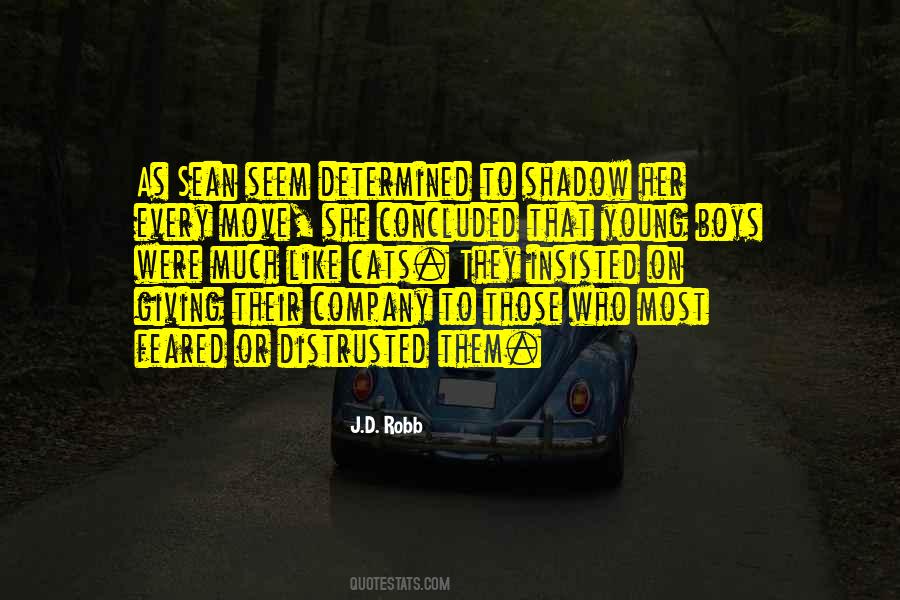 #11. What I feared most, though, about my decision to remain celibate was that I had thereby doomed myself to lifelong loneliness. - Author: Wesley Hill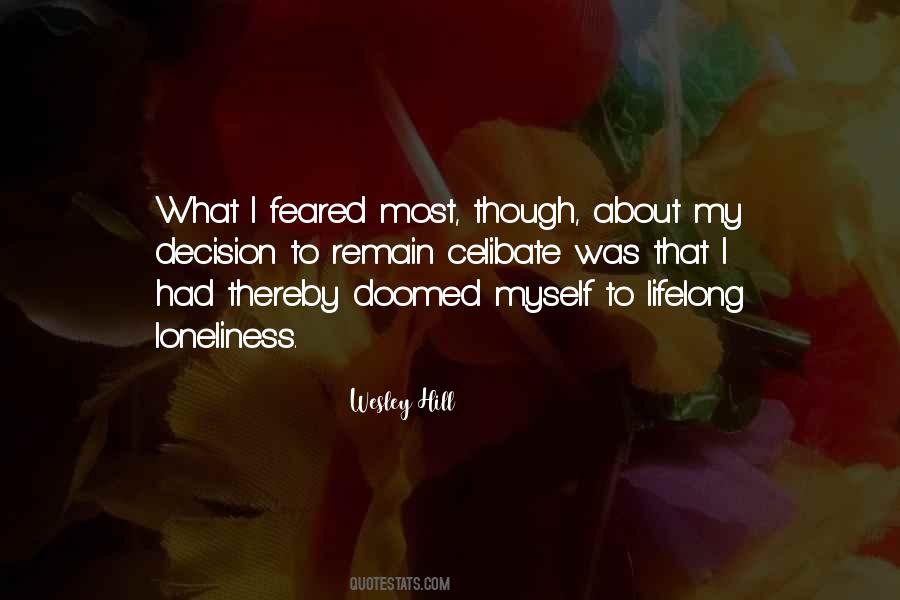 #12. I wasn't convinced I was crazy, though I feared I was. Some people say that having any conscious opinion on the matter is a mark of sanity, but I'm not sure that's true. I still think about it. I'll always have to think about it. - Author: Susanna Kaysen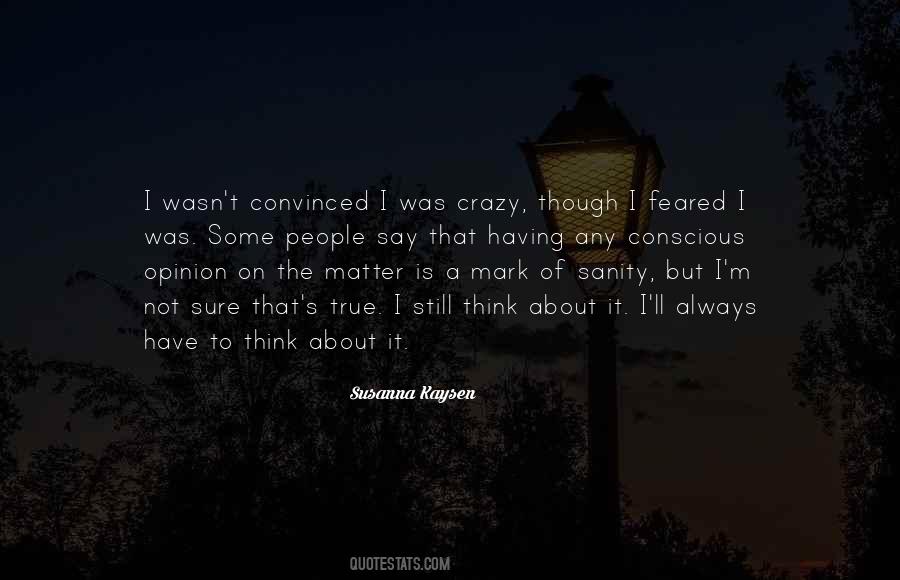 #13. The Prophets accept all agony and trust it
For the water has never feared the fire. - Author: Rumi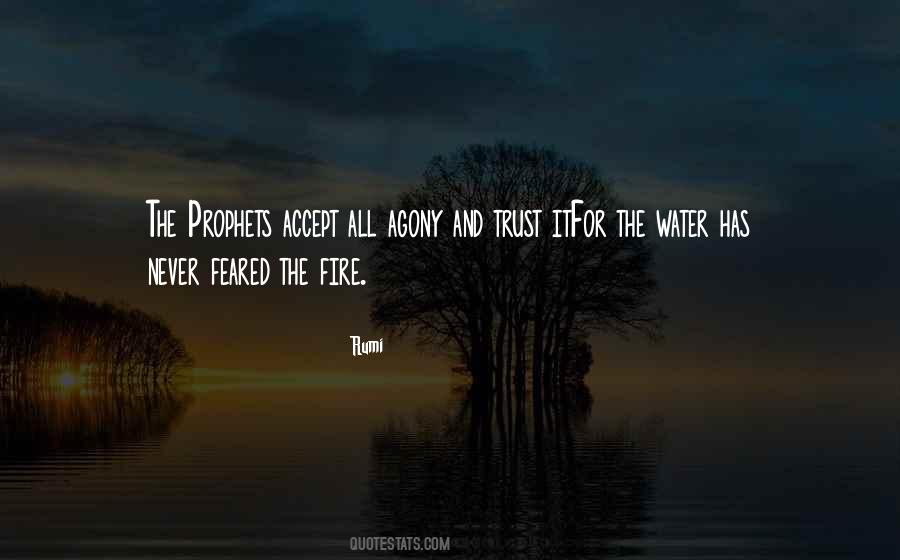 #14. But the Tsar of Death and the Tsar of Life greatly feared one another, for Death is surrounded by souls, and is never lonely, and the Tsar of Life had hidden his death away in a place deeper than secrets, and more secret than depth. - Author: Catherynne M Valente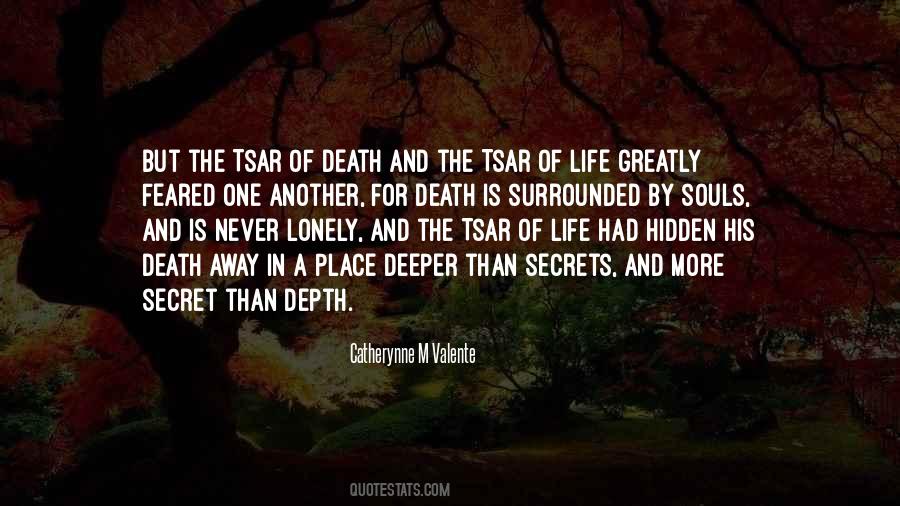 #15. This isn't even something I've feared, because I never knew it was a possibility. - Author: David Levithan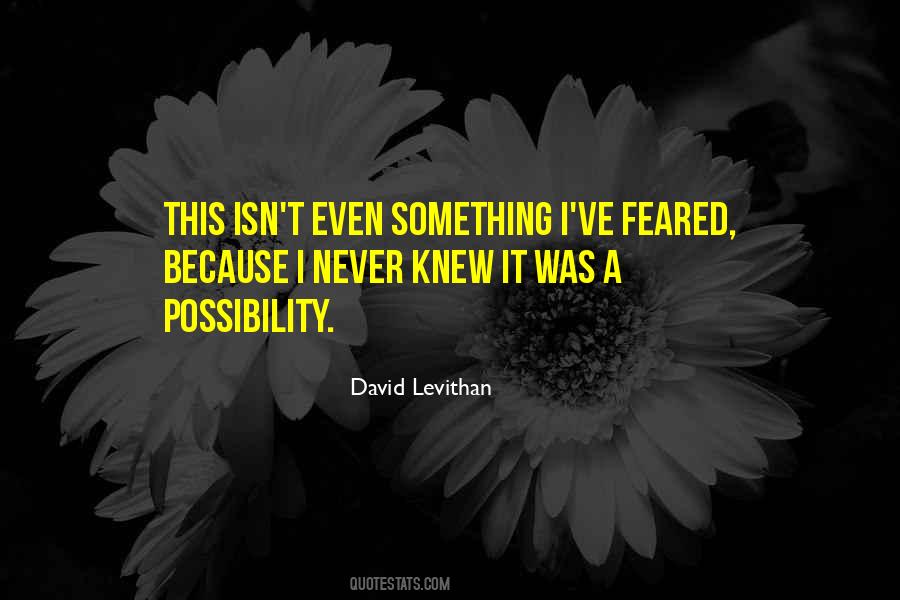 #16. Human misery universally arises from some error that man admits as true. We confound our fears with the idea feared, and place the evil in the thing seen or believed. Here is a great error, for we never see what we are afraid of. - Author: Phineas Quimby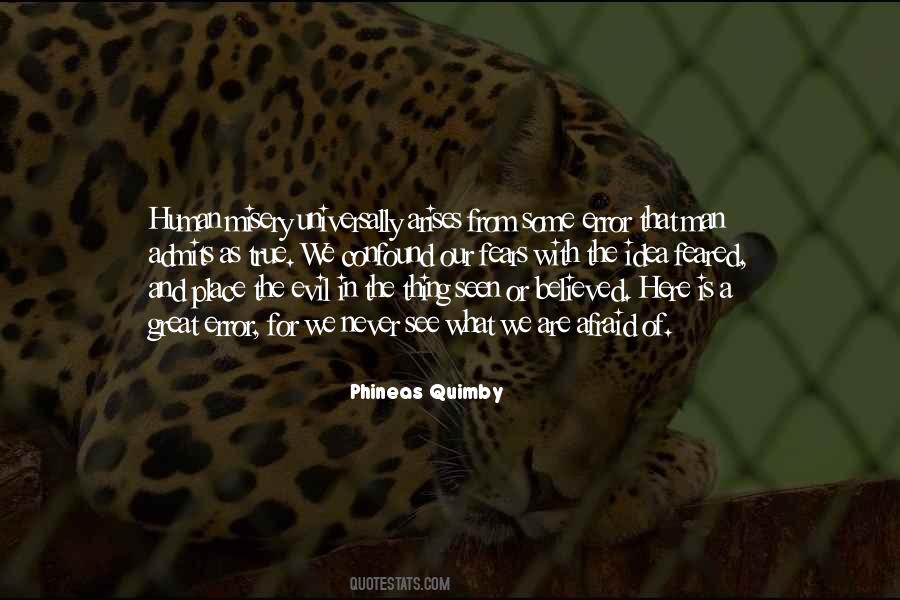 #17. It dawned on him that the loneliness of marriage, the thing Alice had so feared, starts out of love itself, which can never deliver on its promises. - Author: Josephine Humphreys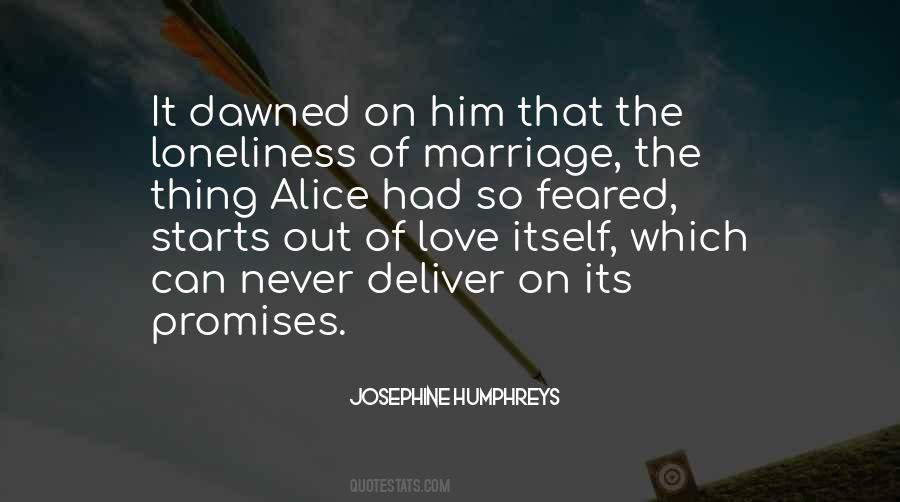 #18. Men of genius are admired, men of wealth are envied, men of power are feared; but only men of character are trusted. - Author: Alfred Adler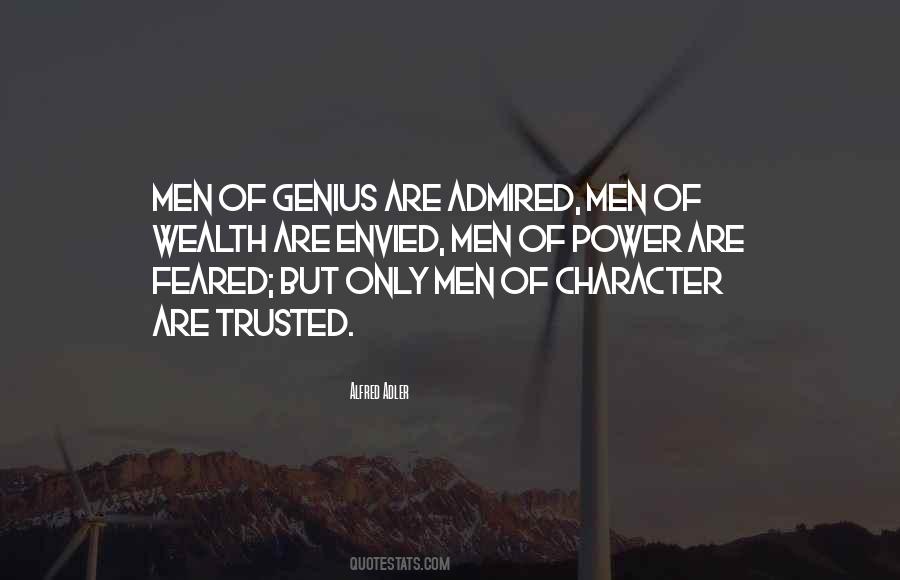 #19. Sometimes I feared I'd turn into a bat myself, stuck up there night and day, scrathing away. [Vincent] - Author: Karen Maitland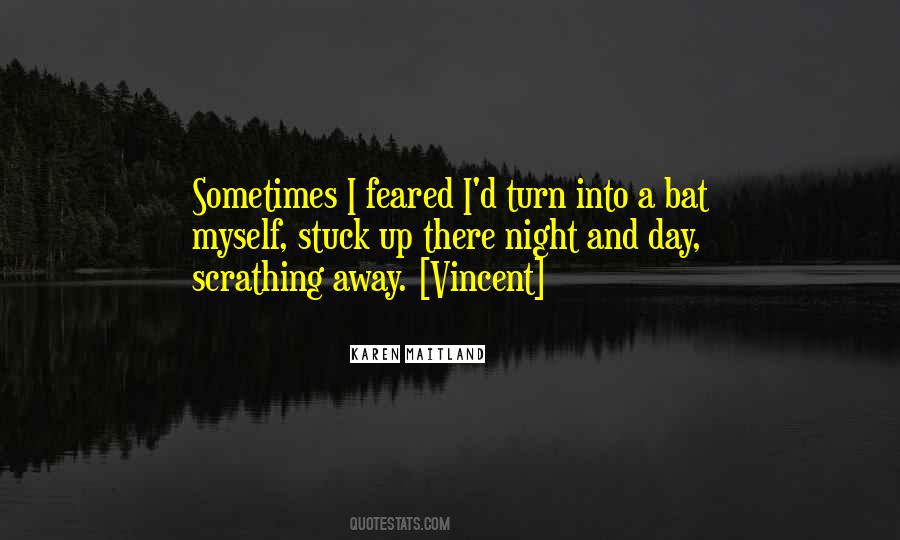 #20. I feared vulnerability more than my actual emotional pain itself! - Author: Karen Salmansohn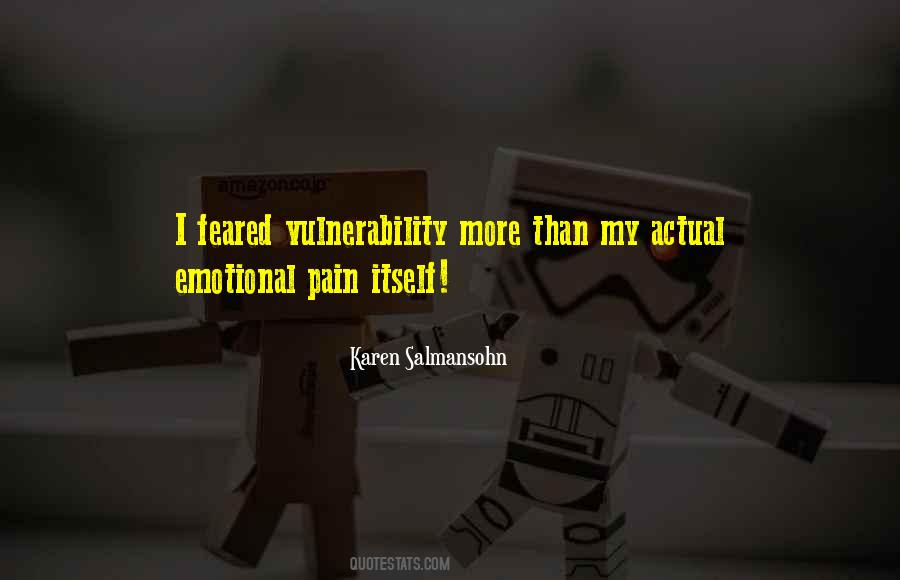 #21. The works of the righteous would be mortal sins if they would not be feared as mortal sins by the righteous themselves out of pious fear of God. - Author: Martin Luther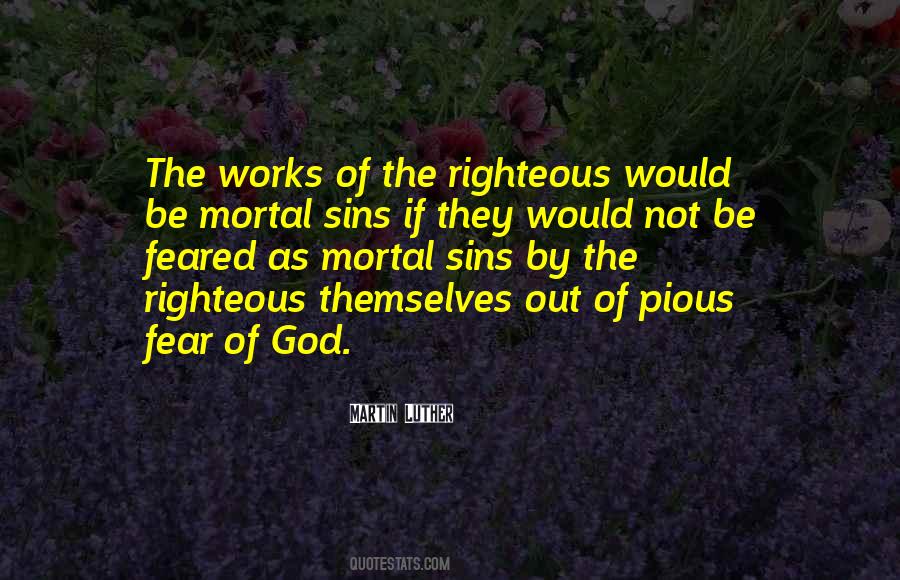 #22. Nothing should be so greatly feared as empty fame. - Author: Leonardo Da Vinci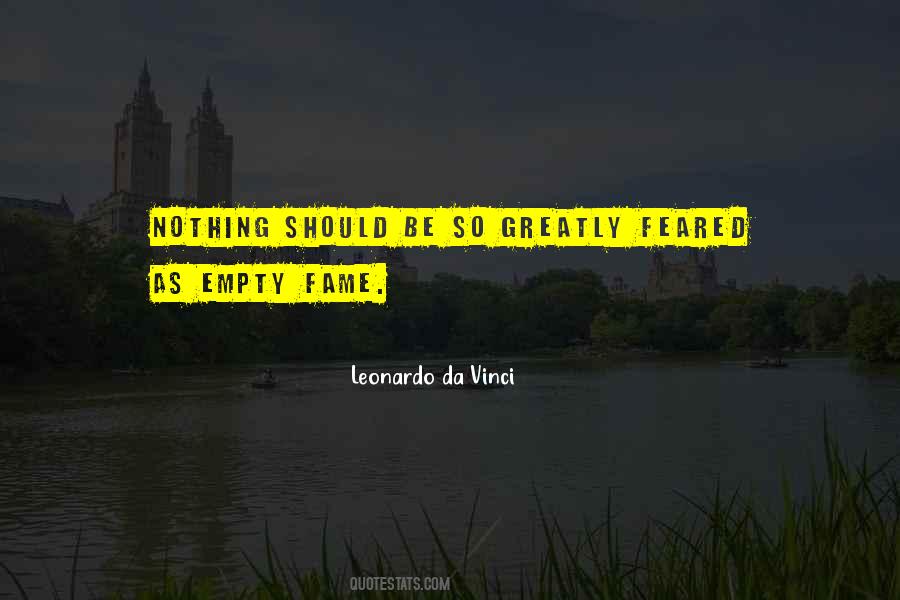 #23. In the early years of America's skyjacking epidemic, the airlines were reluctant to let the FBI attempt to end hijackings by force; they feared that innocents would get caught in the crossfire, thereby sparking a wave of negative publicity. - Author: Brendan I. Koerner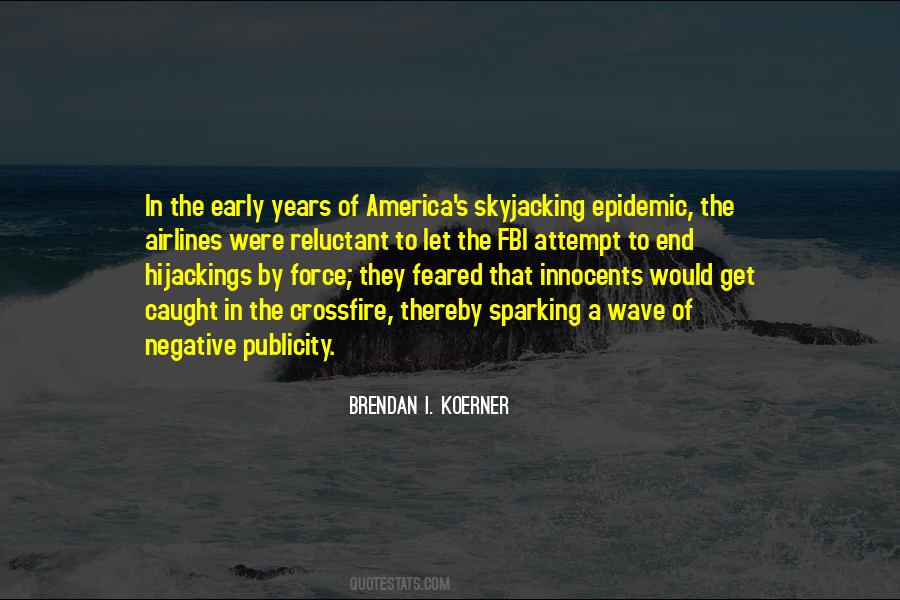 #24. The regular I both feared and salivated to see was names Reyes Farrow. Where others exuded aggression, deception, and insecurity, he literally dripped confidence, sex, and power. Mostly sex. - Author: Darynda Jones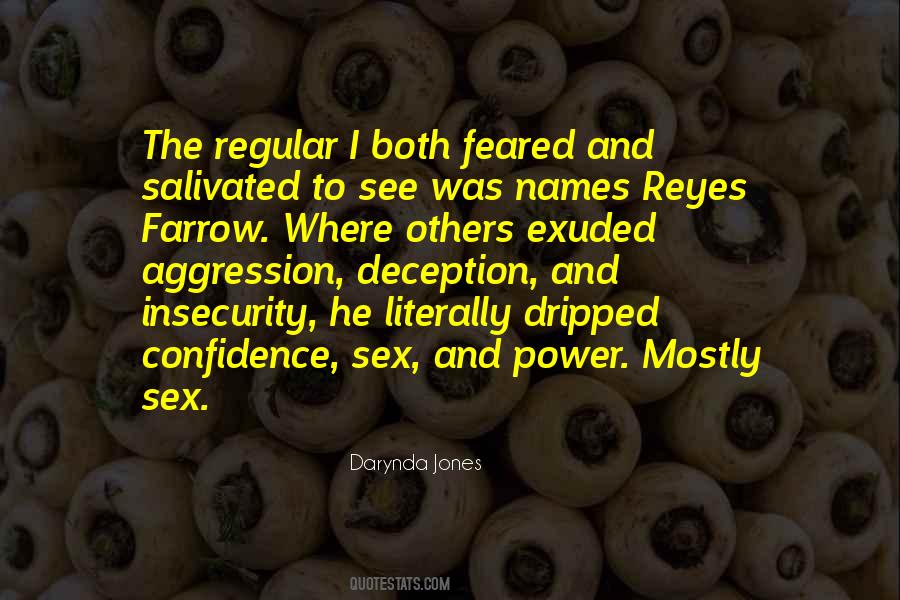 #25. he constantly came up with more and more ways to publicly execute his detractors in the most gruesome of ways. There was a purpose to such barbarity; Granzool wanted to ensure that his people feared him more than they could ever fear the western monsters. - Author: Shane Porteous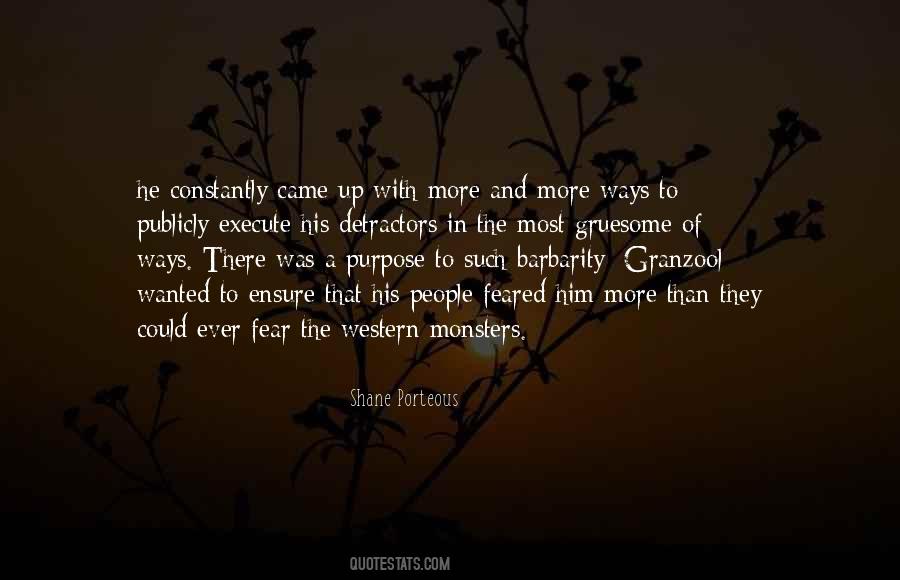 #26. The only decent daily paper of record in France is the online 'Mediapart,' which exposes graft and corruption in high places and is feared by the establishment. - Author: Tariq Ali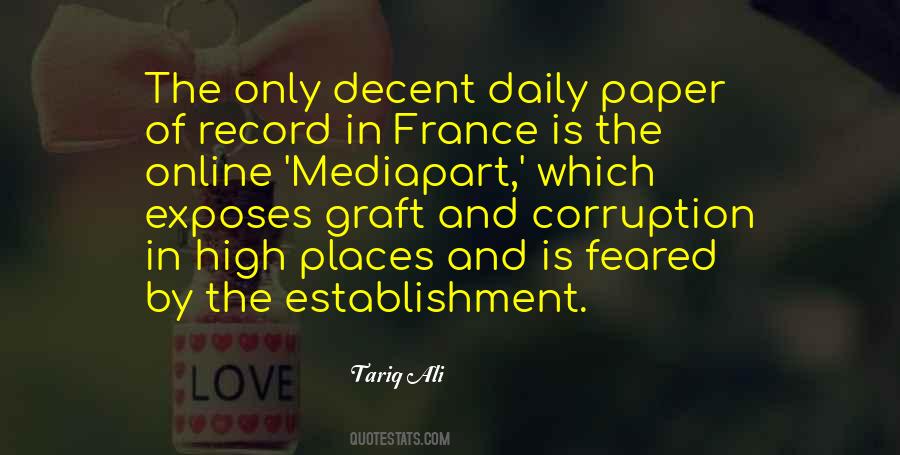 #27. Pain is not something to be feared; it is something to be understood. - Author: Pete Egoscue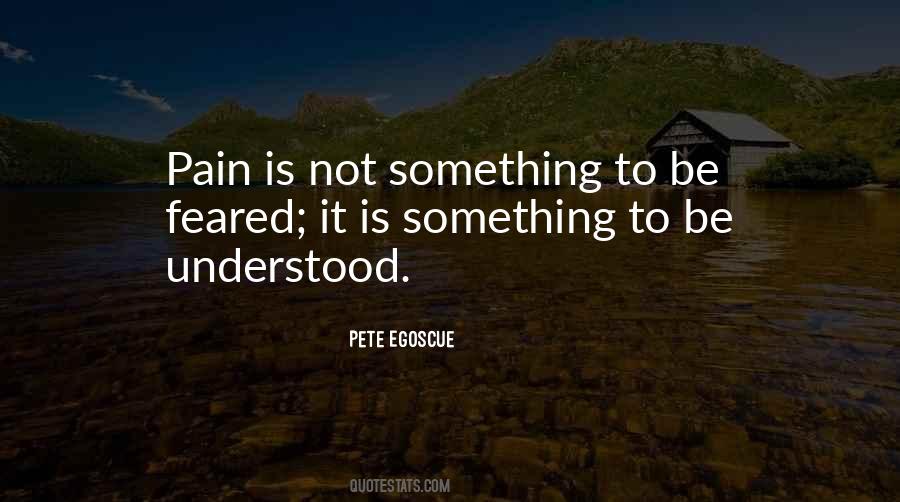 #28. True courage knows fear. It knows how to fear that which should be feared. Honest people value life passionately, they hang on to it like a precious jewel. And they pick the right time and place to surrender it, to die with dignity. - Author: Eiji Yoshikawa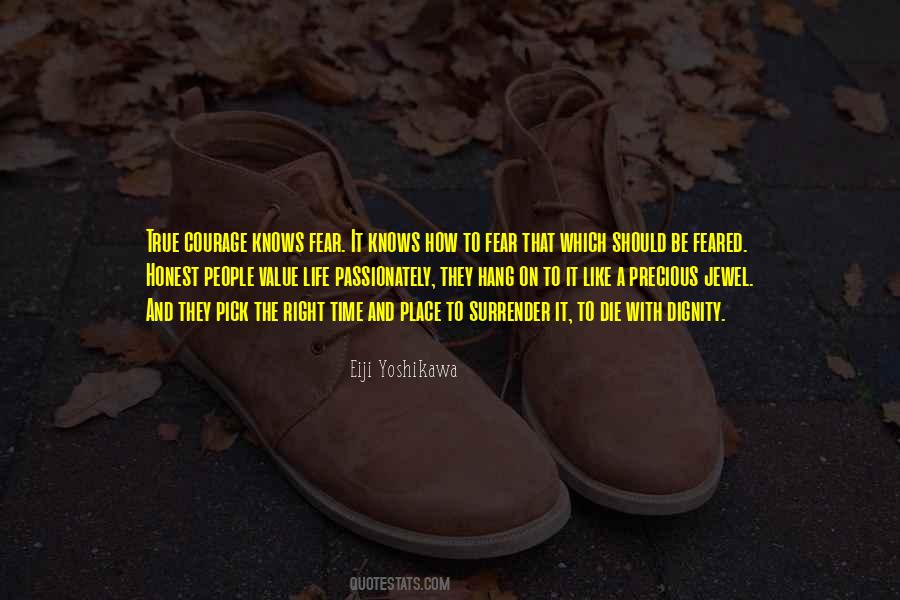 #29. Anything that protracted a campaign Clausewitz condemned. "Gradual reduction" of the enemy, or a war of attrition, he feared like the pit of hell. - Author: Barbara W. Tuchman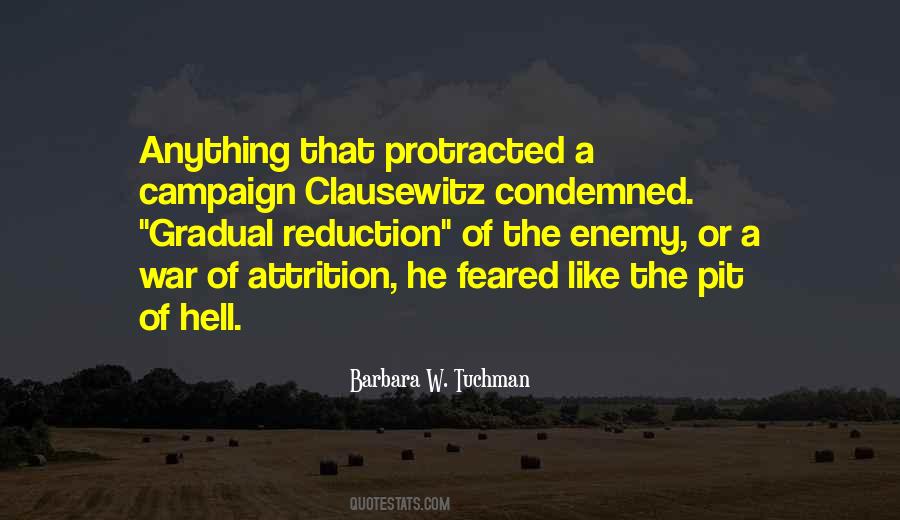 #30. The Company of Wolves is about how society teaches young women to look at themselves, and what to be afraid of. It's about a girl learning that the world of sensuality and the unknown is not to be feared, that it's worth getting your teeth into. - Author: Neil Jordan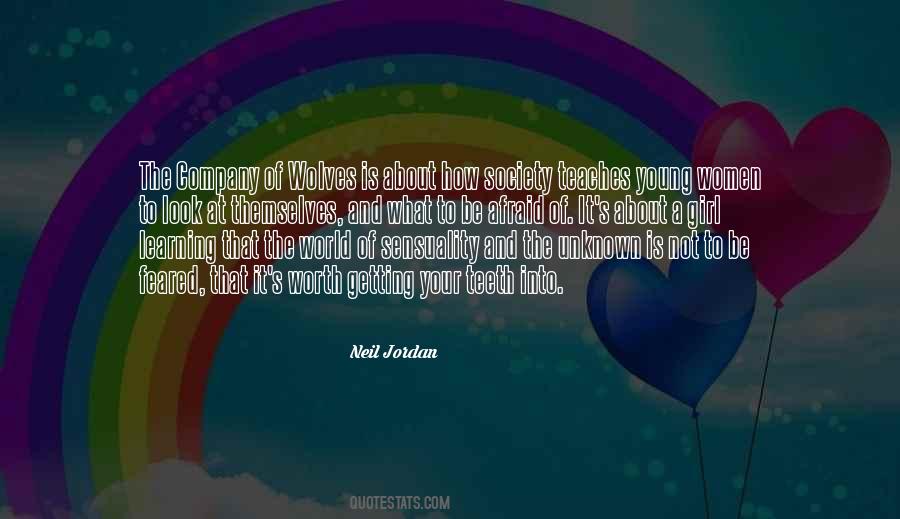 #31. I will live to make myself not feared. - Author: Catherine The Great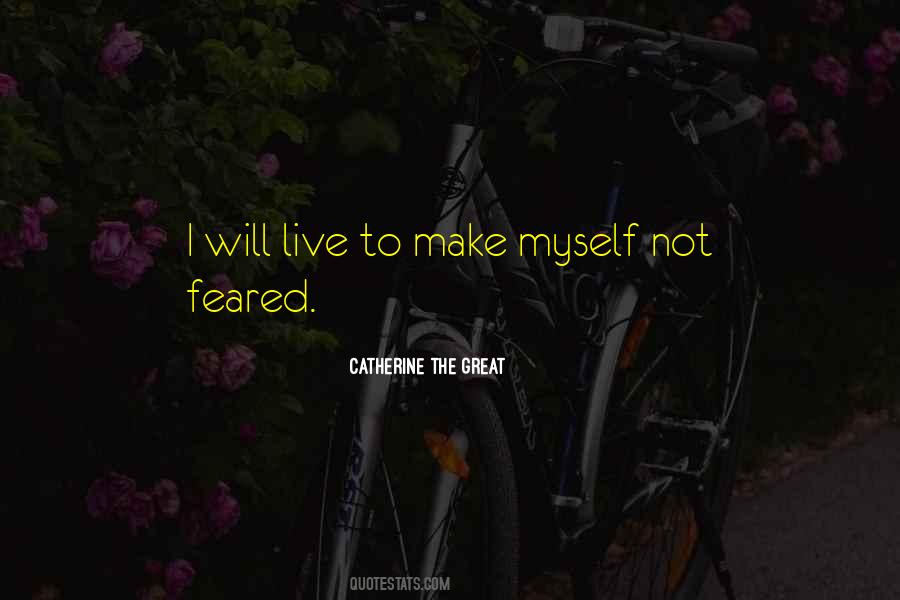 #32. All magic is unnatural, and for that reason is to be feared and avoided ~ The Scarecrow - Author: L. Frank Baum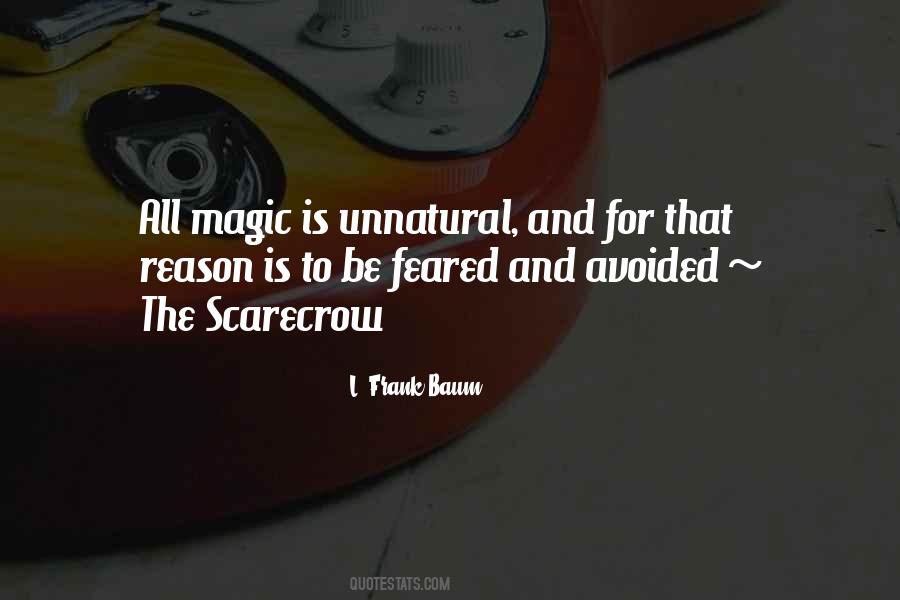 #33. A voice that had traversed the centuries, so heavy it broke what it touched, so heavy I feared it would ring in me with eternal resonance, a voice rusty with the sound of curses and the hoarse cries that issue from the delta in the last paroxysm of orgasm. - Author: Anais Nin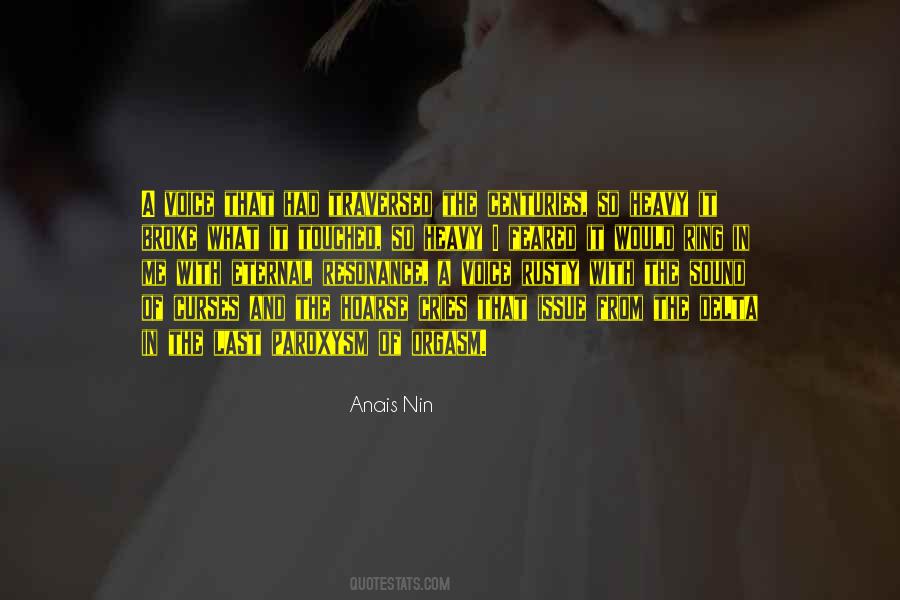 #34. The more I feared people the more I was liked, and the more I was liked the more I feared them - a process which eventually compelled me to run away from everybody. - Author: Osamu Dazai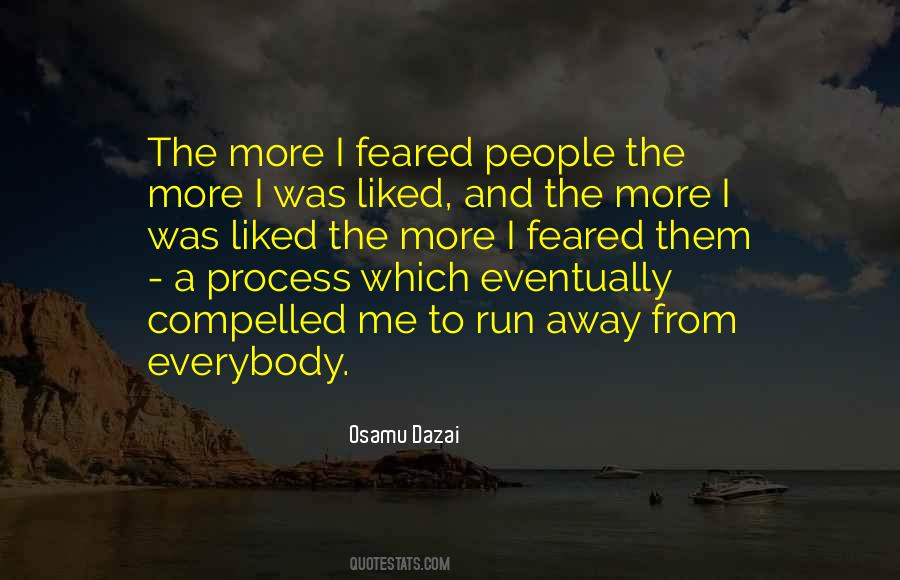 #35. They had taken me to an exhibit called 'Psychiatry: Industry of Death' on Hollywood Boulevard, where a Scientologist told me psychiatrists set up the Holocaust. I feared I was being brain-washed. And then I lost it - big time. - Author: John Sweeney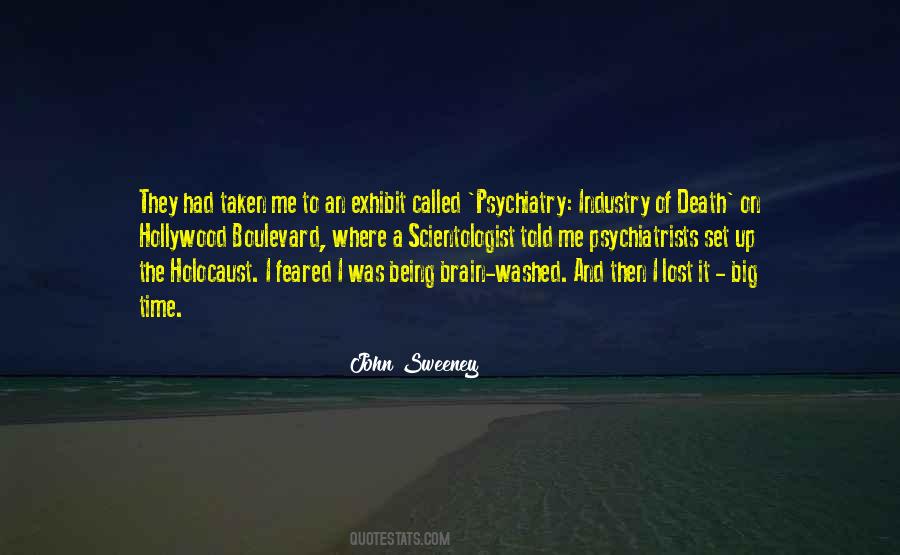 #36. Everyone would fear her again. And love her, of course. Mrs Pincent needed to be loved as much as wanted to be feared-to her they were two sides of the same coin. Both gave her total control. - Author: Gemma Malley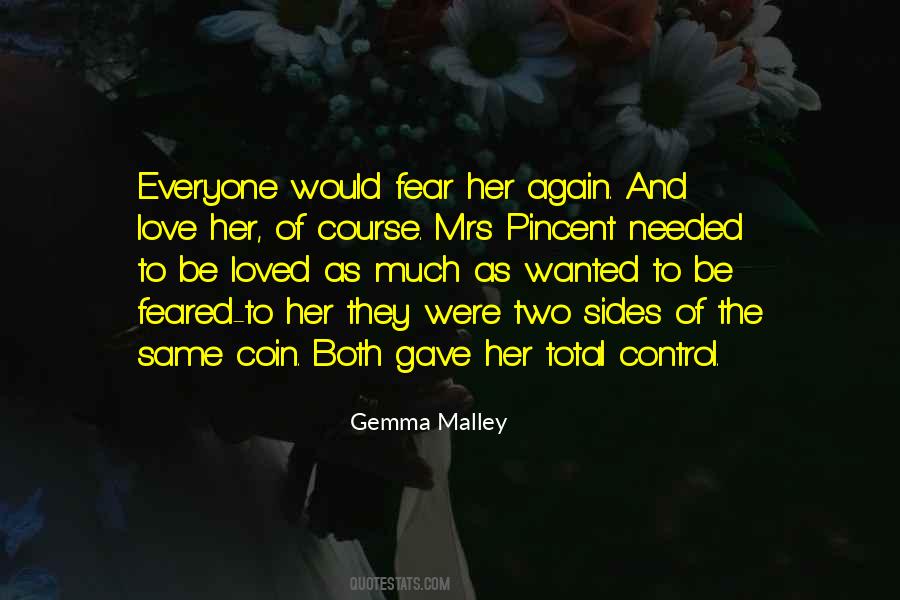 #37. The fundamental level of success is doing the hard things first - If you go for the feared thing first, then the rest of the day is easy. - Author: Robert G. Allen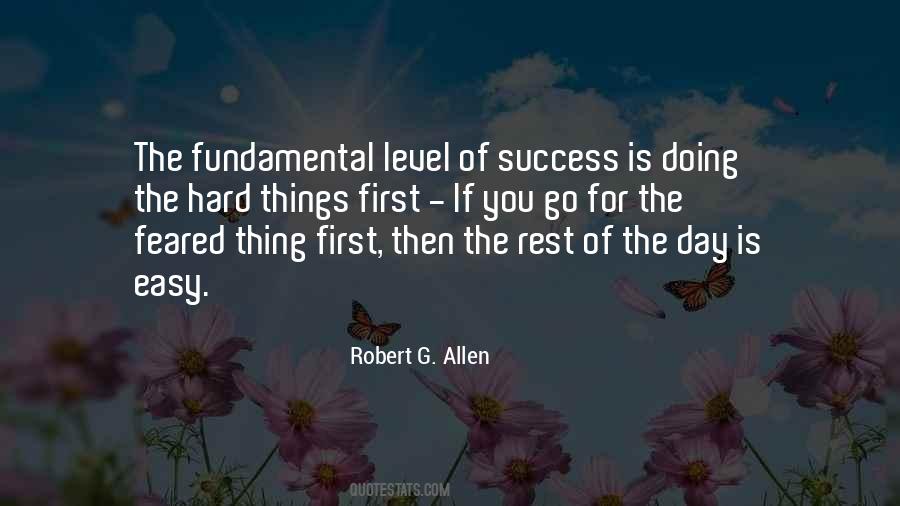 #38. Even when I feared and detested Christianity, I was struck by its essential unity, which, in spite of its divisions, it has never lost. I trembled on recognizing the same unmistakable aroma coming from the writings of Dante and Bunyan, Thomas Aquinas and William Law. - Author: C.S. Lewis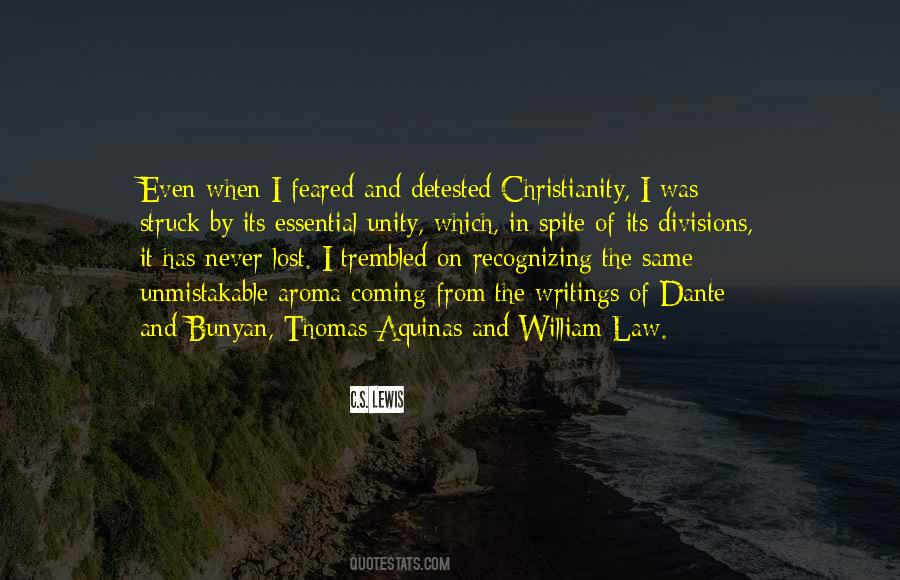 #39. I realized then why I was avoiding all the other patients. They were all potential mirrors. What I really feared wasn't the insanity of strangers. What I feared the most was my own disease. I was terrified I would catch a glimpse of myself in passing. - Author: Terri Cheney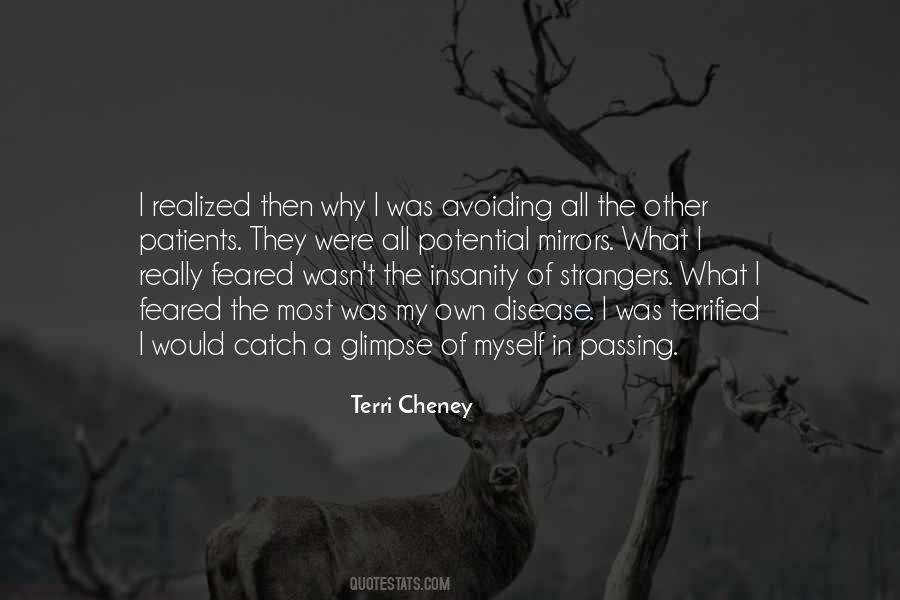 #40. Courage is strength in the face of knowledge of what is to be feared or hoped. Wisdom is prudent strength. - Author: Atul Gawande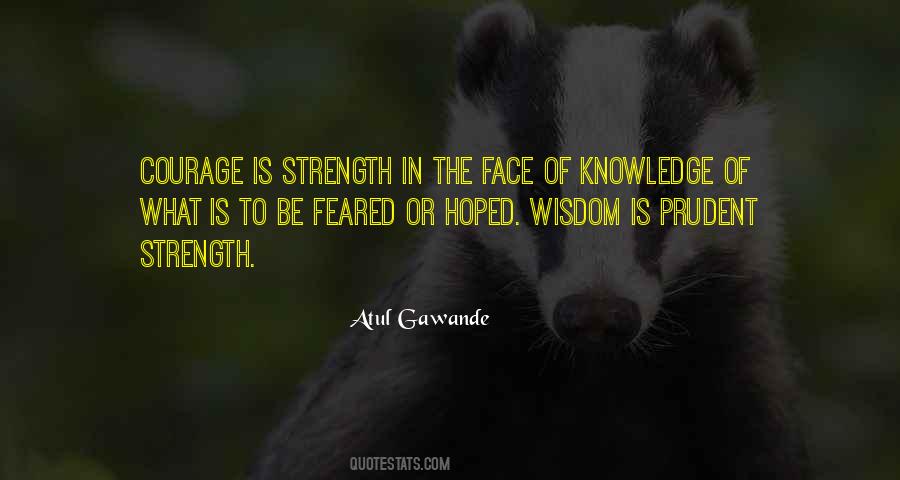 #41. Arrogance is an utterly appropriate weapon to use against a hostile world, a world in which arrogance is feared and respected, even if, like mine, it's only feigned. - Author: Thomas Bernhard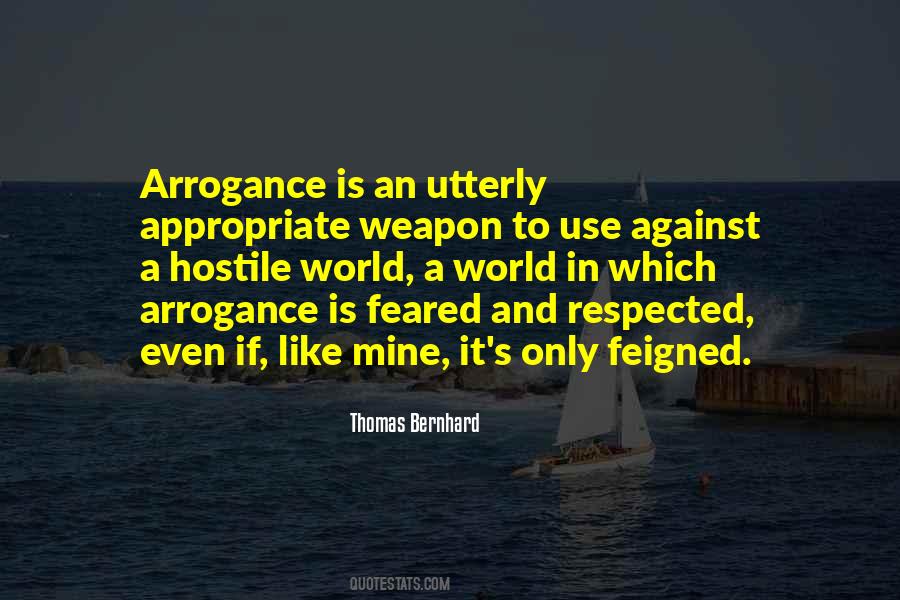 #42. I kissed her cheek then, because I feared to do it and though commonsense may occasionally bind me, I'll be fucked if fear will. - Author: Mark Lawrence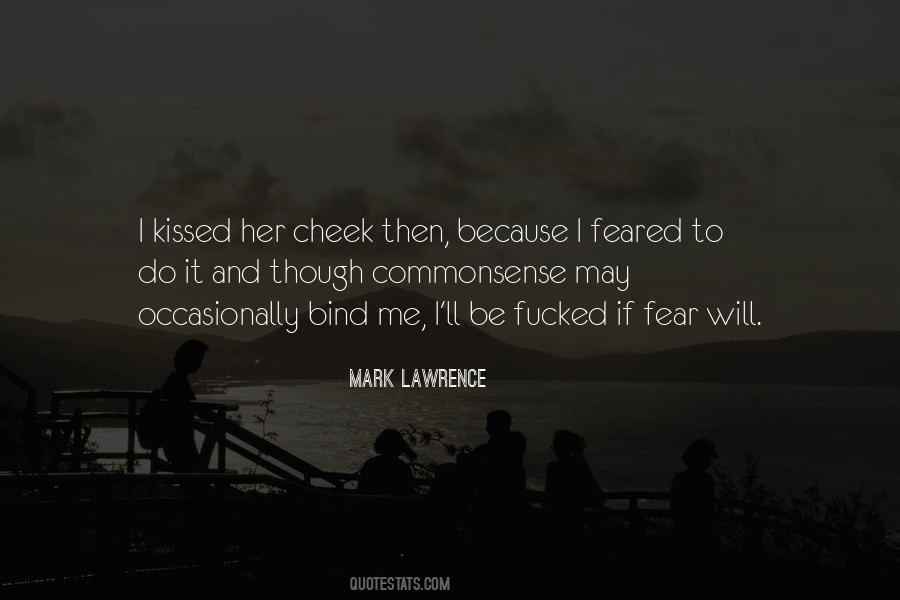 #43. As her eyes scanned his face, he feared that she saw everything, right down t the core of him. Where his obsession with her was the strongest.
-Butch and Marissa - Author: J.R. Ward
#44. I think we're losing sight of what our ultimate goal is here, said Genevieve. But we feared that if she was washed out, people would look right past the flyer. - Author: Joshua Ferris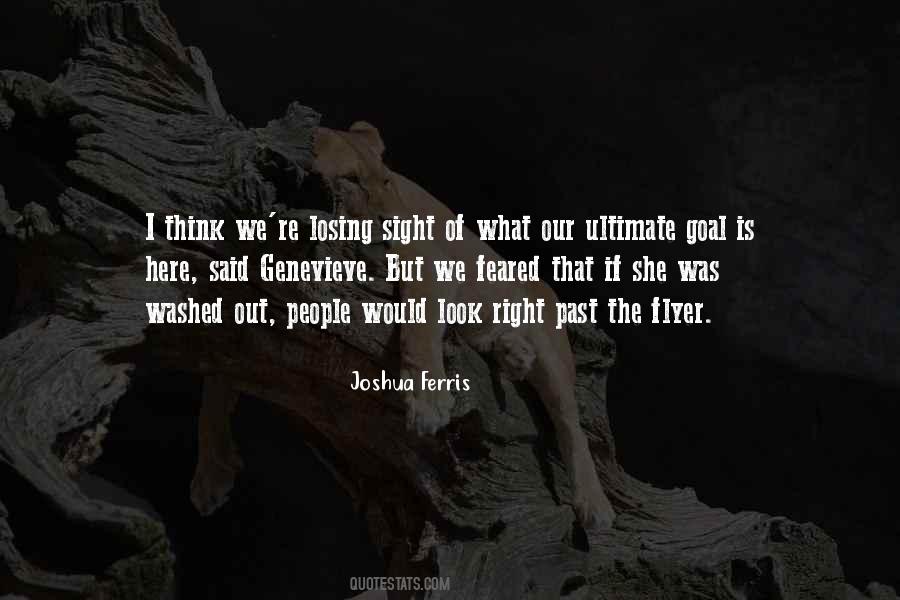 #45. Lane watched her for a moment with mounting irritation. Quite probably, he resented and feared any signs of detachment in a girl he was seriously dating. In any case, he surely was concerned over the possibility that this bug Franny had might bitch up the whole weekend. - Author: J.D. Salinger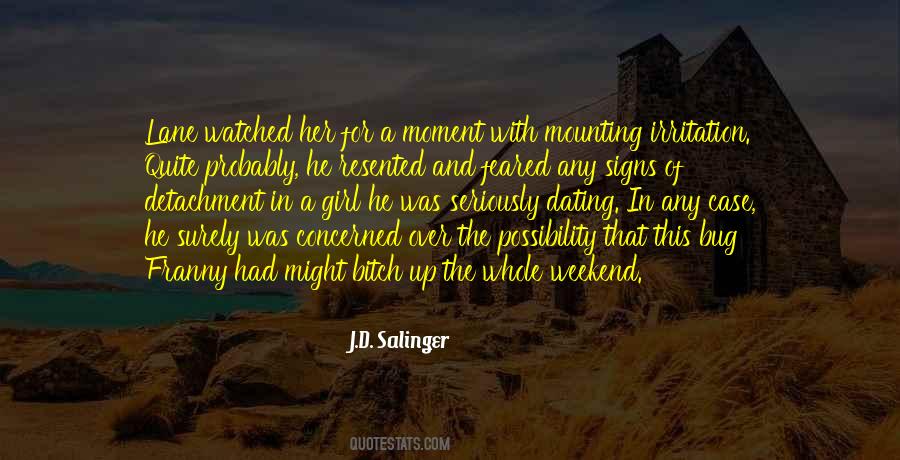 #46. The Marines in Korea never feared 'friendly fire' or artillery coming from the South Koreans - from their allies - like they did later in Vietnam, fighting with the South Vietnamese. The Koreans could be trusted. - Author: David Douglas Duncan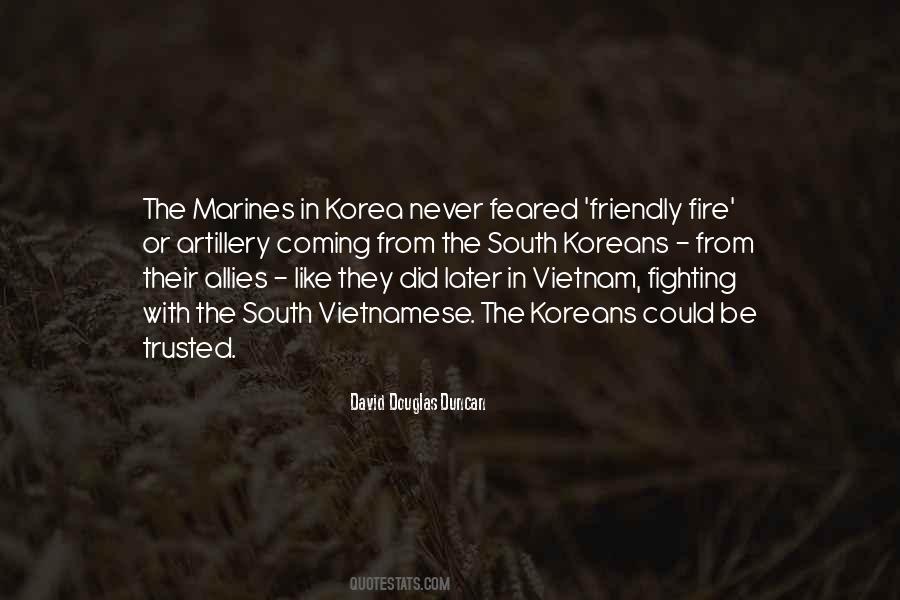 #47. ...she felt safe with Nicolo, and feared nothing. - Author: Mirella Sichirollo Patzer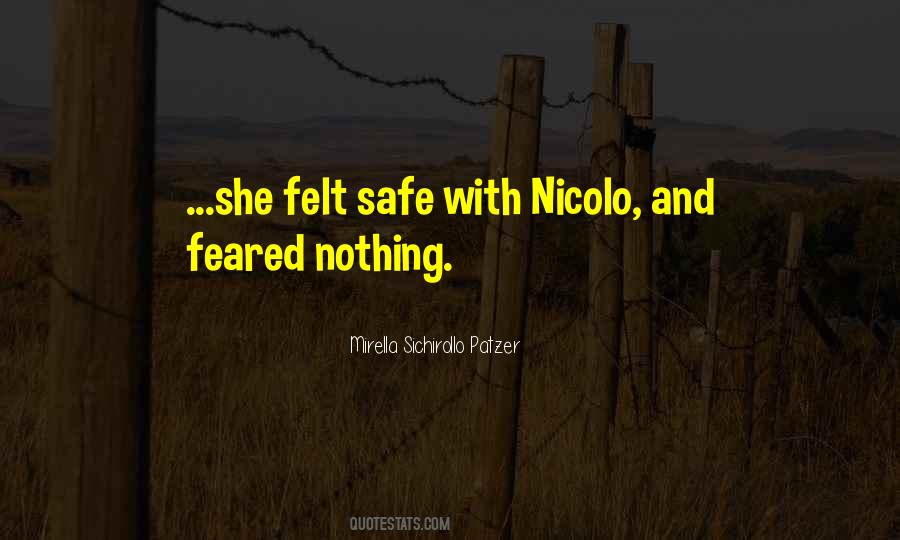 #48. Today is the tomorrow we feared yesterday. - Author: Anthony Hopkins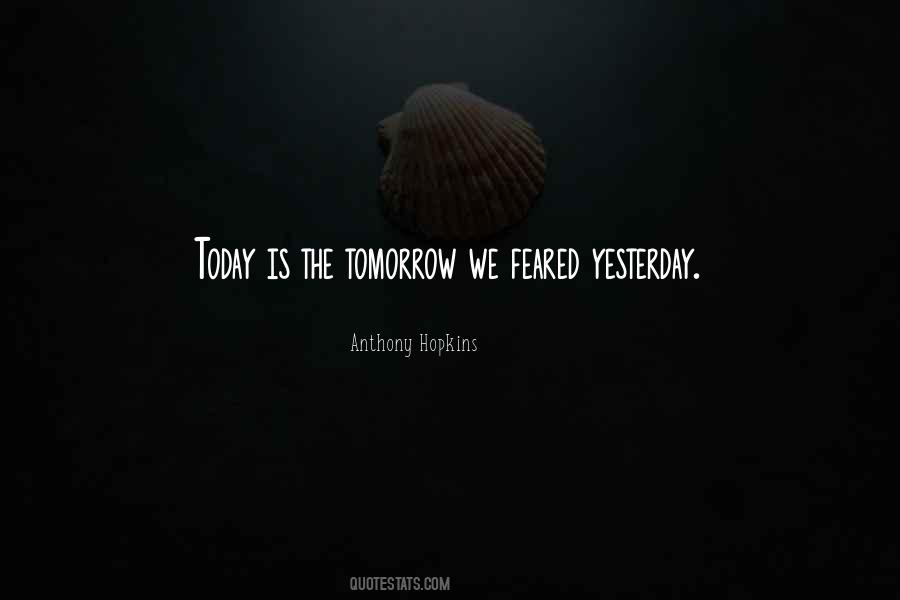 #49. She was lonely, and she feared the missingness within her as if it might expand and ... cancel her. - Author: Laini Taylor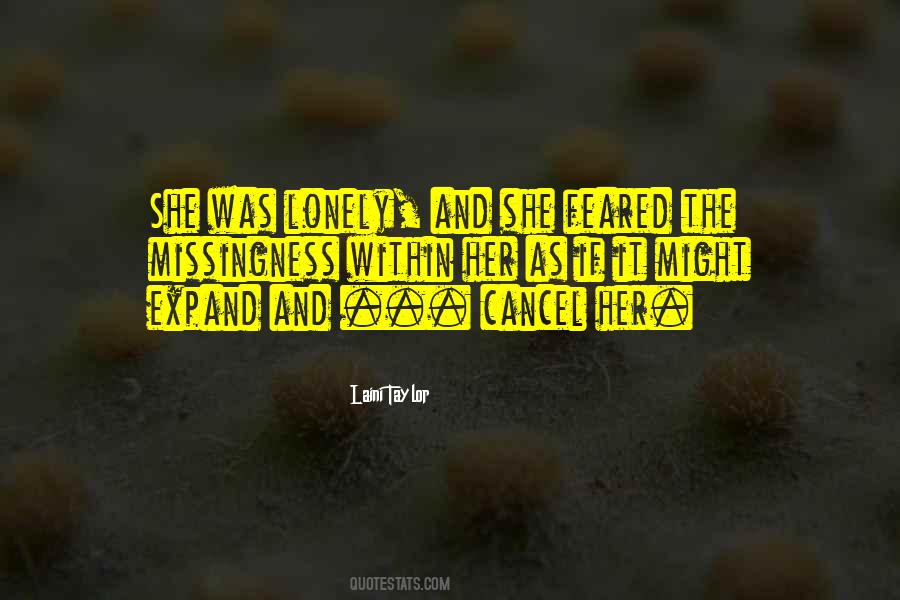 #50. Equality was not freedom, it had only been the mistaken yearning to become like the people of the town. And who wanted to become like the very ones feared and hated? Envy was not freedom. - Author: Nadine Gordimer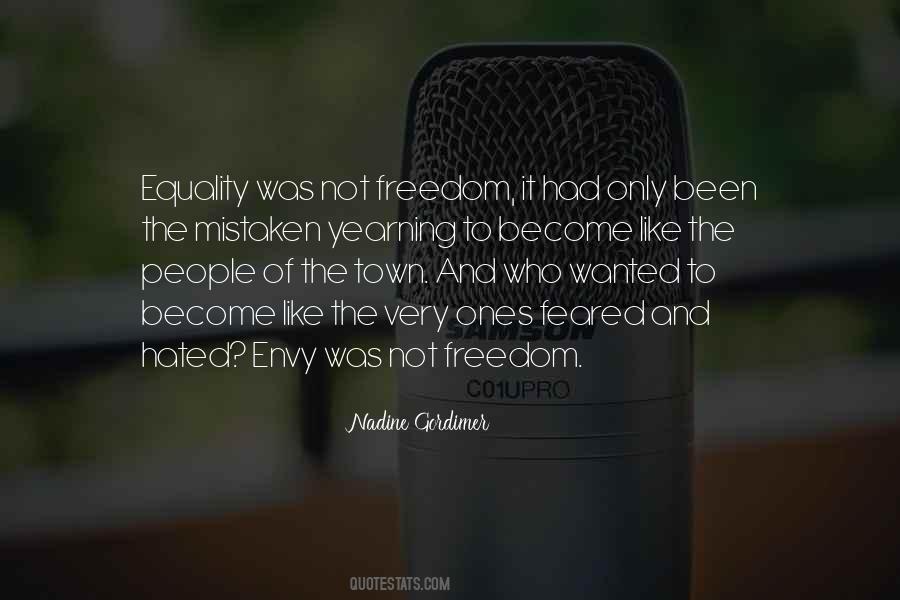 #51. I used to fear depression. Now I look into the mirror and want to smash it to pieces. I put on fake smiles, I have no confidence, no one likes me, and I hate this place. Now I know why I feared it. - Author: Unknown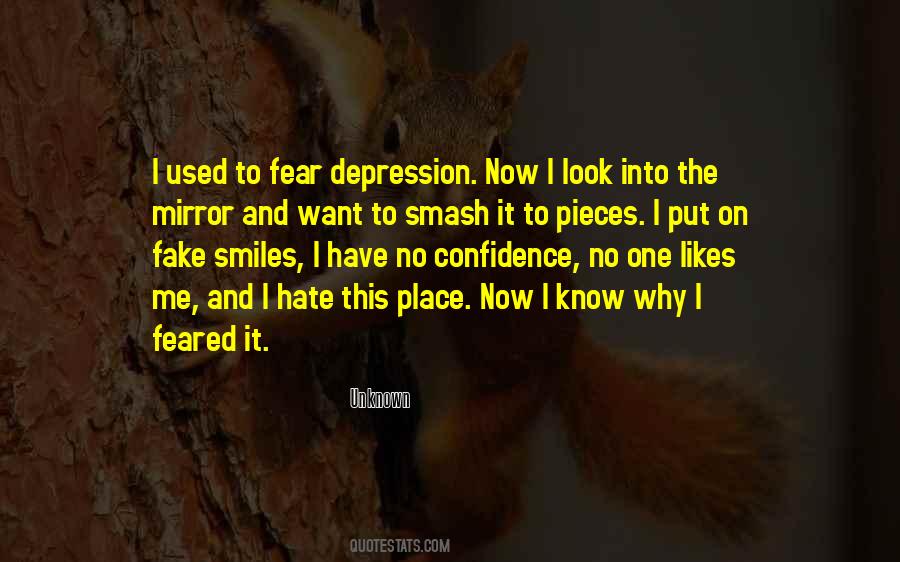 #52. It had always been a myth that it was those who loved you who could see through you. It was those you feared who could see through you most clearly. - Author: Cornelia Funke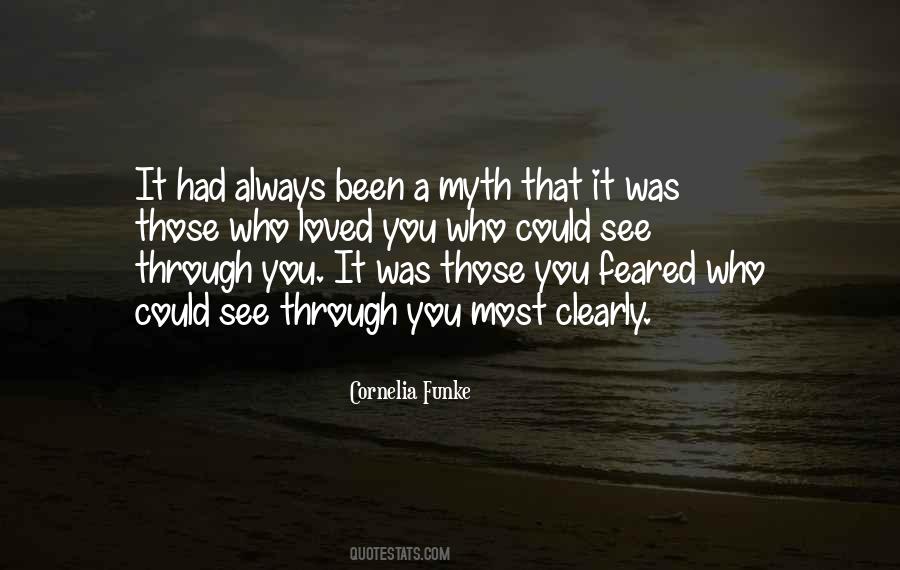 #53. I never feared the night, not even as a child, but Blackcliff's night is different, heavy with a silence that makes you look over your shoulder, a silence that feels like a living thing. - Author: Sabaa Tahir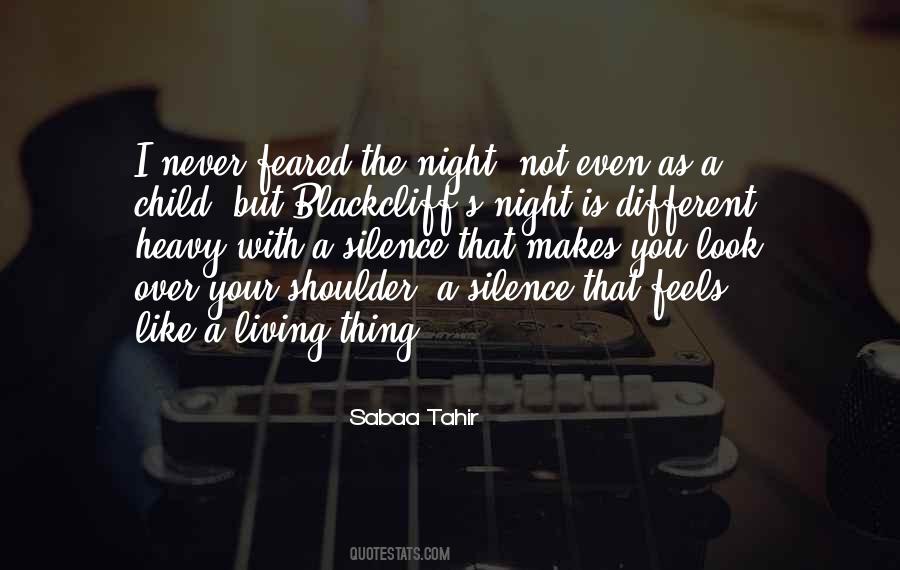 #54. The future might be dark, but darkness shared wasn't a thing to be feared.
It was to be embraced. - Author: Heather R. Blair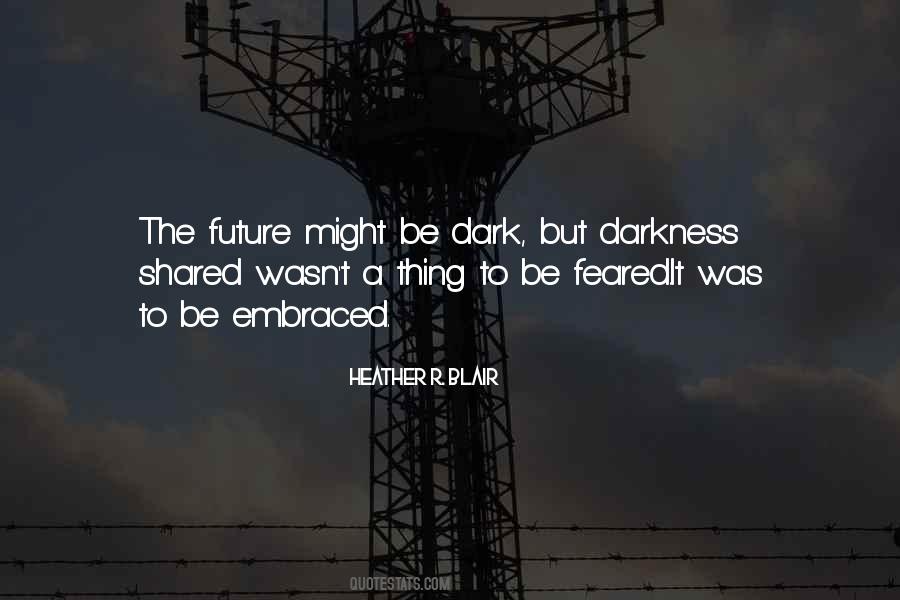 #55. ...'at that time men began to call on the name of the Lord' (Genesis 4:26b) ... Seth and his line feared God and called on his name. Lamech, Cain's descendant, called only on his wives to hear his boasting (Genesis 4:23). - Author: Samuel Ngewa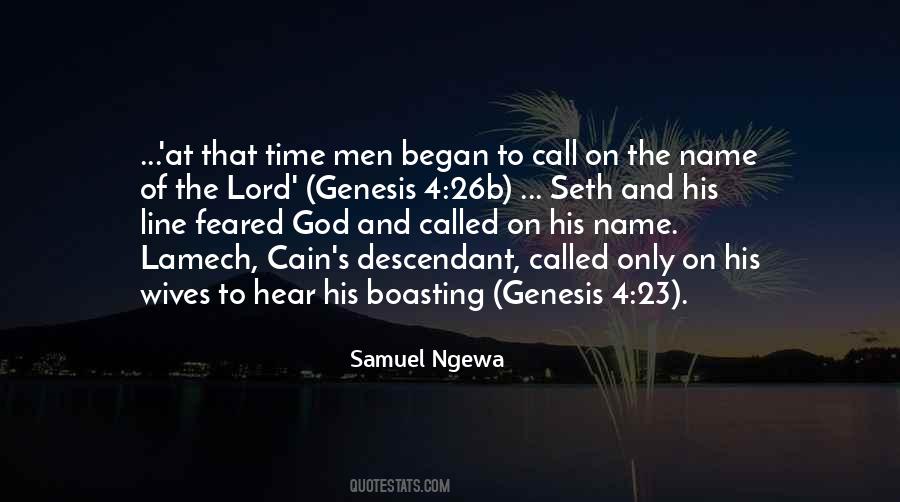 #56. I looked where he was tapping.
"Local Girl Missing, Feared Dead"
Beneath it was a photo or me-my most recent school photo. "Oh no." My heart filling with dread, i took the paper from Mr. Smith's hands. "Couldn't they have found a better picture? - Author: Meg Cabot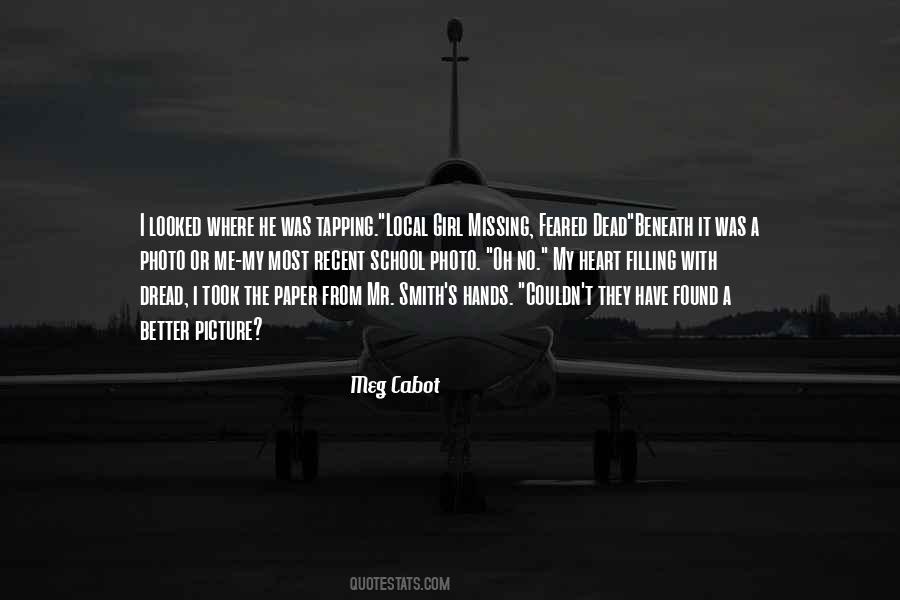 #57. It was not just for herself that she feared now, but for her baby. He must have sensed her fright, for he moved restlessly inside her. - Author: George R R Martin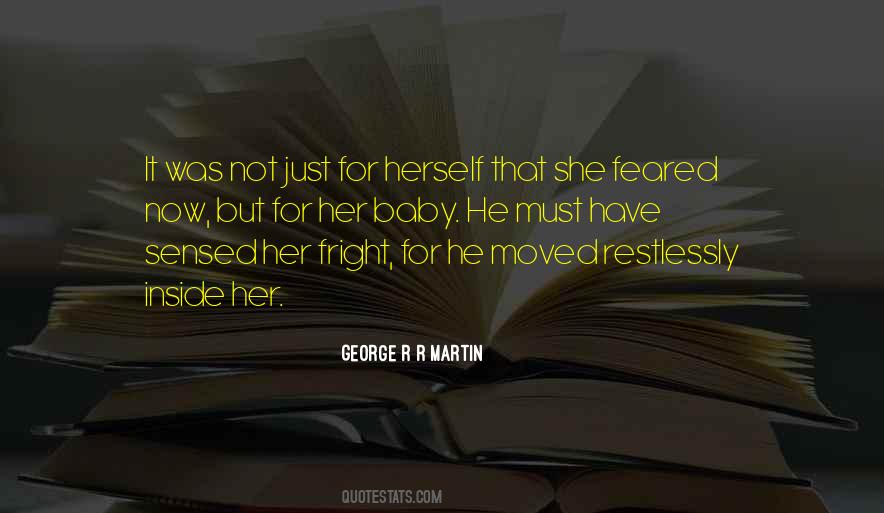 #58. I feared my own kind more than anything the natural world could ever threaten me with. - Author: Robin Hobb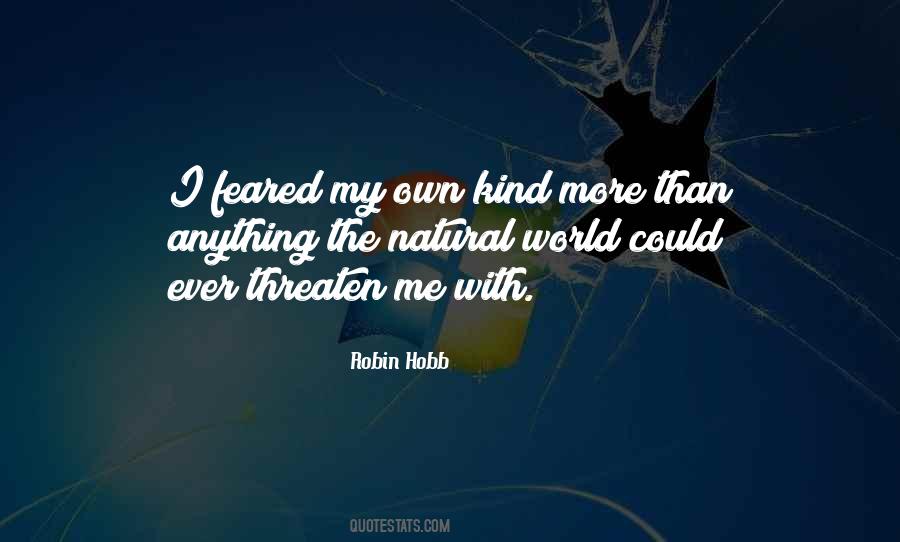 #59. I think of you like a sister," he said. "Like a brilliant, violent, occasionally terrifying sister that I would follow to the ends of earth, in part because I respected her so much and in part because I feared what she would do to me of I refused. "
She nodded. "I would do awful things. - Author: Kiersten White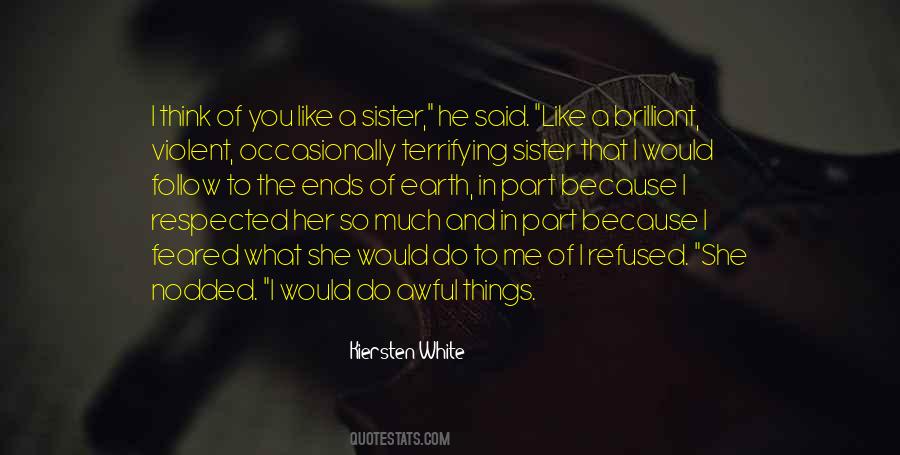 #60. I did not myself know what I wanted: I feared life, desired to escape from it, yet still hoped something of it. - Author: Leo Tolstoy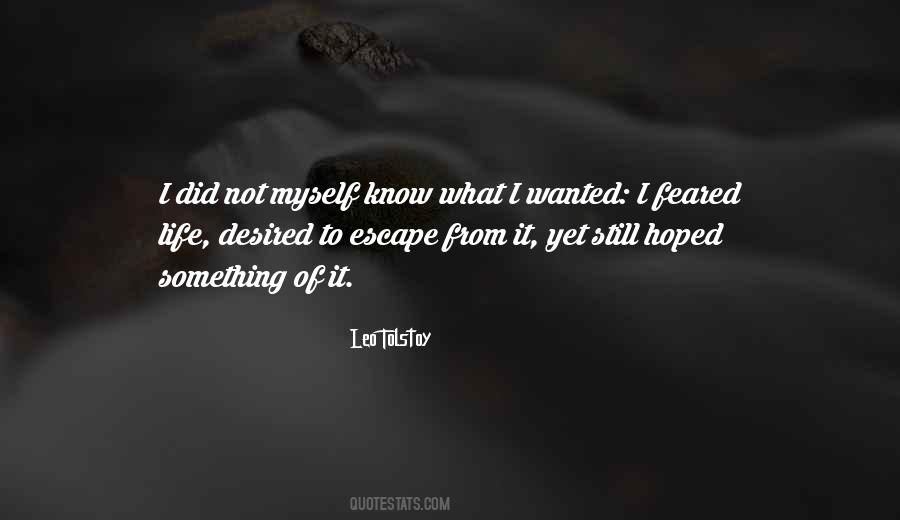 #61. Virtue is more to be feared than vice, because its excesses are not subject to the regulation of conscience. - Author: Adam Smith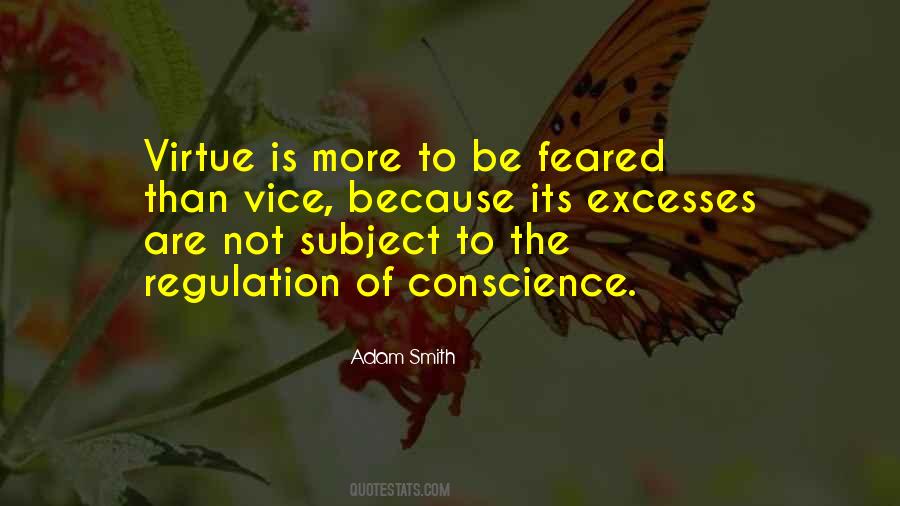 #62. What Orwell feared were those who would ban books. What Huxley feared was that there would be no reason to ban a book, for there would be no one who wanted to read one. - Author: Neil Postman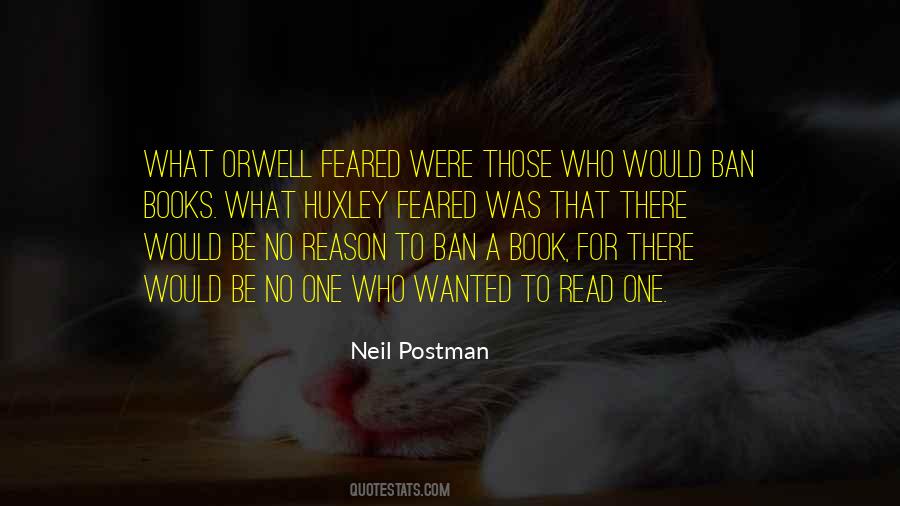 #63. - Pascal, if I remember rightly, would not suffer his mother to kiss him as he feared the contact of her sex. - Author: James Joyce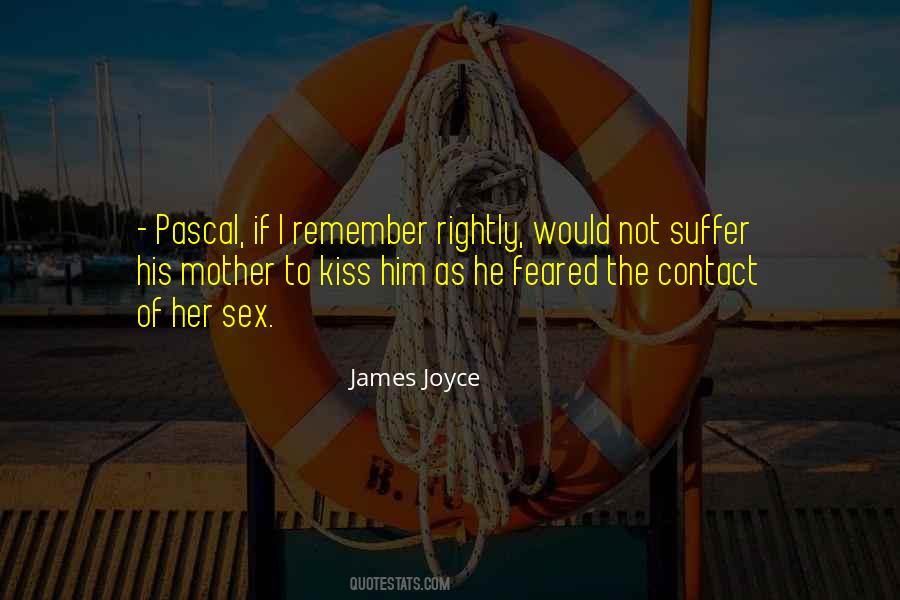 #64. Maybe they feared that a knowledge of languages would expose me too to the blandishments of Europe, that wonderful, murderous continent. - Author: Amos Oz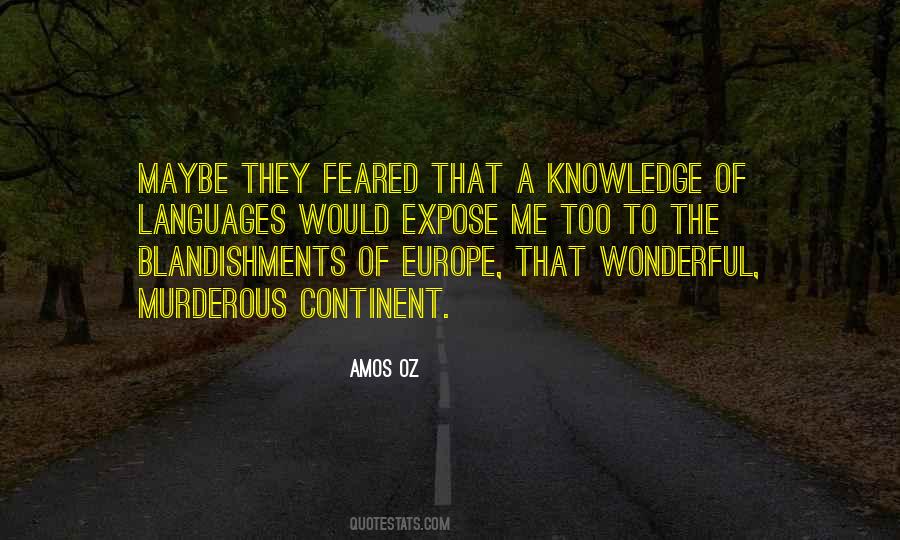 #65. You could have forgiven my committing a sin if you hadn't feared that I had a committed a pleasure as well. - Author: Ellen Glasgow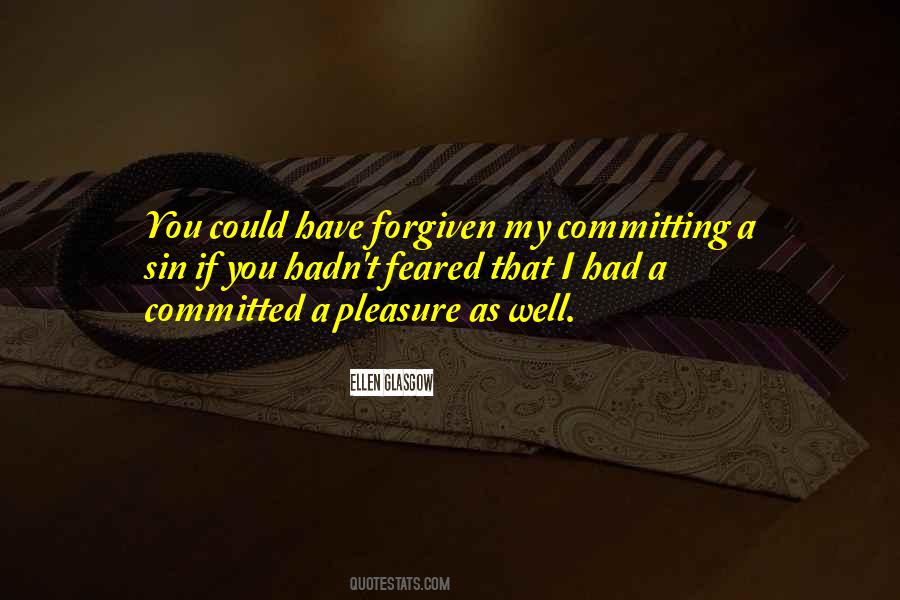 #66. Obsidian the gods forbade And stone they greatly feared. - Author: Sarah J. Maas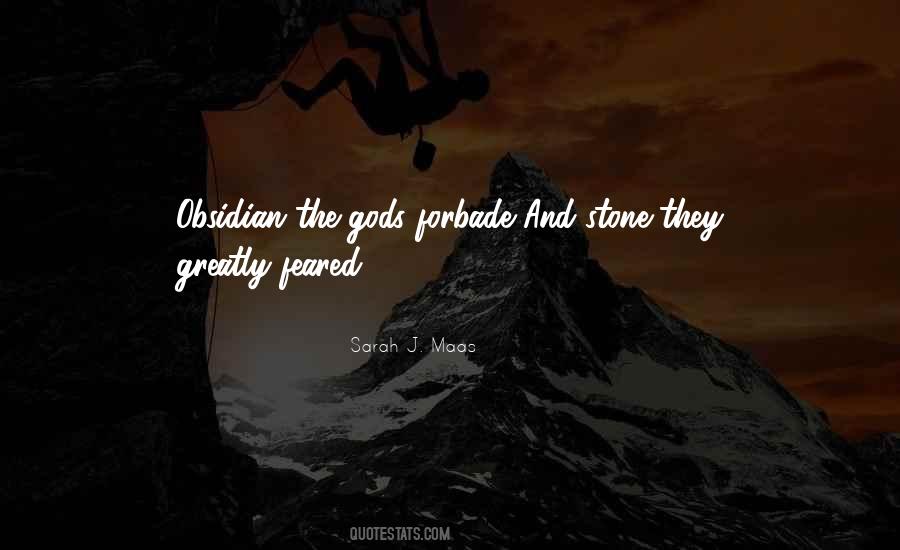 #67. For women, the need and desire to nurture each other is not pathological but redemptive, and it is within that knowledge that our real power is rediscovered. It is this real connection, which is so feared by a patriarchal world ... - Author: Audre Lorde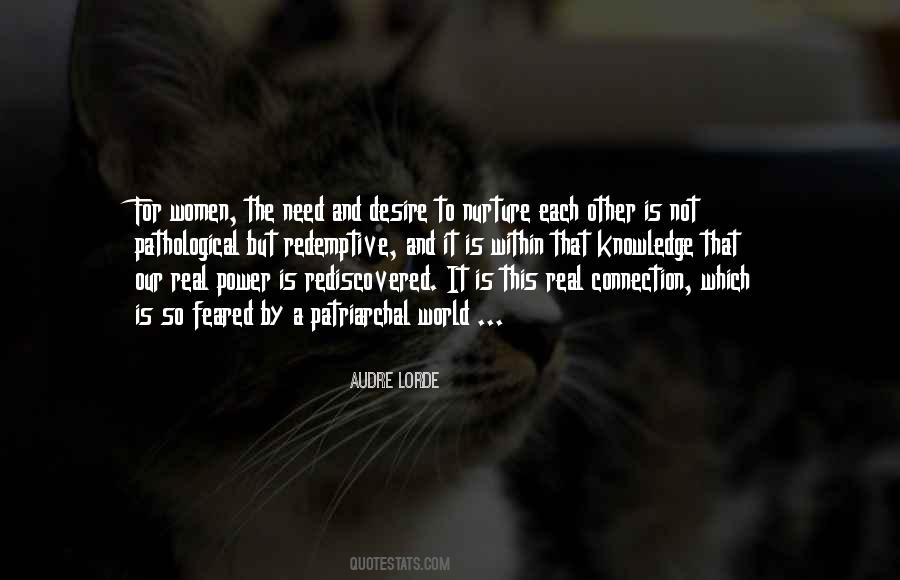 #68. I had never feared insomnia before
like prison, wouldn't it just give you more time to read? - Author: Lorrie Moore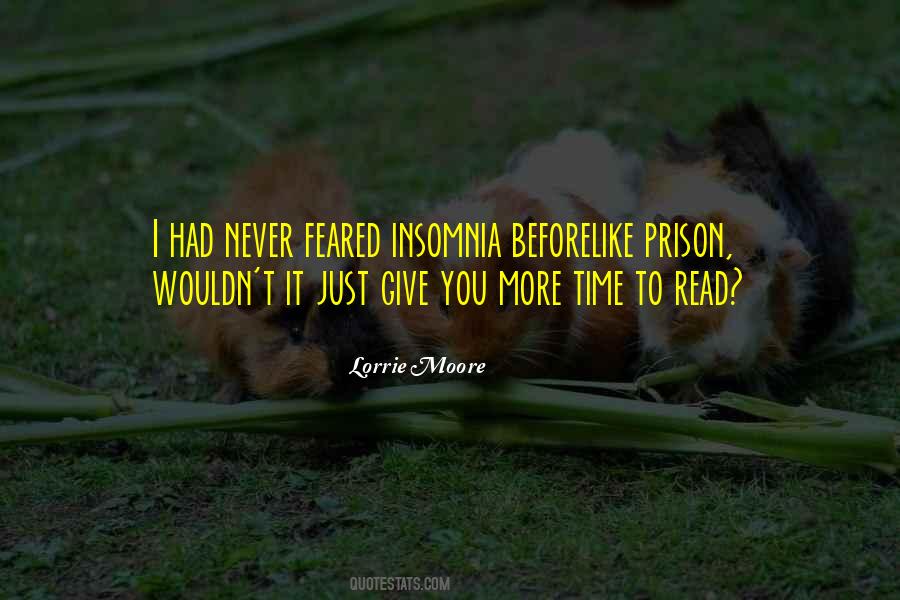 #69. For a politics of emancipation, the enemy that is to be feared most is not repression at the hands of the established order. It is the interiority of nihilism, and the unbounded cruelty that can come with its emptiness. - Author: Alain Badiou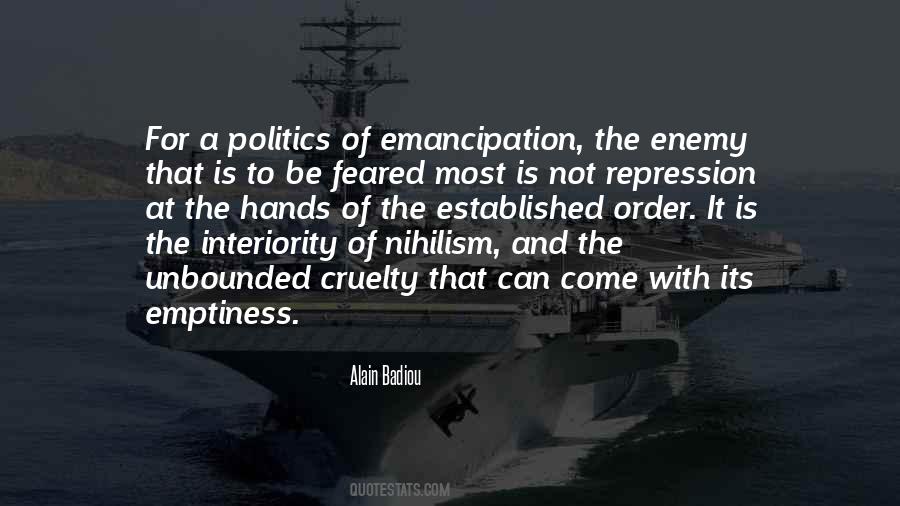 #70. They feared her [the dream beloved], knowing that, being impossible, she was irresistable, and that was why the king loved her best. - Author: Salman Rushdie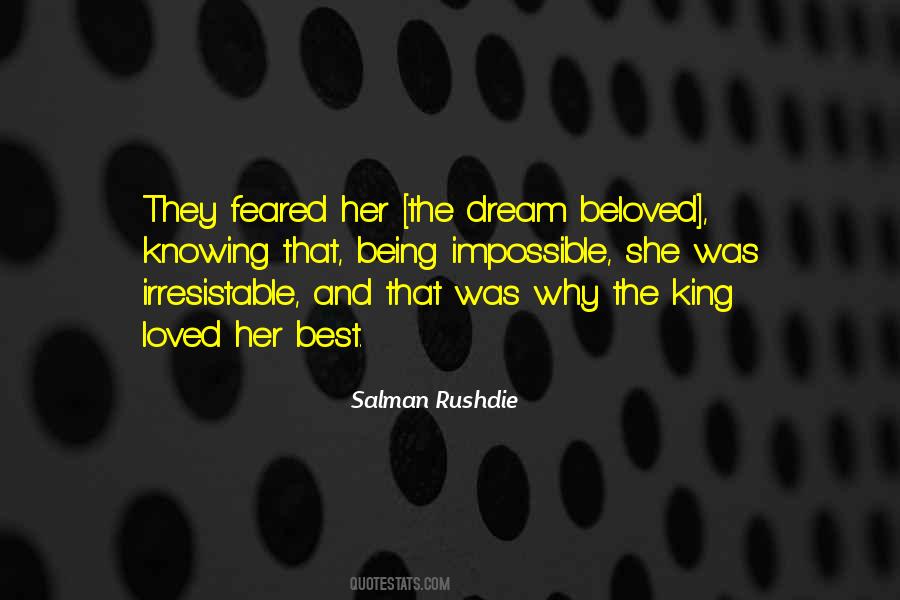 #71. Then Anu and Bel called by name me, Hammurabi, the exalted prince, who feared God, to bring about the rule of righteousness in the land, to destroy the wicked and the evil-doers; so that the strong should not harm the weak. - Author: Code Of Hammurabi 1772 B.C.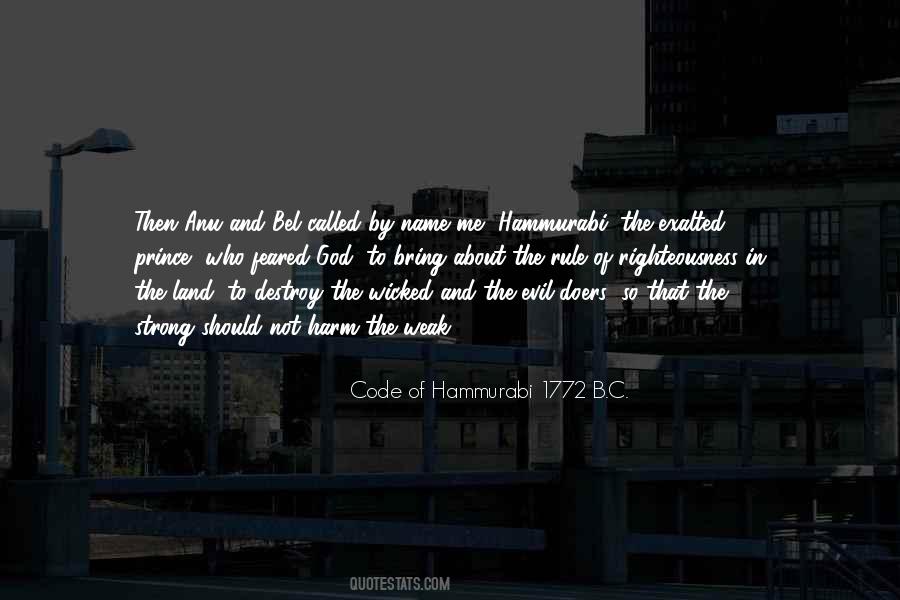 #72. Men feared witches and burned women. - Author: Louis D. Brandeis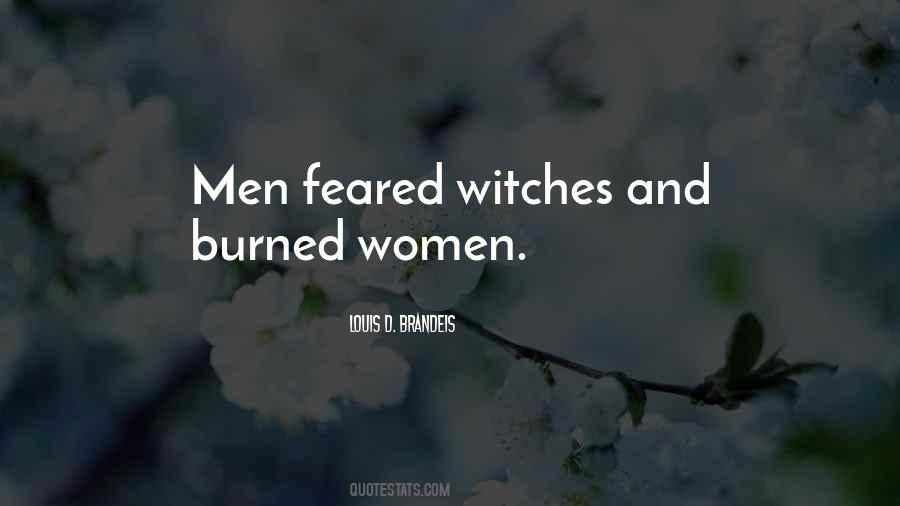 #73. Usually the most we feared from humans was either running into crazy slayer types - Author: Richelle Mead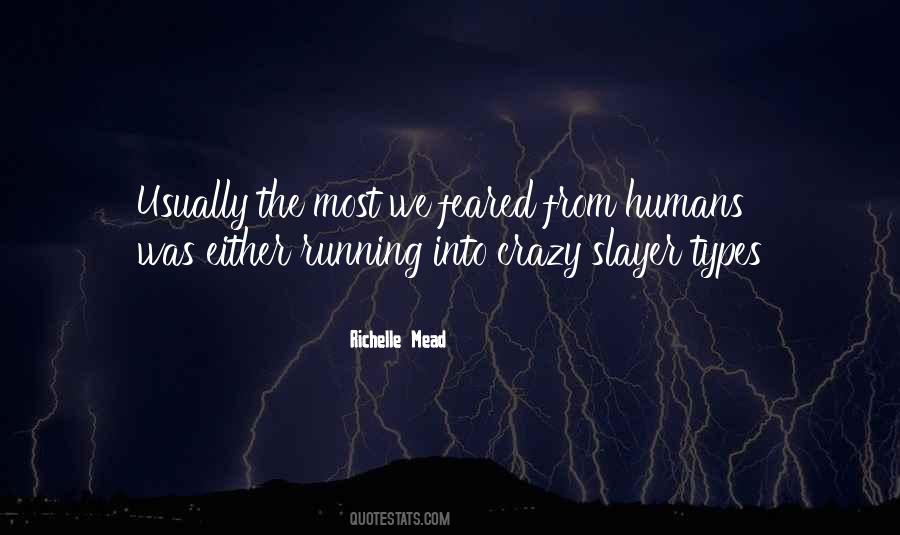 #74. Both the nationalists and the communists disapproved of jazz and feared it. They thought it would weaken people's resolve to fight off the invasion. And most Americans know, China did ban all Western music for about 30 years, starting in 1949. This is where it started. - Author: Nicole Mones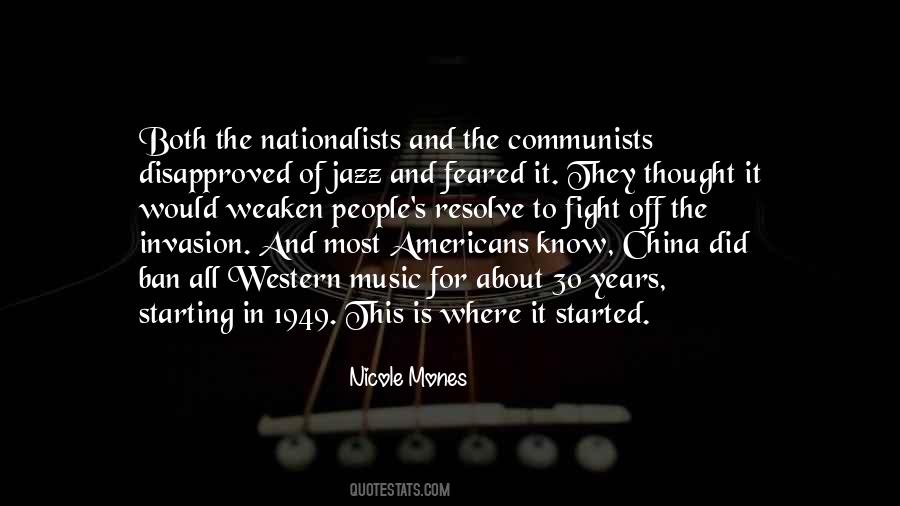 #75. He neither feared to die nor refused to live. - Author: Sulpicius Severus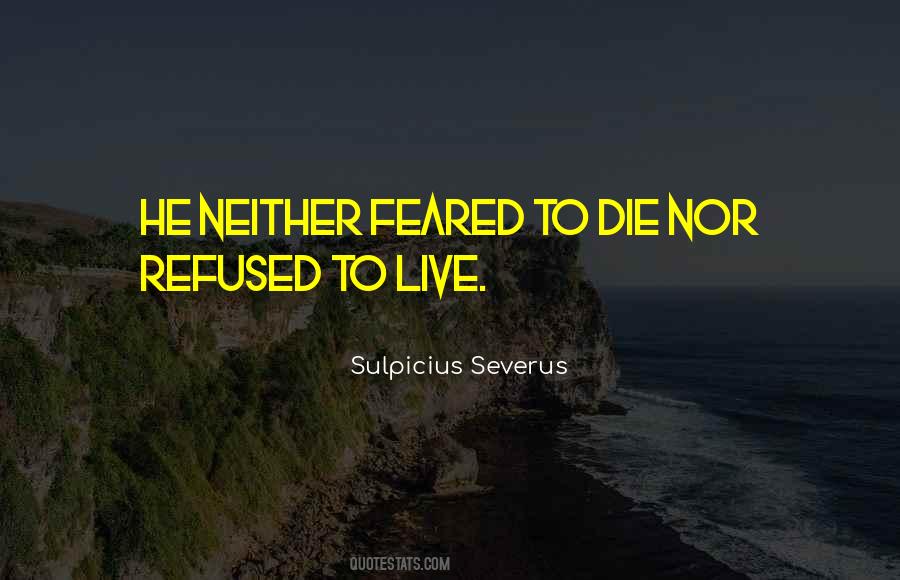 #76. There is nothing to be feared from a body, Harry, any more than there is anything to be feared from the darkness. - Author: J.K. Rowling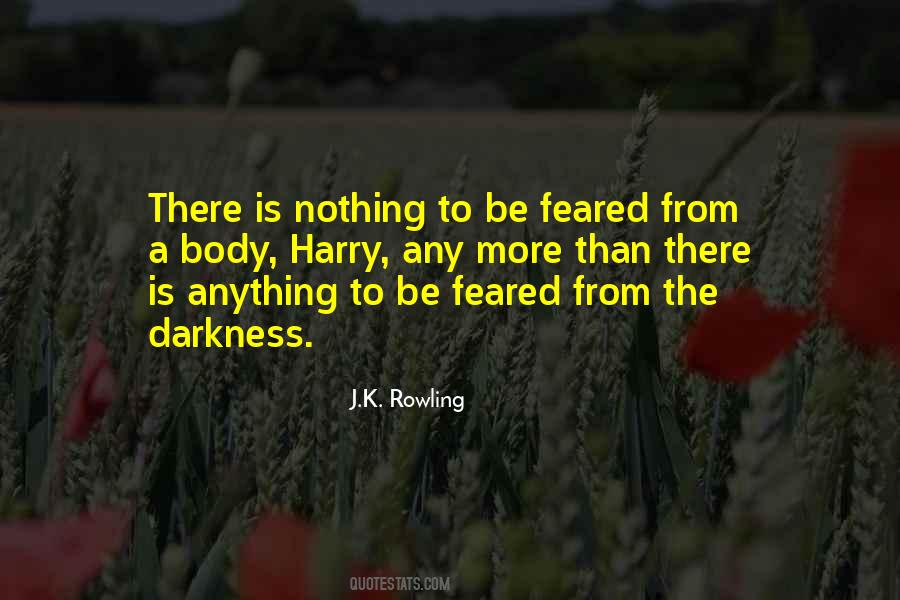 #77. You are part of the world's most feared and trusted force. Engage your brain before you engage your weapon. - Author: James Mattis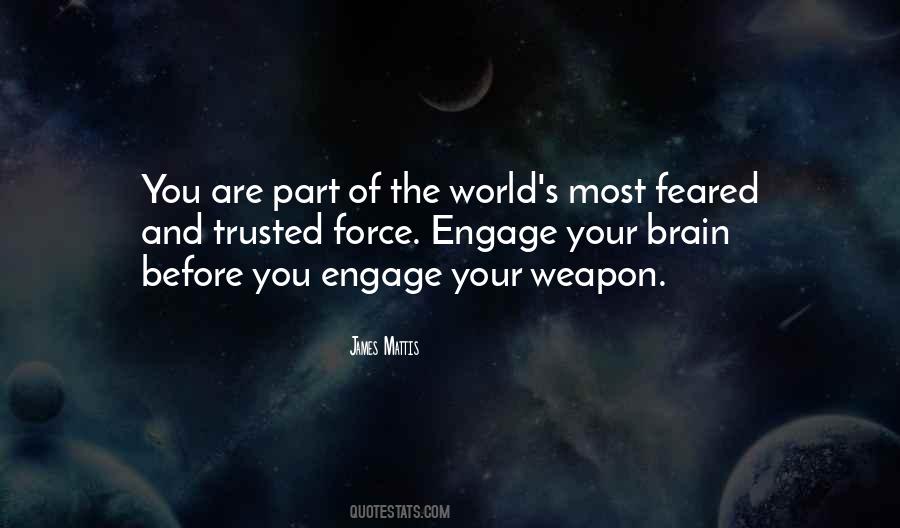 #78. Pride makes a god of self, covetousness makes a god of money, sensuality makes a god of the belly; whatever is esteemed or loved, feared or served, delighted in or depended on, more than God, that (whatever it is) we do in effect make a god of. - Author: Matthew Henry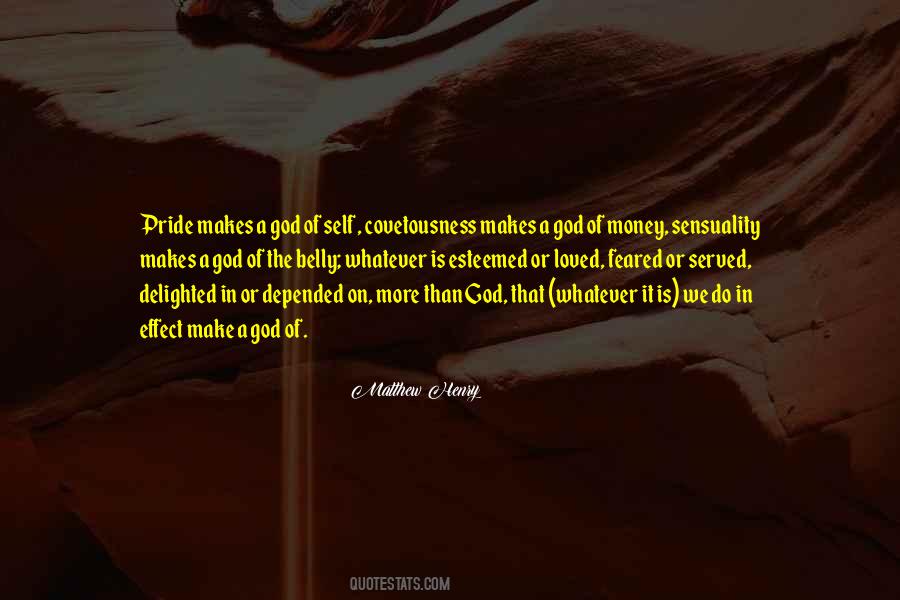 #79. For the enemy to be recognized and feared, he has to be in your home or on your doorstep. - Author: Umberto Eco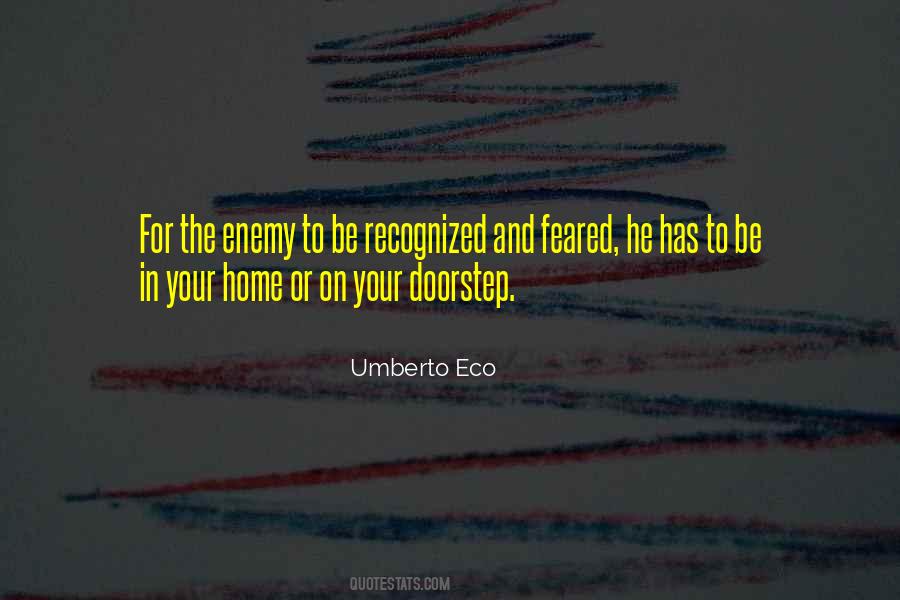 #80. Life in America shows that liberty, paired with law, is not to be feared. - Author: George W. Bush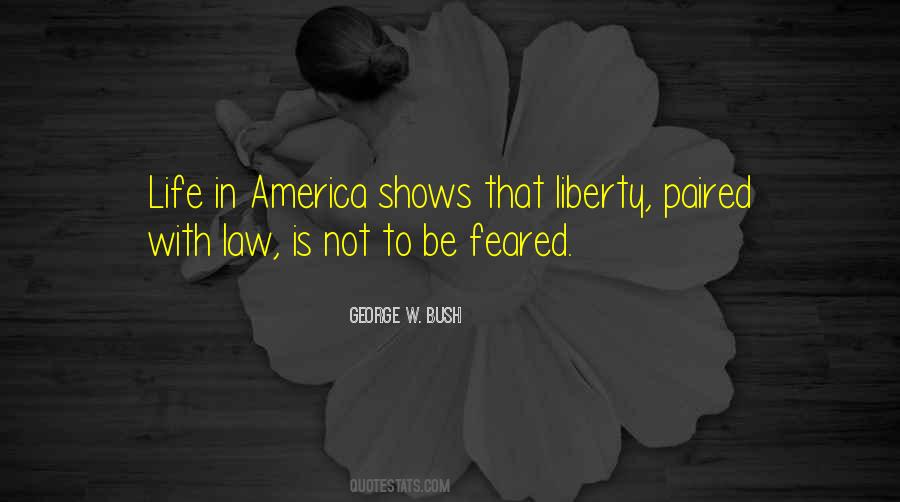 #81. Death scared me because I feared nothingness. If I had been nothing before I was born, then I could imagine that I would be nothing once I died. - Author: Rachel Reiland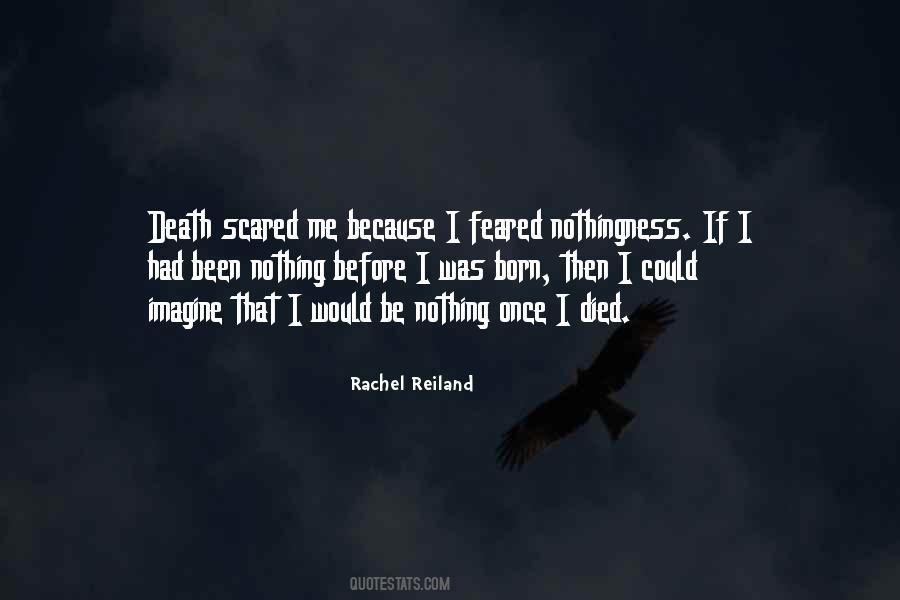 #82. There was a goblin, or a trickster or a warrior. A nameless, terrible thing, soaked in the blood of a billion galaxies. The most feared being in all the cosmos. Nothing could stop it or hold it or reason with it. One day it would just drop out of the sky and tear down your world ... - Author: Steve Moffat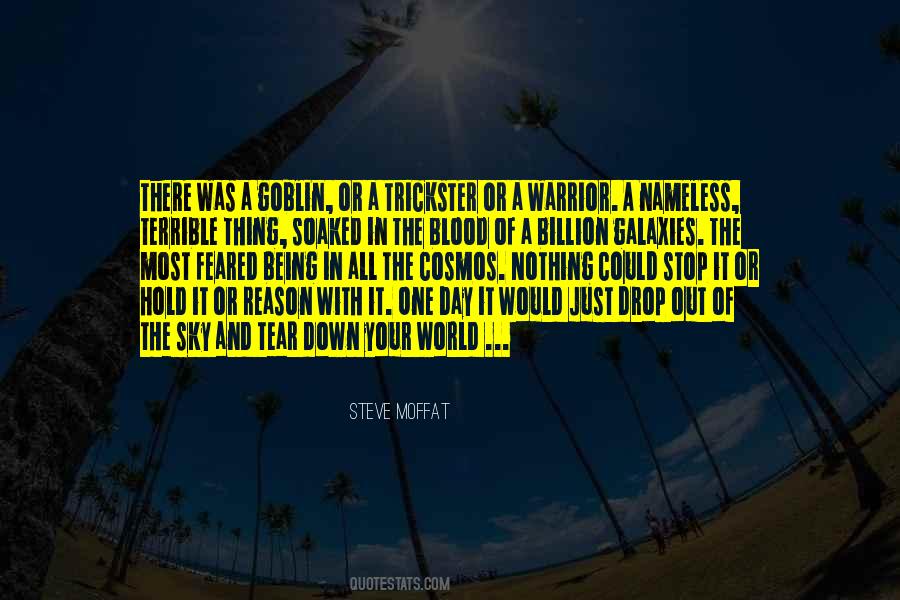 #83. The rapprochement of peoples is only possible when differences of culture and outlook are respected and appreciated rather than feared and condemned, when the common bond of human dignity is recognized as the essential bond for a peaceful world. - Author: J. William Fulbright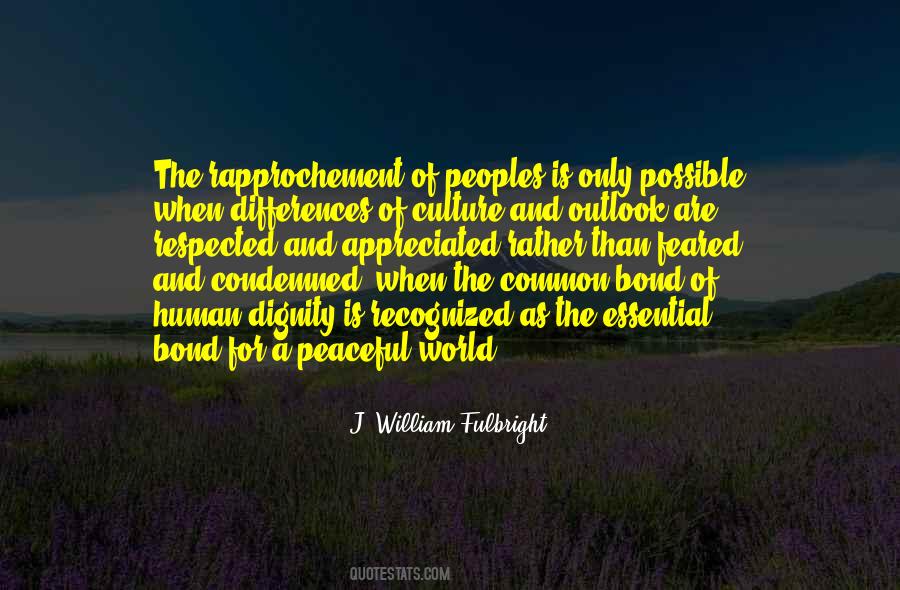 #84. Orwell feared we would become a captive culture. Huxley feared that we would become a trivial culture. . . . Orwell feared that what we hate will ruin us. Huxley feared that what we love will ruin us. - Author: Steven Garber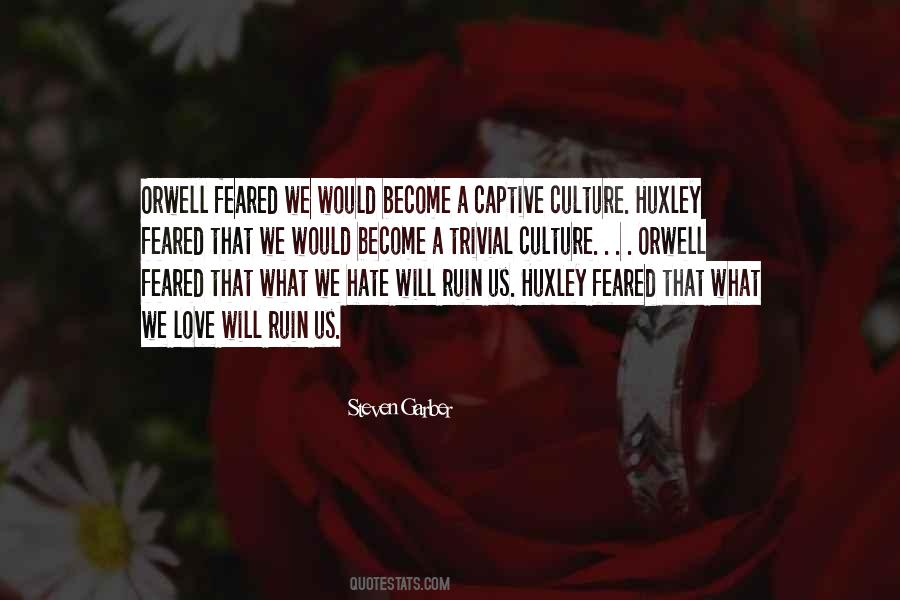 #85. What cracks had he left in their hearts? Did they love less now and settle for less in return, as they held onto parts of themselves they did not want to give and lose again? Or - and he wished this - did they love more fully because they had survived pain, so no longer feared it? - Author: Andre Dubus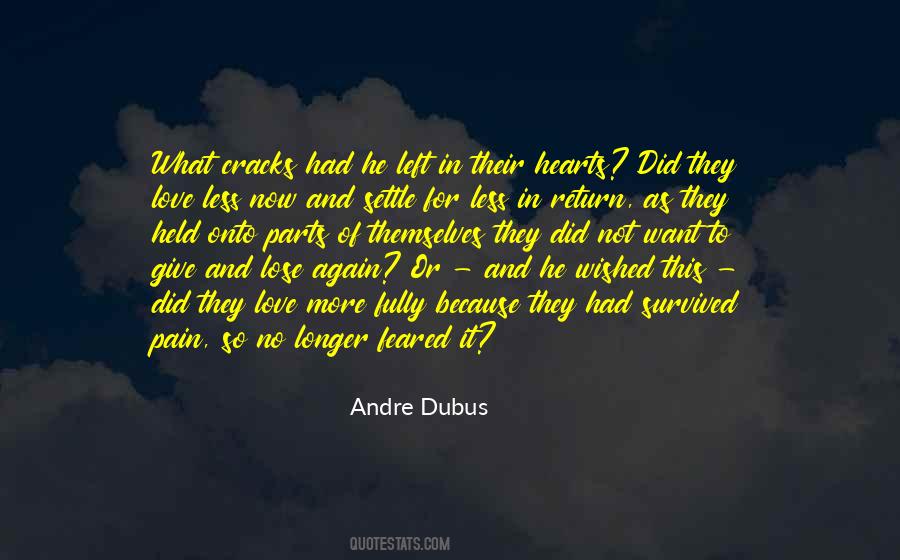 #86. I felt so fine I didn't once overanalyze the perfect emotion, budding inside. The one I'd always feared most. - Author: Ellen Hopkins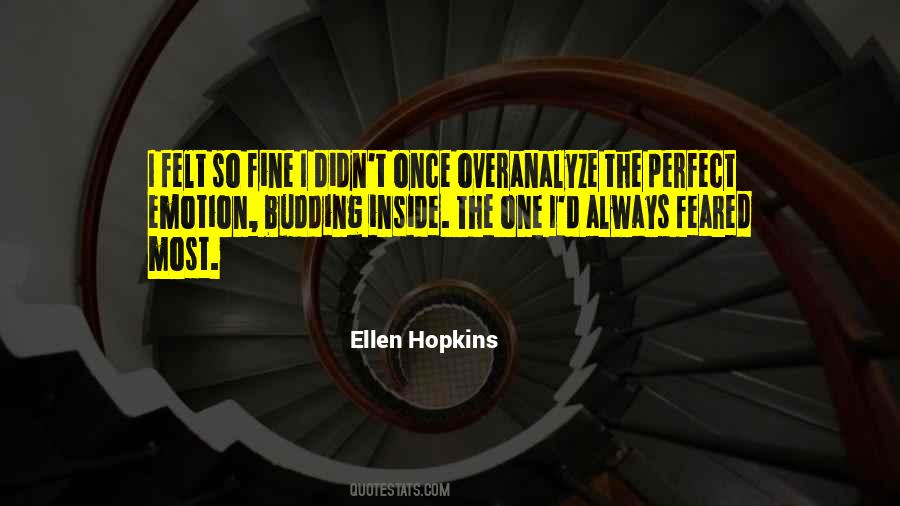 #87. My mother used to say that girls should be seen and not heard. I say we should be seen and feared. - Author: Kami Garcia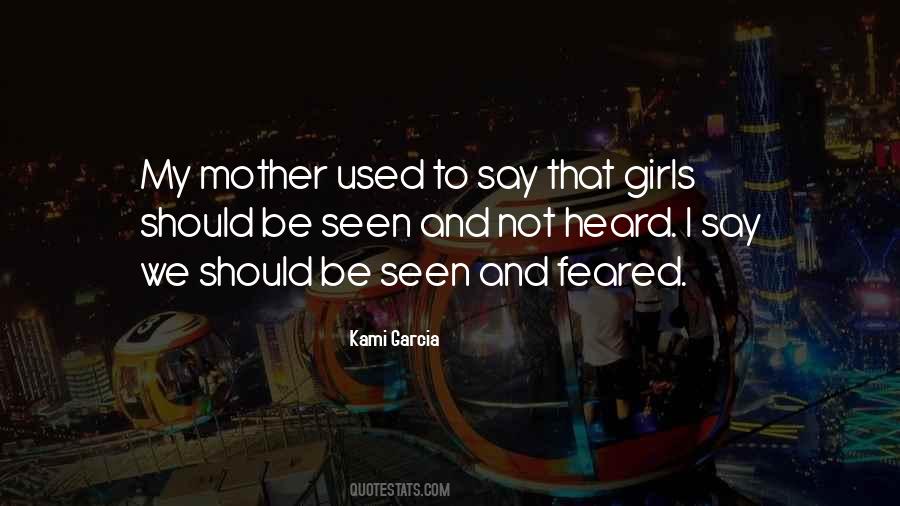 #88. He was a man who adored women, and understood their wrath. In other words, he feared them. - Author: J.D. Robb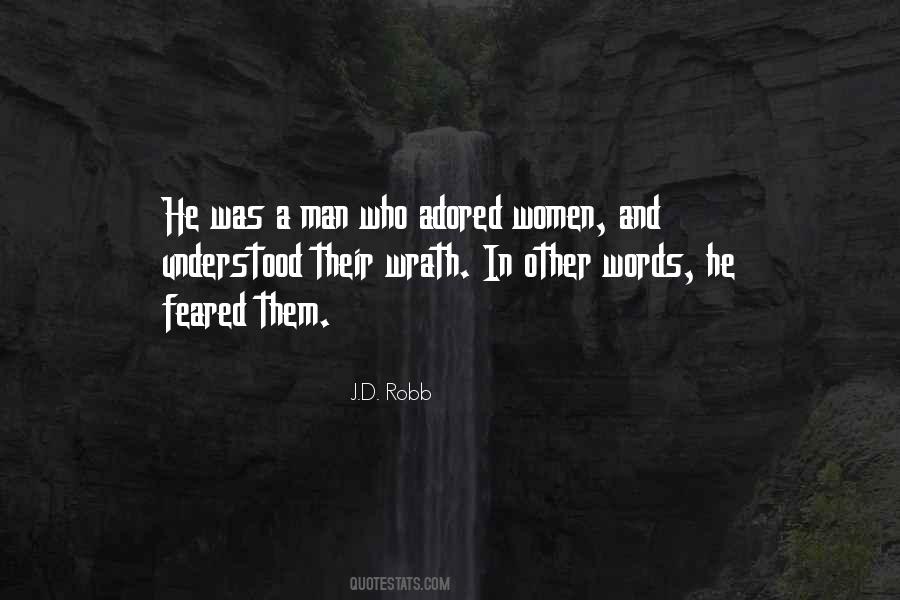 #89. An anthill increases by accumulation. Medicine is consumed by distribution. That which is feared lessens by association. This is the thing to understand. - Author: Ovid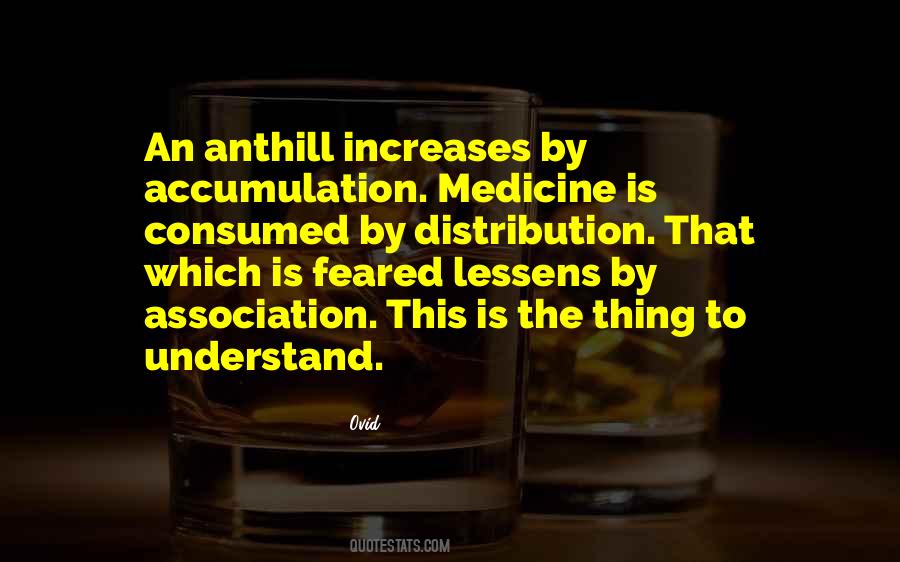 #90. And there was no Camelot now -- now that no Queen was there, all white and gold, under an oaktree with another sunlight sifting itself in silence on her glory through the dark leaves above her where she sat, smiling at what she feared, and fearing least what most there was to fear.
- Author: Edwin Arlington Robinson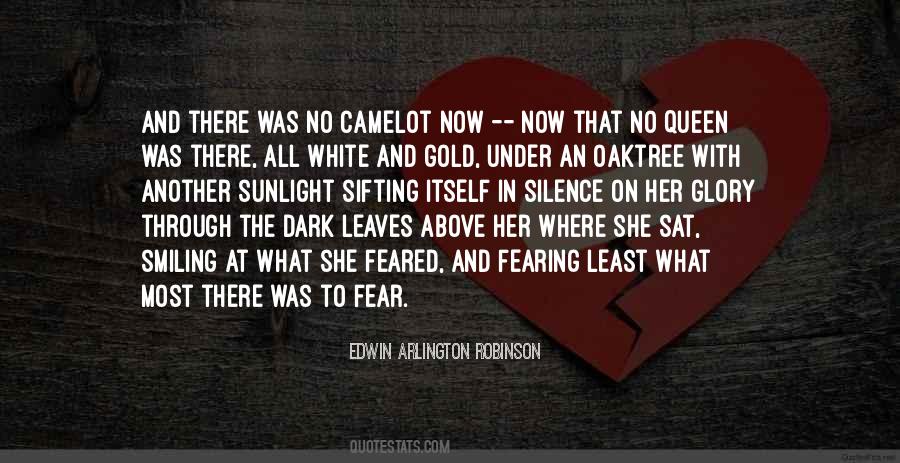 #91. As a child I had been so afraid of so many things, but as soon as I held a camera in my hand, I began to expose myself to the very things that were foreign to me and that I had always feared. - Author: Danny Lyon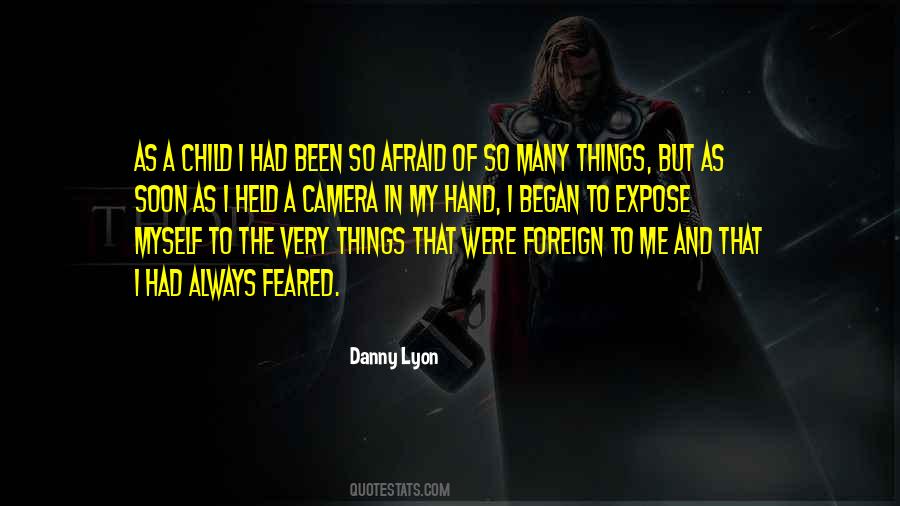 #92. Safer to be feared than loved. - Author: Gillian Flynn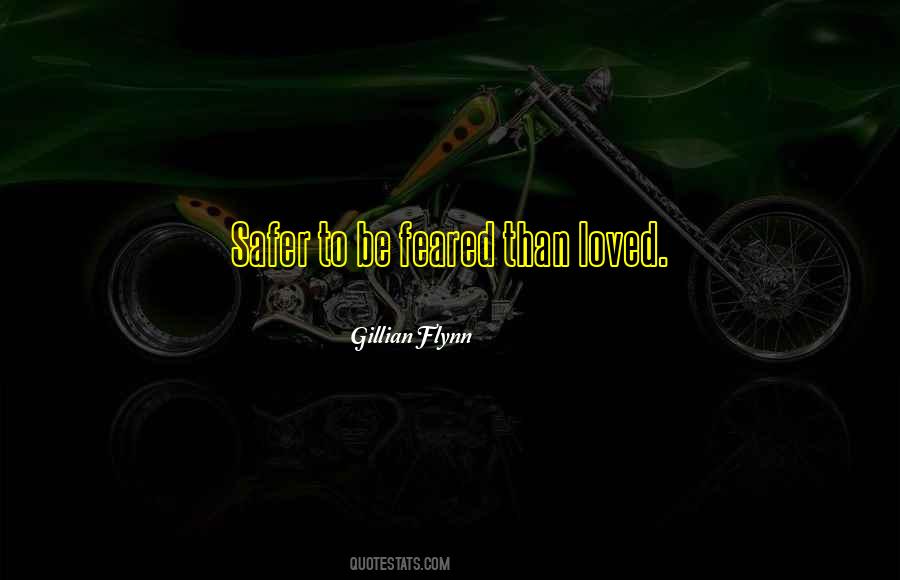 #93. The Lord God must be greatly feared! - Author: Lailah Gifty Akita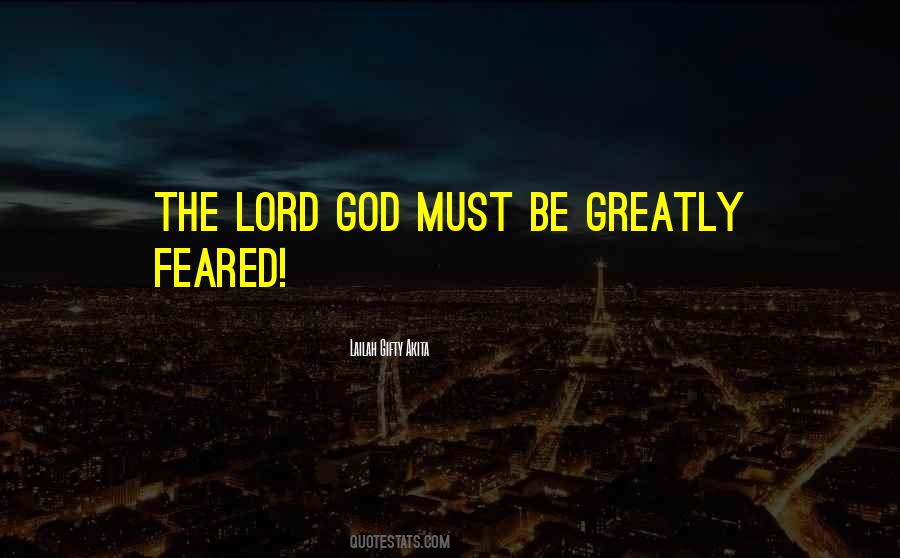 #94. I saw that all the things I feared and which feared me had nothing good or bad in them save in so far as the mind was affected by them. - Author: Baruch Spinoza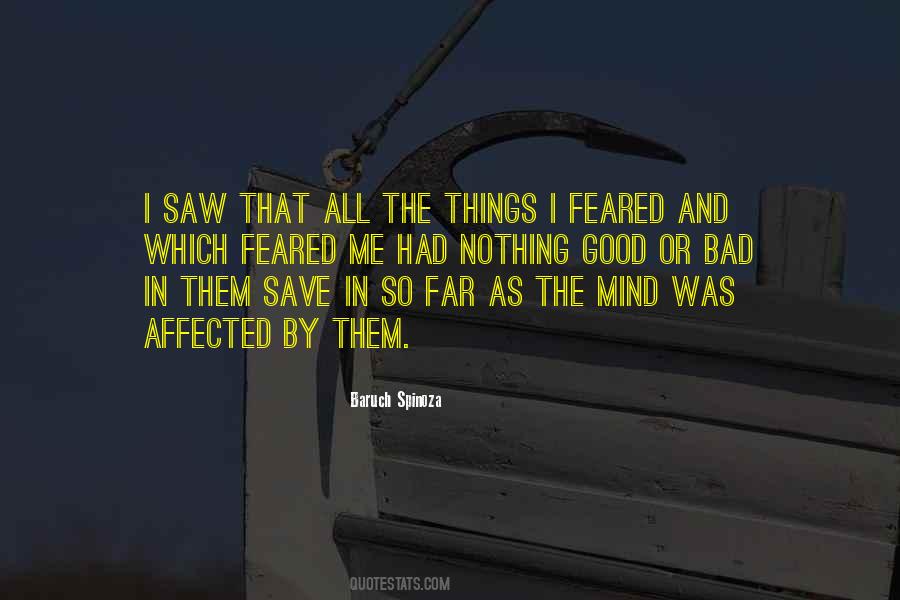 #95. Twenty-volume folios will never make a revolution. It's the little pocket pamphlets that are to be feared. - Author: Voltaire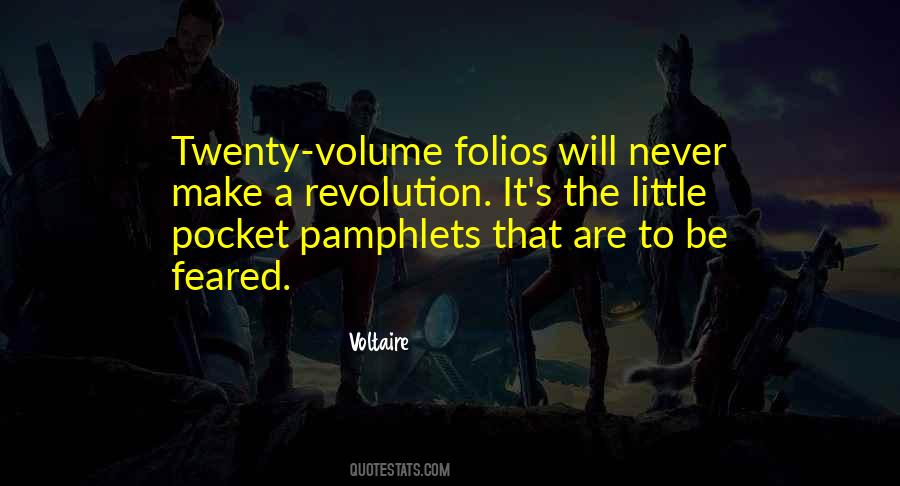 #96. Now, all that I feared would happen has happened. We are at war all over the world, and we are unprepared for it from either a spiritual or a material standpoint. - Author: Charles Lindbergh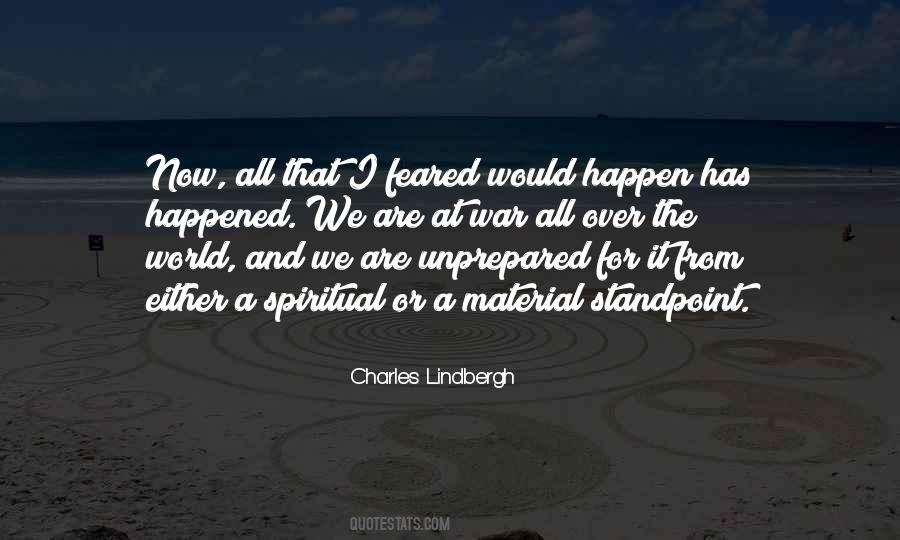 #97. Man, like every other animal, has no doubt advanced to his present high condition through a struggle for existence consequent on his multiplication; and if he is to advance still higher, it is to be feared that he must remain subject to a severe struggle. - Author: Charles Darwin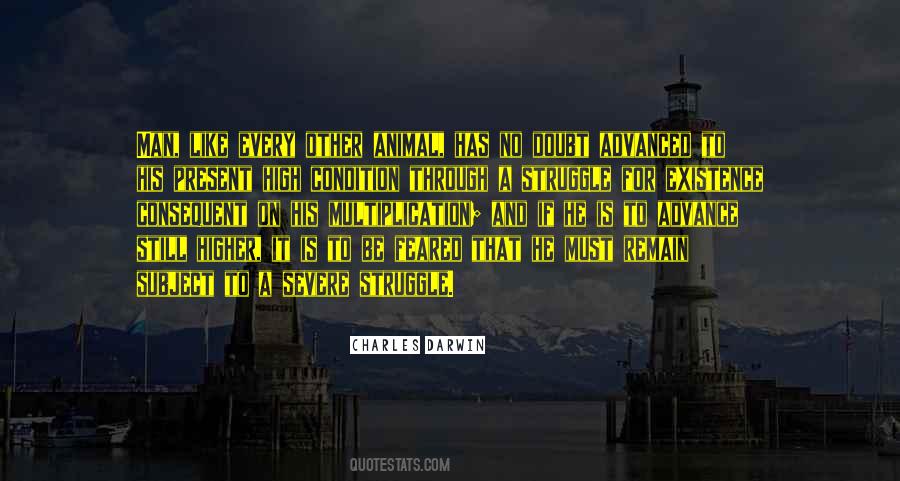 #98. I've never feared death before. I've always been willing to die. Sometimes I even welcomed it, wishing for this all to be over and finally find peace in an endless sleep. But when I look at you, I see possibility, and I start to do what I know better than to do - I wonder - Author: Emalynne Wilder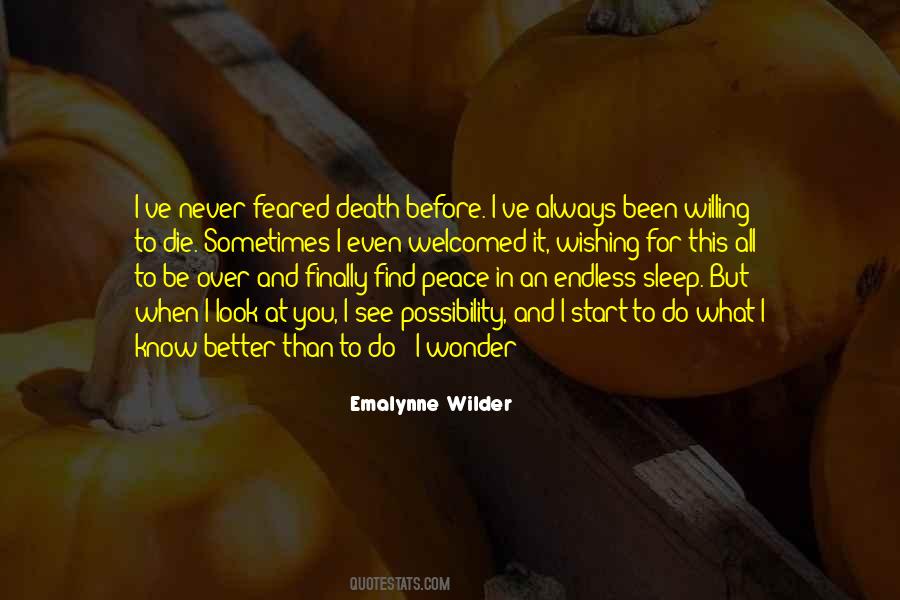 #99. Temptation is not to be feared, but controlled. - Author: Deborah Brodie
#100. He'd learned the hard way that there was no future when all he could see was revenge. The only thing revenge had ever given him was a brief moment of satisfaction, followed by an empty abyss. He was through with revenge. He wanted to feel full instead of empty, loved, instead of feared. - Author: C.J. Roberts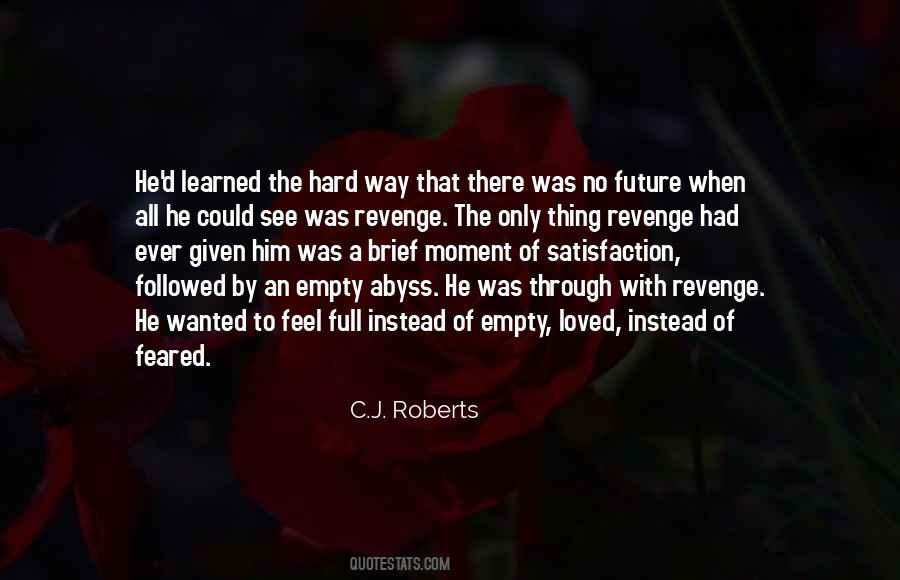 Famous Authors
Popular Topics