Eyes See Beauty Famous Quotes & Sayings
List of top 93 famous quotes and sayings about eyes see beauty to read and share with friends on your Facebook, Twitter, blogs.
Top 93 Eyes See Beauty Quotes
#1. If your eyes are blinded with your worries, you cannot see the beauty of the sunset. - Author: Jiddu Krishnamurti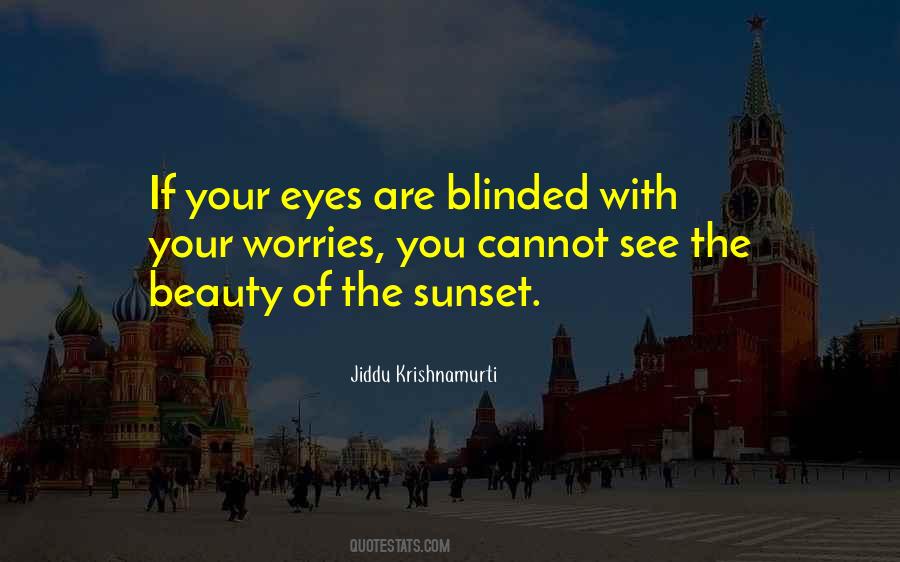 #2. Nature is painting for us, day after day, pictures of infinite beauty if only we have the eyes to see them. - Author: John Ruskin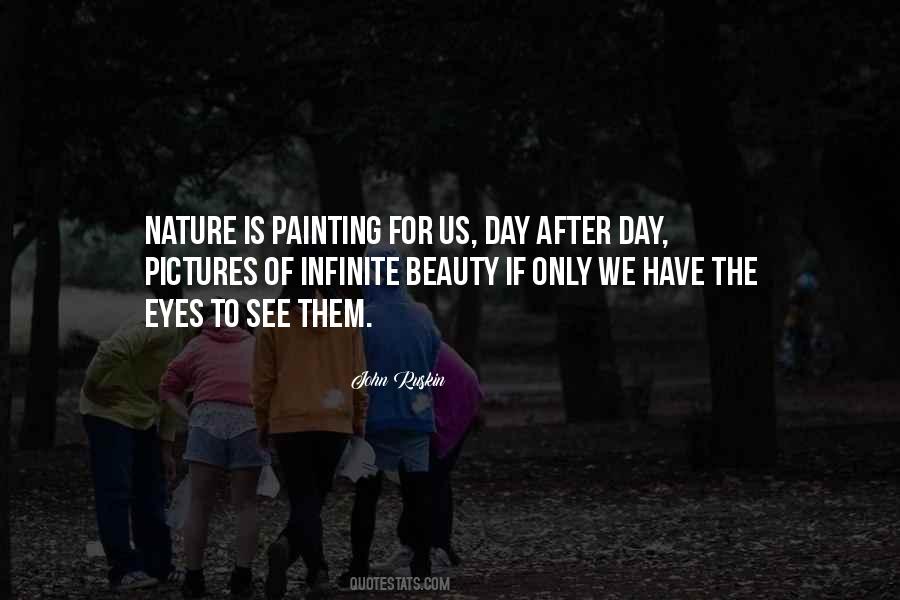 #3. Surface beauty: blond hair, blue eyes" - she was looking at me - "is always easy to recognize. But if someone is braver, stronger, smarter, that's harder to see." - Kendra Hilferty - Author: Alex Flinn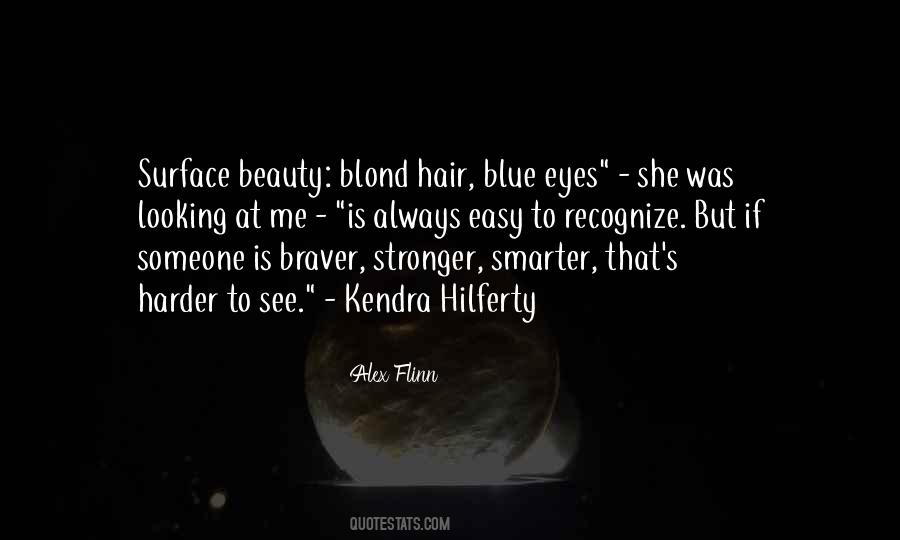 #4. I was completely astonished by the beauty of nature. Our eyes see just a small fraction of the light in the world. It is a trick to make a colored world, which does not exist outside of human beings. - Author: Albert Hofmann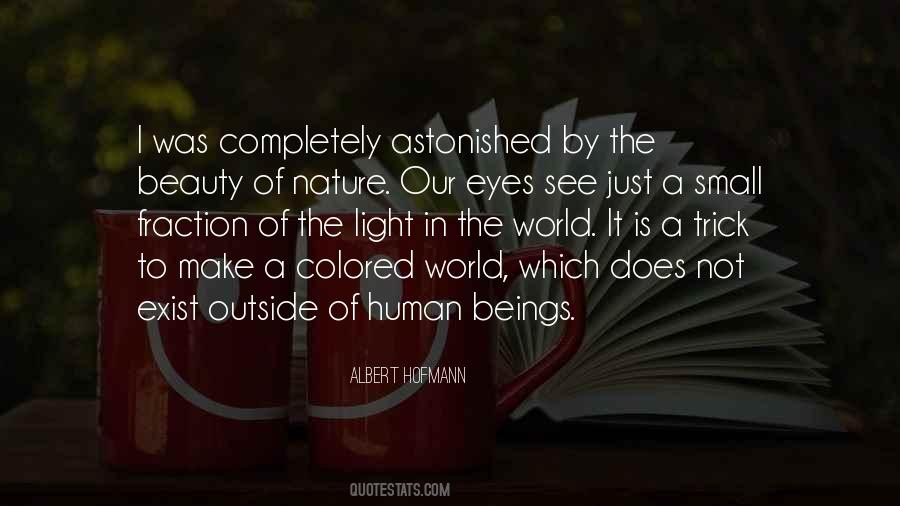 #5. When your heart is open, your eyes see the beauty that is all around you. - Author: A.D. Posey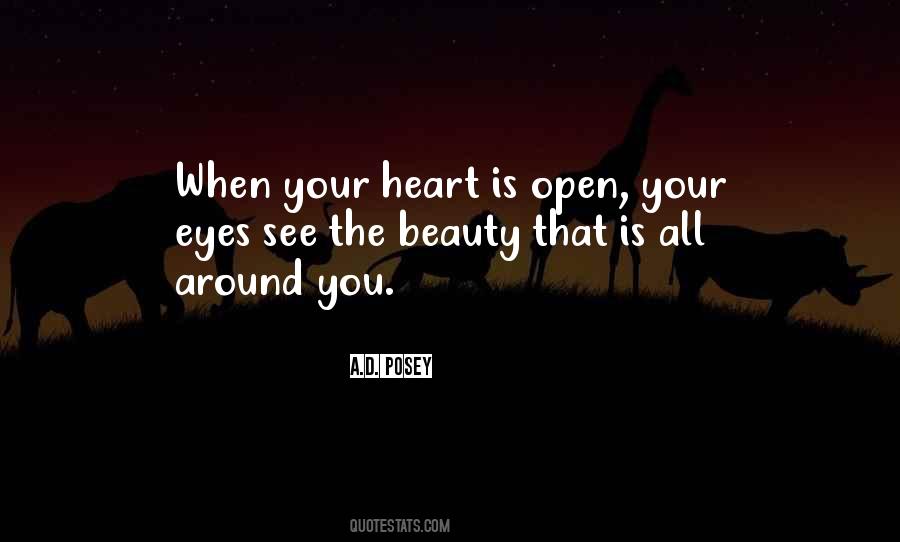 #6. No matter where you live or work or go, there are treasures to be found everywhere. We only have to make an effort to look for them; sometimes it is simply a matter of opening our eyes and senses to see the beauty that envelopes our daily lives. - Author: Lorenzo Dominguez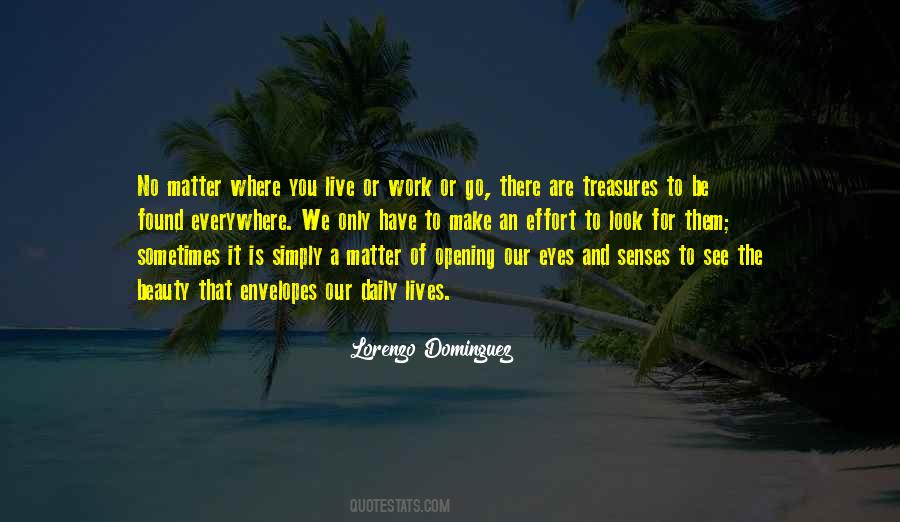 #7. You see beauty, not with your eyes, with your beloved heart. - Author: Debasish Mridha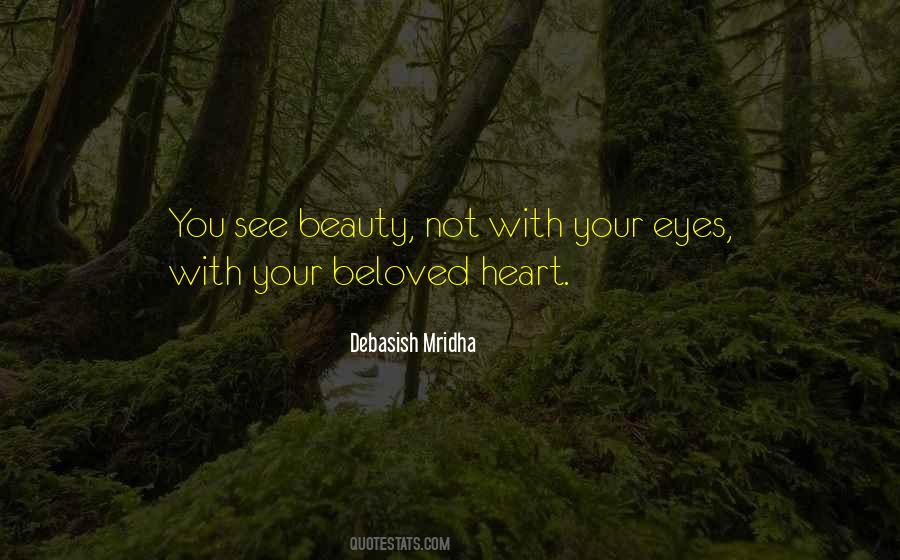 #8. When the convert emerges from the water, the world seems changed. The world has not changed, it is always wonderful and horrible, iniquitous and filled with beauty. But now, after baptism, the eyes that see the world have changed. - Author: Liturgy Training Publications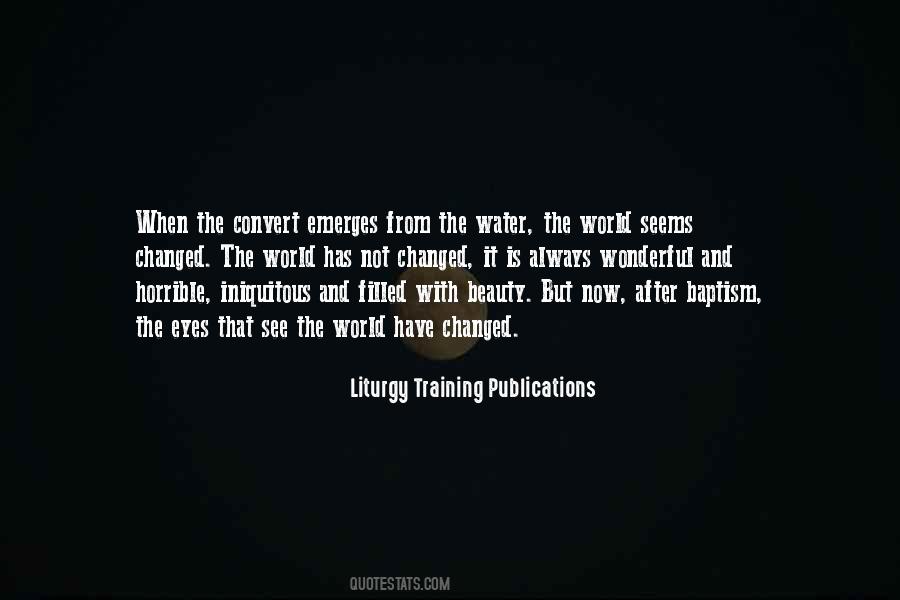 #9. The work of intimacy, of course, is to learn to both show your own illumination, and to see it in a way that the physical eyes cannot reveal. In a way that only the heart can reveal: the illumined beauty in another person. - Author: Marianne Williamson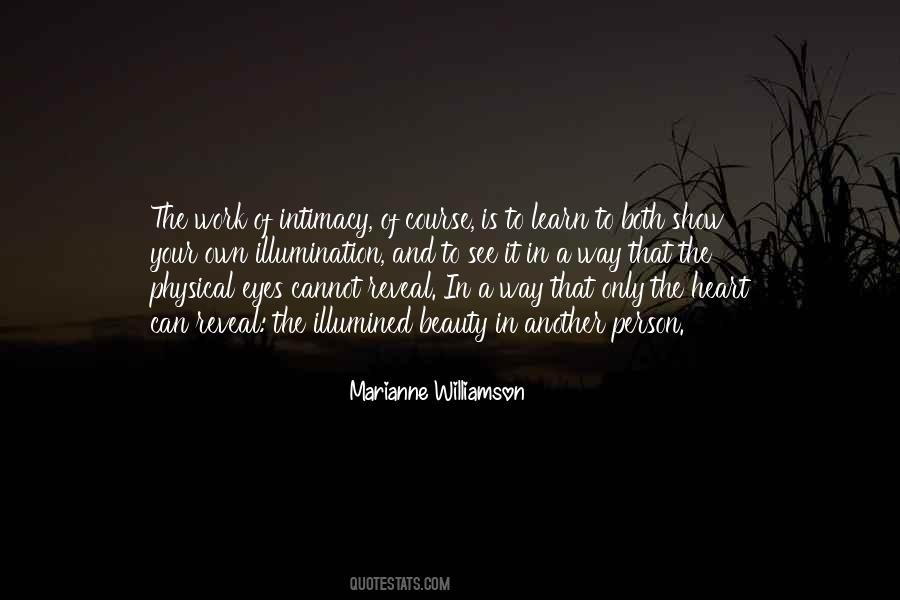 #10. Brushing the clouds away from my eyes, I see clarity in the raindrop and beauty in the first ray of morning sun...
Life is strange and wondrous... - Author: Virginia Alison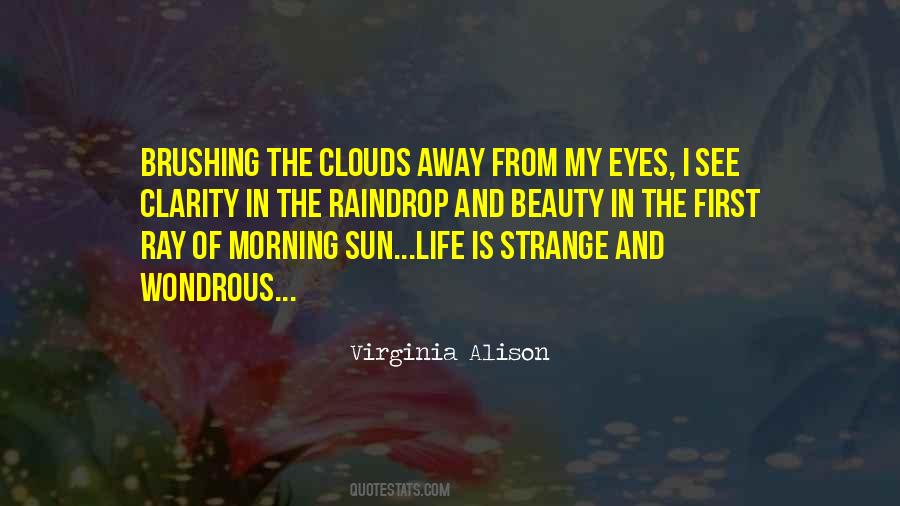 #11. There is music in the noise, beauty in the chaos, truth in the lies, light in the void. He who has eyes, let him see. - Author: Jonathan Maberry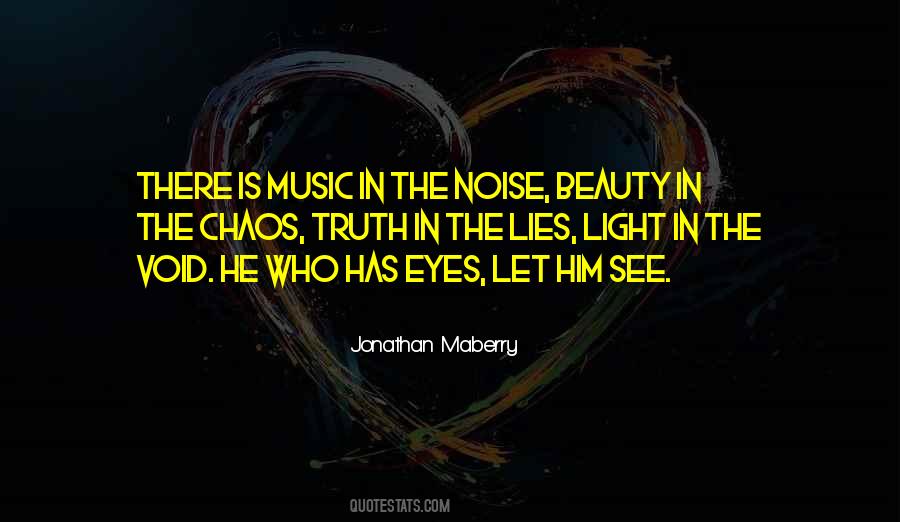 #12. Look at light and admire its beauty. Close your eyes, and then look again: what you saw is no longer there; and what you will see later is not yet. - Author: Leonardo Da Vinci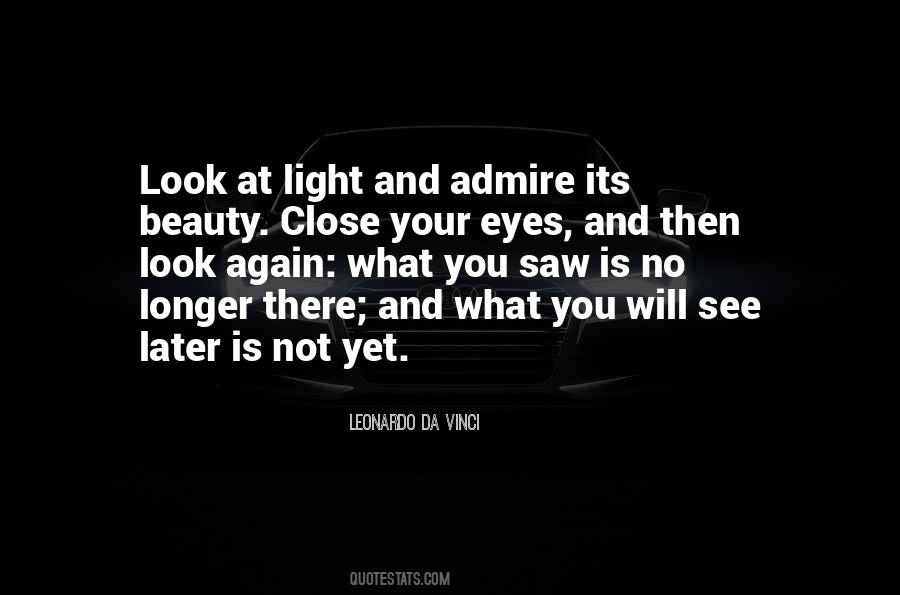 #13. Vicki shines with intelligence as brightly as with beauty, a clear open face, black eyes, and a smile that makes you see what she looked like as a nine-year-old. - Author: Frances Mayes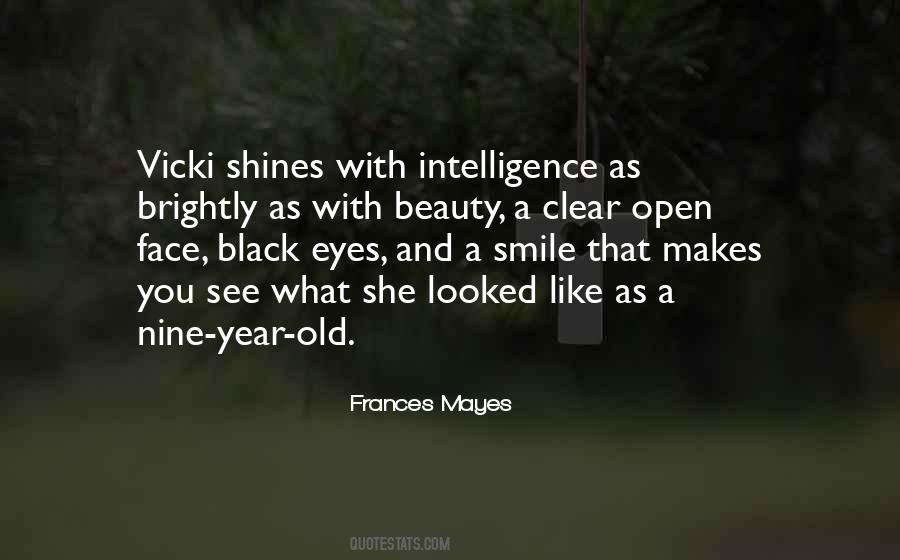 #14. Close your eyes and open your mind. You will now see the beauty with your imagination. - Author: Debasish Mridha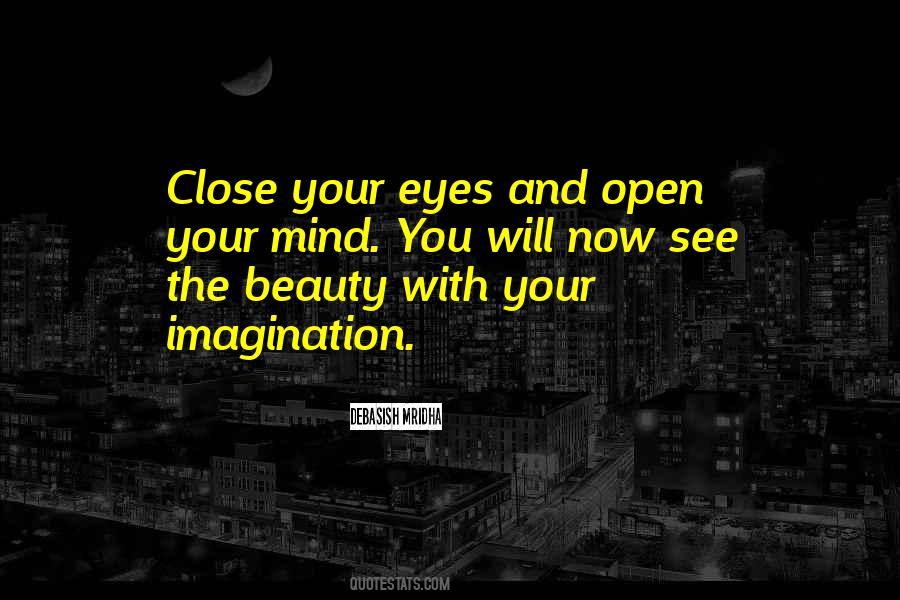 #15. I stand at a window, looking out at a dark world streaked
with light. And I see what you see,
my eyes filled with a constant threat of tears,
at all the desolate beauty in the world. - Author: Kim Culbertson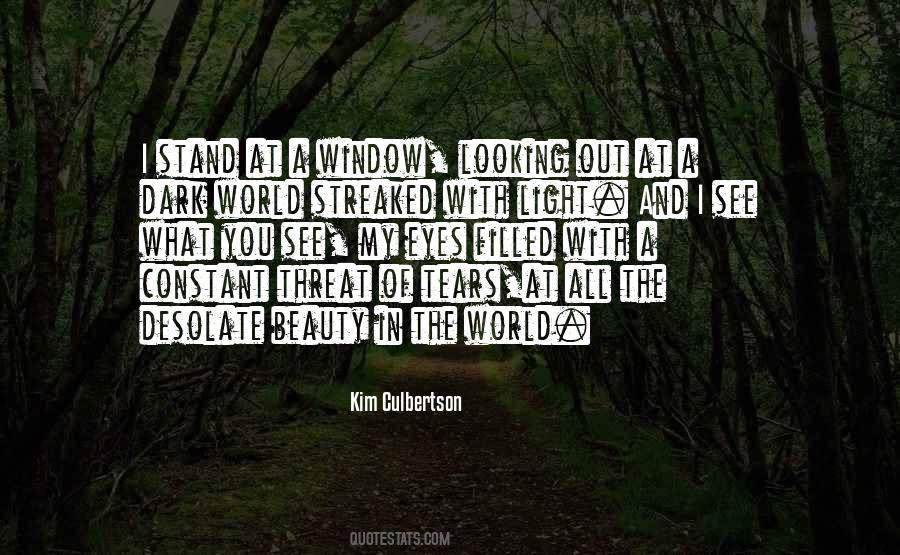 #16. Yep, there's special eyes that only Jesus can give. When people have special eyes, they can see past a person's face and show other people love. - Author: J.E.B. Spredemann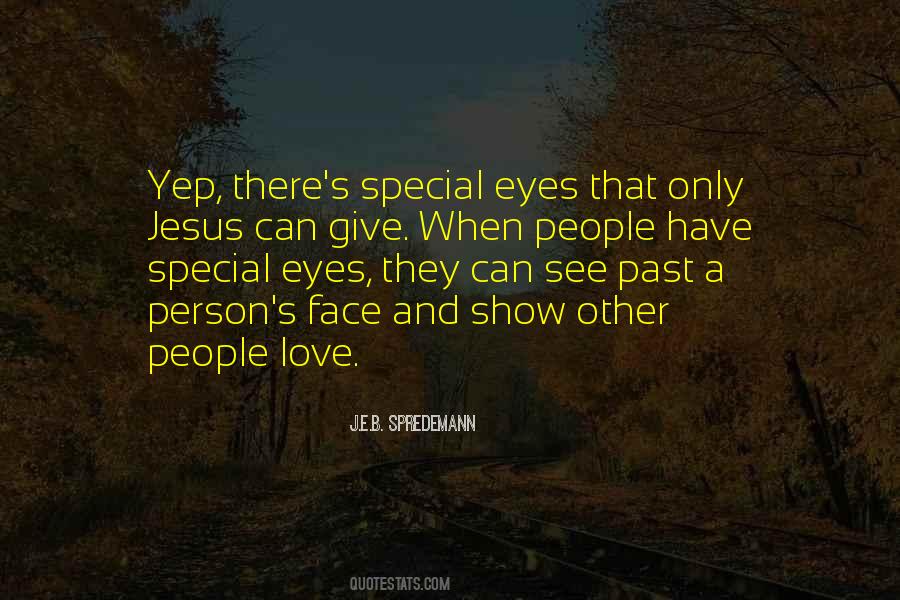 #17. To see love is to see the dawn in a moonless sky without opening your eyes. - Author: Suenammi Richards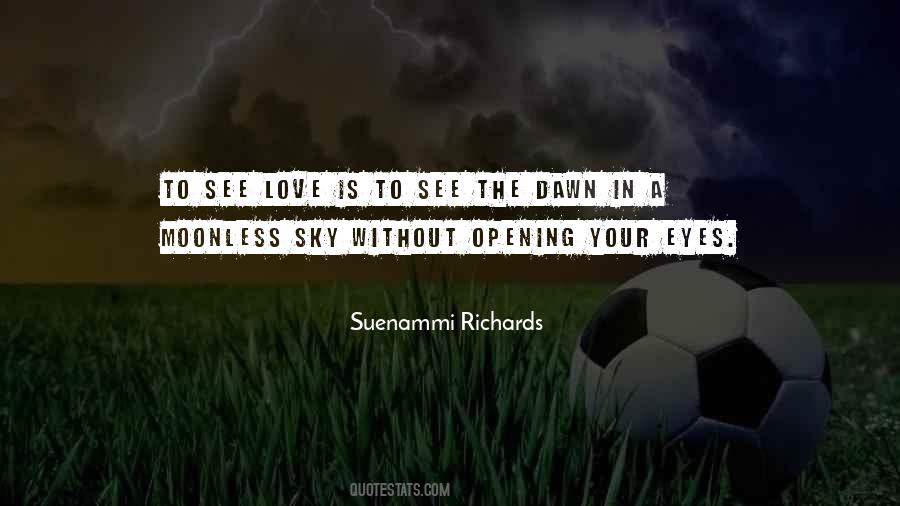 #18. All tongues savor the same flavors, all ears hear the same music, and all eyes see the same beauty. - Author: Mencius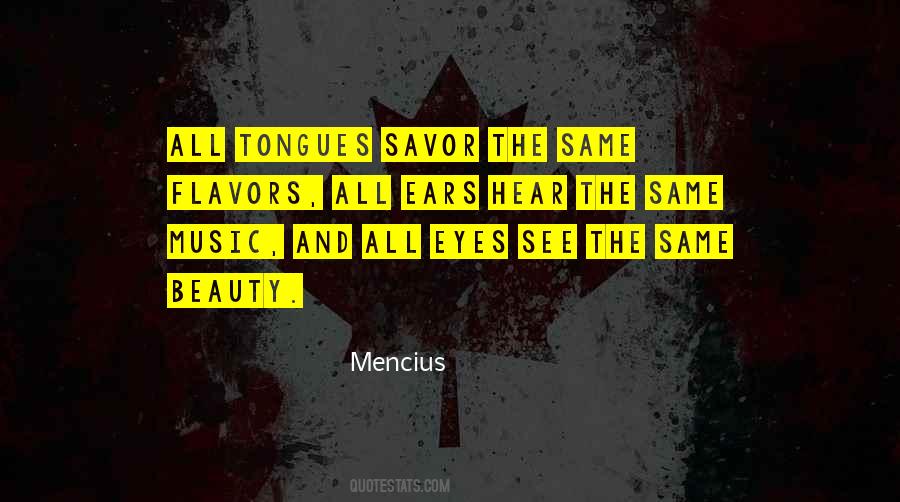 #19. I don't want fame, money, or duty. I want to close my eyes and see your loving beauty. - Author: Debasish Mridha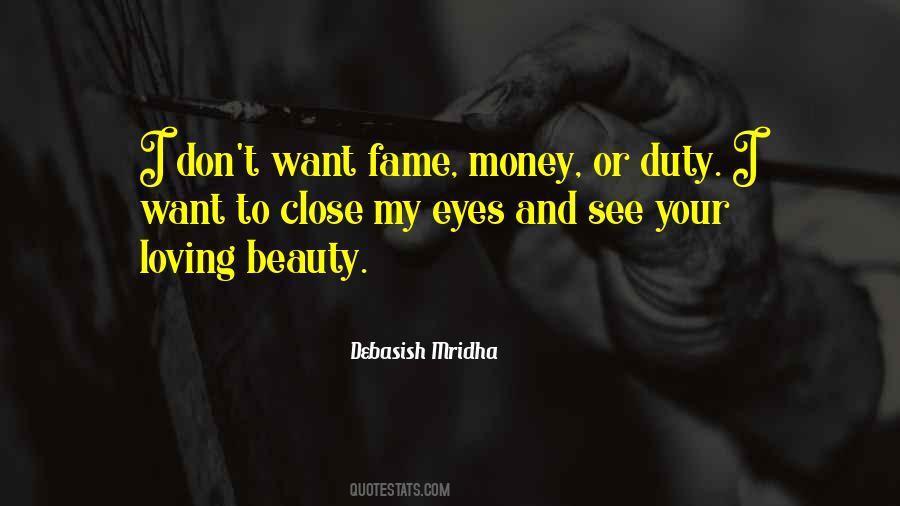 #20. We have eyes to see beauty and a heart to love and appreciate it. - Author: Debasish Mridha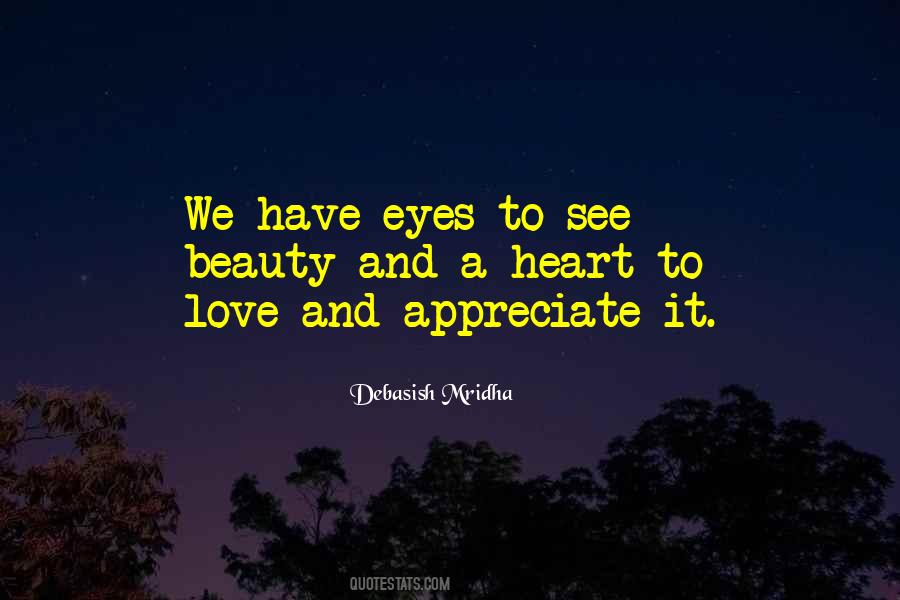 #21. How great God is! He has given us eyes to see the beauty of the world, hands to touch it, a nose to experience all its fragrance, and a heart to appreciate it all. But we don't realize how miraculous our senses are until we lose one. - Author: Malala Yousafzai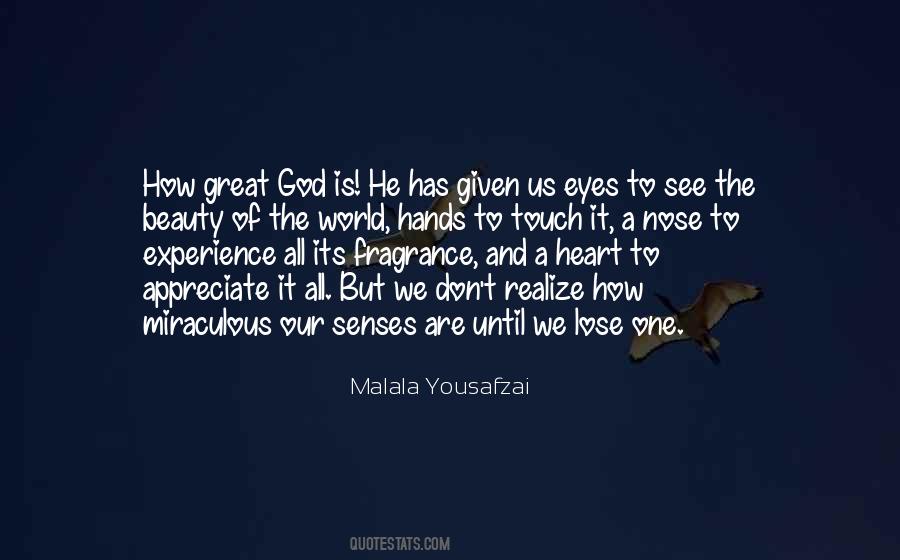 #22. When I look into the eyes of my Prince, and my daughter Paris, I see miracles and I see beauty. - Author: Michael Jackson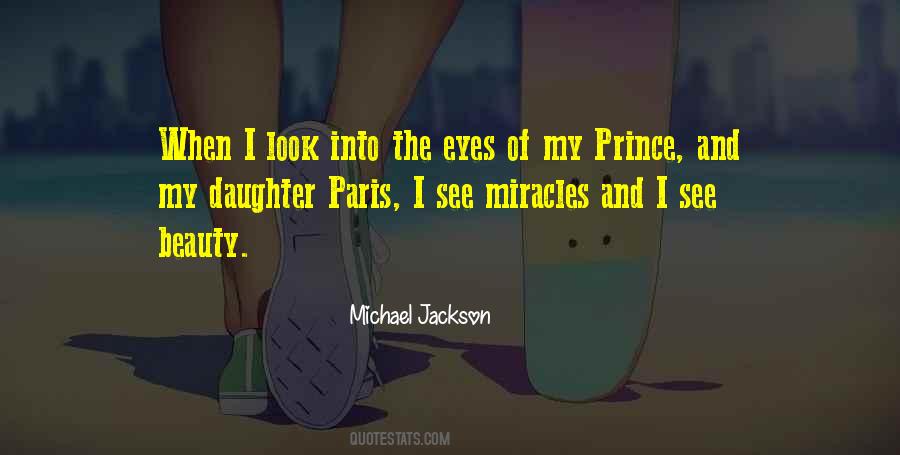 #23. Our hearts were drunk with a beauty Our eyes could never see. - Author: George William Russell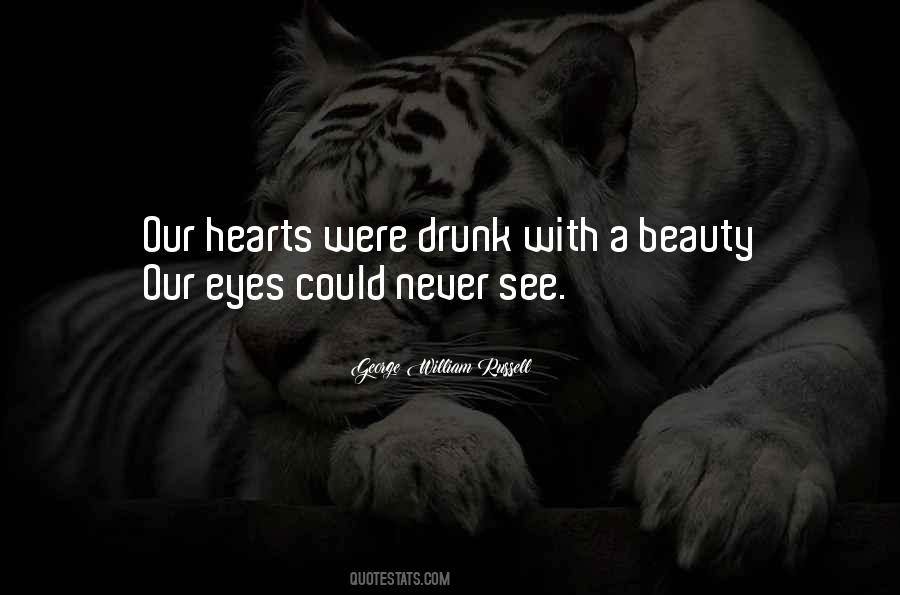 #24. The universe created me to see its own beauty through my eyes. - Author: Debasish Mridha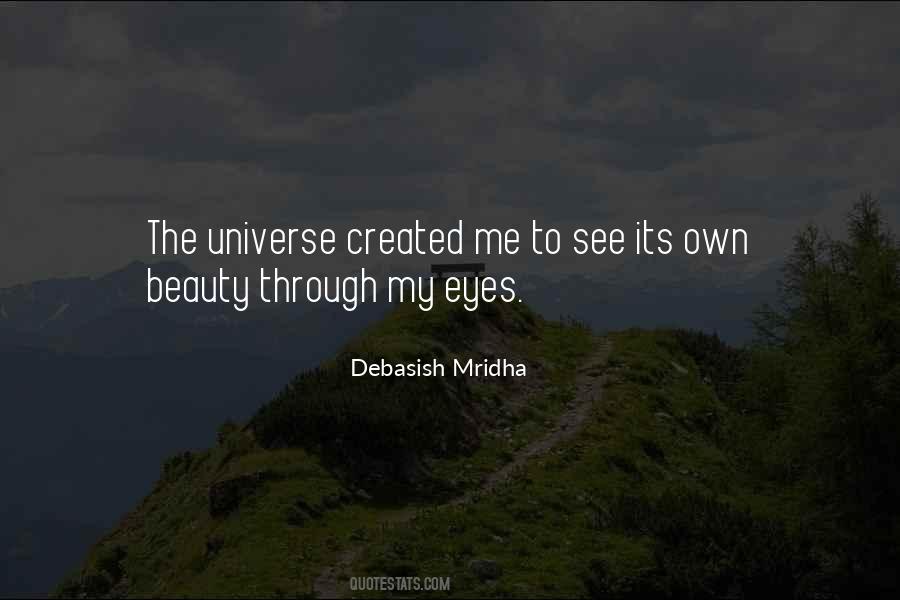 #25. It's easy to recognize the surface of beauty. To see it with your two eyes. But the challenge to the artist is conveying the many layers underneath. - Author: Alyson Richman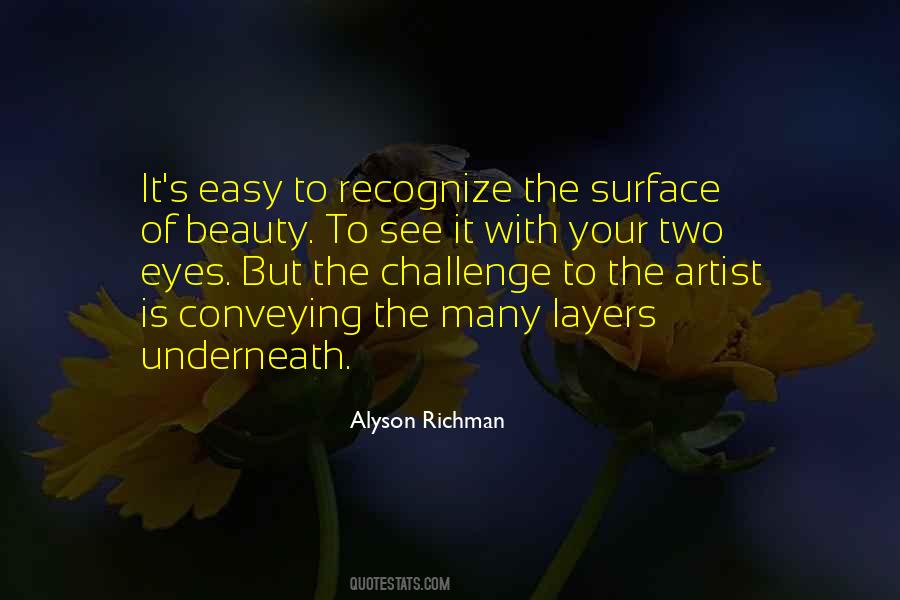 #26. Education opens eyes to see, feel, and enjoy the beauty of life in a different way. - Author: Debasish Mridha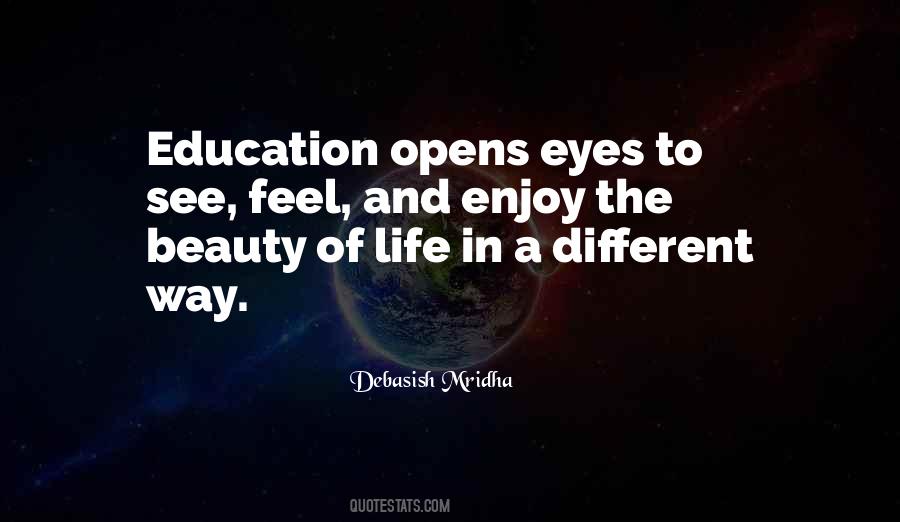 #27. Sometimes the heart can feel beauty that the eyes can't see... - Author: Chiffon Strickland Jenkins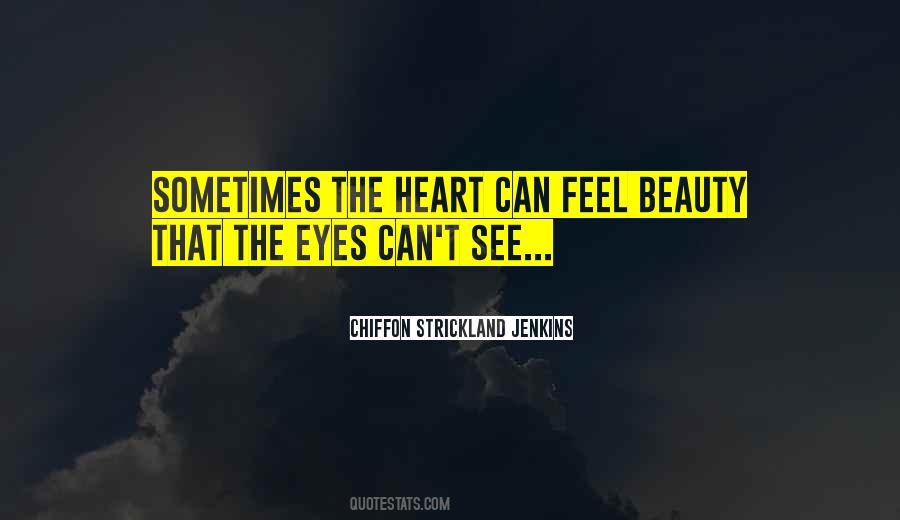 #28. Many eyes go through the meadow, but few see the flowers in it - Author: Ralph Waldo Emerson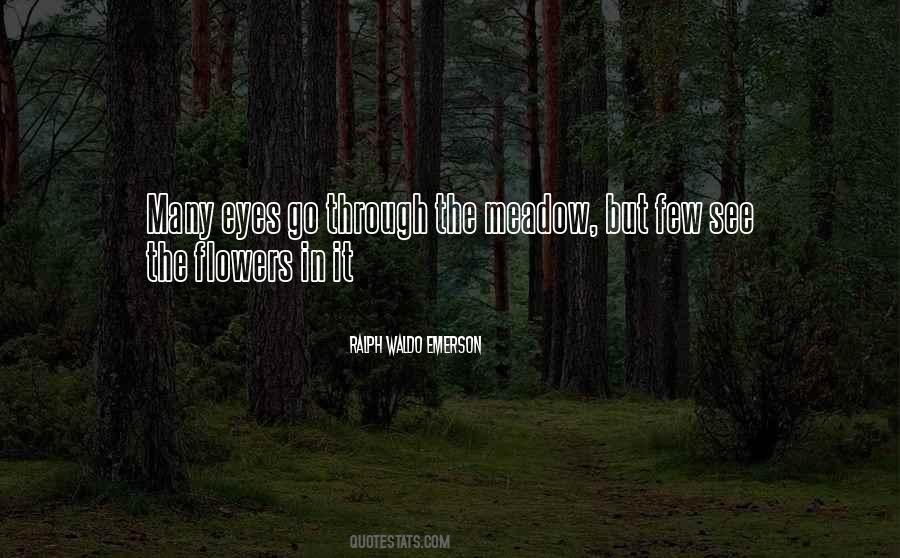 #29. Even in silence and darkness, the heart can see more beauty than the eyes. - Author: Debasish Mridha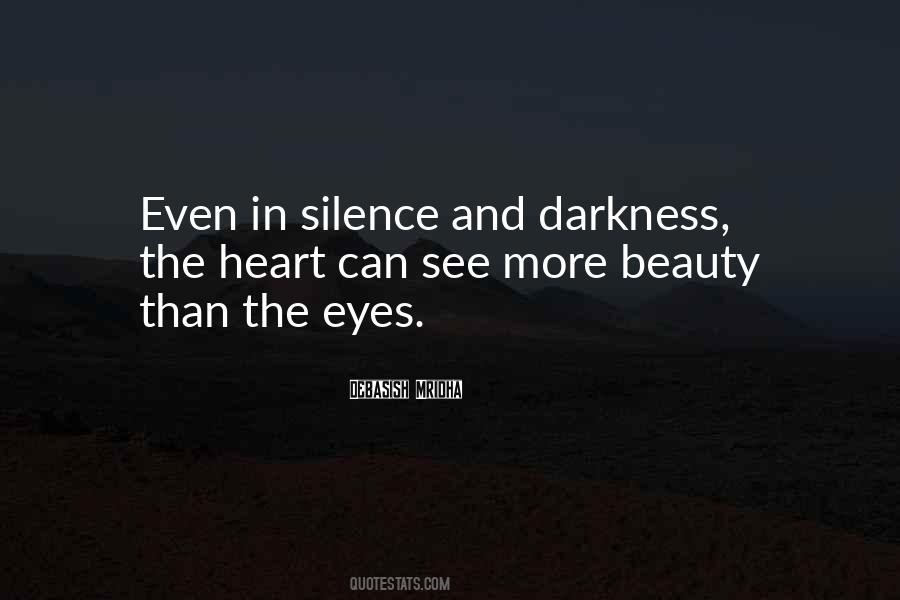 #30. That is how they were: they spent their lives proclaiming their proud origins, the historic merits of the city, the value of its relics, its heroism, its beauty, but they were blind to the decay of its years. Dr Juvenal Urbino, on the other hand, loved it enough to see it with the eyes of truth. - Author: Gabriel Garcia Marquez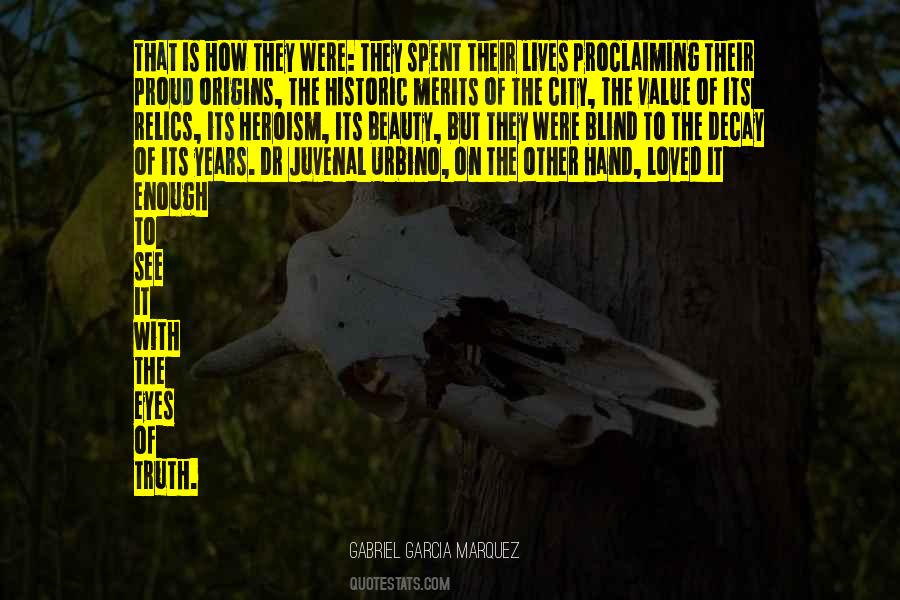 #31. Open the eyes of compassion to see the beauty of creations. - Author: Debasish Mridha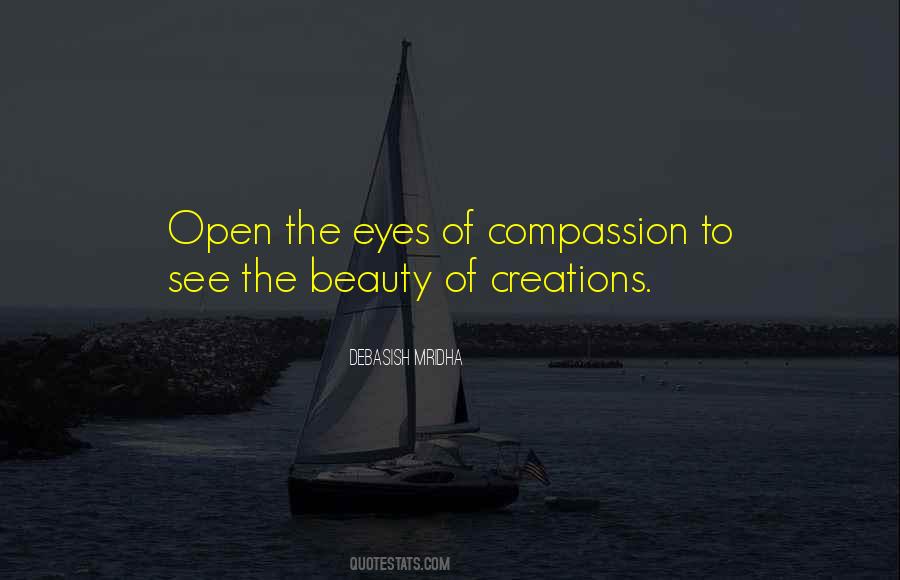 #32. I'm curious to see, now that beauty is gone, what will be reflected in a mans eyes. - Author: Sapphire.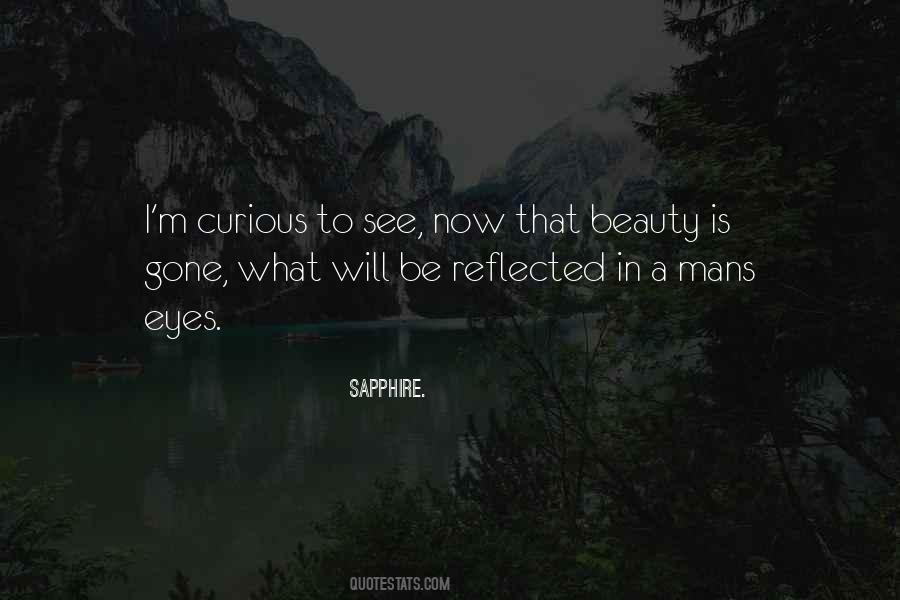 #33. You see what you choose to see, because all perception is a choice.
And when you cease to impose your meanings on what you see,
your spiritual eyes will open, and you will see a world free of judgment
and shining in its endless beauty. - Author: Paul Ferrini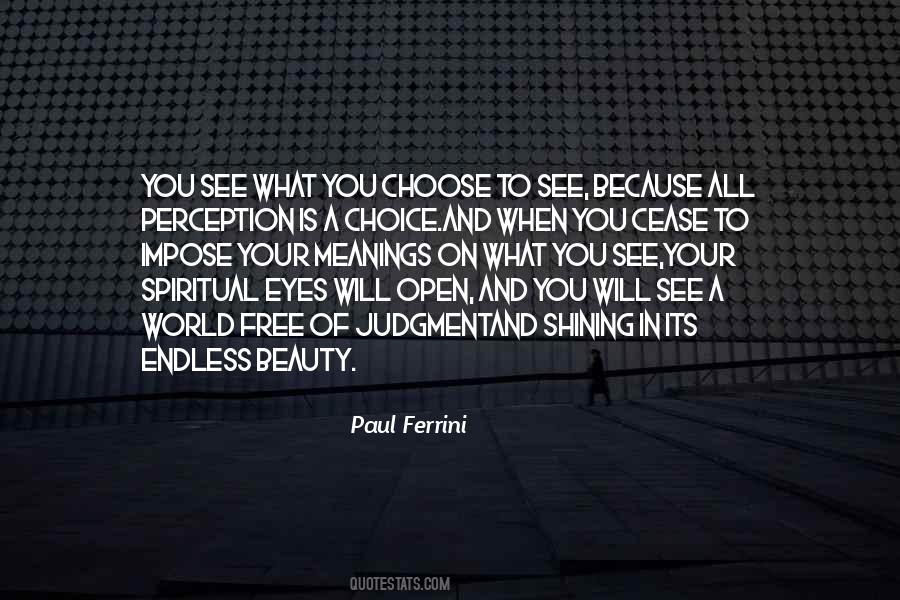 #34. The beauty and mystery of this world only emerges through affection, attention, interest and compassion ... open your eyes wide and actually see this world by attending to its colors, details and irony. - Author: Orhan Pamuk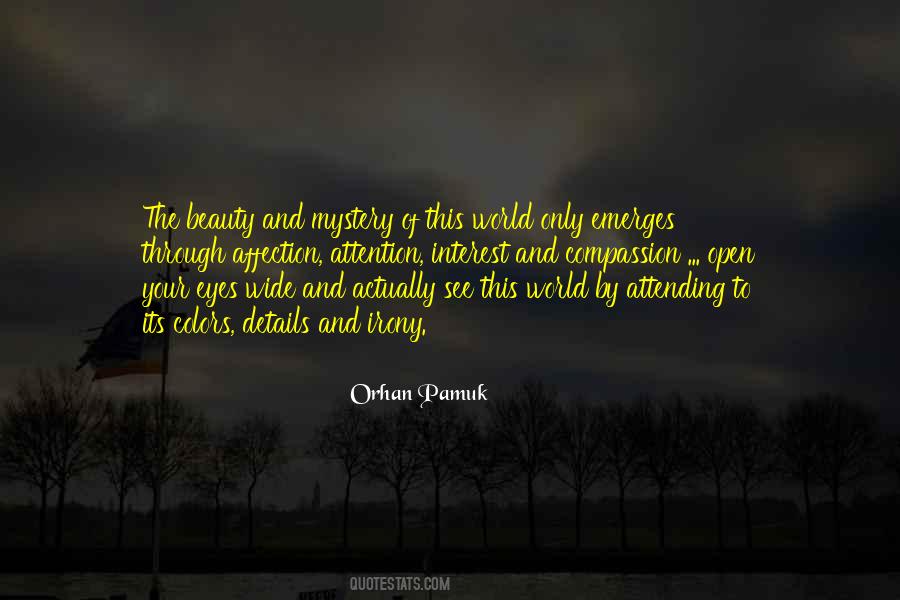 #35. Lord of the far horizons, Give us the eyes to see Over the verge of the sundown The beauty that is to be. - Author: Bliss Carman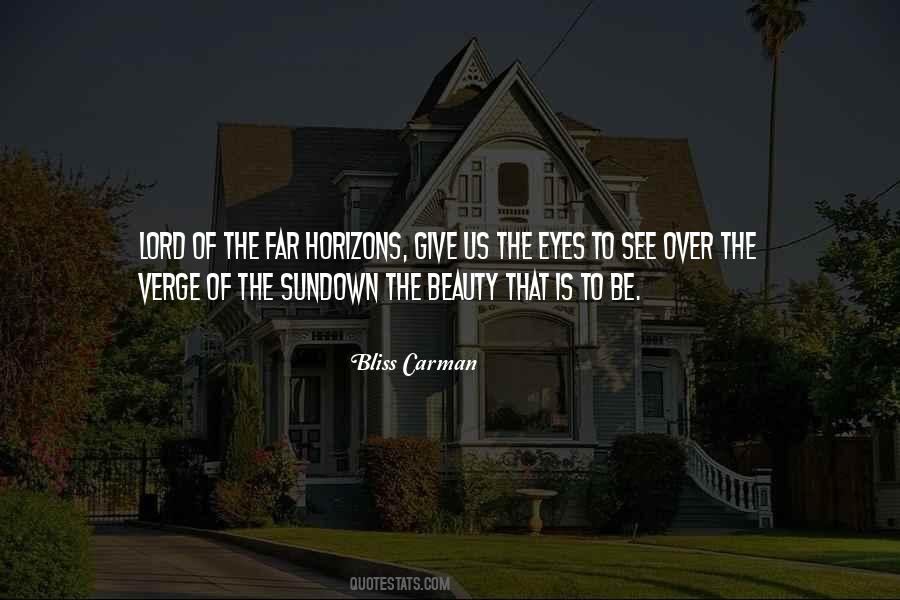 #36. I weep for Narcissus, but I never noticed that he was beautiful. I weep for him because whenever he lay on my banks and looked into my waters, I could see my own beauty reflected in his eyes. - Author: Paulo Coelho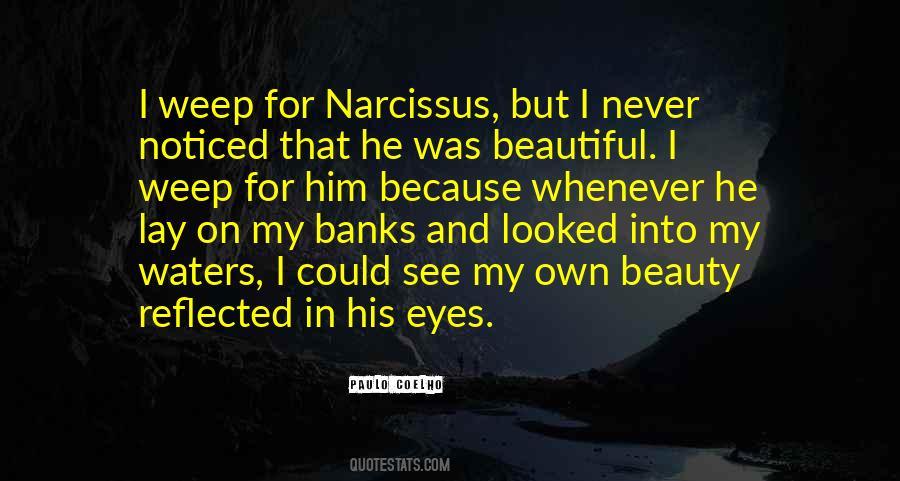 #37. Not the eyes, but the heart sees the beauty. - Author: Debasish Mridha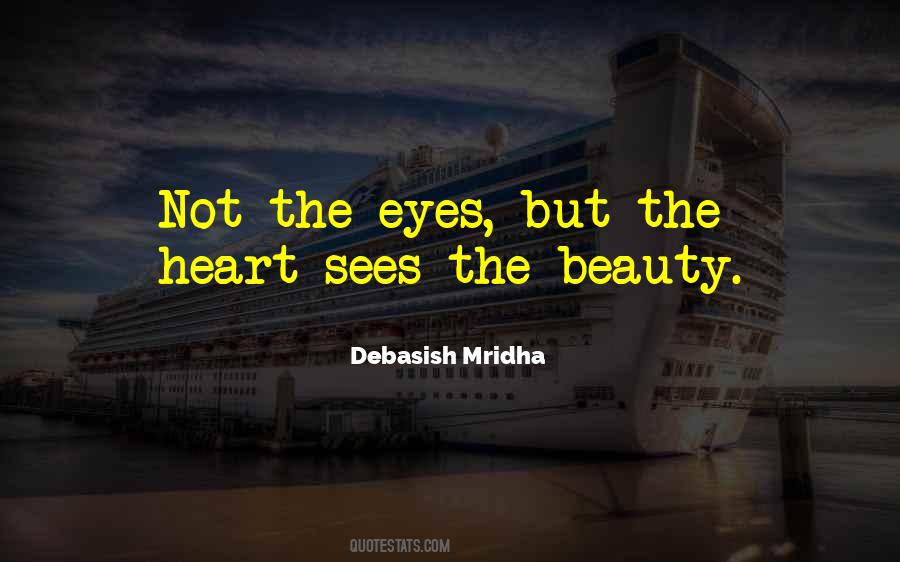 #38. This is glorious!' I cried, and then i looked at the sinner by my side. He sat with his head sunk on his breast and said 'Yes', without raising his eyes, as if afraid to see writ large on the clear sky of the offing the reproach of his romantic conscience. - Author: Joseph Conrad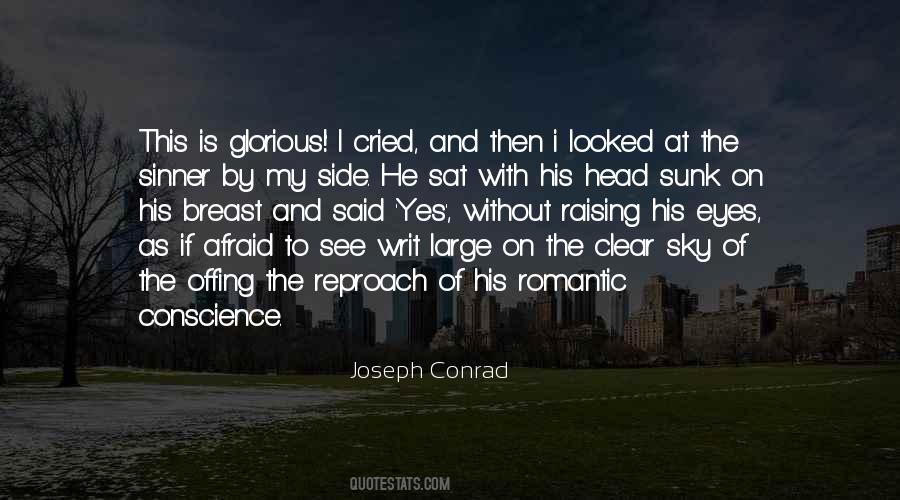 #39. The sun gave us our eyes to see the beauty of nature, his creation, through his light. - Author: Debasish Mridha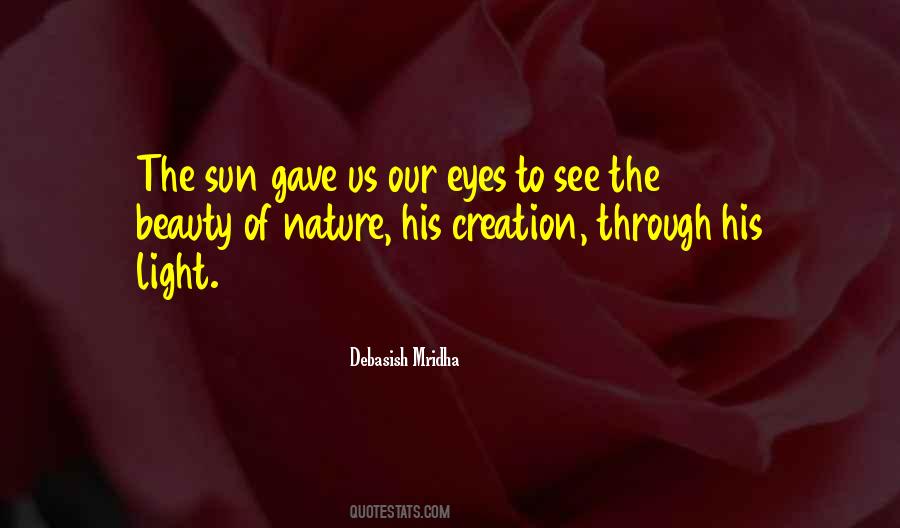 #40. So much beauty in the world, so few eyes to see it. - Author: Albert Cossery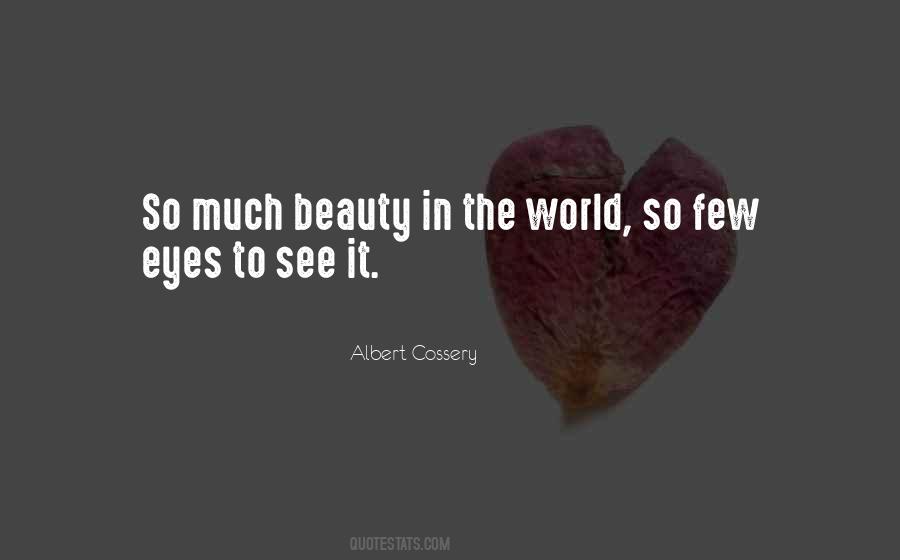 #41. The beauty of literature is you allow readers to see things through other peoples eyes. All good books do this. - Author: Sandra Cisneros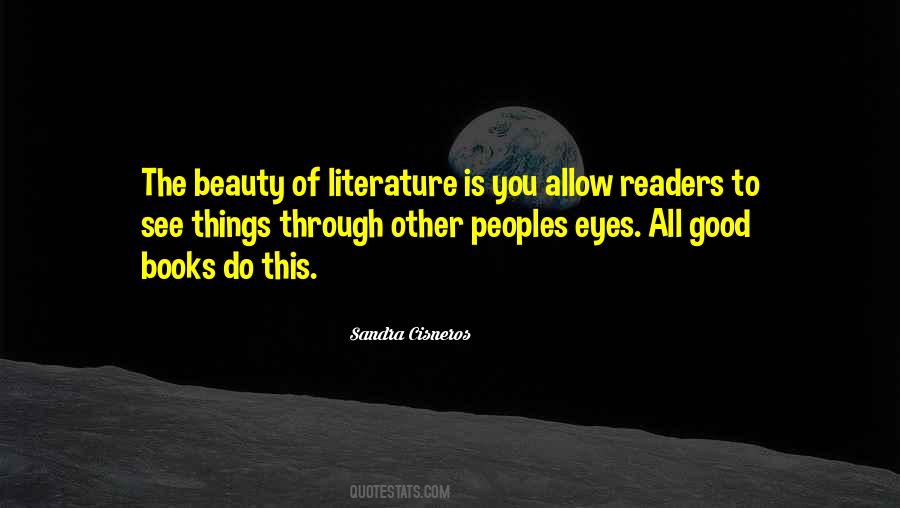 #42. I've traveled. All over. I've never seen anything like you. How could anything be put together like you? Do you know how beautiful you are? Have you looked at yourself?'
'I'm looking now. - Author: Toni Morrison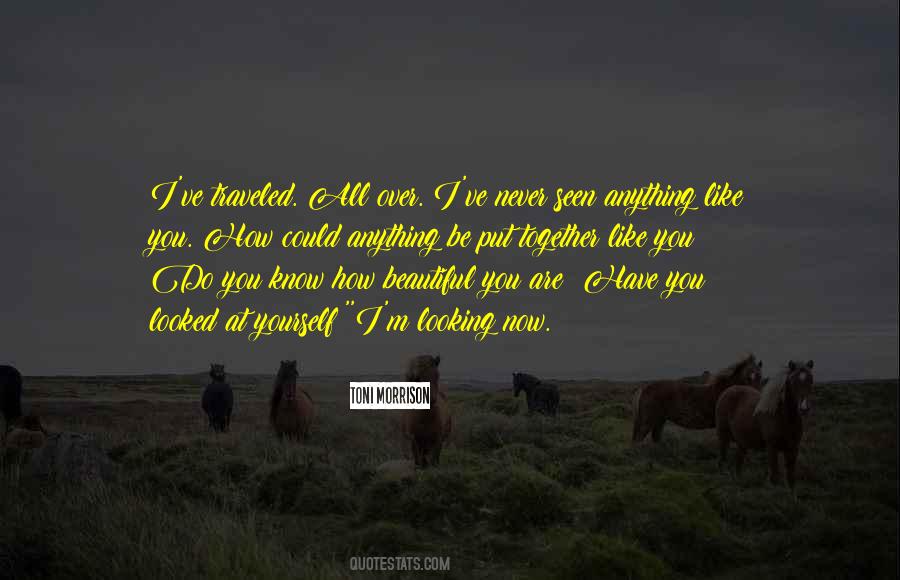 #43. She has big searching eyes that see the good in people despite the evil she has seen, and she has a comforting kind of eternal beauty, her skin like the folds of a velvet shawl. Her - Author: Isabel Wilkerson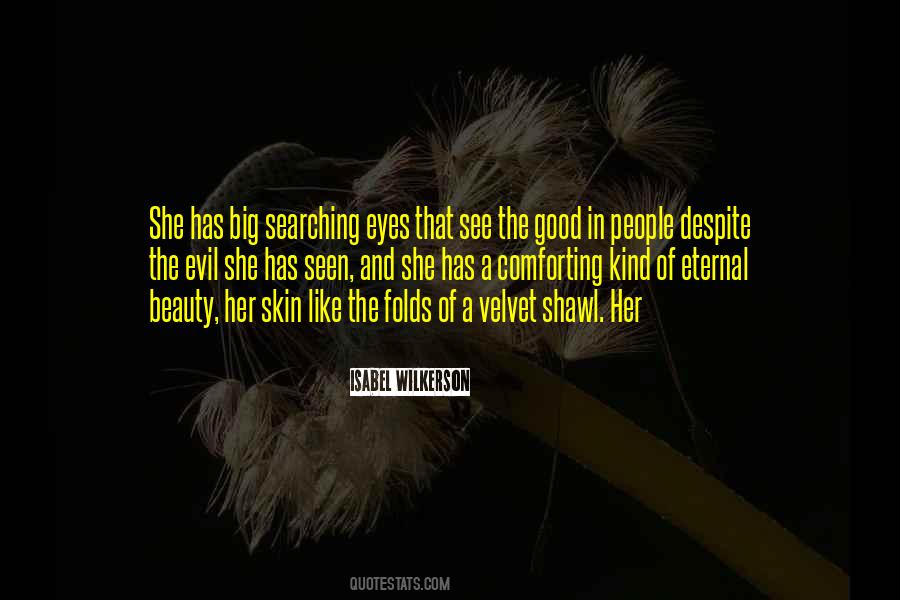 #44. We don't need eyes to judge people's beauty; but unfortunately we judge them as we see. - Author: M.F. Moonzajer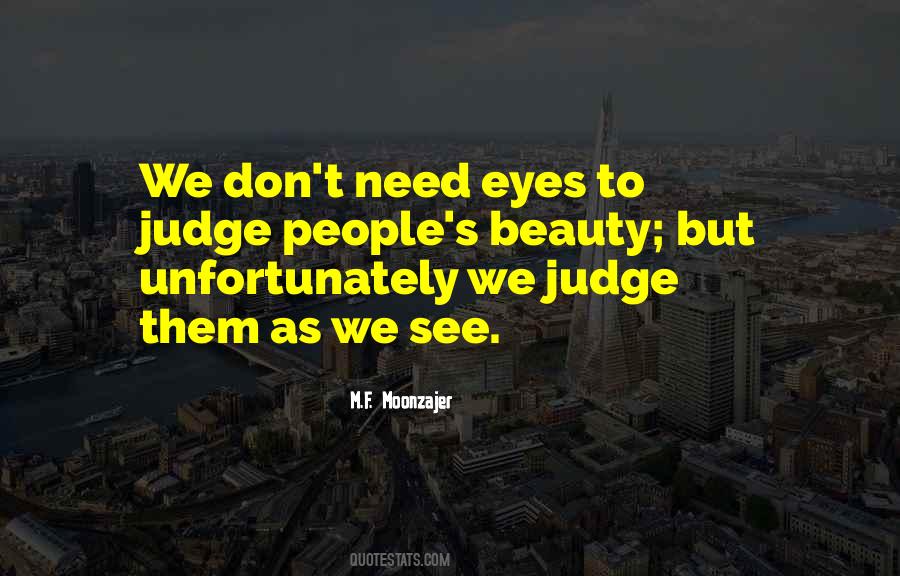 #45. I believe women are too hard on themselves. I believe that when you love someone, she becomes beautiful to you. I believe the eyes see everything through the heart. Nothing in the world feels as good as resting them on someone you love. - Author: Katherine Center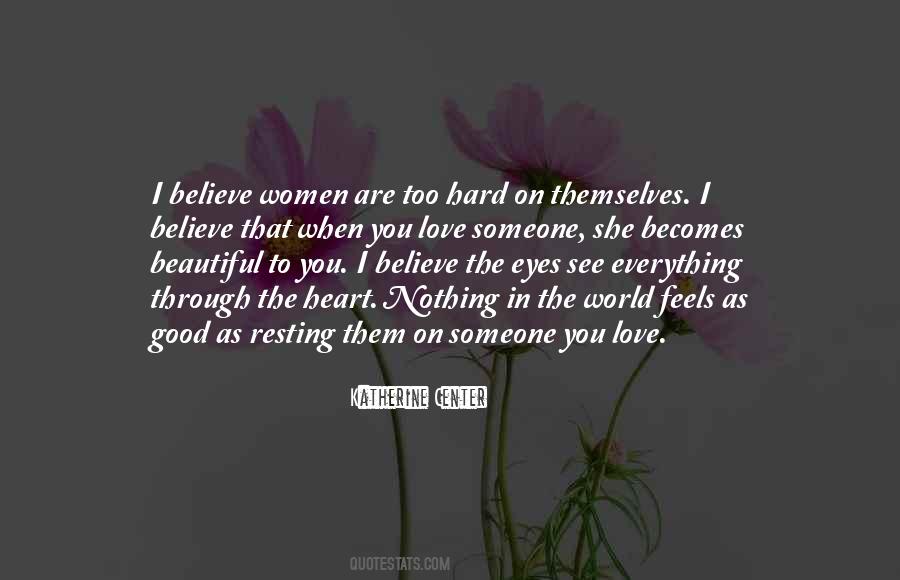 #46. For there was never any yet that wholly could escape love, and never shall there be any, never so long as beauty shall be, never so long as eyes can see. - Author: Longus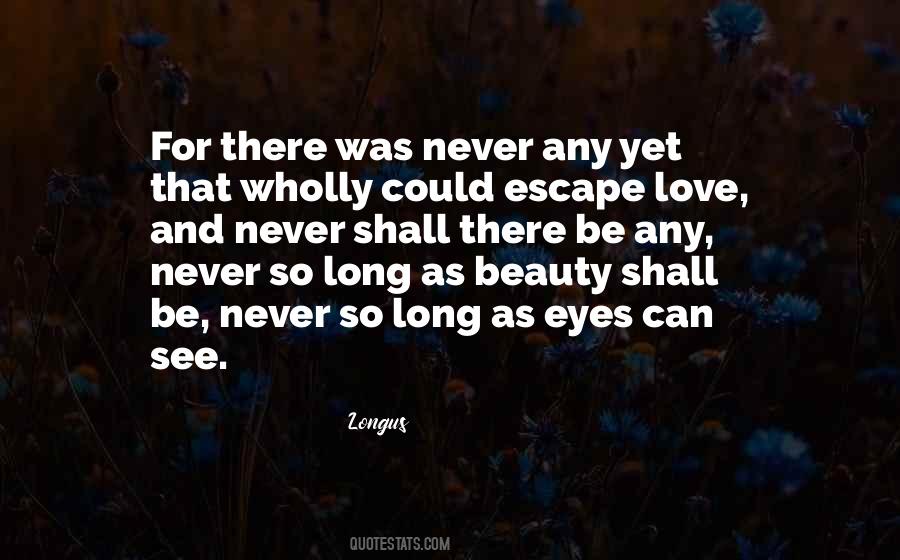 #47. Your eyes reflect the beauty which no one can see except that special person whose soul is lost in your love. - Author: Debasish Mridha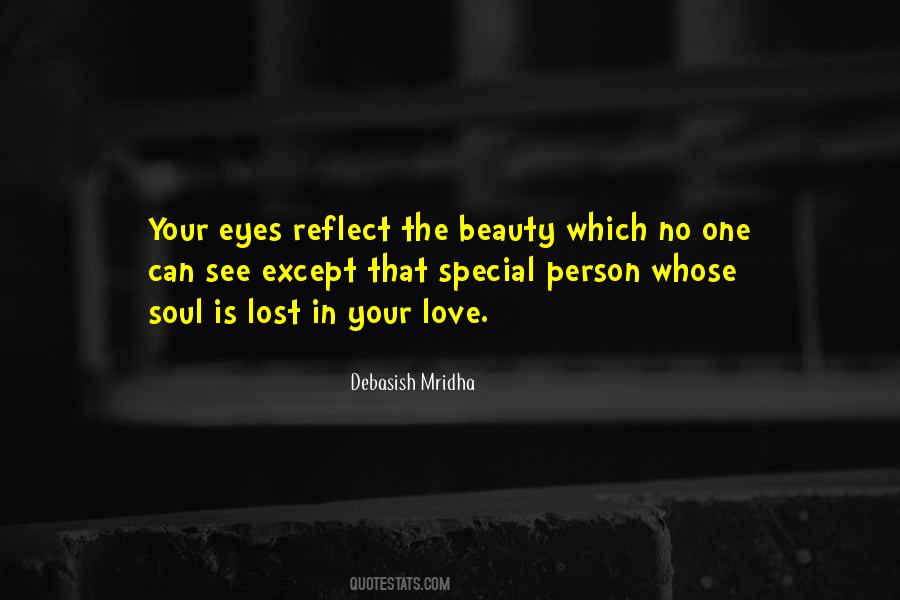 #48. Her features were thin and her skin was pale and she was certainly not pretty. But it was an exciting face. It was terribly exciting because it radiated something that a man couldn't see with his eyes but could definitely feel in his bloodstream. - Author: David Goodis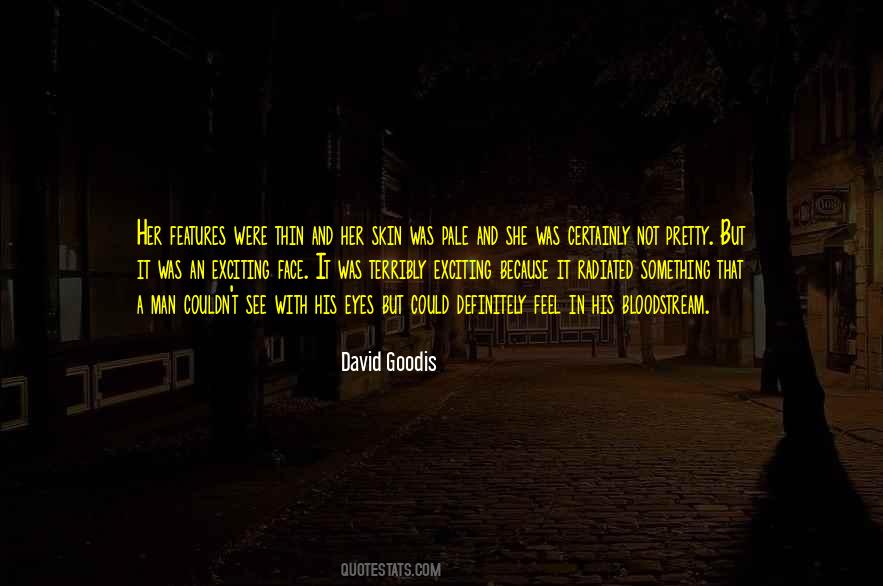 #49. One would give generous alms if one had the eyes to see the beauty of a cupped receiving hand. - Author: Johann Wolfgang Von Goethe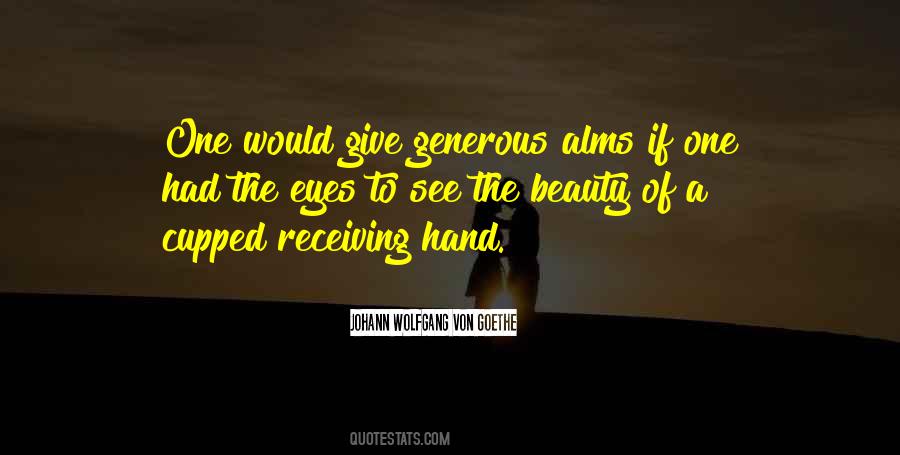 #50. I have a talent for happiness. I look with the eyes of a painter, and I see beauty. - Author: Sylvia Kristel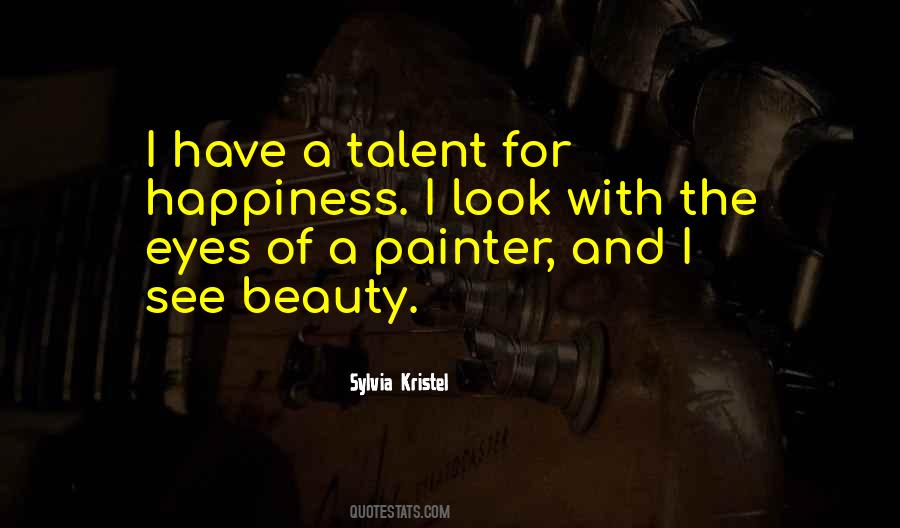 #51. If I close my eyes, I do not see anything but, if I imagine, I see something. To look beyond what you look and see, use your minds eye and not your eyes - Author: Ernest Agyemang Yeboah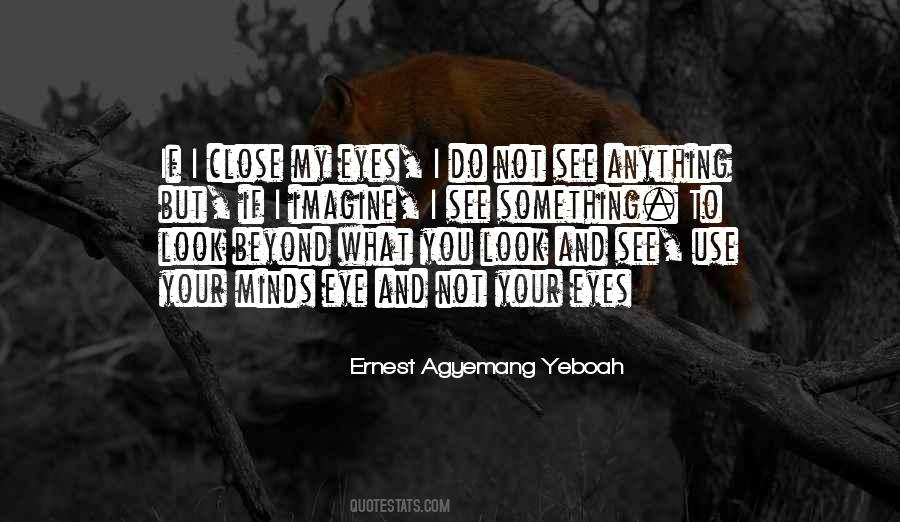 #52. I began to see beauty as something that could be unleashed from within a person rather than a set of physical features like a perfect nose or big eyes. - Author: Jean Kwok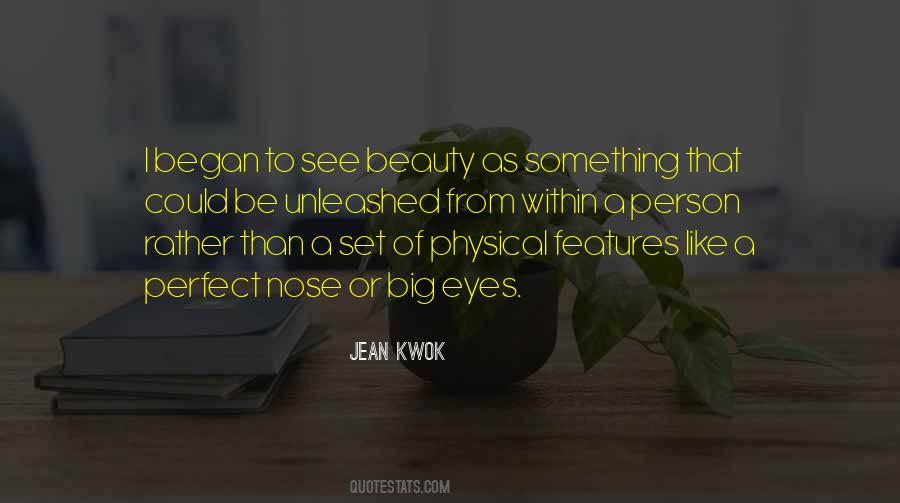 #53. One unexpected bonus of motherhood is the visual beauty. I am enchanted by the sights of my children, the tones of skin, the clear eyes, the grace, the curve of a hand and cheek, to see them racing across the back lawn in a certain slant of light. - Author: Jaroldeen Edwards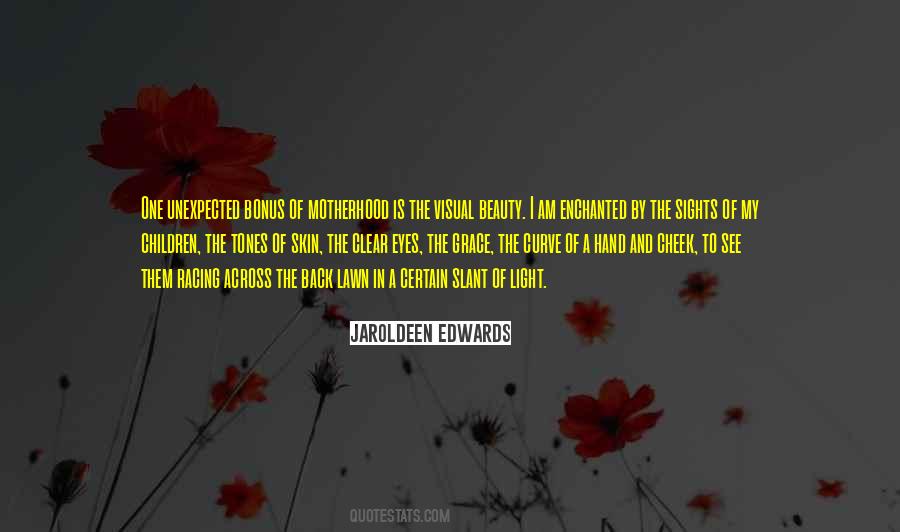 #54. How can a falling dove turn again into a flying dove once again? It really takes the eyes of someone who sees you for the beauty that you really are. And if there are no other eyes there to see you in that way, then you had better be those pair of eyes, for yourself, to see yourself with! - Author: C. JoyBell C.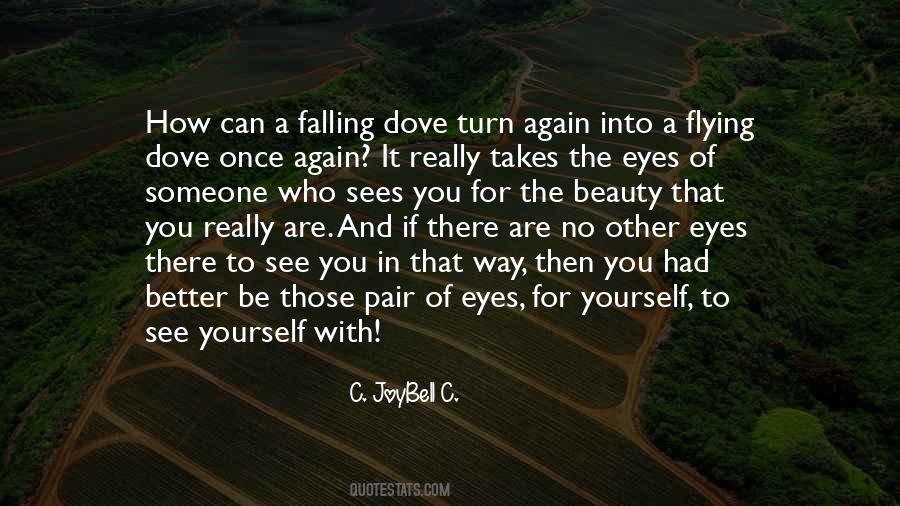 #55. Train your eyes to see the beauty in every little thing. - Author: Debasish Mridha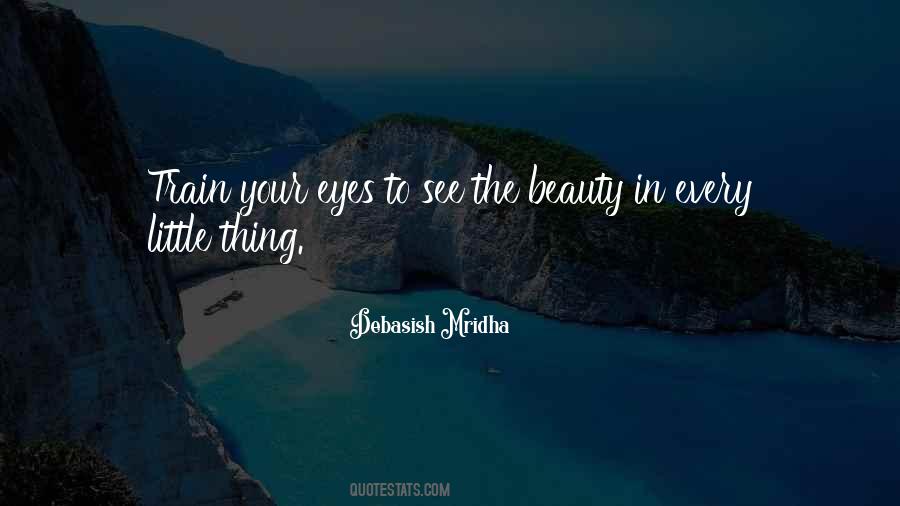 #56. Next, when I cast mine eyes and see
That brave vibration each way free,
O how that glittering taketh me! - Author: Robert Herrick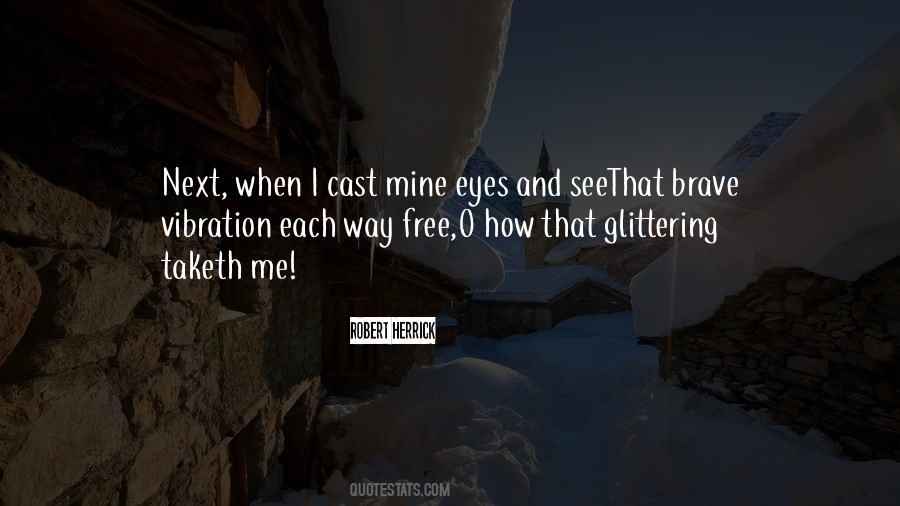 #57. True beauty is what you see with the eyes of love, - Author: Ted Chiang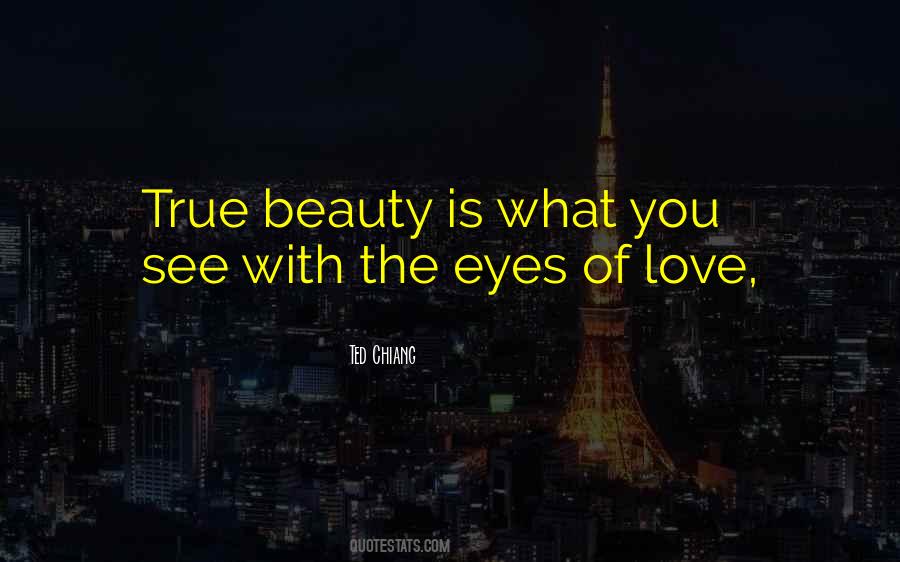 #58. You can tell me anything, her eyes say, because I will see the beauty in everything you say. - Author: Rene Denfeld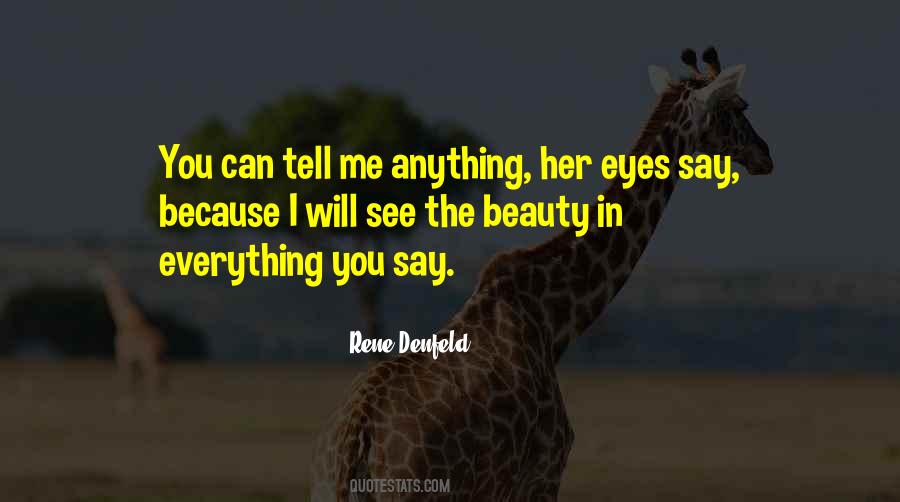 #59. I'm glad I see with my eyes and not the pages I've read. - Author: Alberto Caeiro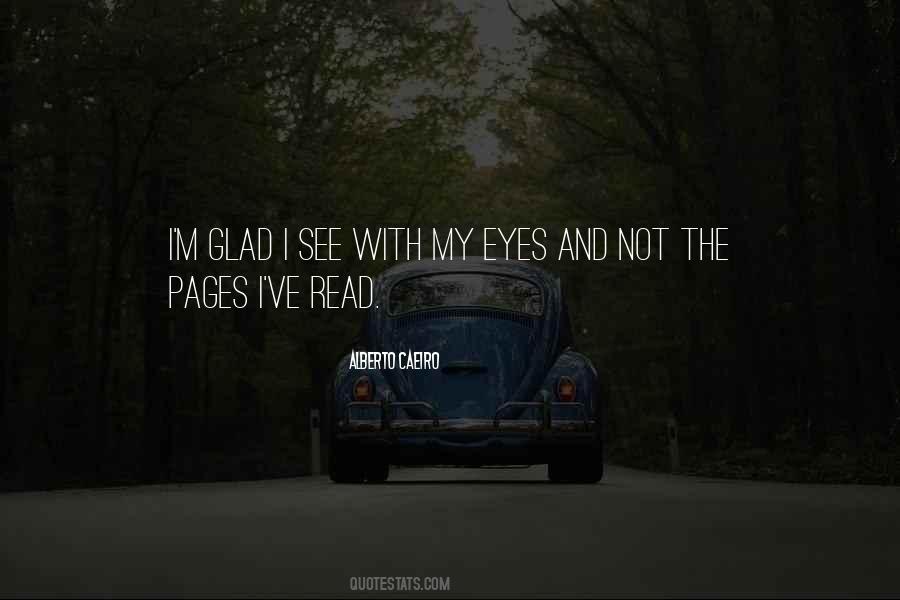 #60. And because people are stupid and use their noses only for blowing, but believe absolutely anything they see with their eyes, they will say it is because this is a girl with beauty and grace and charm. - Author: Patrick Suskind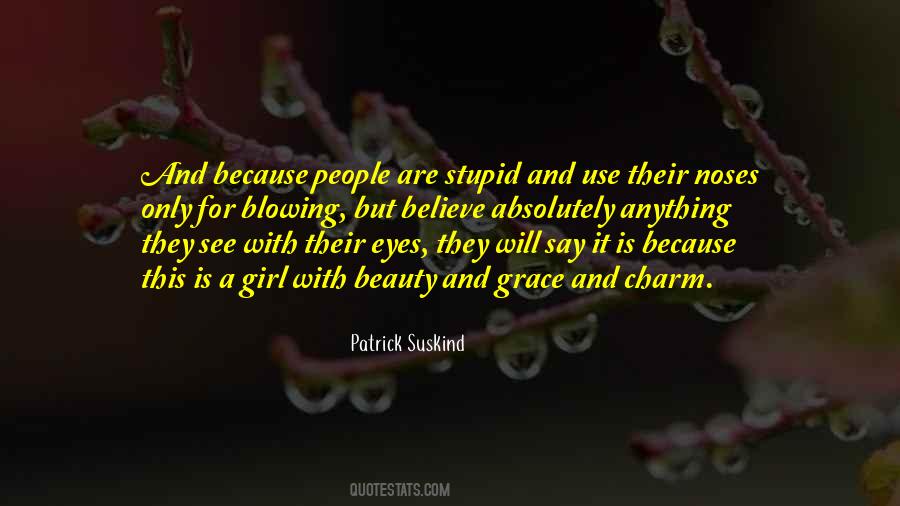 #61. Everyone has beautiful eyes but they often see ugliness not the beauty of life. - Author: Debasish Mridha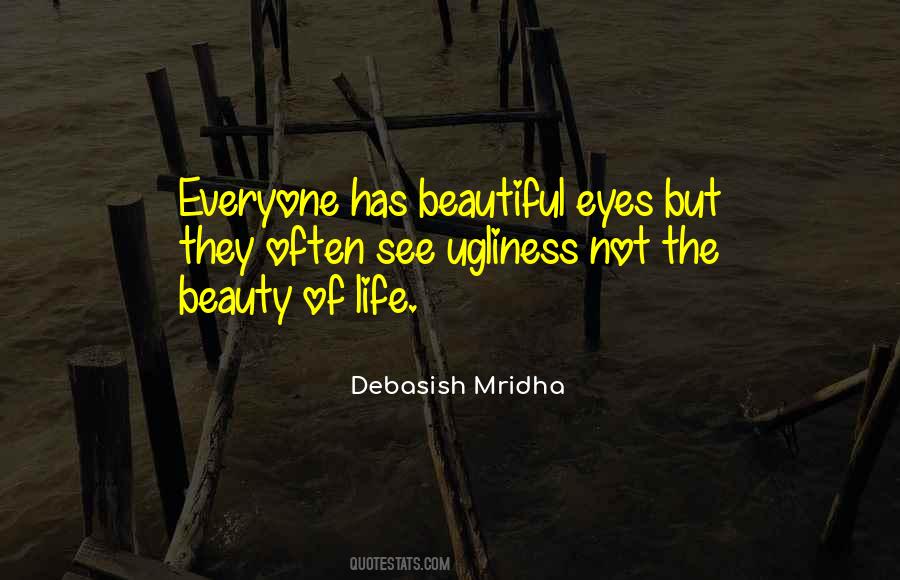 #62. There is none so blind as he who will not see. We must not close our minds, we must let our thoughts be free. For every hour that passes by, we know the world gets a little bit older, it's time to realize that beauty lies in the eyes of the beholder. - Author: Ray Stevens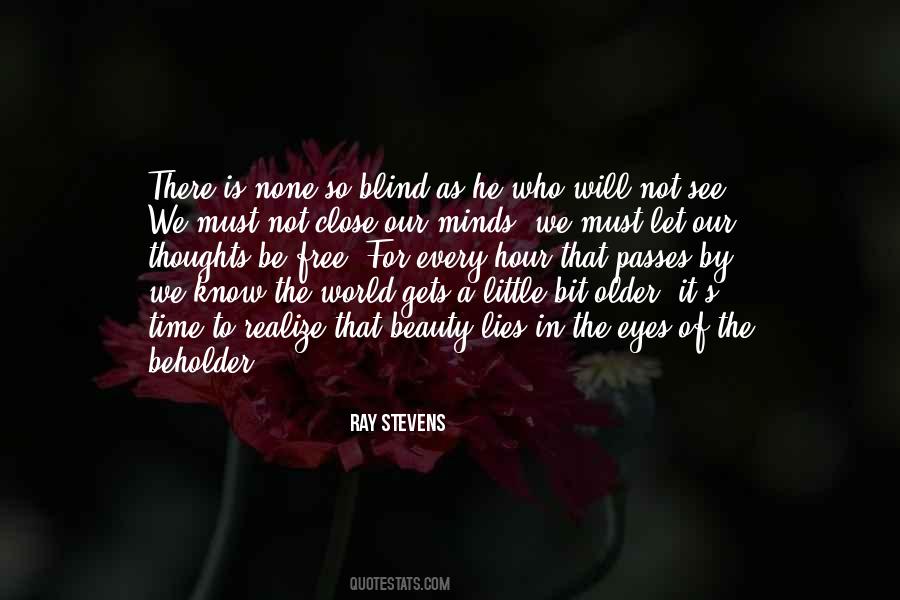 #63. The lake was silent for some time. Finally, it said:
I weep for Narcissus, but I never noticed that Narcissus was beautiful. I weep because, each time he knelt beside my banks, I could see, in the depths of his eyes, my own beauty reflected. - Author: Paulo Coelho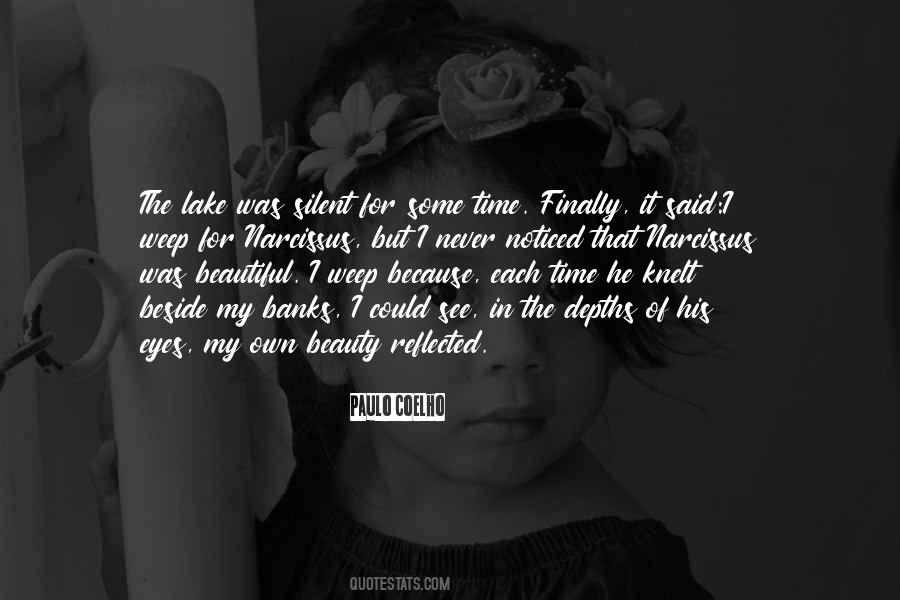 #64. We cannot see the beauty of life with our eyes closed. Only when we cry with our eyes open can we begin to shed tears of joy. - Author: Tehya Sky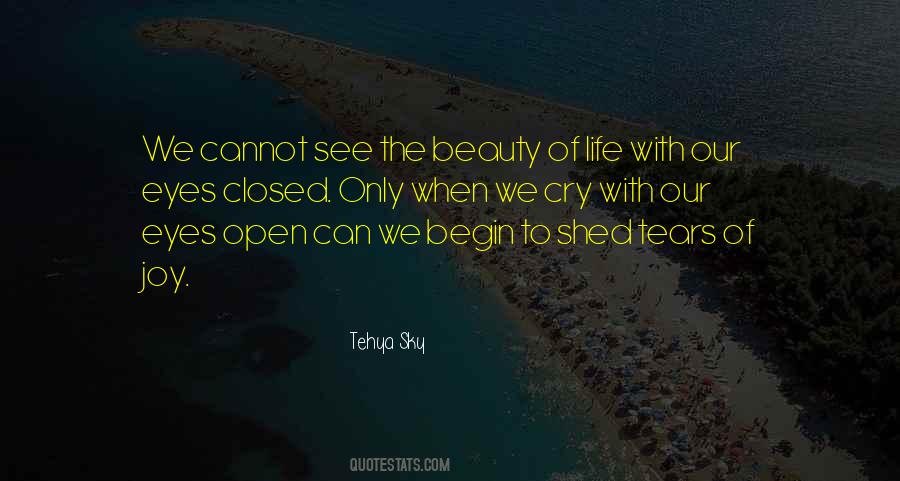 #65. I've only seen pictures of New Zealand but everything I see is so pretty. Your eyes just ... I don't think my eyes could take the beauty! - Author: Alana Haim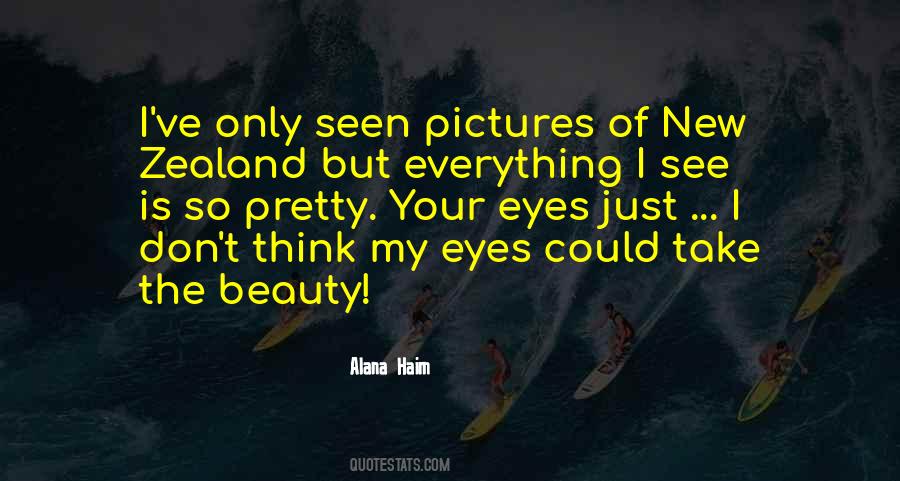 #66. When we seek to understand what another appreciates about their own way of life, and when we take the chance to see their life and the beauty of their culture though their eyes, this action and choice can eliminate feelings of both fear and separation and bond us deeply. - Author: Jasmuheen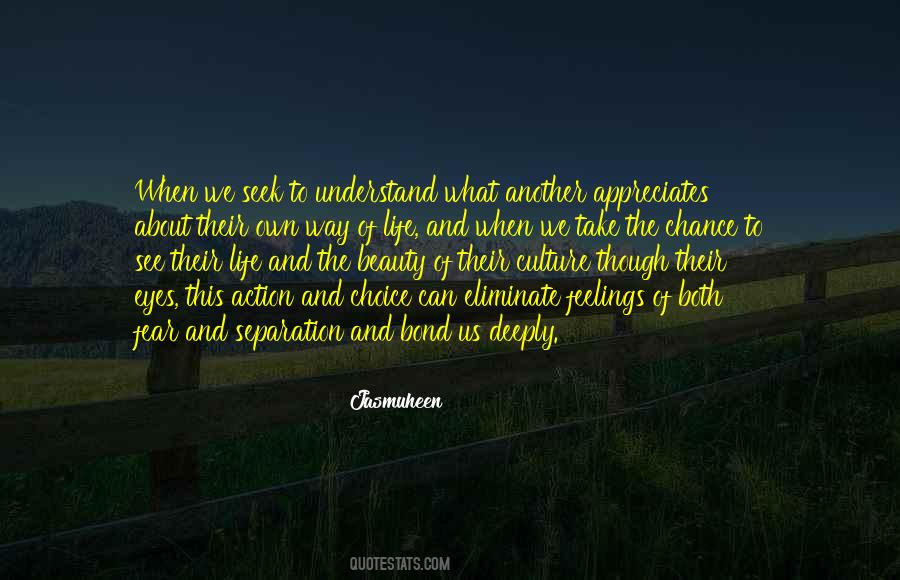 #67. I felt like I was seeing Shannon through a new lens, undistracted by Jennifer's nuclear glow. I could see how pretty she really was, how kind her eyes were. - Author: Kenneth Oppel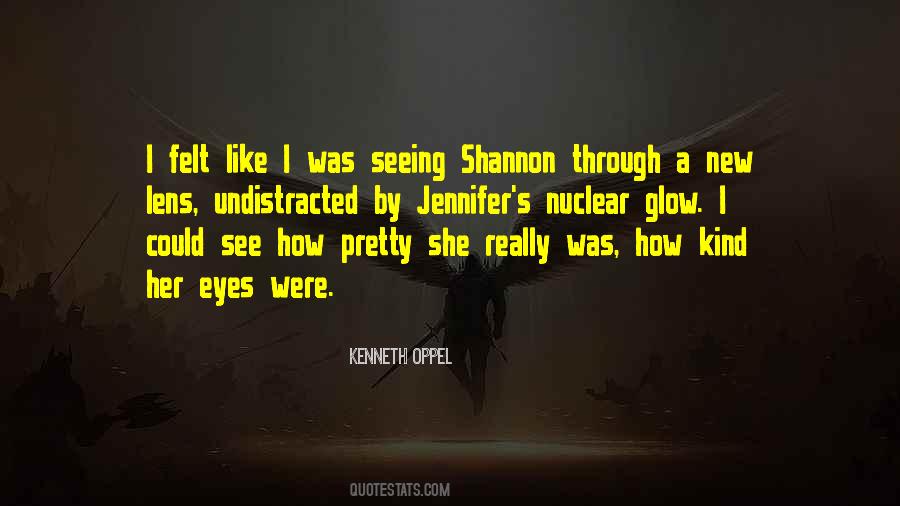 #68. And now that its ruby eyes are set into the gold, you cannot see their tear-shape, so they seem to be laughing rather than crying. It is a constant reminder to me of the human ability to create something beautiful even when things are at the darkest. - Author: Cressida Cowell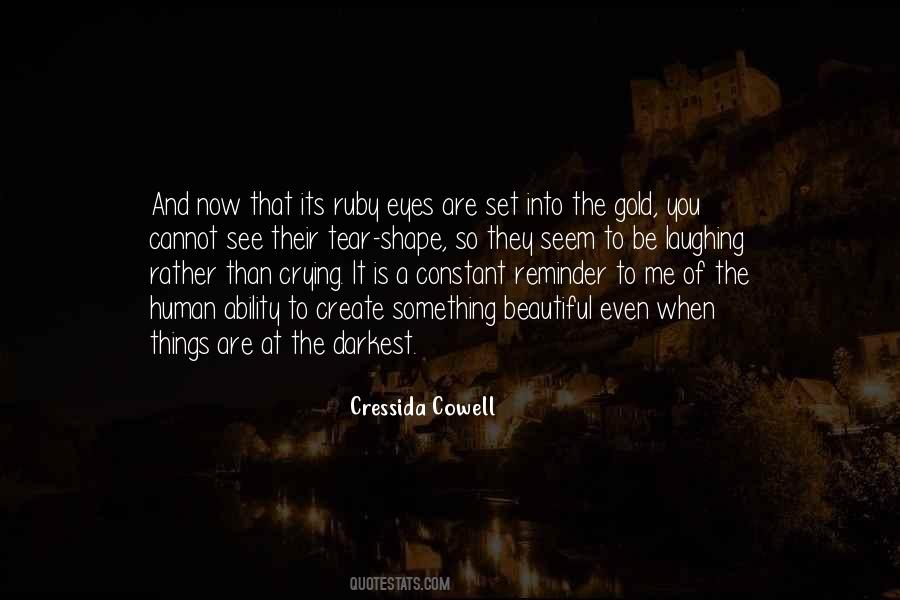 #69. Isn't it true that if you stare into the eyes of a cobra, the fear has another side to it? The fear is lessened as you begin to see the essence of the beauty. - Author: Richard Preston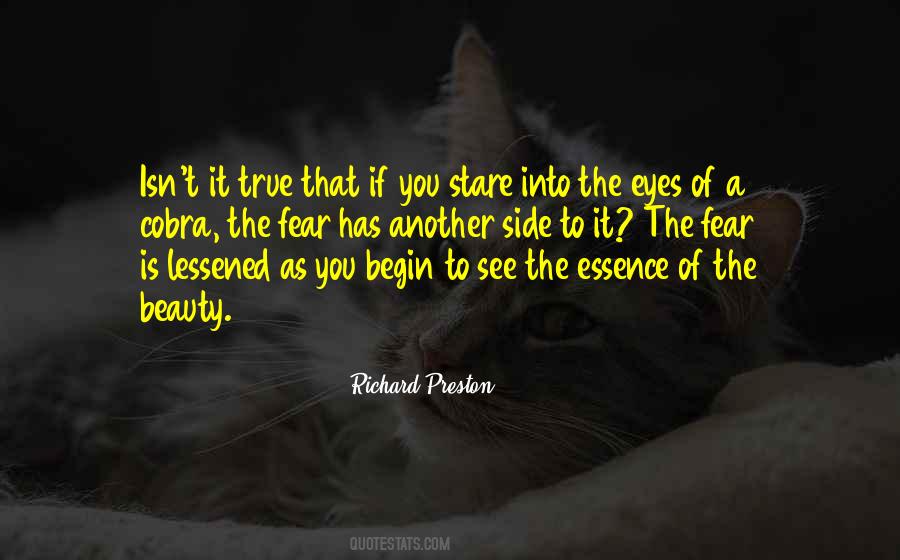 #70. You can tell me everything, her eyes say, because I will see beauty in everything you say. - Author: Rene Denfeld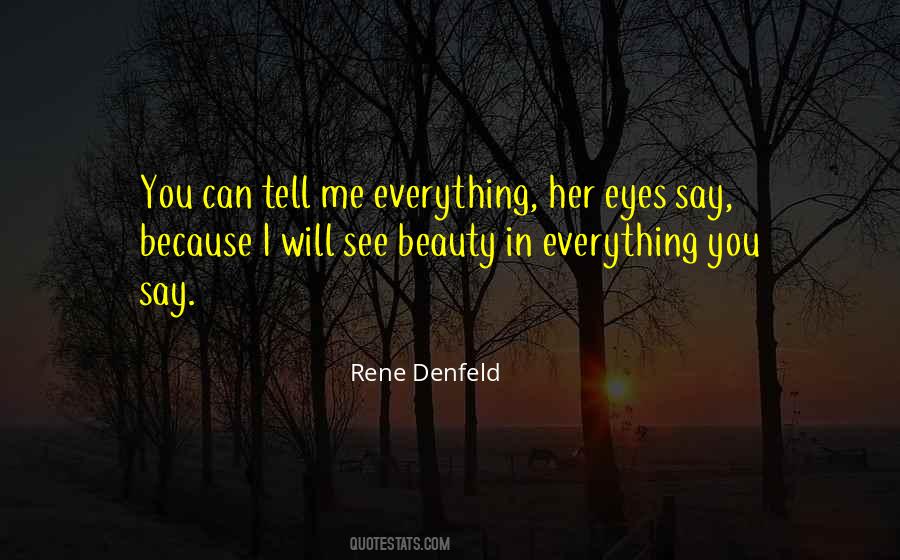 #71. In his face, I see the whole of my life. I see a baby who came to me long after I'd given up ... and a hint of the beauty I once had. I see ... my life in his eyes. - Author: Kristin Hannah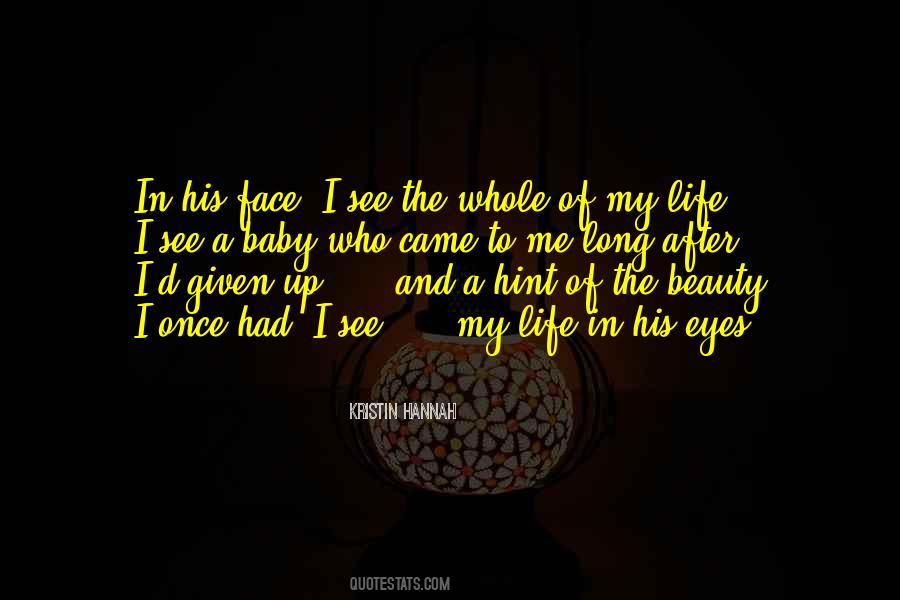 #72. When she lowers her eyes she seems to hold all the beauty in the world between her eyelids; when she raises them I see only myself in her gaze. - Author: Natalie Clifford Barney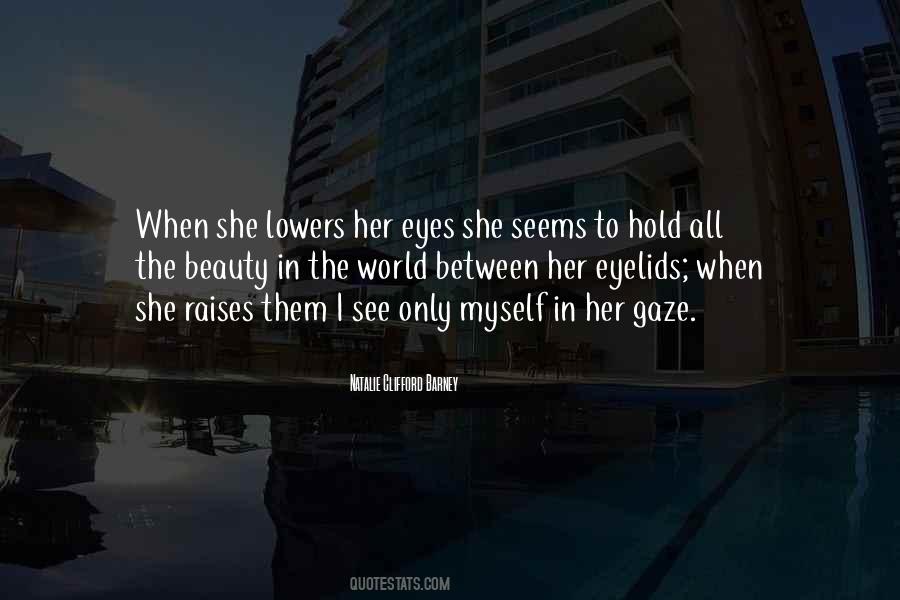 #73. Poets are damned ... but see with the eyes of angels. - Author: Allen Ginsberg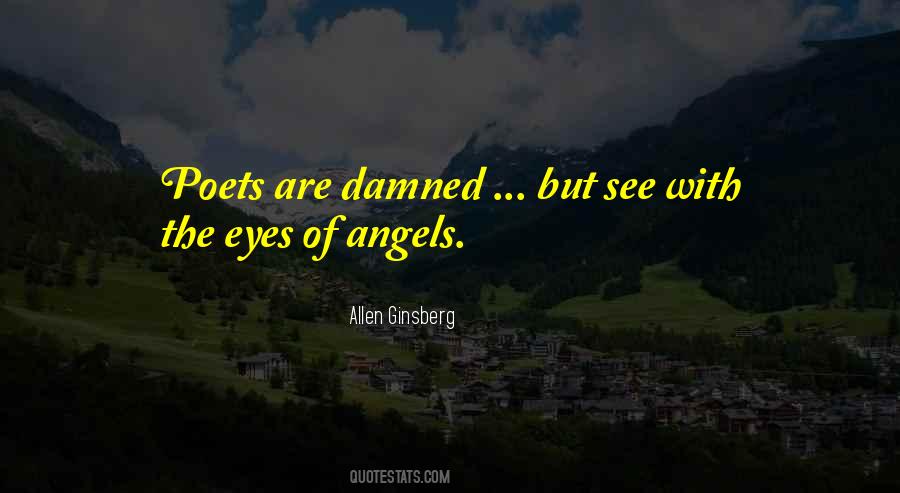 #74. But can one actually see beauty with eyes blurred by the lack of almost everything a human being needs? - Author: Paulo Lins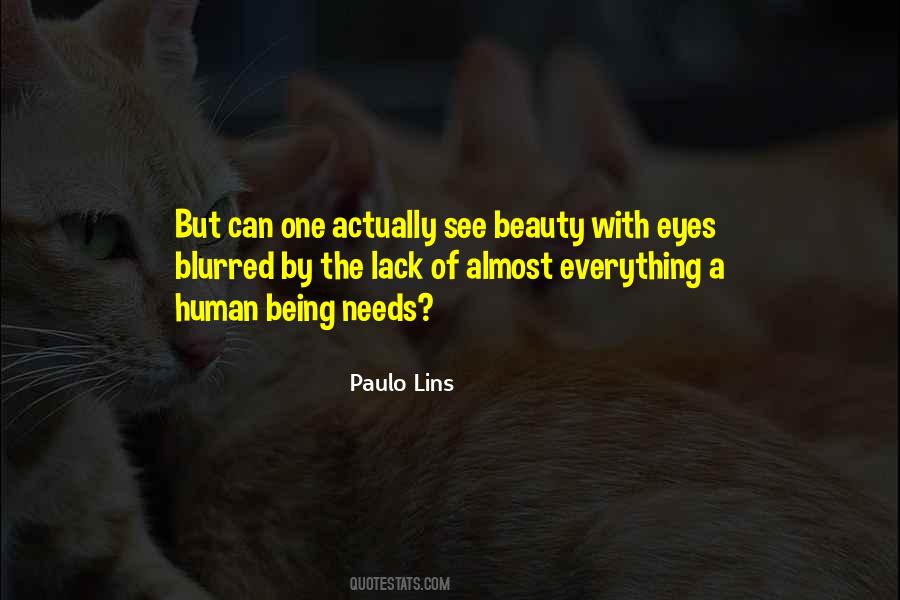 #75. Here was an ugly little girl asking for beauty ... A little black girl who wanted to rise up out of the pit of her blackness and see the world with blue eyes. His outrage grew and felt like power. For the first time he honestly wished he could work miracles. - Author: Toni Morrison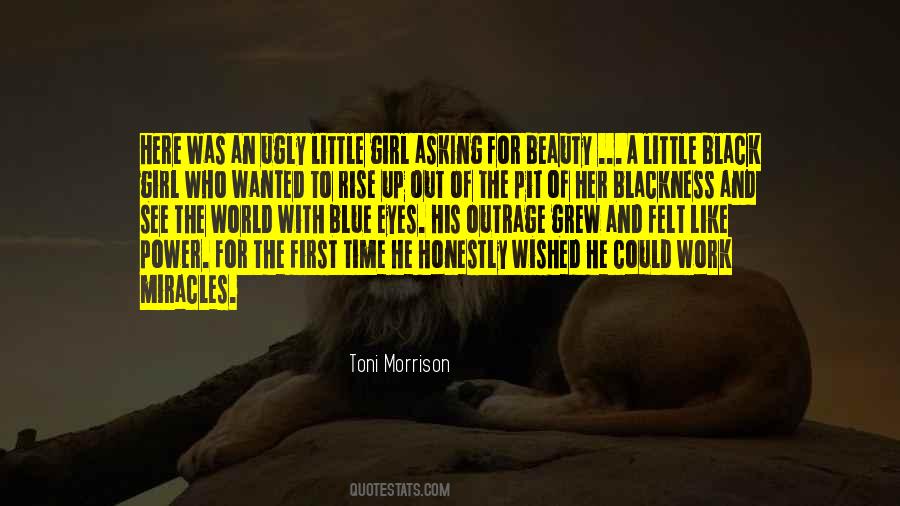 #76. True beauty is what lies inside of us, not what the world sees. A beautiful shell that houses a vile soul becomes sullied over time. But an outer shell, imperfect as it may be, that houses a beautiful, shines with that beauty, radiating it for all who have eyes to see. - Author: Sara B. Larson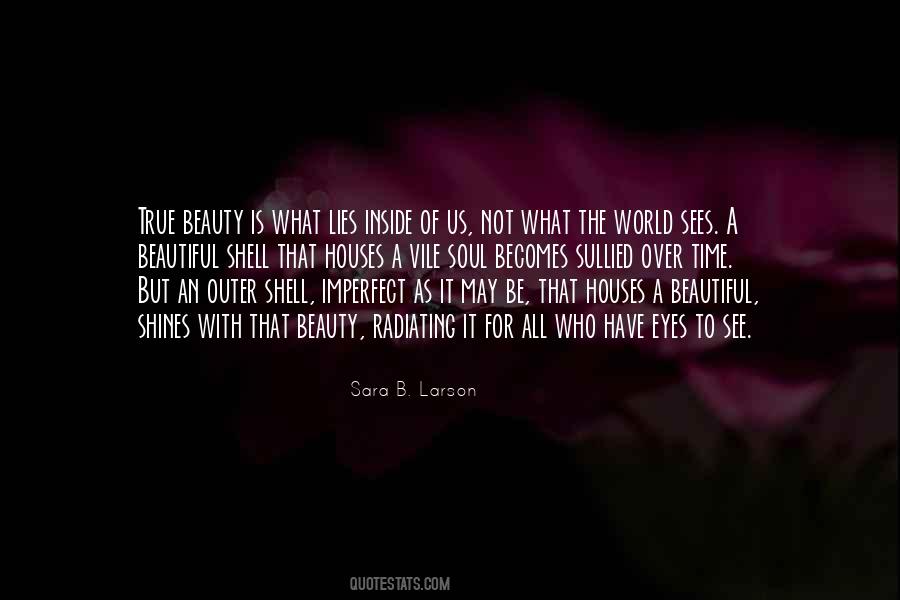 #77. Through pictures, we can imagine and visualize the reflection of the beauties which our eyes can't see. - Author: Debasish Mridha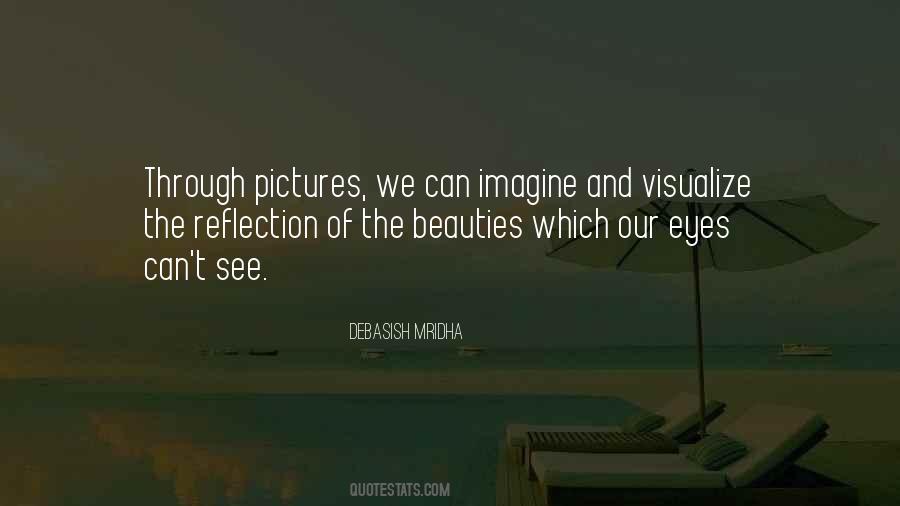 #78. The eyes of a nation (living godly) like this shall see the King of kings and the Lord of lords in all his beauty. Meaning salvation and redemption shall be readily available in abundance for the people of that land. - Author: Sunday Adelaja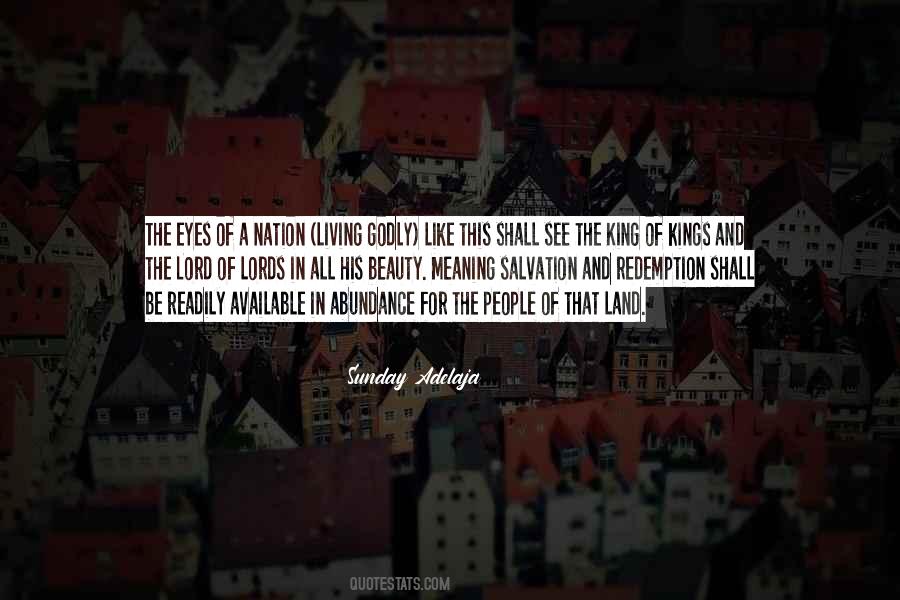 #79. Some things take so long
But how do I explain
When not too many people
Can see we're all the same
And because of all their tears
Your eyes can't hope to see
The beauty that surrounds them
Now, isn't it a pity - Author: George Harrison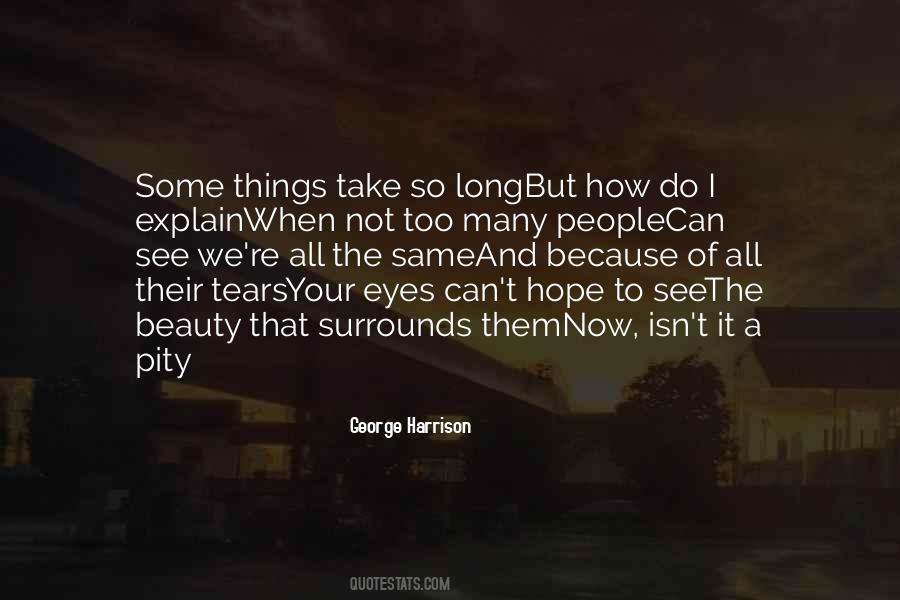 #80. I thought how sadly beauty of inscape was unknown and buried away from simple people and yet how near at hand it was if they had eyes to see it and it could be called out everywhere again. - Author: Gerard Manley Hopkins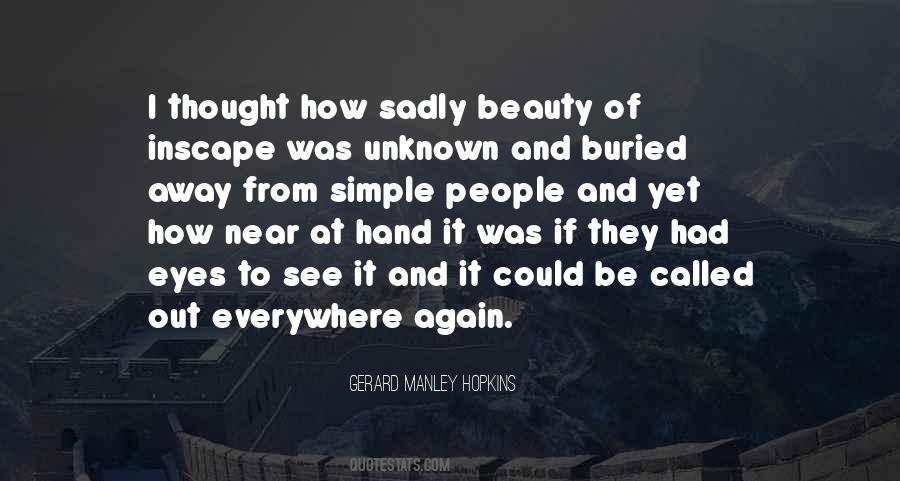 #81. There's great beauty on this world if you just have the eyes to see it. - Author: Henry Travers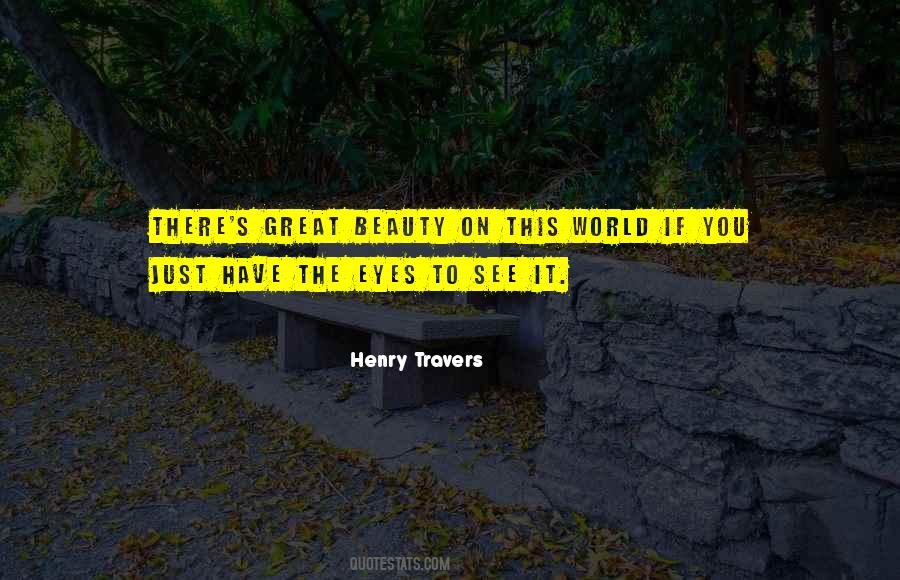 #82. I would follow such beauty, said something inside Ender. I would see as those eyes see. - Author: Orson Scott Card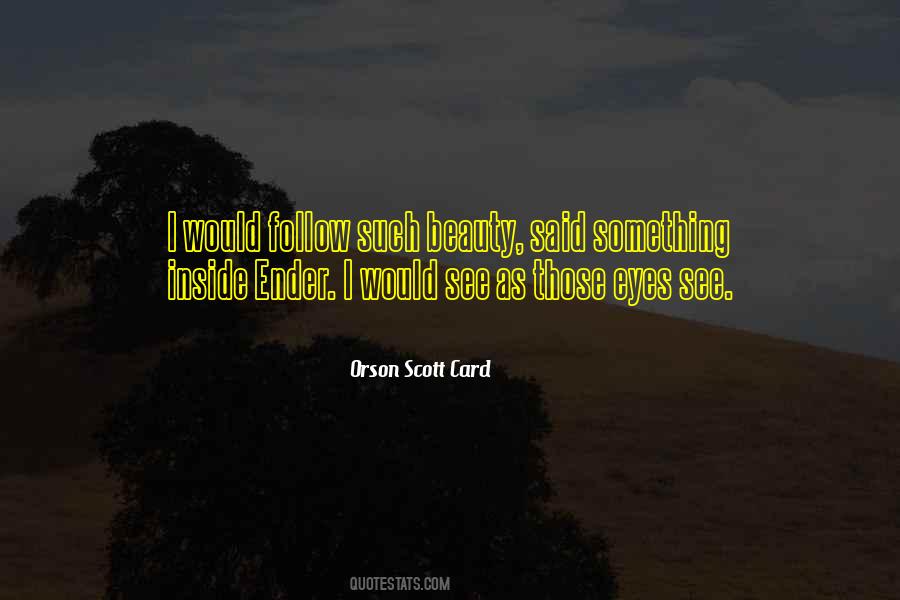 #83. Mindfulness is paying attention to what is going on. Just look at beauty. Not just the beauty of things you see with your eyes, but beautiful feelings, beautiful awareness. There is no such thing as reality. Reality is what you make it. - Author: Frederick Lenz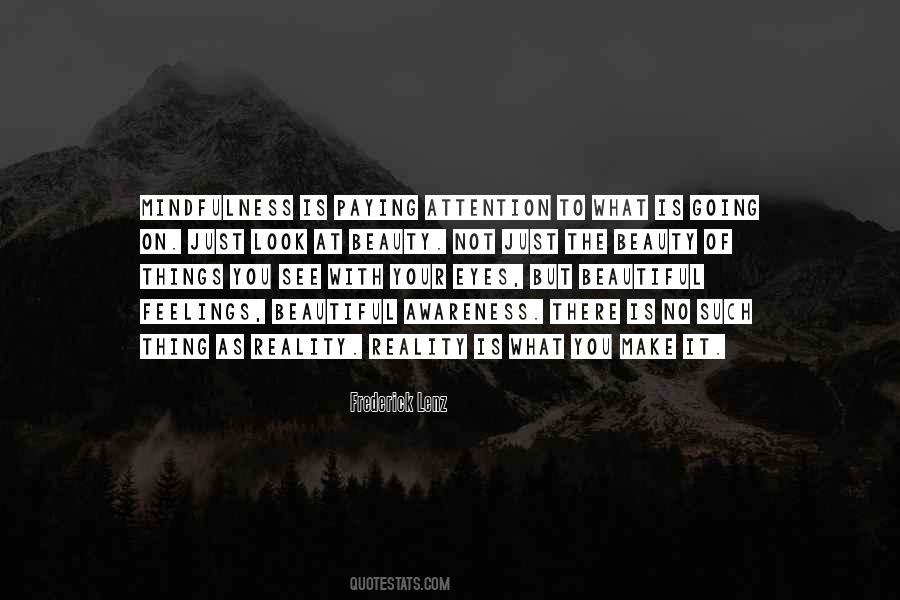 #84. I see the beauty of the world through your eyes. I can't see it through my own. - Author: Chani Lynn Feener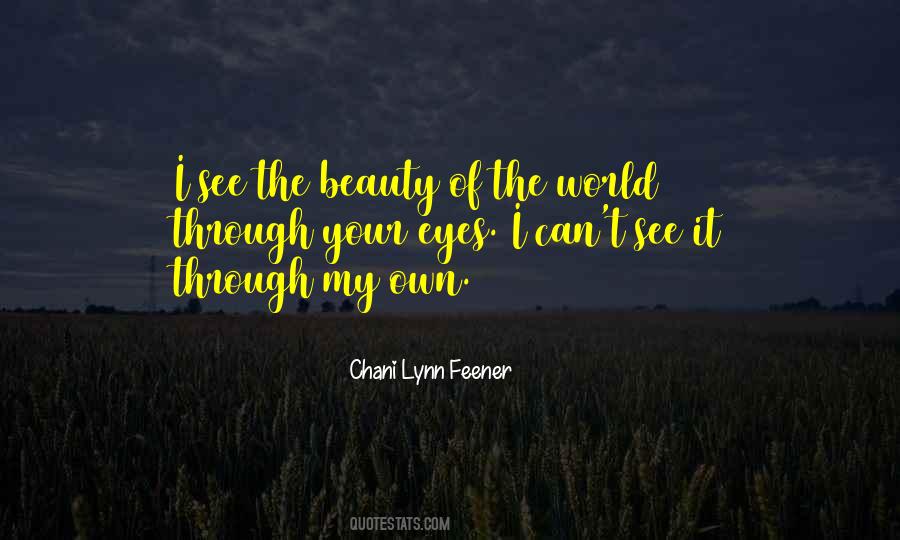 #85. Take a deep breath and feel the joy of life. Open your eyes and see the beauty of a dancing leaf. - Author: Debasish Mridha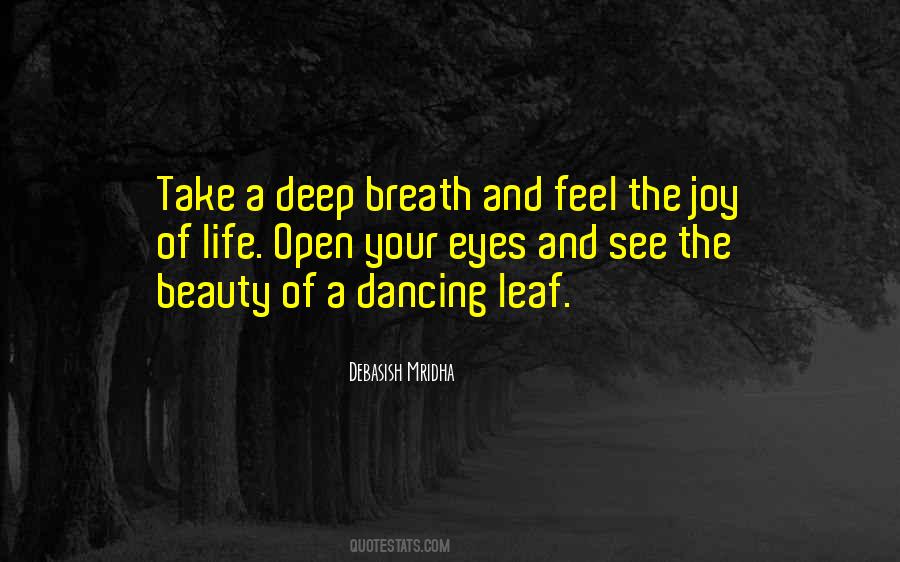 #86. You can't see beauty with miserable eyes. - Author: H.G.Wells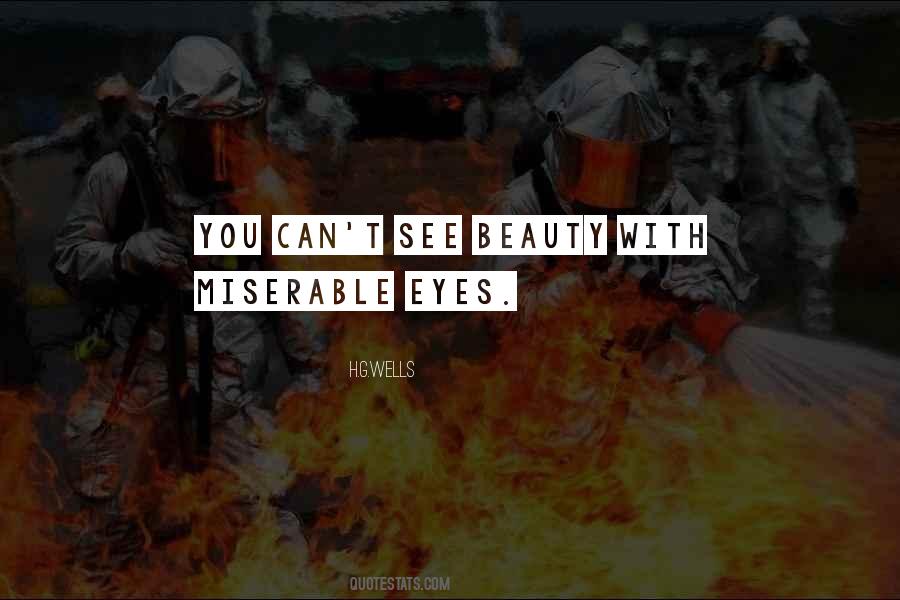 #87. After I see a painting, I go into a room, I close my eyes and I slowly escape into the beauty of the painting. I reflect on the painting, the nuances of the artwork, it's theme, mood and highlights -until the magic of the painting flashes before me. - Author: Srinidhi.R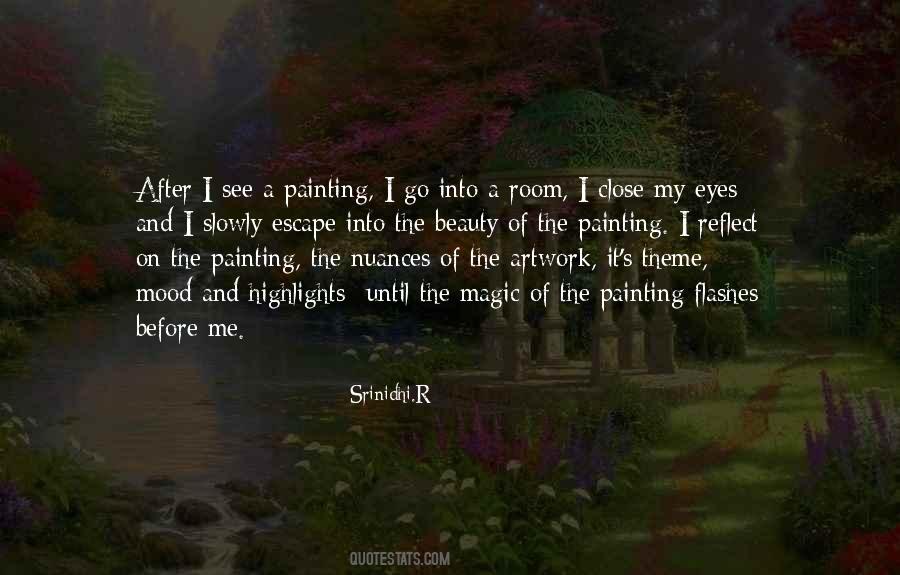 #88. The universe create you to see its own beauty through your eyes. - Author: Debasish Mridha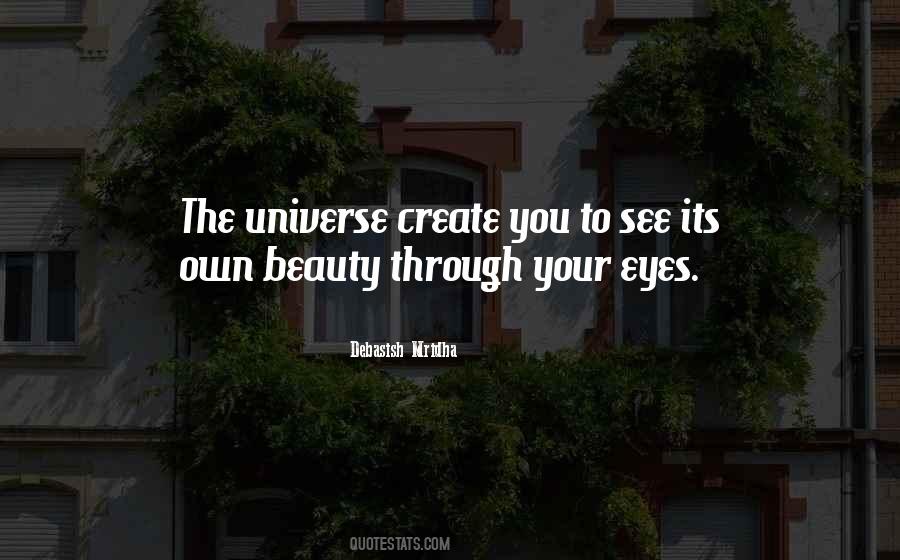 #89. Let your feet Take you places, let them remind you of the beauty your eyes can't see. - Author: Nikki Rowe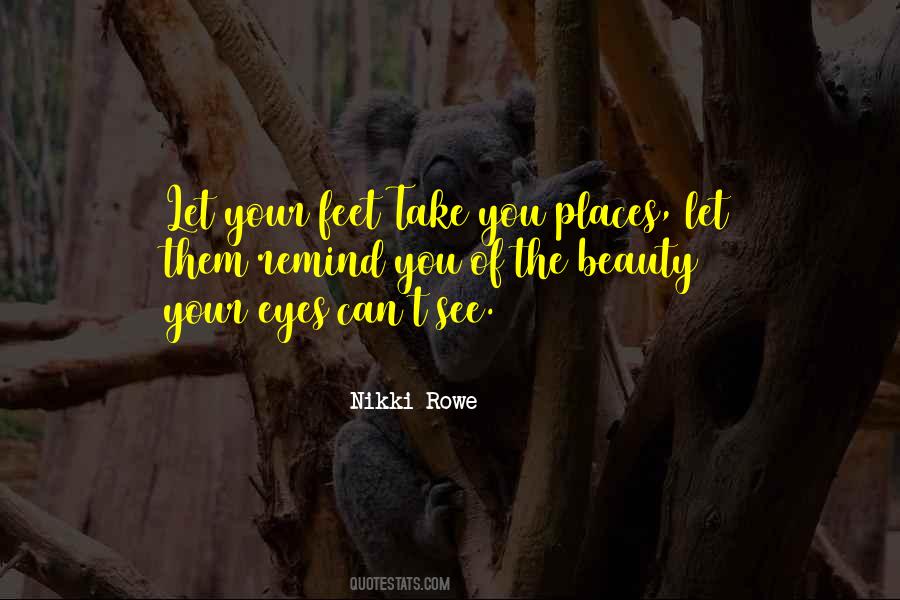 #90. No time to see, in broad daylight,
Streams full of stars, like skies at night.
No time to turn at Beauty's glance,
And watch her feet, how they can dance.
No time to wait till her mouth can
Enrich that smile her eyes began. - Author: W.H. Davies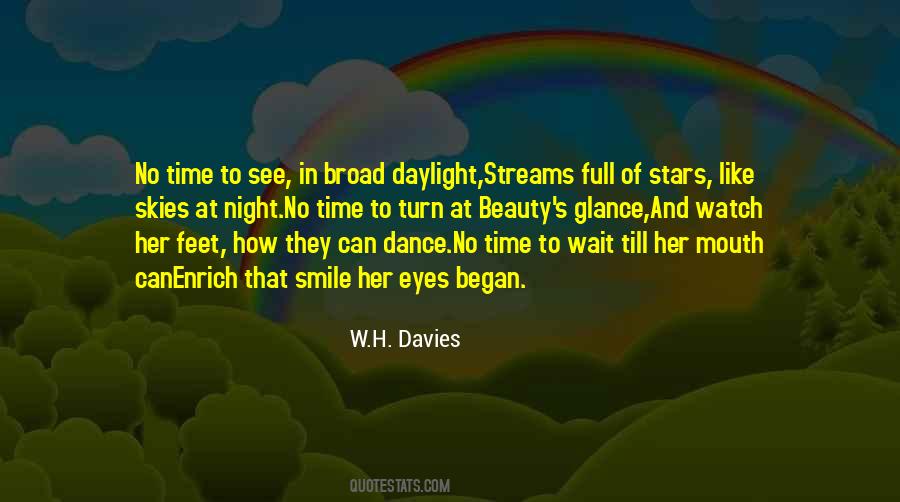 #91. It does not mean you are not awesome, if no one ever appreciates your beauty. But I can see that, in your juicy eyes, funny smiles and innocent face. And I am telling you now; you are exceptionally beautiful and awesome. - Author: M.F. Moonzajer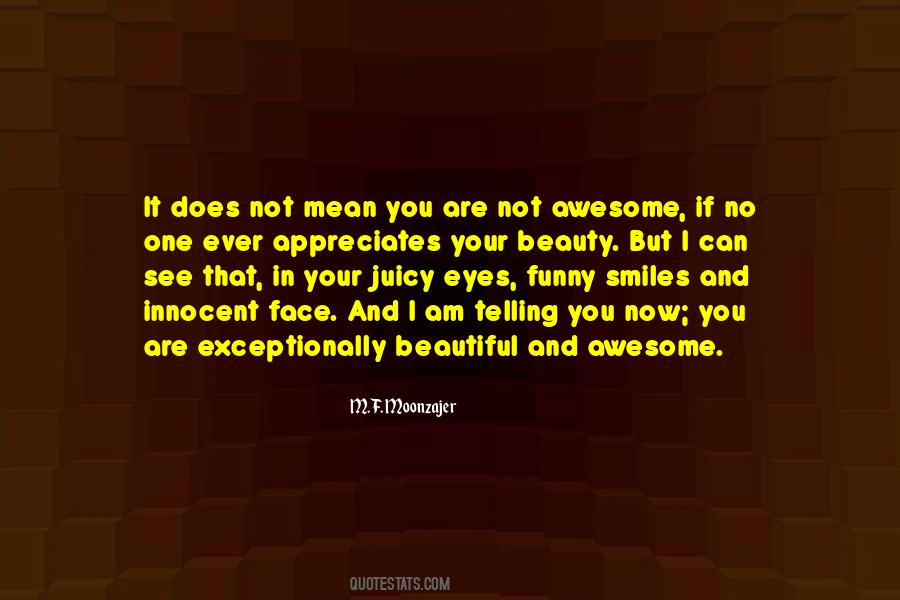 #92. If someone gave you a device with which you could see entire worlds just by holding it in front of your eyes, worlds of such beauty and complexity that they took your breath away ... wouldn't you want to show this device to everyone you knew? - Author: Ann Patchett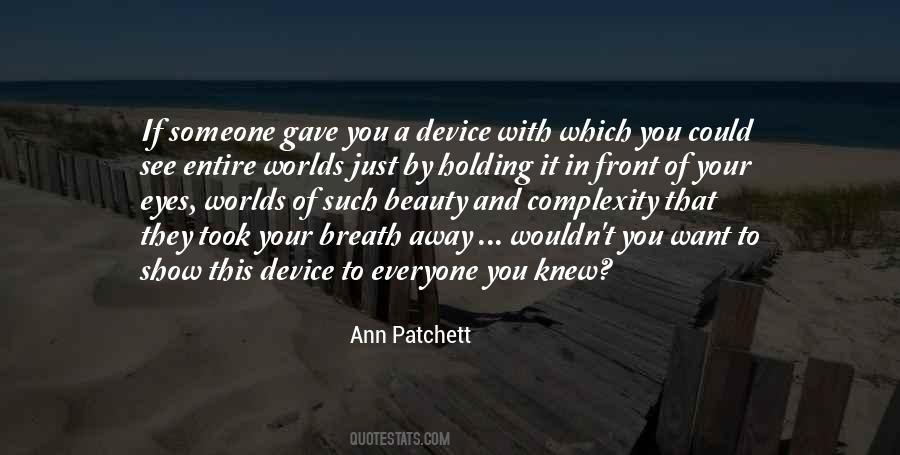 #93. Listen to the whisper of the ocean. See the beauty of her crystal blue eyes. Enjoy the hug of her warm, joyful and dancing beauty. Feel her deep driving desire in her waves. - Author: Debasish Mridha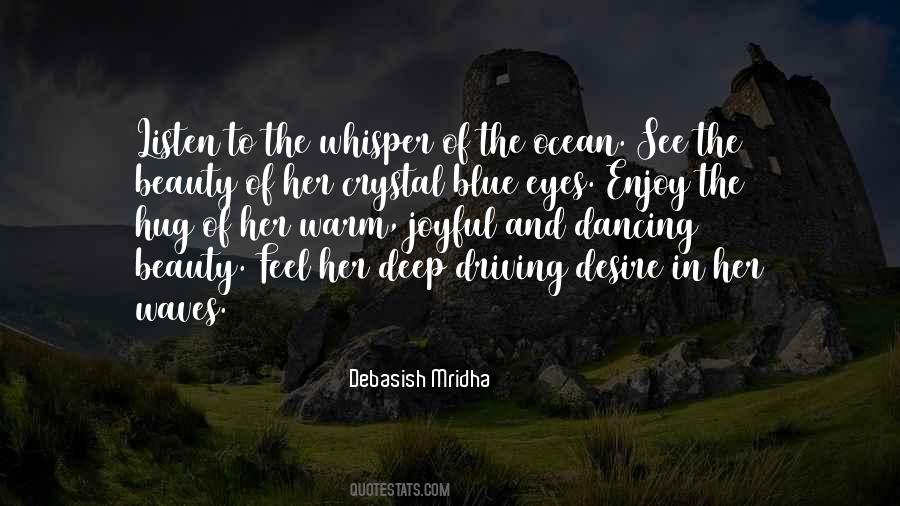 Famous Authors
Popular Topics