Everyone Else Is Wrong Famous Quotes & Sayings
List of top 50 famous quotes and sayings about everyone else is wrong to read and share with friends on your Facebook, Twitter, blogs.
Top 50 Everyone Else Is Wrong Quotes
#1. If you don't have a tonne of optimism, you're not going to make it ... you won't be able to evangelise to everyone else. On the other hand, if you aren't constantly paranoid about what can go wrong and put plans in place, then you're going to get bitten at some point. - Author: Astro Teller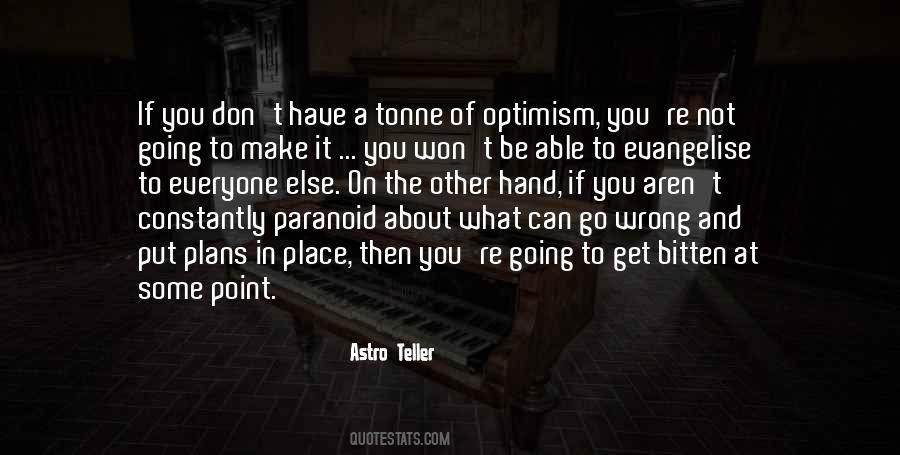 #2. Growing a pair is a state of mind, an attitude, and a way of thinking. It's about giving up being a victim and taking control of your life at every level. It is the willingness to do the right thing even when everyone else is doing the wrong thing. - Author: Larry Winget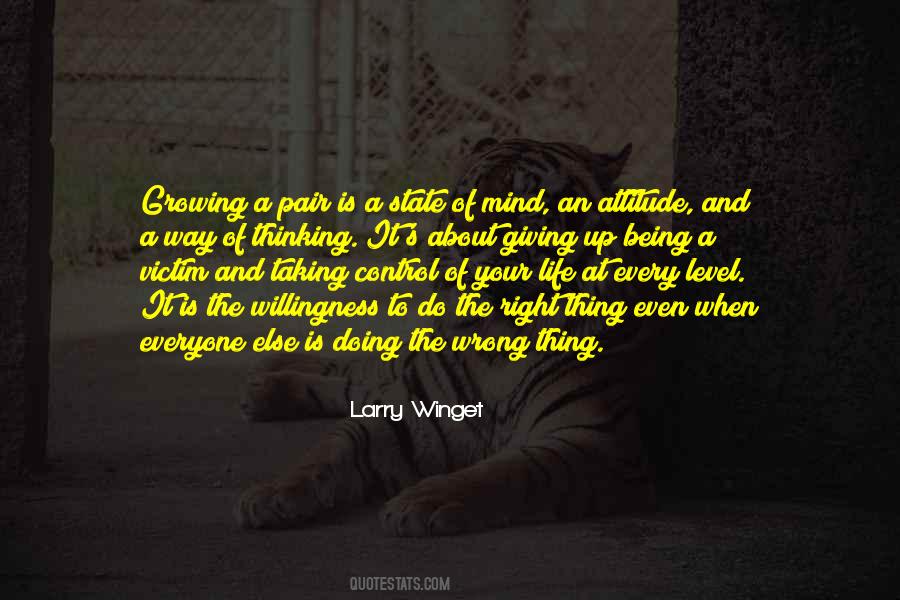 #3. I would continue to suffer,but knowing that everyone else is suffering too would make the pain more bearable.If only a few of us are condemned to suffer terrible tragedies,then there is something very wrong with the creation. - Author: Paulo Coelho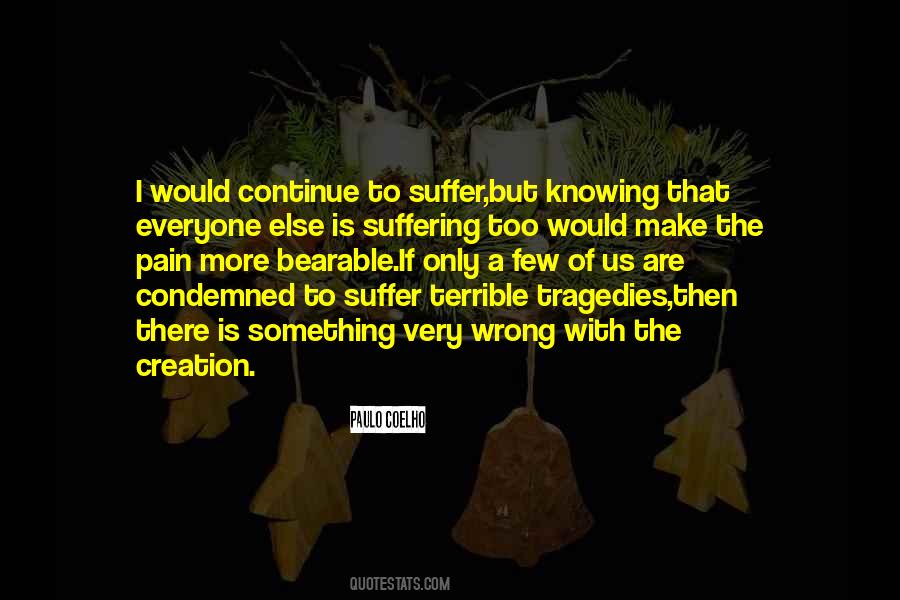 #4. Discovery is the privilege of the child: the child who has no fear of being once again wrong, of looking like an idiot, of not being serious, of not doing things like everyone else. - Author: Alexander Grothendieck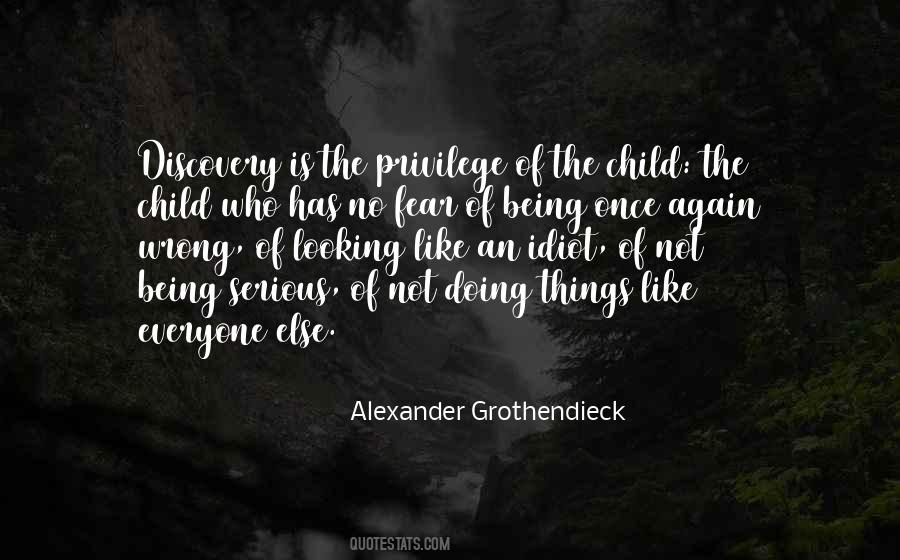 #5. When you're the first person whose beliefs are different from what everyone else believes, you're basically saying, "I'm right, and everyone else is wrong." That's a very unpleasant position to be in. It's at once exhilarating and at the same time an invitation to be attacked. - Author: Larry Ellison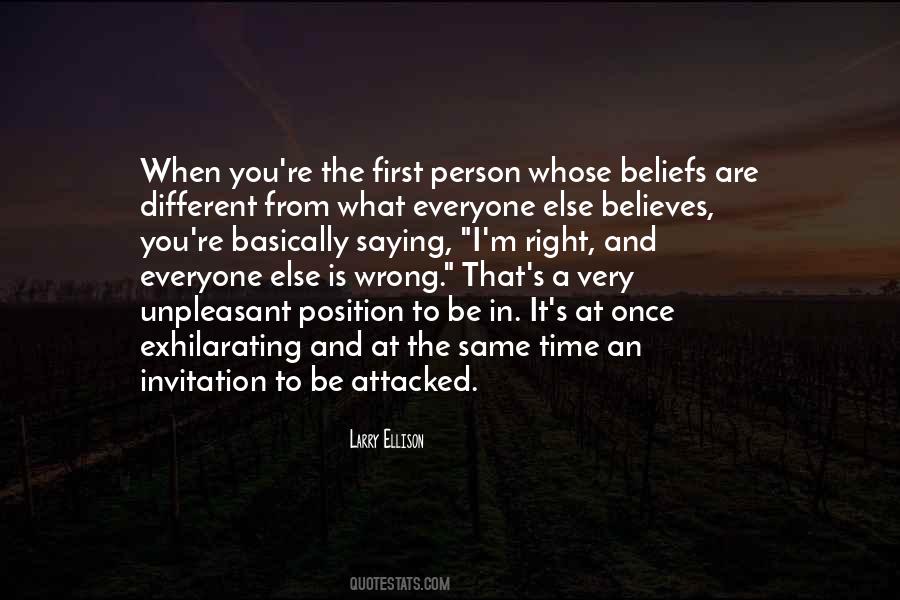 #6. We learn to be right and to make everyone else wrong. The need to be right is the result of trying to protects the image we want to project to the outside. We have to impose our way of thinking, not just onto other humans, but even upon ourselves. - Author: Miguel Angel Ruiz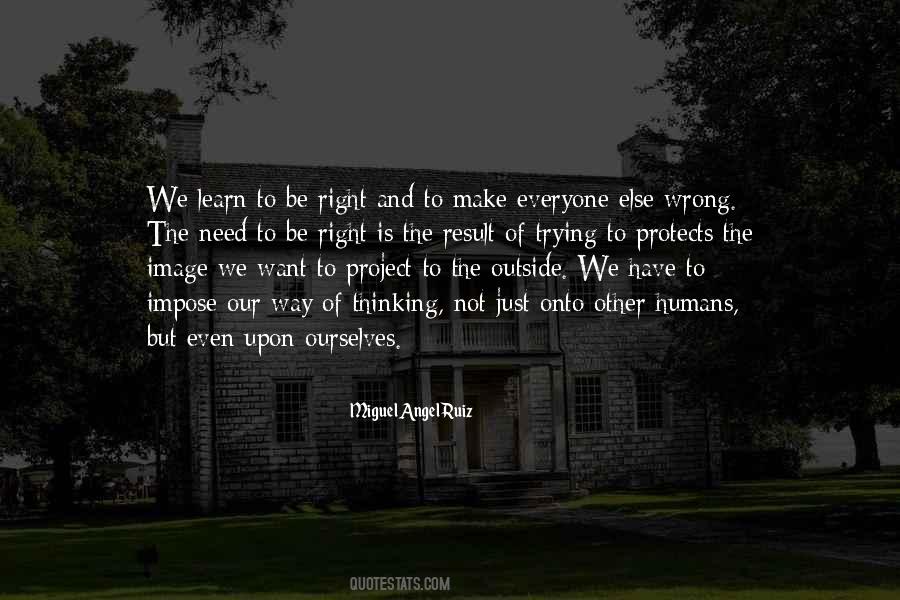 #7. Remember, you can't make everyone like you. If you pretend to be someone else, you will attract the wrong people. If you choose to be yourself, you'll attract the right people and they will be your people. - Author: Pia Edberg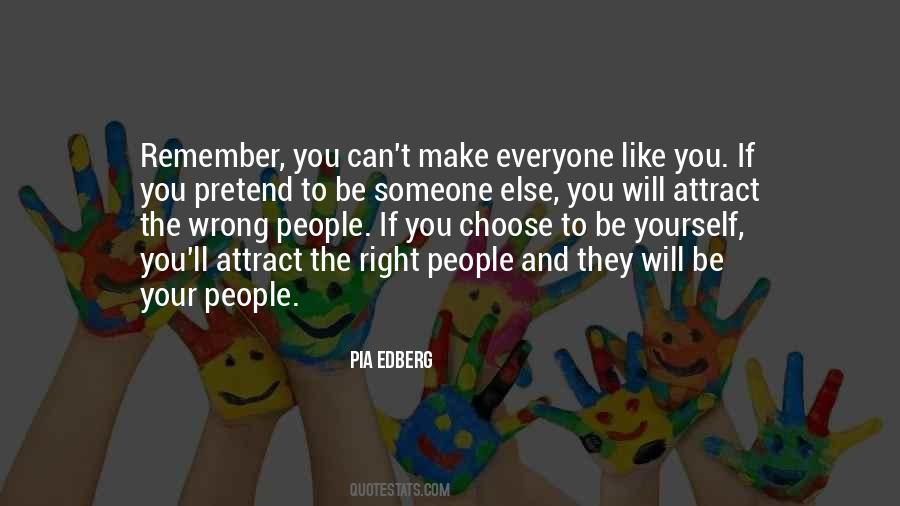 #8. If you're doing what everyone else is doing, you're doing it wrong. - Author: Casey Neistat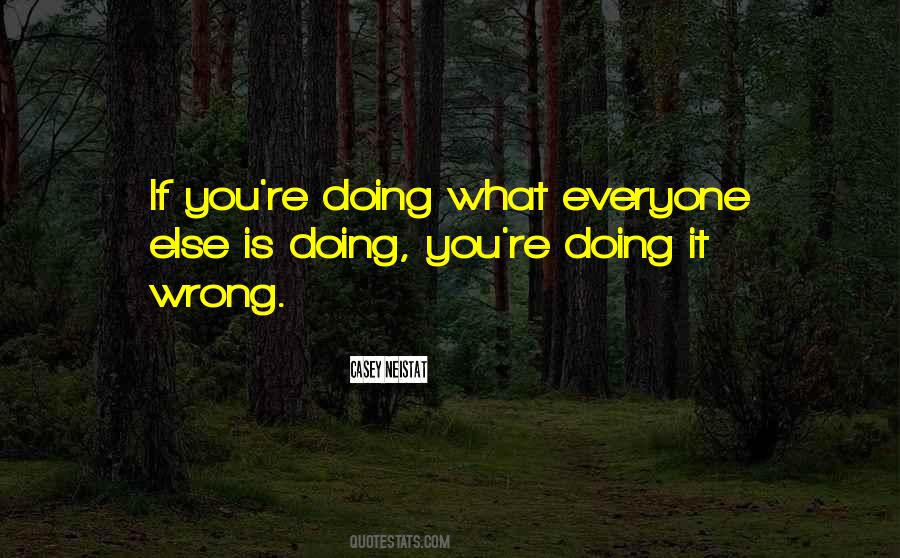 #9. Organizations like the CIA and the FBI are still kind of supermen, kind of SS troops: We're blond and the best and everyone else should be incinerated. They don't know right from wrong. That's what makes a satire of these government bureaus really funny. - Author: Mel Brooks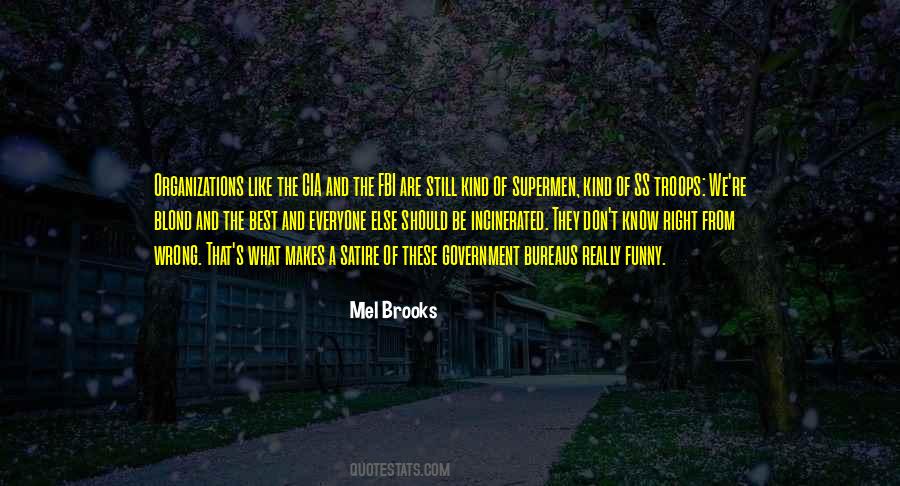 #10. As I pedal, I start to get a bad feeling. I start to feel like I have everything all wrong, and that everyone else is right, and all my hopefulness is just childish bullcrap. - Author: Matthew Quick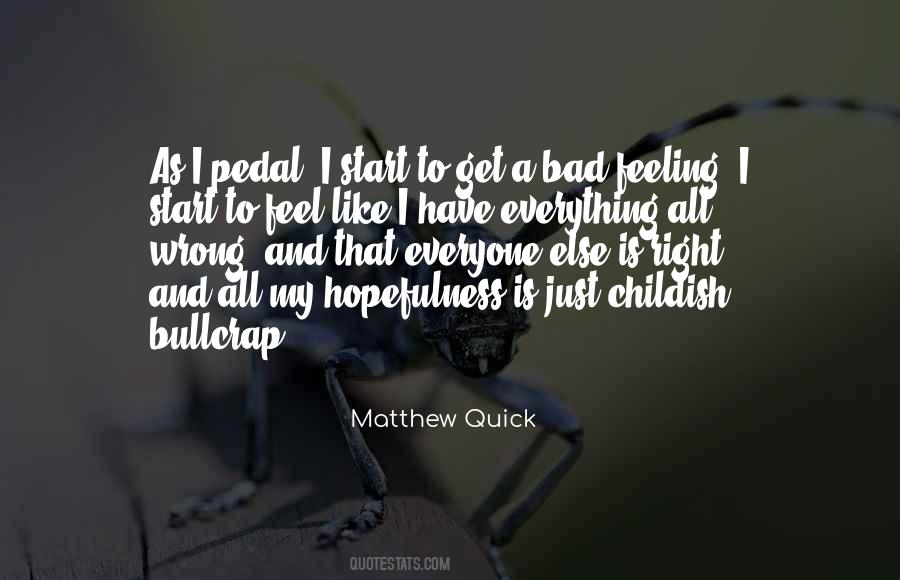 #11. Sometimes I wish I could act like everyone else, but I can't change who I am. I've tried. But I never wear the right clothes or say the right thing, and something always goes wrong. - Author: Kami Garcia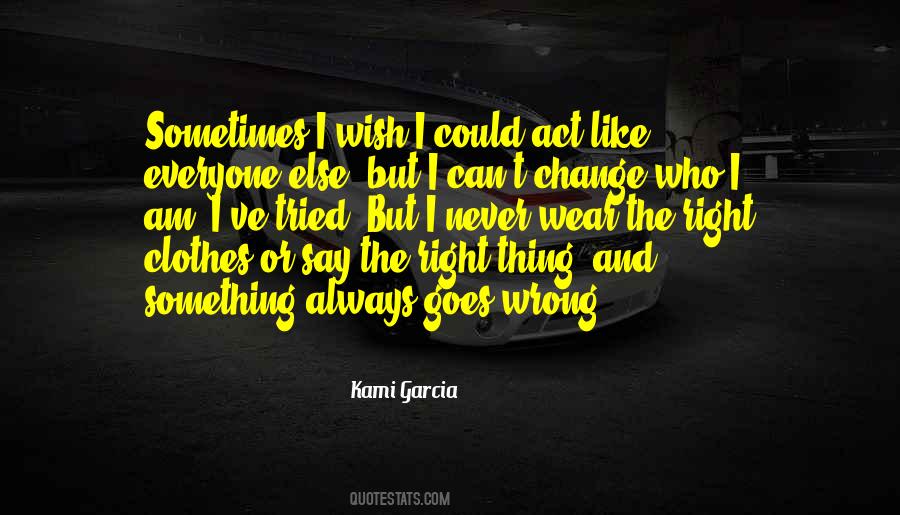 #12. The Republicans are wrong in thinking that the rich create jobs. In reality, many of the richest Americans have been investing in efficiency innovations rather than to create jobs. And the Democrats are wrong, because growth won't happen if they distribute the wealth of the wealthy to everyone else. - Author: Clayton Christensen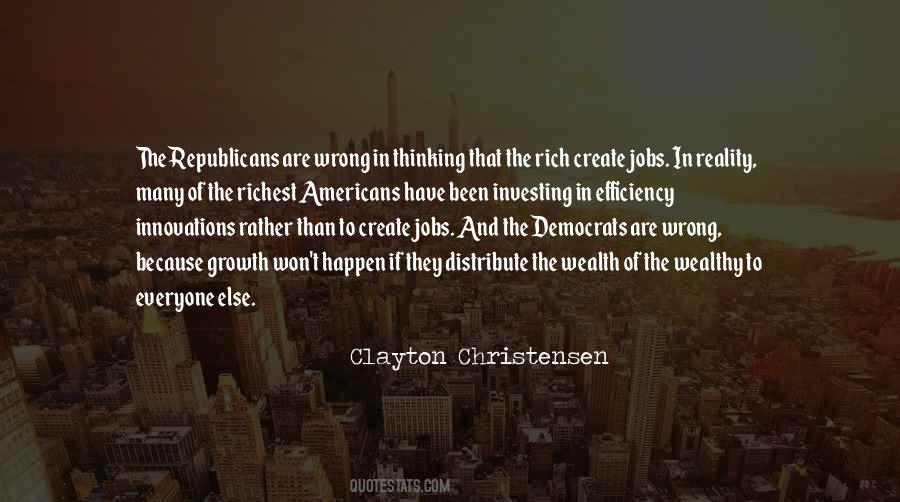 #13. The thing early on that you think is 'wrong' with you, that makes you not fit in with everyone else, becomes the key to your career as an actor. Start embracing it. - Author: John Lloyd Young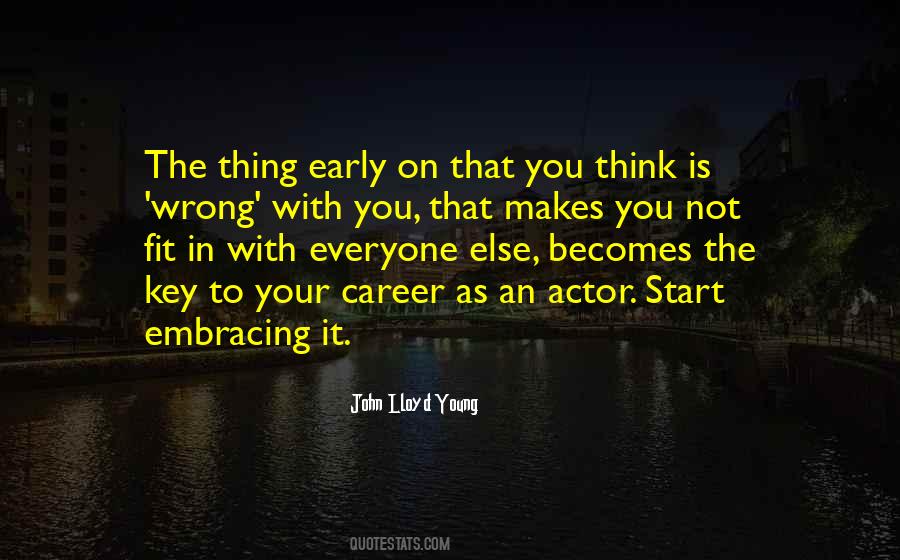 #14. But now my problems had been set loose. They could be anywhere at any time and I was just like everyone else I knew: almost positive that there was something profoundly and undiagnosably wrong with me. - Author: Sloane Crosley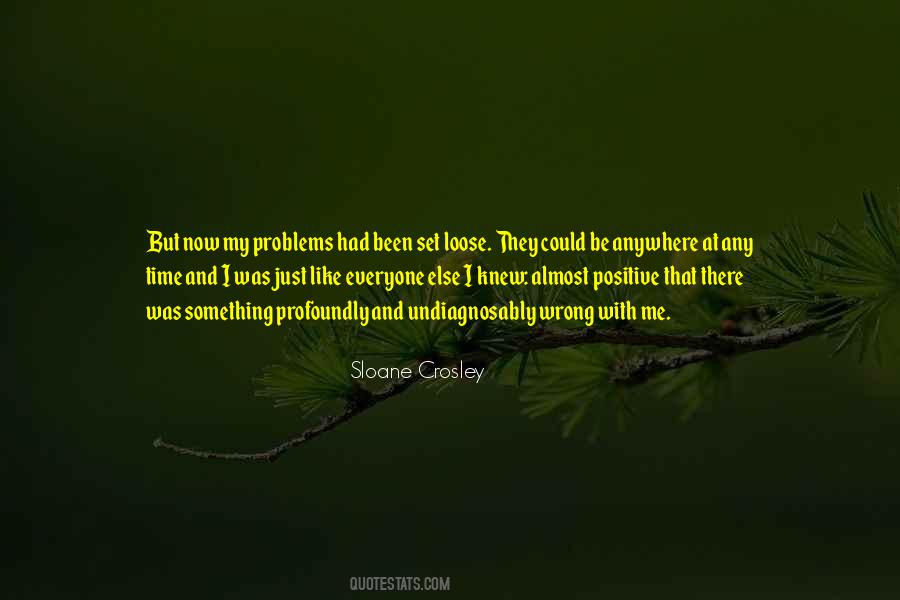 #15. Imagine living your life without judging others. You can easily forgive others and let go of any judgments that you have. You don't have the need to be right, and you don't need to make anyone else wrong. You respect yourself and everyone else, and they respect you in return. - Author: Miguel Ruiz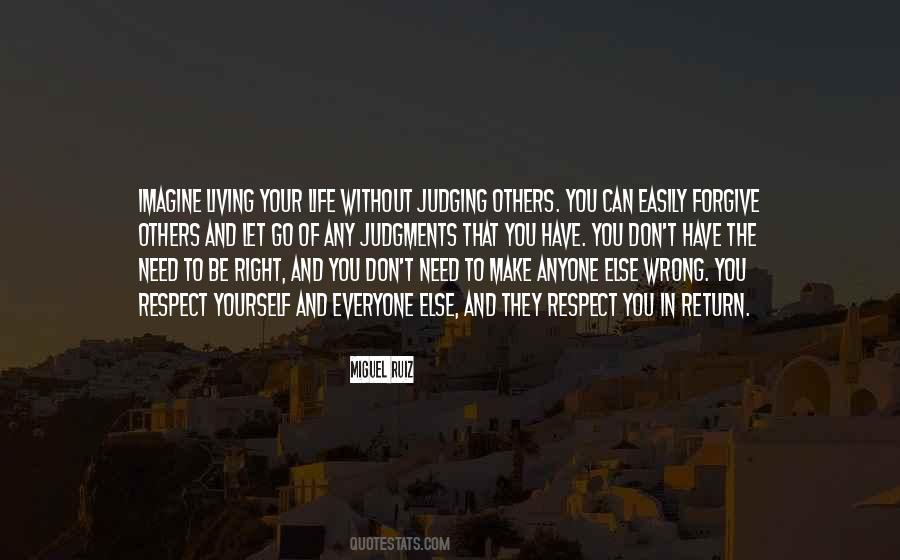 #16. I try to have a real close connection with my fans. That's extremely important. They are the ones that have been there from the beginning and proved everyone else wrong. - Author: Josh Groban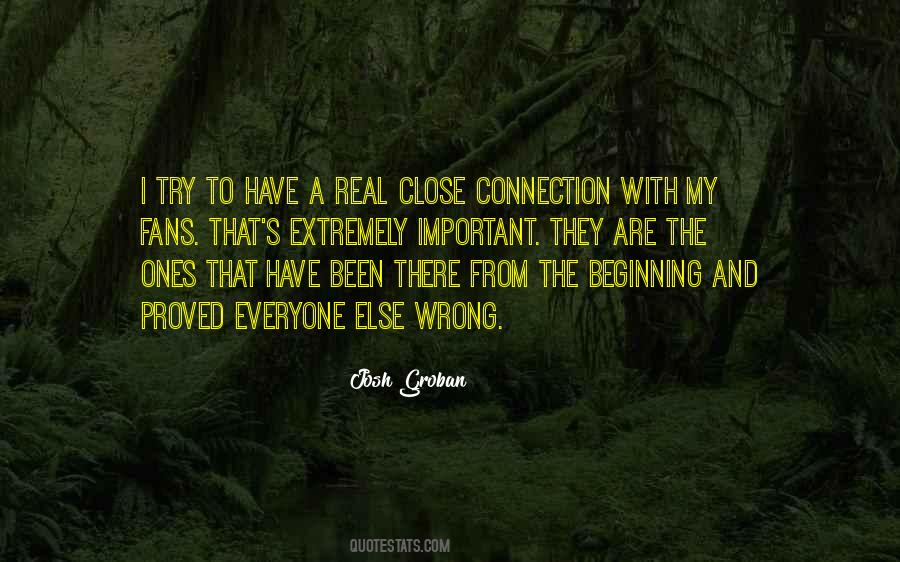 #17. Have you ever been in a pub where everyone goes armed? Oh, things are a little polite at first, I'll grant you, and then some twerp drinks out of the wrong mug or picks up someone else's change by mistake and five minutes later you're picking noses out of the beer nuts
- Author: Terry Pratchett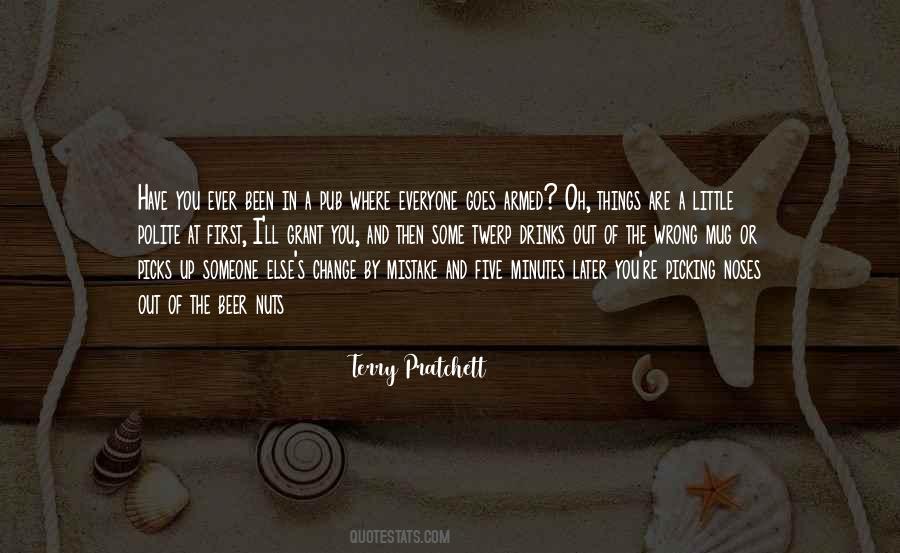 #18. I'm right, and everyone else is wrong. - Author: Larry Ellison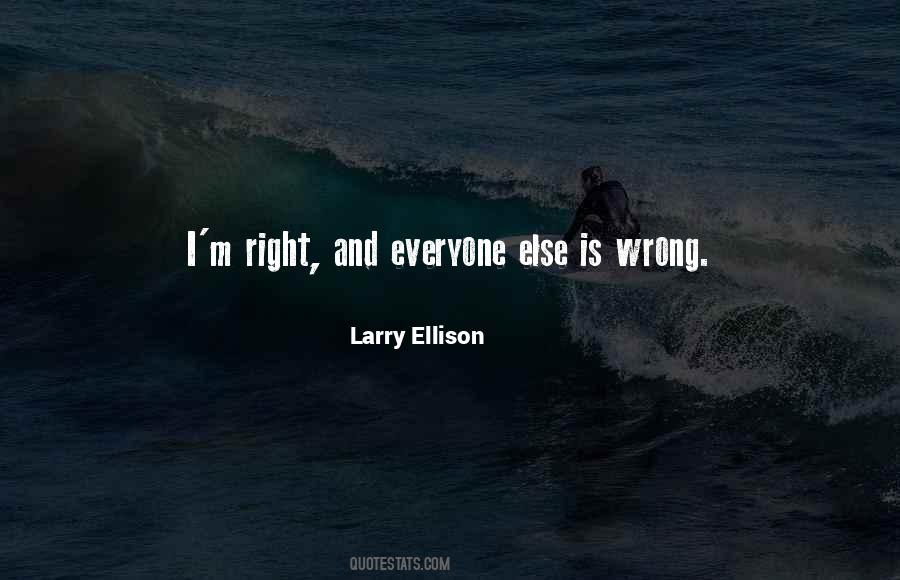 #19. In the past, people used to tell me to shut up a bit. But what I believe is to put out your opinion and let everyone else react. If I'm wrong, I'm wrong. - Author: Mark Cuban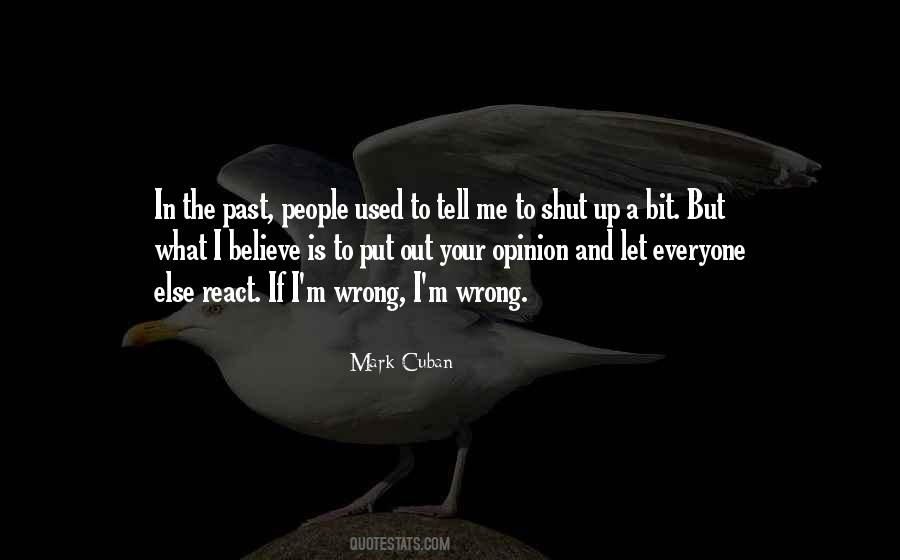 #20. It's a kind of meditation, especially when you wake up before everyone else. And it gives my hands something to do while I scheme." "Is that what I've been doing wrong?" Maeve wondered aloud, stirring a lump of sugar into her coffee. "I've never actually set aside time to deliberately scheme. - Author: Gabriella Pierce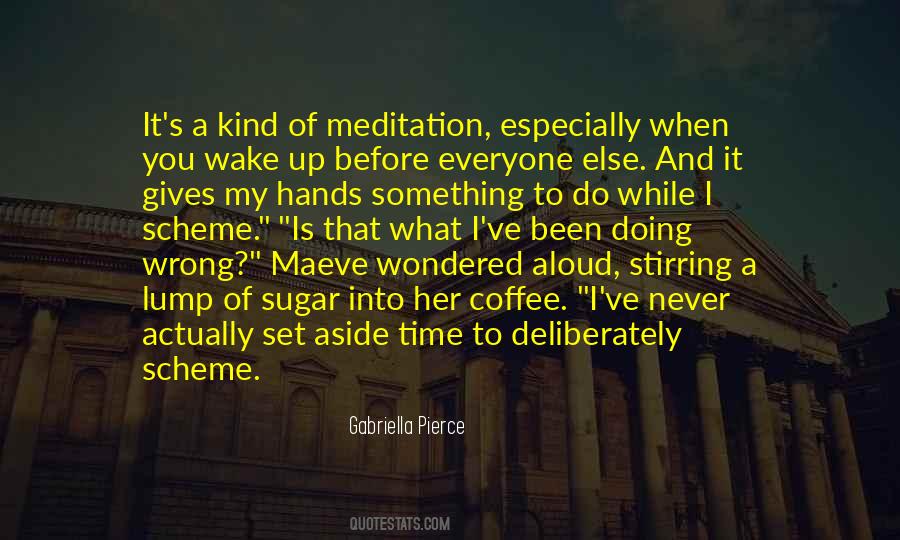 #21. Welcome to adulthood." Cob said. "Every child finds a day when they realize that adults can be weak and wrong just like everyone else. After that day, you are an adult. Like it or not. - Author: Peter V. Brett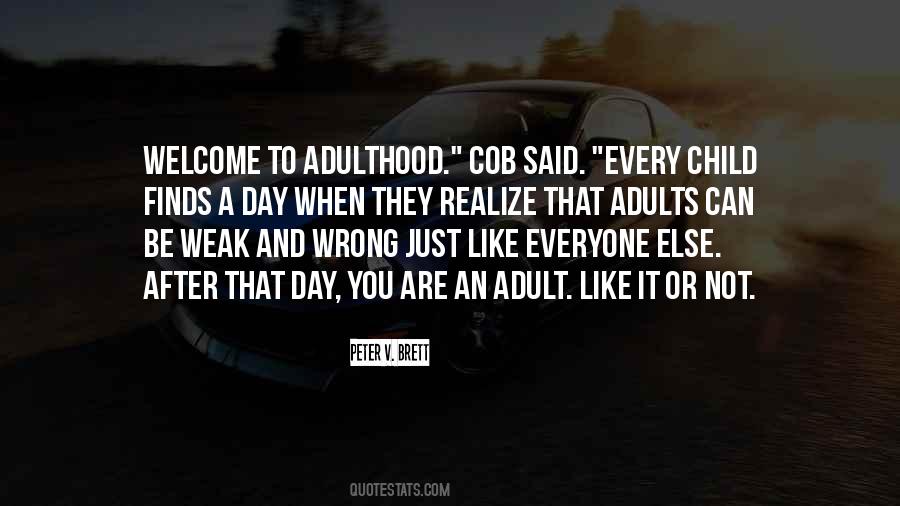 #22. Watch what everyone else does
do the opposite. The majority is always wrong. - Author: Earl Nightingale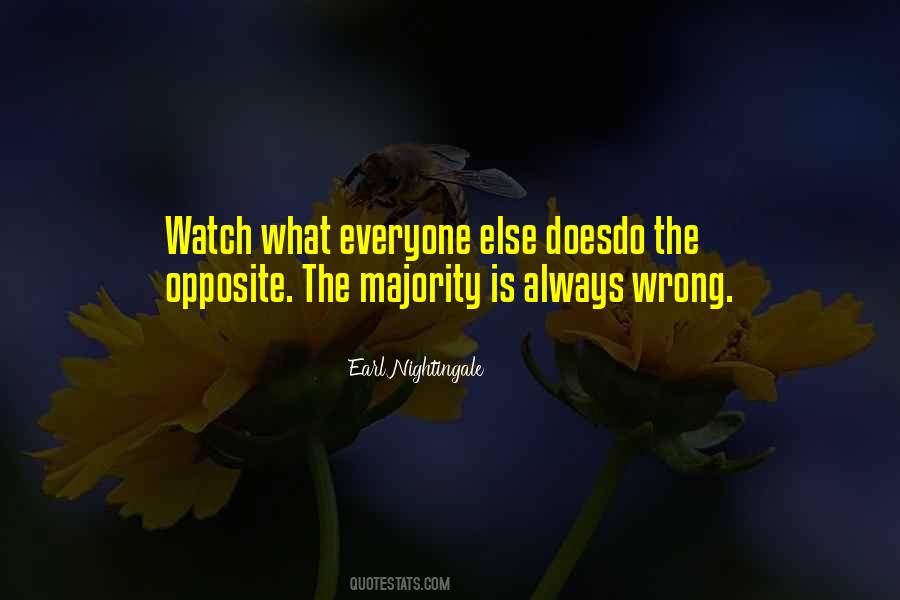 #23. Stop letting everyone else tell you what's wrong and right. Stake a claim! You cower when you could conquer. - Author: Tahereh Mafi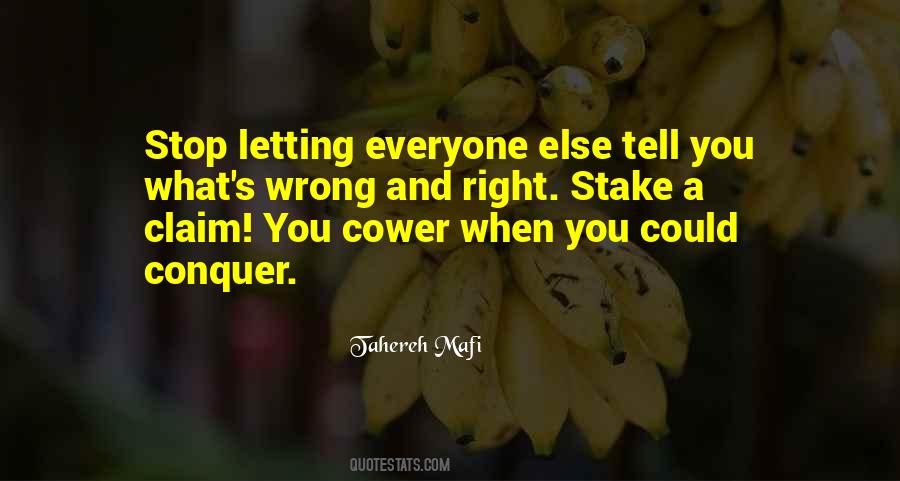 #24. In the beginning, though, I have to admit that I did have a chip on my shoulder. I did want to prove everyone wrong. But after I went through the process and came out the other side, it wasn't about anyone else. - Author: Billy Corgan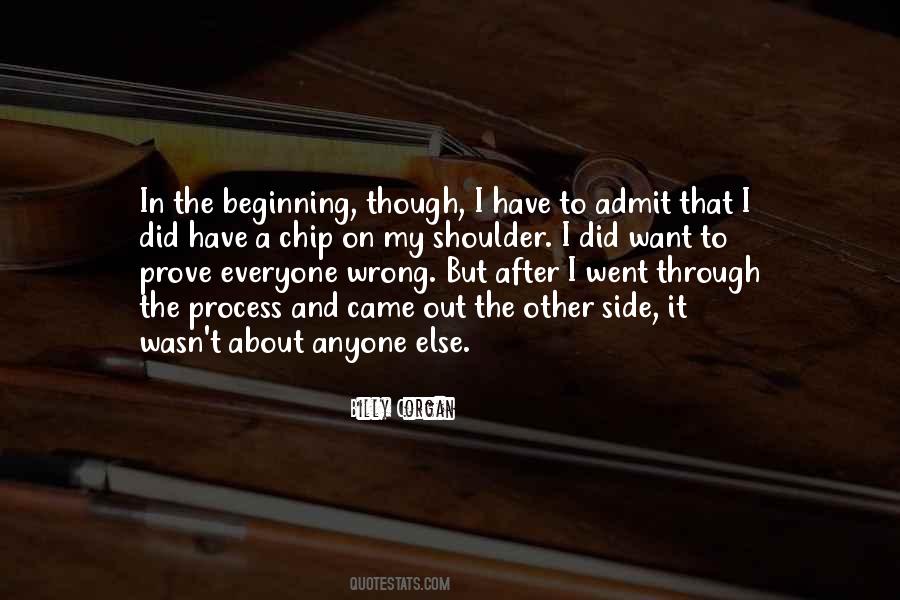 #25. She said the wrong thing or sounded like a space alien with bad programming, when all she wanted was to be just like everyone else. I meant are you okay now, - Author: Susan Mallery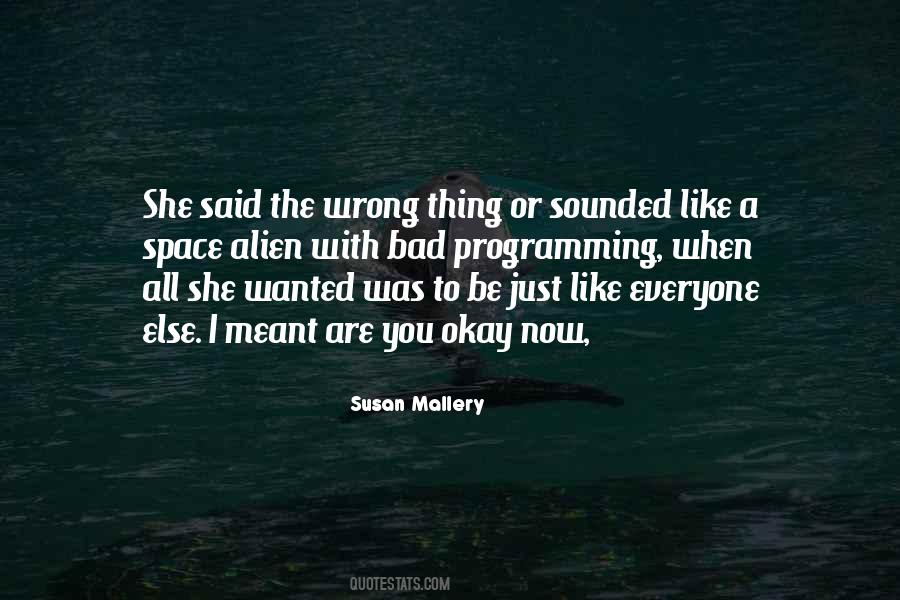 #26. So all in all there wasn't anything really wrong with my life. Except that, like most everyone else's I knew about, it had a big gaping hole in it, an enormous emptiness, and I didn't know how to fill it or even know what belonged there. - Author: Jack Finney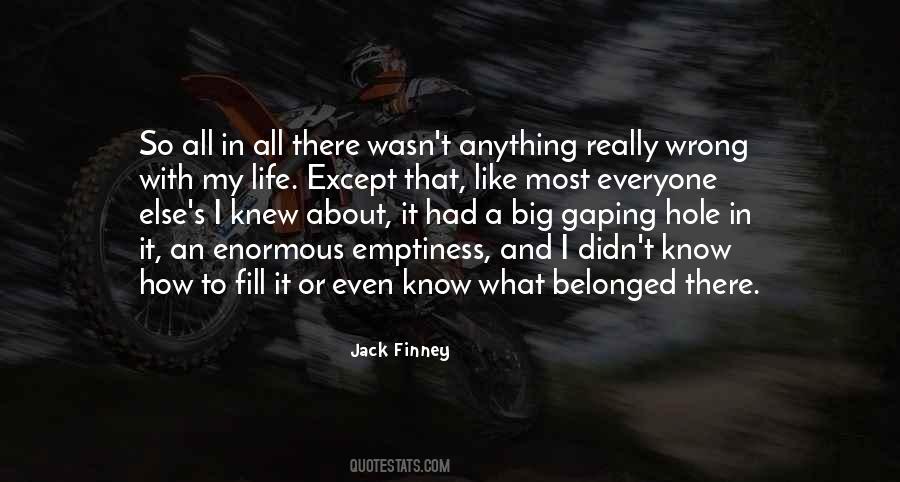 #27. I always had that sense of being censored for the things that I thought. Why is it wrong to embroider your pants, or paint with acrylics on your clothing? Why is that weird? Isn't it weirder to want to be like everyone else? - Author: Alice Sebold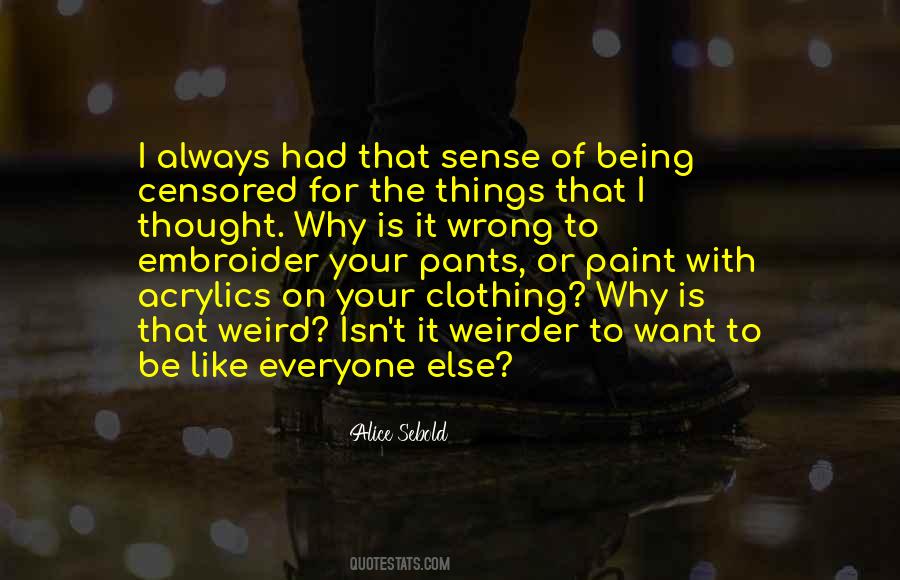 #28. Low-income taxpayers deserve the same rights as everyone else. It was wrong of the IRS to target low-income taxpayers, and I am please by the decision to correct this unfair practice. - Author: Christopher Dodd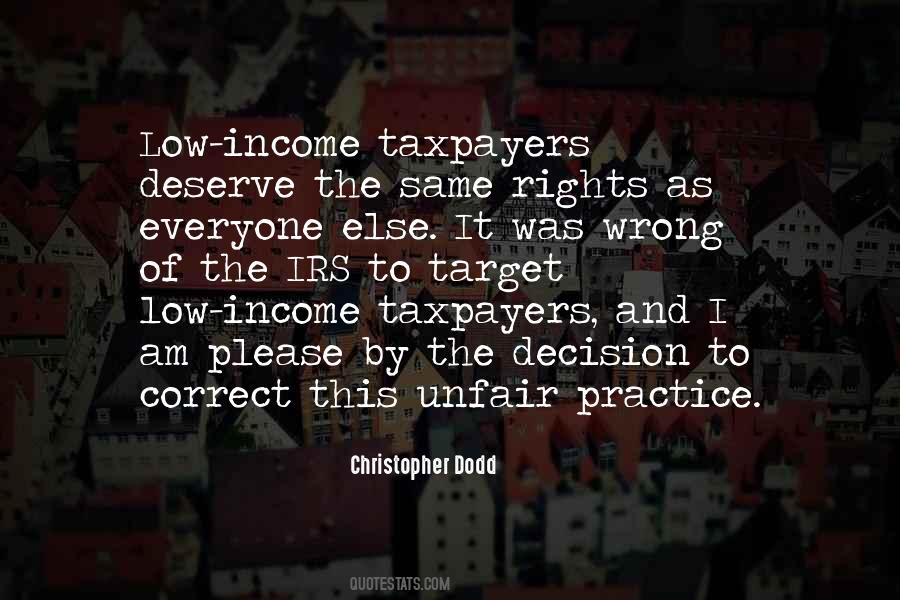 #29. Everyone thinks writers must know more about the inside of the human head, but that's wrong. They know less, that's why they write. Trying to find out what everyone else takes for granted. - Author: Margaret Atwood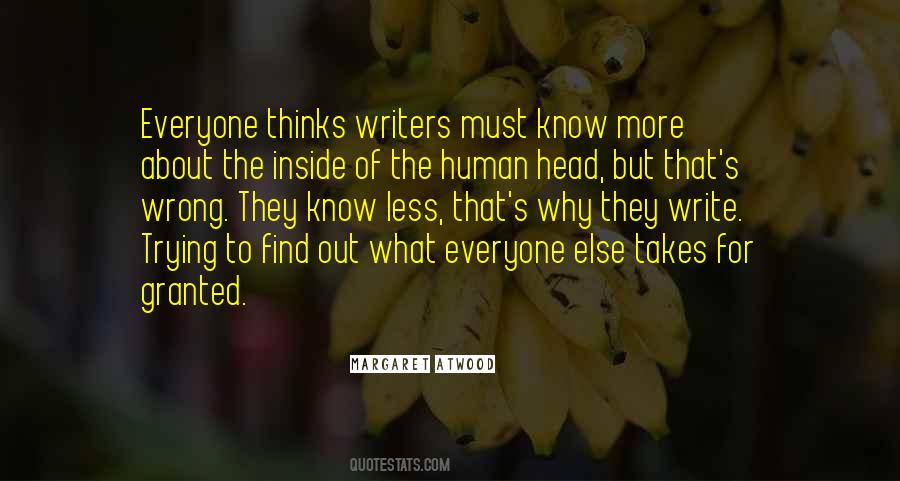 #30. Because you can make decisions for yourself even if they're wrong. Mistakes can be corrected. Life is too short to have everyone else tell you how to live. Make a few mistakes, and learn from them. At least they'll be real, and you'll be living, not just existing. - Author: Carolyn Brown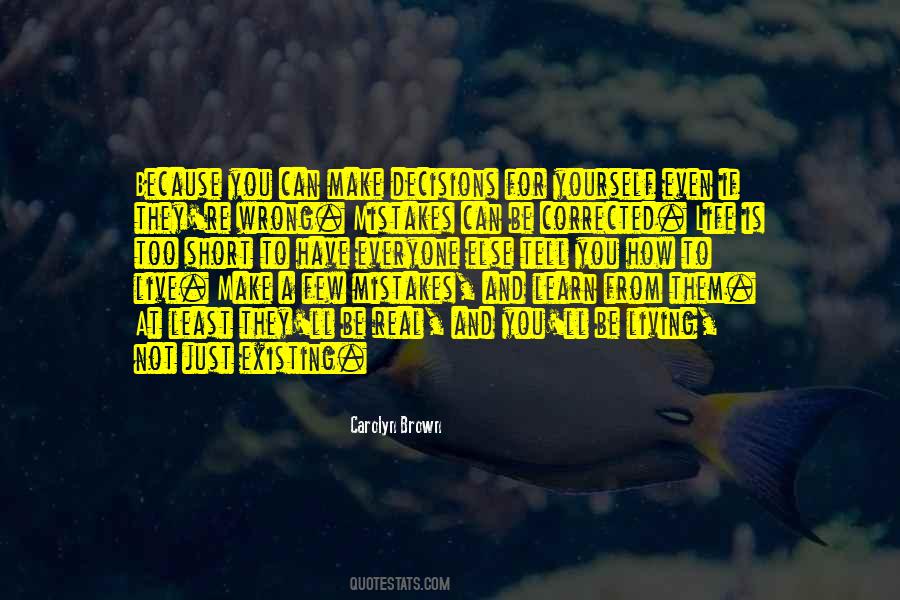 #31. Life was like that. Everyone loved the wrong person who loved someone else or didn't love at all. - Author: K.M. Peyton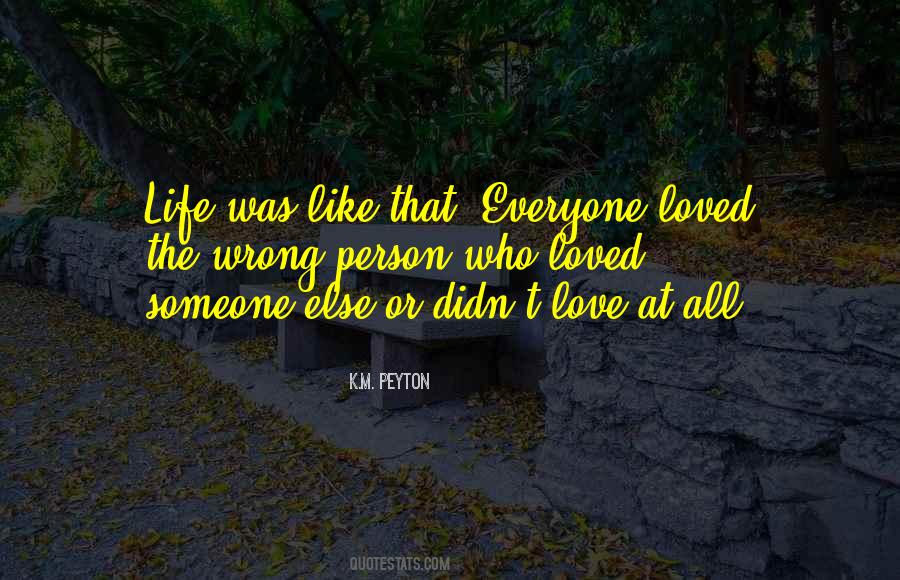 #32. A young outcast will often feel that there is something wrong with himself, but as he gets older, grows more confident in who he is, he will adapt, he will begin to feel that there is something wrong with everyone else. - Author: Criss Jami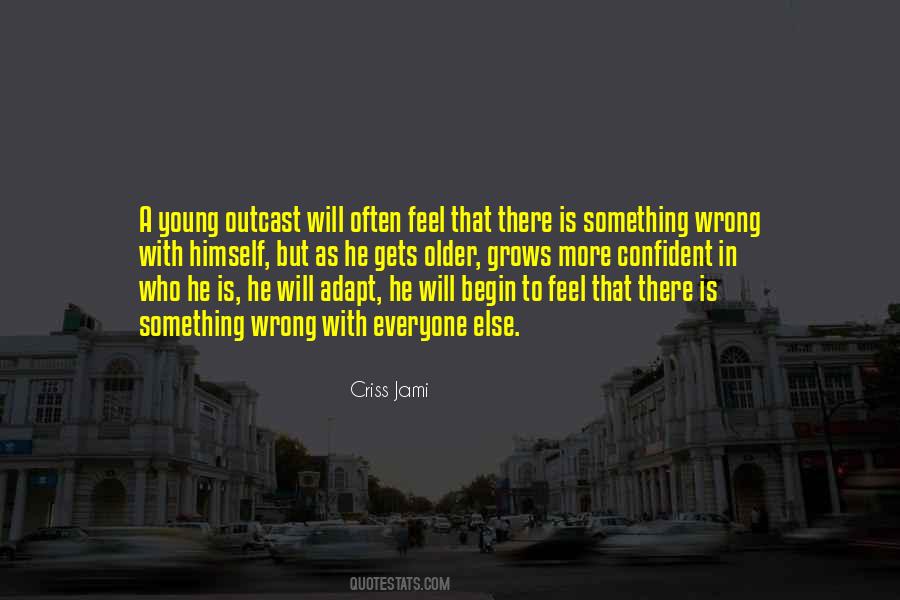 #33. And thus I wonder about so many gay men I've met since, pillars of the community, out to everyone else but Mom, who still refer to their lovers as something between a roommate and a valet. Just who is being protected here, and who thinks queer is wrong? - Author: Paul Monette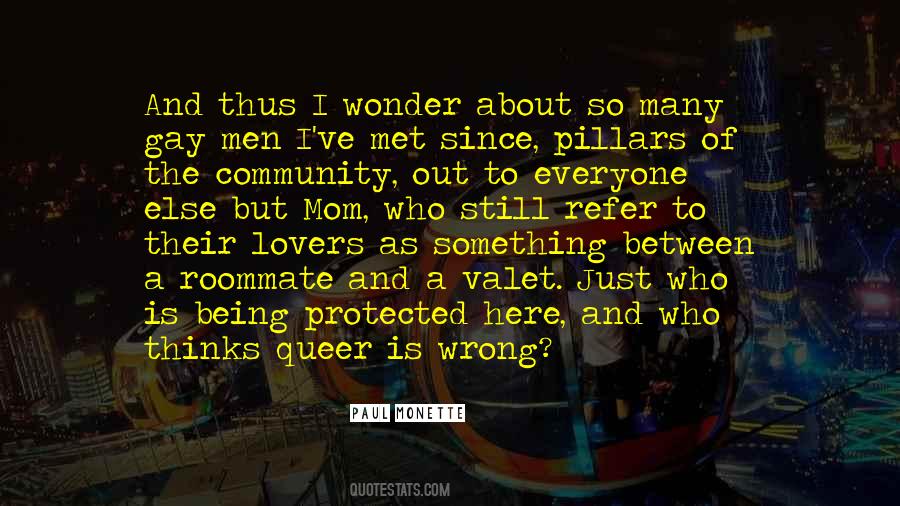 #34. Well, that was embarrassing. There was nothing wrong with talking to the voices in my head
unless everyone else was listening in. - Author: Kate Carlisle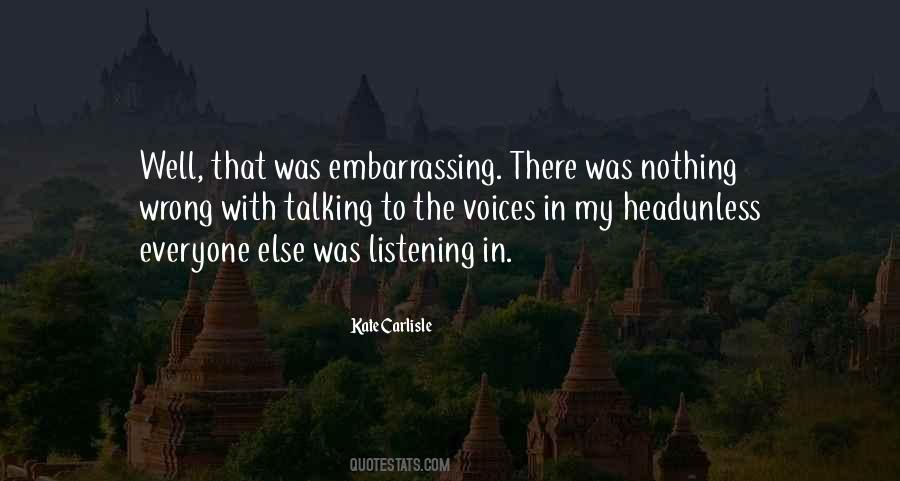 #35. There were only two options - something was wrong with everyone else, or something was wrong with me. Because either they were tricking themselves into thinking there was a tomorrow together, or I was the only person who was leaving. - Author: David Levithan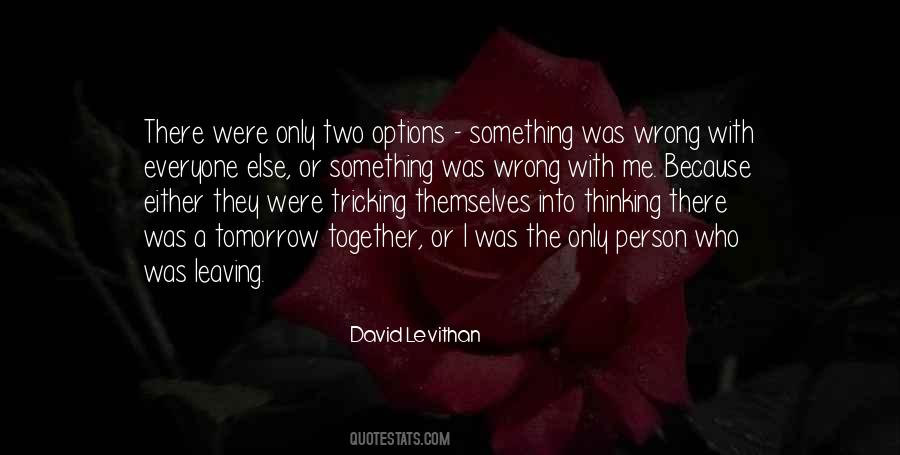 #36. Have you ever considered that there might be something wrong with your brain?
Oh, I think there might be something wrong with everyone else's. - Author: Jennifer Weiner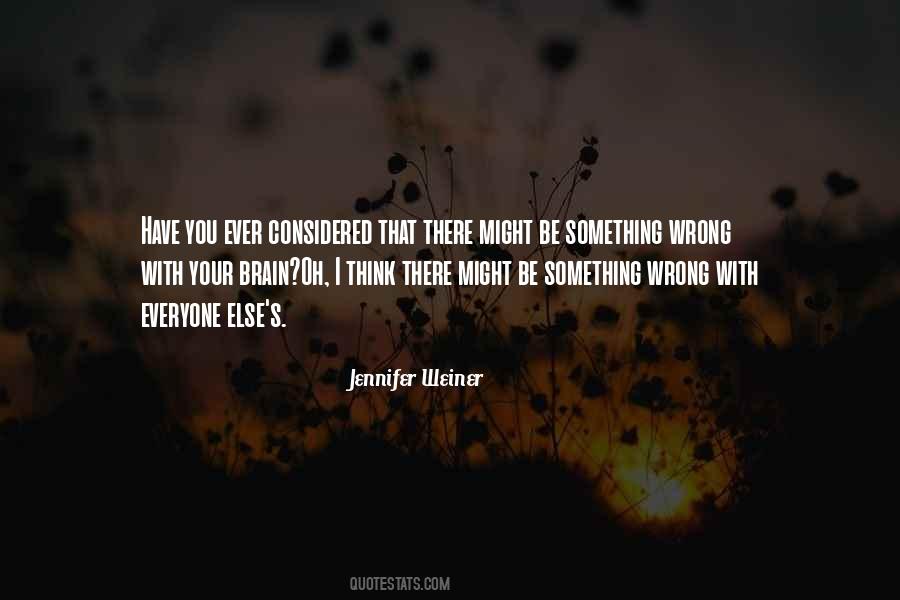 #37. When you finally meet the right one for you, it suddenly becomes clear why everyone else was so wrong. - Author: Steve Maraboli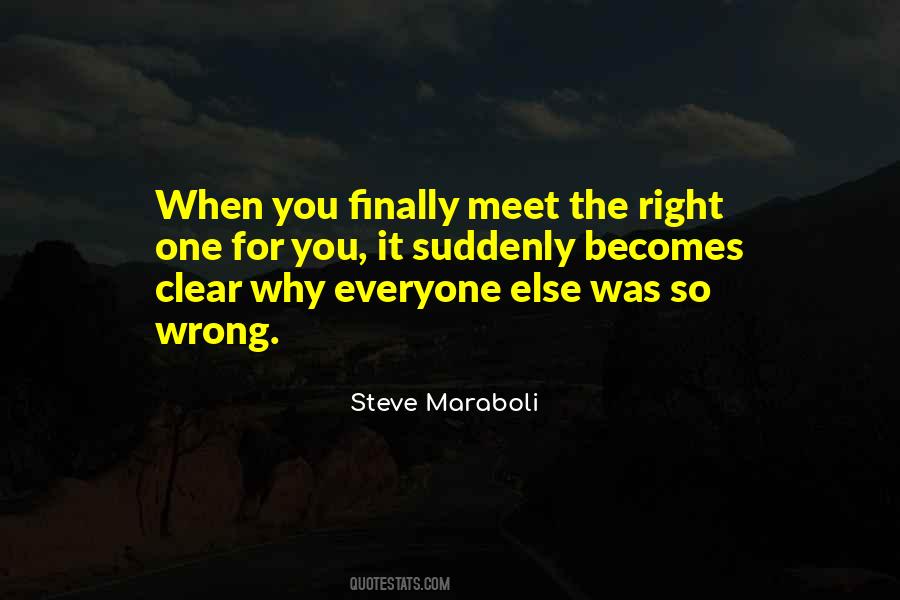 #38. When it comes to relationships, it's nice to have something that is your own and not everyone else's. That's not part of my job. I never stood up on a podium and said, 'Vote for me - I'm perfect. I'll be this for you and never do anything wrong.' - Author: Hayden Panettiere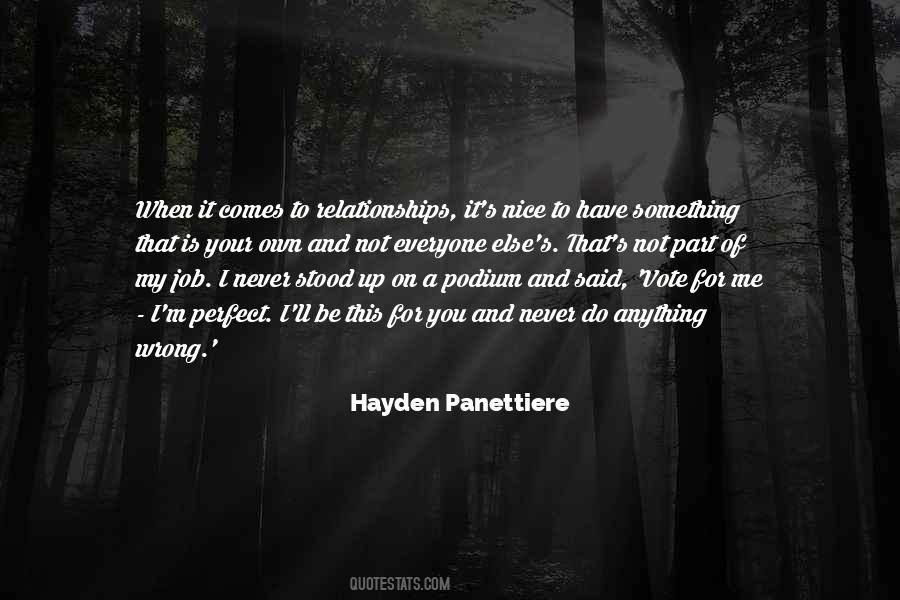 #39. But that's the wrong question. Ask why everyone else is so pathetically stupid and why they're always whining about detention, I should get a medal for not slapping people in the face every day. - Author: Laurie Halse Anderson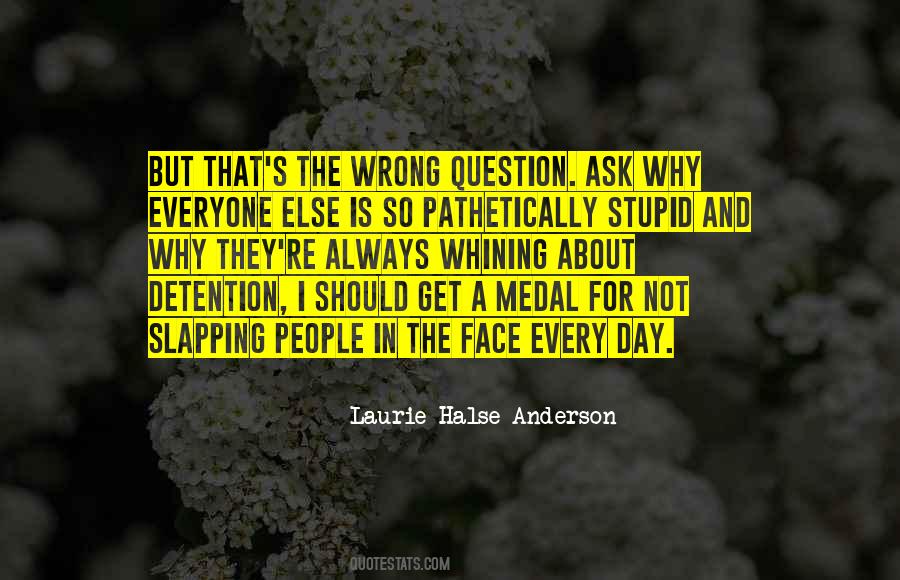 #40. Stop focusing on what's wrong with everyone else and start focusing on how blessed you are. - Author: Joyce Meyer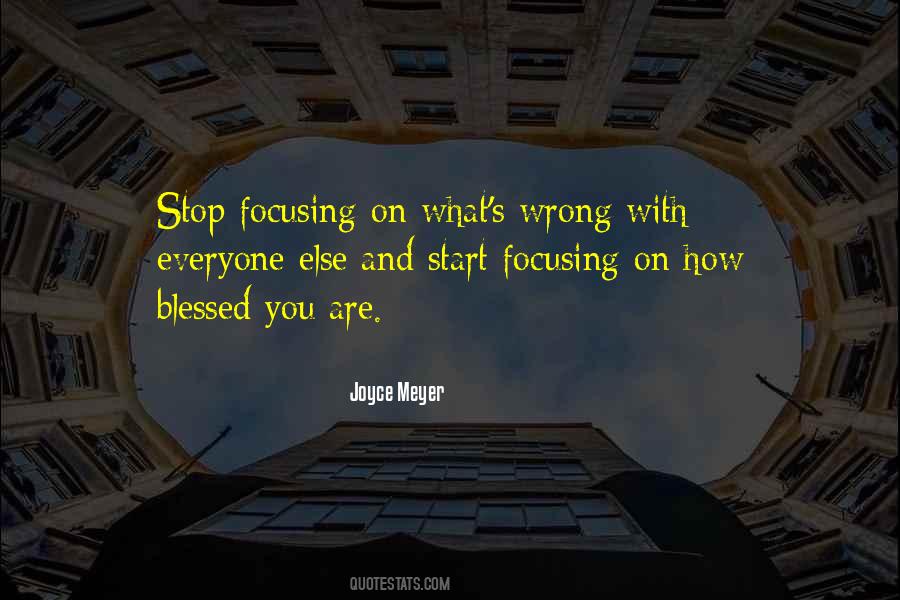 #41. And his legacy. If you are doing what everyone else is doing, you are doing something wrong. Why? Because most people are not obtaining results that are considered extraordinary. - Author: Andy Andrews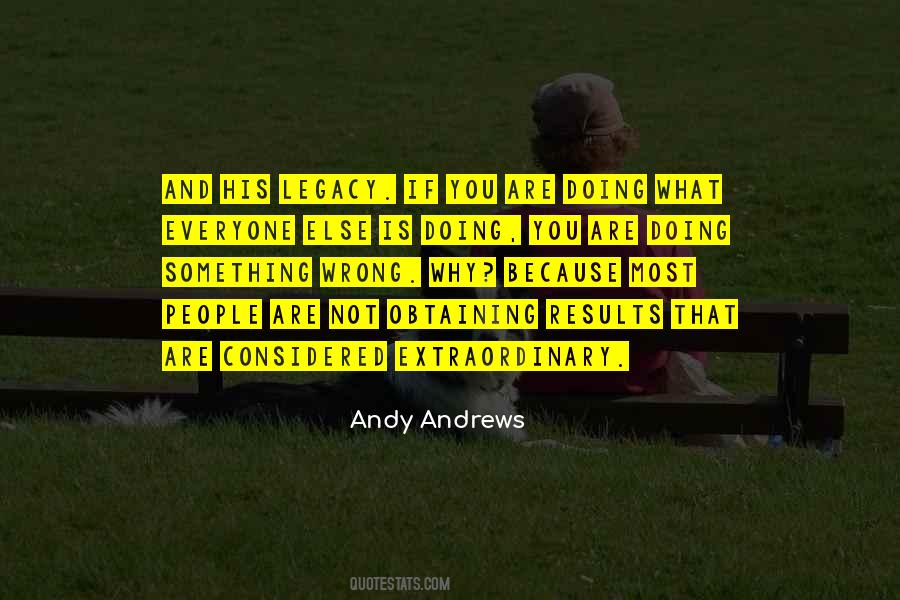 #42. Murder is always wrong, doesn't matter who does the killin'. Hurtin' someone else is always wrong. Everyone's got their burdens. The way the world is, we need faith and hope and joyful praise more than ever to get through. - Author: Martina Boone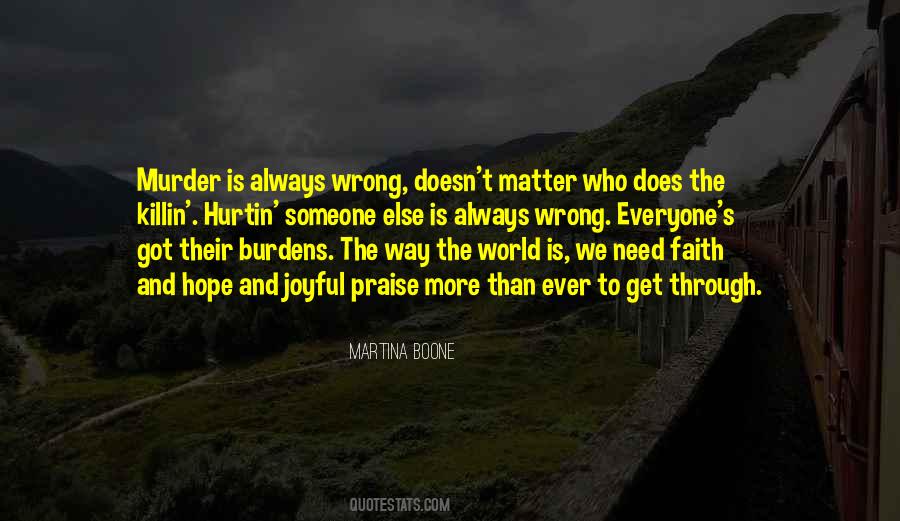 #43. Conservatives believe the economy functions better if the rich have more money and everyone else has less. But they're wrong. It's just the opposite. - Author: Robert Reich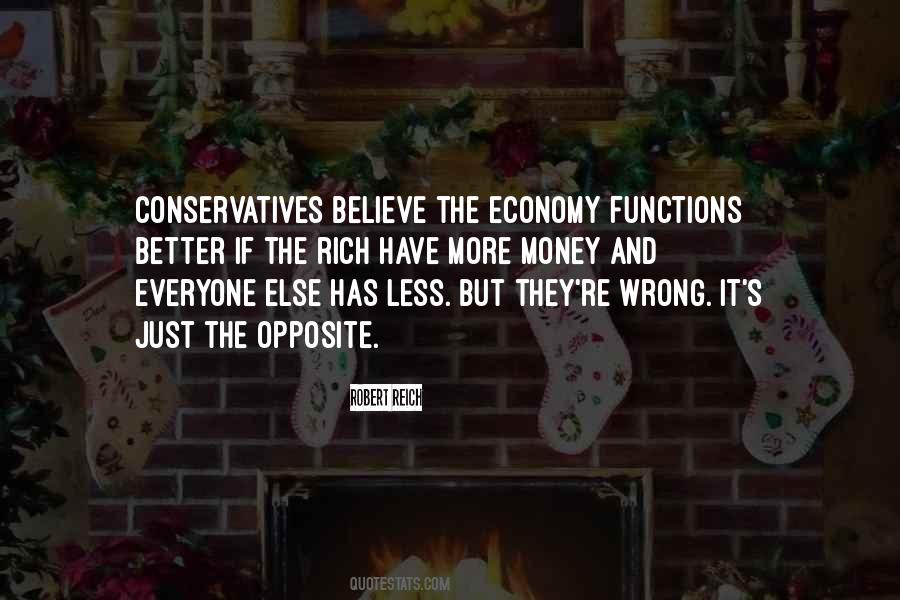 #44. Everyone thinks I'm a coward. This is my chance to prove them wrong." "Don't throw your life away because of a few jokes made at your expense," said Hugh. "Who gives a whit what anyone else thinks? - Author: Ransom Riggs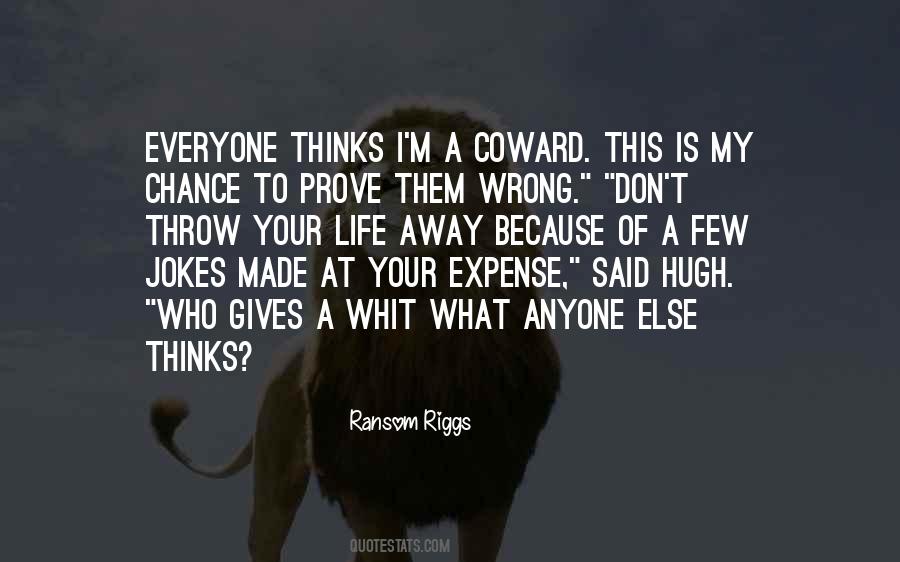 #45. As you make a prototype, assume you are right and everyone else is wrong. When you share your prototype, assume you are wrong and everyone else is right. - Author: Diego Rodriguez Telechea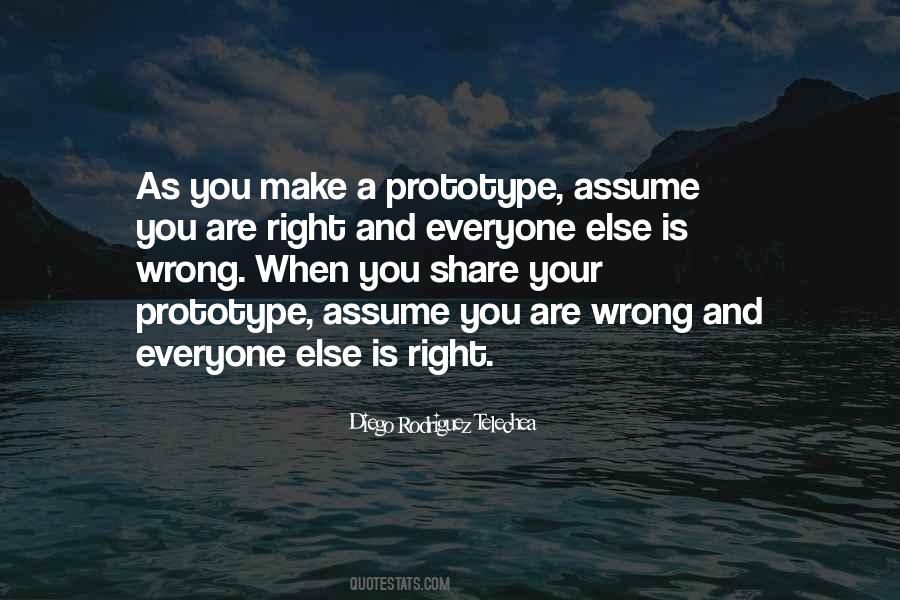 #46. what's wrong with being different? Sometimes it's good to stand apart from everyone else. - Author: Denise Grover Swank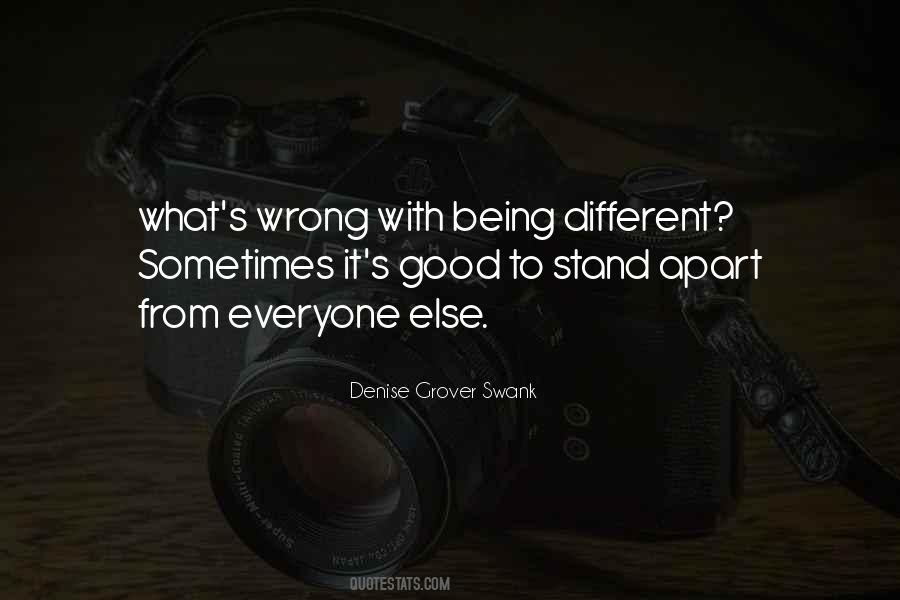 #47. I am astonished, when I pause to think about it, to discover myself to be an author of humorous novels for children. Or an author at all. I had a childhood much like everyone else's. What went wrong? - Author: Sid Fleischman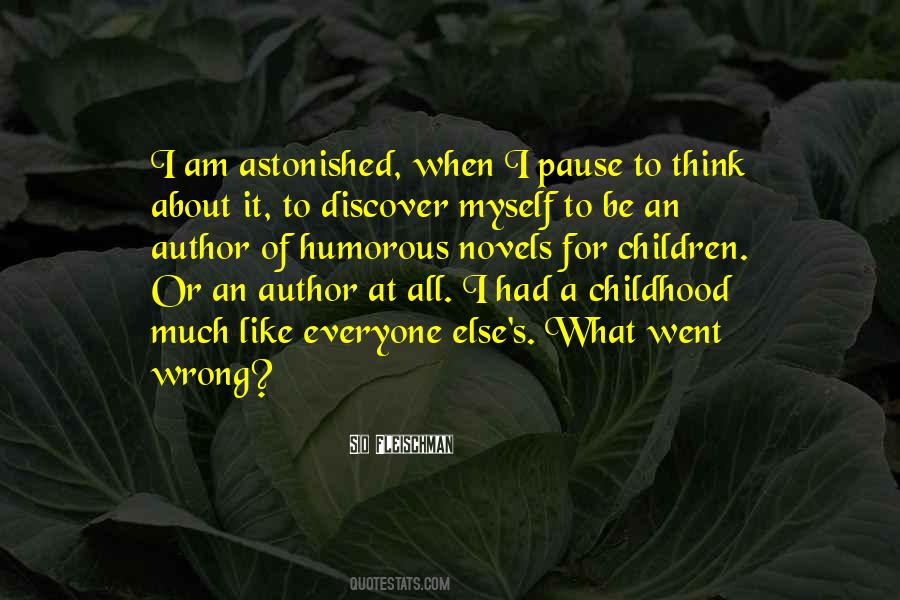 #48. I never had a desire to be famous ... I was fat. I didn't know any fat famous actresses ... You know, once a fat kid, always a fat kid. Because you always think that you just look a little bit wrong or a little bit different from everyone else. And I still sort of have that. - Author: Kate Winslet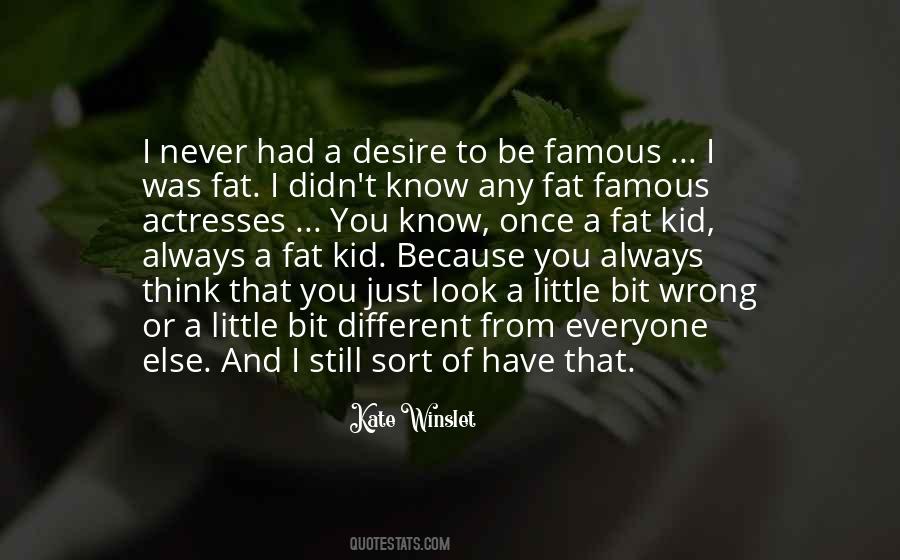 #49. And there's nothing wrong with freckles, Ceony. Heaven forbid you look like everyone else in this place. - Author: Charlie N. Holmberg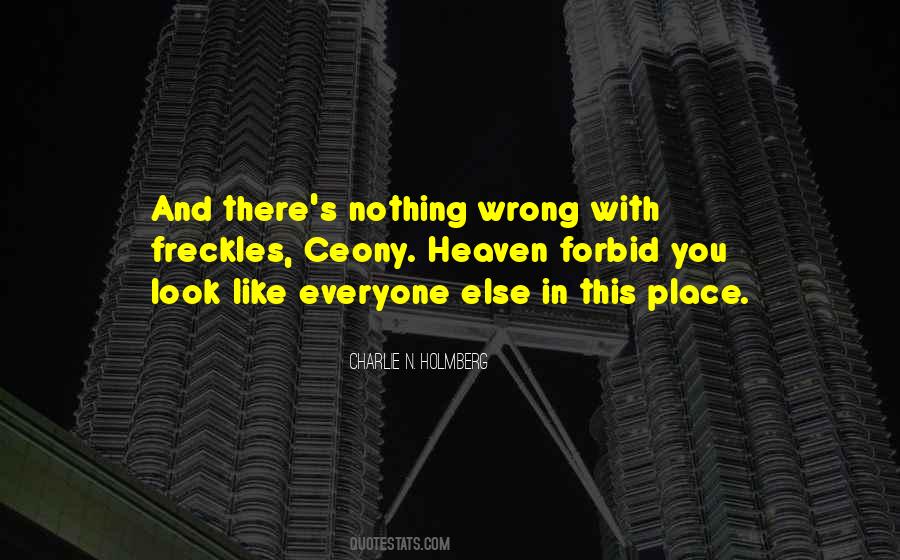 #50. Could a man decide, 'I am right, and everyone else is wrong?'
No evidence of a malfunction, he thought. I am not a coward. Neither am I insane.
His heart cried, 'I am disgusted with this purposeless war. I shall quit fighting it. - Author: Walter M. Miller Jr.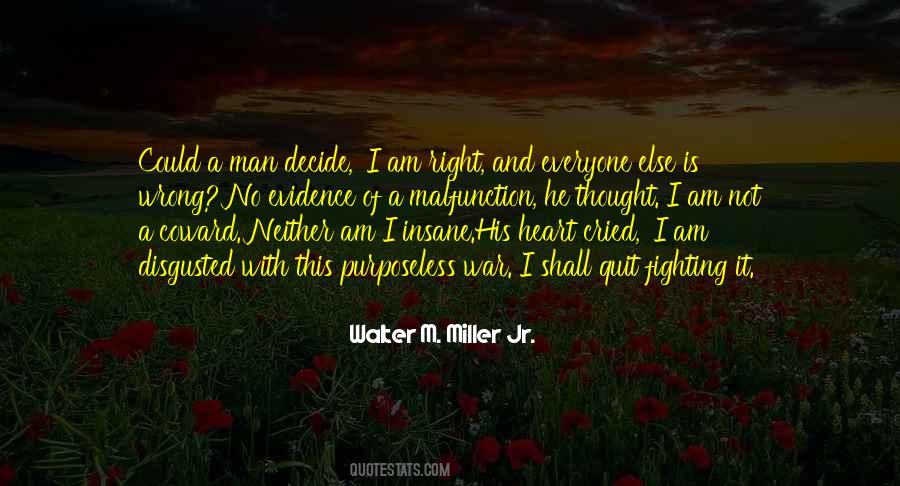 Famous Authors
Popular Topics